Heaven in the Queen of the Sky - Cathay F from HKG to LHR in F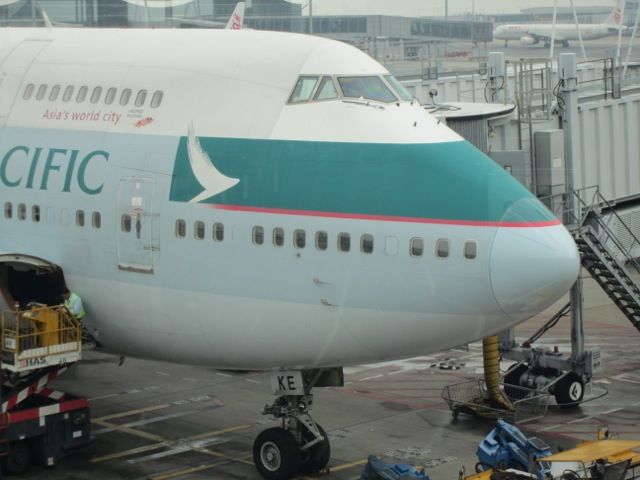 I flew from Hong Kong to London Heathrow on CX 257 last week and happened the only passenger in the first class cabin, so I took the opportunity to take a few more pictures and decided to write a short trip report on one of the world's best first class products on the "Queen of the Sky." Since there are many reports out there about CX, this report will hopefully be short and I will concentrate on the pictures.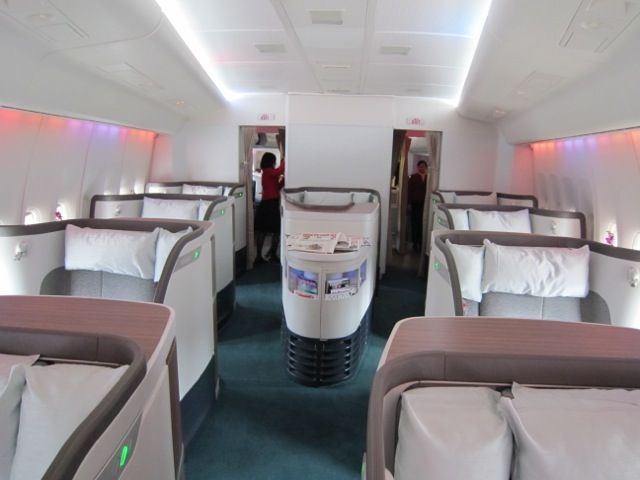 April 9, 2012
CX 257 Hong Kong to London Heathrow Lv1005 Arr1600 Boeing 747-400 B-HKE
Ground service:
One of the weakest spot on Cathay Pacific first class is perhaps their ground service (although I will argue Singapore Airlines scores lower in this area with really horrible check-in and lounge agents). For a local Hong Kong resident, the departure experience is efficient even without flying premium class. I checked in at the Hong Kong Airport Express station in Central the evening before and got my boarding pass issued and baggage all checked in. On the day of departure, I took the Airport Express to the airport and proceeded to Terminal Two for immigration and custom. Terminal Two is not really a separate terminal, but another check-in area to handle more airlines, mostly LCCs and foreign airlines. Thai Airways is the only major airline that uses Terminal Two. Regardless, the traffic is always lighter there and the only annoying aspect is an additional train ride to the main terminal and changing train if your flight departs from the 40-60 gates. The time saved at immigration and custom honestly makes it worthwhile. Terminal Two is really quiet this morning and I got through the e-gate and custom with no queue.
I went to the Pier first class lounge, since the Wing is closed. Gate 30 is closed enough to the Pier. No pictures since it has been discussed widely here. Anyway, the lounge was fairly busy since it was Monday, but I was able to find a table in the dining area, and subsequently at the main seating area. Service was good as usual.
The inbound flight arrived a bit late from Taipei this morning, but B-HKE, one of the second-hand Boeing 747s bought from Singapore Airlines, ran only slightly late in terms of boarding.
B-HKE busy at gate 30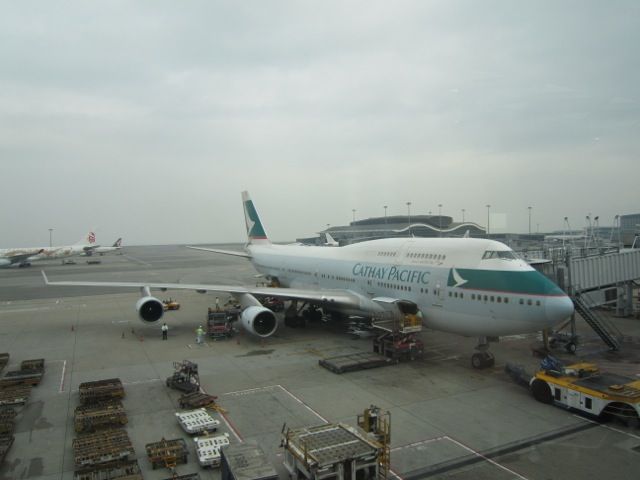 Boarding began late at 9:45am and priority boarding was strictly enforced. A word about the loading – only one in first, half full in business, and almost full in economy…
The purser greeted me at the entrance and Wendy immediately escorted me to my seat, 1A, and Wuling and Sacha, the other two F/As, did the other pre-takeoff service – beverage, amenity kit, and pajama. Newspapers were already set up the console area and two UK papers were available – the Guardian and Independence (but not sure), along with the usual Hong Kong papers and global English papers.
Door was finally closed at 10:11am and we pushed back two minutes later. After an Mandarin Airlines' EMB-190 B-186251 took off, we took our turn at R/W7R and lifted off at 10:33am for our twelve hours and thirty-three minutes flight to Heathrow.
Here is our routing:
310-Shaoguan-Wuhan-320-Taiyuan-Gobi Desert-Barnaul-340-Omsk-Western Siberian Lowland-Tyumen-Artyomovsky-Yekarterinburg-Perm-360-St. Petersburg-380-Narva-Kuressaare-Salme-Ronneby Airport-Malmo-Suderdeich-Norden-Drachten-Bakkum-Maylandsea-LHR
Over Gobi Desert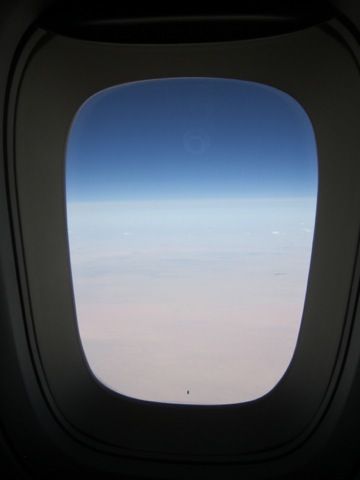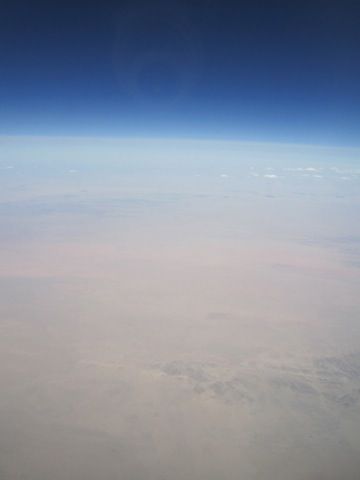 Over Western Siberian Lowland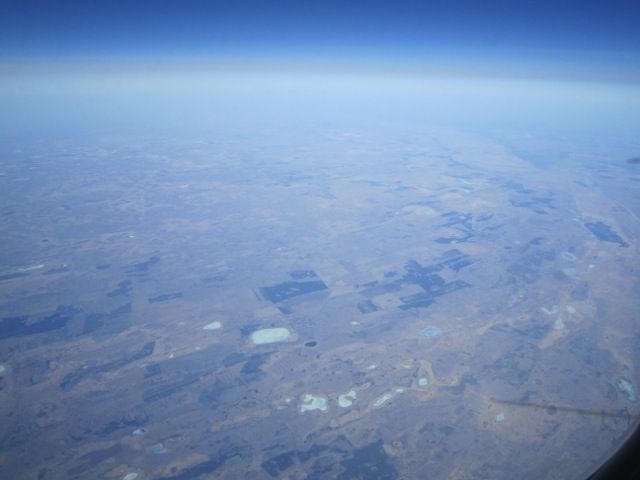 Towards St Petersburg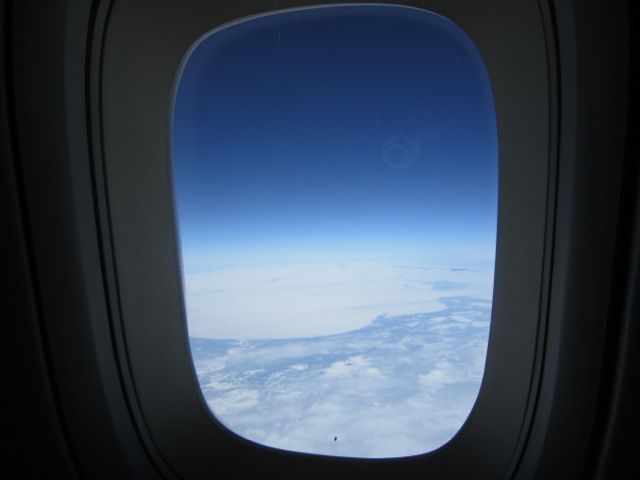 Cabin:
Cathay Pacific first class looks excellent in the nose of Boeing 747-400. There are nine seats in total.
I like this shot, as it really showcases this cabin – no overhead bin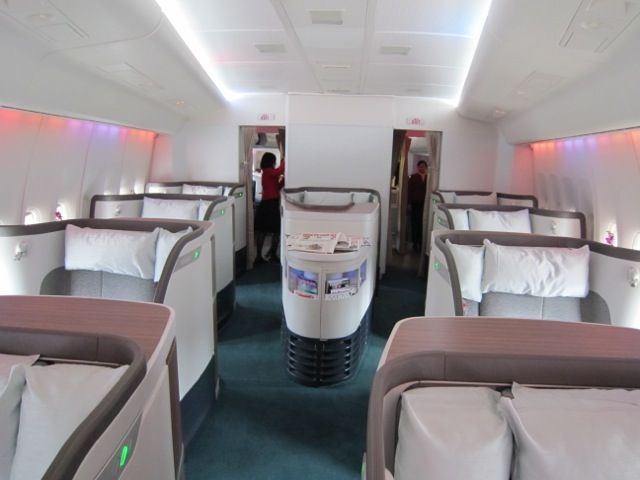 Magazine console in front of middle seat
Special decoration piece in front of the cabin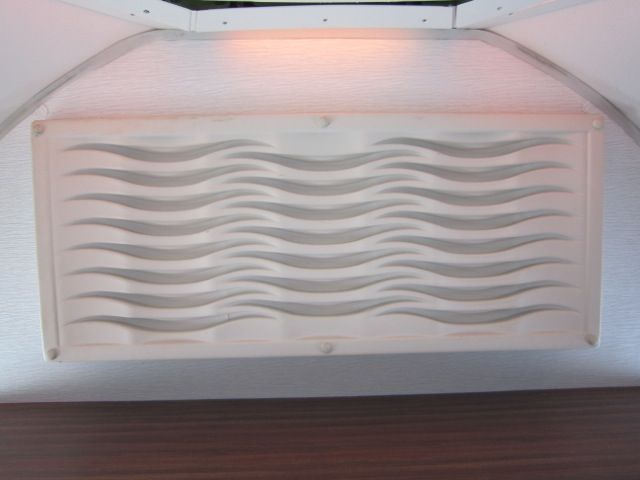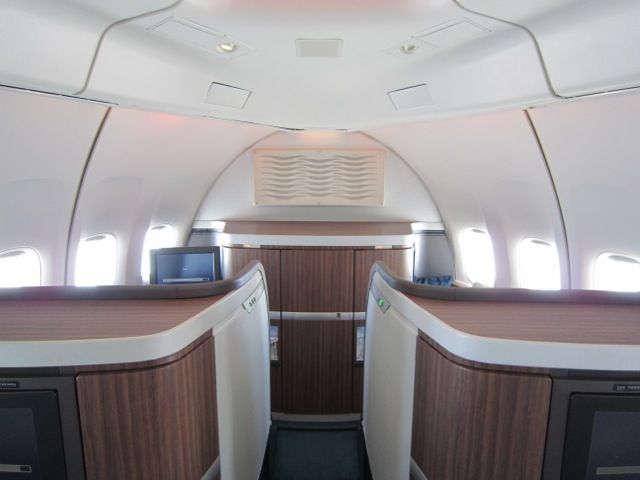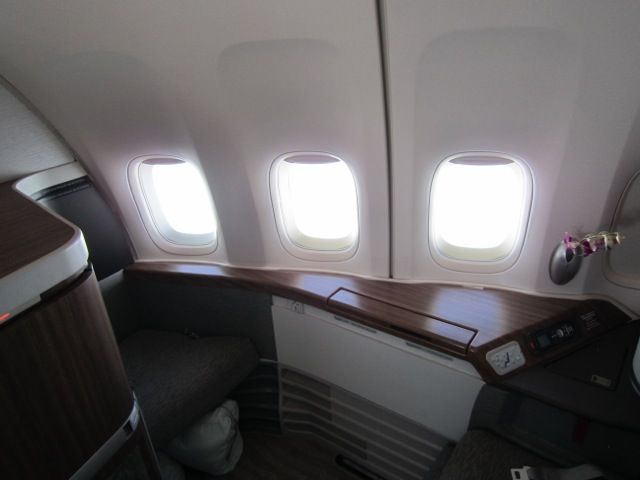 Seat: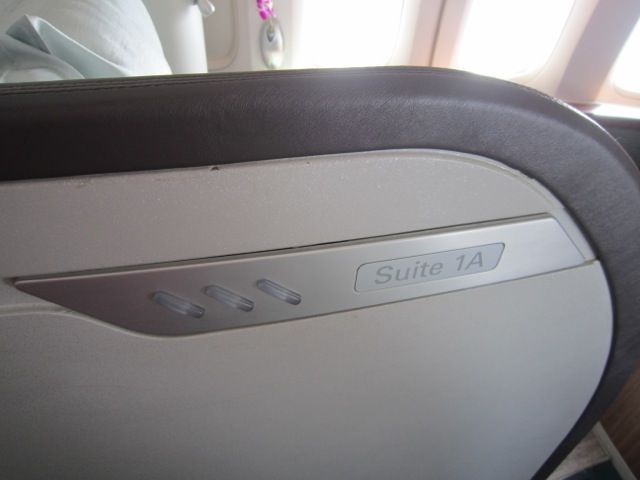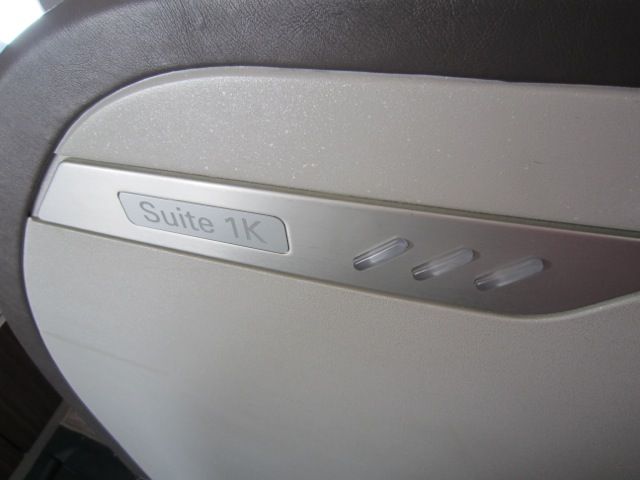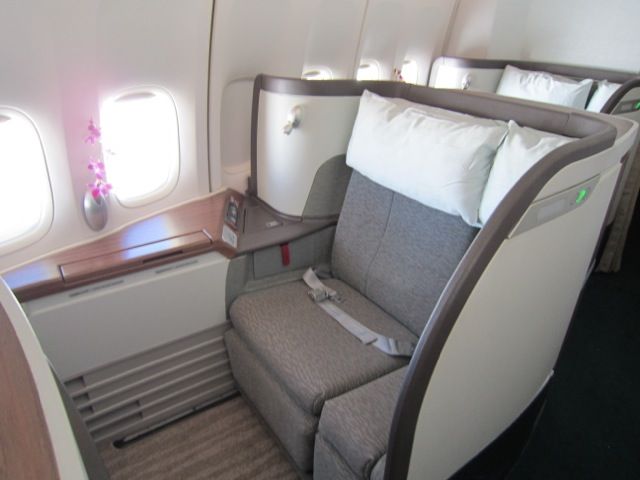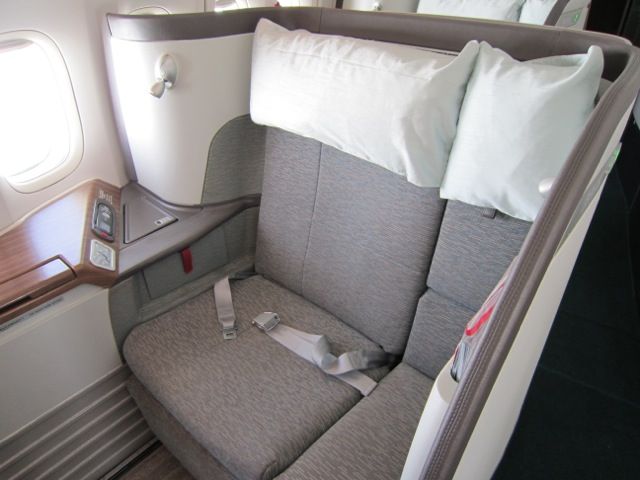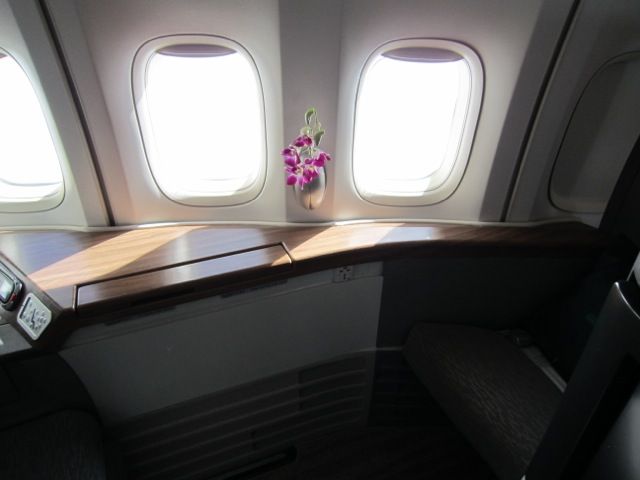 Literature holder
Individual closet
Seat pitch is huge
Seat control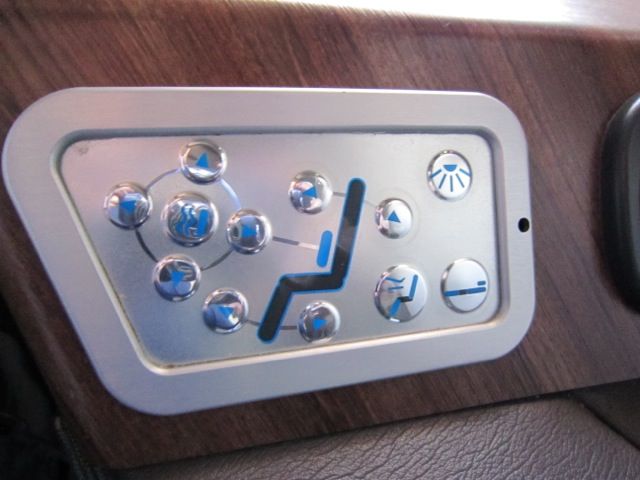 Seat in recline position
Seat in flat bed position with turnover service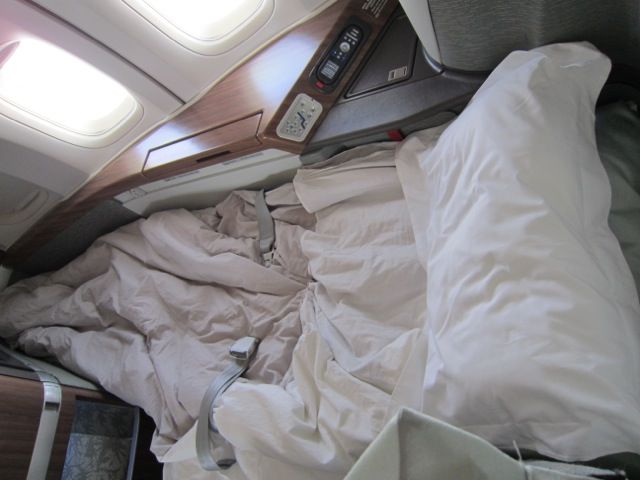 First Class seat can be transformed into a suite and each seat has their own individual closet for their carry on suitcases and jackets. I felt that 1A and 1K have a smaller bin for carry on luggage. Anyway, with a light load, I just hang my jacket in 2A.
Bathroom:
Another reason why I prefer Cathay Pacific first class on Boeing 747 is the huge bathroom with windows, which Boeing 777-300ERs don't have.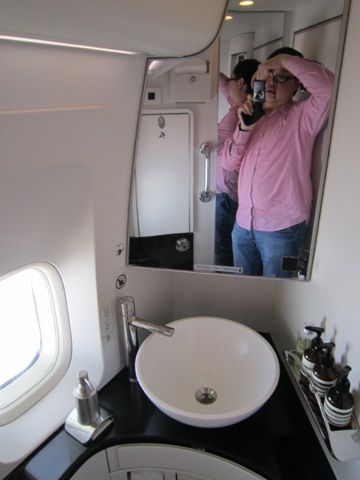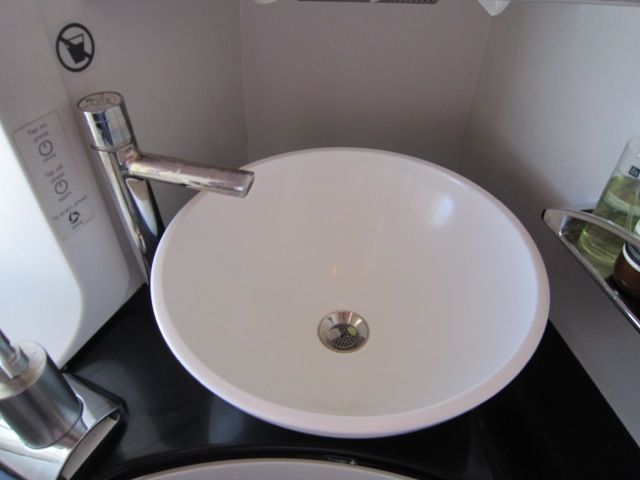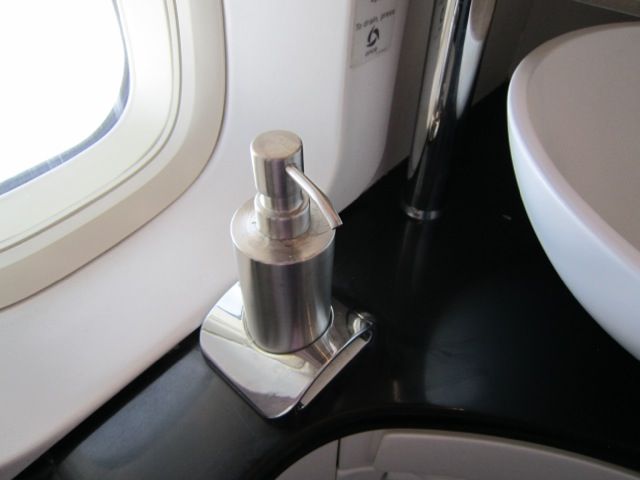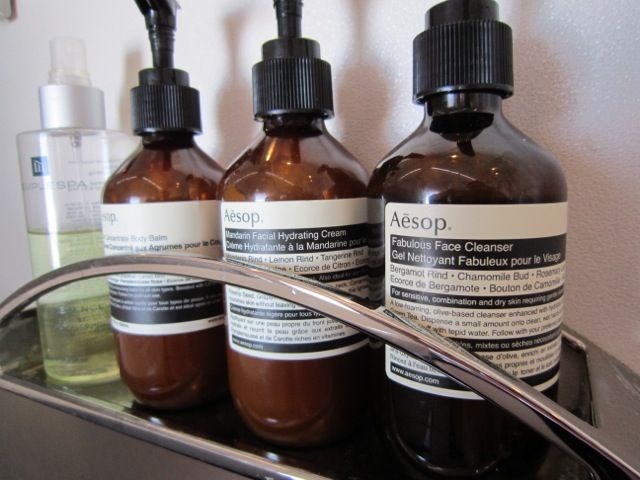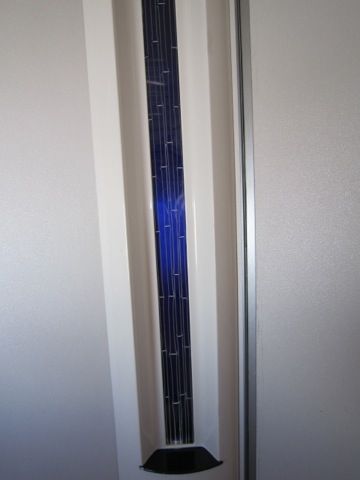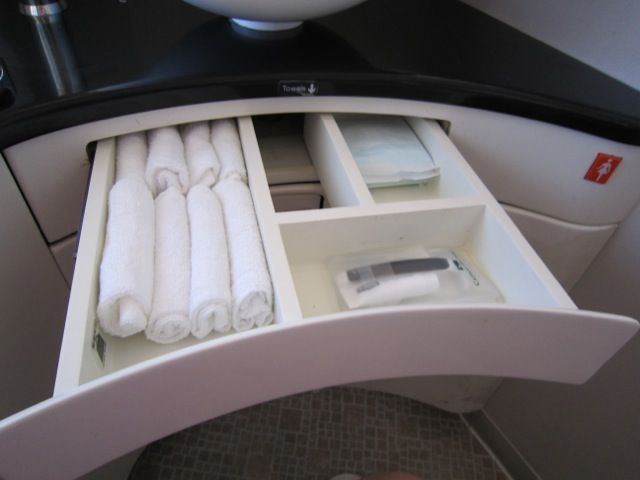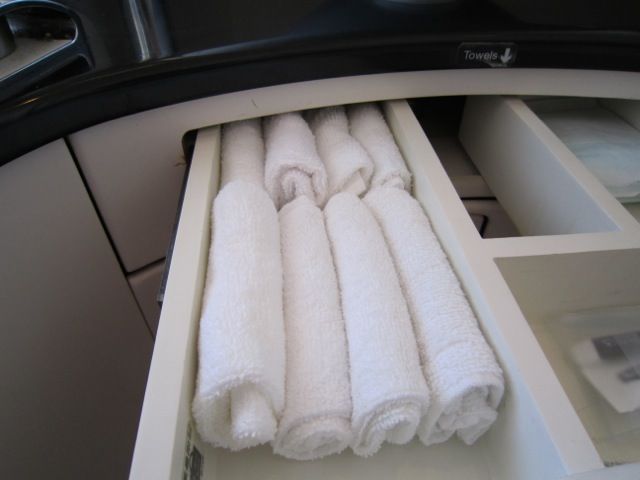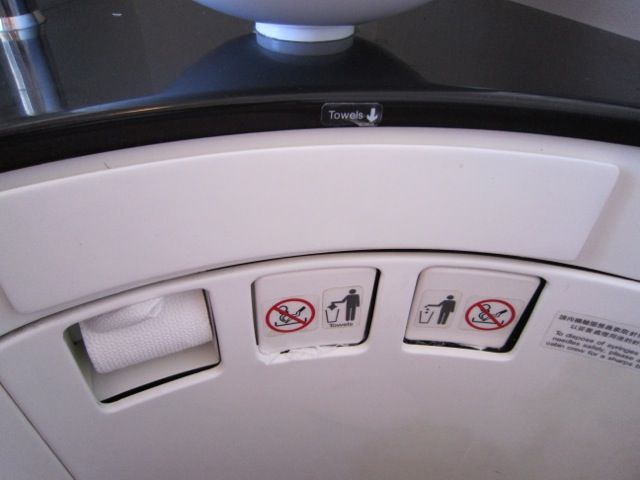 Windows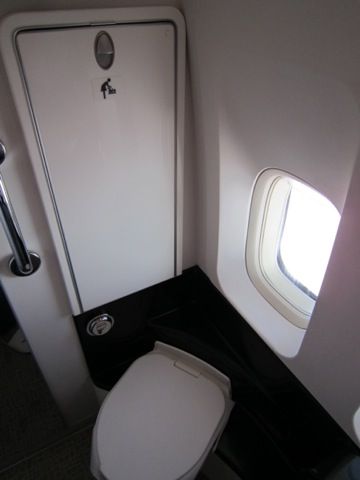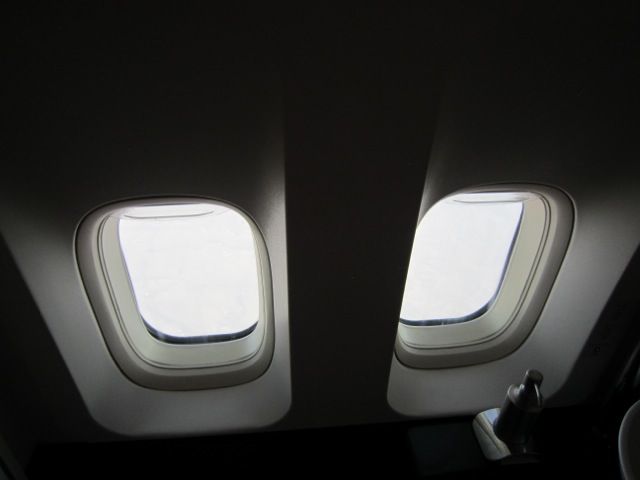 Window in closed position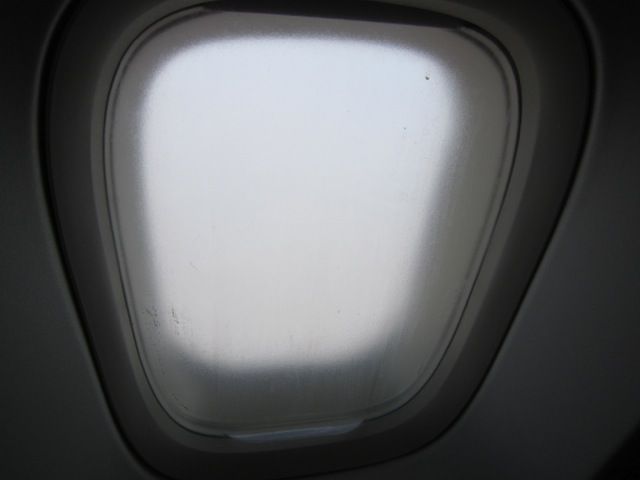 Baby changing station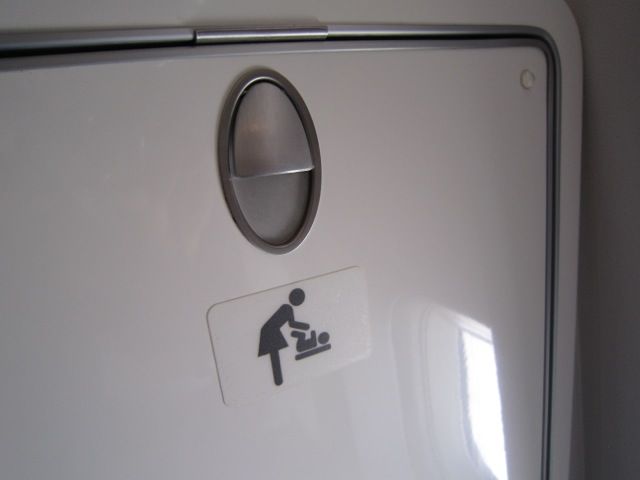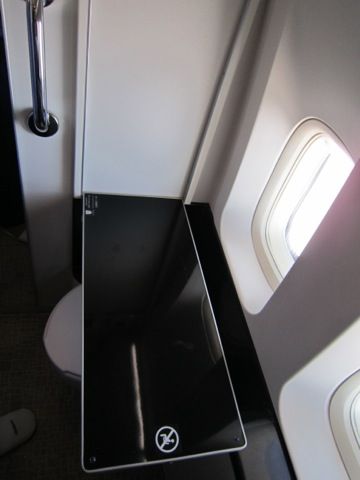 Meal Service:
I was actually quite surprised that breakfast was the first meal served on a 10am flight. When CX 257 departs at 9am, serving brunch after takeoff makes perfect sense, but when your flight departs at 10am, lunch should be served. Considered by the time the plane was at cruising attitude, it was already 11am. I saw it as a cost cutting effort, rather than a meal scheduled designed to accommodate passengers. Please not that lunch was served mid-flight in business and economy class, but I specially asked dinner to be served two and half hours prior to arrival, which makes more sense. I also ordered noodle soup and egg tarts mid-flight. The Hong Kong style egg tarts are new items, and it was okay – you couldn't really expect egg tart freshly baked from a local bakery. I ordered them just for the novelty. Anyway, the food was very good except the entrée selection for the lunch service – the choices are not really good. Spare rib is rather plain, and I expect CX to serve more premium food for the Chinese menu, like stir fried lobster or scallop or beef fillets.
Wine List
Champagne
Krug Grande Cuvee Champagne
White Wines
Vincent Girardin Puligny-Montrachet Vieilles Vignes 2008
Villa Maria Single Vineyard Southern Clays Sauvignon Blanc 2010
Red Wines
Castello di Gabbiano Alleanza IGT Toscana 2008
Chateau Lynch Bages 2004, Grand Cru Classe Pauillac 5th Growth
Quartz Reef Central Otago Pinot Noir 2008
Port
Ramos Pinto Quinto da Ervamoira 10 Years Old Tawny Port
250,251,252,253,254,255,256,257 1-4-2012
CX 257
Hong Kong to London
First Class Menu
Brunch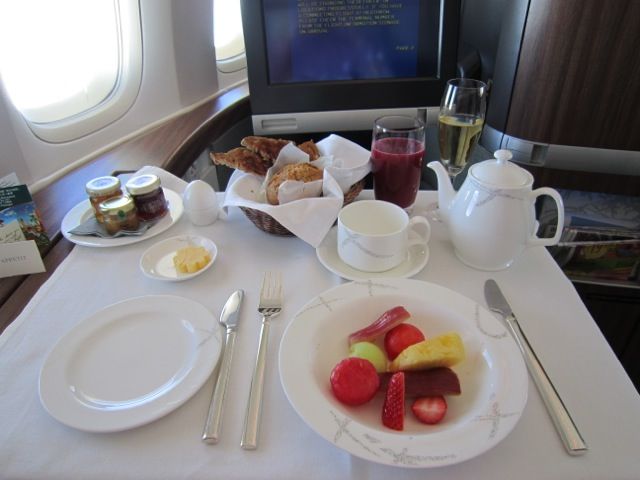 Starters
Orange, apple, or grapefruit juice
Forest Berry Smoothie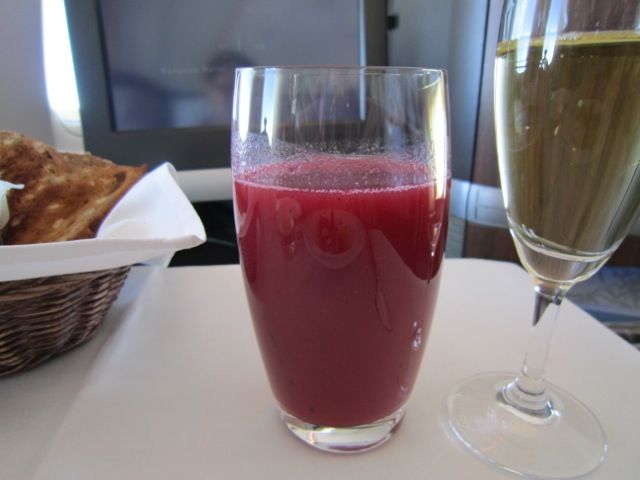 Fresh Seasonal Fruit
Natural or fruit yogurt from La Ferme du Manege
Assorted Cereals
Main Courses
Organic free range eggs ~ freshly scrambled, fried or boiled
Served with your choice of potato cake with cheese and spring onion, broiled bacon, pan-fried Cumberland sausage, roma tomato with herbs or mushrooms
Dim Sum with chili sauce
Scallop with fish egg dumpling, baby spinach with shrimp dumpling, chive and pork dumpling, mini chicken glutinous rice wrapped in lotus leaf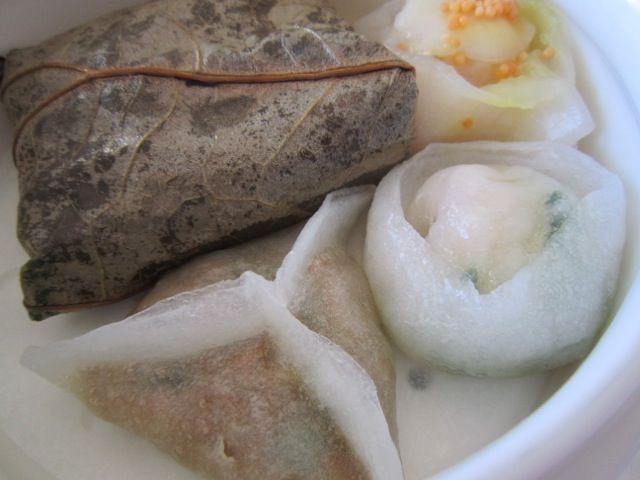 Kedgeree cake with curry sauce, vine ripened tomato
Bread Basket
Assorted breakfast bread and fresh toast
Served with Mrs. Bridges Scottish preserves, Tasmanian meadow honey and butter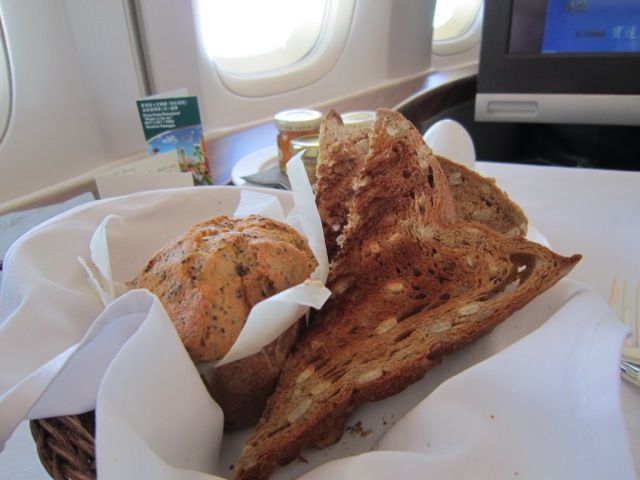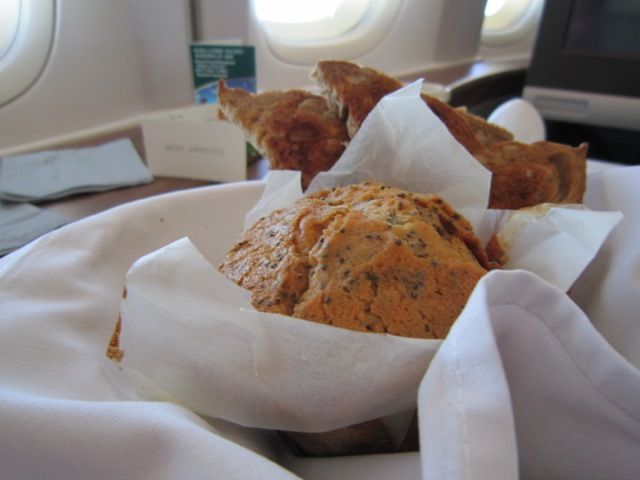 Tea and Coffee
Pralines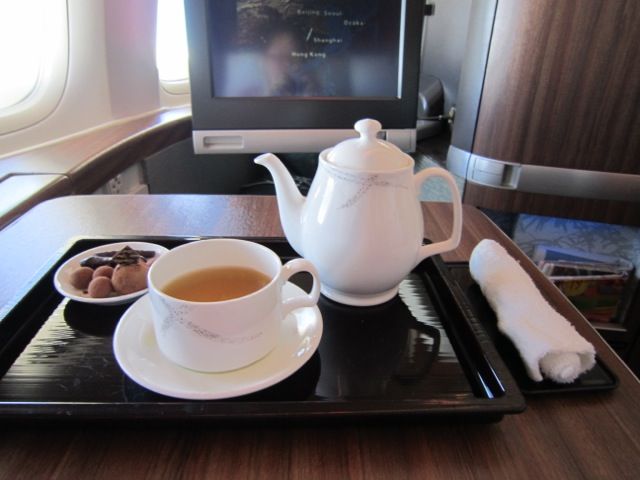 Dinner
Caviar and Balik
Caviar and Balik Salmon "Tsar Nicolaj"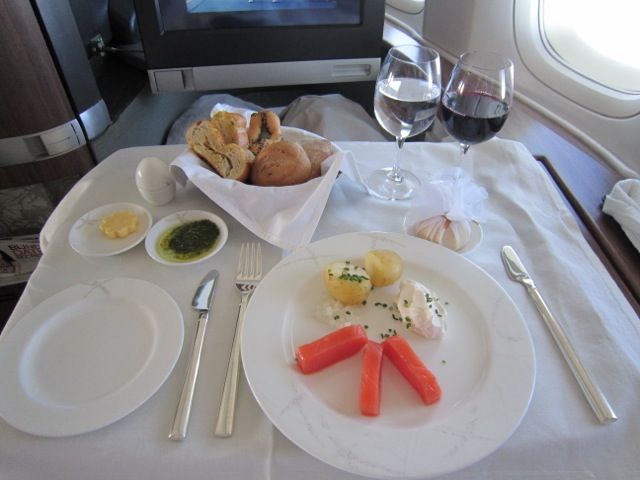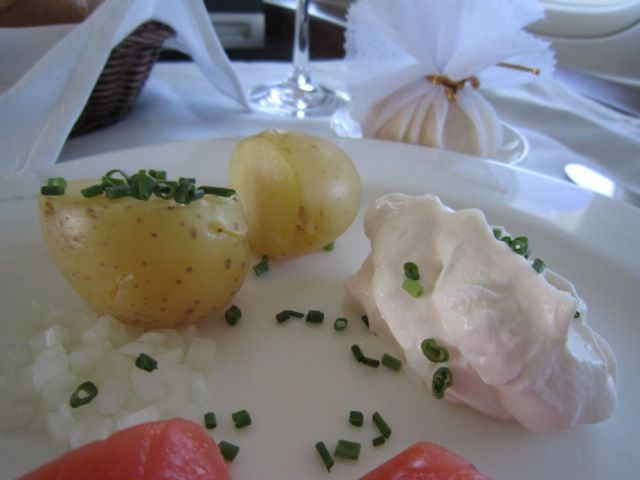 Bread Basket – individual bread basket
New pesto service
International Favorites
Cream of Onion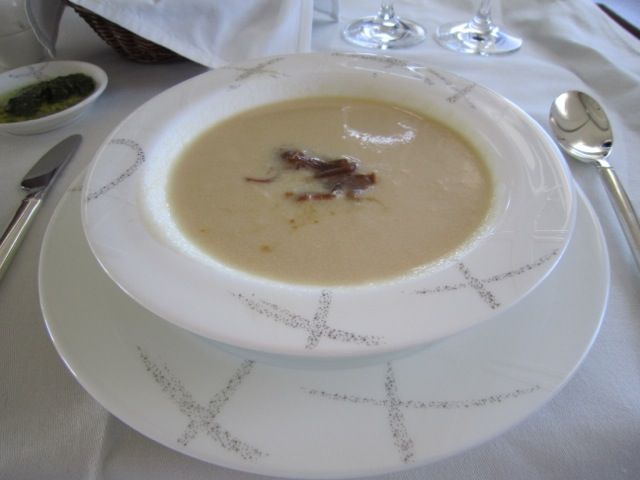 Traditional Caesar Salad