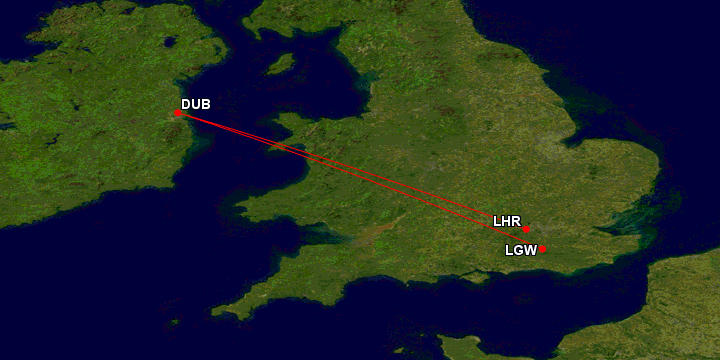 Well it seems like I've well and truly caught the travelling bug this year. Before I'd even gone on my trips to Frankfurt and Brussels, I had booked the next one. This time the destination is Dublin. I'd wanted to go for years and now seemed like a good time as any to do it. I studied the options. Ryanair - cheapest, but not appealing. Flybe - reasonable cost and if I could get on the Q400 it would be another new type. BMI - too expensive. And finally Aer Lingus - probably the best value, best times, lounge access and the opportunity to gain a few One World miles. Only downside was that it would be on the standard A32x series. For the first time of the 3 trips done this year, the prices with Aer Lingus stayed static from one week to the next and the cost of the flights were a reasonable £68 return. I found the cheapest option was to fly from LGW and back into LHR. As I'd manage to get the flights so cheap, I decided to add prebooked seats and lounge access at DUB. Next up was to search for somewhere to stay for the night once I got to Dublin. I browsed the usual sites and saw that the Jury's Inn at Custom house had a special offer on, so I booked to stay there. I also thought that I would try out the no1 lounge at LGW.
I had two options to get me to Gatwick. The first, and slightly cheaper, was to catch a train via Guildford then make my way through the countryside. The second was to change at Clapham Junction. As I'd taken the journey through Guildford on my previous trip a couple of weeks ago, I decided to take in some different scenery this time round and went via Clapham Junction, the UK's busiest train station.
I set off early as I wanted to spend a bit of time in the lounge at LGW. The last time I was in one was back in 2004 at the VS clubhouse at LHR. I've not had the privilege since I had to start paying for my own flights!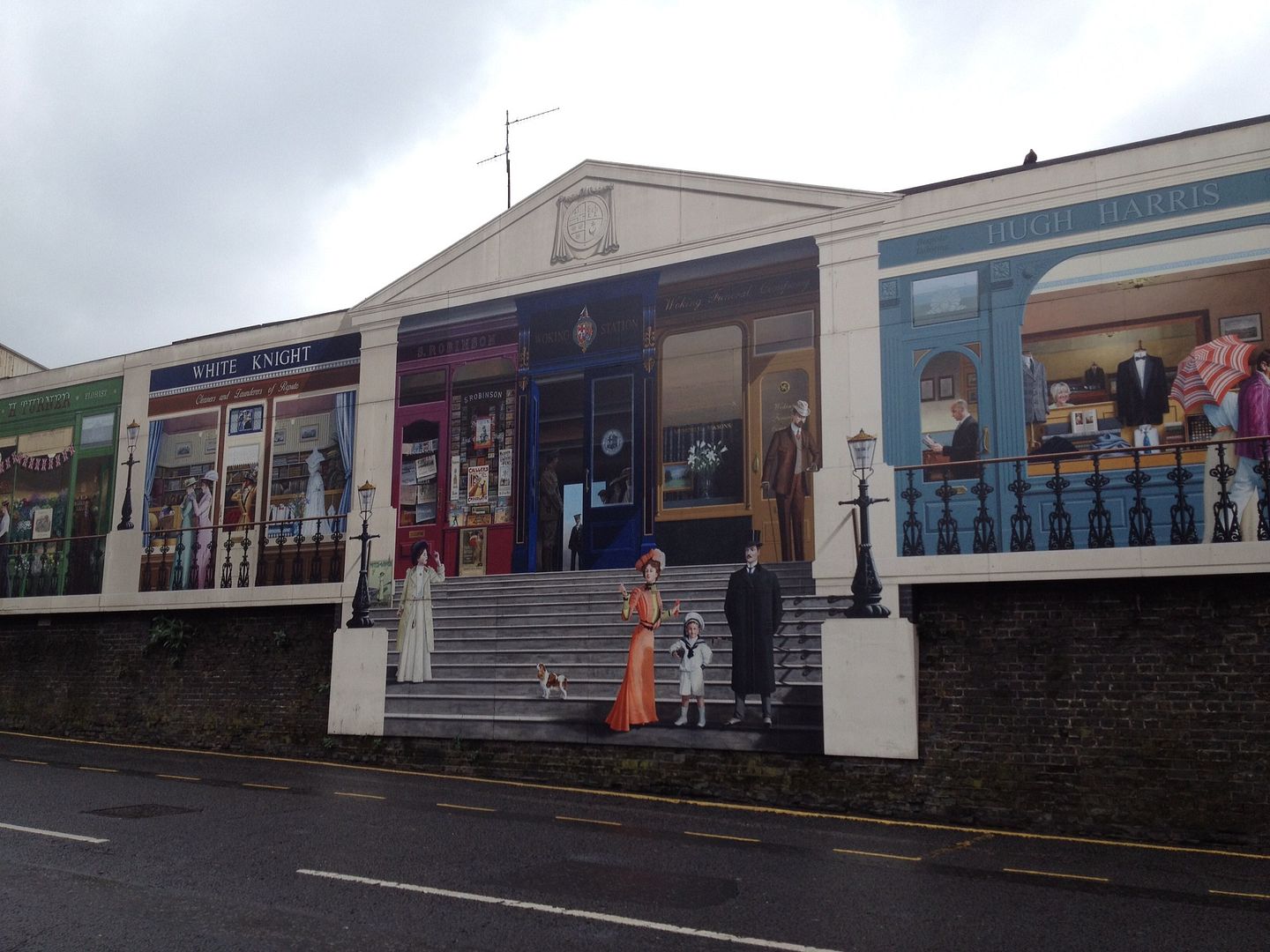 Mural on the side of the local station
I arrived at the station about 5 minutes before the train was due to arrive - just right in my estimation! We departed on time at 09:17 for Clapham Junction. The train was busier than I thought, but still managed to get a seat for the 25 minute or so journey.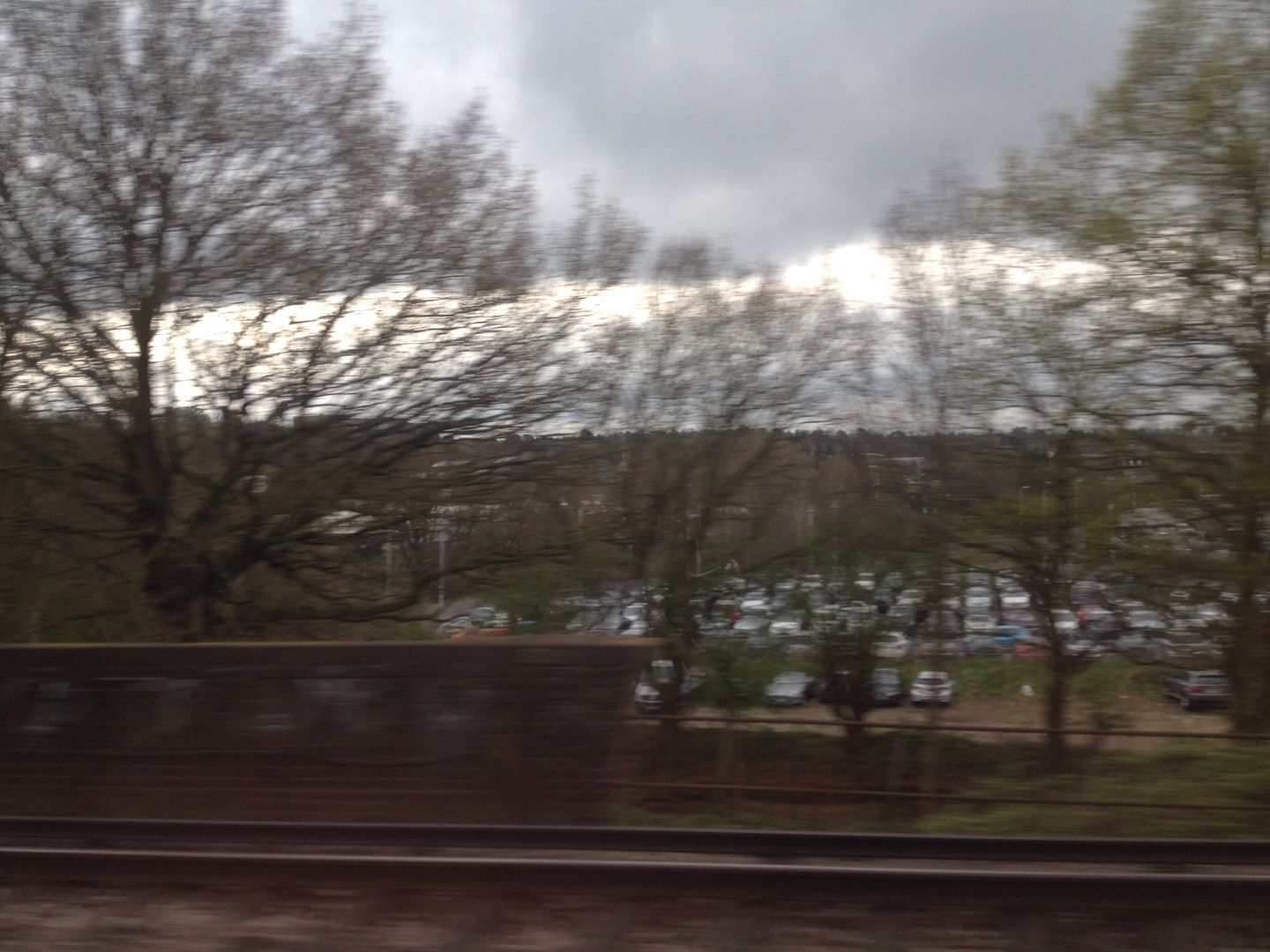 It was Brooklands in there, honest!
The train arrived at a busy Clapham Junction a bit earlier than expected.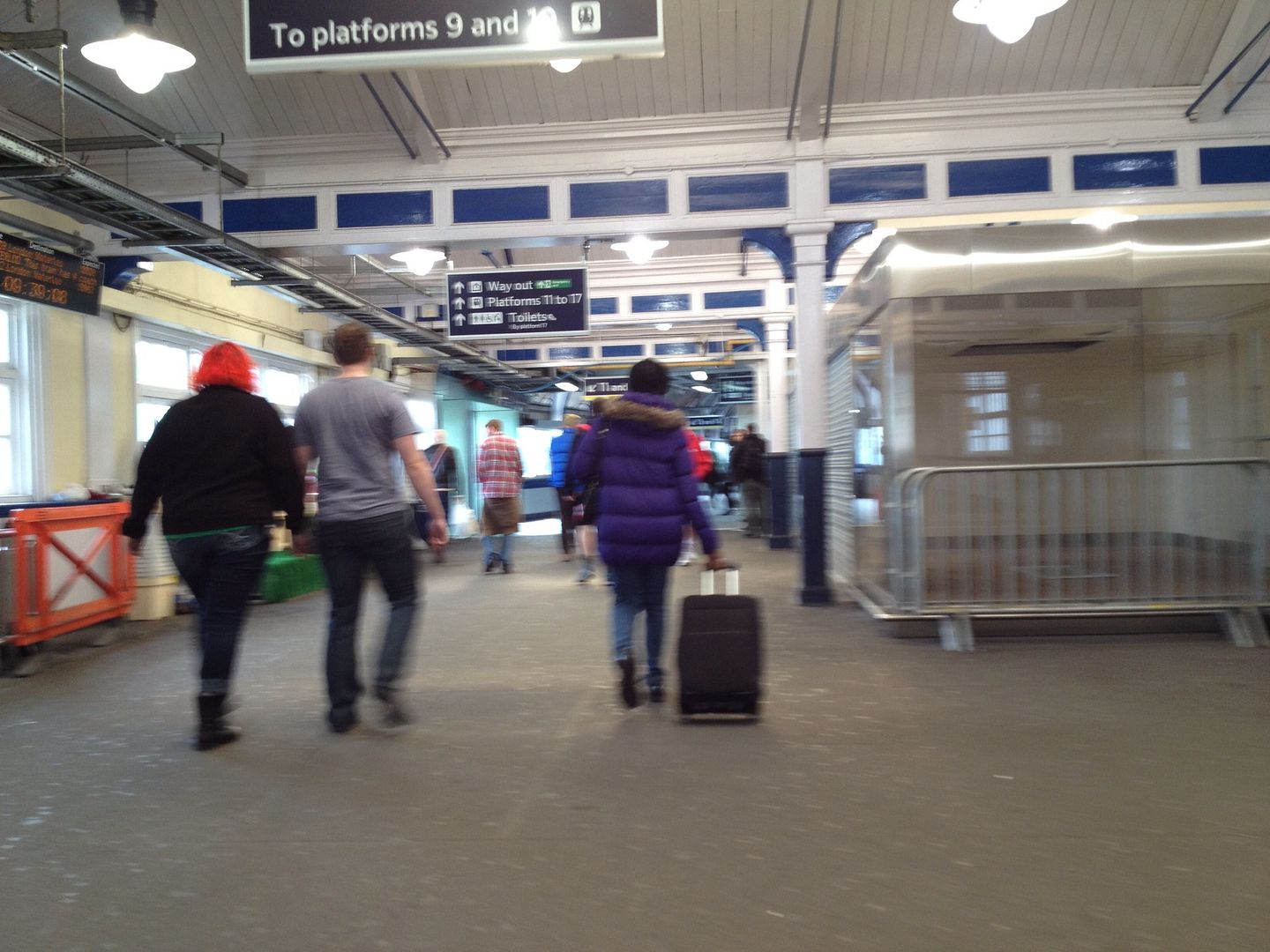 I made my way over to platform 13 for a 20 minute wait for my train to Gatwick. Whilst I was waiting, I saw a photo opportunity: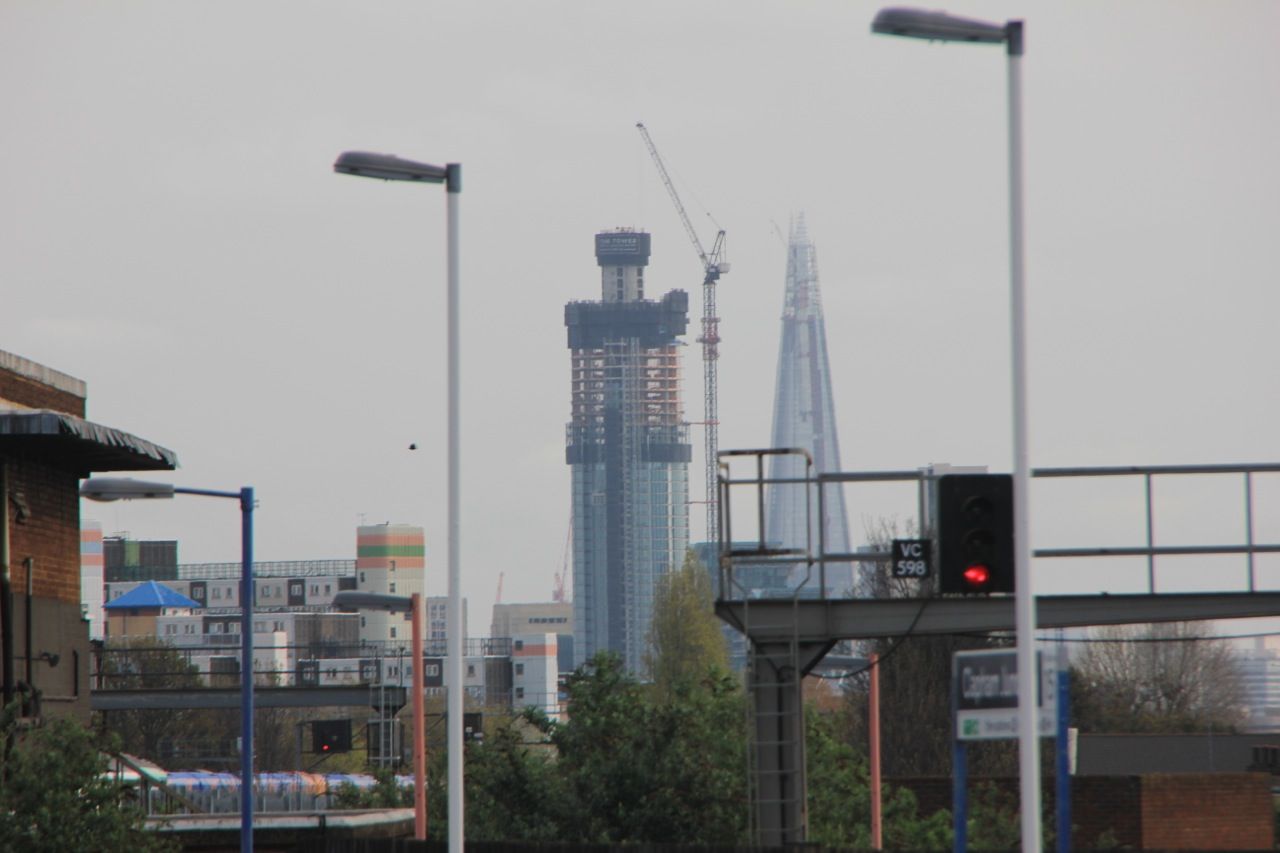 The Shard – now topped out.
Before long my train had pulled up and I was off on the relatively short journey down to Gatwick.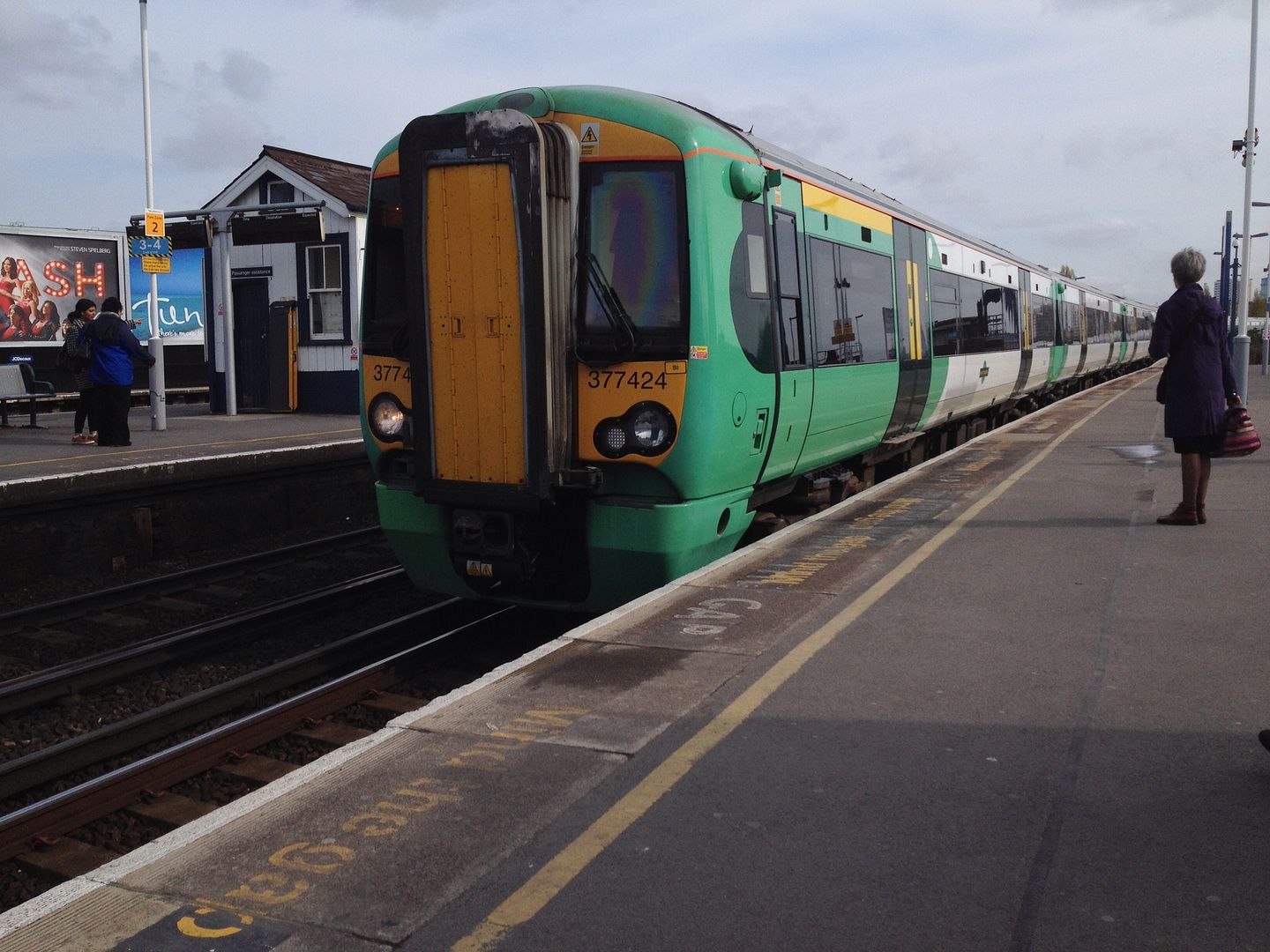 Not long later I had arrived at LGW and headed off to get my boarding pass. EI didn't offer any self serve check in machines (or none that I could see anyway) so I actually had to do it the old fashioned way! This wasn't a problem though as there was no queue whatsoever.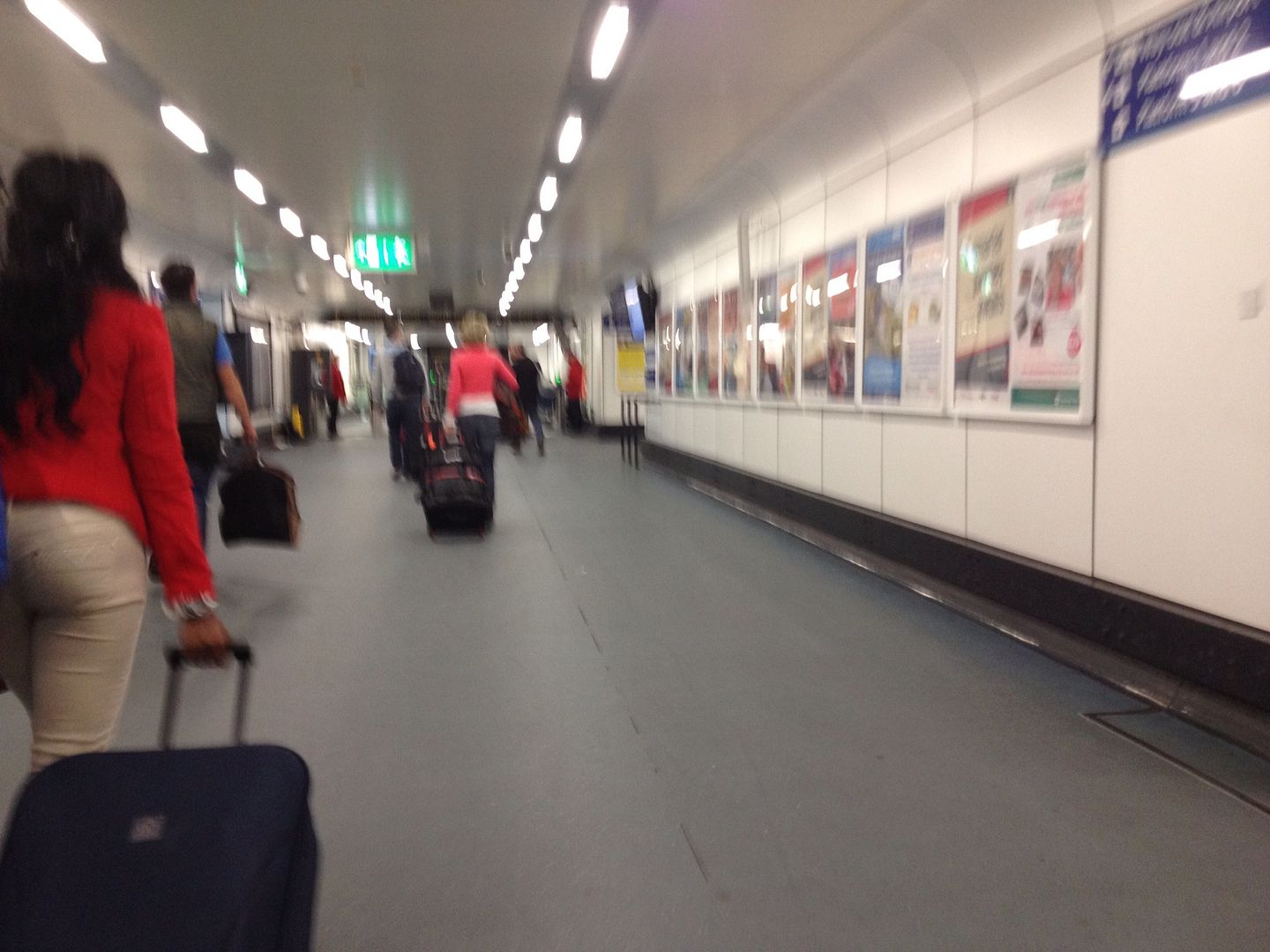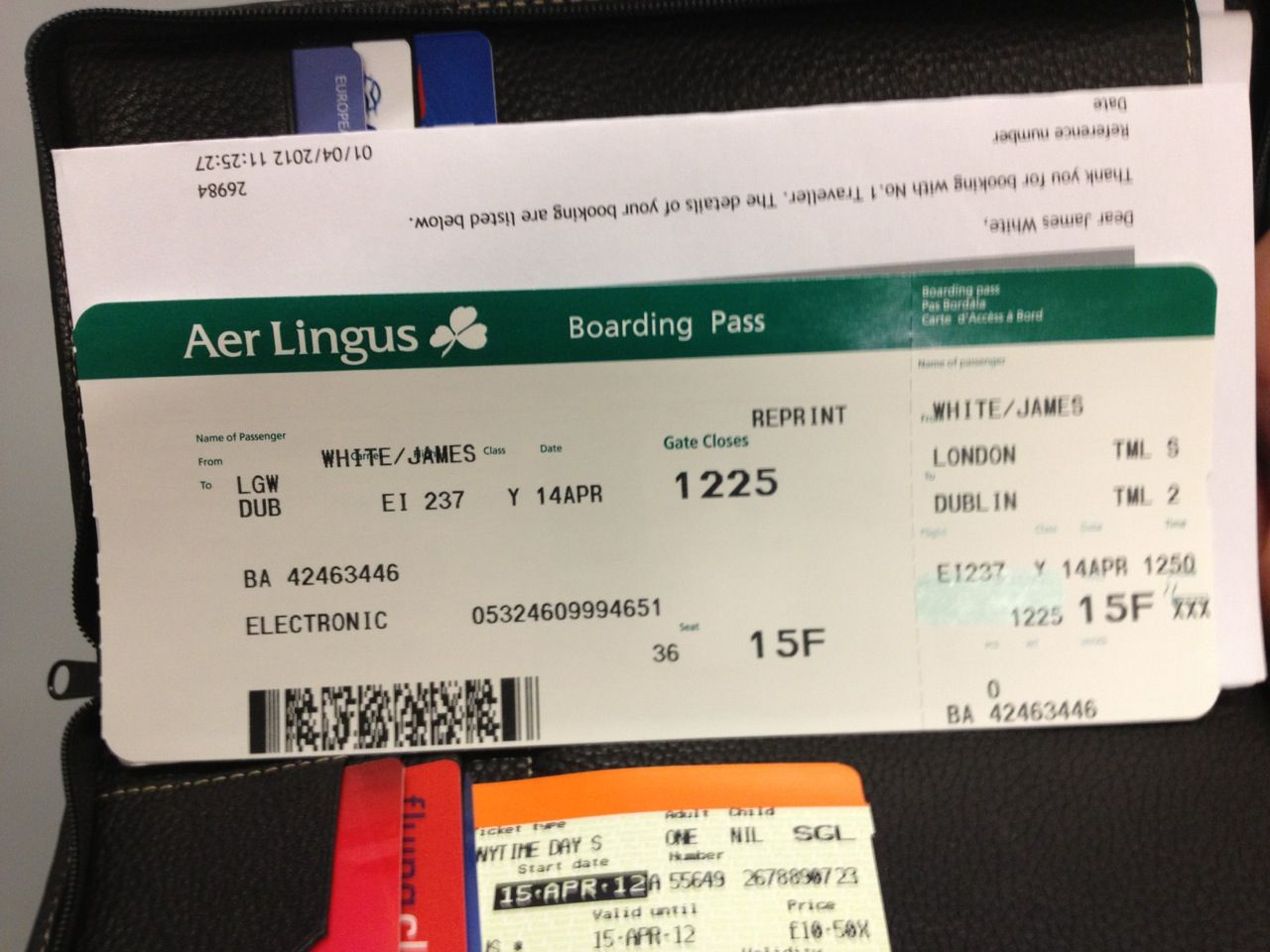 Security was pretty painless as usual... Well it was for me anyway.
I then headed over to the no1 lounge I had booked. The staff were friendly enough, but I felt that maybe £20 was a bit much. Although I guess that's the going rate these days and it was somewhere different to sit, with a good view. Didn't take too many pics of the lounge itself as it was a bit crowded. And not as big as I had thought. I didn't think much of the food table either, although that might have been due to the fact I was there during the switchover from breakfast to lunch. I spent the rest of my time watching what was going on outside. Lunch service was a little better but nothing spectacular.
A few shots of the lounge: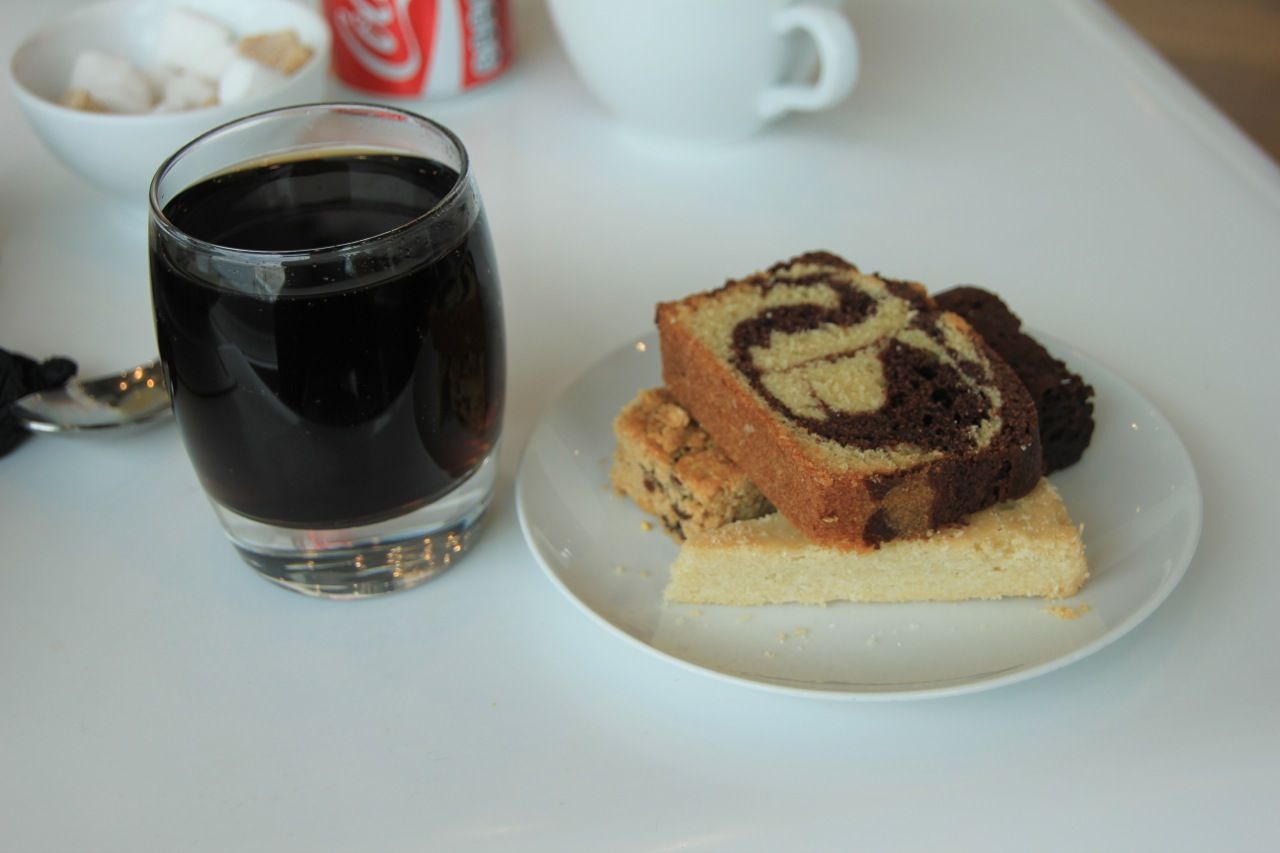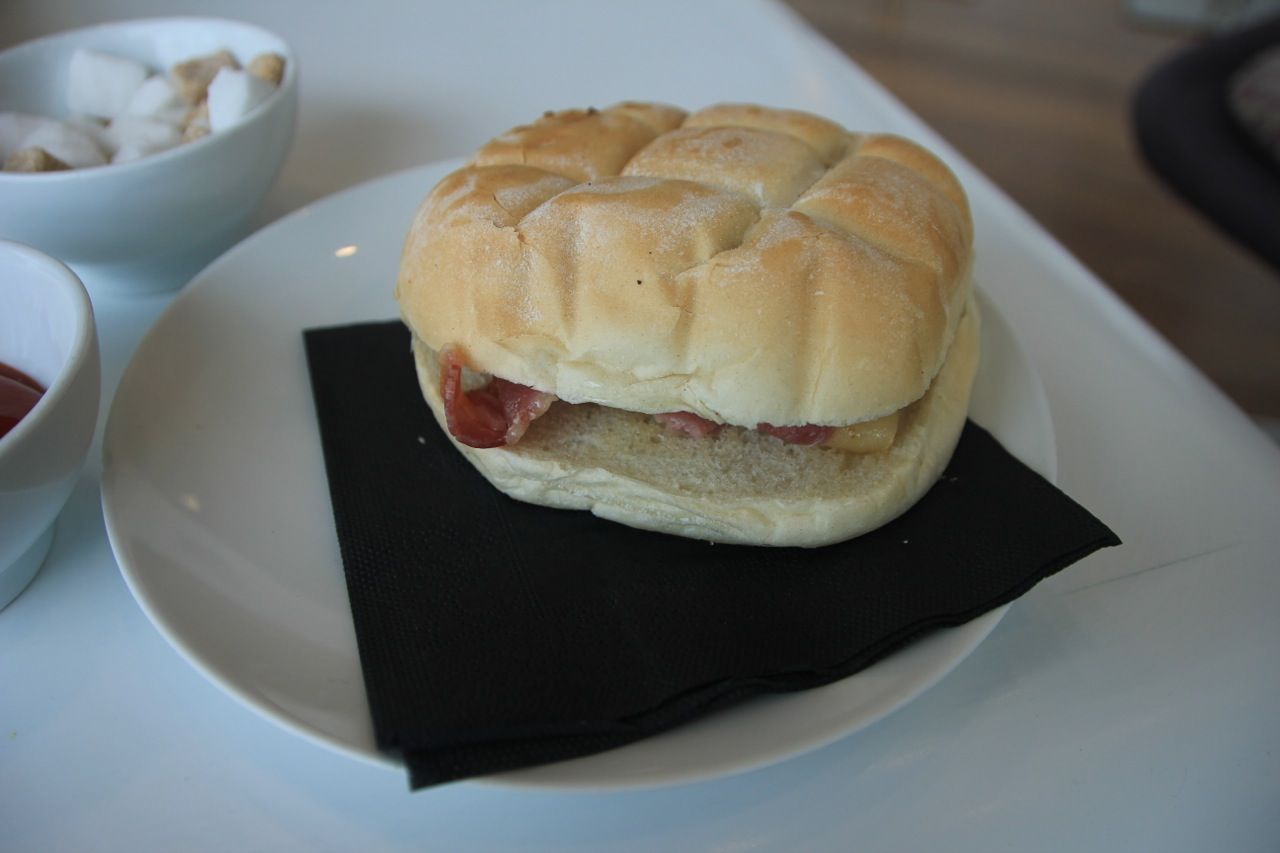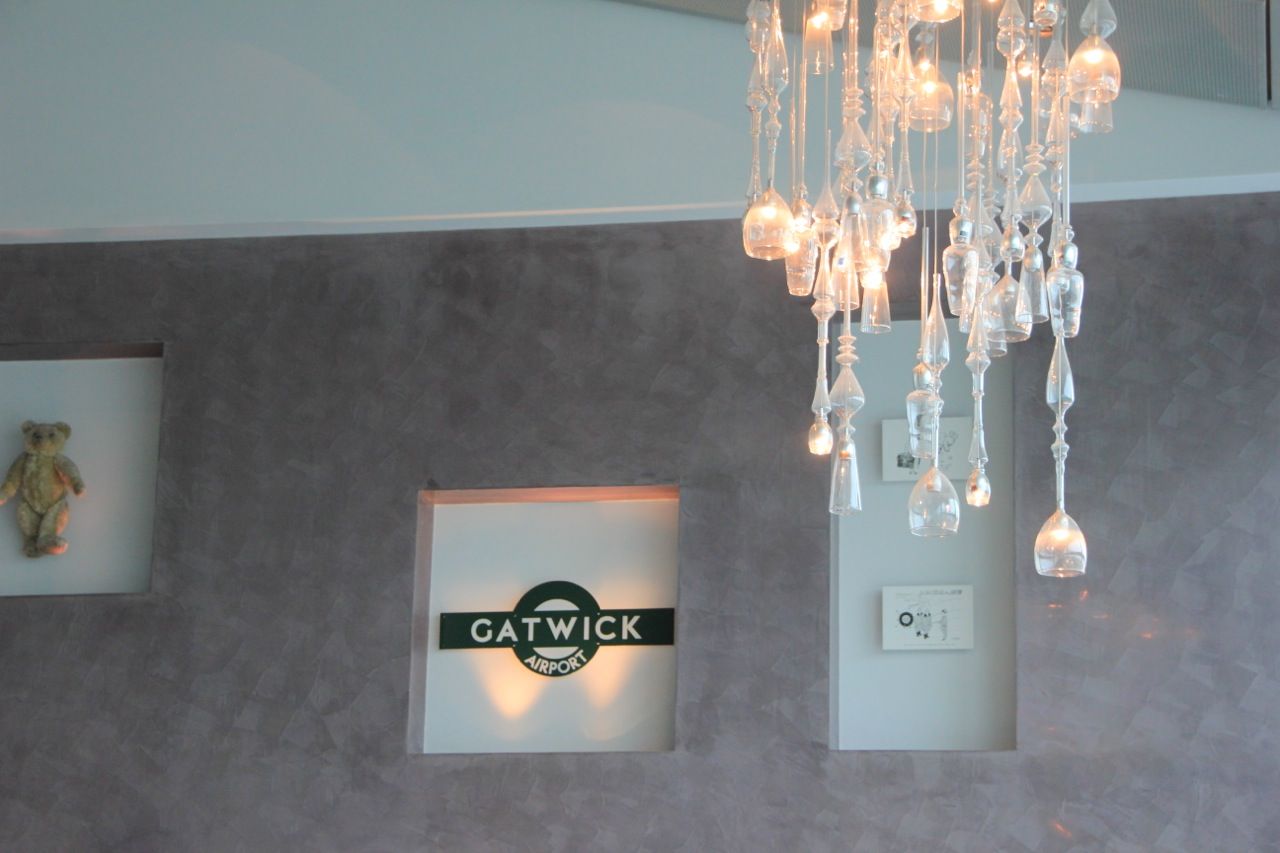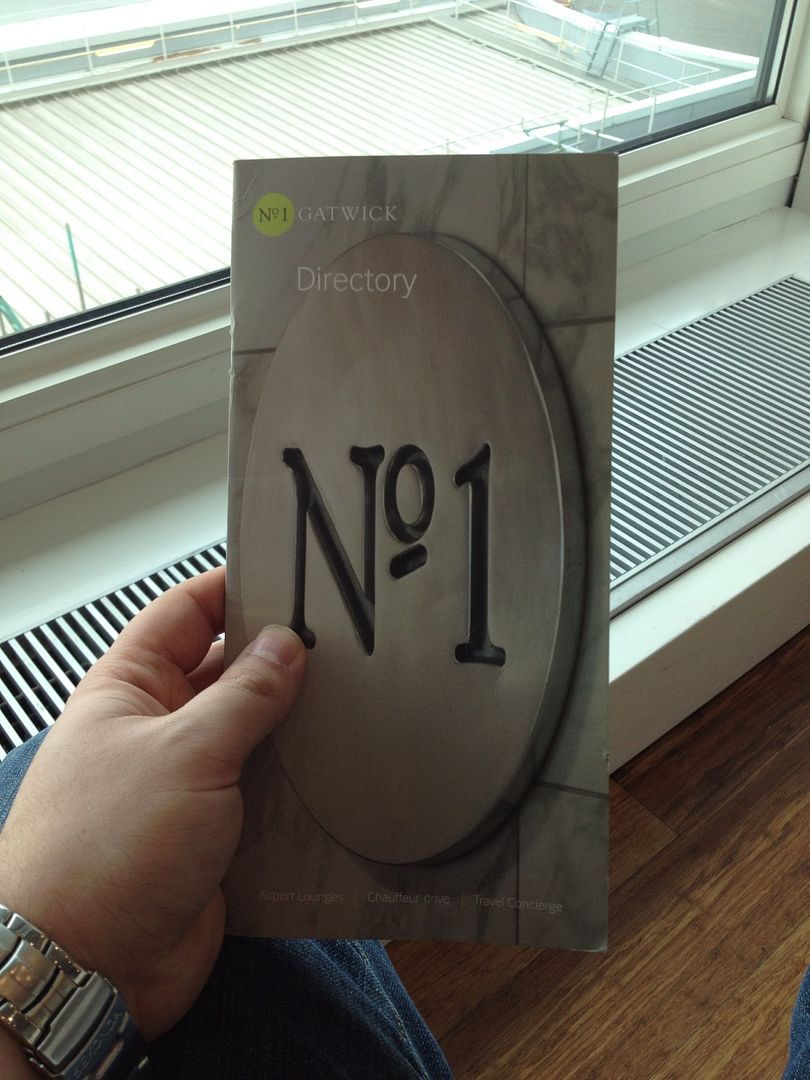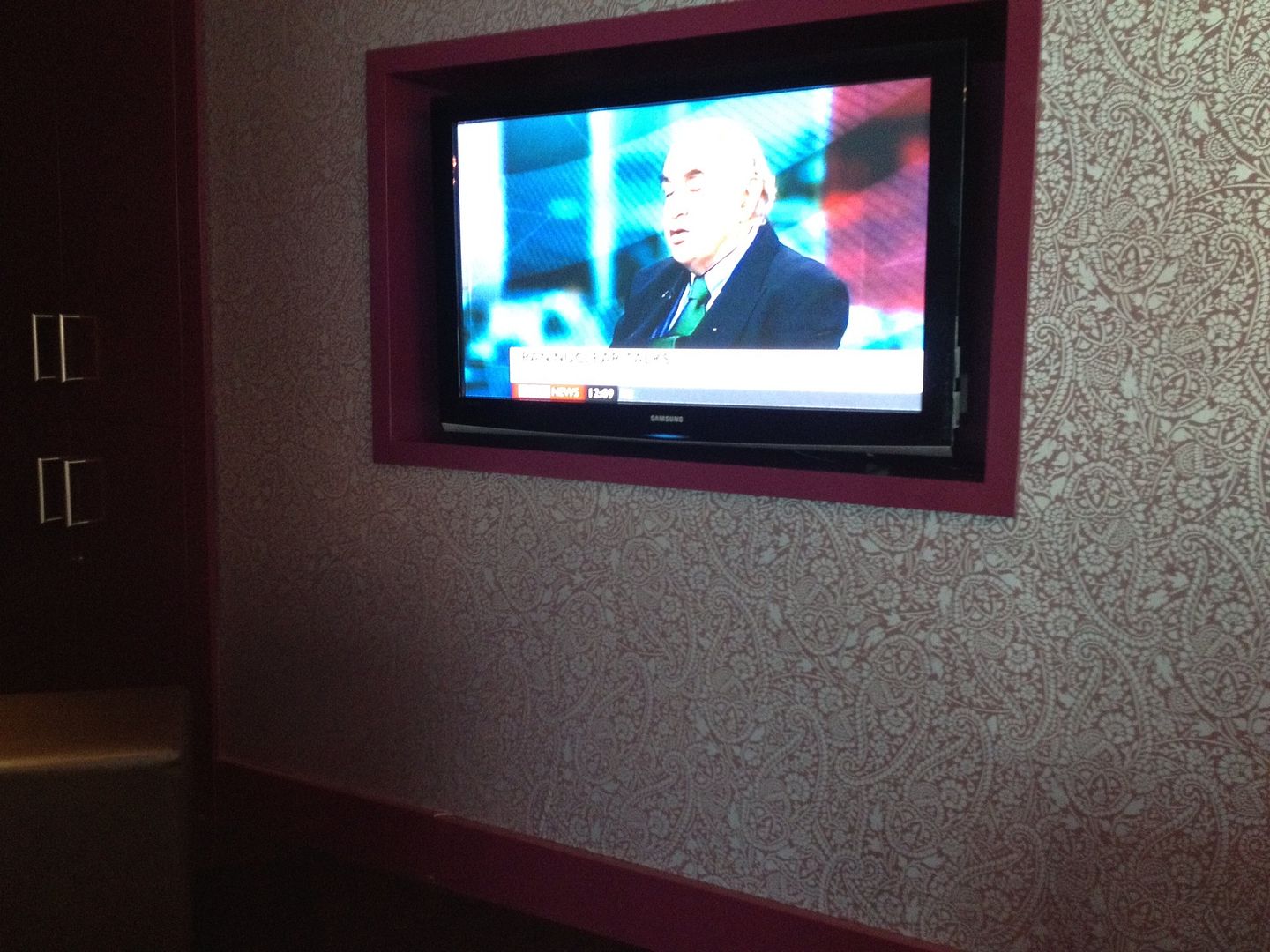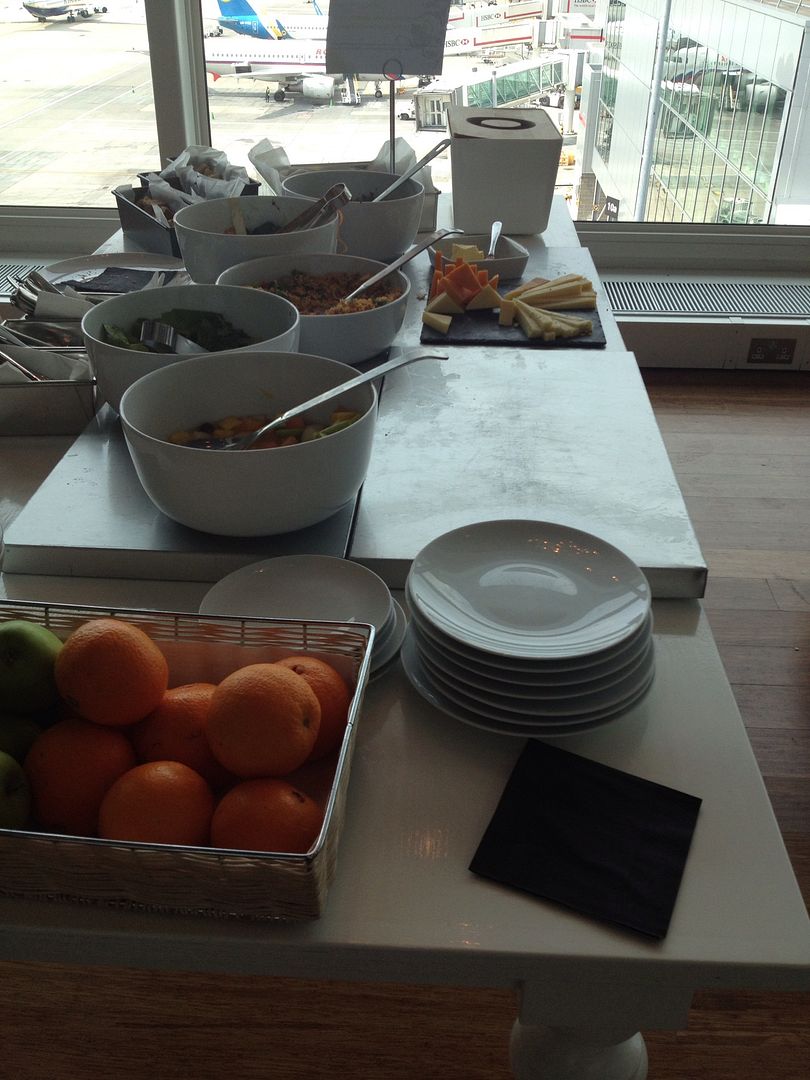 And the views outside: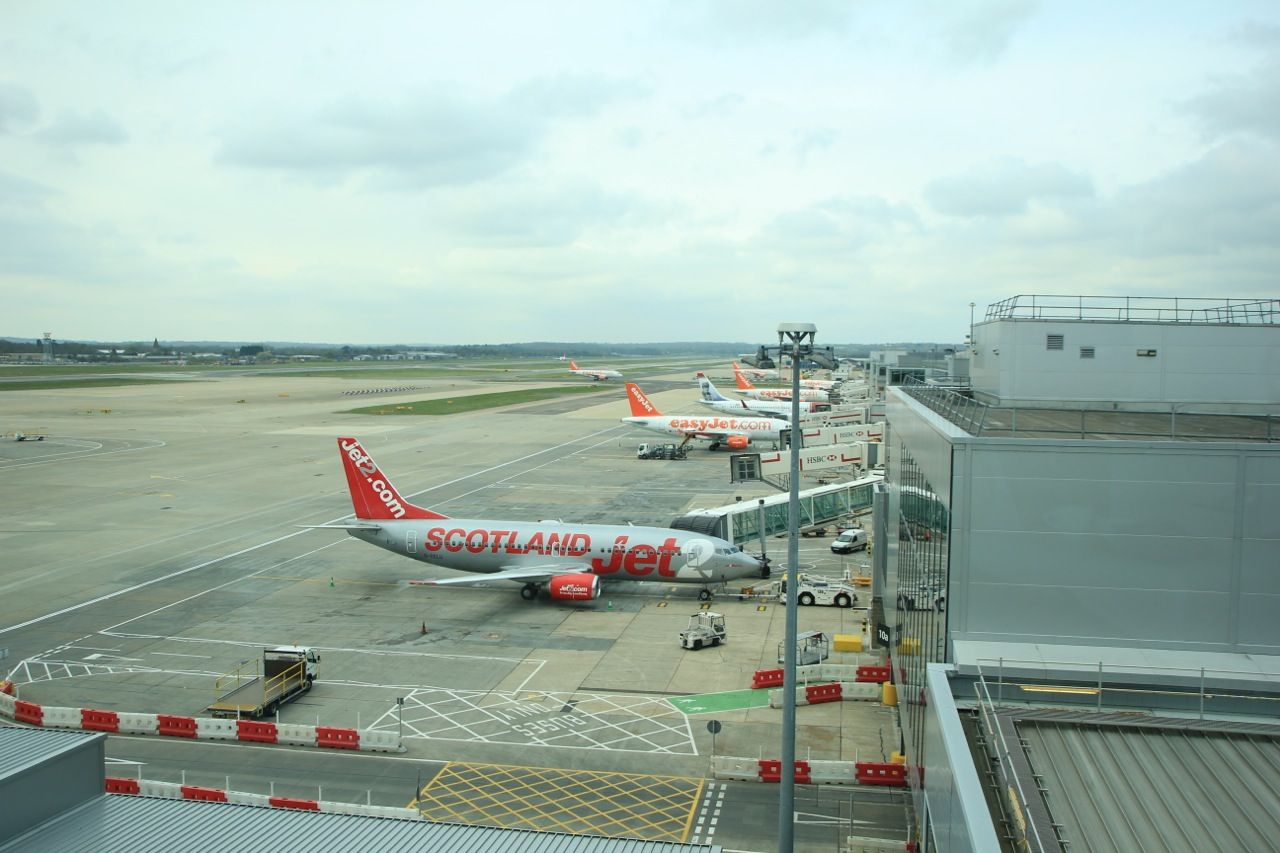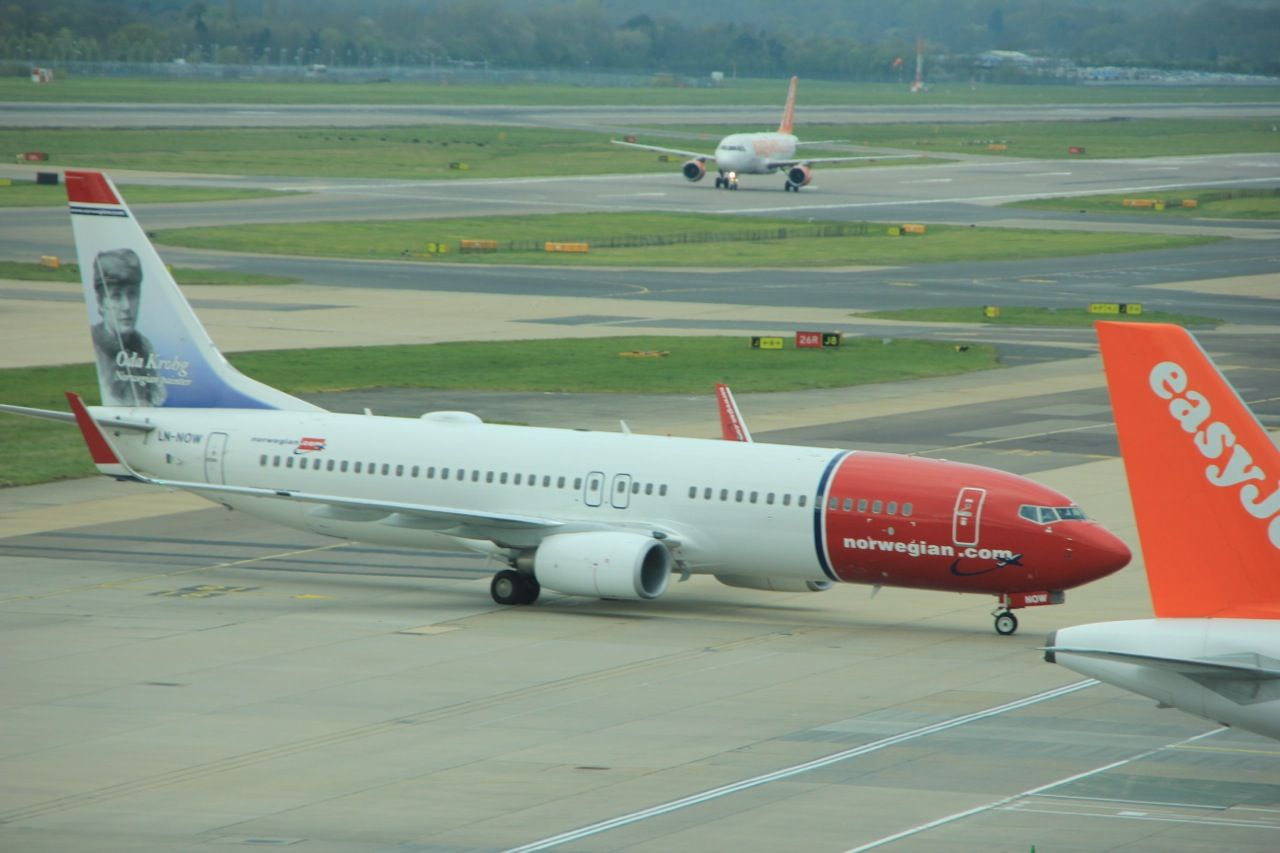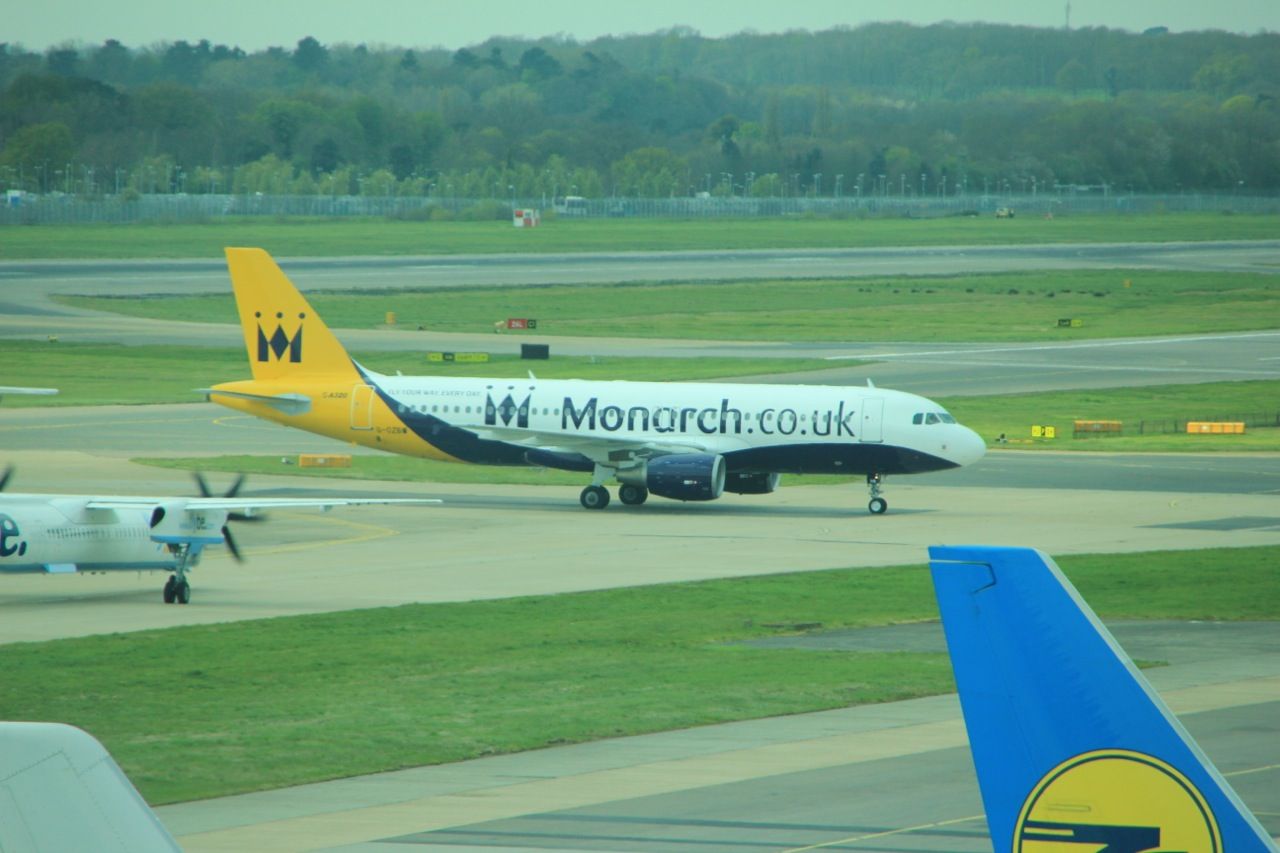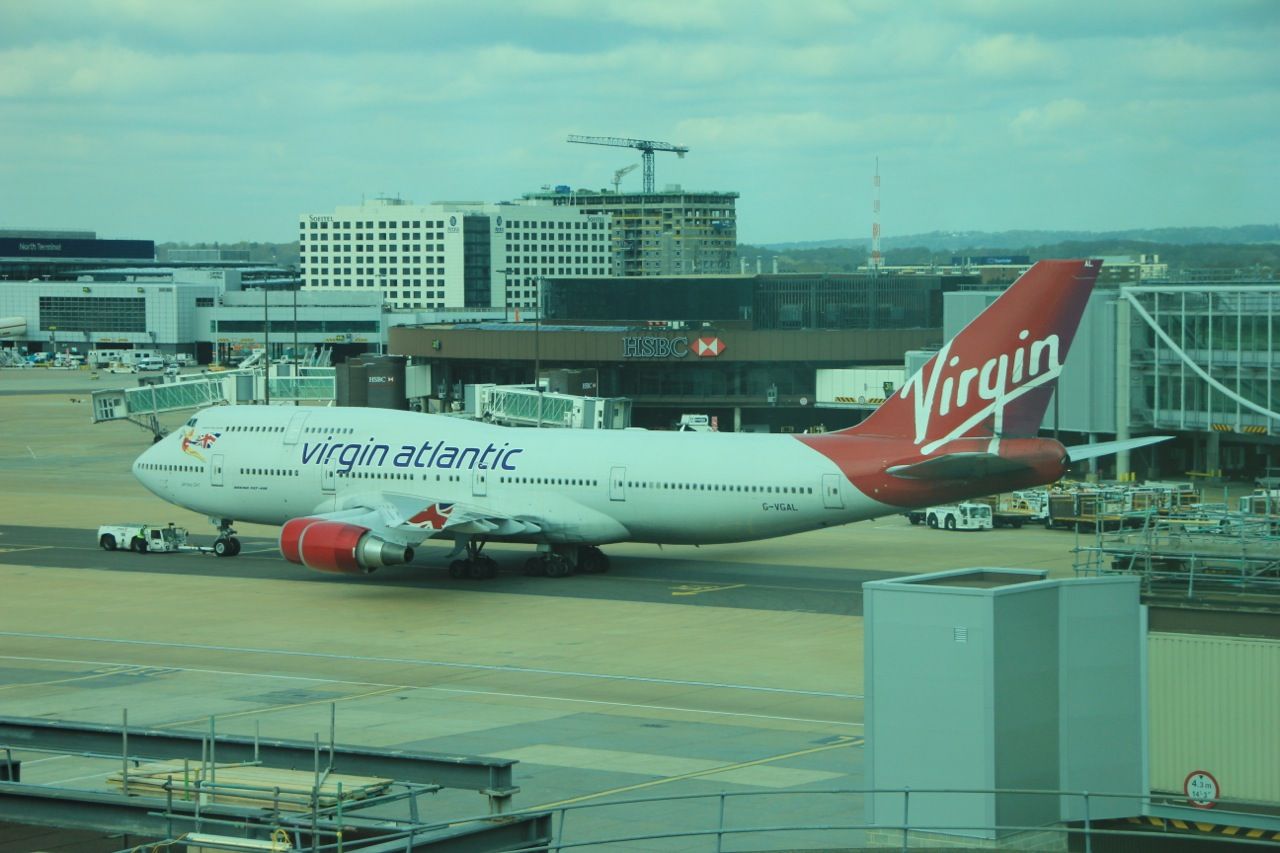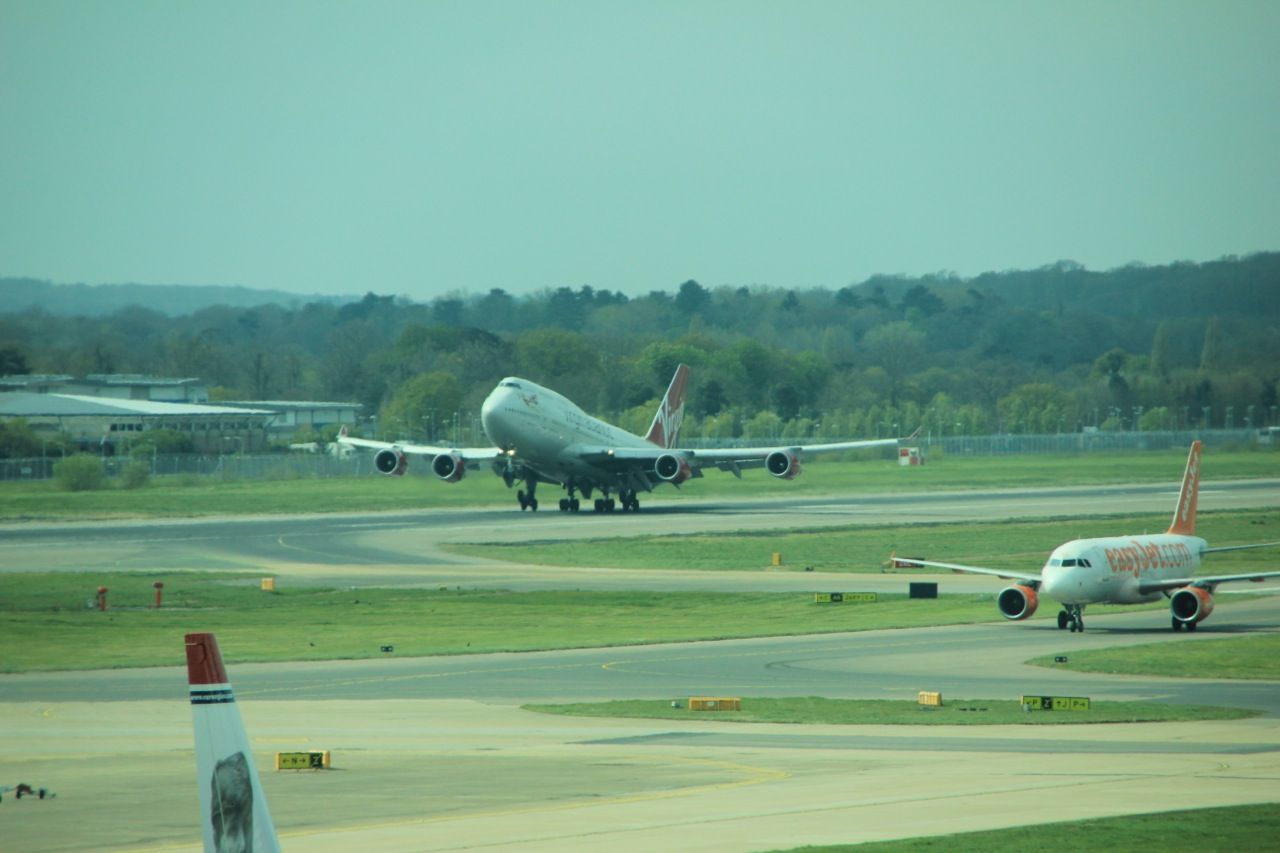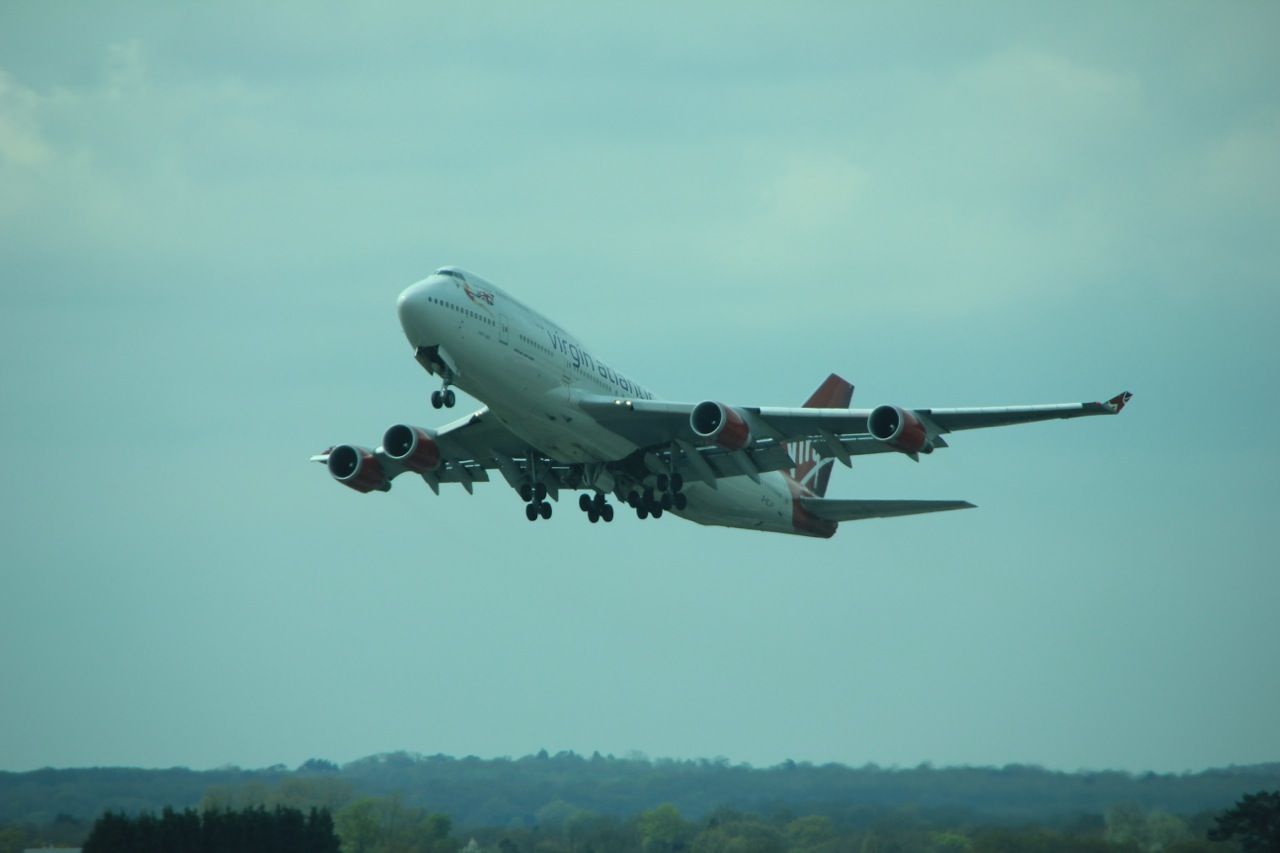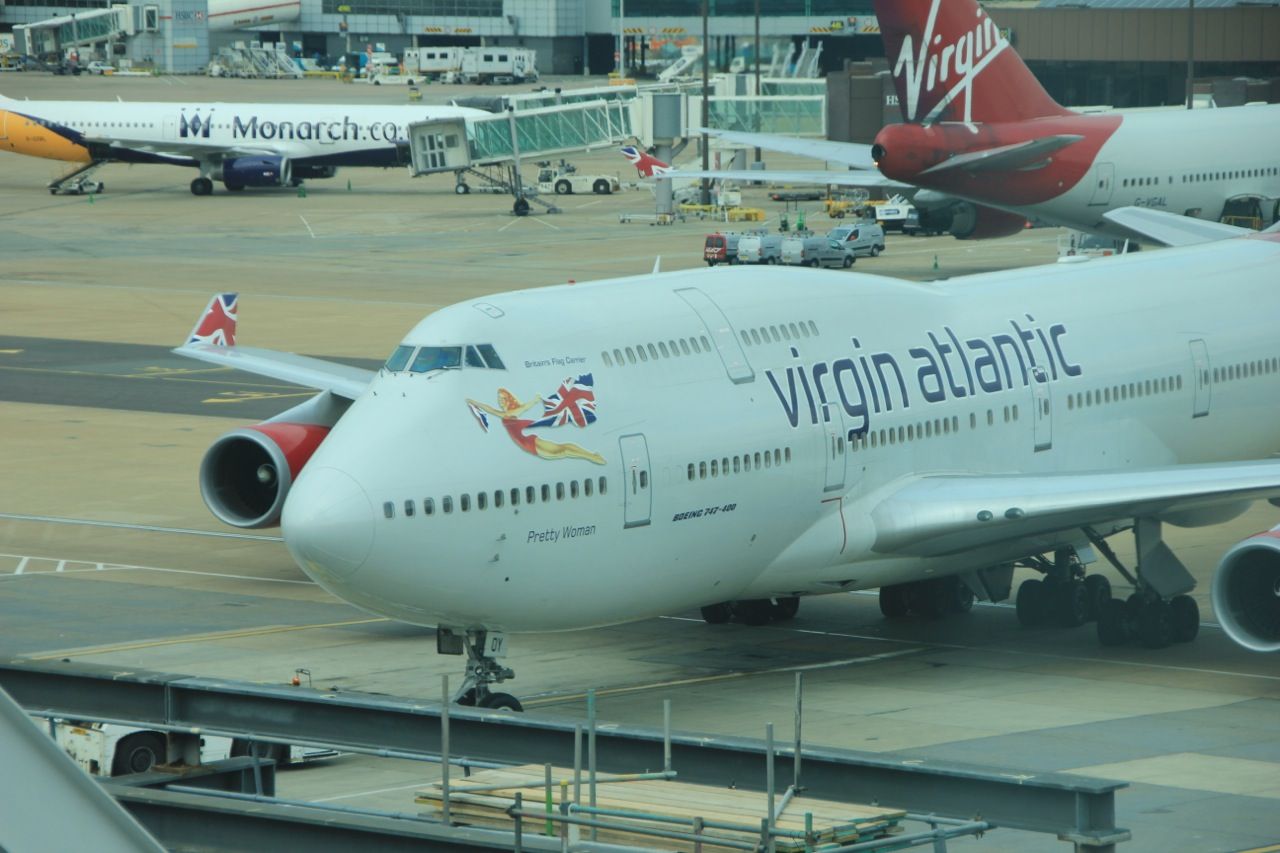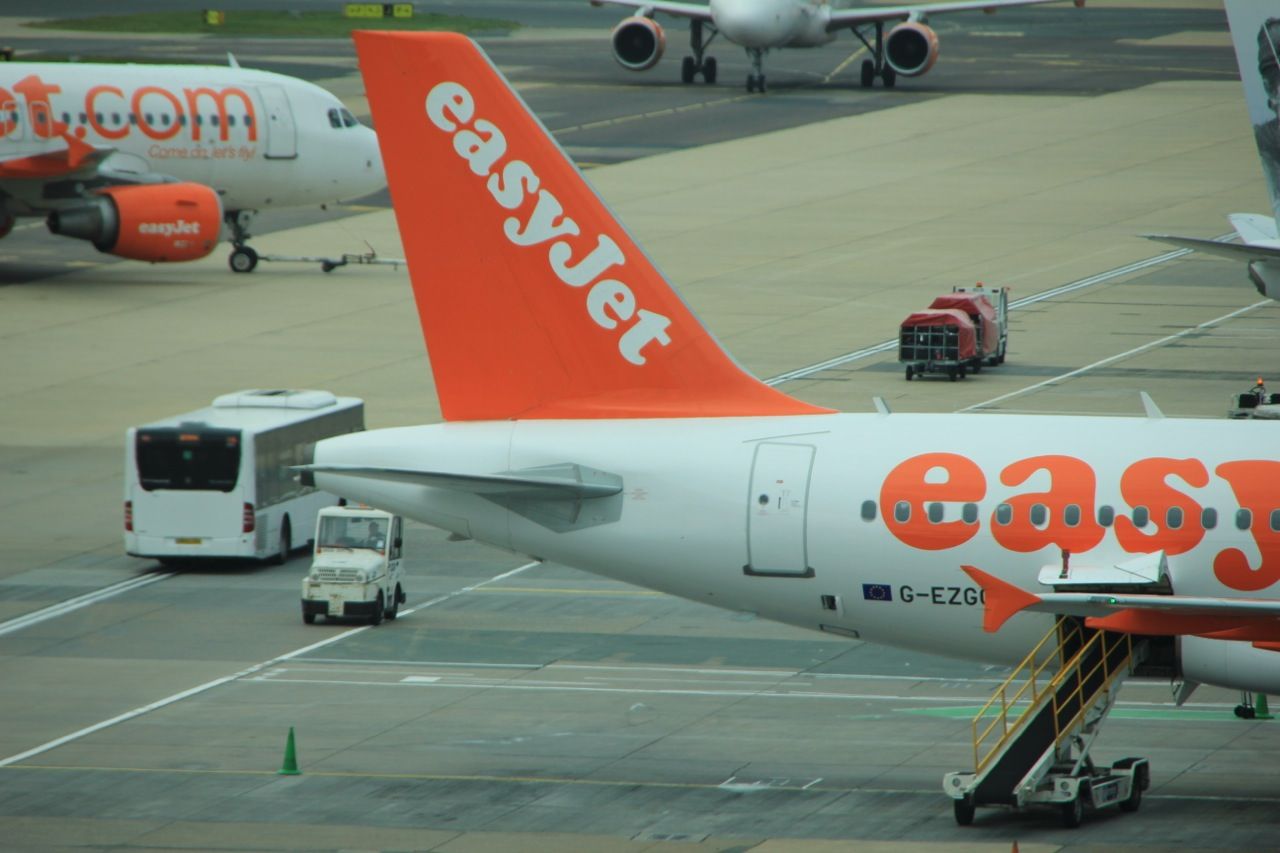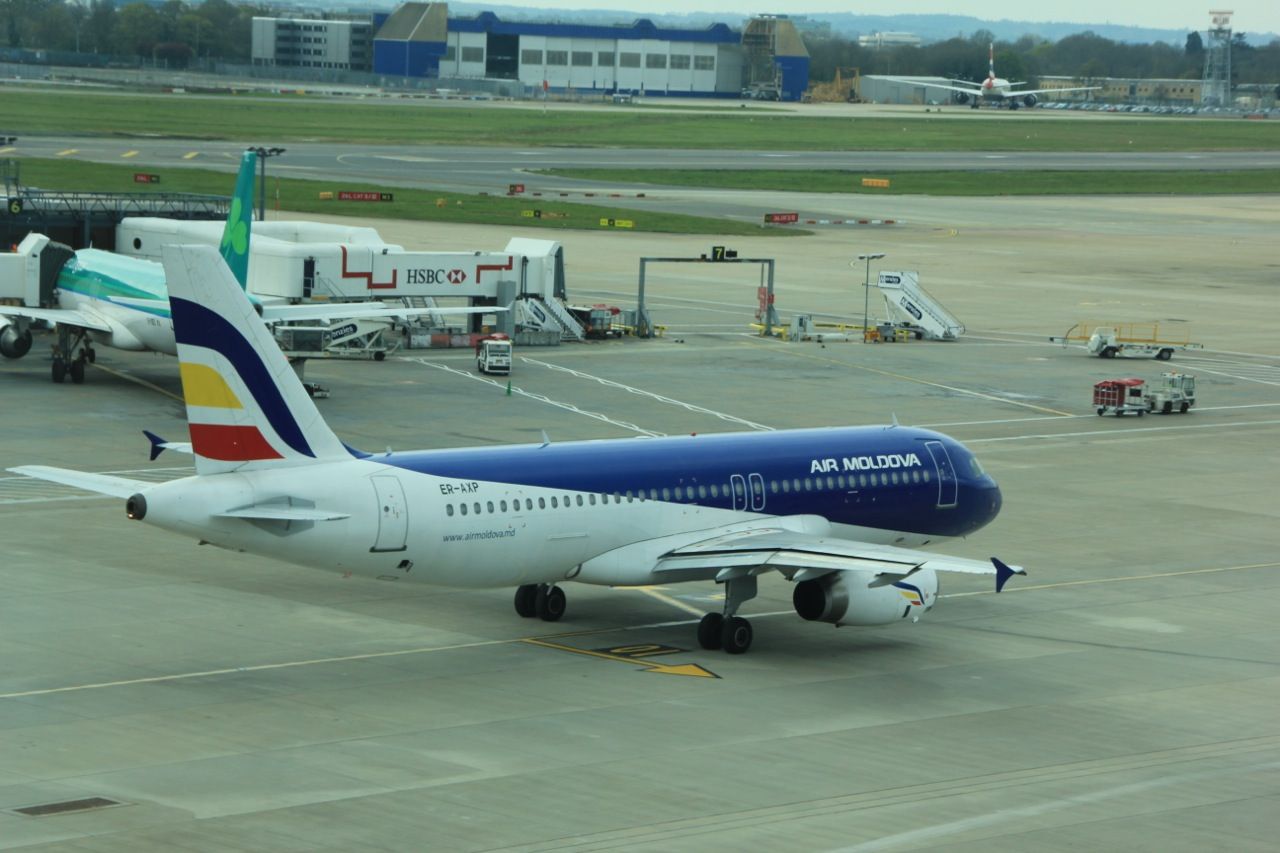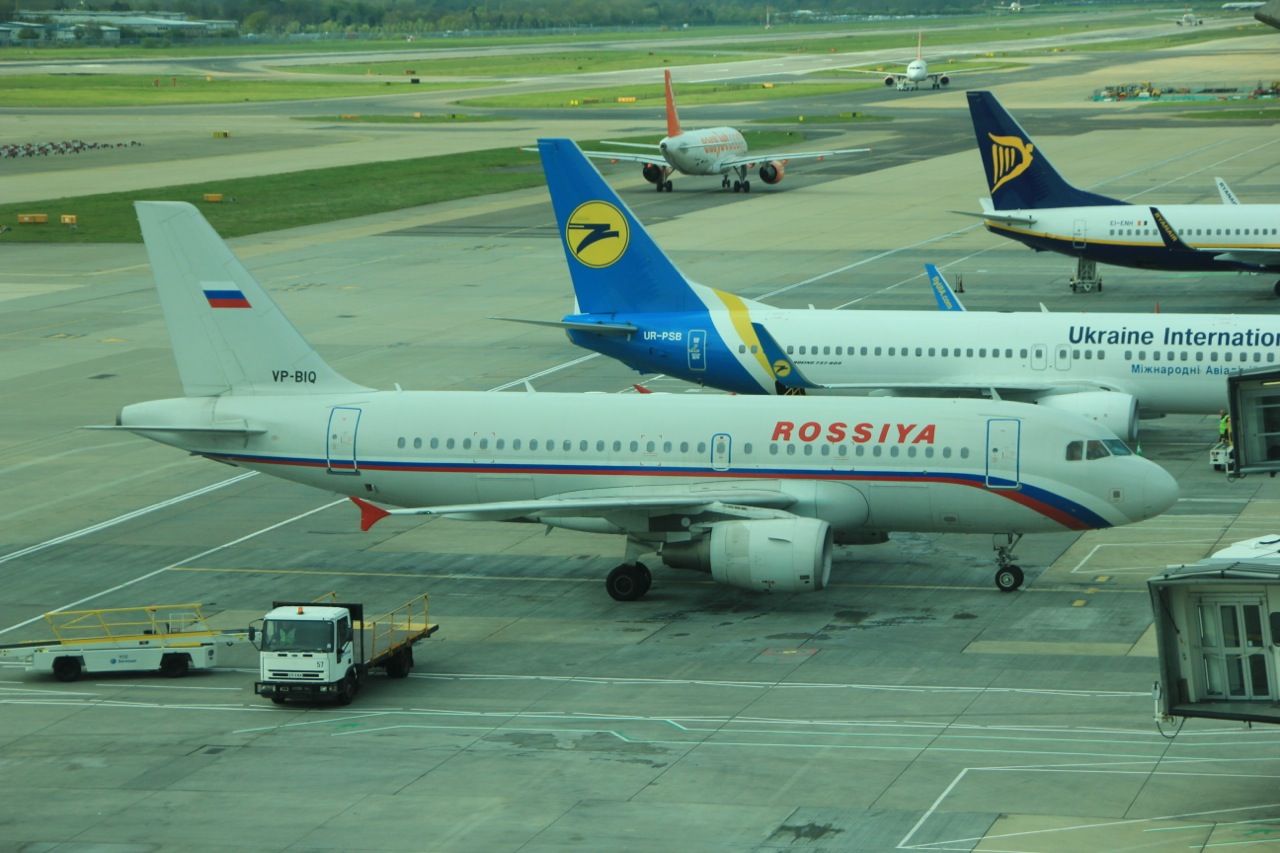 I waited in the lounge until boarding was called. I thought that the flight would depart from gate 6 as that was the only EI aircraft in sight, but I was wrong. At 12:15 gate 14 flashed up. I made my way down to the gate, and came to the conclusion that the flight would probably be full.
EI237
Off stand 13:21
On Stand 14:38
Reg EI-DEJ A320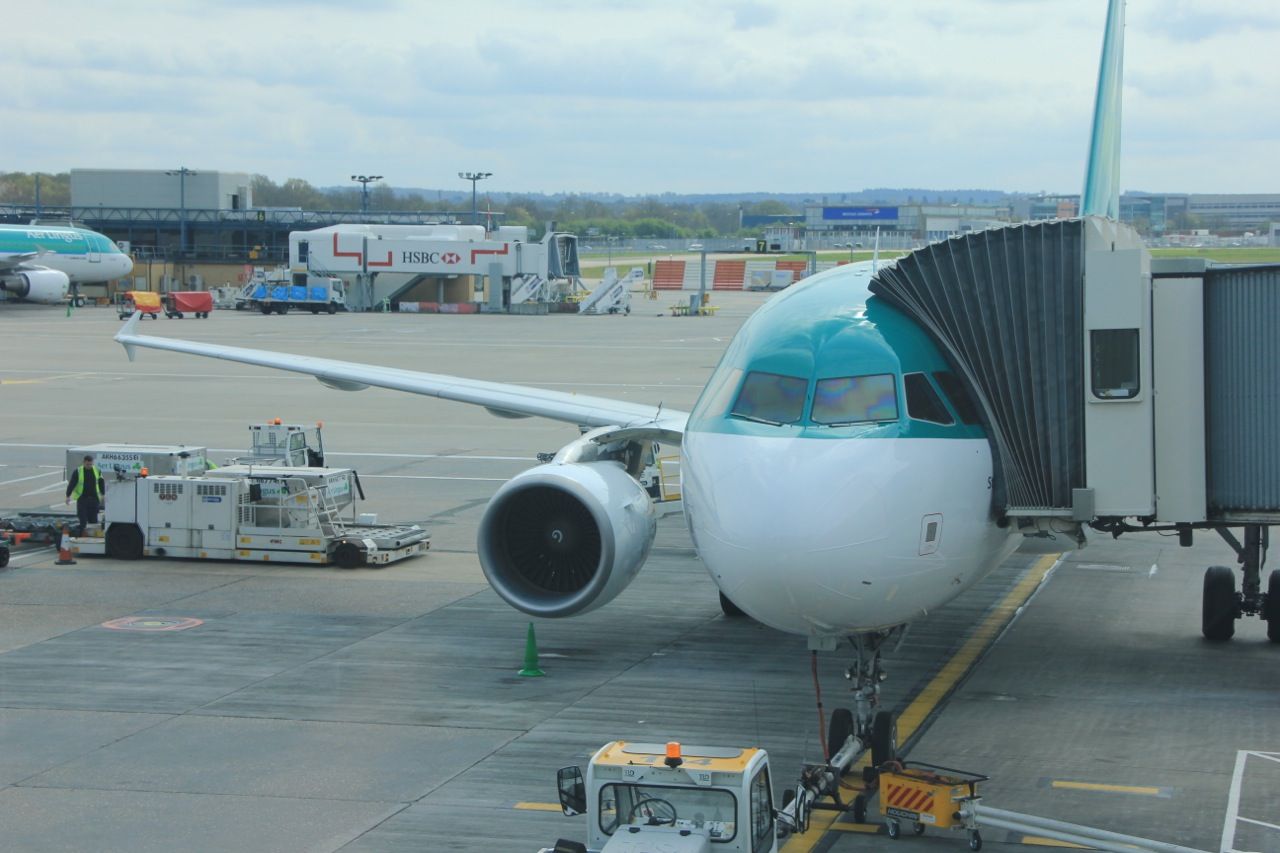 Boarding was called at 12:48. Although the announcement clearly stated that it was preboarding only and as thus, only for people who needed assistance, it became obvious that everybody needed some sort of assistance with boarding therefore I ended up at the back of a longish queue: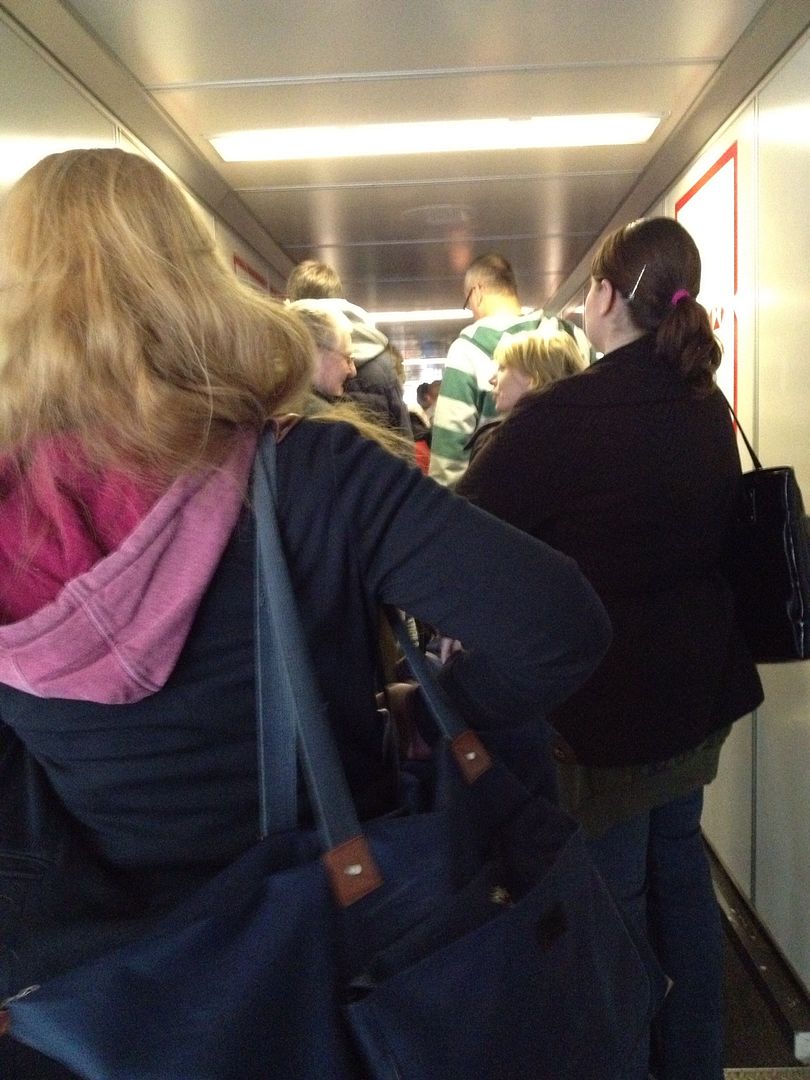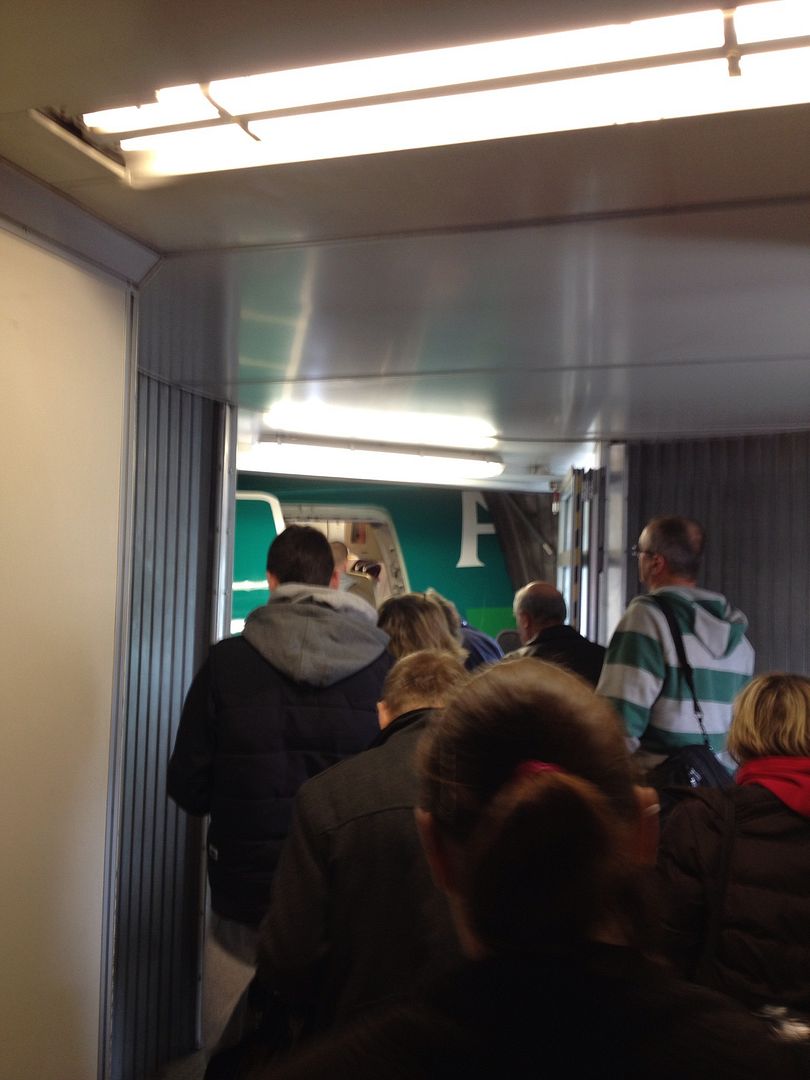 Nearly there
We had a scheduled departure time of 12:50, so it was pretty obvious we wouldn't be away on time. Not that this really bothered me. Once on board, I settled in and took a few of the obligatory shots.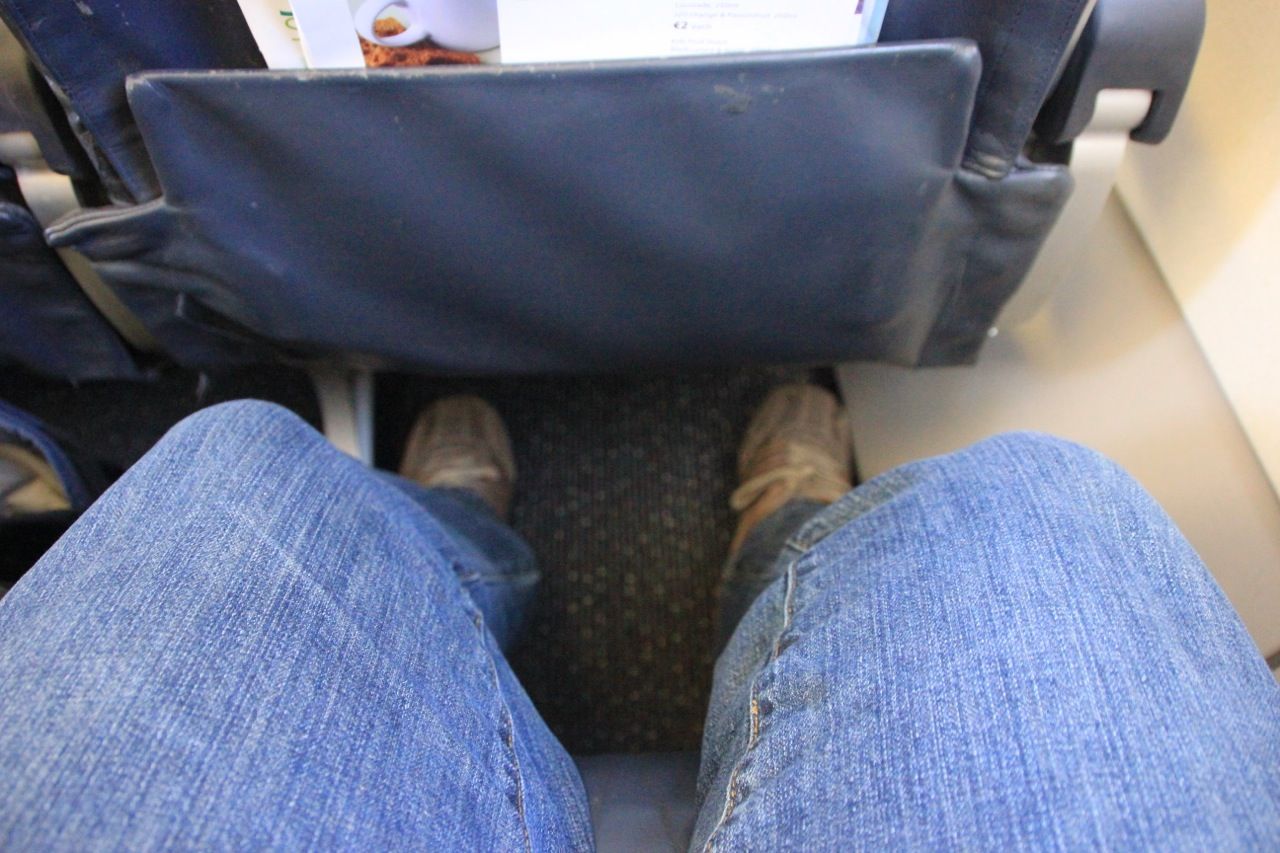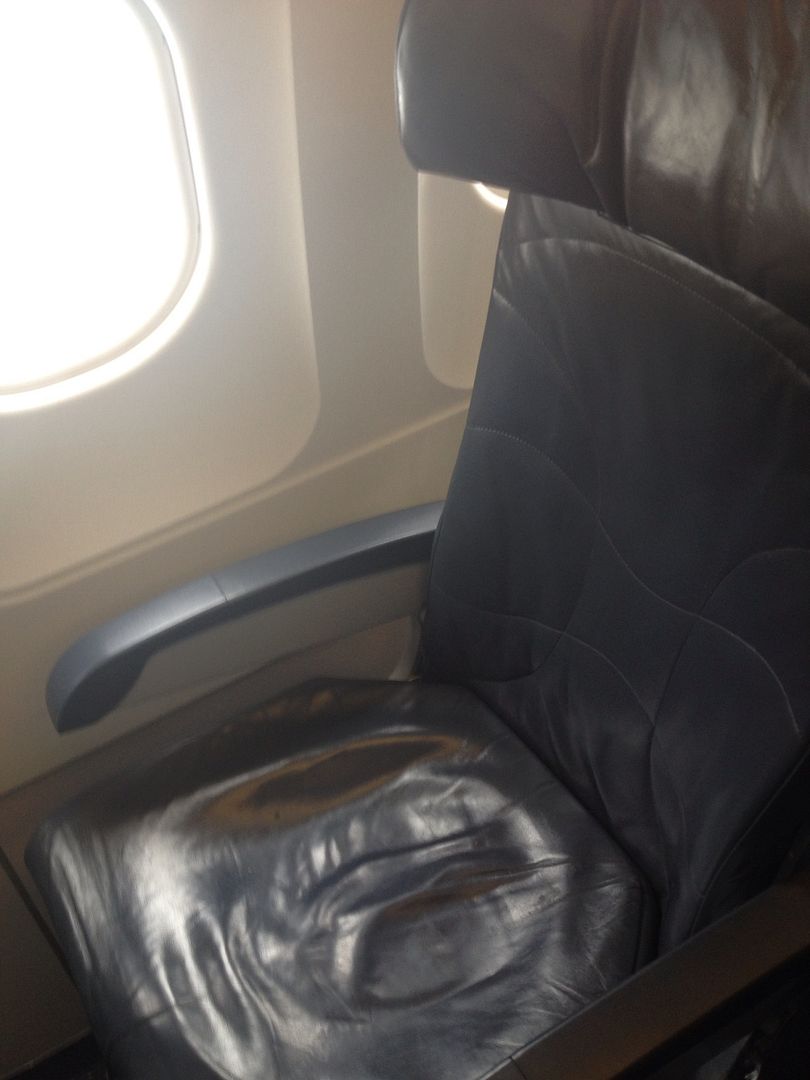 Hmmmm shall I?
Shortly after boarding, the captain came over the PA and announced a flight time of 55 minutes. He also said that there would be a slight delay due to one of the rear doors not closing properly, and having to call an engineer out. Luckily, it wasn't like waiting for a washing machine engineer and we pushed back 31 minutes late at 13:21 local. Once again I had no seat mates, which was surprising as the flight was quite full.
On the way down to 08R, I spotted Virgins brand new A330: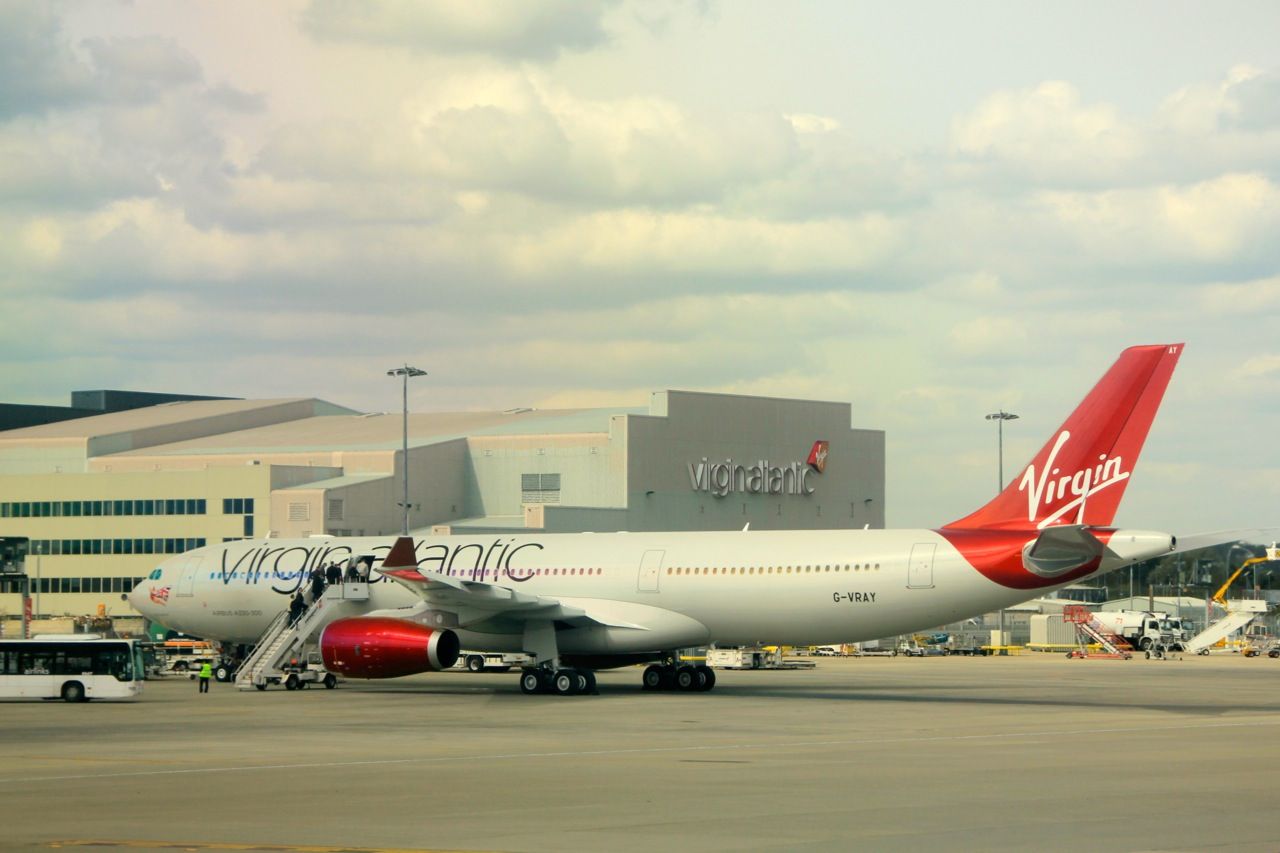 I was quite pleased with this, being a fan of VS since my first flight with them back in 1994. If everything goes to plan, I should be on this one (or another newly delivered A333) in September to JFK.
Back to today's flight though; once at the threshold of 08R, there was a bit of a queue. We waited for a while and then pushed our way to the front of said queue and we were off at 13:40.
http://youtu.be/AmUqXXF7xv4
The BOB service started around 10 mins after departure. Not for me though. They completely missed me out and went from the row behind to the row in front without asking if I wanted anything. I didn't, but that wasn't really the point. And as I didn't want anything, I didn't really feel like making a big deal out of it either. It was pretty cloudy most of the way, so not much to see.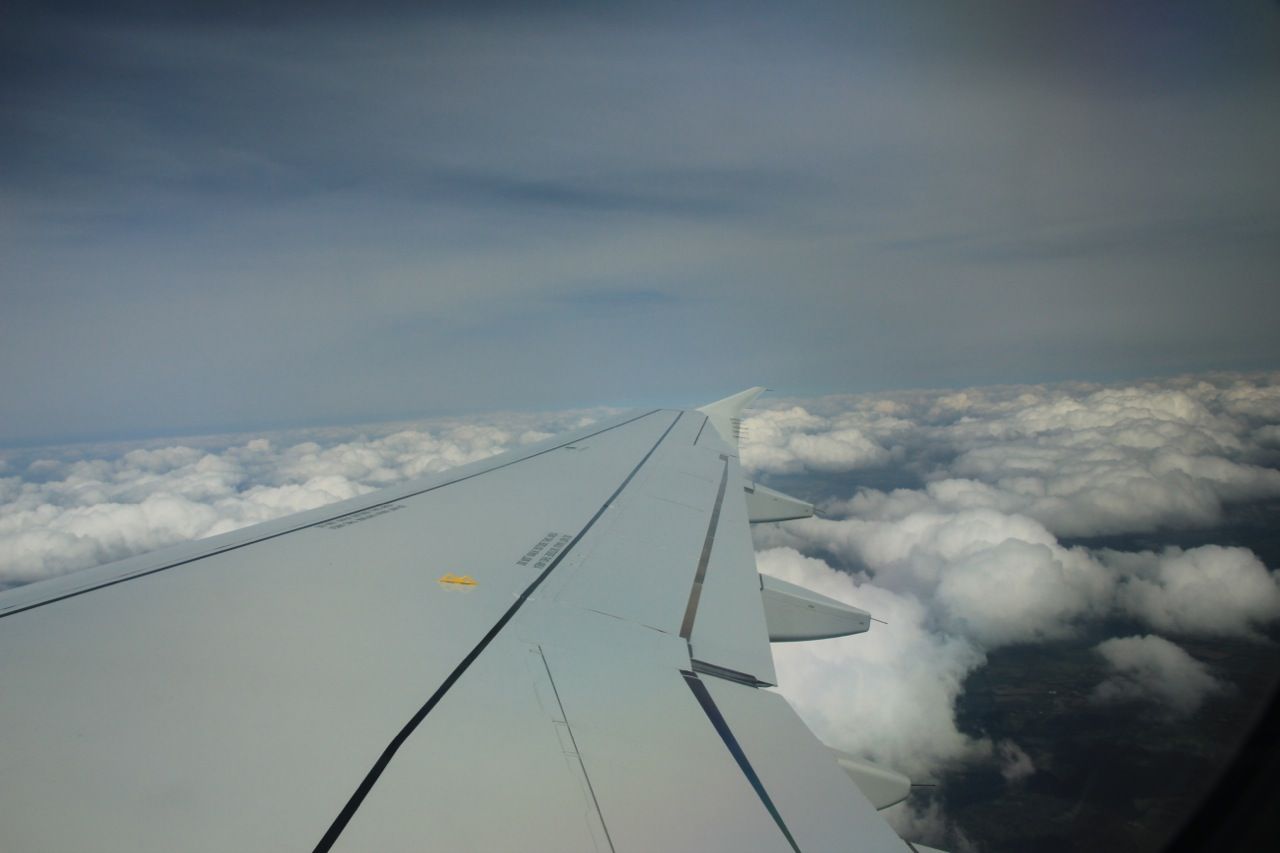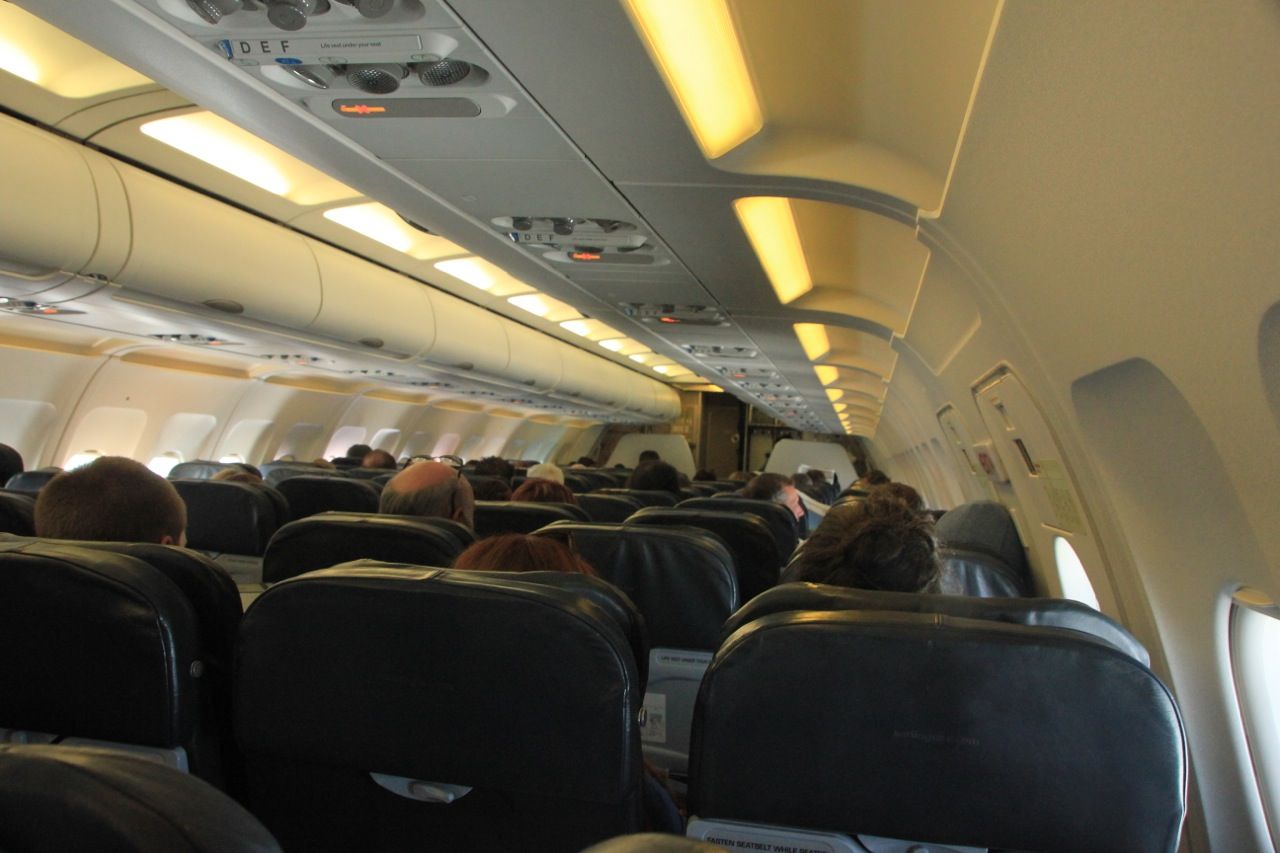 Cabin overview
A quick half hour and a few pictures later at 14:10 the engines spooled back and we started our descent. The captain confirmed this a few moments later and also mentioned that it was quite windy in Dublin - so expect a rough approach - how exciting!
http://youtu.be/9vY6fAaKtno
In reality the turbulence didn't turn out too bad. Soon enough we were down, and we made a very quick taxi on to stand. As we were disembarking, I noticed one of the flight crew were stood at the door. I asked if it was possible to take a couple of pics and the answer was "sure, come right in". They seemed amazed by the fact that the flight was the most interesting part of my day. Although if an electronics enthusiast came into my work place and told me that it was the best part of their day, I'd probably think they were mad too!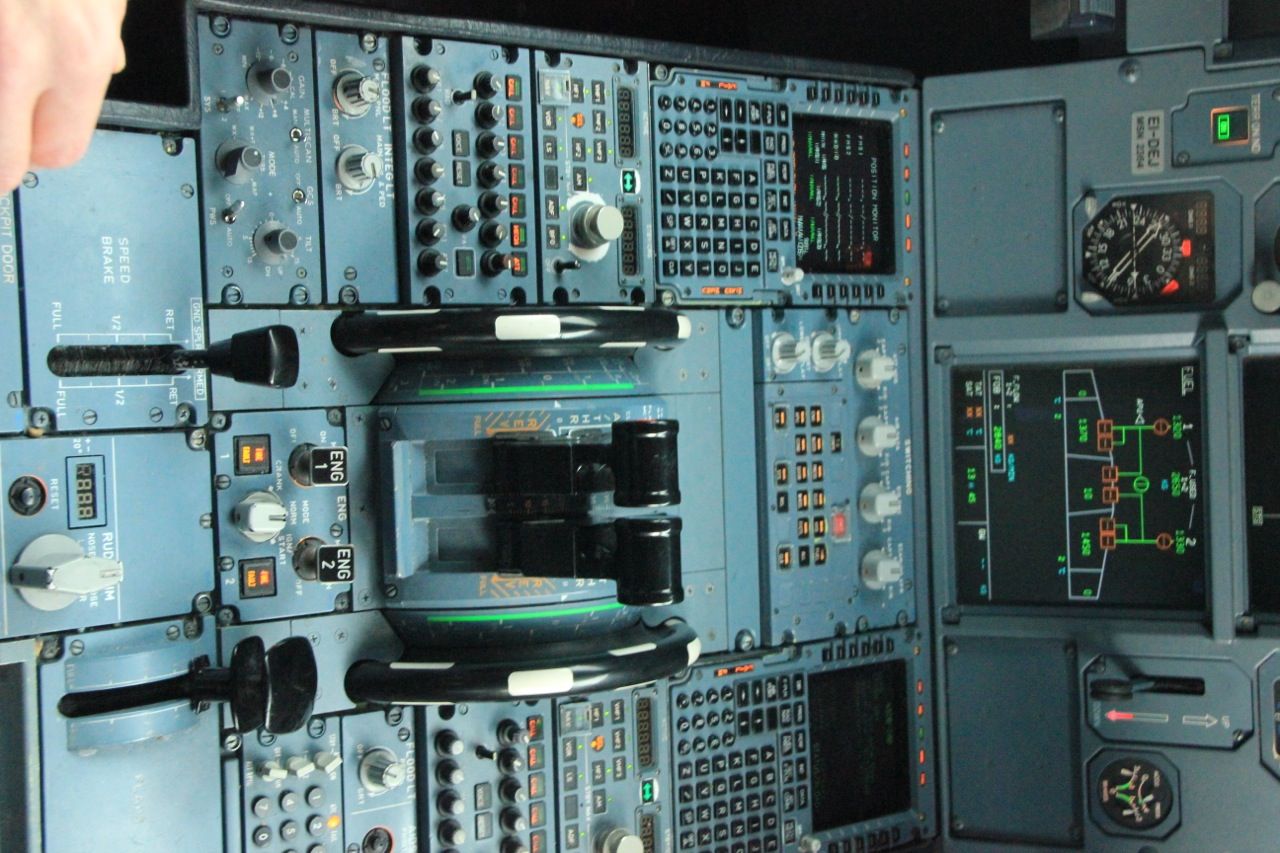 After a quick chat, I made my way out to the terminal. There was a bit of a queue at passport control, but it only took about 5 minutes or so. As usual, I only had hand baggage so I bypassed baggage claim and made my way out. I elected to take the airbus to the city, for a return price of €10.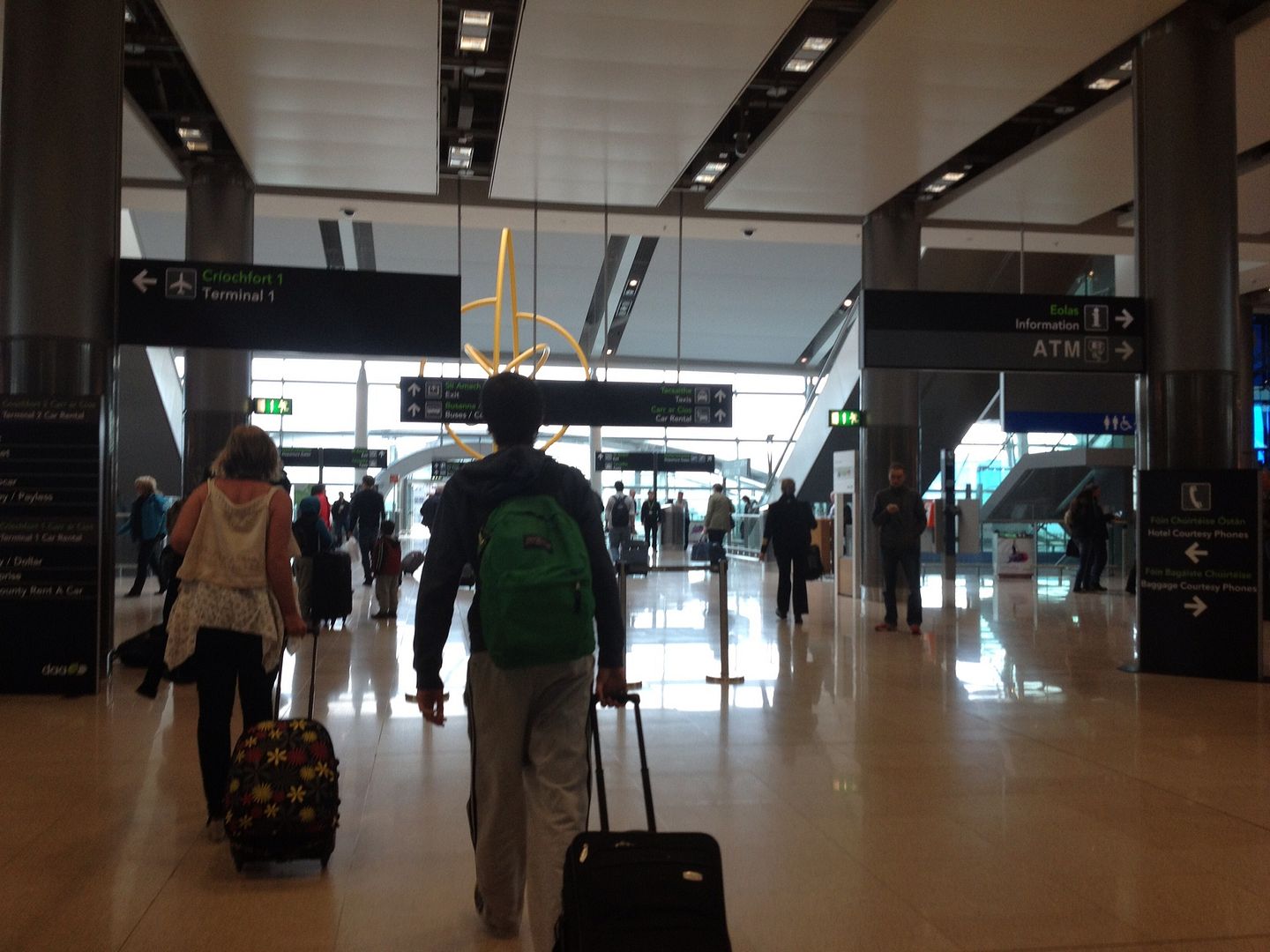 Arriving at DUB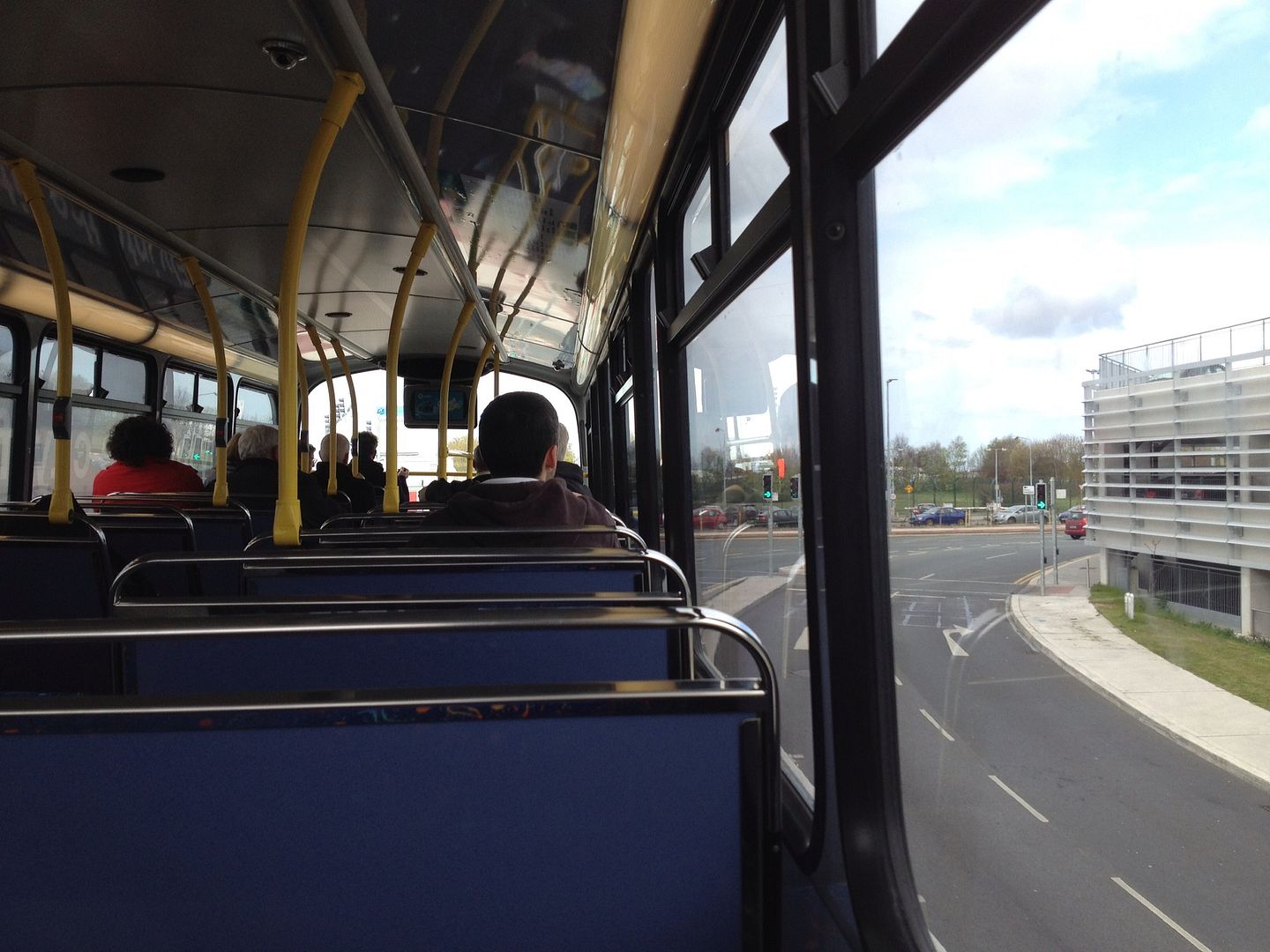 Leaving for the city
I checked into the hotel, did a quick update to the trip report and went out to explore.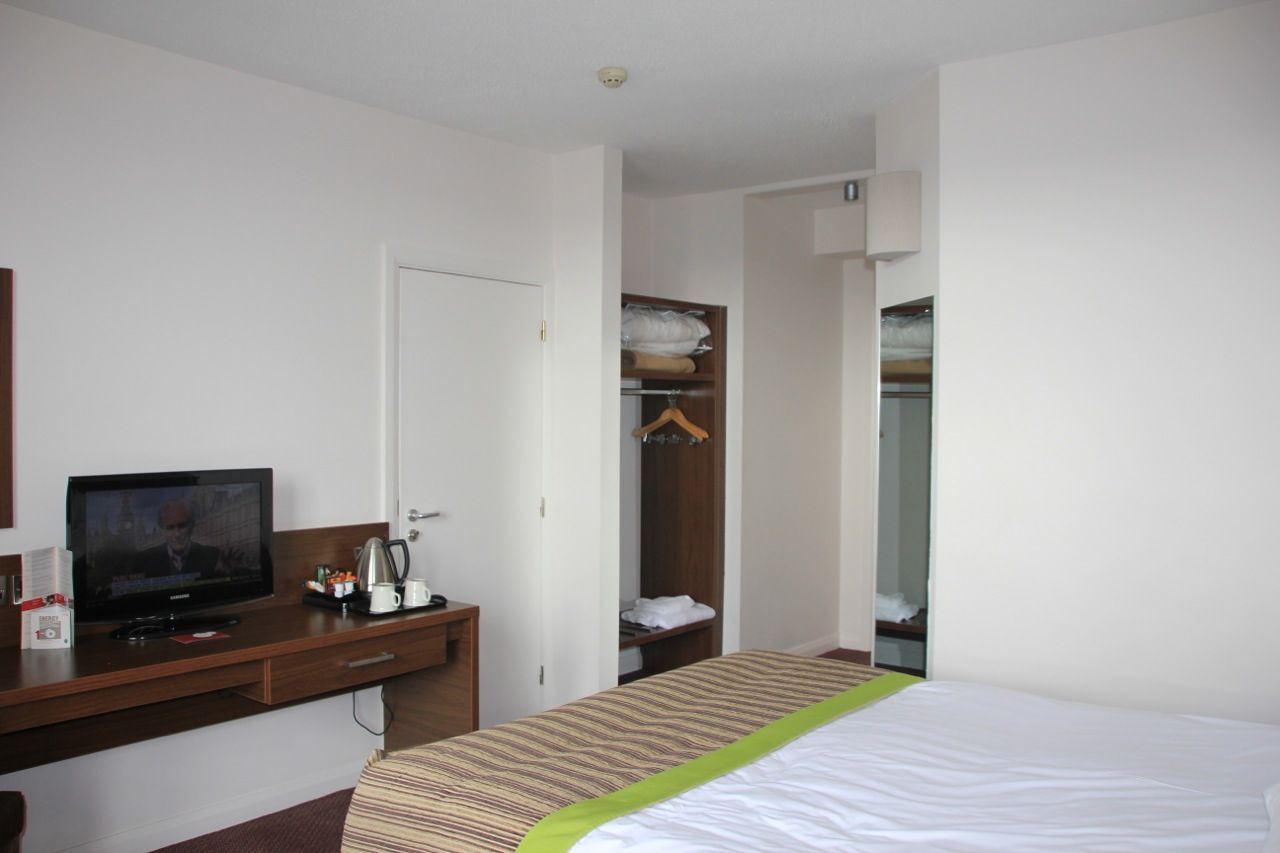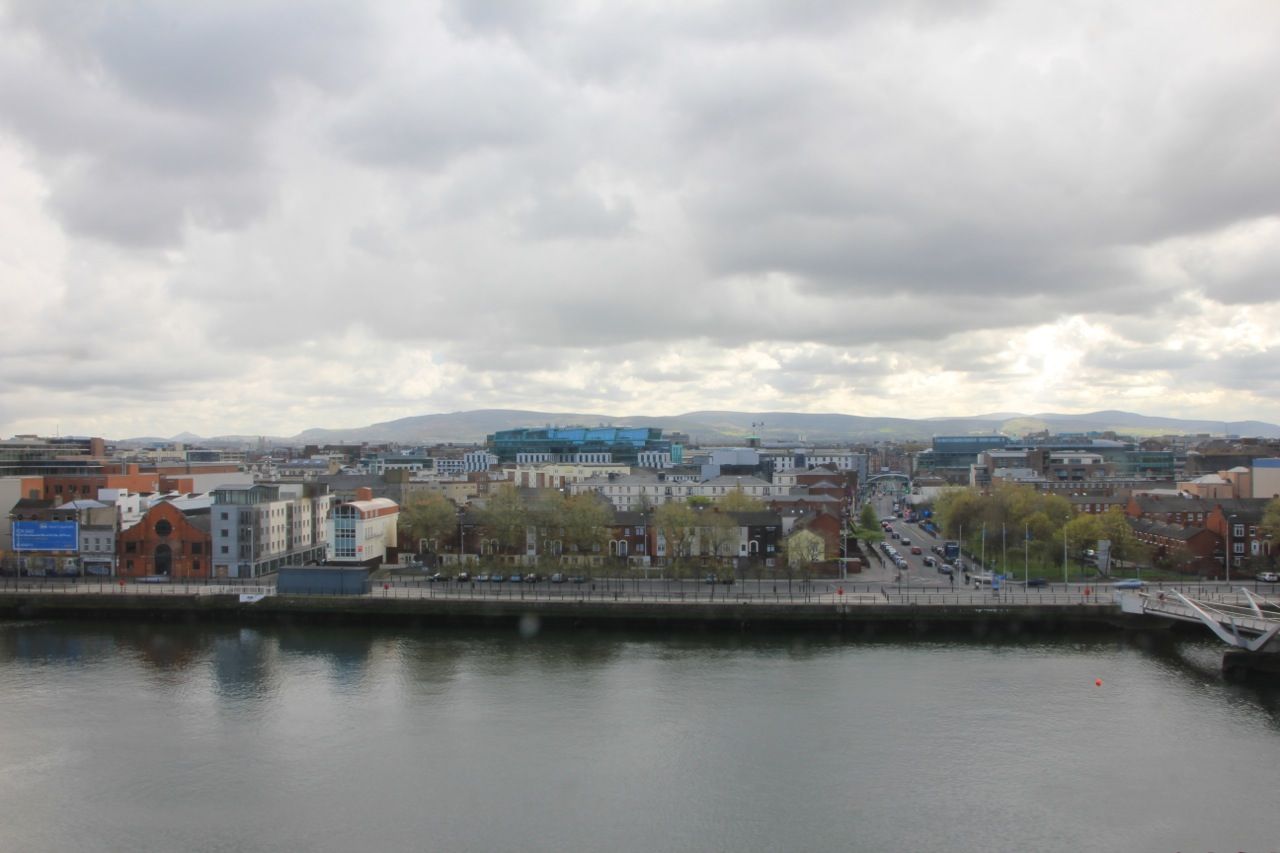 View from my room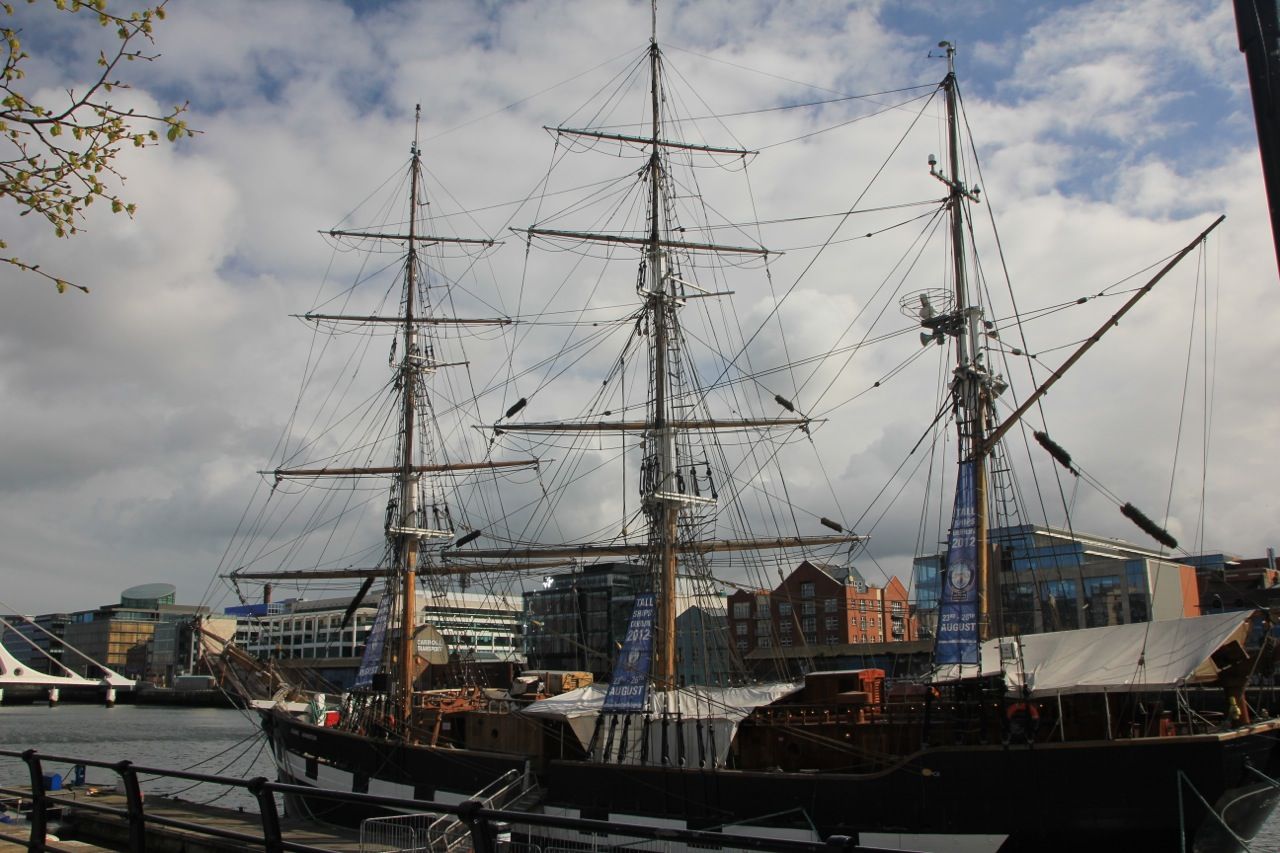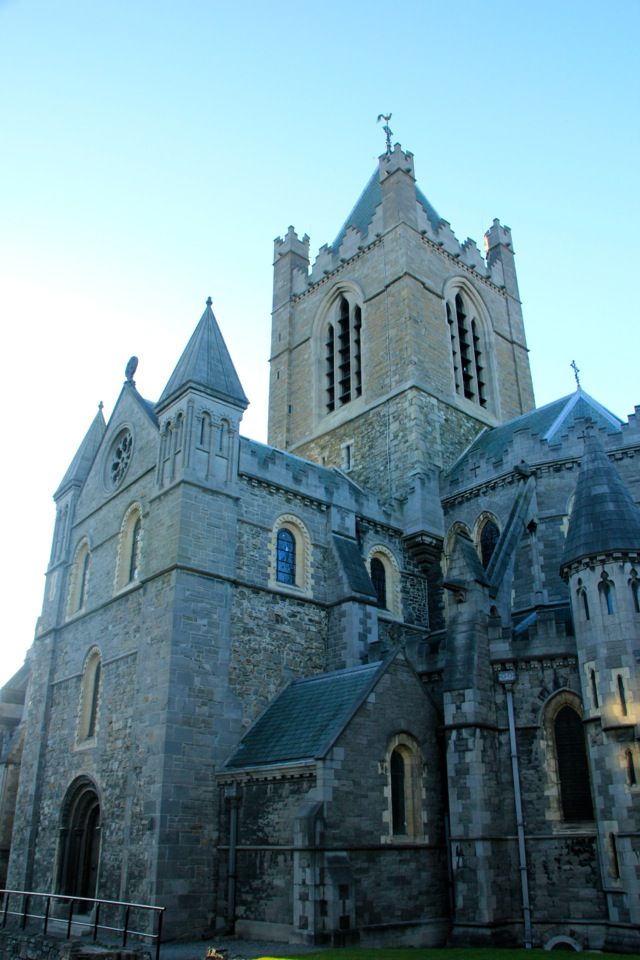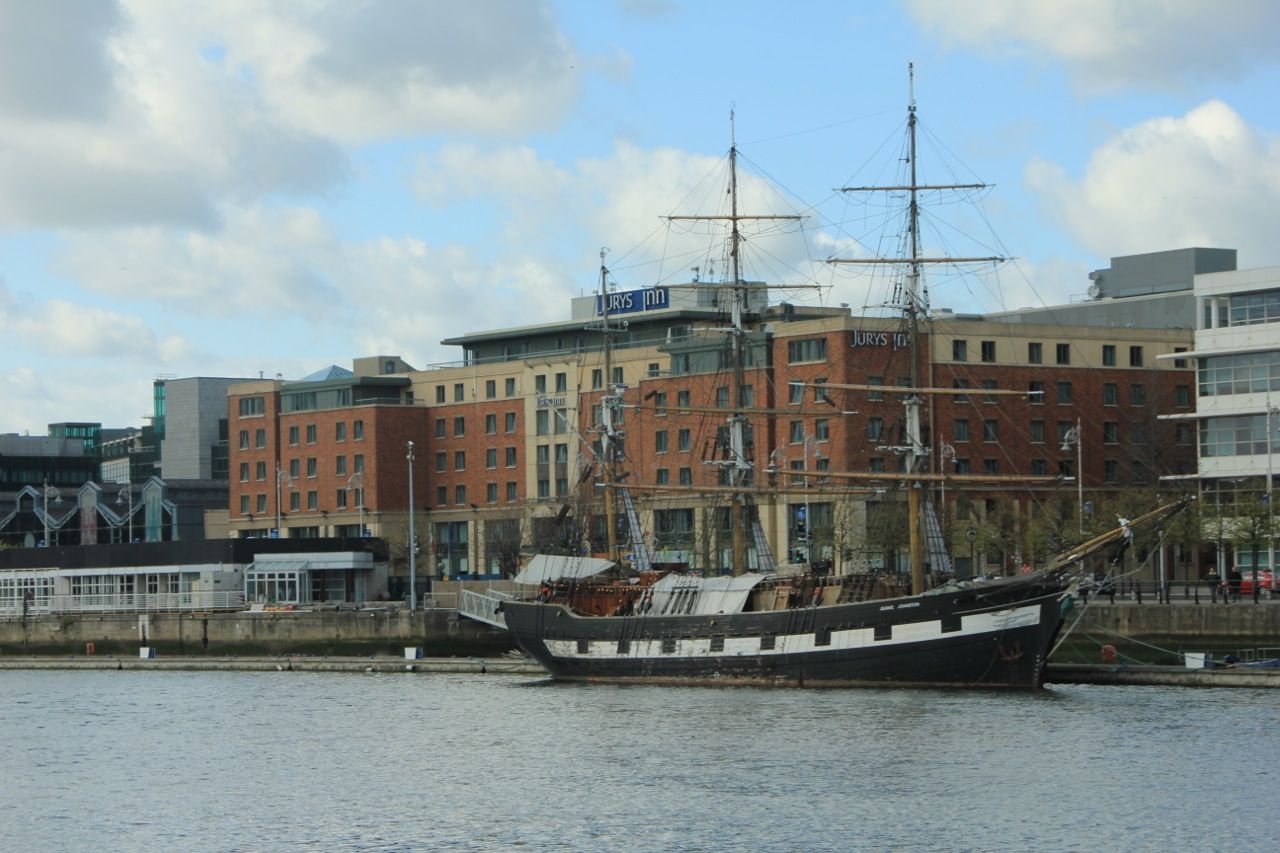 View of hotel from over the river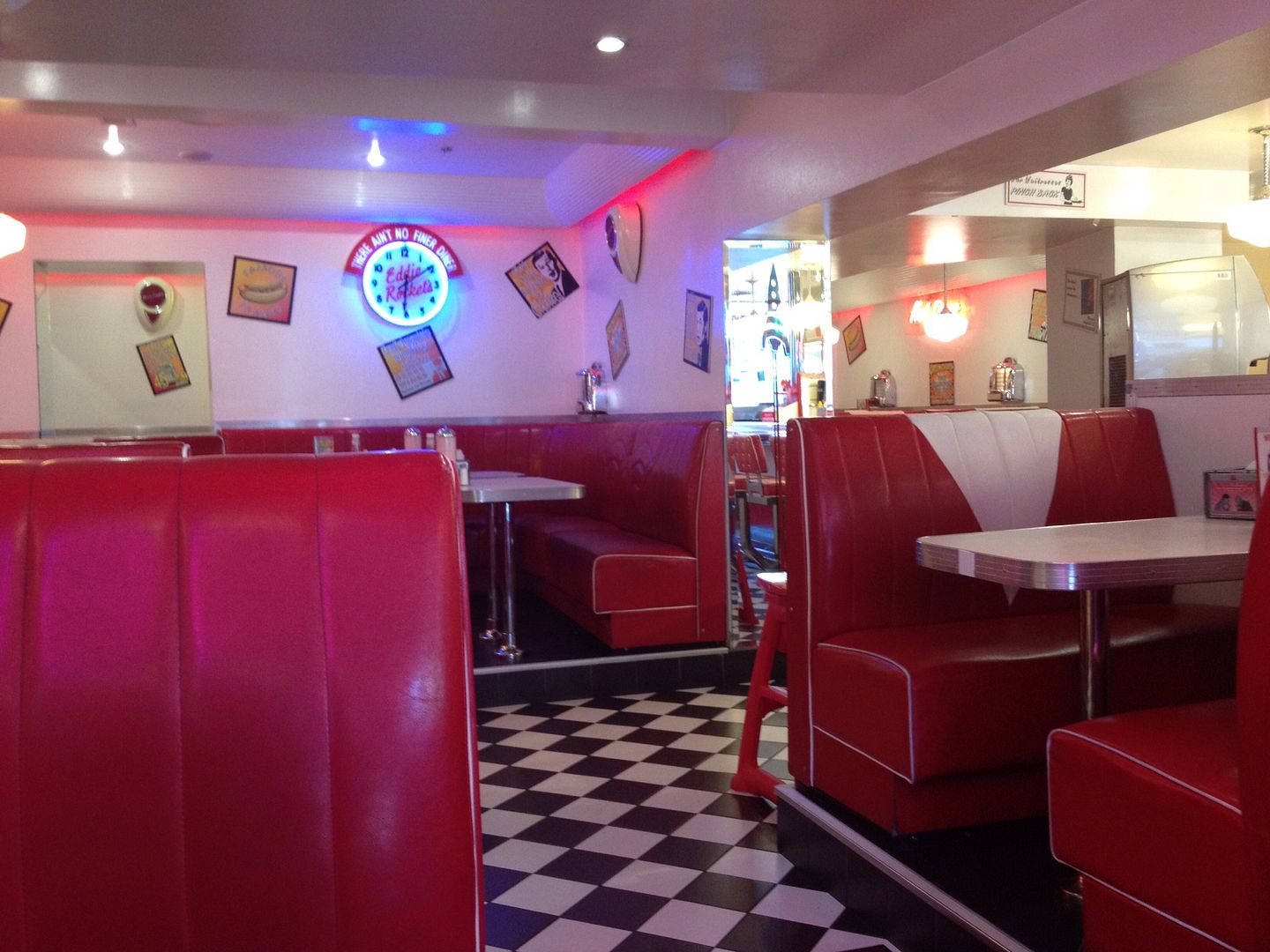 American 50's style diner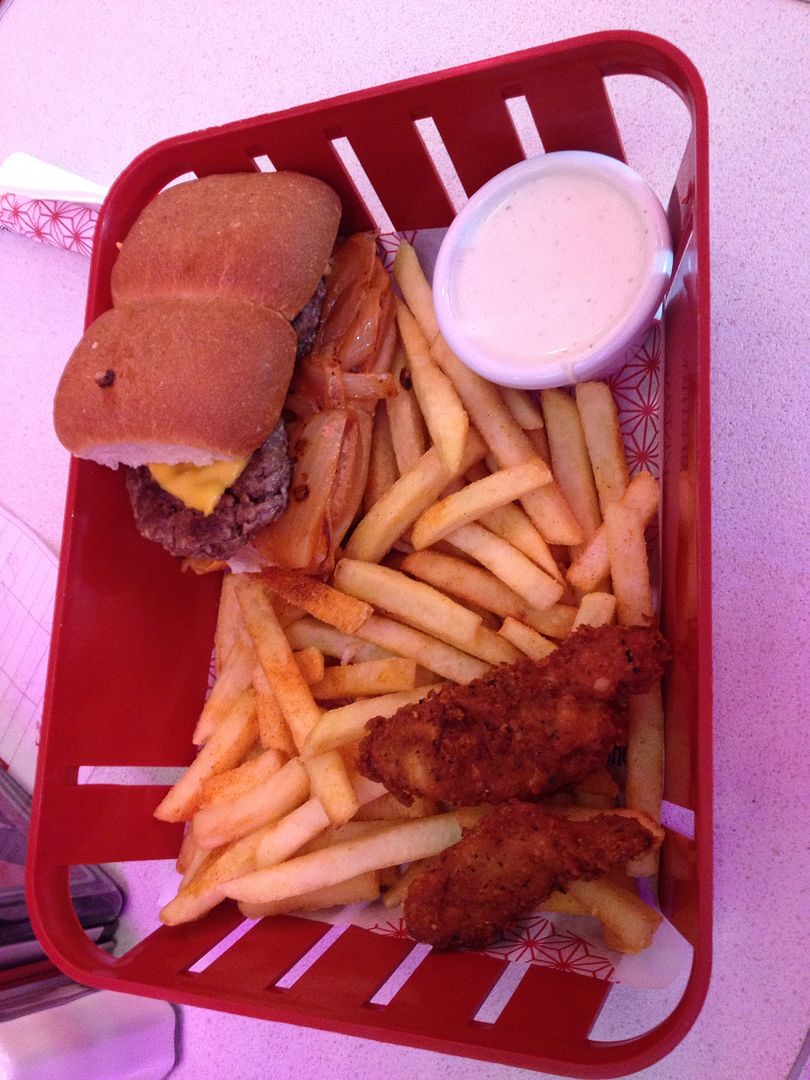 Dinner!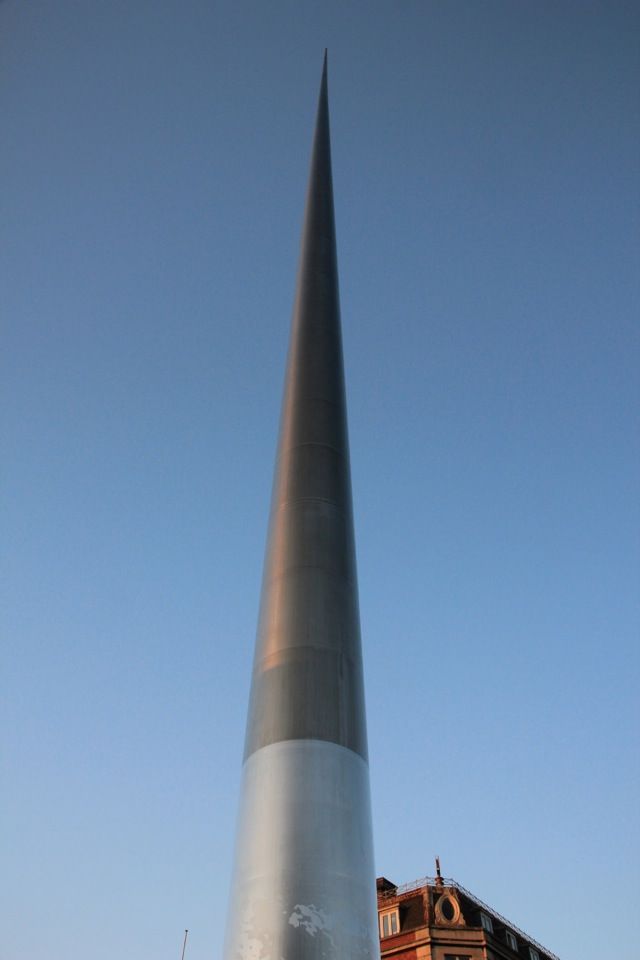 The most impressive shots I took though we're at night: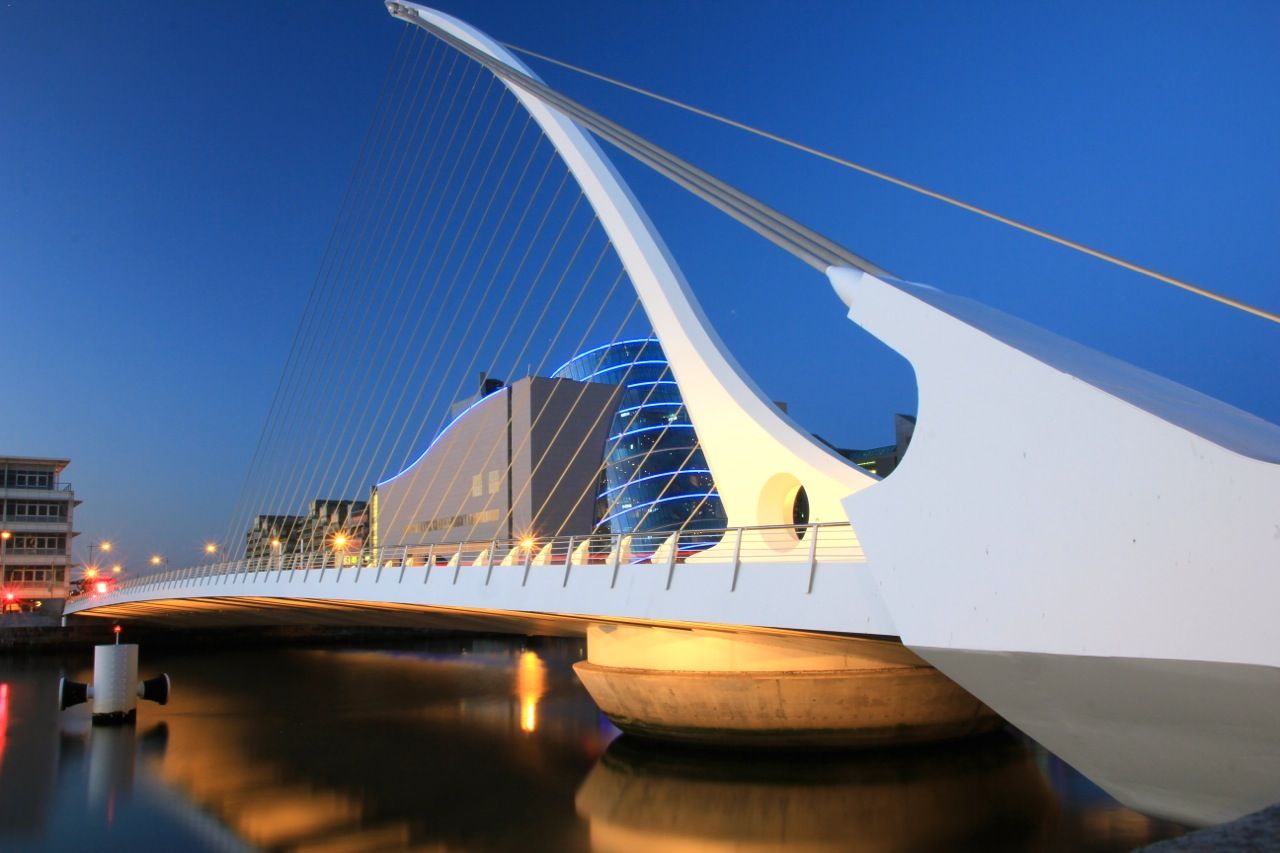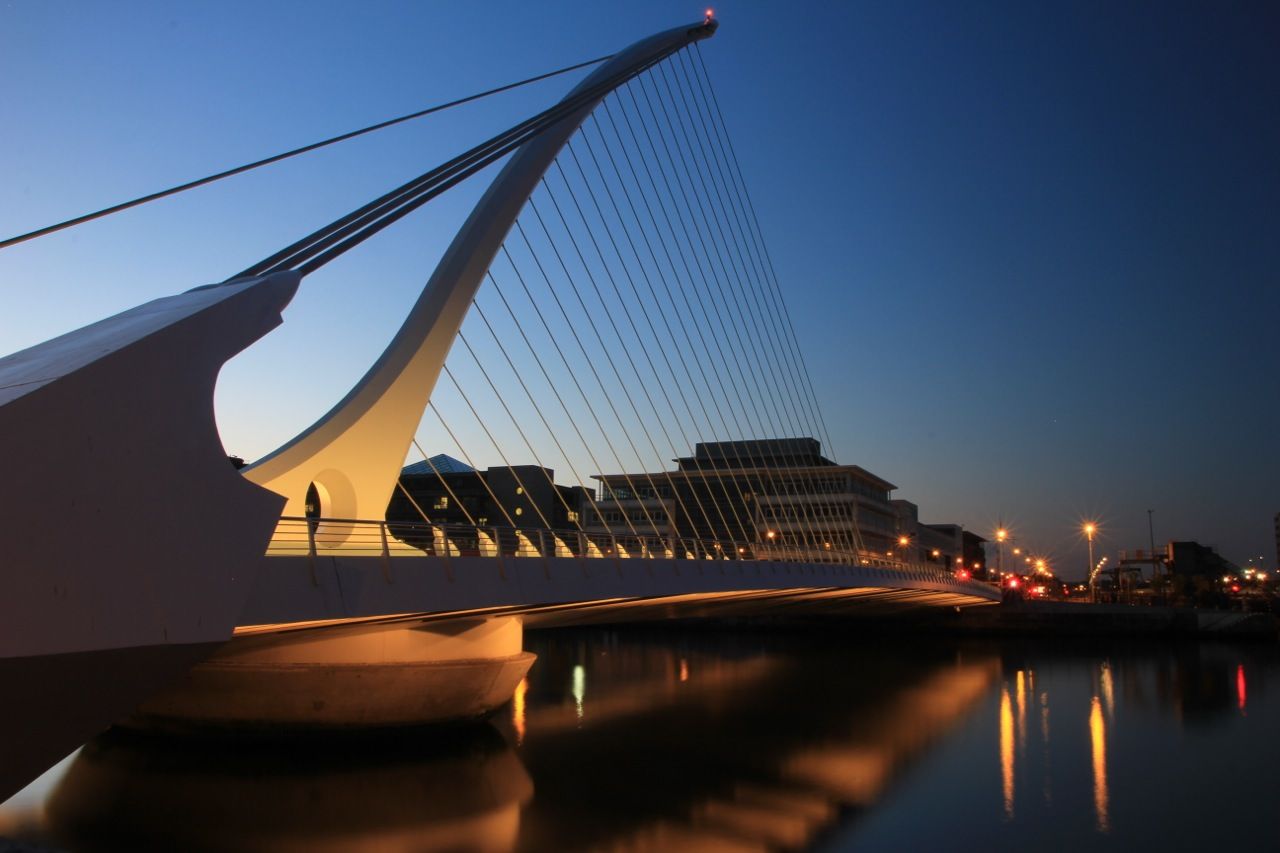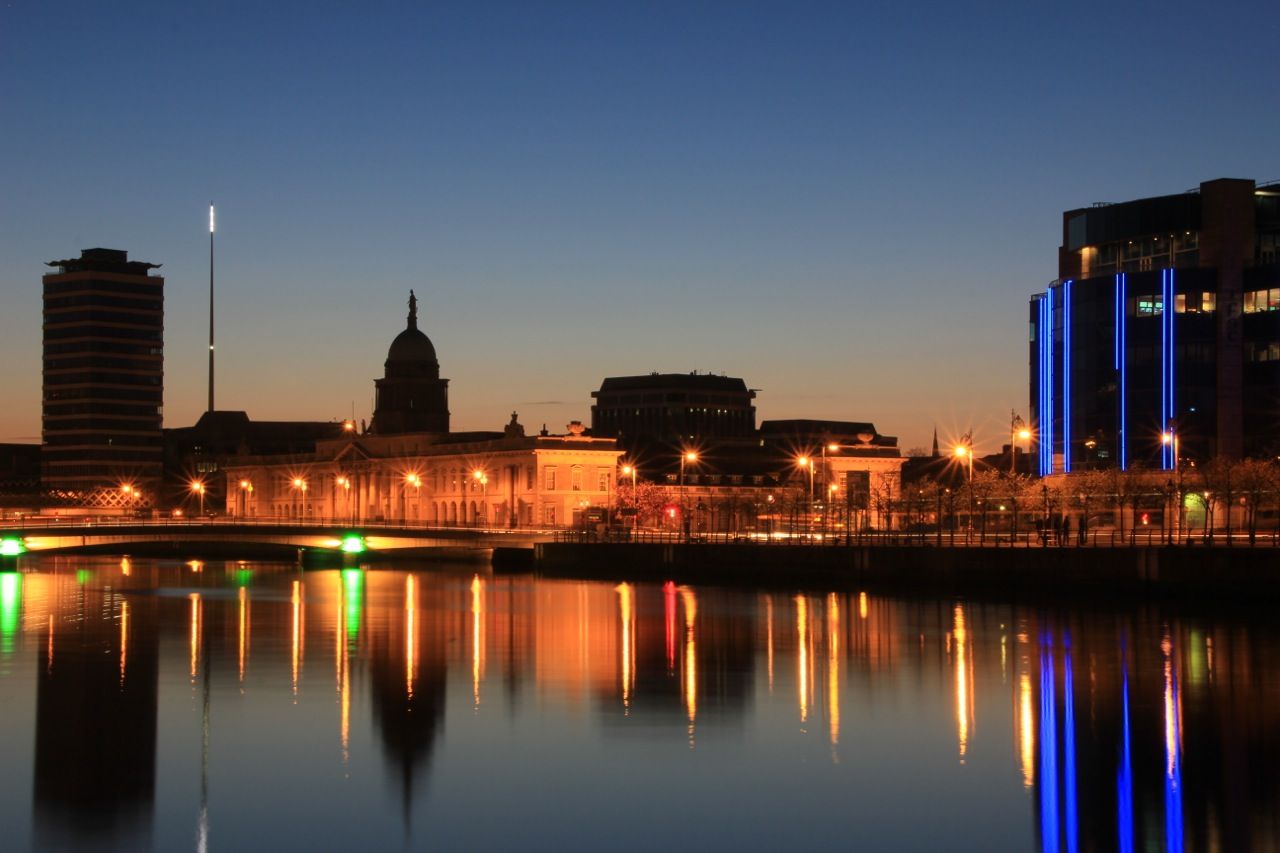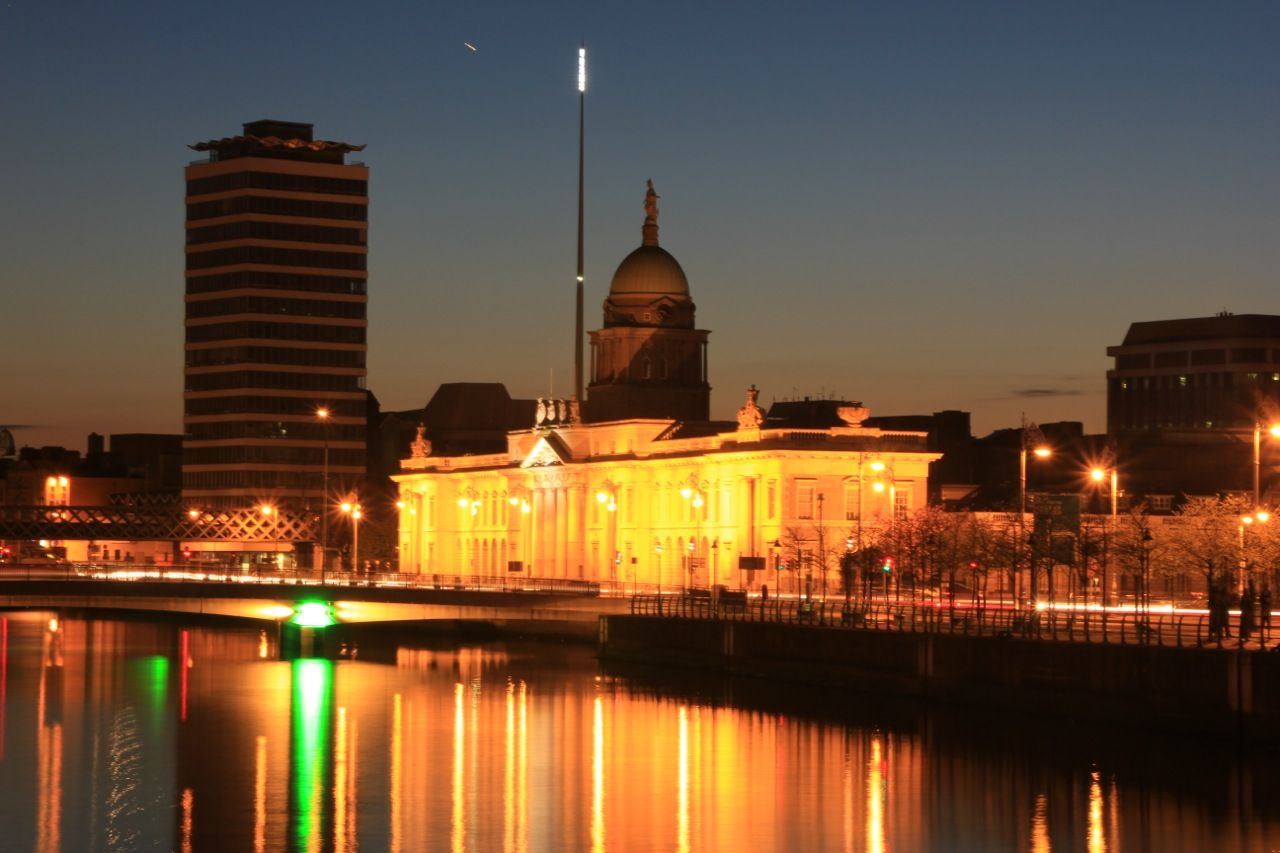 Sunday morning was started watching the Chinese GP. When this had finished, I went downstairs for breakfast. There were a few problems - with them saying I was on a room only basis, where I had on my confirmation that breakfast was included. I stuck to my guns however and had a pretty tasty full Irish.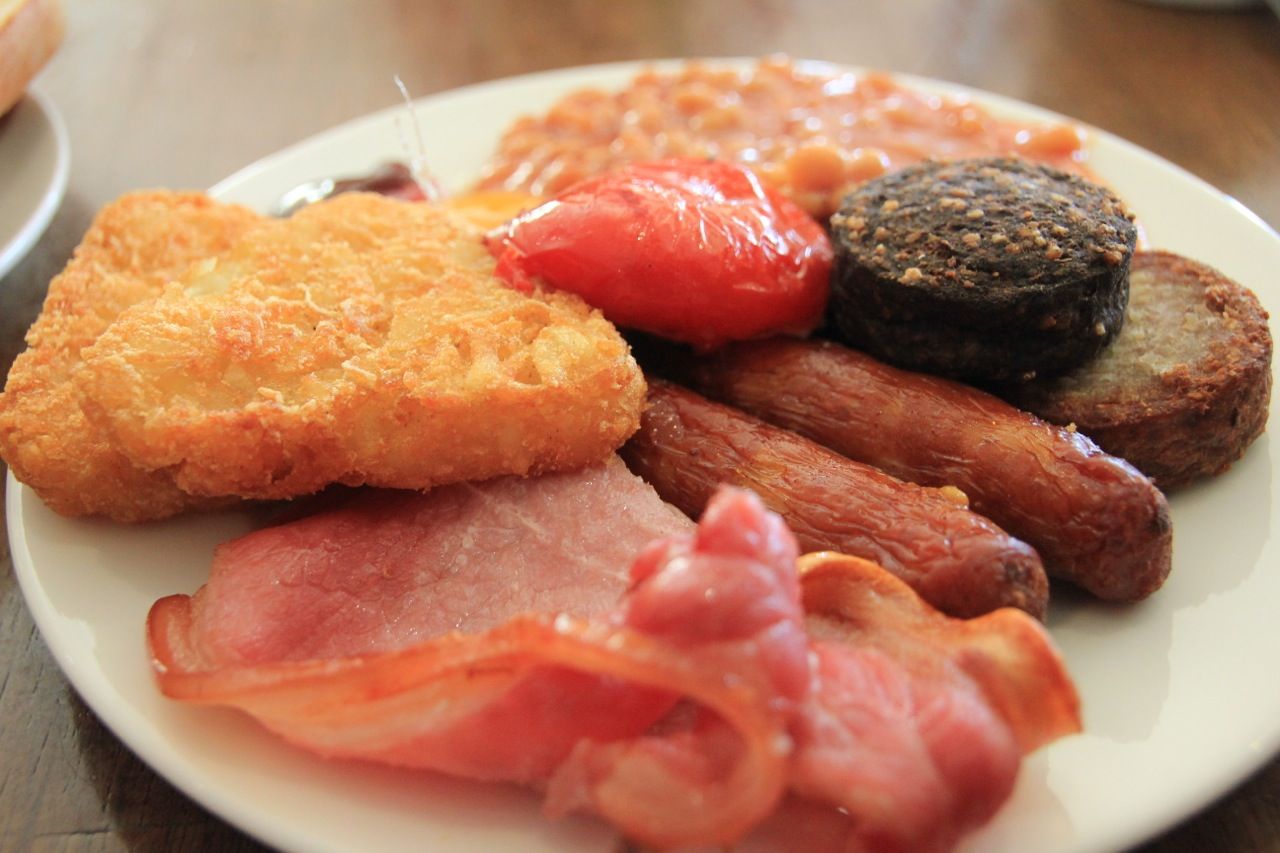 Later on, I took a walk down to the Guinness storehouse. I was considering taking a bus as I wasn't 100% sure where it was, but as it was such a nice day, and considering the breakfast I had just eaten, I decided against it.
A couple pics from Sunday: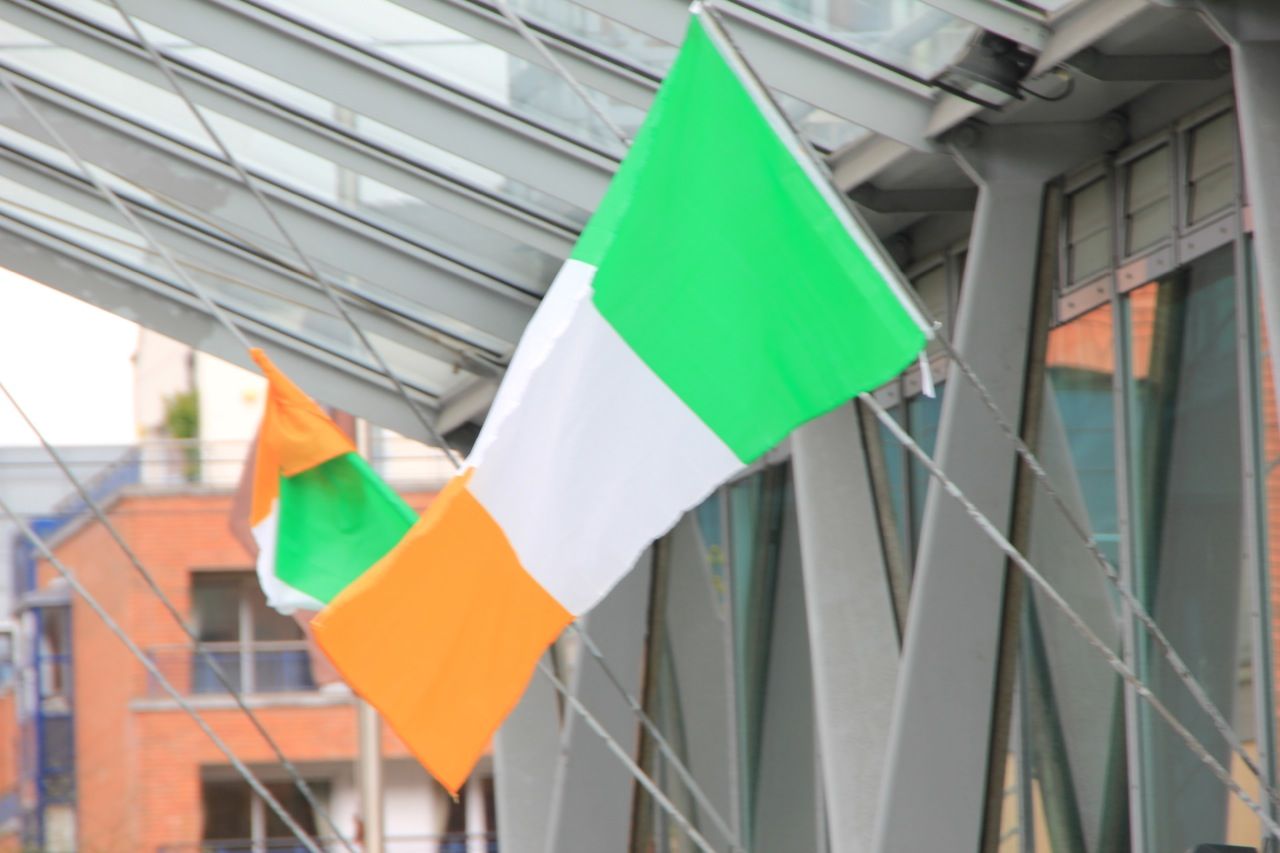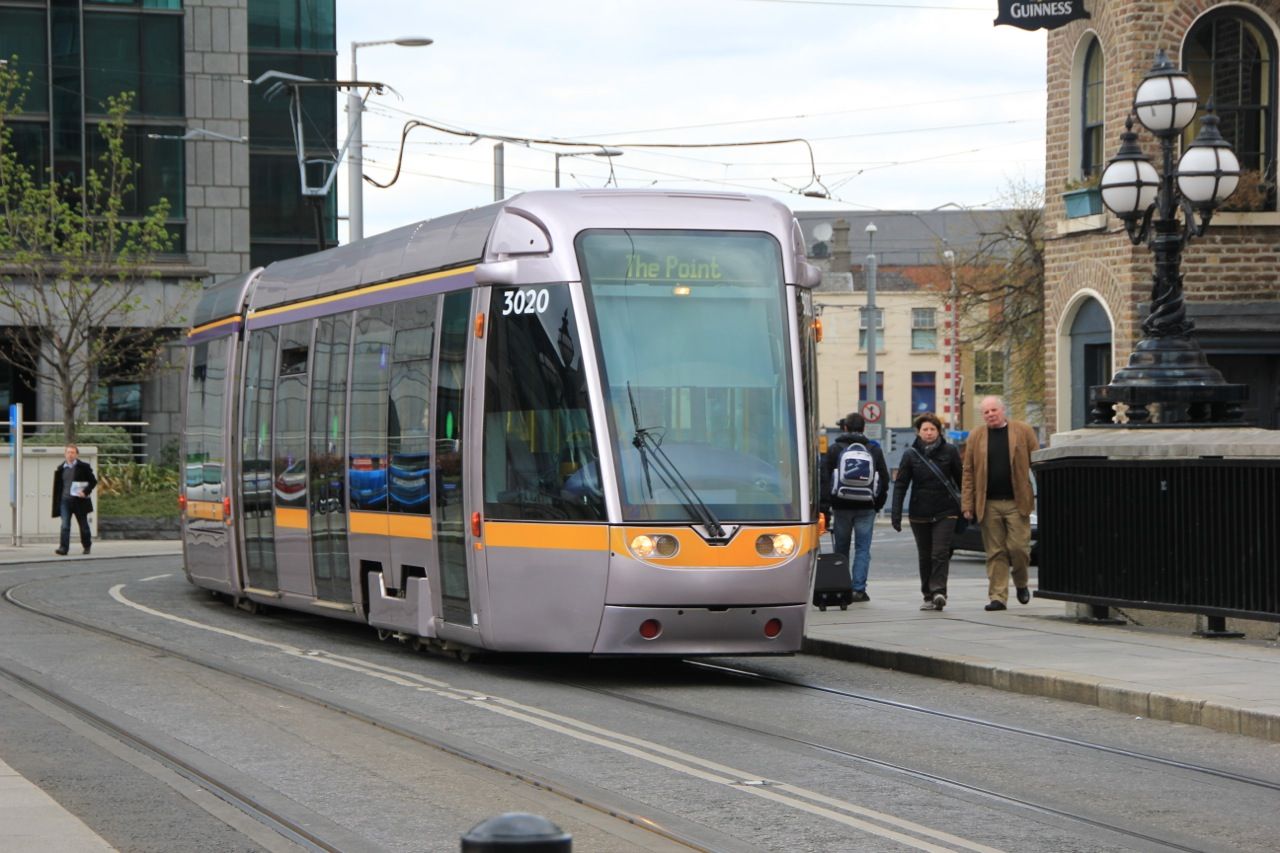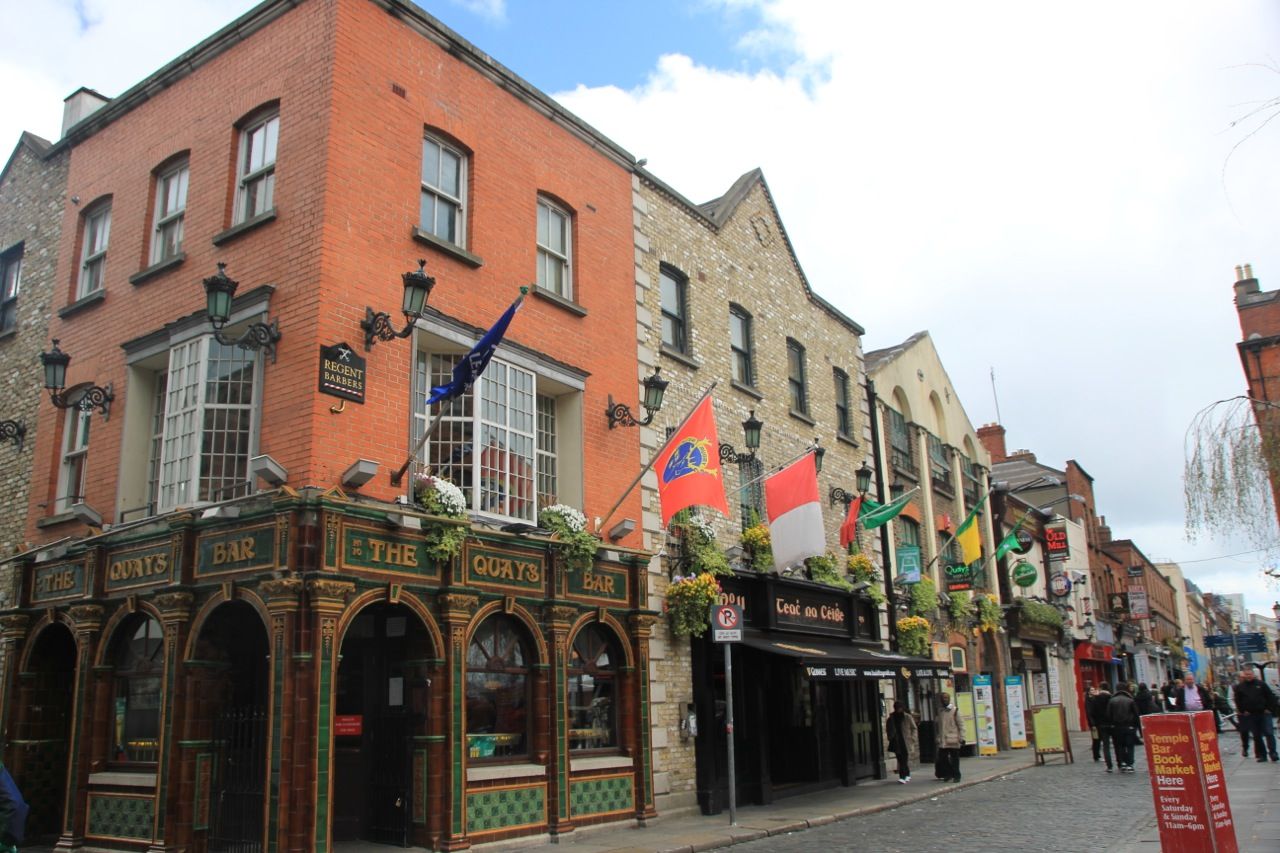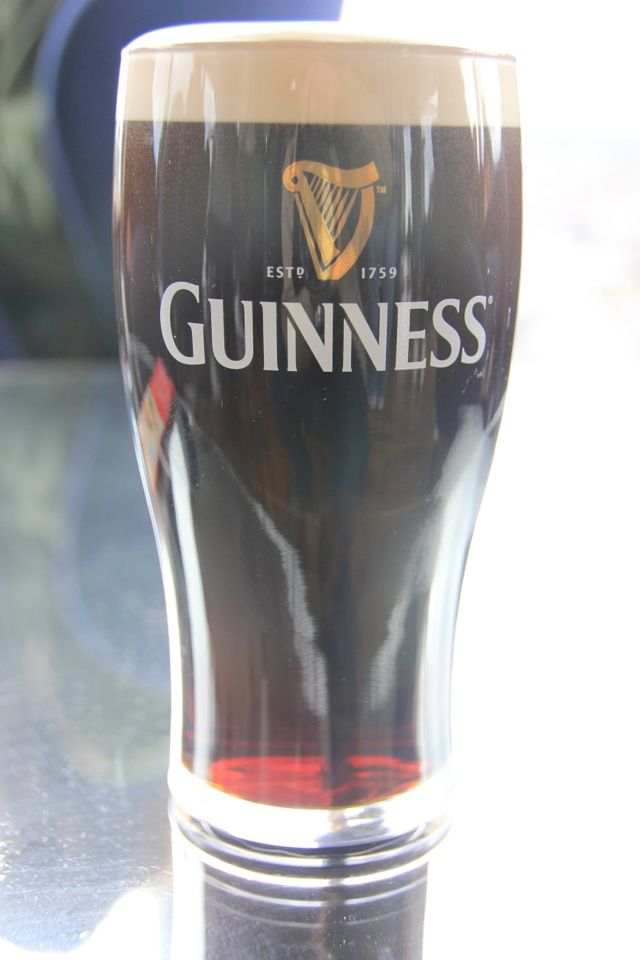 Around 3:30 it was time to make my way back to the airport.
The EI check in area at DUB was reasonably busy but the rest of it wasn't. I used a self service check in kiosk to get my boarding pass.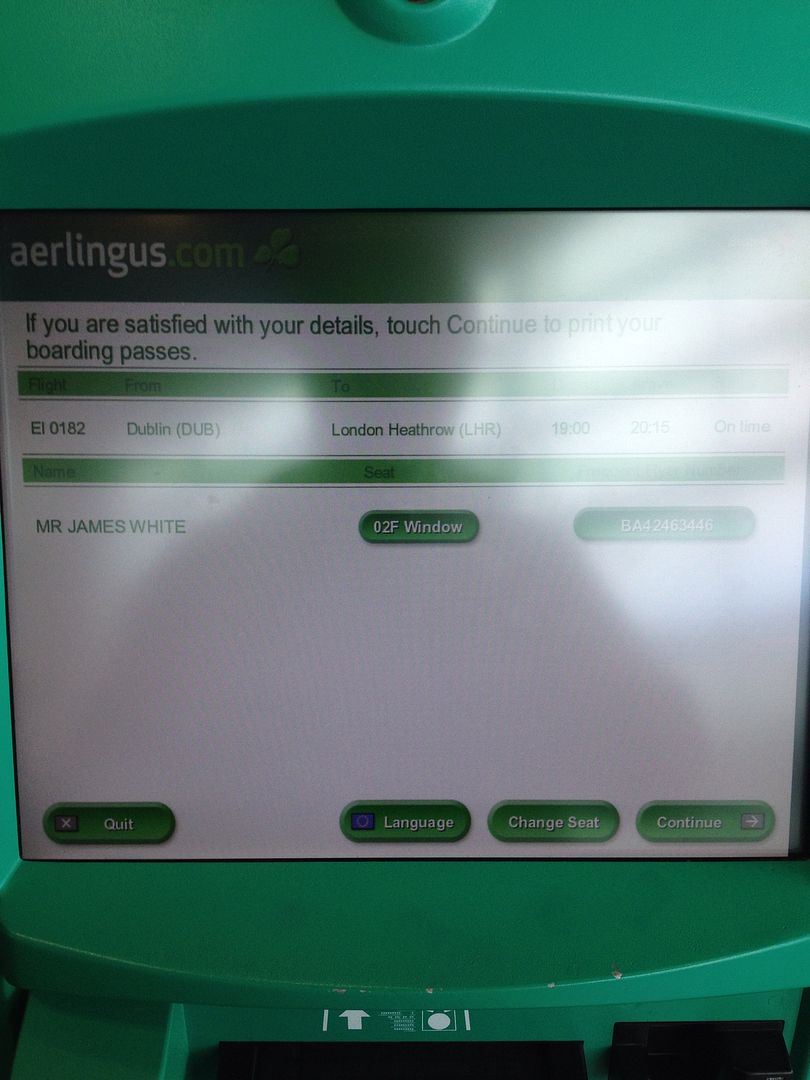 After that I took a wonder over to T1. Looked very old fashioned! Nothing much interested me there so I took a walk back over to T2.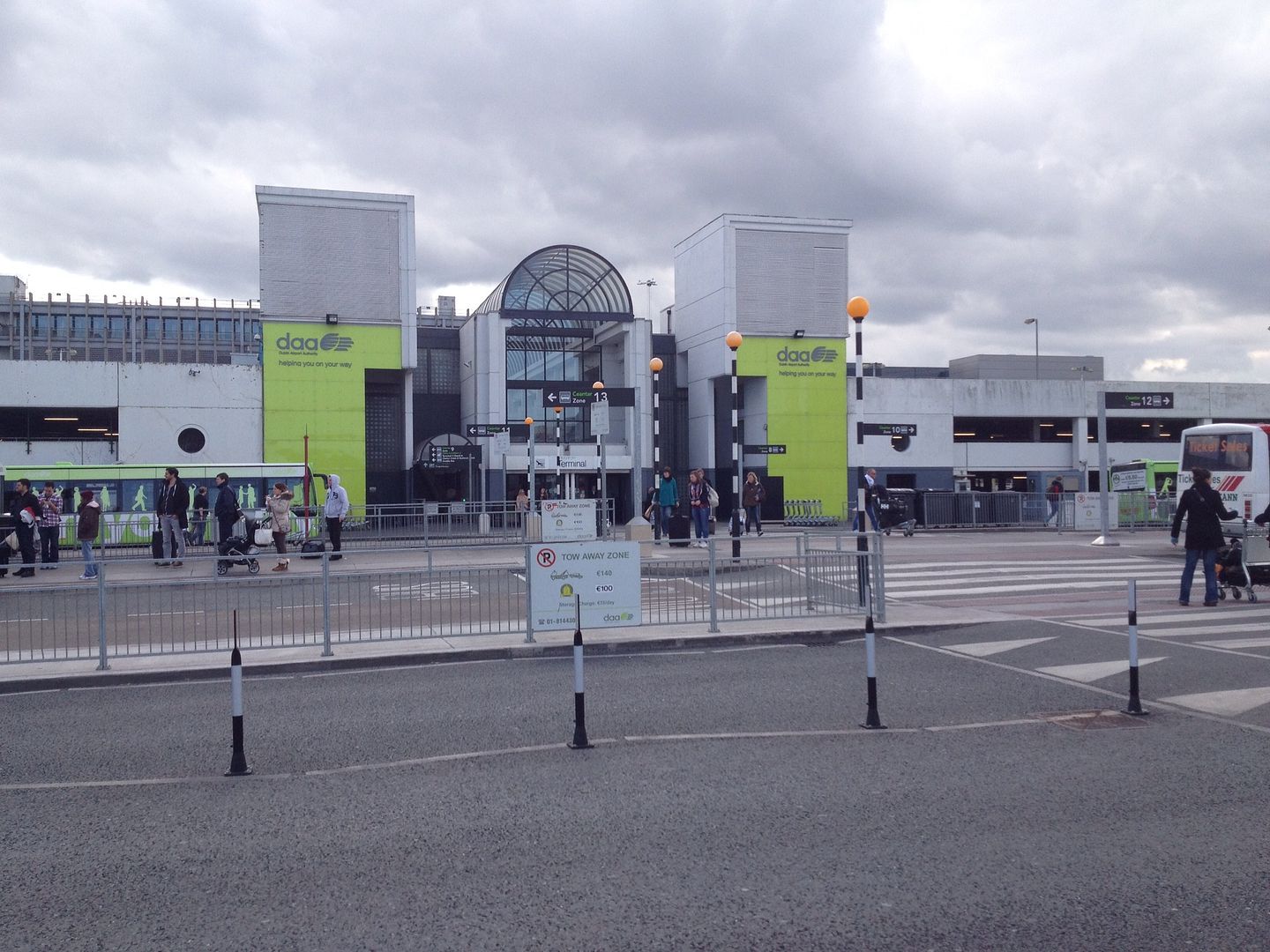 T1 overview
There was a bit of a queue at security due to there only being 1 person checking boarding passes. Soon as I was through, I headed for the EI lounge. It was a bit difficult to find, but I made it in the end.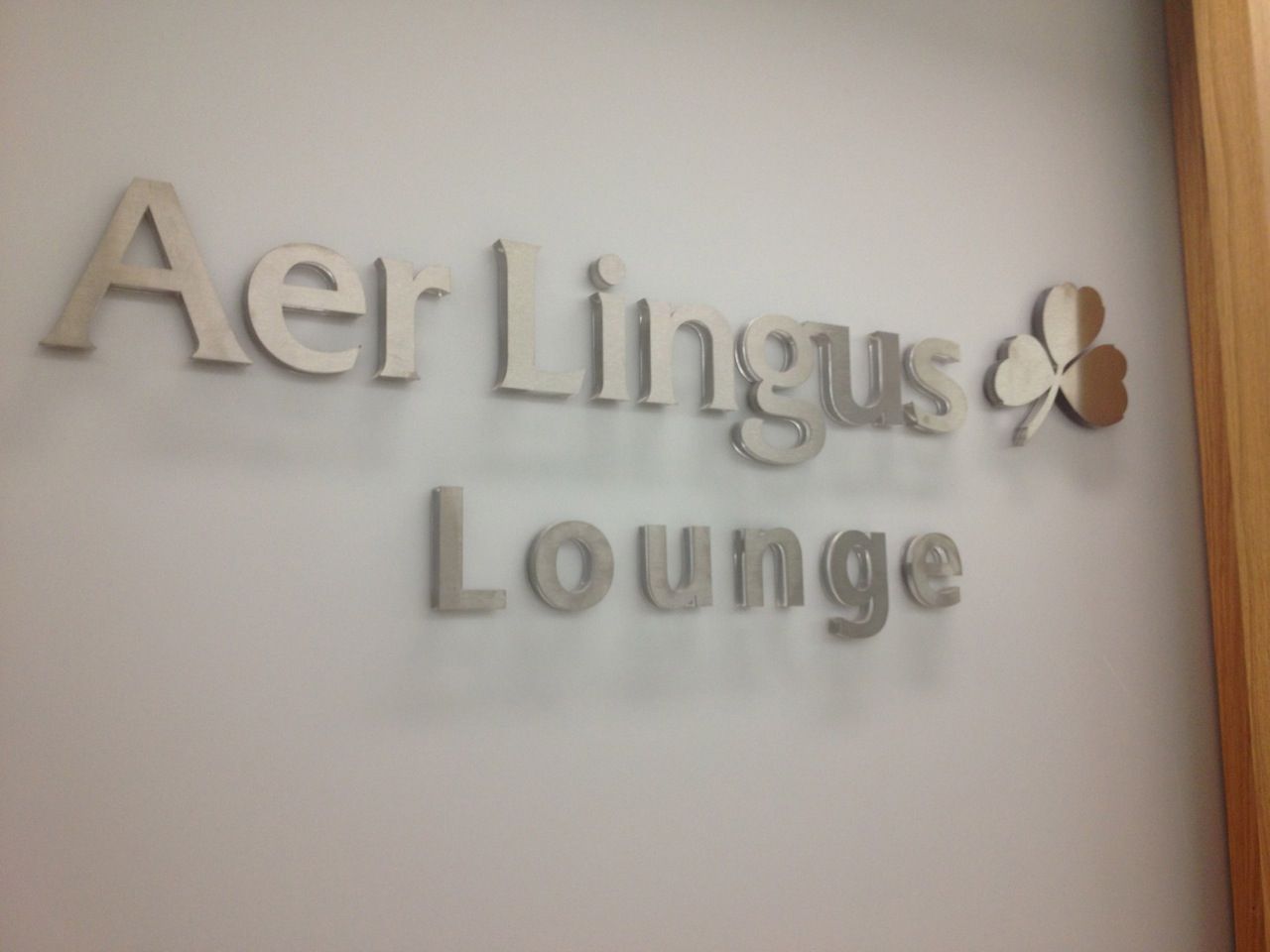 This was more impressive than the No1 lounge at LGW yesterday. They also let me charge up my rapidly dying phone - bonus points from me! Good for people who like take off/landing videos on YouTube too...
Tonight's dinner!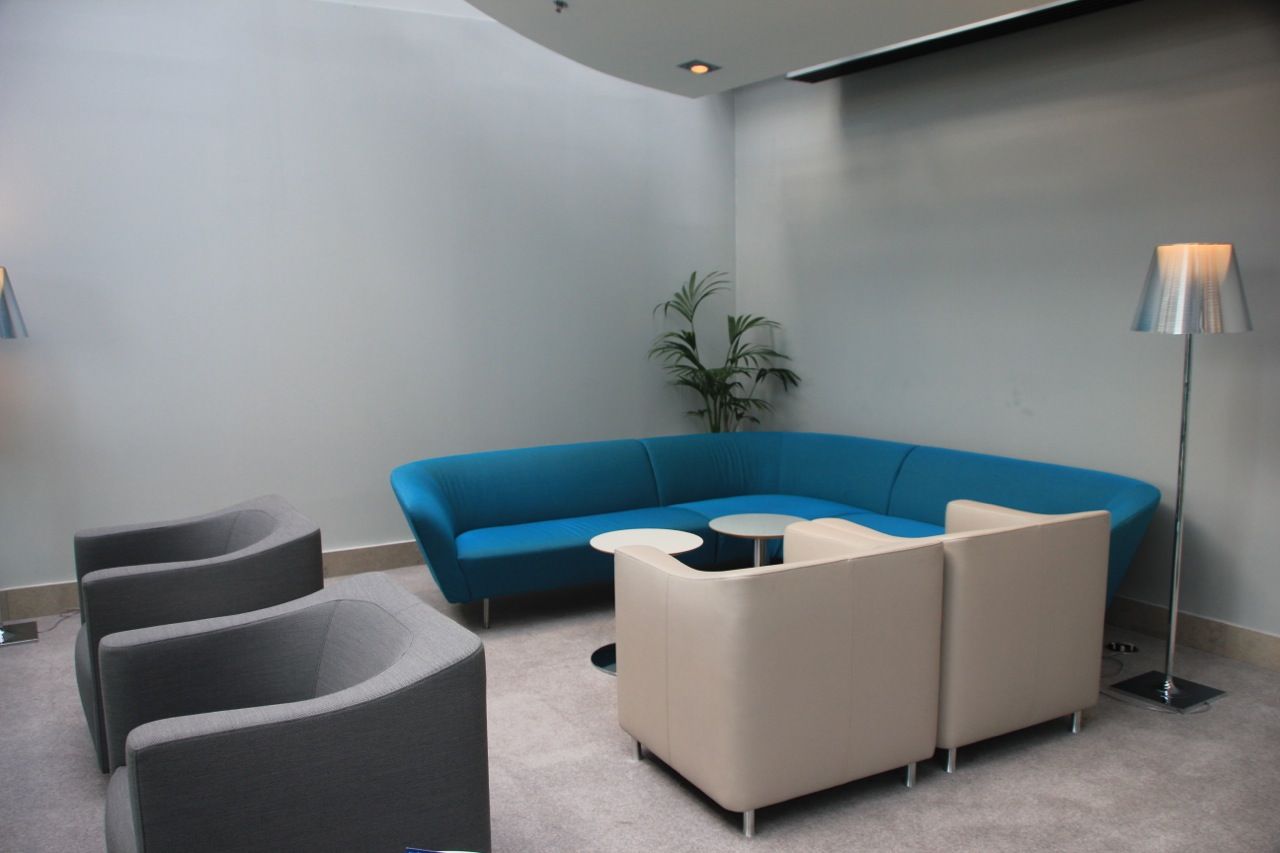 At 17:20 gate 407 flashed up on the screens.
I looked out the lounge window and saw the retro liveried A320 further down the pier. Shades of my trip to BRU a few weeks ago... Would I get lucky again? No!
I left the lounge around 18:00 as so far I'd seen very little airside at DUB.
Gate area at DUB
EY A330
Boarding started at 18:30.
Tonight's flight was completely full, a first on my trips so far this year. I had a seatmate this time... A very nice looking blonde girl so that didn't bother me at all!
EI182
Off stand 1855
On stand 2010/2025
Reg EI-DVJ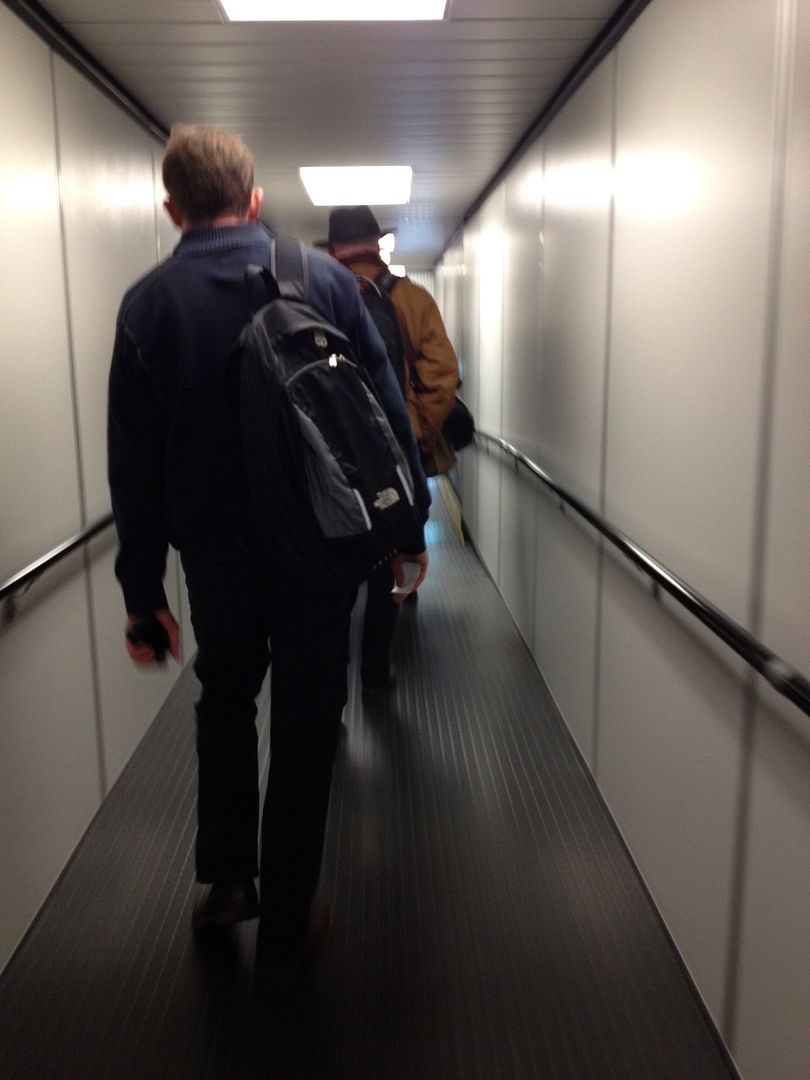 The flight was completely full - therefore there wasn't enough room for everybody's carry on baggage - so they few unlucky ones had to bring their bags forward to be checked in. The captain came on, and announced a flight time of 55 mins. My impression of this A320 was that it seemed quite a bit newer than the one I was on yesterday. It had LED lighting, which actually dimmed rather than just had the standard on/off function.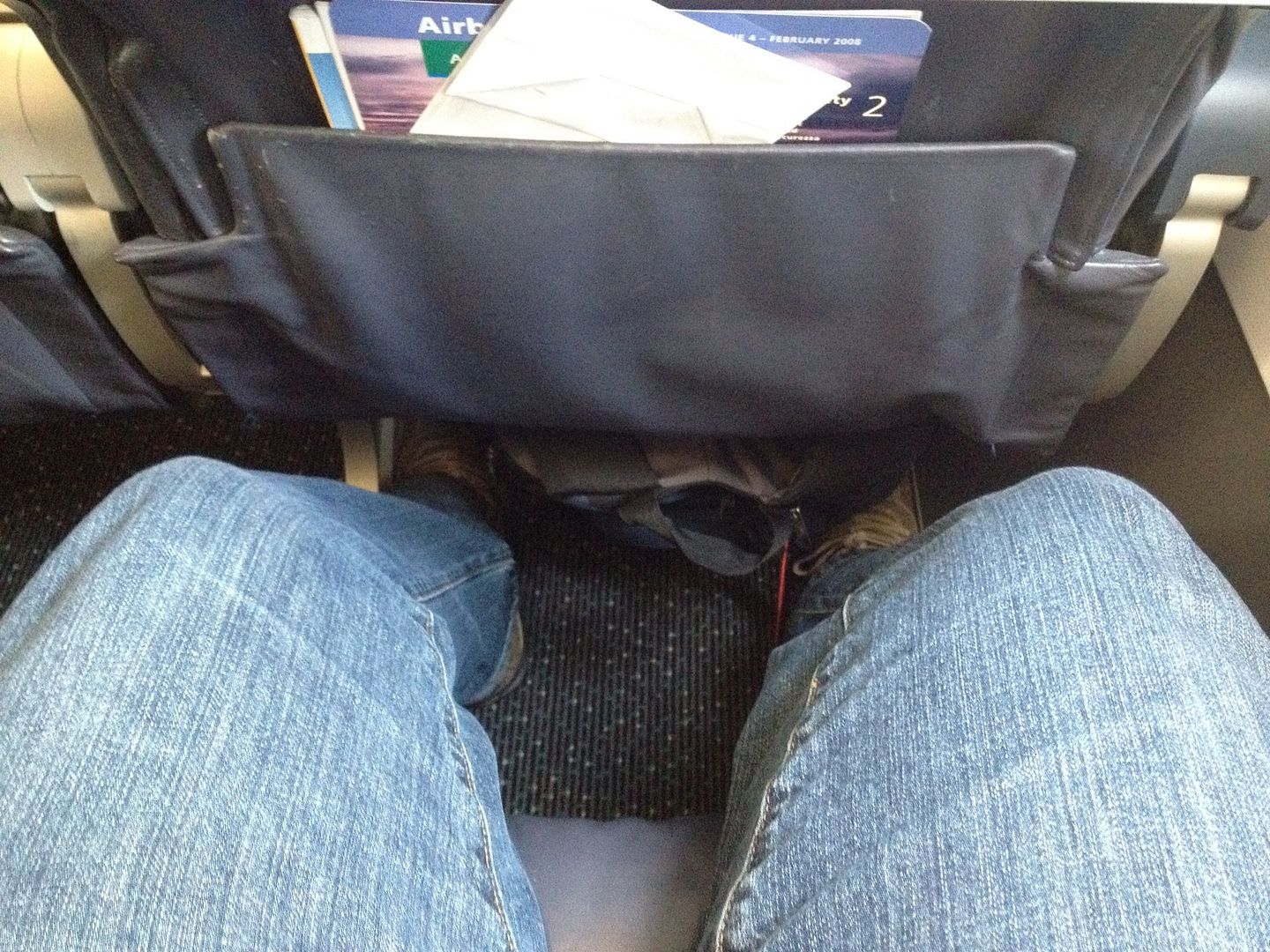 Maybe a bit more room than yesterday?
We pushed back at 18:55, and made a longish taxi out to the runway. Takeoff was at just after 19:10.
http://youtu.be/AZsd0sEH1so
I was quite surprised how quiet it was upfront, rather than over/behind the wing. Cabin service was the usual run through the cabin before descent started. The captain announced that we were cruising at 31,000ft at 550mph, and that we were currently over Liverpool and would be turning towards Birmingham shortly. After we turned we started our descent. I was more than a bit surprised that the seatbelt sign had stayed turned on for the entire flight. Didn't seem to stop people wondering around though.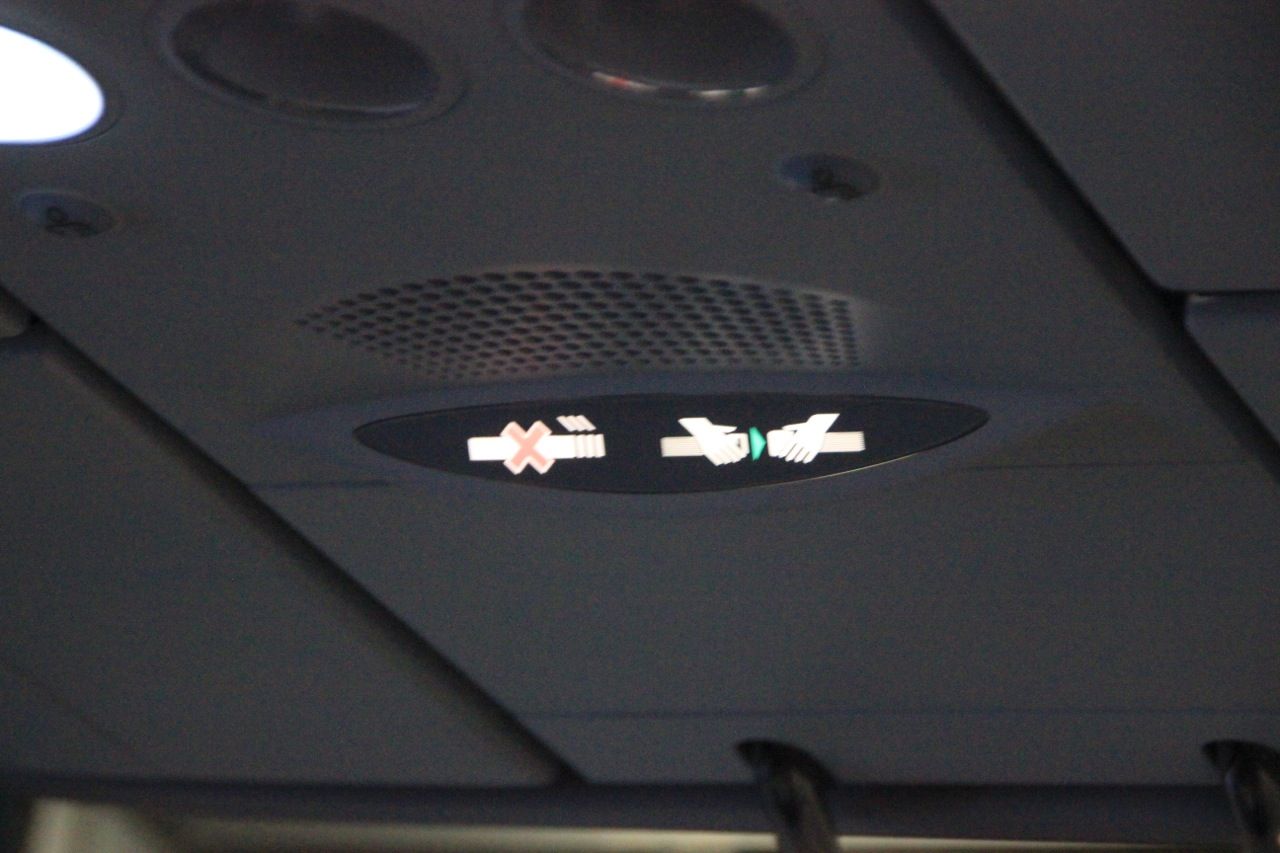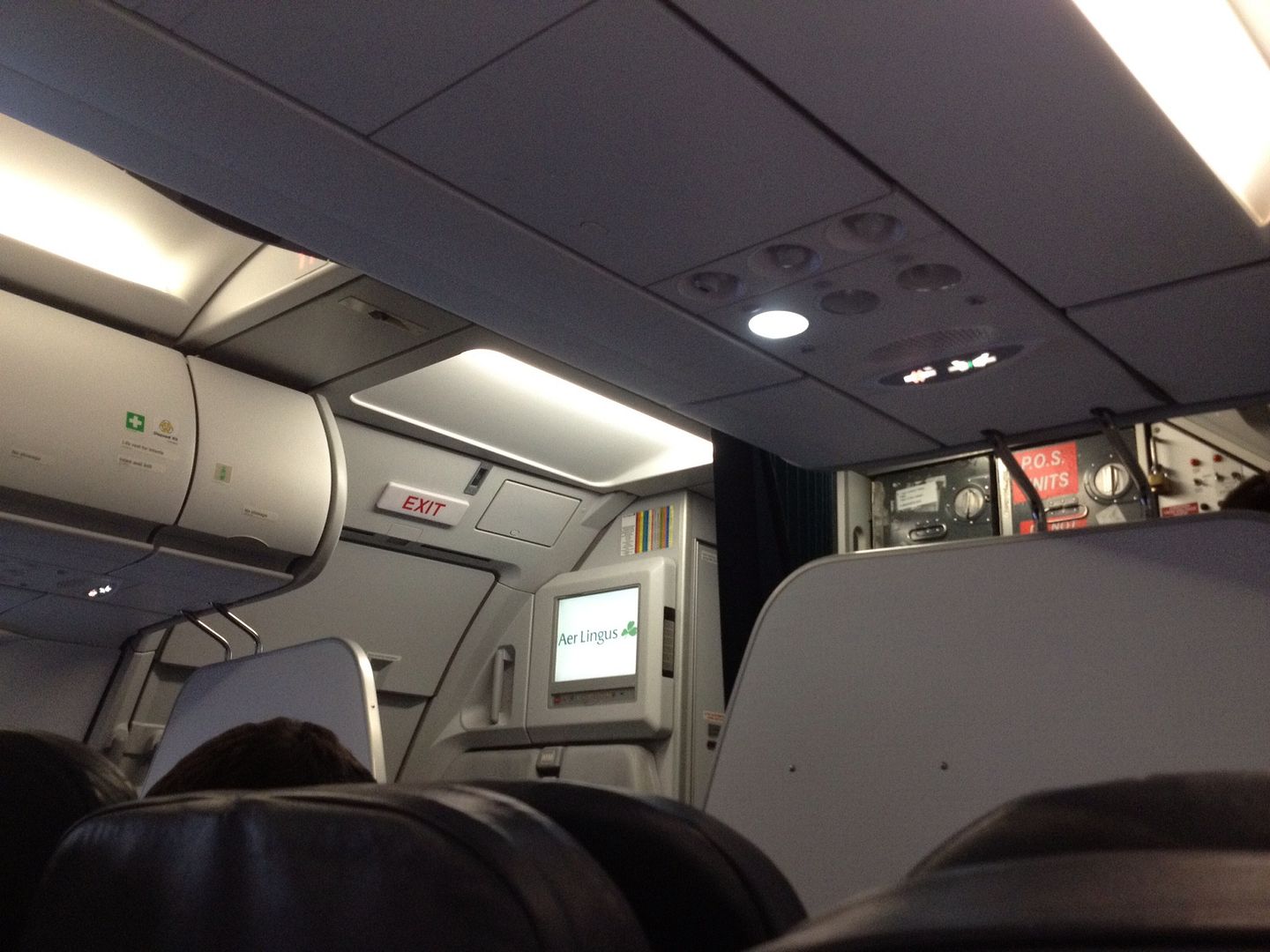 My view of the cabin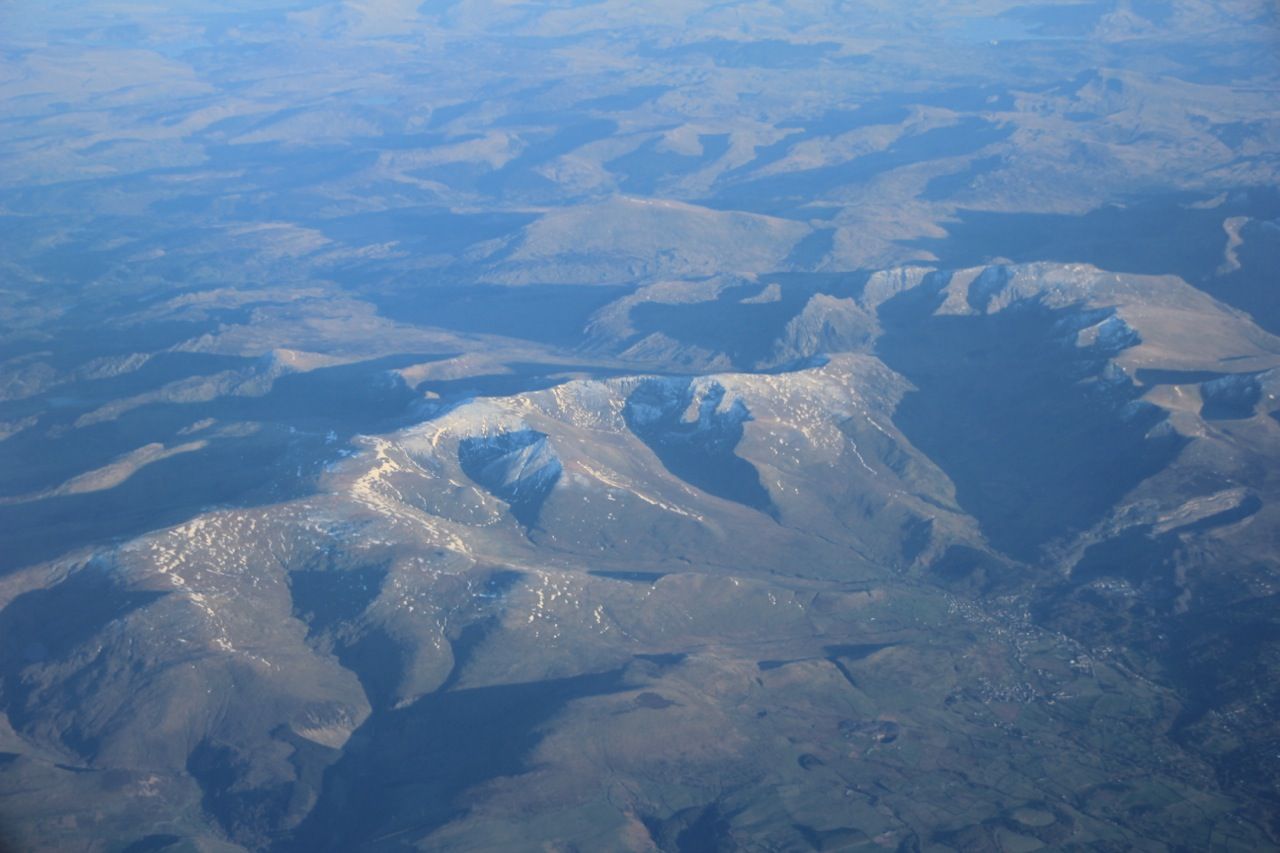 Passing North Wales
Once we were well into the descent, the captain was on again - saying that we were currently holding just North of LHR. Although, he was still hoping that we would be landing at 20:00 - I wasn't so optimistic however as it was now 19:50.
EK A380 seen on descent
http://youtu.be/sUqW2Yvvy24
We touched down at 20:10 and arrived at our stand almost as soon as we pulled off the runway. I say arrived at our stand, and not pulled on to stand for a reason. We stopped just short of our final destination. After 5 minutes the captain came on saying that the ground crew weren't expecting us and hadn't programmed the guidance system...hmmm. Another 5 minutes pass and the captain was on again, this time saying the guidance system was broken and we would have to be guided in manually - once we had found a marshaller that was.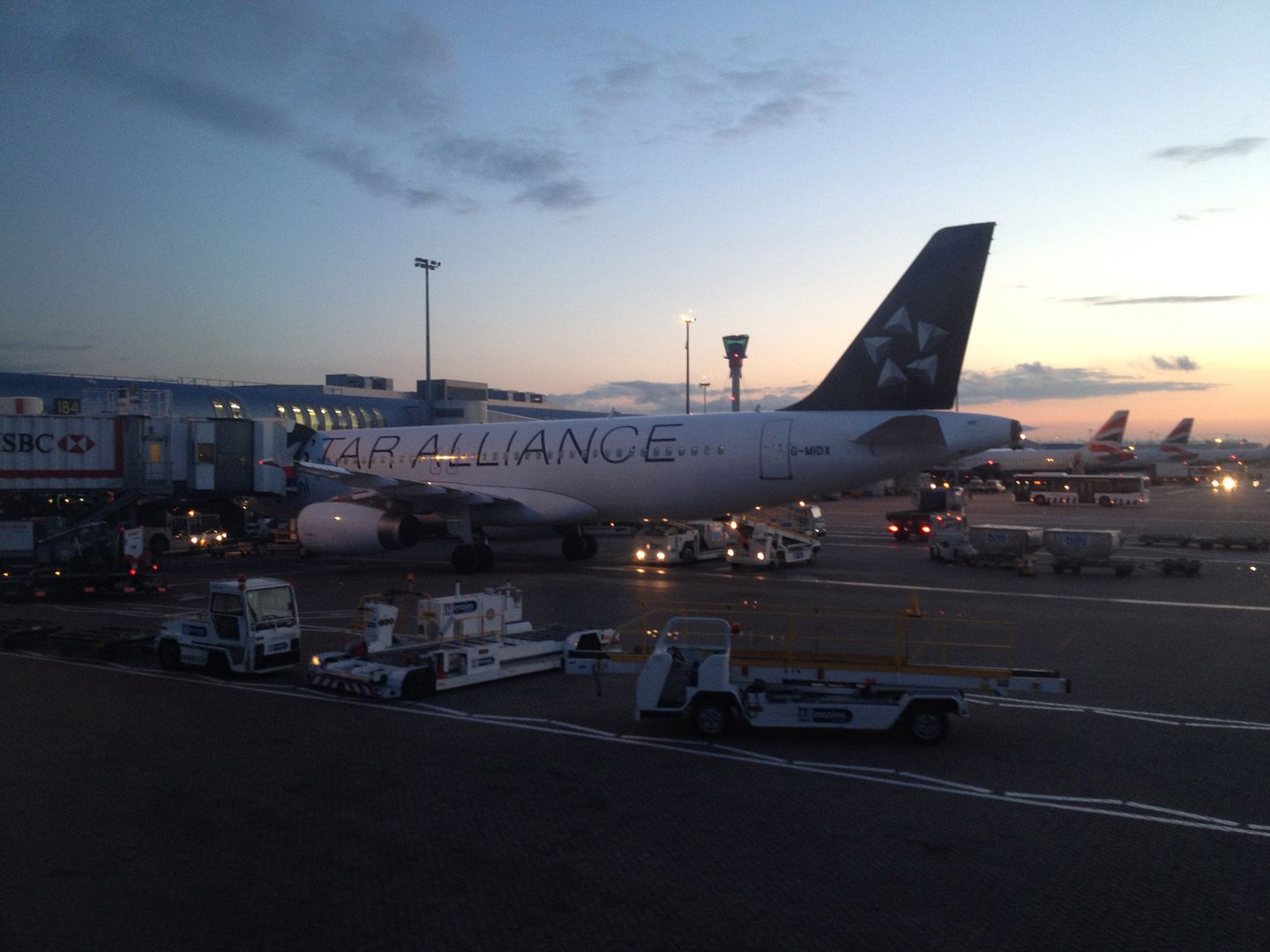 Seen while waiting - This one had also come from DUB
After a total of 15 minutes we finally pulled on to stand, and I made my way out through arrivals after the seatbelt sign was finally switched off. Being that this flight was from Ireland, there was no immigration to pass through and it was simply a case of following the signs for the exit.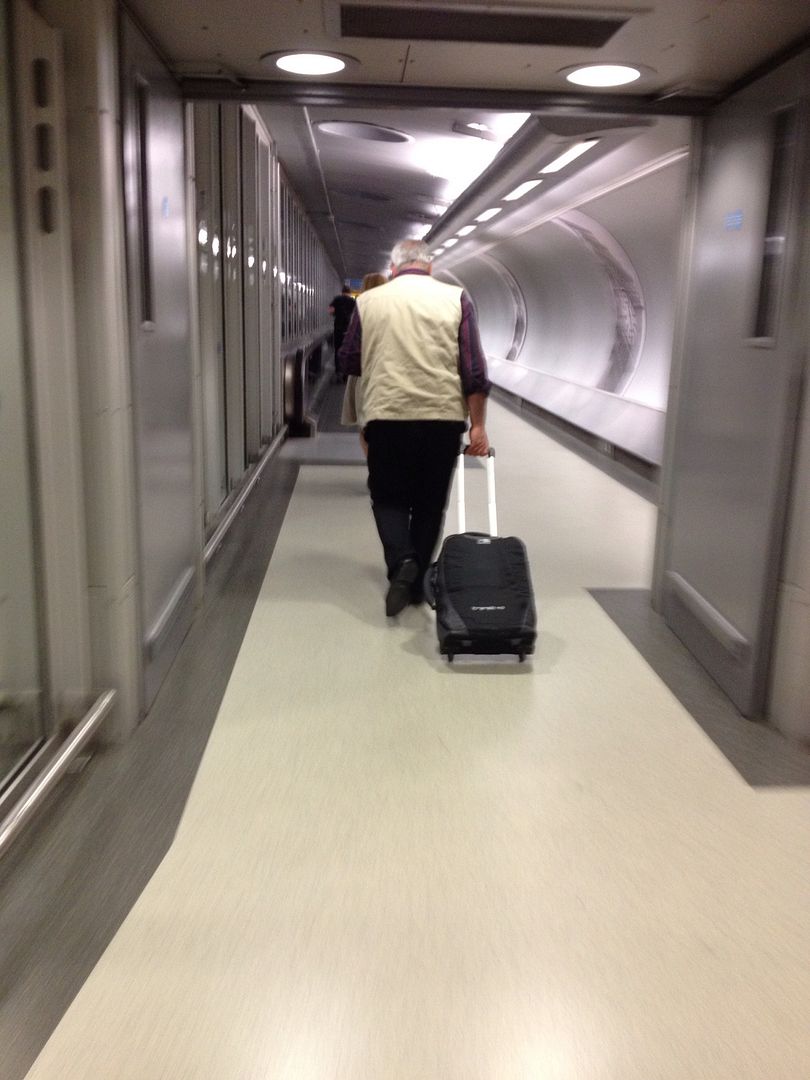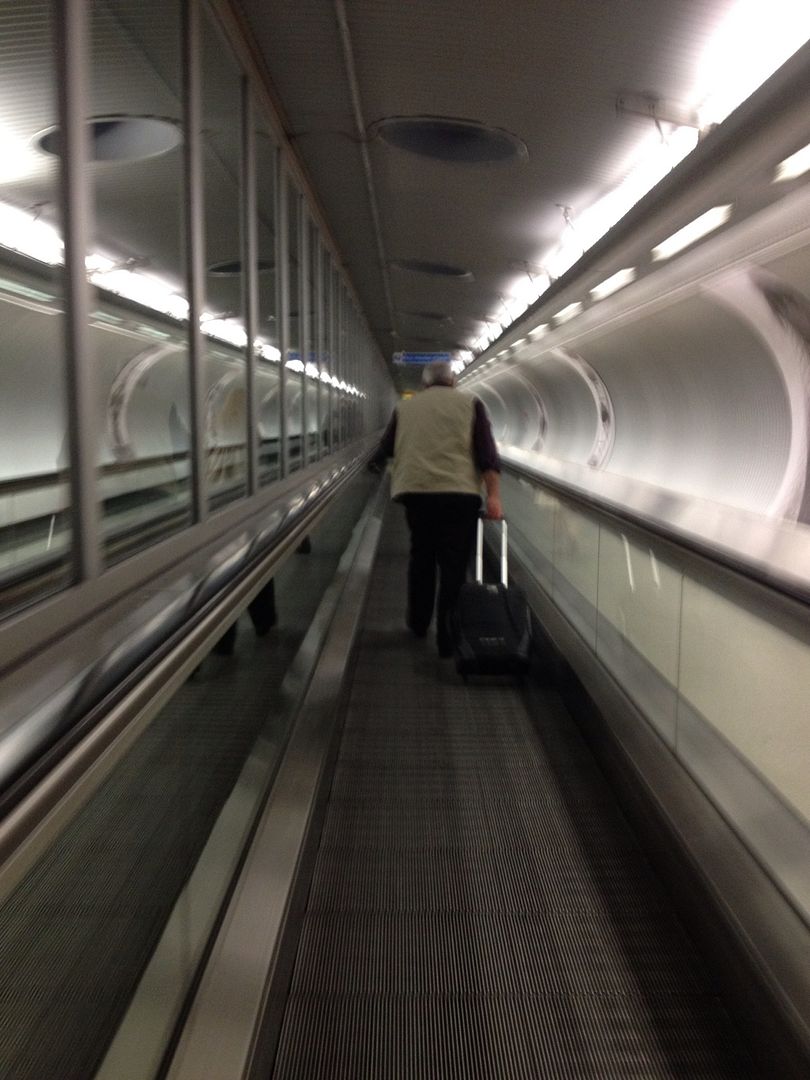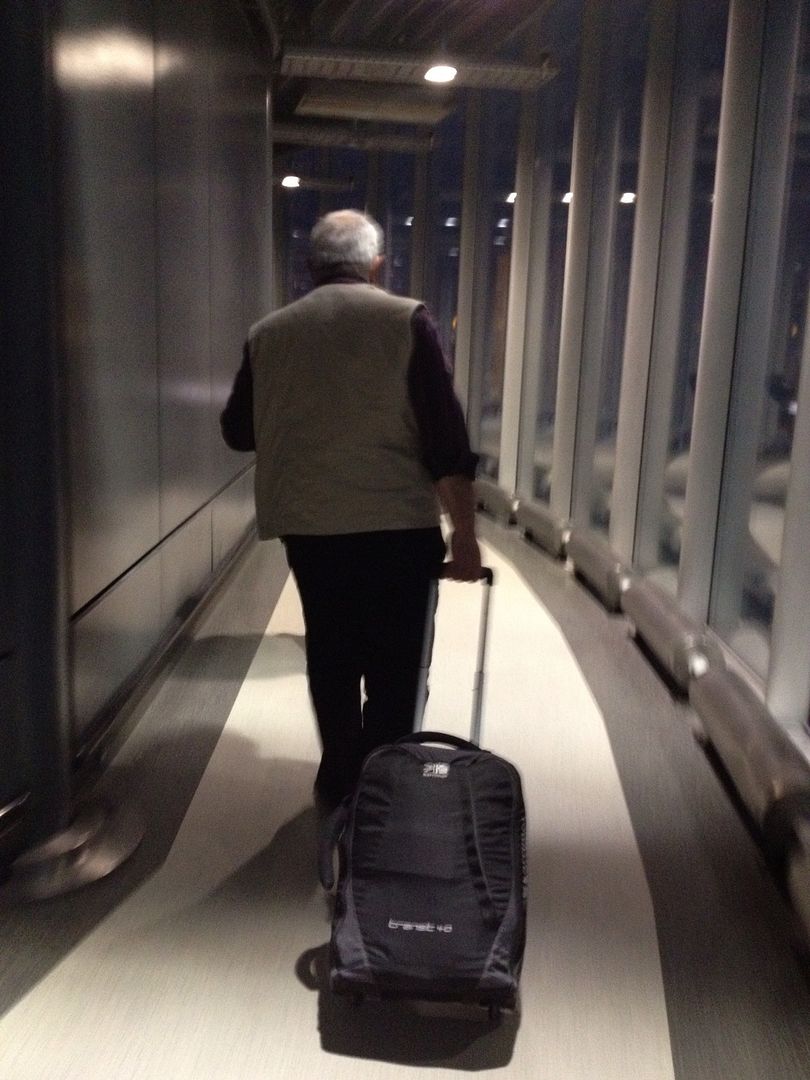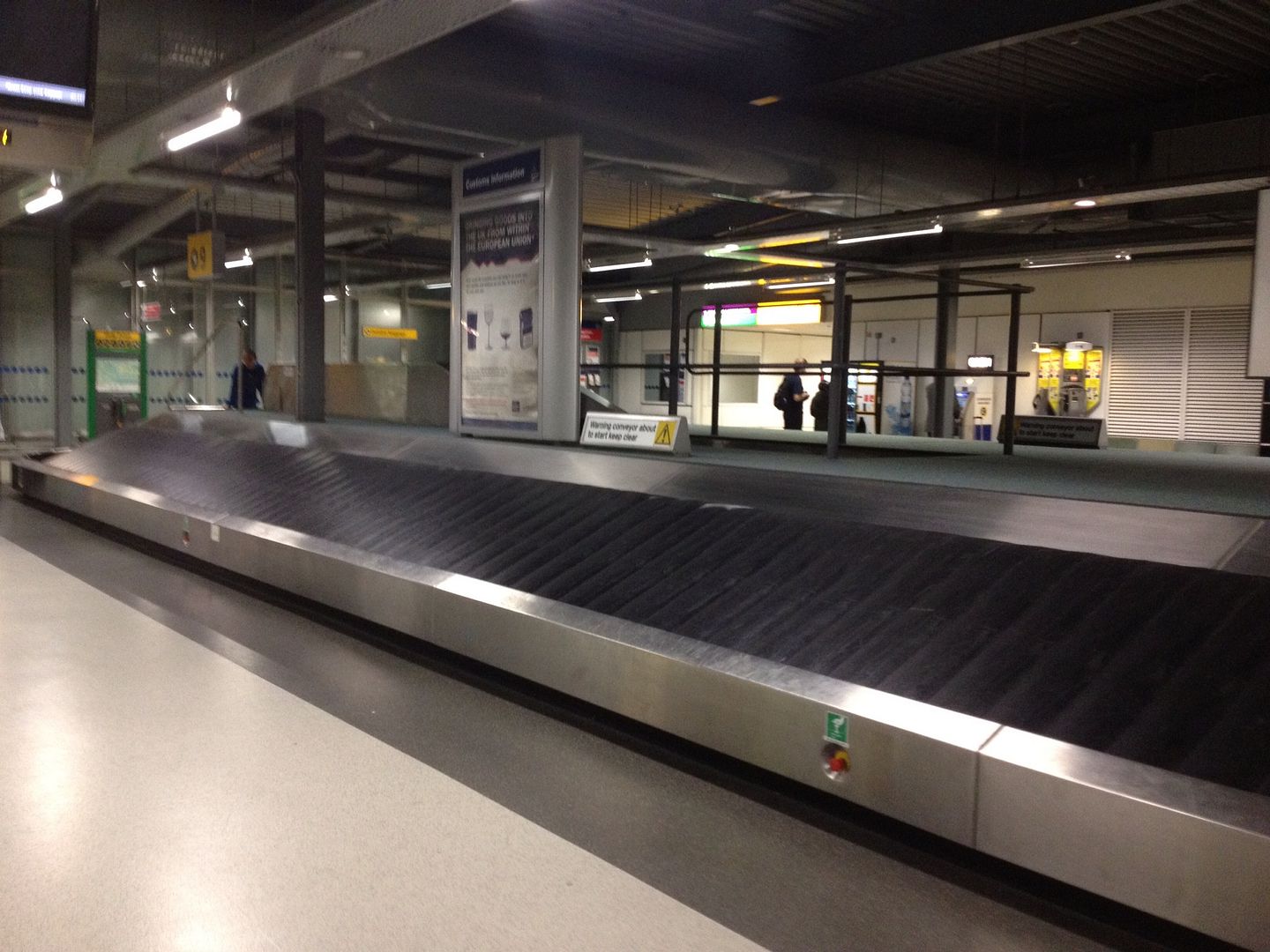 Empty baggage claim area
And another one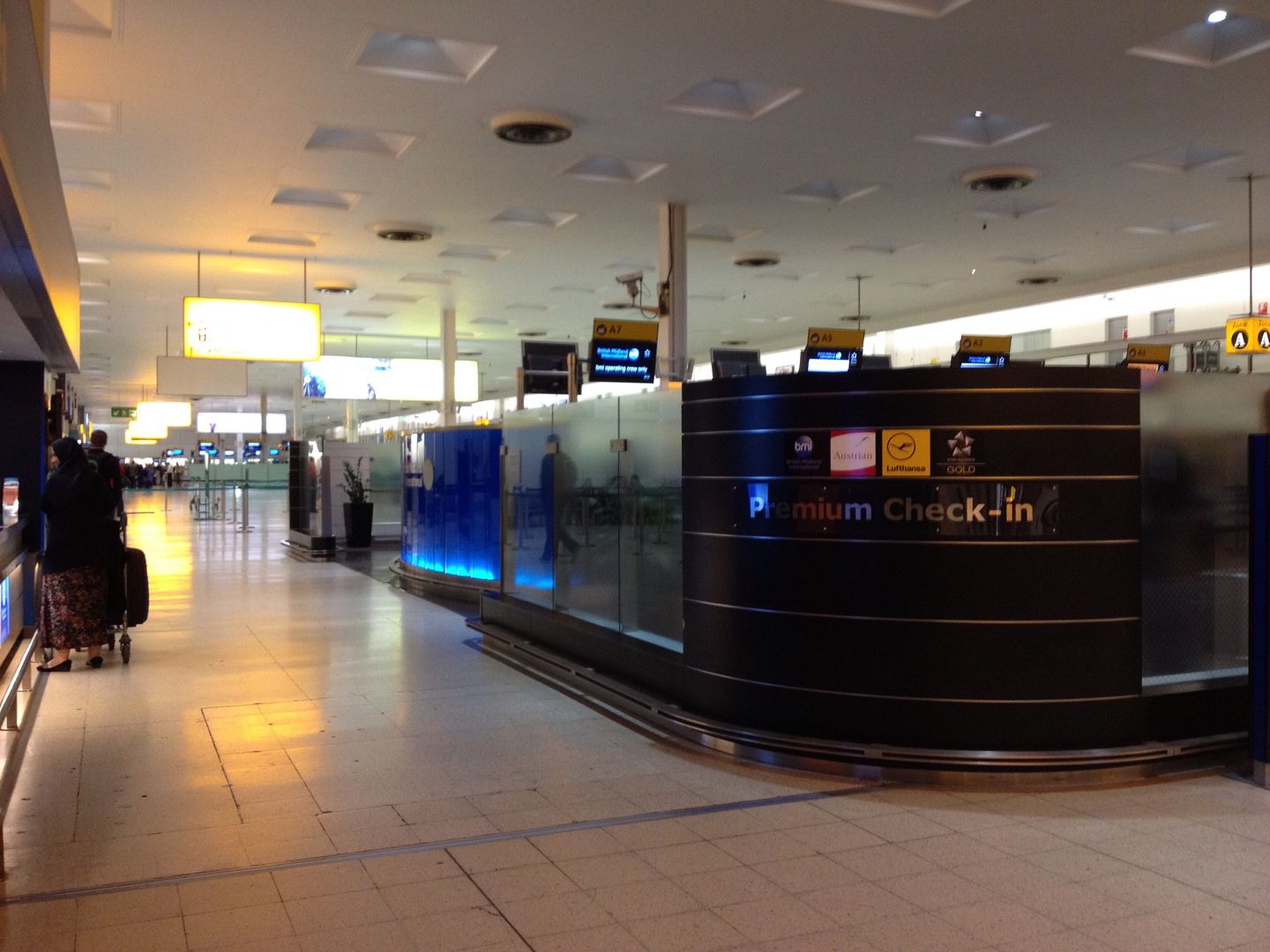 BMI premium check in - I wonder what will become of this area?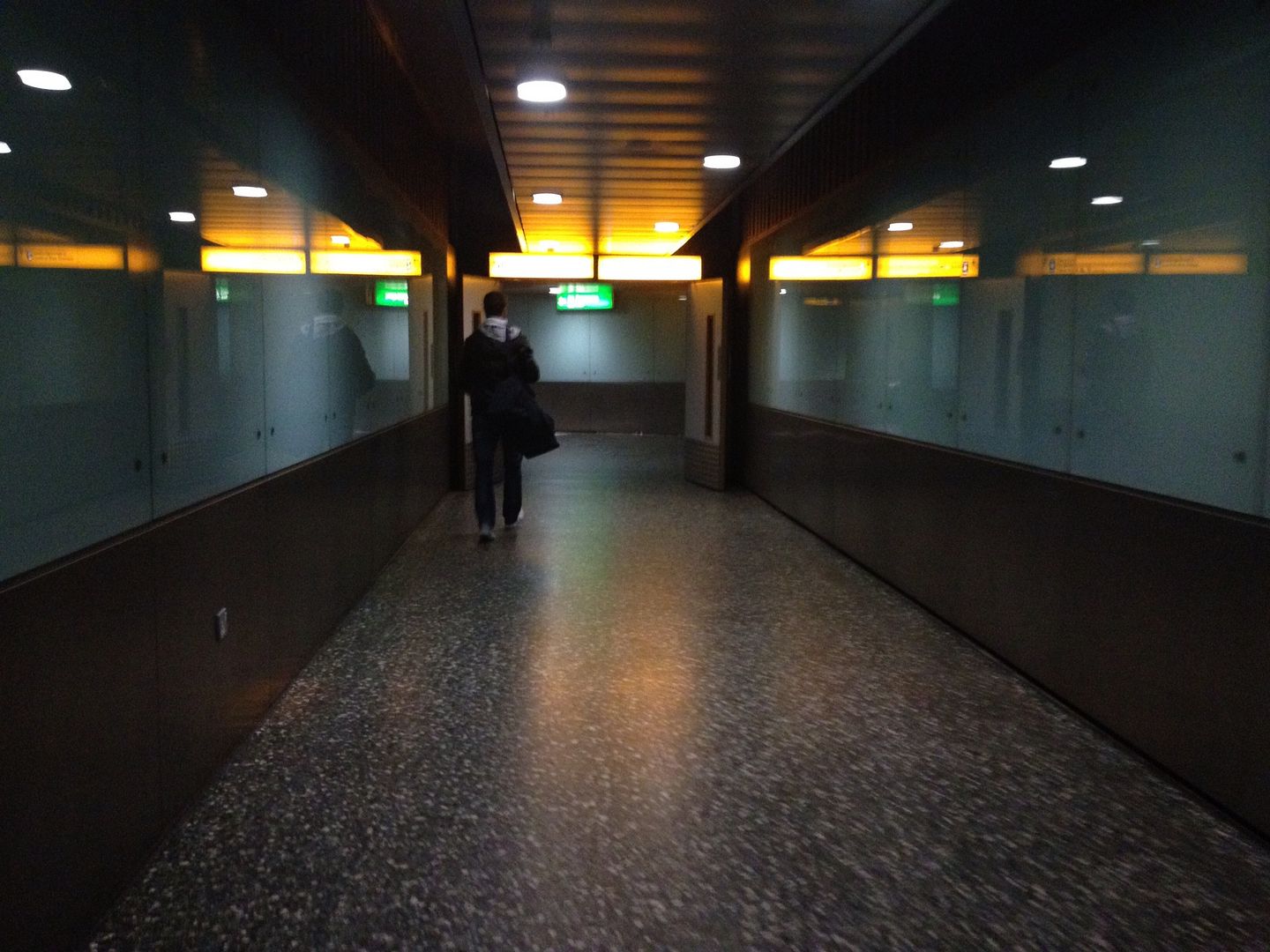 Walk through the underground tunnel to the bus station
By the time I had reached the bus stop, I had a 45 minute wait for the coach home - even though it was actually there. Much like last time though, the driver wasn't so I took a couple of pics:
Heathrow East/ Terminal 2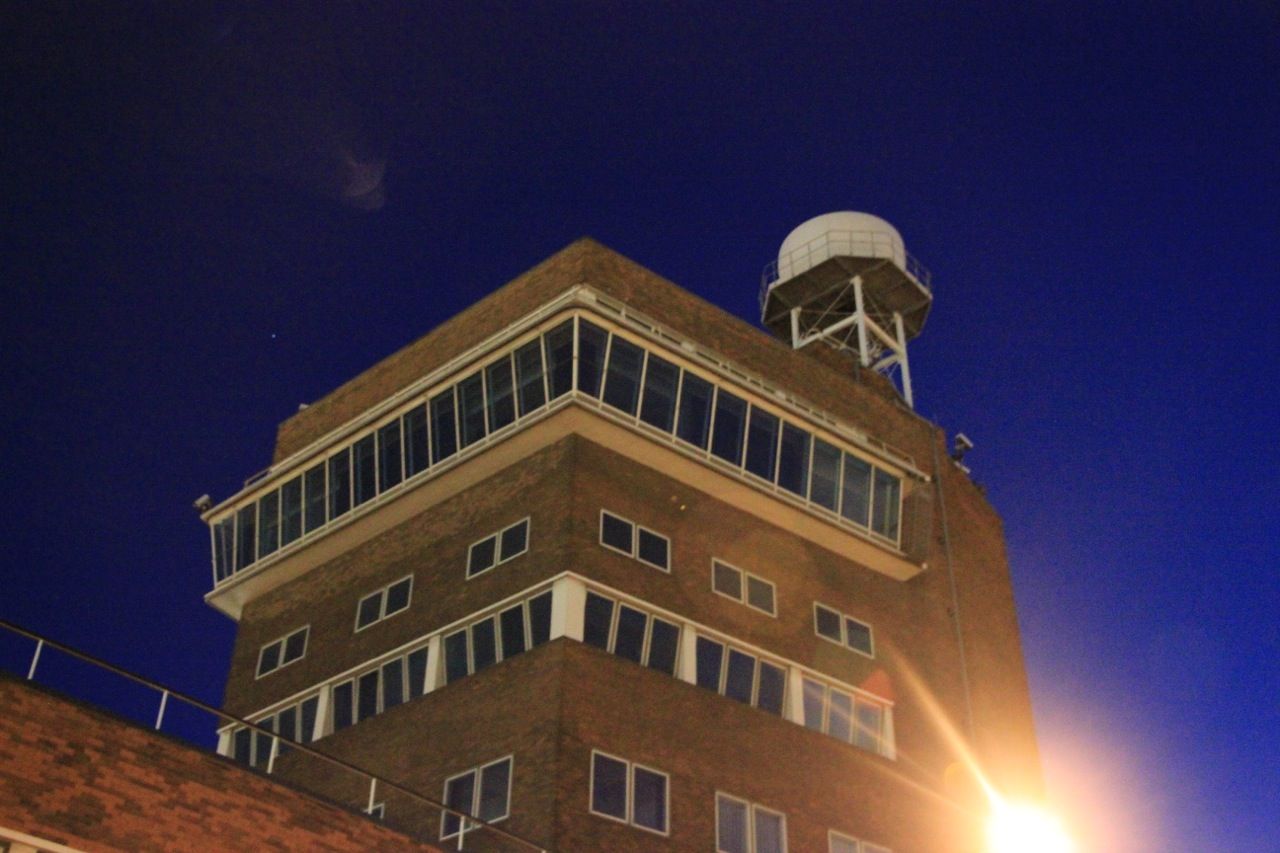 The old tower – I think they should make this into an observation deck.
Around 21:10 the coach driver turned up, as did a load more passengers and we set off. Yet again the coach didn't stop at T4 - is there not any bus stops at T4 anymore? I remember back in the day, each terminal had its own set of stops, but now they all seem to go from Heathrow Central.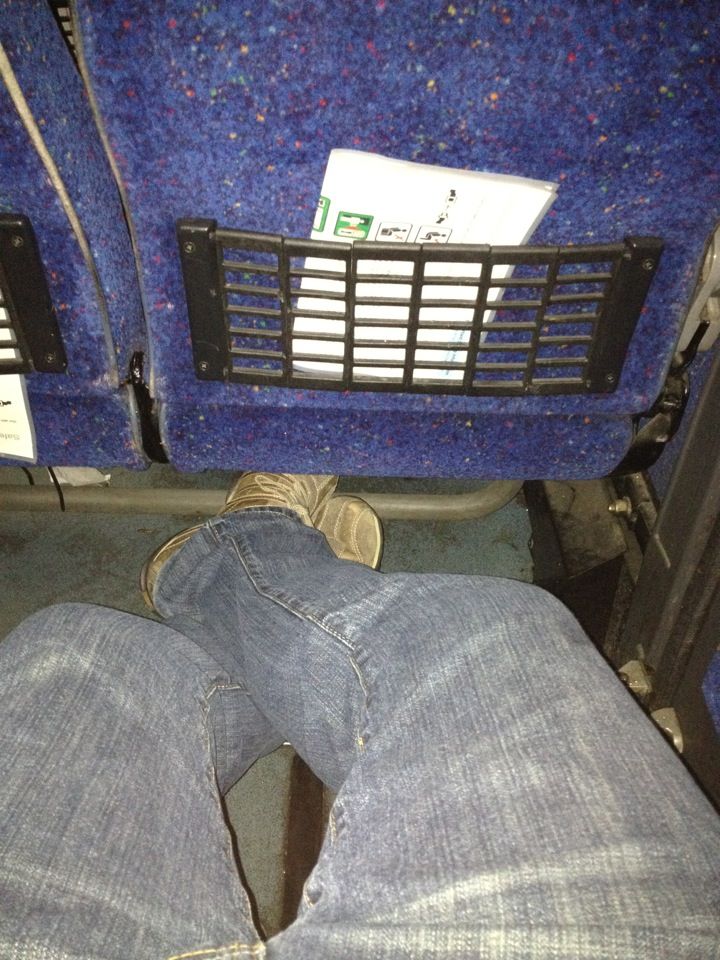 Turns out exit rows on coaches have extra legroom too!
At 22:00 I arrived back at where I started my journey 37 hours earlier.
Conclusions:
Aer Lingus: not bad for a supposed low cost carrier. Must admit, I thought the gold circle lounge at DUB was pretty good, however it didn't quite match the VS clubhouse at LHR I've been in previously.
No1 lounge Gatwick: Good view, however I felt the food service a bit lacking. If a had a spare £20, I'd probably book again however I wouldn't feel the need to go there at all costs - the bridge bar downstairs offers views just as good and only costs the price of a drink.
Jury's inn, Custom house: Clean, well looked after and modern looking - no complaints.
Dublin: reminded me of Frankfurt in a way - not a huge city, glad I went but not sure I'd rush back without reason to.
My next trip will be a farewell to BMI. I'd seen a few people on here had managed to get good deals on business class to Nice, and thought I'd do the same. Should be interesting to see what, if any BA integration has taken place by then.
Previous trip reports
LGW-FRA-BRU-LHR with LH and SN March 2012
BA906/8735 LHR-FRA-LCY March 2012
VS015/16 LGW-MCO-LGW June 2010
VS006 MIA-LHR June 2008
[Edited 2012-04-18 11:36:26]