Part 6: Biman Bangladesh Calcutta-Dhaka (CCU-DAC) on the DC10
Welcome to the sixth part of my spring trip to Asia!
The entire map:
This report's map: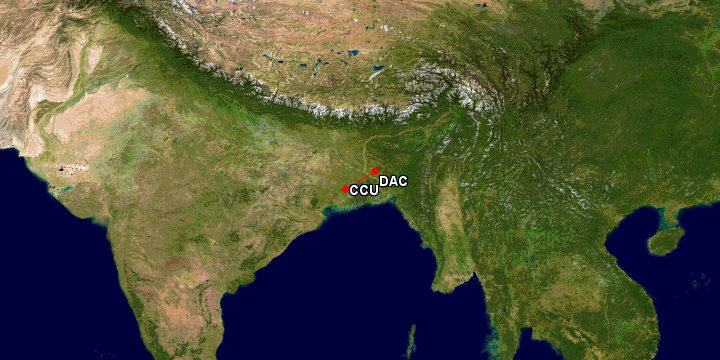 Previous flights:
easyJet London Luton-Barcelona (LTN-BCN)
Singapore Airlines Barcelona-Singapore (BCN-SIN), Business Class on the 77W
Valuair/Jetstar Asia Singapore-Medan
Garuda Indonesia Medan-Banda Aceh
Sriwijiaya Airlines B734 Banda Aceh-Medan-Jakarta with a fuel "expulsion"
Lion Air Boeing 737-900ER Jakarta-Singapore
Singapore Airlines A330 Business Class Singapore-Calcutta
SpiceJet B739 Calcutta-Bagdogra
Jet Konnect B738 Bagdogra-Calcutta
Flights to come:
United Airways Dhaka-Cox's Bazar (DAC-CXB)
Regent Airways Chittagong-Dhaka (CGP-DAC)
Biman Bangladesh Dhaka-Kathmandu (DAC-KTM)
Thai Airways Kathmandu-Bangkok (KTM-BKK)
Thai Airways Bangkok-Frankfurt (BKK-FRA)
Lufthansa Frankfurt-Dusseldorf (FRA-DUS)
Sun-Air (British Airways) Dusseldorf-Billund (DUS-BLL)
Sun-Air (British Airways) Billund-Manchester (BLL-MAN)
British Airways Manchester-London Heathrow (MAN-LHR)
Thanks for tuning in to my latest instalment of my trip to Asia! To get from Calcutta to my original preferred destination of Bangladesh, I had a choice of either overlanding (um, boring!) or flying (yes, that sounds better). There were quite a few airlines on offer, including Kingfisher and Jet Airways of India, and GMG and Biman of Bangladesh. After comparing times and prices, I elected to go with Biman, which was also scheduled to be operated by the A310, not an aircraft I've flown on much (last time was with SQ back in 2003). This turned out to be an excellent choice as not longer after I booked this happened:
One airline cancelled the route (along with basically all of their scheduled flights), and the other put their entire operation on indefinite hiatus.
As I monitored the flight in the days before the flight, I noticed the flight had been upgraded to the very rare DC10 – excellent news. I'm sure I logged one of these in the "olden days", but this would be my first in living memory.
From my hotel in Calcutta, I hopped into a taxi, and headed off on another death-defying journey to the airport. Evading the tram: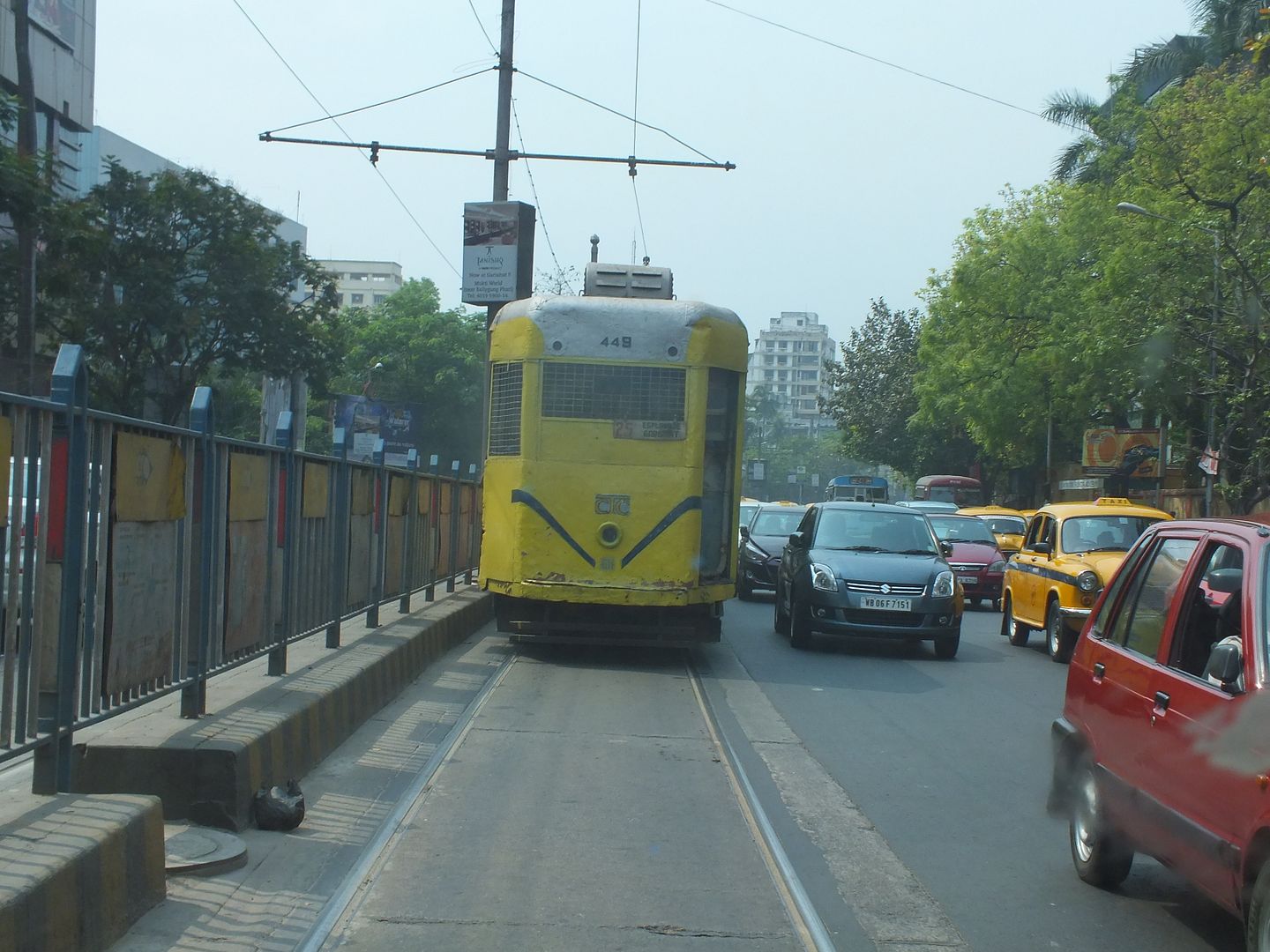 Always a bit nervous when heading to the airport in strange locations, my heart almost stopped when my taxi driver (for once I was appreciative of his crazy driving) managed to get us off an off-ramp *just* as it was being unofficially closed by a troop of rampaging protesters. WTF?! As my driver beeped his way through, the car feet behind was stopped and a line of breeze blocks blocked the way. Phew, that was a close call. You can see the other cars stuck on the ramp. When I finally got to the airport, I spoke to an American guy that was stuck stationary for 45 minutes, which could have been disastrous.
Thankfully, I arrived bang on schedule, and headed through the security control, and to the check in desks. Biman is handled by Air India in Calcutta (although it took me walking around the entire check in area to find this out), and there were a lot of desks open, so no queue. I asked what aircraft would be operating, and was told, after a bit of typing, "An Airbus, sir". Oh no, that puts paid to my DC10 flight. Biman really do like changing their equipment! I asked for a window seat and was told that this sector was free seating.
FIDS (of sorts)
On my way into the terminal, I noticed a sign for the "viewing lounge". Hmm, seems a bit too good to be true in aviation hating India. Still, I had an obligation to check it out. I had to argue with the guard to let me out of the check in area. I then proceeded up many sets of un-air-conditioned stairs to find the "gallery". To be fair, there was a view of the tarmac, just no planes to be seen. There were also plenty of signs saying that photography was prohibited.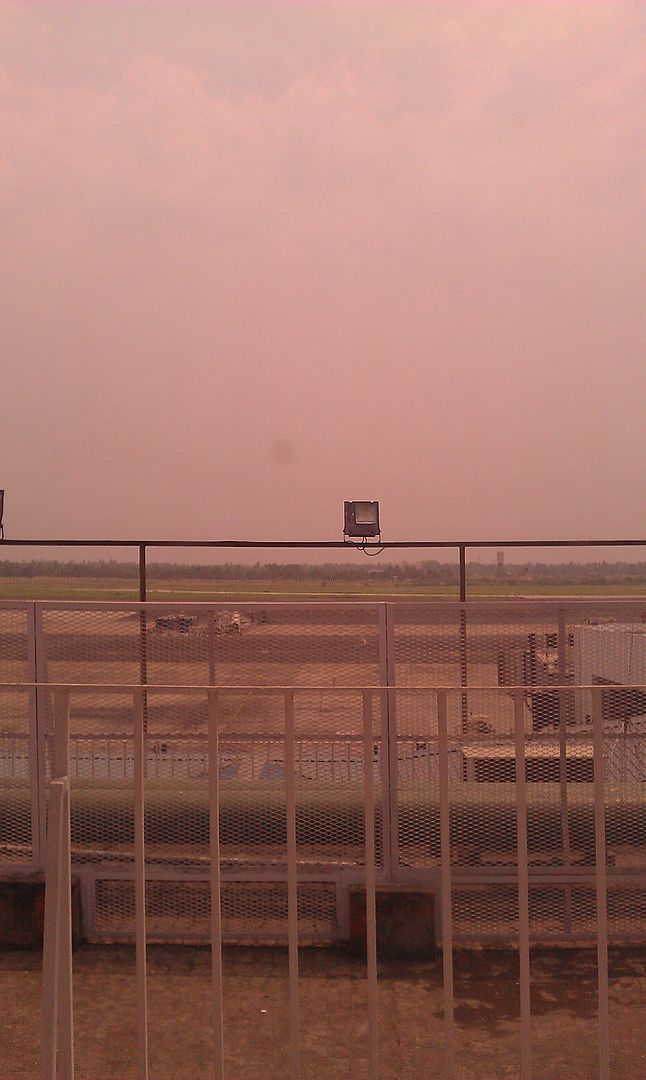 I headed back downstairs, had another argument with a different guard as to why I had gone upstairs, and then joined the short, but unmoving queue to change my Rupees into Bangladeshi Takas (and appalling rates, and with equally bad service).
With my Rupees gone, I joined another long, slow moving line for immigration, where I chatted to the aforementioned American, heading to Bangkok on the Air Asia flight. There was an interesting view of the luggage conveyer from the line – seems like every bag got stuck here until another came and pushed it off.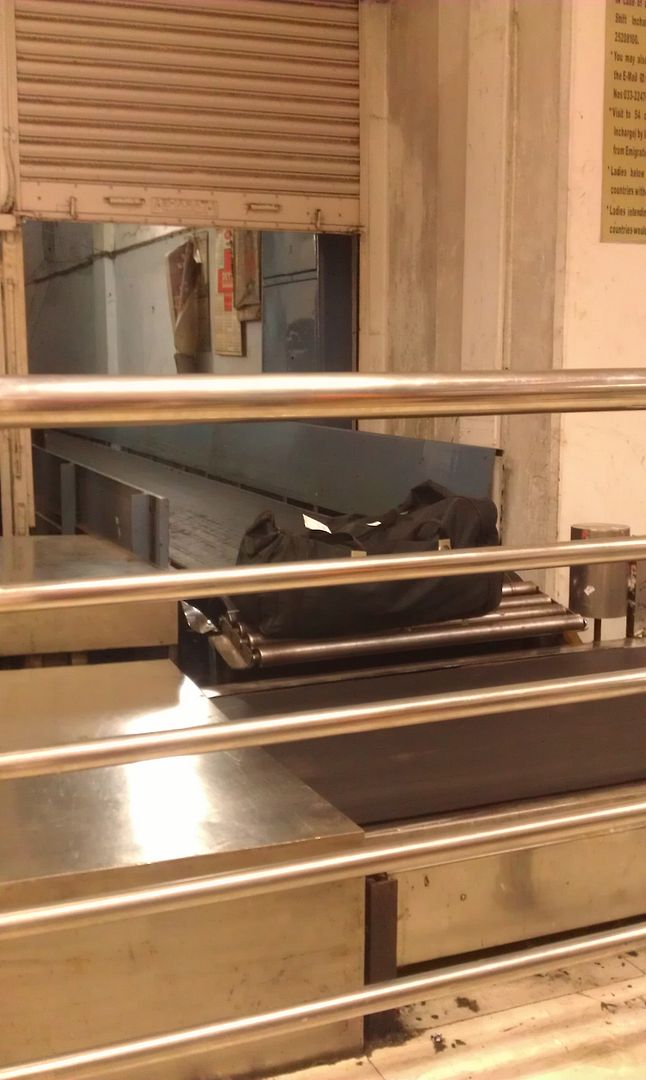 With my passport stamped, I proceeded to the top of the stairs where I joined another long unmoving line for security. As I hadn't attached any hand baggage tags to my bags, the guard got into a bit of a strop, before attaching some EK ones, then stamping them.
There wasn't a lot to do in the departure lounge other than sit and watch the other passengers. Tarmac views were basically zero, but I did manage to get this:
Kind of hard to guess as a type though. When the flight flashed up as boarding, a queue very quickly formed, cutting the departure lounge in half stopping anyone from walking past.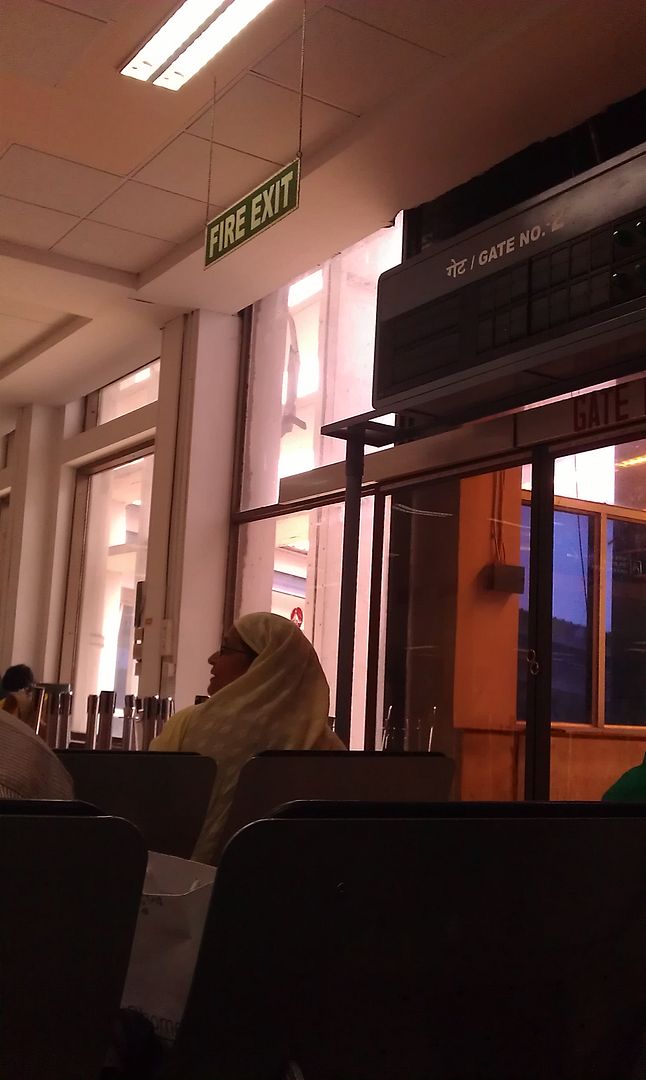 From what I could see, there were just 2 other westerners on the flight. The first queue was checking we had a boarding card.
Further along there was another queue to collect the boarding card. I was delighted when the plane finally came into view: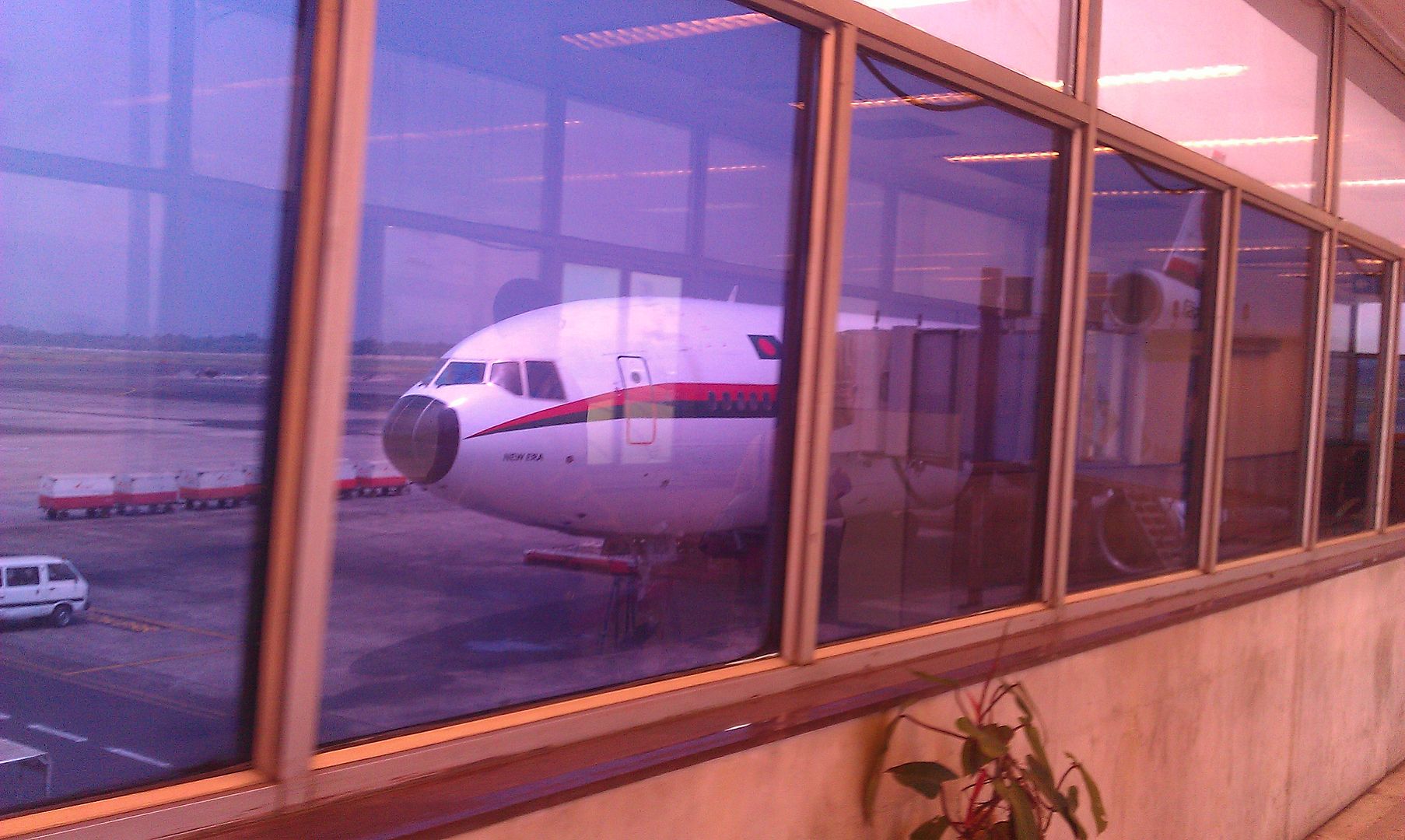 'New Era' would be taking me across the border today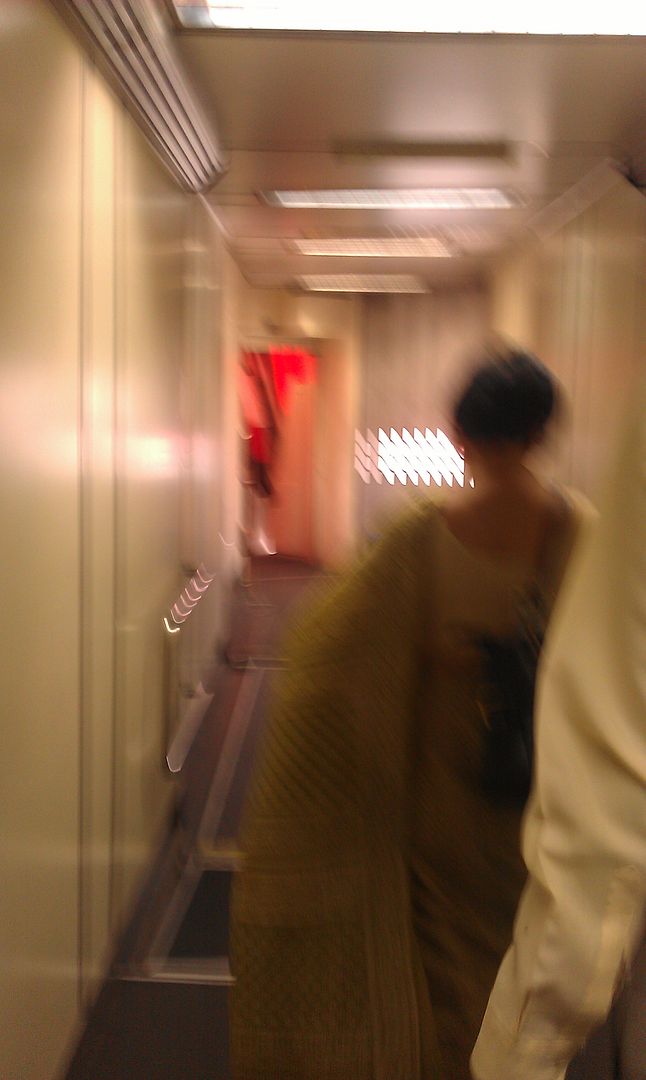 April 2012
Calcutta (CCU) – Dhaka (DAC)
Biman Bangladesh Airlines BG 94
Scheduled: 1230-1350 (0h50m)
Actual: 1441-1543 (0h32m)
McDonnell Douglas DC10 "New Era" S2-ACR
Economy

-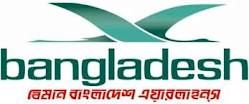 -
This was the same plane N178UA took DAC-JED-FCO
At door 2L, everyone was being directed towards the back. I asked if I could sit in the forward curtained off section. The guy at the door, looked me up and down, and nodded me towards the curtain in front of door 2R. I was in! The entire plane is economy, so it wasn't an upgrade as such. The front cabin was much emptier though, with just a few people already in there. I checked out the seats available, and eventually plumped with 3A. The cabin filled up slowly, with one other foreigner, and a few other assorted Bangladeshis.
The reassuringly organgey and flowery cabin of the Biman DC10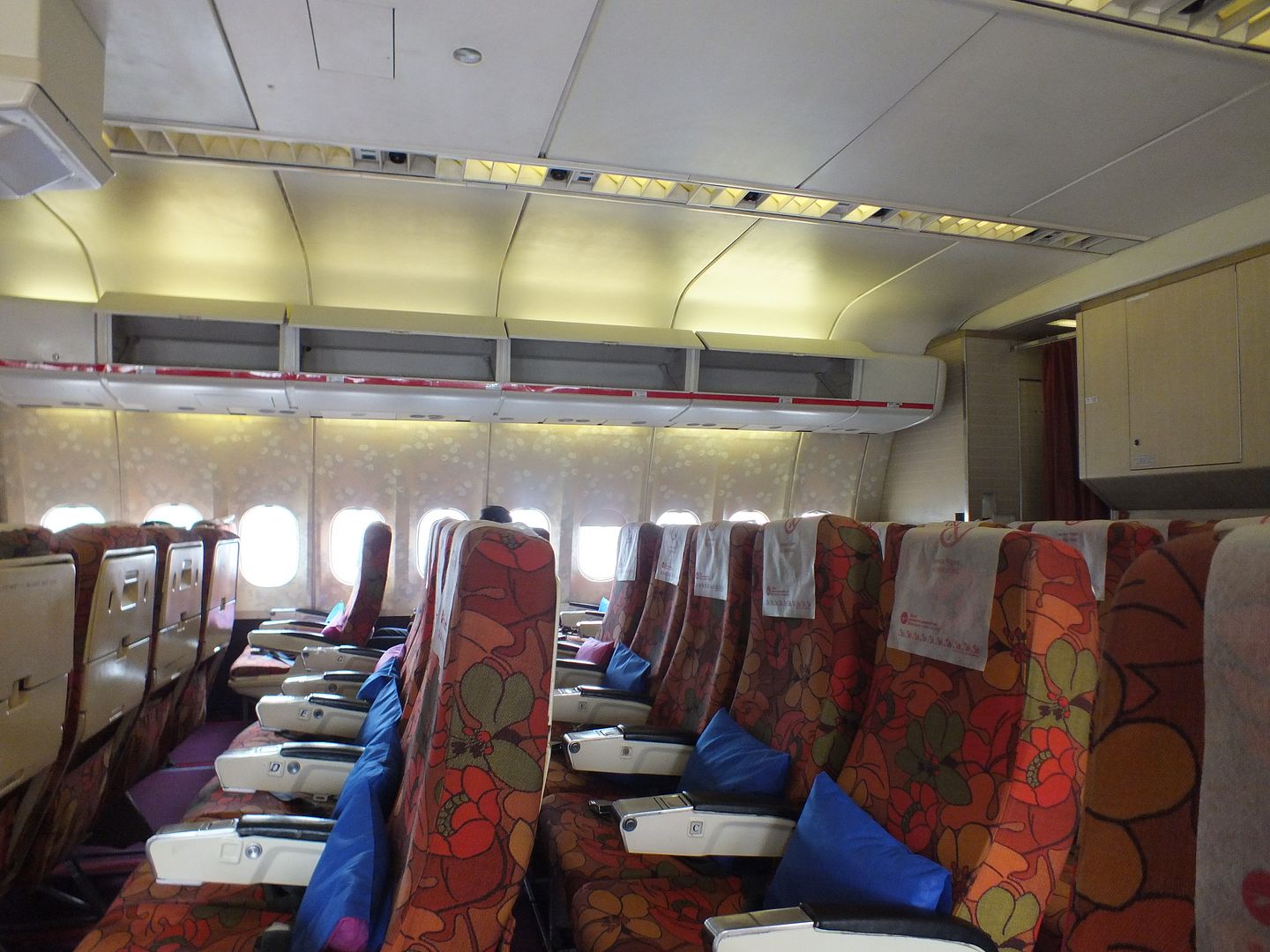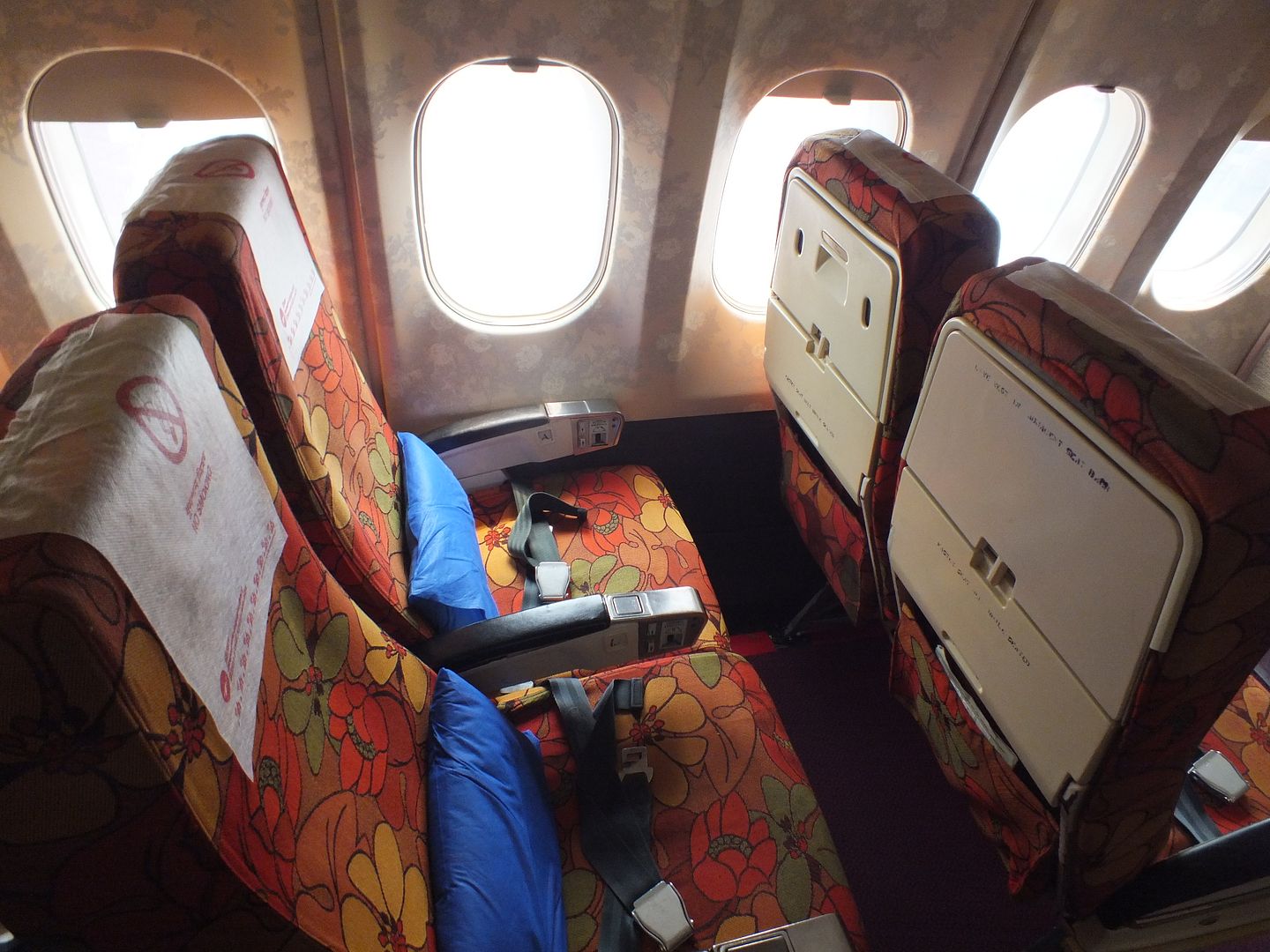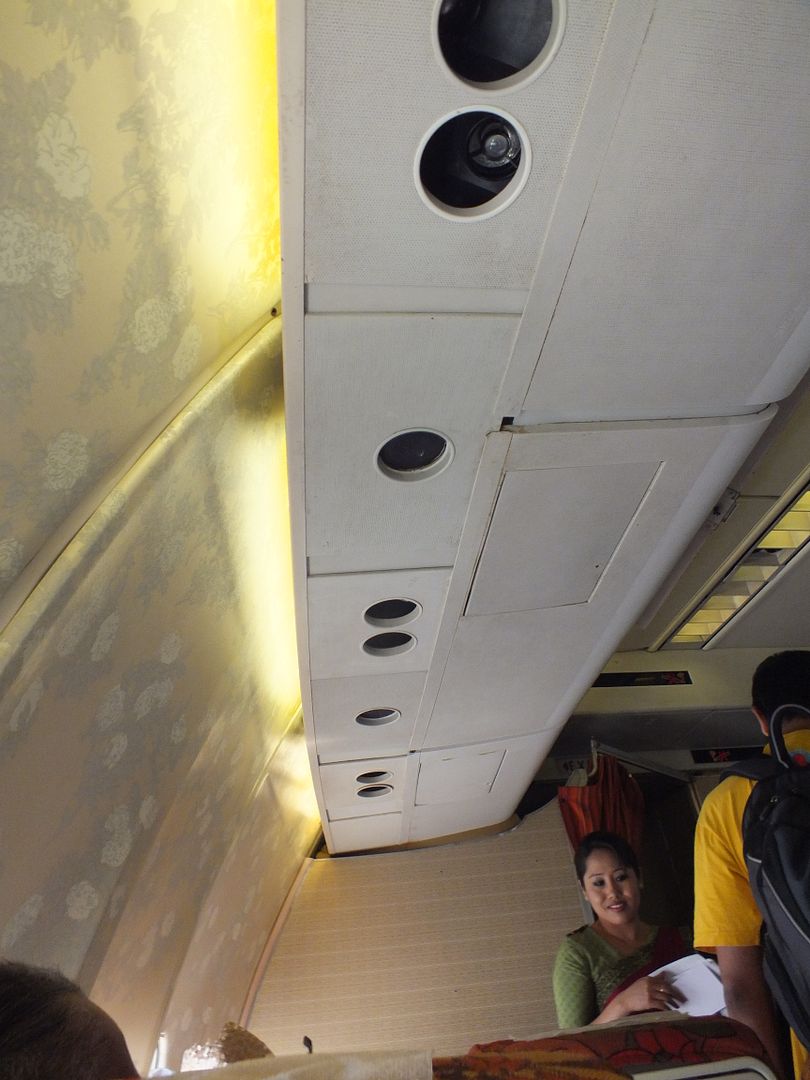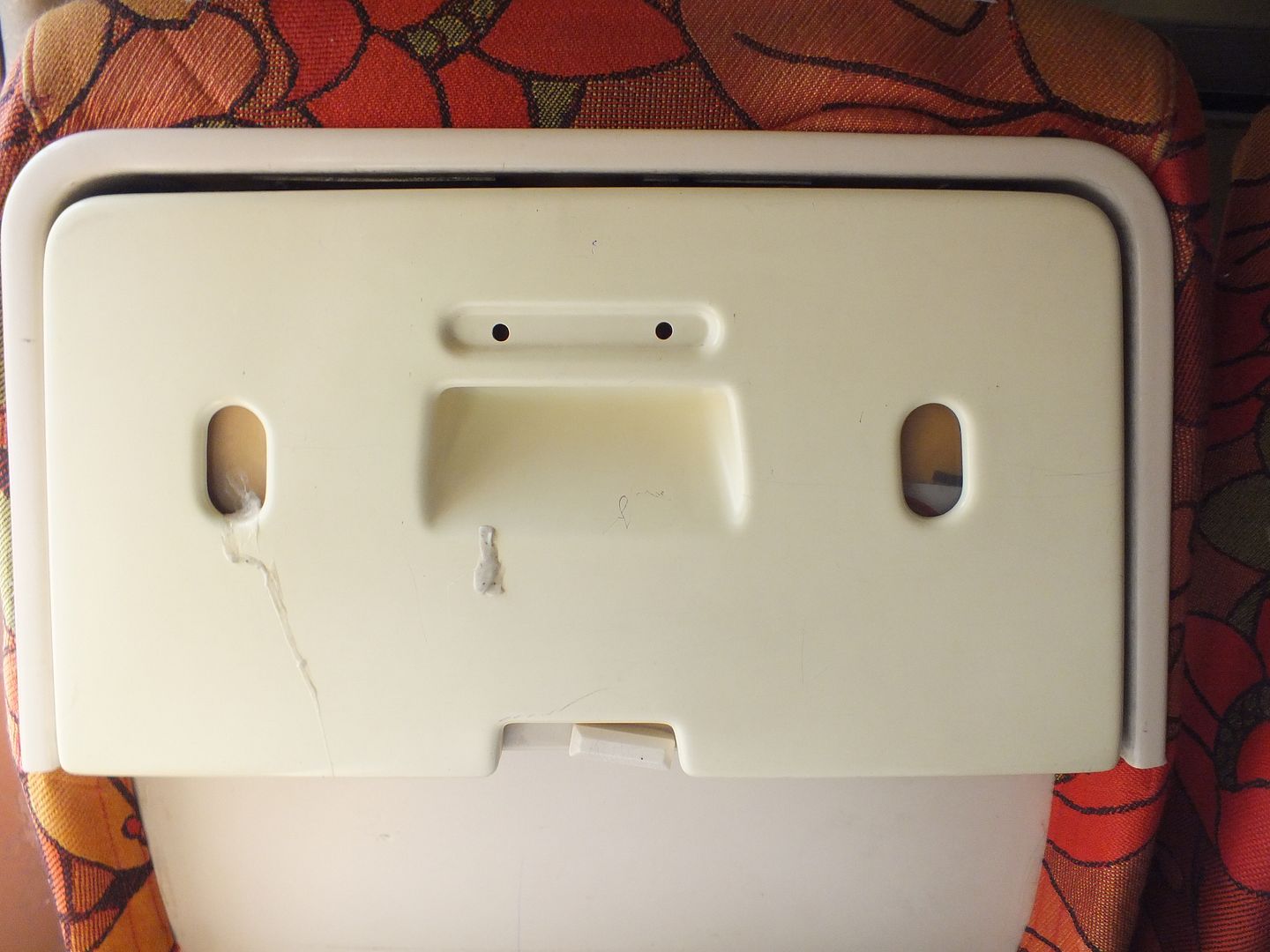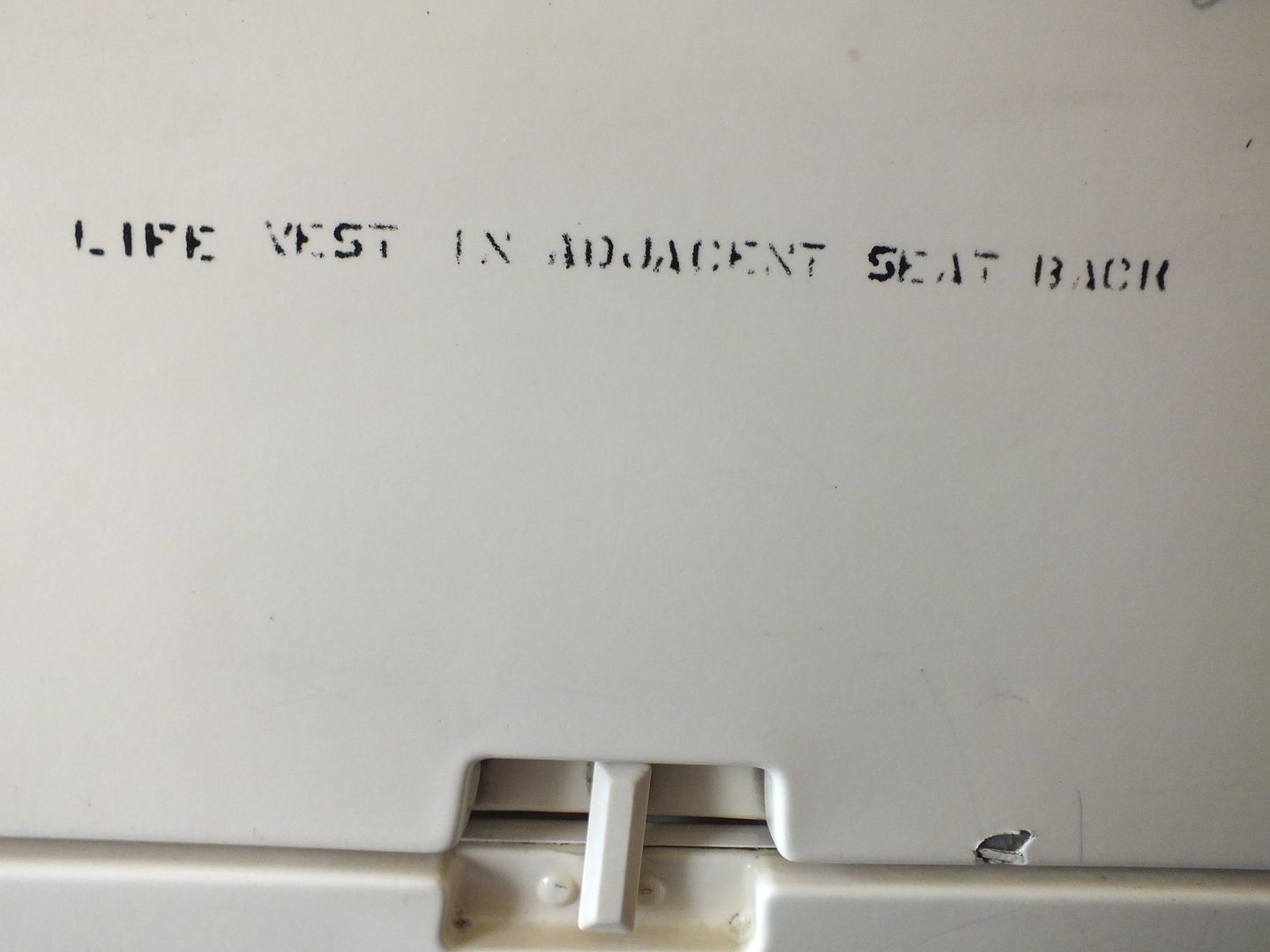 Retro IFE, and no, the call button/light didn't work (there wasn't even a light in the hole)
Legroom short – fairly acceptable
Jetbridge still attached
Where's the DC10?
Safety Card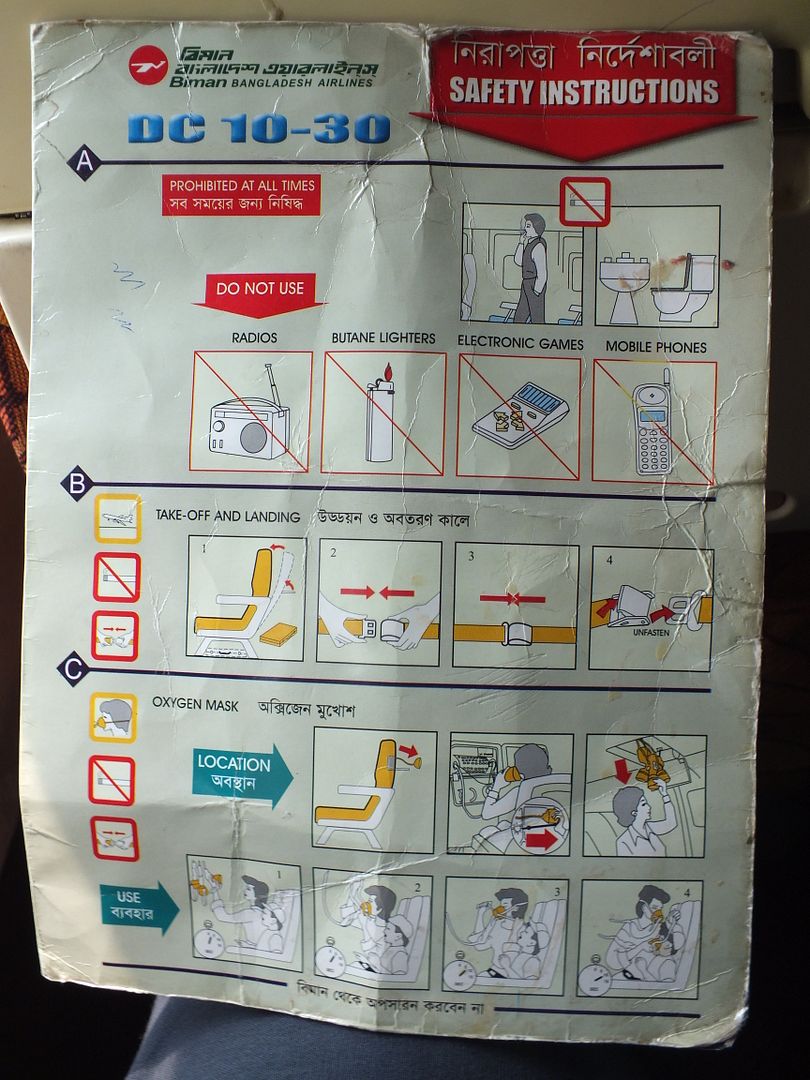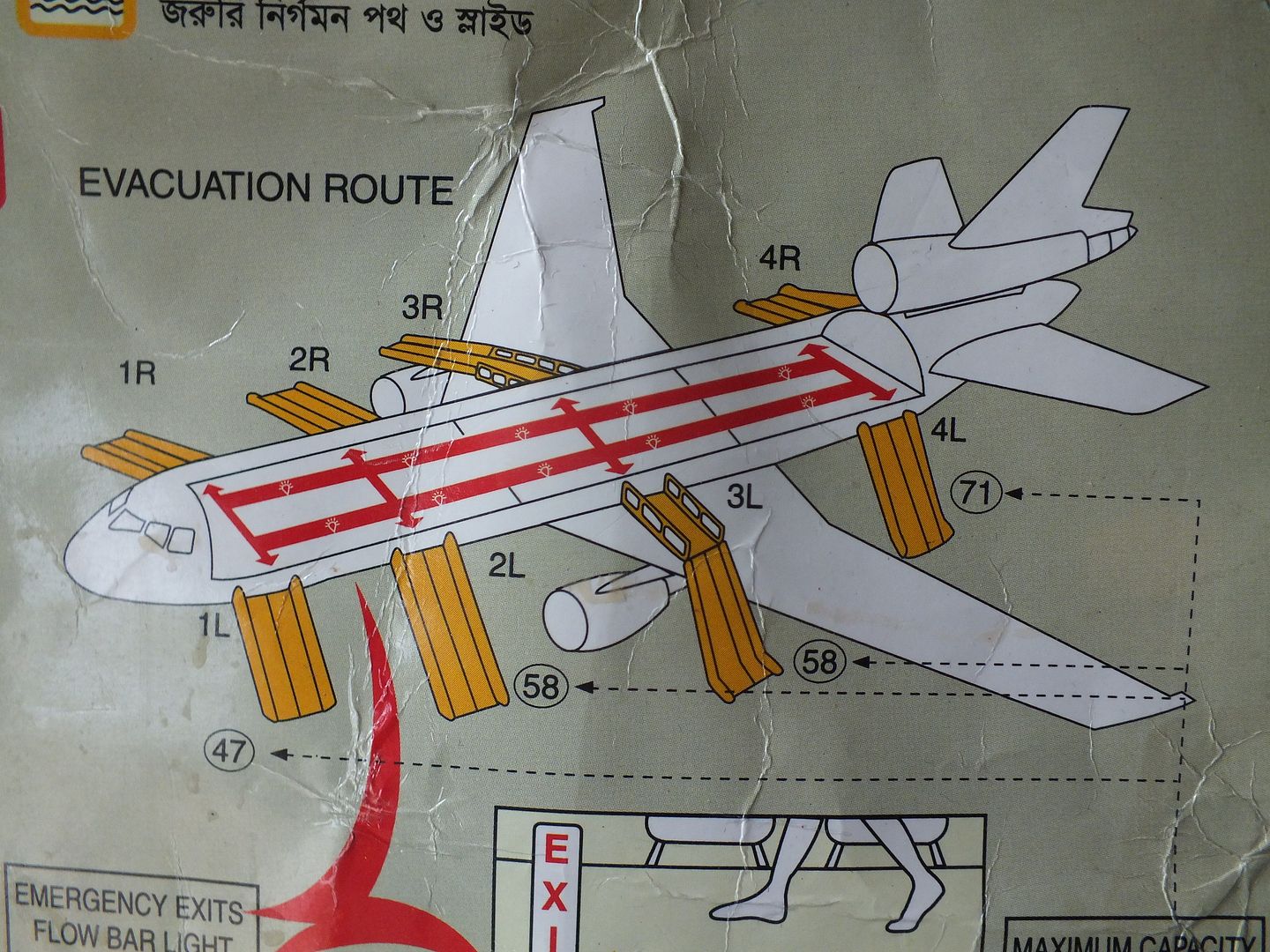 Landing cards handed out
And then we sit. Of course, this is Biman so despite an early boarding, we will sit at the gate until we're late. There was a mumbled announcement that we were waiting for luggage, which I think is highly doubtful. Lucky I'm not in a rush.
Papers are handed out
I'm quite surprised that a trolley is rolled down the aisle and lunch boxes handed
Not the best lunch, but more than I was expecting. Some boxes had 7UP, others Pepsi. Water was also handed out which was good as I don't do soft drinks.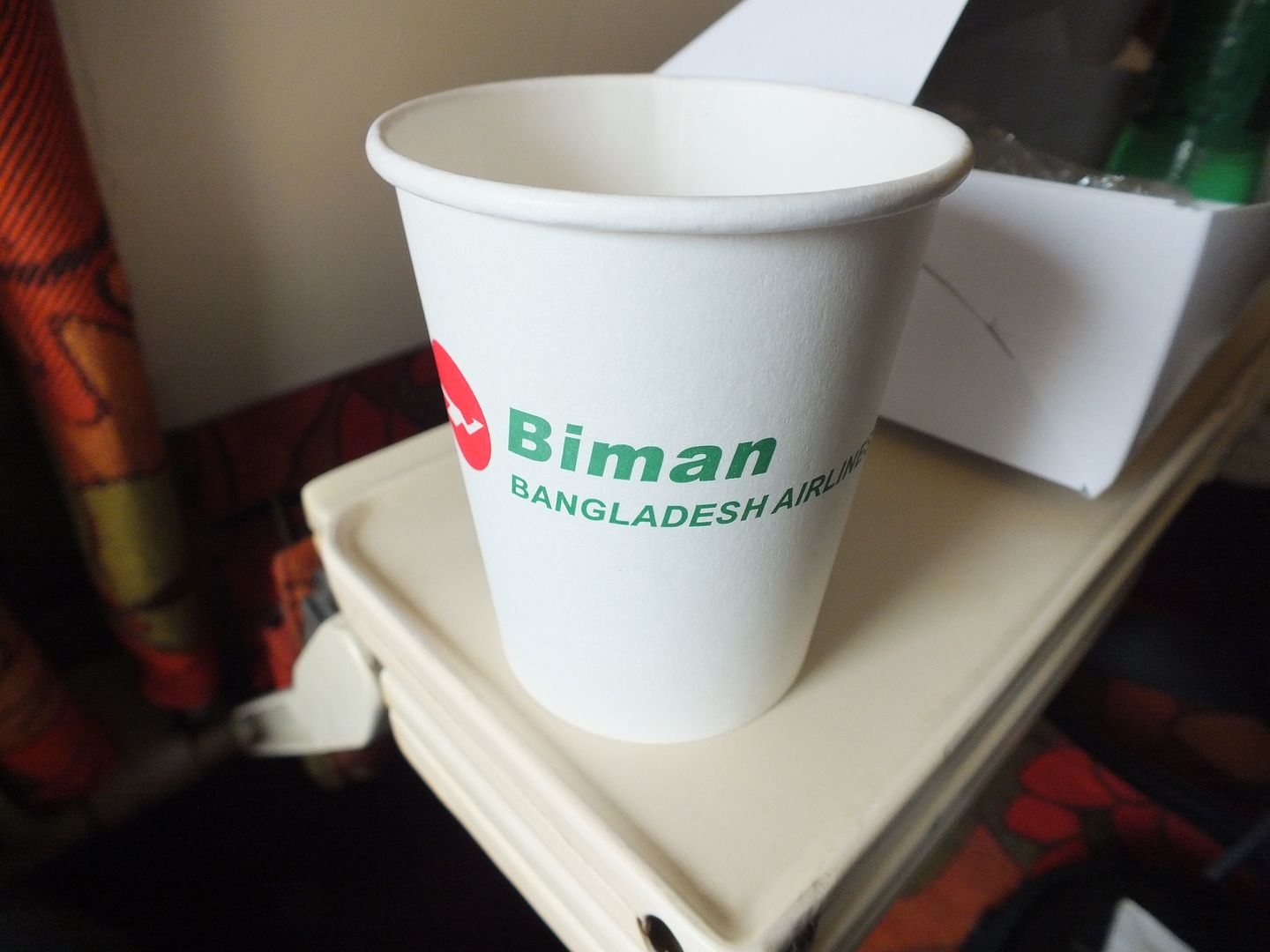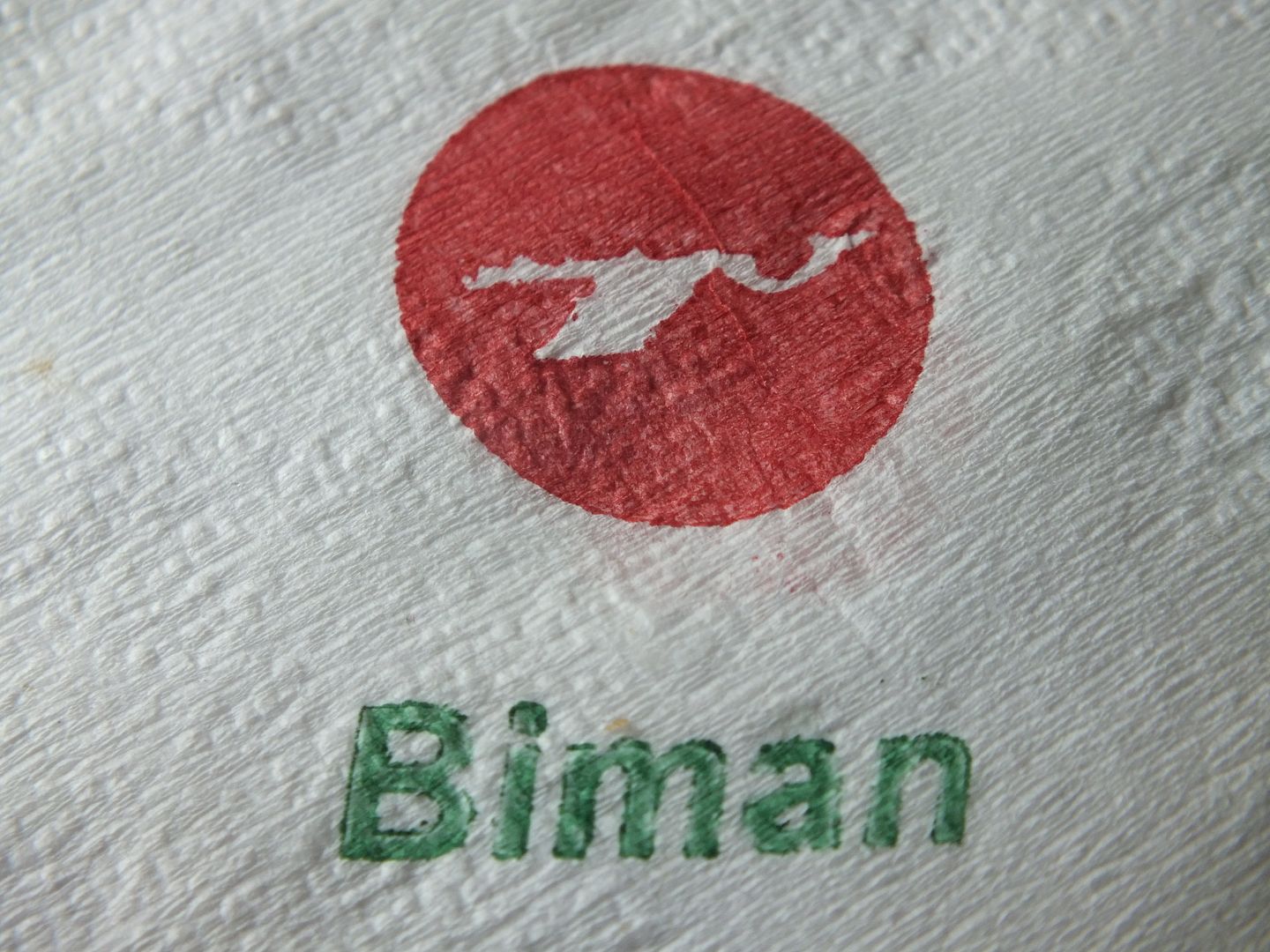 With "lunch" dispensed with, we sat a bit longer. I asked one of the two very friendly cabin crew if I could have another glass of water. I thought she'd forgotten until she reappeared about 5 minutes later with this:
Well, I won't be going thirsty this flight!
Finally nearly 2 hours after our STD, we push back. Finally, I'm on my way to Bangladesh!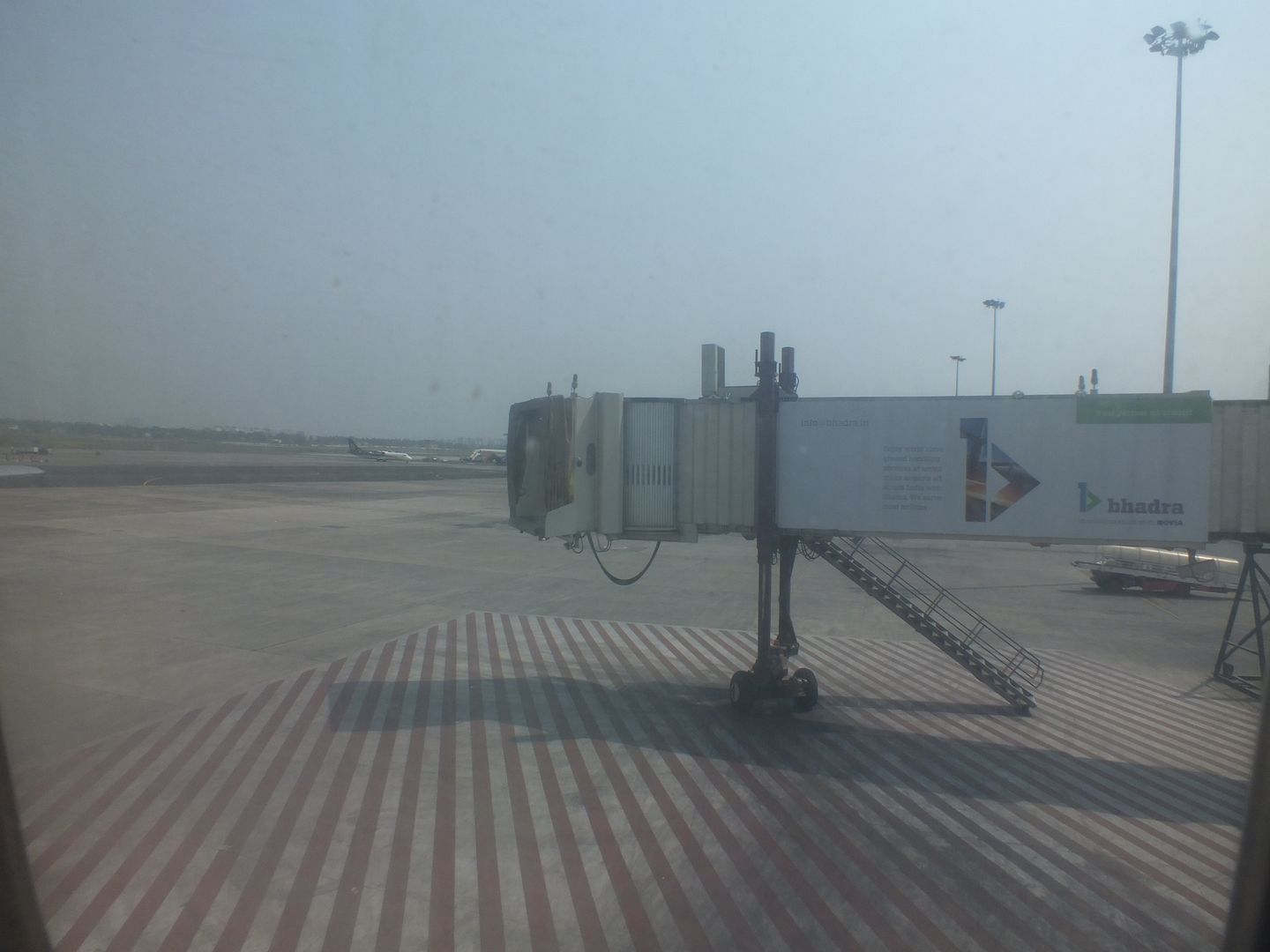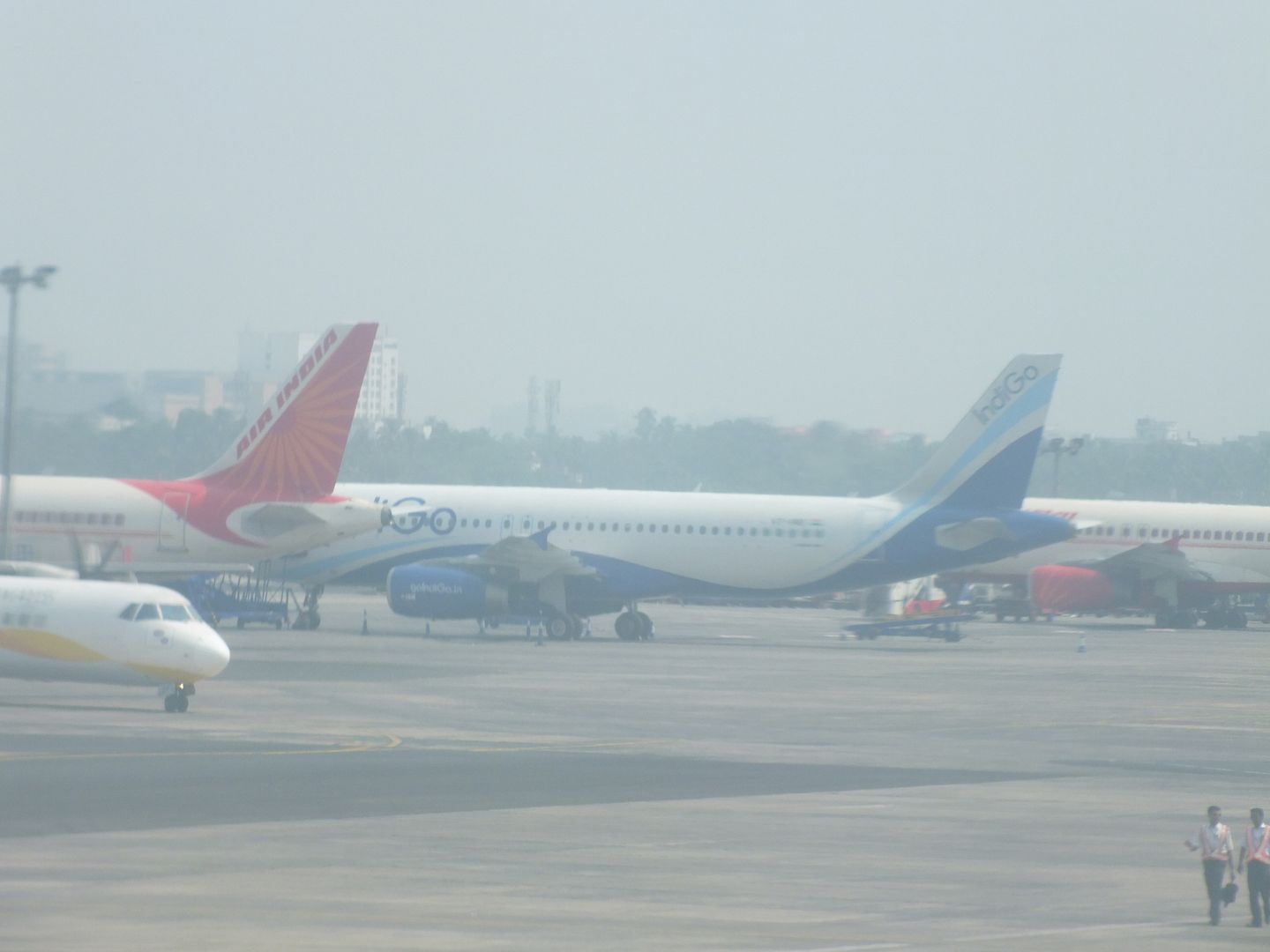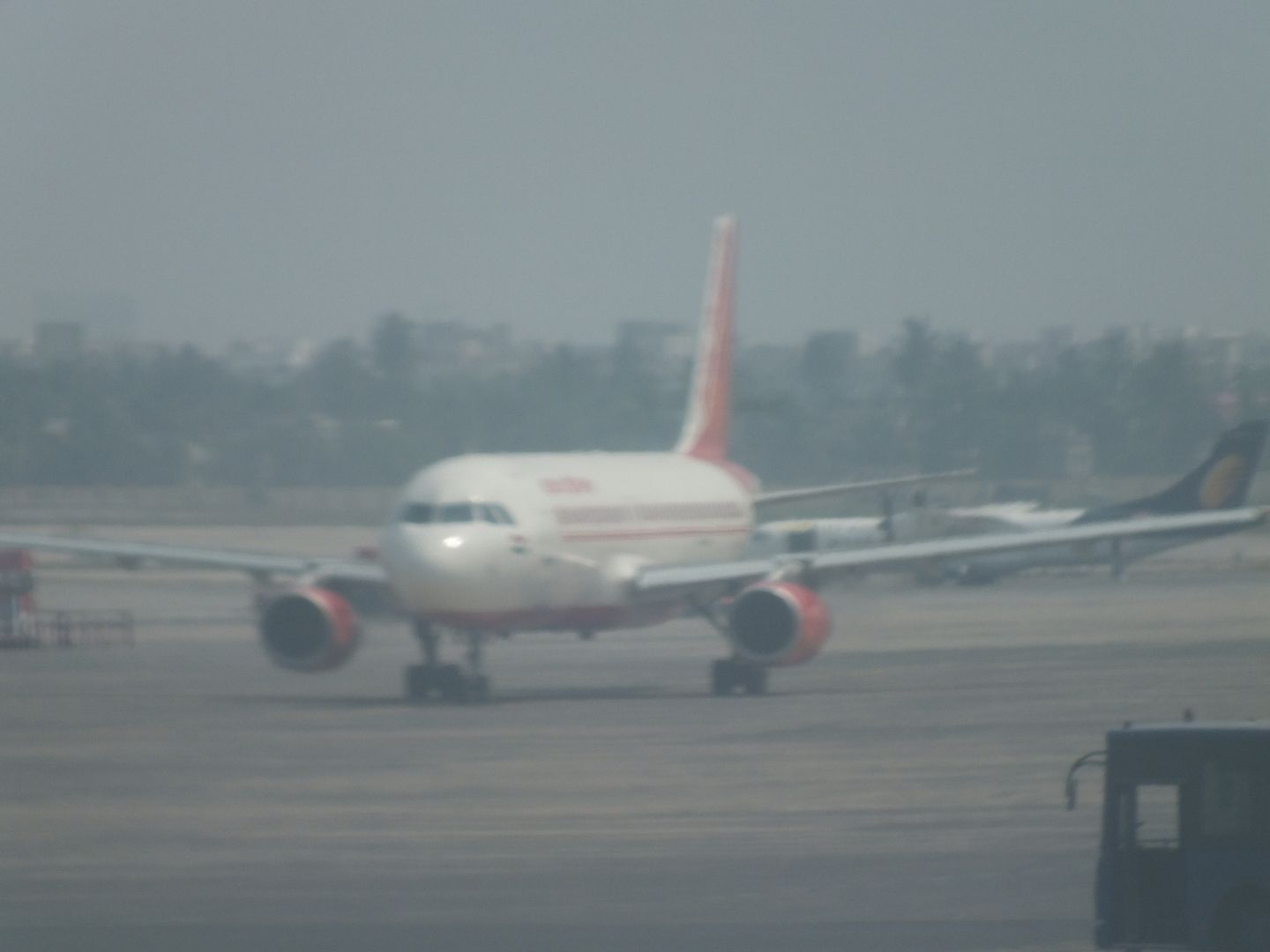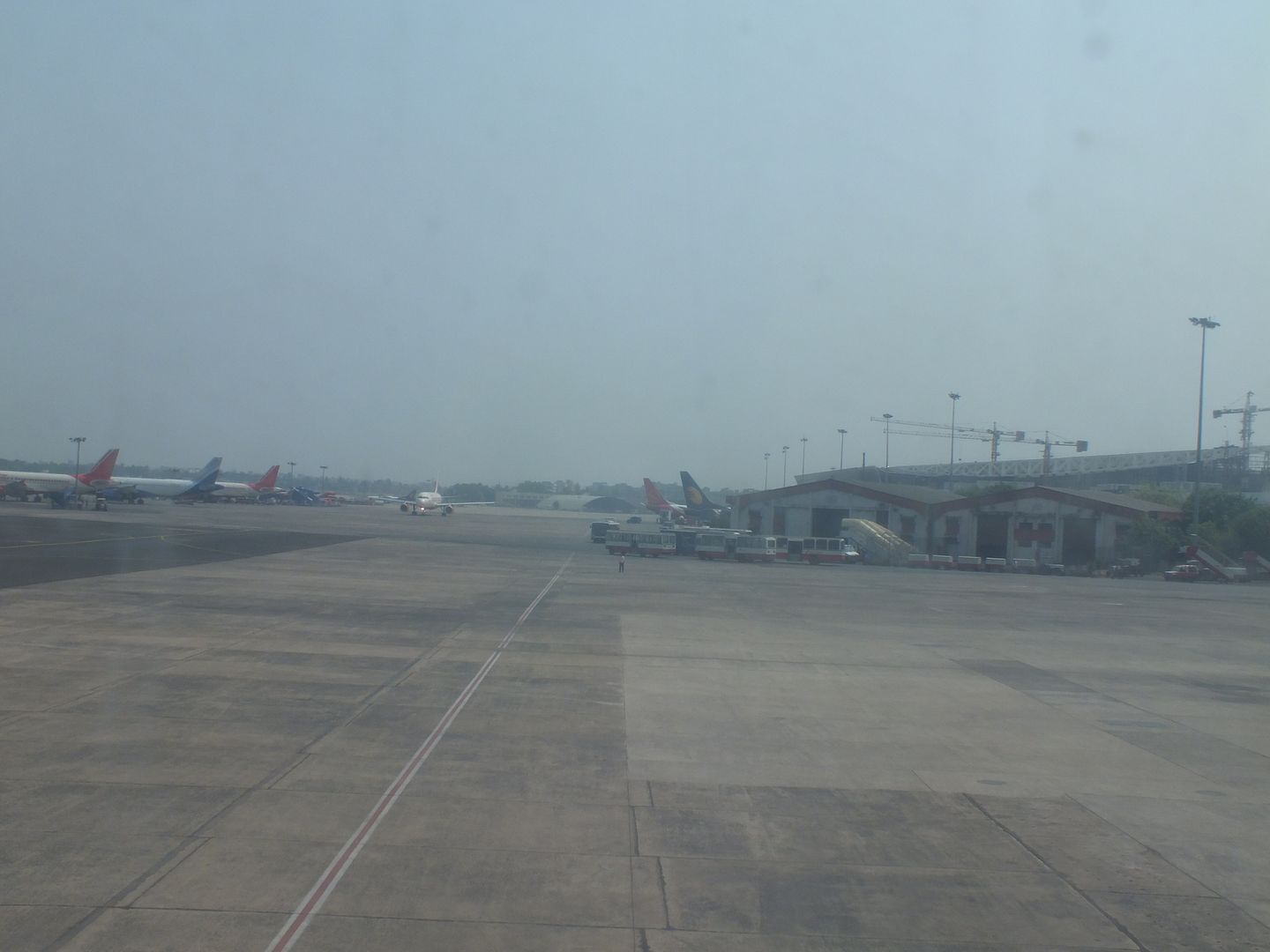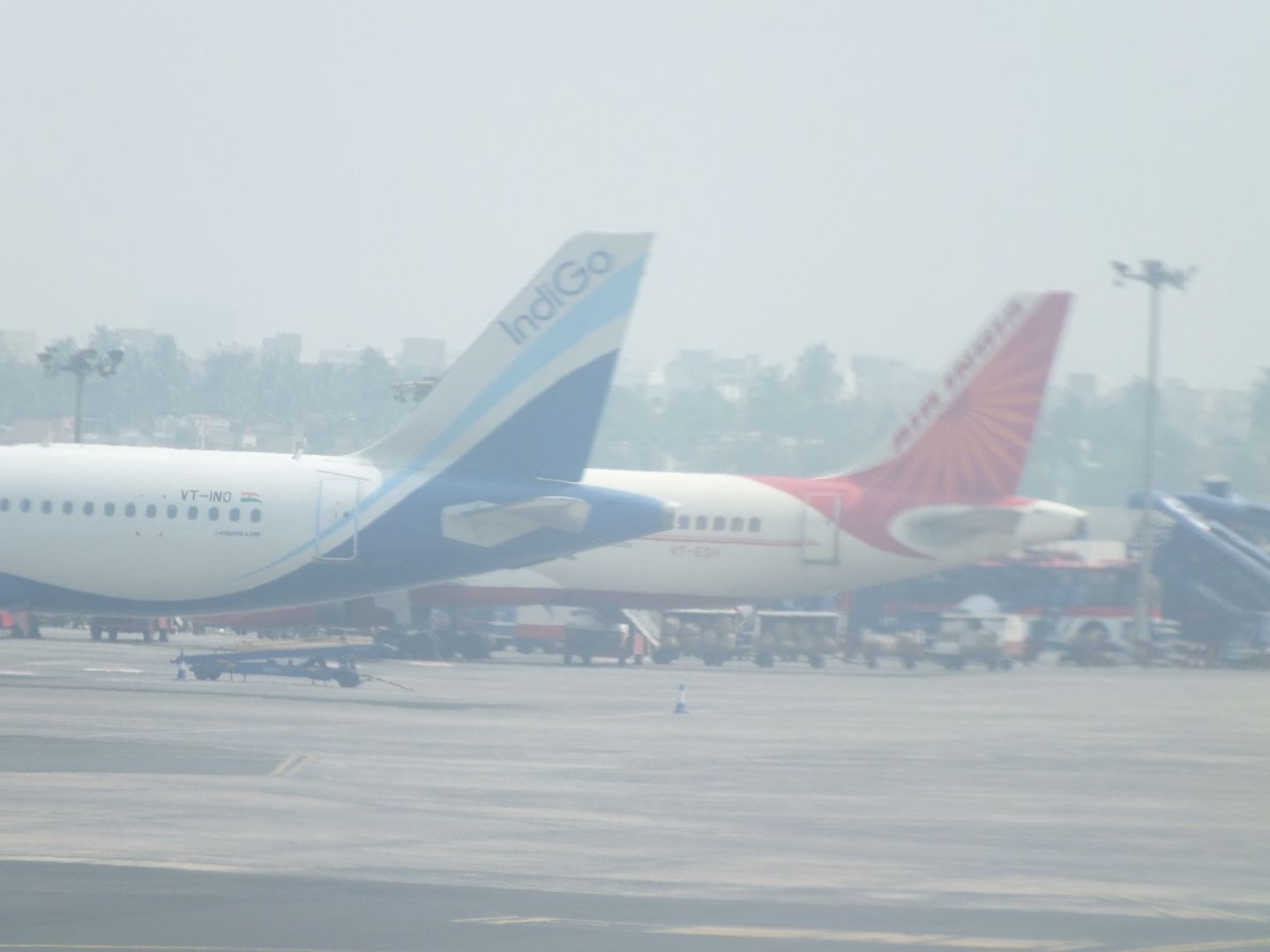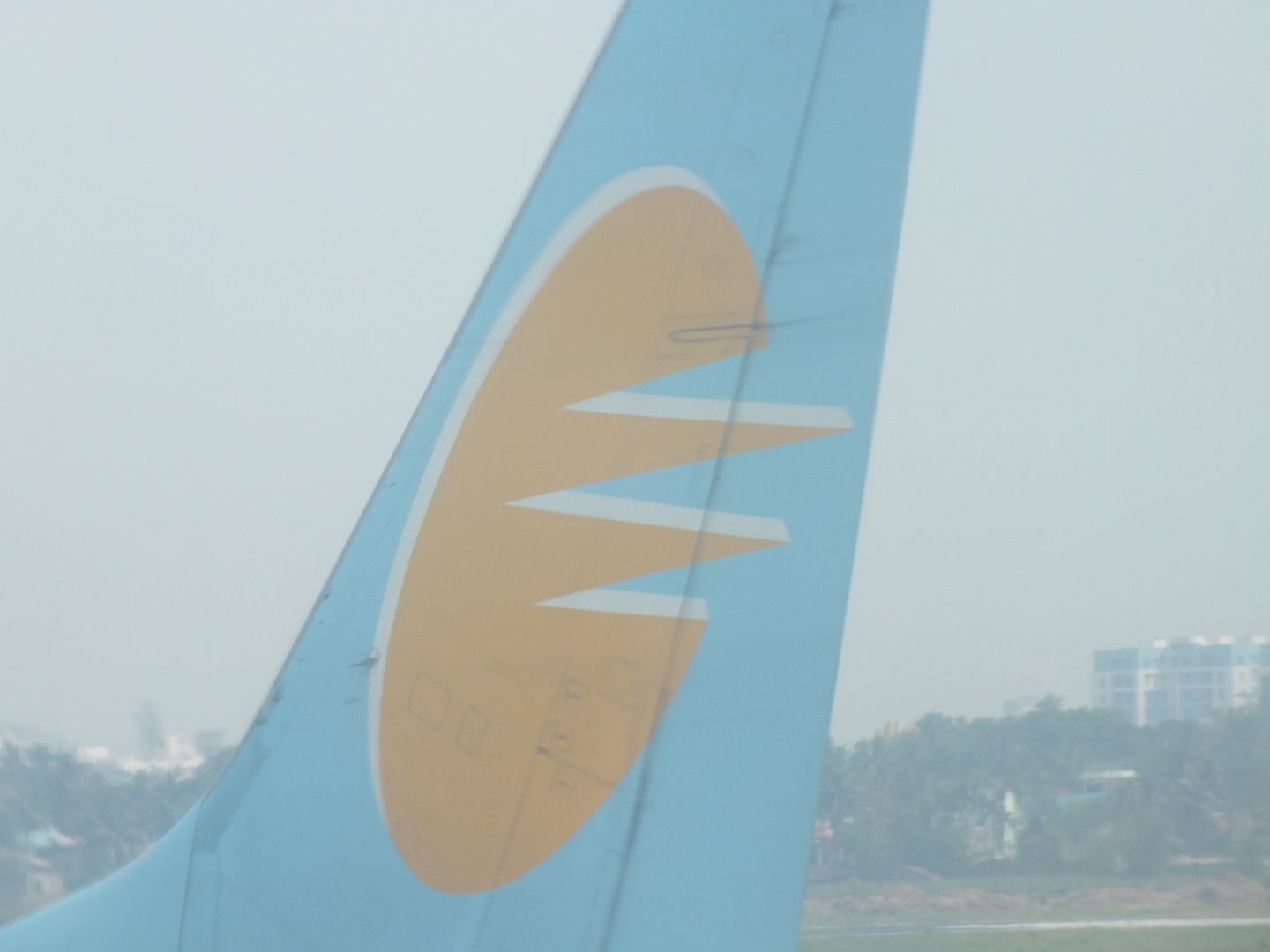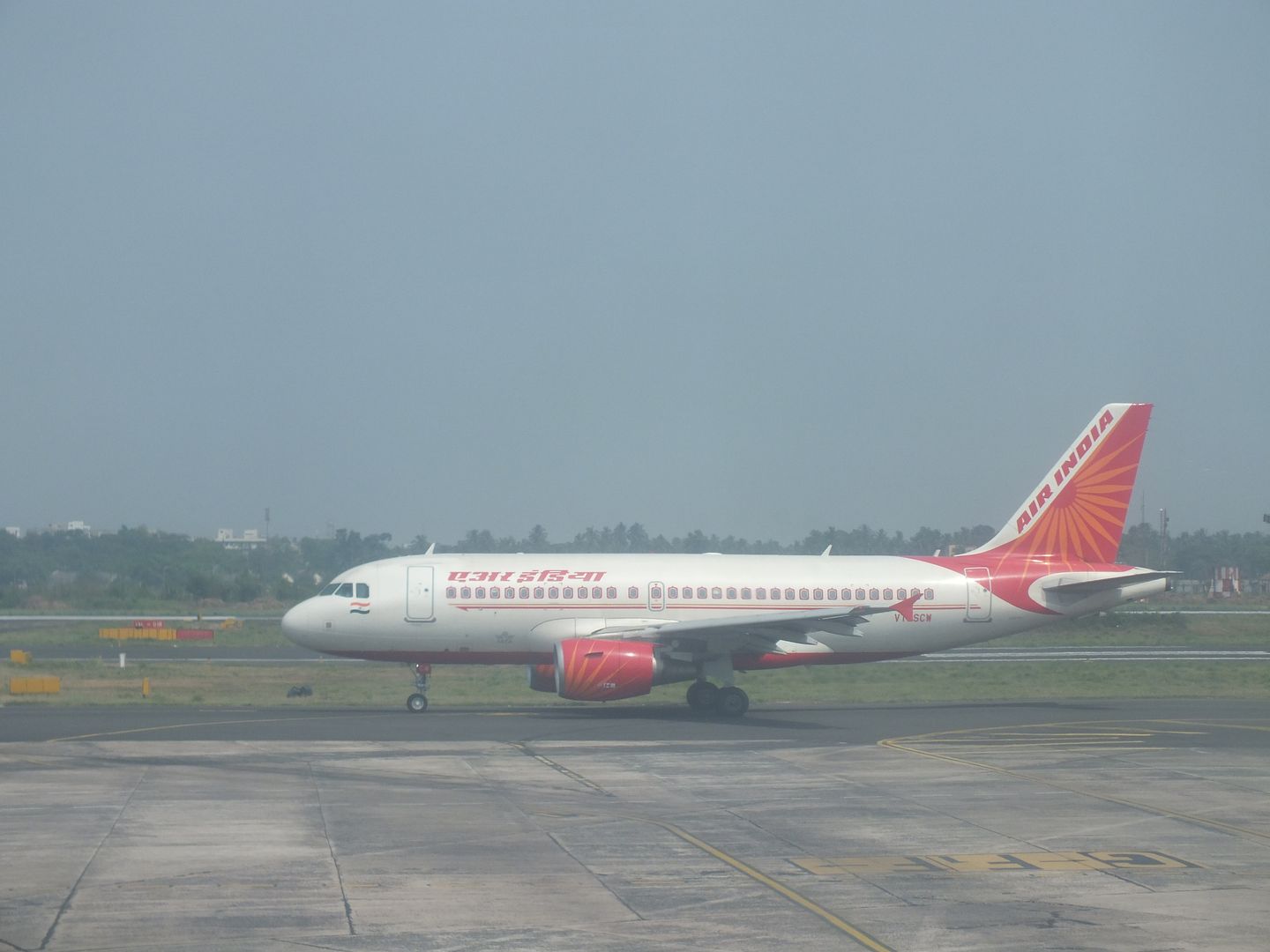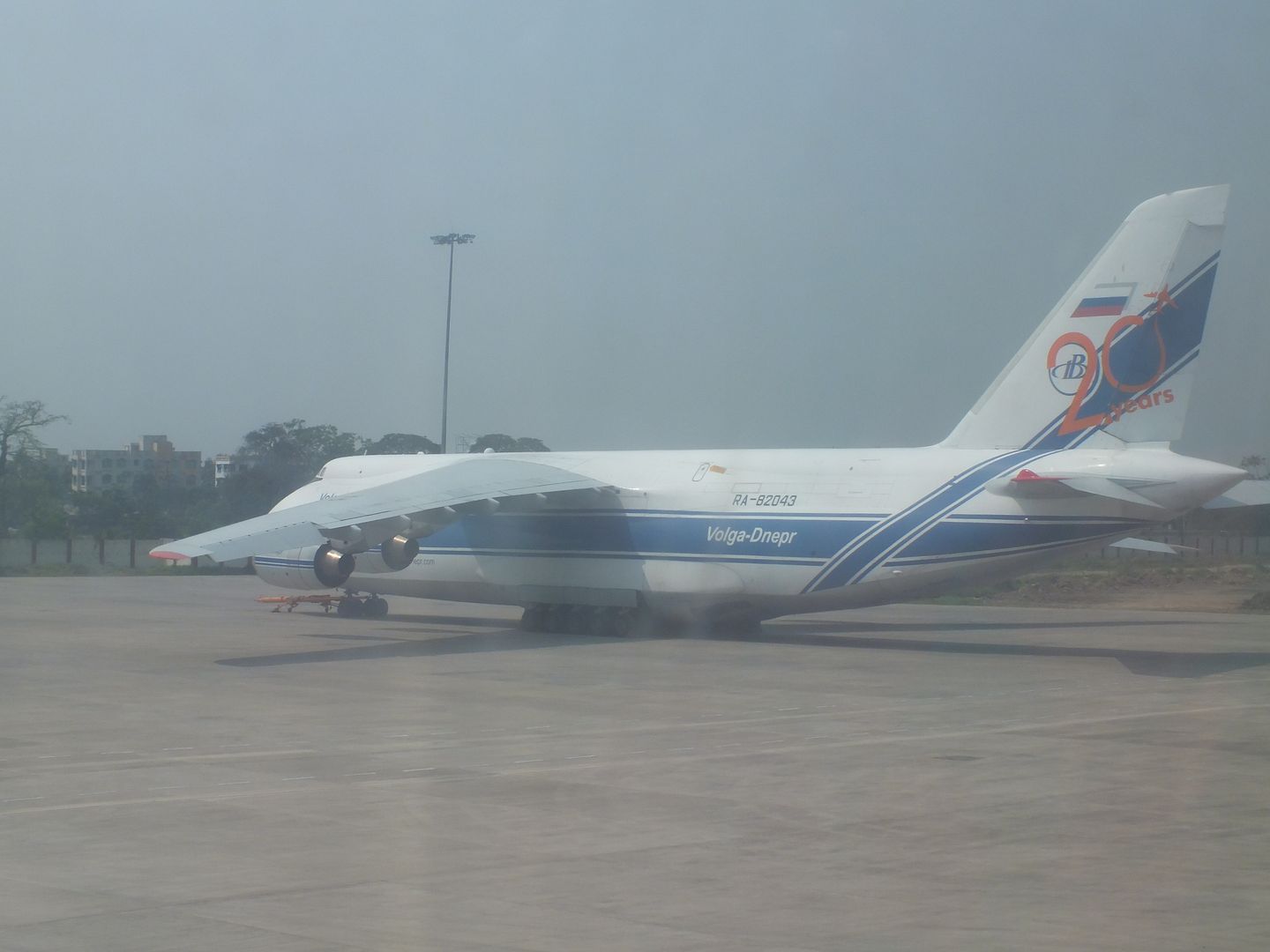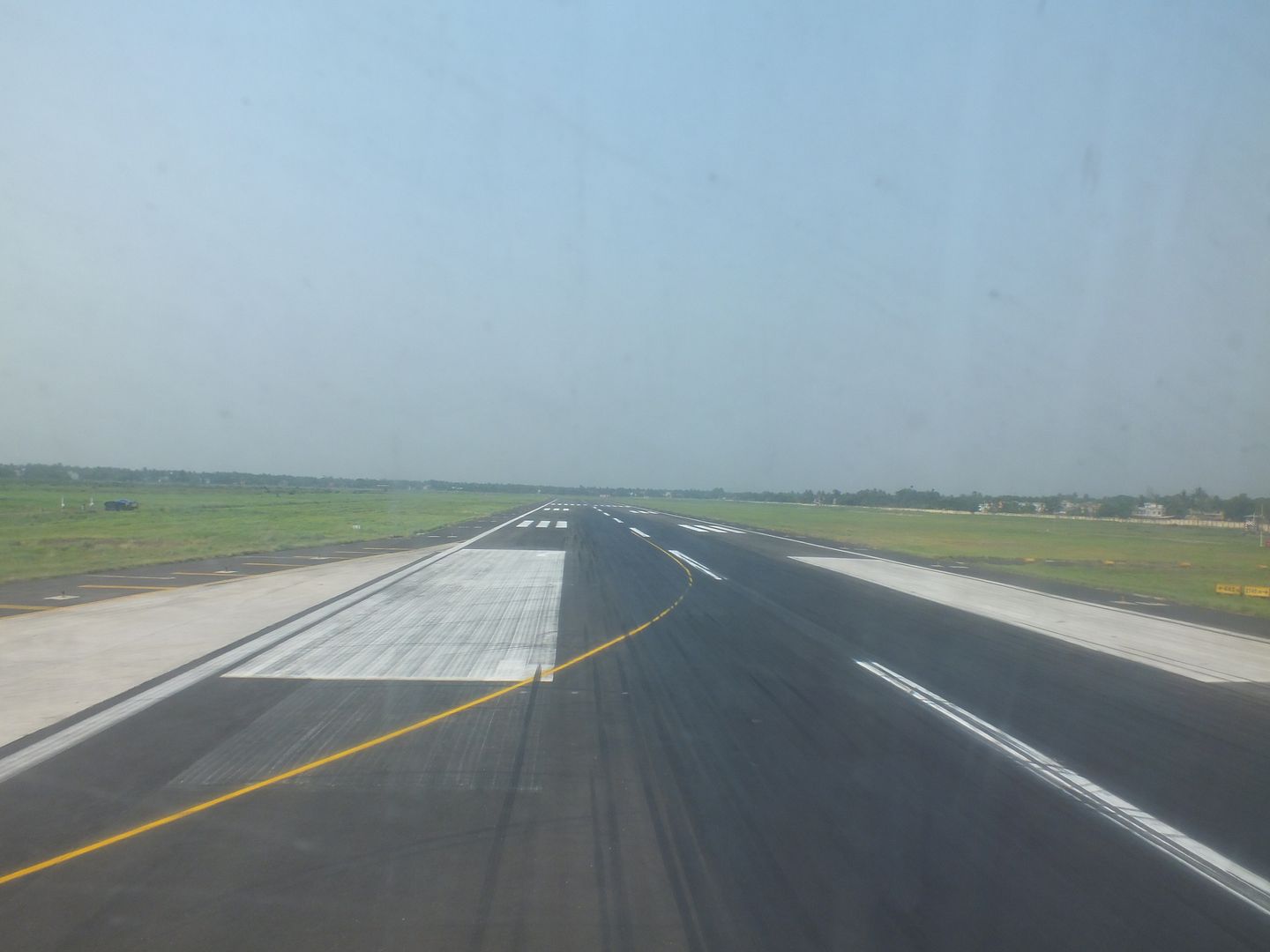 And off we go!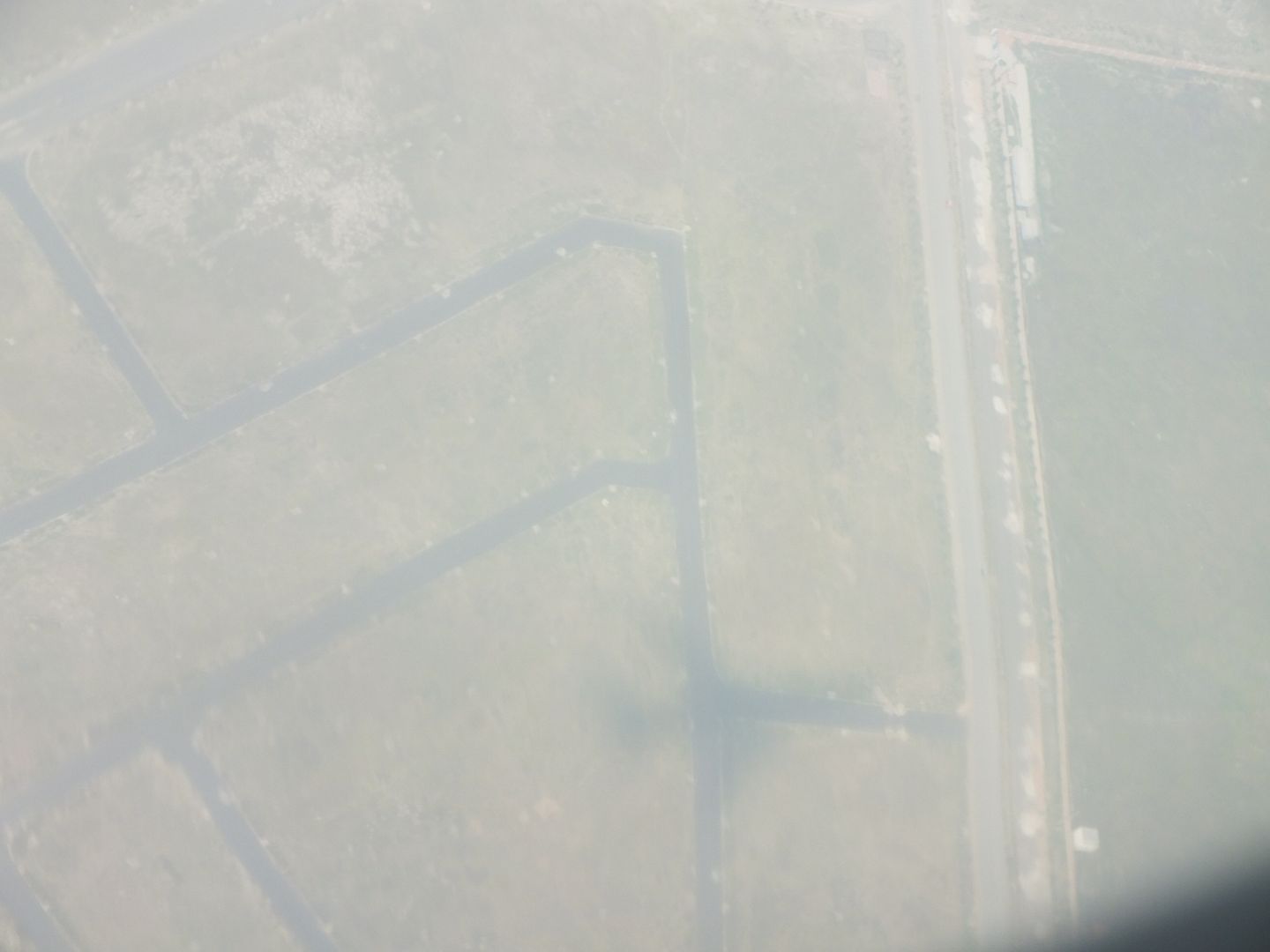 The cabin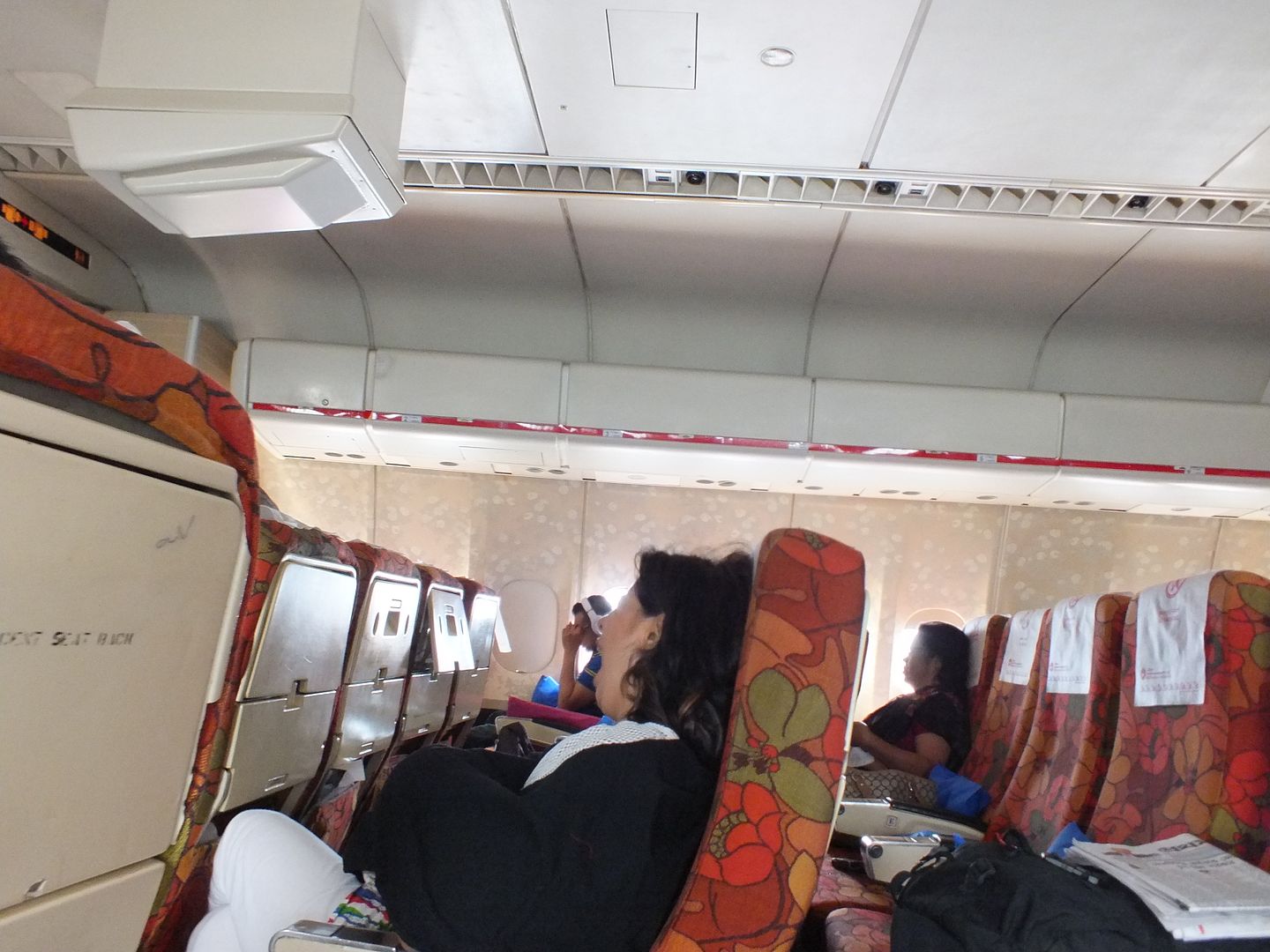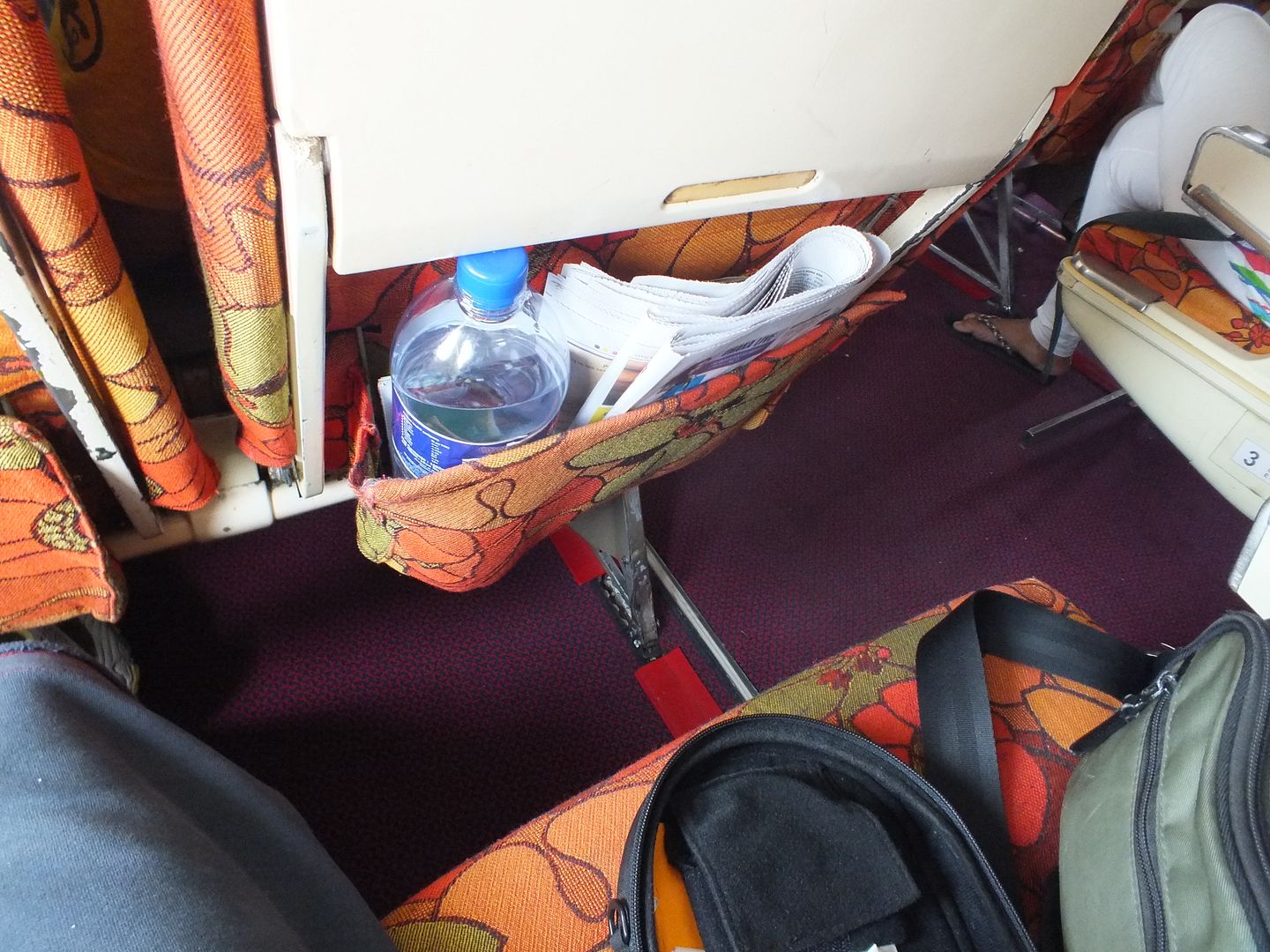 Look away if you are of a nervous disposition! Definitely in need of some TLC!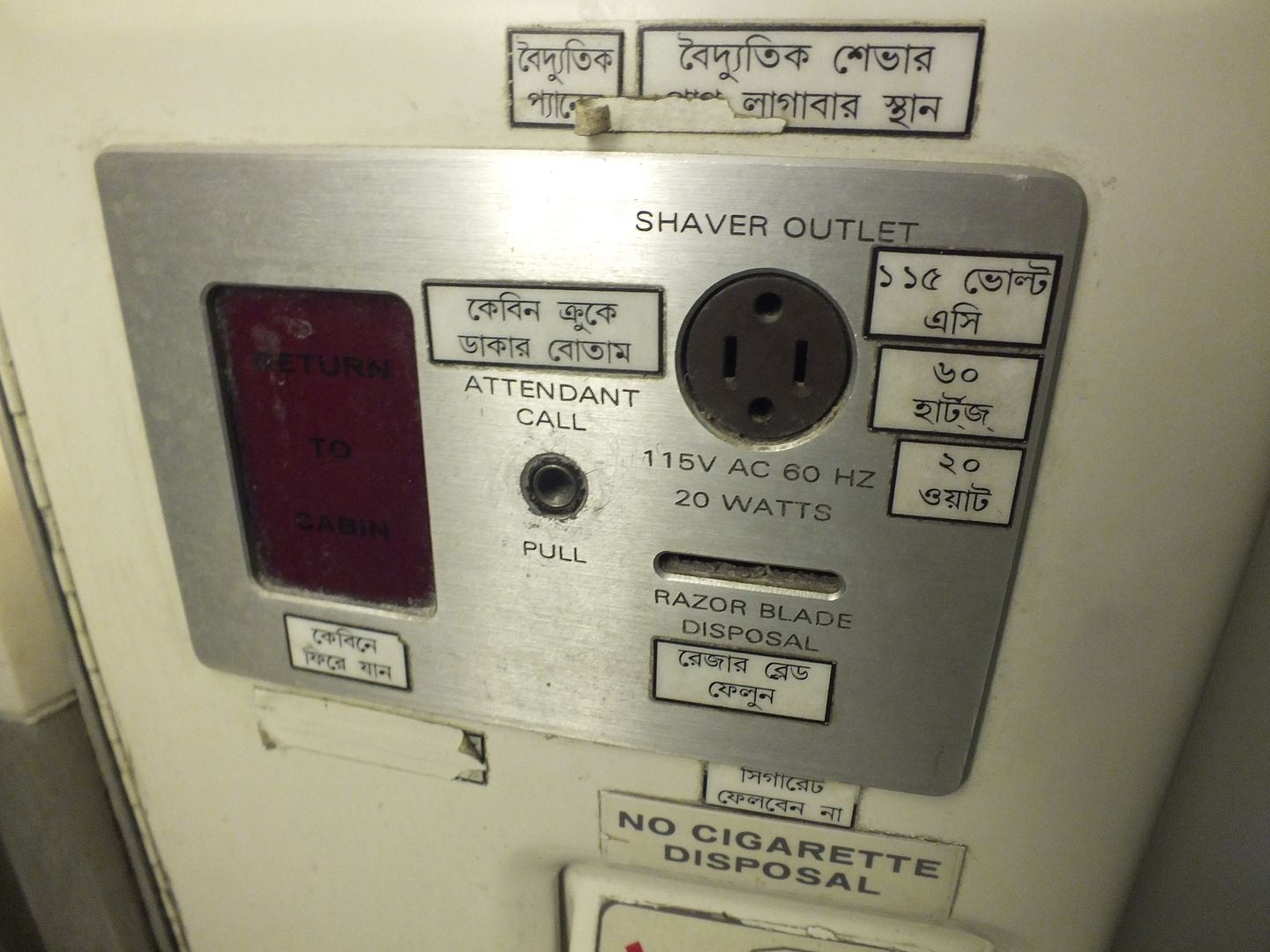 When I head back to my seat, I took this photo. A member of crew (not sure of his job, he had a pilotish uniform on, but was travelling as a pax) became quite chatty, asking where I was from etc. I said it was a very old plane, and he replied that it was soon for a museum. No kidding!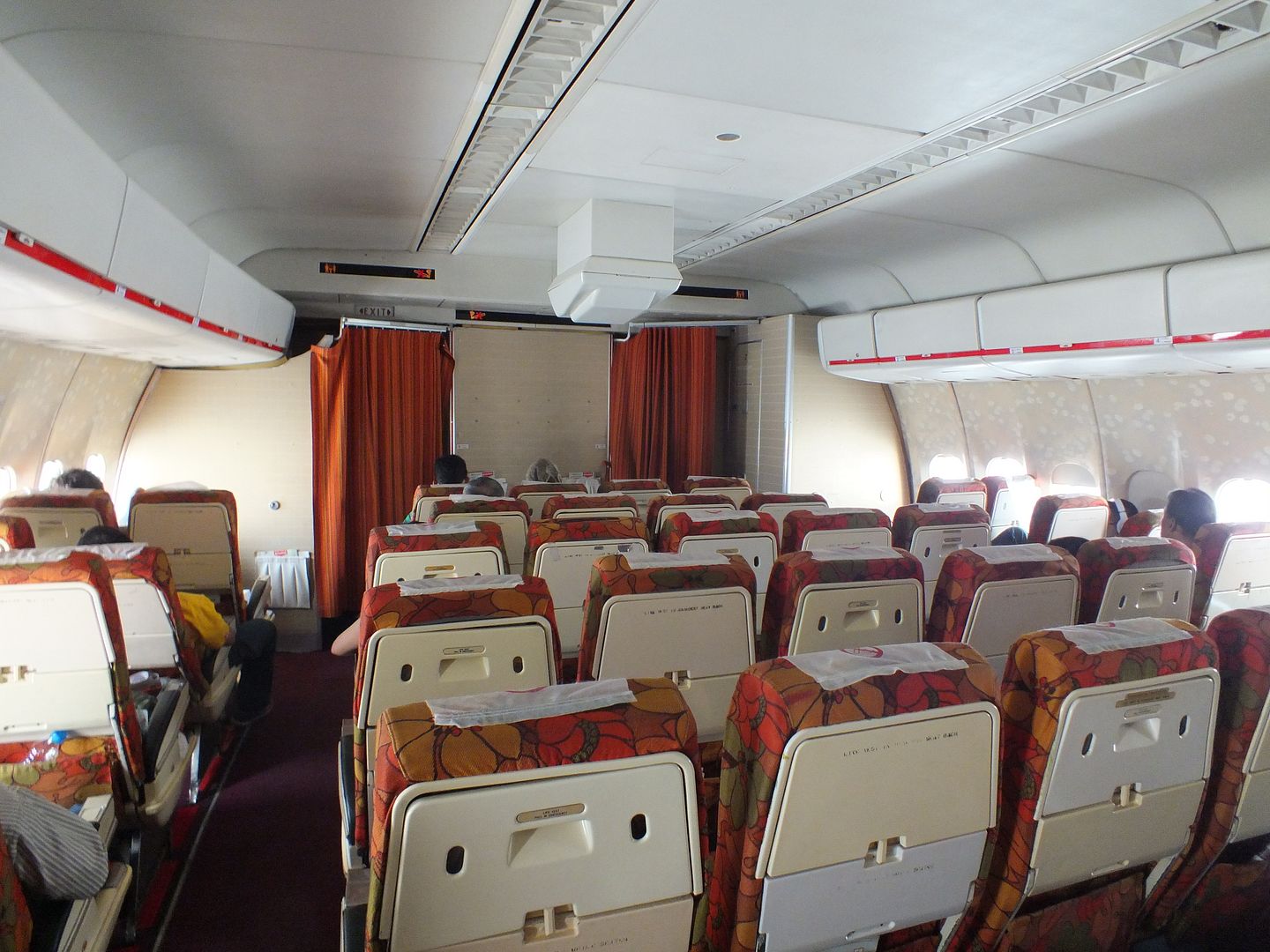 Great recline – the seats were quite comfy
I hate it when people do this. I have an uncontrollable urge to cut their fingers off (although of course I've controlled myself this far…one day!)
Someone might be short of an O2 mask…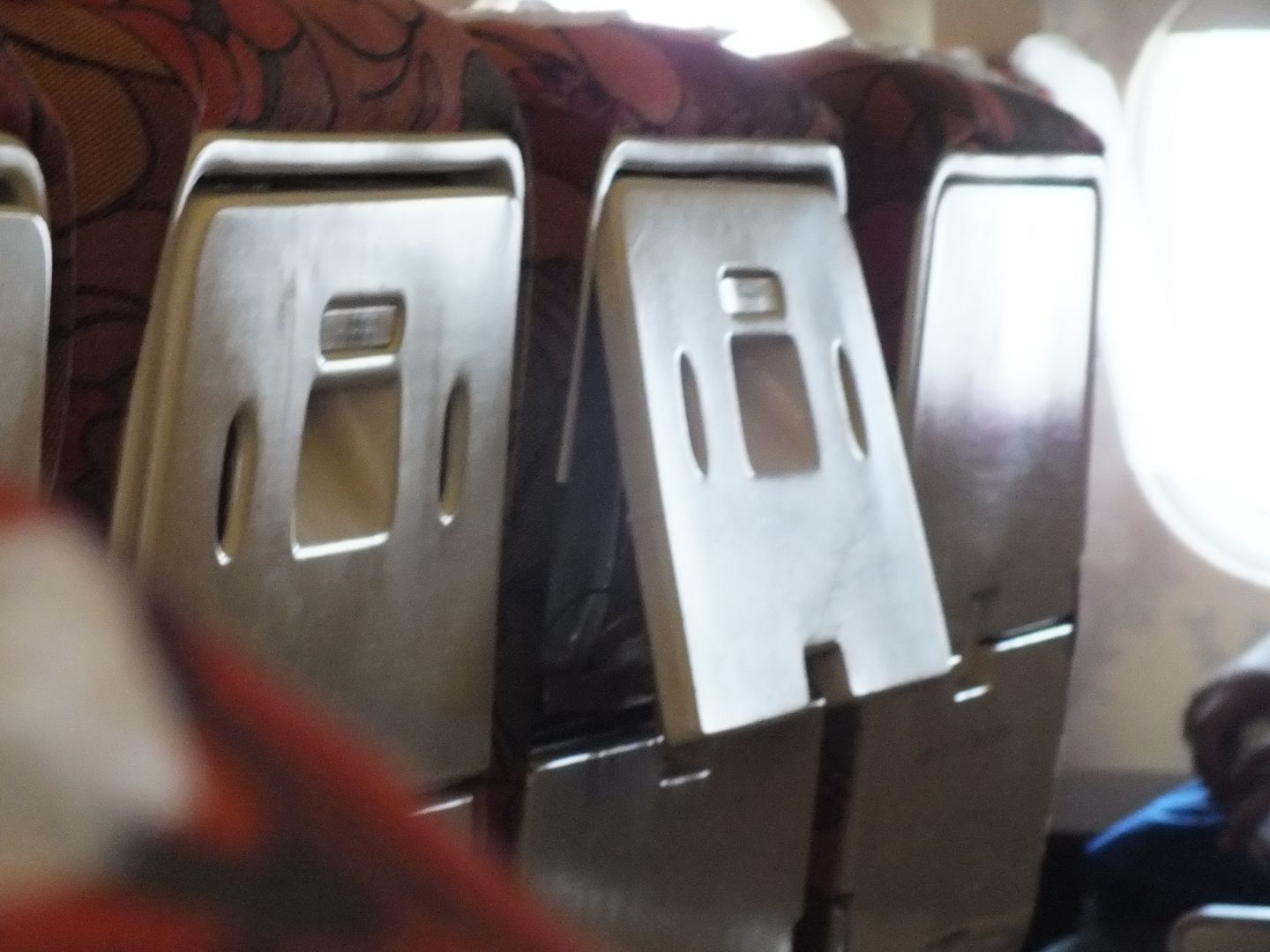 Before in I knew it, the seatbelt sign was back on, and we made our approach into Dhaka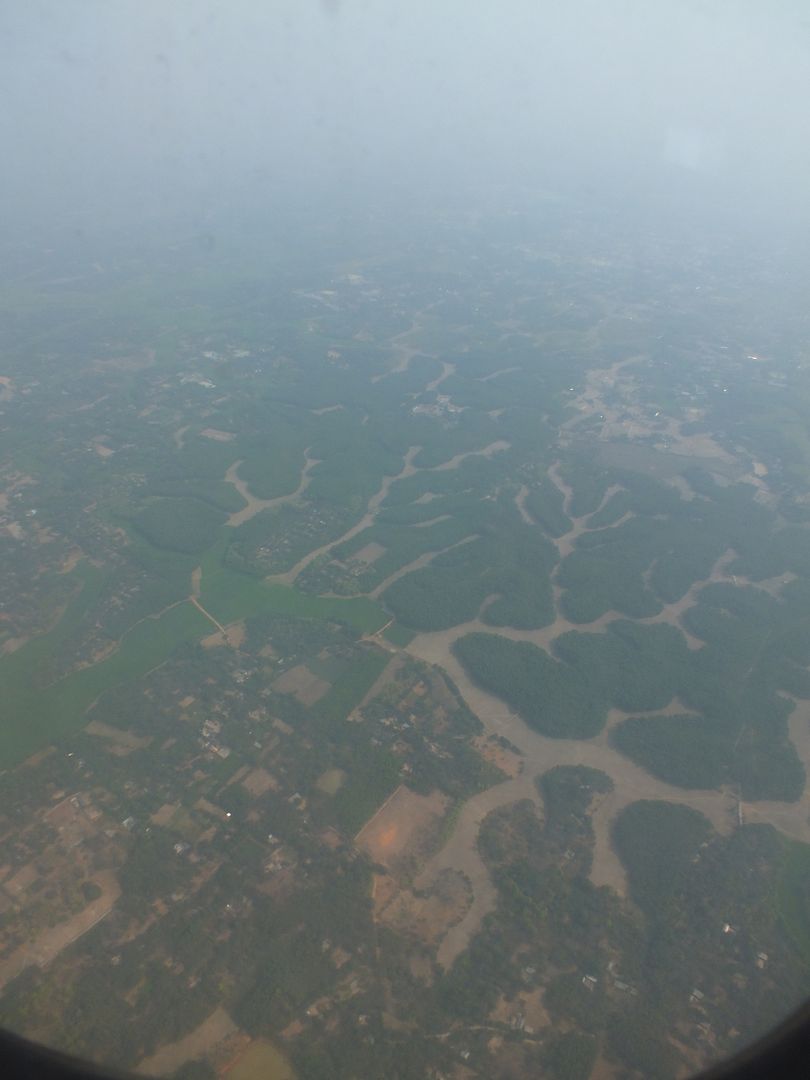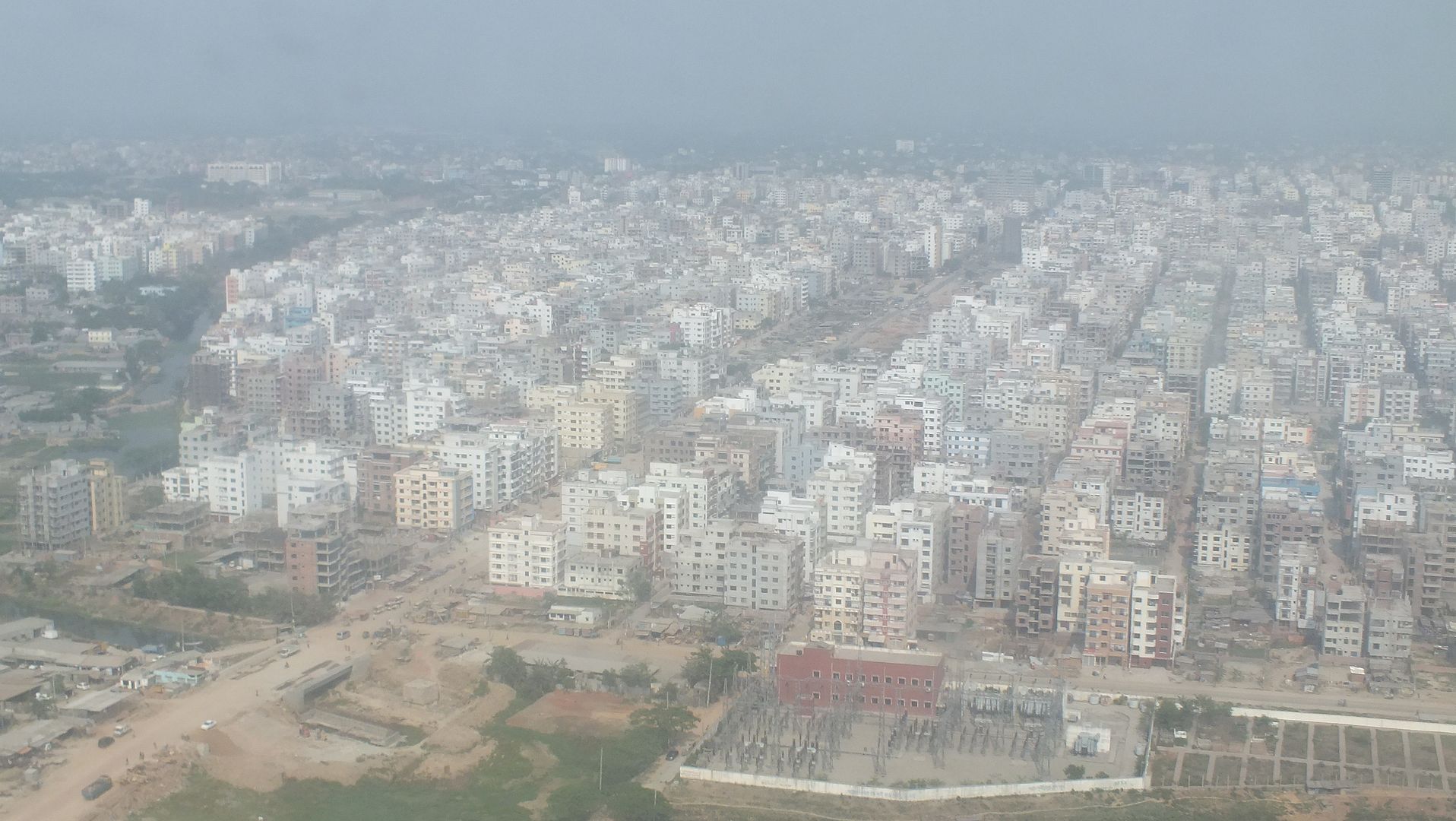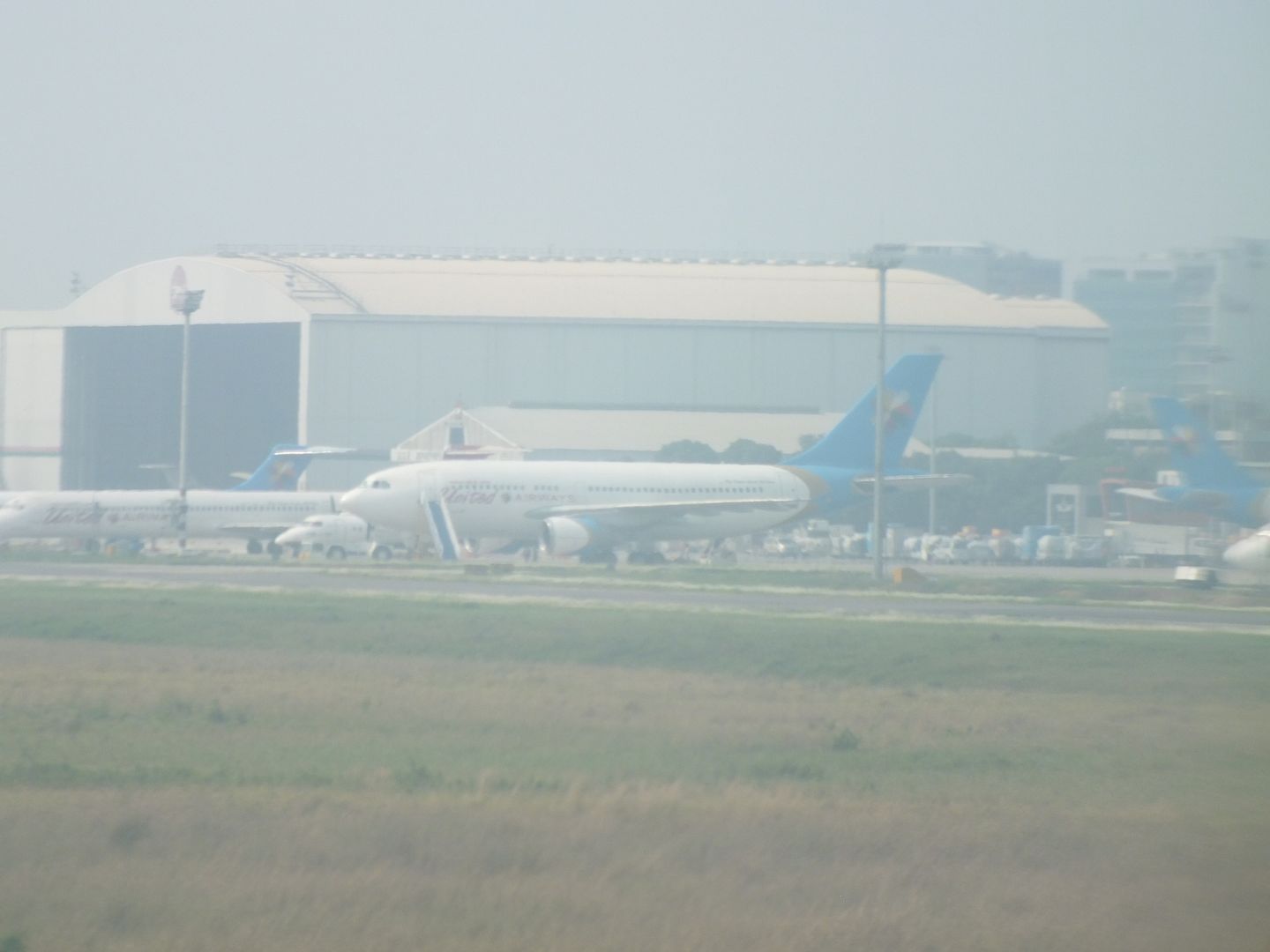 How nice is that GMG livery? Shame they're now bust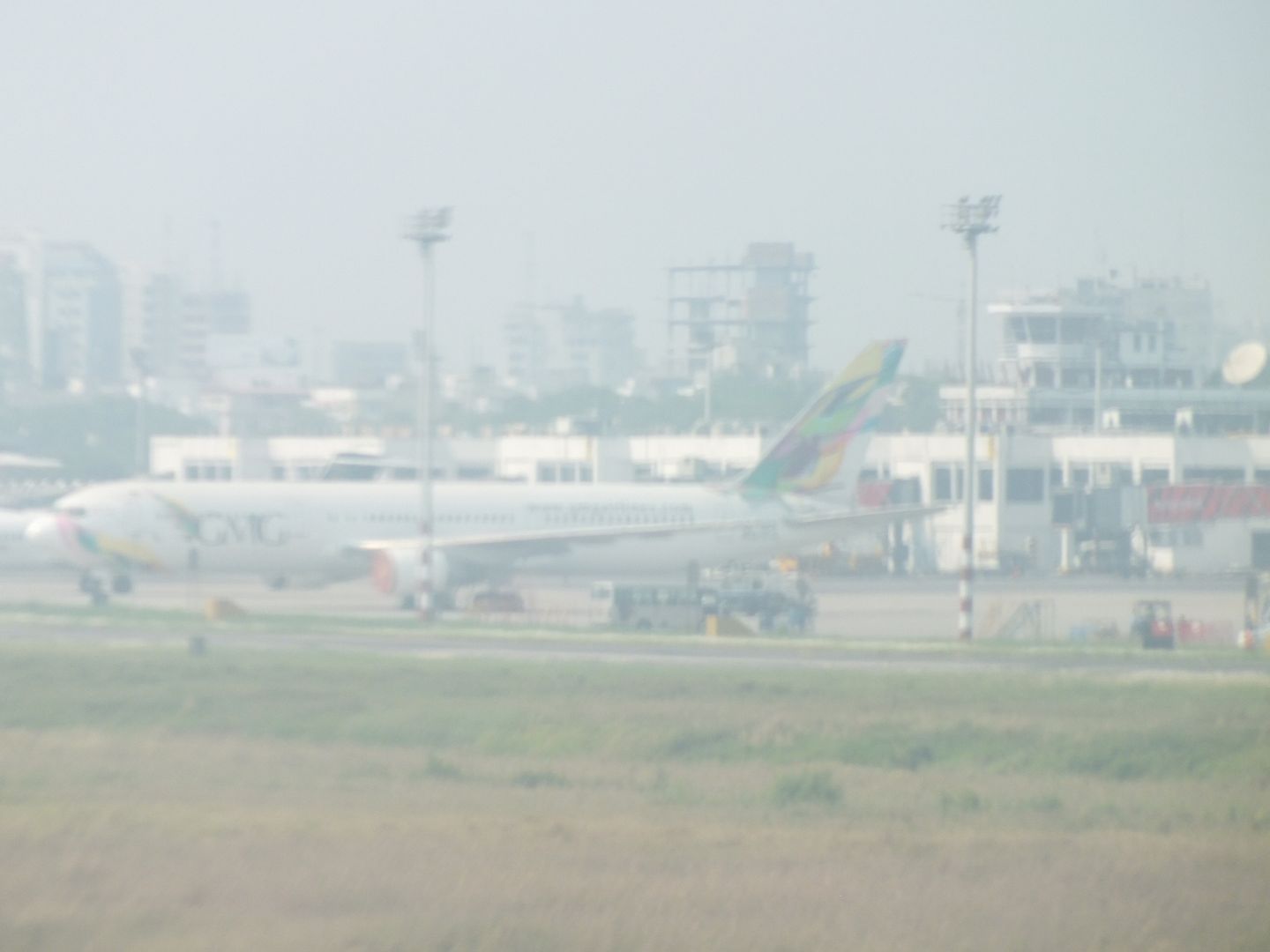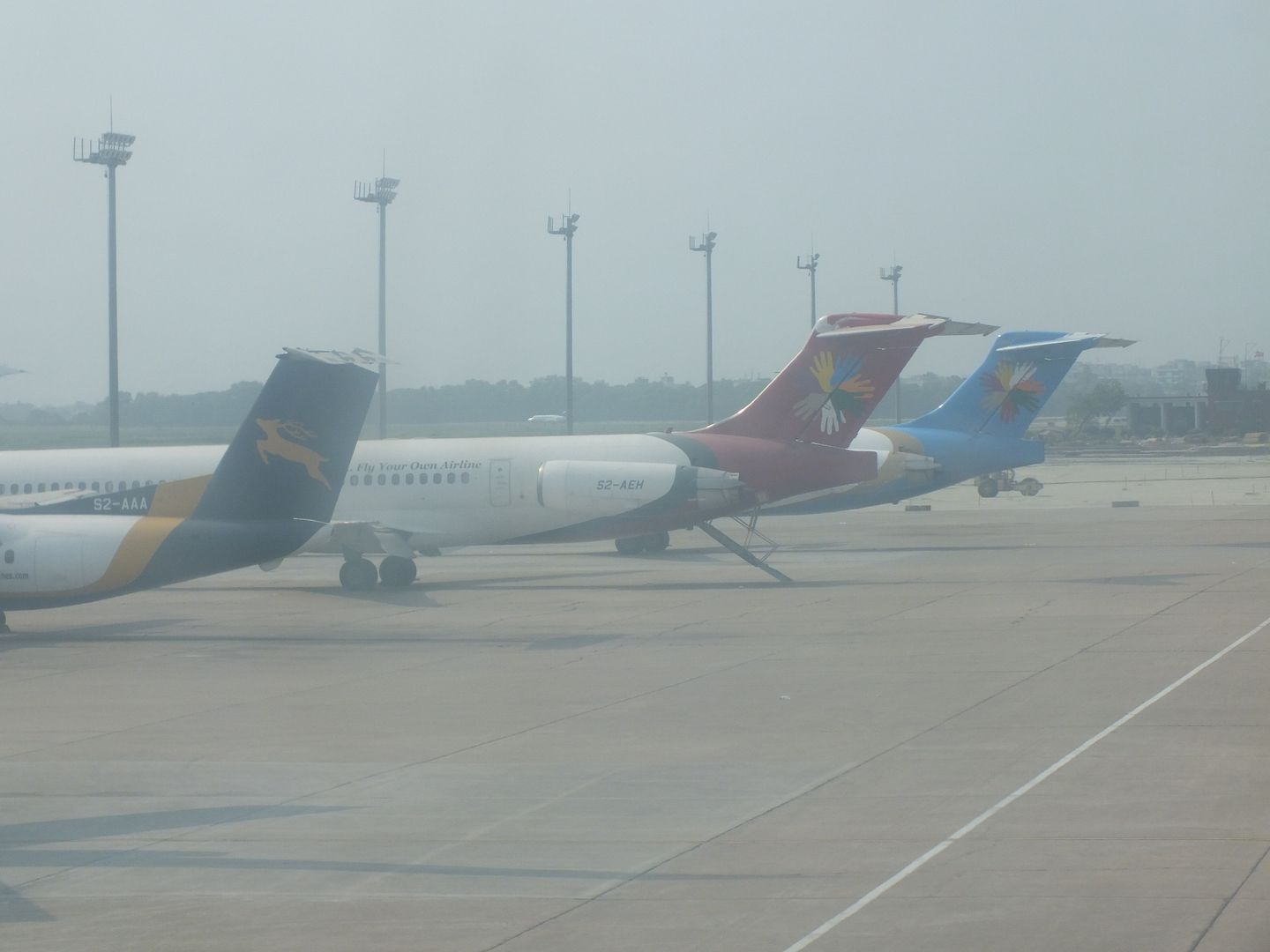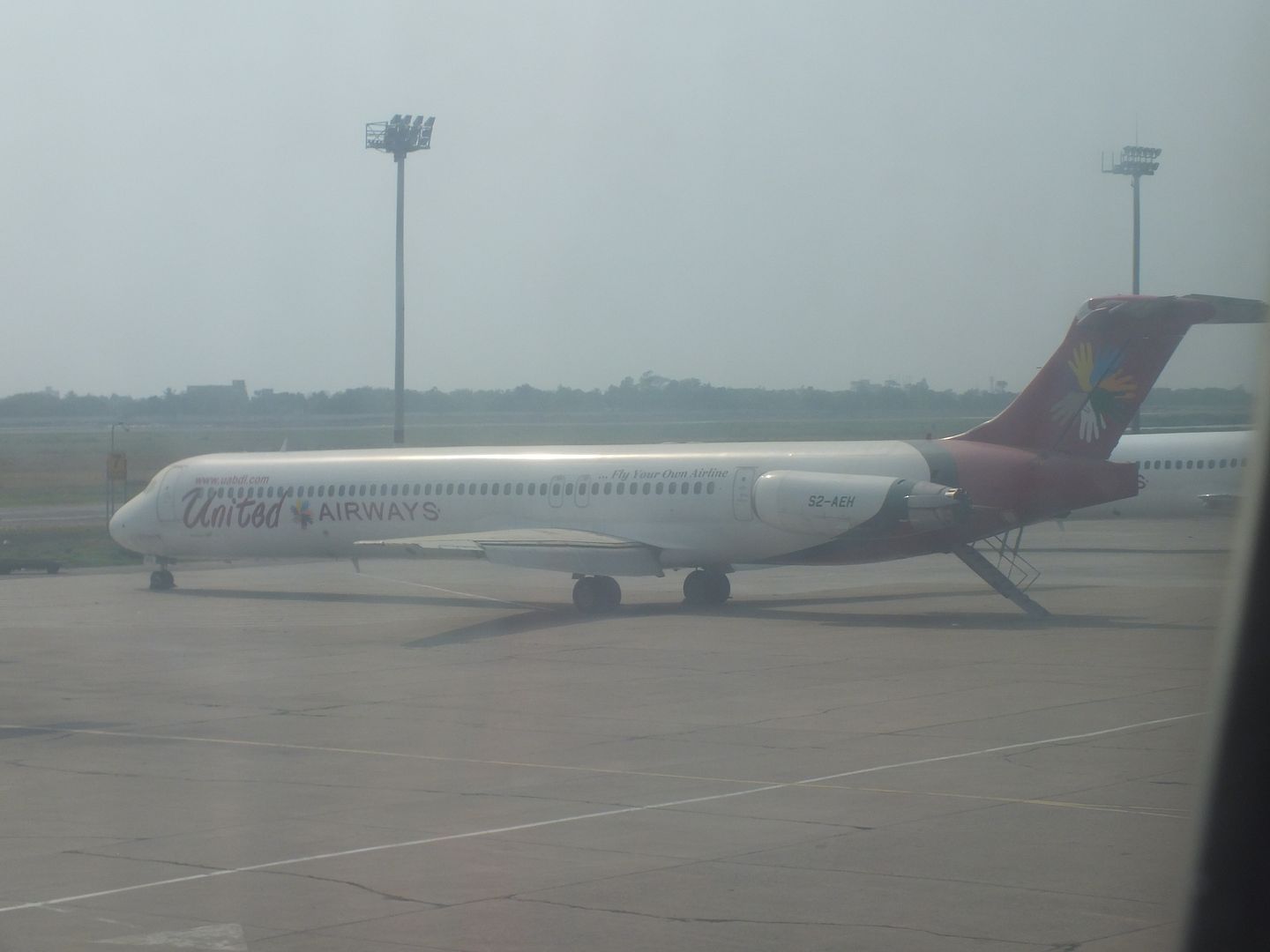 Another one bites the dust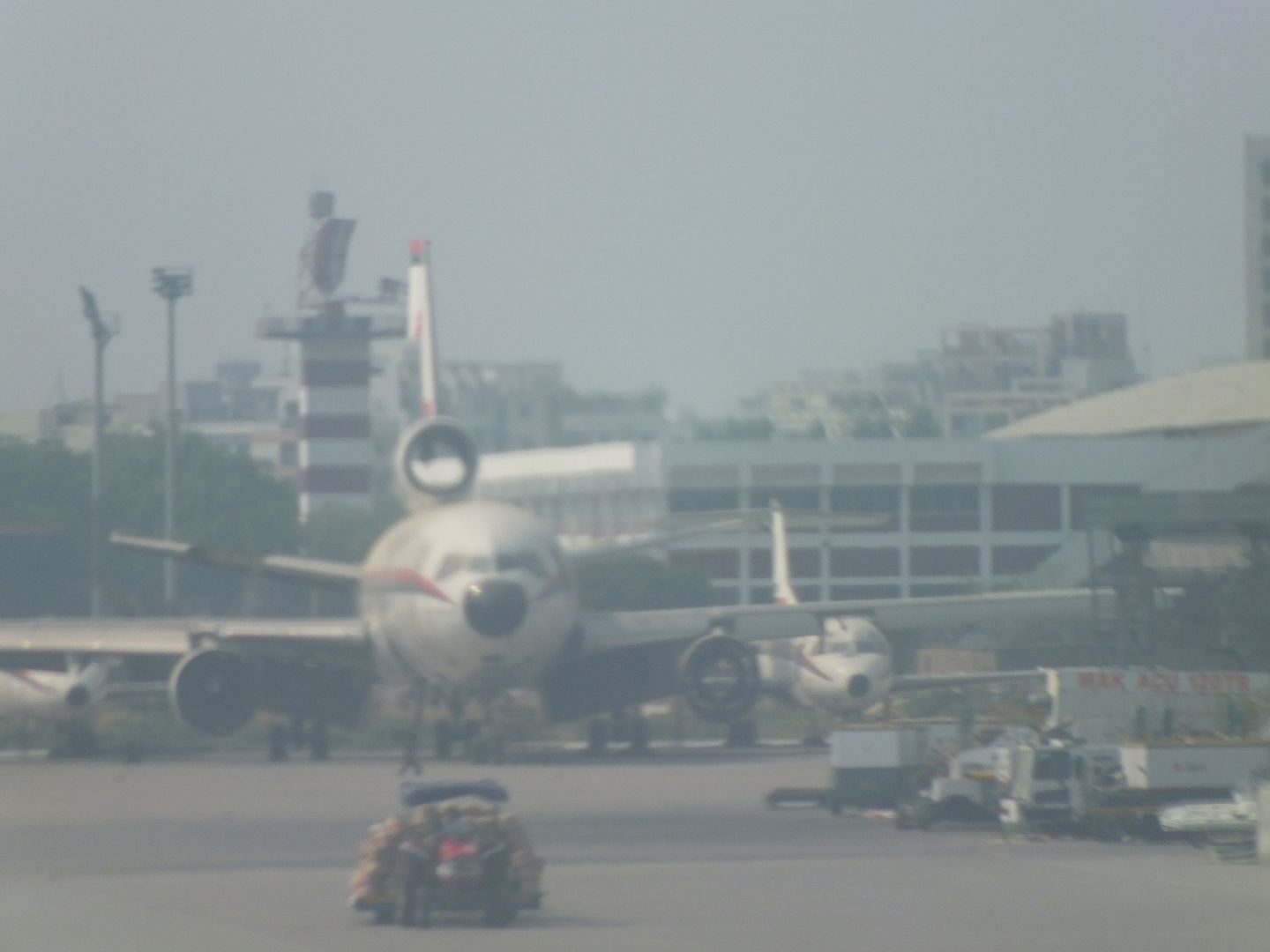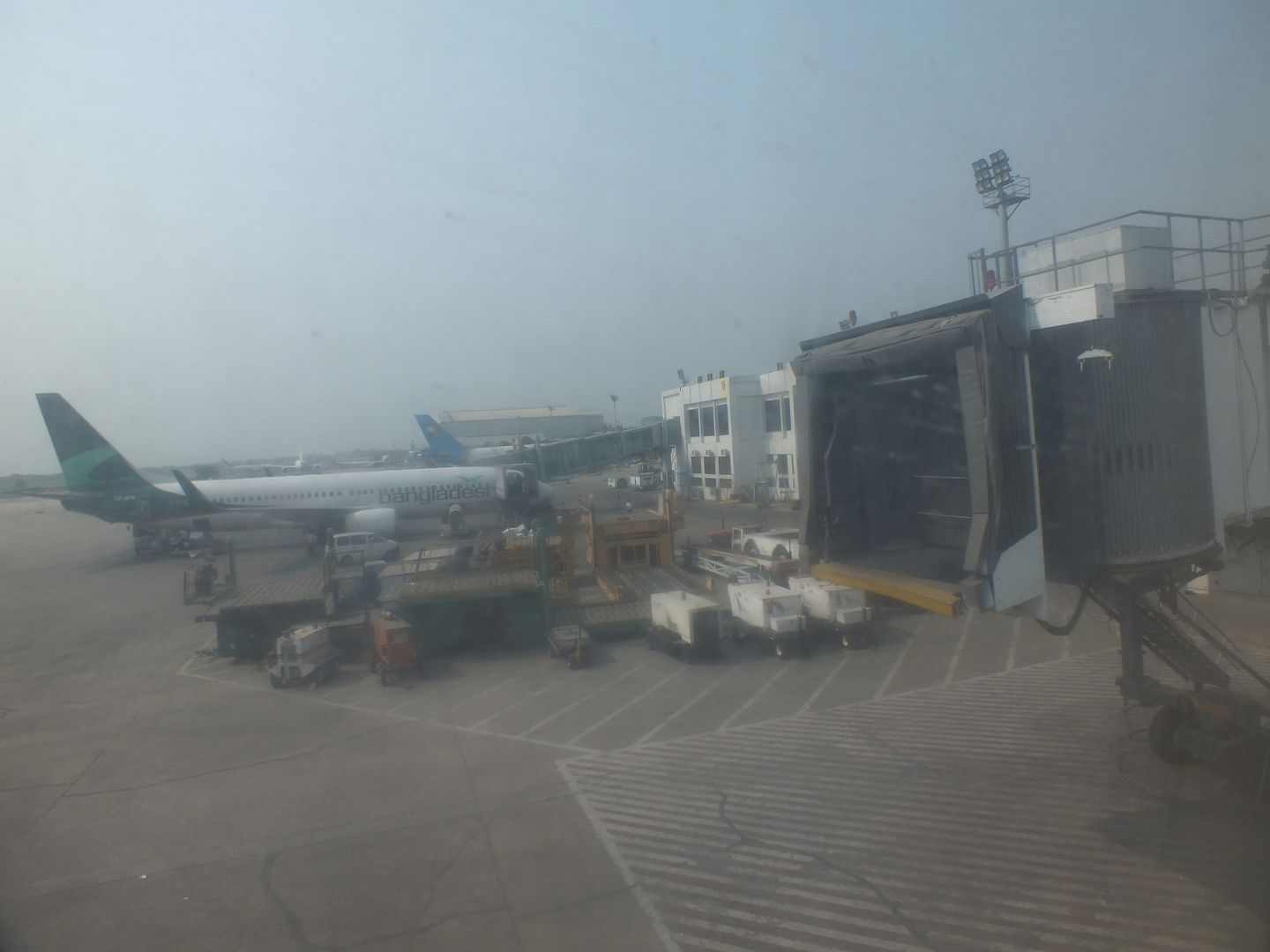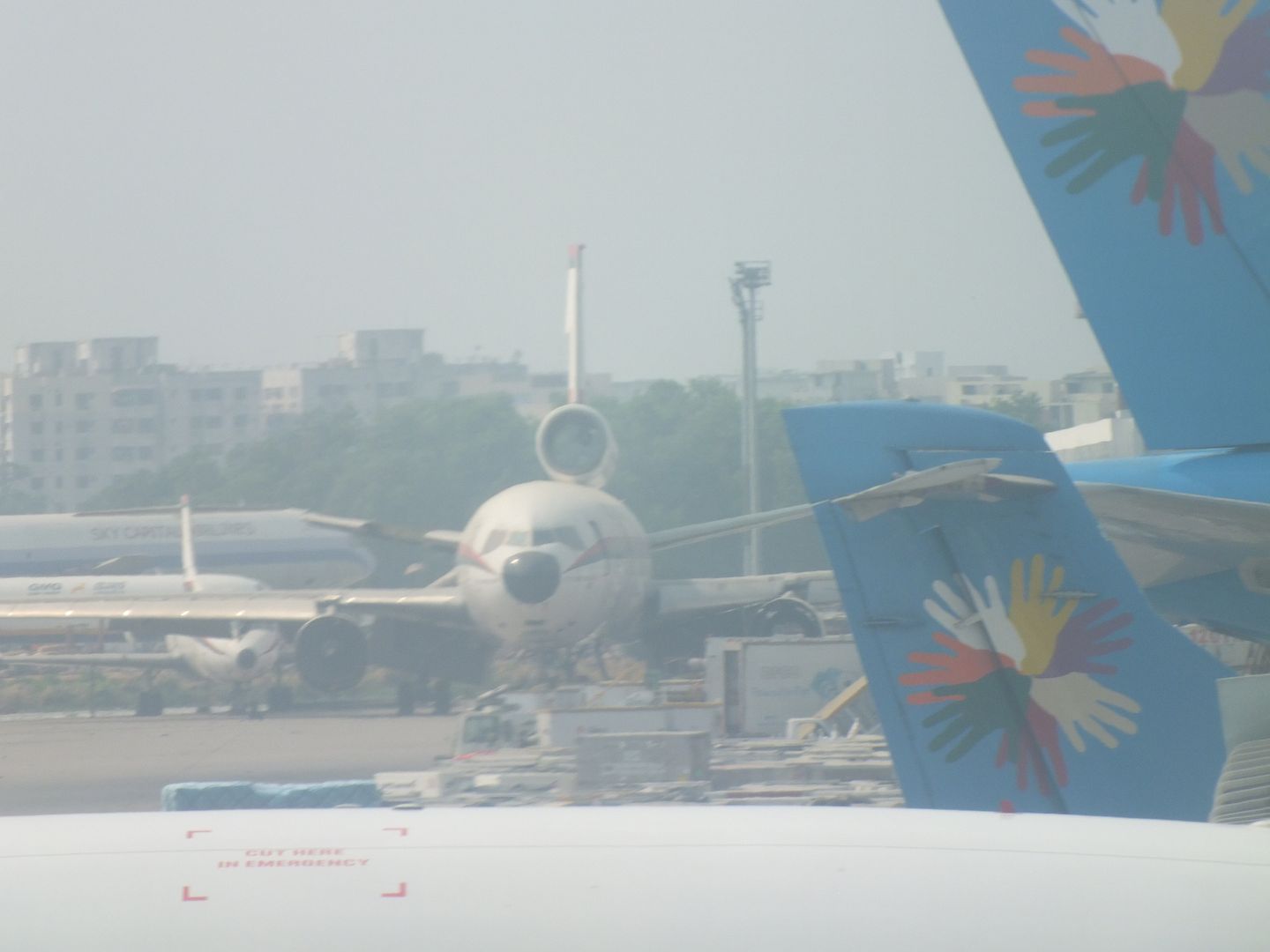 DAC arrivals
Bye plane!
I walk quickly to immigration, and find myself the one person there. The border guards all get up from their chinwag, and go to their respective desks. Despite having asked the guy NOT to stamp one of my 2 completely empty passport pages, he does, despite saying he wouldn't. Grrrr
In the arrivals hall I have to wait a while for my taxi – unfortunately, the car is a pile of juke and has no a/c and it's sweltering.
The terminal from the taxi
My plan for Bangladesh is to psend a few days in Dhaka sightseeing, then join a cruise of the Sunderbans National Park – this is an enormous estuaryesque mangrove area, full of man-eating Bengal tigers!
First, some photos of Dhaka. My hotel room. Only saw one cockroach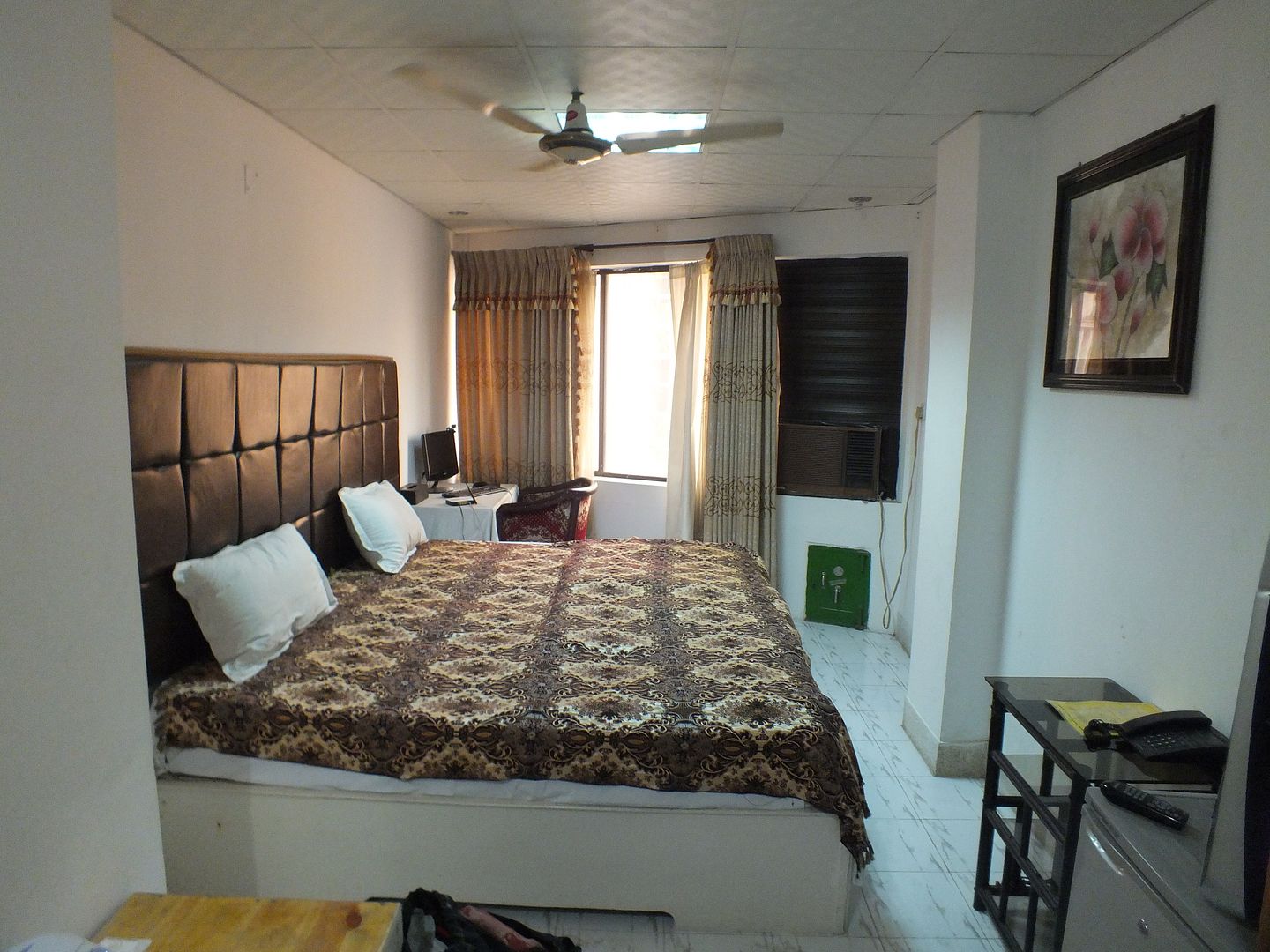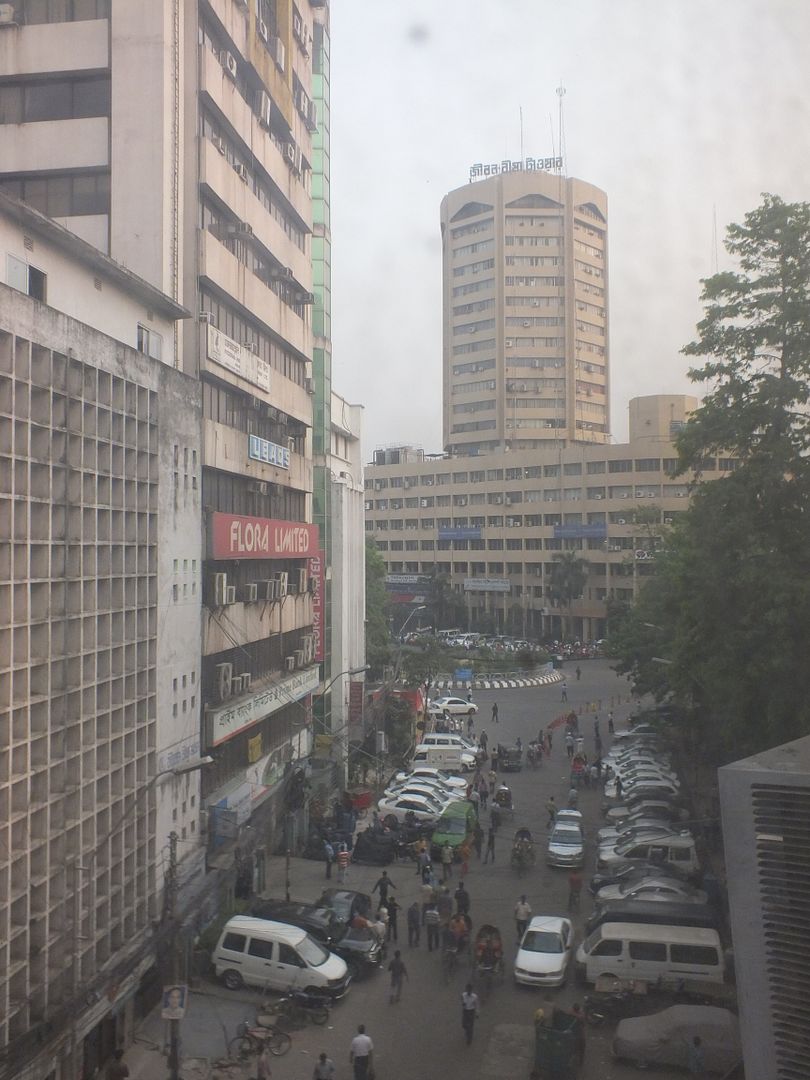 Taking a rickshaw in Dhaka is a must-do. Seriously, loved it, even if the pollution was a bit tough at times.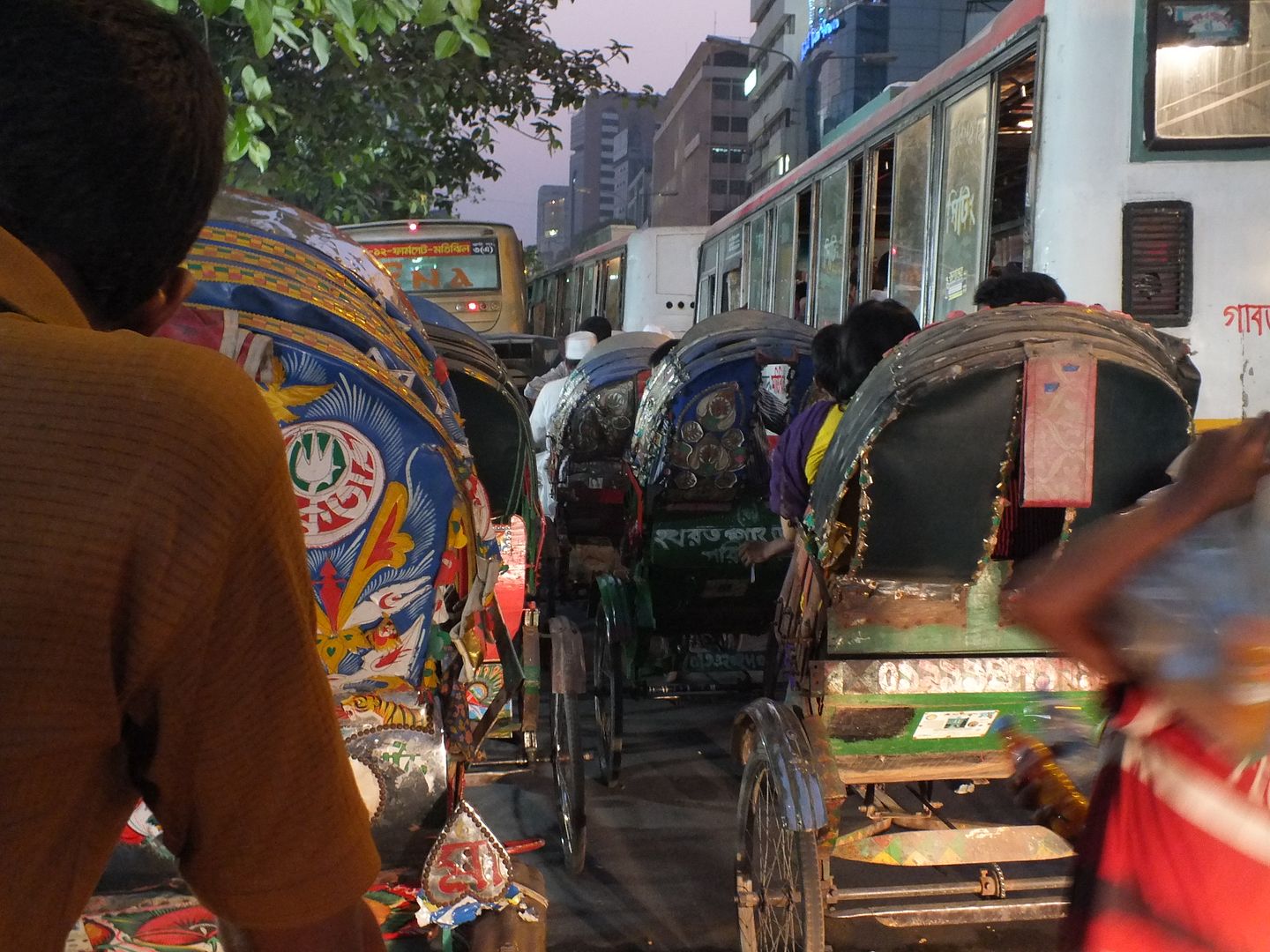 Not so nice were the prison like green tuktuks.
Dhaka has routemasters!
Lalbagh Fort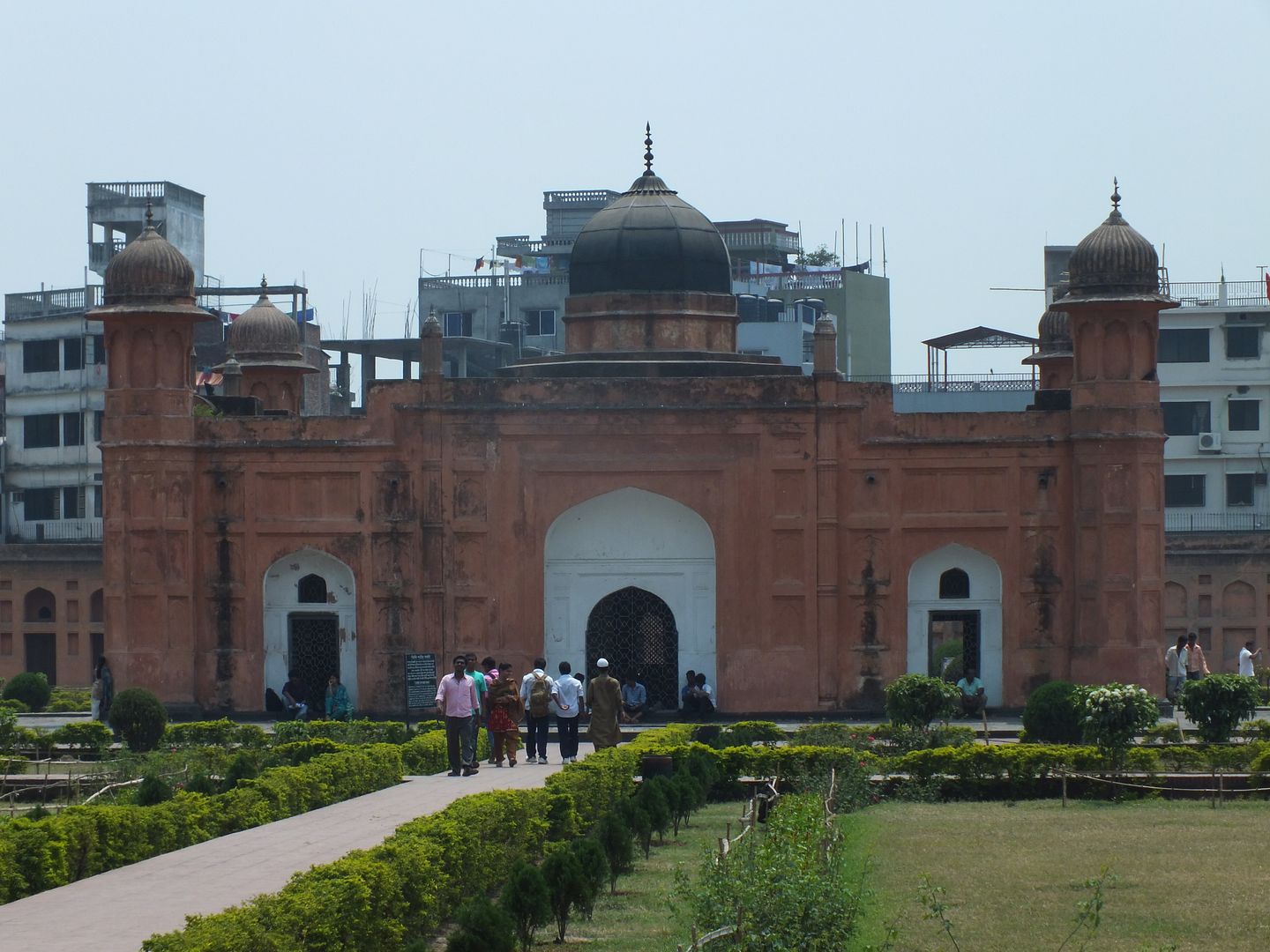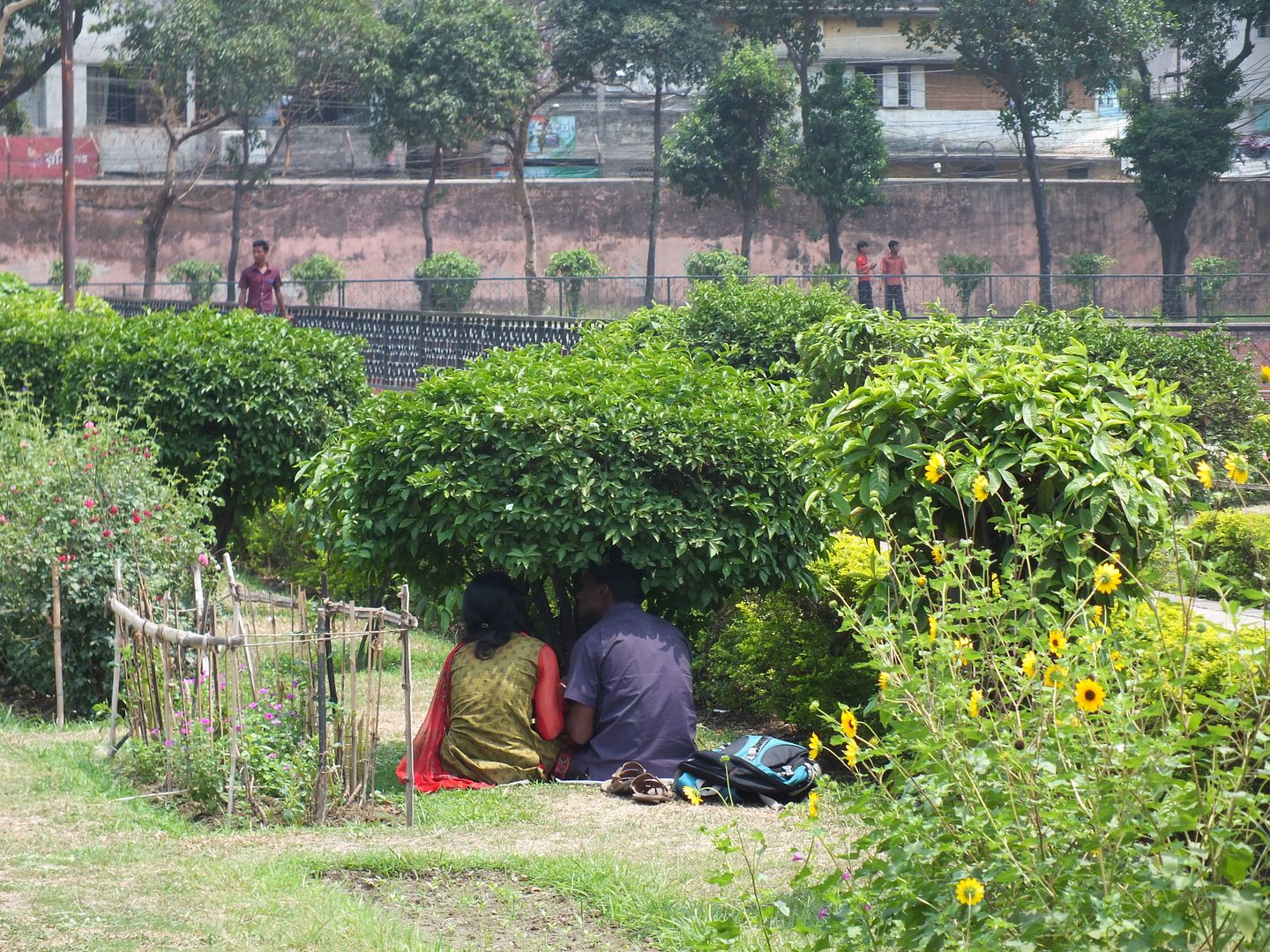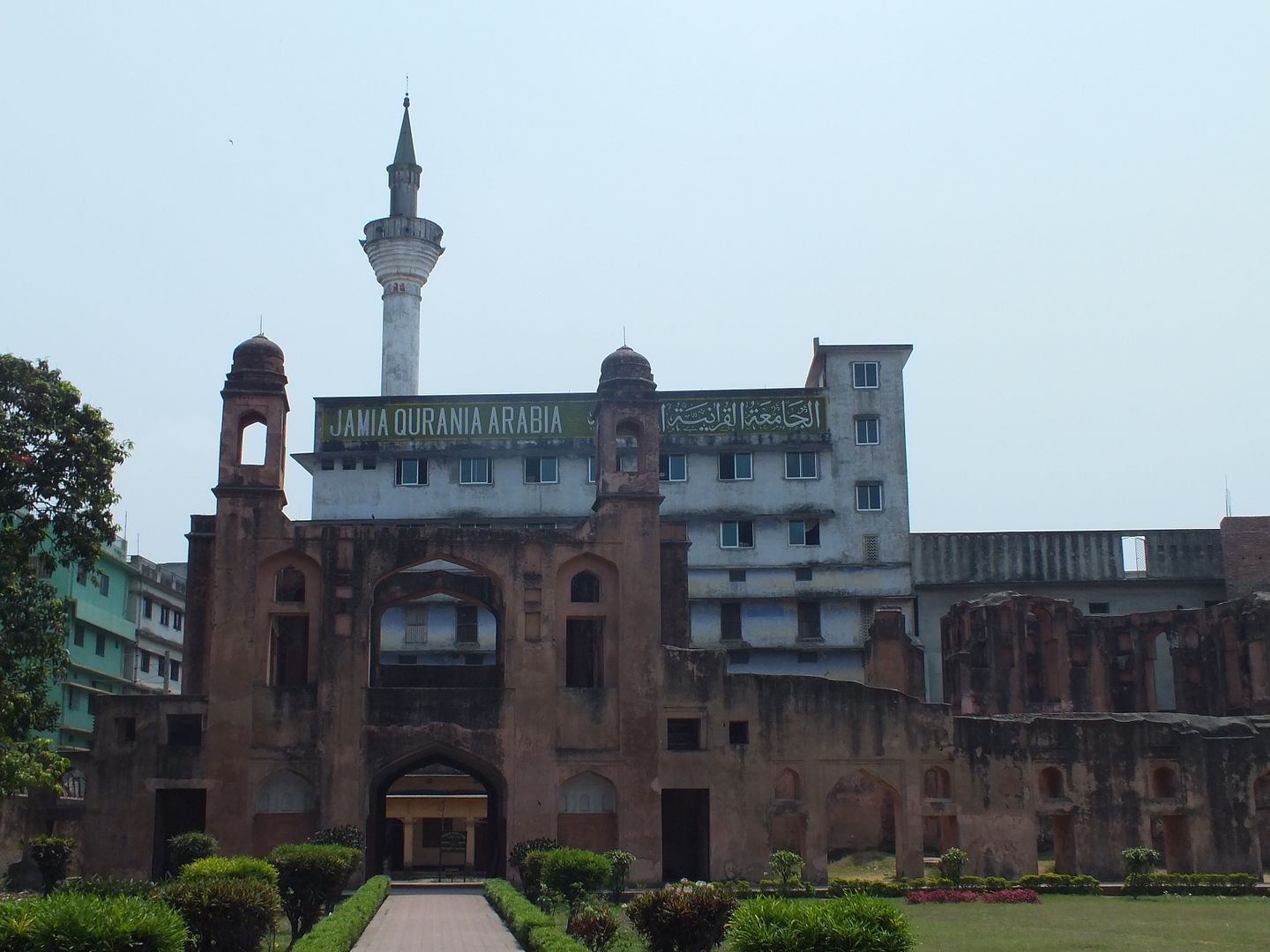 Time for another rickshaw ride, this time through the old city – amazing experience!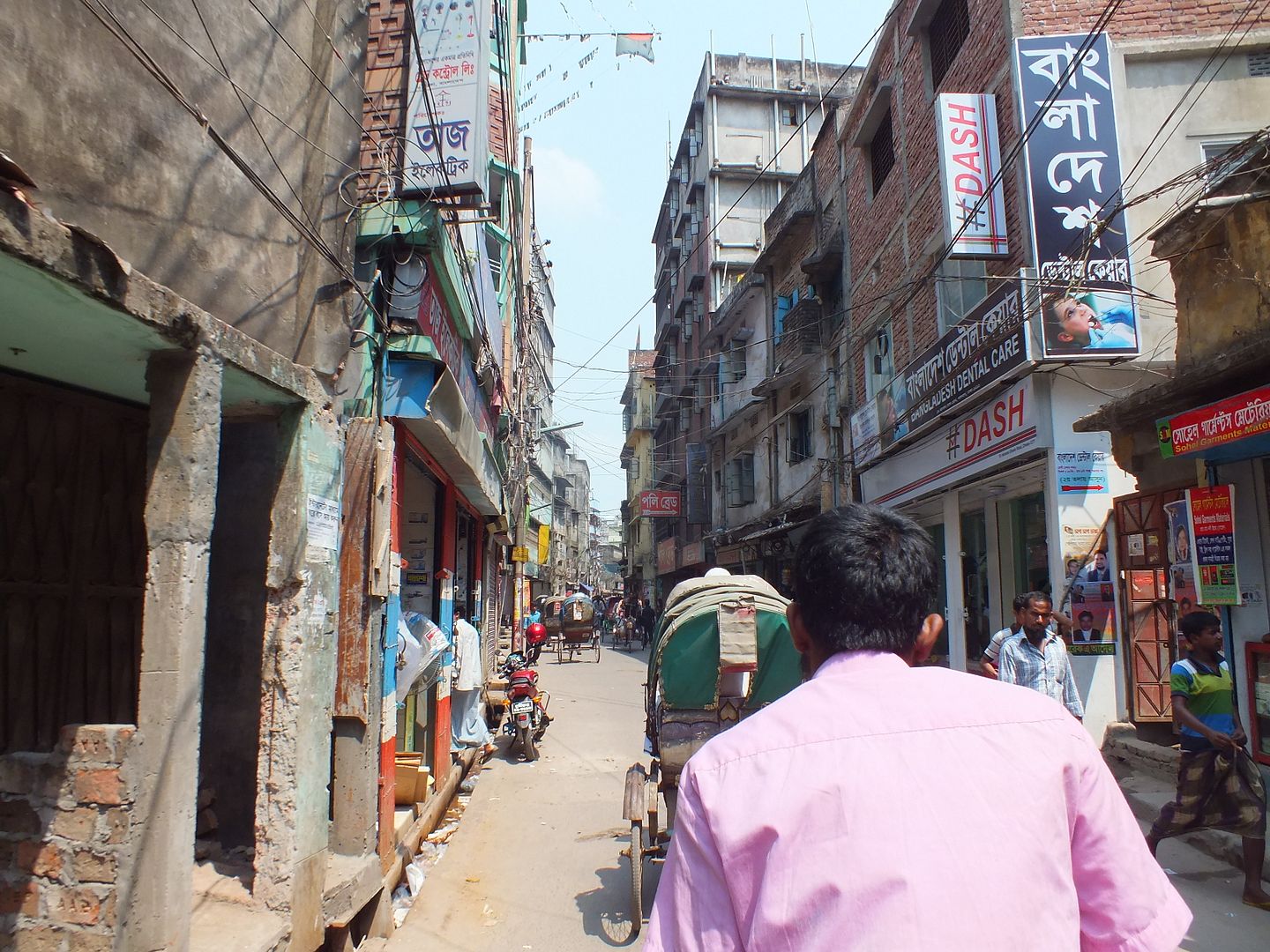 Ahsan Manzil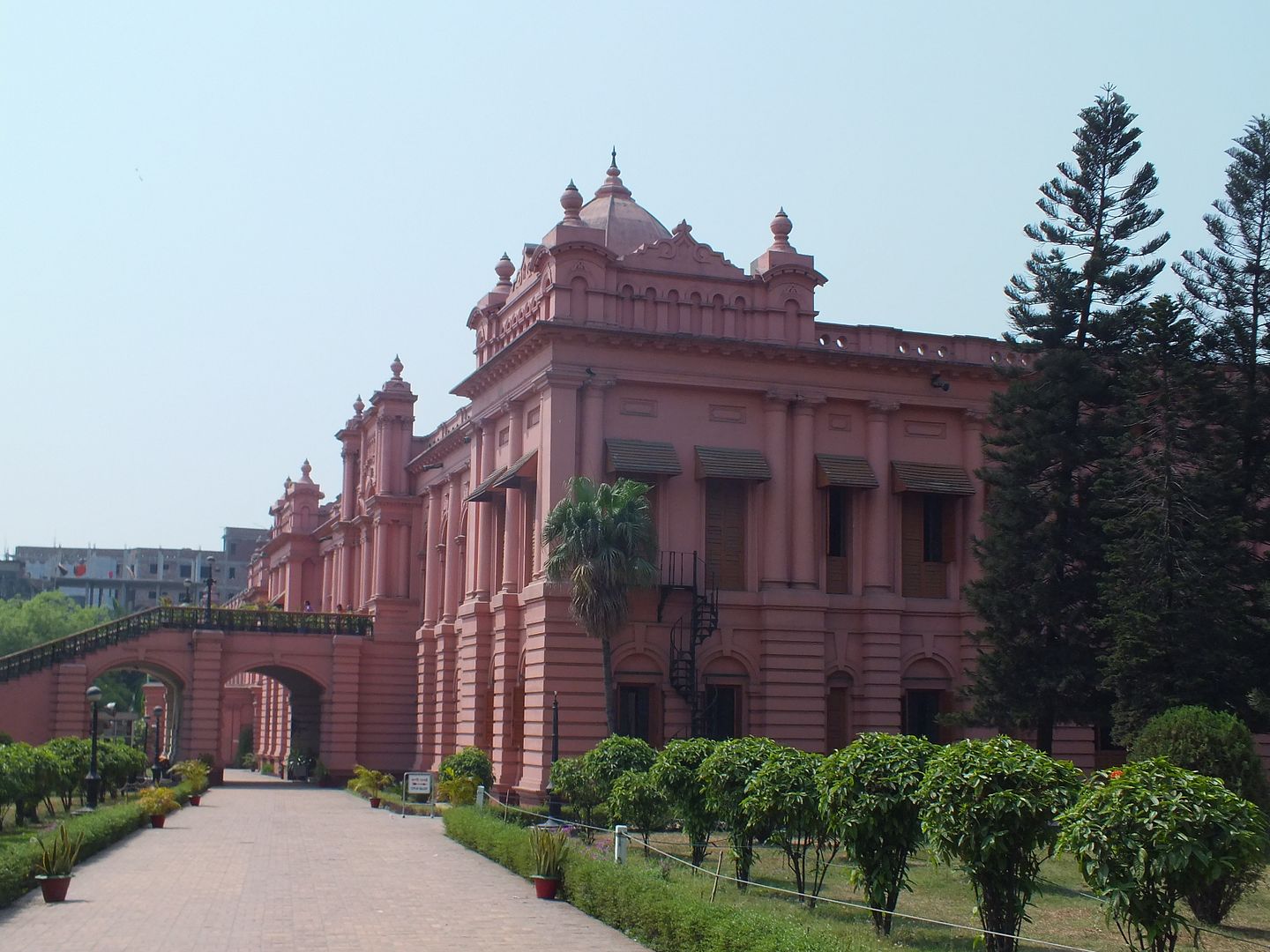 The first time I heard about Bangladesh was when I was a wee nipper, and well into world flags. Living in Japan at the time, I was fascinated to find an almost doppelganger for the lovey Japanese flag, just in green.
Time for a wander by food down Hindu Street. I threw caution to the wind and got my hair cut in one of the little places down here – I was pretty happy to come out with a pretty good cut, and only about a $1 poorer.
I found an intersection which was great for people watching
Despite having a career in pushing watermelons around barefoot, this guy loved having his photo taken!
I arrange my 5 days cruise via The Bengal Tours Ltd. Full board for $160 – not bad, although quite basic. I was the only non-Bengali speaker onboard, but most people (including the guide) spoke good English. The only other foreigner was a Japanese guy, but he'd been living in Bangladesh for 5 years.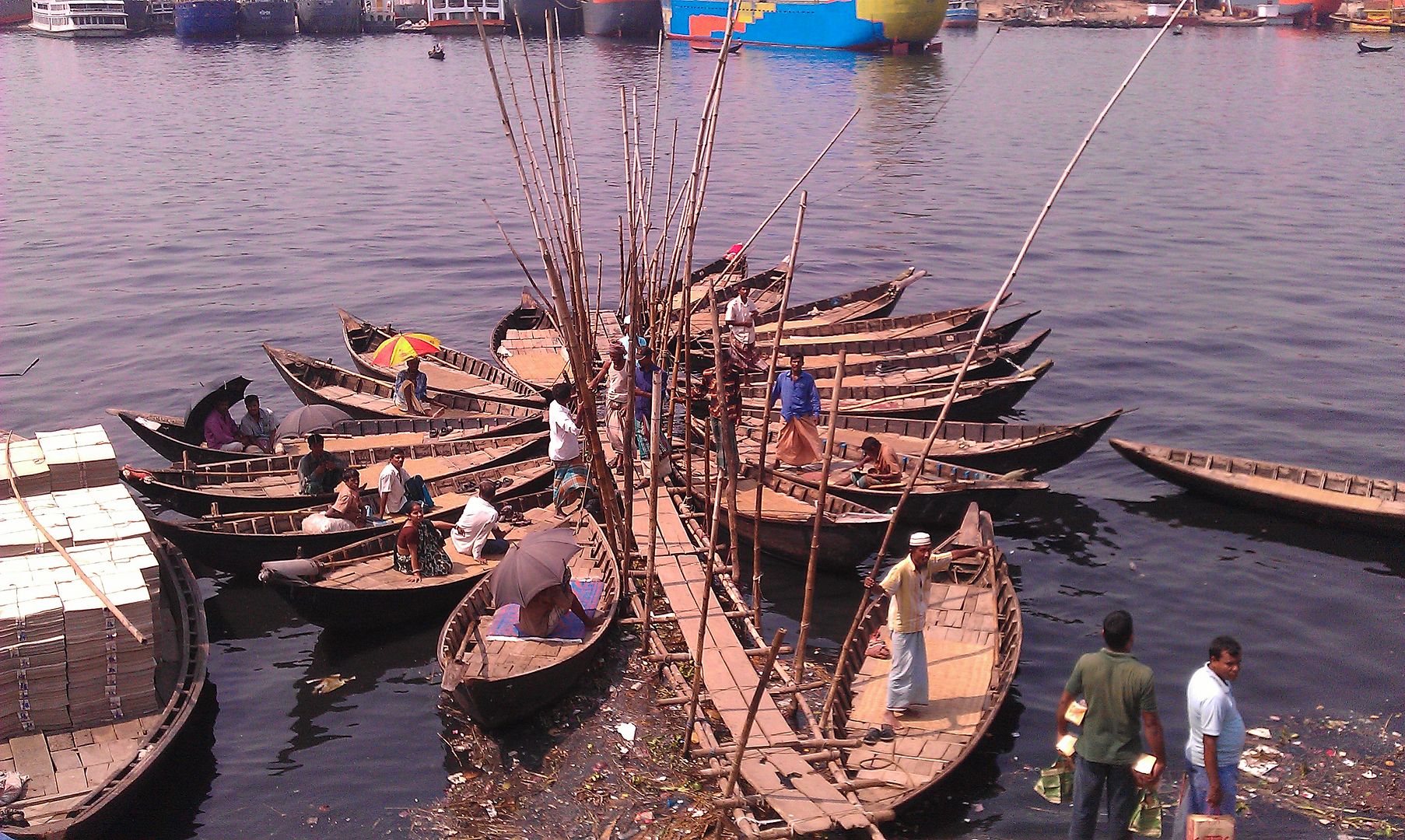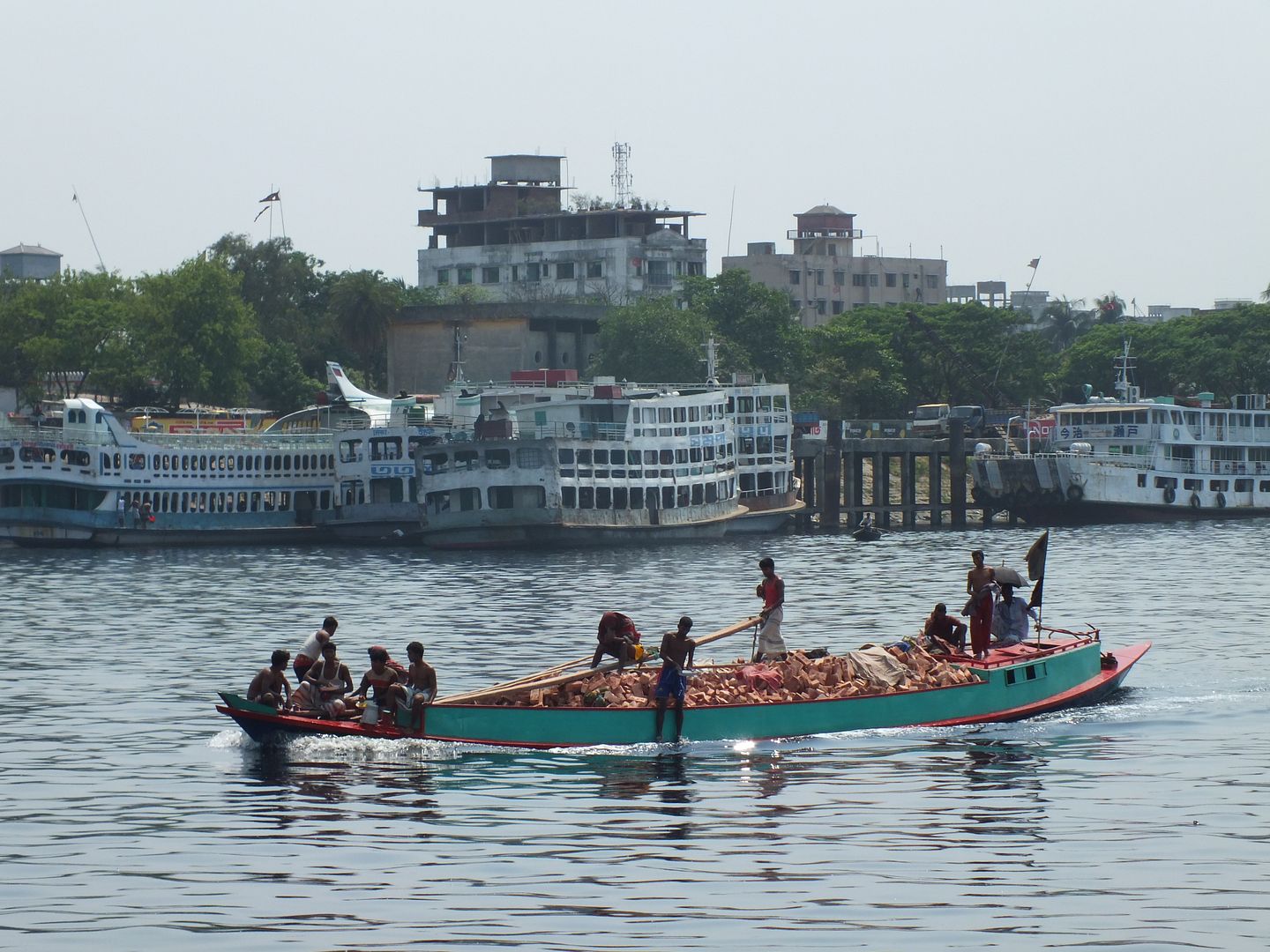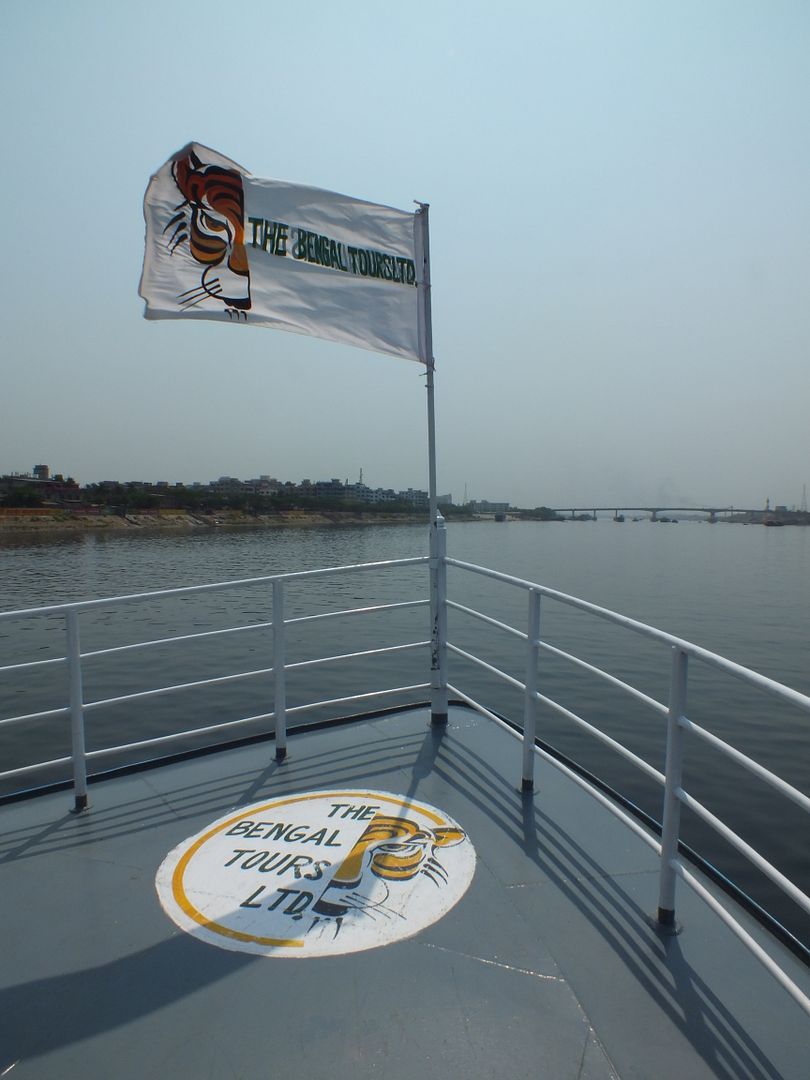 There were an unbelievable number of brick factories in the country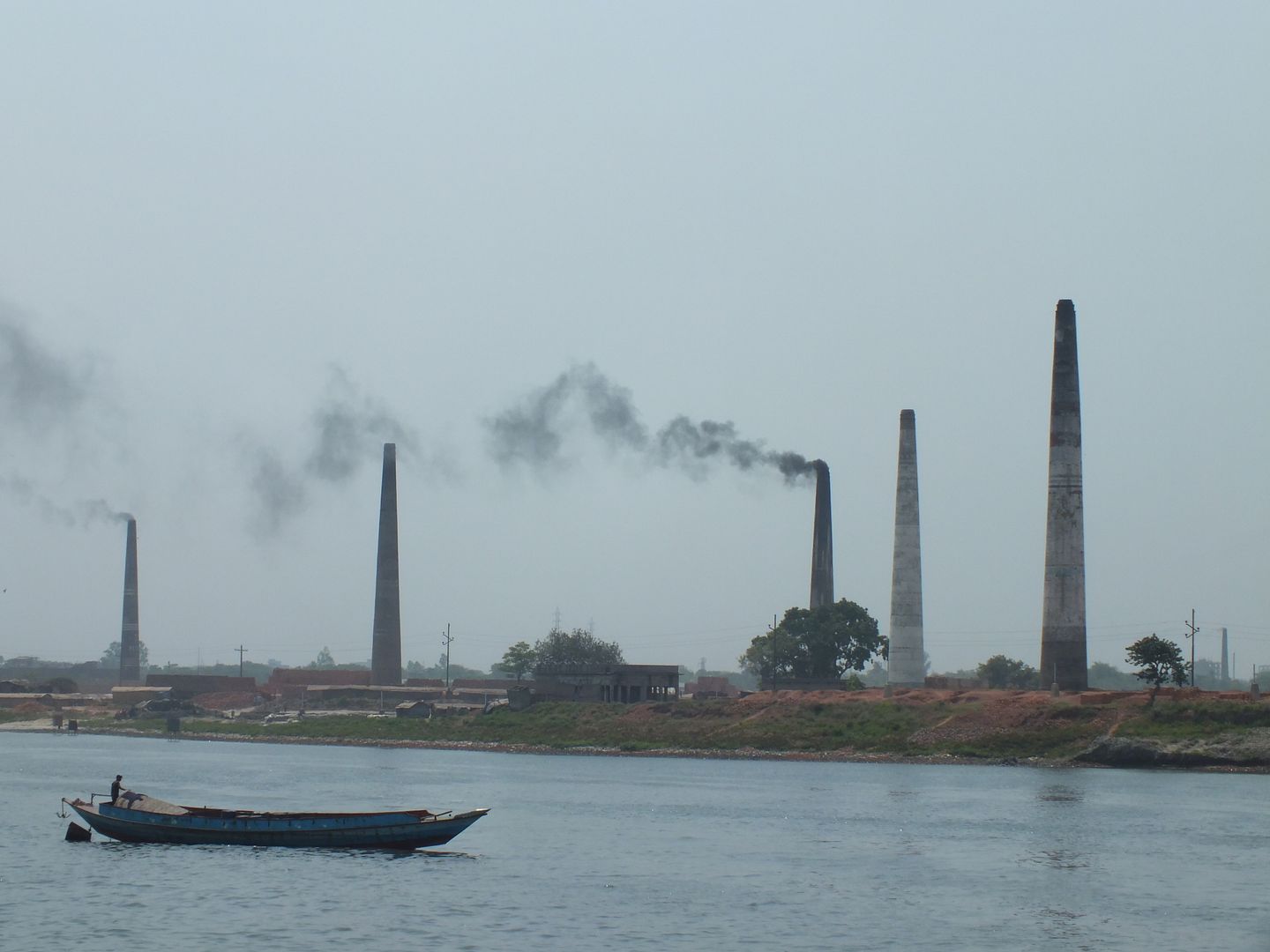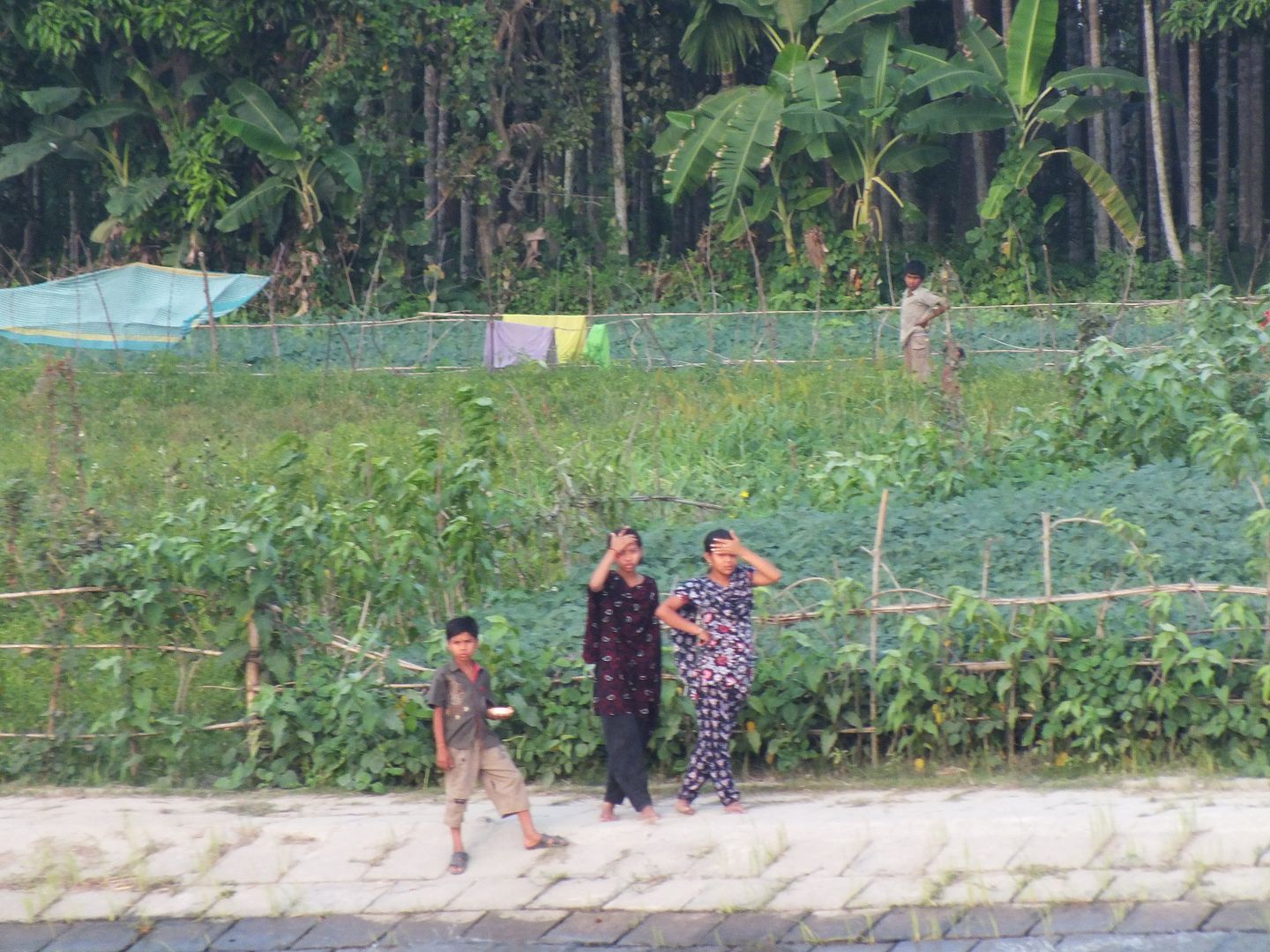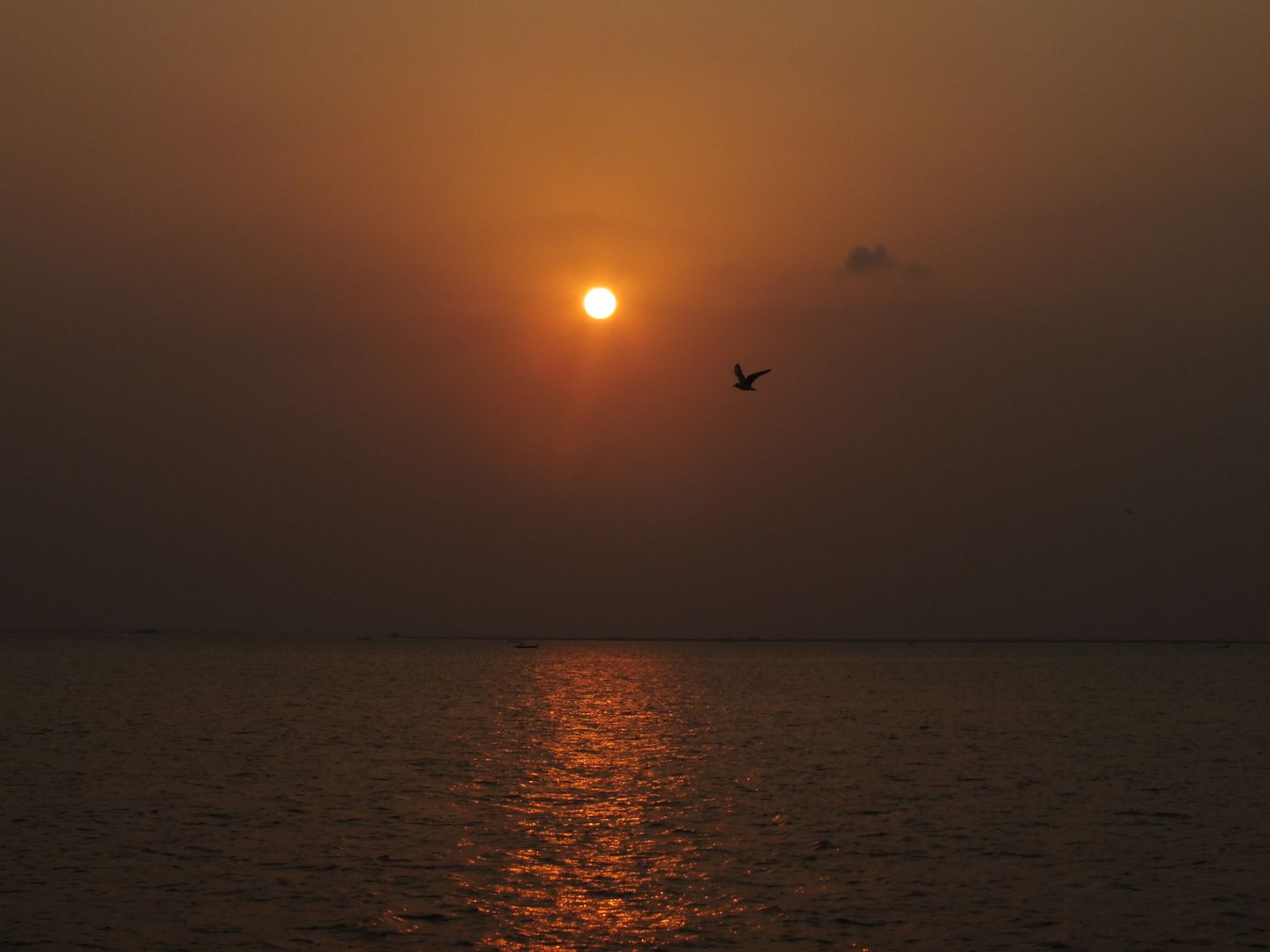 Ok, well I'll leave this section here. Next time I'll pick up with some more photos from the swamps, and my domestic flights with United Airlines and Regent Airways to/from Cox's Bazar and Chittagong.
Thoughts? Well, Calcutta Airport was a pain. The innumerable rules, and interminable queues made for a very poor experience. I wonder why India is so slow to catch onto the customer service concept? China seems to have taken to the idea, with a host of beautiful customer orientated airports springing up across the nation. Biman was an experience. Delays and plane changes for no reason other than "why not?". It's hard to judge from a flight of only half an hour though. It was nice to get a flight on the DC10, the 'Flying Museum'! I'm looking forward to my next flight with them to Kathmandu.
And Bangladesh, well it was quite the thrill ride. I didn't see a single other sightseeing tourist for my entire stay outside of hotels. It really is quite off the beaten track!
All comments and questions welcome!
Some of my other TRs:
Part 2: Valuair/Jetstar Asia SIN-MES and Garuda MES-BTJ
Part 1: U2 LTN-BCN, SQ BCN-SIN 77W Business
Africa Part 7: British Airways Club Europe B767, LCA-LHR
Africa Part 6: LX ZRH-ATH, A3 ATH-LCA. A Greek Tragedy
Africa Part 5: Dar es Salaam – Nairobi – Zurich with Swiss First
Africa Part 4: Fly 540 DAR-ZNZ in Y, and Zanzibar photos
Africa Part 3: ET KGL-EBB-ADD-DAR-ZNZ, A to Z with Ethiopian Airlines in C
Africa Part 2: SN BRU-BJM, SA BJM-KGL, Business to Burundi and Rwanda
Africa Part 1: BD LHR-CMN, TP CMN-LIS, SN LIS-BRU in Y and C
A.net meeting in snowy Tallinn. U2/FR STN-TLL-LTN
easyJet and bmi up to Aberdeen, LTN-ABZ-LHR
The Costa del Sol with British Airways. LGW-AGP-LCY
Mysterious Moldova (and Transnistria). Lufthansa LHR-MUC-KIV
BA to the Austrian Alps. LHR-MUC, INN-LGW
I can't get no Jetisfaction: LH LGW-FRA inaugural
http://my.flightmemory.com/shefgab
Upcoming flights: AMS-RIX-BUD-VDA,ETH-TLV-FCO-LHR,STN-TXL-LCY,LTN-CPH-LTN,LGW-SZG,MUC-LHR