Ciao, dear readers
and welcome to a new story.
It seems, it is far to long ago since I was the last time in Italy.
Italy, the country with the Dolce Vita style of living. Pasta, Pizza, Ferrari and beautiful wo..., ah, sorry people.
And yes, there is really an airport not yet pinned on my departure airports map and yes, when I´am checking the weather data around the last years with Apulia and especially Brindisi that looks like really nice.
Mostly dry and temperatures up to 25 degrees.
Is there something interesting to fly down to Brindisi?.
Yes, so it seems for the first view, no B737/A320 series planes and a new airline also on offer during my search.
Well, where is the book it button?.
Some three weeks after the return from Cyprus
Short Ahead To FR//UK Charter For Paphos
(by
FLIEGER67
Mar 24 2012 in Trip Reports)
I´am on the way to fly again.
Here is also the routemap:
Thanx as usual, to:
http://www.gcmap.com/
Here are the first 200 departed from aiports:
Departure airports
auf einer größeren Karte anzeigen
And this is the latest development around the following new departure airports map:
Departure Airports II
auf einer größeren Karte anzeigen
And also the actually done routes:
Tripreporters Flüge II
auf einer größeren Karte anzeigen
Enough talking now, further on with the first leg.
Saturday, 31.03.2012
.
.
.
.
Service Swiss LX 1165 operated by Swiss European Airlines
Scheduled: 08.20 // 09.05
Now that´s a relaxed departure time this Saturday morning.
Wake up at 5.00 am, on the way at 6.00 am and at the airport around 7.00 am.
Seat selection is done online. Easy to catch my seat of choice for the first leg via LH´s website.
No way to change the seat for the second leg on the same booking.
Well, the trick is to enter the same data on the LX website and finally you see the seatmap for the second flight. Also quickly selected.
There is this very nice and btw. goodlooking young woman with a special relationship to ZRH airport.
She updated me frequently with the latest load data around my flights. So I know that the first leg today is short to overbooked and therefore no question to work proactive at the desk for an upgrade.
An somewhat cold elderly woman at work:
"Good morning, I´am checked in but not yet printed for ZRH and MXP. Is it possible to do it here?".
"Yes, let me see you´re documents".
"I know that the flight is well booked, is there an upgrade possible?".
"Yes, the flight is overbooked with one pax by now.
I will check it and give you a call later at the gate".
"Thank you".
Well, looks like a good start for the day.
By surprise no time to wait at security also with the first day of the easter vacation time in southern Germany.
The usual bunch of "I am frequently flying once per year" people around.
Not that anyone told them about the "new" security rules:
"This is no liquid, no this is apple juice!".
Ah, these people, better than any theater or commedy show!.
A short view to the screen shows me nothing else than an ontime flight from gate 162. Ok so far
Quickly done and up the stairs for the lounge, right hand side for me, the Senator´s place.
The elder woman welcomed me by name and also not by surprise the lounge is fairly empty this morning, not that much Sen´s on the way today.
Booking is done via Opodo this time. The only available offer with exactly these flights, leg 1, 2 and 7 together. The fare per leg is 50.00 Euro´s this way.
Scheduled aircraft type is the RJ100, not that often logged here, so warm welcomed.
Bubbles in the morning
Or better stay this way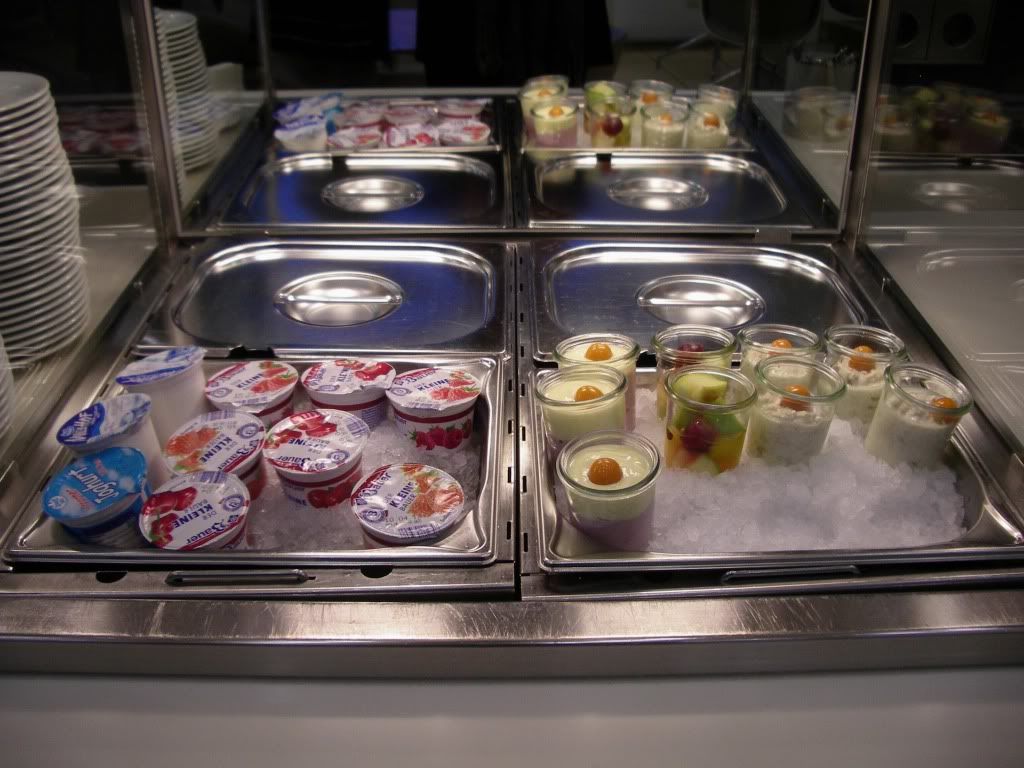 Surprise, Anadolu Jet at STR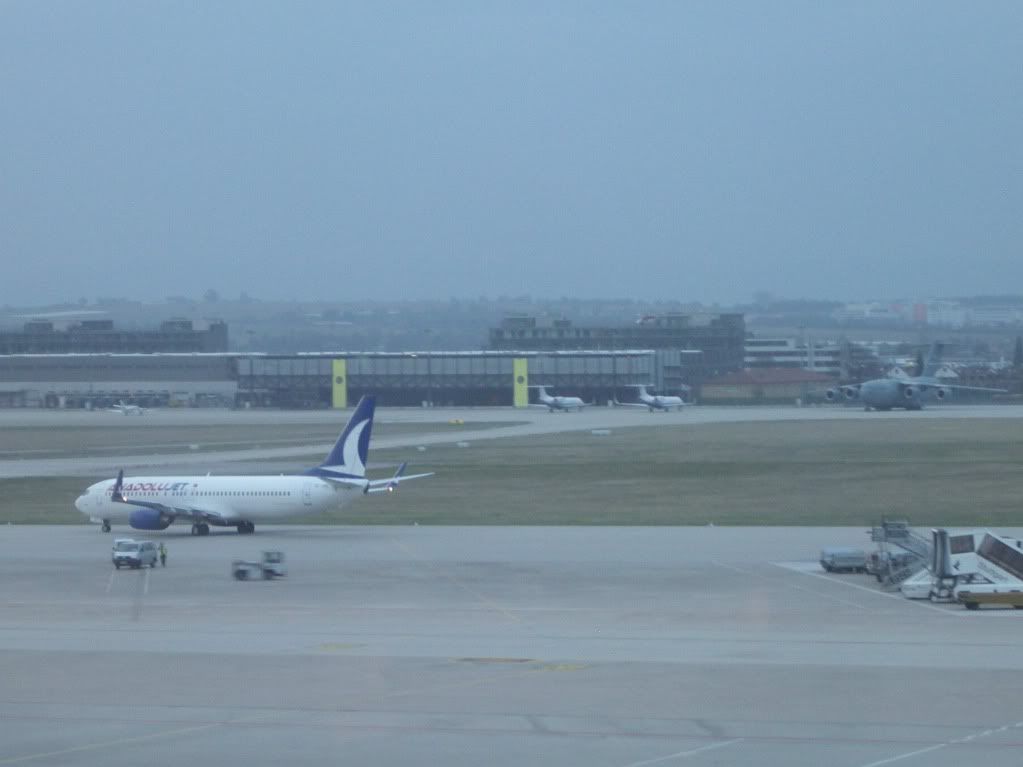 Boarding time is around the corner, down to the groundfloor for the bus gates now.
The elder female saw me and waved me in.
"Here is you´re new boarding pass, seat 2A".
"Thank you".
The bus arrived and shuttled me around the apron for a view like this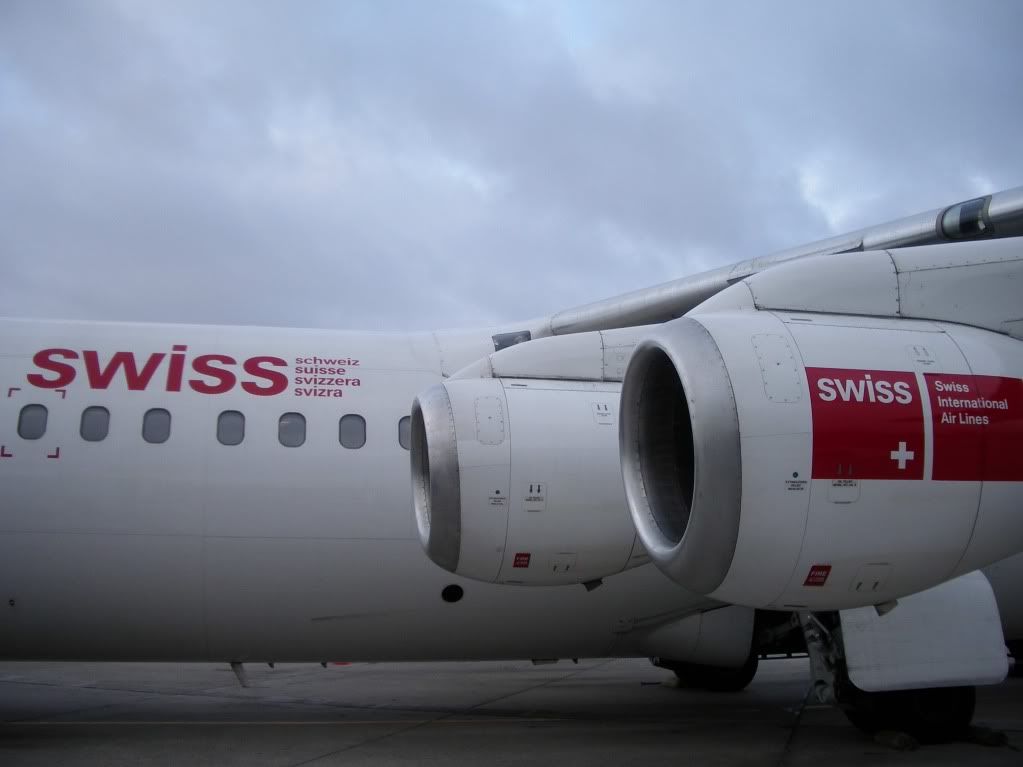 Under the wing, not that I have any special preference for shots this way!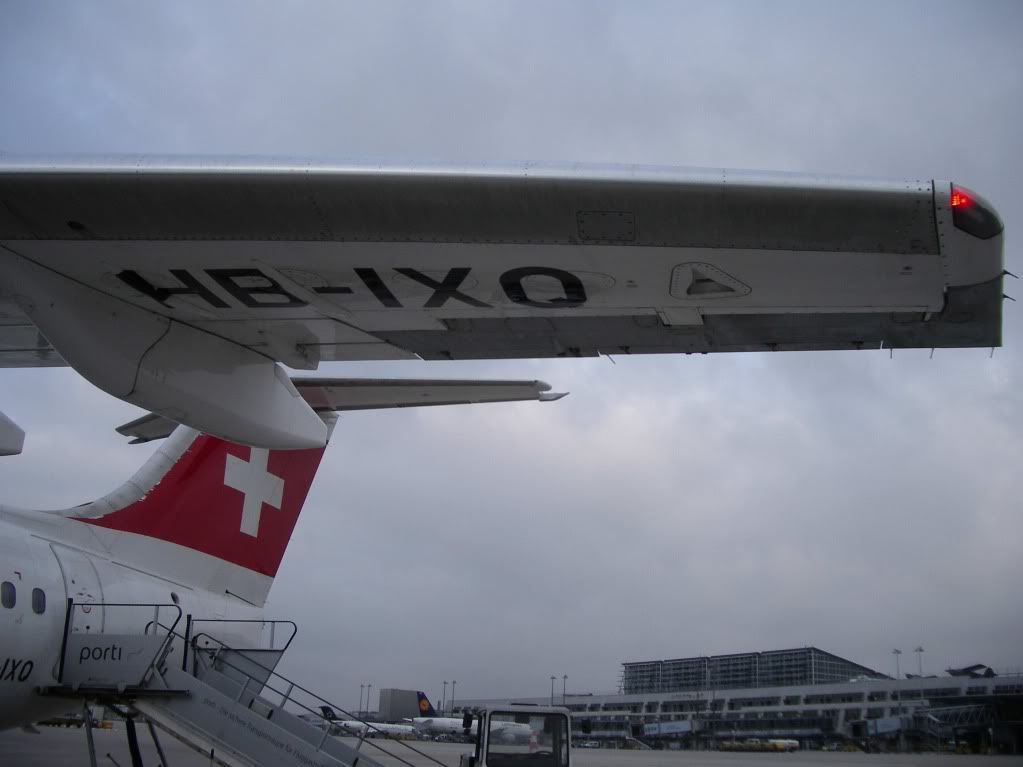 Four engines for short haul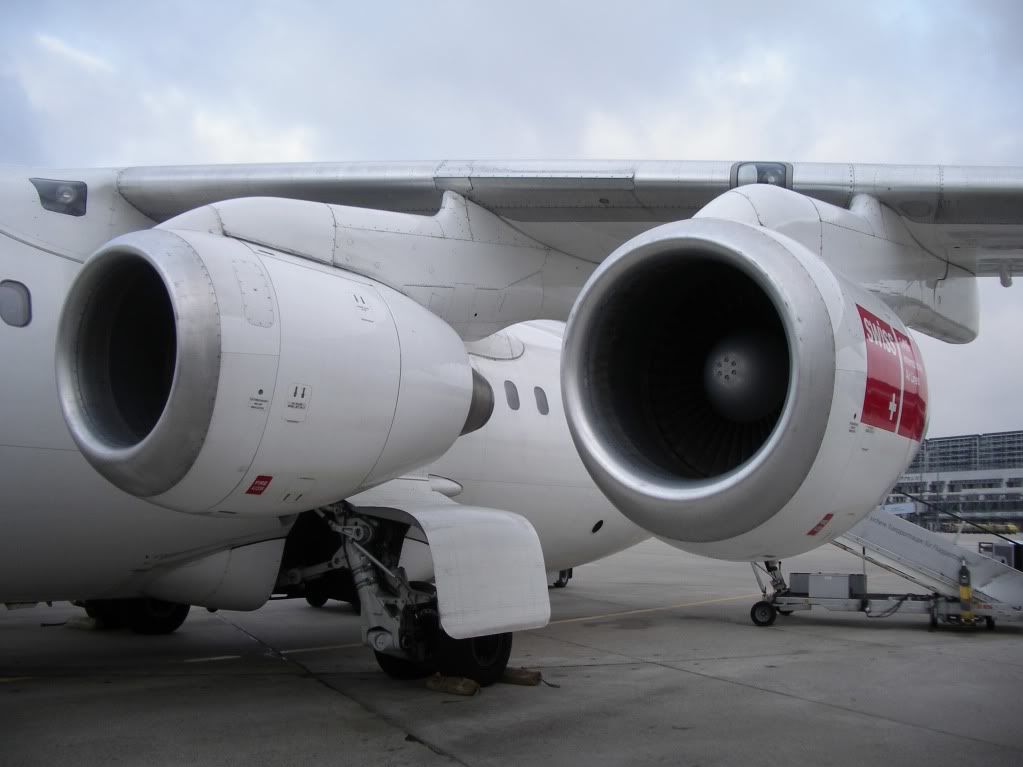 This is HB-IXQ, leg no. 9 only by now on the RJ100.
Nothing new here, done long ago on a NCE-BSL run.
"Stucklistock" is counted in the Switzerland register since 27.03.1996 with Crossair, Swiss International and Swiss European.
One of 20 examples in the active fleet.
08.25 am, close to ontime, "Euroswiss" leaving 8 cloudy degrees behind and heading for 25 minutes to ZRH from runway 25 with a shortcut of course. No need for the full length on the Avro.
Cockpit crew is from Switzerland. The captain with a nice short welcome during taxi.
The safety card just to confirm the plane type
The Swiss magazine directs me to the south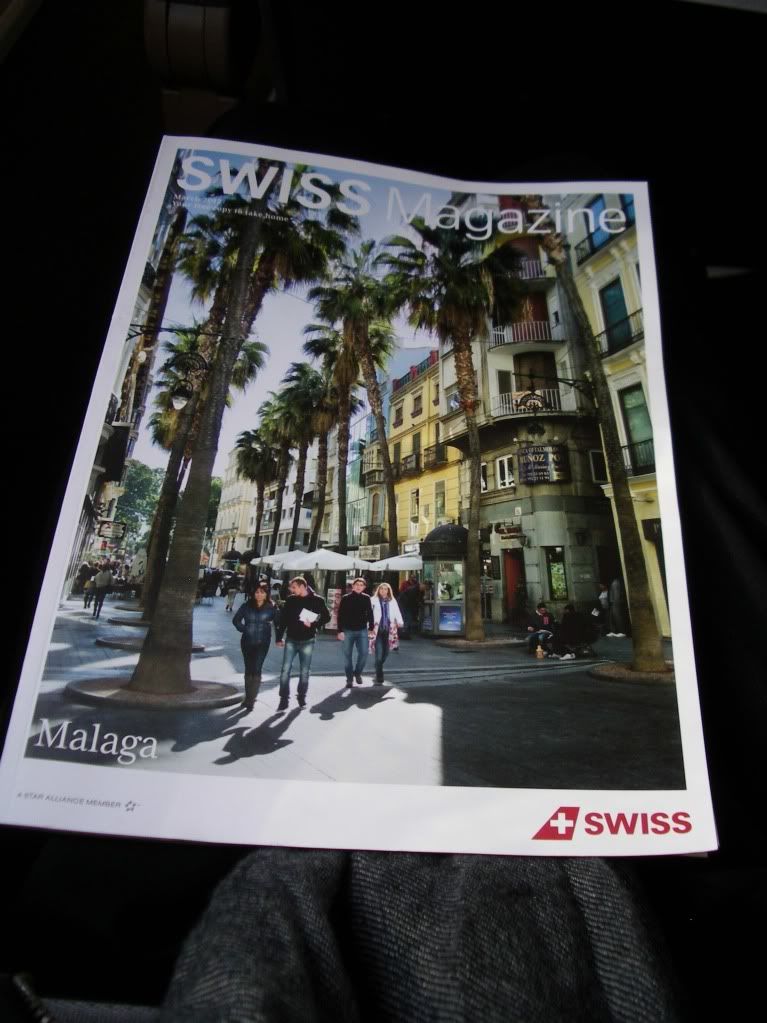 The aisle seat is also taken, but it´s spacious enough here.
The load is very close to 100%.
Legroom is sure ok here with the dark grey well used leather seats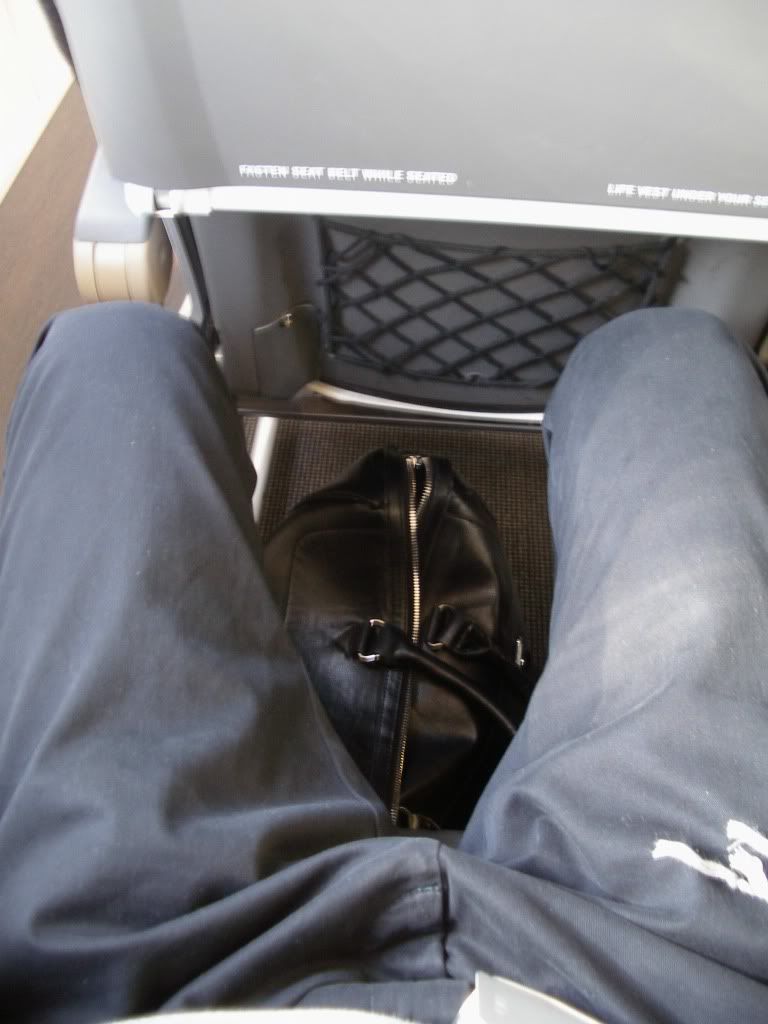 And also this way
Cabin crew is one elder male FA with a nice welcome and also a really nice behavior further on, together with a young and also nice female serving the rear part of the cabin.
The FA´s doing a tough job with 11 pax in biz today.
Service is newspapers and small water bottles offered at the seats, drinks for several times, this croissant and the famous Swiss chocolates
Front cabin view
This is not my usual engine view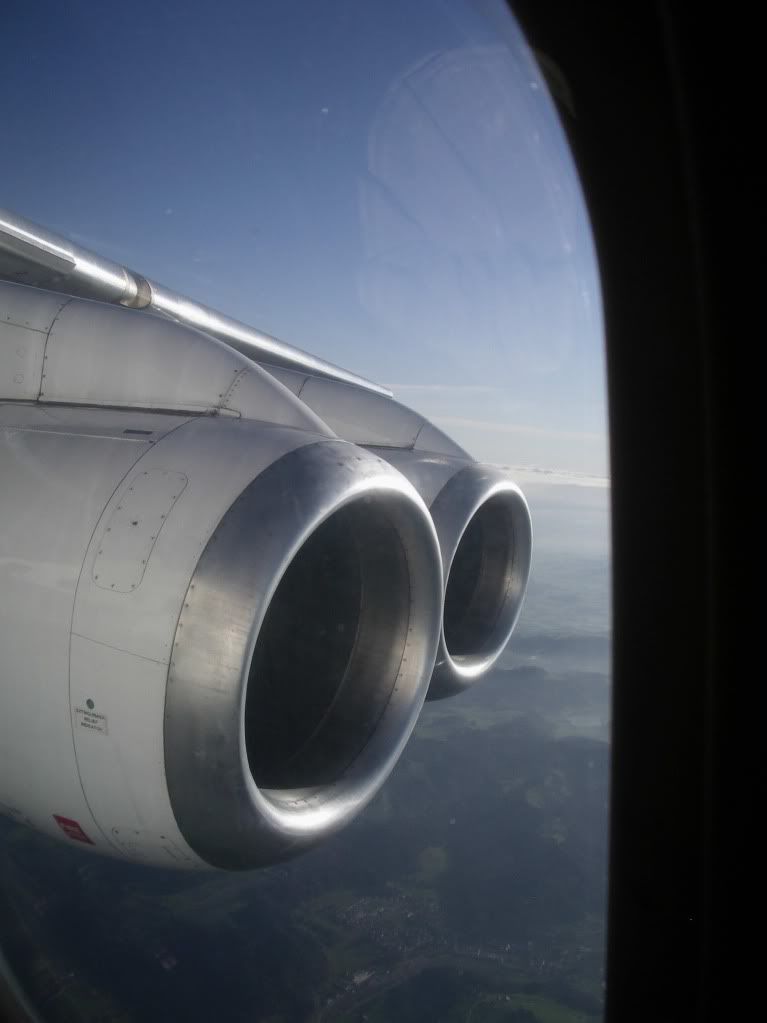 No route or flightlevel info´s here.
I should fly more often during this time of the year, really nice views
Short ahead to Lake Zurich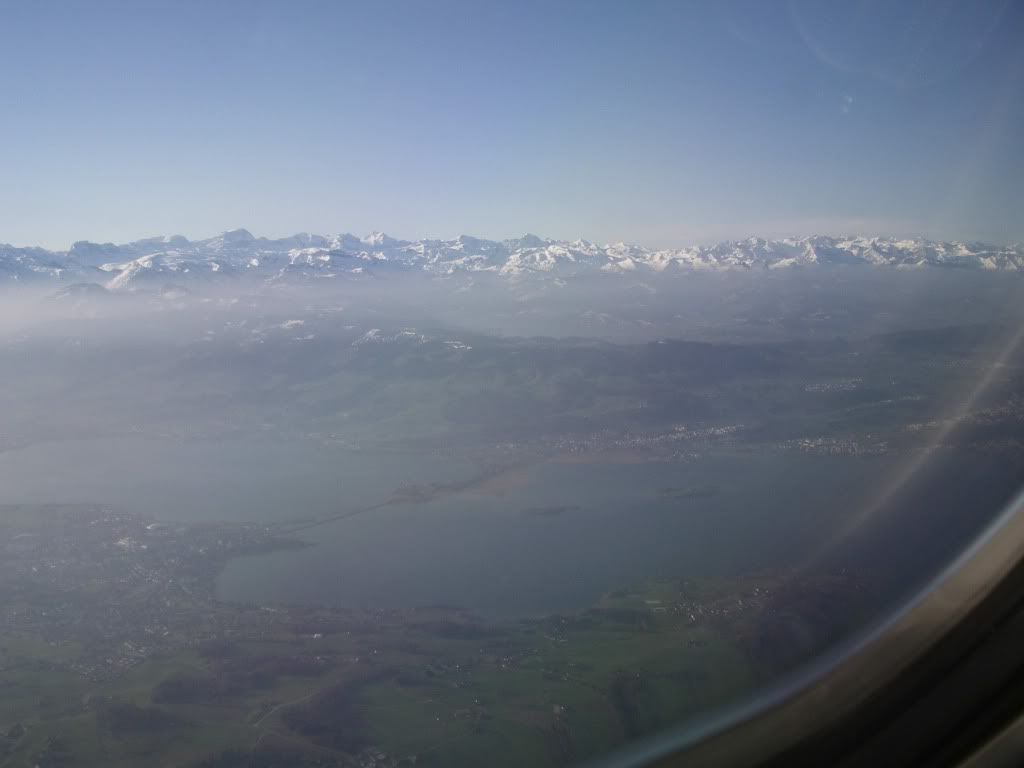 Along the lake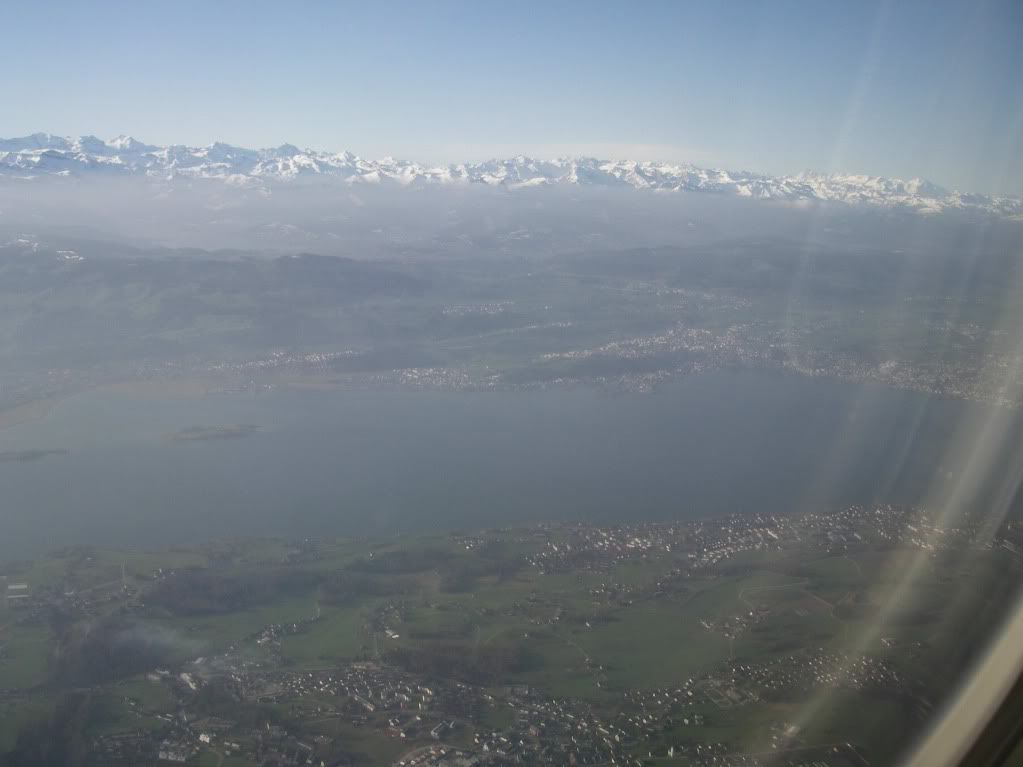 And the city
Touchdown at the 3700 meters runway 34, 09.00 am, short ahead to schedule, 5 degrees and superb sunny here in Switzerland.
Docked at a finger gate, a good chance for a last view to the engines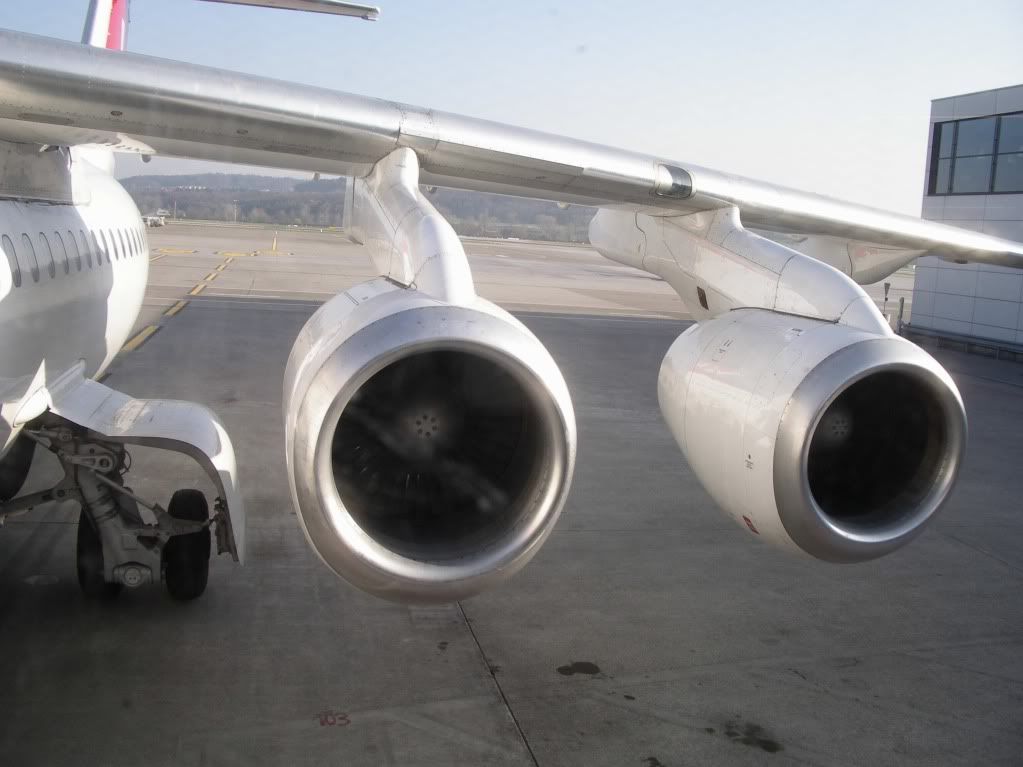 And also a good decision not to take the earlier service to MXP.
Milano bound pax are directed upstairs, all the others downstairs, so it seems exactly this plane is heading for Milano now.
But well, there is definitely something else to do here.
These nice young woman decides to spend some time of her work free Saturday also at the airport and welcomed me now at the gate.
With this super nice weather conditions, it´s no question for us to go for a view outside from the recently re-opened public terrace. Definitely a really nice place for example to held a meeting with a couple of aviation enthusiasts from around the world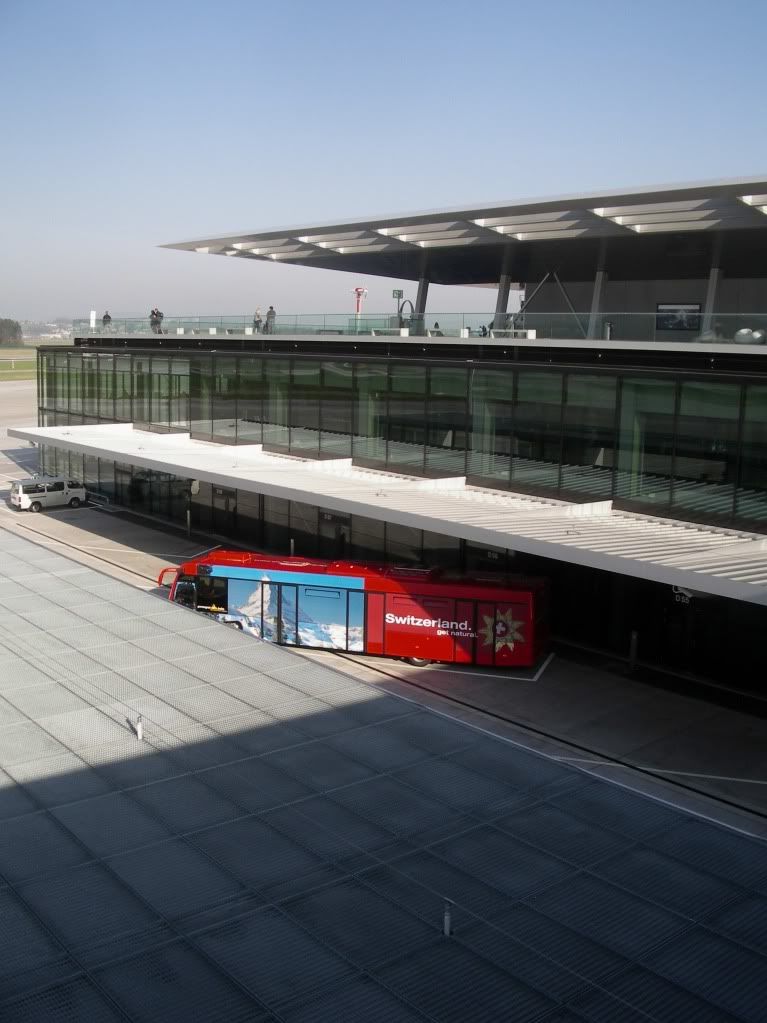 We spend a good time chatting in the sun. Be careful during this time of the year not to catch the first sunburn!.
And finally to go airside for a view to the lounge.
My next flight looks like ok from gate A58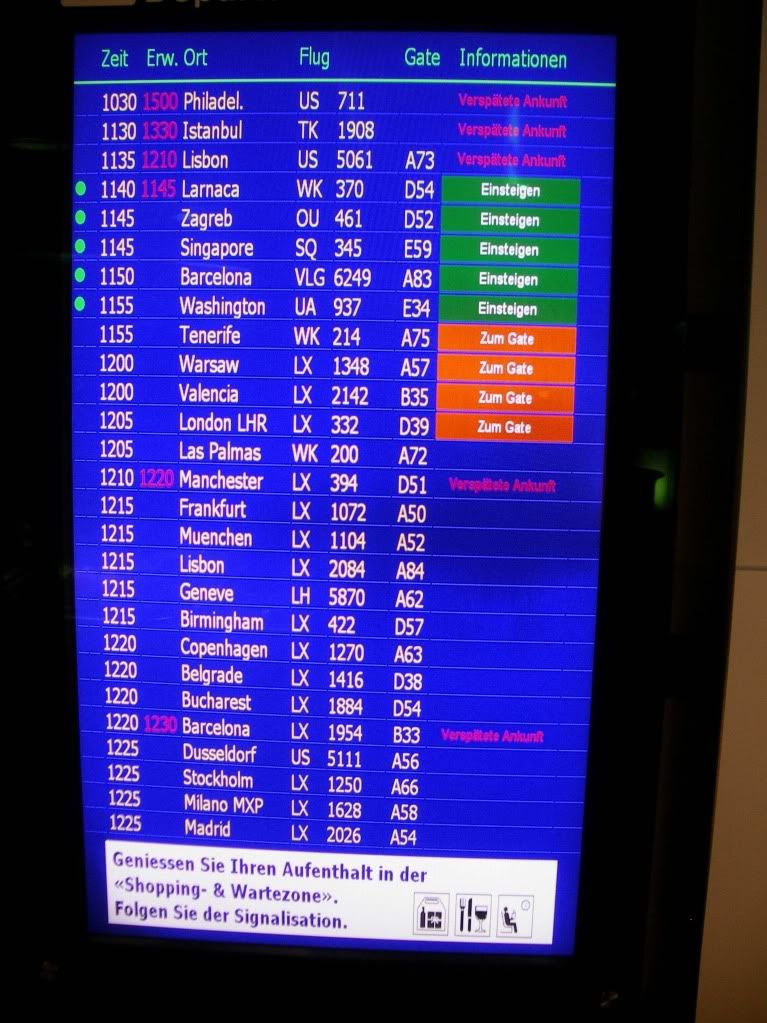 She is accepted as my lounge guest, so more time to chat together.
Sorry for the blurry pic, but these Nespresso engine looks so special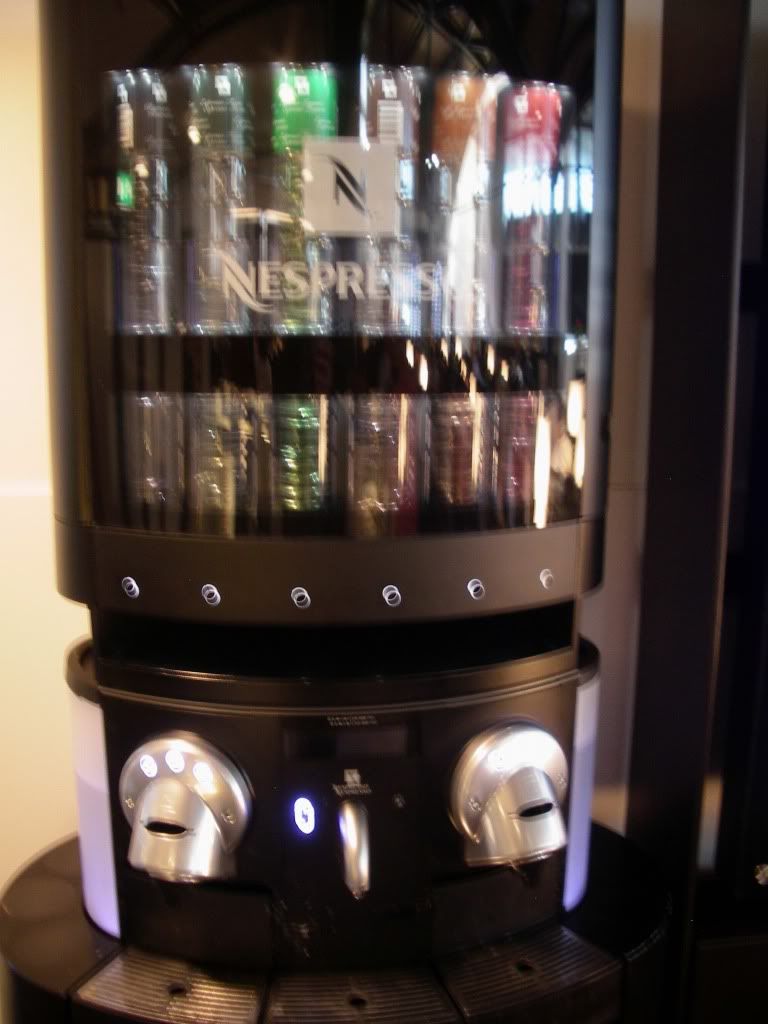 Cold cuts
Or something hot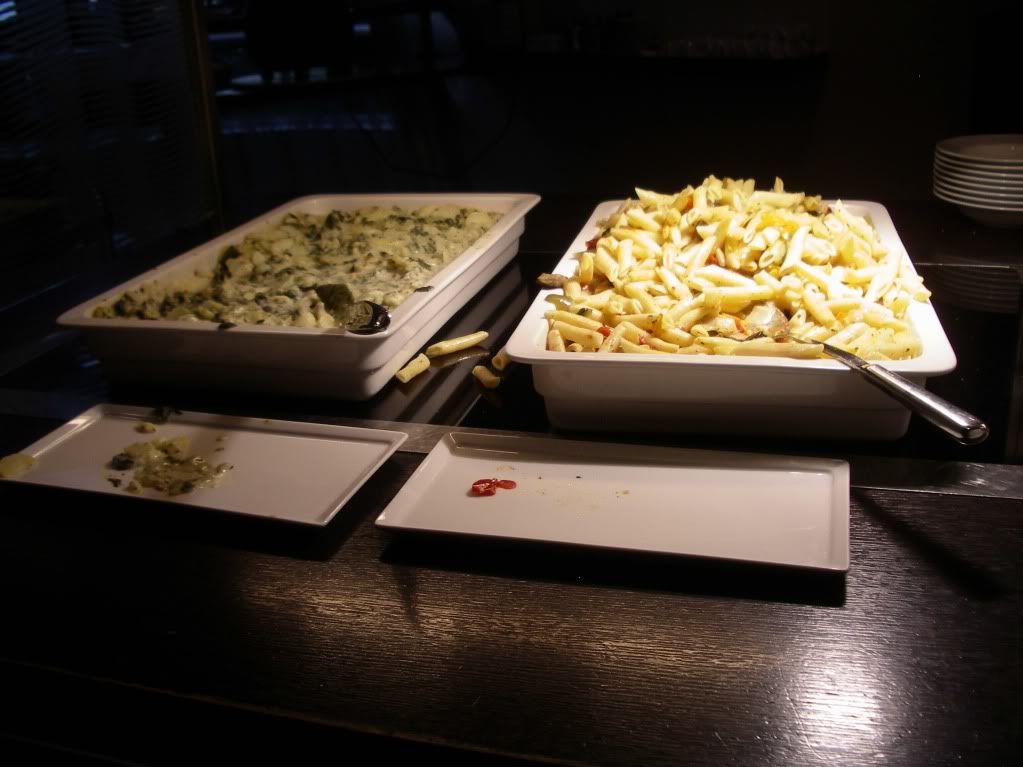 The lounge feels a little bit dark with these brown furniture
I like these Swiss model planes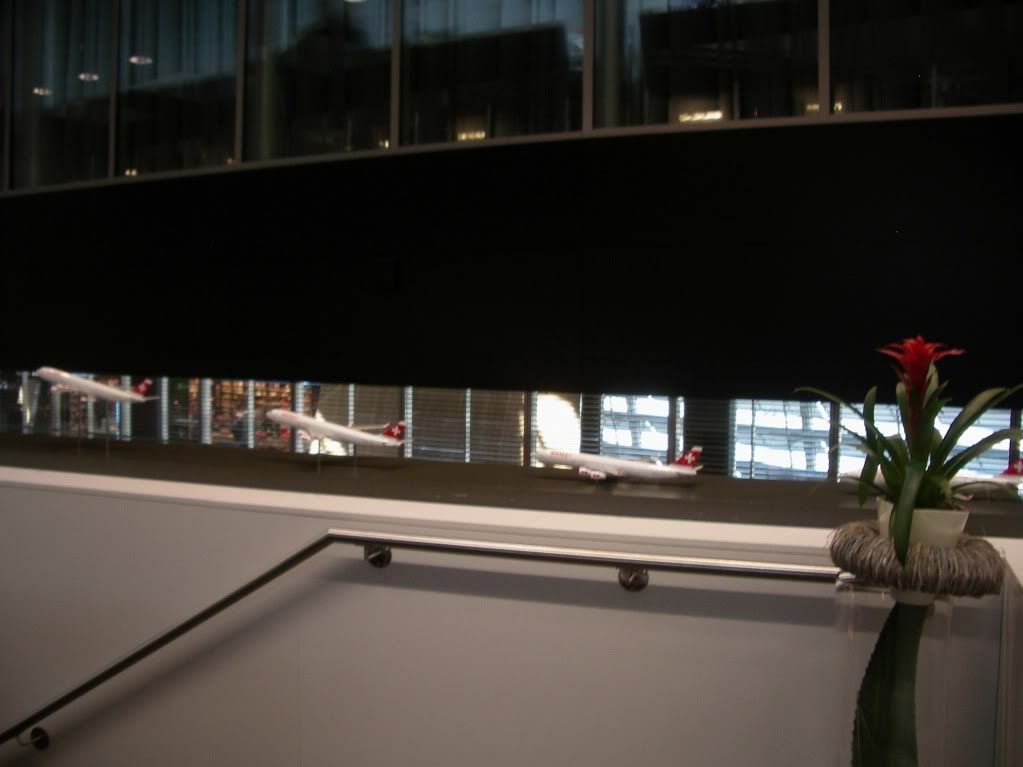 Flying away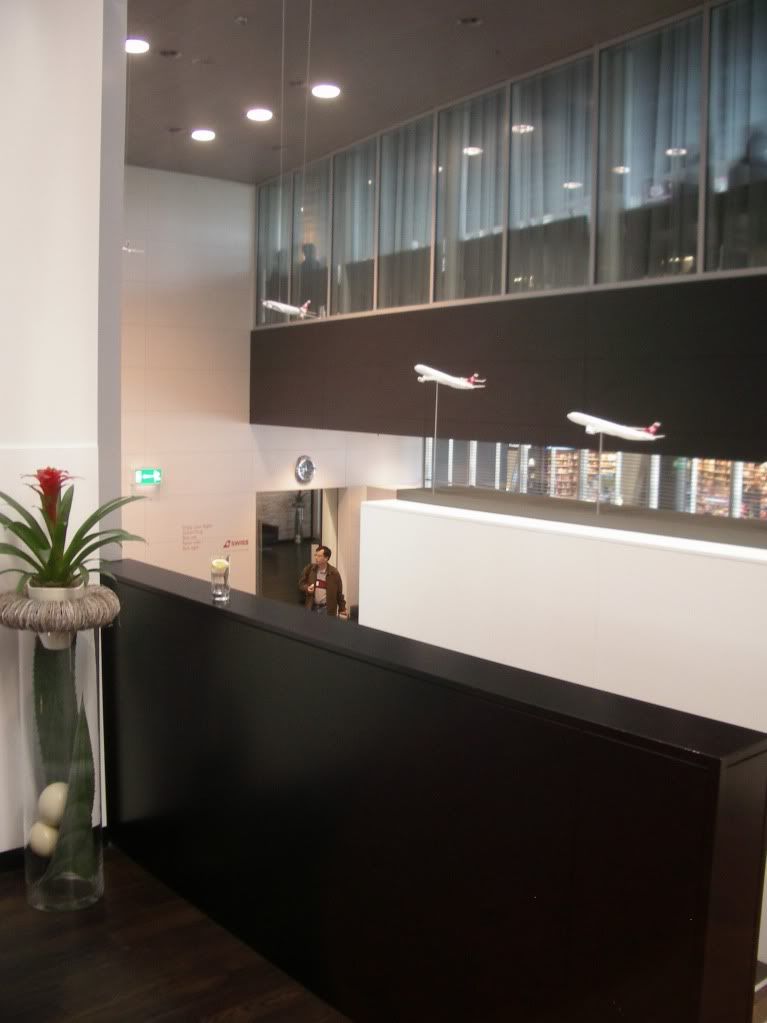 Time to go for the gate now and a view for the different Swiss liveries
This service is also well booked, but not as far as the first leg.
Proactive talking with the nice female gate agent, but no second upgrade, so it seems.
Bye now to H., thanx for you´re time, my pleasure to meet you there.
Onward with the next flight and a beep by passing the gate.
A beep. A good or a bad one?.
Ah, a good one, upgrade number 2 for me now!.
.........................................................................................