Feedback always appreciated.

* Unbiased view on how an actual traveler may view the flight
* Not a professional photographer (so please keep in mind)
* Commitment that the airline has no idea who I am
I > Background:
I will pause from my Canada reporting for this special report, and return thereafter.
First flights are always special – and I have had my share of them. Some have been for airlines I have worked for, or clients I have had; some, been to be part of history. When Japan Air Lines (JAL) announced their inaugural 787-8 destination as Boston, I knew I had to be part of it. Getting a seat was hard, and the more difficult part was whether it would all go as planned on April 22nd, 2012.
JAL had announced its NRT-BOS flight quite in advance. Yet, leading up, their 787 did not arrive until March 2012, and no proving flights were made … all quite unlike ANA. Rumors circled both in official and unofficial circles than a 777 would be the replacement metal for the flight, and inventory had been put in "all Y" for a while. I could not contact my official JL contacts as I felt it would be inappropriate on many levels. So, there I was. Two things worked in my favor … either way, I'd fly the first nonstop Asia-Boston flight, and the concept of saving "face" was important in many Asian countries. Furthermore, I took solace from the fact that the configuration remained 2-4-2 all the while leading to the departure.
I am going to bet (hehe) that this is the first report of JAL's 787, JAL's new NRT-BOS service, and the first coverage of the nonstop Asia-Boston link.
II > Pre-Flight:
a) Before Airport:
Japan Airlines Co., Ltd. (JAL) is one of Japan's foremost airlines, and a pioneer in Asian aviation. An erstwhile "flag carrier", JL's main hubs are at Tokyo's Narita and Haneda airports, with smaller hubs at Nagoya, and Osaka. Established in 1951, the airline was fully privatized in 1987 and had massive losses all until 2010. Thereafter a bankruptcy and turnaround strategy has led JAL to a dramatic turnaround as the airline continues to be one of the most profitable in the world. During this transformation, several "prestige" routes (such as GRU via JFK) were retired, and JAL went from becoming the largest 747 operator in the world to one without a single 747 in its fleet. The new JAL is poised for a great future with a nimble right-sized fleet ready to leverage its strengths and take on the world. The new 787 is a key part of that turnaround strategy with current plans include Boston (launched), Delhi (May 1), Moscow-DME (May 7), HND-Beijing (May 7), San Diego (December), and Helsinki (March 2013).
Booking was done as soon as it opened on JAL's Americas website at (http://www.ar.jal.com/arl/en/) which has vastly improved over the years. Within a few clicks, I was able to book my ticket and receive e-tickets in the mail. I was even able to choose my seat, and modify it to my heart's content. I was even able to request SSR's – pretty much everything except the ability to change my ticket, which I consider a very advanced function. An interesting note (and advice) to fellow travelers – some sites report row 55 as a separate mini-cabin on the 787 for JAL. This does not exist in reality, so please do not book thinking you'd have some kind of special mini-cabin to yourself.
b) At Airport:
I could not book my flight to Japan until the very end as I had no idea where my consulting life would take me. Thankfully, I was still in Australia, and found a rather cheap flight on Malaysia Airlines. It was rather mediocre and I slept most of the time.
Tokyo was pretty neat for a night – it is such a great city. A very good friend of mine who works in aviation (and who I rarely see) was able to fly in en-route to HKG, and we had a crazy night out in Shinjuku … let's just embarrass him by saying that he was glad he voided his earlier idea of trying a capsule hotel for the first time …
On the morning of the flight, I took the excellent Narita Express and arrived in NRT with the heart wondering if it would indeed be the 787. The night before, JAL's flight status showed the aircraft as "EQV" and I had a nervous knot in my stomach. I think one of the supervisors at the check-in counter spotted my nervousness and the conversation ensured:
JAL: "May I help you sir?"
ME: "Yes. I am on the inaugural to Boston. Could you please tell me if it is a 787?"
JAL (Big smile): "Sir. Look there, and come with me"
Ms. JL was pointing to a big scale model of the 787, and various people in JAL uniform interacting with passengers and kids – there was a flight simulator and many opportunities to take photos. In true warm tradition, Ms. JL told me not to worry about check-in and handed me a captain's cap and asked me to pose with the model! She also had a JAL worker overall and other clothes, hard hats, etc. In my nervousness, I had missed all this. Haha. There was a very festive atmosphere and with lots of pictures and stuff being taken. In fact, I later found out, JAL ground staff going around the airport offering stickers to kids, and hats for young ones to take pictures with. All pretty impressive! Breaking away from the festivity, Ms. JL took me to the counter and told the agent to make sure I have my preferred exit row seat. She showed me the seat map, and load was a full 100% (though, many NRSA's I am sure). After printing the boarding pass, she bowed and said she was very proud of JAL and that she had waited for 4 years for this day. It was an incredible thing and her pride captured an overall sense of renewal and reenergized JAL that I felt throughout this special event.
Boarding pass in hand, I began to explore NRT and drifted towards music that was being played – reaching the area, I realized there was a whole JAL NRT-BOS launch concert! Somehow, in my nervousness, I had missed this entirely. As I walked through the terminal, I saw more of this – from displays talking about the new service, to people handing out stickers, etc. Immigration and security check was quick (the ENTIRE world needs to learn from the Japanese on how to deal efficiently and courteously with this) and I reached the gate area to see more signs and agents welcoming you to the 787. This was indeed going to be a special flight!
The 787 today would use a remote gate – so I took the escalator down to the bus gates and saw the entire area had been cordoned off, and there was basically an entire podium of speakers, events, food, etc. The paparazzi were out in full force – having been to many of these first flights, I can tell you, I have never seen more media coverage than at JAL. For me, the best part was all the employees who looked very happy and just proud of what JAL was embarking on. There was a true sense of the airline returning to being something special – and I was part of it!
After several speeches by dignitaries and ribbon cutting, boarding commenced with a bag of goodies given out. I will now claim fame as the first person to officially be boarded at the gate  … well, or to the waiting bus. The bus then took us to the remote stand where both the delivered 787's were parked. There were several dignitaries from JAL and a lot of JAL employees who had made the entire thing possible. It was special and we were all greeted with smiles and tears and encouraged to board the plane.
As we entered, the entire crew kept bowing and welcoming us onboard. It was a festive feeling as I went to my exit row seat in the second cabin. The crew greeted me personally and briefed me on the exit procedure using my last name. Not bad in YCL. The entire process saw everyone take pictures and try out the various features of the aircraft.
30 minutes behind due to the fun boarding process (I felt bad for the crew), and the customary JAL crew bowing and welcoming, we were off the ground with a load of 100% in both cabins.
Airport - External:
(Narita Airport: Terminal 2)
Check-in:
(JAL Check-In: US Flights)
*
(Special 787 Area)
Airport - Internal:
(Througout the airport, various events were marking this special flight)
*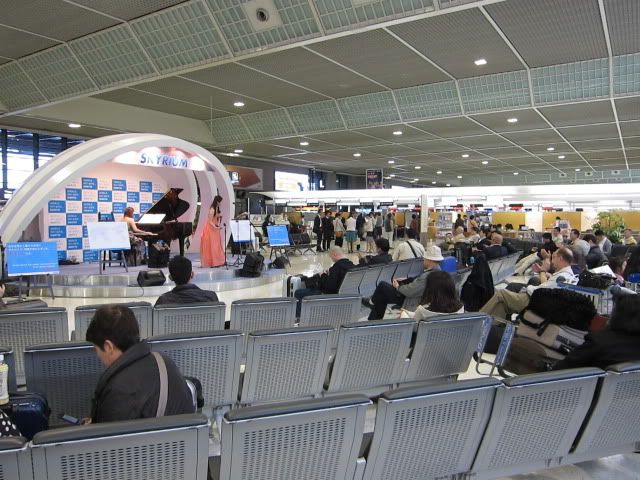 *
*
(All the "actors" in the 787 area)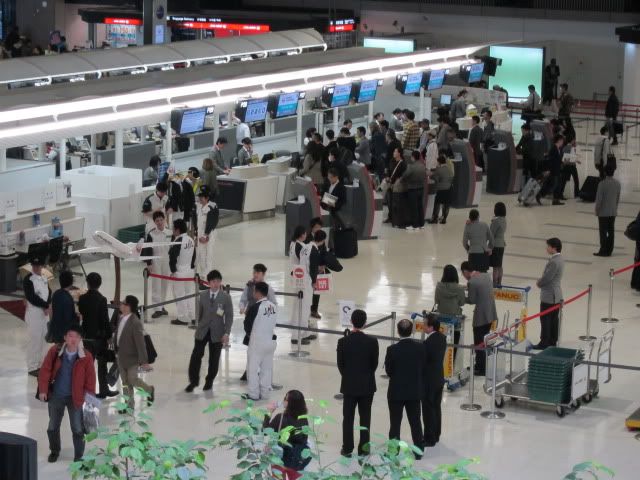 (FIDS)
*
(Post Security @ NRT)
*
Scenes of the tarmac:
(Narita still has an incredible viewing gallery – perfect place to see the 787 action)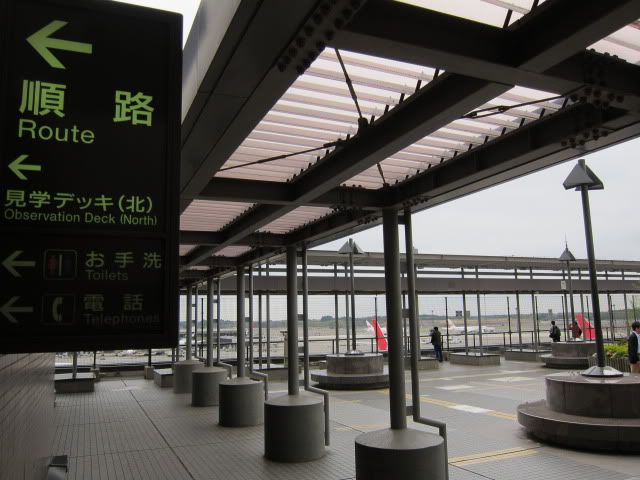 *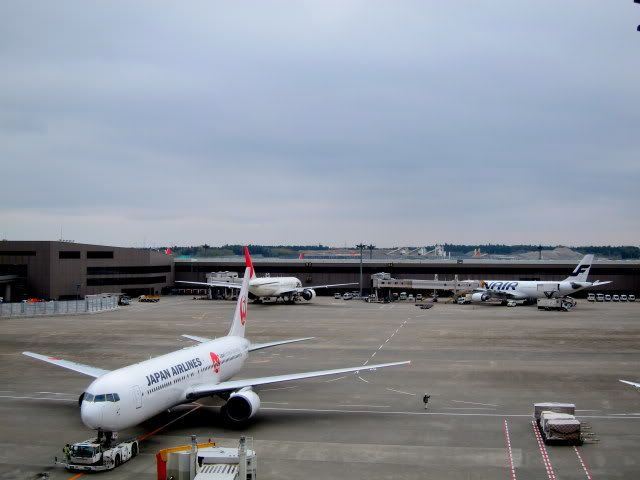 *
*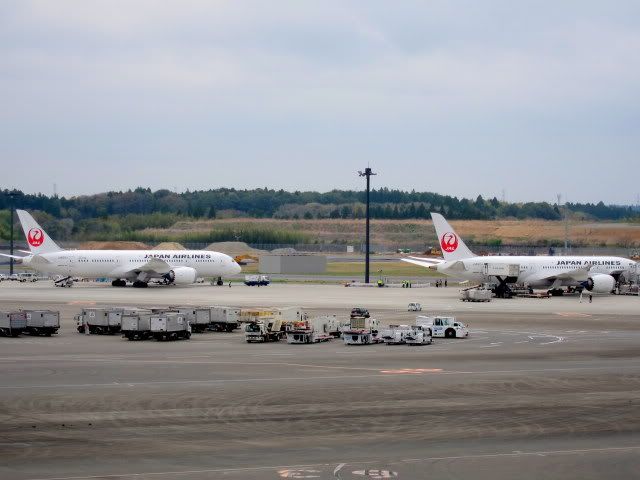 *
Lounge
NONE
Boarding:
(Gate Area – Crowds, Papparazzi's, and Action)
*
(Speeches & Ribbon)
*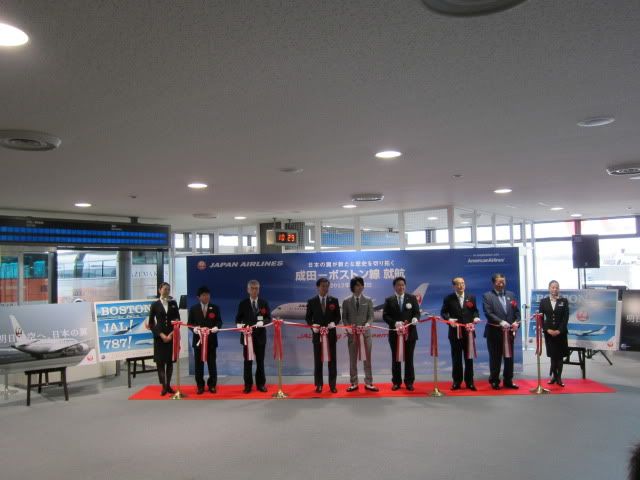 *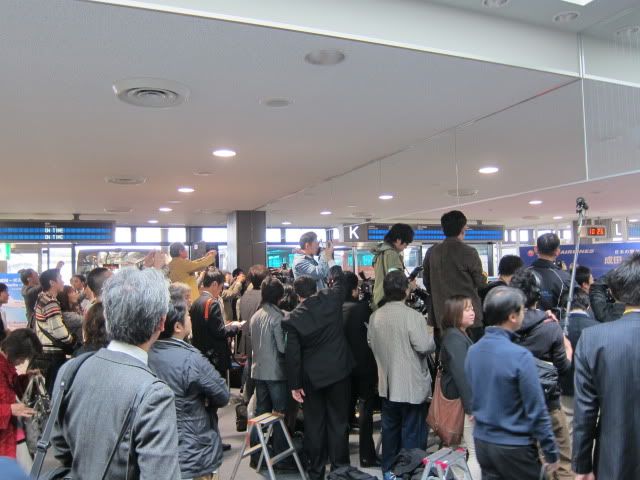 (Boarding)
(Gift bags)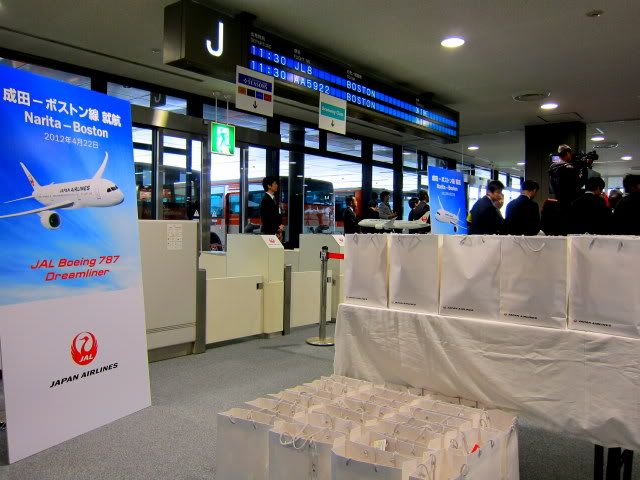 *
*
III> In-Flight:
a) Service Schedule + Impressions:
On each seat were blankets and headphones. Service included:
+ Hot towels after take-off
+ Drink service with Japanese crackers
+ Meal service with beverage
+ Another drink service
+ Café or tea service
+ Mid-flight snack
+ Pre-arrival Boston style light lunch
Throughout the flight, announcements were made by the Captain and crew on the significance of the flight and various parts of the cabin (like bathroom) had flags of Japan and USA as decoration. The crew were electric and the sense of history was present all throughout.
b) Aircraft + Seats:
JAL's 787-8 is configured in a rather spacious 42J and 144Y (that is 186 seats vs. 254 of QR!) configuration in rather soothing and sophisticated colors. Naturally, the entire aircraft was in immaculate condition. I was impressed by the seat's above industry recline, and the 33" pitch in non-exit rows was generous as well. The actual seat was on the harder side -- but I guess in today's world, nothing as bad as those slim-line Recaro seats I loathe.
Other noticeable improvements include the ceiling which somehow recreates the magic of the original 707, the huge electric windows, and the bathrooms. I really liked the ability to control the temperature of the water, and the auto flush and auto lids of the toilet seat.
Aircraft:
(Our 787-8 @ NRT – and festivities around it)
*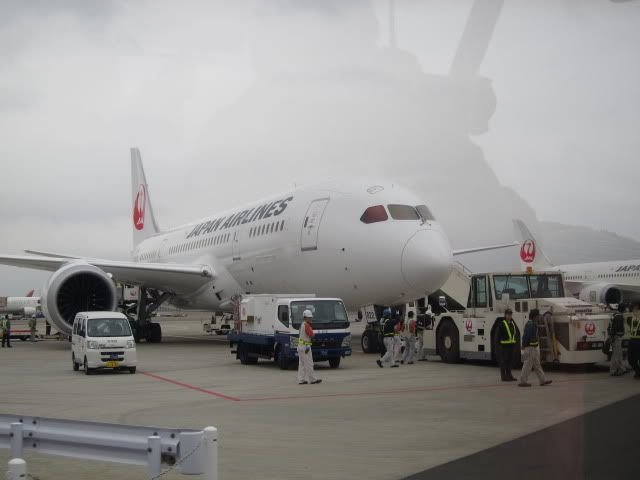 *
*
*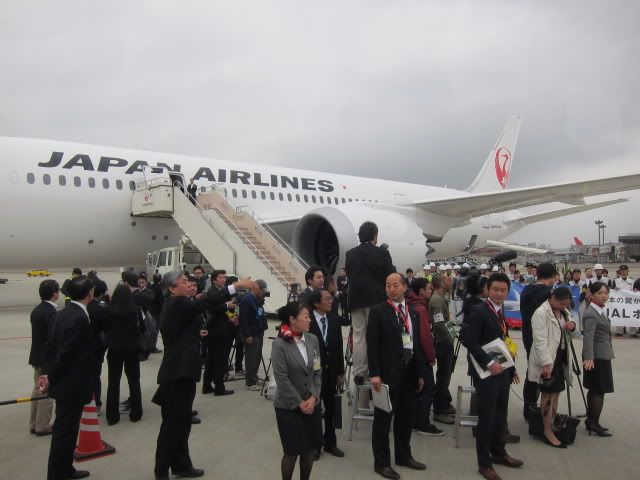 *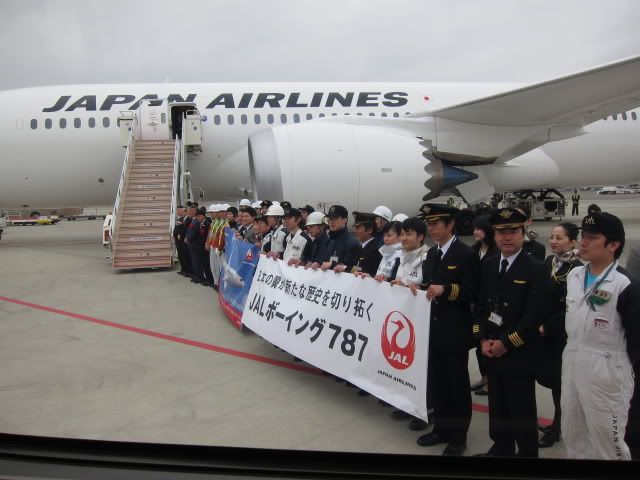 *
*
(Sister-ship)
(After disembarkation @ BOS – thanks for not collapsing en-route huh!)
Views from Aircraft:
(Traditional Japanese goodbye + all the dignitaries still there)
(Passing traffic)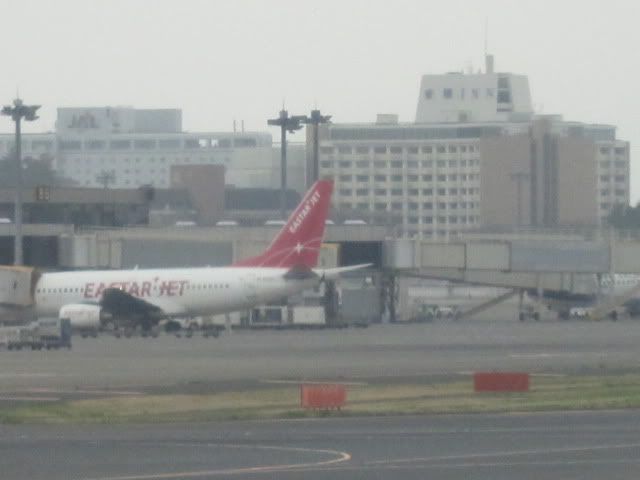 (Water Cannon Goodbye)
(Farewell still in swing)
(Onlookers from Thailand)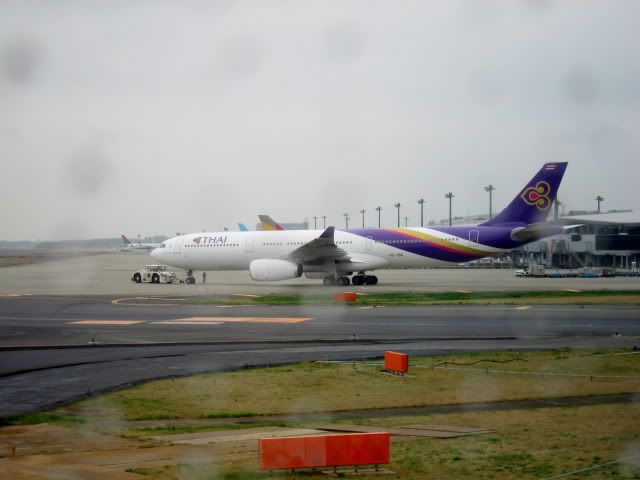 (& France)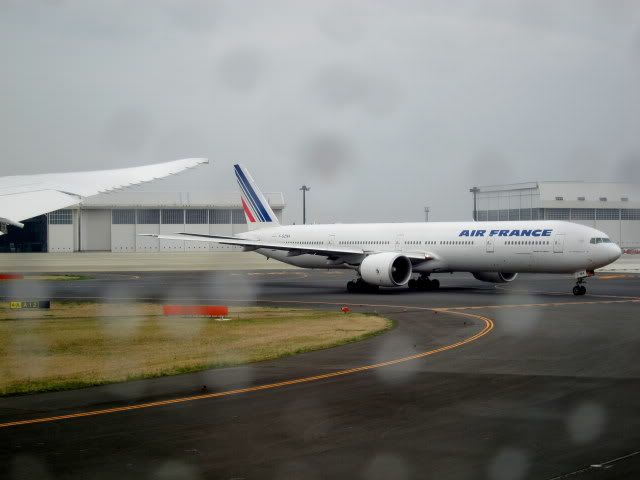 (View from wing – windows with shade on and off)
*
General Seat Views + Seat Legroom
(Seat)
(Front of seat)
(Seat controls)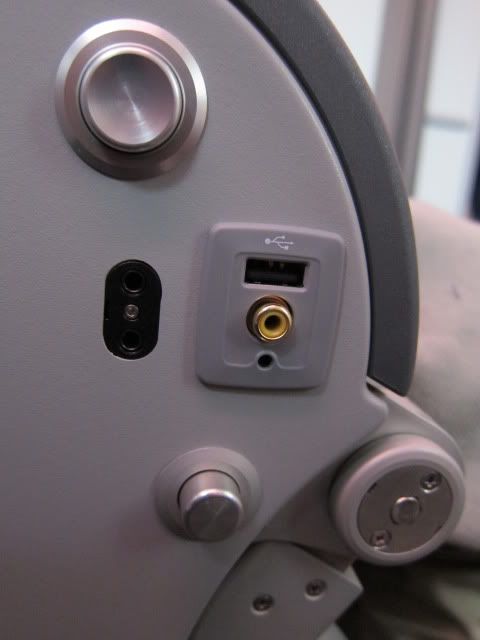 (Legroom)
Seat Recline + Angle View:
(Rather generous)
(Row across – general row)
Cabin:
(Note the ceiling)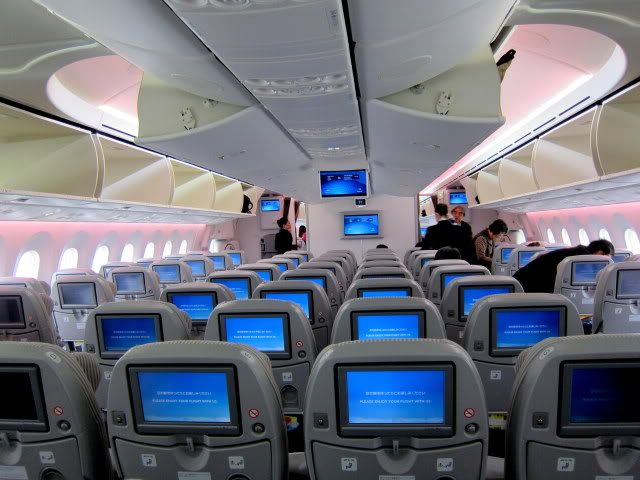 (Front Y section)
(Around a brand new 787 – huge windows)
(Shade control)
(Look at the three windows to get a sense of the shades)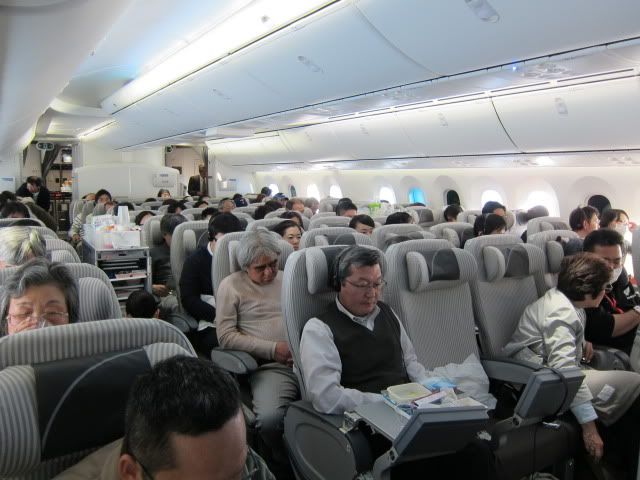 (Galley)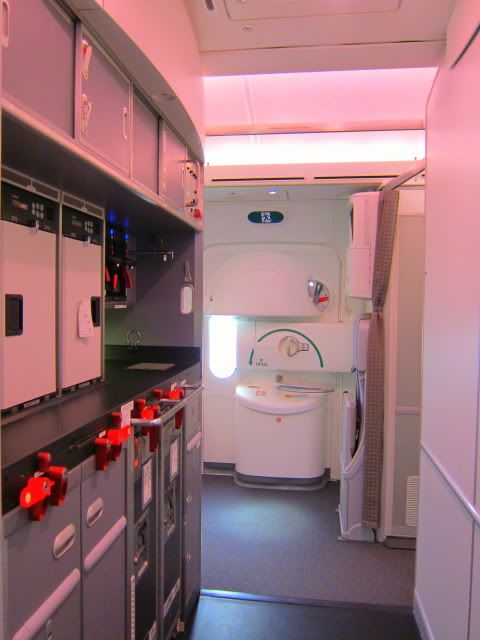 *
*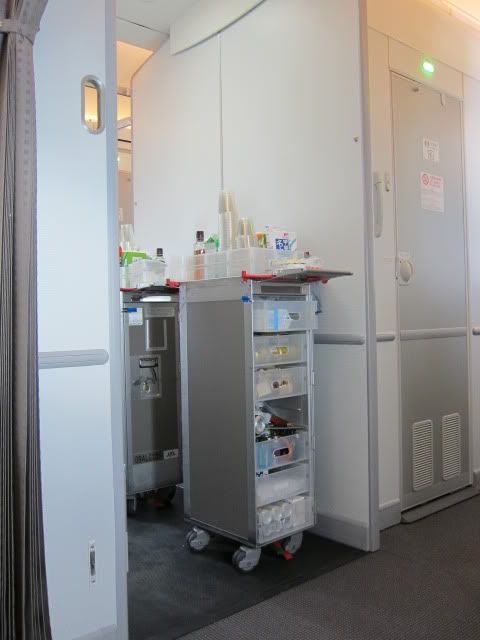 (Decorations abound)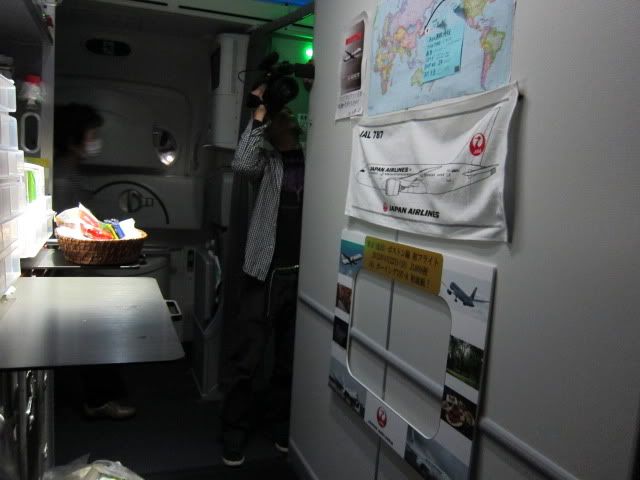 *
*
(Ceiling)
(Bathroom – blue light when you open)
(I like the heating controls)
*
(Blanket ++)
(J Class)
(Lots of paparazzi on this flight!)
*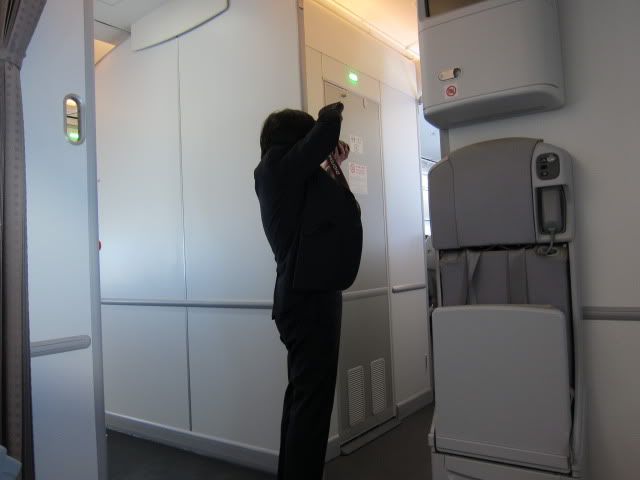 *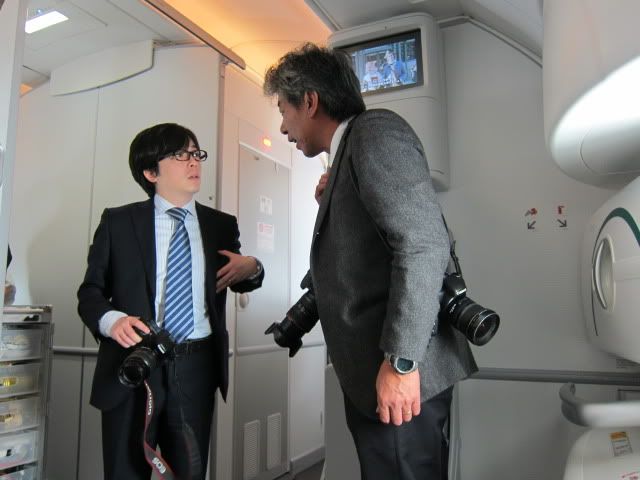 *
(And uber excited employees)
c) Meal + Beverage:
Drinks were first served and include several alcoholic choices including a very yummy plum wine which I consumed a LOT of. These were all served with nice Japanese snacks. For lunch, the main course included either chicken or pork. I chose the pork and was surprised by a rather tasty pork meal with rice and accompanying Japanese "stuff" which were all rather good.
During the meal service, several rounds of drinks were offered, and this was rounded off by a tea/café service. Finally, a Boston style ice-cream cookie was offered which was absolutely fantastic.
After the meal service, crew came by with bottles of water before turning the mood lighting to "sleep" mode. At the galley, several snacks and drinks offerings were set up, and midway through the flight, another drink run and pastry run was offered.
Around 1:45 prior to landing, a final meal service commenced which included a pretty good Boston clam Chadda ("accent" note – hehe), and a donut. Very impressively laid out with instruction on how to eat the Chadda.
Overall, rather impressive service in YCL with the quality of meals being truly top notch.
(Drinks Menu)
(Hot Towel Before Service)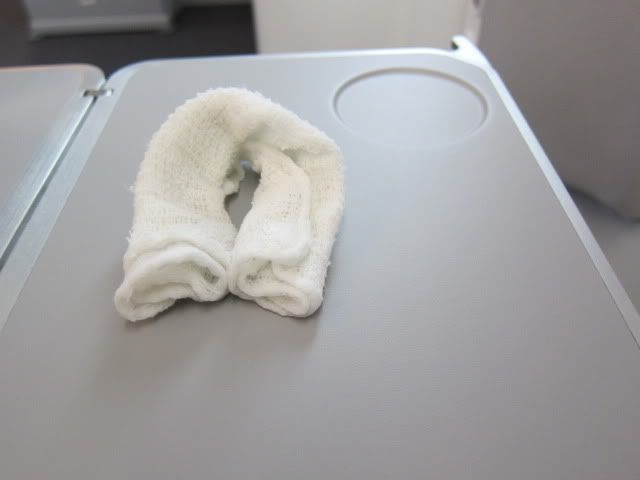 (Drinks & Lunch)
(Lunch choices)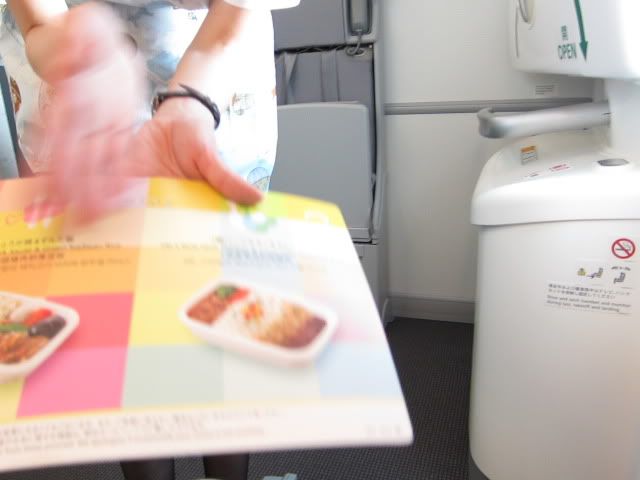 (Yummy!)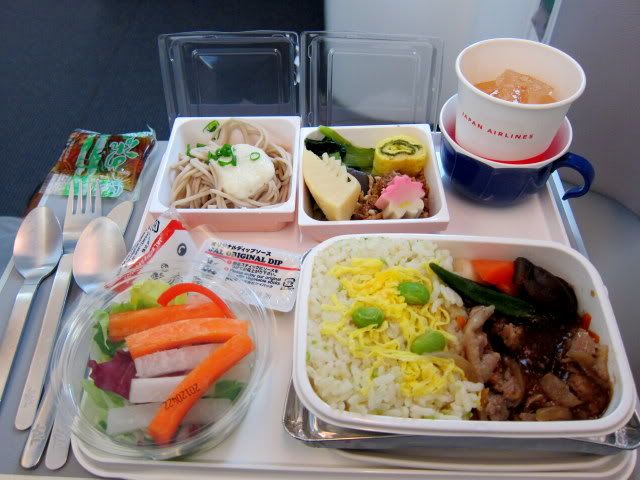 (Dessert)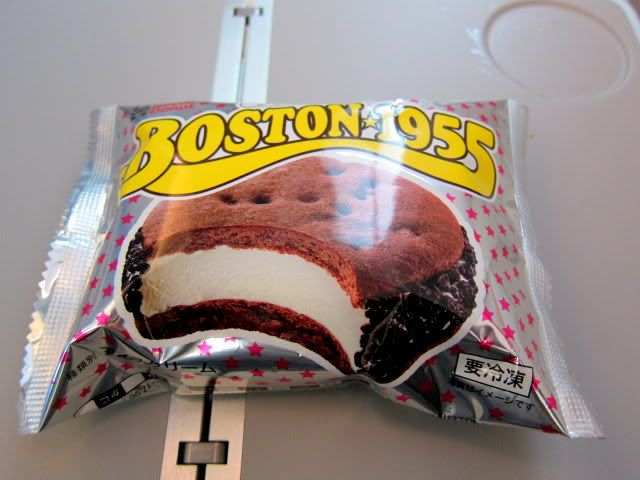 (Water before light dim)
(Galley snacks)
(Snack break)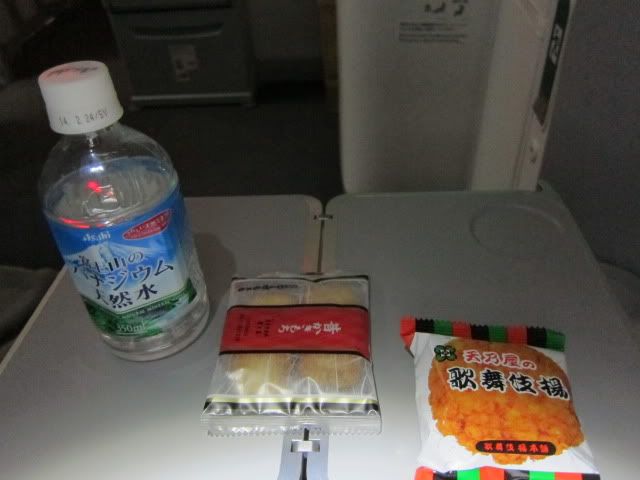 (Snack service)
(Pre-arrival meal)
d) Inflight Entertainment:
The first thing one notices about JAL's Magic V system is the clarity of the screen with plenty of entertainment option including over 30 movies and a plethora of other options including rather odd "etiquette" videos, TV shows, music, and games. One thing that surprised me was the quality of the headset could be improved – which would not be an issue with single-prong headset brought from home. Moreover, the only weak spot in programming was the TV section which did not have the depth some other airlines have. The selection of movies was excellent however.
Along with this, the in-flight magazine could have been improved by increasing the quality and depth of the English language section. For a global airline, JAL must understand that its clientele is not only Japanese.
(Magic V)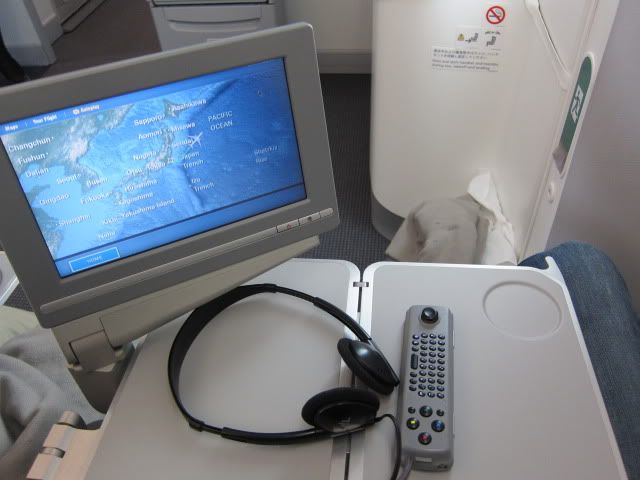 *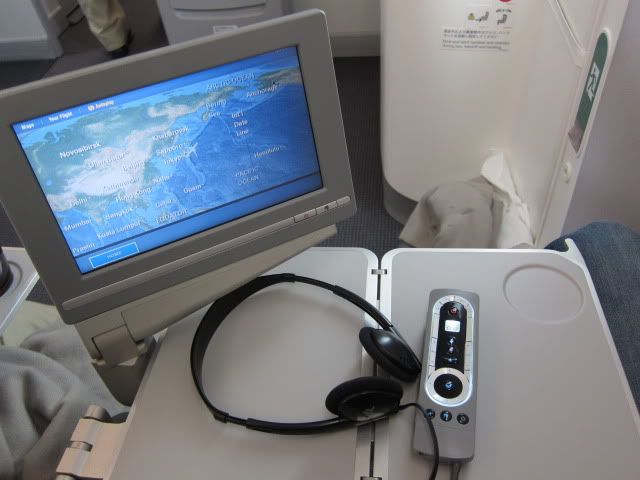 (Flight Plan & Interactive Maps)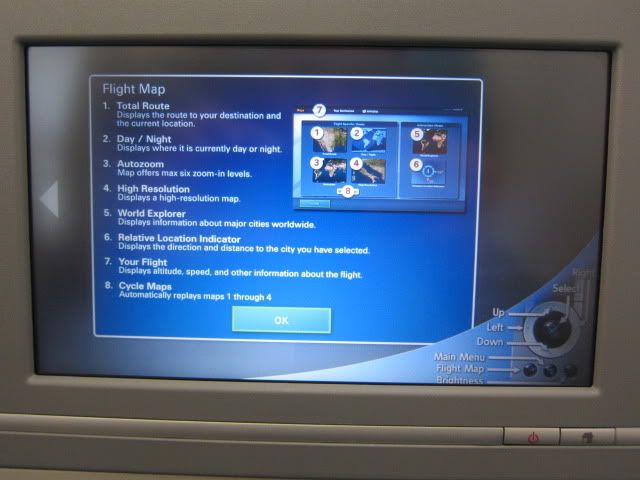 *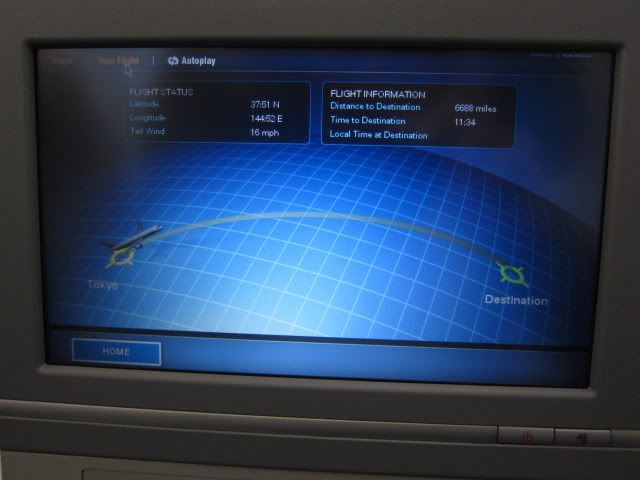 *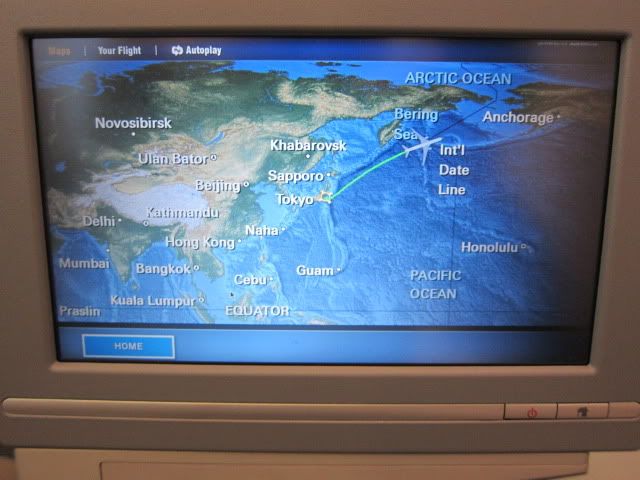 *
*
*
*
*
*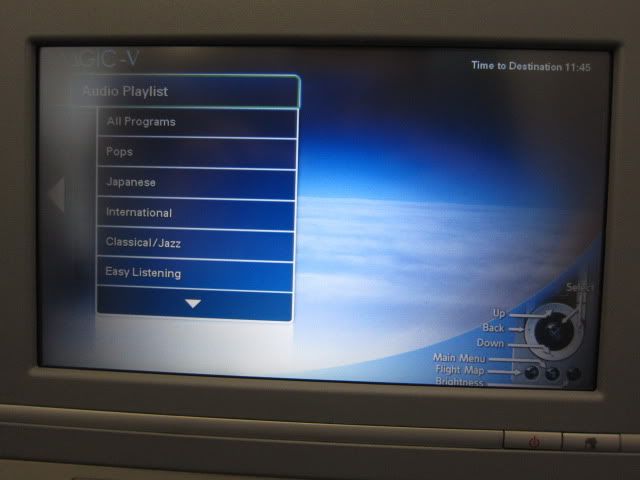 *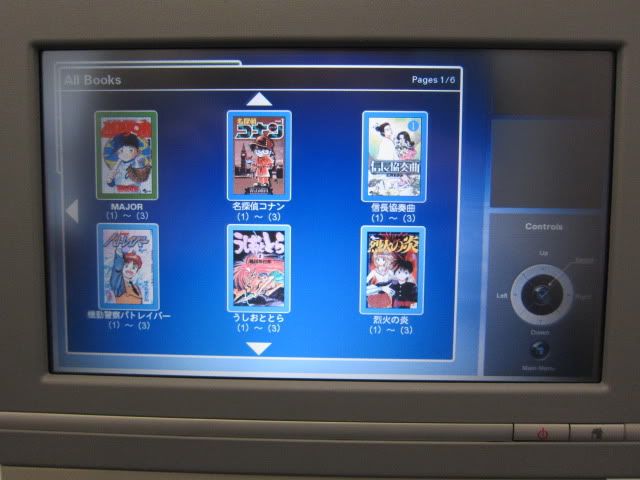 *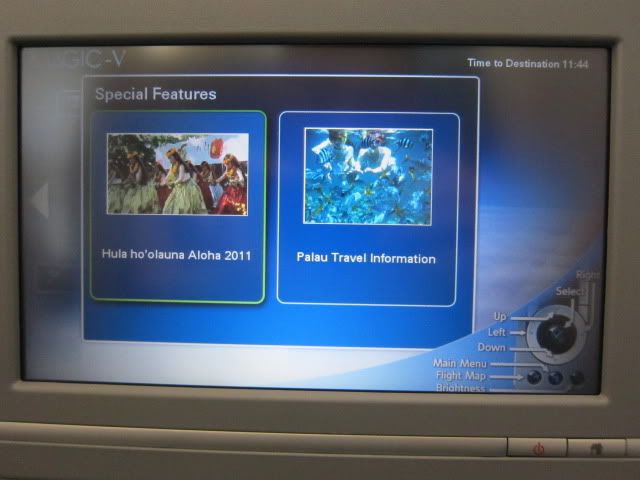 (Japanese video games for seat mate)
(Boston Arrival Video)
("In-flight magazines", Boarding Passes, etc.: Not too shabby – loved the postcards in the magazine)
e) Crew:
Flawless. Like other flights, the crew attained to every need of the guest in a pro-active manner. From being there at welcome with genuine smiles and offer with baggage storage to throughout the flight when every call was answered almost immediately and with a smile. In fact, this was probably one of the hardest working crew I have encountered recently given the demanding nature of this flight, and the 100% load. Every one of them was proud to be part of history and I did not ever see them not smile – there energy and enthusiasm was contagious. Unlike an experience on say First Air, I did not have any significant personal anecdotes due to the cultural nature of the Japanese, but one really moved me. I had really selfishly wanted the 787 on display and was ready to buy it – the crew went out of their way to check with Boston control and see if another one could be arranged and then at the end of the flight, presented it to me. How awesome!
IV> Post-Flight:
Arrival into Boston was amazing as history was made, and we were greeted by another traditional water salute (though, what's up with not actually getting the aircraft wet?). As we pulled on to the gate, even the US CBP guys in the car were clicking pictures. Upon disembarkation, there was music act and off to immigration – which by the way, is the nicest and most efficient in the U.S. Within 10 minutes, I was landside with fellow passengers being interviewed by local TV.
(Arriving @ BOS with "escort")
*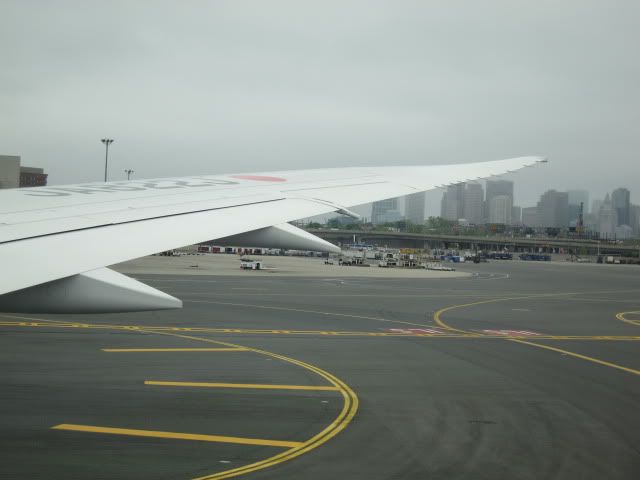 *
*
*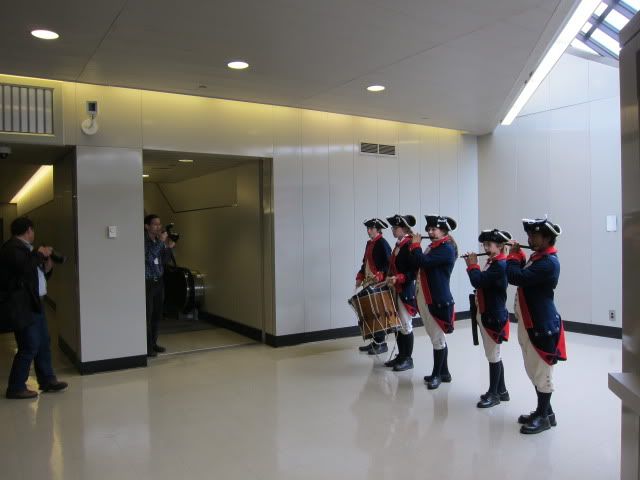 *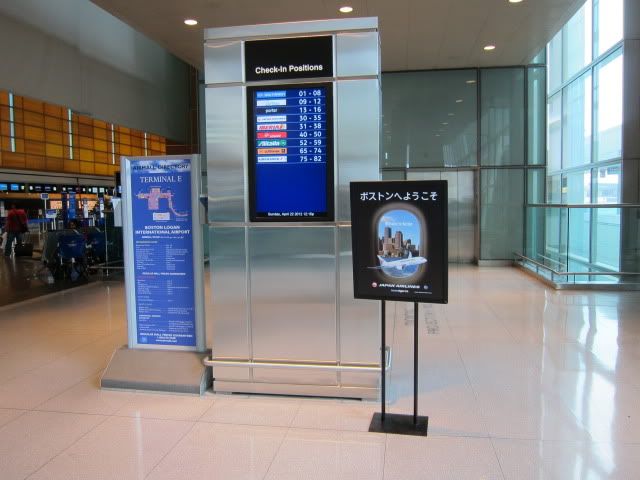 V> Impressions + Scores:
First flights are always special – it is a sense of history being made. This was especially so because it represented a lot of hard work done by many to make it possible. I personally thought that the entire first flight production was done very well by Japan Air Lines. On board, the relevance of the flight was given due importance. The sense of excitement and hope – especially of the Narita ground staff made the event extra special.
On board, the quality and quantity of food was excellent with the cabin crew enhancing the overall effectiveness of service delivery. The in-flight entertainment system was good … though, not industry leading like SQ or EK. TV programming and headset quality did have room for improvements, along with the English section of the in-flight magazine. Finally, the lack of amenities was noteworthy – for a flight of this length, a small YCL amenity pouch would have been appreciated.
Finally, the small touches like in the bathroom and windows, etc. were appreciated in the 787. Personally, I think the "wow" factor of the aircraft will soon wear-off and it will be up to the promised economics to demonstrate how successful the aircraft can truly be. Will it end up like the 777, or the 757 is something that time will tell.
Overall, a great first flight and an unique experience. JAL delivered the wonderful first flight and the launch of a route like Boston is the perfect test-bed for the 787 economics. JAL gets two thumps up. An airline, I will continue to seek and fly due to its superior service.
VI> Other Trip Reports:
PREMIUM:
9.27: JET AIRWAYS **FIRST** (110): LHR-BOM: 10/2010
9.27: THAI AIRWAYS **FIRST** (108): BKK-LHR: 07/2010
8.66:
Brussels Airlines (93): FIH-BRU: 01/2010
8.64:
Turkish Airlines (59): JFK-IST: 11/2008
8.63:
Jet Airways (88): JFK-BRU: 10/2009
8.61:
Air Canada (49): YYZ-SCL: 06/2008
8.54:
Turkish Airlines (77): GRU-DKR-IST: 04/2009
8.36:
Kingfisher (98): BOM-HKG: 01/2010
8.30:
Jet Airways (74): KWI-BOM: 04/2009
8.23:
United Airlines (72): SFO-SYD: 03/2009
8.11:
Aeroflot (33): MOW-DEL: 09/2007
8.05:
Air India (80): CCU-JFK: 06/2009
8.04:
Korean Air (40): NRT-ICN: 10/2007
8.02:
Delta Airlines (24): JFK-CDG: 08/2007
7.82: UNITED AIRLINES **FIRST** (110): SFO-ICN: 10/2010
7.82:
Singapore Airlines (06): EWR-SIN: 09/2006
7.66:
Sri Lankan (104): DEL-CMB: 07/2010
7.64:
Royal Jordanian (91): AMM-YUL: 12/2009
7.61:
China Southern (103): LOS-DXB: 04/2010
7.57:
Pakistan Airlines (102): ORD-BCN: 06/2010
7.46:
LAN (55): YYZ-JFK: 09/2008
7.38: AMERICAN AIRLINES **FIRST** (112): LHR-JFK: 10/2010
7.38: CATHAY PACIFIC **FIRST** (109): HKG-LHR: 10/2010
7.25:
Iran Air (88): BOM-IKA: 12/2009
7.23:
Air Pacific (120): NAN-APW-HNL: 01/2011
7.23:
Virgin Atlantic (81): BOS-LHR: 07/2009
7.14:
Swiss (52): SCL-GRU: 06/2008
7.11:
Aer Lingus (105): MAD-IAD: 05/2010
7.11:
Austrian (79): VIE-JFK: 06/2009
7.07:
Privatair (84): BOM-FRA: 08/2009
7.02:
Qatar (68): DOH-JFK: 01/2009
6.96:
Etihad (61): JFK-AUH: 12/2008
6.93:
Delta Airlines (18): SEA-JFK: 11/2006
6.88:
Egypt Air (123): LHR-CAI: 03/2011
6.84:
ConViasa (65): CCS-DAM: 01/2009
6.82:
Air Burkina (106): BKO-OUA: 06/2010
6.81:
Air Canada (17): ICN-YYZ: 10/2006
6.75:
Afriqiyah + Libyan (113): CAI-TIP: 11/2010
6.70:
KLM (32): EBB-AMS: 08/2007
6.52:
Emirates (99): LHR-DXB: 02/2010
6.39:
South African (97): EZE-JNB: 01/2010
6.36:
Privatair (60): MUC-BOS: 12/2008
6.29:
TAM Brasil (96): POA-EZE: 02/2010
6.25:
Korean Air (45): NAN-ICN: 10/2007
6.21:
Iberia (87): BOS-MAD: 10/2009
6.11:
A SKY (107): OUA-COO: 06/2010
6.11:
TAP Portugal (53): GRU-OPO: 06/2008
6.00:
Gulf Air (75): BOM-BAH: 04/2009
5.88:
African Express (89): DXB-NBO: 11/2009
5.75:
Singapore Airlines (16): CCU-SIN: 10/2006
5.64:
SATA Azores (101): BOS-PDL: 04/2010
5.64:
NorthWest (46): ICN-NRT-SEA: 10/2007
5.54:
Ethiopian Airlines (95): ADD-BOM: 01/2010
5.46:
Icelandair (83): KEF-BOS: 08/2009
5.39:
LOT (54): WAW-JFK: 06/2008
5.21:
Egypt Air (73): CAI-IST: 02/2009
5.11:
Tunisair (115): TUN-ORY: 12/2010
5.07:
TACA (66): JFK-SAP: 01/2009
4.89:
TAAG Angola (117): TMS-LAD: 12/2010
4.42:
Air France: CDG-JNB (25): 08/2007
ECONOMY: Long + Medium:
9.26:
Air India (48): JFK-DEL: 02/2008
9.04:
First Air (129): YEG-YFB: 06/2011
8.74: Japan Air Lines (130): 04/2012 / INAUGURAL
7.38:
Avianca (01): BOG-LIM: 07/2006
7.07:
Sri Lankan (62): KWI-CMB: 12/2008
7.00:
LAN (94): IPC-SCL: 01/2010
6.81:
STP Airways/Euro Atlantic (116): LIS-TMS: 12/2010
6.67:
Air Malta (124): MLA-FRA: 04/2011
6.63:
Vladavia (126): KHV-PEK: 06/2011
6.41:
Air North (127): YEV-YEG: 06/2011
6.41:
Avianca (78): JFK-BOG: 05/2009
6.41:
American Airlines (58): LHR-BOS: 11/2008
6.39:
Condor (85): SEZ-FRA: 09/2009
6.26:
Jet Blue (21): CUN-JFK: 02/2007
6.11:
Caribbean Airlines (119): POS-FLL: 01/2011
6.06:
Air Canada (04): YYZ-YVR: 09/2006
5.89:
USA 3000 (19): PUJ-BDL: 01/2007
5.85:
Spanair (69): MAD-LPA: 02/2009
5.80:
Canadian North (128): YEV-YVQ-YZF-YEG: 06/2011
5.79:
Air New Zealand (42): RAR-NAN: 10/2007
5.52:
Aerolineas (86): USH-AEP: 10/2009
5.46:
TAP Air Portugal (23): OSL-LIS: 05/2007
5.19:
Air Europa (70): LPA-MAD: 02/2009
5.16:
Iberia (71): MAD-BOS: 02/2009
5.11:
Air China (82): FRA-PEK: 08/2009
4.59:
IR Aero (125): IKT-VVO: 06/2011
ECONOMY: Short
8.56:
Paramount Airways (38): BLR-MAA: 09/2007
8.56:
Kingfisher (64): HYD-CCU: 12/2008
8.24:
Kingfisher (14): IXA-GAU: 10/2006
7.87:
Indian (34): BOM-MAA: 09/2007
7.72:
Alliance Air (13): CCU-IXA: 10/2006
7.57:
Indian Airlines (10): DEL-CCU: 09/2006
7.23:
West Jet (03): YYC-YVR: 09/2006
7.15:
JetLite (37): BOM-GOI: 09/2007
6.98:
Air Koryo (100): PEK-FNJ: 04/2010
6.70:
Spice Jet (09): CCU-DEL: 09/2006
6.63:
Air Fiji (44): NAN-SUV: 10/2007
6.63:
Jazeera (67): DAM-KWI: 01/2009
6.58:
Air Tran (02): EWR-MDW: 08/2006
6.48:
Air India Express (63): CMB-MAA: 12/2008
6.44:
CO Micronesia (39): ROR-YAP: 10/2007
6.41:
Pacific Sun (43): NAN-SUV: 10/2007
6.37:
Skybus (47): SWF-CMH: 02/2008
6.33:
Kenya Airways (29): NBO-BJM: 08/2007
6.33:
Sky Europe (56): LTN-BTS: 10/2008
6.31:
Indigo (15): GAU-CCU: 10/2006
6.31:
easyJet (57): BUD-LTN: 11/2008
6.22:
Air Link Swazi (28): MTS-JNB: 08/2007
6.22:
Air India (36): HYD-BOM: 09/2007
6.13:
Adam Air (07): SIN-CGK: 09/2006
6.13:
Air Rarotonga (41): RAR-AIT: 10/2007
6.04:
Suriname Airways (118): PBM-POS: 01/2011
6.00:
Transairways (27): INH-MPM: 08/2007
5.95:
Air Canada (05): ALB-YYZ: 09/2006
5.85:
SAS Norge (22): OSL-AES: 05/2007
5.81:
LAM Mozambique (26): JNB-MPM: 08/2007
5.69:
Air Deccan (12): IXZ-CCU: 10/2006
5.67:
Rwanda Air Exp (30): KGL-NBO: 08/2007
5.52:
Sevenair (114): TOE-TUN: 11/2010
5.37:
Felix Airways (92): SCT-SAH: 12/2009
5.11:
Aero Republica (76): BOG-CCS: 04/2009
5.07:
Go Air (35): MAA-HYD: 09/2007
5.04:
Biman (121): DAC-CGP: 01/2011
5.00:
Sky Airline (51): IQQ-SCL: 06/2008
4.96:
United Bangla (122): CGP-DAC: 01/2011
4.96:
Valuair (08): CGK-SIN: 09/2006
4.78:
Air Comet Chile (50): SCL-IQQ: 06/2008
4.74:
Fly 540 (31): MYD-LAU: 08/2007
4.33:
Viva Aerobus (20): ELP-MTY: 02/2007
4.11:
Air Sahara (11): CCU-BOM: 09/2006
(Note on Codes: Y – Economy, J – Business, F – First :: I/D – International/Domestic :: SR/MR/LR – Short/Medium/Long Haul)
(Note on Date: Dates are modified to be +/- 3 days from actual flight date to not reveal actual flight pattern)
VII> Other Pictures:
(Gifts given for first flight)
*
(Hand written card behind the business card)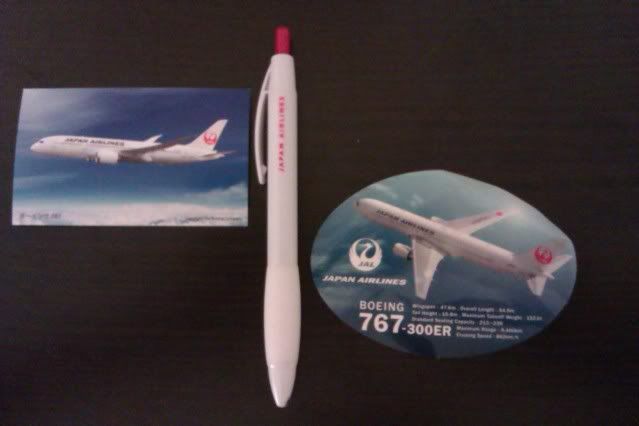 (Weird noise at engine start)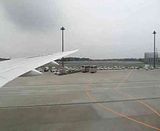 (First take-off)