Introduction
I arrived into SWA onboard Jetstar Asia. Report here.
1 New Airport, 10 Steps Forward. Jetstar SIN-SWA
(by
initious
Apr 22 2012 in Trip Reports)
China Southern – A name which used to be unfamiliar to most. The airline came to light when it was upgraded from a 3-star airline to a 4-star airline just last year, despite having a below average product as compared to its other counterparts in the 4-star category. I, for one, had done a report last year to gauge if their service is up to the 4-star standard. Apparently, they had disappointed me time and again despite me giving them lots of chances to impress me. Do feel free to have a look at the report mentioned –
China Southern SWA-CAN - Do They Deserve 4 Star?
(by
initious
May 21 2011 in Trip Reports)
This time, I will be flying on China Southern once again on a short oriental hop from Shantou to Hong Kong. I was full of hope for this sector seeing that they have moved to a new airport in Shantou and wanted to see if their service standard has improved with the move. Did they flop, or did they excel? Am I gonna smash away any of their 4 stars or are they going to retain all 4 (from my own standard)? Why are they called "China Sudden" in my report? Read on to find out!
Pre-Flight
Having a flight at 9.20am and with the airport a 90 minutes' drive away from where I stay, I had to wake up early at 5am. The old airport was much nearer as it is still in Shantou city whereas the new airport is in the neighbouring city known as Jieyang. I set off at 5.50am, 10 minutes before my scheduled time of 6am and reached the airport at 6.45am, 45 minutes earlier than what I have planned for at 7.30am. I did not mind spending more time at the airport as it looks really nice compared to the old one. The following pictures shall do it justice, with comparison to the old airport once again.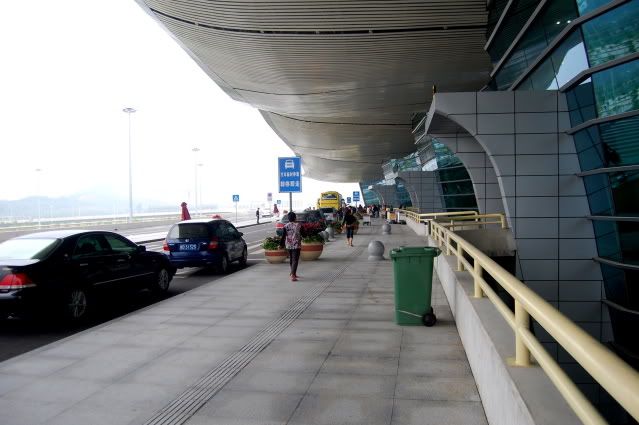 Kerbside of Jieyang Chaoshan Airport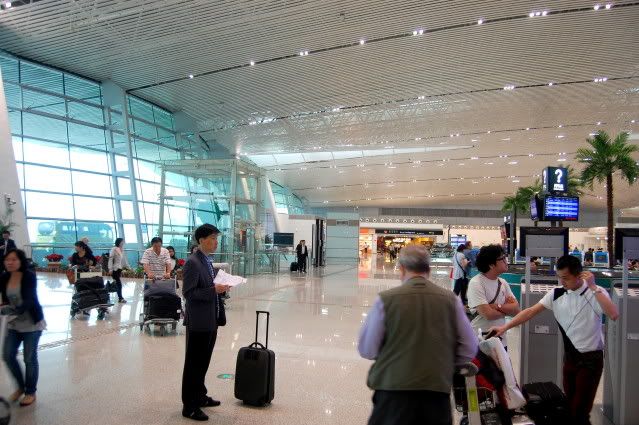 Departure hall of Jieyang Chaoshan Airport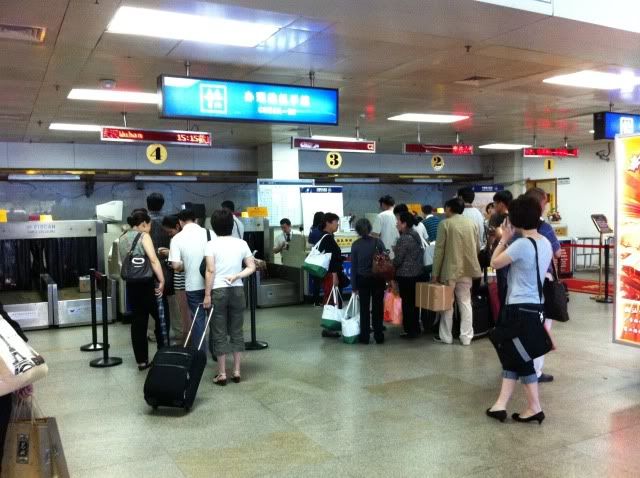 Check in counters of the old Shantou Waisha Airport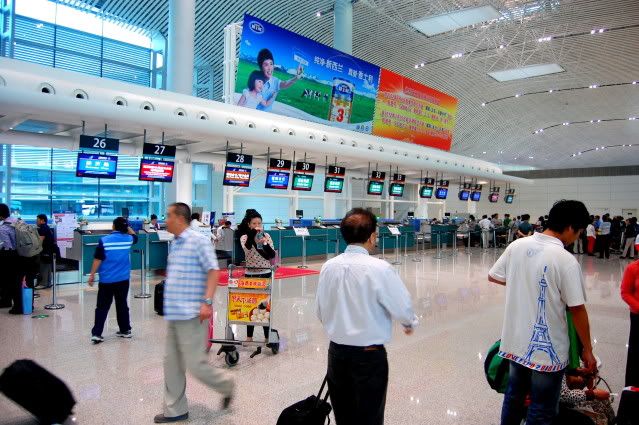 Check in counters of the new Jieyang Chaoshan Airport



Departures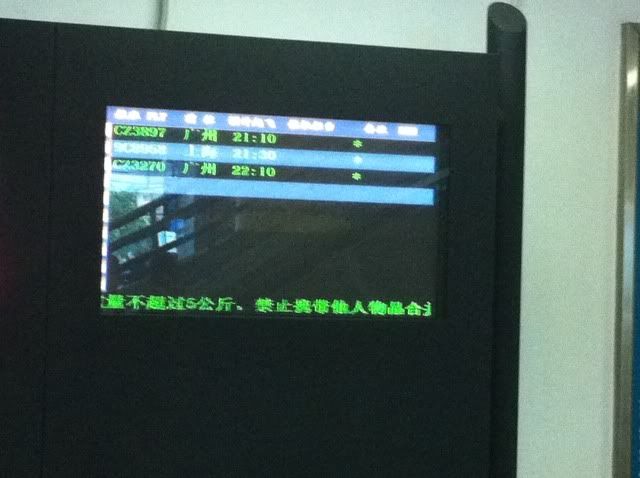 Shantou Waisha Airport FIDS



Jieyang Chaoshan Airport FIDS
What shocked me the most when I entered the airport was the long line of people queuing up for the Economy Class check in at the international portion. It turns out that there is a Bangkok flight just an hour before mine and they are checking in now. I tried the check-in machines but it seemed like they needed "document verification" so I could not print my boarding pass straight away. Since there were no specific signs or announcements that the Hong Kong flight is not checking in yet, I joined the queue which took forever to move.

Queue that took forever to move
After a 30 minute wait, it was finally my turn to check in. This was where the drama happened.
"Where are you going to?'
"Hong Kong"
"Hong Kong is not checking in now. You can come back at 7.55am." (The time was 7.20am which was 2 hours before my flight)
"What?! I have waited for 30 minutes in the queue and there were no announcements!"
"We made an announcement just now that we will be checking in the Bangkok flight first"
*Shows a super pissed off face and went off*
To add insult to injury, the particular male agent was very rude in his tone and did not even bother to look up when talking to me. Yes, good job CZ! You sure deserved to get an additional star! I went to the waiting area at the back to take a seat and admired the airport surroundings. It was beautifully built. That managed to cheer me up for a bit from the sucky male agent's unprofessional behaviour.

Big board proudly announcing China Southern's new service to URC and Tianjin Airline's new service to Tianjin
At around 7.50am, check in for the Bangkok flight was finally done and some passengers started queuing up at the counter for the Hong Kong flight. I followed suit and was served within 3 minutes as the previous passenger was an Italian (rare to see a European in Shantou!) and not like the typical Chinese who will bring his whole house worth of stuff along for a trip.
The staff did not bother to greet me at all.
"To Hong Kong right?"
"Yes"
"Terminating at Hong Kong?"
"Yes"
"Only 1 bag?"
"Yes"
"Ok"
"May I have the right side window seat at the emergency exit row?"
"This flight is not very full so I might not be able to assign that row for you"
"How about row 31 at the bulkhead?"
*Makes some call or whatever*
"Yes I can assign you 31K"
"Ok I'll take that"
After printing the boarding pass, she literally SLAMMED my passport and boarding pass on the counter without saying a word. I had to ask if the check in is complete to get a very cold nod from her. What is this world turning to?
I decided to head airside immediately to see if there were any good catches although I don't except any especially in this airport. I passed through the quarantine check (for H1N1 or whatever) and reached the immigration counters which were pretty empty and was greeted by a very kind agent who greeted me cheerfully and gave a huge smile as she was serving me. That definitely made my day and felt better after the "legendary" China "Sudden" service.
Now I guess it's time to explain the story behind "China Sudden". Every time I flew with CZ, all of the crew members from ground staff to FA to Captain would always say "Welcome onboard China Sudden" instead of "China Southern". I guess this is due to their poor command in spoken English. Makes for a pretty good laugh though. I wonder if we'll hear "China Eaten" next time I fly China Eastern.
Security check was done in pretty much less than a minute and I was at the gate waiting for my flight at 8am, 10 minutes after check in and 1h 20m before my flight at 9.20am. Throughout the security check, immigration and such, a repeated announcement was played throughout the whole airport.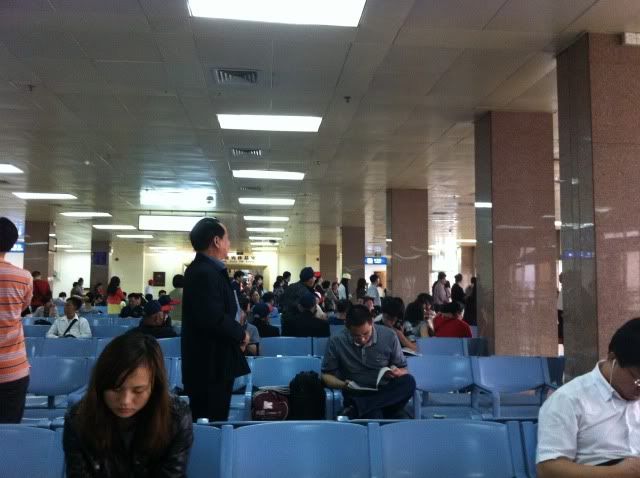 Waiting area of the old Shantou Waisha Airport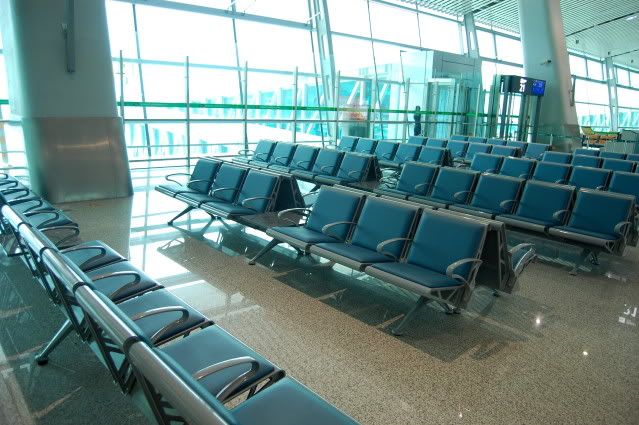 …And in Jieyang Chaoshan Airport



Nice and spacious here
"Passengers travelling on China Sudden CZ375 to Bangkok, you airplane is taking off shortly. Please head to gate 22 for immediate boarding"
This repeated at least 20 times and made some passengers pretty nervous as they were on the flight and the Chinese version mentioned that the flight is taking off immediately. In fact, boarding has just started for the flight. Guess they wanted to make things faster. As I reached my gate, I looked at the plane to Bangkok and realized that it was B-5155, the first B738 with winglets that I flew and the one that introduced me to Shantou Waisha Airport. It also marked (I believe) the first trip report featuring Shantou Waisha Airport on a.net. Do feel free to read/comment on the report –
First On Airliners.net - CZ Shanghai To Shantou
(by
Initious
Jun 27 2010 in Trip Reports)
I sat down at a place near the China Southern first class lounge and looked for a wifi network. Indeed, there was one and I tried connecting. It worked but was very slow, like almost all the internet connections I experienced here. Probably I'm spoilt by the lightning speed internet at home?

China Southern lounge in Shantou Waisha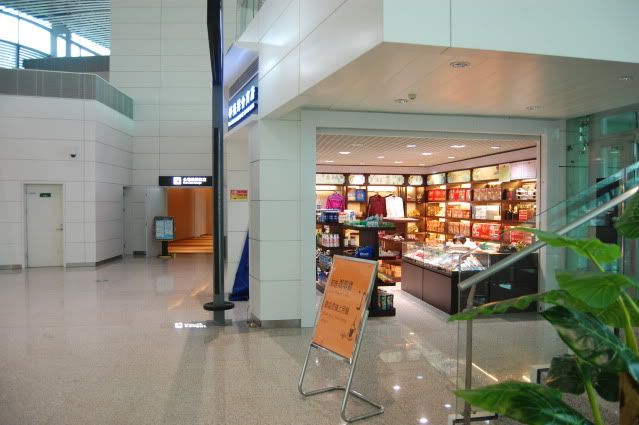 In Jieyang Chaoshan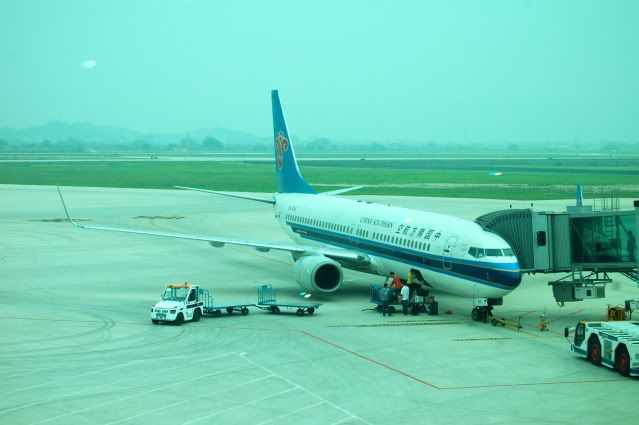 Saying hi to an old friend



Boarding pass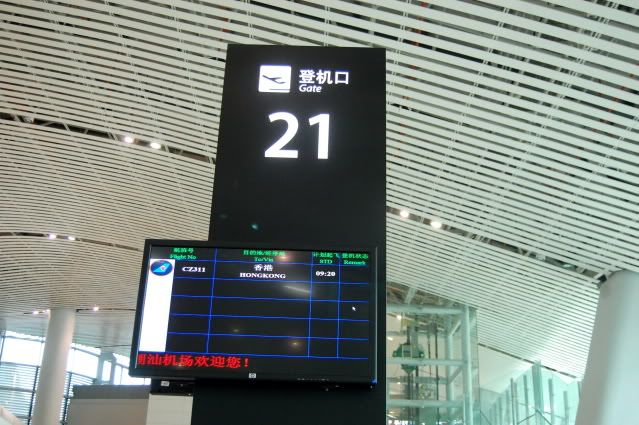 When will boarding be ready?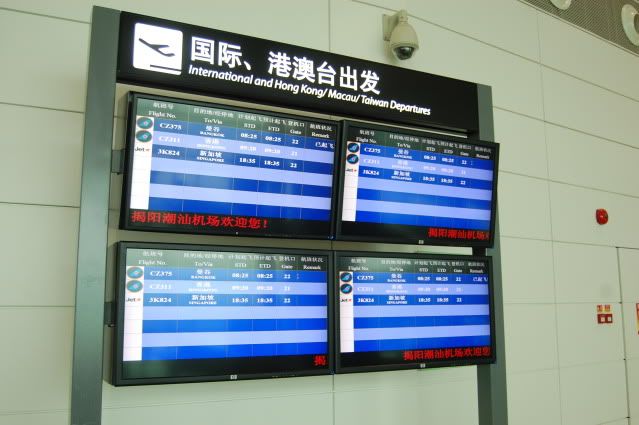 While all 4 screens are showing the same stuff, that's 100% of the international flights out of Jieyang Chaoshan Airport shown. Keep in mind that SIN and BKK flights are not daily



A Boeing 737-300, B-2909 was parked in the distance. I had no idea this was my plane
After what seemed like an eternity, CZ311 was ready for boarding.
The Flight
China Southern Airlines Flight CZ 311 – 23APR12
Origin
: Jieyang Chaoshan Airport (SWA/ZGOW)
Destination
: Hong Kong International Airport (HKG/VHHH)
Registration
: B-2909
Aircraft
: Boeing 737-300
Scheduled Time of Departure
: 9.20am
Actual Time of Departure
: 9.19am
Scheduled Time of Arrival
: 10.15am
Actual Time of Arrival
: 10.02am
Airborne Time
: 43 minutes
Class of Travel
: Economy
Seat
: 31K
"Good morning ladies and gentlemen. China Sudden Airlines flight CZ 311 to Hong Kong is now ready for boarding. Please get your boarding passes ready."
Boarding was pretty chaotic. While we were waiting at gate 21, the plane was actually at gate 20, the domestic side of the airport. There was actually a walkway to connect both sides of the airport and we had to walk all the way to the plane.

Finally boarding!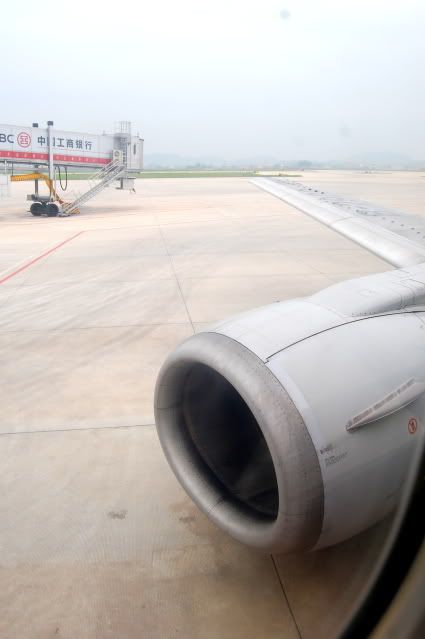 Looking out



Neighbouring gate



Legroom was good
Upon stepping onto the plane, there was chaos again. Passengers were unsure of where to sit and the flight attendant, who looked like she was having a period, struggled to guide the passengers to their seats. I sat down at my seat at 31K and noticed that the plane was pretty clean. This should be where CZ scores a wee bit of marks at. Legroom was pretty sufficient at the bulkhead row too.
We pushed back pretty early (around 8 minutes before schedule) and taxi-ed to runway 22 for takeoff. During the taxi, I was taking photos with my camera and the flight attendant came over and told me not to use it. I just remembered that 31C was actually reserved for the flight crew so there would be someone watching over you if seated in row 31. However, all he did was just to chat with the lady sitting at 31A. Flirting huh?

Last photo before takeoff
I could not take any photos during takeoff as he kept staring at me. The views during takeoff were beautiful. Lush green grass coupled with Jieyang's rural landscape. All these views were unable to be shown to thousands of people around the world.
As soon as the seatbelt sign went off, I sprang into action again, but not having much of a mood to take photos. Service started soon after the seatbelt signs were off. I was expecting something better than my last flight which I received a pretty large packet of biscuits for the SWA-CAN route. Even if they could not offer something better, I guess they should have at least offered something similar. However, it seems like they decided to cut costs and offered me just a packet of peanuts. This sort of reminds me of the complaints of US airlines offering only peanuts for their flights. China Southern seems to like shocking me. After the peanuts saga, I pulled out my tray table and was shocked that it could not lock in place! Maintenance issues I guess.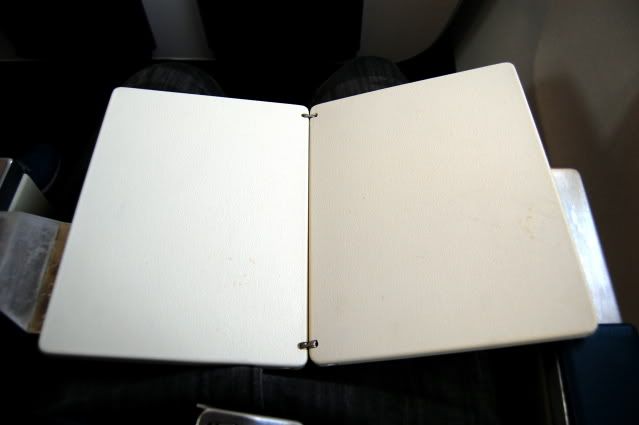 Fail!



Wonderful clouds



More beautiful clouds along the way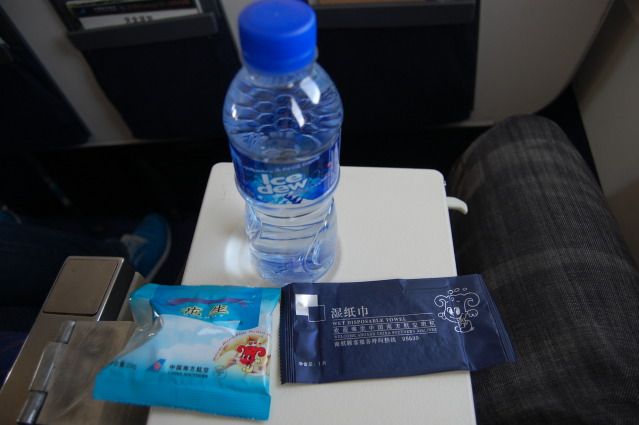 4-star snacks
So with my precious packet of peanuts and a bottle of water, I sat back but did not relax and enjoy the flight. Back to the flight attendant at 31C, he disappeared for maybe 5 minutes after the seatbelt signs were off but went straight back and started chatting with the lady again. Sir, are you here for flirting or working? Flirt out of your working hours, please. Do you know that you are not allowed to flirt before takeoff?
The captain came on the microphone and advised us that we will be arriving into HKG at around 10.05am, 10 minutes before our scheduled arrival. Descend started at 9.50am and we finally touched down on runway 07L at HKG at 10.02am. I always loved using the satellite terminal in FSX so I hoped that we will be parked there. Sure enough, we parked at the satellite terminal.

United Airlines B738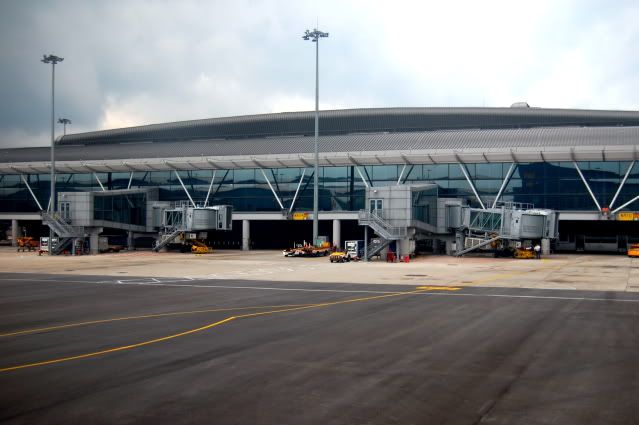 This is our gate for today!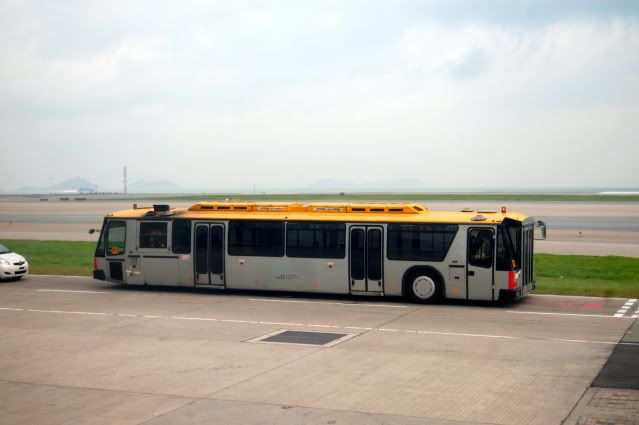 What I'll be getting on in a few minutes
I found out after that we had to take a bus to the main terminal to proceed through immigration and such. This shall be the bad part about the satellite terminal then. However, I guess it is needed since there is not much space around HKG to build something more, unless they reclaim land into the sea which they are actually planning to do so and build a third runway.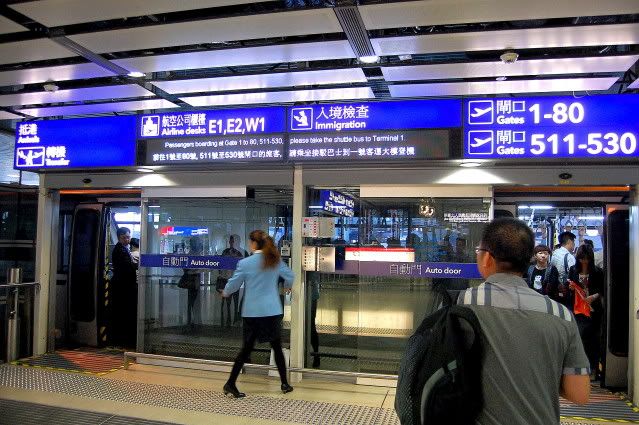 Entrance to take the bus
My Days in Shantou
As usual, I did not walk around much but ate lots of good stuff. Here's to share with you the food I had.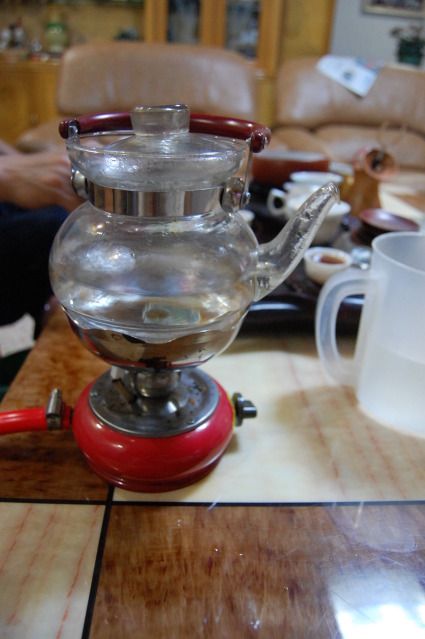 Boiling water for Chinese Tea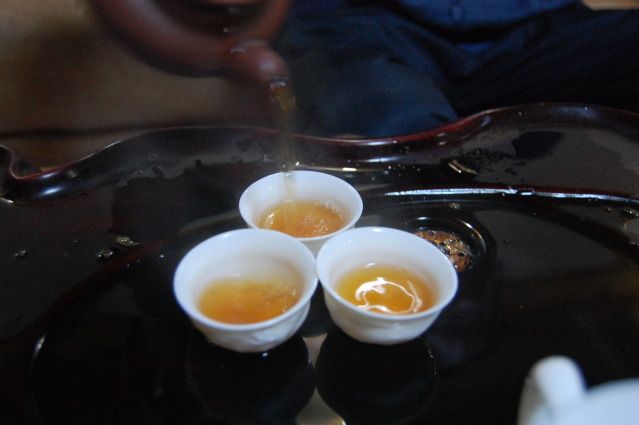 The art of making Chinese Tea, or known as "Gongfu Tea"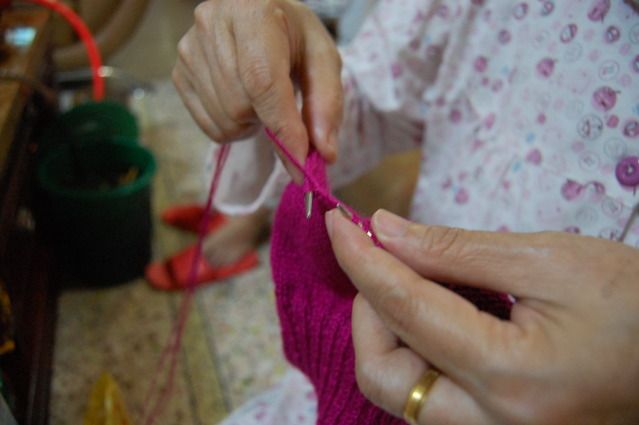 Traditional method of making clothes!



Breakfast the next day



Fresh seafood



Prawns, anyone?



Generous serving of beefballs (my favourite!) and some protein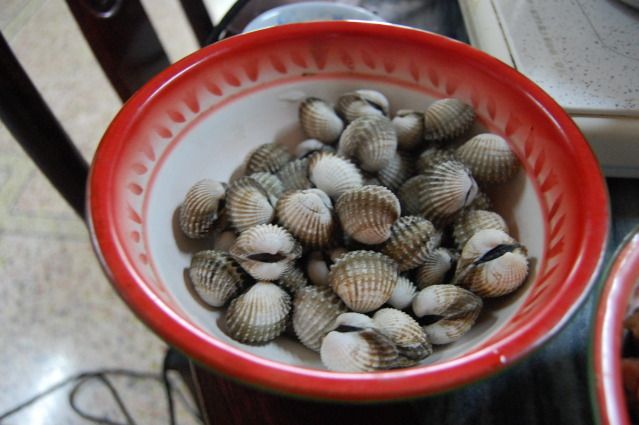 Another of my favourite, cockles



It's heaven in here! Here's another of my favourite, oysters!



Something new to me – The fats between the cow's neck and chest. It's crunchy after being cooked. A sinful pleasure!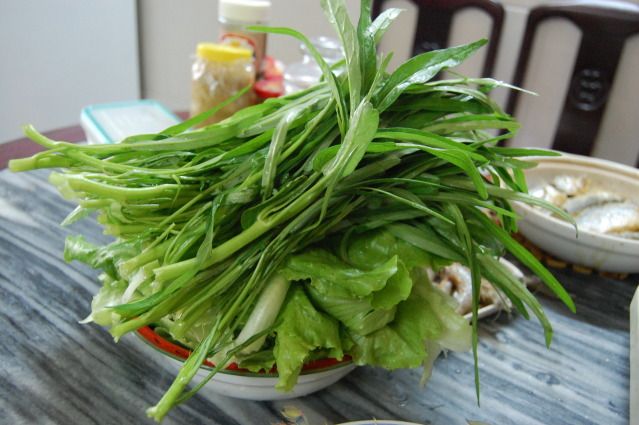 How can we forget some dietary fibre?



Making an appearance all together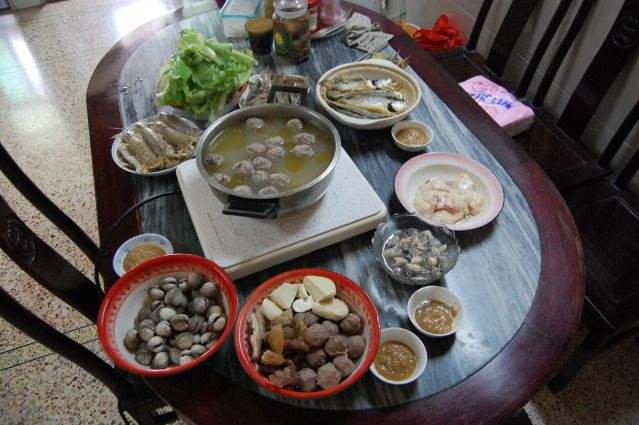 Ready for a great meal!



Off to dinner – Some nice vegetables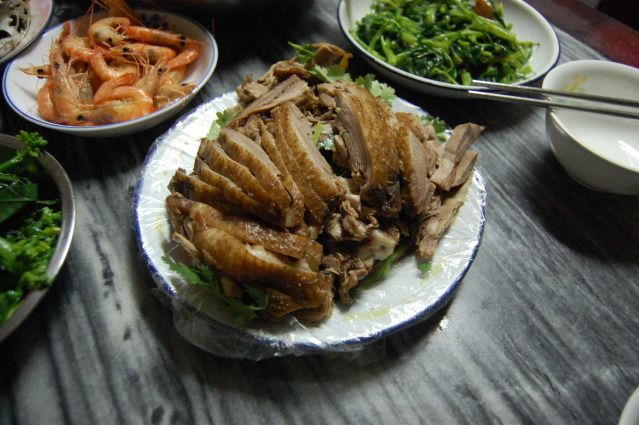 Duck…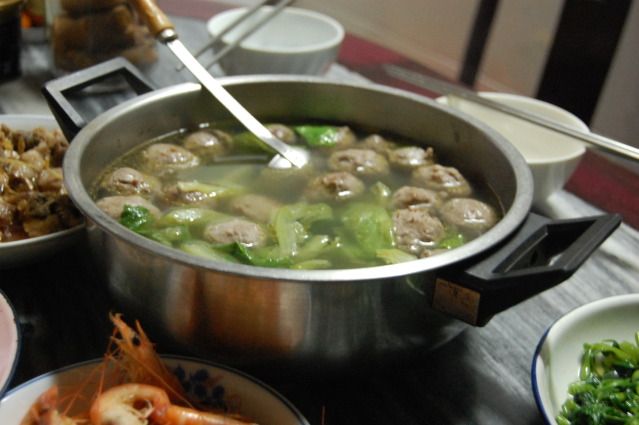 Lastly soup!
Rating & Conclusion
As a new system, I will start rating my flights with regards to several pointers. Each has different weightage but all add up to 100.
Aircraft Condition ( /30)
: Whether the aircraft is breaking apart of still sparkling new after numerous flights and whether the cabin is clean or dirty. Also includes aircraft exterior.
Food ( /10)
: Taste and quality of food served, number of choices available.
Service ( /30)
: Service standards of the cabin crew like attentiveness and effectiveness.
Seat Comfort ( /10)
: If the seat width, seat pitch and cushions are comfortable enough for the flight duration.
May also depends if my buttocks hurt after the flight. :p
Ambience ( /10)
: How the ambience was like throughout the flight and if the right ambience was set at the right time.
Ground Handling ( /10)
: How the ground staff handles the check-in and how fast the baggage arrives at the carousel.
Total Marks
0 – 50: Poor (1*)
50-65: Below Average (2*)
65-70: Average (3*)
70-80: Above Average (4*)
80-100: Excellent (5*)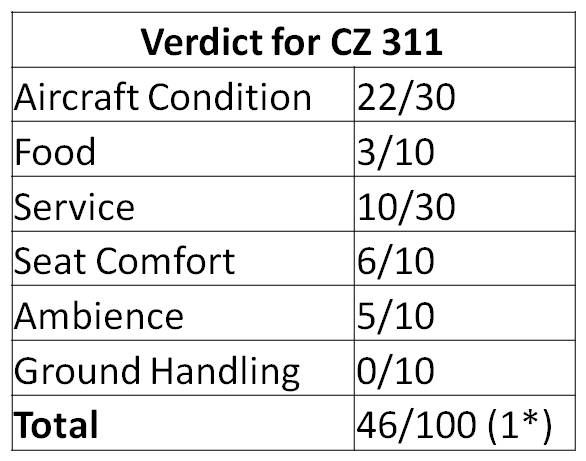 Previous Trip Reports
To view my previous trip reports, please visit my blog at
http://danieltripreports.blogspot.com
or click
here
. Comments are appreciated on how the blog can be improved!
[Edited 2012-04-27 22:54:30]