A varm welcome to you and thanks for reading my third trip report!
I have a mission and that mission is to fly all airlines that fly to Arlanda (ARN). At the moment I have flown 33 out of 62, but the thing is, new airlines are coming and going so this is not an easy task. But at the same time those things are making my hobby going and going and...
Well, beck to this report. There is one airline that I have tried to get on for several years now but our schedules have never been in synced. This airline is Ethiopian Airlines. They are flying ARN-FCO-ADD with a 757 and sometimes they are here with the 767. Sometime this summer they will quit the ARN-FCO leg and fly directly ARN - ADD. Arriving around midnight in FCO there's no chance for a "day"trip. Finally one day in April I'd manage to find a date where I was able to try out ET. I did reward my self with a oneway C-class ticket, I have read a lot of good stuff about ET C-class product and wanted to make my own opinion. This ticket was around 100-110€ more expensive then a Y ticket. When this one was booked I had find some way to get back home from FCO. I wasn't that fond of paying to much for this ticket because then it would be a very expensive 20h trip.. Luckily I found a Cimber Sterling ticket FCO-CPH for around 60€, new airline for me so I booked that one quickly. From CPH there's some choices to get to STO but I choose the cheapest and fastest way, Norwegian for 35€.
ARN-FCO
Date: 24 April 2012
Route: Arlanda - Rome(Fiumicino)
Flight: Ethiopian Airlines ET703
ETD: 21:00 (ATD 20:59)
ETA: 00:01 (ATA 23:55)
Seat: 2L
Aircraft: B757-200
Flight time: 2hrs 56mins
Registration: ET-AMK
1st flight on Ethiopian Airlines
7th flight on a B757-200
I arrived at ARN around 19:00 and headed directly to check in. I tried to do OLCI but it didn't work. I walked directly to the Businessclas counter and there I was no 2 in line. The lady in front of me had 5 overpacked bags that she wanted to check in. She was told to put her hand luggage on the scale and it showed 26kg so she had to re-arrange her packing. The check in lady asked if i traveled in C and I told her yes so she took care of me before continuing with the "baglady". The check in went smooth and after showing the card I booked the ticket with I was on my may to the lounge. As ET is a part of Staralliance you can use the SAS Business Lounge at ARN and as I'm an EBG I turned left in the Lounge to the Scandinavian Lounge. The difference between these two are that in the Scandinavian Lounge they serve a light meal and hard liquor. After about 1.5h it was time for boarding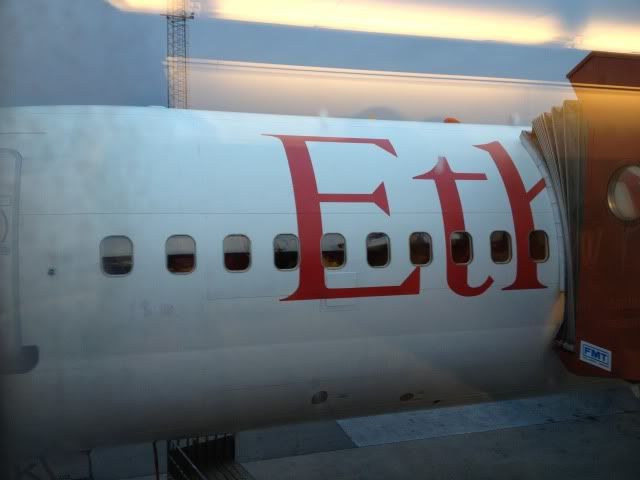 This is the first time I'm boarding a plane flying intra-europe and have to turn left after entering the aircraft.
The seats was very comfortable for this 3h ride
Also the legroom was good even tough ET-AMK has the smallest pitch in ET 757 fleet. It was more then enough for me.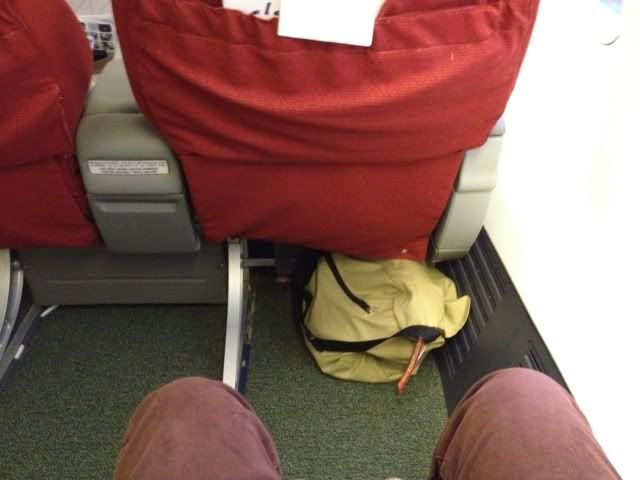 The legroom shot
. And yes the red pants are still with me.
The welcome drink was either water, orangejuice or champagne.
I thought that the crew was a bit confused during the safety brief for example they told us that the aircraft had 4 emergency exits. If you only count one side they had been right... I thought for some seconds that maby this was an bad idea.. But when they apologized for the broken safety video and I understood that they aren't that used to do the manual demo.
After a powerful takeoff the service began.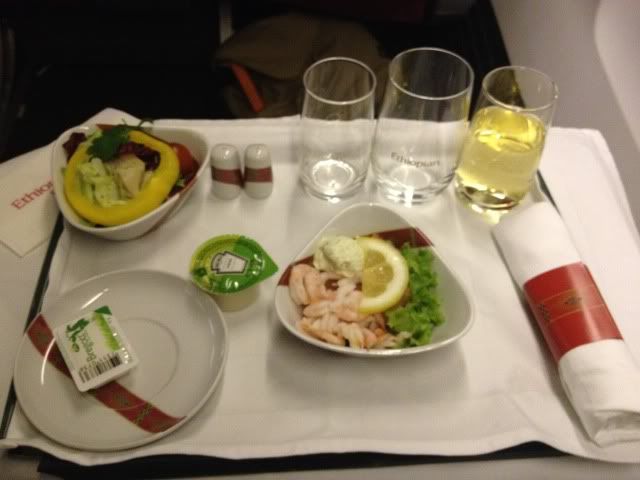 Starter with shrimps, salmon, a ceasarsalad and of course champagne
I did choose the lamb for main course. It was tasty but salty, but it was really nice with an Ethiopian beer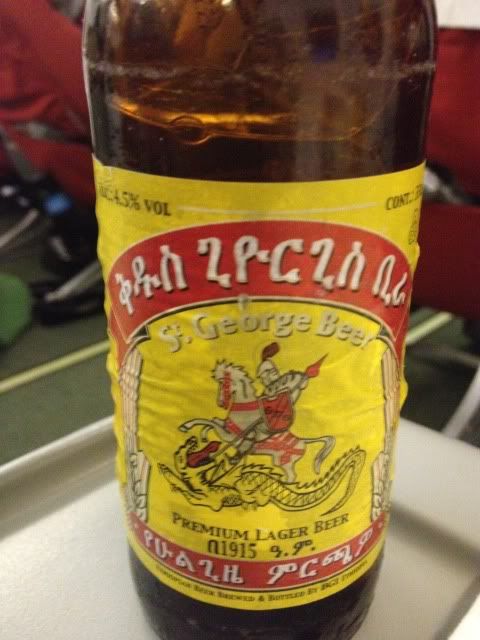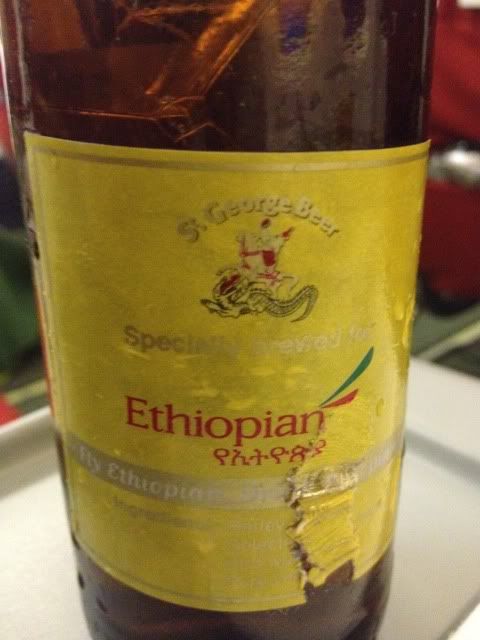 Dessert with more champagne and beer. I did turn down the chocolate and cheese plate, it was too much food for me.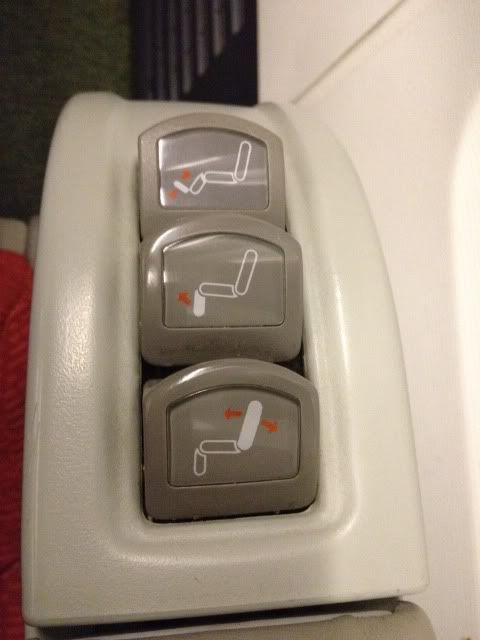 The old school buttons for the seat
The flight was very nice and the Captain talked a lot to us passenger about the route and football (I think there was a Champions league match or two)? He told us about the results during the flight. Arriving around midnight and leaving noon next day I wanted to have close to a bed. I chose Hilton Rome Airport it was about 10 min walk from T3. As HHonor gold I was upgraded to an executive room.
I woke up around 0900 and had some breakfast, checked out and headed back to the airport. The scandinavian way of going back to ARN wasn't that fancy as the night before but it I would fly a new airline.
FCO-CPH
Date: 25 April 2012
Route: Rome(Fiumicino) - Copenhagen
Flight: Cimber Sterling QI362
ETD: 11:40 (ATD 11:47)
ETA: 14:10 (ATA 14:03)
Seat: 3F
Aircraft: B737-700
Flight time: 2hrs 16mins
Registration: OY-MRS
1st flight on Cimber Sterling
9th flight on a B737-700
An uneventful flight to CPH. The only thing that annoyed me was the the lady beside me didn't move to the free D seat beside her. She stayed in her E seat all the way to CPH even tough she was sighing lound about the cramped space. I think she was afraid of flying so I'll give her a break.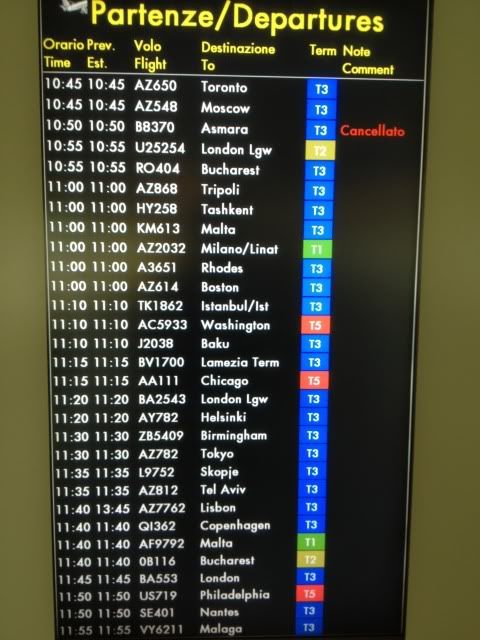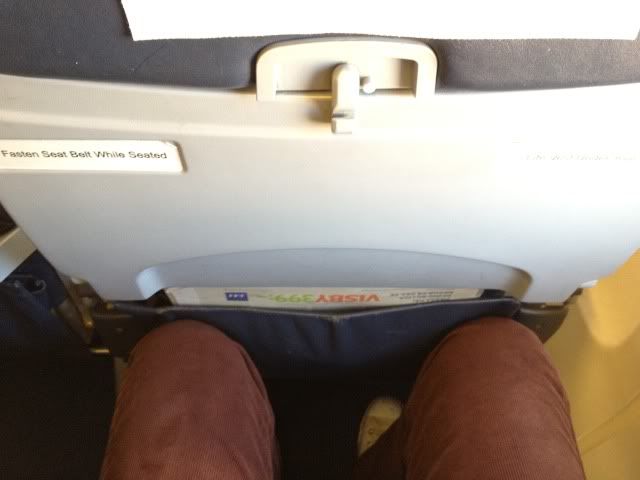 Legroom shot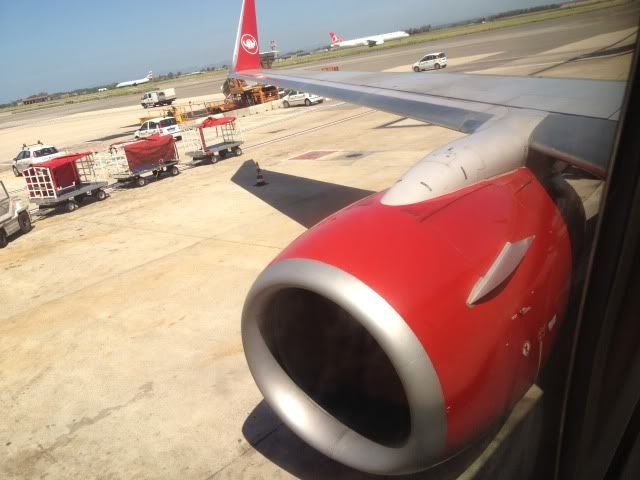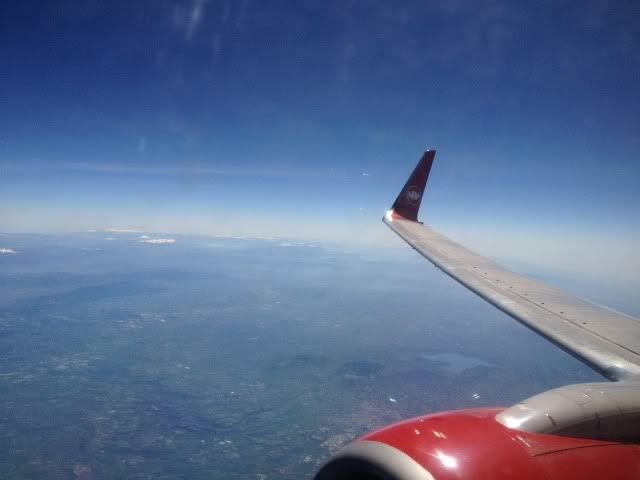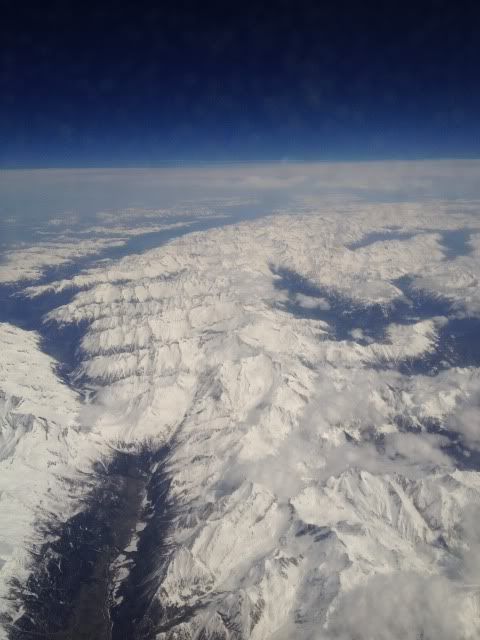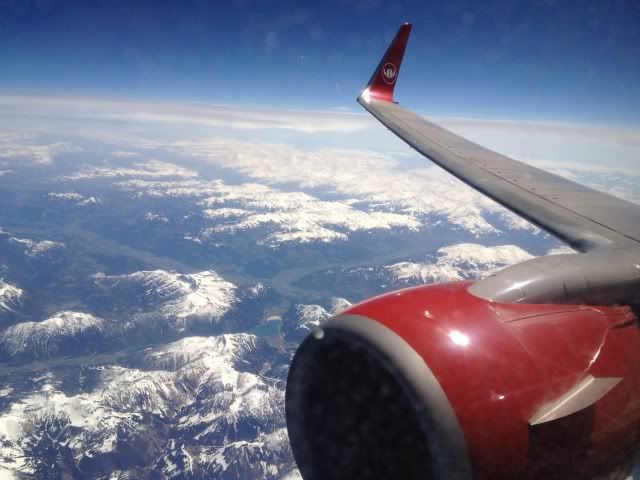 Passing the alps.
Munich airport in the distance
I really enjoy flying over Europe because there's almost always an other aircraft outside the window
The only shot I got on OY-MRS here with my ride to ARN, LN-DYM
CPH-ARN
Date: 25 April 2012
Route: Copenhagen - Arlanda
Flight: Norwegian Air Shuttle DY4162
ETD: 15:30 (ATD 15:29)
ETA: 16:30 (ATA 16:33)
Seat: 31A
Aircraft: B737-800
Flight time: 1hrs 4mins
Registration: LN-DYM
9st flight on Norwegian
135th flight on a B737-800
This flight is nothing much to write about. A quick 1h flight on a LCC. They have a nice interior and I like the free WIFI (it very very slow)
Landing was on RWY 19L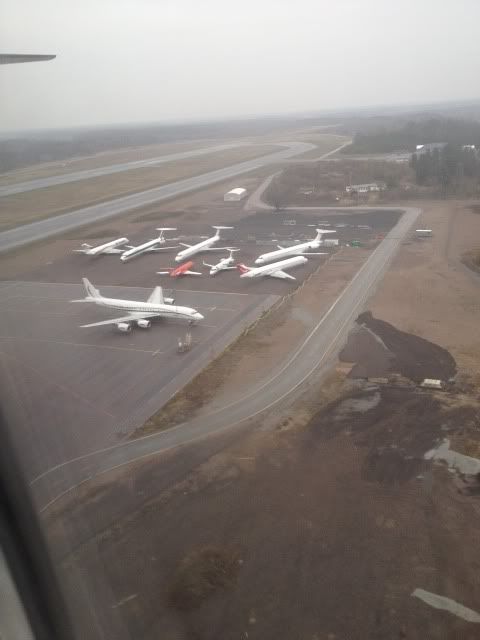 19L means flying over ARN scrapyard.. The DC8 is still flying.
Bye bye for this time
Conclusion:
The ET flight was one of the best ones I've done in Europe and they have a really good product. It's sad that they are leaving the 5th freedom route to FCO but I'm glad that I finally got on board.
QI and DY are ok carriers as long as the price is right. The seats are very cramped.
If you are still with me i would like to thank you for reading this report!
Tobias