JetBlue 71st Blue City: DFW
This trip report will be a short one, as there is nothing much to report back – your typical JetBlue experience in an inaugural flight. DFW is JetBlue's 71st city and 44th city out from Boston, and there is a large celebration in DFW to welcome the flight and to send off the first flight.
Here is the flight information:
May 1, 2012
B6 254 Dallas Ft Worth to Boston Logan Lv1245 Arr1742 Airbus A320-200 "100% Blue" Barcode livery
I arrived DFW on Virgin America the afternoon before and I was able to take a couple of photos of JetBlue's new home at DFW. It will use Terminal E, as expected and it should not be a surprise to anyone. E10 is its new gate here at DFW and is sufficient for JetBlue's three daily flights operation.
JetBlue Terminal E check-in counters (next to United) – a few staffs are already working
Gate E-10 – the only disadvantage of this gate is lack of a good photo spot – all double windows
but at least easy to spot registration number
Entry from the lower level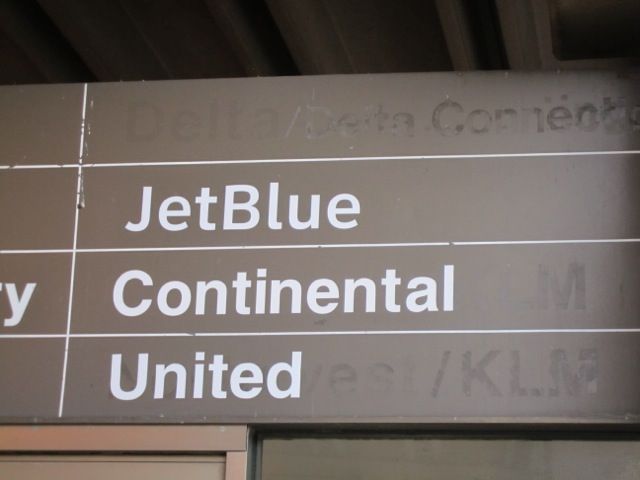 Check-in
First, JetBlue participates in the DFW's Common Airline Kiosk program, and you can check in for any JetBlue DFW flights using these common airline kiosks, as pictured here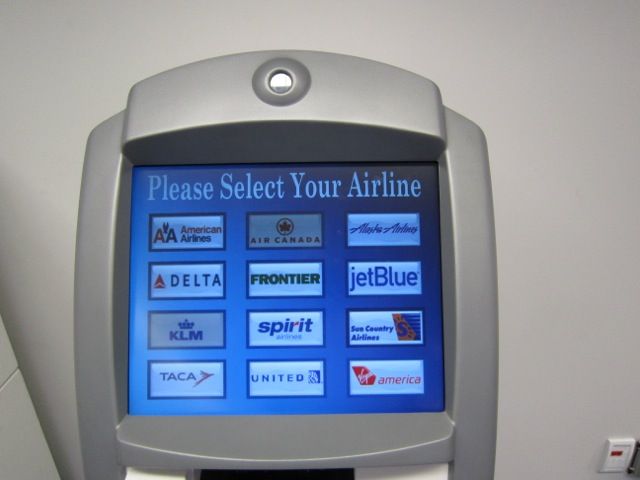 Other than that, it operates same as a typical JetBlue's station – one line for baggage drop and one line for full service. I opt for the full service today as I want the proper paper boarding pass (thank goodness no more supermarket receipt style boarding pass). The agent was friendly and things were looking good. They have sent in 12 staff from all around JetBlue's eastern and southern cities, so DFW get an experienced team.
Yes he checked me in…
More balloons today for the check-in area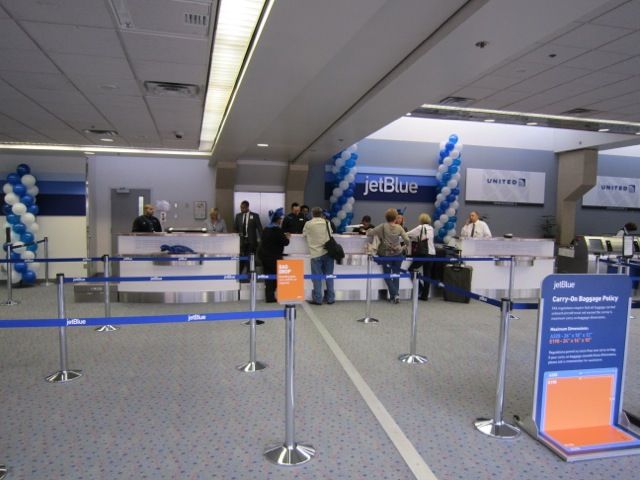 Yes there is an "even more speed" priority lane for JetBlue passengers, but it was not used today due to low volume passengers this morning.
Gate
E-10 is JetBlue's new gate, and it is closed to United Club and Delta Sky Club.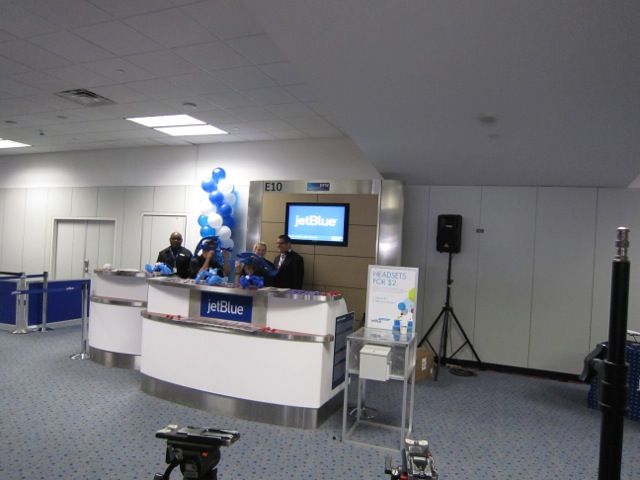 Jetblue table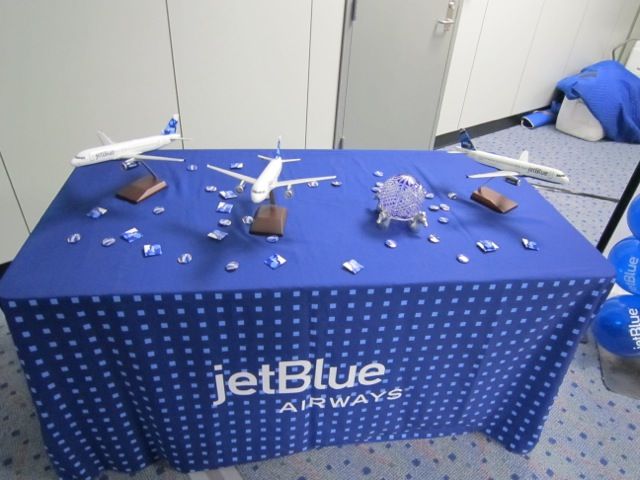 Today's theme is New England for sure with three entetainers/men – Eric Bailey, Jim Juengeman (can't get the third name) dressing in patriotic outfits playing drums and flutes and doing balloon tricks for young children. There was a buffet featuring Dunkin Donut's Boston Cream donuts (of course), assorted fruits, cheese and crackers, as well as a sausage bun (Pig in a blanket) and mini quiches with bottled waters and juices.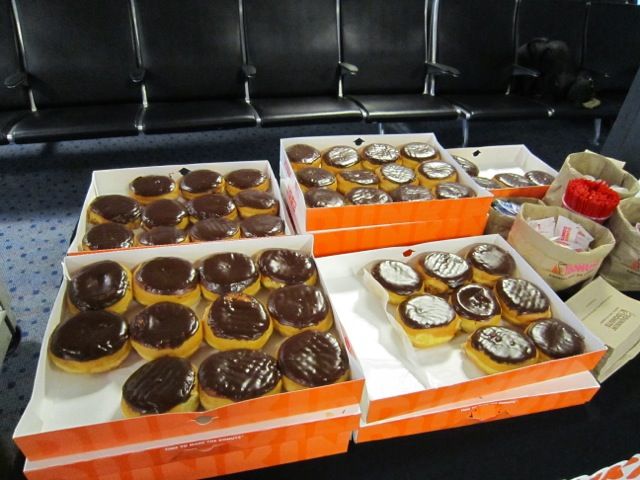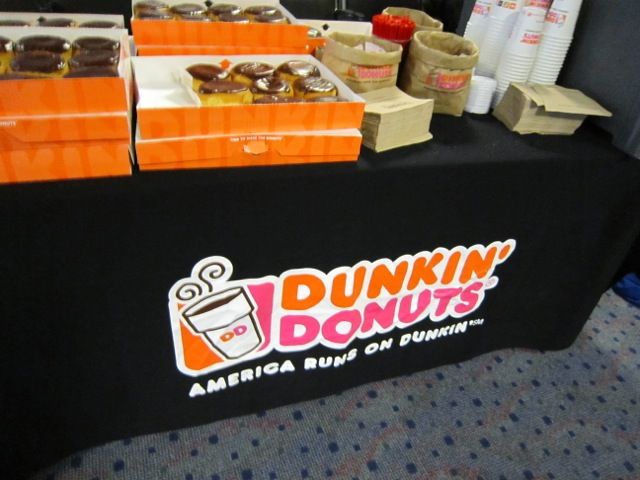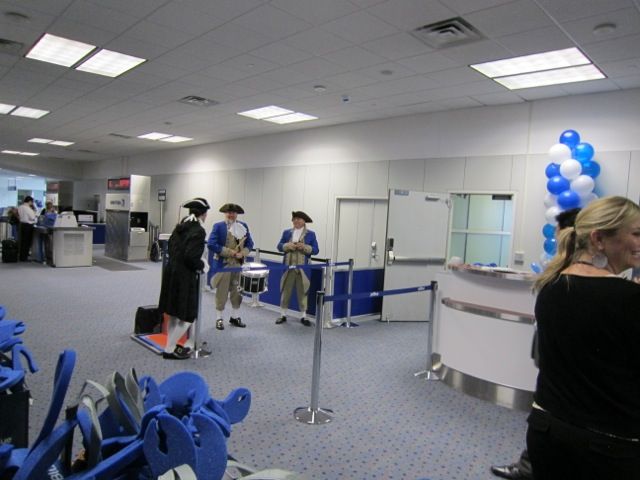 Of course the celebratory cake from DFW airport authority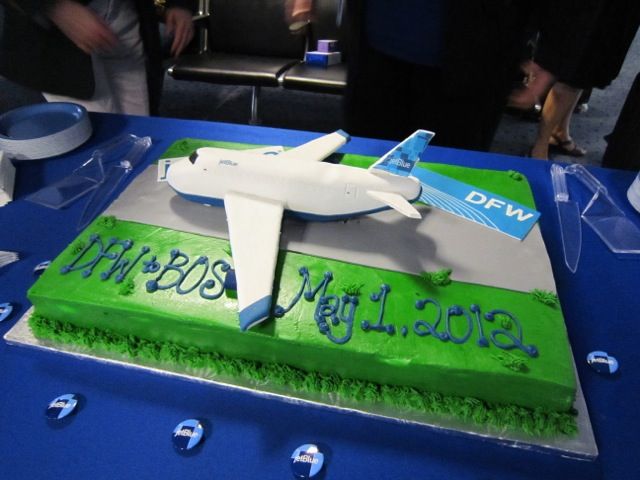 The podium was nicely decorated with balloons and the new destination poster to be unveiled.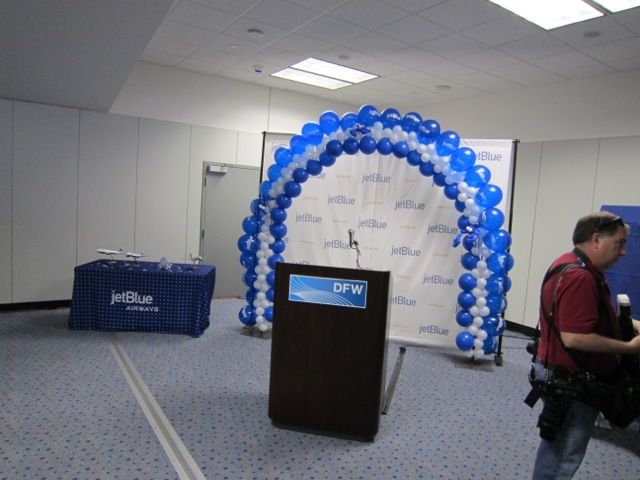 This morning, we got a very famous aircraft to work our flight. As expected, it is the newest delivered A320 to JetBlue (delivered in March), N796JB, named "100% Blue" with the Barcode livery. This aircraft is almost famous because the plane stopped by Amarillo on the now famous JFK to Las Vegas flight with the out of control pilot. It definitely has the fresh car smell. BTW, A320 is only used on this first flight for obvious reasons, and E-190 will operate all three flights for now (with a few flights using A320 in the summer).
Gate E10 with JetBlue logo jetway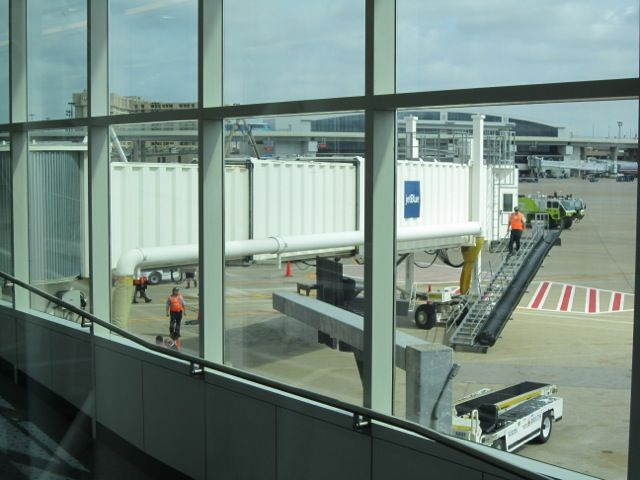 Ground staffs getting ready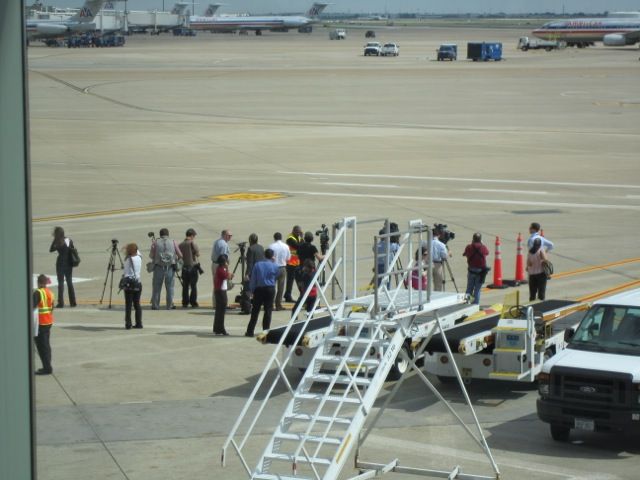 Guess why are their fire trucks?
N796JB landed at DFW on 11:02am – faraway shots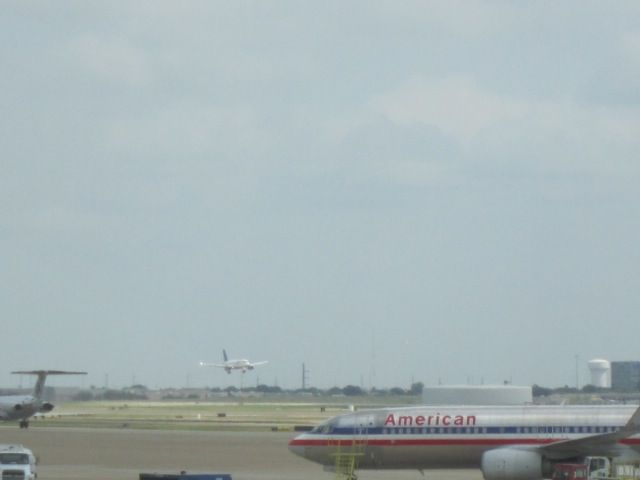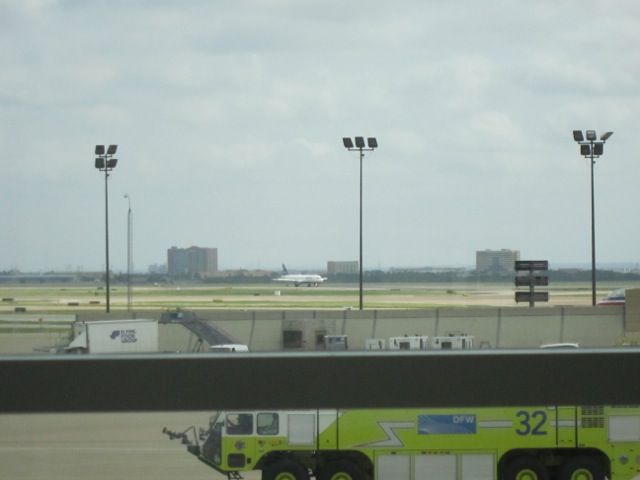 Coming to the gate E10
Waving flags of USA and Texas
Beautiful Airbus
Water Salute of course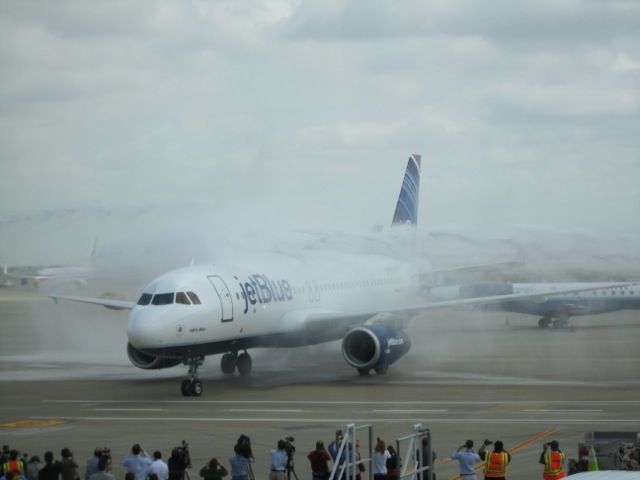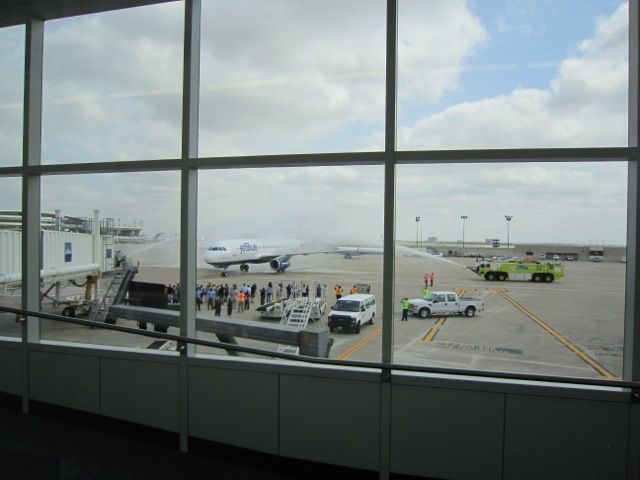 Lots of audience
N796JB at gate – my attempts to take various shots throughout the airport
From Gate E8/9
From the Skytrain station – not very successful because of the track itself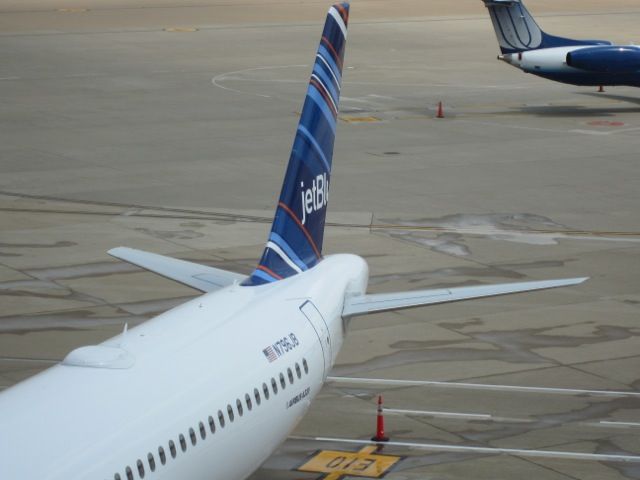 Welcoming passengers – note the JetBlue Texan hat
Anyway, there was the typical speech time – Both mayors of Dallas and Forth Worth were here, as well as DFW CEO Jeff Fegan, JetBlue DFW General Manager, Ray Fallon, and JetBlue's VP Dennis Corrigan. The speeches were good and right to the point, and the folks at Boston brought some fresh lobsters for the mayors and it was pretty cool. There was the unveiling of the destination poster too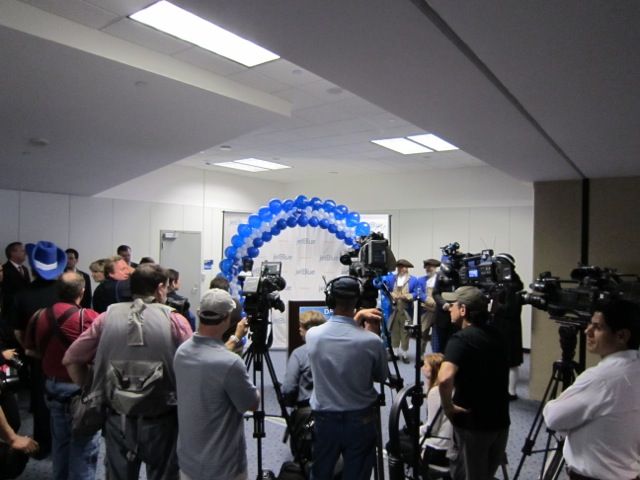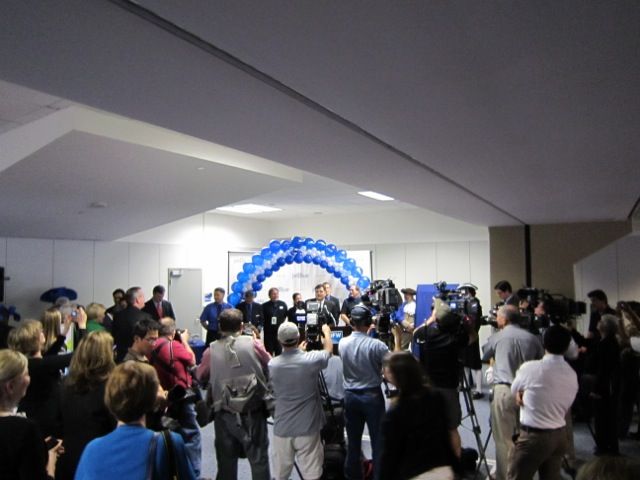 Group pictures with the cockpit and cabin crew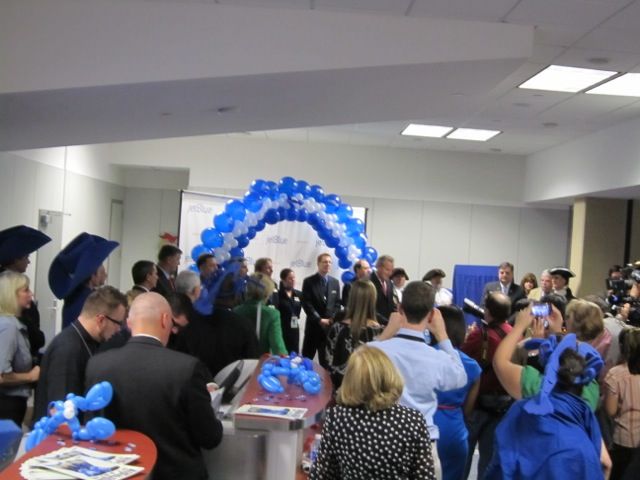 The turnaround time was longer than normal because there was the media tour time.
Gate Display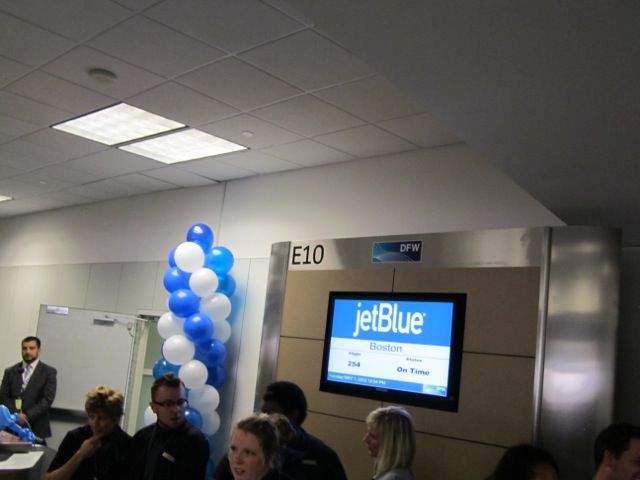 At 12:10pm, there was the ribbon cutting time by the new DFW station gate agents, and boarding began at 12:18pm. Pre-board → Even More Room → Aft to Forward
Before Boarding: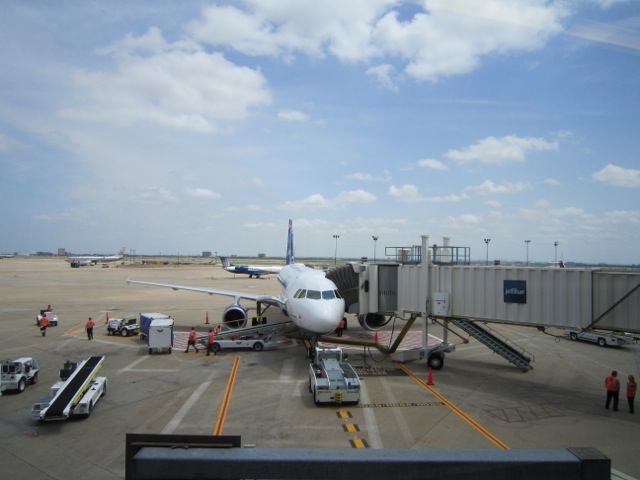 Entrance
The cabin definitely had a new car smell and the seats had some small updates, but your basic all leather seats cabin.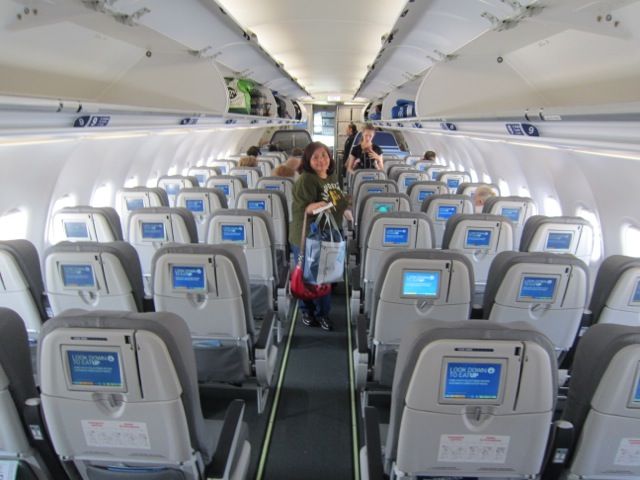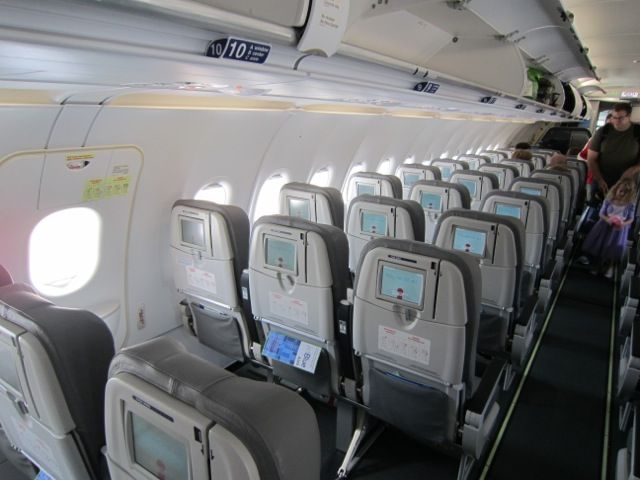 My seat 11F
Compared to the 180 seats A320, JetBlue 150 seats are very generous. Beautiful cabin!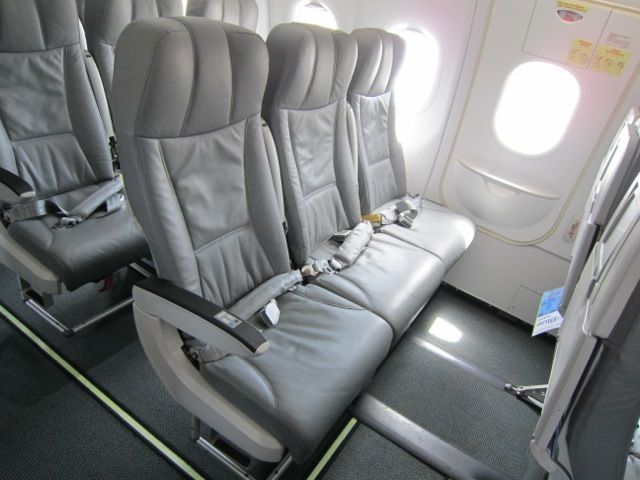 Overhead panel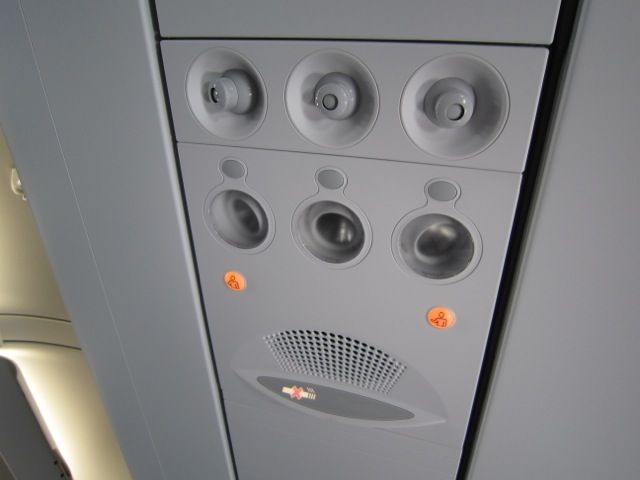 However I have a minor complain about the controls for the TV – all the buttons are already worn down and changing channels take tremendous effort. For a one-month-old plane, it was disappointing at best. There was also a small box beneath the center seats – nothing major, but just a note.
The loading was light in the return and I had an empty middle seat next to me. My neighbor was one of freshly hired agents at DFW going back to his NYC home for some last matter matters.
Farewell from the ground crew at DFW – Texan style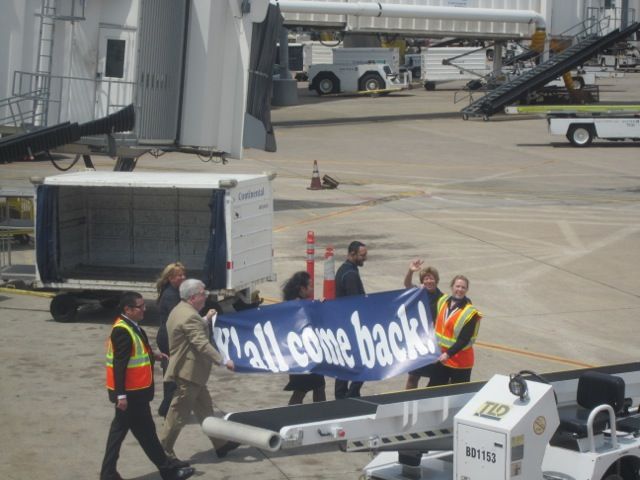 Captain Carter came out to greet passengers – typical Jetblue style – F/A Heidi next to him
Boarding was completed early but due to delayed air traffic control clearance, door was not closed till 12:49pm, and we did not push back till 1pm. No problem though! Captain Richard Carter and Matt told us our flying time was a short three hours and nine minutes. They had strong headwind coming down but tail wind going back up to Boston. We slowly taxied towards R/W17R and took off at 1:12pm.
The flight was fairly typical as of this point. I would call it a very layback flight with your typical beverage and snack service. Please note the only freebie was the Goodie bag and the headsets. No free alcohol this afternoon – we should get champagne/sparkling wine at least… LOL.
The Goodie bag was pretty disappointing except the bag itself – lobster JetBlue hat, Texan hat, Boston tourist guide, baggage handle, and a lobster thingy. There was no real JetBlue's souvenir – I could use a JetBlue keychain, baggage tag, and a special DFW sticker. I hope the JetBlue staff reading it can think about the aviation geeks like myself – I want more JetBlue stuff – stickers will be excellent.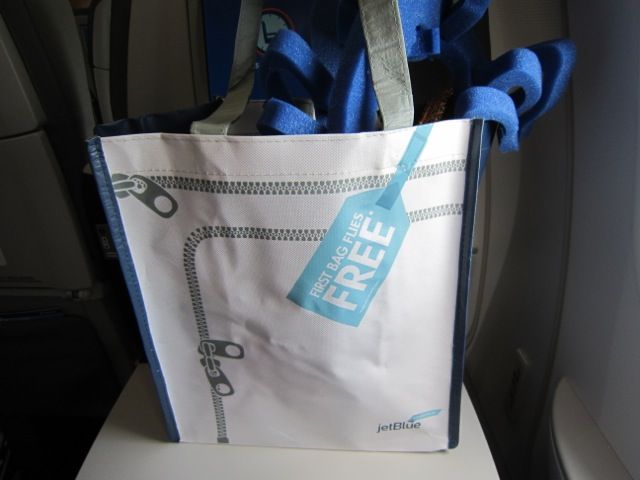 Here is the new destination postcard.
There is a full beverage and snack service after takeoff.
My choice today – Coke Zero
Blue Chips and Qaker's fiber crisps
About an hour prior to arrival, there was the typical lucky draw for two pair of free tickets and the two questions are first, how many cities does JetBlue fly? The second ticket went to the birthday boy, who celebrated his birthday May 1. Then there was a bottled water service.
Descent began at 4:43pm EST and we landed on a very wet Boston at 5:21pm on R/W4R. The taxiway was quite busy, but we parked at gate C26 at 5:31pm – eleven minutes early. The plane returned to San Francisco at Jetblue flight 637 two hours later.
Here is N796JB at Gate C26 – not great shots but at least something!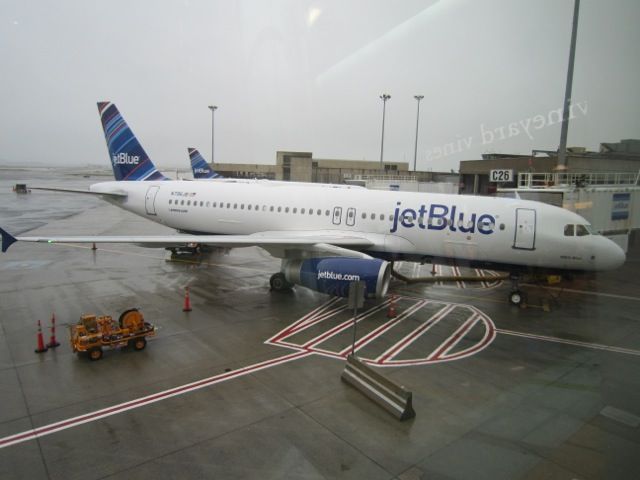 Double Barcode shots
N334JB heading to DCA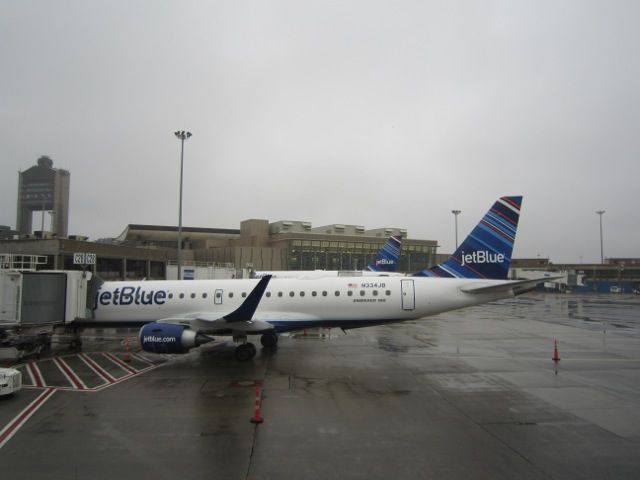 Here is the link to the full album!
http://s1213.photobucket.com/albums/...blue%20Inaugural%20DFW%20May%2012/
It was a nice flight and I was glad to be part of it! Look forward to Blue City number 72!
Carfield