Part 9: Yeti Airlines' "Everest Express" with the Jetstream 41
Welcome to the ninth part of my spring trip to Asia!
The entire map:
Previous flights in this series:
easyJet London Luton-Barcelona (LTN-BCN)
Singapore Airlines Barcelona-Singapore (BCN-SIN), Business Class on the 77W
Valuair/Jetstar Asia Singapore-Medan
Garuda Indonesia Medan-Banda Aceh
Sriwijiaya Airlines B734 Banda Aceh-Medan-Jakarta with a fuel "expulsion"
Lion Air Boeing 737-900ER Jakarta-Singapore
Singapore Airlines A330 Business Class Singapore-Calcutta
SpiceJet B739 Calcutta-Bagdogra
Jet Konnect B738 Bagdogra-Calcutta
Biman Bangladesh DC10 Calcutta-Dhaka
United Airways ATR Dhaka-Cox's Bazar
Regent Airways Dash Chittagong-Dhaka
Biman Bangladesh A310 Dhaka-Kathmandu
Flights to come:
Thai Airways Kathmandu-Bangkok (KTM-BKK)
Thai Airways Bangkok-Frankfurt (BKK-FRA)
Lufthansa Frankfurt-Dusseldorf (FRA-DUS)
Sun-Air (British Airways) Dusseldorf-Billund (DUS-BLL)
Sun-Air (British Airways) Billund-Manchester (BLL-MAN)
British Airways Manchester-London Heathrow (MAN-LHR)
So, part 8 finished with me enjoying a beer in Kathmandu. My good Darjeelinger friend from Part 5 put me in contact with a friend of his that runs a travel agency in Kathmandu. I gave him a call, and we arranged to meet up when I got into town. Feeling rather energised by the beautiful mountains, we decided to do a cycle around the Kathmandu valley…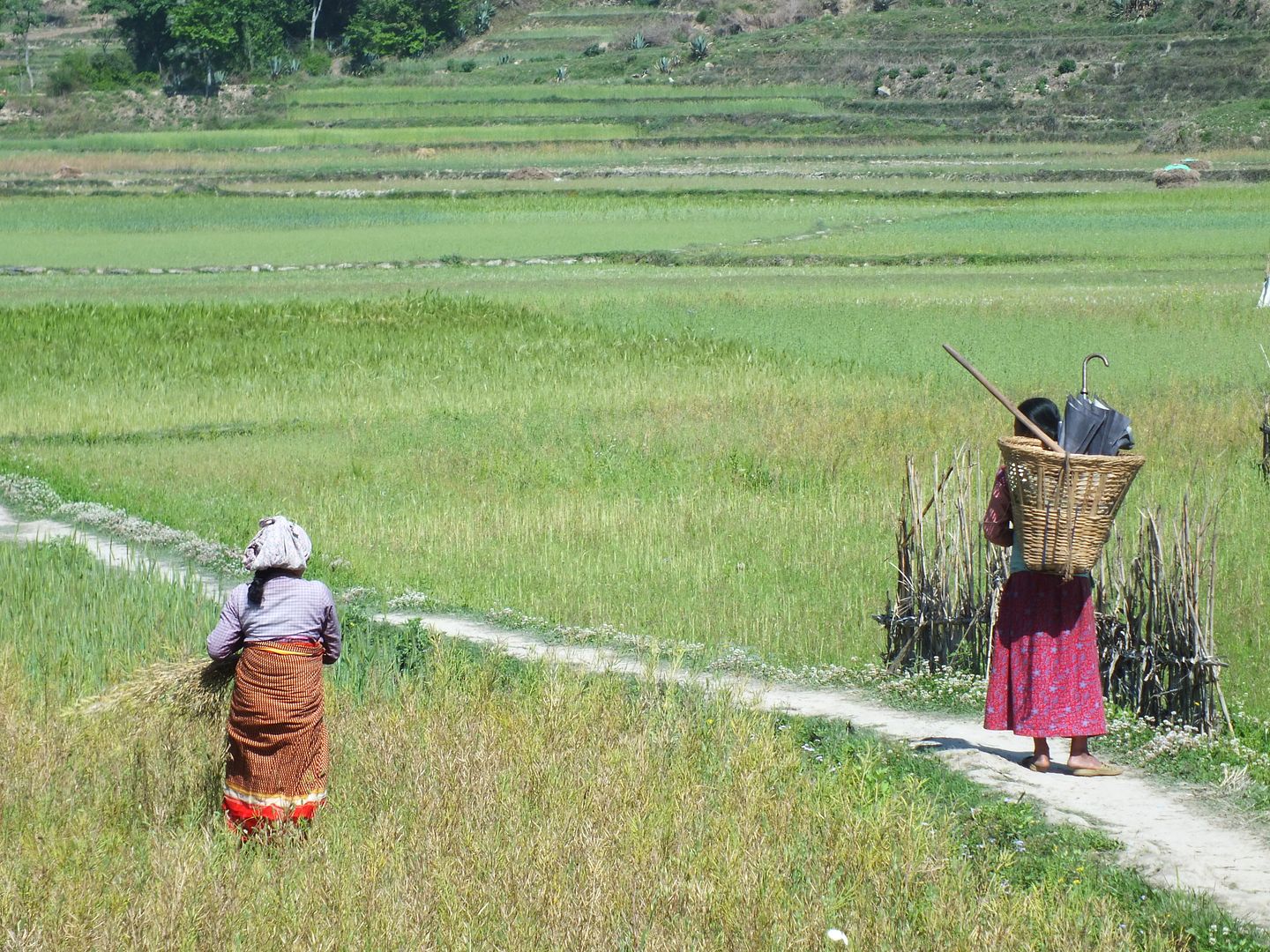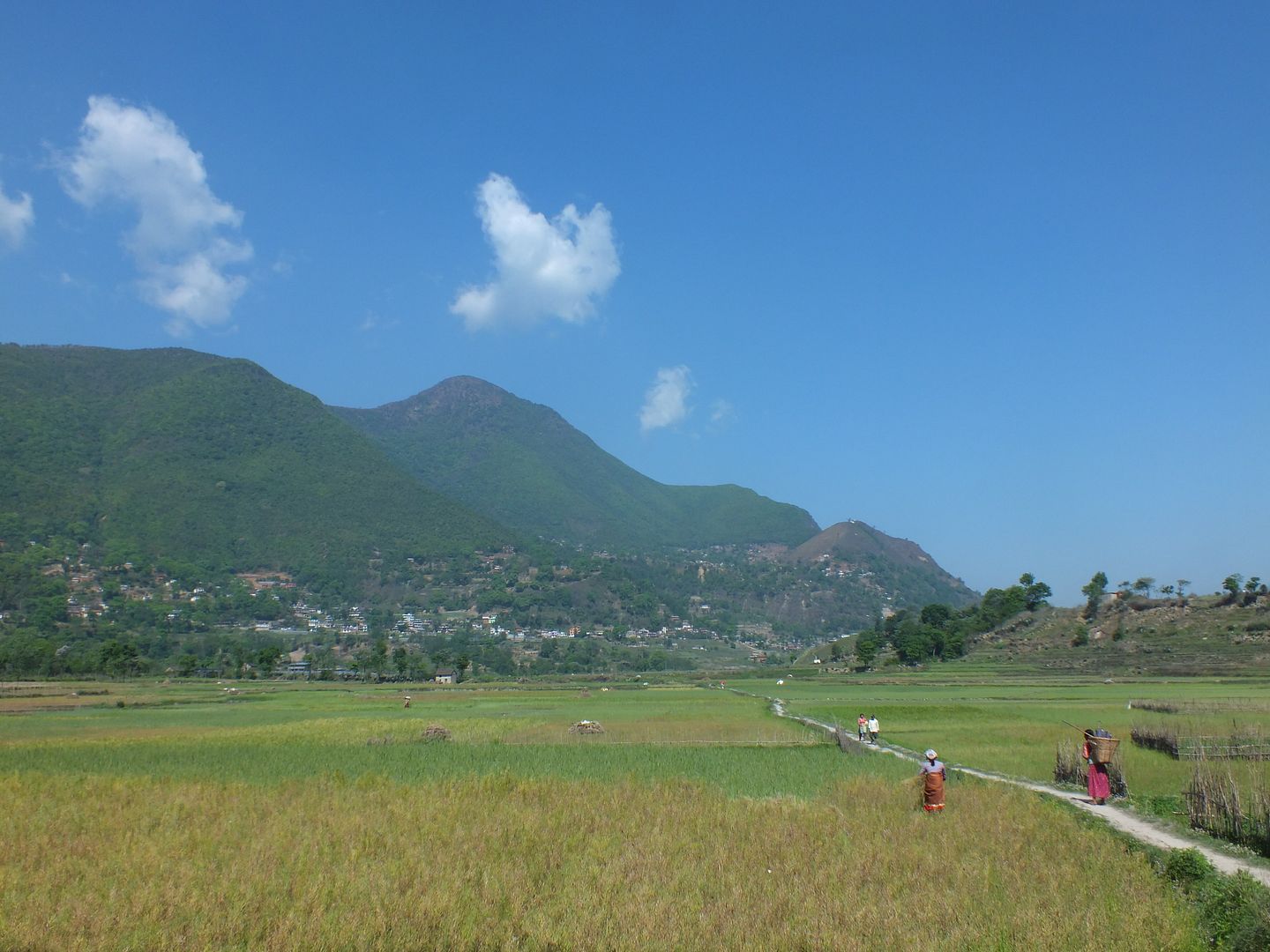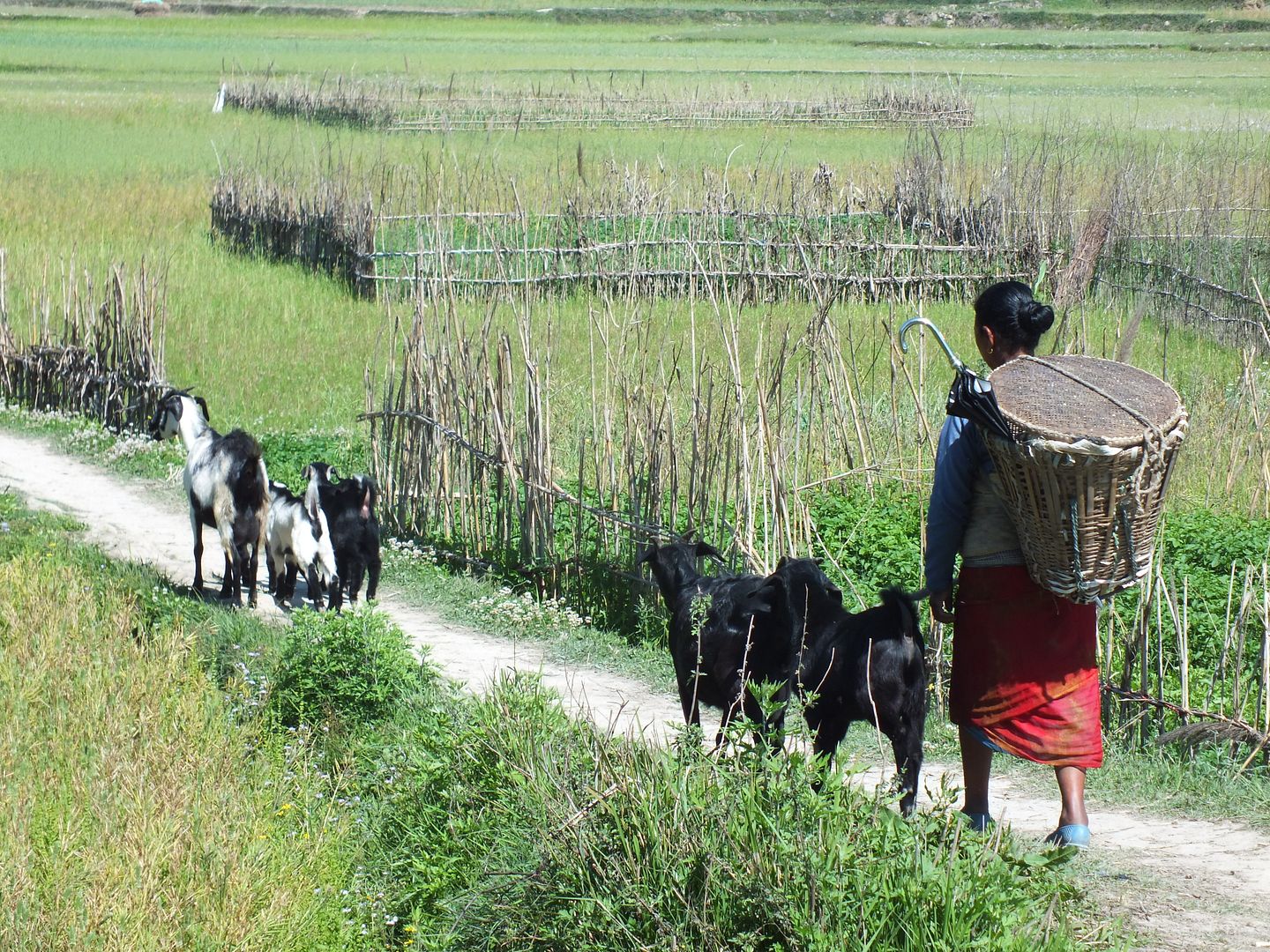 Some interesting flora. Yes, it is what you think it is, growing wild outside Kathmandu.
And fauna
Villages in the Valley
This is a scared river – I've never smelt a more revoltingly polluted river in my life. Yuck
A few shots of Kathmandu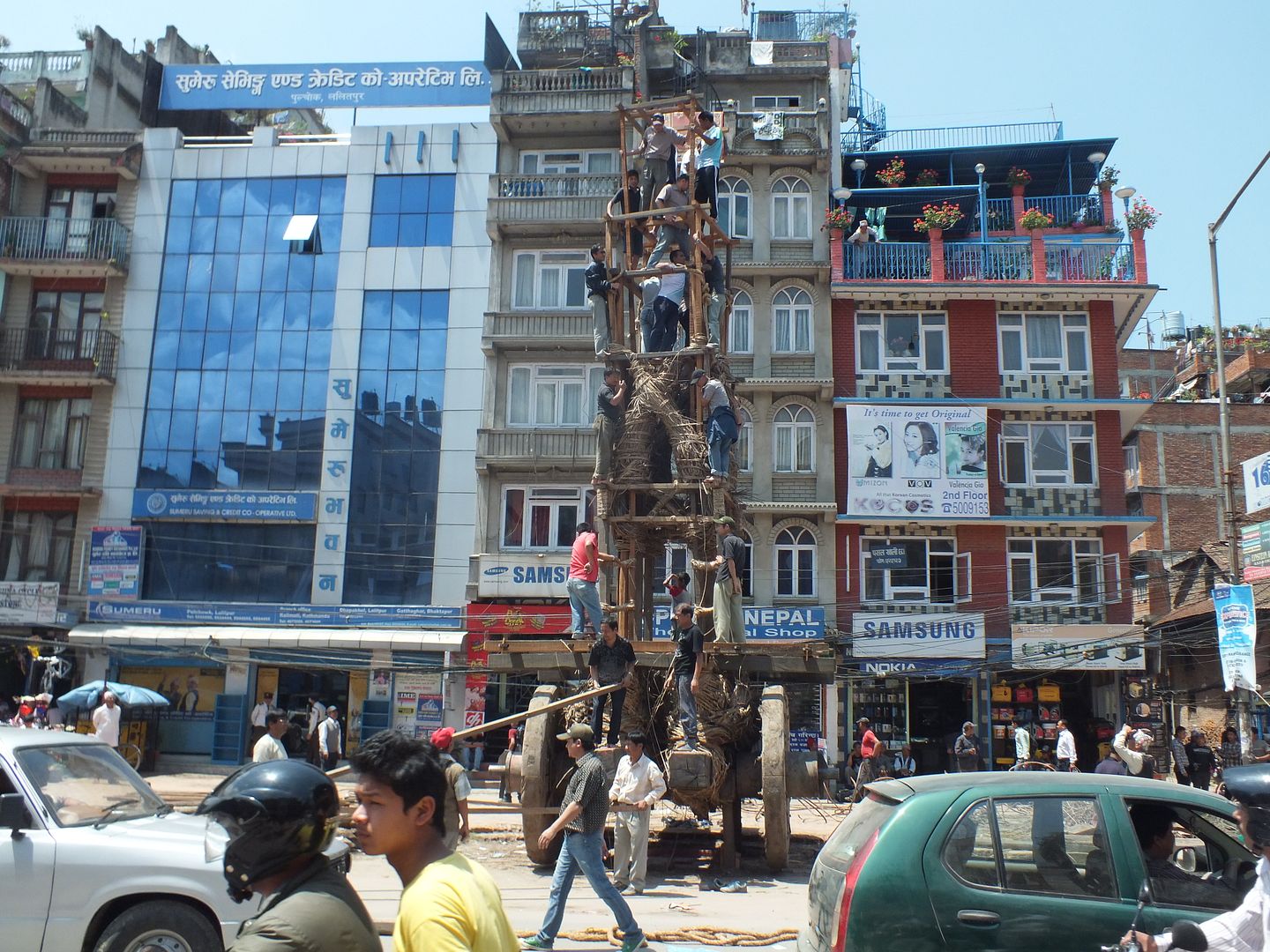 Overall, it was a wonderful day out, even though I did manage to cycle off a bridge into a muddy stream. Over lunch, I asked my guide about doing an Everest sightseeing flight. He made a few calls, and before I knew it, I had a ticket for the next day's Yeti Airlines "Everest Express" flight. Brilliant! I also managed to get quite a hefty discount from the advertised $176 rate. Obviously the rates are kept rather high to safeguard the livelihood of agents in town. If you are going to Kathmandu/Nepal, and are interested in a discounted flight/holiday, let me know and I can pass on my friends details (no website at present). He runs tailor-made adventure tours through the country, which sound pretty cool (camping, rafting, cycling, trekking, geeky plane trips etc) and I'd highly recommend him.
I was also very happy to find out that Yeti Airlines operated the Jetstream 41 on the route, rather than the Buddha Air Beechcraft that I'd ticked off with Air New Zealand. I nearly had a flight on the Jetstream waaay back in 1997 on the London-Waterford route (airline/airport, no idea), but we ended up on Aer Lingus Express (or whatever they were called) on STN-DUB instead. Of course, I'd already booked a flight on Sun Air for the following week when I was back in Europe, but that was scheduled for a Jetstream 31. Just like London buses, you wait for ages, then two come along at once.
As the mountains often fog over in the afternoon, all the sightseeing and mountain (e.g. Lukla) flights leave early. My flight was scheduled for 0630 – earlier than I would have liked, but I don't mind making an exception. My friend booked me a taxi, and after a bone-rattling journey through pre-dawn Kathmandu, I was back at the airport, this time at the surprisingly busy domestic terminal.
Obviously, as the flight is a straightforward return to/from KTM, Great Circle Mapper wouldn't have been much use. As such, I've used Google Maps. Point A is KTM, and Point B is Sagarmatha (or better known in English as Mount Everest). Our fairly simple routing was to fly out from A, towards B (staying clear of the mountains below), before doing a loopy turn, and coming back again.
This report's approximate map:
And without the red line:
There was bit of queue outside the terminal to have one's bags x-rayed (obviously, I only had a camera with me, despite having an included 20kg luggage allowance), but was the first person to check in for the "Everest Express". Before getting a boarding pass, however, you have to pay the 200 Rupee departure tax. Not knowing how busy the flight was, I asked for 9A (10 rows). I was initially offered 10C, but changed (which in retrospect I shouldn't have).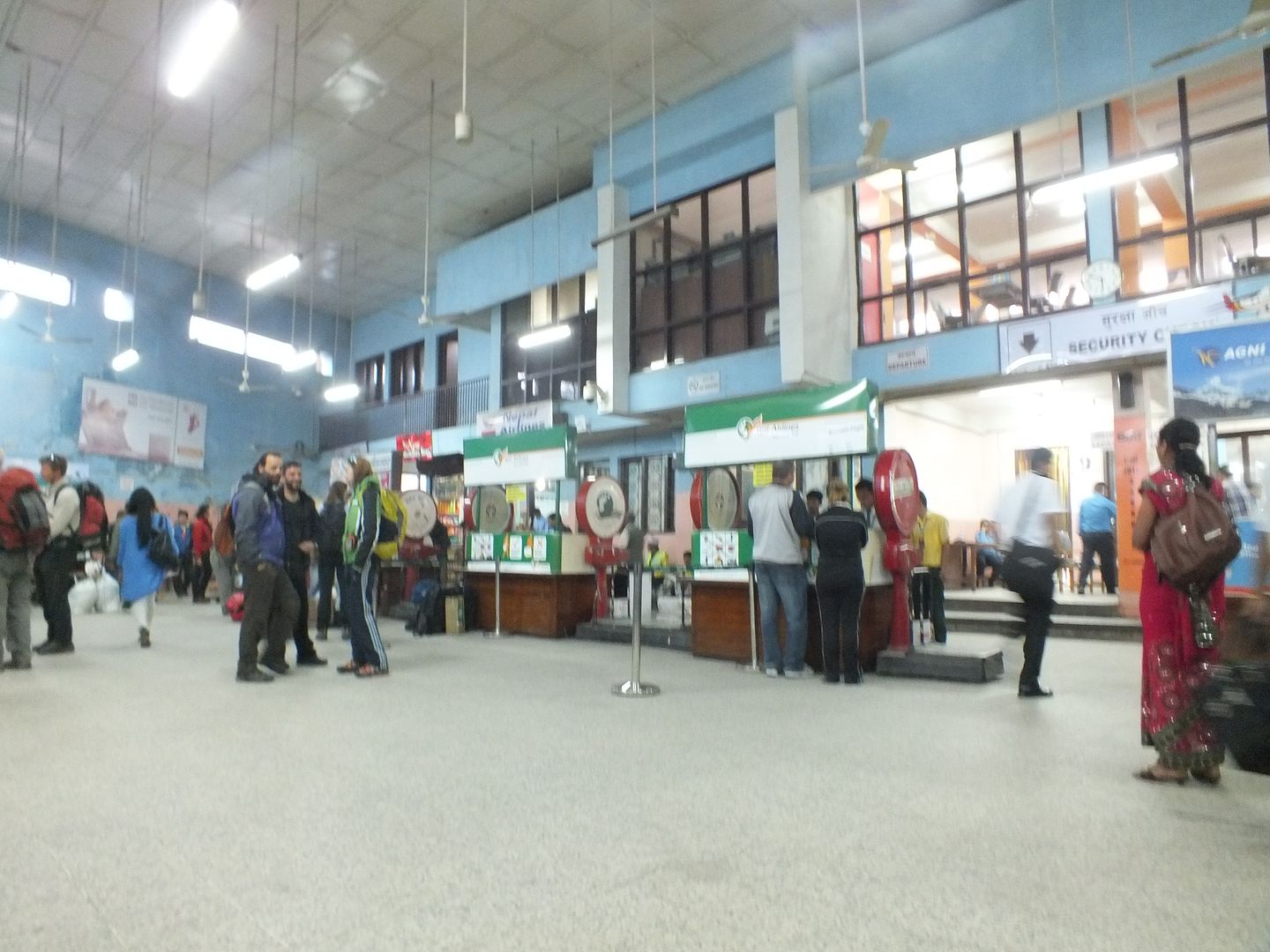 As well as a boarding pass, I was given a very nice booklet showing the peaks we'd be seeing this morning.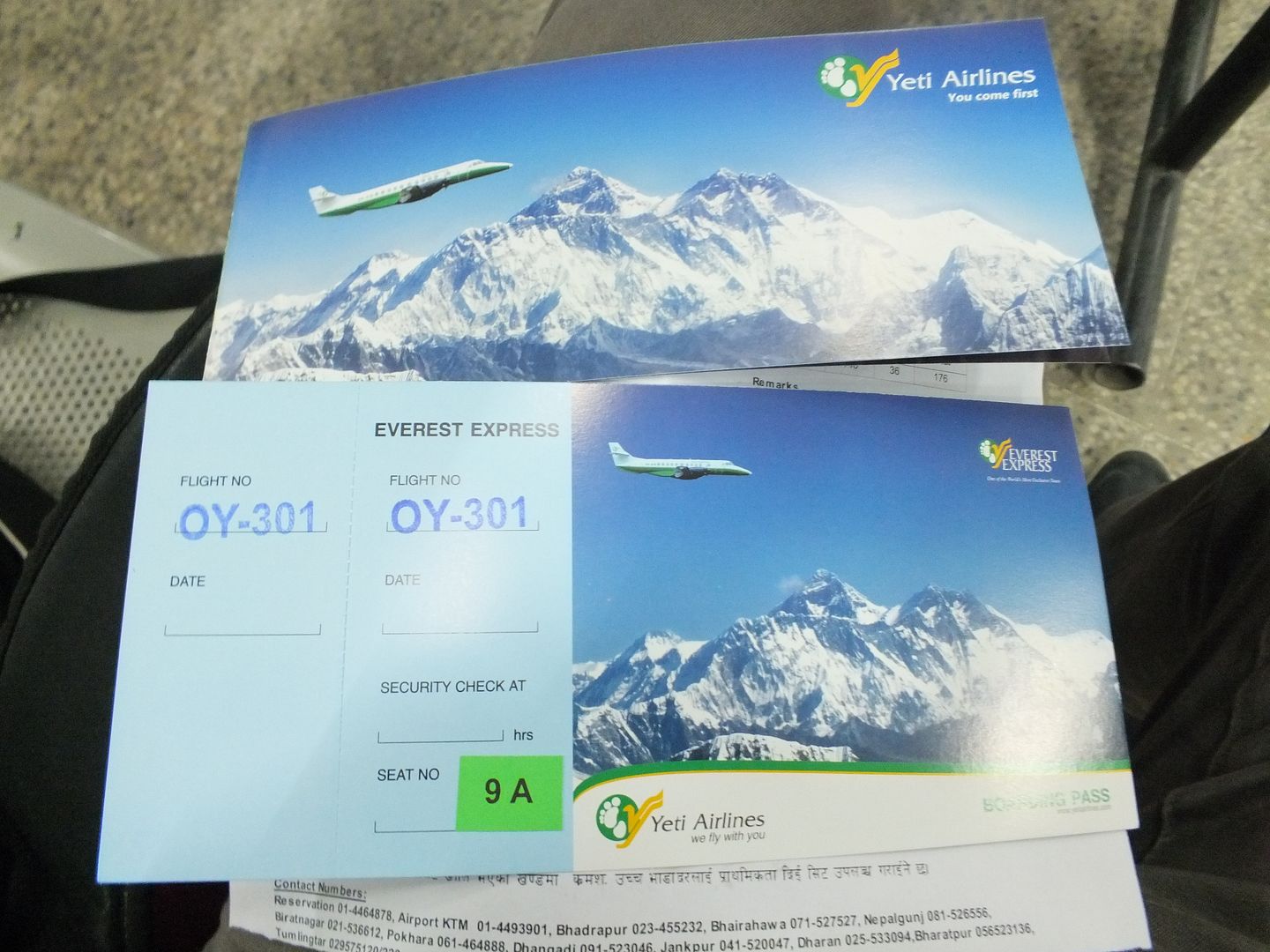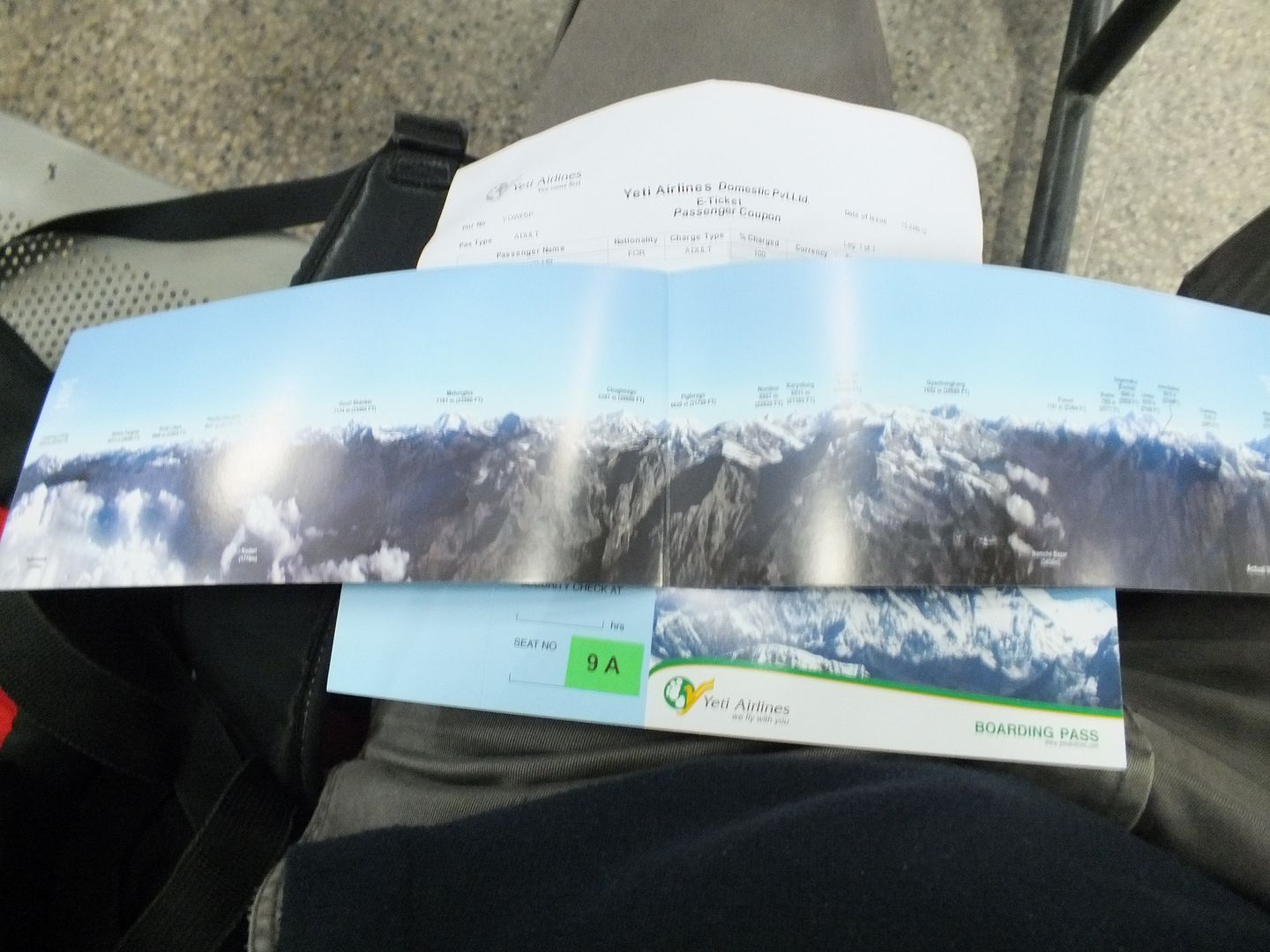 There was almost no line for security, and in less than a minute, I was in the departure lounge.
I actually thought this was a toilet at first due to the male and female signs, but it is actually a boarding gate.
FIDS. The whole day was shown, so it took some time to scroll back to the relevant departures. As you can see, "Mountain" and Lukla feature heavily.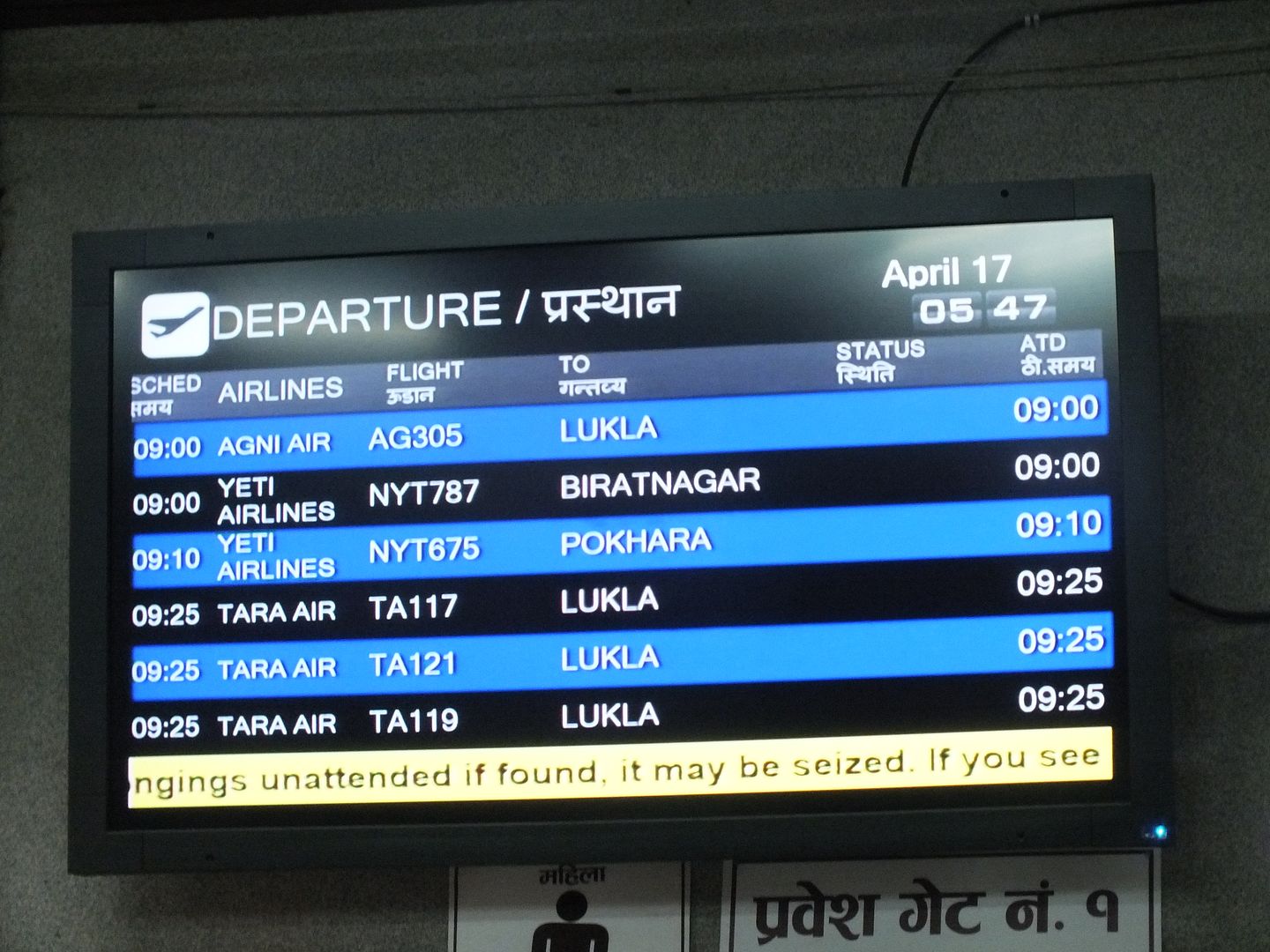 Just after 6am, boarding was called, and everyone filed through, and sat on the bus awaiting a drive to the tarmac. Passenger make up was a few Japanese, some Spanish, Germans, Indians, myself, and a few others.
I really want a ride on one of these Twotters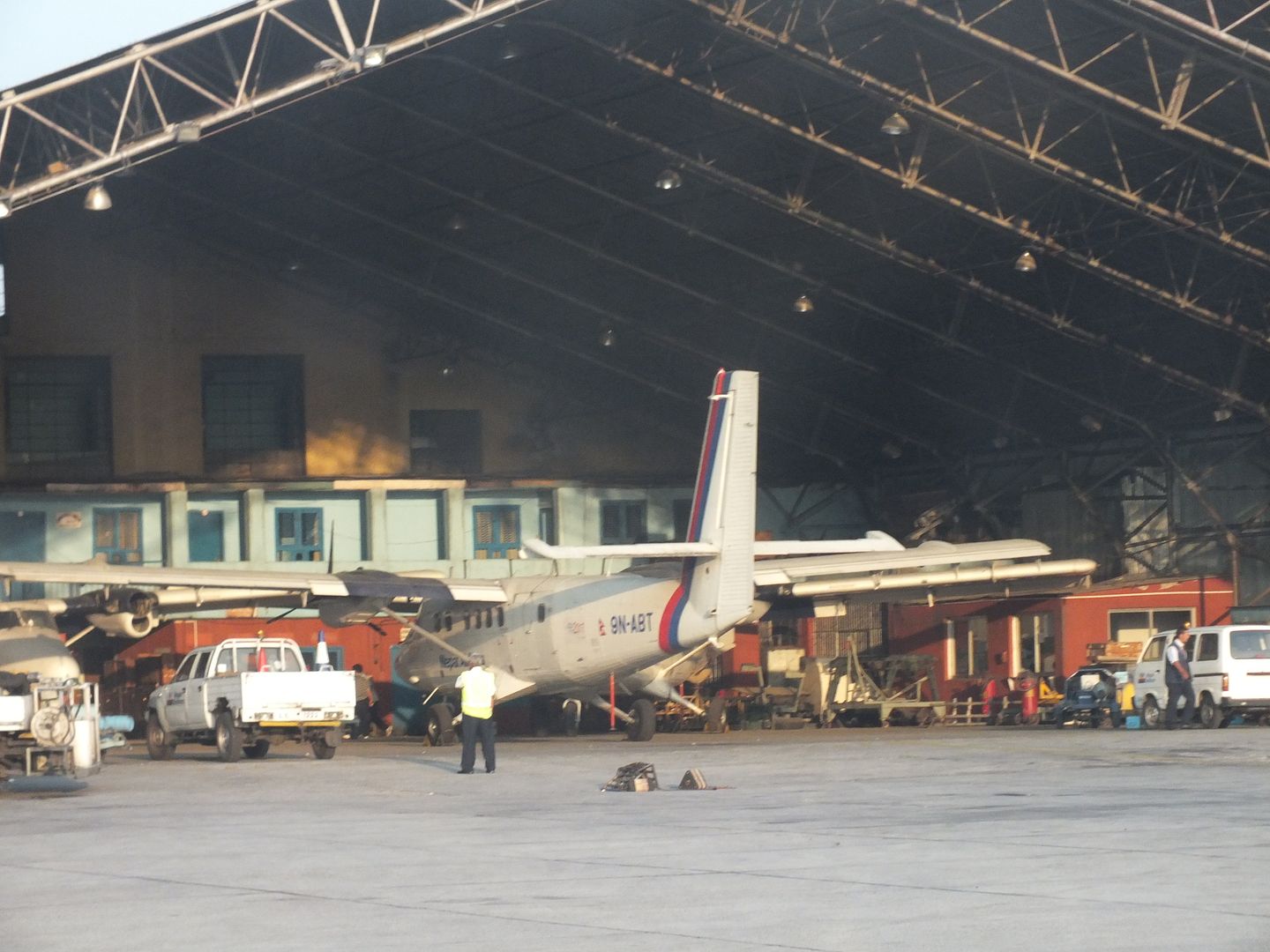 Military
Tarmac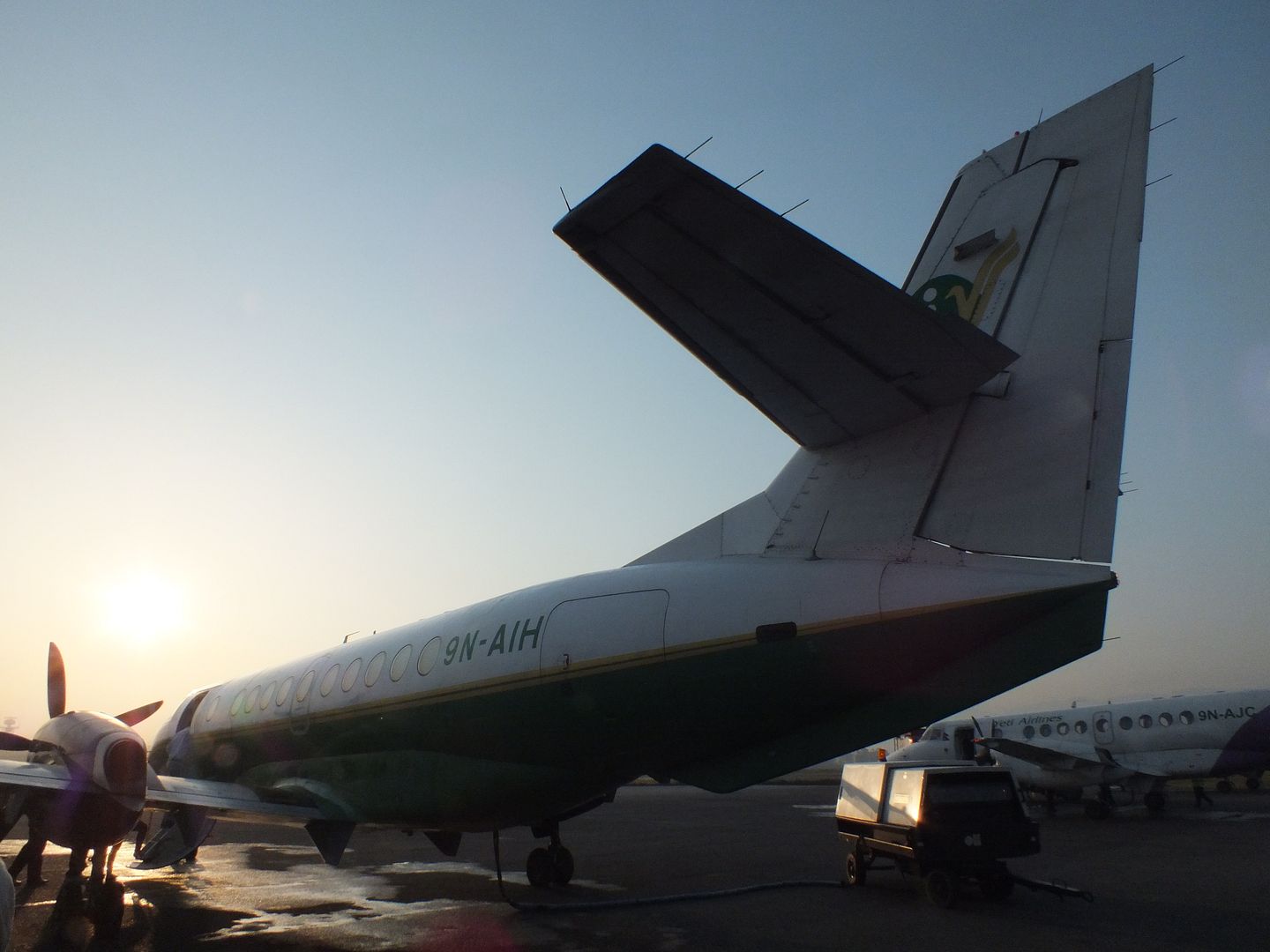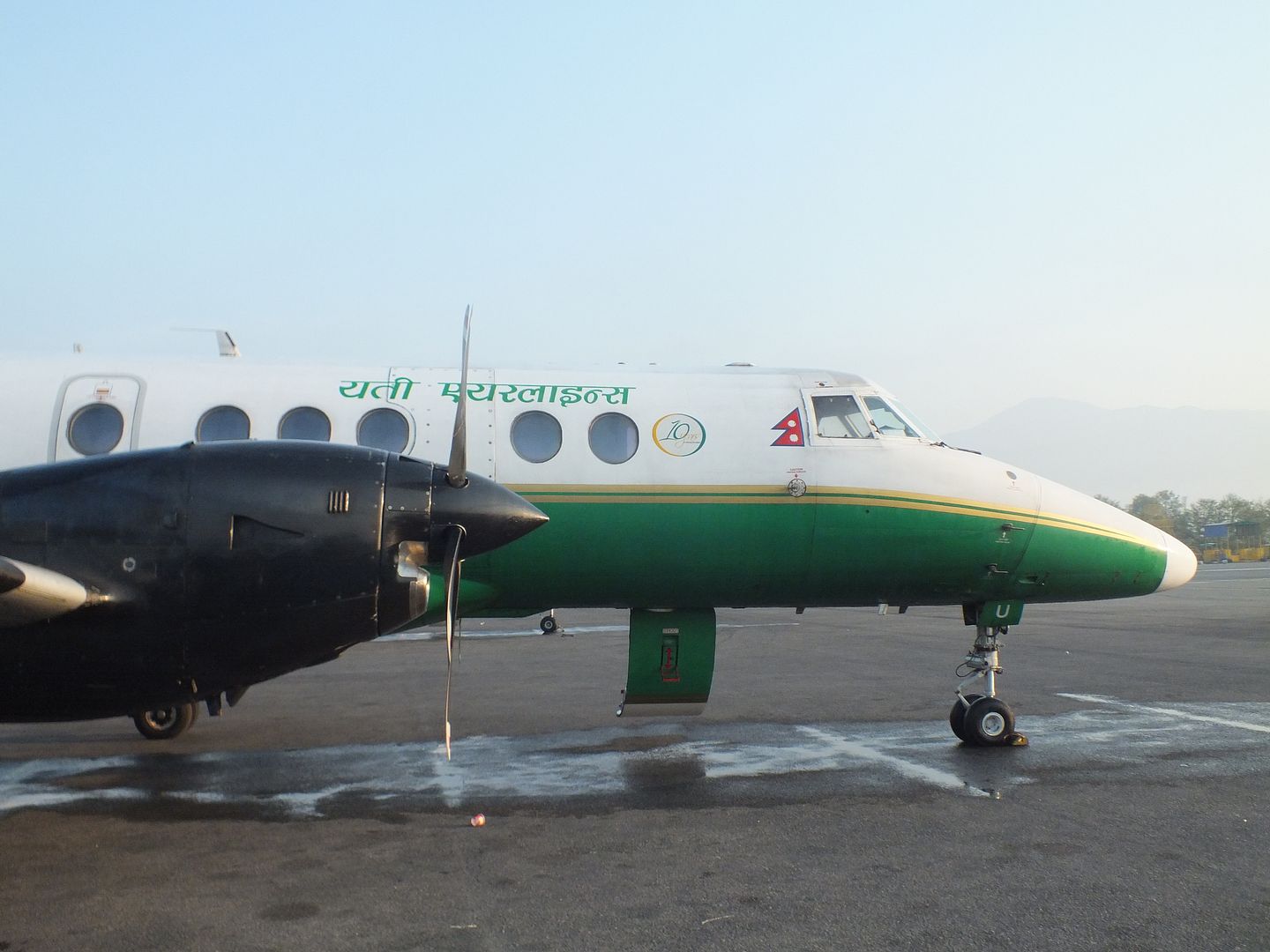 My plane
April 2012
Kathmandu (KTM)– Kathmandu (KTM)
Yeti Airlines OY 301
Scheduled: 0630-0730 (1h00m)
Actual: 0627-0709 (0h42m)
Jetstream 41 9N-AIH
Economy

There were 19 pax on board today, meaning everyone had a window apart from one guy. Our lovely flight attendant passed out sweets and cotton wool before take off.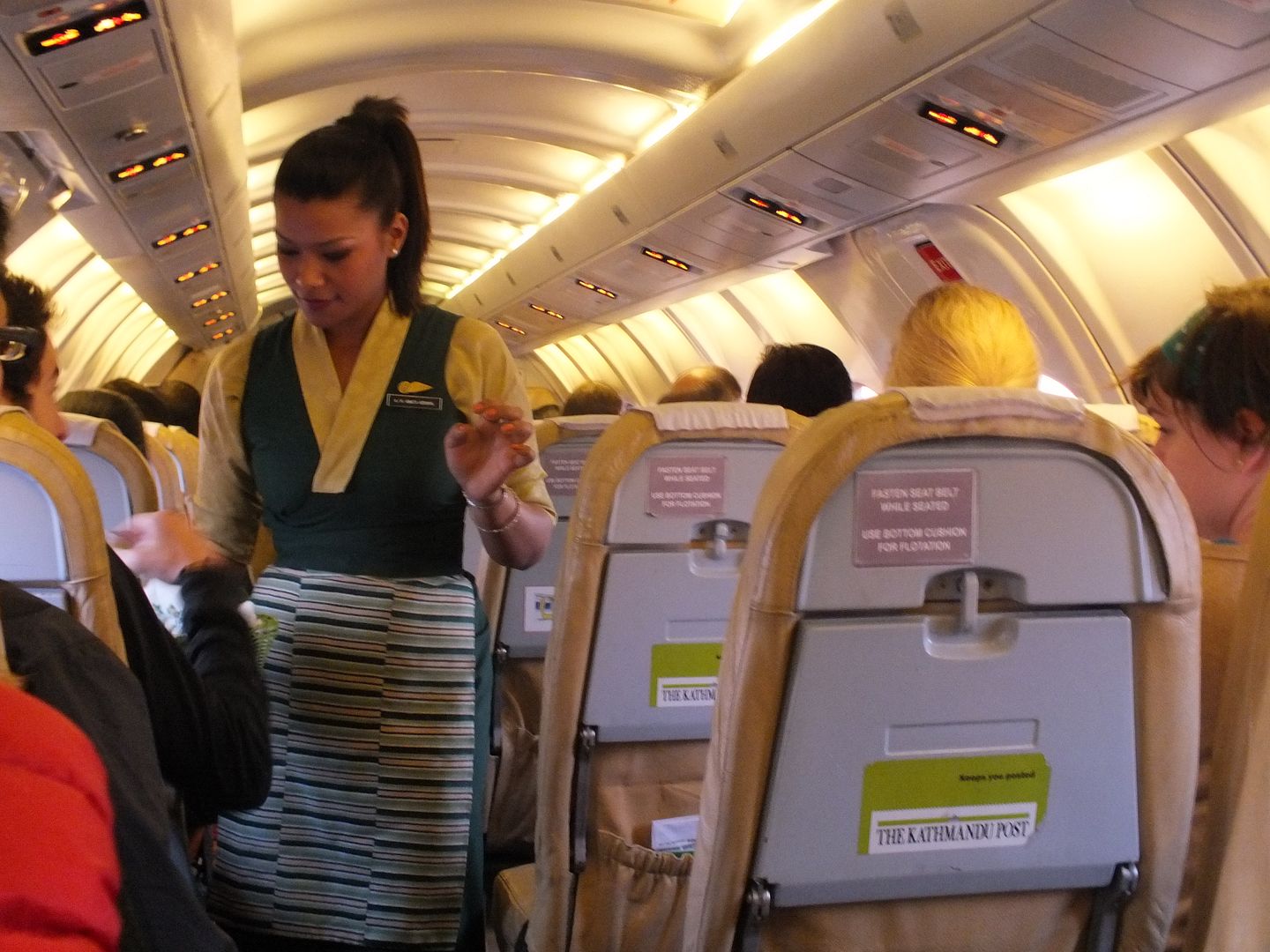 Legroom
Cabin – nice and airy, and better than the J31 cabin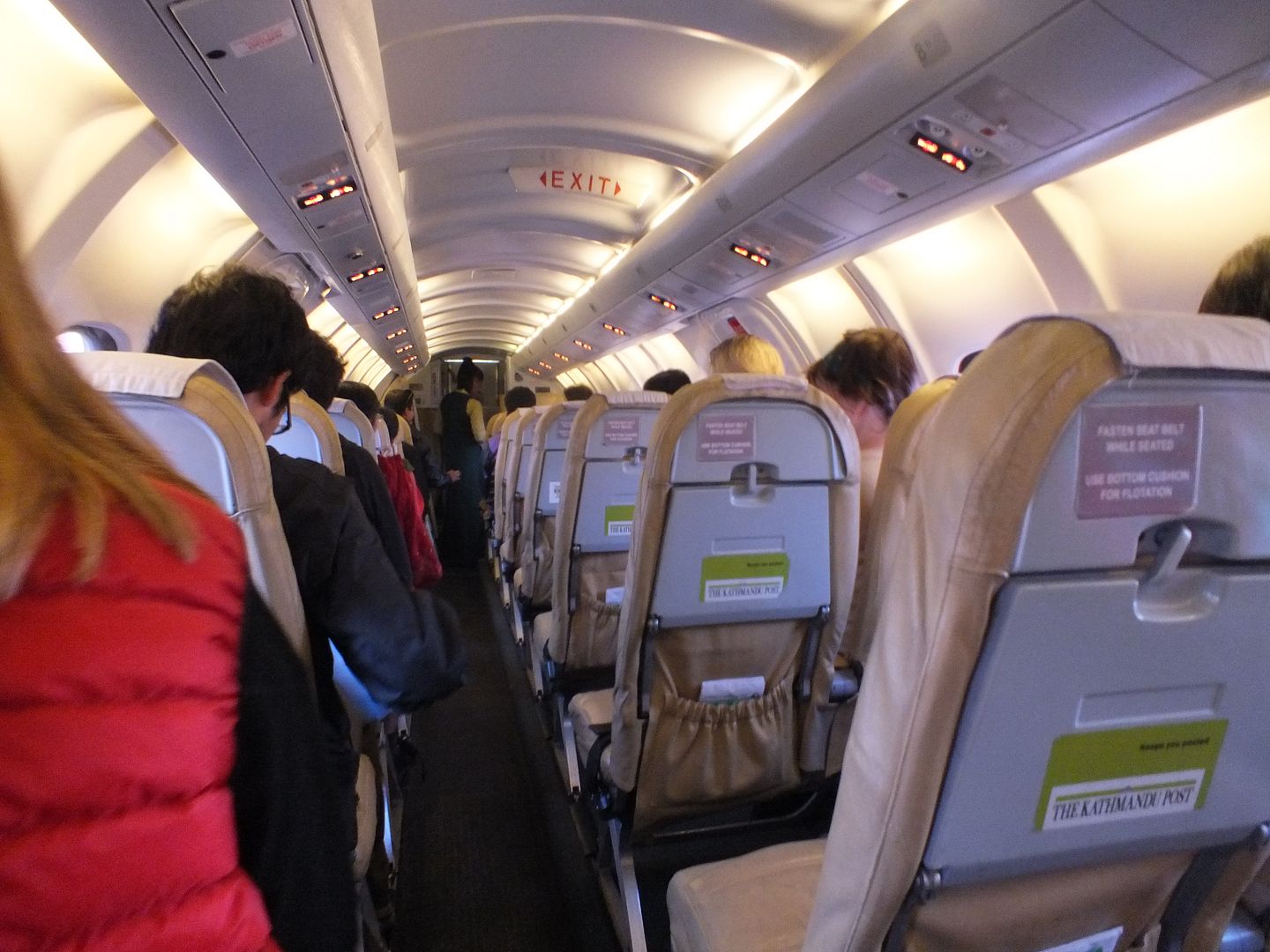 Safety Card
The take off video can be found
here
.
Off we go! All of my plane photos have an annoying blue tint due to the windows – sorry.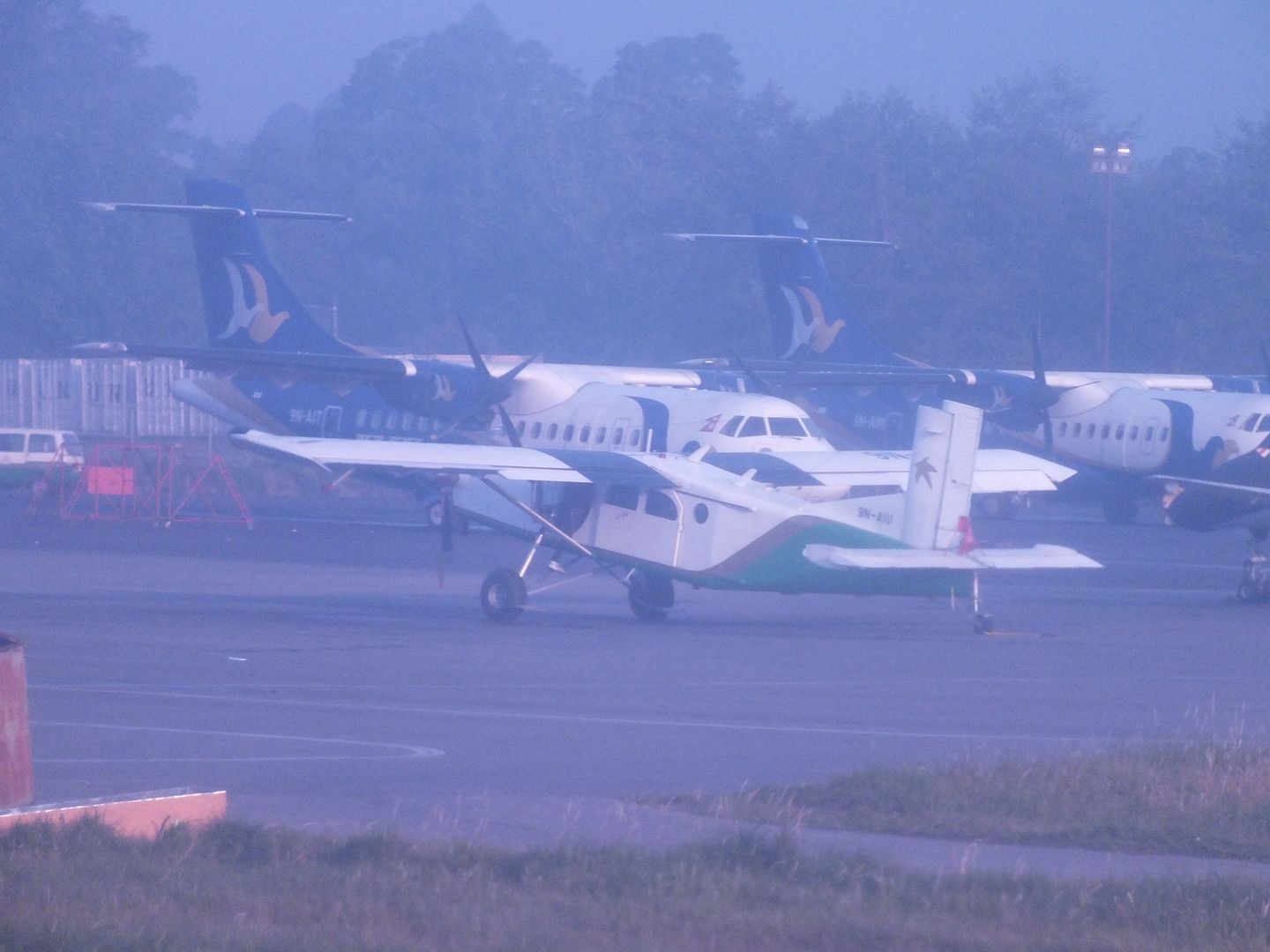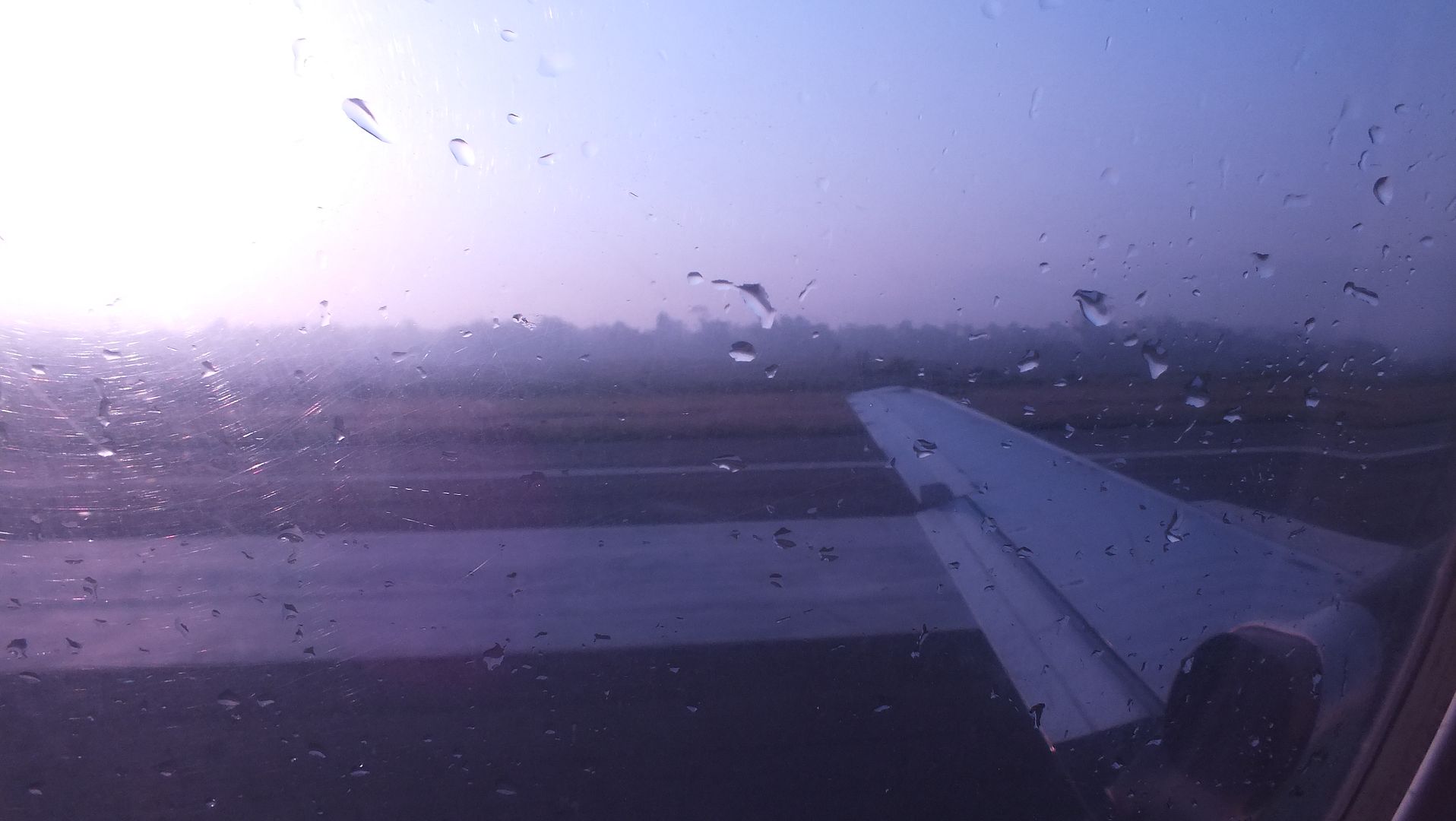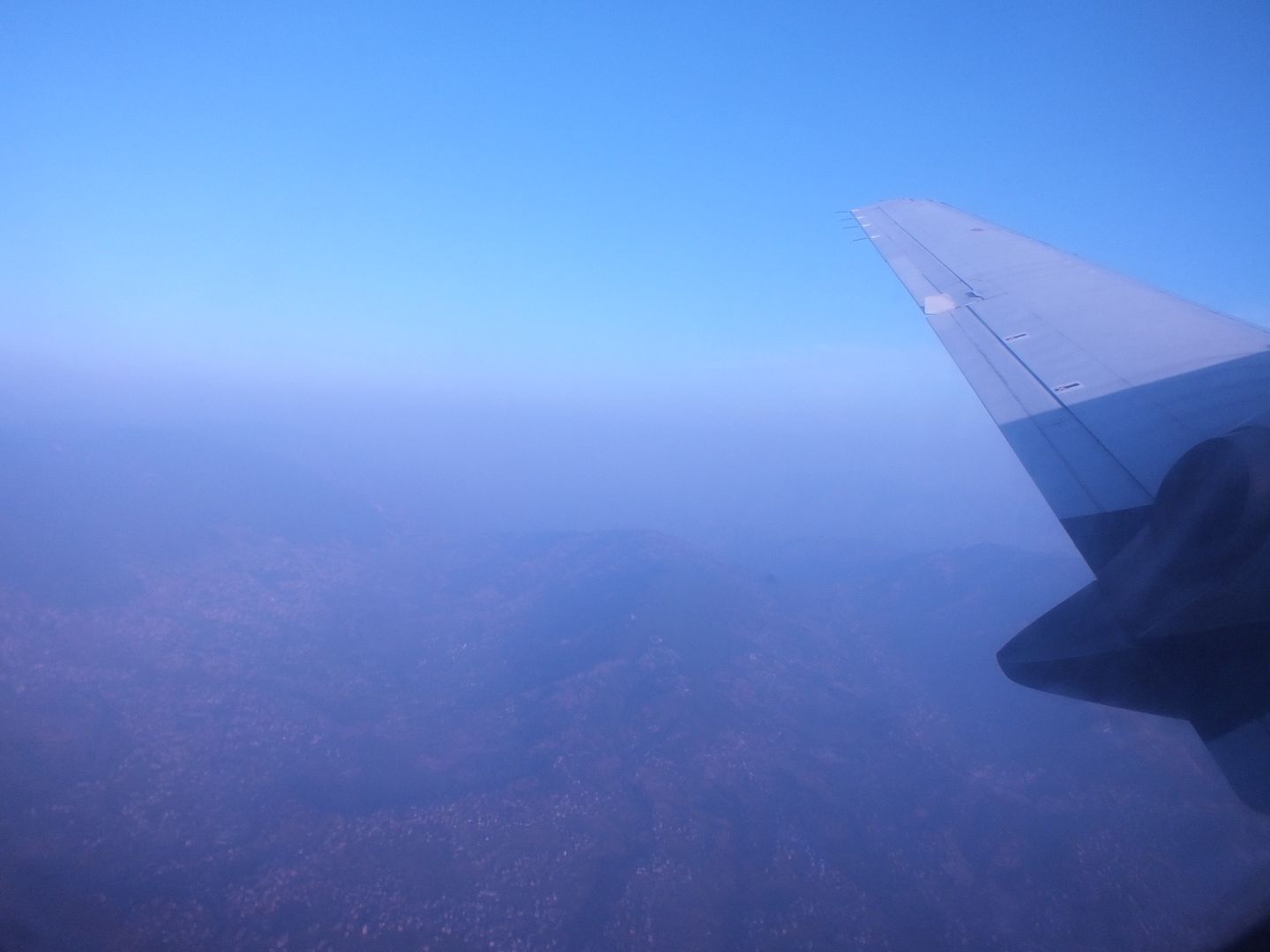 KTM beneath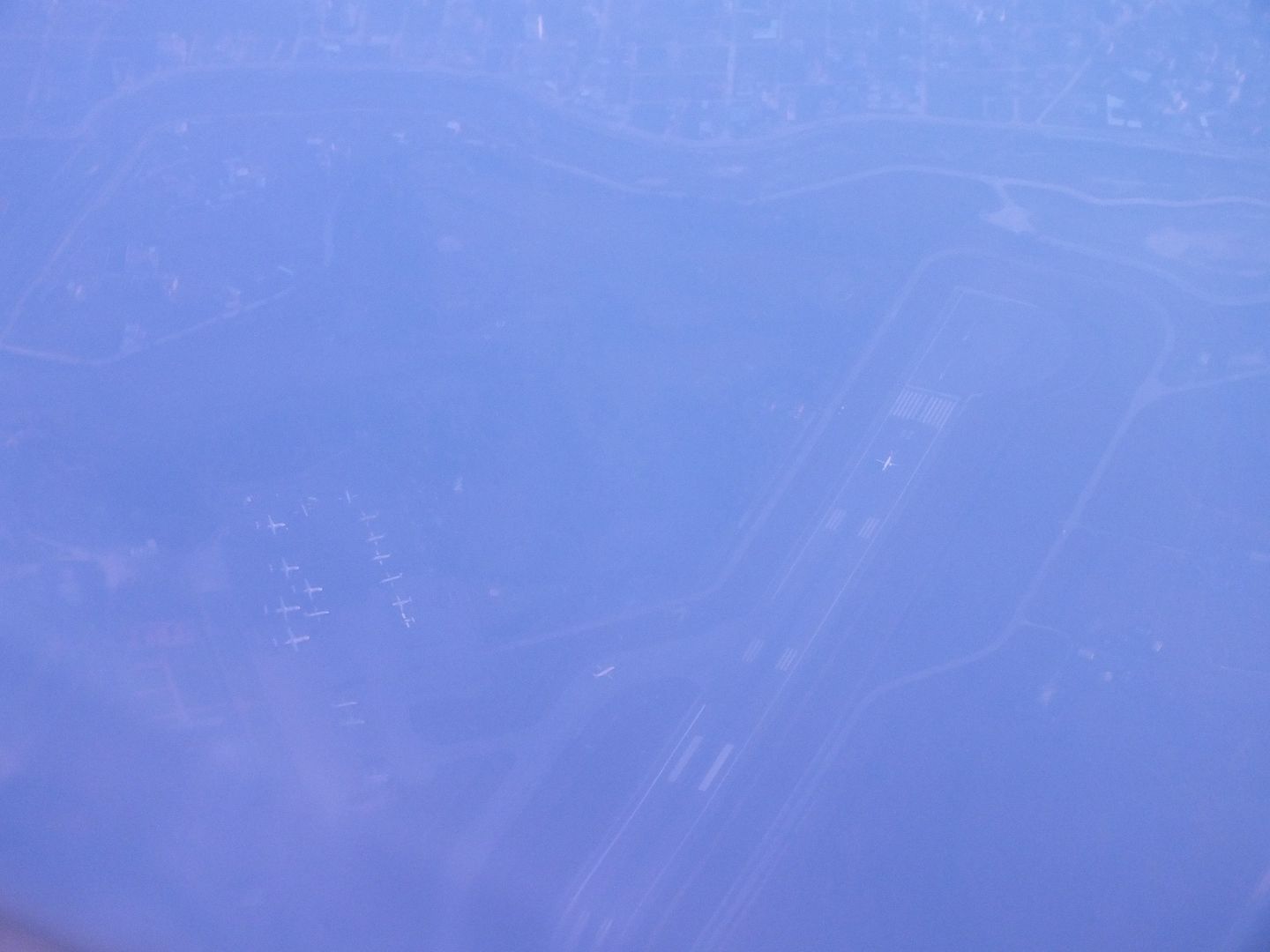 Whilst the catering was limited, the in-flight service was amazing. The FA spoke great English, and came by every passenger individually going through the map we were handed, and pointing out the peaks as we passed them.
Here we go – lots of mountains I'm afraid!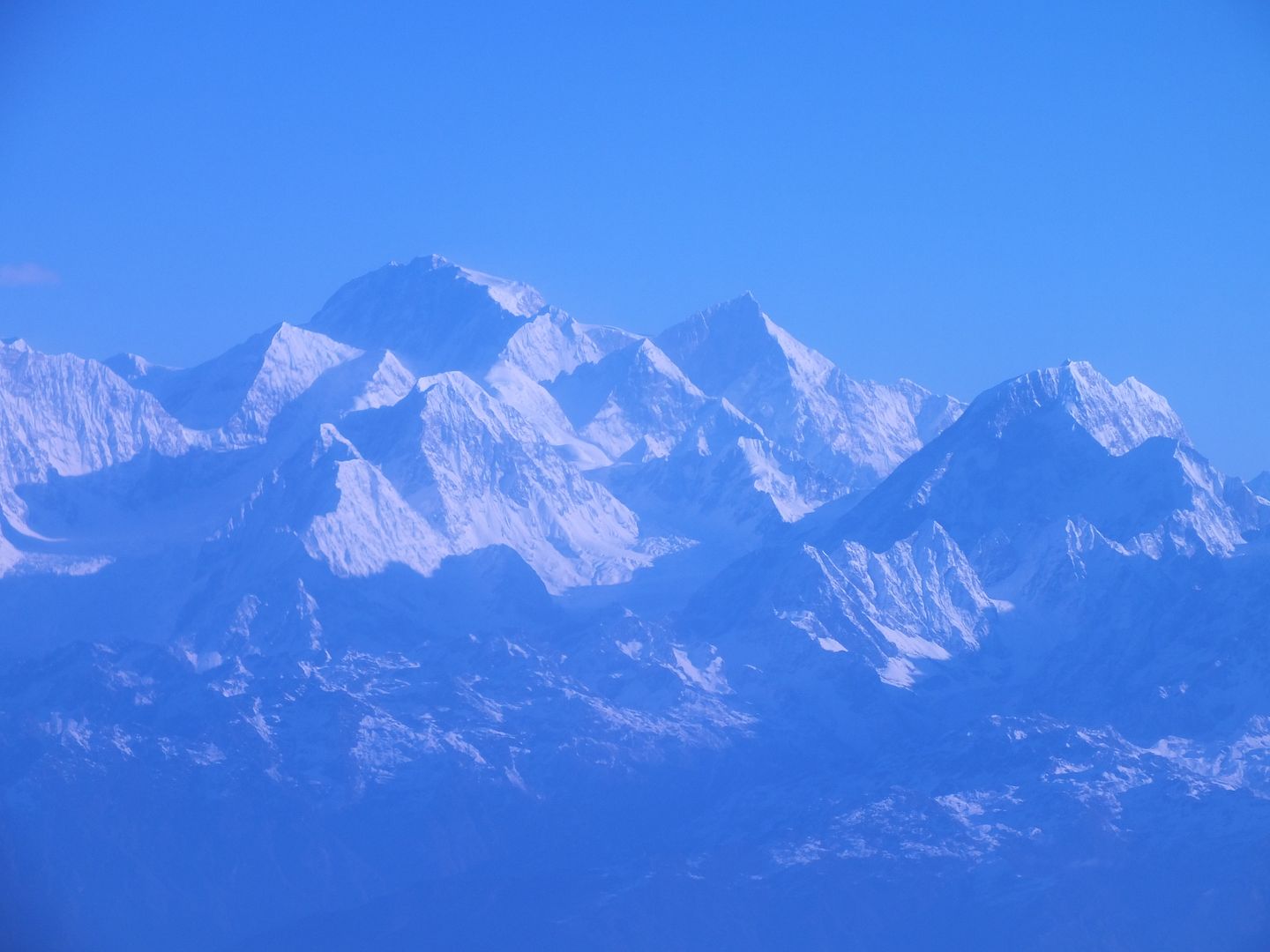 This is Mt. Gauri Shanker (I think). The FA informed me that it is a holy mountain, and not open for trekking. Damn, and I was planning on hiking up this afternoon.
Wing shot
And of course, we have Mt Everest, with a gorgeous cloud hanging over it. Of course the immortal words "which one is Everest?" emanated from lips throughout the cabin, including (I'm ashamed to say) mine. "Um, the tallest one?!"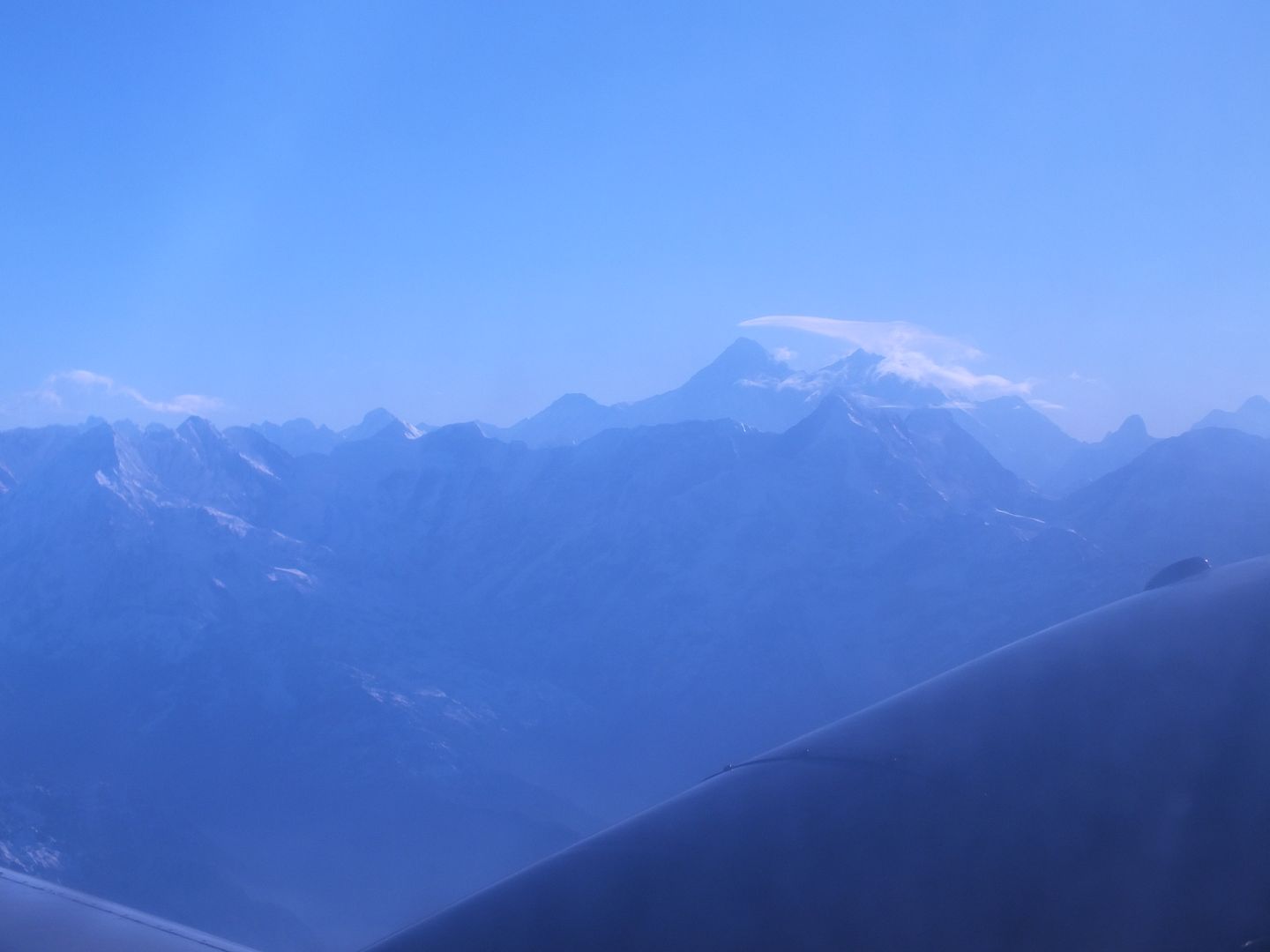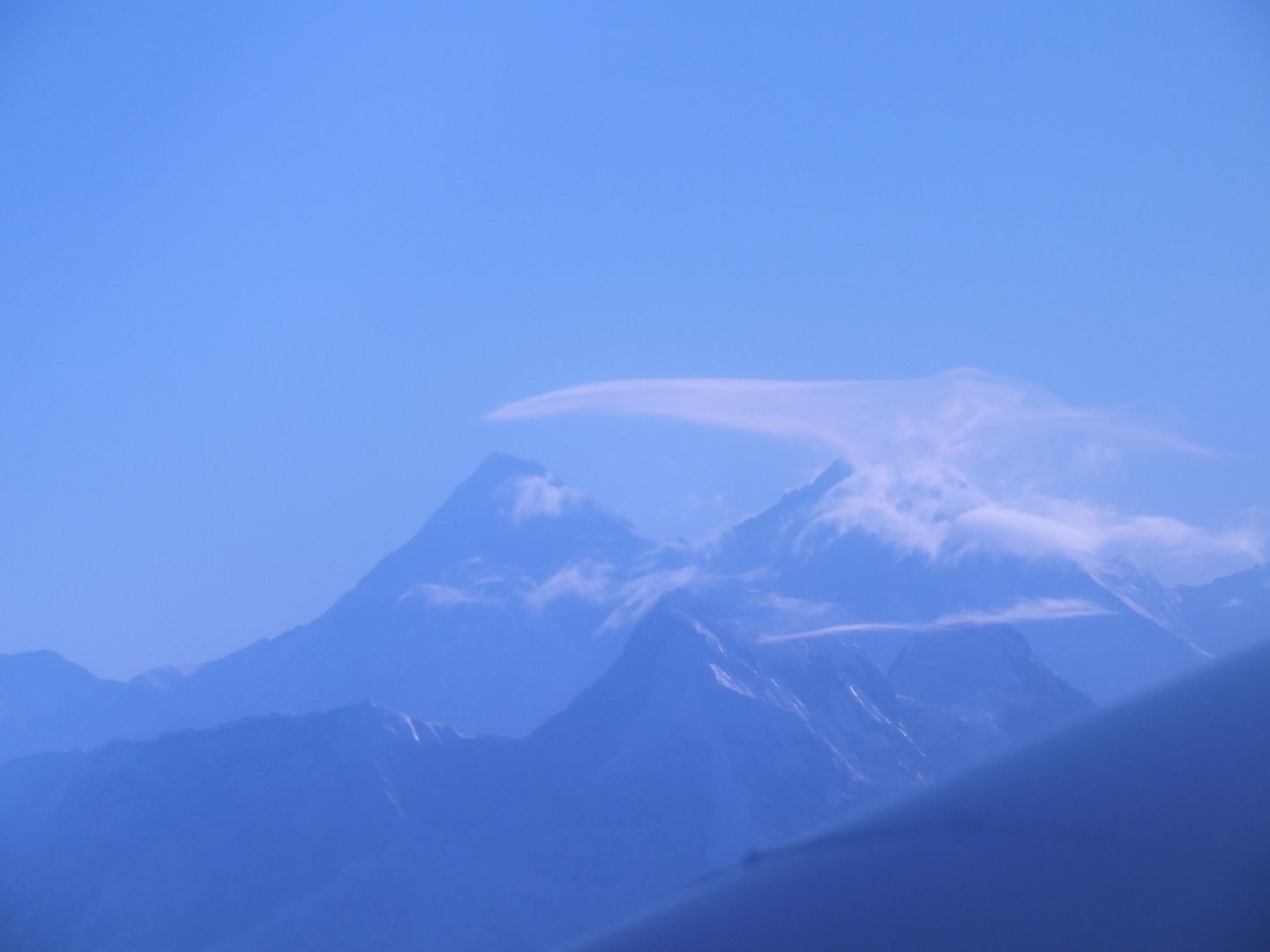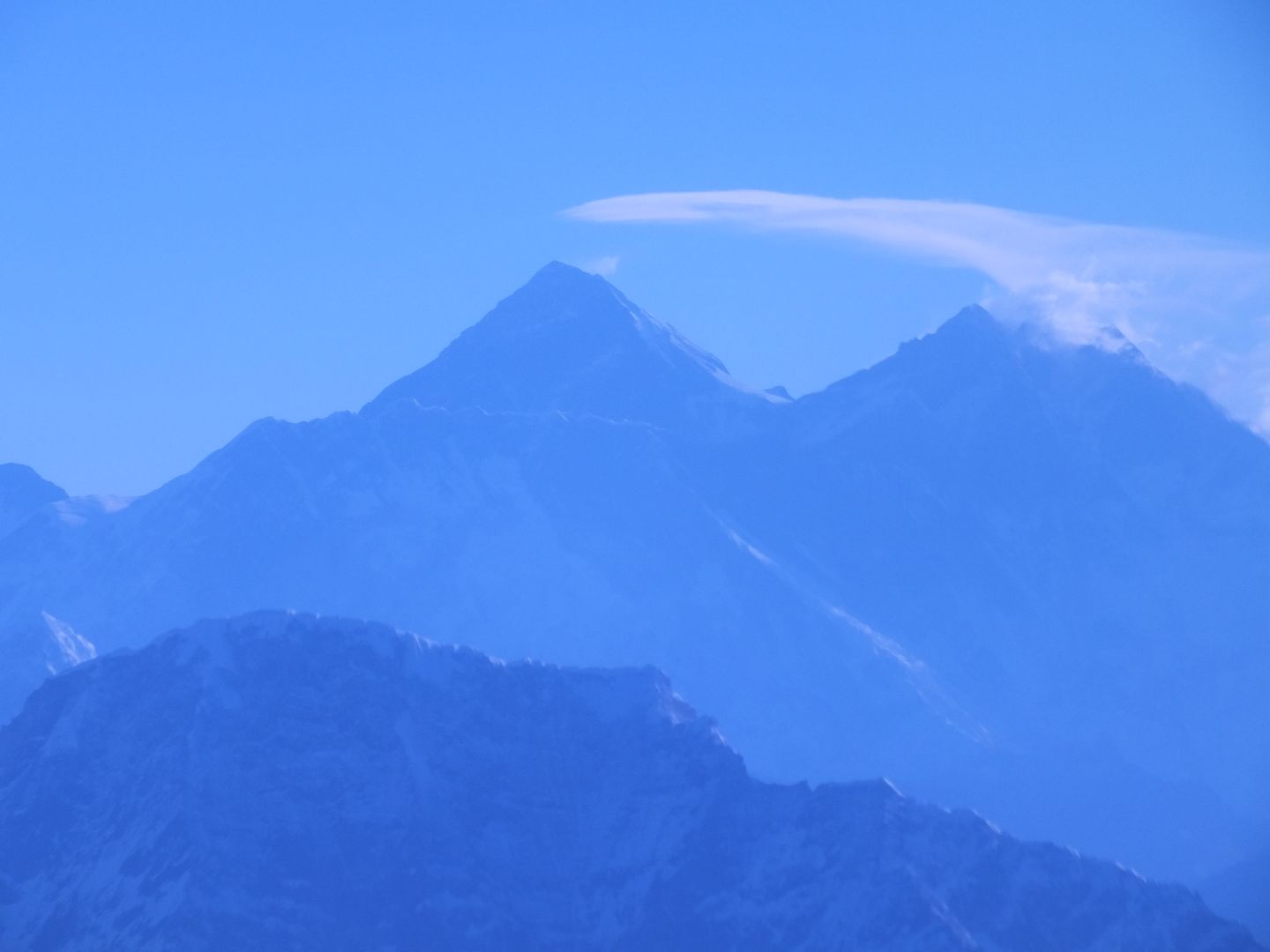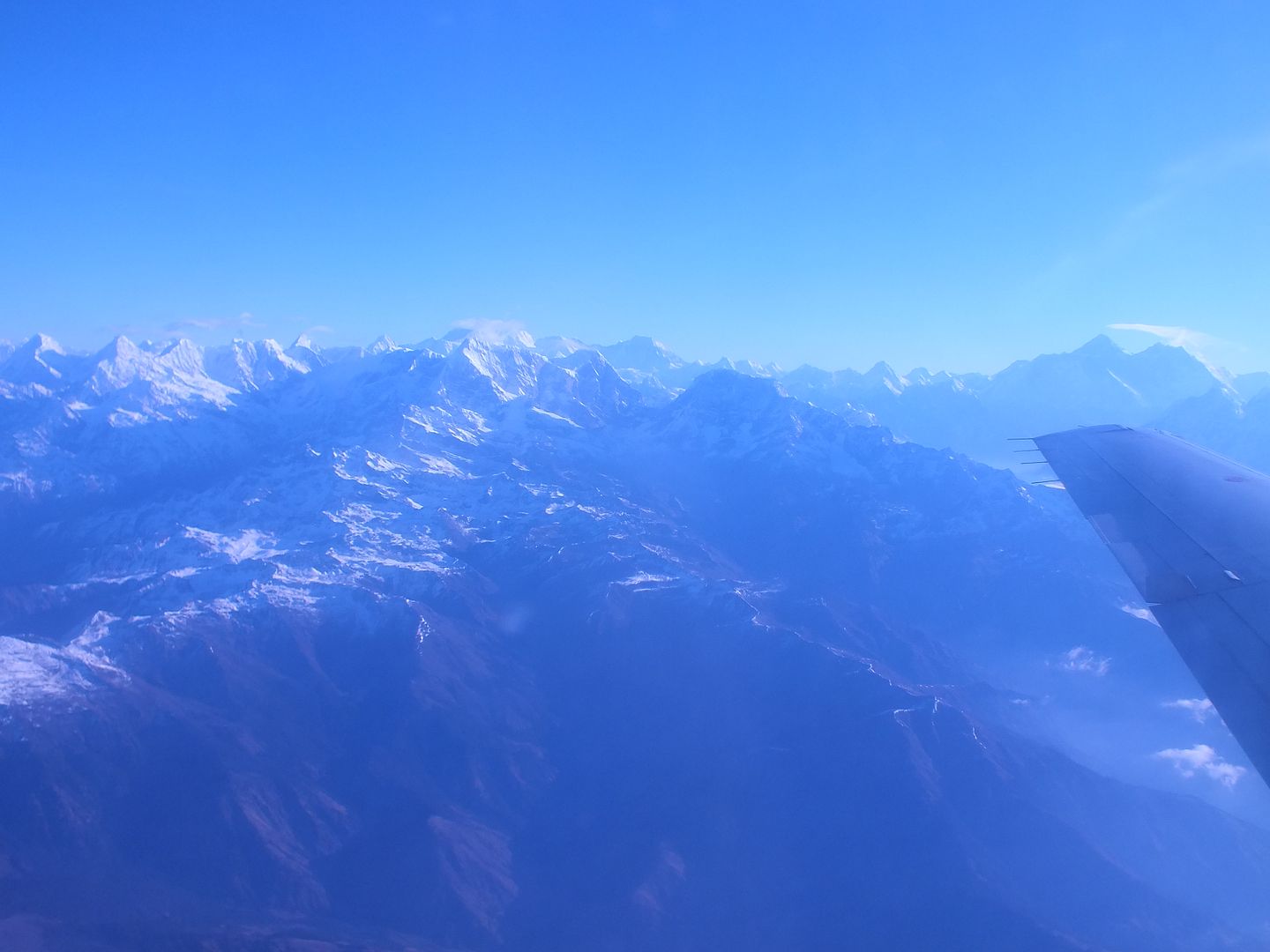 What's this? The cockpit door is open? Yes, everyone is scheduled a minute or so visit.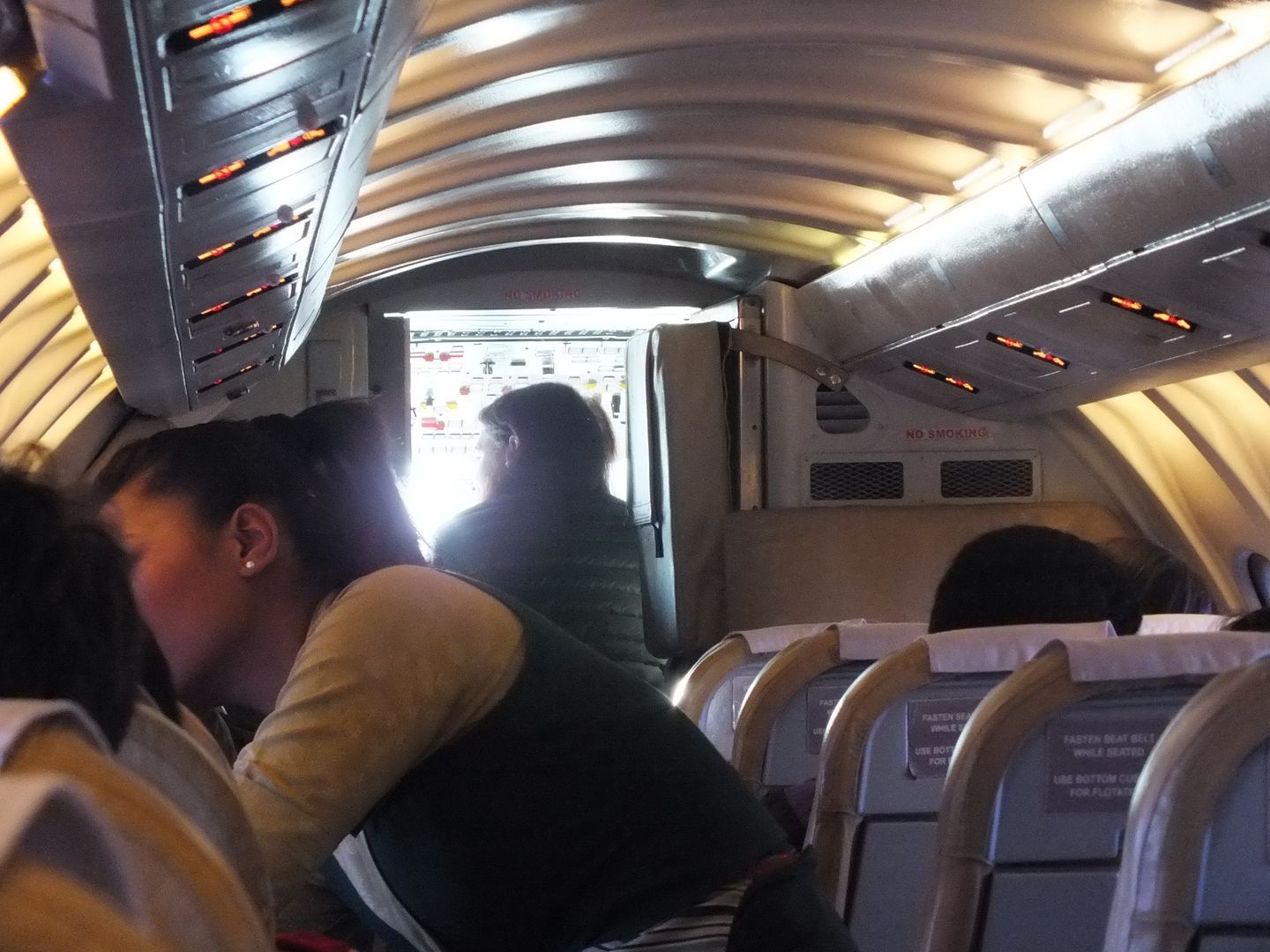 The captain did point out some mountains, but right then I was more interested in taking photos of the flight deck than outside. The windows in there were much clearer than down the back. Unfortunately it wasn't possible to stay for landing.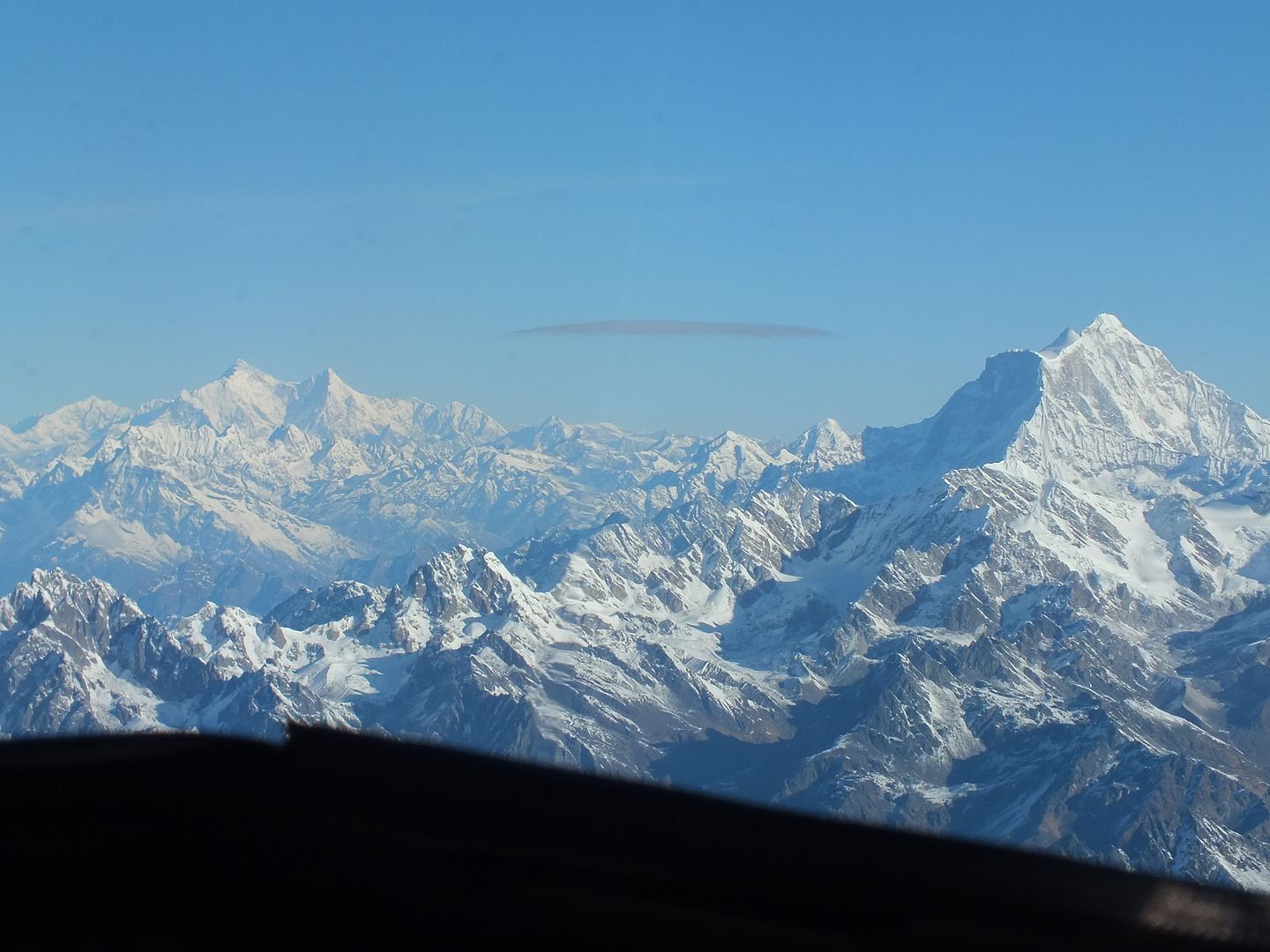 In flight video can be found
here
.
Cabin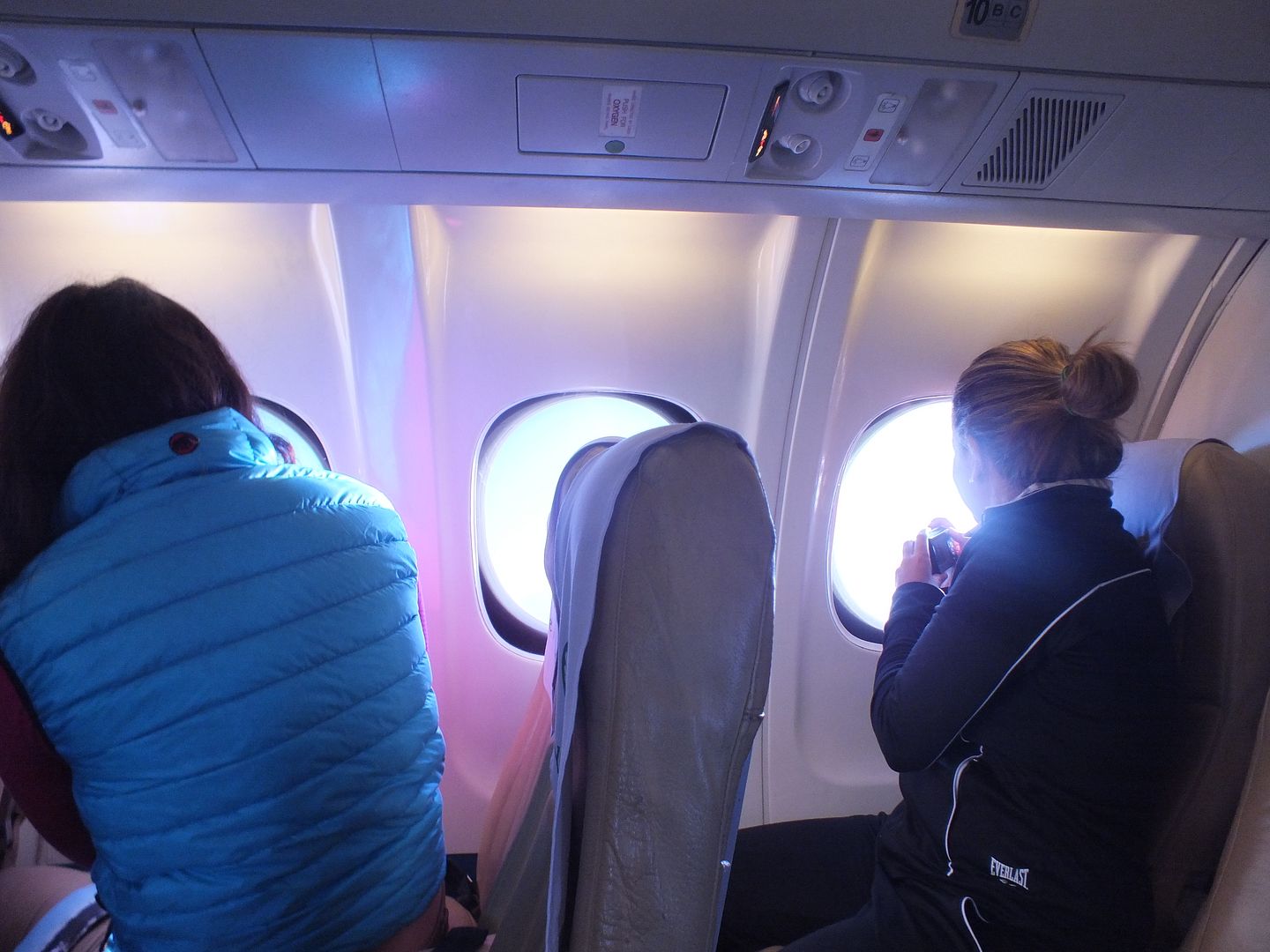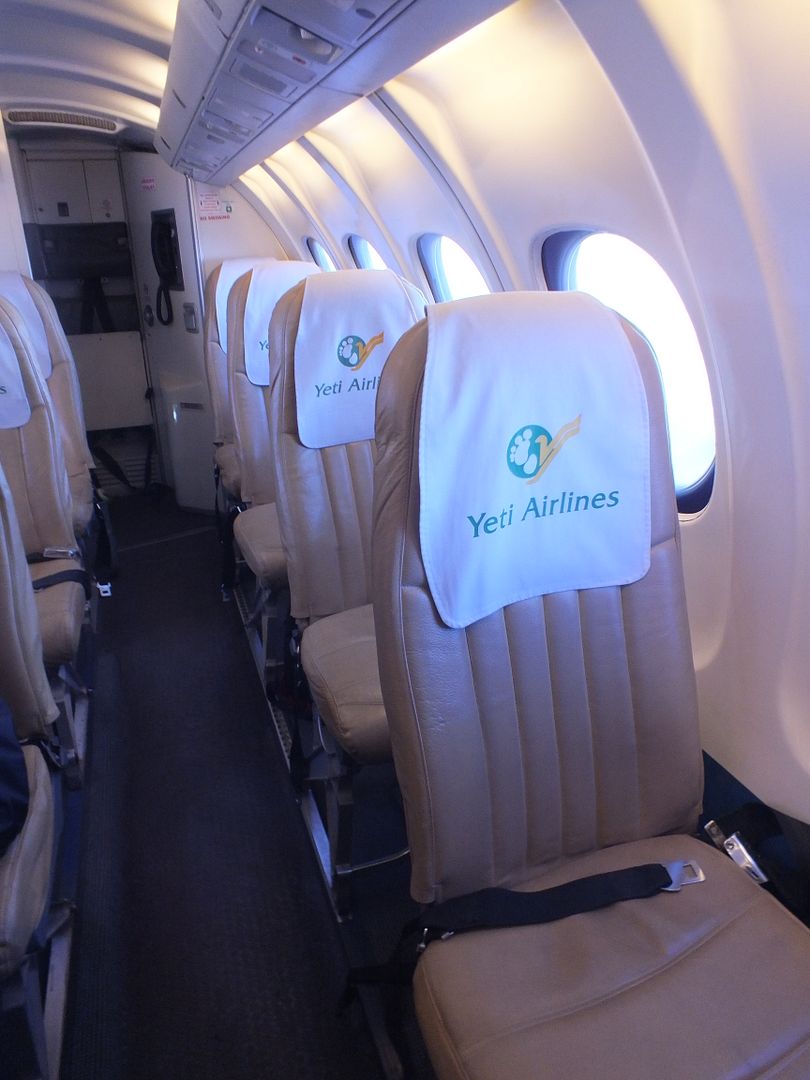 By the time I got back to my seat, we'd turned around, and we heading back to Kathmandu. Annoyingly, we were now flying a bit closer to the mountains than on the way out when I was on the "right" side.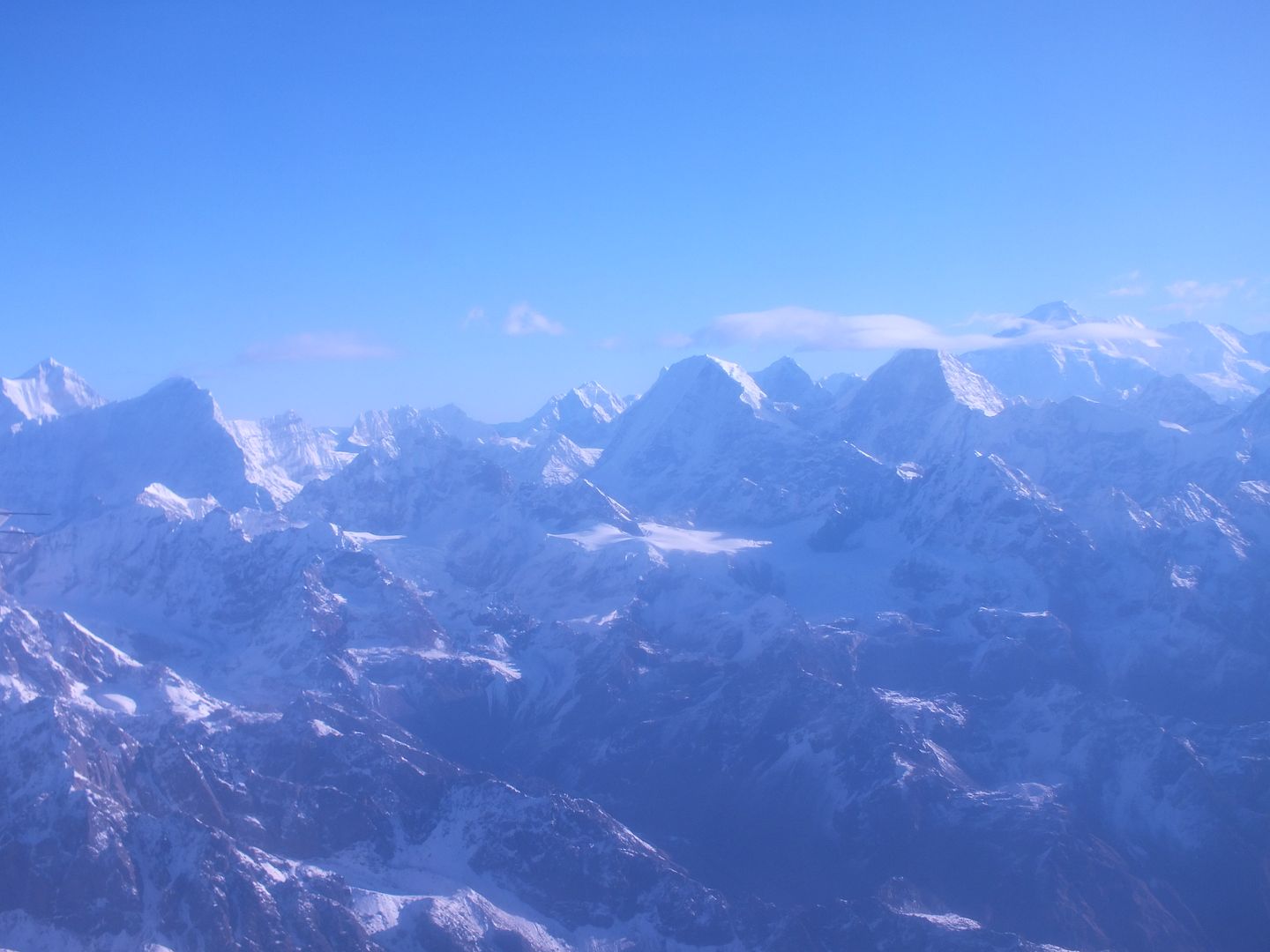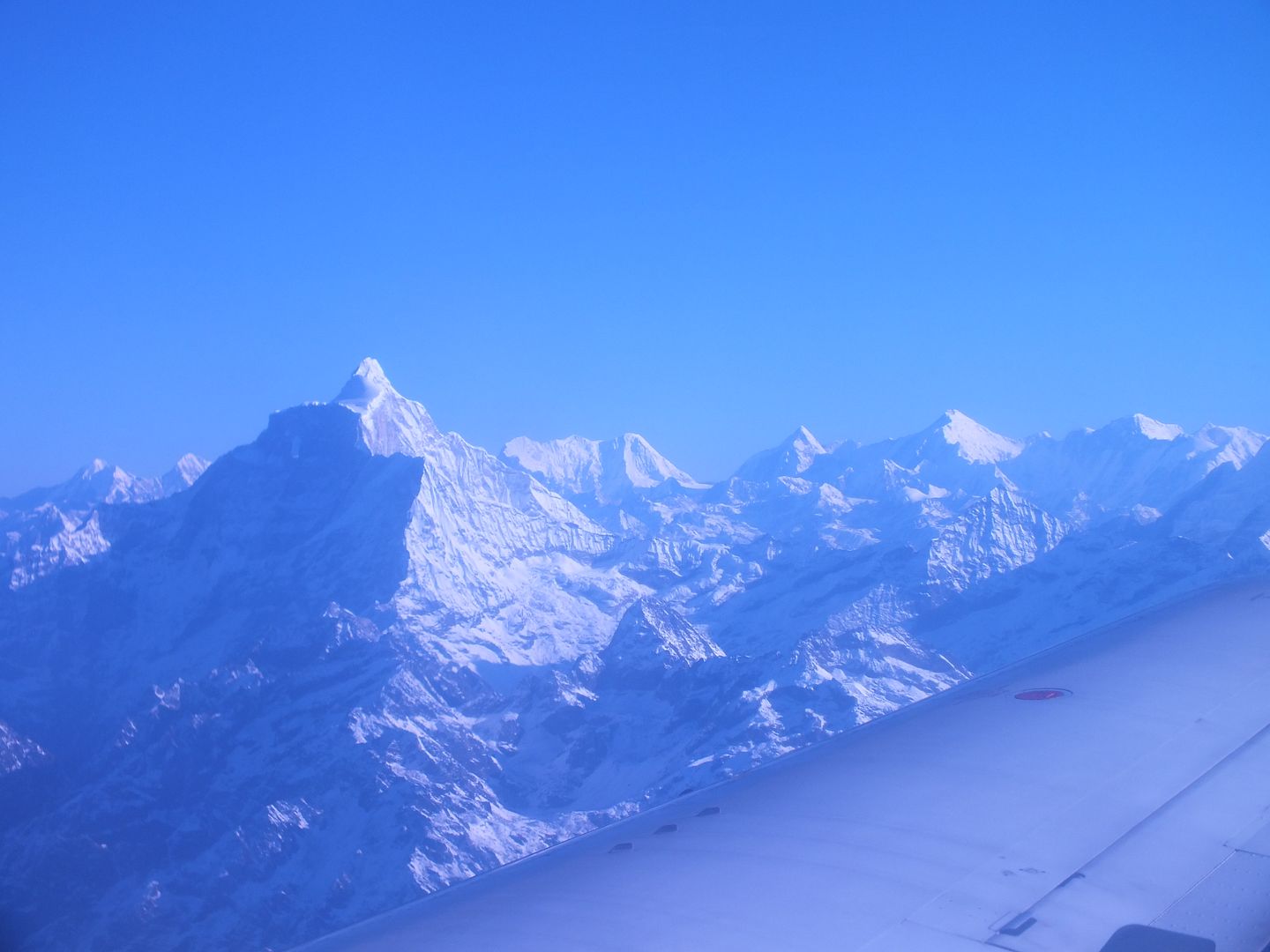 Of course for $176 a certificate is included!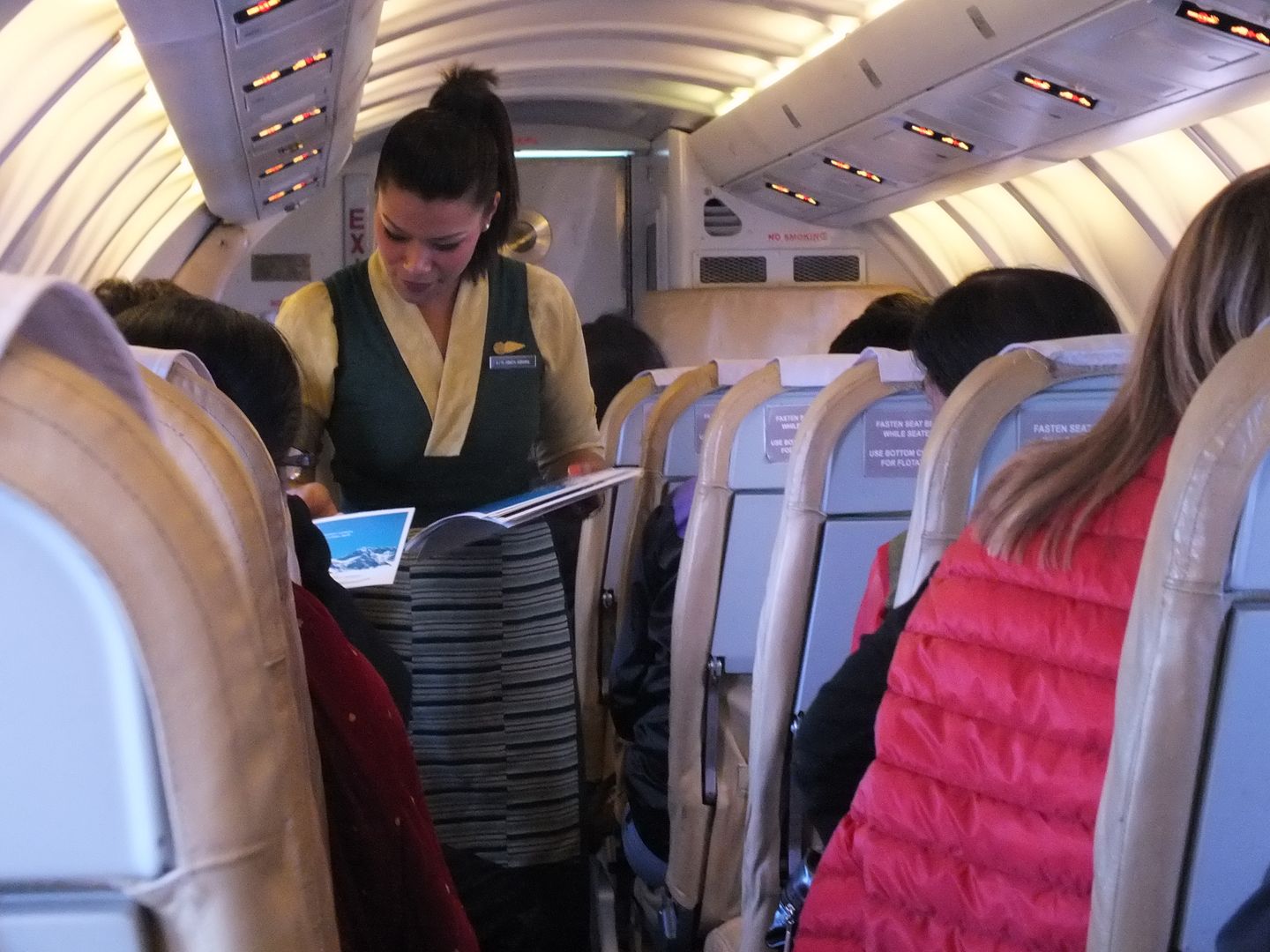 Approach to KTM
The landing video can be found
here
.
Over the 'burbs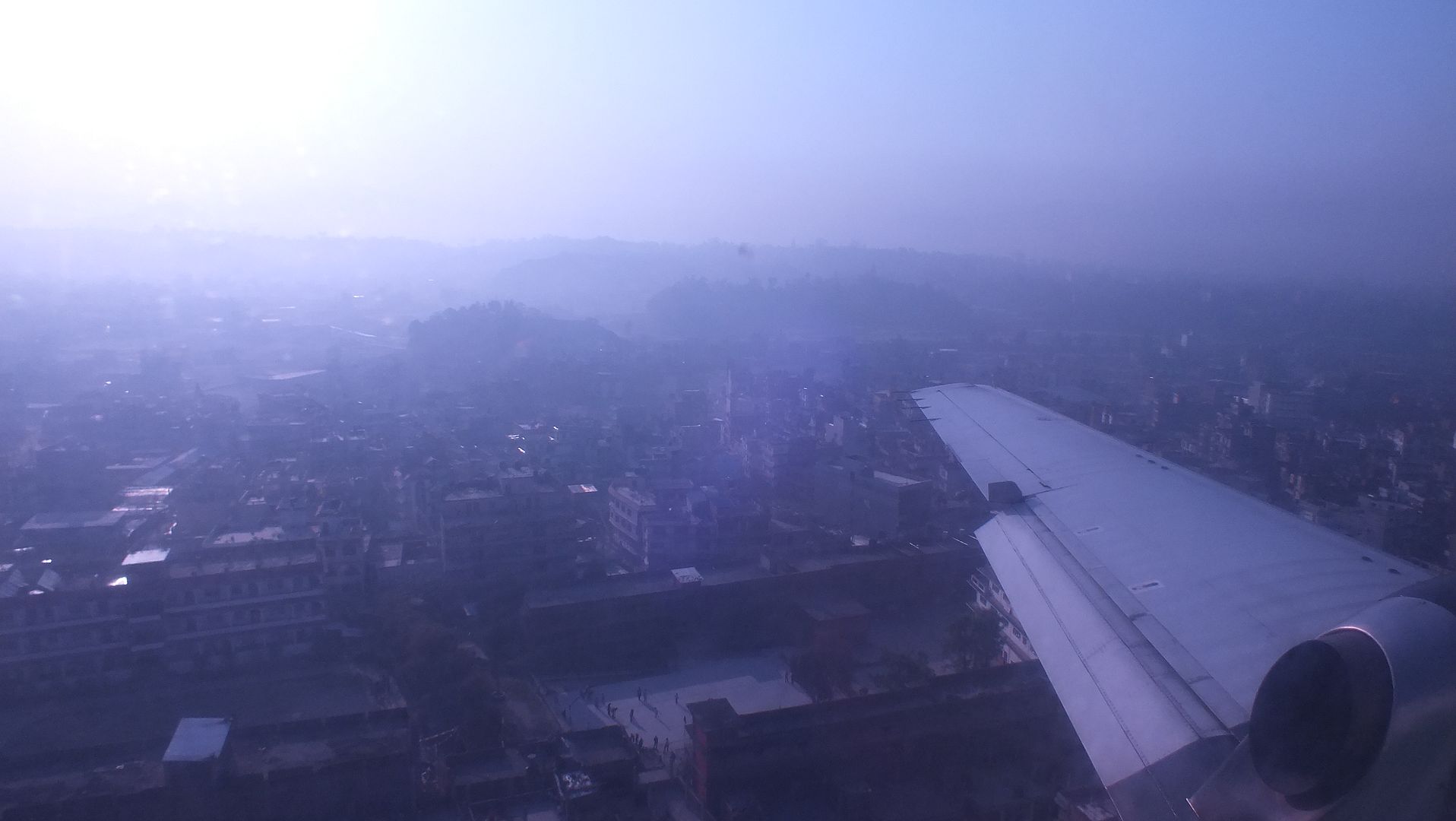 The Terminal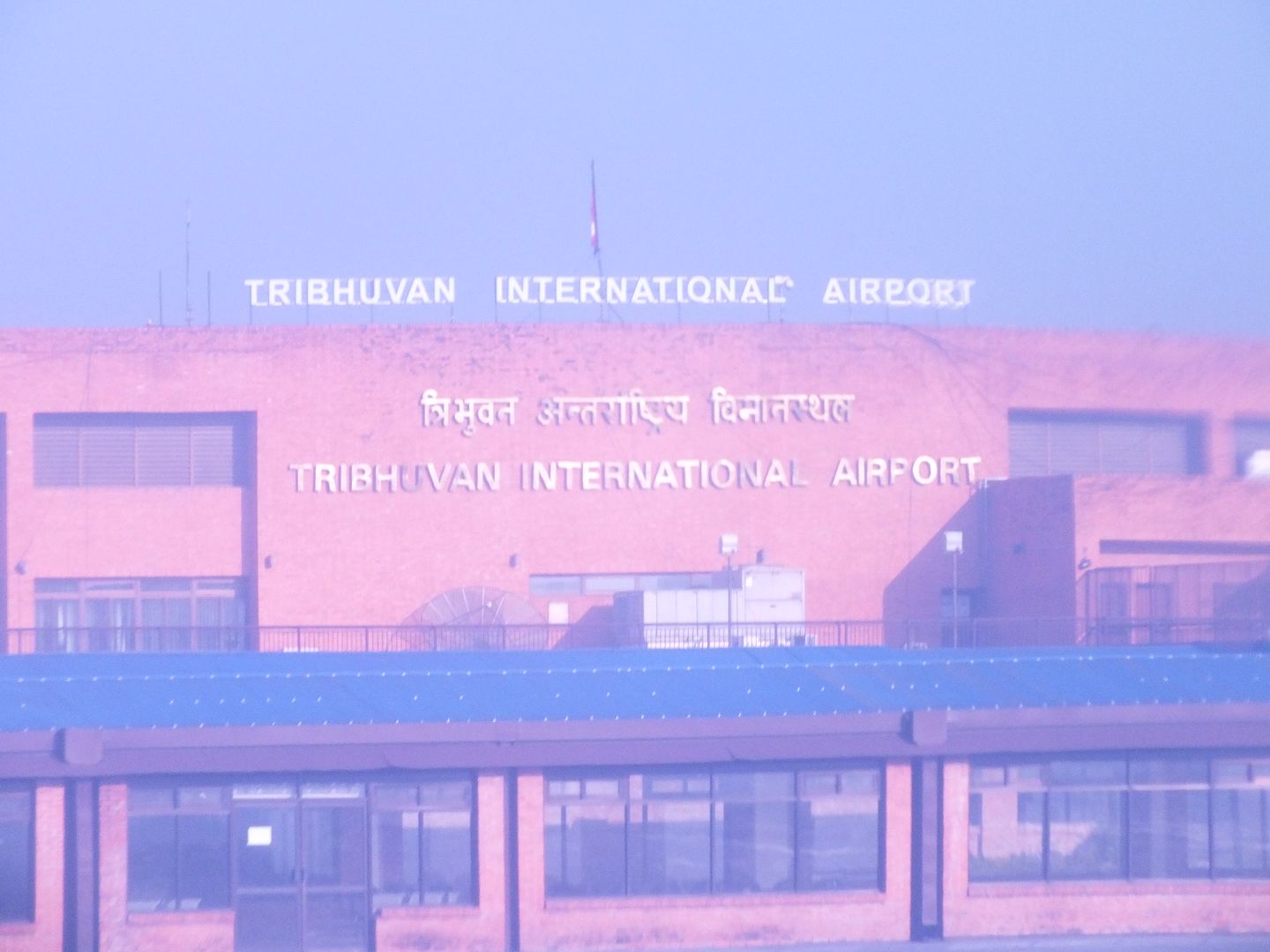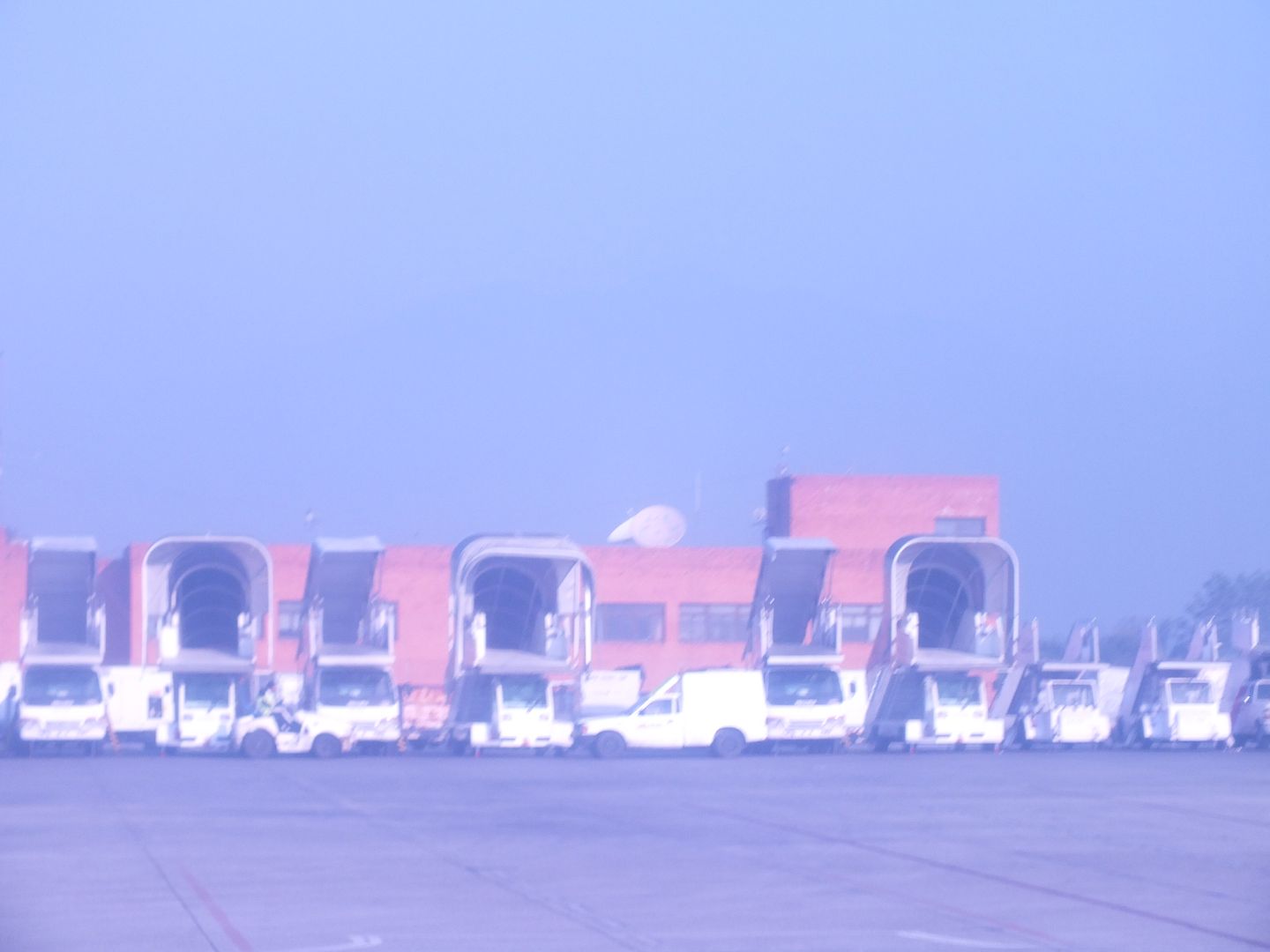 Nepal Airlines fleet
Domestic terminal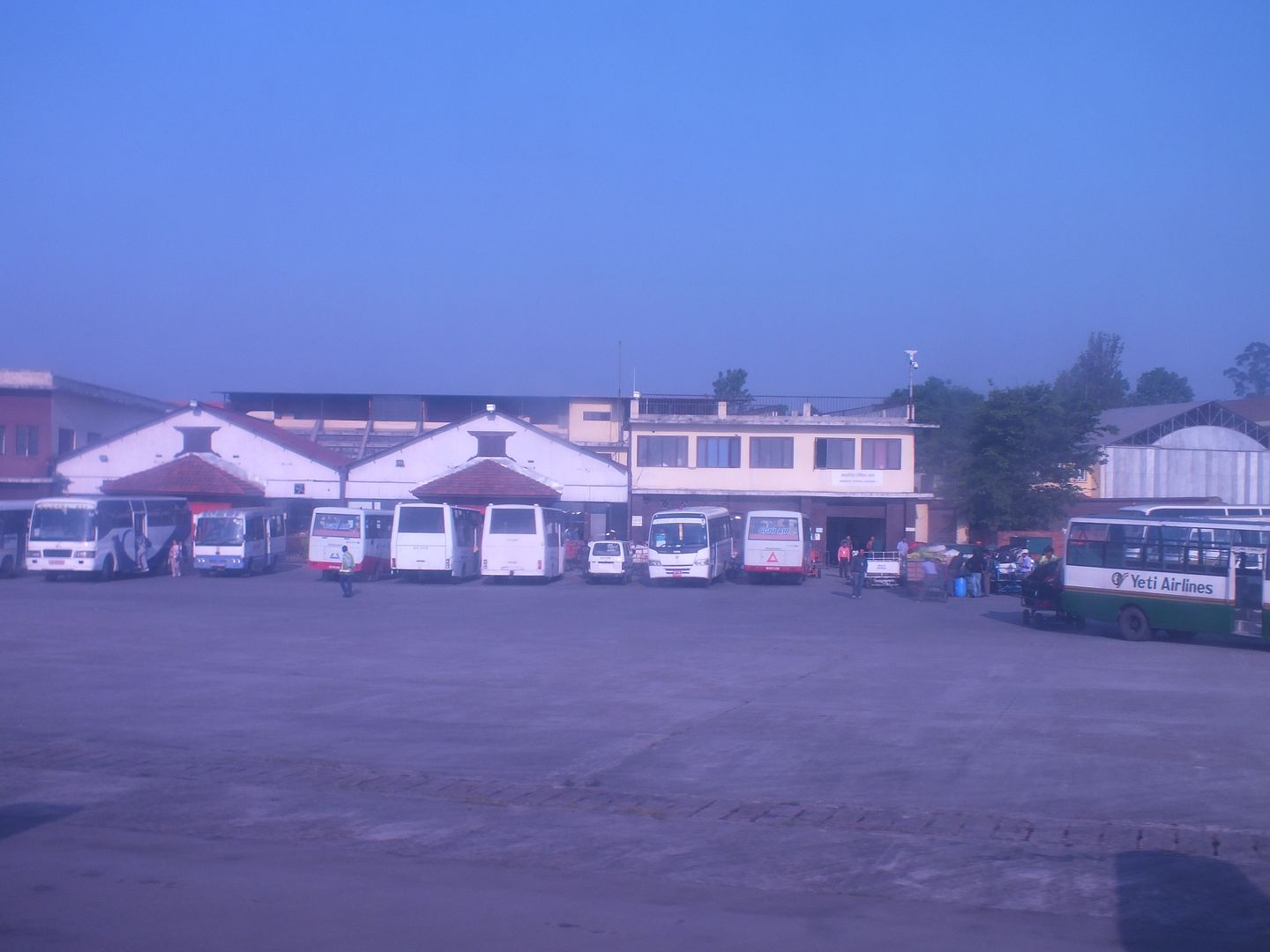 Domestic fleets
http://my.flightmemory.com/shefgab
Upcoming flights: AMS-RIX-BUD-VDA,ETH-TLV-FCO-LHR,STN-TXL-LCY,LTN-CPH-LTN,LGW-SZG,MUC-LHR