RTW Pt 2: I'll get to Peru somehow! QK/UA YYZ-IAH-LIM
Introduction
Hello again TR readers! For those of you who missed my 1st part, it can be found at the bottom of the report. This report follows the last one, which focused on FI from Keflavik (KEF) to Toronto (YYZ). It covers Air Canada Jazz 8109 from YYZ to IAH and United Airlines 854 from Houston to Lima, Peru.
Background
After years of planning, me and my dad finally decided to go around the world on ID/Standby tickets.
We decided to go to Machu Picchu, Peru in South American and then some Asian Cities.
This was the proposed flight schedule (B means booked):

Icelandair 631 KEF – JFK 30/3/2012 Boeing 757-300
United 1116 EWR – IAH 31/3/2012 Boeing 737-500
United 854 IAH – LIM 31/3/2012 Boeing 767-300ER
TACA Peru 7 LIM – CUZ 1/4/2012 Airbus 320-200 (B)
TACA Peru 101 CUZ – LIM 2/4/2012 Airbus 319-100 (B)
United 855 LIM – IAH – SFO 2/4/2012 +1 Boeing 767-300ER
United 837 SFO – NRT 4/4/2012 +1 Boeing 747-400
Cathay Pacific 503 HND – HKG 8/4/2012 Boeing 747-400
Cathay Pacific 701 HKG – SIN 10/4/2012 Airbus 330-300
Thai 873 SIN – BKK 12/4/2012 Boeing 777-300
Cathay Pacific 771 BKK – DEL 14/4/2012 Airbus 330-300
Air India 102 DEL – BOM 16/4/2012 Boeing 777-300ER (B)
Oman Air 691 BOM – MCT 19/4/2012 Boeing 737-800
Oman Air 102 MCT – DXB 19/4/2012 Boeing 737-800
Emirates 3 DXB – LHR 21/4/2012 Airbus 380-800
Icelandair 455 LHR – KEF 21/4/2012 Boeing 757-200

But as many of you know, you never know on ID tickets and the actual route has been way different then the planned one so far. Luckily I always made plan B and even C. But that will come in later reports.

I was really looking forward and this was shaping up to be a trip of a lifetime!
The report
As you may remember, the last report ended in YYZ Terminal 3 looking for a way to Lima, Peru. I will keep on from there.
We walked to the AA gate which had a flight to LGA later that evening. As we had standby tickets from EWR to LIM on UA it would be good to get to New York. But the checkin desk was deserted, more than an hour before the flight. Why?!
Next stop was the DL counter. We had EWR-ATL-LIM tickets on them, so maybe we could switch the EWR-ATL tickets for YYZ-ATL tickets the following day. But no, all flights to Atlanta the following day were full.
We then ran to the train to Terminal 1. Aircraft while waiting for it to arrive:
AC 763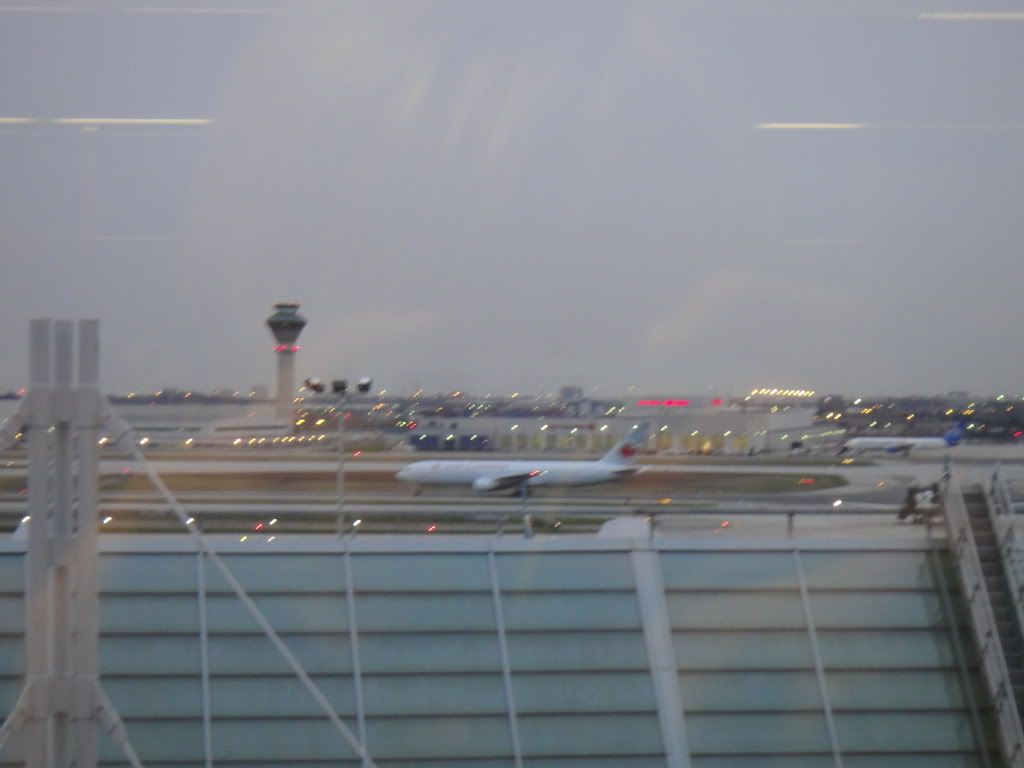 Air Transat and SATA Azores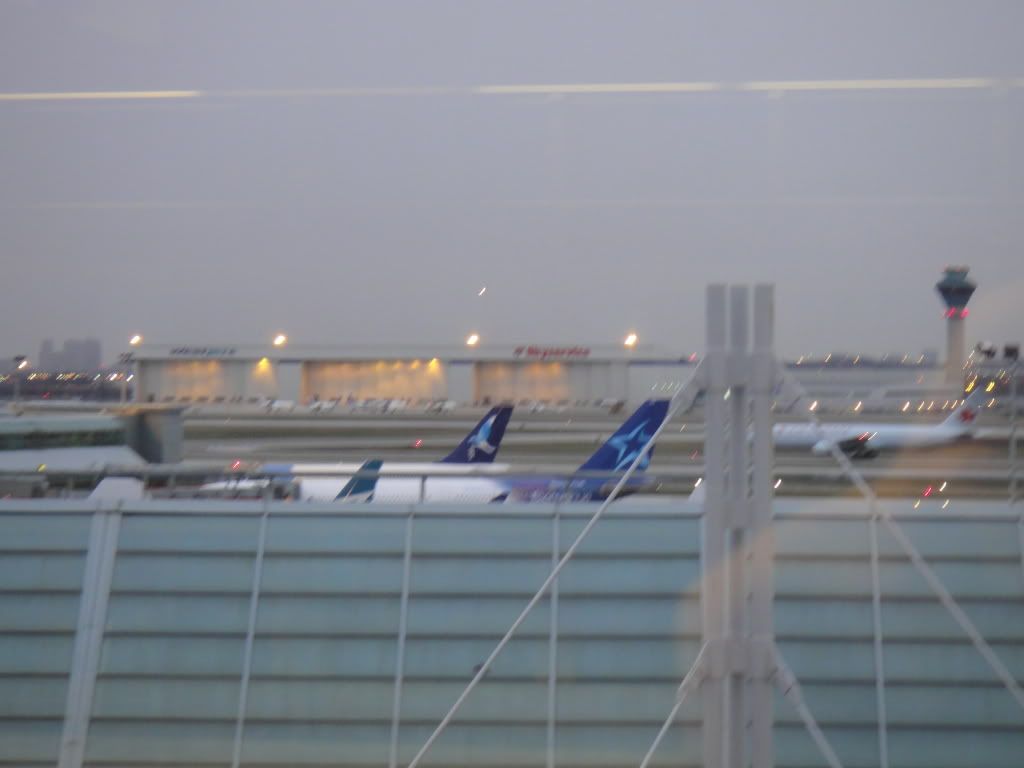 AZ 763, AA 738 and AC 77L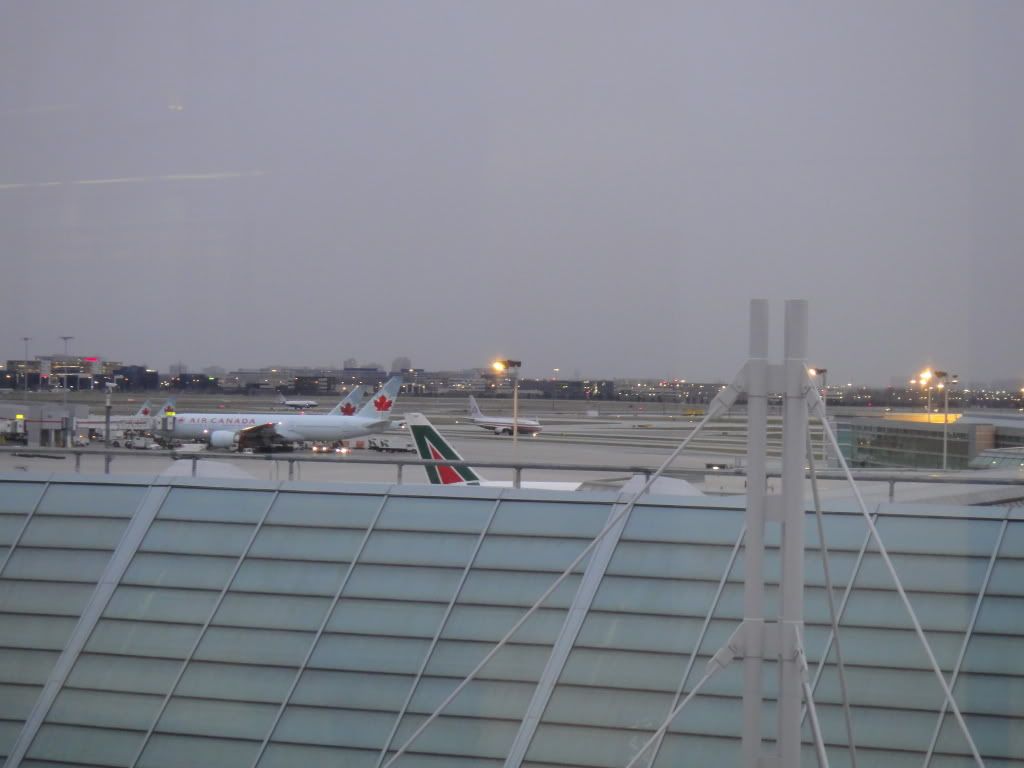 TC Canada 752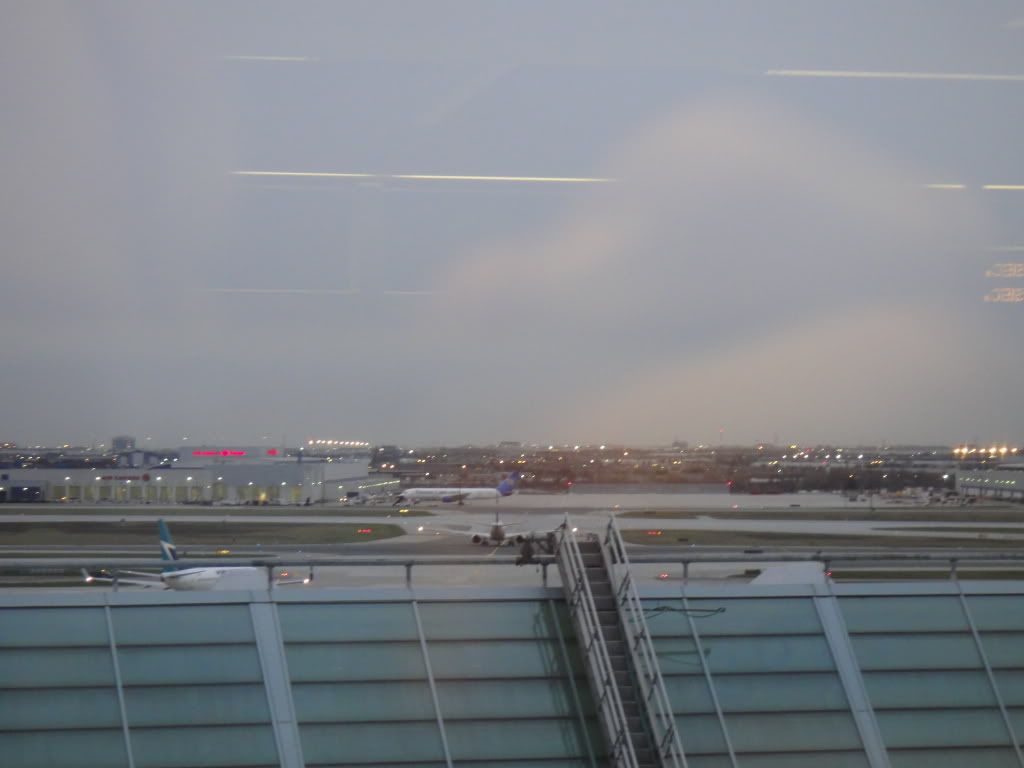 Almost here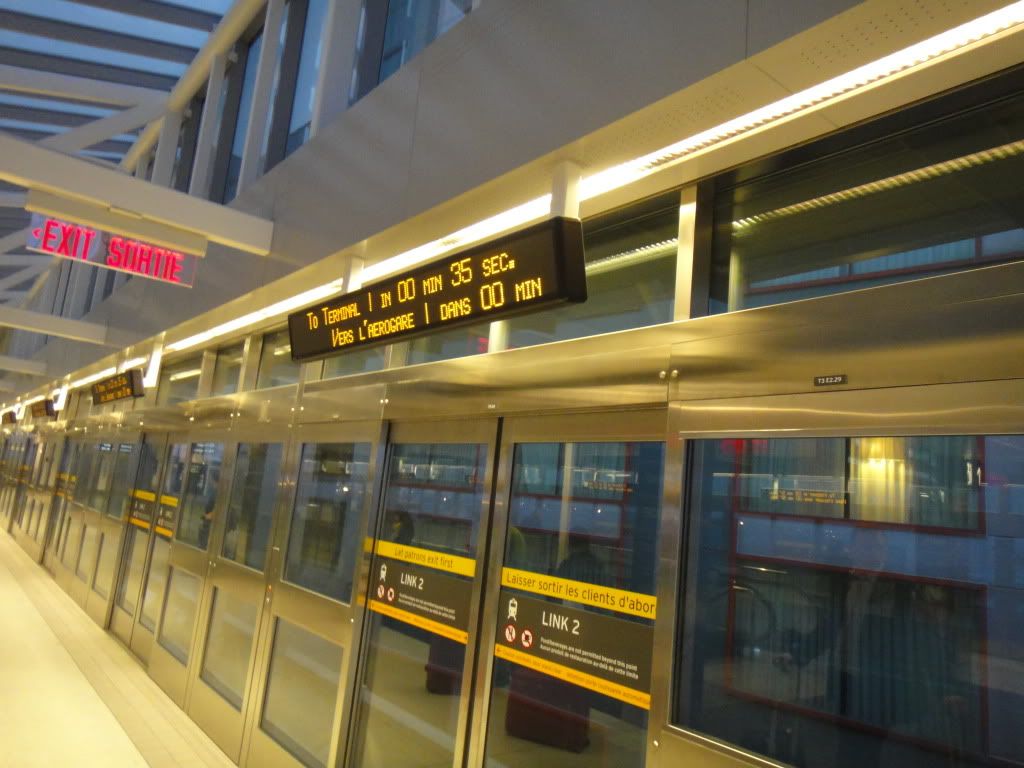 And there it is!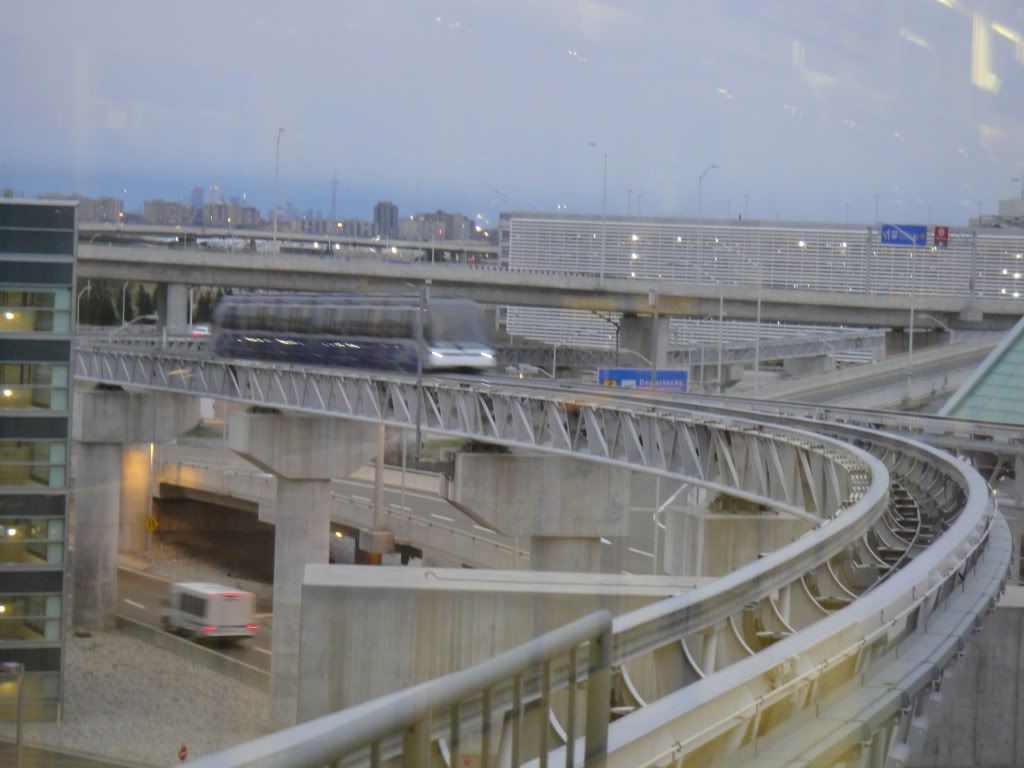 The nice Terminal 1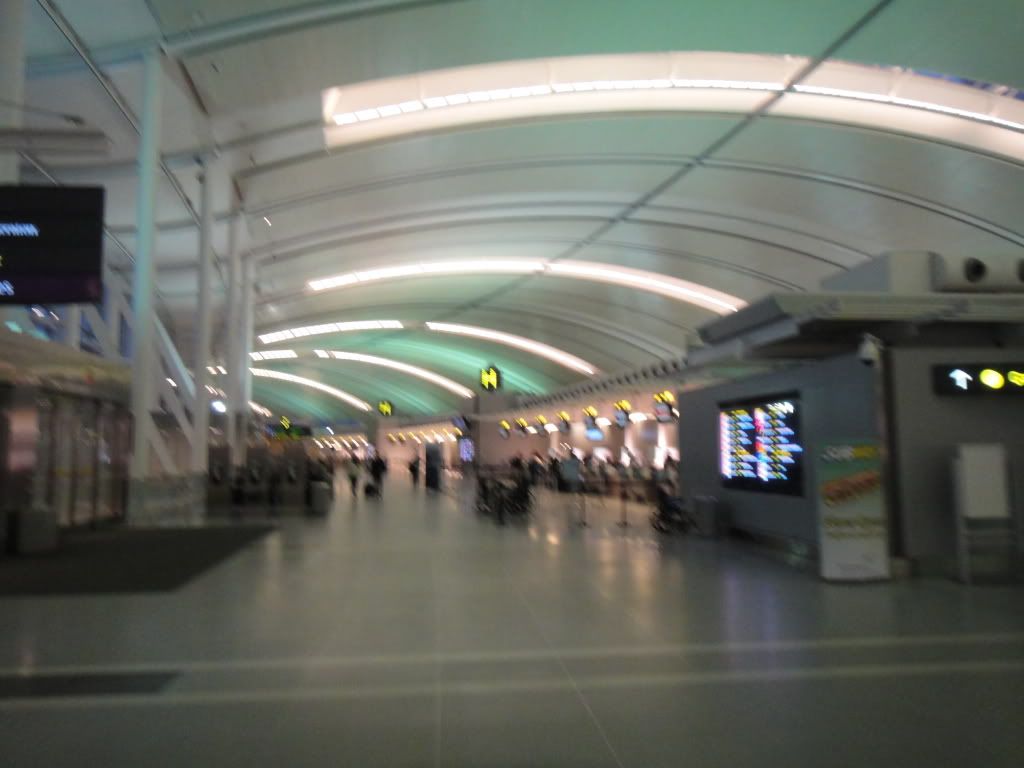 We walked straight to the Air Canada ticket counter, looking to exchange the YYZ-YVR tickets we had as a plan D on LIM-NRT for YYZ-IAH. But no, that wasn't possible because IAH is in the US. ?
AC ticket purchase/desk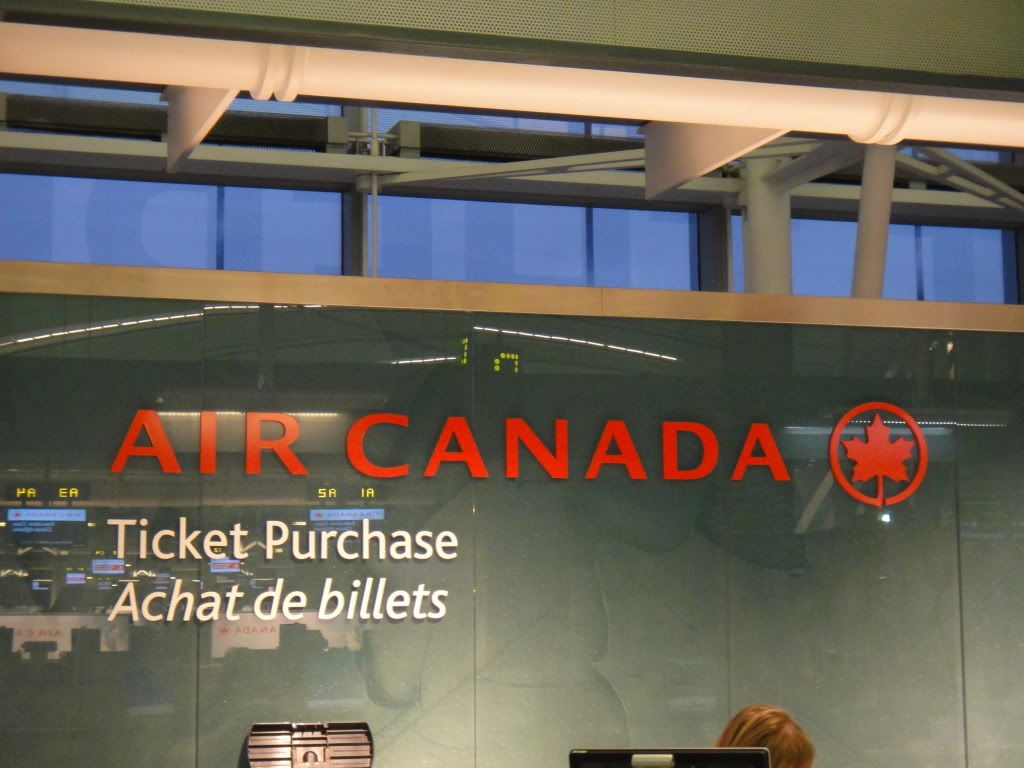 Our last chance was United. Their last flight of the day had already departed but luckily there was an UA agent still at their checkin desk. It was a nice woman and yes, she could exchange our EWR-IAH ticket for an YYZ-IAH ticket the next morning! Things were looking good again.
They could include the price there too…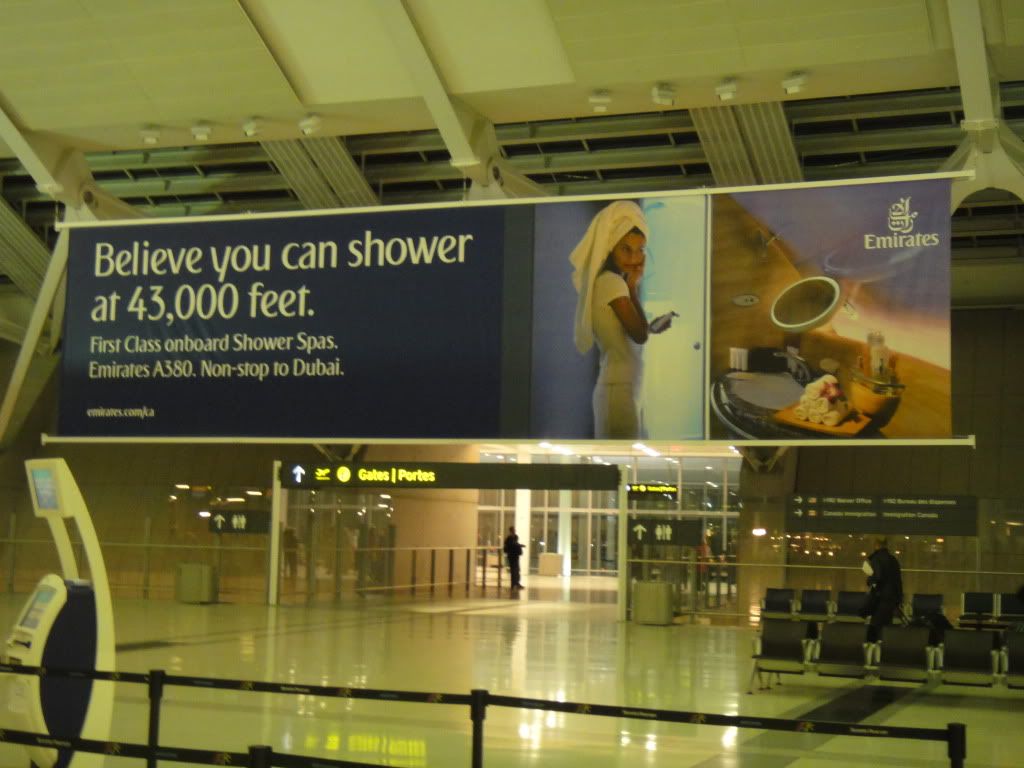 KL and CX seen from the waiting floor for the train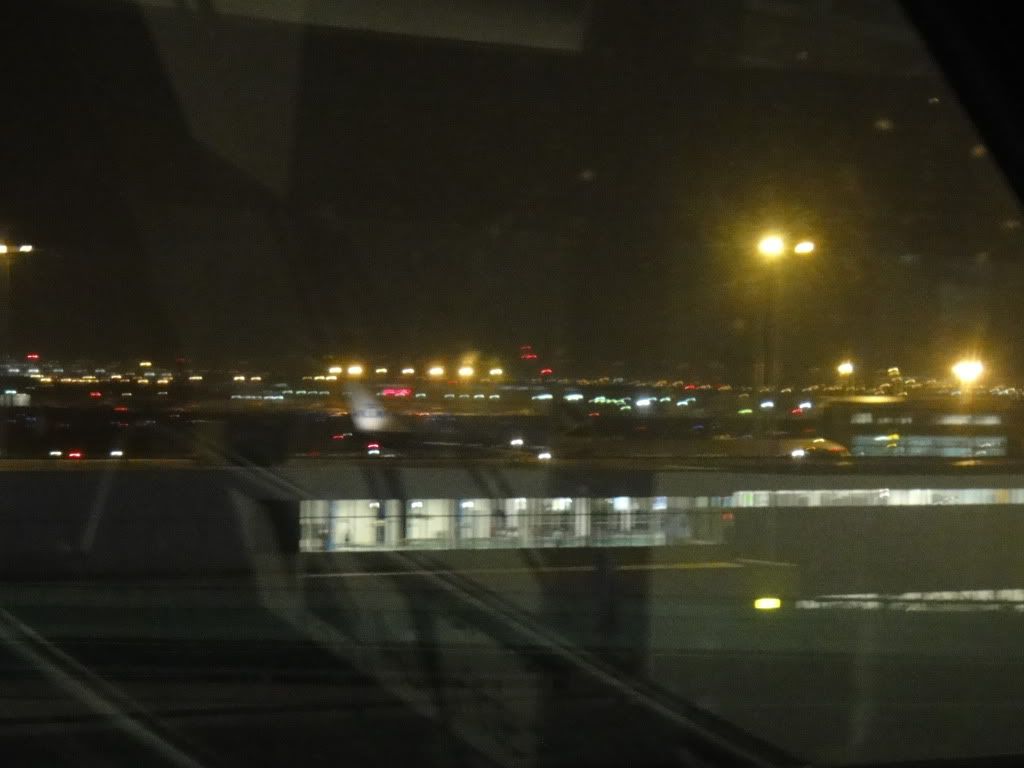 We walked to the Sheraton located inside the airport complex, but they were full. They could instead book us at another Sheraton airport hotel 10 minutes away and we decide to do that.
Look at Toronto out of our room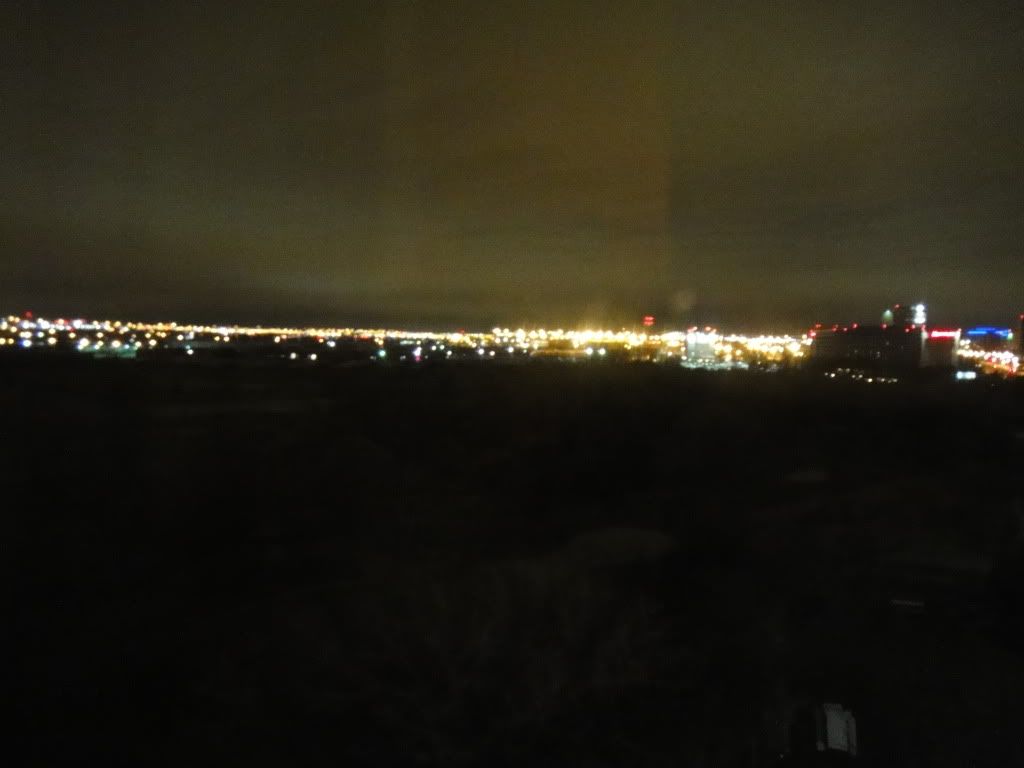 We woke up at 5 am the following morning, got ready and took the shuttle back to the airport.
The shuttle seats are not comfortable at all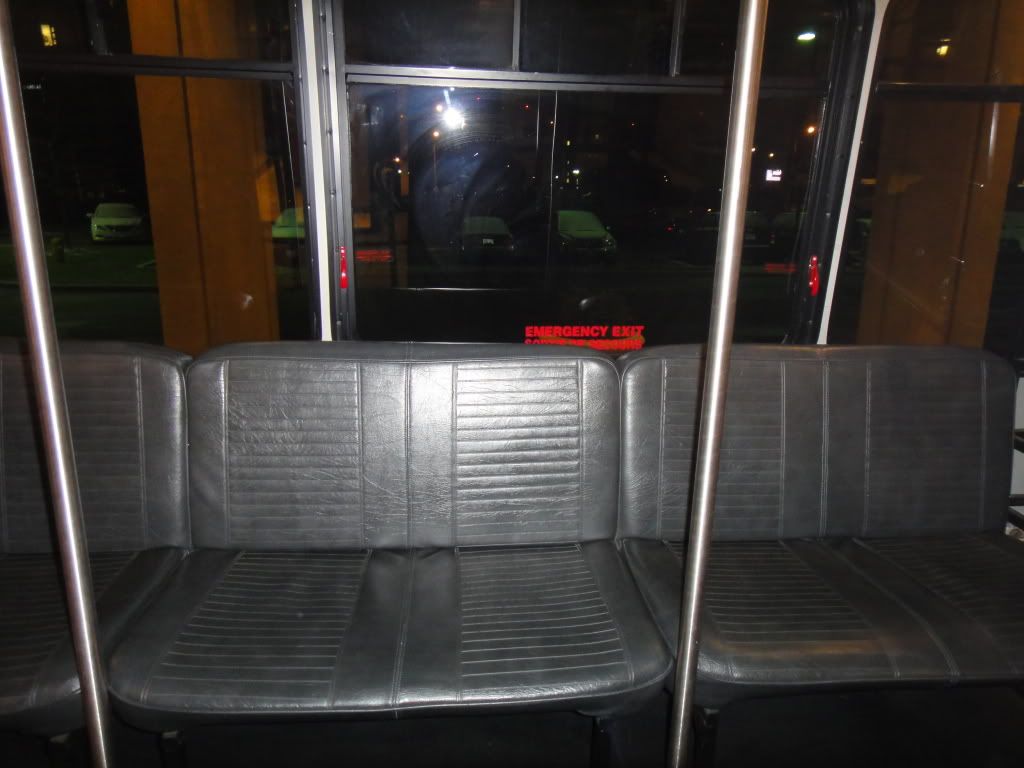 The nice Terminal/Aerogare 1
We arrived at the airport 5:45 and after nearly half an hour waiting in line, we got to the checkin desk. There we got some real bad news: The 6 am flight had been cancelled because of an engine failure! Therefore the next flight (our flight) was suddenly overbooked. The agent asked if we still wanted to get a ticket, go through security and try to get on. There was also a AC desk inside and we could try to get on their 8:10 flight to Houston. After thinking about it we decided to try it.
After coming through security we walked straight to the AC desk as that was a much better choice than UA. We asked again if we could exchange our YYZ-YVR tickets for a YYZ-IAH one. She said yes!
But what was the agent the night before talking about?! Anyway, our luck kept on as there were only 2 seats left and they were together! We of course said yes and got tickets for AC8109 to IAH opb Air Canada Jazz/Express, seats 26D and 26F. Great!
Embraer 170 AC at its gate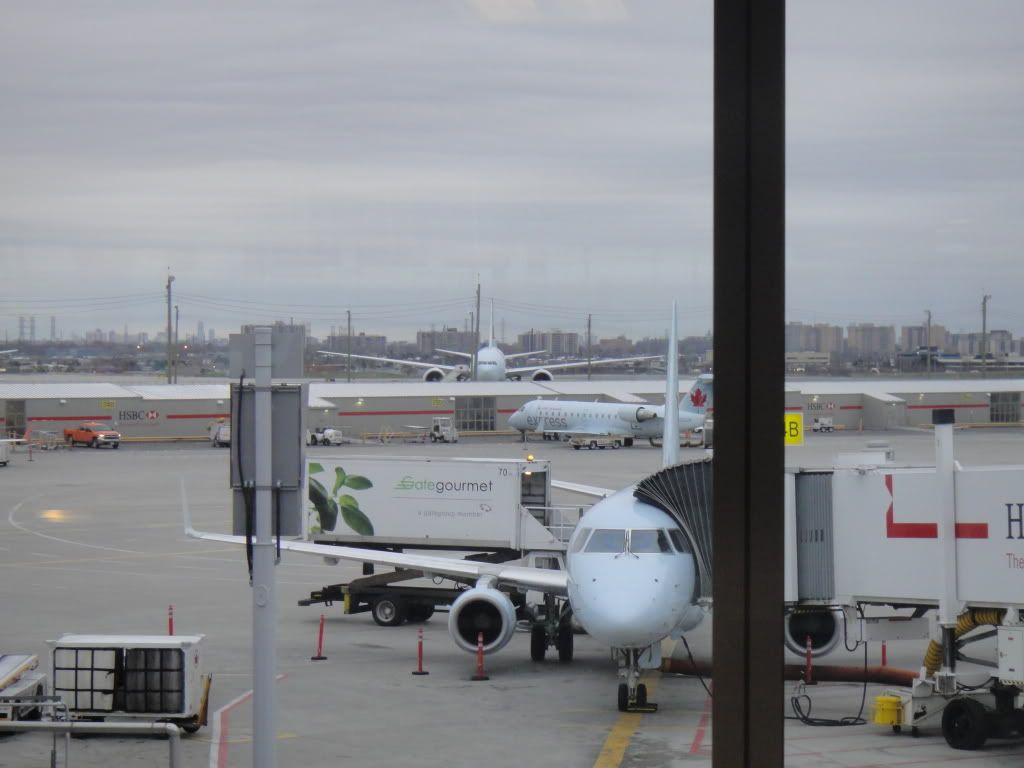 AC 320 and Sunwing/Thomson 738 G-FDZF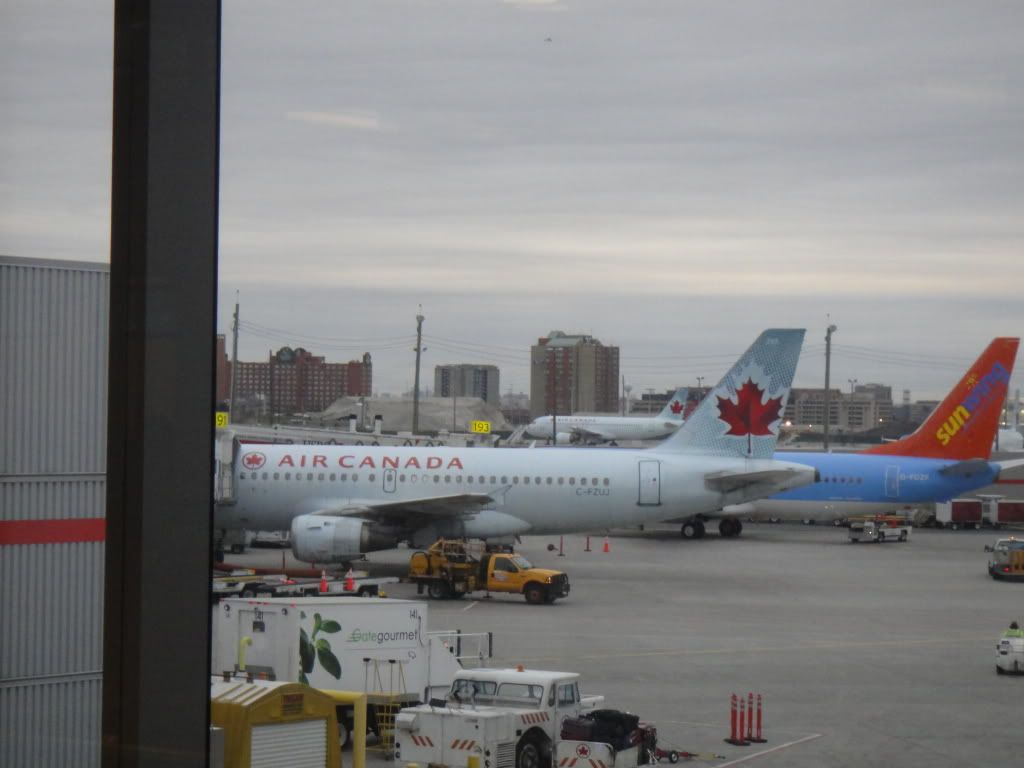 AC 8109 TO HOUSTON/IAH – our flight
Our Jazz plane, which is both a new airline and a new type, the rare CRJ-705. I only had the 700 in my log.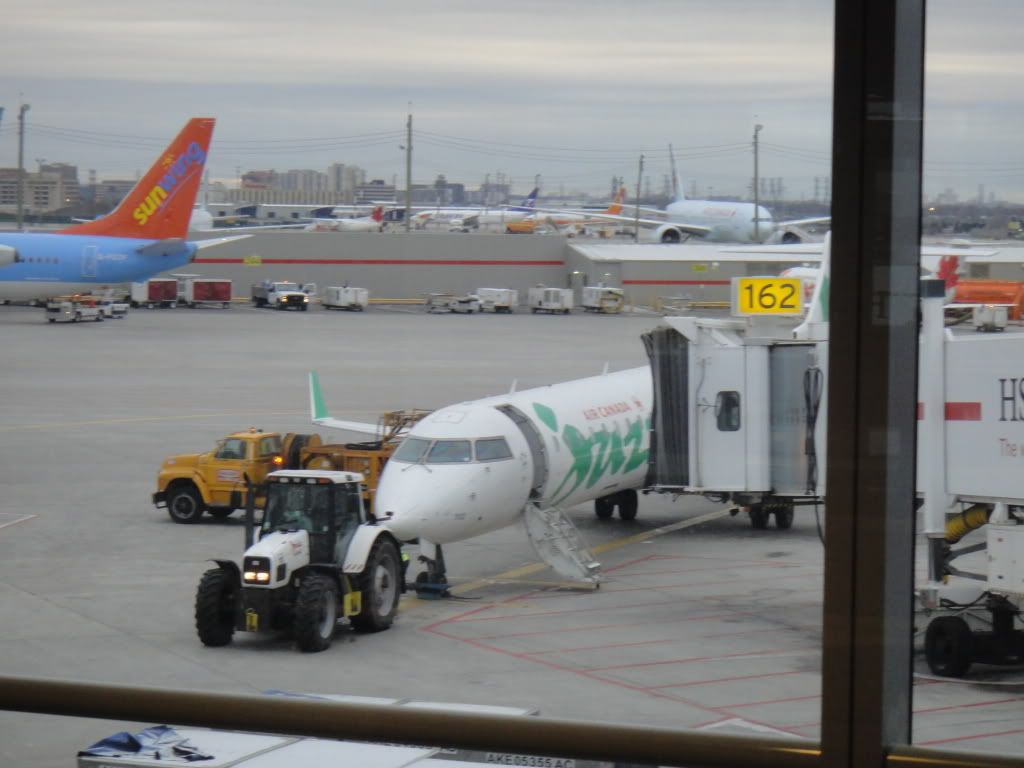 Flight information
Date: 31. March 2012
Airline: Air Canada Jazz (QK/JZA)
Aircraft: Bombardier Canadair CRJ-705
Registration: C-FBJZ
Flight number: QK 8109
From: Toronto Lester B. Pearson International Airport, ON, Canada (YYZ/CYYZ)
To: Houston George Bush Intercontinental Airport, TX, United States (IAH/KIAH)
Runway used at origin: 6L
Runway used at destination: 8R
Sched/Act departure: 8:10/8:14
Sched/Act arrival: 10:05/10:41
Blocked time: 2 hours 55 minutes
Flight time gate to gate: 3 hours 32 minutes (8:14 – 10:41)
Flight time RWY to RWY: 2 hours 51 minutes (8:52 – 10:41)
Seat & Class: 26F (window) Economy Class (Y)

Personal information
My 215th flight overall, 6th in 2012
My 1st flight on QK, 1st on QK CRJ, 1st on QK CRJ705
My 2nd flight on CRJ, 1st on CRJ705, 1st on C-FBJZ
My 21st airline
My 39th airport
Look outside the window of 16A while walking to our seat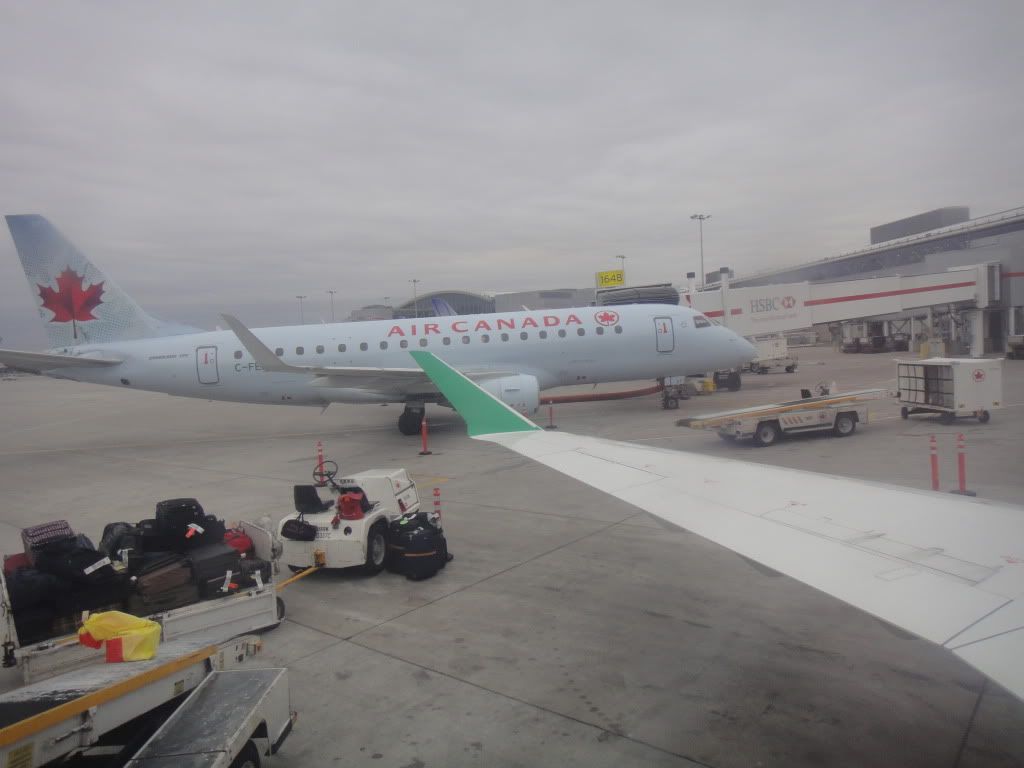 Look outside my window – nice green winglet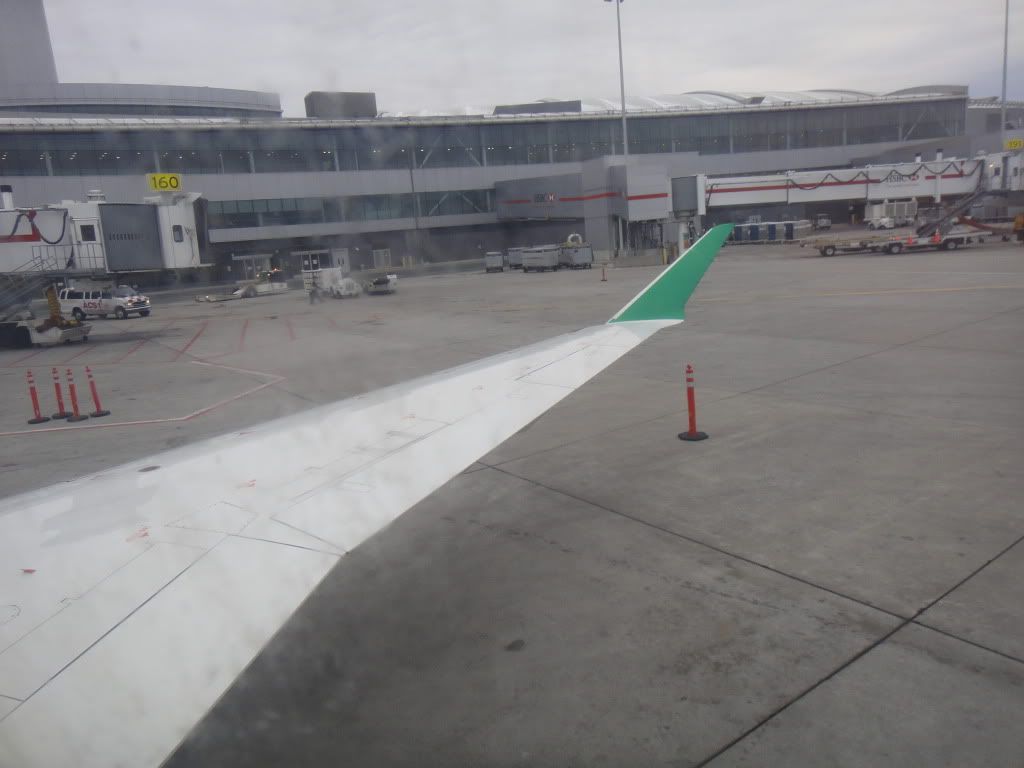 Comfy seats
C-FNAP, AC E90, arrived before our pushback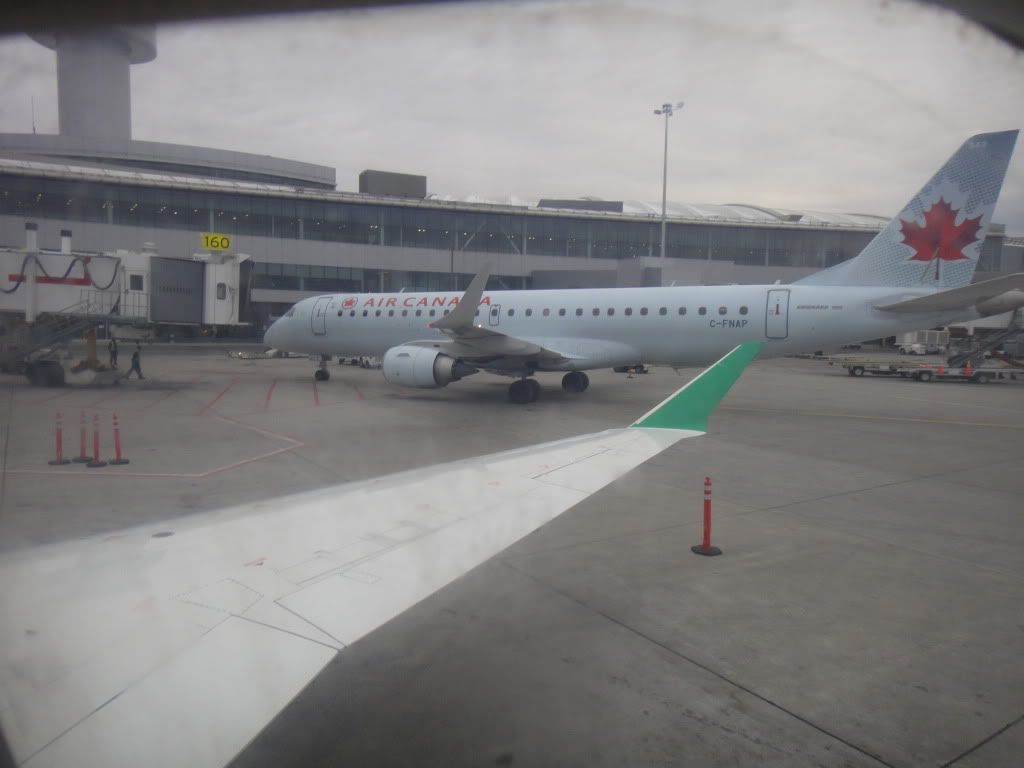 Nice surprise – IFE on a RJ! Nice touch QK/AC!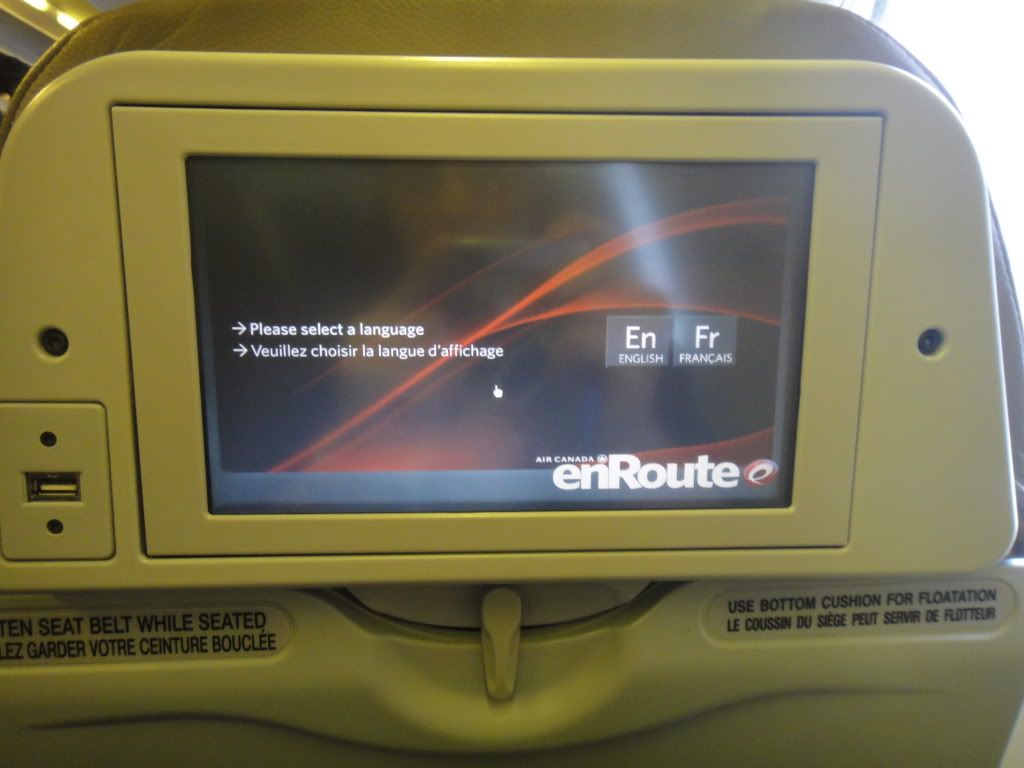 Engine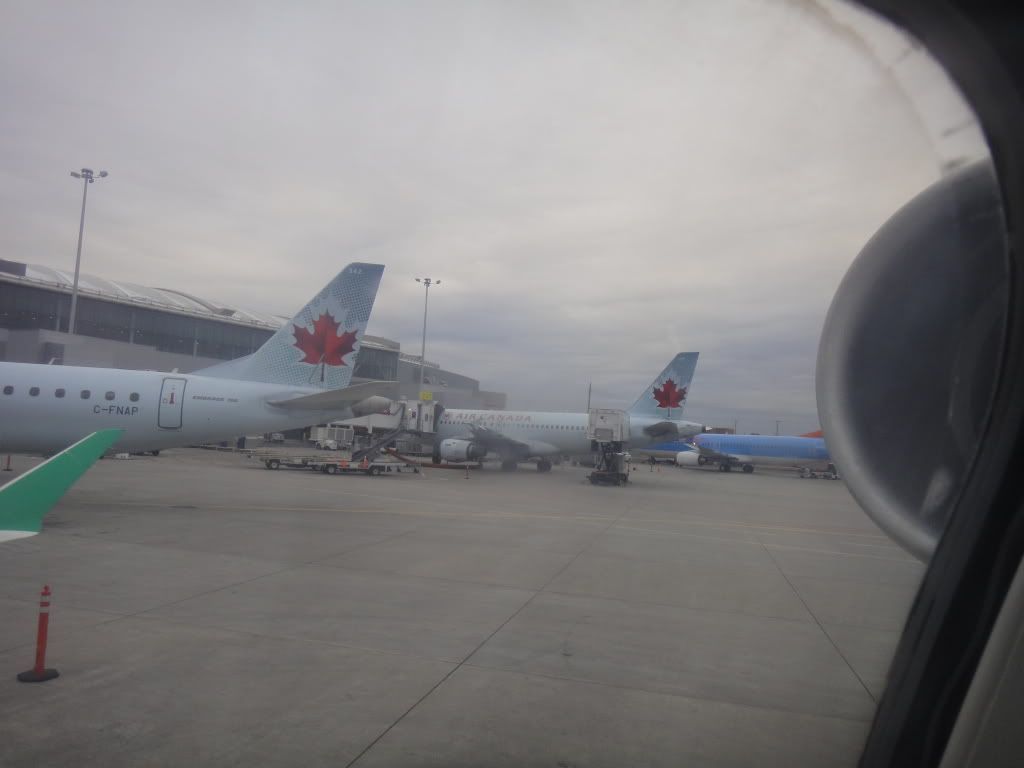 Takeoff video:
http://www.youtube.com/watch?v=TQ5ZPkjhPEI
The sun always feels good!
Nice cabin on this CRJ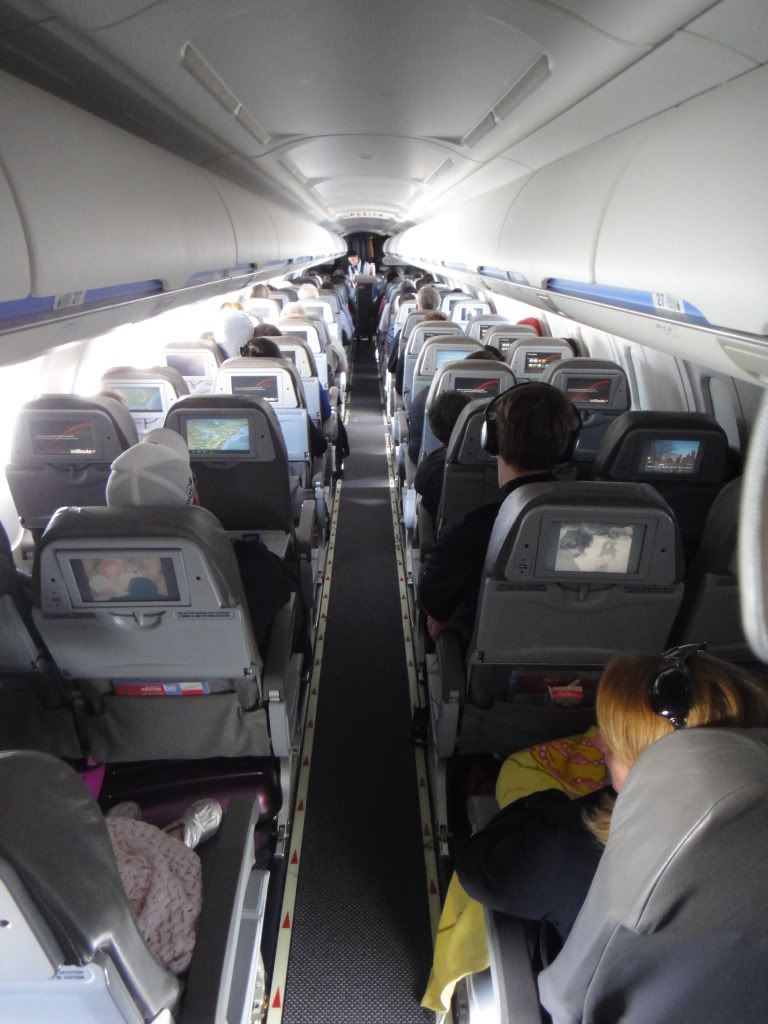 28A and C (last row) are reserved for crew rest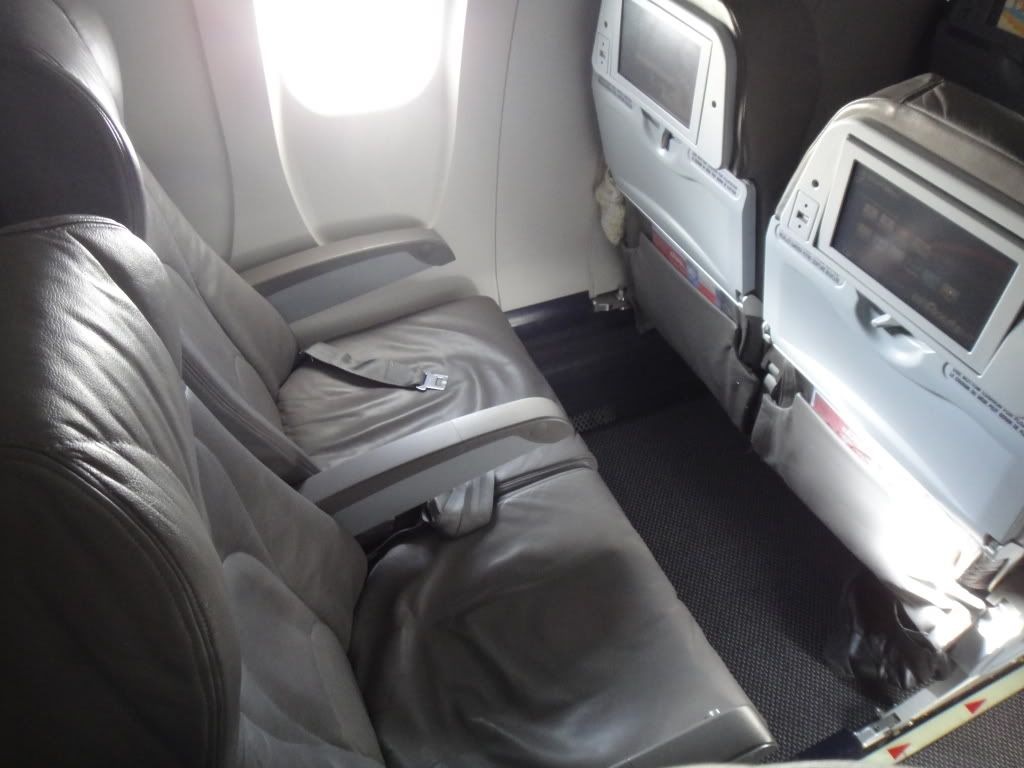 Over Cleveland, 2.5 hours left – long for a RJ, but better than the Q400 that UAX uses!
Great show!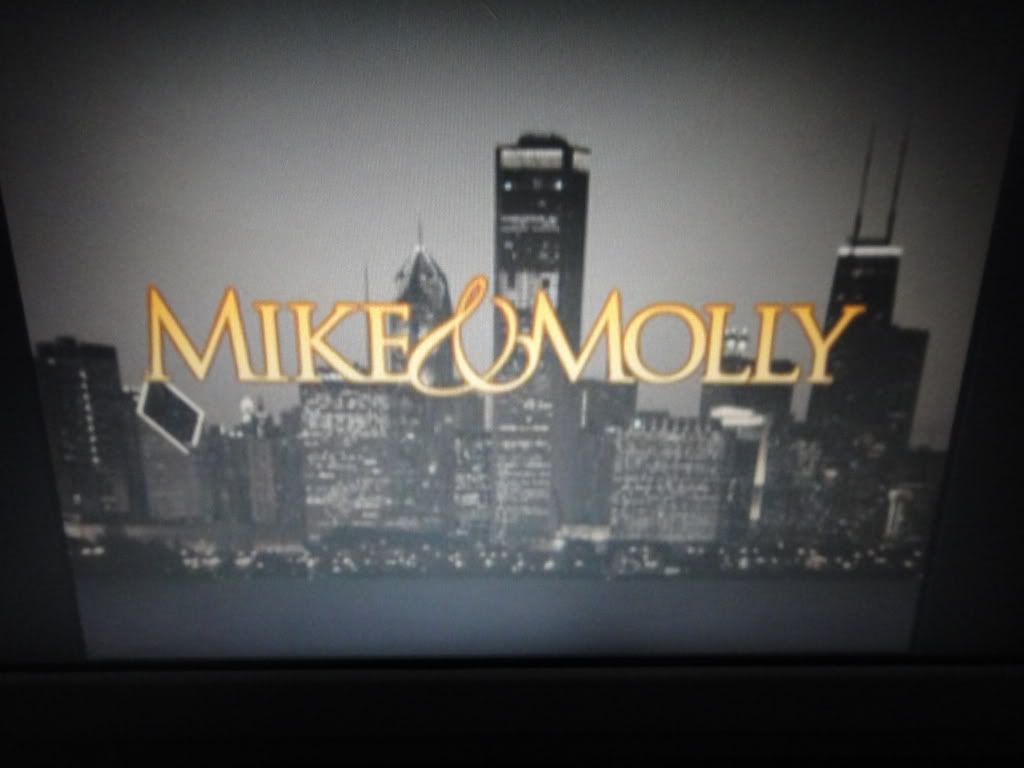 Enough legroom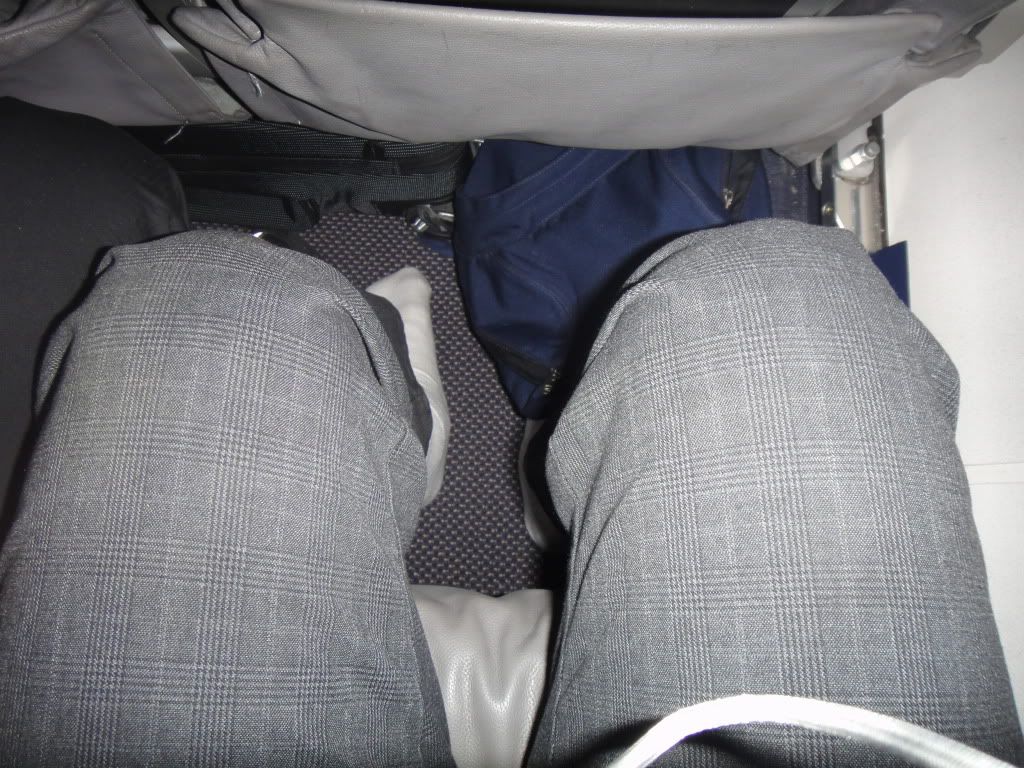 Zoom in on the winglet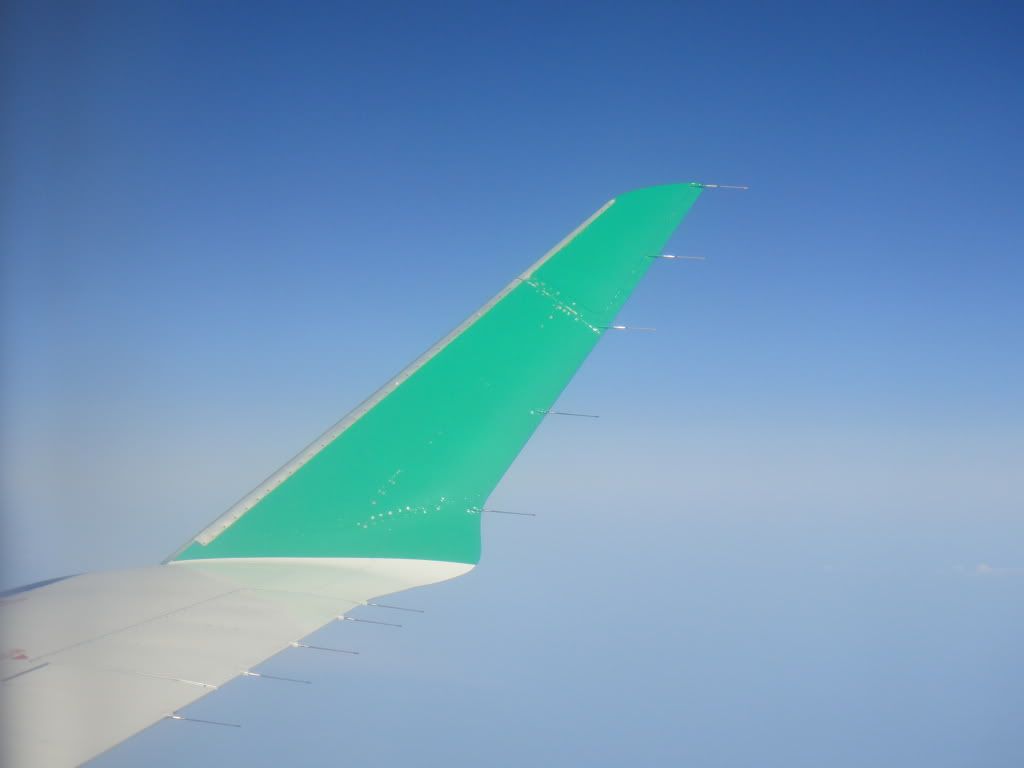 Jazz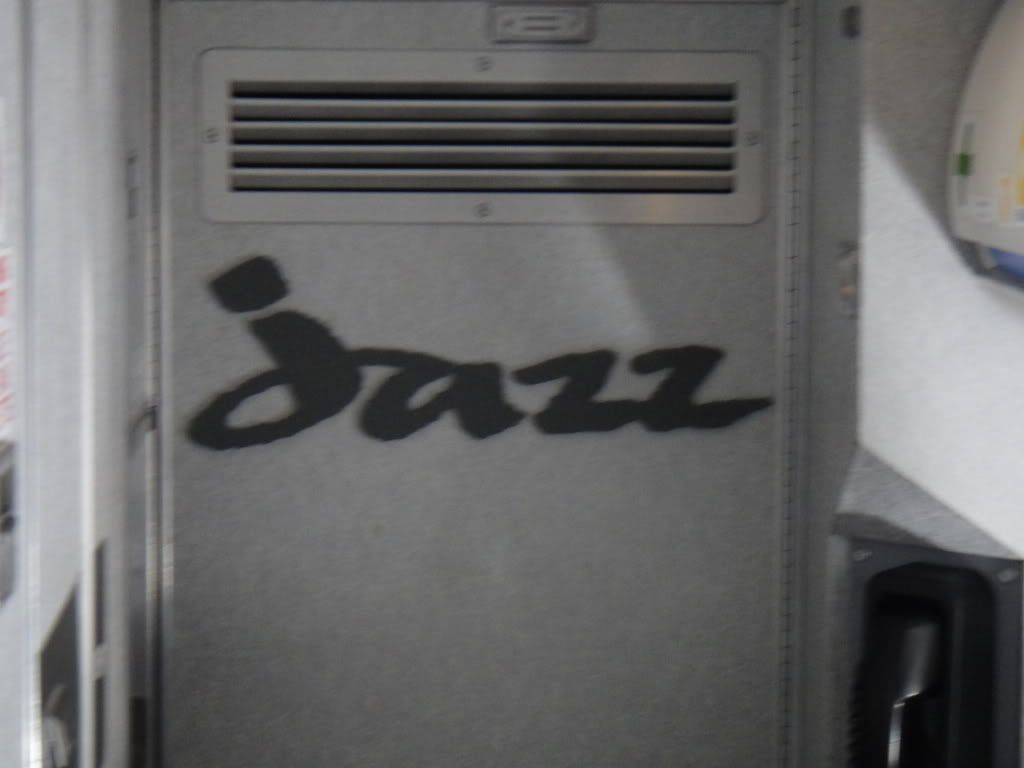 Descending for Houston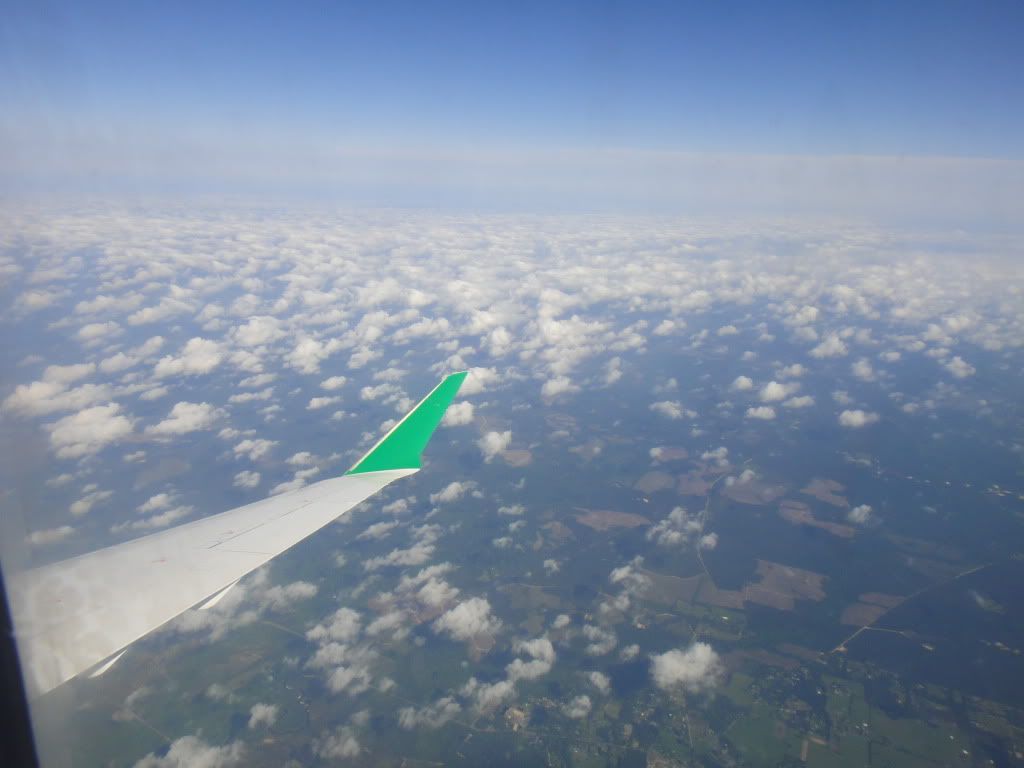 Landing video:
http://www.youtube.com/watch?v=F2XhVs3amQo
Taxiing for the gate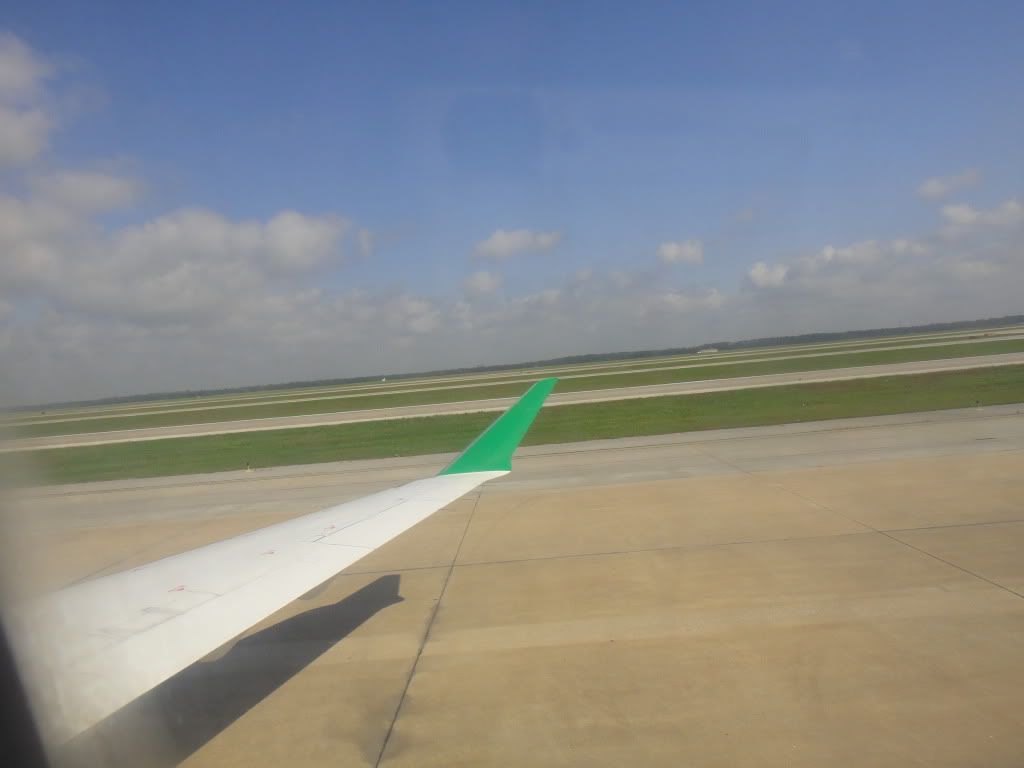 UAX E145, N17185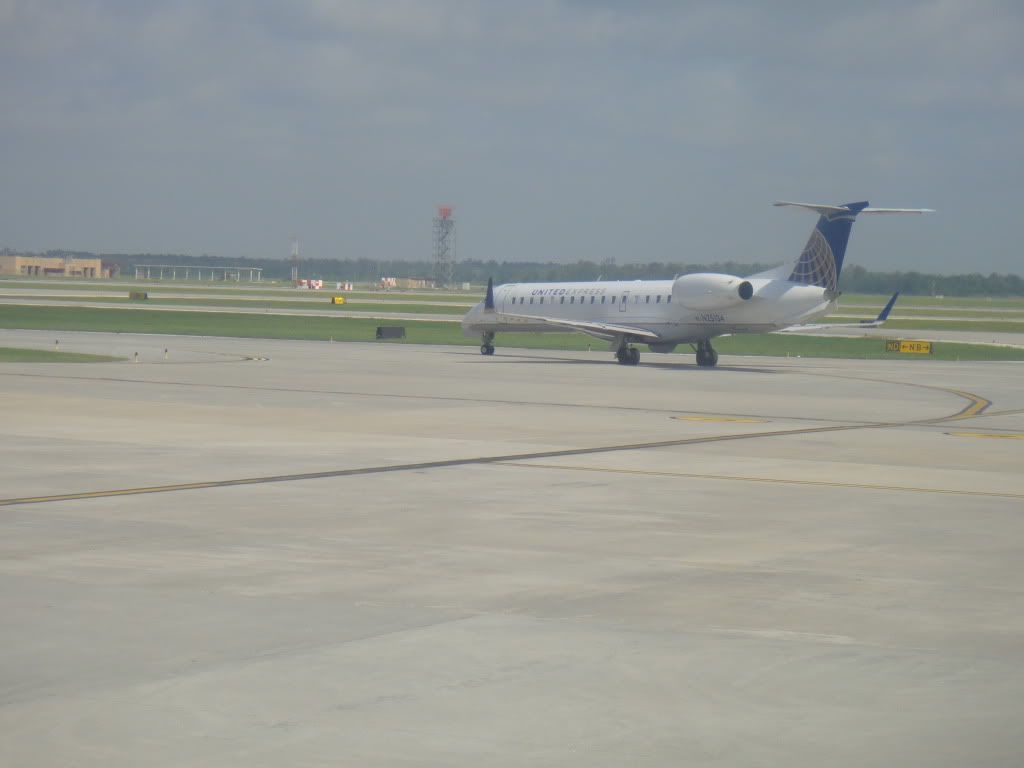 DLC CRJ9, N186PQ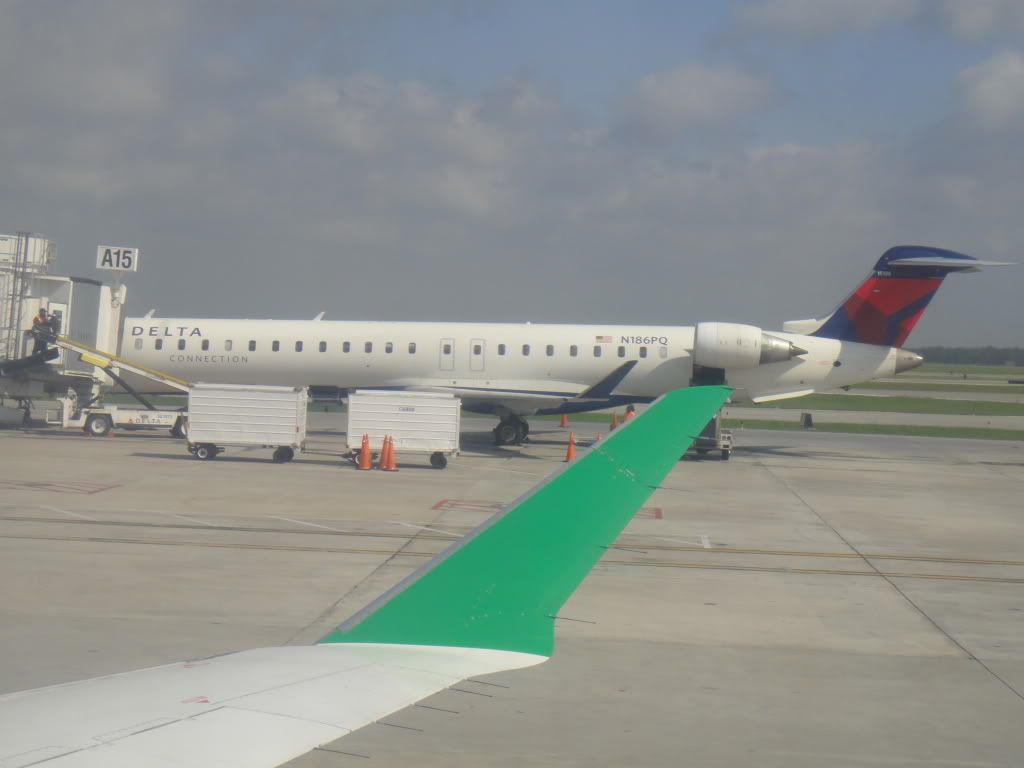 Last look out the window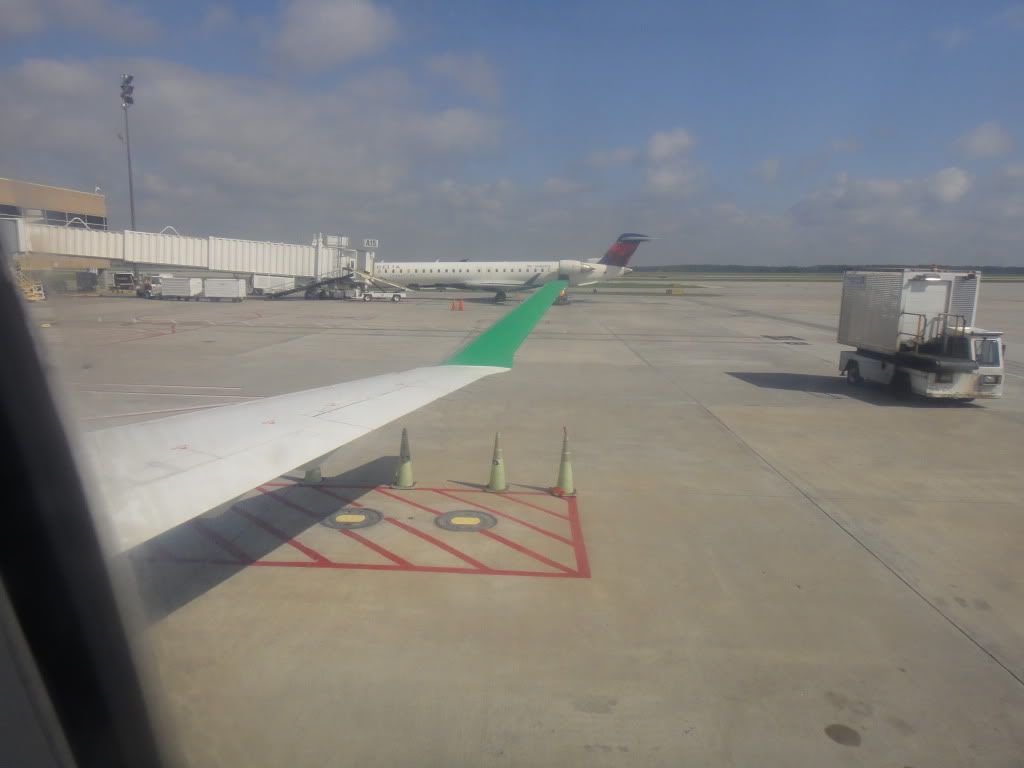 Got to visit the flight deck on this bird, small but nice!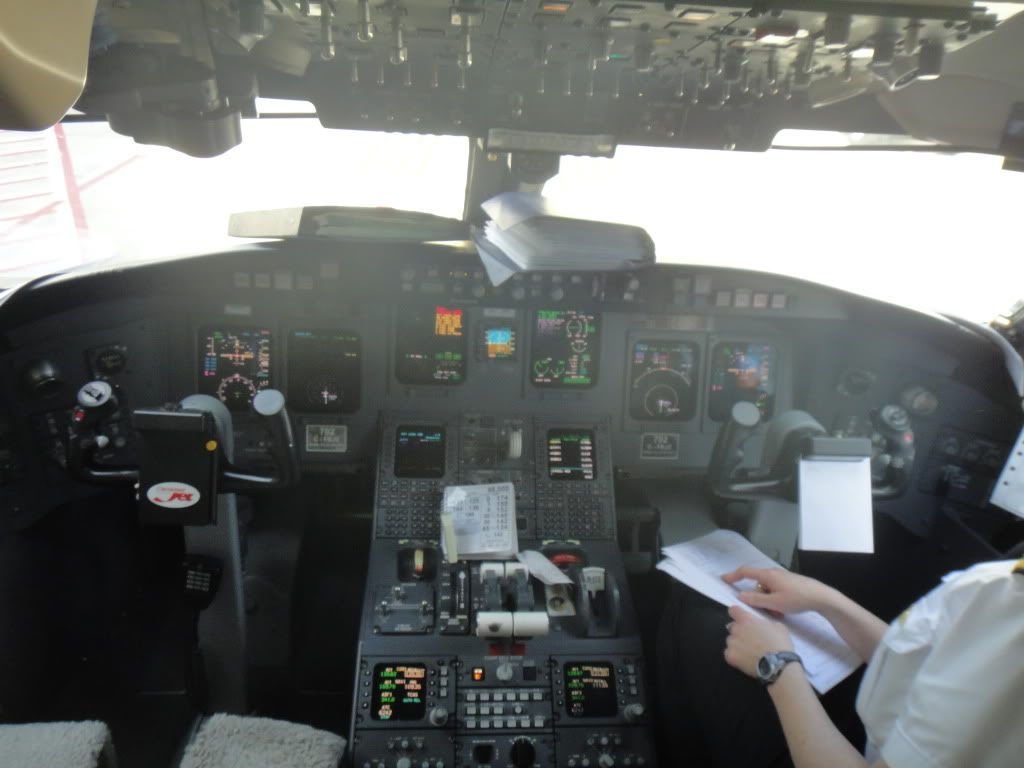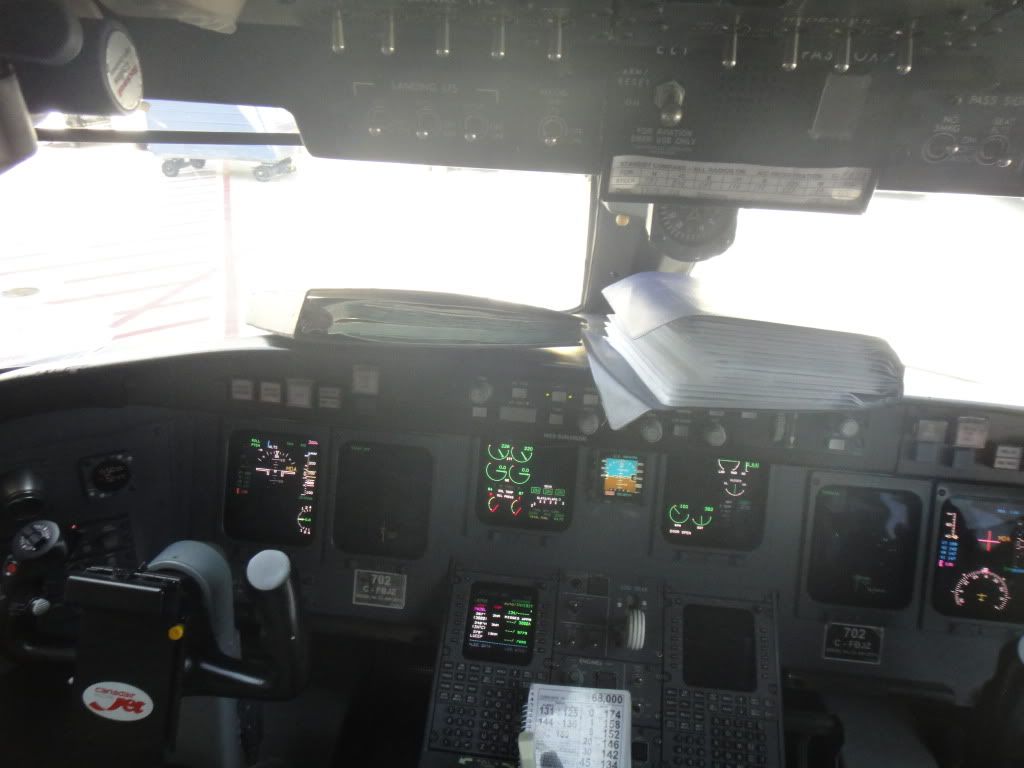 Bye C-FBJZ!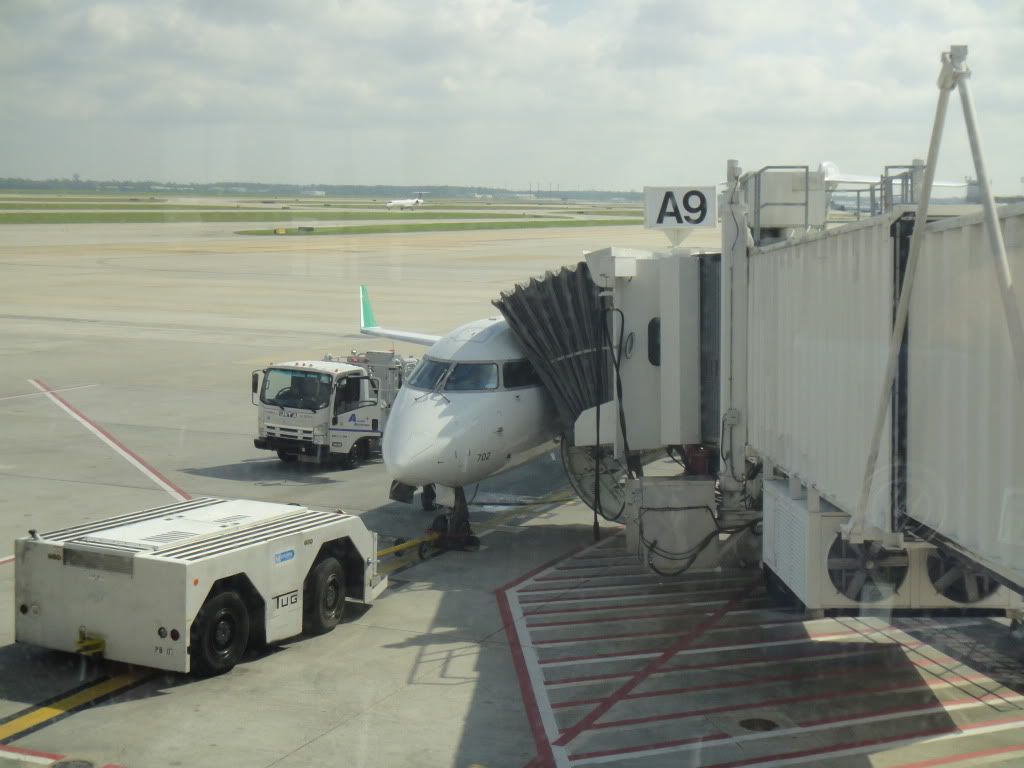 We went to a UA service desk straight as we came to Concourse C and got tickets for UA 854 which would depart some 5 hours later. Our seats would be confirmed at boarding. Then we went to Lefty's Lonestar Grille and got some burgers while we spotted regs on planes taxiing by.
I quite like the Colgan Air livery. If you look closely you can see that it still is written Continental Connection on the S340 next to it, one of only 3 CO marked planes I saw that day, sad!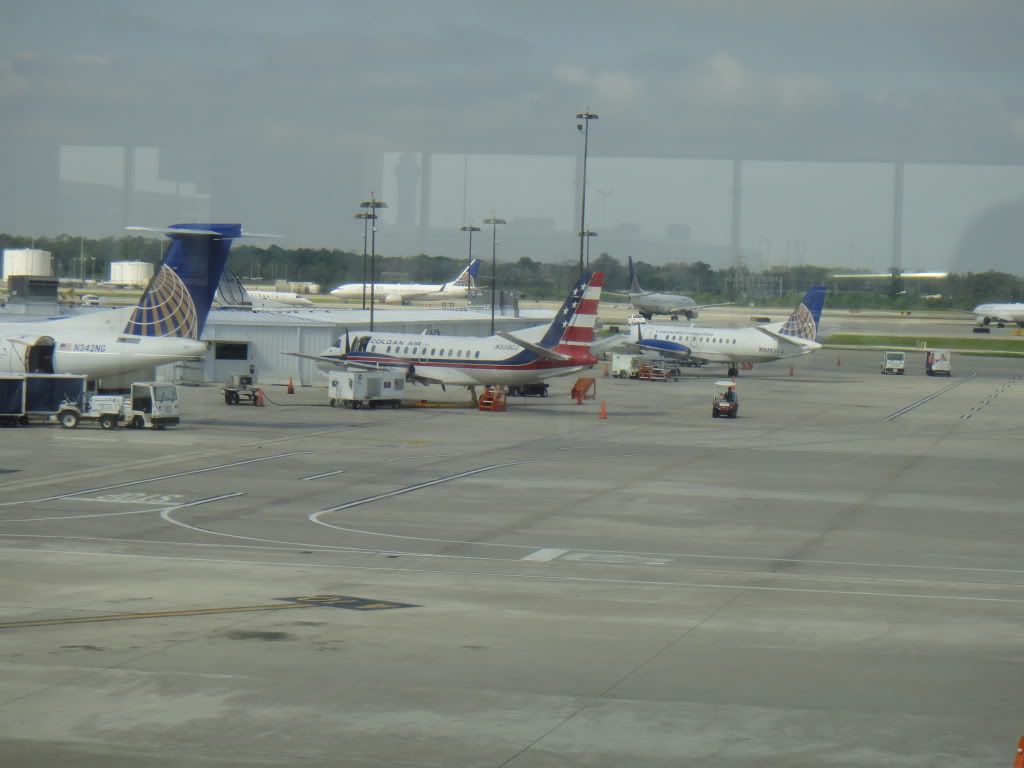 A look at C-FBJZ sitting in the sun with some US fellas at the ramp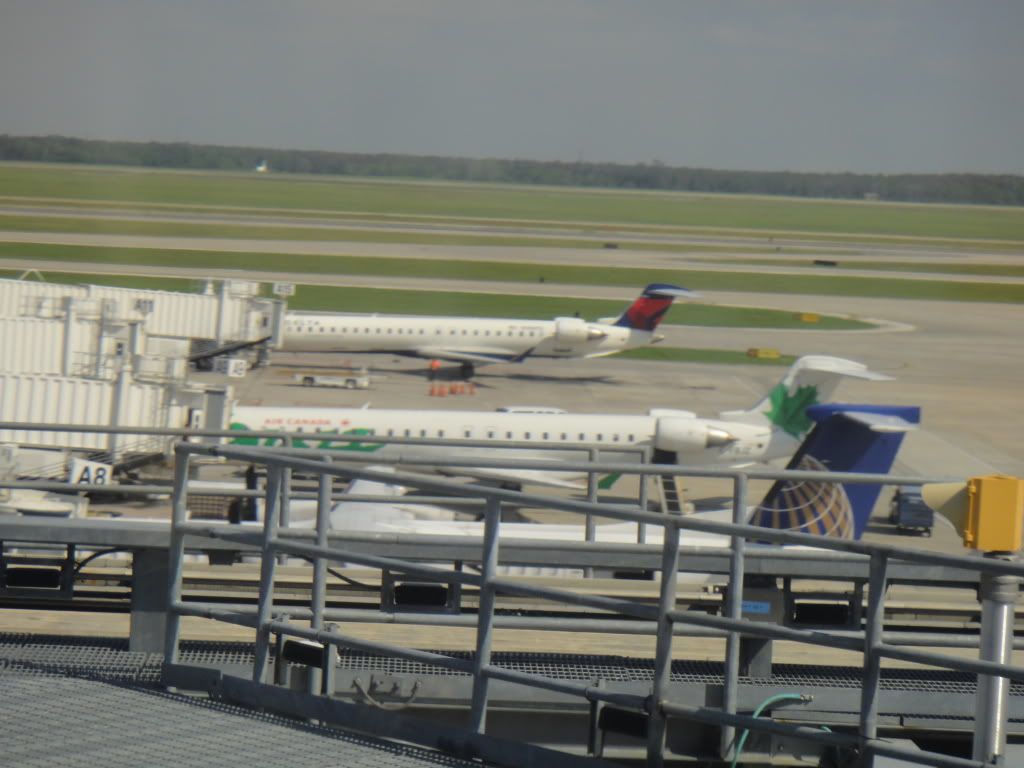 Another AC Jazz CRJ (CRJ900) C-FPJZ from YUL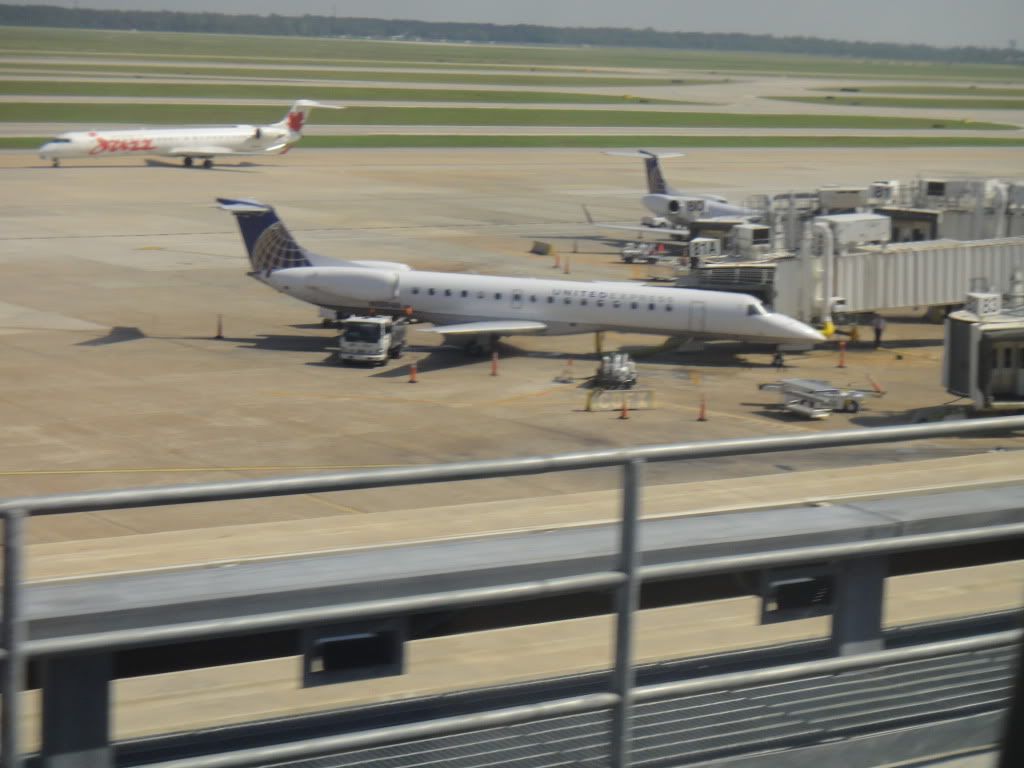 UA 735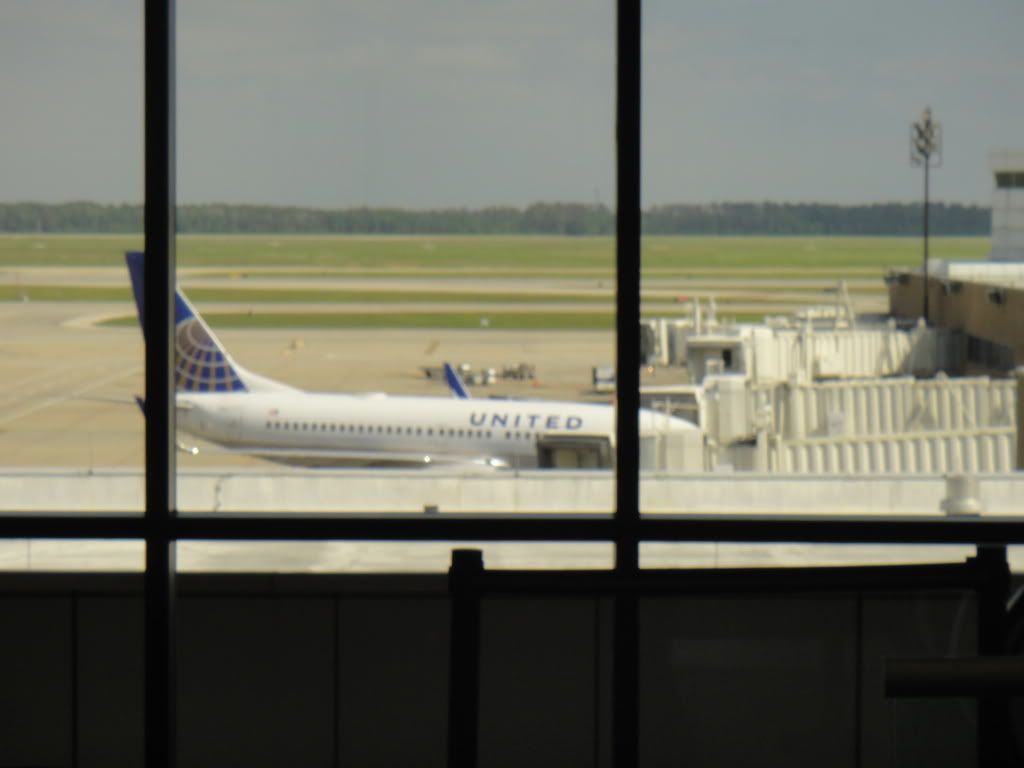 N17159, a UAX E145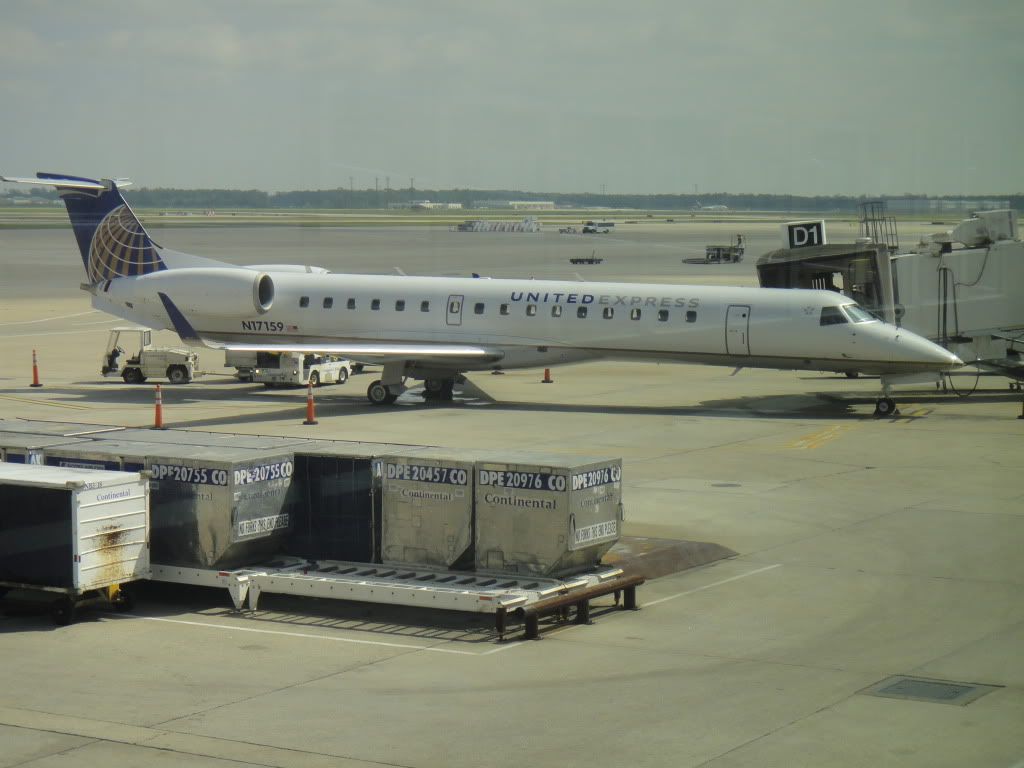 And from another angle – pretty little jet! I like the look of the E145, it is somehow "cute".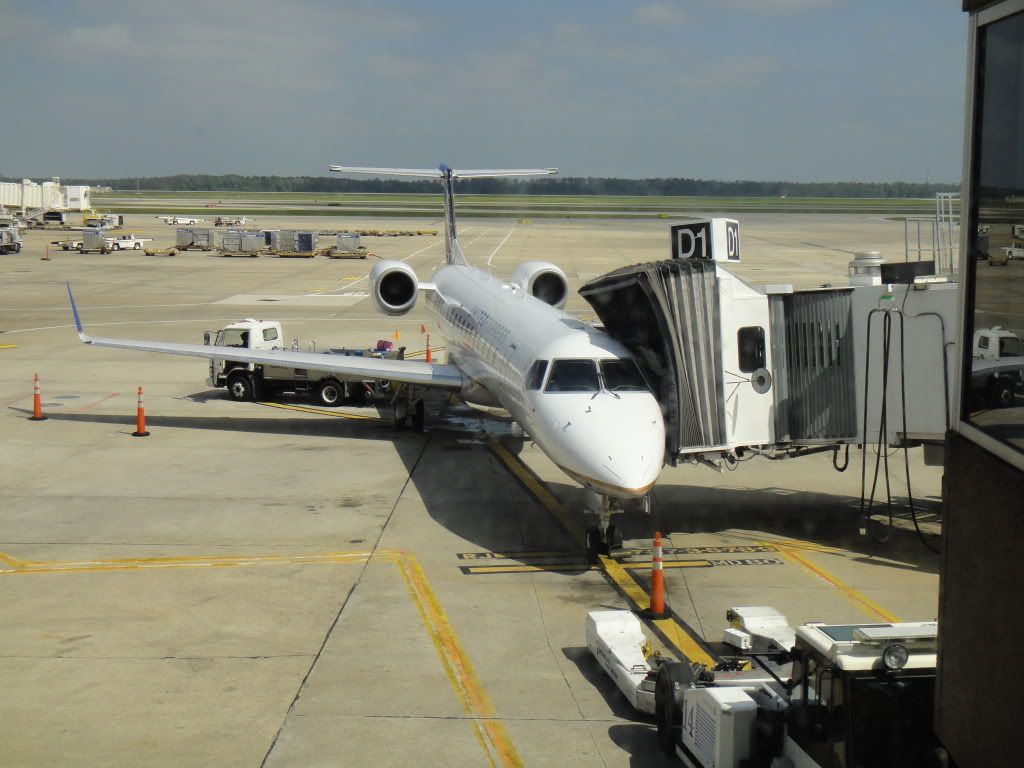 After eating our burgers at Lefty's, we went to the UA Gold lounge. There we had a view on the runway so we could spot many, many regs!
Globe vs. Tulip – which do you like better? For me it's actually even, I like the tulip but I like the globe too!
D-ABTC, LH 744, taxiing in – always something special about both BA and LH 744s, don't know what it is.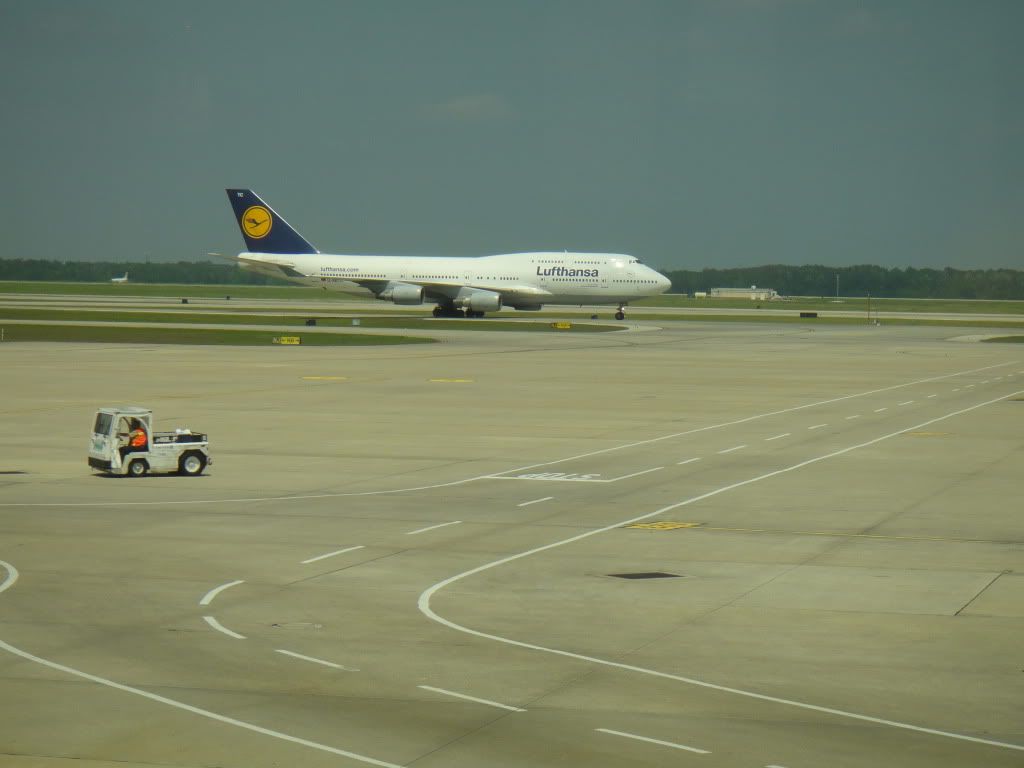 UA 752 departing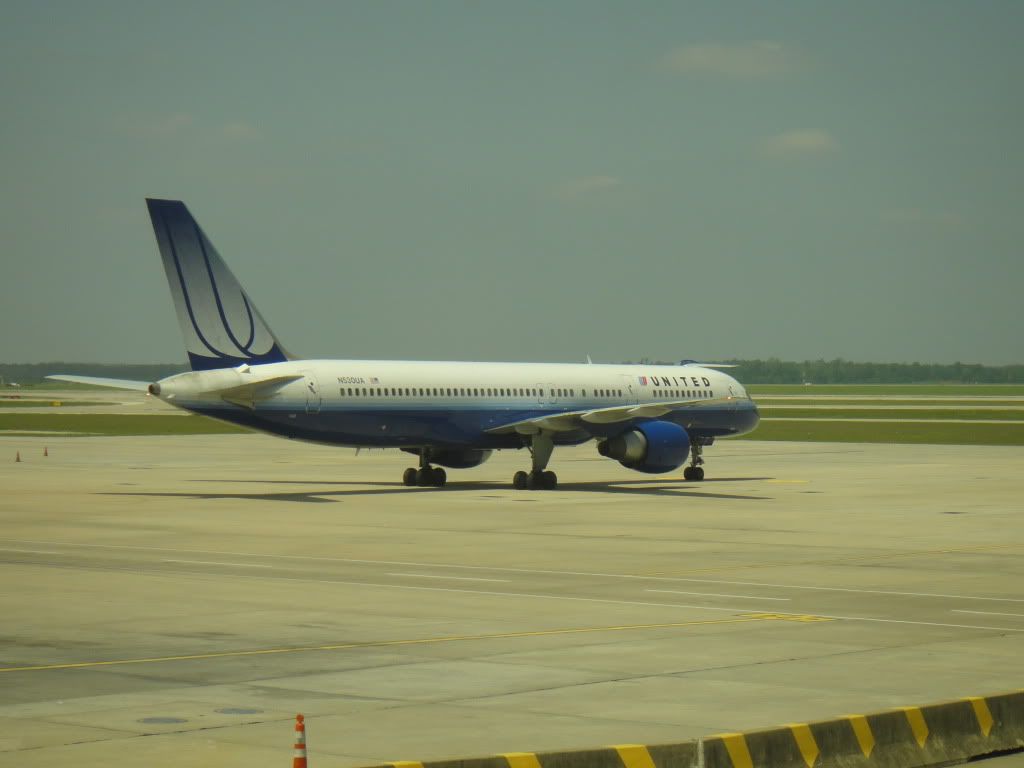 Nice SQ 77W, 9V-SWK (saw it again in SIN later on)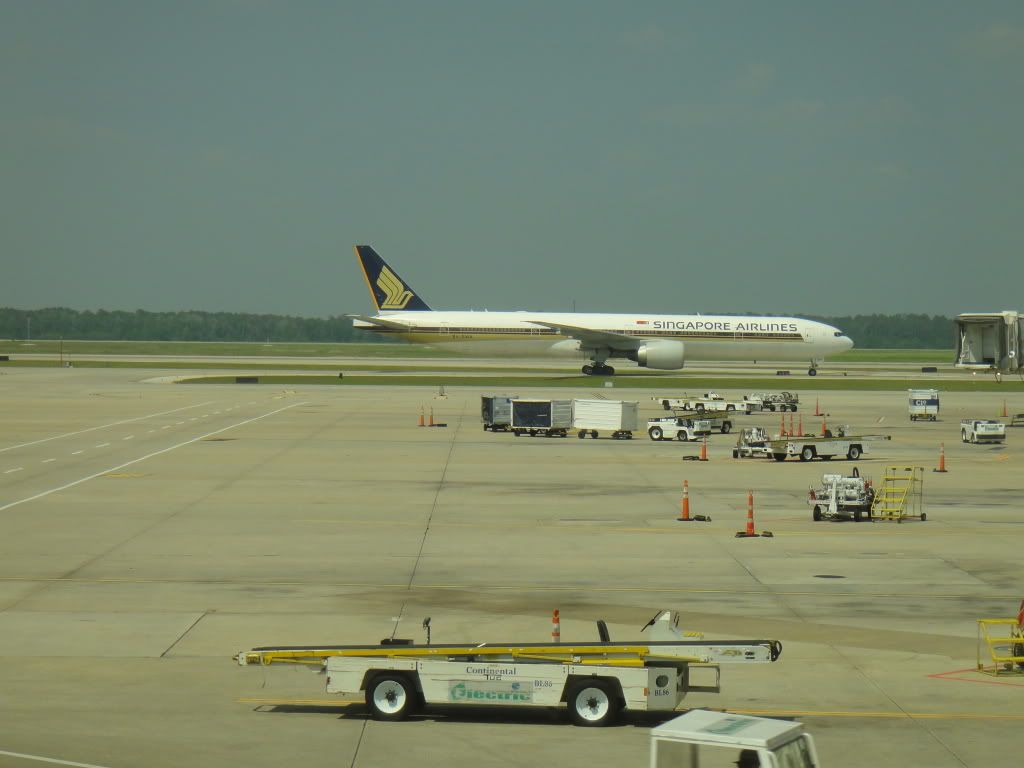 UAX CR7, N707SK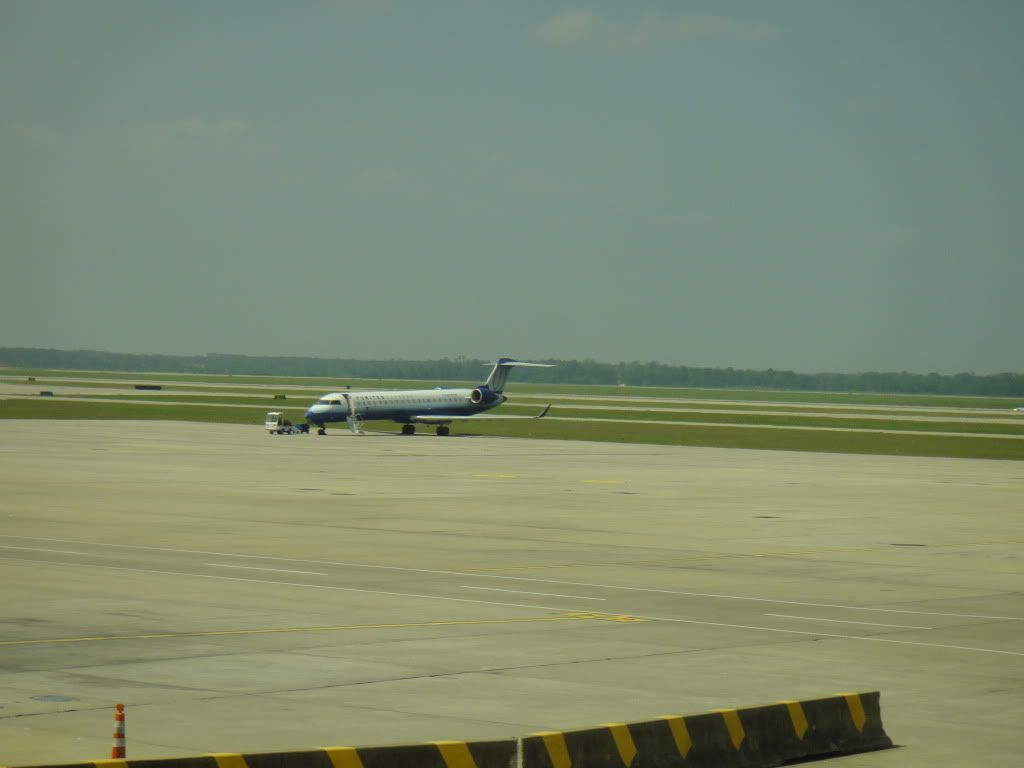 UAX E45 taxiing out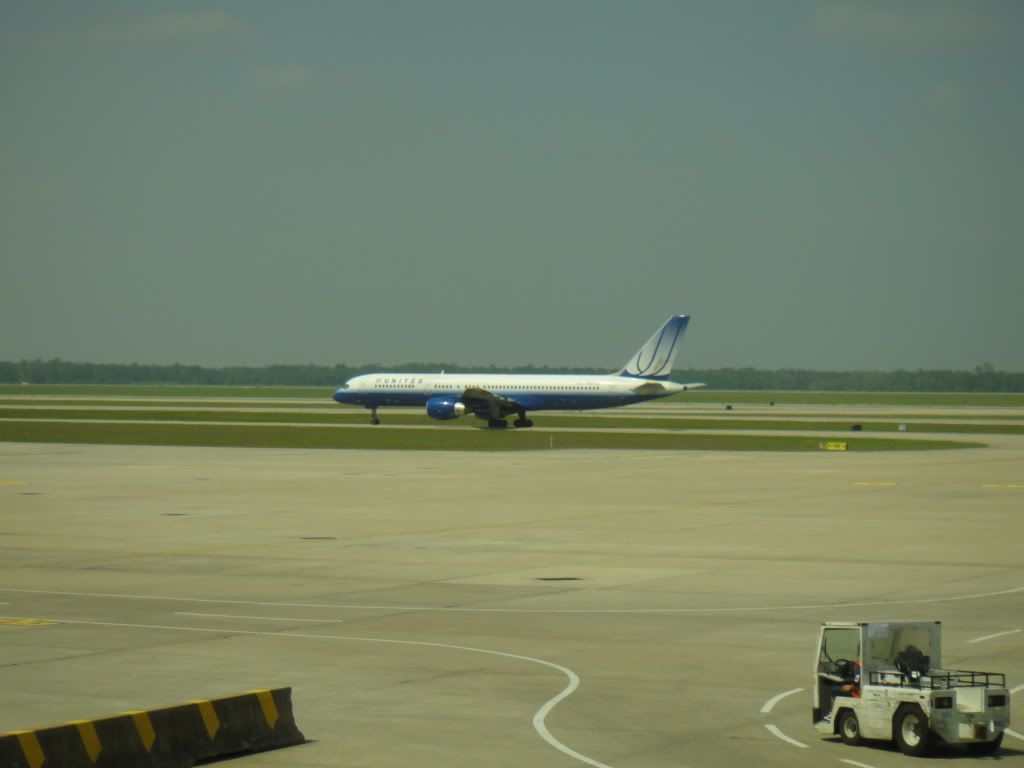 Do you think it's beer? No, it's the rest of my Coke with melted ice cubes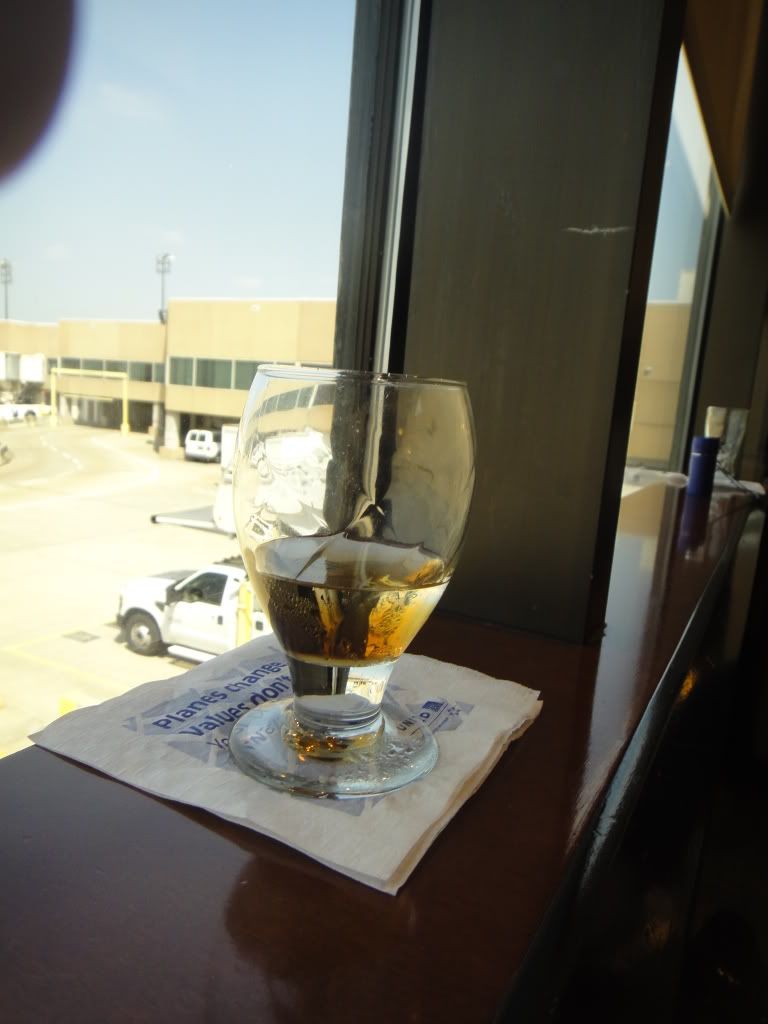 The lounge was quite nice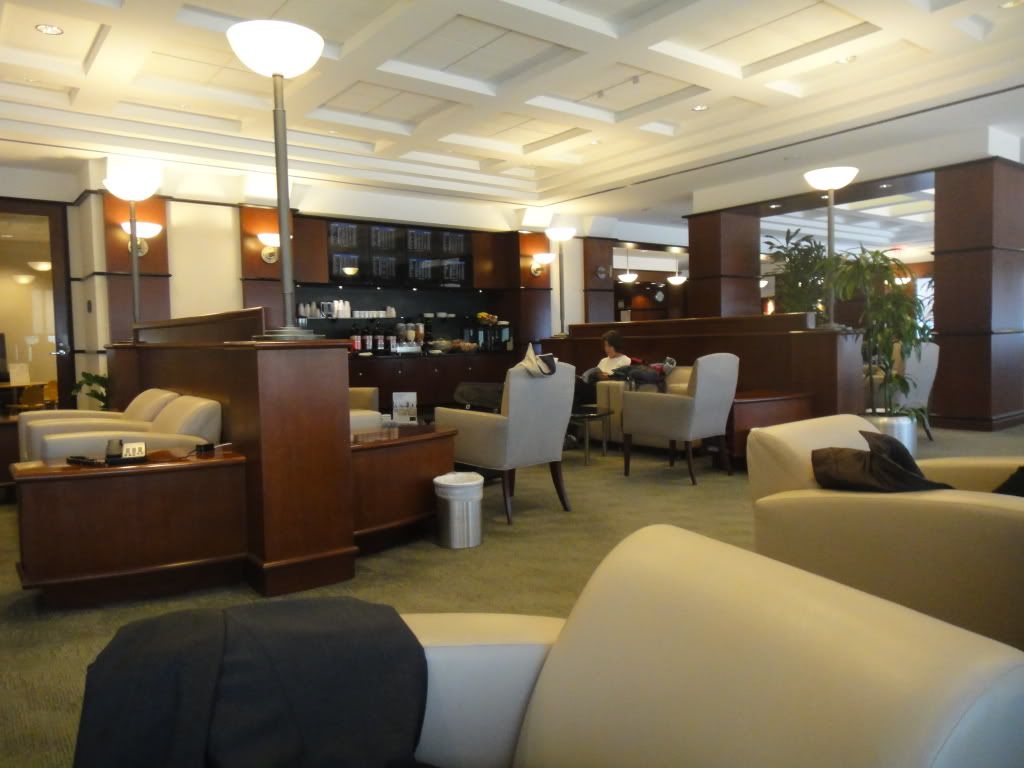 UAX CR2 pushing back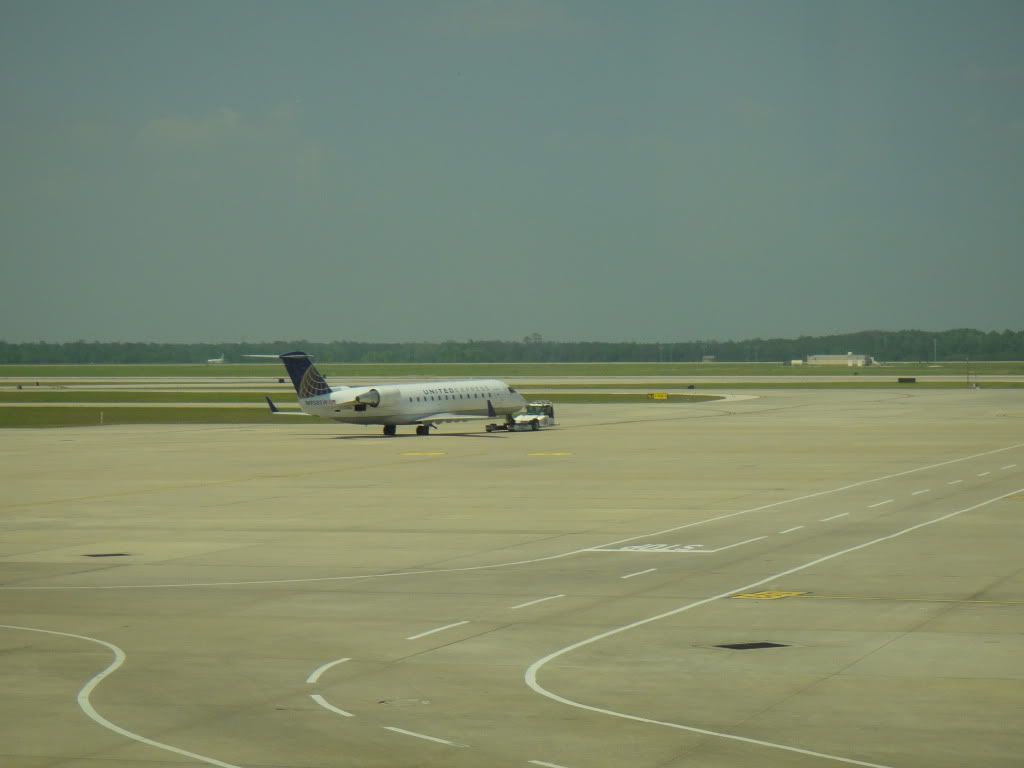 A picture report: Arrival of an UA 738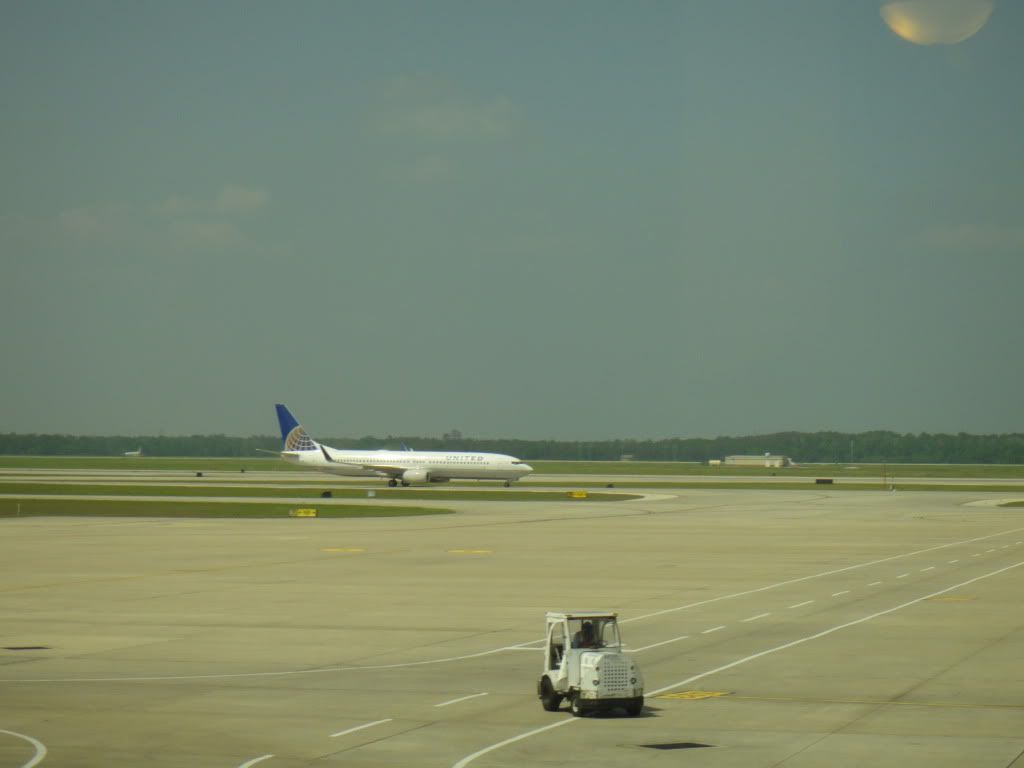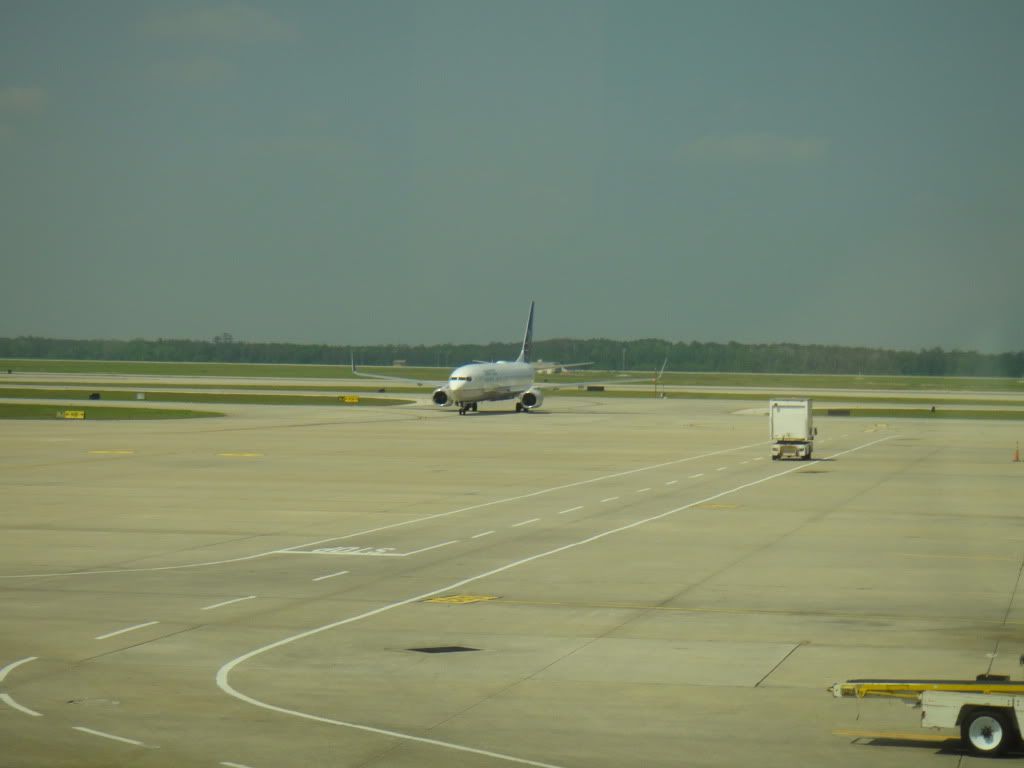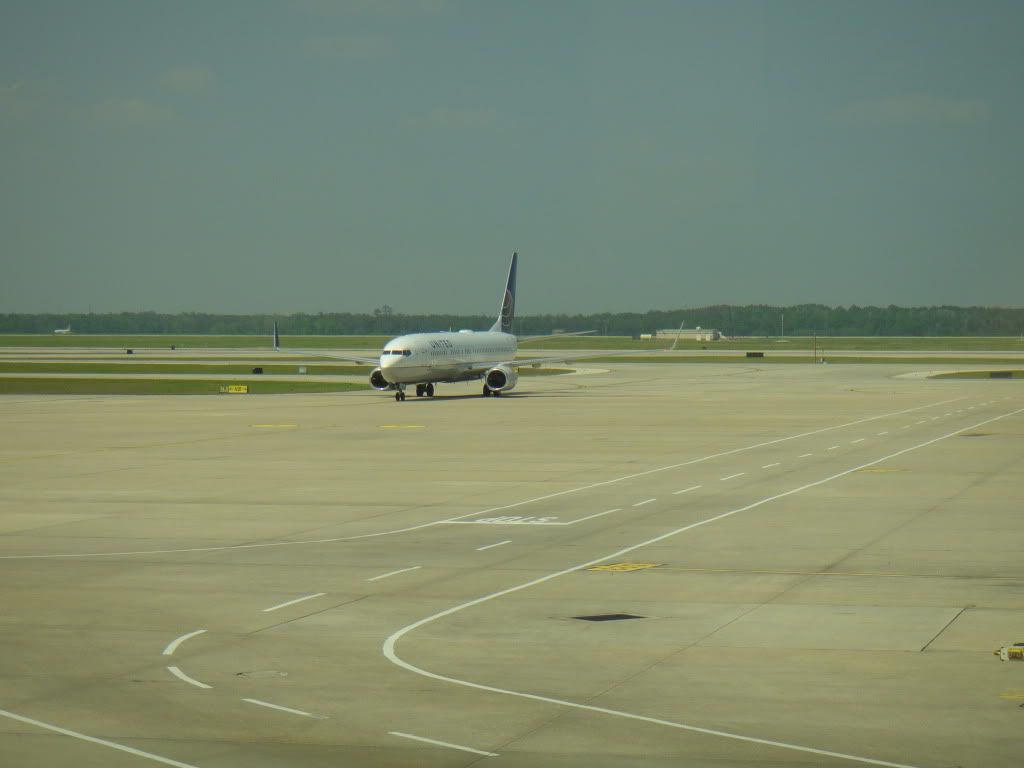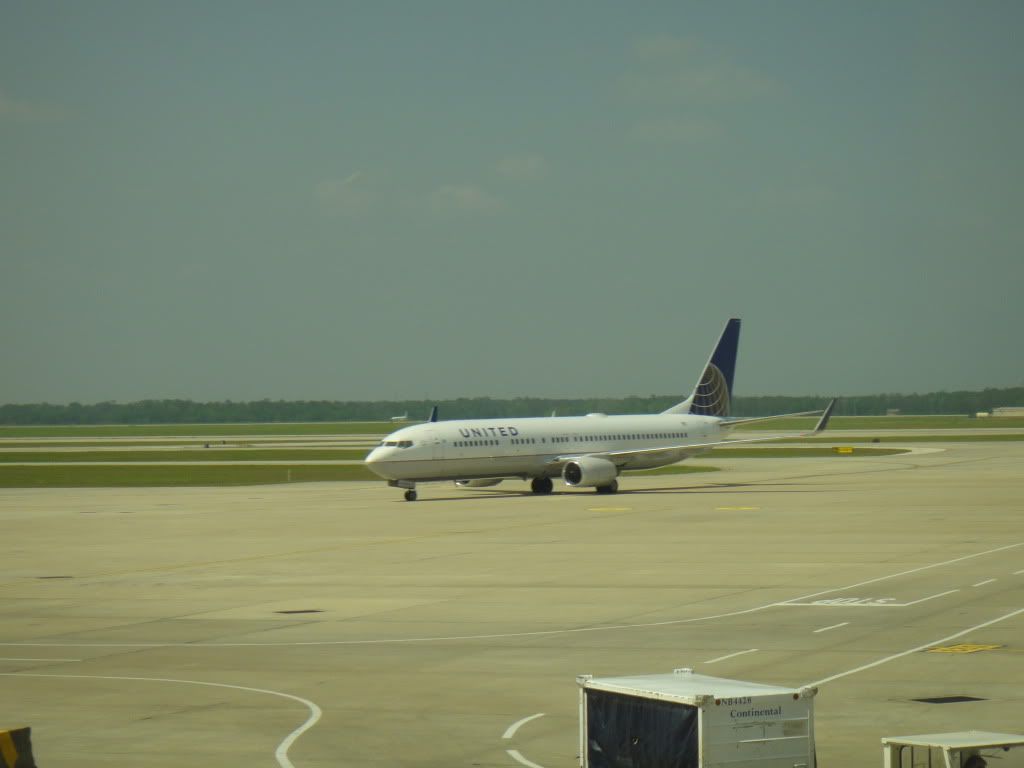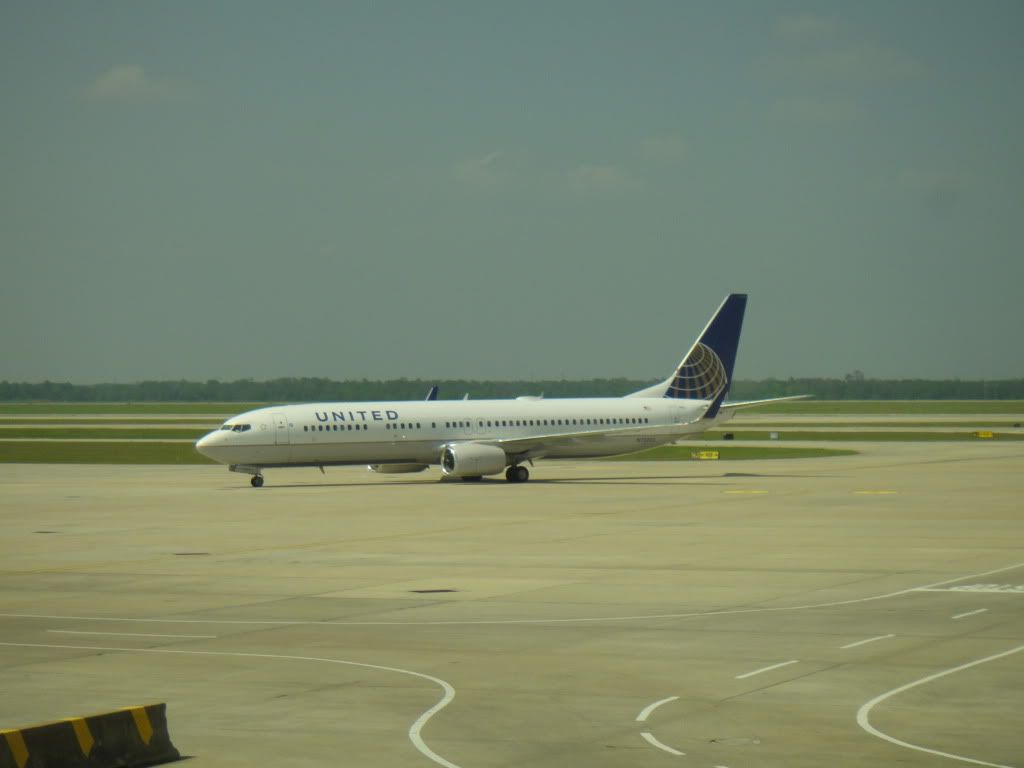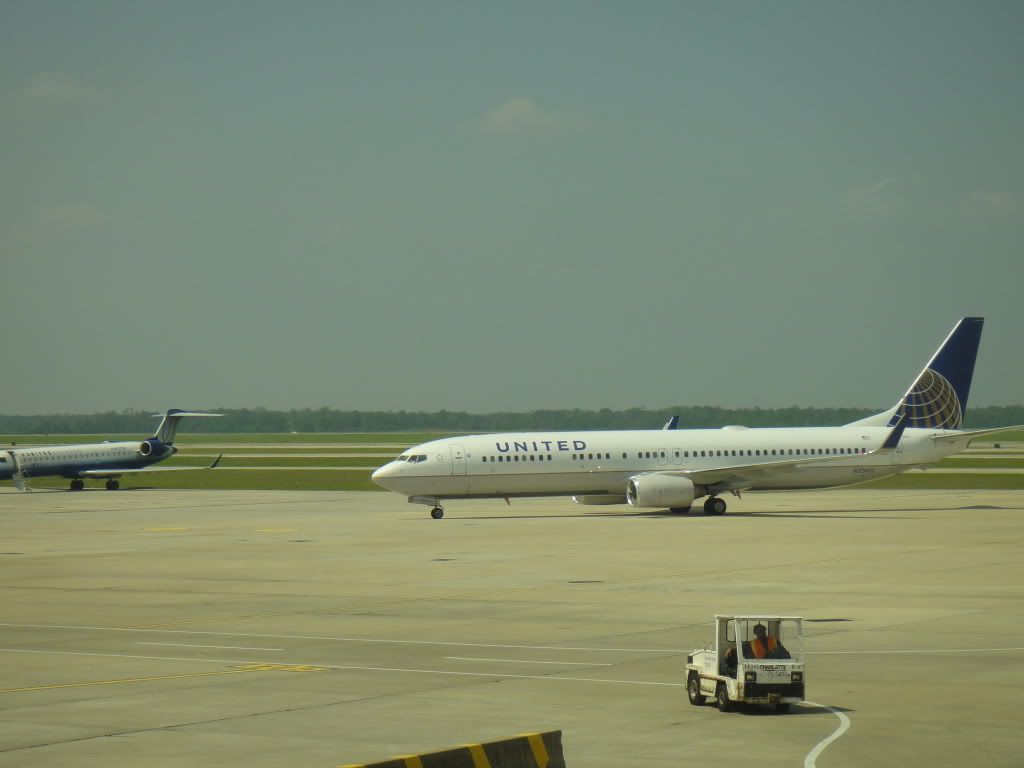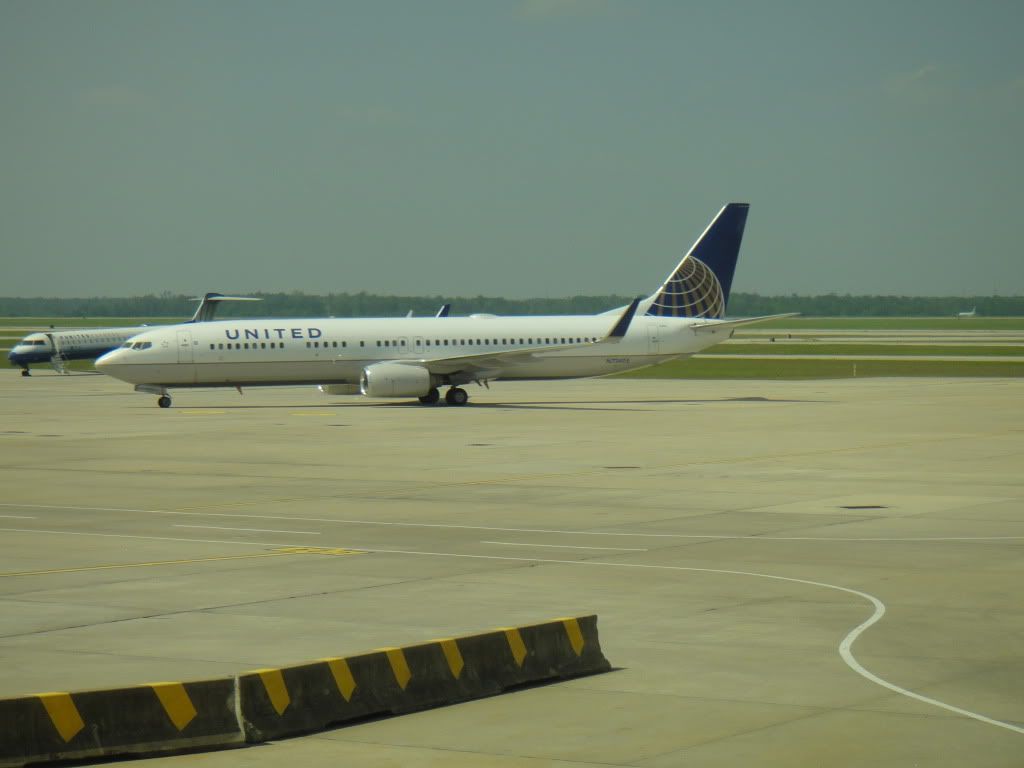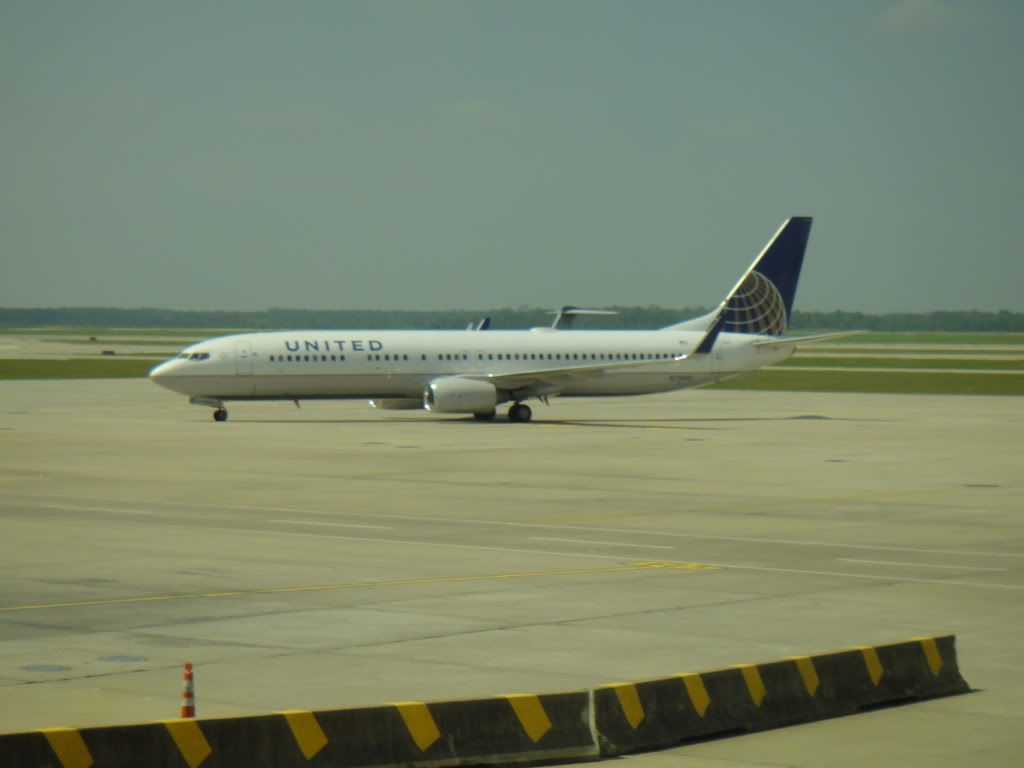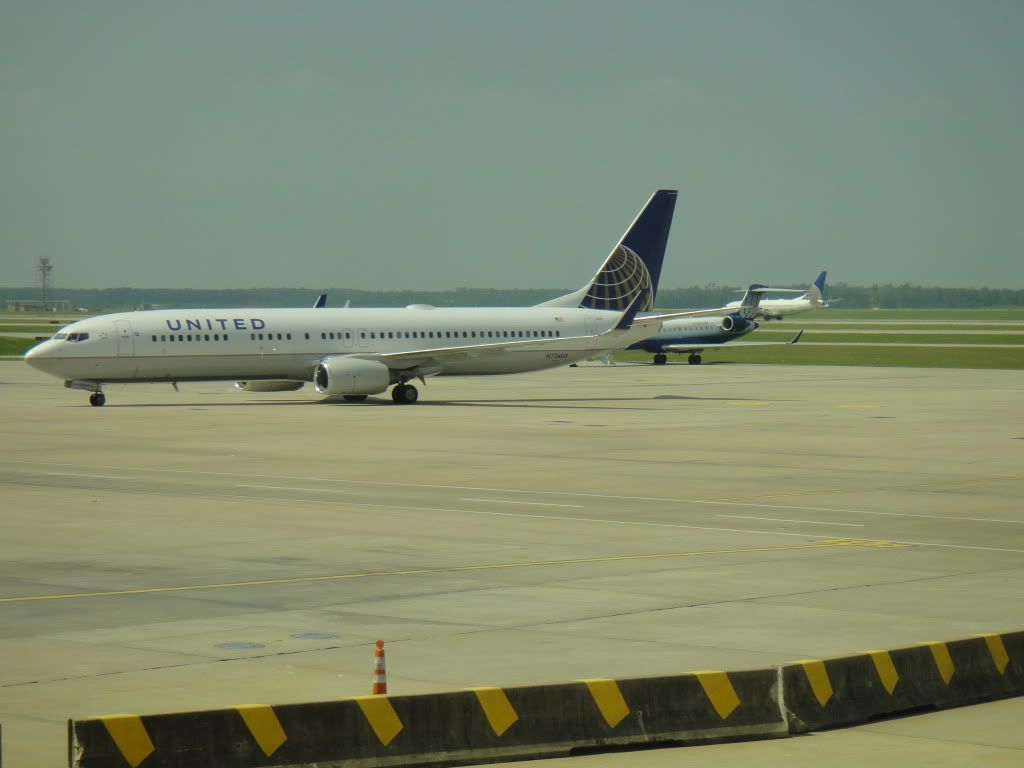 UA 735 taxiing in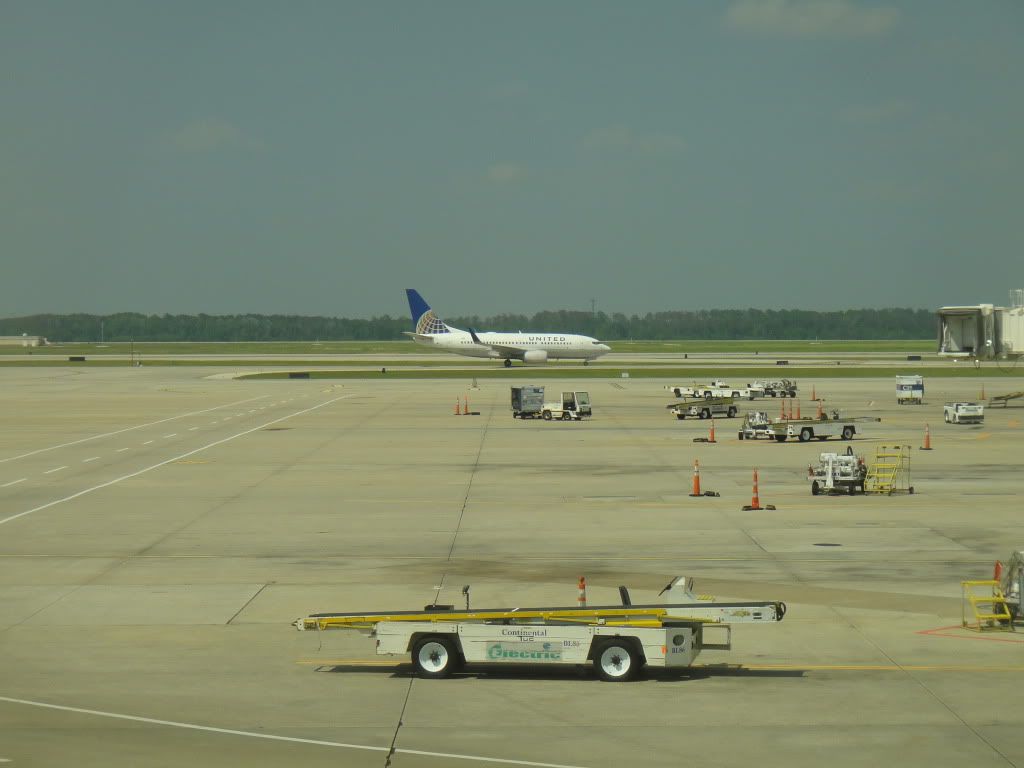 One of around 50 ERJs I saw that day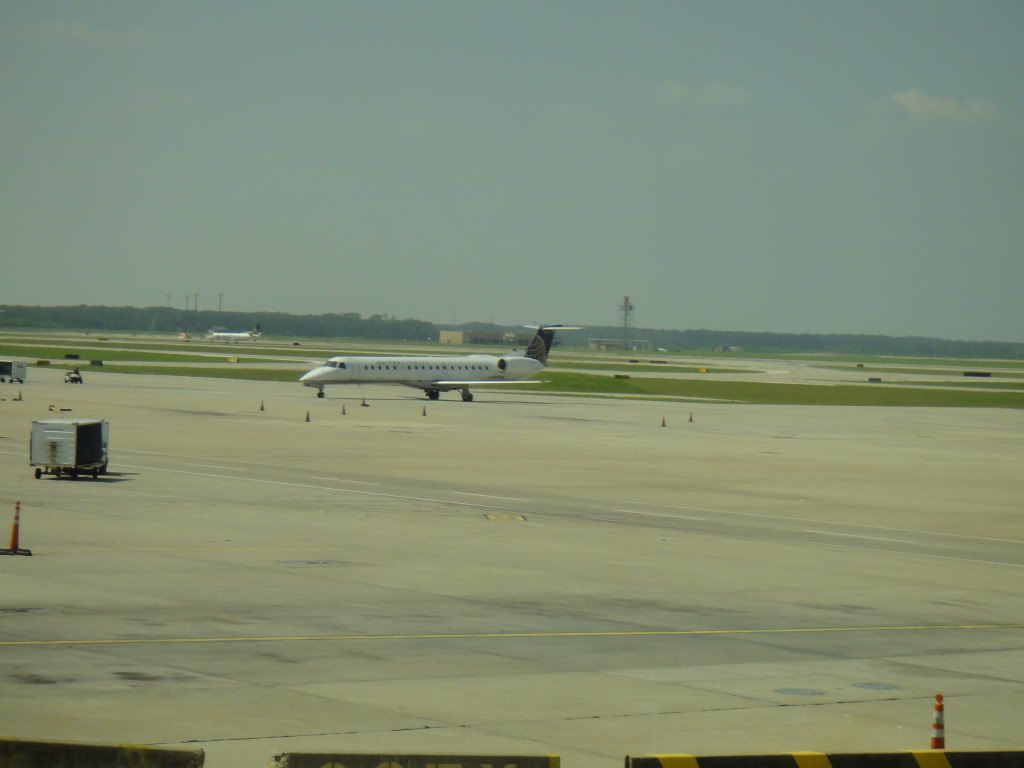 Another of the 3 CO marked planes I saw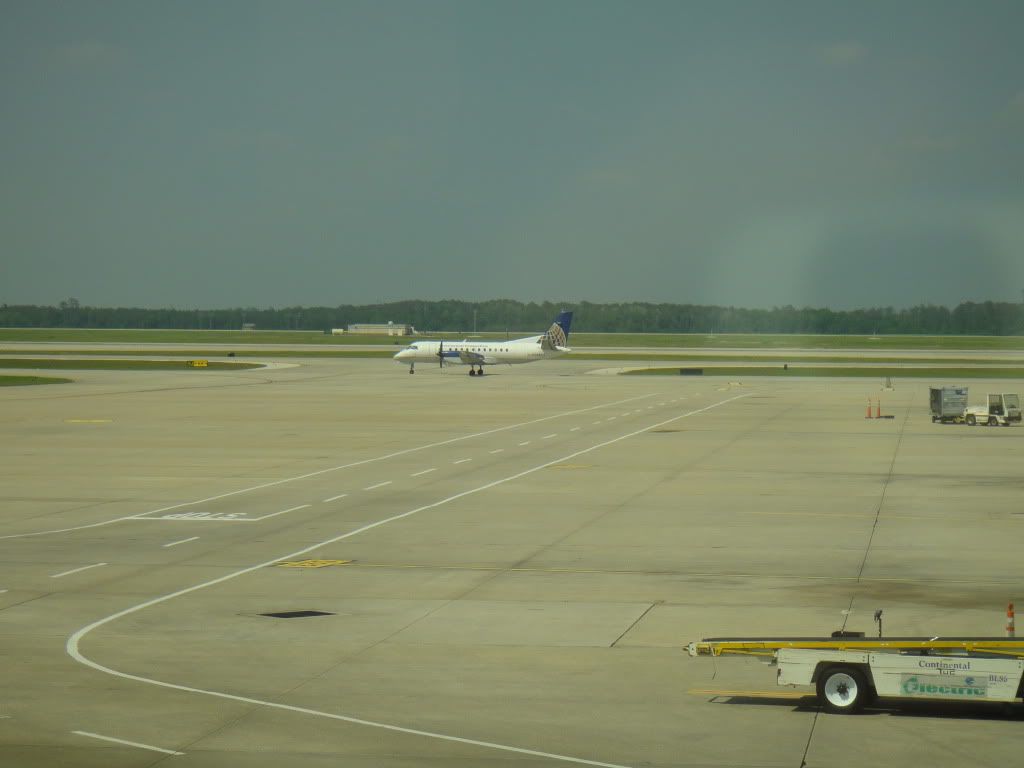 Eurolineup – PH-BFW KL 744, F-GZNA AF 77W, G-YMMT BA 77E - love this big blue bird!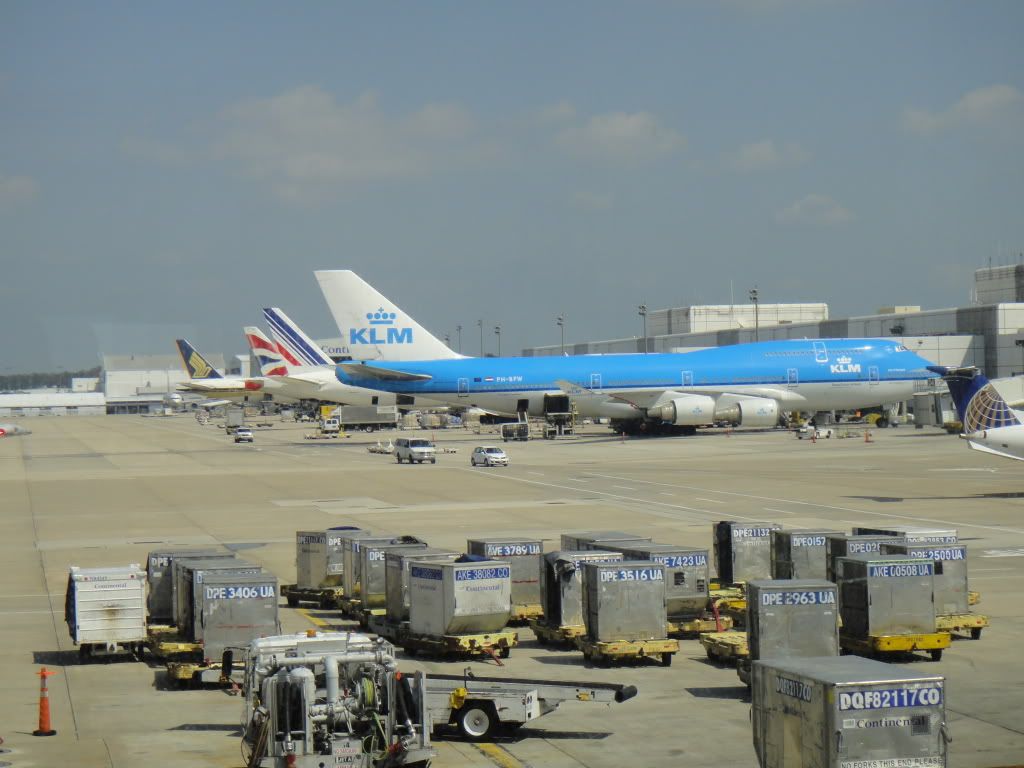 The famous 738 featured in the photo report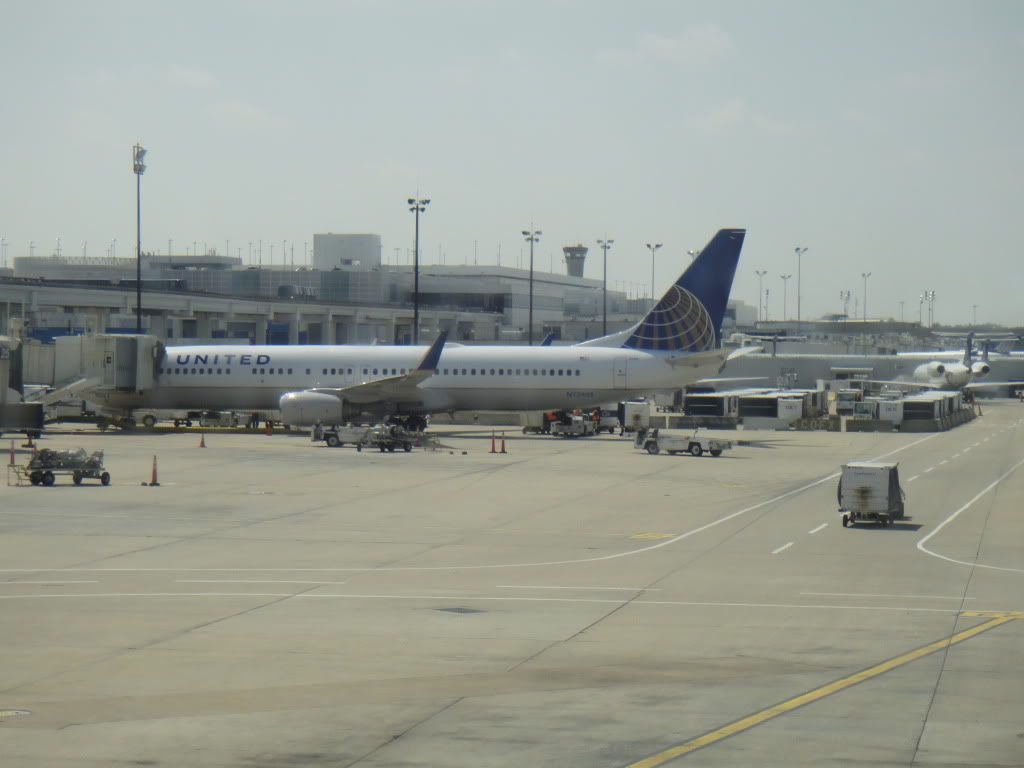 N664UA, my ride to Peru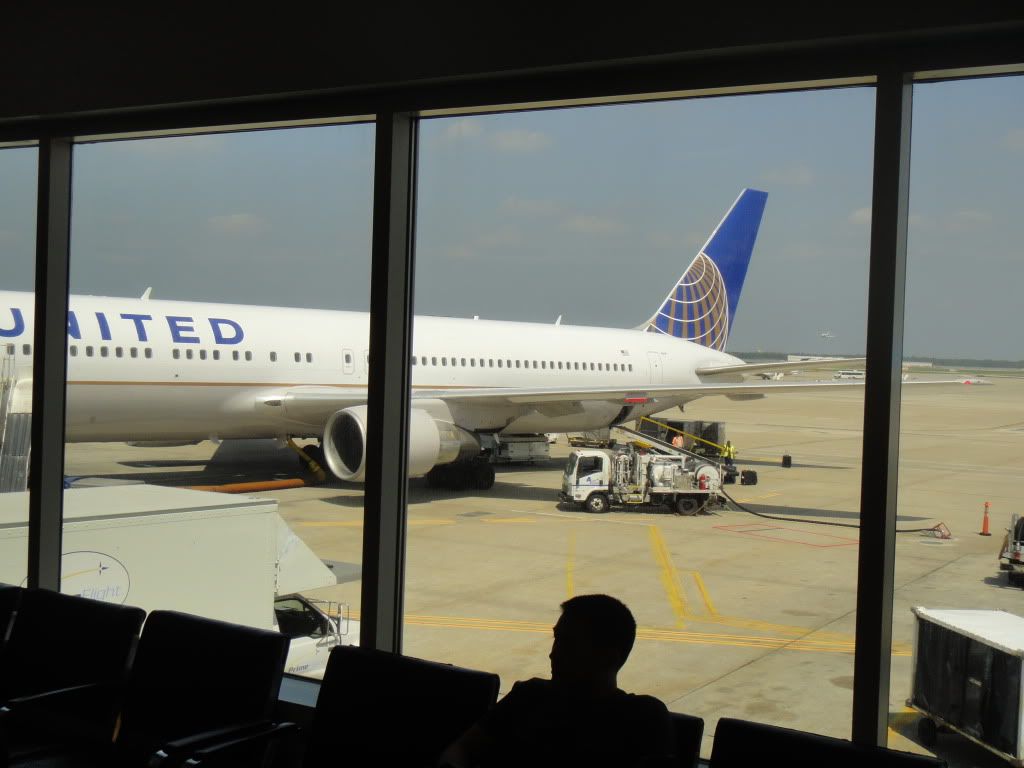 No photos of N664UA in the new paint on a.net
Flight information
Date: 31. March 2012
Airline: Icelandair (UA/UAL)
Aircraft: Boeing 767-300/ER
Registration: N664UA
Flight number: UA 854
From: Houston George Bush Intercontinental Airport, TX, United States (IAH/KIAH)
To: Lima – Callao Jorge Chavez International Airport, Peru (LIM/)
Runway used at origin: 15L
Runway used at destination: 15
Sched/Act departure: 15:50/15:57
Sched/Act arrival: 22:19/22:18
Blocked time: 6 hours 29 minutes
Flight time gate to gate: 6 hours 31 minutes (15:57 – 22:28)
Flight time RWY to RWY: 6 hours 9 minutes (16:16 – 22:25)
Seat & Class: 10E (middle) EconomyPlus (Y)

Personal information
[i]My 216th flight, 7th in 2012
My 1st flight on UA, 1st on UA 77, 1st on UA 763, 1st on UA 76E
My 6th flight on 767, 5th on 763, 5th on 76E, 1st on N664UA
My 22nd airline
My 40th airport[/b]
Former appearances:
To my disappointment we were given an aisle and a middle seat, 10D and E. It cheered me up a litte when I found out it was a EconomyPlus bulkhead seat, with more legroom and recline. In the flight I didn't get any better service than in Economy. Is the seating comfort the only advantage in EconomyPlus?
The seat was ok, but it could use a better headrest and was kinda hard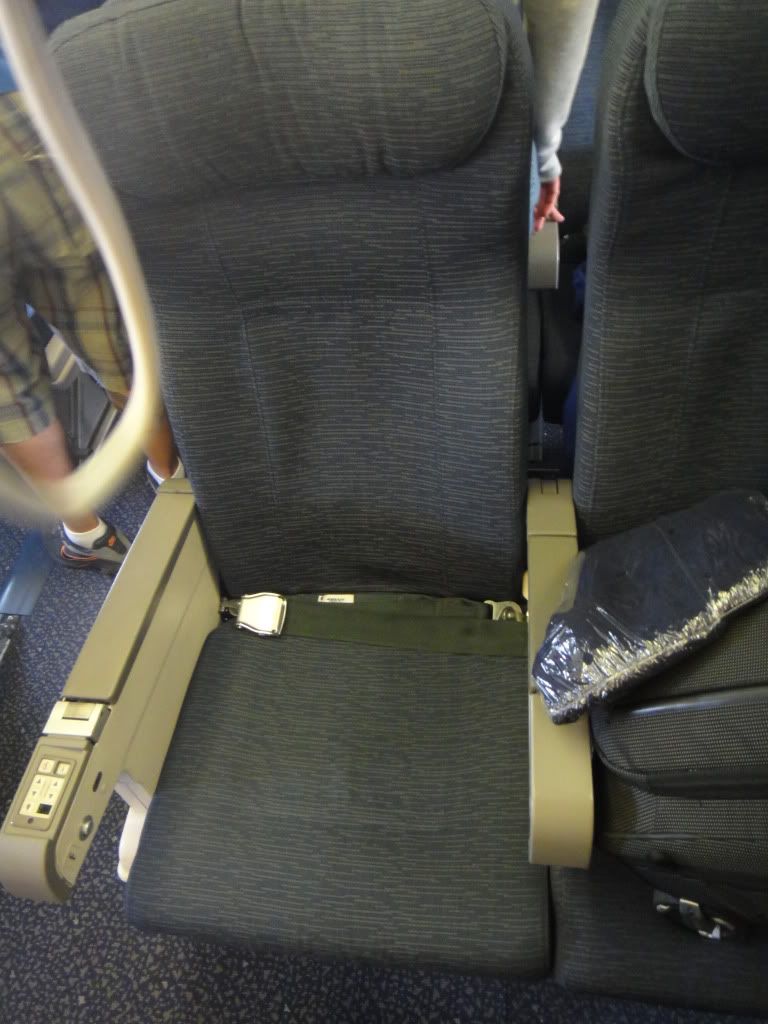 Look out of 10J, wish this was my seat!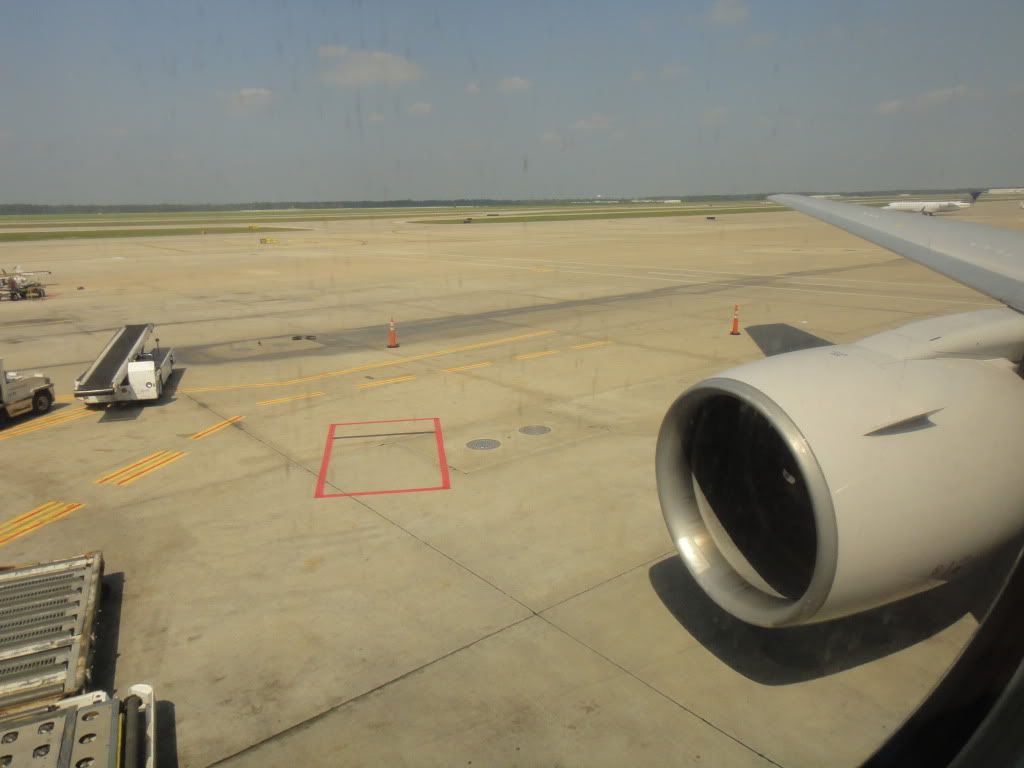 A 763 it is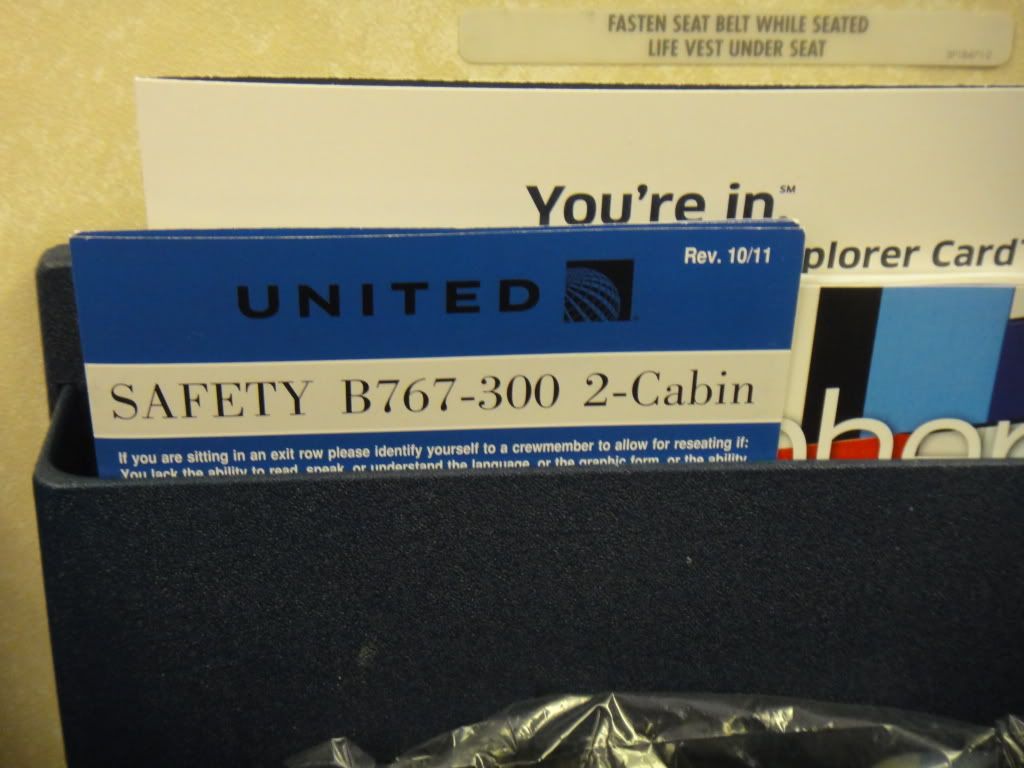 Legroom isn't an issue here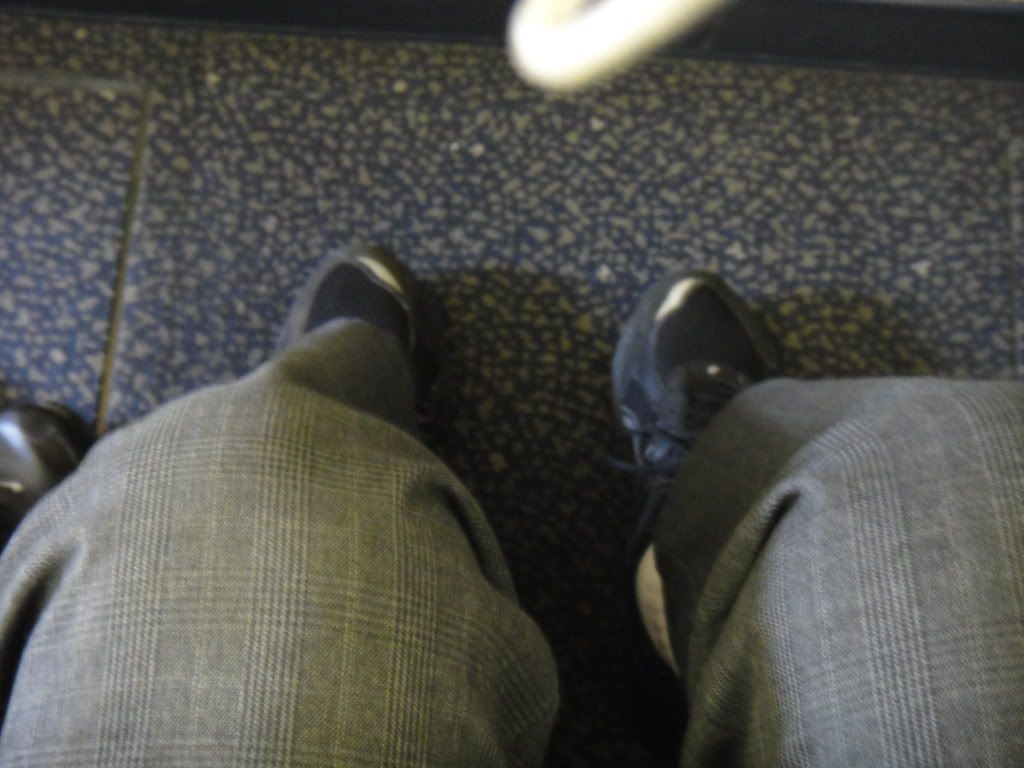 Ancient aircraft phone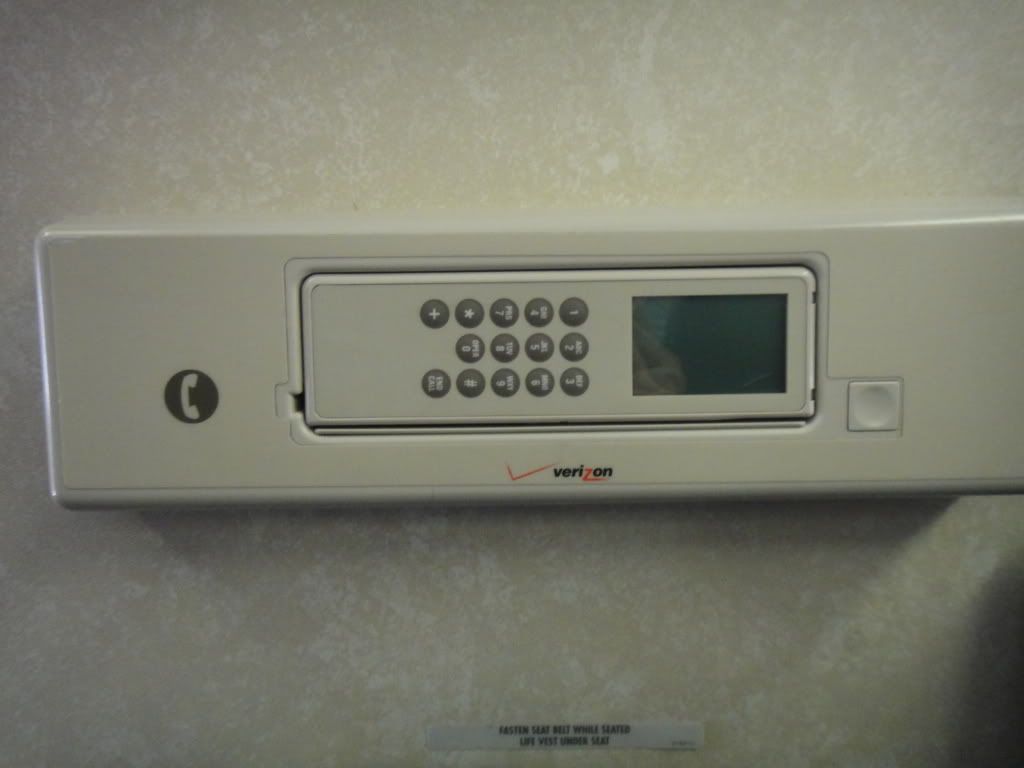 My personal IFE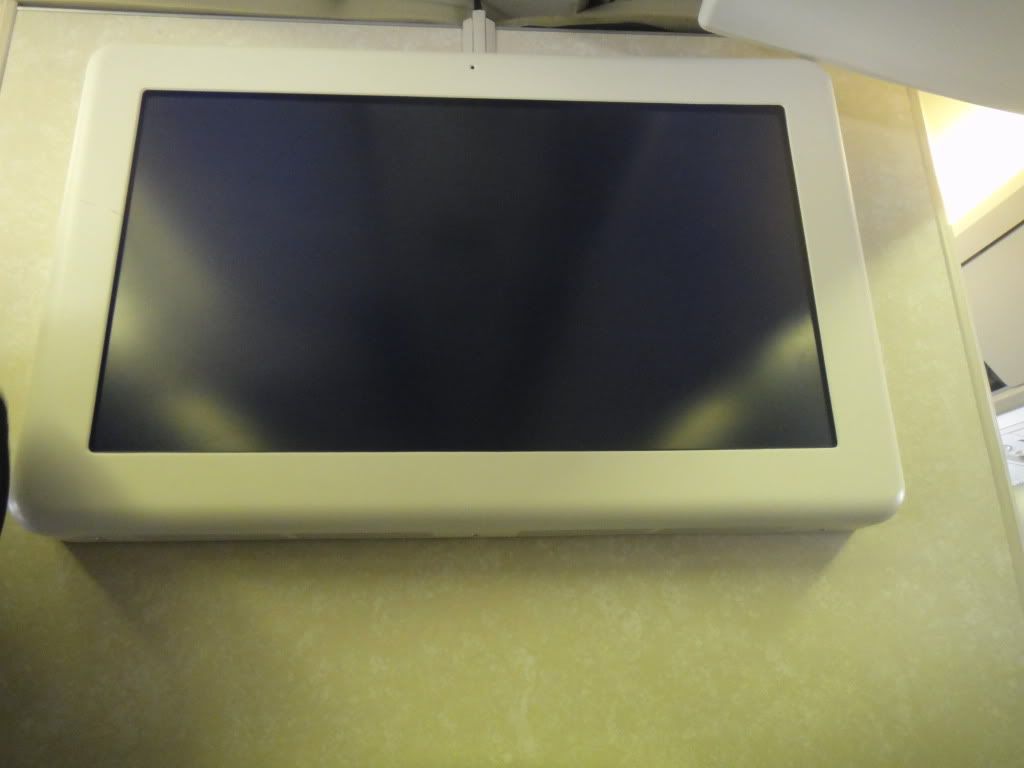 Fleetpage – I can't find wrongs as easily as PH, and quickly gave up trying on this one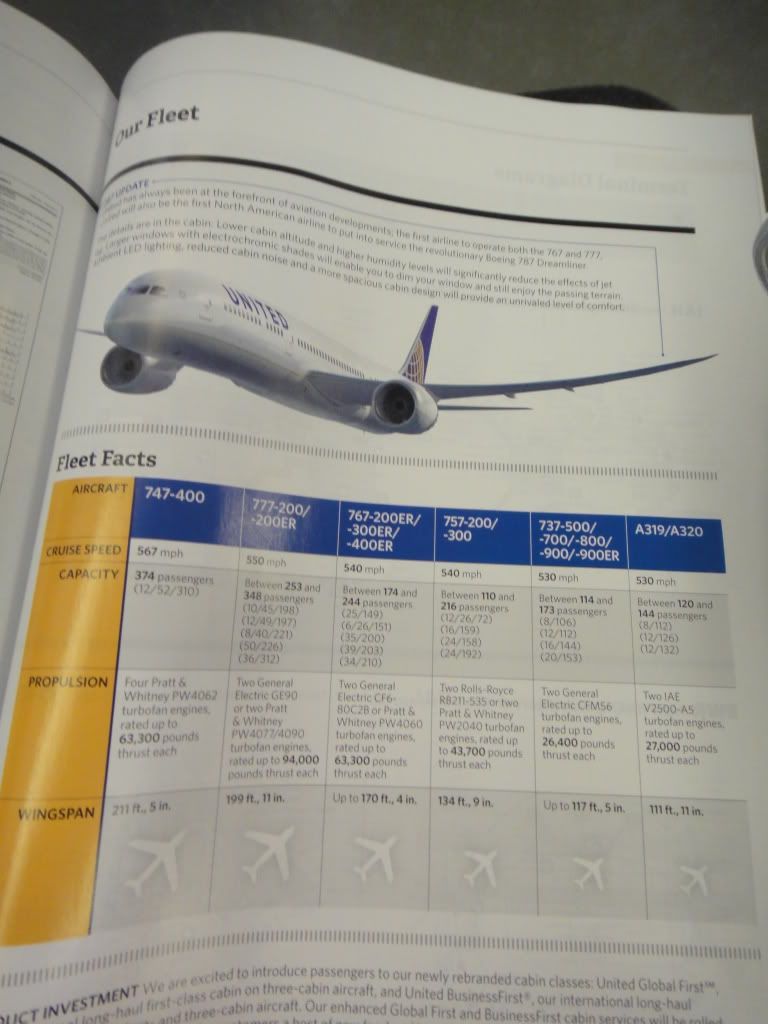 EconomyPlus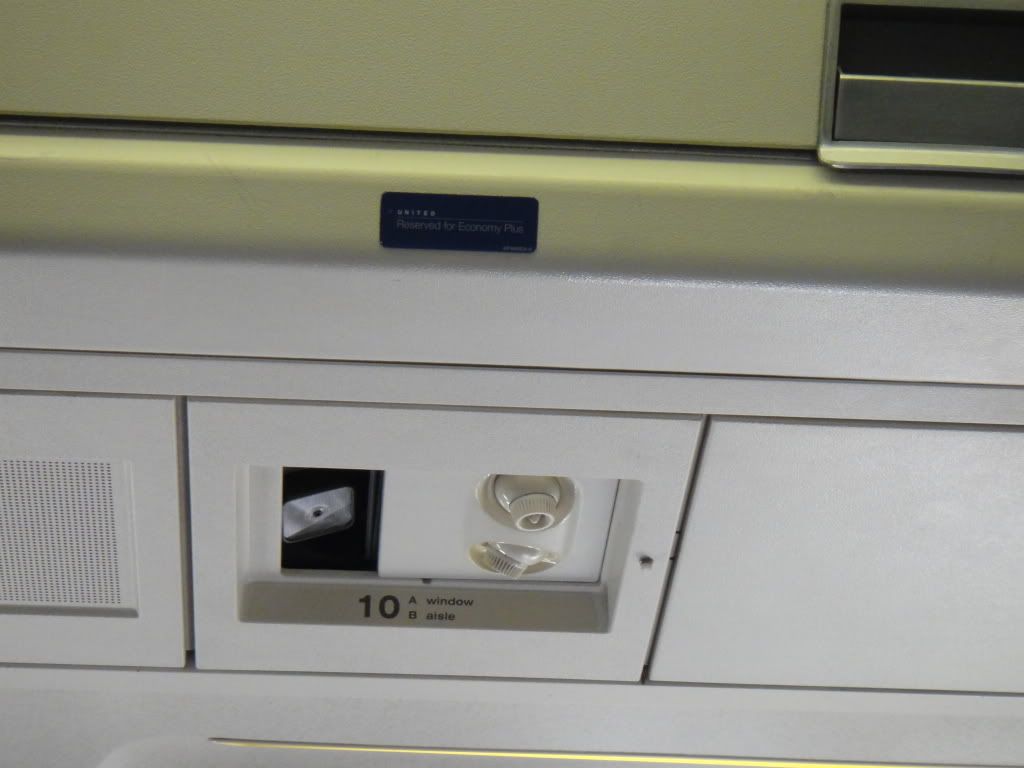 Tickets still have CO markings it seems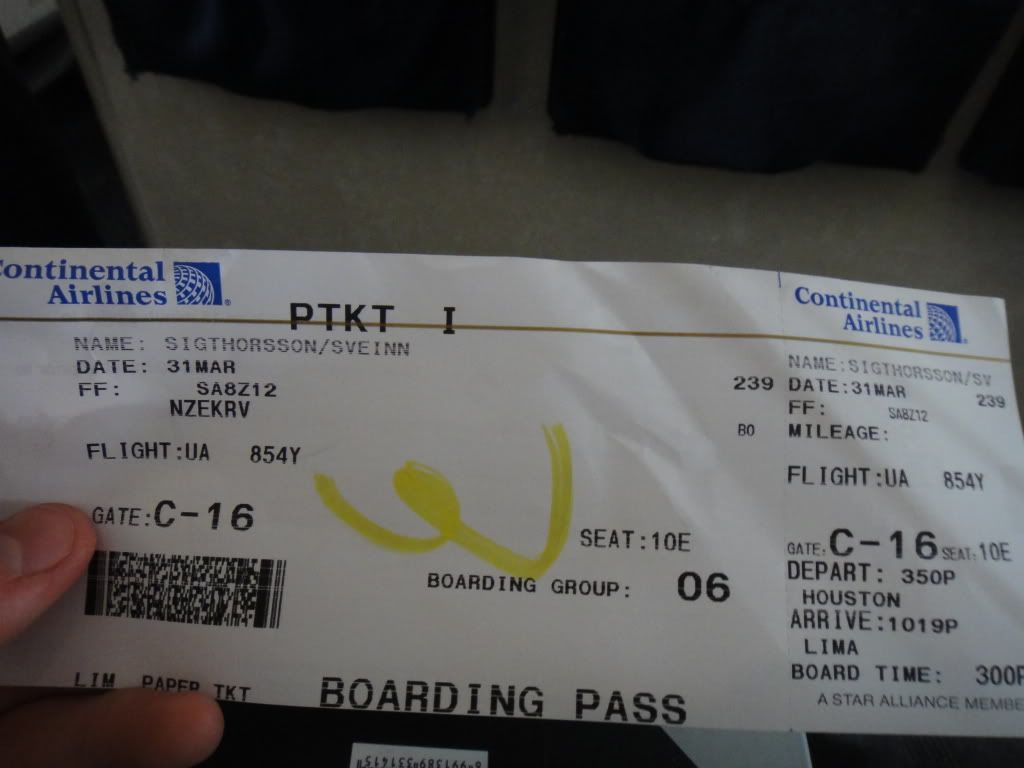 Of course it's channel 9, ATC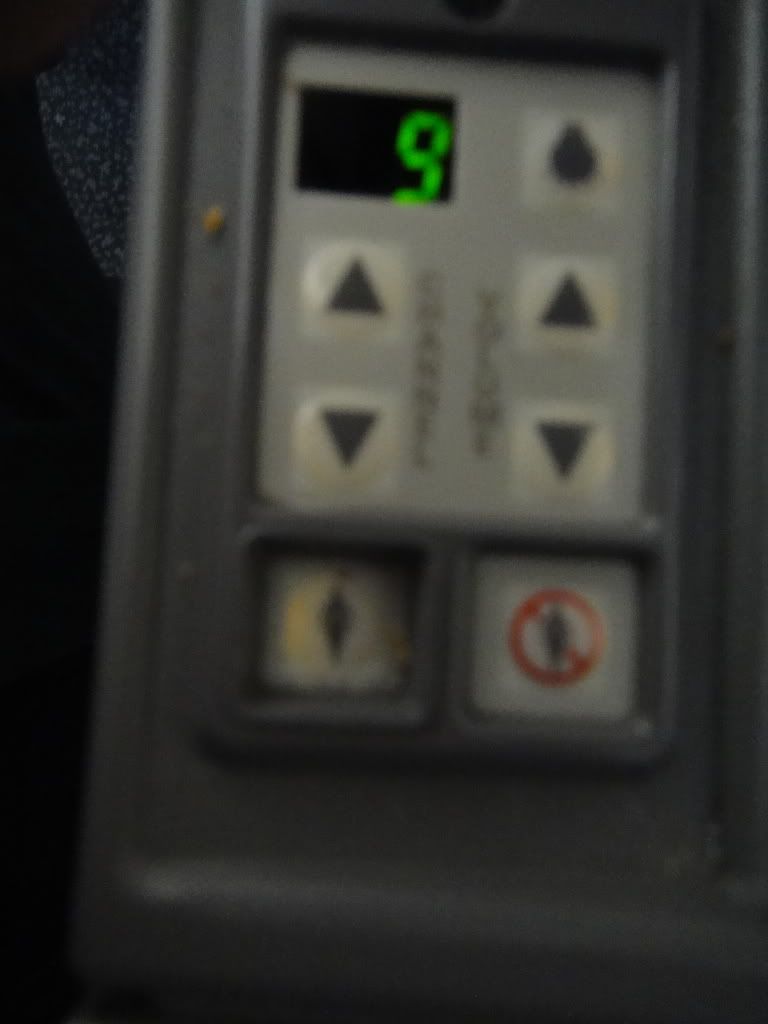 Takeoff video:
http://www.youtube.com/watch?v=otFrVsIewO8
Drink & snack service was commanded shortly after takeoff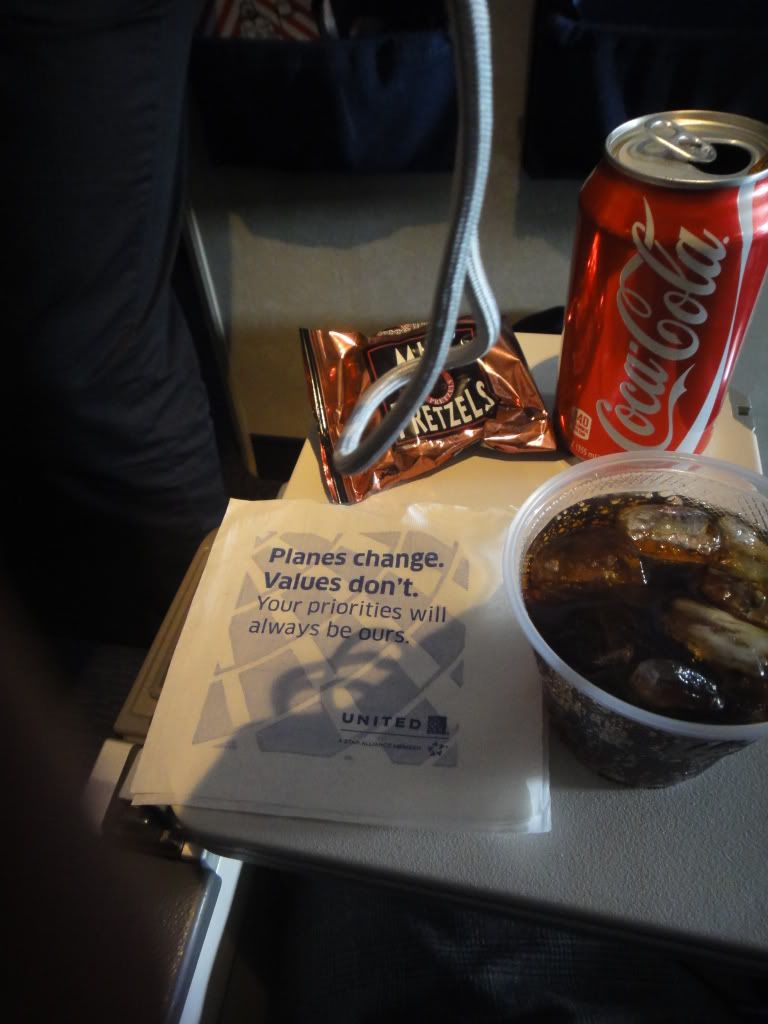 Good to rest after a difficult day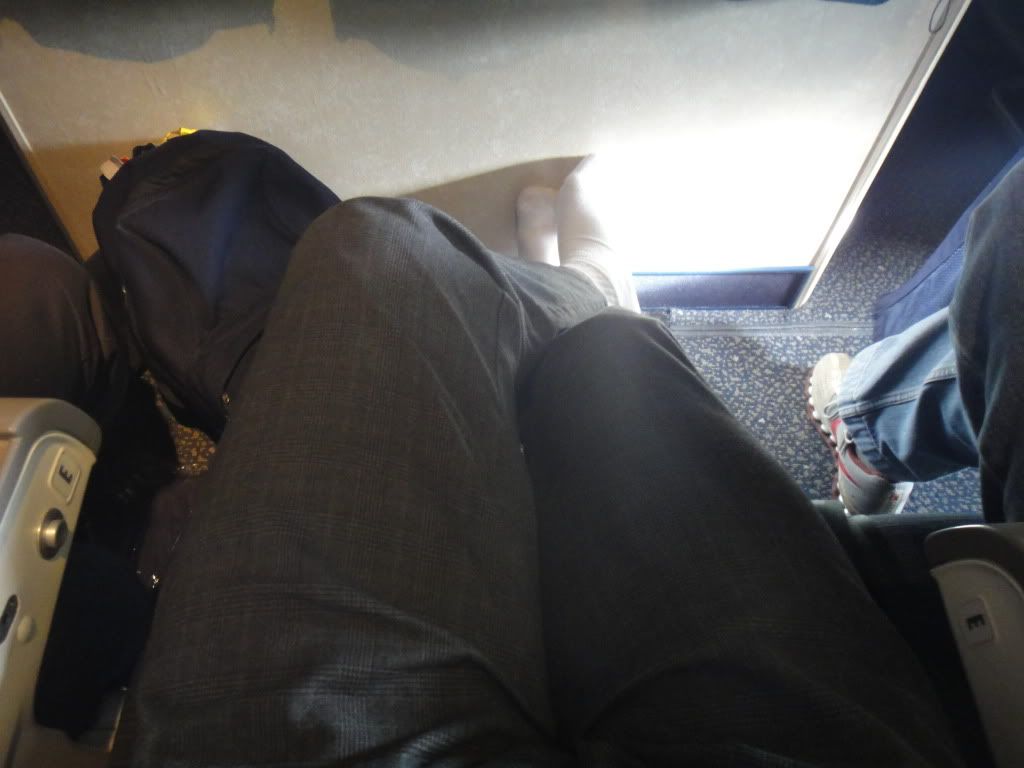 The dinner was definitely not premium in any way. The meatballs were okay, the pasta was hard and the bread was somewhat artificial. Not good!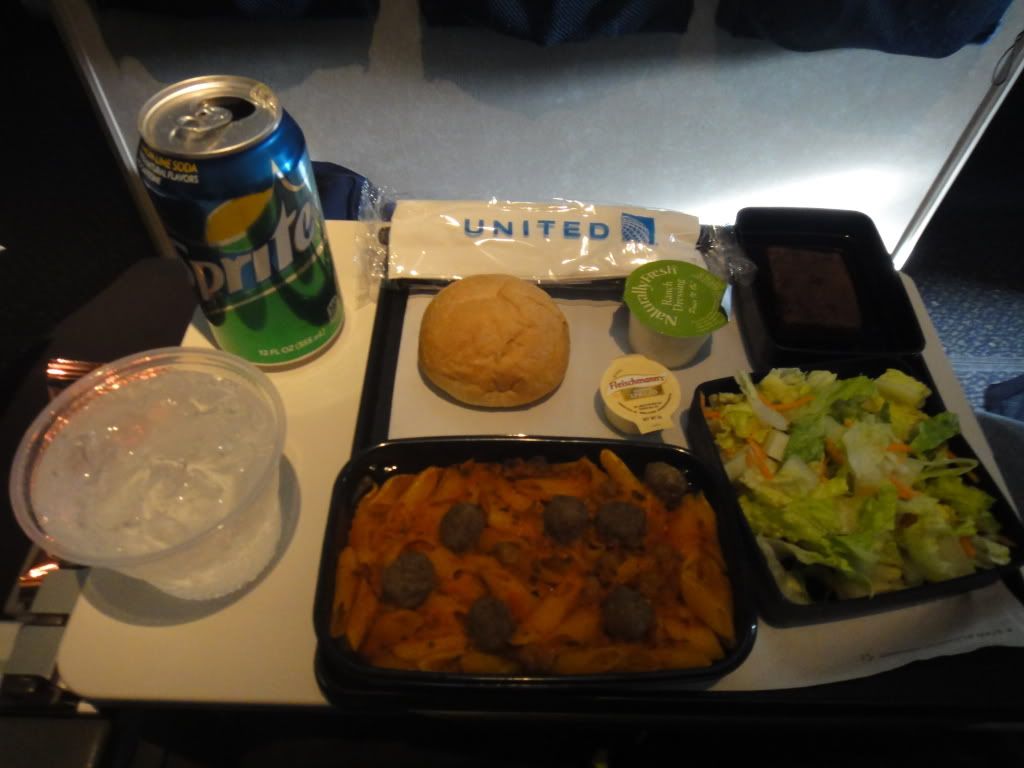 Mmm… (don't worry, I didn't eat it all
) Haribo candy bought in KEF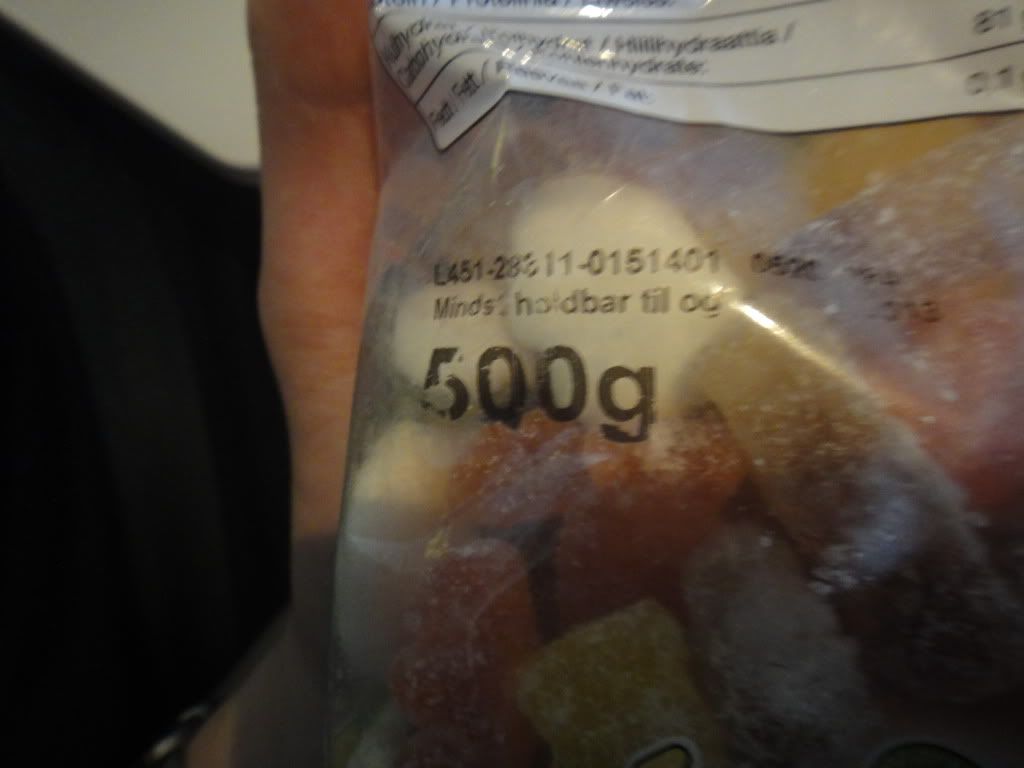 Another drink service, I had apple juice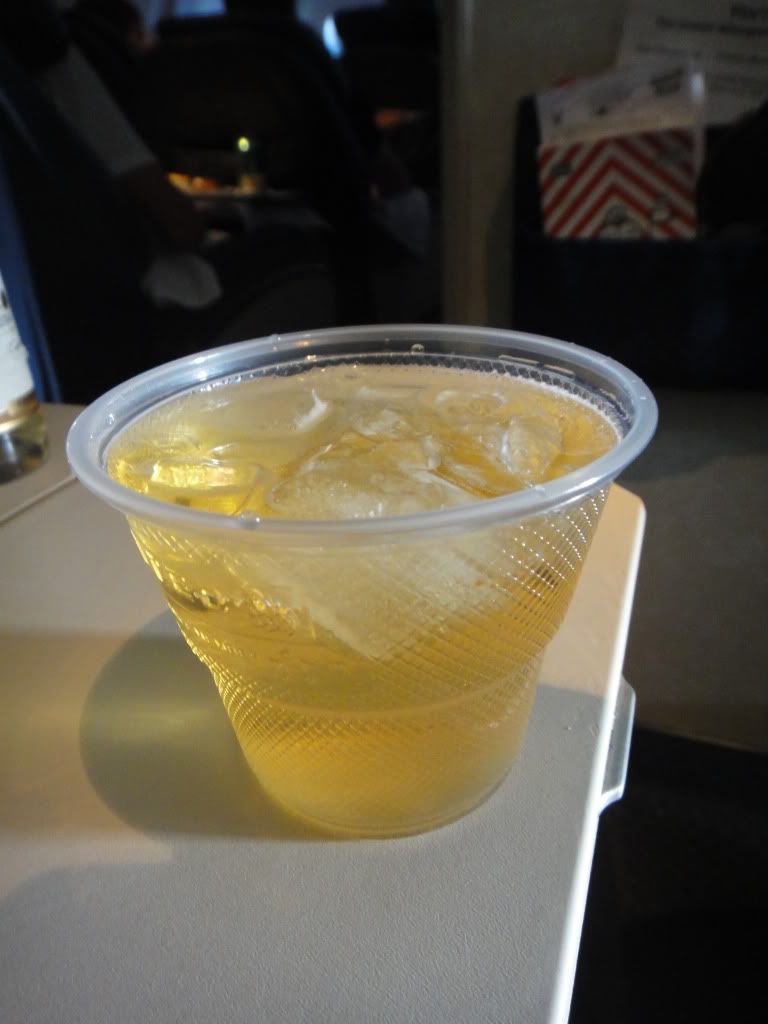 Sunset somewhere over the Caribbean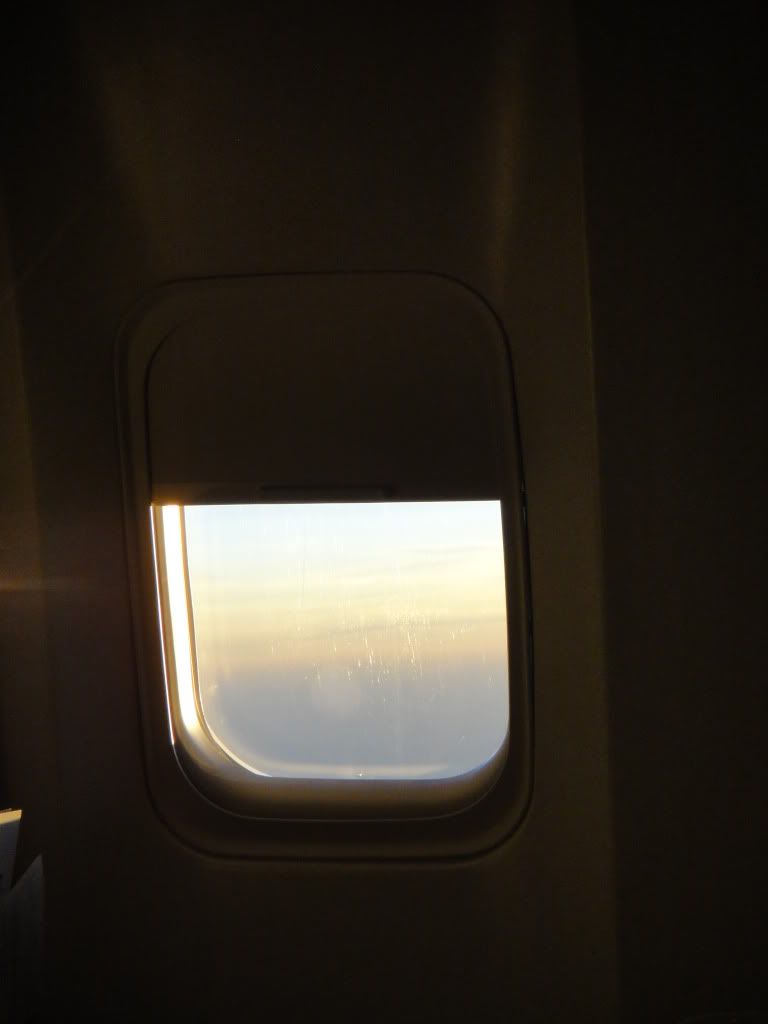 Cabin (not a good pic, I know)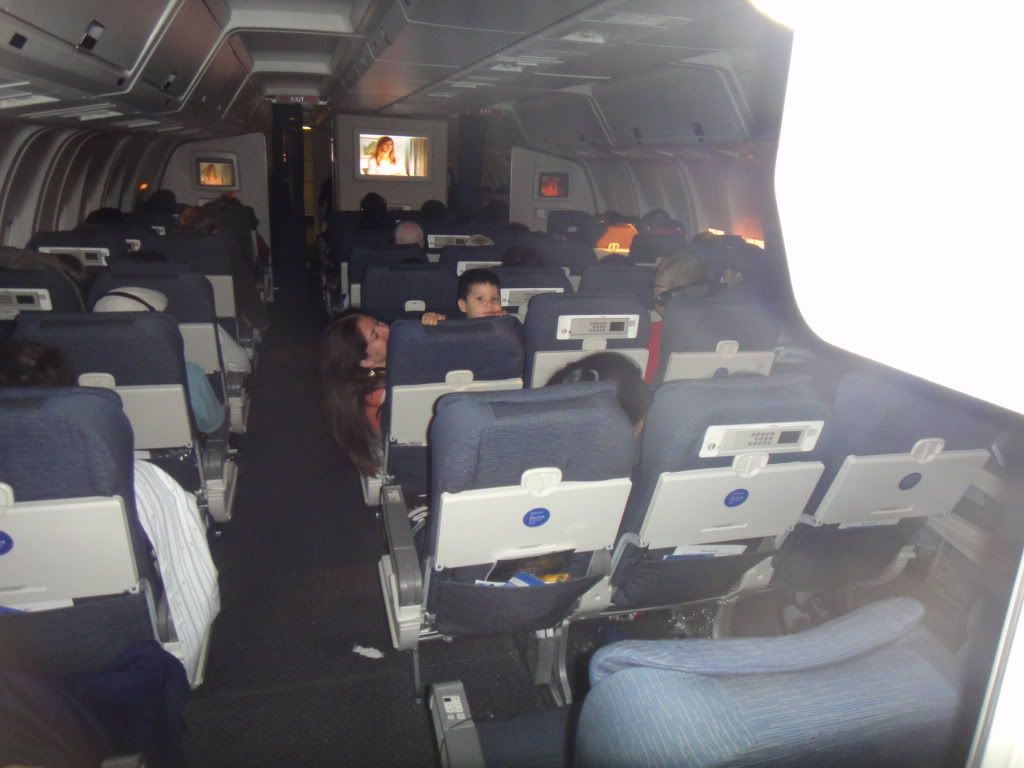 I slept for 2 hours out of the last 3 hours of the flight and woke up an hour before arrival
Pre-arrival snack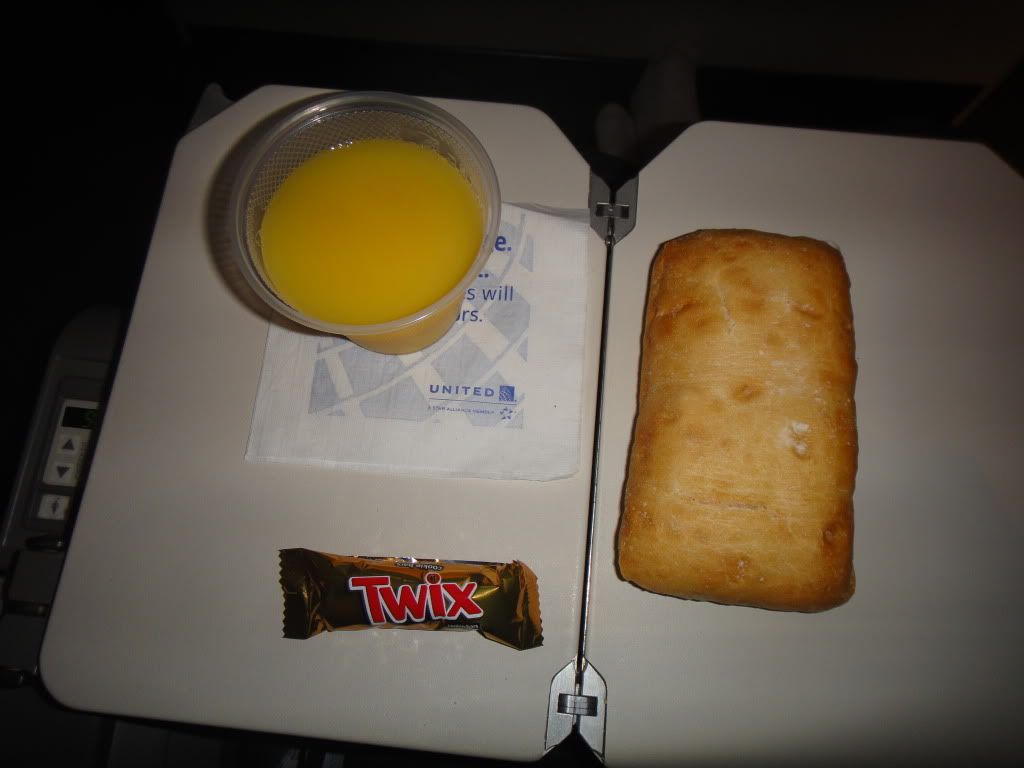 I realize I'm in a minority, but I really like the new UA brand! Looks classy in my opinion.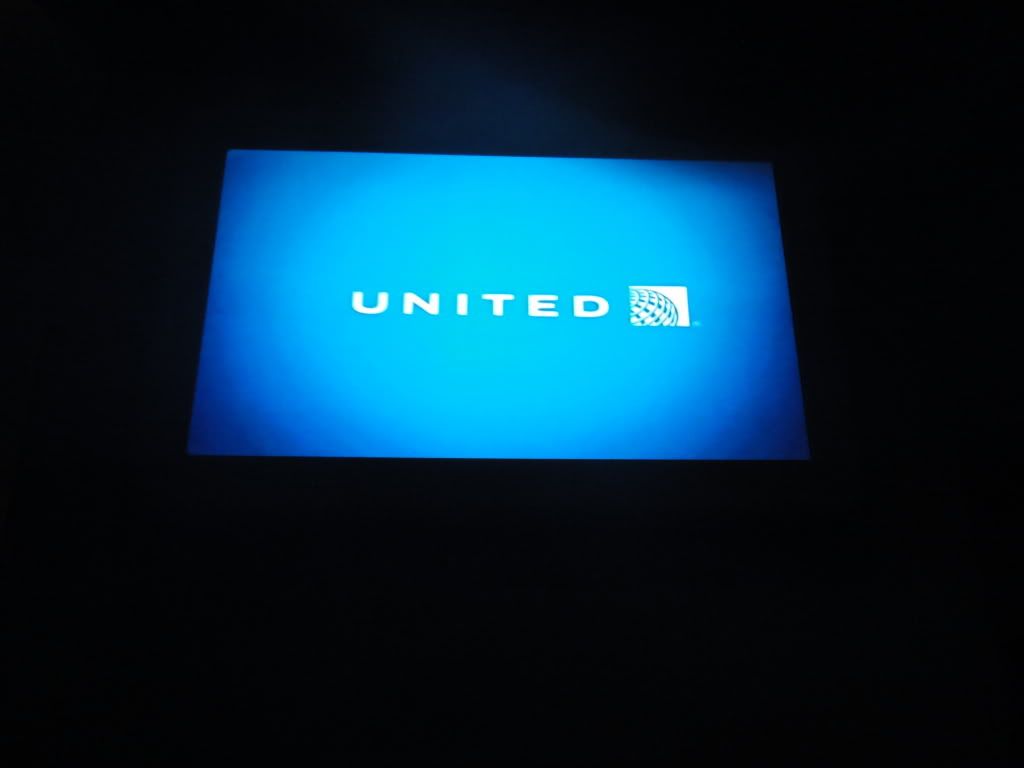 Descend was commanded and at 22:25 I touched down in South America for the first time! After a really short taxi we arrived at the gate and deboarded.
Look out of 10A, wish I had been here the whole time! The old