Background;
Way back in April 2011, I took my first trip to Atlanta. I remember it like it was yesterday. I got up on April 8th, and was in a stinking mood. I had just moved house and was tired. This was my first trip after having done so. I came down stairs, and with my cup of tea in one hand, cigarette in the other, loudly exclaimed 'Who wants to go to Atlanta?!'
That night, while out for drinks with the crew, I was in the restroom at a local bar, and in walked this young gentleman. I was really into the motif on his t-shirt, and asked him about it. We struck up conversation and have been in contact ever since. It made me realise that I wanted to go back to Atlanta. I've been waiting for ages to have a break from work to get back to the South. I eventually decided on the long weekend of April 13-18 - just over a year since I first visited - to make my comeback.
Anyway, back to the trip...
I arrived from Boston, MA on Monday morning (09/04) and immediately started packing upon my return to the house. Well, when I say packing, I mean sorting out what crap I wanted to take with me. I eventually decided and filled two bags with clothes, shoes, beauty essentials and more (everything a gay man needs for a few days away). I was getting more and more excited as the days went on.
Eventually, Friday the 13th came around and I woke up with a stinking hangover. My best friend Tom and I had had a night in the evening previously and consumed somewhat too much vodka. After breakfast, showers and final packing, we made our way to Heathrow (Tom departing for LAX as a work Trip - Virgin hostie - at 1525). I dropped him off at Terminal 3 and then made my way to Terminal 5 on the tube, then upstairs to check in at one of many British Airways' Self Service Kiosks.
After entering my details, I held my breath, praying that it would tell me I had a seat confirmed on the plane. One of the disadvantages of travelling on Staff Travel is that one can sometimes not be sure if they're on the plane until the very last minute. Thankfully today though, the flight was only 3/4 full so I was initially given 32H in World Traveller. I went to one of the Club World check in desks to drop my bag and ask if there was any chance of a more comfortable seat. Unfortunately, there was no way to upgrade me at that point, but I was asked if I would like to move to 39K, which was free so at least I would get a good view.
After that I headed straight outside for my last smoke, phoned my mum to tell her I was off, and then made my way to security, which wasn't too busy, so I was through in a matter of minutes.
Waiting to pick up my belongings at the other end, I heard a voice say "Your name is Jordan, you work for British Airways and you're an a.netter!"
I was shocked, but soon found out it was user 747-438 and we had a quick conversation before I jetted off to Gate A10 - via a quick stop at Boots to grab a drink - and then onto the bus to our remote stand over by T5B. I was invited to board the bus with the First and Club World customers as the gate staff had said to ask the cabin crew if there was any chance of an upgrade. I'm not a huge fan of doing so, but decided to take the first bus anyway so as to get to my seat and take my time un packing and settling in.
Friday, April 13th 2012
London Heathrow, UK (LHR) - Atlanta Harstfield Jackson International, GA, USA (ATL)
British Airways BA227 (1505-1910)
Boeing 777-236ER
Aircraft Registration: G-YMMG
Seat Number: 39K (later moved to 14F)
Estimated Flight Time: 8h20
Take Off: 1530
Touch Down: 1845
Actual Flight Time: 8h15
The bus left Terminal 5A and headed off for the short journey to the B gates. Despite arriving at the B concourse right next to our aircraft, we had to drive all the way around the satellite terminal before finally pulling up at the stairs connected to Door 2L. There was a 5 minute wait while the ground staff readied themselves for our arrival and people started pushing towards the front door of the coach. As soon as they were open, people began piling out onto the stairs. I took my time, I'm not a fan of rushing, and soon enough I was welcomed aboard with a huge smile from the Cabin Service Director (CSD). She pointed me across the cabin and to the right, where I walked through Club World, World Traveller Plus and then all the way to the very last row of World Traveller. I took my comfy clothes out of my bag (namely some Abercrombie Sweatpants, a t-shirt and some espadrilles) to change in to after stowing all my belongings. I hauled my Louis bag into the overhead locker, tidied up my seat a bit and then went into the washroom to change. All I wanted to do now was get going.
Upon my return to my seat, the gentleman working position number 8 (at door 4R) started chatting to me, and we had a good 10 minute conversation as the aircraft slowly filled up. He informed me that we were only 3/4 or so full today so there would be plenty space to stretch out. I then took my seat, after returning my clothes to my bag stowing my jacket in the overhead locker, and sat with my face glued to the window watching the movements on the airfield.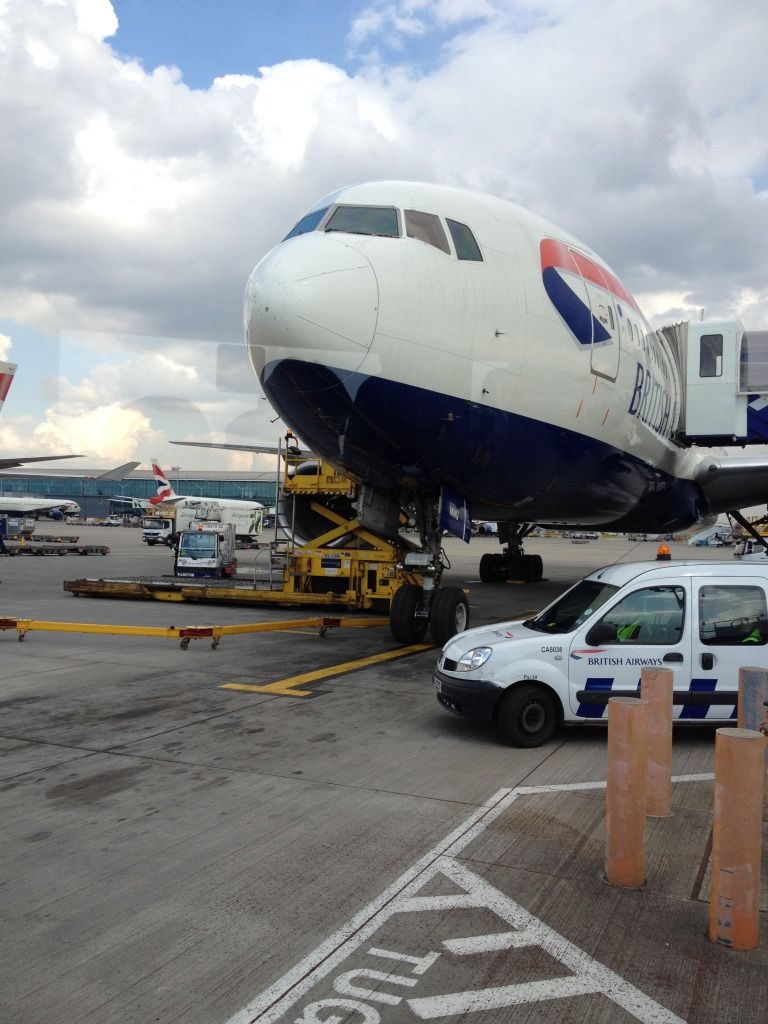 G-YMMG ready to take us across the pond
My World Traveller seat view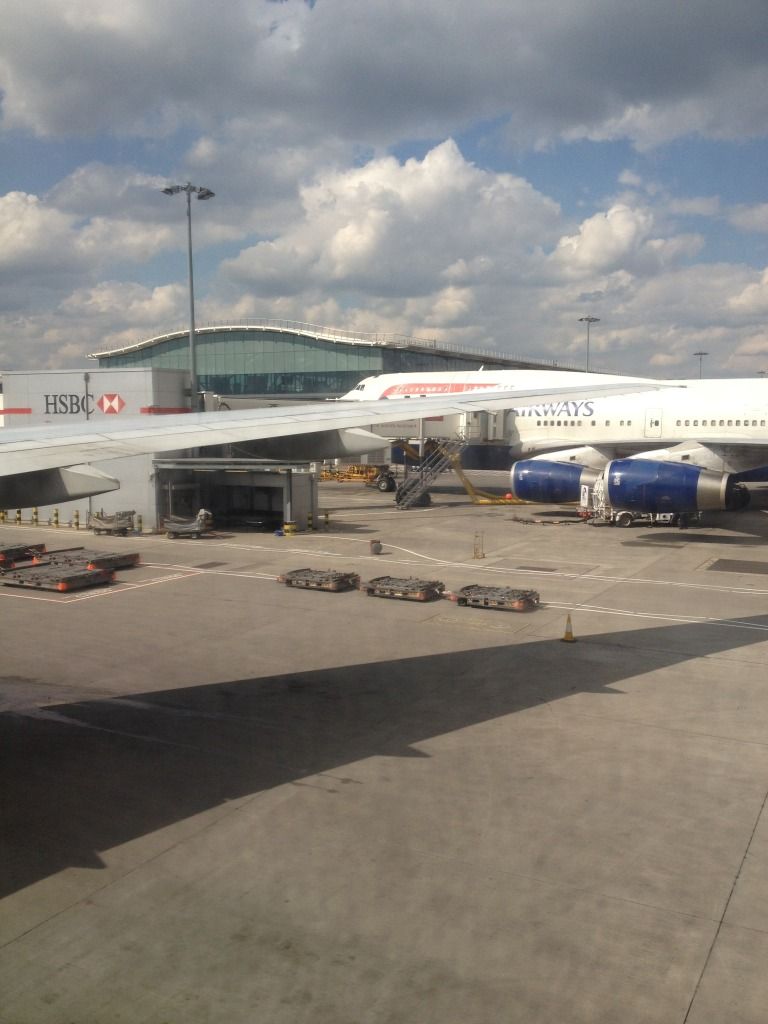 Looking forward towards the wing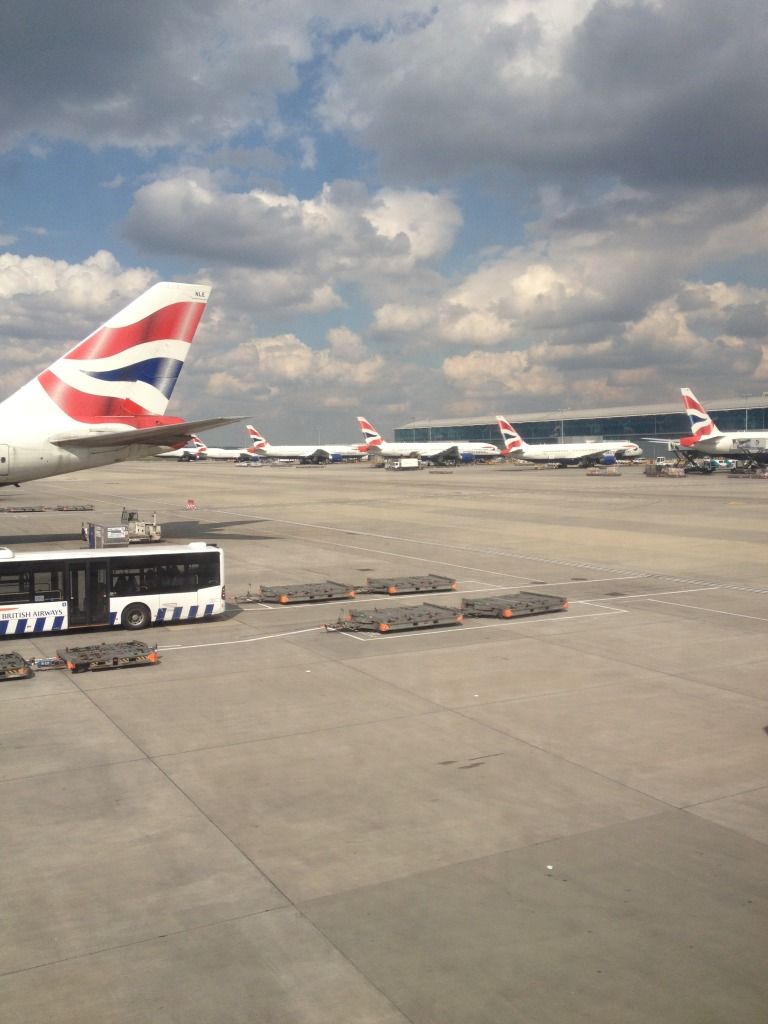 And backwards towards Terminal 5 C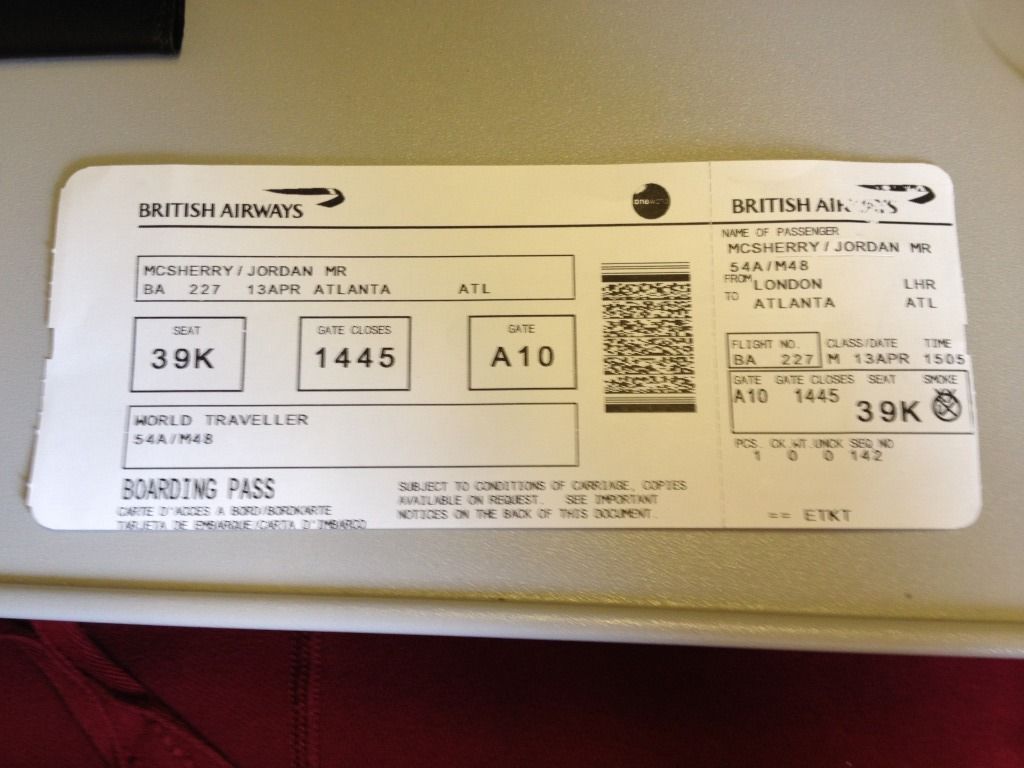 My Boarding Card - notice my standby code beneath my name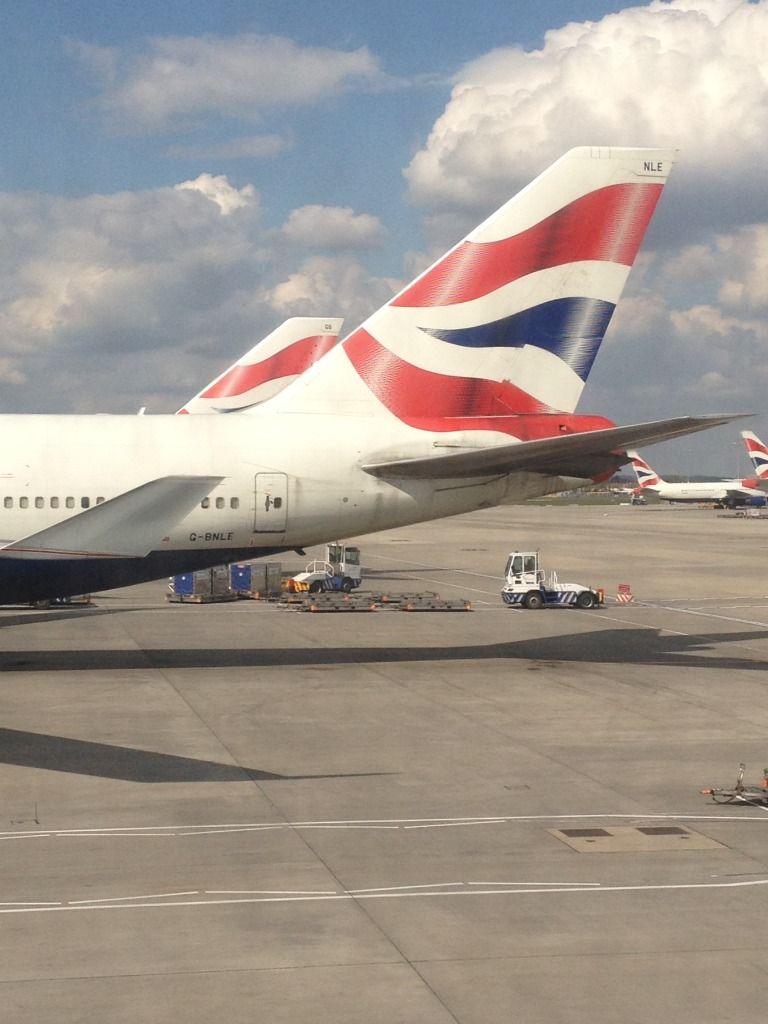 The Tail of a Boeing 747-436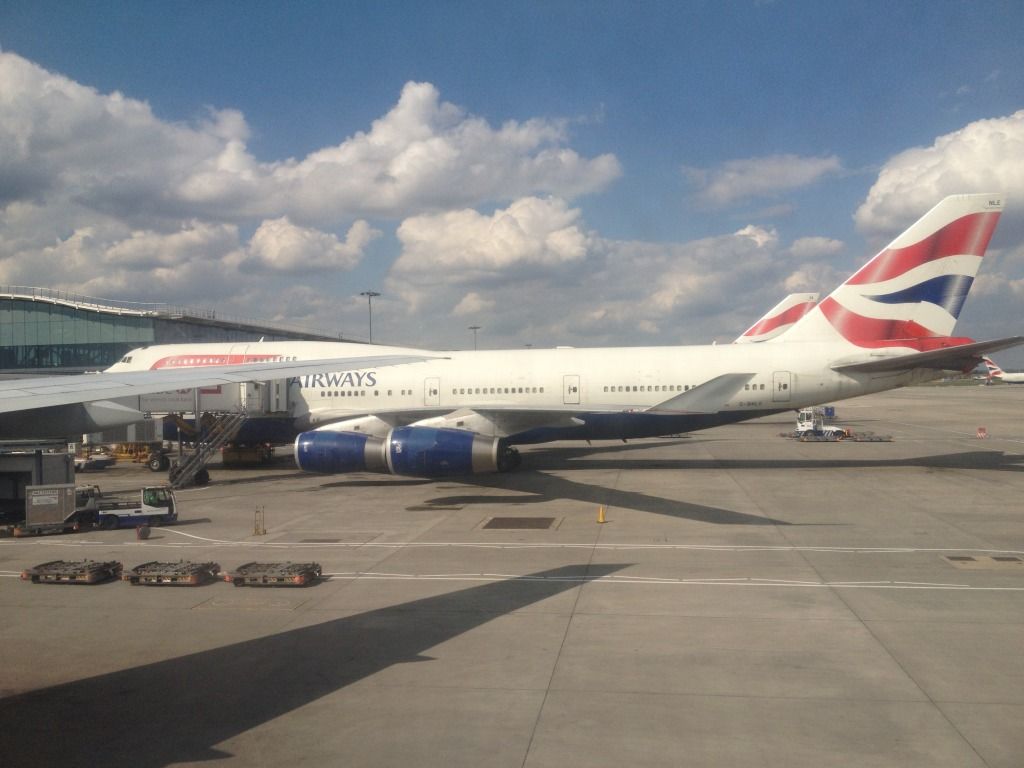 And in all her glory, the Queen of the Skies
As I sat back and took in my surroundings, a voice appeared from behind me.
"Mr McSherry?" he asked. I turned my head to face him
"Yes?"
"Can I see your boarding card please?"
I fumbled round the seat pocket to grab my passport in which my boarding card had been placed, and then handed it to him. By this point, a large number of people sat around me were looking on in interest.
"If you'd like to gather your belongings and follow me please?"
Suddenly my heart sank, I thought I was being offloaded. I had no idea why but I was sure I had been bumped from the flight. I took my phone out of my pocket in preparation to text Pablo and tell him I'd aim for the next afternoon's flight. We passed through World Traveller and World Traveller Plus, where I could feel eyes boring into me, and into the Club World Cabin. The crew member turned around and with a massive smile announced,
"Please, Mr McSherry, take any seat you want and make yourself comfortable"
I remembered then my jumpseat request, I had filled it in online in case there had been no seats available and I could still get to Atlanta by taking a spare cabin jumpseat. The flight crew had obviously seen it and upgraded me. Thank you pilots!
I looked around and saw no window seats available, however 14DEFG were empty so set up home in 14F. I love the central seats in Club as once the privacy screens have been raised it's a very secluded area. After stowing my bag and jacket in the overhead locker one more time, I sat down and placed my Passport, Boarding Card, earphones and sunglasses into the small drawer located at foot level. A cabin crew member passing by instantly offered me a pre-departure drink of Water, Orange Juice or Champagne. I instantly opted for the Champagne. Bubble Bubble. Fizzz. Yum!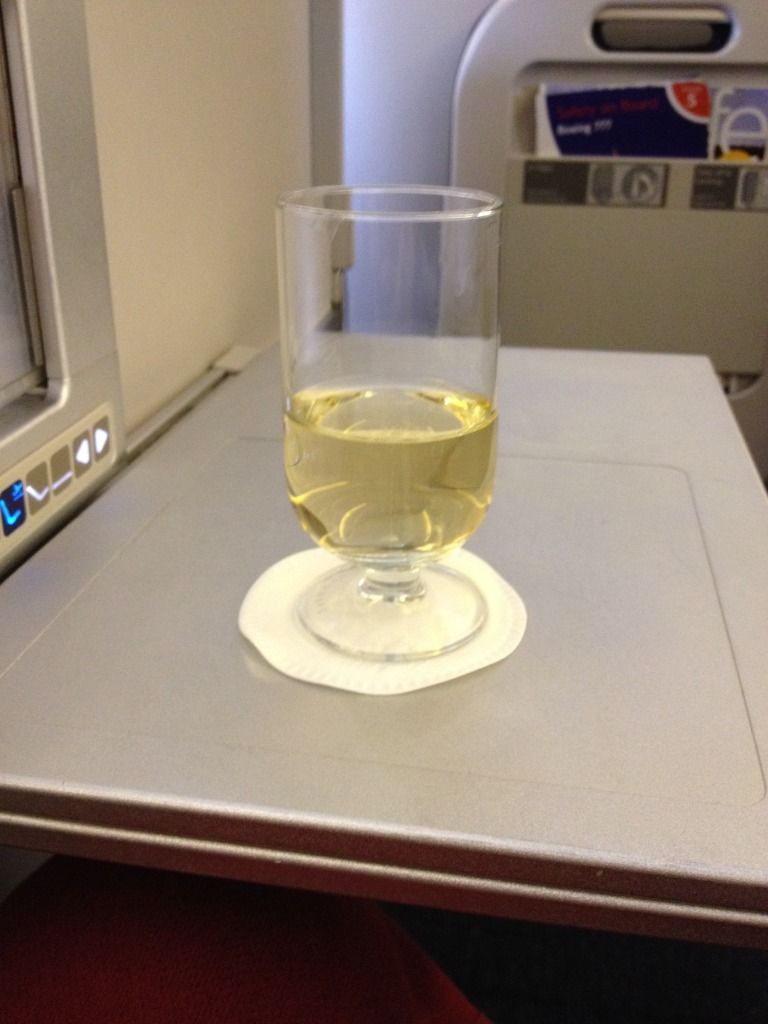 Pre departure Champagne
A slight jolt shook the cabin and Mike Golf began pushing back. This was met by "Cabin Crew, please place all doors into automatic and cross-check" over the PA. I finished my glass and text my friend to say I was on the way, and that I would be seeing him in some 10 hours. After that, I switched my phone on to flight mode and put it in my pocket.
The beginning of the safety demo started, and then stopped, and started again before finally cutting out.
"Cabin crew prepare for manual demonstration"
And just like that, the crew pulled out their manual safety demo kits and the PA was read from the front. The engines were started, the flaps set and MG slowly started moving to the runway. The crew quickly secured the cabin, I handed back my glass and tugged at the tail of my seatbelt to make sure it was nice and tight.
"Cabin crew, please now take your seats for take off"
We taxiied quickly to runway 27R, taking various twists and turns around the construction site that has become Heathrow Airport. Soon enough, at 1529, Mike Golf entered the runway. You could feel the wake of the departing aircraft in front of us shaking the fuselage slightly. We paused on the tarmac and waited.
The hum from outside got louder and louder, a sense of being pushed towards the back of the aircraft was felt and take off power set. Due to our less than full load, and an easy hop for the 772, we picked up speed quickly. I could barely contain my excitement, knowing we were finally underway. Faster and faster we sped, until the ground tilted away from us and that momentary sense of weightlessness that I love so much took over my being. Speedbird 227 was airbourne.
We powered away from the runway, the gear retracting quickly and a soft 'Thud' echoed around the cabin as the main gear bay doors closed. Mike Golf dipped her wing slightly and we took a left hand turn, routing us out over Slough and then right again, to follow the M4 out towards Bristol.
Within 5 minutes the cabin crew were out of their seats and the CSD welcomed everyone on board, detailing information about the flight, our destination, crew and the service. Her voice was lovely, so very English.
Almost immediately, the crew member working my aisle appeared by my side and offered me a hot towel. Washing my face and my hands I felt instantly refreshed. And soon enough, she was ready to collect it in again. Power kicked in slightly as we continued our climb, but then was released very quickly. The seatbelt signs were switched off and I was then offered today's menu and the winelist, followed immediately by the paperwork I needed to pass through Customs and Border Protection in the US.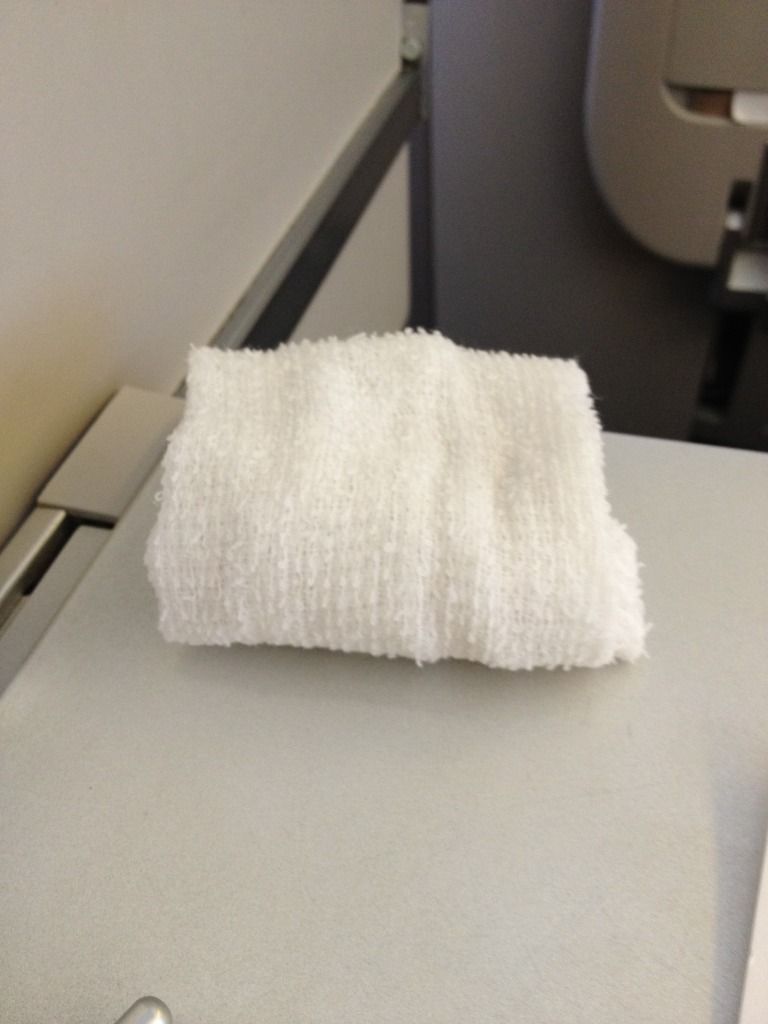 Hot Towel - now used and somewhat cold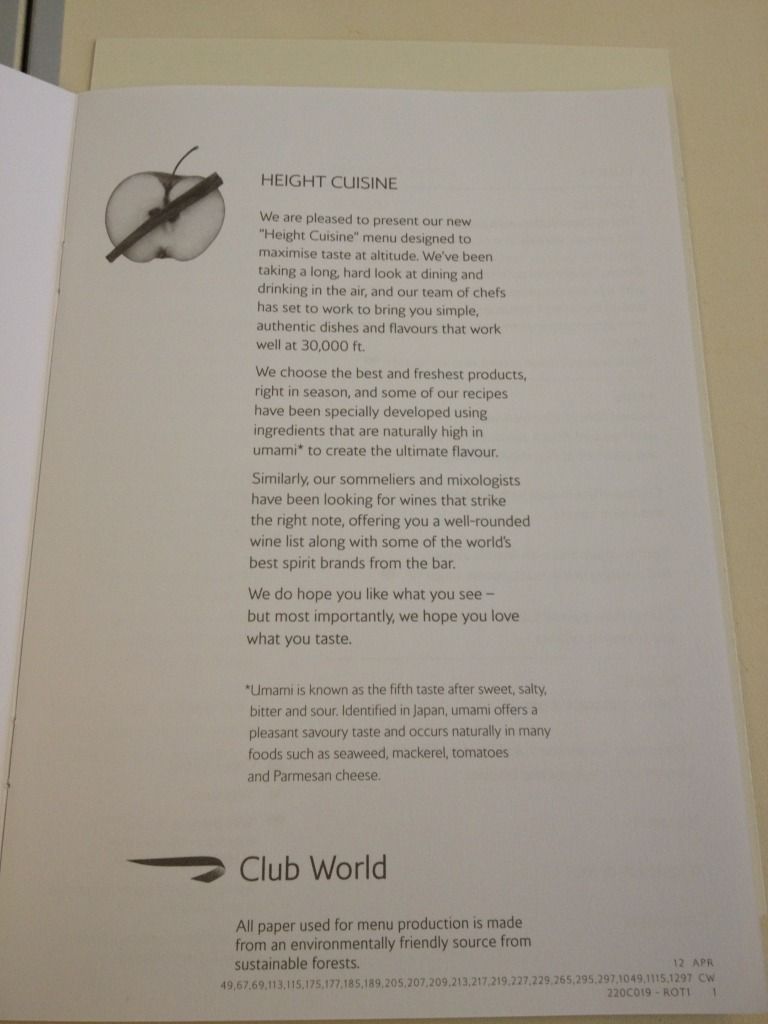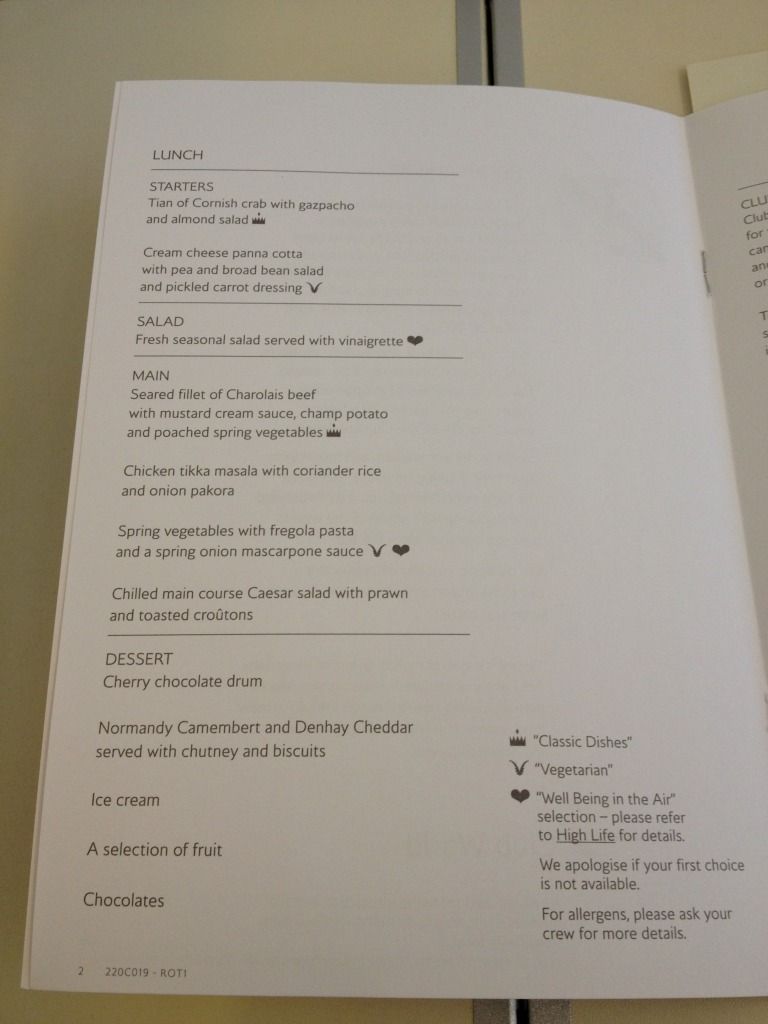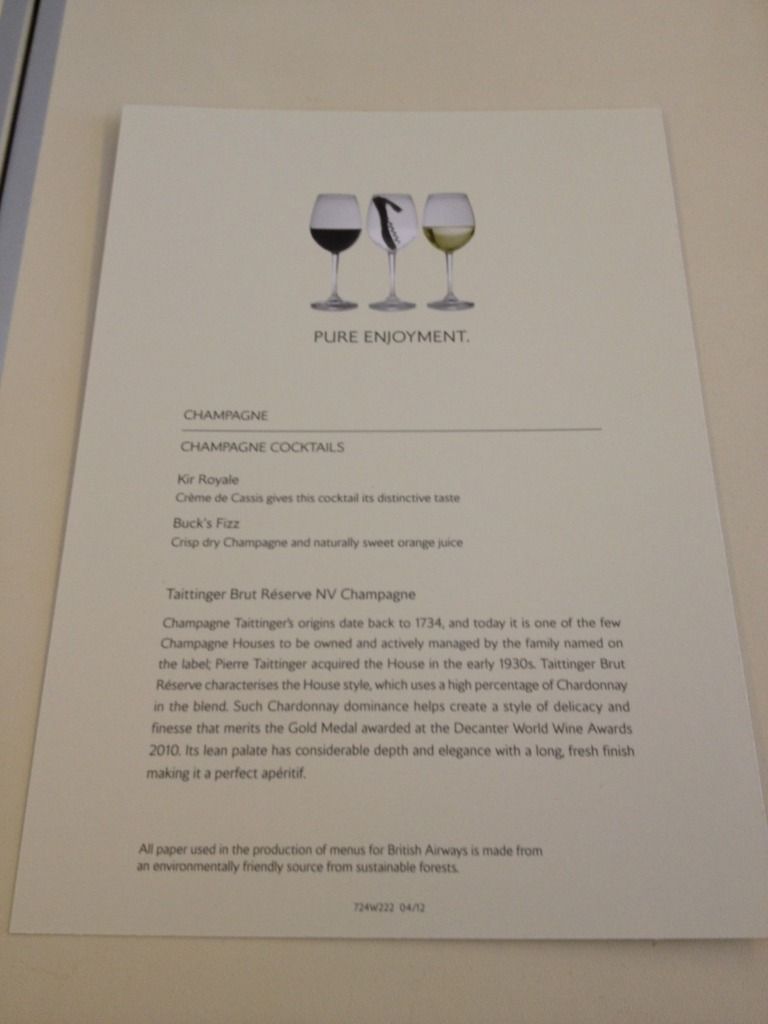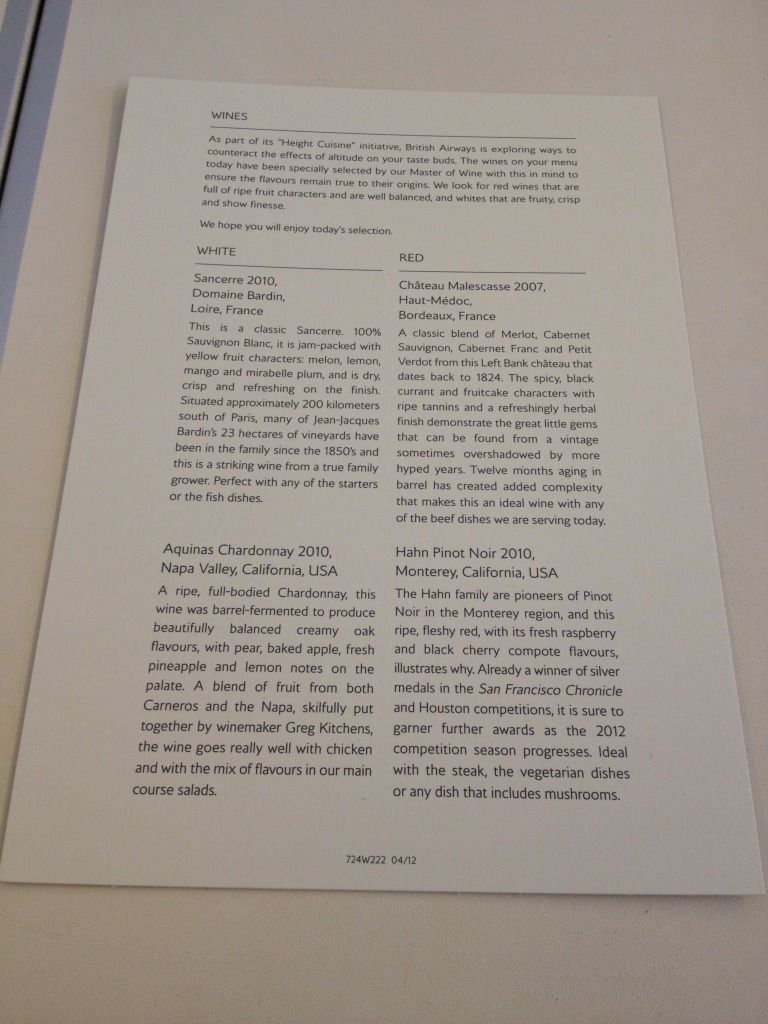 The Menu and Winelist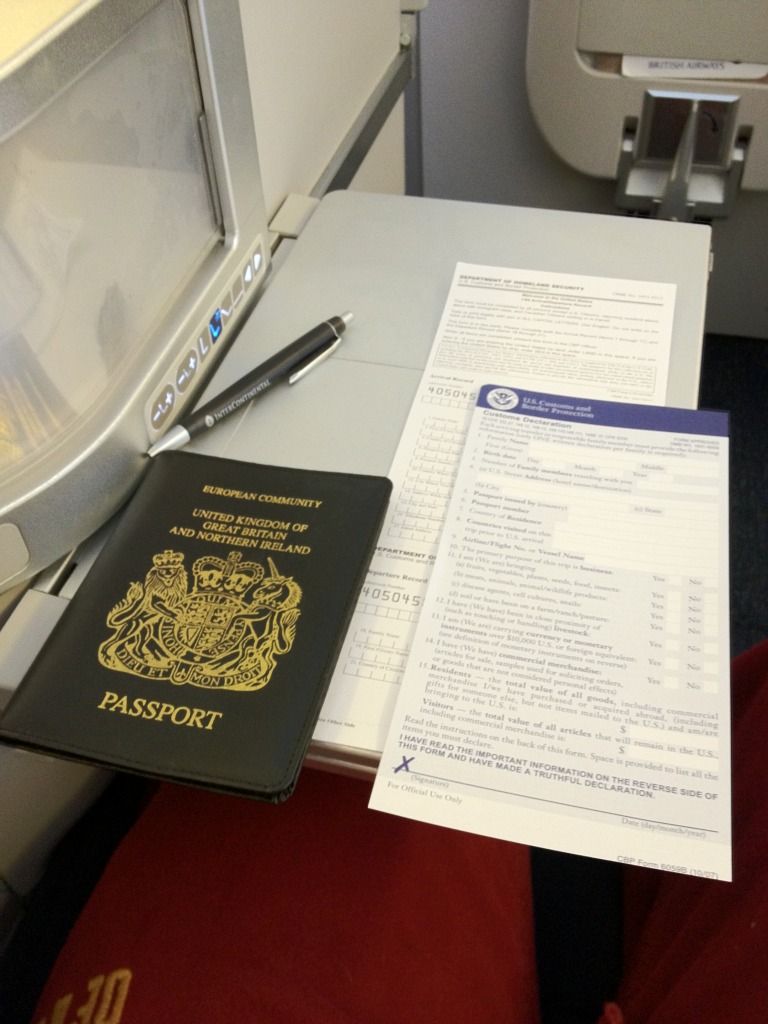 Paperwork - showing the table in both the folded and un folded design
I took some time whilst waiting on the first bar round to adjust to my surroundings and get myself comfortable. The foor rest came down, the privacy screen between 14D and 14E went up and I reclined my seat ever so slightly from the TTOL position. I pressed the button to spring my TV out from it's mountings but the HighLife! Entertainment system had not yet been switched on. There was some problems with the system as the CSD had to make three announcements regarding the reset of the entire thing.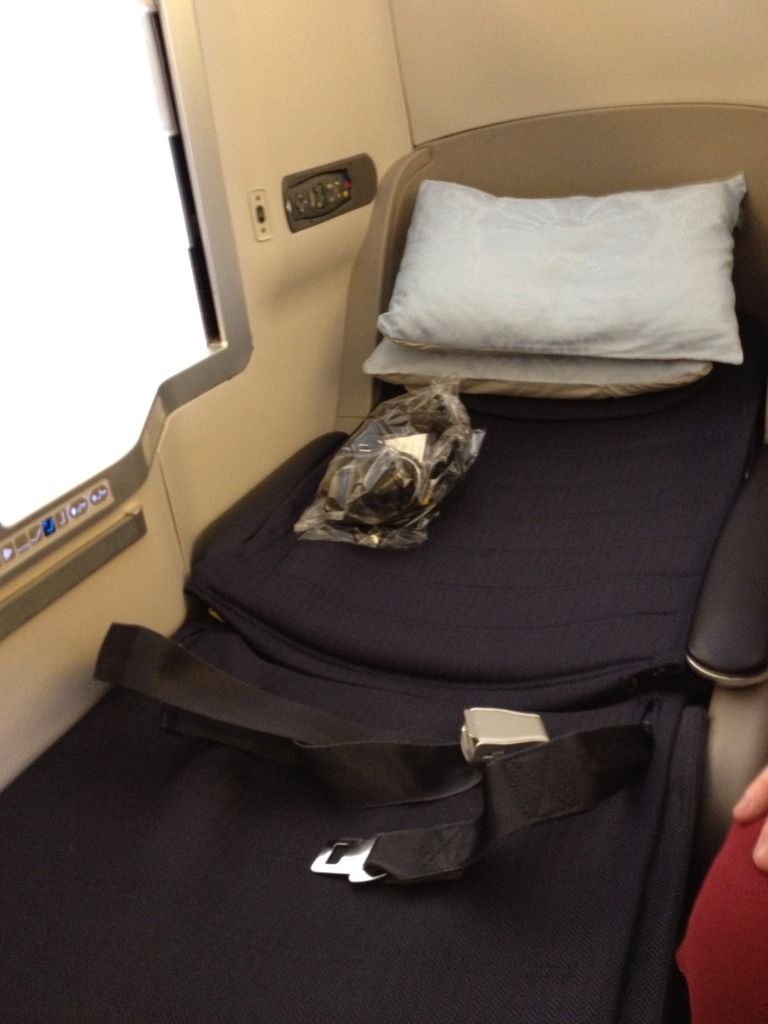 Club World seat in fully flat bed mode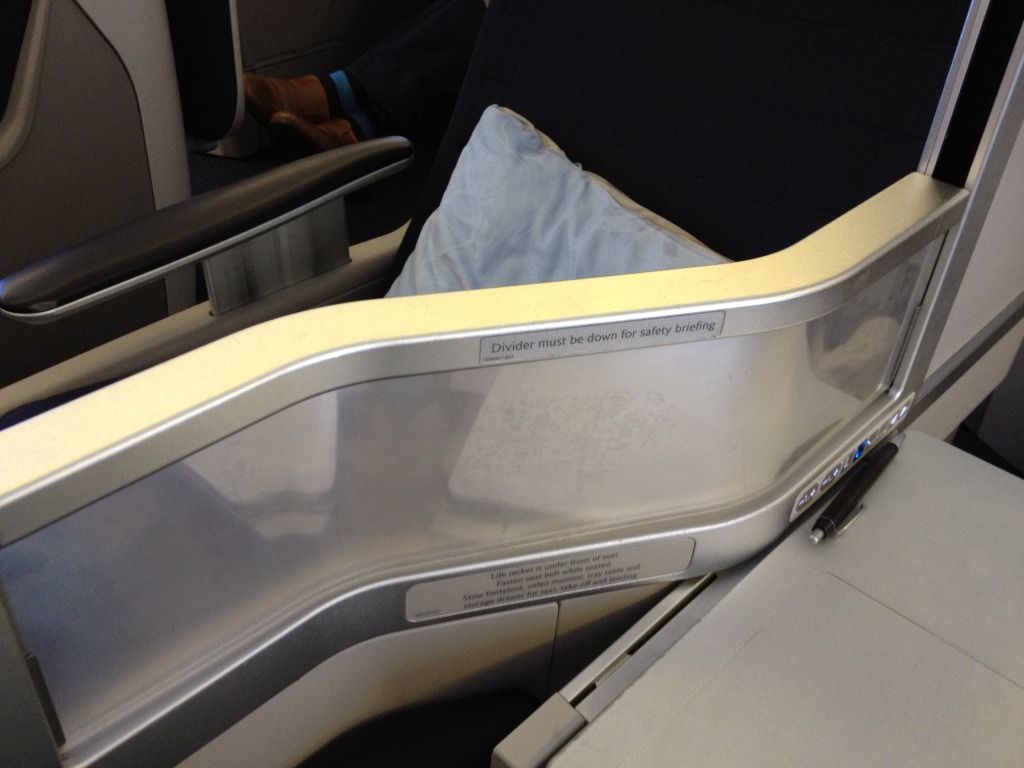 Privacy Screen down...
And up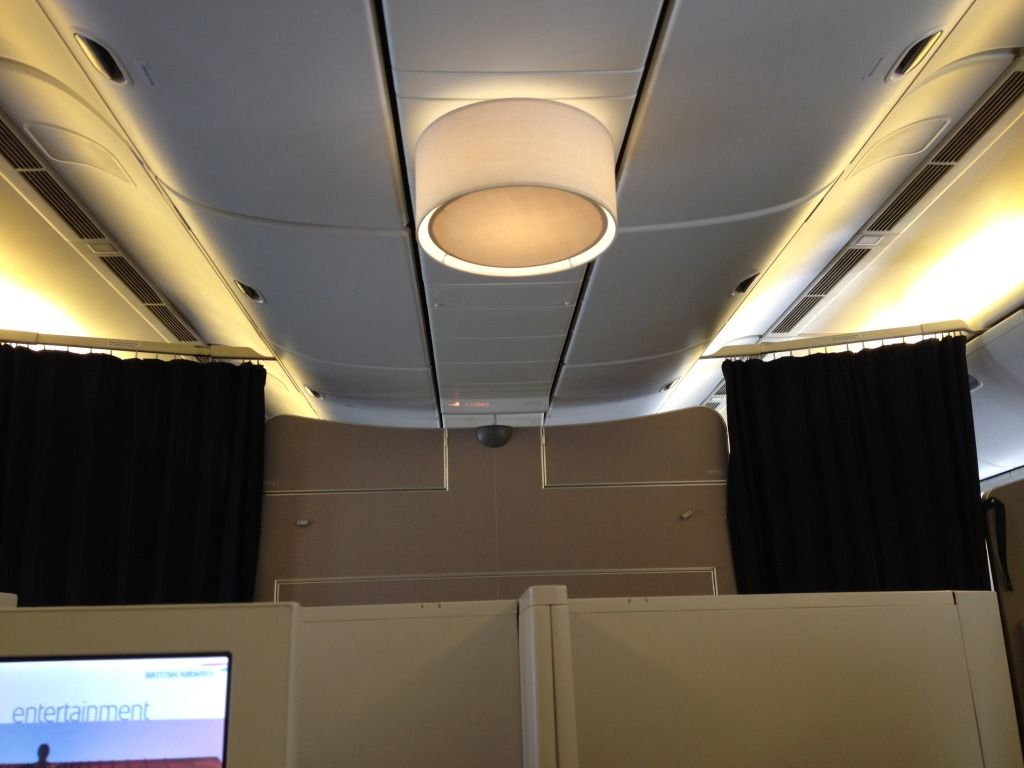 I adore the ceiling lights in NGCW
I heard the trolley arrive by my seat and looked up to the smiling young lady who presented me with a bag of 'Out of Africa Mixed Nuts' and asked "Would you like something to drink from the bar sir?"
I responded with a smile, a nod and "I'd love a Bucks' Fizz and a Sparkling water with ice and a slice of lemon please!"
Both drinks were prepared and handed to me with a warm smile. I sat back and enjoyed.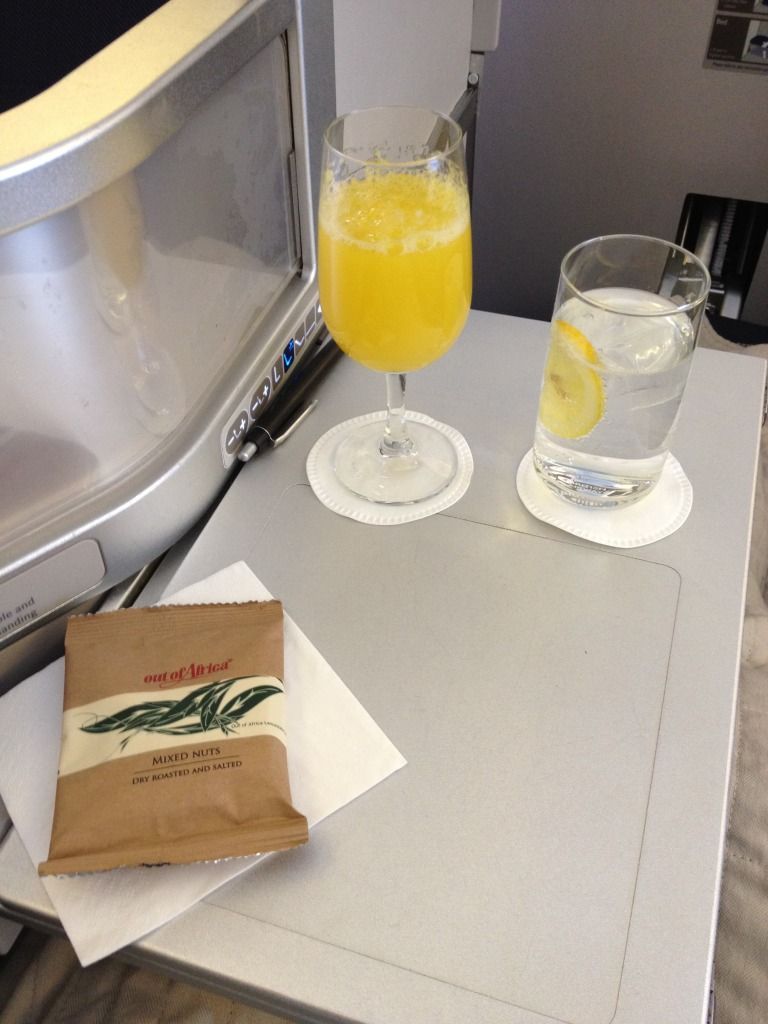 My drinks and my bag of nuts
The second bar round arrived quickly - but not too quickly as I had already finished my Bucks' Fizz - and was topped up quickly with a smile. As the cabin crew served the final row in the cabin, the CSD arrived by my seat and asked if I would be joining them for lunch.
"Yes please!"
"And what will sir be having today?"
"I'd like the Tian of Cornish crab to start, and the Beef dish for main, if that's possible please?"
"Why certainly Mr McSherry, is everything okay?"
"Yes, thank you"
and with that she was gone. A very small conversation but her genuine warmth and sunny disposition made me feel valued - even as a staff travel passenger.
Not long after my order was in for lunch, the TV screens flickered to life, and my first stop on the menu was the Moving Map. By this point, we were trailing west, about to pass over the coast of Ireland, with nothing ahead of us but ocean (Okay, it was the day before the 100th Anniversary of the sinking of the Titanic. I had to get a quote from the movie in)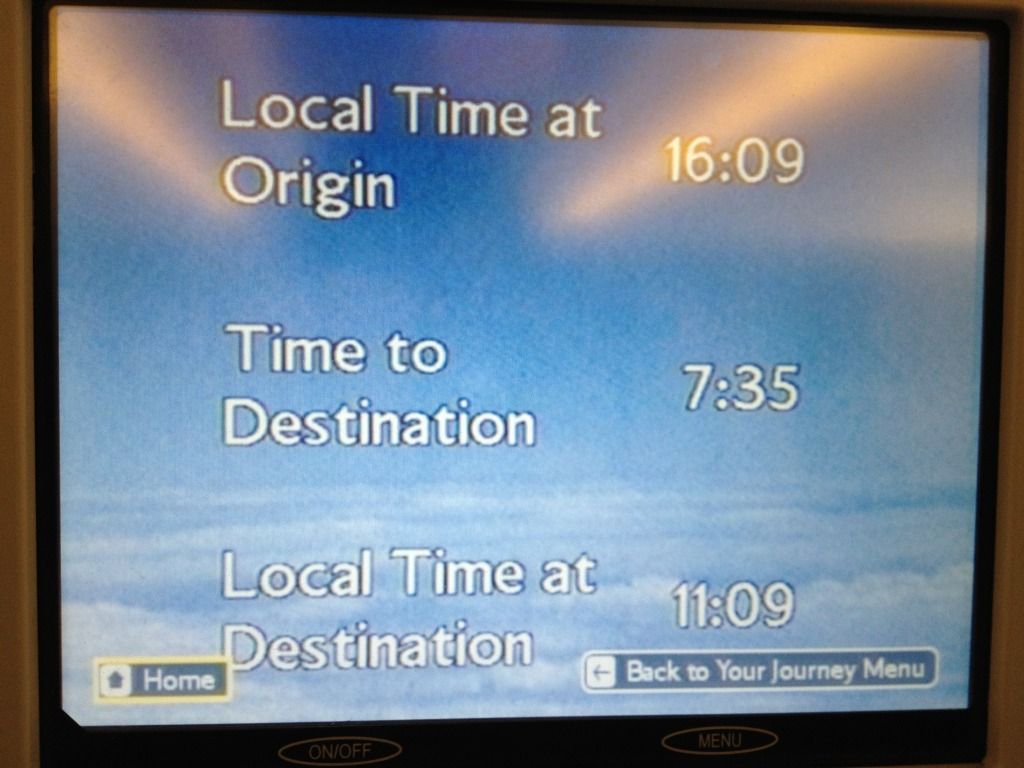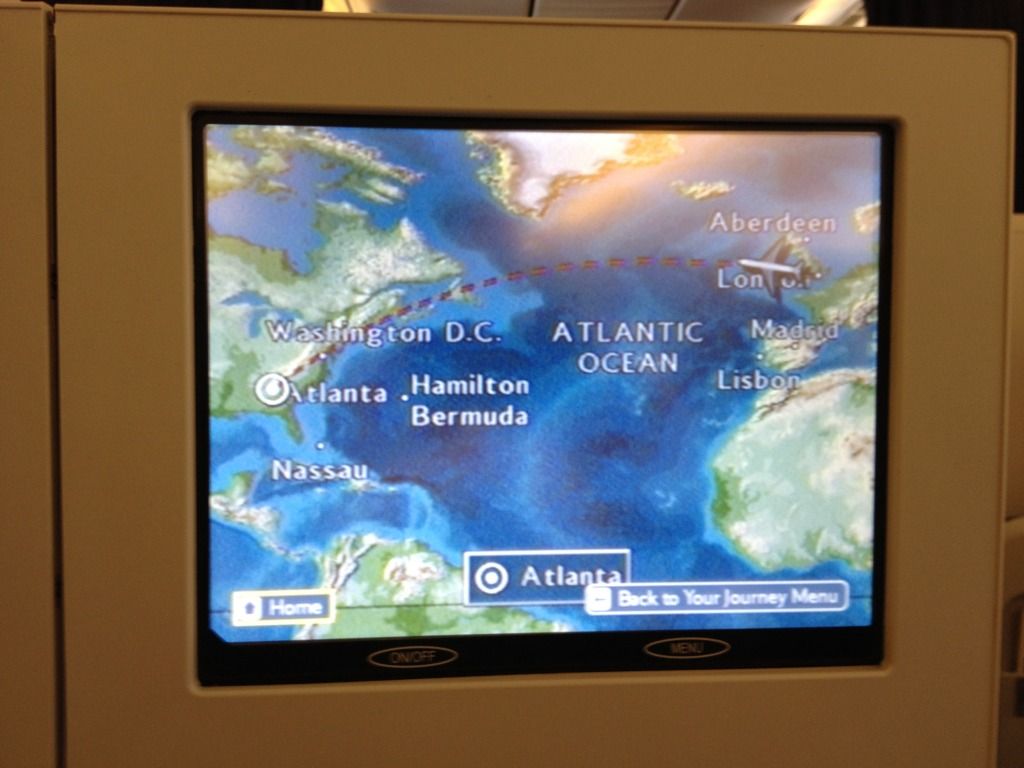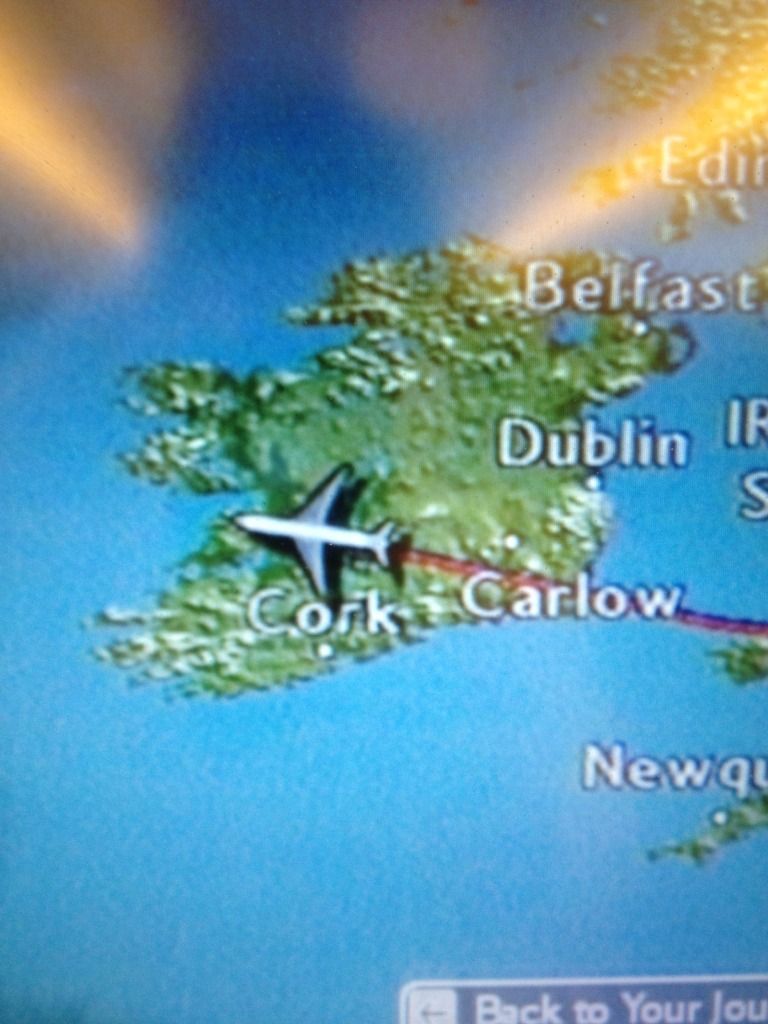 Moving Map views. Still a long way to go
As we soared high above the clouds, I heard a slight rattle behind me as the meal trolley arrived. I cleared my table of my wine glass and unfolded it out to accomodate my tray.
"Your Tian of Cornish crab to start, Mr McSherry... and something to drink?"
"Thank you, yes, could I have a glass of the Domaine Bardin Sancerre 2010 please?" (I have discovered since starting British Airways and doing a wine tasting day that I enjoy wine so much more now)
"Of course, and some warm bread"
I reached out for my favourite slice and placed it by the butter dish on my tray. Soon afterwards, my glass was handed to me and the glass that held the Bucks' Fizz was taken away. My water was also topped up without me having to ask.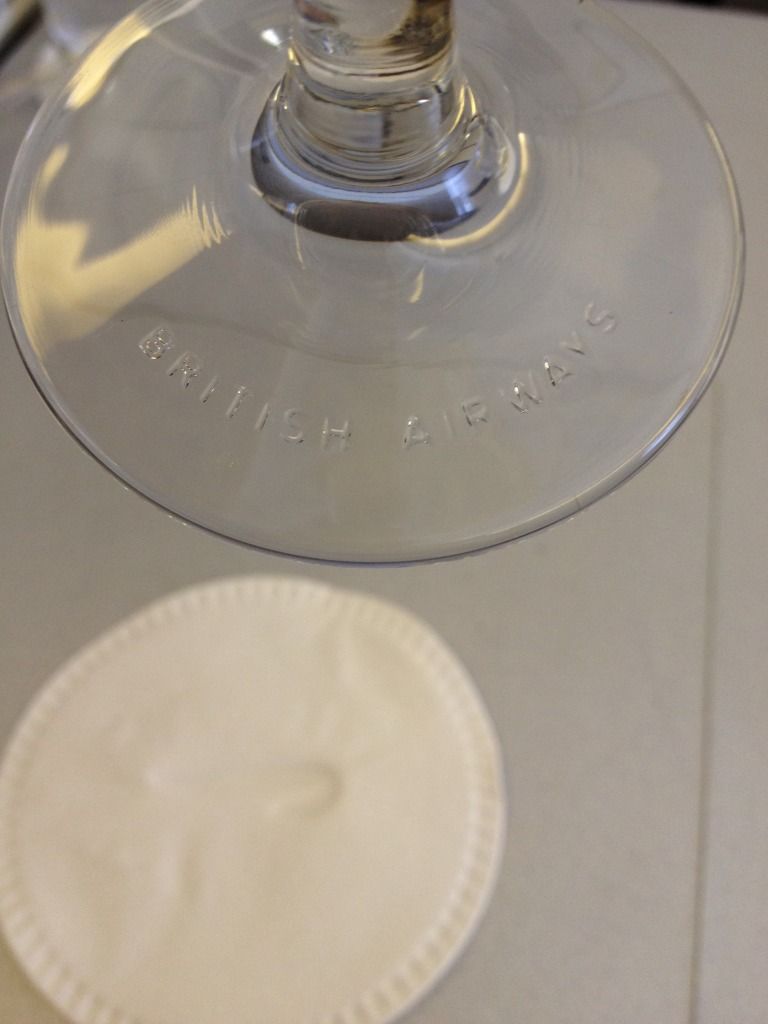 Branded Glassware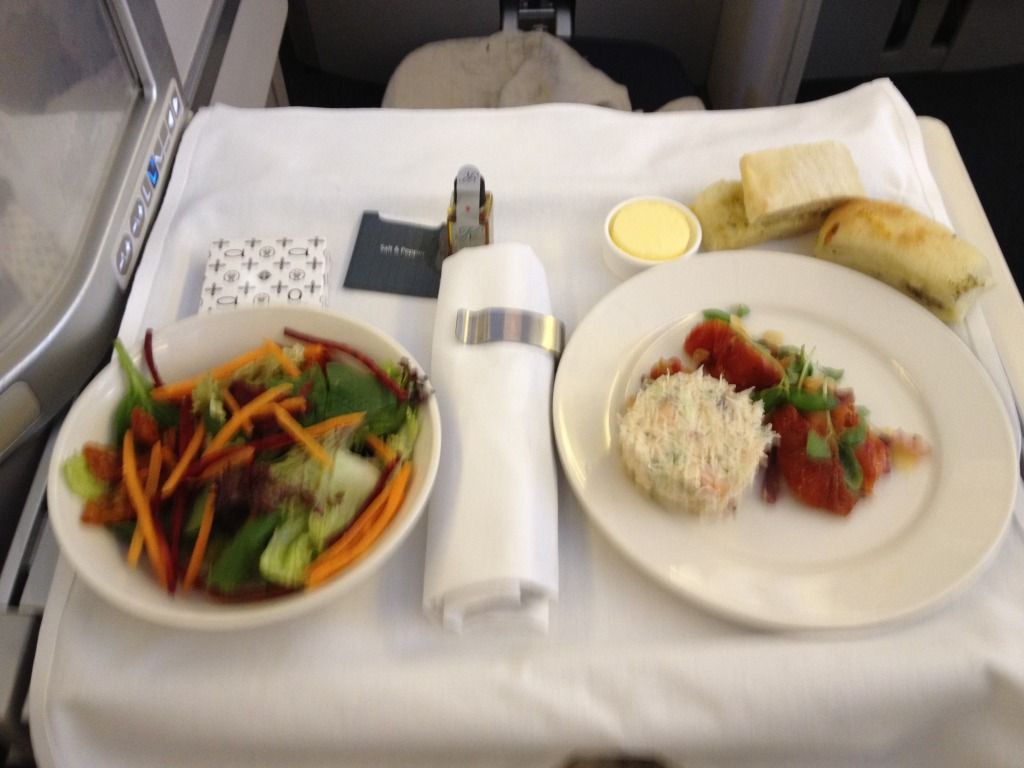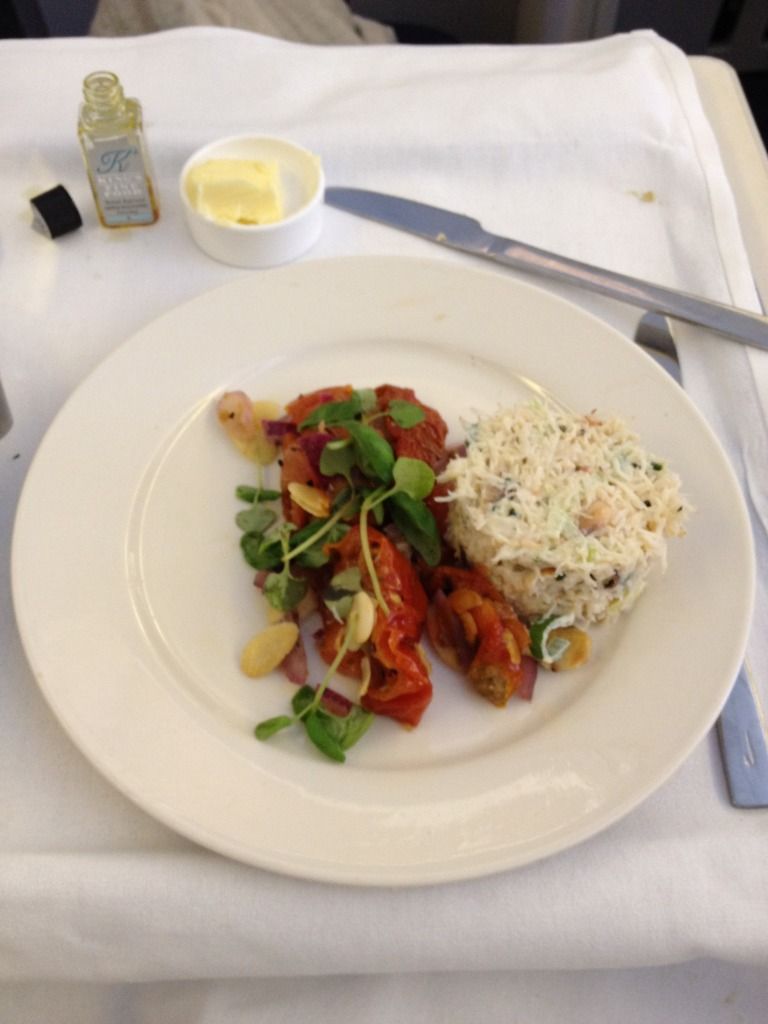 Tian of Cornish Crab with Gazpacho and Almond Salad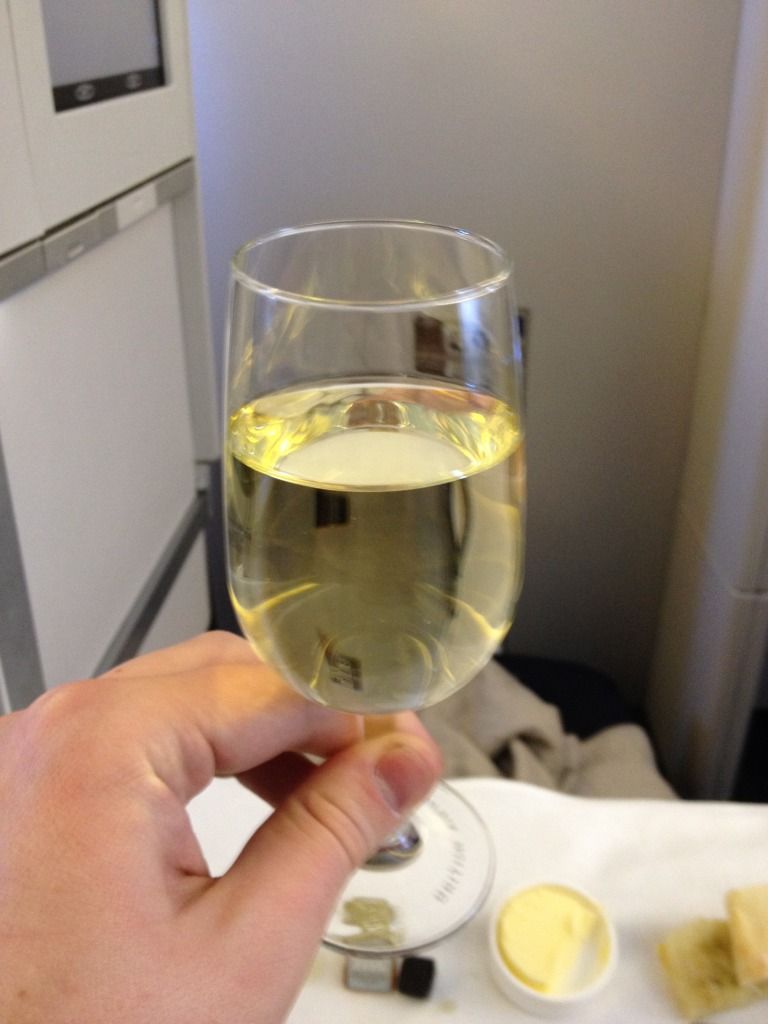 Domaine Bardin Sancerre 2010
The crab salad was absolutely exquisite and was lapped up quickly - also, it's worth noting I hadn't eaten since my hungover bacon baquette at 10am - and I was soon left with an empty tray. Looking around to see if the trolley was back in the aisle - which it wasn't - I gently got out of my seat and leapt up the aisle to use the washroom. When I returned, my starter had been cleared in and my main dish placed down ready for me.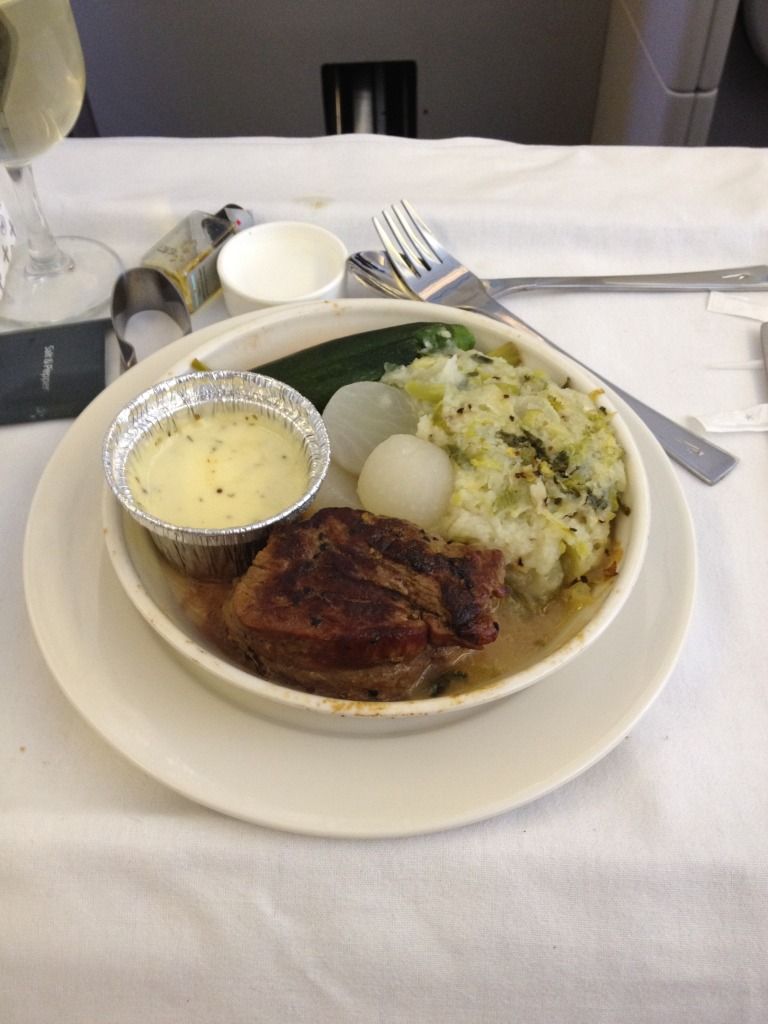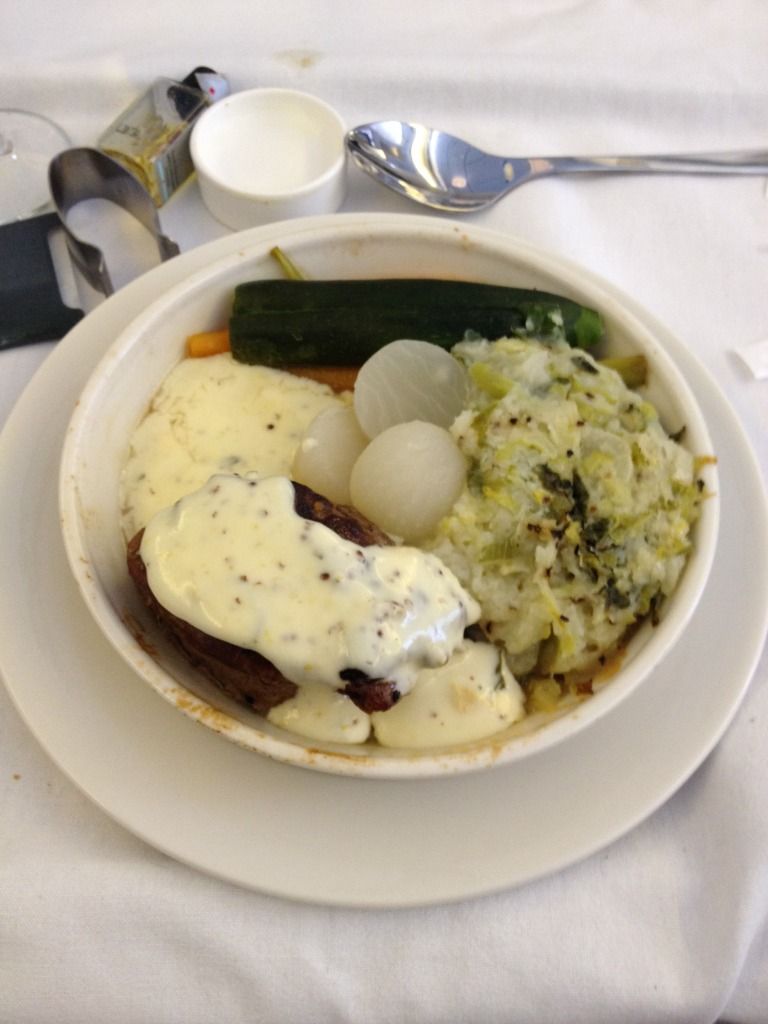 Seared fillet of Charlois Beef, mustard cream sauce, champ potato and poached spring vegetables
The crew passed by and asked if I cared for a top up of wine, which I gladly accepted. Soon enough, I had finished my main course and now waited for my plate to be cleared in and dessert to be served.
The crew on this flight were fantastic, at least from my point of view anyway, as when dessert was offered, I opted for the Cherry Chocolate Drum and was told that it would go perfect with a tub of the Vanilla Ice Cream. I accepted and scooped the ice cream out and into the bowl. This was a fantastic mix. In just a few minutes I had cleaned my plate and my tray was very soon taken from me. I didn't go for any tea or coffee at this point as I was too busy enjoying the wine.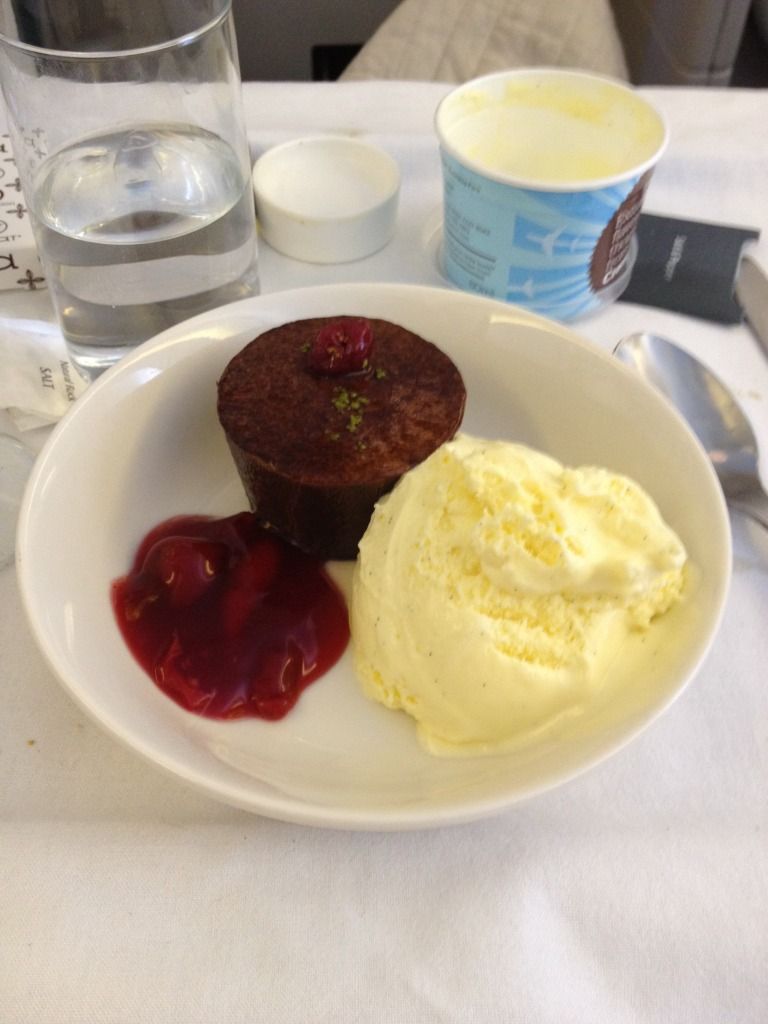 Chocolate Cherry Drum and Vanilla Ice Cream
With the cabin now dark, I placed the seat into the Z-Bed mode and watched a Johnny English 2 followed by Modern Family and an episode of the Simpsons. Despite feeling tired, I just could not get to sleep so took a couple of trips to the Club Kitchen to stock up on drinks and snacks.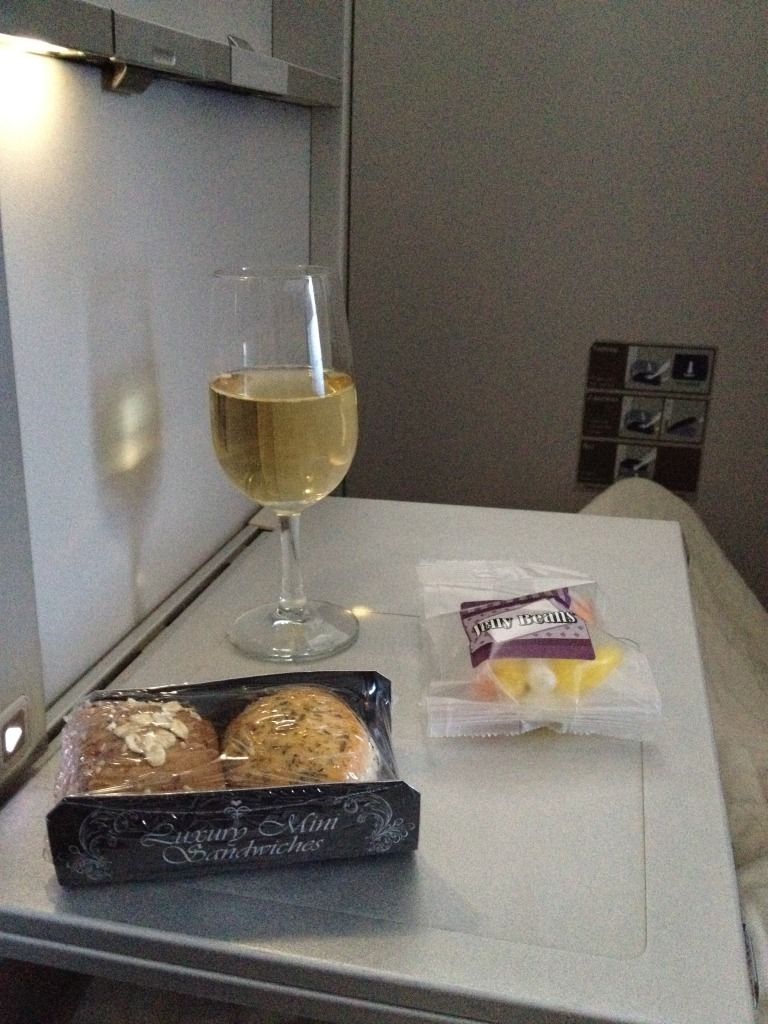 Some Club Kitchen offerings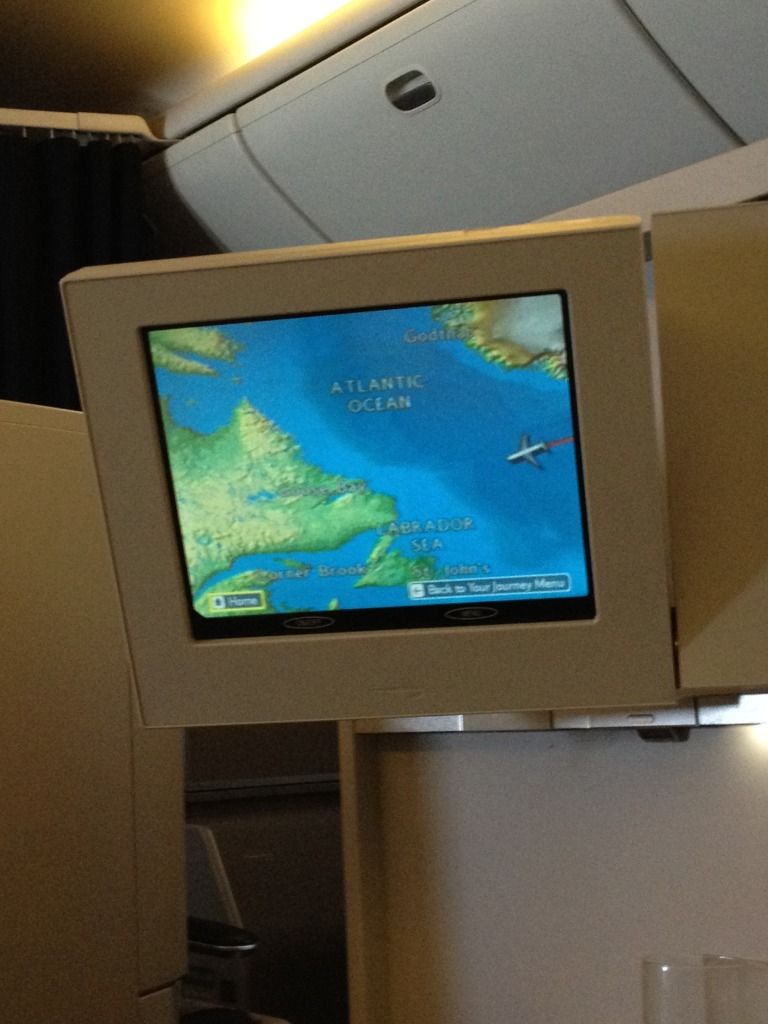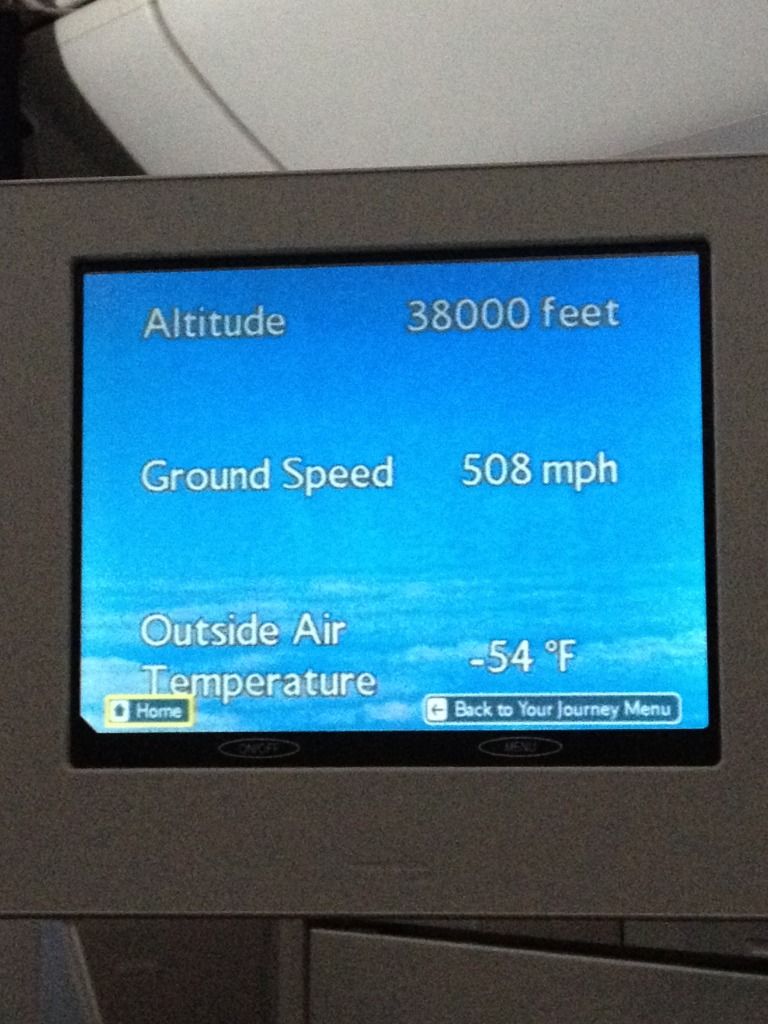 Almost over land again - I used the PTV of the empty 14E as my constant moving map viewing
Not long before the second service started, the crew member who had been serving my aisle came up and asked me if I'd like a cup of tea. I said yes and very soon a cup of english breakfast tea, with milk and a sugar arrived at my seat - accompanied by an array of chocolate and biscuits. Talk about a personal touch!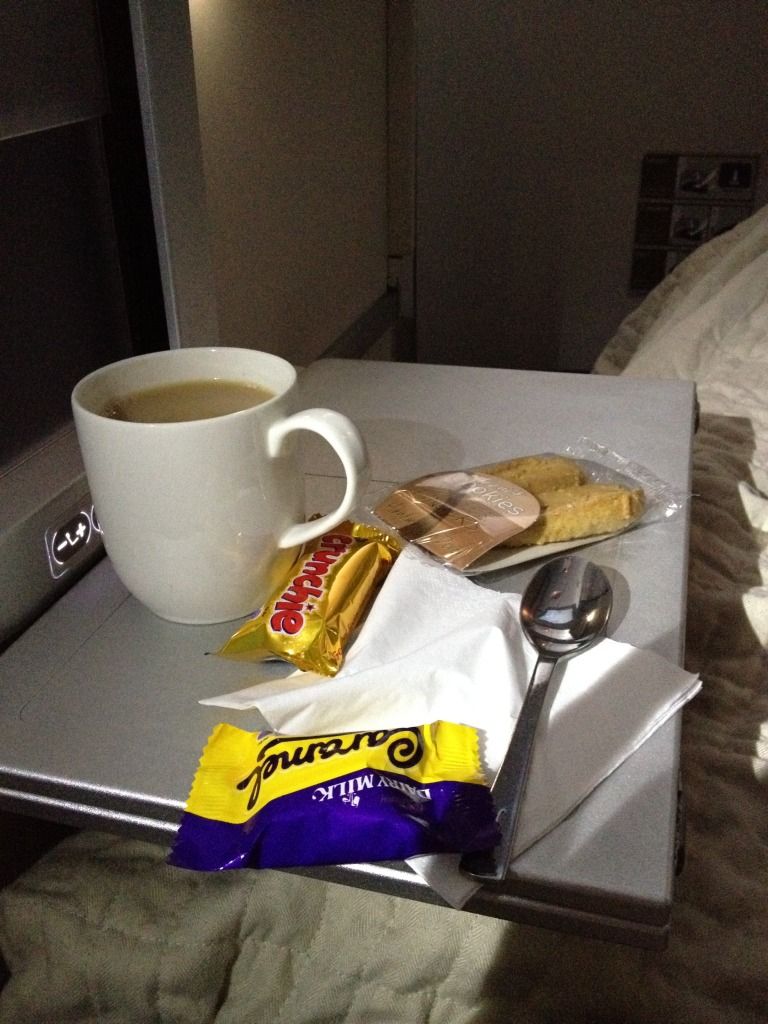 Yum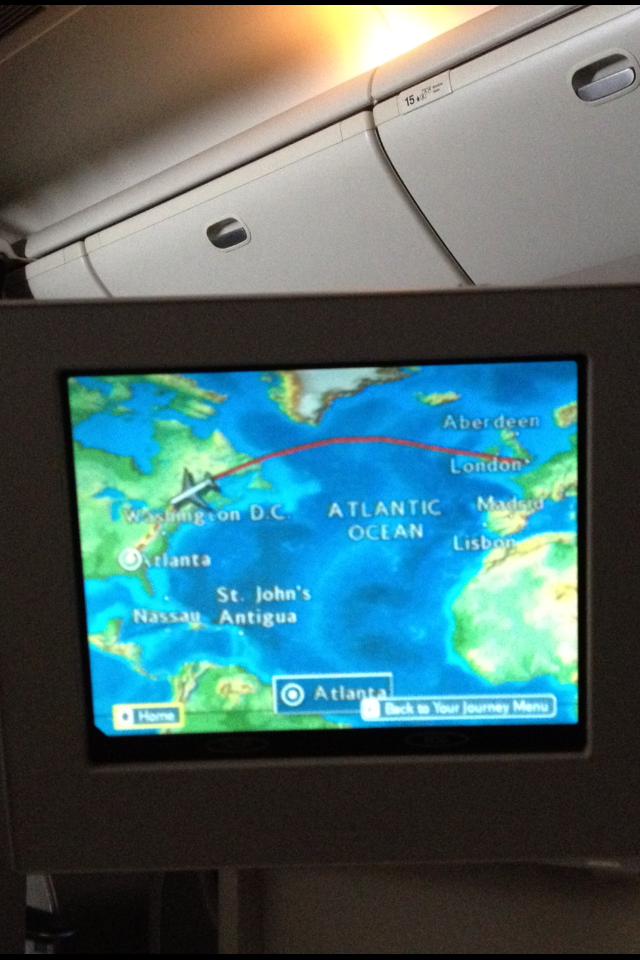 Getting Closer
I sat back up again to drink whilst watching an episode of Glee, and it was at this point the lights were switched back on for the Afternoon Tea service. The crew didn't even have to ask if I wanted the afternoon tea, they saw me sitting up with my table cleared and so set up a tray and placed it down in front of me. My tea was topped up and when they'd left, I raised the privacy screen again before continuing with my TV show.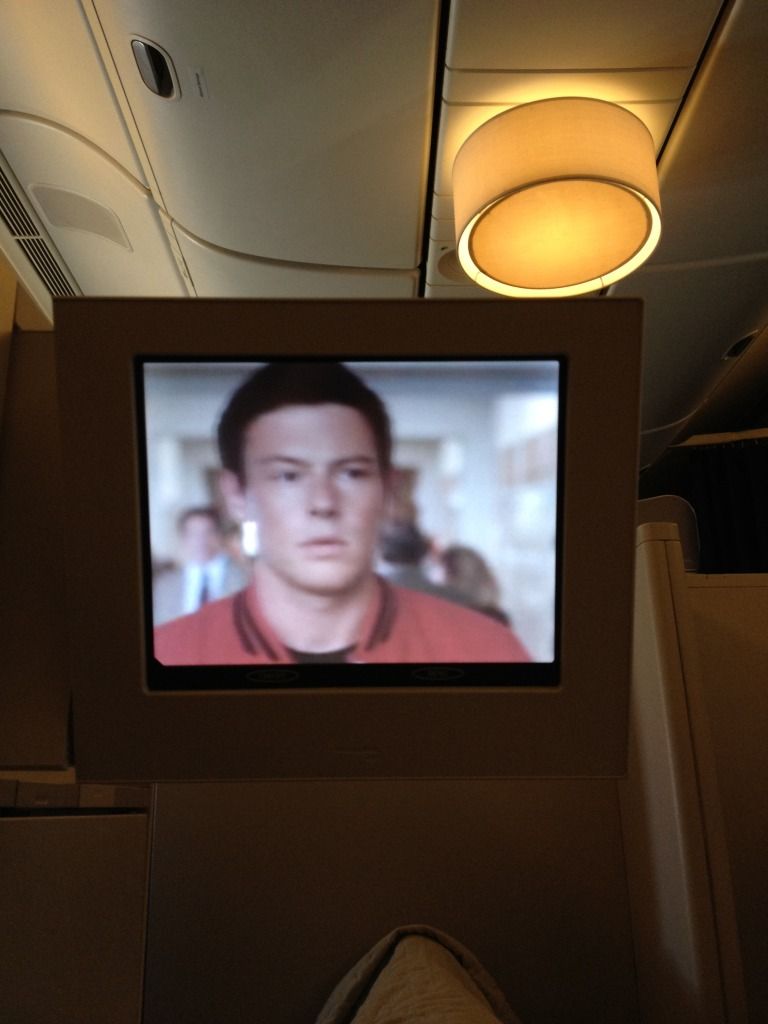 Glee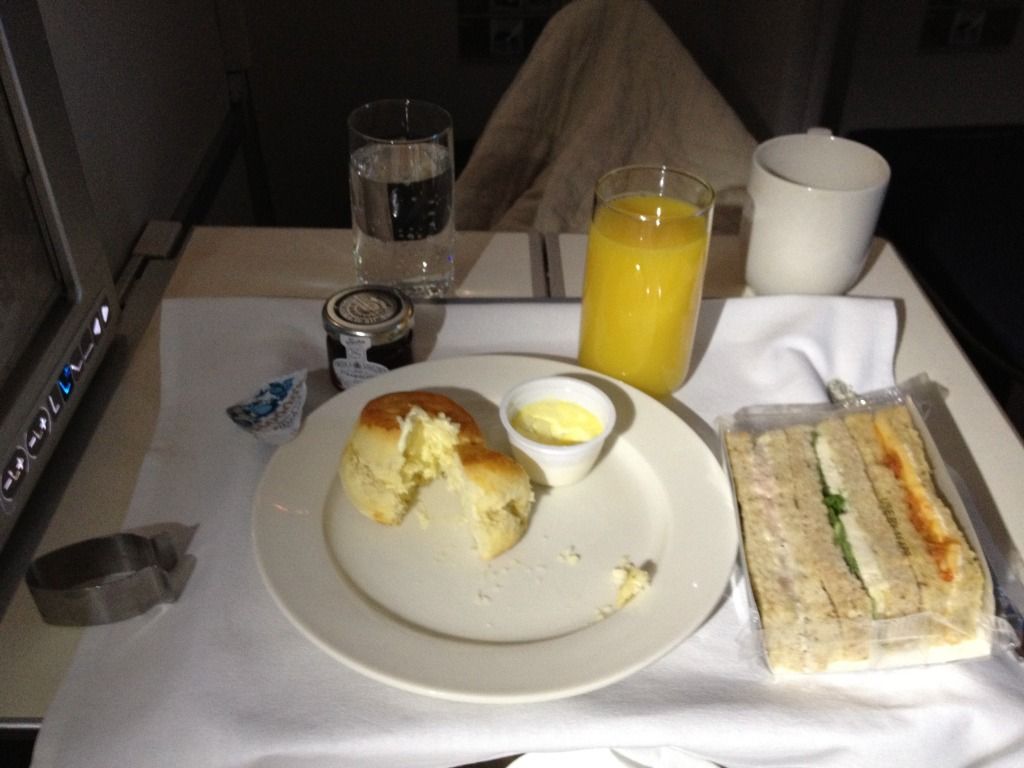 Afternoon Tea service - with Orange Juice, Water and three sandwiches (Prawn Mayo, Chicken Salad and Double Gloucester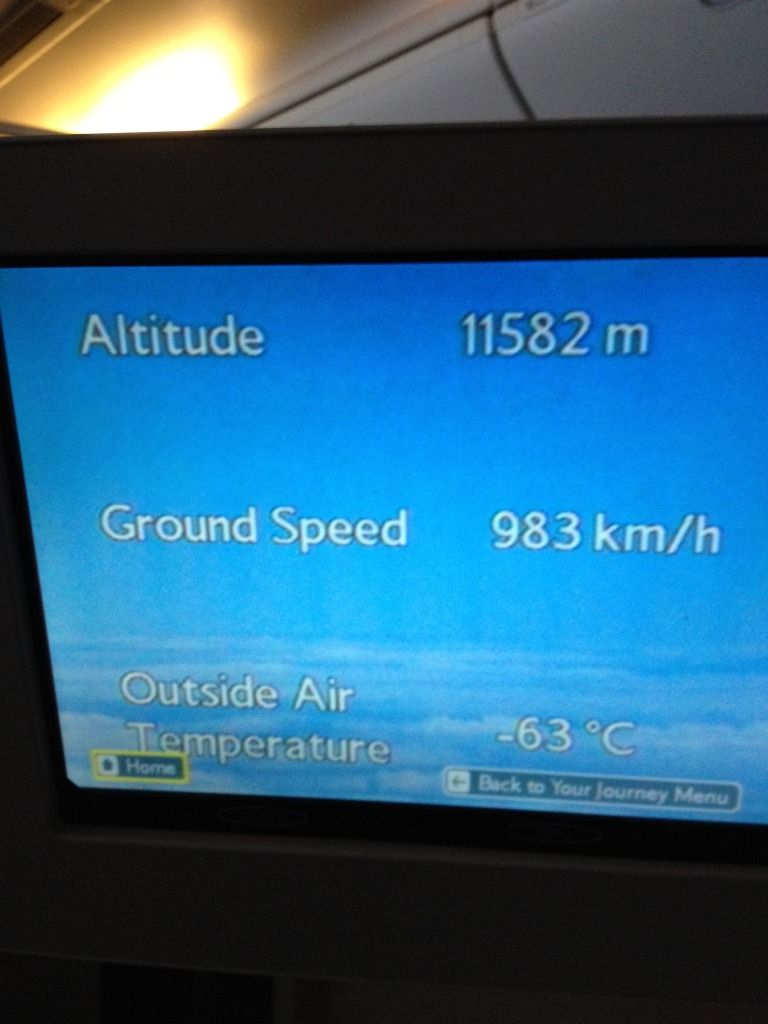 Speeding through the sky ways
40 minutes prior to landing the Captain came over the PA system to inform us of our impending arrival and the crew leapt into action beginning to tidy up the cabin. I used this opportunity to freshen up in the washroom and change into some more formal clothes for arrival. Upon returning to my seat I folded my blanket up, placed it in the overhead locker and placed my clothes back into my bag - making sure everything was in its place and I was ready to just get up and off the aircraft.
The descent was quick and you could feel the nose pointing to the ground as if Mike Golf was saying "just get us there!". We twisted and turned to lose speed and height before our arrival.
20 minutes out the Captain announced "Cabin Crew, 20 minutes to landing" and the seatbelt signs were switched on. I stowed my foot rest, brought my seat up to the TTOL position and took some more photos of the Club Seat while waiting for the crew to secure the cabin.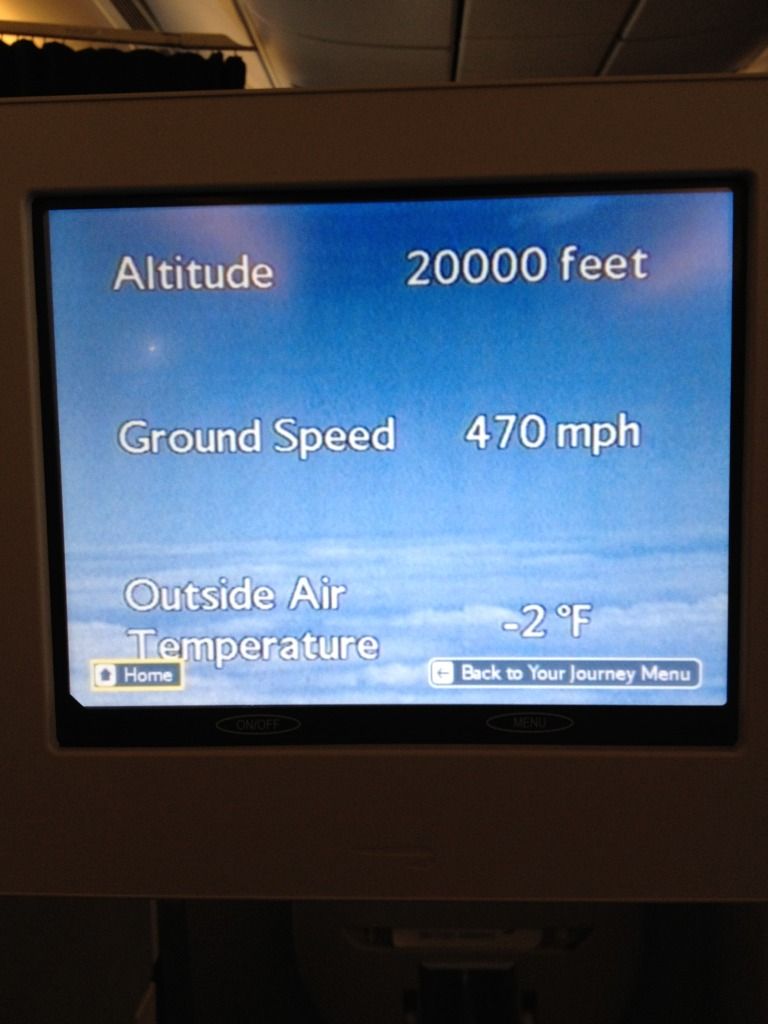 20000ft
14J and 14K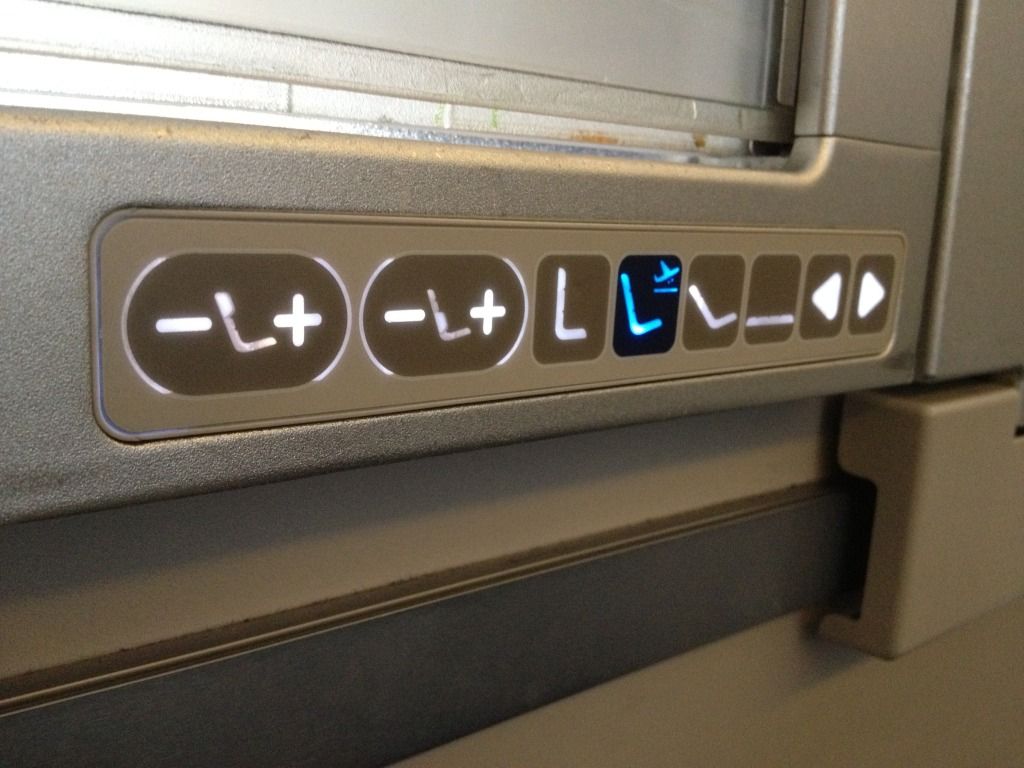 The Seat Controls - the blue button, when pressed and held, will take your seat into the designated Take Off and Landing position which is indicated by a green light on top of the seat mounting
Foot rest stowed
As we came in, I could hear the speed brakes being raised and lowered multiple times in order to slow us down, the flaps and slats moved out and the ground got closer and closer. Even though it was stowed, the PTV on 14E was still showing the moving map and I watched as we came in over the North of Atlanta (DeKalb and Buckhead area) before turning south and then east to line up with one of the Easterly facing runways.
At 1845 local time (2345 BST), 8 hours and 15 minutes after leaving the runway in London, Mike Golf soared in over the numbers and flared gently for a smooth touchdown on Runway 09R. We slowed quickly and exited the runway near Councourse E, E as in Echo (if you've been to Atlanta and had a ride on the Plane Train, you'll get that). A 10 minute taxi awaited us as a Delta A330 had pushed back from the stand next to us and was blocking our path. Soon enough though, the engines spooled back up and we taxiied slowly to the gate.
"Cabin Crew, place doors into Manual and cross check" came the command from the flight deck.
It took a few minutes for the seatbelt signs to be switched off. Before I got up, I grabbed my belongings from the drawer, then took my bag from the overhead locker and waited for the door to open.
Before disembarking, I was wished a safe holiday by the crew and the CSD personally shook my hand and said she looked forward to meeting me again. The crew waved me off as I walked up the jetbridge and towards CBP.
As with every time I enter the USA, the tirade of questions was asked such as "What are you doing here?", "How long are you here for?", "Have you been here before?", "Where are you staying?" etc etc. But within 15 minutes I was through the queue with another stamp in my passport and onwards to baggage reclaim, where I had to wait around 10 minutes for my bag to appear.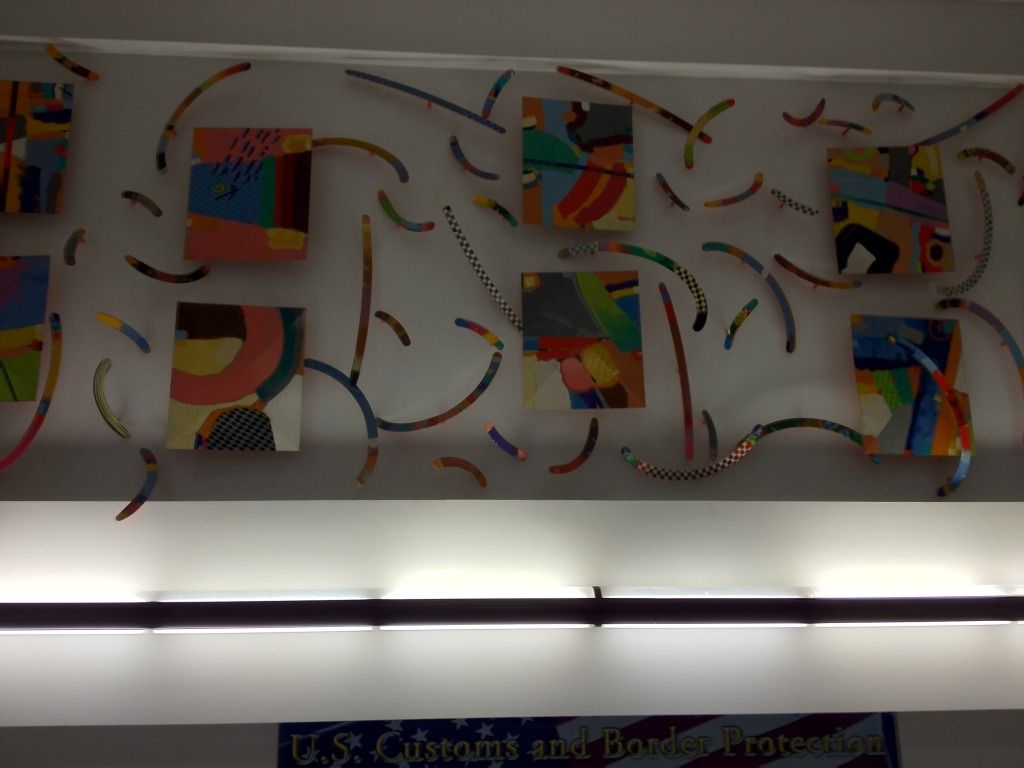 Some artwork in the terminal building
As I headed off, the crew were waiting for the last of their bags to come off the belt and I waved goodbye again before a loud "JORDAN!" came from behind me. I turned on my heel and the CSD was ushering me over.
"Wait with us darling, that queue is huge, you can come through with us"
I waited with them and we were ushered past all of the queues, through fast track security before boarding the plane train and heading on to the main terminal concourse. We walked up the stairs and to final baggage reclaim where they grabbed their belongins, I mine and we parted ways.
I stepped outside and sparked up a cigarette, but no sooner had I taken my first draw than Pablo had phoned me to tell me he would meet me at the Delta Airlines lower level pick up/drop off area in around 10-15 minutes. I finished my smoke, grabbed my bags and headed back through and across the terminal to the pick up place, stopping twice to ask directions because I had no idea where it was. A quick stop in the restroom first, before stepping back outside again and walking towards the entrance, and in no time at all, Pablo's car appeared and he jumped out, giving me a hug first and then stowing my bags in his trunk (well, just one bag, he's got the smallest car in the world so the other would have to sit on my lap). After that, we left ATL and headed North on the freeway to Pablo's apartment.
I'll include the photos of Atlanta and the surrounding area and all we got up to in my next post, which should be online tomorrow. Stay Tuned and Happy Flying!
Next Reports;
American Eagle. CRJ-700. ATL-LGA
United/Continental. Boeing 757-200. EWR-GLA