Dear fellow A.Netters, welcome to my latest set of travels, this being part 2, part 1 can be found here
Asia Travels 2012 - Part 1 - ANA 787!
(by
ba319-131
Apr 14 2012 in Trip Reports)
The route planner for the entire trip looks like this
After having arrived into HND early in the morning, I took the free transfer bus from the international terminal over to the JAL domestic terminal, the plan was to spend a few hours spotting before getting the bus to NRT for the evenings ANA flight to PVG.
The spotting was great was always, though it was very cold due to the strong winds, the winds were so strong it may it difficult to hold the binoculars straight, let alone the camera!
It's around 2 years since I had been spotting @ HND but I still managed a decent 55 new machines in about 4 hours, so well worth the time spent here, a few selected images:-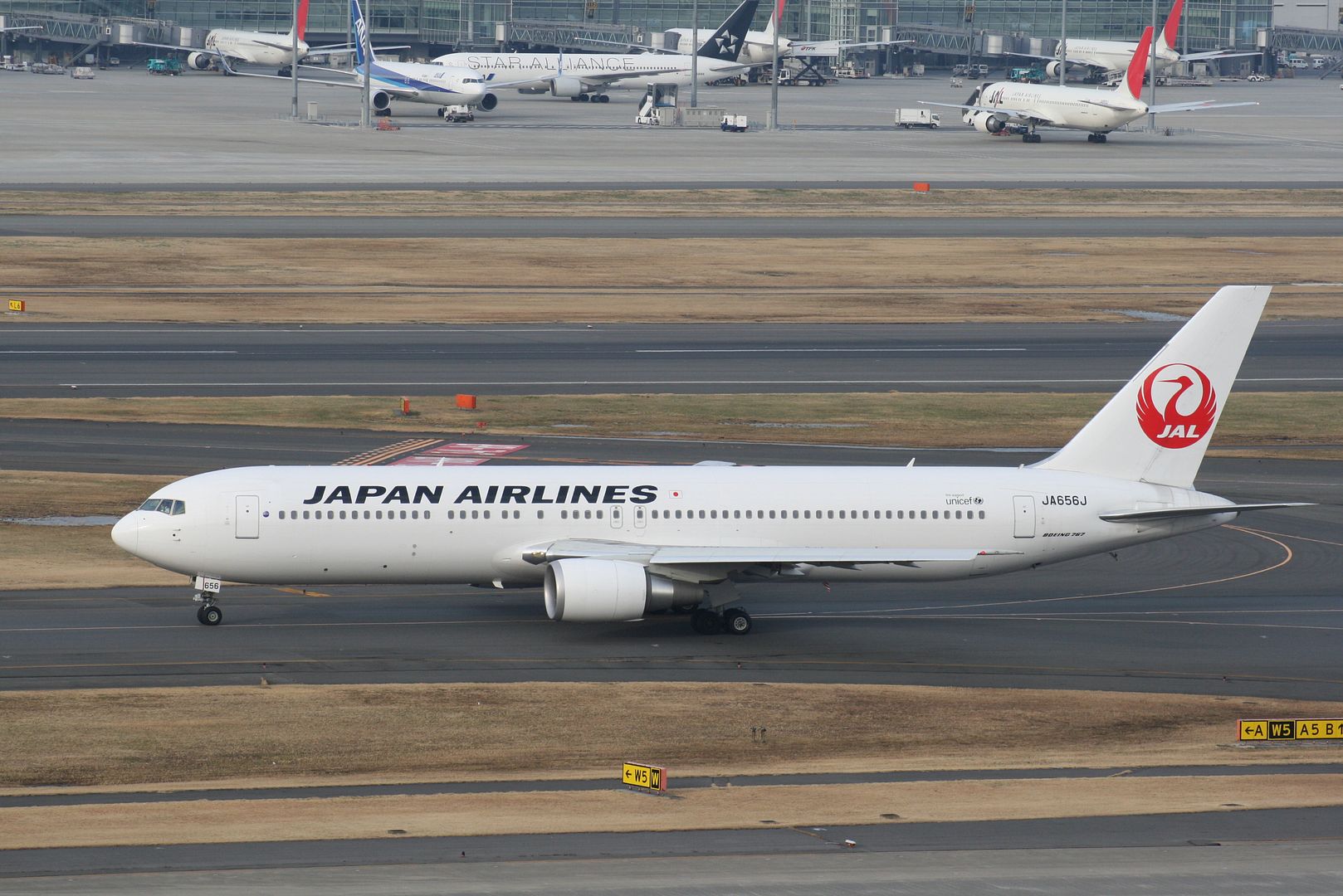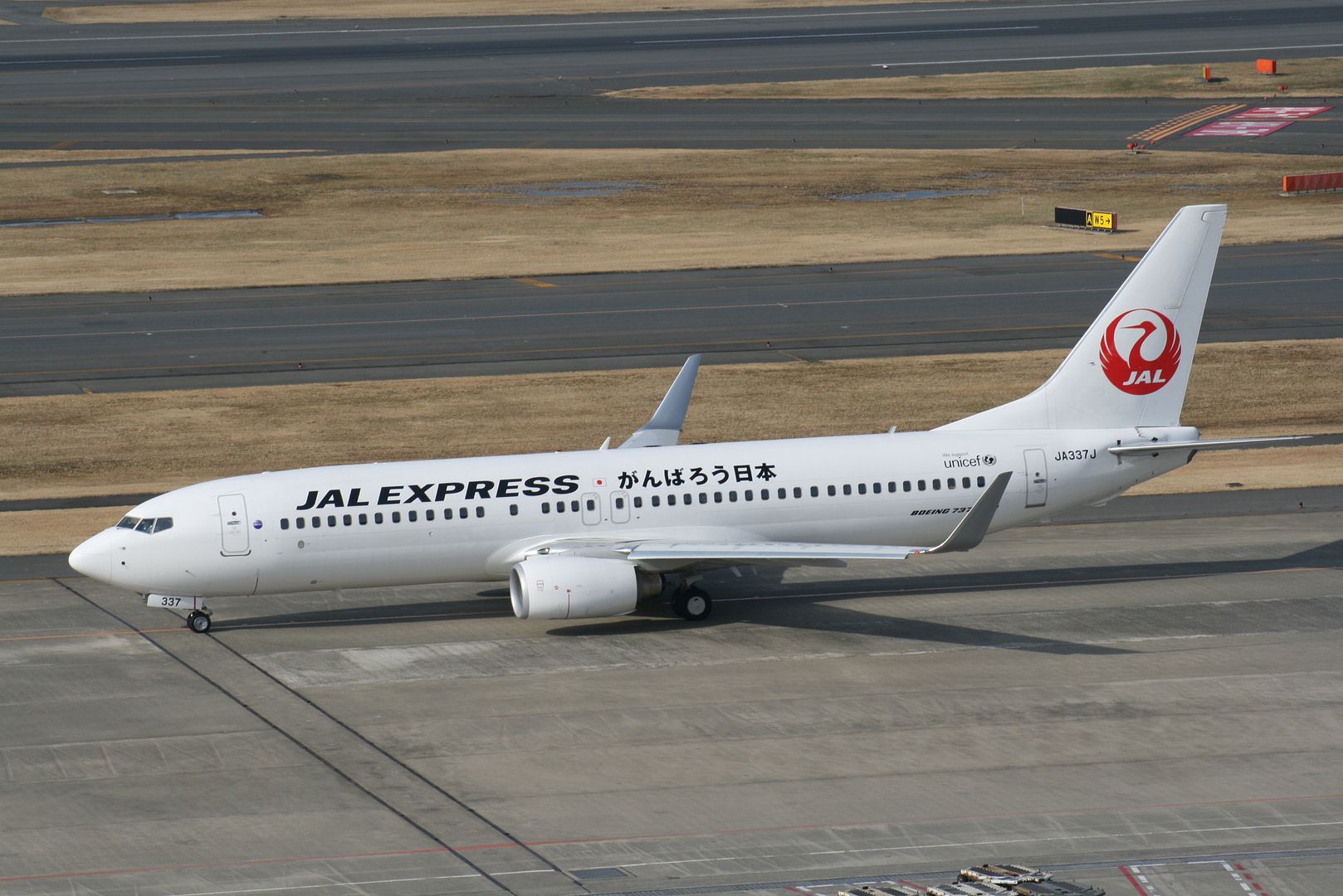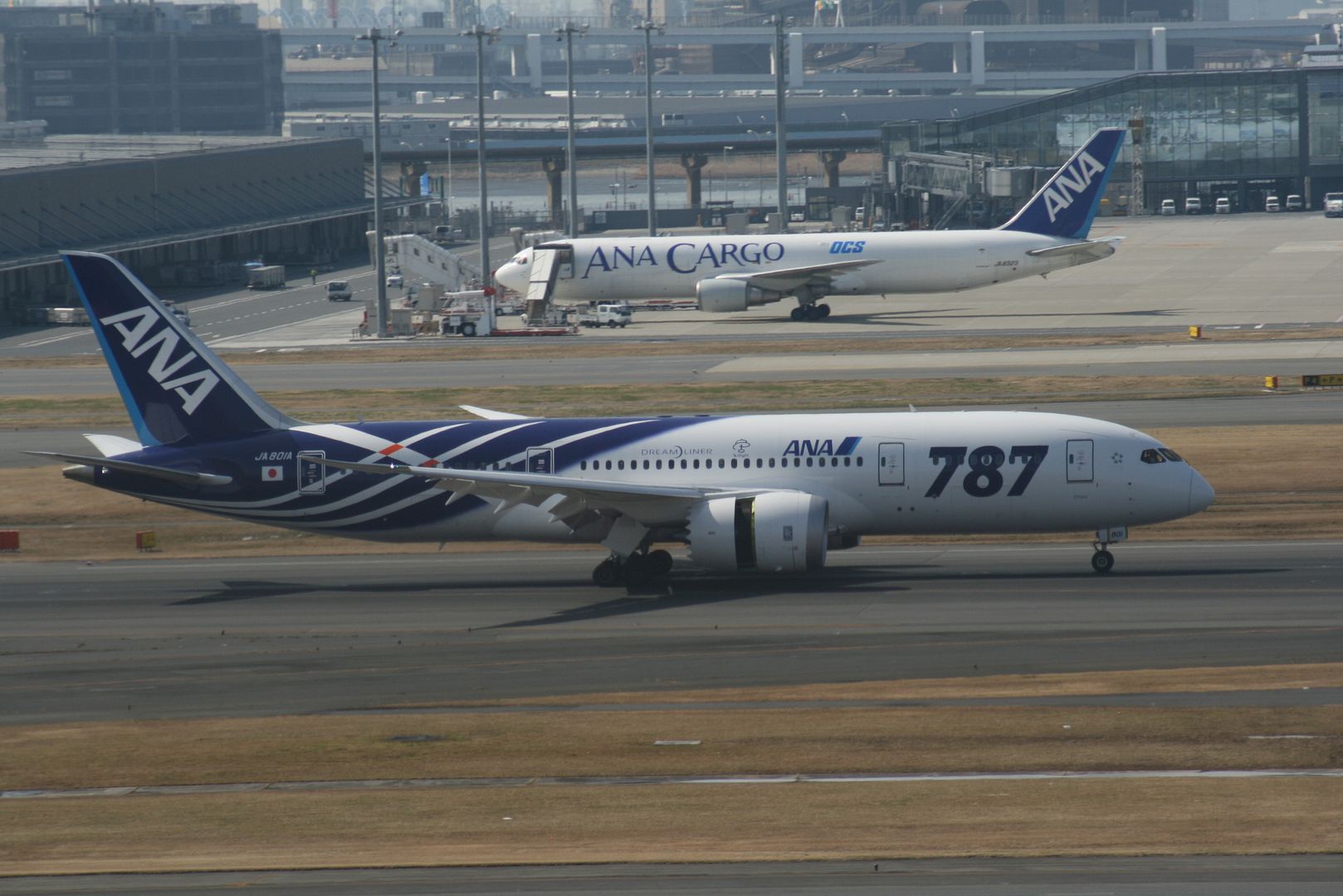 Around 12 I decide the mornings innings had been good, the aircraft were starting to getting repetitive so I headed for the limousine service, that's what the bus service is called, to NRT for a little more spotting before catching my evening flight to Shanghai.
Traffic was light so it only too 40 minutes, pretty good, during rush hour I have know the journey to take an hour and a half or so.
As expected, traffic was slower at NRT but I still made a few whilst nursing a coffee from Starbucks to try and keep me awake.
As usual, there were a fair number of people on the deck
around 15:30 I gave in and decided to check-in and get a shower in a lounge
View from the terminal, I could be in Houston!
Lot's of departures and ANA advertising the 787
Japanese
English
I arrived at area C for check-in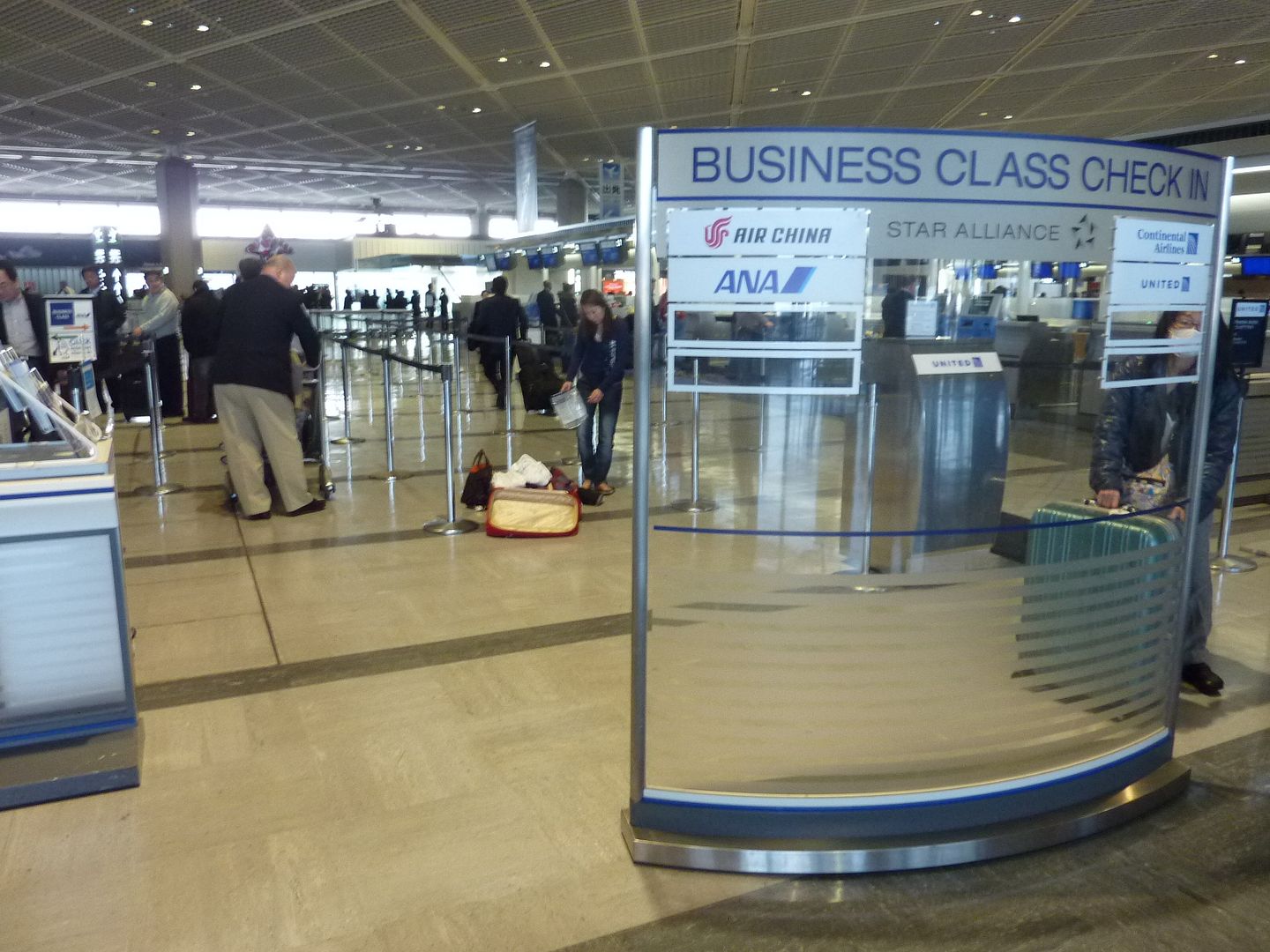 a few moments wait before being called forward, documents quickly checked and my boarding pass with my pre-assigned seat of 3A issued.
Security clearance was quick as was the immigration clearance, once through I headed to the United lounge, the check-in agent had suggested I use it as it was closest to the gate tonight's flight would depart from.
United Lounge
A welcome greeting at the lounge entrance their headed into a pack boiling lounge, the place was like a sauna, not an empty seat in sight either, so headed directly to the shower area.
The shower area is manned by a lovely older lady, she advised me that there would be a 2 to 3 minute wait whilst the shower is cleaned, she apologised profusely over the delay and gave me a beeper which would alert me to it being ready. I headed off to get a beer, had to lean against a wall to drink it, no free seats, but only managed half of it before the bleeped went off, impressiveness!
The shower room was a good size and came with what I assumed to be a United JCL amenity kit, the contents were pretty ok.
after a shave and a good shower I felt human again.
The United lounge is huge, stacks of seating, nothing fancy just functional and bland to be honest.
The majority of the window blinds were all down to try and cut out the afternoon heat from the bright sun, however the place was hot as hell, on top of that it was packed, hardly any empty seats, I eventually found one by a window but decided to leave after just one drink, I was starting to sweat it was that hot - I figured the ANA lounge would be better, also the F&B offerings were very poor for a JCL lounge.
After a fair walk to the ANA lounge
I was happily admitted however advised they would be closing the lounge in the next 10 minutes or so, I guess that also explained why it was so empty and the snacks were in short supply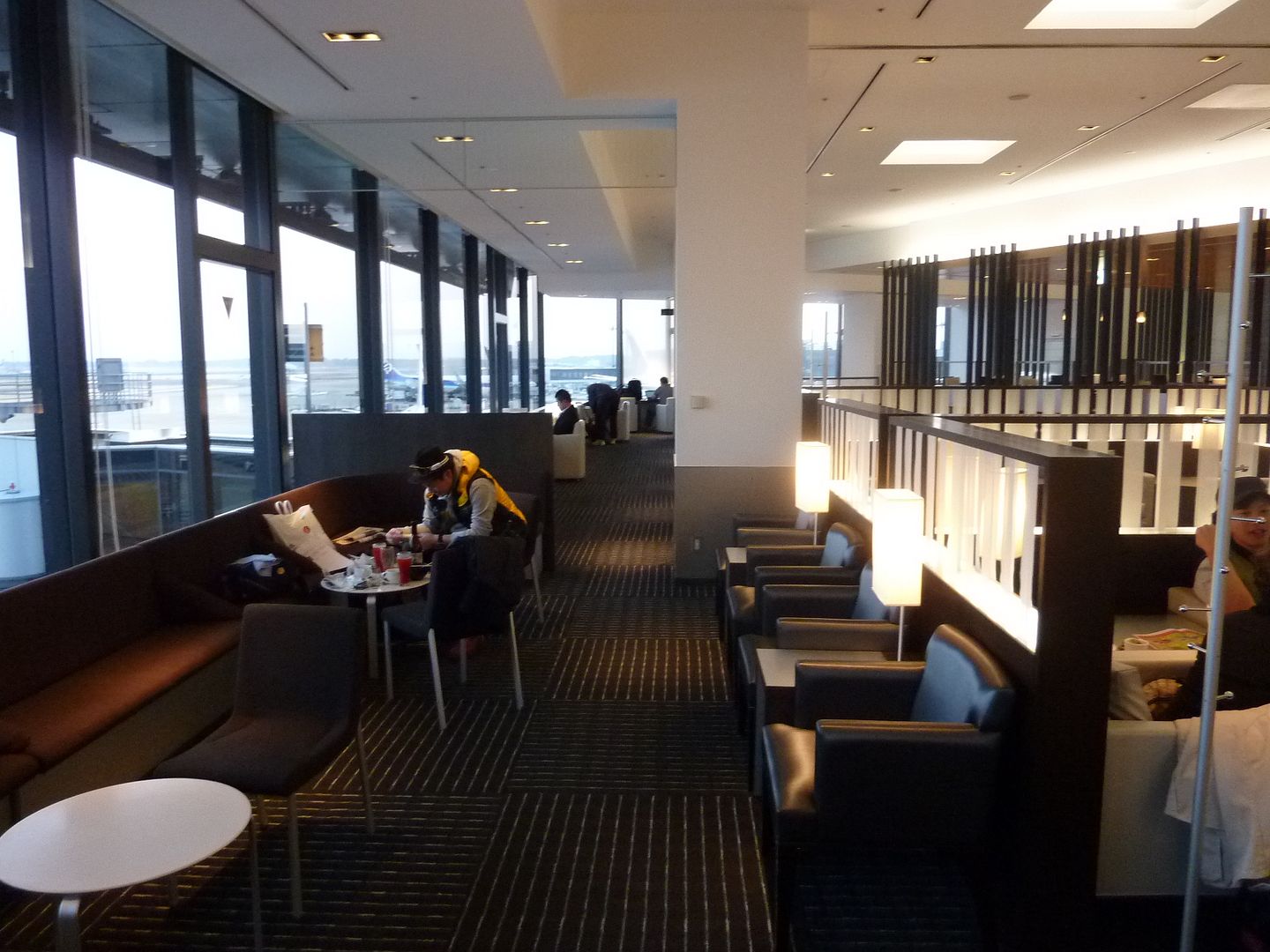 Snacks or lack of
Good views from this lounge
After one drink I headed back to the United lounge, upon arrival it had emptied out a bit so finding a seat was a little easier than before
Never heard of this Gin before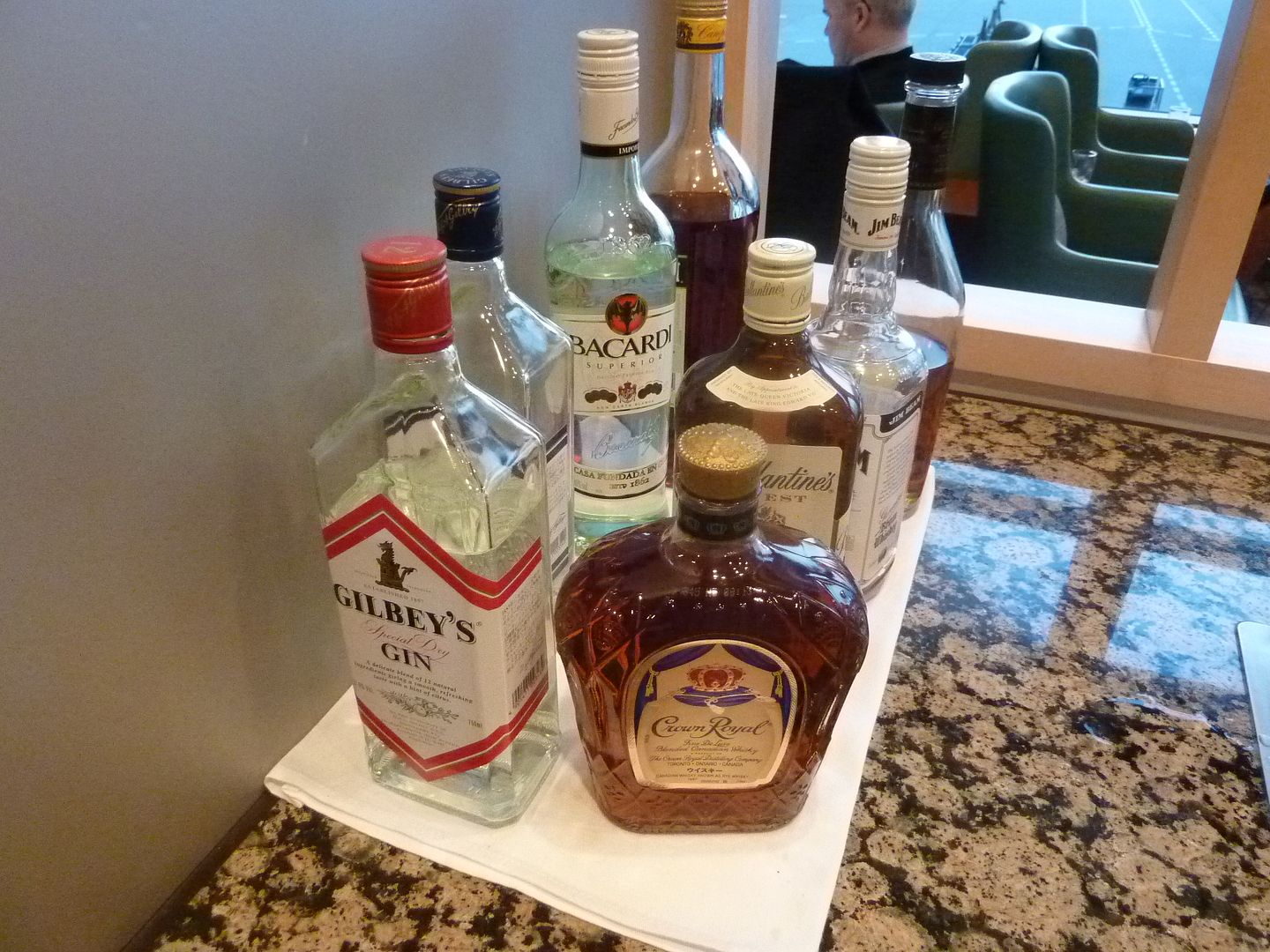 Wine and soda/tonic tonic on tap
Stupid sign, why the need the exclamation mark is beyond me
Drink & 'food'
View from my seat as the sun sets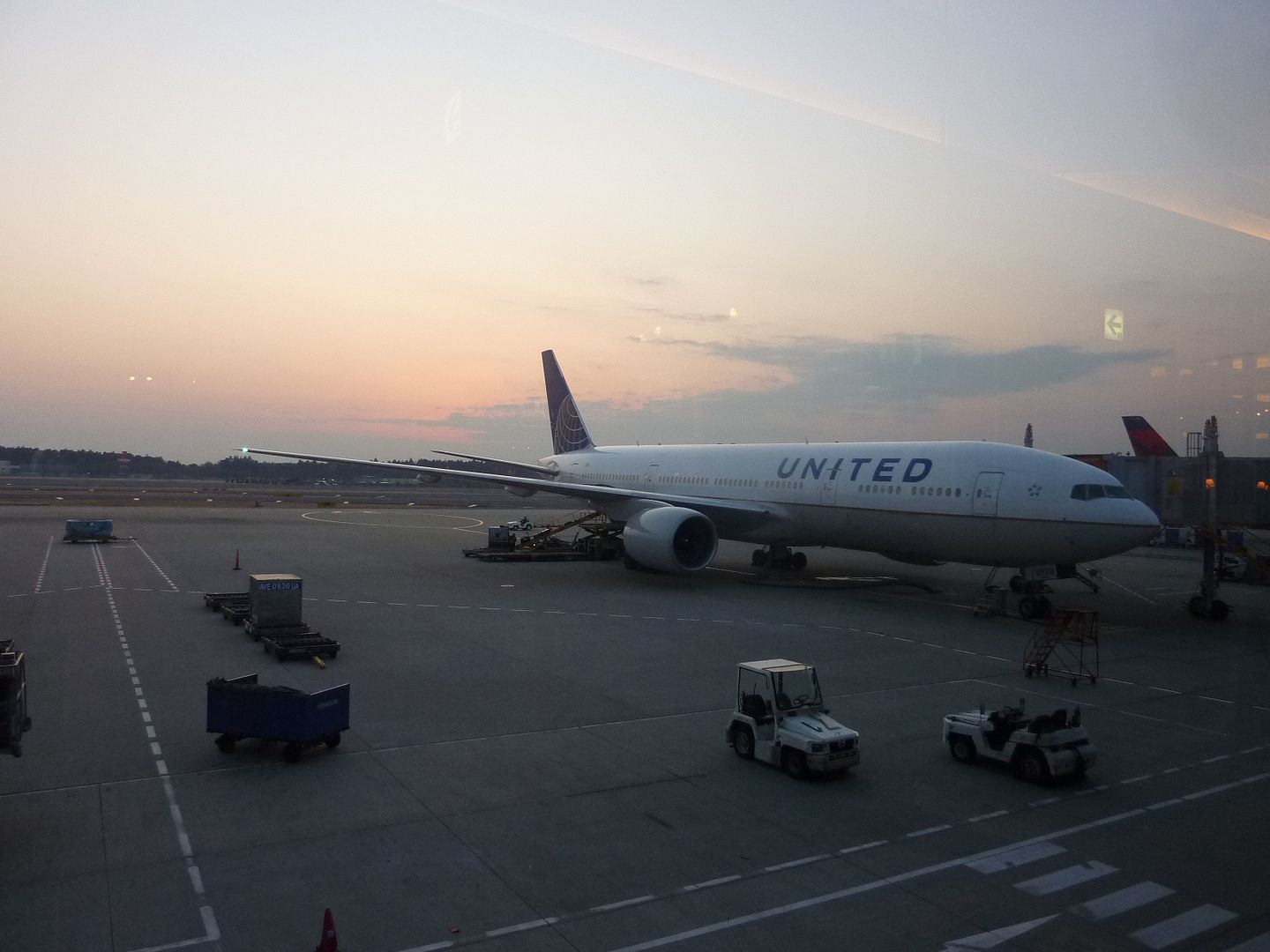 Internal view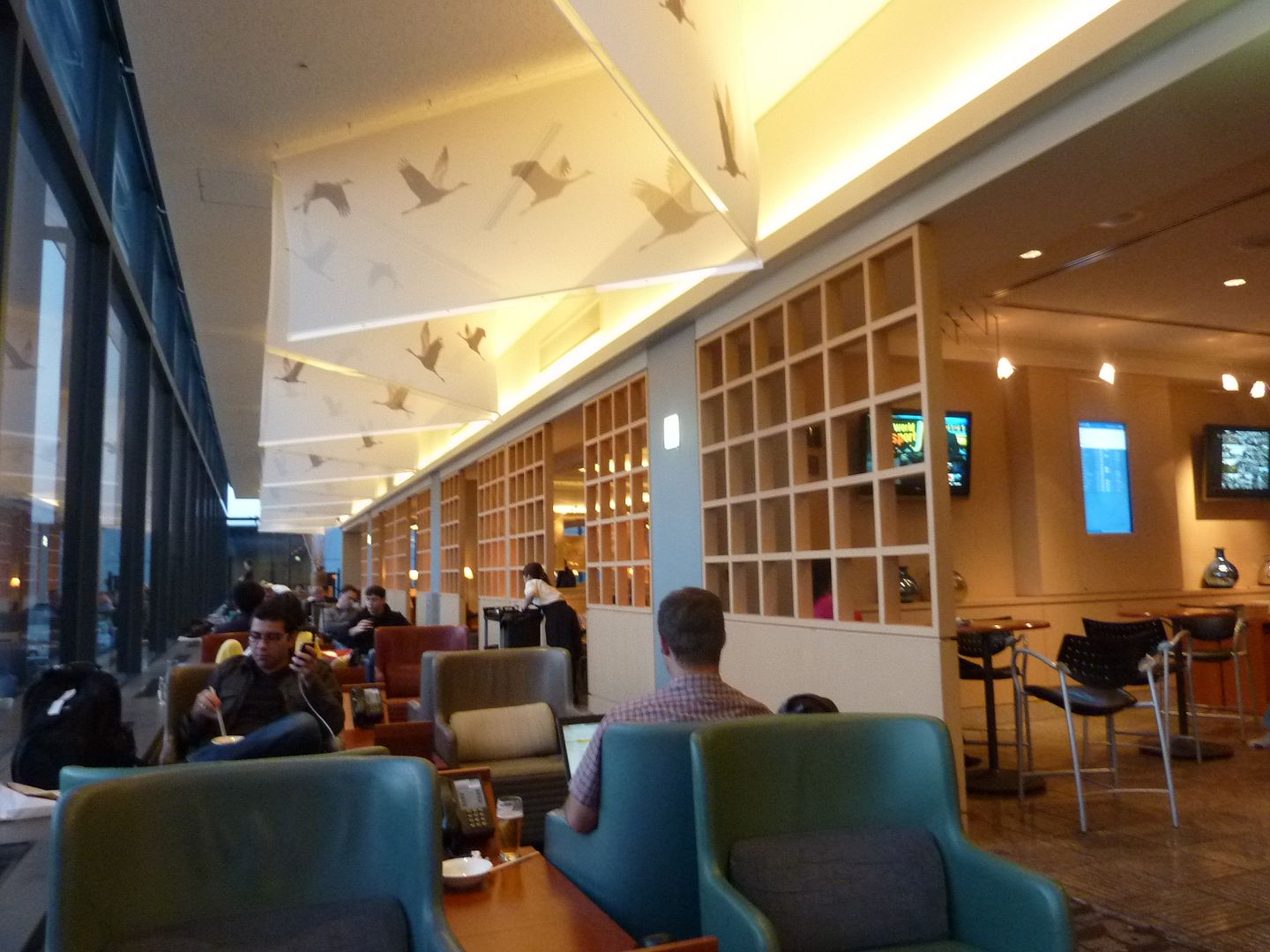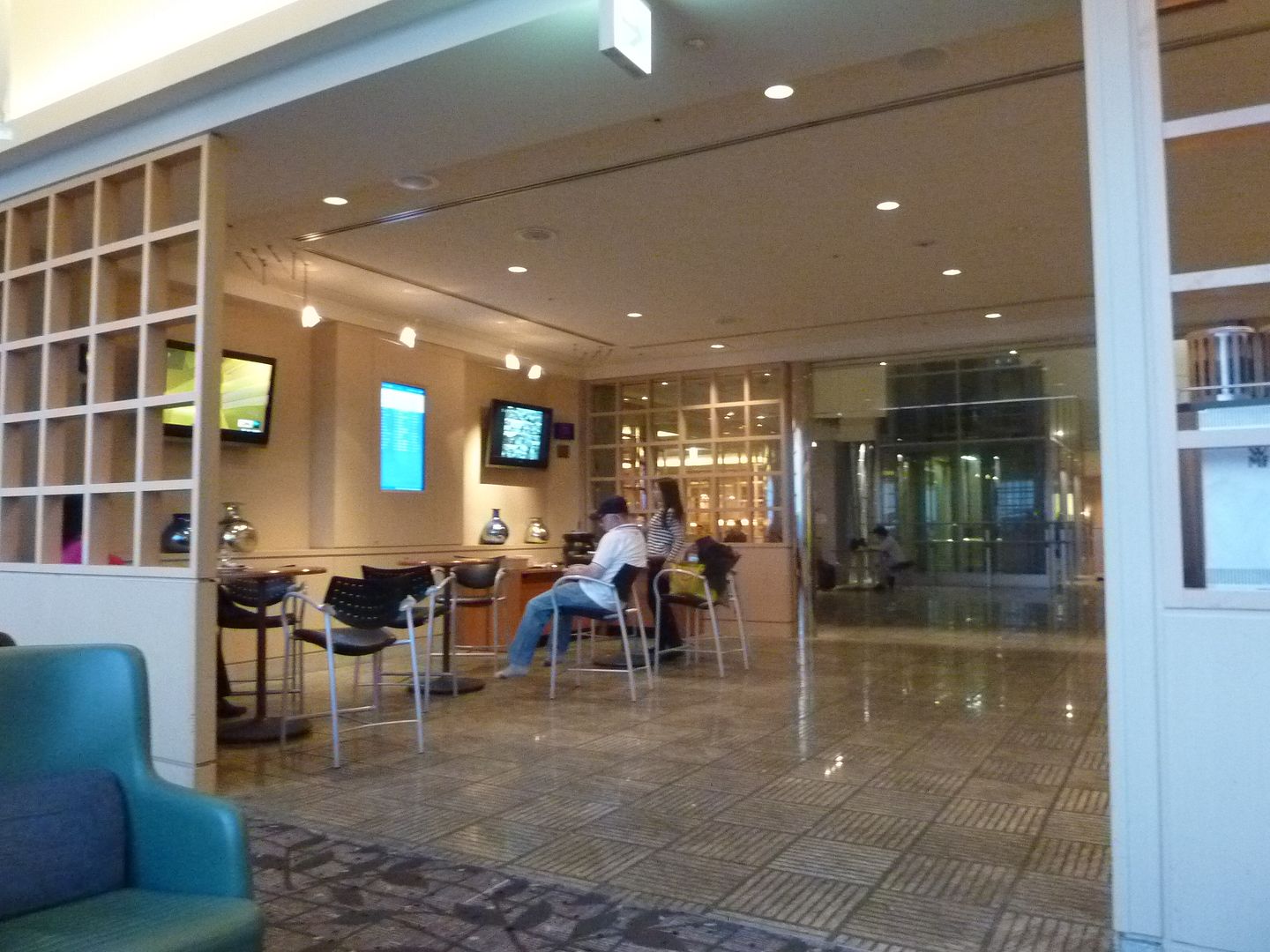 They must be good if they are 'Premium' crackers!

24-02-2012
NH921
NRT-PVG
777-281ER JA710A – First Flight 20-09-2000
Seat 3A BusIness Class
1st Flight on this aircraft, 17th 777 flight (5th -200ER)
Sch Dep 18:40 Sch Arr 21:10
Act Dep 18:52 Act Arr 20:46
I left the lounge around 18:10, when I arrived at the gate, boarding had just commenced
My plane at the gate
I jumped straight into the priority line and despite a picture or two along the way, note the dual boarding gates, one for business the other for economy
I was the third passenger to arrive in Business.
Greeted at door 1L by a friendly smiling FA and directed to my seat
My seat tonight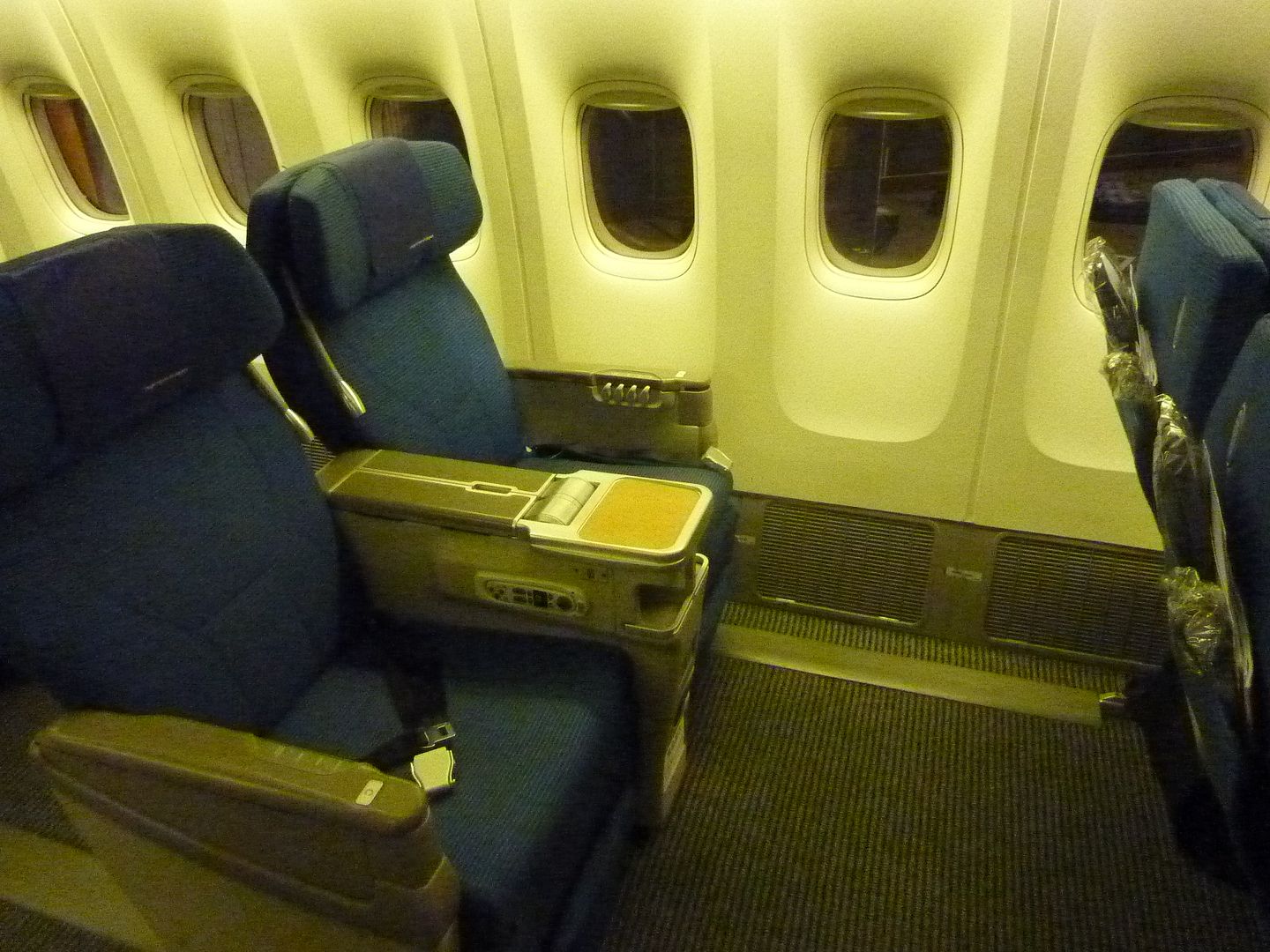 Seat controls give you an idea that this bird is not that new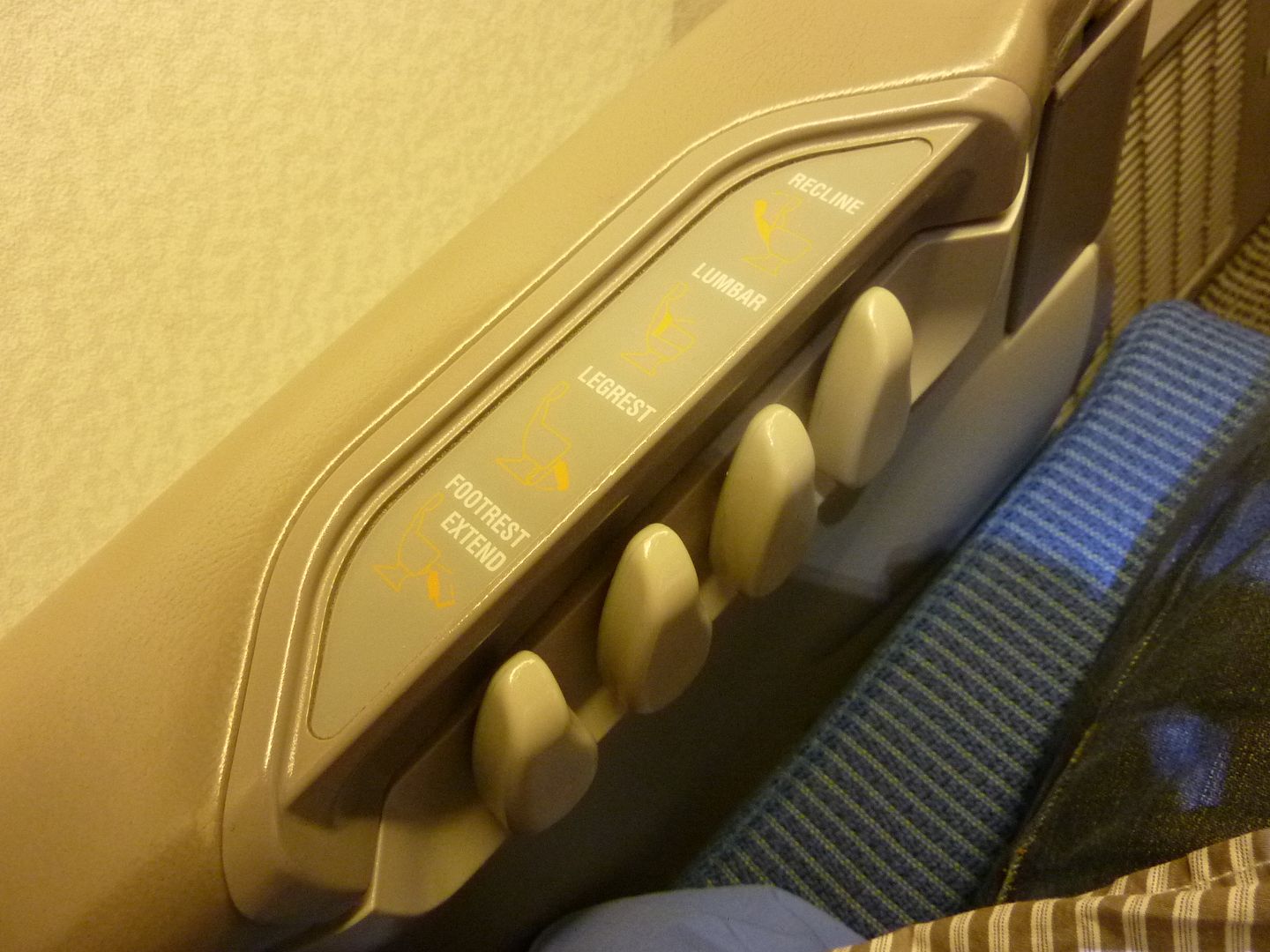 Just to confirm the type
she noticed me take a few cabin shots, below, and offered to take one of me in my seat, I thanked her but declined, nice gesture.
Papers were offered but no welcome drink, this I have found to be the norm on ANA's regional JCL product.
The cabin is typical ANA, the seats are comfortable though I'm not keen on the colour of the bulkheads, coupled with the now yellowing lighting it makes the cabin feel quite old.
A great many Economy passengers must be blind thus just too the first jetway, as a result they traipsed through business to get to their cabin.
Menu's for tonight's dinner service were distributed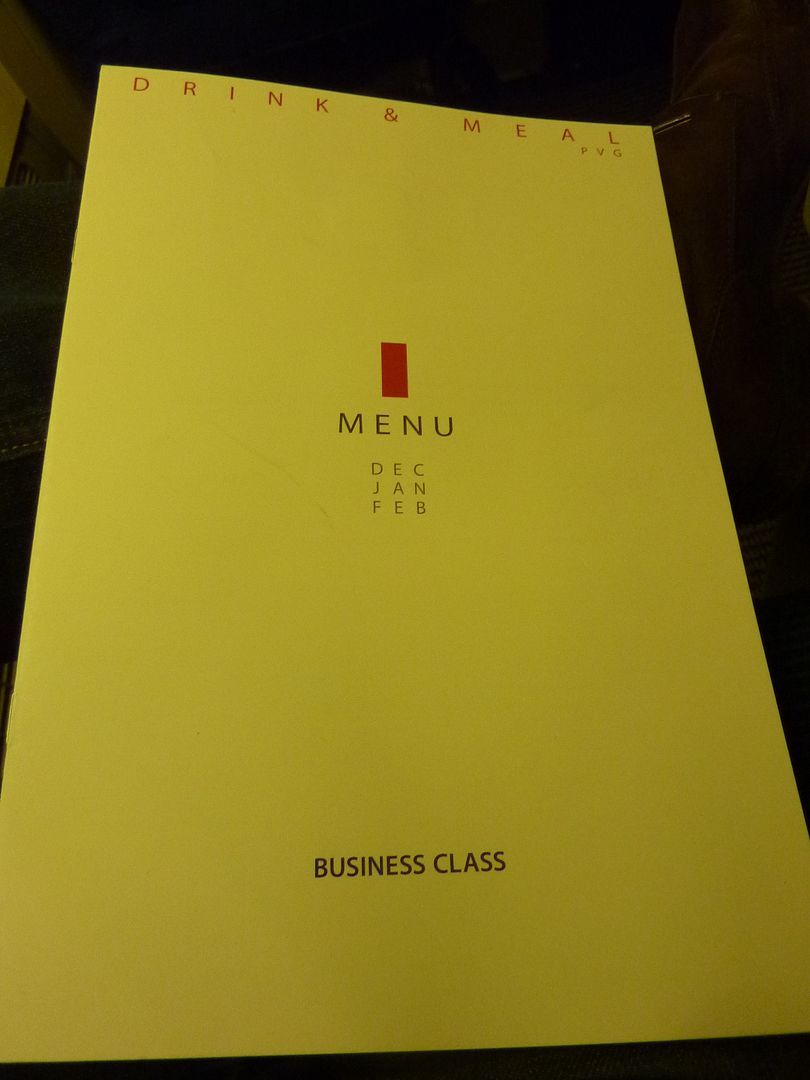 Both of the cabin doors, 1L & 2L we closed around 18:30, the load in JCL was 10 out of a possible 25 seats, not great, Y looked quite light too.
I dropped off after push back but woke up for take off, the cabin lights had not been dimmed so I decided not to bother with any outside pictures of the outside, wheels up at 18:52.
The seatbelt signs were extinguished about 5 minutes after takeoff, we were still in a steepish climb, well done ANA! – I needed the loo!
Just after 7pm hot towels we distributed, these were proper JCL type, thick hand towel type, very nice, though not that hot unfortunately.
I pulled out the IFE to put on the map, in contrast to the nice modern touch screen IFE on the previous 787 flight, this felt like it came out of the arc, slow to respond and on occasions not doing what it was supposed to.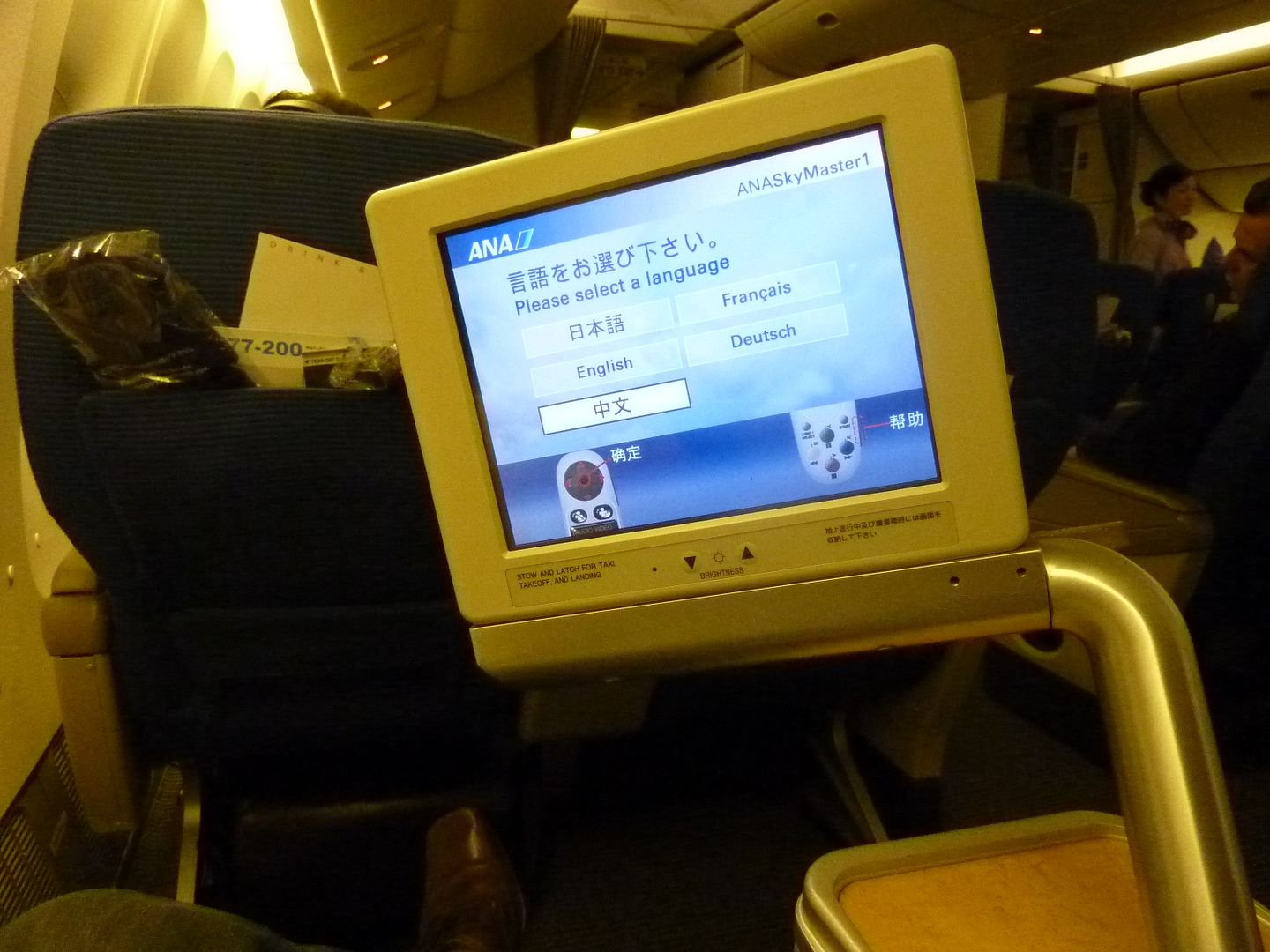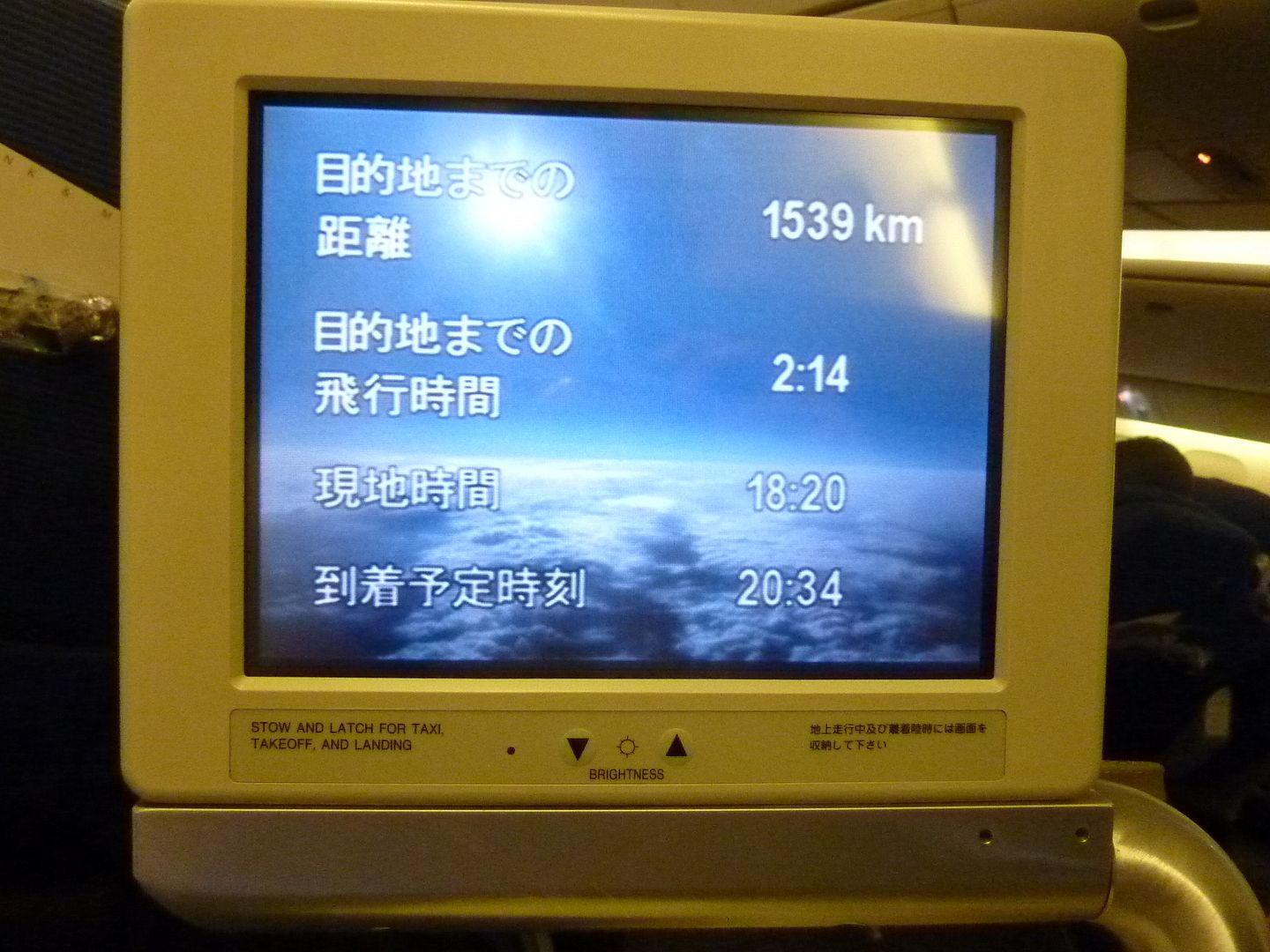 The crew came around to take pre dinner drinks and dinner orders, I decided to take the champagne (I was a bit Ginned out after the lounge, had quite a few....) and decided to stick with the international menu for dinner, too much fish on the Japanese meal for my liking.
The captain came of the PA, thanking us for flying ANA along with providing some flight information along with an early arrival time, expected to be 20:45, some 25 minutes ahead of schedule.
Whilst I enjoy my time hurtling through the skies in a metal tube, I sure liked the idea of an early arrival tonight, anything to get to the hotel quicker and go to bed for some proper sleep. Overnight flights in Y just don't make you feel good the next day, yesterdays flight was catching up with me, well it had been all day, but I could really feel it draining me now, thank goodness I could relax on this flight, more room and a comfy seat were sorely needed!
The champagnes arrived along with a packed of rice crackers, I had a few then gave up on them, some far to disturbing tastes in the for my liking!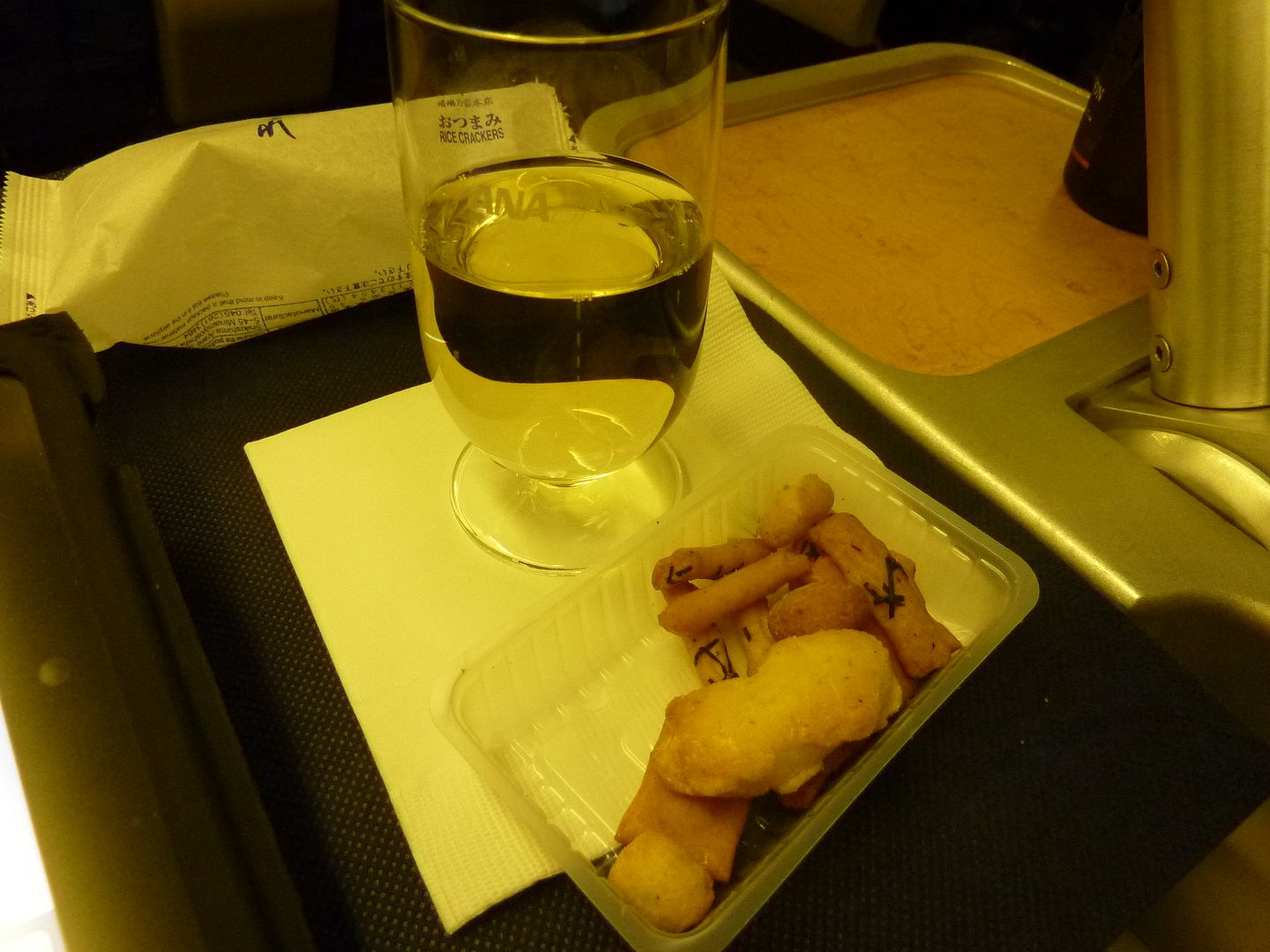 Dinner was quickly served which was a blessing, I felt like a dead may trying to hang on to the last remaining moments of consciousness.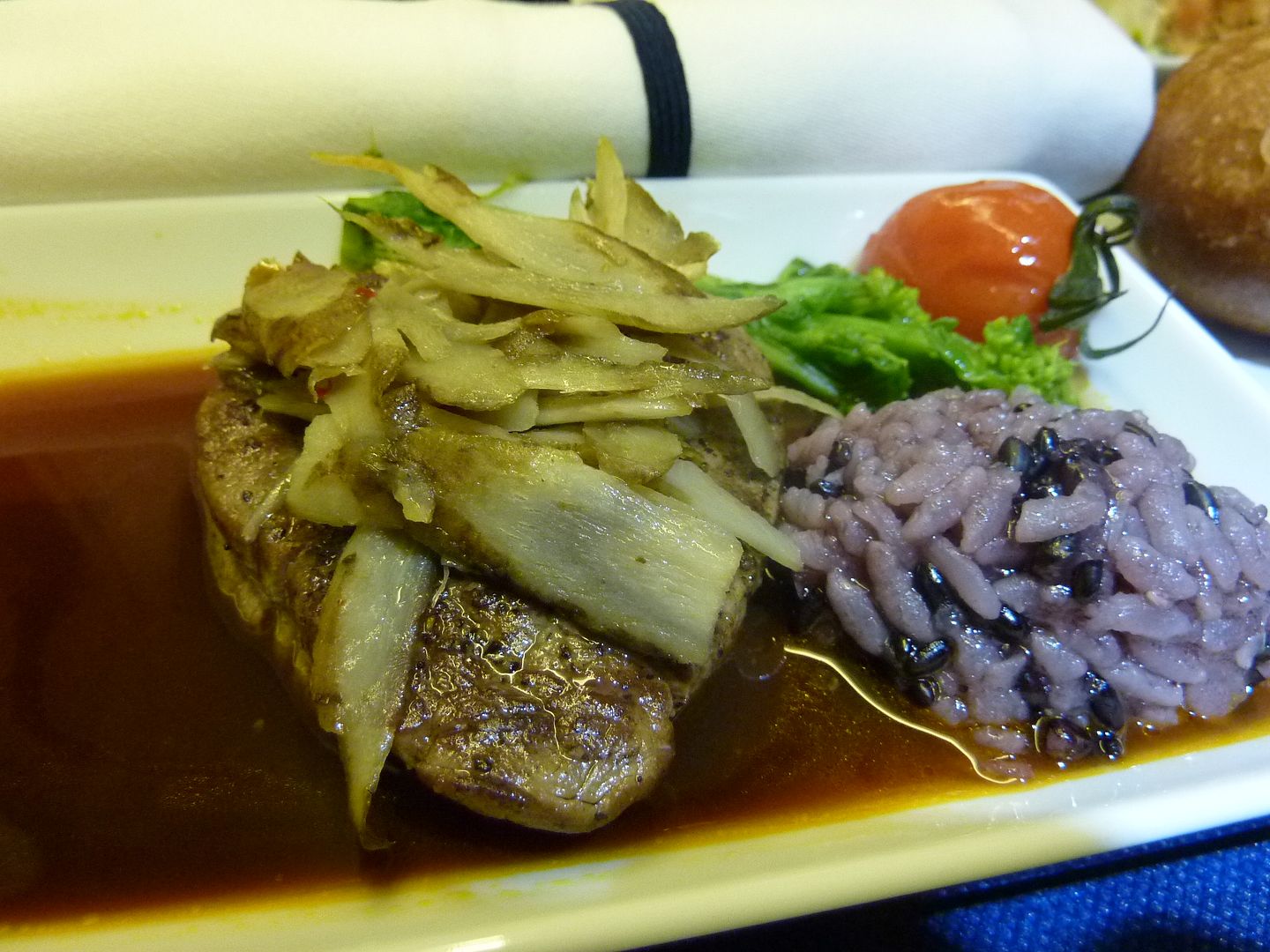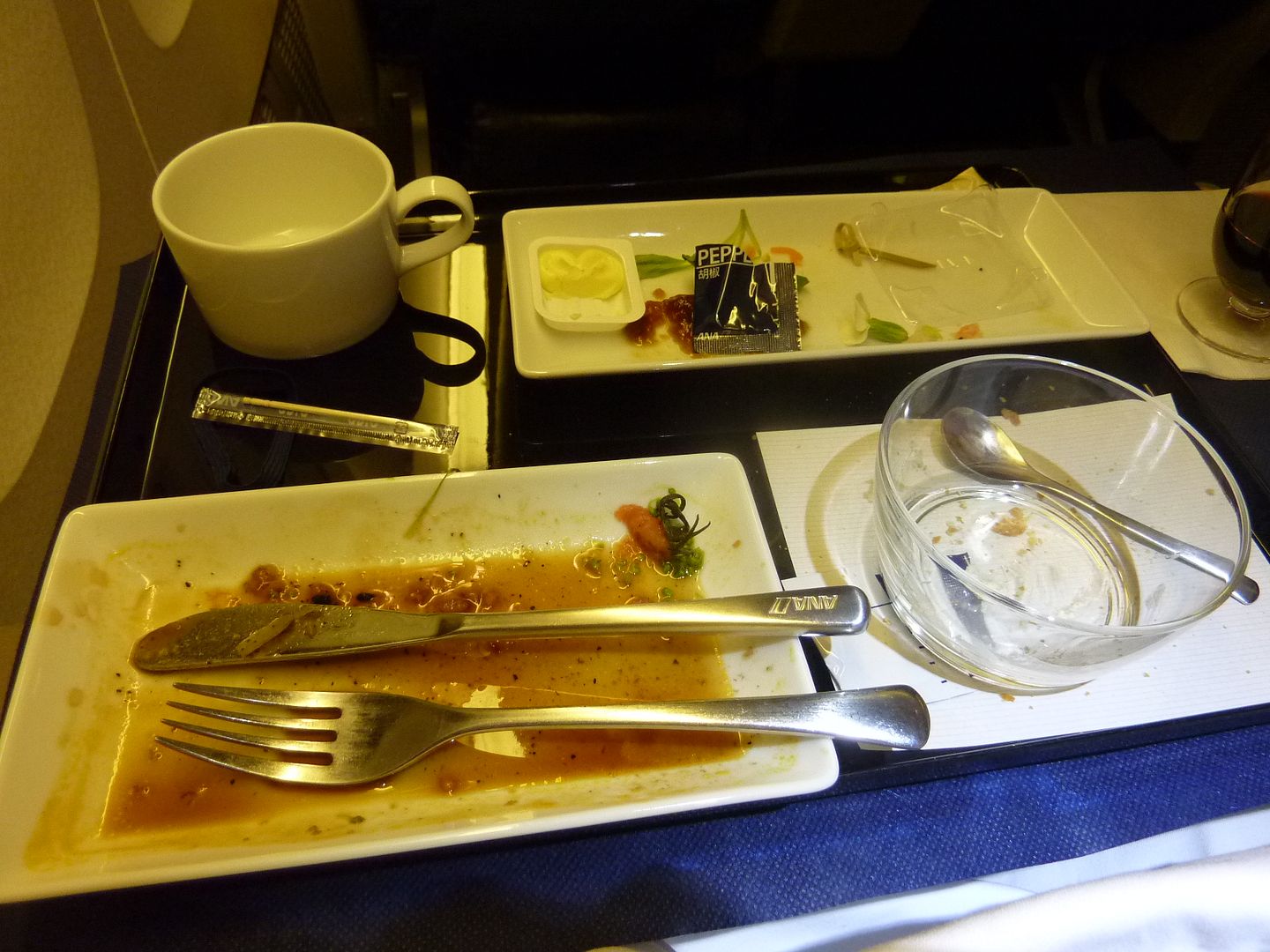 I have to say the presentation was excelled, as was the taste, and the beef, just perfect! The FA serving me suggested I take red wine with my main, well I think you know me well enough by now, how could I refuse!
To offset the alcohol I also took several cups of Japanese tea, you know that makes up for the booze, right?
After a visit to the bathroom for a few pictures, this one was huge
All very old school with the metal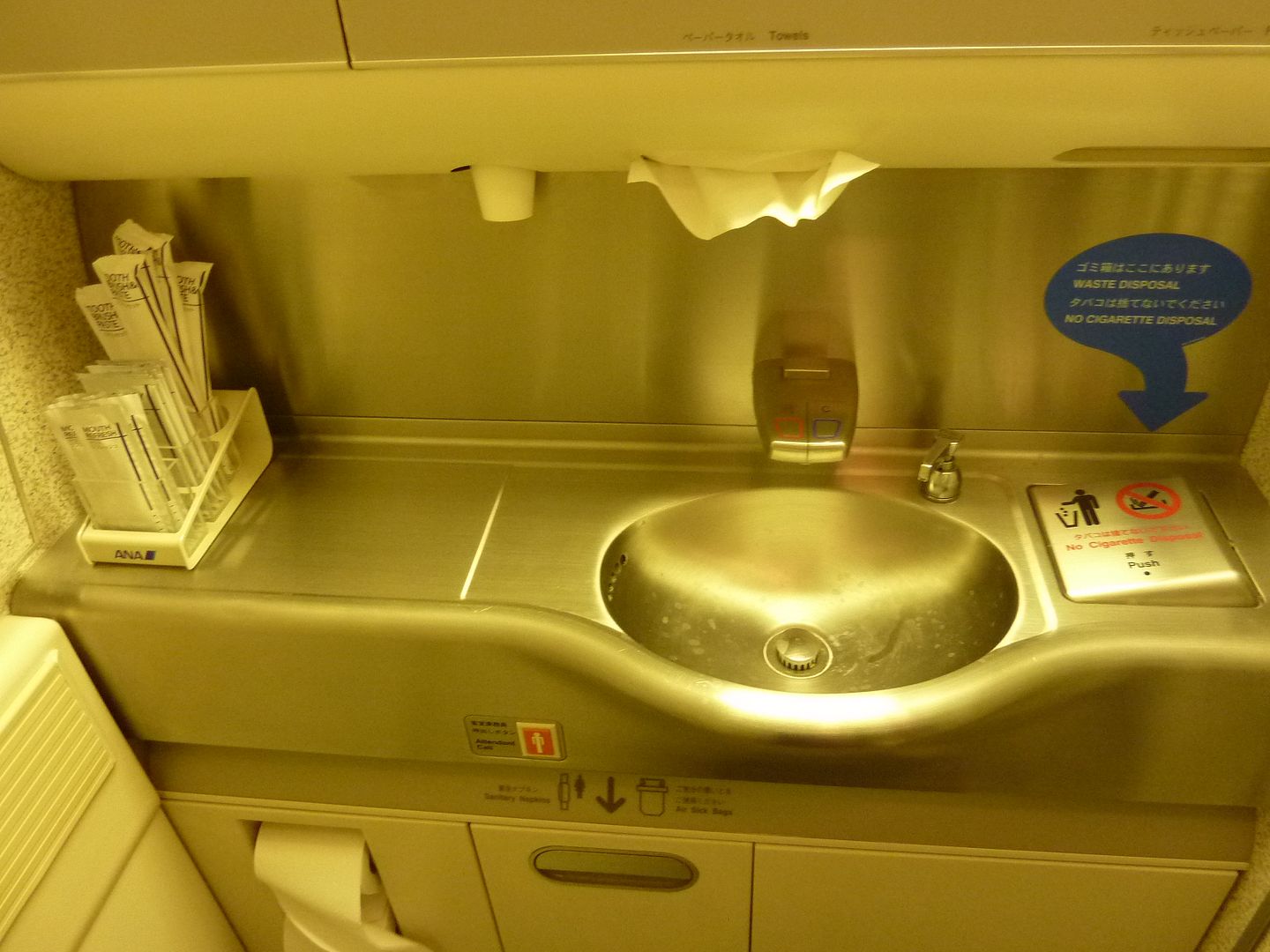 Current location
I shut my eyes and dropped off, only to wake during the final stages of descent.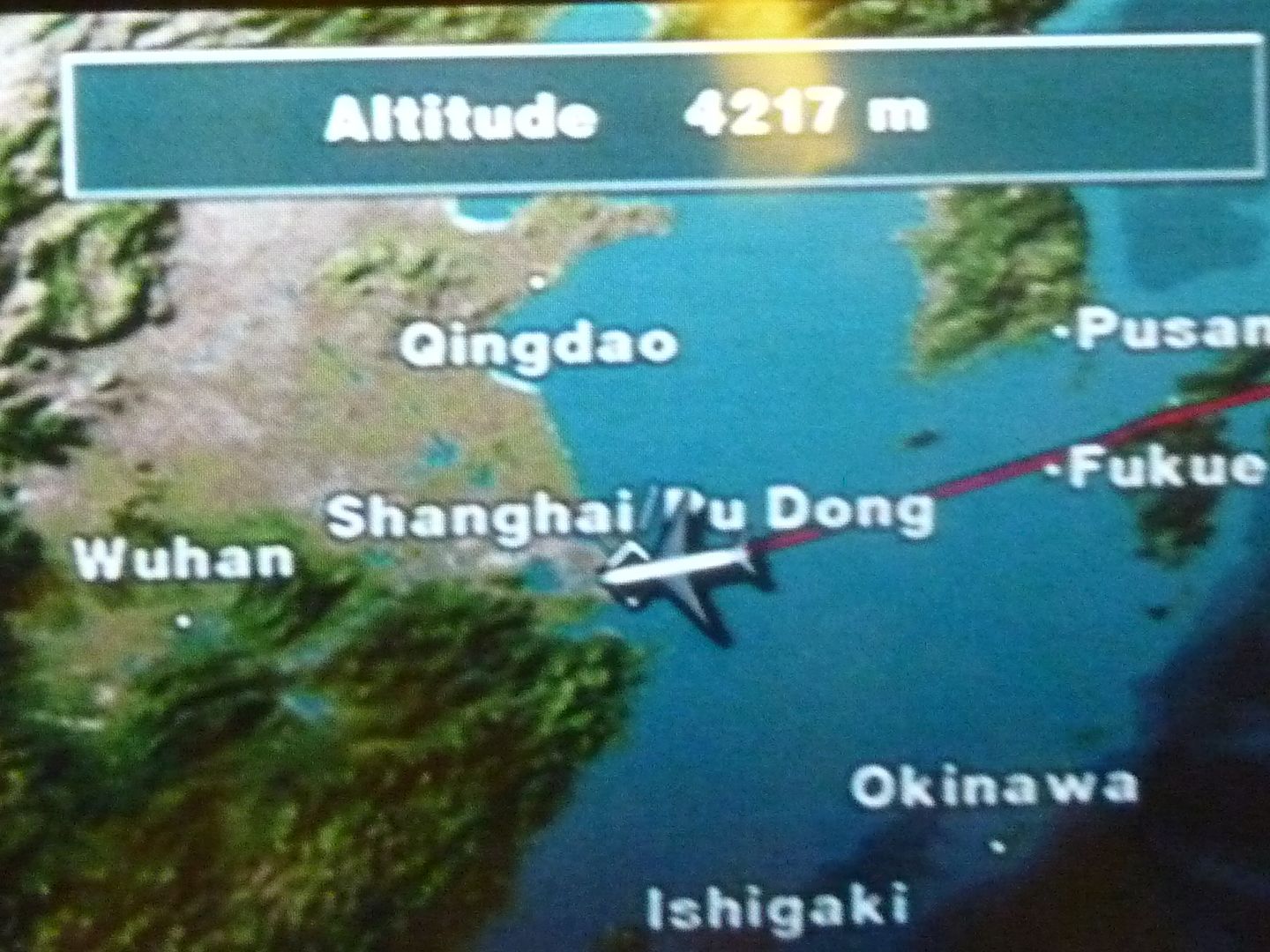 Since the cabin lights were still on, pictures outside were impossible, wheels down at 20:46, almost 25 minutes early, nice.
On stand
Immigration was a smooth affair and I was soon outside the terminal, amazingly in the correct spot to wait for the hotel shuttle too!
Since I only had a short stay I decided to stay in the Shanghai Pu Dong, this is supposedly the closest hotel to the airport so ideal for this kind of stop, the price was not too bad either.
I woke up a bit when I arrived, think it was the cold air, so had a beer and some snacks at the hotel bar before bed, you can't see here too well but the singer in the background was quite hot!
In summary, ANA once again provided another great flight, I quite like their regional JCL product, though the IFE is looking a little dated these days, that said, I only need the moving map!
The United lounge in NRT is disappointing given the size of the operation the have there, the decent shower facilities are its only redeeming feature really, the F&B options were sorely lacking, it's certainly not a place to have an extended lounge visit.
I hope you enjoyed following this short trip, feel free to drop a comment or question.
Next up is the MU A300 to PEK!............
Thanks for reading.
Best Wishes
BA319-131 - AKA Mark