Is Traveling Allegiant Air really a deal?
Most of you are used to be writing about inaugural flights on Jetblue and Virgin America, as well as first class on travels on some of the top airlines. So this trip report will be a bit different as I am flying one of the ultra low fare airlines in the US. I decide to write about it, as Allegiant Air is not as well discussed as Spirit Airlines. Of course to no surprise, Allegiant Air is a profitable airline and most of the profits come from auxiliary incomes, such as checked bag fees and all these other things that will considered free even in today's cutthroat aviation market. My expectation is actually pretty low and in the end, I only have one aspect of the trip that really bothers me. Other than that issue, the flight is perfectly acceptable and Allegiant Air allows some small cities to have nonstop service to Las Vegas and Phoenix Mesa.
May 3, 2012
G4 564 Las Vegas to Eugene Lv1205 1415 McDonald Douglas MD-82 N863GA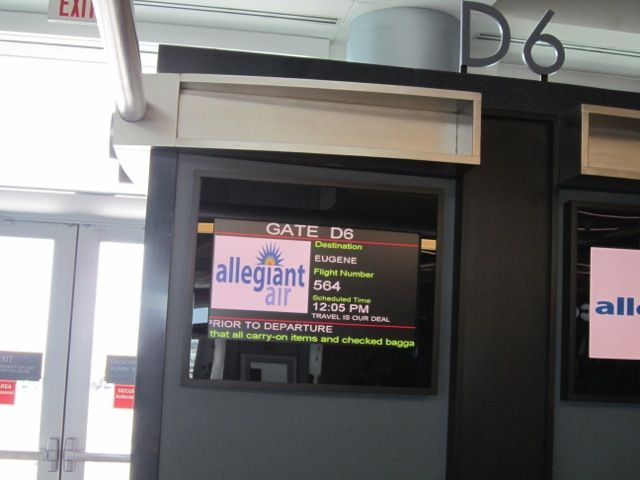 Planning and Booking:
I just want to clarify that I really don't have anything to do in Eugene and my sole purpose of this trip is that I have an extra day in Las Vegas and want to take the opportunity to find an Allegiant Air flight to do? The criteria are first, the flight has to depart after noon, and second, the destination has to have reasonable flight to get back to Los Angeles. It is not going to be a major city, but has some other airlines operating to. My number one choice is Phoenix Mesa, as I want to get both Allegiant Air and Spirit Airlines in my logbook. Unfortunately, it is difficult, as Allegiant Air has limited flight to Phoenix Mesa that morning. I tried a number of other cities like Bellingham, Pasco Tri Cities and Colorado Springs, and narrow down to either Bellingham or Eugene. At the end I select Eugene, as the fare back to LAX on Alaska Airlines is reasonable and the connections are not too risky.
Allegiant Air website is easy to use and all the extra fees are clearly listed. I am able to purchase a variety of extra service like travel insurance, priority boarding, and carry-on fee. The only thing that is missing is its seat assignment and boarding system, which is very misleading and I feel silly once I was on the flight. Anyway, I will share with you the basic breakdown of the fares: Airfare is $55.81; Tax and fees are $14.99; Convenience Fee is $10. Here are the extra stuffs that I bought: $13.99 for seat selection fee – exit row; Trip Flex is $11.50 (avoid most change and cancelation fees); and Carry on bag is $13. Yes Allegiant has a carry on bag fee (mainly roller board and bags that will only fit in the overhead bin. The total I paid was $124.29.
Check-in:
Unfortunately I did not visit the main check-in counters so I did not have any pictures or had anything to report. According to the website, they had a regular check-in line and a bag drop line for passengers who use online checkin. But there is a catch – you can only do online check-in if you only have paid for assigned seats. So there is one thing that you should remember. I also want to report that the Common Check-in kiosks at Las Vegas Airport do not have Allegiant Air listed, so you must go to its counters if you have not paid for any assigned seats. I arrived at LAS around 10:40am and headed straight to the security line, which was busy as usual, but nothing too crazy. Concourse D is one of the newest terminals here in Las Vegas and features high ceilings and plenty of food outlets, shops and slot machines. My first task was the gate…
D6 this morning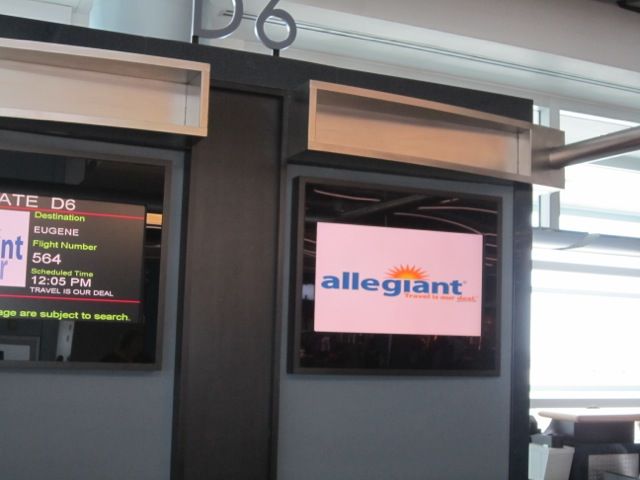 The gate was not staffed yet, as it was early. The agent showed up a bit later and she was quite friendly. I asked her regarding ability to bring food onboard and she smiled and said, "No problem as long as it had a cover!"
D4 features the Bellingham flight, which I almost booked. N420NV, a former Reno Air and SAS MD-82, was used on the flight to BLI, while our aircraft was running late arriving from Fort Collins, Colorado.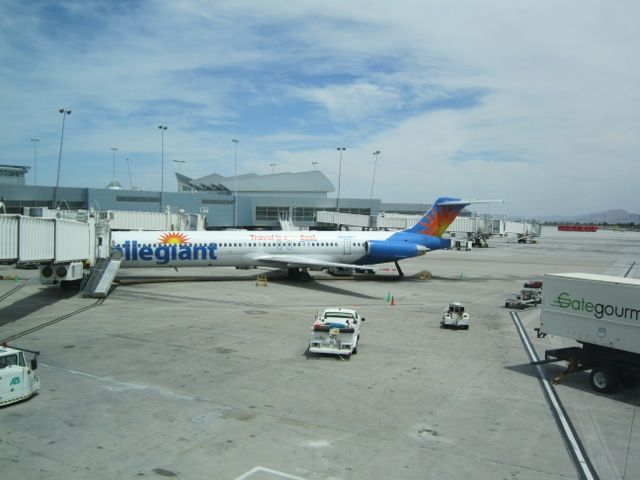 Our aircraft, N863GA, another former SAS MD82 built in 1989, arrived D6 at 11:36am (16 minutes behind schedule)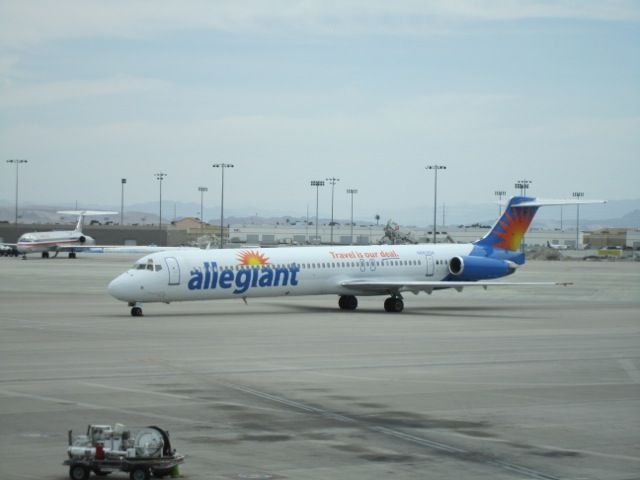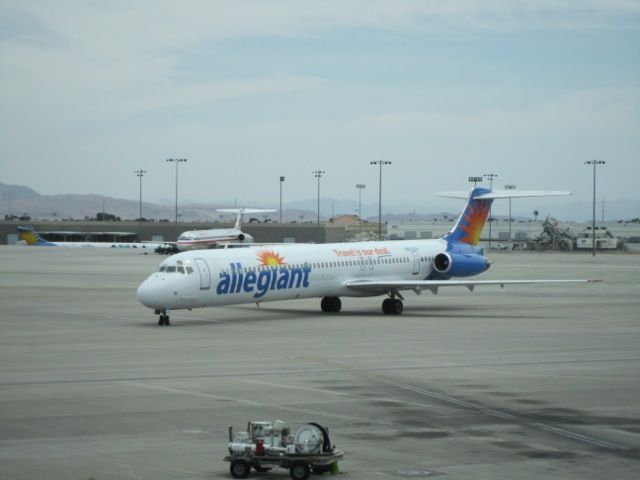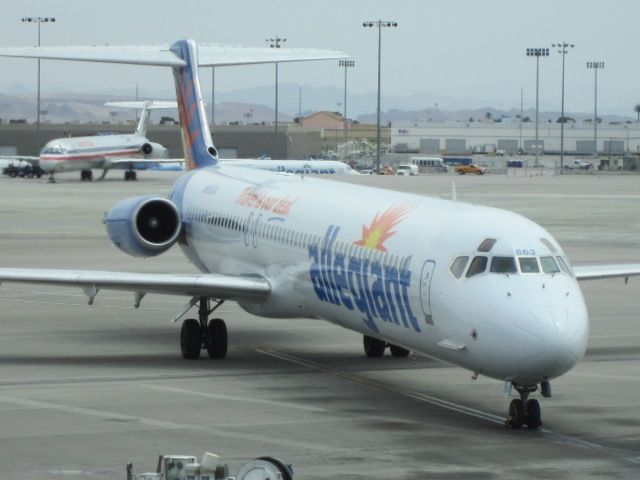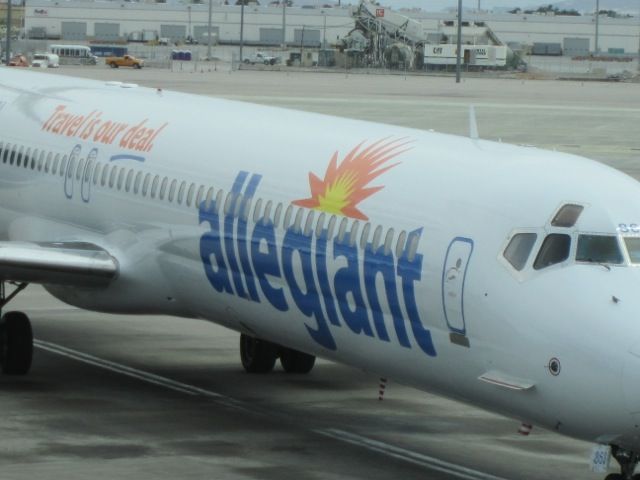 Boarding:
N863GA getting ready
Its turnaround process is similar to Southwest and boarding starts as soon as the last passengers left the plane. The F/As cleaned the plane during the short turnaround but of course, it could not perform the 25 minutes turn. Ground staffs were minimal, almost similar to Europe. There was only one gate agent too. Boarding began at 11:51am, which was fifteen minutes after the plane parked at gate D6. There was no crew change – both cockpits and cabin crews worked the earlier rotation to Fort Collins.
Here is the boarding process with Allegiant Air:
1. Pre-Board – wheel-chair passengers – typical
2. Passengers who paid for priority boarding - $5
3. Passengers with seat assignments – Row 20 and above
4. Passengers with seat assignments – The rest
5. Open Seating phase – passengers will be assigned a number if they did not pay for seat assignment. They are all labeled under "C" and Allegiant Air starts with C1 to 30, and then 30-60.
Here is my advice and issues with this boarding process – Allegiant Air is basically doing both assigned and open seating – being Southwest and Spirit in the same time, which really does not work. I have no issues paying for extra legroom and indeed I prefer this process. But I feel stupid to pay $13.99 for that seat, if all other passengers can get access to that exit row seat without paying anything. In reality this happened. Priority boarding really is a waste of money, as passengers with assigned seating can get early access now. With the carry on bag fee, people don't need to fight for overhead bin space. As long as you get an assigned seat, you can board before the rest of the mass. After all the passengers with assigned seats boarded, the F/A announced over P/A that they are now in the open seating process and you can free to move around, except seats labeled with "reserved", which only applies to the second pair of seats in the front – possibly for extra crew member or technicians. Three passengers immediately moved to the exit row and the F/A said that it was fine. To no surprise, the exit rows are filled up quickly. So I asked myself why I bothered with $13.99, not to mention the $5 I wasted. No wonder there was only a limited number of passengers buying exit row seats. In theory I could have just bought one of the cheapest seats around the exit rows and just switched when the F/A switched to open seating. Once again I have no issue paying extra legroom seats, but the system has to be fair. Allegiant Air really aims to get more auxiliary incomes, but in the end, the whole process discourage passengers to buy exit row seats, as they can get it by paying less for other row of seats and switched on board. Allegiant Air needs to decide between open or assigned seating. If you choose to do open seating, just charge extra for passengers who want priority boarding. Or if you want to do assigned seating, then just asked passengers to pay for a fee to select seats and for those who do not want to pay, they will just randomly assigned a seat, and extra legroom seats will be left unoccupied unless the plane was oversold. This is how a number of low cost airlines in Asia do. I feel that this seating system is unfair and my main issue. Anyway, I hope my experience will allow future Allegiant Air passengers to be aware of its crazy seat assignment and boarding process.
Cabin and seats
The cabin is a bit old school and my roller bag is able to fit on the overhead bin on the DEF side straight in. It is not the extended style used by AA, but not the traditional non-extended style. It is like a in-between. The seats are blue leather seats and the legroom looks okay throughout the plane. The padding is fine and the seats are not reasonably clean.
Regular row with normal seat pitch
Exit Row seats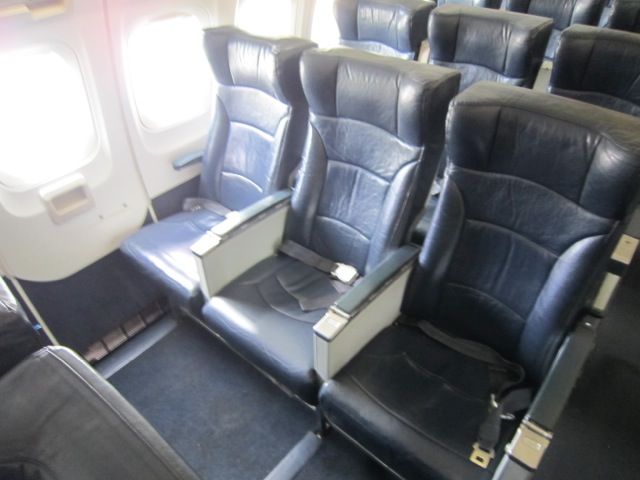 Cabin shot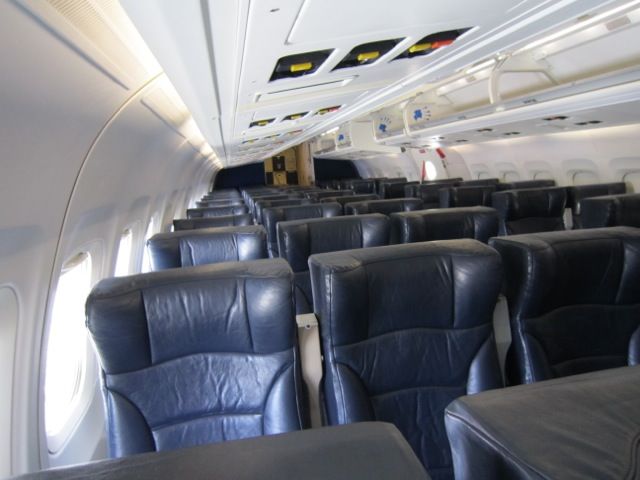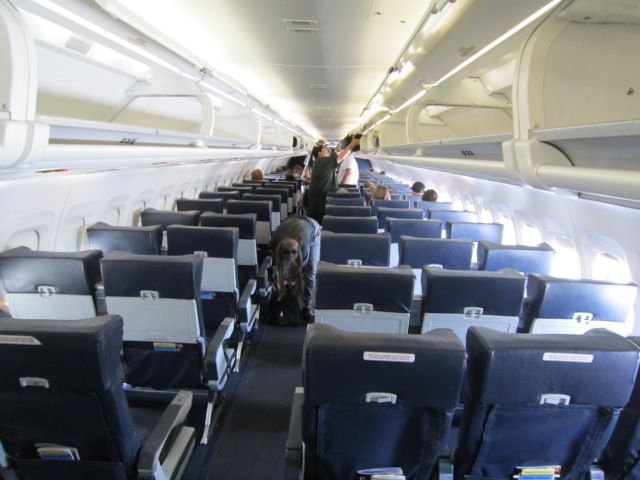 Close-up of seat
Flight information:
The pilot was actually very friendly and door was finally closed at 12:20pm, fifteen minutes behind schedule. The pilot explained that the aircraft had a minor issue this morning at Fort Collins, which delayed its departure. Anyway the flying time was an hour and fifty minutes today and we cruised at 34,000feet this afternoon. Traffic at Las Vegas was not busy at these hours and we took off from R/W25R at 12:36pm. The flight was very smooth all the way to Eugene.
Flight attendants:
Three flight attendants worked today's flight and they were a mix of everything. Based on my observation, the two women F/As had experiences with major airlines before and were comfortable with passengers. There was a cuter male F/A and he looked a bit younger. All three of them were friendly and had a smile. However there was an interesting episode and without getting any of them in trouble, I would refrain from mentioning their gender. The passengers at Row 23AC (the row directly in front of the first exit row) asked a passing by F/A on why their seats were not reclining. The F/A smiled and told the pair, the seats did not recline because it was directly in front of exit row. The guy was a bit upset and the F/A immediately snapped and said, "Did you have an issue?" The guy just said that there was no label telling passengers that these seats do not recline. The confrontation just ended like that. Not sure what to think about it, but F/As at Allegiant seem to be highly stressed. I am not sure if it reflects on the evolution of low cost travel in the US, the lower tolerant level by flight attendants, who work long hours, and the lower quality of passengers, who complained about everything (but forgot that they are traveling on what I called an ultra low cost airline).
Cabin Service:
There is no inflight entertainment at all, except the views out of the windows, which was spectacular today. Inside of seat pockets, there was a hybrid advertisement/inflight magazine named "Sunseeker," which promote Las Vegas and various Allegiant's destinations, as well as route map and BOB menu.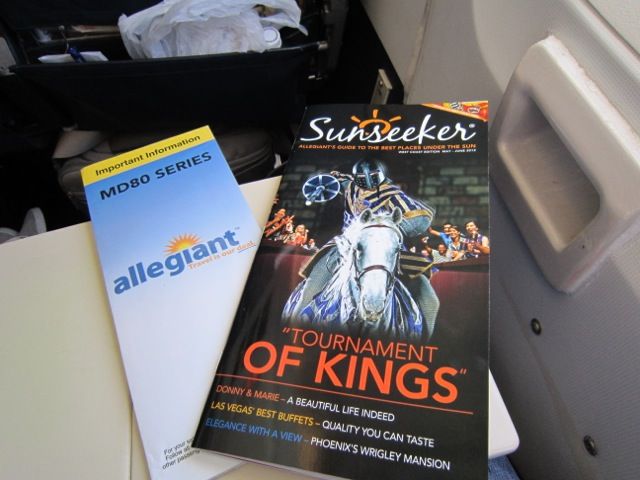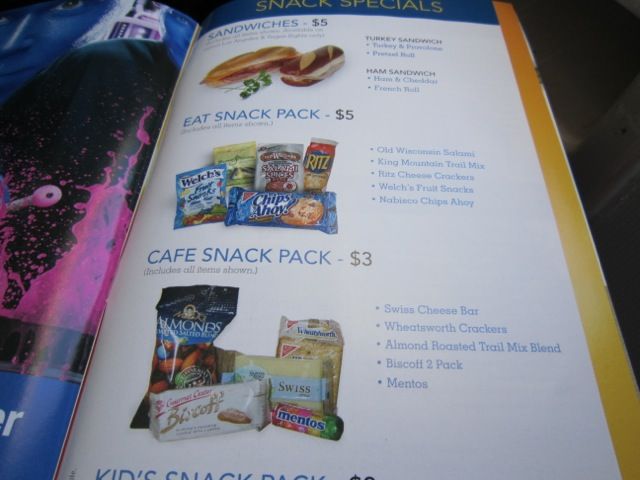 Despite listed in the menu, no sandwiches were offered today.
I got a sandwich in the airport, but decided to go for a Diet Coke and a bag of M&M Peanut candies ($2 each). If they did not have any ice, I will not go for the beverages. Cash, credit and debit card are accepted as payment methods. The sales were actually not bad and it took them a while to complete the service.
Arrival:
Descent began around 1:56pm and the pilots turned on the seat belt a few minutes later. Similar to Jetblue and other low cost airlines, F/As did a few rounds collecting trashes and ask passengers to help prepare the plane for the return flight.
Moment before touching down – a cloudy day at Eugene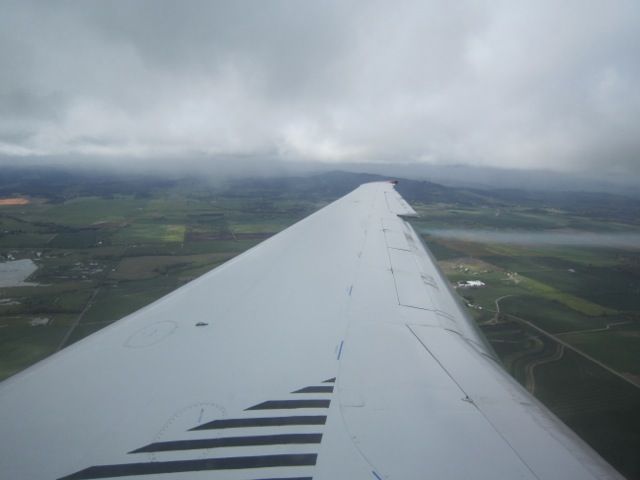 Gears came down at 2:22pm and we landed on R/W16R at 2:26pm.
Eugene Airport
There were two United Express CRJ-200s in the tarmac in the A concourse – both were destined for SFO and delayed due to weather – N962SW and N964SW.
We parked at gate A5 three minutes later. The F/A soon announced that passengers could deplane from the rear of the aircraft, and that was music in my ear. It is not common to exit from the rear of an MD-80 anymore.
These giant Pratt & Whitney JT8D-217C engines look good
Tail shot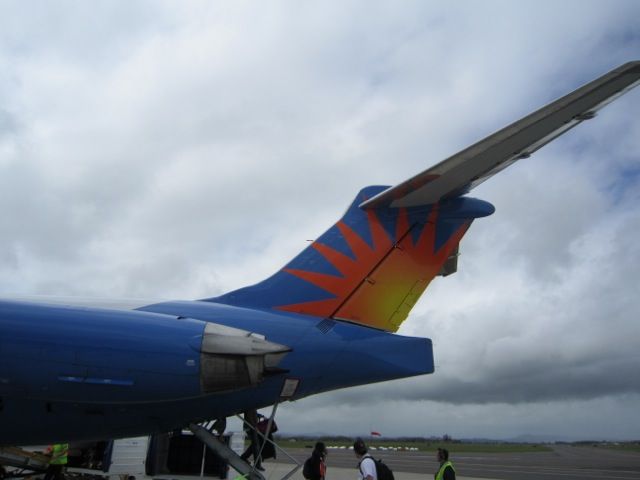 Giant wingspan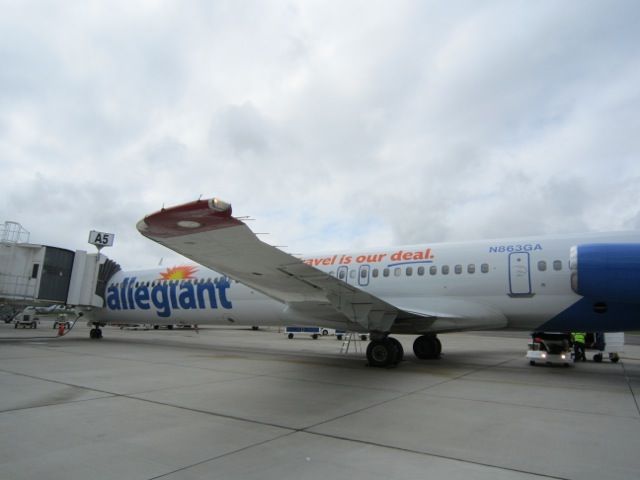 Allegiant livery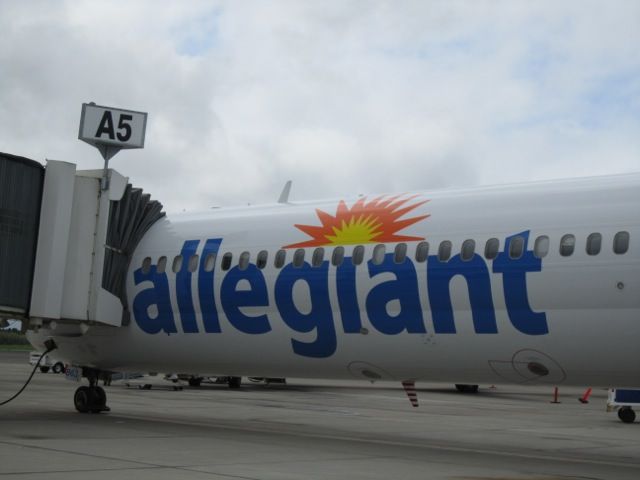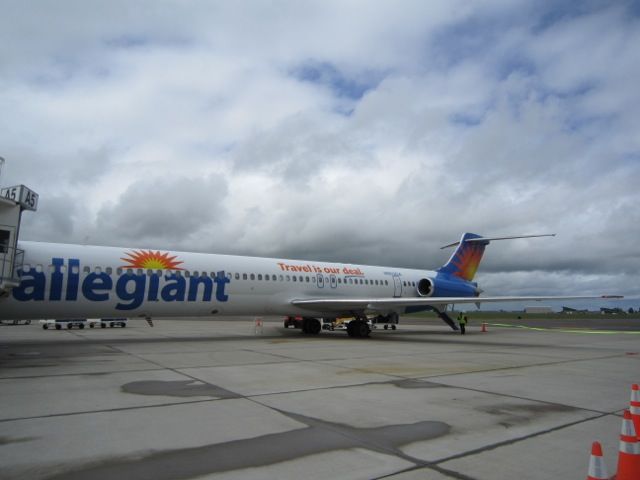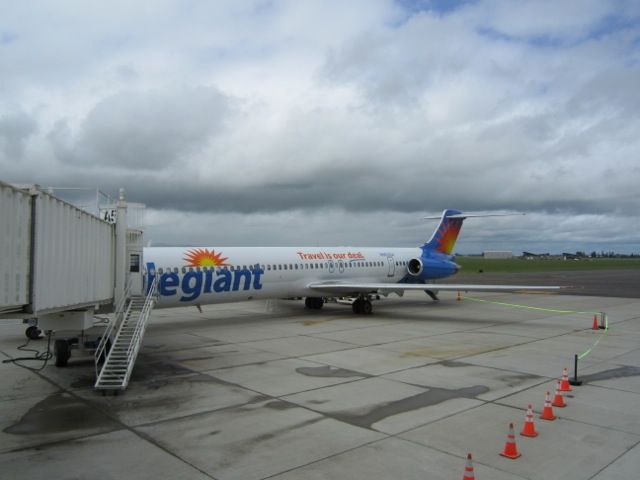 N863GA at A5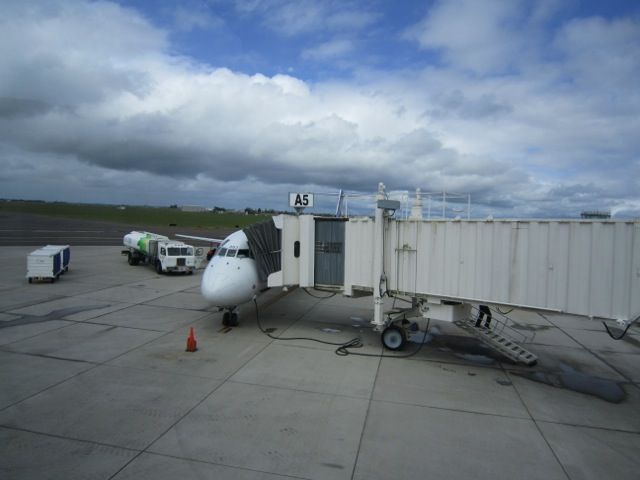 Allegiant Air Gate A-5 at Eugene
A quick turnaround and time to head back to Las Vegas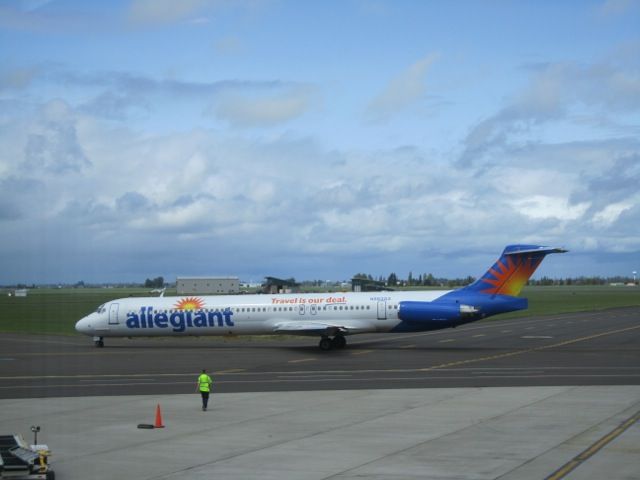 Conclusion:
Allegiant Air is definitely an interesting experience and is actually not bad at all. These classic aircraft actually have more comfortable seats and the legroom was pretty good. My biggest issue is the unfair seat assignment process. I don't think you can do both open and assigned seating at the same time. Allegiant Air – just make up your mind and choose one or the other. Other than that it is an acceptable in-flight experience. Honestly most air travel in US is no longer stellar or anything special. Anyway, I hope you will enjoy the report and get a better idea what flying an ULCC is like in the US. I still want to get a Spirit Airlines flight, as well as Sun Country Airlines flight soon.
Bonus shots – I flew this special Alaska Airlines/Horizon Air Dash 8-Q400 N440QX to PDX/SEA later.
Oregon State University's "Beavers"