Part 1; LHR-ATL
After a wonderful 5 days in Atlanta, which included much partying/alcohol consumption, shopping, sightseeing and even a Trek up Stone Mountain, Tuesday April 17th came all too quickly. In order to give me a nice goodbye, some of Pablo's friends came round for a Pizza and Movie night before bidding me adieu and telling me I had better be back soon.
I took some time to pack my bags - which seemed to have exploded all over the house - and ensure I was ready for my flights home. I had decided to fly back to Scotland via New York as it was my mum's birthday on the 19th and it was more fun to try something new. Also, it got me in 8 hours earlier than going via LHR on BA, and was only £4 more expensive!
Anyway, some of my photos from the time away...
American food in Taco Mac Midtown on the first night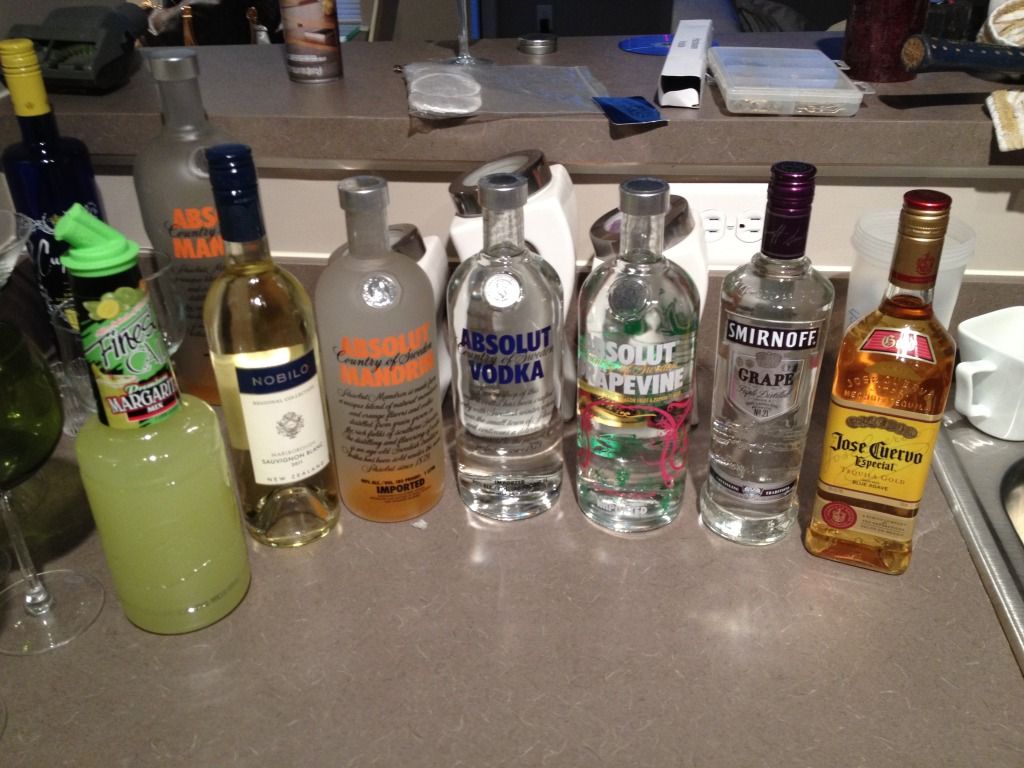 Plenty of Booze for the house party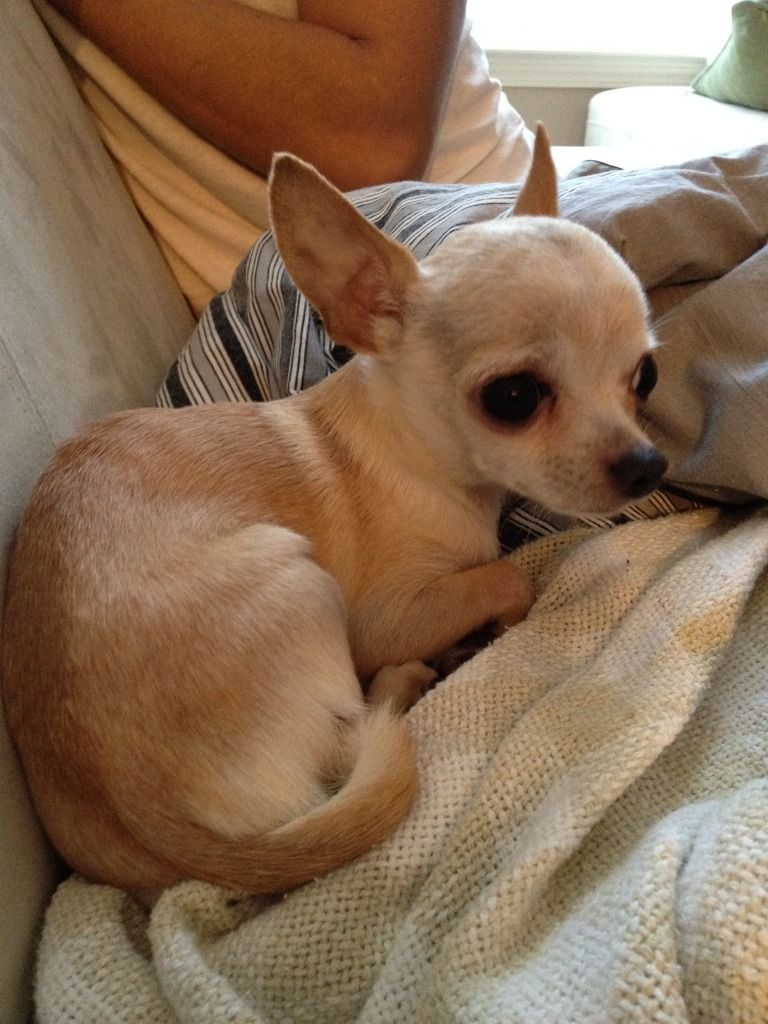 Joey - the tiny Chihuahua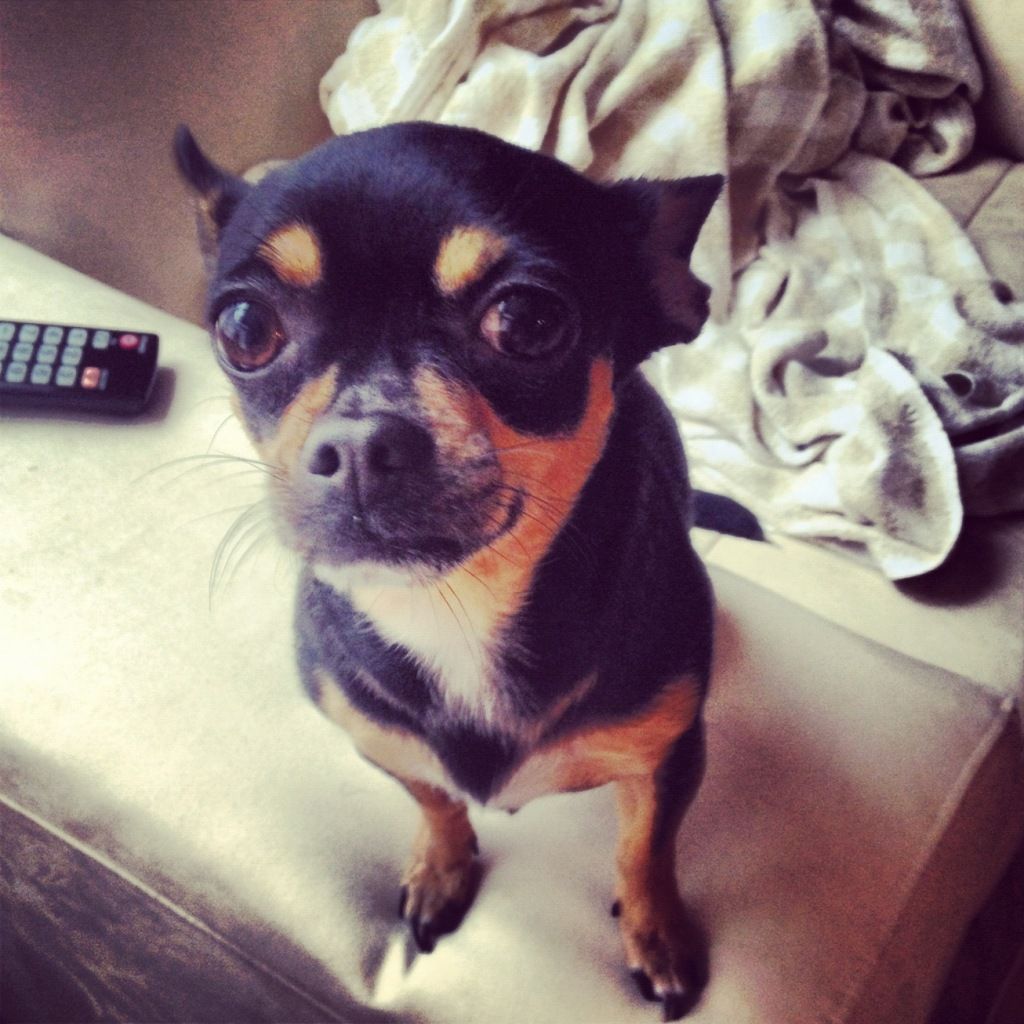 Chloe - the loud Chihuahua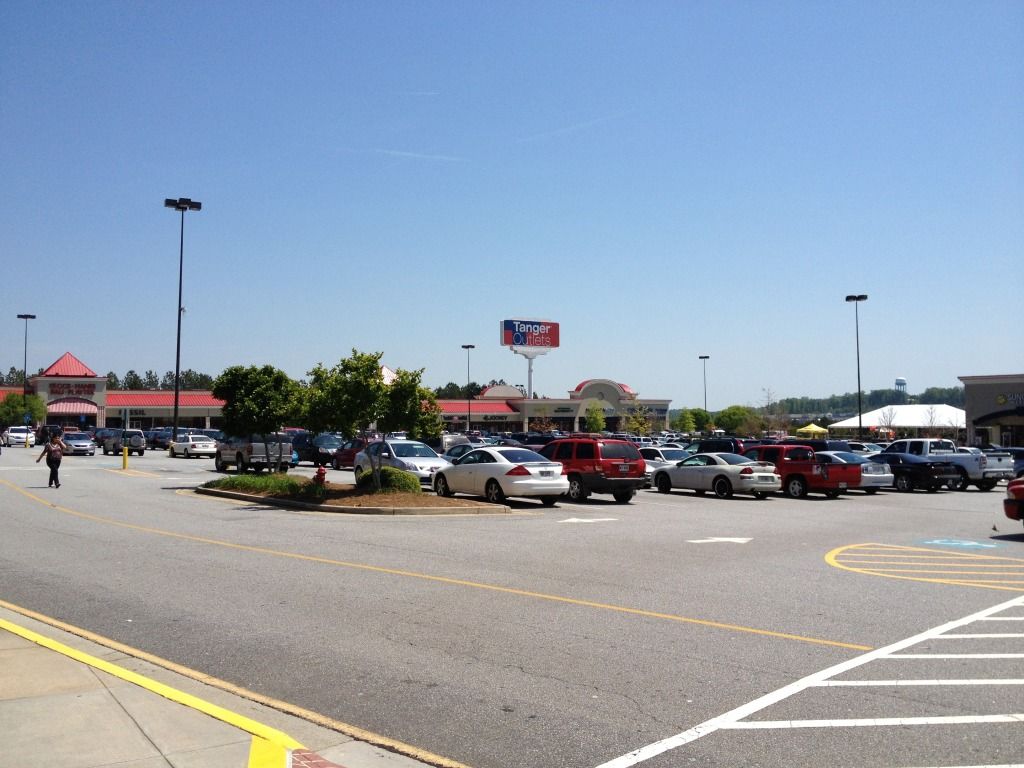 Outlet mall in Tanger - what else should a good gay do when on holiday in the US but Shop?!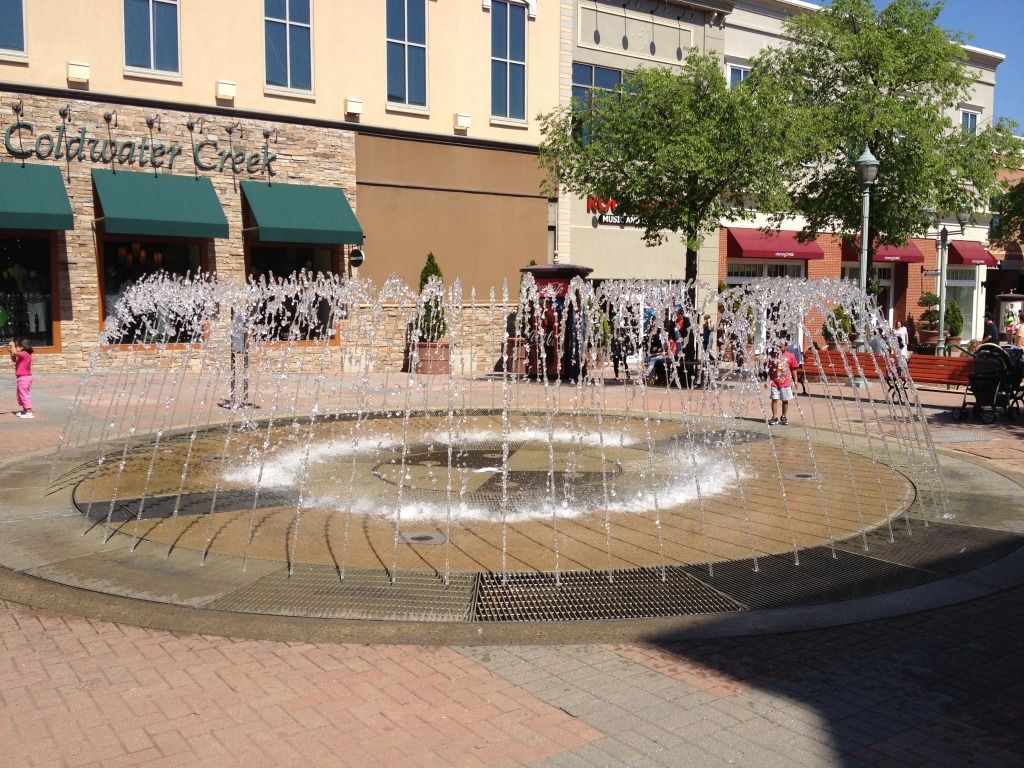 Mall of Georgia
Pablo and Myself. Note my sunburnt arm from sitting in the convertible all day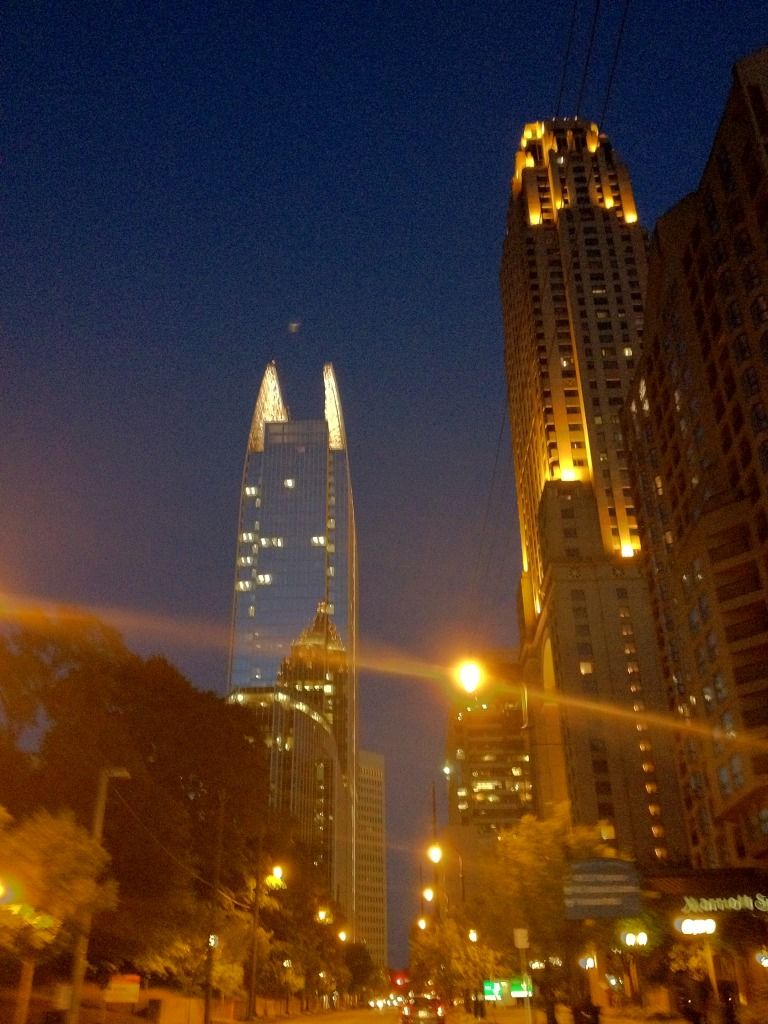 Atlanta Skyline at night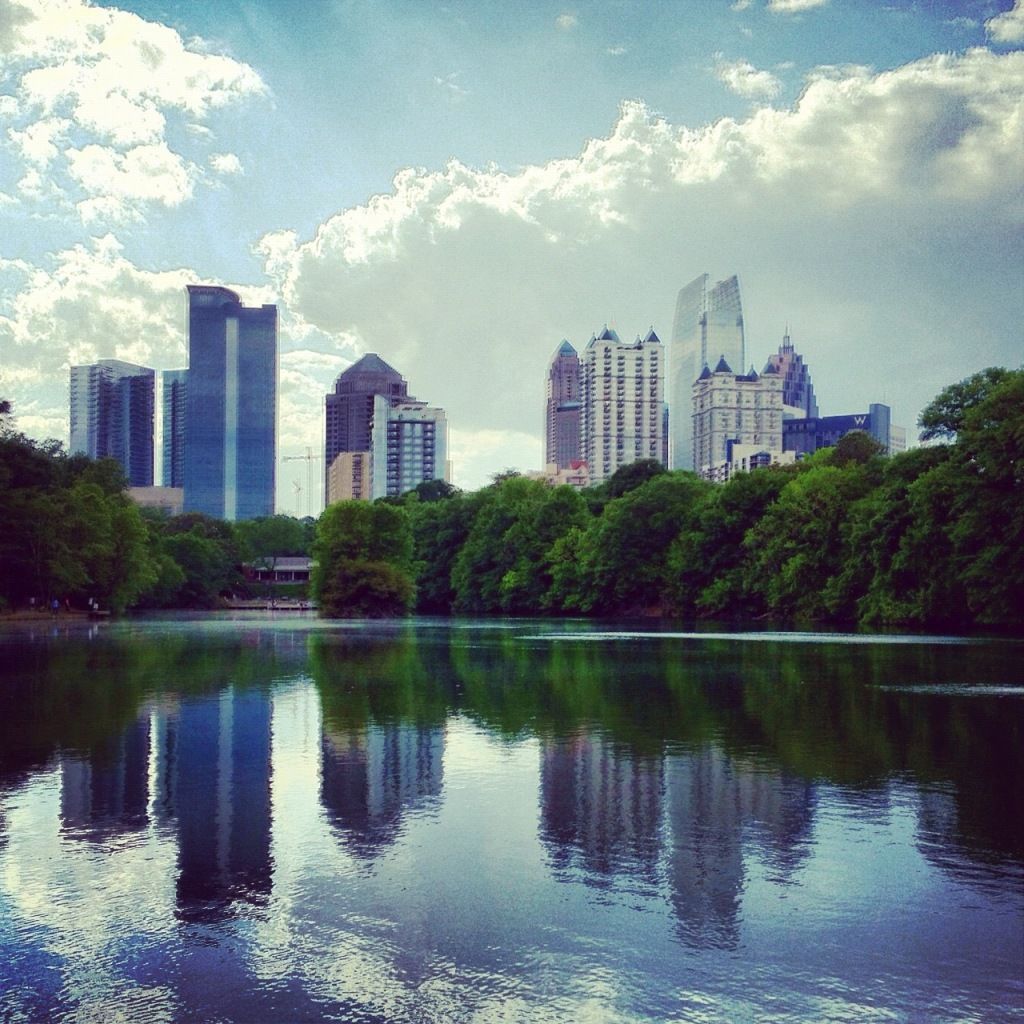 Atlanta Skyline as viewed from Piedmont Park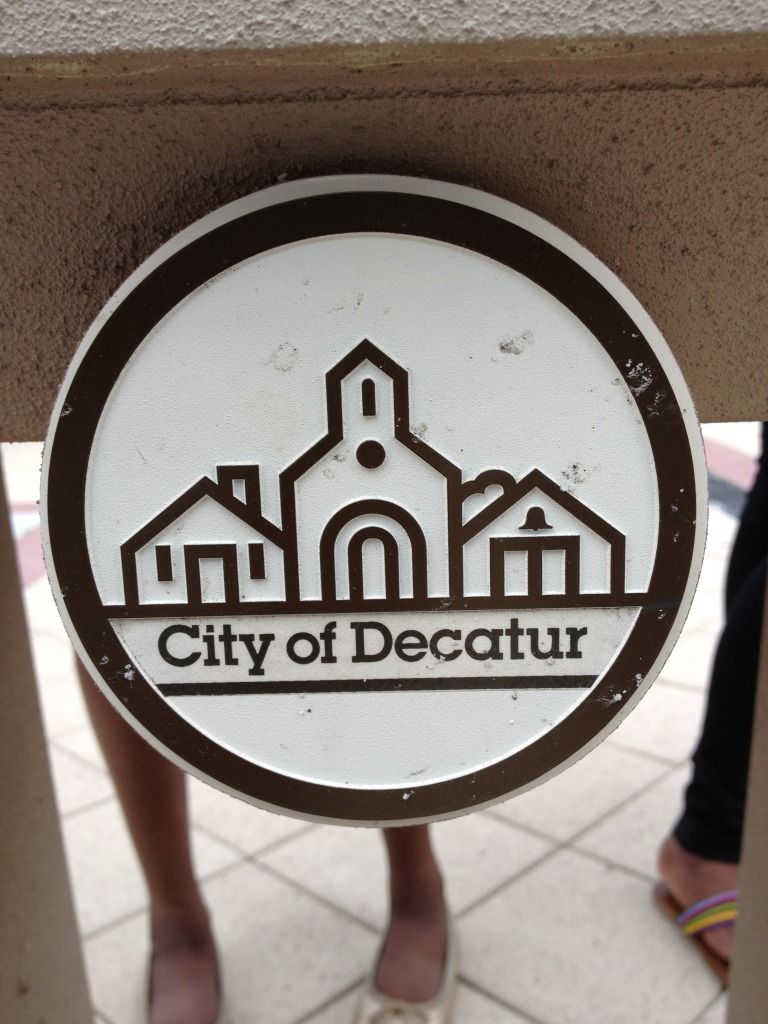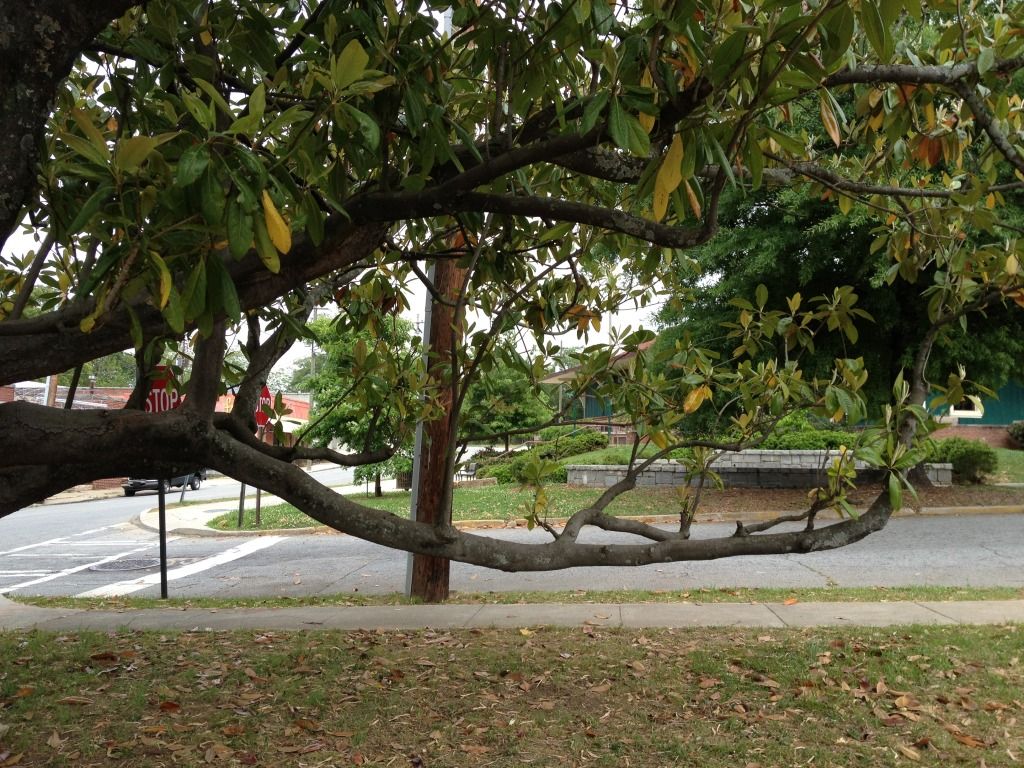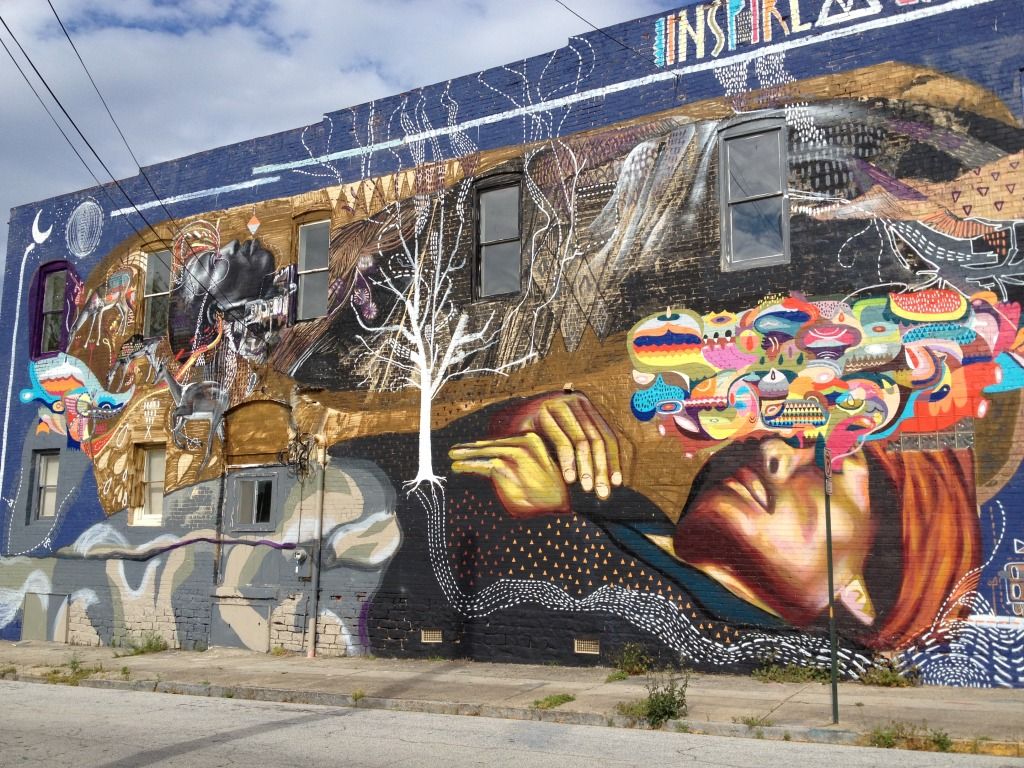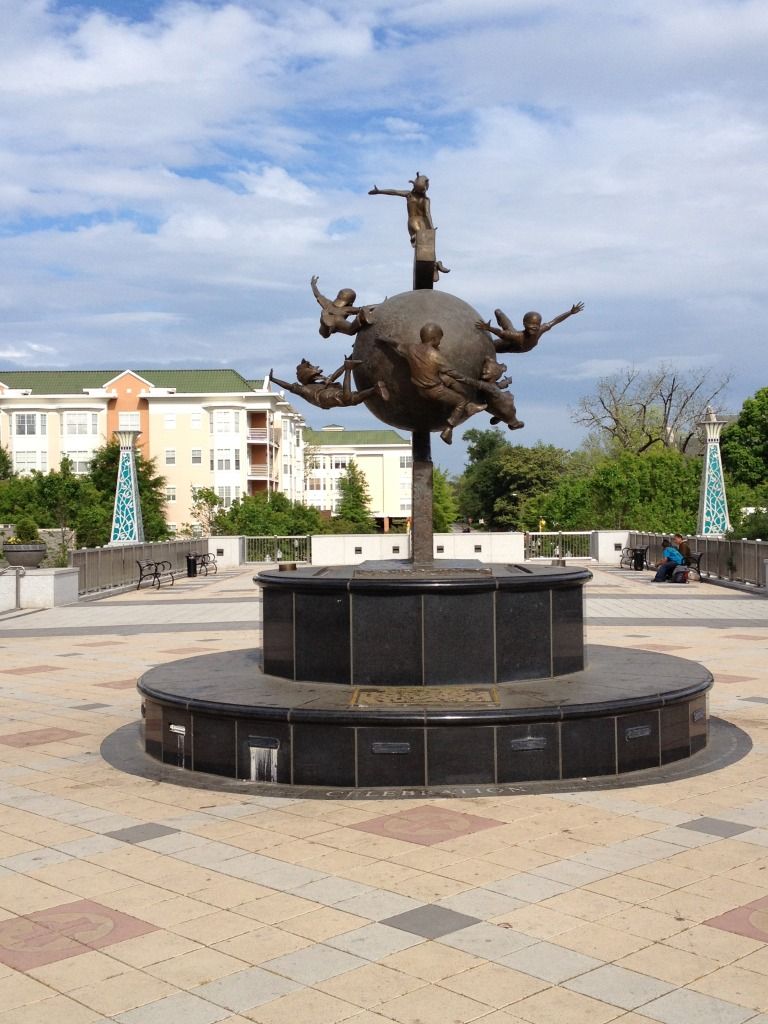 Decatur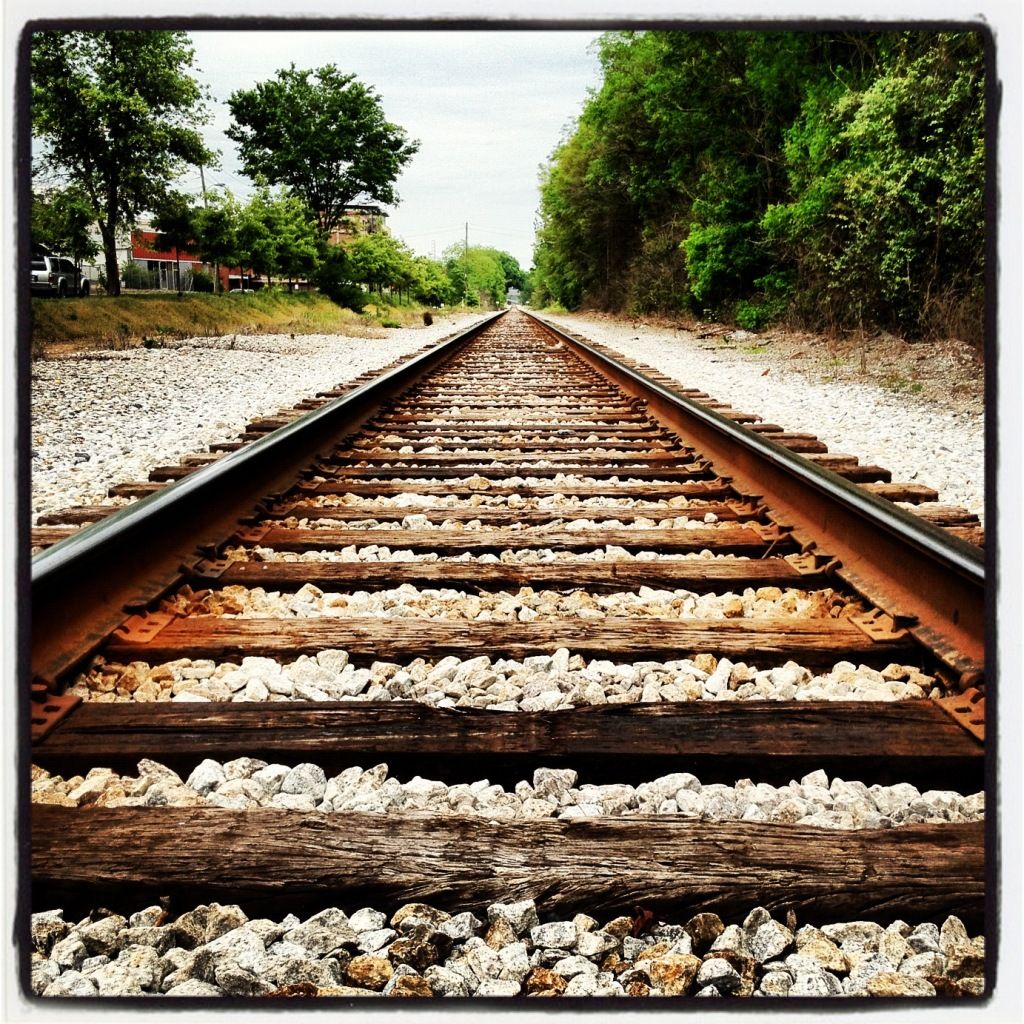 Train Tracks in Decatur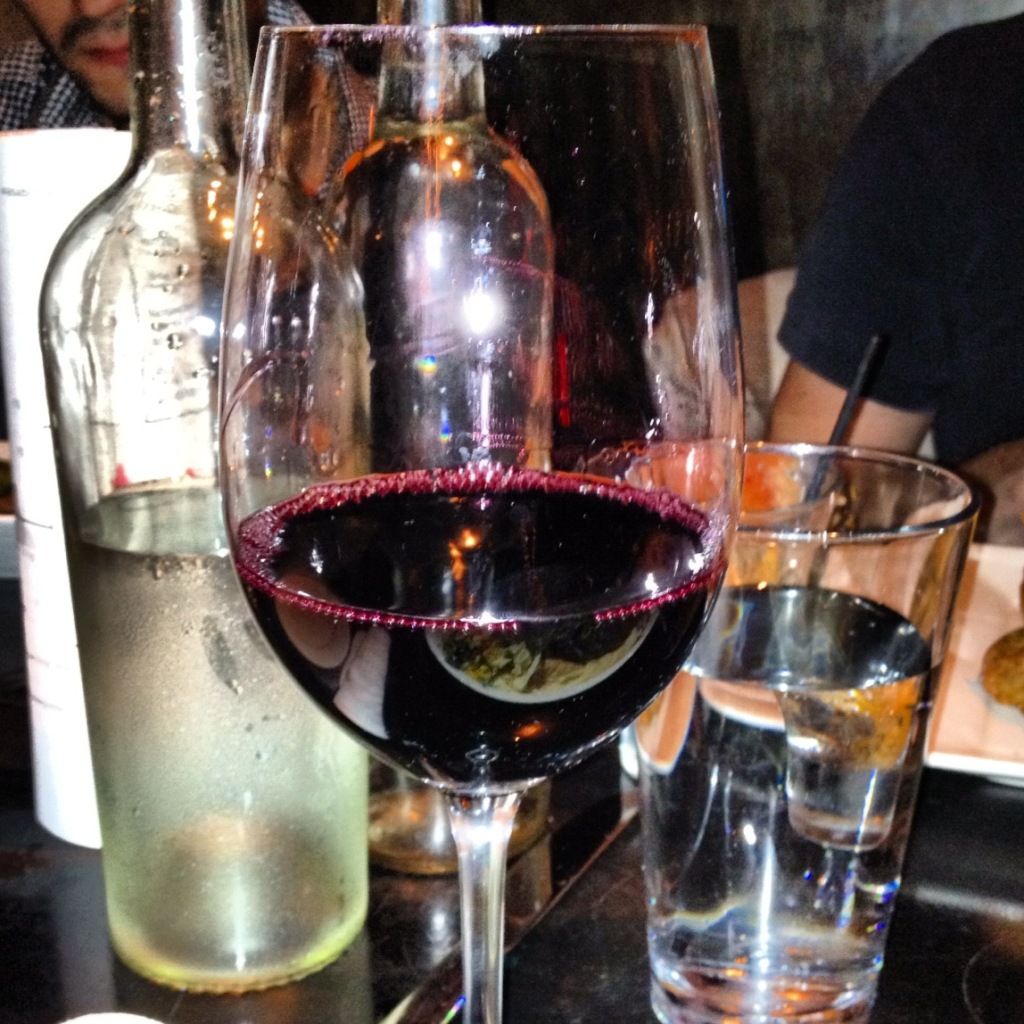 Wine Time in TWO Urban Licks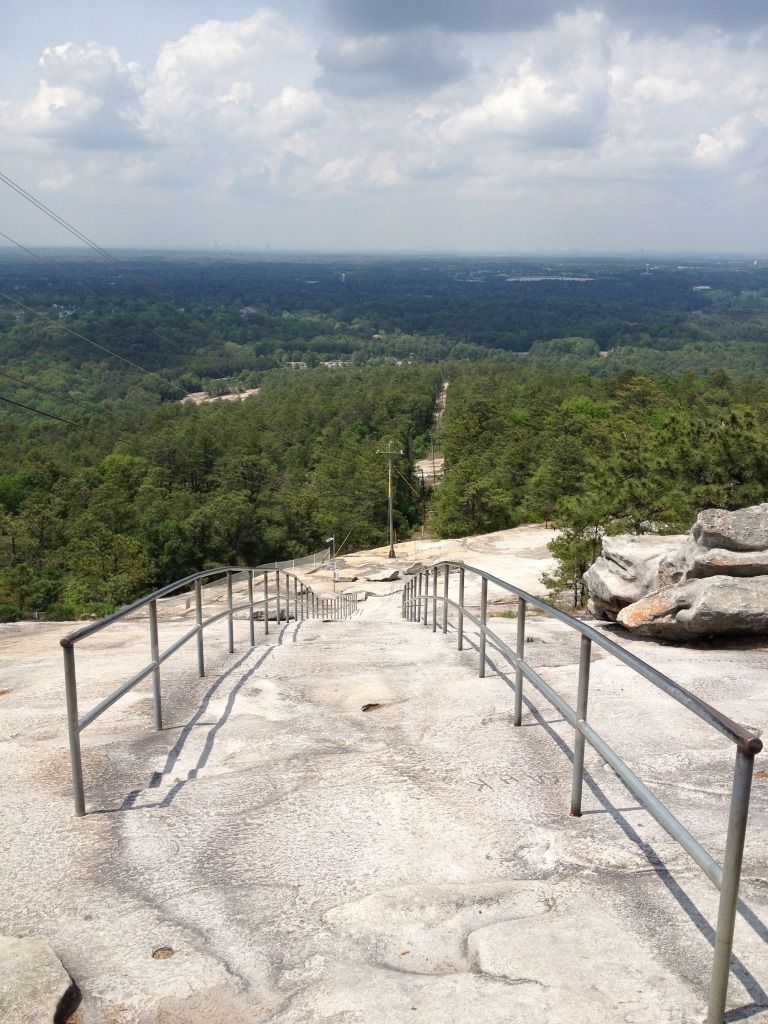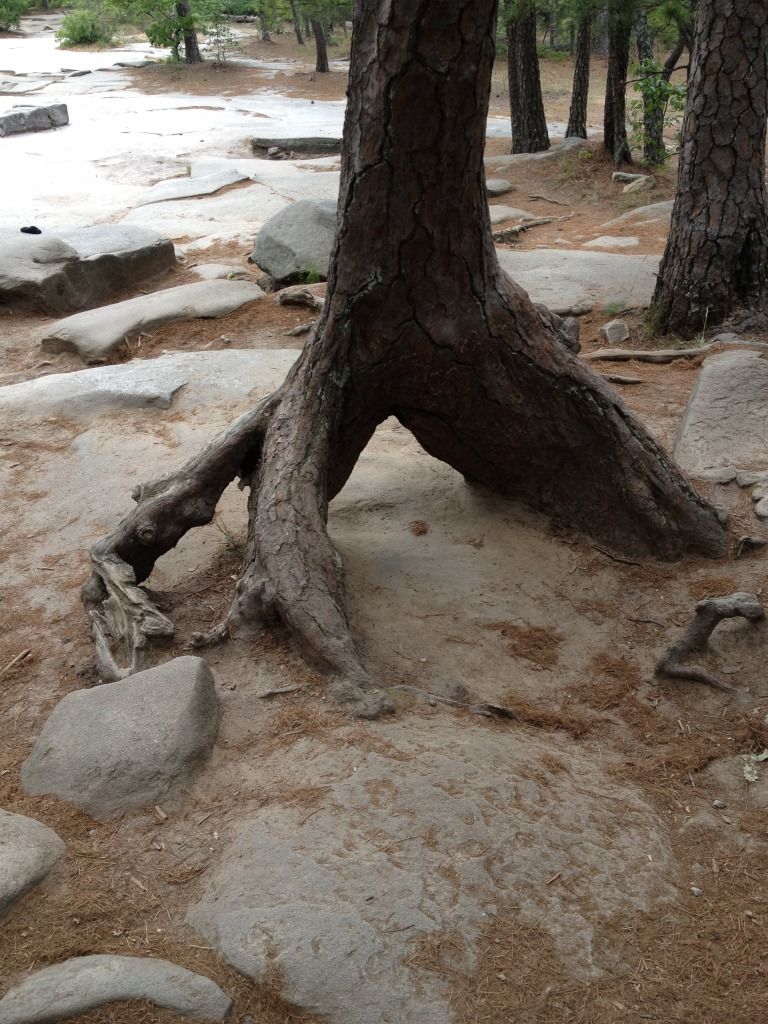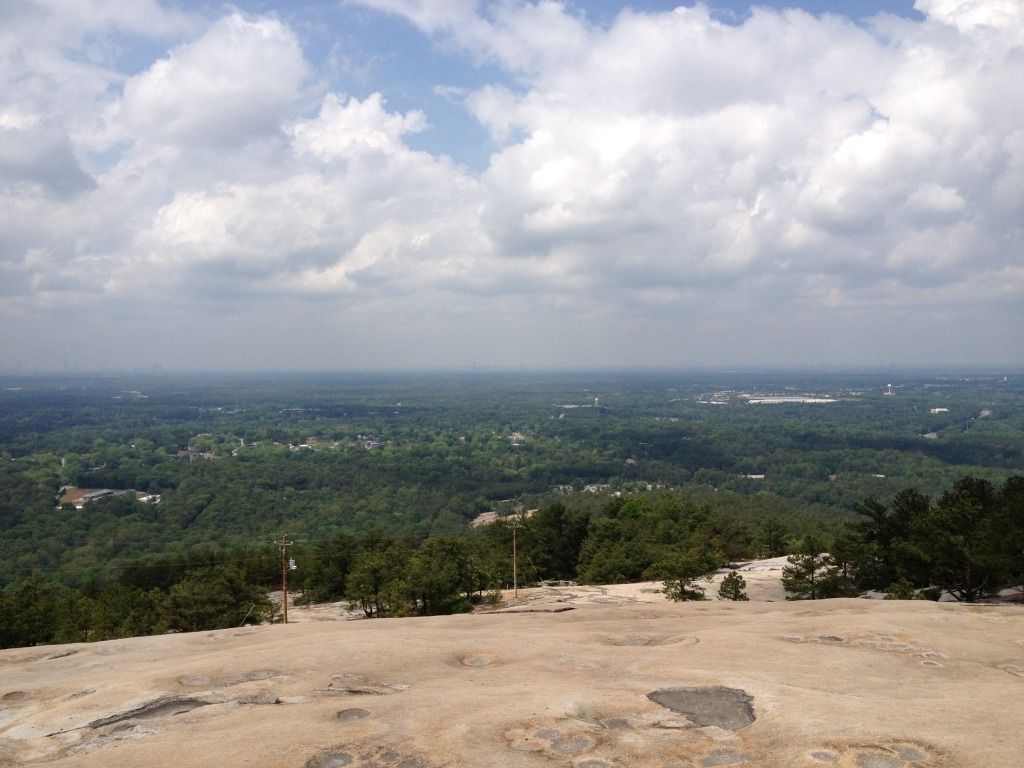 Views from Stone Mountain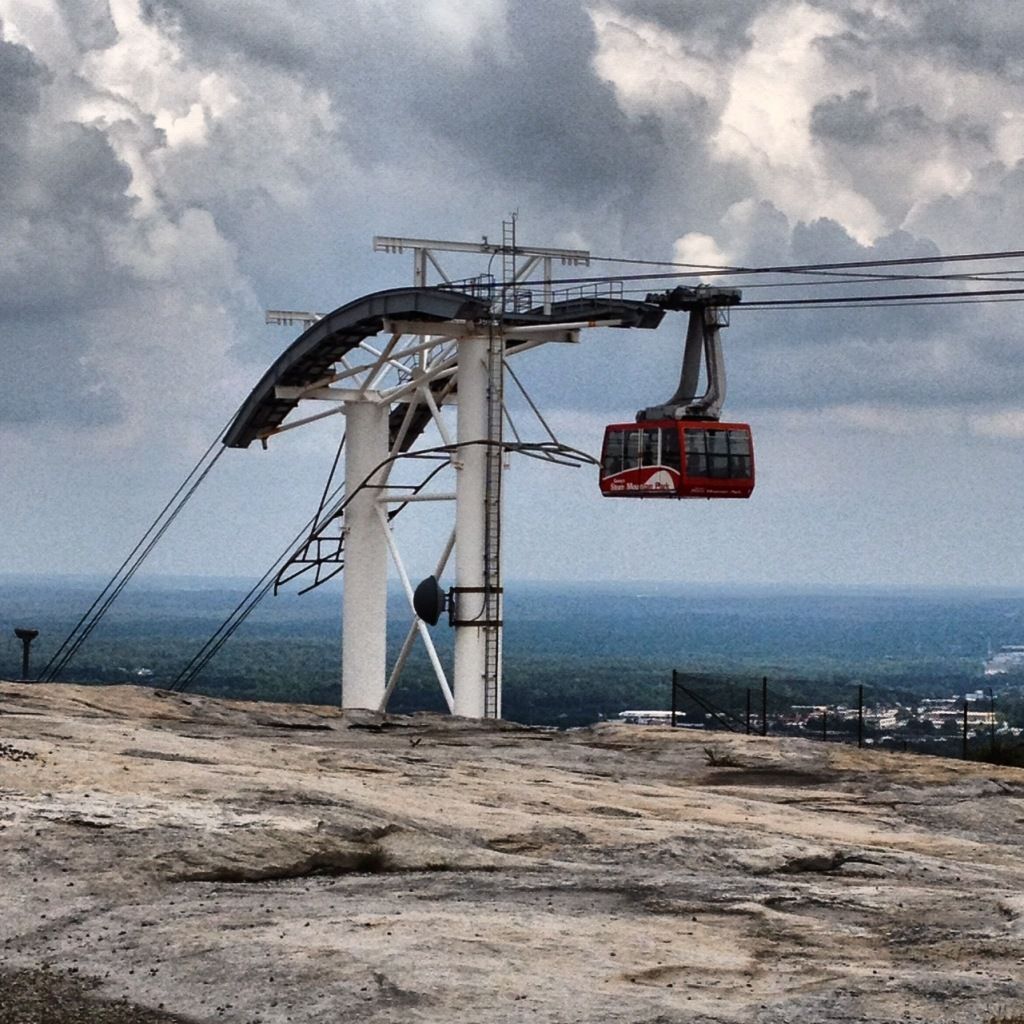 Cable Car atop Stone Mountain
Wednesday April 18th 2011
I woke up around 0730 and started putting the final bits of packing into my bag. Then, I showered, dressed, fixed my hair (or my weave as it had been referred to all weekend) and made myself a cup of tea. At 9am, I woke Pablo up so that he could get ready and we could leave the house at 10am for my 1150am flight to LGA.
We drove off in the rain, heading for the airport. I really didn't want to go home but knew that it was time to leave. I'd soon be back however.
About 1040, Pablo dropped me off outside the American Airlines check in desks and we parted with a hug. I ran into the terminal for some cover from the rain and headed straight for an AA desk to check in for my standby flight to LaGuardia. I was listed there and then, and when my boarding card was handed to me I noticed a seat number straight away, 6B. The flight was empty so I didn't have to wait around to find out my fate at the gate.
I went back outside for a cigarette, phoned my mum to let her know I was on the way to New York and then joined the seemingly non-ending queue for security. In the end however, it only took me 15 minutes to pass through and head towards Gate T9, where my flight was departing.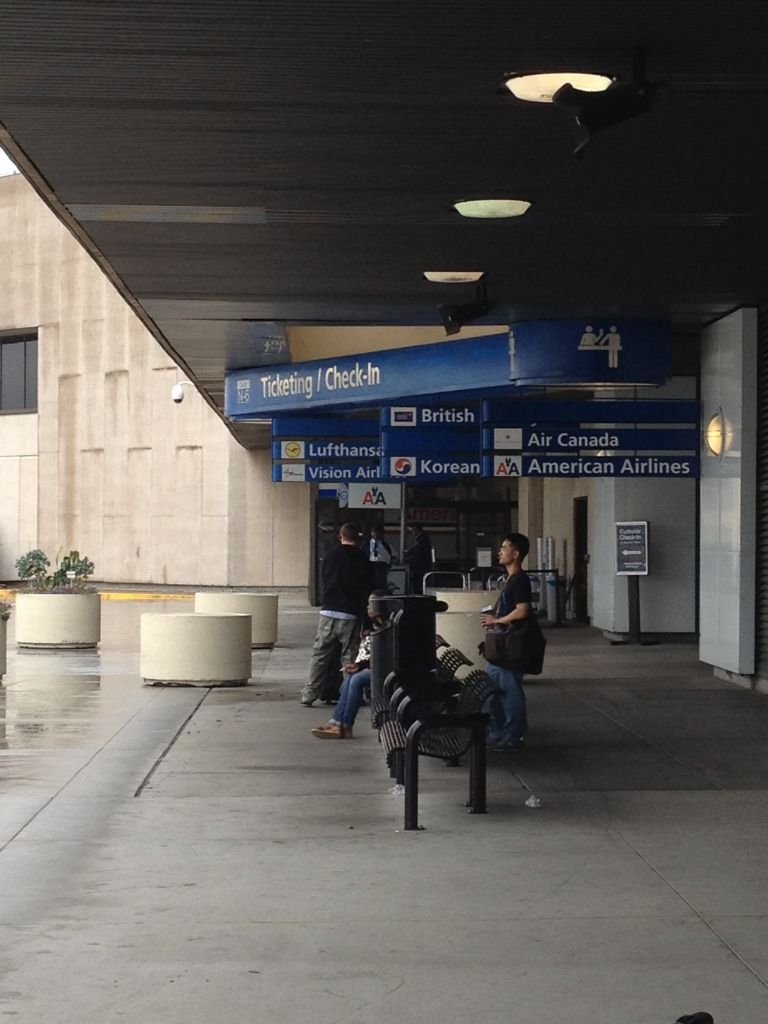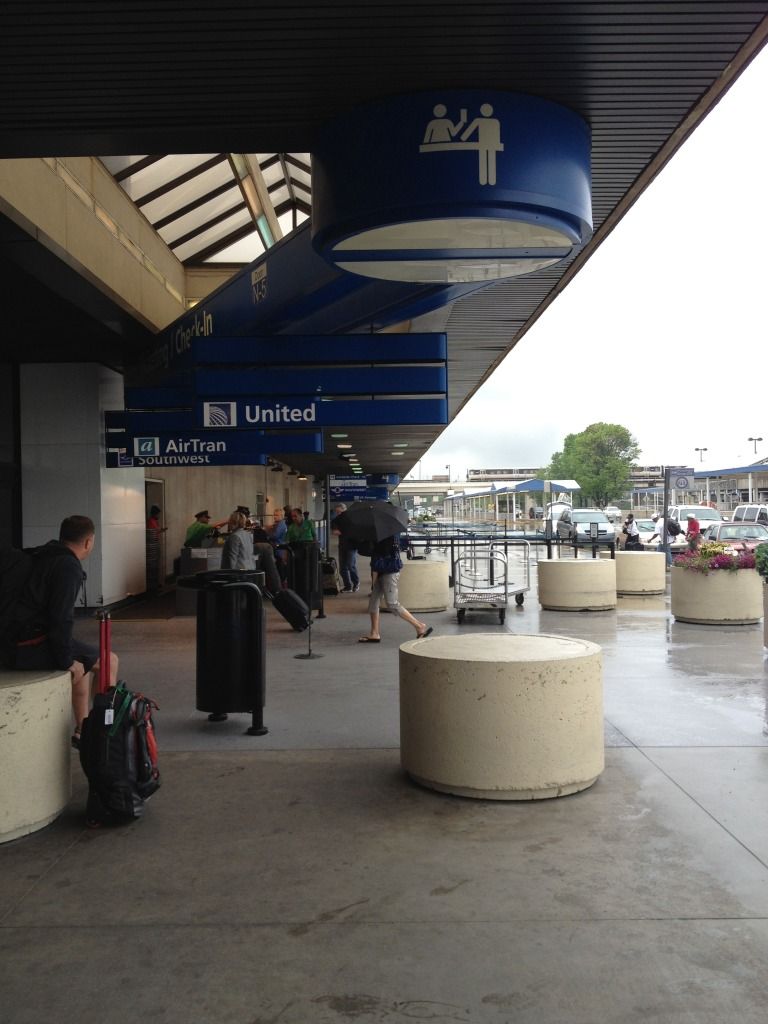 Outside ATL North
Eastern Airways Pilot Memorial
I've only ever used concourse E in ATL, so it was nice not having to get on the plane train to my gate. As I approached, American Airlines flight 4668 was calling all passengers for boarding, so without hesitation, I presented my boarding card and walked down the stairs, onto the jetbridge and on to my first American Airlines plane, and CRJ.
Wednesday, April 18th 2012
Atlanta Harstfield Jackson International, GA, USA (ATL) - New York LaGuardia, NY, USA (LGA)
American Airlines 4668 (1150-1415)
Canadair CL-600-2C10 CRJ-701ER
Aircraft Registration: N533AE
Seat Number: 6B. Sat in 6A however
Estimated Flight Time: 1h40
Take Off: 1205
Touch Down: 1335
Actual Flight Time: 1h30
I was greeted by the Senior Crew Member and directed to my seat. I was surprised at how large the CRJ actually was from my expectations, but a year and a bit of working on 777s and 747s meant it still felt very small.
I stowed my belongings in the hat rack and took my seat. Boarding was completed very quickly and the door was closed 10 minutes ahead of STD. The captain welcomed us on board, follwed by the senior crew member. Suddenly, at 1145, the plane whizzed back and we were underway. Engines were started very quickly and the flaps set for departure. A very lack lustre safety demonstration was performed and N533AE began taxiing to the runway.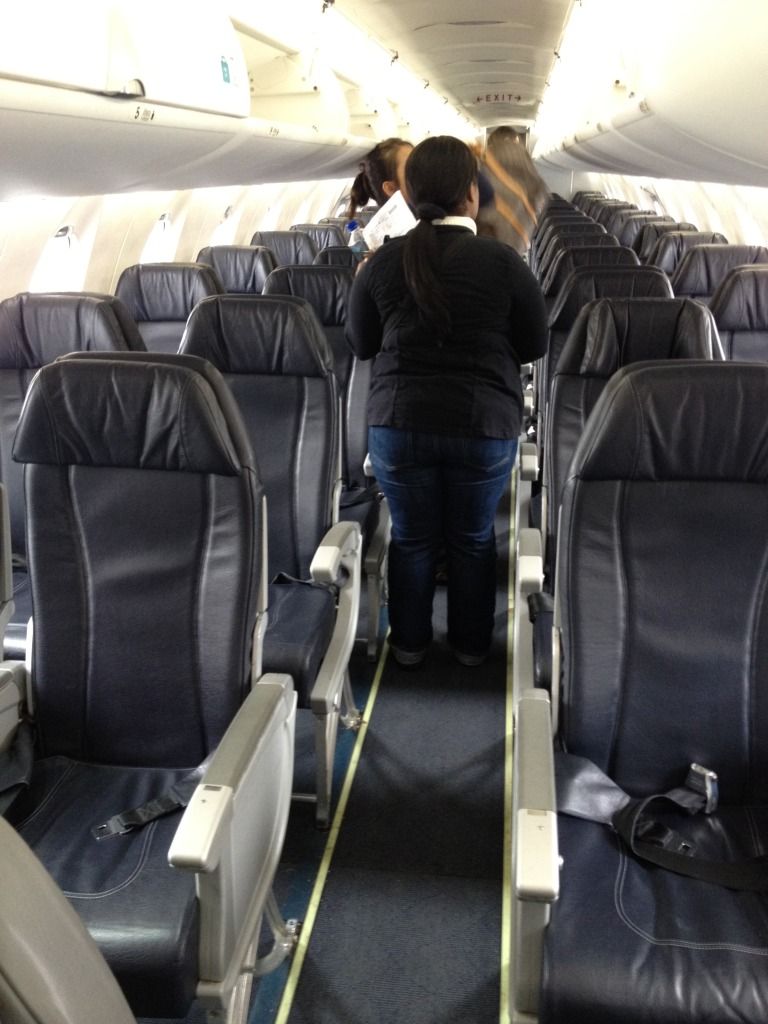 Cabin View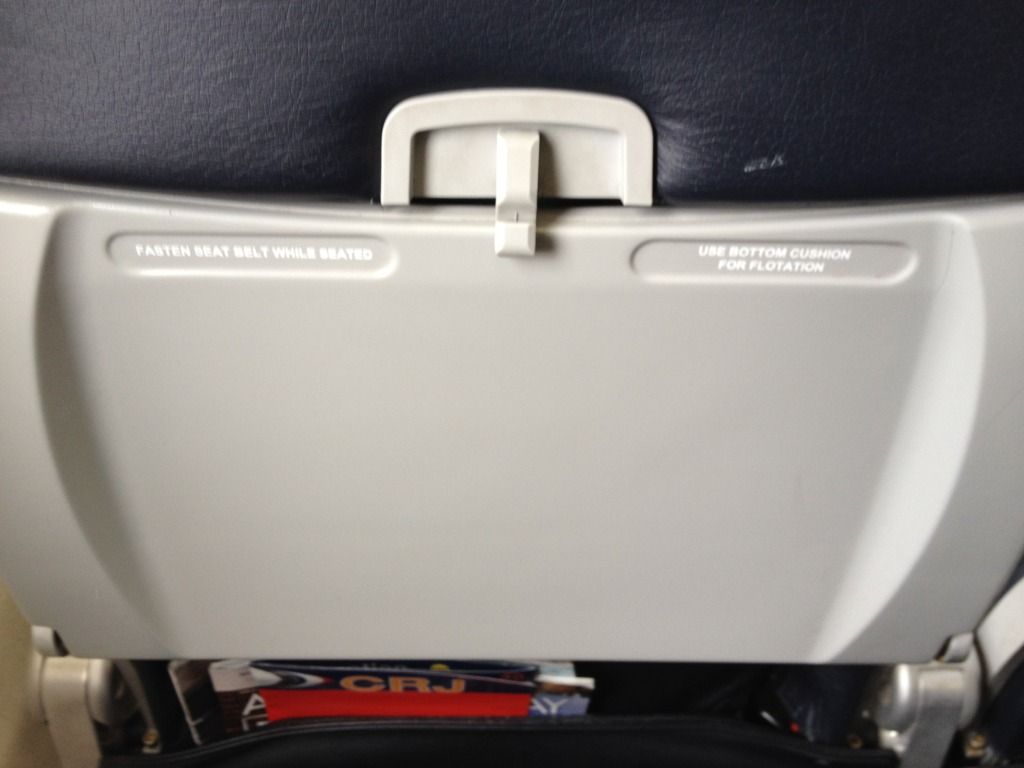 Tray Table
Leg room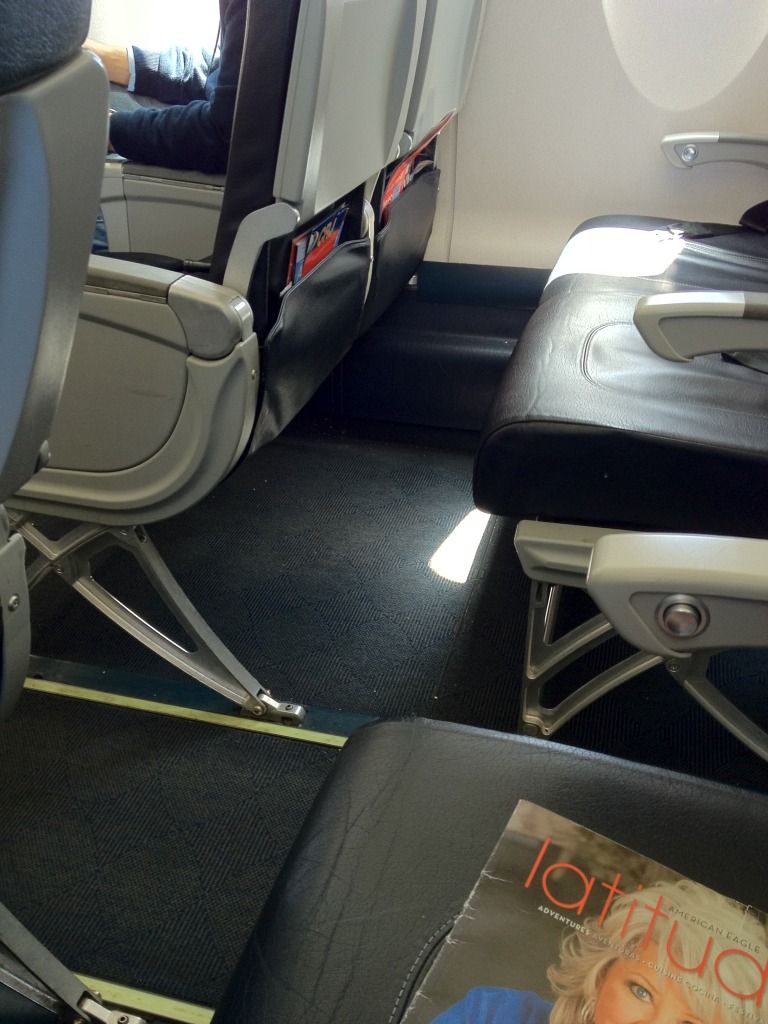 Across the aisle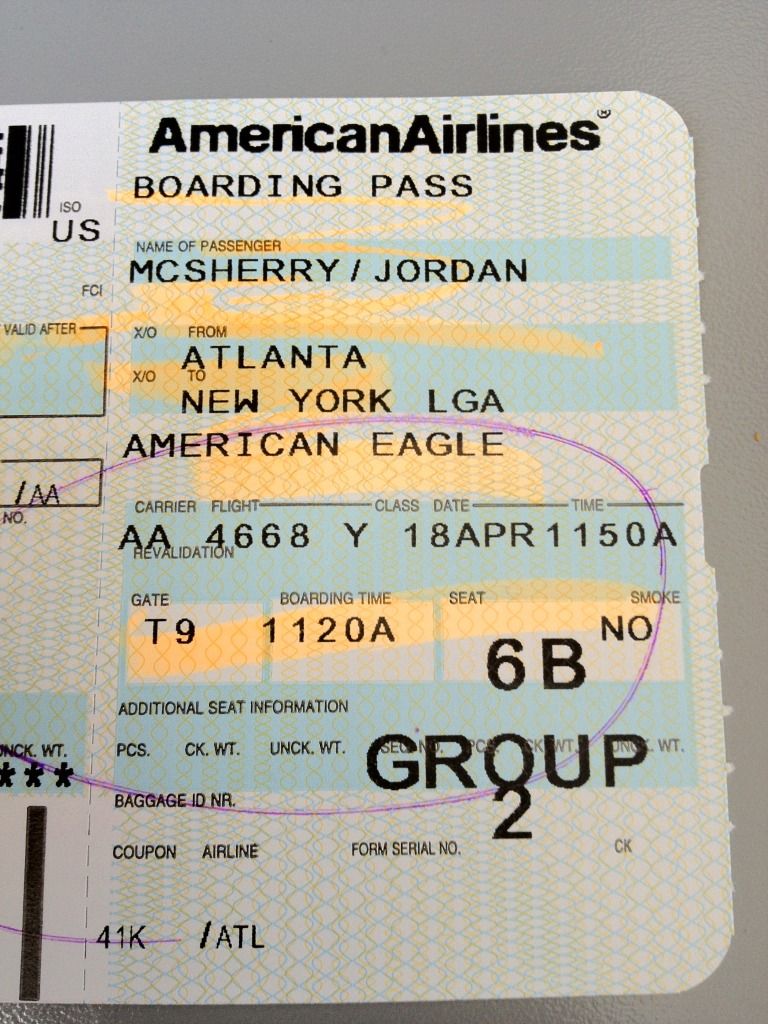 Boarding Card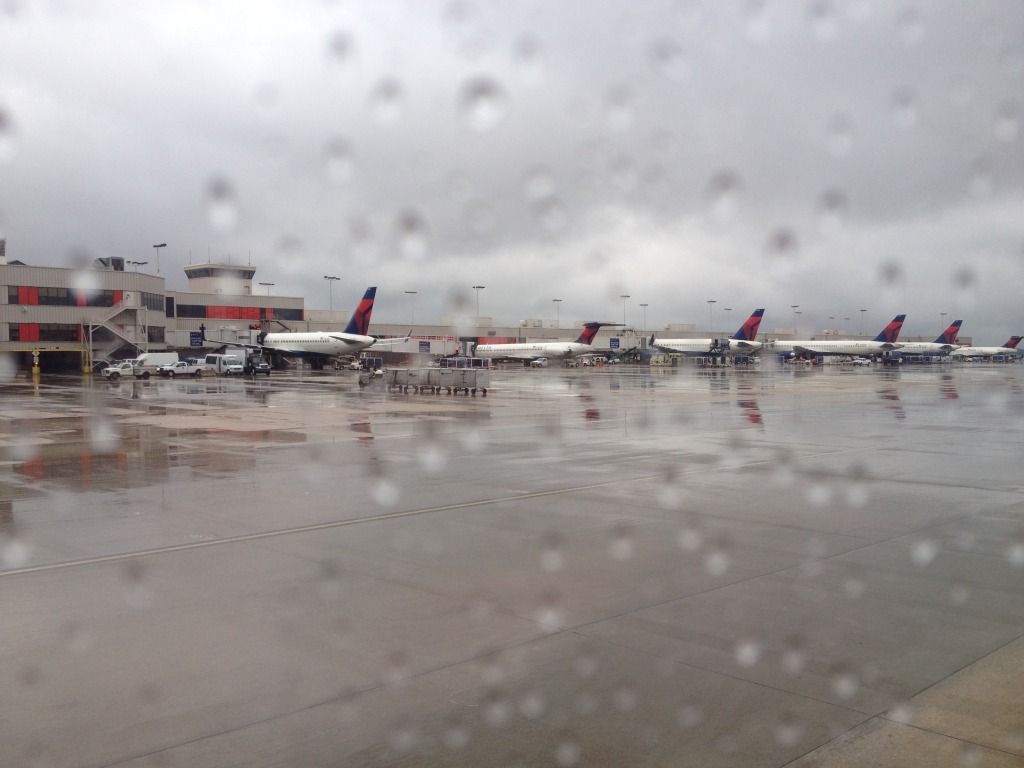 Lots and Lots of Delta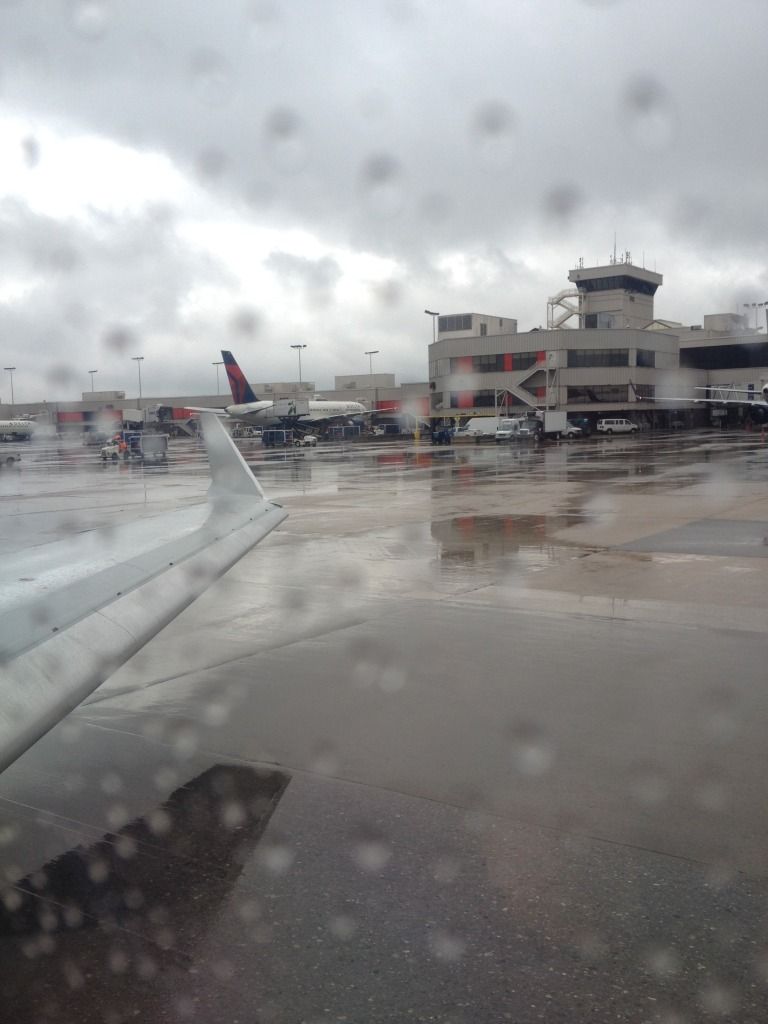 Slats down. Off we go
We taxiied towards runway 08L for departure, but stopped just behind a Delta 757-200, and the captain then informed us we were waiting on a slot for departure due to the terrible weather, but would be airbourne about 1205. I watched from my window as the DL aircraft infront of us taxiied into position, and we followed. As we turned a corner, she was out of sight but the noise of two 75' engines spooling up meant she was underway and we were next in line.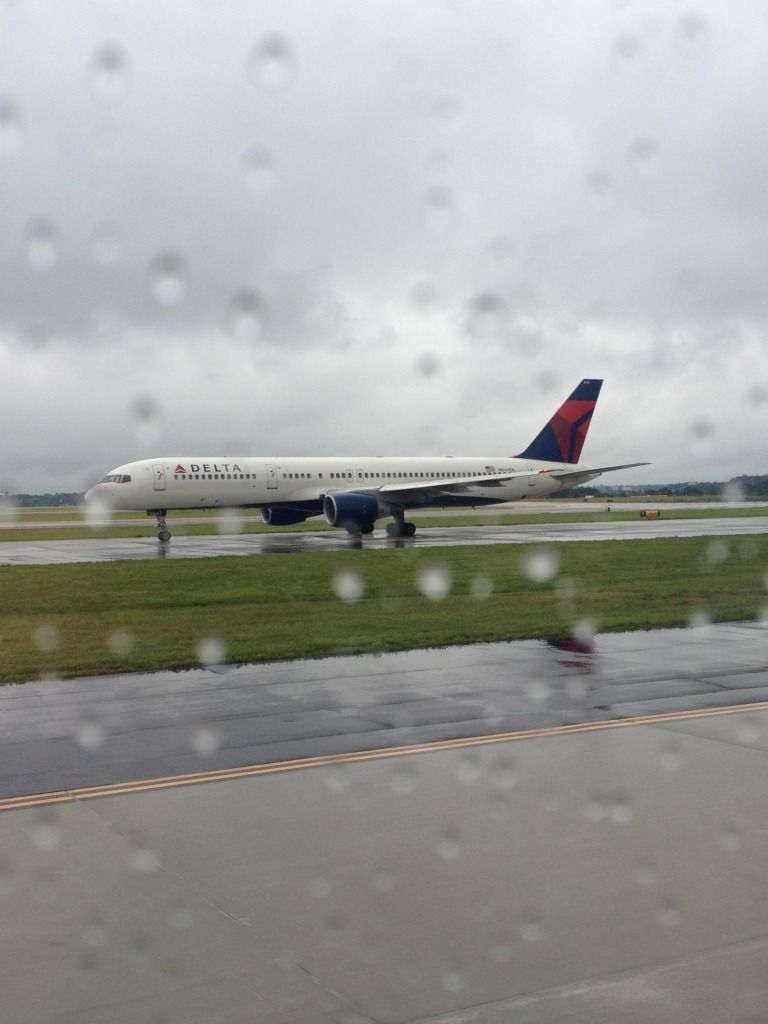 Delta 757-200
I love how aircraft as small as the CRJ700 can zip around airfields; the engines spooled up again and we shot forward, turning very sharply to join the intersection leading to the runway. We were holding before the 757 even lifted off, and I got a great view of her speeding away. Then, in typical 757 style, she shot up like a rocket and dissapeared into the clouds. That was our que to move into position, where we sat for two minutes or so, before the little whine was heard and N533AE began to advance forward.
We gained speed rapidly and very quickly lifted off. The gear were tucked away and I got a fantastic view of the new international terminal (due to open 5/16/12) before we too disappeared into the thick cloud layer.
Our tiny frame was rocked from side to side in the clouds, at several points I had to hold onto the arm rest to steady myself. But within a matter of minutes we appeared above the base in some beautiful, sunny blue skies. The shaking stopped and we continued reaching skywards.
The seatbelt sign remained on for a long time, even after the crew had begun their service, but I noticed that most people ignored it and got up to use the single washroom at the rear of the cabin. I desperately needed the toilet but stayed put as I remembered the captain saying that they would be switched off at some time in the flight.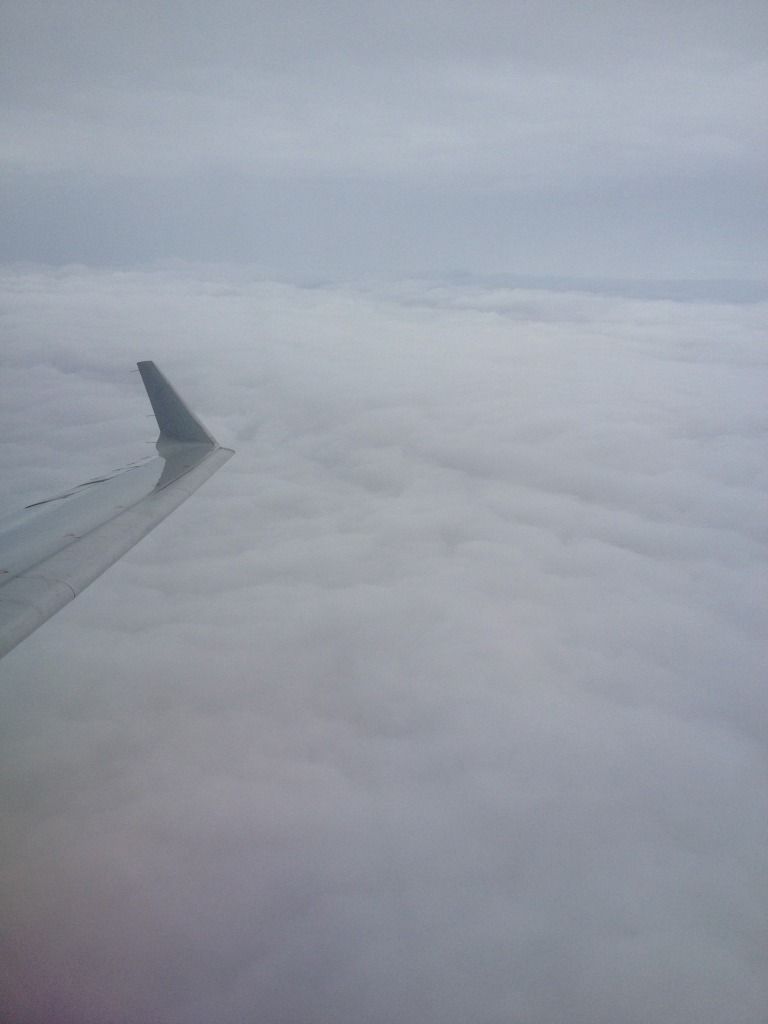 Between cloud layers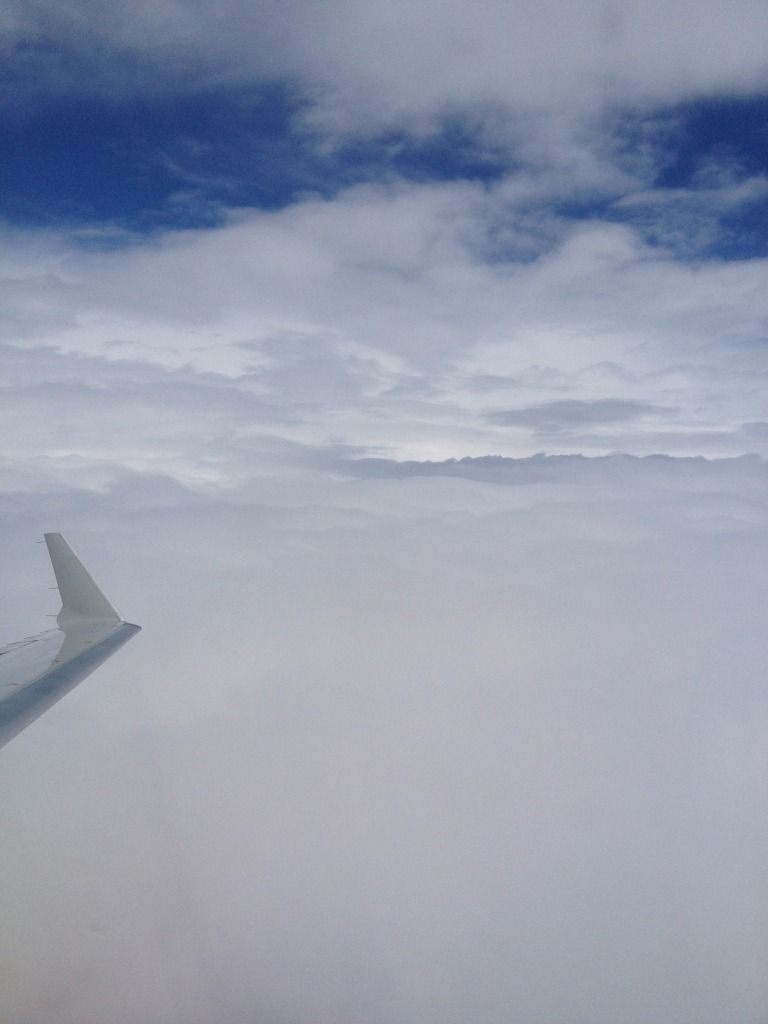 And into the sunny blue skies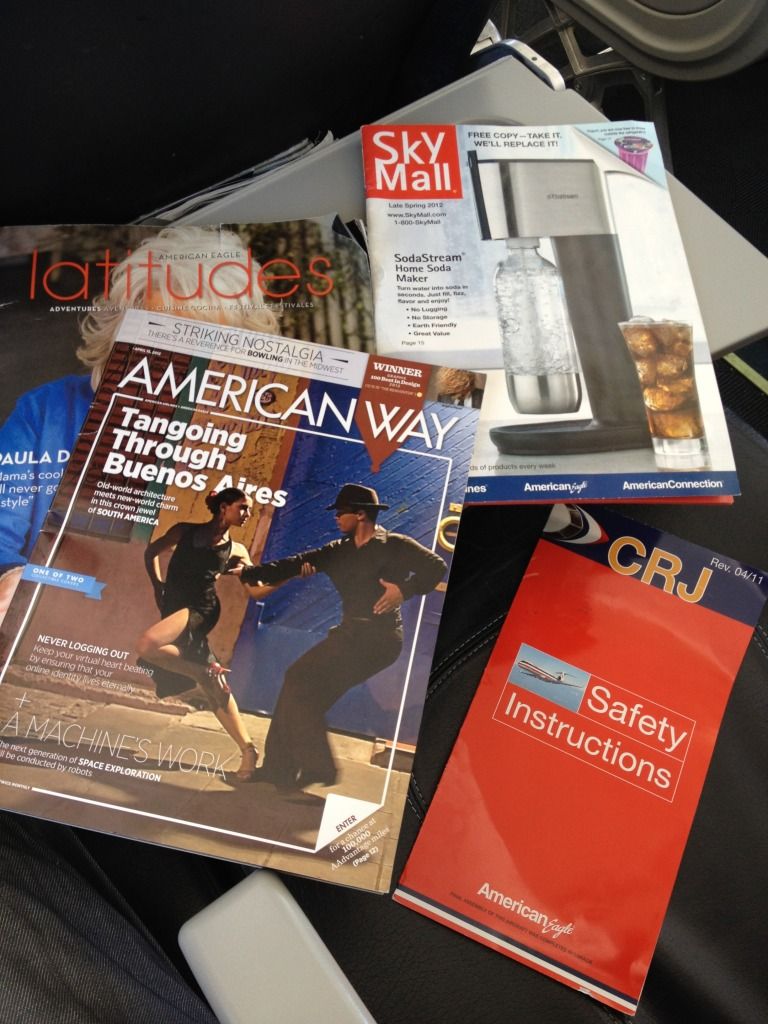 Seat Pocket contents. The safety card may have accidentally slipped into my bag upon disembarkation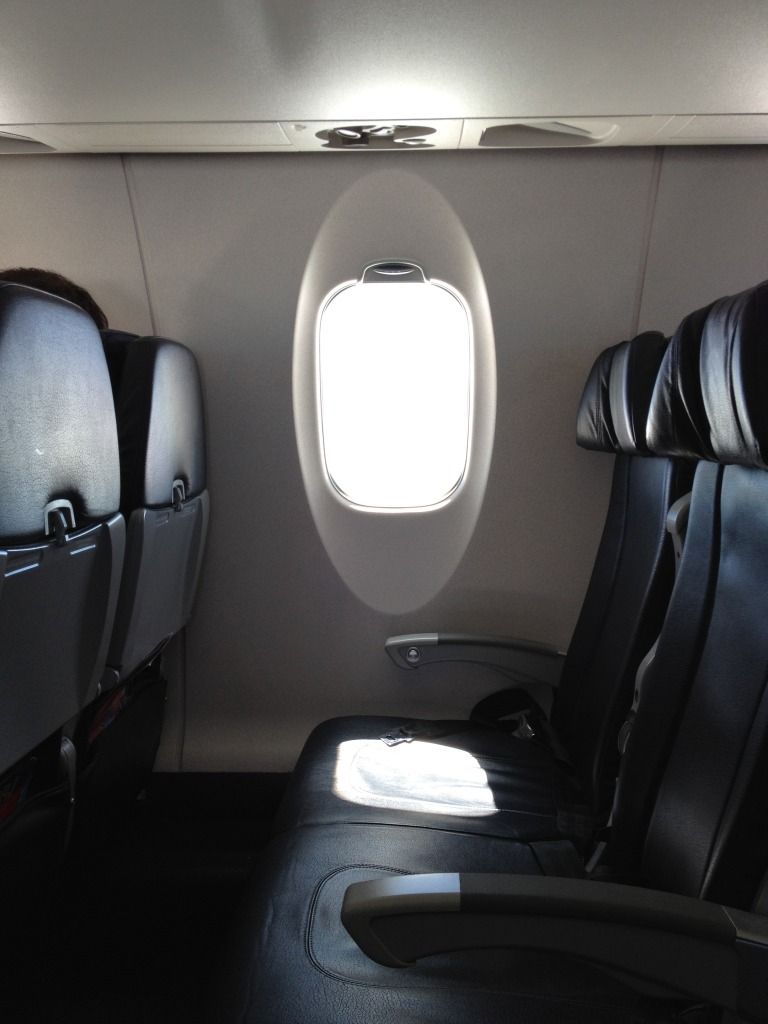 View across the cabin
About 25 minutes into the flight, the drinks service was started from the back. Being the second row of Economy meant I had to wait a good 10 minutes before I was served. But I wasn't too fussed by this, I was excited to be on a new carrier, a new aircraft and flying a new route. Eventually the crew member arrived at my seat and in the AA fashion that I've heard of so much asked "Would you care for a Beverage?!" I opted for a Canada Dry Ginger Ale and was surprised to see a full 0.33L can being placed down next to me. At BA we serve smaller 0.15L cans. Along with it came a Polystyrene Cup and a napkin advertising Avis Car Hire.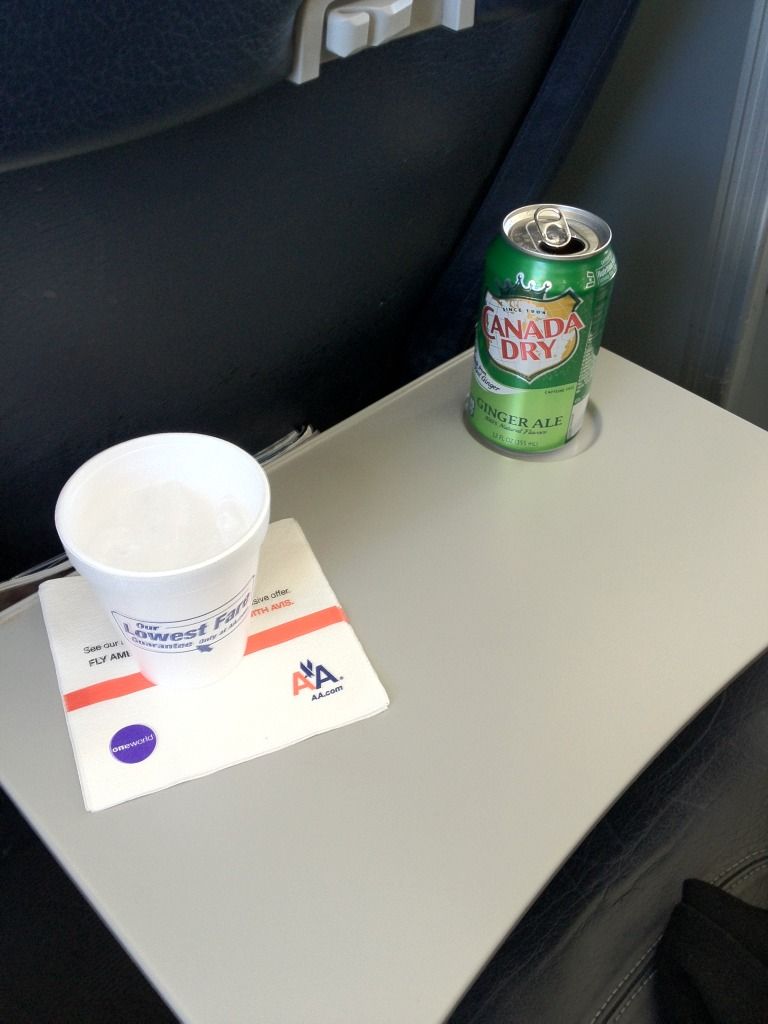 Beverage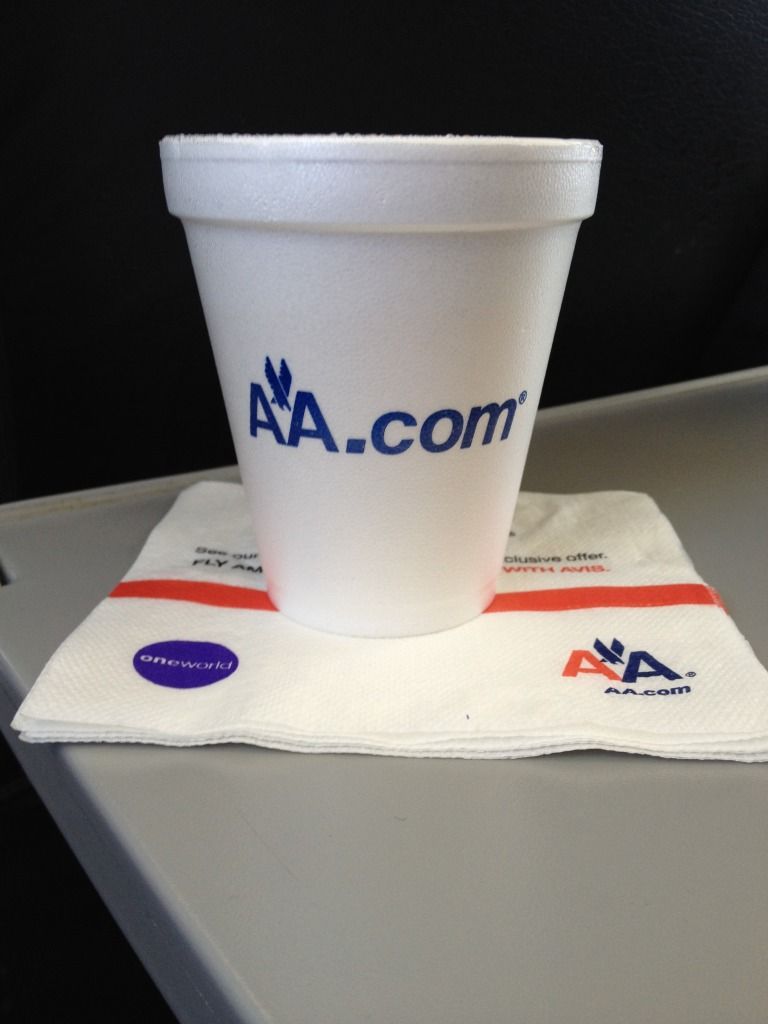 Cup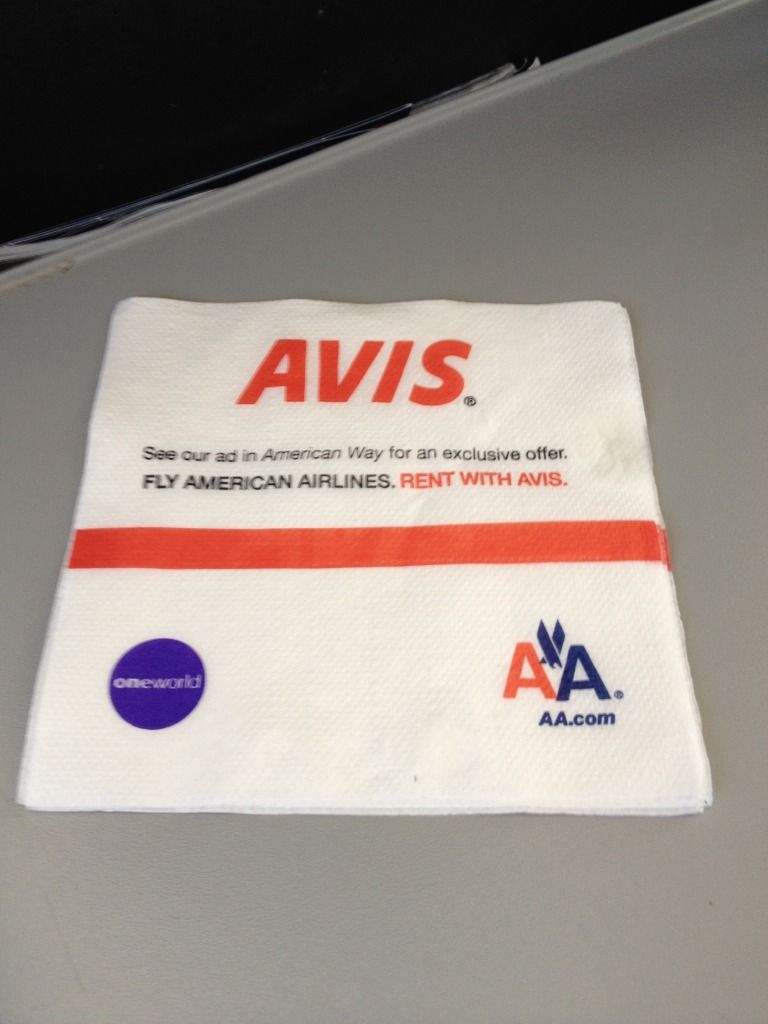 Napkin
Soon enough the seatbelt signs were switched off and I took the opportunity to take a quick trip to the washroom at the rear of the aircraft. I sashayed down the aisle and was met by an occupied sign. So I took up residence in 18A (the last row window seat) to take a few photos of behind the wing, and watch the world go by as I waited.
Whoever was in the toilet had obviously not used a bathroom in a rather long time as I had to cross my legs at one point until I heard that familiar sound of the door unlocking and a woman who was sat in First walked out. I was surprised that the toilet wasn't even more cramped than it was, it seemed spacious for such a small aircraft. What also surprised me was that upon flushing the toilet, the blue rinse was still present. I hadn't seen that in such a long time! Coffee bags were hung on the back of the door as well - this is a hostie trick to get rid of bad smells. Within 5 minutes though, I was on my way back to my seat and started reading the inflight magazine.
Wing View from 18A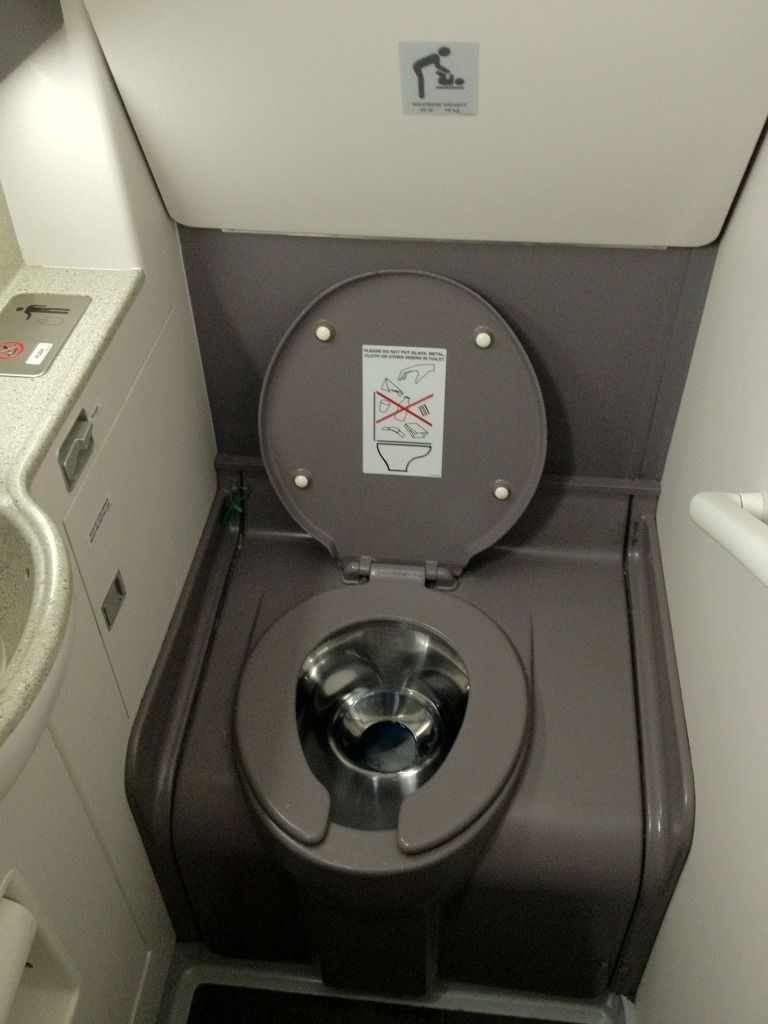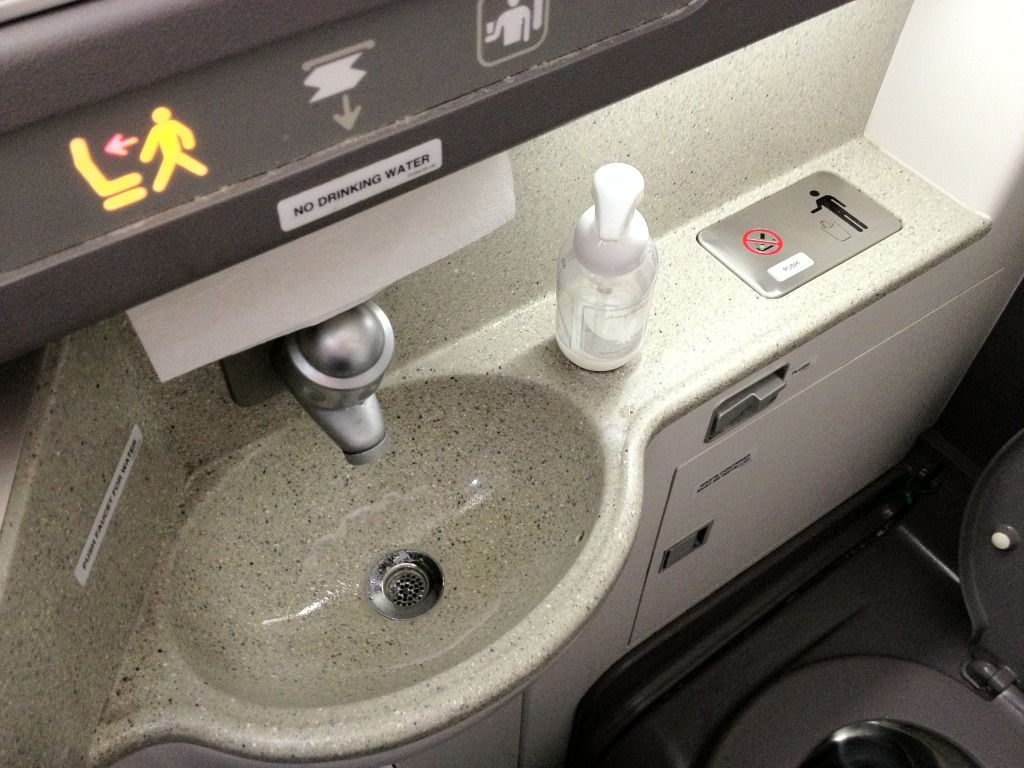 Bathroom views
Coffee Bag Air Freshener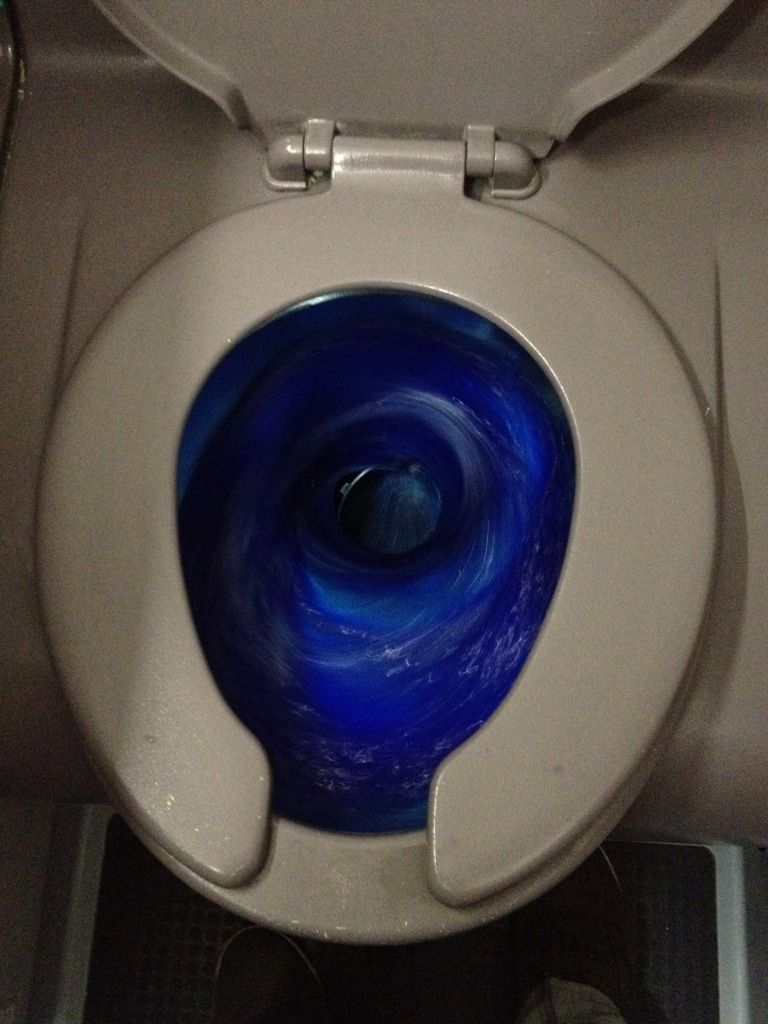 Blue Rinse Flush
Standard Poser Shot
An hour after leaving the runway in Atlanta, the nose pitched forward, the engines spooled down and N533AE began her initial descent from 39'000ft. The only view out the window was still clouds so I continued with the crossword in the Magazine. About 15 minutes out of LGA, the Captain came over the PA to announce our approach in to the airport, what time we'd be on the ground, the weather in New York and some other things I didn't listen to because I'd grown bored by that point and he was mumbling. I mean,
I can talk, but he, could TALK!
It finished with "Crew prepare the cabin for landing" and the two flight attendants began busying themselves in securing the small cabin for our imminent arrival.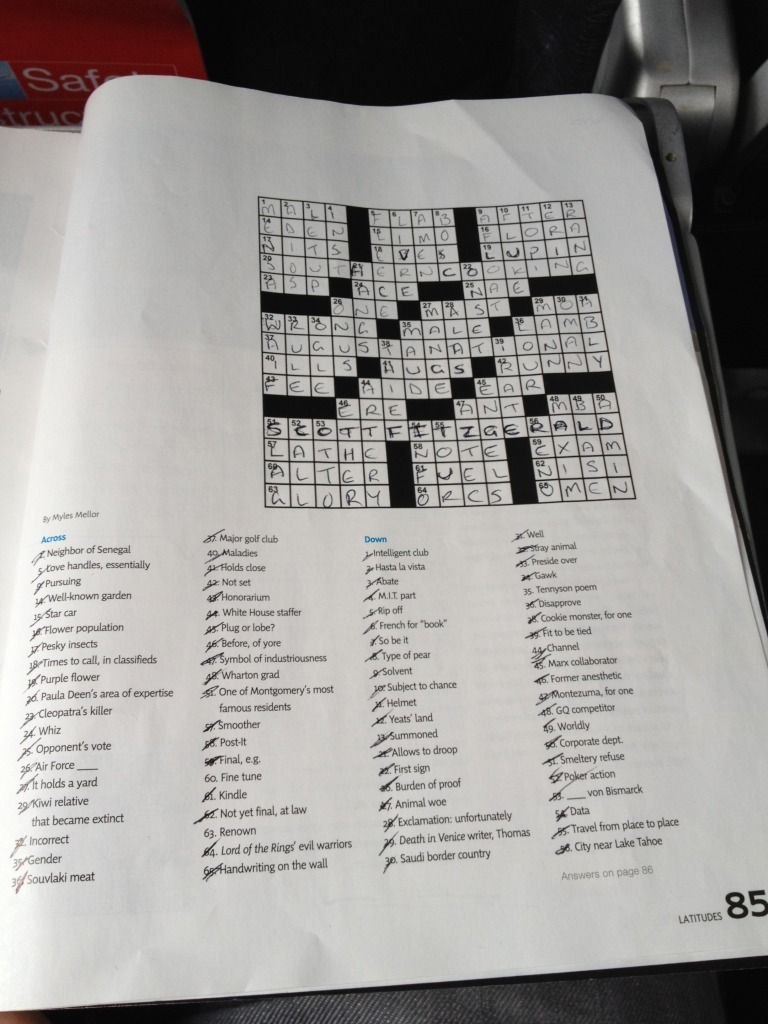 Crossword in the inflight magazine - all the answers had been in the articles throughout, but being a general knowledge whizz, I knew a lot of the answers anyway
We broke through the clouds over New Brunswick, before flying over Staten Island, Lower Bay and then a small turn to line us up with runway 04 before continuing our approach over Brooklyn. The slats and flaps extended, the speed brakes came up, we slowed down and lost altitude. Manhatten came into sight. But still the crew were stood around seemingly doing nothing.
"CLUNK"
. Down came the landing gear and still the crew stood in the front galley. I was thinking to myself "C'mon, take your seats now" before turning my head back to the window to watch Manhattan Island pass us by. Soon enough though, I heard the junior crew member rush past me to head to her seat. By this point we were level with Roosevelt Island.
I sat there snapping away at the skyscrapers and suddenly a sad feeling overwhelmed me; despite my previous love of New York, the city no longer excited me. After seeing the beauty of Atlanta from Piedmont Park, Manhattan just seemed too busy and very dirty. Don't get me wrong, I still love New York, but just because it's New York. I just no longer saw the beauty. It really is a concrete jungle where dreams are made of. But hey, this was an approach I'd been dying to do for years!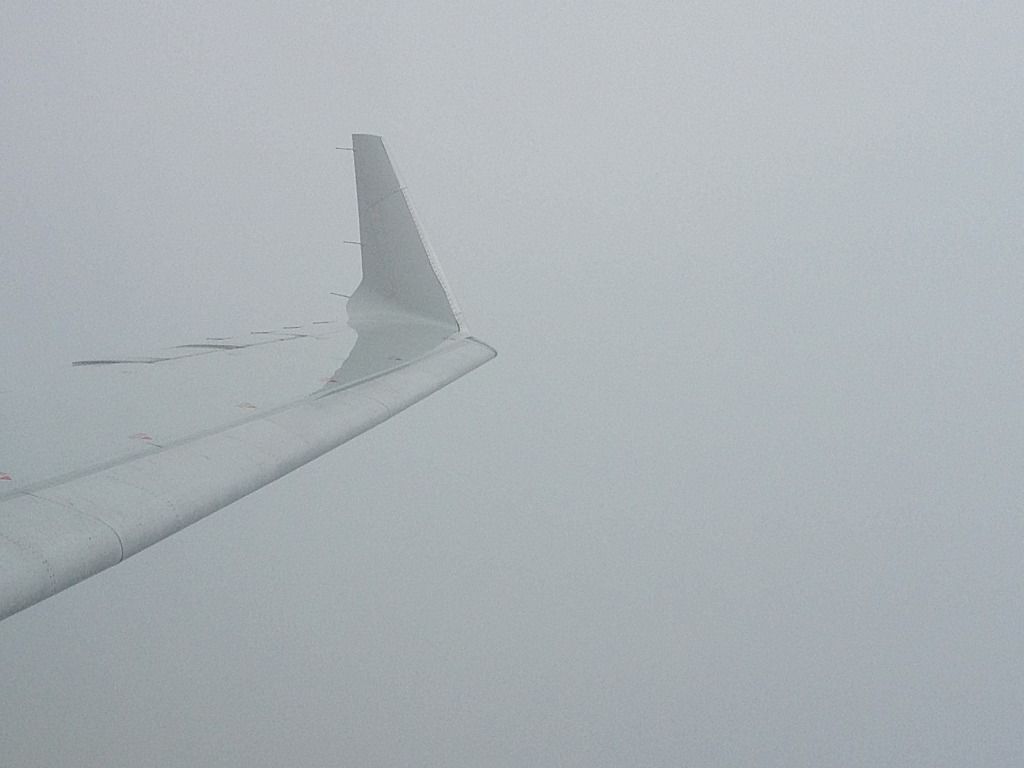 Descending at quite an impressive rate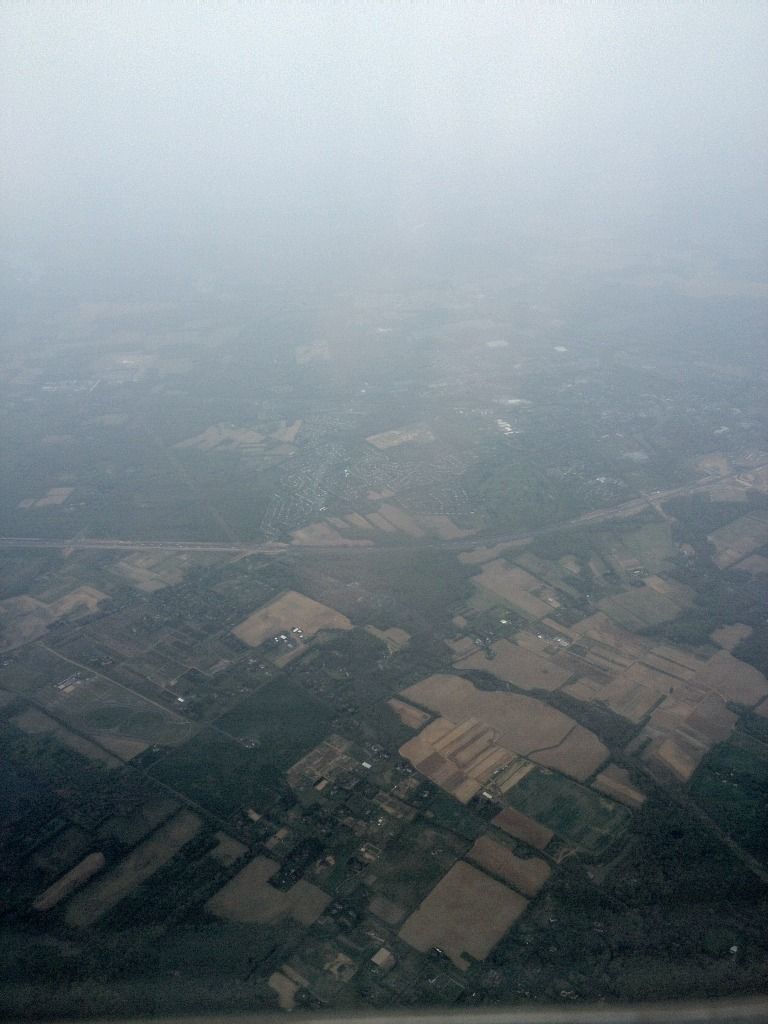 Breaking through the clouds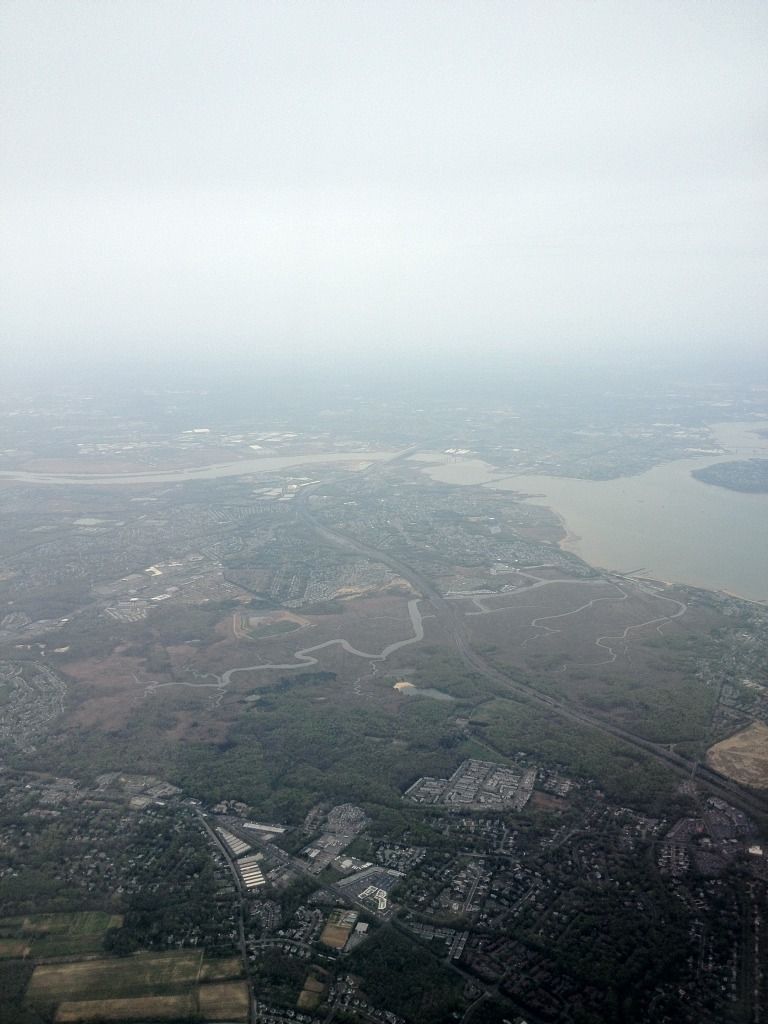 Looking out over NJ and Staten Island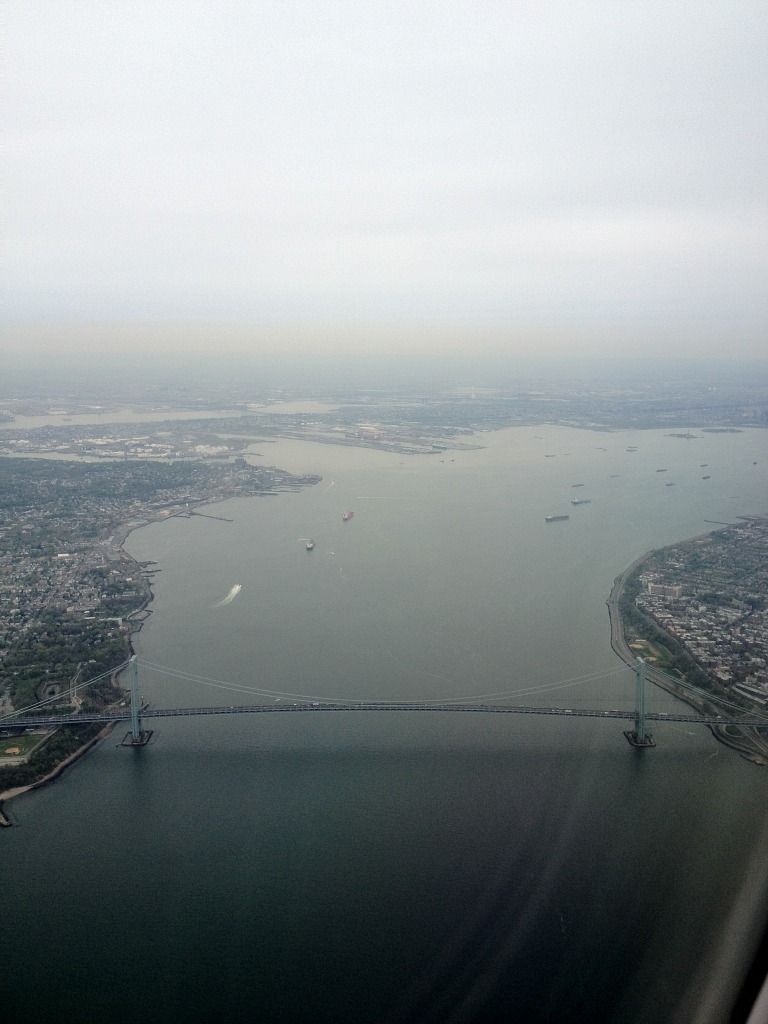 Over Lower Bay, with the Verrazano-Narrows bridge connecting Staten Island to Brooklyn in View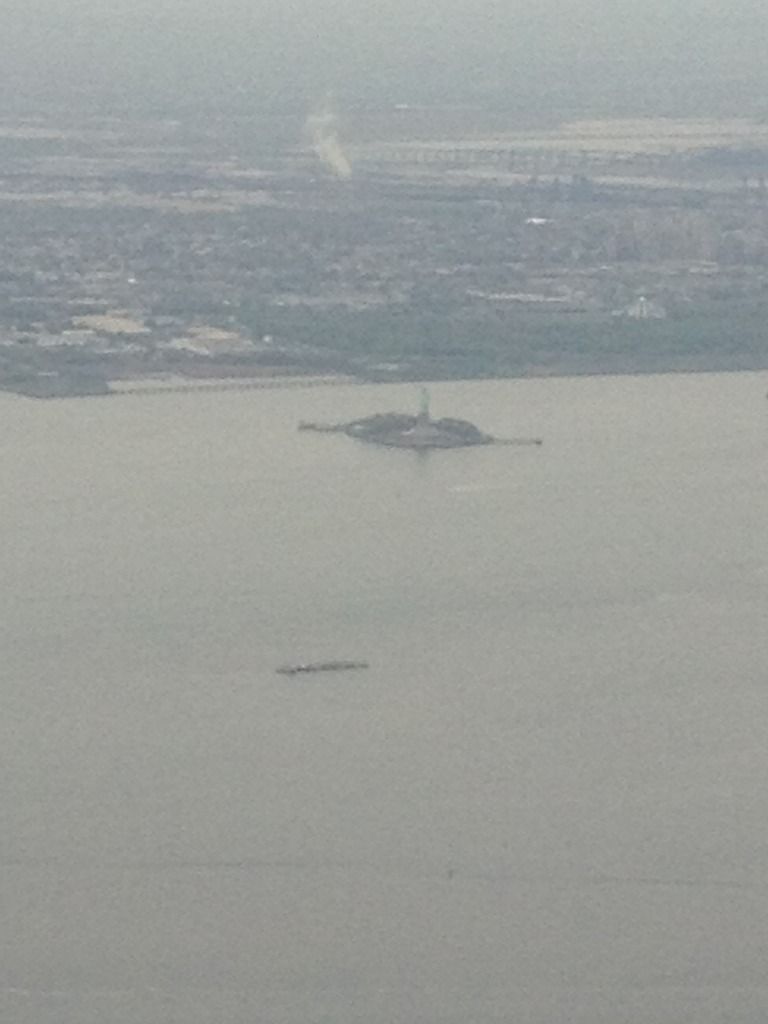 Lady Liberty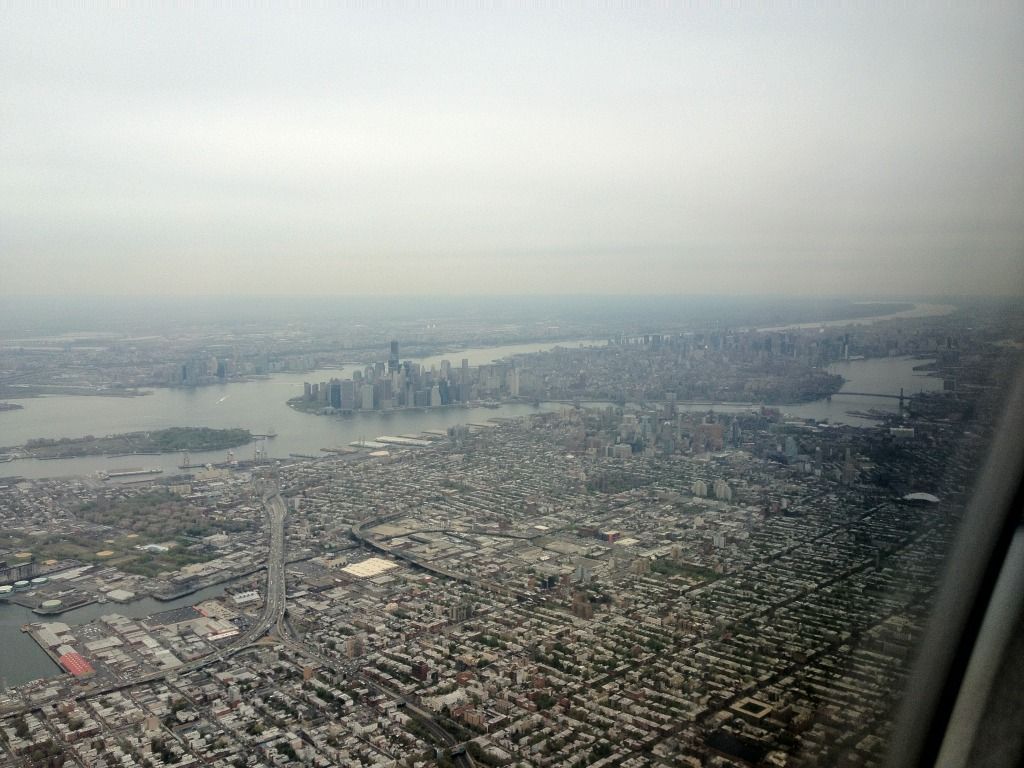 Manhattan Island comes into view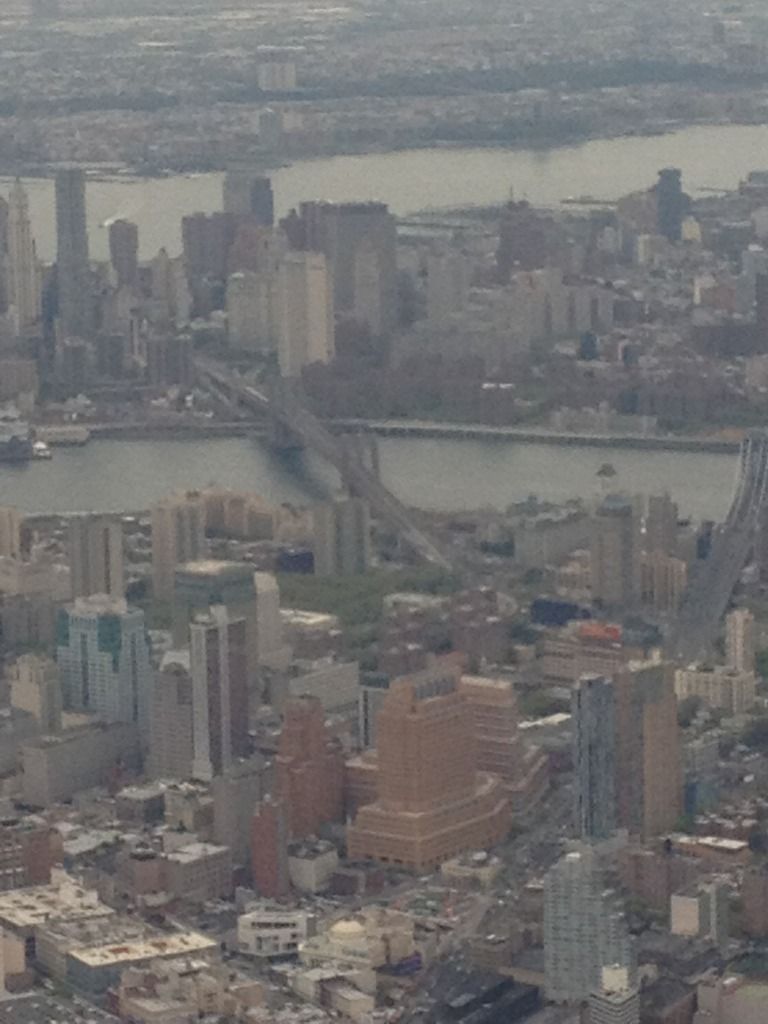 Brooklyn Bridge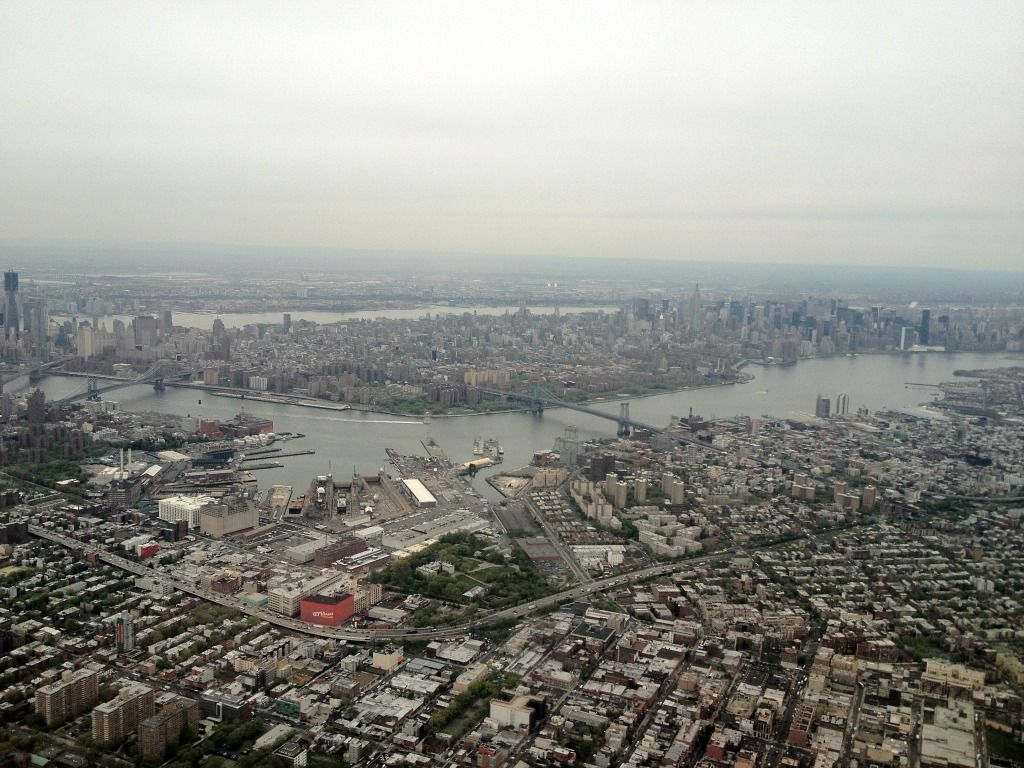 New York, New York - so good they named it twice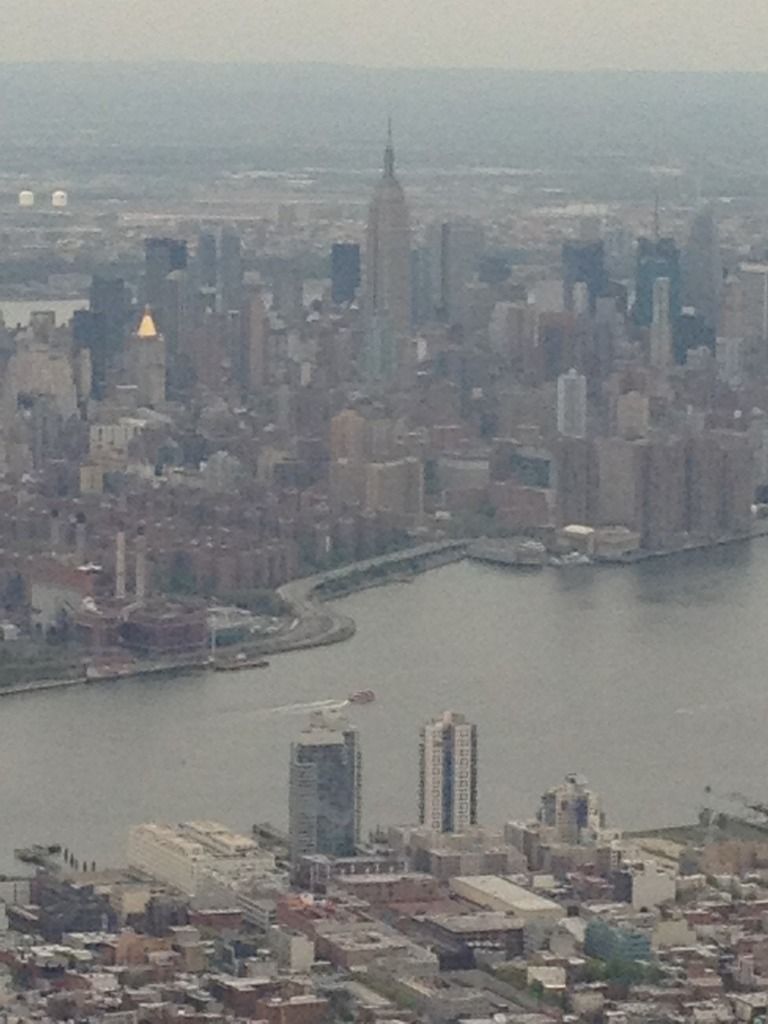 Empire State Building - my favourite of all NY skyscrapers (and the world)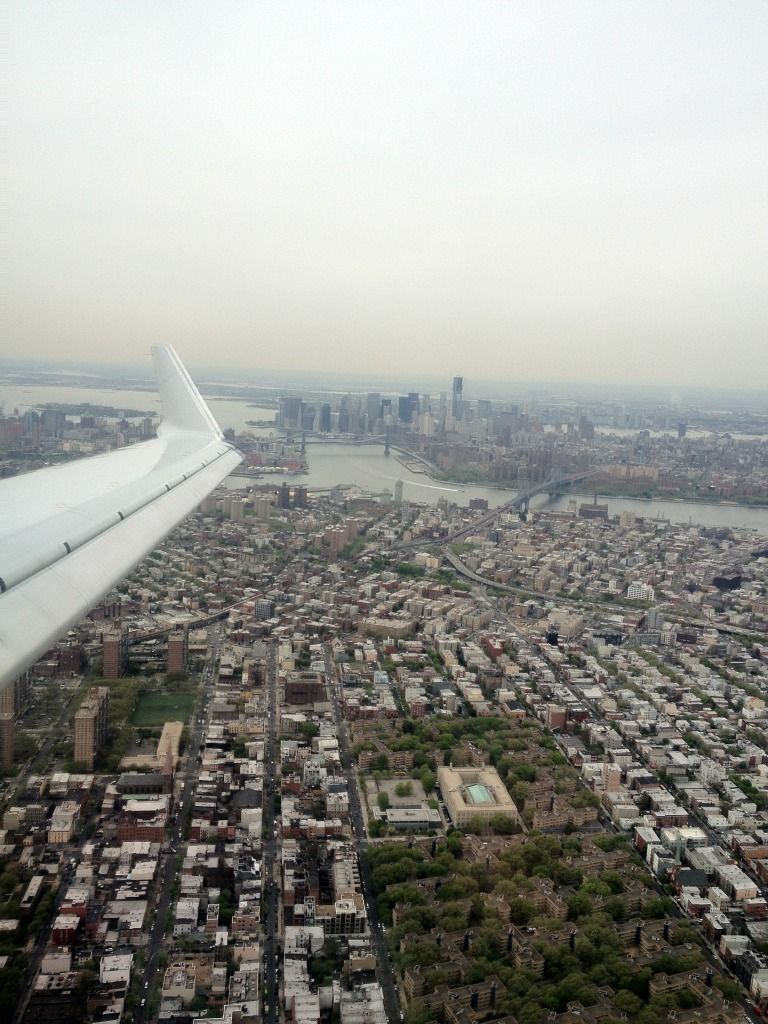 Final approach to runway 04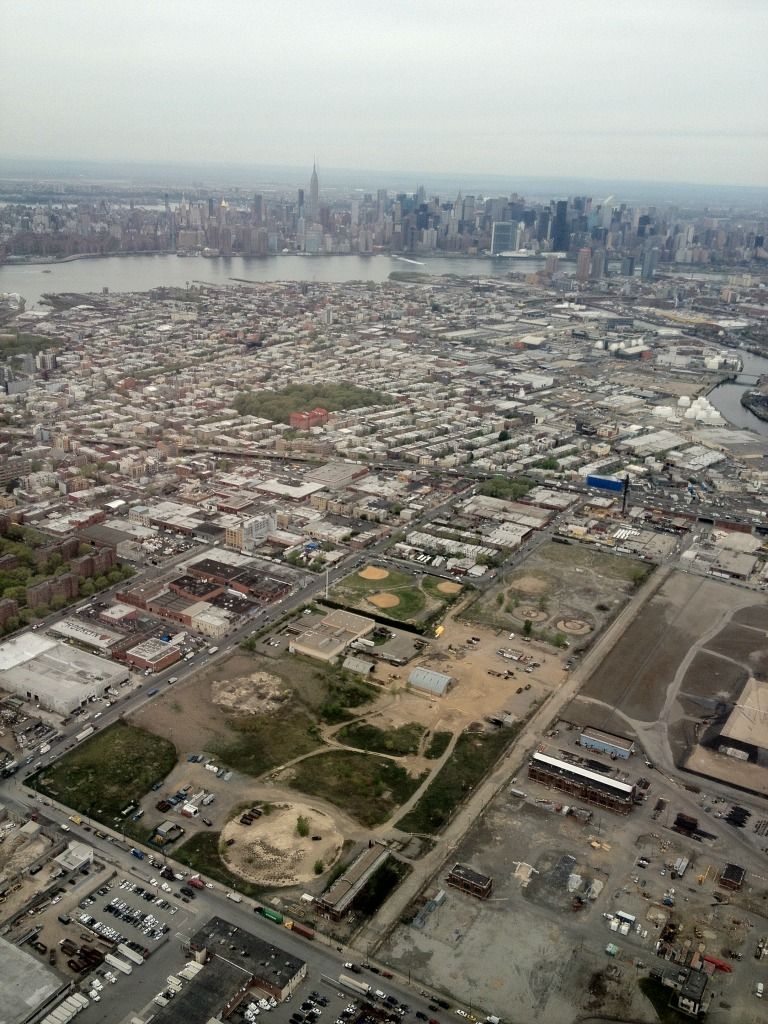 A shot of the ground as we crossed into Queens
We flared ever so slightly and 533 touched down with a bump, we descelerated at such a rate I had to keep my hand on the seat infront of me to keep me upright and we made a sharp turn off the runway. The Senior FA made the standard "Welcome to your destination PA" which went on until we turned onto stand at C Pier. As if any of us had forgotton where we had landed, "Welcome to New York" boomed around the cabin at least 8 or 9 times. We taxied quickly to stand, past many American Eagle regional jets and the jet bridge began moving in to the door straight away when we stopped. The engines shut down and a final "Ladies and Gentlemen, welcome to New York" was given via PA and the door opened. I grabbed my bag from the overhead locker, threw my jacket on and walked off the aircraft, up the jet bridge and through domestic arrivals at LGA. I snuck a final look through the window at the cute little CRJ that had brought me from the land of the Southern Belle to the doorsteps of Carrie, Miranda, Charlotte and Samantha.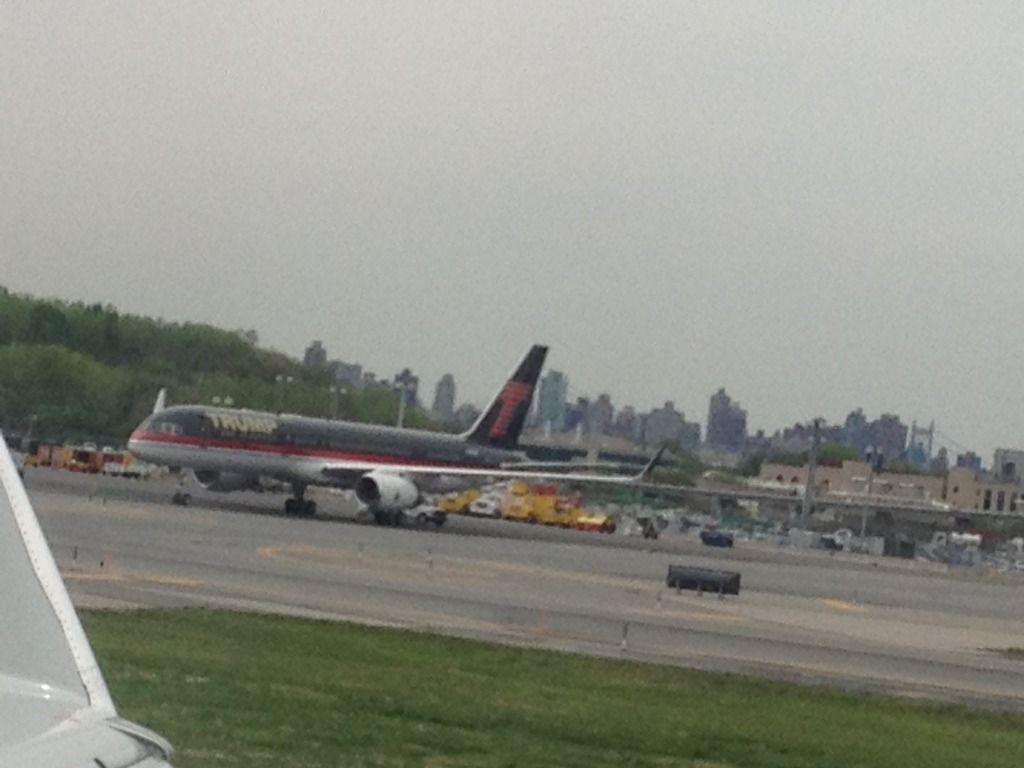 TRUMP 757-200 - taken as we turned off the runway so excuse the slant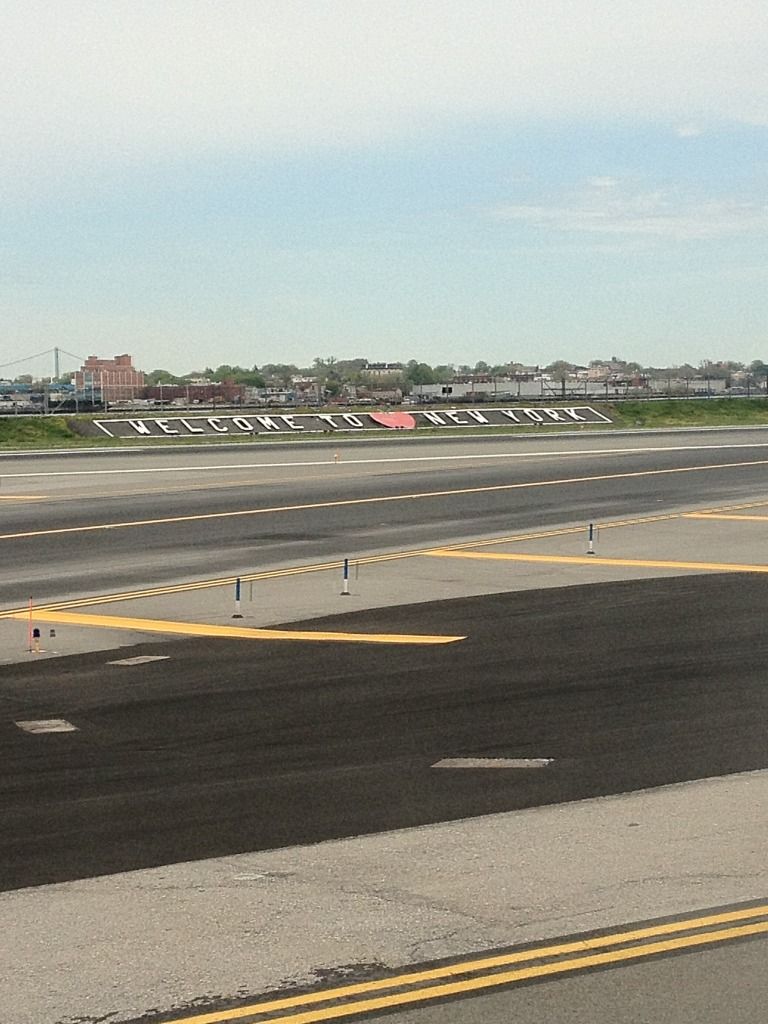 Welcome to New York - in case you didn't quite hear the PA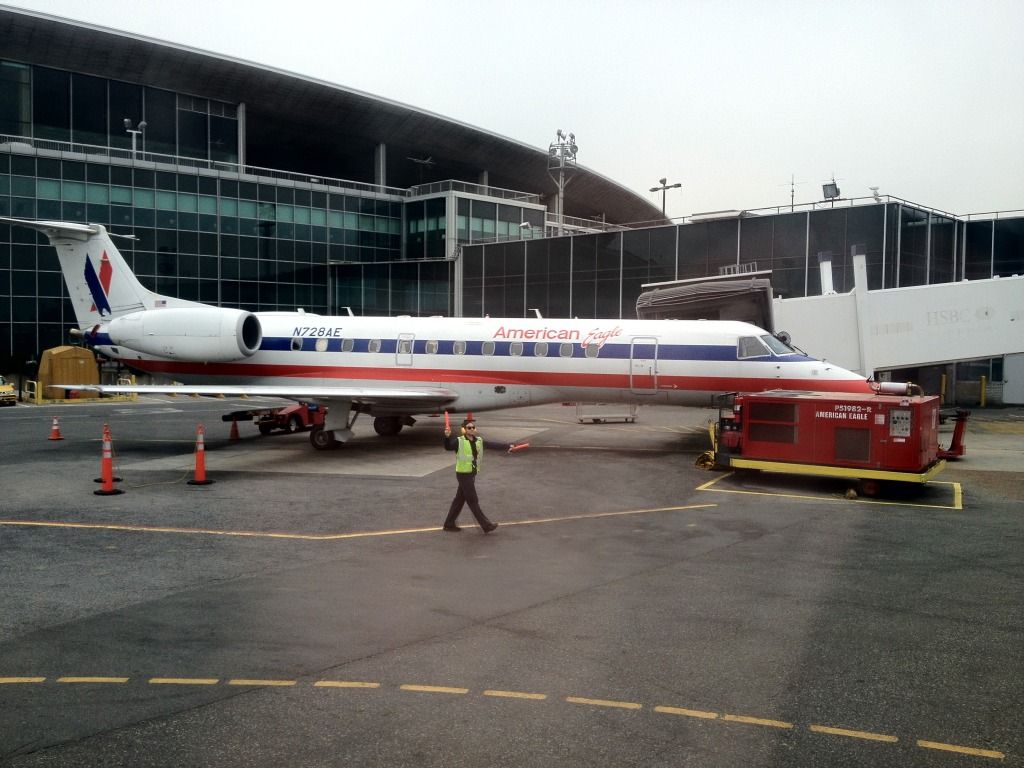 American Eagle Embraer ERJ-140
I made a bee line for the baggage belt, where it said "bags arriving - 10 minutes", so decided to nip outside for a quick cigarette. Only then I realised I didn't have any left, despite being sure I still had a full deck in my bag. Oh well, to Hudson News it was!
"Can I have 20 Marlboro please?"
"Whaaaat?"
"20 Marlboro Lights.... cigarettes, please?"
"Oh sure. Yo' ID?"
*hands over Passport*
"Yo' 20 yeah?"
"Yeah, that okay"
"Oh yah, just wanted to make sure"
"Oh, right, I see"
"That'll be $15.50!"
I stood there stunned. £10 for a pack of cigarettes, they were cheaper in the UK! I was in for a long journey across Manhattan and didn't think I'd find them anywhere cheaper until Duty Free, but I wouldn't be able to smoke any of them until Scotland. I handed over my Credit Card and was soon handed my goods. Happy Jordan again.
By this point, the bags were coming through and both of mine were first off. I ran straight for them and outside to spark up and buy a bus ticket to Newark, via Grand Central Station. I was on the final leg of my journey, and all I wanted to do now was relax....
Part 3; UA/CO to Glasgow will be coming up soon. I'm going to write it this evening before going back to work tomorrow. Hope y'all enjoyed this installment.
Happy Flightings!
JG