Hey folks, welcome to the last part of my Trip Report covering my vacation in Atlanta. If you haven't read the other instalments, you can find them here;
Part 1. LHR-ATL
Part 2. ATL-LGA
After touching down in LaGuardia, I made my way outside and bought a ticket for the bus to Newark Airport via a quick change at Grand Central Station in Manhattan. There were a lot of passengers at this time and the first bus came in 10 minutes, however, it was fully booked and so had to wait another 35 minutes or so until a bus arrived to pick us up. We made good time into the city, despite the usual New York traffic.
Upon arrival at Grand Central, I got my bags from the baggage storage at the back of the bus, tipped the driver and made my way to catch the EWR bound bus on the corner of East 41st St and Lexington. It was waiting for departure, so I put my bags on and had a quick smoke before making my way onto the coach. I sat at the back of the bus (like all the naughty kids
) and put some music on.
In no time at all, we were off, circling the block onto 42nd Street and passed Bryant Park, Times Square, a quick stop at the 42nd Street Port Authority Bus Station and then down through the Lincoln Tunnel into New Jersey. My 3rd US State in only 5 hours. After the skyline of Manhattan disappeared from view, we headed down the New Jersey Turnpike. Next stop; Newark!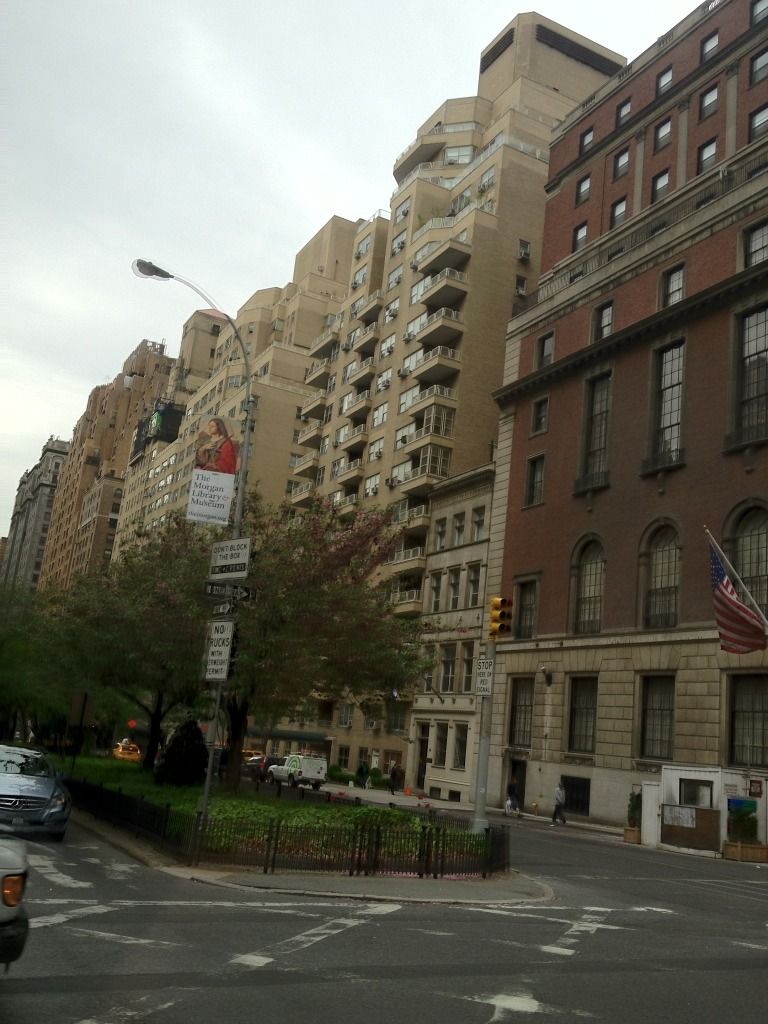 Park Avenue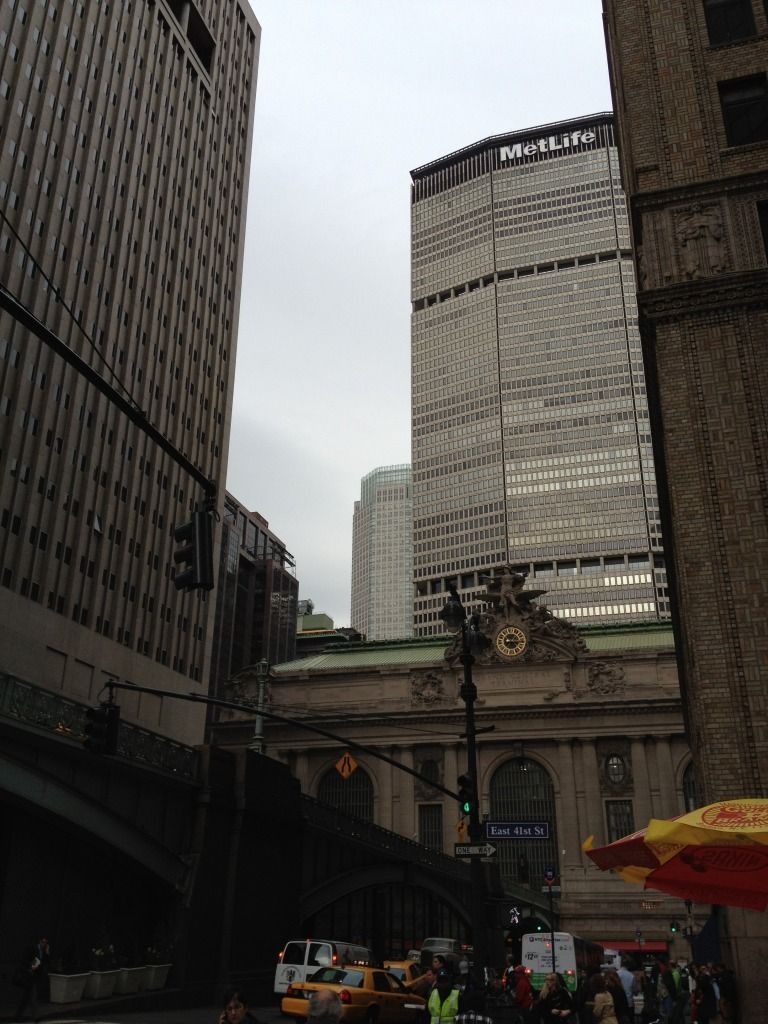 Grand Central Terminal with the Metlife Building behind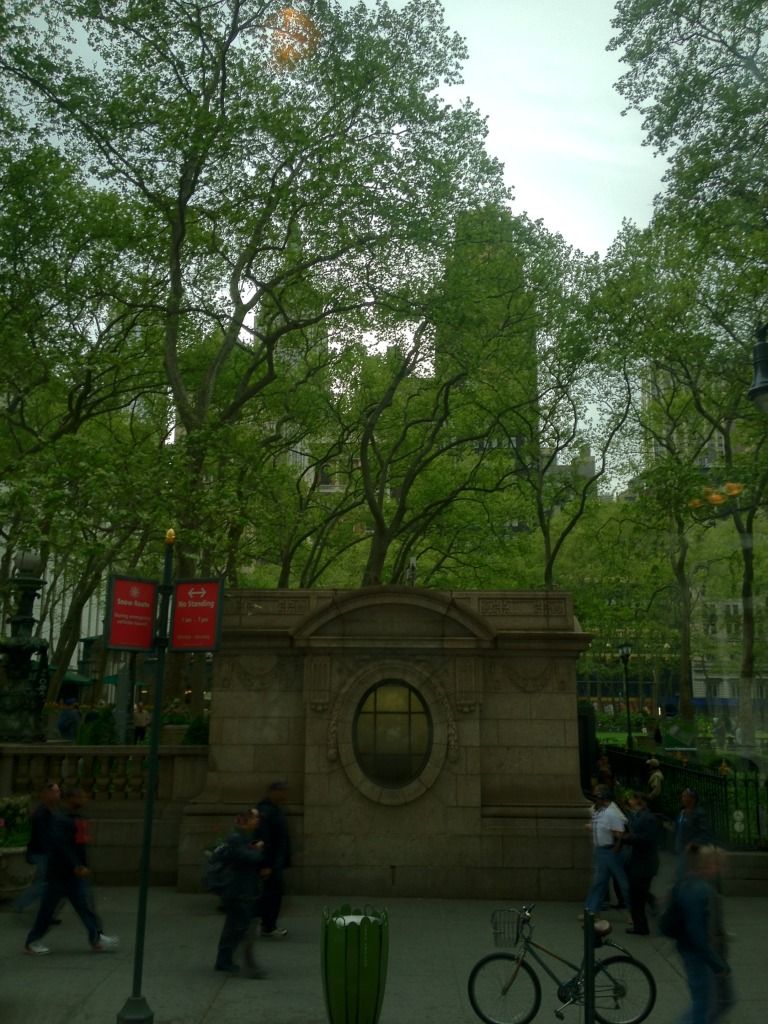 Bryant Park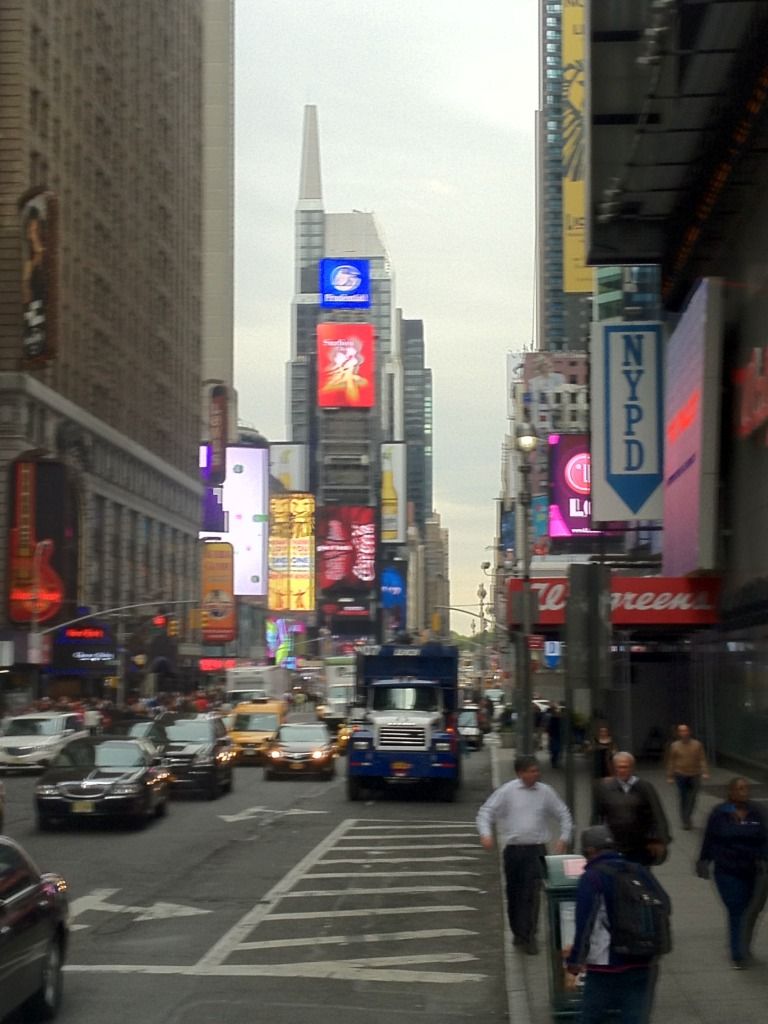 Times' Square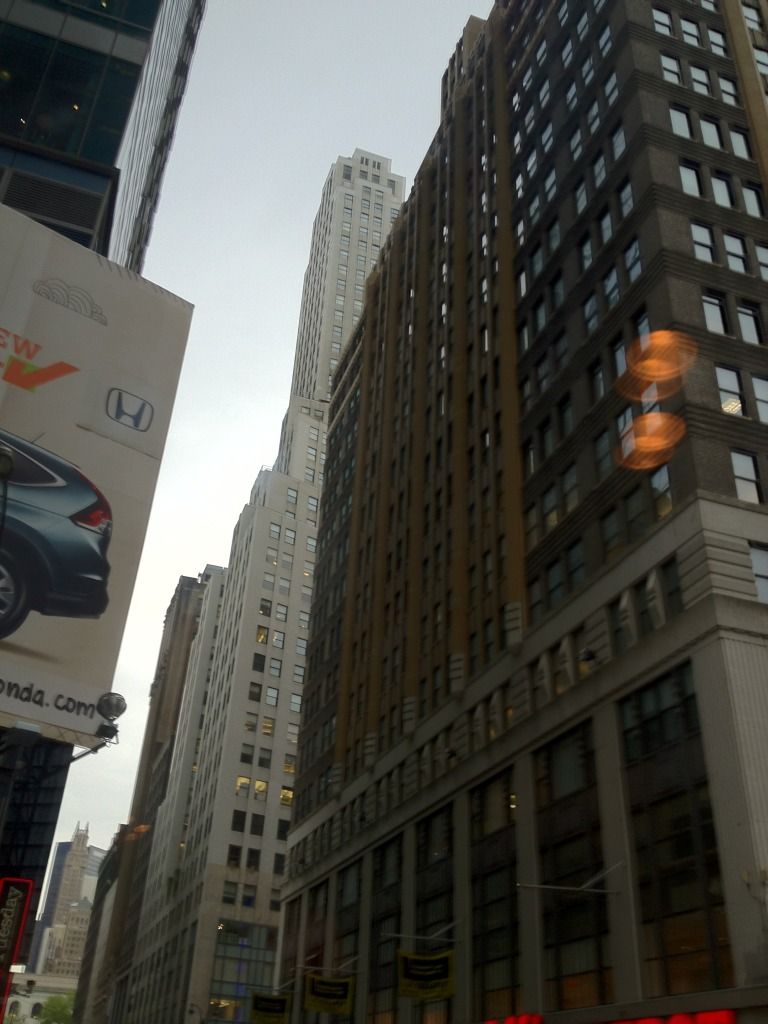 High Rise City
Over the Hudson, looking back to the skyline that's inspired so many
The bus that brought me to Newark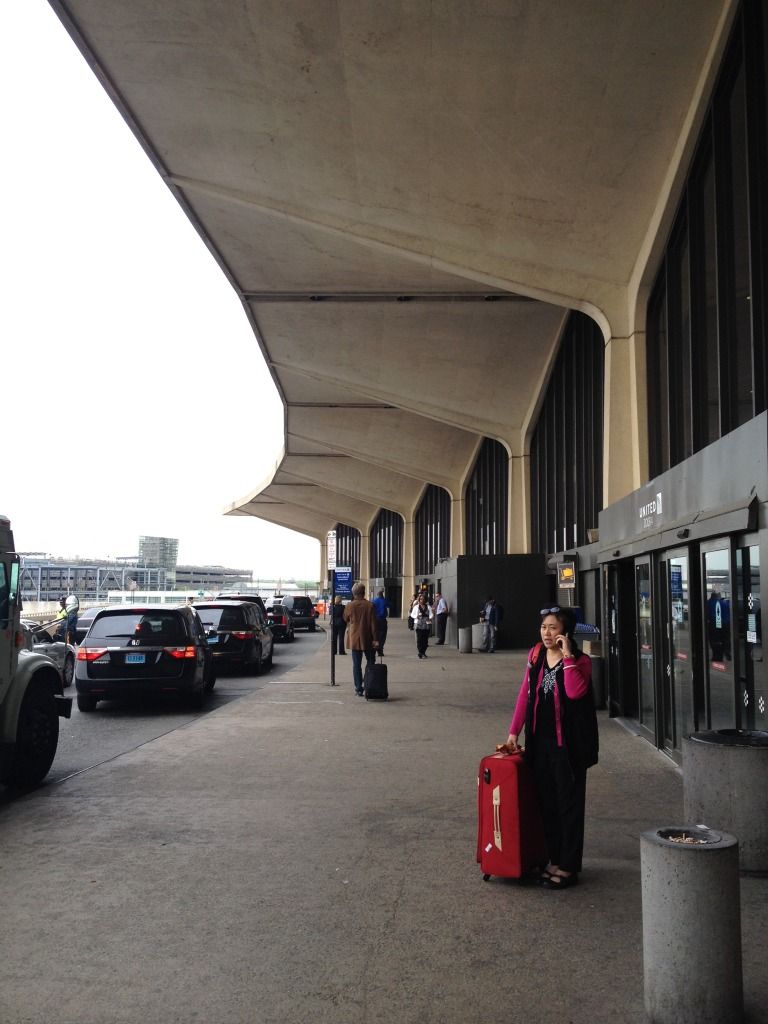 Newark Liberty Airport - Terminal C
After grabbing my bags from the coach's hold, I headed inside the terminal to check in. I had to speak to an agent as the self-service machines wouldn't accept my ID-90 ticket. I had been listed onto both the Glasgow and Edinburgh flights, but wanting to make sure I got home, asked which one was emptier.
"Why do you wanna know, huh?" asked the agent
"Oh, just to make sure I get on the flight" I replied
"Well, your bags can only be tagged for one so you need to make a decision yeah?"
"That's why I want to know which one has more seats"
"Oh, um, lemme check..... Glasgow is your best bet, you'll get on that!"
"How many spare seats are there?"
"Can't say exactly but it's your best bet!"
"Oh gee, thanks for the help"
And with that my bags were tagged to Glasgow but with big red "Status Pending" stickers attatched. I was given my SBY boarding card for Glasgow and made my way outside to phone my mum quickly before she went to bed, wishing her a good night and I would see her in the morning. One more Marlboro later, and I was heading towards the longest security line I've ever seen! 35 minutes later however, I was through. I was starving by this point so made my way to the foodcourt along the travelators and past what seemed like hundreds upon hundreds of gates.
I wanted something fatty and all-American, so decided on Smashburger! seeing as I had never heard of it before and the name made me laugh. It took 10 minutes for my order to be ready, and when it was handed to me I took a seat by the window which had a beautiful view over the apron, right next to a UACO 777 which would soon be departing for either Munich or Frankfurt (I forget which)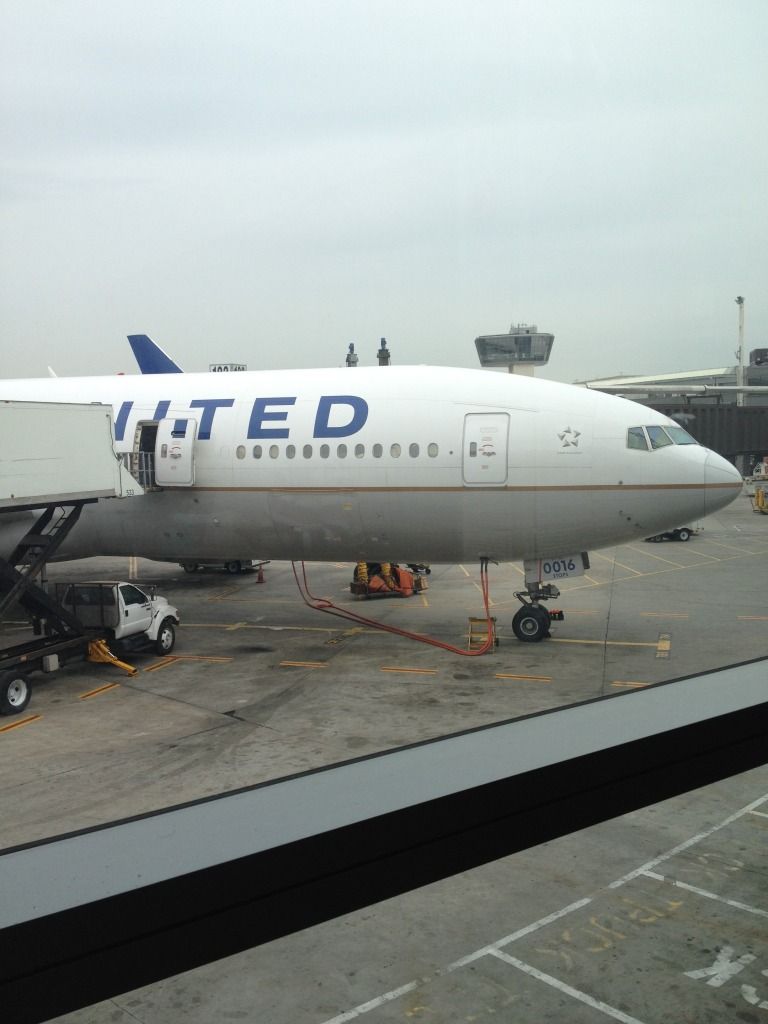 United/Continental Boeing 777-200 shortly departing for Europe
After finishing my dinner, I made my way around the shops, having a look at all the useless crap available in Airport Souvenir shops the world over. From there it was to the restrooms, the gate (to find out what my status was), then more window shopping, and back outside to view aircraft from the smoking section as I was getting incredibly bored.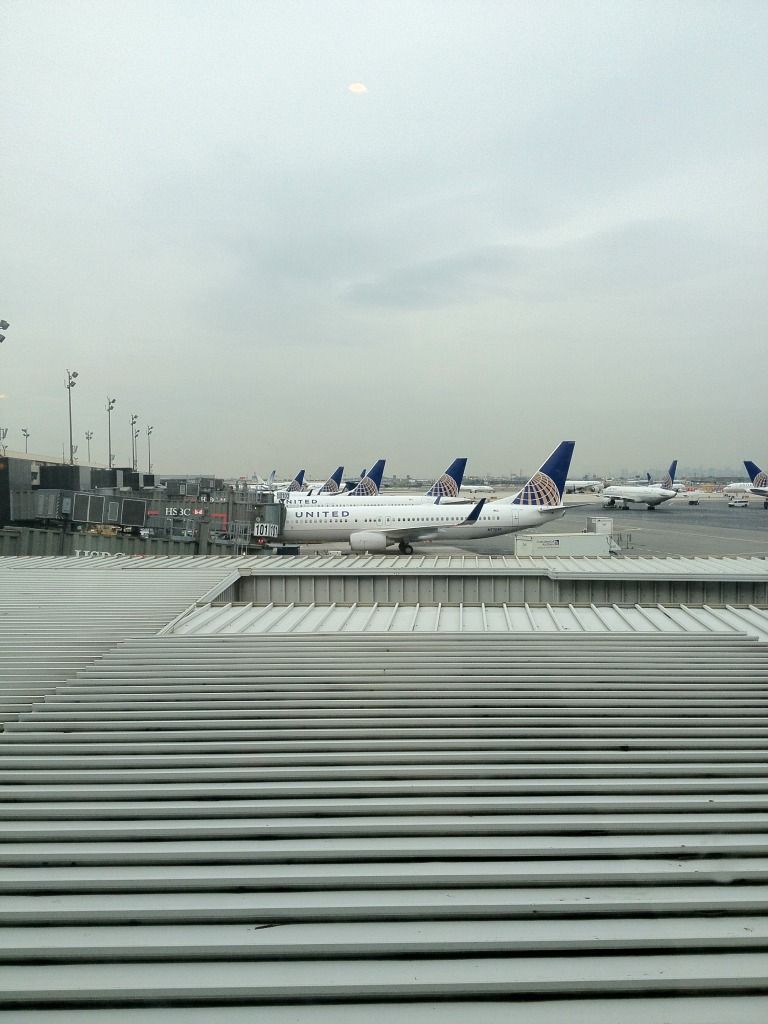 Lots of Unicon tails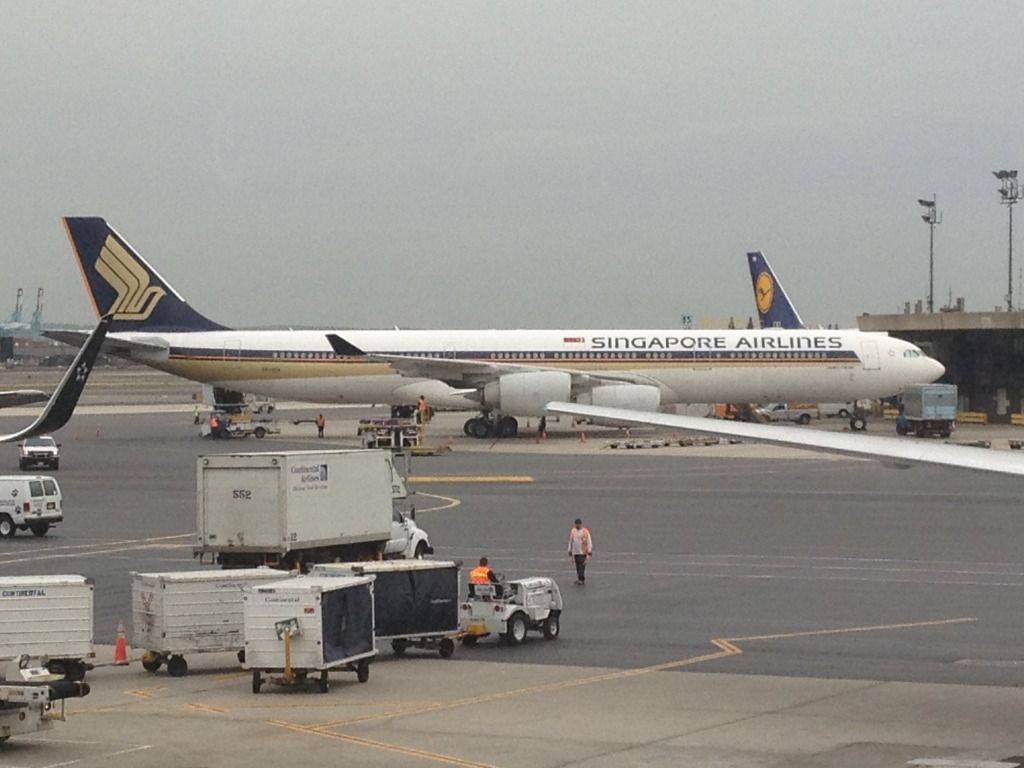 SQ A340-500 - the longest commercial flight in the world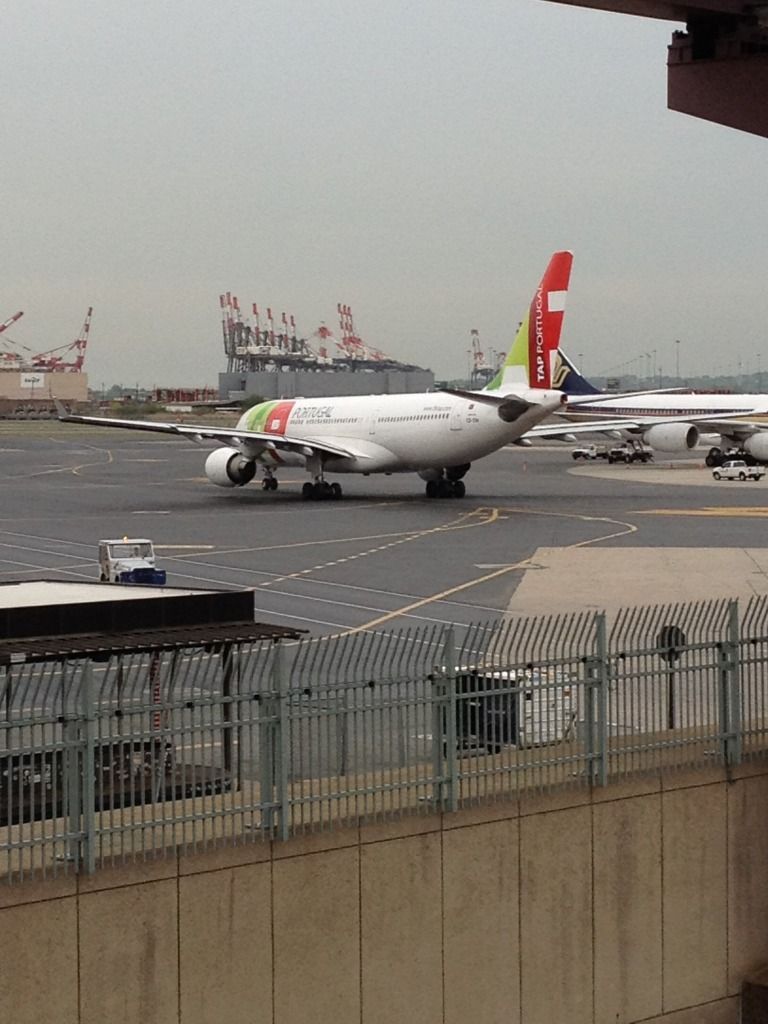 TAP Air Portugal Airbus A330-200 heading for Lisbon
Soon enough though, it was time to head back through security and on to the gate where boarding for UA16 was about to begin. I watched as our 757 finished loading, and the crew arrived at the gate. Within 10 minutes, a queue had formed at the boarding gate and I went to the desk to ask what the chances of me getting on the flight were.
"I'm not gonna lie to you sweetie, it's not looking good. We're overbooked by 10 and everyone has checked in"
A four letter word beginning with F resounded through my mind
"But stay here and we'll keep you updated" she said with a smile.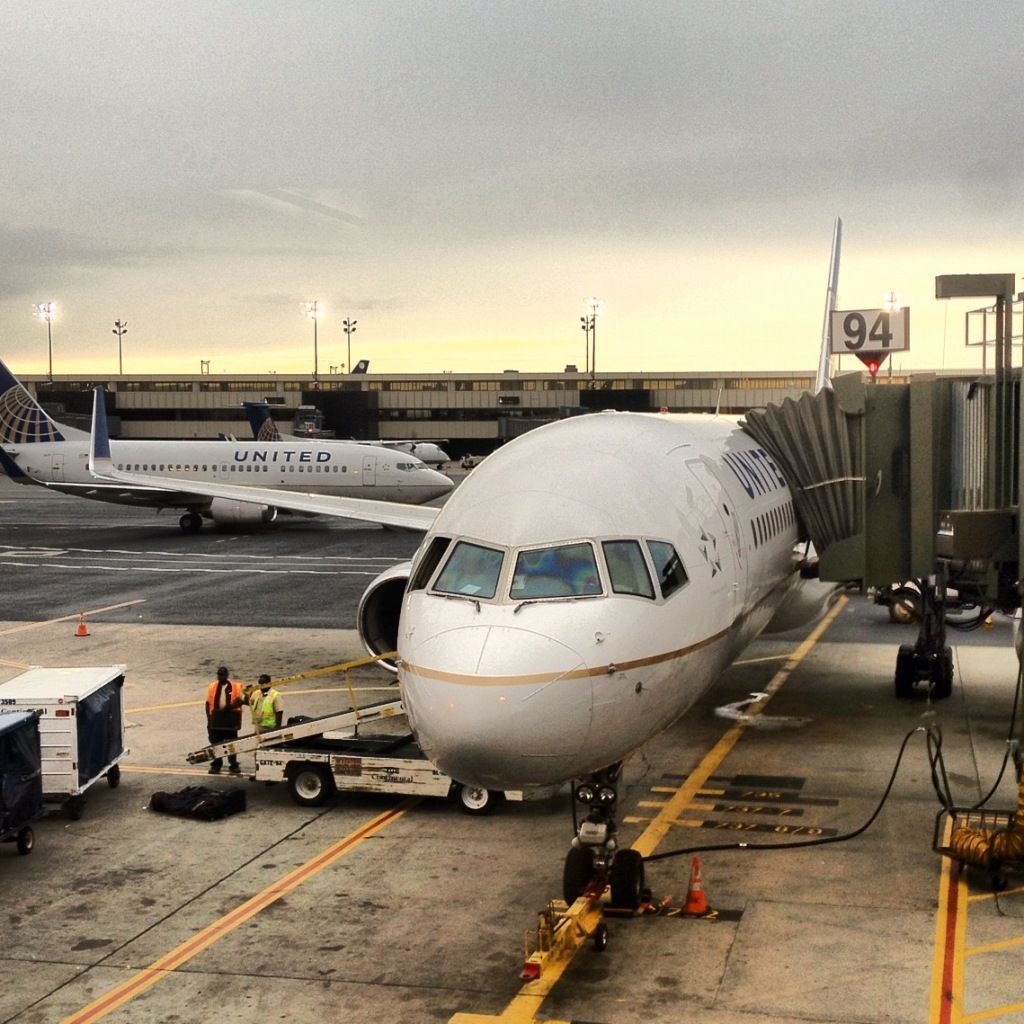 N12525 waiting for her long haul over the pond
Wednesday, April 18th 2012
Newark Liberty International Airport, NJ, USA (EWR) - Glasgow International Airport (Abbotsinch), UK (GLA)
United Airlines UA16 (1940-0730 +1)
Boeing 757-224 (Winglets)
Aircraft Registration: N12125
Seat Number: 25D
Estimated Flight Time: 6h15
Take Off: 2020
Touch Down: 0710 +1
Actual Flight Time: 5h50
Boarding was called around 7pm for the 7:40 departure. The queue got longer and longer and people were slowly but surely processed. The more and more time that passed, the more and more stressed I got. I was actually beginning to sweat thinking I may not make the flight, and ultimately, my mum's birthday. Suddenly I was being called over to the desk.
"We've got 2 passengers connecting from DCA who's flight has been cancelled. They're on the train but they're not going to make it. We can give you one of their seats if you like?"
I wanted to say, "If I like, If I like?! I've been begging to get on the plane for an hour, but no, I'll just stay in Newark now"
Instead, I responded with "Yes! Where are they sat?"
25D and 28B were available, so I asked if I could have 25D, which I found out had already been assigned to me. I would have preferred a window but if I had an aisle at least I could get up and down and use the toilet throughout the flight. I grabbed my boarding card, gave the nice gate agent a hug and sped off down the jetbridge.
With a full 757 about to meet me, I quickly phoned Trent so I could tell him I was on the plane and could avoid the stares of passengers who more than likely thought I was going to be holding up the plane. The local time was now 1938.
I quickly took my seat after stowing my bags and settled in. I was surprised at how comfortable the seats were, especially with the big PTV infront of me, and yet the cabin didn't seem cramped like I thought it might be.
7:40 came and went, so did 7:50 and then 8:00. The captain came over the PA to tell us that a couple of passengers hadn't made the flight yet their bags were in the hold. My guess is if they were Scottish they'd have been found in the airport pub
Headphones were also passed out on the ground. I was surprised that they were free! So I took a pair, because I had lost my iPhone ones somewhere between LHR and ATL.
By 8:10pm, with the door closed, we began pushing back towards runway 22R. The engines started up with that lovely Rolls Royce RB211 hum, the flaps were set and the safety demonstration played. We began taxiing quickly to the runway and the cabin was secured for departure.
Personal Television with the moving map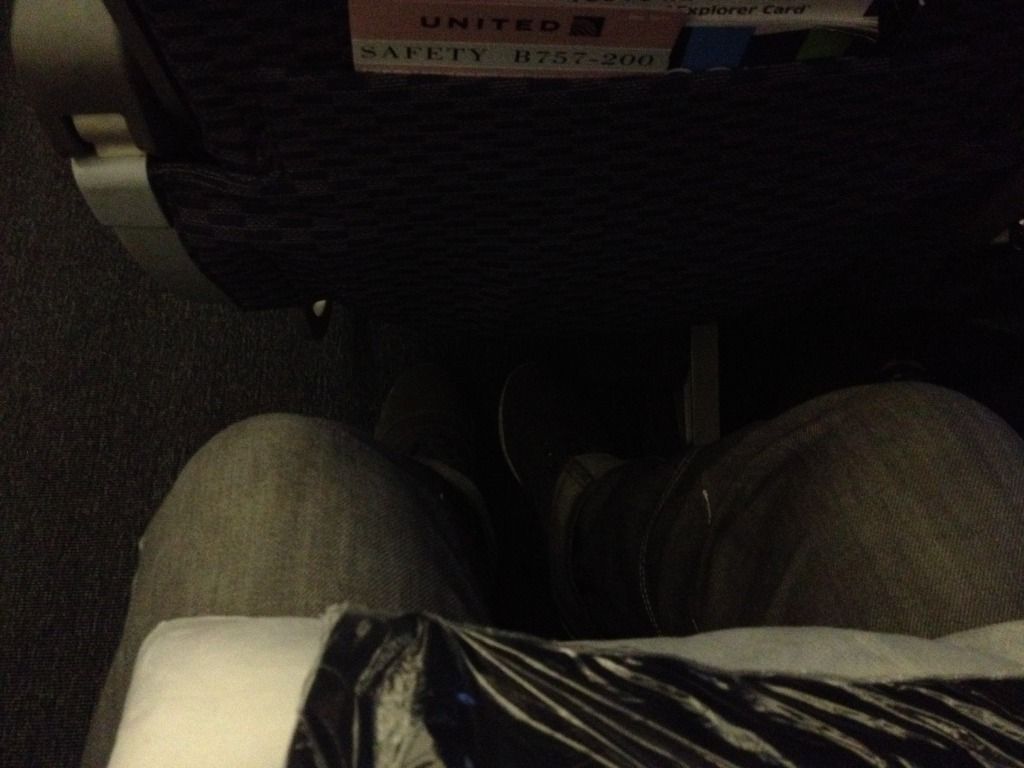 Leg room. Pretty sufficient for this flight
Continental Airlines Headphones - bad quality, but they sufficed for the flight
I was expecting a long queue like I had experienced in JFK before, but at 8:20pm, the double dings chimed and we turned onto the runway. I was looking forward to a typical 757-200 take off, like I had experienced many times before. However, we started off sluggishly, not moving quickly at all. The throttles were advanced to full power and we picked up speed sharply. I saw the lights of the terminal buildings pass us by and the nose began to rise. The wings flexed and we shot into the air. The ground fell away quickly and we turned to the left, then to the right and round 180 degrees to fly out parallel to Newark, over Manhattan and up Long Island. The International Service Manager (ISM) introduced himself and welcomed us onboard, with some detailed information about this evening's flight.
I settled back into my seat and started flicking through the extensive IFE list. Settling first on an episode of Modern Family, followed by some Simpsons. The meal service started halfway through my episode of the Simpsons, but by the time the trolley reached me it had ended. The standard "Chicken or Beef?" was asked, and I went for the Beef dish. The meat itself was quite nice, seasoned with some type of oriental sauce. Tasted a bit like Soy and Sweet Chilli mixed together. The rice however was hard and sticky so I didn't eat much. Starter salad was standard, but much nicer with the dressing poured over it. After dinner was a drinks service, where I opted for a Sprite and a glass of Orange Juice before the trays were cleared in.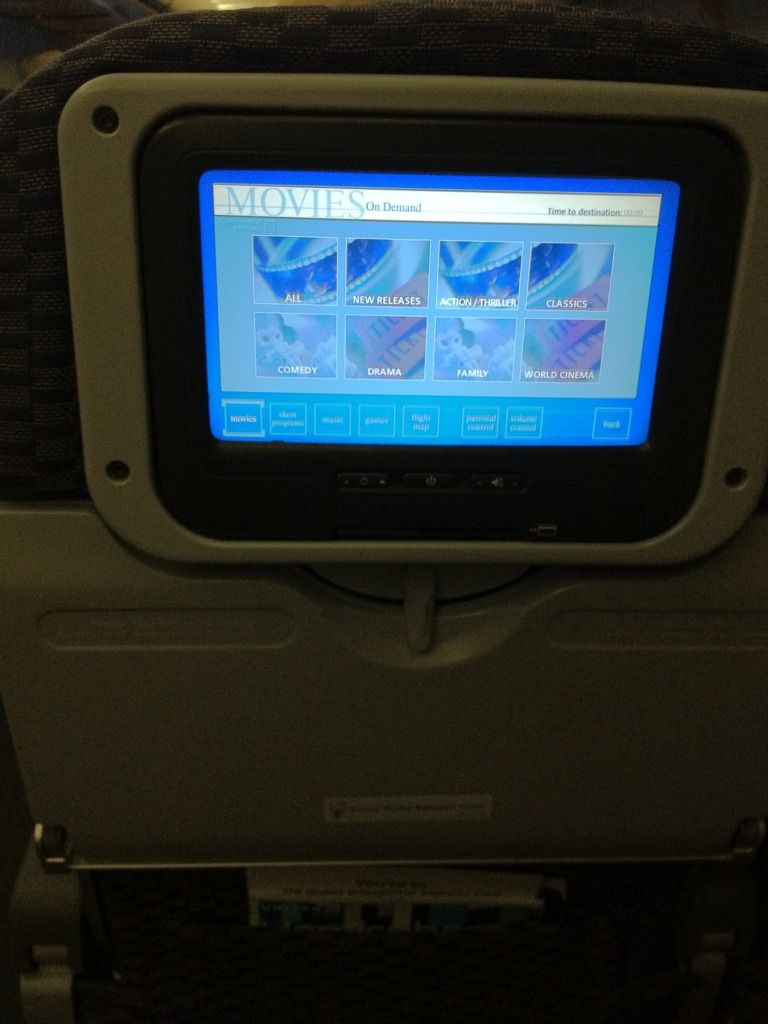 The Main Menu of the IFE
Dinner is served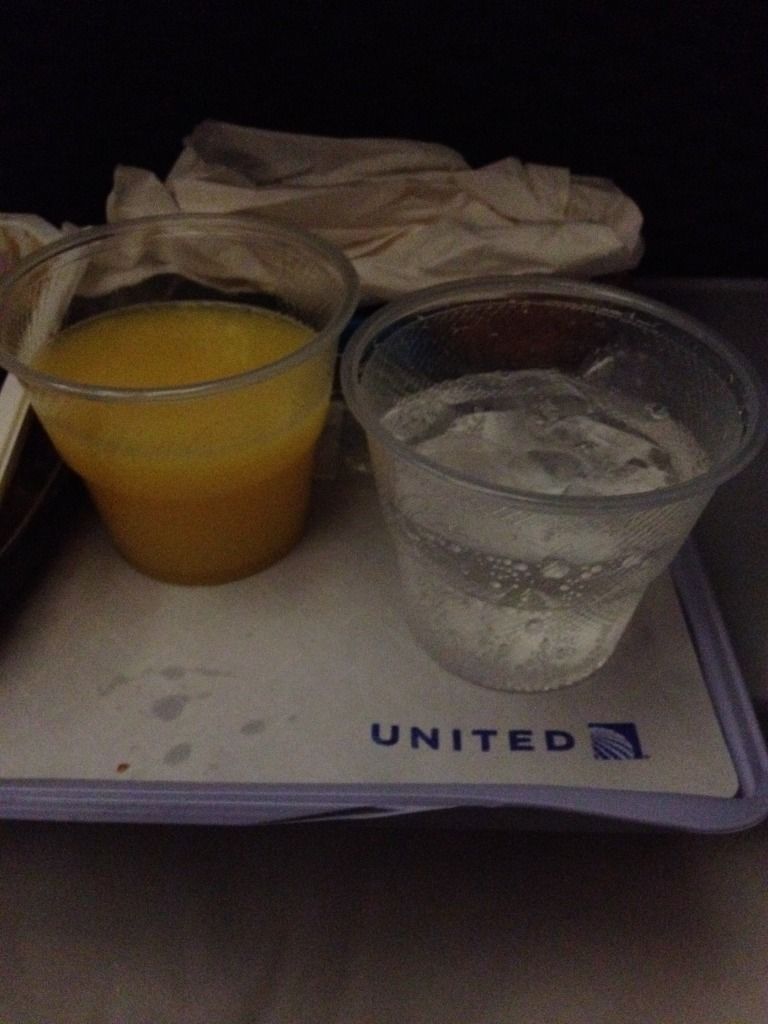 My drinks
After dinner was cleared in, I reclined my seat and watched 'What's your number?'. It was pretty funny, and the handsome Chris Evans gets naked several times so it was right up my street. Afterwards, I tried to sleep for a bit but, despite being absolutely shattered, I just could not nod off. So it was up to the toilet and then a chat with the crew in the galley. They were all original CO crew, and two of them were from Atlanta! After telling them about my holiday, they were both like "Oh honey, you need to let us know when you're back in ATL, we'll take you out for drinks at Blakes!"
What a small world! They plyed me with soft drink for well over an hour, chatting about BA and the differences with flying for a UK carrier. Just as breakfast service was about to begin, I headed back to my seat and snuggled in under my blanket.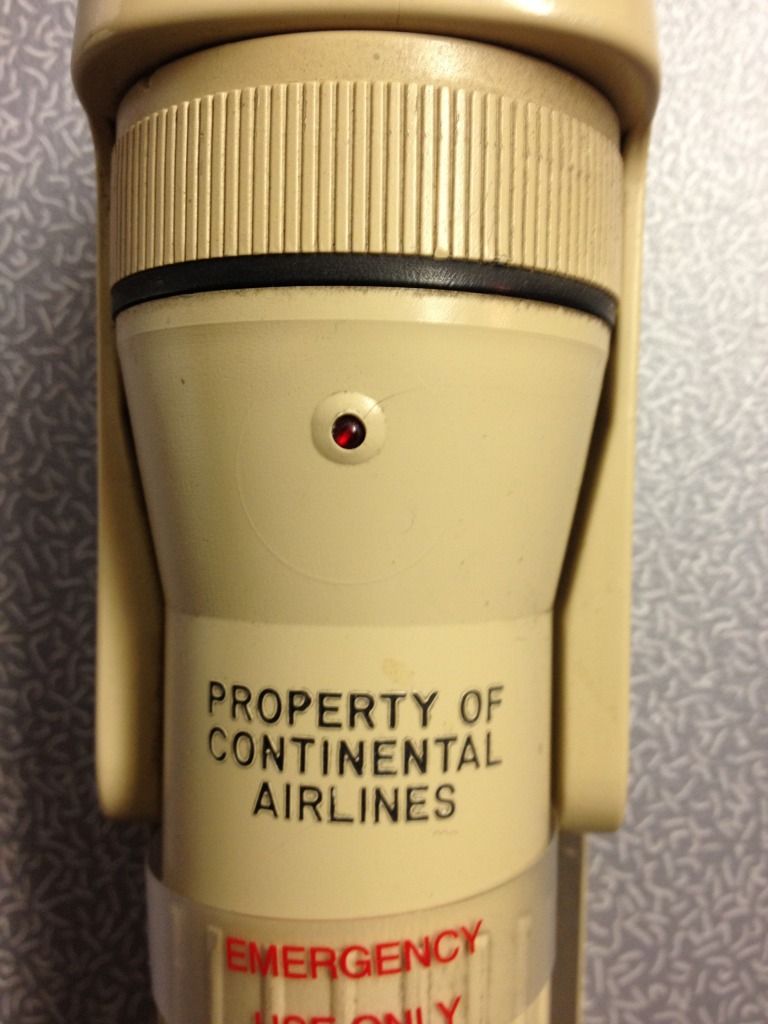 The only photo from around the galley I got - an emergency torch
The trolley rolled down the aisle and I was handed a breakfast box with a lovely, warm, long croissant. I wolfed it down as by this point I was starving again, having barely eaten any of my dinner. I was surprised though that it had been started 1h40 out of Glasgow, when really the lights could have been off for another 30 minutes and still the crew would have had an hour two prepare for arrival.
UK landing cards were then handed out and I went back to the washroom to freshen up for landing; a little bit more wax in the hair, wash my face, brush my teeth and spray myself with Abercrombie & Fitch Fierce. I returned to see that we had taken a routing down to be parallel with Dublin, in fact - a little more south - before turning to make a beeline for Glasgow.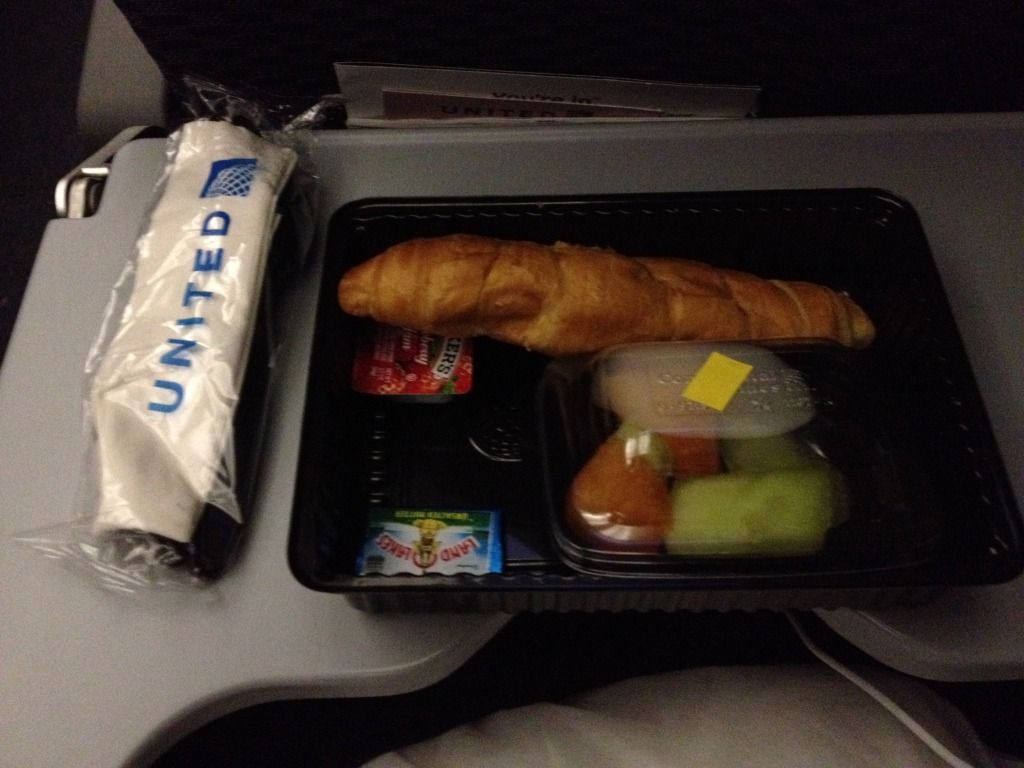 Breakfast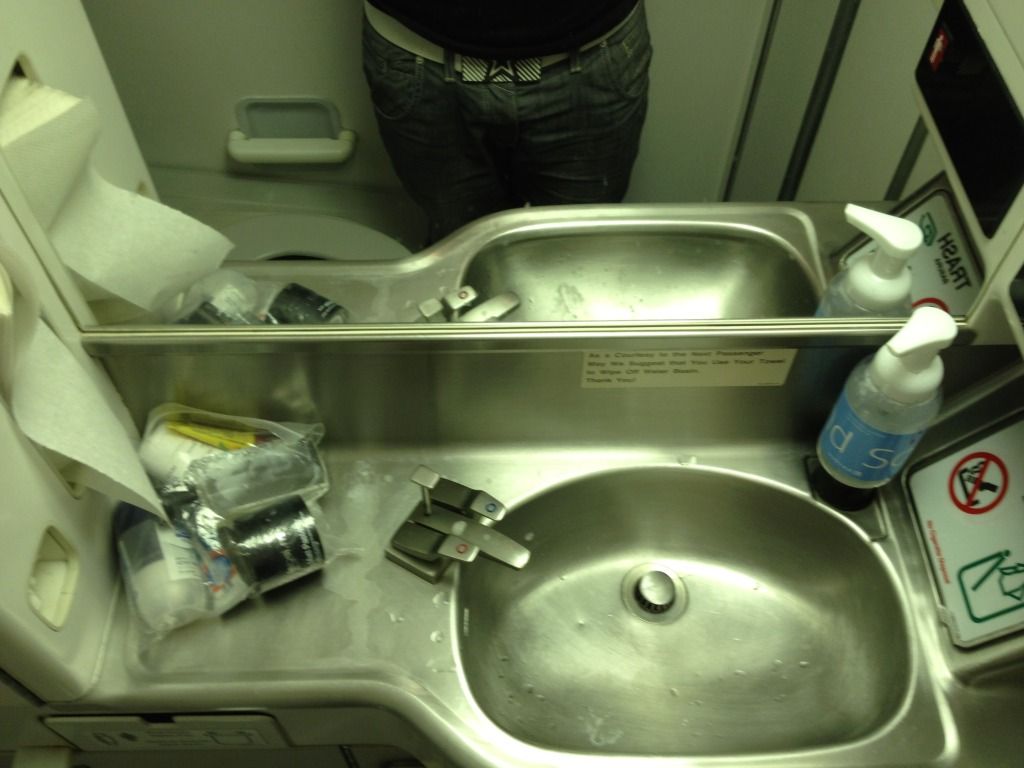 Bathroom - with my little bag of goodies on the side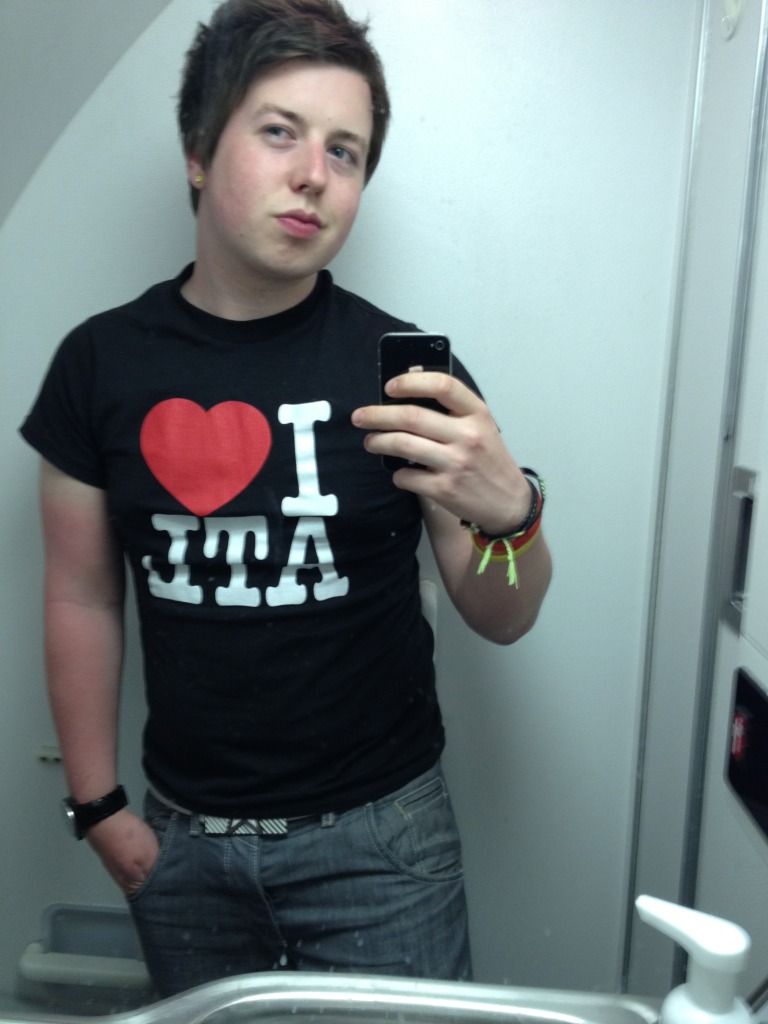 Another poser photo - I still look pretty fresh for having been on the go for 18 hours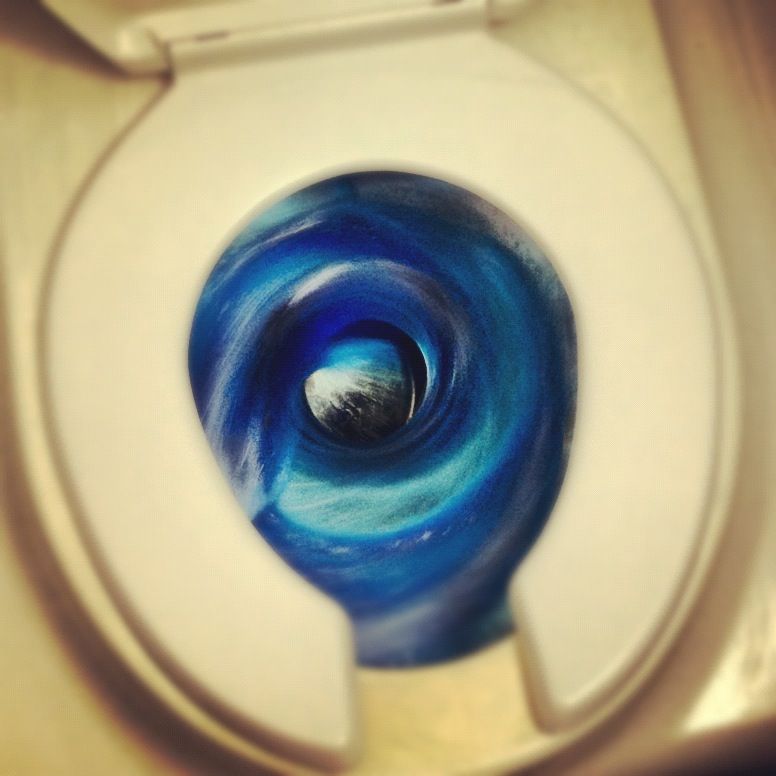 An edited photo of the blue rinse flush on this 757. Using Instagram for the arty feel
Moving Map information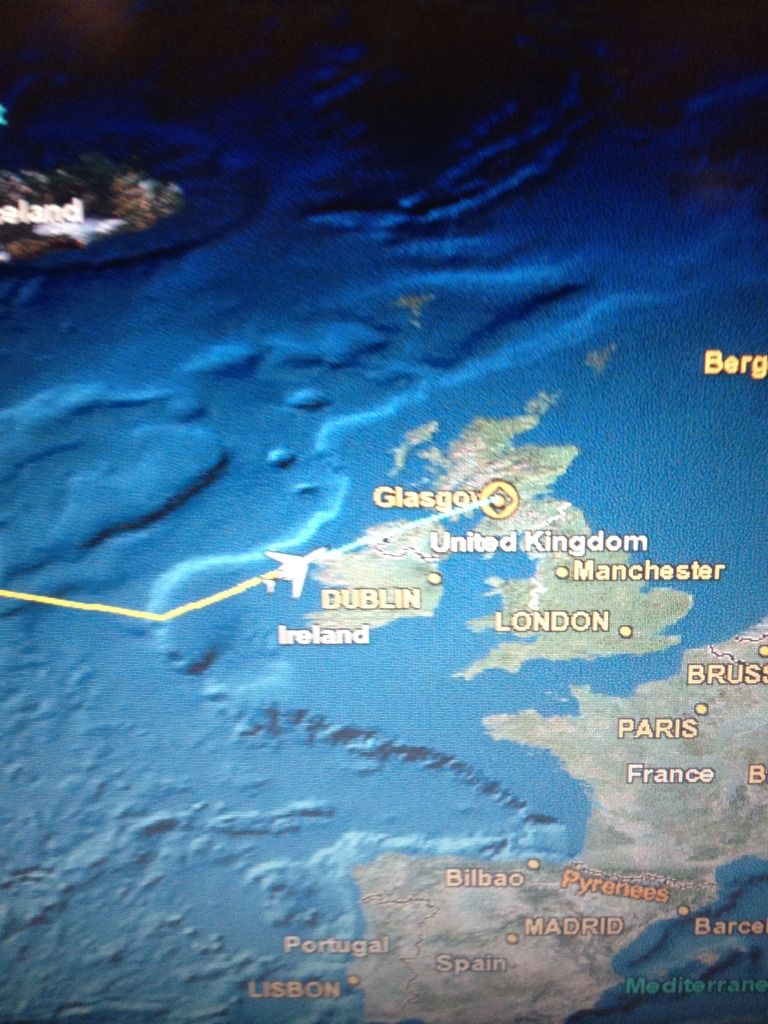 Our peculiar routing
The only proof I have of finally being on a 757 with winglets. Some friends and I had gone on a mission to FAO in August 2010 to get one, but it was subbed for a non winglet version at the last minute
We started the descent around 0640BST, 30 minutes out of Glasgow. The seatbelt signs were switched on at 20 minutes to landing and the captain made a quick PA to describe our arrival in Glasgow. We'd be approaching the airport from the South West and straight into the runway. In my head I knew that was runway 05, which meant a good 10 minutes less in the air and an early arrival. The sun was well and truly up now and we passed over Northern Ireland, then onto Mainland Britian near Ayr, a couple of twists and turns with the speed brakes up in order to lose height and speed were made, and then the flaps started coming out. You could really feel this plane slowing down. That's one of the things I love about the 757, they just want to go! I often think of them as excited puppies; "CAN WE GO YET?!"
Out of the window you could see the green fields of Western Scotland, with clouds scattered round the sky. I always get a little bit patriotic and emotional when I see Scottish soil. I know then that I'm actually home.
The landing gear came down with a bang and we slowed even more. I prepared myself for landing. The ground got closer and closer and the flaps were moved to their outmost position.
At 0710, United 16 soared in over the piano keys and touched down ever so softly. Reversers kicked in and the speed brakes came up and we slowed quite dramatically, despite the wet runway. We exited on the high speed turnoff and some braking action was applied to get us round the next corner onto the taxi way. A very warm welcome to 'Glasgoww International Airport, Scotland' was given from the ISM and we taxiied quickly to our stand on the international pier, and came to quite a sudden stop. The speed brakes - which had been up since being activated on the runway - came down and the engines were shut off. The seatbelt sign was switched off quite quickly. The door was opened and people rushed towards the exit, through door 2L. I bid adieu to the crew and made my way quickly to passport control. I then collected my bags and headed outside for a well overdue cigarette. All in just 20 minutes after touching down. Heathrow could learn a thing or two
From there, I went off to catch the bus to Buchanan St. Bus Station before my onward connection to home in Whitburn. Sadly my mum hadn't been feeling too well and couldn't pick me up. Plus, she deserved a long lie. It was her birthday after all!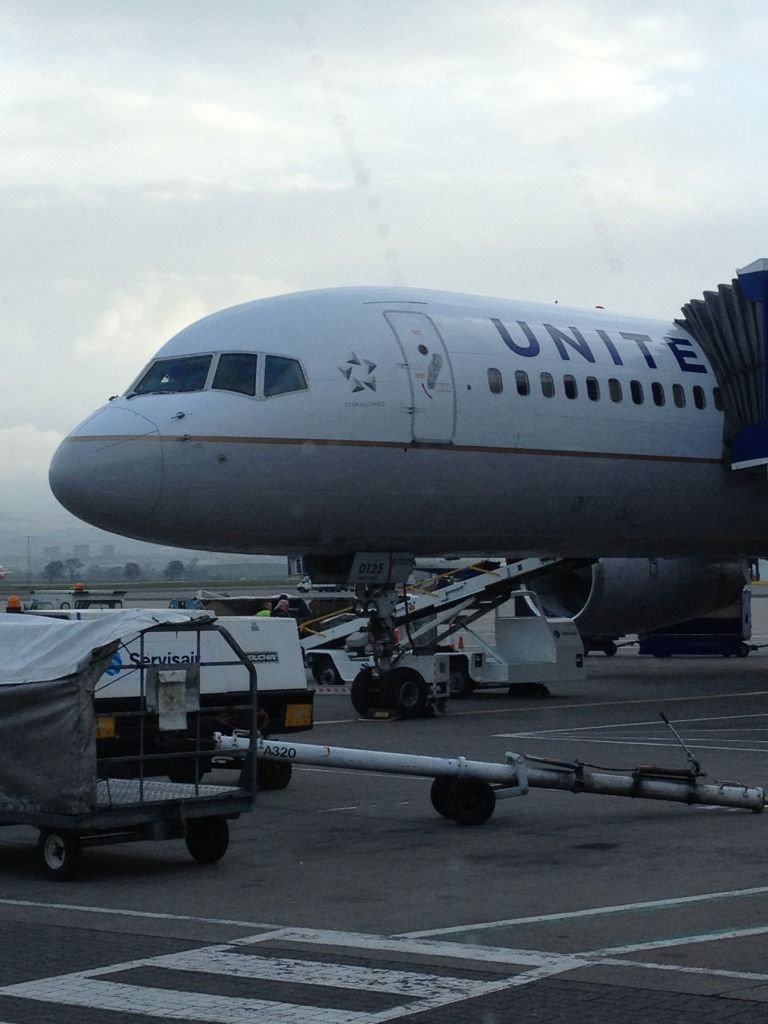 A final look at N12125 - the Boeing 757 is a beauty. My favourite narrowbody aircraft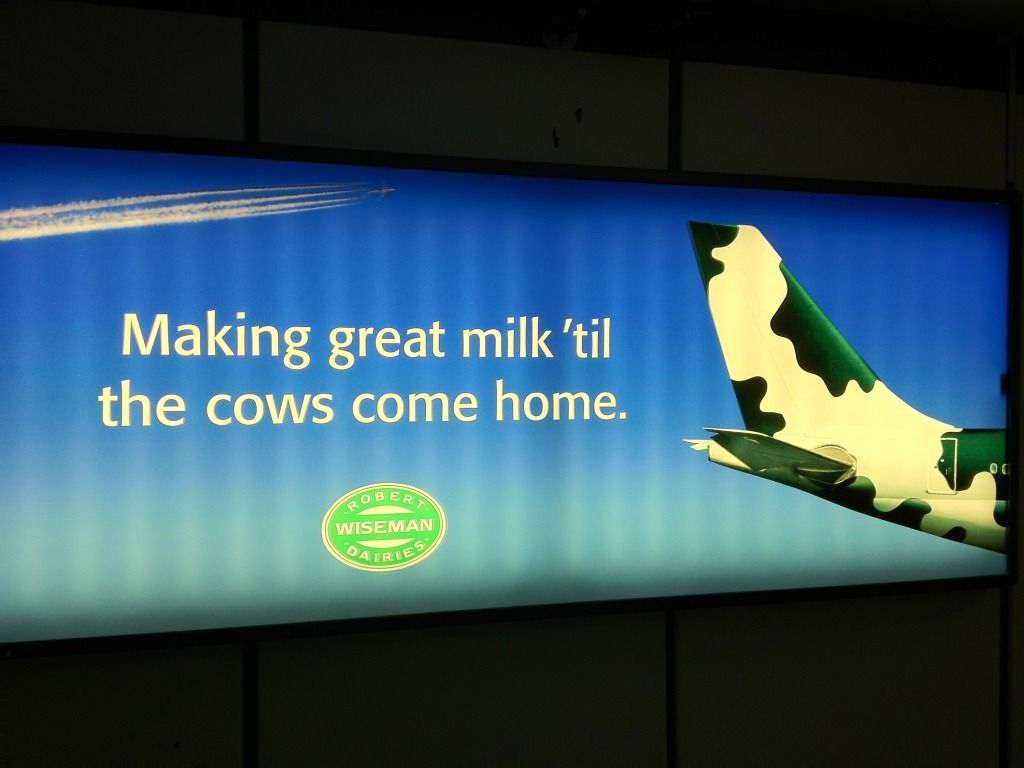 A sign en route to Passport Control - I had taught Pablo this saying in Cabbagetown, Atlanta after saying "I could drink Vodka till the cows come home"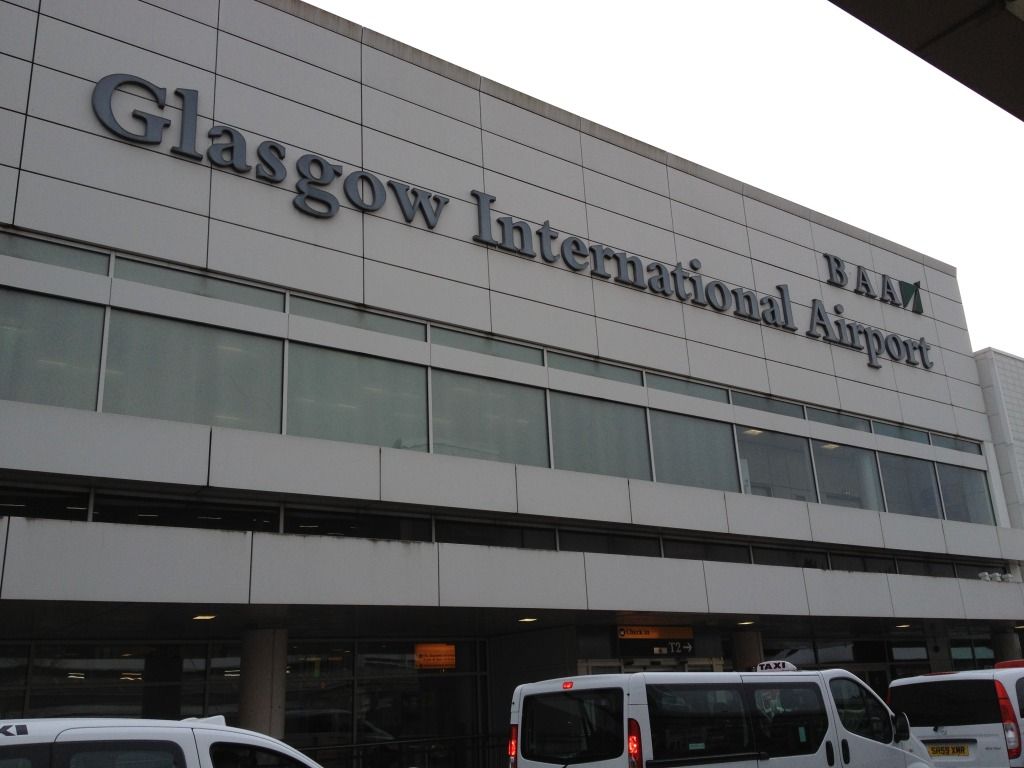 A final look at Glasgow Airport
Well that's all folks. I hope you've enjoyed my trip reports. I certainly have enjoyed writing them, I must do more. I didn't bother writing one about the BA shuttle flight I took back to London a week later cause they're reported on enough and it's not very exciting.
My next one should be KLM AMS-ATL on the MD-11 in August when I go for Southern Decadence in New Orleans!
Stay safe in the skies guys!
JG