A few friends and I recently spent about a week in Myanmar/Burma to see the country that was on the cusp of a major (hopefully beneficial) transition as the pariah government began to open up to the world. This included several flights around the country on Yangon Airways, flying Yangon-Nyaung U (Bagan)-Mandalay and reverse. I didn't know what to expect on a domestic flight in Burma, other than some sort of ATR--it appears all of the local carriers operate almost entirely ATR fleets. Safety also seems to be a major theme, and not in a comforting way--more of an overcompensation for carriers with spotty records. Yangon Airways shut down for about a year under strange circumstances, possibly due to drug trafficking, but now their motto is "You're safe with us!". Air Mandalay's slogan is "Safety, reliability, and comfort". Another one's slogan was something like 'safety, comfort, image'. You're telling me or you're telling yourself?
Thanks to the jetlag from arriving in RGN from the states, the early start was no problem, and checkin was almost instantaneous, followed by a trip through security that was probably there more for show than anything. Air Bagan happened to have a lounge in the waiting area:
Boarding was called and we all mounted a bus to the ramp.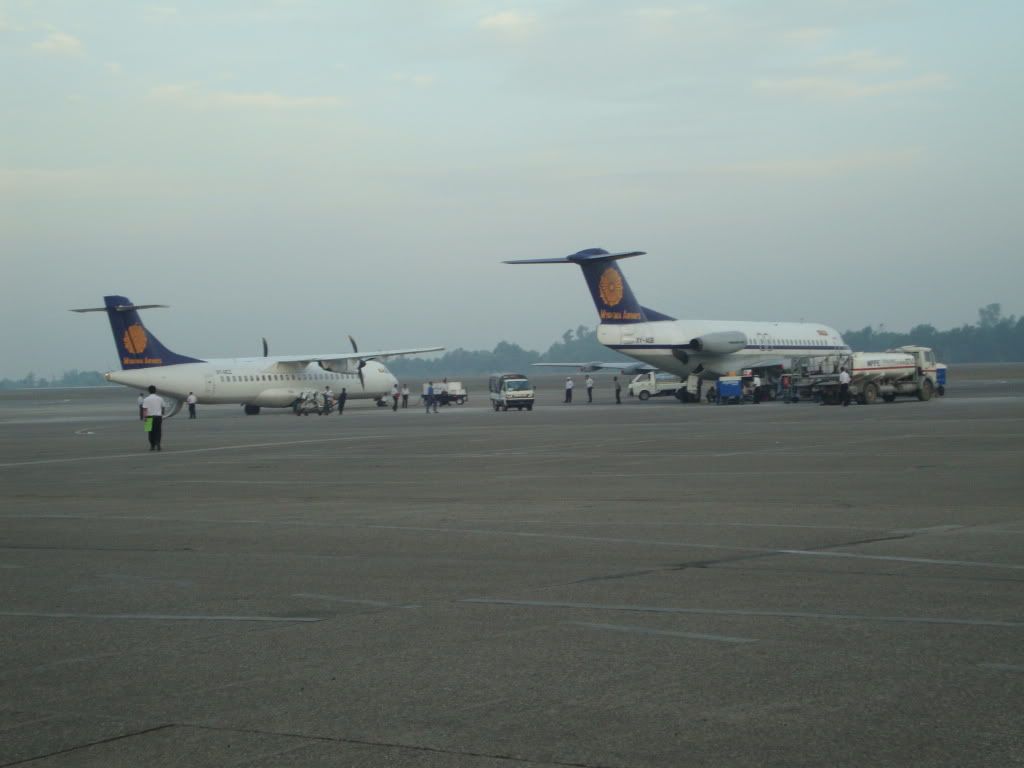 Where we found one half of the Yangon Airways fleet, which I believe was the aircraft that took us on all 3 legs.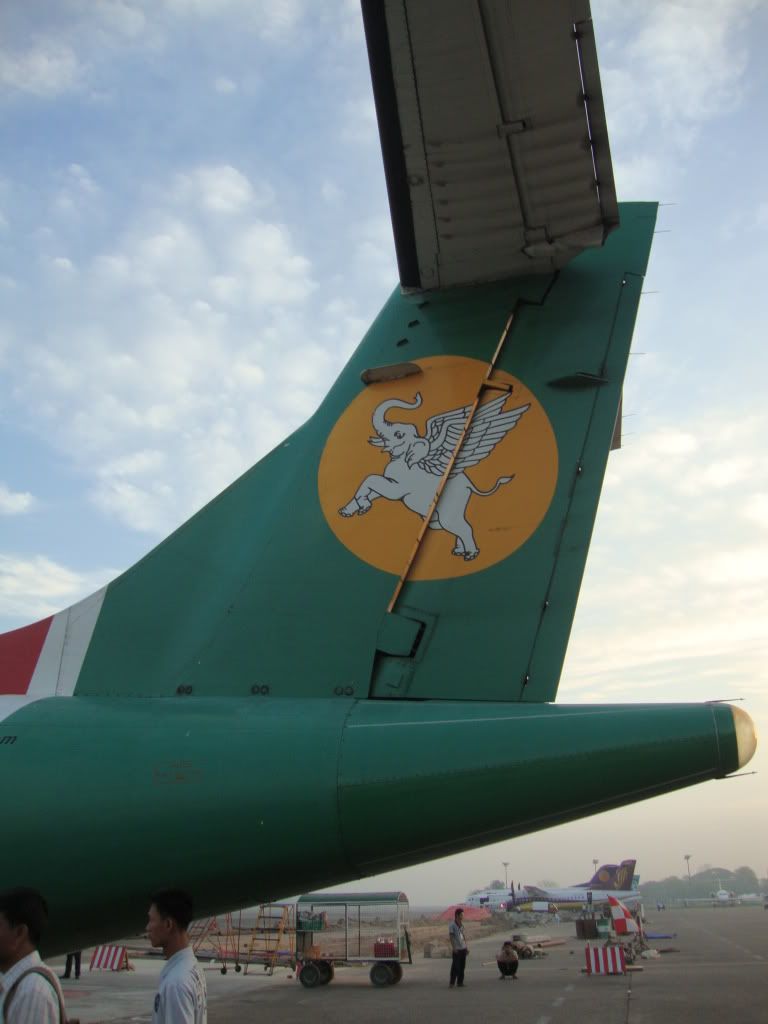 More ATRs...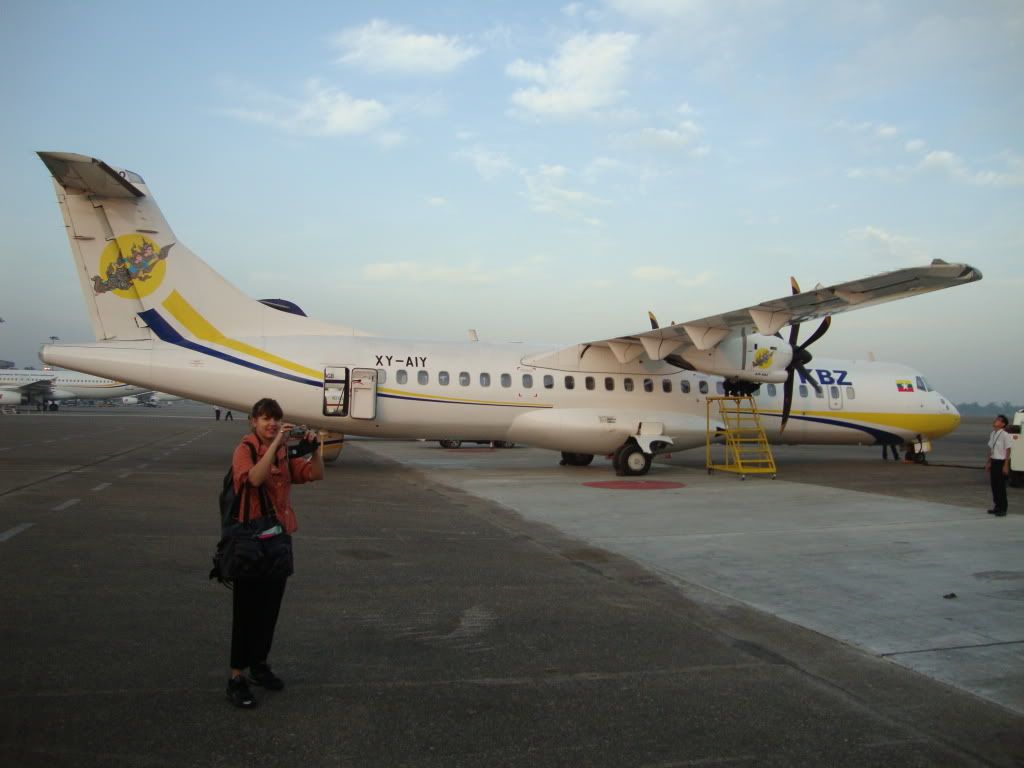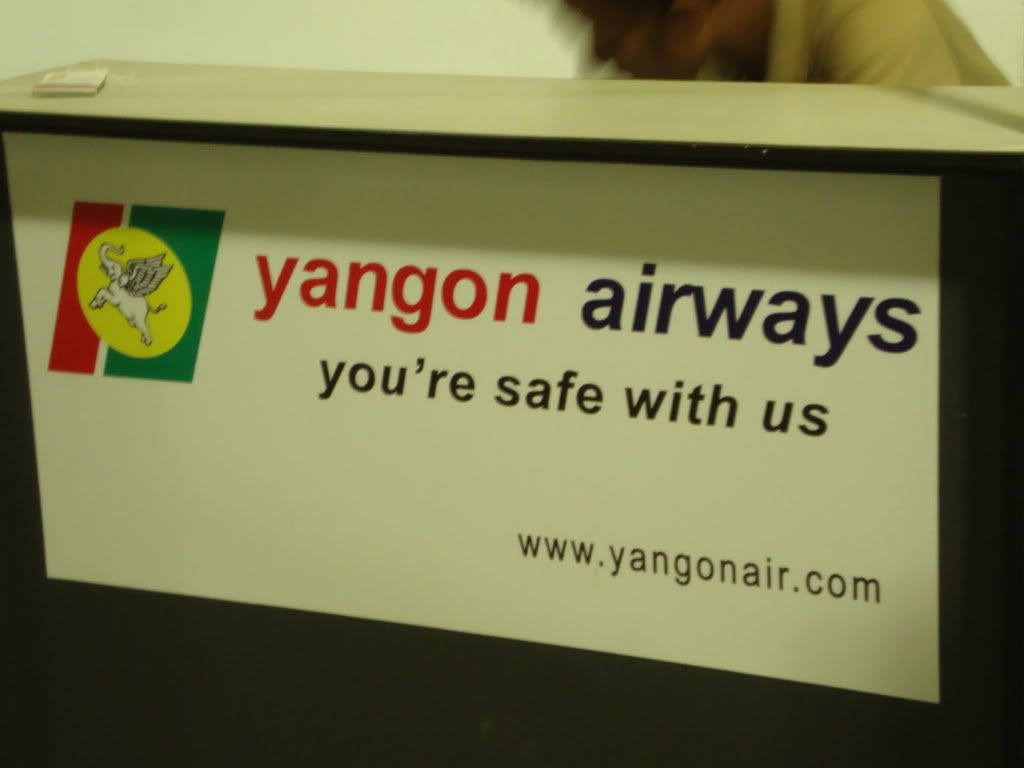 See? Safe! Once onboard--this was the only flight of the three with assigned seats--we settled in. Yangon Airways is already advertising on tray tables: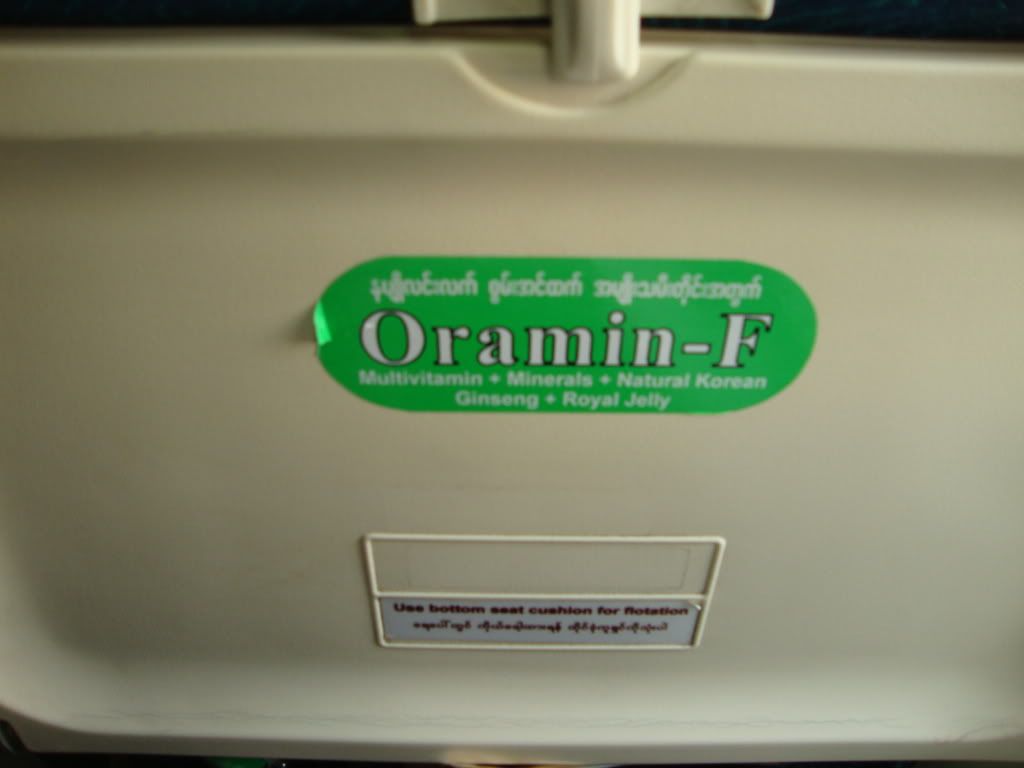 Soon after takeoff the flight attendants kicked into gear and doled out an impressive number of drink/food services on an hour long flight. There were at least two beverage services, one snack box, lots of coffee/tea refills, and a candy trip down the aisle. One hour. The snack box: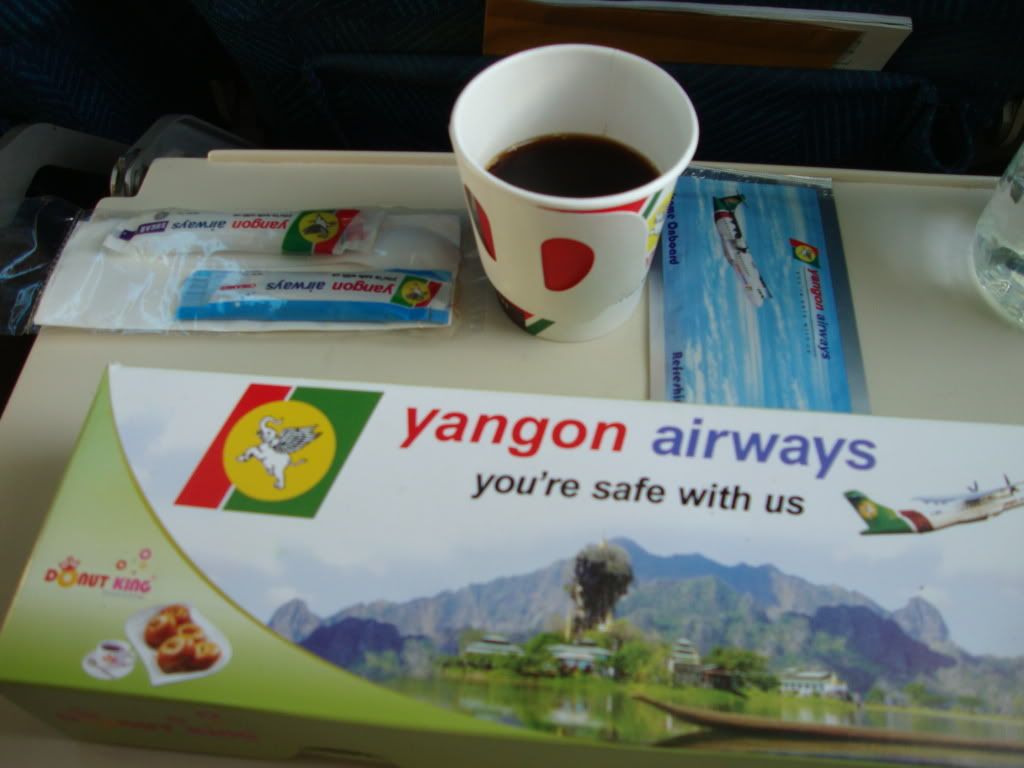 Loads of carbs--I think most people could have done with half the selection. It was almost silly how many pastries were in the box: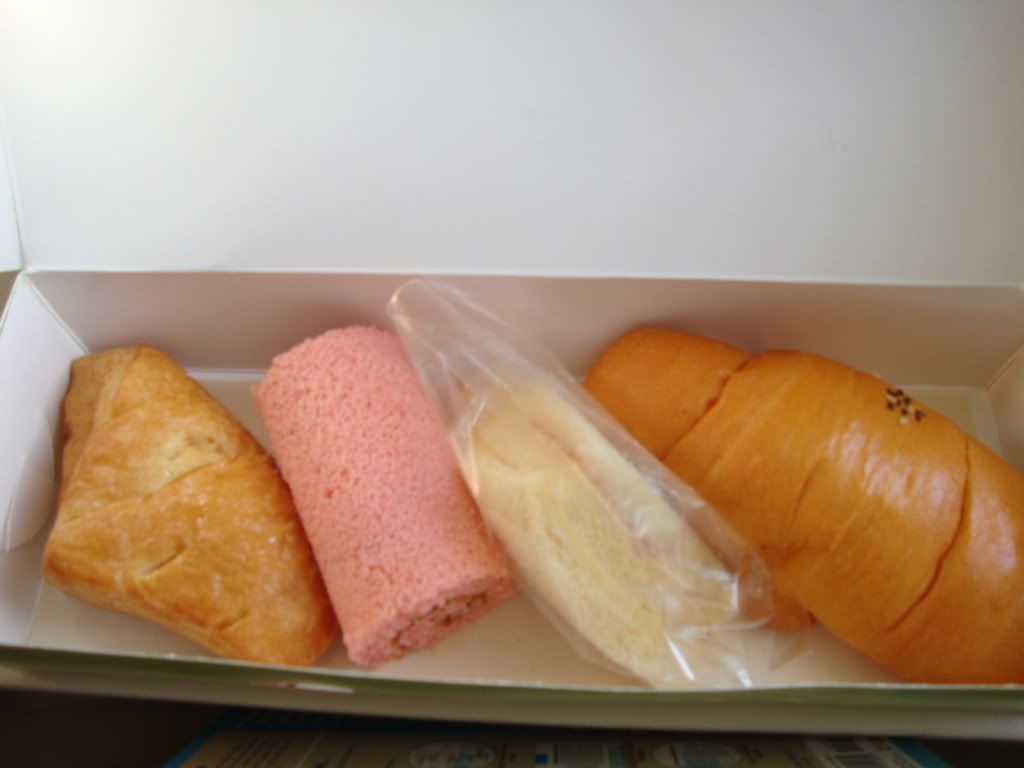 The lav: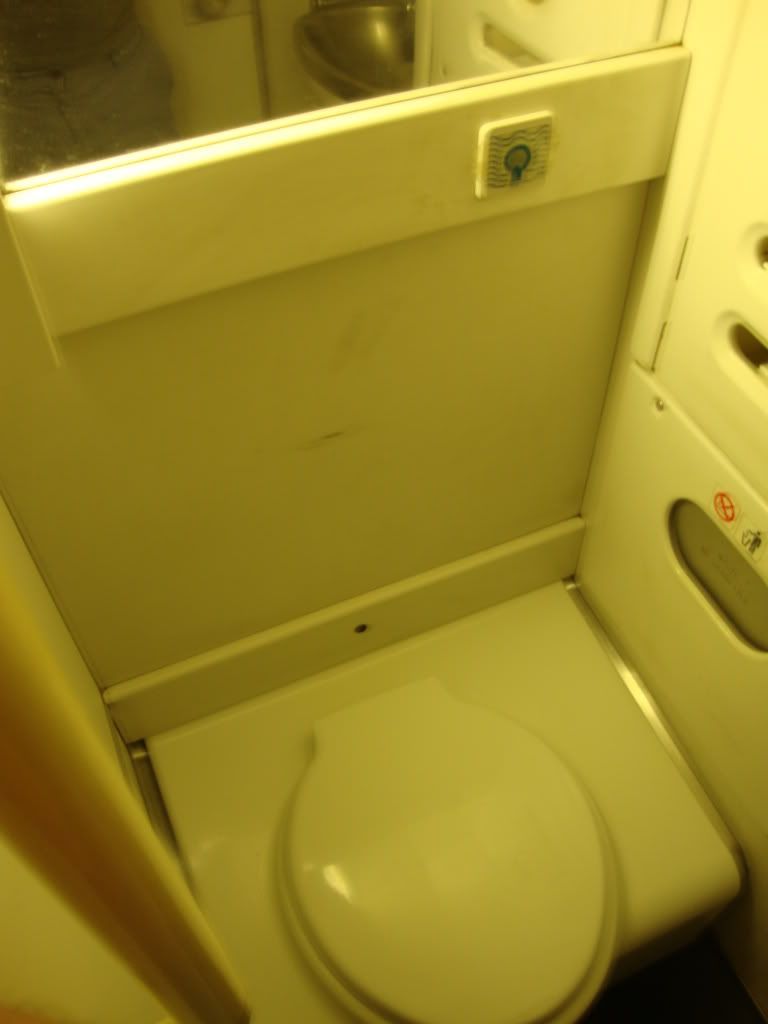 One short hour we were on the ground in Nyaung U, or the airport that serves Bagan. Scenes from the ramp: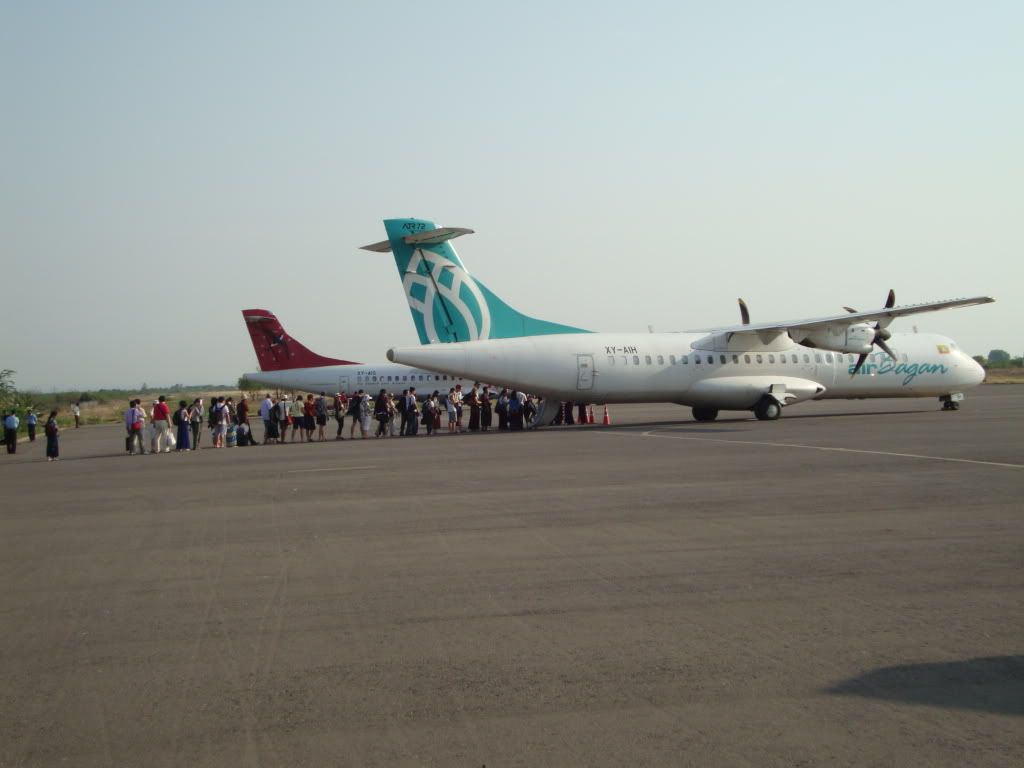 After a day and a half in Bagan--which is incredible--we flew onward to Mandalay, a 25 minute flight. No photos of this leg since we'd do the reverse in a couple days returning from Mandalay, which has to be the definition of white elephant airports. Huge runway, multiple jetways including several 2-door jetways: tumbleweeds. Fancy looking on the outside though: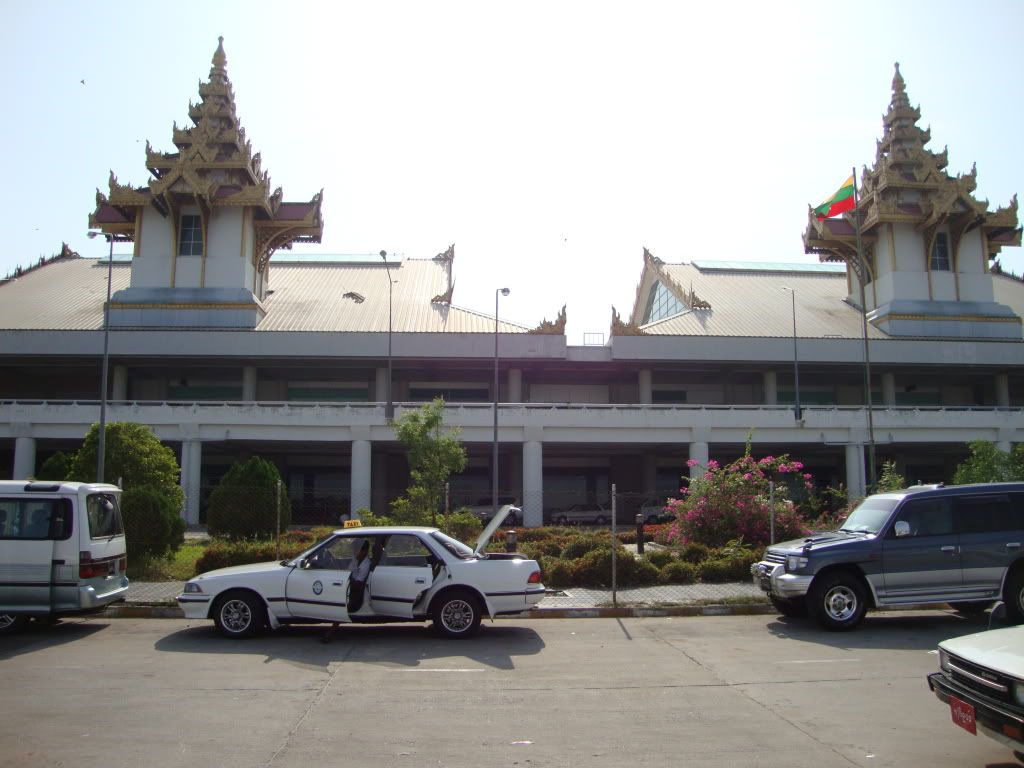 Busy checkin hall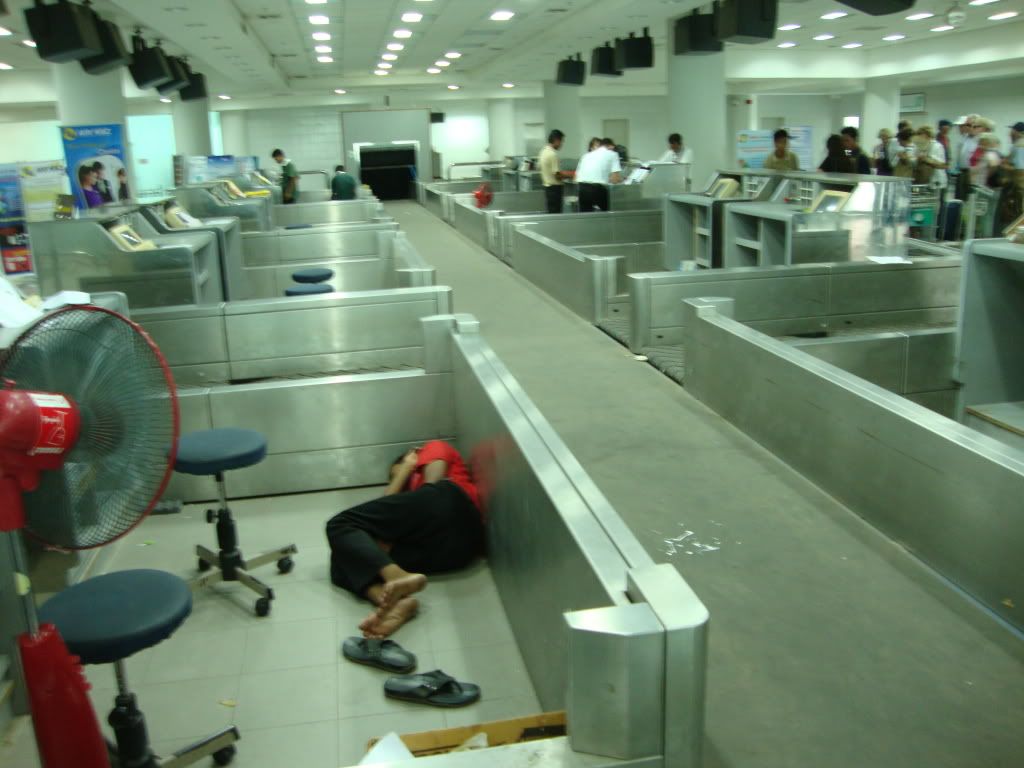 You can fly anywhere you want from Mandalay, as long as it's Yangon: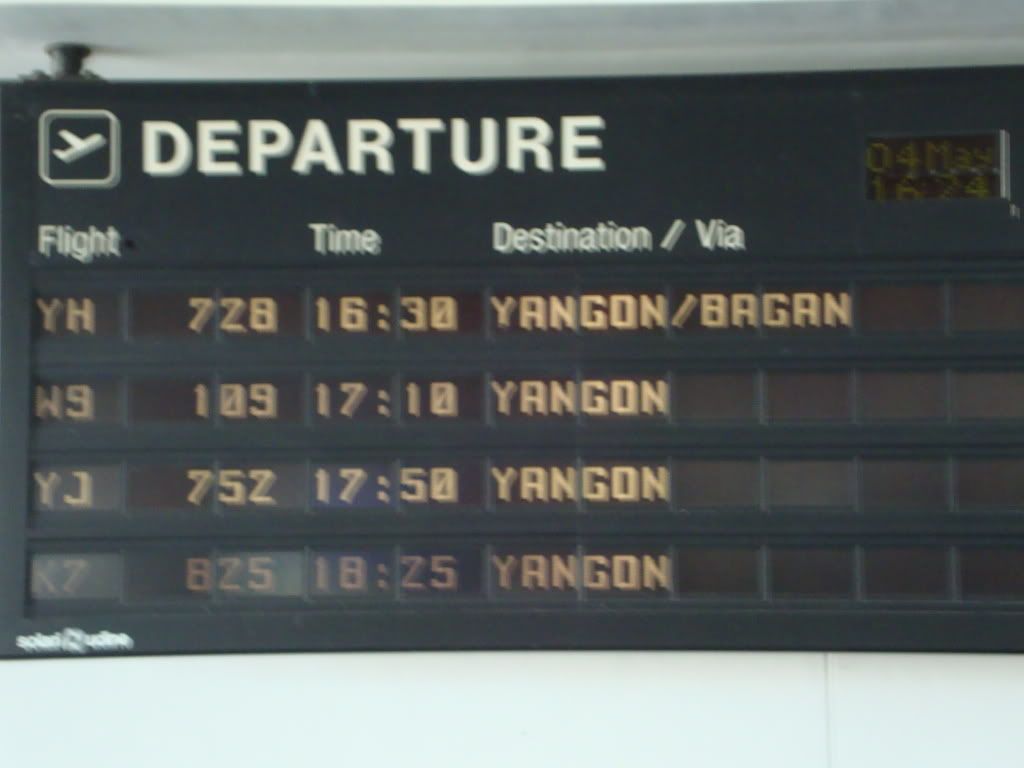 If you build it, they will come. Or not. See also IND.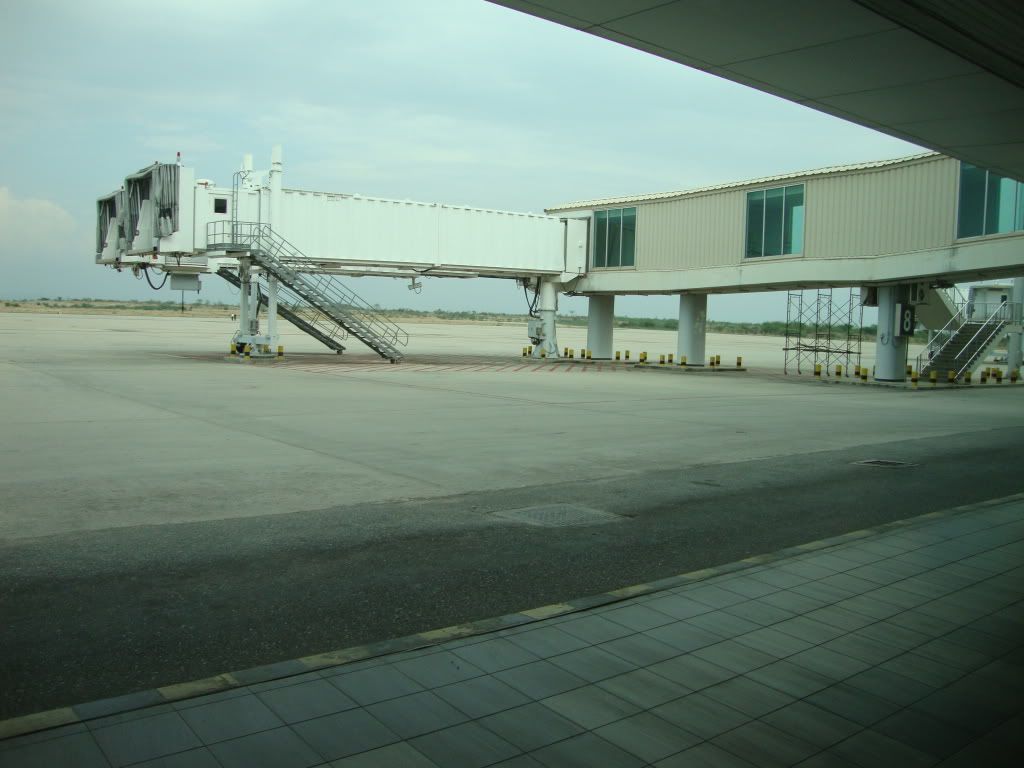 Look at all this activity!
The place is comically ridiculous. Once again we loaded the bus for our flight again on -AIN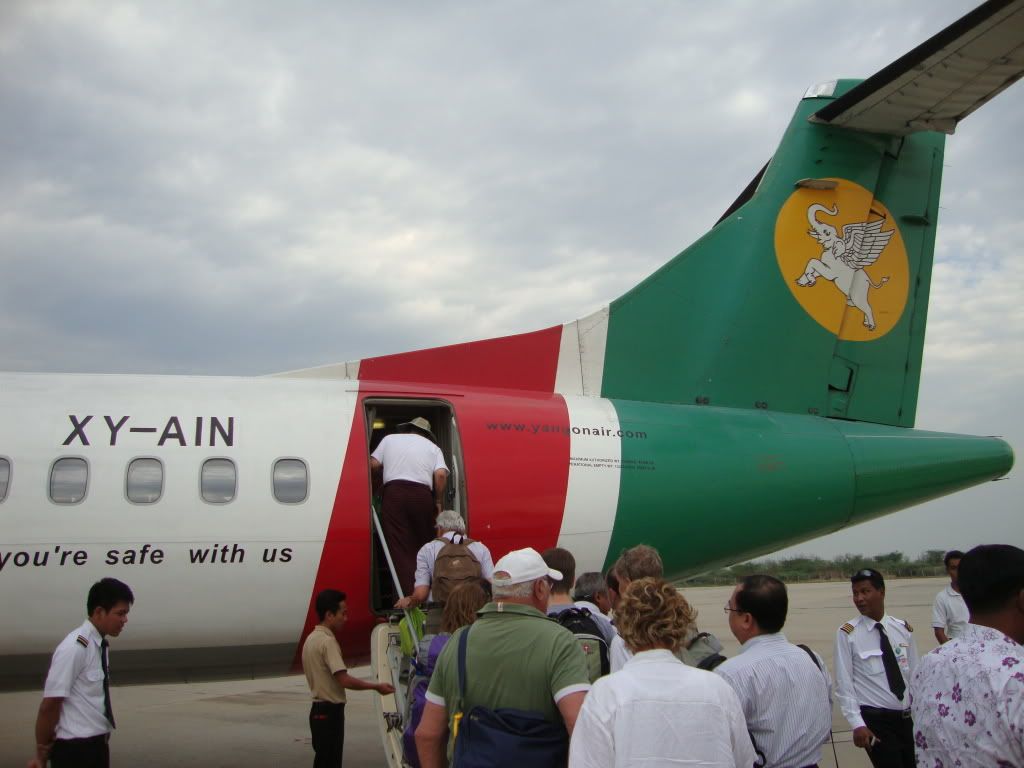 ...for the short 25 minute hop to NYU. There was an abbreviated service of coke/water/juice.
The inflight magazine
Descent into NYU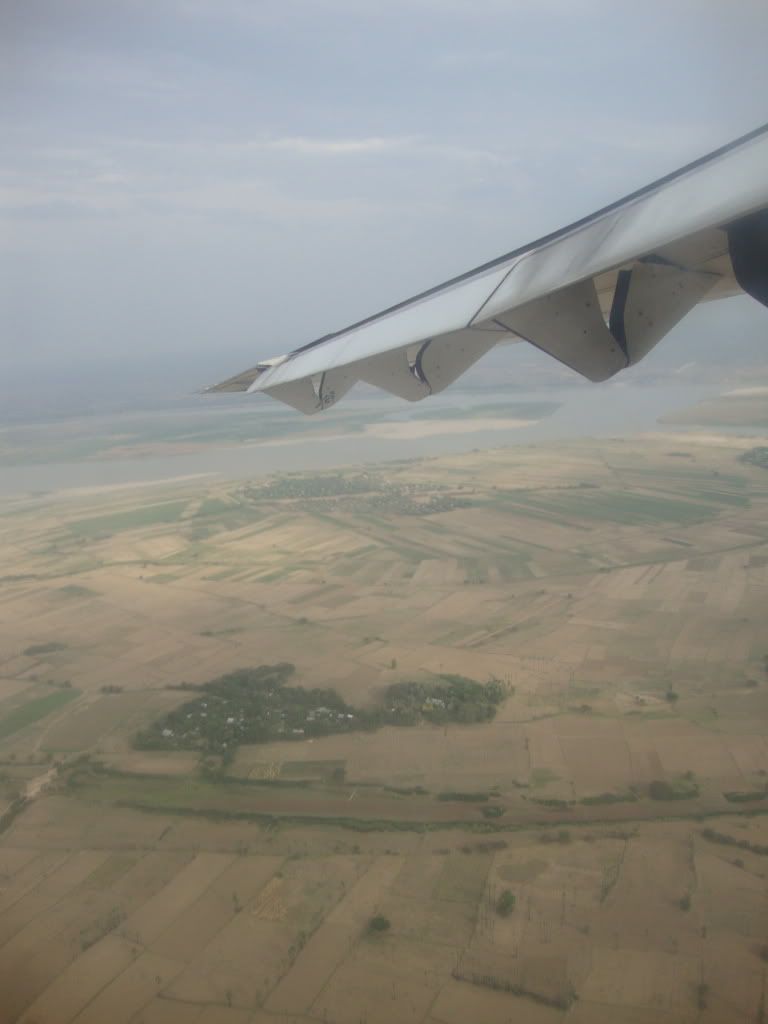 After about 10 minutes on the ground in NYU we blasted off again, and I think the pilot on purpose circled around low over the river so that at least half the plane could get a good long look at the stunning plain dotted with temples surrounding Bagan: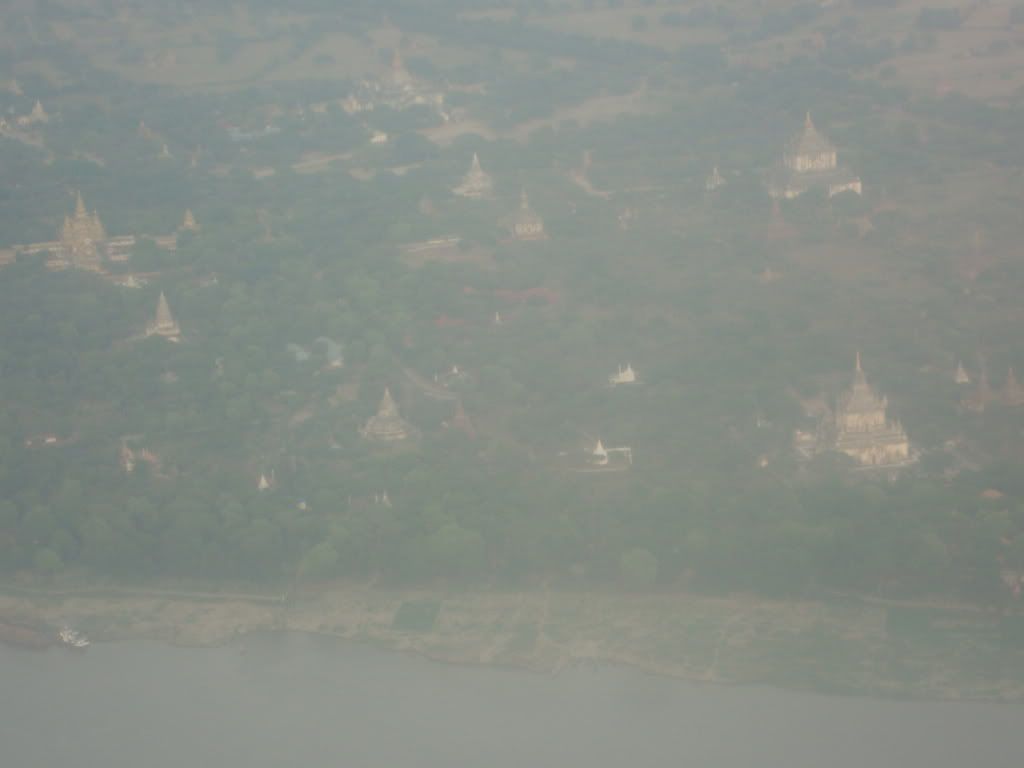 Once again the box o'carbs, multiple drink services, and so on.
We descended into Yangon amid lightning storms, the plane never managing to get much cooler than stifling, even after an hour at altitude. The turbulence was pretty choppy, including the occasional drop that elicited a collective gasp up and down the aisle.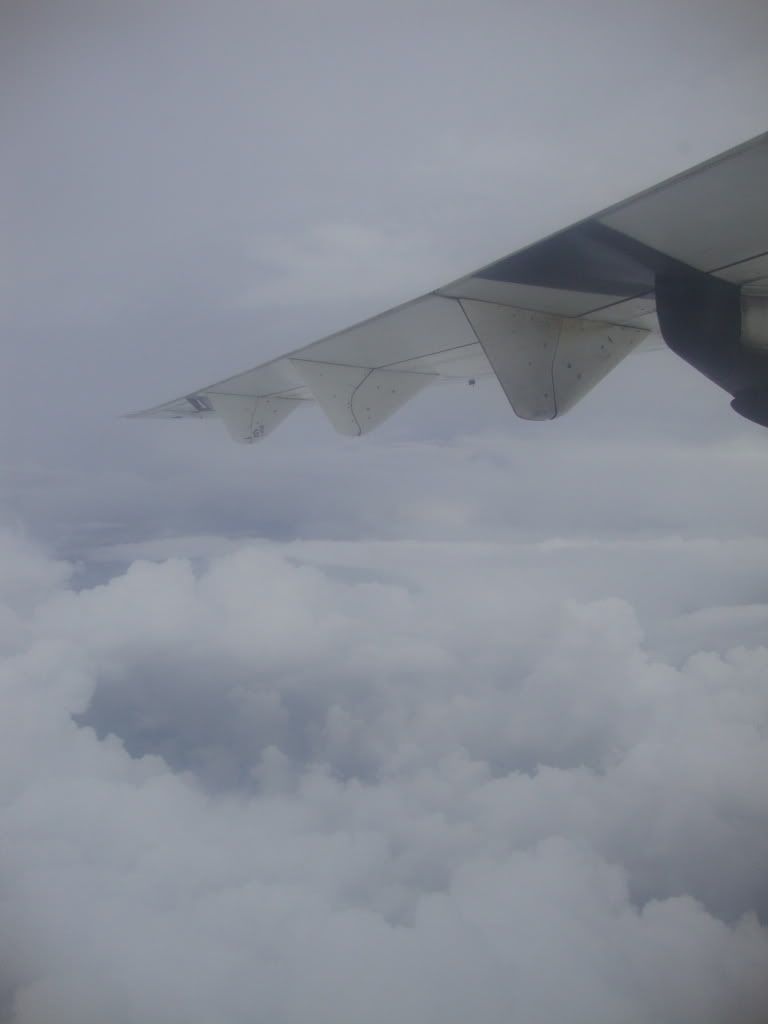 Not gonna lie, the thought of a Burmese ATR + cumulonimbus clouds + a carrier that was shut down for a year + oppressive cabin climate + the constant overcompensating reassurance that YOU'RE SAFE WITH US did not instill a lot of confidence. The following day I'd witness a firey ball of static discharge explode outside my window of a 744 climbing out of a stormy NRT, and that didn't even phase me by comparison. But I was relieved to set foot on the ground again back in Yangon, after a great week in Myanmar.