Part 10: Thai Airways Kathmandu-Bangkok Business Class, B772
Welcome to the tenth part of my spring trip to Asia!
The entire map:
Previous flights in this series:
easyJet London Luton-Barcelona (LTN-BCN)
Singapore Airlines Barcelona-Singapore (BCN-SIN), Business Class on the 77W
Valuair/Jetstar Asia Singapore-Medan
Garuda Indonesia Medan-Banda Aceh
Sriwijiaya Airlines B734 Banda Aceh-Medan-Jakarta with a fuel "expulsion"
Lion Air Boeing 737-900ER Jakarta-Singapore
Singapore Airlines A330 Business Class Singapore-Calcutta
SpiceJet B739 Calcutta-Bagdogra
Jet Konnect B738 Bagdogra-Calcutta
Biman Bangladesh DC10 Calcutta-Dhaka
United Airways ATR Dhaka-Cox's Bazar
Regent Airways Dash Chittagong-Dhaka
Biman Bangladesh A310 Dhaka-Kathmandu
Yeti Airlines "Everest Express" on the J41
Flights to come:
Thai Airways Bangkok-Frankfurt (BKK-FRA)
Lufthansa Frankfurt-Dusseldorf (FRA-DUS)
Sun-Air (British Airways) Dusseldorf-Billund (DUS-BLL)
Sun-Air (British Airways) Billund-Manchester (BLL-MAN)
British Airways Manchester-London Heathrow (MAN-LHR)
Once I got back to my hotel room after the wonderful
Everest Express
flight, I still had a full day and a half in Kathmandu. By another twist of fate, my Darjeeling friend (who introduced me to my Kathmandu tour guide) was in town (again, I had no idea, and he wasn't sure of my dates either). Excellent! The three of us met up, and hopped in a cab to head out to a village in the valley, via central Kathmandu.
Some views along the way: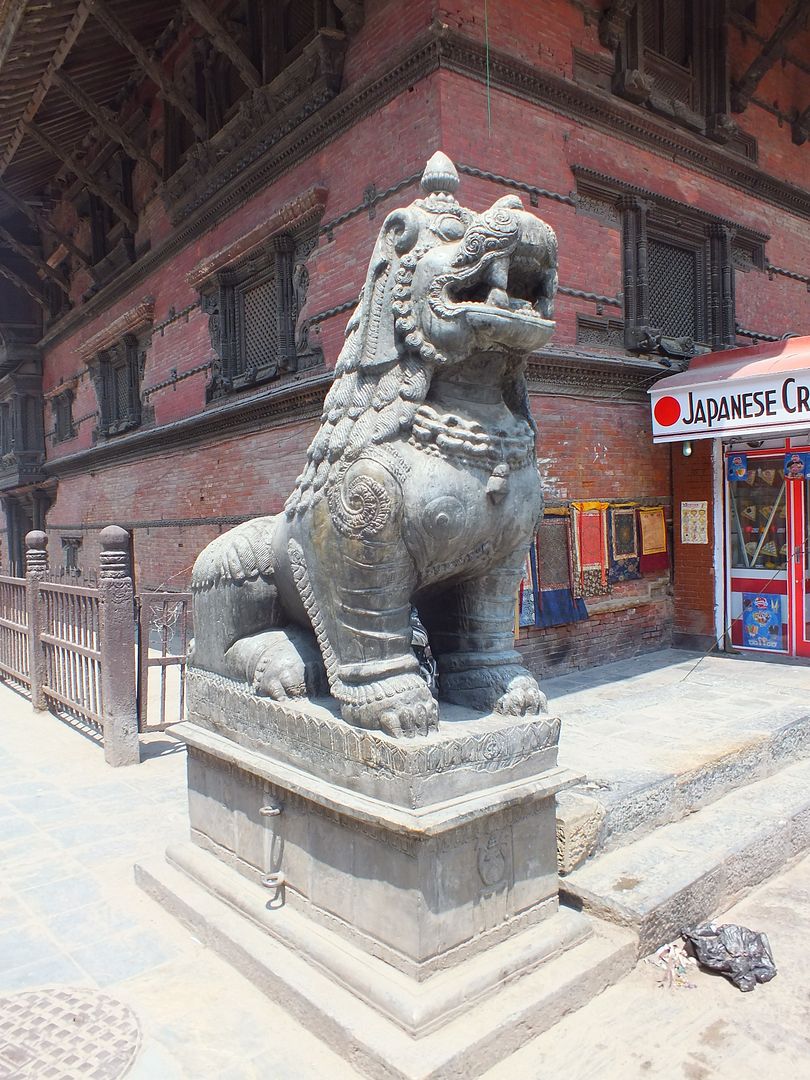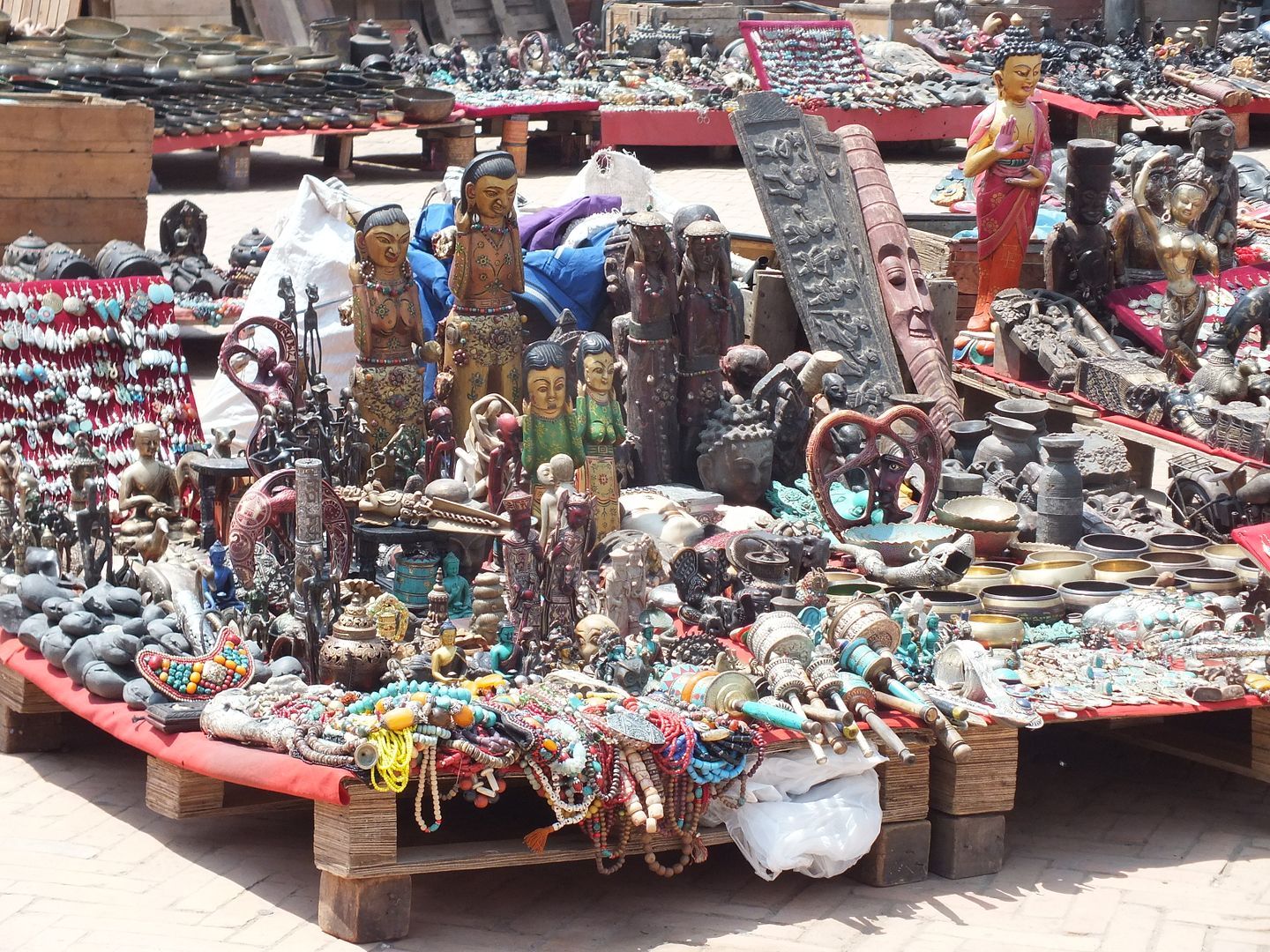 The following few were taken in central Kathmandu – there are some really beautiful squares, but you have to pay to even be there, despite the fact that there are no barriers of ticket booths. People just walk up to you demanding money, with a book of tickets. Imagine being charged to walk across Trafalgar, Times or Tiananmen Squares!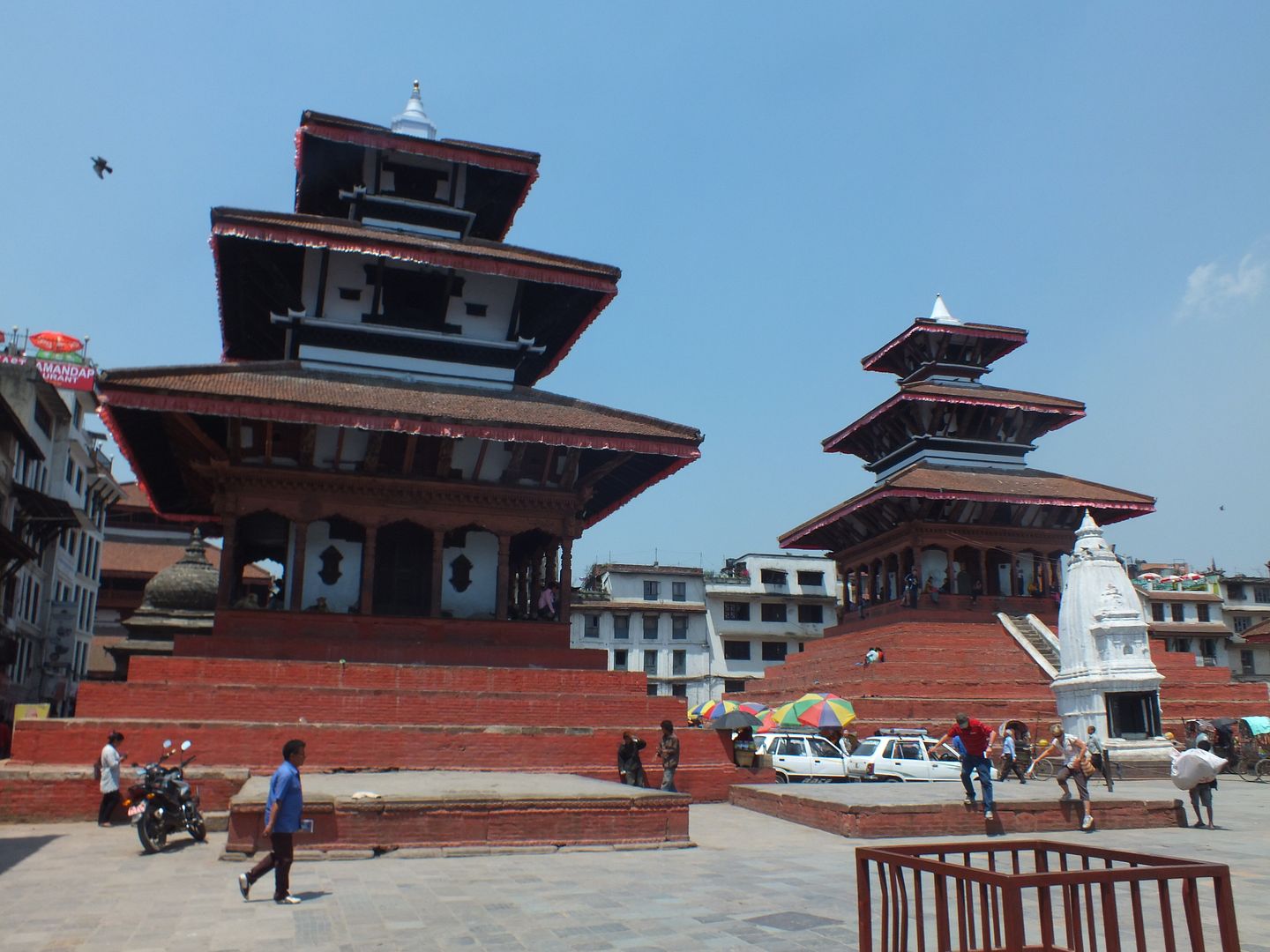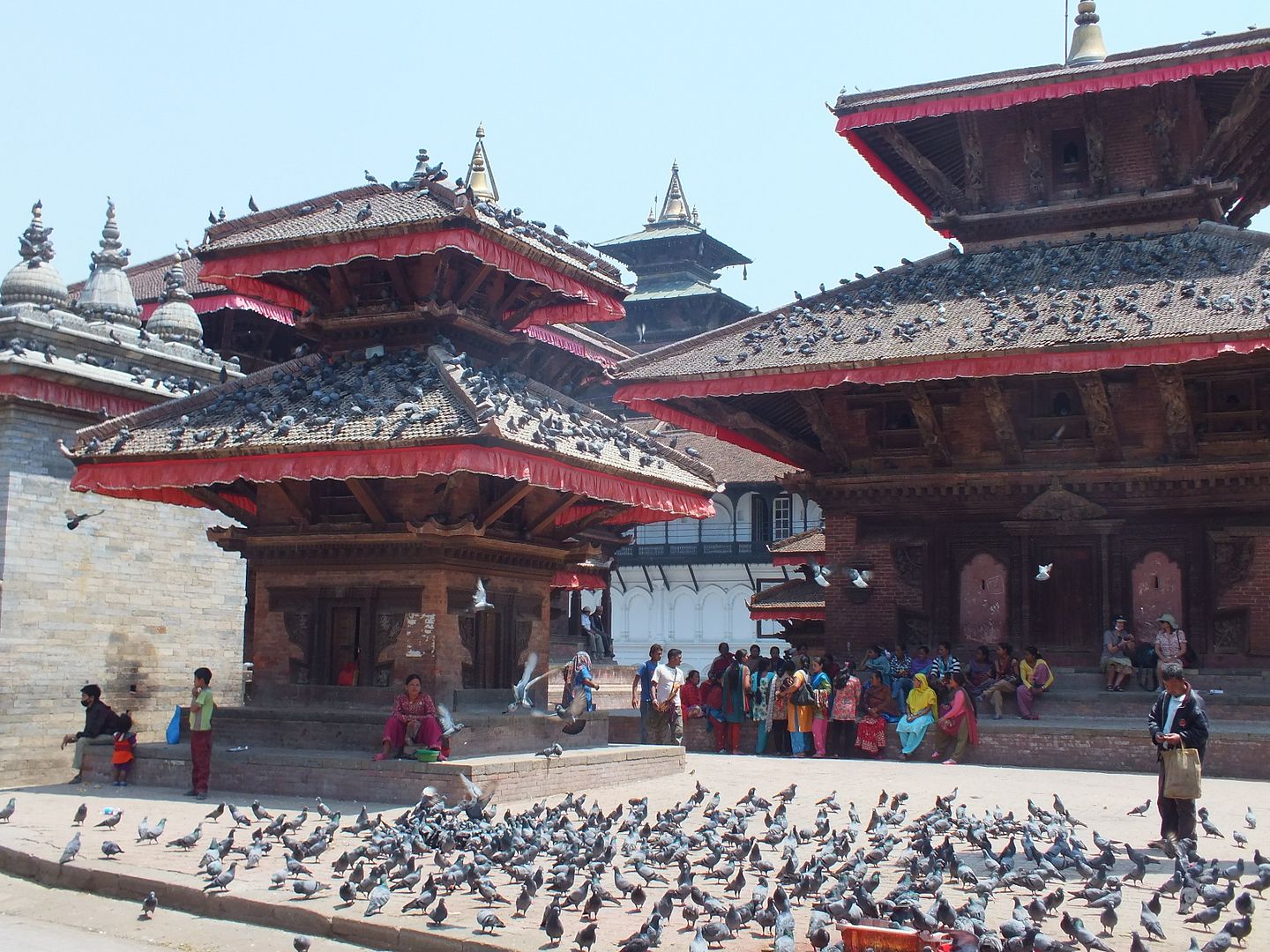 Interesting aviation ads…. Some people just love to play with Photoshop!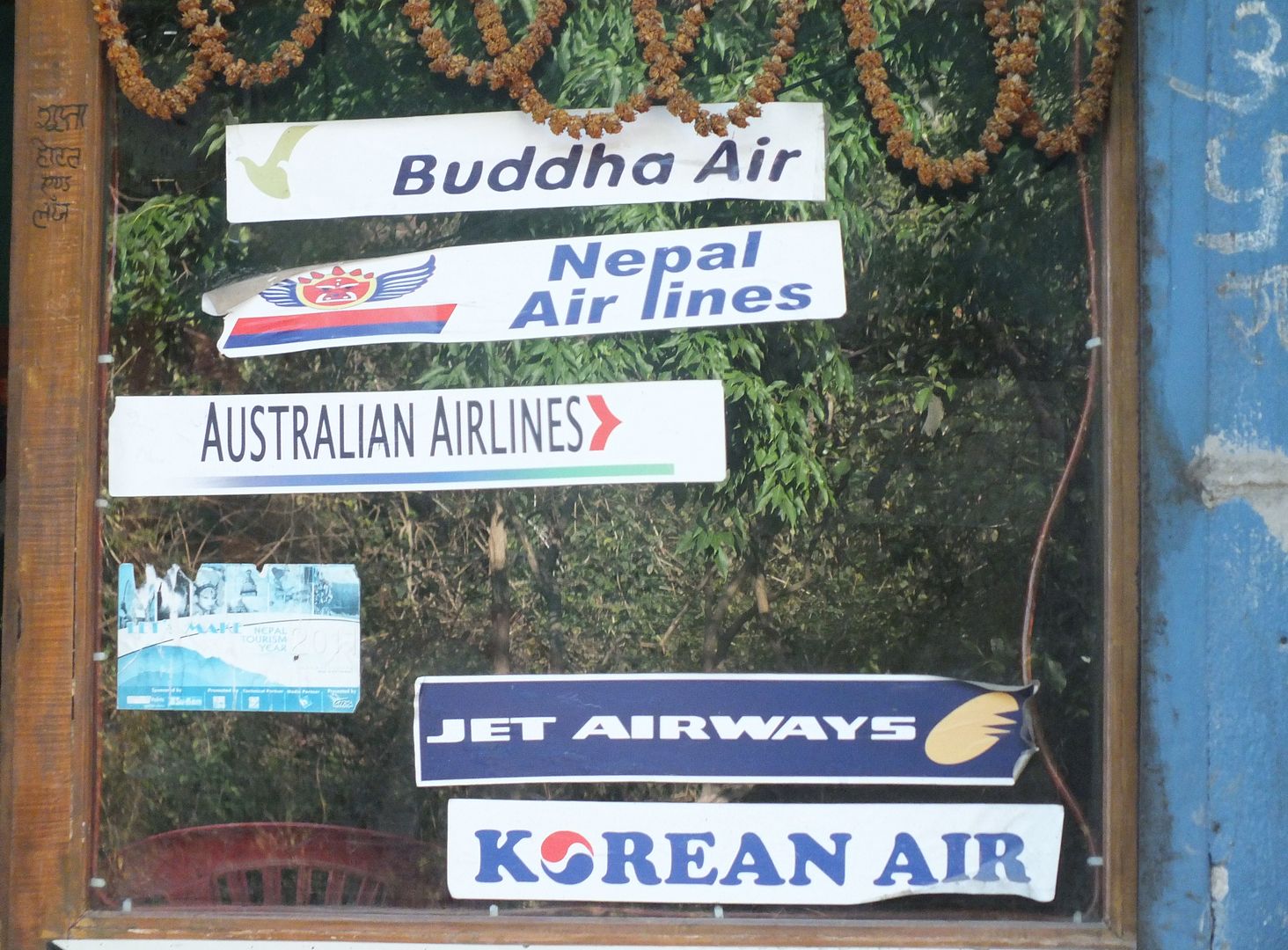 Once out in the country, we ended up in a beautifully situated restaurant, where they served up some VERY local food.
This is some local moonshine, and boy was it strong
Fried bone marrow anyone?
Nepali pizza
Spicy momos (Tibetan dumplings)
After dinner mints, subcontinent style.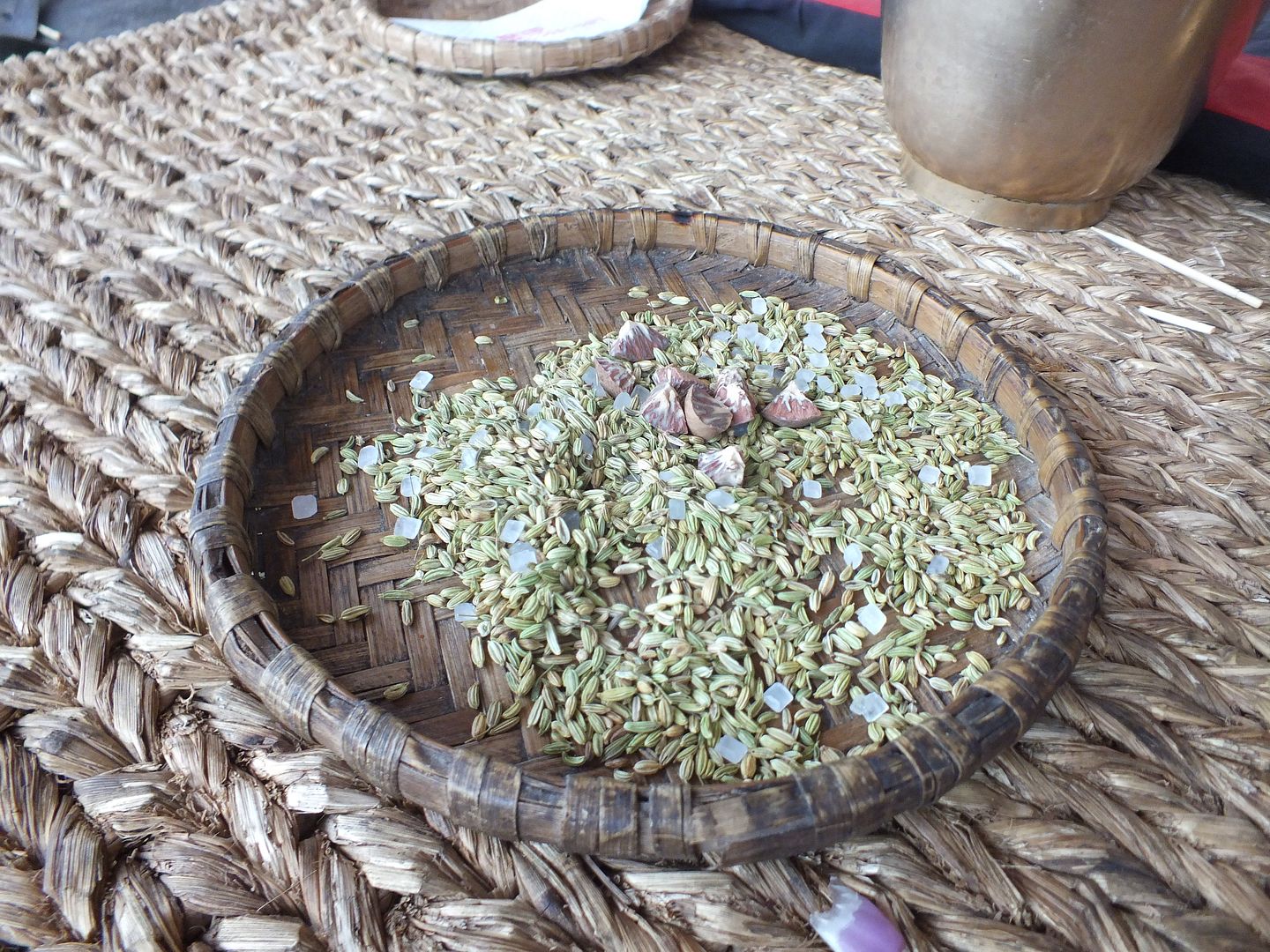 The views were pretty good too. We were under the flight path for KTM, but thanks to the moonshine, I only managed one semi-ok photo. I did see the TG flight for BKK, but didn't get a photo.
The pretty little town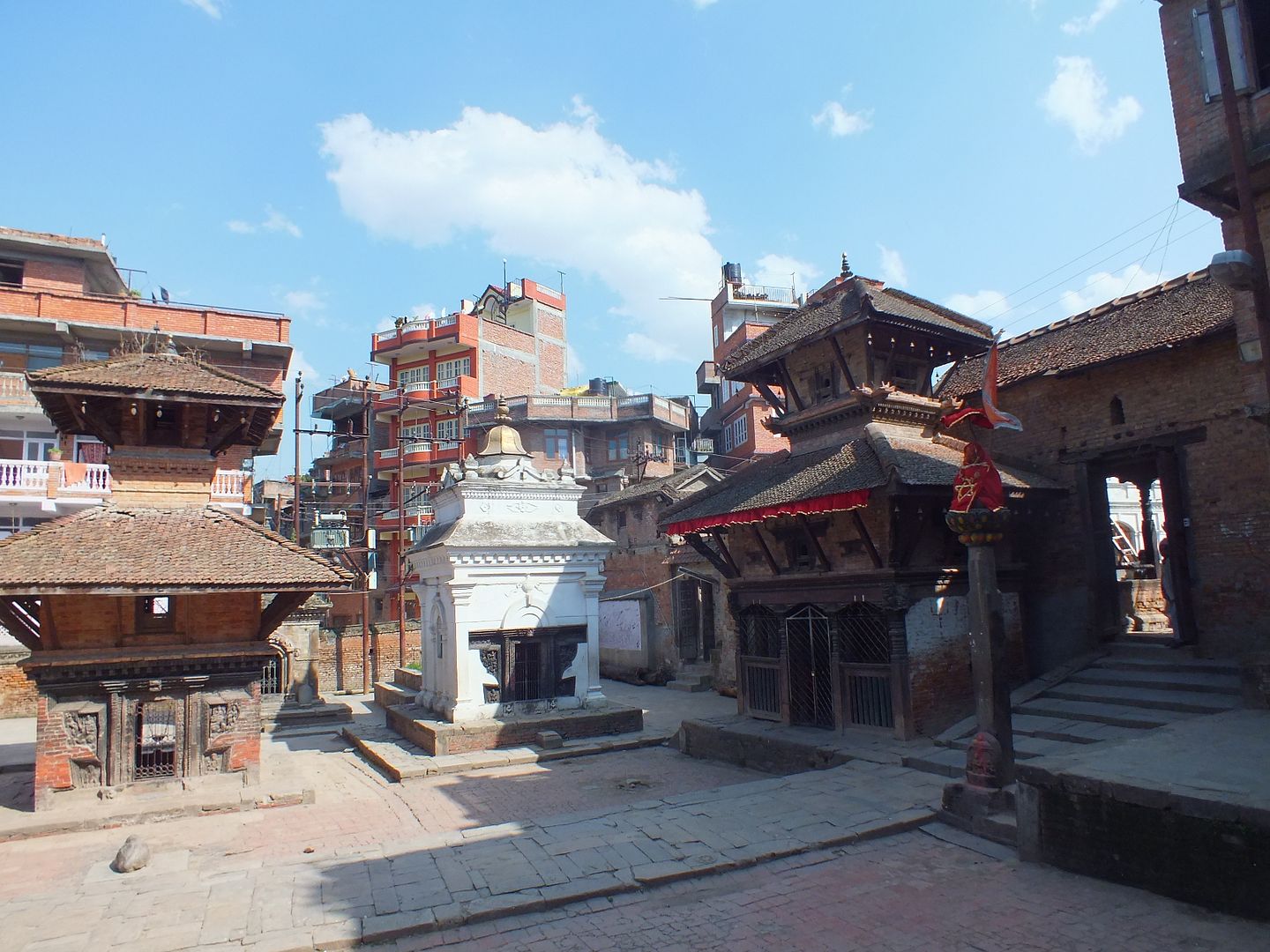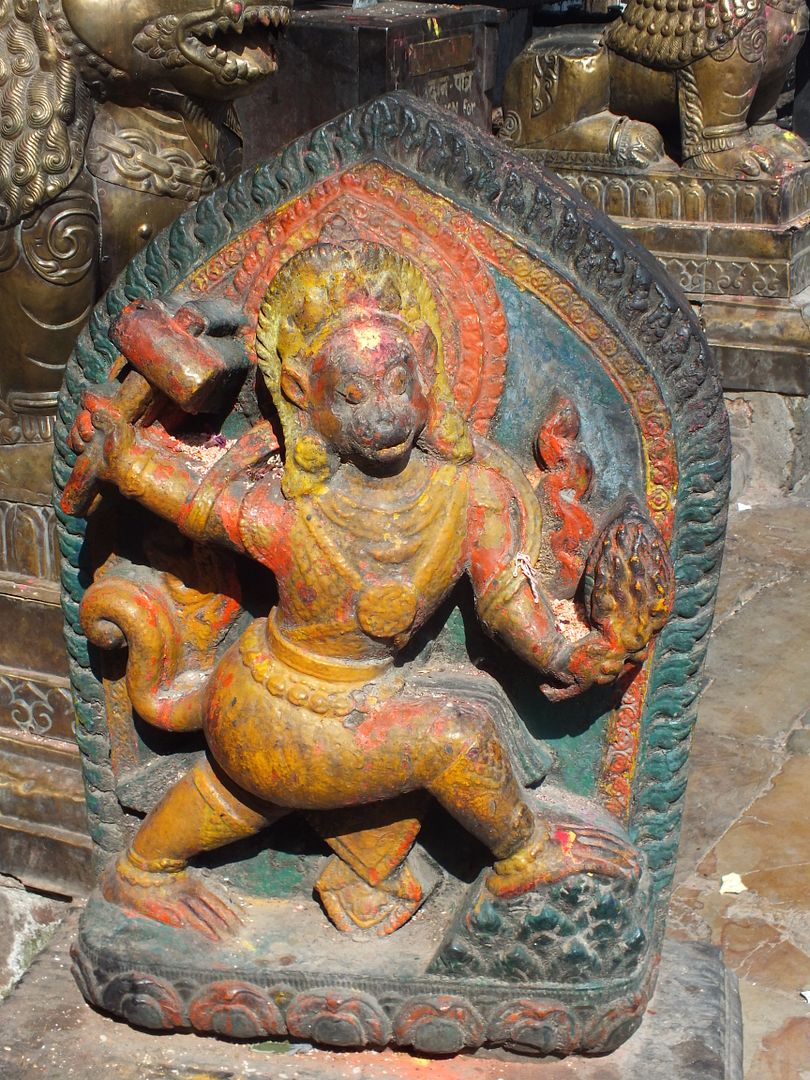 Next stop was the Pashupatinath Temple, the largest/most important Hindu temple in the country. It was very interesting to look around, I must say. It helped having some guides too to point things out. People are cremated here, then their burning embers swept into the filthy sacred river.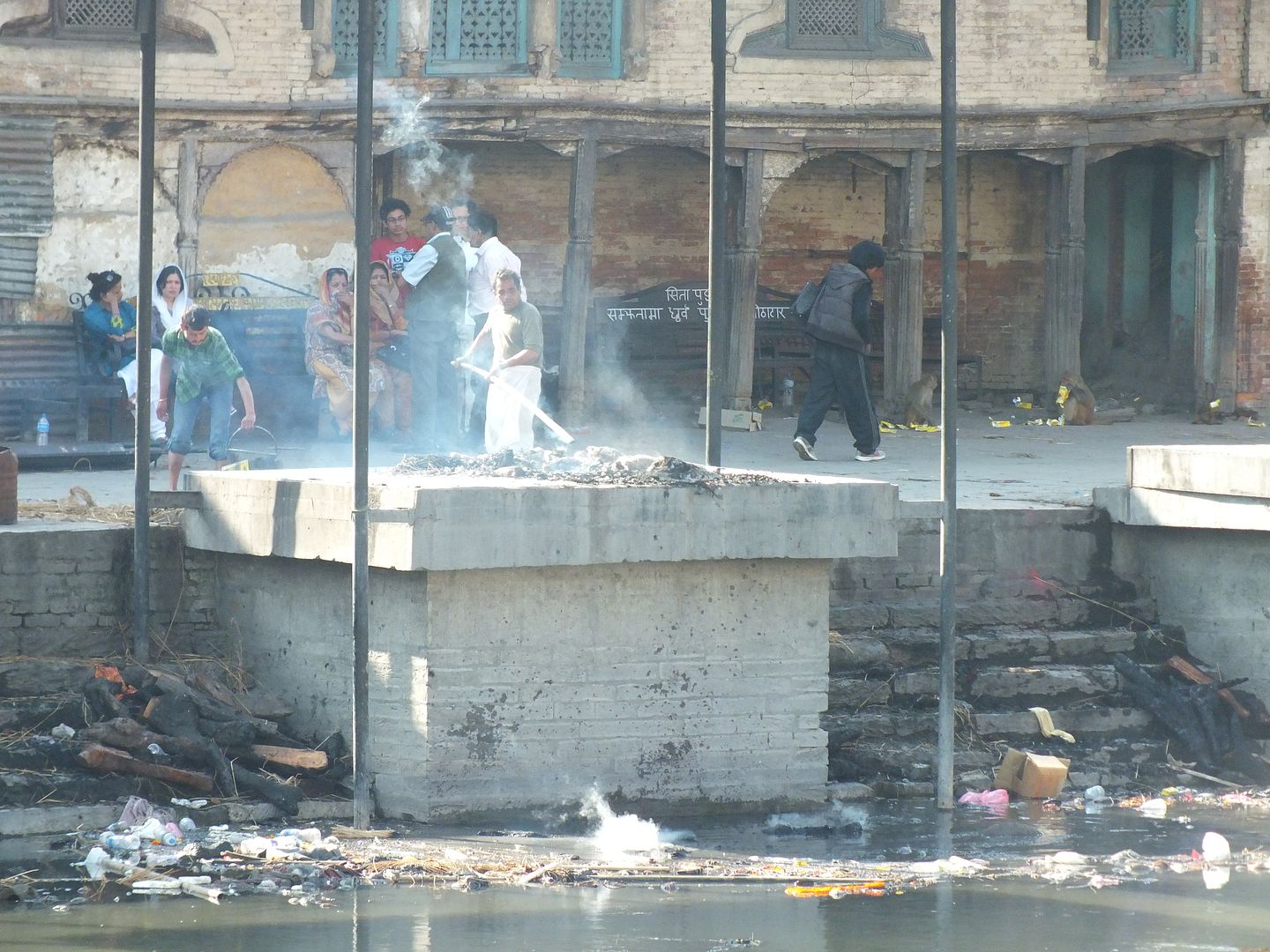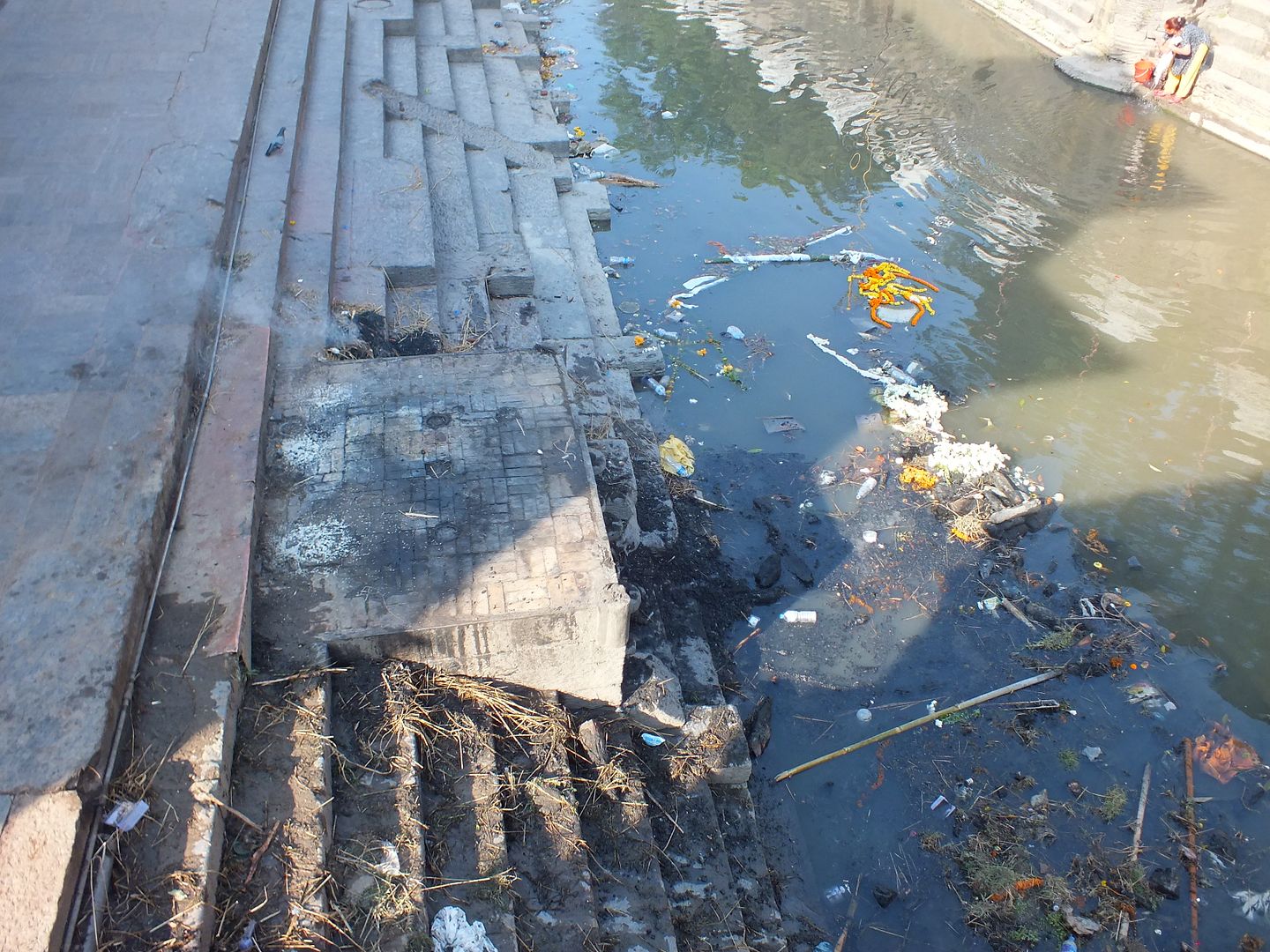 Interesting details
Lots of monkeys around. This one just robbed a woman of her bags of grapes (was pretty funny to watch). A schoolgirl error on her behalf!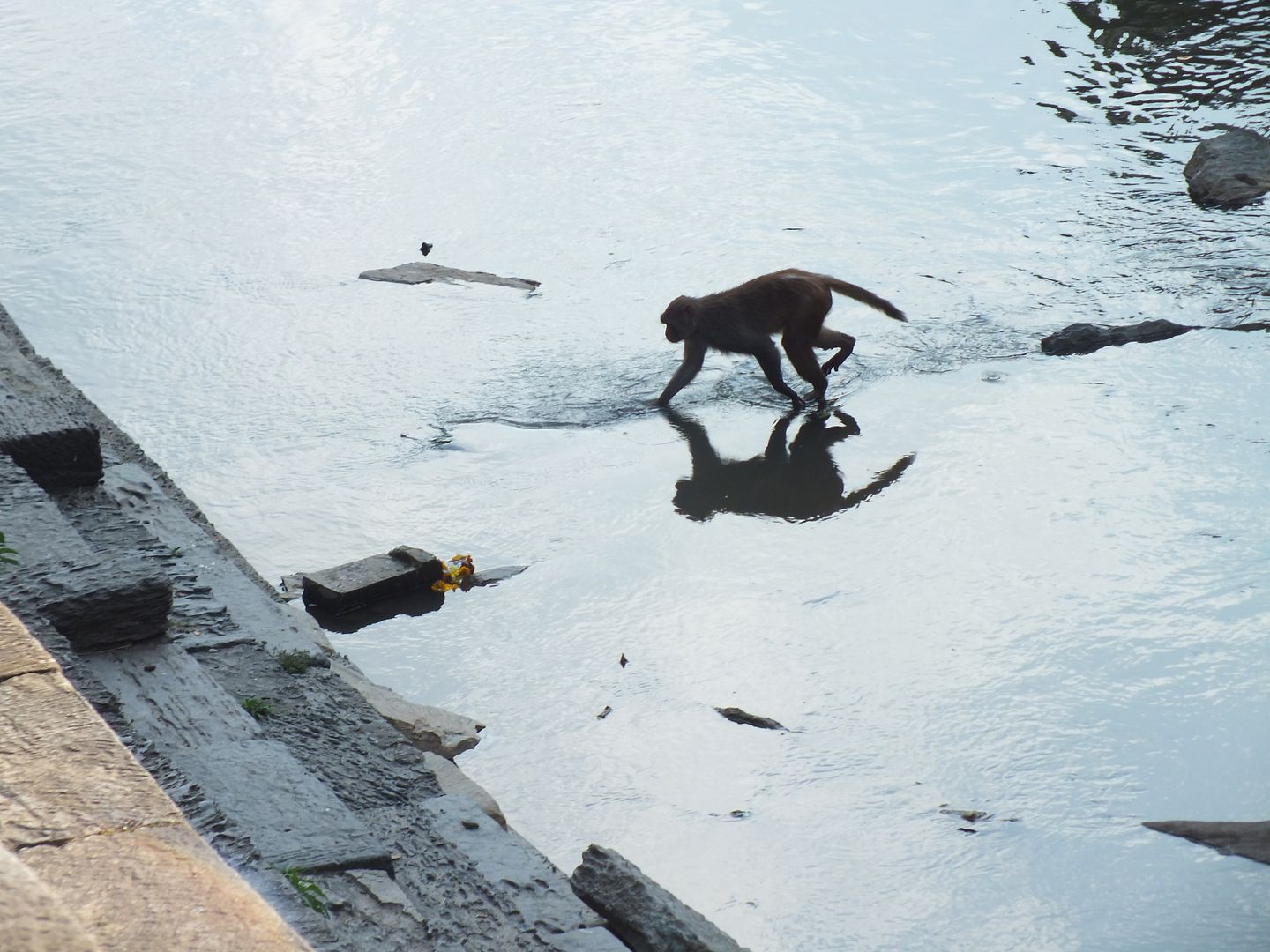 There were quite a few of these painted holy men around too. I got a picture with a few, now taking pride of place as my Facebook photo.
Next stop was the Boudhanath or Chörten Chempo, aka, the Great Stupa and the most important Tibetan Buddhist monument in town. It was lovely having a walk around with all the Tibetan pilgrims in their lovely outfits. I felt like I was back in Lhasa strolling around the Barkhor again.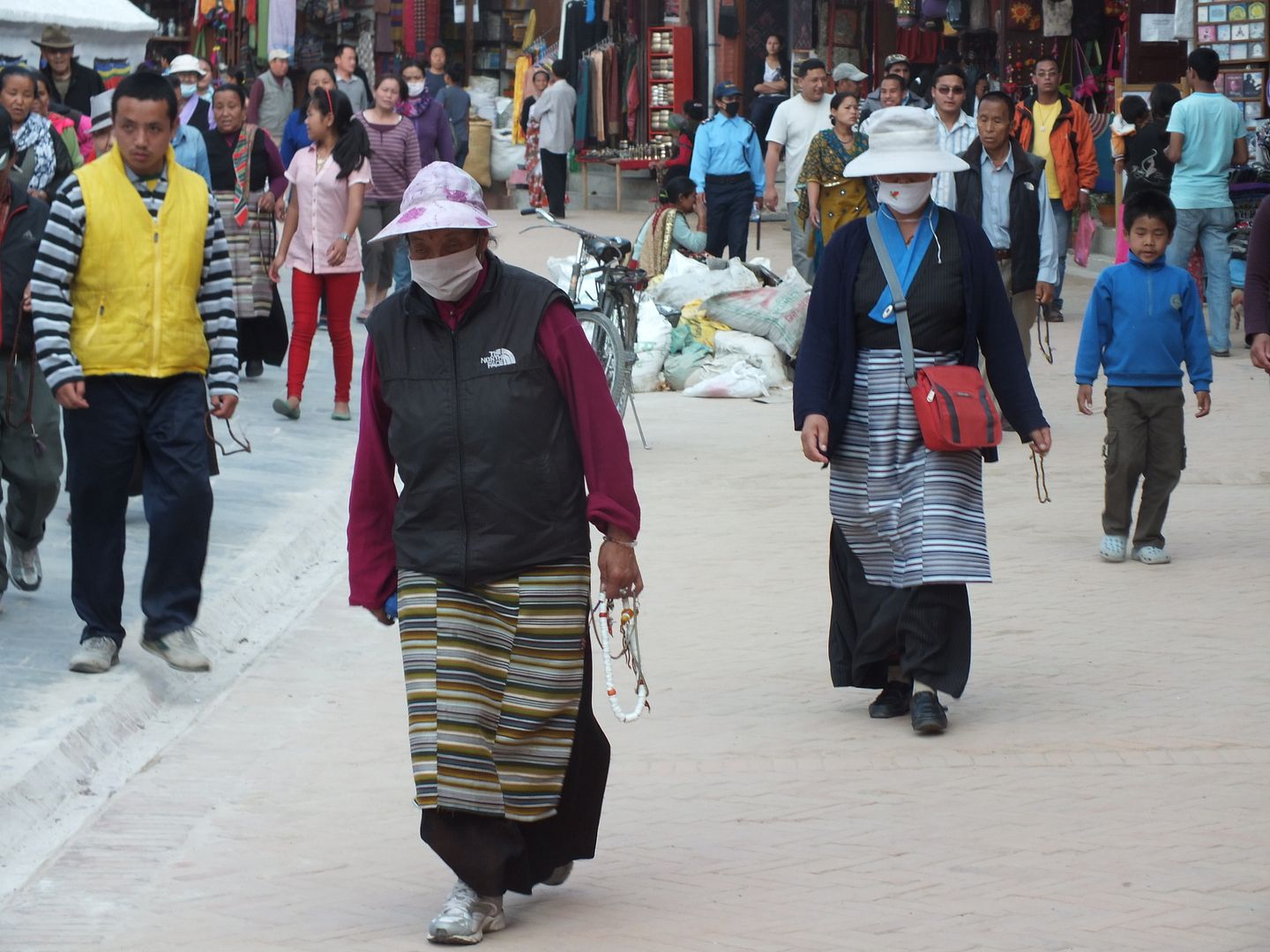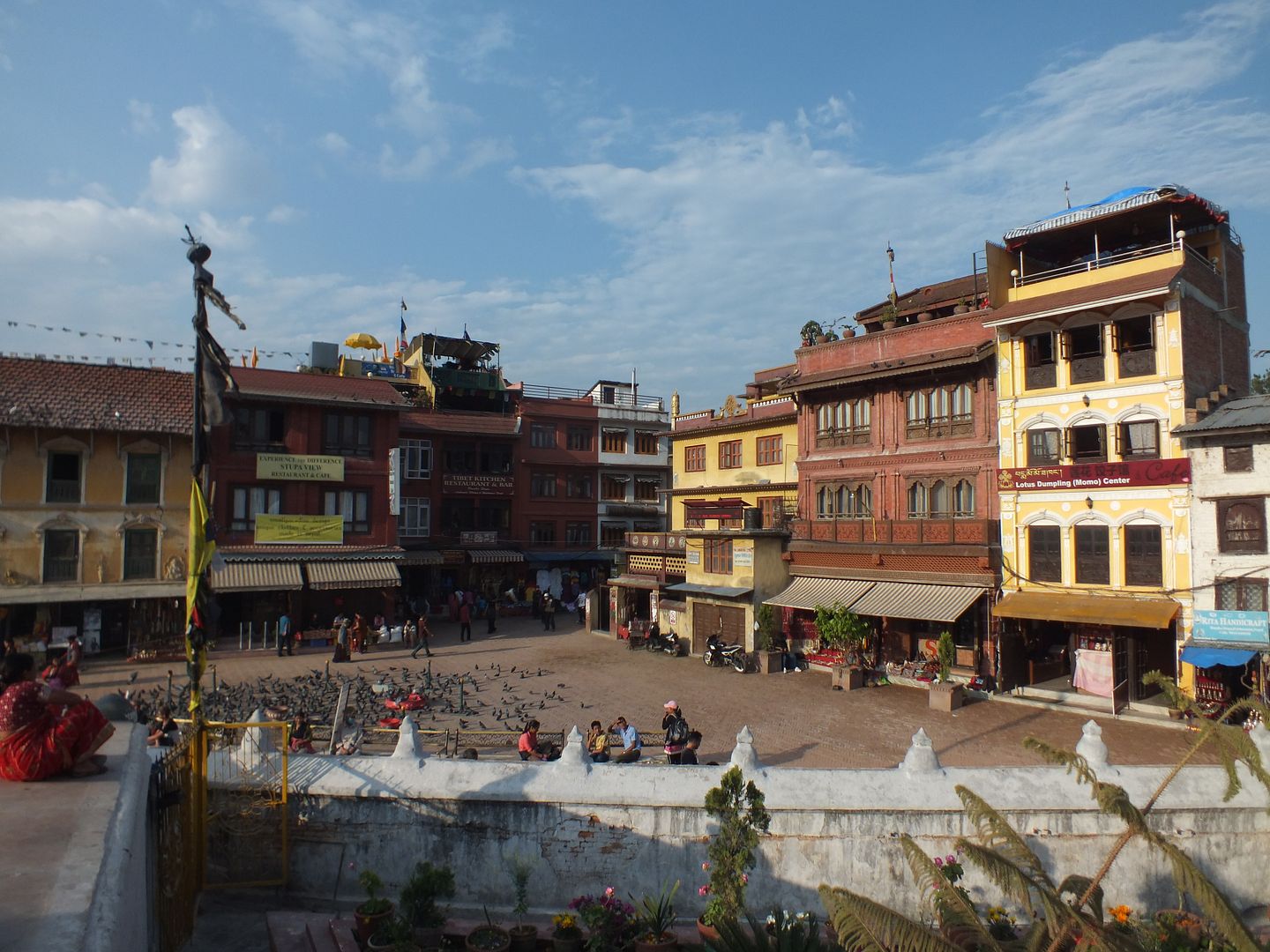 One final beer, then bed
With my Nepali sightseeing over, and a good night's sleep under my belt, it was time to head back to the airport for my THAI flight to Bangkok. I flew TG quite a bit a child, but other than a few flights in 2003 (HKG-BKK-HAN,BKK-BWN) it's been missing from my log. I was very keen to fly with them again, especially with their new beautiful livery.
Outside the airport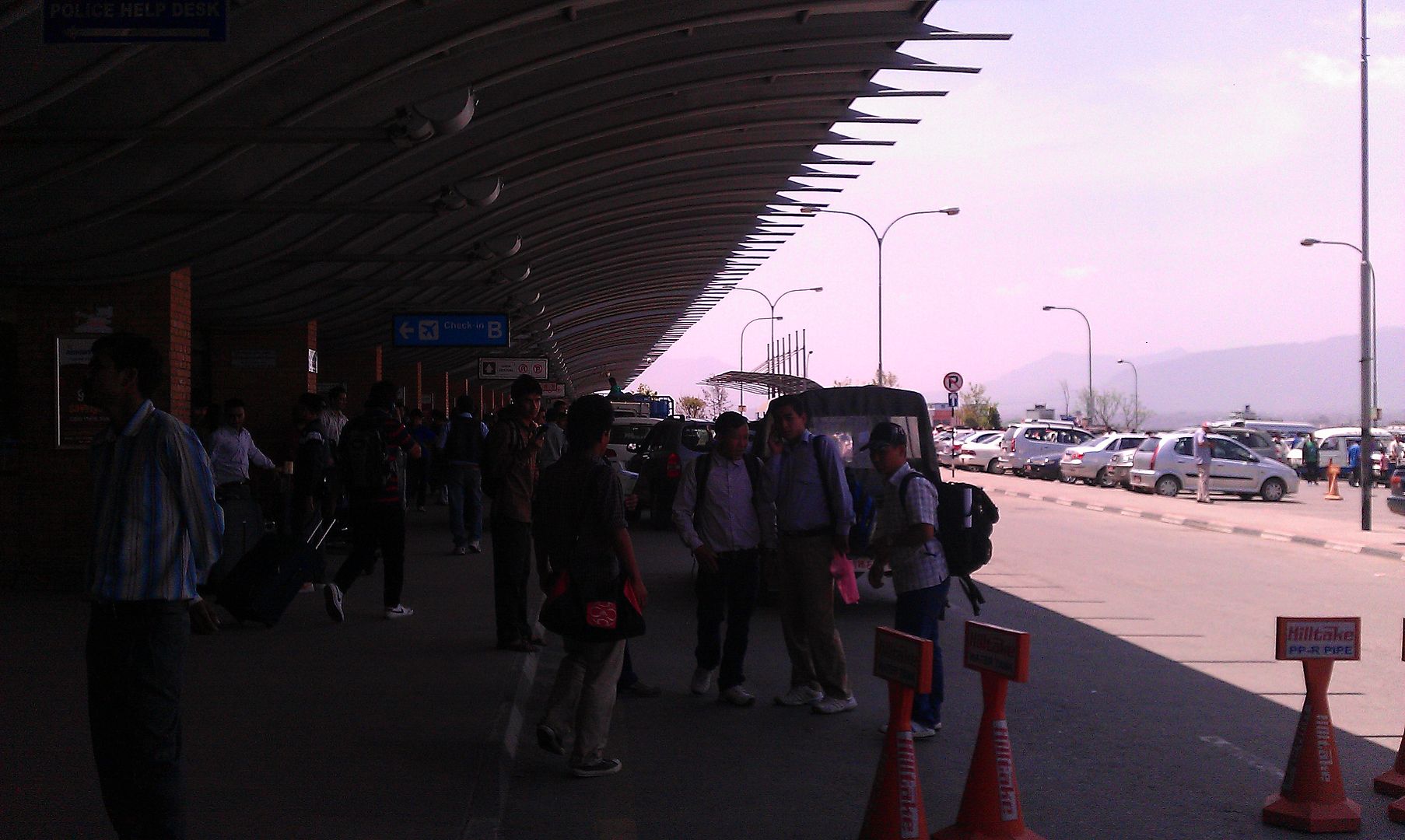 There was a long snaking queue to get from the drop off point to the x-ray machines before check in.
There were four desks open for the busy 777 flight, which I thought was a little on the low side. There were 2 Y desks, one C (Royal Silk) desk and one Star Gold desk.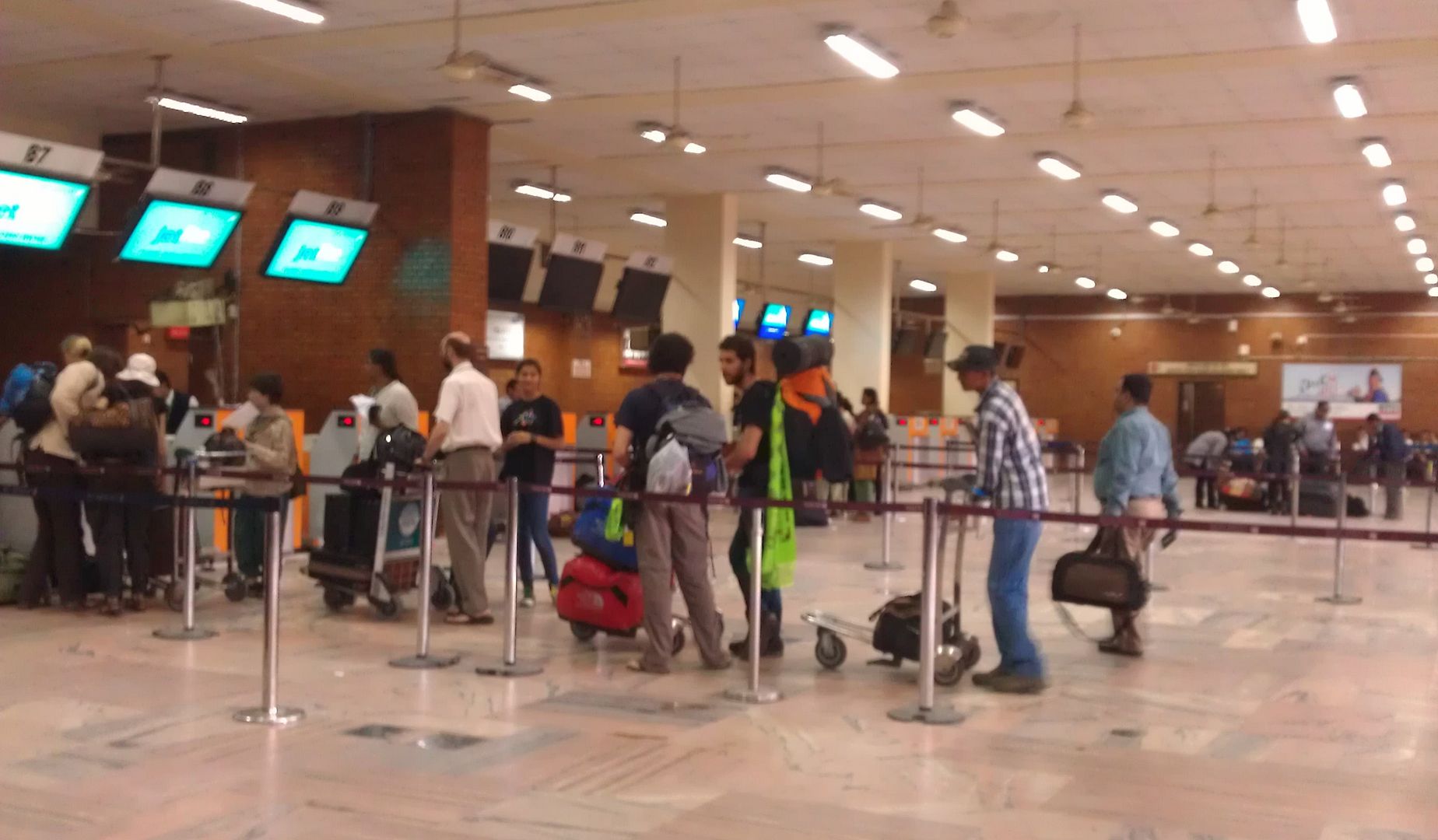 I lined up at the Royal Silk desk behind a couple with about five bags each. When the Gold desk became free some economy passengers moved over, but the check in guy sent them back, and beckoned me over. Good man!
Of course, Nepal also has these compulsory tags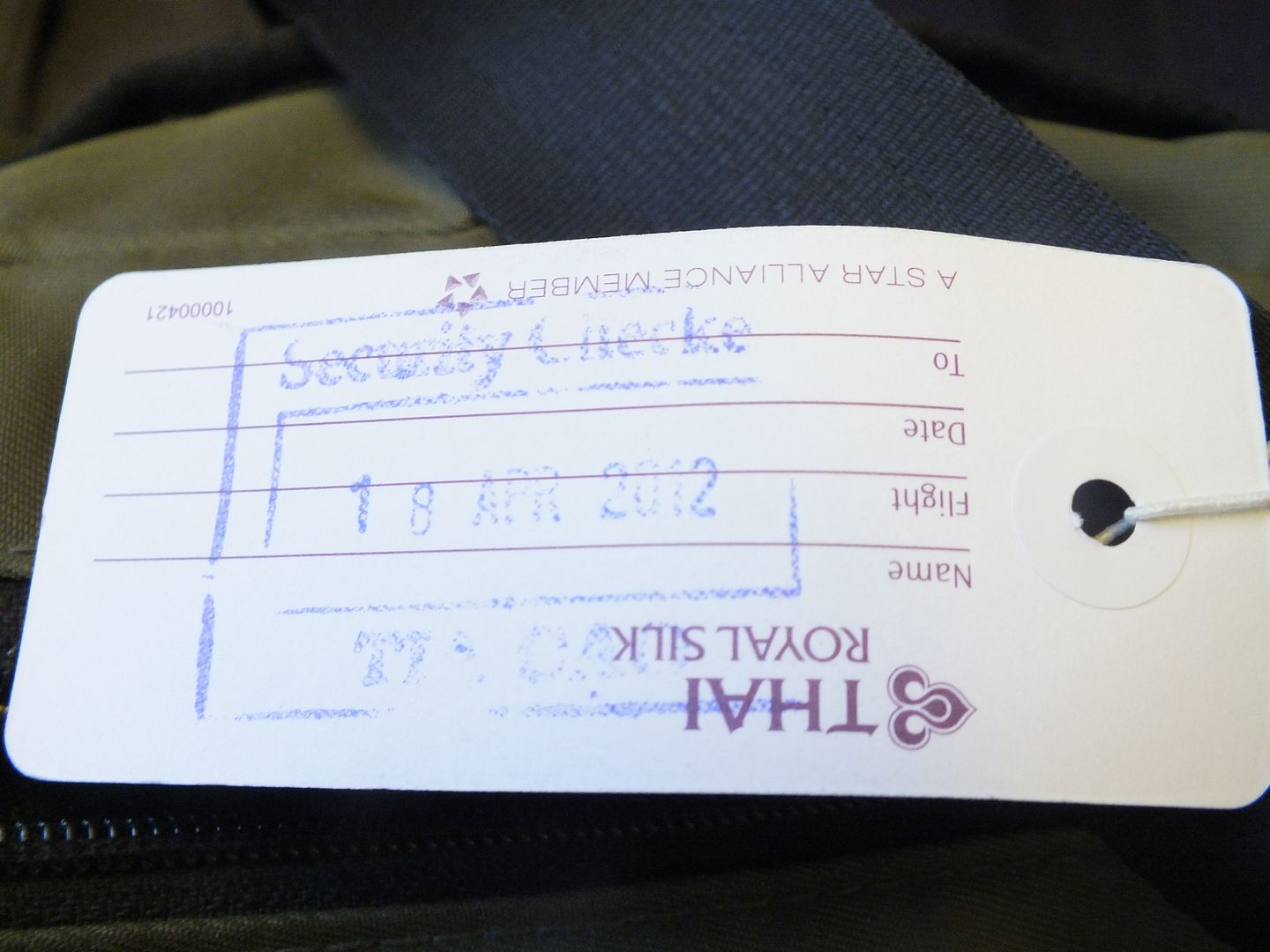 My bag was tagged, and I was given a boarding pass and lounge invite. I had been a bit worried about being lumbered with a window seat without a window. When I booked, the only window seat left was in the final row. A few days before the flight, I went through the archives and noticed that the back seats on some aircraft was windowless, which would have been bad. Thankfully when checking in online the night before, the window in the penultimate row opened up, so I moved there.
With check in completed, I headed upstairs and joined a nice long line for immigration (25 minutes), before proceeding to the Royal Silk Lounge.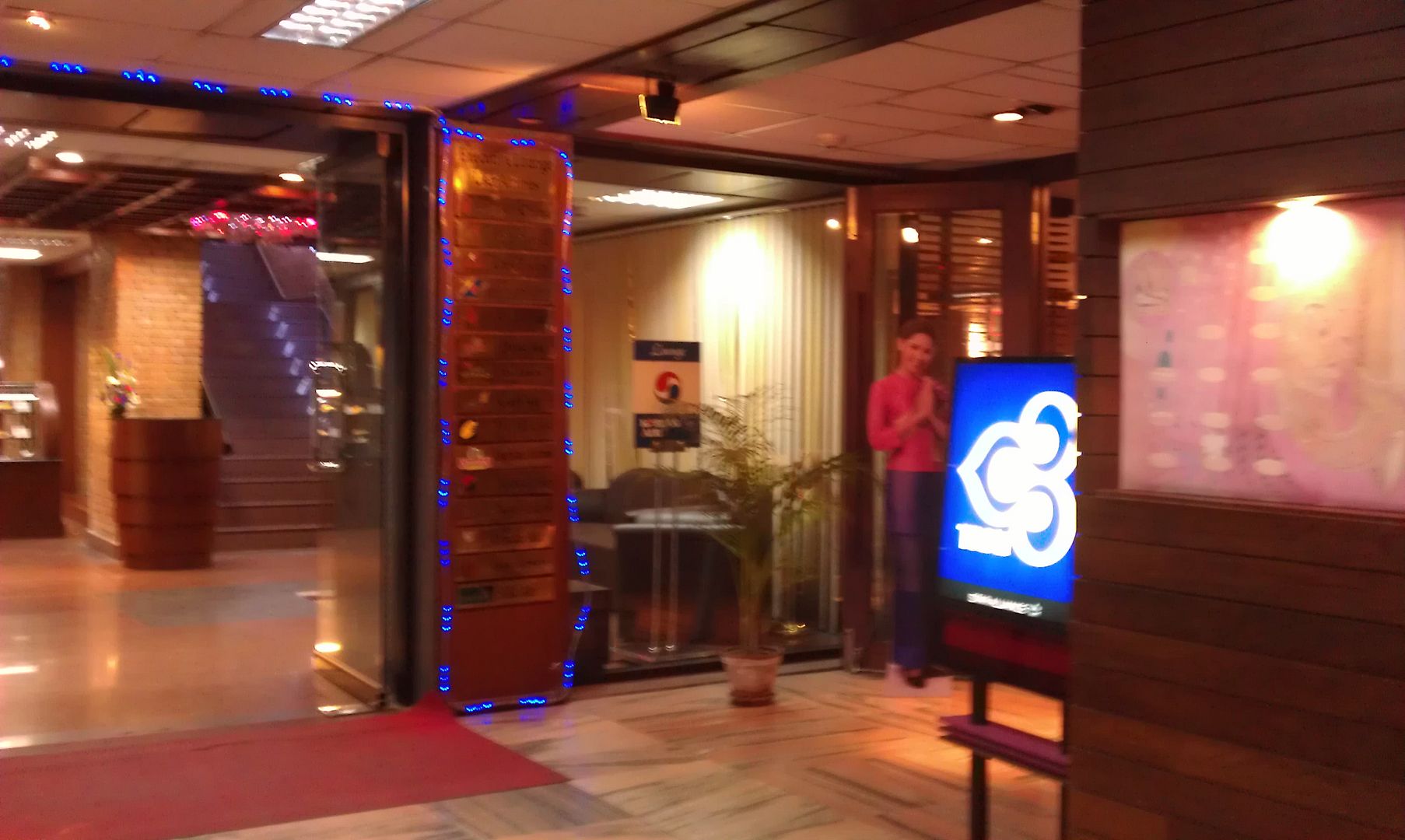 The place was surprisingly busy, and I got one of the few empty tables left despite being there 90 minutes before departure.
Food options were fairly good, as were the drinks.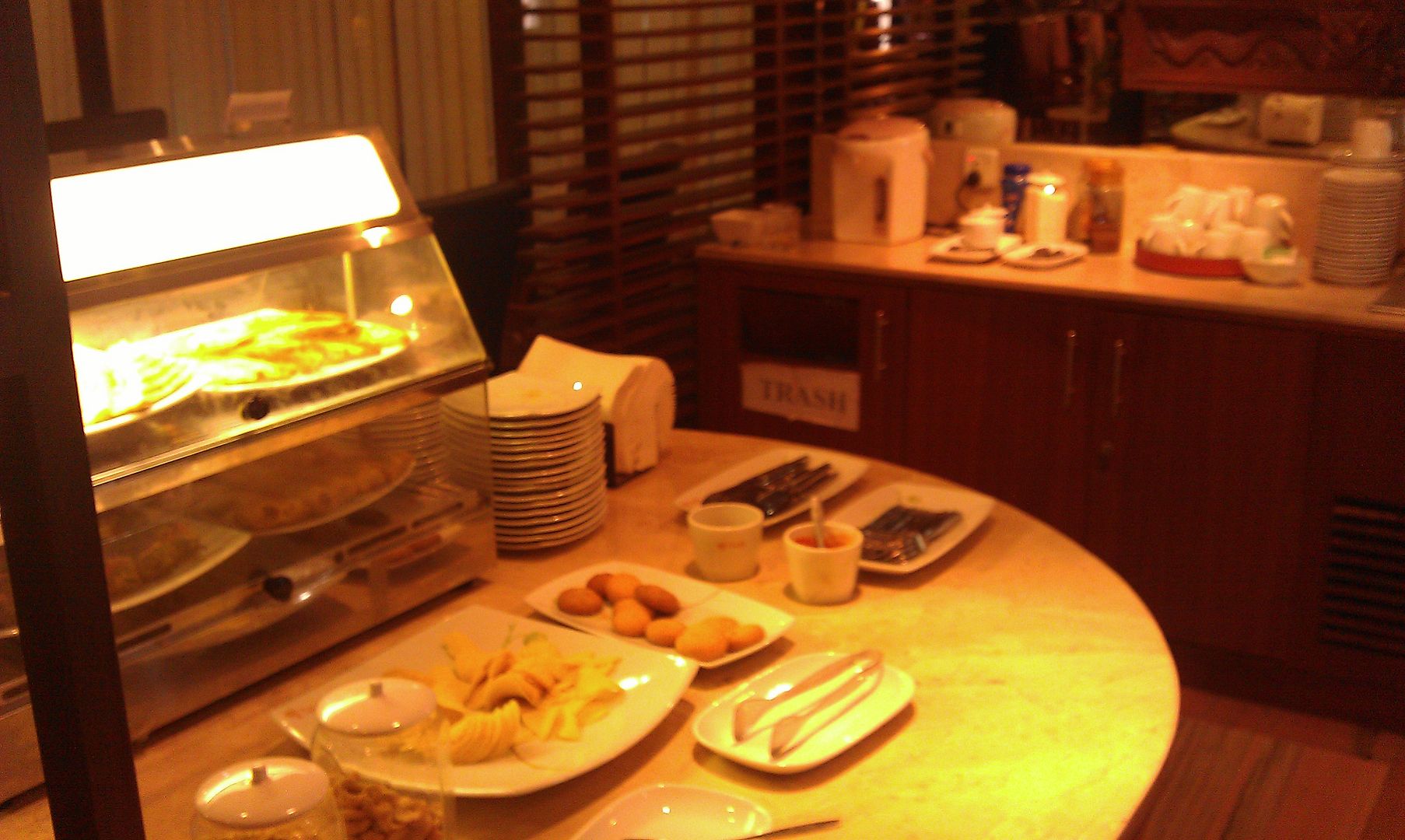 OJ, G&T, sparkling water, chicken satay, cheese toasties and some cake. Nom nom nom!
Lounge seating
One annoying thing about the lounge was that it was before security. I left the lounge an hour before the flight which sadly enough, was about enough time to get to the gate when they started boarding. No fast track here! There were 2 queues for men (big long lines), and one non-existent queue for ladies in between.
Airside
With security done with, there were some long boring corridors with very selective tarmac views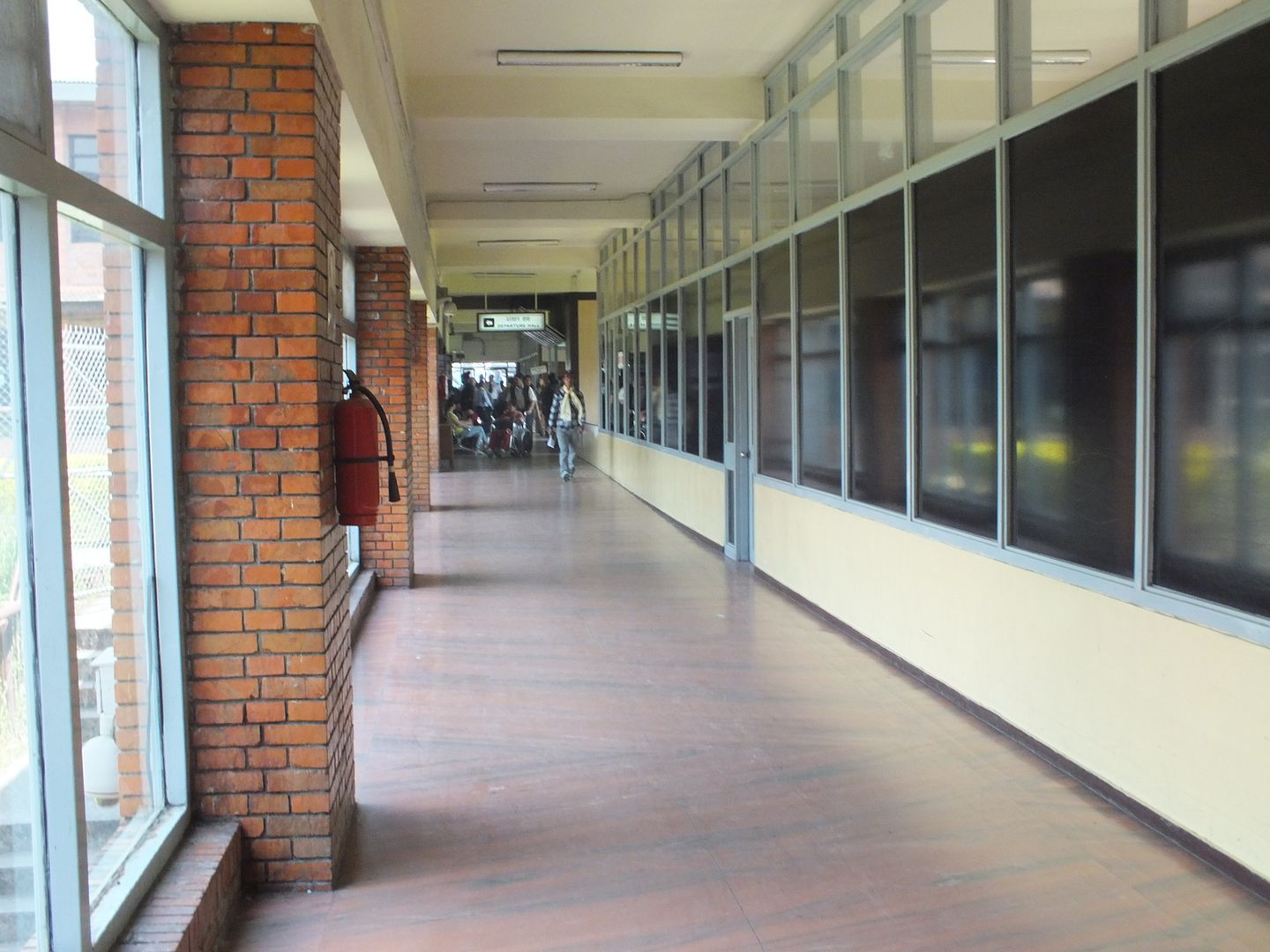 There were quite a few more busy and dingy corridors to go down before I finally arrived at the gate. As you can see, it was standing room only, and quite dark. I managed to push my way through the crowd and got a seat by the window for a few photos.
Hmm, that looks like a famous Finn!?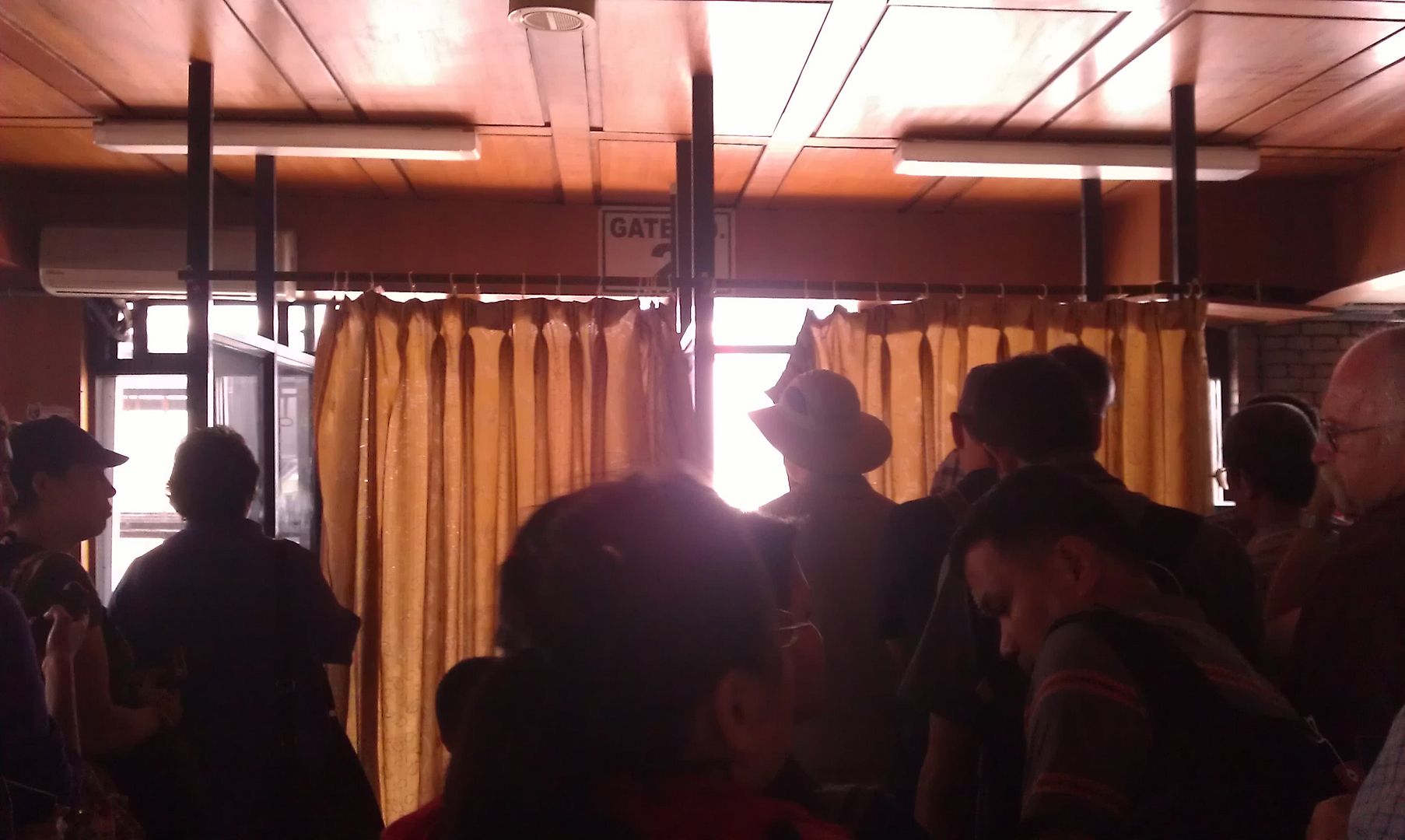 "Suphan Buri"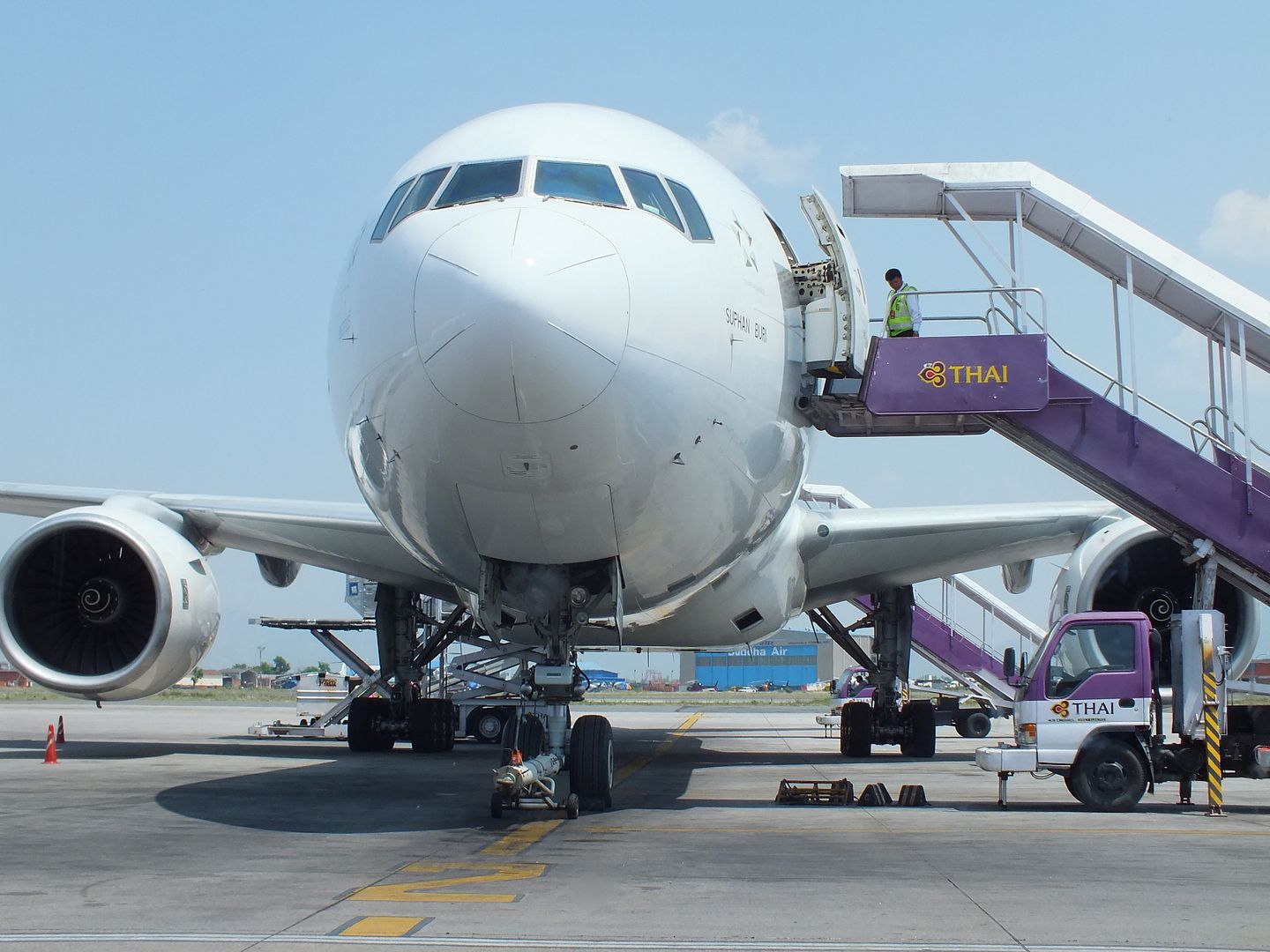 We were finally allowed to board after a ten minute wait or so, but only after being frisked as we walked onto the tarmac. Passengers sitting aft of the wing were directed to use door 4L, whilst everyone else used 1L.