TRIP REPORT

Flying from Wales to England by Fokker 100
18Jan12

Introduction
Sometime in November 2011, Helvetic (2L/OAW) - the Fokker 100 operator from Switzerland - announced that they will start flying to a new destination starting in December 2011: Bristol (BRS/EGGD). Knowing they had served Cardiff (CWL/EGFF) across River Severn from Zurich (ZRH/LSZH) for a while, I first thought that they would move their flights from CWL to BRS. But I was surprised to learn that they would be keeping CWL and combine it with BRS. Hmm, interesting, this would probably result in a triangle operation ZRH-CWL-BRS-ZRH or vice versa, I thought. They were at the same time advertising an introductory fare offer for the new destination BRS. Now this got my attention as there would be a rare opportunity to fly from Wales to England or vice versa. I was looking to book either ZRH-CWL-BRS or BRS-CWL-ZRH, depending on what the routing for this triangle would be. So when checking the schedules on their website, I was surprised again: Instead of a usual triangle operation ZRH-CWL-BRS-ZRH or vice versa they would operate ZRH-BRS-CWL-BRS-ZRH. This I understood only after writing the schedules down and checking multiple times. I could not believe it. (Well, even to this date I fail to understand it. Apparently, CWL was not doing so well, therefore the addition of BRS to the flight would make sense in order to catch a couple more passengers. But if a route is not doing so well it also means that costs must be low, this is why I don't understand why 4 sectors instead of 3 sectors are scheduled.... anyway.) Of course the introductory fare was only available to/from BRS, therefore nullifying my intention to book something containing the BRS-CWL or CWL-BRS sector.... I was a bit disappointed. However a couple of days later, the low introductory fare suddenly was available to/from CWL, too! So I quickly decided on a date and booked CWL-BRS-ZRH for the nice price of CHF 88.30 (approximately GBP 60 / EUR 74) all included. I was happy to get two sectors for this price. Never after Helvetic came under new management in 2006 were they offering such low fares. Now I only needed to find a way to get to CWL for the 14:15 departure from there. This proved not so easy and I was contemplating flying the evening before to Manchester (MAN/EGCC), then going by train or rental car to Anglesey (VLY/EGOV) and then taking the Manx2 Do-228 from there to CWL. In the end, it just didn't add up. Train schedules didn't fit and rental car was way too expensive for a one-way. So I decided to make this just a daytrip, taking the Swiss International Air Lines (LX/SWR) morning flight from ZRH to Birmingham (BHX/EGBB). This would fit with a train from BHX airport station via New Street Station to Cardiff and from there on to Rhoose, from where a complimentary shuttle bus would go around the runway to the CWL terminal. It would also be operated by a Helvetic Fokker 100. So all three sectors on this trip would be on this rather old but fun-to-fly aircraft type! (Very nicely helping to keep the A320-family in check on my statistics spreadsheet...) So I was all set to go on the following itinerary: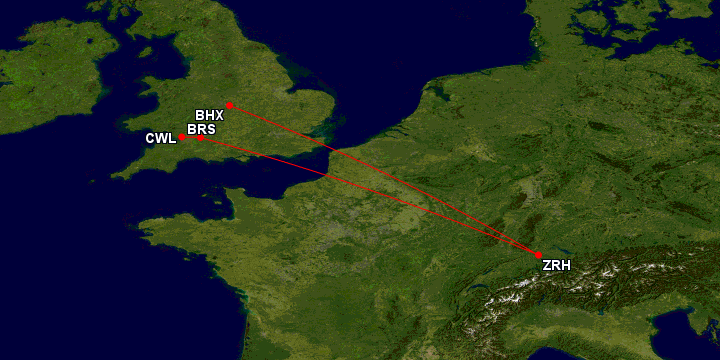 map generated by the Great Circle Mapper - copyright Karl L. Swartz
Flights

Date: 18Jan12
Route: Zurich (ZRH/LSZH) - Birmingham (BHX/EGBB)
Flight number: LX 420
Schedule (local times): ZRH 0715 - BHX 0805
Scheduled block time: 01:50
Airline/Operator: Swiss International Air Lines (LX/SWR) operated by Helvetic Airways (2L/OAW)
Aircraft type: Fokker 100
Registration: HB-JVG
50th flight on aircraft type 100, 9th flight on HB-JVG, 1318th flight overall
The departure time meant an early wake-up call on this Wednesday morning. As usual I took my car to my workplace which is a 8 minute tram ride away from ZRH airport.
early morning action in ZRH
I went to check-in area 3 just above the train station where I presented my paper tickets and I got a boarding pass with a much desired window seat. After strolling through the landside shopping area and after stopping at the bakery for some nice cookies I made my to the newly built so-called "centralized security" building. Screening was done in an efficient manner and I was soon free to go through the duty-free shop to the gate.
no, not a shopping mall but an airport...
The gate was on the lower-level non-Schengen area of the newly built B-pier. A first for me was using a bus gate from that area.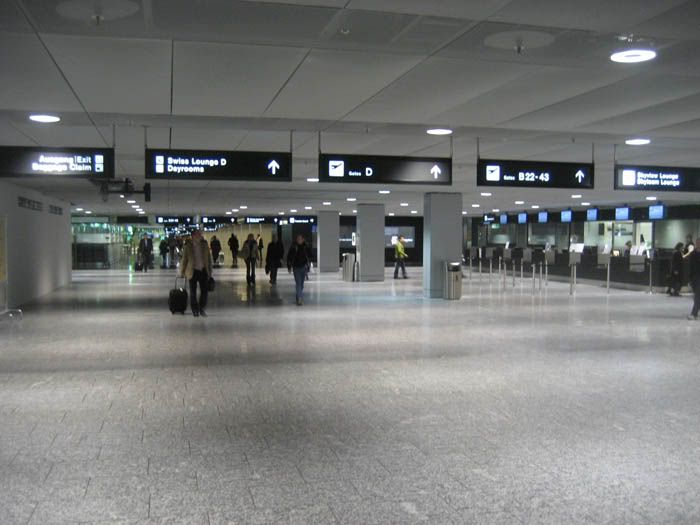 entrance to the new B-pier, transfer desks on the right
close-up of the transfer desks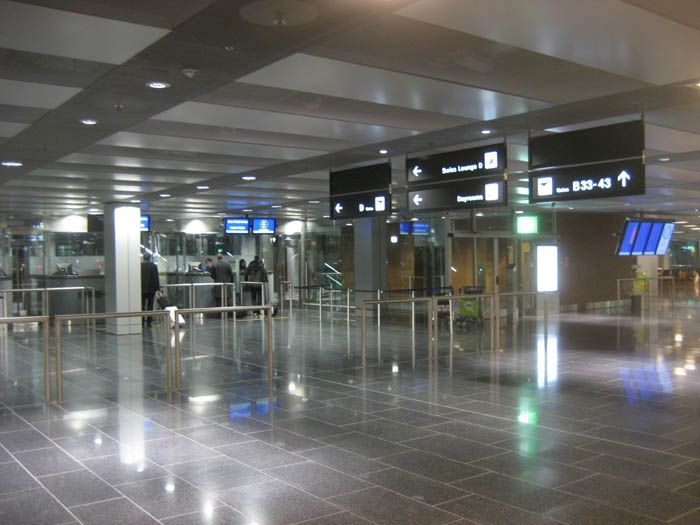 passport control to the non-Schengen D-gates downstairs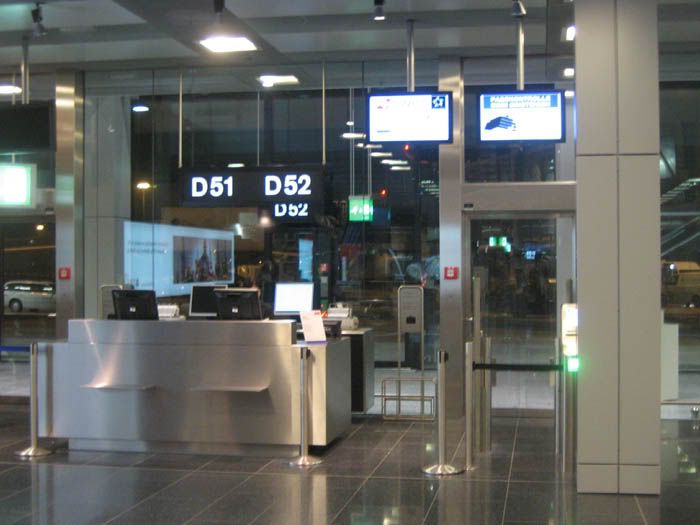 my gate to BHX
The aircraft was parked in the "Fokker farm" next to a sibling from Contactair operating for LX. It was still dark but I managed a couple of just acceptable pictures while standing on the tarmac.
boarding HB-JVG to BHX, the half moon is visible in the upper right corner
The flight was not full so I chose a window seat on the left just behind the wing. Seating is 2-3 abreast and the seat next to me remained free. We taxied to runway 28 and took off from there. During climb, I had a beautiful view of the dawn behind the Swiss Alps.
Zurich down below is still in darkness
a new day dawning behind the alps
bye Switzerland - banking right towards France - nice mood with the moon
After leveling off, there were no views due to a compact cloud cover all the way to British archipelago. Service was a croissant with coffee or tea and a glass of water, enriched with a BYO cookie as desert from the airport bakery.
breakfast
cabin view, not a very busy flight
fantastic legroom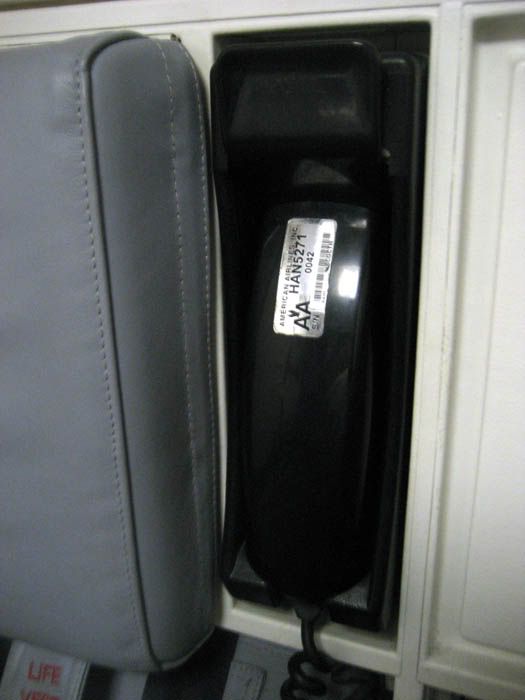 traces of the former owner of this aircraft
at cruising altitude
We descended into a cloudy, wet and grey BHX from southeast. Landing was on runway 33 and we were assigned the easternmost jetway and parked next to an Air France babybus.
plunging back in the darkness again on final approach
vacating the runway
approaching the terminal building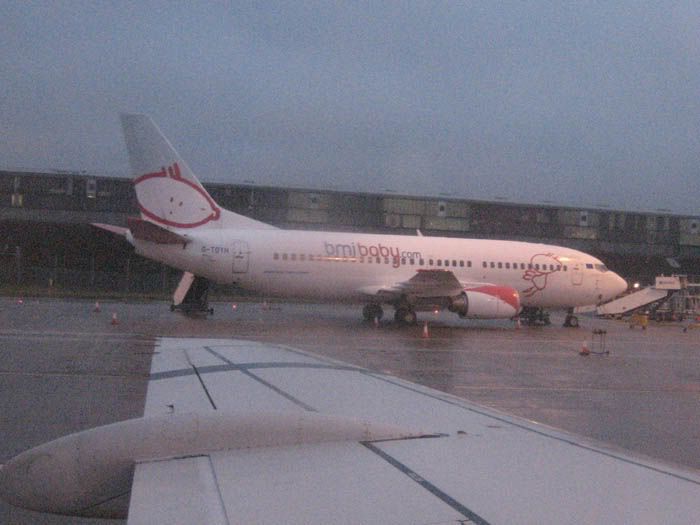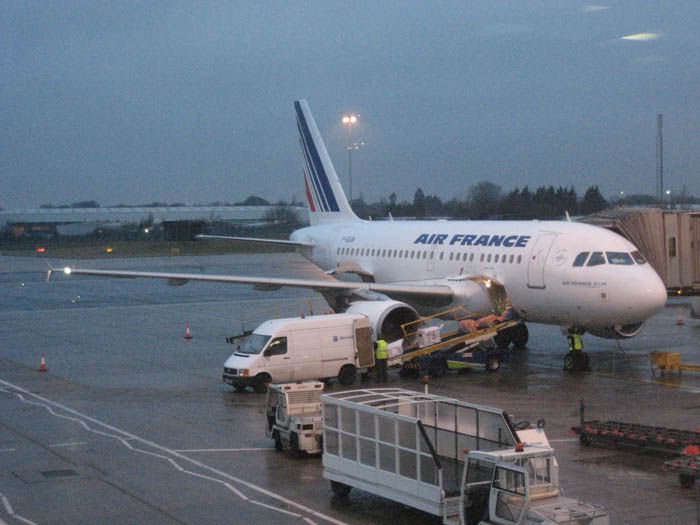 two babies.... BMIbaby and AF babybus...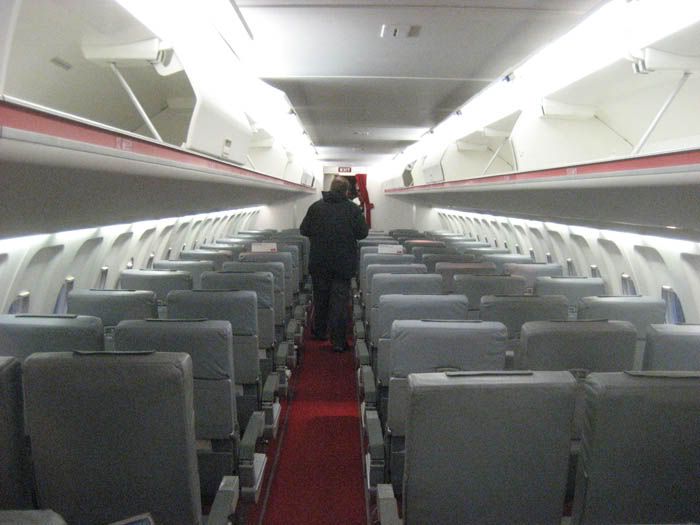 cabin view during disembarkment
nice seats
"my" Fokker docked in BHX
a couple of FR planes sitting idle
baggage claim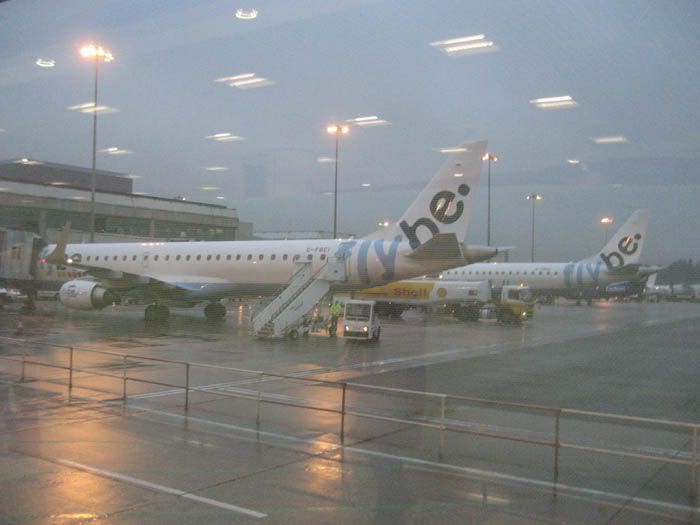 shiny new E-jets
Immigration was quick and having no baggage I was out quickly. To get to the train station, I took the people mover.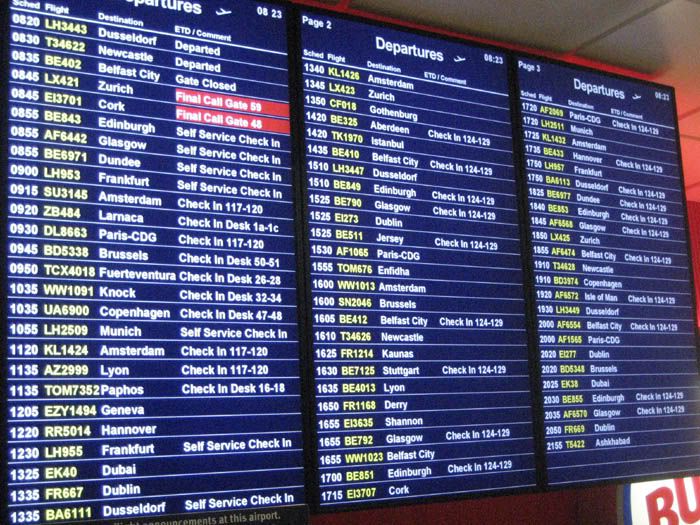 arrival and departure screens in BHX, most interesting is the last departure of the day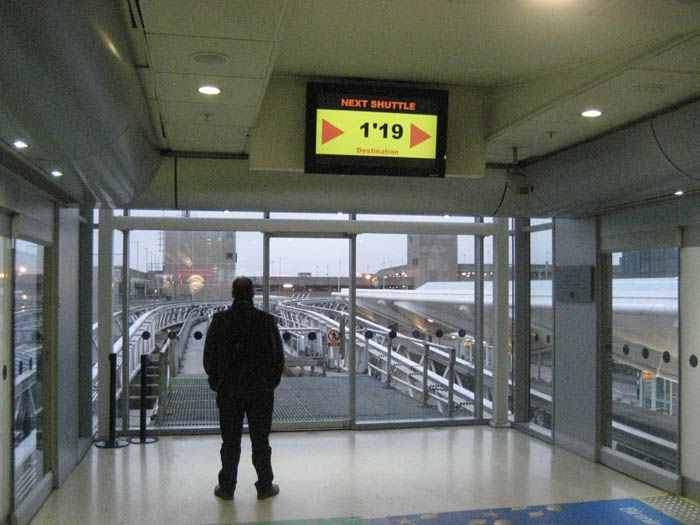 waiting for the people mover, actually a cable car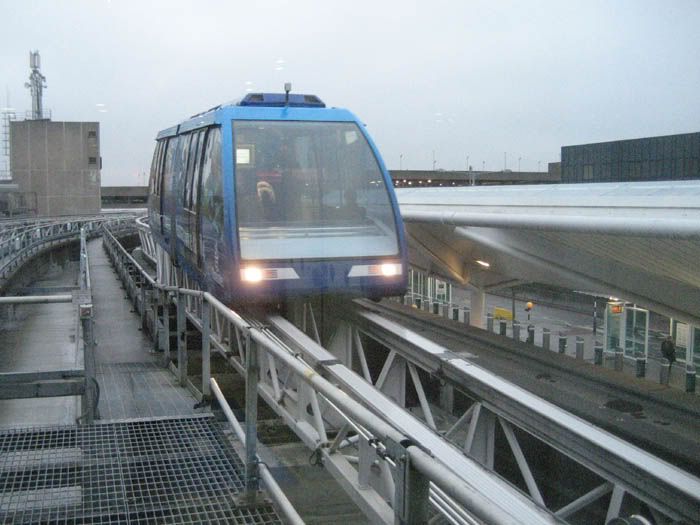 cable car approaching
From BHX I had booked a specific train from BHX airport to Birmingham's lovely New Street Station and from there on to Cardiff. I had to print out my tickets at a ticket machine which worked fine.
railway ticket machines
TIDS
As my flight was on-time I was quite early and I went to a train ticket booth to ask if it was ok to take an earlier train for the short ride to New Street Station. I showed them the ticket and even said it was for a specific train. They said no problem, just take any train. So that's what I did and off I went. Well, of course the train conductor told me I did not have the right ticket and I was not allowed to take this train.... huh? I just enquired at the ticket booth and they told me it was ok. He did not want to have any of that and told me that he will exceptionally let me off the hook. I didn't like that at all, why would I enquire and then be told off by the conductor.
my ride to central Birmingham
Anyway after 15 minutes or so the train arrived. I was looking around the station for a while and I did not like what I saw. This train station is quite shabby and old. I went to look for my train to CWL which I found without problems.
Birmingham New Street Station
train departures from New Street Station, my train is the last one on the right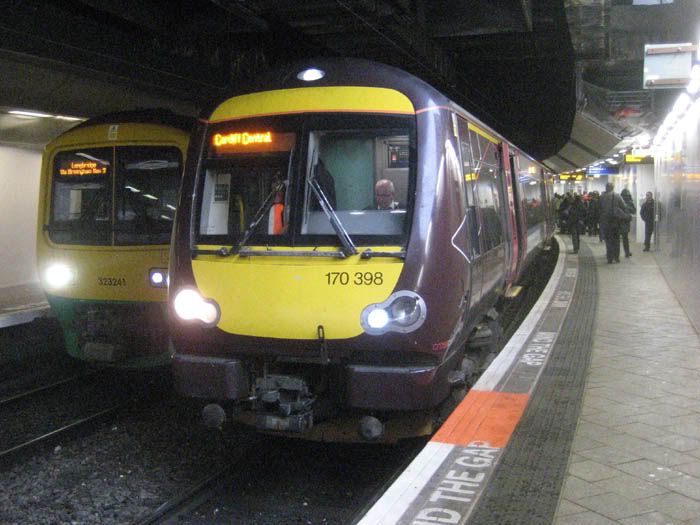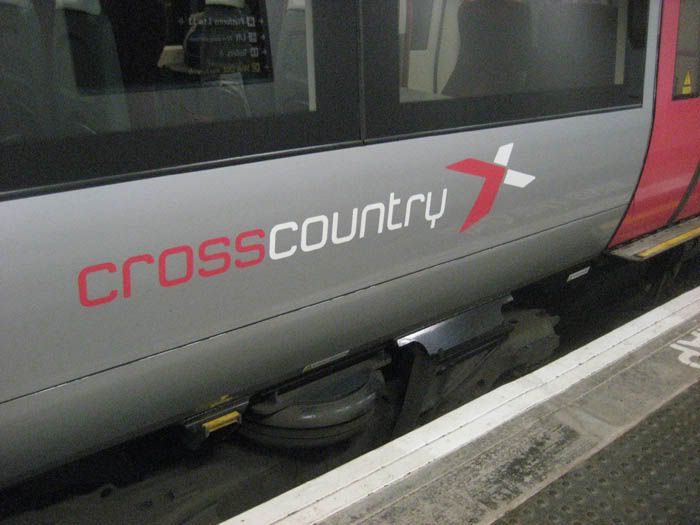 my train to Cardiff
It was not full and I chose just any seat, despite having a seat reservation. Scheduled time to CWL was 1:57. I made myself comfortable for the ride. After reaching the bank of River Severn, the trip became quite picturesque - if only the weather would have been better. I passed one of the large suspension bridges passing over River Severn - to cross that river and it's continuation - the Bristol Channel - I'd take the plane!
a first glimpse of River Severn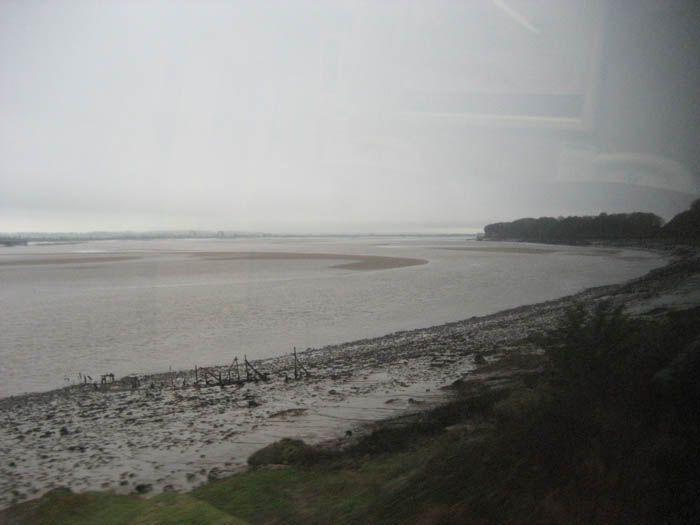 the river is getting wider, note the muddy river banks
the second Severn suspension bridge (M4 motorway)
crossing River Usk in Newport
The train arrived at Cardiff station on-time. The best way to describe this train station and the local trains running to and from there would be "quaint". An outdated building and outdated trains made me feel like having traveled back in time.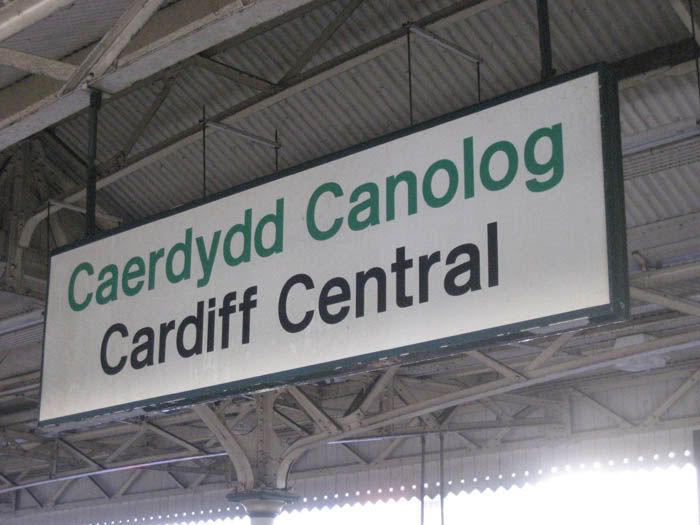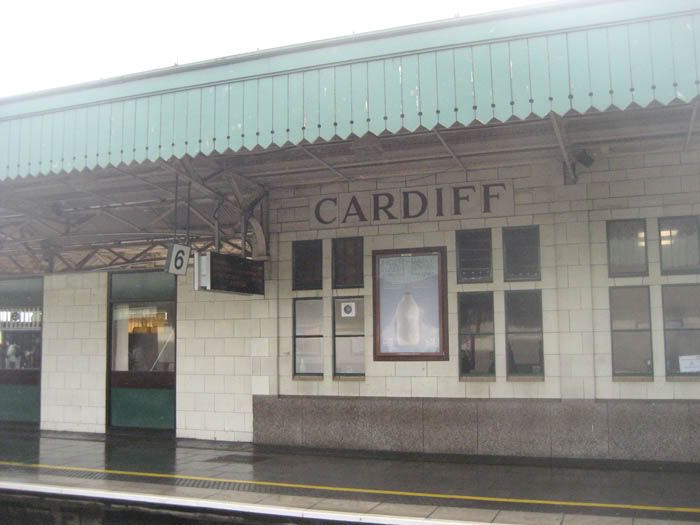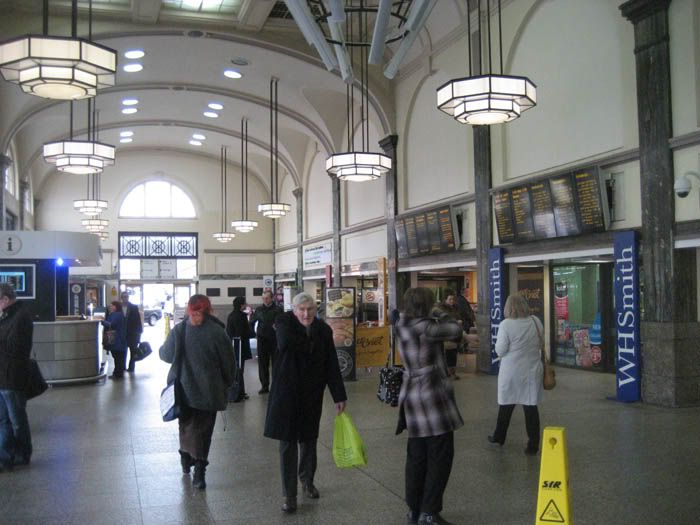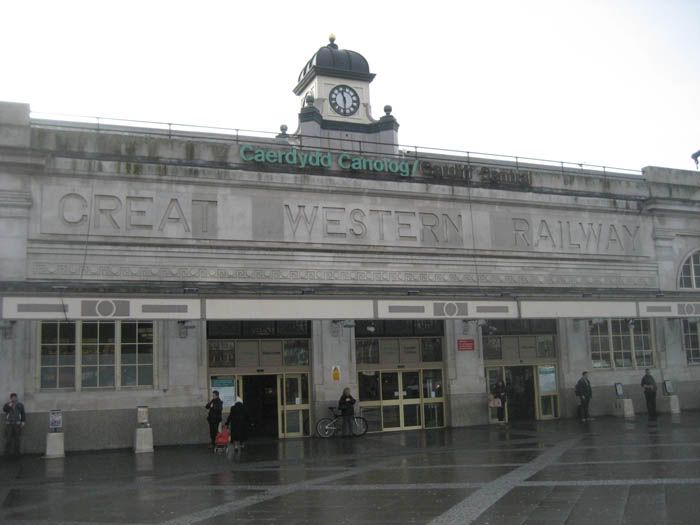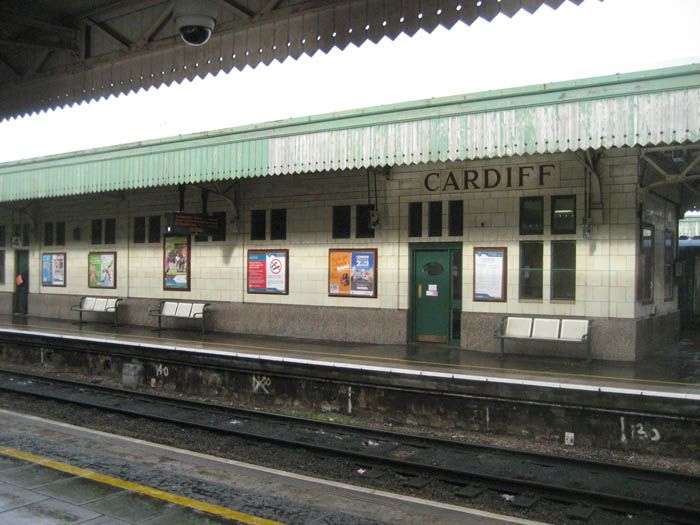 impressions of Cardiff's main station
and a peek outside the station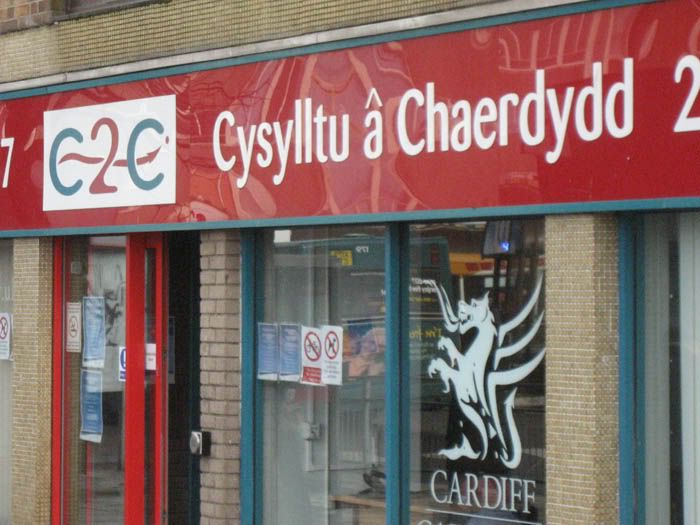 a Welsh language tongue breaker...
Soon my local train to Rhoose arrived an I boarded. The train was operating on-time but nevertheless painfully slow.
more tongue breakers - Welsh version of a TIDS
and my local train to Rhoose
some modern buildings in Cardiff
view over Bristol Channel.... sort of
After 30 minutes, we stopped at Rhoose Cardiff International Airport station. The shuttle bus was already waiting there and it turned out I was the only passenger. The trip was maybe 10 minutes, including a stop at a Holiday Inn Express airport hotel - the bus doubles up as the hotel-airport shuttle.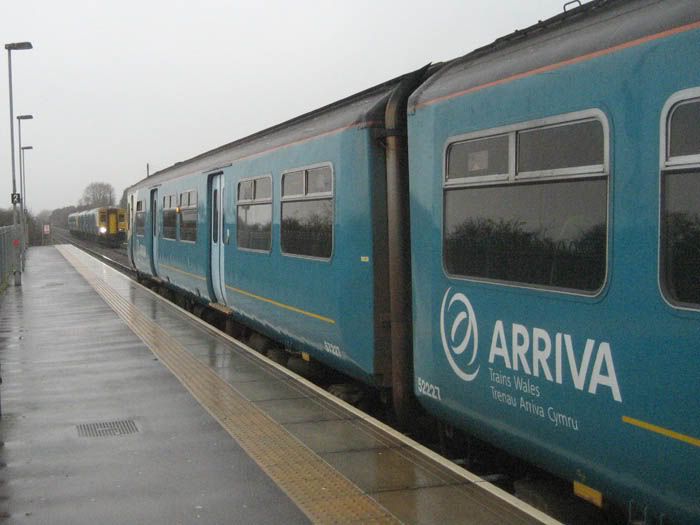 local trains crossing at Rhoose
Rhoose railway station scene, the platforms for each direction are on a different side of the road
the shuttle from Rhoose to CWL is waiting
Date: 18Jan12
Route: Cardiff (CWL/EGFF) - Bristol (BRS/EGGD)
Flight number: 2L 443
Schedule (local times): CWL 1415 - BRS 1435
Scheduled block time: 00:20
Airline/Operator: Helvetic Airways (2L/OAW)
Aircraft type: Fokker 100
Registration: HB-JVH
51st flight on aircraft type 100, 1st flight on HB-JVH, 1319th flight overall
After getting out of the bus, I experienced one of the stranger moments in my aviation life. The airport was fully operational, music was playing from the loudspeakers but not a single person could be seen! Not an employee, not any other passenger - nobody! It was a very surreal scene, it felt like an airport scene from Steven King's "The Langoliers". I checked out the check-in area and the separate arrivals area but there was nobody visible.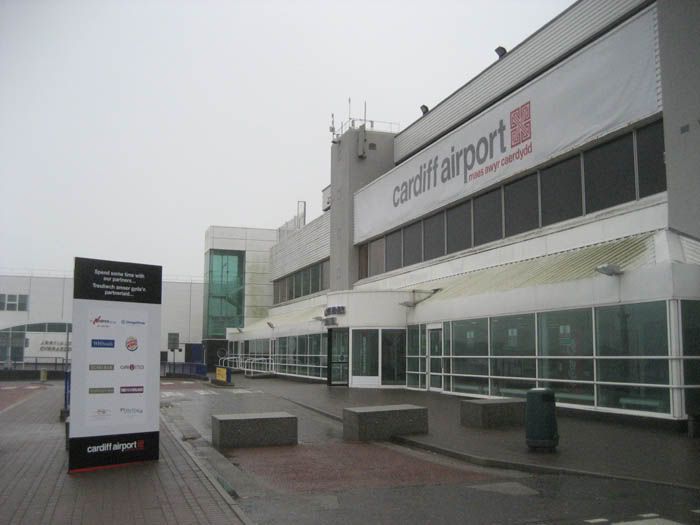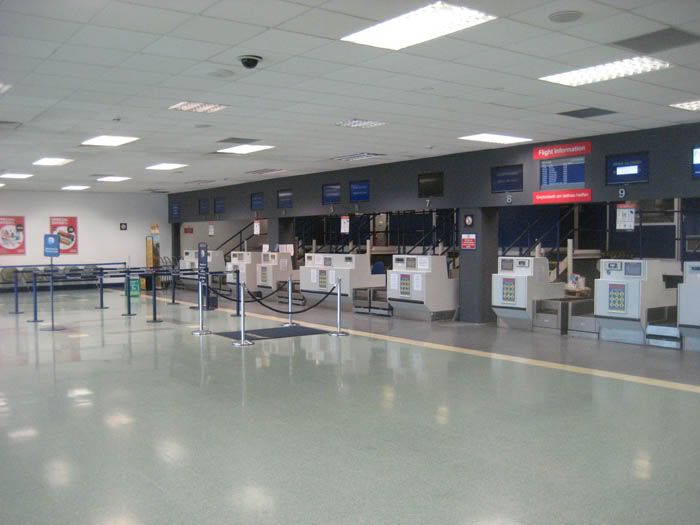 Steven King's ghost airport
advertisements for Helvetic - I definitely paid less than GBP 99 advertised here
the arrivals for the rest of the day...
and two versions of FIDS, my flight showing BRS and ZRH, no other flights except mine in the next 1h 45 min
After making a couple of pictures inside the terminal I decided to go for a walk outside to see whether there were any views of the tarmac. There was a view, but without any planes. Out of sheer boredness and in search for my favourite drink - Coke Zero (I found none in the terminal) I walked to the Holiday Inn Express Hotel and back (no Coke Zero there either) in drizzling rain. Back at the terminal, I checked in (a single check-in desk was now open). But I did not encounter any fellow passengers. I was sort of surprised I got a seat assignment, I expected free seating on this multi-sector flight. After that, I went upstairs and I finally saw some other people. There's a Burger King and a WHSmith, but unfortunately no views to the tarmac. I was spending time there until security opened.
view towards the BA maintenance area
empty tarmac
check-in counter
All in all the airport had not changed since my last visit back in June 2004 when I connected in CWL on the way from Toronto (YYZ/CYYZ) to ZRH using AirTransat and KLM (via AMS), but that is another story.... Security was a rather slow affair, but it didn't matter as I had plenty of time. After security there is a waiting area with a couple of shops and a cafe at the far end, from where there was a limited view of the tarmac. My aircraft wasn't there yet.
departure lounge
The weather had gotten worse and visibility was quite low. I started to wonder whether the inbound flight could land in these conditions.... a couple of minutes later my fears turned out to be unfounded as my aircraft was now parked at the gate when I checked the window in the cafe again. There were only a handful of people in the waiting area. They announced boarding of the flight to ZRH only about 10 minutes before STD but the doors to the gates were still locked at that point. One passenger got quite nervous when she couldn't get the door to the gate opened. She must have thought she had missed the flight with all the other passengers already on board.
my aircraft somehow found it's way through the miserable weather
the doors to the gate remaining locked even after the boarding call...
Soon after the boarding call the doors were unlocked and I proceeded to the gate at the eastern end of the terminal. The aircraft was not docked so we had to walk outside a couple of metres.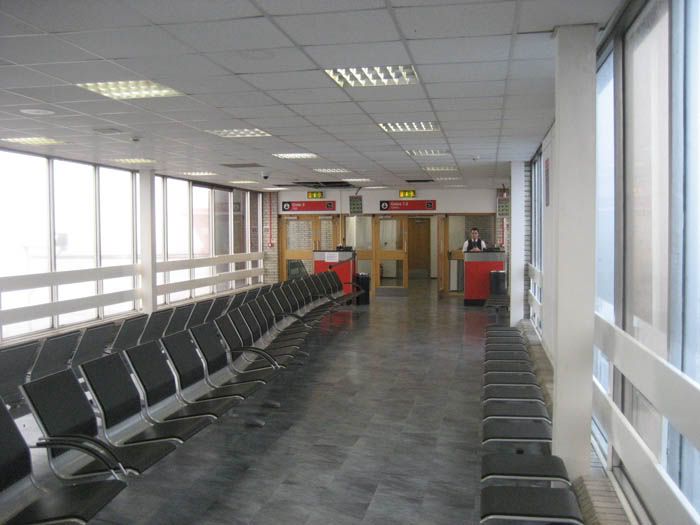 corridor to the last gate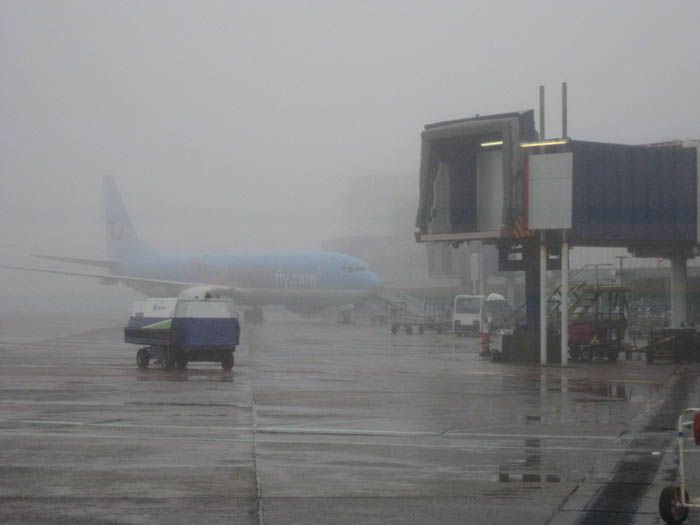 the only other aircraft parked at the terminal (as far as I could see....)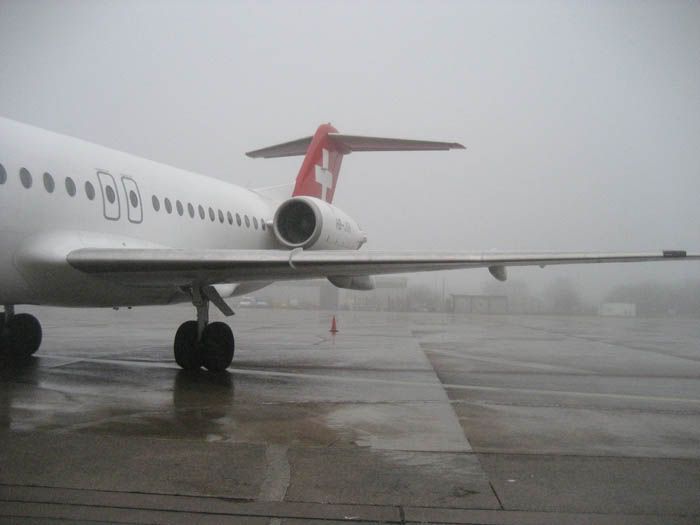 always nice to walk up to an aircraft
Weather was still miserable and I was glad to enter the warm and dry aircraft cabin. I was greeted at the door and went to my seat in the rear part of the cabin. In the end, I counted a grand total of 7 passengers including myself! The nervous lady could be forgiven for thinking she missed the flight...
the two-abreast left side of the cabin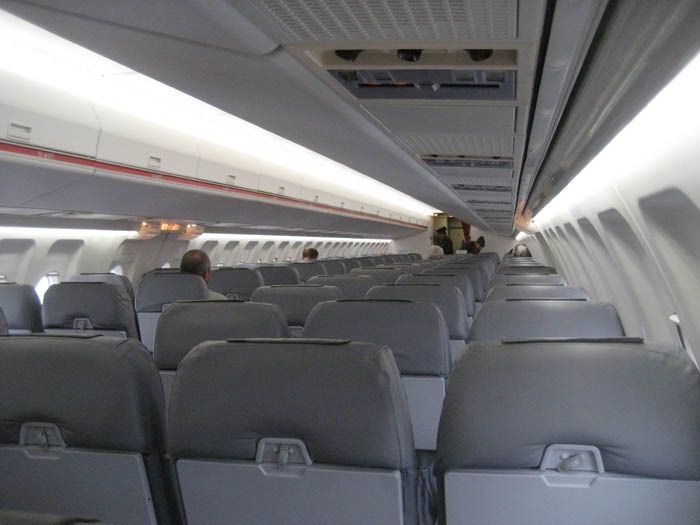 everybody on board!
We taxied to runway 30 for a take off to the west. The terminal was only faintly visible in the murk. When I booked this flight I was of course hoping for a scenic short, low-level hop from CWL to BRS and a nice view to the River Severn estuary and hopefully the bridges across it.... well, that was not to be. We were climbing through cloudy skies.
taking-off - can you spot the terminal?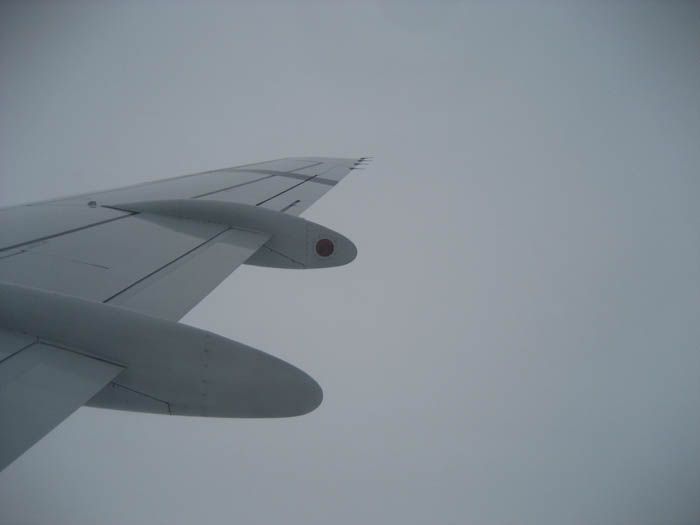 grey grey grey
The aircraft leveled off soon after take-off and as far as I could tell we turned back towards the East to approach BRS from there. During this flight phase, we were between two cloud layers and from time to time a glimpse of the sea could be seen.
some gaps in the clouds
a faint view of Bristol Channel
There was no service on this sector. We descended through clouds again, only for a minute, there was some limited view to the ground. Final approach was in fog and we landed on BRS's runway 27.
aahh, a gap in the clouds - about the only one on this sector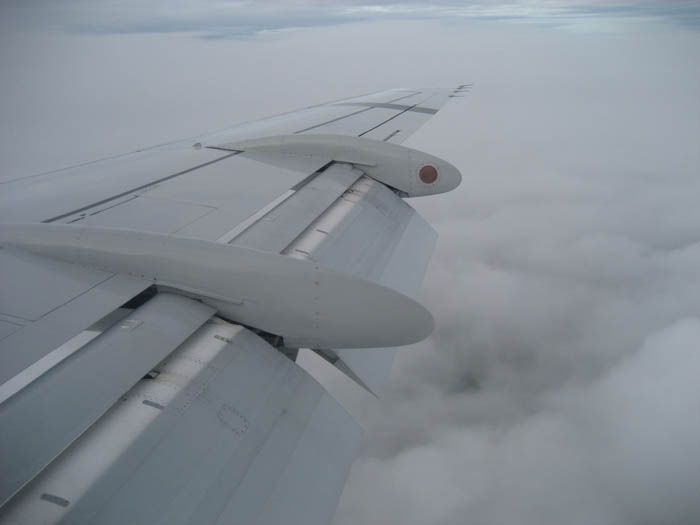 flaps set
category II landing? or category III?
all brakes deployed
Total airborne time was 33 minutes - much longer than anticipated! With a block time of 20 minutes, airborne time should be maybe 12-15 minutes. Fog in BRS was so bad that I never saw much of the terminal from the runway. Transit passengers to ZRH were asked to remain on board and of course nobody got off here. We were parked between an EasyJet A319 and a Ryanair B737-800.
my only glimpse of the terminal in BRS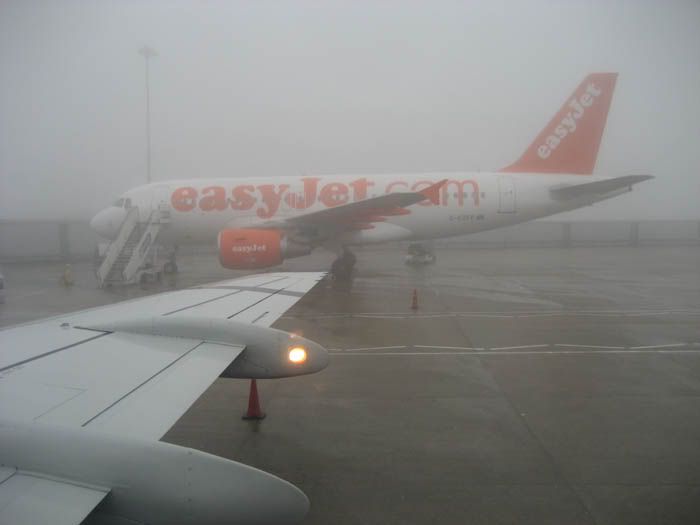 LCC neighbours
Date: 18Jan12
Route: Bristol (BRS/EGGD) - Zurich (ZRH/LSZH)
Flight number: 2L 441 (codeshared with 2L 443)
Schedule (local times): BRS 1510 - ZRH 1800
Scheduled block time: 01:50
Airline/Operator: Helvetic Airways (2L/OAW)
Aircraft type: Fokker 100
Registration: HB-JVH
52nd flight on aircraft type 100, 2nd flight on HB-JVH, 1320th flight overall
As we arrived about 20 minutes late, I expected a short turnaround. Dock the airplane, load the baggage of the joining passengers and board everybody, that's my idea of a short turnaround. But it took some time until the new passengers joined the flight. I guessed about 25 passengers joined us in BRS, as far as I could tell it was mostly one group going to Switzerland for skiing. About 10 minutes late we taxied to runway 27 again. Visibility was still low, so I did not really see anything of BRS and it's surroundings. Having stopped at BRS seemed a bit surreal to me.
Top