Introduction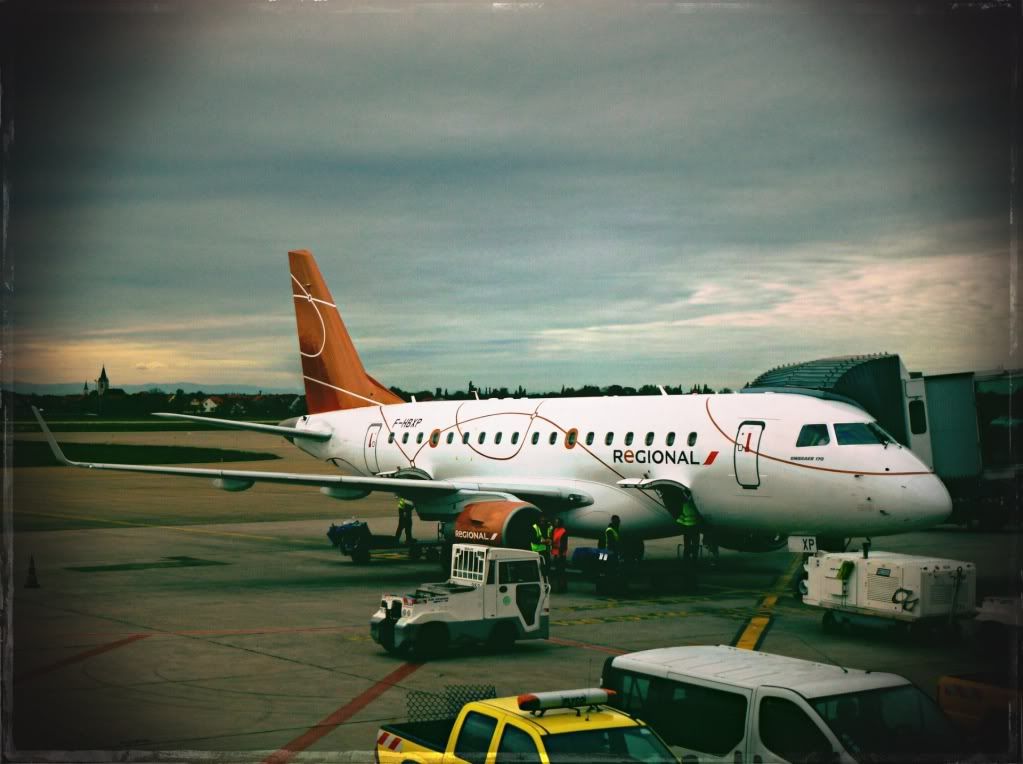 Norwegian keeps ramping up the HEL base operation, established in the beginning of the Summer 2011 season. For this summer season we got a fourth "based" aircraft (in quotes as they don't really have a traditional base here as the planes that are "based" at HEL keep being rotated quite frequently) and of course a bunch of new routes (and a bunch of suspended ones but hey, you are not supposed to ask about those!). One of these routes was the rather predictable flight to Paris' second airport, Orly.
If you ask me Paris doesn't have any good airports, but at least ORY offers some interesting connections to domestic French destinations and of course lots of flights to the Maghreb countries. Oh well, for me the first point sounded good, especially since Air France's regional partner Brit Air operates the CRJ-1000 or "CRK" in GDS jargon into ORY. So I set myself a mission: catch the CRK leveraging this convenient and affordable new way to reach ORY.
Things started by booking the outbound flight - I settled for the 1st of May/Labor Day/Valborgs or whatever name the celebration to slavery, work, solidarity and being helluva drunk is known to you - that is conveniently a public holiday in many countries in Europe, including Finland and I wasn't too keen on any celebrations this year, having seen it all many times before. And since Norwegian had a conveniently timed early evening flight on the eve, 30th of April I decided to go for it - the flight to ORY cost only 36 EUR which can be considered to be some sort of bargain! It wasn't quite the inaugural but second or third flight on the route instead, but since Norwegian doesn't seem to celebrate their inaugurals much it would be just fine for me.
That flight arrived sufficiently late at ORY to make overnighting there a necessity so I limited my CRK searching for the next day. Quite soon after that I went for Markus' favorite route, ORY-SXB and booked the morning flight to Strasbourg, operated by Brit Air with the desired CRK for around 55 EUR - domestic French flights are usually rather attractively priced and this was no exception!
From SXB I had two main directions to go - east or north. To go east would mean taking a train to Karlsruhe (or even to Stuttgart), saying hallo to CaptainRed and and then flying from FKB somewhere. I came very close to booking the new Ryanair flight to RIX from there, but somehow I'm growing more and more weary of flying with them, haven't flown since last July actually! Anyway to go north sounded much interesting - I found a nice open-jaw itinerary with AFKL for a good price where SXB-AMS would be operated by Régional with the E135, a very rare type in Europe (and one I'm only flown once previously) and then a bog standard KLM 737 on AMS-HEL. But as usual I waited around too long and the fare jumped up some 100 EUR, too much for me, so back to the planning table it was.
The idea of flying Régional in addition to Brit Air still appealed to me so I settled for an afternoon flight down to MRS with their ERJ-145, available for under 50 EUR. Finally the homeward journey was covered with an open jaw ticket from LH, flying MRS-FRA-HEL and using the return segment to start another crazy journey later this year, total around 175 EUR.
So I was all set...
…for a month or so after Expedia notified me about AF canceling my ORY-SXB flight! Oh dear, here we go again. Apparently AF decided to cancel a bunch of business oriented flights on the 1st of May as it is a big holiday in France as well (you know, liberty, egalitarianism, brotherhood and all that...). Looking at the schedules I had exactly two options: either get a refund and catch the TGV train instead or catch a flight from CDG. While I really like the TGV flying still appealed to me more, so I asked to be rebooked to the morning CDG-SXB flight operated by Régional on an Embraer 170. No CRK and no Brit Air for me, bugger that, but at least Régional would still be a new airline and I still had some time to visit Strasbourg city, something I definitely wanted to do.
Finally I switched over to a far crappier hotel near CDG and was all set. Here's what the map eventually turned to look like - it wasn't much different to begin with, just move that CDG line to ORY instead: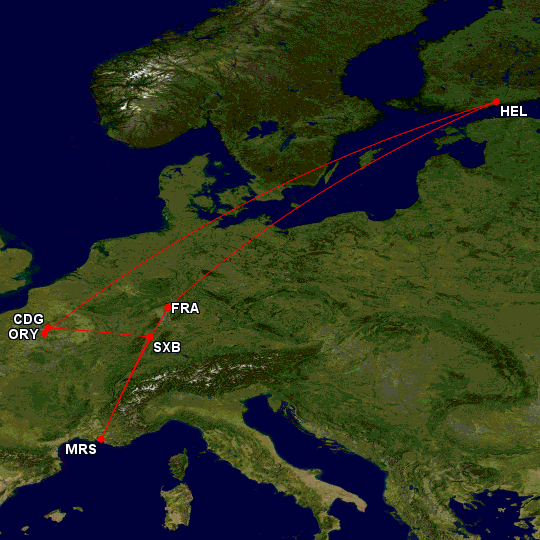 .
Monday 30.4.2012
Today being the second or third biggest drinking day in Finland (and most certainly the biggest in-your-face drinking orgy) the roads are already crowded with fallen comrades as I make my way home from the office. At home I gather last of my trash and head out to the airport with my usual bus. At the empty T2 while queuing for the ATM for some spendola I take a look at the departure board and get a small shock seeing that my flight is now scheduled to departure at 17.10 instead of the originally scheduled 17.35! I actually checked the time from the original booking confirmation the previous day to be sure and it said that - of course I failed to notice nor remember the schedule change notification I'd received some time ago...
Oh well, I still have enough time and there aren't too many people here so I quickly pass security, do my usual silent protest march thru the stupidly placed duty free shop, buy a bottle of water and head for a pint nearby the announced gate 29: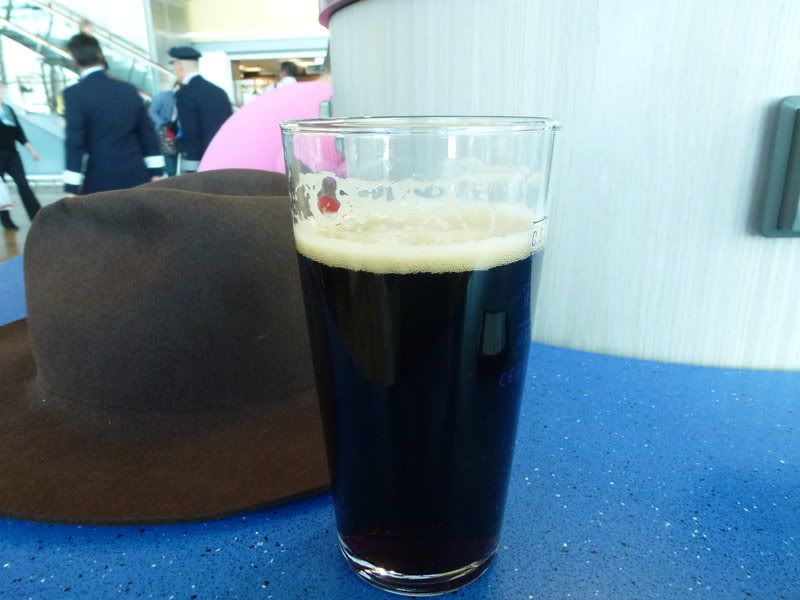 I'm surrounded by people speaking French so this seems to be the correct place - albeit that there is no plane parked on the jetway. Sure enough after the first sip of my nectar there's a gate change announcement to 26 and a huge stampede forms for it, including the whole flight crew of my flight (as a matter of fact one can see the pilots on the above picture). I however enjoy my pint before making a leisure stroll towards the gate - yes, that indeed is a Norwegian tail: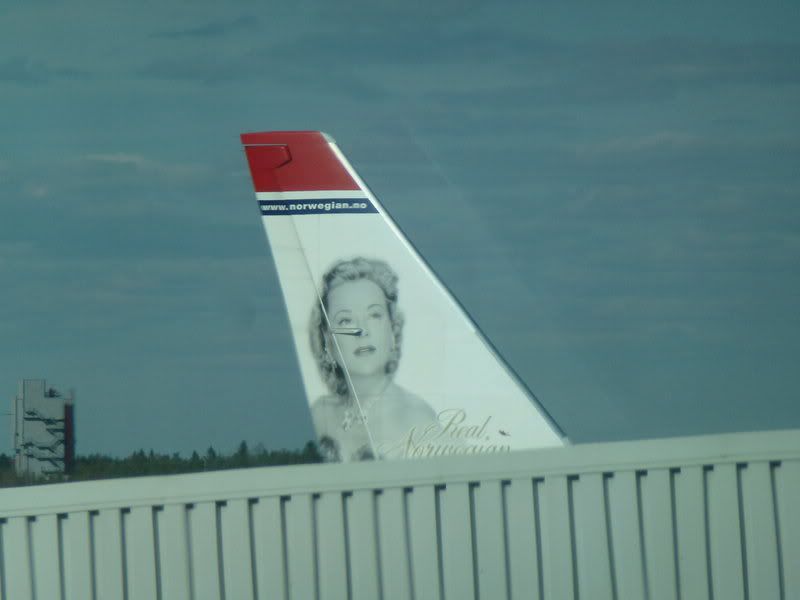 And here's the plane in its full glory: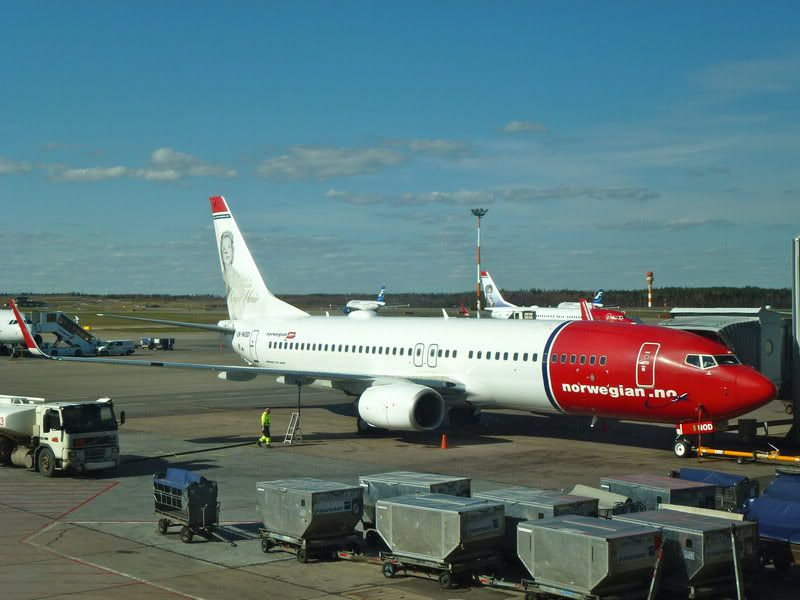 Some young guy is waiting to take the exact same photo from my (admittedly very good) spot, looks like another plane geek. I think he is French.
Over at the gate there's already a queue: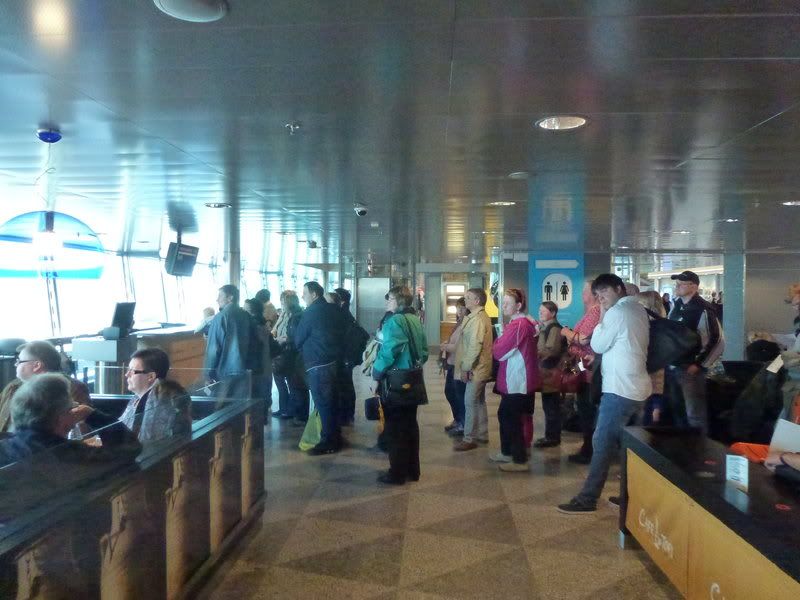 Everyone is queuing for the right hand podium so I use my cunning superpowers and decide to start my own queue for the left hand one - there are two gate agents so they will be using both, I'm sure of that. My tactic of course works fine, and after waiting around for ten minutes or so boarding is finally called, just seventeen minutes before SDT, rather latish I reckon.
HEL - ORY
DY5836
B737-800 LN-NOD
Seat 15F
17.21 - 19.41
I'm one of the first ones to walk down the jetway, first giving a little nod to LN-NOD since it is the first time we are getting intimate like this, then greeting the cutish young purser in Estonian (she seems to be a bit surprised but replies in the same language) and finally plopping down into my favorite seat, 1F (for which I actually drove to the airport in the morning to check in before heading for work) - or so I thought:
The caterers arriving - make sure you load plenty of beer: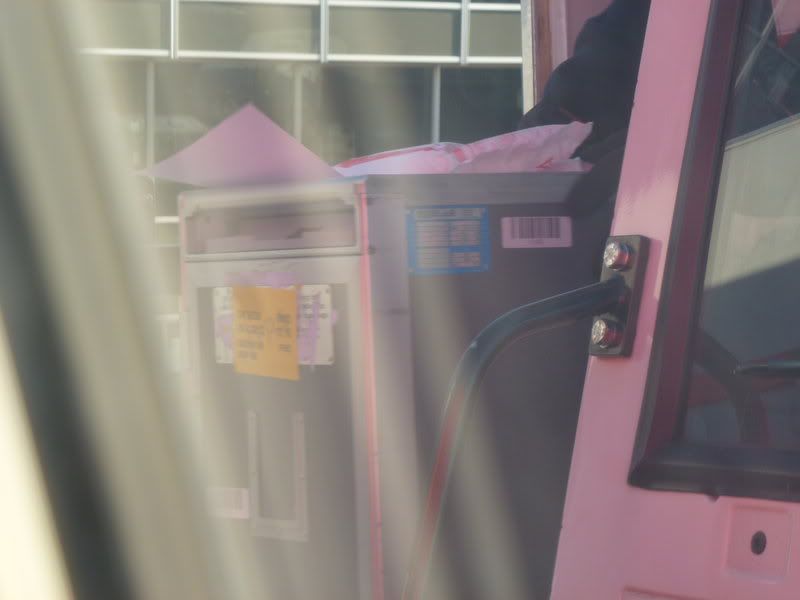 There seem to be lots of infrequent fliers on this flight (well like most DY flights I've taken, actually) so things are taking their sweet time. Eventually a Russian family arrives and the woman tries to say something to me in Russian and then in broken English. They seem to have seats 2DEF so I insist that no, this is row 1. One of the FAs comes and asks for my boarding pass, so I show it to her and whoops, indeed this is row 2. On this particular plane row 1 only has ABC (weird, the rows have always been somewhat disaligned and the newer ones do designate these very same seats as 1DEF) - I'd just boarded on autopilot and went to my usual seat. So I'm left without a seat, sweet.
After a bit of a powwow with the FAs they try to make me sit on 1C, I refuse (I try that seat and for some reason it is far narrower than a normal seat, rather uncomfortable for a big guy like me) on the grounds that I really want both my window and legroom. I ask for an exit row - they answer that boarding is still ongoing so let's see, maybe. While one of the FAs heads to check from the gate agent I try to sweet talk the purser into letting me to ask the pilots for the jumpseat in the cockpit but she refuses, all in good spirit though! Soon the other FA comes back, says something about the gate computer being down and not showing which seats are allocated or not. So some more waiting, during which I try to help one of the FAs to explain to the new occupants of 2DEF that no, no kids are allowed on the bulkhead row and they definitely should put their hand luggage to the overhead bin but the bling bling mother has decided that I'm her worst enemy and almost hisses at me so I decide to stay back (eventually they switch with the people on 2ABC and everyone but me is happy).
The FA explains to me that the equipment was switched to this "older plane" (indeed, no Boeing Sky Interior on this 738) on short notice (I guess it explains the gate change) and it has a slightly different seating configuration. I say to her "Well, at least it's got Internet!" to which she agrees (see, these Estonians are so wired or rather wireless nowadays...).
Finally boarding is completed and she gets the full manifest, takes a look and asks me to follow her to...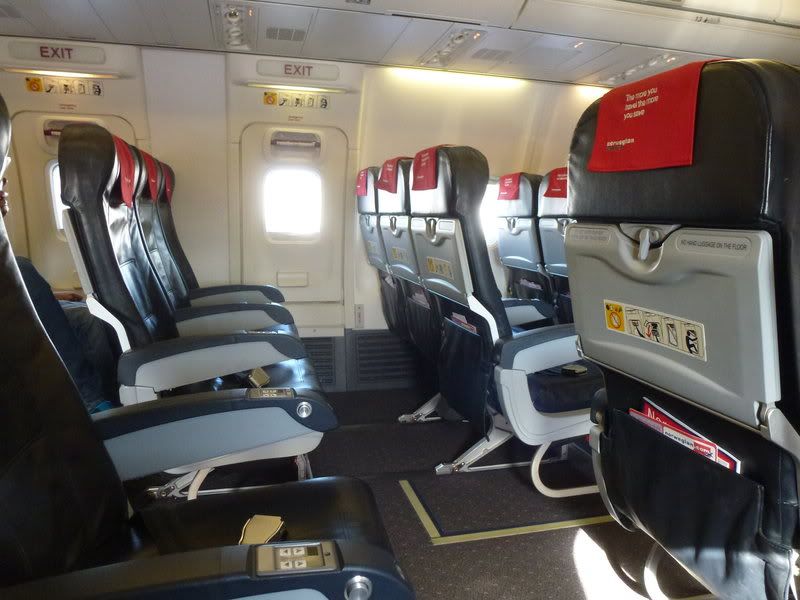 ...the jackpot, the whole exit row 15 just for me, I can live with that! I grab 15F in the hope of seeing the Dutch coastline on that side of the plane and potentially a glimpse of CDG during our approach for ORY.
Yes, the legroom is a bit better than the bulkhead - I still prefer the bulkhead for two reasons: 1) no wing and engine blocking the view down below and 2) you get faster out of the plane: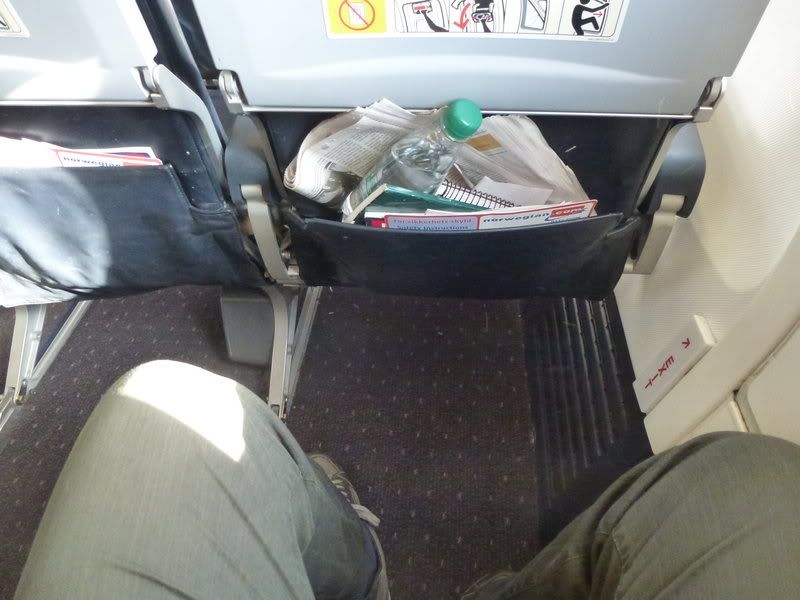 Load is around 80%, half the pax seem to be Russians (just like with the Ezy CDG flights, remember those?) and there are plenty of screaming kids around, lovely.
The captain makes a mumbled announcement, mentioning something about a delay but anything else is hard to make out - I guess the plane switch and assorted rigmarole took their sweet time. The purser announces our flight time as 2h50mins and not much else.
Push back is eventually just eleven minutes late, but as we are right in the middle of the first wave of AY's Asian departures there's a bit of a queue for departure.
That winglet looks gorgeous: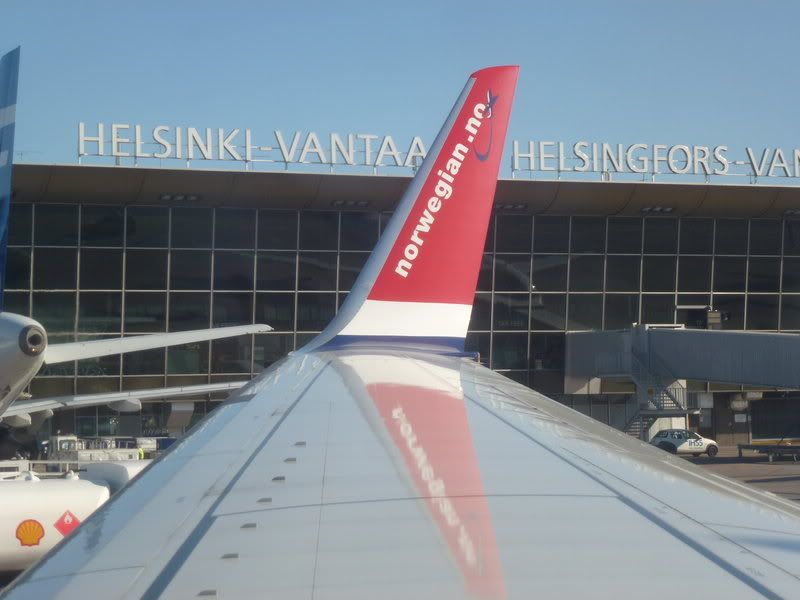 "Bergen" going to AMS - I should be taking this evening KLM flight in less than three weeks: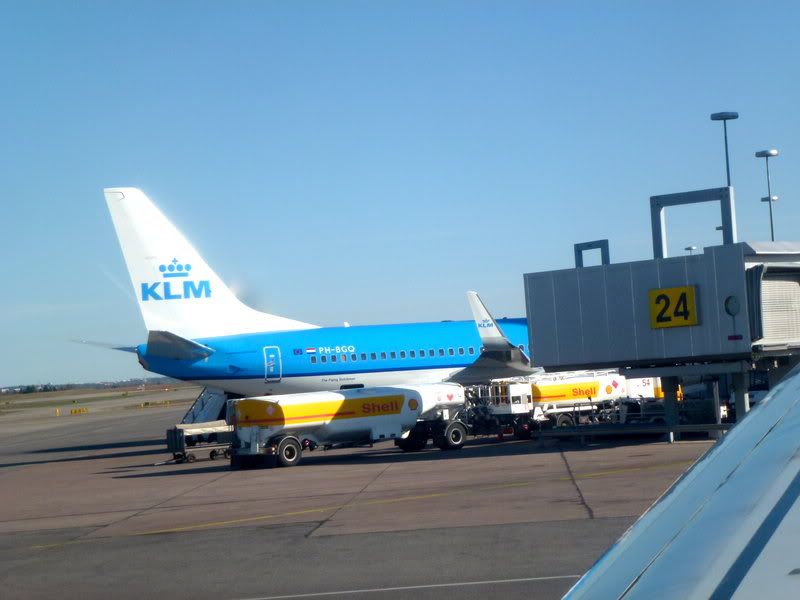 Must-have-a-717-in-a-report: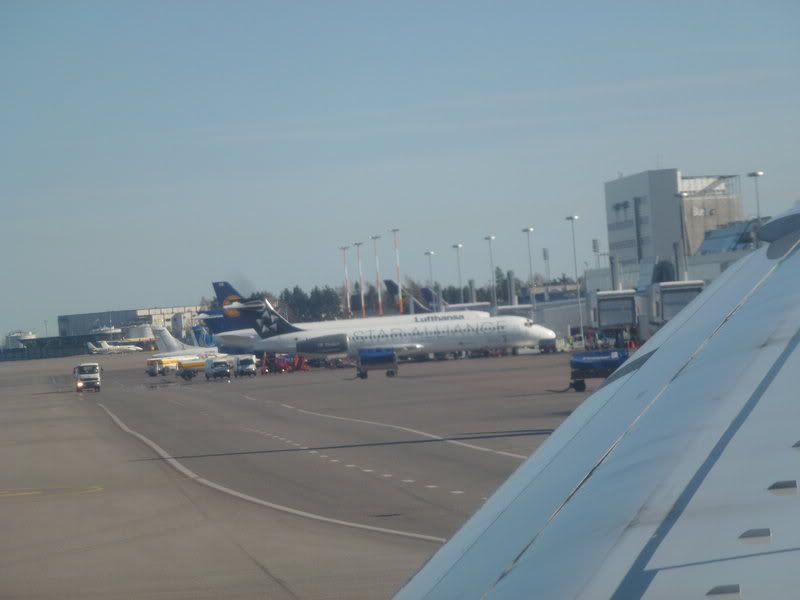 The queue for 22L: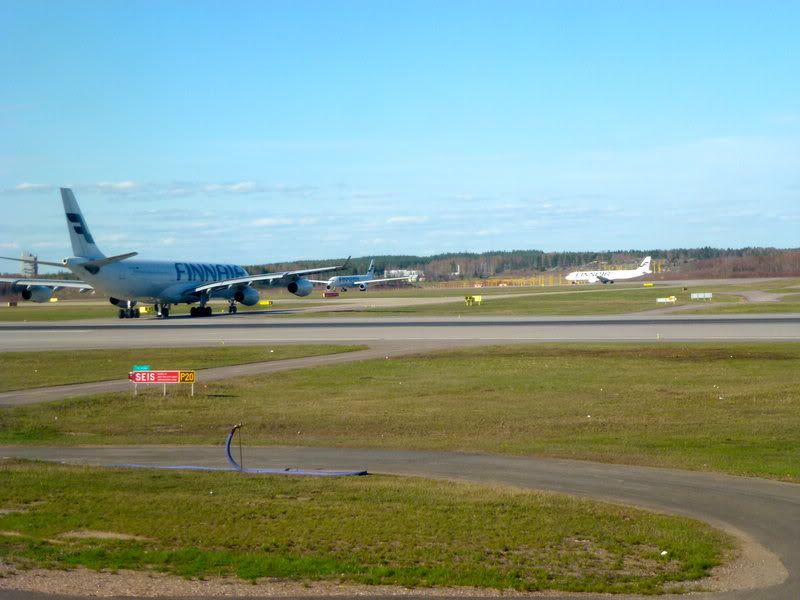 Luckily we aren't as heavy as thos AY longhaul birds so we enter the runway at a further intersection, speed up and head for the skies - take off is at 17.35: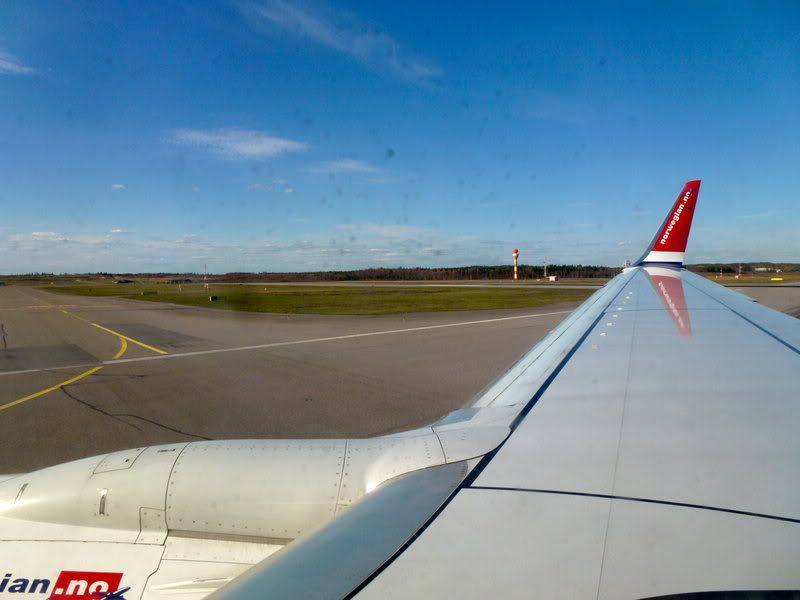 Turning right for noise abatement reasons - 04L/22R on sight: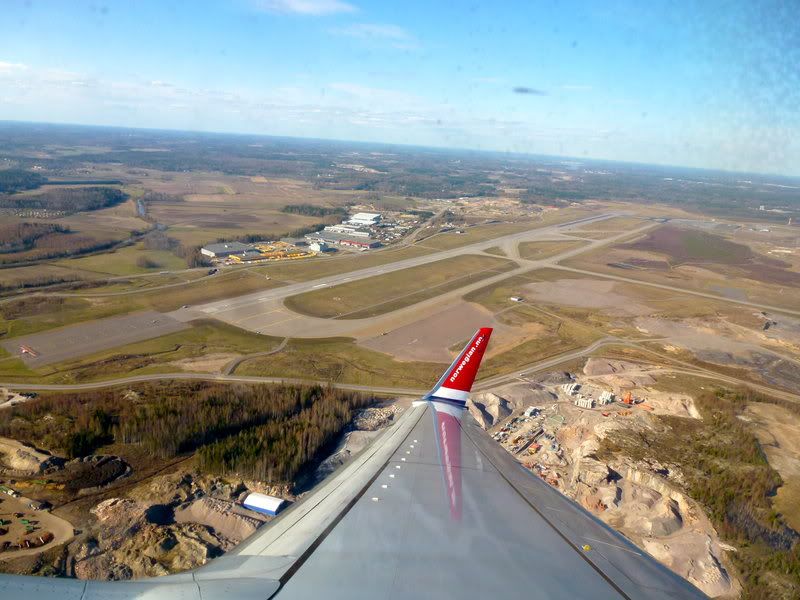 I really like that reflection: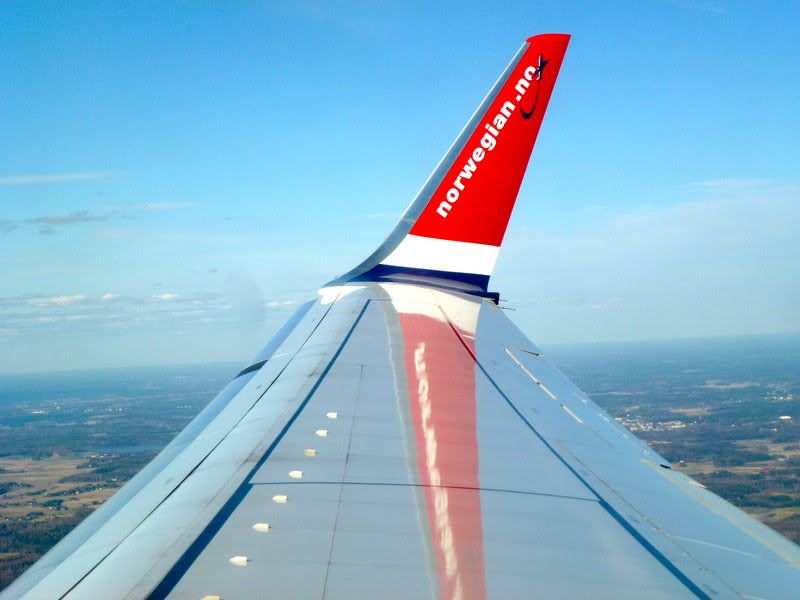 Very soon the seat belt ding goes off which also means that we are now able to get online - so I open my personal airshow: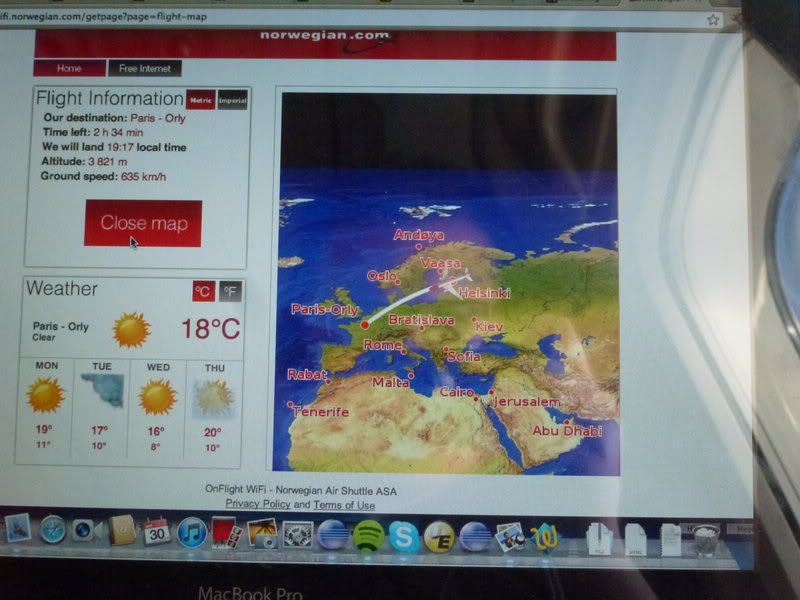 This sets the tone for the flight - plenty of work and trip reports to catch up on together with a couple of malt beverages: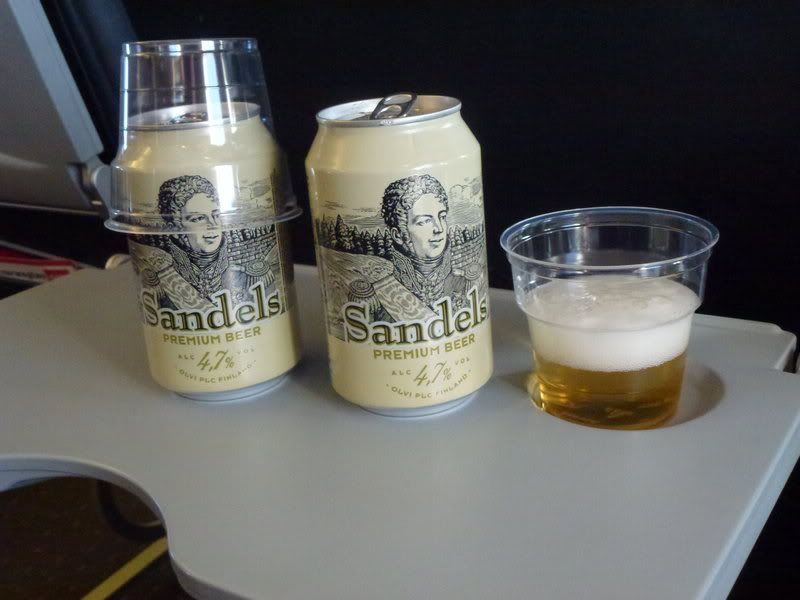 Moody shot of a guy sleeping on the other side: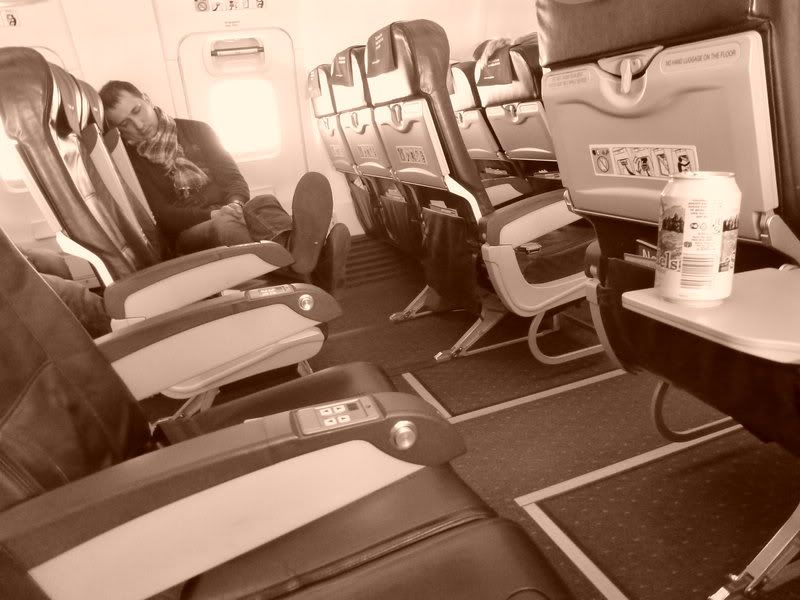 Routing is the usual between Finland and West Europe, good to follow using my private airshow though - basically across the Baltic Sea to Visby, Kalmar and Helsingborg in Sweden, moving on to Danish airspace, crossing the northern part of Zealand and Fyn directly overhead the city of Odense, high on my TOVISIT list and then down Jylland to the North Sea where a gorgeous view of the island of Sylt and the Hindenburgdamm basking in the late rays of the sun is to be had: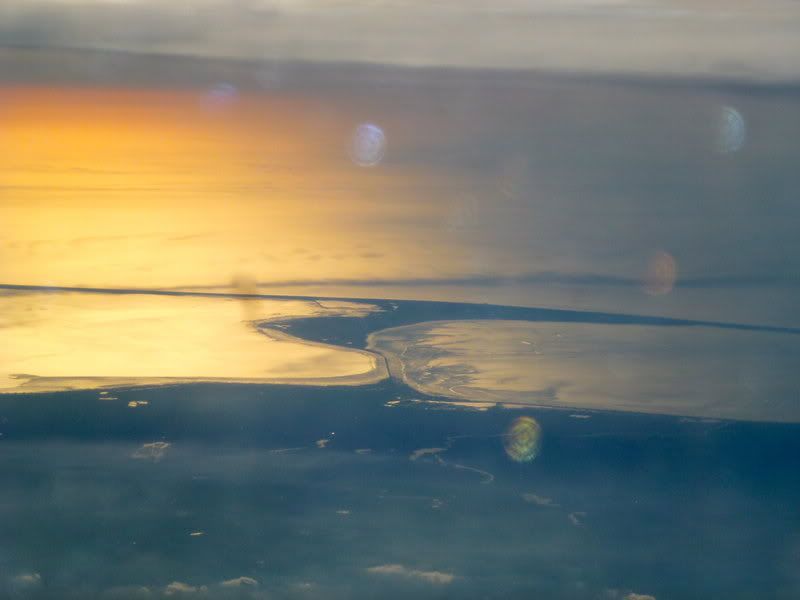 Cabin view from a "lavatorial visit" like someone obsessed with toilets puts it: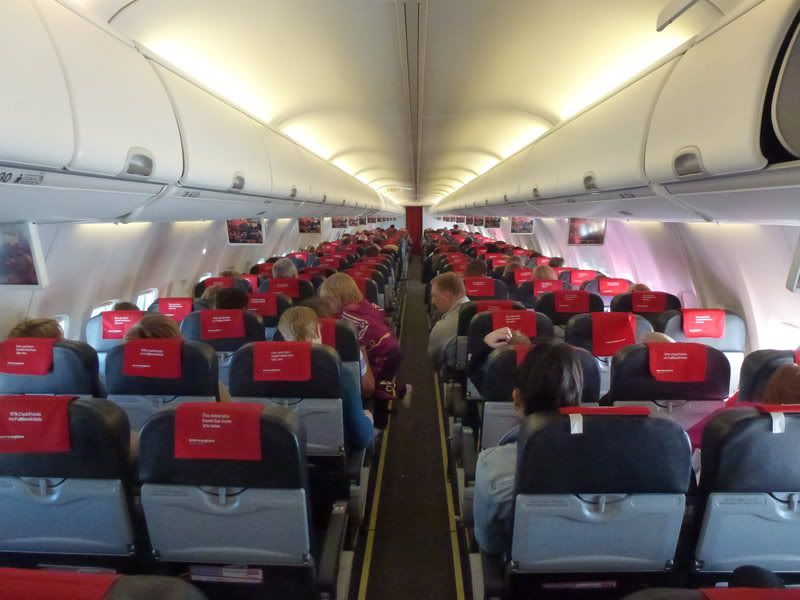 From the Netherlands onwards the skies are overcast so no further views. The flight just seems to drag on and on until finally around two and half hours into the flight I can finally feel descent starting. The captain makes another muffled announcement, explaining something about "delay" and "lots of traffic" or similar, expecting us to land in around half an hour or so.
Descending thru thick clouds: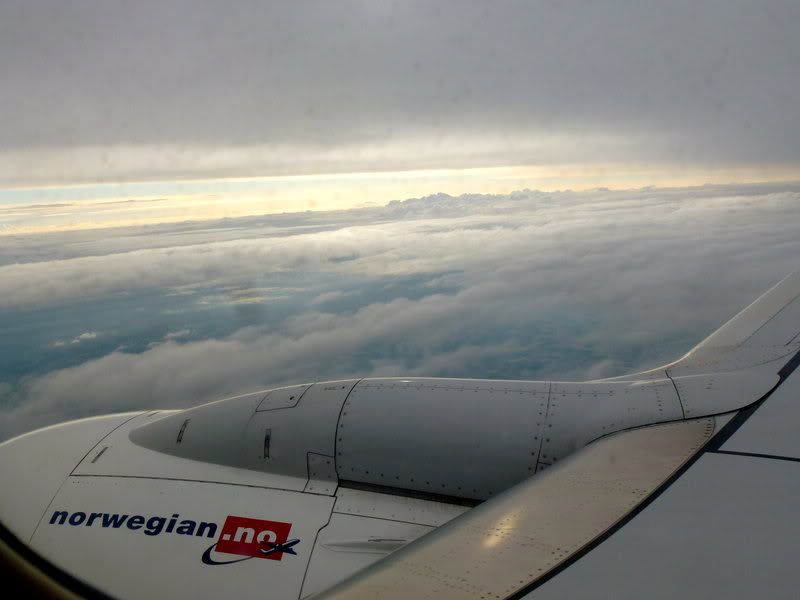 The sun still shining up here: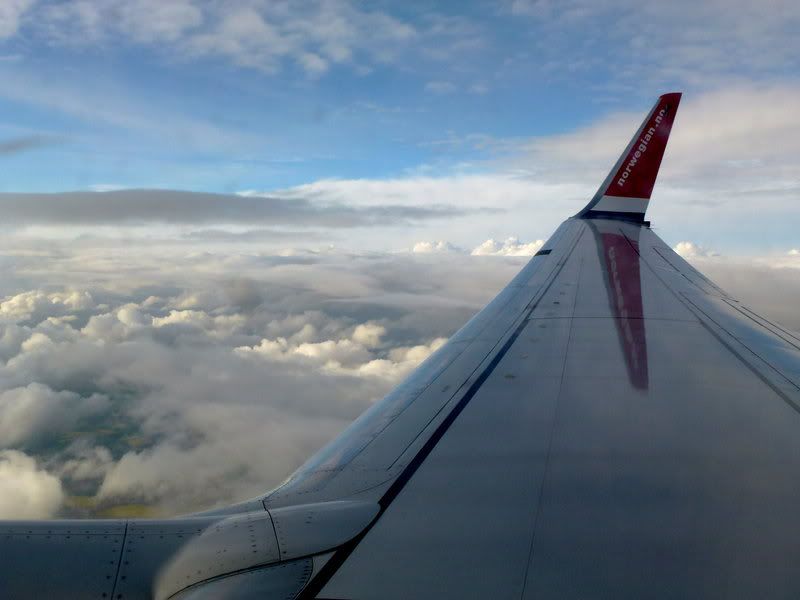 Bonjour, France:
The approach takes forever and we keep taking weird turns every which way. Eventually it becomes apparent that the Paris weather is far from good and probably that is causing some higher than normal minimums for any traffic: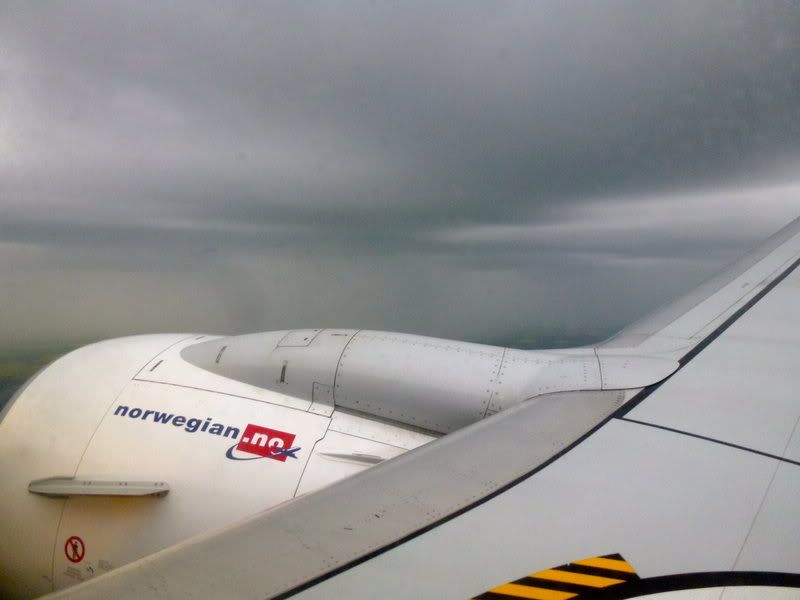 Finally we turn back (at one point we were more than 50 kilometers straight east from ORY!) and commence our approach into Orly.
Lé electricite: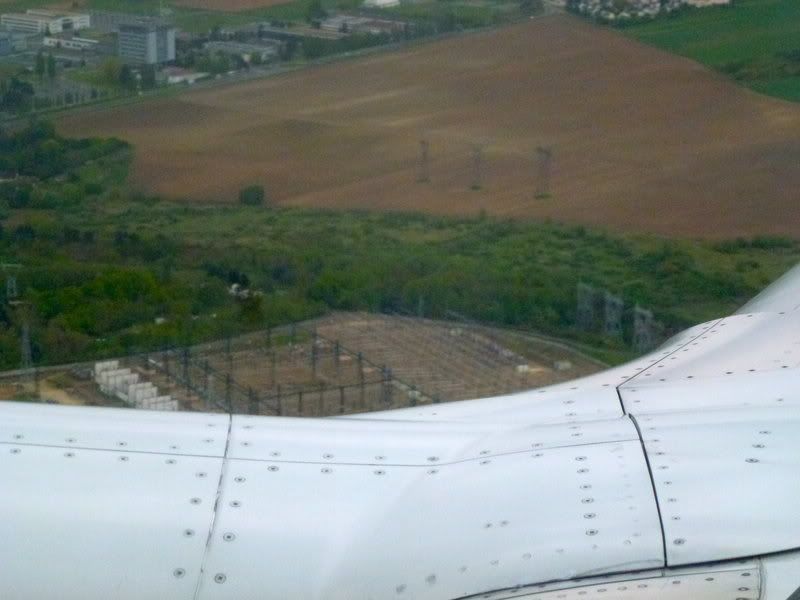 Lé cite: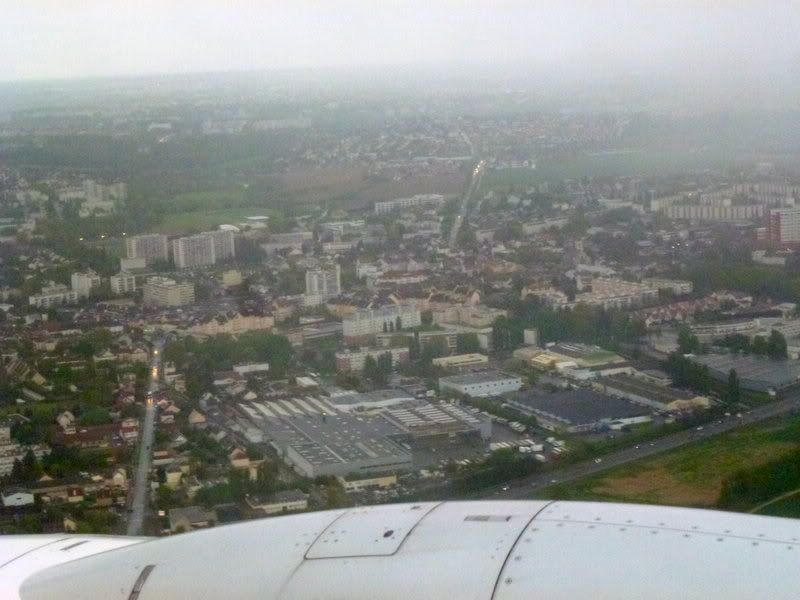 Lé project: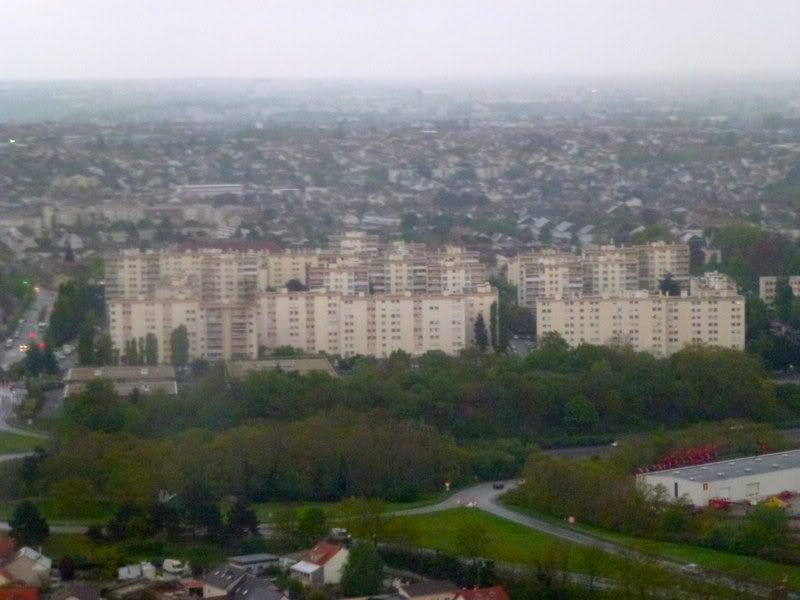 Lé depot: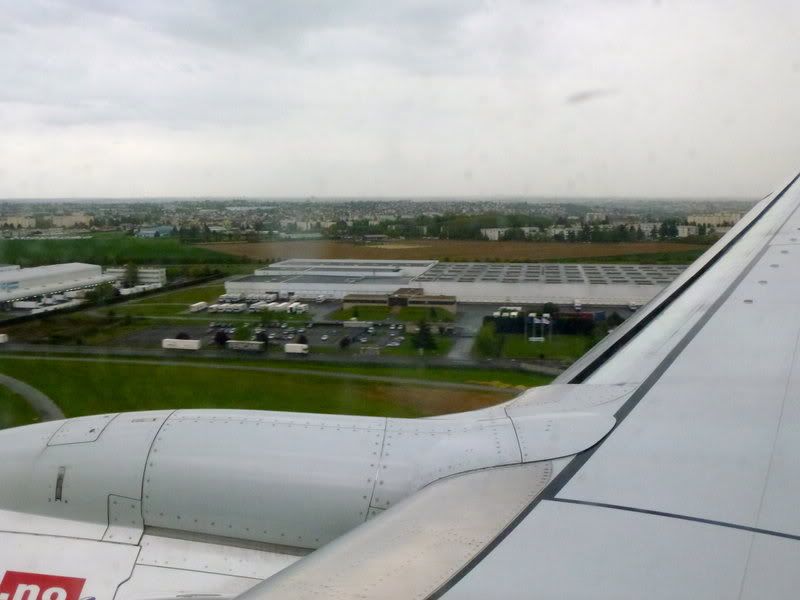 Lé aeroport: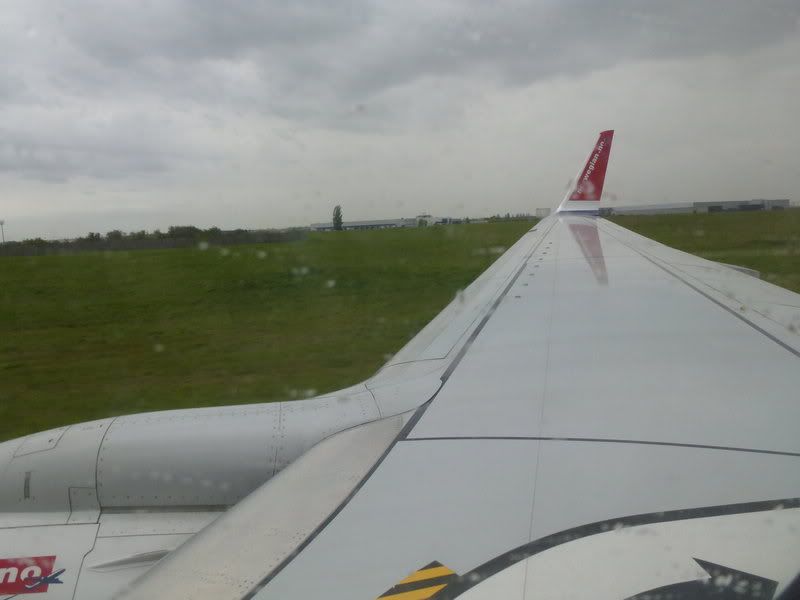 Landing onto a very wet Orly is finally around three hours and five minutes after take off, quite a long time for this route. I honestly cannot say which runway we landed on - either 24 or 26 but which one - I strongly suspect the latter, though. Anyone?
Taxiing to Orly Sud:
Wait until tomorrow: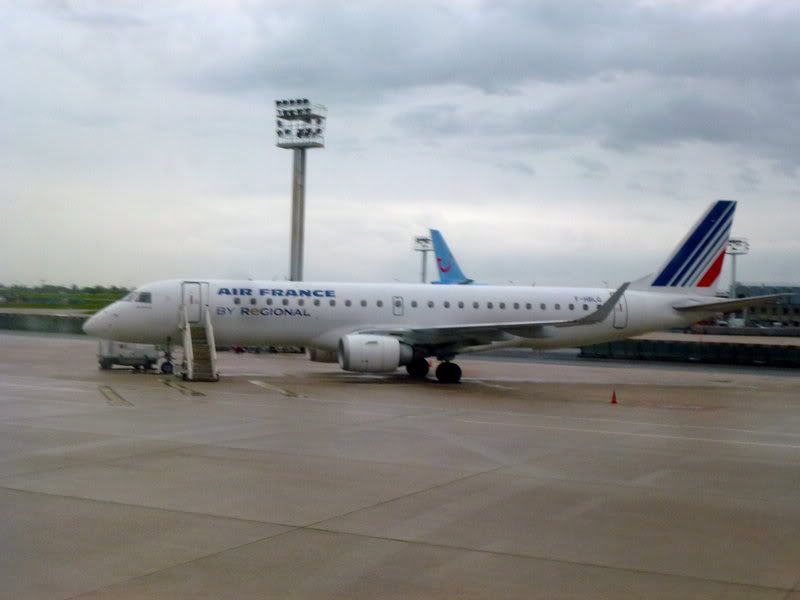 Ok, go on, rub it in: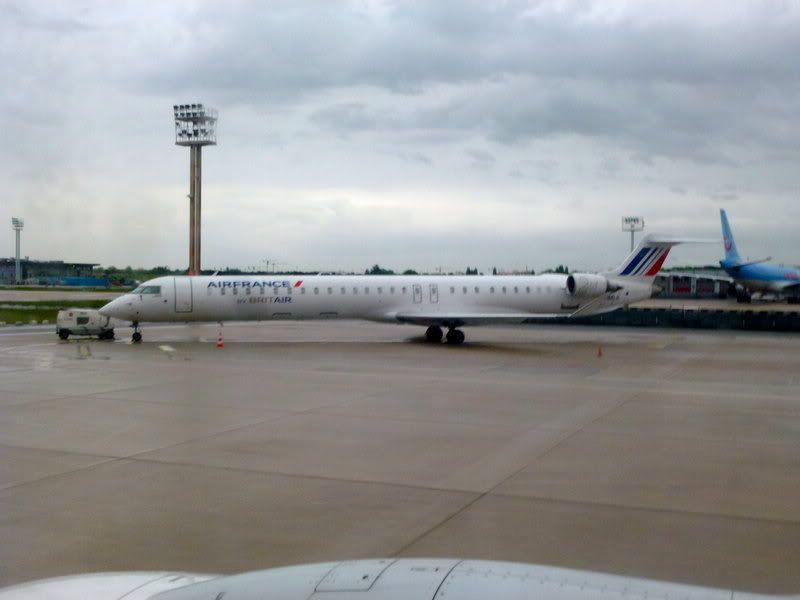 Sud looking quite empty: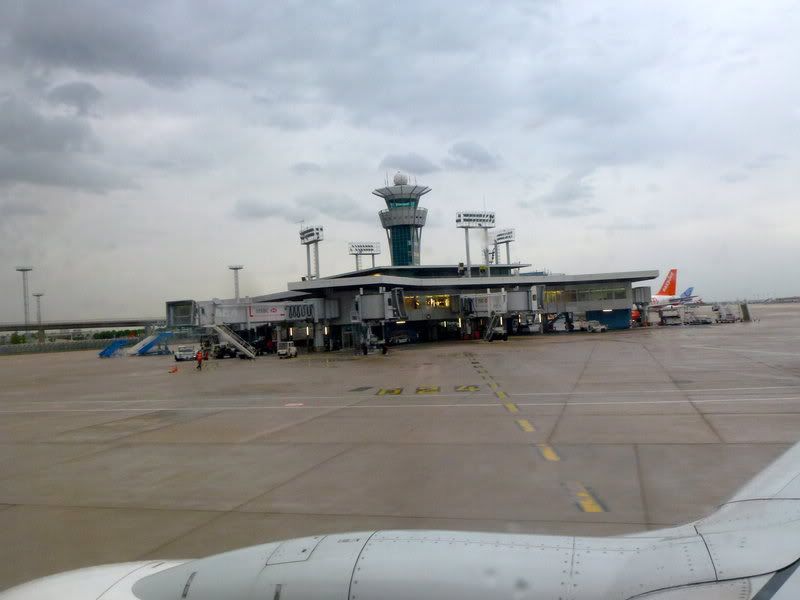 Paris and around
Bye: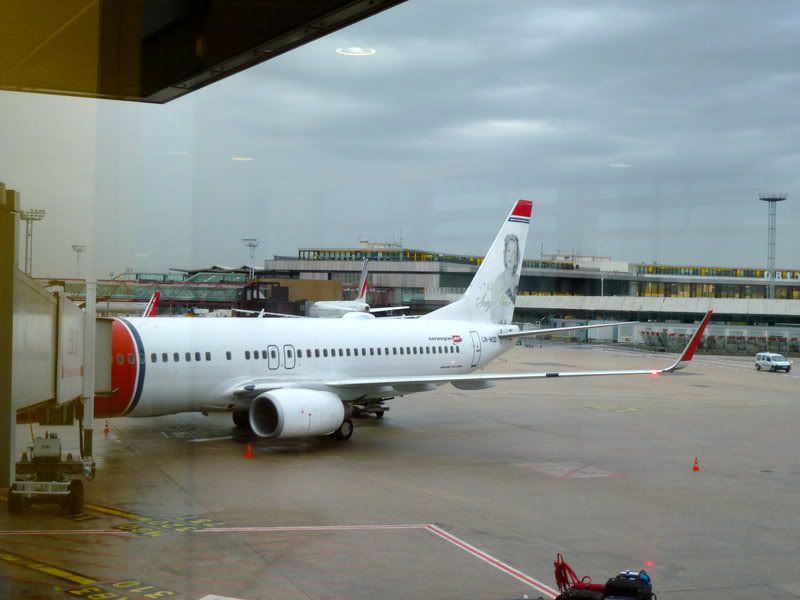 The walk to the luggage hall and exit is a very long one, taking us right in front of this Lé easyJet: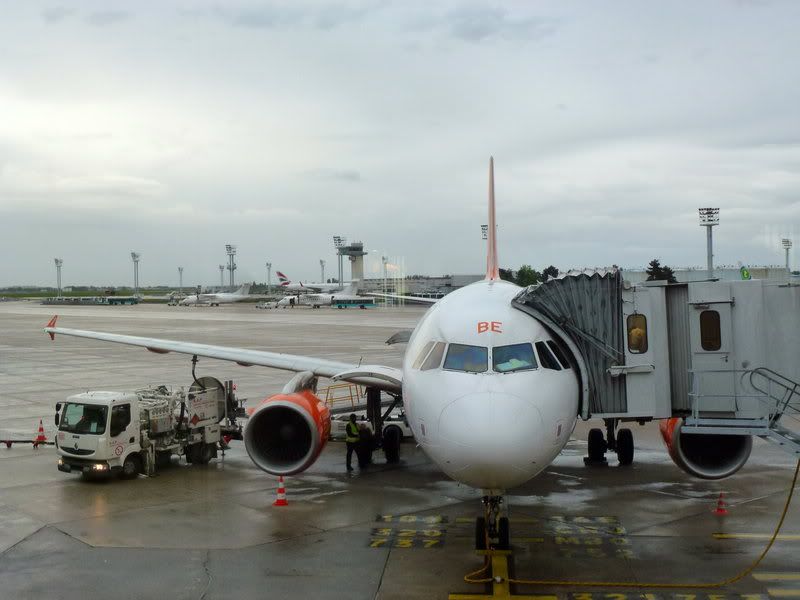 ...and another Norwegian just arriving: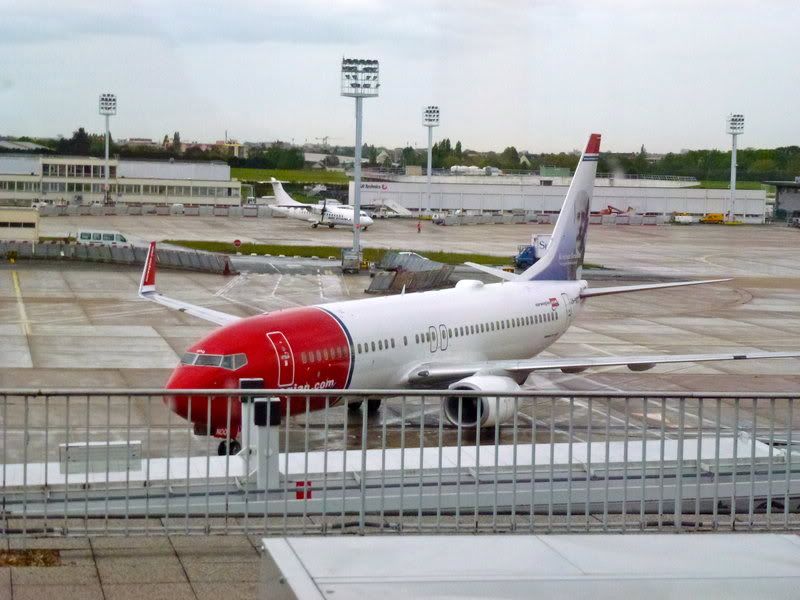 It's been a few years since I was here the last time but the terminal looks just as rundown and worn as back then - this low ceiling makes it feel very claustrophobic: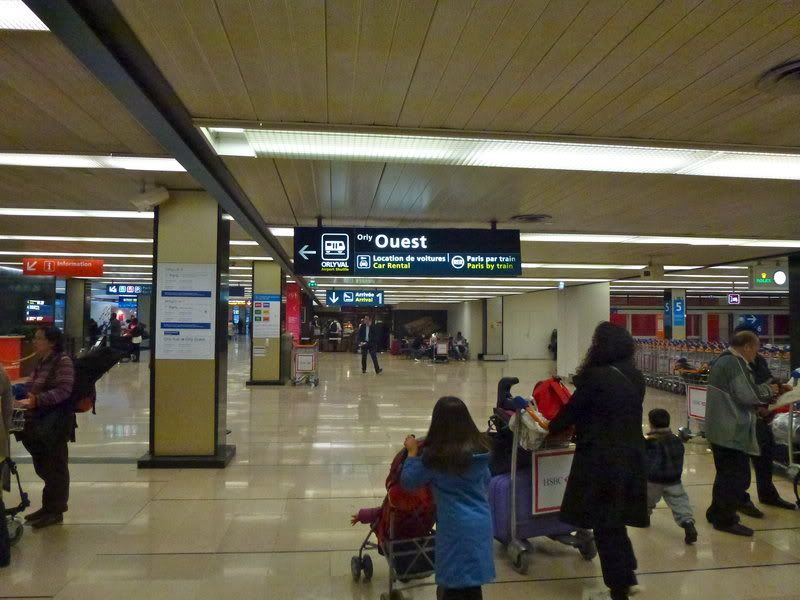 The next quest is to get to my hotel, just one RER stop before CDG. ORY has OrlyVAL, an automated shuttle train thingy connecting it to the nearest RER station, Anthony - which conveniently is on the same line as CDG. The tickets of course are quite a rip off - you pay a large premium for the airport service: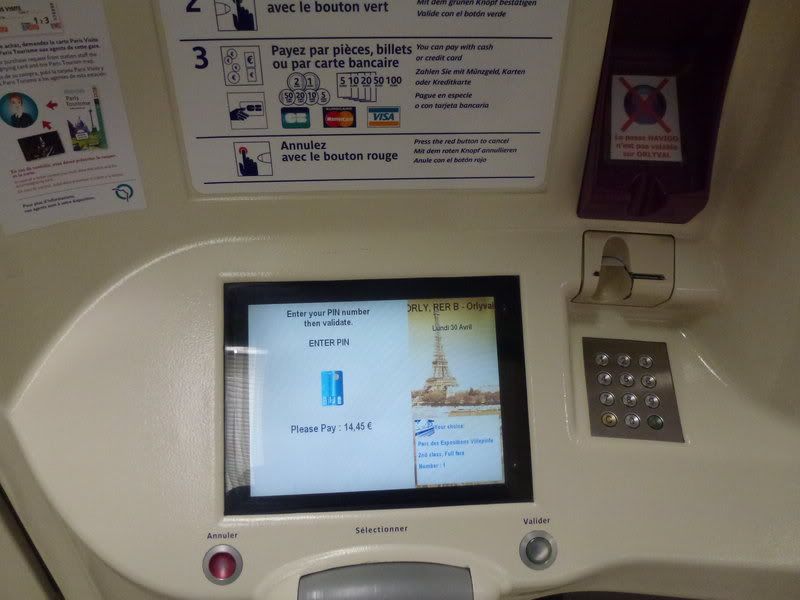 Well, the alternative would be this - les cars Air France with their own cool waiting lounge: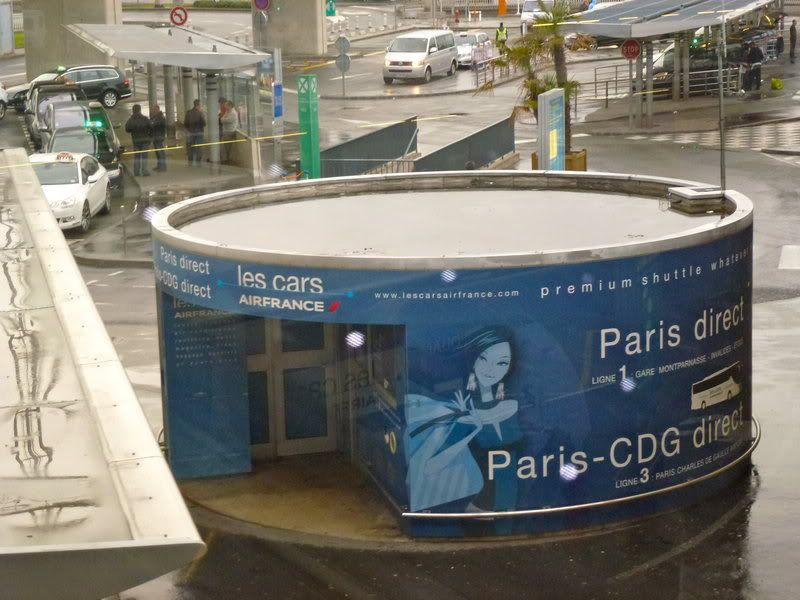 ...but that service is even more expensive and the one time I took it my almost lost my legs due to the abysmal legroom in the bus. Seriously it is worse than on any plane I've ever taken!
Boarding:
Sud in all its glory: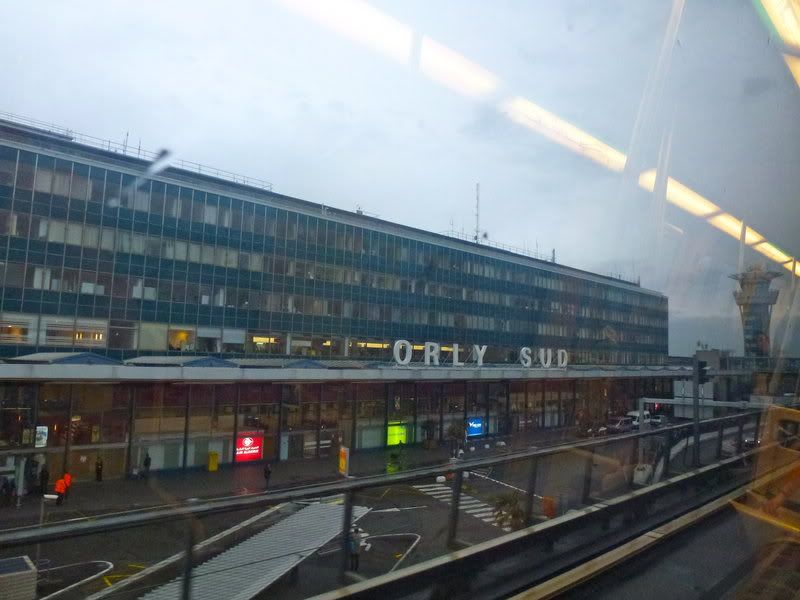 After a brief stop at Ouest, Air France's home at ORY the train accelerates for a long stretch before reaching the RER station. I'm actually quite surprised by how rural it all seems - since ORY is basically on the edge of the built up area of Paris I assumed there would be more houses and other developments...
Waiting for the next RER: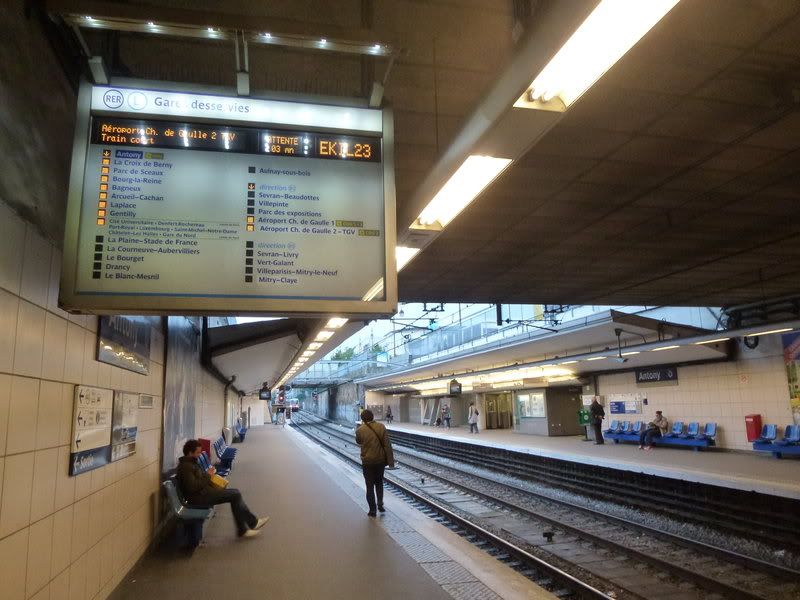 The next one is an express service to CDG which doesn't stop at Parc de Expositions where I want to get off so I ride it as far as Les Halles and then hop out to wait for the next one.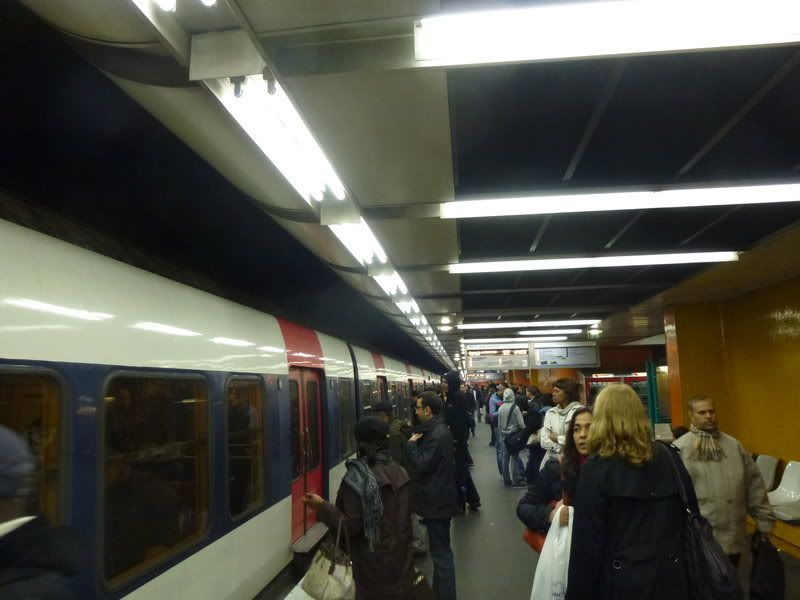 Before I'd ever been to Paris I read about the RER from somewhere and that description made it sound like a cutting edge transport system ready for the 22nd century or something. Well, that image quickly vanished from my head the first time I rode it and it certainly doesn't feel any better this time - dirty, crowded, noisy trains covered in graffiti which spend a lot of time going forward at a speed even my late grandmother could've outwalked during her last years... you name it. Not exactly a world class public transport system, but admittedly it does get the job done.
The train gets very empty somewhere between Le Bourget and CDG: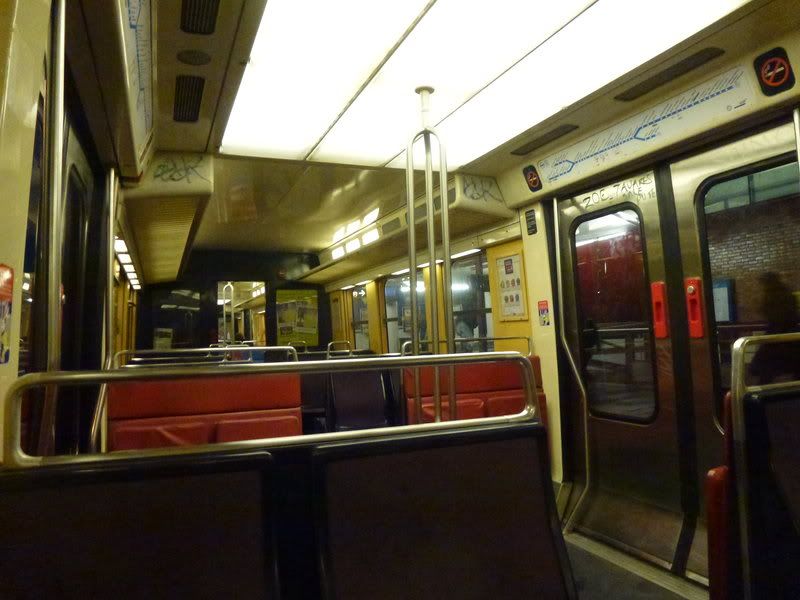 Finally after an hour or so I reach my stop, being the only one leaving the train and pretty much the only person around. There's a couple of kilometers to walk in the rain down these spooky but well lit paths: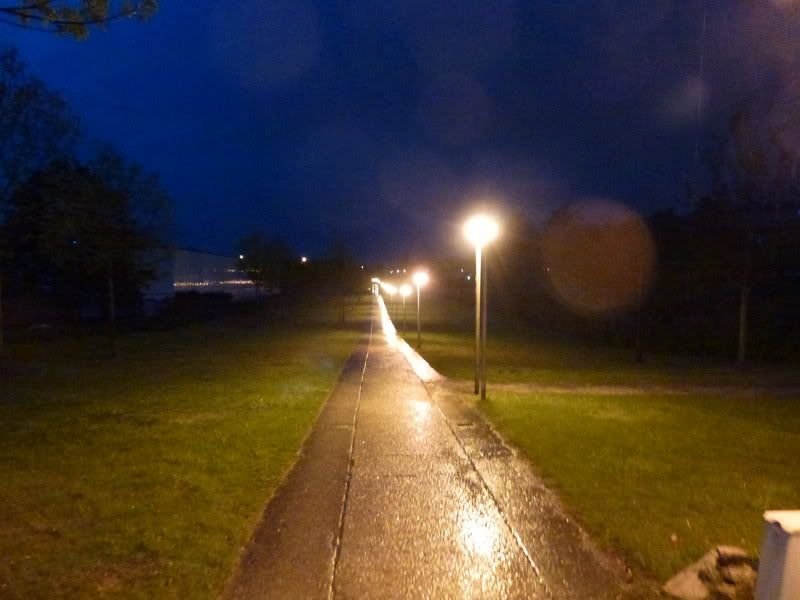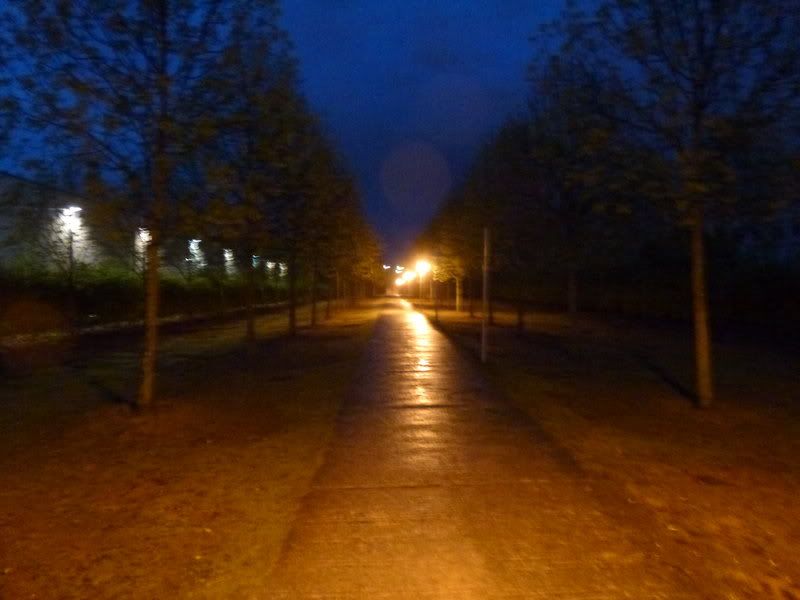 Well, nothing to fear really as the only thing keeping me company are the around two hundred rabbits I see during my trek. Eventually I reach the other end of the path and walk down the street in my soaked shoes (so much for checking the weather forecast...) past an impressive array of logistic facilities, warehouses and empty roundabouts. Oh and some Romanian gypsies who have managed to overload their crappy car with all kinds of junk imaginable, to the point it can only do around 20 km/h...
Soon I'm at the edge of the "Hotel Area Paris Nord 2" or whatever it is called - wedged between Lé Motorway and the aforementioned logistics area. My hotel is there, but more importantly there's also the promise of food: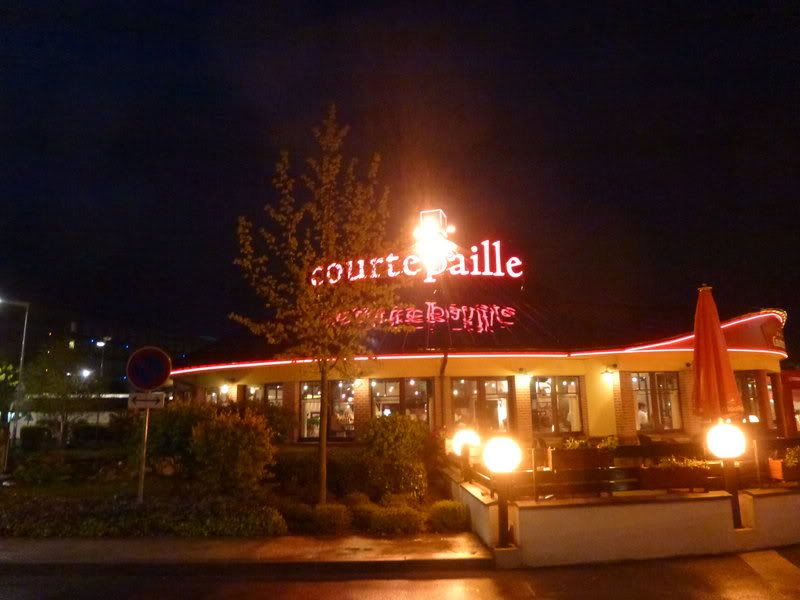 Out of dedication to a certain "Mannen av faux" I just have to have this: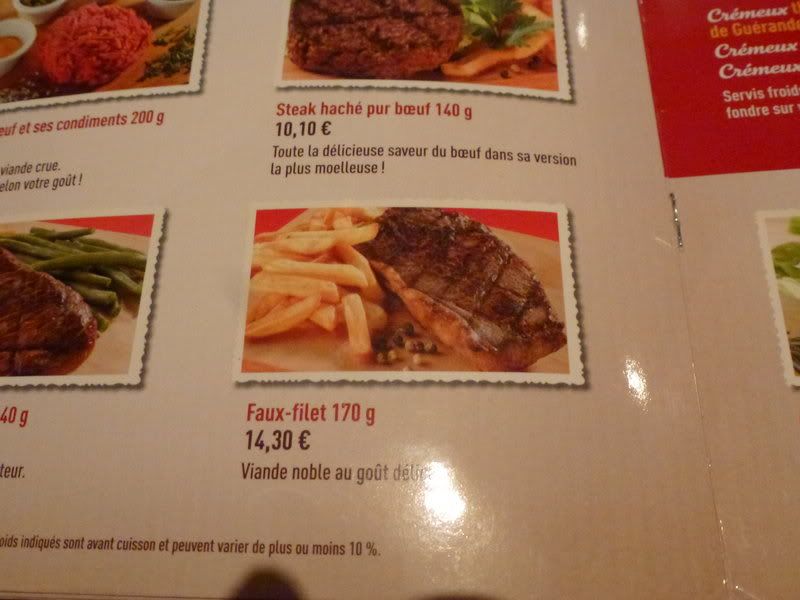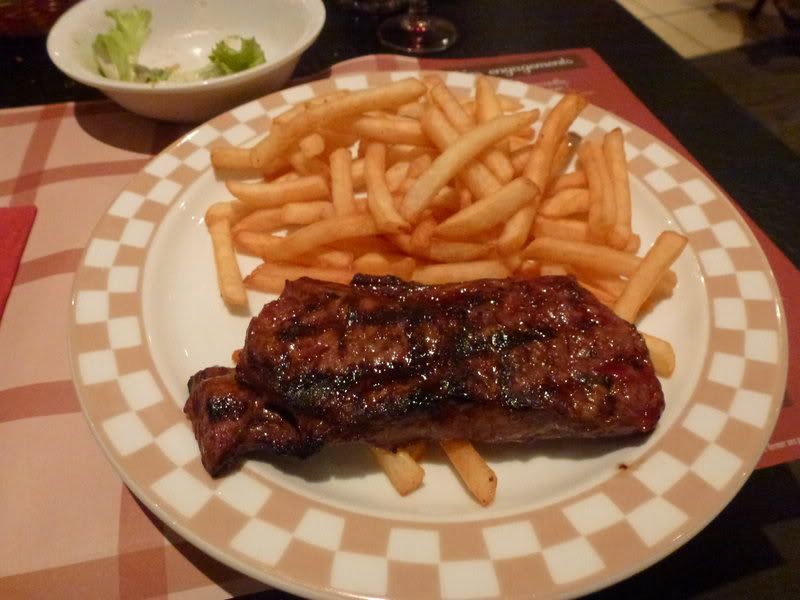 Then it is time to walk next door to my hotel. CDG airport (well the whole of Paris actually) isn't exactly well known for affordable hotels and I was on a tight budget here. Unfortunately my usual crib, the Mercure which one used to get quite easily thru Priceline for 50 EUR failed to make an appearance. So I booked a room at one of the the Premiere Classe hotels around - for a pre paid 29 EUR this seemed to be a very nice bargain.
Well, more like Peasant Class is what I say: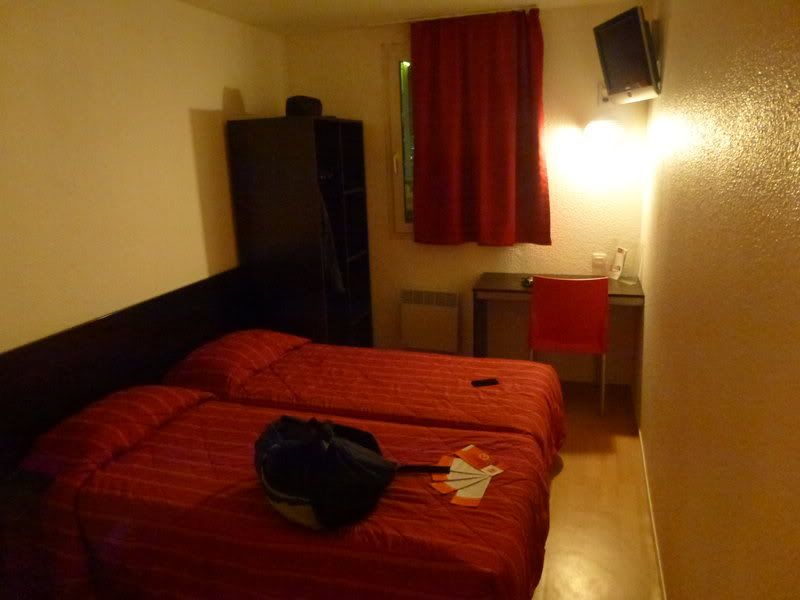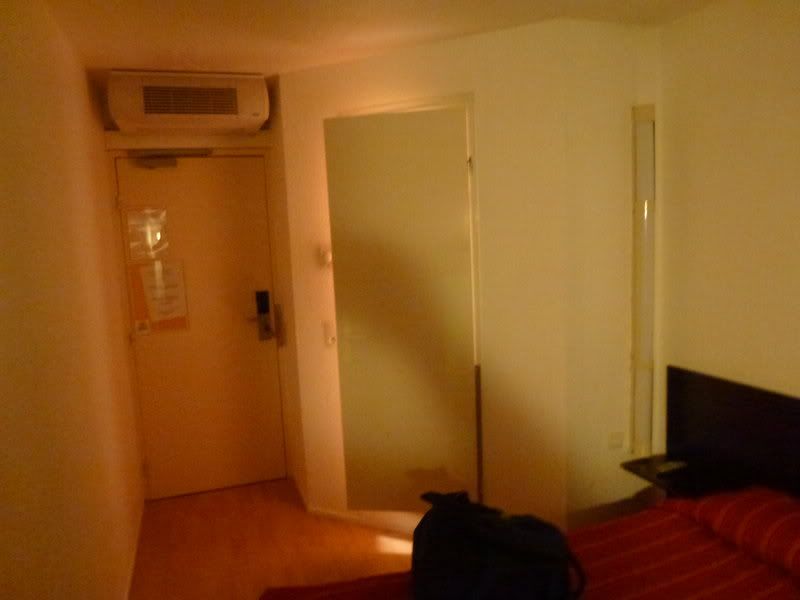 The cheerful girl at the reception confirmed that yes, even though my room is prepaid I should still shell out 29 cents (yes!) for the "city tax". I was tempted to ask what city since all I saw was a highway, warehouses, hotels and a couple of chain restaurants but asked instead whether she was kidding me but apparently she was dead serious about this so I shelled out the whole amount.
Well, seriously speaking the hotel wasn't that bad - if all the facilities worked it would be okay for that price but the advertised free wifi didn't work at all, only a single lamp out of the three in my room worked, the soap/shampoo dispenser in the toilet had last been filled around the time Mitterrand was still going strong with his socialist day dreams and I had serious problems getting hot water from the shower in the morning. Additionally the soundproofing was non existent and there were lots of noisy kids and teenagers running up and down the corridor but personally that doesn't bother me at all - if I'm tired I sleep like a rock no matter what the soundscape around me is and I tired I certainly was!
Tuesday 1.5.2012
I get up shortly before seven, try to shower to my best ability in the cold and soapless shower, pack up my trash, give another unsuccessful try to the wifi and head out. The hotel is offering buffet breakfast for only 6 EUR but judging from the description it is just all the coffee, juice and croissants you can eat - I can get all of these from the AF lounge anyway plus the queue for breakfast is around as long as a Ryanair boarding queue in Spain an hour before departure so no thanks.
Luckily the shuttle bus is waiting outside but the driver tells me that
non
, he doesn't sell tickets. So back inside to purchase a ticket from the reception for 5 EUR (bugger, the Mercure et. al hotels have a free shuttle. Maybe I should walk down the street to the Hyatt or the Ibis properties next door to try my luck) and go back outside. The driver was kind enough to wait for me (and people keep saying the French are rude) and is now happy to let me in into his chariot.
Arriving at CDG, one of the ugliest things made out of concrete since the Berlin Wall: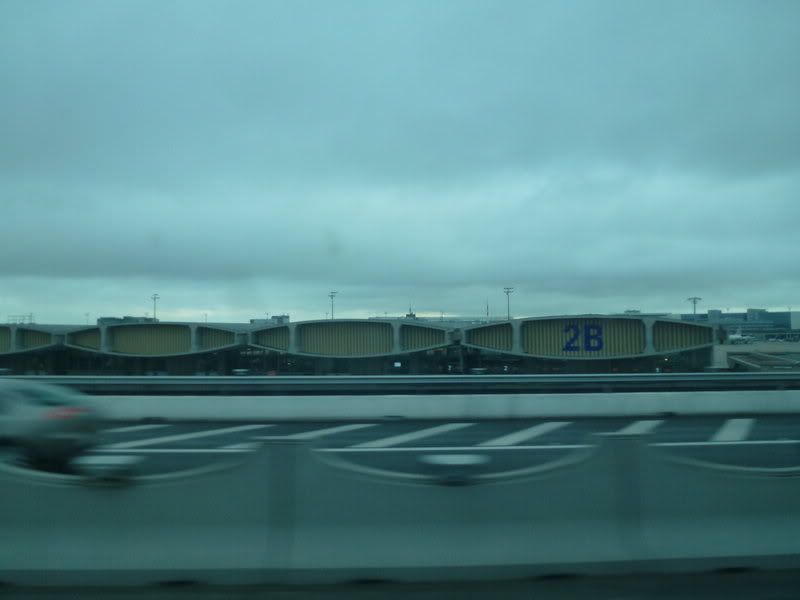 Some fifteen minutes and a completely pointless (but mandatory, thanks to lé trafficplanning) circuit around CDG 2CDEF and maybe more we stop in the central
navette
stop just above the TGV and RER stations.
Real classy: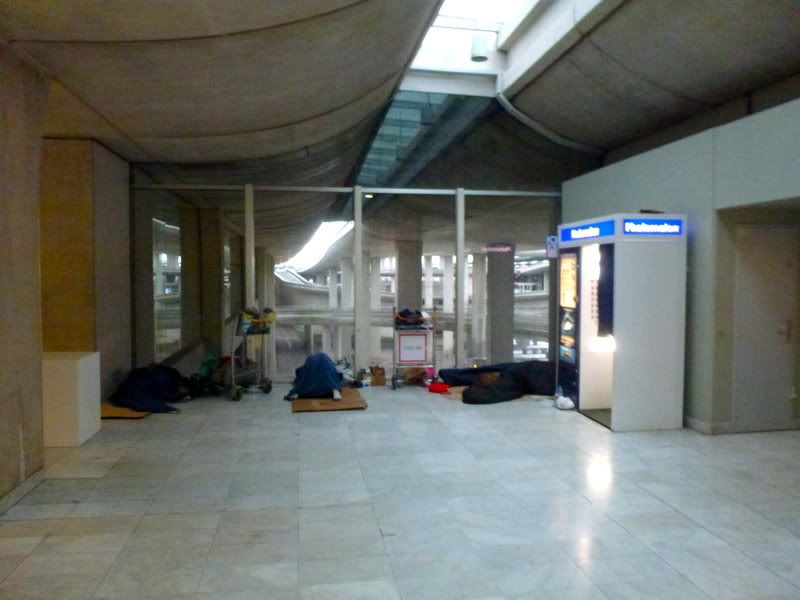 I have this weird idea in my head that to reach 2G (where all AF regional flights are departing from) one has to catch the shuttle bus from 2E. With that in mind I head downstairs ready to walk to 2E but confusingly the signs for 2G point back up so that's what I do and realize that there's actually a
navette
that goes round all the terminals: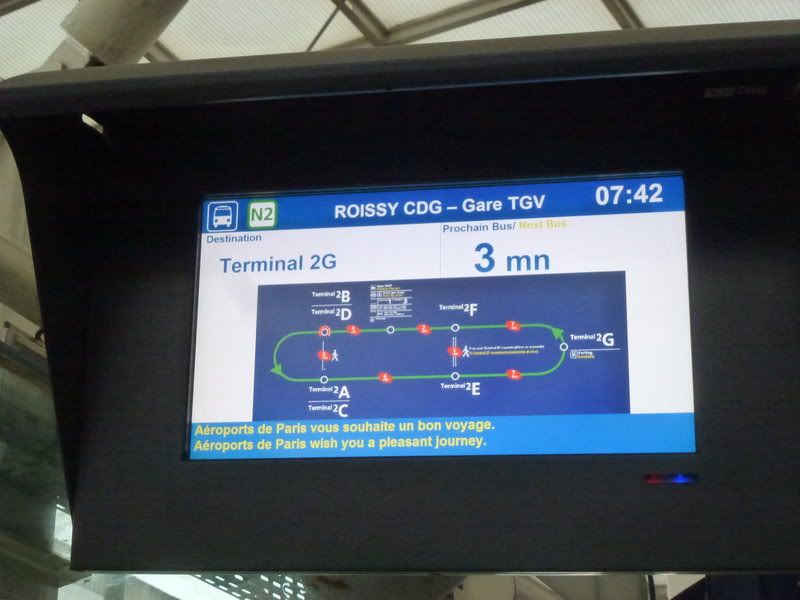 Here be dragons:
Once the bus turns up I momentarily get very confused because all around me there are these blonde, tall Vikings speaking a language usually overheard while sipping lattes at the trendy cafés of Södermalm or Grünerløkka - weird!
I also have this weird idea in my head that T2G is right next door to the terminals E and F - which turns out to be quite the opposite - we dive into a tunnel under part of the apron and drive down the road for quite a lengthy time before finally stopping in front of the terminal - now I'm starting to understand Markus' problems of connecting from here on a delayed flight...
Hmm, not sure what to think: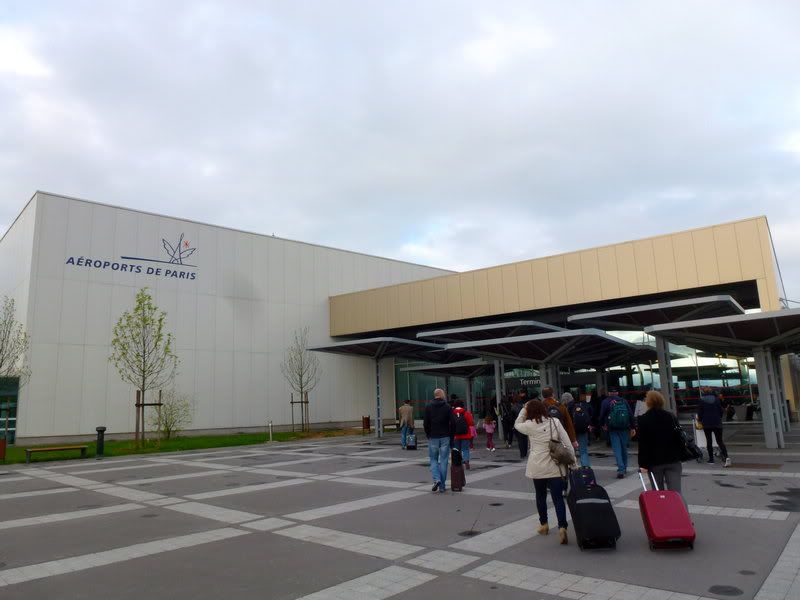 Inside quite sterile but on okay commuter terminal I guess: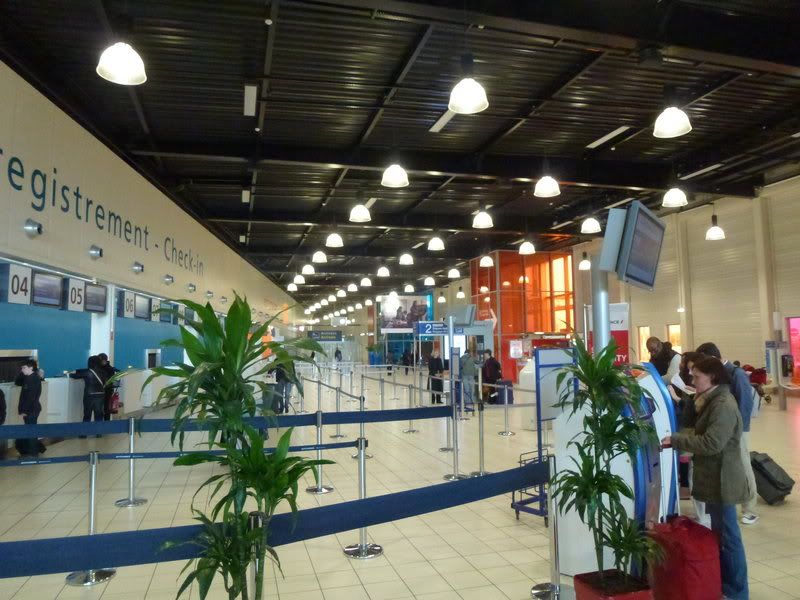 Thanks to having Skyteam Gold status my OLCI boarding pass is tagged with "SkyPriority" which is SkyTeam's fancy marketing (TM) term (TM) for getting priority on everything else apart from a lapdance from a hot FA (that costs extra). Here it leads to me being guided to a separate priority lane at security - well a bit pointless really as the check point is empty anyway and this lane just simply feeds right in front of it, bypassing any queues. Well at least it saves me around 20 meters of pointless zigzagging...
Flights - I didn't realize AF did flights to Scandinavia from this terminal, well that explains the people in the bus: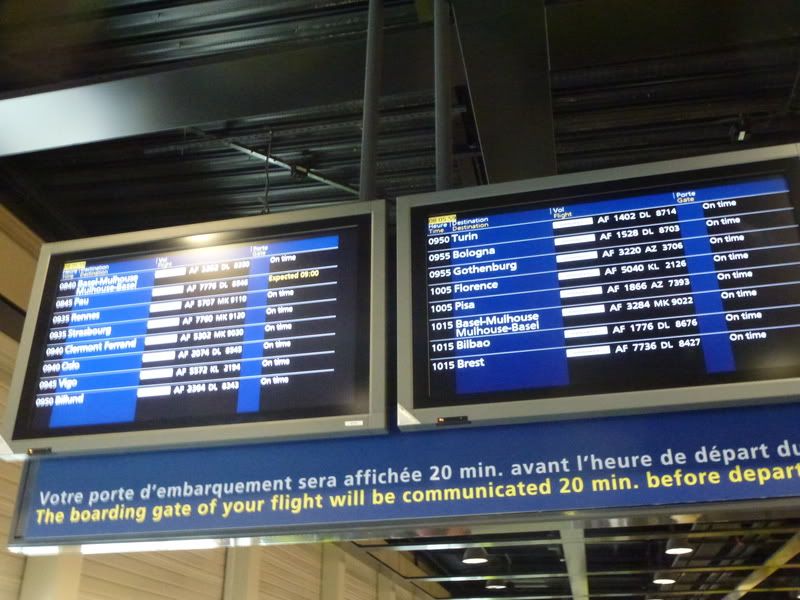 Inside - quite basic but modern look and everything seems to be sparkling clean: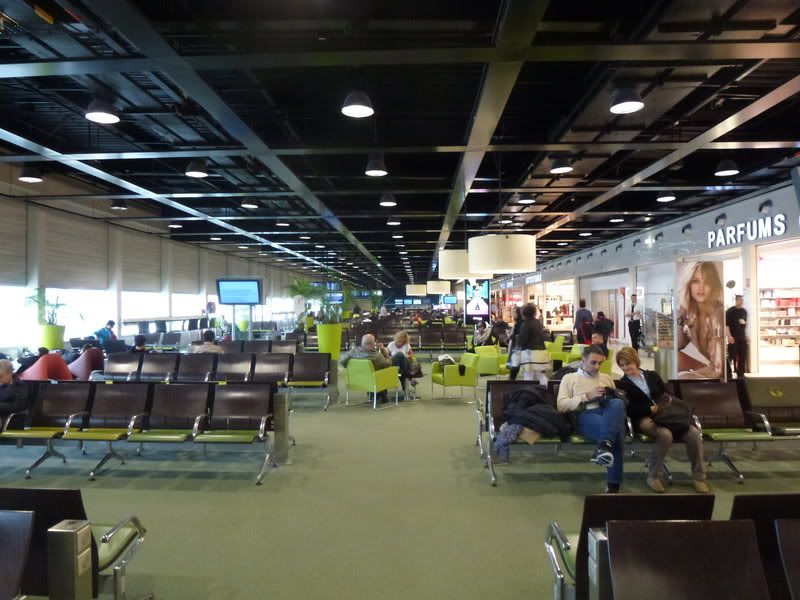 I make a beeline for the AF lounge: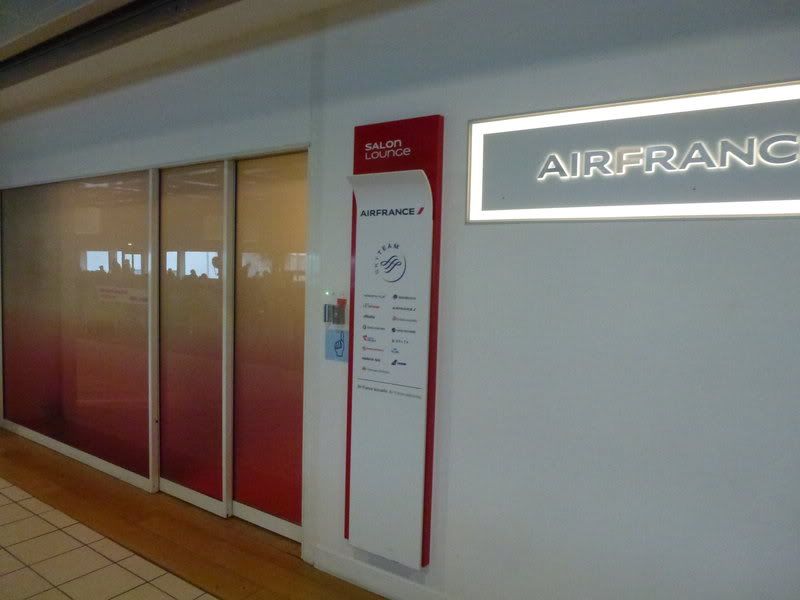 A most friendly pair of lounge attendants welcome me in, making sure to call me "sir" at every possible opportunity, quite funny actually. The lounge is quite a small one and mostly packed, but I manage to share a table with an older gentleman. Time for some breakfast: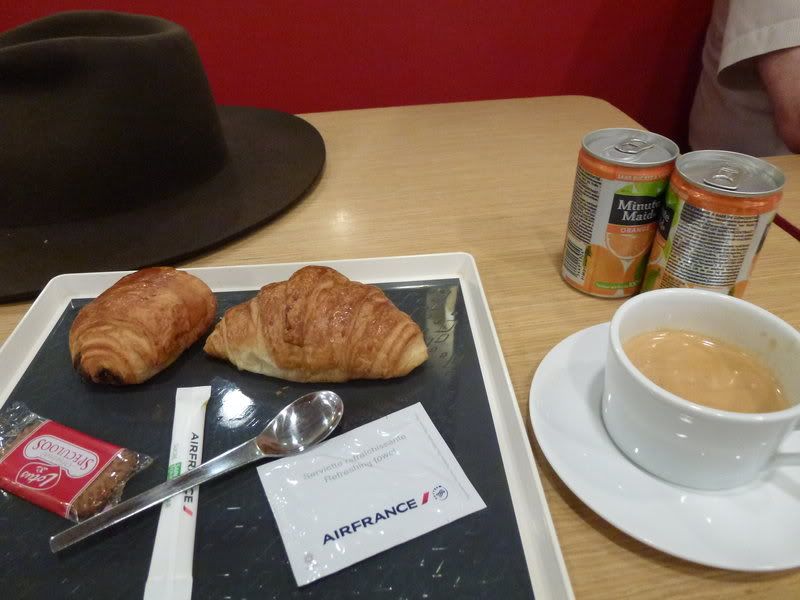 I love those Minute Maid cans.
Several reviews of this lounge I found explicitly mentioned that there's no alcohol - but what do I see in the fridge - plenty of cans of Heineken: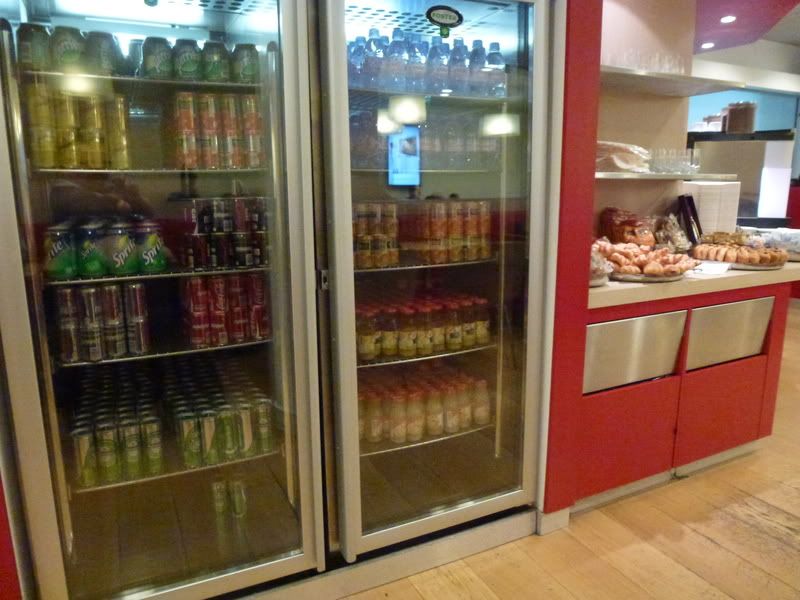 Lounge view - had to be a bit sneaky due to the number of people. And no, that woman is NOT a Finn despite wearing what appears to be a well known Finnish design shirt: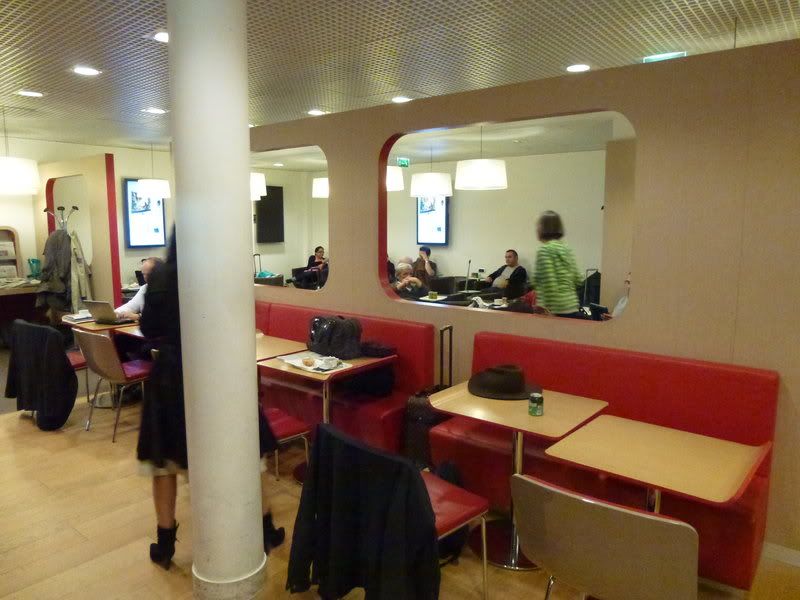 These seats are getting a bit long in the tooth: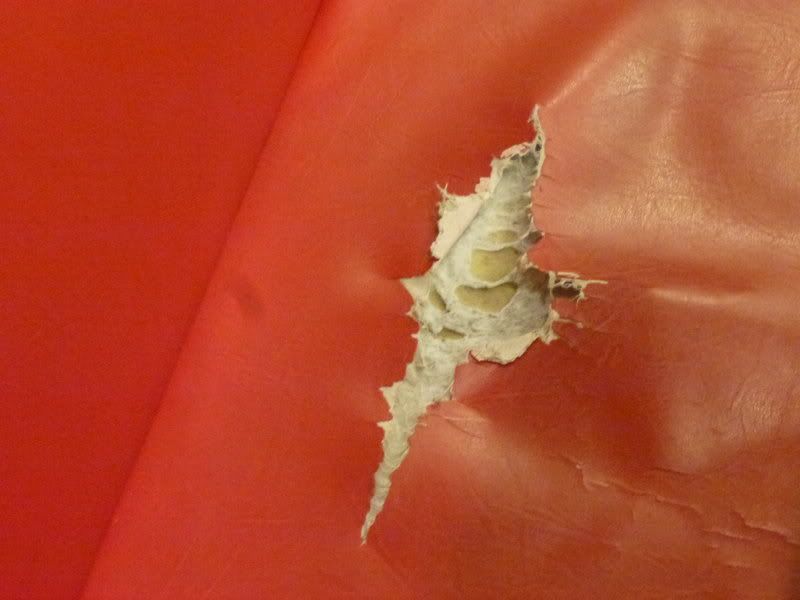 No matter what Jonas says about lounges I got rather bored at this one - there's no free wifi (but the airport gives you 15 minutes of free access, how generous!) although they have computers you can use to go online. So after drinking around four cups of coffee (I have to help Finland to keep its #1 global coffee consumption position although I guess these cups will be added to the French tally instead), eating a bunch croissants and drinking canfuls of Perrier I bid au revoir to the friendly reception lads and head out.
In the meantime the terminal has gotten significantly more crowded: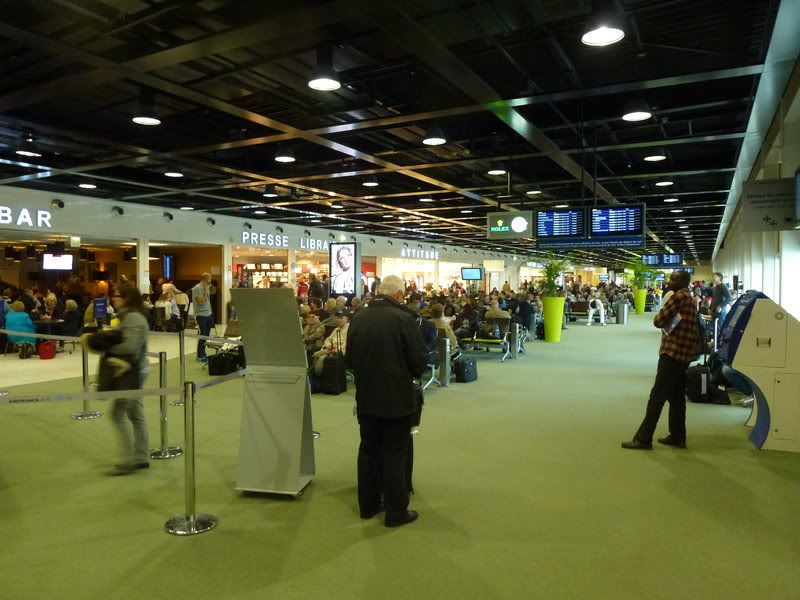 They have a system where the gate number is only announced twenty minutes before departure. This is very punctual, so at 9.15 a gate number flashes up for my flight.
Left or right:
Right for me today. Ok, keep rubbing it in, will ya: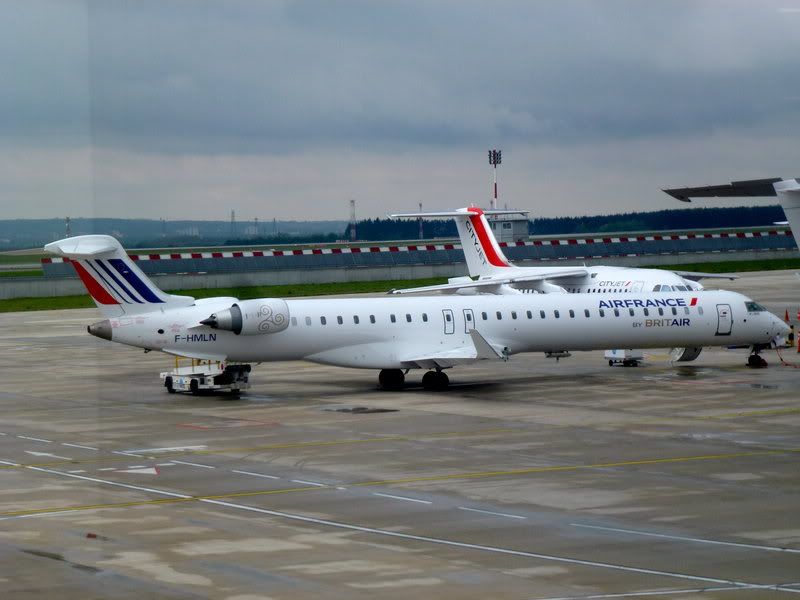 Nice variety of types: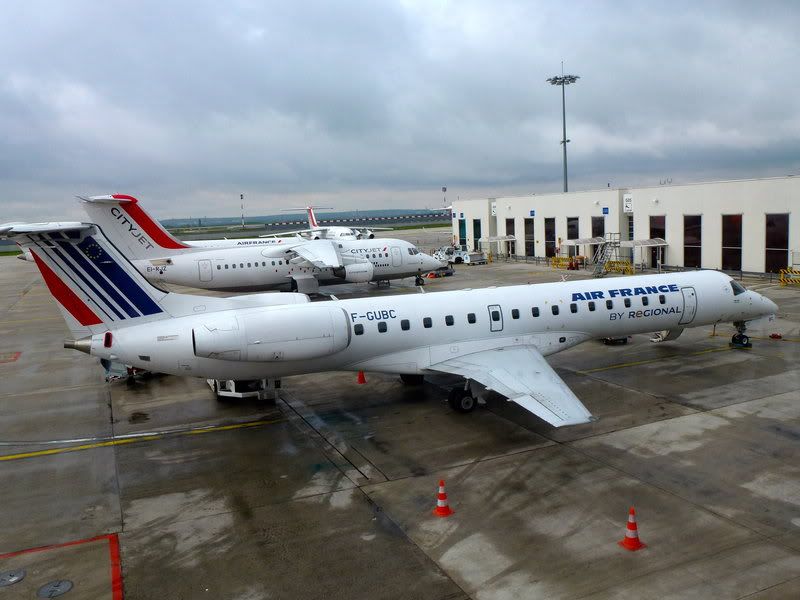 The gate area, you walk the stairs down to the gate, kinda like at LCY: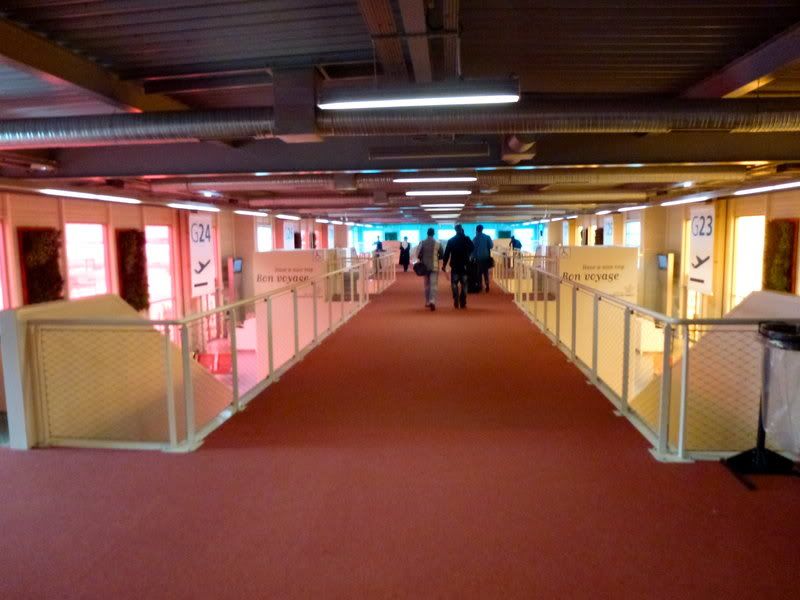 Stopping at my gate I take a glimpse out thru the tinted glass and get a nice surprise:
Yes, not only is is the scheduled Régional Embraer 170 but they decided to send a special liveried one! Very nice for me.
The plane is F-HBXP, an ex Alitalia Express bird which has been flying for Régional only since February.
Downstairs boarding is yet to begin, but in five minutes or so we are good to do. The gate agent addresses me in French but after seeing my ID card switches to English and I confuse her more by thanking her in French anyway...
Now with proper colors:
Once more: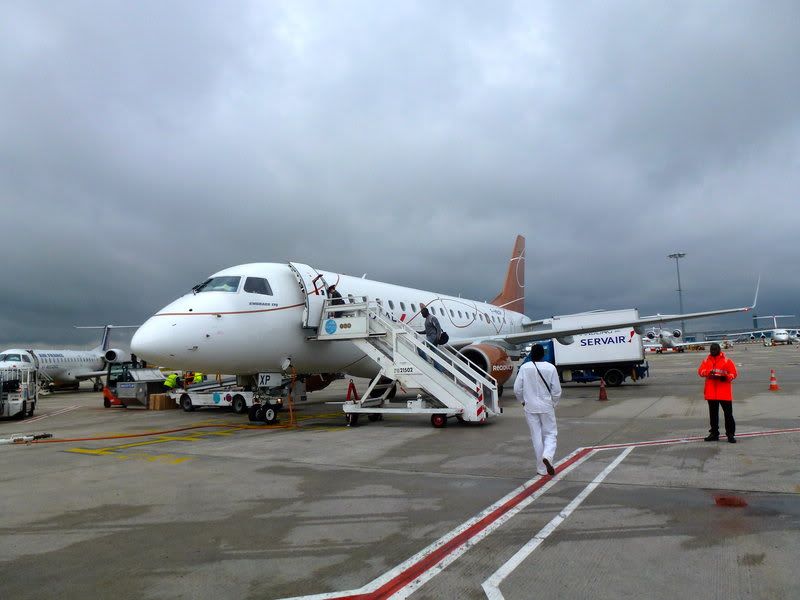 CDG - SXB
AF7760 Operated by Régional CAE
E170 F-HBXP
Seat 2A
9.37 - 10.33
A middle aged but extremely petite,
chic
as only the French can be and overwhelmingly friendly female purser greets me at the door (come to think of it I never saw her colleague during the whole flight!). SkyPriority also entitles one to a seat up front on these domestic single class Air France (marketed) flights so here's my seat 2A with 2B thrown in as a bonus gift for frequent readers - very stylish: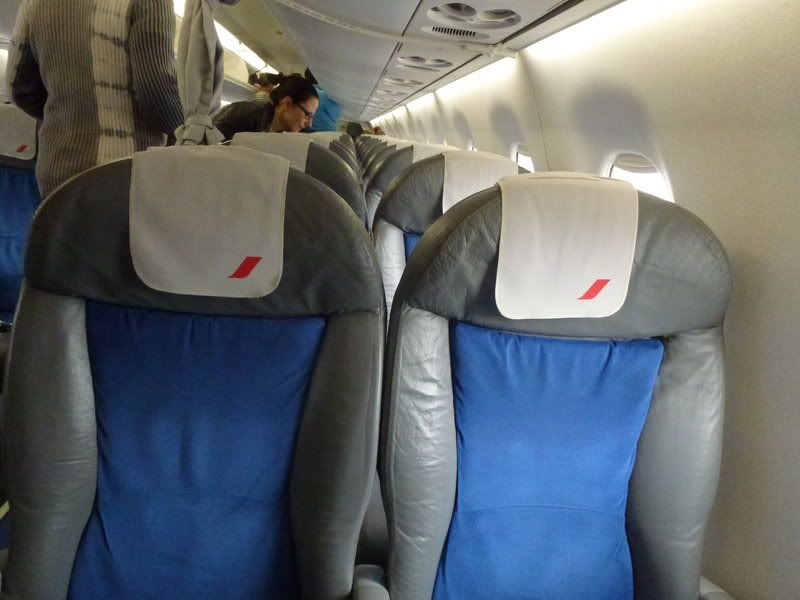 Side view, I really like these seats - somebody with Alitalia Express experience can you confirm whether these are the same seats they used:
Top