Introduction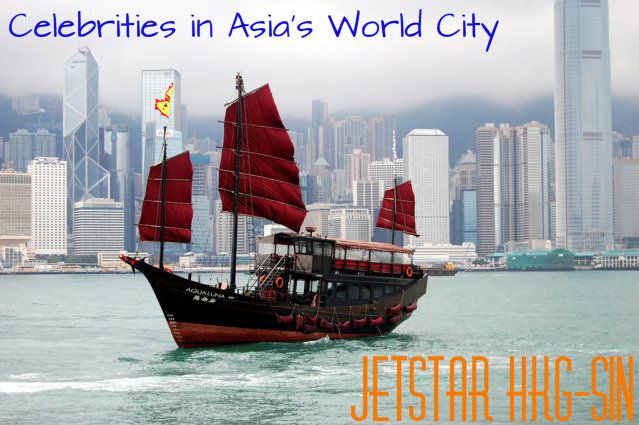 Celebrities. Asia's World City. When you mix them together, it equals awesome. Hong Kong is a country familiar to most people in the world. A Special Administrative Region of the People's Republic of China, they remain separately governed without restrictions like that of their parent country. To quote an example, you can access Facebook and Youtube in Hong Kong but not in China.
It is also the world's financial hub. Aviation wise, it housed one of the world's most famous airports, Kai Tak Airport which was widely frequented for the checkerboard approach to runway 13. It consisted of making visual contact with the checkerboard and following the IGS lightings to make a turn to land and all the while below you are all residential and commercial buildings. Any mistake could result in a disaster.
Friends, join me as I explore this wonderful city. Say hello to celebrities and appreciate the beauty of this city.
Touring Hong Kong
I arrived into Hong Kong onboard China Southern Airlines flight CZ 311 from Shantou which was horrendous. Upon reaching, I took the airport express to Tsing Yi station followed by a taxi to Wong Tai Sin, where my granduncle stays. I chatted with the taxi driver along the way and we became friends. I took his taxi wherever I went and he did not charge me extra, just the metered fare. He even gave me discount at times! Thank you Mr Li.
I did not have much time in Hong Kong this time, just around 2 hours before I need to head to Hung Hom for my train to Guangzhou.
Travelling to Guangzhou from Hong Kong on the Kowloon Through Train is the best way. It's cheap, fast and reliable. Both China and Hong Kong operates trains on the route with China having majority of the trips. The Hong Kong part is operated by MTR and they operate only 3 trips per day. Due to time constraints, I was only able to ride on the China train to Guangzhou. However, on the way back I was able to ride on the Hong Kong version which I rode last year. I did not have much expectation for the China train, but how did they fare? Let's have a look!

Seats in the First Class section, where I was in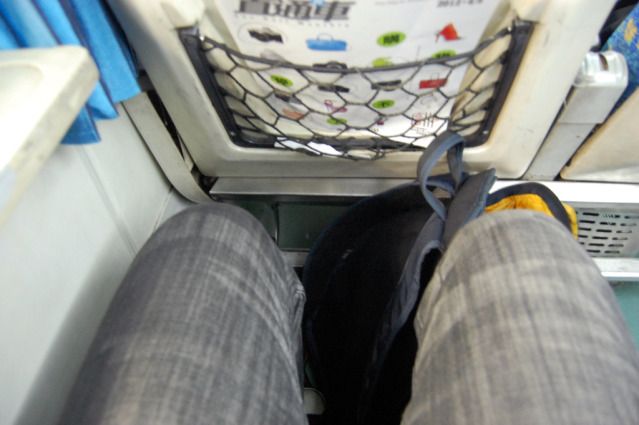 Legroom. Not bad for 2 hours!



Seatback view
Now, back on the Hong Kong version.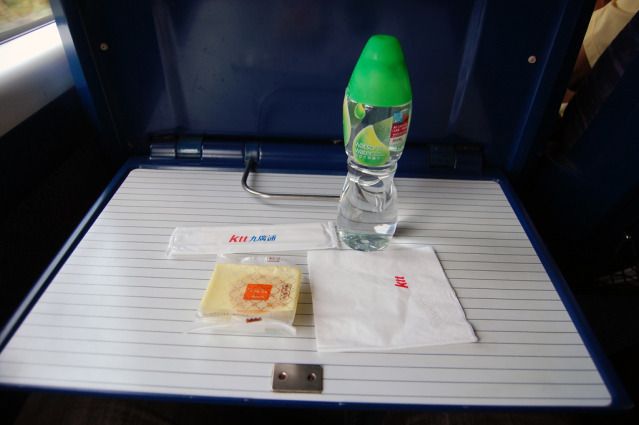 Complimentary snacks



BOB onboard. Look at the caterer!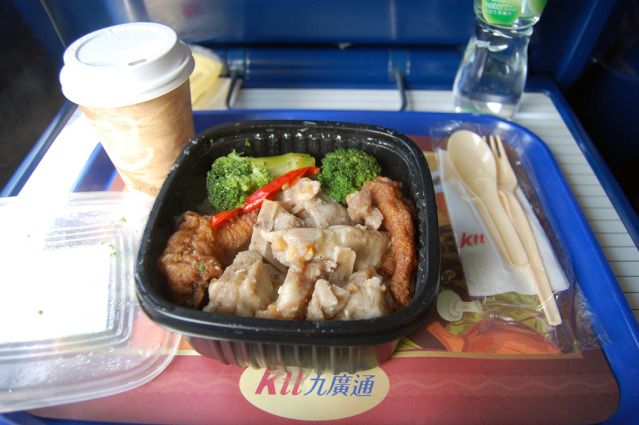 Inside the box. Pretty tasty I must say
After a very short visit to Guangzhou, I was once again back in Hong Kong, to be greeted by a wonderful homemade dinner. A great start to another 3 day stay in Hong Kong!

Homemade dinner
As it was late when I came back from the train station, I decided to stay at home after dinner. On the next day, I called Mr Li and got him to send me up to The Peak.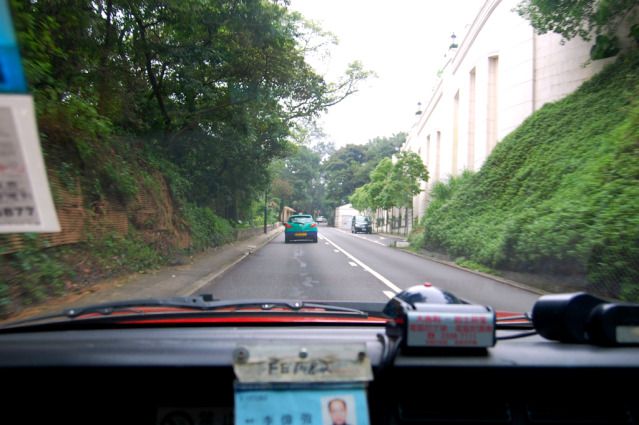 On the way up



Foggy at the top, not a good sign!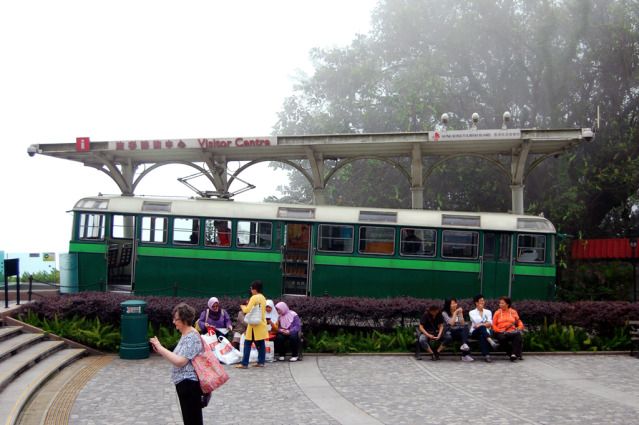 Information counter @ The Peak



Ticket to heaven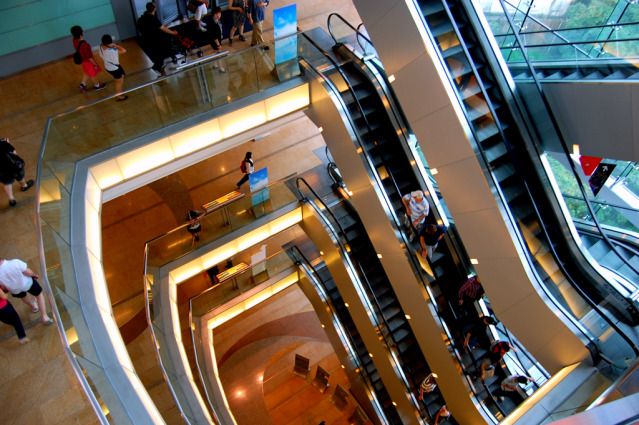 Look at the number of escalators to go up just to get to the viewing gallery!



One of the more decent pictures I got for the day. It was mostly foggy



I love you!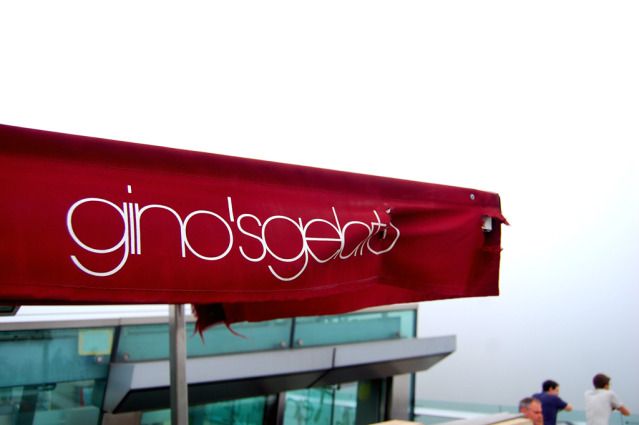 Gelato stall at the viewing gallery. Why would they open it here I don't know as the temperature here is mostly cooling



Foggy!
After taking some shots at the viewing gallery, I decided to visit the Madame Tussauds Wax Museum. This is the celebrity part of the report, enjoy!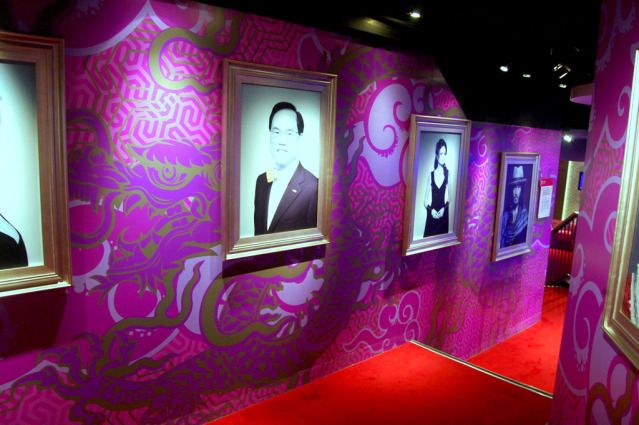 Entrance to the museum



Madame Tussauds herself. This looks kinda creepy to me though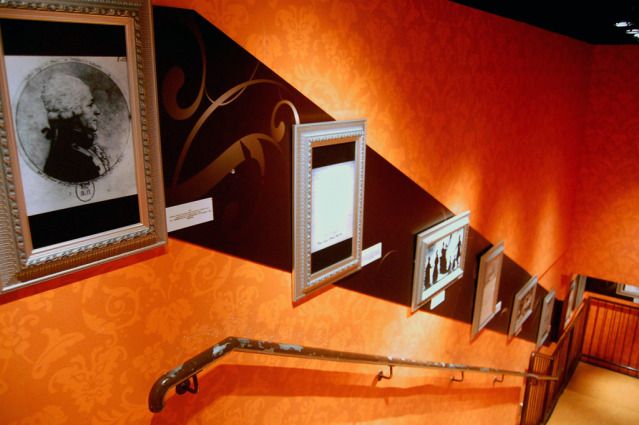 More stairways down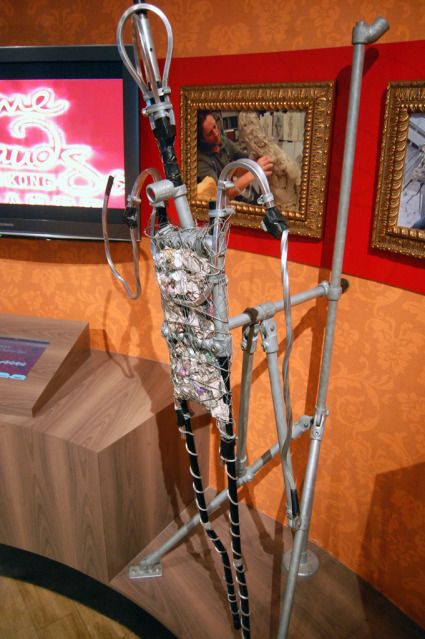 Showing the making of wax figures



George Bush



Obama



Saddam Hussein



Ghandi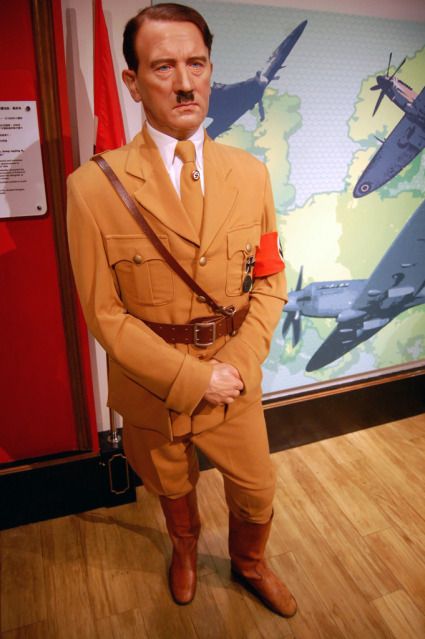 Hitler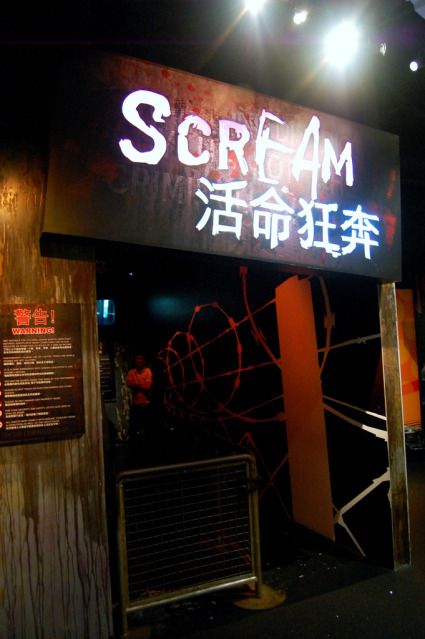 Some sort of a haunted house thing, I did not go in of course



Madonna



Lady Gaga... But where's the wax statue?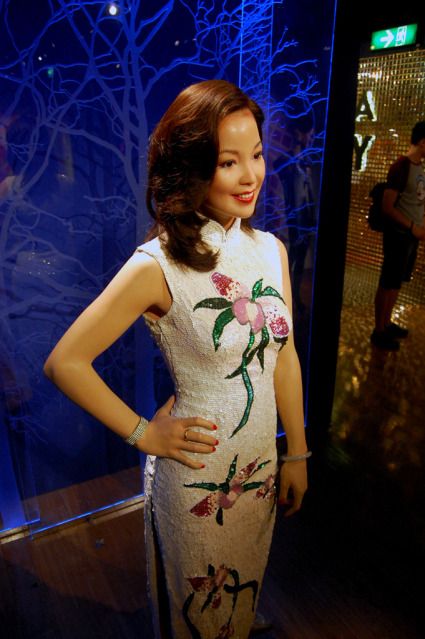 One of the most famous Chinese singers, Teresa Teng. She passed away in 1995 in Chiang Mai due to asthma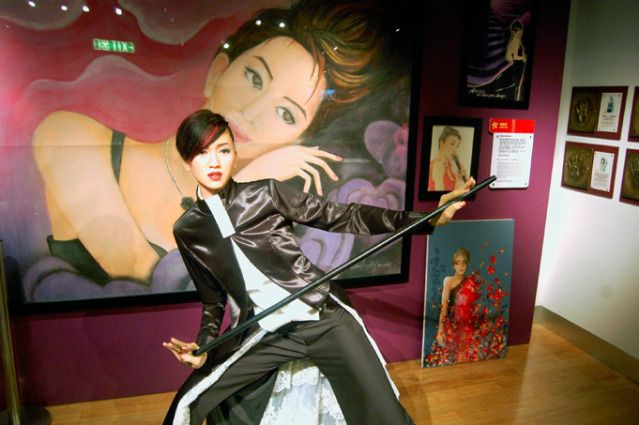 Anita Mui who passed away in 2003 due to cancer
After a nice trip at one of the highest points in Hong Kong, it was time to head down. I decided upon the Peak Team to bring me down.

On the way down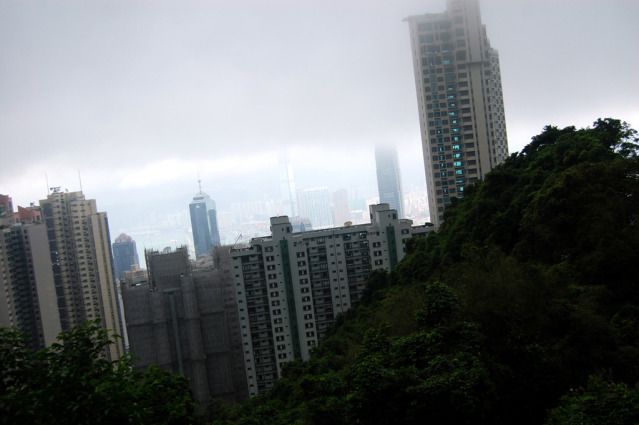 Slightly less steep
The ride was fun as usual with some parts having a steepness of at least 45 degrees. I once took the tram down while standing which made it even more fun! Once I got to the bottom, I hailed a cab and wanted to visit
Noah's Ark
at Ma On Island. However, it was about to rain as I reached the harbour to take the boat to the island so I decided upon taking the Star Ferry back to Kowloon Island instead. I got sorta lost and called Mr Li for assistance which he gladly helped guide me through on the phone. Thanks once again!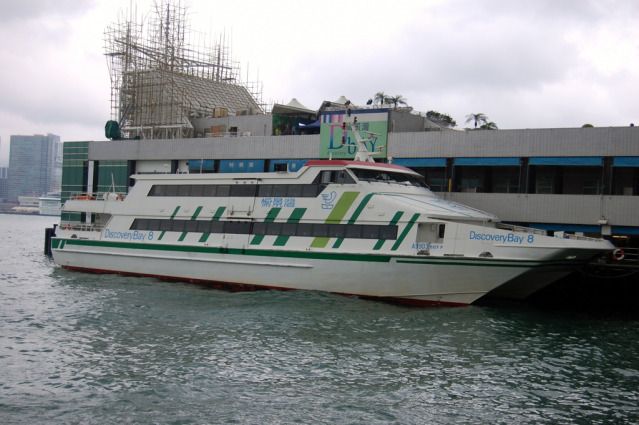 Boat docked at the harbour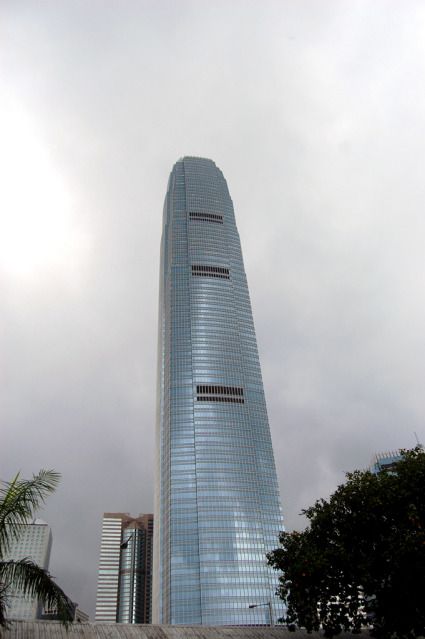 The International Financial Centre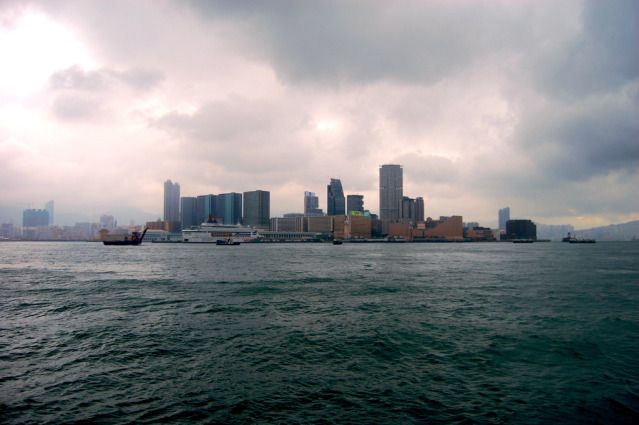 Looking across to Kowloon



Finally on the boat! Here is a picture of the seats



Can't get enough of the skyline, can you?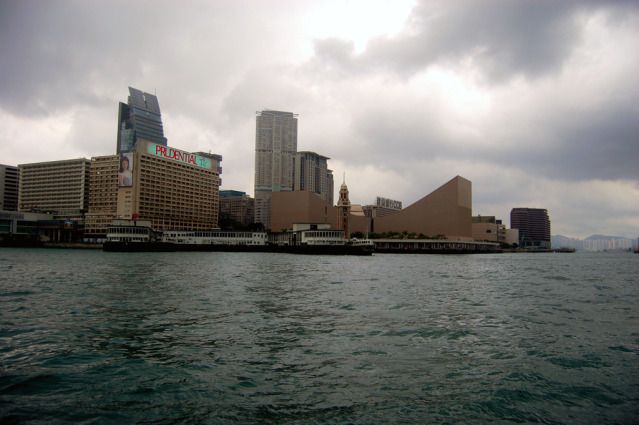 More skyline



Cruise ship awaiting its departure. Been 15 years since I got on a cruise!



Finally reached Kowloon Island. Now looking back to Hong Kong Island!



Star Ferry and a speedboat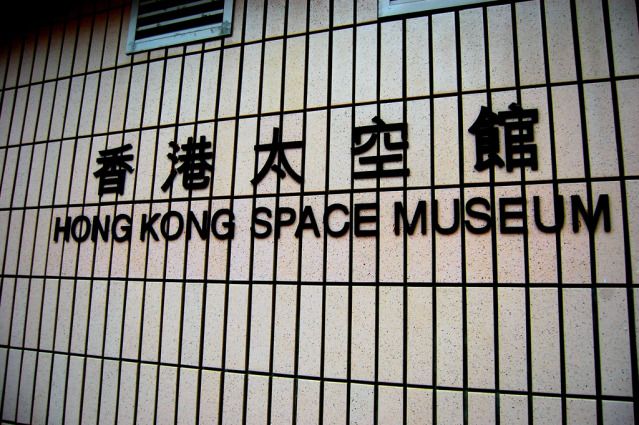 My next stop for the day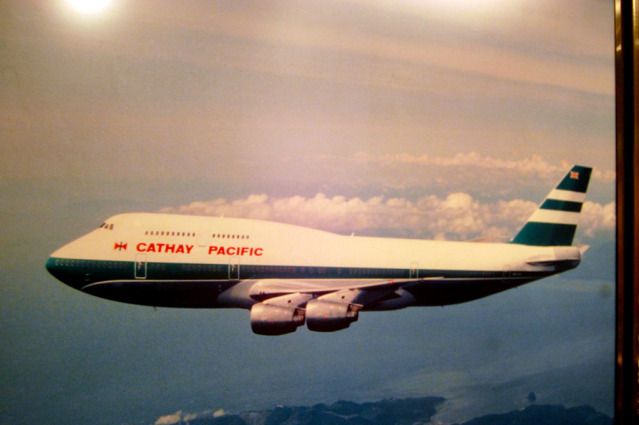 One of the most wonderful pieces of engineering ever produced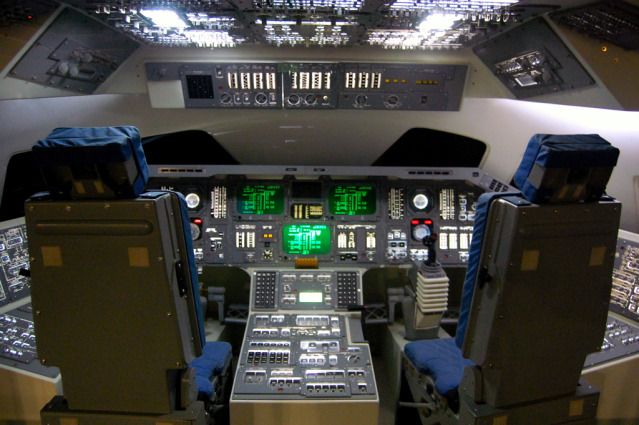 Space shuttle cockpit



Cute little van selling ice creams. You could even pay with your Octopus card!
After a whole day of walking around, I headed back home at around 4pm to rest and possibly back to the harbour again later to watch the Symphony of Lights at 8pm. However, thunderstorms were forecasted so I scraped that plan and stayed home instead. What happened next was not even a drop of water came down from the sky even until the next day!
On the day of my departure, I called up Mr Li again to take his taxi to Tsing Yi station followed by the Airport Express. Before that, I asked if he could send me to Kai Tak Airport, the old and famous airport of Hong Kong. He immediately agreed and upon reaching he barged into the construction site and drove me on the old taxiway, apron and most importantly the runway. I did not take any pictures as it looked just like a normal construction site now but the feeling was certainly great! After that, he drove me up to a checkerboard hill whereby you could see Kai Tak Airport. I tried taking some pictures but was not very successful.

Various places you can see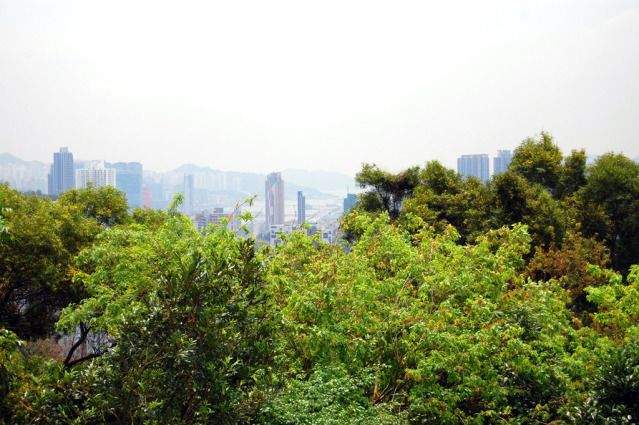 Now… Spot Kai Tak!
We chatted along the way and finally it was time to say goodbye as we reached Tsing Yi station. The fare was around 146 HKD but he charged me only 130 despite my insistence of paying him some tips. I was sad to bid farewell to him, but I'll definitely look for him again when I come to Hong Kong again!
Pre-Flight
The Airport Express brought me to Hong Kong International Airport 3 hours before my flight and check in has not opened yet. Therefore, I sat down at a nearby bench to use the internet. Jetstar utilises terminal 2 at HKG whereby it is just a check in station. It looks beautiful although I don't really find the need for it.

Interior of terminal 2



Check in counters. A Spring Airlines flight is checking in now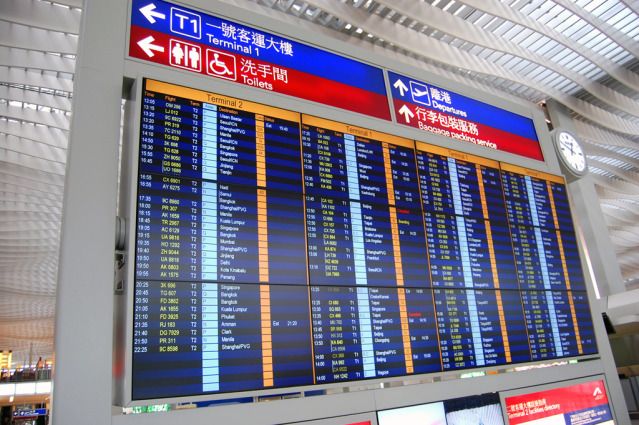 FIDS. I dedicate the MIAT Mongolian Airlines flight to fellow a.netter yapple for his obsession over that airline
Check-in finally opened 2 hours before departure and there was already a long queue when I got there. The process was also very slow though. It took me 30 minutes in the queue to get to the counter. However, good thing was that my bag was checked and boarding pass issued within a minute. No gate was assigned as according to the agent so I decided to walk around and take some pictures.

Queuing up for check in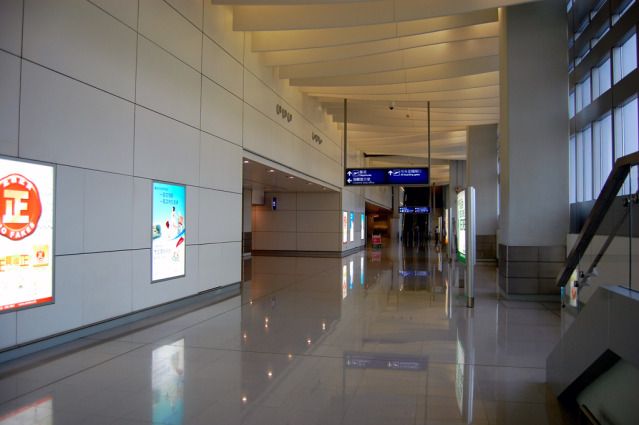 Empty area of terminal 2



Row of shops, I guess they are not making a good profit here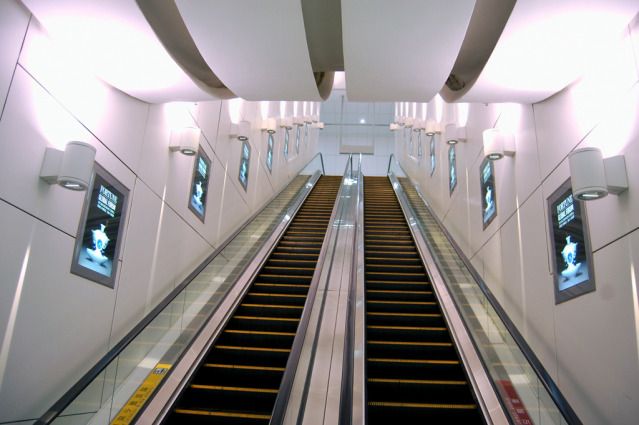 Escalator down to the trains. I took this at the escalator landing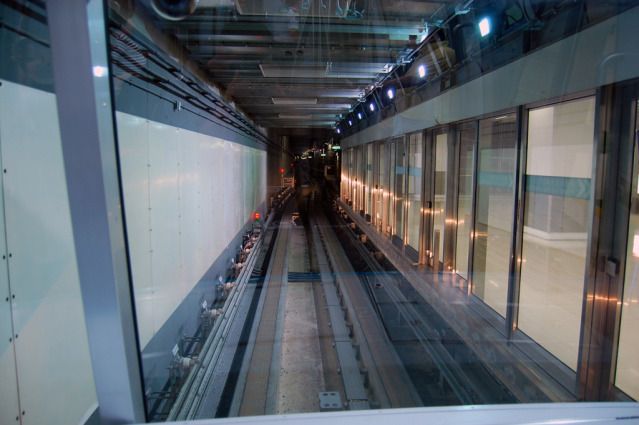 On the airport train to terminal 1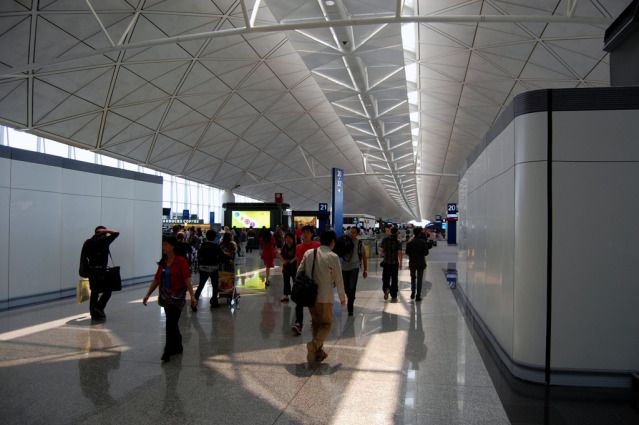 More lively here! Welcome to terminal 1!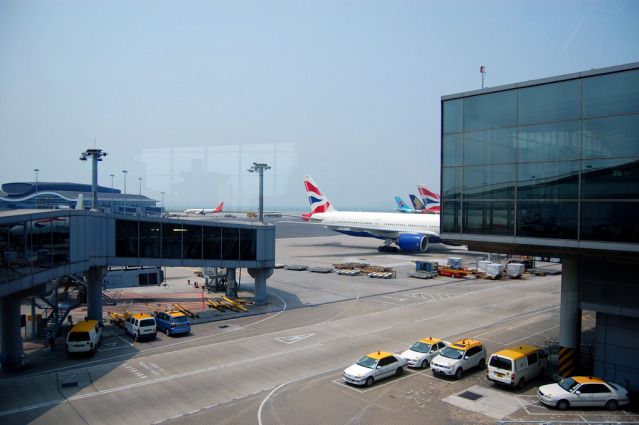 Rows of tails signify that spotting begins!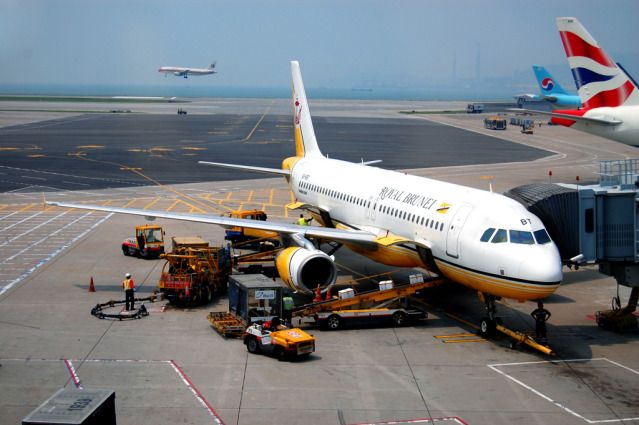 Royal Brunei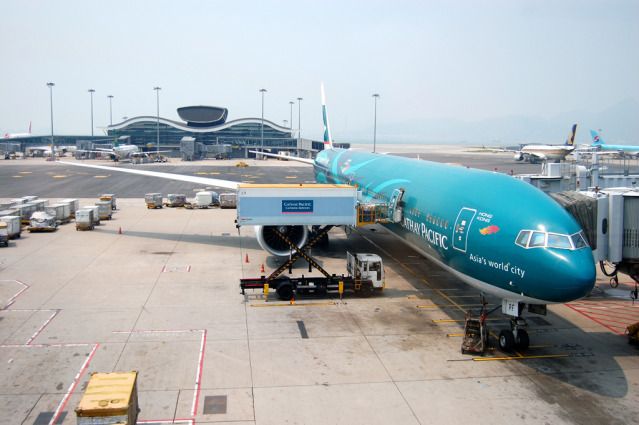 Pretty lucky today to have caught B-KPF! Heading to LHR today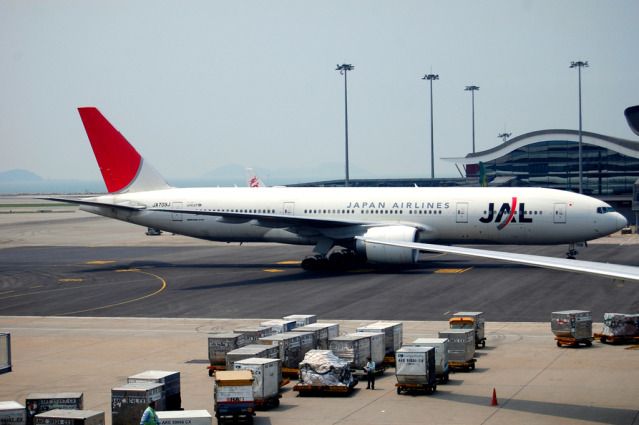 Japan Airlines arriving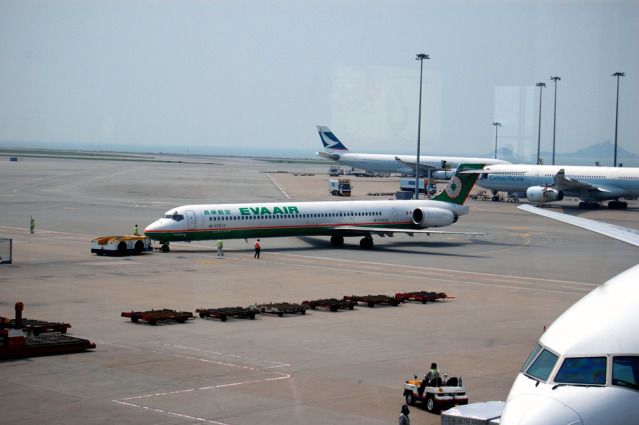 Eva Air's MD-90. I must get on this one day!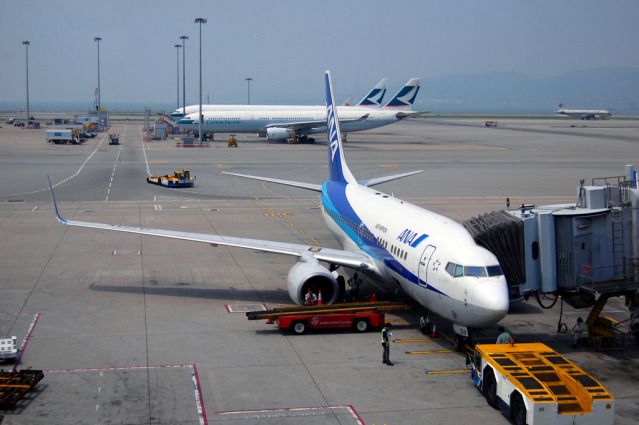 ANA to NGO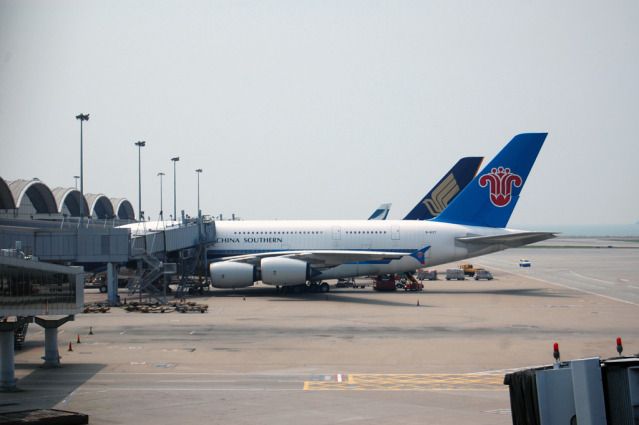 A380 sisters! CZ to PEK and SQ to SIN



Friend from a faraway land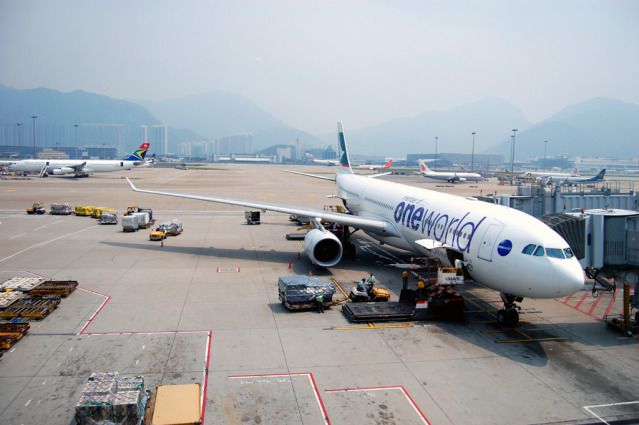 Saying hello to an old friend! B-HLU which flew me CX739 HKG-SIN back in January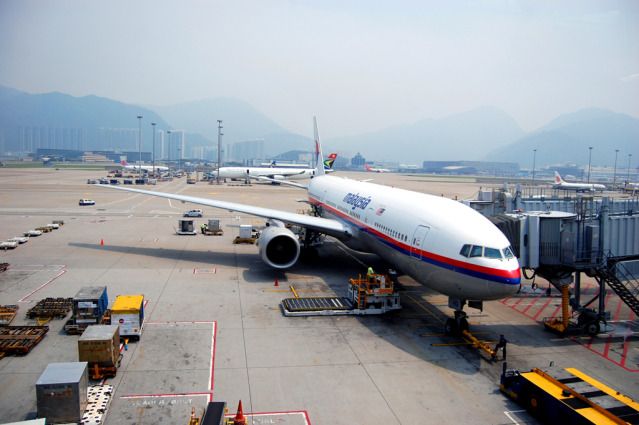 Malaysia Airlines joins the party



Another Cathay A333
As I finished my round around the terminal, a gate was finally assigned for my flight, Gate 513. It seemed like a remote gate to me and sure enough when I reached the gate, it was a remote gate which means more phototaking!

Not supposed to enter here today for me



On the way to my gate. Look at the crowd!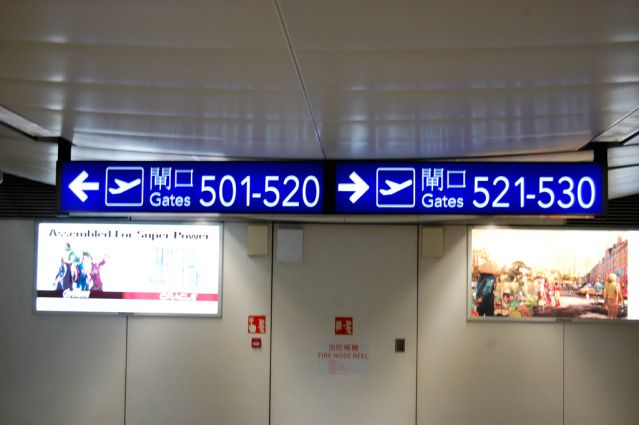 Now which way to gate 513?



Split road again



Reaching!



Here's the central waiting area for the gates!



Homebound
It was still a long time before boarding starts so I sat down and took out my laptop again. The boarding time passed by and there were no news of 9V-JSH, the plane supposed to pick me up at HKG arriving and us boarding. I guess there must be a delay somewhere. Our boarding passes were checked by a ground agent while we were sitting down. Finally, at 2.50pm (our scheduled time of departure) boarding was announced. Having purchased priority boarding, I was eligible to enter the bus first but that's all.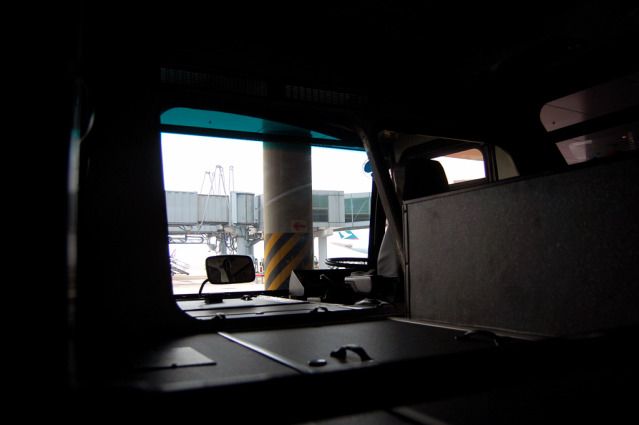 Sat down comfortably in the bus
As the bus set off, it was time for some crazier spotting!

Japan Airlines



The beauty B-KPF again. Yapple, for you again!



All Nippon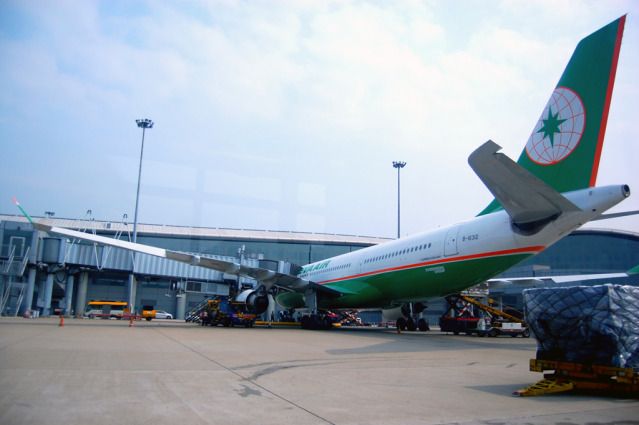 Eva Air has sent in a larger machine by now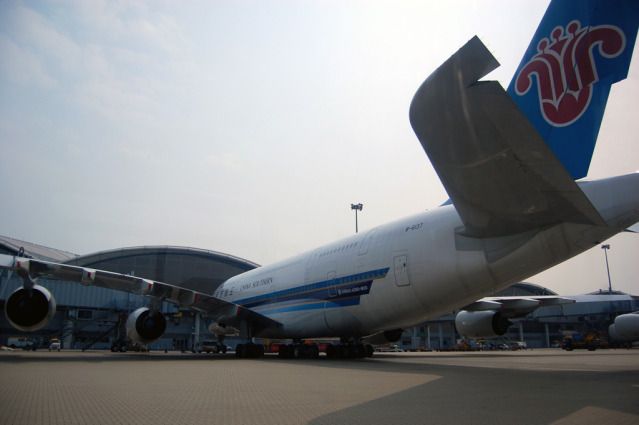 …Only to be dwarfed by this!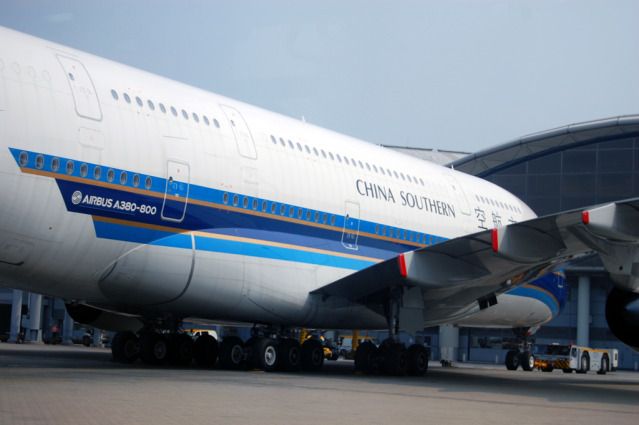 Another view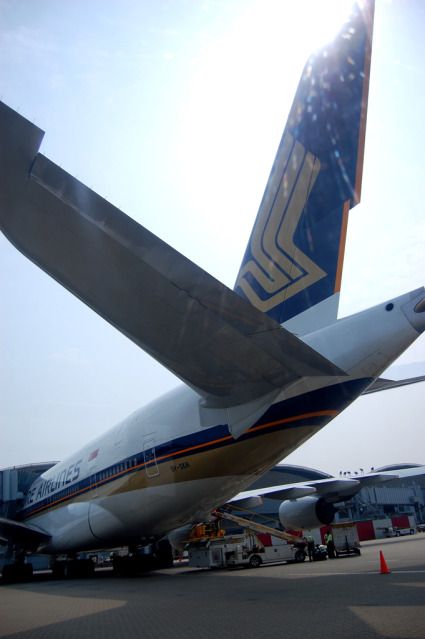 If only I was flying home in this instead!



Dragonair 25th Anniversary special scheme



…And the 20th Anniversary scheme
Could be a coincidence that I saw this photo right before I set off…
View Large
View Medium


Photo © Alexander K.

No doubt who's the boss here though!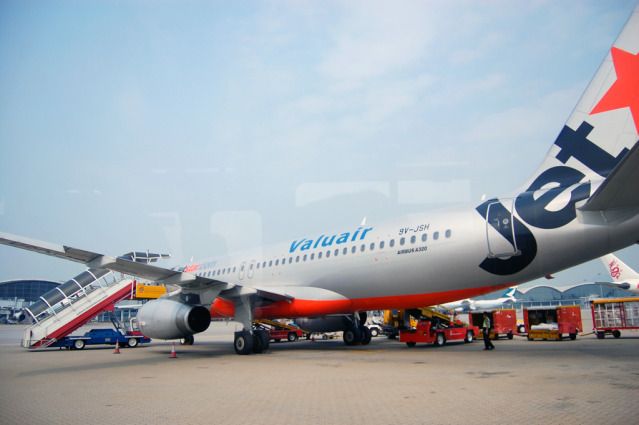 Back to reality! This is my ride back to SIN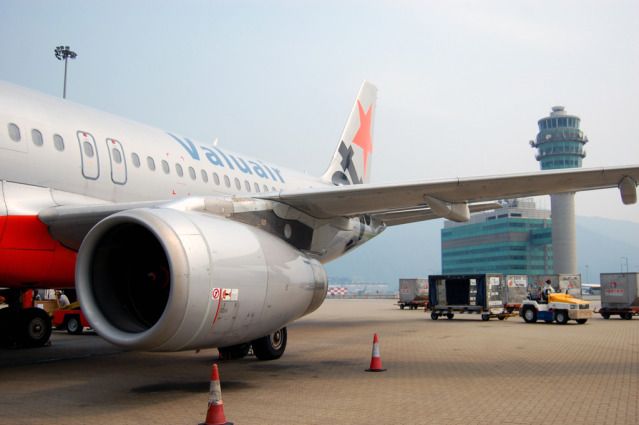 Took this right before I was told not to take pictures. As usual for HKG. Annoying though
The Flight
JETSTAR ASIA FLIGHT 3K 698 – 26 APR 12
Origin
: Hong Kong International Airport (HKG/VHHH)
Destination
: Singapore Changi Airport (SIN/WSSS)
Registration
: 9V-JSH
Aircraft
: Airbus A320-200
Scheduled Time of Departure
: 2.50pm
Actual Time of Departure
: 3.39pm
Scheduled Time of Arrival
: 6.35pm
Actual Time of Arrival
: 7.00pm
Airborne Time
: 3h 21m
Class of Travel
: Economy
Seat
: 13A
It was already 3pm by the time I got onboard. As people were boarding, the captain explained that they were on time to HKG but was delayed as ATC put them into a holding pattern due to heavy traffic. Now I was getting nervous as I had a dinner meeting back home!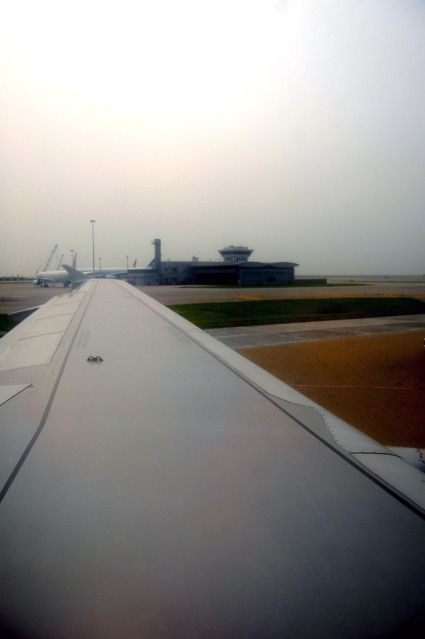 Sat down comfortably on my seat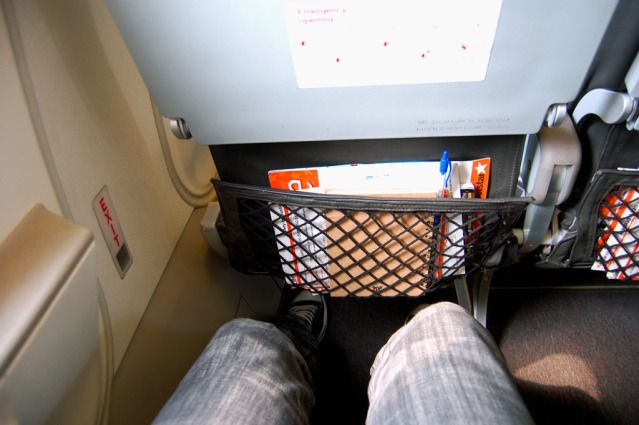 Legroom
As I sat down, f/a Gladys approached me and took my meal order, as always for pre ordered meals. Turns out she was someone I knew from my Polytechnic (something like a high-school equivalent). Now this has got to be a first for me! I was writing down details of the flight when my seatmate decided to start a conversation asking me what I was writing all those for and if I was part of Jetstar doing a survey or study. I explained about my hobby in aviation and writing to trip reports. He was pretty amused as he has not heard of such a thing before. We continued chatting on various airlines and their services during our taxi to the runway after that though.
The clock ticked to 3.20pm which was already 30 minutes after our scheduled departure and there was no sign of departure yet. Finally after a few more minutes, the ground service vehicles backed off and we started our engines to taxi straight out from the gate and on to runway 25L for our departure. No pushback needed!

Another of my encounter with B-HNL, the first B777 ever produced. I seem to ever see it so often yet never get on it!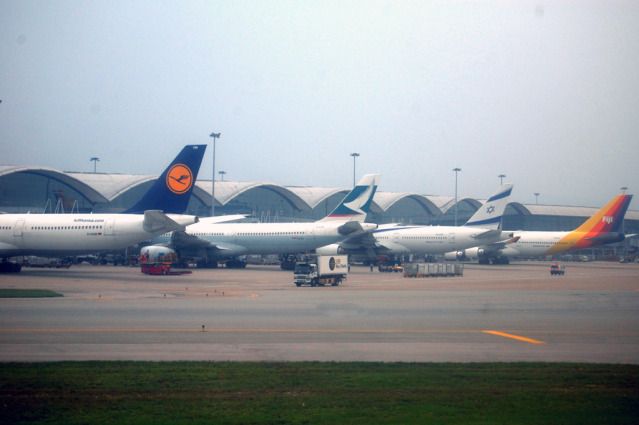 We have representatives from Europe, Asia, Middle East and Oceania here!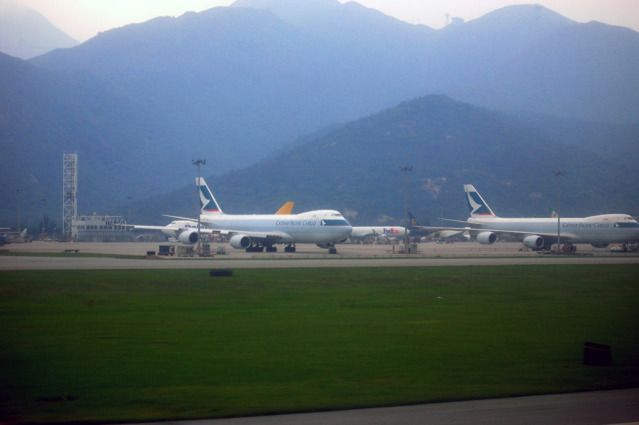 More beauties spotted during takeoff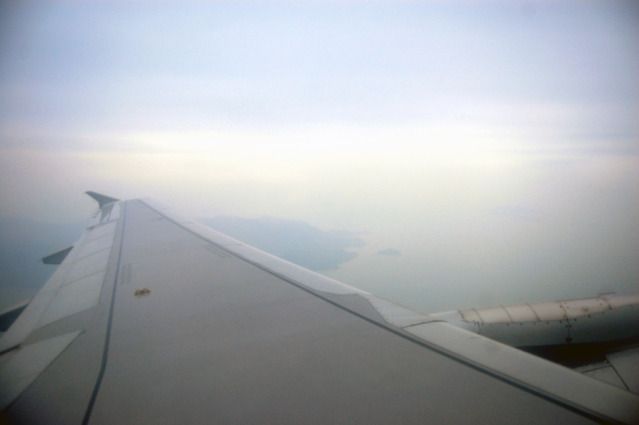 Climbing to cruise altitude
The seatbelt signs were off 5 minutes after departure and when we have not even reached cruising altitude, I was brought my pre ordered meal. I chose the Hainanese Chicken Rice this time and it certainly did not disappoint me.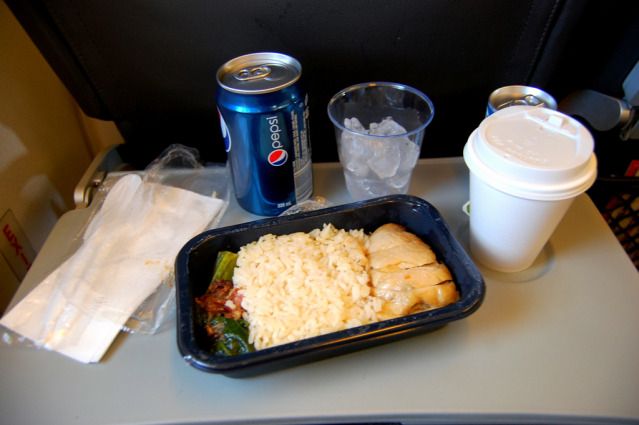 My meal. Still awesome as usual! Who says you can't get good food on an LCC?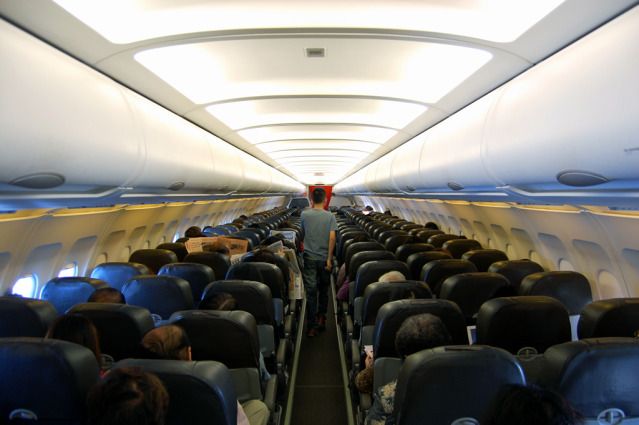 Cabin shot after the meal
View Large
View Medium


Photo © Daniel Tay
The rest of the flight included me editing photos for my CZ trip report and chatting with my seatmate regarded Picasa, the software I was using for my pictures previously (until I learnt some basic Photoshop skills and used it on the pictures in this report) and he seem pretty amazed by how a dull picture can be transformed into an awesome one.
The duty free cart rolled down the aisle shortly after. I decided to buy a Hugo Boss cologne.

New smell!
The rest of the flight was pretty quiet and there were some slight turbulence along the way. The crew conducted another round of BOB which only sandwiches and drinks were available. Information from the flight deck when the sun was about to set was that we are scheduled into SIN at 7pm, 25 minutes late.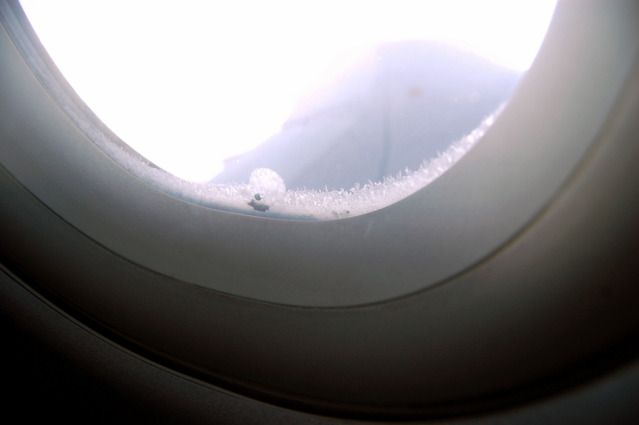 Icing on the window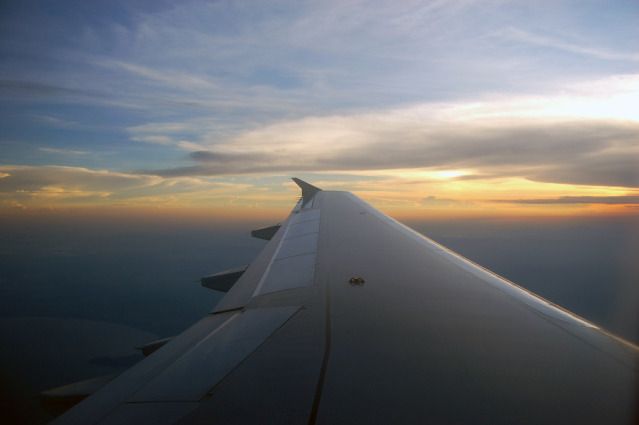 Sun setting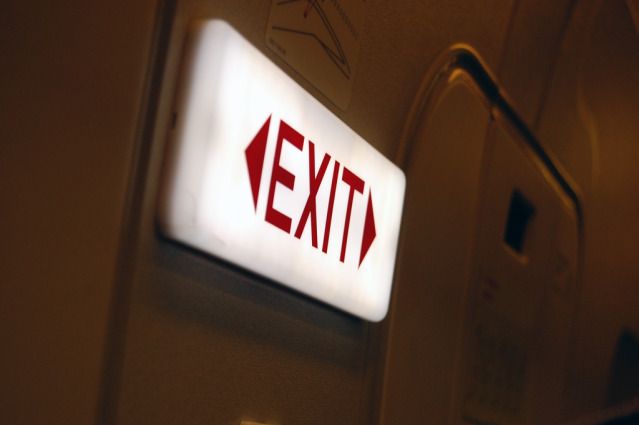 Yes, this is the exit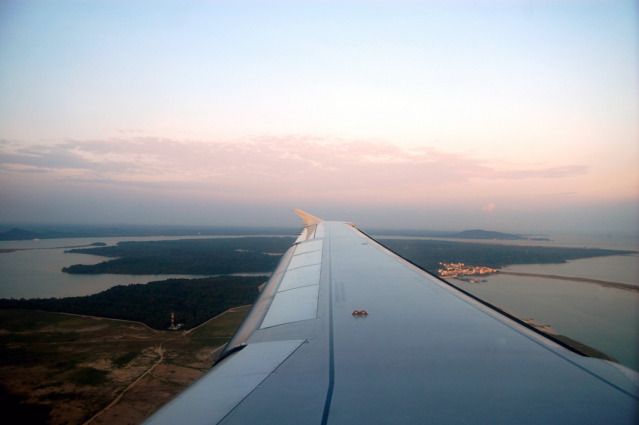 Arriving into SIN soon! We were slated for runway 20R. That is Pulau Tekong once again in the distance



Touchdown! Welcome home!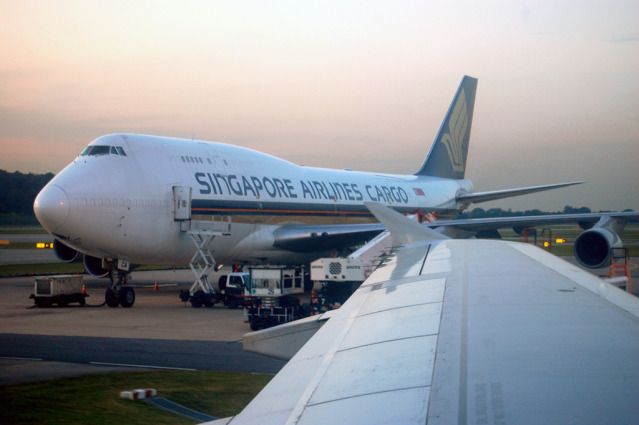 If you want to see SQ 744s in the future, you can only see it in the BCF form (shown here) or the original 744Fs. No more pax 744s sadly
Upon arriving at the gate, I wanted to let all passengers alight before approaching the f/as for permission to enter the cockpit. However, it seem like forever before all the passengers disembarked so I decided to get off and dash to immigration as my buddy already reached the airport 2 hours ago. Being parked at the gate furthest from immigration did not help though! It was a mad rush through the terminal saying excuse me all the way and dashing like a mad dog. I was perspiring by the time I reached duty free!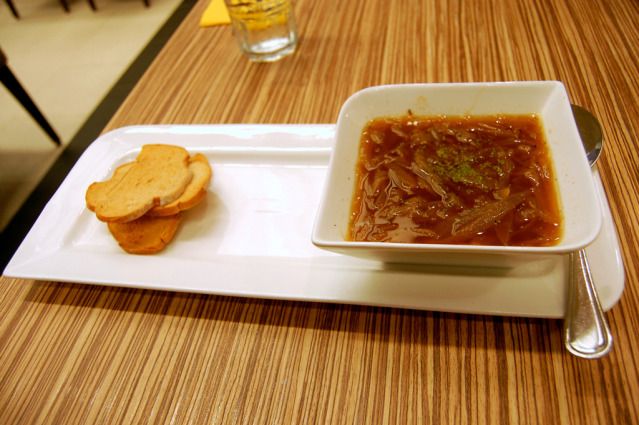 Finally settled down for some dinner. French Onion Soup anyone?
Rating & Conclusion
Jetstar managed to provide a wonderful flight once again despite a slight delay in departing and arriving at the respective airports. Out of my many flights with Jetstar, I found the consistency in service and enjoyed each and every flight with them. I would definitely continue to fly with Jetstar in the future and hope they expand to more destinations, bringing awesome-ness to a whole new level.
Aircraft Condition
: 28/30
Food
: 7/10
Seat Comfort
: 8/10
Ambience
: 7/10
Ground Handling
: 7/10
Total
: 82/100
Previous Trip Reports
Flying 5 Star - SQ SIN-CAN-SIN (2009)
(by
Initious
Mar 26 2010 in Trip Reports)
Sardines In A Can - Jetstar Asia SIN-HKG-SIN
(by
Initious
Mar 29 2010 in Trip Reports)
Away We Go - China Southern SIN-CAN-WUH Vv (1/2)
(by
initious
Apr 2 2010 in Trip Reports)
Away We Go - China Southern WUH-CAN-SIN (2/2)
(by
initious
Apr 14 2010 in Trip Reports)
Oldest Vs Newest: Royal Silk Class On Thai
(by
Initious
Jun 13 2010 in Trip Reports)
First On Airliners.net - CZ Shanghai To Shantou
(by
Initious
Jun 27 2010 in Trip Reports)
18 Hours Of Royal Orchid Service: Thai PVG-BKK-SIN
(by
initious
Jul 27 2010 in Trip Reports)
Good Morning Borneo! - Where Silkair Unwinds...
(by
initious
Oct 17 2010 in Trip Reports)
Irama AirAsia! - Kota Kinabalu To Singapore
(by
initious
Oct 24 2010 in Trip Reports)
Great Asia Trip Part 1 - Propping To Luxury
(by
Initious
Mar 23 2011 in Trip Reports)
Great Asia Trip Part 2 - In Love With Emirates
(by
initious
Mar 27 2011 in Trip Reports)
Great Asia Trip Part 3 - The Arabian Adventure
(by
initious
Apr 15 2011 in Trip Reports)
Great Asia Trip Finale - Brothers In Bangkok
(by
initious
May 9 2011 in Trip Reports)
Flying The Orange Star Monopoly - SIN-SWA On 3K
(by
initious
May 18 2011 in Trip Reports)
China Southern SWA-CAN - Do They Deserve 4 Star?
(by
initious
May 21 2011 in Trip Reports)
A Dream Come True - SQ Business Class CAN-SIN
(by
initious
Jun 13 2011 in Trip Reports)
Malaysia Boleh! - To Malaysia With 3K And AK
(by
initious
Jun 30 2011 in Trip Reports)
Flying On My Birthday - The Triangle In SEA
(by
initious
Jul 18 2011 in Trip Reports)
People: They Make An Airline. Cathay SIN-HKG
(by
Initious
Jan 28 2012 in Trip Reports)
Cathay, Make Up Your Mind! HKG-SIN On The A333
(by
initious
Mar 26 2012 in Trip Reports)
1 New Airport, 10 Steps Forward. Jetstar SIN-SWA
(by
initious
Apr 22 2012 in Trip Reports)
[Edited 2012-05-13 04:40:54]