Feedback always appreciated.

I > Background:
As readers of the previous installment will remember, a sudden opportunity had led me to spend around 2 weeks flying around Canada and visiting some of her remote parts. Journey recap so far:
- Air North's HS7 on YXY to YEV:
Air North 4N 307: JUN/11: YXY/YDAYOC/YEV: Y /HS 7!
(by
abrelosojos
Mar 4 2012 in Trip Reports)
- Canadian North's 732 on YEV to YEG:
CDN North 5T 445: JUN/11: YEV/YVQ-YZF/YEG: Y Cabin
(by
abrelosojos
Mar 11 2012 in Trip Reports)
- First Air's fantastic 73M flight from YEG to YFB:
First Air 7F 955: JUN/11: YEG/YZF-YRT/YFB: Y/73M
(by
abrelosojos
Mar 25 2012 in Trip Reports)
(Route Recap)
So now that I had explored the three main Northern airlines, it was time to wrap up my visit – best way to do this was fly the main airlines of Canada and benchmark them against the "novelty" carriers of Air North, Canadian North, and First Air.
First up was low-cost carrier, WestJet. There are some other reports on WS (including my own YYC-YVR), but this one would take me from their eastern hub at Toronto (YYZ) to their western hub and home base of Calgary (YYC).
II > Pre-Flight:
a) Before Airport:
WestJet (IATA: WS), is a pioneering Canadian low-cost airline based out of Calgary. From its humble beginnings in 1996, it has rapidly grown into Canada's 2nd largest airline. Currently, it serves around 80 destinations with significant reach into the U.S., Hawaii, Mexico, and the Caribbean. Operating a fleet of 100 Boeing 737NG's, WestJet is one of the very few airlines to claim 28th straight quarters of profit and is consistently ranked in the most profitable airlines of the world. This year, it has announced a fully-owned subsidiary Regional airline which will operate Q-400s to support the mainline network.
WestJet's website at
www.westjet.com
was the first step in the booking process. The site was extremely functional and within a few clicks, I was able to book my ticket and receive e-tickets in the email. The site also allowed me to chose my seat (for a fee) and I could come back and visit it with the Sabre interface that was integrated in the site. Interestingly, I was surprised by the lack of more "advanced" features – and the site felt a little too "cheap" for my taste. Commercially, I am surprised as it seems WS was leaving a lot of ancillary revenue on the table.
b) At Airport:
In Toronto, I stayed at the rather excellent airport-terminal hotel – the Sheraton YYZ in Terminal 3. One of the better airport hotels, it had a surprisingly chirpy group of staff, and was right across the terminal from WestJet's operations. A small note – from Iqaluit (YFB), I had taken another excellent First Air flight to Ottawa, and then taken a rental car to Toronto.
WestJet uses Terminal 3 at Toronto's Pearson airport – and I sure do hope that it does not pay the exorbitant fees that the airport authorities command other carriers. T3 is a rather generic affair and nothing special – the WestJet operation on the other hand looked and worked smartly. There were plenty of kiosks, and agents pro-actively directing people to various places. Since I wanted to experience the WestJet customer service agent, I avoided the kiosk and walked to the help area. With minimal wait time, an agent attended to me – she was pleasant and asked me how my day was going. Seeing my passport, she was curious what I was doing in Canada and what was taking me to Calgary. When I told her that I was in aviation, she smiled and asked me to wait a minute – she went back somewhere and brought me some WestJet stickers. Aaw. How NOT low-cost! After a few more minutes, she said she "upgraded" me to "super-duper" class … also knows as row 1. Haha. Overall, a positive start as I breezed through security and on to my gate.
Boarding was announced 30 minutes prior to departure and my boarding pass was scanned by a smiling agent who again greeted me … and then once onboard, a flight attendant greeted me and directed me to my seat. Throughout the boarding process, the crew was active in helping people with bags, smiling and joking with "guests" (that is what they are called in the WS world), and congenial. It was very un-North American like for a major airline.
Y-load today was 90%.
Airport - External:
(Toronto Airport)
Check-in:
(WestJet Check-In)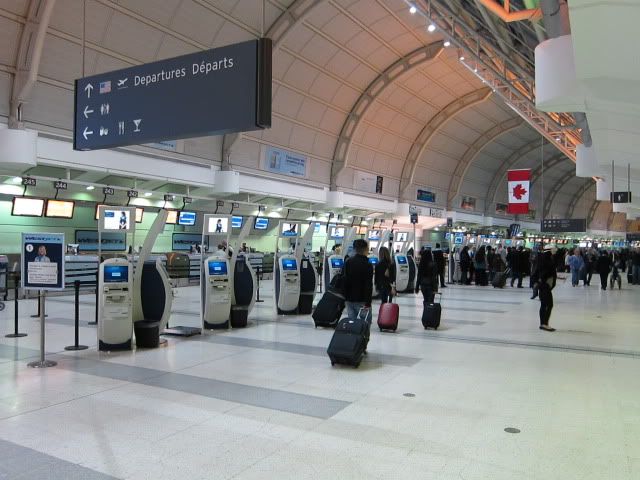 Airport - Internal:
NONE
(FIDS)
*
(Post Security @ YYZ)
NONE
Scenes of the tarmac:
NONE
Lounge
NONE
Boarding:
(Gate Area)
NONE
*
(Boarding)
NONE
III> In-Flight:
a) Service Schedule + Impressions:
During the flight, the following service schedule commenced:
+ Headphones (2 varieties), blanket-pillow sales
+ Buy on board food options
+ Complimentary "Bits & Bites" mix and/or Cookies & beverages
The later two routines were repeated twice during the flight, and there were more water runs than any airline I had encountered in North America!
b) Aircraft + Seats:
WestJet's Boeing 737 was immaculately maintained and the leather seats were comfortable with a generous seat pitch of 33". Recline was industry average. The bathroom was also very well maintained and I saw the flight attendants make several trips to ensure cleanliness levels.
Aircraft:
(Our 737-700W: A.Net Photo)
Views from Aircraft:
(WS is a big player @ YYZ)
*
(Probably the only airline that does this – I saw it almost on all my departures on WestJet – very cool!)
General Seat Views + Seat Legroom
(Seat: New on earlier flight)
*
(Front of seat)
*
(Seat controls)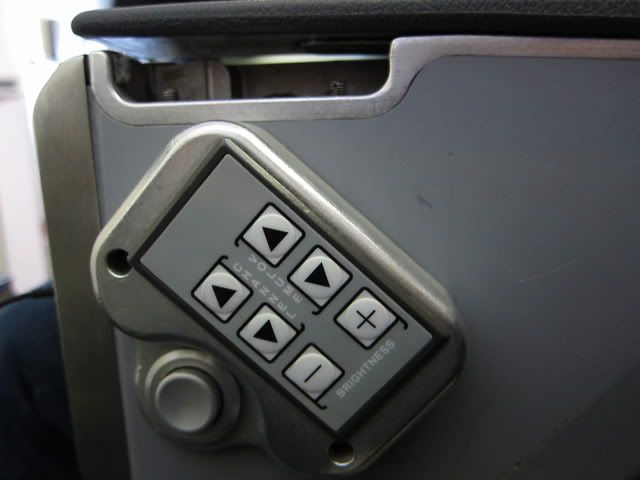 *
(Around Seat)
NONE
*
(Legroom)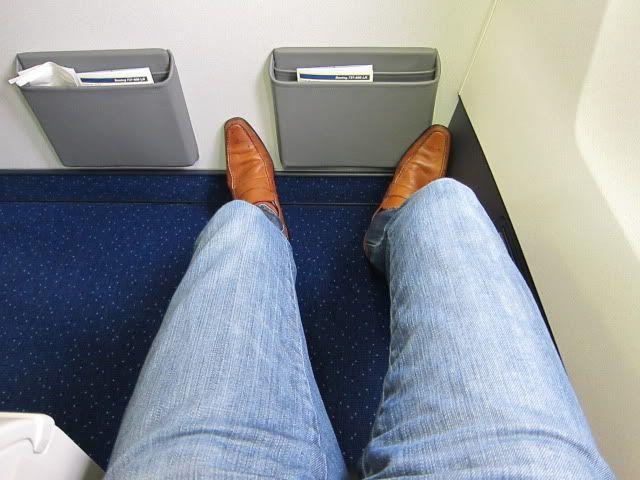 Seat Recline + Angle View:
(Average on new seats)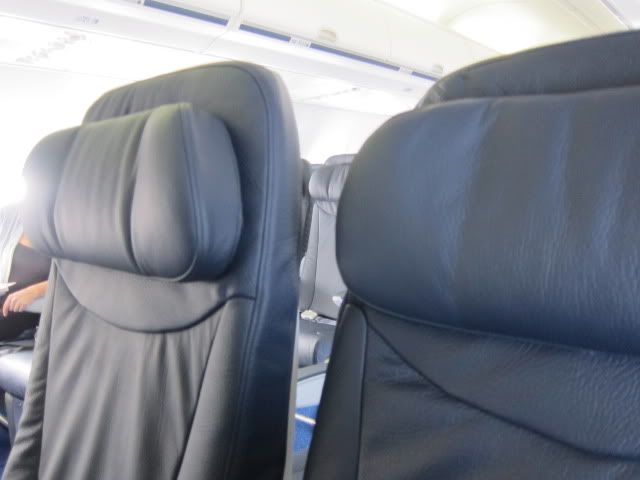 *
(Beautiful view)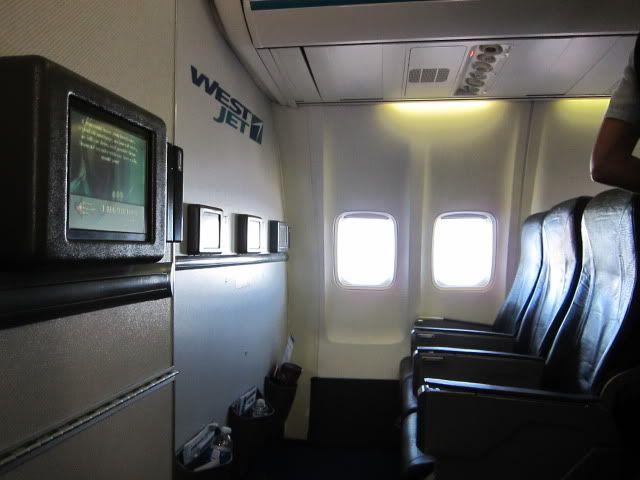 Cabin:
*
*
(Blanket ++)
NONE
(Bathroom: Absolutely spotless)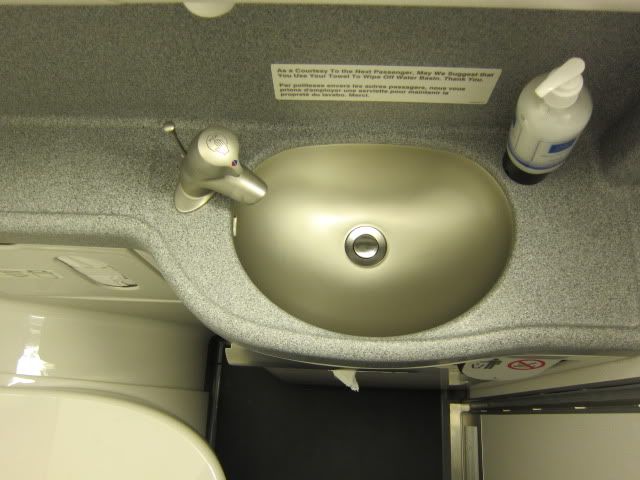 c) Meal + Beverage:
This was a North American LCC, and I had aligned my expectations appropriately. The BOB choices were actually good, and included several "featured" restaurants depending on where the flight departed from. Additionally, there were several healthy options, snack boxes, etc. which I appreciated as alternatives to the generic sandwiches and wraps. Since WS is more of a "hybrid" carrier, there were also complimentary beverages including my favorite Canadian juice called CLAMATO with spices. Accompanying the beverages were "Bits & Bytes" (assorted snack mix) and Cookies. Unlike other North American airlines, they were fairly generous with these and even encouraged you to have more than one.
The thing of note was that service was done twice during the flights, and the crew came with water runs at least 6 times!
(Sales cart comes out)
*
(What I bought)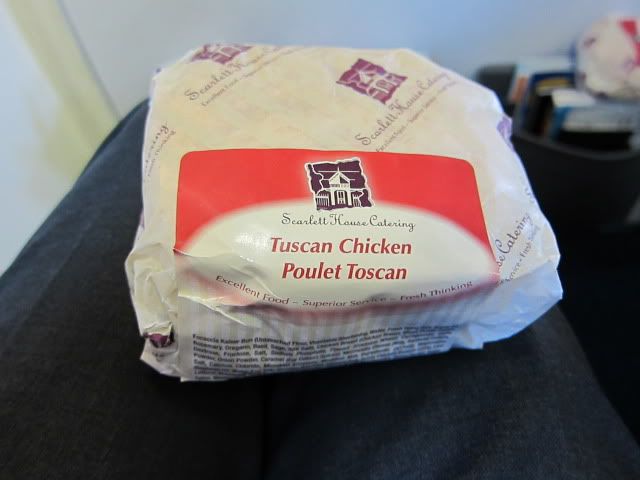 *
(Complimentary stuff)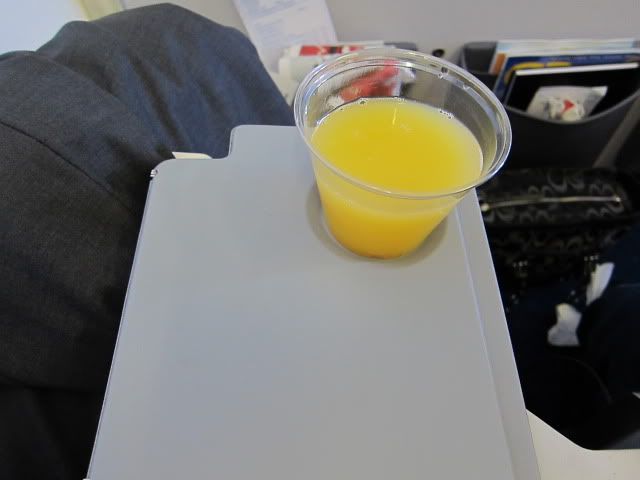 *
*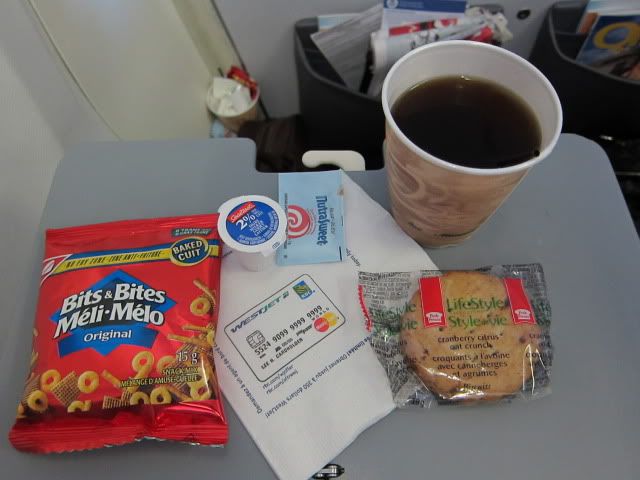 d) Inflight Entertainment:
WestJet aircraft come equipped with Live TV and the choice of 25 odd channels were sufficient. Sound using my own earbuds was above average. There was also 4 additional channels of paid movies. The older generation aircraft had screens that were a tad too tiny for my liking – however, the new generation aircraft had screens that were much bigger. I hear WS is debating on other entertainment options, and it will surely be interesting to see what they decide on. West Jet's inflight magazine (UP!) is more lifestyle/entertainment oriented and does not provide as much as travel information or destination reporting when compared to industry norm.
(IFE – view of both new and old units)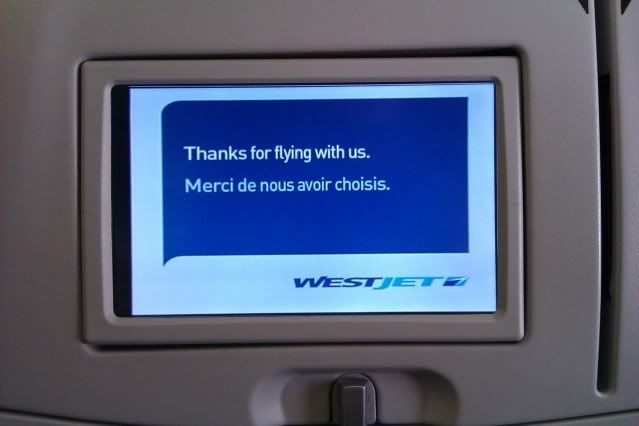 *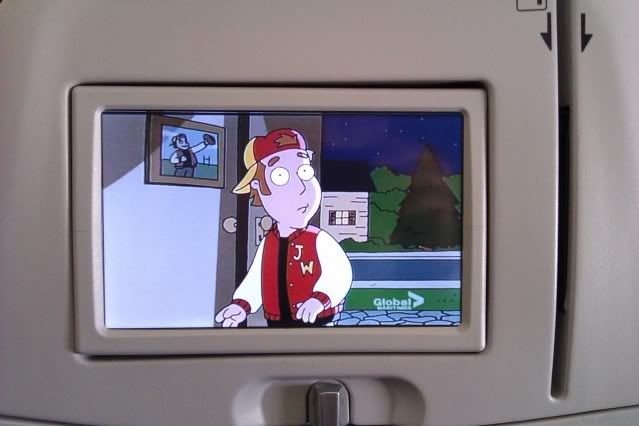 *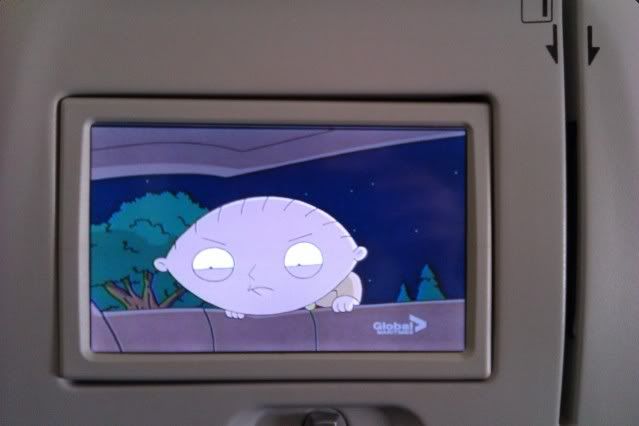 *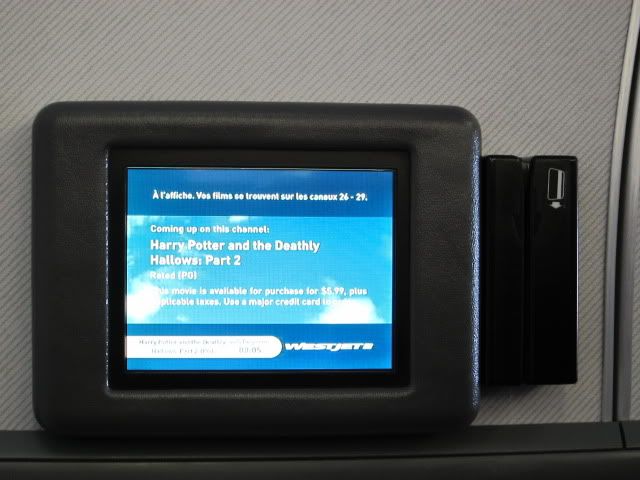 ("In-flight magazines", Boarding Passes, etc.: Not too shabby – loved the postcards in the magazine)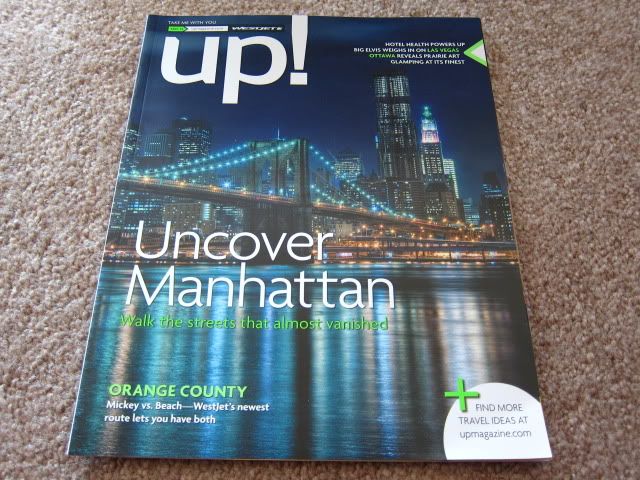 e) Crew:
WestJet crew, also apparently called "WestJetters", are known for their legendary "happiness". On my other reviewed flight with them (back in 2007), I had encountered this and remembered how darn happy they were. I am happy to report that this has not changed. Throughout the flight, they were pro-active and with all smiles. From the moment you get on when they are in the aisle helping with the baggage (a COMPLETE polar opposite to the Air Canada crew) to the end of the flight when they wished me a pleasant onward journey, I never saw them not genuinely happy. Some highlights:
+ At the beginning of the flight, there were introduction and waves
+ Jokes were told throughout the flight and there was an in-flight game to determine the weight of the plane and free ticket to the winner
+ Call buttons were responded to promptly (this is SO rare in North America)
+ Finally, after the flight, apparently all the WestJet employees (including management) stay back and clean the plane. How wonderful!
IV> Post-Flight:
Arrival into Calgary was quick and within minutes I was off to my hotel. All very smooth.
(YYC Airport)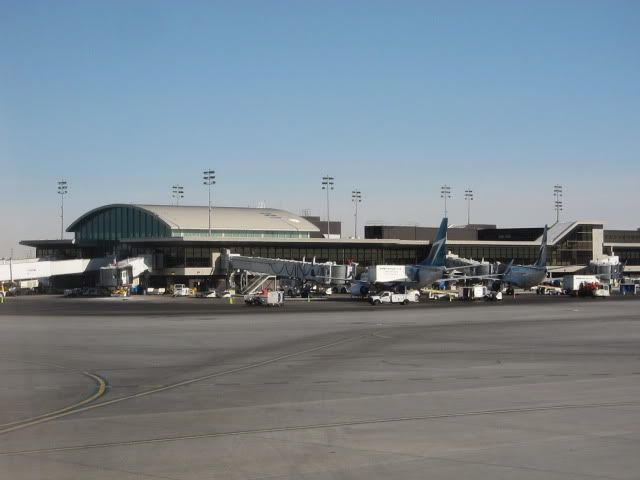 *
("WestJetters" are a happy bunch – on arrival, this guy takes a picture of the plane)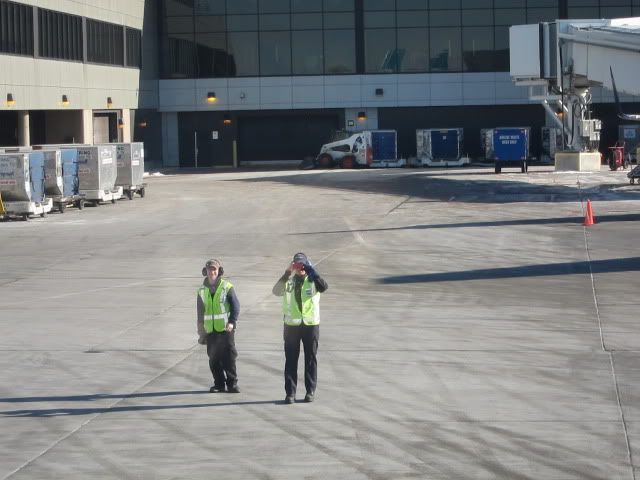 V> Impressions + Scores:
I have become a big fan of WestJet and their business model. Based on simplicity and respect, this little airline has grown up. I researched them after the trip and was amazed to find that they have reported 28 consecutive quarters of profit and are among the top 10 most profitable in the world. Who would have guessed? I saw this overall "happy" airline manifesting primarily in the people – from excellent ground personnel to fantastic crew on board. There were definite room for improvement – primarily a "meh" website and IFE that shows its age. But these are things that are relatively easy to overcome. WS has all the fundamentals right, and I enjoyed my flight.
While it was not as special as First Air, it definitely shown in the "mainline" airline category. An airline to watch out for, and my airline of choice in Canada. Two thumps up!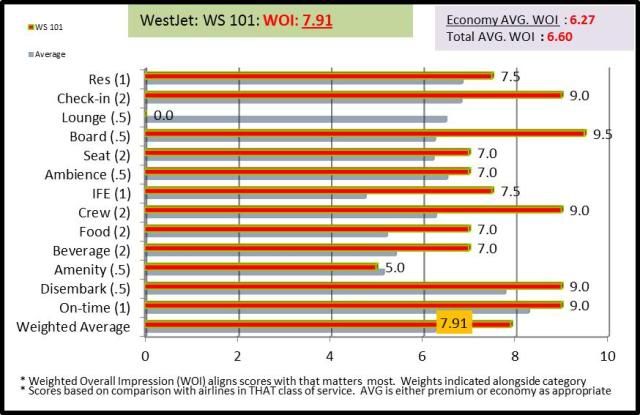 VI> Other Trip Reports:
PREMIUM:
9.27: JET AIRWAYS **FIRST** (110): LHR-BOM: 10/2010
9.27: THAI AIRWAYS **FIRST** (108): BKK-LHR: 07/2010
8.66:
Brussels Airlines (93): FIH-BRU: 01/2010
8.64:
Turkish Airlines (59): JFK-IST: 11/2008
8.63:
Jet Airways (88): JFK-BRU: 10/2009
8.61:
Air Canada (49): YYZ-SCL: 06/2008
8.54:
Turkish Airlines (77): GRU-DKR-IST: 04/2009
8.36:
Kingfisher (98): BOM-HKG: 01/2010
8.30:
Jet Airways (74): KWI-BOM: 04/2009
8.23:
United Airlines (72): SFO-SYD: 03/2009
8.11:
Aeroflot (33): MOW-DEL: 09/2007
8.05:
Air India (80): CCU-JFK: 06/2009
8.04:
Korean Air (40): NRT-ICN: 10/2007
8.02:
Delta Airlines (24): JFK-CDG: 08/2007
7.82: UNITED AIRLINES **FIRST** (110): SFO-ICN: 10/2010
7.82:
Singapore Airlines (06): EWR-SIN: 09/2006
7.66:
Sri Lankan (104): DEL-CMB: 07/2010
7.64:
Royal Jordanian (91): AMM-YUL: 12/2009
7.61:
China Southern (103): LOS-DXB: 04/2010
7.57:
Pakistan Airlines (102): ORD-BCN: 06/2010
7.46:
LAN (55): YYZ-JFK: 09/2008
7.38: AMERICAN AIRLINES **FIRST** (112): LHR-JFK: 10/2010
7.38: CATHAY PACIFIC **FIRST** (109): HKG-LHR: 10/2010
7.25:
Iran Air (88): BOM-IKA: 12/2009
7.23:
Air Pacific (120): NAN-APW-HNL: 01/2011
7.23:
Virgin Atlantic (81): BOS-LHR: 07/2009
7.14:
Swiss (52): SCL-GRU: 06/2008
7.11:
Aer Lingus (105): MAD-IAD: 05/2010
7.11:
Austrian (79): VIE-JFK: 06/2009
7.07:
Privatair (84): BOM-FRA: 08/2009
7.02:
Qatar (68): DOH-JFK: 01/2009
6.96:
Etihad (61): JFK-AUH: 12/2008
6.93:
Delta Airlines (18): SEA-JFK: 11/2006
6.88:
Egypt Air (123): LHR-CAI: 03/2011
6.84:
ConViasa (65): CCS-DAM: 01/2009
6.82:
Air Burkina (106): BKO-OUA: 06/2010
6.81:
Air Canada (17): ICN-YYZ: 10/2006
6.75:
Afriqiyah + Libyan (113): CAI-TIP: 11/2010
6.70:
KLM (32): EBB-AMS: 08/2007
6.52:
Emirates (99): LHR-DXB: 02/2010
6.39:
South African (97): EZE-JNB: 01/2010
6.36:
Privatair (60): MUC-BOS: 12/2008
6.29:
TAM Brasil (96): POA-EZE: 02/2010
6.25:
Korean Air (45): NAN-ICN: 10/2007
6.21:
Iberia (87): BOS-MAD: 10/2009
6.11:
A SKY (107): OUA-COO: 06/2010
6.11:
TAP Portugal (53): GRU-OPO: 06/2008
6.00:
Gulf Air (75): BOM-BAH: 04/2009
5.88:
African Express (89): DXB-NBO: 11/2009
5.75:
Singapore Airlines (16): CCU-SIN: 10/2006
5.64:
SATA Azores (101): BOS-PDL: 04/2010
5.64:
NorthWest (46): ICN-NRT-SEA: 10/2007
5.54:
Ethiopian Airlines (95): ADD-BOM: 01/2010
5.46:
Icelandair (83): KEF-BOS: 08/2009
5.39:
LOT (54): WAW-JFK: 06/2008
5.21:
Egypt Air (73): CAI-IST: 02/2009
5.11:
Tunisair (115): TUN-ORY: 12/2010
5.07:
TACA (66): JFK-SAP: 01/2009
4.89:
TAAG Angola (117): TMS-LAD: 12/2010
4.42:
Air France: CDG-JNB (25): 08/2007
ECONOMY: Long + Medium:
9.26:
Air India (48): JFK-DEL: 02/2008
9.04:
First Air (129): YEG-YFB: 06/2011
8.74:
Japan Air Lines (130): NRT-BOS: 04/2012 – INAUGURAL
7.91: WestJet (131): 06/2011
7.38:
Avianca (01): BOG-LIM: 07/2006
7.07:
Sri Lankan (62): KWI-CMB: 12/2008
7.00:
LAN (94): IPC-SCL: 01/2010
6.81:
STP Airways/Euro Atlantic (116): LIS-TMS: 12/2010
6.67:
Air Malta (124): MLA-FRA: 04/2011
6.63:
Vladavia (126): KHV-PEK: 06/2011
6.41:
Air North (127): YEV-YEG: 06/2011
6.41:
Avianca (78): JFK-BOG: 05/2009
6.41:
American Airlines (58): LHR-BOS: 11/2008
6.39:
Condor (85): SEZ-FRA: 09/2009
6.26:
Jet Blue (21): CUN-JFK: 02/2007
6.11:
Caribbean Airlines (119): POS-FLL: 01/2011
6.06:
Air Canada (04): YYZ-YVR: 09/2006
5.89:
USA 3000 (19): PUJ-BDL: 01/2007
5.85:
Spanair (69): MAD-LPA: 02/2009
5.80:
Canadian North (128): YEV-YVQ-YZF-YEG: 06/2011
5.79:
Air New Zealand (42): RAR-NAN: 10/2007
5.52:
Aerolineas (86): USH-AEP: 10/2009
5.46:
TAP Air Portugal (23): OSL-LIS: 05/2007
5.19:
Air Europa (70): LPA-MAD: 02/2009
5.16:
Iberia (71): MAD-BOS: 02/2009
5.11:
Air China (82): FRA-PEK: 08/2009
4.59:
IR Aero (125): IKT-VVO: 06/2011
ECONOMY: Short
8.56:
Paramount Airways (38): BLR-MAA: 09/2007
8.56:
Kingfisher (64): HYD-CCU: 12/2008
8.24:
Kingfisher (14): IXA-GAU: 10/2006
7.87:
Indian (34): BOM-MAA: 09/2007
7.72:
Alliance Air (13): CCU-IXA: 10/2006
7.57:
Indian Airlines (10): DEL-CCU: 09/2006
7.23:
West Jet (03): YYC-YVR: 09/2006
7.15:
JetLite (37): BOM-GOI: 09/2007
6.98:
Air Koryo (100): PEK-FNJ: 04/2010
6.70:
Spice Jet (09): CCU-DEL: 09/2006
6.63:
Air Fiji (44): NAN-SUV: 10/2007
6.63:
Jazeera (67): DAM-KWI: 01/2009
6.58:
Air Tran (02): EWR-MDW: 08/2006
6.48:
Air India Express (63): CMB-MAA: 12/2008
6.44:
CO Micronesia (39): ROR-YAP: 10/2007
6.41:
Pacific Sun (43): NAN-SUV: 10/2007
6.37:
Skybus (47): SWF-CMH: 02/2008
6.33:
Kenya Airways (29): NBO-BJM: 08/2007
6.33:
Sky Europe (56): LTN-BTS: 10/2008
6.31:
Indigo (15): GAU-CCU: 10/2006
6.31:
easyJet (57): BUD-LTN: 11/2008
6.22:
Air Link Swazi (28): MTS-JNB: 08/2007
6.22:
Air India (36): HYD-BOM: 09/2007
6.13:
Adam Air (07): SIN-CGK: 09/2006
6.13:
Air Rarotonga (41): RAR-AIT: 10/2007
6.04:
Suriname Airways (118): PBM-POS: 01/2011
6.00:
Transairways (27): INH-MPM: 08/2007
5.95:
Air Canada (05): ALB-YYZ: 09/2006
5.85:
SAS Norge (22): OSL-AES: 05/2007
5.81:
LAM Mozambique (26): JNB-MPM: 08/2007
5.69:
Air Deccan (12): IXZ-CCU: 10/2006
5.67:
Rwanda Air Exp (30): KGL-NBO: 08/2007
5.52:
Sevenair (114): TOE-TUN: 11/2010
5.37:
Felix Airways (92): SCT-SAH: 12/2009
5.11:
Aero Republica (76): BOG-CCS: 04/2009
5.07:
Go Air (35): MAA-HYD: 09/2007
5.04:
Biman (121): DAC-CGP: 01/2011
5.00:
Sky Airline (51): IQQ-SCL: 06/2008
4.96:
United Bangla (122): CGP-DAC: 01/2011
4.96:
Valuair (08): CGK-SIN: 09/2006
4.78:
Air Comet Chile (50): SCL-IQQ: 06/2008
4.74:
Fly 540 (31): MYD-LAU: 08/2007
4.33:
Viva Aerobus (20): ELP-MTY: 02/2007
4.11:
Air Sahara (11): CCU-BOM: 09/2006
(Note on Codes: Y – Economy, J – Business, F – First :: I/D – International/Domestic :: SR/MR/LR – Short/Medium/Long Haul)
(Note on Date: Dates are modified to be +/- 3 days from actual flight date to not reveal actual flight pattern)
VII> Other Pictures:
A friend of mine told me that WestJet loves making vides for their internal and external audience. So I went to You Tube and got addicted to them. Here is a few:
(Profit Share)
http://www.youtube.com/embed/3A74JzhAoyI
http://www.youtube.com/watch?v=rvuR5ZU8wLQ&feature=related
(WestJet April 1)
http://www.youtube.com/watch?v=M4SkoJy3D0M&feature=relmfu

* Unbiased view on how an actual traveler may view the flight
* Not a professional photographer (so please keep in mind)
* Commitment that I won't identify myself to the airline as "reviewing them"