B A C K G R O U N D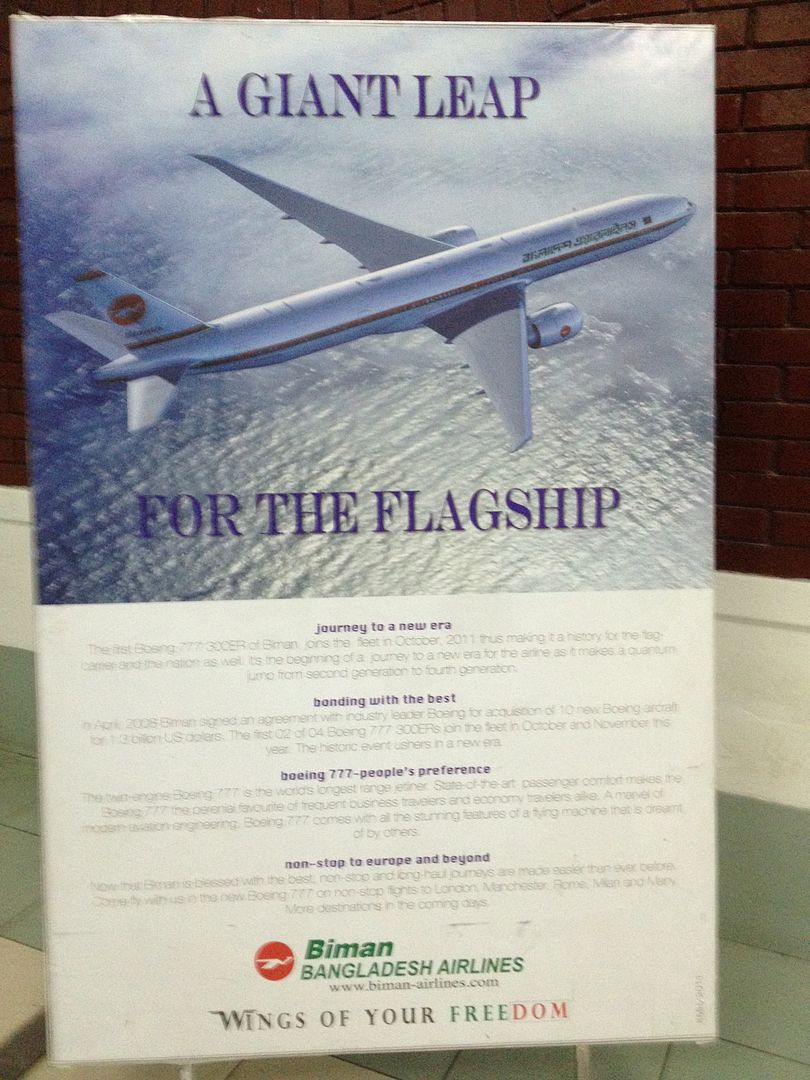 In late March 1997, I decided to fly on all 777 carriers with direct delivery from Boeing. I first started with Korean Air and Thai Airways International in May 97. Since then I've flown 777s on many different carriers from all over the world and on many different routes. I've completed my 777 flying a few times already after flying AirEurope in 2002, after flying Qatar Airways in 2007 and most recently after having flown on Philippine Airlines last year.
Things got more difficult after having to start dialysis in September 2008 but then a miracle happened; on 11 October 2012 I had a kidney transplant. Just a few weeks later, Biman Bangladesh took delivery of their first Boeing 777 and the planning to get on one of those started. I got well right away but needed time get my strength back. I first planned to do a short flight on Biman as part of a longer trip together with my good friend PlaneHunter. Early in the planning stages, he suddenly told me he had found a great fare SIN-DAC-LHR on BG and suggested we do that route instead. It sounded like a great idea to me so we started looking at exact dates and how to get the schedules work out.
I met up with PlaneHunter in Singapore at around 1300 on 9 May and he had just finished lunch with fellow A.net users Initious and Yapple. He told me he wasn't feeling well and that he had been seeing a Doctor in Singapore to try to get well. We did some great spotting for about four hours or so but PlaneHunter mostly spent his time at the pharmacy and making phone calls. I was still hoping that he would come along but later as we said good bye to Initious and Yapple, it was clear that he was not well enough to travel. I had really been looking forward to making this tip together with PlaneHunter but realized that I had to do this on my own, something that I have been doing on all my 777 trips expect for the first one on Korean Air when I went with my friend Rich.
I checked in for the flight from Singapore and then said goodbye to PlaneHunter and went to the gate. After a somewhat "interesting" flight from Singapore I was in Dhaka.
T H E T R I P
Date : 9 May 2012
Route : Dhaka – London
Distance :
Flight : BG015
Flight Time: 9:54h
Dep. Time: 10:06
Aircraft : Boeing 777-3E9/ER
Registration : S2-AFO "The Palki"
Dep. Gate : 5
Seat : 9A
Movies : Chariots Of Fire, Water For Elephants, The King's Speech
199th flight on a 777, 14th flight on a 777-300/ER
Flown on 115 777 frames
48th 777 carrier flown (flown on all 777 carriers with direct delivery from Boeing, for now)
As soon as I arrived in Dhaka, I went to the transfer desk and there was no there but someone showed up after a few minutes. There were only two more people also in transit so not very busy there…..
I explored the terminal and there wasn't much there some to see or do. There were only seven gates and the terminal was old from the early 1970. It reminded me of smaller version of the old Kai Tak terminal in HKG. There were some departures; GF to BAH, EY to AUH and QR to DOH. It was still dark outside so it was difficult to do spotting. I sat down and rested a bit. When daylight arrived, I went around the gates to see what was there and was happy to see a 77W at gate 5 and I guessed that would be the aircraft for my flight.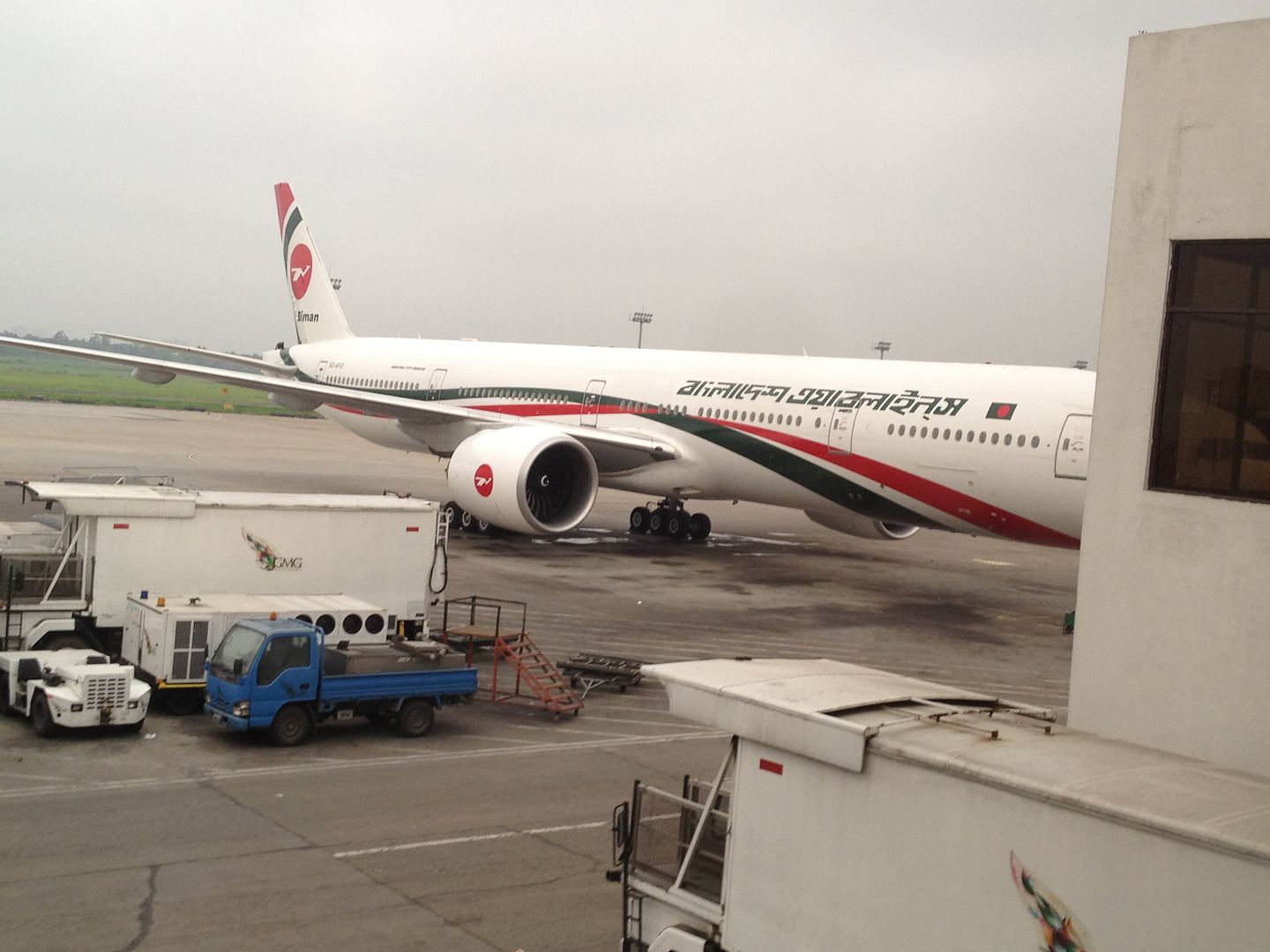 Some FIDS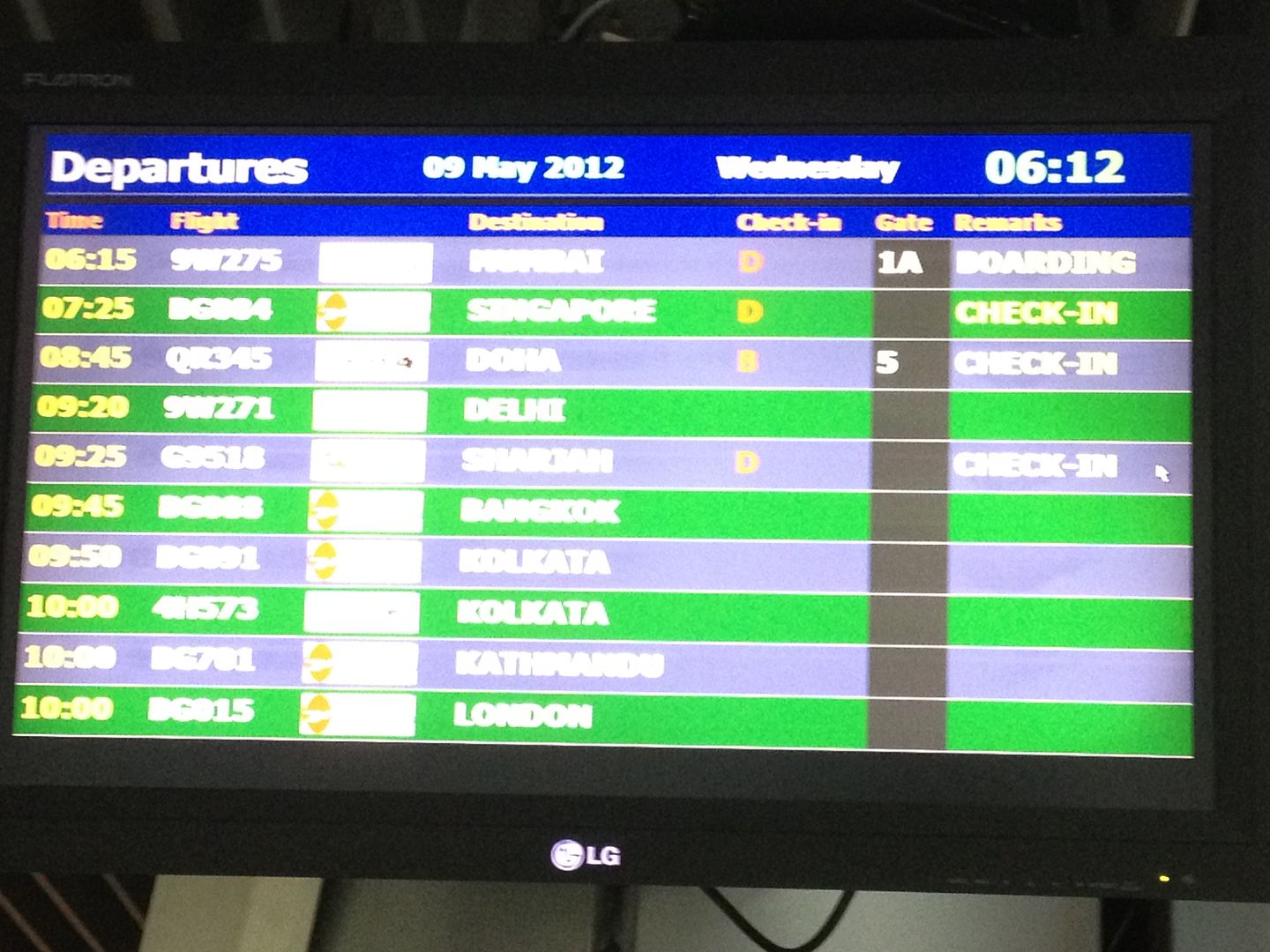 Did some spotting; S2-AEH of United Airways.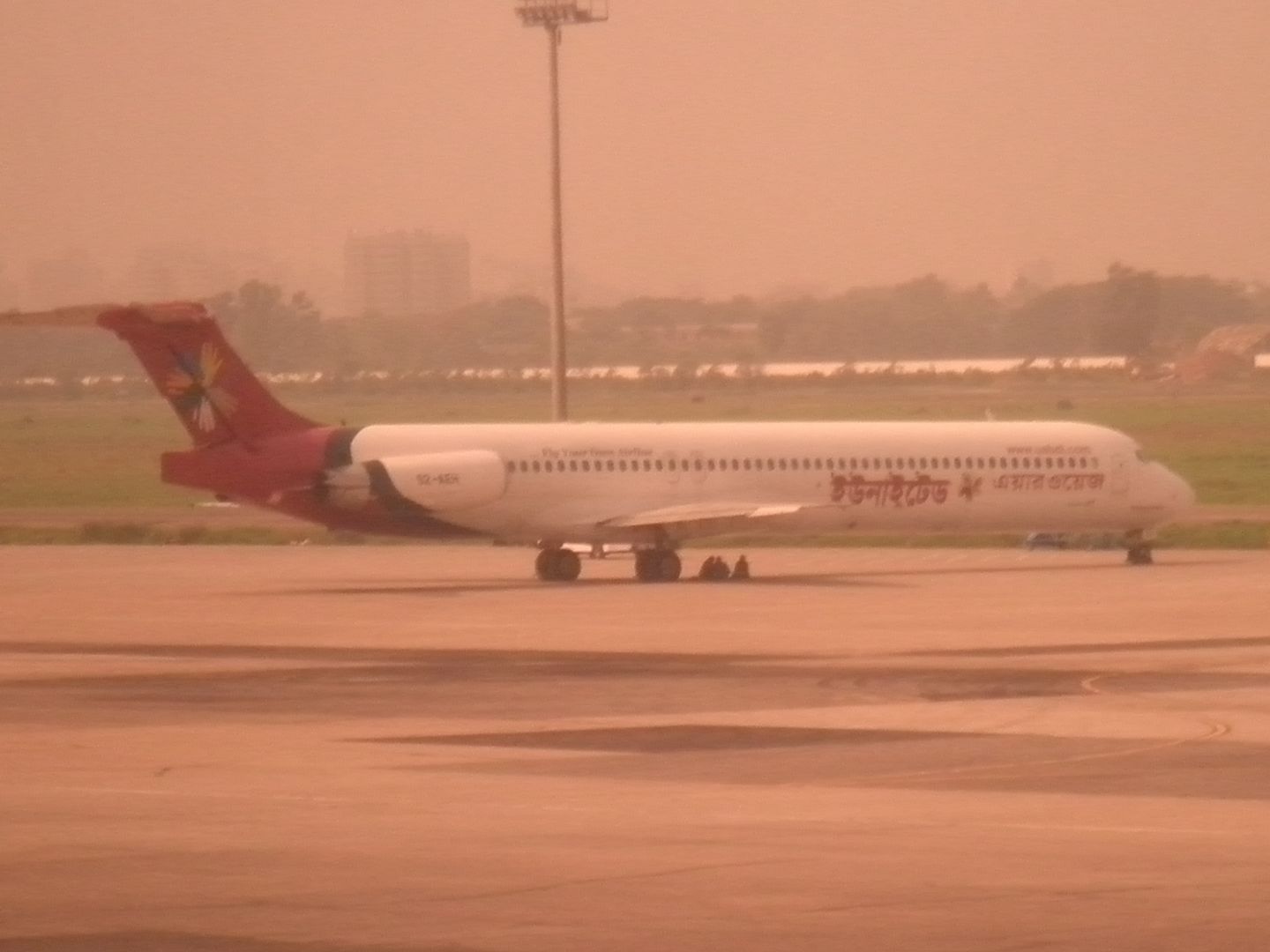 A lot of advertising had a tiger pattern on it probably because of the known Bengal tigers. Here and ad for the cellphone company Banglalink.
My recent accquired roll on bag had a pattern that fit right in.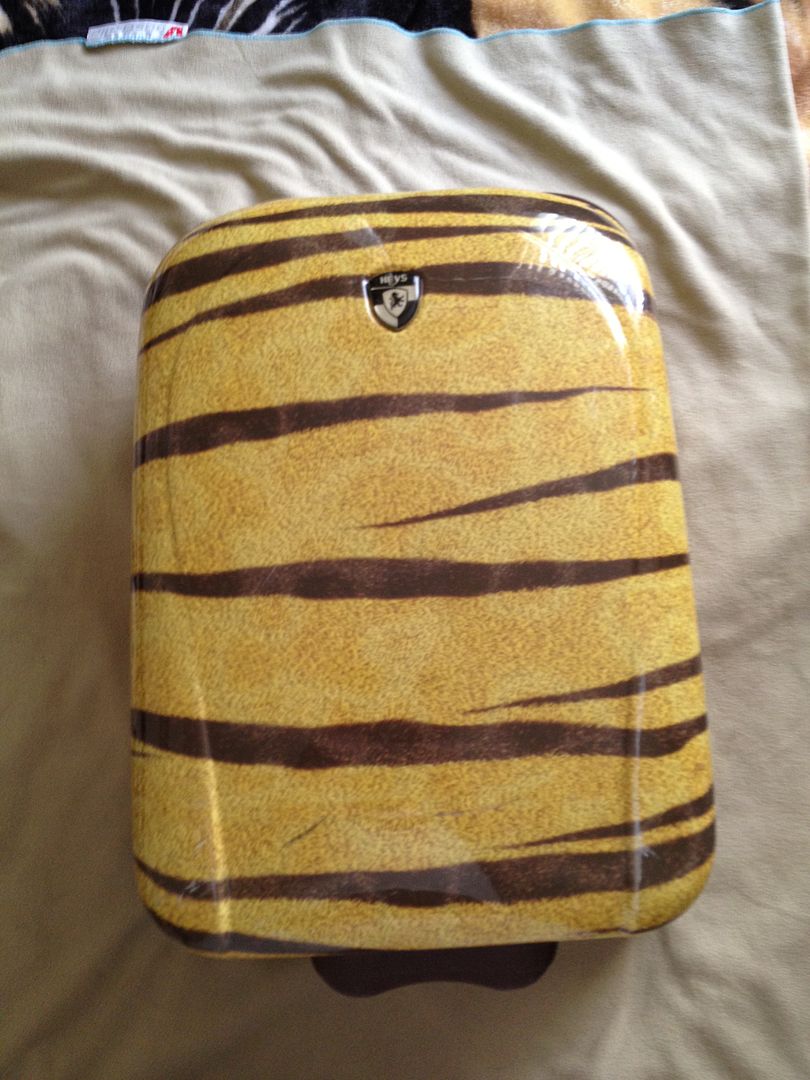 Each gate has it's own gate lounge and you have to go thru security to get in there. As I was walking thru the terminal I was noticing that the gate lounge was open for my flight at gate 5 at 8:20 for a 10:00 departure so I went in. I was only the fifth person thru and it was great not to be a in a very long line. I did some spotting from the gate as more and more people got thru as it got closer and closer to departure.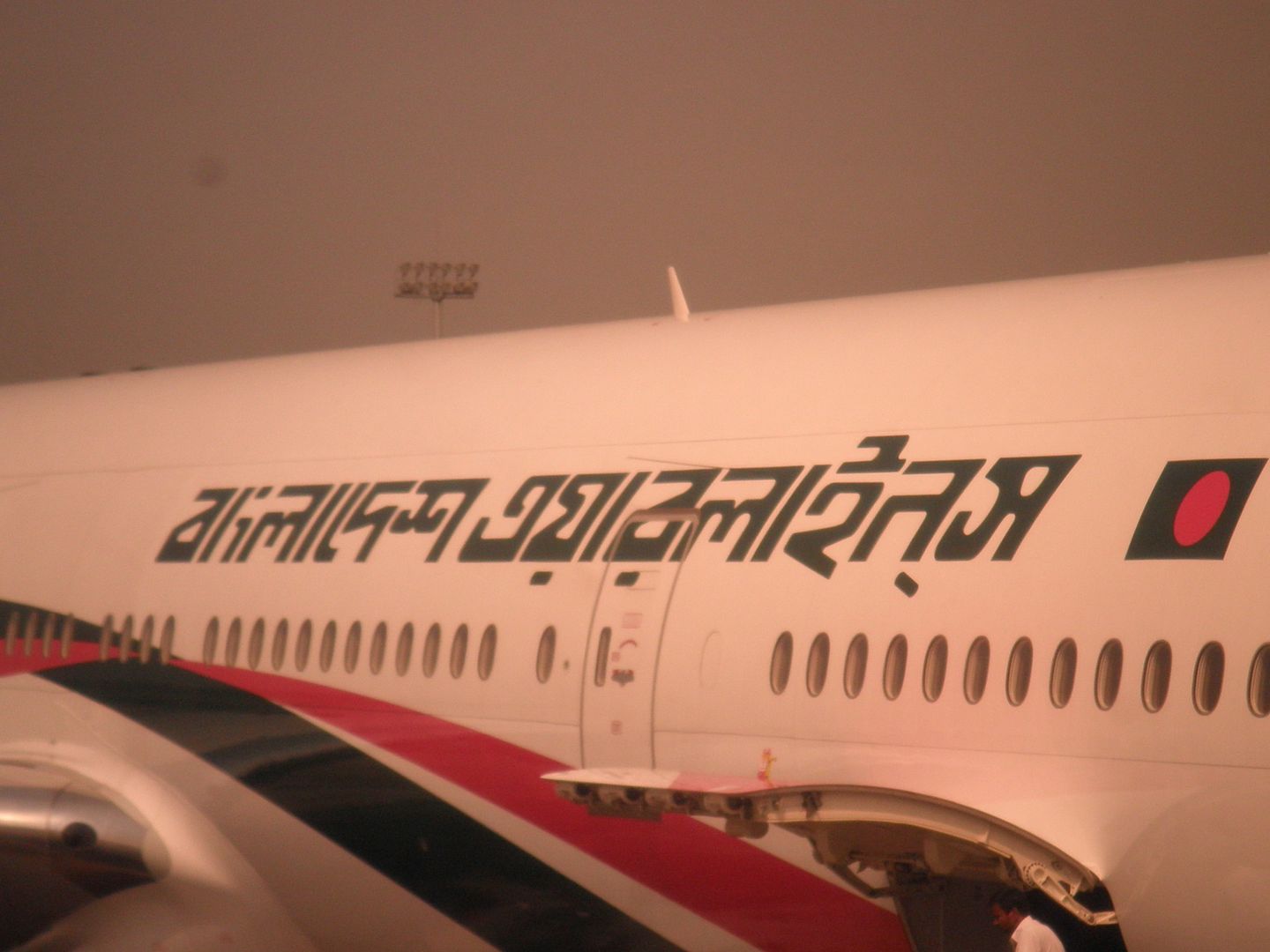 At about 9:30 the door to the jet bridge opened and people started to board. No announcements of any kind were made, just a mass of people got up and moved towards the door.
I was welcomed aboard by a middle aged flight attendant and made my way to my seat.I was in the third row from the front in the economy section. Business Class is only between door 1 and 2 and the rest of the aircraft is Economy class.
I saw down and first noticed the big screen
.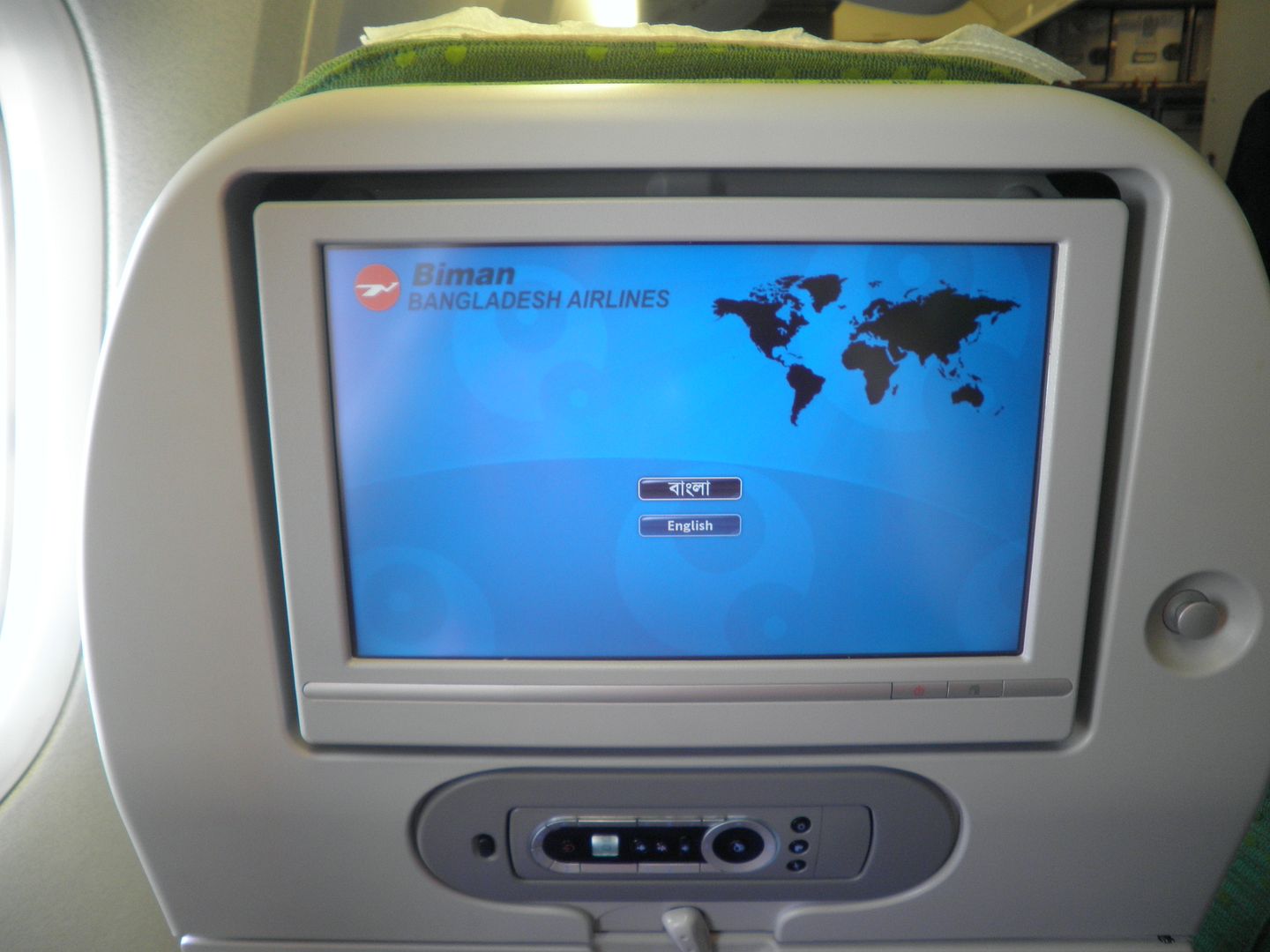 Legroom was also good and the seat was comfortable.
There was also a leg rest and a winged head rest to make sleep easier.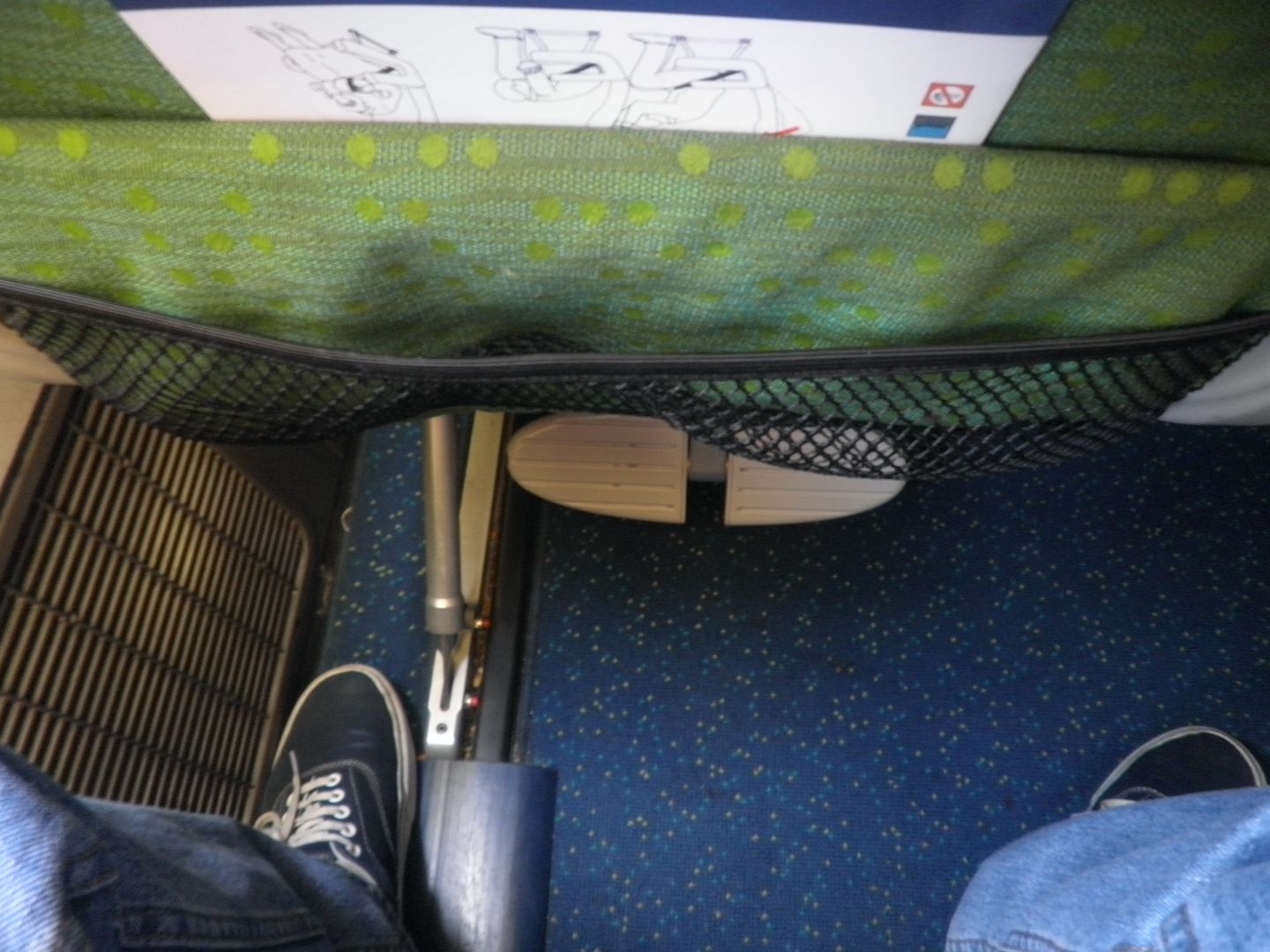 There was a single jack for the headphones which I prefer compared to the double jacks you find on some other carriers. Seat color was green and had some red dots on them just like the Bangladeshi flag. A pillow was placed on every seat but no blanket.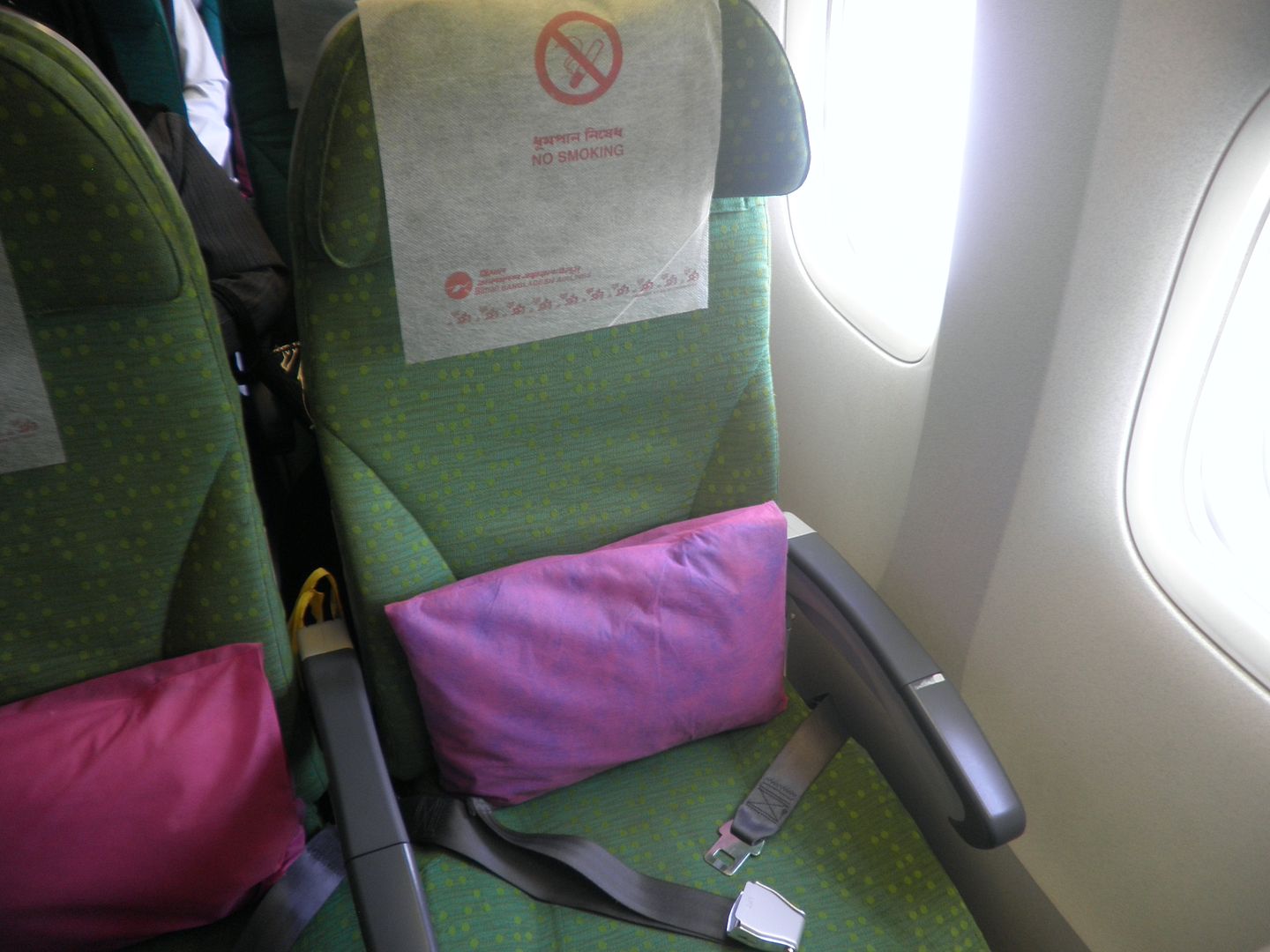 The only item in the seat pocket was the safety card; no inflight magazine or airsickness bag.
The aircraft was clean and still had the feel of being a new airplane. No air vent at every seat but that seems to be the norm on newer aircraft. Notice the No computer, no cellphone signs overhead.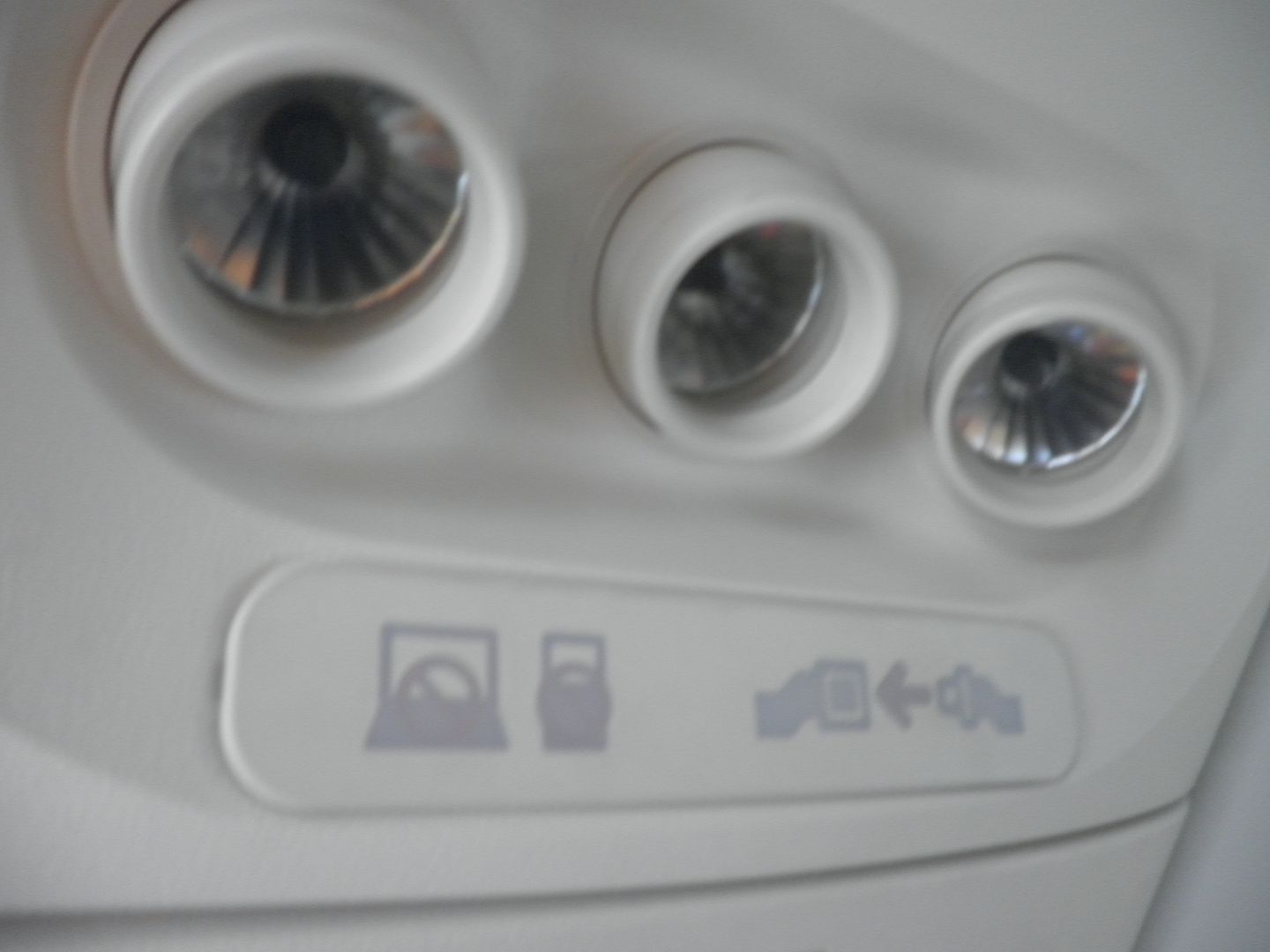 Bulkhead decorations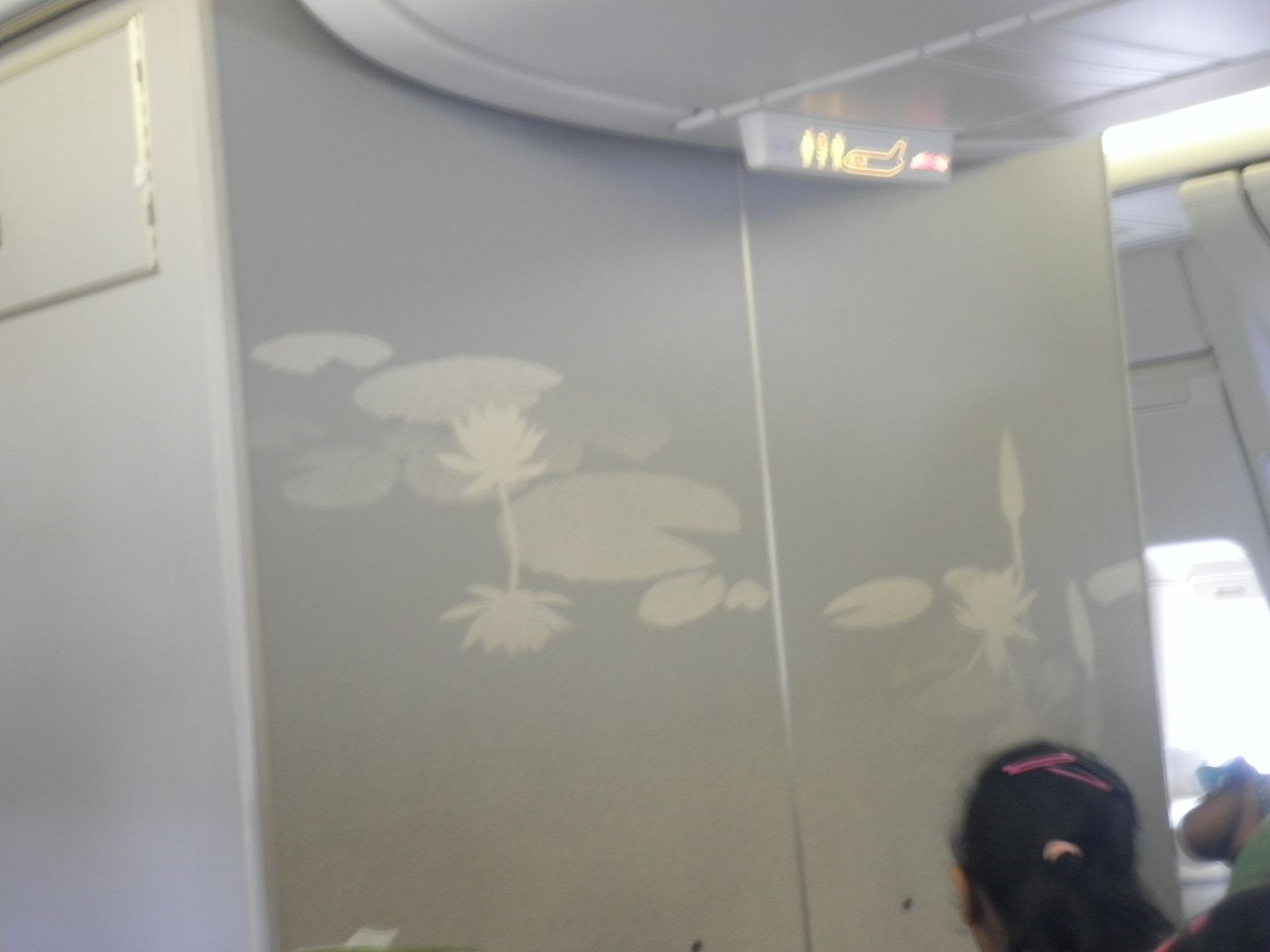 View from my window before pushback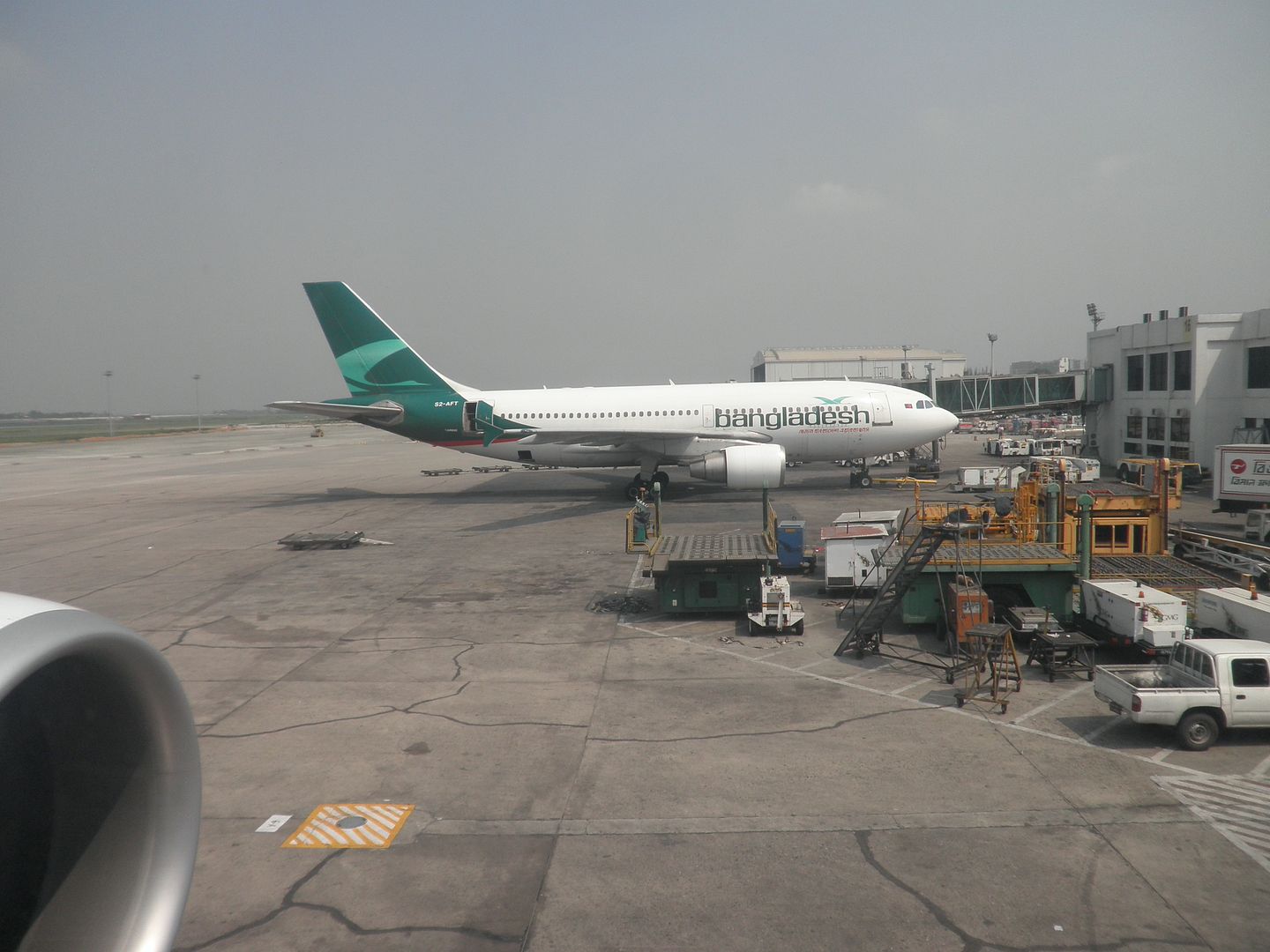 Some chewing gum ?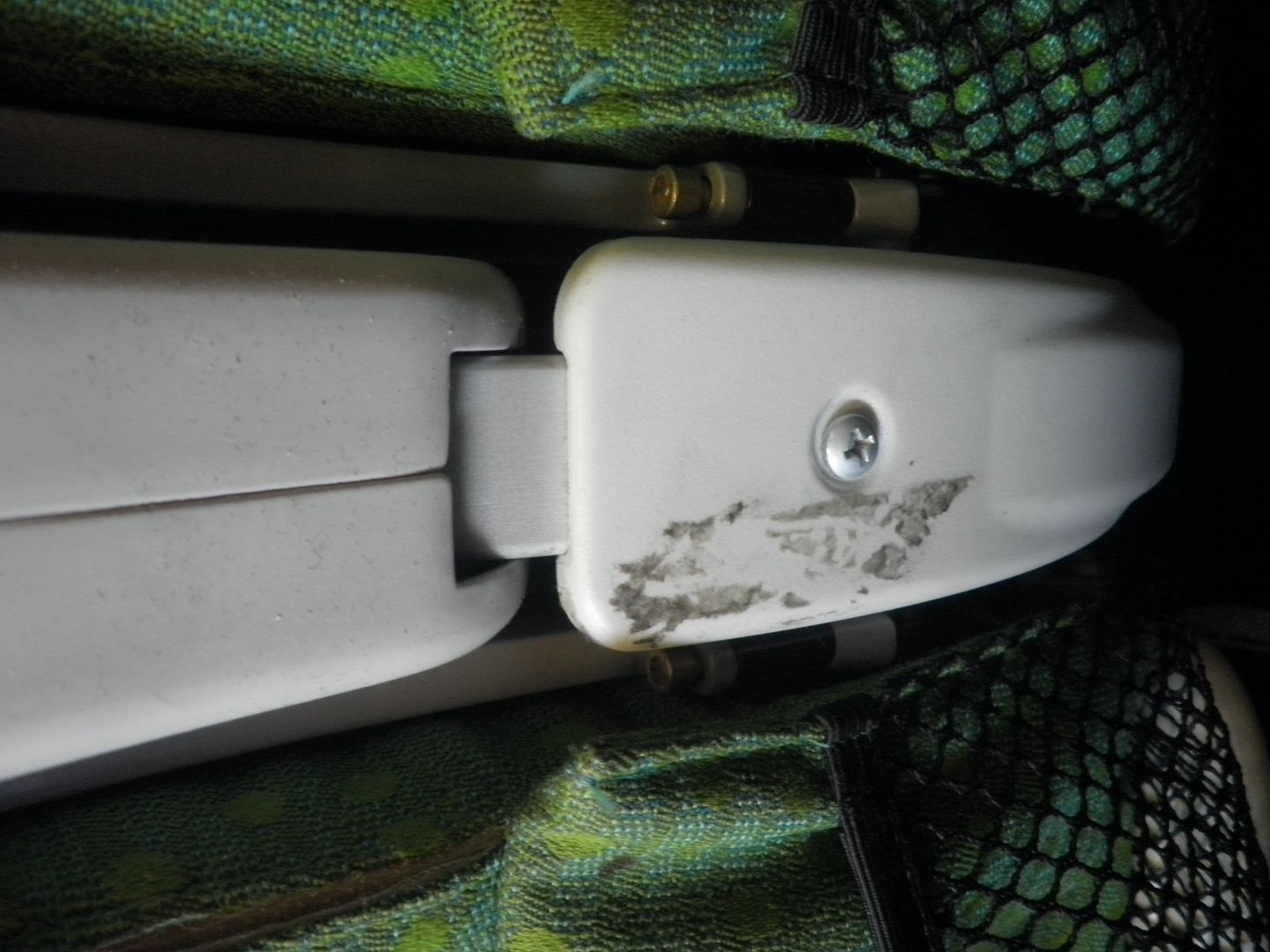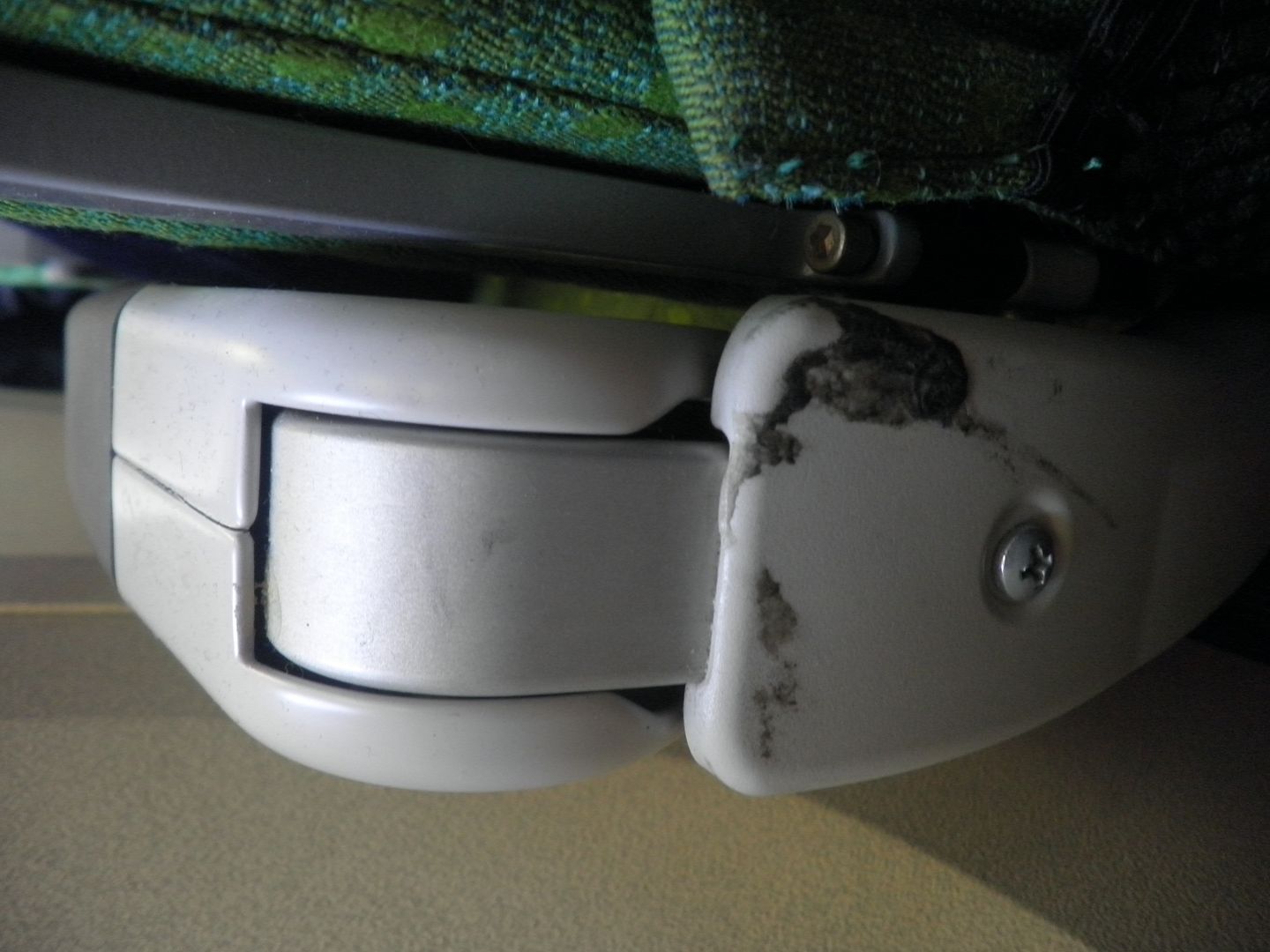 Boarding was completed but people were still changing seats which delayed pushed back for a few minutes. Safety announcements were made in Bengali and English and started with a very short muslim prayer.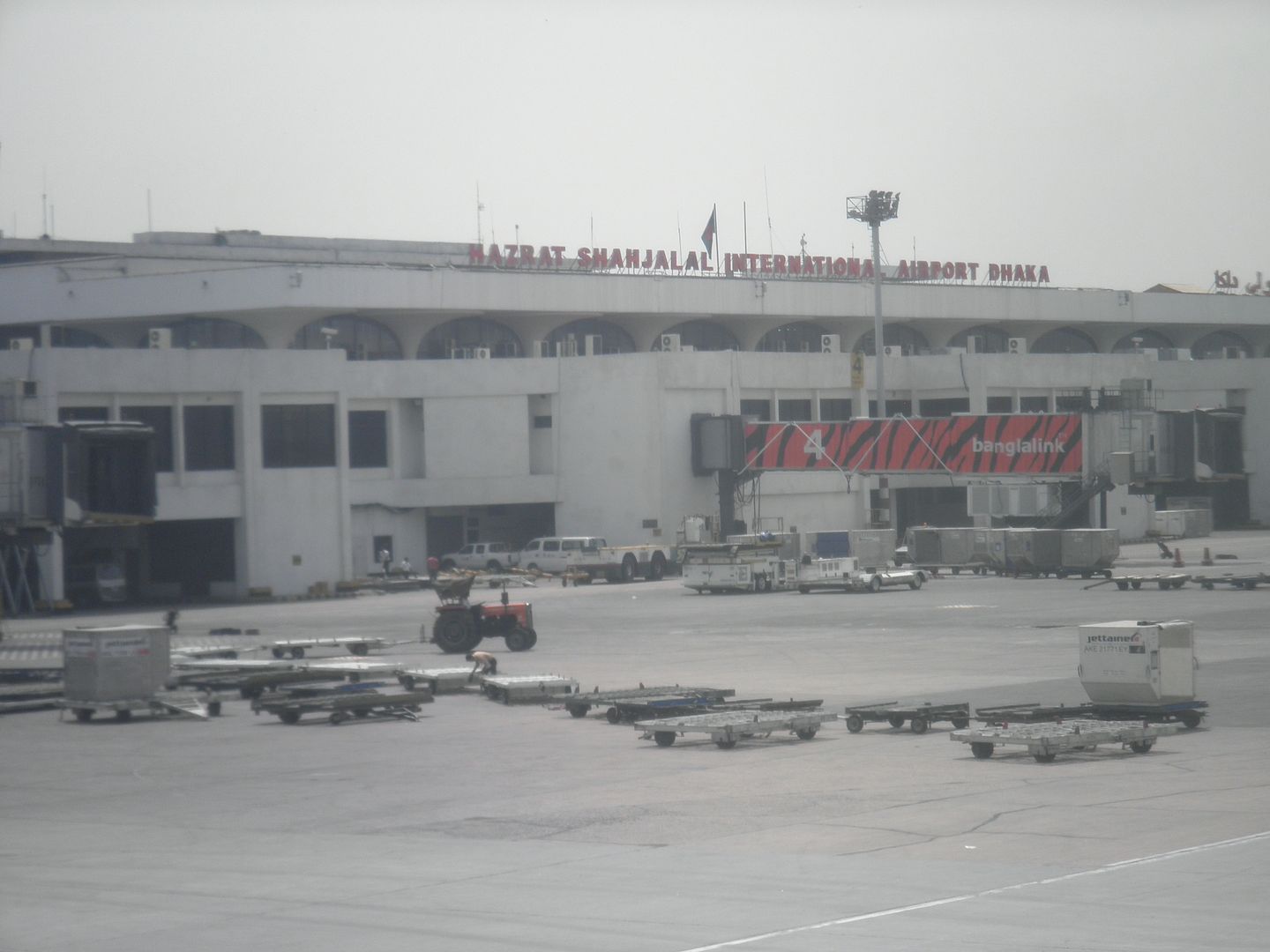 The guy behind me was still talking on his cell phone as we were taxing out. The seat next to me remained open which was not surprising as that was where PlaneHunter was to supposed to have been sitting. Otherwise the plane was almost full. I would say a 95% load factor.
After a powerful take off, a drink service was started where they only offered apple juice in a glass along with peanuts.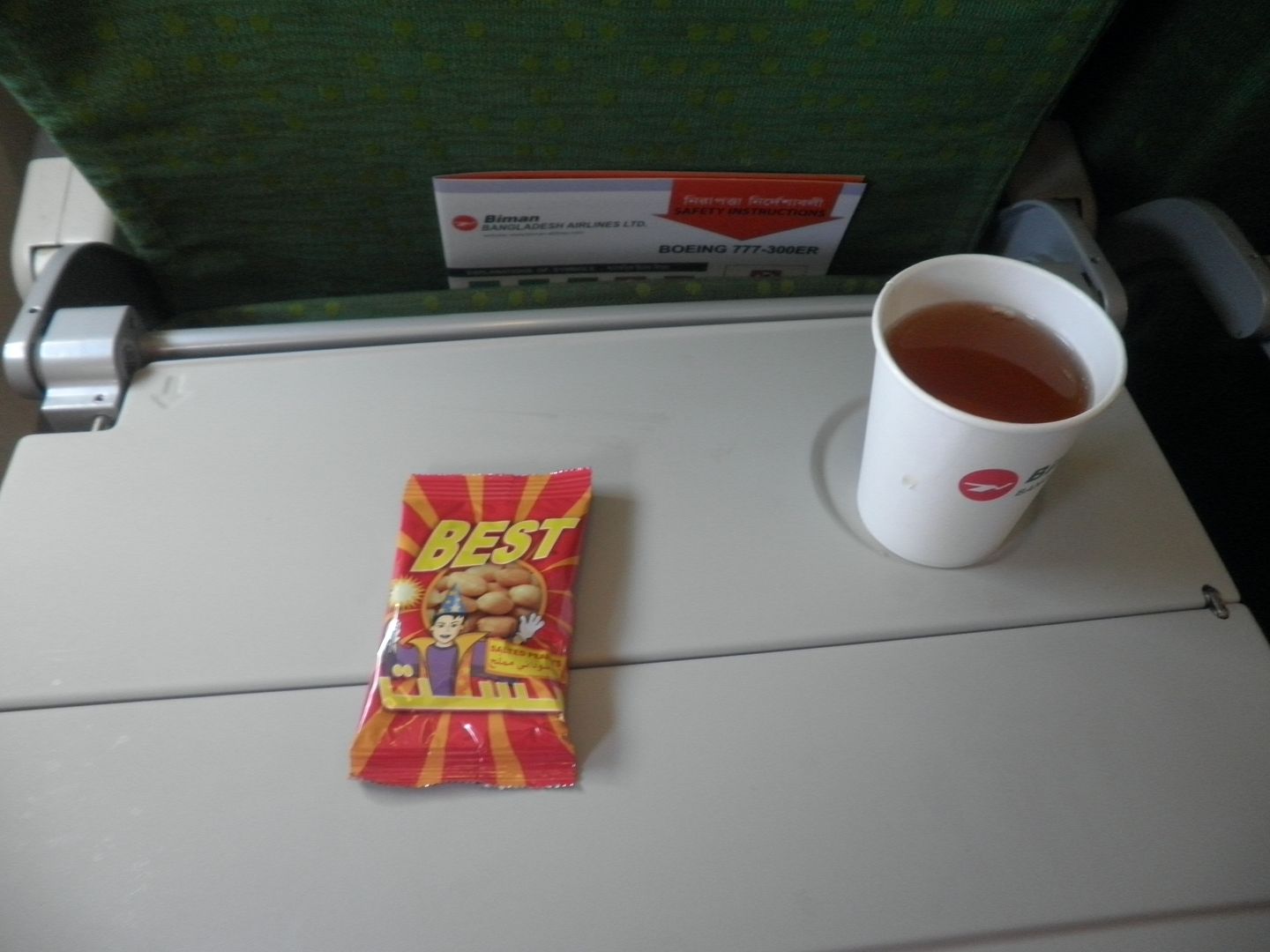 Half of the flights attendants were female and the other half male. About an hour after take off the meal service started and again no choice was offered; chicken with rice, cucumber salad and rice pudding. Only Coca-cola and Sprite was offered to drink, again only in a glass..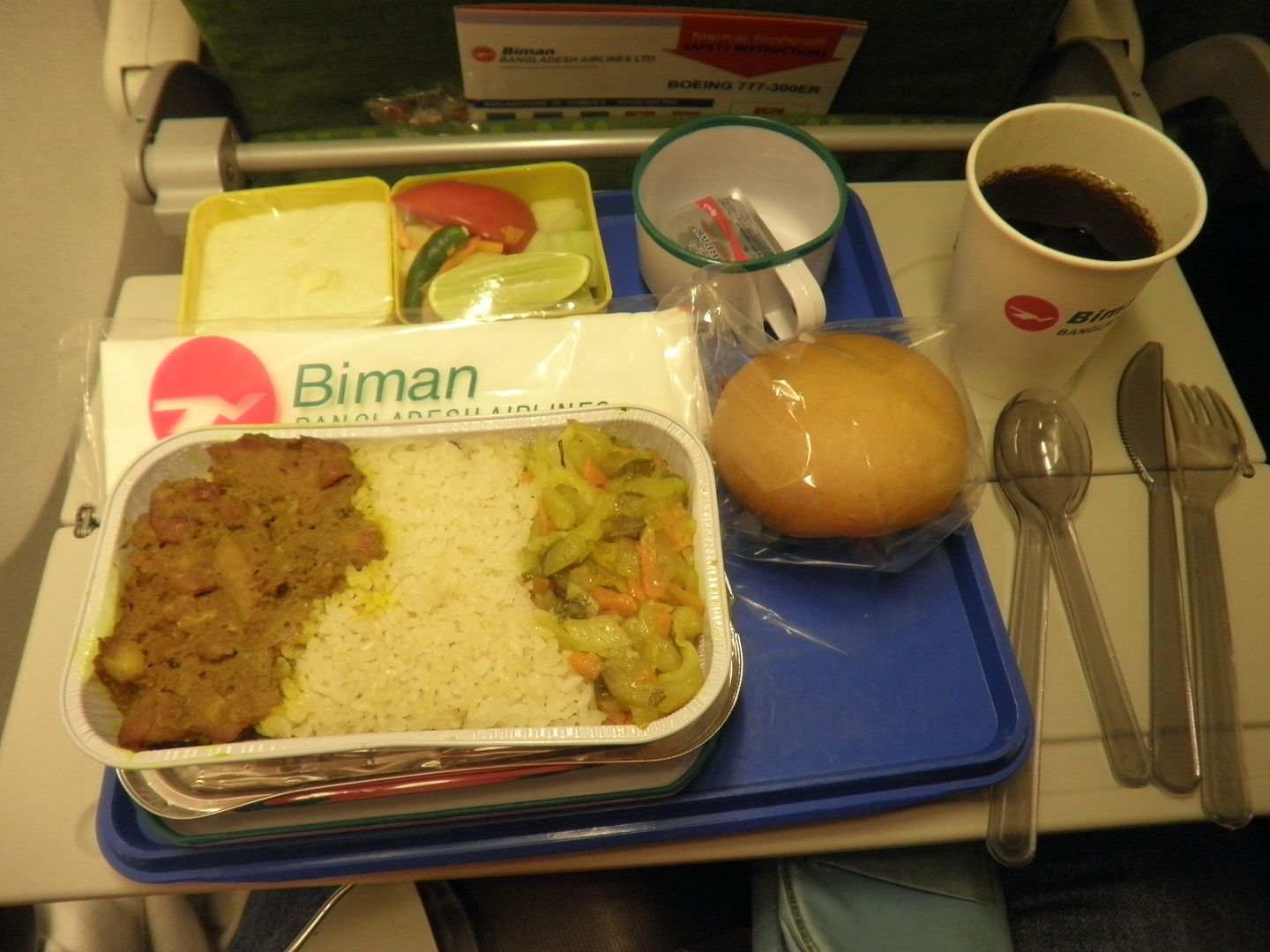 For people who already had fallen asleep, they were rudely awakend and told, "here, your meal". The meal was very spicy to me but was otherwise okay. Extra bonus: a toothpick was provided which is a pet peeve of mine. Water was offered as well in a second round of drinks which was much appreciated and later coffee or tea. After the service items had been collected the crew ordered everyone to close their window shades to give people a chance to sleep. I didn't really like that and thought that was a bit odd since this was a day time flight, but there no other option than to comply. The crew also went around the whole cabin to make sure all window shades were closed.
After the meal service I started to explore the entertainment options and soon discovered that they were very limited. Airshow was available and I had it on for a while. I then looked at the movie options and for English language movies there were four movies in the "new releases" category and the newest of those was about a year old…..There were another 8 other English language movies and I did watch some movies. I first tried to watch some Bangladeshi movies but I couldn't find any with English subtitles so I settled for the English language options.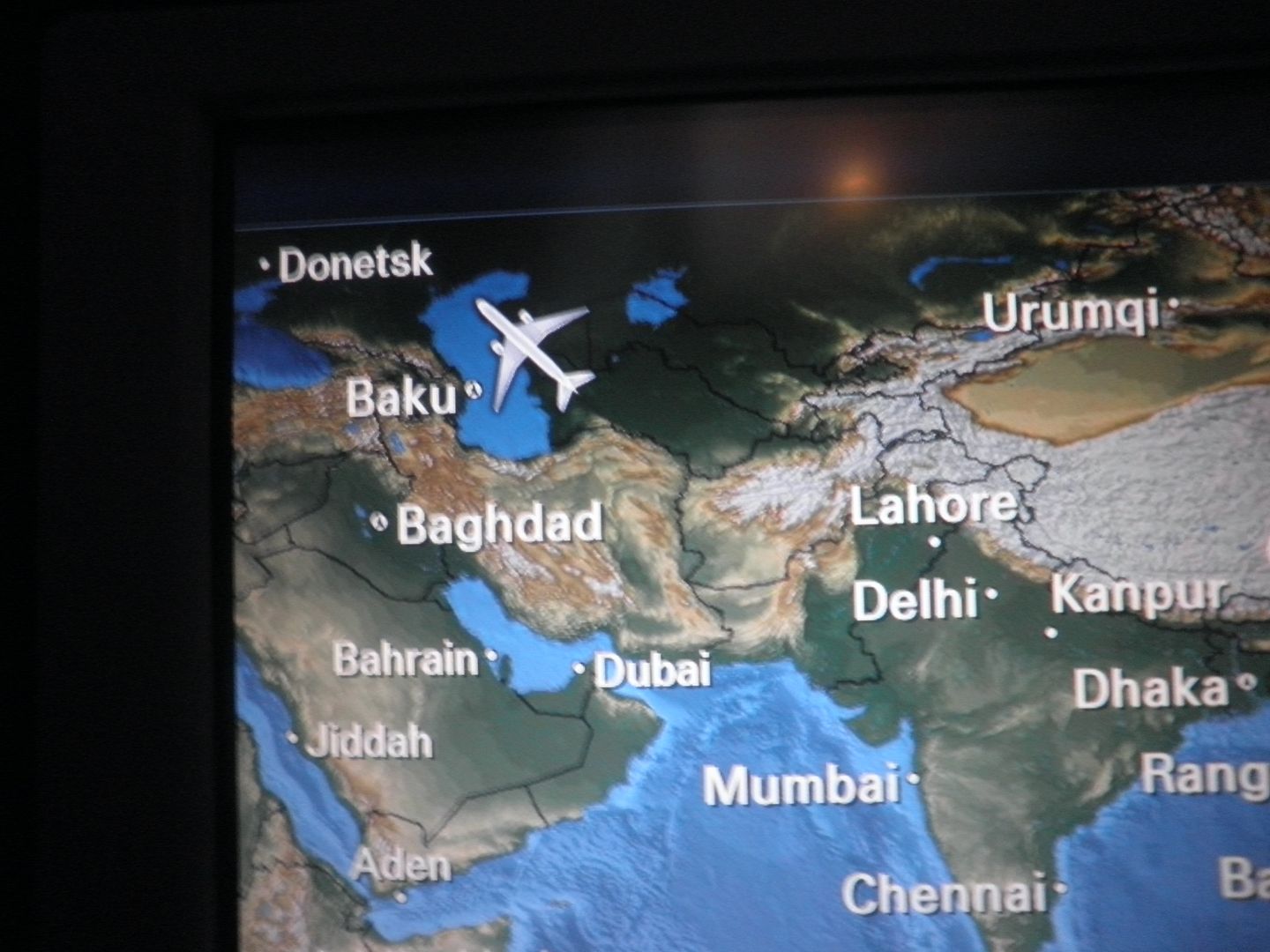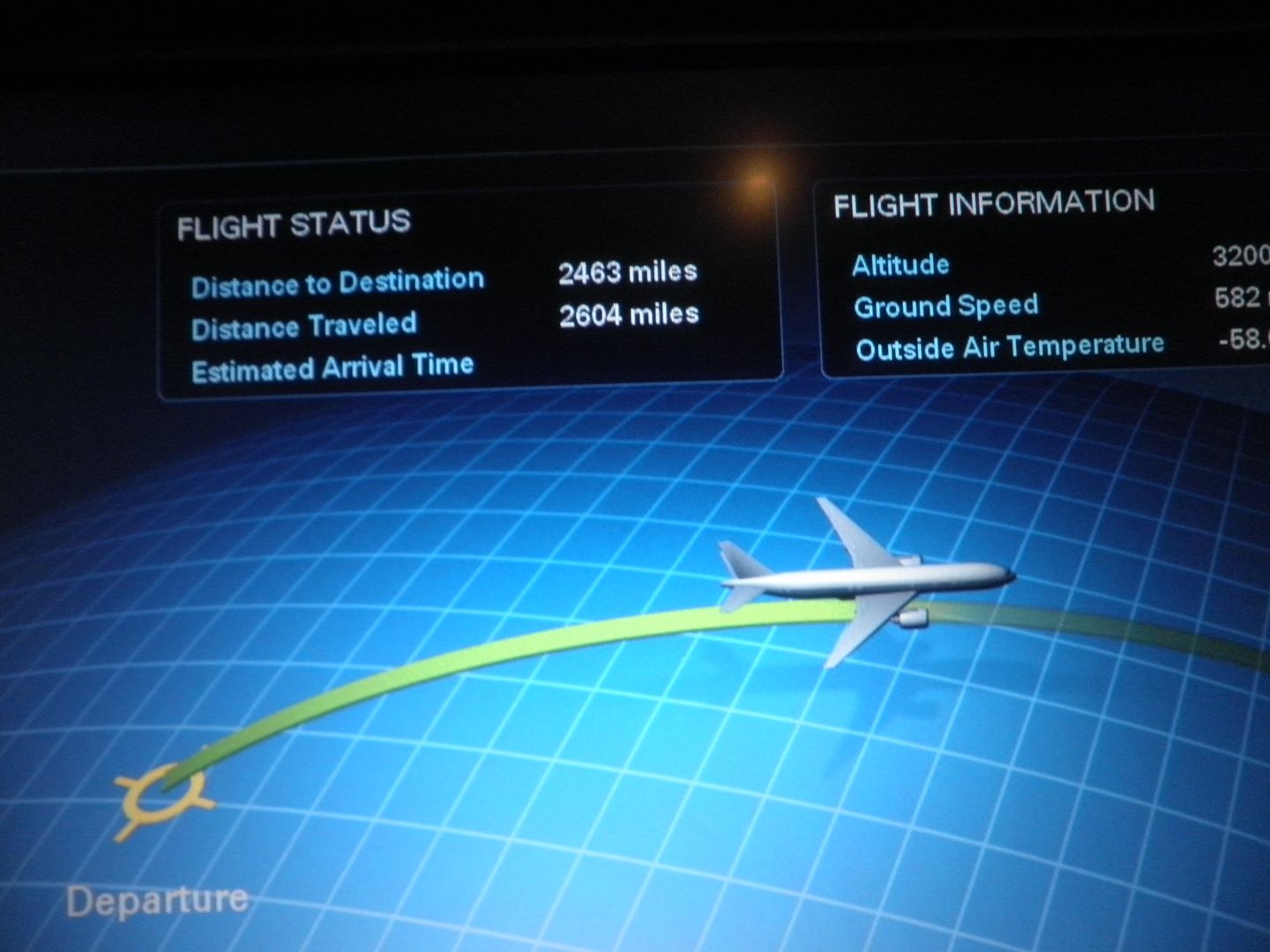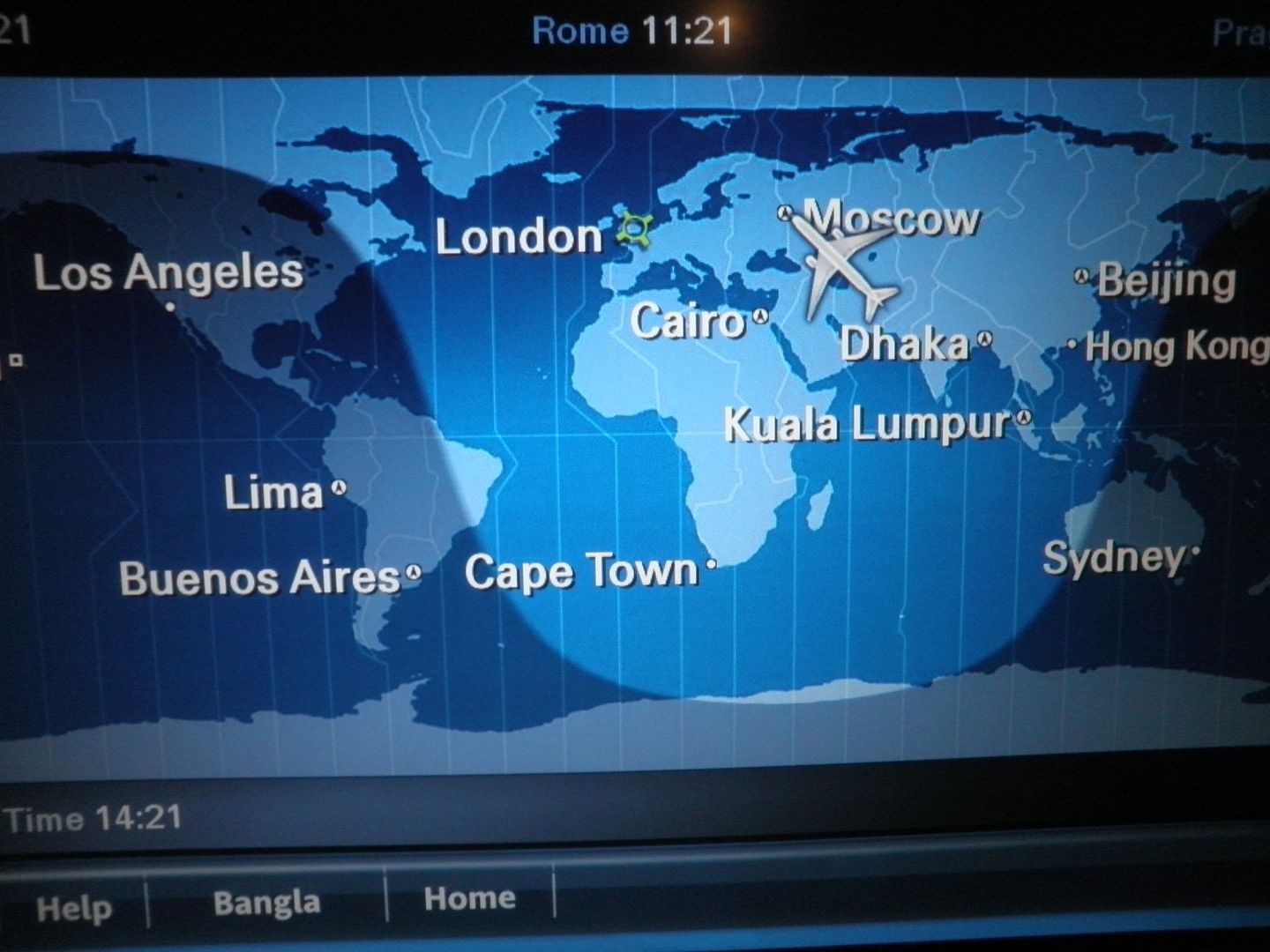 Second meal was served about two hours before arrival. I'm not really sure what it was but it was too spicy for me so I didn't eat very much. Only water was offered to drink this time but coffee and tea after the meal.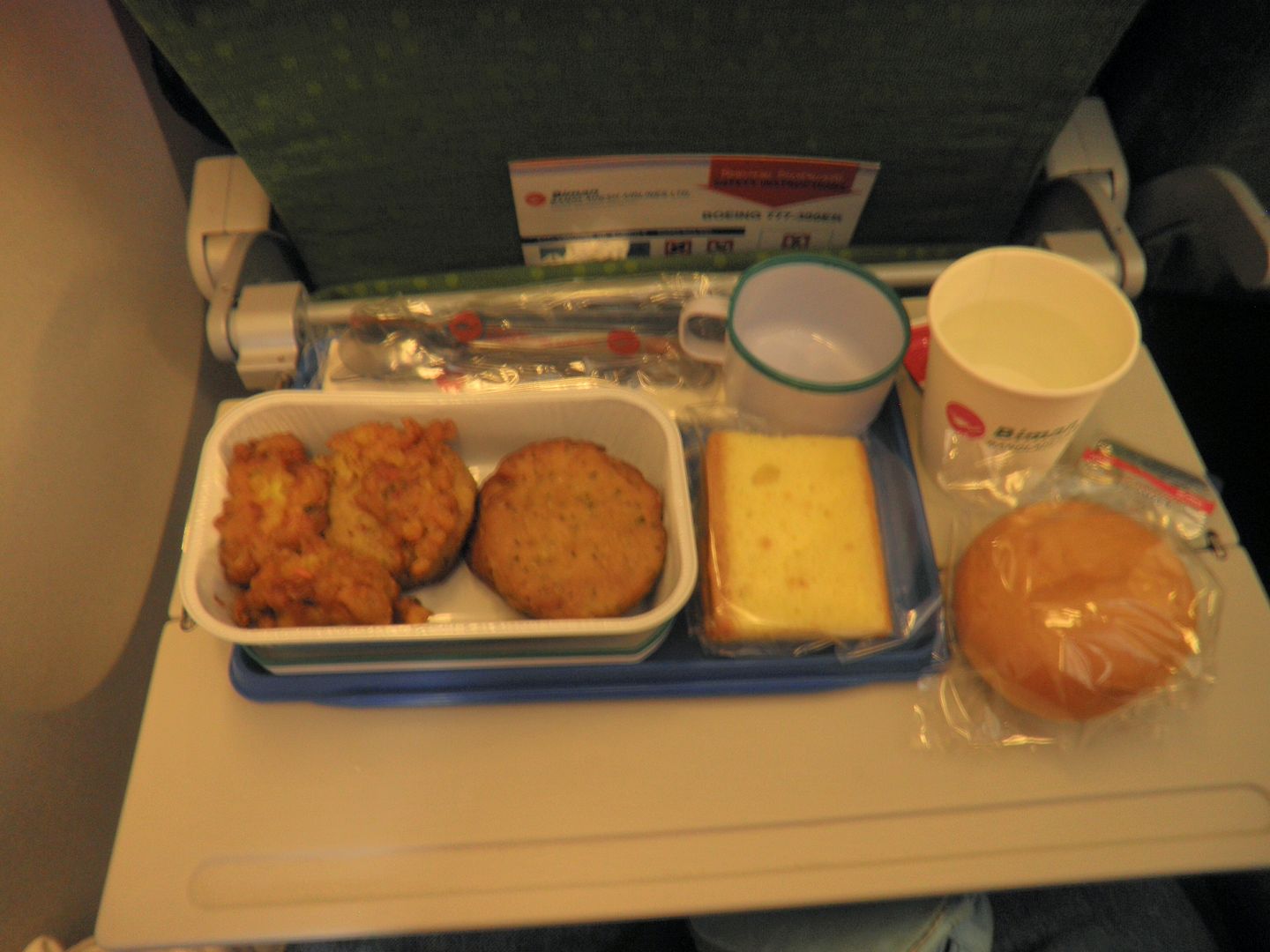 In the beginning, we were at 32 000 feet and later we climbed up to 34 000. Routing was over DEL, LHE, KBL, the Aral Sea, Donetsk and more or less straight to London from there. The whole IFE system was turned off an hour before departure including the airshow map. This was very annoying and I have never experienced that before on any carrier.
Safety card.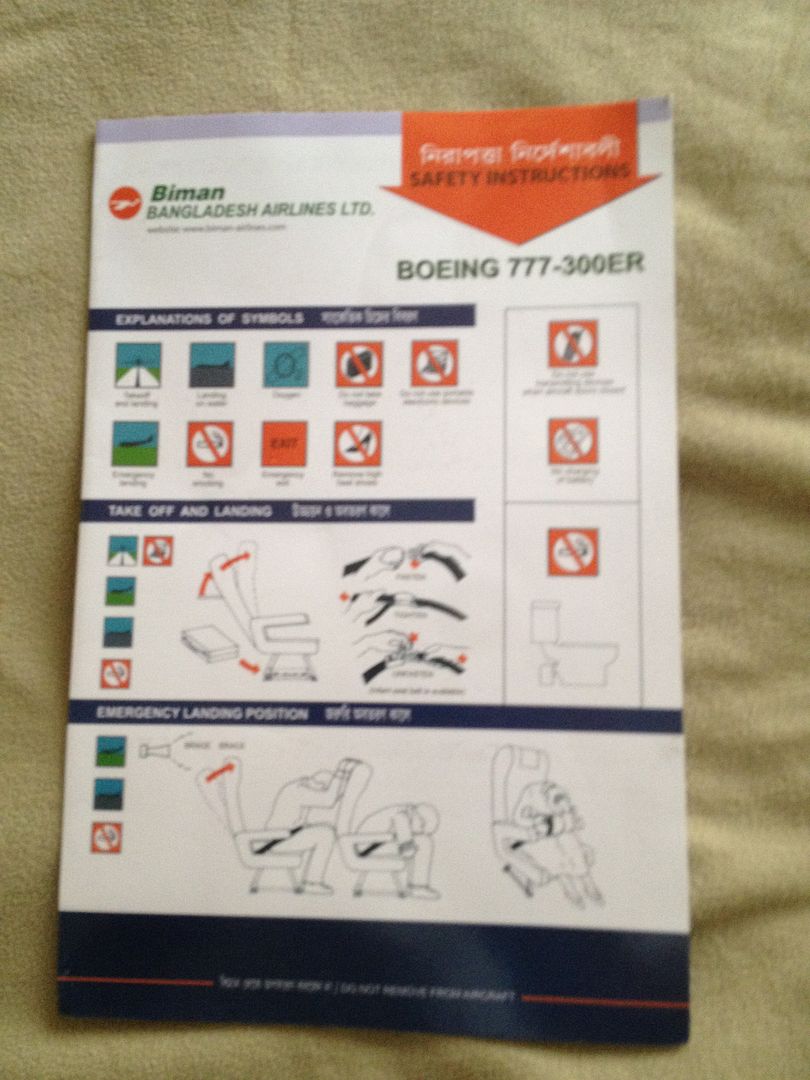 Spot the error.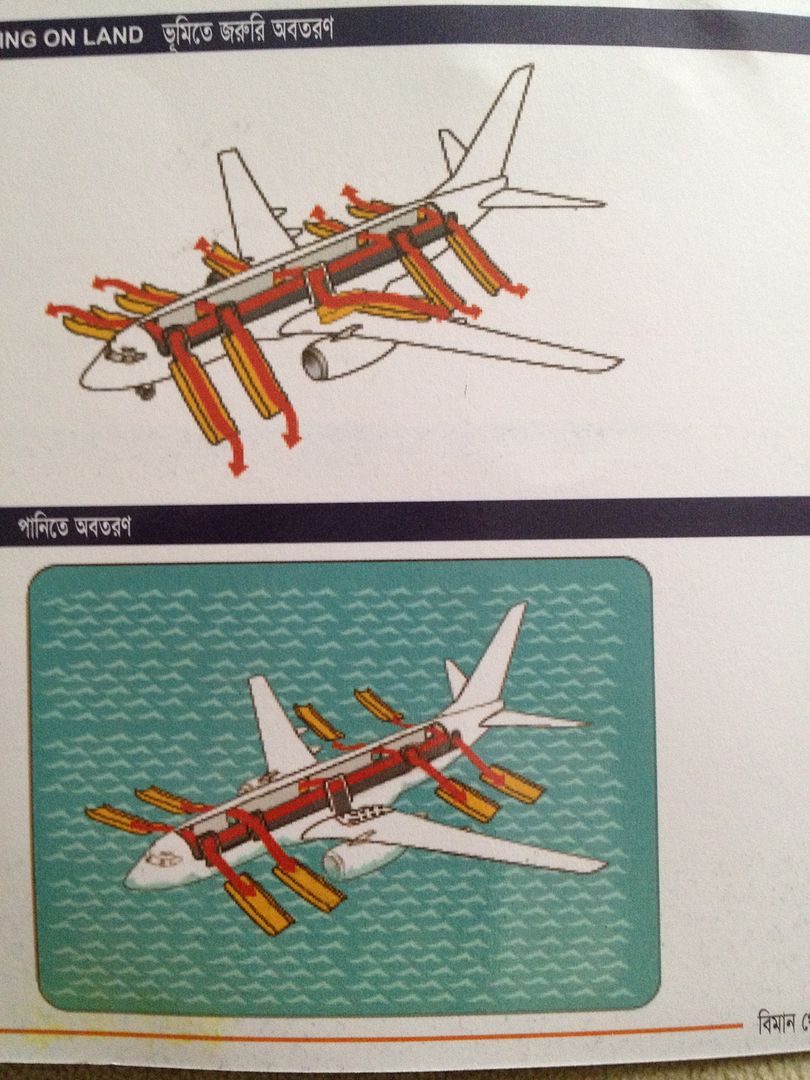 The crew was not so friendly and was very much acting in a command style; do this, do that.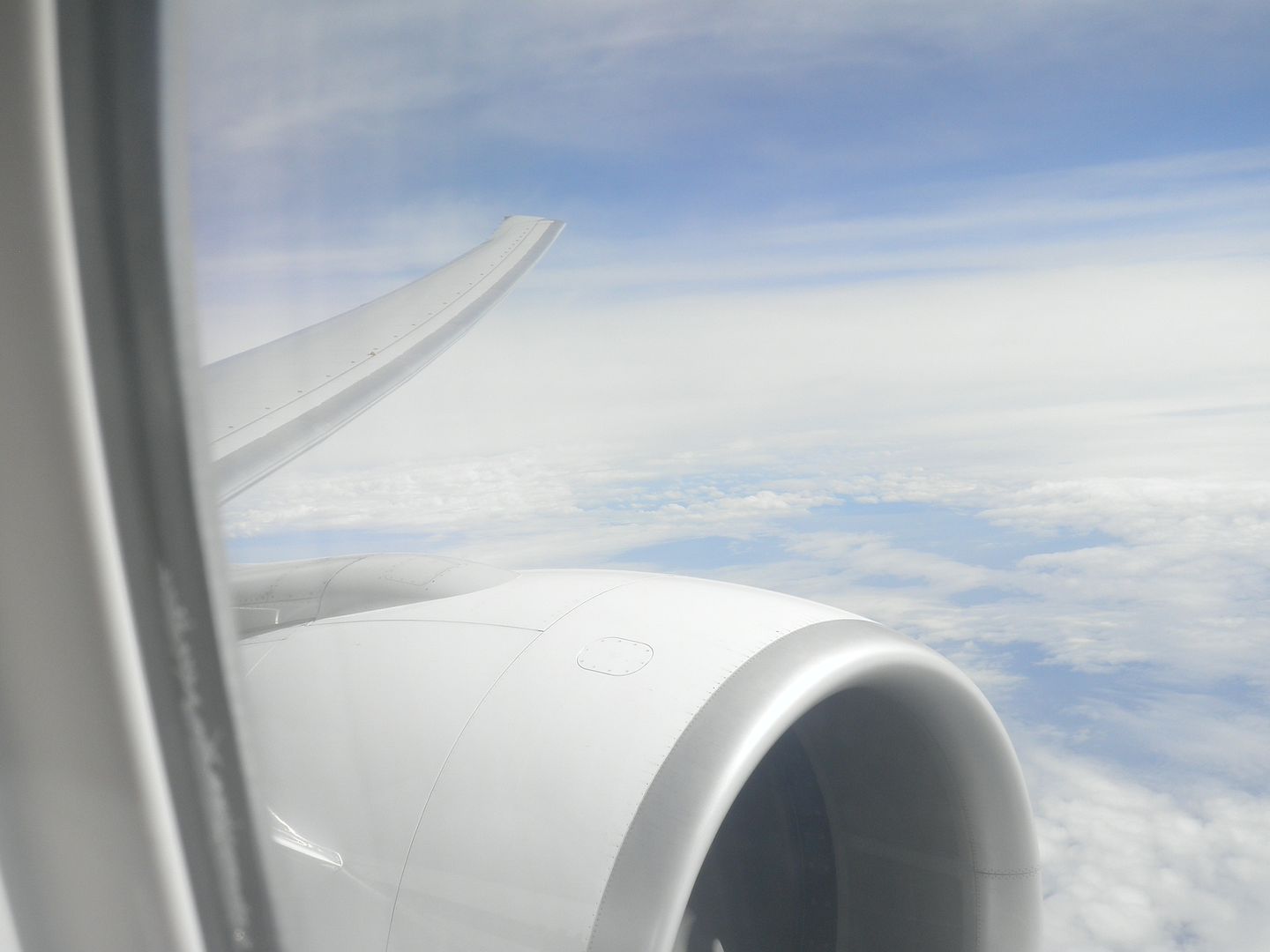 Biman Bangladesh caters basically only the people from Bangladesh and does not seem to have any ambition to get any other type of passengers. For those people Biman Bangladesh probably serves its purposes well but for other people, it may be a bit different experience.
At least now they a big improvement in service with their new Boeing 777-300/ERs.
This whole trip was vey good and I reached some great milestones; 200th flight on a 777 (LHR-LAX), 900 777 frames seen and 50th UA 777 flown.
I dedicate this report my good friend PlaneHunter who missed out on this unique experince.
The777Man