Greetings and welcome to my first trip report. After reading these reports for years I felt it was time for me to contribute my own. This particular trip was not planned by myself but the best man in my wedding (bachelor party). I didn't know of the details of this party until about two months prior to the trip.
There were only two nonstop choices for air travel between DFW and MSY, WN and AA. My recent AA flights had been less than stellar. A flight from DFW to LAX resulted in my bag being destroyed which they replaced but was still a royal pain. A flight from OKC-DFW resulted in a 1 hour wait to see the agent at the bag drop on a holiday weekend. The staffing was horrible and I expected them to be more prepared for crowds on a holiday. My worst experience was MKE-DFW when I was standing in line at the check in and an agent asked if everyone was going on the DFW flight. I responded yes because she was standing right in front of me looking at me. She snapped and asked if I knew everyone in the line was going to DFW. Well of course I didn't have that information but I couldn't believe how rude the woman was. So needless to say I have been avoiding AA for awhile. In fact I tried WN after this experience for the first time in my life and minus a few of their quirks I enjoyed the experience. After researching the WN flights I discovered their flights didn't work due to times and DAL being a further drive. So it was time to give AA another chance! Seats were booked way in the back of the Super 80 since AA now charges for seats in the front (although I see the point since I usually buy the early bird check in on WN so I get an A spot).
AA 504 MD83 DFW-MSY Departure 1905 Arrival 2025 First Class Seat 4F (upgraded)
Check in was performed at the kiosk without any problems and no bags to check at Terminal A. I was offered a First Class upgrade for $45 and I accepted. We proceeded to the TSA checkpoint and made it through in minutes. I must have been the last paid upgrade because my friends were not offered the same option and we were all in the same fare class. We ate some typical airport fare (a $10 chicken sandwich) which was adequate and made our way to the gate. Boarding was quickly called for first class and I made my way down the jet bridge and aboard the oh so familiar Super 80.
First Class legroom was nice!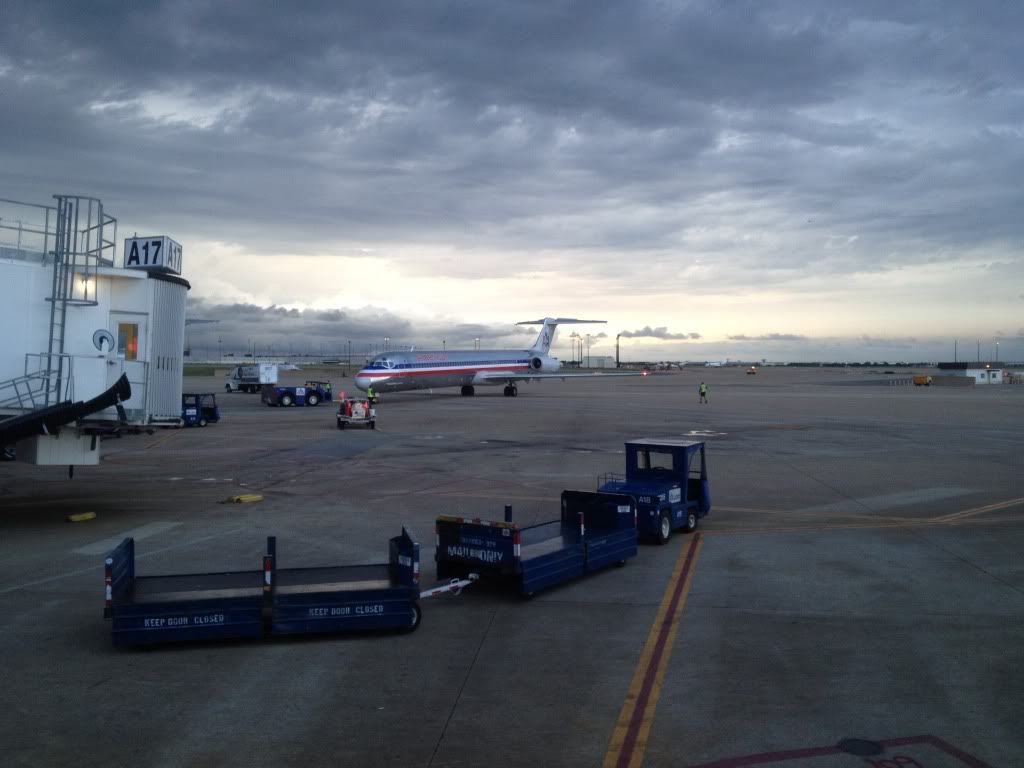 Looking at the gate next to us
The flight was completely full in both classes and I was glad I splurged on the upgrade. Even though first class on a flight of this length is nothing more than a wider seat it was greatly appreciated. The door shut a few minutes early and we pushed back and taxied to Runway 35L. We held for awhile as the weather to the west was rapidly deteriorating. Lighting was flashing everywhere. We were finally told to line up and wait about 10 minutes later. We held in position for 30 seconds and then the MD83 roared to life. We flew the standard RNAV departure to CLARE and then proceed on course. The clouds out the window were gorgeous on the light of the setting sun.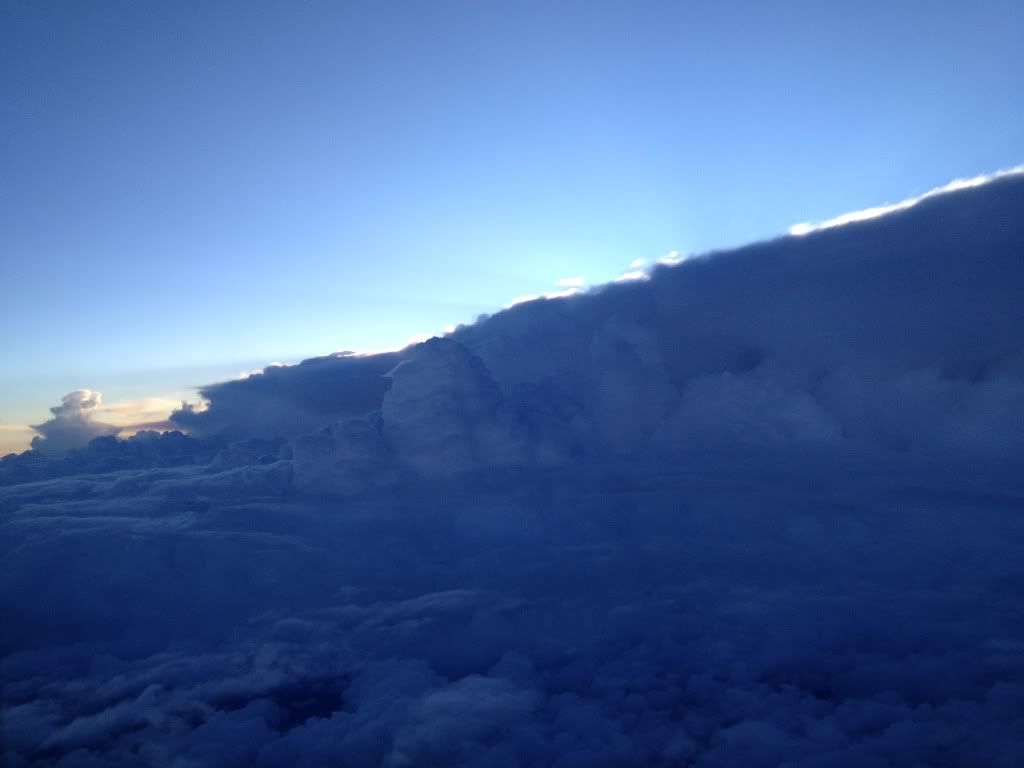 Neat Clouds!
Service commenced and the flight attendant was wonderful. She had a great attitude and routinely made passes through the cabin for refills. I had a rum and Coke with the snack mix.
After another round I relaxed and watched the lights below us pass by. The flight attendant came through and passed out mints before our descent commenced. We touched down gently and made our way to the gate. Overall the flight was very comfortable. I would never pay full fare for the first class service offer for this hour and a half flight though. They had more than enough time to pass out at least a sandwich or a salad but chose to do the nut mix. For $45 though the upgrade to first was worth the extra space.
New Orleans was OK. I have never been that impressed with the actual city. I always found it to be dirty and borderline dangerous. Are there any really nice areas to live outside of NO?
AA 1401 MSY-DFW Departure 0820 Arrival 0930 Coach Seat 17F
I checked in online the day before and was offered the first class upgrade for $45. When I got to the purchase page however the website crashed and wouldn't let me purchase the upgrade. I tried on my iPhone and the hotel's computer and both ways rendered the same result. AA needs to fix this issue as it has happened to me on another trip as well. I guess they didn't want my $45 that badly! The hotel we stayed at was horrible and the valet parking fiasco caused us to arrive at the airport outside of my comfort zone. I tried using my iPhone as my boarding pass for the first time and that left me with mixed feelings. MSY only has one TSA line where you can scan your phone so we had to wait longer than if we had just had a paper boarding pass. While waiting in the boarding area I noticed an AA advertisement for Budapest. I don't ever remember them flying there!?! Sorry for the poor picture quality. I am not brave enough to use anything other than my iPhone. A man was running to reach an Eagle flight to ORD that was already pushing back and was quite pissed when the agent told him they couldn't call the plane back. The excitement soon passed and boarding commenced. As we boarded a man was trying to shove his huge carryon in an overhead bin in the forward cabin of coach. The flight attendant standing between first class and coach politely told him the right side bins could accommodate his bag wheels first. The man was belligerent because that required having to put his bag a few rows back. He inquired about the bulkhead bins and the flight attendant told him that they were for the passengers in the bulkhead since they didn't have under seat storage. He grumbled and proceeded to cram his bag over his seat on the left side. We went up to the flight attendant and jokingly asked is we could put our bags in the bulkhead overhead. We made it to our seats and soon enough we were pushing back.
Legroom was ok
I don't remember which runway we used but soon enough the completely full MD83 (there was an off duty flight attendant on the cabin jumpseat) took just over 6,000 feet of runway to get airborne. Now we get to comparing WN to AA. The service was ok. I appreciate the full can of Dr Pepper that AA gave me but the lack of any kind of snack is cheap in my opinion. I don't want to have to ask for a can and WN's service via trays almost sounds rude to ask since they would have to go to the galley to get it. Yet WN gives snacks out. I'd rather have a full can of soda so I guess AA wins on a flight of this length!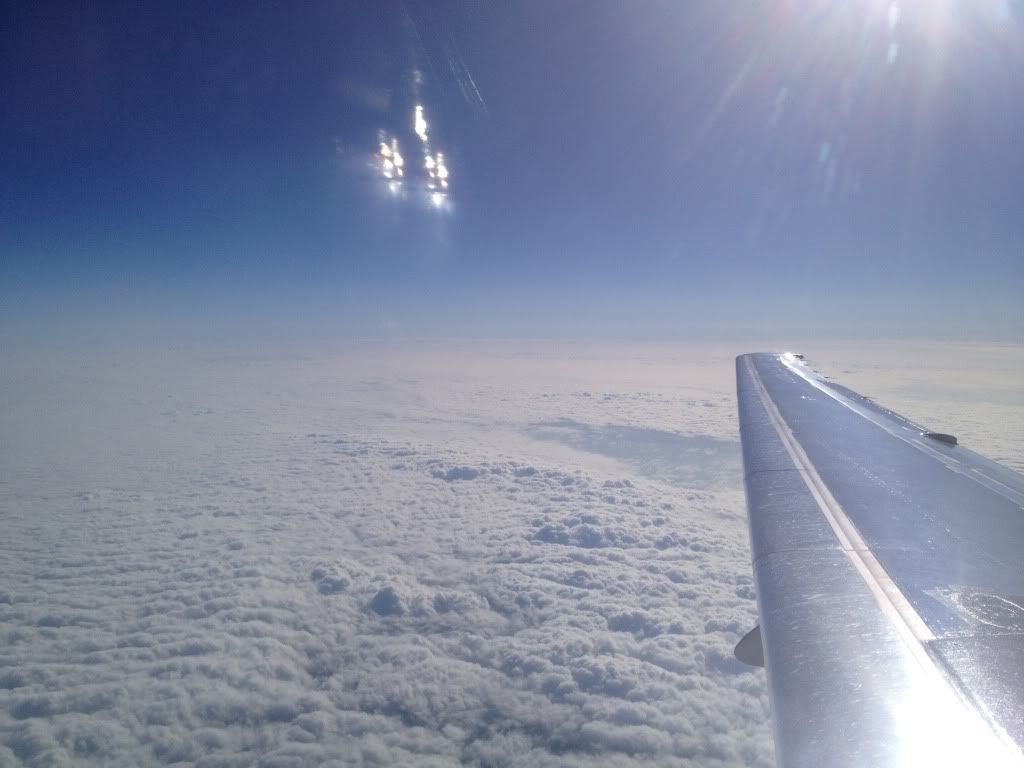 Enroute over Louisiana
The flight passed quickly and I made out GGG and Cedar Creek Lake.
Over East Texas
We passed DAL and downtown Dalas on our visual approach to Runway 31R.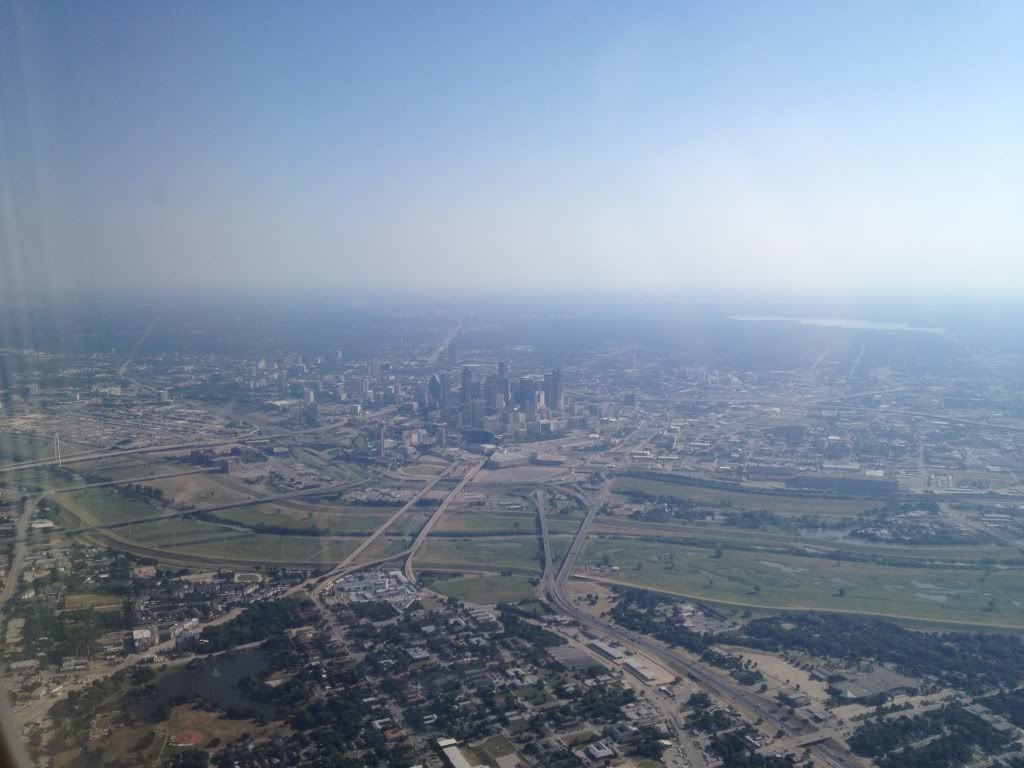 We touched down and held short of 35L with company traffic.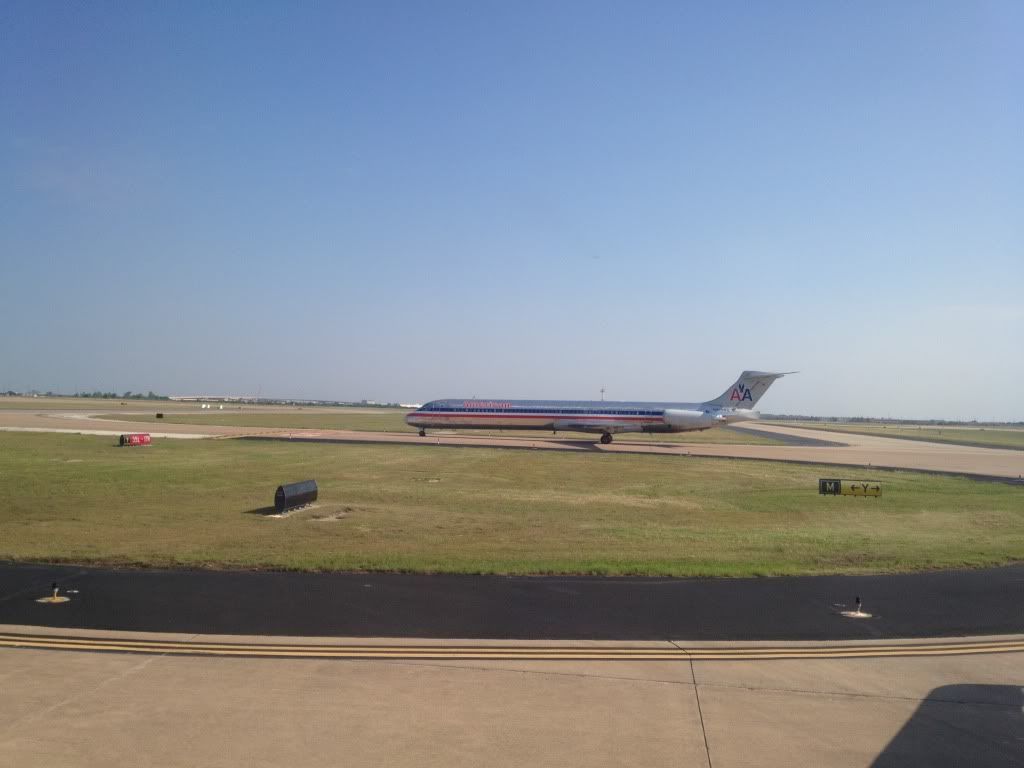 We crossed and proceeded to Terminal C where I spotted an AA 763 heading for LAX and another Super 80 waiting.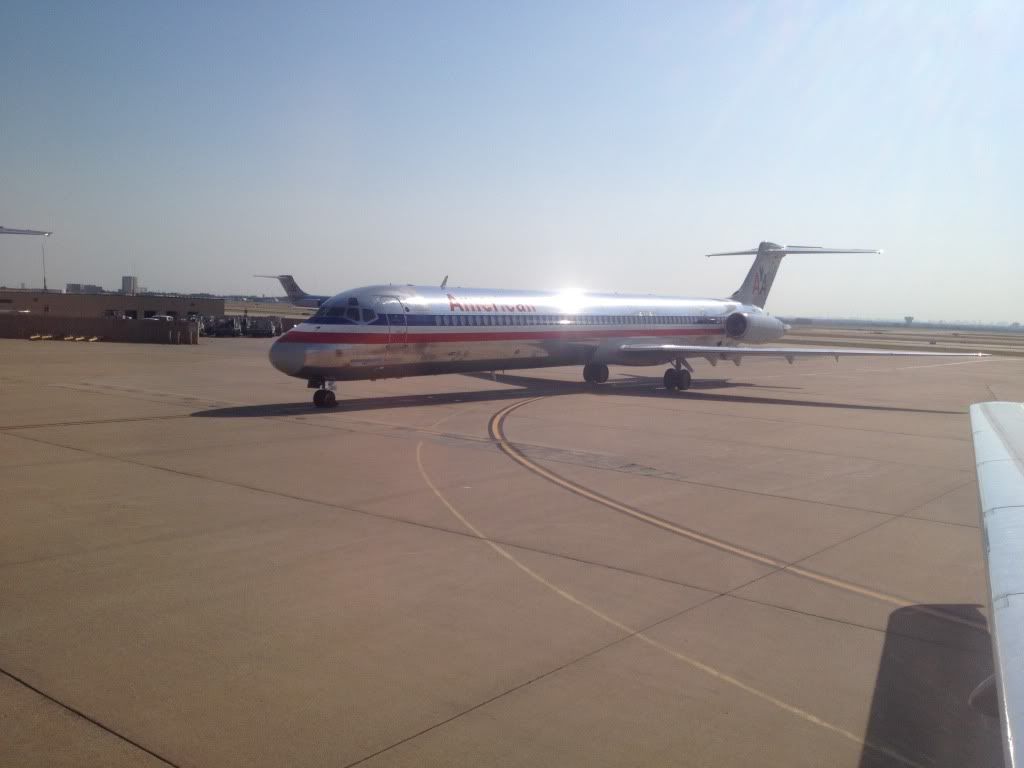 I didn't know the 767s still used C! We got off the plane and made our way to our ride.
AA did a great job and redeemed themselves for my past issues. I will most likely still use AS exclusively though for my frequent flights to SEA though. I like the inflight service on AS better (multiple drink runs on DFW-SEA and two snack runs). That's it for this report. I never realized how much work went into writing these reports so thanks to everyone that writes them. It's great to see all the different airlines and destinations of the world while sitting at home! If this report was acceptable to the anet community let me know and I will write more for my future trips.