Introduction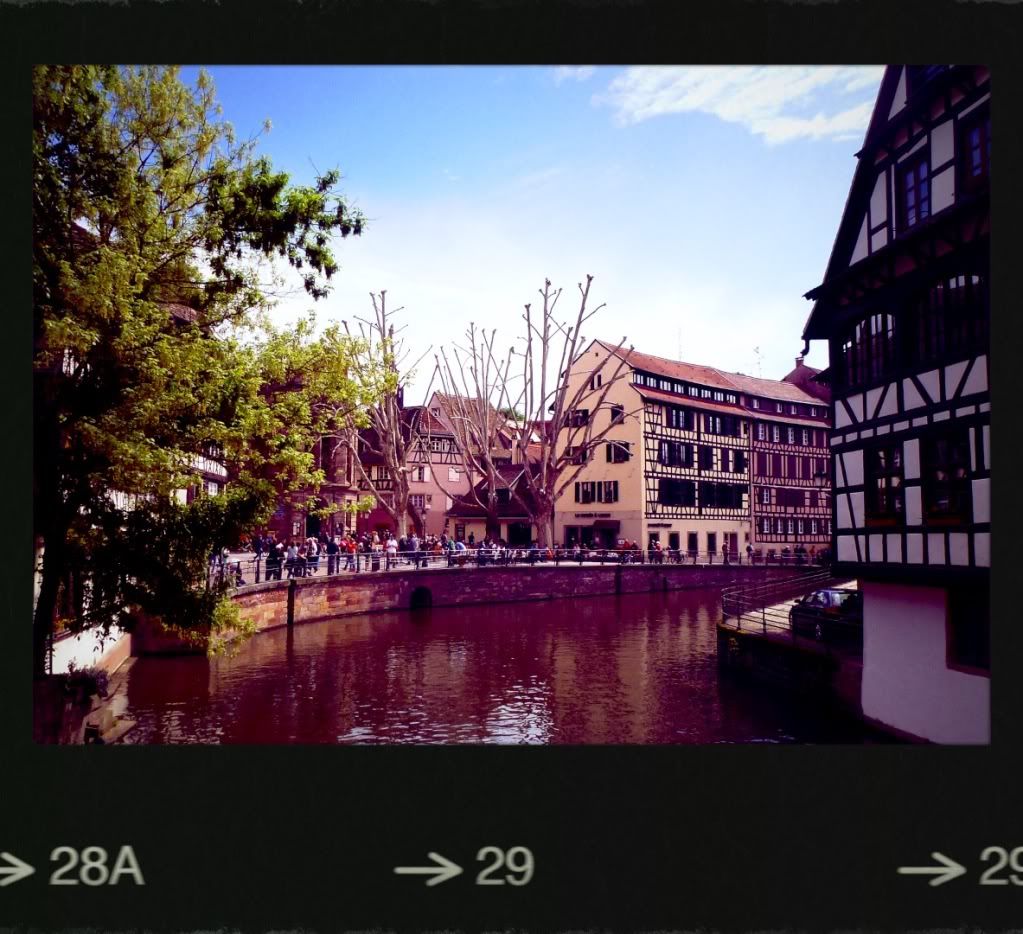 This part picks up right where the previous part left, at Strasbourg airport, with me having just arrived from CDG aboard a Régional E170. For the first part see here:
Mayday, Where's The CRK? HEL-ORY/CDG-SXB
(by
FlyingFinn76
May 11 2012 in Trip Reports) .
Tuesday 1.5.2012
Strasbourg is of course the capital of the Alsace region, also known as Elsass in German. The whole region has changed hands between France and Germany more times than Blue1 their business strategy and thus the use of both German and French side-by-side is common: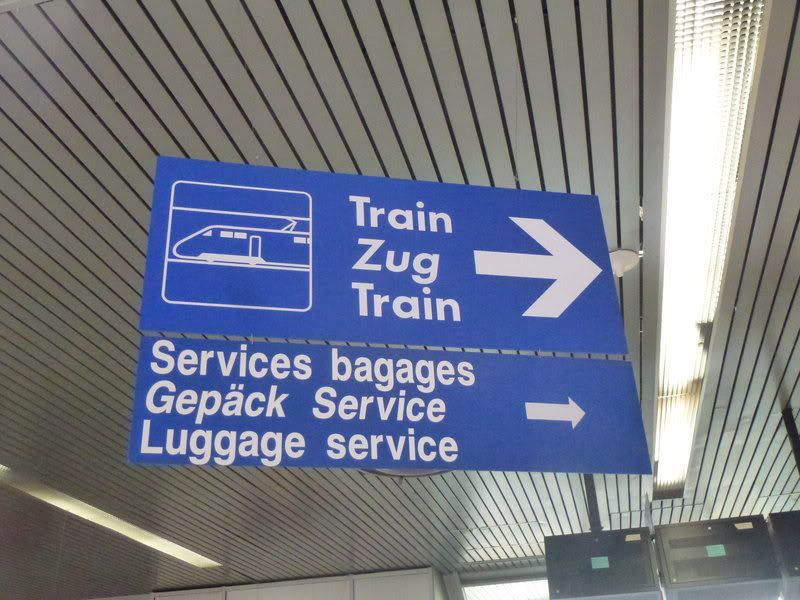 SXB airport is connected to the city center with a convenient train connection. The only problem is as it is the first of May the trains are running on Sunday schedules which means only once per hour. Because of this my short time at the city is cut even shorter, bugger.
They should also add "CRK" into this ad for Markus' favorite route: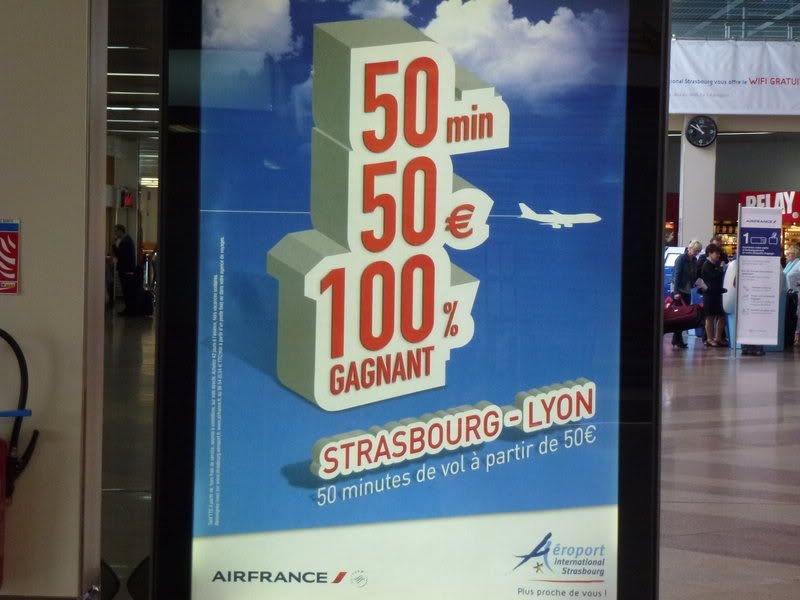 After buying my rather moderately priced (3,90 EUR and it even gives you a free ride on the city's tram/bus network onwards from the station) from a vending machine I walk down the covered walkway to the station: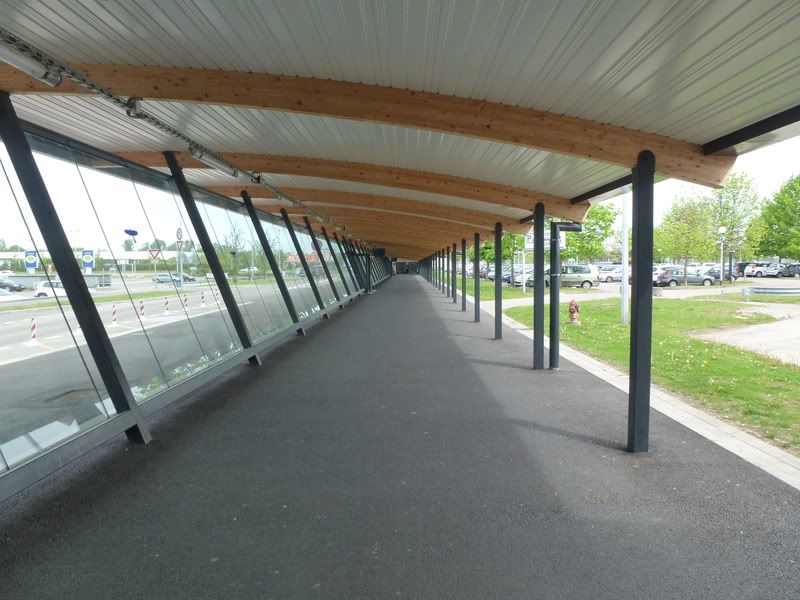 The terminal building front - yes, the architecture is indeed quite distinct: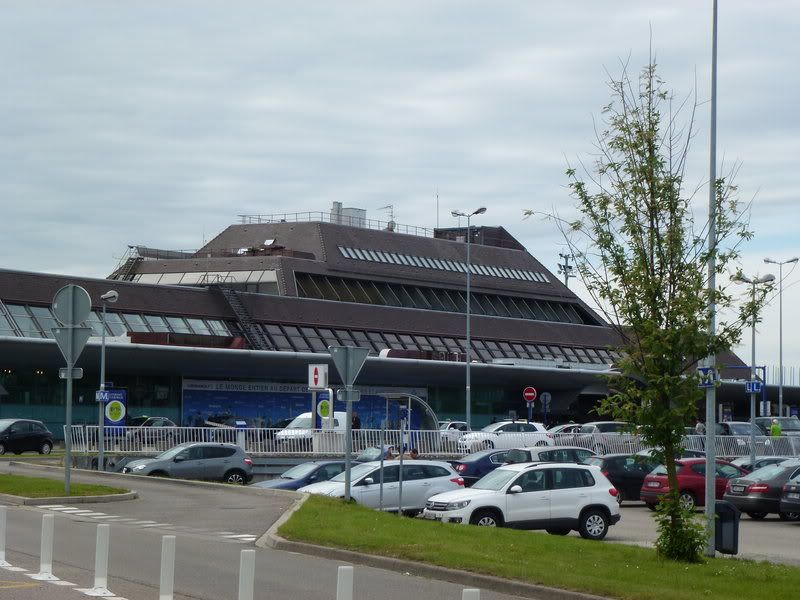 The station - I was very surprised to see this line running on DMUs, what a shame: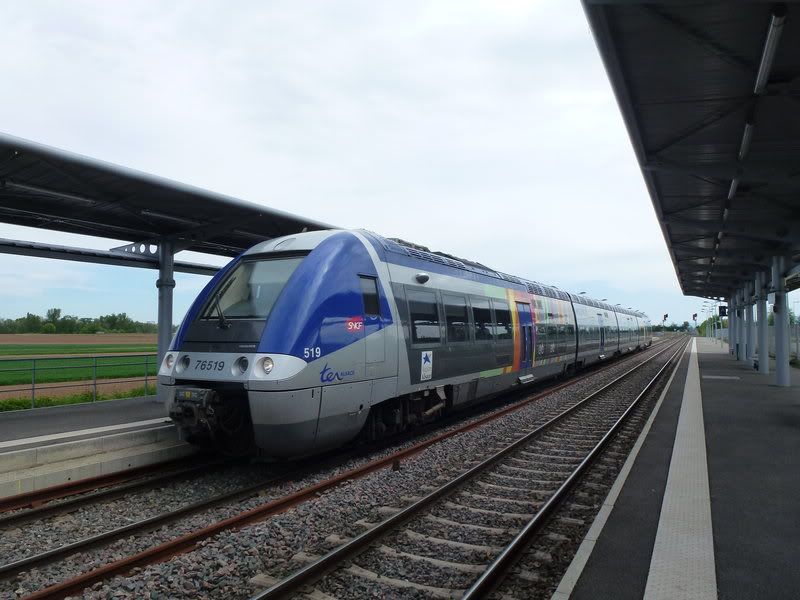 The train ride takes less than ten minutes to reach the terminus, the central station. Interesting architecture on the station as well - the grand old station building has been hidden under a modern glass facade: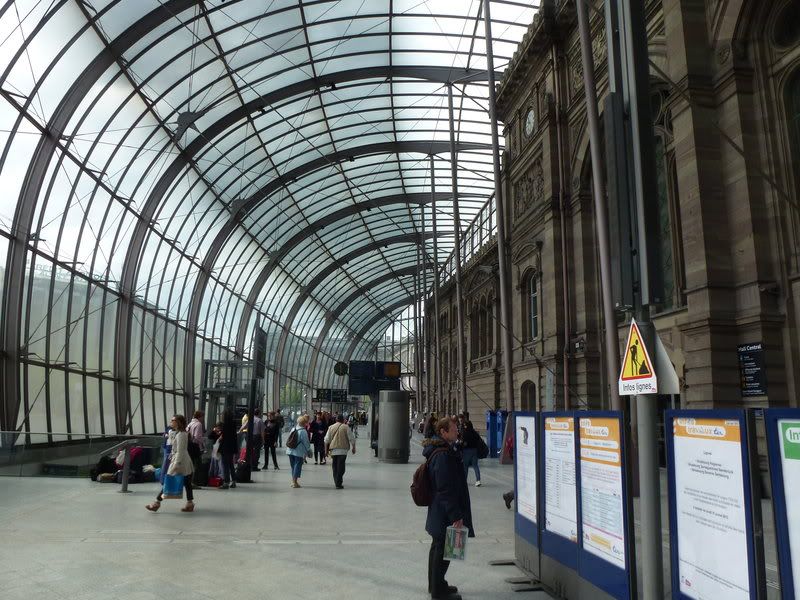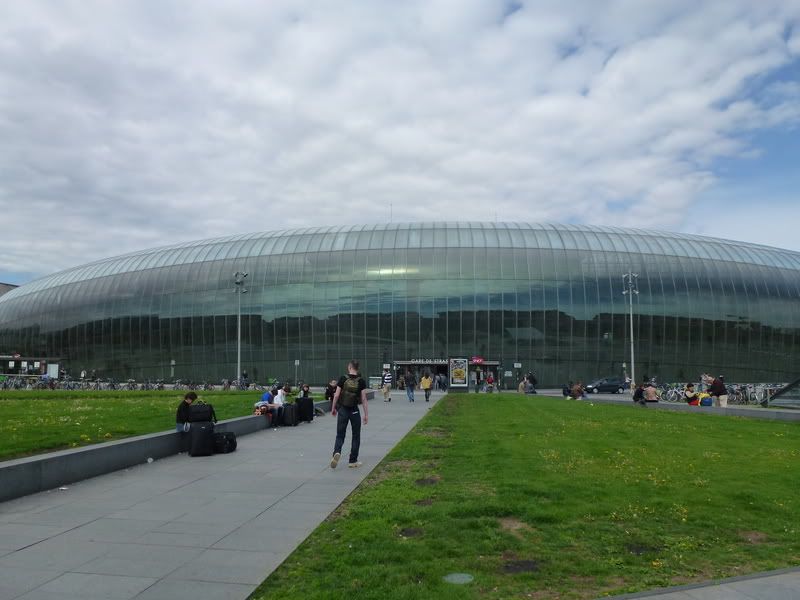 Here are some pictures from the amazingly picturesque city center: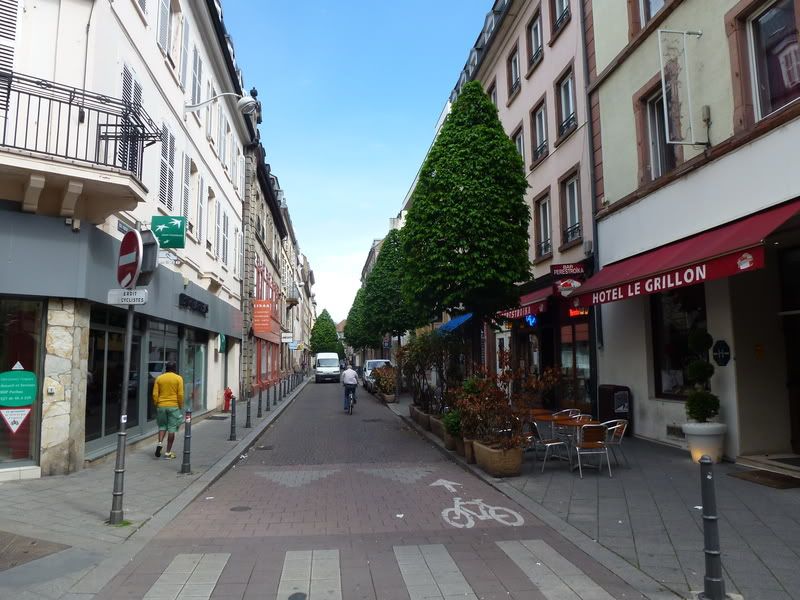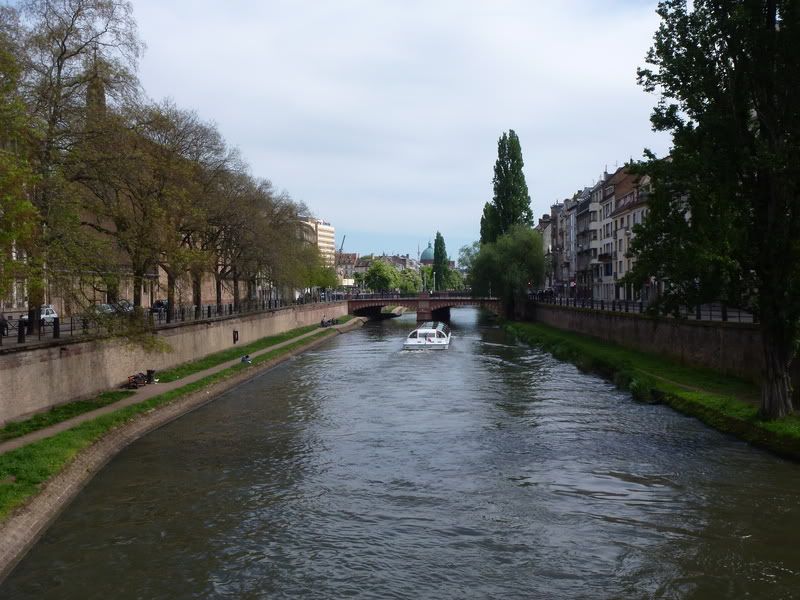 Street signs in two languages: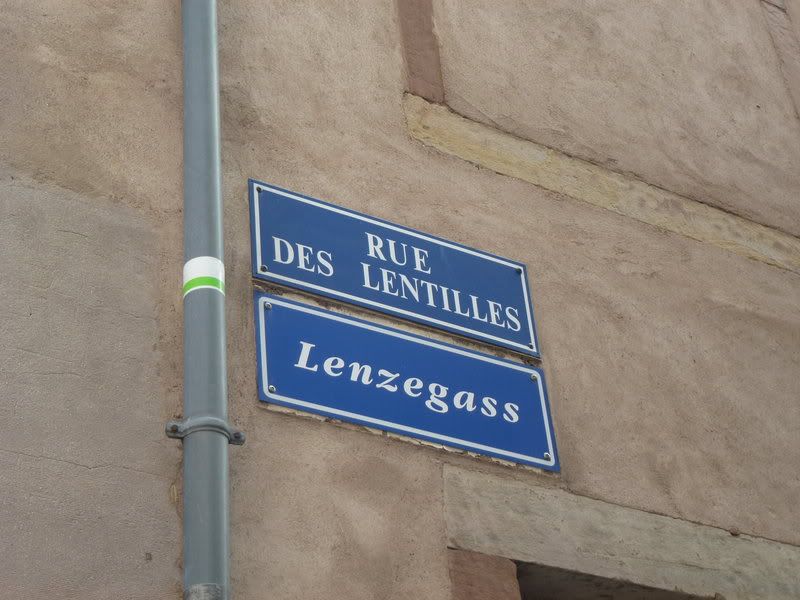 The traditional German-style timbered houses: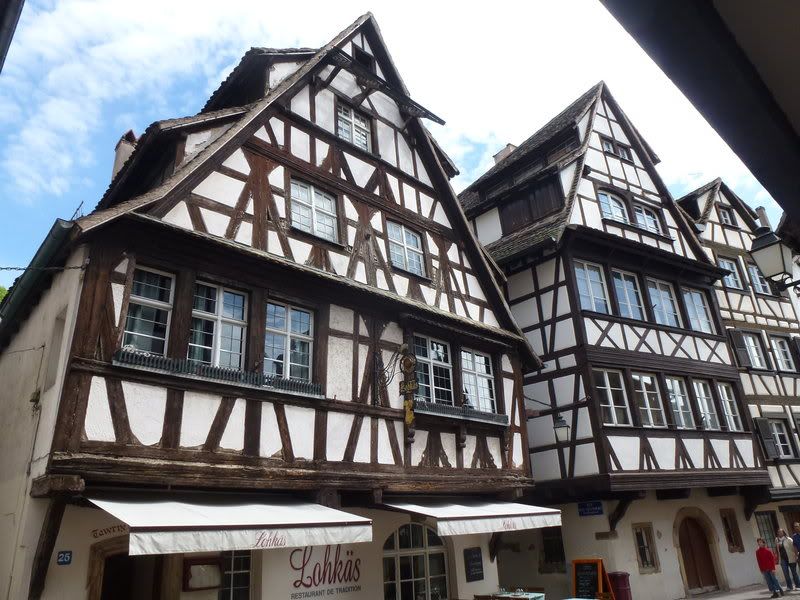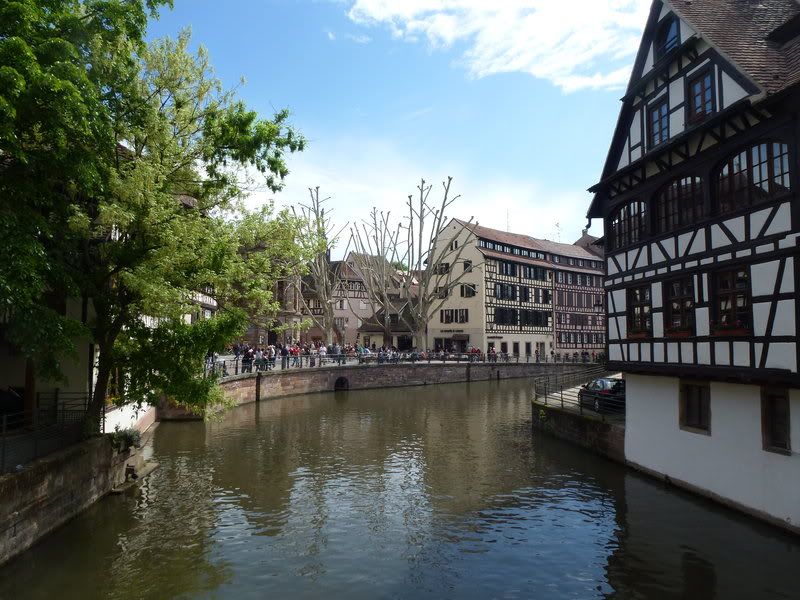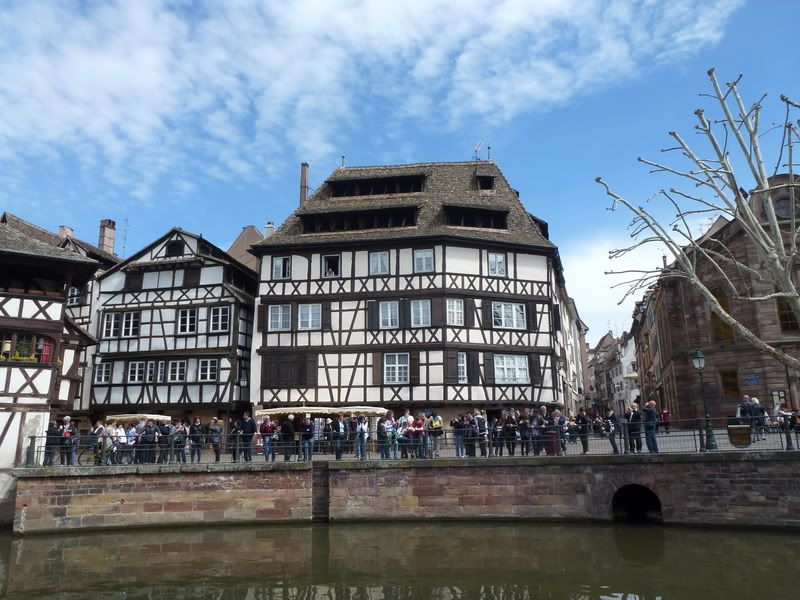 A sightseeing boat waiting at a channel lock: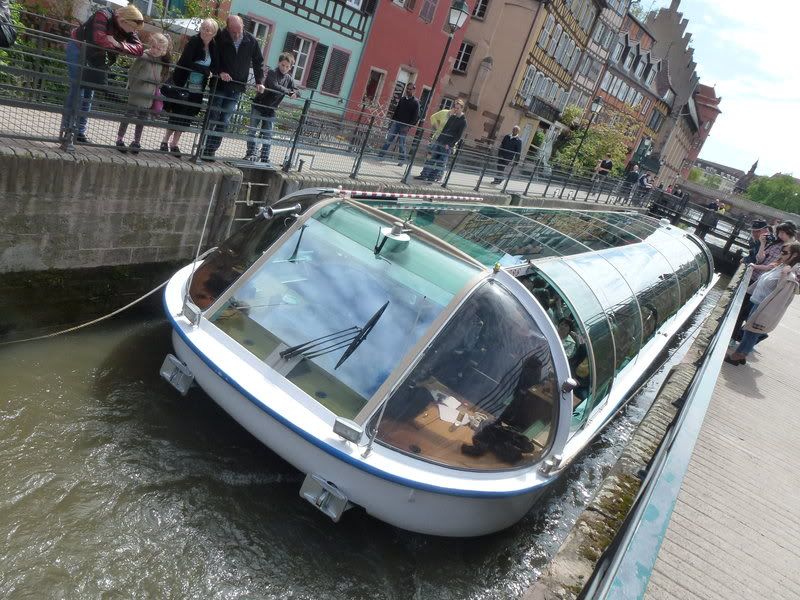 Wait...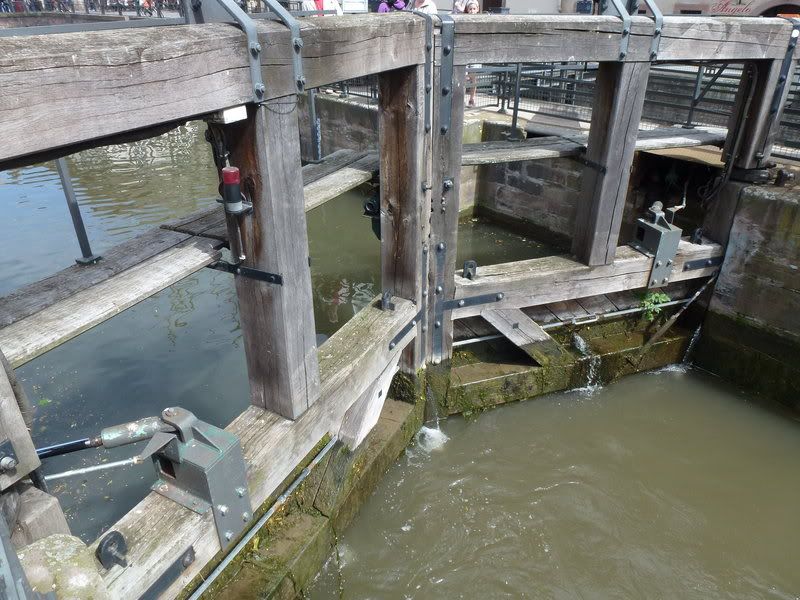 ...now GO: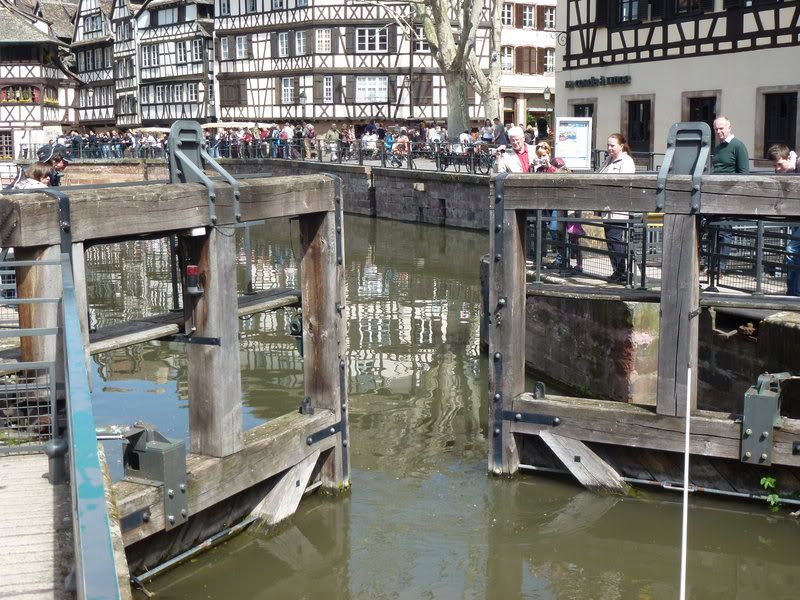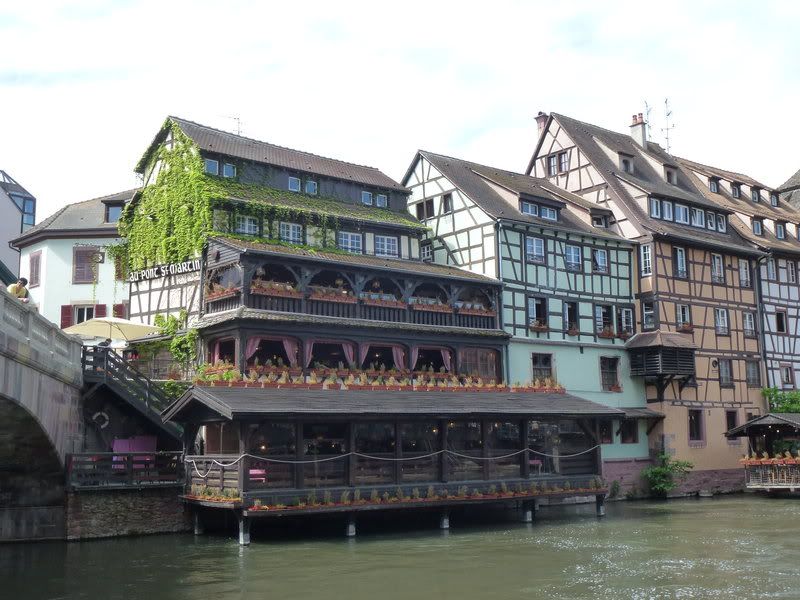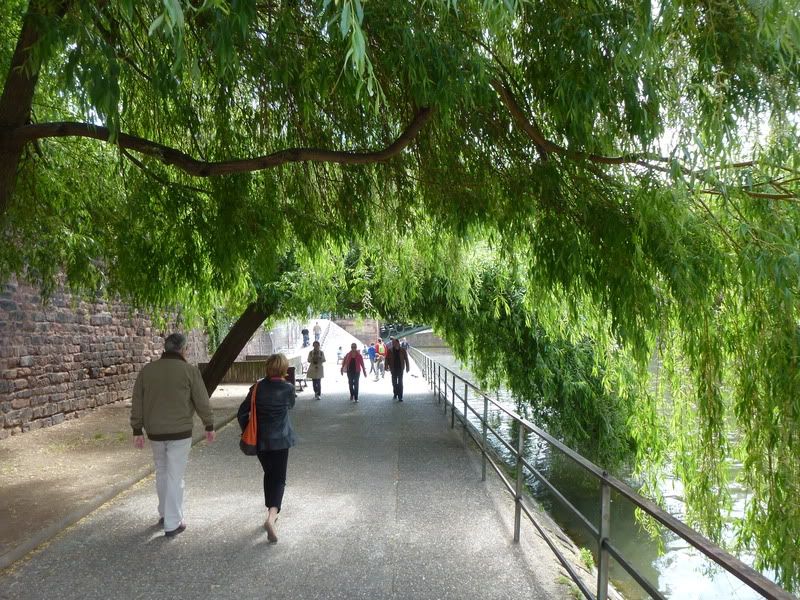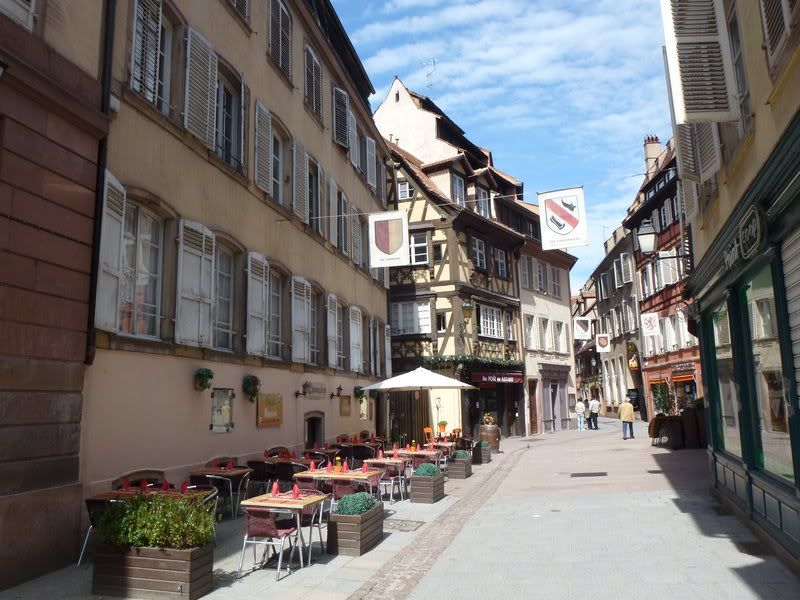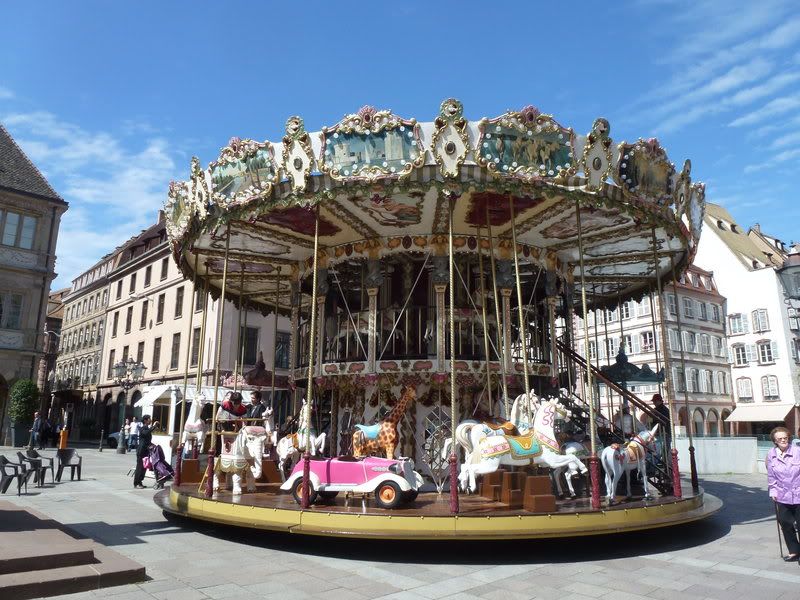 The highlight of the city, the huge and hugely impressive cathedral. If you ask me this is much more impressive than the one at Köln: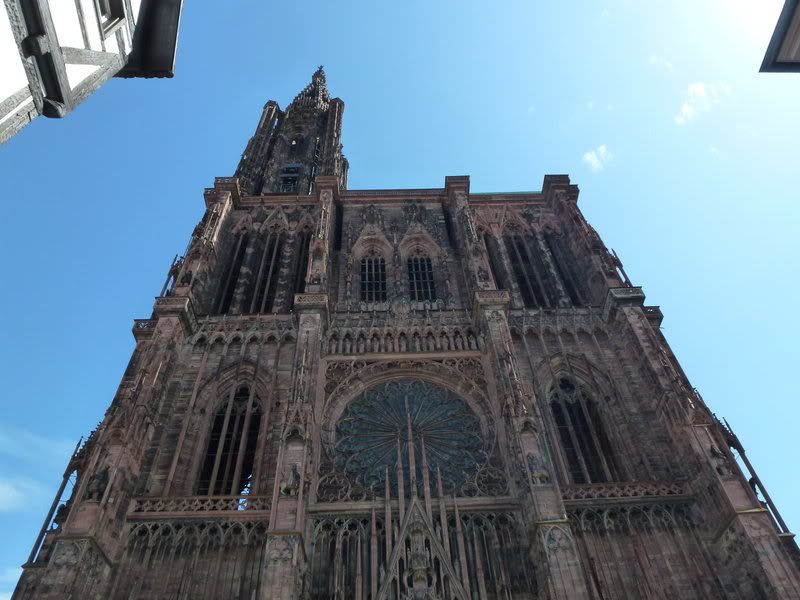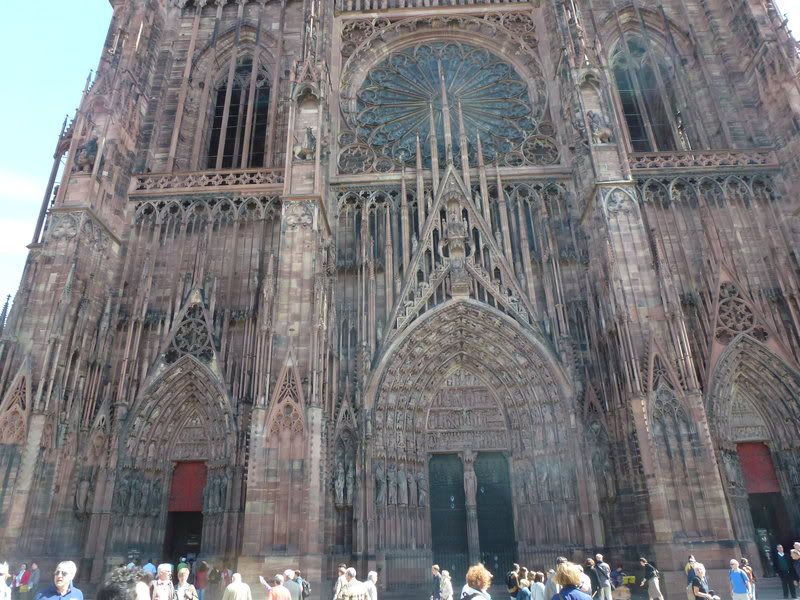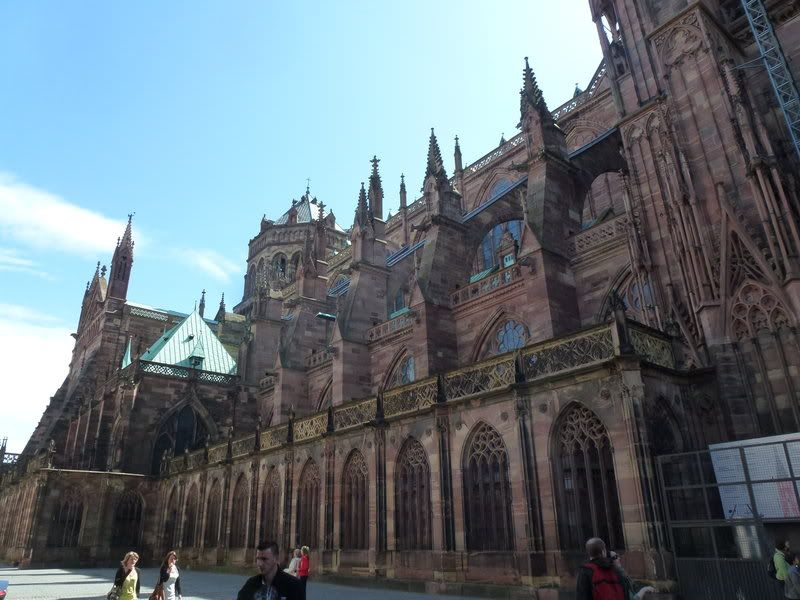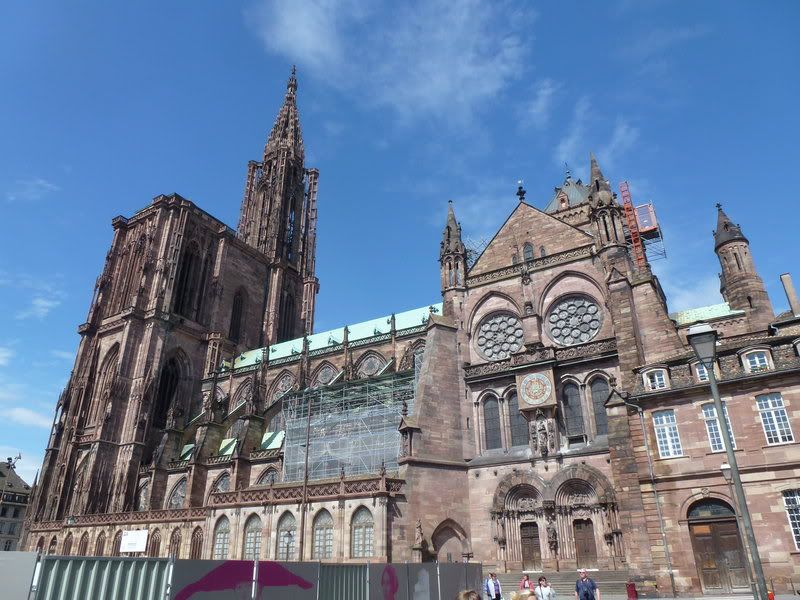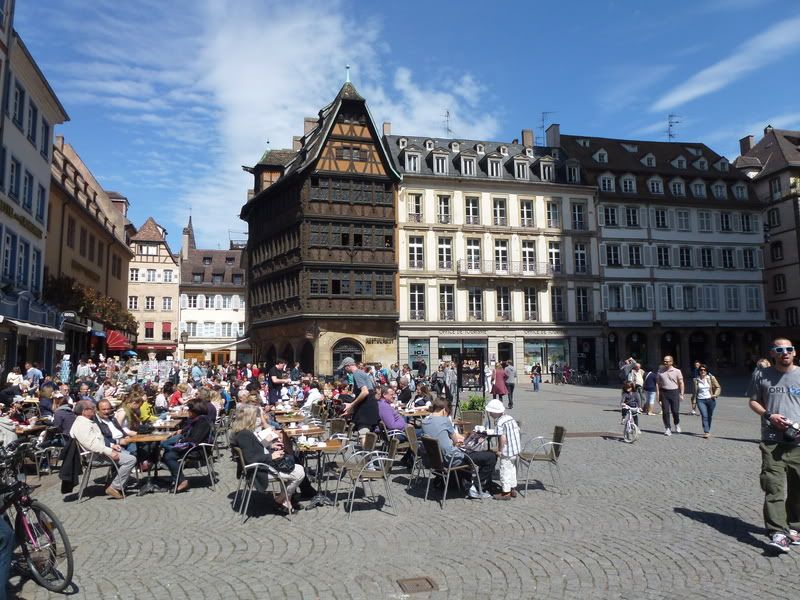 A cute square: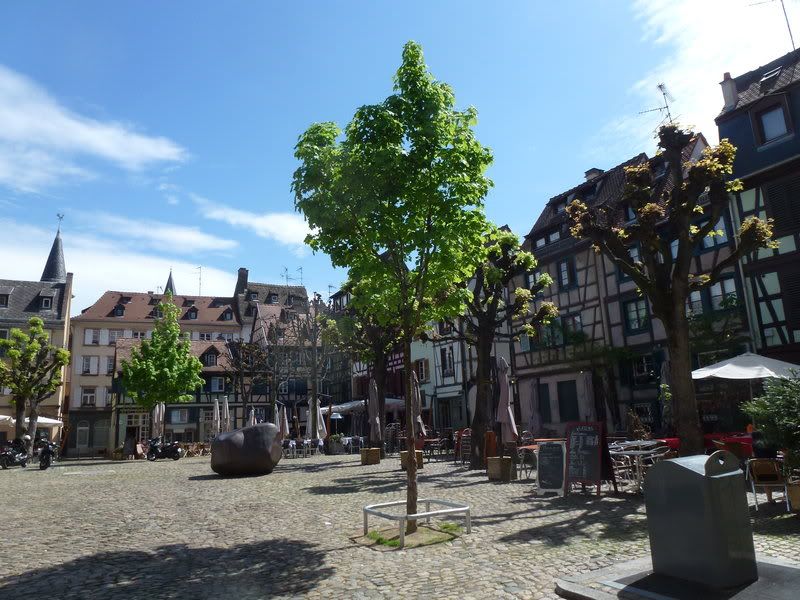 Good weather and plenty of tourists around: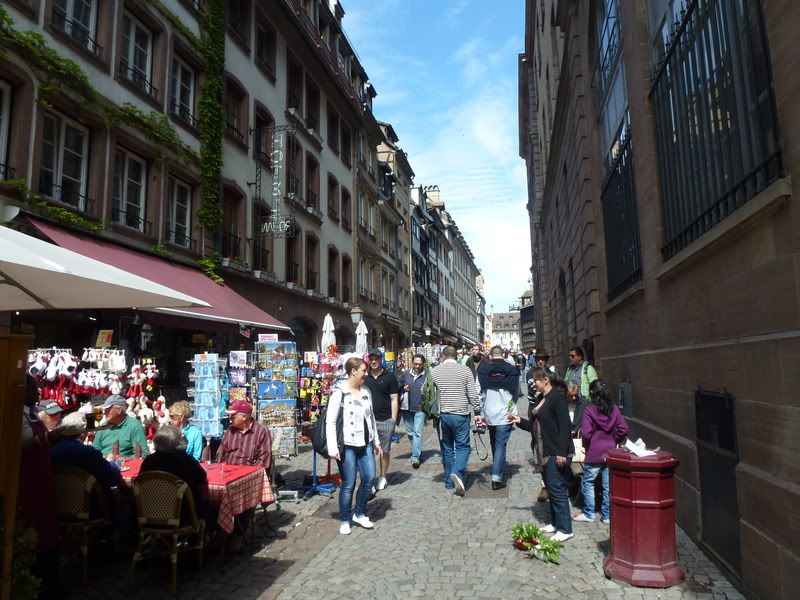 Alsace has some amazing cuisine and I had planned on sampling some of it - I spotted a great looking place that served some delicious looking modern fusion versions of the classic
flammkuchen
but those train schedules came to haunt me again and it was a choice of either having a meal or seeing the cathedral - you saw the photos already so the cathedral won and I had to settle for a tasty and cheap takeaway kebab enjoyed on the lawn in front of the station:
So far earlier than I'd wanted to I take the train back to the airport.
Strasbourg Airport
FIDS: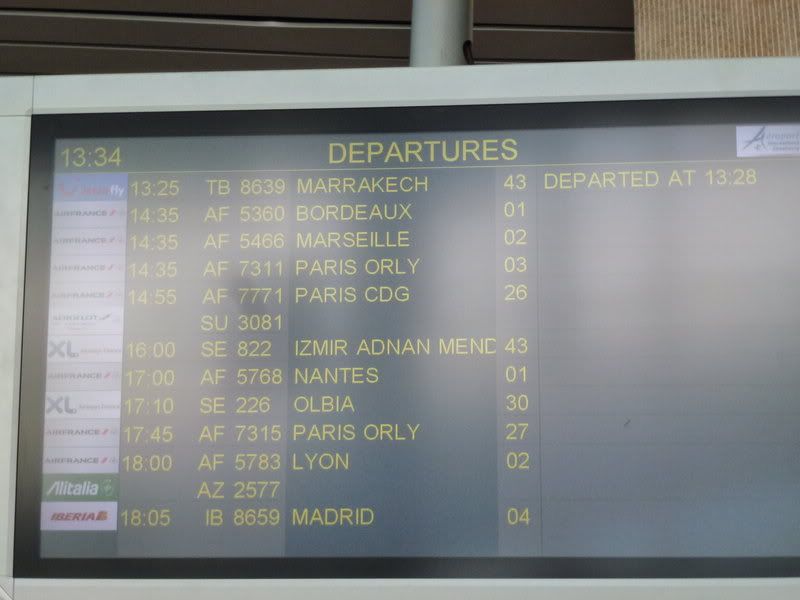 I decide to head straight to airside to see if I could see some action - but judging from the FIDS above there isn't much action to see. I managed to see a Vueling departing while walking over from the train station - never knew they flew here as well!
The airside is a bit weird - coming thru security you get into the ground level where there are a few bus gates, a lone and rather sad looking cafe, an even sadder looking duty free and an escalator upstairs. Upstairs there are a couple of gates with jetways, completely deserted: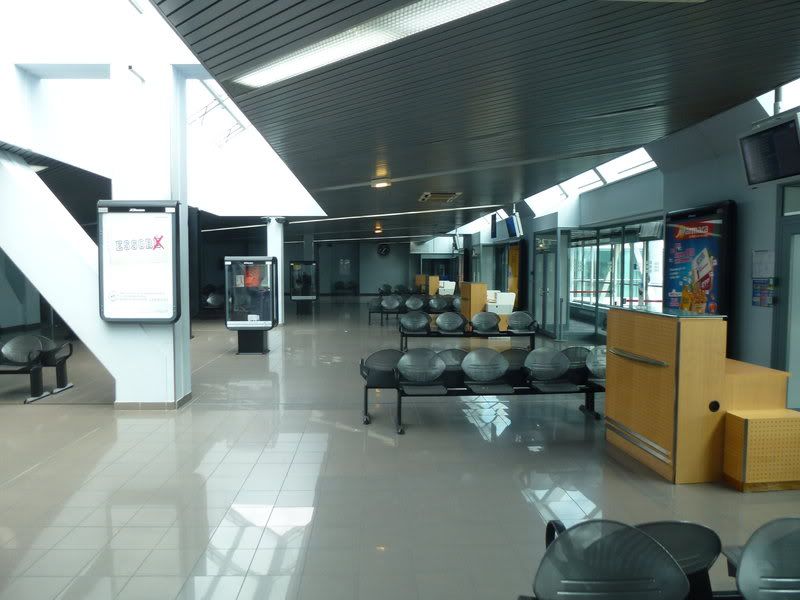 I manage to catch a couple of movements, here's XL arriving - it doesn't look that big to me, though: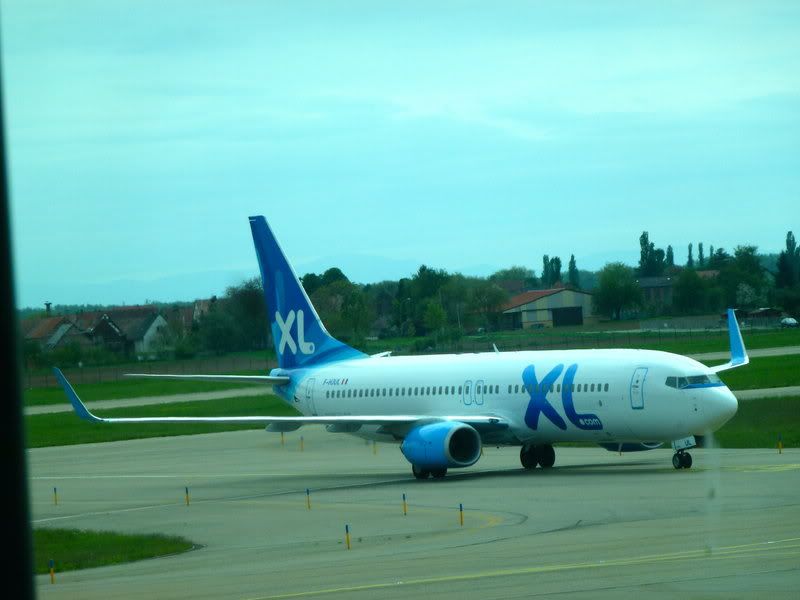 Departing for Morocco:
Hmm, some kind of VIP lounge for MEPs, I guess - when arriving I noticed that immigration also had a special MEP lane: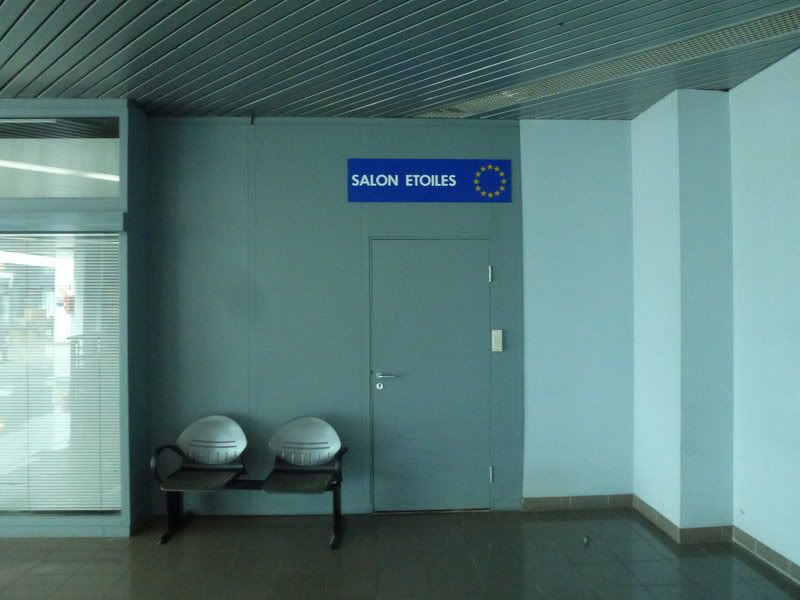 Not much happening here so I head back downstairs where my gate and the only airside cafe is and decide to have some excellent beer while enjoying the free wifi the airport so conveniently provides: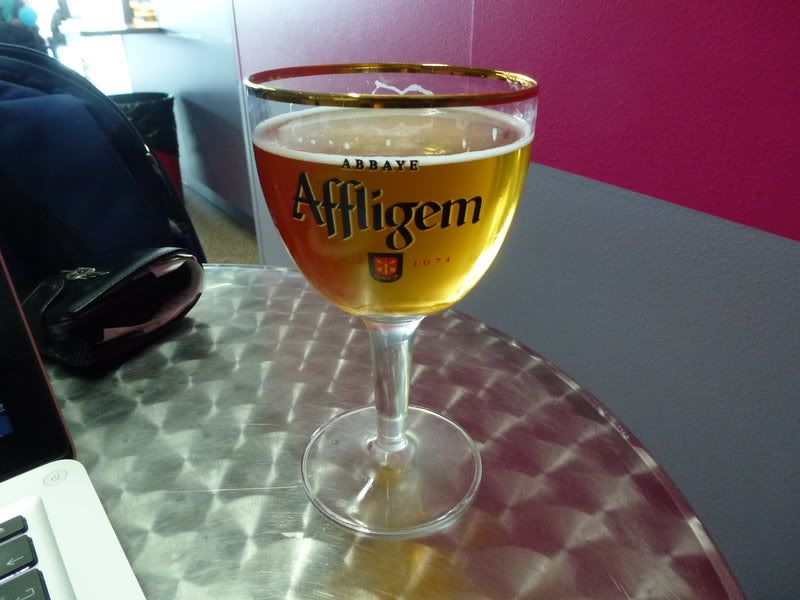 With (seemingly) most of the Régional's Jungle Jet fleet parked on the apron when I arrived here a few hours ago I fully assumed boarding to start pretty early since obviously there wouldn't be any wait for an inbound plane. Indeed both ours and the Bordeaux flight are called for boarding half an hour before the SDT from two adjacent gates opposite the cafe - curiously there's also a gate designated as "0" (as in "zero") - this and the half gate at NCE airport seem to indicate that the French are quite crazy...
They also seem to be out of proper airport buses as we board a regular city bus:
Really funky seat covers:
Legroom - as with most Jungle Jets I've flown with the seat pocket is hanging in a rather ugly way, refusing to stick: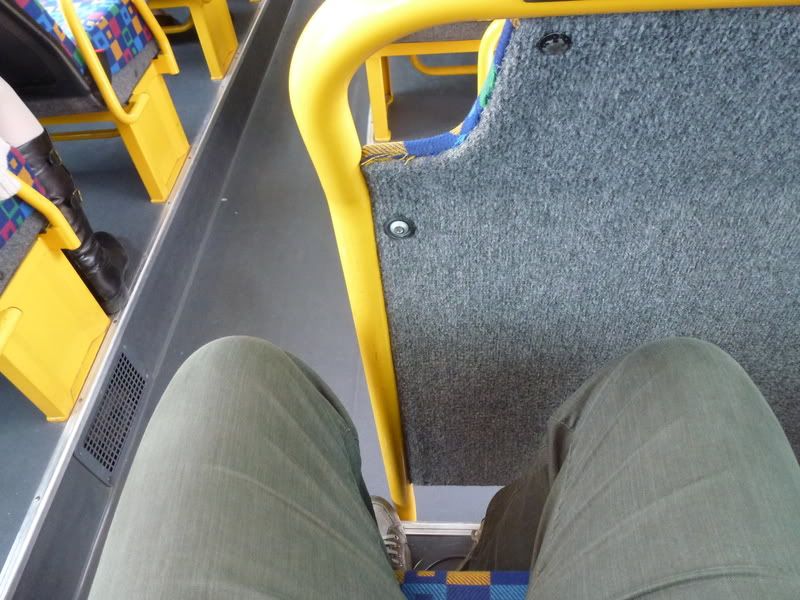 From the bus I see my earlier ride arriving from another flight from CDG: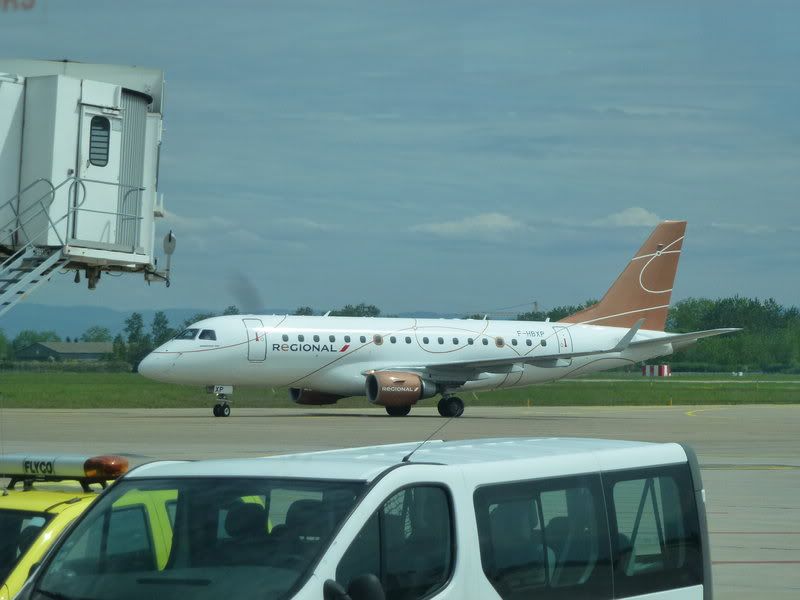 While waiting in the bus I decide to do 717flyer a favor and count the pax: 19 adults and six or seven (not sure) kids.
A short ride later we stop in front of the expected E145, F-GRGF - obviously a new entry for me log: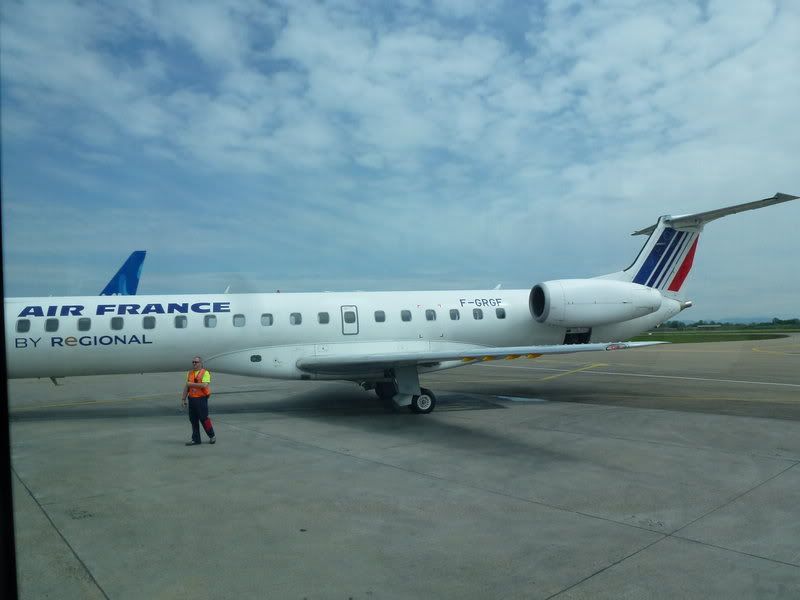 I expected to get yelled at by the ground staff but nobody cared about my photoshooting: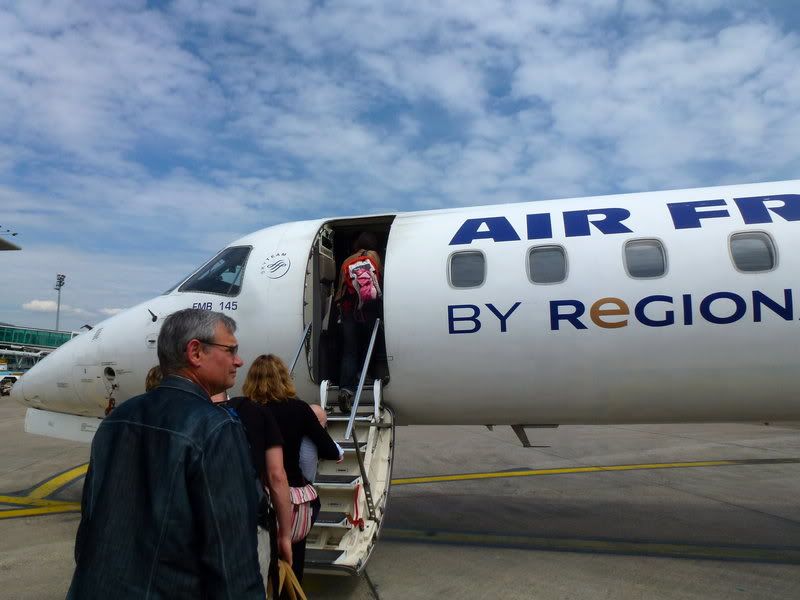 Oh yes, it is the largest Jungle Jet: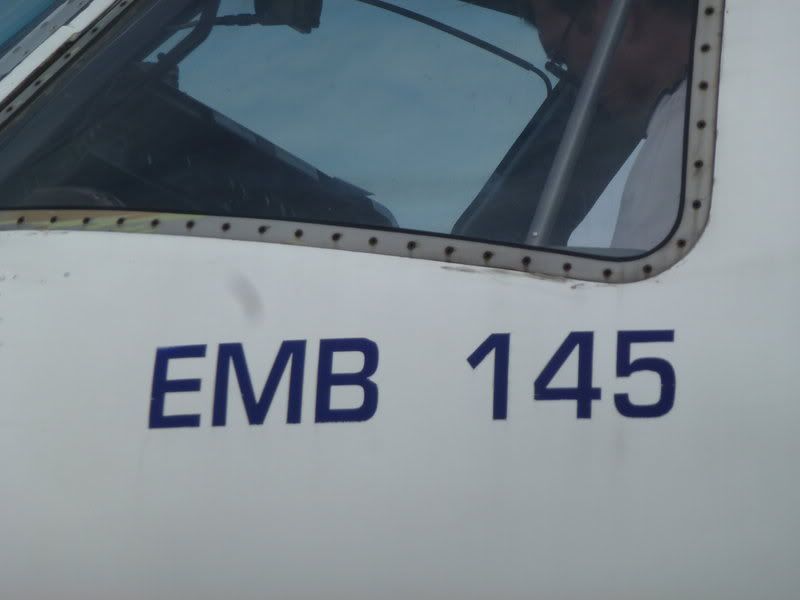 SXB - MRS
AF5466 Operated by Régional CAE
E145 F-GRGF
Seat 3A
14.35 - 15.45
A young female FA who is all smile from head to toes greets me at the door. I've got plenty of room for myself - after my seat at 3A the next pax are seated at row seven. A deadheading Régional steward in full duty uniform is sitting on 2F.
The seats, dark blue faux leather and quite nice:
Legroom: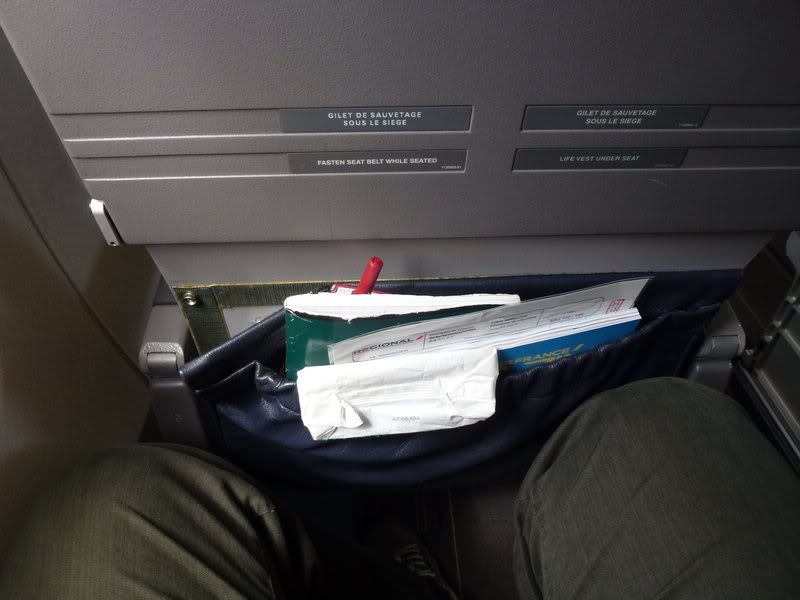 Forward view: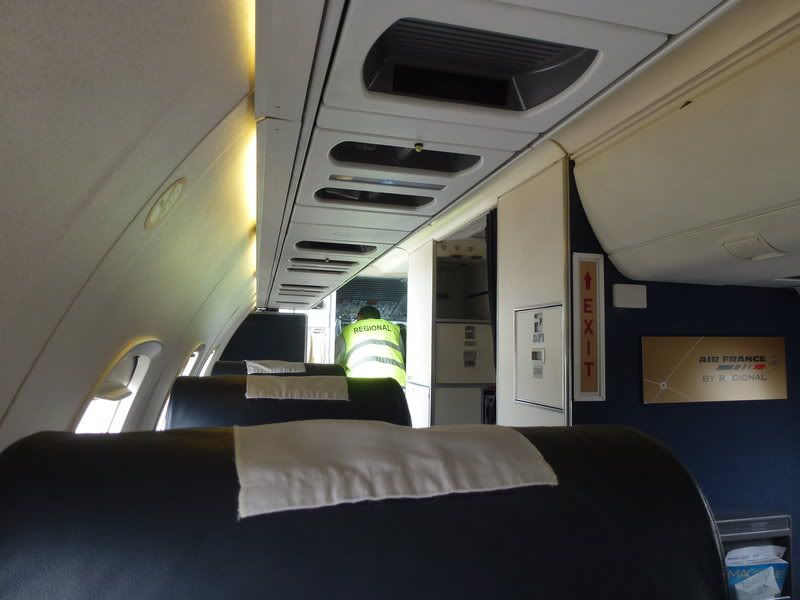 And backwards: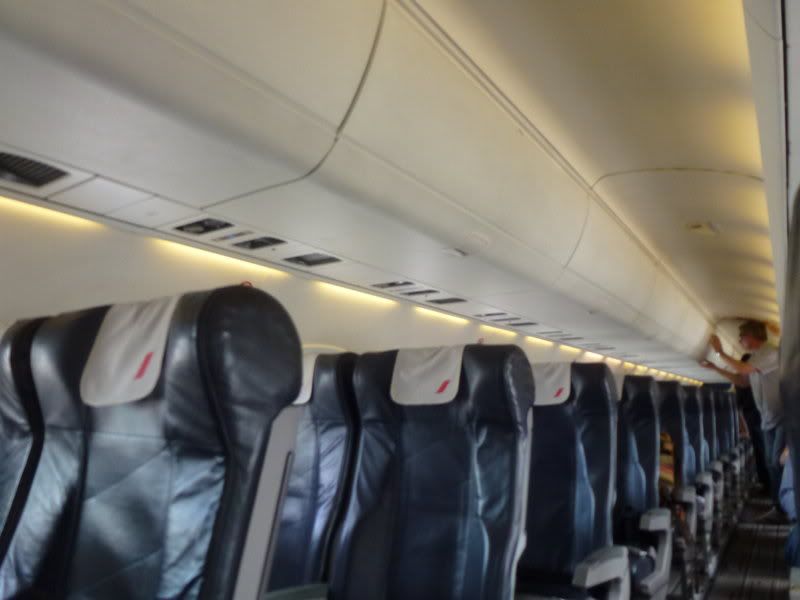 When the FA sees me stuffing my back bag under 3D on the other side of the aisle she immediately suggests that I could move to 3F to get some more space. I say thanks but I prefer to be on this side of the plane in an effort to catch a glimpse of the Alps.
The cockpit crew announces our flight time as 1h5mins with a nice sounding 17 degrees and half cloudy at Marseille. Departure is right on time.
While heading to runway 23 we taxi past this abomination - an
albino Fokker, go away, stop haunting me, NOW: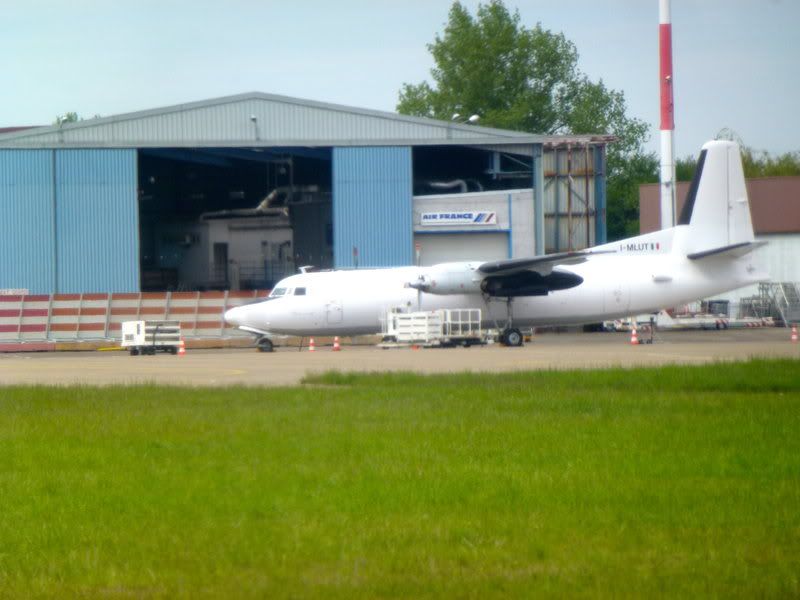 Luckily the nasty albino doesn't make any attempt at chasing us so I relax when those tail mounted hairdryers spool up and manage to provide enough power to propel us skywards like a rocket: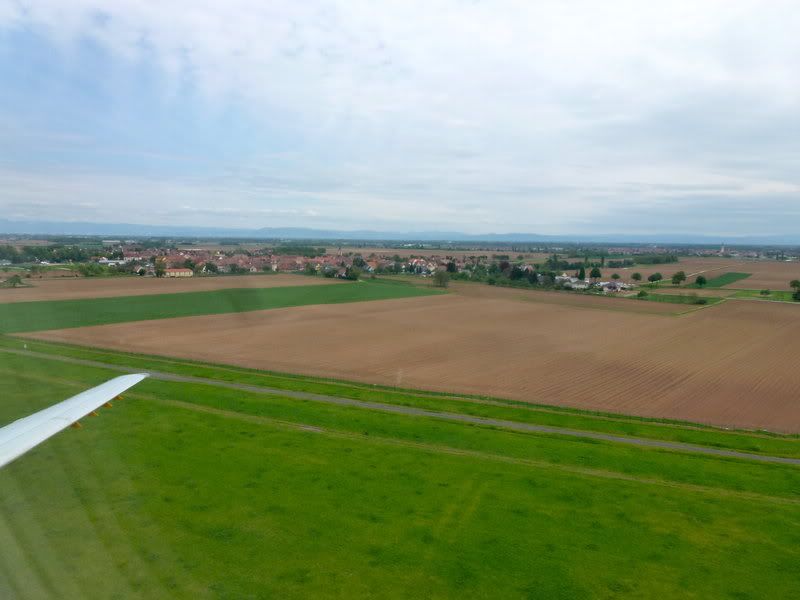 More quarries, I guess these are good for swimming during summertime: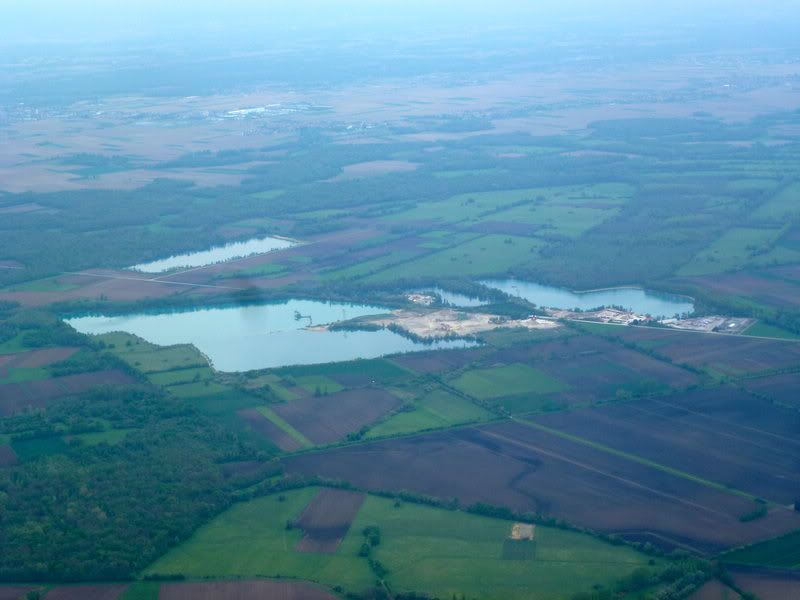 I think this is the village of Krautergersheim - anyway there are plenty of heims around here thanks to the German roots: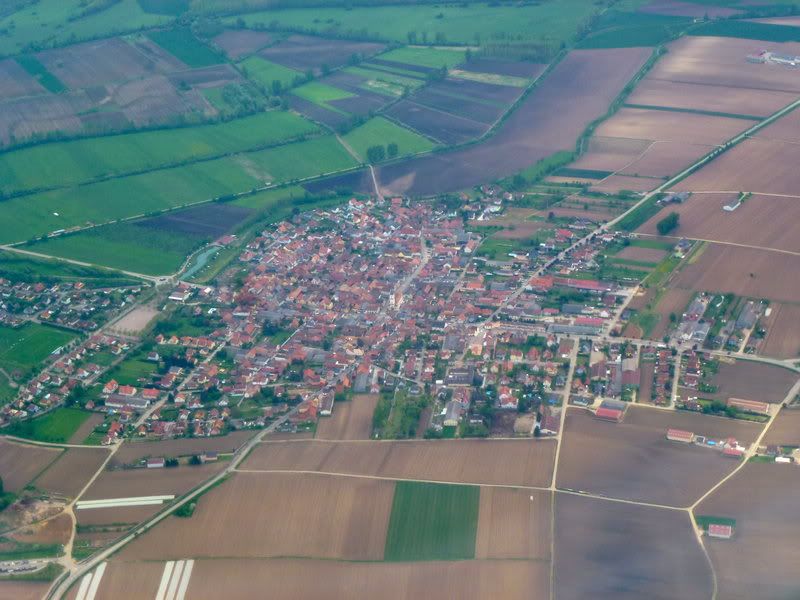 Cruising over the clouds: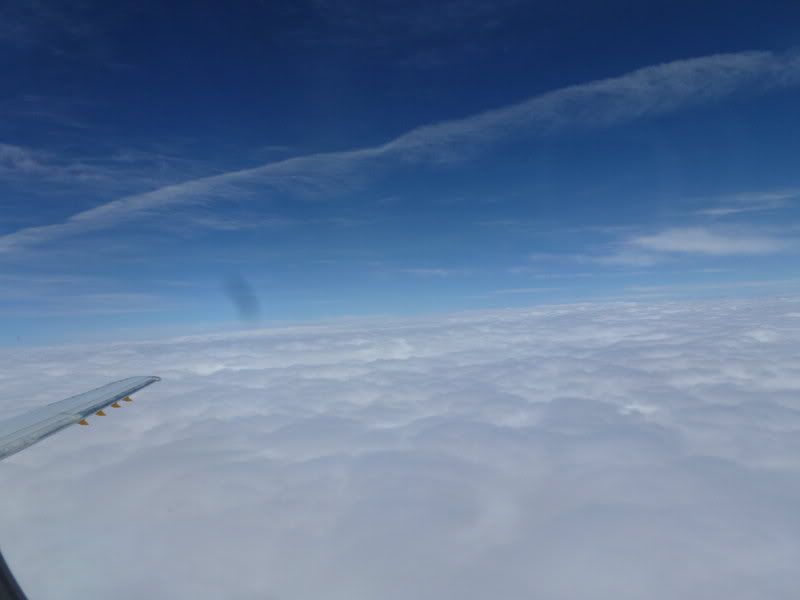 Service is again a drinks round plus a choice between a sweet biscuit (the same tasty ones as on the previous flight) or salty crackers.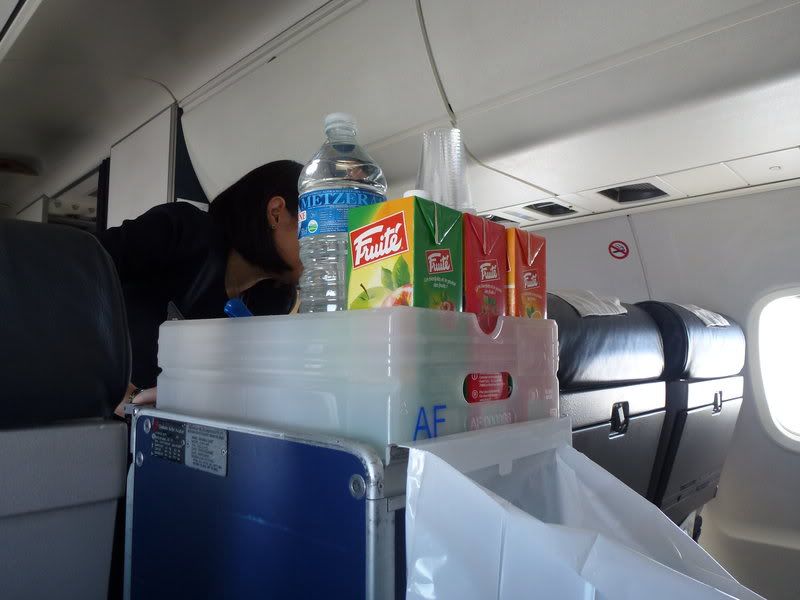 The FA insists I have two of these cracker packs - who am I to argue so I put the other bag in my bag to bring home. Nescafe also makes a reappearance: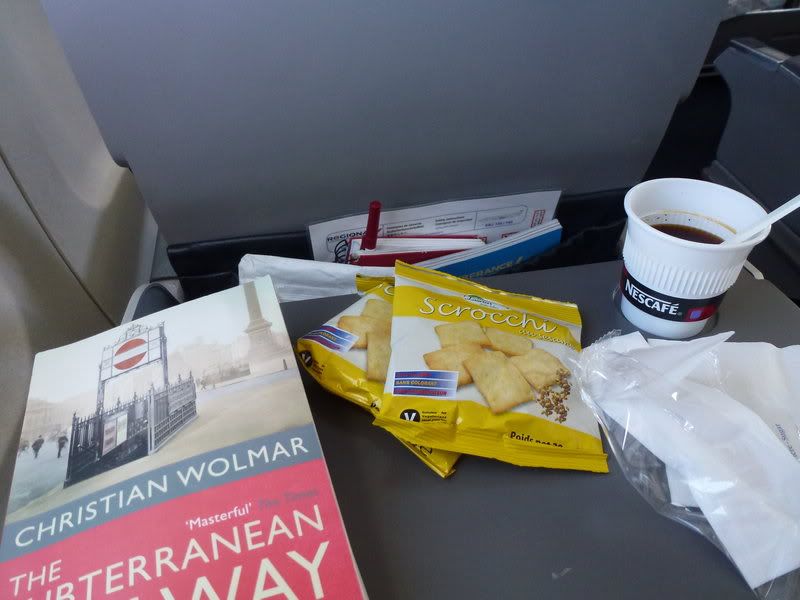 You can't really see them in this picture but at one point I counted the contrails of seven (count 'em) planes at once. I think we were somewhere near LYS/GVA by that time: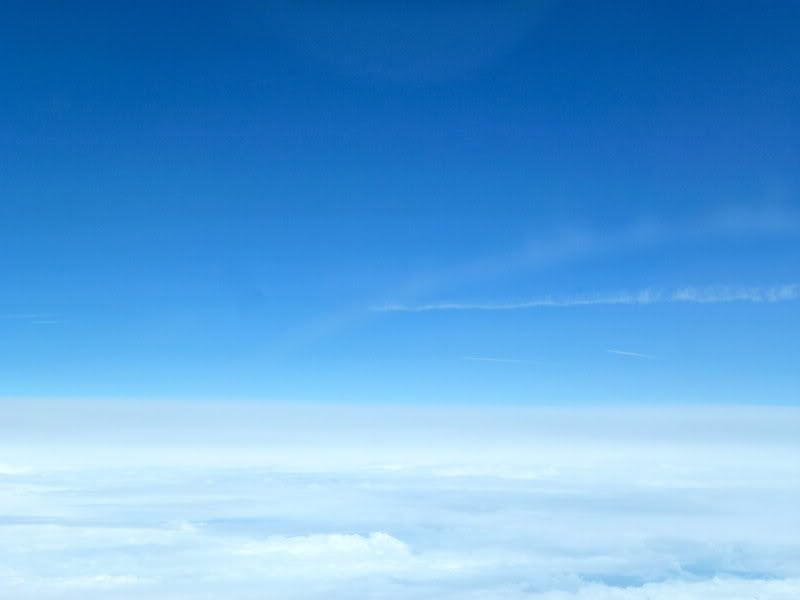 Not too great views of the Alps, but at least I got something: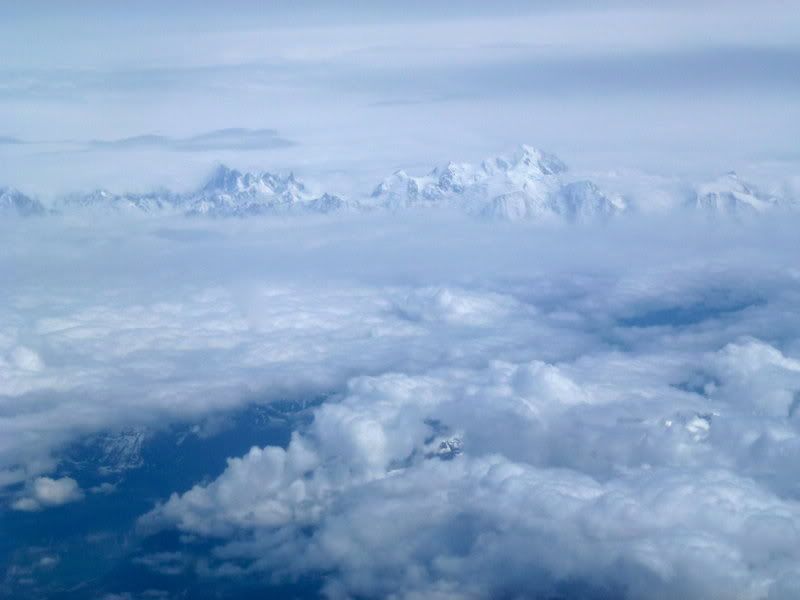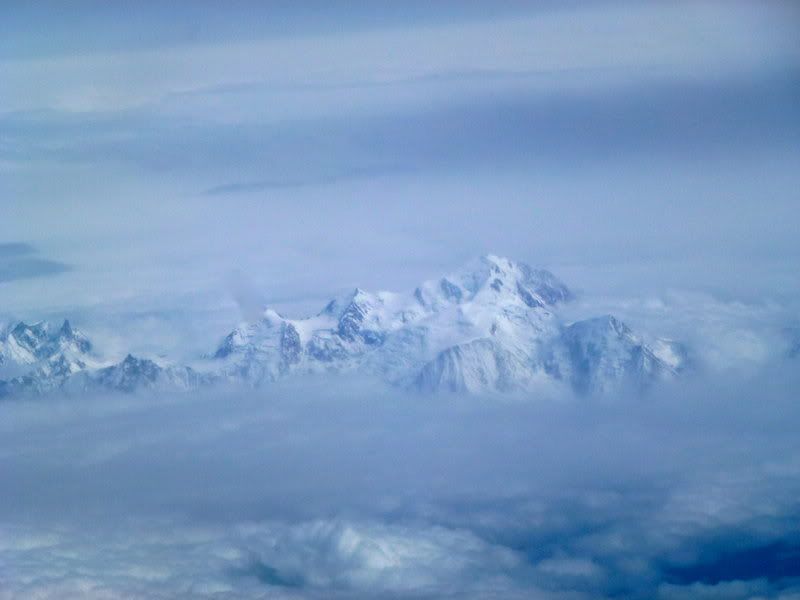 I zonk out for 20 minutes or so and am waken up by the captain's announcement of our descent and approach for Marseille. As far as approaches go this one is a very nice one - Provence certainly has some very amazing natural sights. I'll let the pictures (mostly) do the talking: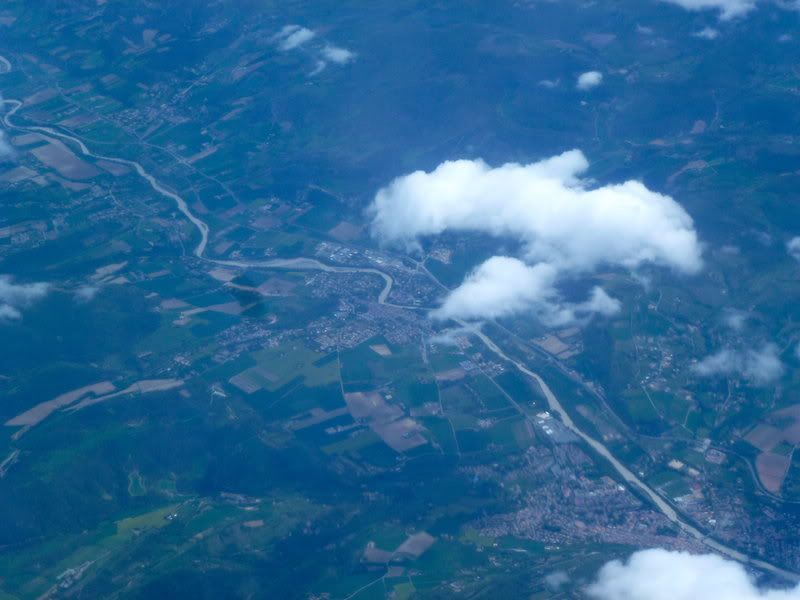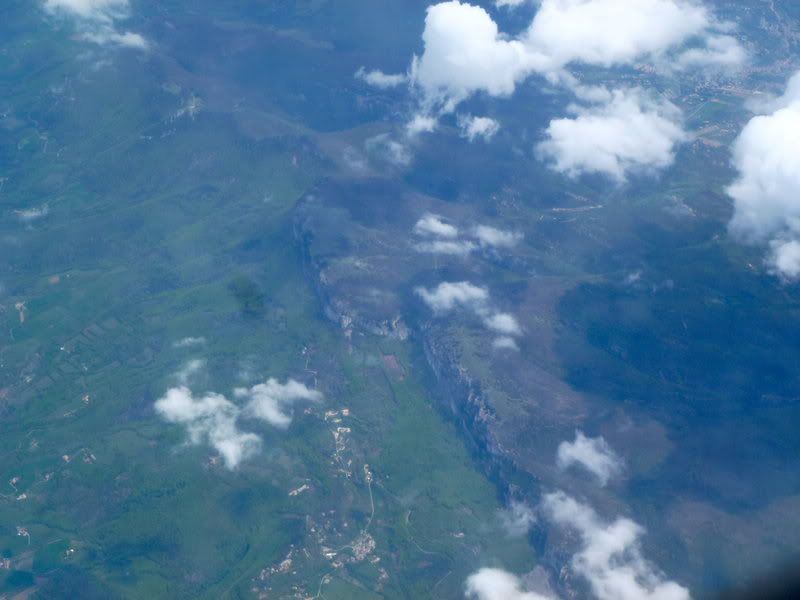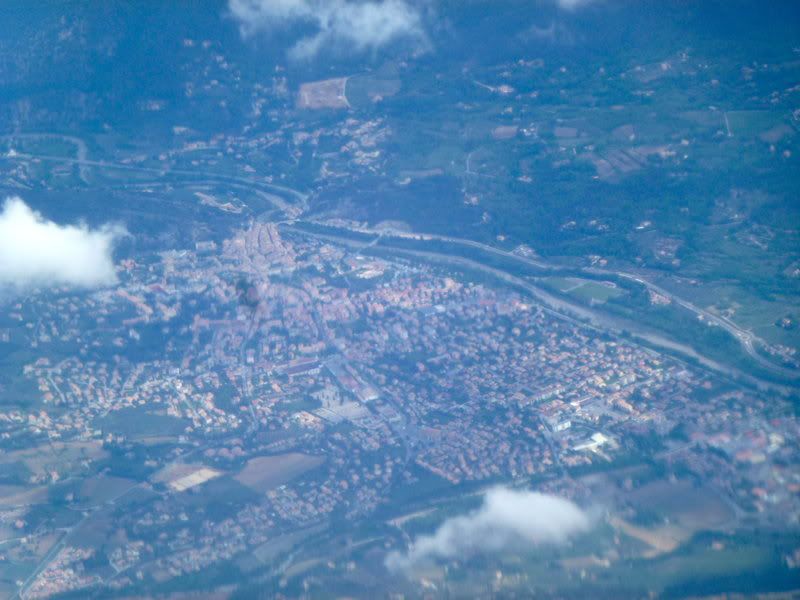 The river Durance. Note the channel running parallel to it: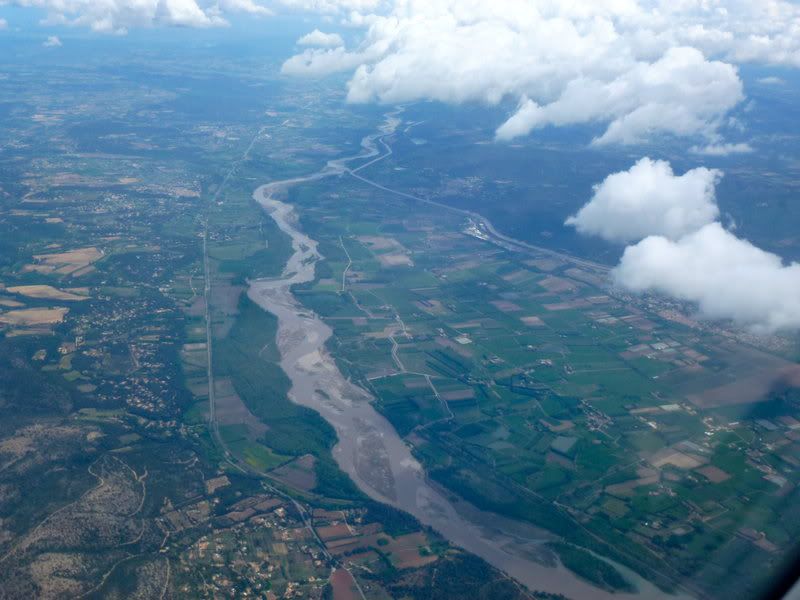 The town of Lambesc: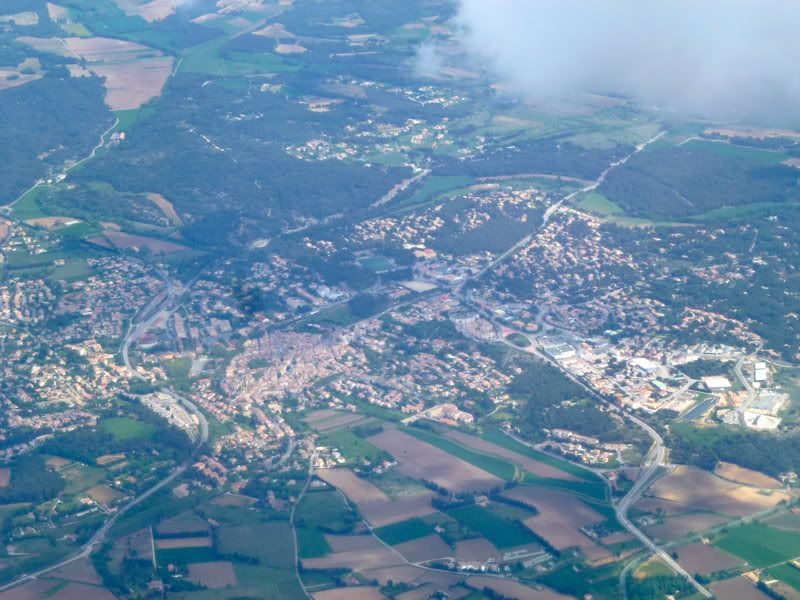 The terrain is rather hilly so some creative solutions have to be used when constructing motorways or railroad tracks like in this case: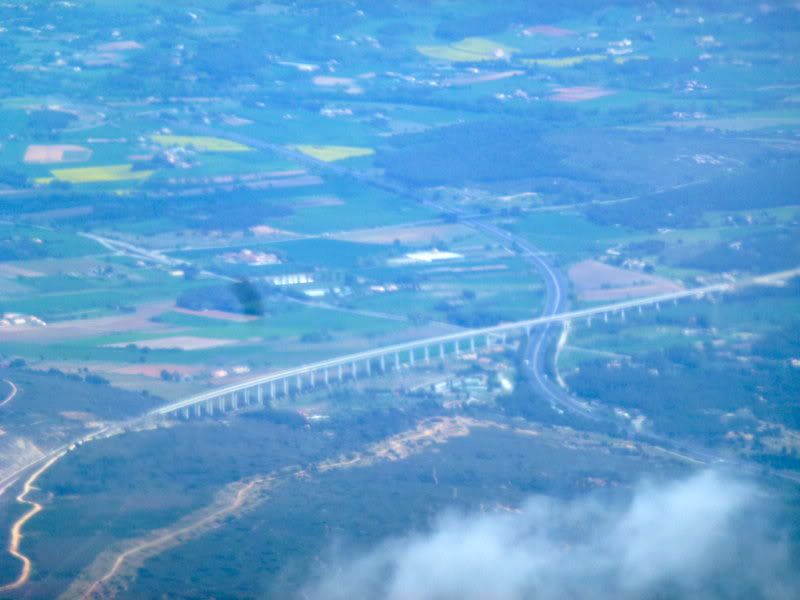 ...even the Romans knew already knew this - although this one is the Roquefavour Aqueduc and is "only" some 160 years old: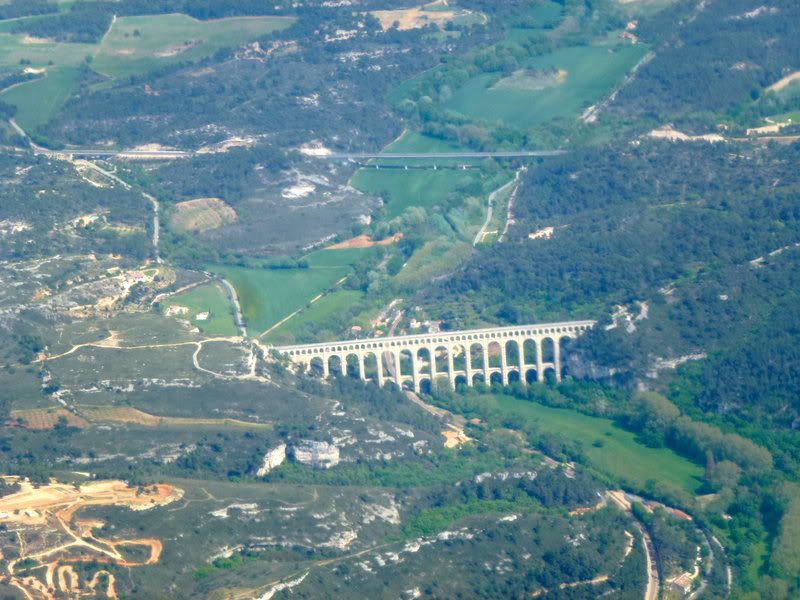 The airport of Aix en Provence: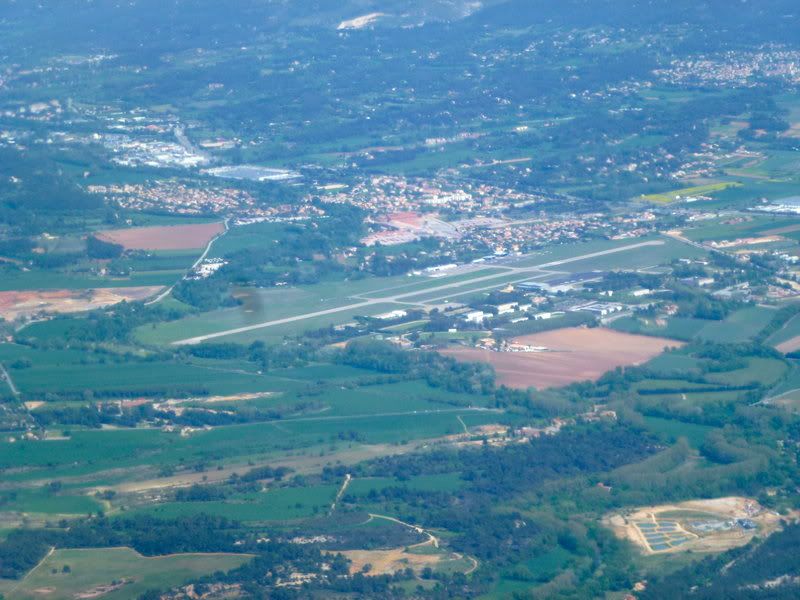 Passing MRS on a downwind leg, image taken with zoom from the other side of the plane: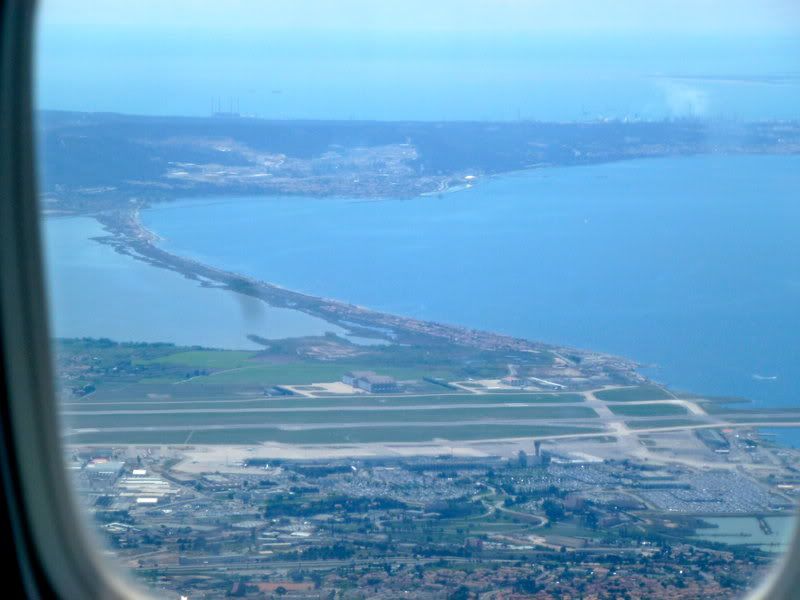 A power plant, hopefully of a nuclear kind: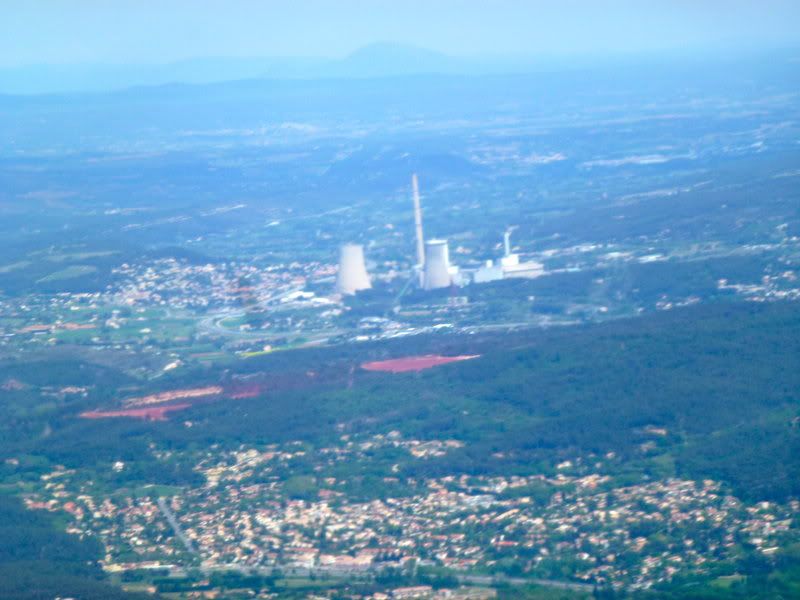 A great view over the Greater Marseille area: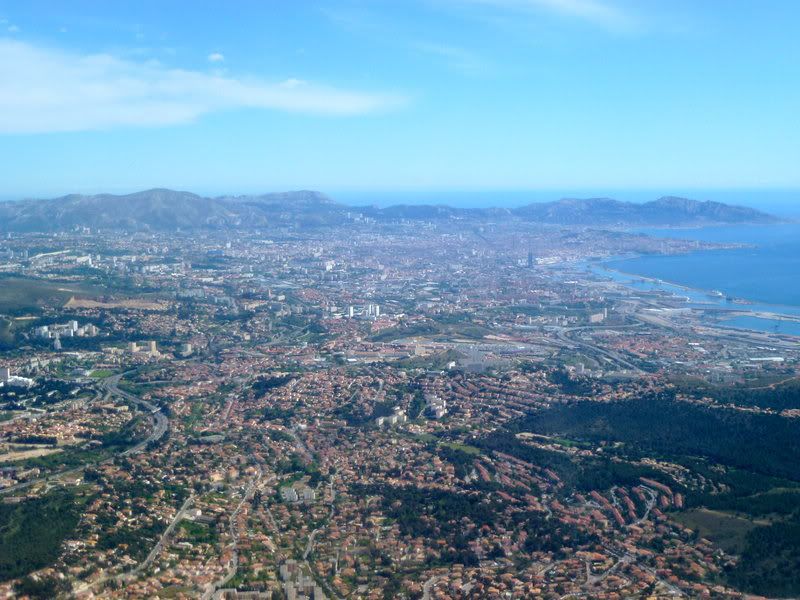 The famous Port of Marseille:
Plenty of quarries here too: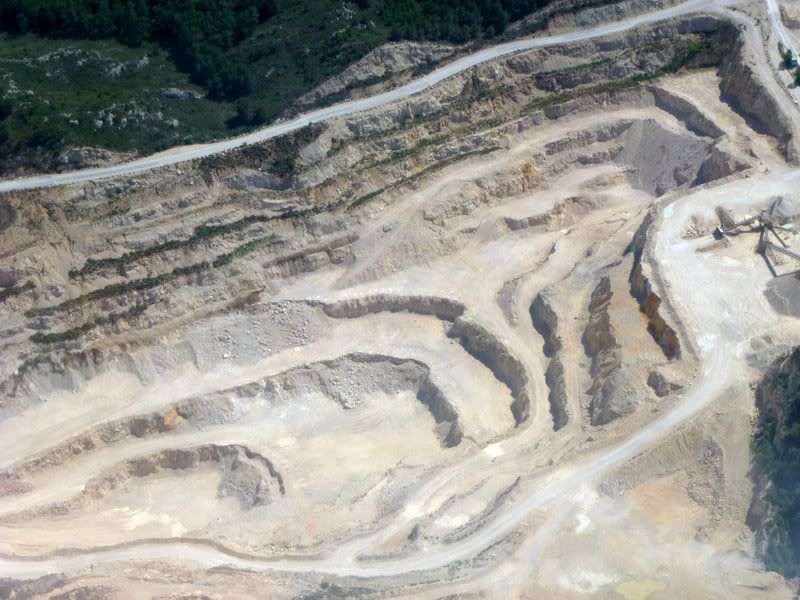 Rugged landscape: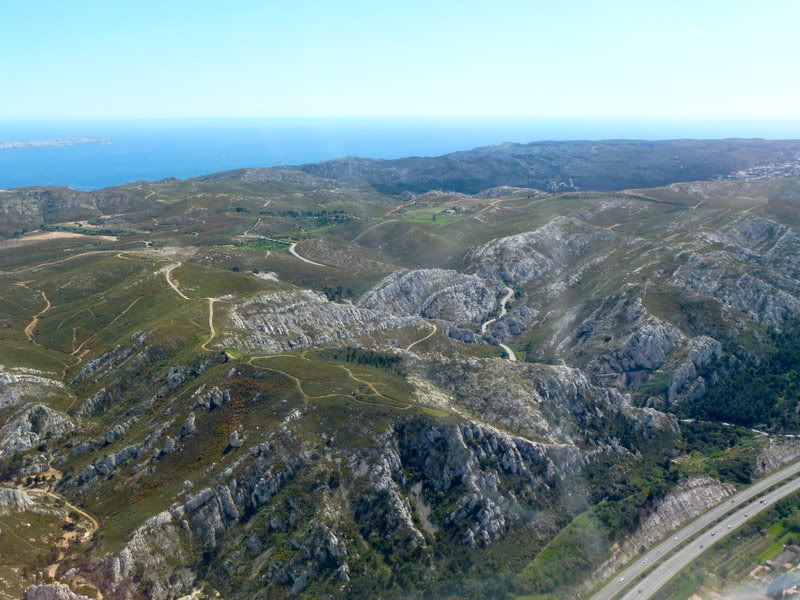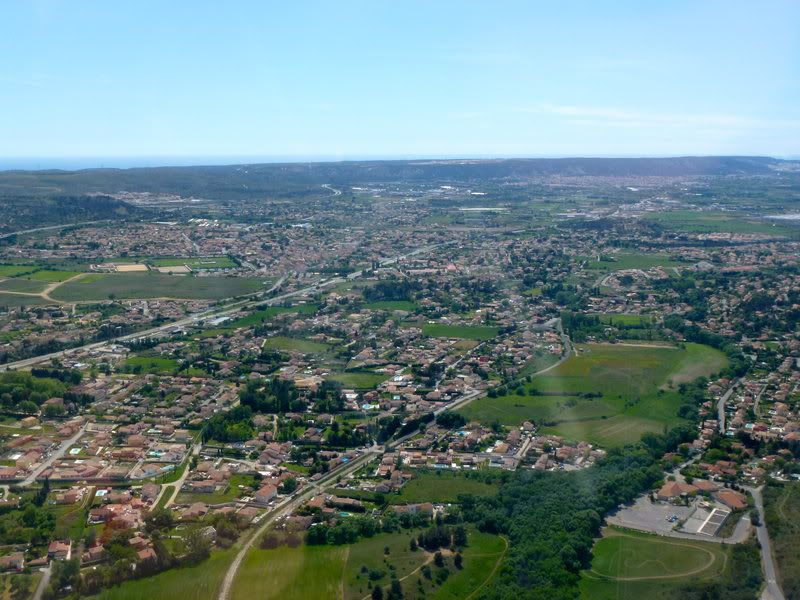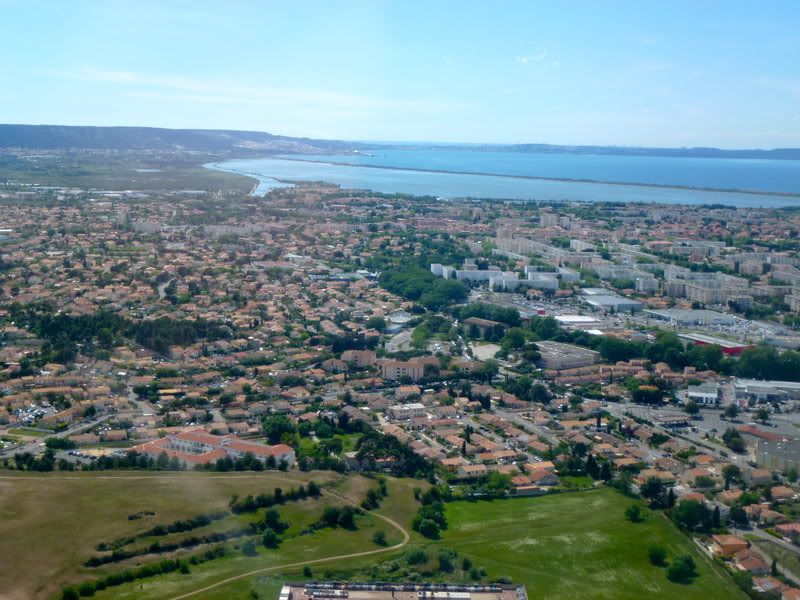 Almost there: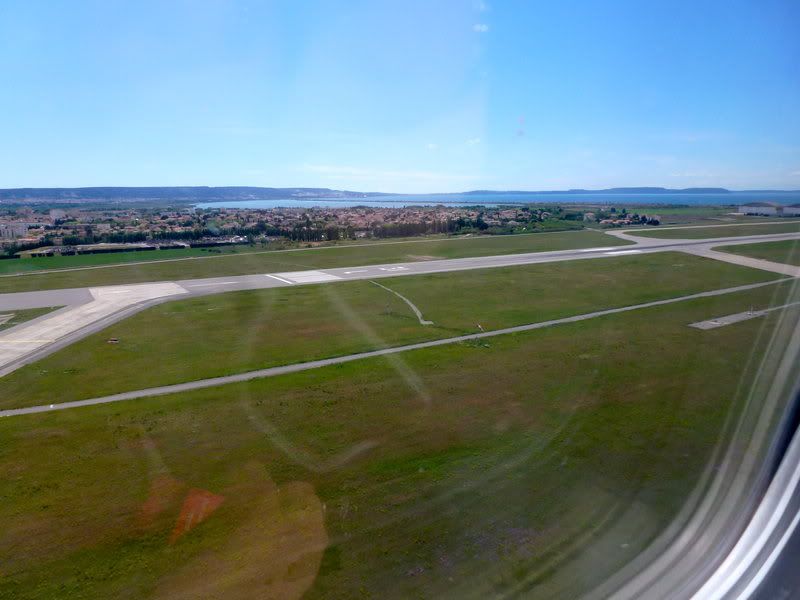 Landing is on runway 31R.
Cargo apron: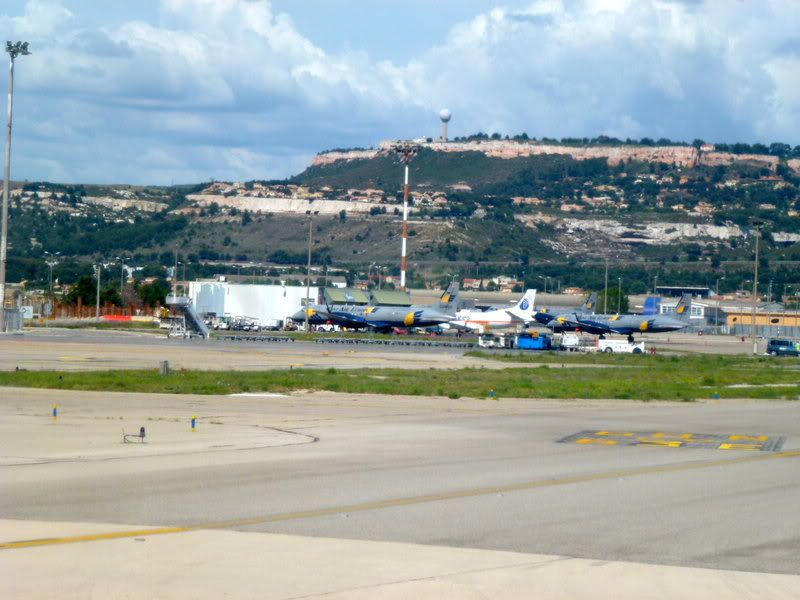 Jonas' home airline:
The terminal: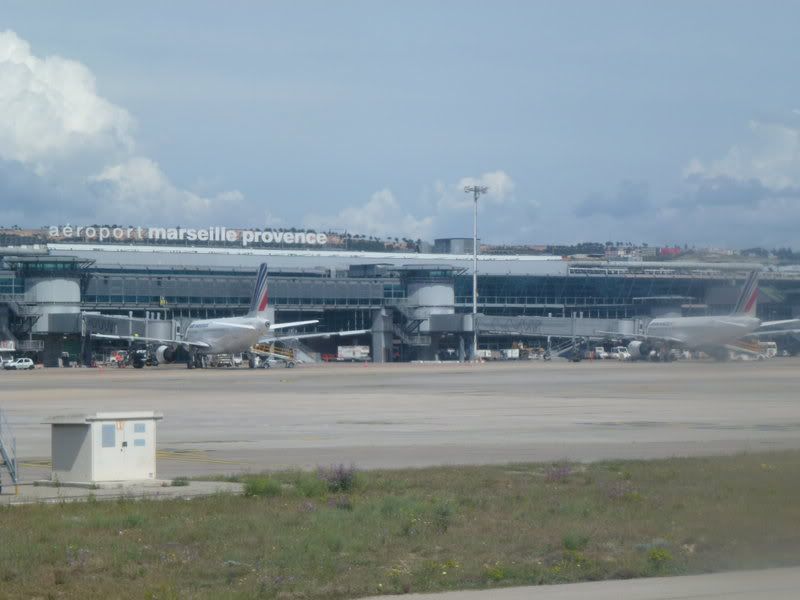 There are plenty of empty jetways so I kept hoping we would stop in front of one of them to avoid a bus ride but alas it isn't to be - an apron position with a waiting bus for us it is. Nearby stands a nice German bizjet with an appropriate registration: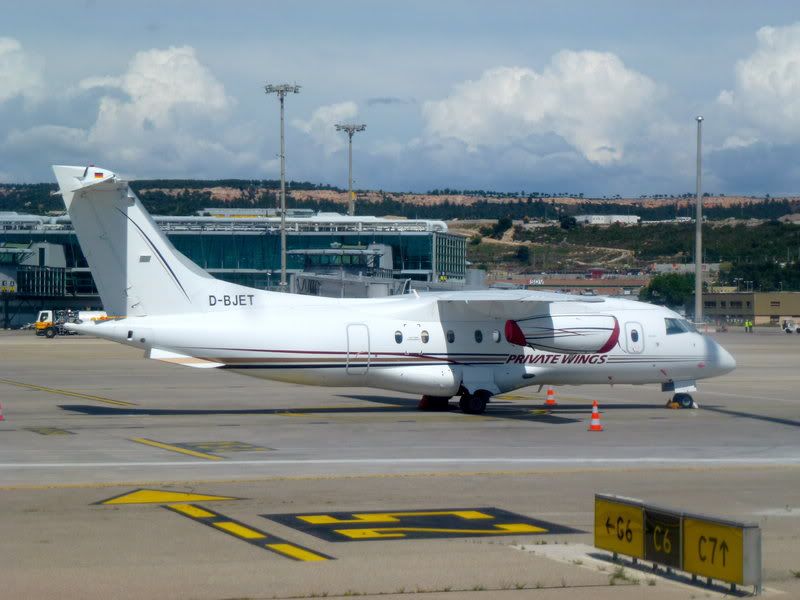 Stepping out into the bright sunshine and Mediterranean warmth feels very good, this is the moment you keep waiting for most of the long, dark Northern winter!
Bye, thanks for the nice ride: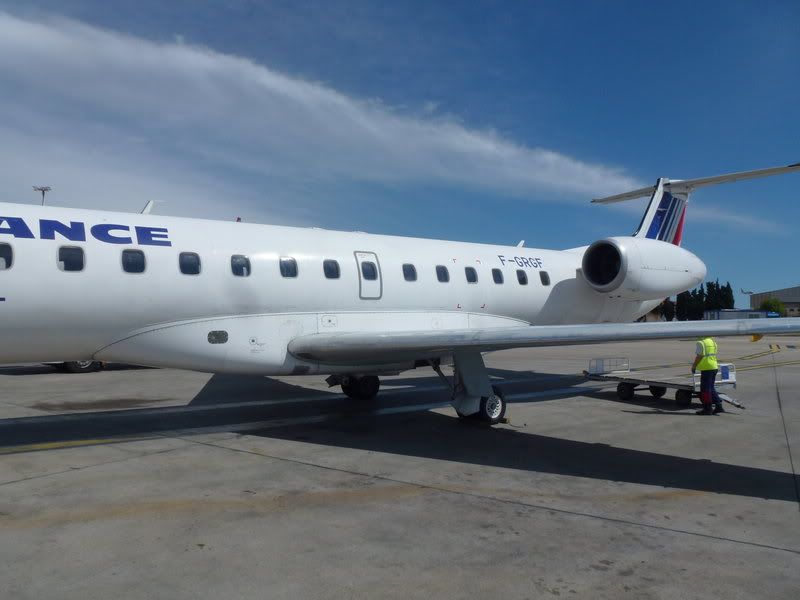 Marseille Provence Airport
A quick bus ride and a powerwalk through the very forgettable terminal I'm outside, enjoying more of that nice sunshine.
This is the terminal building I just emerged from - not exactly very
chic
: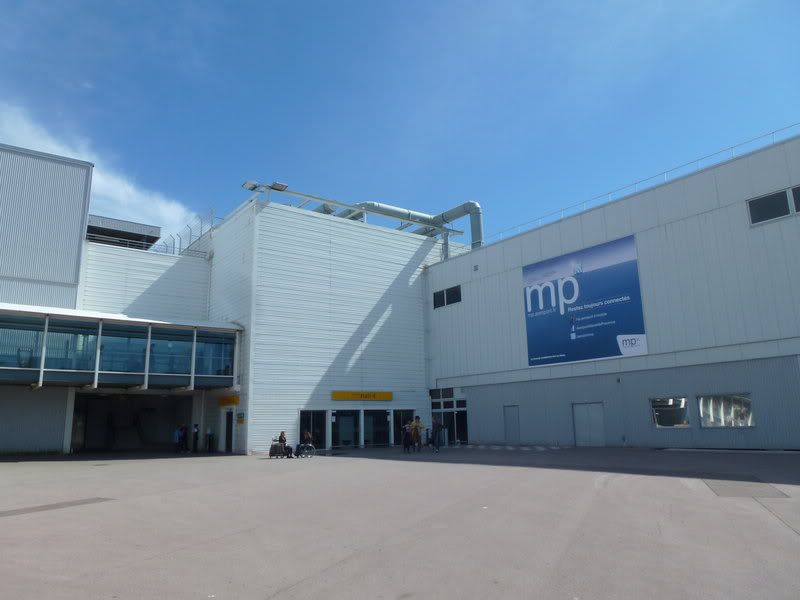 Hmm, surely there's some mistake here - they must mean
water
skiing: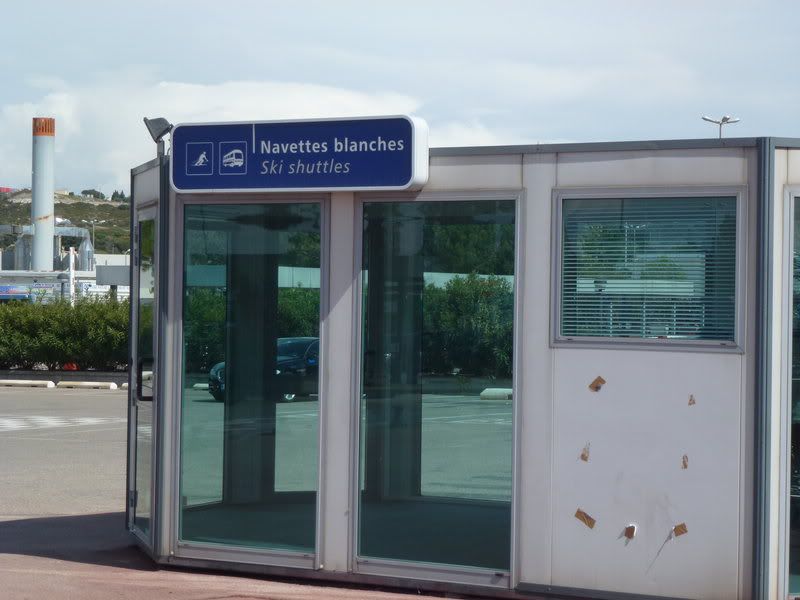 Isn't that the cutest carpark you've ever seen: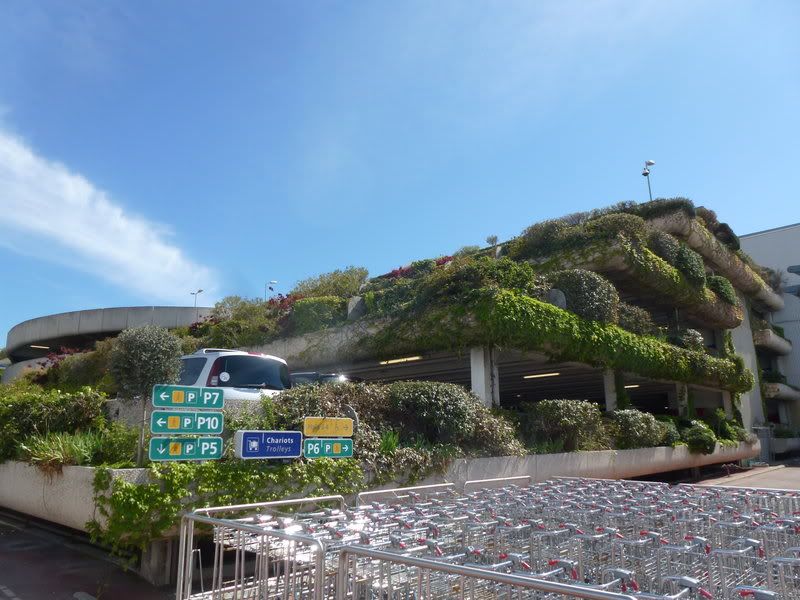 Oh yes, I'm definitely on the Med here: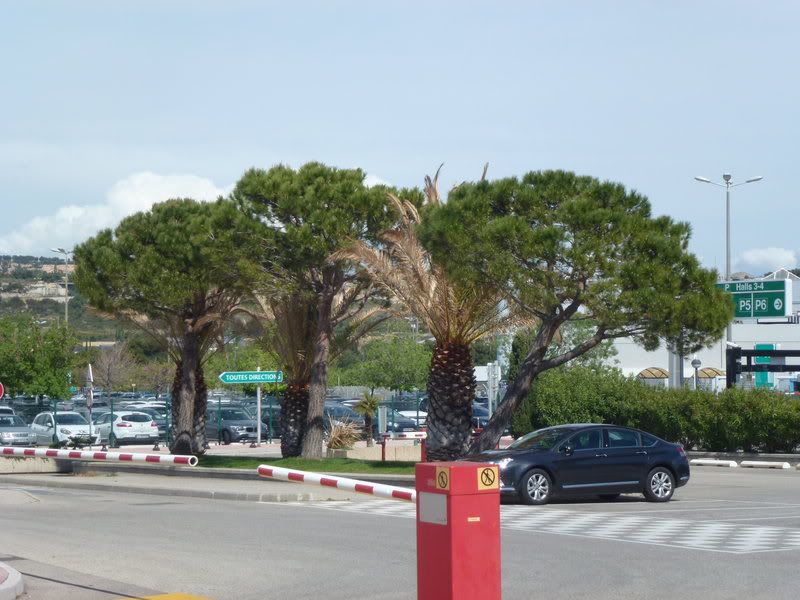 There are two "terminals" (more like check in halls) right next to each other - the ugly Air France one and the somewhat better looking housing other airlines, including my Lufthansa. Having done OLCI earlier in the morning I head inside to get my boarding passes.
Compare this photo to the one from Orly in part 1 and notice what a difference a high ceiling and enough windows can do: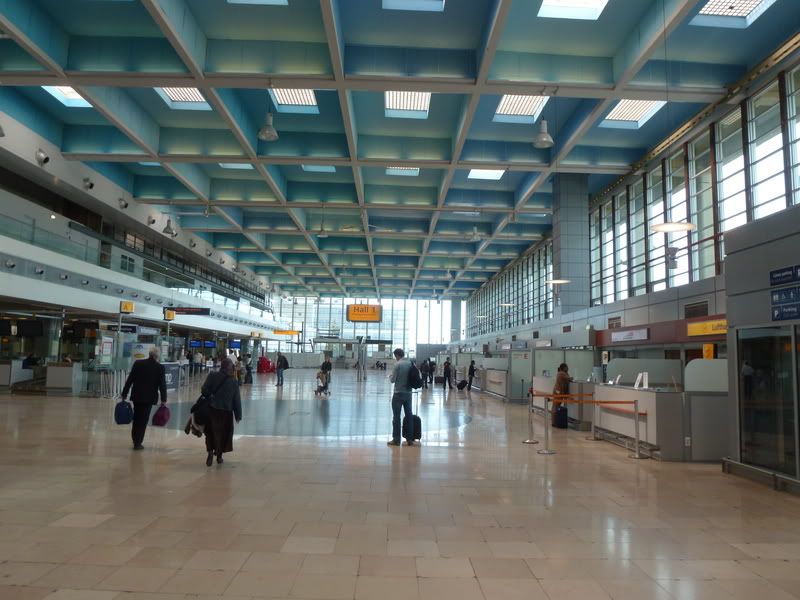 I locate a row of Lufthansa self service machines and decide to try my luck. Well, since I opted to get my boarding passes emailed it is of course completely against the German psyche that someone would try to also (re)print them out of the kiosks (see, Ordnung muss sein and this is no Ordnung!) so it tells me to bugger off. Luckily the three open desks next to the machines don't have much queue so a few minutes later a rather unfriendly (or at least unsmiling) girl prints me the precious two pieces of cardboard.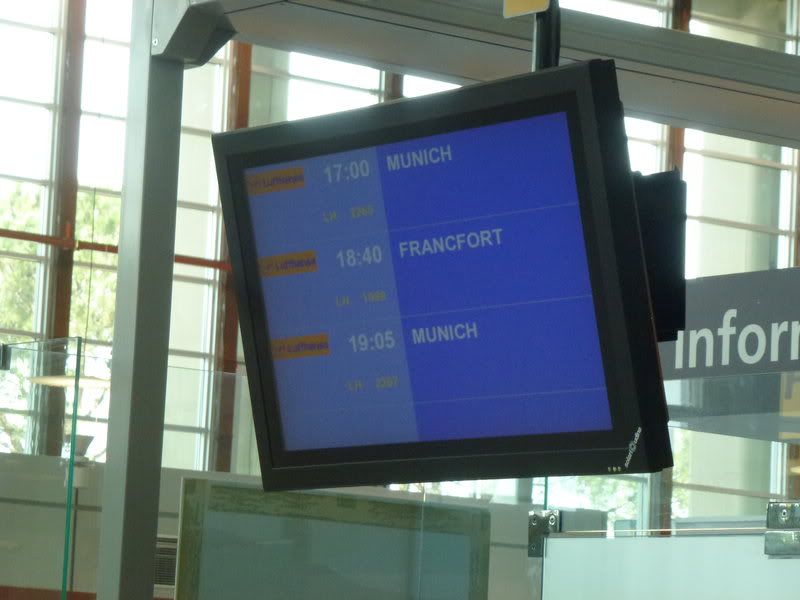 A couple of hours to go and warmth and sunshine outside - no doubt what I do next: buy a nicely chilled (but not so nicely priced) can of beer from a bar (cunningly they don't sell any beer in the shops here to retain the monopolistic prices) and head outside. I find a nice spot in front of the terminal and sit there for the best part of an hour - just enjoying the sun, my beer, book and people watching - plenty of prime subjects to watch here. Ahh, this is the life.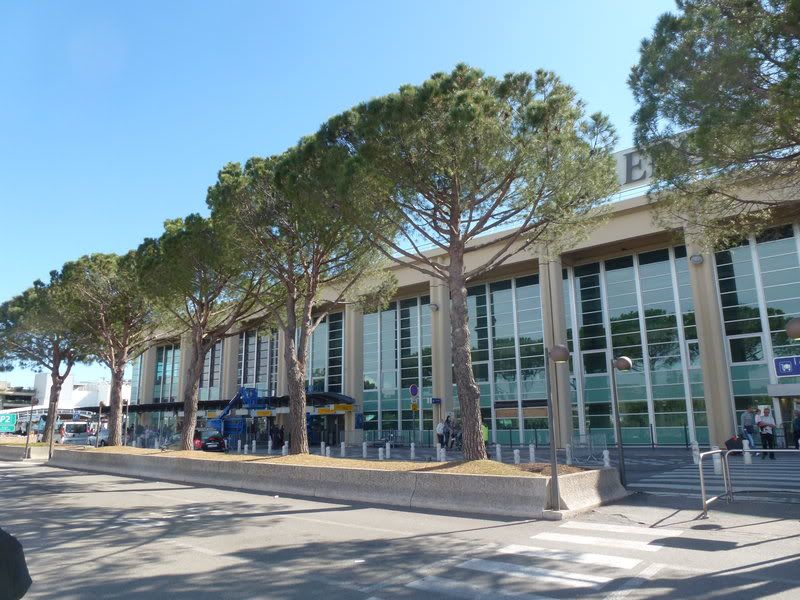 Eventually I decide to move around a little and go check out the MP2 or "Marseille Provence 2" like the official designation goes - i.e. the low cost terminal, a couple of hundred meters further from the high cost terminals.
Weird combination of an office building with the ATC tower on top: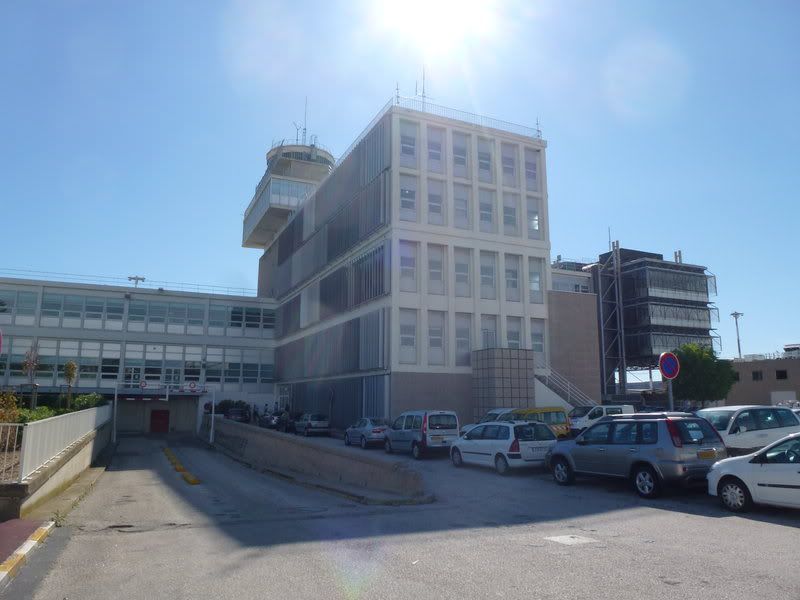 And this is the low cost terminal: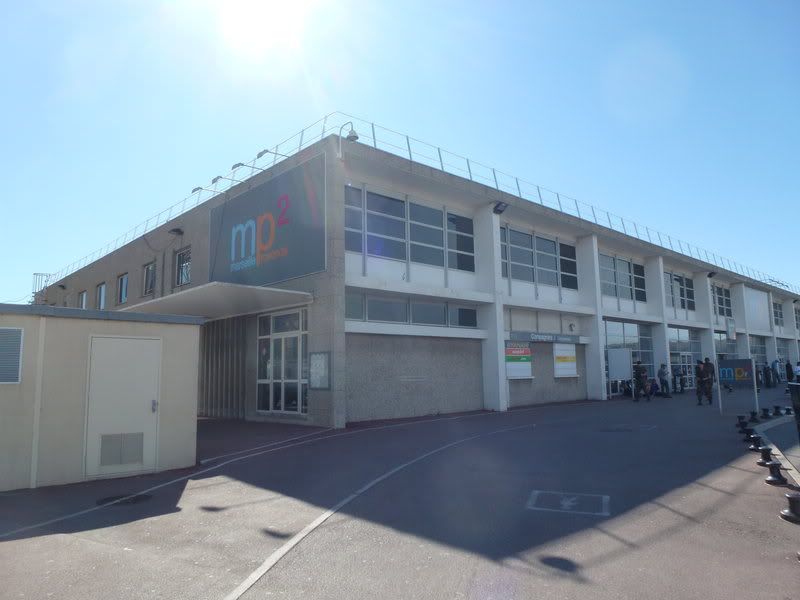 And I guess these are then the low cost airlines: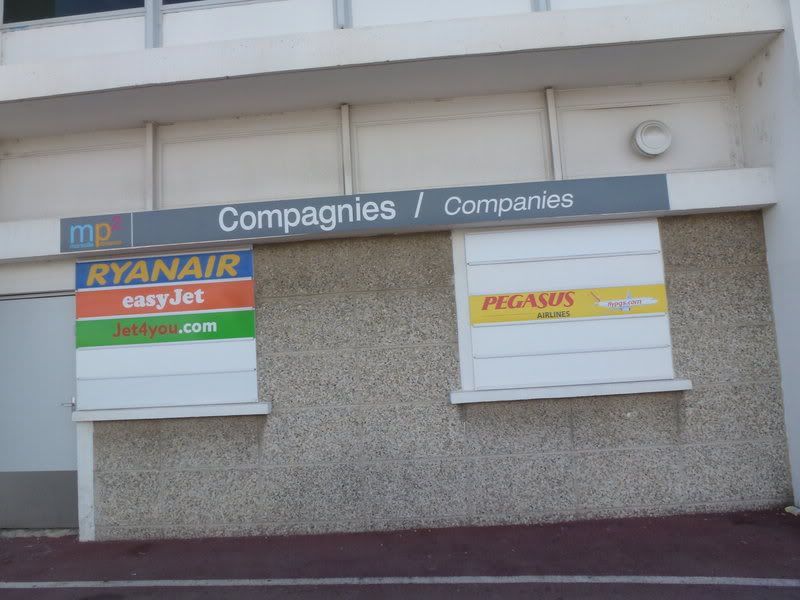 Inside, a certain low cost feel: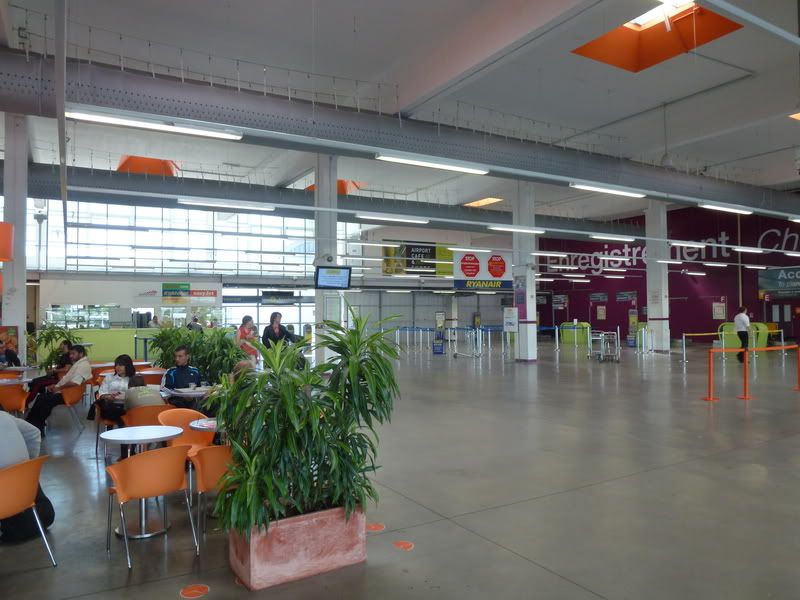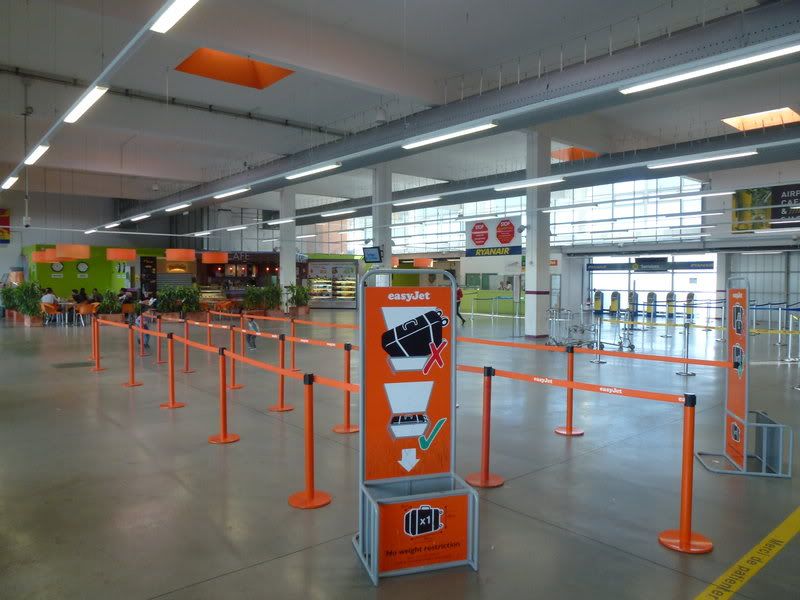 After savoring that low cost air for a while I decide I've had enough and stroll back to the high cost (anything but!) land. I decide to go through security and check out the airside. Upstairs before security there's definitely plenty of room to spread out or form a conga line but not sure what is up with the carpeting - heck in the Nordics we gave up on those things 30 years ago as people were getting so allergic: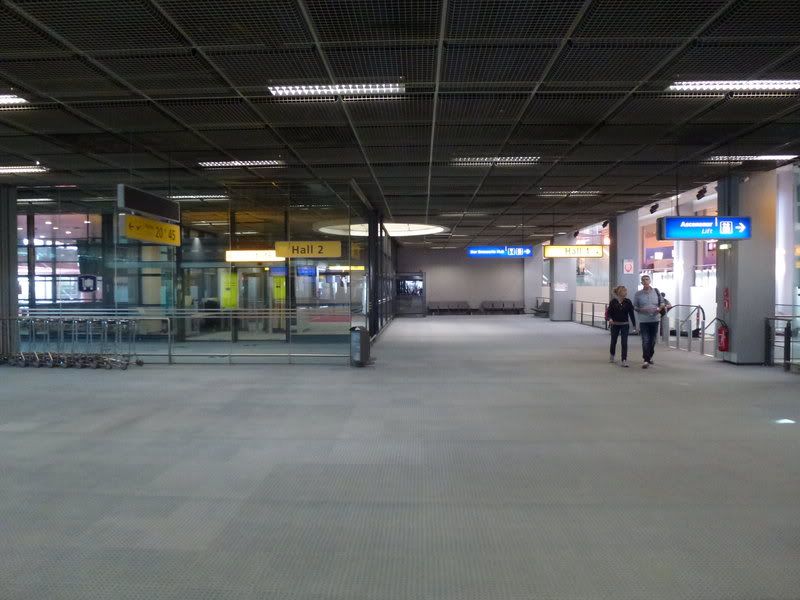 Security is a no issue, thru in no time at all and have a small chat with a funny Greek guy who has the world's largest laptop (that's not a portable computer anymore, more like a draggable one!) but points out that he is a graphical designer so he needs the screen estate. Fair enough.
Airside: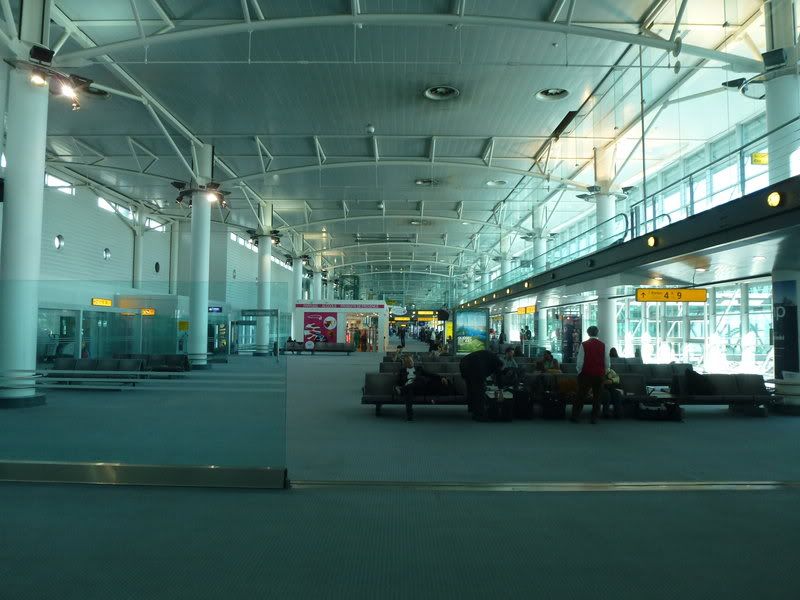 Not too many people around at all, well there's plenty of room here anyway. I explore the duty free shop a bit - and what do I see: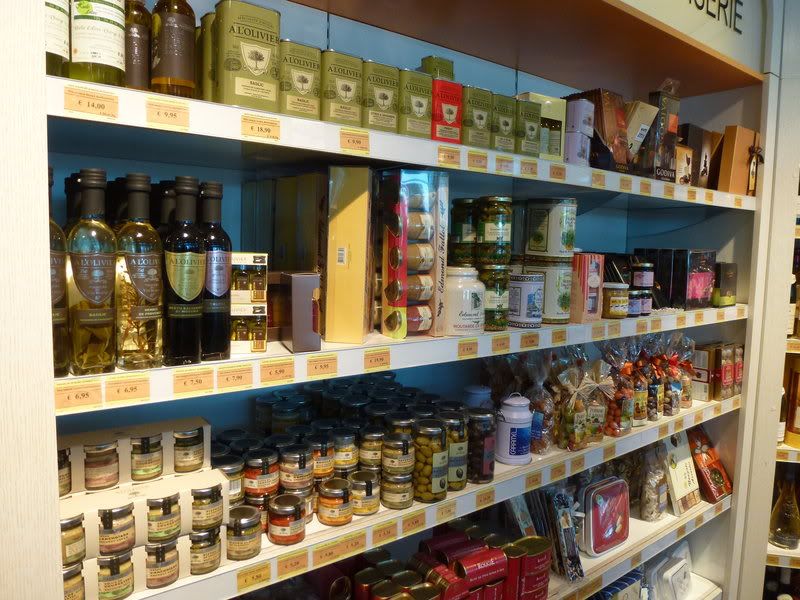 Yes, a whole wall of the best produce Provence has to offer! So I grab some very nice virgin olive oil plus the obligatory (but very good smelling!) bag of
Herbes de Provence
- my previous batch (bought many a moon ago at BRU airport of all places!) has almost run out so these will provide me with hours of culinary delights!
Not our plane today, I hope: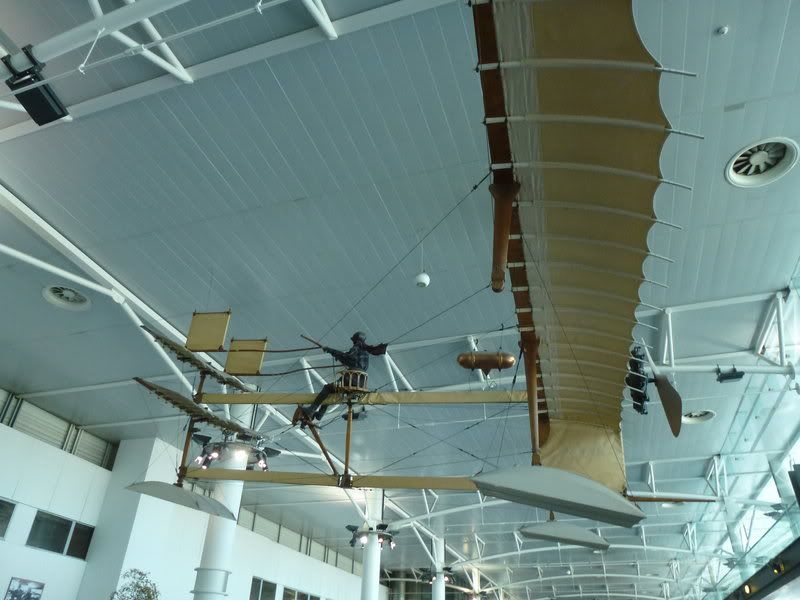 This terminal is connected to the Air France one by a narrow corridor but lined with large windows on the other side - perfect for spotting. So that's where I head and checkout the visitors as I go.
One day I'll fly this airline, I promise: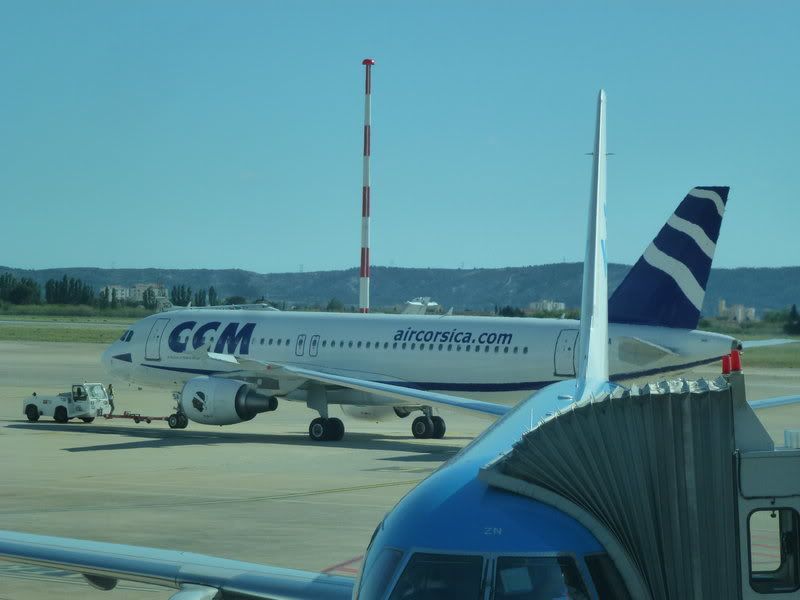 Top