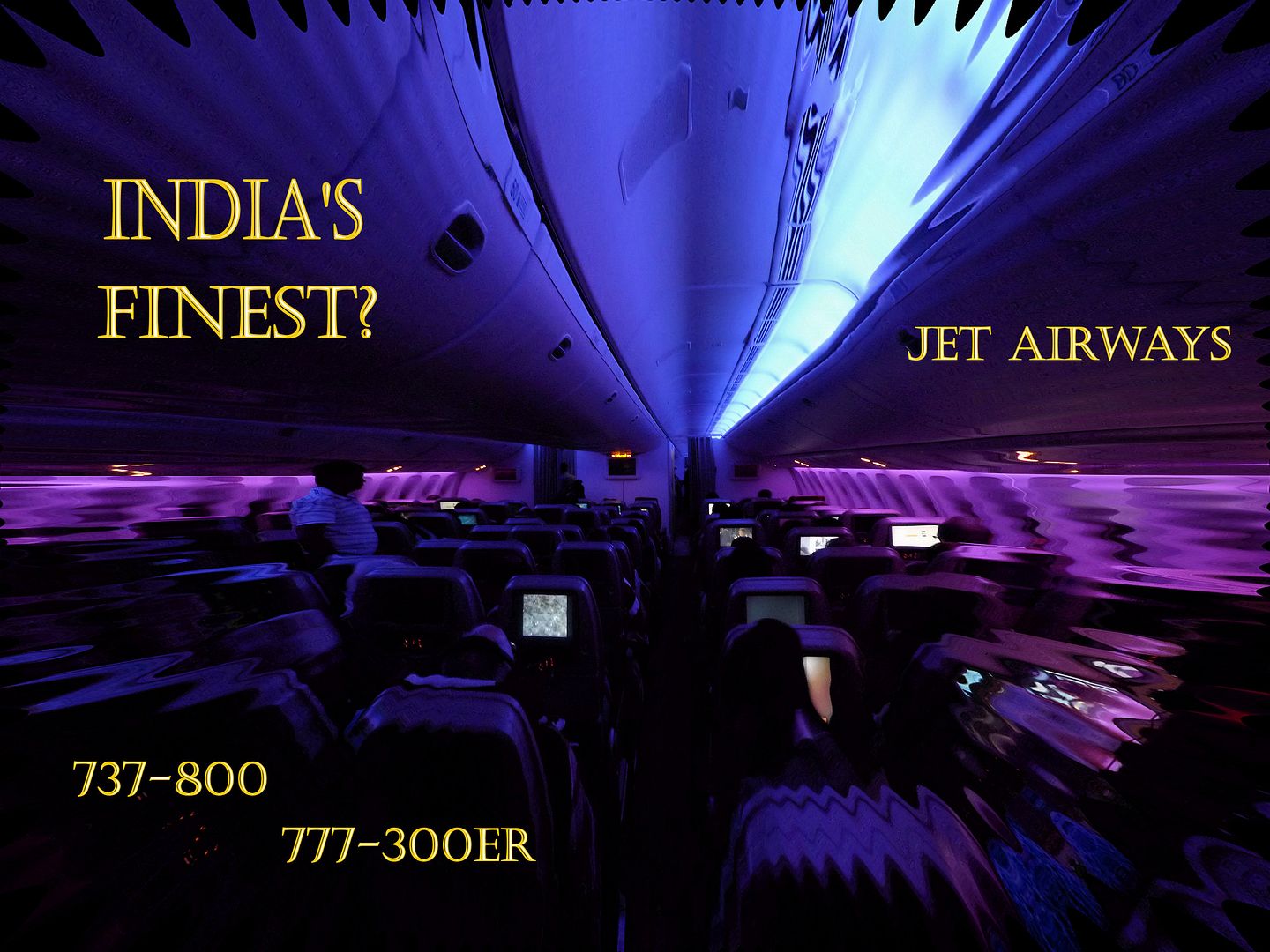 Map generated by the Great Circle Mapper - copyright © Karl L. Swartz
Background
I early 2011 my friend Satchmo and I decided to go on a spotting trip to Asia in late October. We had been planning to visit Singapore and Kuala Lumpur from the very beginning and focused on getting on Qantas' A380 between LHR and SIN. I had flown Qantas before, but I wanted to increase the number of A380 carriers in my log to five. At a later date, we also decided to include Jakarta where we had never been before. Of course we tried to get as many new airlines and interesting types as possible and it took a while to create an exciting itinerary. Finally, we booked 10 flights operated by 8 different carriers (including four new ones) and reserved hotel rooms in Singapore (one night), Kuala Lumpur (one night), Jakarta (two nights) and Bangkok (one night). We exclusively combined one-way flights and one-way combos, so we had eight different flight reservations in the end. Here's what the preliminary itinerary looked like:

Munich-London
London-Singapore
Singapore-Kuala Lumpur
Kuala Lumpur-Jakarta
Jakarta-Singapore
Singapore-Phuket
Phuket-Bangkok
Bangkok-Mumbai
Mumbai-London
London-Munich

While Satchmo was planning to use our entire time at Jakarta for taking pictures, I decided to squeeze in a domestic day trip. I found an interesting combo on two new carriers and added three more flights:

Jakarta-Semarang
Semarang-Surabaya
Surabaya-Jakarta

Now I was looking forward to 13 flights on 10 different carriers - including 6 new ones - and 4 widebodies. At that point of time I couldn't imagine that I would end up on 14 flights, 7 new airlines and 5 widebodies.
Parts I, II, III and IV can be found here:
QF A380 Grounded, Bags Lost - LHR-SIN, TK A330/340
(by
PlaneHunter
Jan 30 2012 in Trip Reports)
Widebody Hopping & KUL Spotting: SIA A330, KLM 77W
(by
PlaneHunter
Feb 21 2012 in Trip Reports)
Blast From The Past: Sriwijaya 732 & Lion Air 739
(by
PlaneHunter
Mar 7 2012 in Trip Reports)
3x Asian Quality: CGK-SIN-HKT-BKK On GA, FD & PG
(by
PlaneHunter
Mar 27 2012 in Trip Reports)
Queen's Garden Resort & Suvarnabhumi Spotting
After our arrival from Phuket, we took the hotel shuttle to the
Queen's Garden Resort
located five minutes from the airport. Even though we had read numerous negative reports about the hotel, we decided to stay there because the rooftop is excellent for spotting (depending on the approach direction, though). After checking in at a kind of reception area next to the main building's entrance, it turned out that our room was located in another building some 200 meters away. The shuttle driver brought us there and showed us the room. Unfortunately, the simple building wasn't equipped with an elevator, so we had to climb the stairs with our luggage. The room was small and simple and the heat in there was horrible. Before being able to do anything else, we had to cool down the room.
We had planned to switch off the air conditioning device at night, but that turned out to be a bad idea. Temperatures went up quickly, so we had to switch it on again. In order to avoid the cool air being blown at us all the time (I had already been sick), we had to rearrange the furniture in the room which made lots of noise. We didn't hear any complaints, fortunately.
On the next morning, we went to the main building for breakfast which wasn't great either. This is the main building's front side:
There's the other building were our room was located, seen from the main building's rooftop: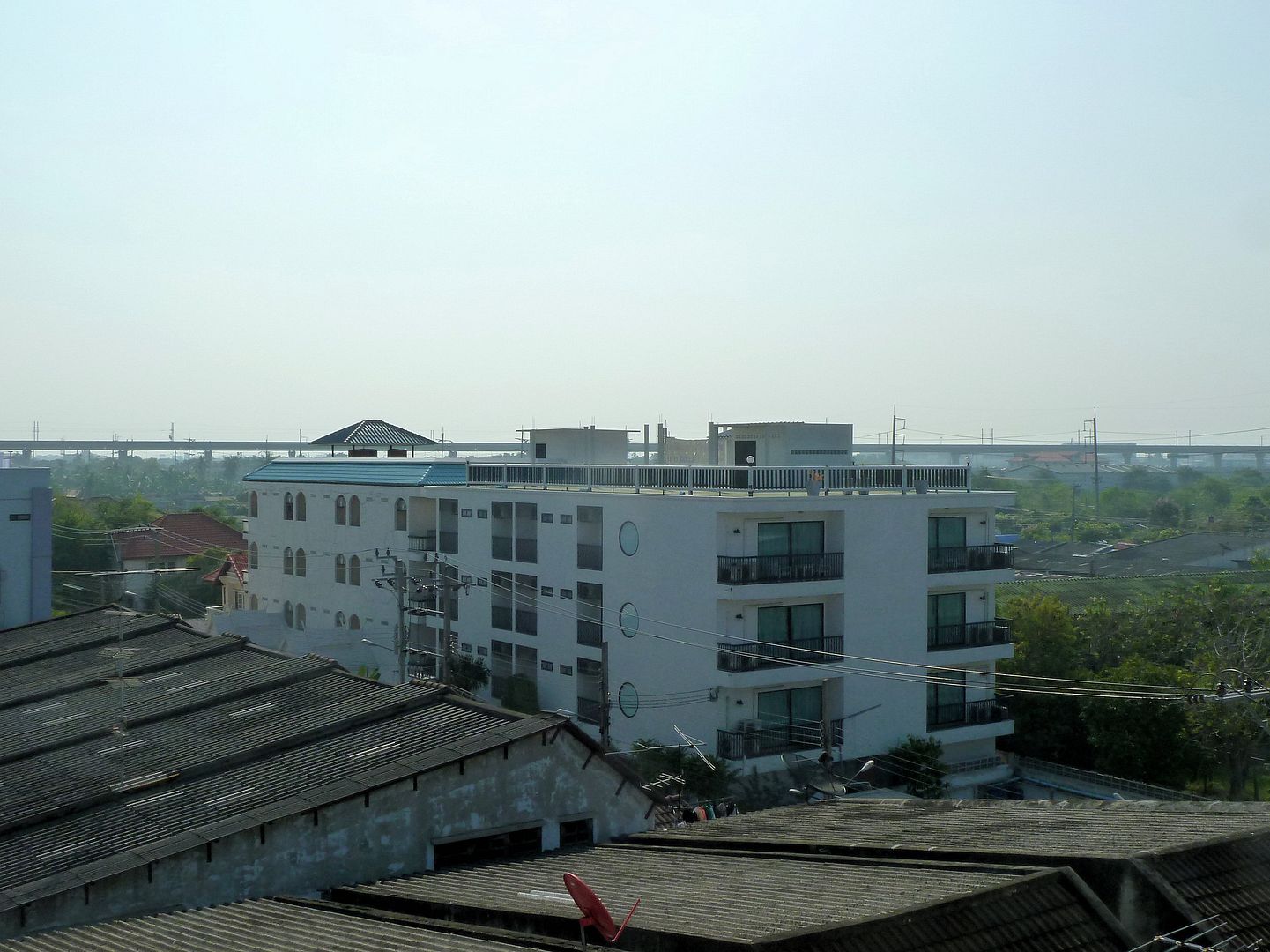 Nice traditional roofs and rail station in the background:
The water level was high, but not threatening in this part of the city:
Sandbags had been prepared for the worst case:
This is the entrance of our hotel building: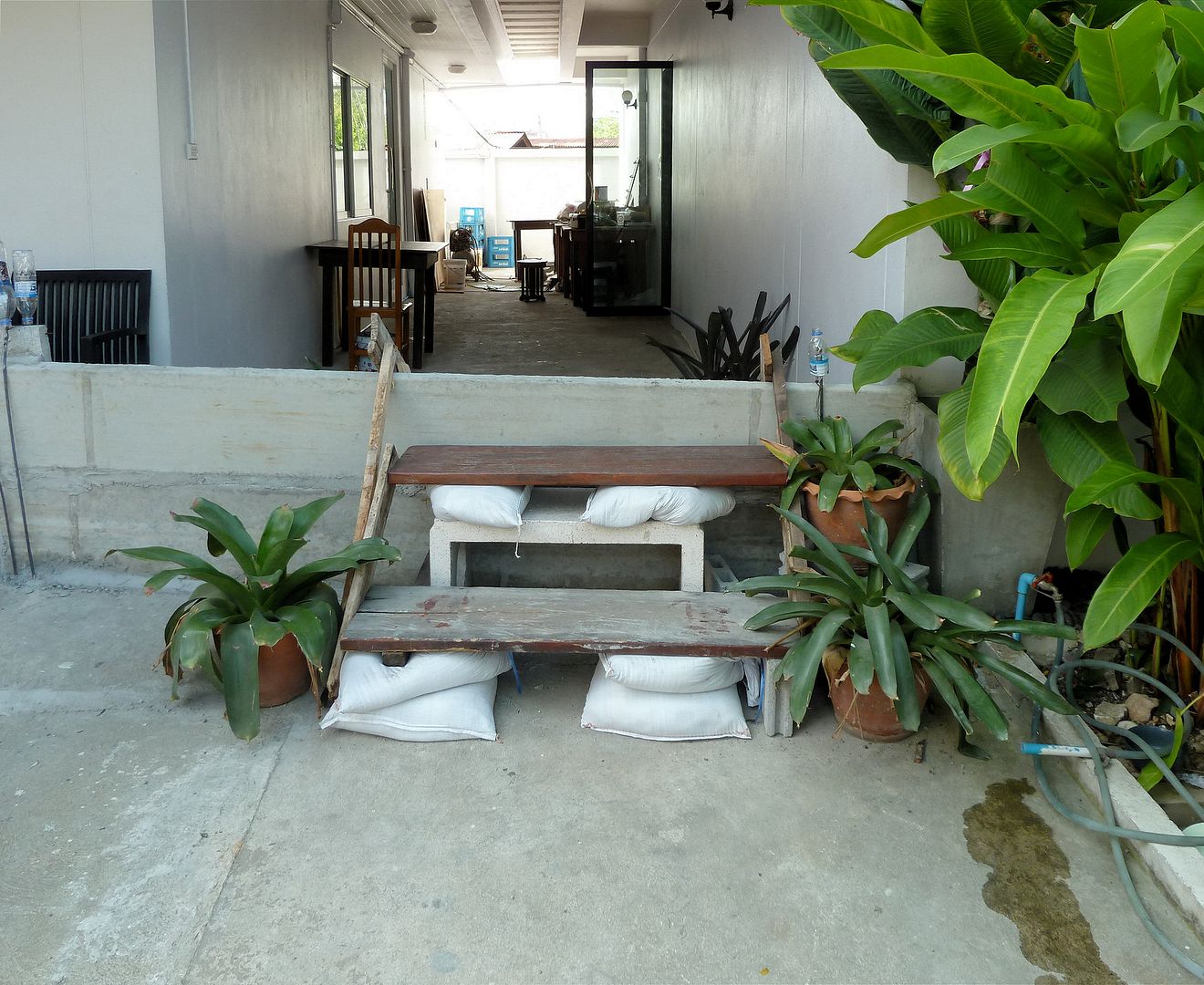 Our room's balcony: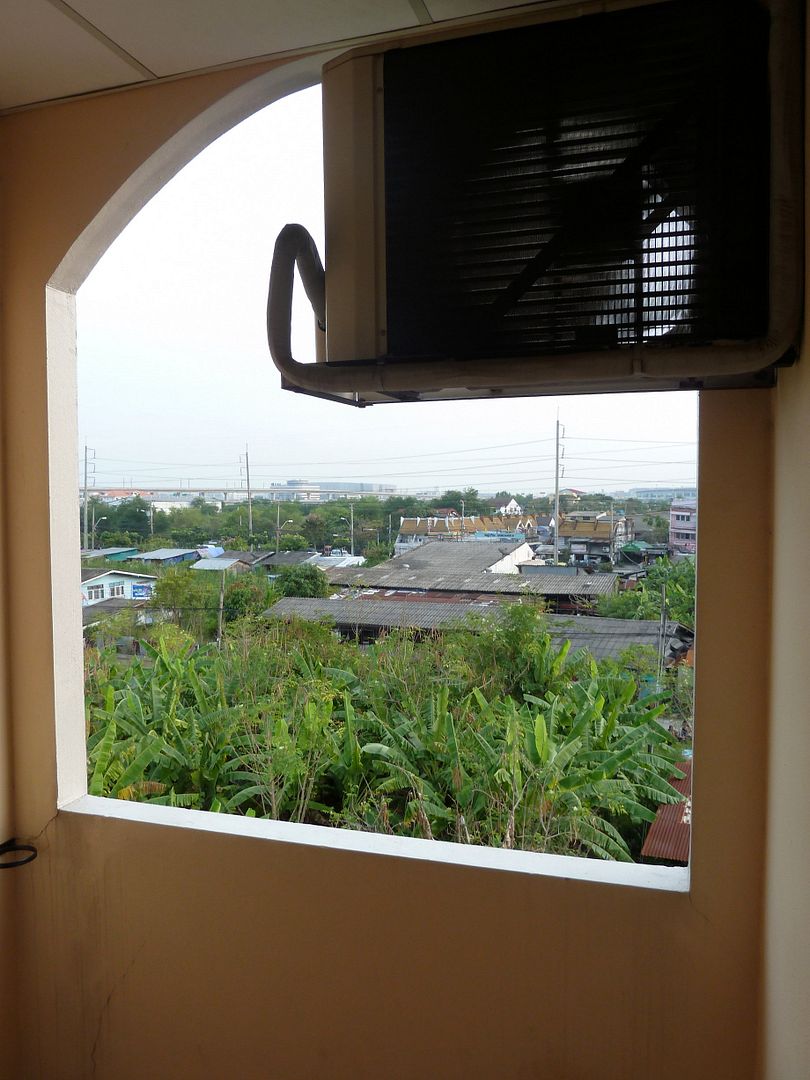 Neighborhood: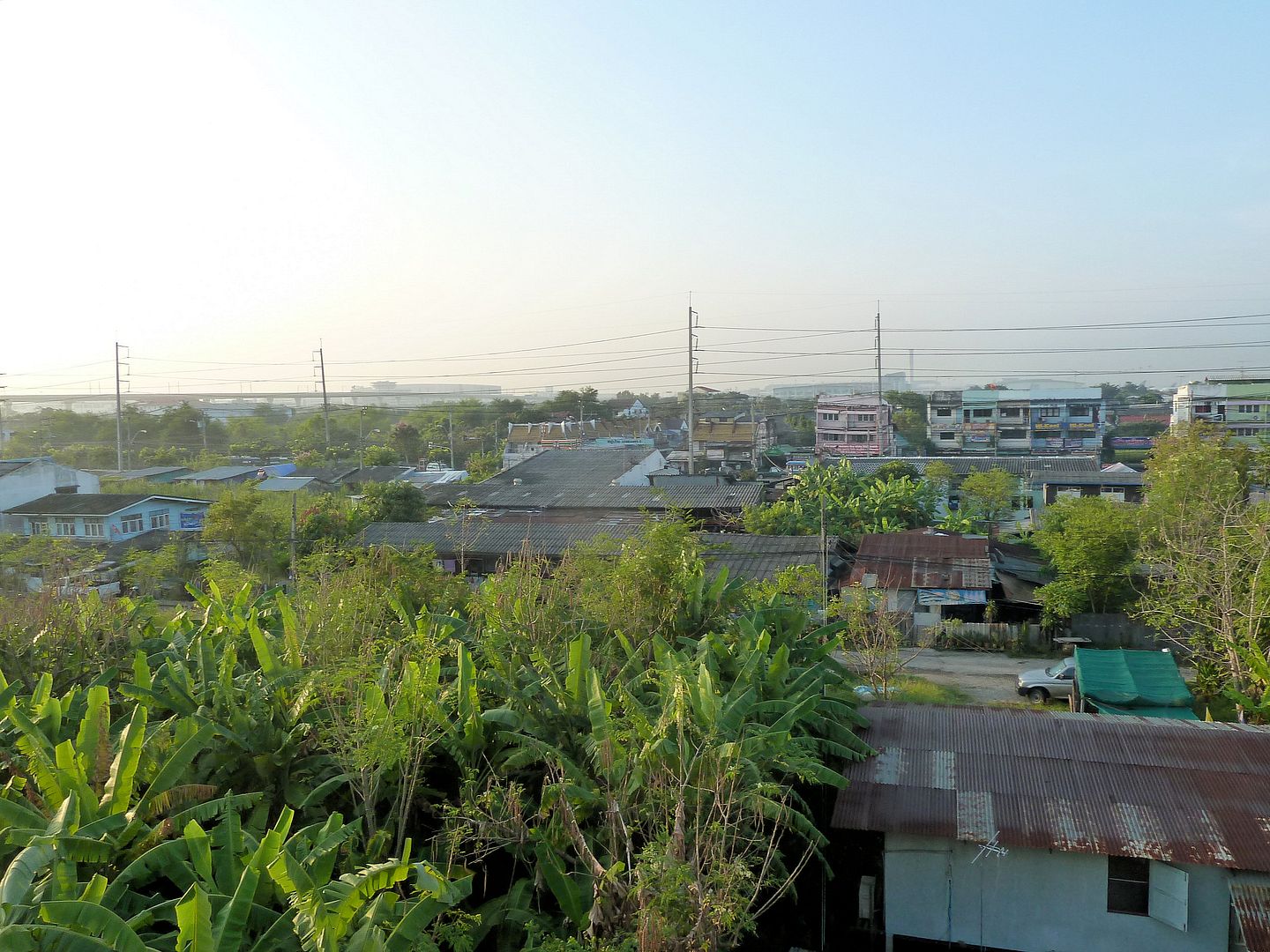 ATC tower: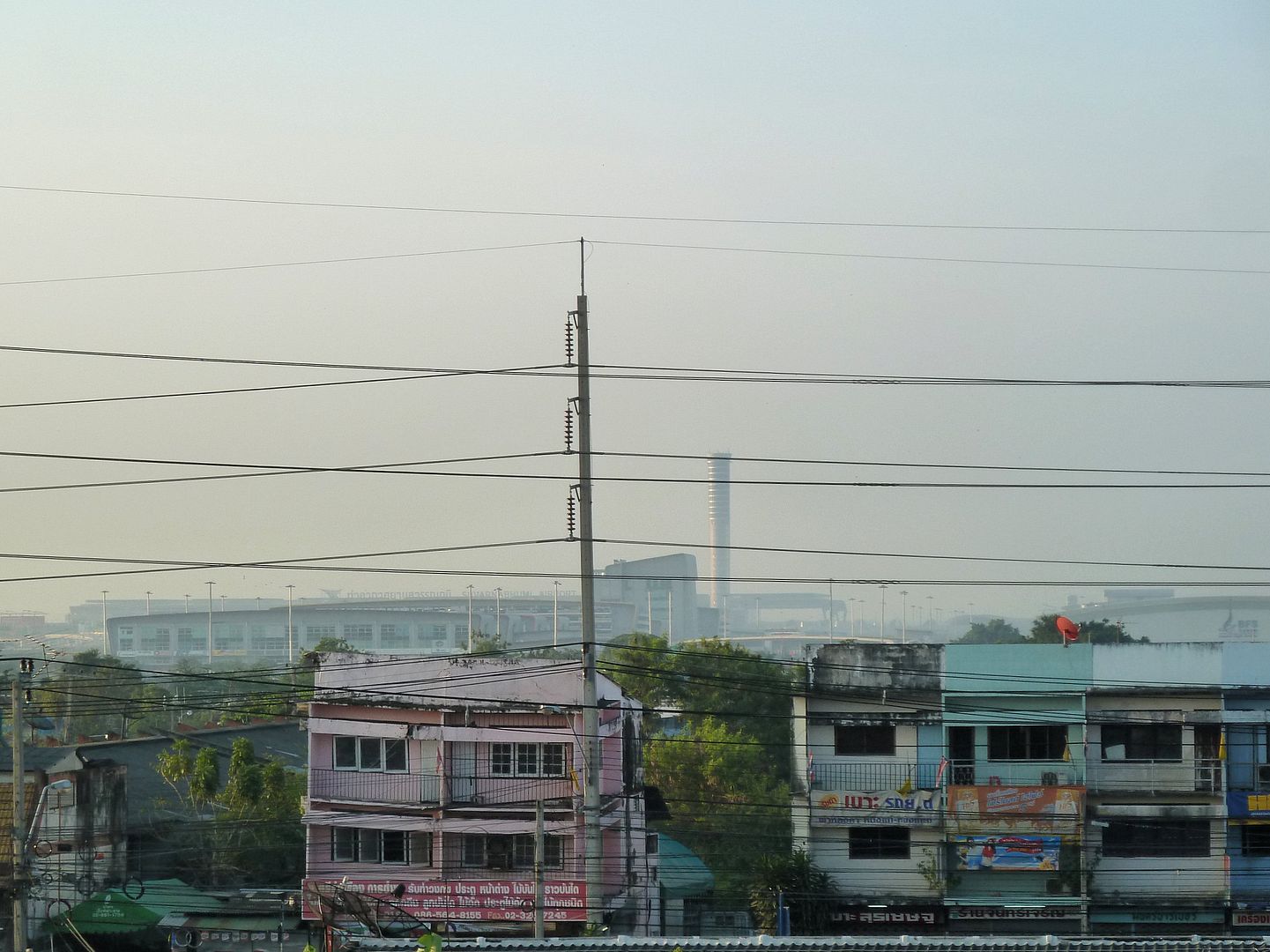 No, this is not the hotel's pool area:
Trees under water: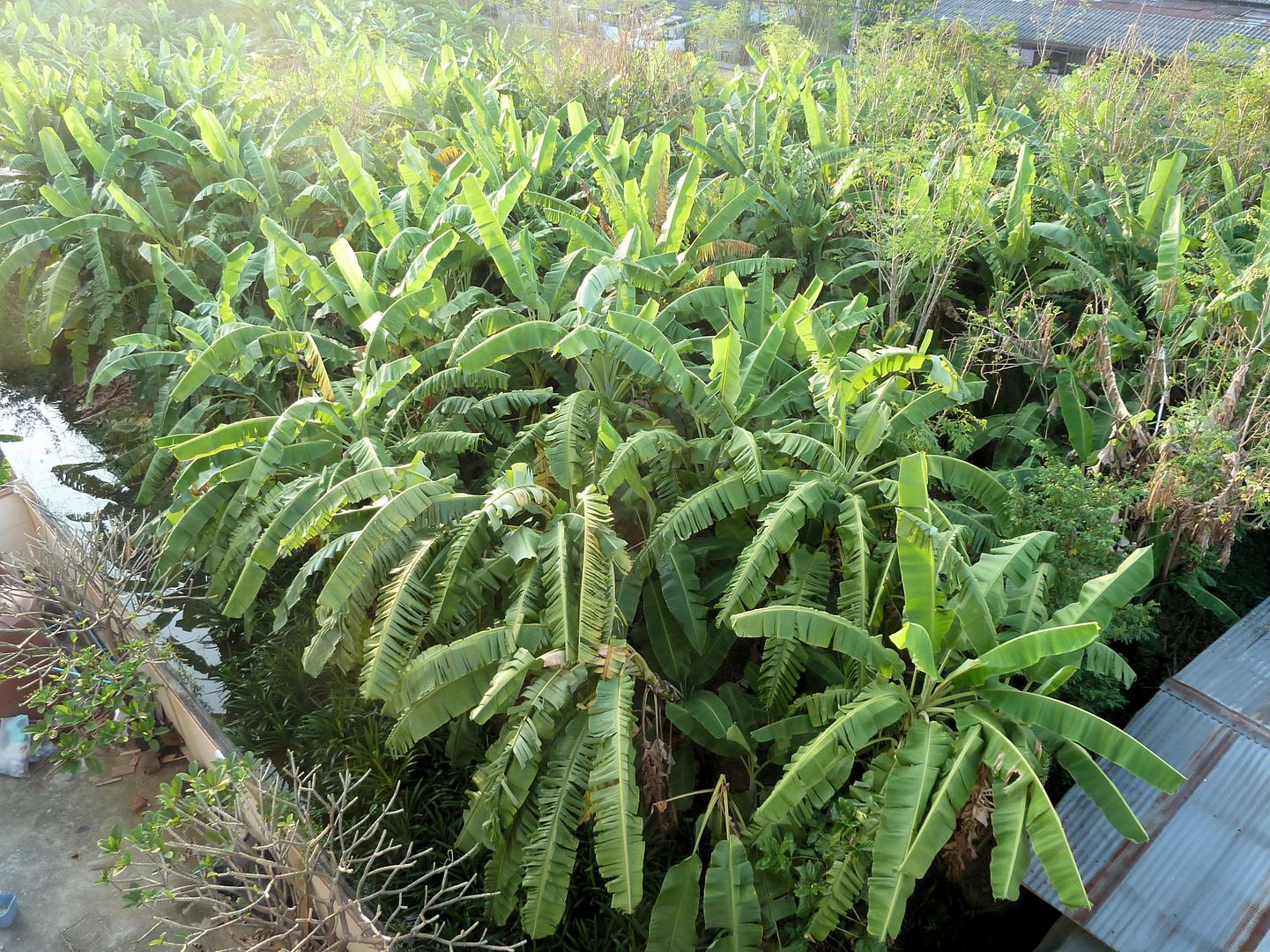 Unfortunately, the planes were approaching from the wrong side on that day. All we could see from the hotel's rooftop were departing aircraft - too high up in the sky. It was possible to read the registrations in most cases, but I wasn't feeling good enough and decided to stay in the room in order to rest. I could see some planes from the balcony and could even log some registrations - but certainly not as many as I had been hoping for.
Satchmo
met a spotter from Sweden at the hotel and they decided to explore the airport's surroundings together. They were successful and took many nice pictures during the course of the day. Here are some examples:
EVA Air Boeing 777-35EER B-16709: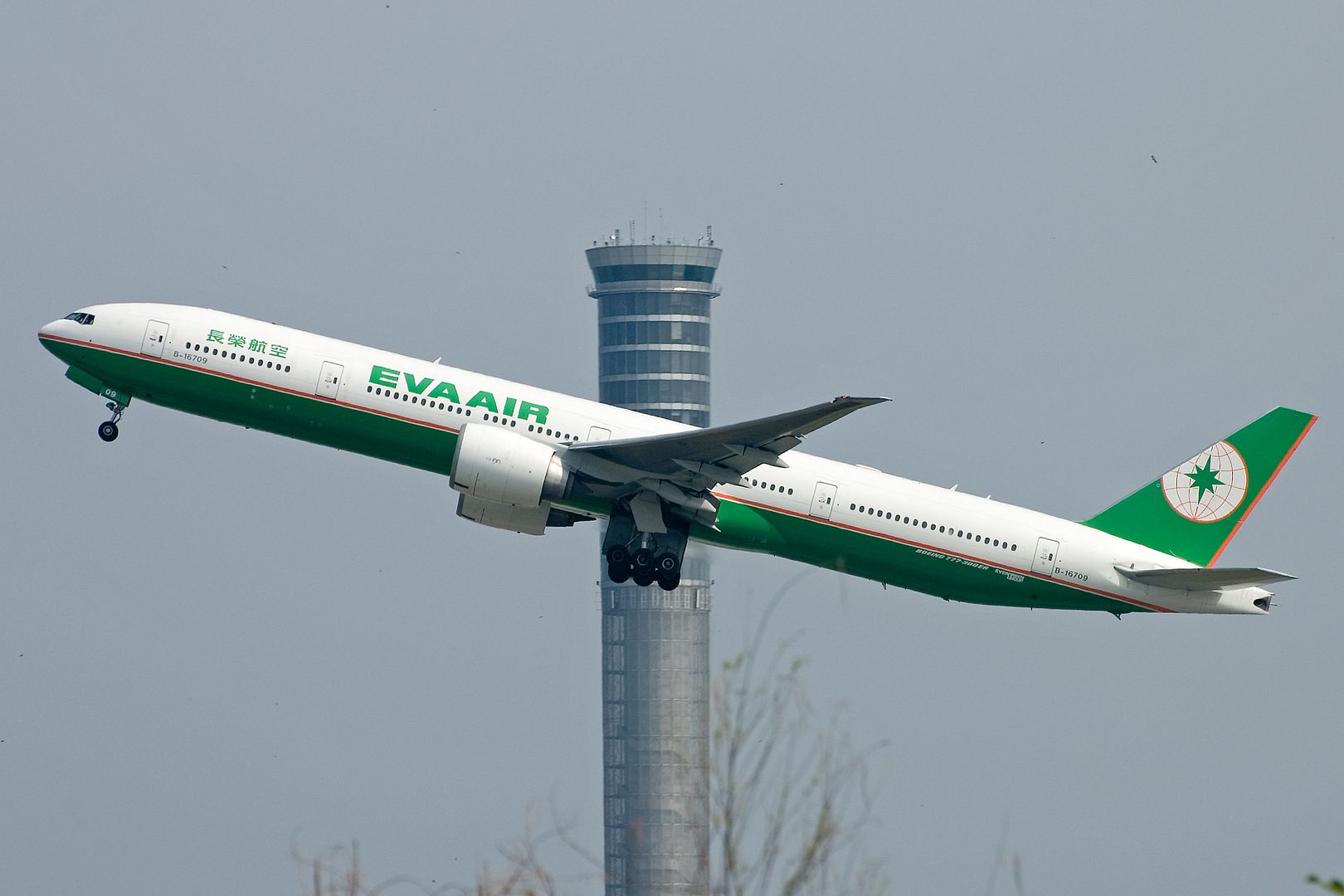 Picture by Satchmo
Nordwind Airlines Boeing 767-306ER VQ-BMQ - users
MSS658
and
Lufthansa747
once flew on that bird when it was still operating for KLM as PH-BZE: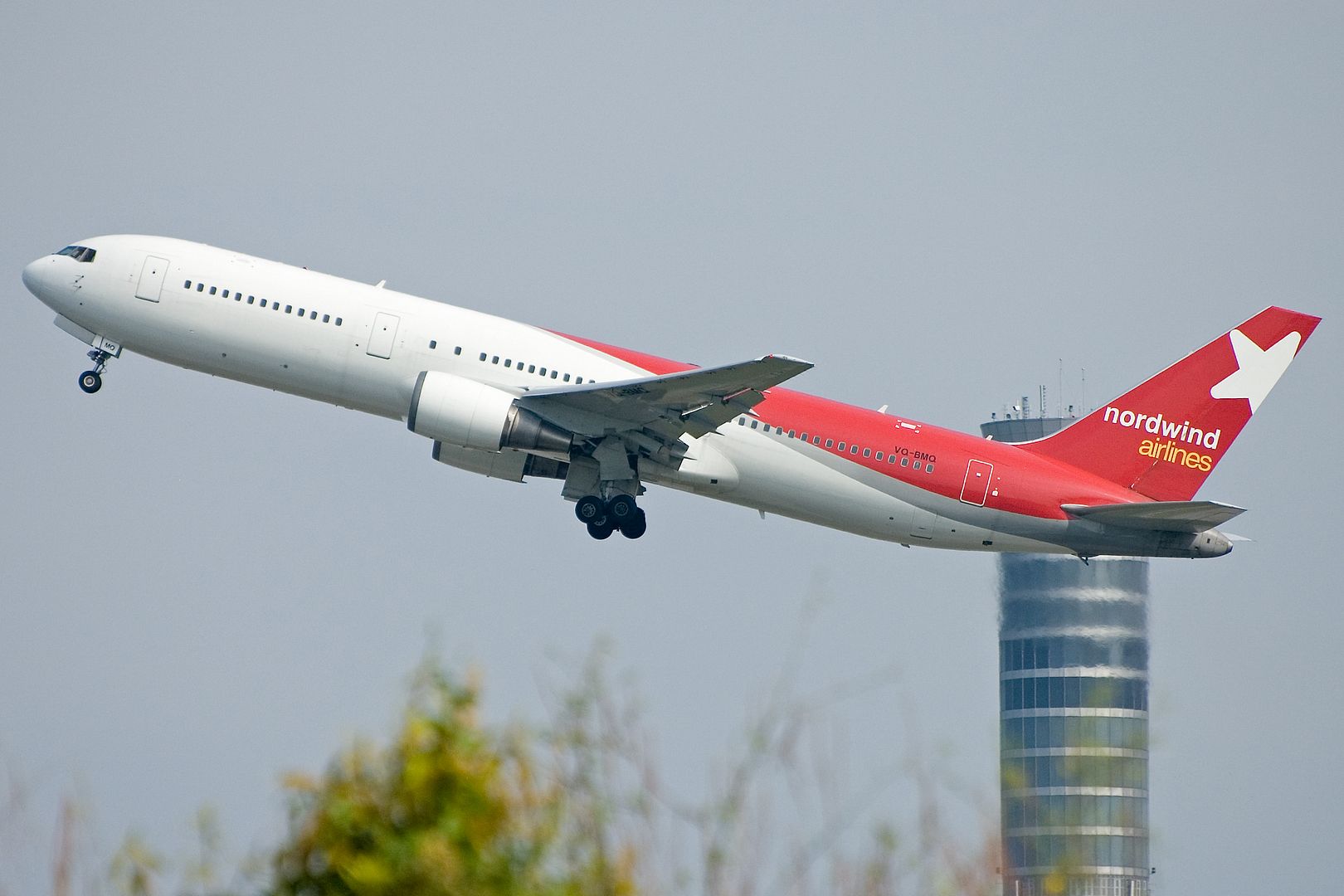 Picture by Satchmo
EgyptAir Boeing 777-36NER SU-GDR: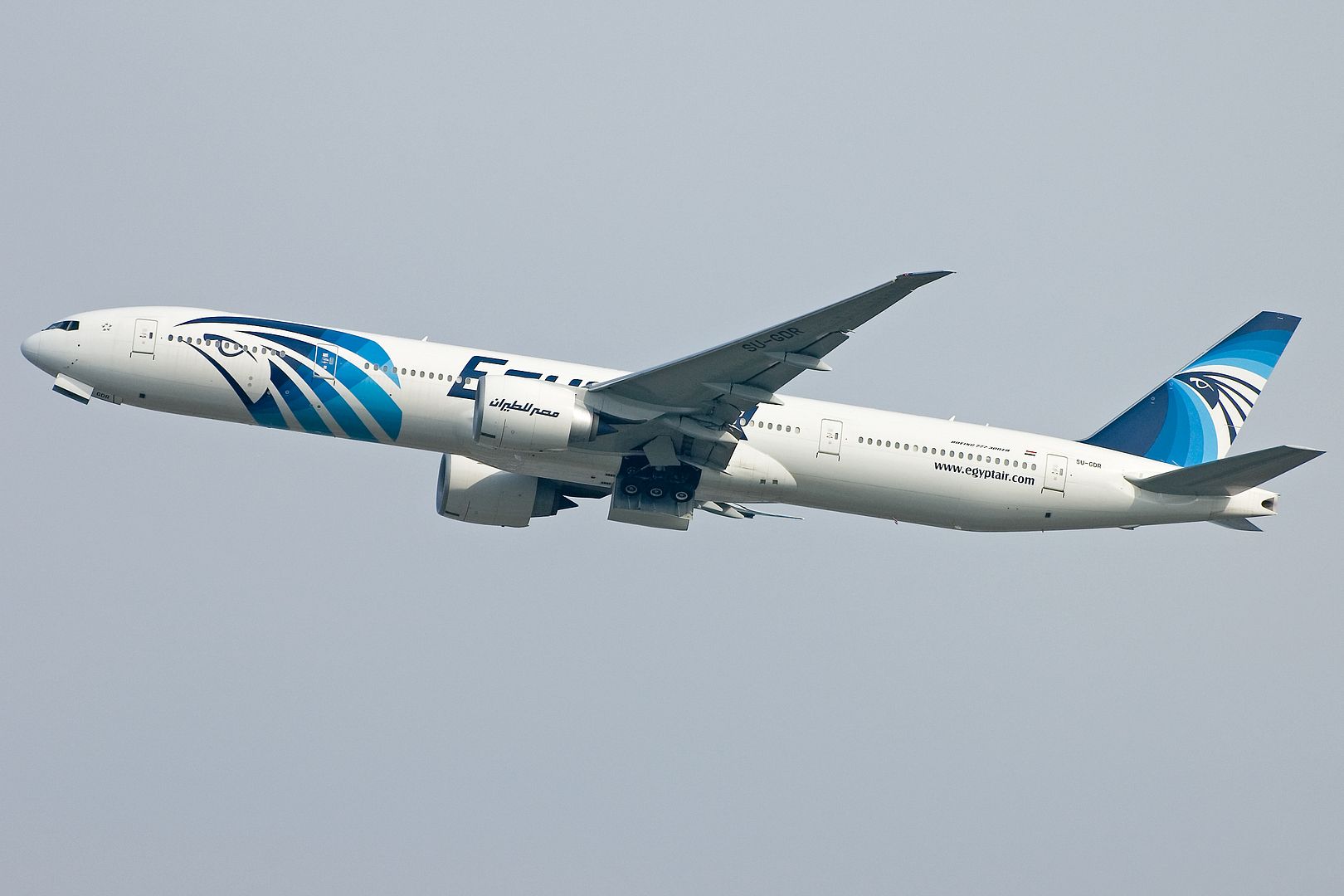 Picture by Satchmo
Royal Brunei Airlines Boeing 777-212ER V8-BLF - user
Econojetter
took a flight on that plane when it was still operating for Singapore Airlines as 9V-SVD: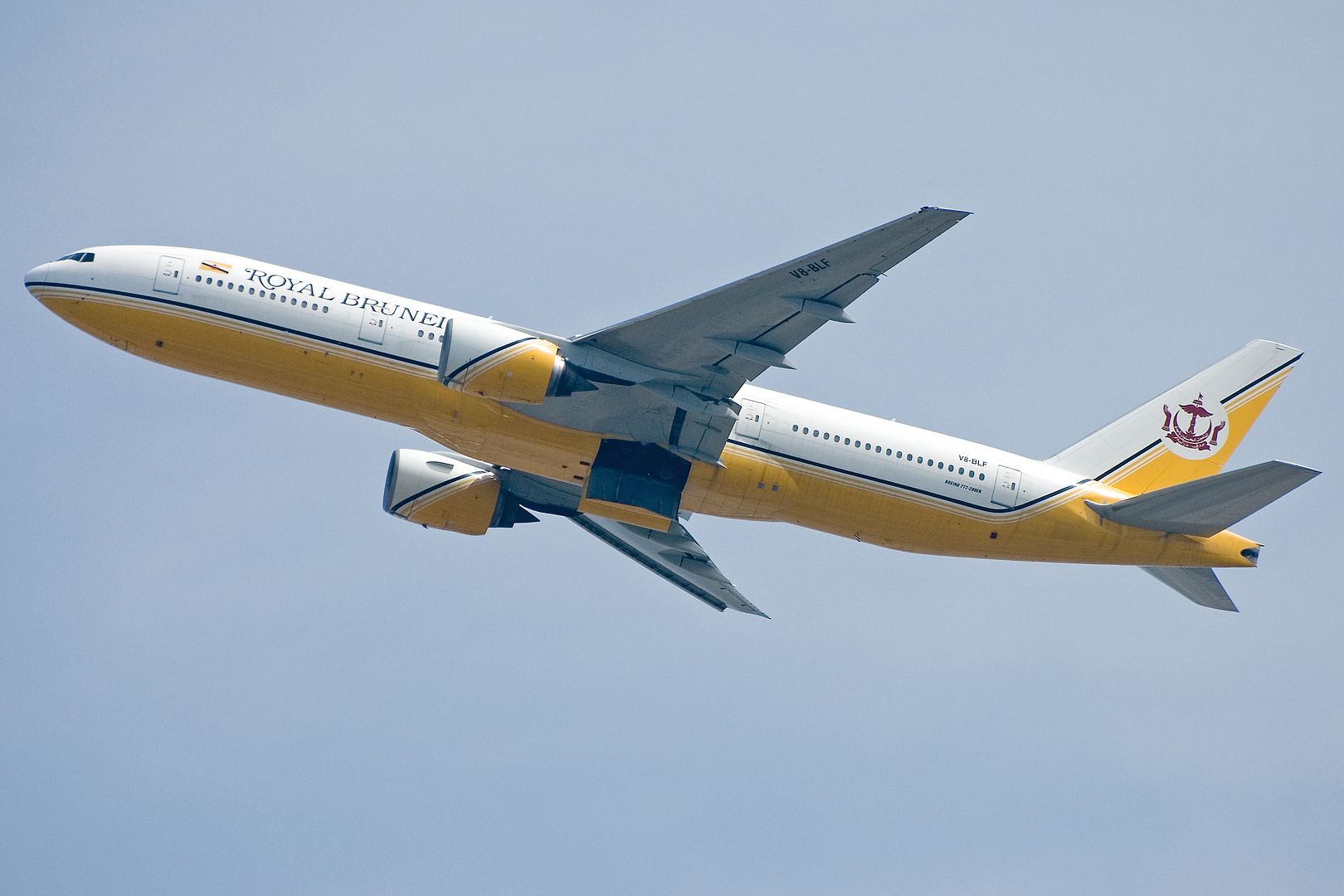 Picture by Satchmo
Thai Airways A340-541 HS-TLA, named "Chiang Kham" :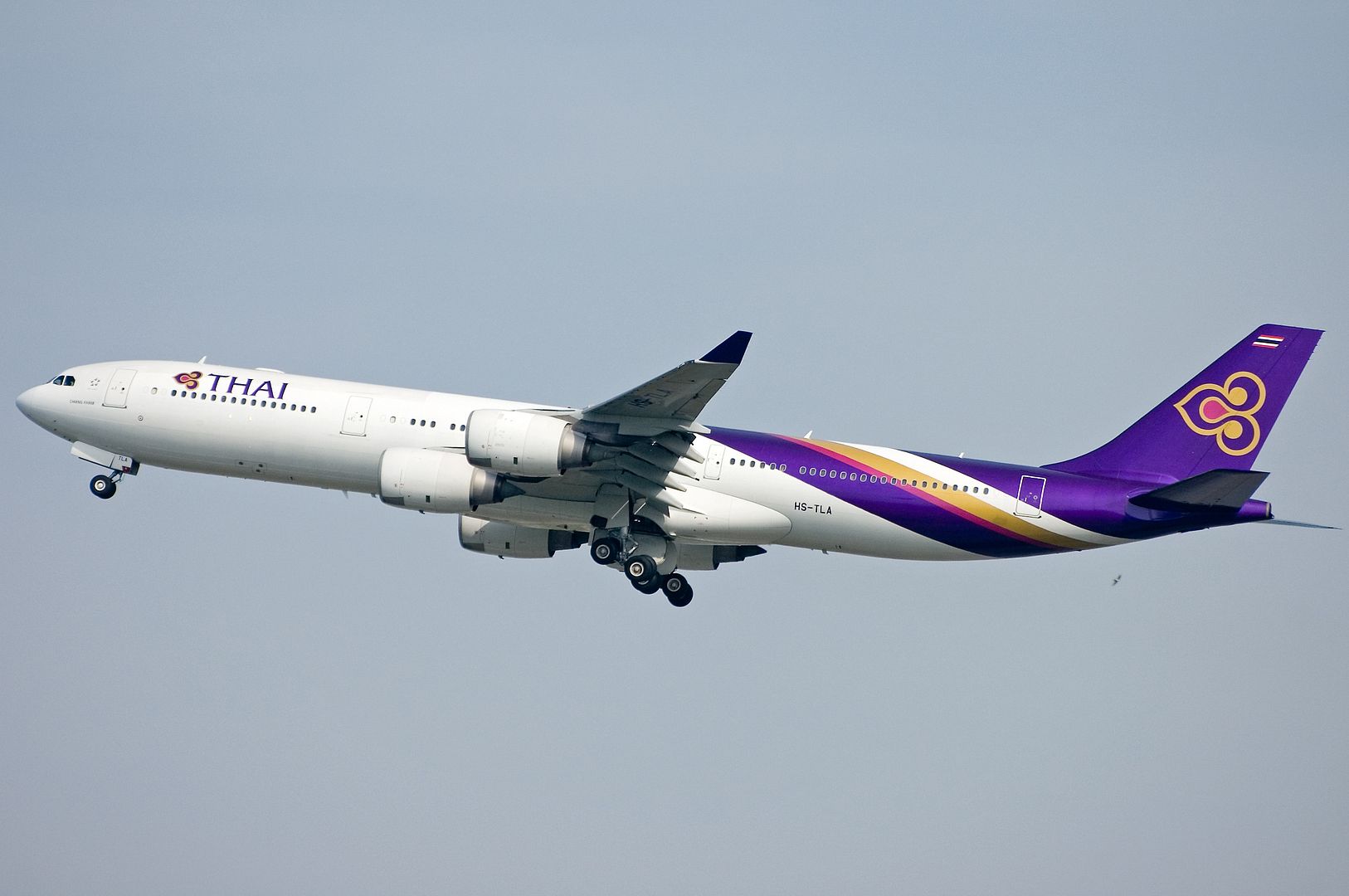 Picture by Satchmo
HS-TLA operated the airline's first commercial A340-500 flight from Bangkok to Phuket in April 2005 and guess who was on board? User
Lufthansa747
.
Airpearl
flew on that plane several times, too.
Nok Air Boeing 737-4M0 HS-DDQ, named "Nok Kiwi":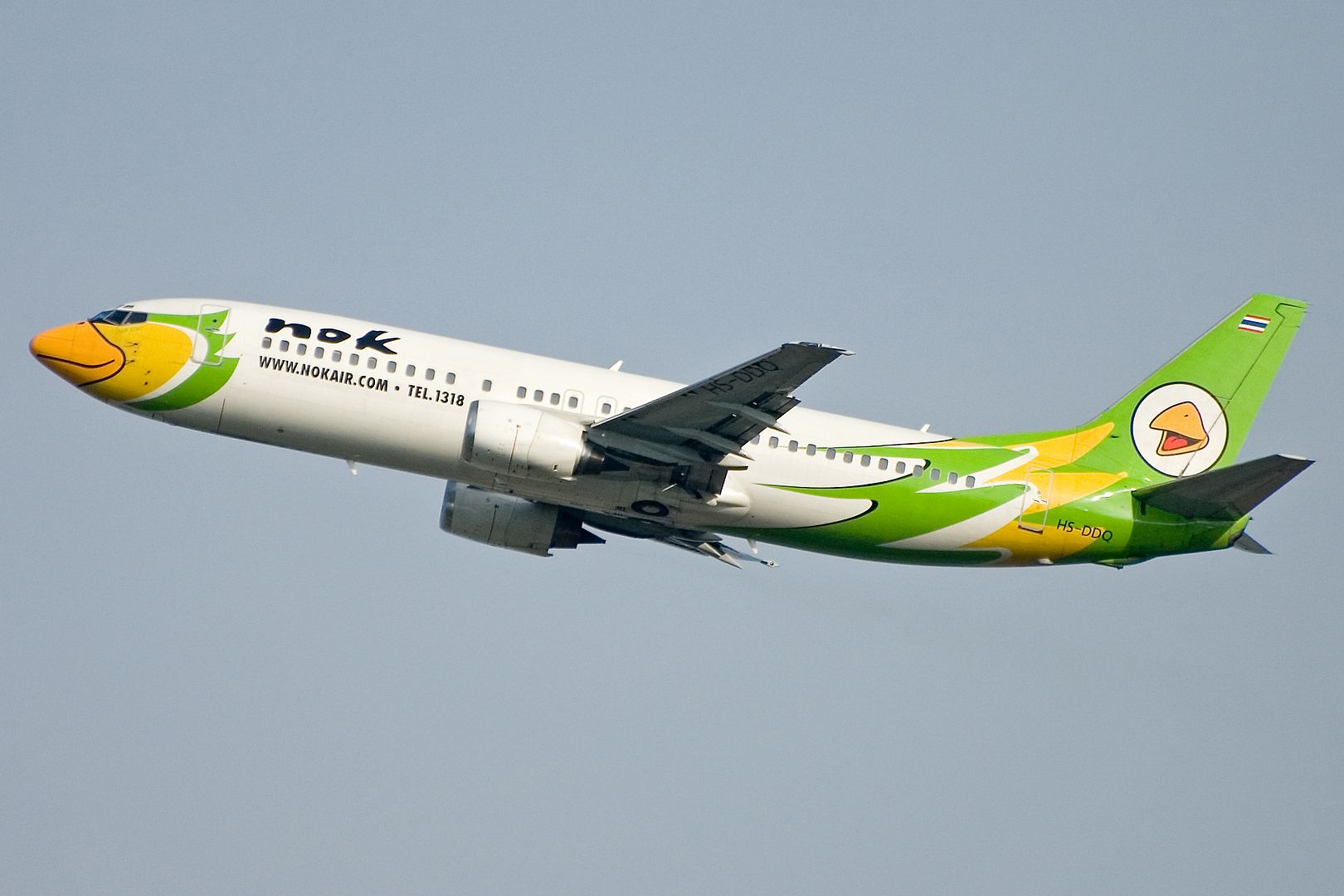 Picture by Satchmo
Last but not least - Thai AirAsia A320-216
HS-ABD
in "Truly ASEAN" colors which had flown us from Singapore to Phuket on the day before: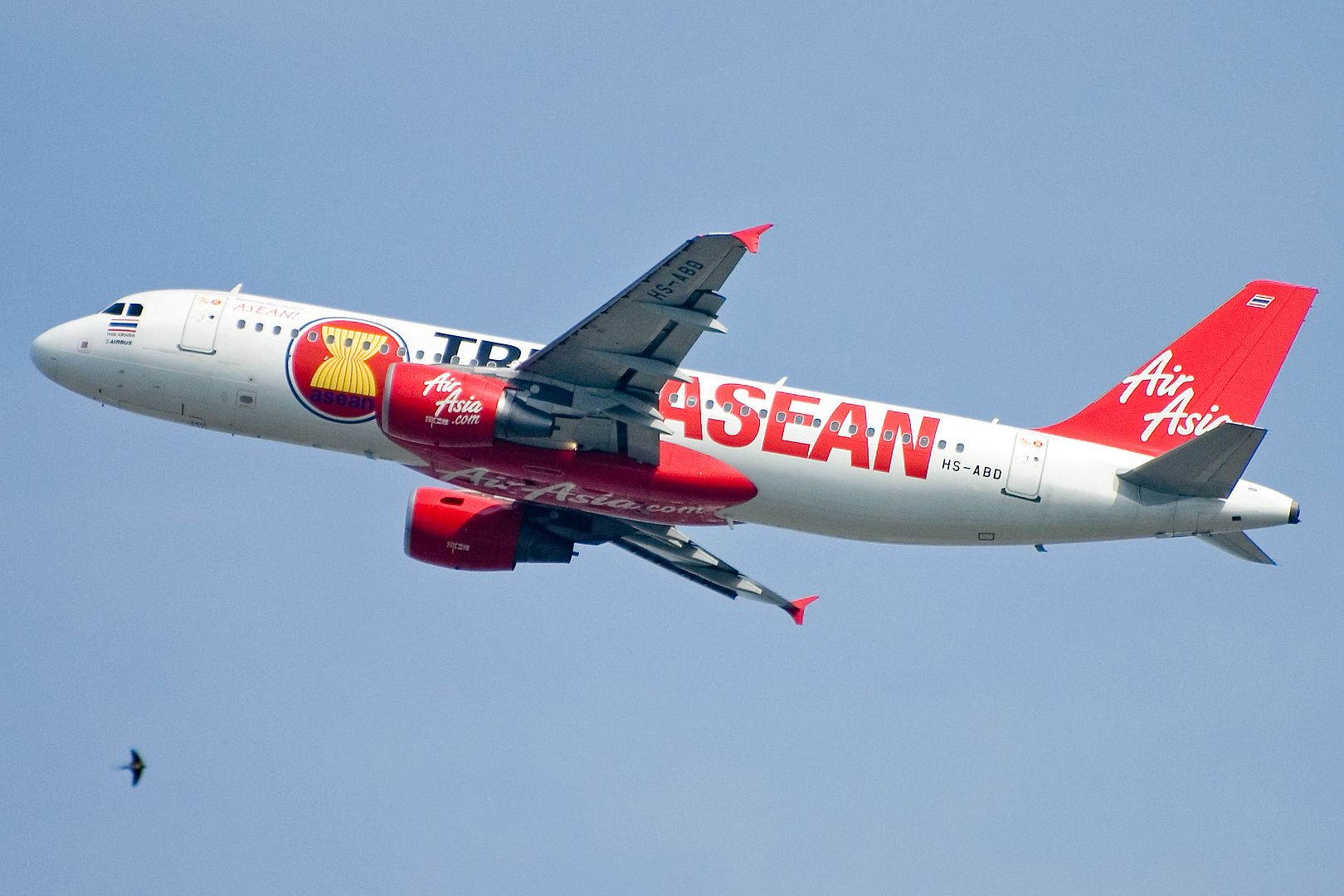 Picture by Satchmo
Friday, November 2011
Bangkok (BKK) - Mumbai (BOM)
Jet Airways 9W067
Scheduled times: 20:55-00:10
Actual times: 20:52-00:02
Flight duration: 04:07 (hrs)
Distance: 1885 miles
Economy Class, seat 31C
Boeing 737-85R
VT-JGW (s/n 2297)
Delivered in 06/2007
1st flight on VT-JGW
26th 737-800 flight
37th 737 NG flight
65th 737 flight
130th airline
About three hours before departure, we took the hotel shuttle to the airport. Even though the hotel is nothing to write home about, it offers free Wi-Fi, so we had been able to check in online for our flights on the evening before. And of course we had been happy that 61H and 61K in the last row were still available on the 777 - it's interesting to note that there are only two 2-seat rows on the plane. On the 737 flight, we chose 31C and 31D in the last row - two opposing aisle seats. The check-in process at the airport was fast and efficient, only few people were waiting in queue when we arrived there.
9W067 to Mumbai was also operating as SN4138:
Picture by Satchmo
Impressive artwork and flowers in the check-in hall: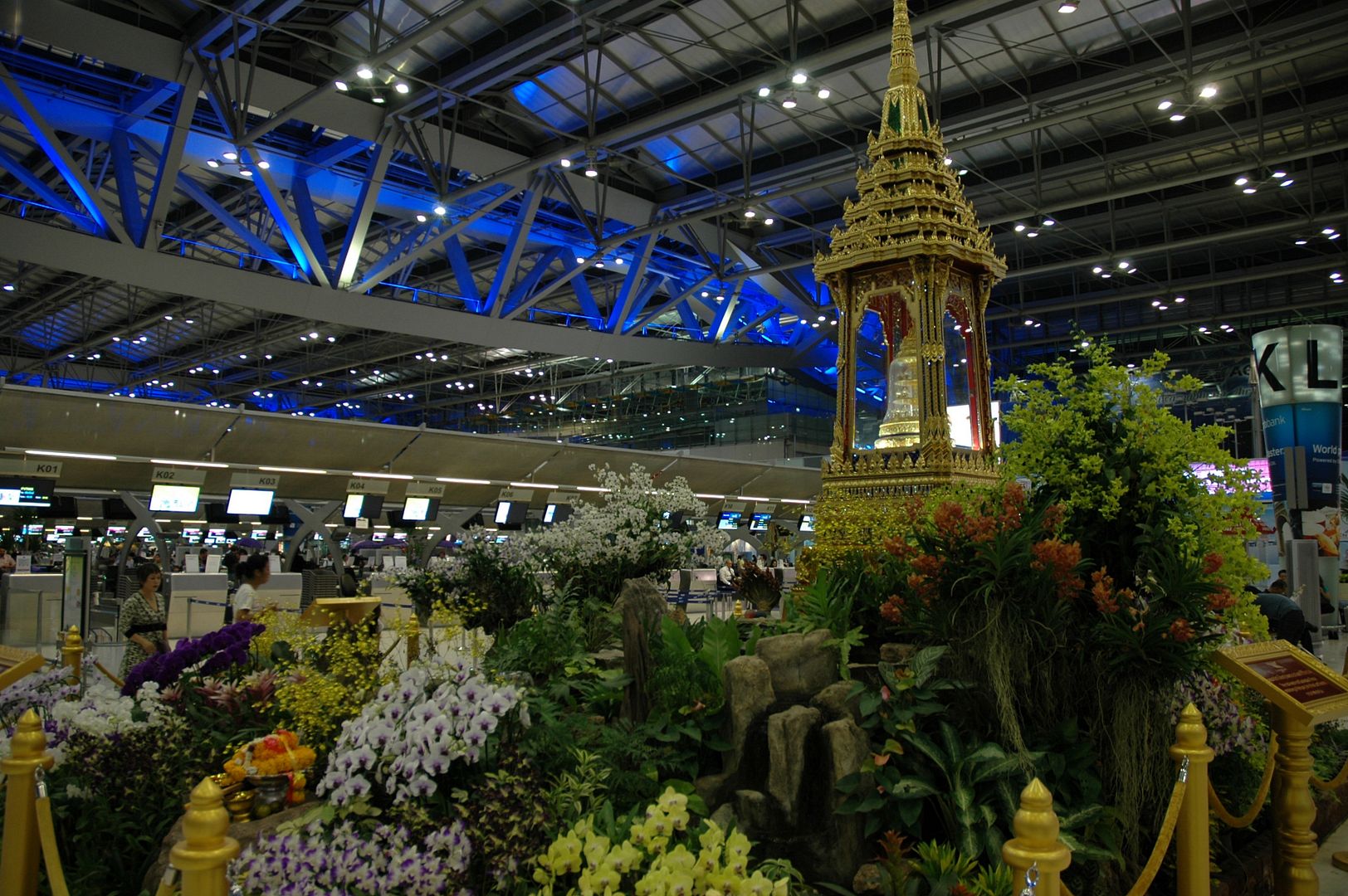 Picture by Satchmo
Clearing passport control and passing security didn't take very long either on that evening. Spotting was impossible due to the window layout...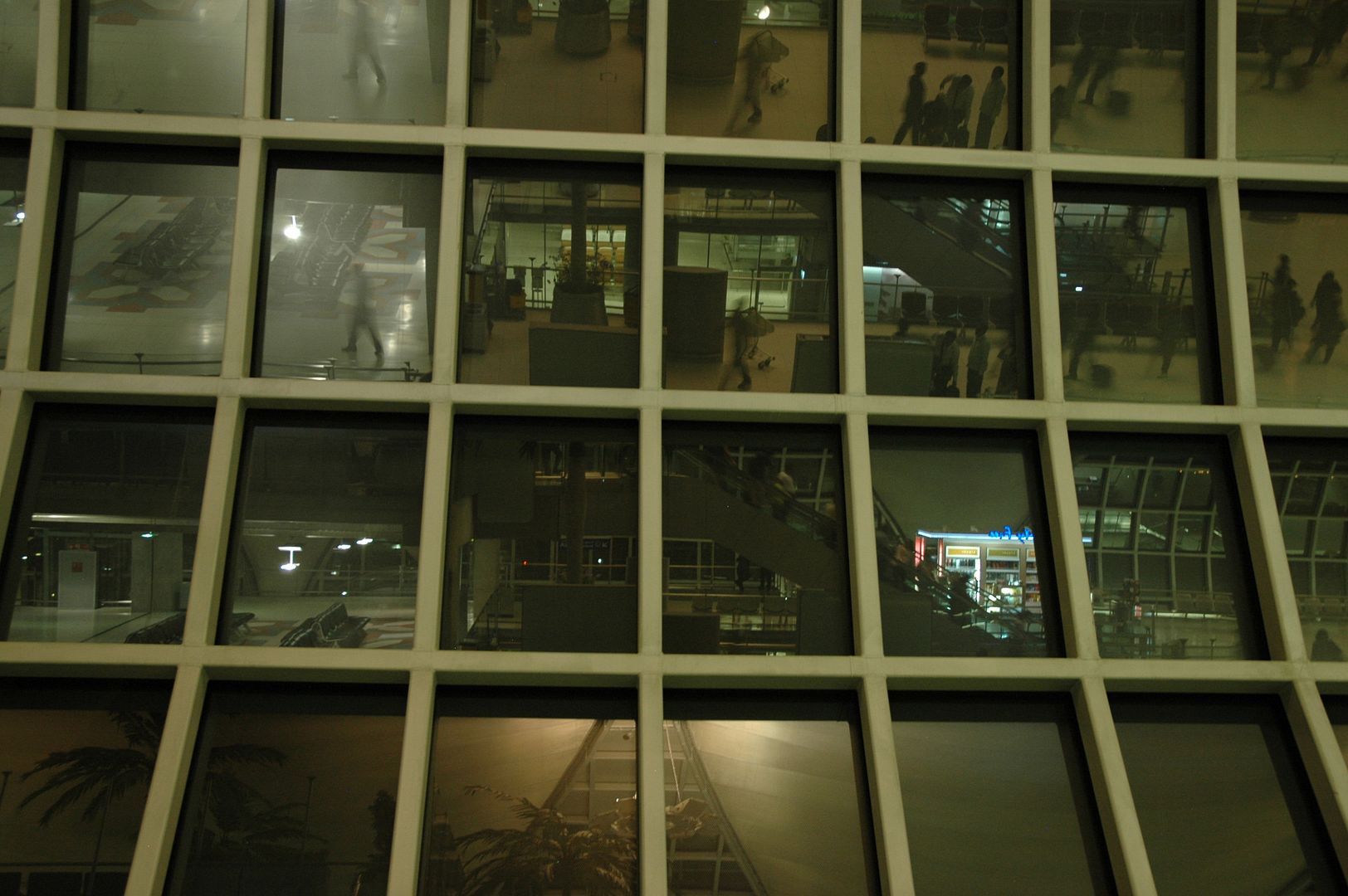 Picture by Satchmo
...so we went to a restaurant and enjoyed some Thai food.
When we arrived at the gate about an hour before departure, it took a while to identify the plane. All you can see on that picture is the 737's nose, unfortunately:
The plane turned out to be Boeing 737-85R
VT-JGW
, delivered in June 2007. It's one of 46 frames in the fleet - 49 more 738s are on order.
Very friendly and smiling flight attendants (females wearing pretty yellow uniform jackets) welcomed us on board. The cabin was in good condition and had been cleaned well. Pillows and blankets had been placed on the comfortable 17-inch wide leather seats - but do you agree with me that the head rest covers look a bit cheap?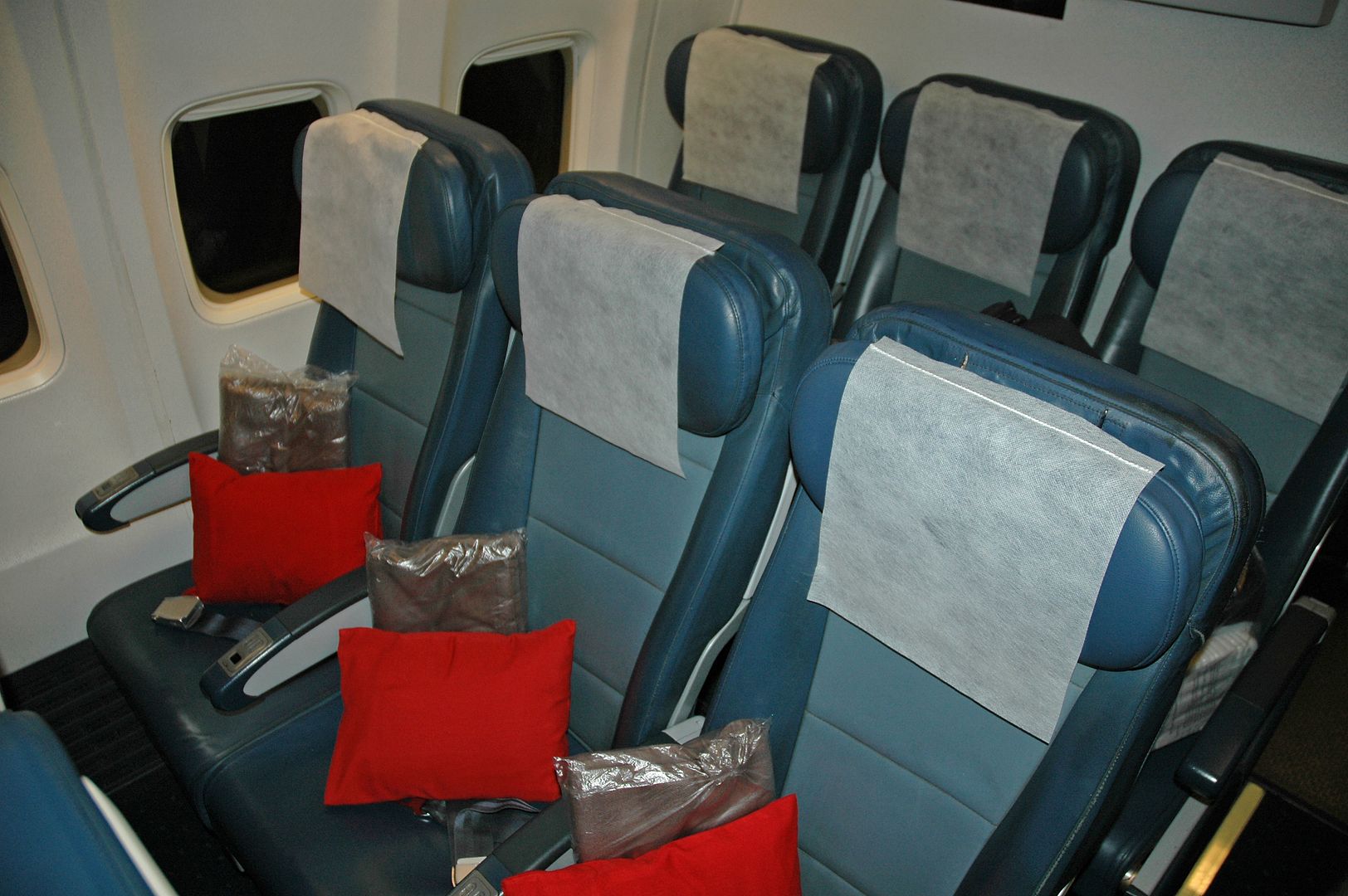 Picture by Satchmo
I was glad that
VT-JGW
was a frame with PTVs, the location of the IFE box didn't bother me at all: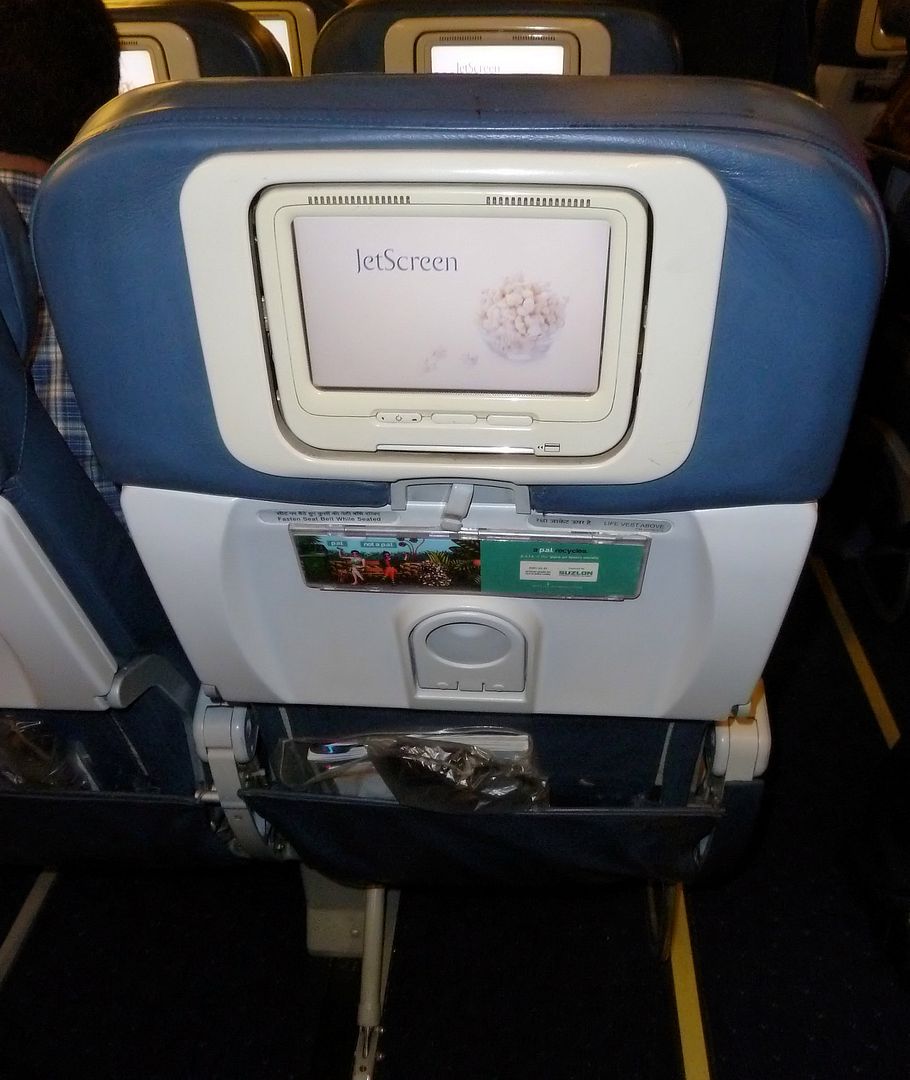 While boarding was continuing, I briefly talked to a male flight attendant and expressed my happiness over getting a 737 with PTVs. He smiled and said:
"Yes, it's one of the newer ones."
Legroom was absolutely sufficient:
According to
SeatGuru
, you find a pitch of 31 and 32 inches on the carriers' 737-800s. Allegedly, it's always 31 inches in the last row, but I had no reason to complain.
It turned out to be a good decision to choose aisle seats because the flight was packed - I didn't see an empty seat in Economy Class. What I didn't like was the cool temperature in the cabin and I pointed that out to a pretty female flight attendant.
"It will get warmer later"
, she promised with a smile.
Headphones had already been placed in the seat pockets: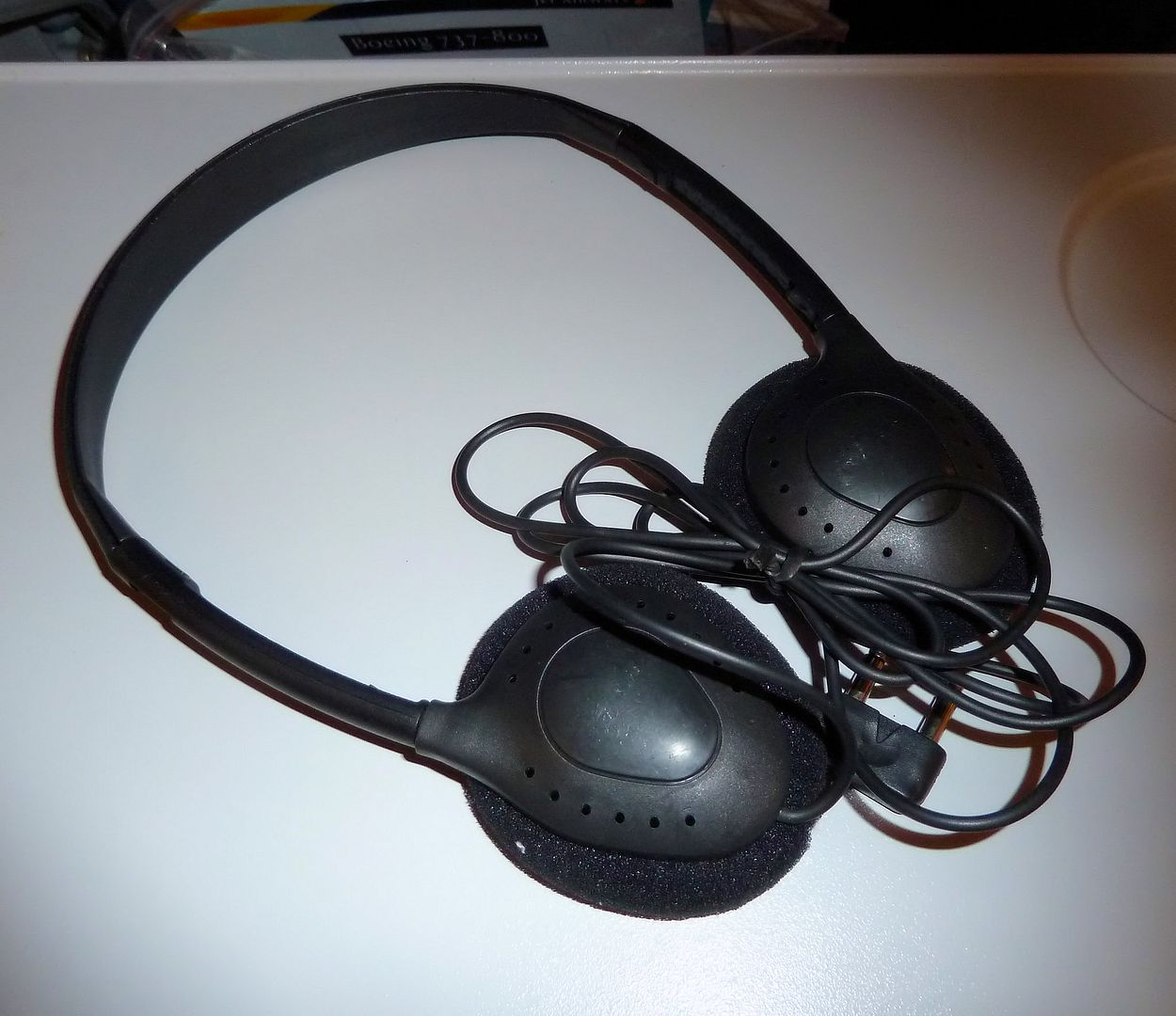 Safety card and
JetWings
inflight magazine (including IFE guide):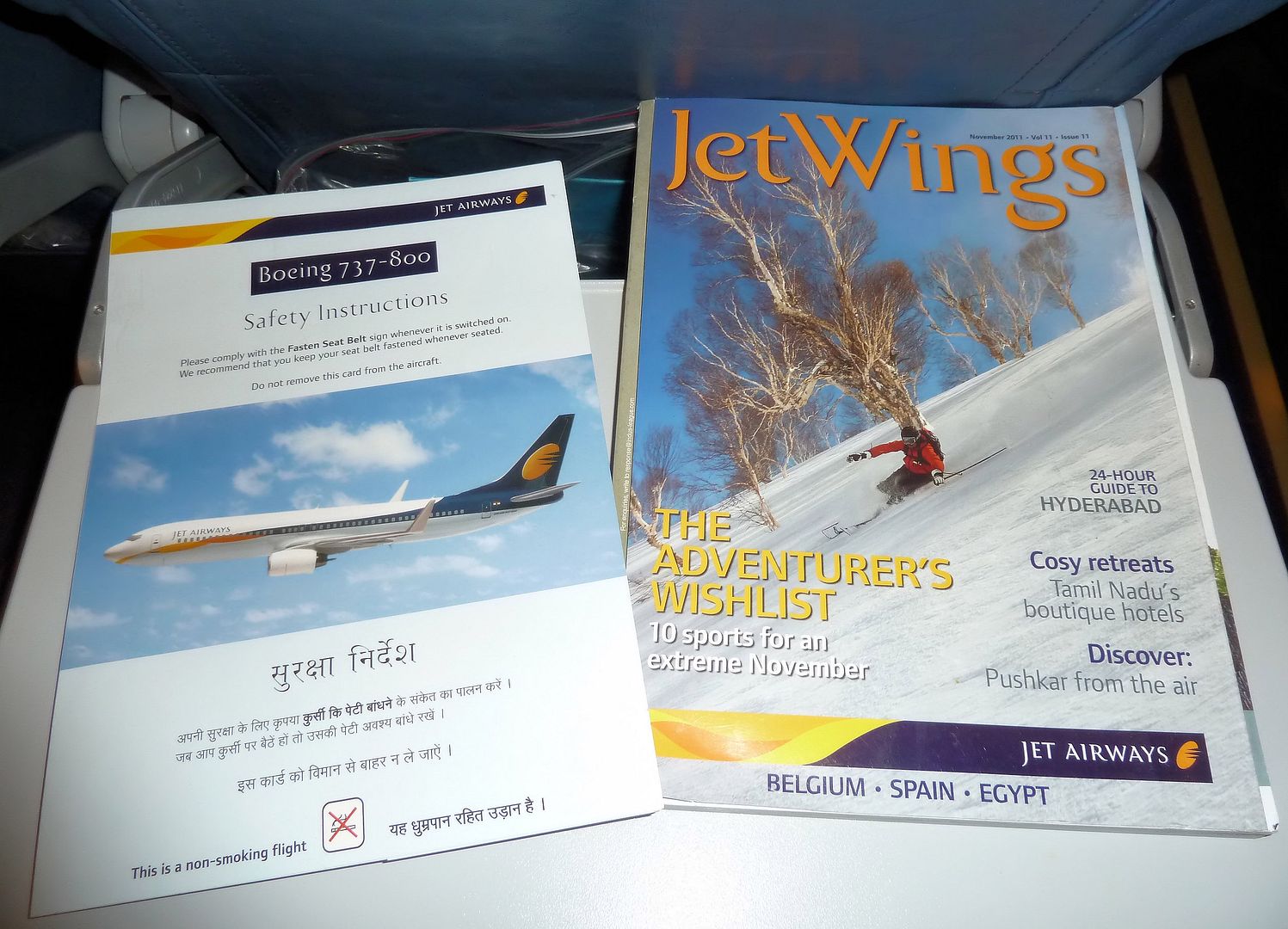 It's not a PTV, it's a
JetScreen
:
Cold (!) towels were distributed with a smile and after the captain had made a welcome speech and announced a flying time of 4 hours, we were pushed back ahead of schedule. Comic-style safety video: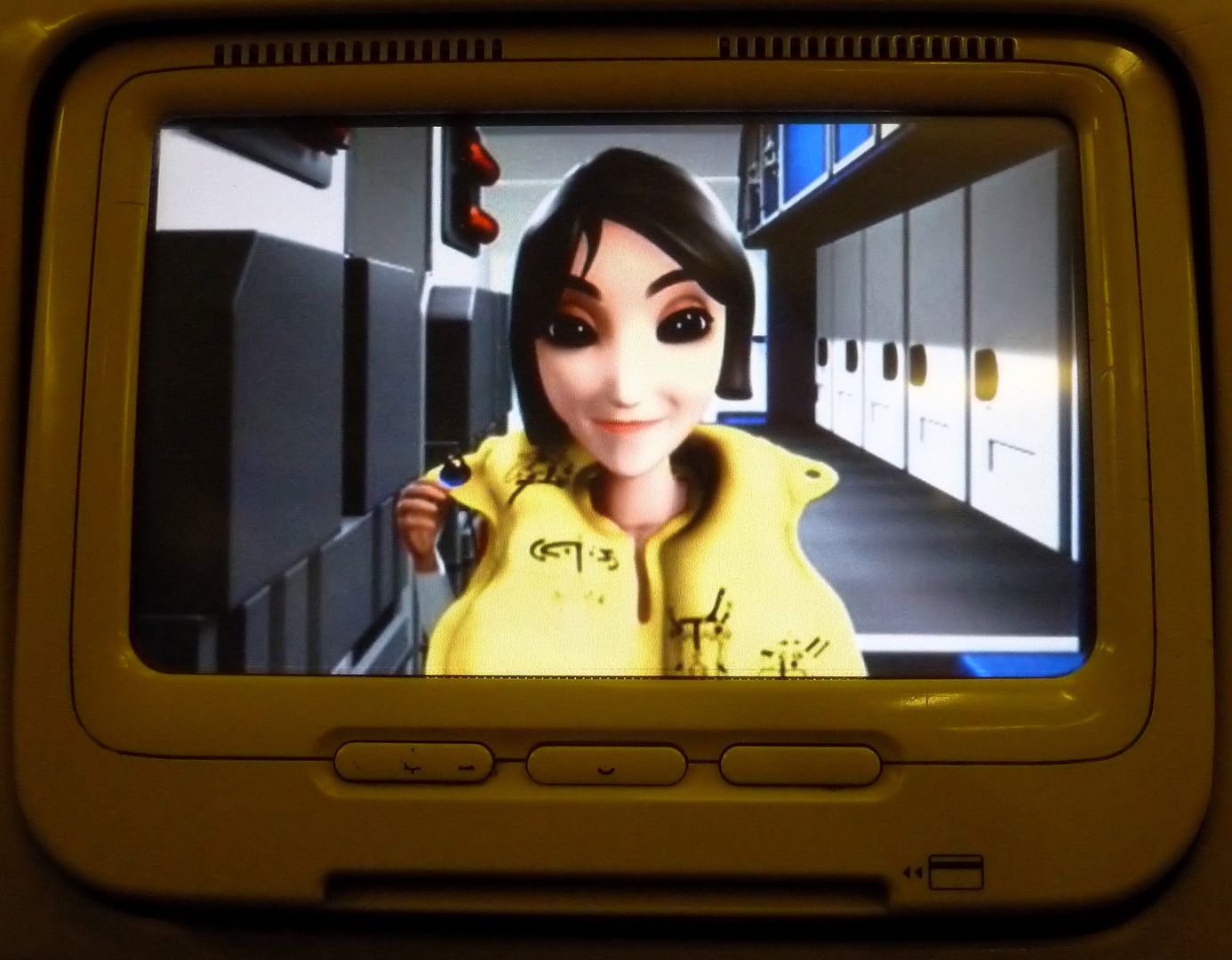 10 minutes after pushback,
VT-JGW
powerfully took off into the night sky. I soon started exploring the touchscreen control audio/video on-demand IFE system. Here's the main menu: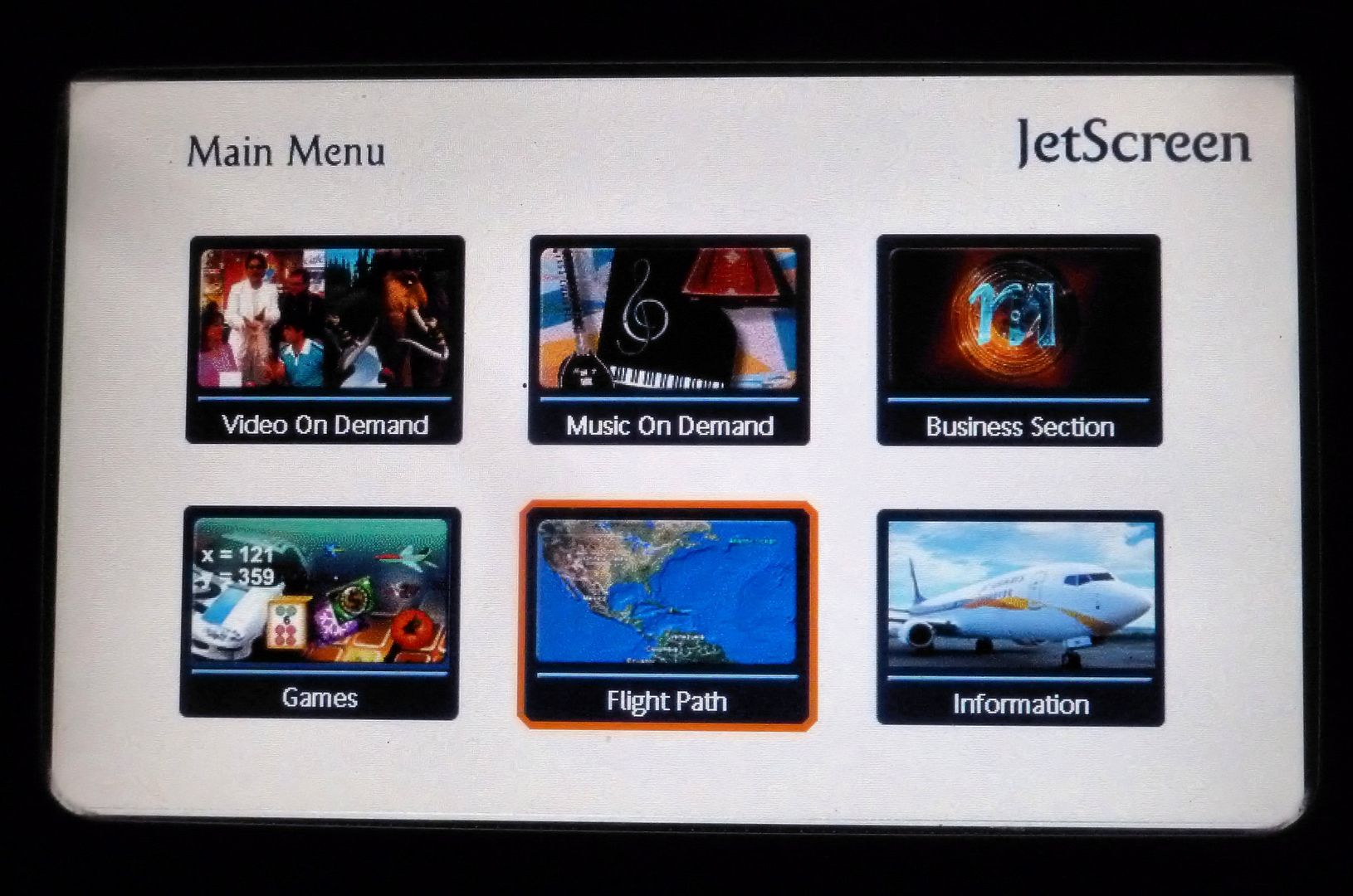 The
JetScreen
system on the 737s offers a choice between 40 movies, 68 TV features, 11 games, numerous audio channels and a wide range of music CDs. That's what I preferred:
No turbulence over the Bay of Bengal this time: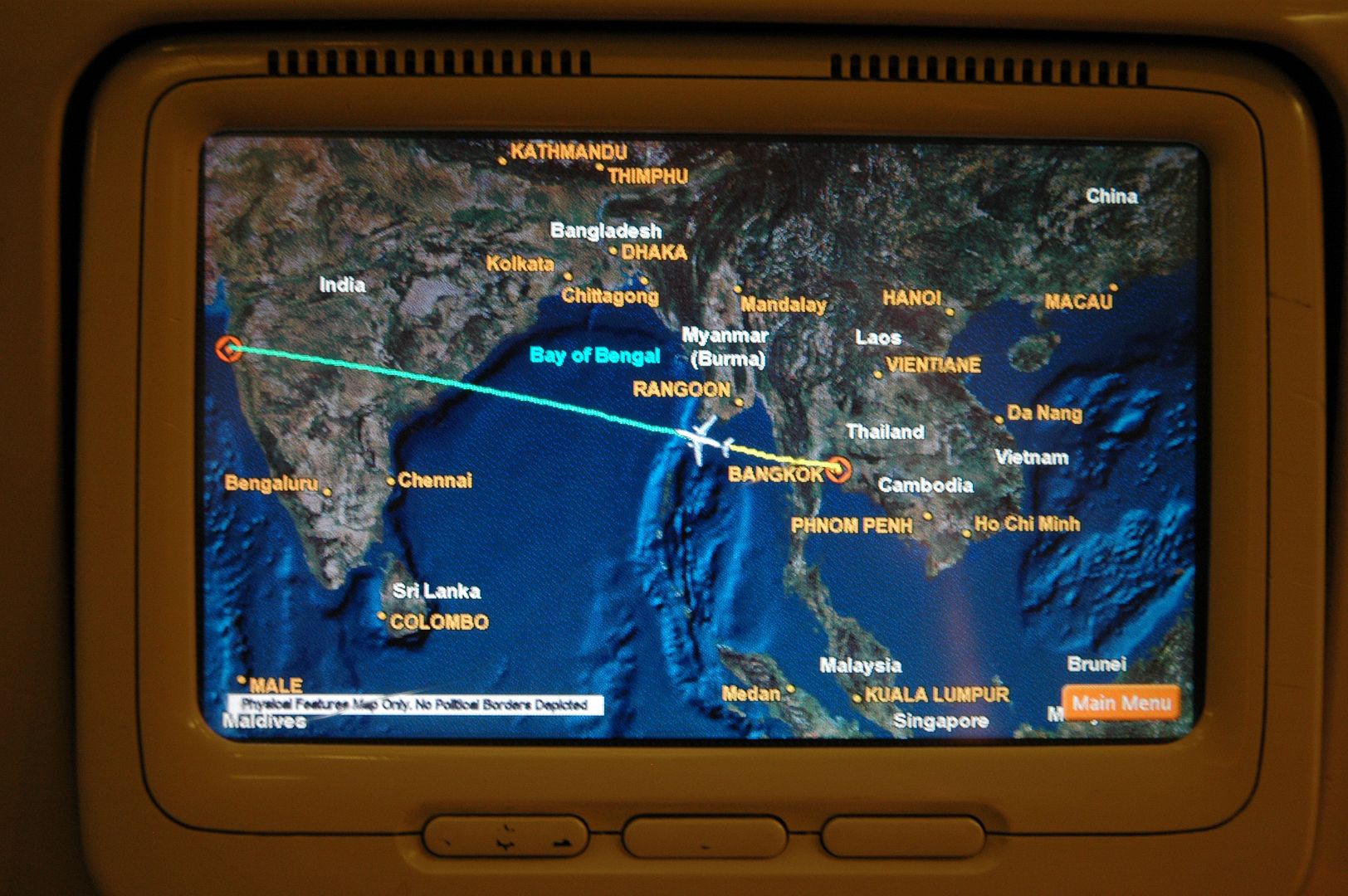 Picture by Satchmo
The four flight attendants in Economy Class soon started serving dinner, but they didn't arrive at our row less than an hour after takeoff. This was not surprising, because call buttons were being pressed all the time which kept these poor flight attendants extremely busy while serving meals. I hadn't seen so many "special requests" on a flight before. However, the nice crew members always kept smiling and patiently tried to satisfy every request. And I also noticed that they never said "no", but always tried to find alternative terms. Amazing!
Anyway, the pretty female flight attendant finally showed up, had a look at a list and said:
"Mr. PlaneHunter? What would you like to have for dinner?"
Of course I was very surprised about that.
Satchmo
wasn't addressed by name, btw. The flight attendant offered chicken and a vegetarian meal and I ordered the former: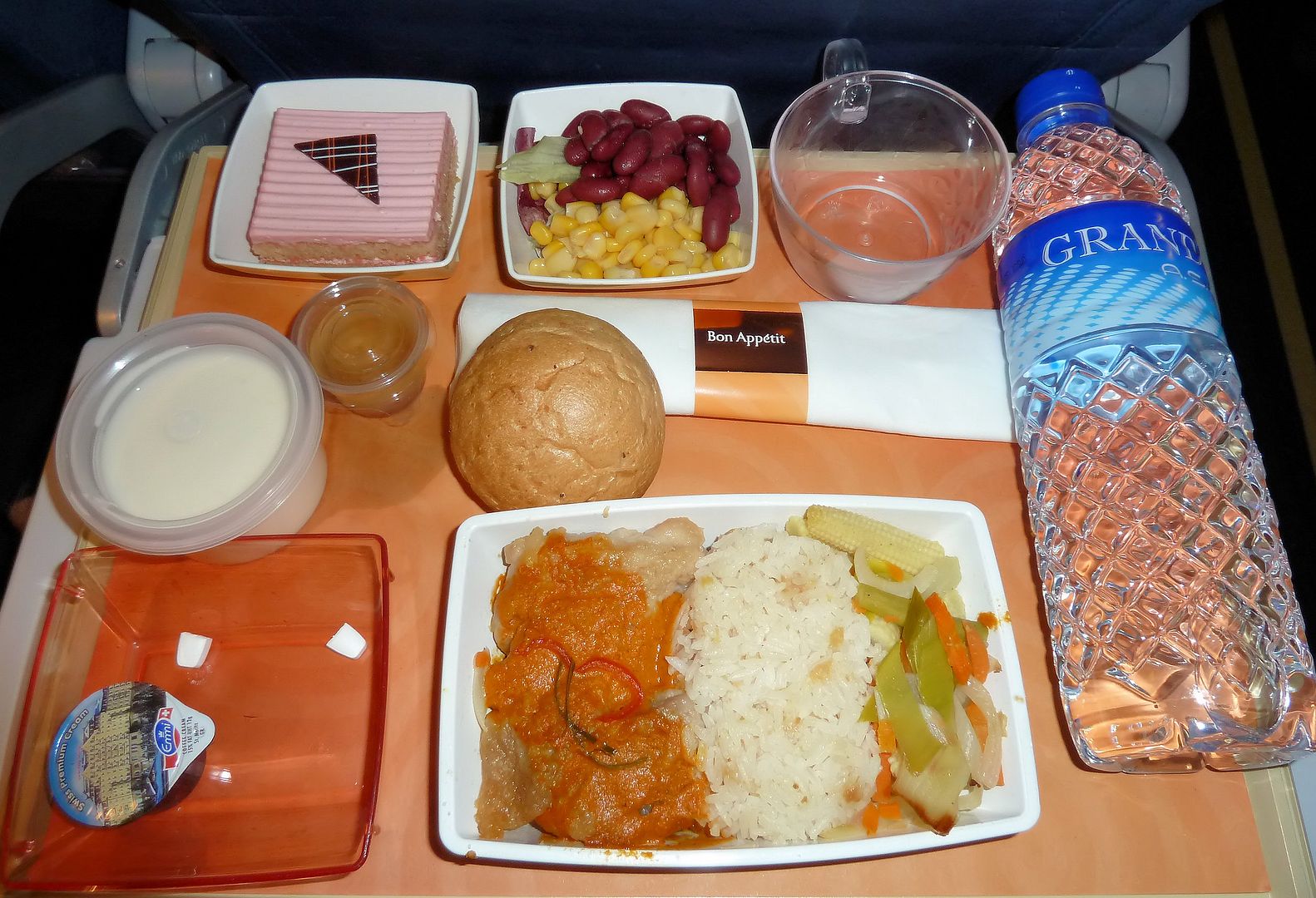 The Thai-style main course tasted very good - tender meat, crisp vegetables, well-cooked rice. I also liked the yogurt, but the cake was too sweet. I'm not a fan of cold red beans, but they were okay with salad dressing.
Satchmo
ordered chicken as well, but he got an Indian-style main course which he liked a lot: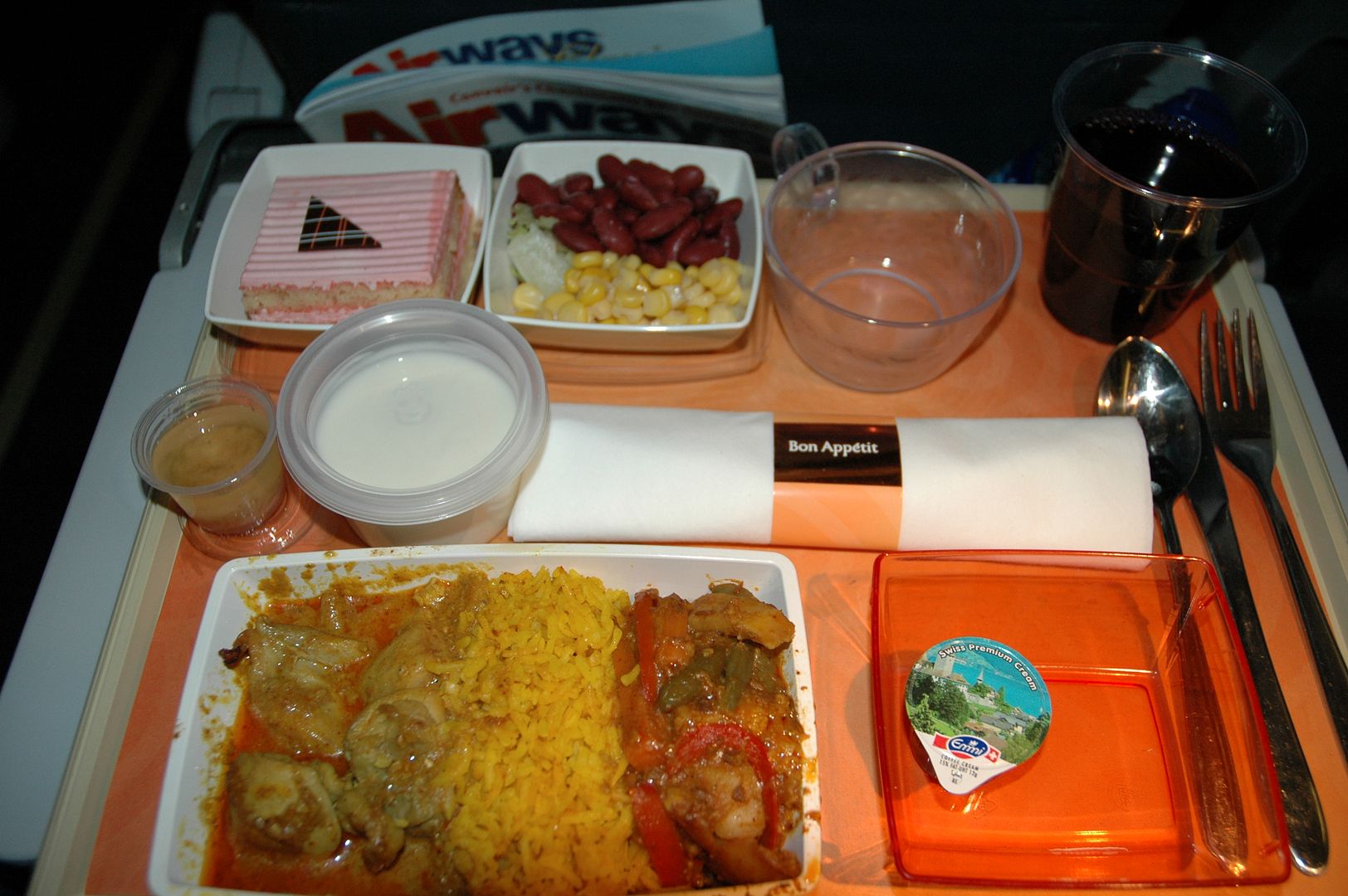 Picture by Satchmo
As far as I can remember, the Indian-style meal wasn't offered to me - and
Satchmo
cannot remember either if he had a choice between an Indian and a Thai chicken dish. So who knows?
After dinner trays had been collected, I tried to get some rest. Time passed quickly actually. Almost there: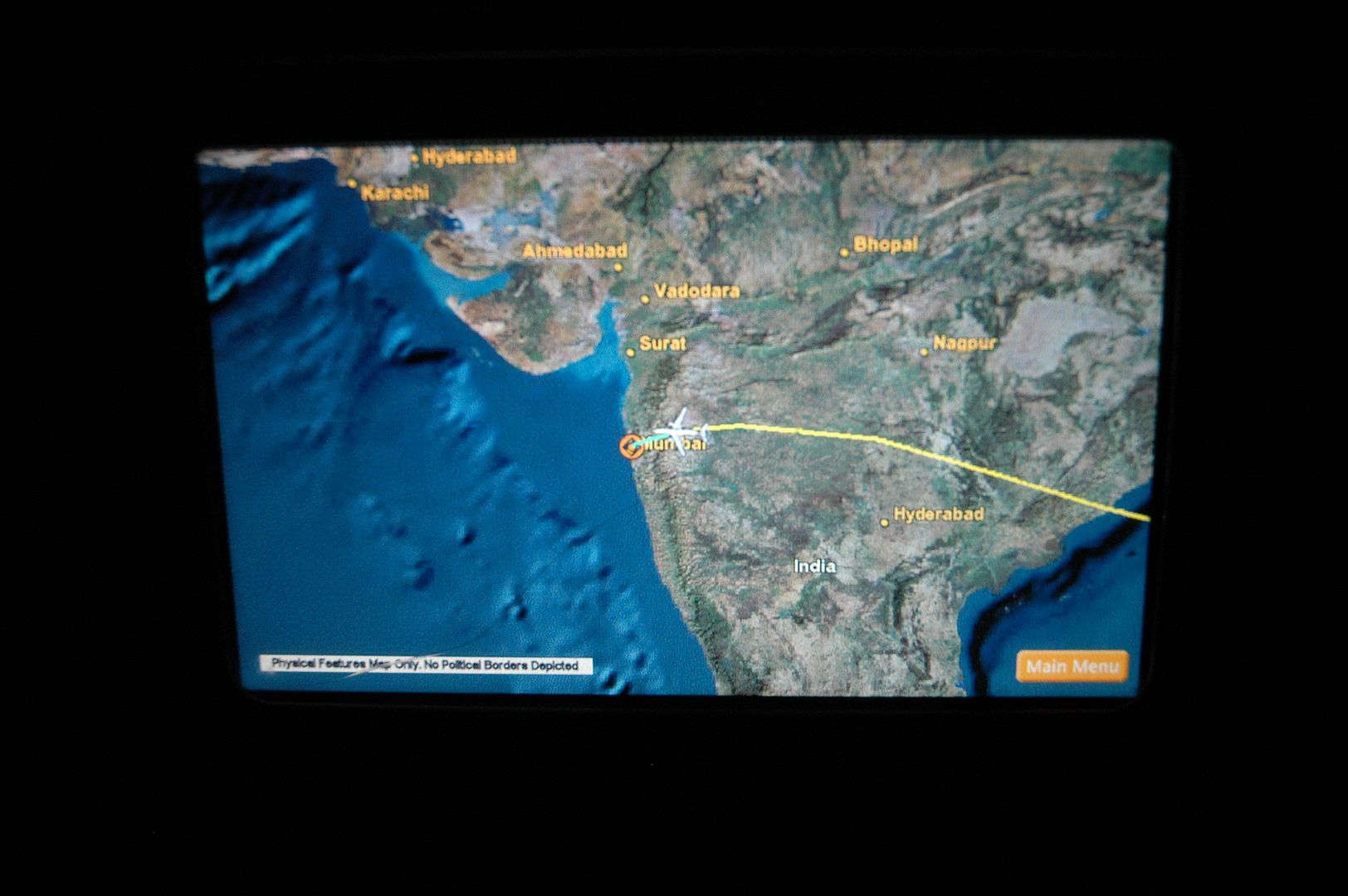 Picture by Satchmo
We touched down after a flying time of 4 hours and 7 minutes and came to rest at a remote parking position slightly ahead of schedule. Taking pictures at Indian airports is strictly forbidden, but
Satchmo
was being discrete:
Picture by Satchmo
Even though we got a bus tour across the tarmac which was full of interesting planes, it was impossible for me to log a single registration due to my position in that crowded vehicle.
Transfer at Mumbai
All transfer passengers had to pass an extended security check after arriving at the Terminal 2 building. Men and women had to line up separately in that dull area, characterized by a low ceiling and sterile concrete walls. Our queue moved slowly and we were stuck there for nearly 30 minutes. Officers with grim faces additionally checked all travelers with hand scanners after they had passed the metal detector. Many bags were hand inspected, but ours were left out. We finally arrived in the transit area which looked nicer than the area near the security checkpoints. However, you cannot get access to the gates and you cannot see anything outside. There wasn't much to do, so we kept reading during the next two hours.
[Edited 2012-05-18 23:50:51]