Good Day everyone,
it's time for big travels again. Having had a lot of work during the last 6 months and being basically unable to take any time off from work it was now time to take a 2 week holiday and travel.
As an aviation geek which usually travels within Europe and only once or maybe twice a year long haul, I try to make it a little special and not travel the most direct way. Instead I opt for booking a lot of flights, usually those on offer, and matching a lot of different carriers.
Now I understand a lot of people do the same, and I really love to read these multi part reports as it's some kind of long story which is entertaining for days or even weeks.
I will do something similar, however I thought it would be funny only to post step by step and leaving you somehow the guess where I will head next. I will not disclose my travel plans for now.
So, here we go. The big day came and I worked until 5 this Friday. It was time to head to Frankfurt airport, to catch my first flight. I took the S-Bahn to get there.
This first flight was usually a part of a complete other trip that I scheduled for a weekend in Madrid. It was the well known route with the A340-300 with LAN. I did that flight before, however it was 3 years ago. Back then I was absolutely impressed. The crew was nice and professional, the food was delicious, saved on china and with proper metal fork and knive, it was a cold snack consitsting of different wraps and sandwiches, together with Chilean wine.
I do understand this has changed, however I still want to see how they perform.
FRIDAY 18MAY2012
FRANKFURT INTERNATIONAL TERMINAL 2 - MADRID BARAJAS TERMINAL 4S
LAN AIRLINES FLIGHT LA705
Scheduled: 19:30-22:20
Actual: 19:17-21:57
Airbus A340-300, CC-CQF
I arrived at the airport S-Bahn underground station approx 1,5 hours before the flight. This may sound a little late for a non-Schengen longhaul flight (the plane continues to Santiago, Chile), but I have my reasons. I also didn't have checked in online, although this is an option offered by LAN.
As some of you maybe know, I work in the travel industry and use Amadeus on a daily basis to book flights for customers. I booked this flight before for other people and realized that Lan easilly upgrades on this sector, no matter if people are travelling alone, if they have status or night, or if they bought the cheapest fare. Maybe this has changed, but I wanted to give it a try.
Basically it is possible to follow the check in process in Amadeus and to see the seatmap fill. If it's all full, it's the time when check in should be made. LAN would rebook the booking in business class and the guest receive a new boarding card at check in.
I was not expecting the upgrade as the flight showed quite a few open booking classes, but since an afternoon flight of Oneworld Partner Iberia was cancelled the afternoon, I was not sure if Iberia could reprotect all their passengers on their own evening flight departing around the same time as the LAN-flight, it thought just to give it a try. The risk was to get one of the last economy class seats and get stuck in the middle row, but I was willing to accept this, as the seats are fitted with PTV and therefore it would entertain me anyway.
Before heading with the automated train to Terminal 2 I went to Tegut Supermarket and bought a bottle of Coke and realized the Hooters Restaurant in front of the supermarket is gone and replaced with a "Sportsbar", some sort of American diner which also offers Mexican food at decent prices. A new option and actually an option to consider since there was no way I would have gone there before. Prices are same as in town.
Then it was time to go to Terminal 2 where the LAN check in was deserted. I was taken care off by an average friendly lady. She didn't asked for my seat preference and gave me seat 25C. Not too bad, but I nevertheless asked for a window seat and got the answer they were all gone. Fair enough. LAN uses own branded boarding passes.
I like Terminal 2 a lot. It's way more bright and airy than Terminal 1, and more modern. Usually not a lot to walk and shorter queues.
This time was no exception, it was absolutely flawless. Since the flight is going to Santiago and arriving at the Non-Schengen Satellite in Madrid, even guests bound for Madrid need to pass passport control. In Terminal 1 they have self service booths with Iris scanners installed. While these have been modern a few years ago, they require a one time presignup with the police station in Terminal 1 (in front of LH first class check in). As of today a lot of other Schengen countries (and even UK) offer these without preregistration for all Schengen passport holders.
Nevertheless there are no automated gates at all in Terminal 2. No problem for me, as there was no queue and I was through right away.
Then a short walk to gate D8, where Security check takes place just before the holding area. Again, no queue and friendly staff. What a great experience for a long haul flight!
Check in: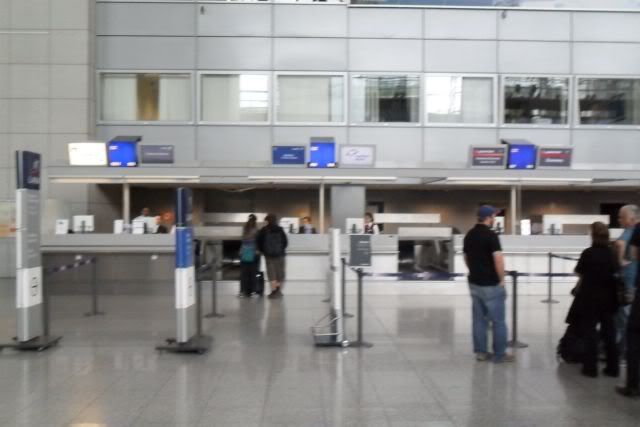 Boarding passes are checked and the stub given back at the entry of the waiting area, meaning a faster boarding process later on. I like this as it saves time. The boarding area is huge and there are Spanish and German magazines and newspaper on a shelf offered by LAN. A lot of staff around issuing boarding passes for connecting guests, aparently LAN has no transfer desk in T2 and some other airlines are unable to issue onward boarding passes. I remember having booked a guest from Austria to Buenos Aires via Frankfurt and Santiago on a LAN through fare. The Austria-Frankfurt feeder was operated by OS.
A lot of spare seats made a relaxed atmosphere in the waiting area. The plane seemed like half full, but it was full as I saw later, it's just that the waiting area is so huge.
Magazine rack:
Waiting area:
The plane waiting: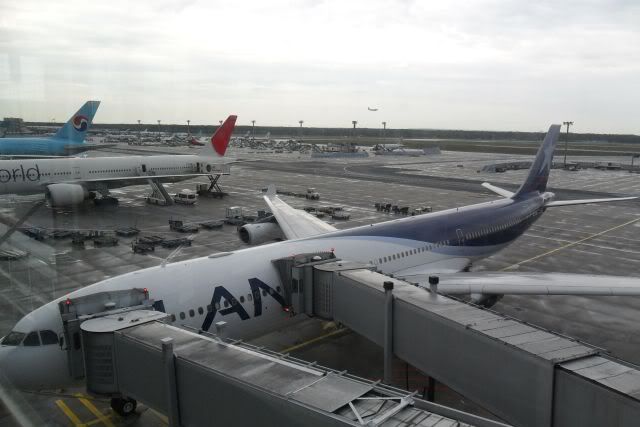 Boarding was announced approx 40 minutes prior departure and by rows. This was strictly enforced by the gate agent. The boarding was incredibly easy and organized. Never had such a flawless and professional boarding experience.
Economy class was full, and this was a long haul flight! Within 20 minutes everyone was on board and seated and we even left 13 minutes earlier!! Absolutely incredible.
Boarding gate:
But lets go back one step. Once entering the aircraft at door 2 I was friendly greeted by a female crew member which showed me which aisle to take. I passed a few rows of Business Class, which looks nice, although probably not the most up to date product. Still seats can probably lie flat (or almost) and are not "just" recliner seats.
Then I passed the first Economy Class section. The seats look great and have blue and purple colours. Although the cabin interior being approx 7 years old, it still looked spotless and well maintained. Didn't seen a lot of age usage traces. Crew was great. They were 3 male and 1 female taken care of Economy, their uniform look sharp and professional. The male flight attendant in charge of my section was terrific. While I arrived he was speaking in Spanish with other passengers telling something like "Bienvenido en mi casa" and then I saw my seat, 25C was an emergency row seat with plenty of legroom! Nice!
They also had nice boarding music playing. Again, I was absolutely impressed about the whole experience. Arrived 1 hour before flight at check in for a long haul flight, no queues anywhere, a flawless boarding experience, a sincere welcome, and a 13 minutes earlier pushback as a bonus on a fully packed flight! Well done Frankfurt airport and LAN.
Seats:
View from my seat: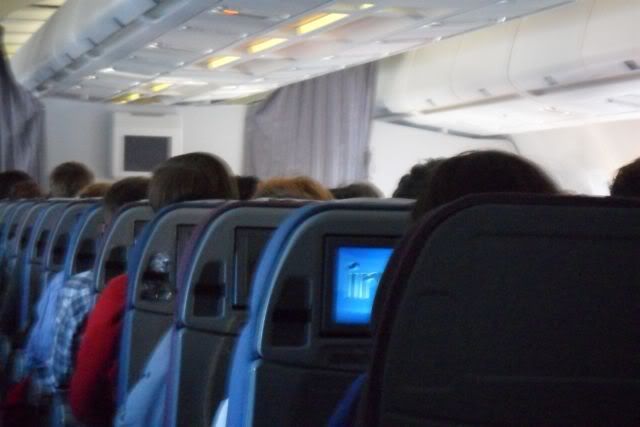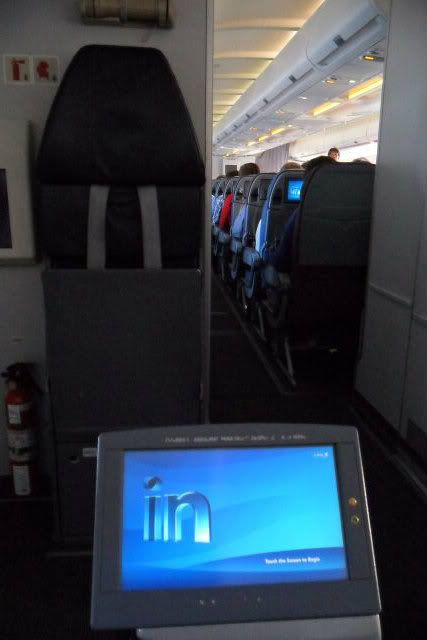 Once everyone was seated, they handed out headsets for the inflight entertainment and the safety video was conducted.
We had the regular rather long taxi to "Starbahn West" and a rather shaking take off. We all know that the A340-300 is not a good climber and the climb rate didn't impressed indeed. However it wasn't as bad as I remembered it. I actually felt the plane climbing, so maybe it's because of rather light fuel load...
Soon after take-off the inflight entertainment was turned on. While the air show was blocked on a map showing the world and no route or plane on it, the other options were interesting enough for a 2 hour flight: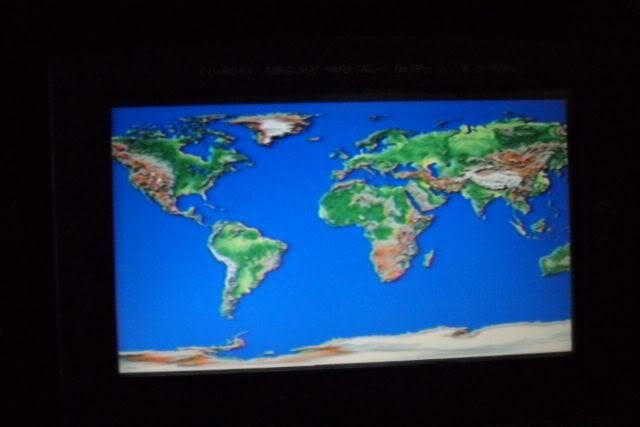 I am sure other airlines offer more movies and sitcoms, but LAN had a dozen of movies for each kind of film i.e. Comedy, Drama, Action etc... The screen had a good size but audio was a little bad, it didn't helped that everything was in English. While most movies had Spanish and sometimes even French or Portuguese versions, I can't remember seeing one movie with German subtitles. Although passengers travelling on airlines from abroad shouldn't expect too much, I think that the market just expects from a legacy carrier to offer at least a few options in their native language. I also found this option interesting: You could select form every menu that you don't wish to be disturbed and then it would show on your PTV:
While I was tempted by The Hangover 2, I realized it would have been too long for the flight, and I saw it before anyway. So I settled for "Hall Pass" which while not extremely funny was still amusing and a good way to pass the flight.
The friendly staff came with the snack. Maybe you remember I mentioned that a few years before I received a cold snack consisting of Nice wraps and Sandwiches on china with metal cutlery, well this time it was just cupboard box with nice South American motives on it. It had a small iberian ham sandwich and a mini Snickers in it. I was quite hungry, so it left a gap. However I guess you can't expect much more these days on such a short flight, i.e. Lufthansa would offer something similar and Iberia nothing at all... The drink selection was great. It included your regular non alcoholic choice, but also Whiskey, Baileys and some other Spirits as well as Chilenian wine.
No alcool for me this time since I was taking a rental car upon my arrival in Madrid, so I settled with an apple juice and a glass of still water, which were served in thicker plastic cups than other airlines use. I also realized they serve hot drinks in this white styropor cups, which isn't very environmental friendly.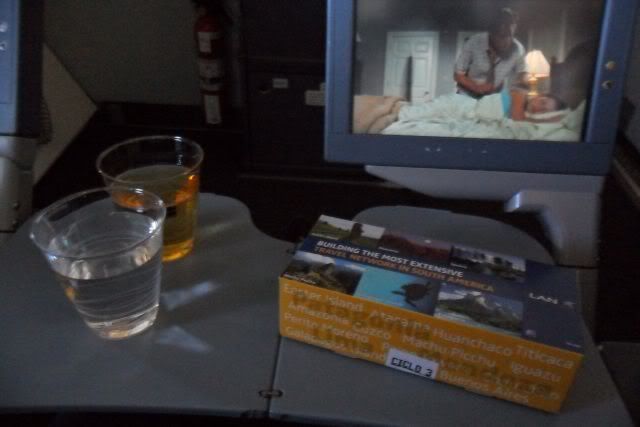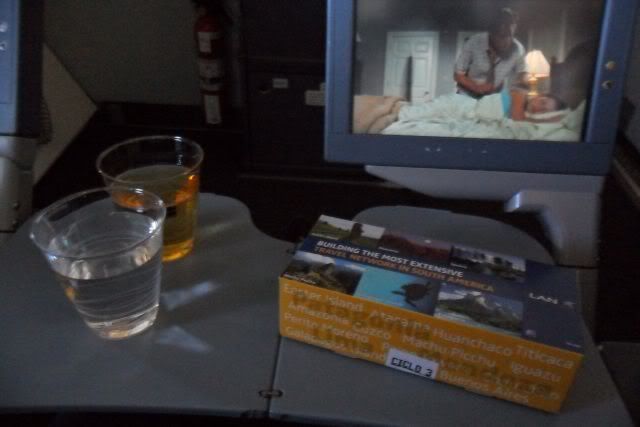 By the way, the staff had no problem at all speaking English and did it very well. There were obvisouly a lot of non spanish speaking passengers on board. I can't recall a German speaking staff member, but one always said "Danke", "bitte", probably all she could say, but it was a nice touch. German announcements came twice upon departure and after arrival from tape, and it was also mentioned during that annoucement that "the English and Spanish speaking crew is there to help you".
The flight went by rather nicely with the movie and soon enough we started our descent to Barajas airport. Trash was collected, and IFE turned off soon before landing, and therefore I missed 20 minutes of the movie. Probably better stick to sitcoms on this sector (they had the usual things like 30 Rock, 2 and a Half Men, Big Bang Theory, and a whole Season of the Simpsons).
Landing was quite soft and we taxied to the beautiful Terminal 4S, which is the non Schengen Satelitte and arrived way ahead of schedule. Connecting passengers to other LAN destinations, which included Lima, Guayaquil, Quito were told the contact the ground crew and connecting passengers to Santiago were invited to leave the aircraft as a new crew would take over.
Deboarding: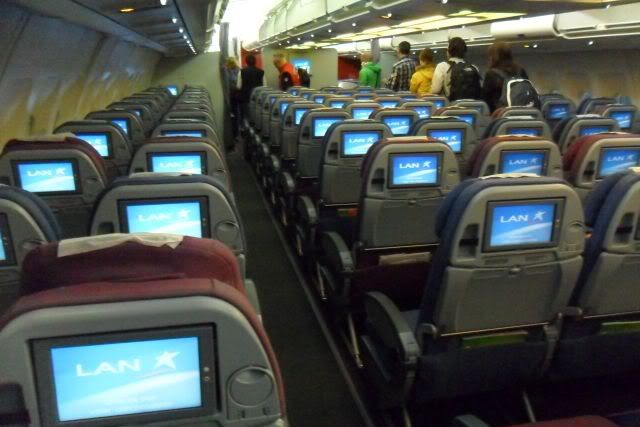 Looking back at the plane:
In Europe in non-Schengen areas, arriving and departing passengers are separated as they need to reclear security, when they arrive from a non-schengen country. Our flight was some kind of exception, since it was a flight arriving from a Schengen country and therefore passengers have passed Schengen safety control standards. While arriving passengers were directed to the upper walkway to reach arrivals or the security check point, guests to Santiago were allowed directly through a short door into departures, saving them to reclear security. I think they should also have let passed other connecting guests past this door, as they also don't need to reclear security, but they were directed to arrivals.
Terminal 4 was rather quiet and a georgeous place. while the furniture is "normal", the architecture is simply amazing and impressing. And this place is incredibly long and clean and nicely lit at night.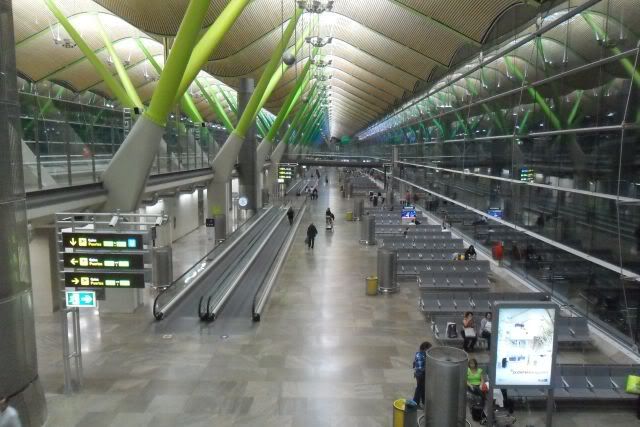 Okay and here is an idea about the length. We look on one side: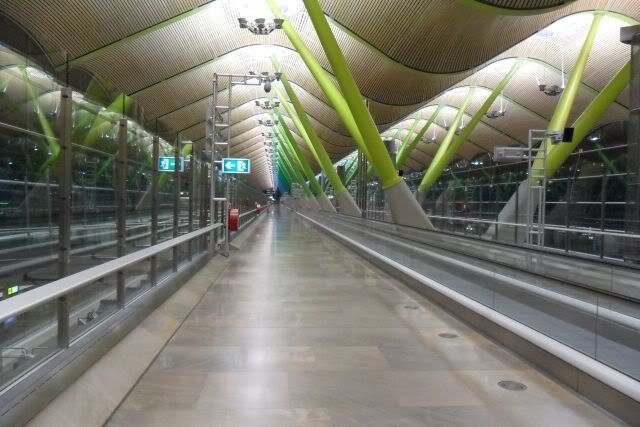 Then we look back to the other side: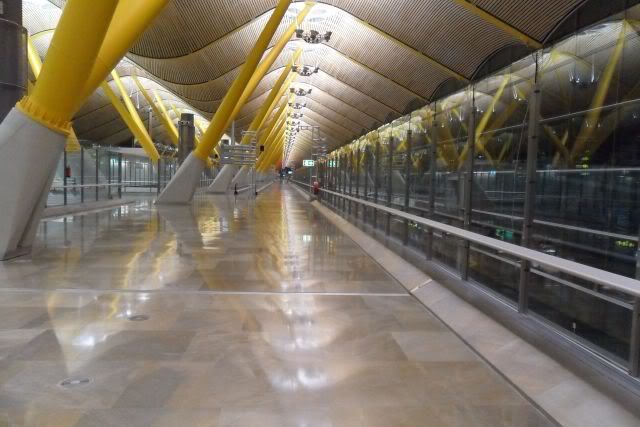 impressive, isn't it?
Clearing passport control was a breeze as no one was there. They have automated booths for Schengen passport holders, but they were closed as there was no queue at the staffed booths. Then you need to go down 2 floors, take the metro ride (rather long I thought) to the main Terminal, where you can either connect to Schengen or selected non Schengen destinations (probably short haul like UK) or leave. The bagage claim area is very huge, too. Since I had only hand luguage I left the secured zone immediately and found myself in the greeters area. I was expecting quite a walk to the car rental counters, but actually it was well sign-posted and quite straight-forward just a level down. I was offered a Fiat 500 or a Toyota (Auris or Yaris, not sure...) and since I can vaguely remember the Fiat 500 being known as a fun car I though I'd take that one.
Indeed it was a nice red mini fun car with a glass roof and a complete red and white interior. While I found it rather made of plastic and while it had no horsepower at all, it was fine for the night.
Baggage claim: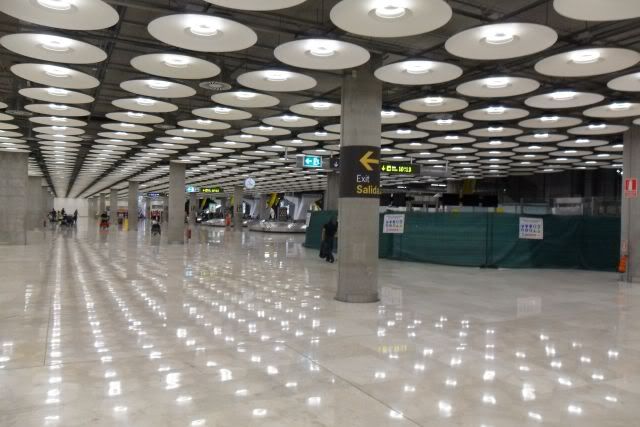 Rental car area: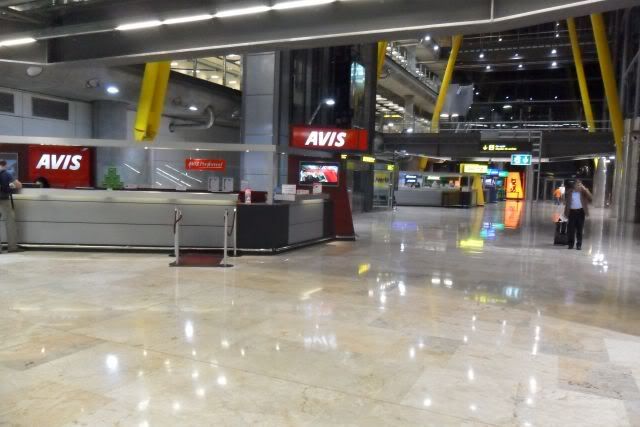 Rental car (taken next day):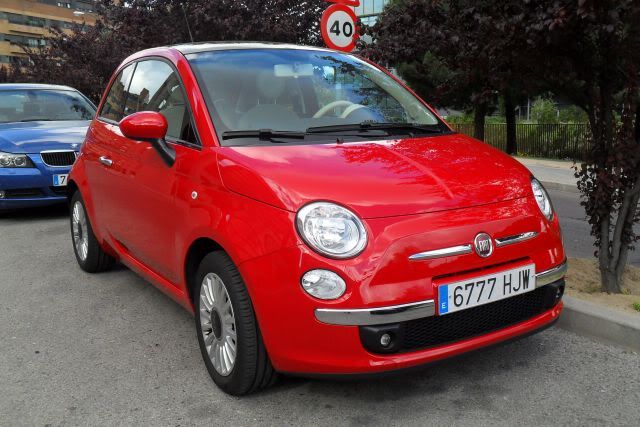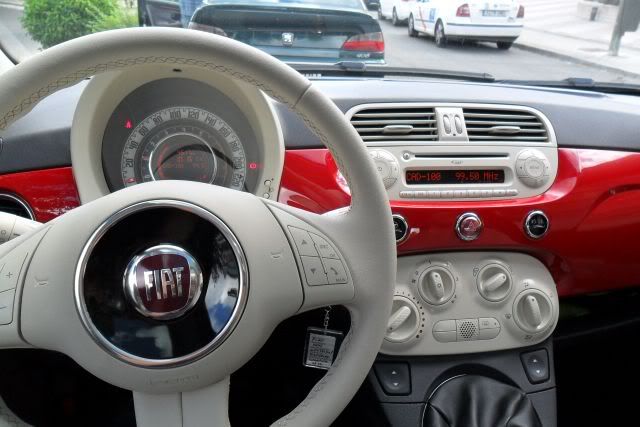 I found my way to the hotel "Silken Puerta Madrid" quite easily and found a parking space right in front of it and left the car there rather than paying approx 20 EUR for one night hotel parking.
The hotel itself is a 4* hotel and probably the best I will get in the next 2 weeks. The room and bath room was huge, as were the beds.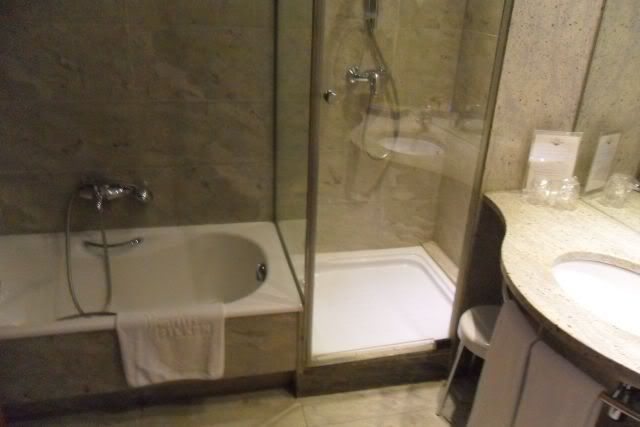 Since I was hungry I thought I'll drive the motorway in direction of Madrid, expecting some Burger King or McDonald's one the next exits. It was almost midnight by then. Well, I didn't found anything, but finally ended in Madrid city center on a huge alley with almost 10 lanes and almost deserted at night. It is the big alley going north to Plaza de Cuzco and Chamartin station. I passed Estadio Santiago Bernabeu, home of Real Madrid, and finally found a McDonald's at Plaza de Cuzco (if I remember correctly). The way back to the hotel was more direct and rather easy.
while I lost an hour, it was actually quite fun driving that car through Madrid at night and as soon as I came back to the hotel I had a good sleep.
Tomorrow morning I can sleep til 9 or 10am, before my next flight leaves.
So, what to think now? Well I'm still in Europe and had a great flight. LAN does offer an great longhaul product. The crew was terrific and had no problems speaking English to non spanish speakers. The seat was comfortable, the legroom in the exit row excellent. The plane seemed to be in good shape. Again, the whole boarding process was relaxed and flawless. Plus we were well ahead of schedule and I had great entertainment. Would definitely consider them for long haul travel if price is right (and if I fly to one of their destinations obviously). Catering was business standard and decreased from my last travel with them, but then it's more than Iberia offers and on par with what LH offers on the same route. So not too much complaints here. The "hard ware" obvisouly is top knotch for a intraeuropean flight and the movie entertained me well.
I'm far from having reached my actual holiday destination! It's on you to guess where it will head me next... Hope you enjoyed the read so far. All comments are highly welcome.
[Edited 2012-05-19 17:07:50]