I have to preface this report by saying that this one was long overdue. I had slated the Aer Lingus lounges in previous reports, here - http://www.airliners.net/aviation-forums/trip_reports/read.main/128803 and here - http://www.airliners.net/aviation-forums/trip_reports/read.main/140835. I've flown them many times since the new terminal in Dublin opened as well as the new lounges, so this report was required. I will also note that I am not Irish, so I consider myself unbiased, though I do fly Aer Lingus an awful lot. So here it is, the unbiased, warts and all Aer Lingus experience on one of their premier routes.
Date: 12 May 2012
Route: DUB-LHR
Flight: EI154
Aircraft: EI-DEP - A320-200 - St. Eugene
Seat: 2F
Dep: 0730 Arr: 0850
View Large
View Medium


Photo © Mark Mahu
I was heading off to London to see friends, after my final University exam ever. Of course, that resulted in quite a few drinks being sunk the night before, so it was with a bit of a hangover that I woke at the crack of dawn before my flight. I threw some bits and pieces into my carry on bag, and got the bus off to the airport.
On arrival I used the Aer Lingus check-in kiosk to print my boarding pass, and noted that they no longer use card stock - it's that thermal paper, which looks a bit ratty, but a boarding pass is a boarding pass. From there I went straight to security and got in the very long line for security screening. I thought I was in for a long wait, but they were processing people very quickly and once through I hoofed it off to the Gold Circle Lounge.
I had slated the Aer Lingus Lounges in previous reports as they were quite average, and when the new terminal opened in Dublin, a whole new lounge experience awaited. First, the outside area before you go in...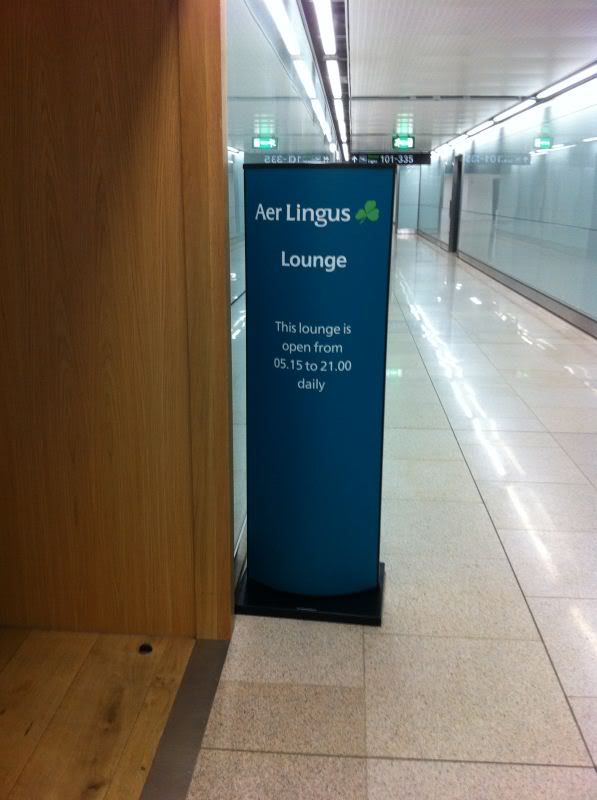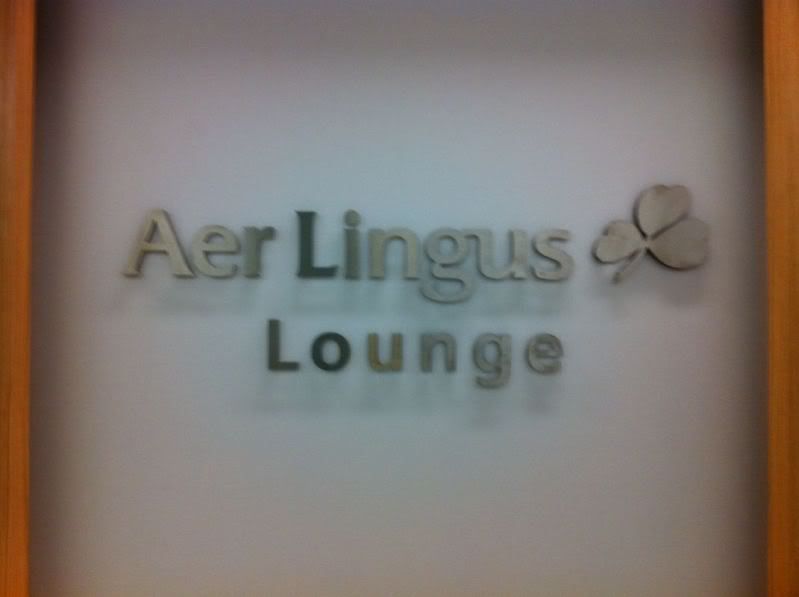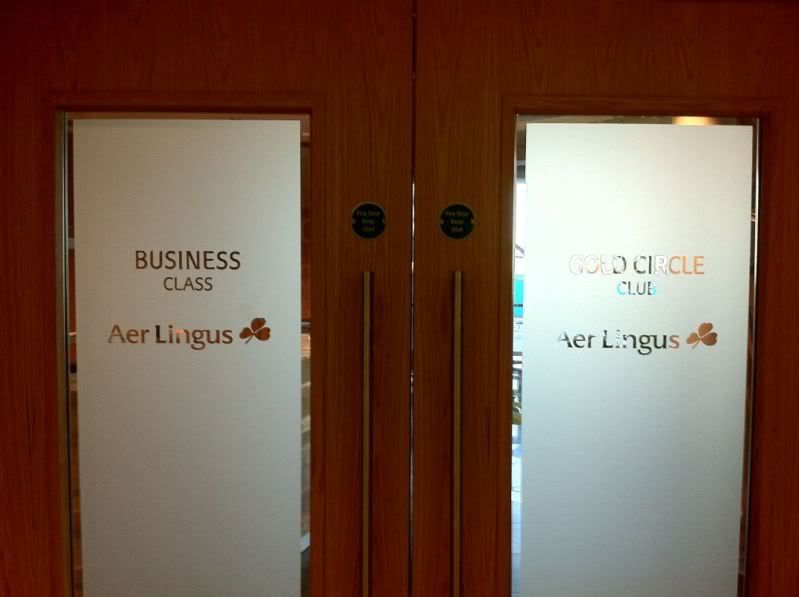 Once past the desk, there is a lovely water feature with a whole bunch of famous Irish people's names and claims to fame. It's a lot nicer than the one in the Heathrow lounge, which is much more basic.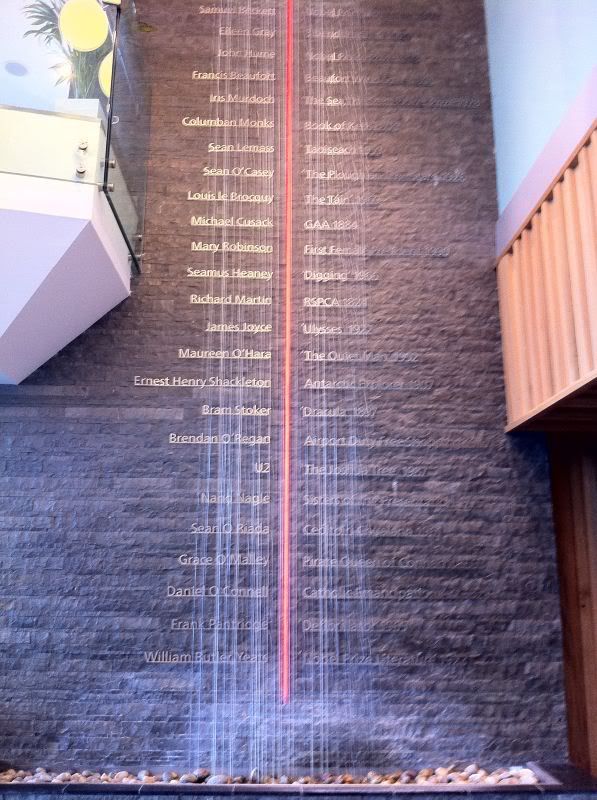 Now for some more lounge views...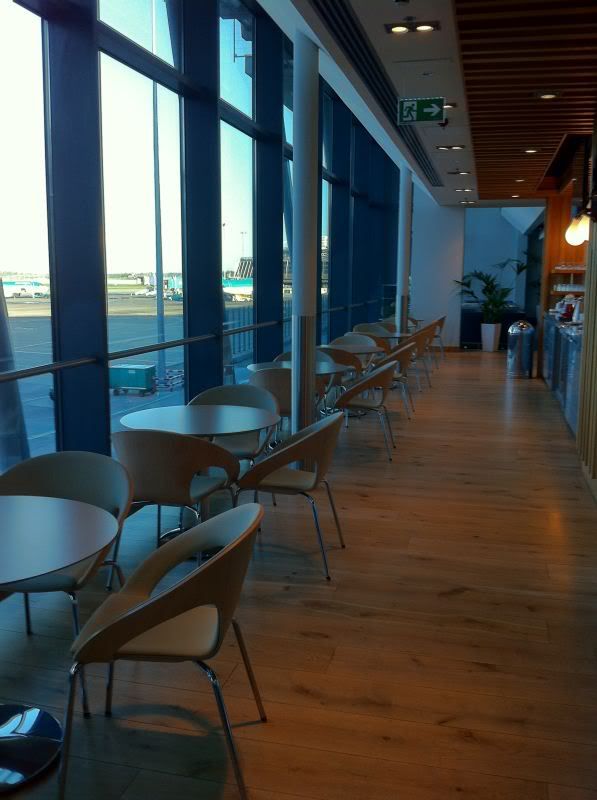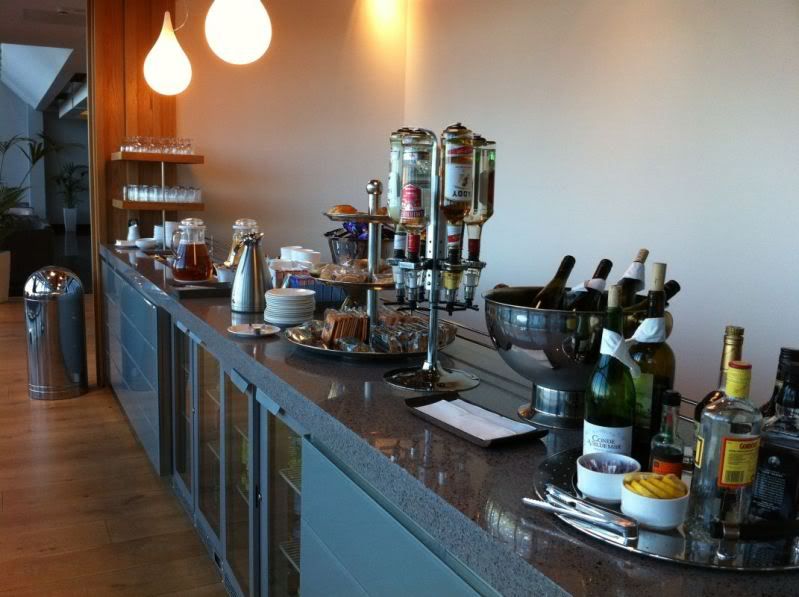 A nice view of the apron...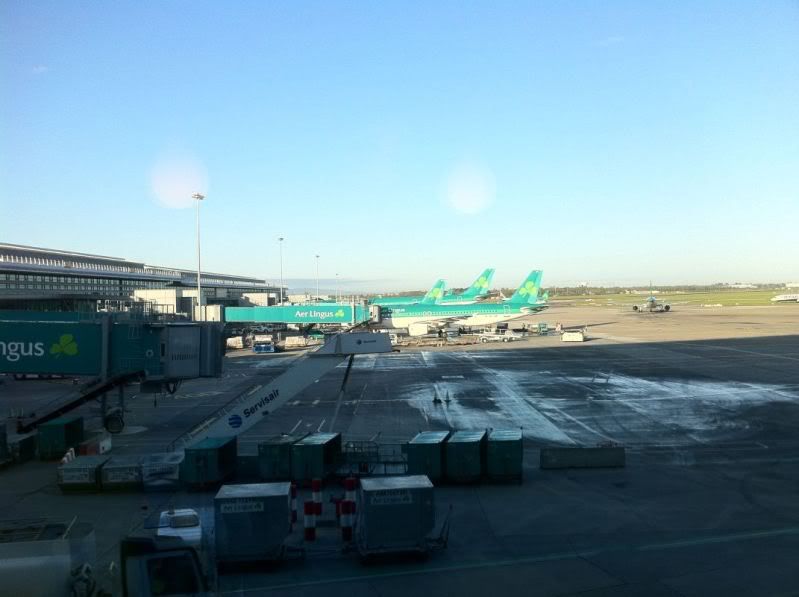 Upstairs are these things...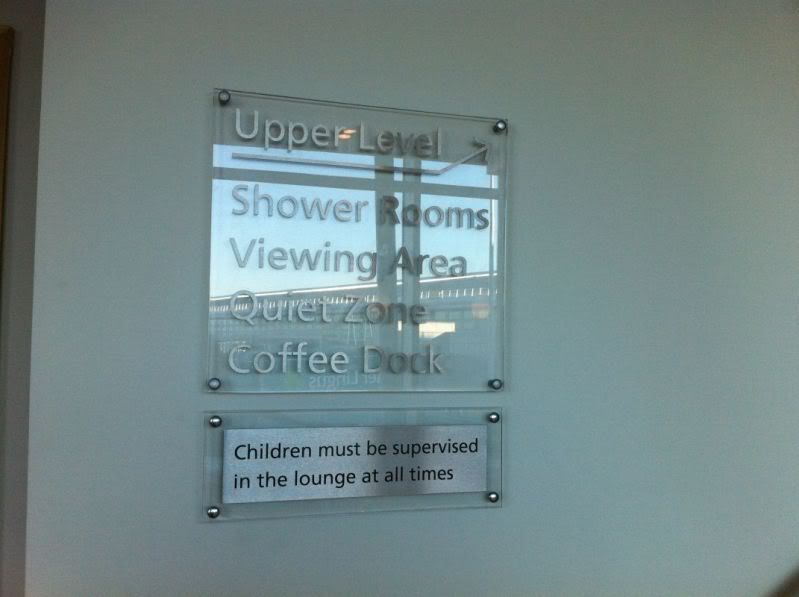 ... and some tables to finish.
Being an experienced passenger, I know that the time listed under "Gate Closes" on the boarding pass is actually the time the aircraft will board, so about 3 minutes beforehand I went to the gate, and moments later boarding was called. They called the rear rows of the aircraft, and I just boarded first with them and sat down in my seat in row 2. From experience I have learned that there are generally great views of the city of London if you sit in an F seat, and so I did.
However, now come some problems. The cabin wasn't exactly clean. The back of my seat pocket looked like someone had err... dropped some... milk?... down it at some stage.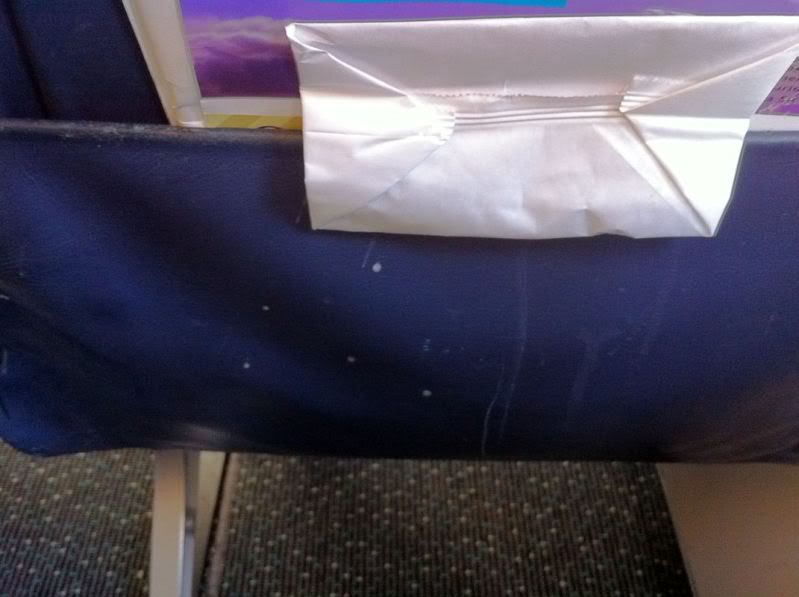 After that I noticed a sneaky coffee stain next to me.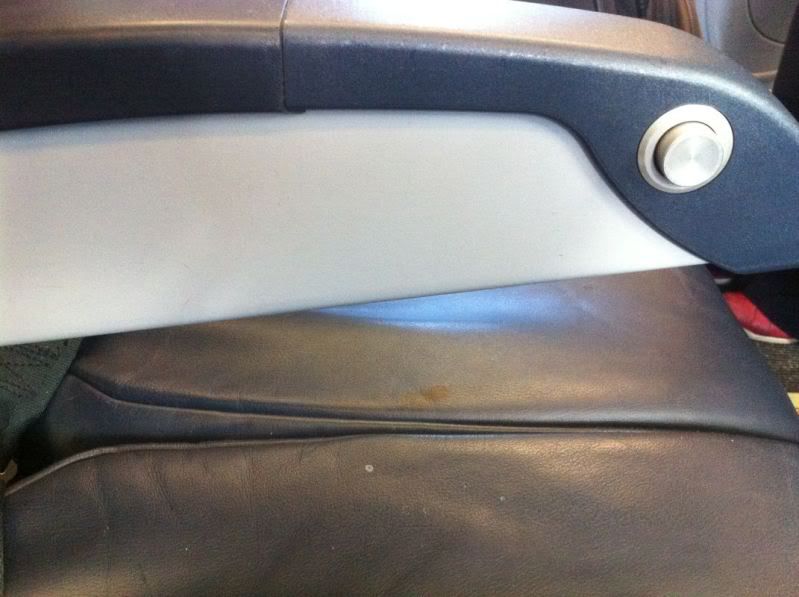 Of course, upon pulling down the tray, it seemed some coffee had made its way there too.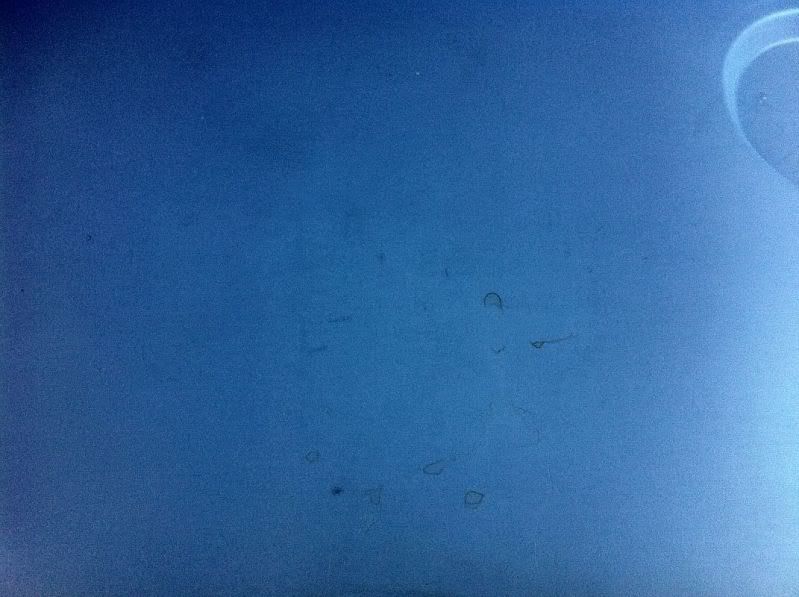 Not to mention the continuation of the milky substance on the back of the seat behind the tray.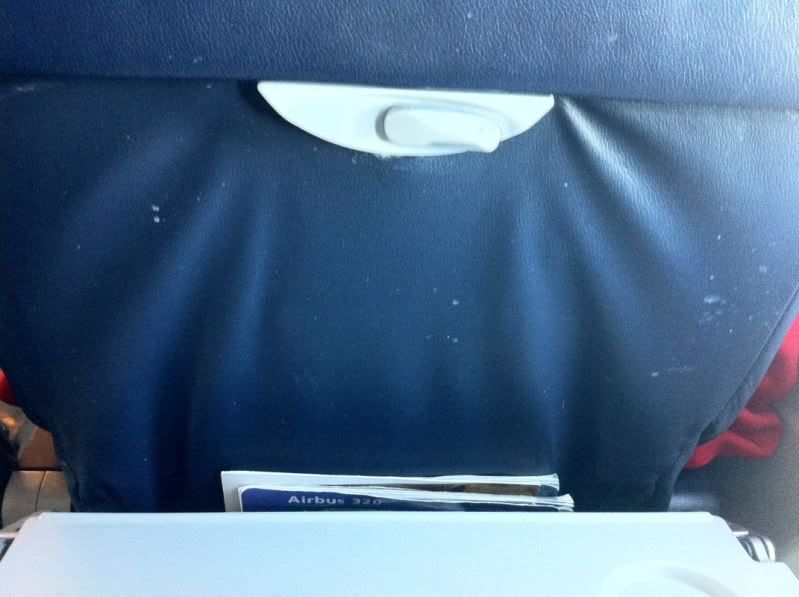 Oh well, you win some, you lose some, and it's not exactly like this is the kind of thing that would freak me out, demand to move seats or point it out to the crew. It's not their fault the cleaning service operates on a "if you can't see it, it doesn't exist" policy. I made a note to myself to see what the return aircraft was like just for fun.
We had 95 passengers on the flight this morning (as I overhead them relaying the head count), which wasn't a very large load considering the aircraft's capacity. We buttoned up on time, had the safety demonstration and took off on the northern facing runway at Dublin which was a nice change. I had noticed they were using the westerly runway for landings and the northern one for take-offs. Goodness knows why, but it was good to see something different.
A few weeks before the flight, I had clicked on the Sky Deli link on the Aer Lingus web page and couldn't believe my eyes! Could it be? The Aer Lingus breakfast was priced at €7.50! It had been reduced! About bloody time. It had been €7 when I moved to Ireland in 2005, then €8 in 2007, and then €9 in 2009. I thought €9 was a bit rich as you pay less for one in a cafe in Dublin. I actually expected the web page to be wrong and for the price to still be €9 on board, however, I have proof!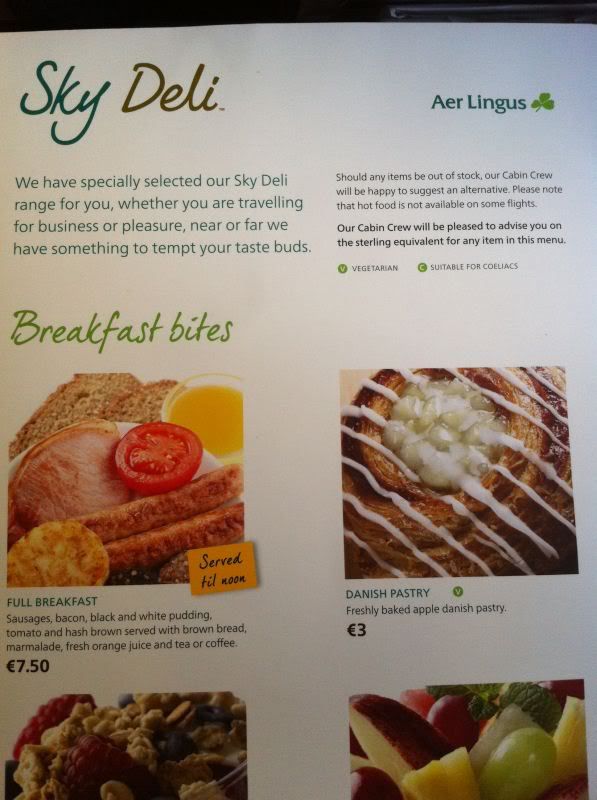 I also expected it to have been reduced in some way (less food or something), but that wasn't the case. I ordered the breakfast, handed over €7.50 in change (which is always appreciated on an early flight) and here it is!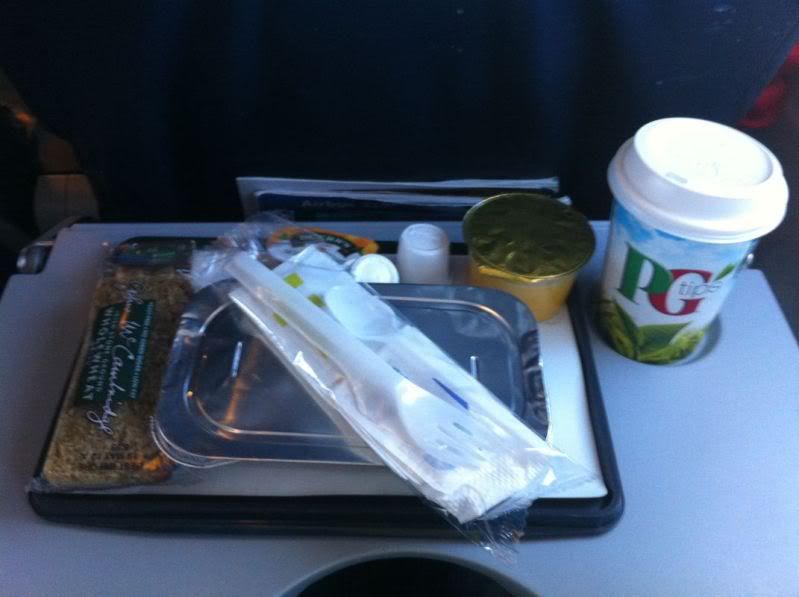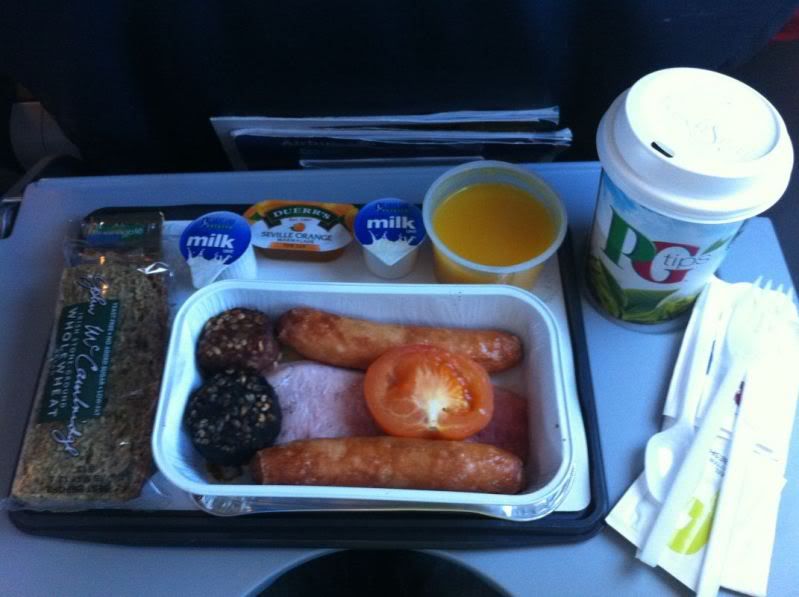 Absolutely excellent! I have had breakfast in Business Class on airlines that is not as good as this. Seriously! I think it is a great choice not to include egg, which is always pretty disgusting on board an aircraft. The only three suggestins I would make is that the orange juice is pretty vile (how about Tropicana or Innocent - they both do good juice), the 2 pieces of bread could be reduced to one without destroying life, and a little packet of tomato sauce (ketchup) would be appreciated. Otherwise, the sausages, tomato, black pudding, white pudding, potato cake, bacon and so on was flawless as always!
The seats on board look like this -
I think these need a refresh as they look almost exactly like Ryanair seats, from Aer Lingus' brief and ill advised flirtation with being a low cost airline.
The view from 2F - inside -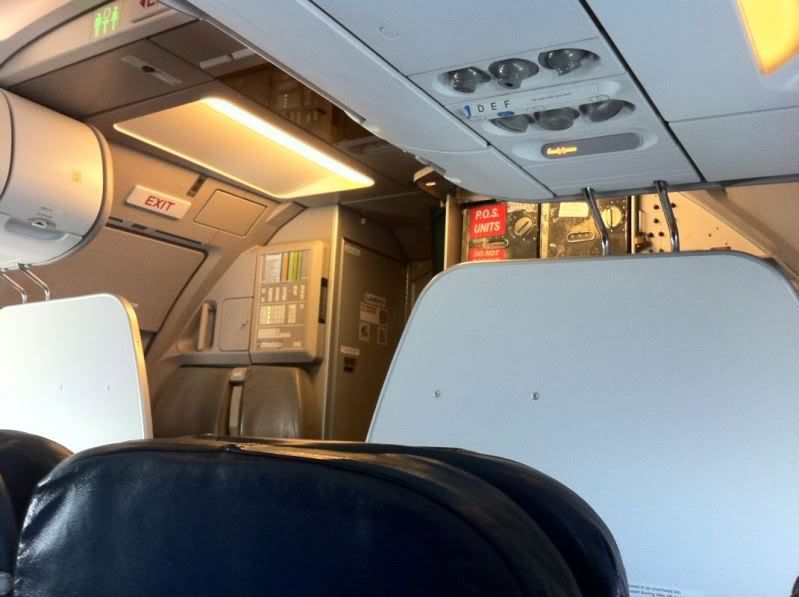 ... and outside!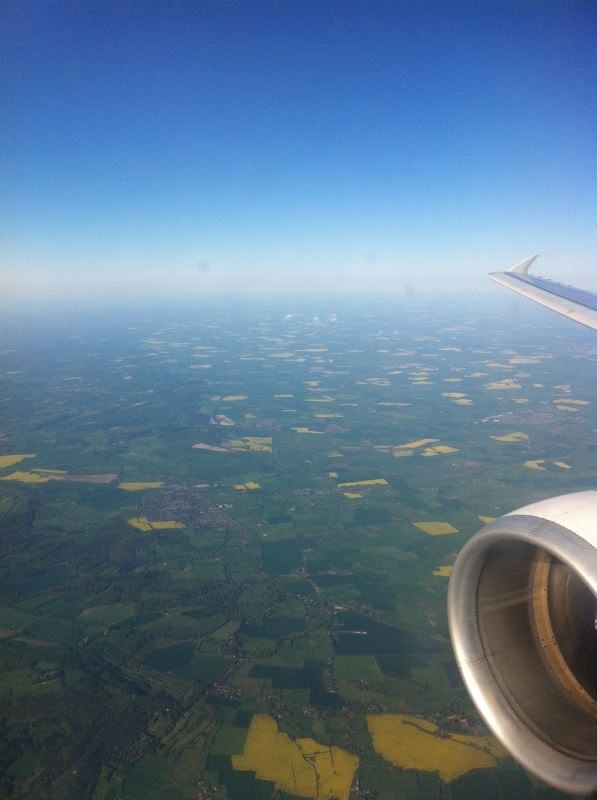 We landed early, and it was a very short taxi to the gate. Unfortunately, the aerobridge was out of order and so we all deplaned through the back steps. There were a lot of passengers who went into the transfer bus, showing that Aer Lingus feeds quite a few passengers on to other airlines at Heathrow, which is no surprise there.
Full marks for a good flight!
Date: 14 May 2012
Route: LHR-DUB
Flight: EI151
Aircraft: EI-DEC - A320-200 - St. Fergal
Seat: 6A, changed in the lounge to 3A
Dep: 2010 Arr: 2110
View Large
View Medium


Photo © T.Laurent
After two nights in London with friends, it was time to go back home. Of course, this time I checked in using the Aer Lingus iPhone app, and this is the electronic boarding pass.
I took a taxi to Terminal 1, went through security fairly swiftly and then it was off for the long walk to the 80-90 gates where Aer Lingus operate from. It's very good for your health to walk that far, so I've been told!
Once there, I immediately went into the lounge, and at the desk asked if I could change seats to something further forward on the A side (as you can see Dublin on landing if you're in an A seat). My choices were 1A and 3A and I chose 3A today. I was given a proper boarding pass and sat down to relax while having a few nibbles and using the Internet. The London lounge has PCs which the Dublin lounge doesn't.
The styling is somewhat different in London, but still on the same theme. This is the central area.
Down the back there are large relaxing seats to stretch out on.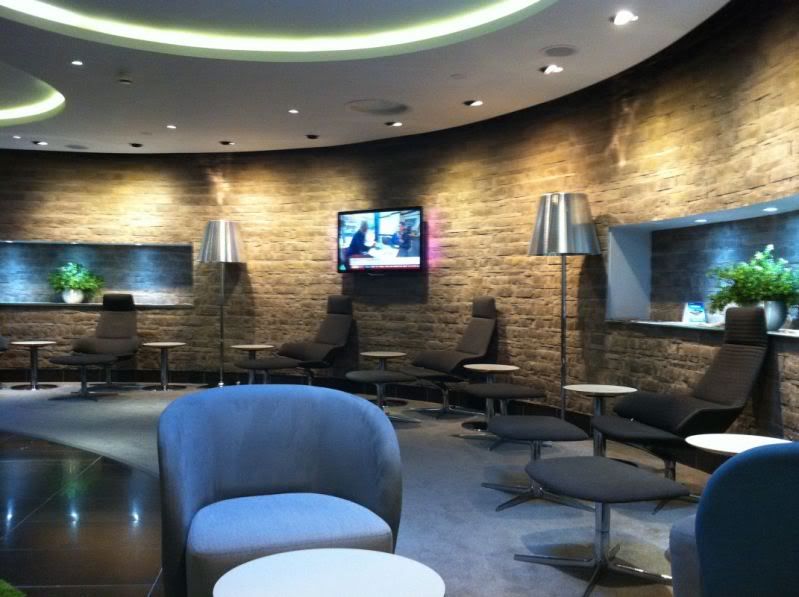 I do like these paintings on the wall.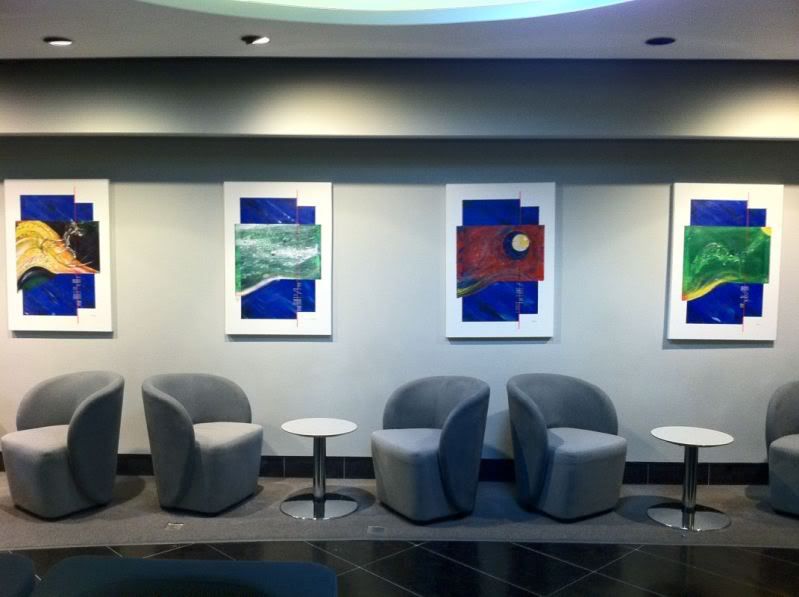 Irish carpet?
Of course, there is also a self-service food and drinks area.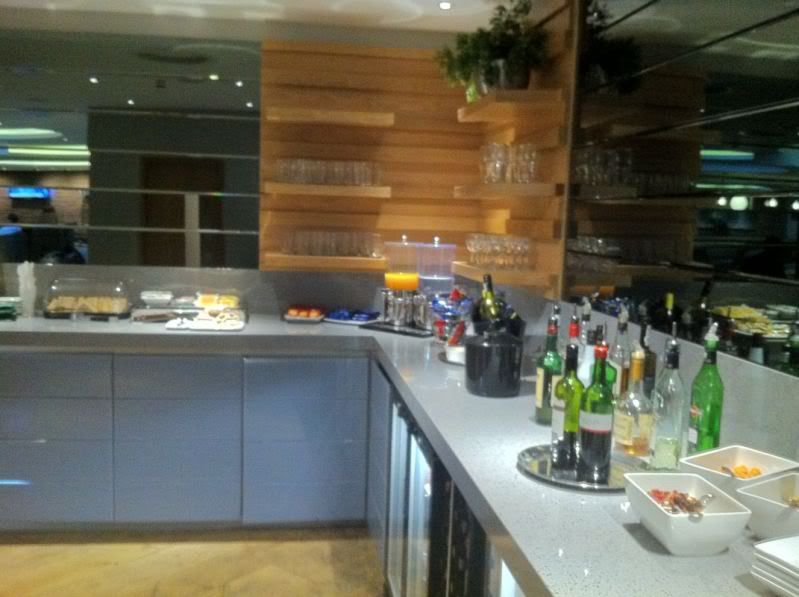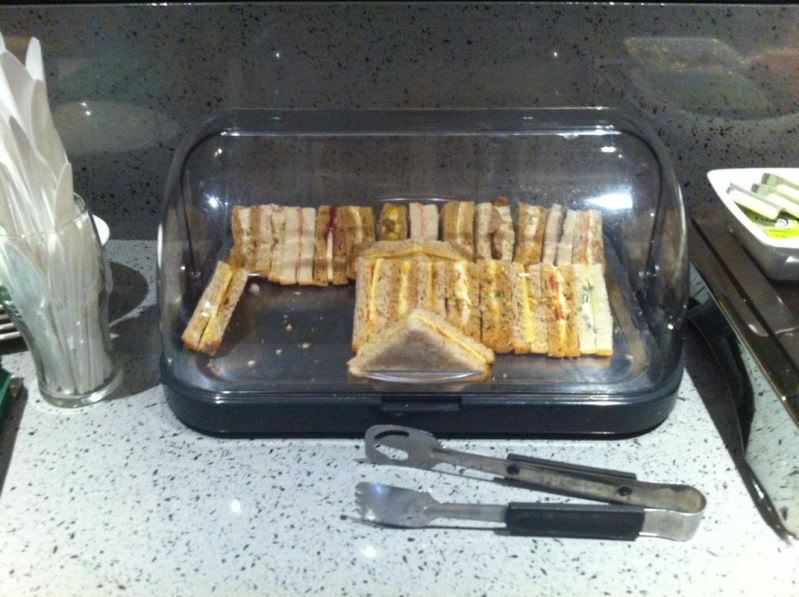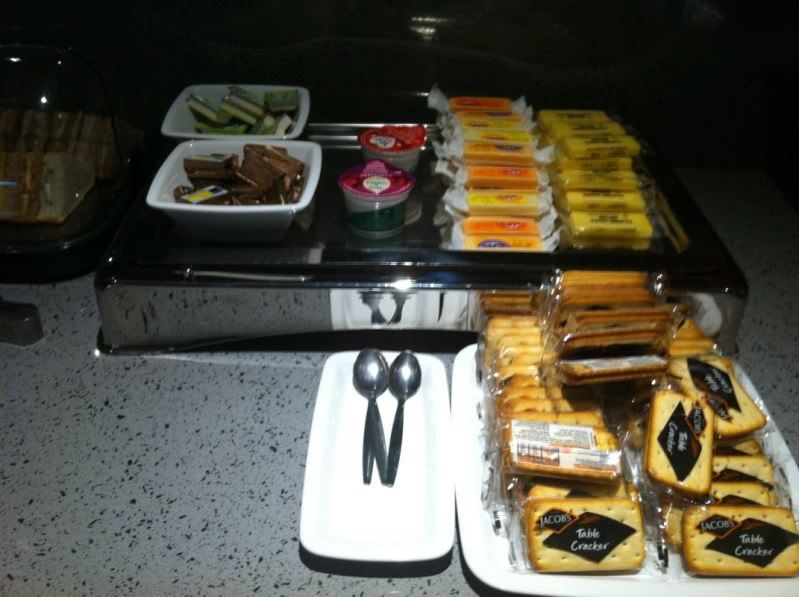 The great highlight of the revamped lounge at Heathrow is that it has two toilets actually in the lounge itself. The old lounge, a vast space of uselessness, had no toilet so you had to go and use the facilities outside, which was just eye rollingly fun.
Anyway, I left before boarding was due to start and waited by the gate. The announcement was boarding by rows, but they also said that Gold Circle members and passengers in rows 1-5 could board now also. I think they should do this in Dublin as the 1-5 seats are more expensive (€10 vs €5 for other seats) and are more likely to have frequent travellers in them wanting to get off first.
I sat down in 3A and here was my view.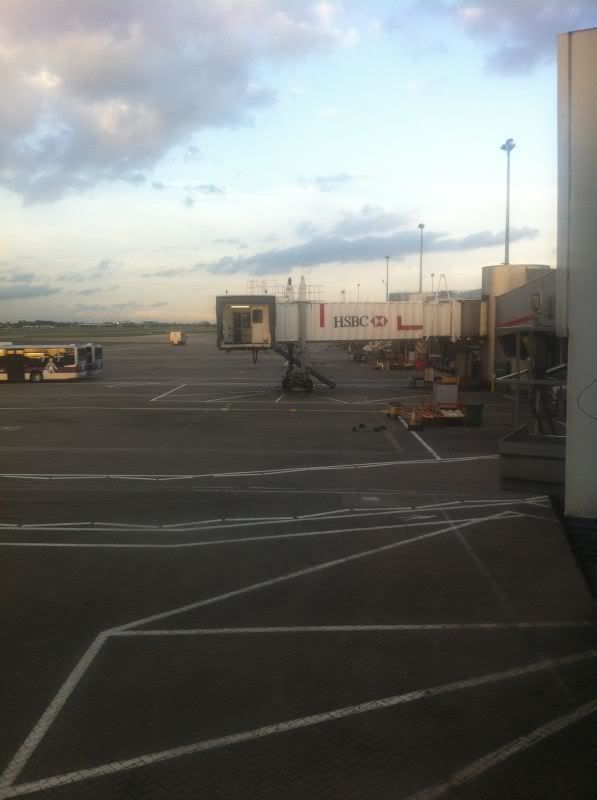 Of course, I had a cheeky look around in order to check the cleanliness of the aircraft and of course, I found more evidence of in flight fun!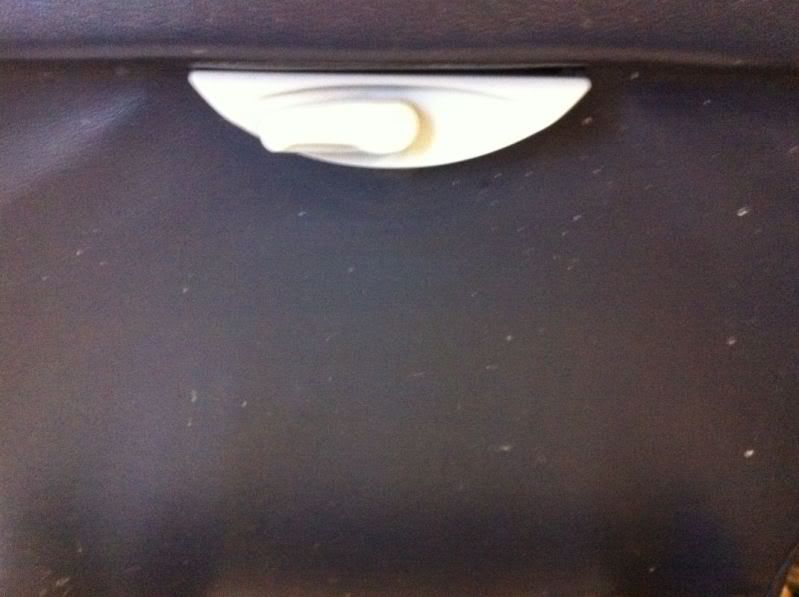 I had people sat next to me in the B and C seats and the aircraft was quite full for a Monday night flight. We had a speedy taxi around to the active runway and despite other aircraft already being there, we took off on time. I have to say that these have been the first Aer Lingus flights in a while that have left pretty promptly. Aer Lingus are focussing on their punctuality and it's really paying off!
Dusk - in flight.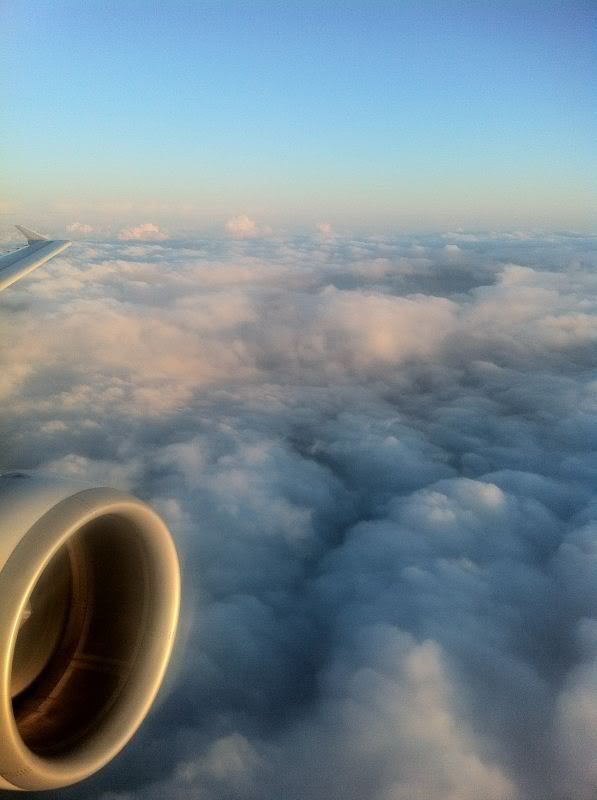 It was time for the food service. On a previous evening flight, I had tried the Hummus with Carrot and Celery sticks and it was nice, plus I also tried the thing with the olives which was also great. The new menu is a big improvement! This time, I decided to try the pasta as it was hot and I'd not had it before.
No complaints, it was pasta with meatballs and tasted like it. Not on par with the breakfast, and the presentation could have been better, but it was tasty and I had no ill effects from it. I'd have it again!
I do like flying near dusk and dawn as the world outside is very pretty!
The view from 3A looking forward -
Lots of dark clouds over the coast of Ireland -
We landed slightly early and were at the gate 5 minutes early. I was off the aircraft pretty swiftly and actually had the quickest plane door to home door ever. I was home in 50 minutes - aircraft, through Passport control (in seconds!), onto the bus which arrived immediately, green lights all the way, and then a 10 minute walk to my place! Amazing!
Overall, I have to say Aer Lingus are making some serious improvements. The new menu is excellent, and the reduction in breakfast prices is appreciated in these uncertain economic times. The lounges are an absolute pleasure to be in, and are never very crowded, though there are people there. The free wireless is also appreciated! The flights were on time, which is expected of an airline that is trying to compete on quality of product and service over the competition. The crews were friendly as always as were the lounge dragons who are actually always lovely! The only real downside was the cleaning issue, and Aer Lingus should review this with their contractor as they are not doing a very good job.
I am off to Heathrow again next week, and am looking forward to flying again! Might try another new menu item this time. I hope you enjoyed the report and the pictures, and feel free to leave any comments or questions you might have - I will get back to you