Feedback always appreciated.
I > Background:
As readers of the previous installment will remember, a sudden opportunity had led me to spend around 2 weeks flying around Canada and visiting some of her remote parts. Journey recap so far:
+ Air North's HS7 on YXY-YEV (http://www.airliners.net/aviation-forums/trip_reports/read.main/211334/)
+ Canadian North's 732 on YEV-YEG (http://www.airliners.net/aviation-forums/trip_reports/read.main/211929/)
+ First Air's fantastic 73M on YEG-YFB (http://www.airliners.net/aviation-forums/trip_reports/read.main/212989/)
+ WestJet's great 73H on YYZ-YYC (http://www.airliners.net/aviation-forums/trip_reports/read.main/216888/)
(Route Recap)
So after having experienced the three main Northern airlines, and having flown the excellent WestJet (Canada's only viable "other" national airline), it was time to wrap my visit by flying on the mainline Air Canada.
The initial plan was to fly Central Mountain Air who flies one of the remaining prop Dornier 328's on YYC to YEG. Sadly, their sole aircraft was out of operation, and I settled for Air Canada to take me from YYC to YEG, and then to my LHR flight.
This report will cover AC's YEG-LHR flight in their Executive First cabin, and will be the first report on A.Net on this routing.
II > Pre-Flight:
a) Before Airport:
Air Canada is the "flag" carrier of Canada. A Star Alliance member, this airline has struggled financially in the past few years with labor unrest and poor fiscal problems dominating the headlines as it fails to capitalize on a strong domestic economy, and growing demand. The next few years will be crucial to see if Air Canada can emerge as a strong airline having a visionary management, or if it continues to lose its market share to the well respected (and liked) WestJet.
Booking was done on Air Canada's excellent website (www.aircanada.com). One gets the ability to make seat selections, view itineraries, change flights/seats, and log on and print e-tickets. It is an extremely well designed website and I must give AC tremendous praise for it. It is not perfect though … for example, try booking a multi-city trip, and it gives absurd pricing forcing you go to an OTA. And of course, once you go to an OTA, you cannot get all the functionality of the website. But these are minor details that I am sure AC's revenue managers have thought about … or, so I hope.
b) At Airport:
Why Edmonton built a new expanded airport is beyond me … the current facilities seemed more than sufficient in my opinion. Anyways, after arriving from Calgary, I proceeded to the Air Canada check-in desk where an agent promptly attended to me. She was diligent and efficient and in a matter of minutes gave me my boarding pass and advised me of the location of their lounge. It was exactly what Business Class check-in should be … polite and efficient.
Security was a breeze, and soon I was airside exploring the rather limited retail options at Edmonton airport. I decided to check out the unimaginatively named "Maple Leaf Lounge" (come on Canadians, the Maple tree is grown in like a small part of Ontario!) which left a lot to be desired. It was basically one large room which was filled with people and offering a very limited collection of snacks and beverages. Perhaps, London being the only intercontinental flight of note at YEG, AC does not find its while in spending in upgraded facilities? Though, aren't Canadian domestic departing passengers allowed into this lounge? I hope our Canadian A.Netters can shed some light.
Boarding was called 45 minutes prior to departure, and I made my way down to the gate area. A huge line was already being formed (what's up with "ILBST" being more in fashion in Western countries than the original inventors?), and there was a sense that everyone wanted to be on the 763. Thankfully, a rather dour agent kept yelling for "Business, Super Elite, Elite, and Star Gold" members and I was able to quickly get scanned and verified for departure. She was not the smartest person out there as she kept looking for my UK visa on my Spanish passport … I was headed to MAD and had to use it. Oh well.
As one enters the Boeing 767, the first positive impression is created by the soothing blue colors that AC seems to keep on during the boarding process. I was greeted by the rather elderly service director (let's call her Ms. AC-SD) and told that the walk was short. During the entire boarding process, I did not see anyone else on the cabin help Ms. AC-SD with the process. There were a few younger crew members just standing in the aisles in the own zone. There was a old British lady in the last row of Business, and the crew members just stood there watching until I went to help. Oh what a contrast it was from those WestJet crew members!
J load was 90% … but I overheard Ms. AC-SD say that I was one of the two full revenue tickets on the entire flight! Mostly standby and upgraded passengers today.
Airport - External:
(Edmonton Airport)
Check-in:
(Air Canada: Business & Elite Check-In)
Airport - Internal:
(Post Security @ YEG)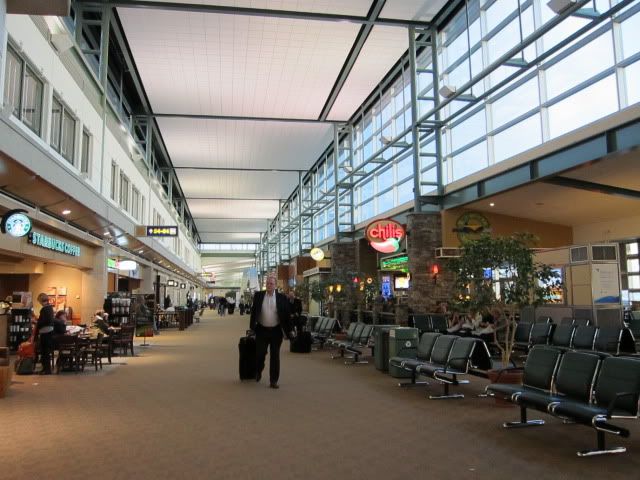 Scenes of the tarmac:
NONE
Lounge
(Air Canada's Maple Leaf Lounge)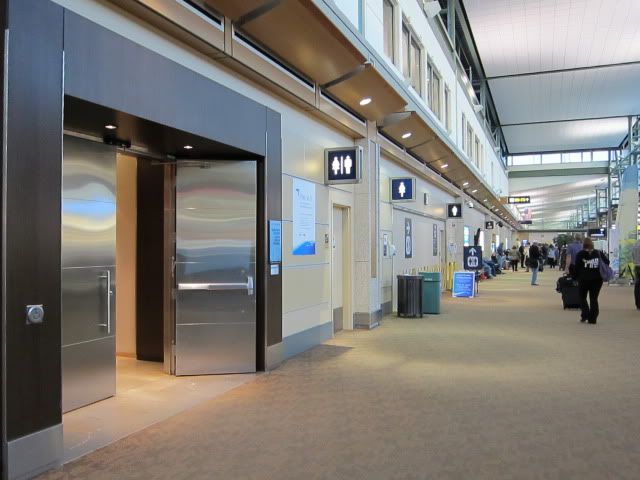 *
*
(Enjoying my meager offering)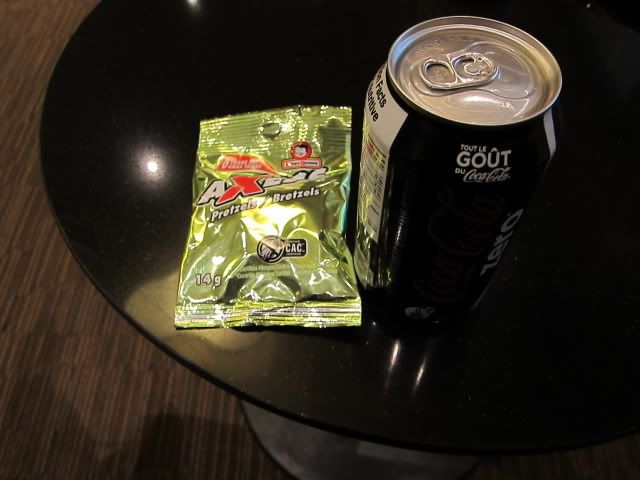 Boarding:
(Gate Area)
(Boarding)
NONE
III> In-Flight:
a) Service Schedule + Impressions:
On each seat was a blanket and a bottle of water. Headphones were provided with the seat. Service included:
+ Drink service on the ground – sparkling wine or water
+ Amenity kit distributed
+ Menu's distributred
+ Skimpy hot towels prior to meal service commencing
+ Meal service with beverage
+ Duty free service
+ Supposed breakfast service (see below)
+ LHR fast track and Arrivals Lounge invitations prior to descent @ LHR
b) Aircraft + Seats:
Air Canada's "XM'd" 763 looked truly immaculate, and I was impressed how an upgrade could completely transform an aircraft to look brand new. The interior is spotless and well-maintained and the blue hue was extremely pleasant to the eye. The bathrooms were well stocked throughout the flight and was clean even after the 8+ hour flight at LHR.
AC's J class configuration for their 763 include the herringbone 1-1-1 staggered layout. The seats are 180 degrees lie flat, have a 70" pitch, with 20.4" width. While the seat was comfortable, the lack of storage was annoying. Also, the magazine rack was cramped and the overall seat material was not the best in the market.
As mentioned, I was not a big fan of the seat material. However, it is extremely comfortable, and I did appreciate all the pre-set postures. Additionally, seat is extremely comfortable in lie flat situation and I was able to snooze off for over 5+ hours. You do have to get use to the some uncomfortable folds, but you do that pretty easily I think.
What is super weird about the staggered layout is when the aircraft taxis and makes turns, you can really feel the entire fuselage turning as you face side-ways. Does this make sense? It also feels weird facing side-ways when taking off and landing. While looking at the bins, you kinda feel the whole aircraft moving and taking off.
Oh, and I did like how the blue lights for the seat controls auto-turned on and off based on what position you were in.
Aircraft:
(Our 763 @ YEG)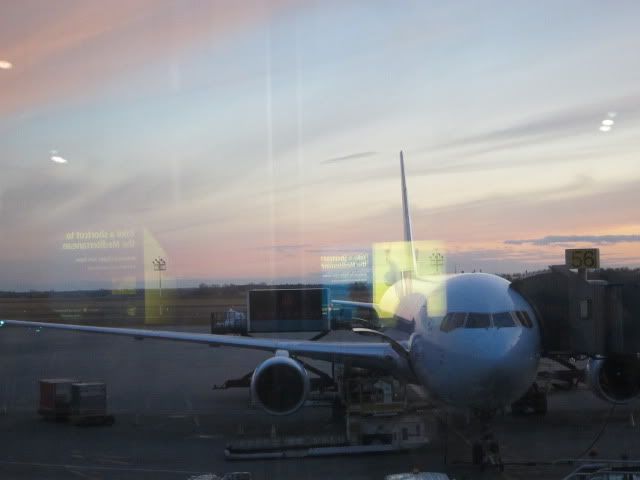 Views from Aircraft:
(An AC E-Jet)
General Seat Views + Seat Legroom
(Seat)
(Front of seat)
(Seat controls)
(Legroom)
Seat Recline + Angle View:
(Full Flat Bed)
(Bulkhead view. 1A provides unmatched privacy in AC's Executive First)
(AC's seat description)
Cabin: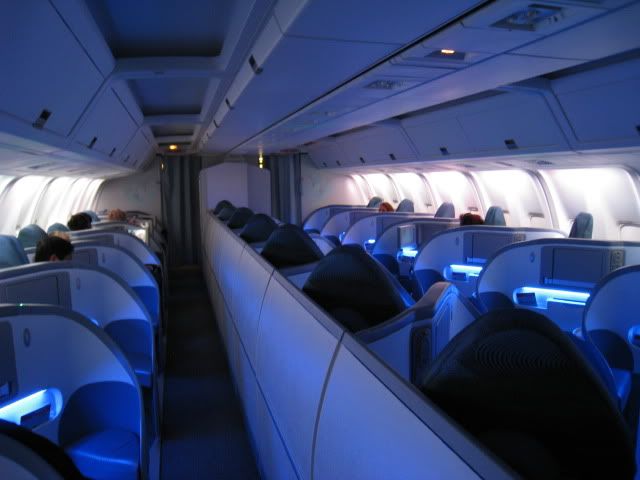 *
(Bathroom)
NONE
c) Meal + Beverage:
The sparkling wine served on the ground lacked fizz. Dinner service was rather elaborate with each item being brought out separately. Now, this is one of my pet peeves on a red-eye intercontinental flight … especially one heading East. Because of the time zones involved, all I want to do is eat fast (or, eat at the lounge) and go to sleep. On Air Canada, no consideration was given to this. When I requested if it was possible to have an "express service", I was told that "this was not possible as it would interrupt their service flow". Seriously? Whatever happened to no service request being too much? Anyways, a part of me cannot blame them I guess … the YEG-LHR flight was full of people who seemed to enjoy EVERY piece of service offered in the J-cabin. Nothing wrong with that – but the irony being the service was "catered" to upgrades and staff members instead of those who had genuinely paid for the seat. Oh well. I was still flying JCL to put things in perspective …
Dinner started with cold nuts and some more of that sparkling wine. Then, it was the starter which consisted of a nice warm bread, some very generous portioned and equally tasty fritters and salmon. I chose the slightly underwhelming chicken/rice dinner combination, but the dessert with my usual port was very nice.
Prior to getting some sleep, I asked one of the younger crew members (let's call her "Ms. AC-2") who had been dour throughout the flight if she could make sure I wake up for breakfast. She said, "Yes. We wake everyone" in a curt manner and went away. Anyways, I had dozed off completely and was woken up by the purser gently waking me up as we were about to descend to LHR. I was taken aback a bit and disappointed. When I flagged Ms. AC-2, she simply shrugged and said she forgot. No apologies, no offer to get me something from the galley, nothing. What slightly bothered me was not the fact that I missed out on a meal service, it was just the overall blasé attitude of not caring.
Overall, decent meal quality … but not award winning by any shot.
(Menu)
NONE GIVEN
(Water at seat)
(Welcome drink)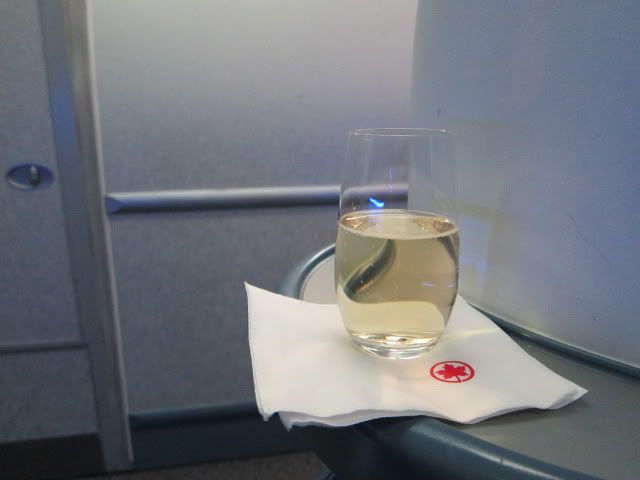 (Dinner starts with some drinks)
(Pretty solid appetizer)
(Decent main)
(Passable dessert, with my trademark Port wine)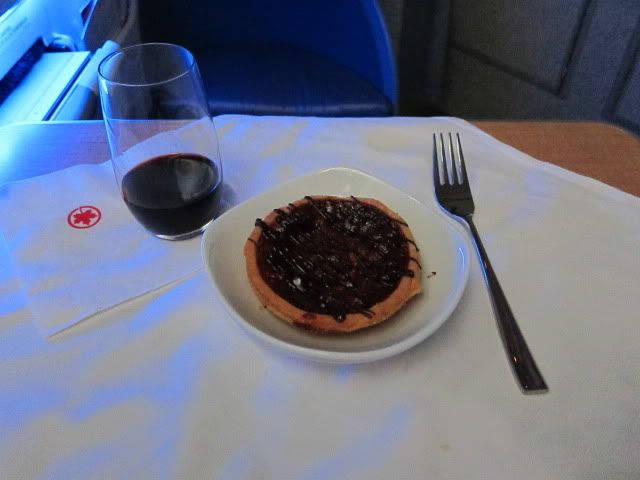 d) Inflight Entertainment:
First of all, all airlines need to go to Air India to see what kind of headphones are needed. AI's Y class headphones were better than the crap given onboard AC. Thankfully, the actual system was pretty good … and featured a decent collection of movies, games, television shows, etc. I had seen many of their movies, so ended up seeing a half decent Canadian flick whose name I do not recall. Added to this, a good in-flight magazine and you really have no reason to complain about the standard of service. One thing though … can we please cut the amount of advertising before each movie/TV?!
(AC's "En Route" System)
*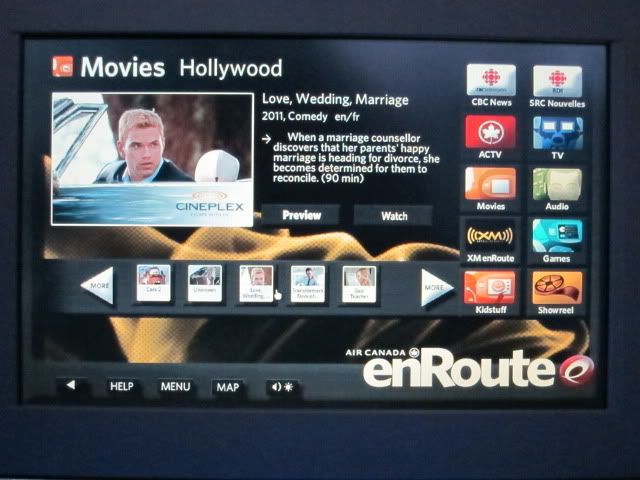 *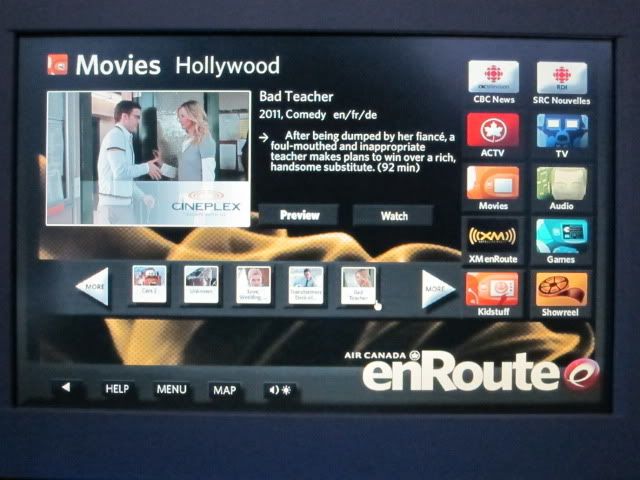 (Flight Plan & Interactive Maps)
(Controller & Headset)
("In-flight magazines", Boarding Passes, etc.: Not too shabby – loved the postcards in the magazine)
e) Crew:
Wow. What a change from the WestJet crew that had been in charge of the flight before. The contrast could not have been starker. Juxtaposed against the pro-active and friendly WestJet crew, this AC crew seemed to be from a different planet. There were no smiles, no pro-active water runs, no help during the boarding process, no meaningful engagement with the passengers, nothing. Furthermore, the action of the Ms. AC-2 left me a sour taste in my mouth.
I recognize that the crewmembers are going through a lot of turmoil with their management, but this was not the way to behave. A basic level of professionalism needs to always be maintained I think. What was even more interesting is that the older service director who had been with AC for apparently 30 years was actually the best of the crew members – here is someone who probably lost the most in benefits, and yet, was able to provide decent service. The 2 new girls were the diva, unhappy with life, and bringing their miserable attitude to work. What a disappointment, I must say. Oh and please, don't talk loudly about all your problems and the next shape of "who is sleeping with whom" in the forward galley. As a passenger in 1A, I can hear everything! The only other airline where I found crew to be so loud in personal conversation was on Emirates … and I am NOT a fan of them either.
As I left, a huge part of me just wanted the Canadian government to stay out of the AC mess, and let the markets dictate who would survive. I imagined a Canadian landscape where WestJet and First Air flew long-haul with crew members who actually understood what good business sense means.
Having said this, I recognize how hard it must be for crew members whose livelihood keeps on being eroded by a management team that is ineffective in driving change. Come on, if your teams are not working, change it!
IV> Post-Flight:
Arrival into LHR was smooth and using fast track, I was out within minutes. Now, AC has an arrivals lounge at LHR catering to their many arrivals (YVR, YEG, YYC, YYZ, YUL, YOW, YHZ, and YYT). This is an absolute blessing and I was able to take a nice shower and have a good café. The lounge was not going to win any awards, but I surely enjoyed and appreciated its existence and wished more airlines did this.
(Arriving @ LHR always is exciting for plane spotting)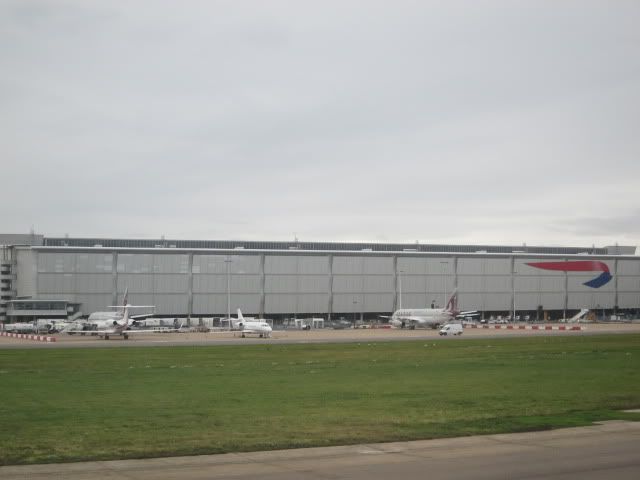 *
*
*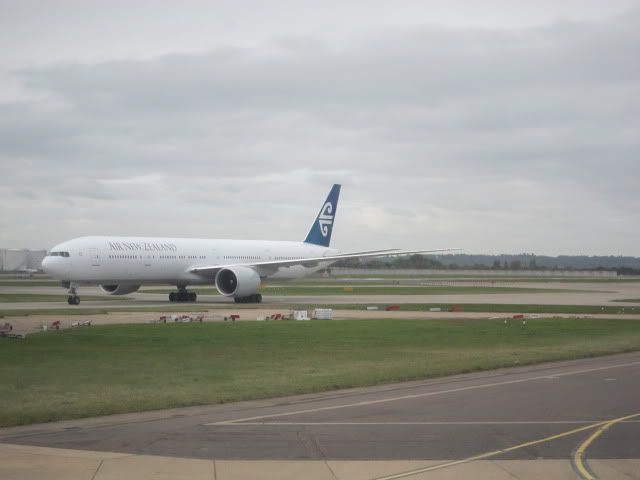 *
*
*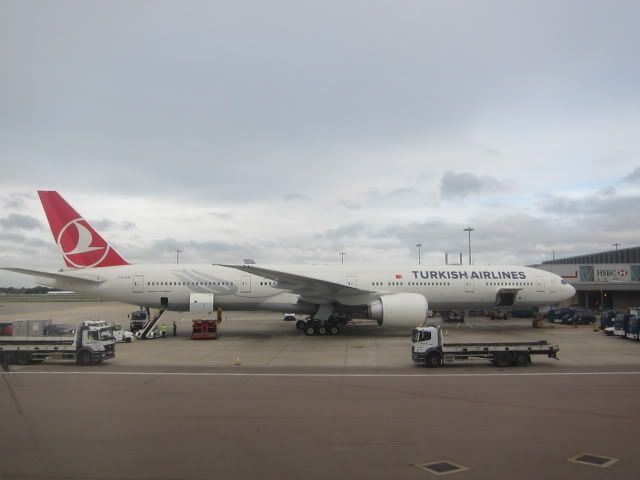 *
(Invitation to the Arrivals Lounge @ LHR)
*
(The Arrivals Lounge @ LHR)
*
*
(And, the shower)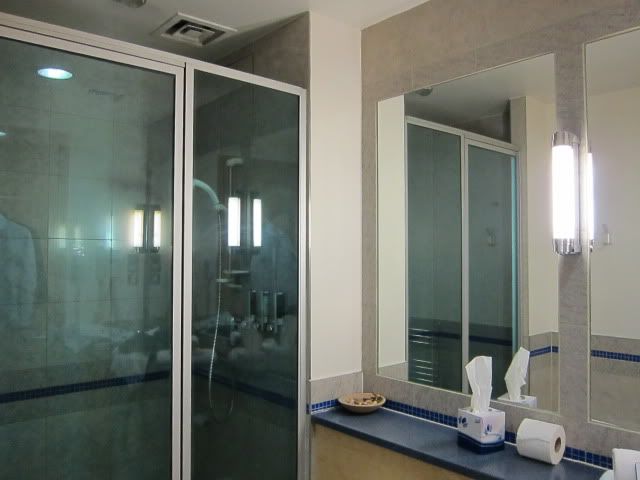 V> Impressions + Scores:
Air Canada has done a lot of right things over the years. While not revolutionary, their hard product in Business is very good. The herringbone shaped seats provides a good amount of comfort, and ensures a good night sleep. Furthermore, their in-flight entertainment is actually pretty good and I would dare to say the best in North America. It is miles ahead of WestJet.
While some of their soft products are acceptable (lounge, food, amenity kit, beverage, ground services, etc.), it is when it comes to their inflight crew that everything falls apart. They just did not understand the basis of good service. As a global airline, the crew must understand that it will never be able to restore brand health if it engaged in such poor practices. What was disappointing was that it was not the older crew who were poor, it was the younger ones. I shudder to imagine how they would be in a few years.
Overall, an average/good flight turned to poor due to the crew. However, due to all the other good things and the good seat, I'd continue to fly AC. It is just that unlike airlines such as First Air or WestJet in Canada, I would never go seek them. Price and schedules would dictate everything. One thumb down.
So there you have it – 5 flights with 5 diverse Canadian airlines. First Air and WestJet clearly superior. Air North rather average. Canadian North, best avoided. Air Canada … oh what a crew.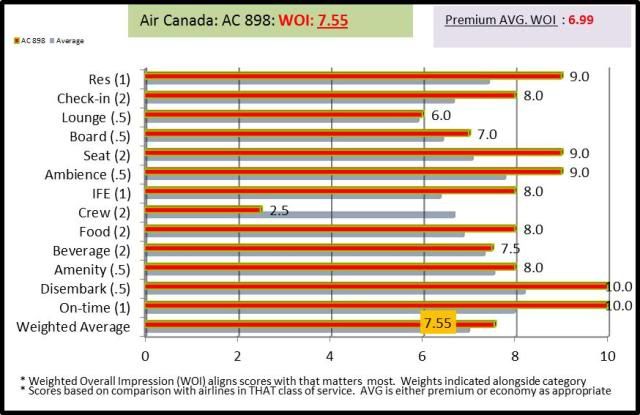 VI> Other Trip Reports:
PREMIUM:
9.27: JET AIRWAYS **FIRST** (110): LHR-BOM: 10/2010
9.27: THAI AIRWAYS **FIRST** (108): BKK-LHR: 07/2010
8.66:
Brussels Airlines (93): FIH-BRU: 01/2010
8.64:
Turkish Airlines (59): JFK-IST: 11/2008
8.63:
Jet Airways (88): JFK-BRU: 10/2009
8.61:
Air Canada (49): YYZ-SCL: 06/2008
8.54:
Turkish Airlines (77): GRU-DKR-IST: 04/2009
8.36:
Kingfisher (98): BOM-HKG: 01/2010
8.30:
Jet Airways (74): KWI-BOM: 04/2009
8.23:
United Airlines (72): SFO-SYD: 03/2009
8.11:
Aeroflot (33): MOW-DEL: 09/2007
8.05:
Air India (80): CCU-JFK: 06/2009
8.04:
Korean Air (40): NRT-ICN: 10/2007
8.02:
Delta Airlines (24): JFK-CDG: 08/2007
7.82: UNITED AIRLINES **FIRST** (110): SFO-ICN: 10/2010
7.82:
Singapore Airlines (06): EWR-SIN: 09/2006
7.66:
Sri Lankan (104): DEL-CMB: 07/2010
7.64:
Royal Jordanian (91): AMM-YUL: 12/2009
7.61:
China Southern (103): LOS-DXB: 04/2010
7.57:
Pakistan Airlines (102): ORD-BCN: 06/2010
7.55: Air Canada (132): 06/2011
7.46:
LAN (55): YYZ-JFK: 09/2008
7.38: AMERICAN AIRLINES **FIRST** (112): LHR-JFK: 10/2010
7.38: CATHAY PACIFIC **FIRST** (109): HKG-LHR: 10/2010
7.25:
Iran Air (88): BOM-IKA: 12/2009
7.23:
Air Pacific (120): NAN-APW-HNL: 01/2011
7.23:
Virgin Atlantic (81): BOS-LHR: 07/2009
7.14:
Swiss (52): SCL-GRU: 06/2008
7.11:
Aer Lingus (105): MAD-IAD: 05/2010
7.11:
Austrian (79): VIE-JFK: 06/2009
7.07:
Privatair (84): BOM-FRA: 08/2009
7.02:
Qatar (68): DOH-JFK: 01/2009
6.96:
Etihad (61): JFK-AUH: 12/2008
6.93:
Delta Airlines (18): SEA-JFK: 11/2006
6.88:
Egypt Air (123): LHR-CAI: 03/2011
6.84:
ConViasa (65): CCS-DAM: 01/2009
6.82:
Air Burkina (106): BKO-OUA: 06/2010
6.81:
Air Canada (17): ICN-YYZ: 10/2006
6.75:
Afriqiyah + Libyan (113): CAI-TIP: 11/2010
6.70:
KLM (32): EBB-AMS: 08/2007
6.52:
Emirates (99): LHR-DXB: 02/2010
6.39:
South African (97): EZE-JNB: 01/2010
6.36:
Privatair (60): MUC-BOS: 12/2008
6.29:
TAM Brasil (96): POA-EZE: 02/2010
6.25:
Korean Air (45): NAN-ICN: 10/2007
6.21:
Iberia (87): BOS-MAD: 10/2009
6.11:
A SKY (107): OUA-COO: 06/2010
6.11:
TAP Portugal (53): GRU-OPO: 06/2008
6.00:
Gulf Air (75): BOM-BAH: 04/2009
5.88:
African Express (89): DXB-NBO: 11/2009
5.75:
Singapore Airlines (16): CCU-SIN: 10/2006
5.64:
SATA Azores (101): BOS-PDL: 04/2010
5.64:
NorthWest (46): ICN-NRT-SEA: 10/2007
5.54:
Ethiopian Airlines (95): ADD-BOM: 01/2010
5.46:
Icelandair (83): KEF-BOS: 08/2009
5.39:
LOT (54): WAW-JFK: 06/2008
5.21:
Egypt Air (73): CAI-IST: 02/2009
5.11:
Tunisair (115): TUN-ORY: 12/2010
5.07:
TACA (66): JFK-SAP: 01/2009
4.89:
TAAG Angola (117): TMS-LAD: 12/2010
4.42:
Air France: CDG-JNB (25): 08/2007
ECONOMY: Long + Medium:
9.26:
Air India (48): JFK-DEL: 02/2008
9.04:
First Air (129): YEG-YFB: 06/2011
8.74:
Japan Air Lines (130): NRT-BOS: 04/2012 – INAUGURAL
7.99:
WestJet (131): YYZ-YYC: 06/2011
7.38:
Avianca (01): BOG-LIM: 07/2006
7.07:
Sri Lankan (62): KWI-CMB: 12/2008
7.00:
LAN (94): IPC-SCL: 01/2010
6.81:
STP Airways/Euro Atlantic (116): LIS-TMS: 12/2010
6.67:
Air Malta (124): MLA-FRA: 04/2011
6.63:
Vladavia (126): KHV-PEK: 06/2011
6.41:
Air North (127): YEV-YEG: 06/2011
6.41:
Avianca (78): JFK-BOG: 05/2009
6.41:
American Airlines (58): LHR-BOS: 11/2008
6.39:
Condor (85): SEZ-FRA: 09/2009
6.26:
Jet Blue (21): CUN-JFK: 02/2007
6.11:
Caribbean Airlines (119): POS-FLL: 01/2011
6.06:
Air Canada (04): YYZ-YVR: 09/2006
5.89:
USA 3000 (19): PUJ-BDL: 01/2007
5.85:
Spanair (69): MAD-LPA: 02/2009
5.80:
Canadian North (128): YEV-YVQ-YZF-YEG: 06/2011
5.79:
Air New Zealand (42): RAR-NAN: 10/2007
5.52:
Aerolineas (86): USH-AEP: 10/2009
5.46:
TAP Air Portugal (23): OSL-LIS: 05/2007
5.19:
Air Europa (70): LPA-MAD: 02/2009
5.16:
Iberia (71): MAD-BOS: 02/2009
5.11:
Air China (82): FRA-PEK: 08/2009
4.59:
IR Aero (125): IKT-VVO: 06/2011
ECONOMY: Short
8.56:
Paramount Airways (38): BLR-MAA: 09/2007
8.56:
Kingfisher (64): HYD-CCU: 12/2008
8.24:
Kingfisher (14): IXA-GAU: 10/2006
7.87:
Indian (34): BOM-MAA: 09/2007
7.72:
Alliance Air (13): CCU-IXA: 10/2006
7.57:
Indian Airlines (10): DEL-CCU: 09/2006
7.23:
West Jet (03): YYC-YVR: 09/2006
7.15:
JetLite (37): BOM-GOI: 09/2007
6.98:
Air Koryo (100): PEK-FNJ: 04/2010
6.70:
Spice Jet (09): CCU-DEL: 09/2006
6.63:
Air Fiji (44): NAN-SUV: 10/2007
6.63:
Jazeera (67): DAM-KWI: 01/2009
6.58:
Air Tran (02): EWR-MDW: 08/2006
6.48:
Air India Express (63): CMB-MAA: 12/2008
6.44:
CO Micronesia (39): ROR-YAP: 10/2007
6.41:
Pacific Sun (43): NAN-SUV: 10/2007
6.37:
Skybus (47): SWF-CMH: 02/2008
6.33:
Kenya Airways (29): NBO-BJM: 08/2007
6.33:
Sky Europe (56): LTN-BTS: 10/2008
6.31:
Indigo (15): GAU-CCU: 10/2006
6.31:
easyJet (57): BUD-LTN: 11/2008
6.22:
Air Link Swazi (28): MTS-JNB: 08/2007
6.22:
Air India (36): HYD-BOM: 09/2007
6.13:
Adam Air (07): SIN-CGK: 09/2006
6.13:
Air Rarotonga (41): RAR-AIT: 10/2007
6.04:
Suriname Airways (118): PBM-POS: 01/2011
6.00:
Transairways (27): INH-MPM: 08/2007
5.95:
Air Canada (05): ALB-YYZ: 09/2006
5.85:
SAS Norge (22): OSL-AES: 05/2007
5.81:
LAM Mozambique (26): JNB-MPM: 08/2007
5.69:
Air Deccan (12): IXZ-CCU: 10/2006
5.67:
Rwanda Air Exp (30): KGL-NBO: 08/2007
5.52:
Sevenair (114): TOE-TUN: 11/2010
5.37:
Felix Airways (92): SCT-SAH: 12/2009
5.11:
Aero Republica (76): BOG-CCS: 04/2009
5.07:
Go Air (35): MAA-HYD: 09/2007
5.04:
Biman (121): DAC-CGP: 01/2011
5.00:
Sky Airline (51): IQQ-SCL: 06/2008
4.96:
United Bangla (122): CGP-DAC: 01/2011
4.96:
Valuair (08): CGK-SIN: 09/2006
4.78:
Air Comet Chile (50): SCL-IQQ: 06/2008
4.74:
Fly 540 (31): MYD-LAU: 08/2007
4.33:
Viva Aerobus (20): ELP-MTY: 02/2007
4.11:
Air Sahara (11): CCU-BOM: 09/2006
(Note on Codes: Y – Economy, J – Business, F – First :: I/D – International/Domestic :: SR/MR/LR – Short/Medium/Long Haul)
(Note on Date: Dates are modified to be +/- 3 days from actual flight date to not reveal actual flight pattern)
VII> Other Pictures:
(Amenity kit)

* Unbiased view on how an actual traveler may view the flight
* Not a professional photographer (so please keep in mind)
* Commitment that I won't identify myself to the airline as "reviewing them"