Disclaimer
This report contains a lot of politically incorrect jokes about the situation in Greece. I couldn't care less about being PC, but if you are easily offended or simply lack a sense of humor stop reading now and go and watch the Disney Channel or something, it is safe, sterile and will not require you to tax your brain too much.
Rest assured I have nothing against the Greek as people, they are some of the warmest, most hospitable not to mention relaxed and good humored people that I have ever met. This is just my way of pointing out what a sorry mess the ruling class and "the way of the country" have brought the country into. The Greek people deserve so much better.
Introduction

I had the return part of an earlier flight from MUC to HEL (via AMS, obviously) still unused (see here for that story:
Best Of Bavaria And KLC E190: HEL-RIX-MUC-AMS-HEL
(by
FlyingFinn76
Apr 15 2012 in Trip Reports) ), so I had to build another trip around it. I had deliberately booked it for a Friday night, knowing fully well that early Saturday morning at MUC sees two interesting fifth freedom flights: the SQ 77W service to MAN and the recently added tag on to Air China's PEK-MUC A332 service: ATH.
Since I have flown with both carriers before neither of these services stood out as a must do, but the SQ one was my first choice as I've never flown with any other triple seven than the vanilla -200 model. Unfortunately fares for that particular Saturday were quite a bit higher than I was willing to shell out so Air China won my business as they only wanted around 85 EUR for the early morning widebody service down to Athens.
Initially I figured out I'll just rent a cheap car from the airport and head out somewhere nice near the sea like Glyfeida to chill out for the day and enjoy the sun and Mediterranean warmth. With this in mind I was looking for flights out in the evening. The newly resumed (whoa, this is SO against their strategy, what happened??) KF flight direct to HEL appealed to me a lot especially since I could probably upgrade it via optiontown but it was a bit on a pricey side so I settled for another open jaw itinerary with LH - for around 160 EUR (just 20 EUR more than what KF wanted for the flight) I got ATH-FRA-HEL-BER-BRU, taking care of both my return and start of another trip a month later - sold!
Some months later Cyprus Airways announced some interesting developments - they were about to start an attack against OA and A3 by starting to operate certain routes ex-ATH (plus some of the other Greek islands as well). Among these were the prize jewel route to LHR and the busy domestic shuttle route up to Greece's second city, Thessaloniki. That was too a tempting chance to log a flight on a relatively rare carrier for me, and after checking the schedules I decided to skip the rental car option and instead booked a side trip up SKG and back.
To fly up I chose CY - 70 EUR and back down Olympic Air a couple of hours later for 50 EUR. I'd preferred to fly with Aegean, but the schedules didn't really work out for me so CY & OA it was.
All set: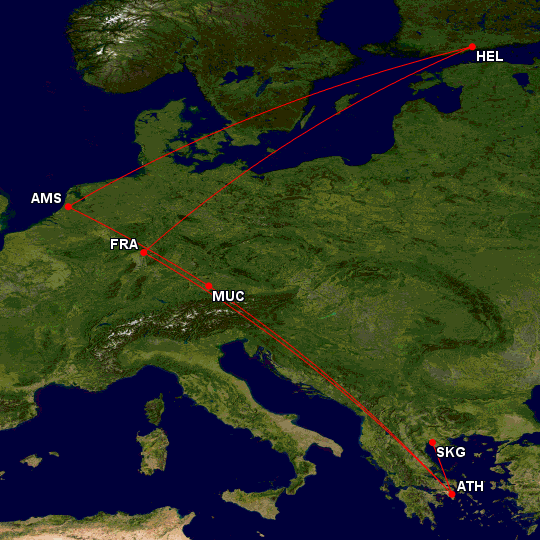 Surprisingly this trip didn't feature any schedule changes or assorted shenanigans at all, quite refreshing actually!
Friday 18.5.2012
With Thursday being Whit Thursday (see Nils, even I have my
punalicious
moments!) many people are taking the Friday off. Thus the office is very quiet and the day slow - perfect for sneaking out early! Back home I pack up the rest of my trash, take out the real trash and catch my usual bus into T2 of HEL of an airport.
Things seem quiet enough here as well and having done OLCI well ahead of time I head through a no-issue security, perform my usual silent protest march through the annoyingly placed Duty Free store and buy the obligatory bottle of water. Next comes a nice treat - Servisair opened their new "Aspire" lounge at HEL just a few days earlier and KLM just happens to be one of the first users. It is not quite where I thought it would be, but after a bit of running around I find it and head in for the kill: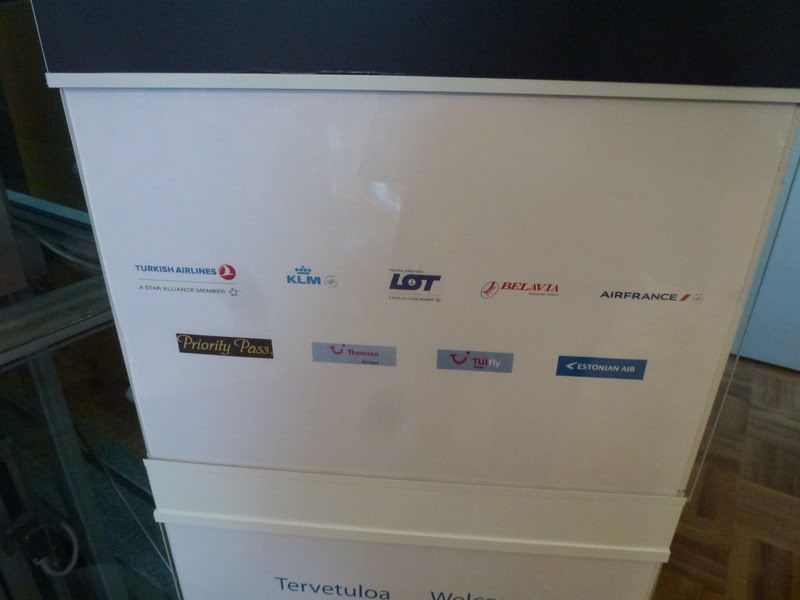 Interesting assortment of airlines - LOT is a real surprise since as a *A alliance carrier located at T1 you'd assume they would stick to the Scandinavian lounge. Estonian Air is also a small surprise but at least they are based at T2 (which of course is another surprise alltogether...).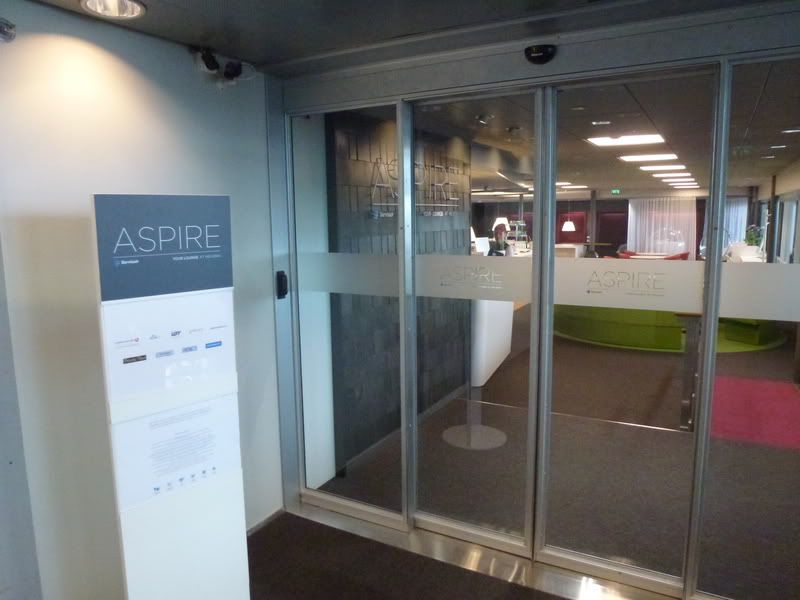 A short chat with two lovely girls at the reception later (had to found out the basic facts: pay access is 35 EUR, limited to three hours and showers are 10 EUR extra for anyone, including those accessing the lounge using FFP status) I step in and take it all in:
Nice, this is very stylish: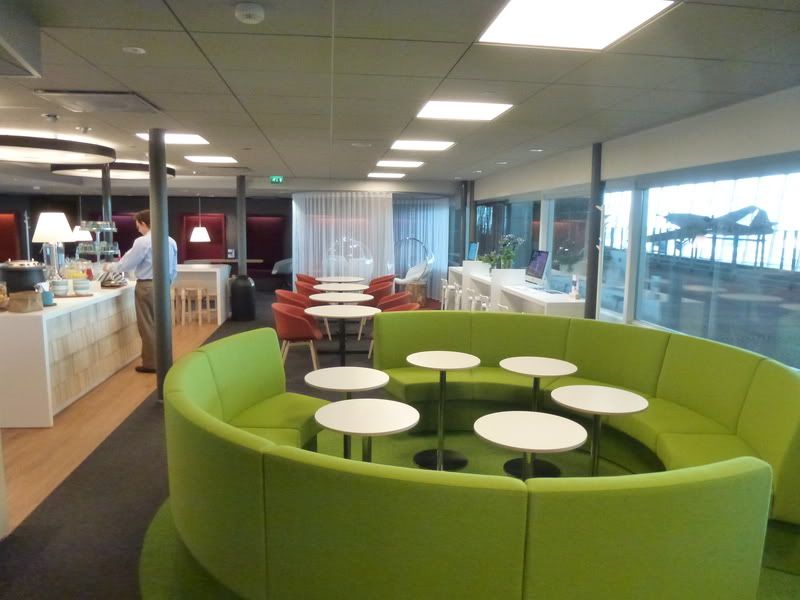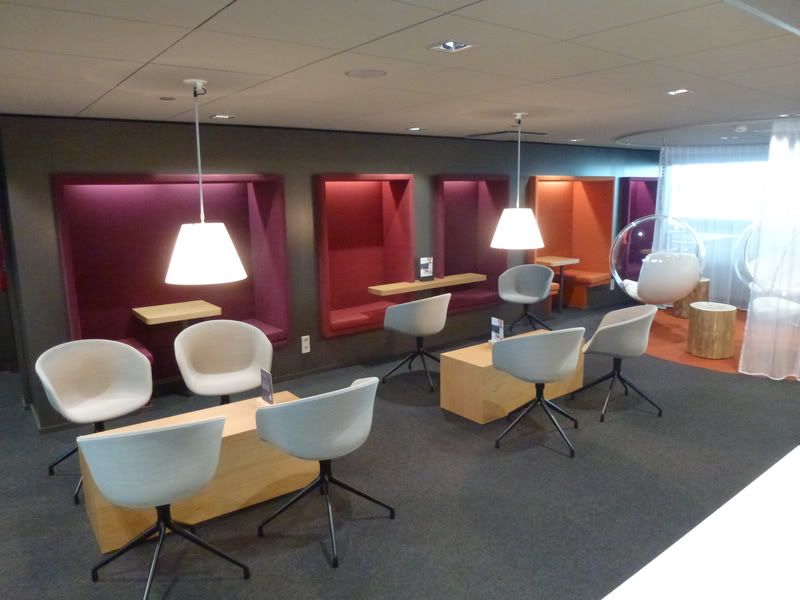 Love these hanging ball chairs: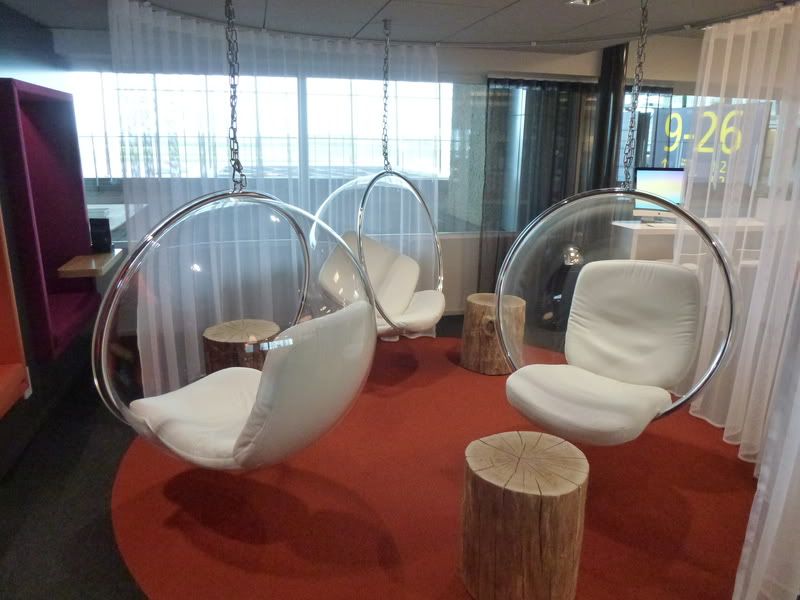 Offerings: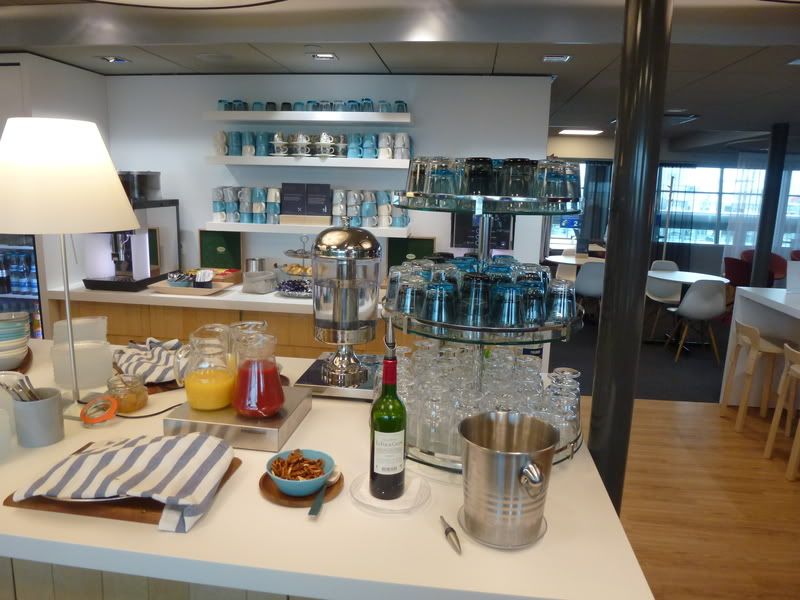 Hot soup: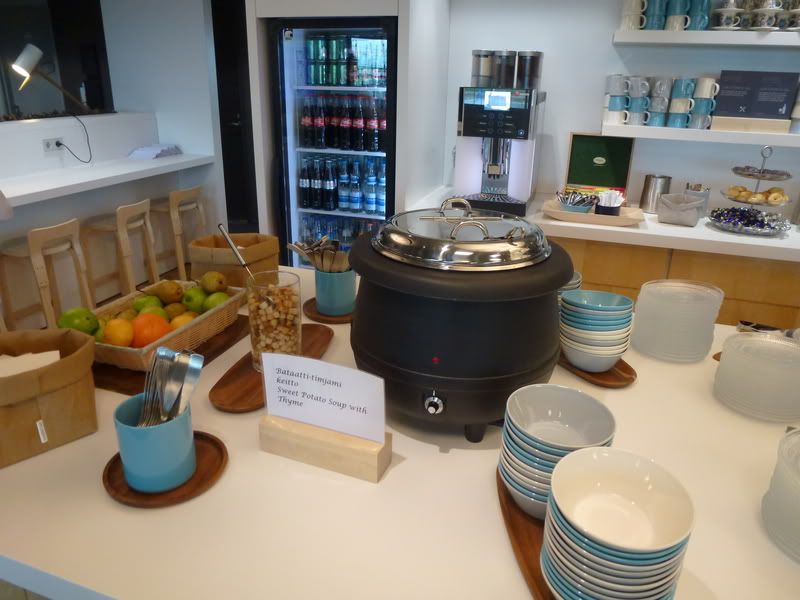 ...and this is the only lounge at HEL to currently offer free hard booze for free for all guests (booze is free in the Finnair Longhaul Lounge for higher status pax) - wonder how long it will last: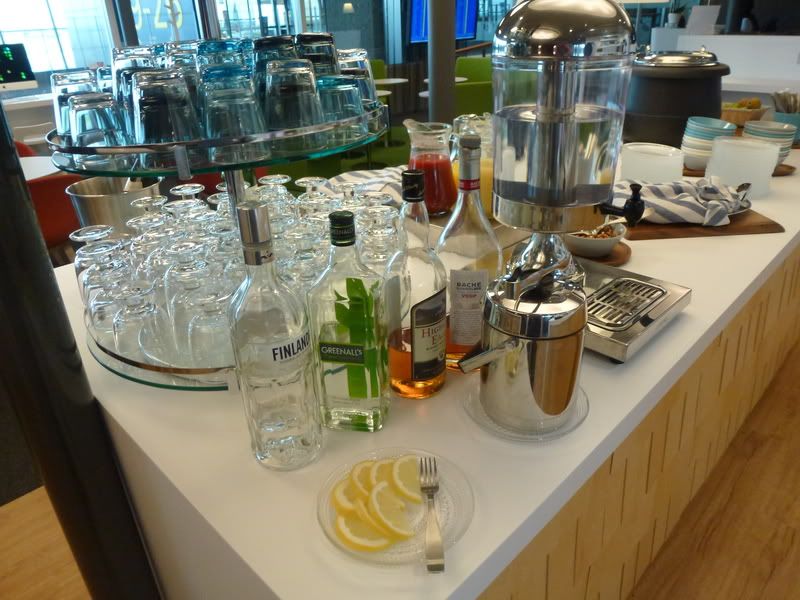 Sort of apron views are offered: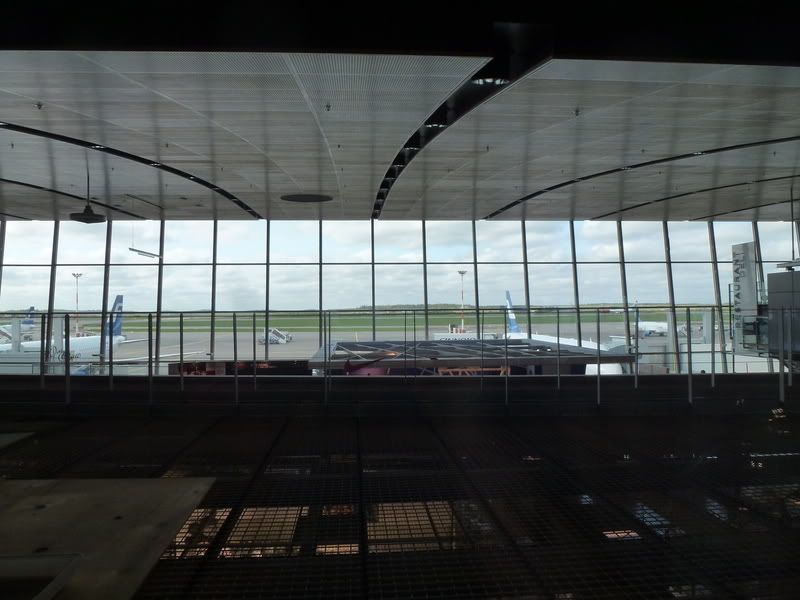 Some very tasty sweet potato and leek soup plus Greek-style spinach and cheese pie (how appropriate!):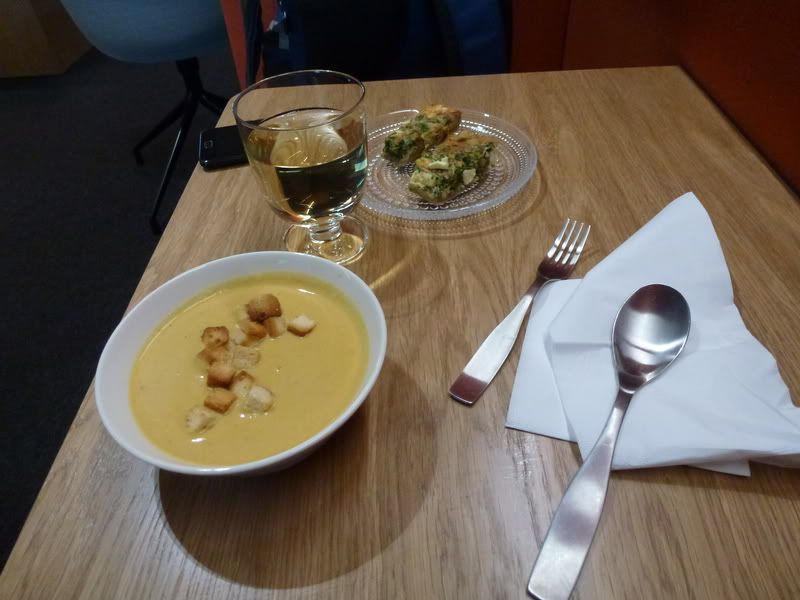 Lounging in the word's true meaning: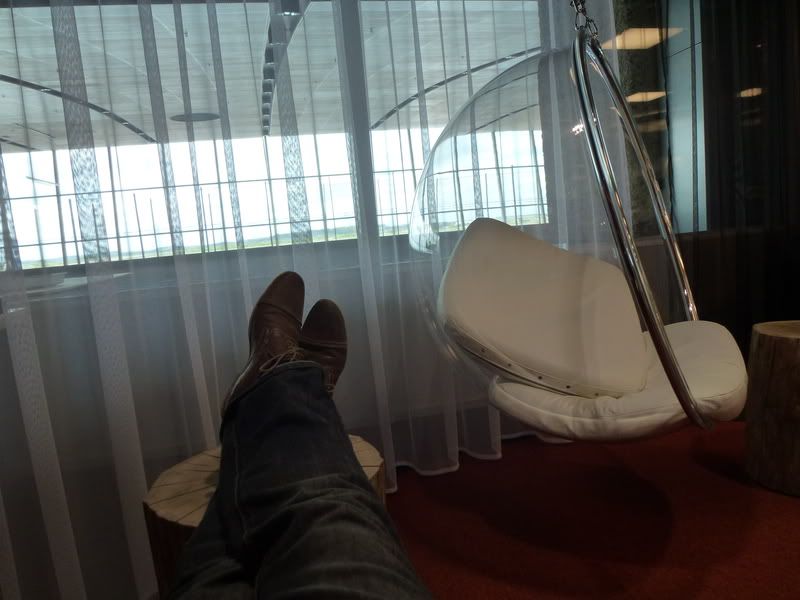 And they even have proper computers here, whee: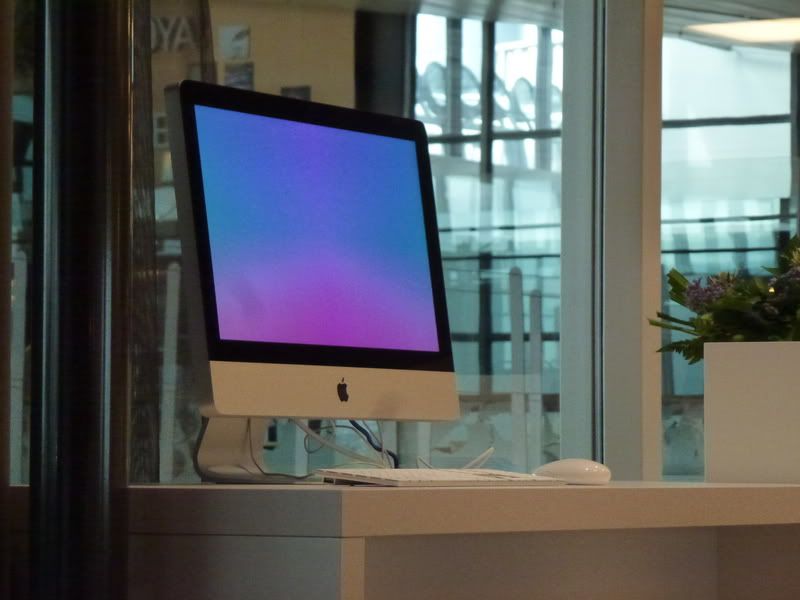 Even the toilets are quite nicely decorated - picture devoted to a certain
lavatoryphile
and founding member of lavatories.net: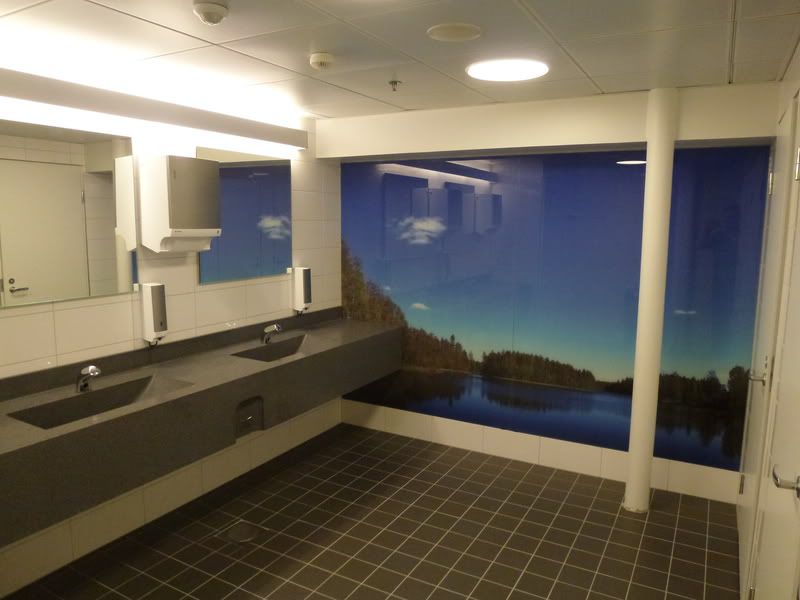 Nice Finnish design, picture dedicated to Hannah: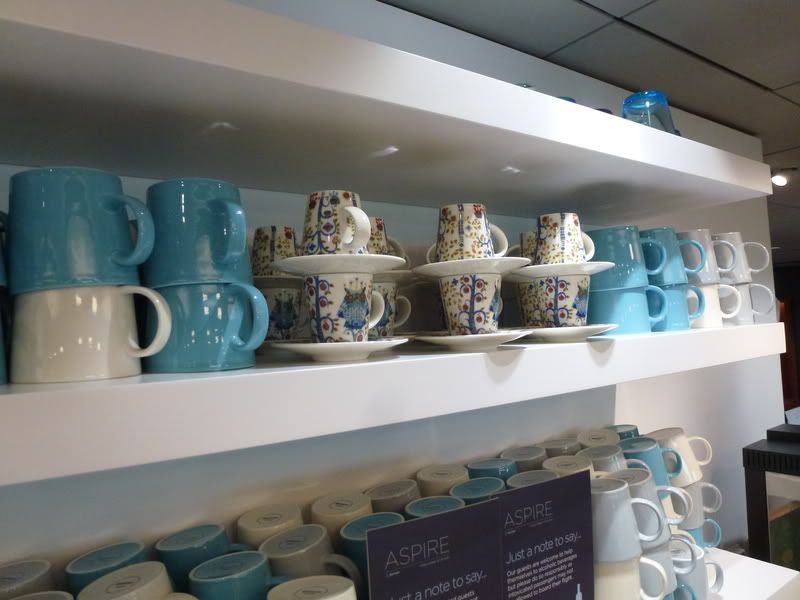 Three C's - Coffee, Chocolates and Cognac:
All in all a very nice lounge and definitely a good addition to the HEL spread. The newspaper, snacks and drinks and some overdue work using the wifi and my laptop makes the time fly, especially since the inbound plane from AMS arrives some 20 minutes early. Far too soon it is time to bid the nice girls goodbye ("See you in two weeks!") and head downstairs to gate 29, not too far at all from the lounge.
A small disappointment here - it is PH-BXF again, the very same plane that took me to HEL on the outbound portion of this ticket: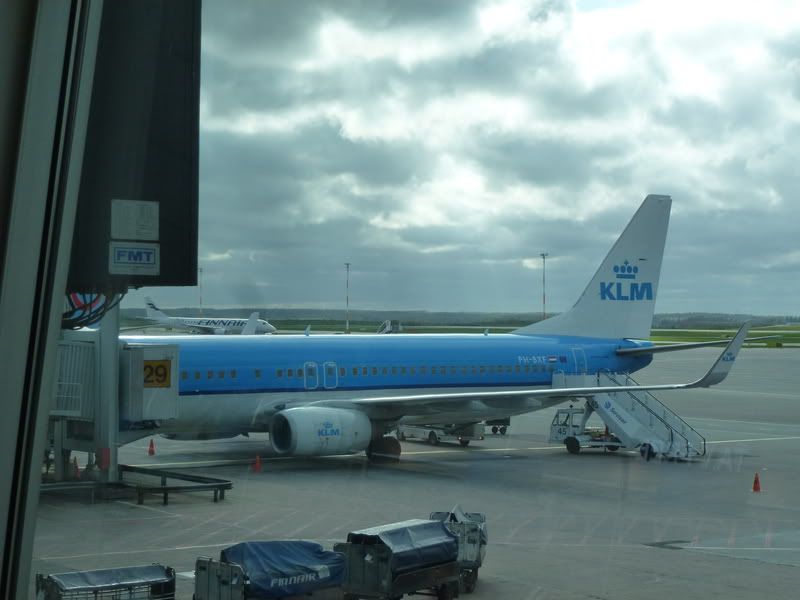 Most of the renovations that have been running here for the last couple of years are finally finished - but they still seem to be building something here. Knowing Finavia it must be more shops: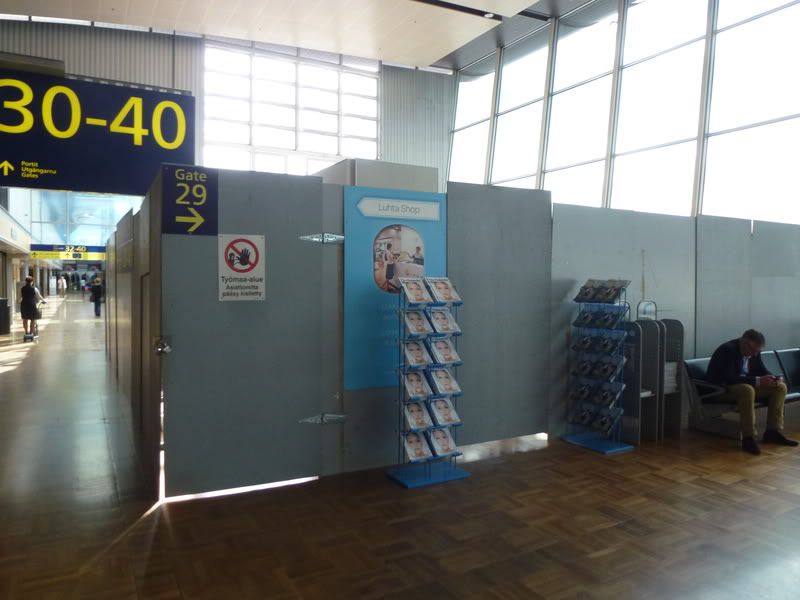 I'm very surprised to find the gate area almost deserted - the whole airport is quite empty to be honest. I guess due to the public holiday the previous day most travelers already went away on Wednesday or Thursday to catch a long weekend.
HEL - AMS
KL1170
B737-800 PH-BXF "Zwaluw"
Seat 5F
18.07 - 19.29
Stepping onboard after the obligatory touching the plane on the right side of the door (something I've always done and will always do!) a young and rather cheerful male purser welcomes me in. He does have quite a long hair - something which wouldn't cut it with the more traditional carriers but I guess with the Dutch being the breathing definitions for the word "liberal" anything goes!
Wow, it indeed is very empty: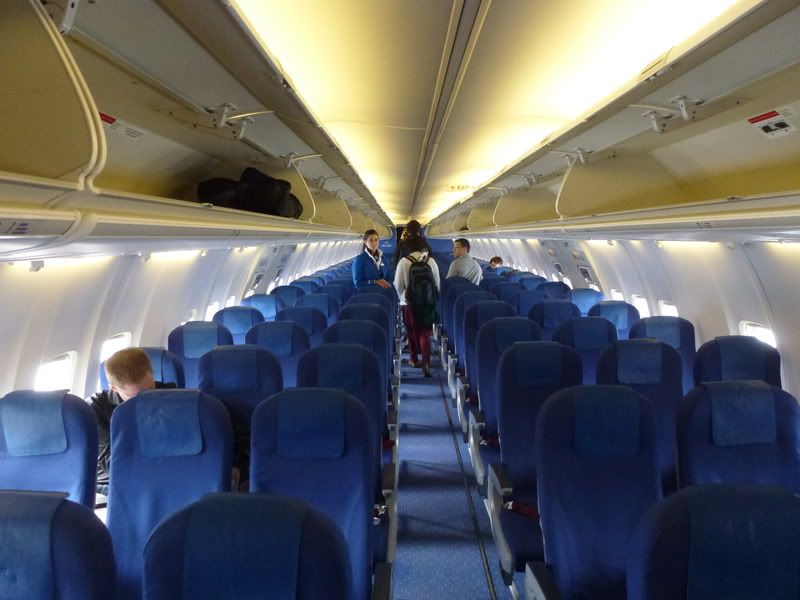 2 pax in Europe Select or whatever they nowadays call the not-quite-business-class-but-somewhat-premium-offering-anyway up front: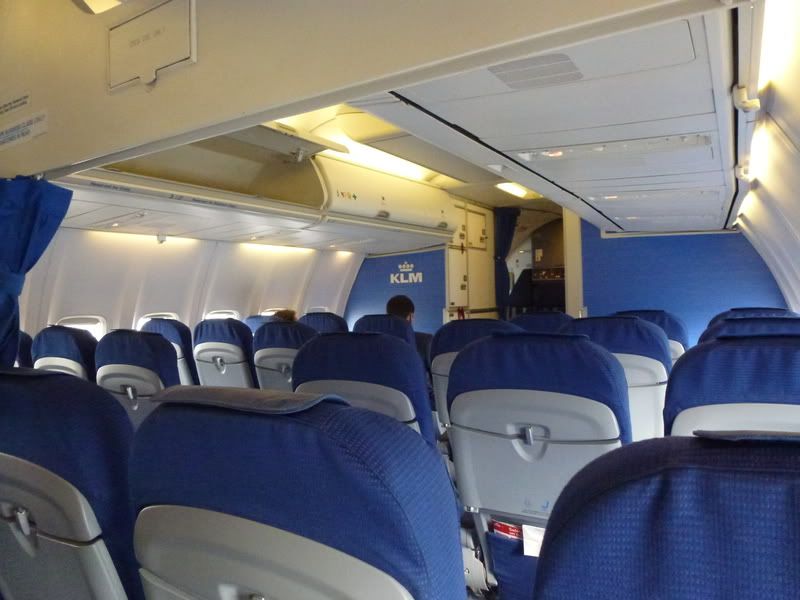 Lovely legroom: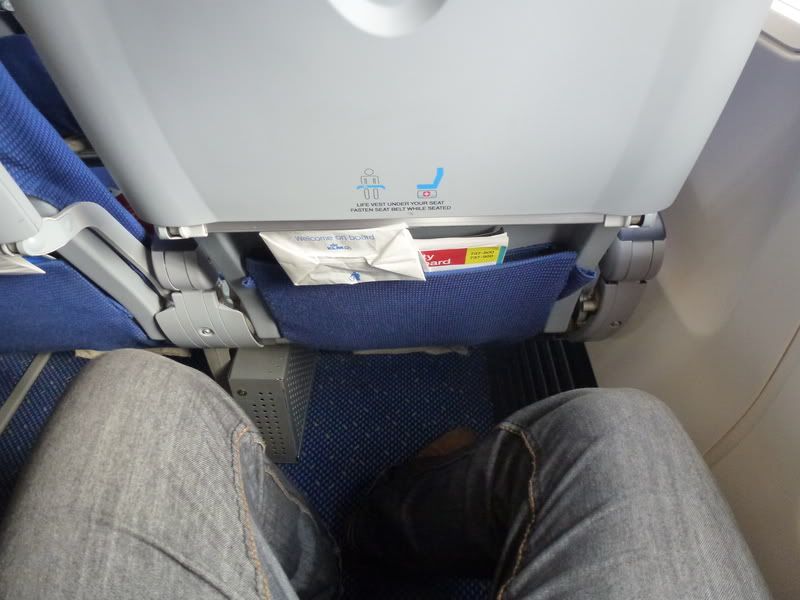 Passengers trickle onboard (boarding started well ahead of the time printed on the boarding passes) and eventually economy fills up to a third full or so. Still, three for me, which is of course very much appreciated.
Instead of the captain it is the purser who makes all the announcements on this flight (to think of it there was no word from either seat in the cockpit all throughout this flight) - he starts by announcing that we are good to go some 15 minutes early for our 2h10mins flight to AMS, initially through some bumps but it should even out a bit further out.
This AY A330 seemed to have some problems with its landing gear - usually they are already retracted at this point: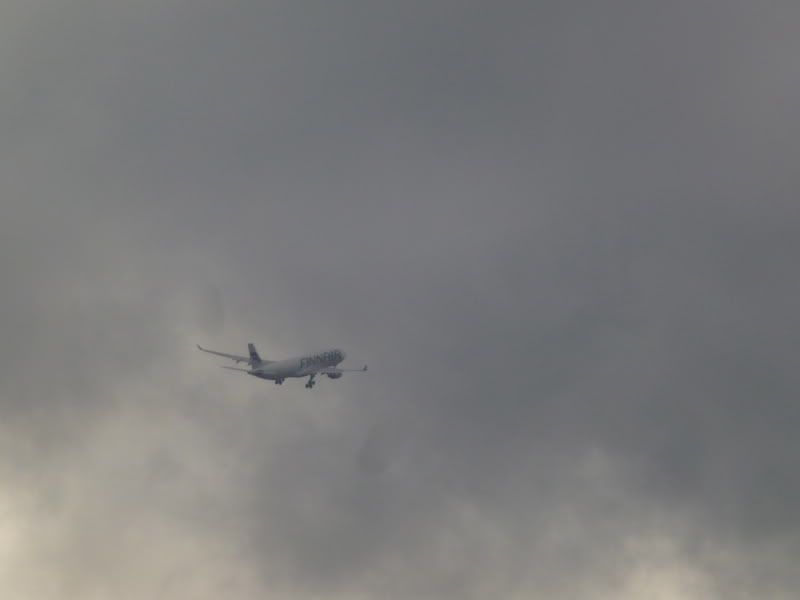 After a bit of waiting pushback is 13 minutes ahead of schedule, quite nicely done here, KLM!
Aeroflot seems to have brought in the big guns: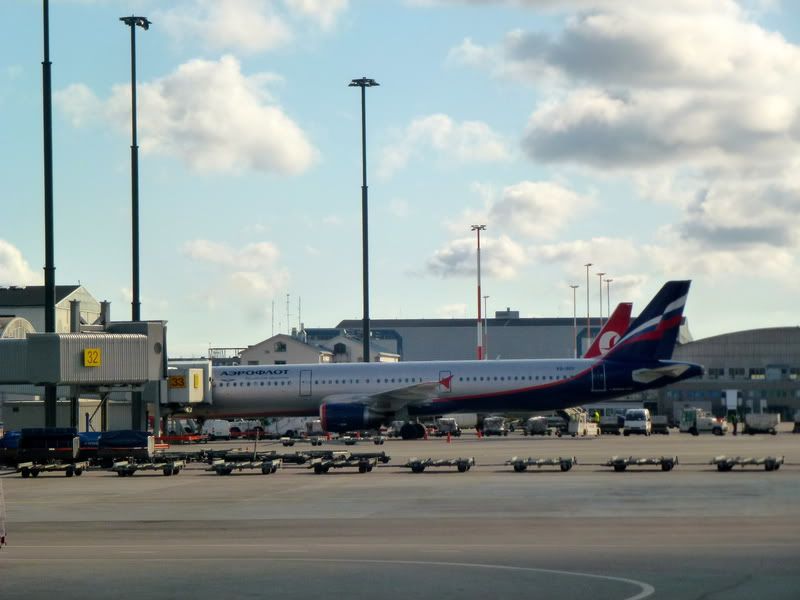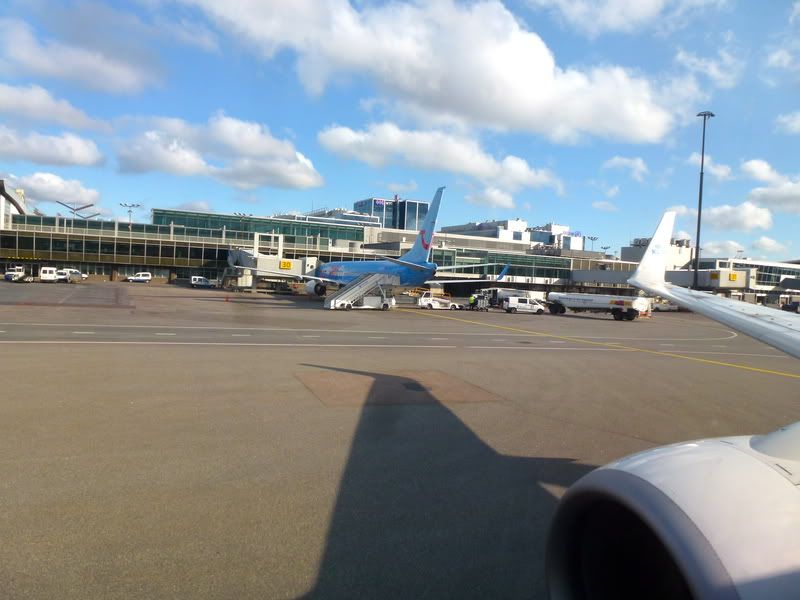 Must-have-a-717-in-a-report: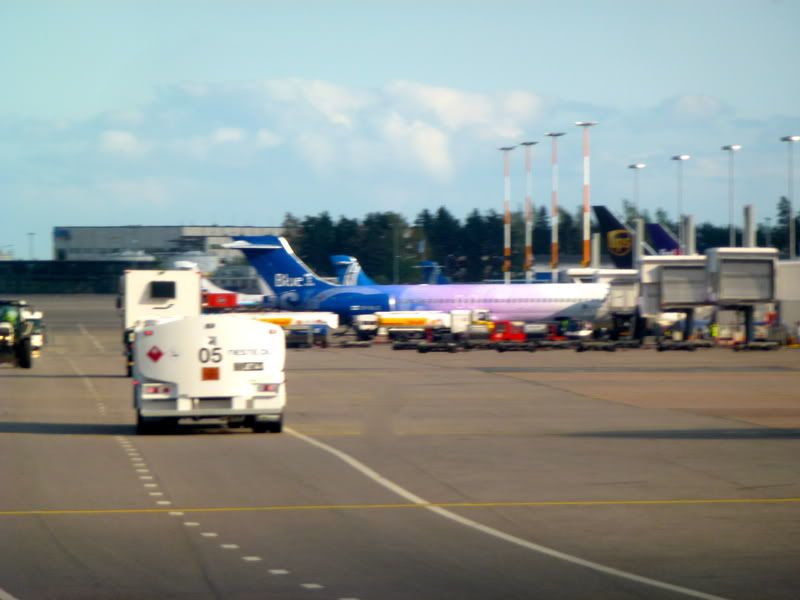 There are plenty of places where you can barf into this bag:
Runway 22R/04L has been closed for resurfacing for a while now so 22L is in use. Once we enter the runway I see another plane on finals towards it. I fully expect us to quickly rev up the engines to get out of the way but no, we just sit there on the runway for a while.
This fire fighting vehicle is watching us, not sure what is going on: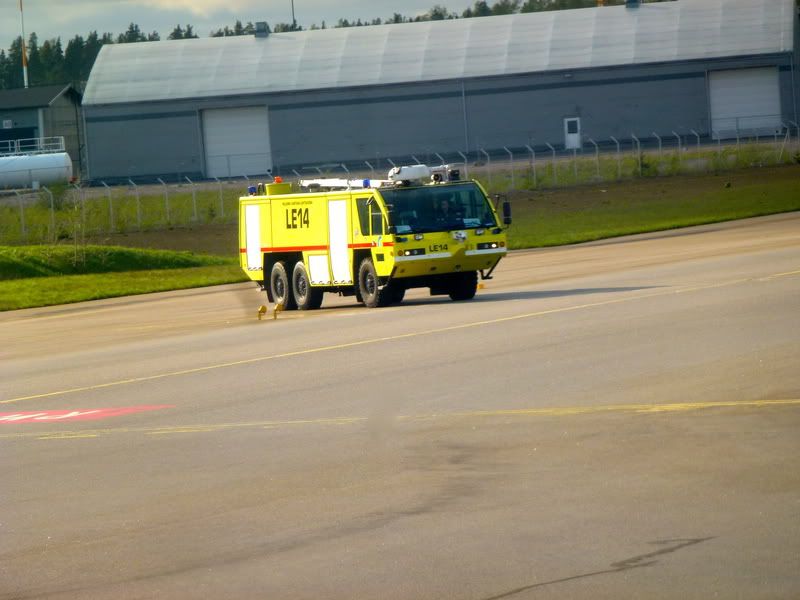 After three or four minutes the engines are finally spooled up and take off. Not sure what happened to the landing plane - it was so close that I'm pretty sure it had to perform a go-around!
Bye, HEL, see you tomorrow: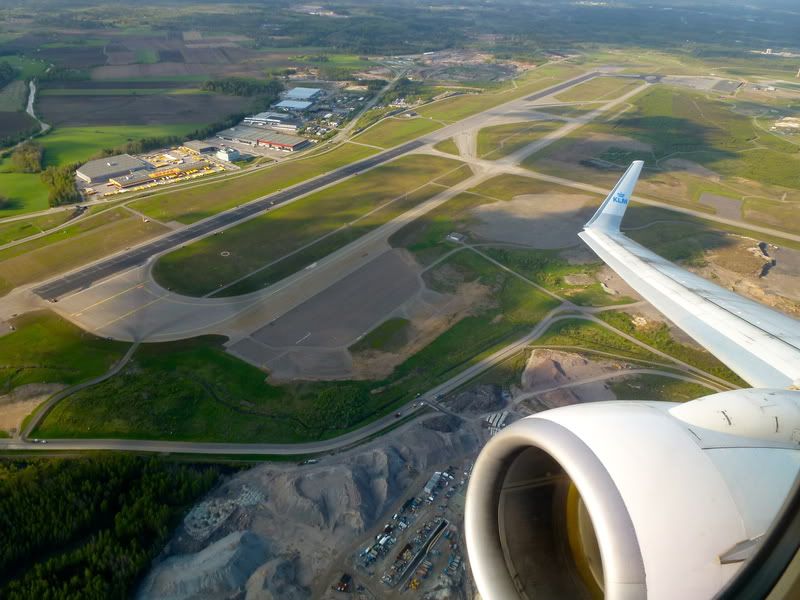 A special shot of the DHL building for AYA333: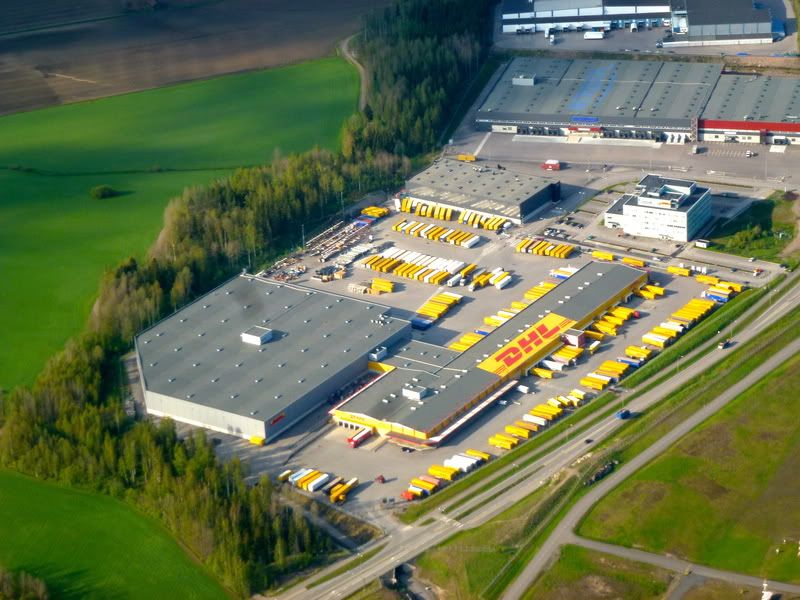 No sign of any bumps on the climb out, though - just smooth sailing.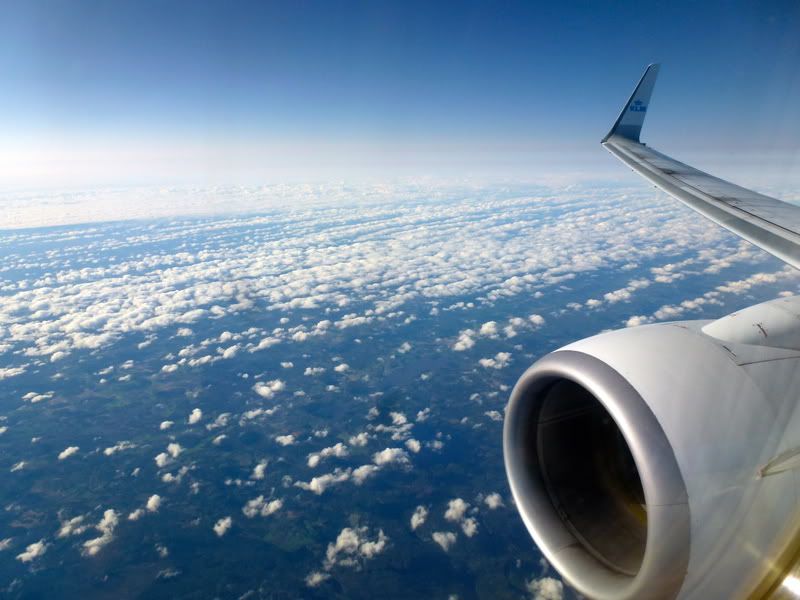 Service commences really fast, before we even have time to leave the Finnish airspace. As usual in KLM economy it is a dual sandwich pack and drinks: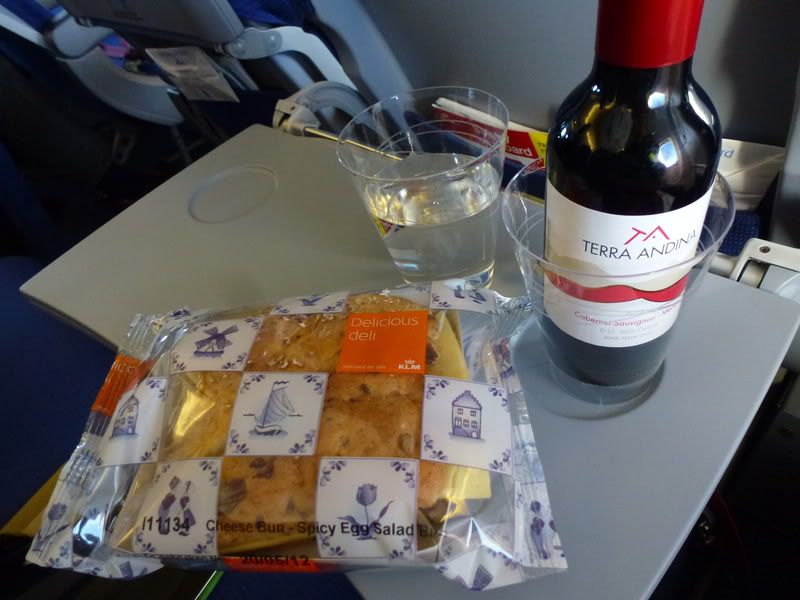 This time there's a cheese one (the right one, not that good) and a "spicy egg salad" one (on the left, very good although I don't know how they came up with "spicy" as spicy it ain't):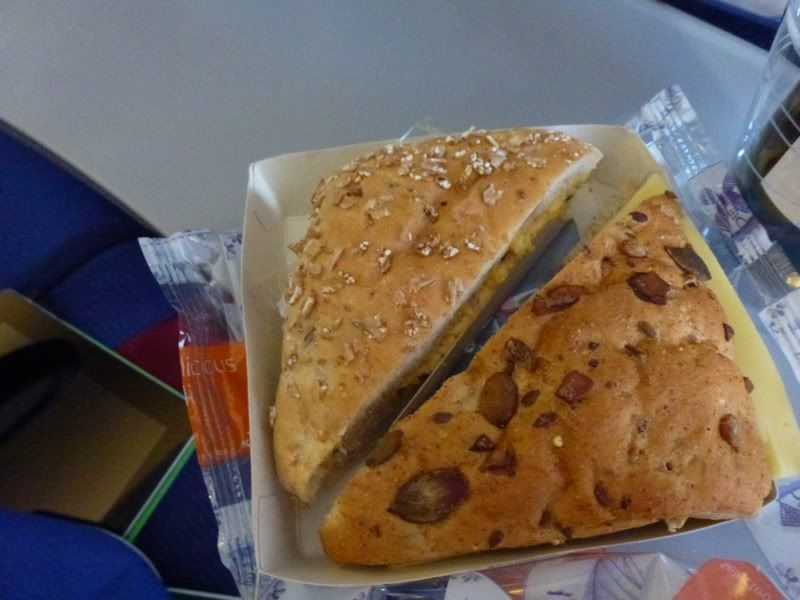 Later on the usual Stroopkoekjes are also handed out, together with more drinks:
Over Sweden this DY 738 is heading on the opposite direction - probably inbound to ARN: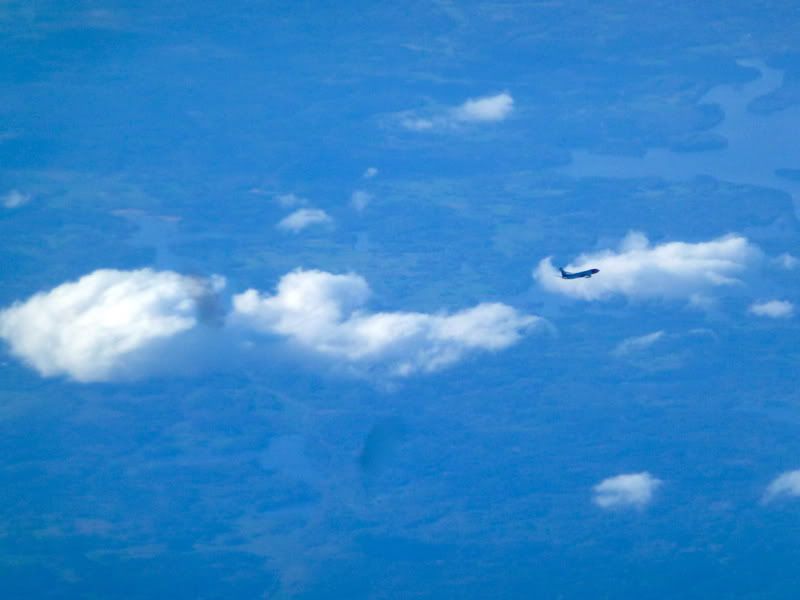 Leaving Sweden for the short hop over Öresund: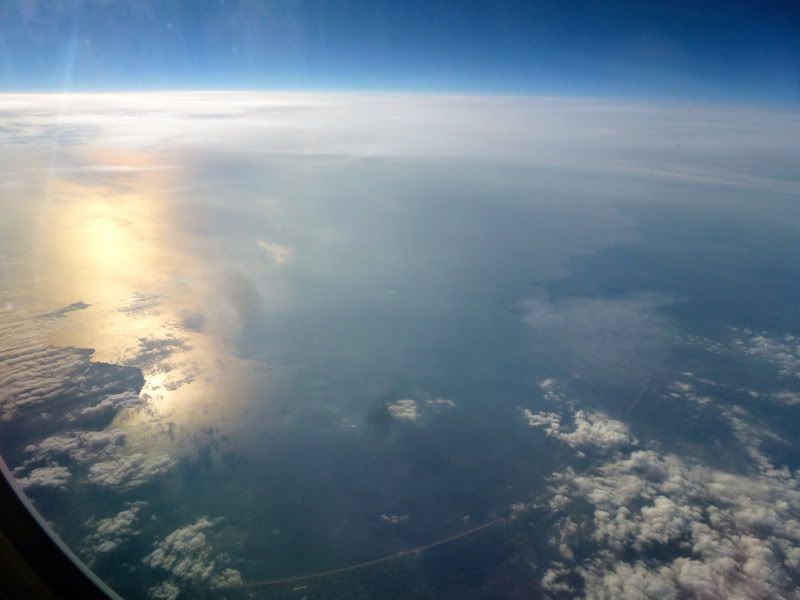 The Egernsund bridge in extreme Southern Denmark, almost in Germany now: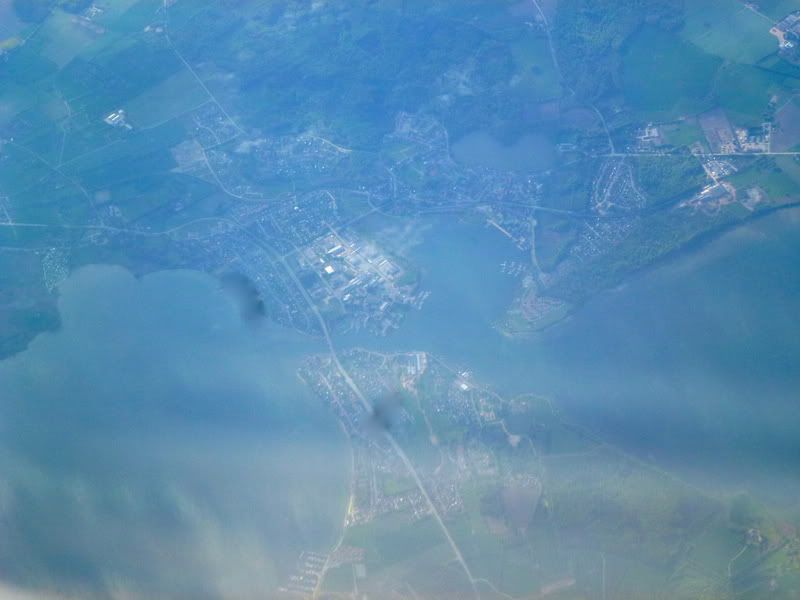 Cabin view from another "lavatorial visit":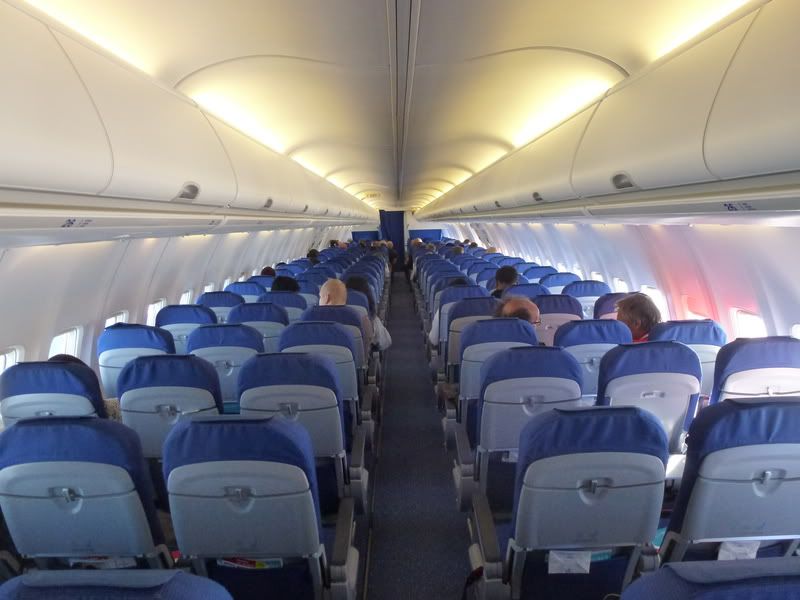 Sloppy work on the back wall: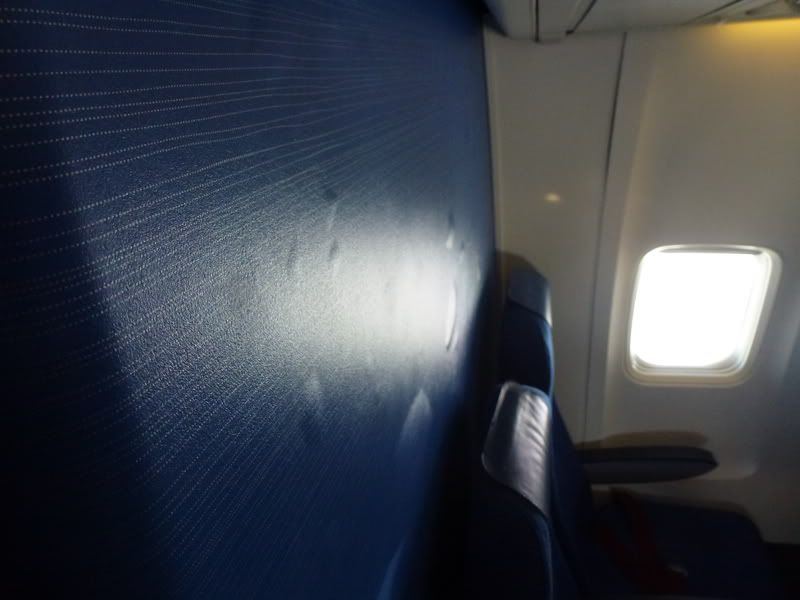 The weather in the NL isn't looking very good, but up here there is still sun:
Just before commencing our descent the purser makes another announcement, expecting us to "land on the westernmost runway with a taxi time of 15 minutes but there is still a slight chance of a more favorable runway to be made available for us to land on"... Here we go - what is Amsterdam without the Polderbaan experience!
Yep, quite crappy weather below (or more like within) the clouds: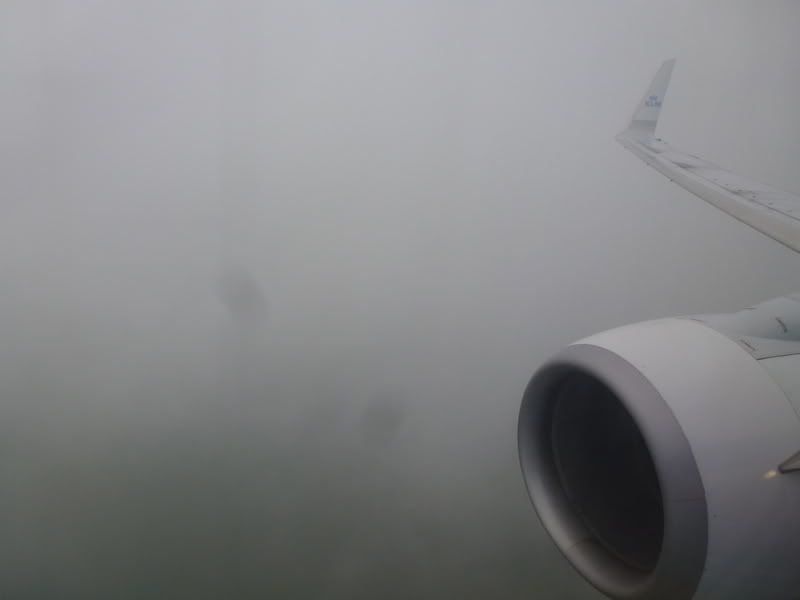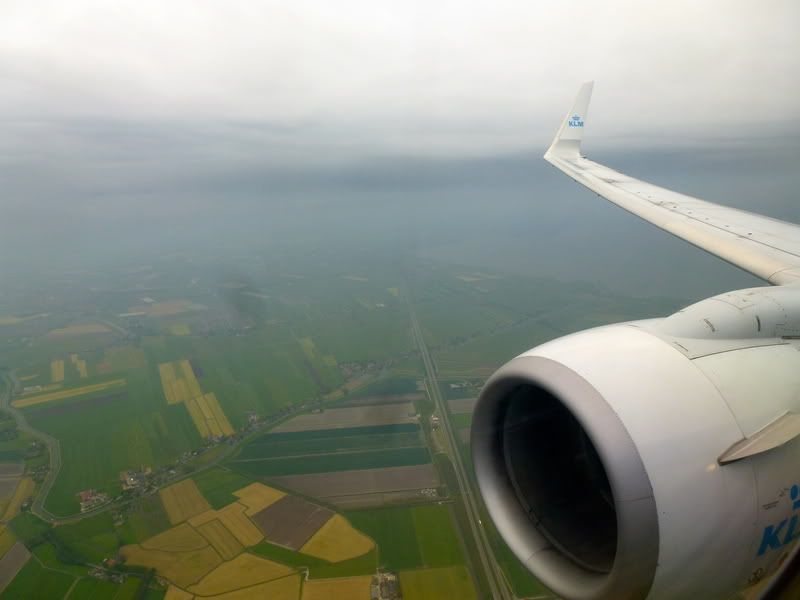 I'm quite relieved when I spot another KLM 737 on our right on a parallel approach - this means she is going for the Polderbaan and we get 18C instead: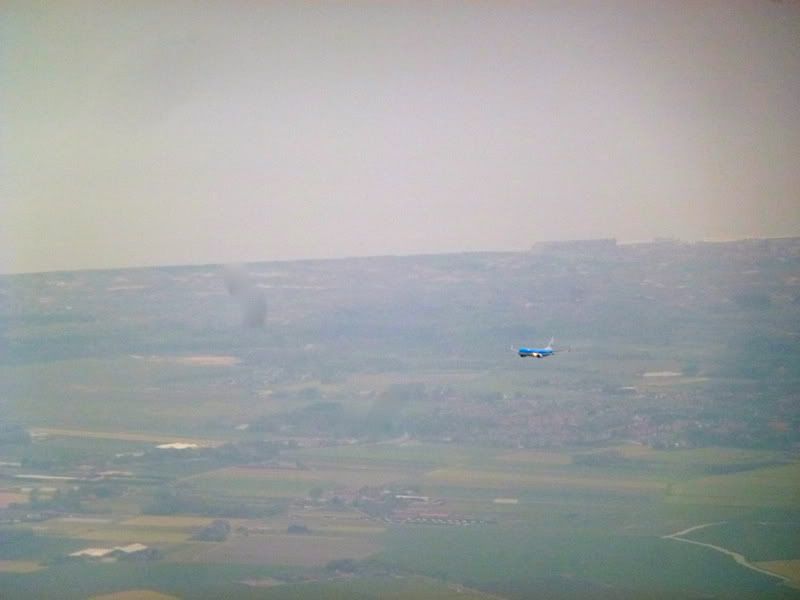 Over the IJ we glide: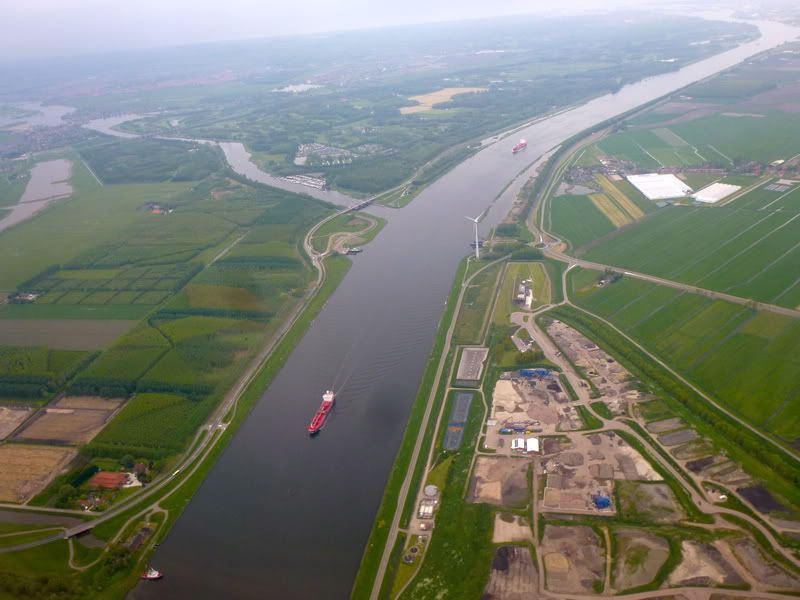 ...and more channels and highways: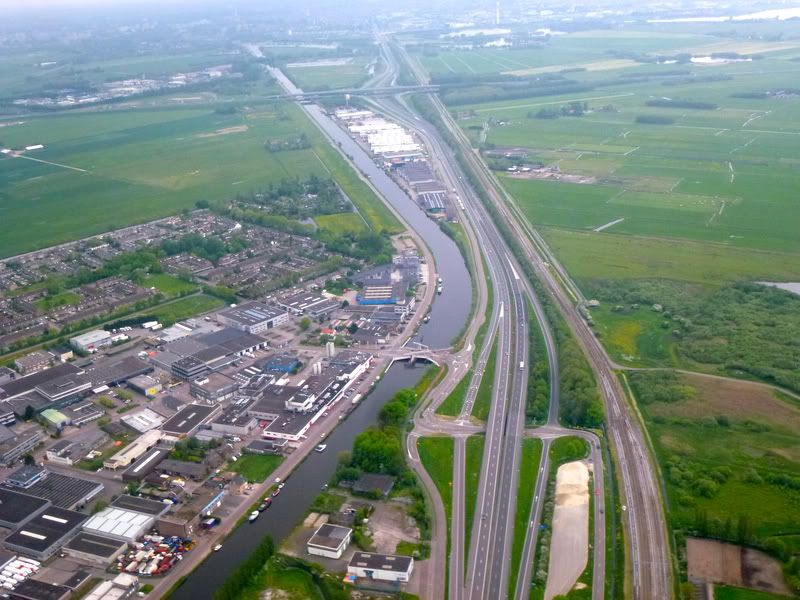 Polderbaan or "Haarlem International Airport" - yes, it is that far: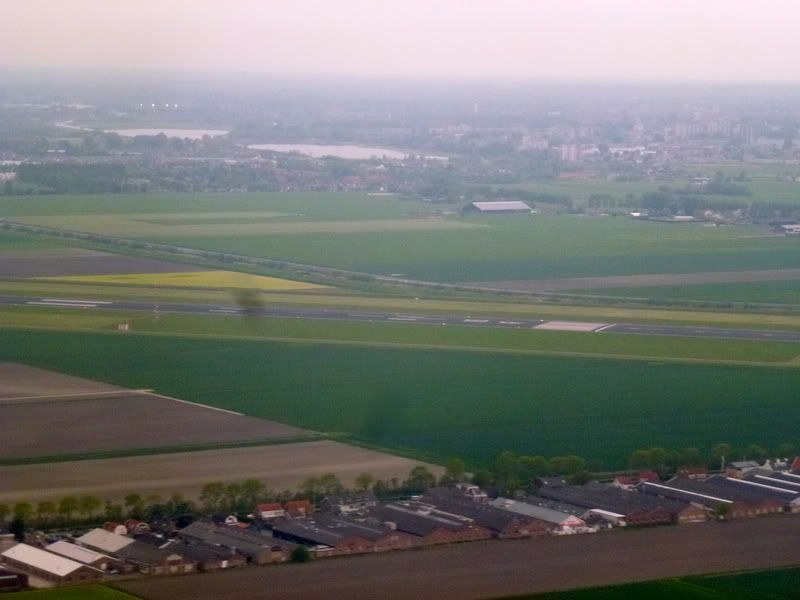 Over some spaghetti:
...for a smooth touchdown on 18C after 2h13mins of flight time: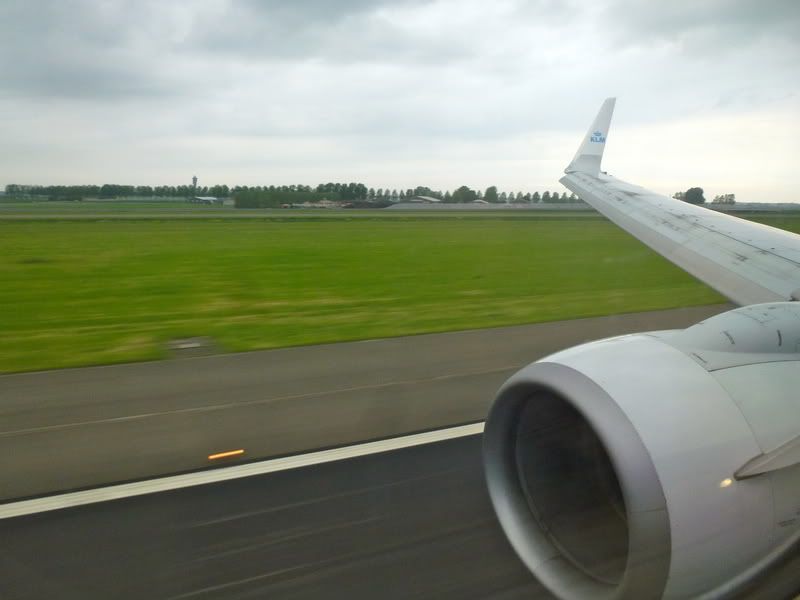 While significantly closer to the terminal complex than 18R there's still a bit of a taxi time ahead of us. Well I'm not complaining, especially since we taxi past a few MD-11s - damn those are gorgeous looking triholers: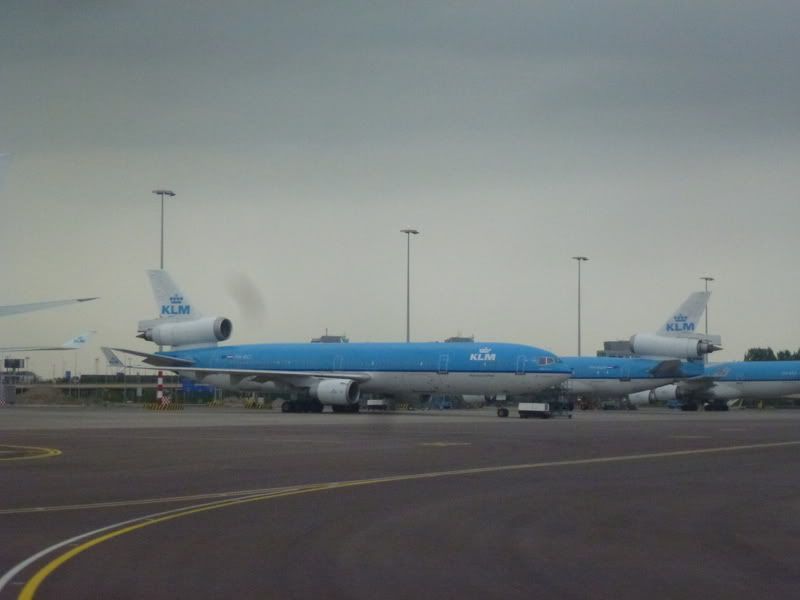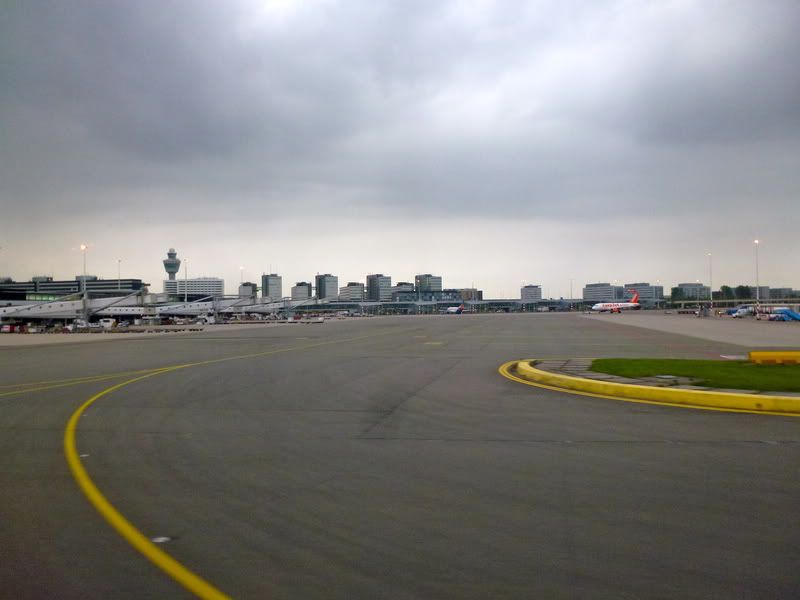 Wouldn't mind a triple seven either: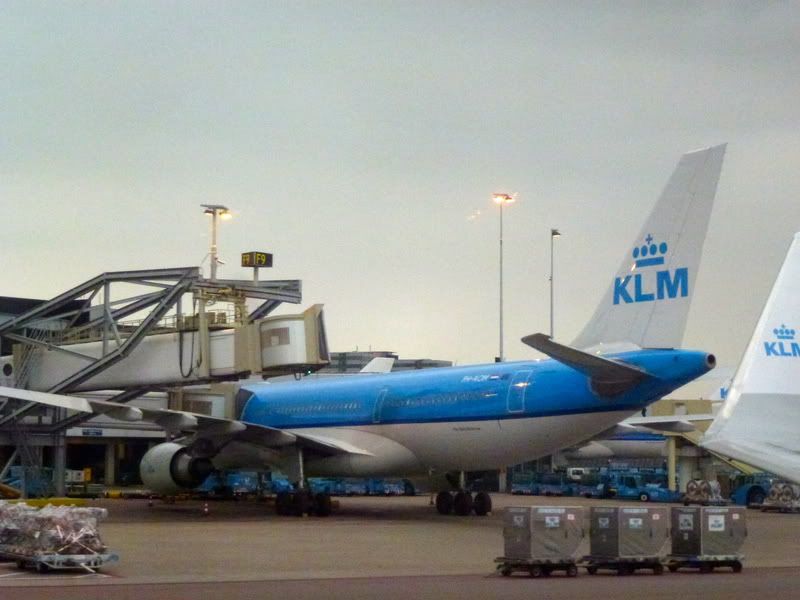 ...nor a 744: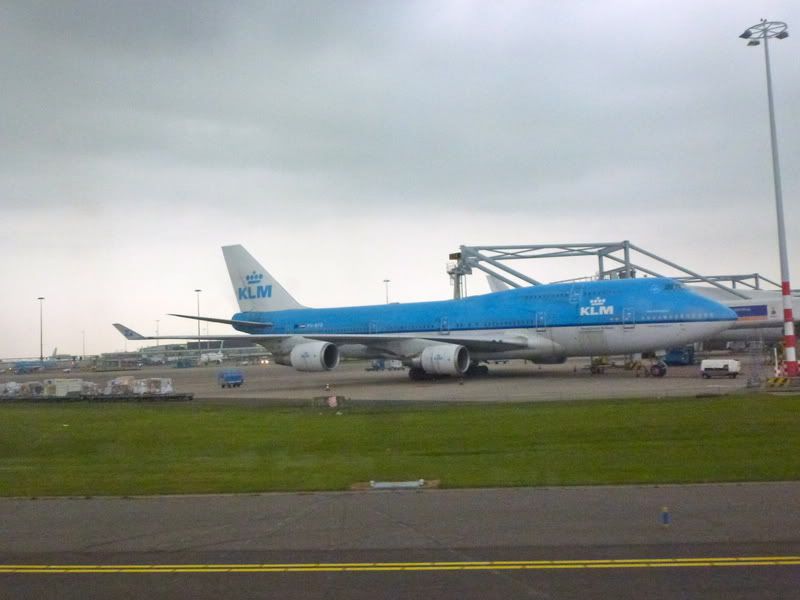 Eventually we dock into a jetway at the end of the D-pier and soon enough I find myself facing the long trek into the Crown Lounge.
Amsterdam Schiphol Airport
I like this KLM retrojet: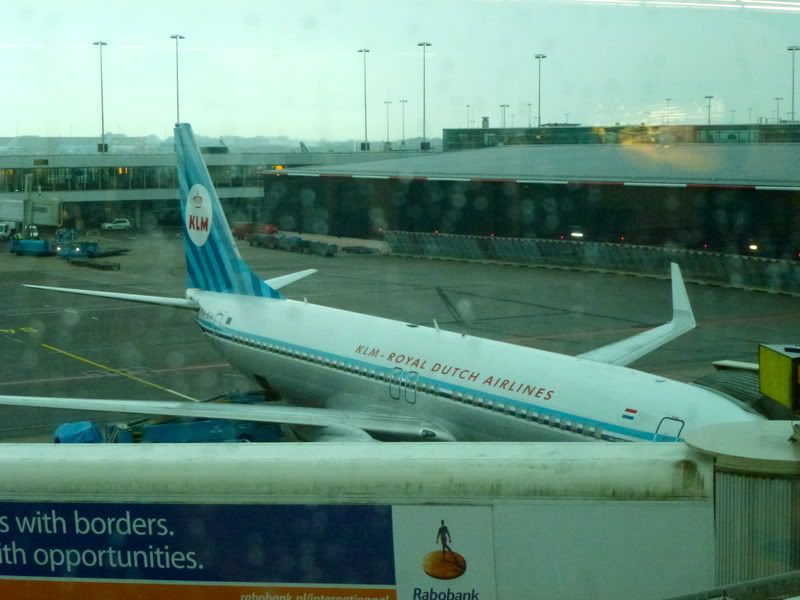 The KLM Crown Lounge is surprisingly quiet - easy to get a table near the buffet and all. Time for a snack - they have the usual mix of stuff up for grabs - quite okay: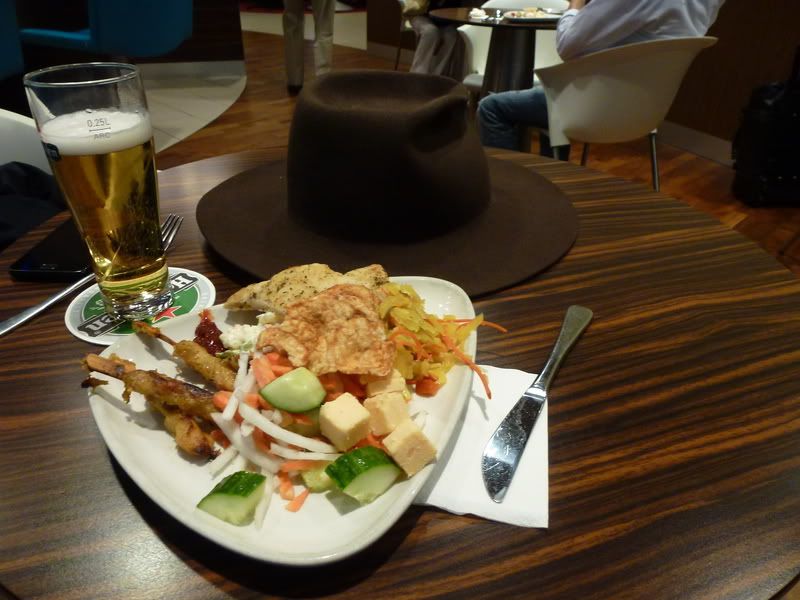 Some Indonesian style cake - once you get over the radioactive green color it is quite delicious (I'm sure Suryo will be able to tell more about what it actually is):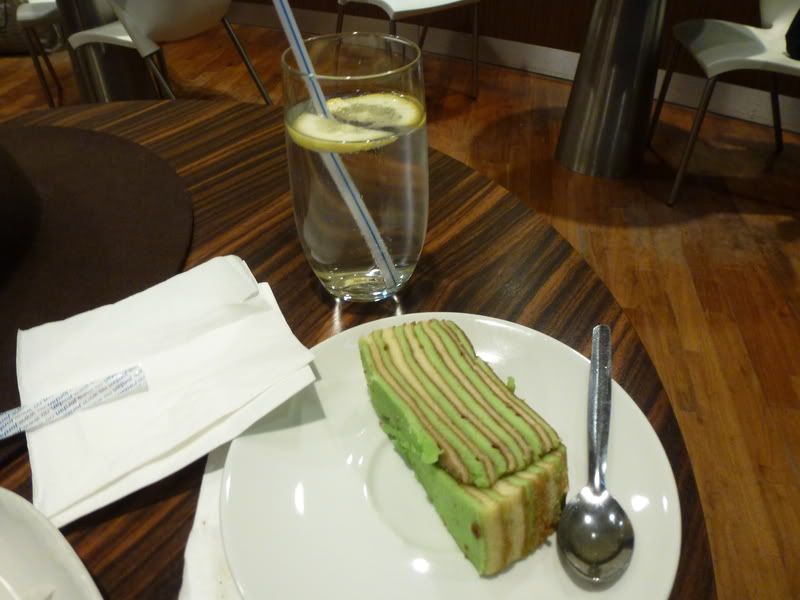 Some time later it is time to face another trek, this time to the bus gates underneath the B pier where my MUC flight is departing today (it being KLC and all).
Schiphol shopping paradise - not for me today: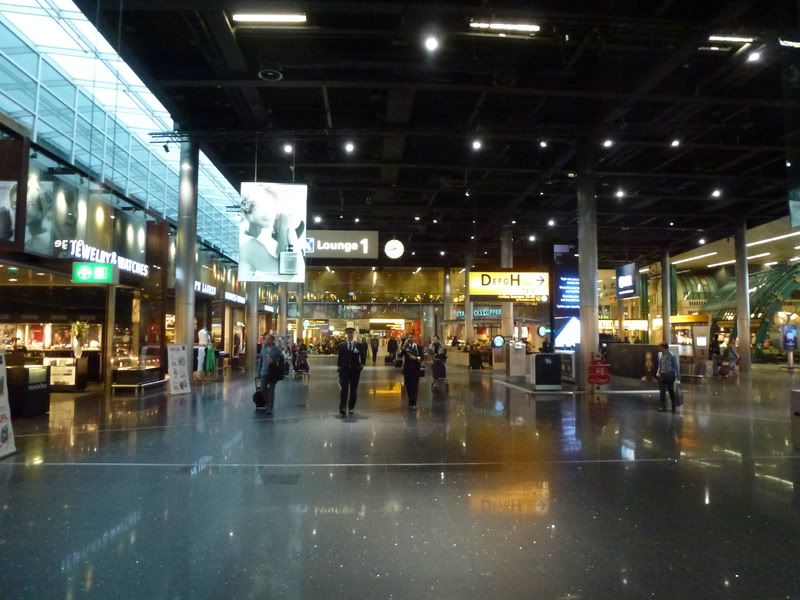 I can't believe they stole this shop's name from the Wizzair inflight magazine - the pink airline should sue them: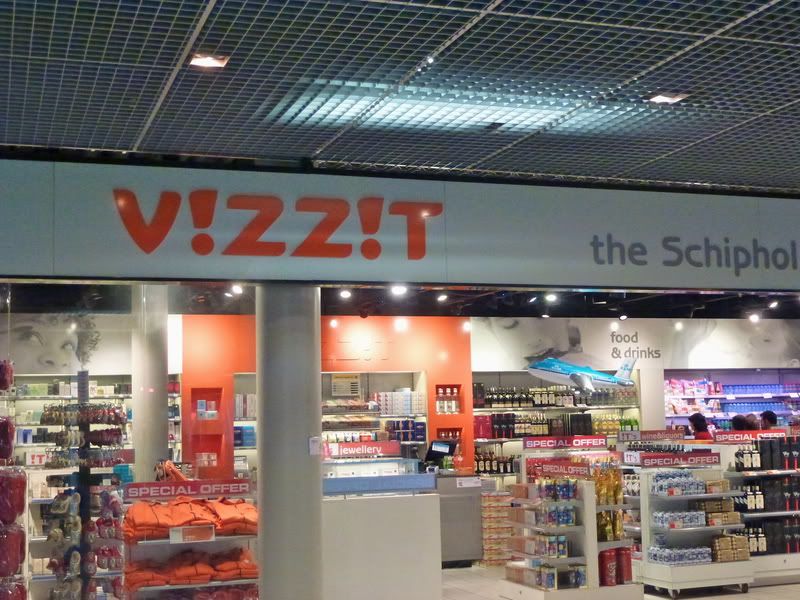 A view over the Fokker Farm - a sea of blue if ever: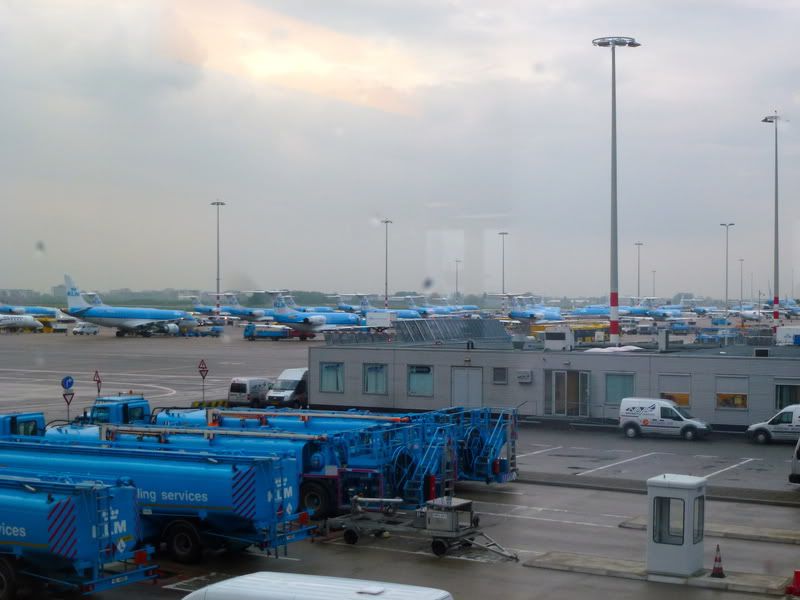 Boarding (of the bus) is ongoing as I walk down to the gate, so onwards to the packed bus to listen to a loud cacophony of American and Mexican passengers: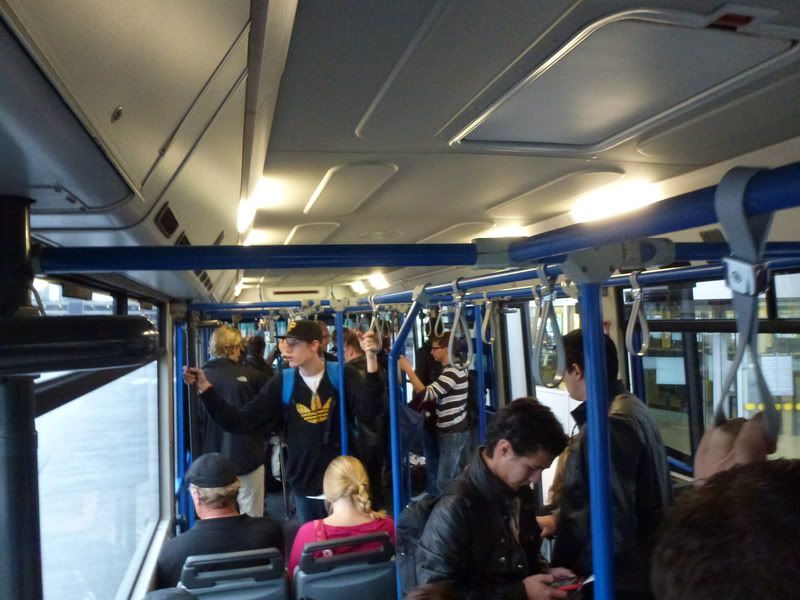 The people flying to Gothenburg with this E-jet are fortunate enough to be able to board the civilized way: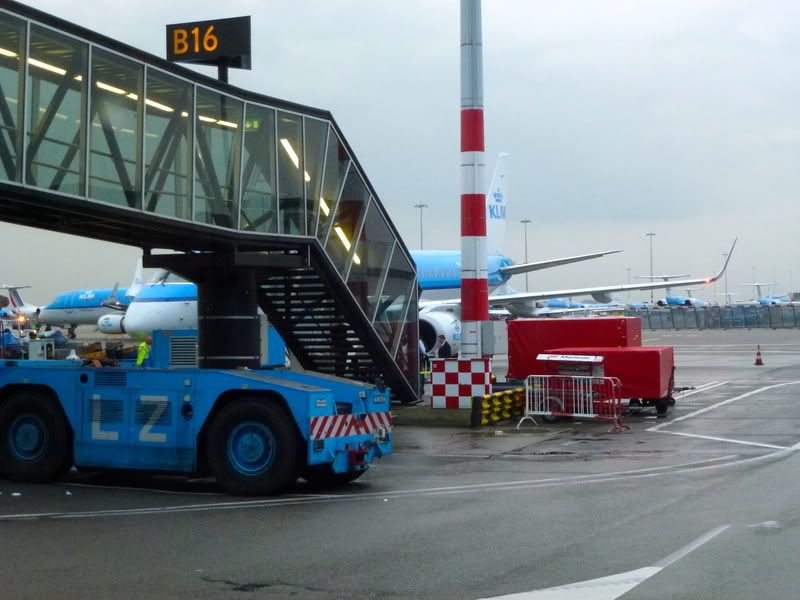 During the ride towards the Fokker Farm I spot this beauty - Schiphol really is good for catching MD-11s: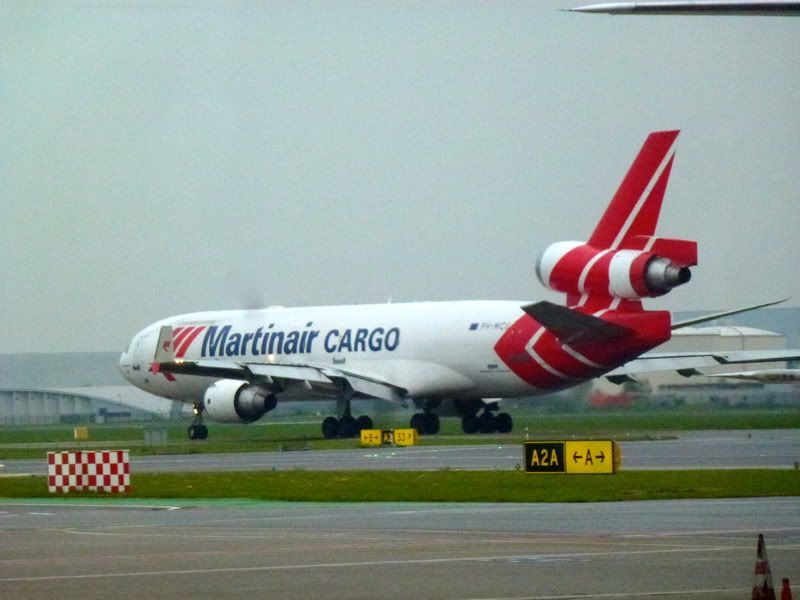 And here's our ride (but not it's rider, but loader instead):
It is PH-EZK, luckily not the same one I flew on the other direction so a new entry for my log.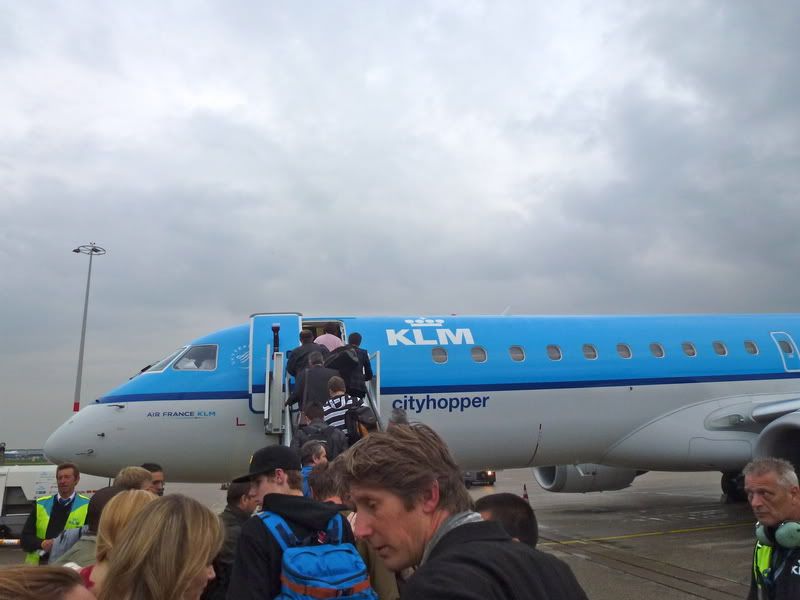 Koninklijke and all that, Dutch is such a funny language:
AMS - MUC
KL1801 Operated by KLM CityHopper
E190 PH-EZK
Seat 17F
20.54 - 22.10
For some reason I was absolutely sure I had picked up a seat on the last row so I head there and see a guy sitting on "my" window seat and tell him to take a hike. Well, he produces a boarding pass for that particular seat so I whip out mine, ready to challenge him with it (and think of a potential upgrade to resolve a double seat assignment issue by a quick thinking FA!) and notice that my seat number doesn't quite start with the digit "2", being 17F instead. I double check but yes, this is indeed the case, bugger. So I lower my tail between my legs, take my best "But pleeeeeseee misteeeer, I am soooo soooooorrry" expression, mutter an apology to the guy much to his girlfriend/wife/mistress' amusement and retreat back towards my seat next to the wing.
My American seatmate, a young unkempt guy with dirty long hair on the 17D is either drunk as a skunk, plain insane or just stoned (no, not the way the Taliban understand it) as it takes him ages to get up from his seat to let me pass. On the plus side he looks a lot like Hank Williams III, even down to the mini cowboy hat on his head (nothing to challenge my stand on this issue though) so I suspect it is the latter case! Well he doesn't bother me and doesn't seem to be able to carry on a conversation, so it is all fine and dandy. Well apart from my seat on which he has carefully placed a take away sushi box, his inflight meal apparently which he leaves there until I point out that I don't know what his major turn ons are but mine certainly do not include having some fresh fish up my arse. Maybe not exactly with those words though.
Outside it has started to drizzle: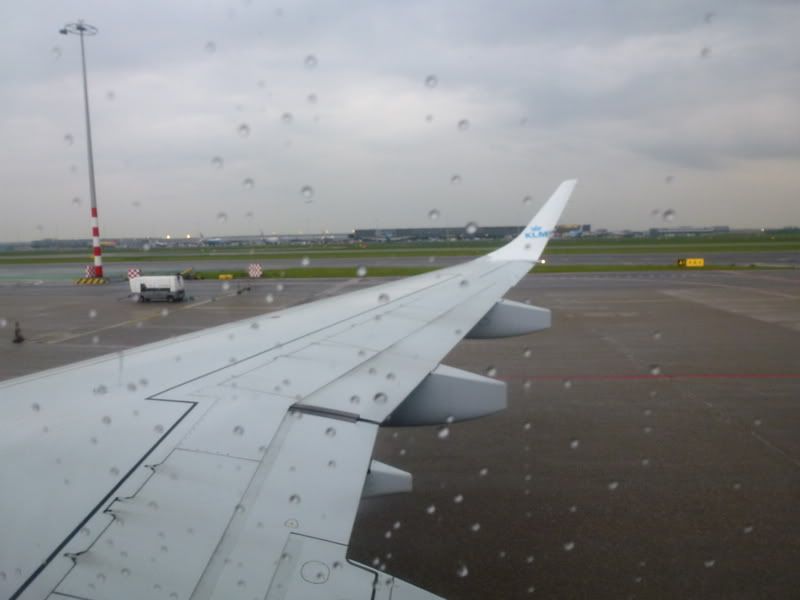 The plane seems completely packed tonite. On the seats there was also something else - a shrink wrapped cardboard box bearing the Heineken logo:
Apparently there's some sort of football tournament at Munich this weekend, maybe this explains the full plane then. Backside: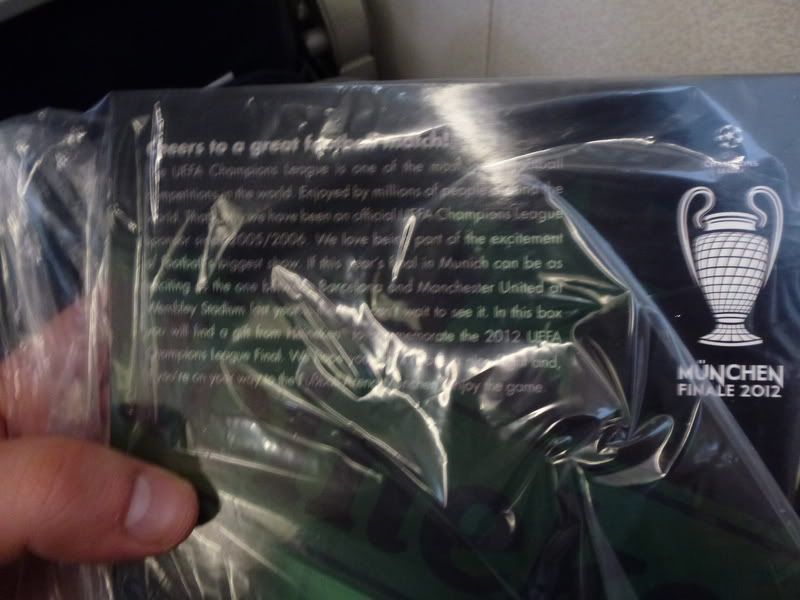 Picture of the contents, taken later - a scarf: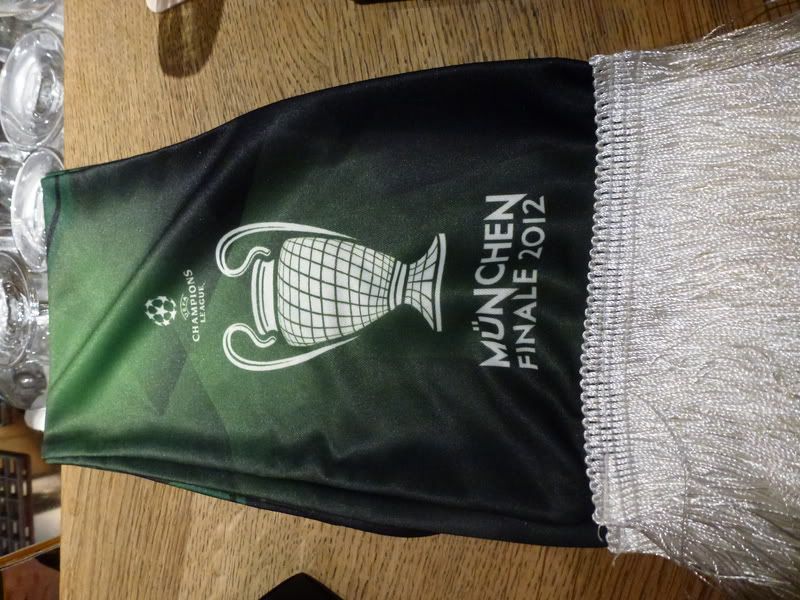 And a DVD with some soccer porn on it - not really my kind of thing (baby) so to the bin it will go: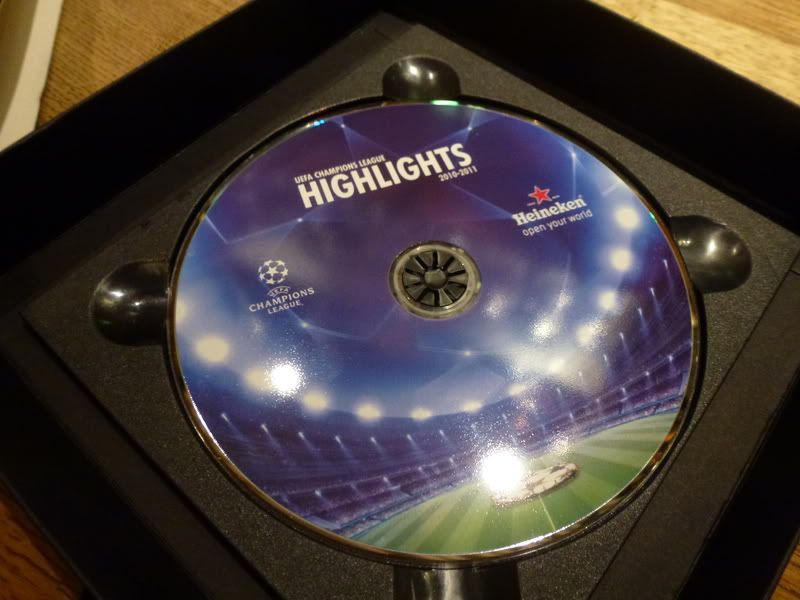 Contrary to the previous flight this time we have a chatty cockpit crew. The captain starts with a long welcome speech, explaining a flight time of 1h5mins to Munich with "Departure towards the south, followed by a left turn and then pretty much a straight line to Munich with an on time arrival".
Departure is a few minutes late and instead of the nearby runway 24 where plenty of traffic is taking off we taxi the longer way to 18L.
Cute emblem on the fuel tank: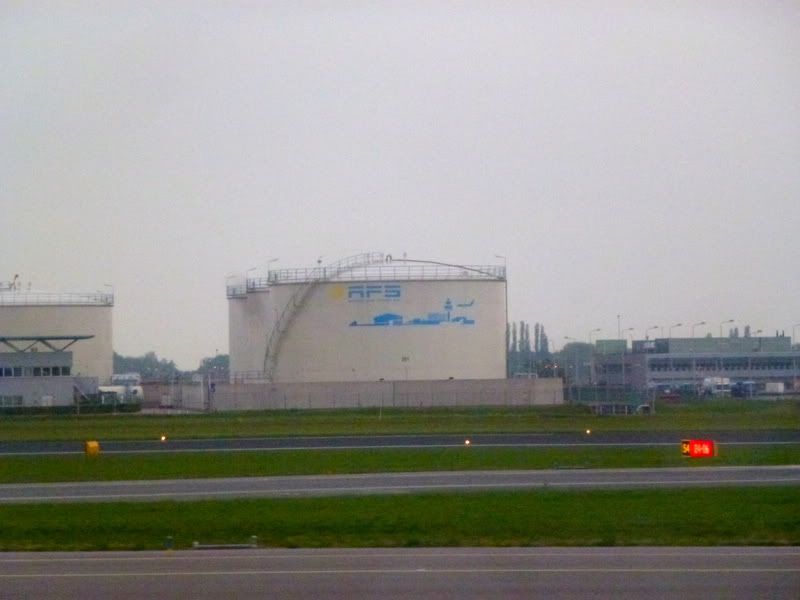 This beautiful triple seven takes off before us: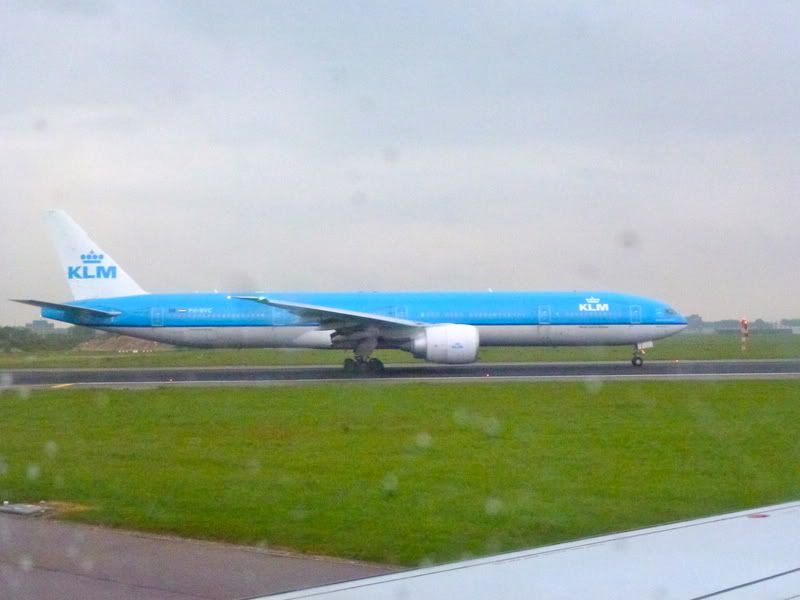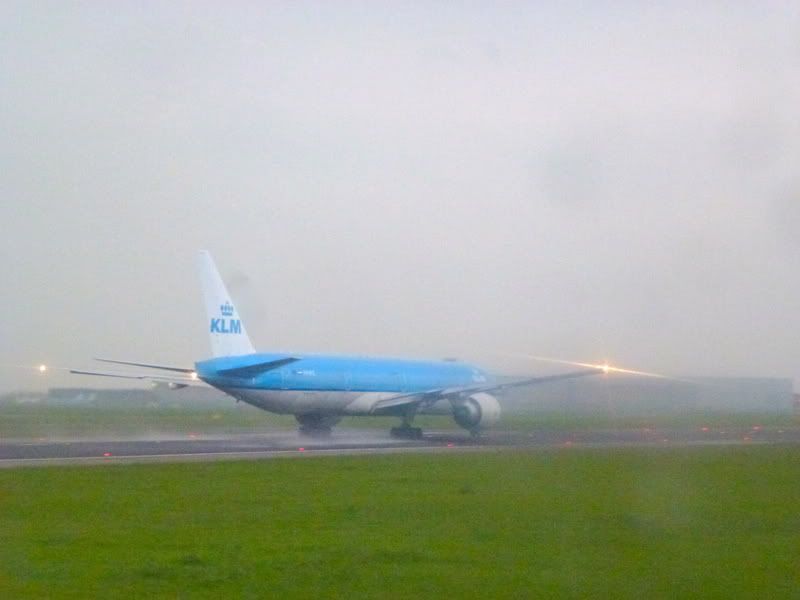 After us a RAM 737 - I'm hatching a plan to fly one later this year: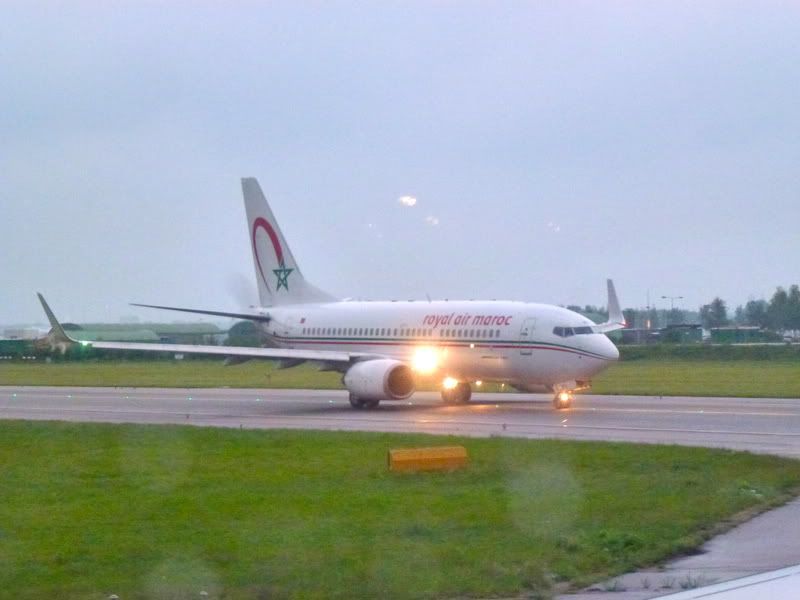 Off we go: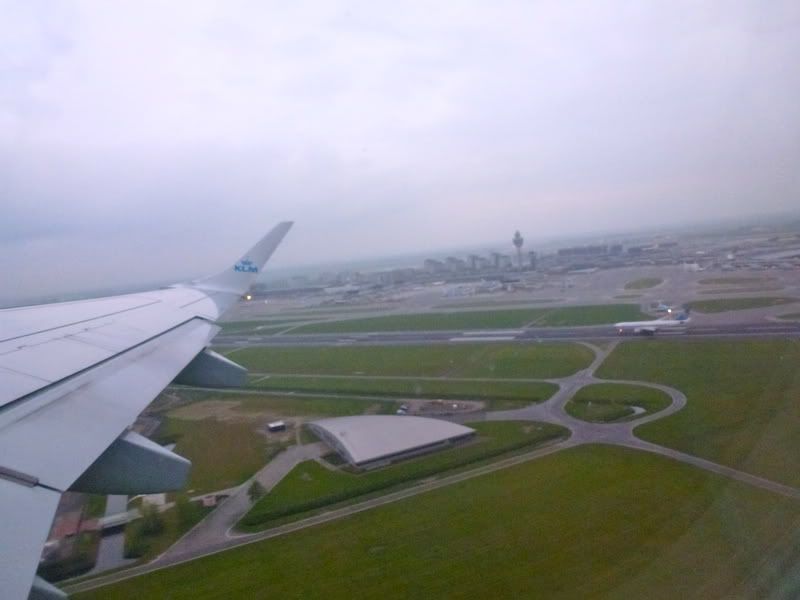 Turning left towards Germany: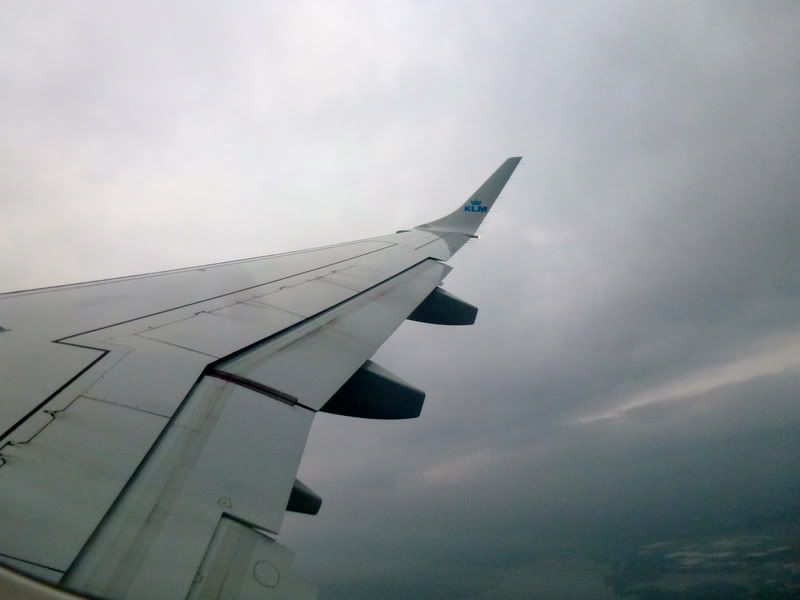 Road construction, Dutch style: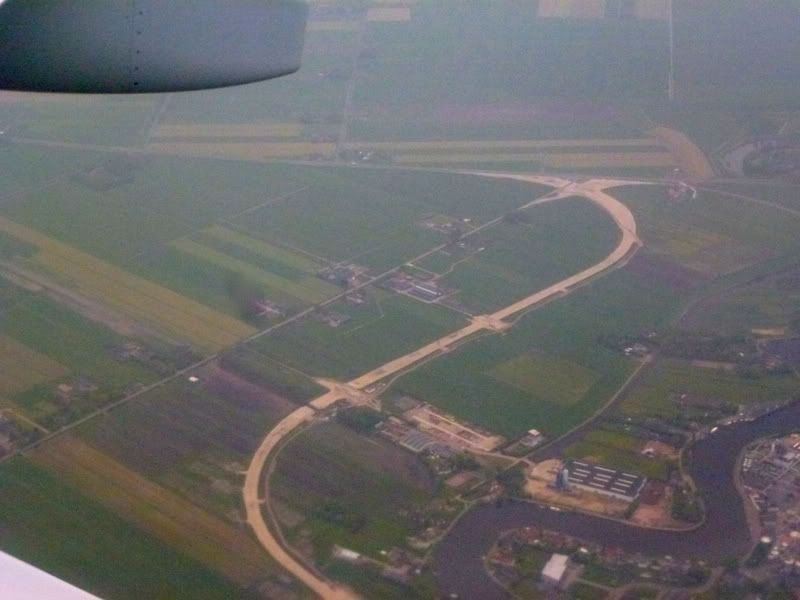 As this flight takes place during the exact period of the sun going down I get a nice chance to see the whole spectrum of colors cast by the sun behind us on the wing outside my window - enjoy: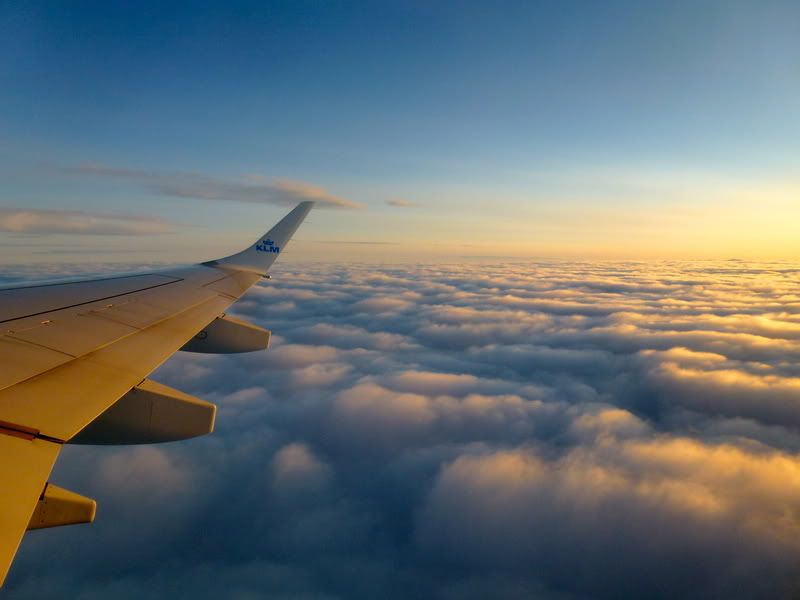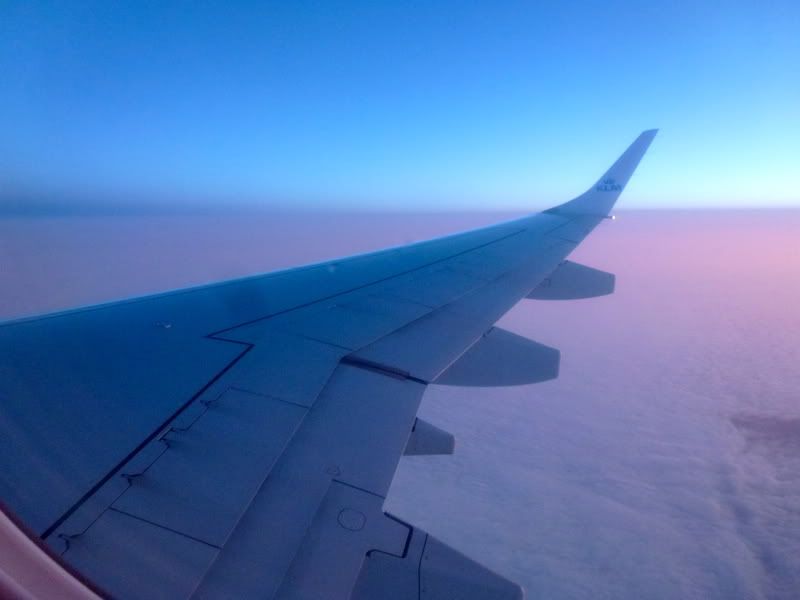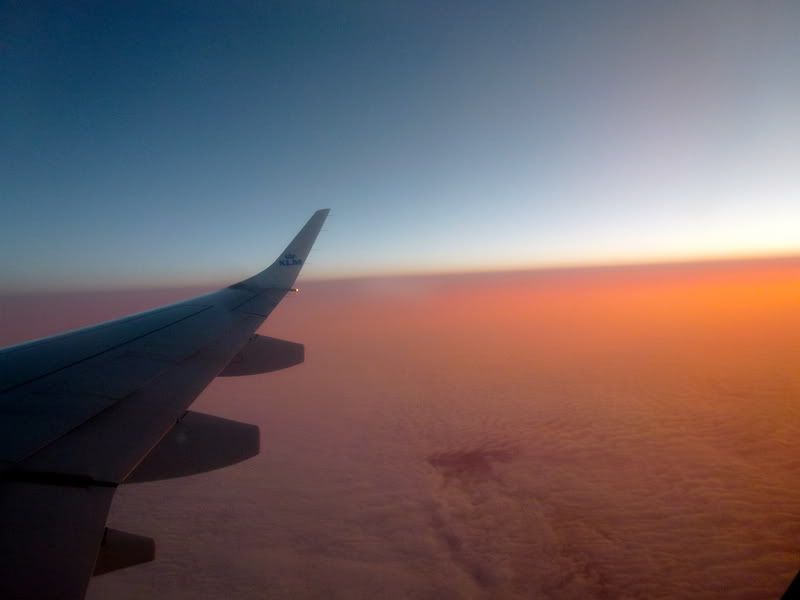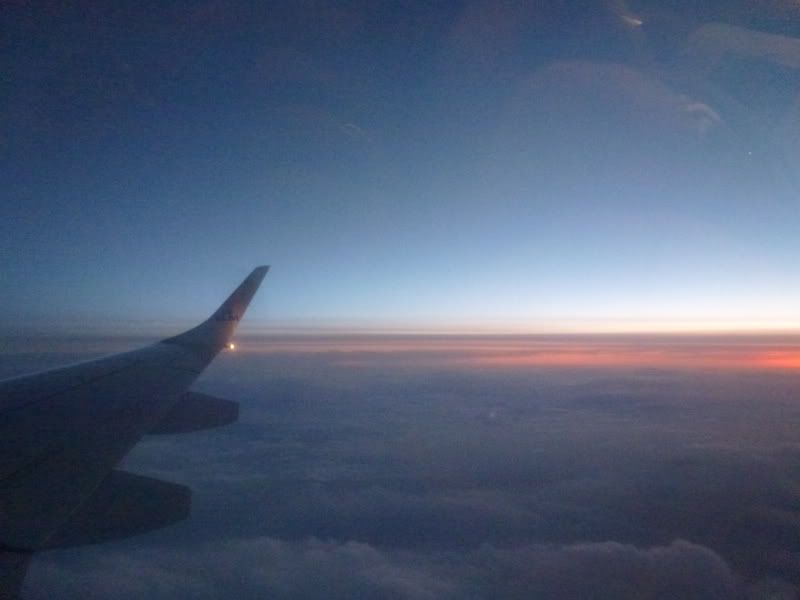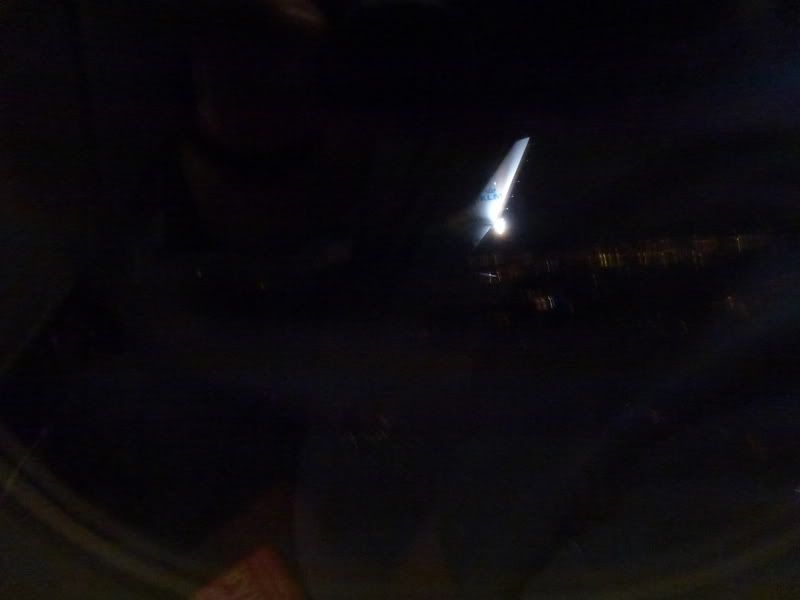 Due to the full plane (and me sitting right in the middle of the plane) it takes a long while before the service carts reach me. As is standard on these shorter flights it is a choice between a sweet or a salty snack and drinks:
My seatmate (who wolfed his sushi right after take off like he hadn't seen food for a week - maybe he is indeed coming down and now has the munchies!) downs a Heineken in one huge gulp (admittedly it is just a small can!) and passes out (or crashes, who knows) afterwards.
Right after I get handed my loot I can already feel us commencing our descent, and by the time I'm finished with the beer and trash is collected the seat belt sign is already on and the lights of Munich are visible on my side.
No good pictures come out, but here's one of the Fußball Arena München all lit up - probably due to the football madness out here: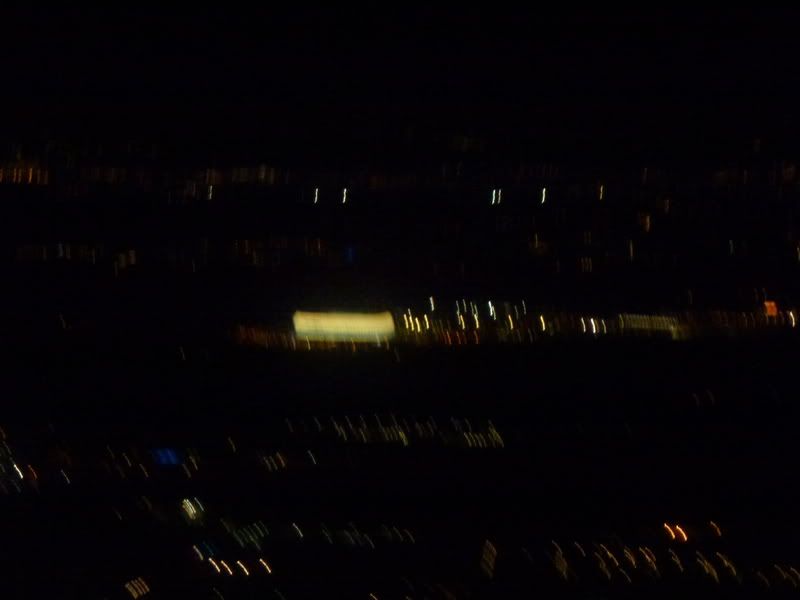 We have a very hard landing on runway 08L after a bit over an hour of flight time.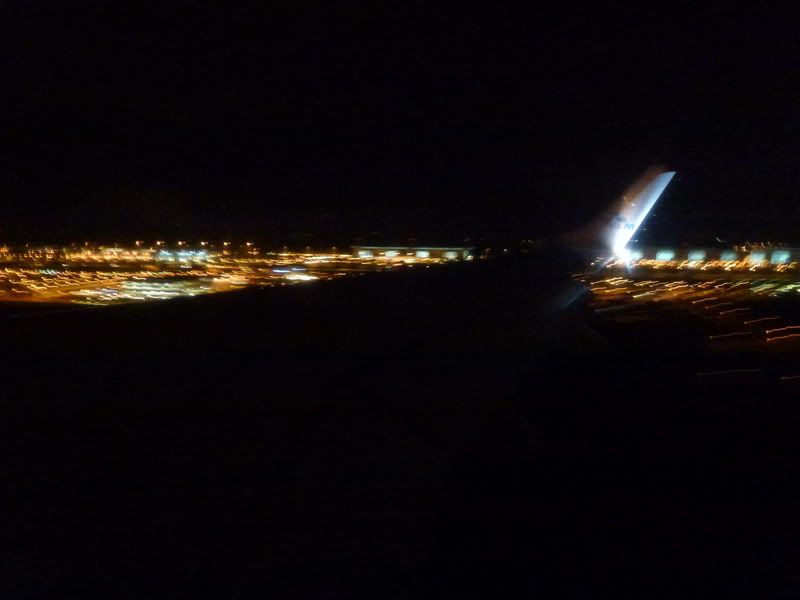 After a somewhat slow taxi we dock to the same T1 gate I left Munich from the last time here, next to an AF Airbus:
As soon as the folks on the other side of the aisle leave the plane my seatmate moves there and crashes again - maybe he wants to stay the whole night in the plane...
I bid the crew goodbye and thank them for a nice (well, mediocre is more like it) flight.
Munich Franz Josef Strauss Airport
I had a bit of a dilemma organizing my stay at MUC. As there's only one on site hotel (which certainly charges a premium for its location!) and I have only around eight hours here an offsite hotel didn't really appeal to me - if you factor in the shuttle or train rides etc. you end up catching only a few hours of sleep, not really worth the money or the hassle!
So I figured out I'll just rough it at the airport then - and decided that T2 airside would be a good place for it as come morning I'd just walk to the nearest Lufthansa lounge, get a shower and some breakfast. So the first step is to catch the airside transit bus, thankfully leaving downstairs from our inbound gate: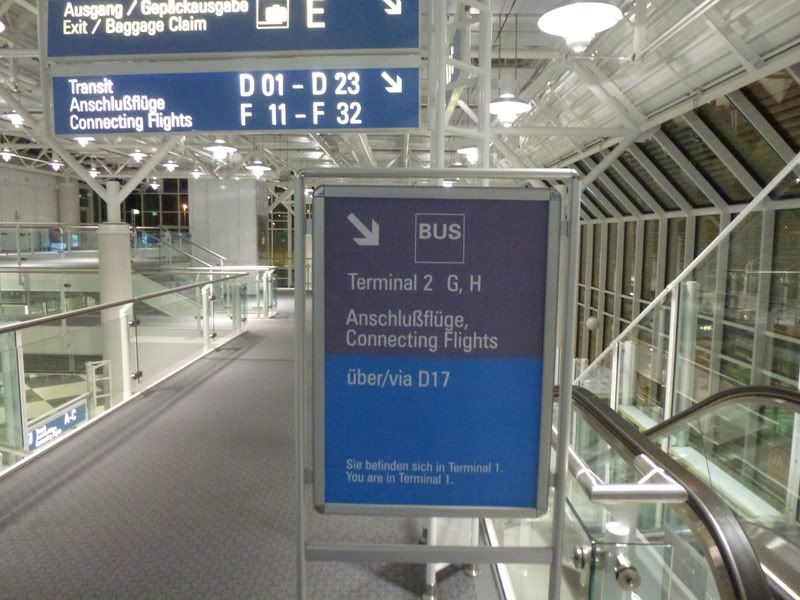 I seem to be on a roll here as the next bus is due in just a few minutes: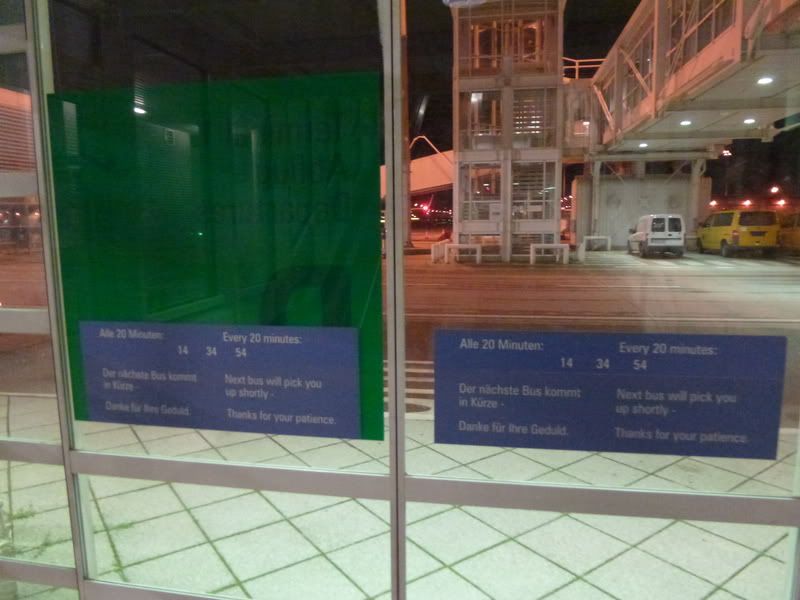 That's my inbound ride: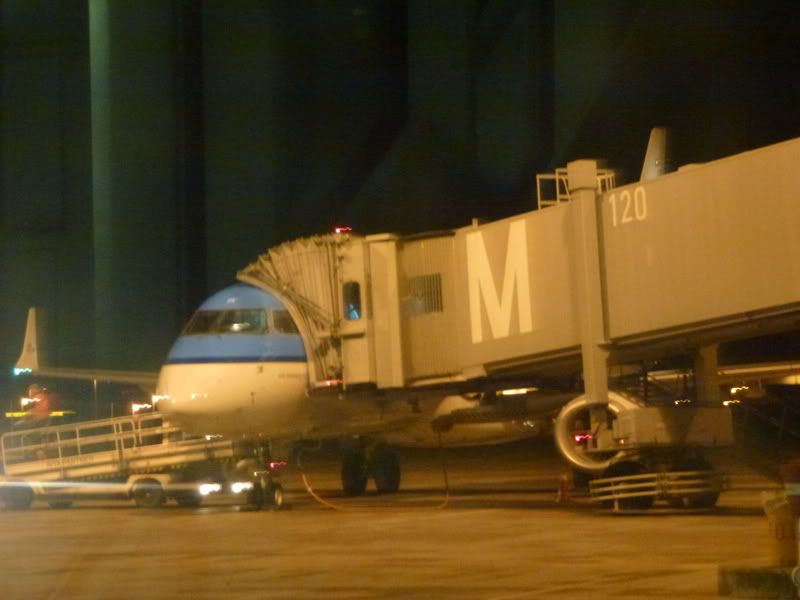 Soon a bus with a friendly older driver arrives - as I expected I'm the only one riding the bus: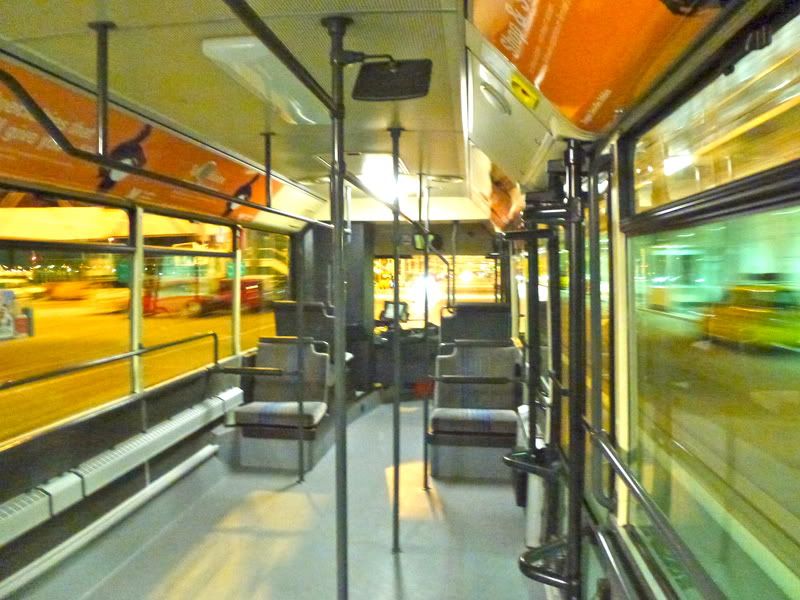 Upon arriving at T2 I'm a bit surprised to find the whole place deserted - I keep forgetting how early the traffic dies down on these German airports:
Top