Feedback always appreciated.

I > Background:
I have always had a special place for all J class cabins on long haul flights. This is especially true for modified long-haul operations on narrow-body aircraft. I had already done every Swiss and Lufthansa route (Privatair operated), an also flown on KLM's AMS-IAH and BA's LCY-JFK. It was time to tackle the last remaining such operation – ANA's Business Jet flying NRT-(FUK)-BOM. Due to the length of the route, it flies nonstop eastbound, but needs to make a tech stop westbound in Fukuoka. In the past, the route also has seen the Fukuoka stop traded for Niigata.
Having finished a consulting engagement pitch in Japan, I would now be able to take the NH flight and be back to India for the first time in more than a year. The plan was after a good weekend in Bombay to take TK's BOM-IST-GRU operation and then connect back to CCS.
I believe this is the first report on ANA's Business Jet on the NRT-BOM route.
II > Pre-Flight:
a) Before Airport:
All Nippon Airways or ANA, is one of the largest airlines in Japan, and a member of Star Alliance. Headquartered near Tokyo, it operates services to 49 destinations in Japan and 31 international routes. ANA's main international hubs are at Narita International Airport outside Tokyo and Kansai International Airport outside Osaka.
Primarily a domestic carrier, it began opening to international flying as late as 1986 with service to Guam, and took up to 2004 to surpass JAL in terms of profitability of Japanese carriers. Recent noteworthy events have included being the launch customer of the 787, and launching LCC's such as Peach and Air Asia Japan.
Booking was done on All Nippon's excellent website (www.fly-ana.com). This has to be one of the best airline websites out there. Not only were my e-tickets delivered quickly to me, I had the ability to make seat selections (through one of the coolest interfaces), view itineraries, and make as many changes I wanted. Moreover, the website gave detailed information on my flight including precise meal options, seat type, in-flight entertainment, etc. All this within one of the most interactive and intuitive graphical interfaces I had encountered.
(Website Interface & Seat Selection)

*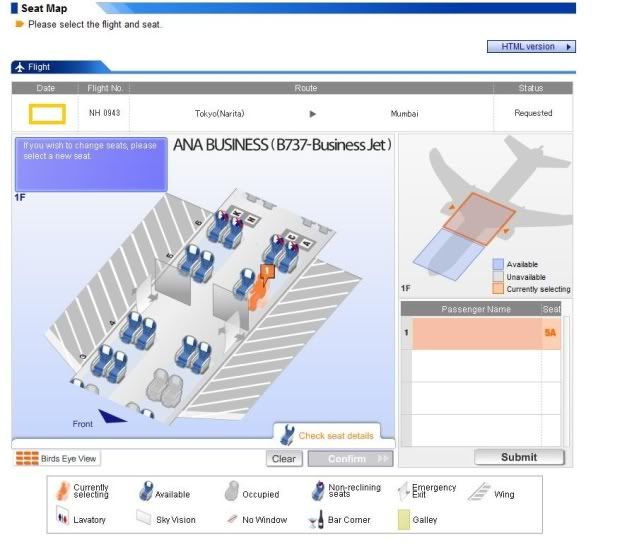 b) At Airport:
In my mind, Japan should be the benchmark for EVERY advanced country to balance efficiency with politeness and service delivery. This started in Tokyo where I took my prompt nEX train from Shinjuku to Narita. Arriving on time, I proceeded to Terminal 1 which houses ANA and most of her Star partners. Looking up the board, I noticed a dedicated check-in area for ANA's Business Jet clients. Here, agent Ms. Aya quickly checked me in. She was very pleasant to deal with and the entire process was conducted efficiently and with polite smiles that could be best described as "very Japanese". Next stop was an equally efficient security process and a breezy immigration process. The entire event took 12 minutes! I was amazed at how fast everything happened and here I was at ANA's flagship lounge.
ANA's lounge was divided into 2 sections and Ms. Michiko welcomed and directed me to the Business class section. The lounge is a fusion of Japanese minimalist style meeting the clean (though, a tad uninspiring) lines of Ikea. It afforded tremendous views of the apron and I was able to plane-spot away for most of the time. There was a decent selection of food and beverage options, and I was able to nibble on some sushi while sipping some café to wake me up. Afterwards, I went to the "hot kitchen" section where I availed of some delightful soup that perfectly hit the spot.
Around 45 minutes prior to departure, I left the confines of the lounge and made my way to the gate. The agent working the gate informed me that the load today was very low – in fact, a contact at ANA confirmed that I had lucked out by choosing one of the most empty flights of the year. Ms. Miko announced at 30 minutes and I made my way to the 73W that looked tremendously smart. I just LOVE boarding these all J-class cabins as there is an amazing air of exclusivity that harps back to an era where travel was special and looked forward to. I just imagined (for a second) being some high society jetting off to an exotic far-away land with fellow "elites". There really is something magical about these premium experiences that is so refined and miles ahead of what Emirates has done with its all J prison cells – also known as the upper deck JCL of their 380.
Entering the 73W, I was excitedly greeted by the purser who directed one of her colleagues to take me to my seat. Both were infinitely welcoming and I just knew that I was going to have an excellent flight. J load was 40%; Y (or Y+?) was around 80%.
Airport - External:
(Narita Airport Terminal 1)
Check-in:
(ANA: Business & Elite Check-In / Special counter for Business Jet)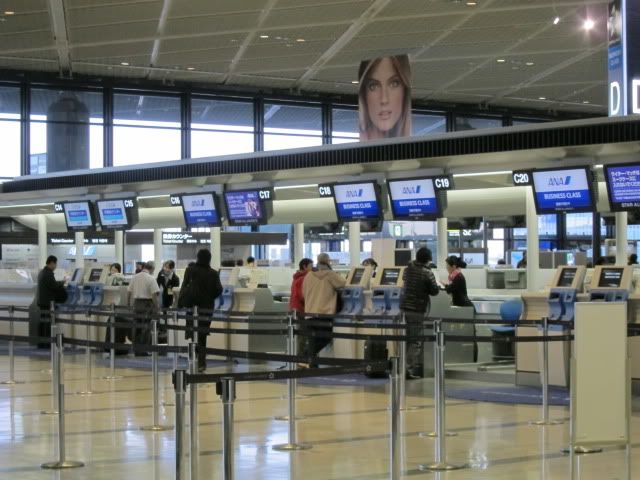 Airport - Internal:
*
(FIDS)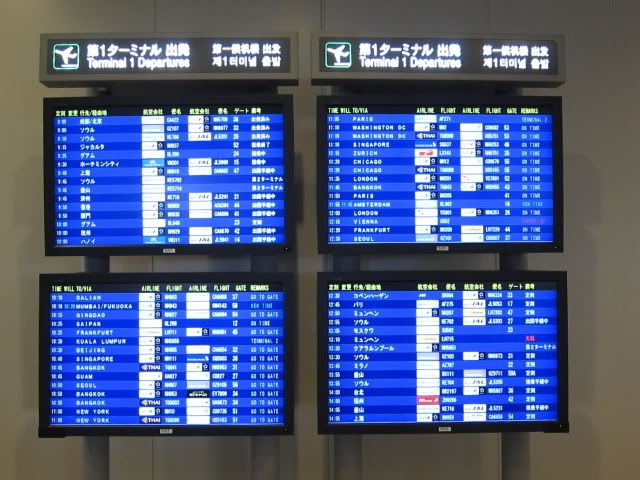 (Post Security @ NRT)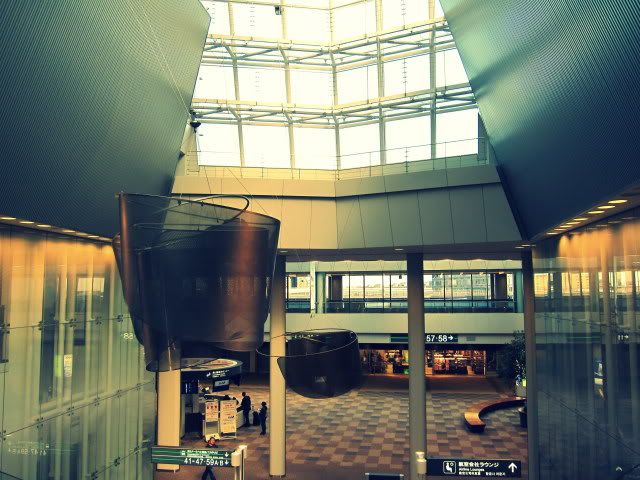 *
Scenes of the tarmac:
(TG to BKK)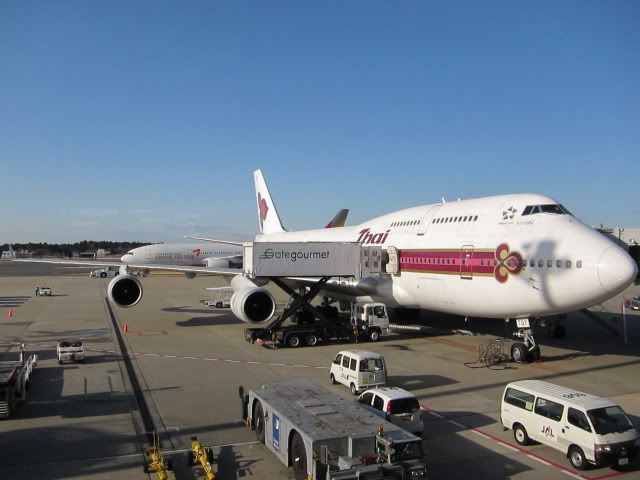 (NH Logo Jet)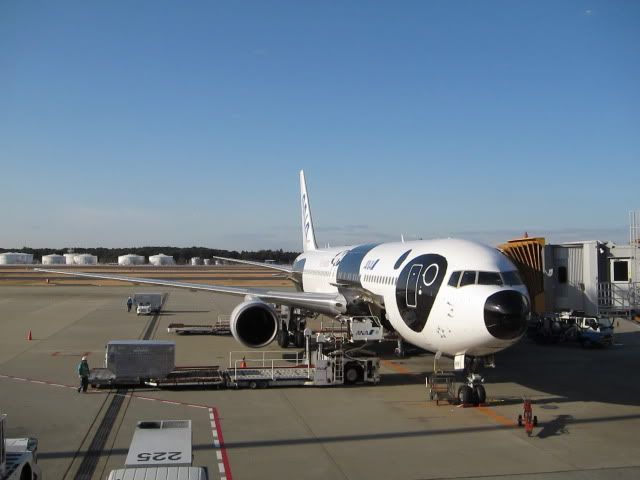 (The "whale" to FRA – I think this is when I realized the whale moniker)
Lounge
(ANA's Business Class Lounge)
*
*
(Dining area)
(Soup Station)
(Meals I consumed)
*
*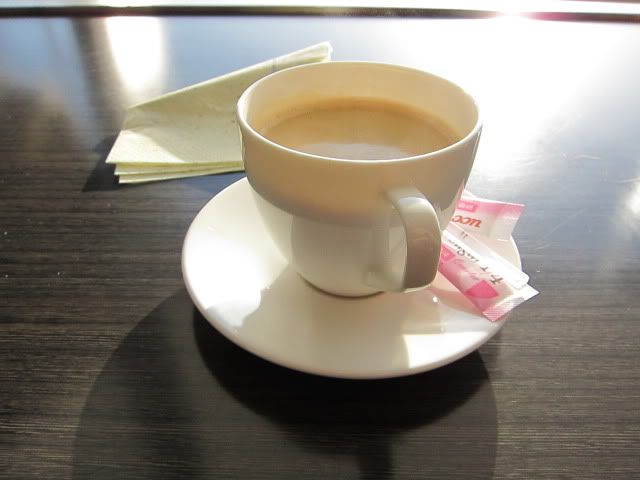 Boarding:
(Gate Area)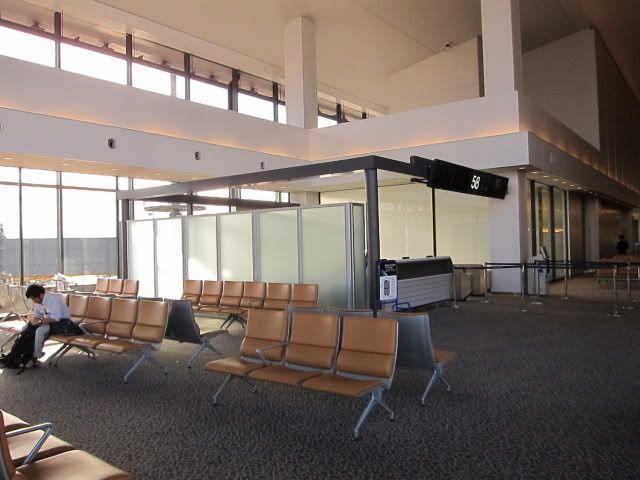 (Boarding)
III> In-Flight:
a) Service Schedule + Impressions:
At each seat was a nice ANA Business Jet branded duvet and high quality pillow. While on the ground, Ms. Yuko came by with one of the most impressive selection of magazines and newspapers. I was most impressed by the fact that she had a huge stock of Indian newspapers and magazines – this was on a flight departing Japan. What a contrast to my usual Lufthansa flights in JCL where I struggle to ever find an English language newspaper. Very cool.
During the short NRT-FUK flight, service included:
+ Welcome drink – champagne, orange juice, water
+ Amenity kit distributed
Subsequent FUK-BOM sector included:
+ Entertainment units and quality branded noise canceling headsets distributed (on ground)
+ Pajamas distributed (on ground)
+ Post take off, very nice scented hot towels
+ Drink service
+ Elaborate lunch service
+ More drink service(s)
+ Pre-arrival meal service
The stop at Fukuoka is for 30 minutes and includes a few agents walking you to the small ANA J-class lounge. One gets to spend around 20 minutes before being escorted back to the plane. The entire process is done efficiently and with unfailing politeness.
Finally, one of the most impressive things for me was how branded everything was. Given the fact that this is ANA's only true long-haul Business Jet route, I was amazed how every small thing – from check/in signage, to duvet sheets, to pillows, to amenity kits, to postcards – had the ANA Business Jet branding. Hat's off to ANA for creating and maintaining this.
b) Aircraft + Seats:
ANA Business Jet's 73W is one smart machine. Just from the outside, the Business Jet branding elevates expectations and sets one up for the mood inside. This 73W was immaculately maintained – including the super awesome lavatory – in fact, this is the first narrow-body aircraft that I had seen that had windows in the bathroom. Not just one, but two! Very cool. Throughout the aircraft, there is a tremendous sense of space and feel of a luxury jet. It is really tough to describe how "private" and intimate the cabin felt.
Let's talk about the seats. These were rather old styled seats, which used to be found in the First Class cabins of many airlines. Like many of its peers, it is very comfortable during seat mode, and one can get a nice cradle position as they watch a movie or read a book. In "relax" mode, you can get it to around 160-170 degree recline (making it similar to the old RJ JCL seats). While not obviously in the same league as full-flat beds, I still preferred them over lie-flat offerings that many airlines still provide in JCL. Again, while it may not afford me an amazing night sleep, I had no problem dozing off several times during the flight. By the way, surprisingly, the seats had full in-seat power.
Aircraft:
(@ FUK)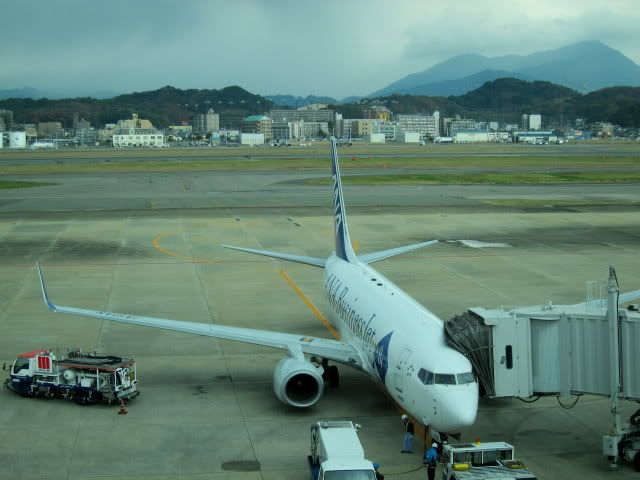 Views from Aircraft:
(@ NRT)
*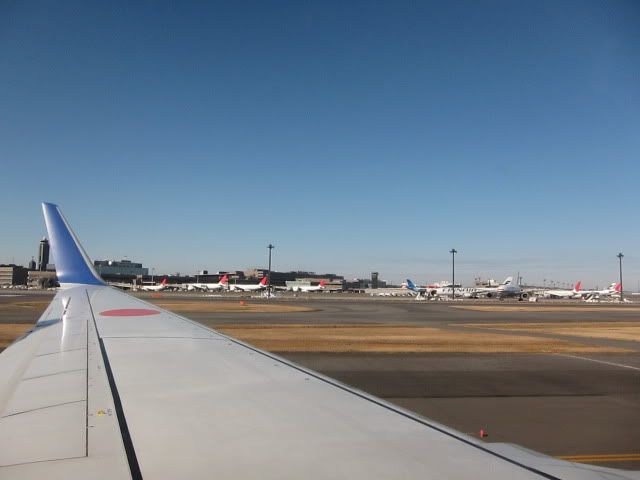 *
*
*
*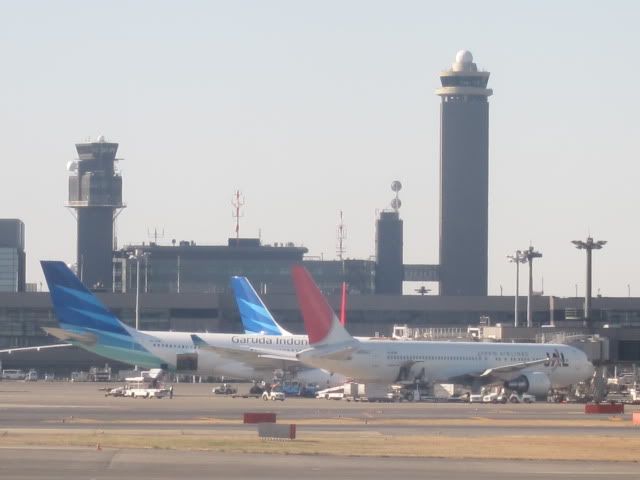 *
(Sayonara Tokyo)
(Mount Fuji – captured due to the wonderful crew)
(Approaching Fukukoka)
*
(Fukuoka Airport)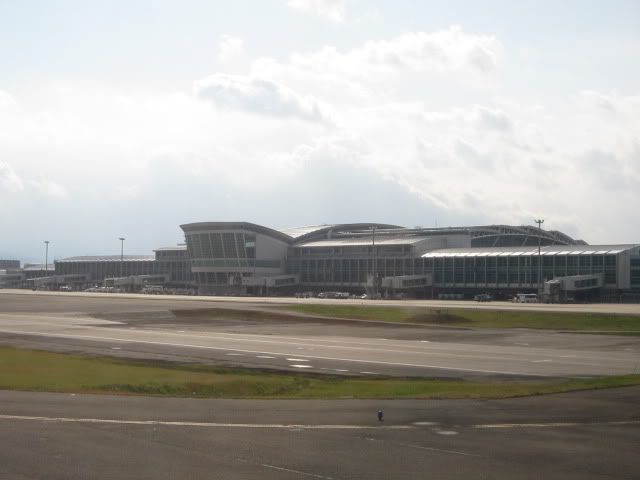 *
(Lounge @ layover & FUK Airport)
*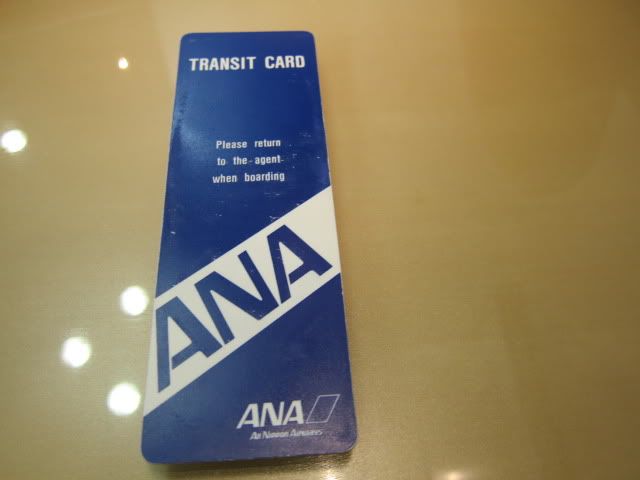 *
*
*
(Boarding back)
*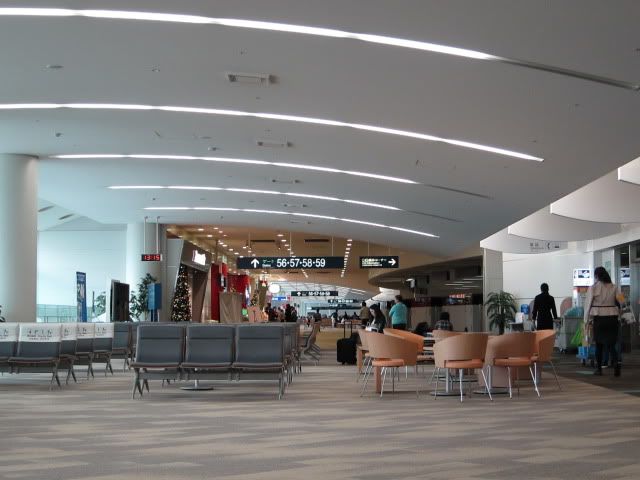 *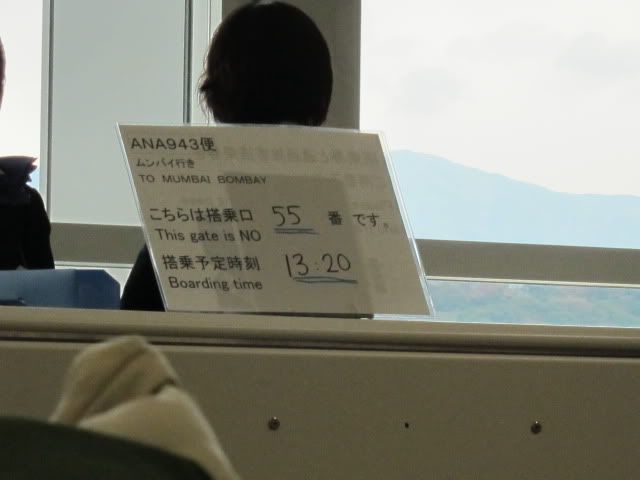 (Sayonara FUK)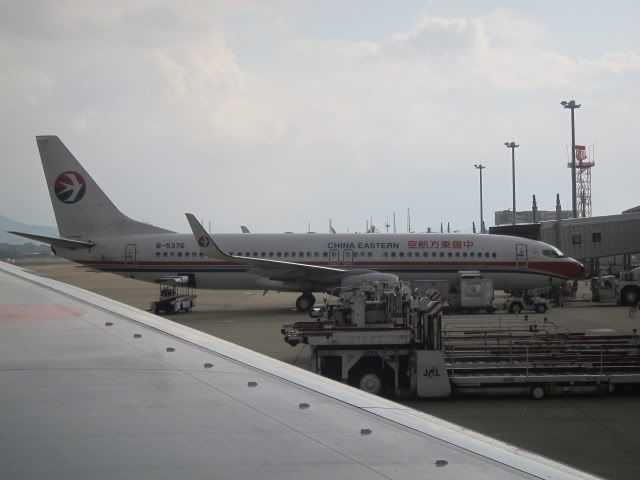 (Love the Japanese and WestJet for doing this)
(More FUK)
*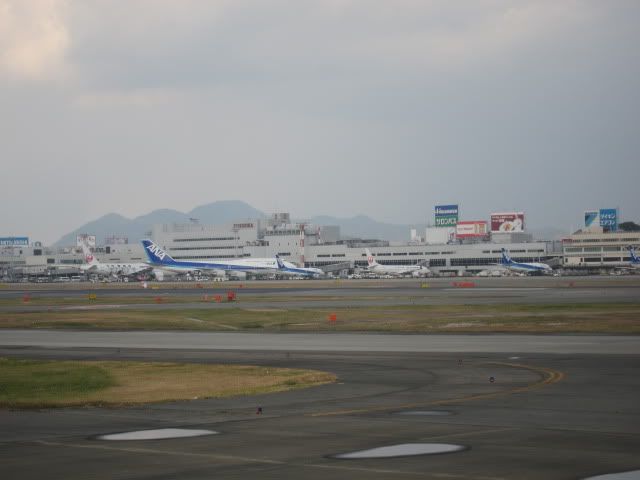 *
*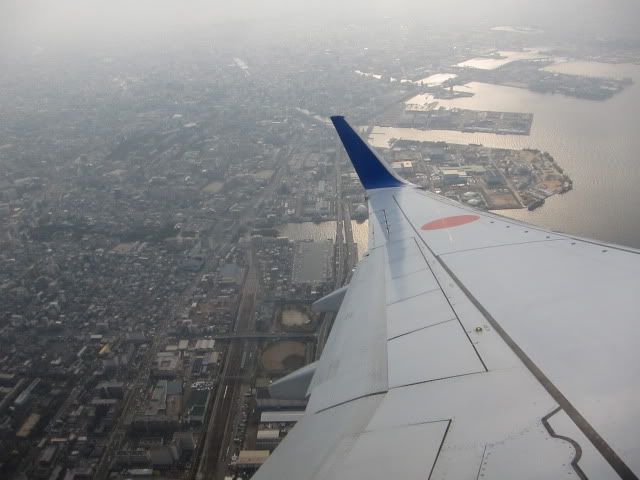 General Seat Views + Seat Legroom
(Seat)
(Front of seat)
(Seat controls)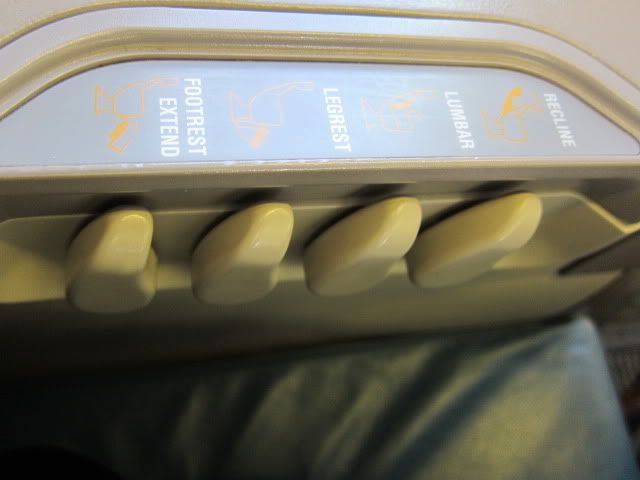 (Around Seat)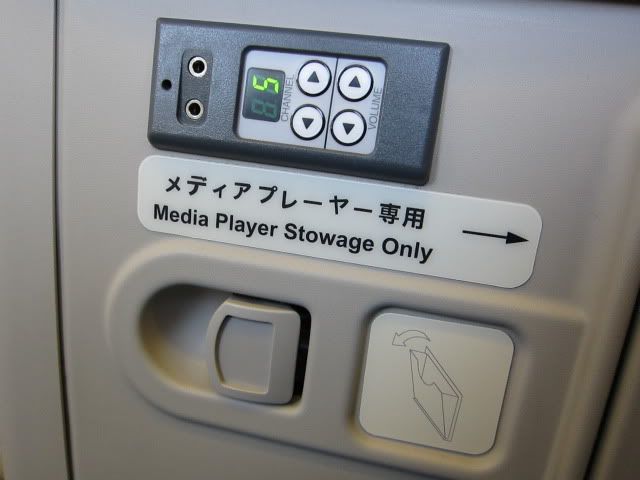 *
(Legroom)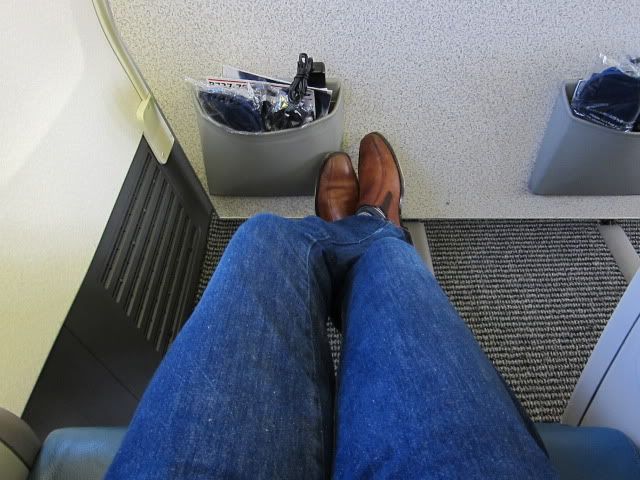 Seat Recline + Angle View:
(Recline)
*
*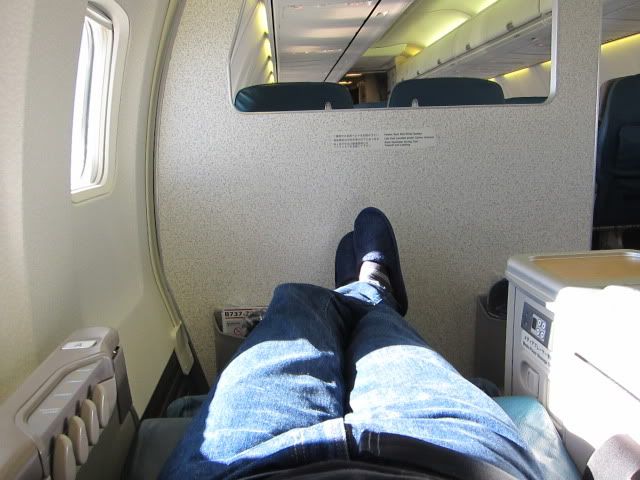 (Bulkhead view. Unique view from 5A)
(Angle view)
Cabin:
*
*
(Blanket ++: Amazing branding for a flight)
(Bathroom)
c) Meal + Beverage:
As soon we departed Narita, the crew sprung into action with some juice/champagne/water service. I chose some of the excellent champagne (Canard-Duchêne Classic Brut, 2003: fresh, lemony fruit aroma balancing an yeasty flavor) served by Ms. Yuko. When I asked her what kind of champagne it was, she was profusely apologetic, as she did not know the name. After serving me some of it, she went back to the galley and asked the purser … soon they were both by my side with the bottle in hand showing it to me. Pretty cool. Accompanying the champagne was the combination of Japanese rick snacks that I am a big fan of.
After taking off from Fukuoka, another drink service commenced. This time I settled for a glass of Kir Royale – served along with those Japanese rice crackers again. This was repeated two more times prior to the meal service . Lunch began with an amazingly fresh beef salad. It was probably the freshest salad I have eaten on a plane – every vegetable was succulent and crispy, with the juicy beef rightfully cooked. For the main, I decided to deviate from the Japanese fare and try the Indian offering. This included rice and 2 curries – including a very nicely prepared green chicken curry (can my Indian friends remind me what this is?). To be honest, while the food was perfectly great, I should have stuck to the Japanese offerings, as the presentation was infinitely better. I can only imagine that the quality would have been too. Finally, for dessert, was a little sample combination of ice-cream, fruit, and tiramisu drowned down by some excellent plum wine. Finally, more plum wine was served along with rice crackers and a nice cold towel.
Post lunch, I consume even more drinks (think nearly 15 on this flight – sad, I know) and am encouraged by the obliging crew who always approach me and are constantly in the cabin in an non-intrusive manner to see if the passengers needed anything else.
Finally, prior to landing, a small meal is offered – again, Japanese and Indian offerings in the menu and I choose the former. This time it is a nice soup accompanied by some vegetables and a few pieces of rather dry sushi that leaves me wanting a bit more.
(Menu: Online)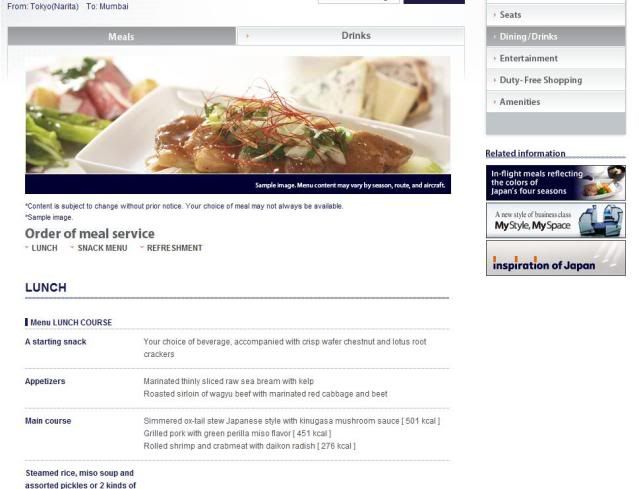 (Menu: Onboard)
*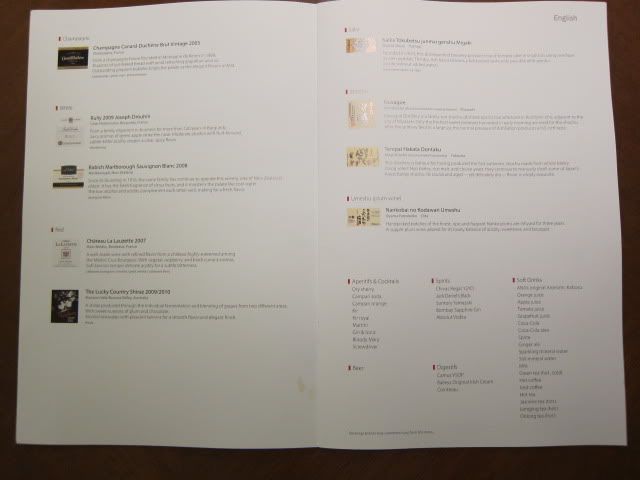 (NRT-FUK)
(Lunch service commences with hot towels)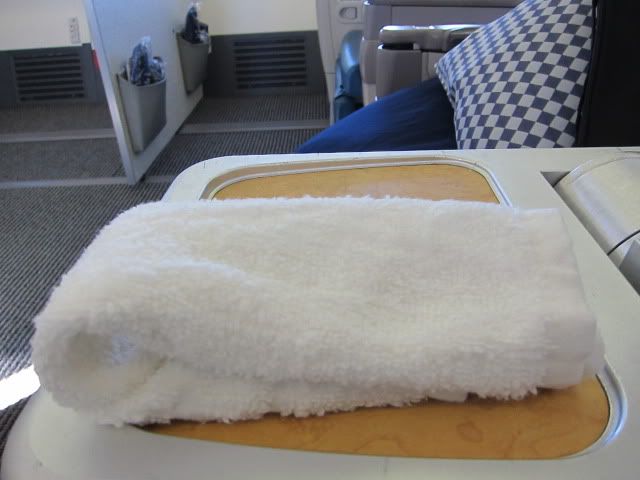 (More drinks)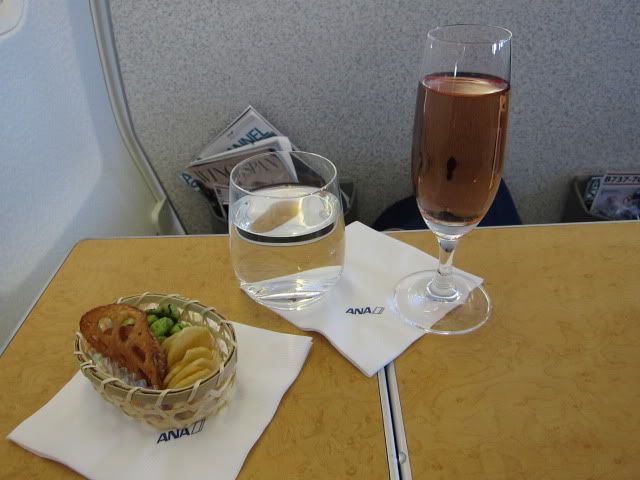 (Dinner starts with excellent salad)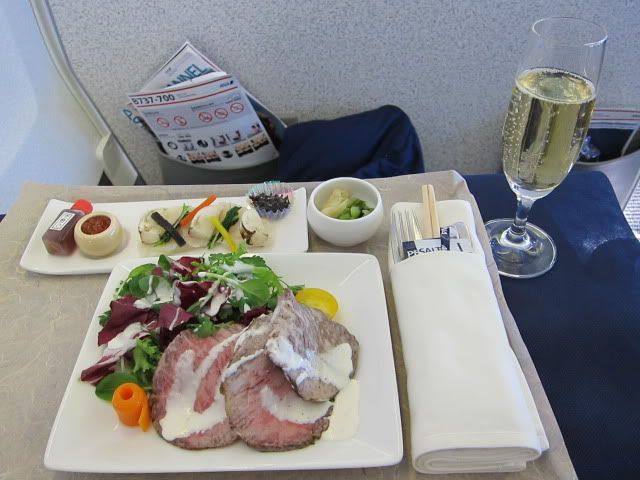 *
(Very nice main course)
(Decent dessert)
(Post dinner fun)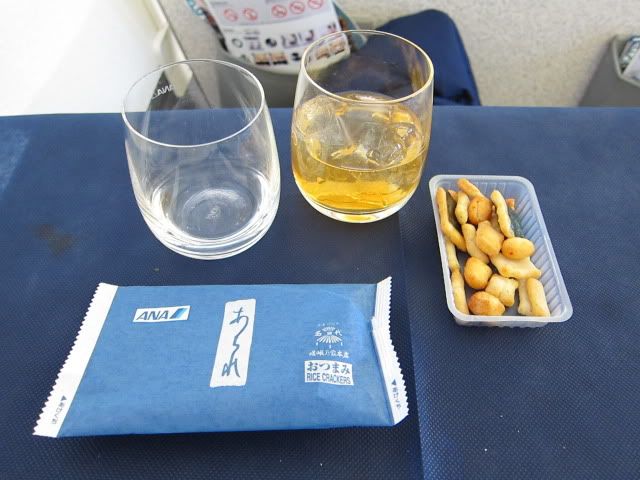 *
*
*
(Prior to landing @ BOM)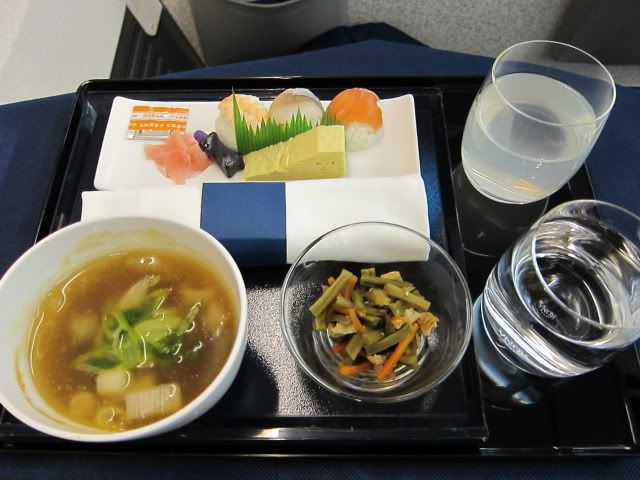 *
*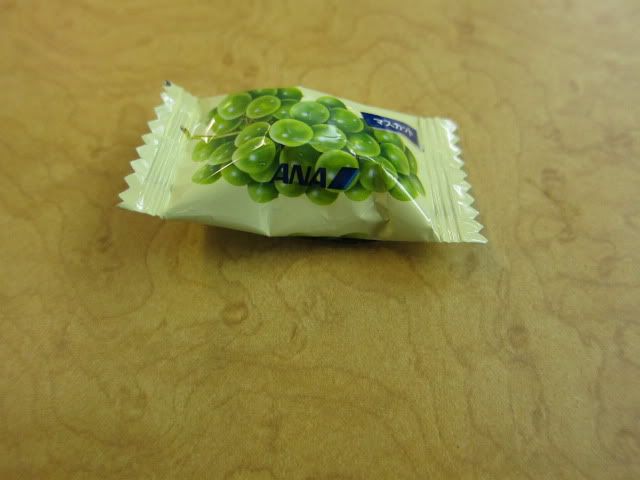 d) Inflight Entertainment:
Probably, the weakest link in ANA's product in the Business Jet's is in the inflight entertainment options provided. They do not come with inbuilt AVOD. Instead you get this personal movie player loaded with a rather odd collection of movies. For those of us who fly often, you are out of movie choices pretty soon. Thankfully, the headphones were solid branded noise-canceling ones. No complaints on the rather thick inflight-magazine either.
(NH's system handed out after take-off from FUK)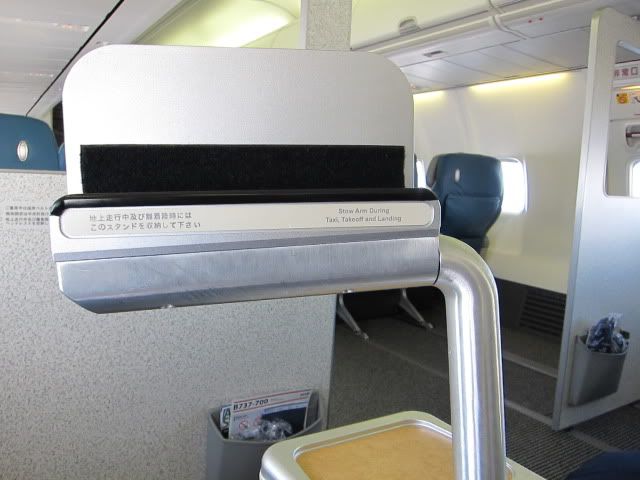 *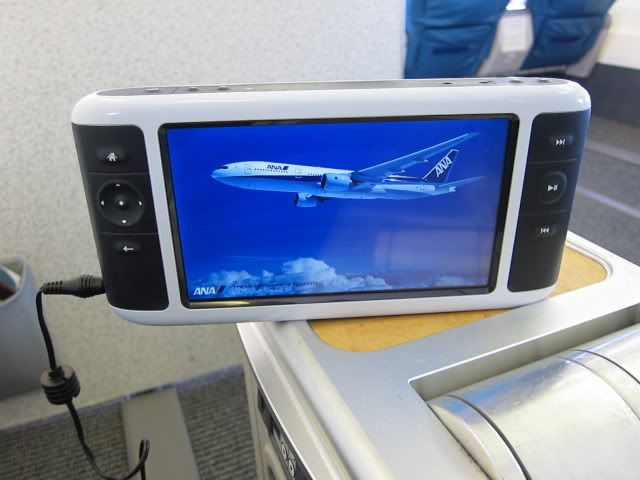 *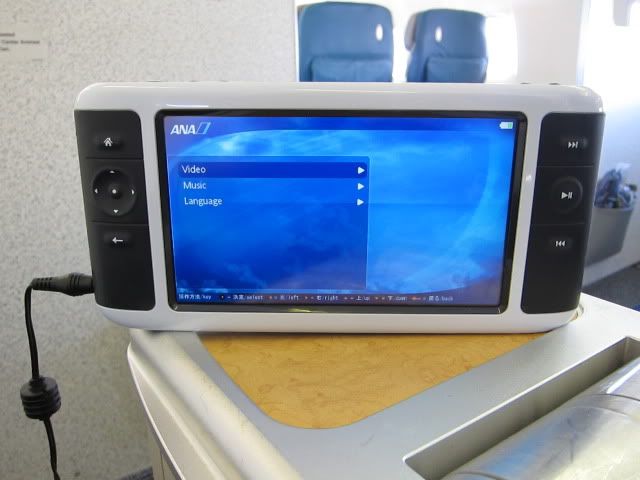 *
*
*
*
(Flight Plan & Interactive Maps)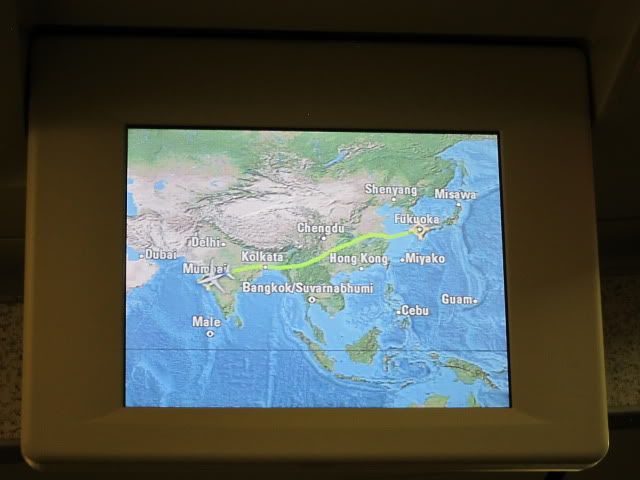 *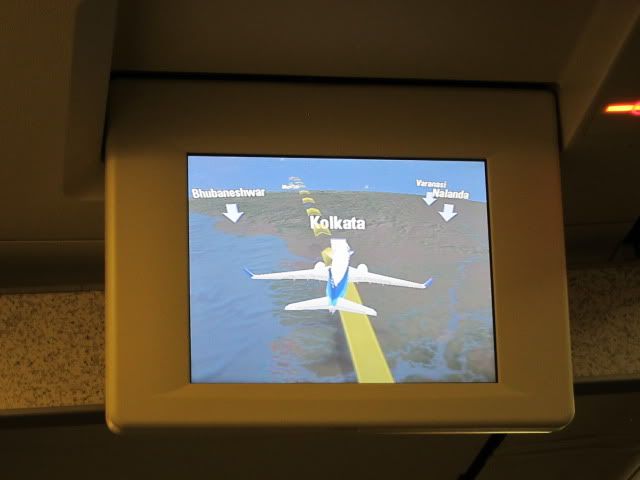 *
(System & Headset)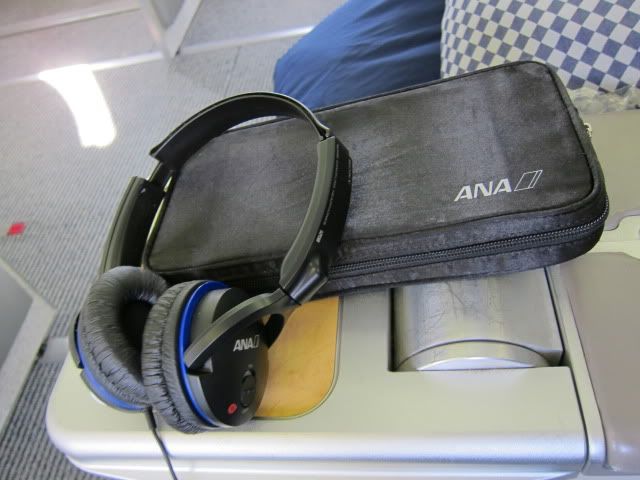 ("In-flight magazines", Boarding Passes, etc.: Just look at all the stuff I got)
(787 magazine and stamp they gave me!!!)
(Local newspapers and magazines – why can't LH do this?!)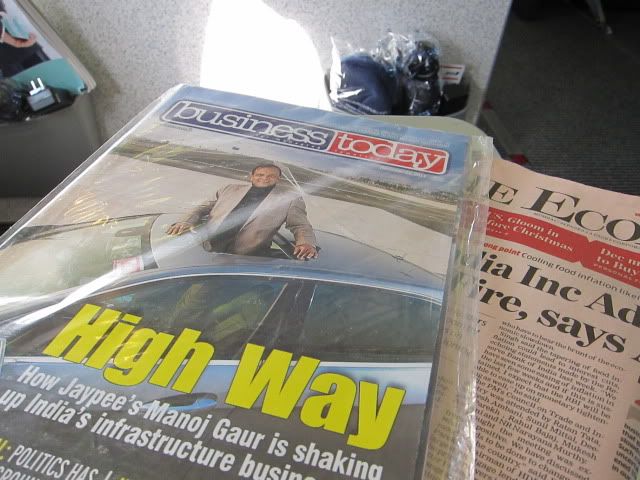 e) Crew:
One word. Fantastic.
After my last Air Canada JCL review, ANA's crew were not only a positive surprise, but they were a reminder of everything that an airline crew should possess. Probably, one of the best flight crew I have ever taken. Pure magic. Allow me to demonstrate by the "everyday", and by "how from the heart" they were:
From the core responsibilities of being helpful and smiling, kneeling to make eye contact, and calling passengers by their names to being proactive in storing baggage when needed and walking through the cabin and catering to any requests (hear that Air France?), the ANA ladies were the benchmark of what an excellent crew should be. They truly anticipated your requests, and made them come true. Of course, a lot of these virtues are written in the handbooks of many leading airlines. What took them from being great to being memorable were key moments in my flight when they truly shone, and why I will never forget this group of crew members.
So, ANA has two sets of crew who does this flight. There is a crew that does NRT-FUK, and another FUK-BOM. During the first flight, I was looking out of the window after take-off. Ms. Tomoko approached me and wondered if I was a photographer (she had seen the camera). I said, "No – but that I was fascinated by landscape". She then mentioned that we normally pass Mount Fuji and immediately said to excuse her as she was going to find out which side of the flight it would appear on. Minutes later, she confirmed it was on the starboard side and said she would monitor the landscape and come and alert me. Truly enough, she came and stood next to me just minutes before Mount Fuji appeared. As I started clicking the photos, she realized that my seat did not give good views as the back of wing was obstructing … without a word, she swung to action and went checking every seat to see what provided the clearest view. Quickly, she ushered me to the tiny Y section and told me to use the last 2 rows to take pictures. Wow. It might have been a tiny gesture from her, but it signaled how much she cared about her guests to make a proactive difference. No FAM can teach you this.
On the second leg, I was chatting with a crew member and mentioned to her my interest in taking a 787 flight. She said that one of her colleagues had taken the flight and went to fetch her – the second woman (Ms. Naoko) showed me her 787 flight pictures on her mobile phone. Again, I was impressed by how much passion they had towards their job (hear that AC crew?), and I made it a point to write a note of gratitude and present it to the purser. She was tremendously happy with this small gesture and I had moved on. An hour later, imagine my surprise, when the entire crew member came by and said how grateful they were to receive my note, and give me an entire plate of hand made thank you cards, 787 postcards, 787 stickers, a cake, and some wine. I even had a thank you note from the flight crew! This team had definitely spent a considerable time thinking this through and making this moment special. Something like this had never happened to me before and I was honestly moved. I could barely contain my joy and gratitude at this gesture.
Farewell's at the end of the flight were sad, and I was given a hug by the purser. As I walked out of the aircraft in BOM, I can honestly say that this was probably one of the top 10 crews I have encountered in my life. Kudos to the entire team for making the flight memorable even for the most jaded flyer. Arigato Gozaimashta indeed. ANA was just benchmark setting.
(Look at what the crew made for me during the flight)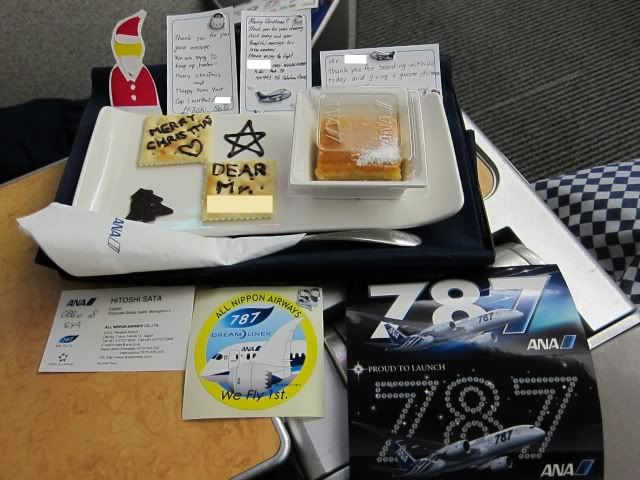 IV> Post-Flight:
Landing in BOM was smooth and using fast track, I was airside awaiting to be picked by my ITC Maratha driver. Saw a lot of construction on the near terminal – any idea when this would conclude?
(Arriving @ BOM video)
V> Impressions + Scores:
ANA's Business Jet service provides an elevated sense of privacy as it zips you in J-class comfort from Narita to Bombay. While the hardware is definitely behind global standards (seat, IFE, etc.), the amazing software sets it apart and makes one overlook the deficiencies of the former.
To be fair, there is room for improvement as the seats can easily be made full-flat with investment. Similarly, investment in a better IFE could be done – though, one can argue whether it is needed on a flight with mostly business passengers.
What left me impressed was the soft product. From excellent lounges, to good food and beverage options, great ground service, award winning amenities, and the icing … the on-board crew. They were a joy to deal with and anticipated every need. As my anecdotes demonstrated, they truly cared about their passengers, and went beyond the robotic responses outlined in the FAM of some Asian and Middle-Eastern airlines.
I would go out of my way to fly ANA, and will easily pay a price premium for them. Two thumps way up!
VI> Other Trip Reports:
PREMIUM:
9.27: JET AIRWAYS **FIRST** (110): LHR-BOM: 10/2010
9.27: THAI AIRWAYS **FIRST** (108): BKK-LHR: 07/2010
9.00: All Nippon: ANA (133): 12/2011 // *** A NEW #1 FOR BUSINESS CLASS TRIP REPORTS
8.66:
Brussels Airlines (93): FIH-BRU: 01/2010
8.64:
Turkish Airlines (59): JFK-IST: 11/2008
8.63:
Jet Airways (88): JFK-BRU: 10/2009
8.61:
Air Canada (49): YYZ-SCL: 06/2008
8.54:
Turkish Airlines (77): GRU-DKR-IST: 04/2009
8.36:
Kingfisher (98): BOM-HKG: 01/2010
8.30:
Jet Airways (74): KWI-BOM: 04/2009
8.23:
United Airlines (72): SFO-SYD: 03/2009
8.11:
Aeroflot (33): MOW-DEL: 09/2007
8.05:
Air India (80): CCU-JFK: 06/2009
8.04:
Korean Air (40): NRT-ICN: 10/2007
8.02:
Delta Airlines (24): JFK-CDG: 08/2007
7.82: UNITED AIRLINES **FIRST** (110): SFO-ICN: 10/2010
7.82:
Singapore Airlines (06): EWR-SIN: 09/2006
7.66:
Sri Lankan (104): DEL-CMB: 07/2010
7.64:
Royal Jordanian (91): AMM-YUL: 12/2009
7.61:
China Southern (103): LOS-DXB: 04/2010
7.57:
Pakistan Airlines (102): ORD-BCN: 06/2010
7.55:
Air Canada (132): YEG-LHR: 06/2011
7.46:
LAN (55): YYZ-JFK: 09/2008
7.38: AMERICAN AIRLINES **FIRST** (112): LHR-JFK: 10/2010
7.38: CATHAY PACIFIC **FIRST** (109): HKG-LHR: 10/2010
7.25:
Iran Air (88): BOM-IKA: 12/2009
7.23:
Air Pacific (120): NAN-APW-HNL: 01/2011
7.23:
Virgin Atlantic (81): BOS-LHR: 07/2009
7.14:
Swiss (52): SCL-GRU: 06/2008
7.11:
Aer Lingus (105): MAD-IAD: 05/2010
7.11:
Austrian (79): VIE-JFK: 06/2009
7.07:
Privatair (84): BOM-FRA: 08/2009
7.02:
Qatar (68): DOH-JFK: 01/2009
6.96:
Etihad (61): JFK-AUH: 12/2008
6.93:
Delta Airlines (18): SEA-JFK: 11/2006
6.88:
Egypt Air (123): LHR-CAI: 03/2011
6.84:
ConViasa (65): CCS-DAM: 01/2009
6.82:
Air Burkina (106): BKO-OUA: 06/2010
6.81:
Air Canada (17): ICN-YYZ: 10/2006
6.75:
Afriqiyah + Libyan (113): CAI-TIP: 11/2010
6.70:
KLM (32): EBB-AMS: 08/2007
6.52:
Emirates (99): LHR-DXB: 02/2010
6.39:
South African (97): EZE-JNB: 01/2010
6.36:
Privatair (60): MUC-BOS: 12/2008
6.29:
TAM Brasil (96): POA-EZE: 02/2010
6.25:
Korean Air (45): NAN-ICN: 10/2007
6.21:
Iberia (87): BOS-MAD: 10/2009
6.11:
A SKY (107): OUA-COO: 06/2010
6.11:
TAP Portugal (53): GRU-OPO: 06/2008
6.00:
Gulf Air (75): BOM-BAH: 04/2009
5.88:
African Express (89): DXB-NBO: 11/2009
5.75:
Singapore Airlines (16): CCU-SIN: 10/2006
5.64:
SATA Azores (101): BOS-PDL: 04/2010
5.64:
NorthWest (46): ICN-NRT-SEA: 10/2007
5.54:
Ethiopian Airlines (95): ADD-BOM: 01/2010
5.46:
Icelandair (83): KEF-BOS: 08/2009
5.39:
LOT (54): WAW-JFK: 06/2008
5.21:
Egypt Air (73): CAI-IST: 02/2009
5.11:
Tunisair (115): TUN-ORY: 12/2010
5.07:
TACA (66): JFK-SAP: 01/2009
4.89:
TAAG Angola (117): TMS-LAD: 12/2010
4.42:
Air France: CDG-JNB (25): 08/2007
ECONOMY: Long + Medium:
9.26:
Air India (48): JFK-DEL: 02/2008
9.04:
First Air (129): YEG-YFB: 06/2011
8.74:
Japan Air Lines (130): NRT-BOS: 04/2012 – INAUGURAL
7.99:
WestJet (131): YYZ-YYC: 06/2011
7.38:
Avianca (01): BOG-LIM: 07/2006
7.07:
Sri Lankan (62): KWI-CMB: 12/2008
7.00:
LAN (94): IPC-SCL: 01/2010
6.81:
STP Airways/Euro Atlantic (116): LIS-TMS: 12/2010
6.67:
Air Malta (124): MLA-FRA: 04/2011
6.63:
Vladavia (126): KHV-PEK: 06/2011
6.41:
Air North (127): YEV-YEG: 06/2011
6.41:
Avianca (78): JFK-BOG: 05/2009
6.41:
American Airlines (58): LHR-BOS: 11/2008
6.39:
Condor (85): SEZ-FRA: 09/2009
6.26:
Jet Blue (21): CUN-JFK: 02/2007
6.11:
Caribbean Airlines (119): POS-FLL: 01/2011
6.06:
Air Canada (04): YYZ-YVR: 09/2006
5.89:
USA 3000 (19): PUJ-BDL: 01/2007
5.85:
Spanair (69): MAD-LPA: 02/2009
5.80:
Canadian North (128): YEV-YVQ-YZF-YEG: 06/2011
5.79:
Air New Zealand (42): RAR-NAN: 10/2007
5.52:
Aerolineas (86): USH-AEP: 10/2009
5.46:
TAP Air Portugal (23): OSL-LIS: 05/2007
5.19:
Air Europa (70): LPA-MAD: 02/2009
5.16:
Iberia (71): MAD-BOS: 02/2009
5.11:
Air China (82): FRA-PEK: 08/2009
4.59:
IR Aero (125): IKT-VVO: 06/2011
ECONOMY: Short
8.56:
Paramount Airways (38): BLR-MAA: 09/2007
8.56:
Kingfisher (64): HYD-CCU: 12/2008
8.24:
Kingfisher (14): IXA-GAU: 10/2006
7.87:
Indian (34): BOM-MAA: 09/2007
7.72:
Alliance Air (13): CCU-IXA: 10/2006
7.57:
Indian Airlines (10): DEL-CCU: 09/2006
7.23:
West Jet (03): YYC-YVR: 09/2006
7.15:
JetLite (37): BOM-GOI: 09/2007
6.98:
Air Koryo (100): PEK-FNJ: 04/2010
6.70:
Spice Jet (09): CCU-DEL: 09/2006
6.63:
Air Fiji (44): NAN-SUV: 10/2007
6.63:
Jazeera (67): DAM-KWI: 01/2009
6.58:
Air Tran (02): EWR-MDW: 08/2006
6.48:
Air India Express (63): CMB-MAA: 12/2008
6.44:
CO Micronesia (39): ROR-YAP: 10/2007
6.41:
Pacific Sun (43): NAN-SUV: 10/2007
6.37:
Skybus (47): SWF-CMH: 02/2008
6.33:
Kenya Airways (29): NBO-BJM: 08/2007
6.33:
Sky Europe (56): LTN-BTS: 10/2008
6.31:
Indigo (15): GAU-CCU: 10/2006
6.31:
easyJet (57): BUD-LTN: 11/2008
6.22:
Air Link Swazi (28): MTS-JNB: 08/2007
6.22:
Air India (36): HYD-BOM: 09/2007
6.13:
Adam Air (07): SIN-CGK: 09/2006
6.13:
Air Rarotonga (41): RAR-AIT: 10/2007
6.04:
Suriname Airways (118): PBM-POS: 01/2011
6.00:
Transairways (27): INH-MPM: 08/2007
5.95:
Air Canada (05): ALB-YYZ: 09/2006
5.85:
SAS Norge (22): OSL-AES: 05/2007
5.81:
LAM Mozambique (26): JNB-MPM: 08/2007
5.69:
Air Deccan (12): IXZ-CCU: 10/2006
5.67:
Rwanda Air Exp (30): KGL-NBO: 08/2007
5.52:
Sevenair (114): TOE-TUN: 11/2010
5.37:
Felix Airways (92): SCT-SAH: 12/2009
5.11:
Aero Republica (76): BOG-CCS: 04/2009
5.07:
Go Air (35): MAA-HYD: 09/2007
5.04:
Biman (121): DAC-CGP: 01/2011
5.00:
Sky Airline (51): IQQ-SCL: 06/2008
4.96:
United Bangla (122): CGP-DAC: 01/2011
4.96:
Valuair (08): CGK-SIN: 09/2006
4.78:
Air Comet Chile (50): SCL-IQQ: 06/2008
4.74:
Fly 540 (31): MYD-LAU: 08/2007
4.33:
Viva Aerobus (20): ELP-MTY: 02/2007
4.11:
Air Sahara (11): CCU-BOM: 09/2006
(Note on Codes: Y – Economy, J – Business, F – First :: I/D – International/Domestic :: SR/MR/LR – Short/Medium/Long Haul)
(Note on Date: Dates are modified to be +/- 3 days from actual flight date to not reveal actual flight pattern)
VII> Other Pictures:
(Amenity kit: amazing at the branding for 1 flight & probably one of the best kits out there – look at the amount of stuff!)
(Pajama)

* Unbiased view on how an actual traveler may view the flight
* Not a professional photographer (so please keep in mind)
* Commitment that I won't identify myself to the airline as "reviewing them"