Disclaimer
This report contains a lot of politically incorrect jokes about the situation in Greece. I couldn't care less about being PC, but if you are easily offended or simply lack a sense of humor stop reading now and go and watch the Disney Channel or something, it is safe, sterile and will not require you to tax your brain too much.
Rest assured I have nothing against the Greek as people, they are some of the warmest, most hospitable not to mention relaxed and good humored people that I have ever met. This is just my way of pointing out what a sorry mess the ruling class and "the way of the country" have brought the country into. The Greek people deserve so much better.
Introduction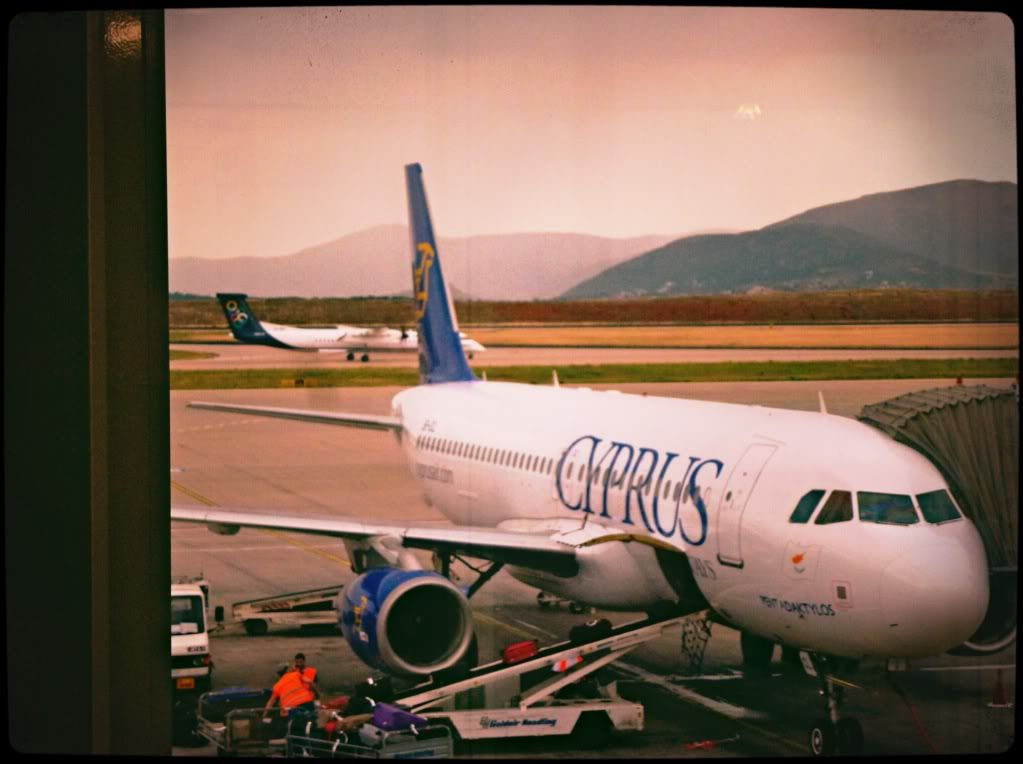 This part picks up from where the first part started from. For the introduction and events leading up to this moment please refer to it:
The Silk Road To Athens: HEL-AMS-MUC-ATH
(by
FlyingFinn76
May 26 2012 in Trip Reports)
So at the conclusion of the first part I had just stepped on the landside of Athens International Airport, having arrived from MUC onboard Air China's fifth freedom widebody flight.
Saturday 19.5.2012
I have just an hour between my flights here, so I waste no time heading back upstairs to the departure level. The first sight on top of the escalators looks surprisingly familiar - they seem to be trying to lure Greek passengers (and Markus) using the Latvian blonde stereotype: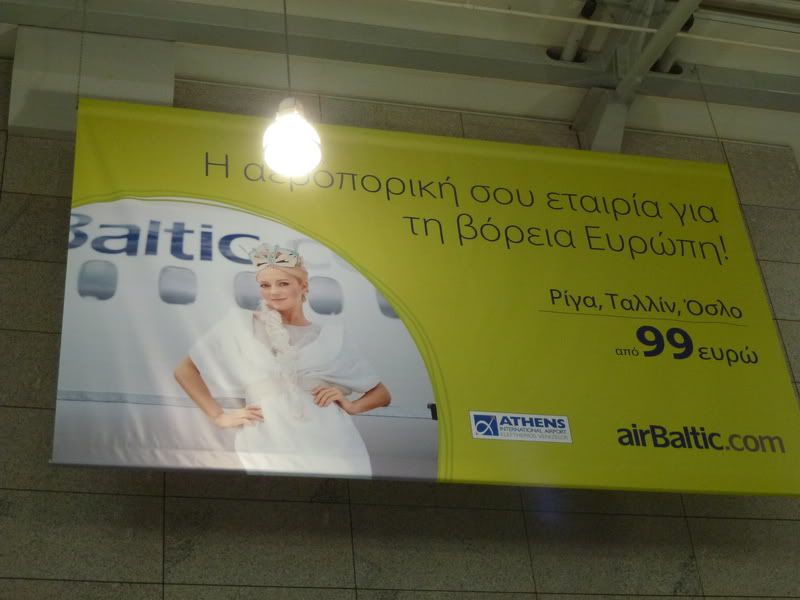 Here's one for all you Swiss fans: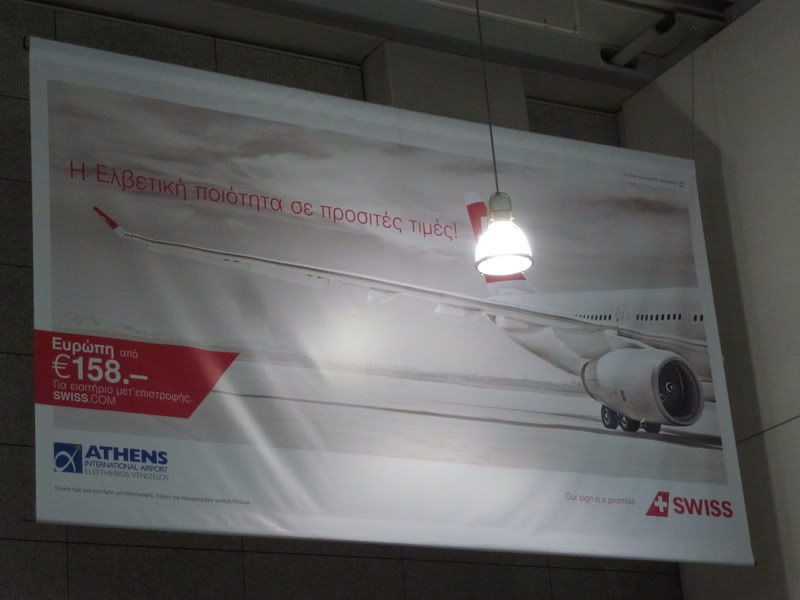 Having done OLCI and printed out my boarding pass at home there's no need to visit any check in desk, just straight to the shopping area: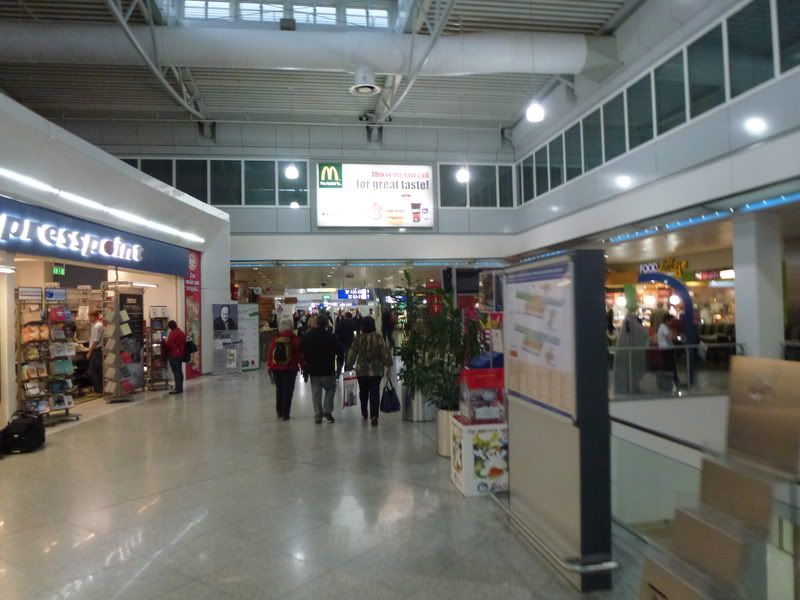 In Athens the lounges are landside which is a bit of a pain since it makes it rather hard to estimate when to leave the lounge - more on this later. No, it is not yet time for the Aegean lounge: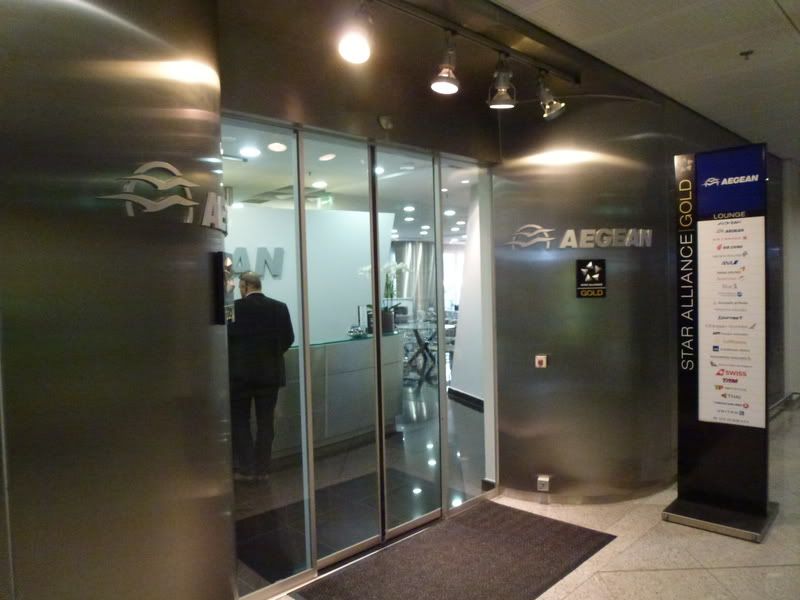 But this one instead - the Goldair Handling lounge: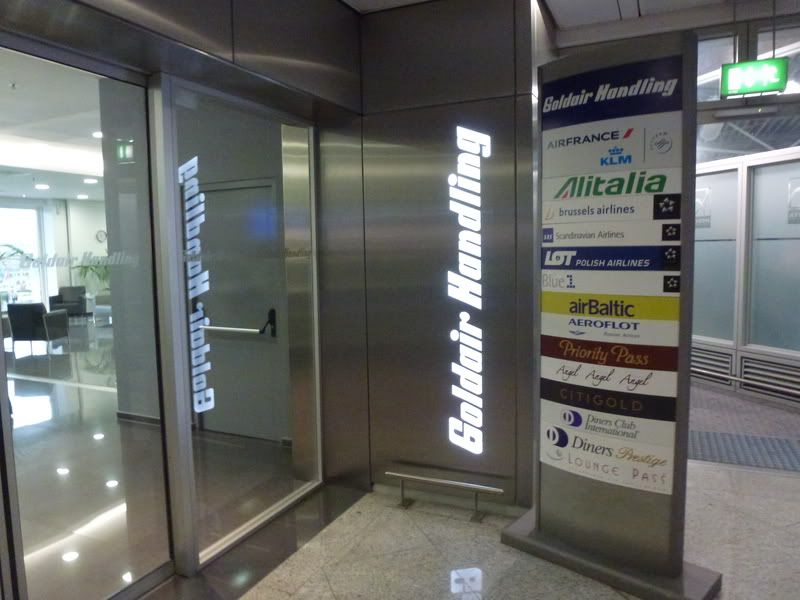 Two middle aged, rather friendly in that "seen it all, can't really be shaken" style admit me in after a bit of a scrutiny of my documents. This lounge is okay but I don't really like the polished steel look - I'd prefer something a bit more down to earth really: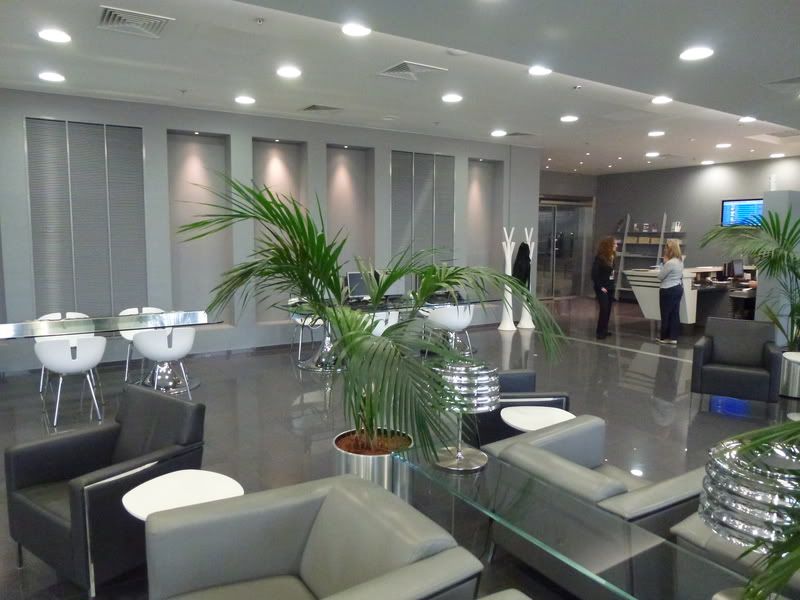 Around twenty minutes to spend here - perfect for a refreshing beer and some snacks. I really love the Greek lounges for these small and tasty sandwiches they always seem to serve: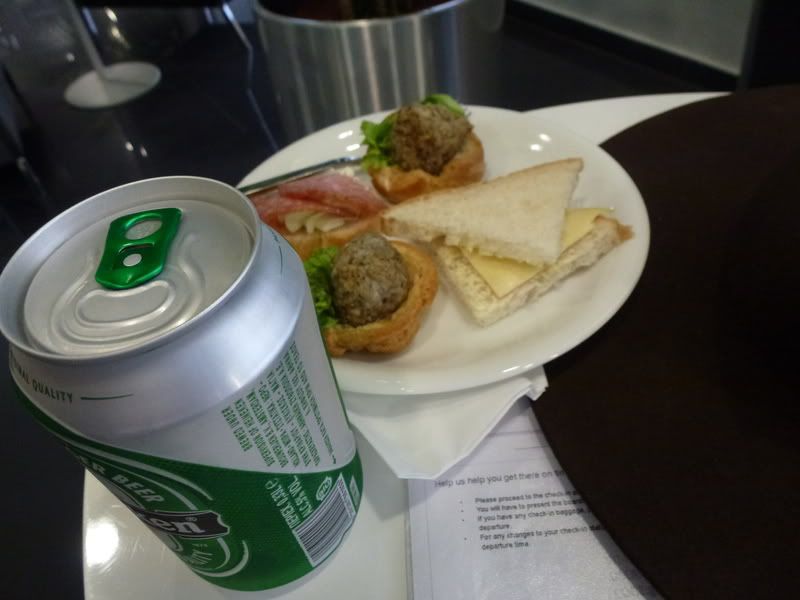 Upon gathering my trash to leave for the gate I notice that the front desk staff actually stamped my boarding pass with a FAST LANE stamp, meaning I can use the aforementioned facility - a very nice bonus: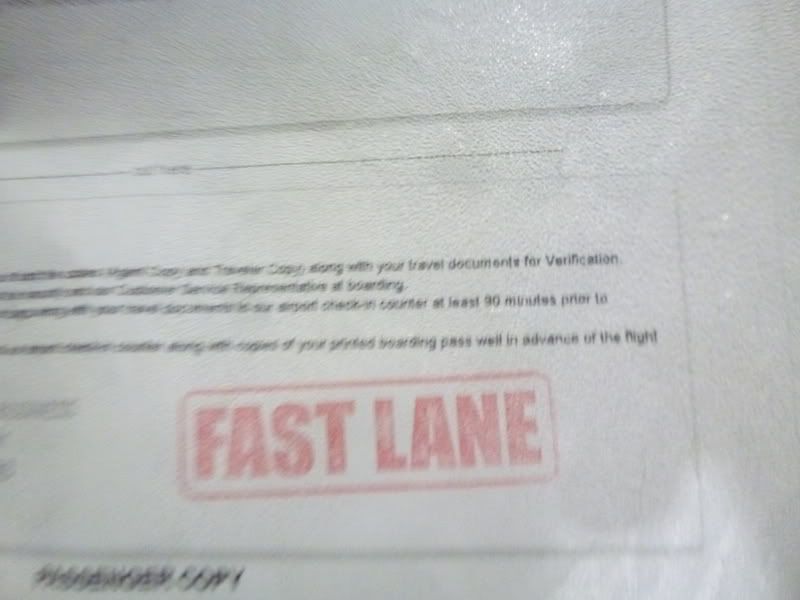 Not that it matters as I seem to have timed my exit just right - there's nobody in either of the security lanes but I decide to use the fast lane anyway. The friendly girl there asks "Business class?" but is satisfied when I answer "No, but I have this stamp right here" and show it to her.
And here's my ride today - my first encounter with Cyprus Airways - 5B-DCL "Pentadaktylos" (try saying that after five pints) - named after a mountain in Cyprus: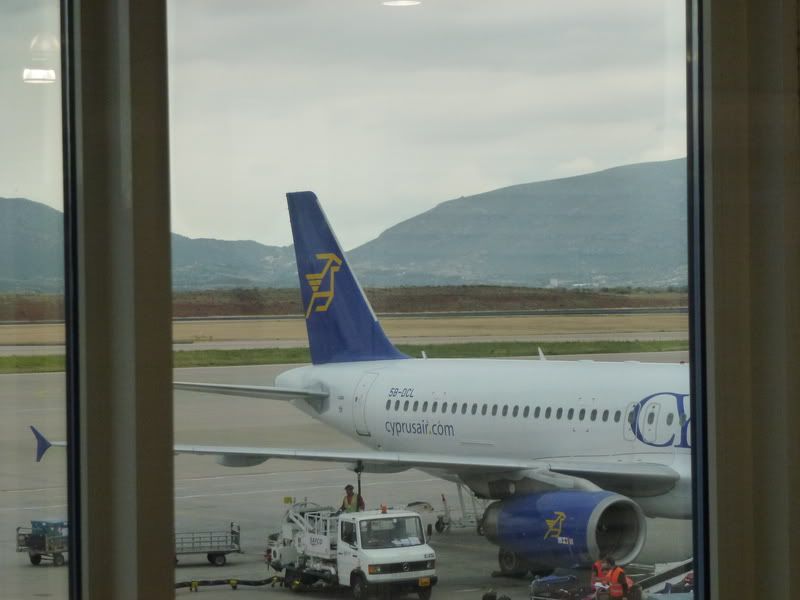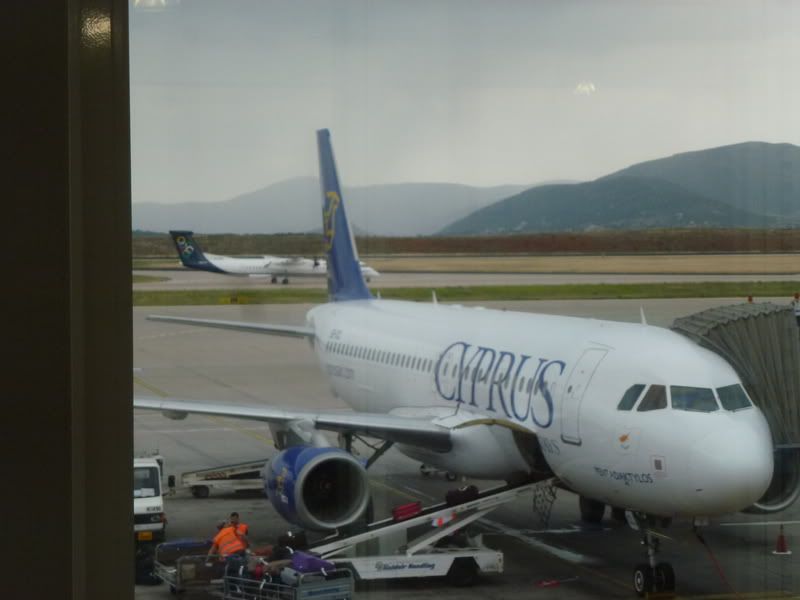 Closeup: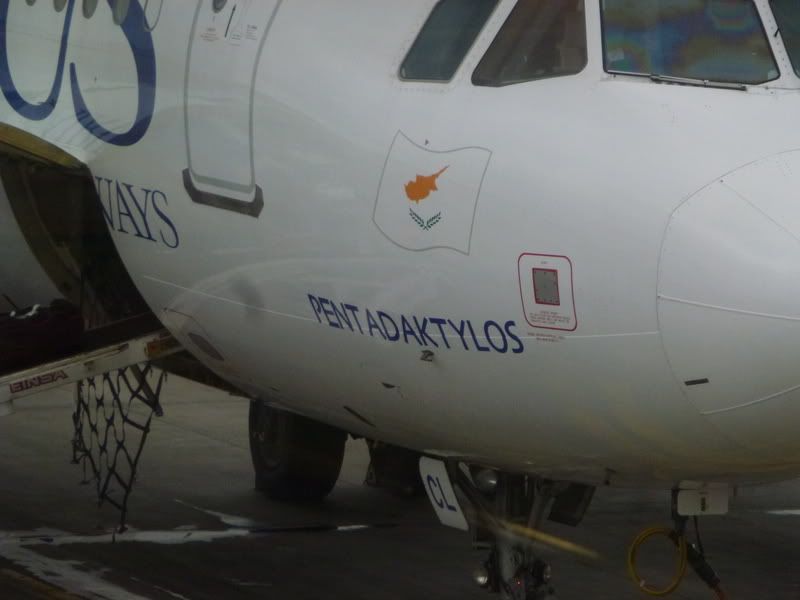 SK tail: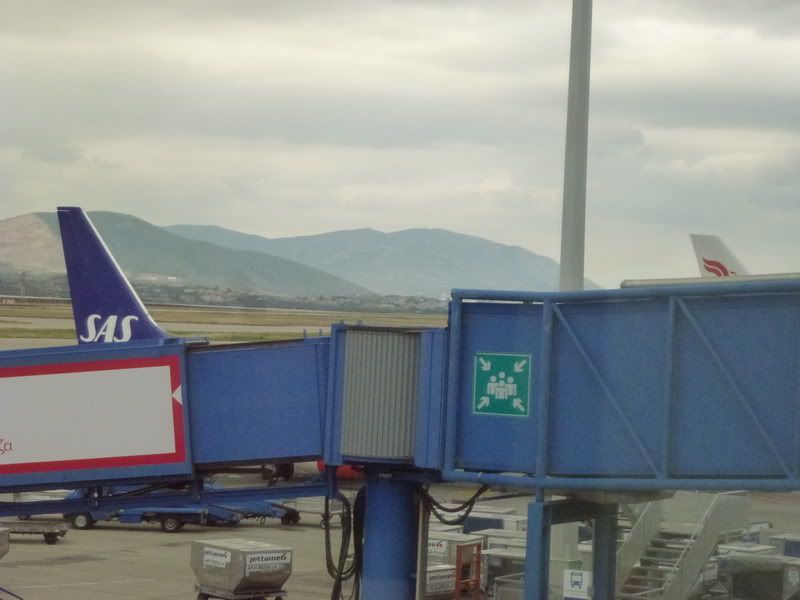 My timing indeed was perfect - I have just enough time to shoot these photos and buy an incredibly cheap (wow, maybe those billions of support money has actually done something good like kept the price of essentials down) bottle of water from the adjacent kiosk before boarding is called.
ATH - SKG
CY622
A320 5B-DCL "Pentadaktylos"
Seat 22F
11.40 - 12.29
Three female FAs on this flight and a senior male purser. Two of the women and the purser seem nice enough, but one middle aged woman just turns her head away, avoiding any eye contact with passengers so she wouldn't have to greet them. This kind of behaviour pisses me off to no end so while passing her I loudly exclame "Hello!", not that she acknowledges it in any way.
I'm very surprised to see five rows of real business class seats, American F style: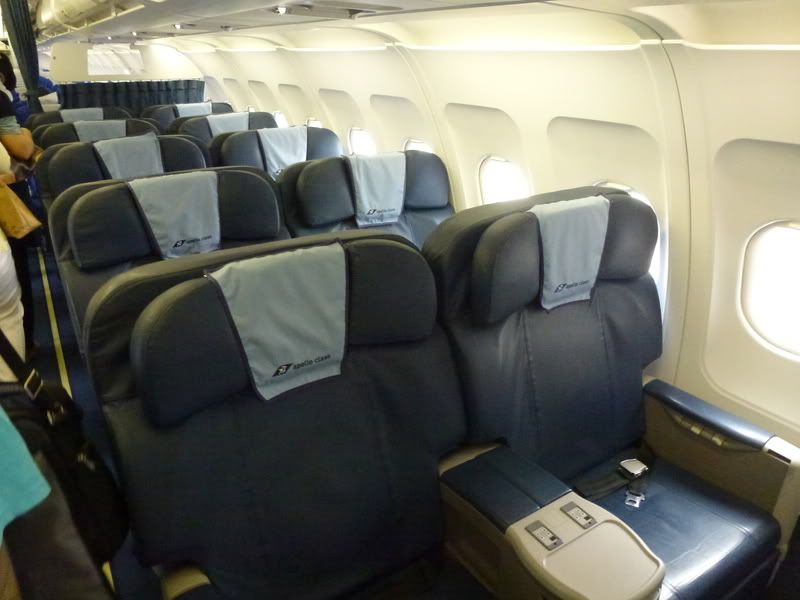 These seats look very comfortable, I'm regretting now that I didn't shell out the 30 EUR for an upgrade via optiontown!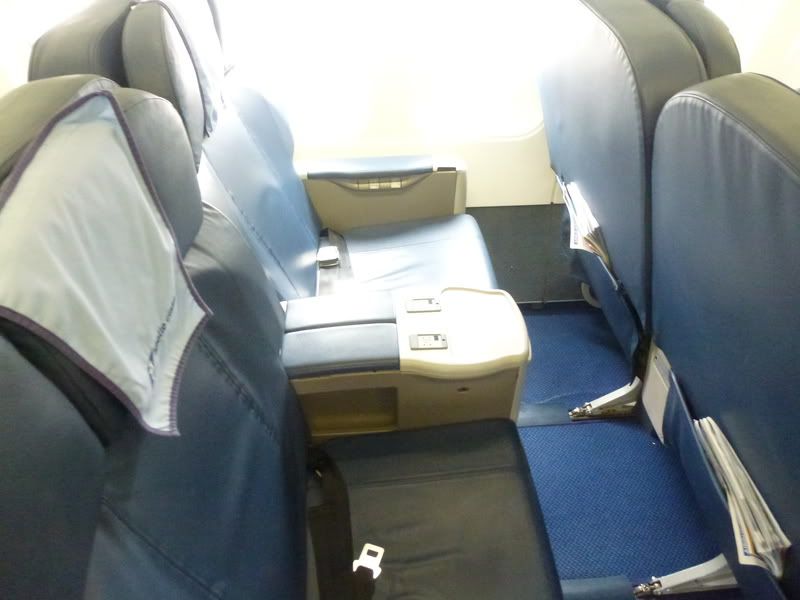 CY calls their economy class "Aphrodite Class" (apparently flying there makes you younger as swimming in her birthplace which I did as a kid but didn't turn back into a toddler) - the seats are upholstered in blue cloth: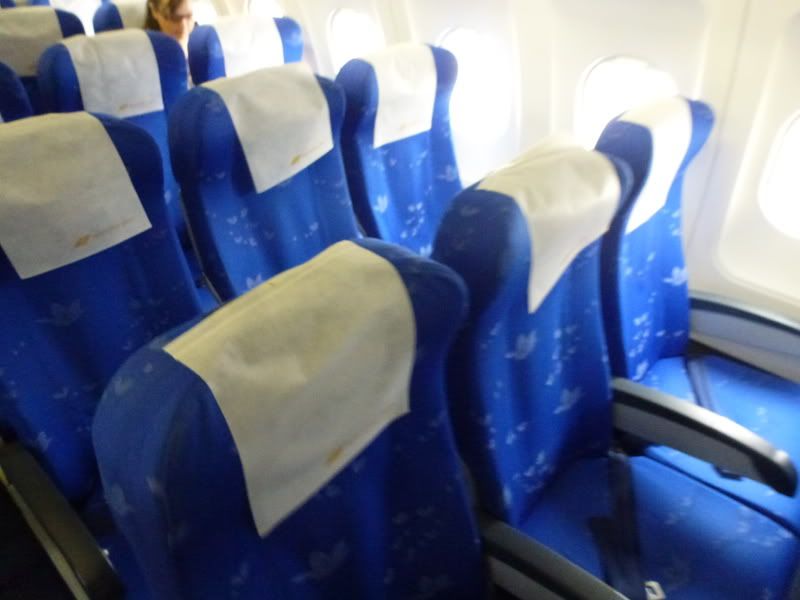 Sitting in the last row, where else: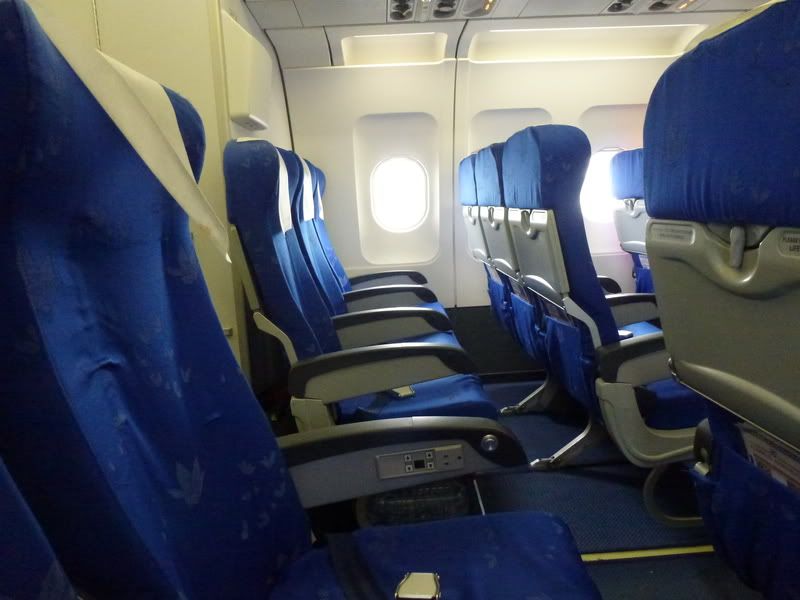 Legroom is definitely less than what I had with CA on the previous flight, but okay for a flight of this duration: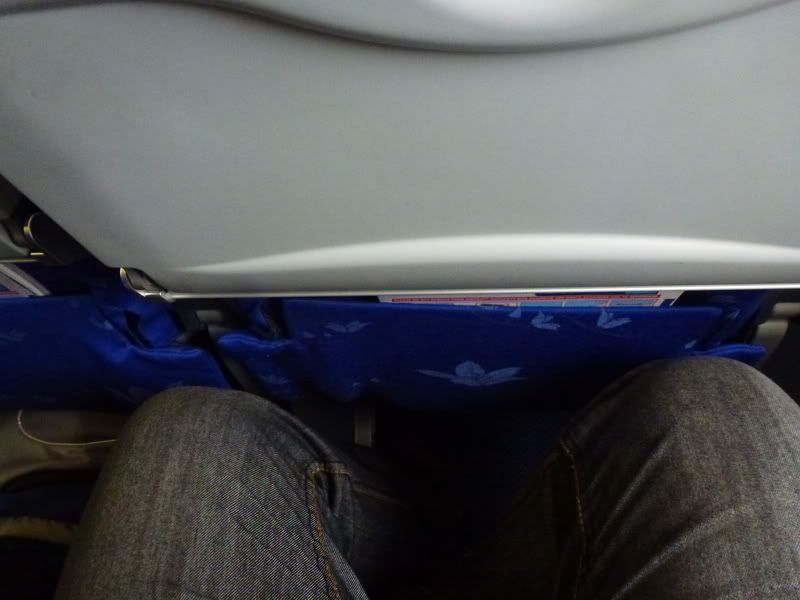 The load is surprisingly good, maybe 70% in economy. The whole last row for me, though. I'm not sure if there are any passengers in business class.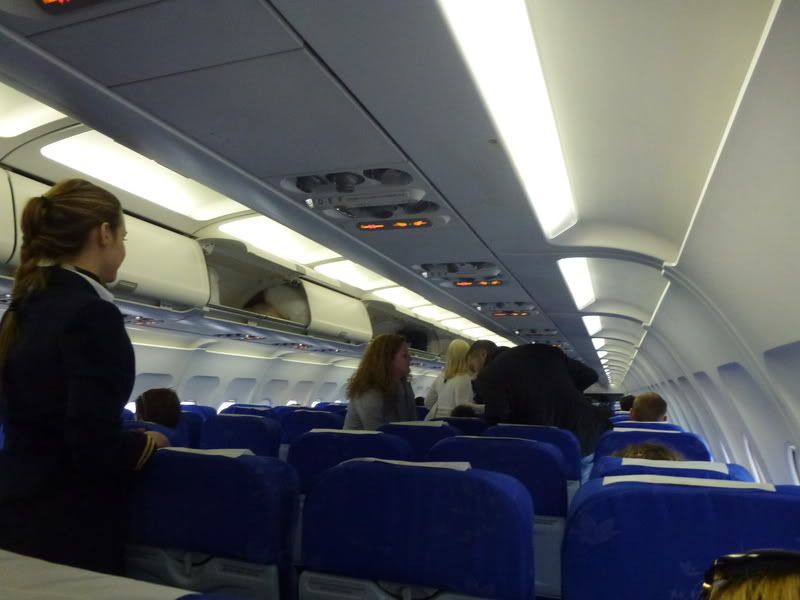 On some planes you have the life vest under your seat, with CY you have... water: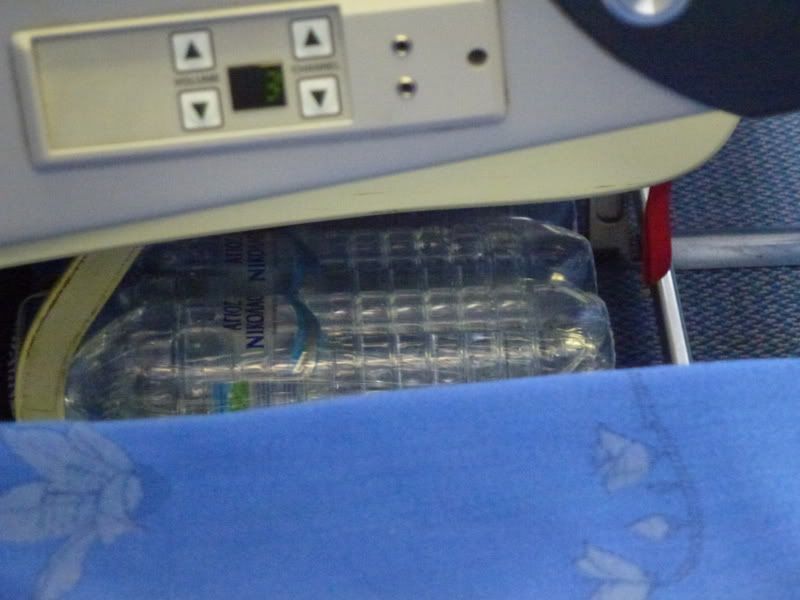 I get a minor shock when the last passenger boarding the plane turns out to be... Steve Jobs! The man is a spitting image of the Apple whizkid - so it must be him! I always knew he wasn't dead, he just went to... Greece.
Next to us a Belgian visitor: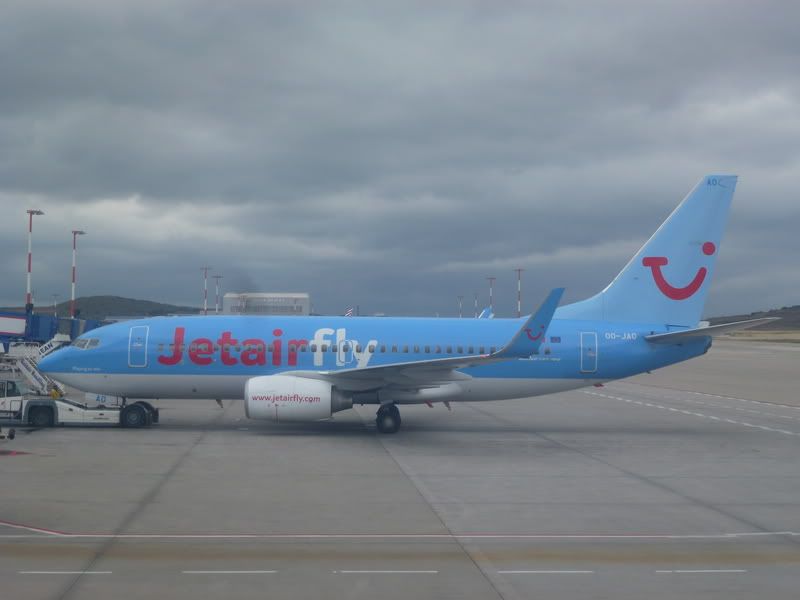 ...with a really peculiar name for a plane: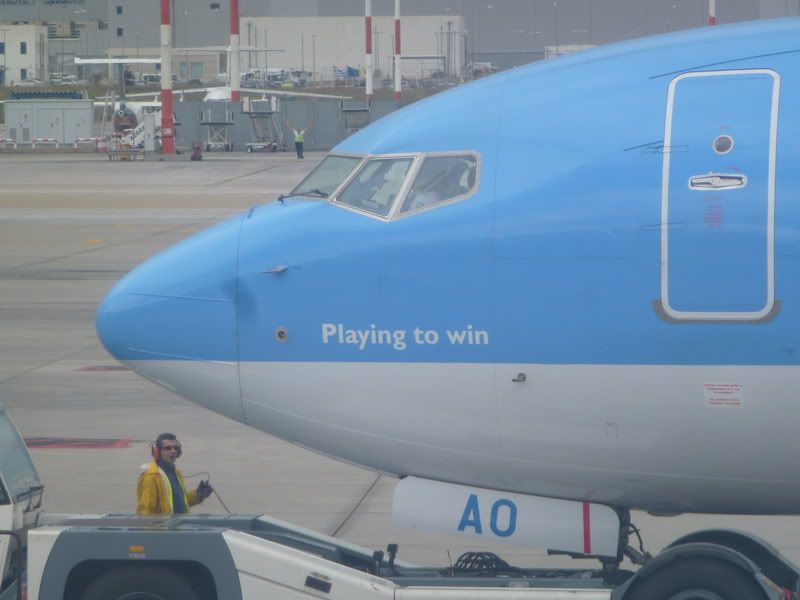 Thanks, the same to you as well: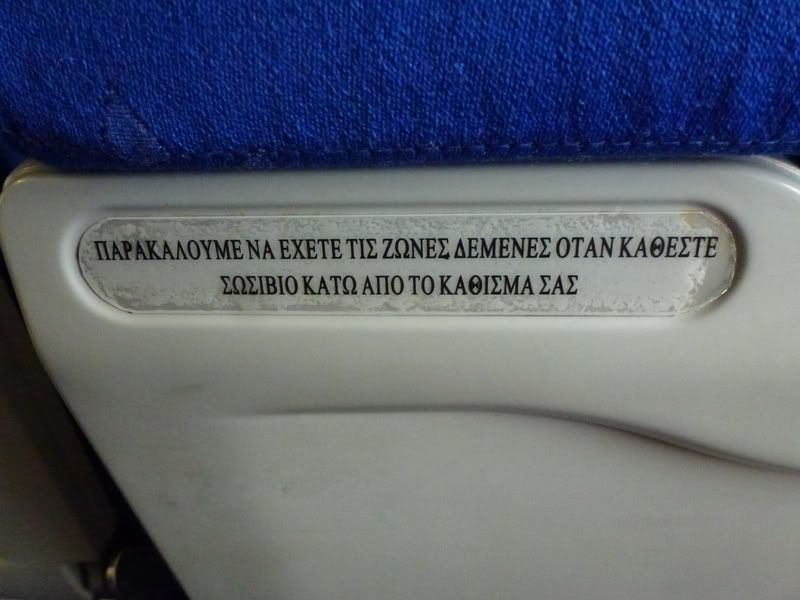 The inflight mag, quite good actually with lots of articles about Cyprus and the Cypriot way of life: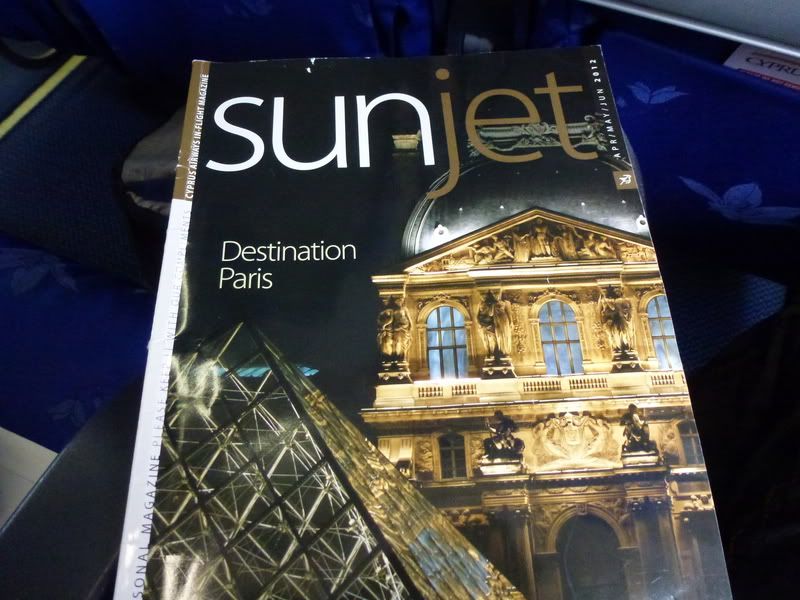 The obligatory shopping catalog: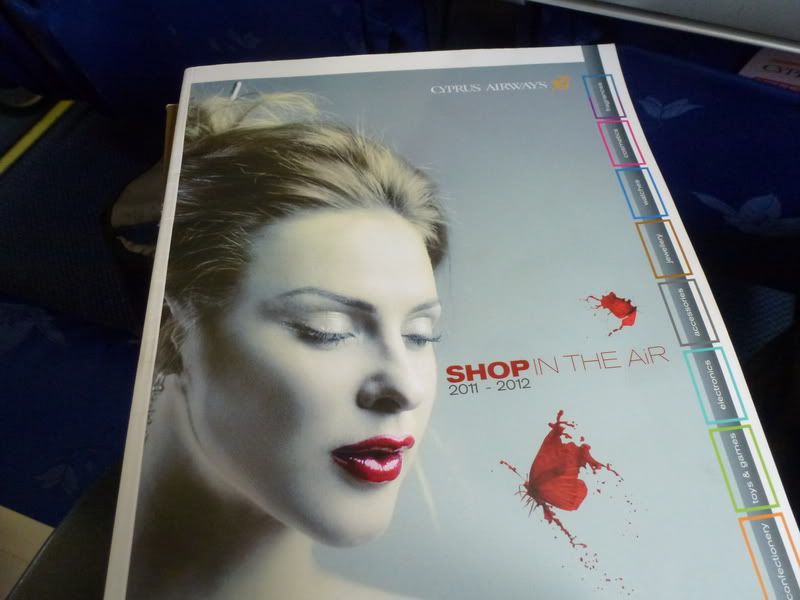 Safety demo is played from the drop down screens (which disappear right after it - no airshow, bugger):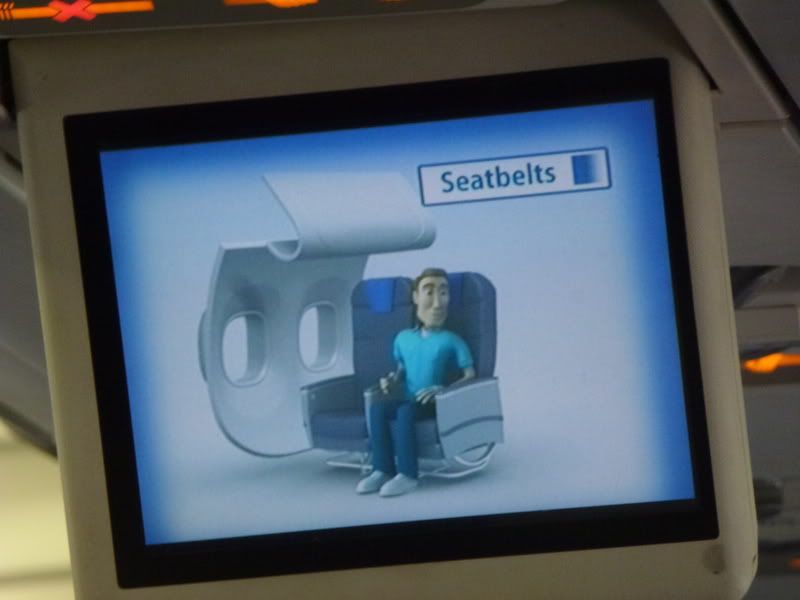 Safety card - very nice of them to print the registrations on it: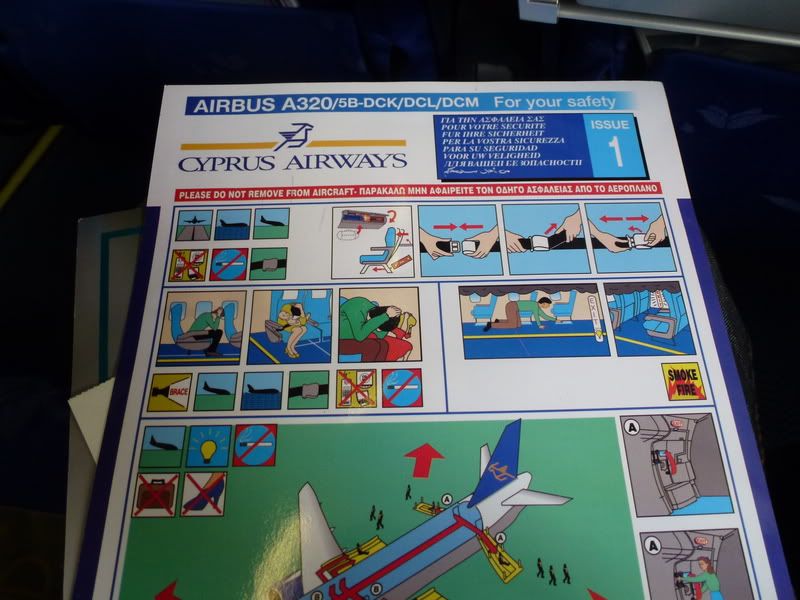 The flight time is announced as 40 minutes with push back being ten minutes late - the boarding started rather late so I guess this was the reason for the delay.
Air France on the next gate: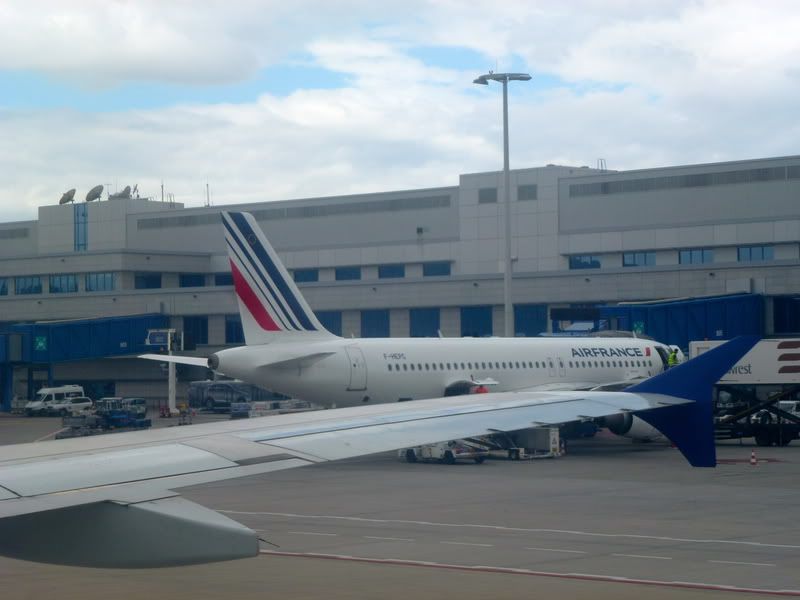 Hey, who's that:
Ahh, my inbound ride, leaving back to MUC: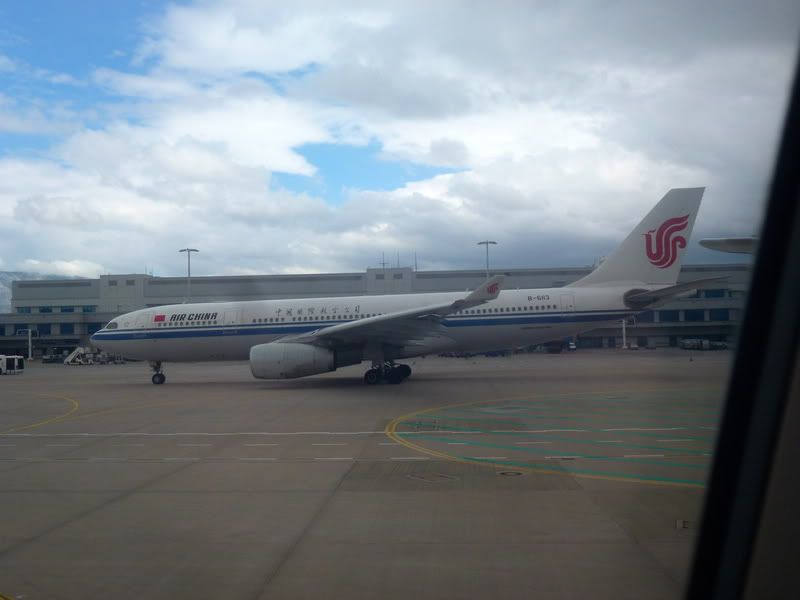 Hmm, never heard about this airline - another failed Greek enterprise perhaps: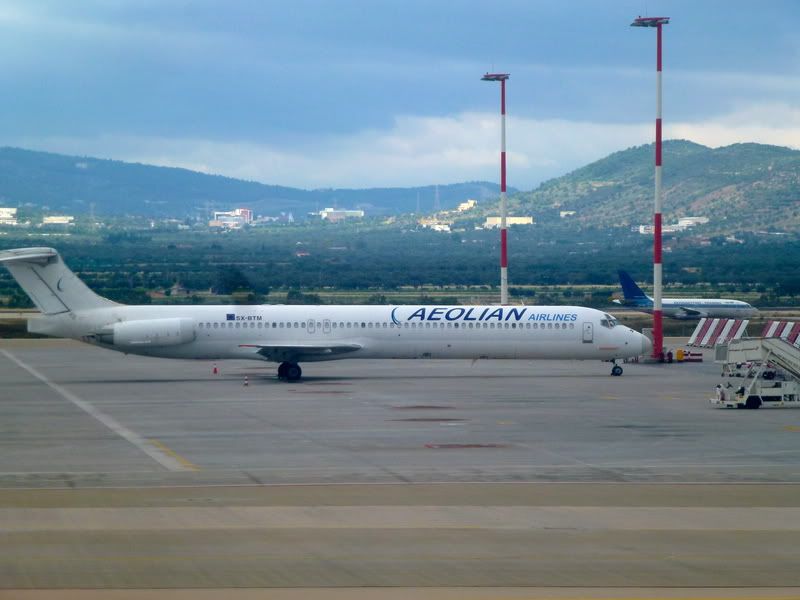 Amsterdam has the Fokker Farm, Athens has the Metroliner Mob: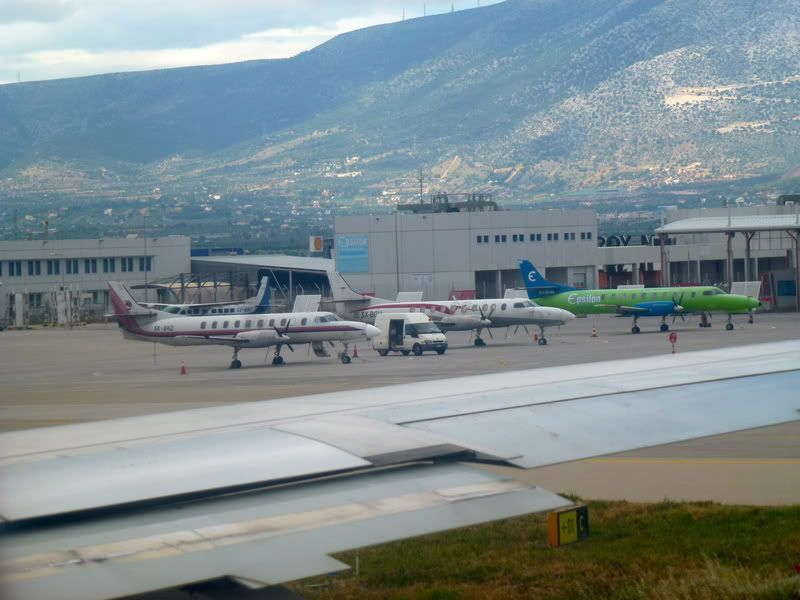 Taking off from 03R - the weather isn't that nice actually:
A large bunch of solar panels have been erected on the side of the runway - I don't think these were there the last time I flew out of here, one and half years ago: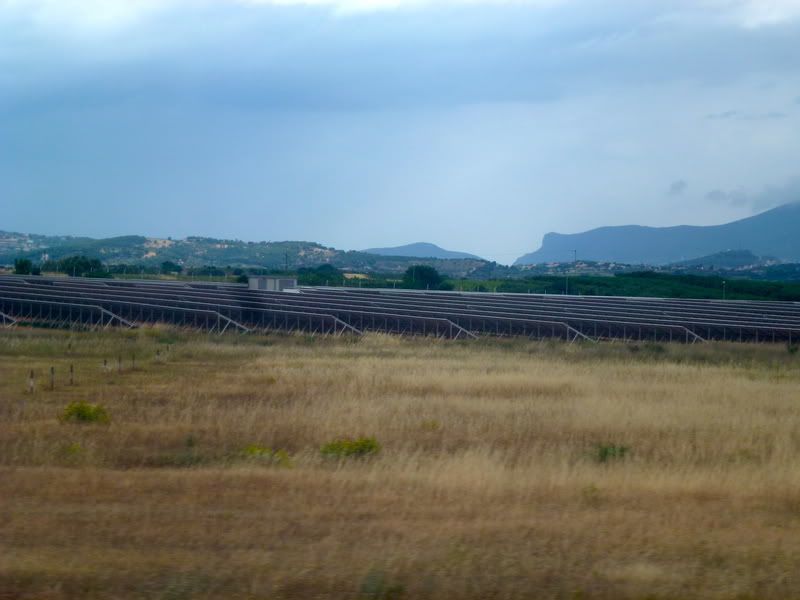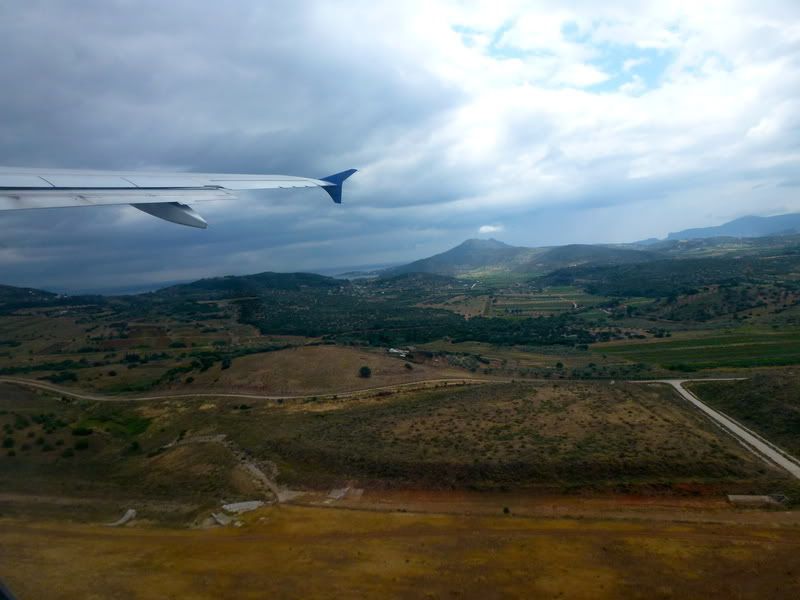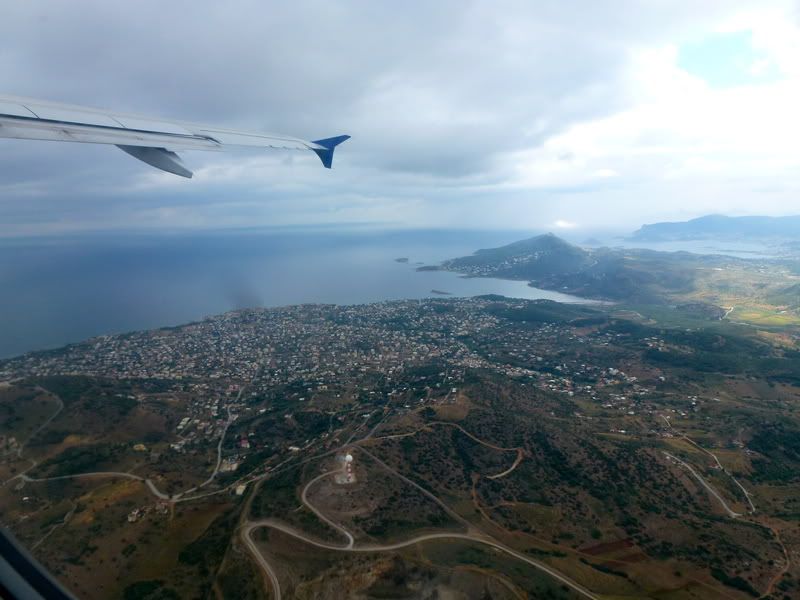 Turning northwards and disappearing into the clouds: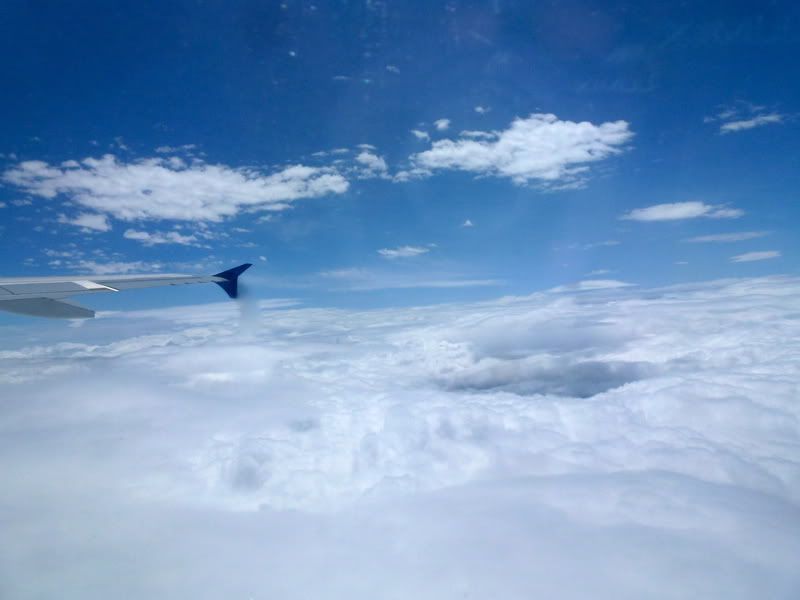 From the inflight mag - nothing like a bit of propaganda (well they are absolutely right here):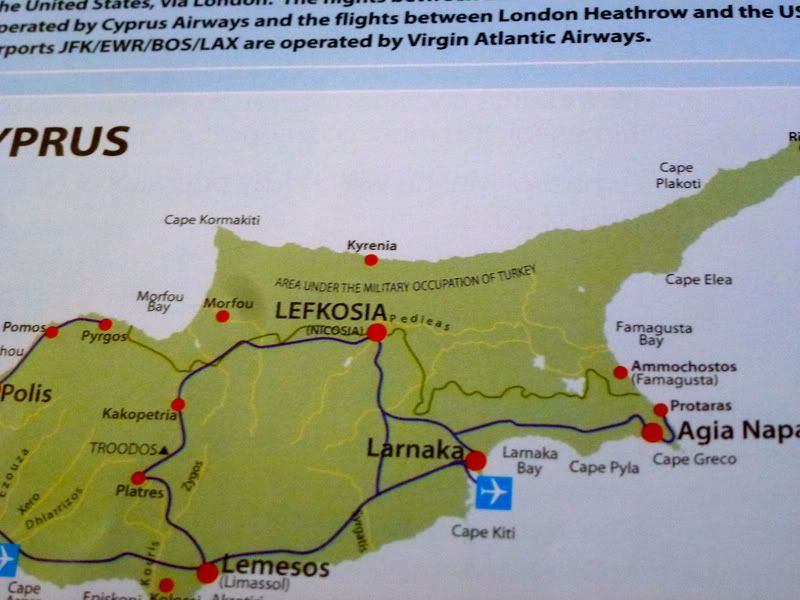 The crew wastes no time getting the service commenced - we are handed a small tray with a piece of mocha cake - looks surprisingly close to to the Finnish "tiikerikakku":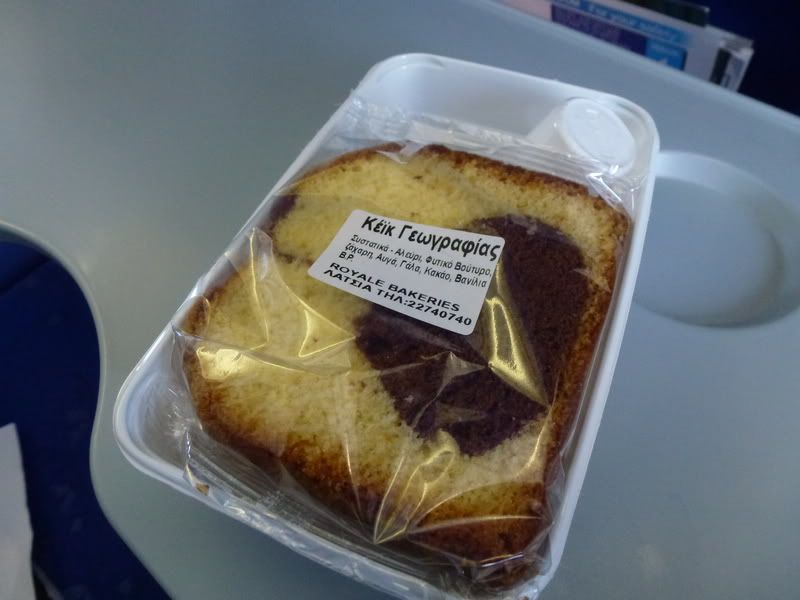 Drinks service follows - the FA is a bit surprised when I ask whether they have any beer onboard but disappears into the back galley and comes back with a very nicely chilled can of Keo - a terribly tasty brew and hits the spot nicely: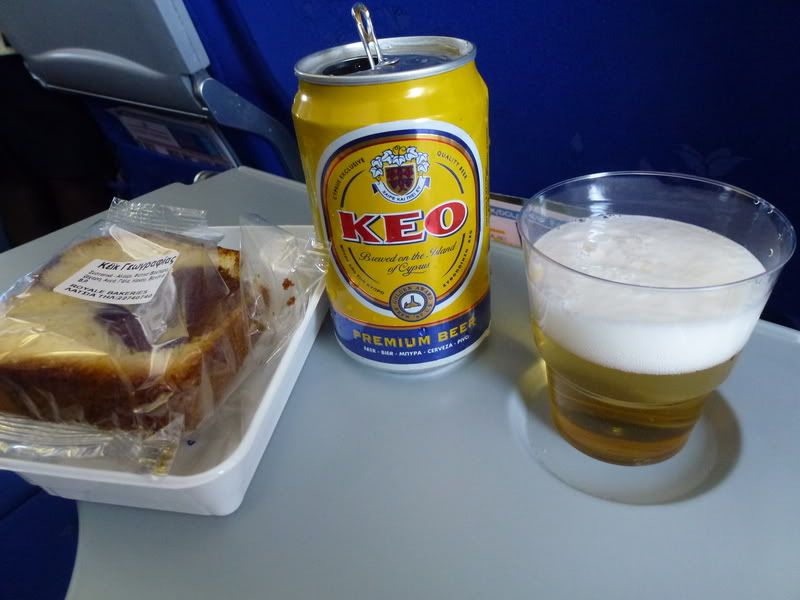 Thumbs up for this crew for their service mindedness, many crews on most airlines would've just told you to stick whatever they have in the trolley. The cake isn't really that good, a bit dry and these aren't my things anyway (baby) so I eat only half of it.
The crew hard at work - notice the much more conservative uniforms as opposed to the OA and A3 sleeveless dresses: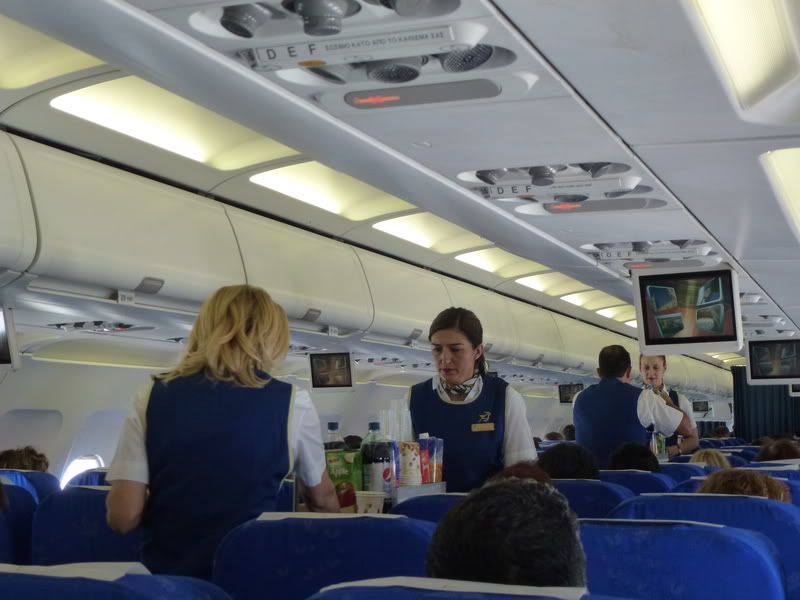 Before I have finished my beer we are already descending and soon break the clouds - the weather over in North Greece seems to be far better. The first sight is a mansion far below, probably belonging to a train driver of the Greek National Railways (ok, maybe it is a resort):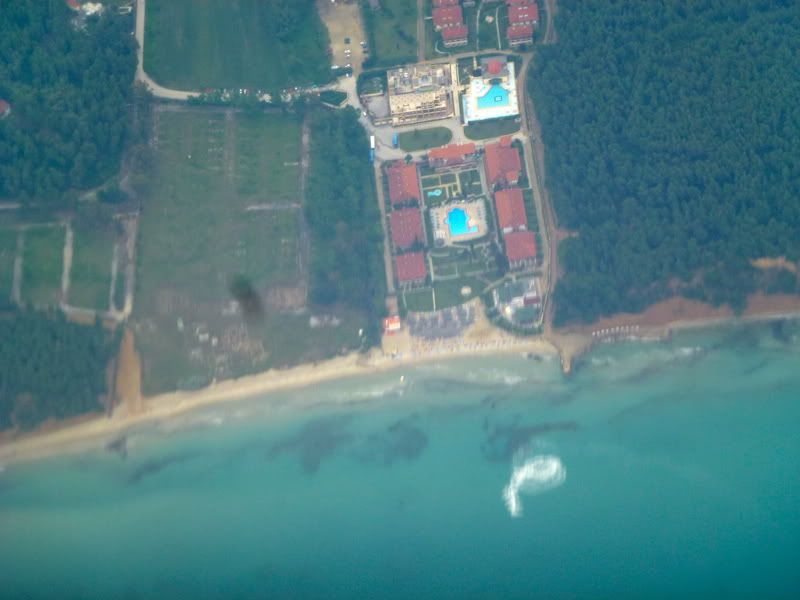 The narrow spit of land connecting the Kassandra Peninsula to the mainland: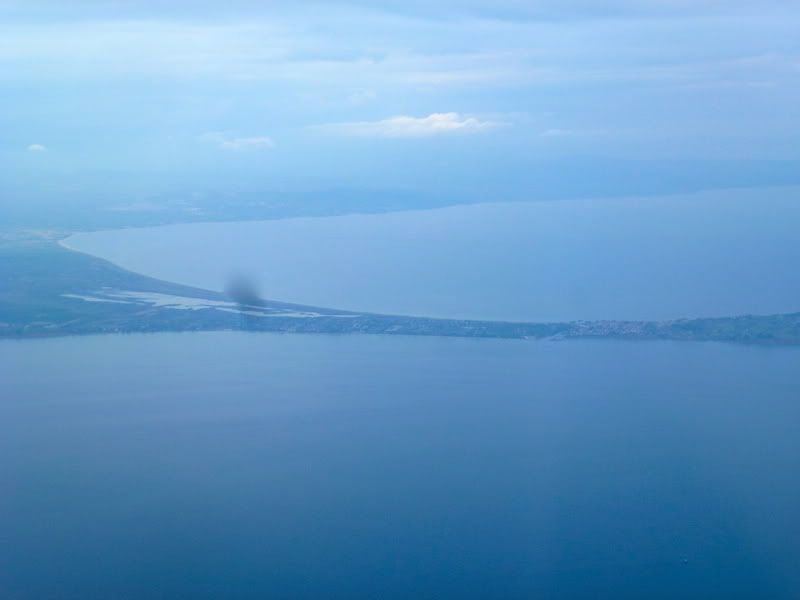 The northern coast of the Thermaic Gulf: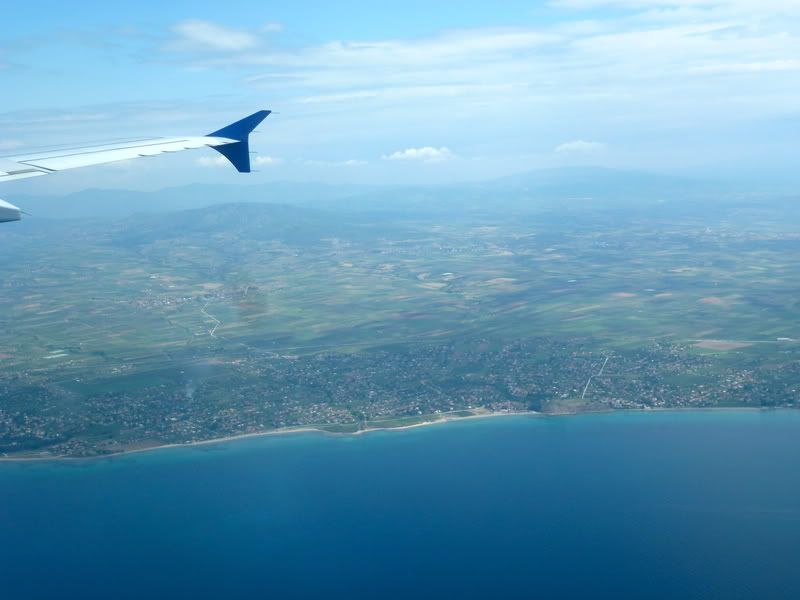 The town of Kallikrateia: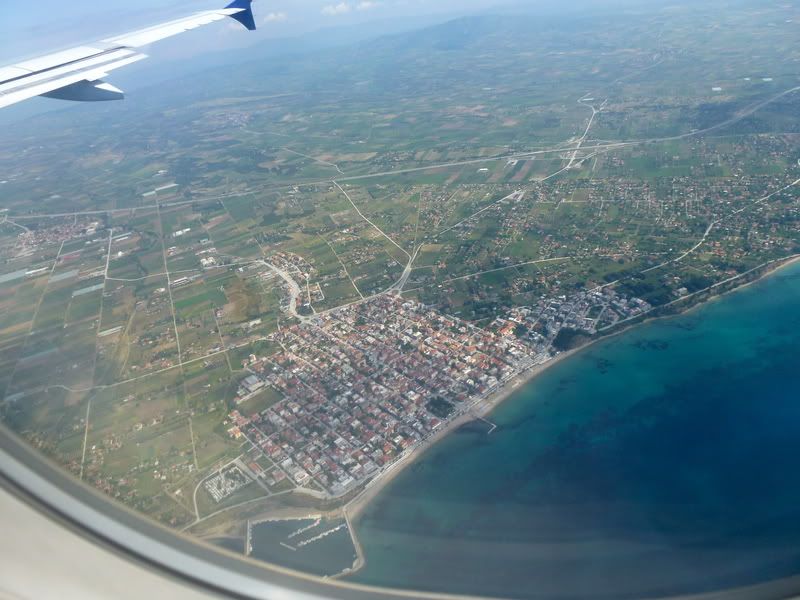 Beautiful colors on the fields here:
A motorway with a small airport: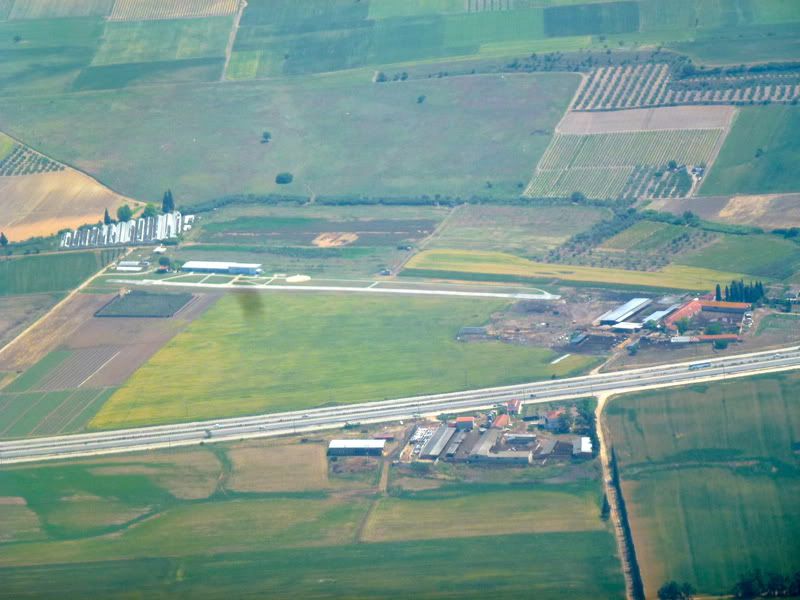 This intersection here looks to be quite overengineered but hey, you need to spend those EU monies somewhere: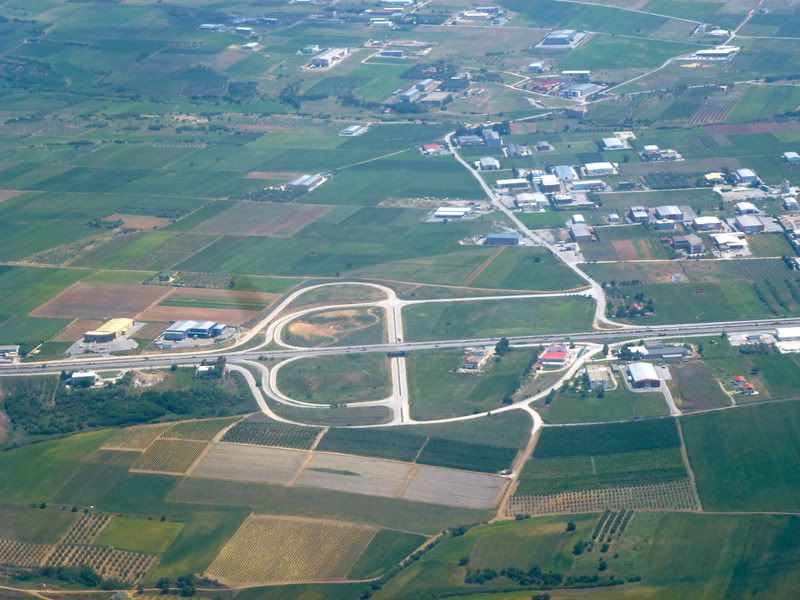 A tranquil looking village: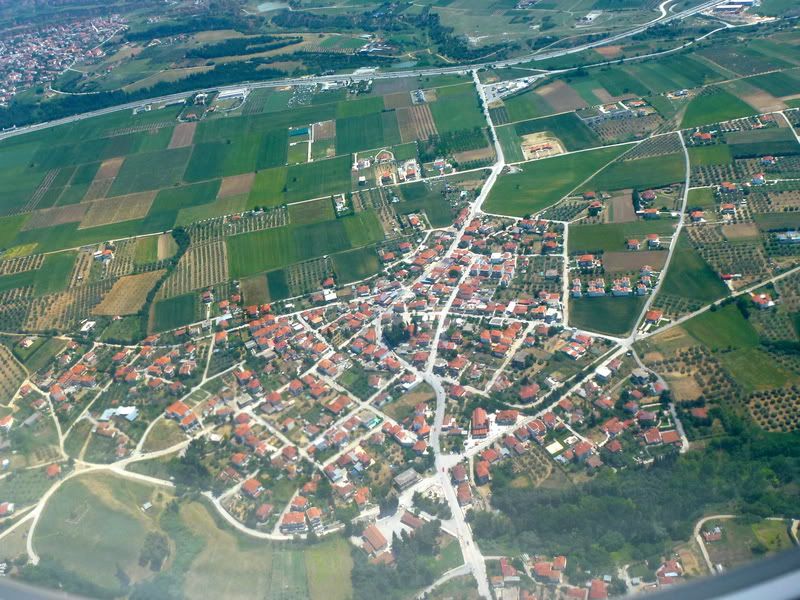 Hmm, is it just me or do those two smaller houses lack an access road: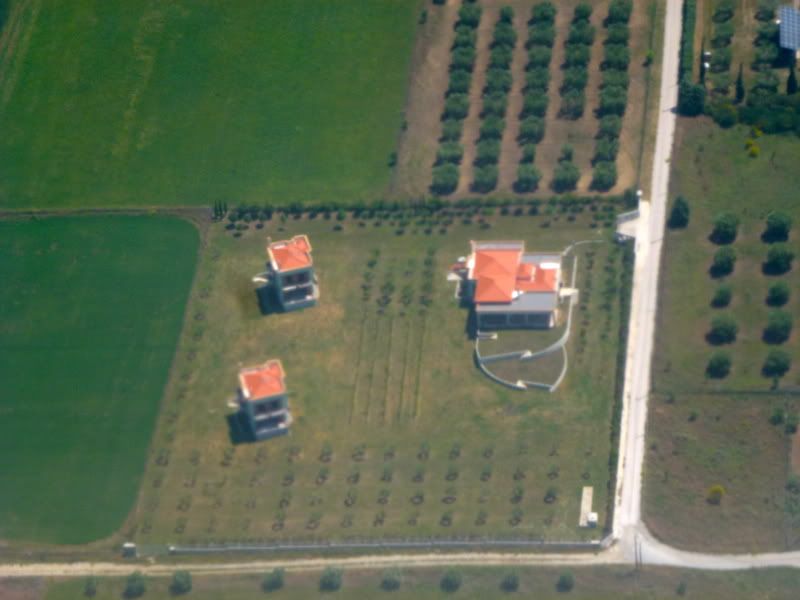 Almost there: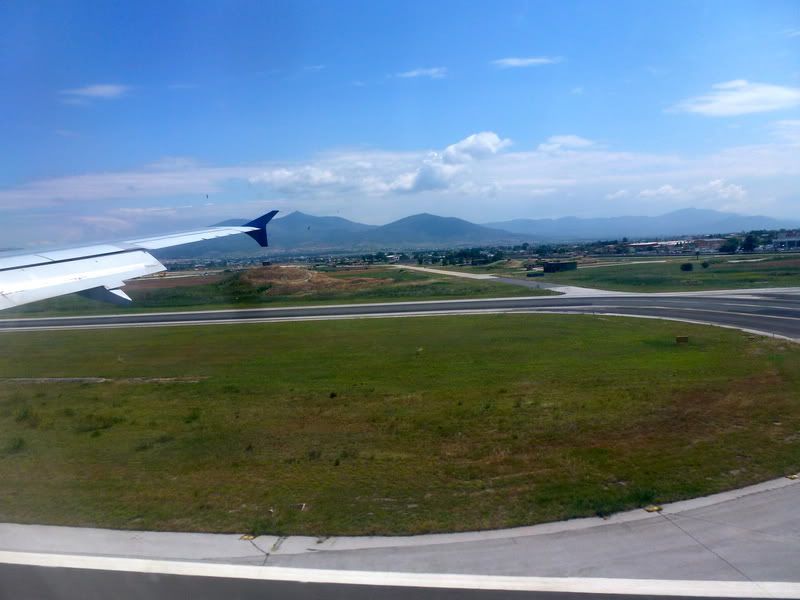 Landing is on runway 34, total flight time around 40 minutes. This is the famous Malév TU-154, former registration HA-LCR which landed here on its belly back in 2000 as the crew apparently "forgot to lower the undercarriage", but in an amazing testimony to the robust Soviet engineering the pilots simply hit full thrust again and the plane took off, circled around the airport and landed this time with its gear down. The plane was written off, though - and left to rot here: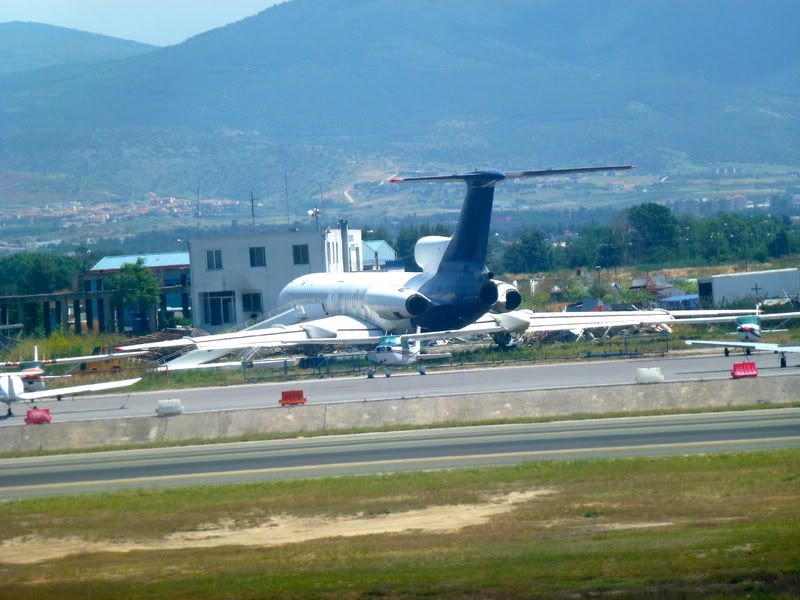 Austrian landing after us - I had no idea they flew to SKG and definitely not with such a big plane: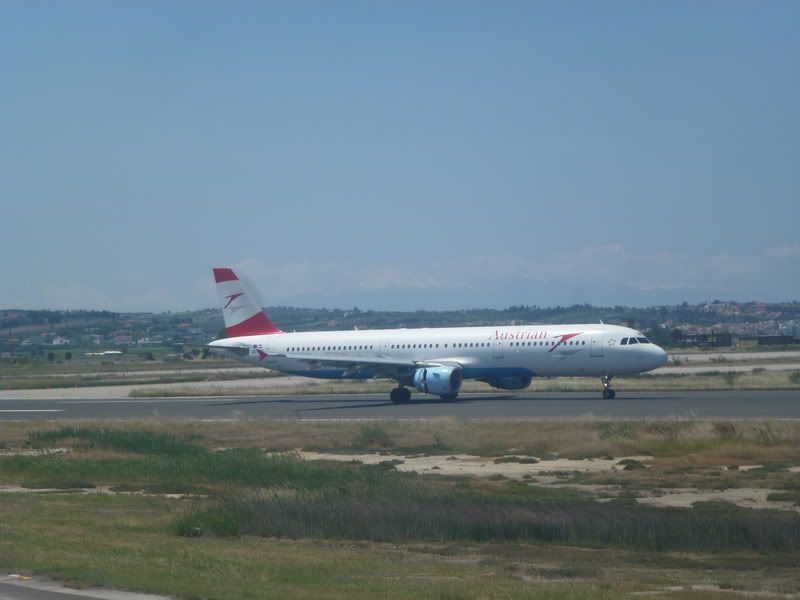 Oh, is there any airport in the Mediterranean where Air Berlin doesn't fly: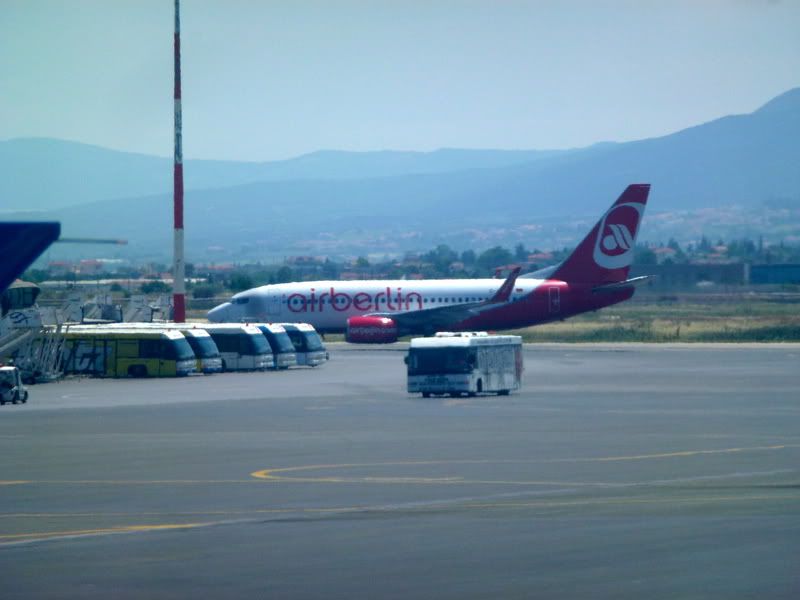 The new but quite peculiar looking terminal building: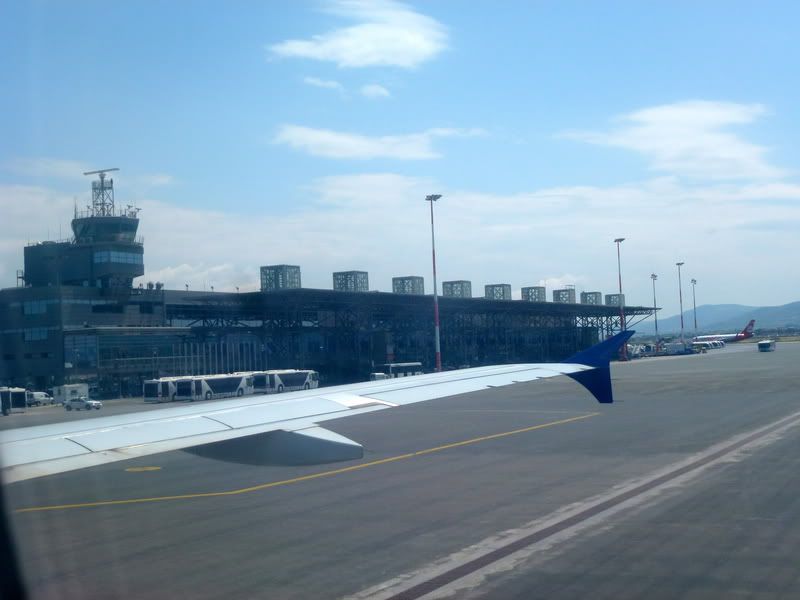 Still flying:
There are no jetways here and despite parking near the terminal it is of course bussing time - after all this job creation culture is going strong here - CY seem to be using a dedicated bus: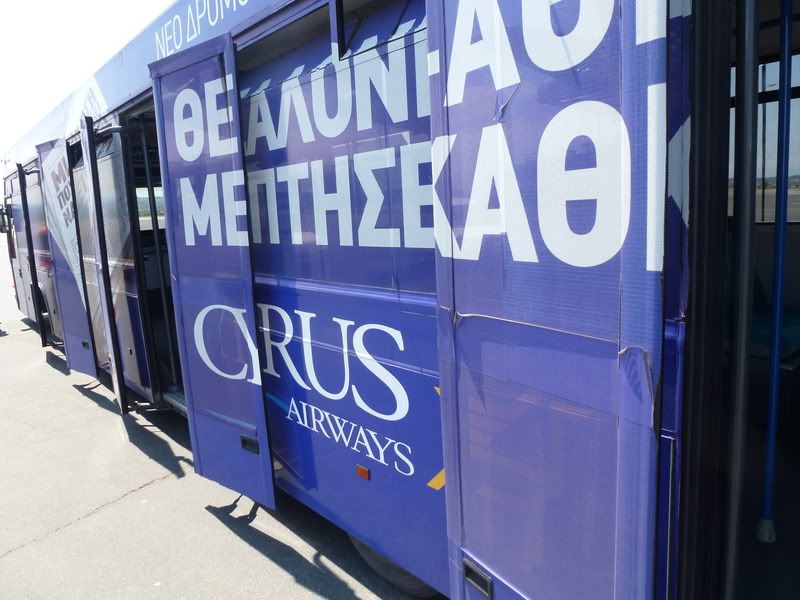 Bye: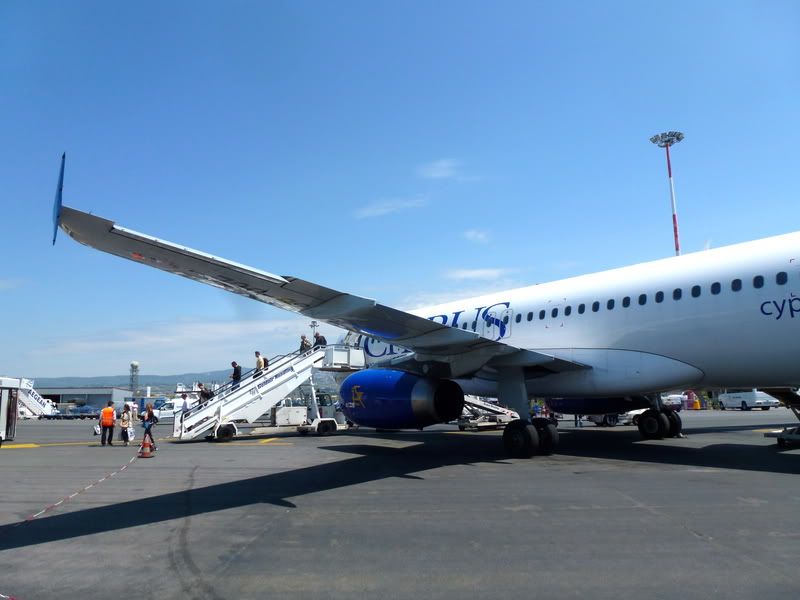 Thessaloniki "Macedonia" Airport
After a short bus ride we are free to enter the terminal. I seem to be the only passenger without massive amounts of luggage so while all the others stop to wait at the luggage belt I make a quick pitstop and hurry outside to enjoy the sun in front of the terminal: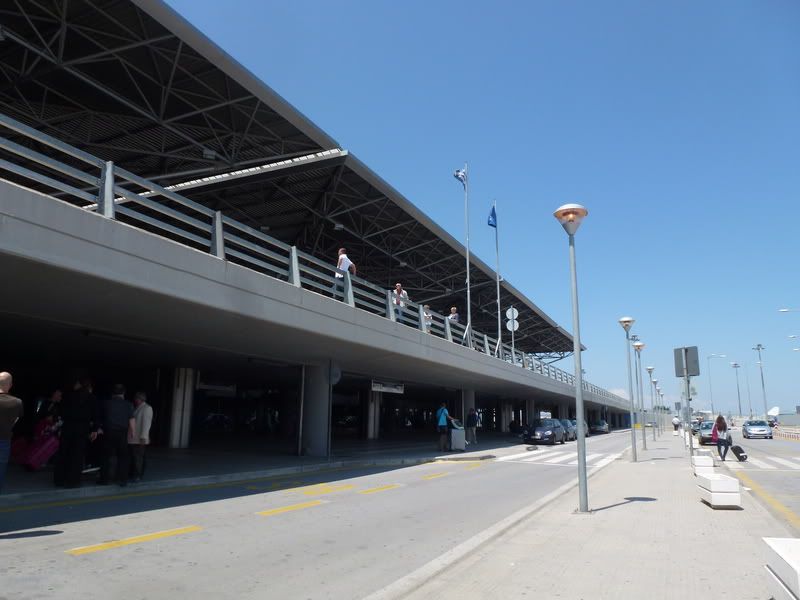 It is very nice and warm, but far too many cars are idling outside so the air is thick with fumes (burning money, these Greekmen, something they are very good at!). I had hoped there would be some sort of outdoor cafe or terrace where I could grab a snack and a cold one but alas the only things I see are a couple of bus stops, a large parking area and tons of cars. After fifteen minutes there it starts to be a a bit too much for me so I retreat inside to look for a restaurant or bar.
Interesting - they don't put these in milk cartons in Greece: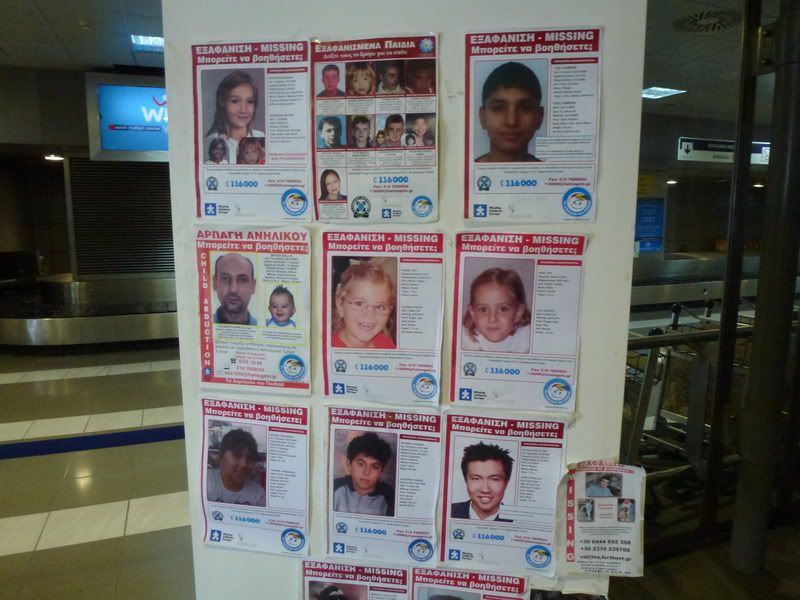 The top floor has a rather nice restaurant with apron views and free wifi for paying (thru the nose) customers so I head there. The very first sight I see - yes, Ryanair has been conducting a Greek invasion during the recent years: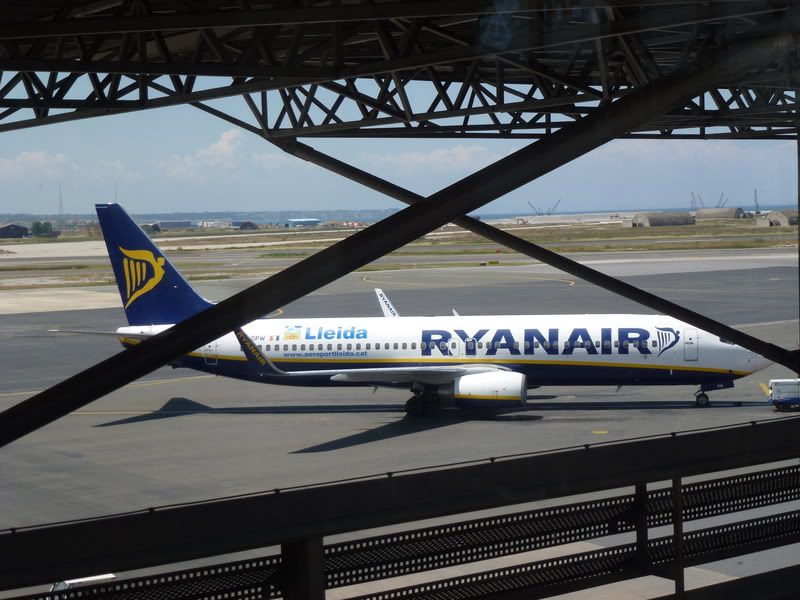 Wow, this is nice - I really want to go island hopping on one of these things - I actually already found the perfect itinerary: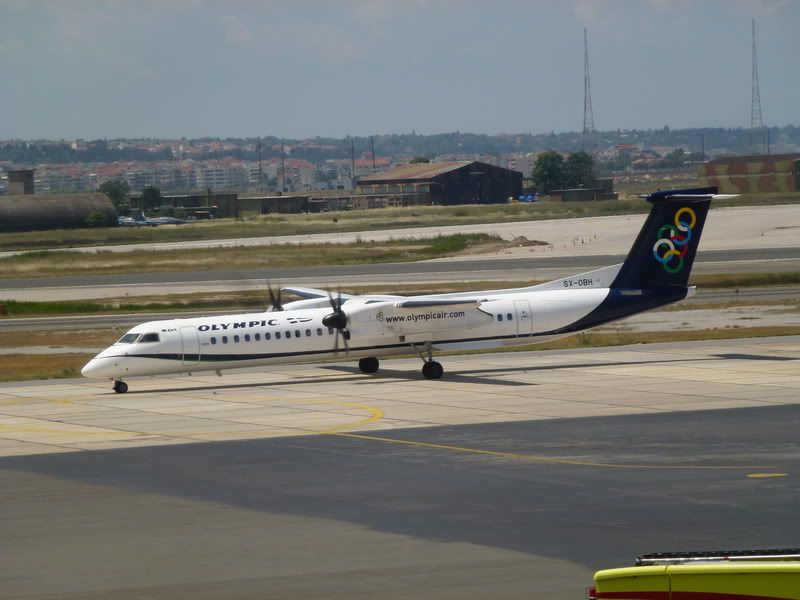 The restaurant is horribly overpriced with similar prices one would expect to pay in Finland which is quite ridiculous as they should be serving me food and drinks for free, after all my tax money is keeping their country afloat! So instead of some tasty moussaka or whatnot I settle just for a Greek salad - the quality here doesn't match the high price either: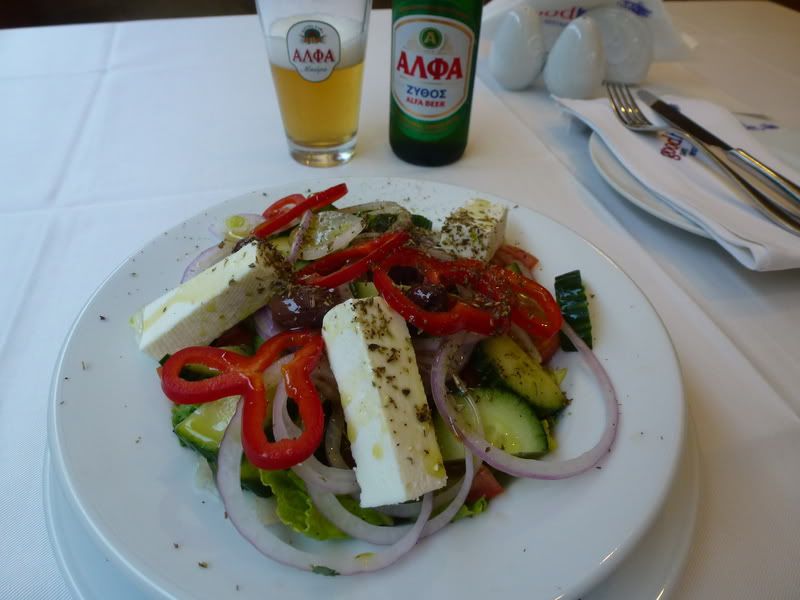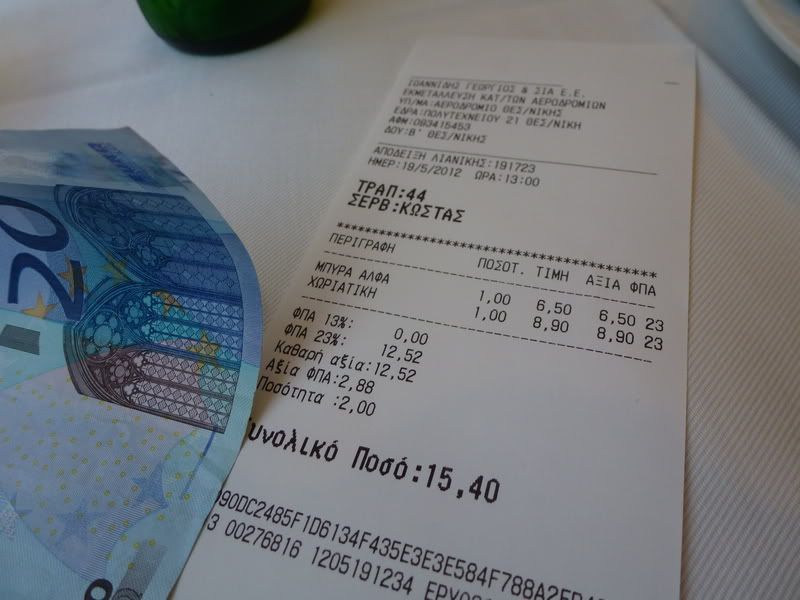 I've barely had enough time to finish eating when I spot my ride arriving from Athens: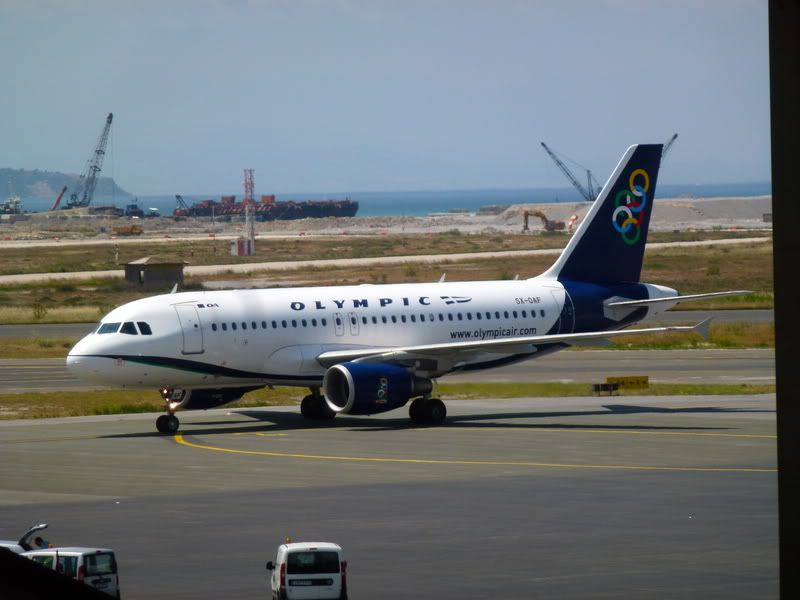 ...closely followed by the competition: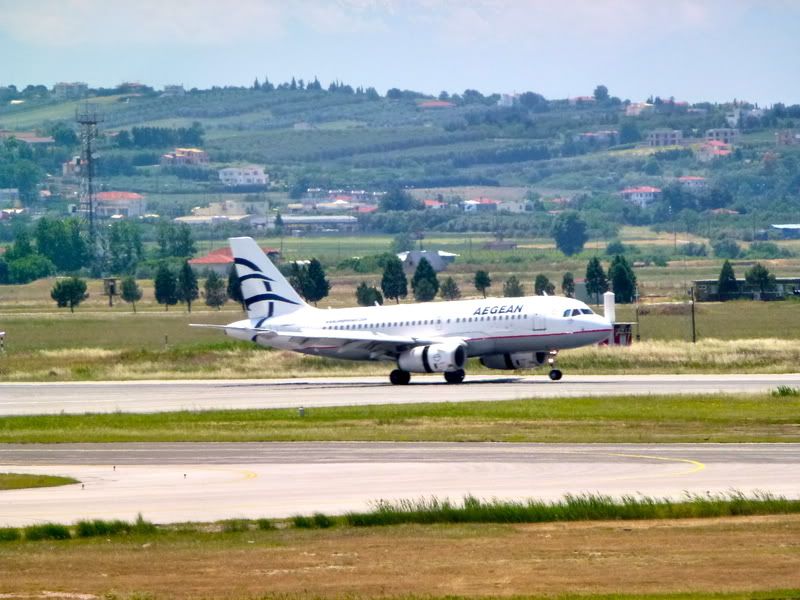 And of course the Orange vermins are here as well: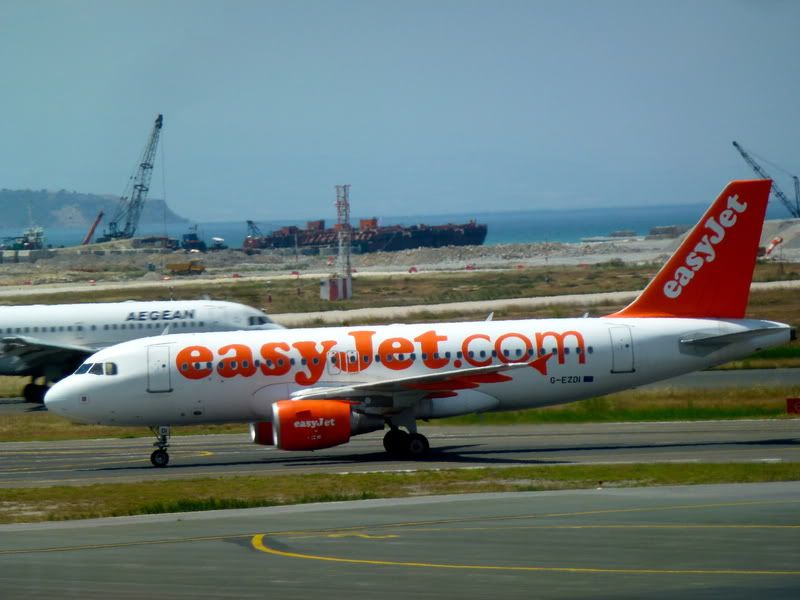 It is the expected A319 - an interesting bird as SX-OAF was originally delivered to Hamburg International but spent only a couple of months there, presumably due to the carrier's bankruptcy. Now in the firm hands of Olympic Air it will be the chariot for my 99th flight with the A319.
I pony up the money for the bill and head downstairs to go thru security. The whole thing is rather unorganized and chaotic, but luckily there aren't too many people there - that Ezy flight is departing for Dortmund with seemingly a full load but all of their passengers are already queuing at the gate instead of blocking the security.
Airside the airport is sparkling clean, gleaming and generally very modern and nice: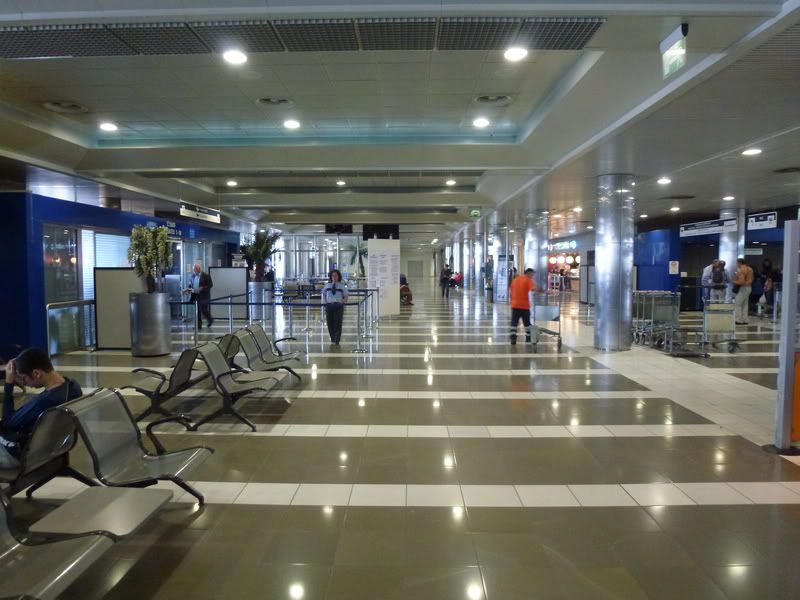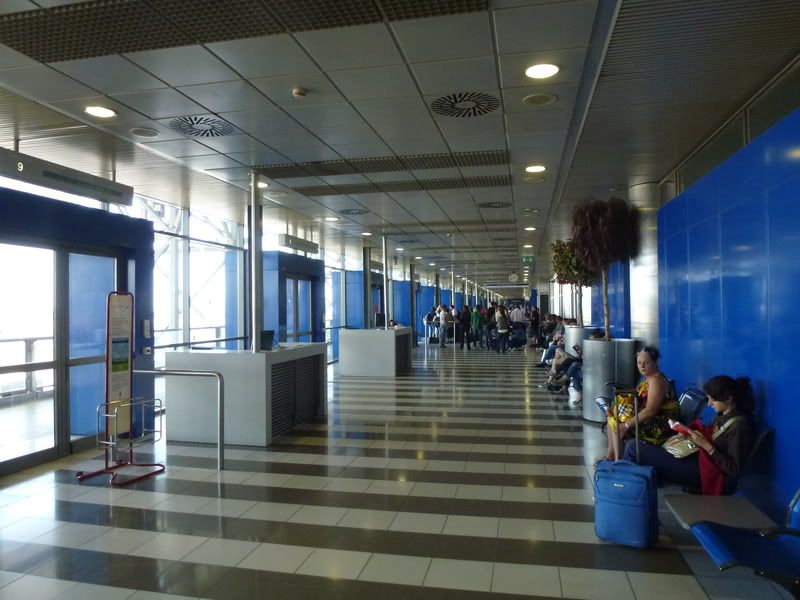 Never heard of this place - but upon looking it up it turns out to be quite an interesting island - named after the famed Icarus the winged man of all things: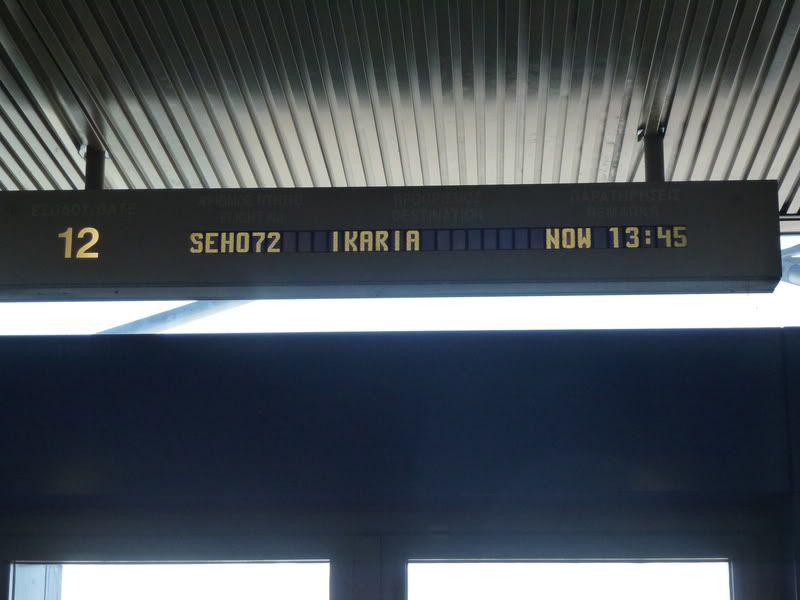 I again managed to time everything right - as soon as I get to the gate they call boarding. My OLCI boarding pass beeps and the friendly gate agent guy tells me that I have a new seat. My last row window seat 23F is now 6A. Bugger, I'd rather sat on the other side for the views over the city of Thessaloniki and the Mt. Olympos but what can you do. He almost forgets to give back my ID card so I ask "May I please have my ID card back too?"
"No, I will keep it!"
I remind him that he looks nothing like me at all so it would be kinda useless and after taking this in he decides to hand hand it back to me. Funny folks, these Greek.
Again the plane is parked just a stone's throw away, but again there's a need to support another job so a bus ride it is: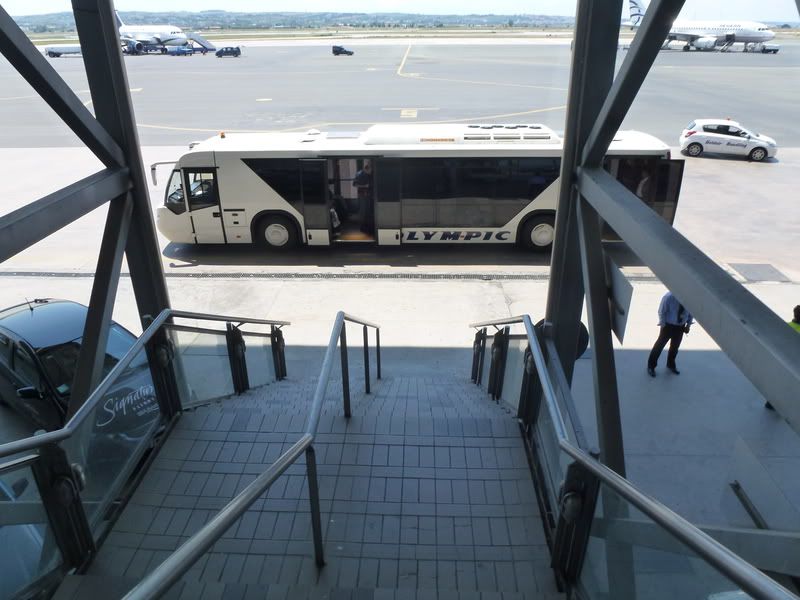 Hello: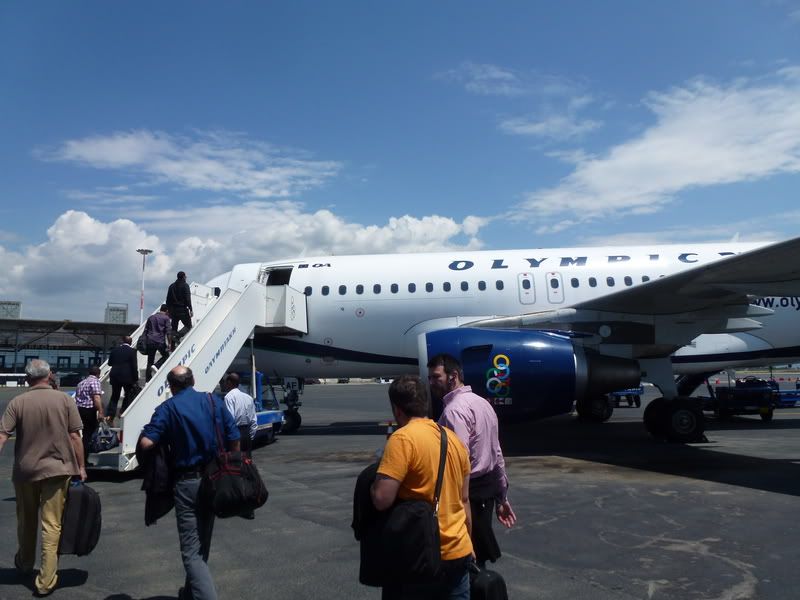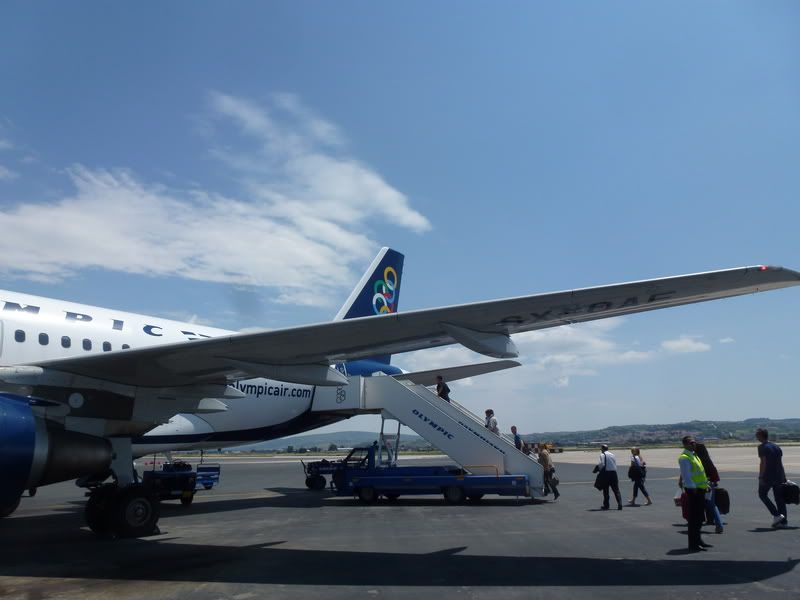 Our plane seems to be taking a piss - a HOT piss: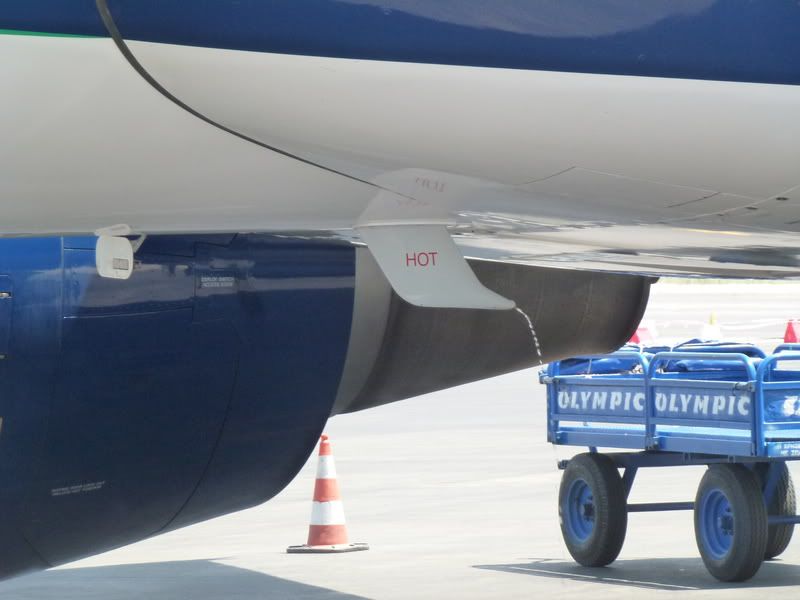 SKG - ATH
OA911
A319 SX-OAF
Seat 6A
14.15 - 14.57
A rather young and almost cross-the-street hot (to use Mark's terminology here) female purser is greeting us on the front door, being very cordial and welcoming to everyone.
Business class on this bird is not so nice as on the flight over with CY. The middle seat is blocked... with a pillow: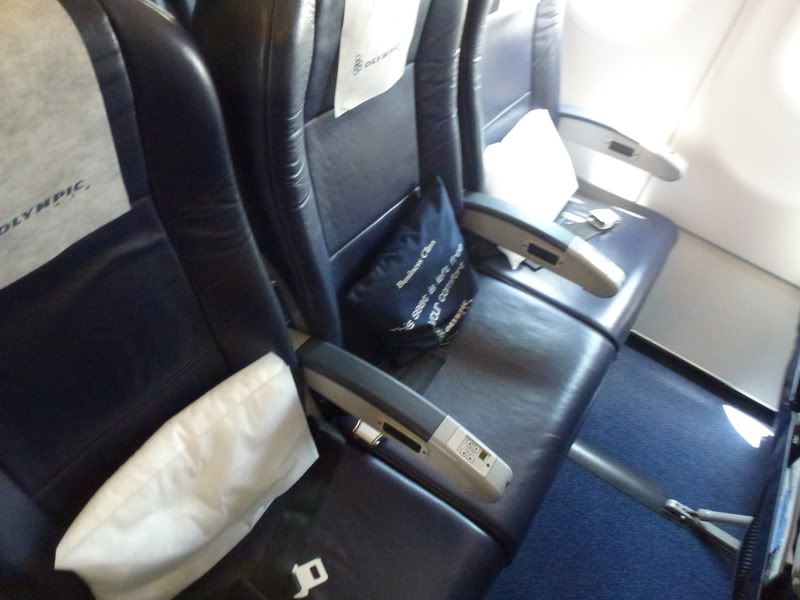 Excellent legroom here on row 6: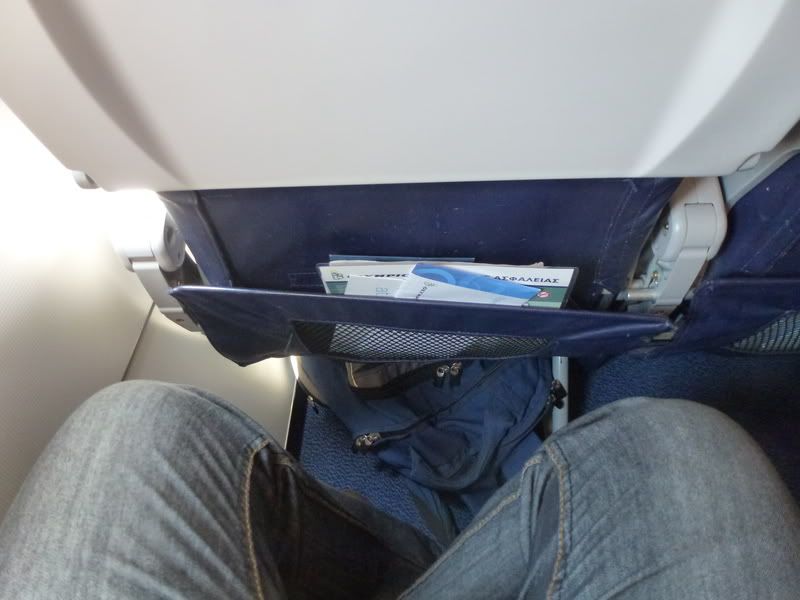 You can see the sleeveless uniform here: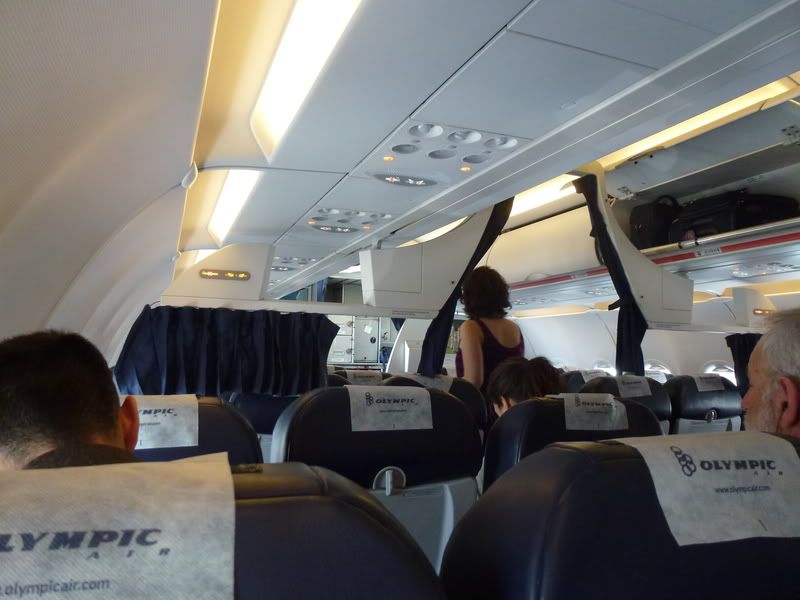 While waiting for a second busload of passengers I spot something rather rare arriving, a Jetstream 41 of Sky Express, operating the aforementioned Ikaria flight: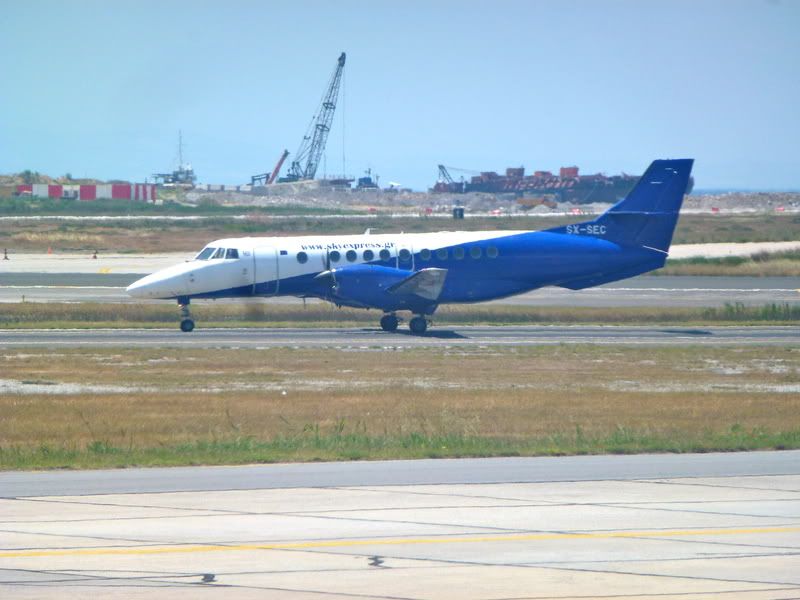 I think I need to come back to fly this carrier, the Jetstream 41/42 is high on my missing planes list.
After the second bus has come and gone the load turns out to be around 80% in economy, nobody on the three rows of business class. An empty seat next to me with an university professor kind of guy on the aisle seat, fine with me.
Candies are distributed before we have left our parking position:
Departure is bang on time this time, well with a turnaround time of 45 minutes you'd expect so. Taxiing for a runway 34 departure: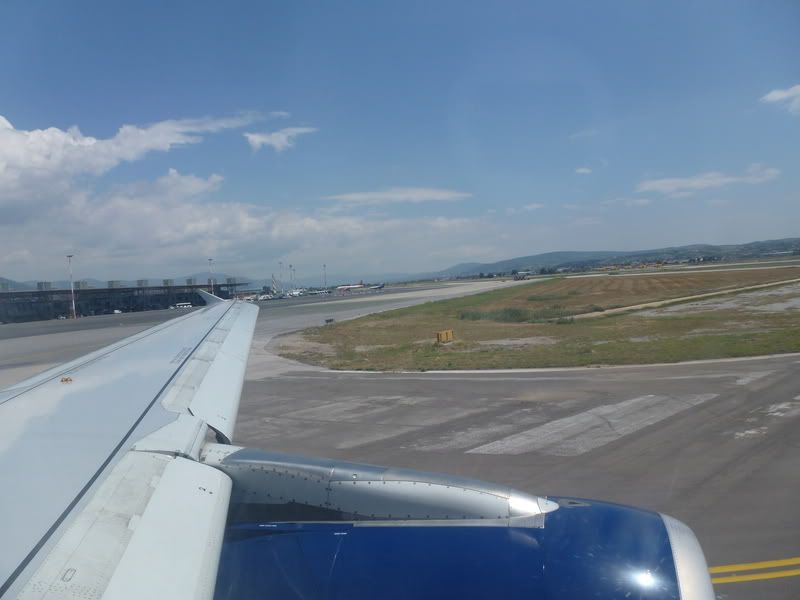 Is this some sort of aviation museum: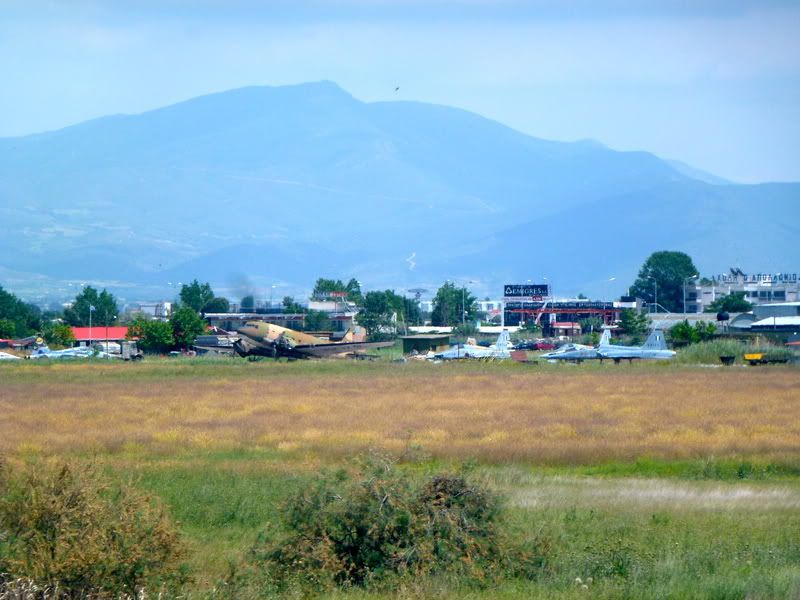 Interesting ATC tower - or maybe it is a spotter shelter: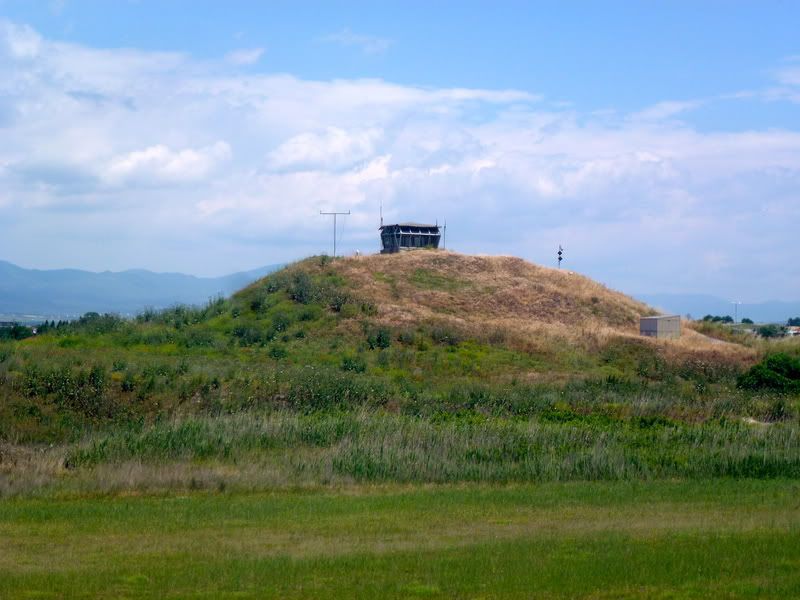 Rotate: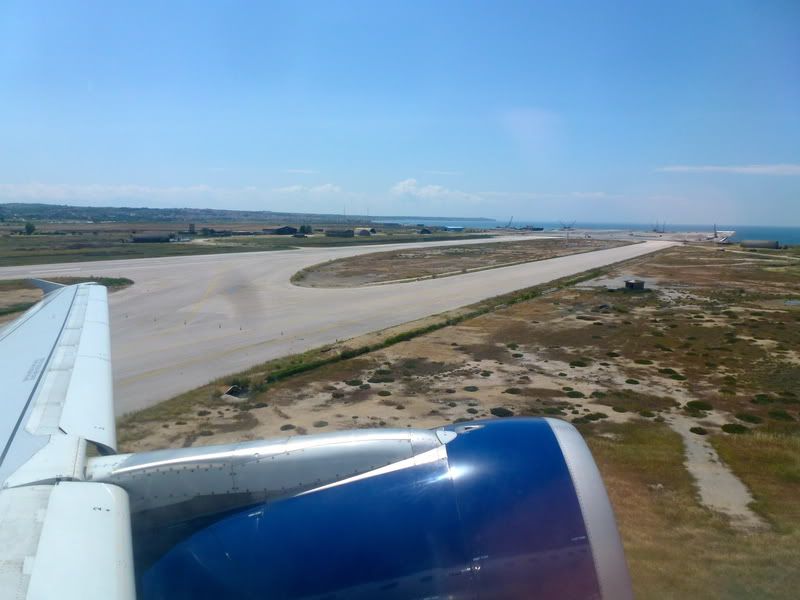 Lovely sight - sun and the Aegean sea:
Turning around - looks like some sort of runway extension is being built, although that construction site doesn't look too active - maybe they ran out of money:
Great overview of SKG: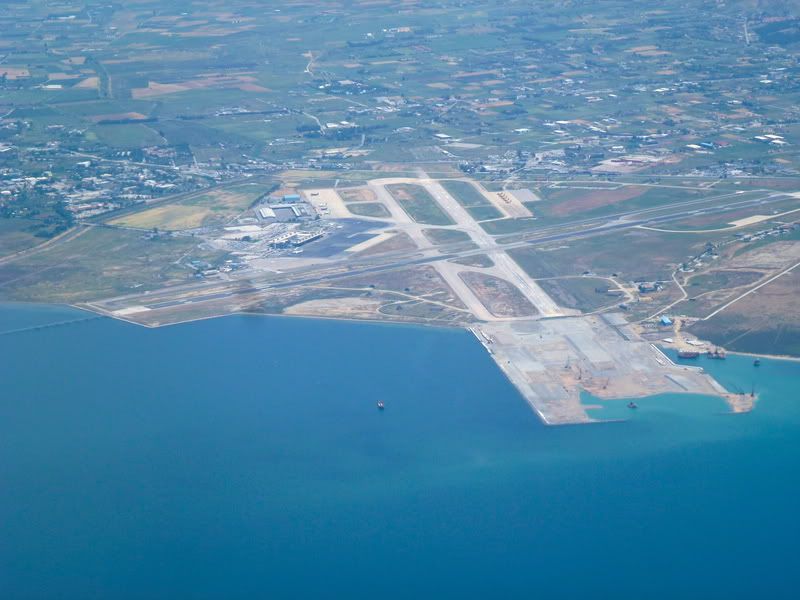 Part of the urban sprawl of Thessaloniki: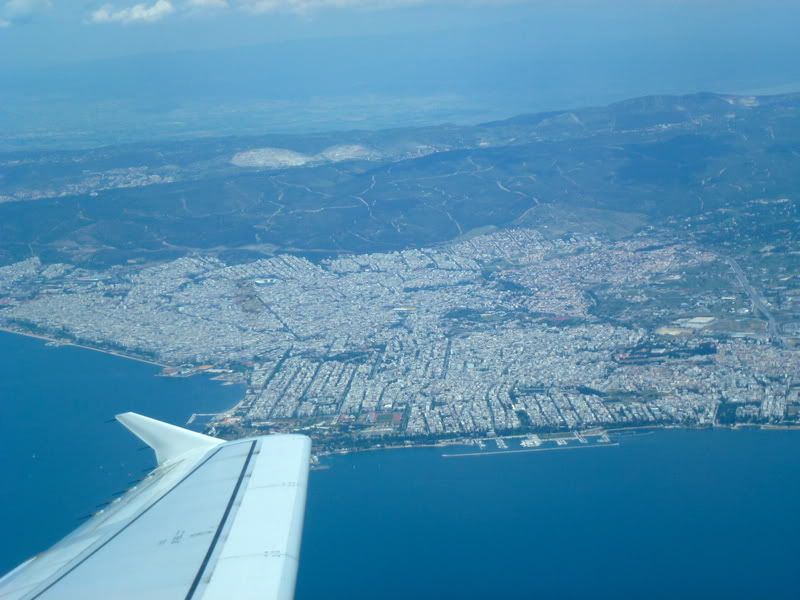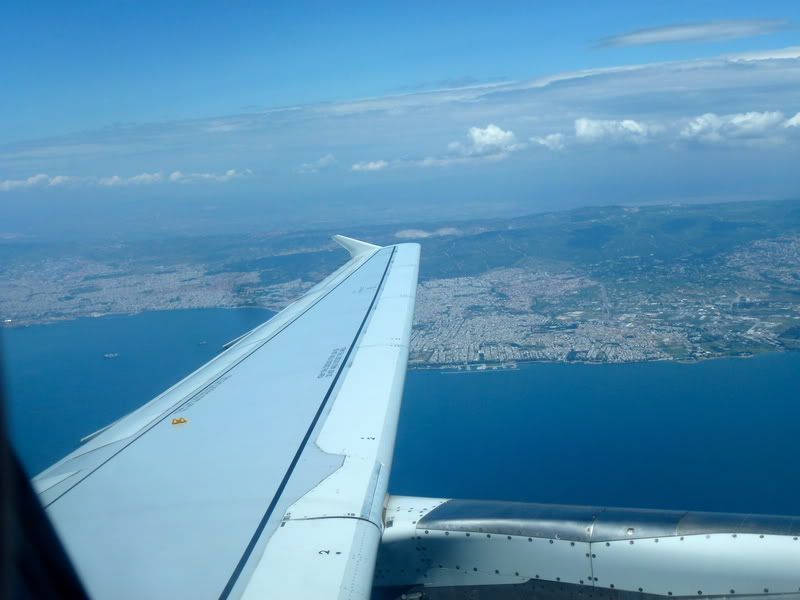 Again this being a quick 40 minute flight the crew wastes no time commencing the service. A bag of peanuts and a glass of lukewarm 7-UP is the standard here: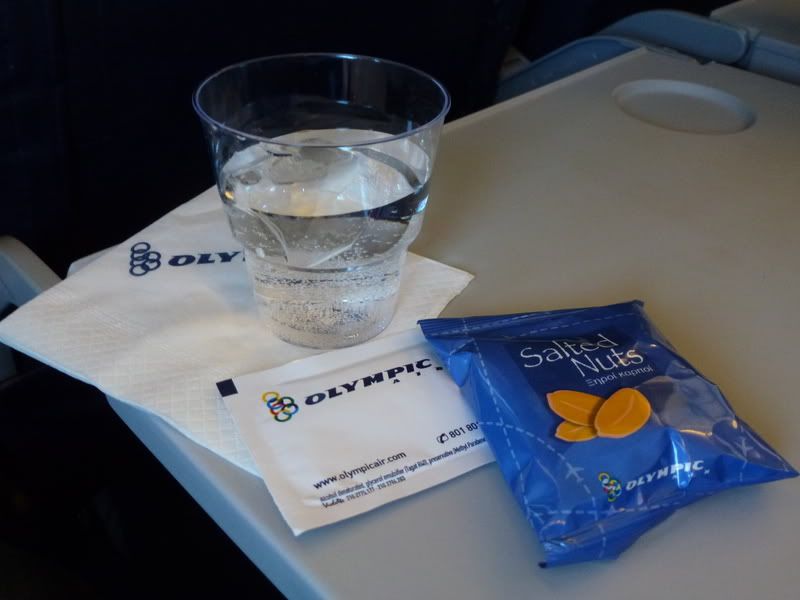 Oh and don't forget the refreshing towel, always have a towel with you!
Our route takes us right over the island of Skiathos and its airport - looks like an interesting place to fly to: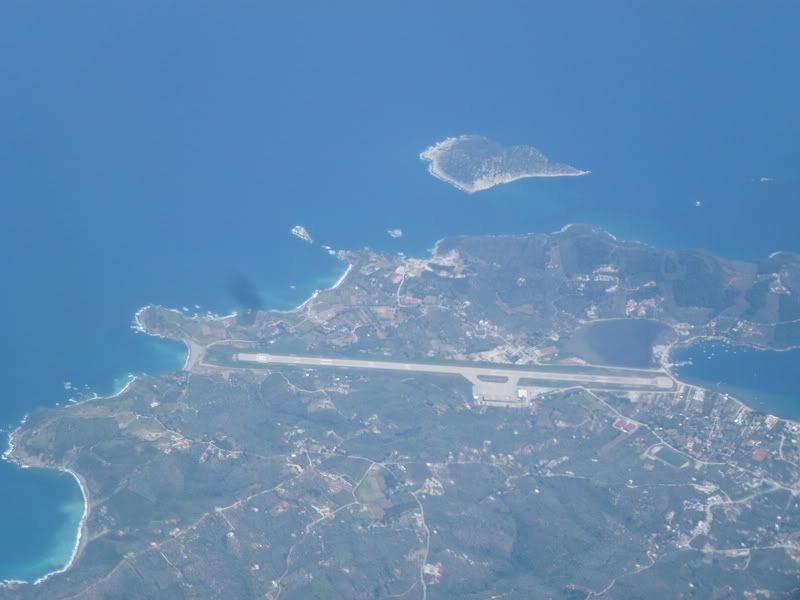 After clearing some mountains we fly past the Attica Basin on the western side.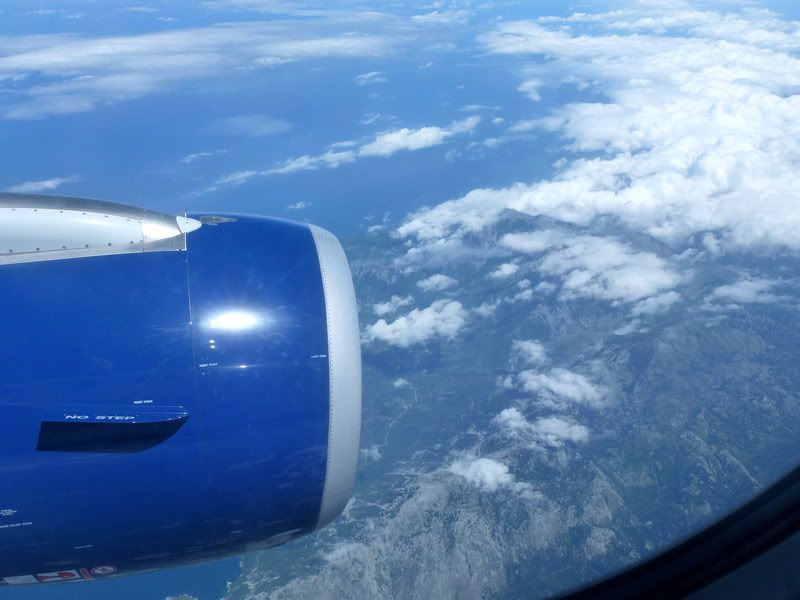 Here's the Airbase at Eleusis: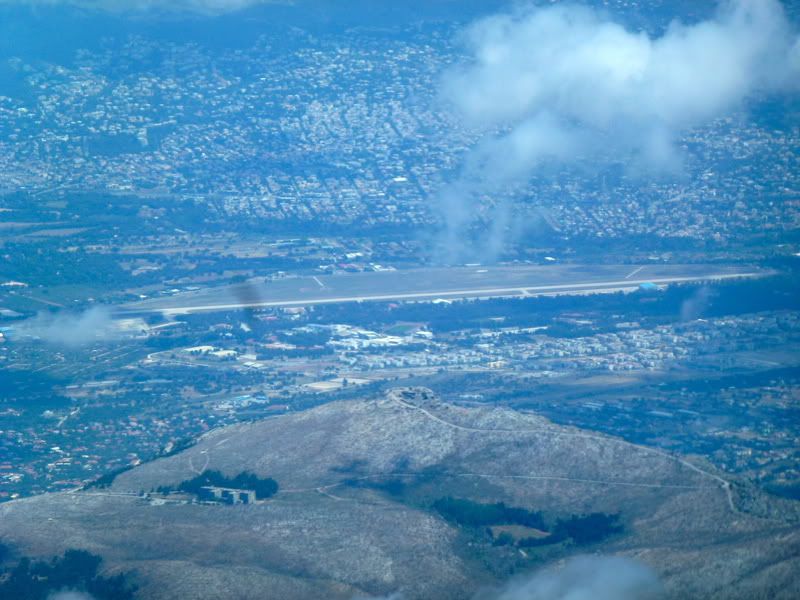 And the western end of Greater Athens: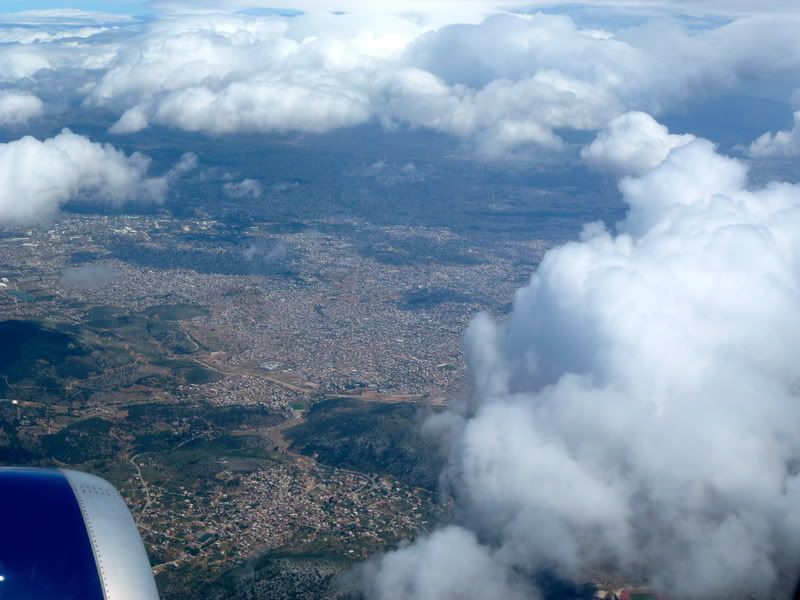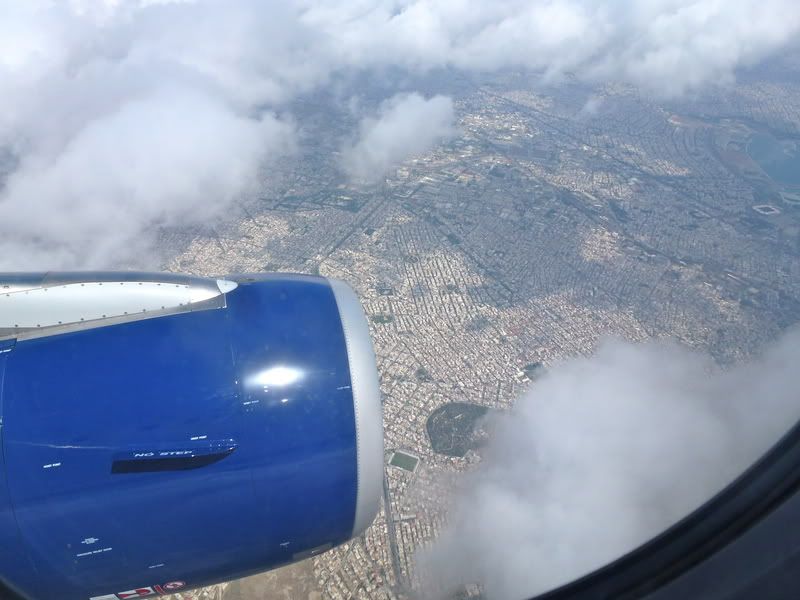 We fly directly over Piraeus (hi, Phil!):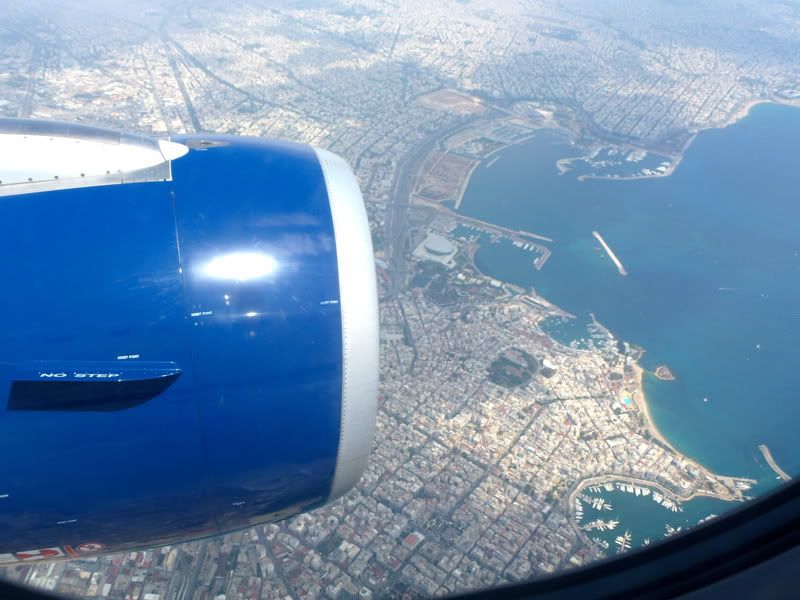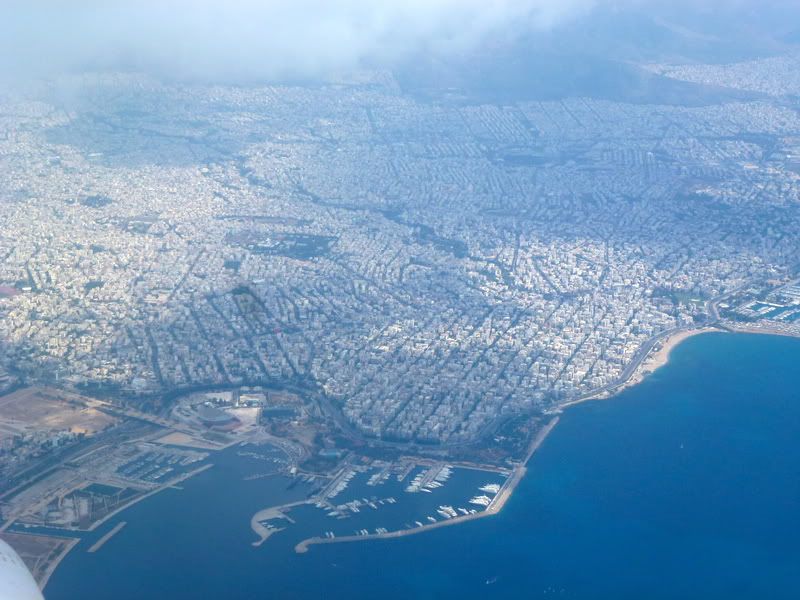 Here's Ellinikon again: