Aegean vs. Olympic Air: Tale of Two Greek Airlines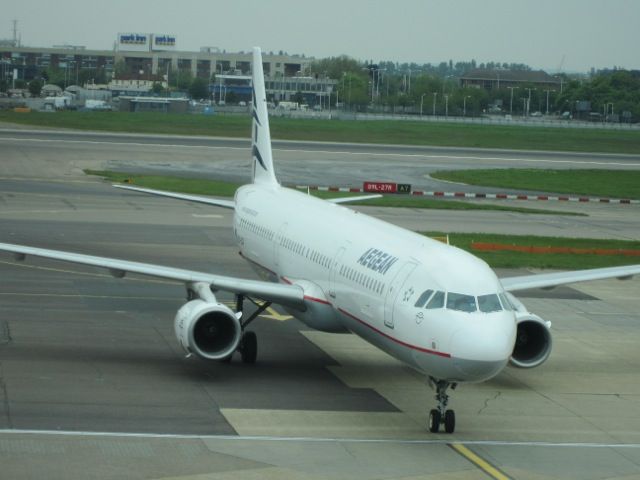 Here is a series of trip reports on a number of new airlines that I have the fortune to travel on recently. This is the first trip report on two major Greek airlines – Aegean Airlines and Olympic Air. I am not going to compare them as I traveled on three sectors with A3, including one of its longest routes on its network – London to Athens, and only one short domestic sector on Olympic Air from Athens to Thessaloniki. All four flights are in their business class cabin, which include lounge access but seats are the same as most intra-European airlines – first section of economy class with a bit more legroom and blocked middle seats. However I am able to have a row of three seats all to myself on all four flights, so the review is more positive. I am sure things will be a bit tight if it is completely full. I also paid a very high price for all four flights – not the most expensive, but discounted business class.
Here are the flight segments and related flight information:
(A3 – Aegean Airlines; OA – Olympic Air)
May 18, 2012
A3 601 LHR-ATH Lv1150 Arr1730 Airbus A321-200 SX-DGA
May 19, 2012
OA 906 ATH-SKG Lv0920 Arr1010 Airbus A320-200 SX-OAQ
A3 111 SKG-ATH Lv1215 Arr1305 Airbus A320-200 SX-DVV "Cleisthenes" Acropolis Museum livery
A3 604 ATH-LHR Lv1725 Arr1920 Airbus A320-200 DX-DVK
Check-in:
I arrived from Detroit on Delta, and went to the transit desk at Terminal One in LHR. BMI handles its ground services, but has its own transfer desk (not shared with BD itself, or with LH/OS/LX). When I arrived, it was still too early, so I waited at the Servisair lounge nearby with Priority Pass, and the desk was opened about two hours and more prior to departure. The BD agent was friendly but not able to switch my FF number to Turkish. I felt that most BD agent did not want you to move to other Star Alliance carriers.
At Athens, I got to experience both OA and A3 agents, as I needed to check in bags from Athens on the return flight. Both airlines have their dedicated desks, and the agents speak good English, and everything went well, except OA claimed that I could not earn Delta miles on the OA flights. Aegean agents were a bit less friendly but things were professionally handled with luggage tagged to LHR with the orange priority tag, and lounge invitation provided (considered SKG did not provide me with the lounge pass for the onward ATH to LHR flight).
Olympic Air Check-in at Athens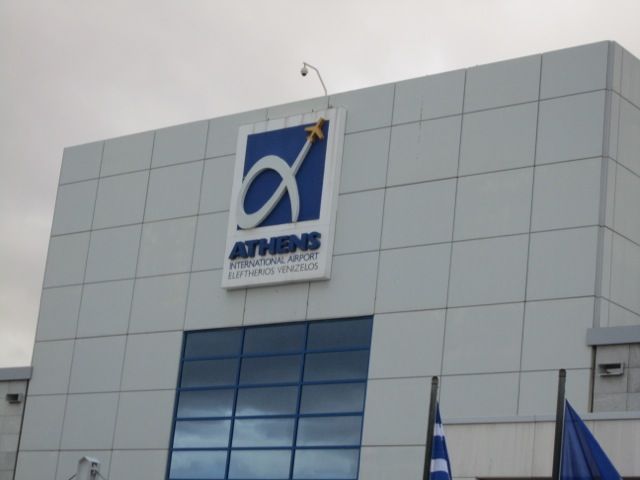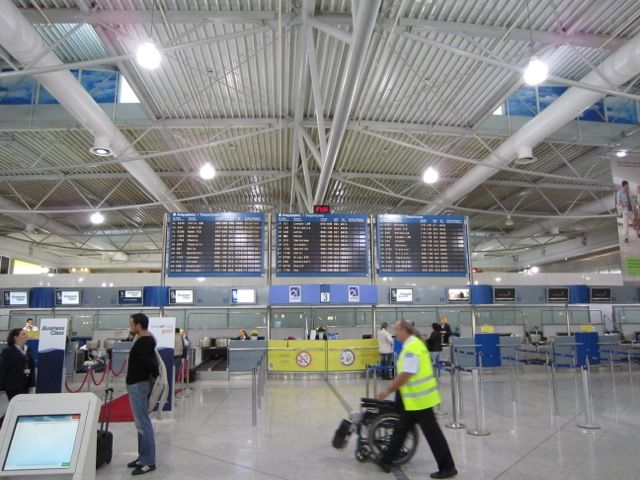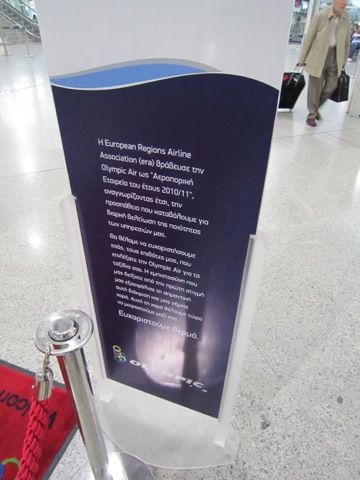 Thessaloniki airport was a very small and compact airport with joint civil and military operation. Photo taking was not permitted but I was able to sneak in a few pictures. Some staff mostly the managerial types care but some don't. If you take one or two pictures, nobody say anything, but once you go a bit nuts, they will say something. The terminal was small but modern and operations are limited to mostly Ryanair, A3, and OA, with a number of European airlines operating a few flights here and there. A3 had a whole dedicated counter with business and economy line. Despite no one was checking in when I was there and all lanes were empty, the agents were more than happy to chat among themselves. Since there was no one there, I just walked up to the J line but the agent immediately barked at me and told me I must use the machine. She was very rude and I did not understand why she would not let her colleague just check me in. She changed her tone after she saw the business class booking and star gold status, but it was a very unprofessional experience.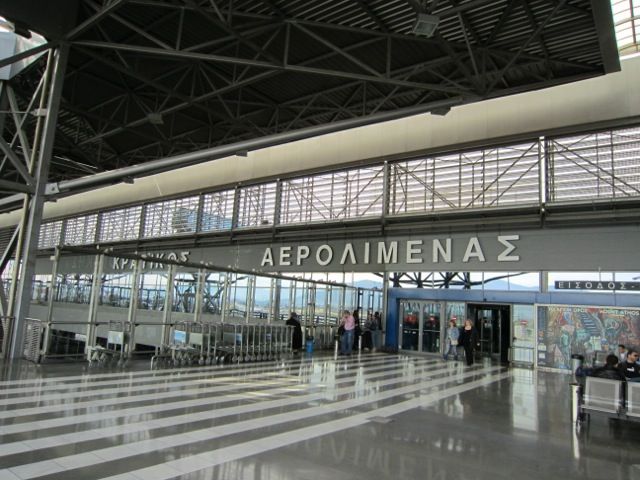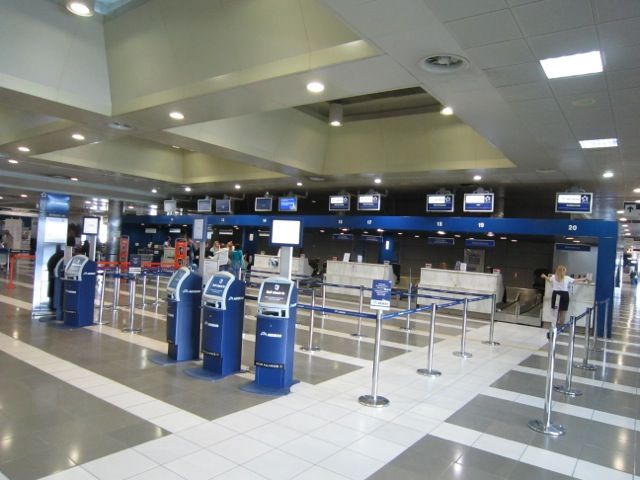 Lounge:
Not going to talk about BD Great London lounge, as most of you have sufficient information about it and can easily find pictures of the lounge. It was one of the nicer Star Alliance lounges in Terminal One and the best thing about traveling on bmi. I love the large windows and since the planes were using R/W9L for arrival, I got to watch many planes in and out. The free wifi was easier to use now with the Cloud network.
ZK-OKQ Air New Zealand all black 77W from LAX
BMI A321
BA and BMI – ironic pictures
My inbound flight finally landed 30 minutes behind schedule (lots of circling according to flightradar24)
Aegean Airlines' A320 SX=DVT arriving from LCA and going back there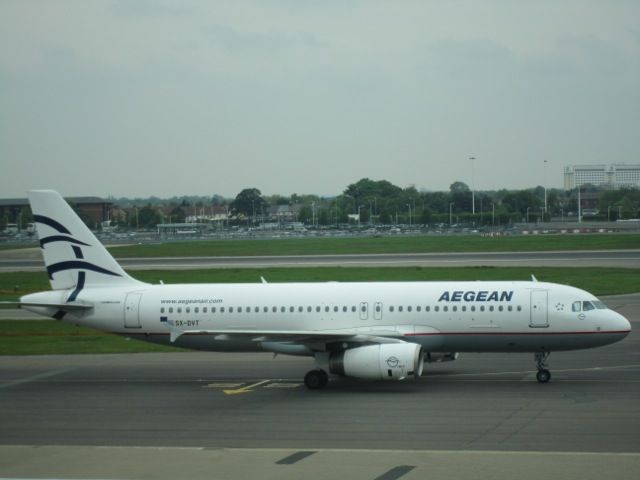 Olympic Air Lounge at Schegen area for domestic and intra-European flights.
OA lounge was very quiet this Saturday morning so I was able to take a large number of pictures plus I really do not know when the next time will be.
The lounge itself was very large with comfortable sofa and TV stations on both sides playing mainly BBC.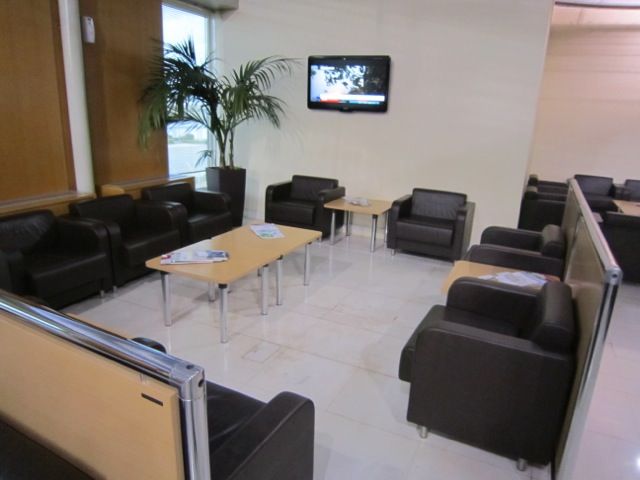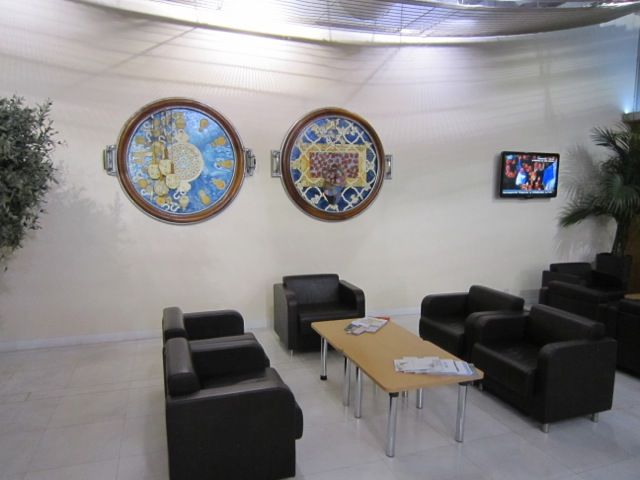 There was a dining area in the middle with self-serving beverage and food stations.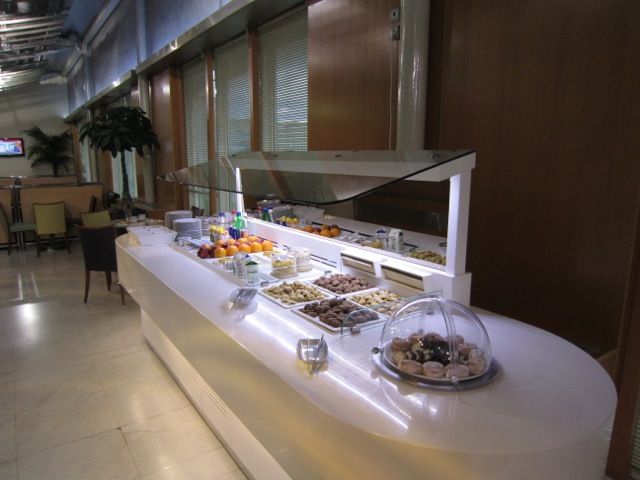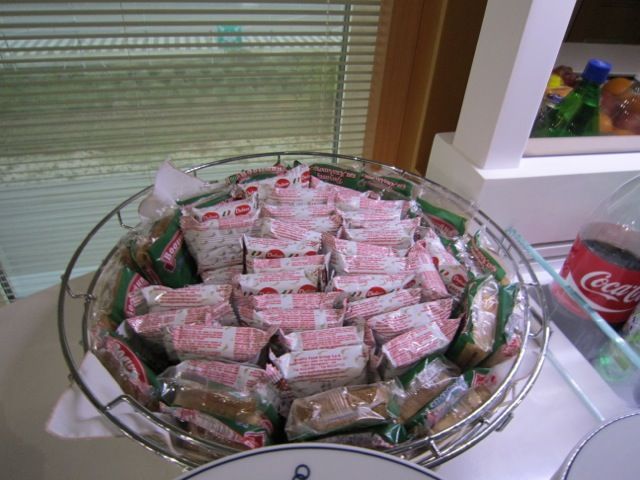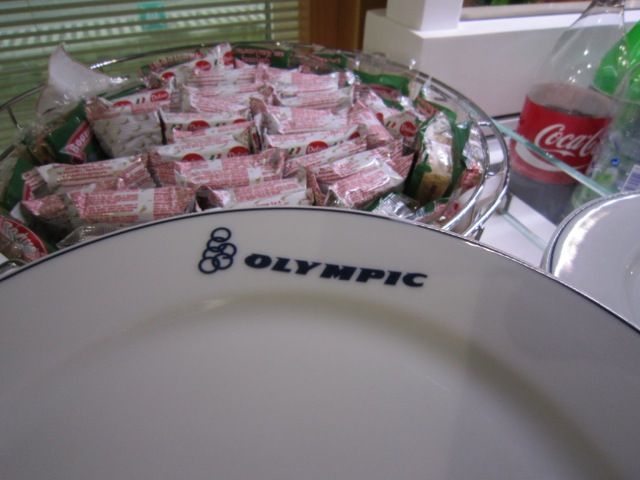 Full array of hard liquors
Wines
Soft drinks
Coffee machines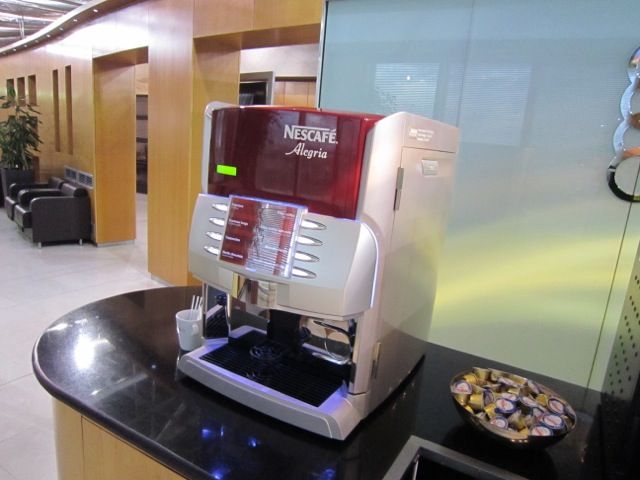 Real glasses and cups
I love the Olympic Air logo cups
Continental breakfast spread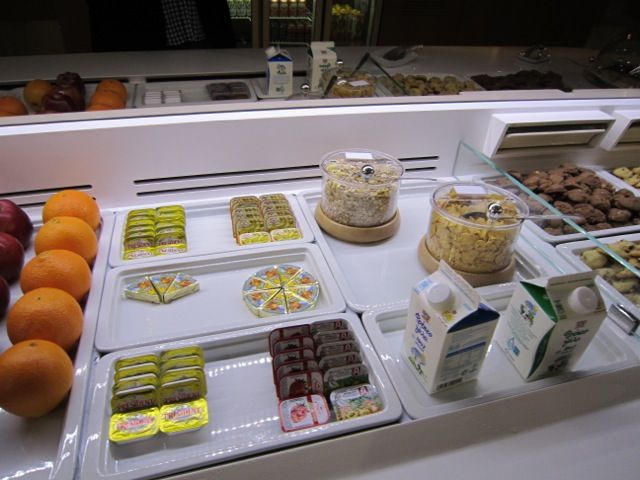 Fruit and yogurt
Warm cookies – good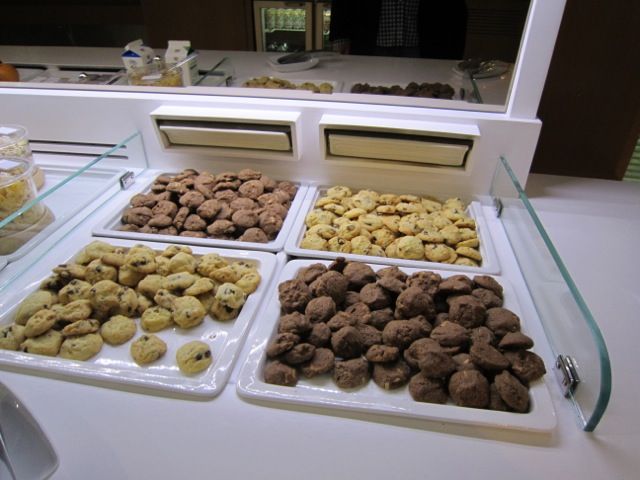 There is no Internet service but Athens airport provide one hour of complimentary internet for all passengers. Computers are available on the international lounges.
There were three staffs sitting around and they were all friendly. Dishes and cups were cleaned in a reasonable speed. Flight information was announced in the lounge for OA flights.
Thessaloniki Aegean Airline Lounge
Definitely the best lounge experience on this trip and the lounge is not big at all, but the design is very unique. Modern furniture is used and I like the red spotlights decorations. Food selection is still limited to mostly packaged snacks and pastries, but at least the lounge is designed in a very specific way. There is a dining area, along with a business center. Television is on playing local programs, but I love the view of the windows overlooking the main apron. Unfortunately I was stopped by one of the agents. The main problem was that lots of ground staffs especially for A3 used one of the entrance doors in the lounge to get in and out of the apron. There are no jet bridges here at SKG but one good thing is that business and status passengers boarded separately from the lounge, at least for Aegean Airlines own flights. Now I will let the pictures do the talking.
Entrance area with candies, towelette and papers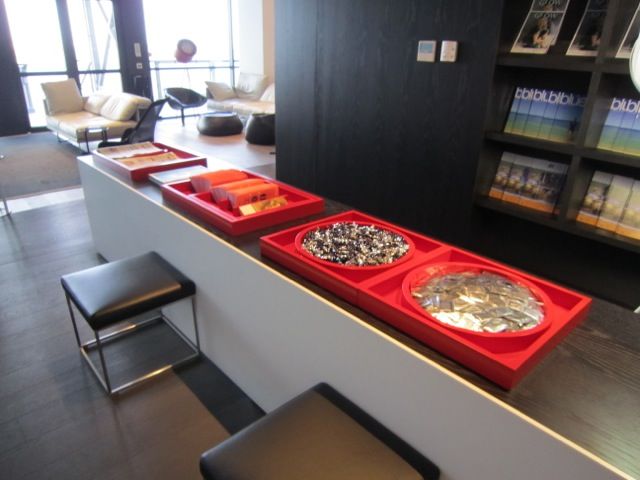 Seating Area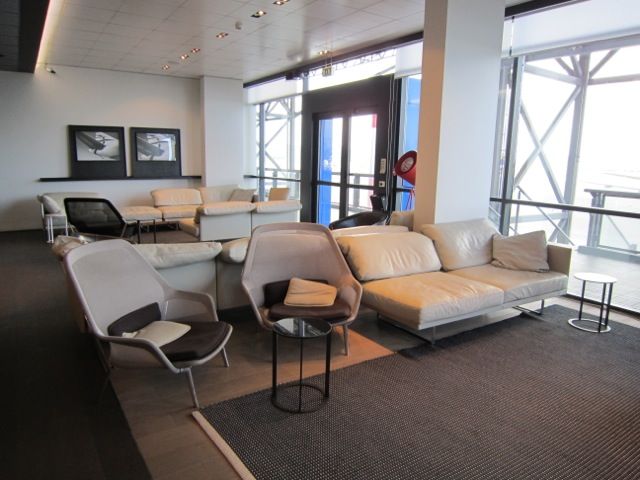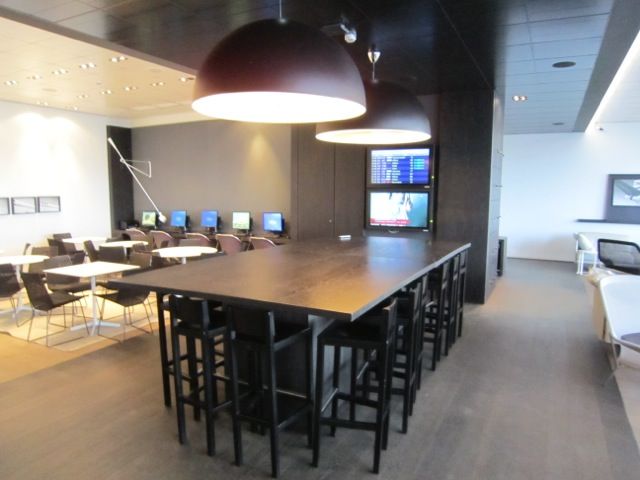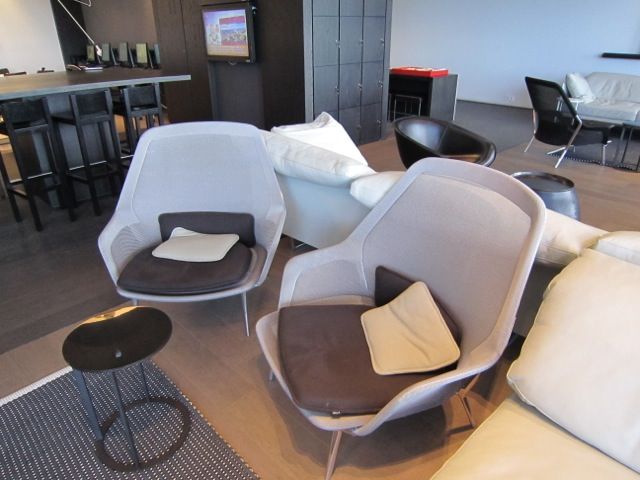 Red Spotlight
Dining Area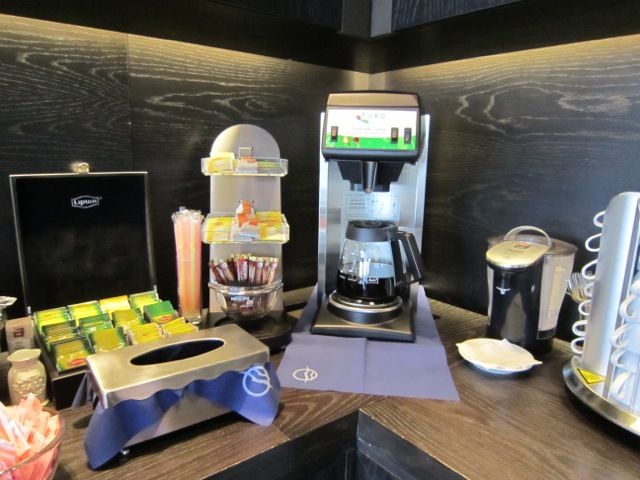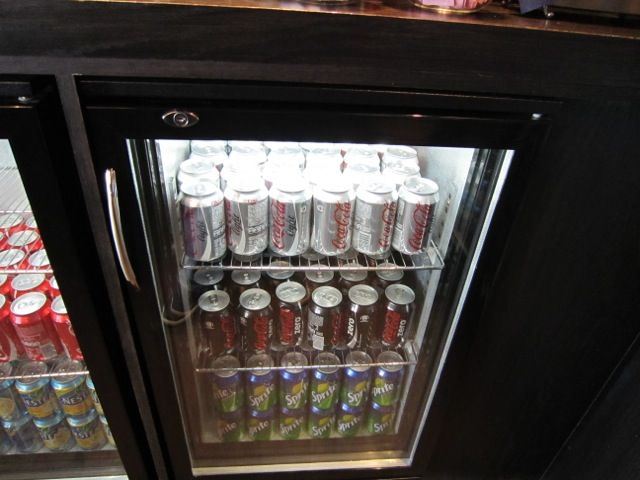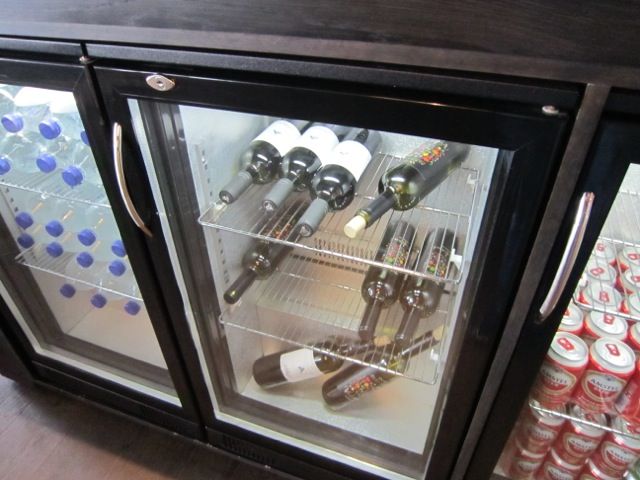 Computers
My choice this morning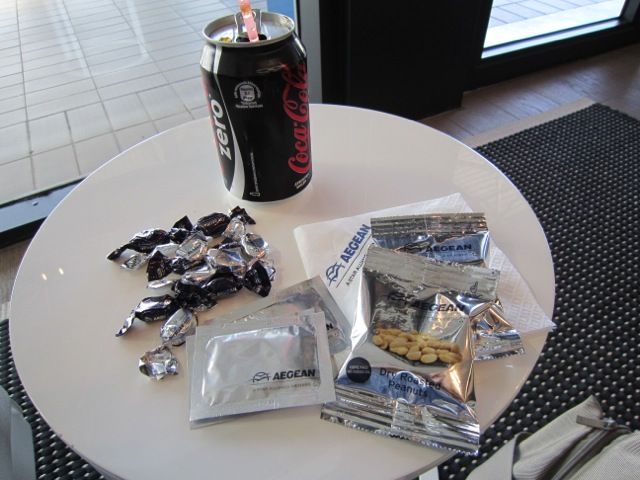 Few pictures at the apron before being caught
SX-OAQ returning to Athens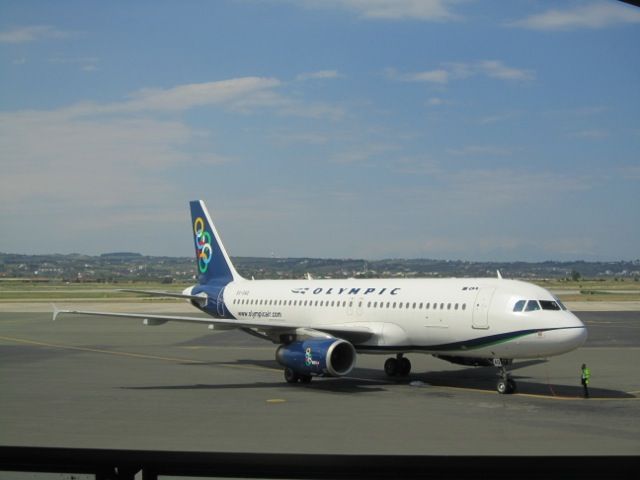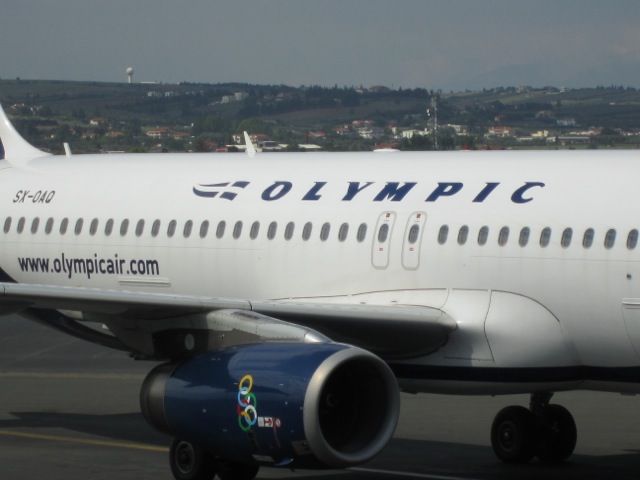 Can't help to sneak a few pictures of this specially named A3 A320 "Cleisthenes"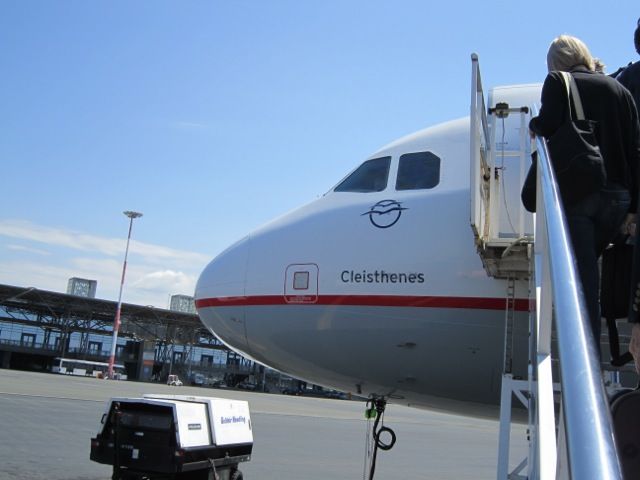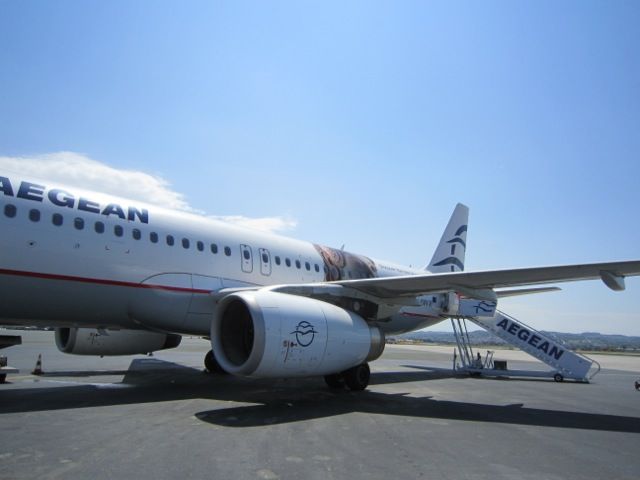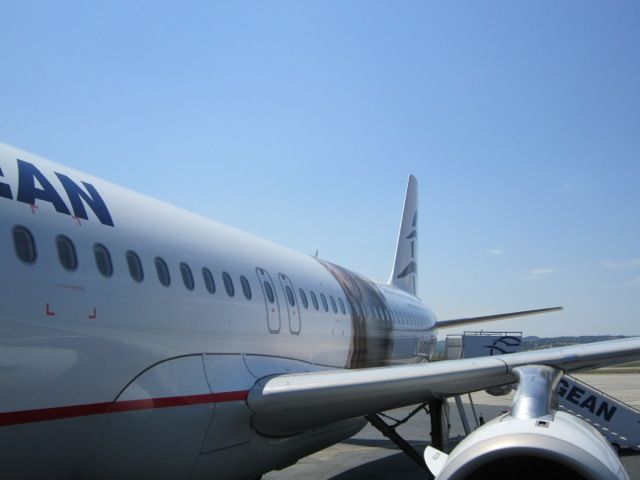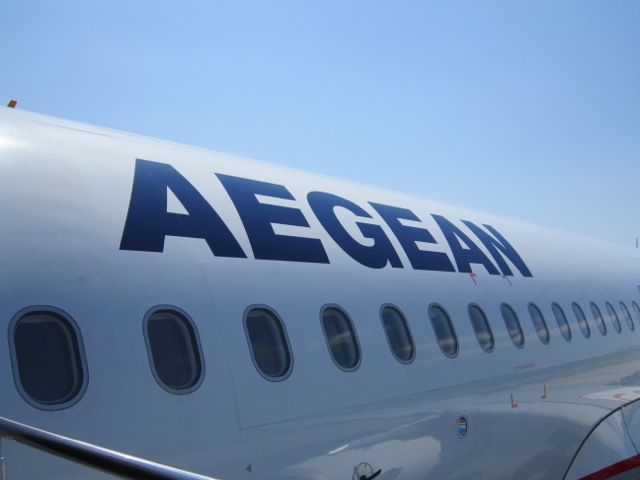 Olympic Airlines International Lounge at Athens
Aegean Airlines strangely used Olympic Air lounge in the international section. The lounge is identical to the domestic and Schegen lounge, but a bit larger in size. The furniture is all the same, along with the TVs playing BBC. The buffet selection is a bit more extensive as it caters to a number of international airlines, including Emirates and Egypt Air. Lunch includes sandwiches, cold cuts, sliced cheese, packaged snacks, and cookies, along with warmed chicken meatballs, nuggets, and spring rolls. Beverages are the same. However there is a business center featuring three computers with Internet connection, to compensate for the lack of wifi for lounge users.