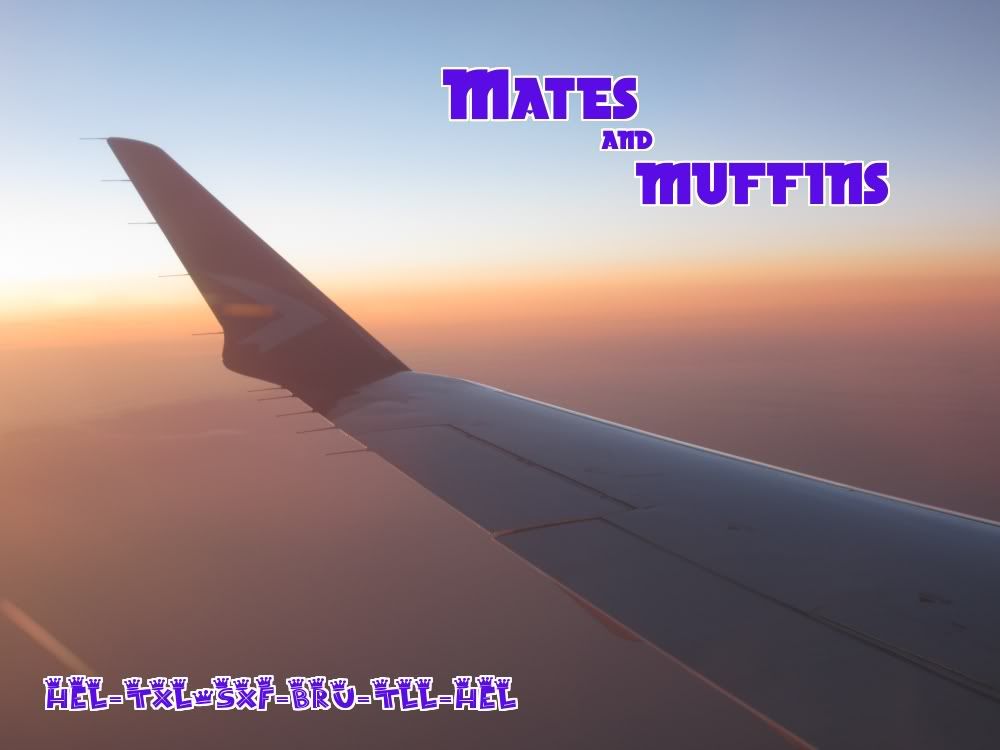 Background
According to new research we humans spend up to thirty percent of the time we are awake interacting with other individuals. This phenomenon - a need to interact with others - is also something that characterizes most aircraft enthusiasts. Judging the number of Airliners.net meetings held at various airports during the last years speak a clear language and I knew that I had to join one of these meetings at some stage. The perfect opportunity was presented in January when a group of fellow-minded people decided to host a meet at Stockholm Arlanda Airport. Because of school and family reasons I was unfortunately unable to join the event back then and it really was a no-brainer to put my name on the list of participants when the idea of a BER meet came up.
Unfortunately I wasn't going to be able to fly into Berlin already on Saturday evening as it was my last day of school and without going into any further details it was a day that I now have many nice memories of, I spent the evening with some great friends. All this made me even more eager to celebrate the beginning of my summer holiday with a trip to Berlin. But the way to here had been quite bumpy, right? Let's take a look at everything my booking department had gone through during the last couple of months:
As you might have noticed reading my trip reports I prefer to fly the Boeing 717 always when possible. A look into the options of getting to Berlin revealed the following alternatives
1) fly nonstop on Air Berlin with a price tag of 60 EUR
2) choose Air Baltic and go via Riga for 65 EUR
3) make a booking with Blue1 and SAS flying via Copenhagen for 70 EUR
Did I say Blue1? And the Boeing 717 on to CPH? I was sold. HEL-CPH-BER was quickly booked and was definitely great value with 35 EUR per segment. Another added silver lining was that the CPH-BER segment was scheduled to be operated by the CRJ-900 that I have tried logging twice and failed miserably both times. I decided to wait a couple of days before booking any return flights as some other travel plans needed some final touches as well.
That ended up being a good idea as not many days later I got a message from Blue1 saying that flight schedules had changed. In this case it meant that my transfer time in Copenhagen was reduced to 10 minutes (!). I hadn't been booked on any other flights - I only read "connection is not possible" on my booking page.
Solution? A call to Blue1, a discussion with a lovely girl and rebooked on HEL-ARN-BER instead with a much better schedule. Unfortunately, the Boeing 717 had been replaced by an ATR and the CRJ-900 was also gone (why does these changes keep happening to me?) but I really couldn't complain as it had been replaced by a Boeing 737-600, another rare type missing from my log.
Looking for return options my main goal was to spend one night in Berlin or another city and catch one or two new aircraft types on the way home. So I happened to notice Estonian Air (that airline with the gorgeous livery and free muffins) selling BRU-TLL-HEL tickets for 75 EUR for my preferred date. And it would include the CRJ-900 and the Saab 340, yet two new aircraft types!
The dots were connected by a very reasonable 30 EUR easyJet ticket and I was ready to go for my first ever A.net meeting! Or so I thought. At first I thought the news about the opening of BER airport being postponed was a big (and very bad) joke - but nope - it was reality. This meant that my onward flight with the orange airline would now leave from SXF - Schönefeld would be a new airport for me but still it would cut my time at the meeting even shorter. At least there was something positive about this flight: I later learned that fellow flier
Marc
would be joining me on U2 4707!
After all these changes I thought my routing would look like this: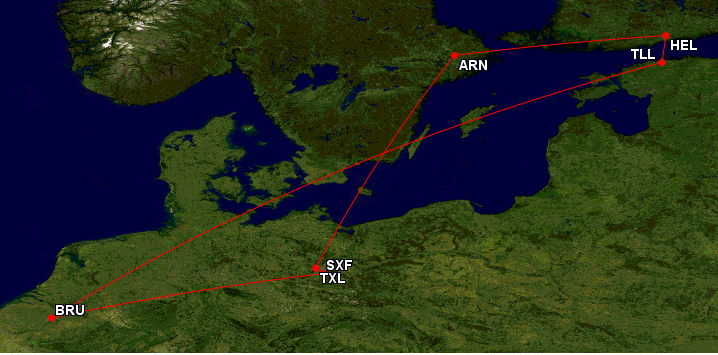 Pre-flight
Online check-in worked like a charm 22 hours ahead of departure for my Blue1 and SAS flights (what else would you expect from the world's most punctual airline) and I succesfully select my seats for both segments. Despite being there immediately when OLCI opens there isn't many seats to choose from on the HEL-ARN leg, indicating money is being made on tomorrow's flight: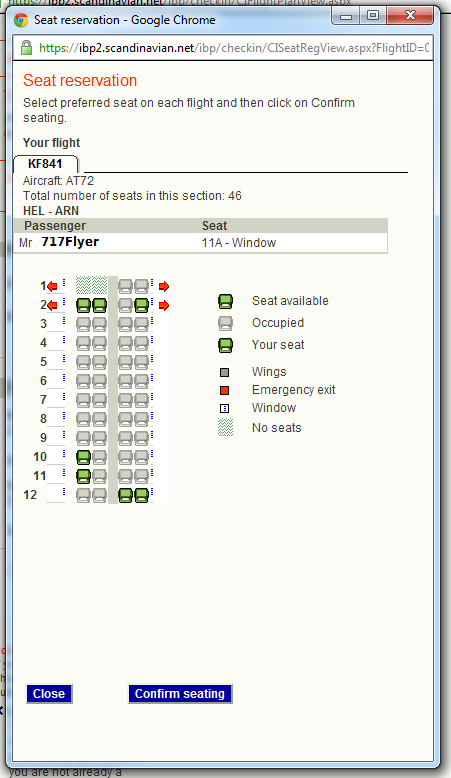 When I arrive home to print out the boarding passes (no chance to do so earlier) OLCI is no longer available - an error message is shown and I am asked to contact staff at the airport. I smell some surprises in store for me here!
Sunday 03.06.2012
Still remembering the 04.45 a.m. flight I experienced on BT some weeks ago (and the shock horror of booking myself again on that flight quite soon) a comfortable 09.20 a.m. departure this morning was simply luxury. Or so one would have thought. This time I decided to sacrifice my sleep-in until 7.00 a.m. and listen to the screaming tone of my wake up call(s) a bit earlier to be able to meet a certain person (nope, not an A.netter) in time for her flight.
Public transportation still doesn't work very well from my house to the airport early mornings (and specially not on Sundays) and the only available options leave me arriving to the airport only some 50 minutes ahead of departure. Knowing that I still possibly had some check-in issues to solve I was more than happy when my father presented the offer we would drive to the airport by car instead.
The cheapest outside parking lot is full (no wonder considering this is the first day of holiday for thousands of others as well) but P5, the second cheapest option is available for 15 EUR per day (rip-off, but good value considering Finavia is in control here). After leaving the car there I see a command I need to obey: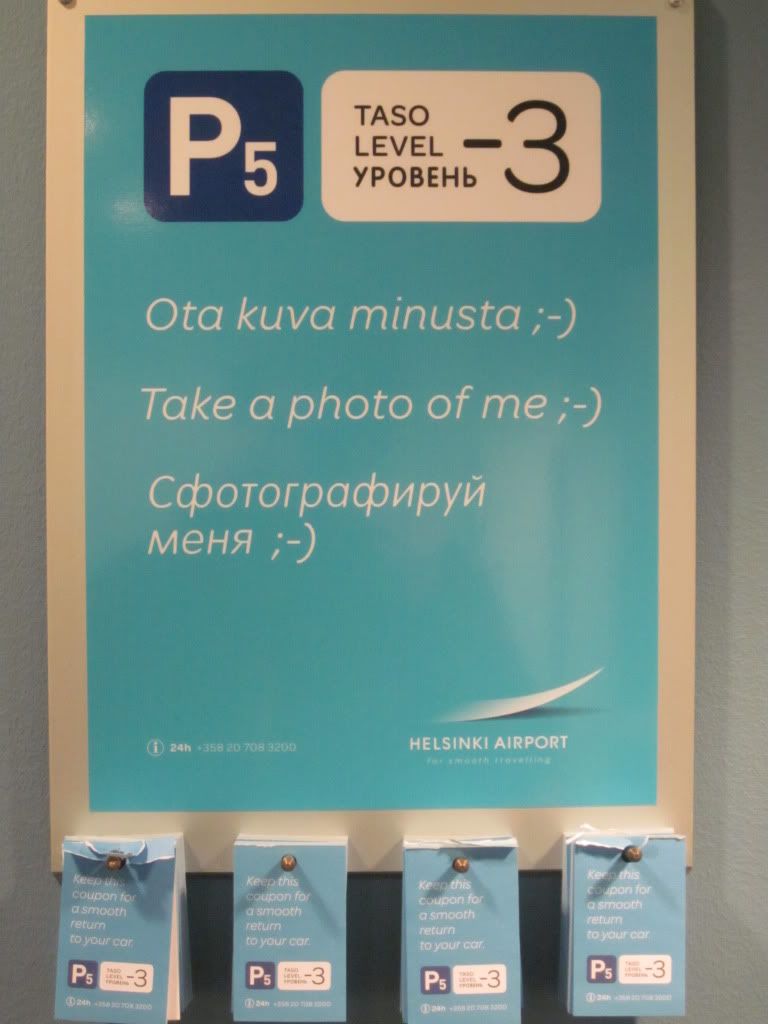 The hike to the airport continues by foot and when I see this rural landscape in front I think of a certain song:
Sur le pont d'Avignon
L'on y danse, l'on y danse
Sur le pont d'Avignon
L'on y danse tous en rond
Eventually, I see the well-known Blue1 headquarters in front of me and by turning my head a little bit to the left Terminal 1 of Helsinki-Vantaa International Airport is there as well: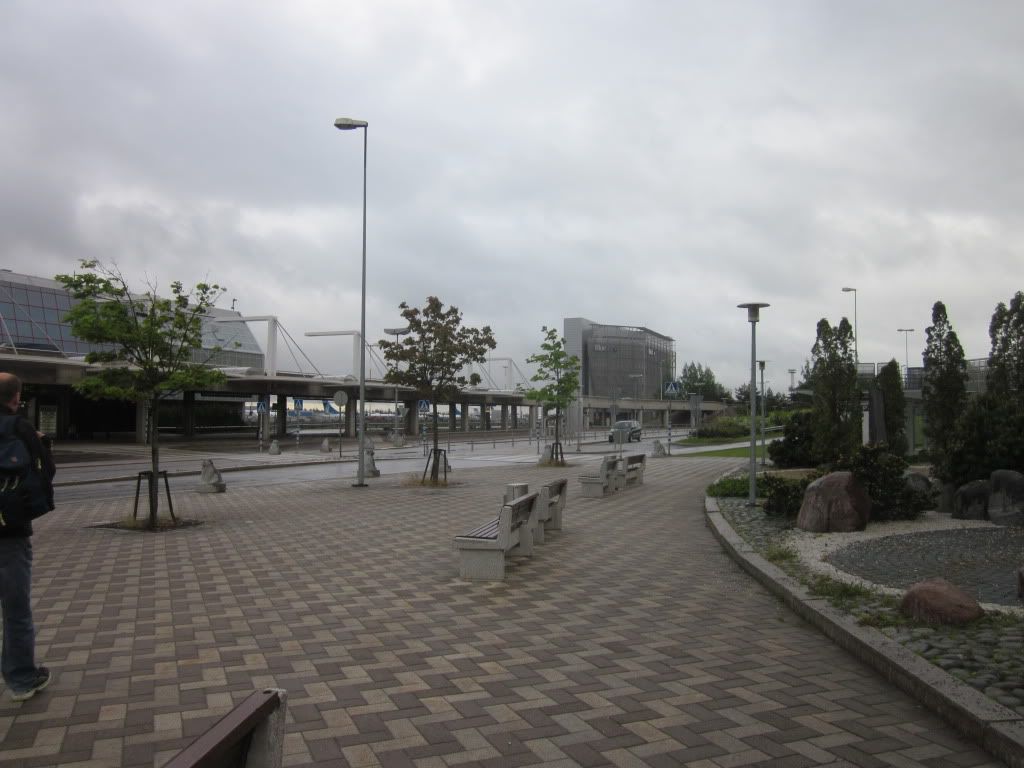 The Blue1 baggage drop-off counters (not that I have anything else to drop-off than a question about problems with their systems) are (wo)manned and very little queue. I think of Petteri when I hear the conversation a couple ahead of me are having.
Agent: "So here are your boarding passes to Edinburgh, have a nice flight. Unfortunately your flight is leaving from gate 32, so if you haven't got any exercice today then now you will. I am sorry about this, but all airport operators have their faults, no?"
Couple: "What do you mean by exercice?"
Agent: "You'll get to walk through the whole airport. Hope you don't get lost on the way and once again my apologies!"
Soon it is my turn and I explain my situation to the agent. She soon lights up. "Yes, we have a special offer in store for you today! The Blue1 flight to Stockholm is quite heavily overbooked today and we thought you might be interested in taking the nonstop Lufthansa flight to Berlin instead". I have two questions on my mind: 1) isn't today the inaugural Lufthansa flight to BER and 2) will there be any compensation. As she answers yes to both my questions we decide to volunteer. She isn't able to do anything yet though and asks us to contact the staff at the gate instead as there is a couple of large families onboard and their top priority is to get these guys off the flight (I learn they are flying HEL-ARN-CDG and the new promised routing would be a nonstop Finnair flight around the original departure time. Apparently they can't rebook on KF/SK as all their flights are fully booked today (and someone said SAS is losing money?).
Soon I realize what time it is, thank the gate agent, rush upstairs through security control just in time to see the person I was about to meet getting her boarding pass scanned at the gate as the last passenger (why, Blue1, why do you guys always need to leave so early? a little chat would have been nice?) but the gate agent at the (un)lucky gate of 13 just smiles when I ask her to hold the flight for a minute and at least I get a hug. The flight still pushes back more than 10 minutes ahead of scheduled so I hope they're not mad at me! Next stop is gate 13A, assigned gate for my flight to Stockholm. There I learn from the same agent that checked me in that one family took the offer of moving, the other didn't and that I should wait until everyone have boarded. "We at Blue1 want you never to be bored" is her explanation. "Feel free to sit down at the nearby café, I will come and talk to you then and thanks again for volunteering!" is what she says next and I really can't stay mad can I?
The flight boards early (what else on Blue1?) and soon Mrs. Sunshine (an appropriate name for the gate agent) approaches us. "Everyone has already boarded and now we are still overbooked by one so I will be needing your help". I ask her whether this means my father and I should travel separately. "Of course not, I have no problem in rebooking both of you and so there will be one free seat on the Stockholm flight, specially dedicated to you guys!). Superb customer service and moments later we have also chosen to go for the vouchers (a total compensation of 300 EUR) instead of half the amount in cash.
The globally known print-all-flights-on-a-single-piece-of-paper boarding pass is soon in her possession. She invites us to follow her to the Lufthansa gate as well (apparently she is handling that flight also - what a conincidence!) where she will check us in. I ask her if it would be possible to get a window seat near the front of the aircraft and once again the answer is "of course!". Moments later we are handed our new boarding passes with sequence numbers 70 and 71, not a fully booked flight today then. Seat 5E and 5F are perfect for us and she also assures that 5D should stay empty.
My new flight: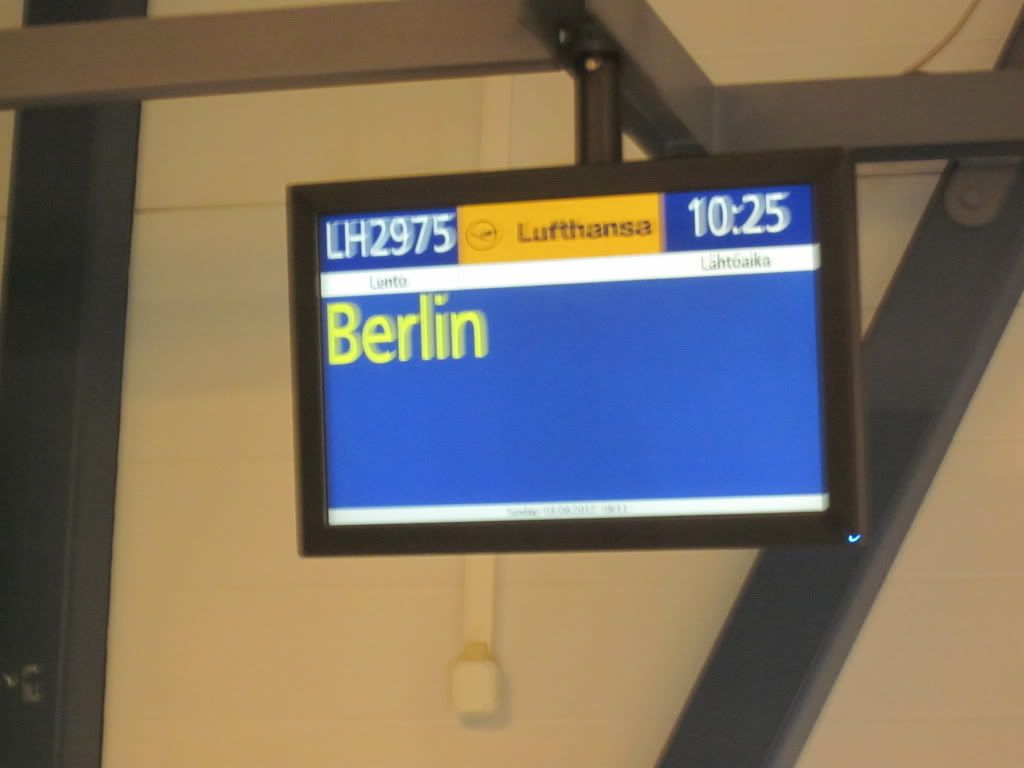 And soon comes the best part - the vouchers, delivered with "greetings from the girls at the ticketing department". Finally, after years of trying, I have two of them in my hands!
Moments later I notice my name is not correctly written on them - as sure as my first name begins with the letter R it is not Robert - and I let Mrs. Sunshine know about this. She assures me that despite vouchers are personal it should be no big deal but she promises to get it changed.
After this it is time to get in the "inaugural mood" as they are starting to set up a table near the gate area. Of course I go there to have a closer look at the offerings!
There's a nice lady guarding the table: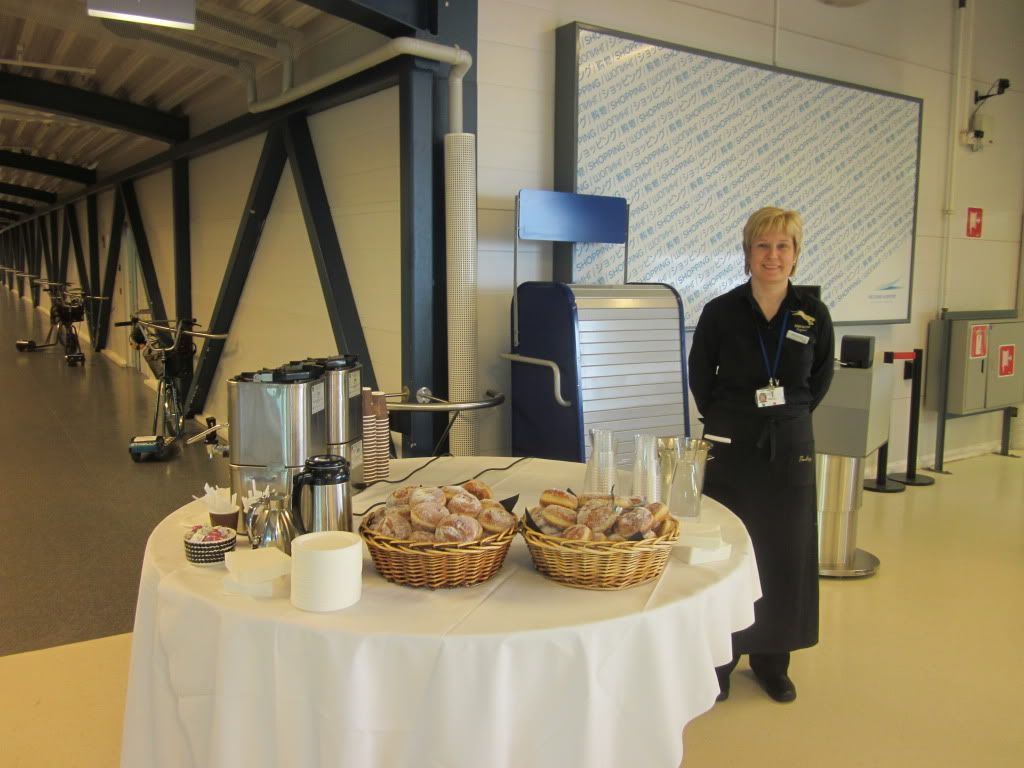 No cake, but coffee and dougnuts (with lots of filling!):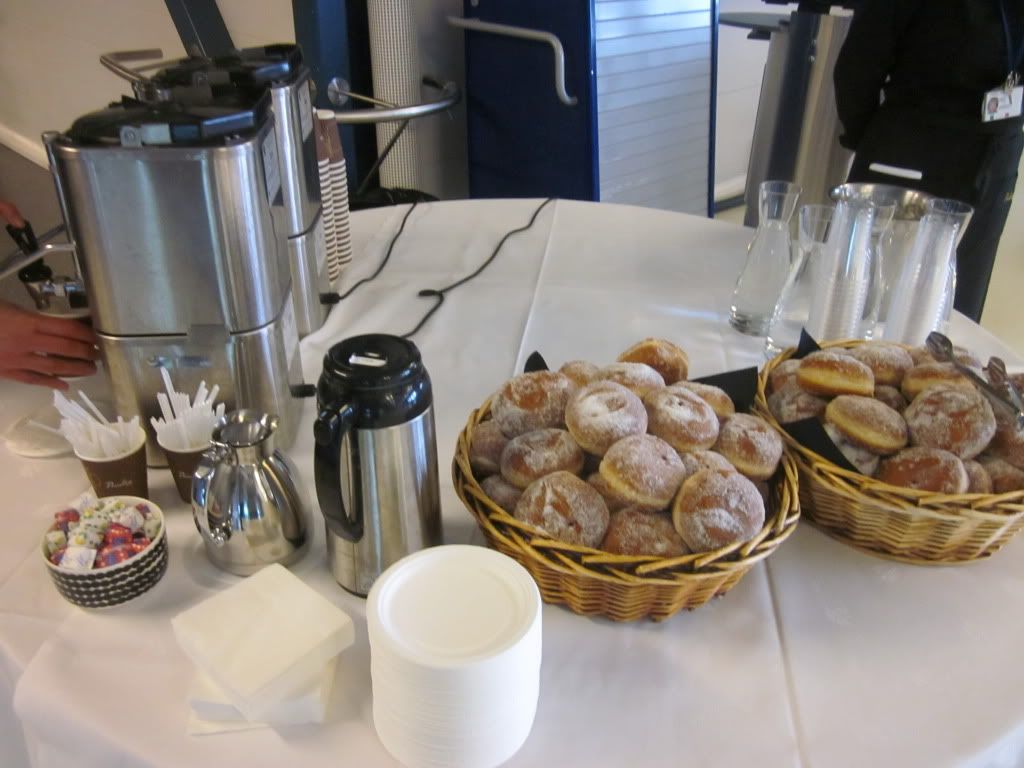 I'm happy to see this poster is still featuring the good old Lufthansa slogan instead of the boring "nonstop you":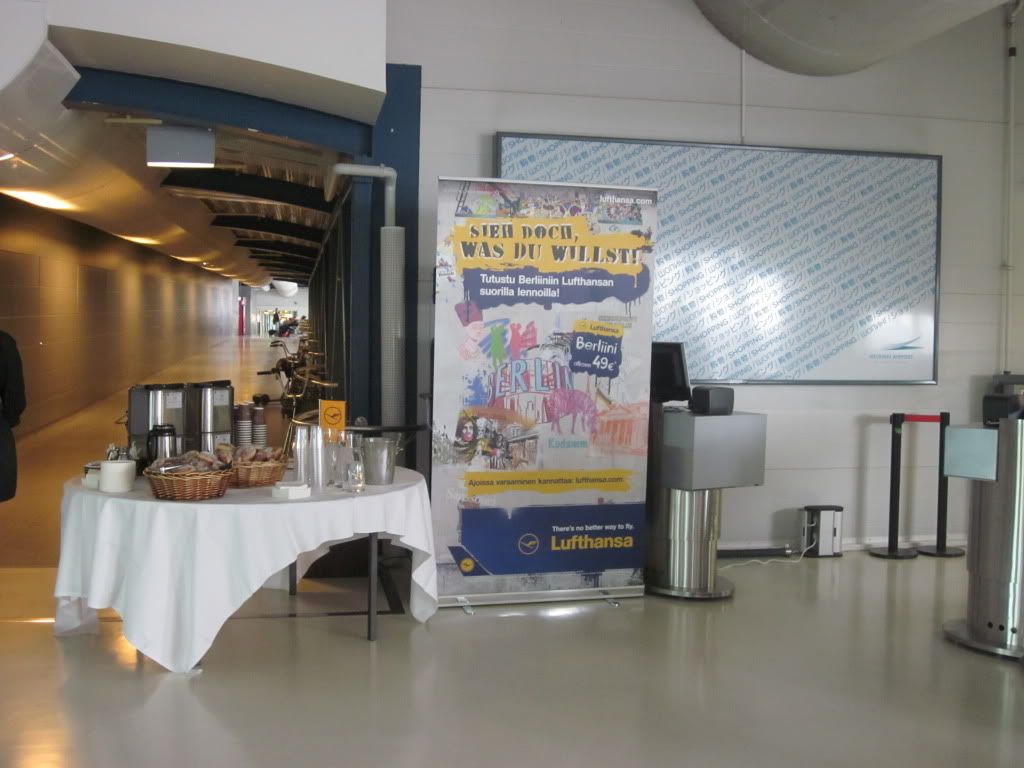 Soon I spot something familiar landing on runway 15 (no, not the Finnair plane!):
It is D-AIBB, a new one for my log, named after the city of Aalen east of Stuttgart and it is arriving well ahead of scheduled:
I start counting the deboarding passengers (there's not very many of them!) but immediately stop when I see a familiar looking hat emerging from the jetway. Could it be? Yes, it is the one and only Flying Finn. What follows is my first (and definitely shortest) A.net meet - we shake hands and exchange a couple of phrases before he has to continue - at least it was nice meeting you! Perhaps with more time next time?
A moment later I also spot fellow A.netter
AYA333
chatting with some guys from the Finnish flight forum - of course I shake hands with them as well!
Soon we get other things to think about as my first ever ribbon cutting ceremony is about to begin! The purser and captain on the flight are particing as well as a smartly dressed gentleman from Lufthansa and a girl from HEL ground handling: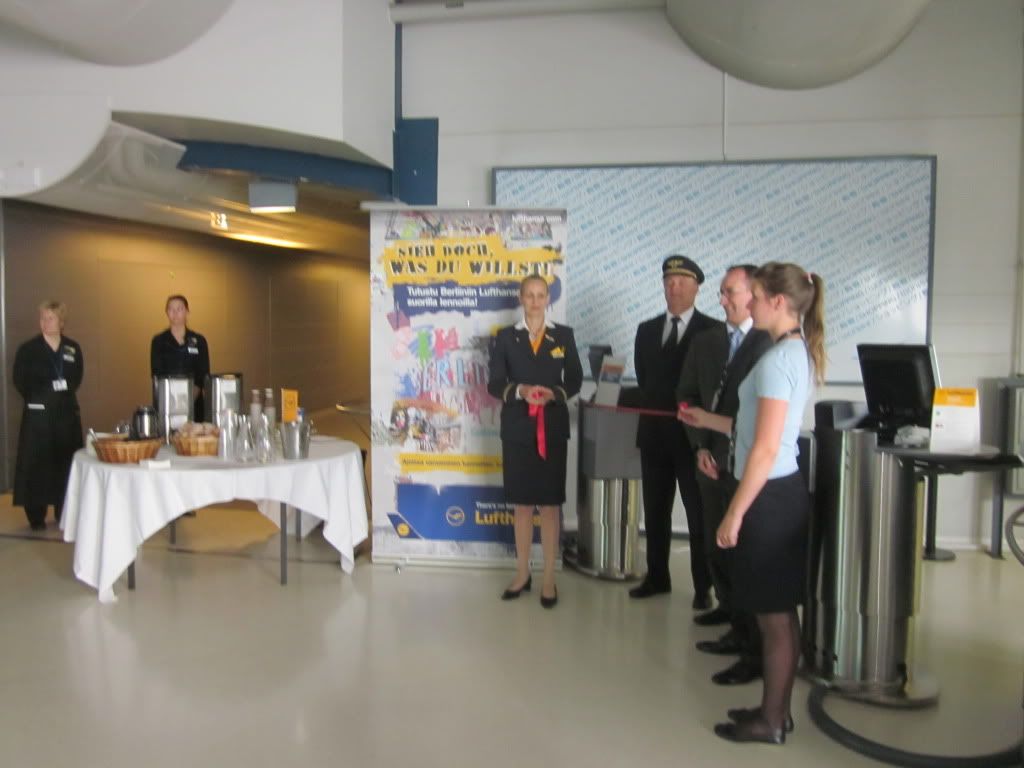 I can feel the joy: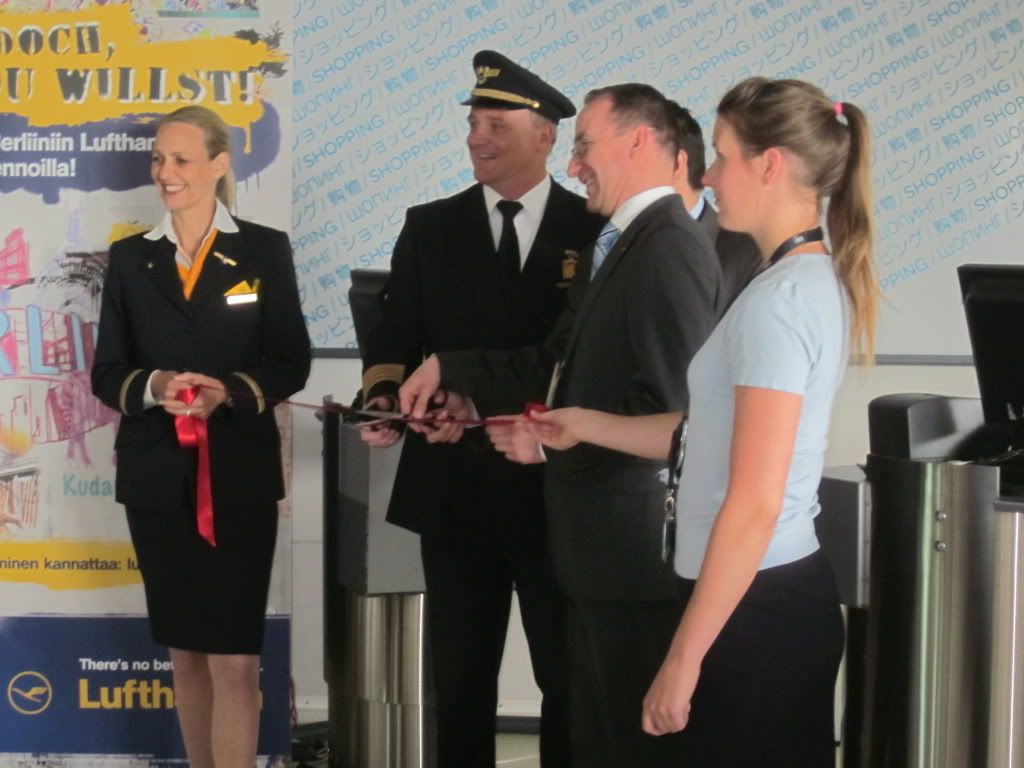 Having cut the ribbon they do it once again for the press and I also decide to enjoy the photo opportunities:
No speech, no music - I have mixed feelings for how Lufthansa did in HEL - but as it was my first time boarding an inaugural flight I will not complain!
Soon they announce "we are ready to board in 10 minutes" which changes to "we're ready to board now" a minute later. All of a sudden Mrs. Sunshine appears from nowhere and my father and I follow her to an empty podium, skipping to whole queue where she scans our boarding passes and returns the frequent flier cards I had given her earlier to be put in the system. I take this opportunity to thank her for the great service and she really seems to appreciate the feedback.

LH2975
Lufthansa
HEL-TXL
D-AIBB, Airbus A319, "Aalen"
Seat 5F, Economy
10.25-11.25 (10.17-10.59)

I am welcomed on board by purser Ania. She remains friendly throughout the flight but never makes any attempt at creating a connection, showing a smile or going that little extra mile. But that is Lufthansa - in good and bad!
I pass through the couple of rows of business class: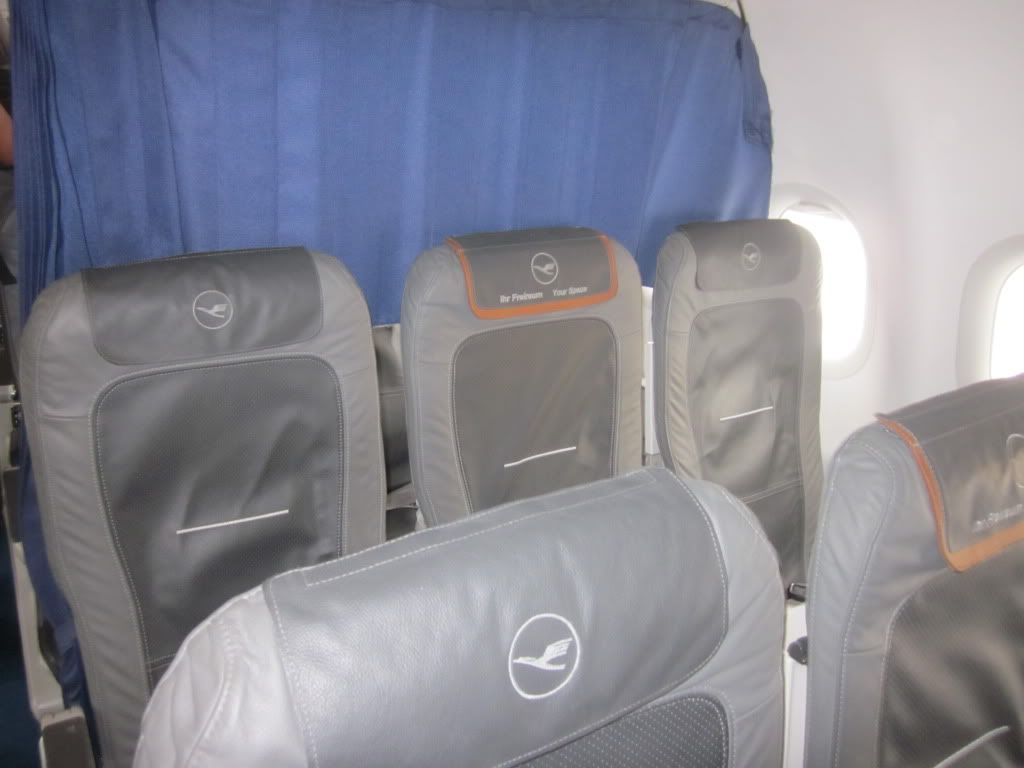 ...and soon find the nice view available from my seat:
The plane is fitted with the new thin seats and leg room is quite okay: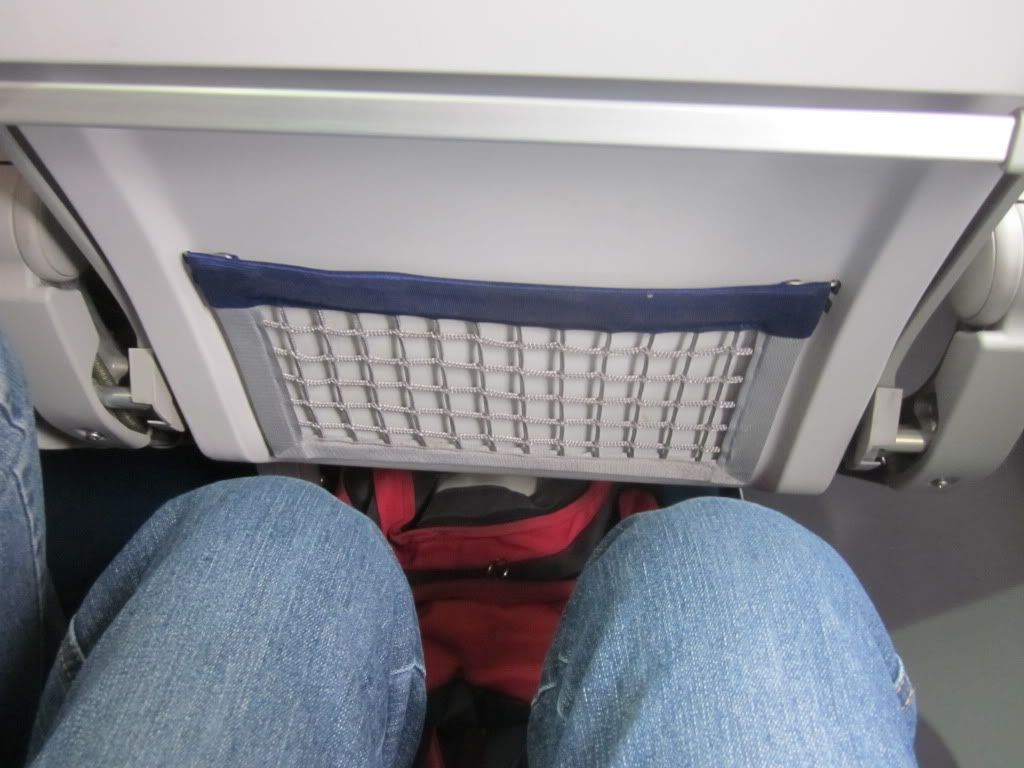 As everyone has boarded we get a nice and detailed welcome speech by our captain. Flight time is announced to be a short 1 hour 40 minutes (compare it to 2h00min in the schedules!) and weather in Berlin is expected to be cloudy with temperature + 14 °C (perfect for a curry wurst, no?). The nice guy behind the controls also tells us to "enjoy the service" which makes my expecations high - did I hear right? But then again it is true that you never know what plane you end up in when you fly BT and neither can you ever be sure what will be served onboard your Lufthansa flight. That's a surprise factor for you!
After everyone has boarded the German cabin crew get a schock when Mrs. Sunshine rushes onboard, reaches my row and exclaims: "I missed you too much, come with me and fly Blue1 instead!". Our purser eyes her like she would be a maniac so she calms down and hands me the voucher, this time carrying my right name - "I almost forgot to give it to you at the gate!" to which I say "No, I forgot to pick it up!". "No, I... anyway, have a great time and see you soon I hope!" she says before wishing Ania and colleagues auf wiedersehen.
Ania repeats the same information as the captain told us moments earlier and soon we push back at 10.17, eight minutes early, no wonder considering the early and low-loaded inbound.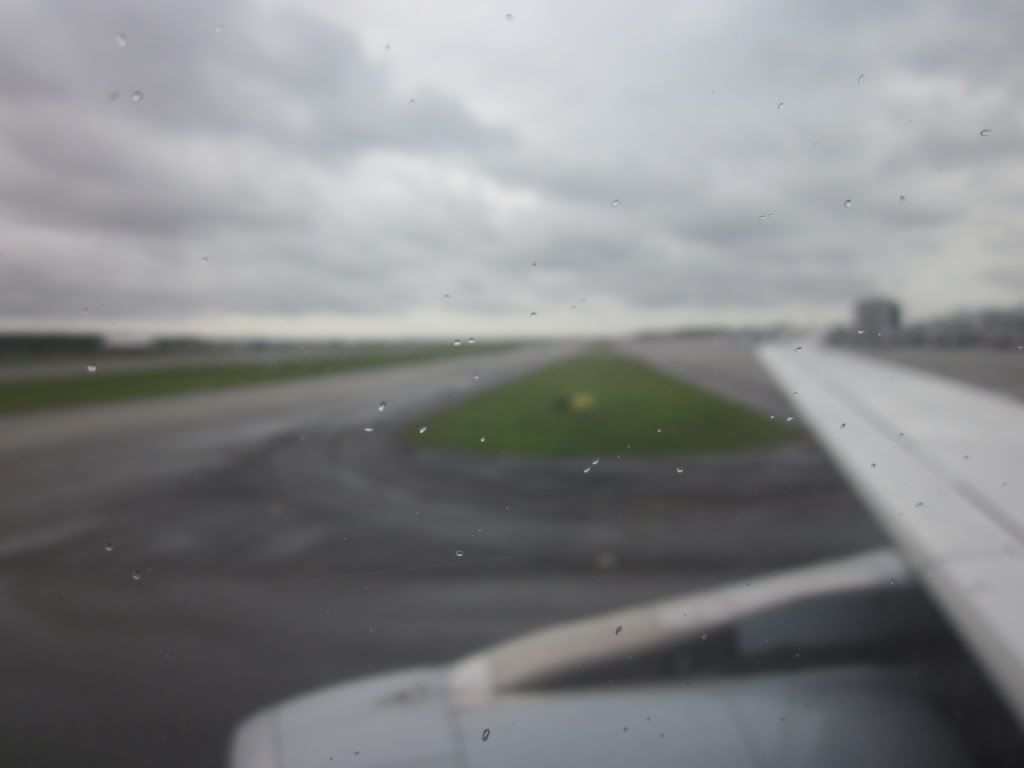 Hello, 757: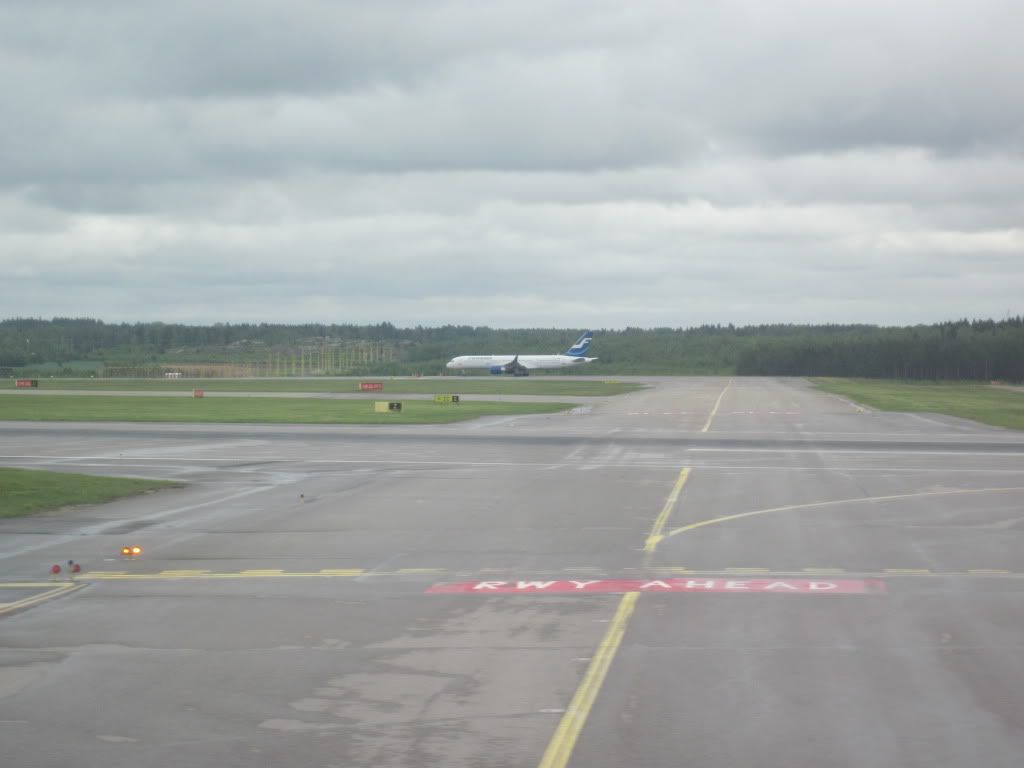 Around our scheduled departure time we lift off from the ground - bye HEL: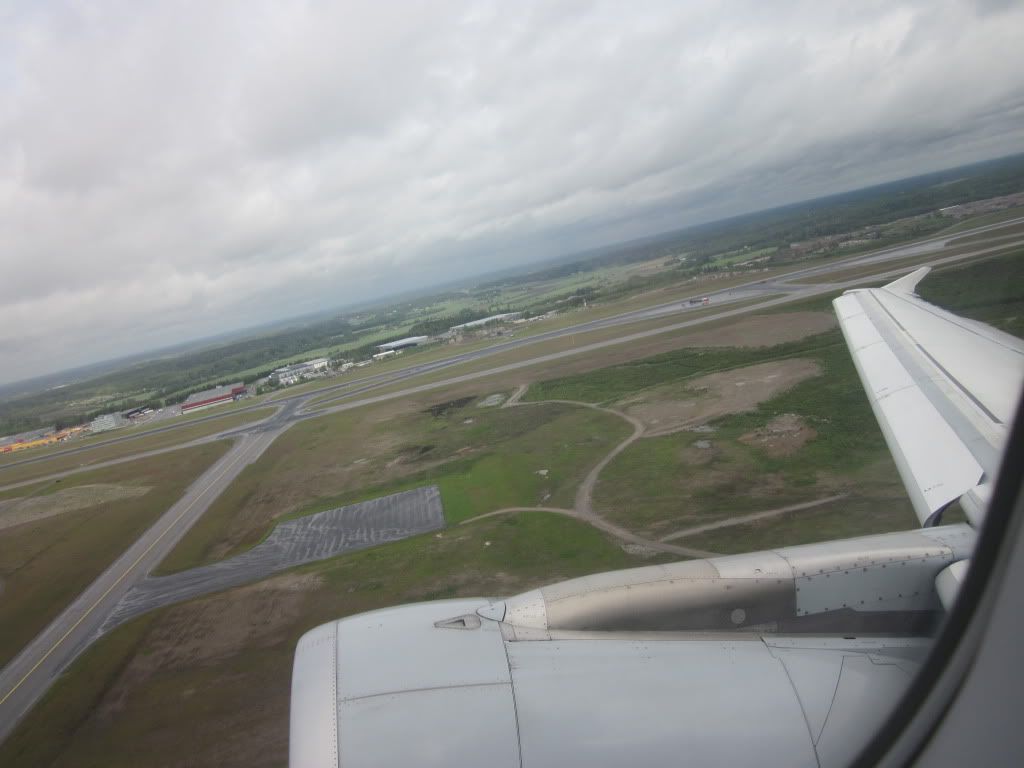 Clouds over the capital region:
Next it is time for the mandatory SeatPocket Check (TM):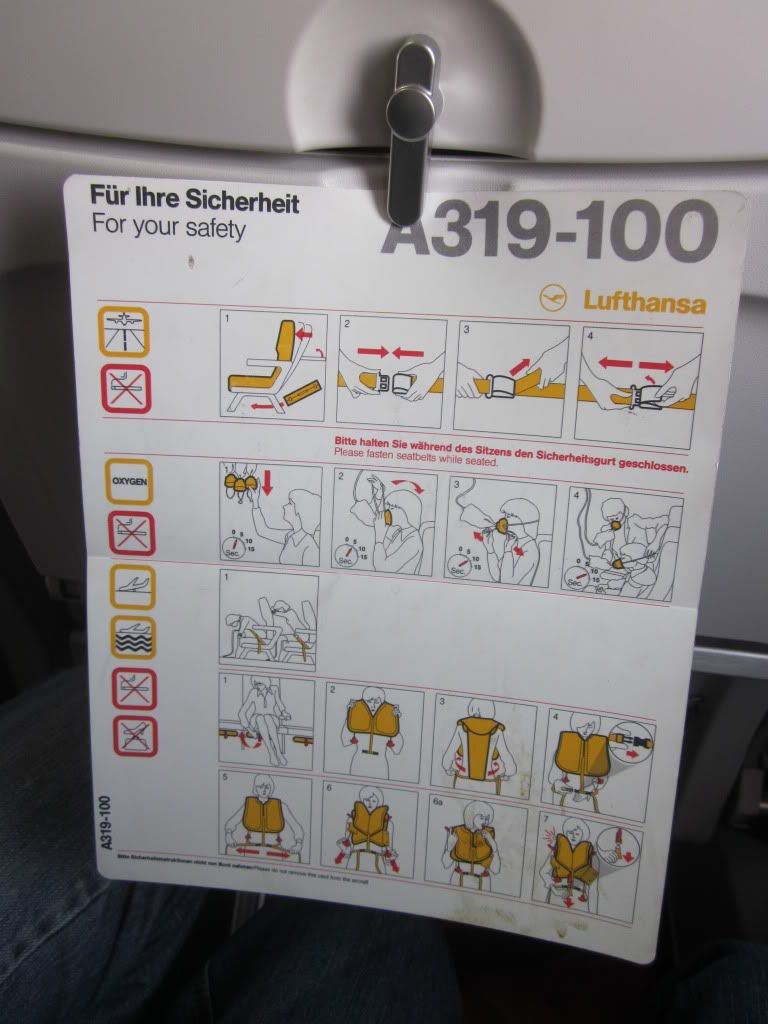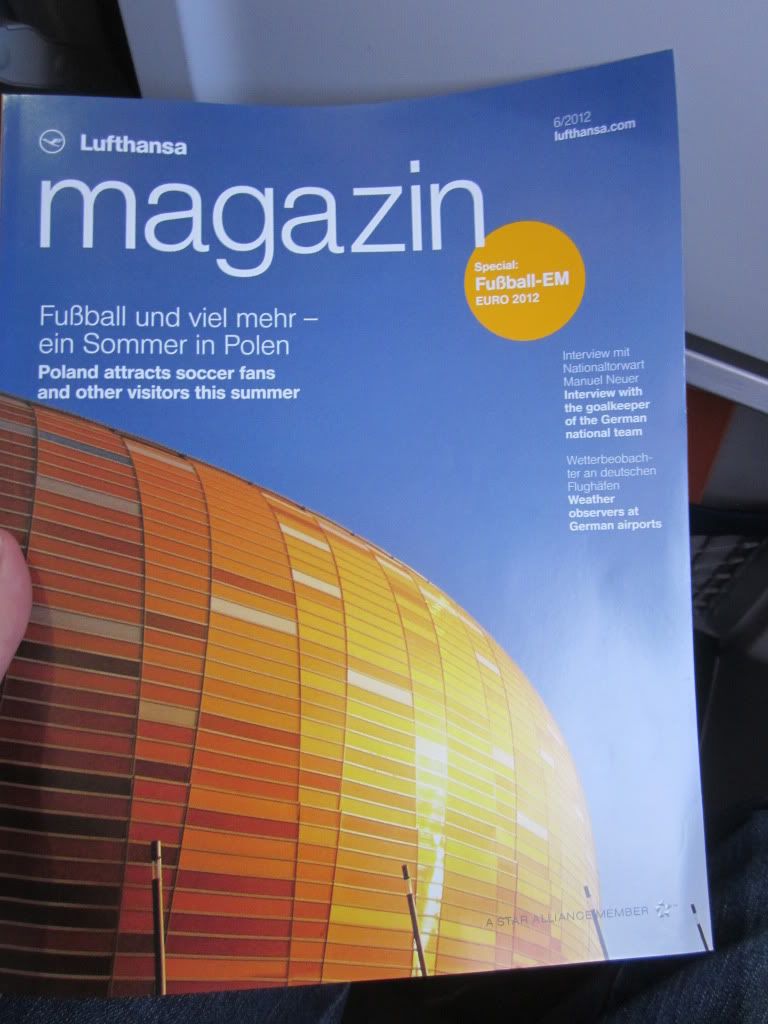 Mysteriously, the thin Lufthansa Magazin as well as the small safety card were later discovered in my backpack... how did that happen?
Soon, the seatbelt sign is switched off and sitting in front of the plane really does have its advantages as it doesn't take many minutes before Ania arrives at my row with the service trolley. She asks "Cheese or ham?" so I guess we will only get a sandwich so I am surprised as we get this... goodie bag: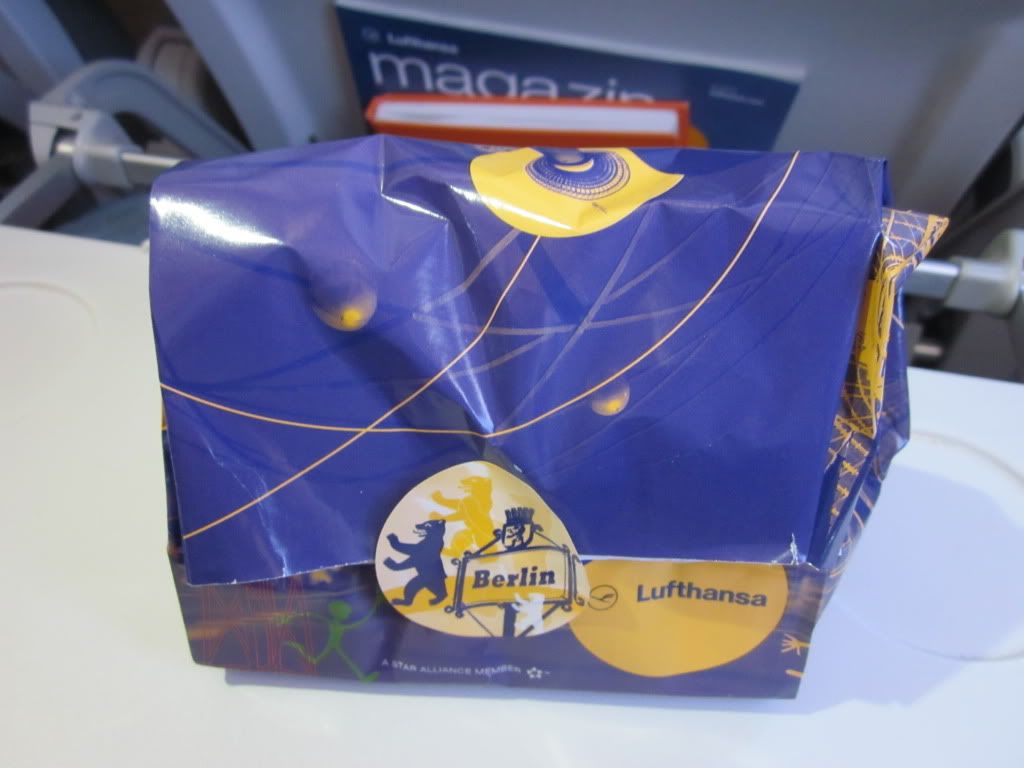 Unwrapped, service really is a mixed bag (pun intended):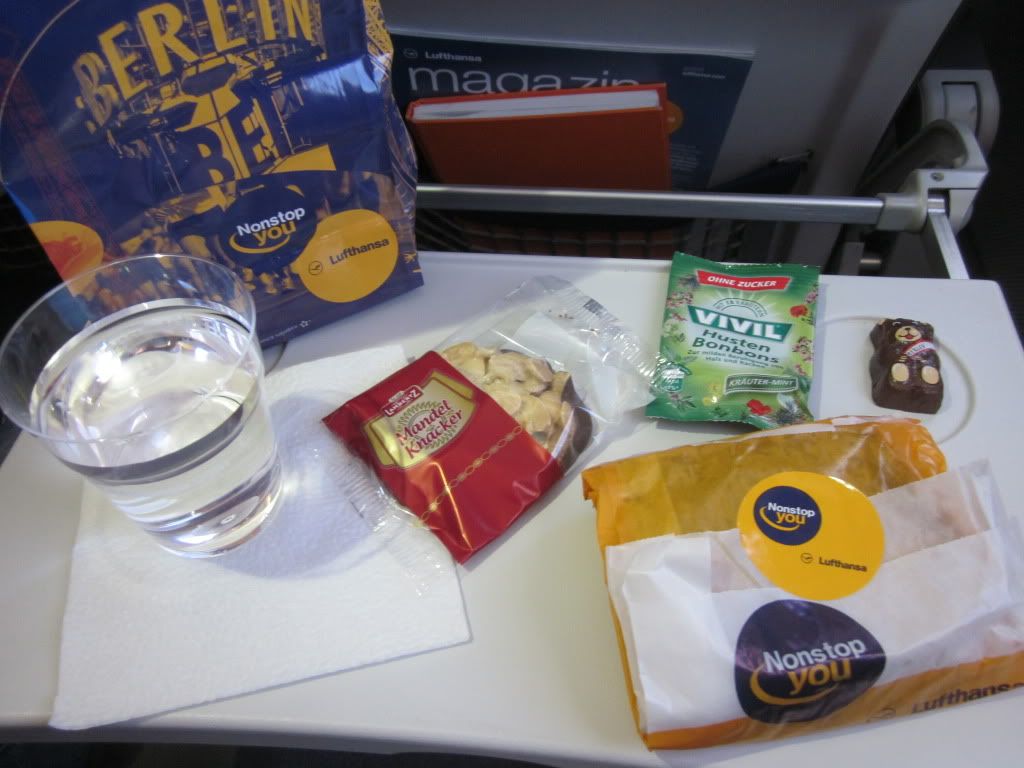 In addition to the sandwich there is a delicious almond cookie, a chocolate bear and some cough sweets I decided to save for later consumption. Soft drinks are free as well.
A second drinks run is also made, this time a cup of coffee fits in nicely (despite being served in such a boring cup):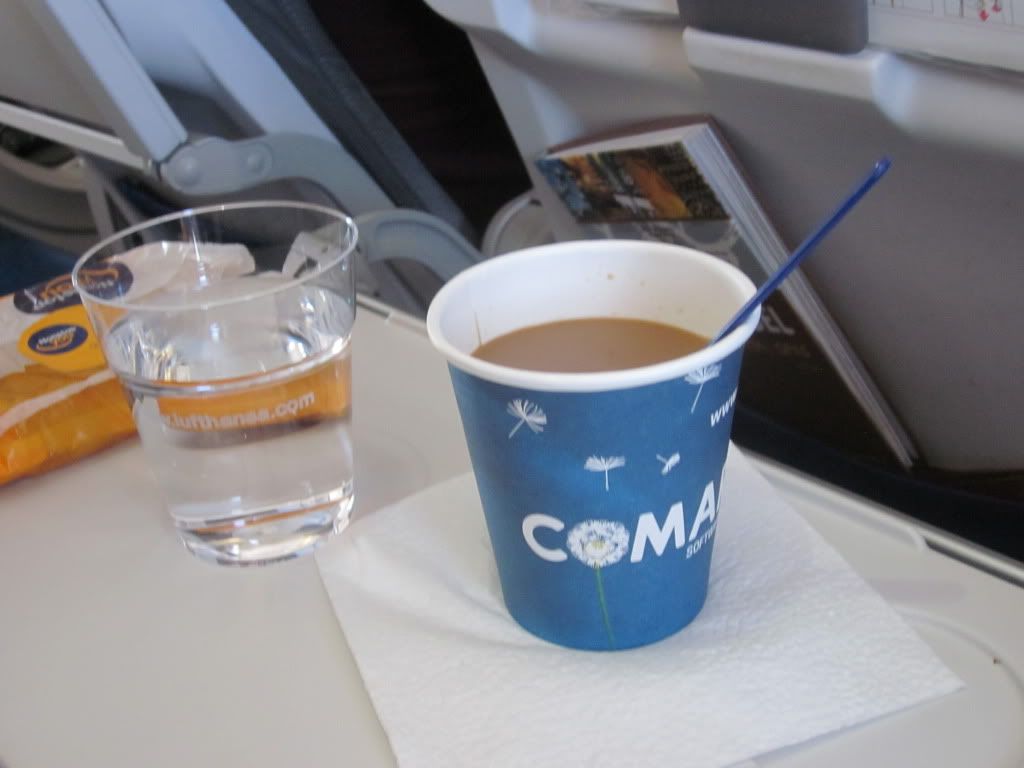 Unwrapping the sandwich I find quite a simple and a bit dry one - but still okay and way better than nothing at all!
Enjoying the nice views in this café:
Also a look back in the bus - load was around 60 % with lots of empty seats in the front - we were the only passengers on row 4 and row 5 remained empty as well.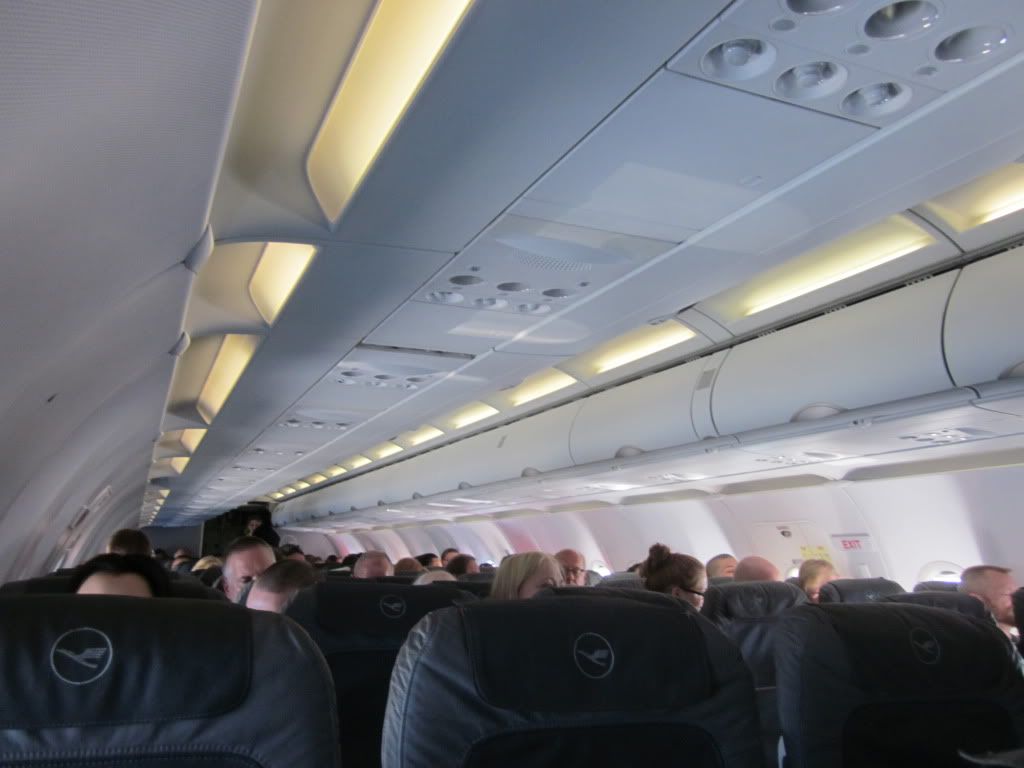 The rest of the flight is spent relaxing while enjoying the views (no dropdown screens on this Airbus) and I also read what used to be a great airline magazine - nowadays it has much lower standards but still better than most other magazines (and the airline featured on the first page is very nice, of course):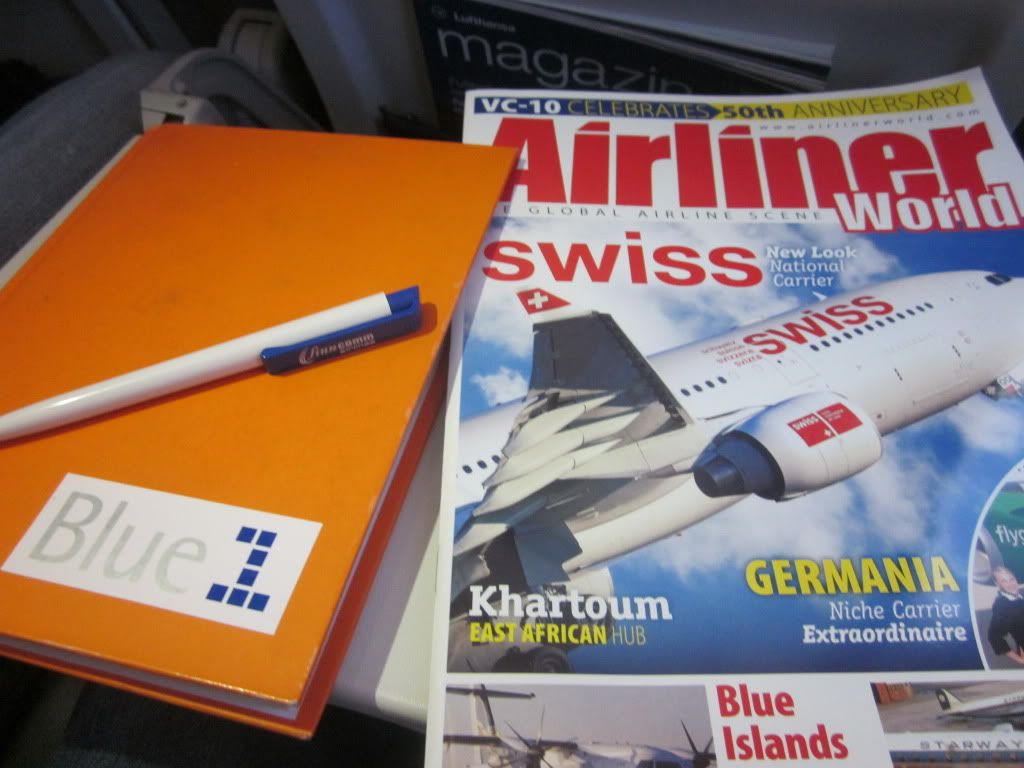 Soon land comes into sight and the seat belt sign is turned on.
Yes please, rather than nuclear power: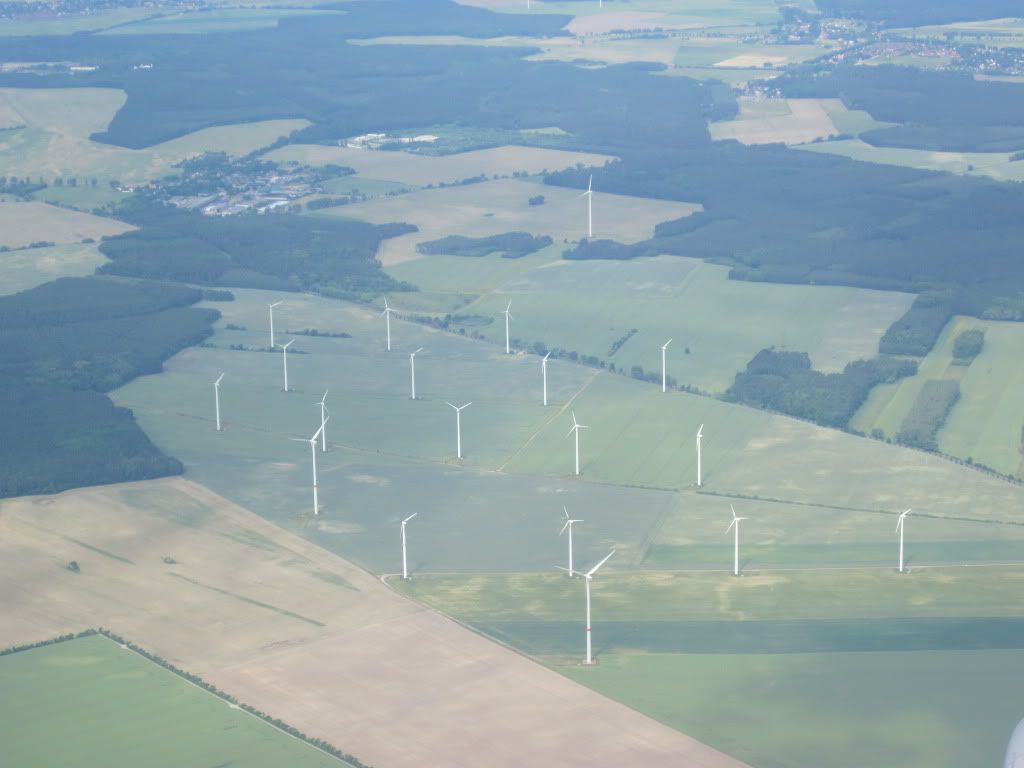 We fly over some quite densely populated areas...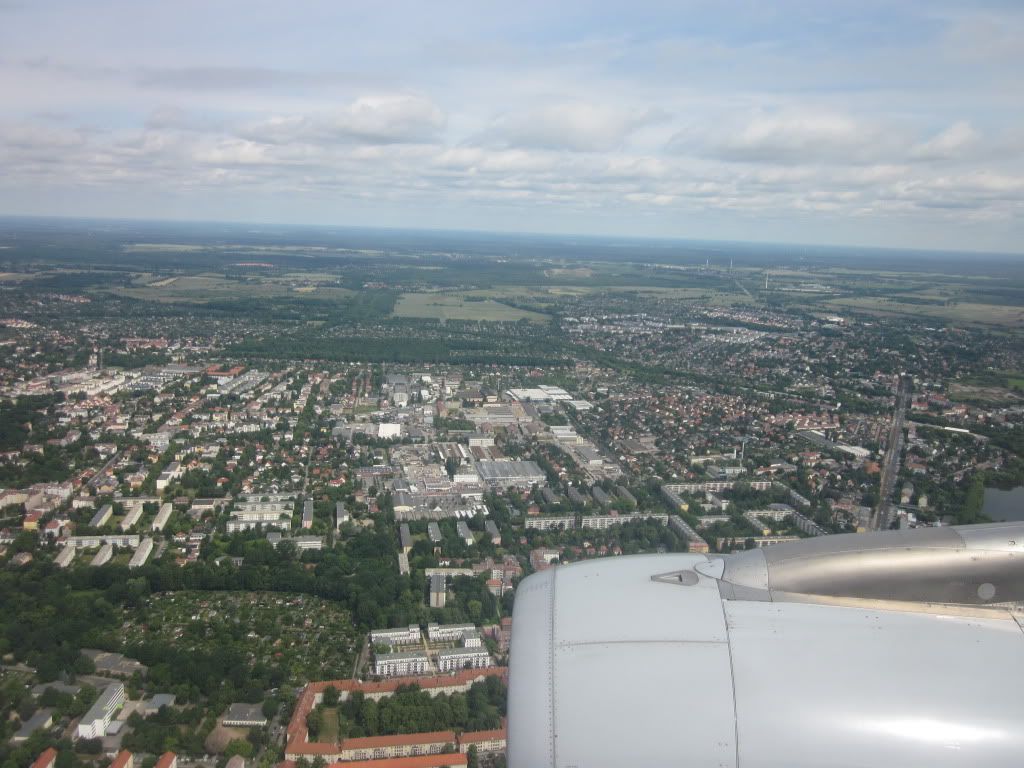 ...before kissing the ground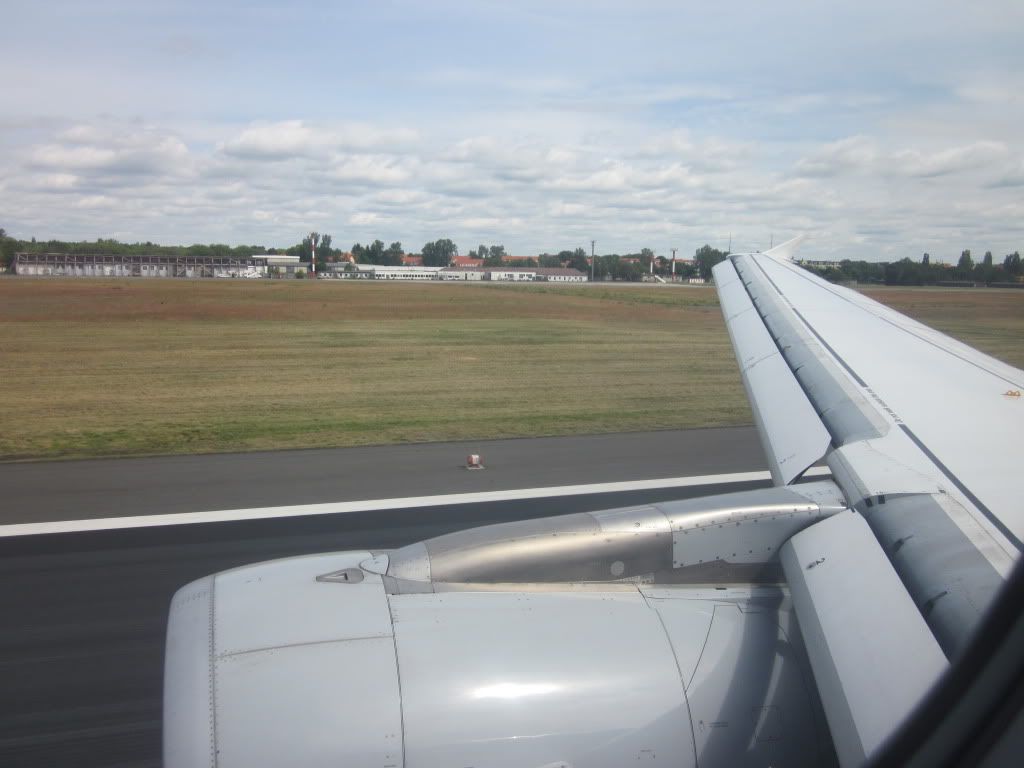 ... and braking for a succesful landing at TXL!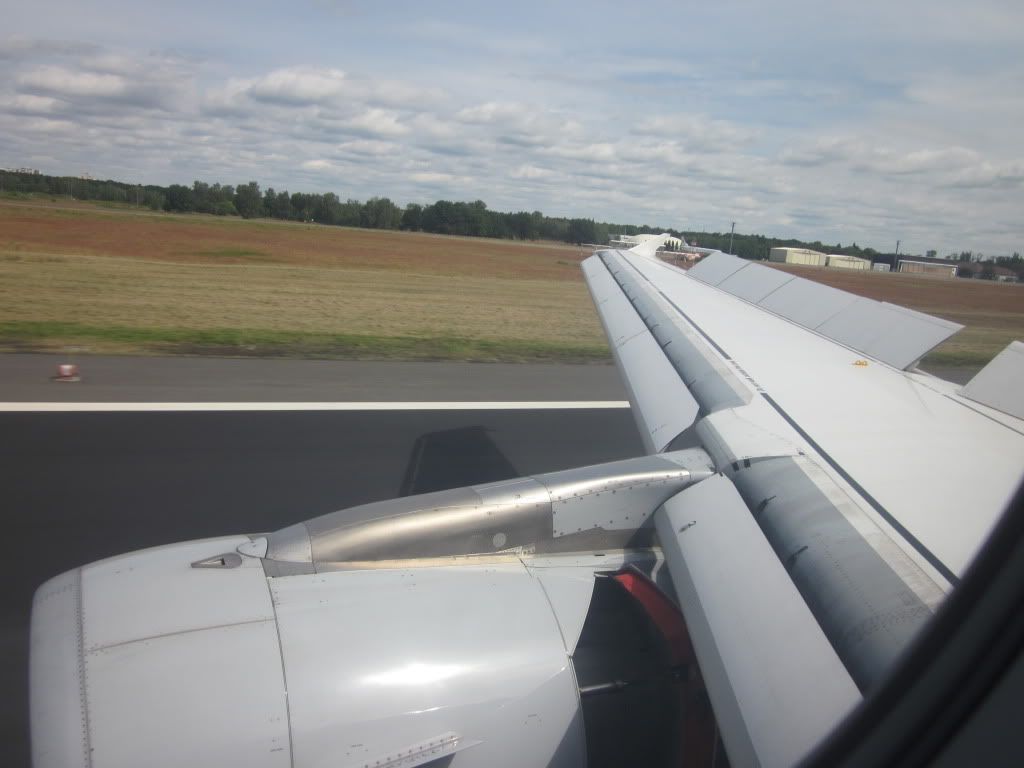 Hello, countryman: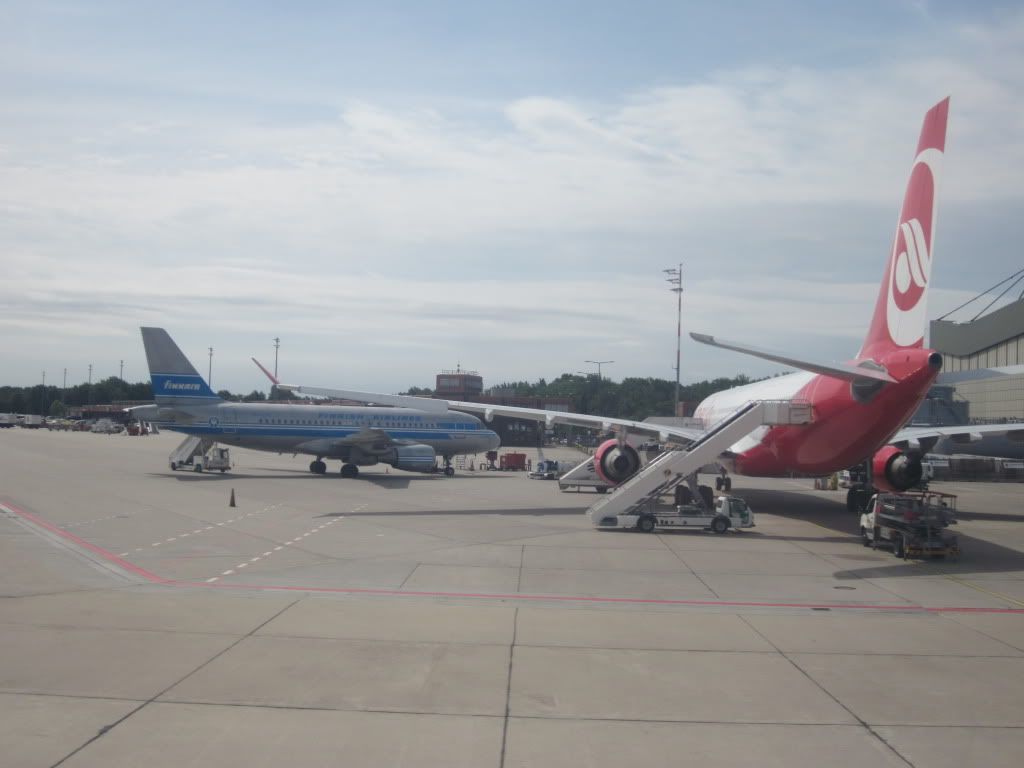 Dedicated to PlaneHunter: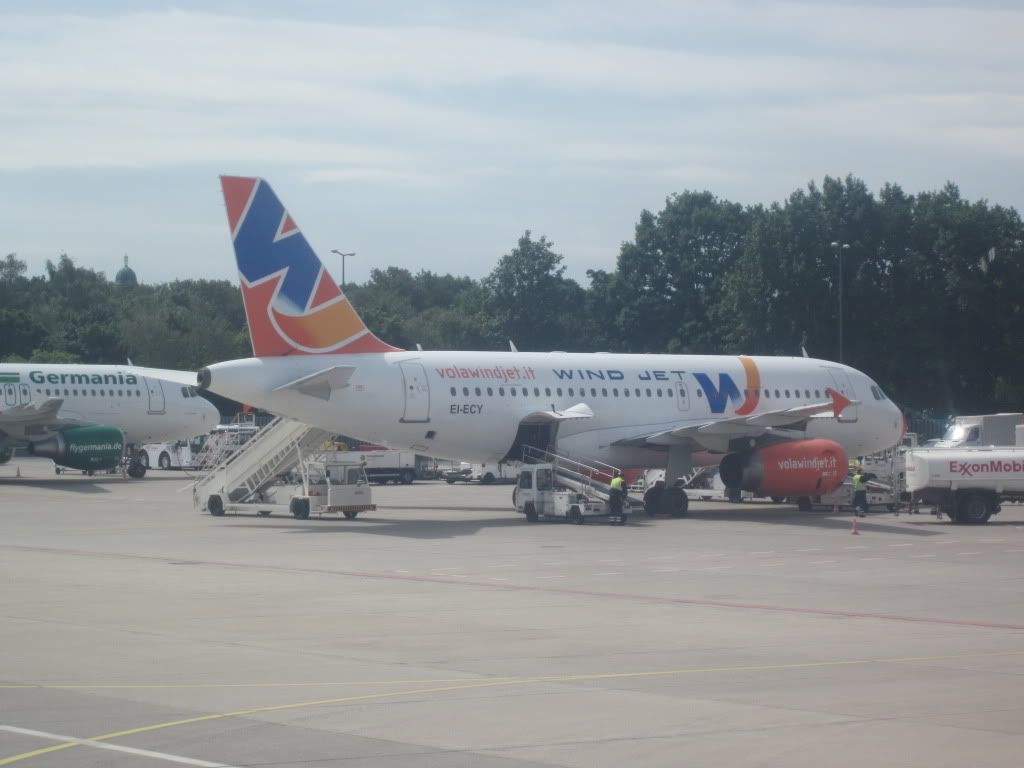 We arrive and park at a gate at 10.59, 26 minutes ahead of scheduled, well done I must say! I let everyone else disembark first before asking Ania about the possibility of taking a cabin picture. "Of course!" is her answer, but she doesn't get my joke whether she wants to be in the picture or not...
A friendly, but still not overly enthusiastic goodbye from the crew and some moments later I am out in the public.
Next up is mission "find the others". Together with Jani (AYA333) and my father we first ask for directions to the observation deck (I didn't even know it was still open!) and soon we find it. But just before entering we see some familiar looking faces near the Ess-Bahn (the place to be at Tegel, obviously).
After taking this photo of something that soon is no more (if we can believe that BER really will open on 17MAR)...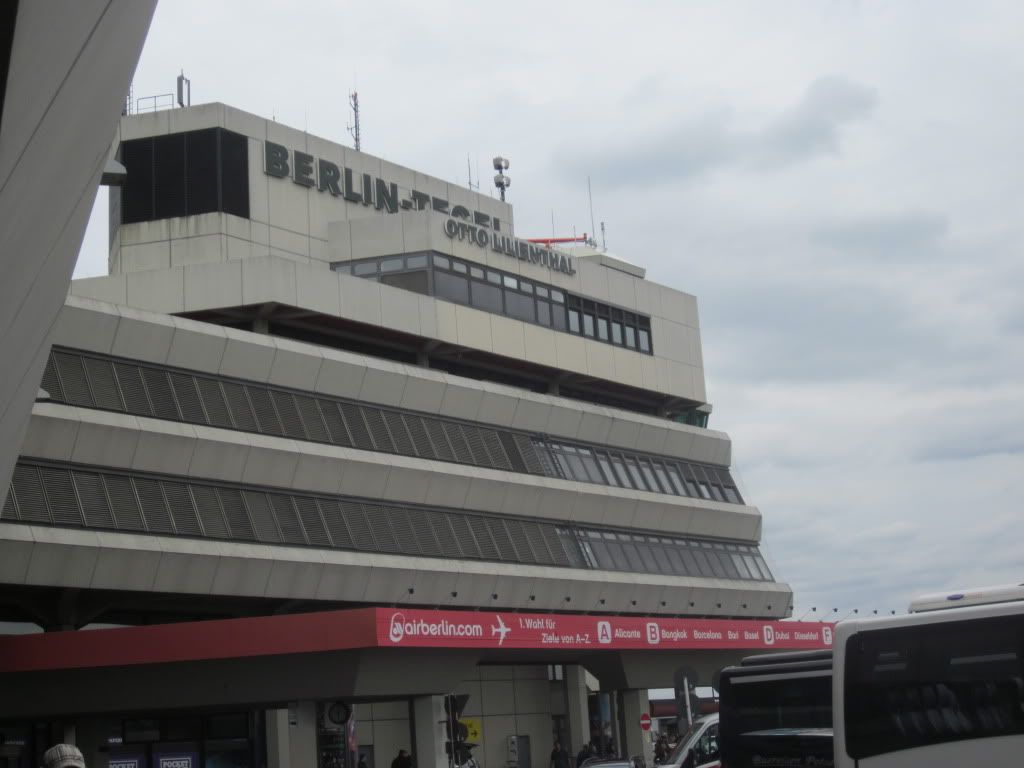 ... I am introduced to a lovely bunch of people. I can't possibly remember who was the first one I shoke hands with - but I am sure it was a really nice person! Hannah, Nils, Blaž, Johannes, Gabriel, Oliver, William and Marco were all there when we arrived but soon other respected A.netters such as Suryo, Eric, PlaneHunter, Robert, Robin and Marc also joined us! Many new persons, many nice discussions, interesting flights... we have a great time, that's for sure!
Thank you to everyone for making my first A.net meet such a memorable experience! And thanks to Blaž for the souvenir - I guess I should be planning a trip to LJU soon?
A while after taking a group photo it is time for me and my father to get going - it's never easy to say goodbye but easier when you know there is a next time we will meet again!. We hop on a fully loaded TXL-bus bound for the Hauptbahnhof - one of the few German words that are part of my (bad) German.
A couple of shots from Berlin (a lovely city - once again my stay there was w-a-y too short!).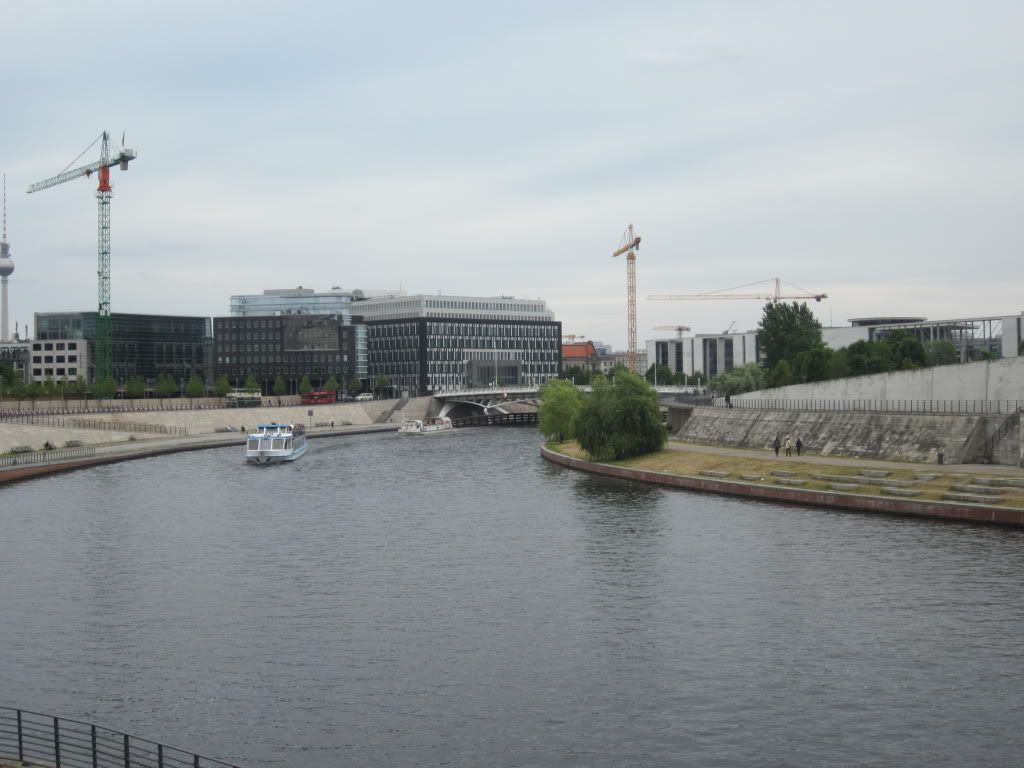 Not sure what these guys are lying there for - no sunshine to be seen:
The Reichstag:
Here it is, the main railway station in Berlin:
After having purchased a ticket we notice there is still almost half an hour till the next express train to Schönefeld so we sit down for a pizza: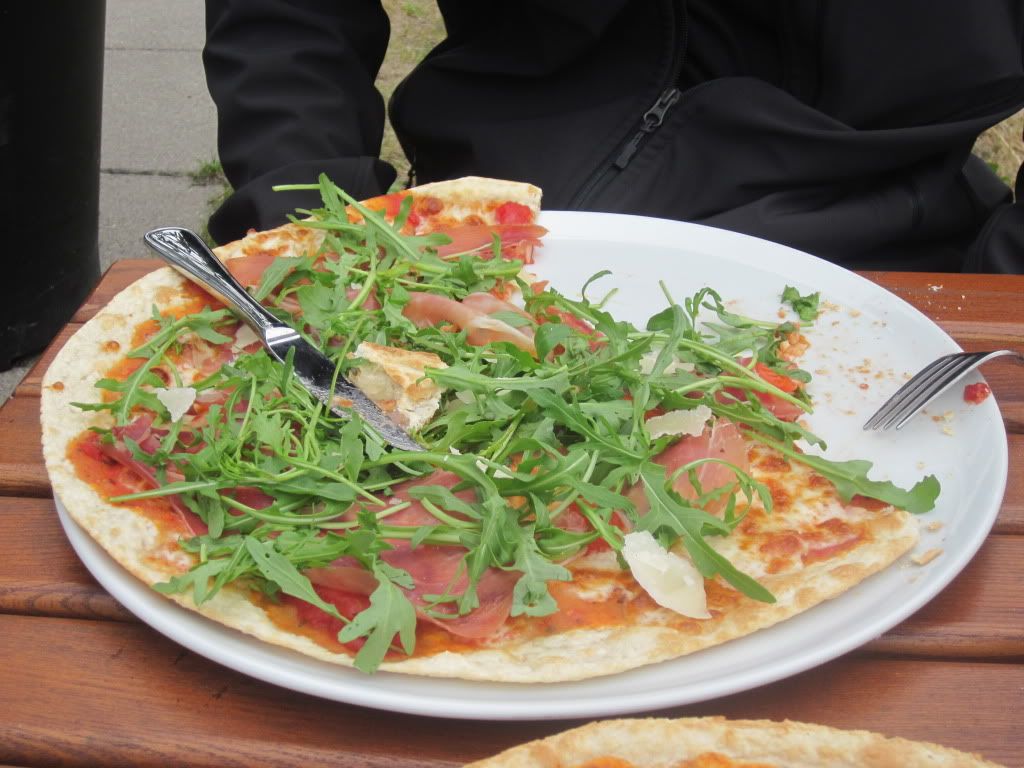 TIDS: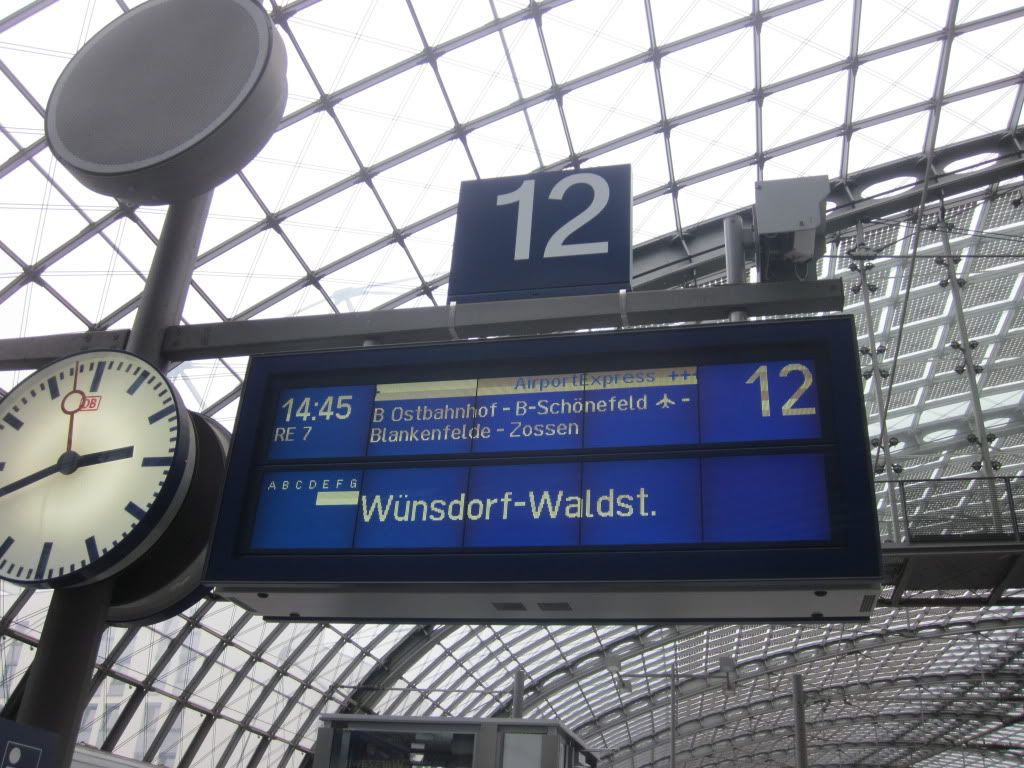 The old-fashioned cabin: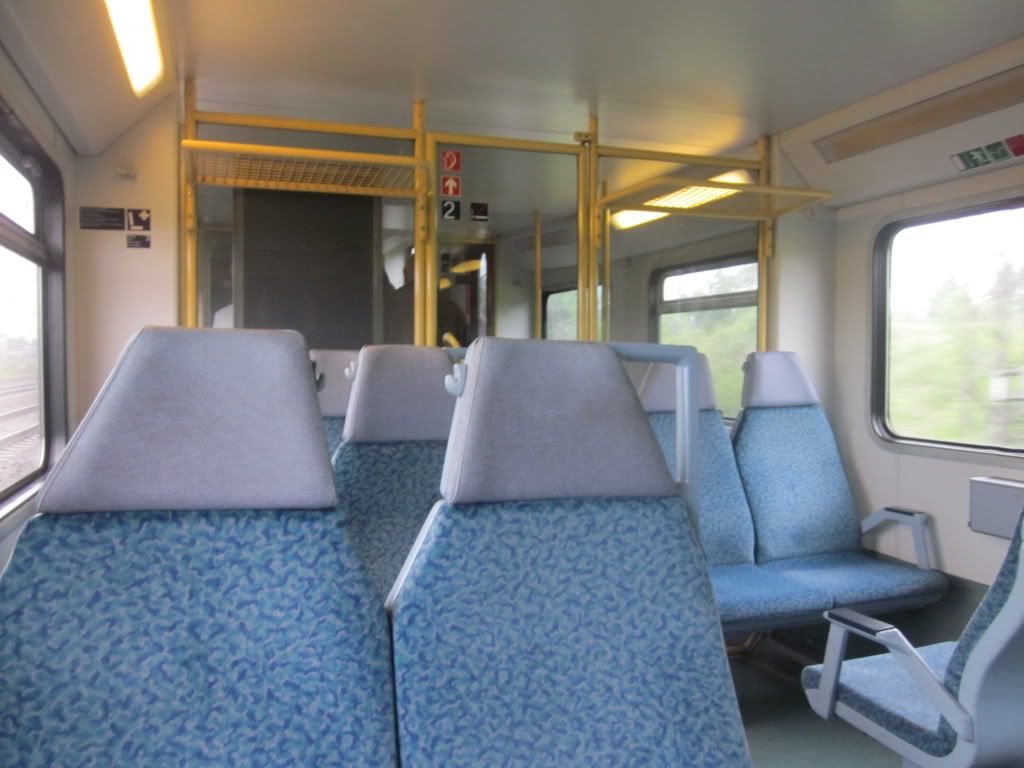 After a train ride of some 20 minutes and walking through some dark and stinky corridors I finally locate the airport building and find my flight on the monitors located outside:
Beautiful, or...?
Three reasons why you should not fly from Schönefeld
1). The guys at the security control must be the most grumpy guys I've ver seen - they look at me like I would be out of my mind when I greet them and they inspect my home-printed boarding pass thoroughly. Finally they let me through and it almost seems like they are disapointed that I passed without a beep! Well, good for me.
2). Next we are forced to go up some stairs and there's no elevator insight - what about passengers with special needs?
3). Schönefeld is another one of those airports where you end up in the middle of a tax free store when you are trying to locate your gate. And your gate is of course not announced yet - the monitor only lists "please wait". The whole atmosphere is quite depressed with people sitting on the floor, the smell of burned bread is coming from one of the few eateries available....
Finally, some 45 minutes ahead of departure they announce my gate - A63 - which of course is in the very other end of the bunker. Eventually I arrive there, show my boarding pass, try to locate Marc but can't find him, line up for boarding, get in the first bus together with speedy boarders and off we go.
In the end we stop in front off G-EZPG, a new one for my log:
The other half of the plane:
No doubt who is the big player here: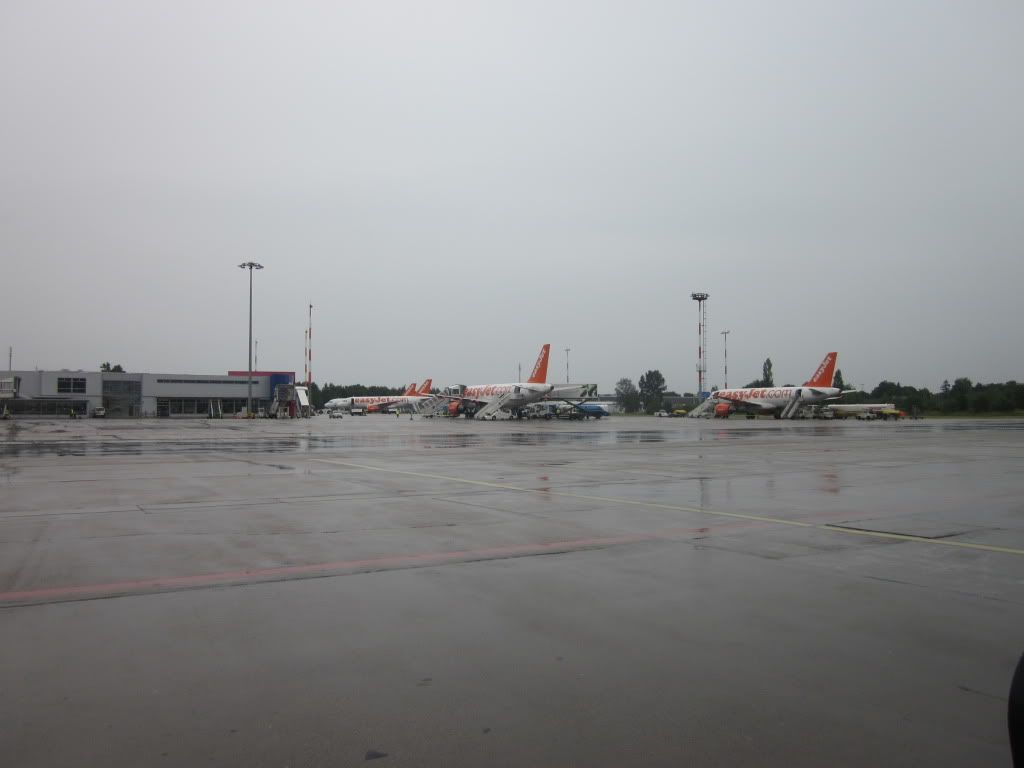 Almost inside:

U2 4707
easyJet
SXF-BRU
G-EZPG, Airbus A319
Seat 6F, Economy
17.00-18.30 (16.59-18.20)

Inside, a very chirpy female crew member welcomes me onboard, takes a look at my boarding pass (easyJet is the only airline I've flown with that does this) and compliments me on my orange shirt - well thank you!
Hmm, what could be a nice seat: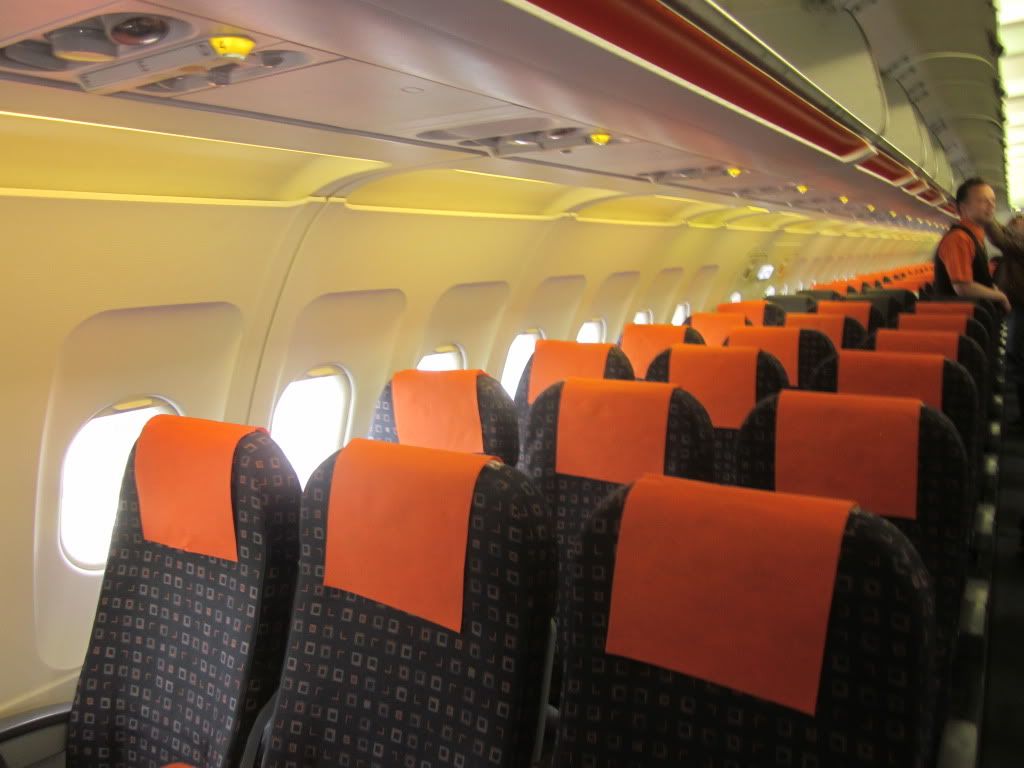 As I liked the view and atmosphere of seat 5F so much this morning I decided to do the same again - only with a small twist so that you readers won't be bored so 6F it is: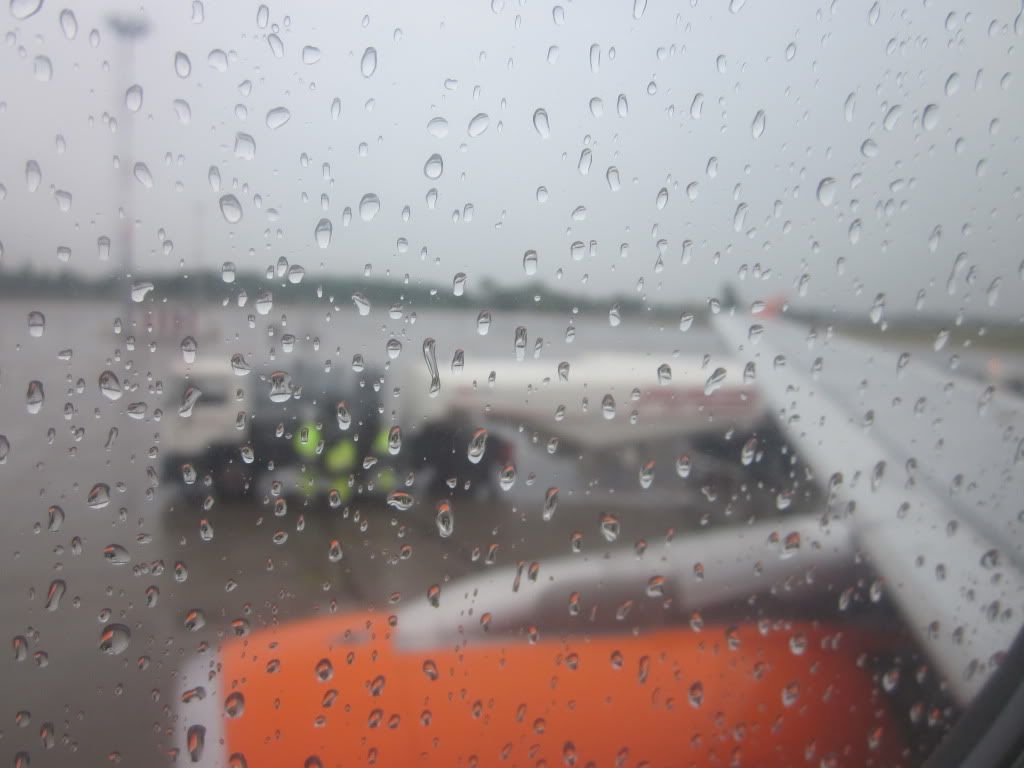 View towards the front before the second bus arrived:
First, our captain Roman is on the speakers. He assures us that "Thomas and his fantastic crew" will take good care of us today and that thanks to headwinds our flying time to Brussels is only 1 hour 10 minutes. Weather in Brussels is expected to be "the same as here, but even worse". Finally he expects our engines to be running within five minutes, which also means an on time departure.
The crew onboard today's flight is very jolly - each crew member is introduced by name and our purser refers to "your extremely good-looking easyJet crew" many times during the flight. Even further he knows all announcements by heart and he seems to love being on the microphone - we hear all kinds of stuff including that easyJet loves customers and that if we want to look as good as the cabin crew we should buy stuff from their in flight sales sortiment....
We push back one minute early at 16.59 and dig into the grey skies from runway 25 after a short taxi. As expected, the load is a 100 % with a slim Belgian girl on the aisle seat.
Swimming pools, anyone?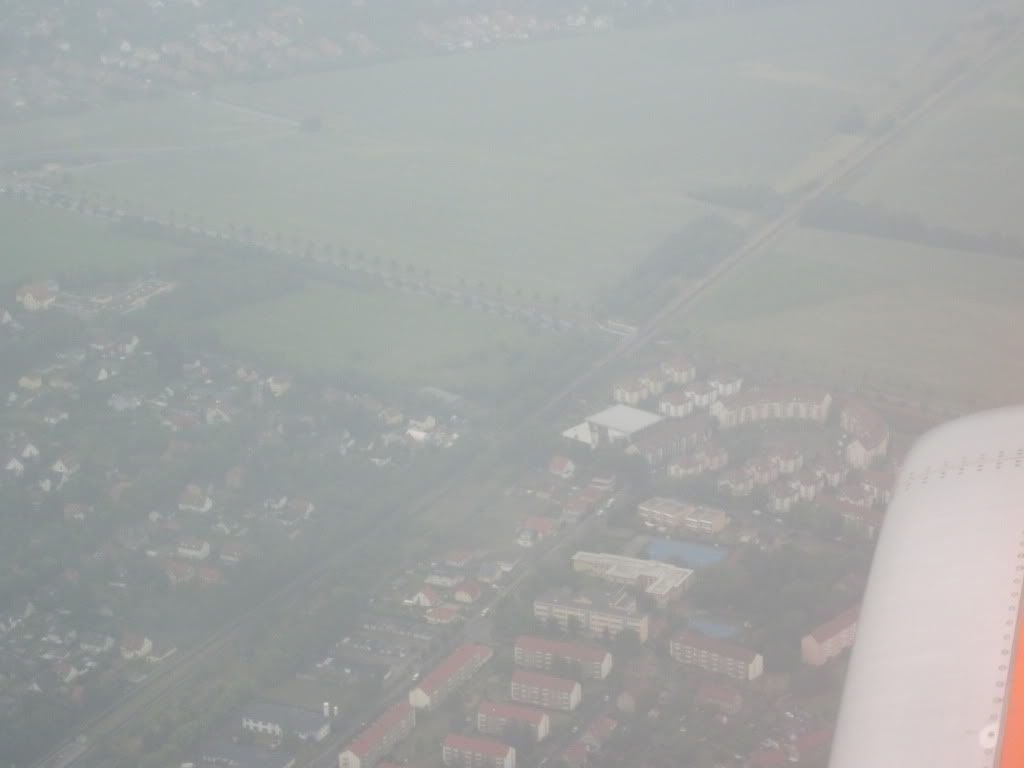 Easyjet planes are shining when skies are grey..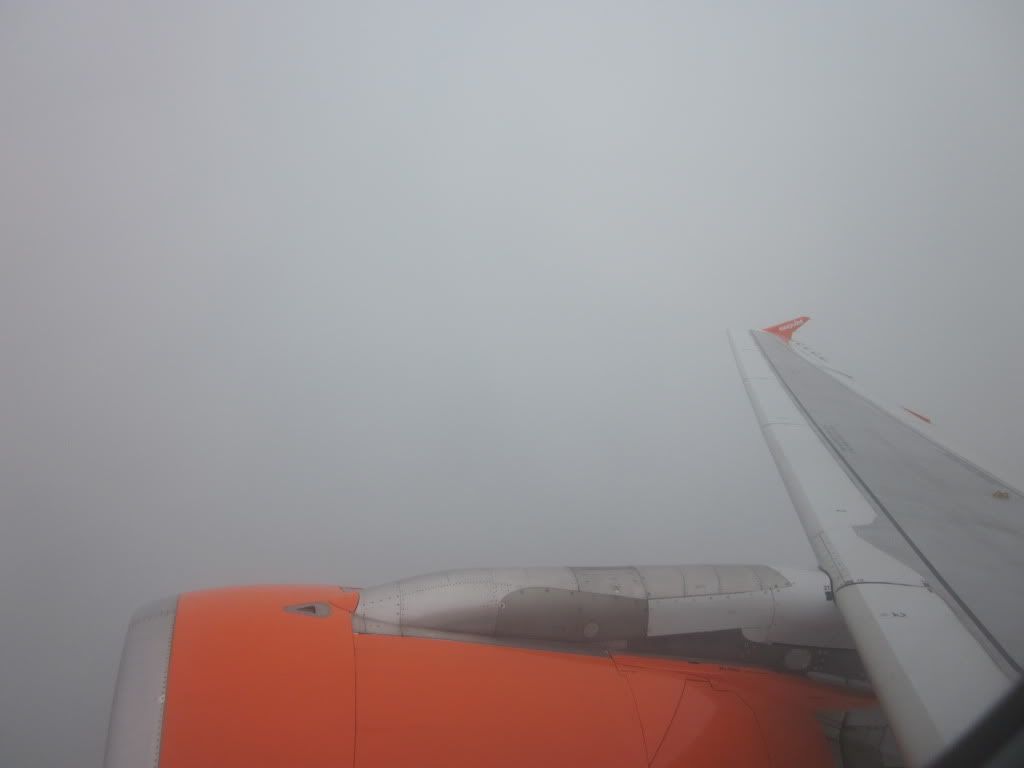 ... and they shine even more when the sky is blue!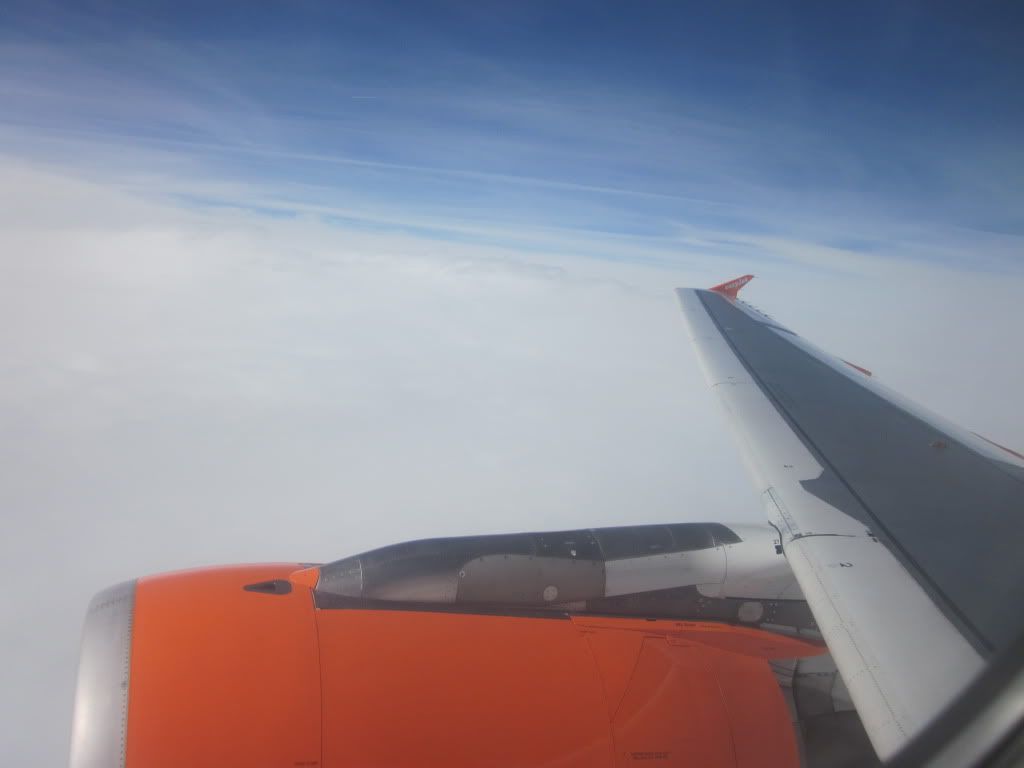 Service is BOB, as expected but wait....
717Flyer's Big Official Buy On Board Muffin Test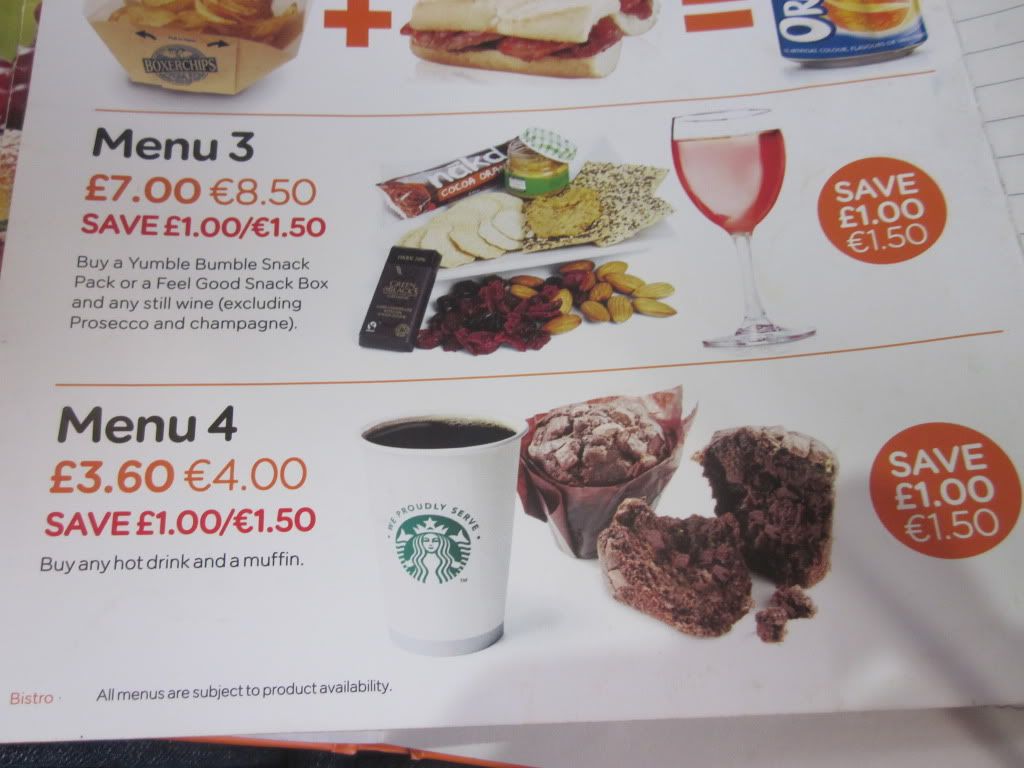 Inspired by Robin's choice of meal onboard his LTN-SXF flight the very same morning I decided it was more than appropriate to go for the muffin combo as well. Thomas was more than happy to fulfill this request and my choice between a lovely blueberry muffin or a wonderful chocolate muffin ends up being the later one. I decide to take coffee to go with it.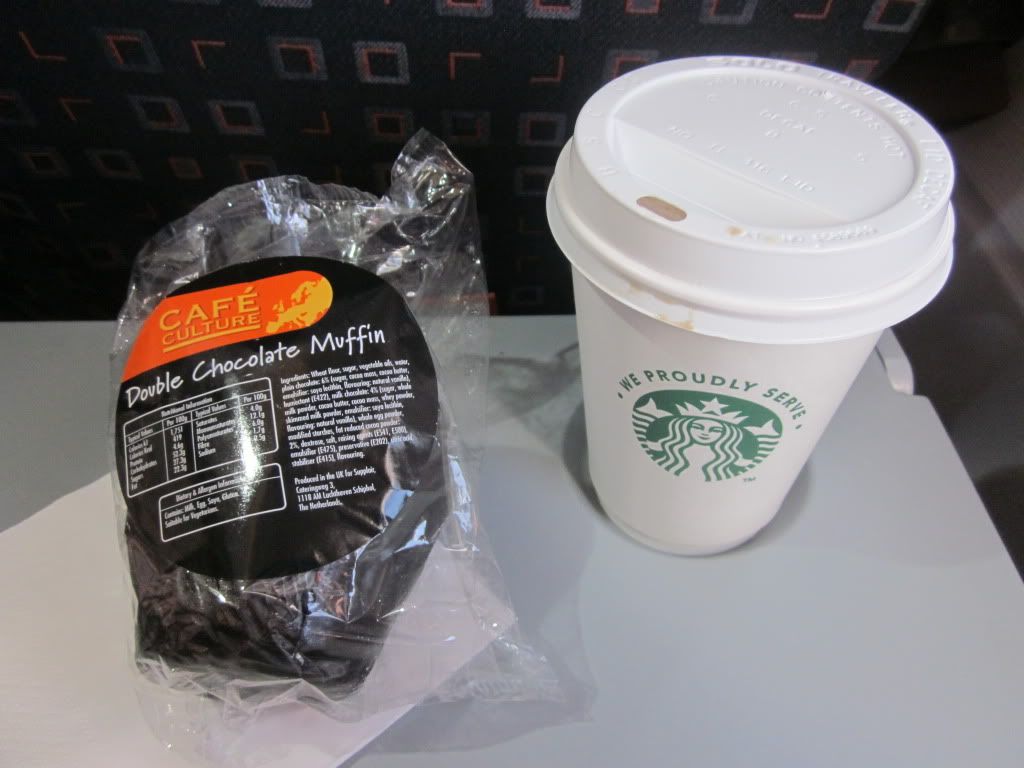 Somehow I manage to pour some milk on the tray table when trying to put it in my coffee cup instead - but the purser is there in a second.
"Here, let me give you some napkins to clean it up".
"Thank you!"
"Would you like more milk to go with your coffee?"
"No, I'm fine thank you".
"Are you sure? More napkins? Is there anything else I can get for you?"
That is not something you would expect to hear on a low-cost flight but once again easyJet proved that it is all about the crews!
Unwrapping the muffin: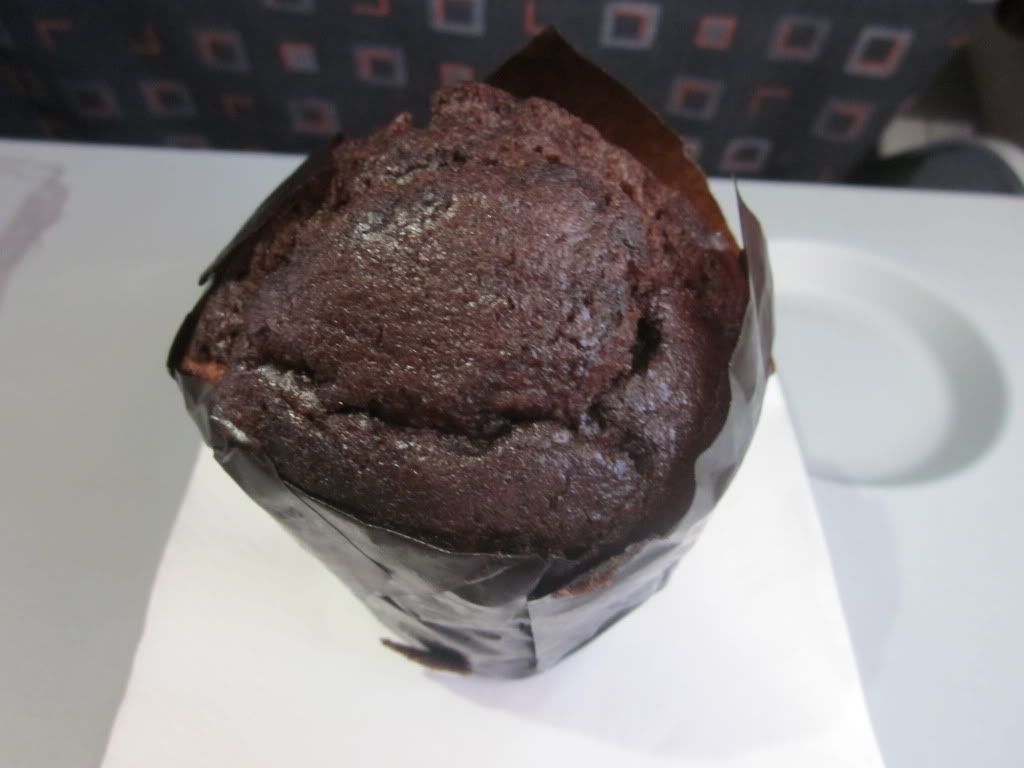 - The muffin is
priced
at 2,50 EUR which is an acceptable price considering the generous amount. I also find the combo options a nice extra in the easyJet BOB sortiment! (RATING: 4/5)
- When it comes to
looks
the packaging does not stand out of the crowd but when you unveil the muffin itself it does look fluffy and asks you to eat it!
(RATING: 3.5/5)
-
First impression
: A moist muffin with large bits of dark chocolate - I'm in heaven! (
RATING: 5/5
)
- The
consistence
isn't the same all through the muffin - a bit drier at the end and the portion is almost a bit too big! But a nice experience nevertheless. (RATING: 4/5)
OVERALL: 4,25/5
Previous 717FBOBOBMT™s
1. Air Baltic, Mantinga muffin with Chocolate Drops, average score 4.5/5
2. easyJet (you are reading it right now), average score 4.25/5
3. Flybe, Mont Mabel's Milk Chocolate Muffin, average score 4/5
*
Hey, we're not alone: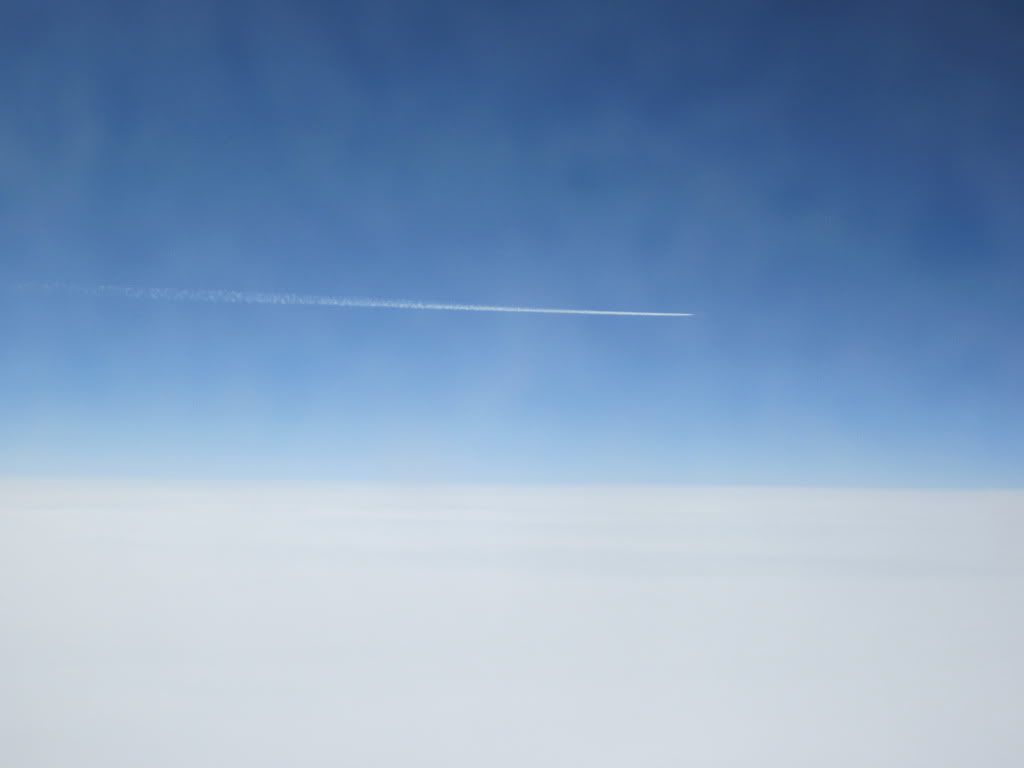 Taking a look at the small, but for me still bearable leg room:
And in case everyting doesn't go as planned you need this piece of paper: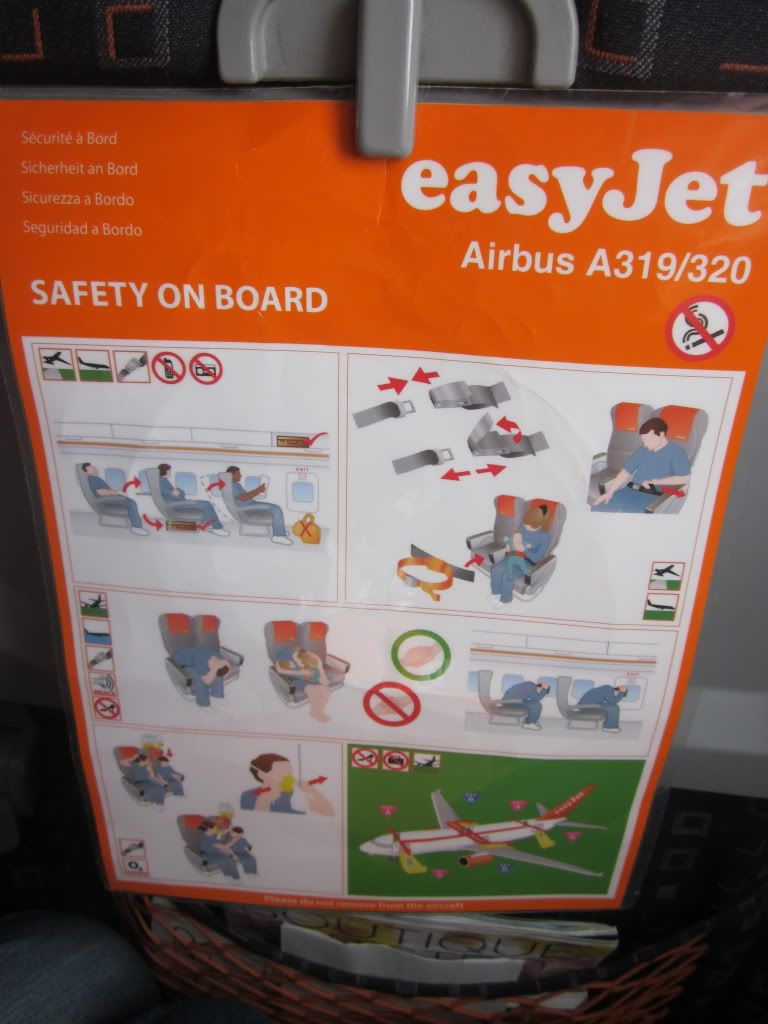 Soon descent is announced, seat belt sign is put on and our purser makes the standard announcements in his very personal style.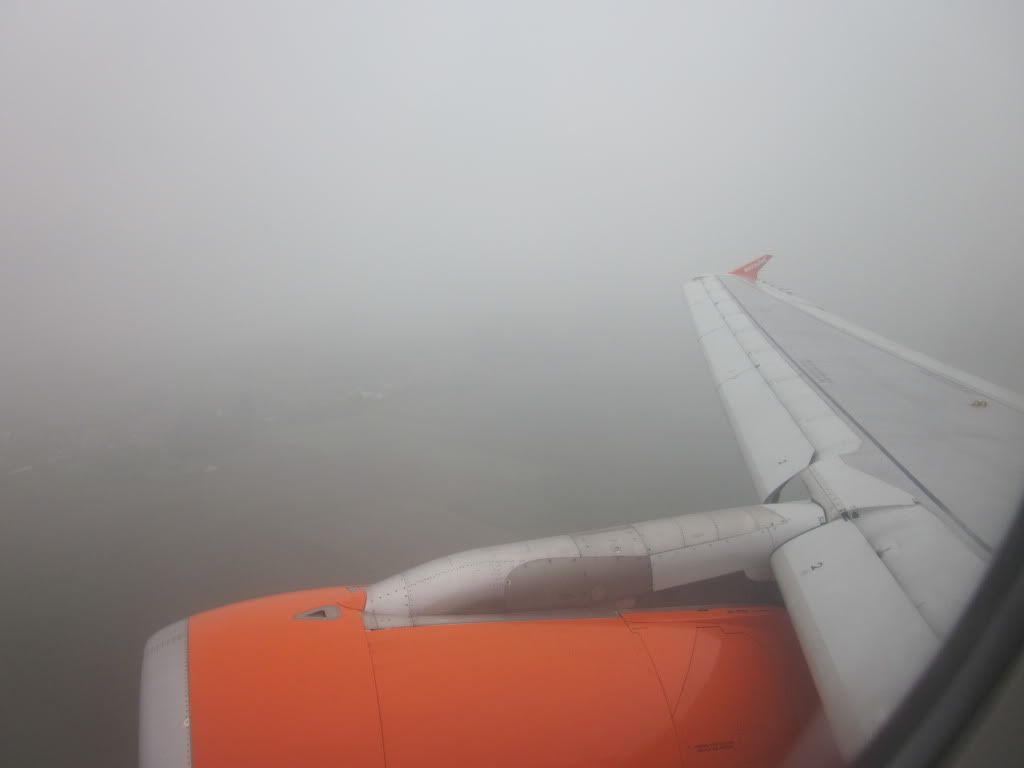 All of a sudden, land comes in sight: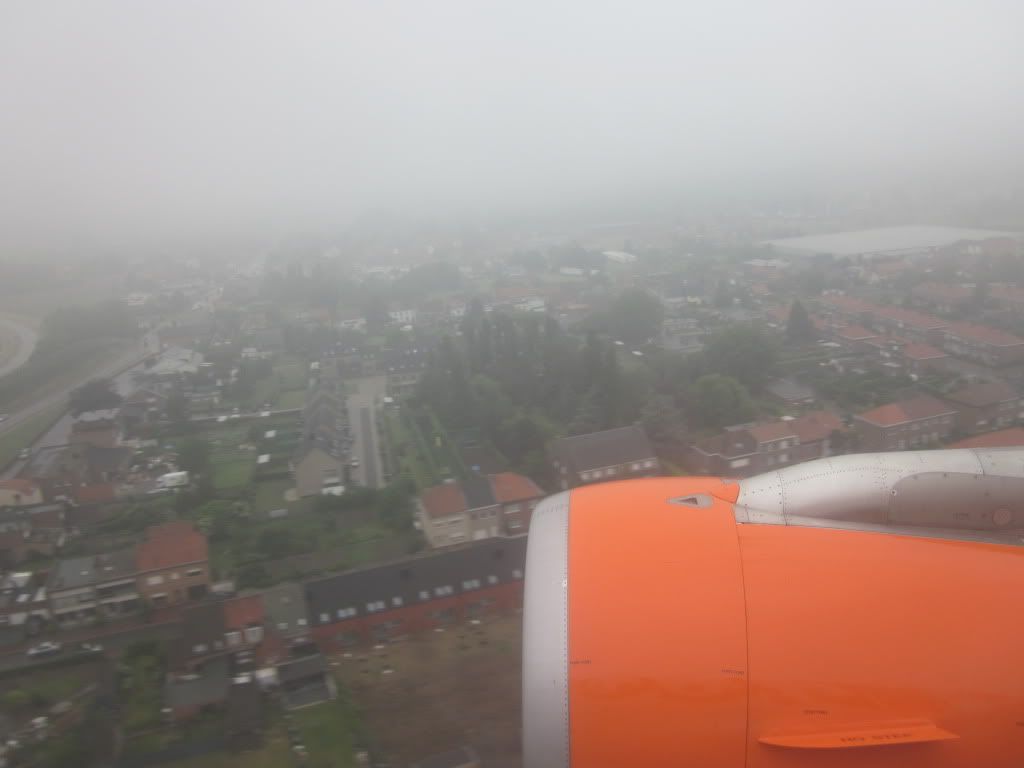 The landing is very smooth - specially when taking into consideration the weather conditions:
During taxi, our purser sings a bit of a song to us both in German and English about goodbyes and of course he also points out our early arrival as one of the perks of flying easyJet.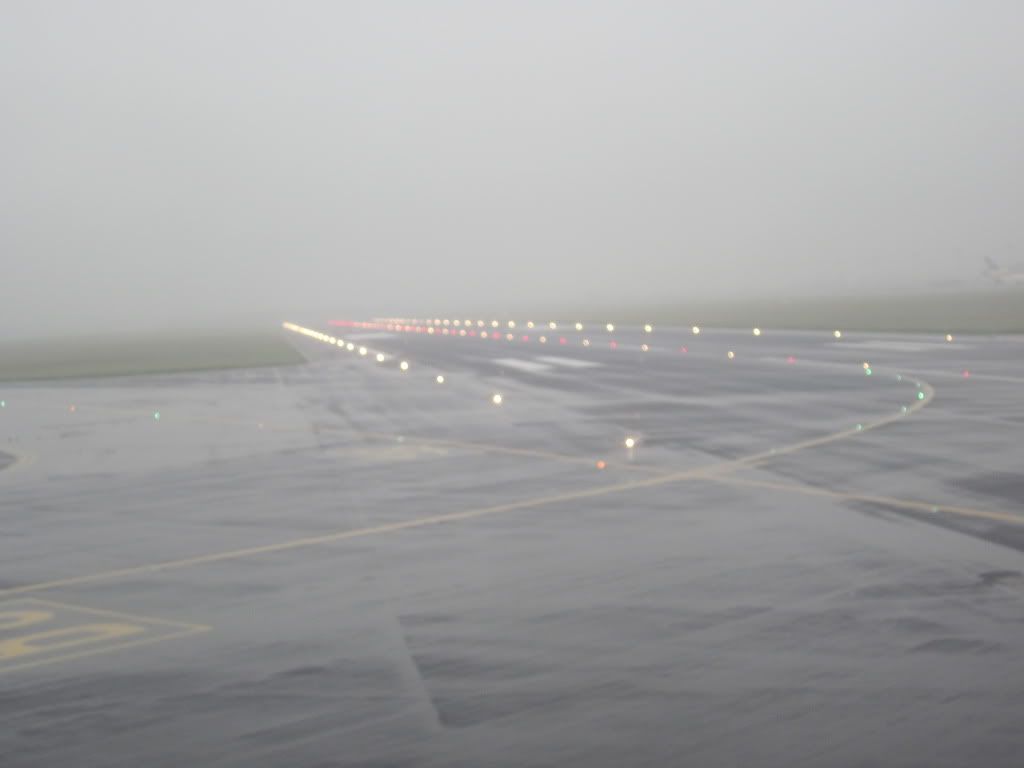 Finally, as we reach our parking position and he announces "Ding dong, last stop of the line, everyobody get off please" everyone is laughing. Way to go, easyJet! The purser gets many nice comments by passengers at the door and I tell him that "You were great, I wish all cabin crews would be like you!".
Marc and I are the last ones onboard and while he makes a cockpit visit I take some cabin pictures:
Finally our lovely purser insists I take a photo with him, the two other male crew members working in the back of the cabin are also invited - and voilà! I'm not going to post the outcome here - but it's a funny picture for sure. The