Introduction
While generally not a very generous frequent flyer program, SAS' Eurobonus has a few things to its merit. Intra-Nordic awards are only 12K points in economy which can represent tremendous value as you can do something like OUL-HEL-CPH-OSL-KKN and back for this amount of points which is quite a lot of flying for your points. But the best kept secret is of course the fact that since the archipelago of Svalbard is part of Norway you can fly there for the same point amount - despite it lying far north of the Norwegian mainland and generally being a very pricey travel destination! SAS is the only airline to offer scheduled service to the island's only real airport at Longyearbyen (LYR), with a daily flight from OSL via TOS. Additionally during the summer high season there's also a direct flight from OSL a few times per week. Norwegian tried the route some years ago, but apparently it didn't do well enough and the service has been since suspended.
Svalbard being such a special place, a visit of course had been on my cards for many years but every time I've had enough points I couldn't find any suitable flights - the few award seats on these flights are usually snagged rather quickly as you can imagine! Anyway this year I decided to plan well in advance and finally managed to fix some flights for mid-May (by which time it is already a month since the sun had set the last time up there...). Outbound I'd take the seasonal direct service ex-OSL on a Sunday evening, arriving at midnight which was perfect taking the midnight sun into account! I'd spend 15 hours in Longyearbyen and depart back on the afternoon flight to OSL via TOS - perfect!
So 12 000 points and 82 EUR in airport fees got me a very nice itinerary: HEL-ARN-OSL-LYR-TOS-OSL-ARN-HEL - an excellent value for points if ever!
The itinerary: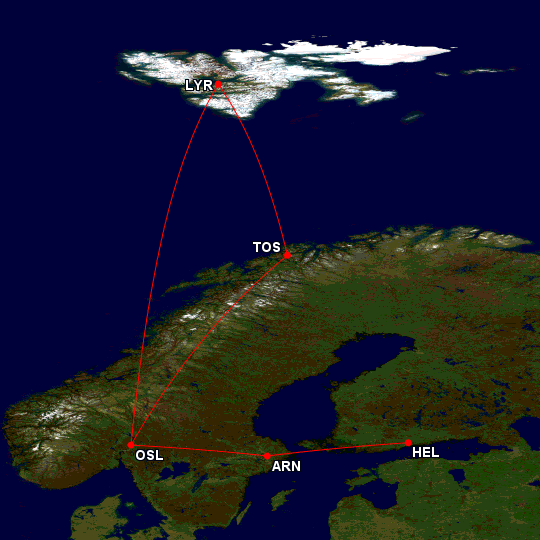 Unortunately as part of their overhaul of Eurobonus SAS changed the award prices effective from May 2012 - now my itinerary would cost 20K points. Then again an intra-Norway itinerary costs only 10K points - so these flights still represent excellent value!
Sunday 20.5.2012
Having arrived home from my previous trip (see
Greek Cypriot: ATH-SKG-ATH-FRA-HEL
(by
FlyingFinn76
May 30 2012 in Trip Reports)
) in the middle of the night (or more like the wee hours of the morning) I had a long, long lie-in on this Sunday - but then again with my flight departing just before six in the evening I was in no particular hurry anyway!
Not feeling like cooking I decide to start my trip with a visit to my local Nepalese restaurant for a nice meal: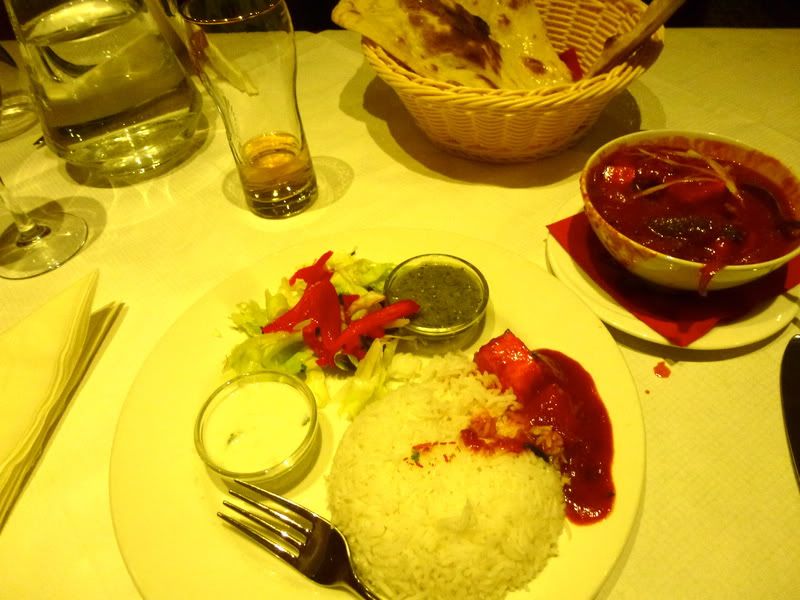 Then to the airport with the usual bus. There I head to the Star Alliance ticket desk to ask them about an upcoming itinerary of mine which looked quite fubarred - for some unfathomable reason BER had changed into TXL in it...
Oh well, nothing much came out of it, but at least the girls managed to convince me that there's nothing wrong with my eticket (checkmytrip.com can be a bit funky in displaying itineraries with changes) so I'm satisfied with that and head upstairs, pass the empty security and into the lounge where I have a bit of trip report work waiting for me.
Good to see a new issue of Scanorama Portfolio out - I pick it up for later (and haven't yet gotten around reading it, more than two weeks later...):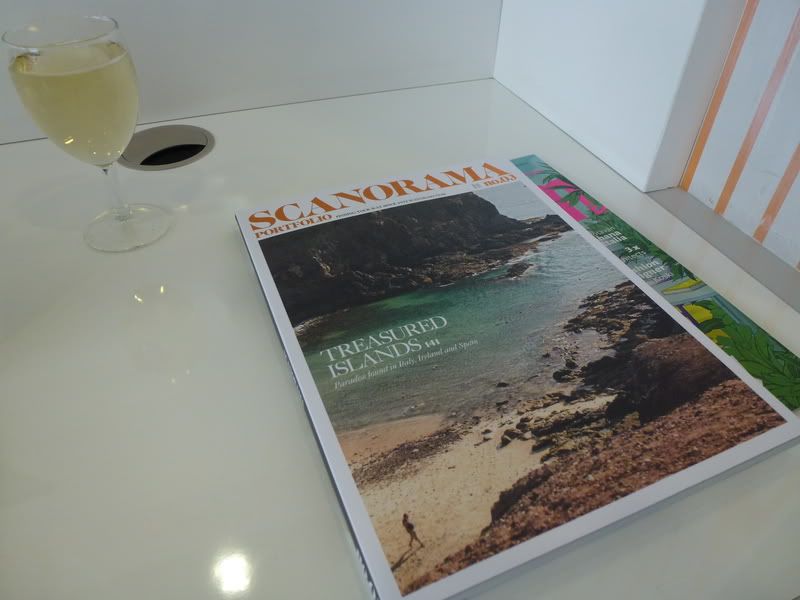 Two hours pass by very fast - that's what happens when you deep in flow - and I'm a bit surprised to see "Go to gate" flashing for my flight. Luckily it is gate 13 just opposite the lounge, so I gather my trash and head there, taking a look out of the window to see who am I flying with today. It turns out to be OH-BLH, the first 717 I ever flew, although she was known as EC-HNZ back then. Now having been redesignated I've logged an additional three flights with her so today's flight will be my fifth.
Blue1 seems to have introduced a separate priority boarding lane for Premium: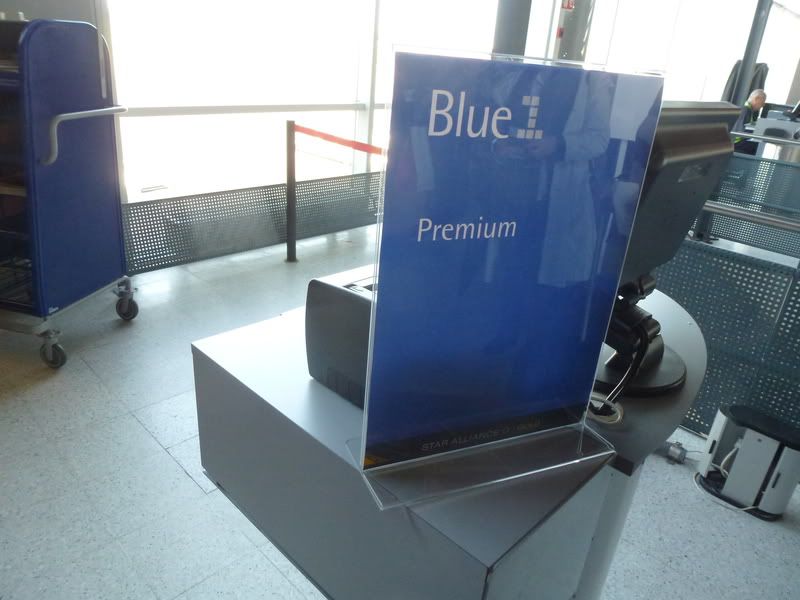 Nobody is standing in front of this counter so I start a new queue there, and two minutes later boarding is called. The agent asks "Premium?" and I answer "No, Gold" which seems to make her happy. Then when scanning my boarding pass the machine beeps and spits out the receipt with a new seat assignment. The agent takes a look and says "Looks like you have a new seat, 1A today." so I just have to say "So I'm in Premium after all! Thank you!". Wow, my second operational upgrade in less than 24 hours, how about that!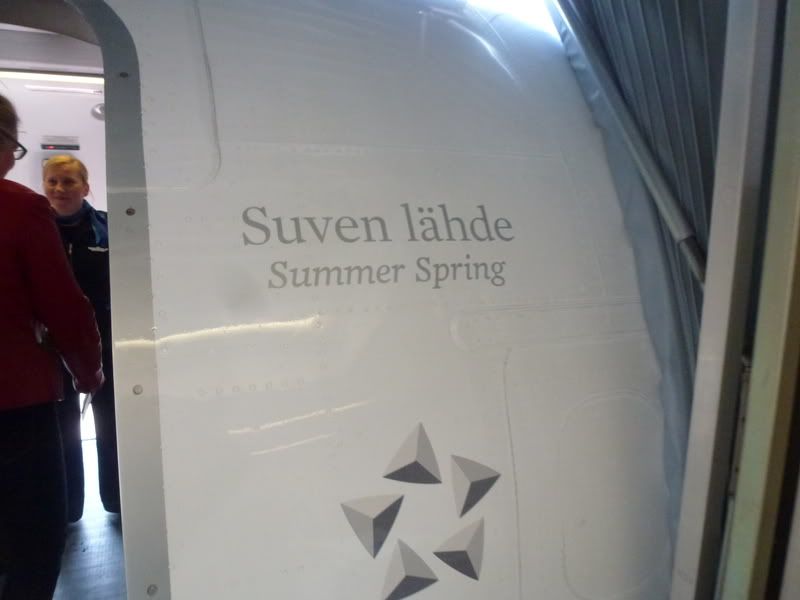 HEL - ARN
KF847
B717 OH-BLH "Suven Lähde/Summer Spring"
Seat 1A
17.49 - 17.35
1A on this 717 is definitely more roomier than the 1A I had on the Lufthansa A321 the previous night: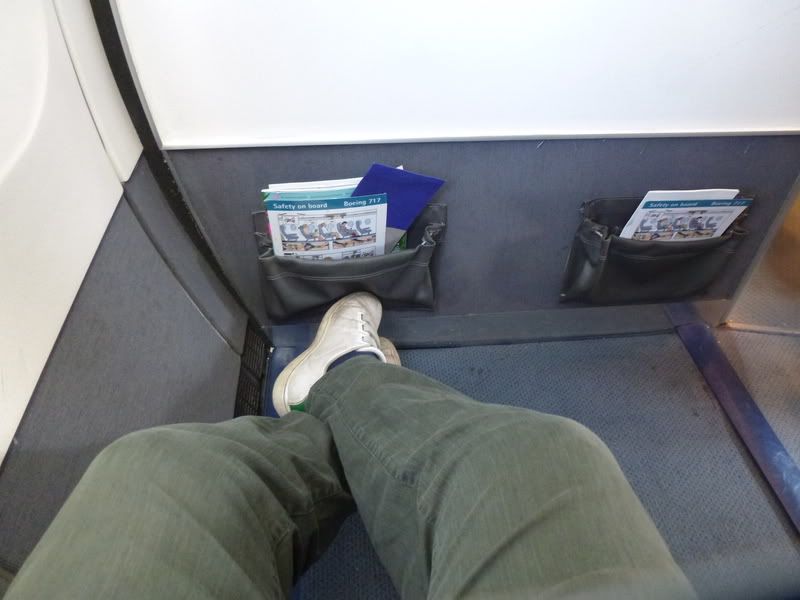 Speaking of Lufthansa A321s - next to us is none other than D-AISU, the one I flew ATH-FRA with yesterday - what a small continent it indeed is: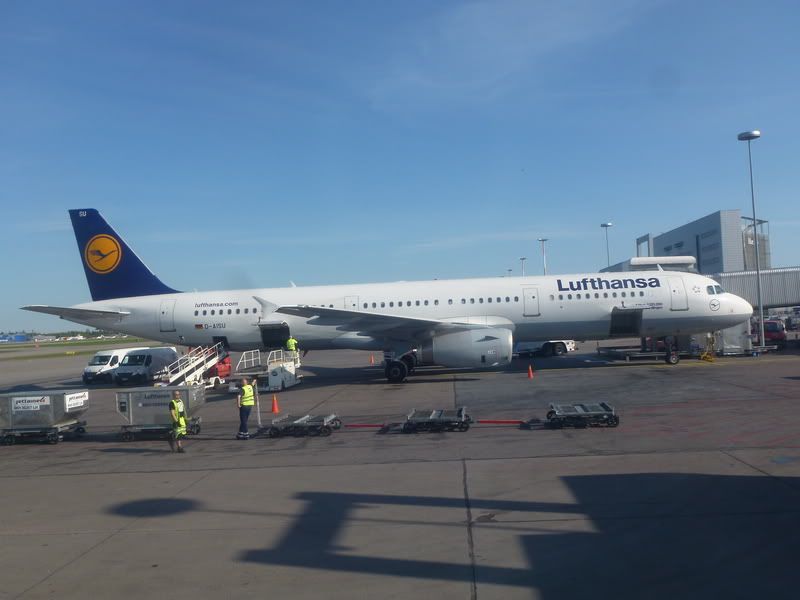 The plane is completely full - well with an operational upgrade it better be! Despite this boarding is rather organized and goes fast and we even push back six minutes ahead of schedule. If there's one thing Late1 does good it is these trunk feeder services and their punctuality (but let's not talk about the infamous midnight flight ex-CPH and its cancellation rate!).
Tailing an AY, soon-to-be-flyBE Nordic E190 to 22L: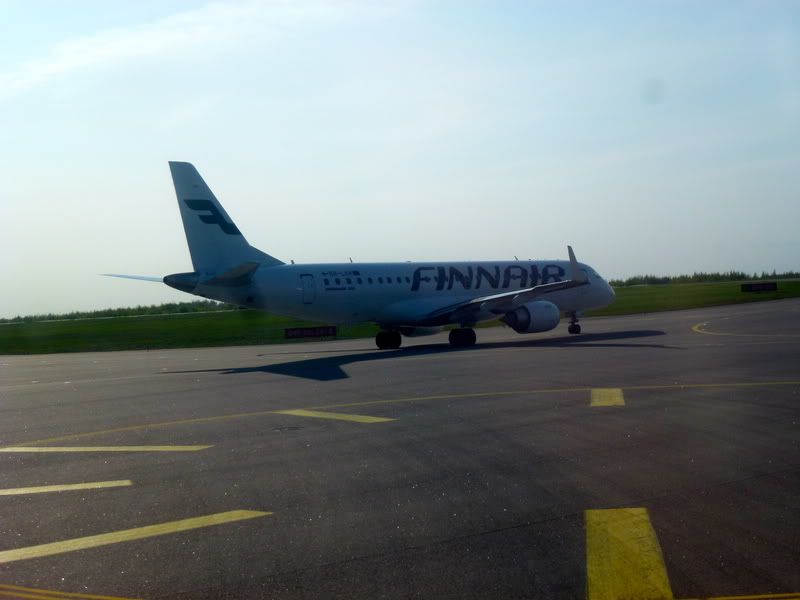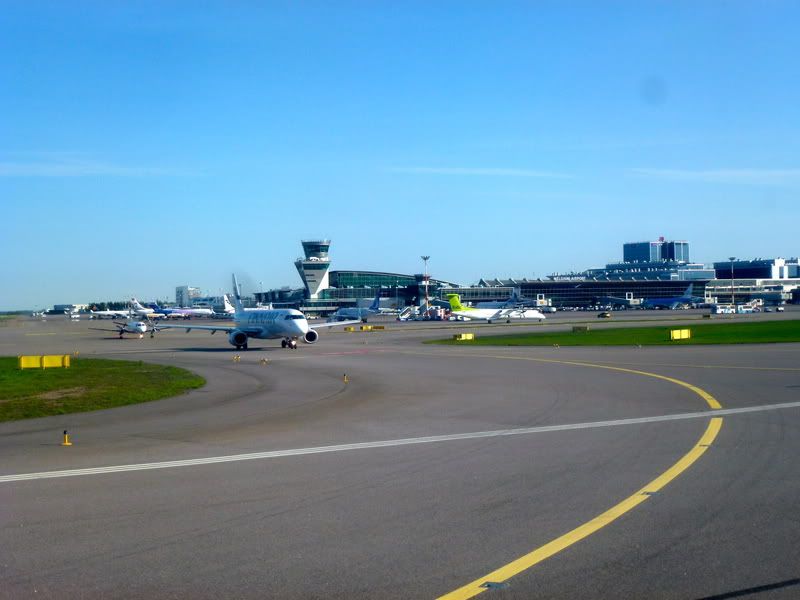 Hmm, wonder what these two Travel Service 738s are doing here - subbing for Mech1 perhaps: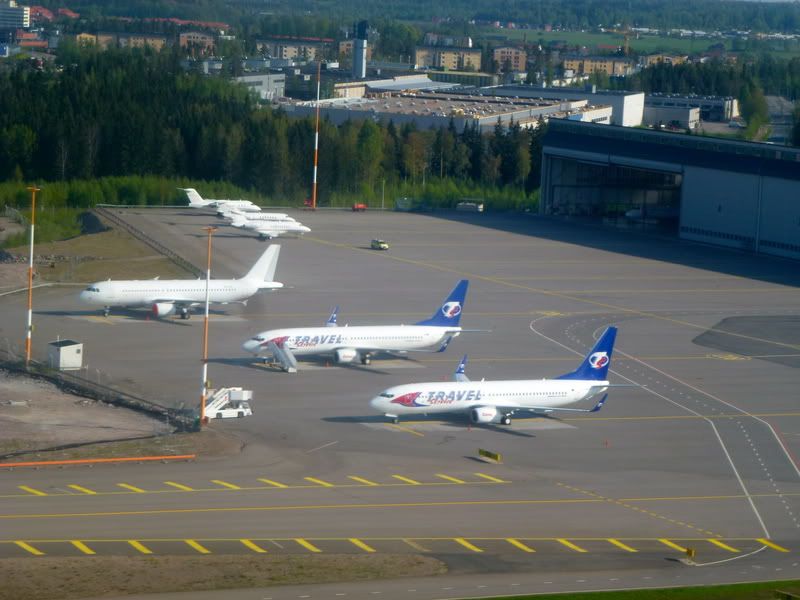 An almost perfect clover interchange between Ring III and the Tampere motorway: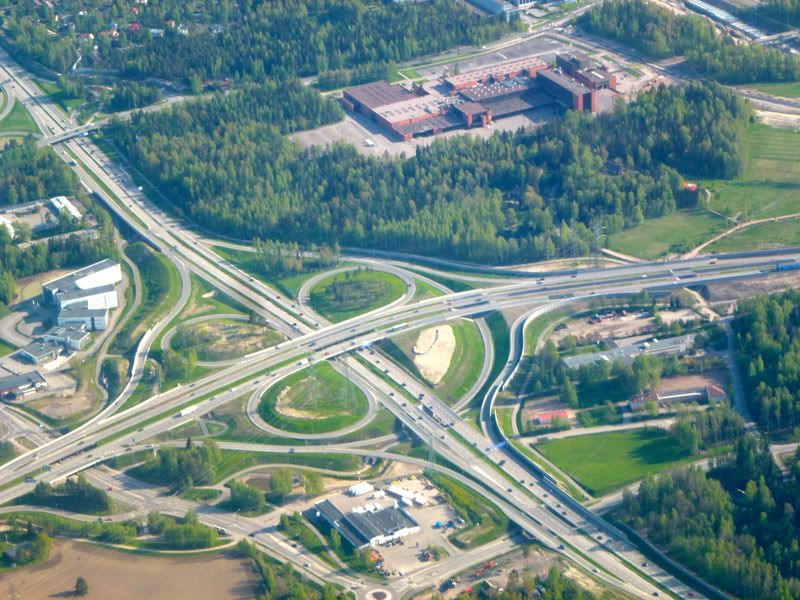 And this is the new rail line, which will finally bring a rail connection to HEL - whoopee: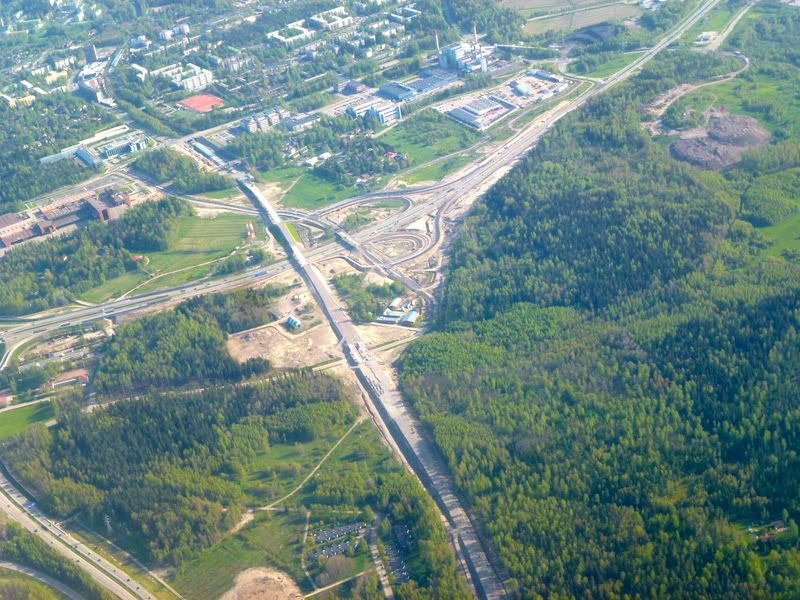 The efficient all-female crew wastes no time with the service - a short hop and a full plane means busy times. During this spring the good old SAS cardboard boxes have made a return to Box1's Premium class (well once upon a time you got these in economy, but that is of course another story..) - here's today's offering: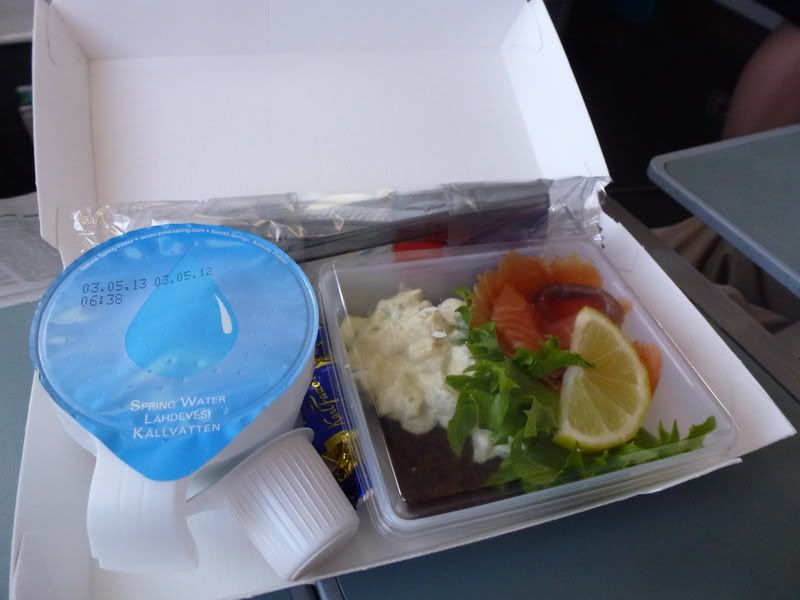 Inside a rye bread smörrebröd with a piece of disgusting, raw salmon (probably squirming with tiny worms and other nasty lifeforms that a good cooking would destroy once and for all) on top, some lettuce and potato salad plus a token lemon slice: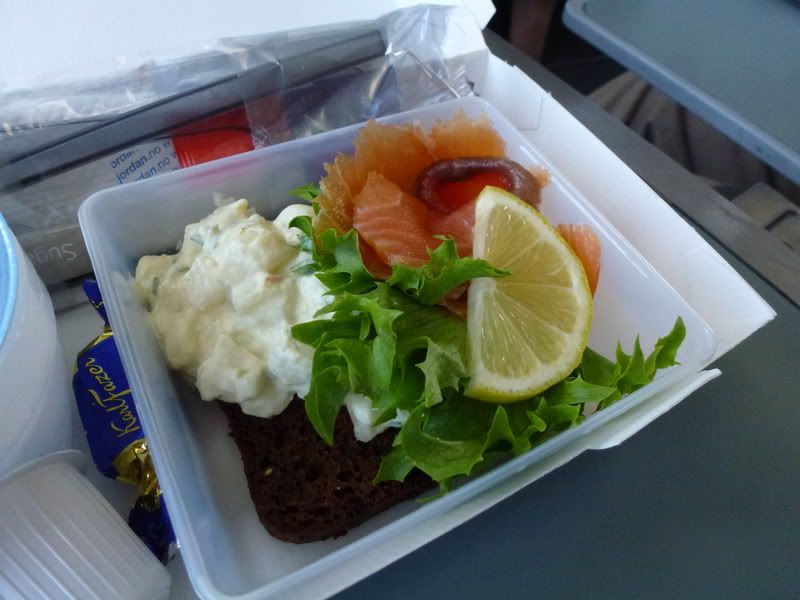 Additionally there's a tub of water and a Fazer chocolate candy.
Luckily I'm not really hungry after the tasty meal plus some nibbles in the lounge so the half of the bread and the potato salad is more than enough for me. The potato salad is very tasty, I have to give Fish1 that.
Oh and I'm also very delighted to learn that they again have wine onboard - a month or so ago I got very disappointed on another Wine1 flight in Premium where they had no wine at all. Not very premium.
After finishing with a cup of coffee it is already time to commence our approach into Arlanda. The sight of the E18 motorway snaking between Kapelskärr and Stockholm confirms that we are coming in from the east for a straight-in approach into runway 26 where we land well ahead of schedule - well done this time, Early1!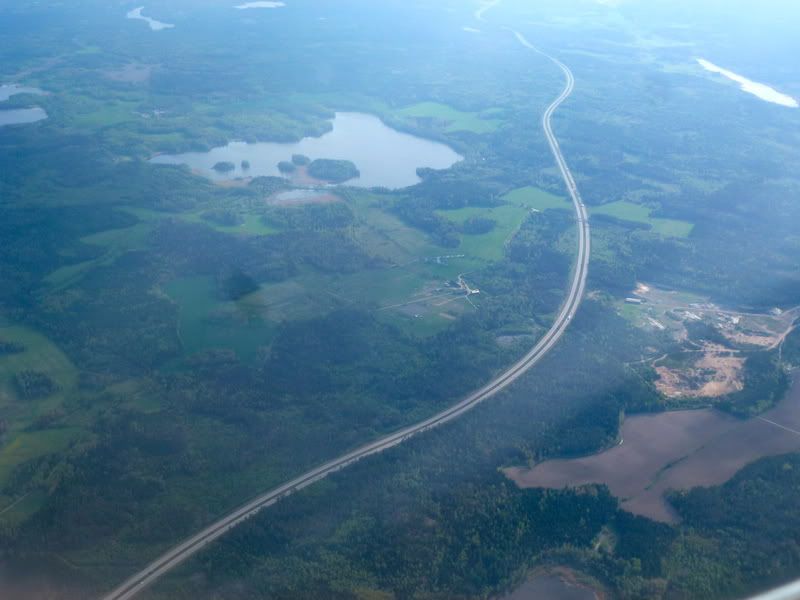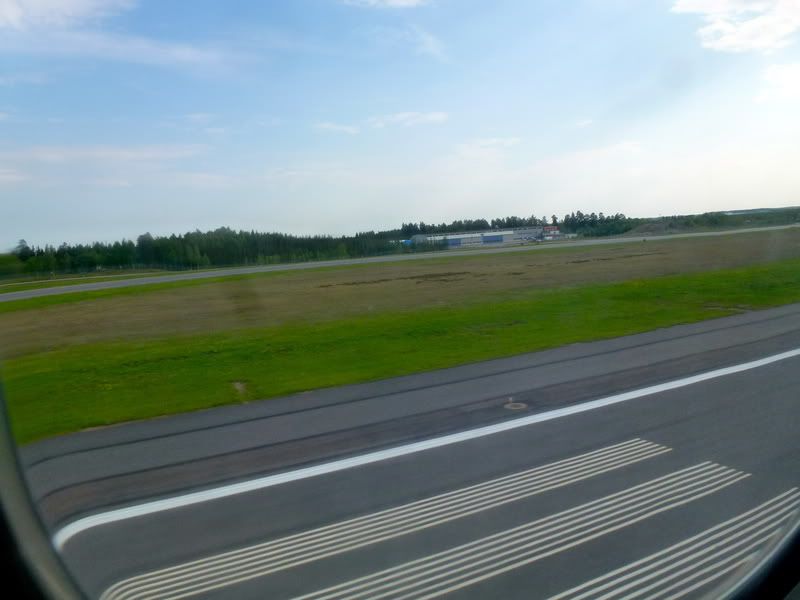 Air China triple seven at its usual gate - according to our Swedish friends it isn't exactly the world's most comfortable plane to fly in (Swedes seem to get all the sub-par planes, Thai uses 744s with old interiors to ARN too):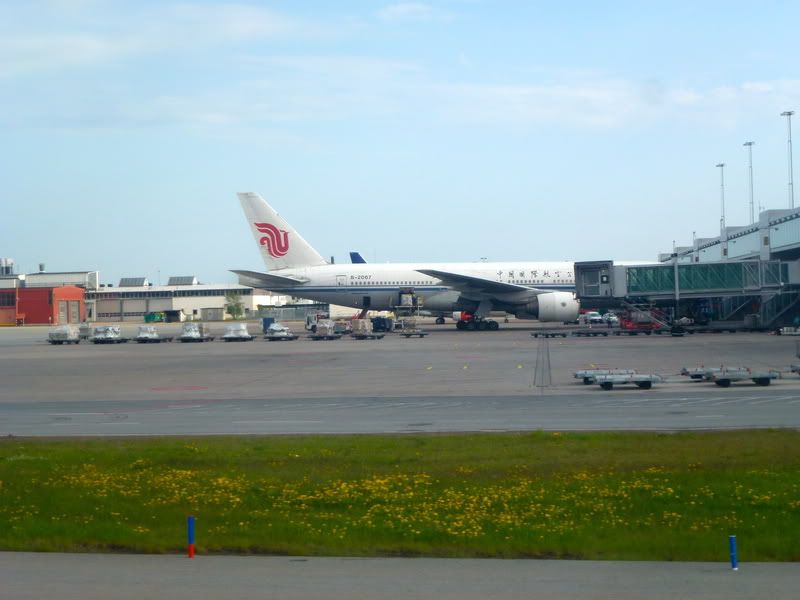 There's a bit of a hassle at the gate as the guy operating the jetway seems to have some problems getting it to the right spot: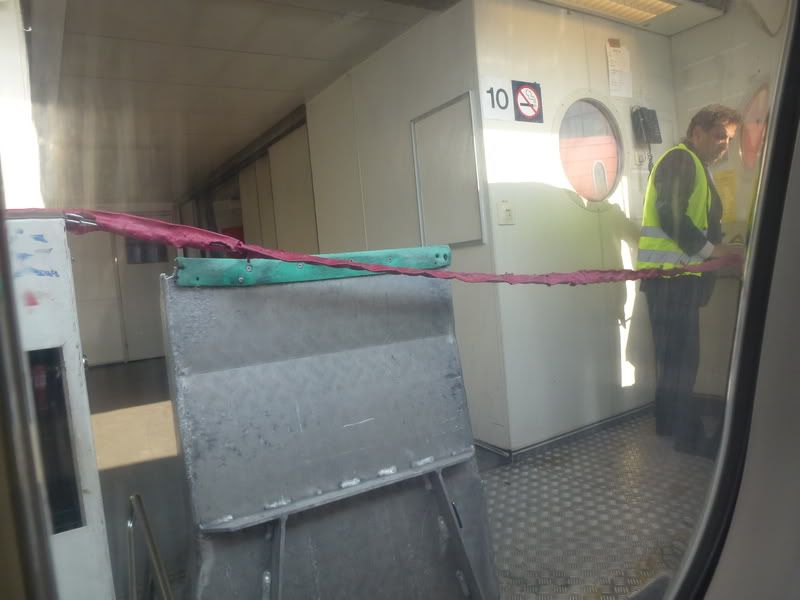 Bye: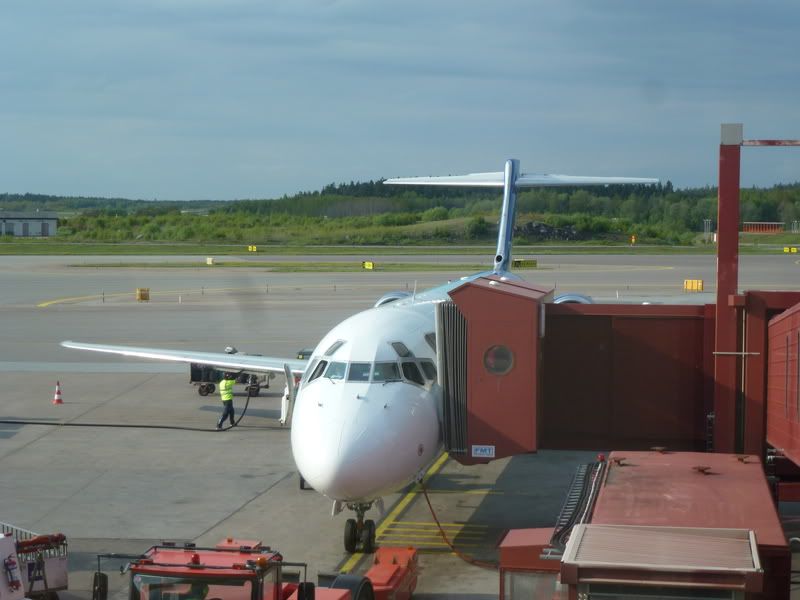 Stockholm Arlanda Airport
Being early I have more than enough time for a quick lounge stop. I'm a bit surprised to find out that my flight to OSL is departing from the F pier, most of the time the OSL flights seem to go out from a gate directly below the lounge but I guess they want to make the F pier appear at least semi busy - it isn't exactly slot constrained, you know...
With that in mind I leave a bit earlier as there's a bit of a trek there plus one needs to navigate an annoying choke point caused by what else than shops and more retail establishments: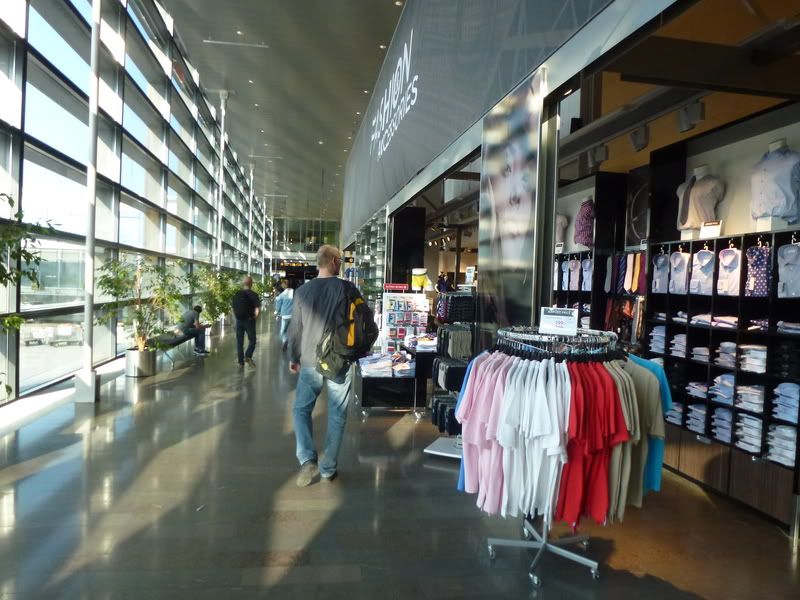 Finnair still piggybacking on the hockey championships. I think Jonas could use this as a poor man's lounge instead of trying to loungehike a visit: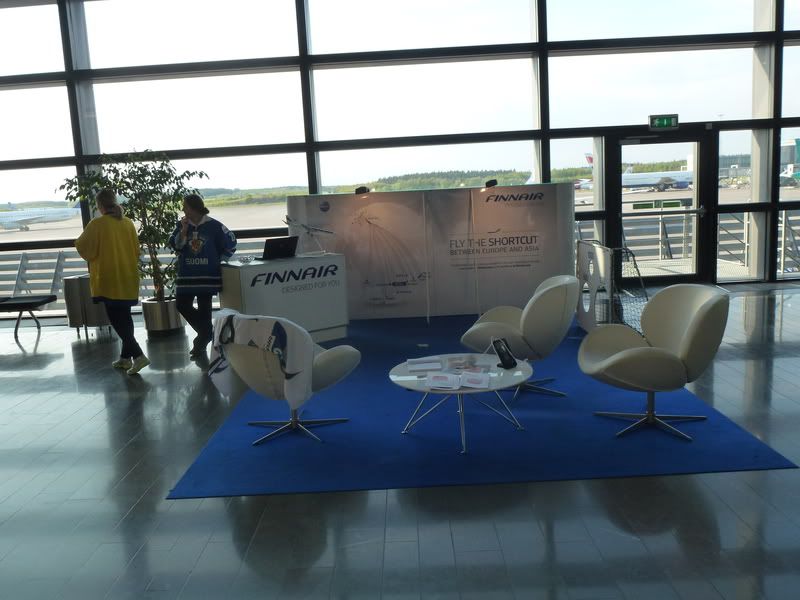 The F pier, despite being a white elephant at least looks much nicer than the rest of Arlanda: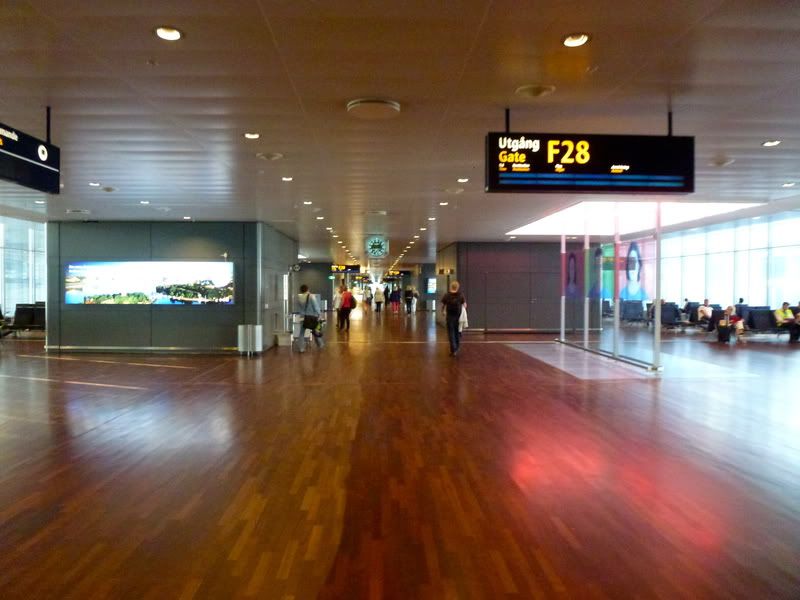 And here's my ride today - another 736, what else: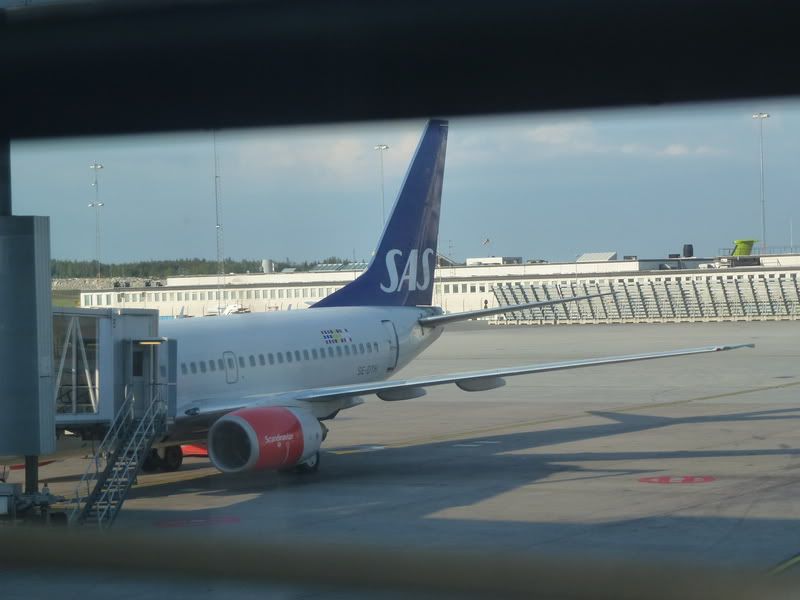 Man, that Air China bird is filthy - worse than Air France: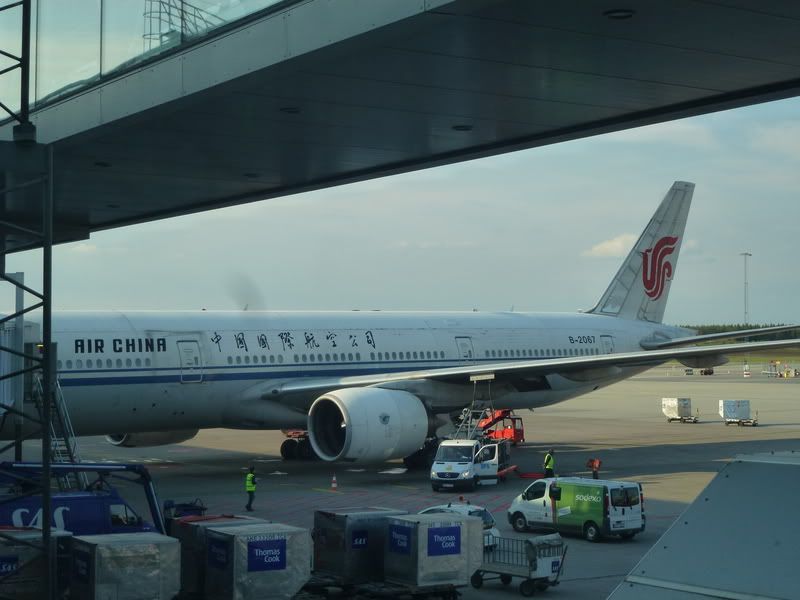 Boarding is in full progress so I walk directly onboard.
Catching a flight on SE-DTH would already be quite bad due to the registration but calling it "Vile" doesn't exactly help either: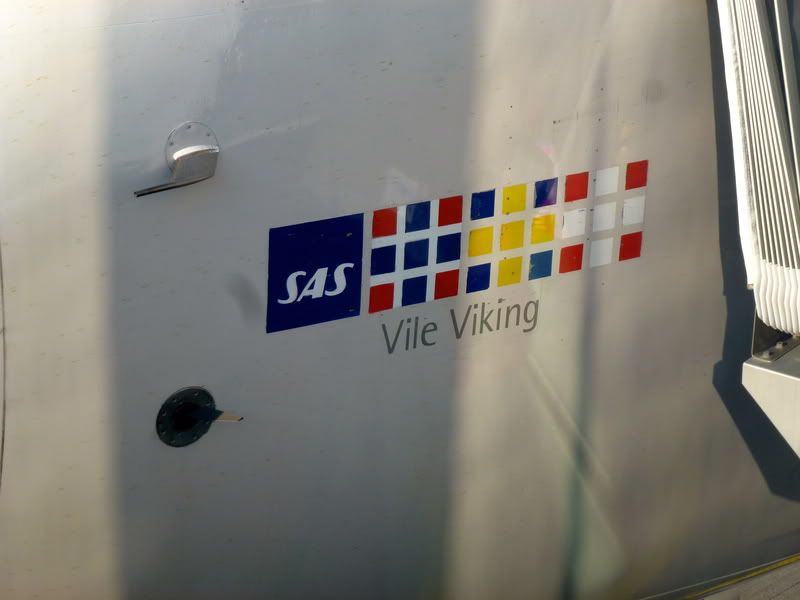 Anyway I've done it before and survived the prospect of a vile death so I step onboard for my fourth vile flight.
ARN - OSL
SK889
B737-600 SE-DTH "Vile Viking"
Seat 10A
18.50 - 19.38
The typical SAS grandmothers are staffing this flight - the average age of the cabin crew must be over 60! The flight seems to be completely full, so I'm quite glad I picked the exit row for myself: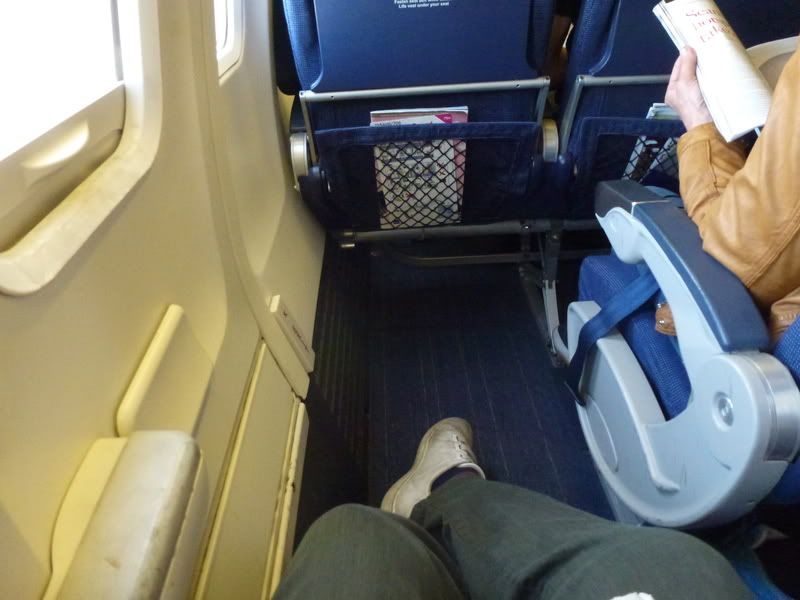 Departure is five minutes late, take off from 19R. Now, writing this report a couple of weeks later it is interesting to see this photo of a Skyways Fokker behind us as the airline filed for bankruptcy just two days later: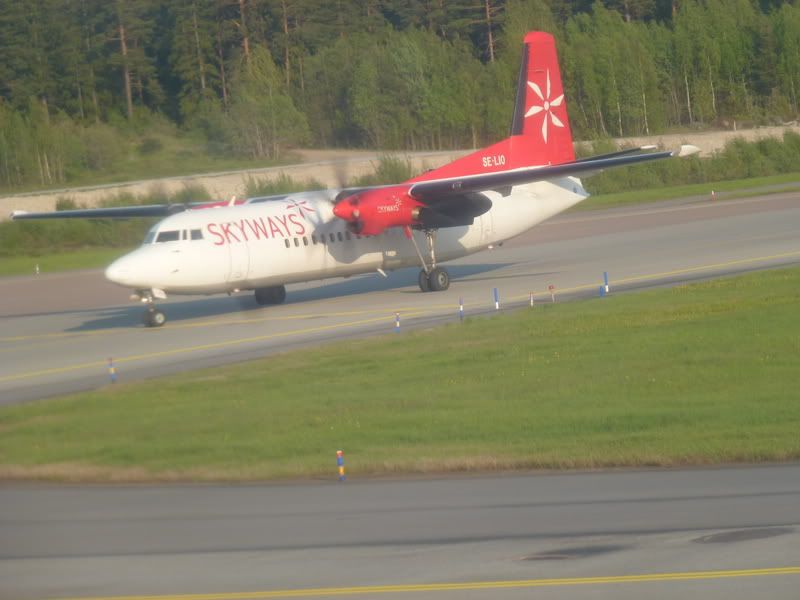 Not much to say about this flight - my view outside is mostly blocked by the wing: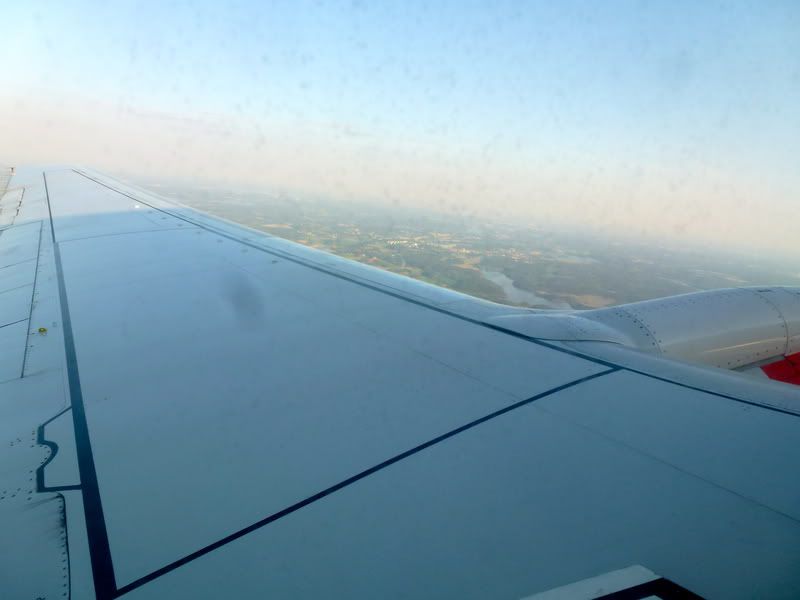 They now serve free coffee or tea: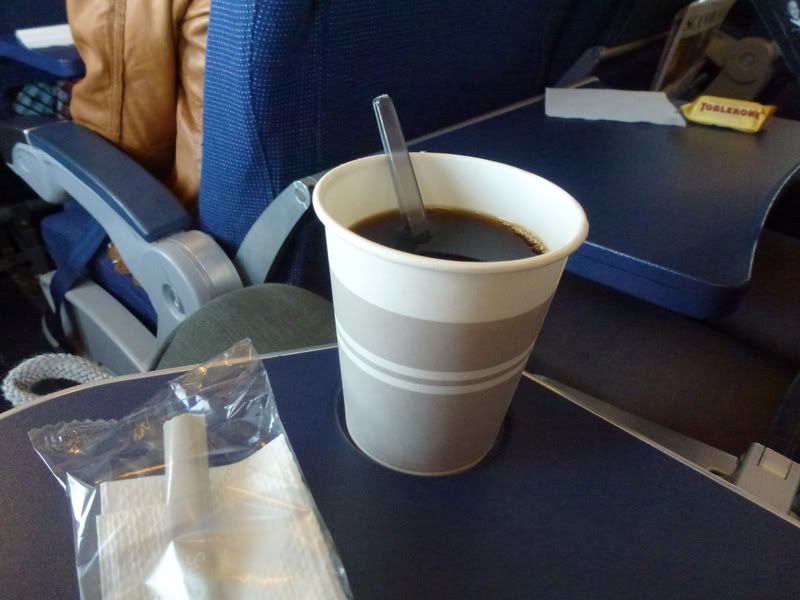 I have to admit that I'm almost agreeing with Jonas here - the newly free SAS coffee doesn't taste good at all and is rather weak. Coffee1 and SAS Norway (where coffee and tea has always been free on domestic flights) serve much better coffee.
With my reading material up there on the overhead bin I mostly doze thru this flight, spiced with some daydreaming - a real recommendable thing to try!
My first view of Norway could be a bit more dramatic than Leto-Hallen: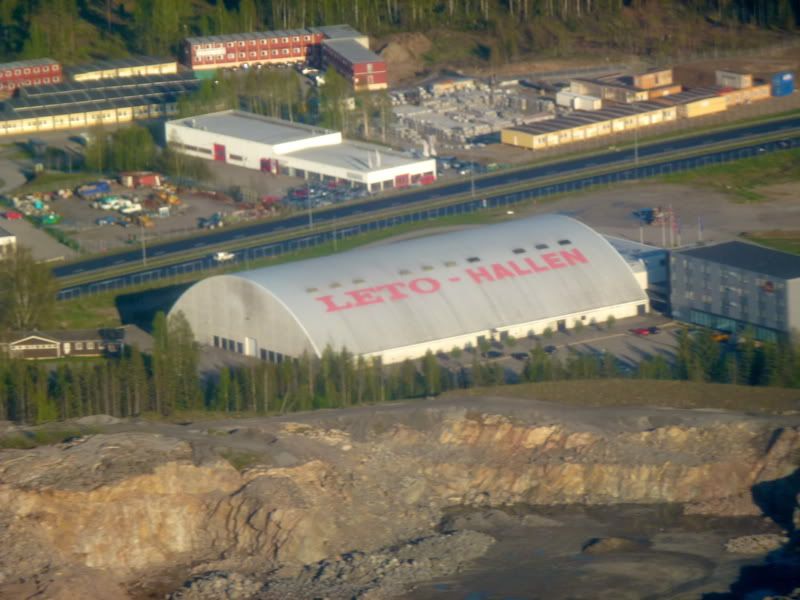 Ok, this is more like it: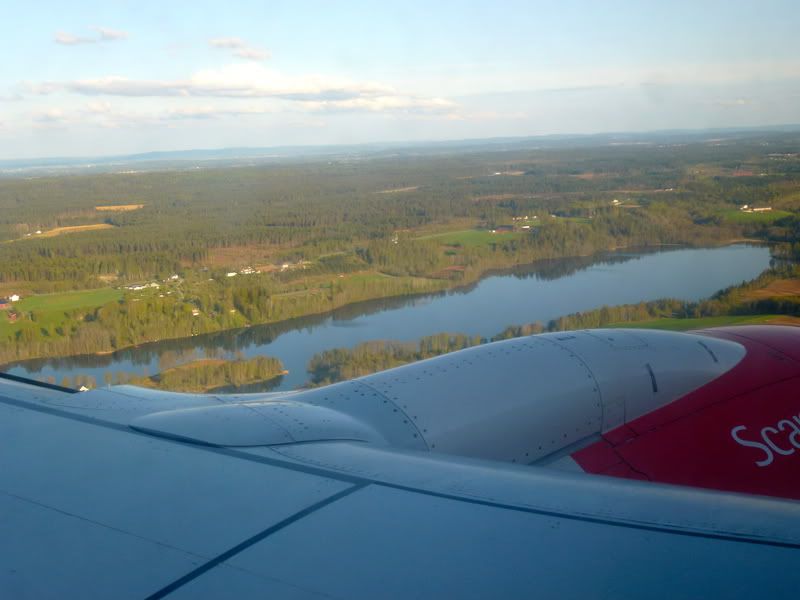 This flight by the world's most punctual airline comes to an end when we land on 19L seven minutes ahead of schedule - what else!
Hmm, that plane looks a bit odd: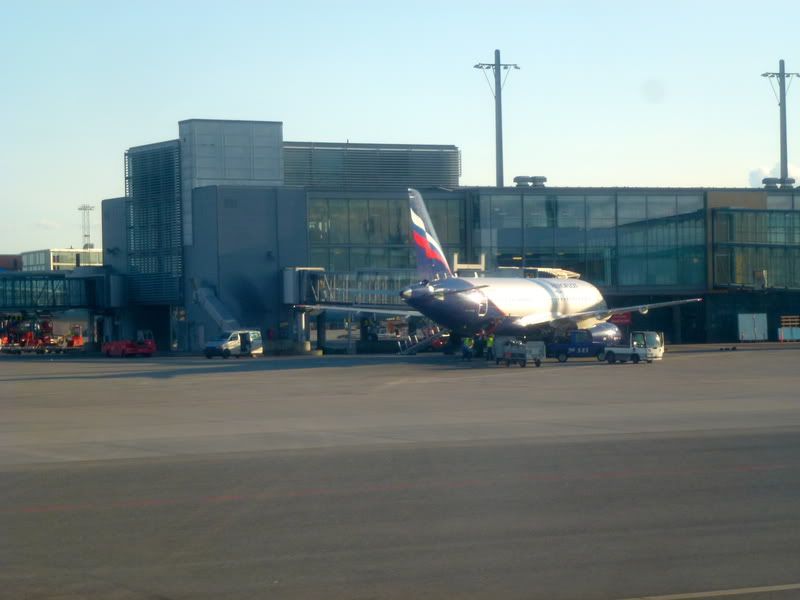 Wow, it's an SSJ - my first time seeing one in the nude:
Once more - looks cute (but beware of high mountains):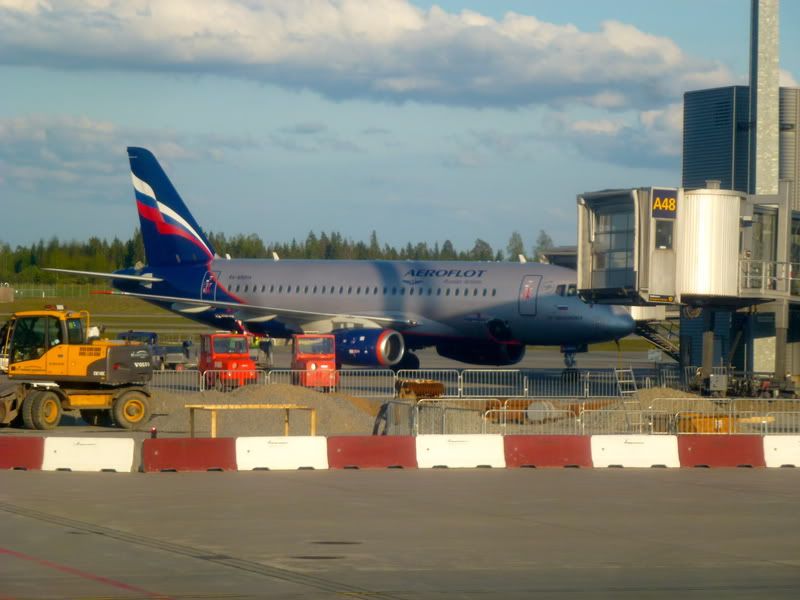 This is hilarious - this guy, presumably the first one off the plane and thus flying in Economy Extra took a wrong turn and ended up on the apron where the ramp agent was quick to shoo him back to the jetway: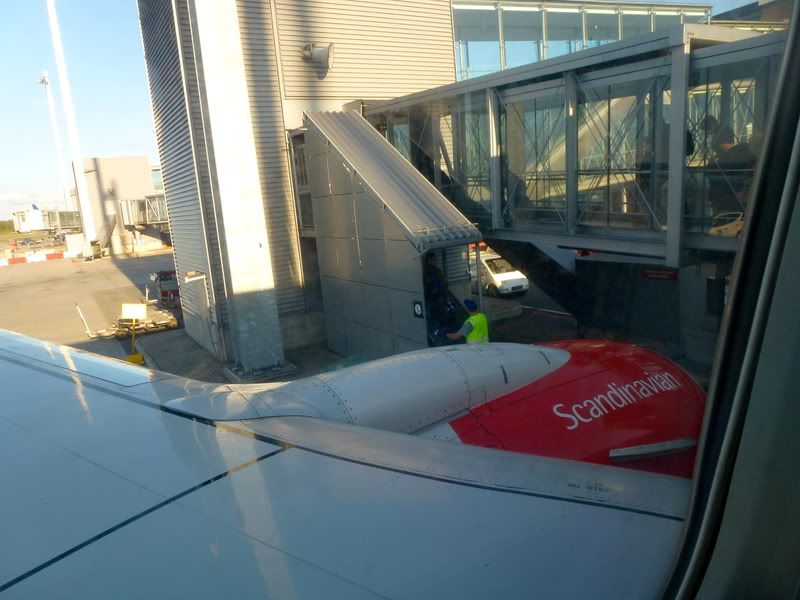 Can't quite understand how someone might do that - instead of turning *right* towards the terminal (and up the escalator if it doesn't happen to be on a strike that day) he turned *left* towards the apron and descended the stairs. I guess it takes all kinds.
Bye: