Dear readers,
After some time of absence on my side, I try to be back regularly now with tripreports and replies. Sudden changes in private life had some impact and I didn't feel able to write about some trips I made during last months.
Now, we all might know about the tripreporter meet in BER, the new Brandenburg Airport, which was said to open on June 3, 2012. The meet was set at this place to celebrate the opening and of course to meet eachother again. Well, we all know what happened, and due to these "unforeseen circumstances" most of us decided to join the -farewell to TXL- meet anyway since flights were booked already.
I will briefly write about my flights, which were quite standard hops on both KLM and Air France, helping me further in qualifying for my status level plus they offered a good enough fare to me.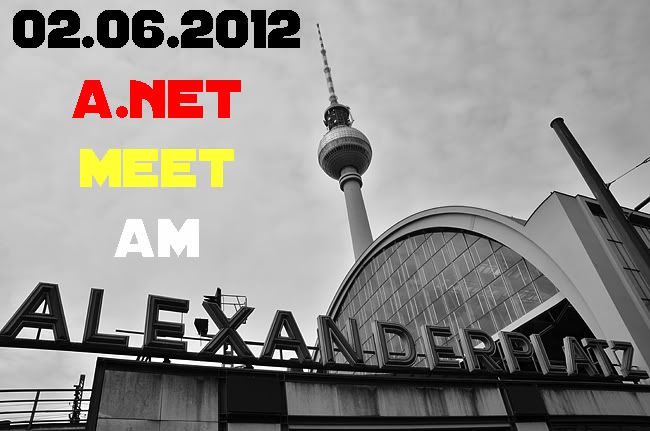 So, it was Saturday, June 2nd, when I left my house to the airport by bus and train, and met with Suryo aka Ahkmad, who just arrived also at AMS after a 2 hour trip by train. Soon I was also in contact with Servaas aka MEA-707, another joiner and all 3 of us were booked on the same flight.
Flying KLM & AF to meet in BERlin: AMS-TXL-CDG-AMS

I first went to KLM's SkyPriority check-in area to obtain my boarding passes for the flights next day. Somehow online check-in had issues, probably because originally the flight was ex BER but now ex TXL. The very kind agent was happy to assist me and issued me an exit row for the next day free of charge (usually +€15,-).
After this Suryo and I went to security where I can use the fast track..., but since I was travelling together with Suryo, I said we take both the fast track. It almost like to be expected, but the agent from the security company decides that Suryo has to take the regular lane, and seperates us. It's unbelievable when you think about it! So, e.g. a married couple where the husband has status but not the wife, they can't go together.
It's unfair and not customer friendly this way. More over, 3 weeks ago my mother without status was not a problem to use the fast track with me. It confusing, but I am a revenue passenger, and I have the right to get confused by this -in my opinion- stupid behavior of 'some security guy'.
X-raying was no big deal, but she had to see my 'liquids'. I never take them out... Never somebody asks me about it. Today she did... But after showing it, it was all fine. I'm fine with this though.
For my neighbours (no excuses P., I got myself a few just days before) I bought 2 bottles of Baileys (I got myself one just 3 days ago) at See Buy Fly, using the really good 'pick up on return' service which is free of charge. For a price of €12.50 each per liter, definitely a great offer!
The rest of our time was spend in Grand Café 'Het Paleis' in departure lounge 1, where Suryo and I enjoyed some Affligem special beers. Servaas was joining us a while later too, making us complete.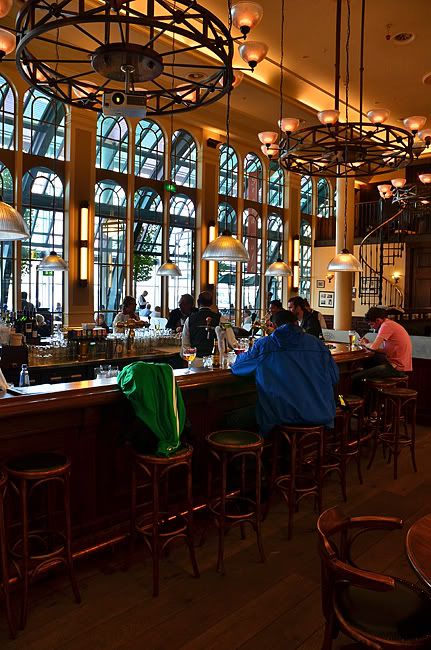 .
Grand Café "Het Paleis", good beer selection and apron view
We headed to our gate, which was meanwhile changed from C06 to C16.... Meaning an aircraft change.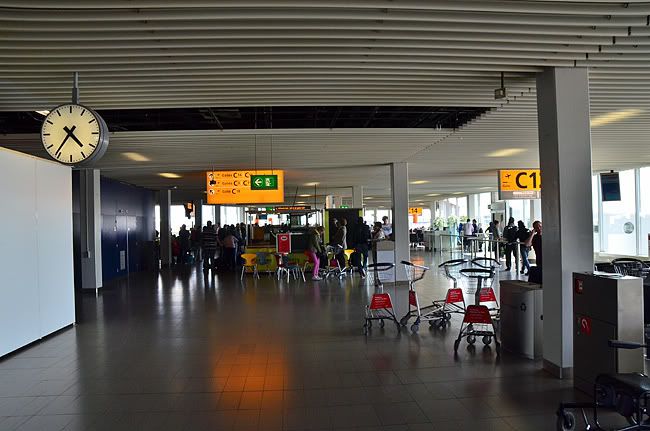 .
Not the most exciting part at AMS
I personally wasn't amused to see PH-BXU at my original gate C06, which would have been one of few unflown 737-800's from KLM for me. But at C16 I unfortunately found PH-BXM, well-flown by me during the years, with my last flight on this same aircraft just at last 29th May
Boarding was already in progress, but I was able to pass the line via the specially set-up SkyPriority lane and was immediately and friendly served by the ground agent.
| | |
| --- | --- |
| Flight | KL1833 |
| Date | 02.06.2012 |
| Route | AMS-TXL |
| Aircraft | Boeing 737-8K2(WL) |
| Registration | PK-BXM |
| Scheduled Departure Time // Actual Departure Time | 17:05 // 17:01 |
| Scheduled Arrival Time // Actual Arrival Time | 18:20 // 18:07 |
| Class of Service | Economy Class |
| Seat No. | 04F |
I walked down the fingergate, and was greeted in an very friendly manner.
"Hello Sir! There you are again!"
, the purser said. Well, you can imagine that I was a bit surprised. I thought where we've met before, but apparently she remembered me from 29th May when I flew on a KLM flight from Italy to AMS. This is what I call great attentive service. This is one of the points KLM is famous for.
My seat was at row 4, just behind the curtain seperating from the Europe Business Class. I took my seat before my seatmates would show up, because this flight was a full flight for sure. Finally, boarding completed on time and I estimate the load at 98%, with only few remaining open seats.

.
This one is for Petteri. There she is again!
Before we get our pushback a word of welcome from the flightdeck, first in English, followed in Dutch language. A flighttime of 1 hours was expected, the captain mentioned takeoff runway 36C, and he promised to give more info during the flight.
We left the gate a few minutes ahead of schedule, and the crew performed a manual safety demonstration, done in a professional and serious manner. It's a change from the newer 737-800's and all 737-700's where 'drop down screens' are installed and show a safety video these days. But this example is already 12 years old hence not featuring these screens.
Taxiing was rather quick to runway 36C, and under the broken sky with took off into Northerly direction, followed by a slightly right turn, offering me a great view on the city of Amsterdam, the citycentre, Central Station and the IJ (water), Amsterdam Cruise Terminal (where Holland America Line "Ms Eurodam" was along side).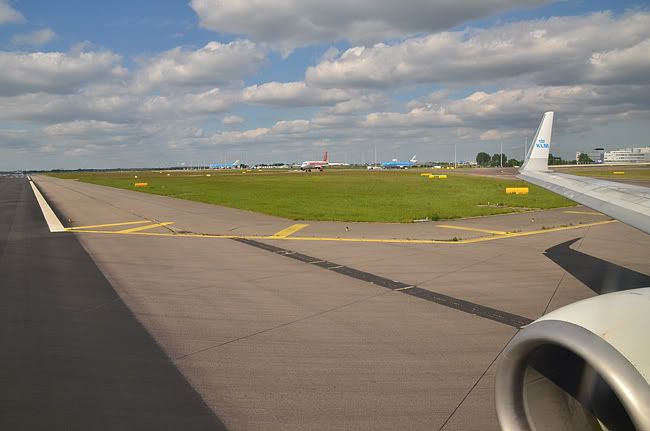 .
Lining up runway 36C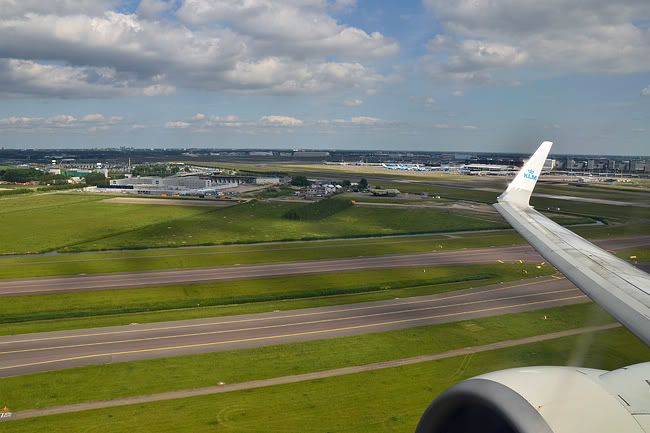 .
Airborne…

.
City of Amsterdam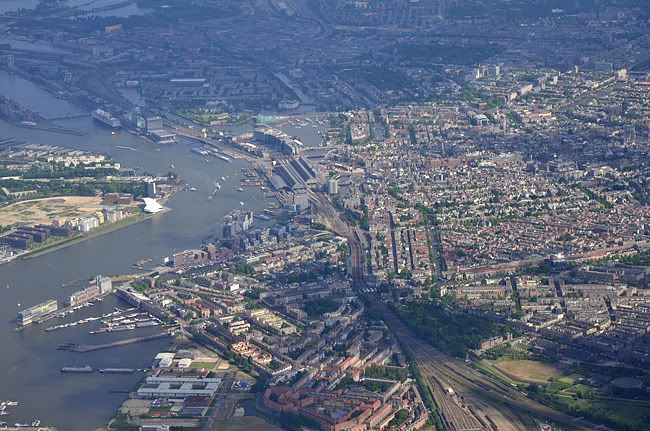 .
For Philip, Central Station area, new EYE Movie Museum and Holland America Cruiseliner
During our further climb over The Netherlands and the 'Veluwe' area, I recognized cities as Amersfoort and Apeldoorn as well the airfield of Teuge (light aircraft).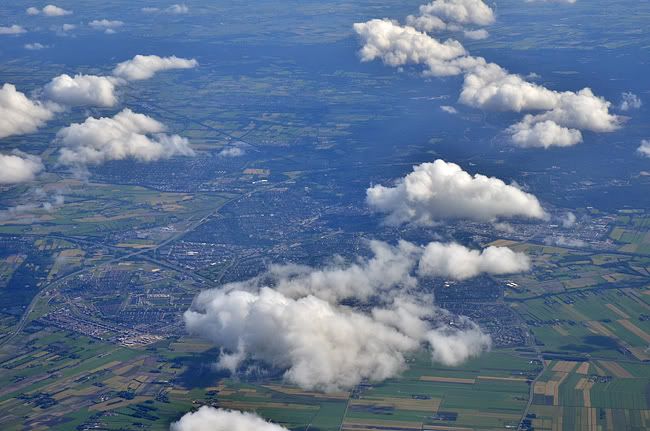 .
For Martijn, the city of Amersfoort and surroundings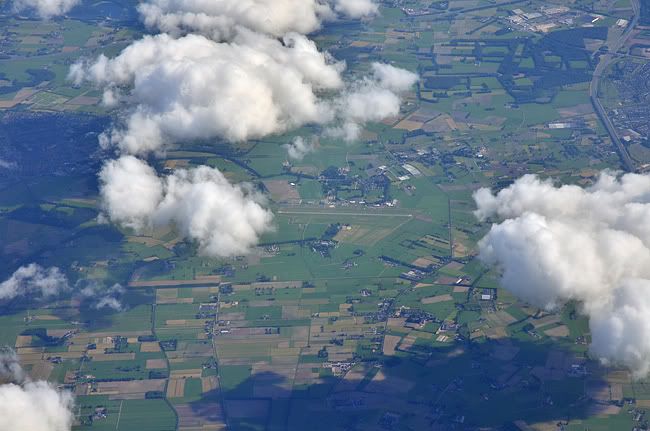 .
Teuge Airfield (near Apeldoorn)
Service on this flight was given, and was the standard offering of a sweet or savory snack. Drinks served also, including hot beverages and light alcohols. Since it was late afternoon, I decided for a fruity Merlot wine, and was offered additional mineral water by the friendly male flight attendant. He apologized to me for the low temperature of the red wine, which was of course not good. He explained to me that the bottle was just loaded onto the aircraft and that the trolleys are always stored in cool areas at the airport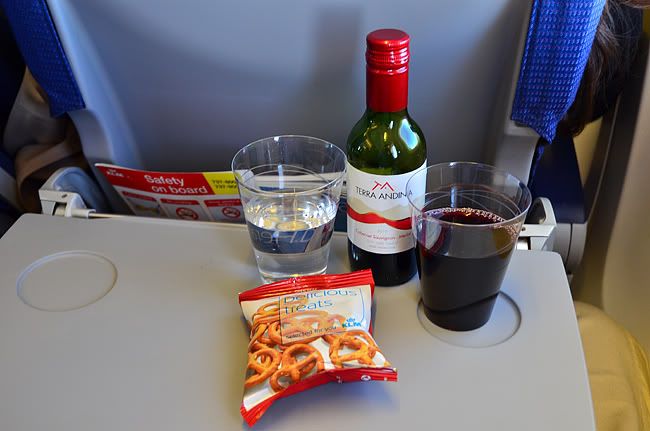 .
Something to bite on and complimentary drink service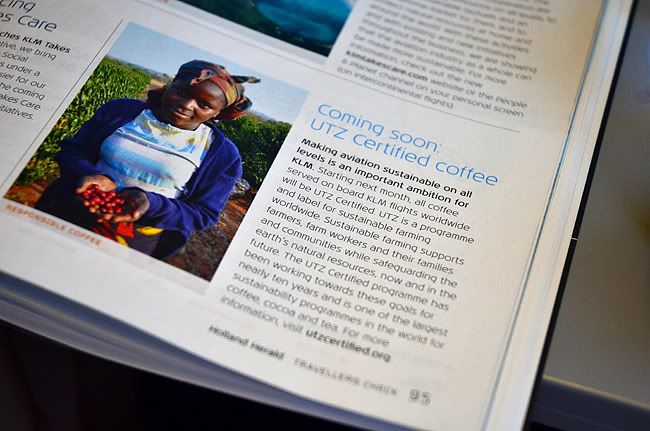 .
I hope the new coffee is tasting good from next month…
As promised the captain was back on with further information; our altitude was at 39,000 feet, descend into TXL would start soon, weather for TXL were a few clouds with 15ºC. Fair conditions, definitely better then expected.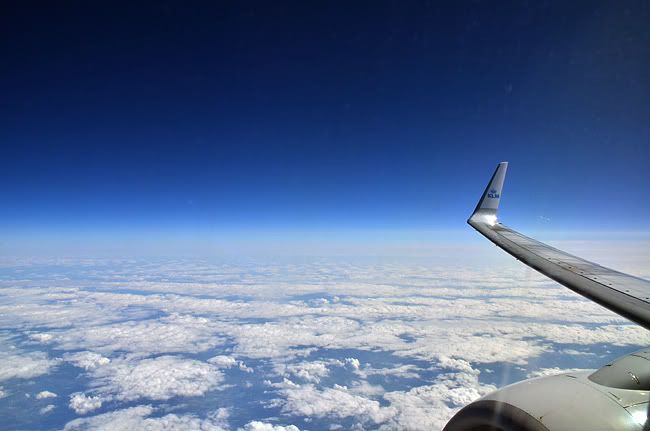 .
I can really enjoy these views!
During descend the crew collected the garbage and the cabin was checked. Soon this flight was coming to an end again. TXL was visible on our righthand side, with the city of Berlin in the background. This would maybe be my last of many landings at this airport. But maybe, more will follow... who knows. We turned in for final approach and landing was performed smoothly.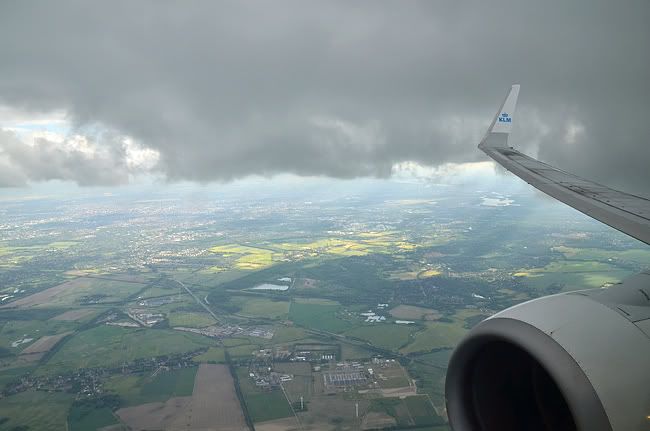 .
Some clouds during descend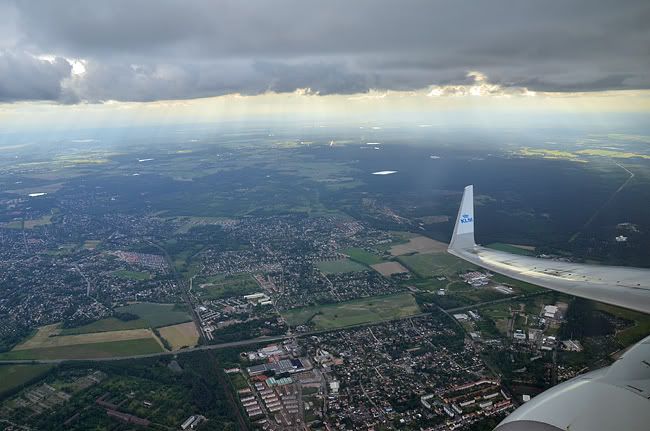 .
Turning in for finals when the sunrays shine over the outskirts of Berlin

.
Final approach… sorry people in your houses: TXL remains open for a while longer!
Taxiing never takes long here and we soon parked, 10 minutes ahead of schedule, on a remote position (not unusual for the KLM flights). I said goodbye to the crew, who wished me a good night in Berlin and also noted that I was returning the next day to Amsterdam. They hoped to see me again soon. Well, I am, for sure.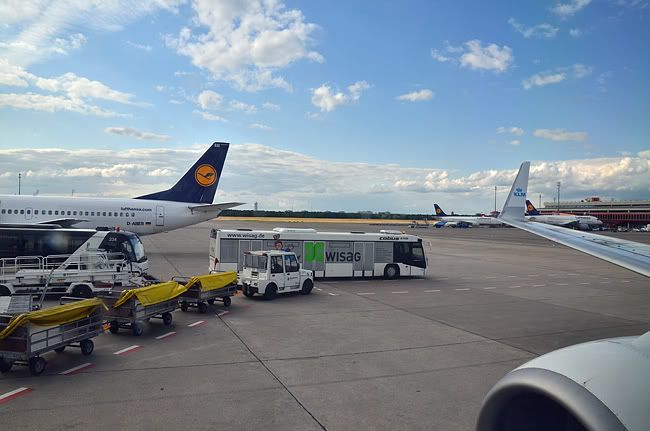 .
Parking on a remote position at TXL
Not less then 3 buses were waiting for our arrival, great arrangement here and the buses never got totally packed. Me and Servaas waited on the apron for Suryo, who was finalizing his final checklist in the cockpit. Therefore, the last bus we had and drove the short ride to the terminal.
With no luggage we got out in seconds and were greeted by an international welcome committee of fellow a.netters. Sultanils was in a little rush, since he had to get on the KLM flight to AMS. So we told him about the great crew and that he could look forward to a good flight. Read his report here:
To BERlin? No, To TXL...: BRU-TXL-AMS-TXL-BRU
(by
Sultanils
Jun 4 2012 in Trip Reports)
I met up with several of our famous tripreporters, we had some good talk (thanks Markus!) while waiting for Hannah, our hard working lady from ZRH who had to close the infodesk first before flying on the LX flight. As real men, we awaited the lady in red at her arrival gate. Once she joined, we were complete and headed off by the TXL bus to Alexanderplatz (fares: EUR 2.30/oneway - zone AB).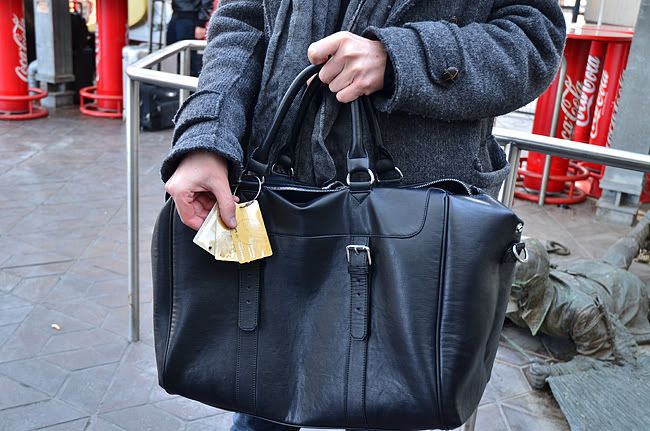 .
Of couse we think about the members who didn't join too. Jonas this one is for you!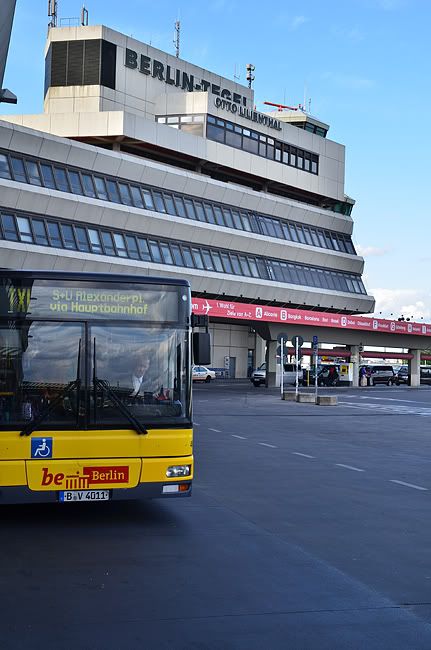 .
Leaving Tegel Airport for the City. A convenient direct busride running frequently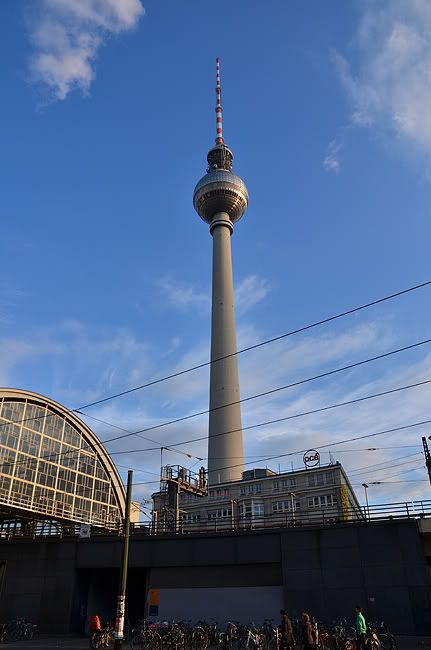 .
Europe's 2nd tallest structure still is the Berliner Fernsehturm (TV-tower)
The busride was very pleasant and the meeting was already up and running for sure. Good talk everywhere, really nice! About 30 minutes later we got off and walked to the restaurant near Alexanderplatz where we would spend most of the night, enjoying a great meal and a beer or 2. I counted about 25 people all together seated on 3 large tables. Impressive to see so many of us together. I think I speak for everybody when I say that it was a great evening being there all together.
After the most of us went eachothers way to their hotels, I headed to the Holiday Inn with Johannes, Robert and Gabriel for one more beer in the bar. When Johannes and Gabriel went for their room in another hotel, Robert and I had some more talk before the night called. There was not much time left to sleep.
Next morning, we have breakfast, also Markku joins us. A good start of the Sunday!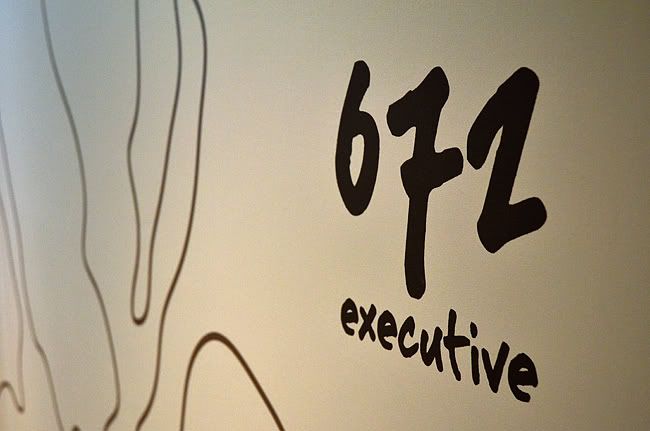 .
Only Executives sleep in such a room…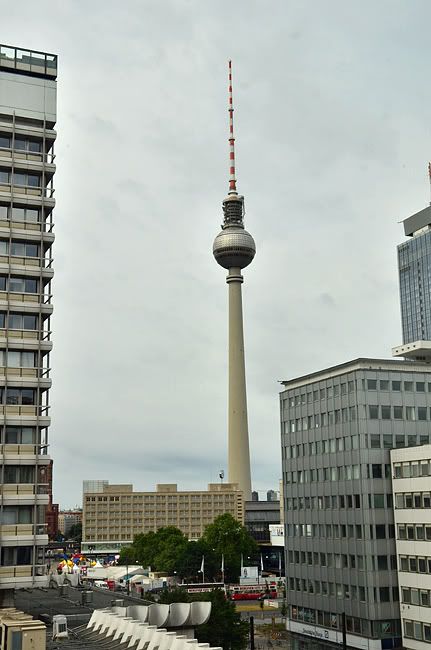 .
… to wake up in the morning with a nice view!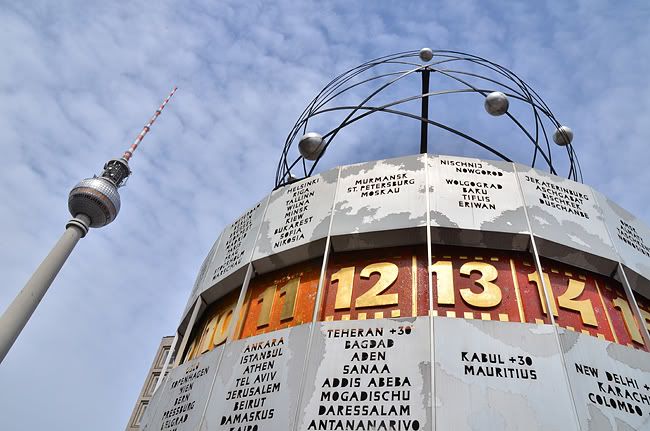 .
Typical Alexanderplatz scene… I love Berlin for the history, the old and the new!
The Sunday was, from around midday, a relaxed time with the group, talking and watching the air traffic. We were able to enter the observation deck for free since the ticket machine WAS broken. Gabriel tried on Monday again, but they fixed the thing and the fare of EUR 2.00 is active again.
While the weather was a bit cloudy, the traffic was sometimes mostly interesting, especially when the MIAT flight came in from ULN and SVO using a B767-300 with RollsRoyce engines. The aircraft previously flew for China Yunnan Airlines and later China Eastern, as B-2569. Nowadays she is known as JU-1011. This was definitely a highlight to see and now, we all wonder when we see a tripreport on it haha... Maybe that's the next goal for some of us!

.
So much history in this city…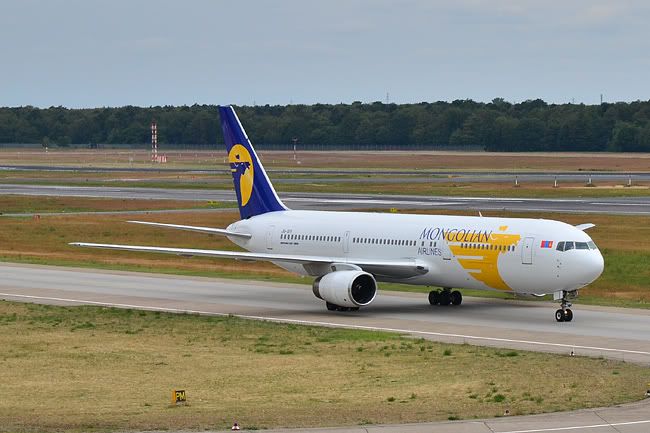 .
… and highlights as well. Here is the 767 from Mongolia.
After a few hours and from time to time we say goodbye to some of the group who were flying home again, it was time to say 'Prost' for the last time in one of the few bars TXL Airport has to offer. The draft beer was a welcome drink and the Belgium chocolate Marc brought with him from Brussels were a nice snack to have on the table. Some more talk, some ideas for future meets,... till it was time to say goodbye.
My flight back was on Air France to CDG first, joining me were Servaas again, as well Alexander aka 'eco' and his friend Stefan from Bulgaria. The flight was packed, like the previous one AF operated ex earlier that afternoon. The A321 was there, as expected, at gate gate A14. And again, I'm not amused at all... the aircraft F-GTAV was exactly the same machine as I flew on just days ago on 29th May as well. It seems bad luck for me on this trip.

.
Boarding gate for the AF flight (most passengers already boarded)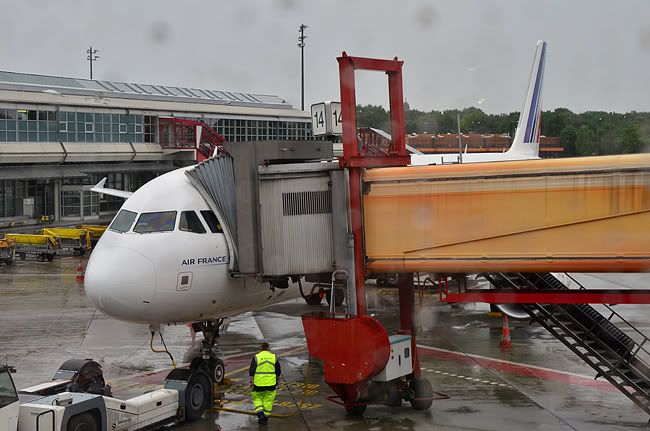 .
I was not amused by this weather, but also not by reading this registration
I checked once more for the seating on the second leg, from CDG to AMS. But where 1 groundstaff said to be unable to check (this was AF, not KLM), the male collegue on her left helped me without problems. In the end I kept my seat at the emergency row, since also the flight to AMS would be packed! Finally I was among the last 5 persons to board, checked the computerscreen and noticed a load of 171 passengers in total. With 200 seats in total, that means 86% loadfactor. Good score also here. All seats in my row are taken, legroom is OK but less then on KLM's Boeing 737s. Cabin looks in great condition.
| | |
| --- | --- |
| Flight | AF2035 |
| Date | 03.06.2012 |
| Route | TXL-CDG |
| Aircraft | Airbus A321 |
| Registration | F-GTAV |
| Scheduled Departure Time // Actual Departure Time | 15:50 // 15:58 |
| Scheduled Arrival Time // Actual Arrival Time | 17:35 // 17:51 |
| Class of Service | Economy Class |
| Seat No. | 05A |
Doors closed slightly late, so a few minutes delay were unavoidable. The crew said something about the rainy weather as being a cause (if I understood it correctly), but that can't be a real reason to be honest. OK, it started raining a bit, and the clouds were overcast. But very fine flying conditions.

.
OK weather to fly in. Just a bit wet.
The safety demo is performed manually, but with less interest compared to KLM. The cabin check is done roughly, I'm sure AF crew is missing items here. Meanwhile we taxi out for runway 26L.
Takeoff was immediately, no need to wait for arrivals or other traffic. With TXL on my left, I got a final (?) view of the airport. Goodbye Tegel! You are a great 'special' airport. Always had smooth flights here, and I liked this airport more then others because it's 'different'. And I like slightly different, sometimes haha.

.
Bye Tegel! Auf Wiedersehen? Time will tell!
Well, the view was soon gone once we helped ourselves through a thick layer of rainclouds. And once we got out of this, the weather was too hazy for great views. No good contrast at all between the white clouds and deep blue sky. A bit dissappointing to be honest. But what can I do. Just wait till next time, another time, another flight! That means... 3 more weeks waiting for me
Service on this flight; free drinks and Grissotti snacks. The male steward serving me was friendly enough when I requested my red wine in my best French
I'm not keen on using this language though I like to speak it as far as my knowledge reaches.

.
The usual red wine these days. Stay healthy during the flight too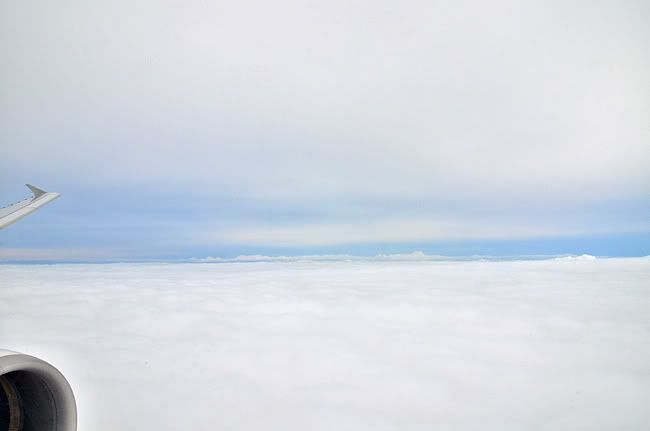 .
I don't like these skies with hazy layers all around
The remaining of this flight nothing happened. Crewmembers stored themselves into the galley, closed the curtains and where nowhere to be seen until 3 minutes before touchdown. 1 crew collected the garbage, before she took her seat for landing. But which really annoyed me on this particular flight is that no crewmember checked the cabin for closed seatbelts, seats in upright position, traytables and handluggage. This IS a lack of safety concern and to be honest, I haven't seen this on AF before. It really was disinterest of this crew-team. Quite dissappointing!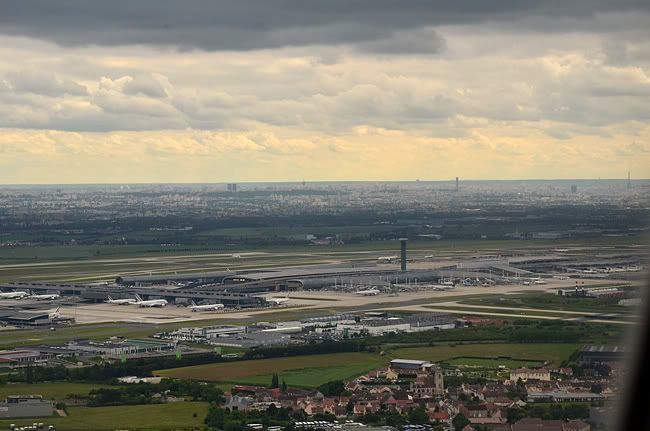 .
Approaching CDG, Paris in the distance. Montparnasse and Tour Eifel. Another photogenic city!
Landing was late on runway 27R, with a bigger delay then on departure ex TXL, so we didn't make up any time in the air.

.
Wanna play with me?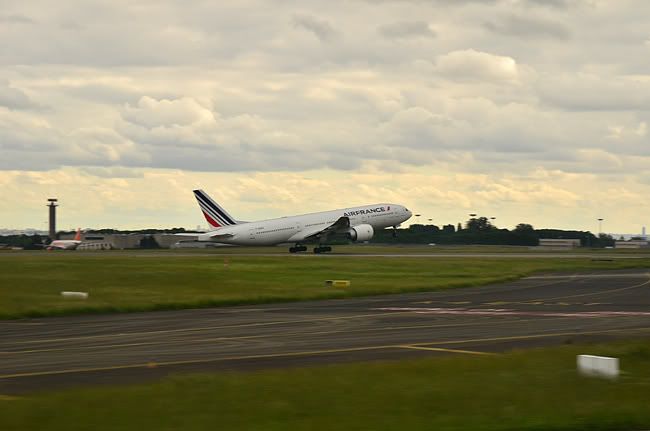 .
Okay… we let Boeing win the game. I'm fine with that too!
We taxied along the -very beautiful piece of architecture- terminal 1 before getting into the terminal 2 area.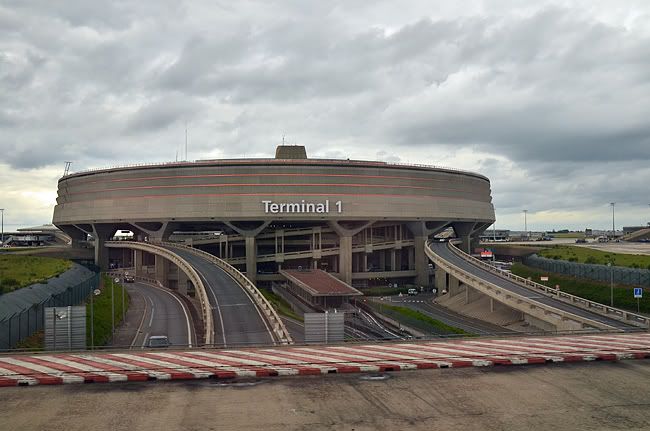 .
This is such a beautiful building imho. Not so customer friendly these days, but great architecture!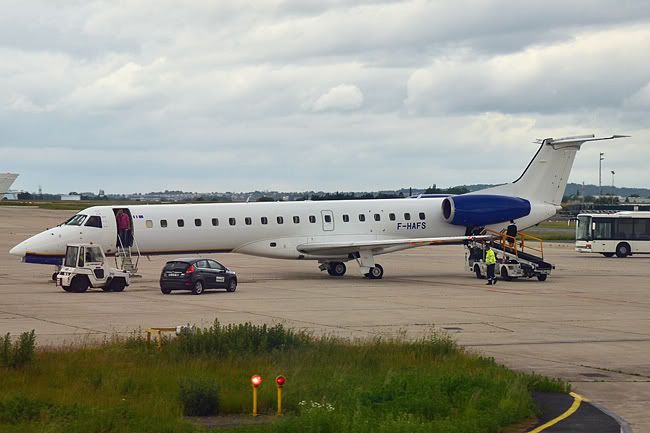 .
This can be an interesting Emb145 to fly…

.
Because I've no 717 in the report, let's do the beauty of Concorde! Speechless!
Parking was at gate F29, the same gate as I used on 29th of May (again!). With 20 minutes delay. At least when I left the plane I got a friendly 'Au Revoir'. I left with mixed feelings.
KLM was in as well, just 2 gates away. It was a Boeing 737-800, spotting PH-BXD. I expected 'BXM' again, but apparently they changed their mind. Also BXD was flown before, the last flight I logged on this bird was in August 2008 on one of my ARN-AMS flights. You might remember the day I was rebooked by KF 'faux1' as some call this airline. Unfortunately I had to re-arrange my plans that day. 'BXD' flew me home that night and saved the day.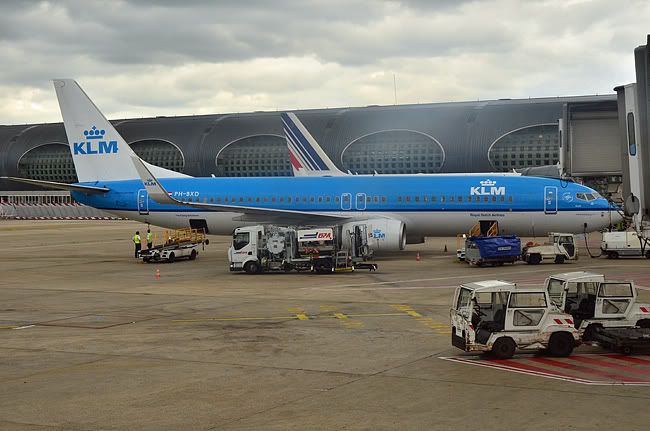 .
So, KLM is in already. We can do a short transfer without problems

.
Good information screens by ADP/CDG

.
I really had to picture this beautiful B777-300ER. I love these machines!
Also today I fly home on this Eagle, that's how they named this aircraft. After the compulsory visit to the lavatory before joining another flight for another red wine... boarding was really early and SkyPriority boarding was enforced here and I was able to make use of it. The groundagent was real friendly to me.
| | |
| --- | --- |
| Flight | KL1244 |
| Date | 03.06.2012 |
| Route | CDG-AMS |
| Aircraft | Boeing 737-8K2(WL) |
| Registration | PK-BXD |
| Scheduled Departure Time // Actual Departure Time | 18:40 // 18:38 |
| Scheduled Arrival Time // Actual Arrival Time | 19:50 // 19:46 |
| Class of Service | Economy Class |
| Seat No. | 14F |
I walk down the nicely designed glass jetty towards the aircraft and are greeted by 2 friendly crew members. Yes, I'm really flying home again... just a pity that the flight is almost full.
7 rows of Europe Business Class, impressive. And in the end, nearly full too. I'm in the Emergency Row, window. One senior flight attendant comes to explain me the operation of the overwing exit. For me it's easy to accept this and she confirms that I am able to sit on 14F. The lady was very friendly, you can feel her professionalism in her voice when she explains about the emergency procedure.
We pushback early by a few minutes, so a great performance here by CDG handling and KLM. We startup, then as usual, the manual safety demo. I pay close attention to the steward, and he notices my attention. He smiles to me during the demo. It seems that he was glad that at least 1 person was paying attention to him.
We taxi out via the taxiway along the J-apron, a shortcut towards runway 27L, which was active for departures. With no traffic in front, we do a quick departure towards the West, followed by some righthand turning Northbound, towards Amsterdam.

.
Up in the air again, going home…
Quite soon the seatbelt sign switches off and the crew comes into action. No surprise really, a full house and a flighttime of 45 minutes, means hard work. Especially now so many people are in Business Class, even 2 cabin crew are working in front. So in the back only 3, resulting in rather slow service for the front rows (including mine).
The male steward is really friendly and attentive though, and when I get my red wine, he automatically offers me water as well. With a smile. This is the way to do it. Meanwhile descend started already again, and the captain was on the intercom with the weather forecast: low clouds, rain, 9ºC. Not so good it seems.

.
No complaints about my legroom in row 14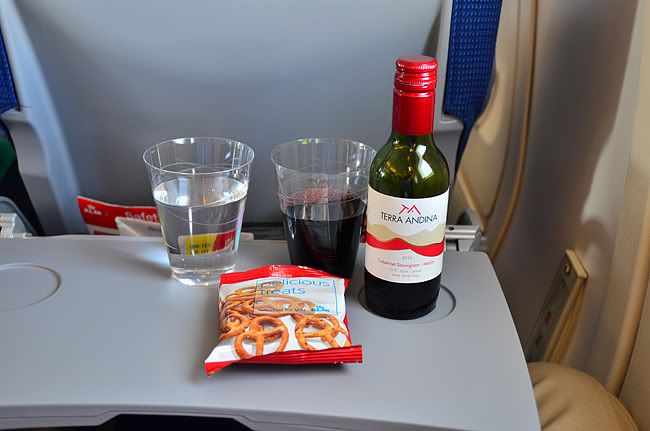 .
My last red wine for the day. I took Baileys at home
During descend it was a flight in between clouds only, without any views on the ground. I had no clue which runway we would be using that night. Finally about 300m altitude I recognize the location once we get clear of the cloudbase. We would use runway 36C for landing, definitely not the usual one for arrivals so a welcome change. I only arrived 2x before on this runway as far as I know. Landing was performed a bit rough, but of course OK enough. Thrustreversers were used to reduce speed before vacating the runway.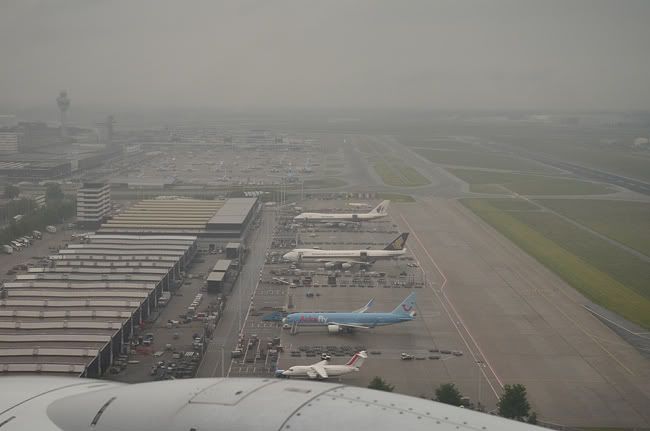 .
Short finals at AMS for runway 36C. Visible is the R-apron (cargo)

.
Moisture is in the air… touching down!
Taxiing took about 5 minutes in total, final parking gate was close to the main terminal building at gate D5. The engines were shut down just before our scheduled arrival time, so also here, a good achievement by KLM.

.
And finally, I'm clearly back 'home' in Amsterdam
Overall, I conclude this weekend as very successfull. Despite no new registrations flown by me, the main target was the a.net tripreporter meet in BERlin. And, so many people where joining during this period, many new but also familiar faces! It was good to see you all (again)!
Let's take revenge on BERlin in 2013 when they are really going to open the new airport. It seems this is something we've to discuss again the upcoming months.
KLM proved to be good as always to me, friendly open-minded crews on each flight, attentive service both in the air and also on the ground at the desk. Air France was in contrast to previous experiences, not service wise on board. That was just good enough. But the lack of interest to perform the safety procedures onboard is something I really dislike. This is of course not AF, but this is on my single flight with this particular crew. So I won't judge negative about AF.
The CDG transfer was smoothless and quick. No problems experienced.
For now, thanks for reading. Sorry again for my absence here lately, but better times ahead so it seems. I'll work on quite a backlog of tripreports from various kind of trips, short- and longhauls. Stay tuned, and happy flying
Eric
NB – some more Berlin-meet tripreports are already online at this moment:
Johannes:
Berlin And The "Reopening" Of TXL On LH And AB
(by
Luxair747SP
Jun 4 2012 in Trip Reports)
Robin:
To BER Or Not To BER, That Is The Question
(by
signol
Jun 4 2012 in Trip Reports)
717Flyer:
Mates And Muffins! HEL-TXL/SXF-BRU-TLL-HEL
(by
717Flyer
Jun 6 2012 in Trip Reports)