Spanish Flying: Air Nostrum & Vueling and do I get to fly CRK?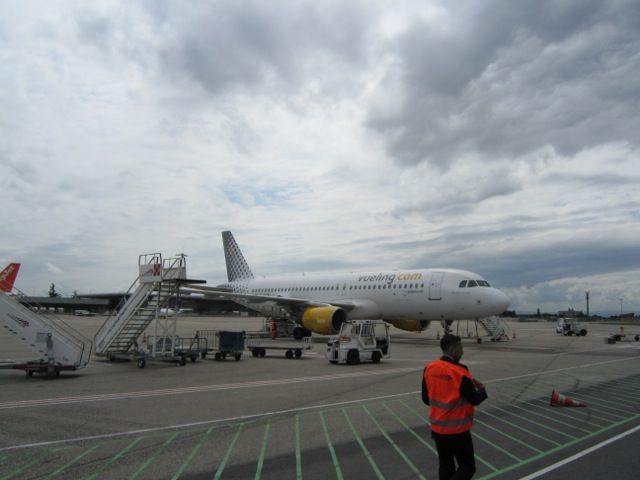 I have been doing lots of European flying the past month because I was in the area doing a cruise on Crystal Serenity with my family. Crystal Serenity is amazing and I am not sure if I can do other any cruise lines after being spoiled by it. Anyway, our ship docked at Rome on June 5, and then I flew to Madrid via Vienna and Frankfurt on a combination of OW airlines – Niki and Lan Chile. Not writing about it, since they are pretty routine, except that Niki is very good and the F/As made their P/A looking into the passengers (memorizing the lines too), and the agent was aware of the OW status. Lan Chile was disappointing with small sandwich on the two and half hour flights, and the check-in agent did not recognize my OW Emerald status till asking for a supervisor (a cute one – Philippe) and my bag was not tagged with priority tag. So here comes the main section – I have yet to experience any new aircraft type and there is one type that I can only get to fly it in Europe, as of now – CRJ-1000 part of CRJ Next Generation jets. My original itinerary will take me to Turin via AF on a combination of A318 and Brit Air's CRJ-1000, but about a week before leaving the US, I saw that Air France has canceled the Brit Air's flight and I scrambled to find new flight. After some more research, I settled on Iberia Regional partner, Air Nostrum, which has a good number of CRJ-1000 serving domestic destinations and a number of regional airports near Spain, especially over in France. I finally settled on Air Nostrum but one-way ticket is expensive in Spain – I debated between a RT to Lisbon and a triangular flight to Lyon and return to MAD via BCN on Vueling. In the end, I was able to find award seat on the Lyon flight (but only in business class, as we all know, business in intra-European flights is not fancy other than a less crowded cabin, a cold meal, and better service). Vueling is not too bad and I decide to try two of its add-on programs – DUO and XL seat. Not to mention a new airline to add to the list! However things did not go the way I want it…
June 8, 2012; Friday
IB/YW 8708 MAD-LYS Lv1000 Arr1140 CRJ
Booking through the Executive Platinum desk is always a pleasant experience and no fuel surcharge makes it better. I got a confirmation number from Iberia and was able to do seat assignment on line, but in the end, the original seat assignment is not honored.
Air Norstrum has its own check-in sign at T-4
Madrid Barajas Terminal Four is Iberia's fortress city, but there is no clear sign directing passengers to the premium lane. I felt like getting a real boarding pass today so I did not use the auto machines, which Iberia wants you to use. After walking among many Iberia desks, I finally found out the premium section and IB dedicated two rows of check-in and one ticketing desks to its business class passengers. Very good if they have signs leading you to it!
Giant Check-in area – Desk 780 and beyond
Ticketing Desk
I love the signpost though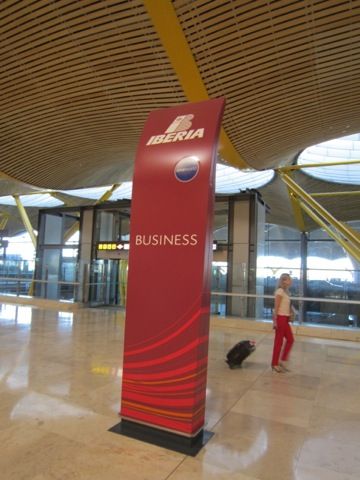 Branding is definitely the key here at Spain
Here was where I check in
As you can tell, the check-in counters were not busy, and the agents were busy chatting among themselves, and I finally just chose a desk and then another two Japanese passengers found another agent to check them in. They were fully manned but were more than happy chatting among themselves and there were no line supervisor directing passengers to individual desks. The agent was professional and at least had a smile and knew what he was doing, unlike the incompetent agent at Lan Chile in Frankfurt the previous afternoon. My original seat, 1F, was not honored again and the agent randomly assigned me a seat – 2C in the beginning and then I asked for a window, and he happily gave me 3A.
Fast Track was available to J passengers, and it was a nice feature, even though the airport was not particularly busy. I felt less hassled and business class passengers were familiar with the procedures and things went smoother for everyone.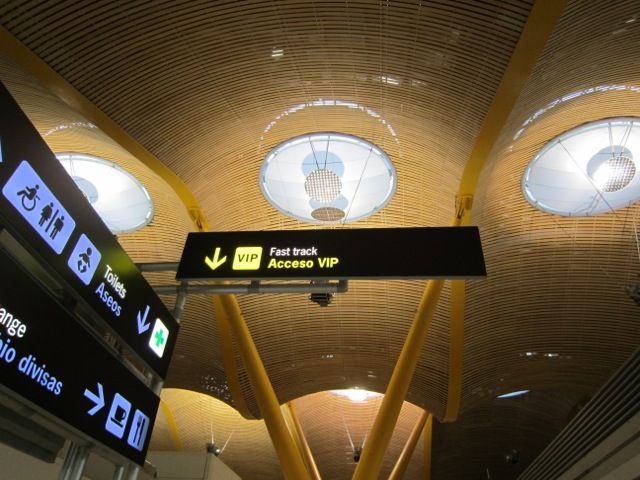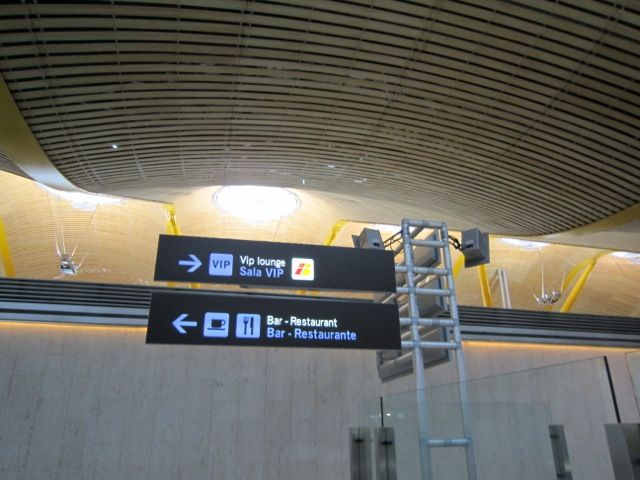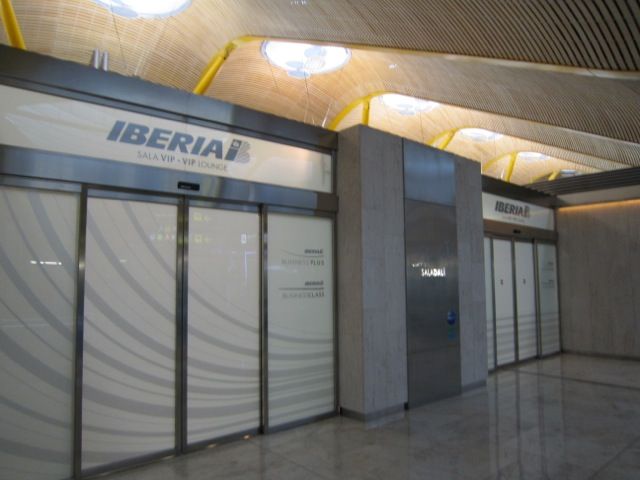 Iberia Lounge at Madrid was easy enough to find and this particular one serviced mostly domestic and regional flights. The lounge is actually pretty nice in layout and décor. The pictures will do the talking now. The lounge was not busy this morning and there were plenty of spaces for everyone to spread around. The open-air environment allowed lots of natural lights and a view of the apron filled with mostly Iberia narrowbody fleet.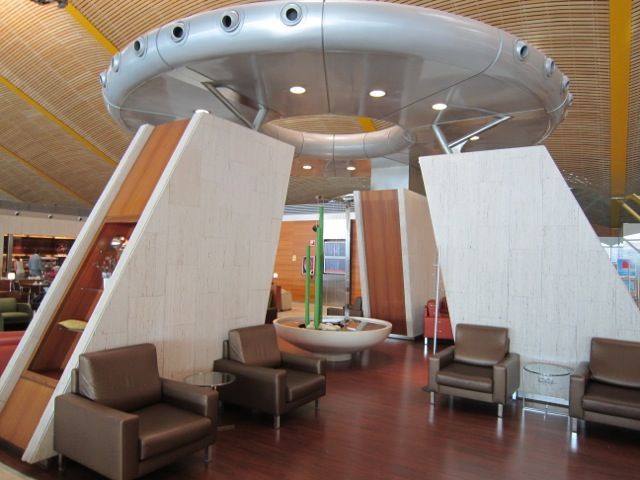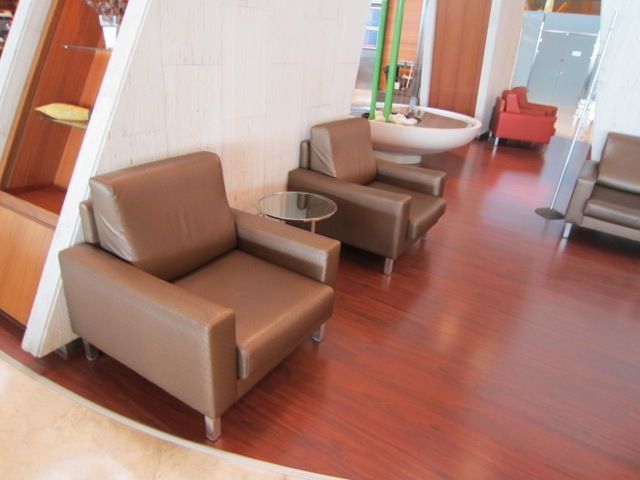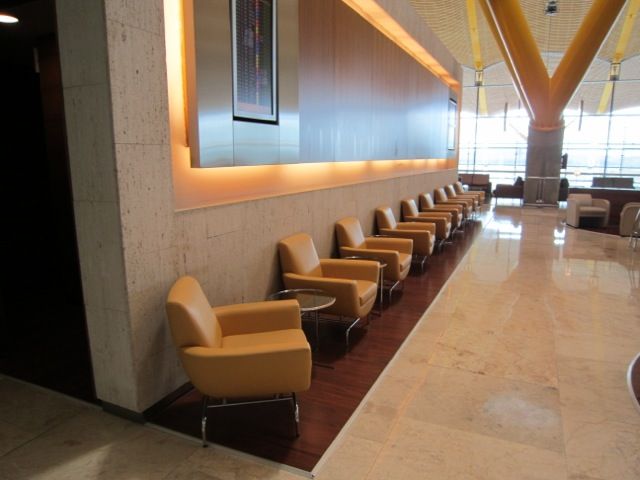 I have also discovered the existence of the relaxing room towards the end of the lounge, and the picture did not come out right because it was dark and I did not want to use flash. No one was using it but you could not tell the ambience. There were basically five long couches with pillows and blankets, and a side table with an apple and some basic amenities like eyeshades, earplugs and socks.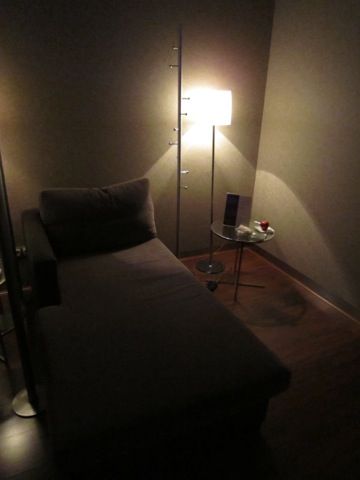 Dining options in the lounge is European oriented with breakfast pastries, cereals, and yogurts available. Here is the list of the dining options.
There are a few smaller beverage and snack stations, as pictured here throughout the lounge.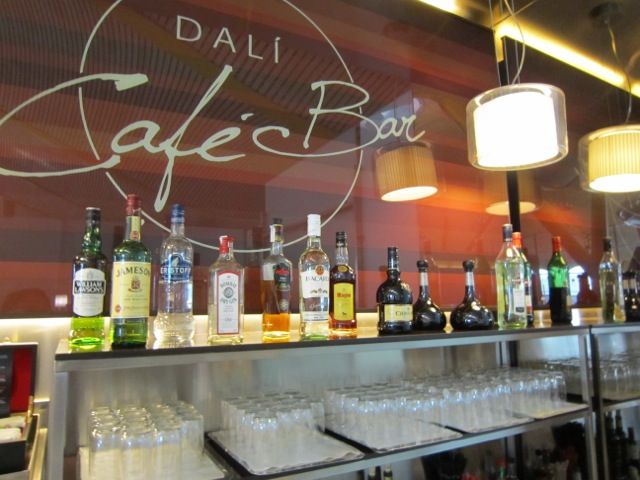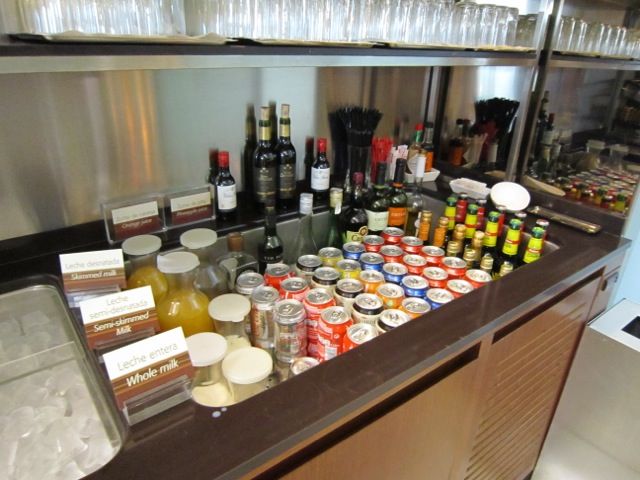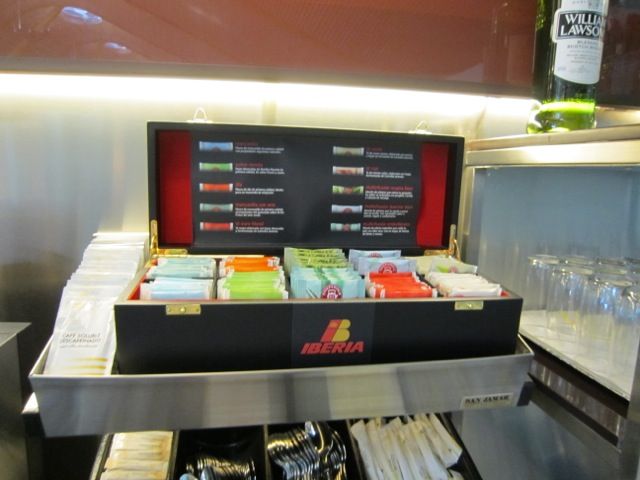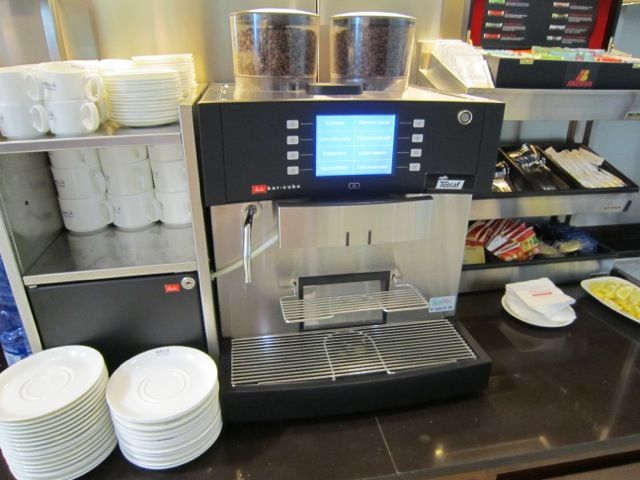 There is a major station in the middle of the lounge with full sized refrigerator featuring a wider array of food.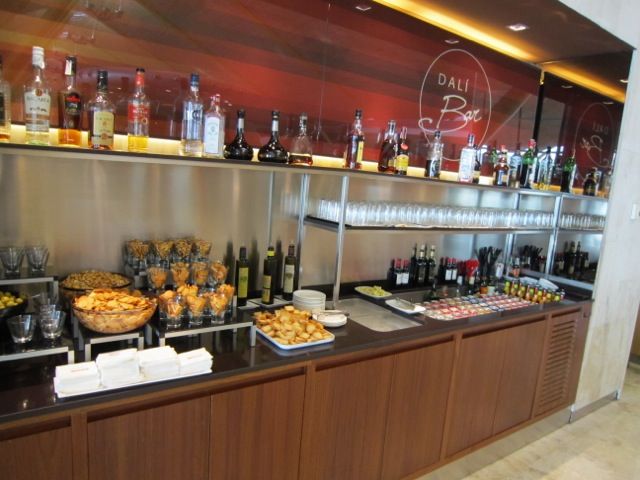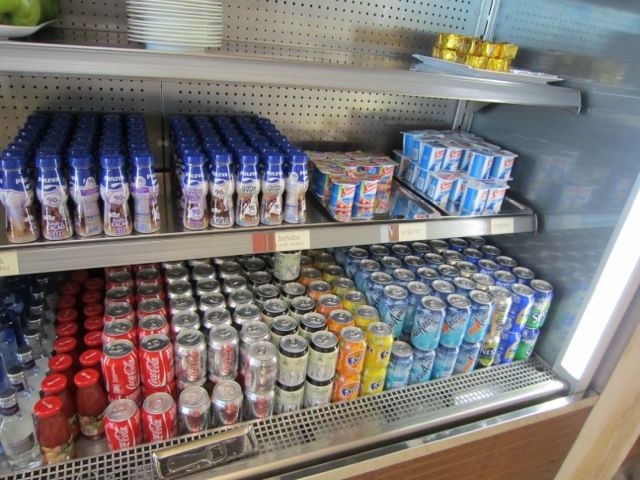 The famous wine bar featuring Spanish wines
Some dining tables
TV Lounge showing CNN – not used this morning at all
Business Center – there were a couple computers around
Iberia.com branding
However I have one major complaint and there is no complimentary wifi at all. I honestly rate IB lounge a star less because it fails to provide a basic business amenity for free – wifi is the most basic items you can ask for and internet-connected computers are not good enough. If it is a third party lounge, which features no free wifi at most Spanish airports, I can sort of understand, but as of 2012, any lounge without free wifi is pretty not up to standard. Iberia needs to work on it – complimentary and high speed wireless Internet access.
I left the lounge early, as all the regional flights used the "K" gates, which were the furthest from the lounge, and one of the negative about T-4 is the large size and the heavy amount of walking required by passengers. I also wanted to see if I can a few glimpse of interesting planes.
Iberia Express A320
CRJ Air Nostrum area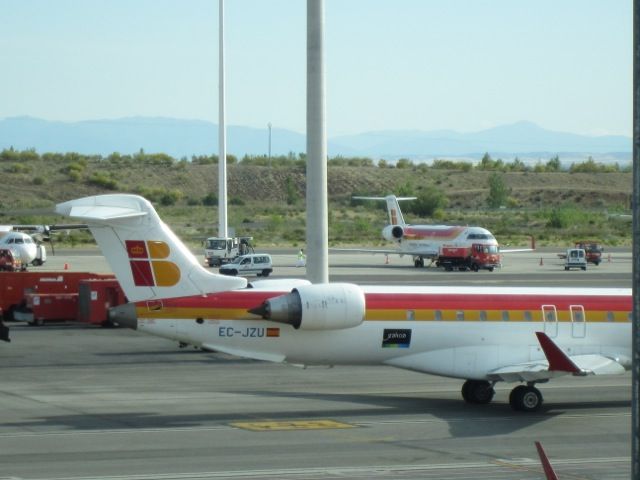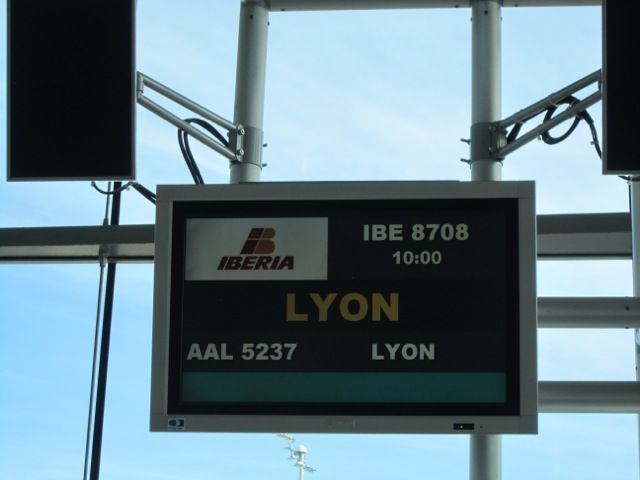 We used gate K96 this morning and I expected to be a bus gate. Boarding began at 9:37am and no priority boarding was offered typically of most European airlines. The agent was also tagging all the oversized valet carry-on bags too.
Tunnel leading to the regional jet pier – the only other flight is also going to Marseille
Entering the long pier – not a good sign, as I realize all the CRK flights got buses
First passing the Marseille flight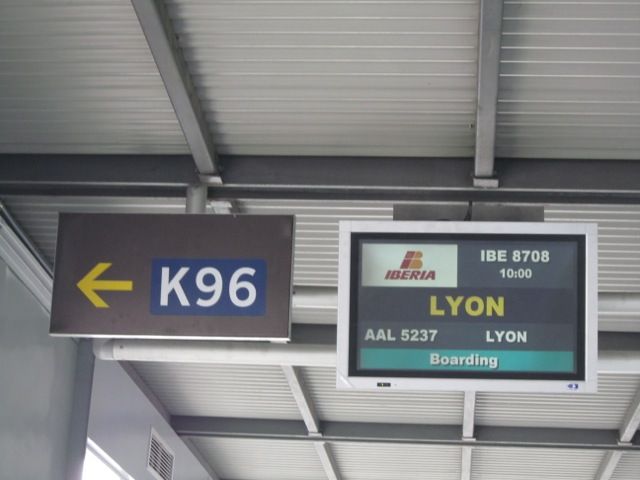 Then my heart sank when I saw this small regional jet, very tired looking jet.
EC-JEE CRJ-200ER
Name of the plane – Juan Ignacia Pombo
Then a ground staff stopped me from taking pictures (but I actually was not snapping like crazy after seeing this CRJ-200)– you can spot him in one of the pictures – very hunky though… He started speaking Spanish to me and of course I played dumb. Politeness is forgotten and even after looking him as a stranger, he obviously did not speak English and I just turned off my camera. Not worth a fight! The agents in Greece were more professional and clear in their commands. I have a feeling that this agent was making up rules and wanted to hurry up the departure process.
The aircraft was small and tired-looking
A cabin shot taken during midflight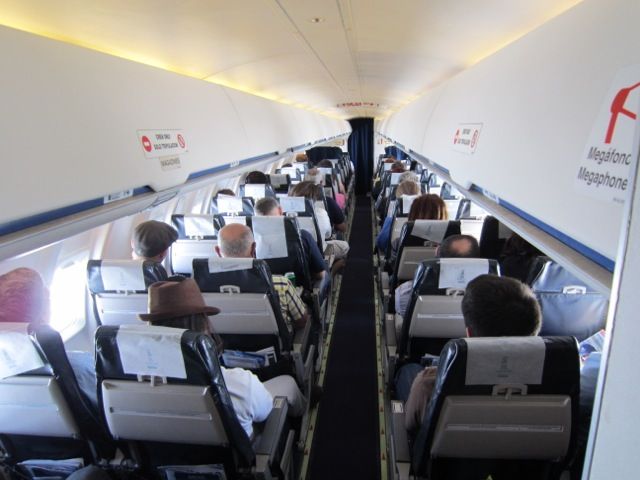 My seat 3A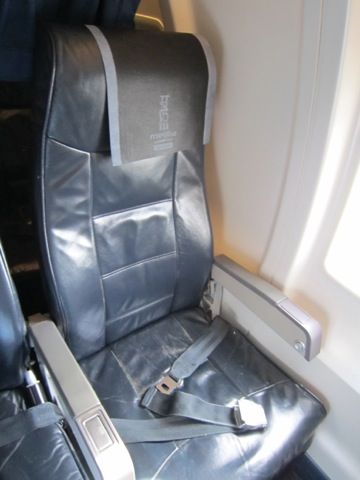 More seat shot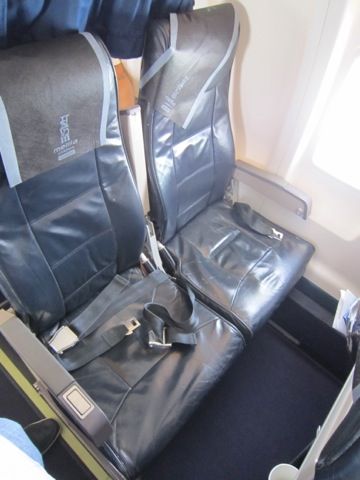 Seat pitch shot
Business class headrest cover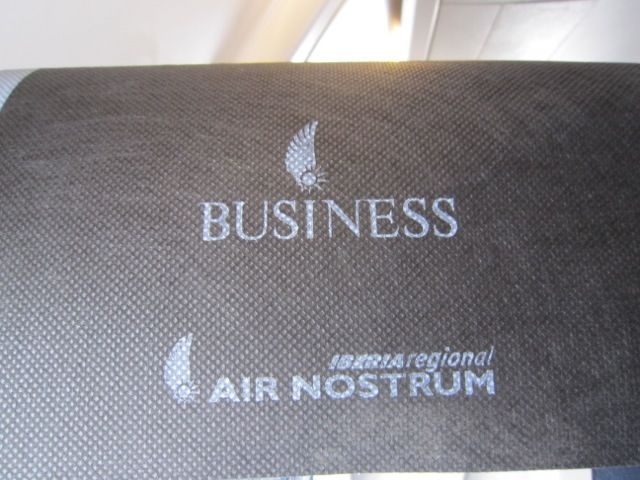 Business class sections had three rows – all the bulkhead seats were taken by parties traveling together and other three passengers (including me) just took a pair of seat for ourselves, with an off-duty pilot occupying 2A and 2C.
Two relatively attractive F/As were working this flight and I guess there was a last minute aircraft substitution as more regional flights feature only one F/A, but European rules may differ. Newspapers (French, English, and Spanish) were offered, and no beverage was offered – no surprise here.
Door was closed early at 9:54am. Economy is almost fully booked except four empty seats – three in exit rows and 4C. We headed towards R/W36R and took off at 10:10am. Flying time was an hour and thirteen minutes. No flight information, as flightradar24 can't track CRJ-200 flights, and the pilot did not make any announcement concerning those data!
Entertainment – magazines
Seat belt sign was turned off shortly after takeoff, and curtain was drawn between business and economy. Today service includes a continental breakfast. Orange juice was first offered and then F/A asked for our meal preference – choice today was a rolled up ham & cheese sandwich or a fruit plate. I chose the first option.
Orange juice in Air Nostrum glass
Here is the meal!
Rolled up ham and cheese sandwich with sliced cured meats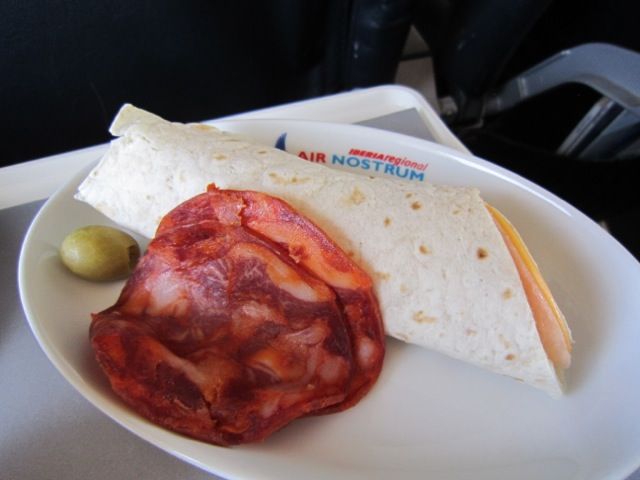 Cheese, some paste, and walnut
Bread plate – donuts, croissants, and wheat rolls were offered later (but I declined)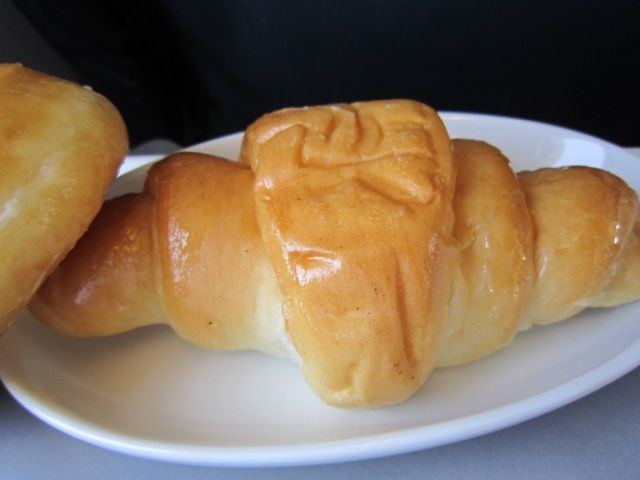 Lots of Air Nostrum branding – Air Nostrum seems to determine to differentiate itself from Iberia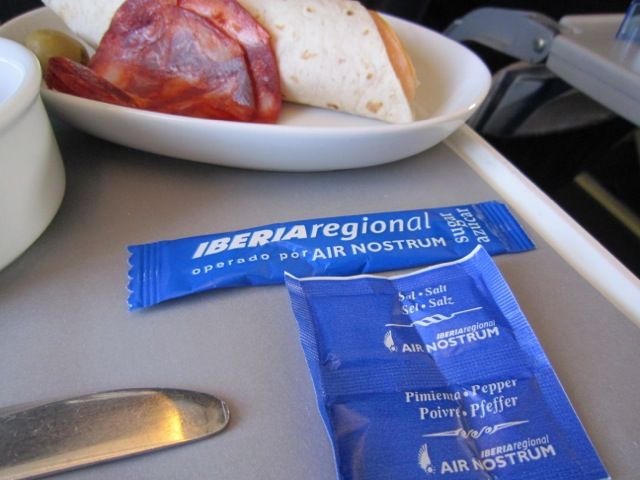 Tea and coffee were than offered and I got a cup of tea served in a paper cup.
One more additional perk of flying business – pillows
The F/As were polite during the service and seemed to be quite happy. Then after finishing our service in thirty minutes, they started to roll out the buy on board cart for economy passengers.
Descent soon began at 11:08am and it was a quick descent.
Lyon before landing
We landed on R/W36R at 11:23am and parked at spot E15 five minutes later.
There was a light drizzle so I was able to manage a few pictures. This time the French agent did not disturb me.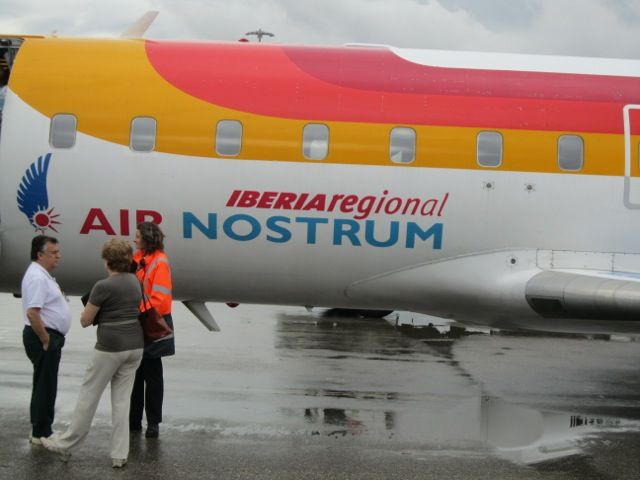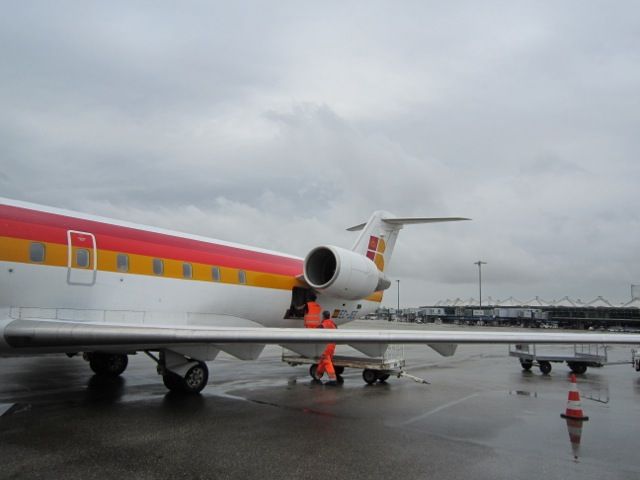 Next five hours at Lyons-Saint Exupéry airport – not fun at all! According to my priority pass, there is a lounge outside of security at Terminal One, but I can't locate it. So I just walked around and Terminal Three is basically a temporary warehouse structure designed for the bare bone low cost airlines. It is basically awful and hope the new Terminal three that the airport promotes will consider the need for more seats and space. I stayed at the Terminal One and two area and ended up having a nice lunch at a restaurant in the second floor. I returned to Terminal Three around 2:30pm for my Vueling flight.
Plane-spotting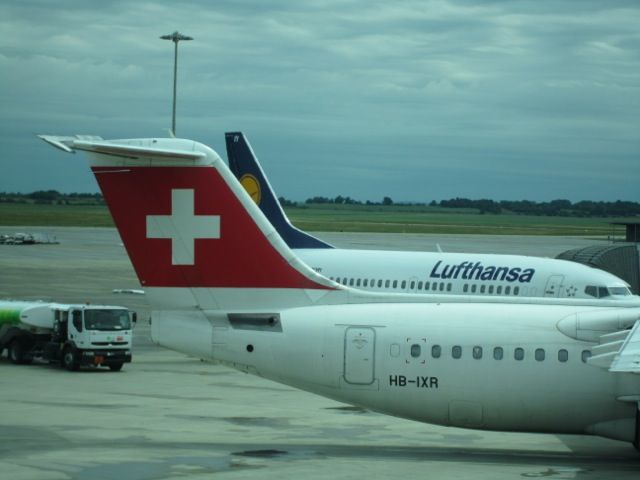 June 8, 2012
VY 1224 LYS-BCN Lv1630 Arr1745 Airbus A320-200 EC-KBU "Be Vueling My Friend"
Check-in began two hours prior to departure and there were two lanes for check-in. No pictures at all because the whole terminal three looks pathetic at best and I can't bring myself taking pictures. I have upgraded this ticket to DUO, which is a premium economy product offered by Vueling. It basically guarantees an empty middle seat and only Row 1 (and 2) will be used for this product, which guarantee speedy boarding and deplaning. Priority boarding is available in Barcelona and Madrid. Along with increased baggage allowance, a free non-alcoholic beverage and a free snack item is available. Since Lyons is an out station, there is no priority check-in, but VY supposes to have dedicated check-in counters at Barcelona and Madrid.
Please note that it will take you at least ten minutes to walk to the satellite terminal! So please allow sufficient time and it is a lot of walking! Security lines are not too bad and the airport opens more lanes, as the afternoon rush begins.
However there is a major lack of seats for all the mostly Easyjet flights at the satellite terminal. LYS needs to work on it and please note the airport wifi will not work here. I really will not recommend a LCC experience at LYS unless they fix these basic seating issues and install some basic business amenities.
Thankfully the inbound aircraft EC-KBU arrived early from Barcelona and here was the plane taxing in.
Boarding began at 3:58pm (after the Easyjet cleared, as both flight used the same gate this afternoon). Gate 30F was our gate and our plane was parked at position J39.
More pictures as we approached this beautiful Airbus A320-200.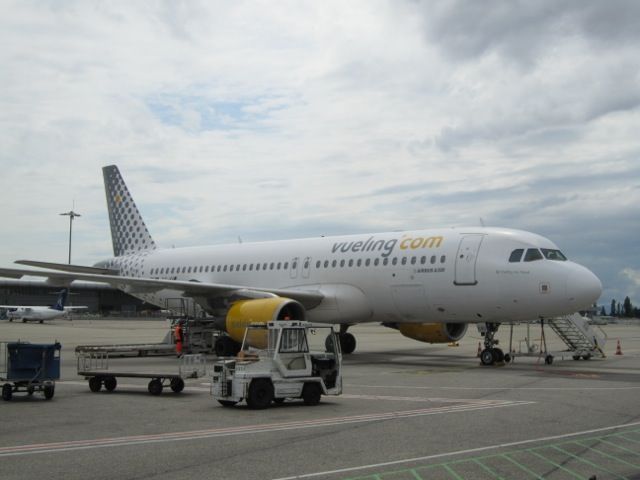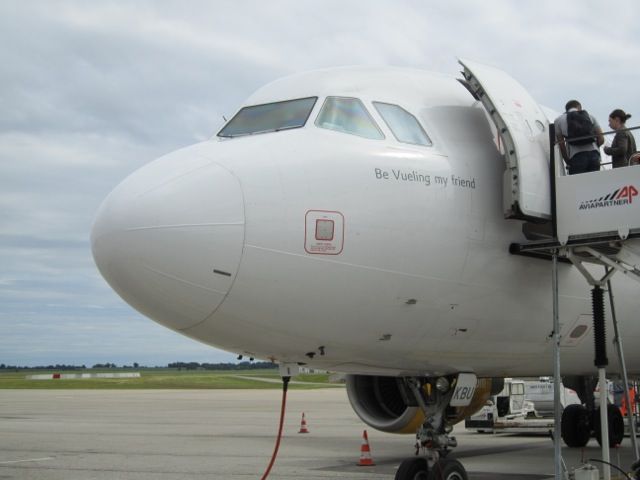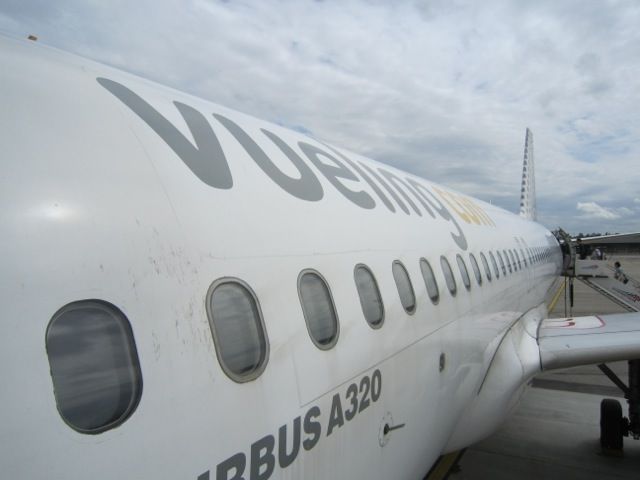 Vueling uses a quick turnaround process and F/As cleaned the plane, as passengers deplaned. Boarding will begin immediately, but today due to the early arrival and Easyjet departure, we did not start till 3:58pm, which was still early. The F/As were very young and four F/As were in charge – two in the front and two in the back. They were friendly and professional. They greeted passengers in both French and Spanish during boarding. The load was 141 this afternoon, which meant a relatively light load. The capacity is 180 for VY A320. Some passengers want to move around but the F/A just shook her head every time (since I did not know Spanish), but basically the passengers were told to stay at the original seats. The first two rows were blocked for DUO passengers only. I am impressed and hope all airlines will reinforce the seating system, as we have to pay for seats now. I basically had Row 1 to myself and Row 2 had a handicapped lady.
My seat for the next hour…
Cabin shot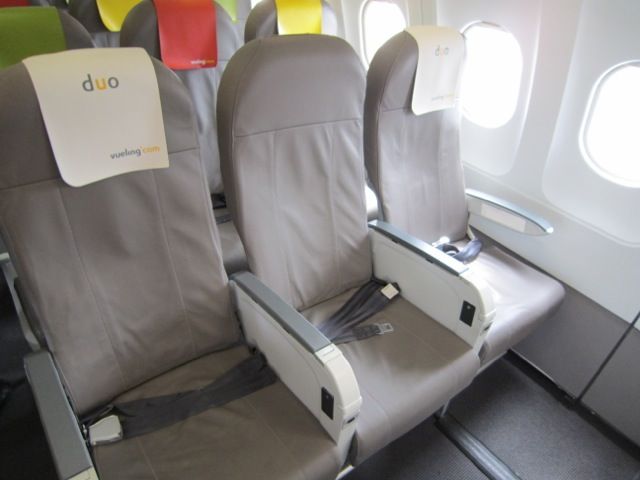 Legroom shot for Row 1 and 2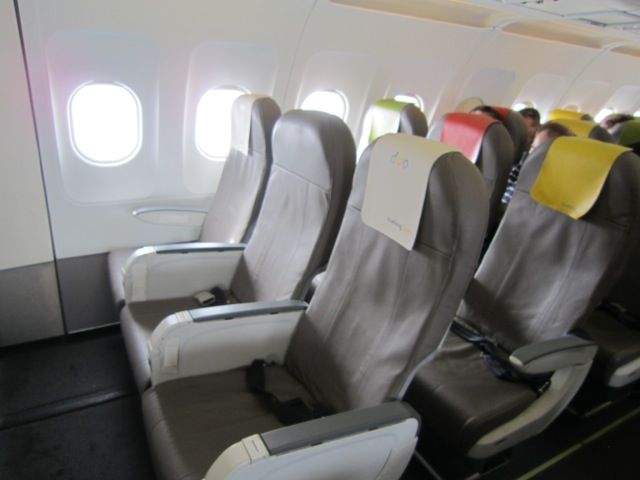 New slim-line Recaro seats
Boarding completed early, but due to paperwork, door did not close till 4:27pm. Lyons is a new station (only a week old) and agents were still learning the ins and outs of the new airline. We took off from R/W18R at 4:38pm. Flying time was an hour and our cruising attitude was 29,000feet this afternoon.
Like most LCC, everything is on sale and the price is fine, and there are a number of combo meals available. As I said before, Duo passenger gets a free non-alcoholic drink and one free snack item. It took them a while to set up the cart and service did not commence till 5:03pm. I got a Coke Zero and for snacks, I was offered anything from a salad to a candy bar. I settled in some honey roasted peanuts. Here is my purchase:
Entertainment – magazine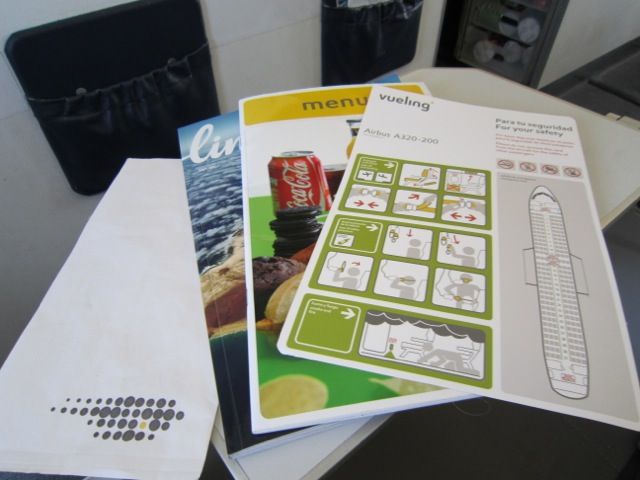 Seat map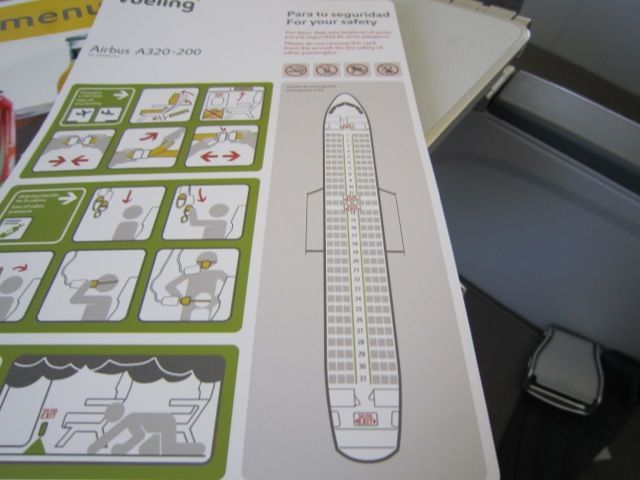 I am under the impression that you can choose any snack item including sandwiches from the menu, but only one item. Of course I don't speak Spanish so not sure if I can ask for another item if I choose a candy bar. It is a short flight. Descent began at 5:09pm and we landed on R/W25R at 5:38pm and parked at spot 264/Gate B32 at 5:43pm.
VY 1011 BCN-MAD Lv1845 Arr2005 Airbus A320-200 EC-JQZ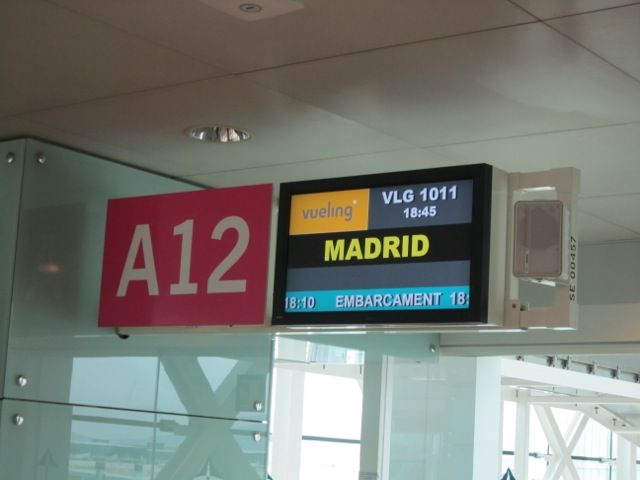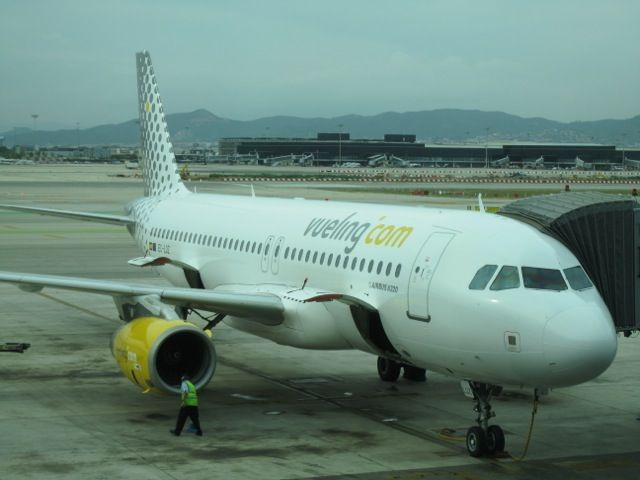 Nothing much to add but I chose to just purchase an exit row seat for this flight. 14A was my seat this afternoon and this flight to Madrid was almost 100% full except the middle seats in the exit rows and Duo seems empty.
Priority boarding sign was set up and here it is! DUO/XL seats/FLEX passengers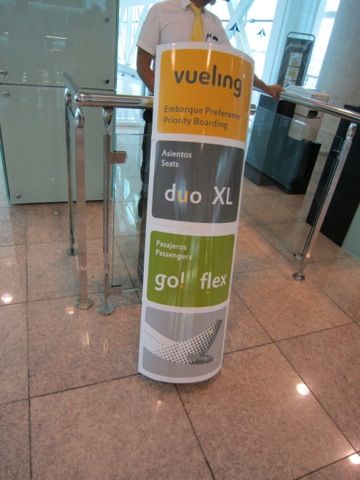 However there is not really a separate line for passengers to line up and everyone just squeezed forward. I feel that a more efficient system is to separate out the priority passengers from regular passengers. Or at least provide an early boarding opportunity! Most importantly, they should have a special logo at the boarding pass designating passengers, who have priority boarding. So no need to fight with fellow passengers! They need to do better especially they want money!
Boarding began at 6:23pm and completed at 6:41pm. We took off at 7pm from R/W25L.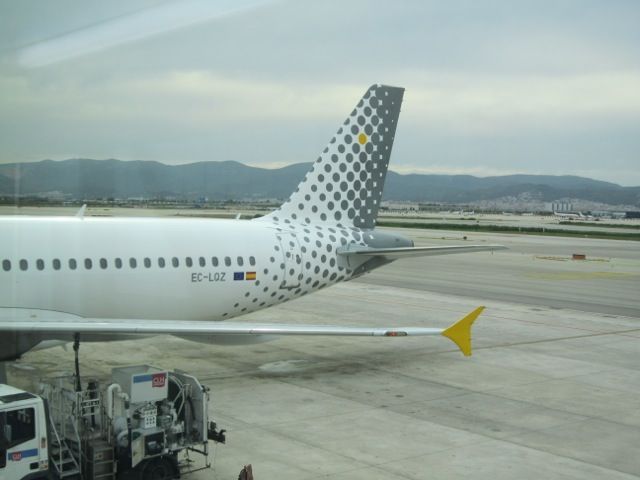 Some seat shot – the seats are different from the previous flight, as this aircraft was leased from Iberia. They have the Iberia style seats – older Recaro design.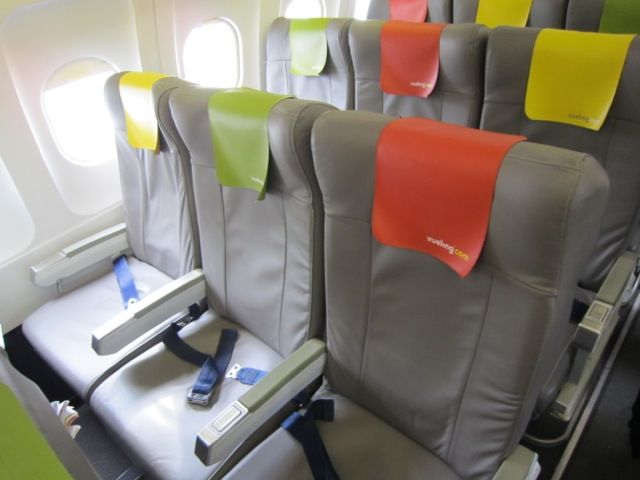 I did not buy anything from this flight, and this 55 minutes flight went over quickly. We stayed at 28,000feet and descent began at 7:25pm. We landed on R/W18L at 7:55pm, and parked at gate H15 and spot 386 at 8:07pm.
In conclusion, not able to fly CRJ-1000 is disappointing, not to mention wasting lots of miles on a lackluster regional flight. Not sure if I can trust Air Nostrum again! But I am open to any suggestion on a reliable CRK flight from fellow enthusiasts! Brit Air may be a better choice. Hopefully some US operators will get it eventually.
About Vueling, I am actually quite pleased with it, except the Lyon ground experience, which Vueling is not to be blamed fully for. The airport operator needs to enhance the LCC experience. It is for LCC carriers, but there should be basic standard to adhere to. They need to have more seats and more dining options. There is too much walking. Other than that, the cabin looks good and the seats are acceptable. I like the booking process and the website is easy to navigate and to use. The premium options are easy to understand and to purchase. I will not hesitate to fly it again.
The new premium economy product, DUO, is interesting and I like the options of being in row one and having the middle seat blocked. The free soda and snack is more like a gimmick. However I feel that the ground experience needs to be better – priority boarding needs to be more clear, and most importantly, priority check-in needs to happen even at out stations. 70 Euro is not cheap and the ground experience needs to improve. Value wise, I feel that XL seats are good, as they provide good amount of legroom and priority boarding. Of course, you can't guarantee an empty middle seat, but the chance is good enough for me. Regardless, I feel confidence about Vueling operations – all on time, if not early, and it is a good LCC experience, and most importantly, I like the premium options available.
Some random shots of planes at Madrid
More Iberia Express
Korean Air "New Horizons of Korea" Boeing 777 HL7752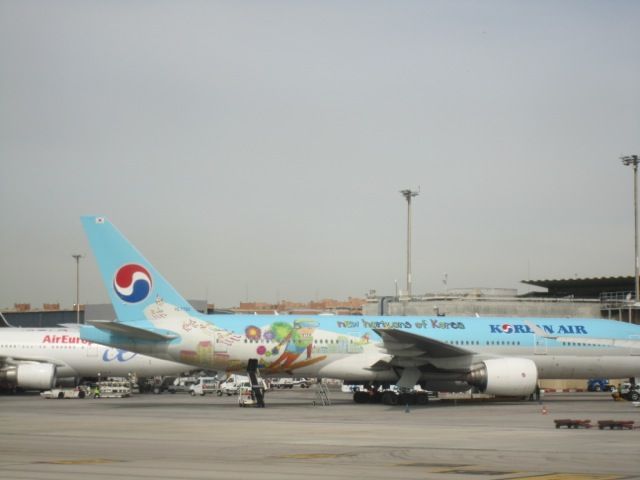 Aer Lingus A330-200 EI-LAX
Pullmantur Air Boeing 747-400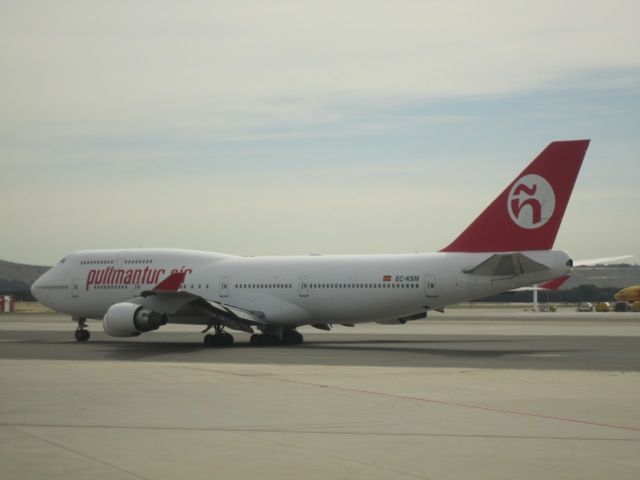 Thanks for reading!
I am still open to any reliable CRK routing suggestions!
Carfield