Dear readers,
Welcome to another of my trip reports. This time it's the first part of a series and a rather exotic one by my standards- no 90 minute hops up to Northern England this time!
Background
My husband was entitled to extra holiday this year, due to the fact that he's been with his company a good number of years. That was all very well for him, but my holiday allowance isn't quite so generous. What to do about it? Well, I asked about taking some unpaid leave. This wasn't granted, but it was decided I could take a couple of extra weeks off work and make the hours up later in the year. For operational reasons I could only have this extra time off in April or May.
So, we decided to take a month off and do something crazy. But where? An extensive Scandinavian tour has long been a dream of mine, but it wasn't the best time of year. When you have 4 weeks to play with, it's logical to go further afield. We thought of South Africa, but decided that as the time difference is minimal, this could easily be done with just 2 weeks leave.
I don't remember how the idea started, but somewhere along the line Australia got brought into the conversation. And then from Australia, suddenly New Zealand got mentioned. I actually 'blame' fellow a.netter NZ107 for this, as after reading this report and seeing the photos of beautiful Queenstown, there was this little idea in the back of my mind of visiting the country sometime.
So, down to the travel agent it was on a dull, cold December afternoon. Returning with an armful of brochures, we actually dared to dream that we would fly to the other side of the world. At this point some of you might wonder why in the age of internet booking we use a travel agent. Well, it's a tradition we have for our main trip of the year, plus a friend of mine works in our local branch so we always get good service.
Relatively quickly we settled on a 3 week tour of both islands and after New Year we were ready to book. My husband said he wanted to add on a few nights in Sydney, so an itinerary was drawn up and the flight options were looked at. Obviously there were many of these. EK were having a January sale and we were offered a truly excellent deal by the travel agent. My first choice had always been SQ, but the difference in price was substantial.
The flights were blocked for us and we said we'd sleep on it. Our joy was short lived however. No sooner had we returned home than our friend called to say that our planned tour had been cancelled and was no longer taking place in April.
So, it was back to the drawing board. We decided we didn't want to do a self drive and although we've never been keen on the idea of coach tours we felt that this was going to be the best option. We trawled through brochures until I could no longer take it and spent hours in the travel agent. It was the same story every time. Either the tour we wanted was no longer taking place on the advertised dates, or if it was going ahead, the itinerary didn't appeal.
In desperation I googled all sorts of travel companies and eventually struck gold with Relaxing Journeys, an NZ based agency who offer an abundance of trips, including unescorted coach tours. This means that you use the local Intercity buses to get about and as they leave daily, you can adjust the itinerary to suit, so we were sold.
As the EK offer was no longer valid we settled on SQ, the routing being ZRH-SIN-AKL / SYD-SIN-ZRH. For the necessary CHC-SYD leg the travel agent automatically suggested EK. I was tempted, especially as it would mean a widebody on the short 3 hour hop. But what about NZ? My chances of flying EK in the future are much higher than being to able to log NZ, even if it did mean an A320 over a B777. So, Air New Zealand it was.
We also booked the exit row on all the SQ flights. This costs 50$ per seat per leg, but they gave us one leg for free. This was good for my husband as not only is he tall but for medical reasons is at a higher risk of DVT, so the extra legroom was important. The downside was there wouldn't be a window……
Finally! Everything was sorted & our trip was booked! I intend to break the report into 3 parts. Part 1 will cover ZRH-SIN-AKL, part 2 our trip around New Zealand and the CHC-SYD leg and part 3 SYD-SIN-ZRH.
Enough of the background, let's go!
Saturday 14th April
Prior to the biggest trip of my life, I experienced a mixture of excitement and nerves. As a result I didn't sleep too well and was tossing and turning from 3am. The alarm eventually bleeped at 6, giving us two hours to get ready. Some special sms wishes from certain members of this forum were very welcome!
We'd ordered a taxi for the short ride to our local station, where we picked up the direct train to the airport. So, this was how our journey started: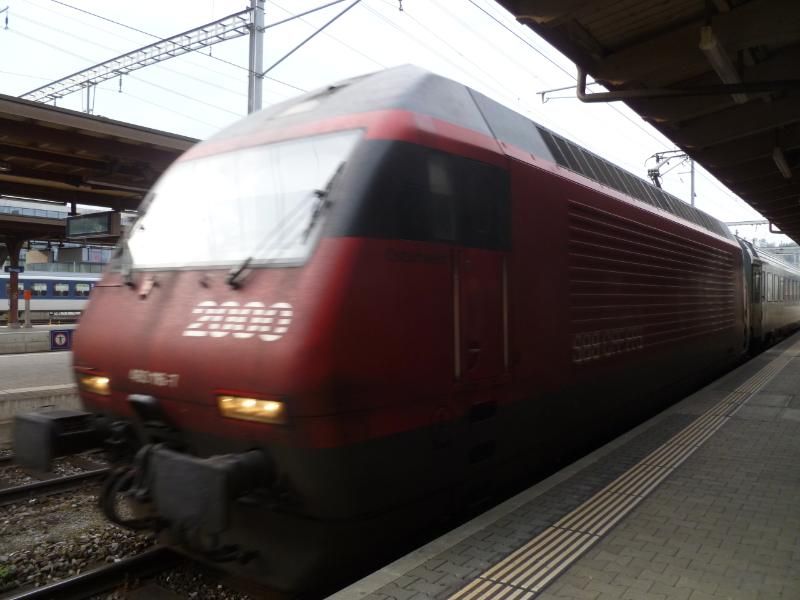 Arrival at the airport was at 9. Plenty of time for an 11.45 departure but there were reasons for being early. We headed straight up to check-in 2 to the dedicated SQ desks where we were served after a short wait. A friend of mine was checking in, so we got extra special service. I was amazed when we handed our cases over- they weighed just 15 & 16kgs. I was a little worried about a 20kg allowance for 4 weeks and for the first time in my life I made an extra special effort to travel light. It paid off!
Check-in 2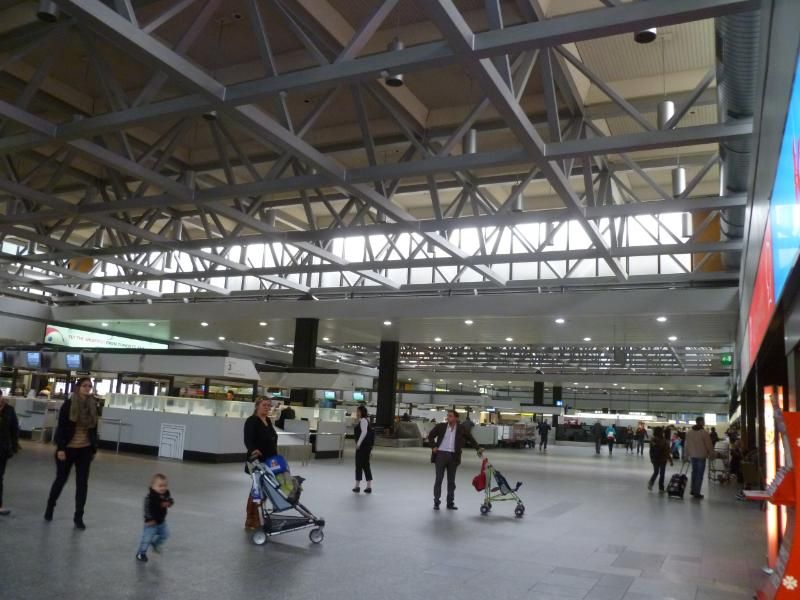 After a quick chat with my colleague we headed to the Airport Medical Centre. My husband had been given blood thinning drugs which he had to inject and as neither of us had done this before we decided to make use of the service the airport offers. No charge was made, which is rather surprising for Switzerland, but tips were very welcome.
View from the Medical Centre, 8th floor. You can just make out the SQ tail in the far left corner of Dock E: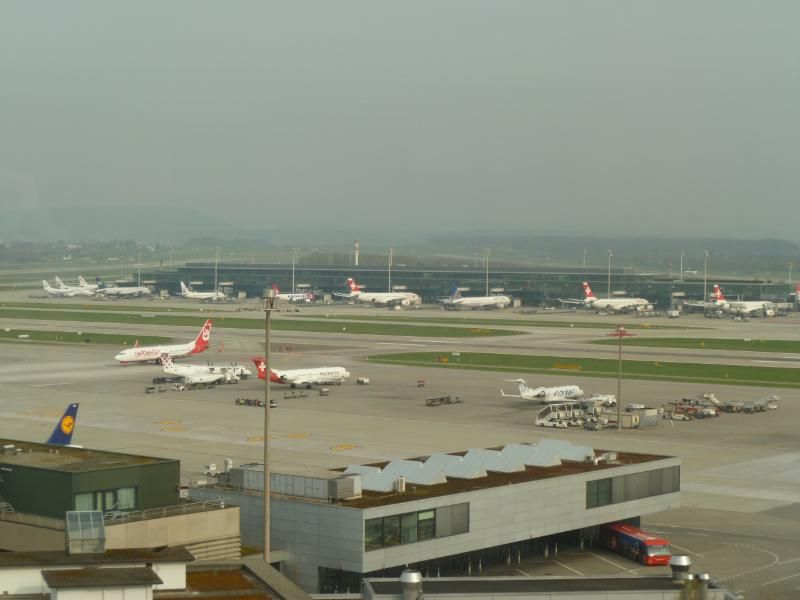 After stocking up on some magazines and then nibbles from the famous airport bakery Steiner, we passed security. There I met up with 3 of my colleagues who gave us a good send off complete with some gifts of Swiss chocolate.
Then it was time to head through passport control and on to the E gates. We timed it just right, as the SQ crew working our flight caught the same train as us. When presenting my passport, I greeted the policeman with 'Grüezi'. He took one look at my passport and asked me in English whether I was going to London (Britain does not just consist of London you know….). He seemed a bit baffled when I replied in Swiss German that no, I was going to Singapore and then let me pass.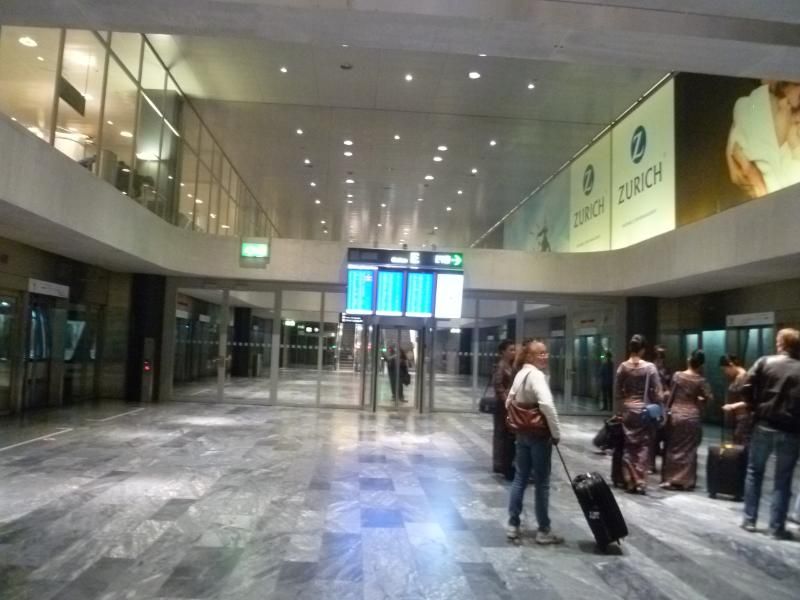 Non-Schengen departures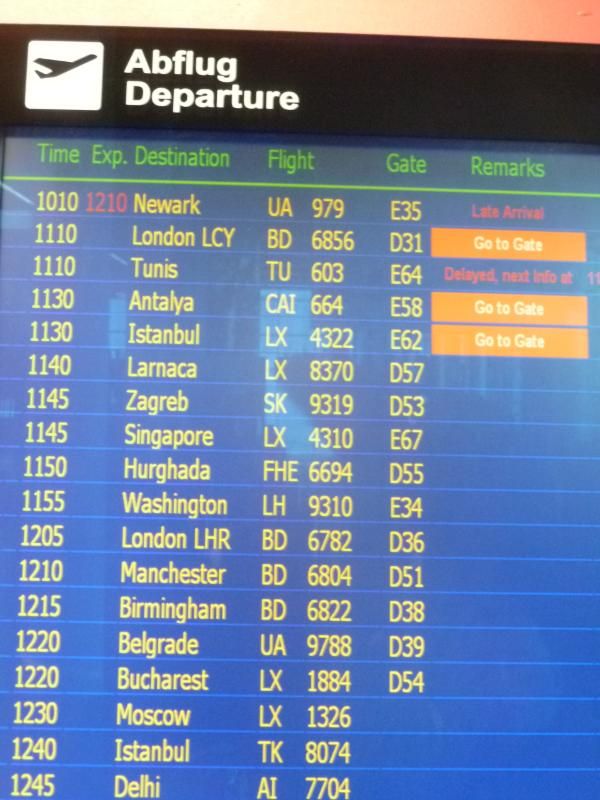 Over at Dock E, the SQ crew now heading to the gate (there were 4 males and 10 females)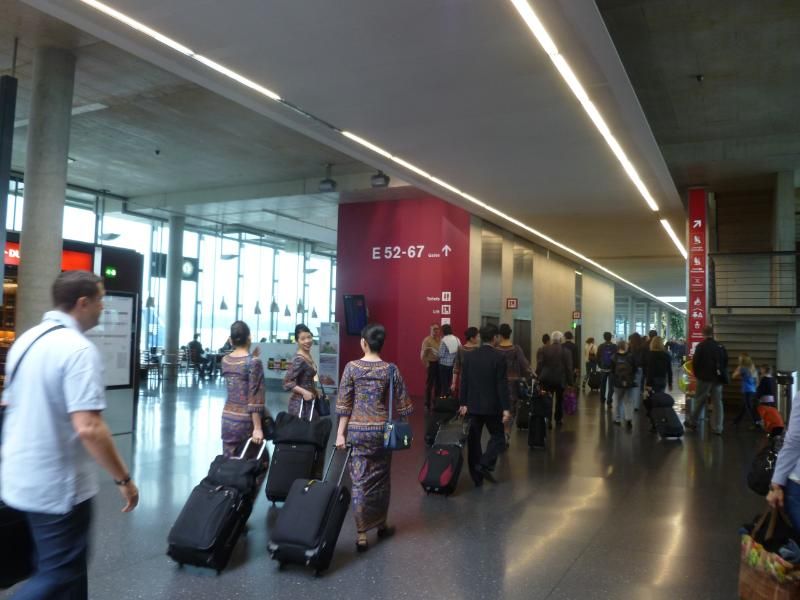 US Airways heading to PHL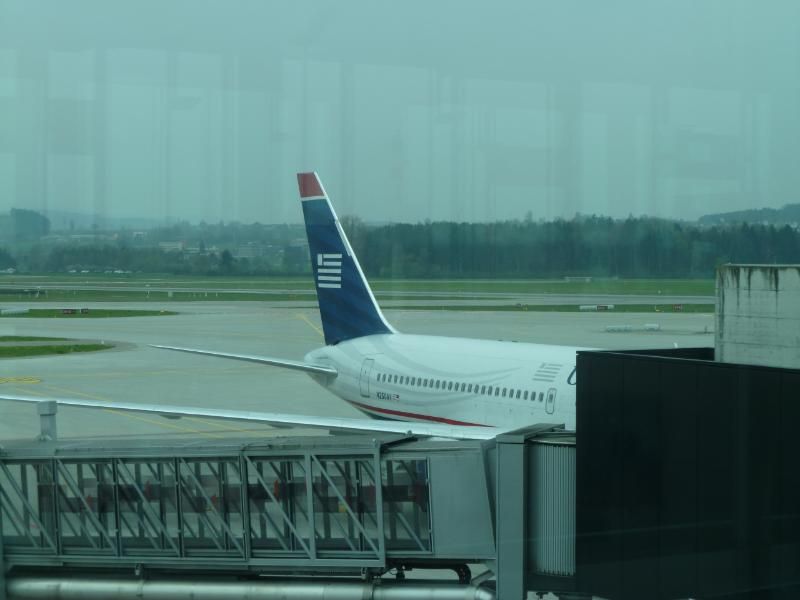 The last red & white tails for a while…..
.
Saturday 14th April 2012
ZRH-SIN SQ 345
STD 1145 / ATD 1223
STA 0555 / ATA 0613
A380 9V-SKP
Seats 44H&J
Passengers: 345 (no mistake, exactly the same as the flight number!)
My 3rd flight on the A380, 1st on this aircraft
SQ uses two gates at Zurich: E67 for Y class and E59 for C & F. Sadly, the tarmac position of the aircraft makes photographing it near impossible.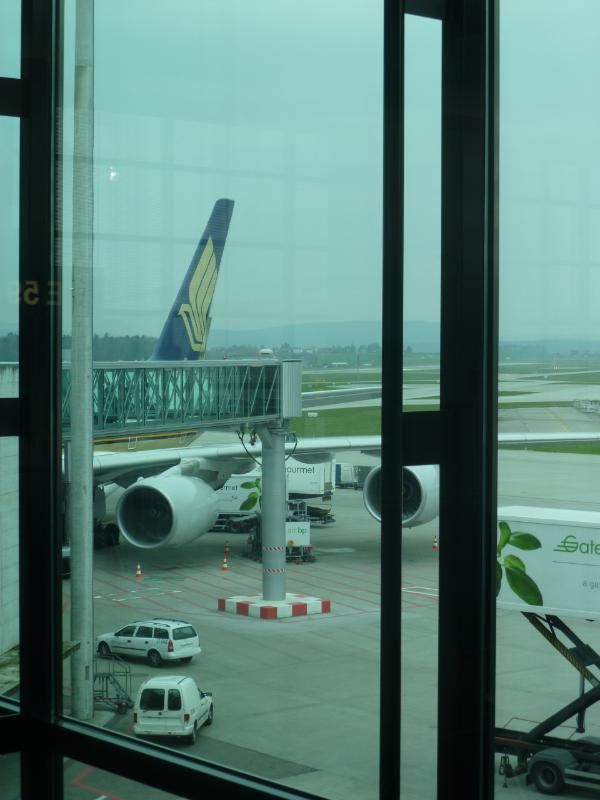 Boarding gate for Business….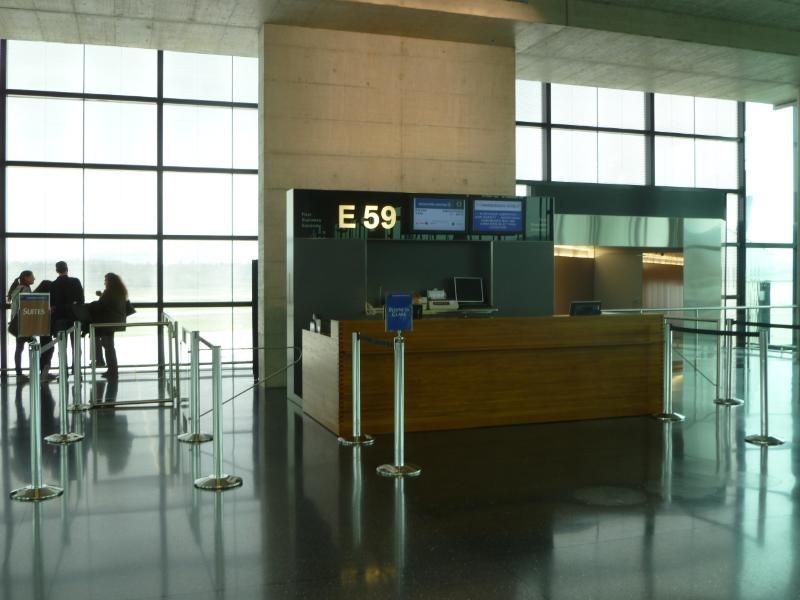 …and for the rest of us
Boarding was done strictly by rows and started at 1115. Everyone had a coloured sticker on their boarding passes, the first group was red if I remember correctly and we had green.
Walking down the airbridge. I remember the excitement at boarding AF's A380 at CDG, but knowing what a journey I was embarking on this time, well, it was a different feeling!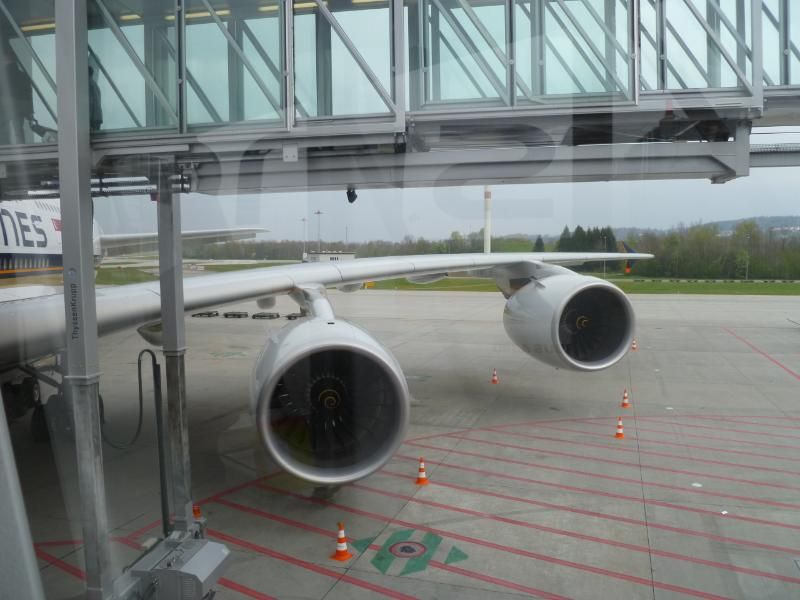 Getting closer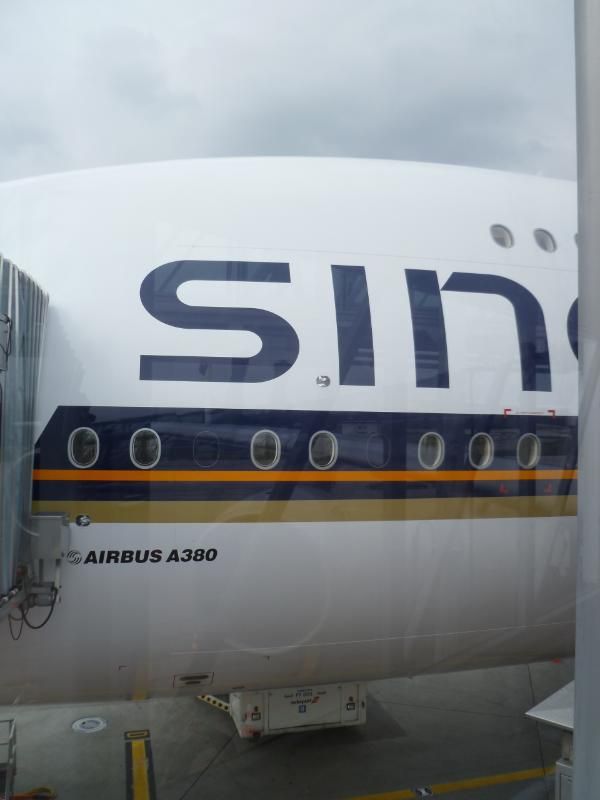 Almost there!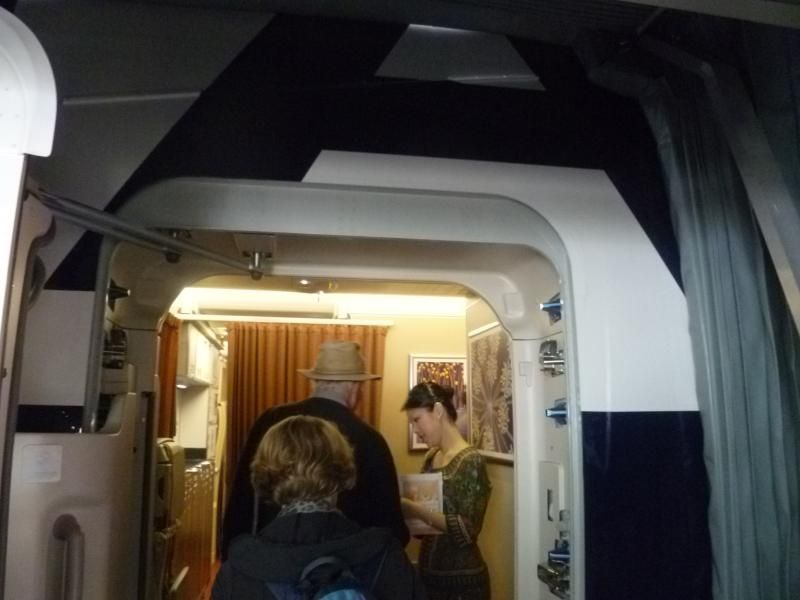 We were at the front of the second Y-class section. On the ZRH route, SQ has an all business class configuration on the upperdeck.
Our seats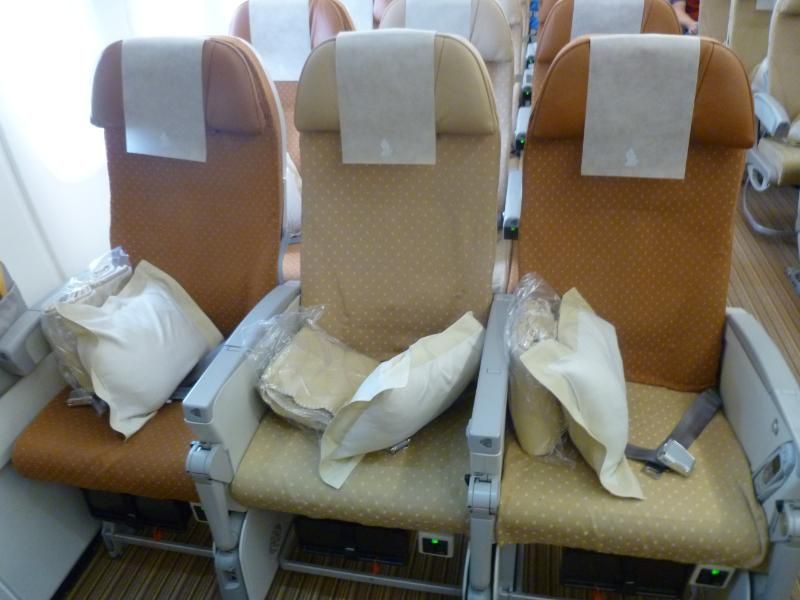 Considering the size of the aircraft, boarding was relatively swift .
.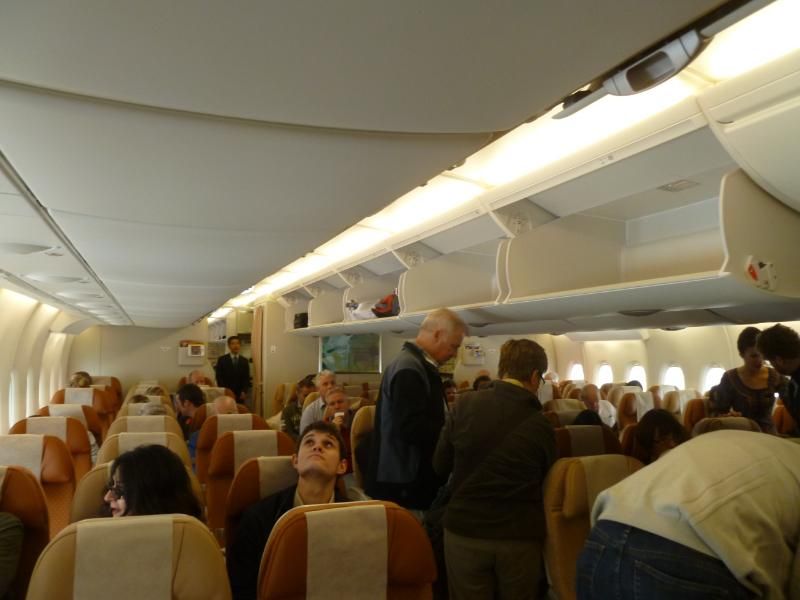 View for the next 12 hours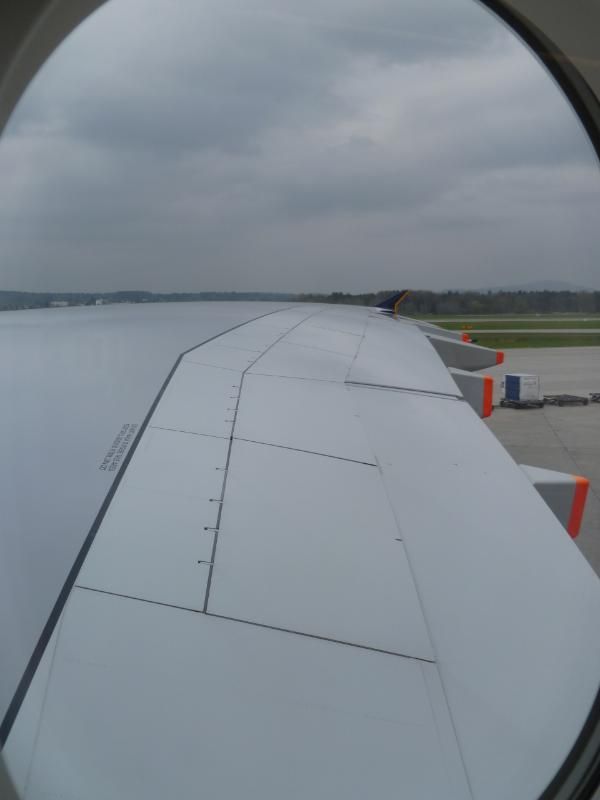 Let's have a look at the legroom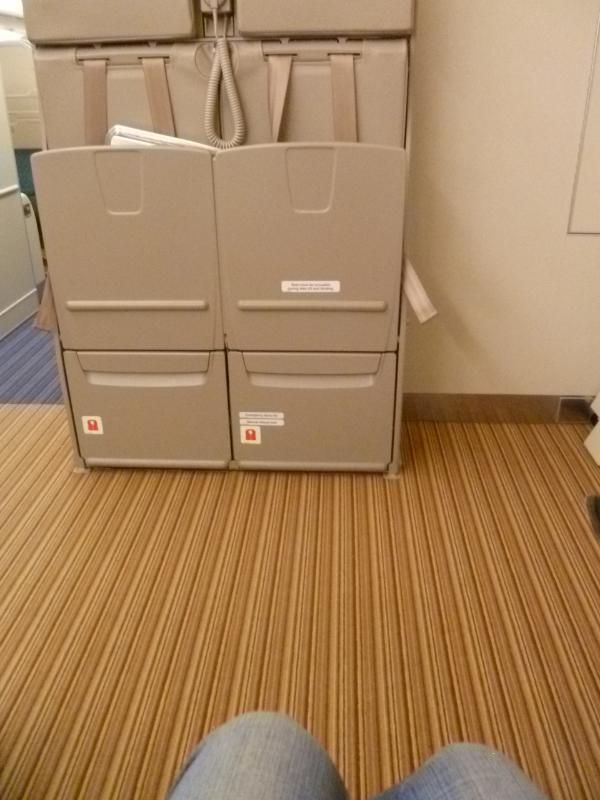 Before pushback we received hot towels then menu cards and finally amenity kits
Socks and toothbrush, not the most generous of offerings. Combs and razors were available in the toilets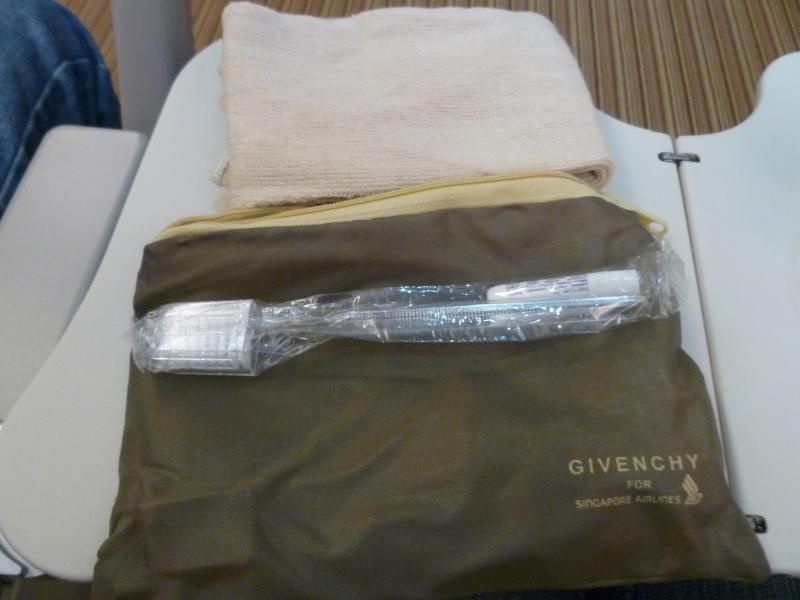 Captain Francis Lee welcomed us on board and told us that we were waiting for the last few passengers. Flying time to Singapore today was 11hrs45 & the distance to fly was 10,500kms. And, funnily enough, at exactly 11.45 the boarding completed announcement was made.
We were then told that our pushback would be delayed slightly due to ATC restrictions and our slot was estimated at 12.10. Well, we got lucky and at 11.55 the next stage of our journey began.
The safety demo was played and the crew walked through the cabin checking who had ordered special meals. I got a sticker put on my seat.
We slowly taxied round to runway 16 behind a United 767 when the pilot gave us some more information: we were going to have a wait of approximately 20-25 minutes before before we could take off, again due to ATC. There were a few groans but we must have received an earlier slot, as at 12.23 the 4 engines roared as loudly as they could (still way too quiet for my liking) and we started our take off roll. I've seen this flight depart ZRH many times and am still fascinated at how gracefully the A380 leaves the ground. Sitting inside, it was no different. The flaps make rather a noise as does the undercarriage, but apart from that you really don't hear a thing.
Being on the exit row meant I couldn't use the IFE until the seatbelt sign had been turned off. It was the moving map for me of course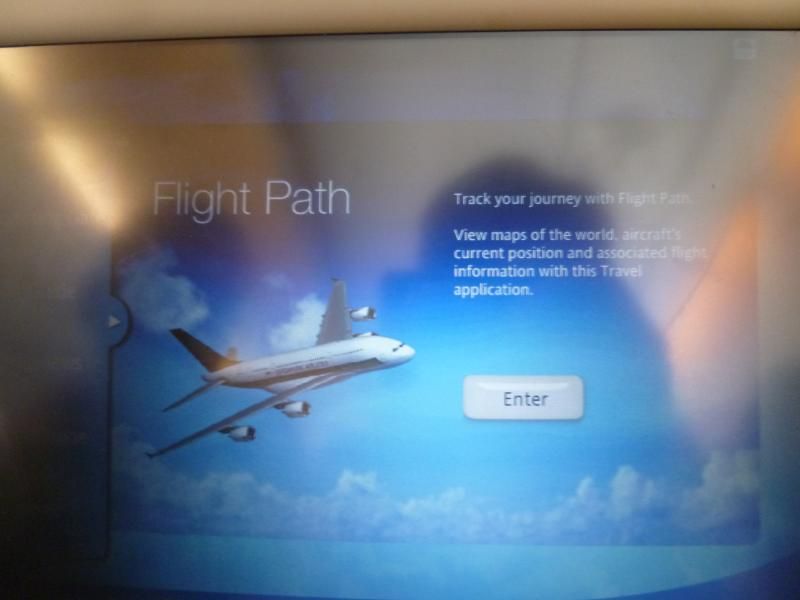 .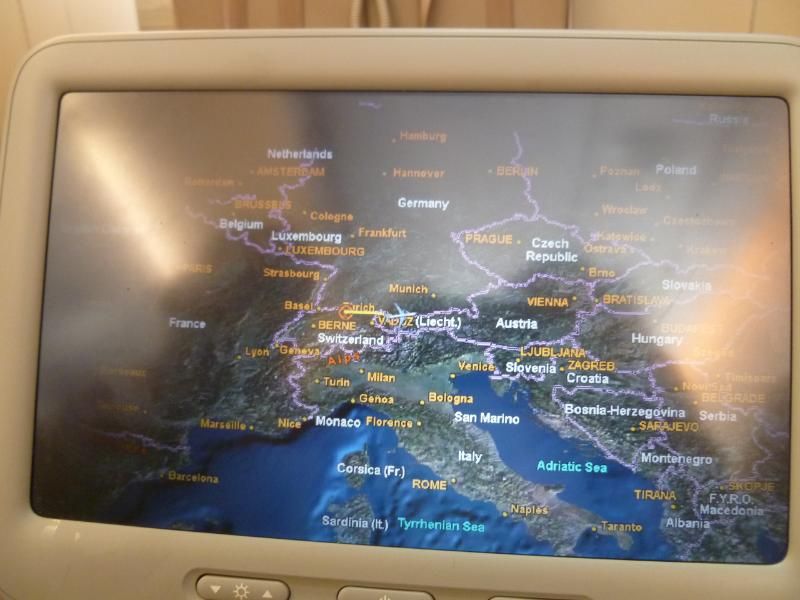 Headphones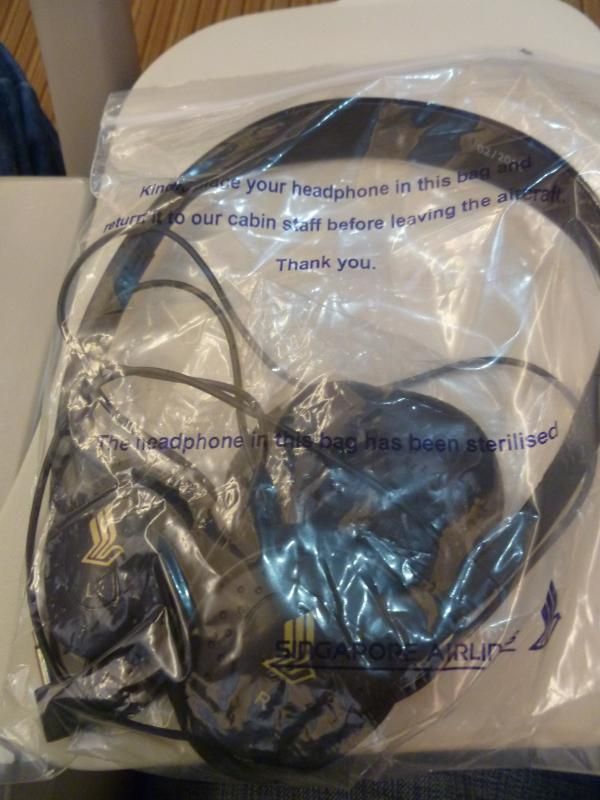 It was clear from the moment my neighbour sat down on 44K that there were to be no interesting conversations on this flight. A Swiss business traveller who managed a grunt in response to my "Grüezi" and who spent the first 6 hours reading newspapers and drinking nothing but red wine. I was actually quite curious as to how long the crew would keep serving him, but eventually the wine took effect and he fell asleep.
Shortly after take off the first drinks service commenced, accompanied by bags of nuts.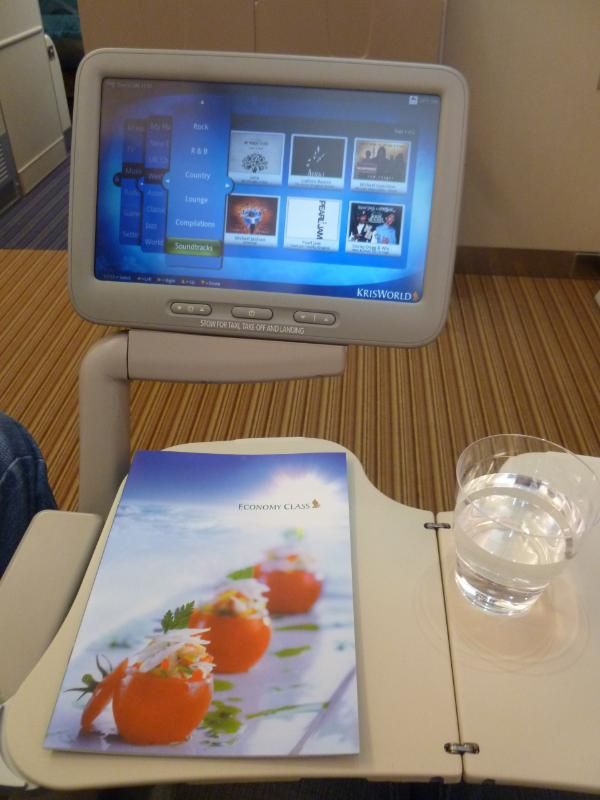 Before lunch was served, I went for a wander. You could walk up and down the staircase, but the top was obviously cordoned off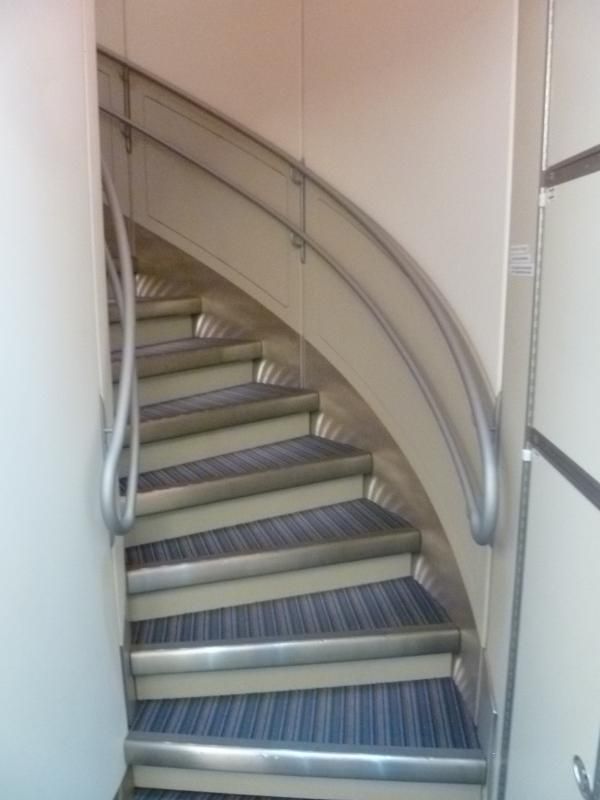 .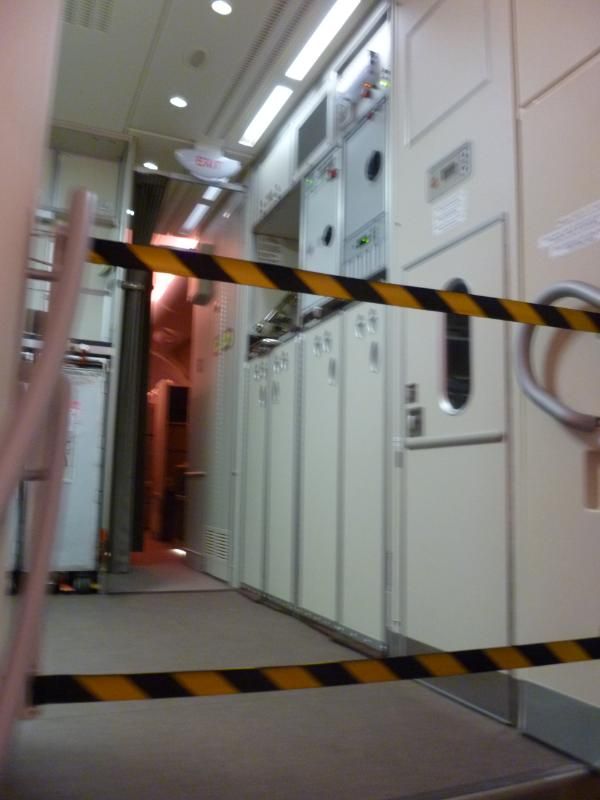 Cabin view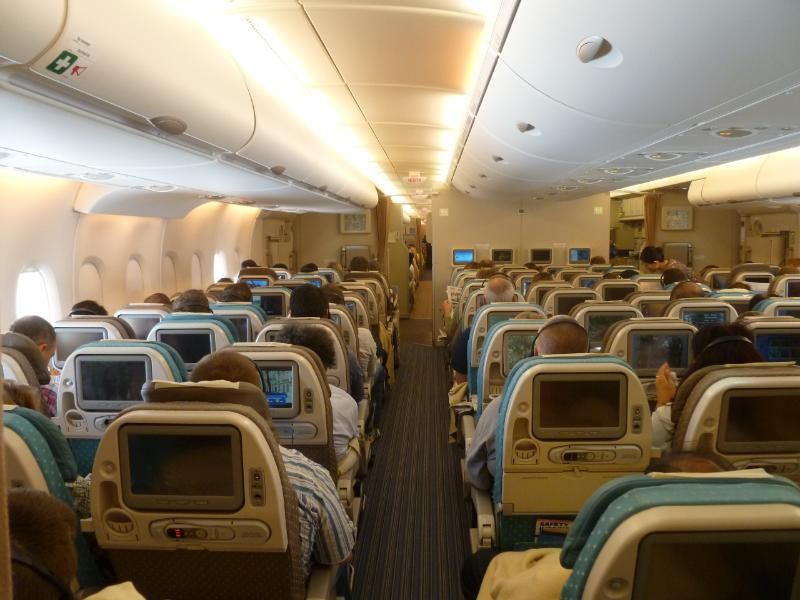 Let's have a look at the menu card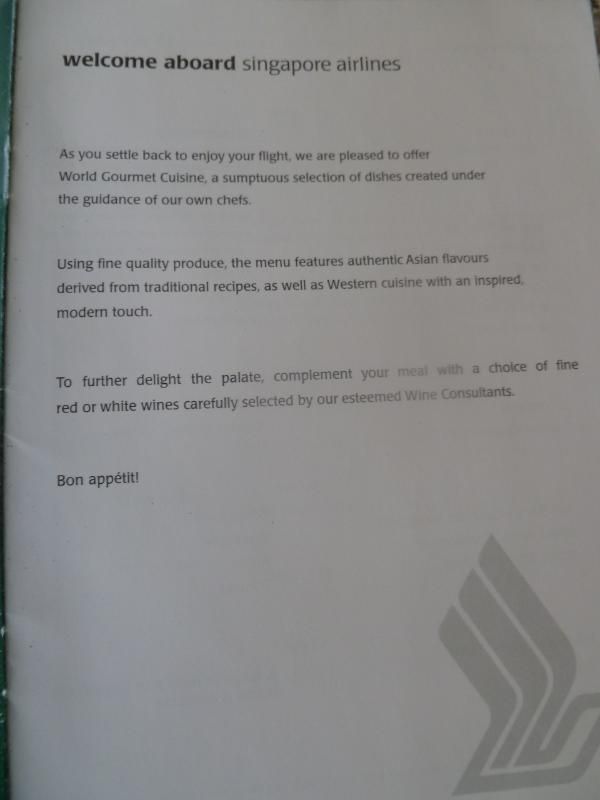 .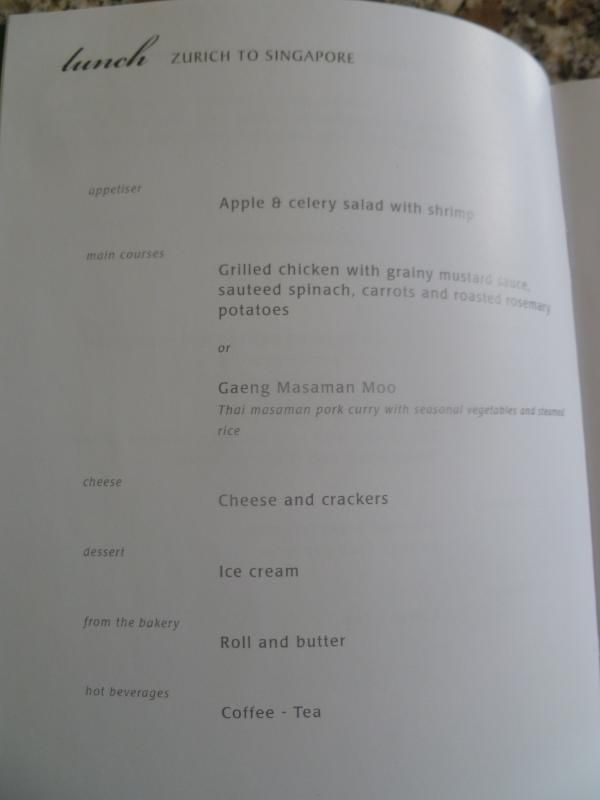 .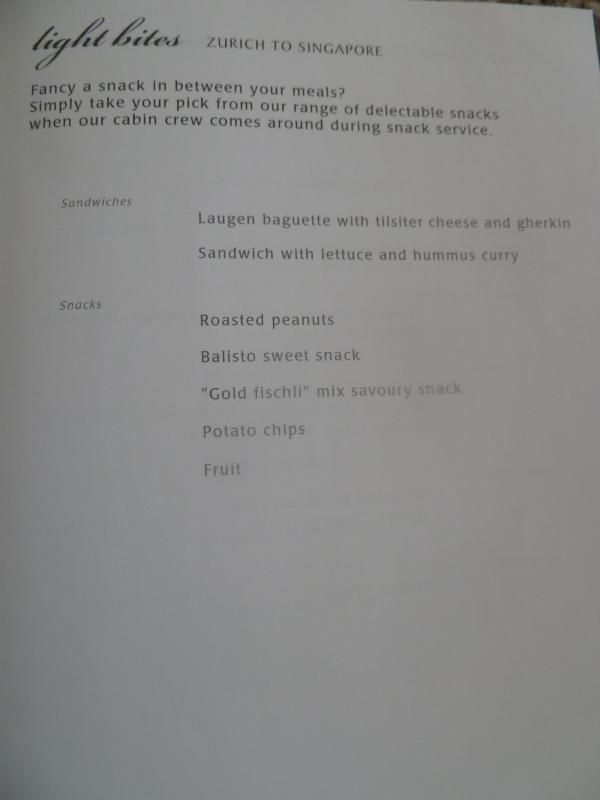 .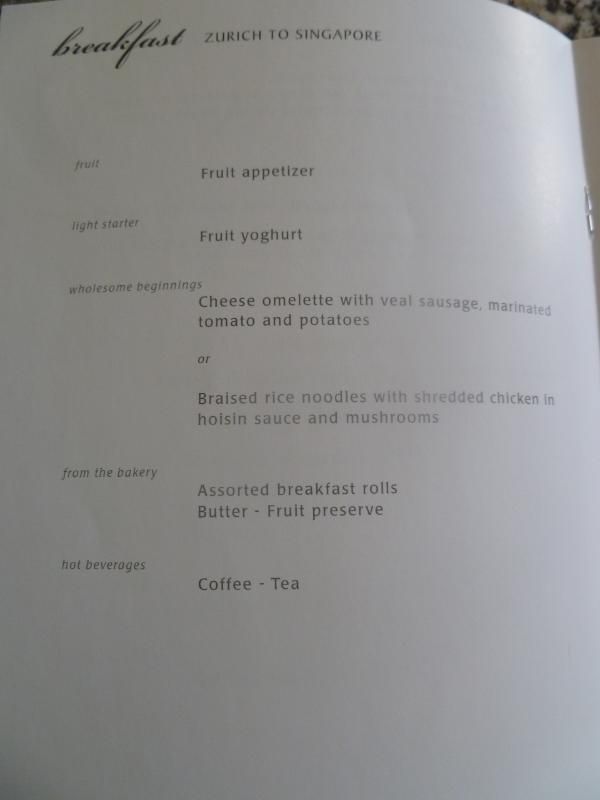 Ordering a special meal often has its advantages – I got mine much earlier. Salad, mediterranean pasta & fruit for dessert. It was very tasty.
The crew came round with bottles of red & white wine, asking those who had received a special meal whether they would like a glass. I declined, but thought it was a nice touch, rather then having to wait until the main trolleys appeared. Mr grumpy-wine-addict next to me asked for some red, to which the FA replied that she didn't have any glasses and would come back later. He shook his head and muttered 'No glasses! No glasses!' Come on mate, it was quite clear that the poor girl couldn't carry two bottles and a load of glasses, so just be patient!
This was 44H's choice….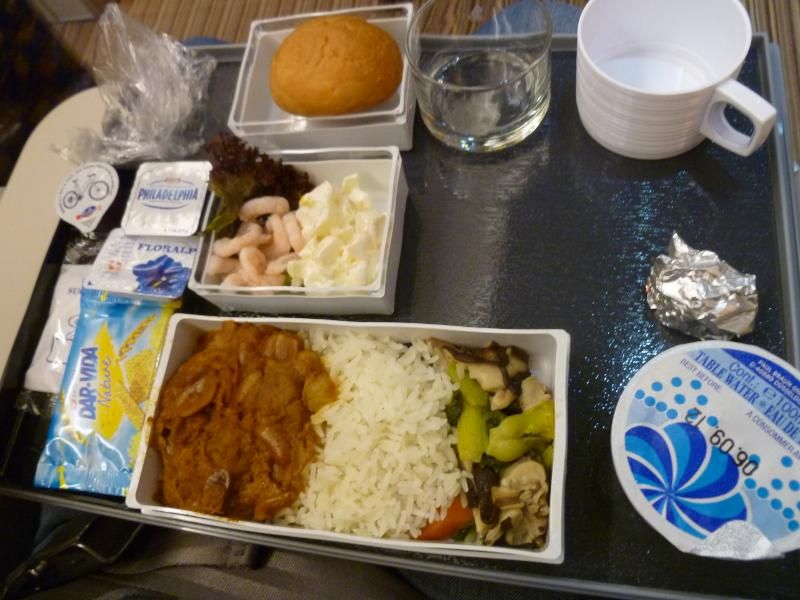 …accompanied by a first taste of Singapore. The crew didn't have any Tiger beer left on the trolley, but the FA serving us immediately contacted her colleague who brought one straight away. When she passed through the cabin later she asked if my husband had enjoyed the beer and whether he wanted another. Great service here.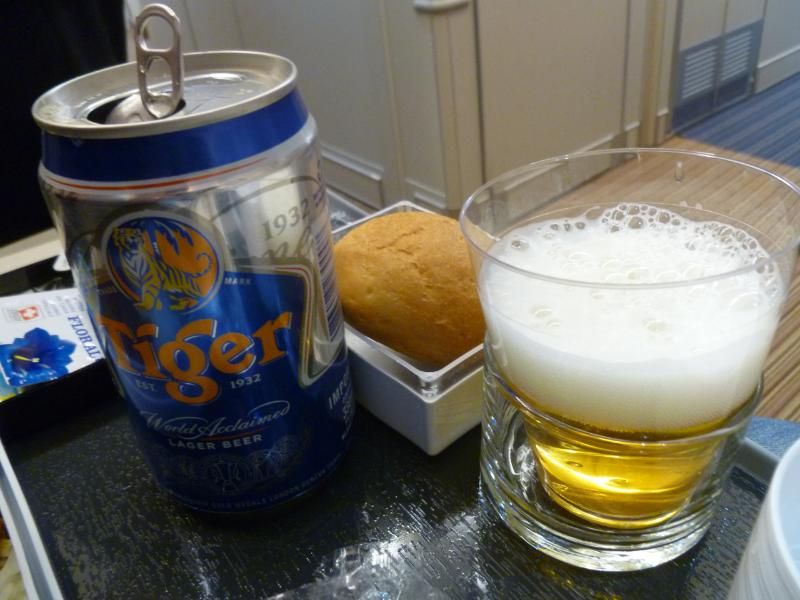 For dessert, we got delicious Swiss Mövenpick ice cream. It was a bit too cold and took a while to soften up. As 44H decided that beer & ice cream don't mix, I ate his as well.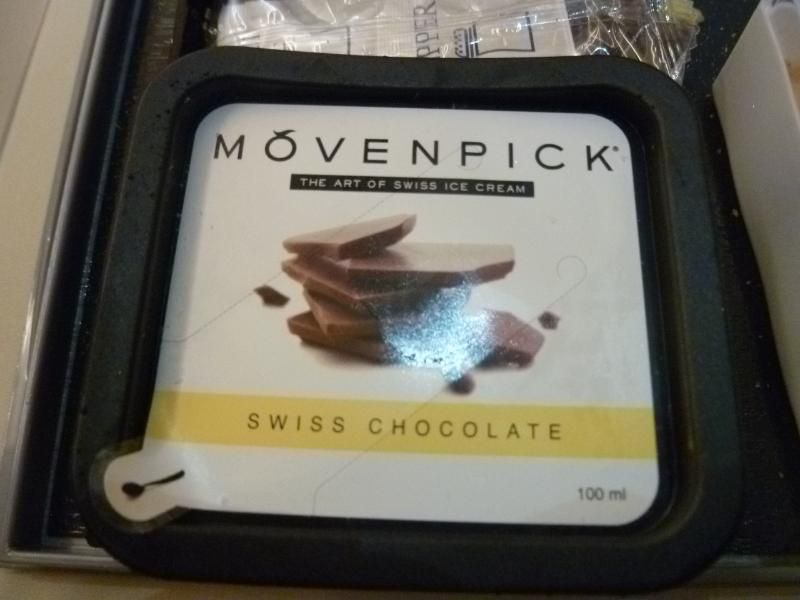 Time to find out where we are – over the Black Sea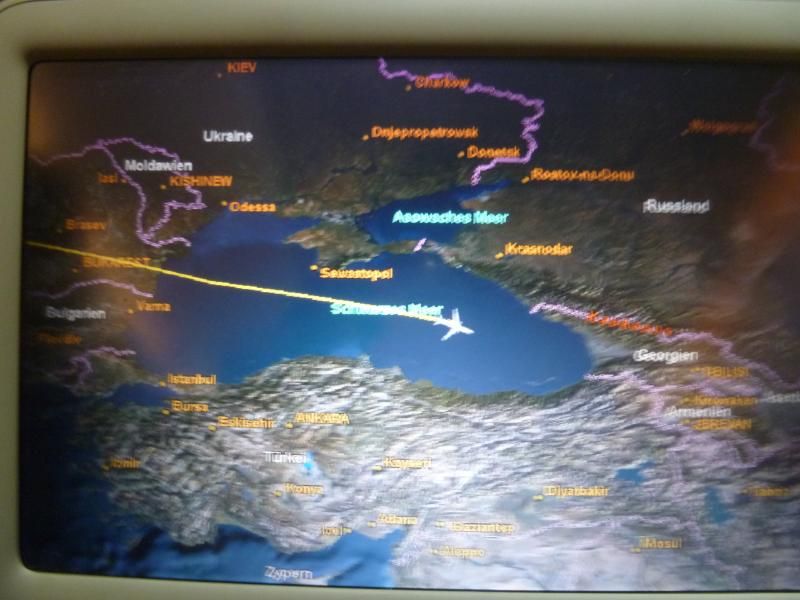 Another wander and peek out of the window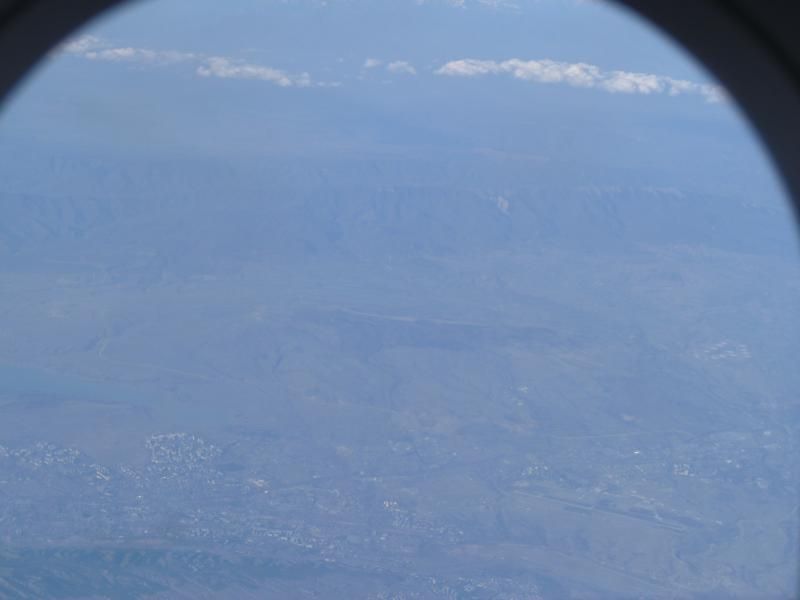 I left the moving map for a while and looked at the other entertainment options. How about some music?
Or something a bit harder?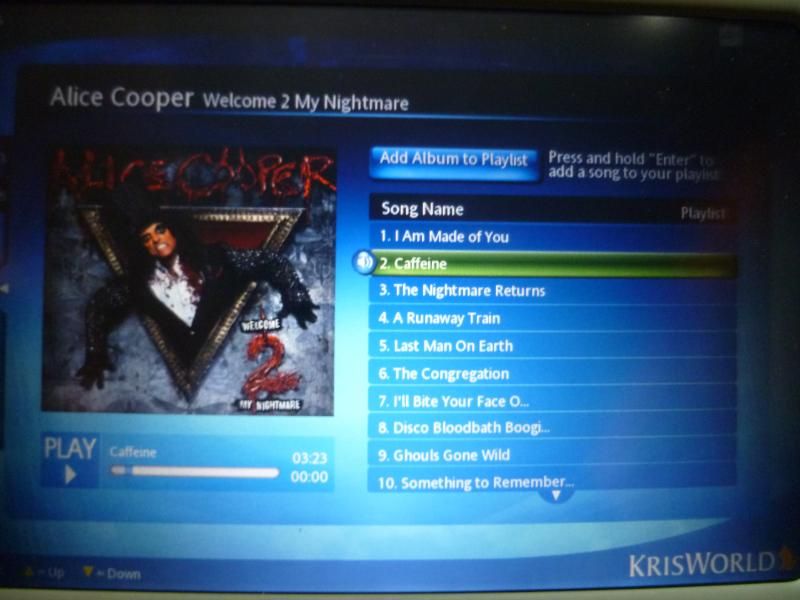 44H's choice
I won some spending money for the holiday, but the cheque never arrived.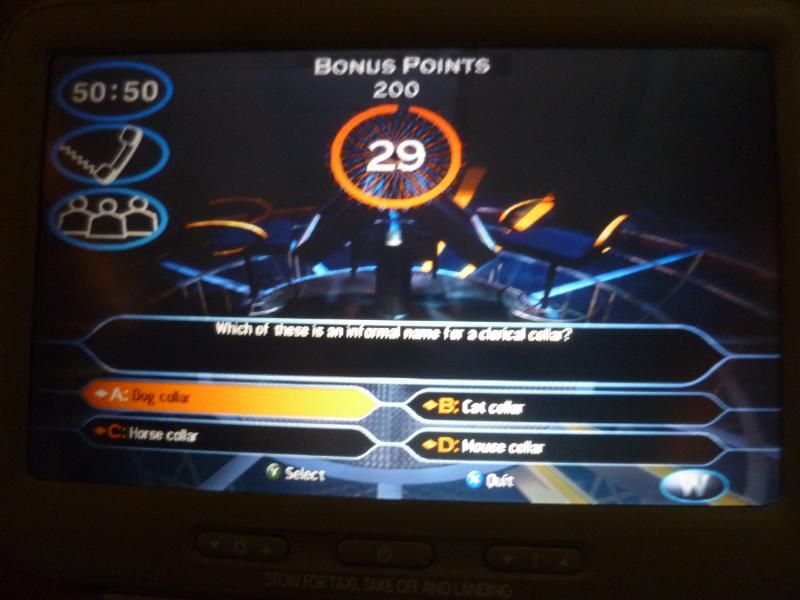 For most of the flight we cruised at between 10,500-11,800m, with a speed of 870-950kmh. After the meal service had finished about half the crew disappeared downstairs to the crew rest area, the entrance to which was located just opposite our seats. Halfway during the flight, the crews swopped round.
They did a fantastic job of checking the toilets, working hard to keep them clean. On the occasions that I passed through the galley on my walkabout, I never once saw the crew standing around chatting, they were always doing something. There were always plenty of drinks ready to take.
The cabin had descended into darkness, but no matter how hard I tried, the longest I managed to sleep for was 20 minutes. I felt like a child on Christmas Eve willing for Father Christmas to arrive so I could finally get up. Time for another walk.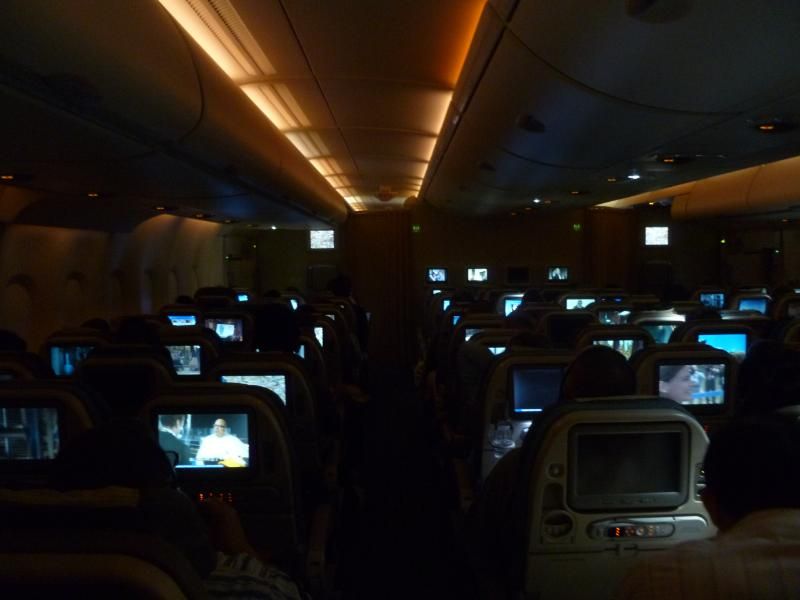 Let's hope we don't need to make an emergency landing here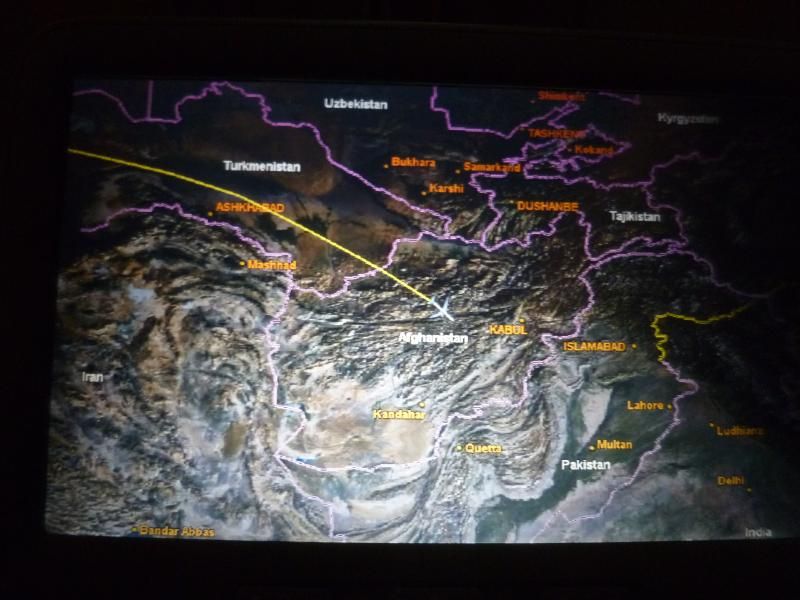 Halfway there!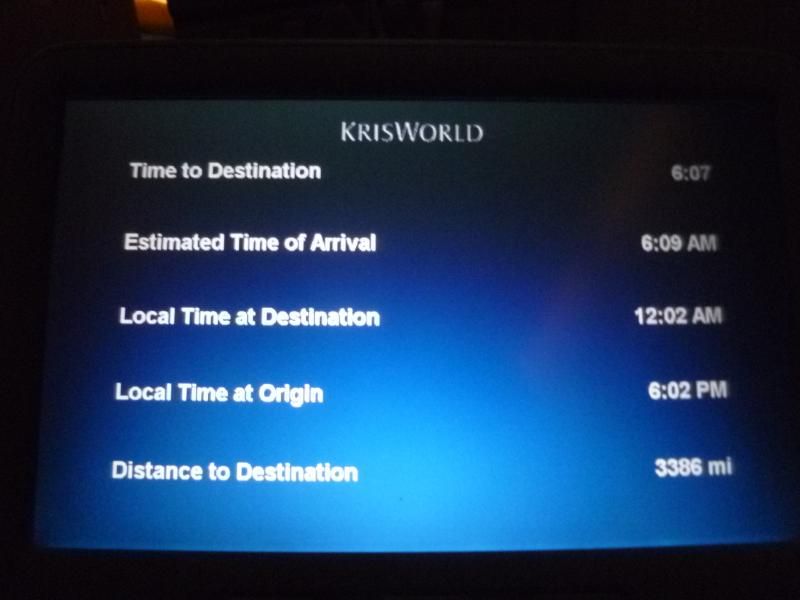 Cruising over India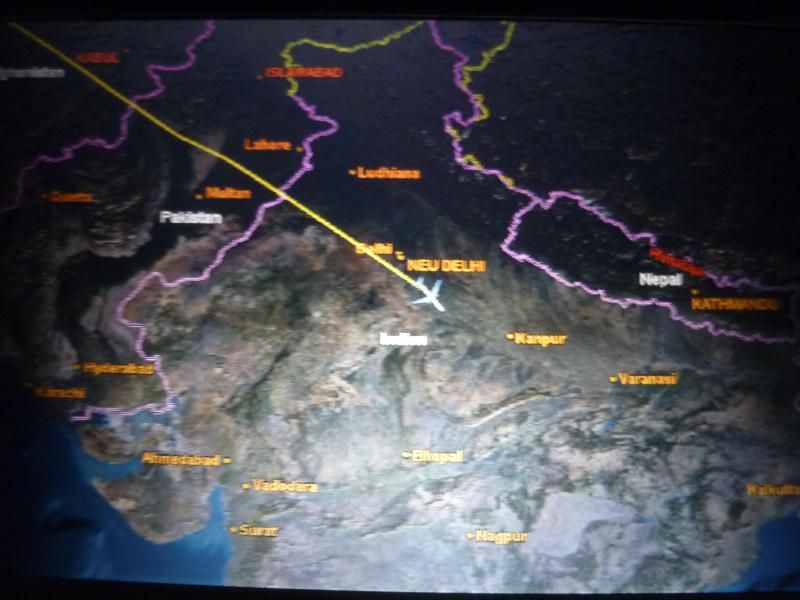 .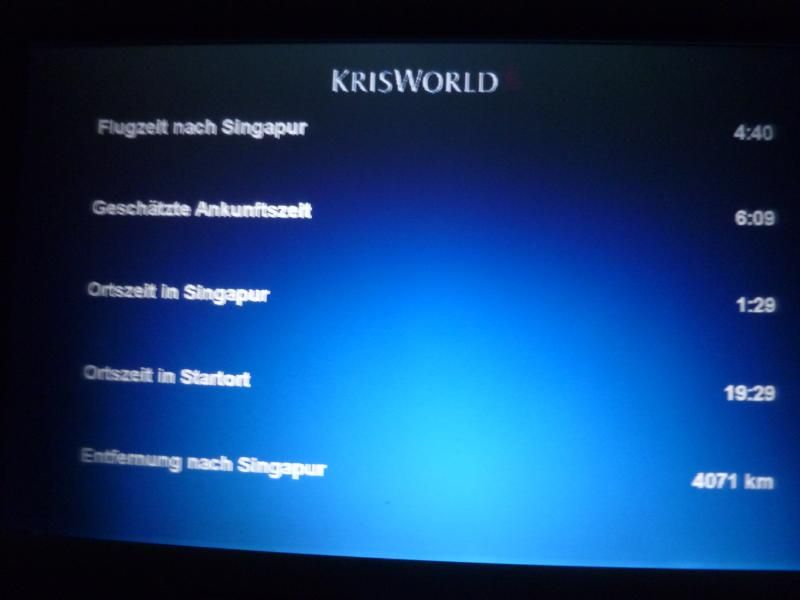 No turbulence over the Bay of Bengal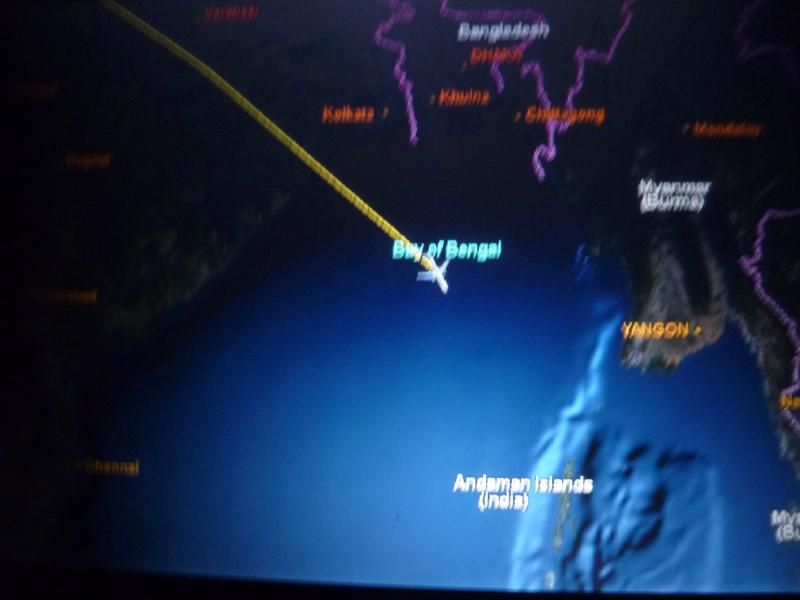 Being on the exit row, a lot of people tend to congregate nearby to stretch their legs. At one point my husband nudged me and pointed to a guy hovering round the toilets smooching with his other half. It was Carlo Janka, the Swiss Olympic ski champion in Giant Slalom. Typically my husband had to say something and casually asked where they were going and told them about our trip to NZ. They were flying to Singapore for 3 nights (does that sound familiar to anyone?!). No business class even for an Olympic champion.
About 2hrs before landing, breakfast was served. Well, it was late evening Swiss time and I had a little trouble eating this kind of spread when my body was telling me to sleep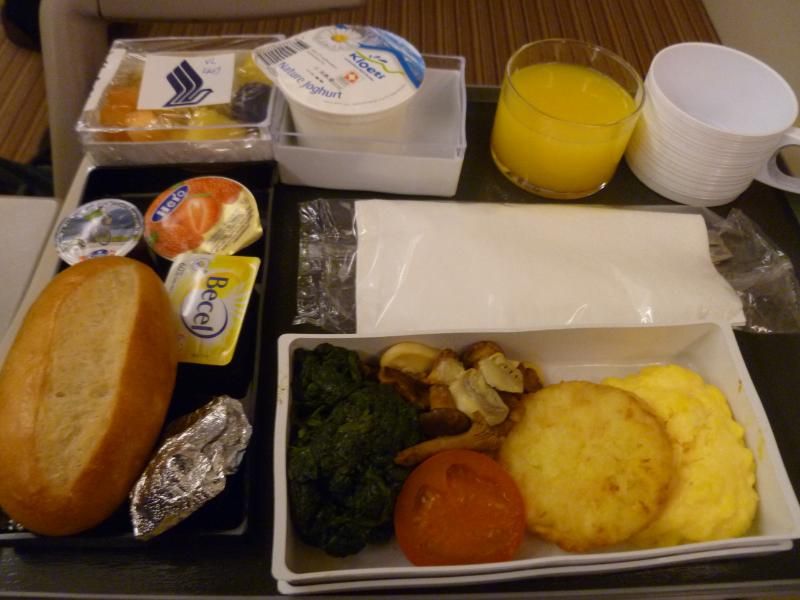 The Asian meal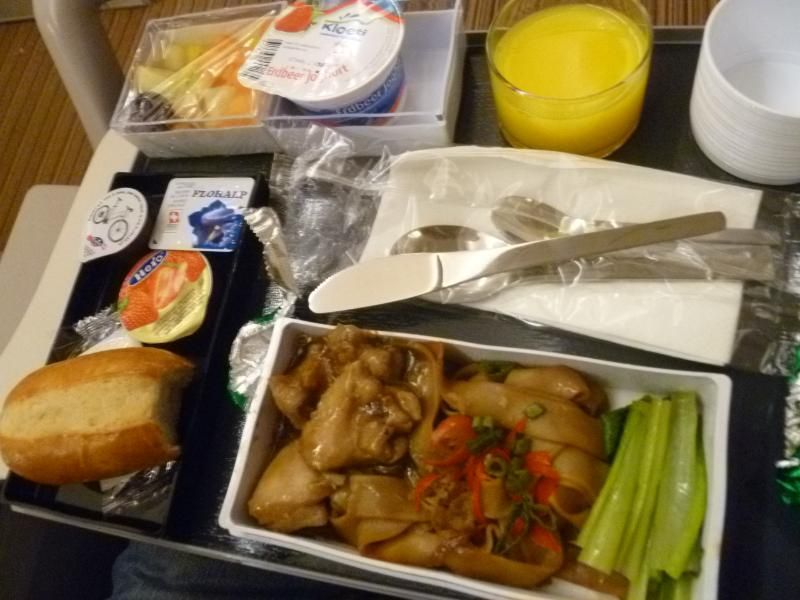 Getting closer
Over Thailand now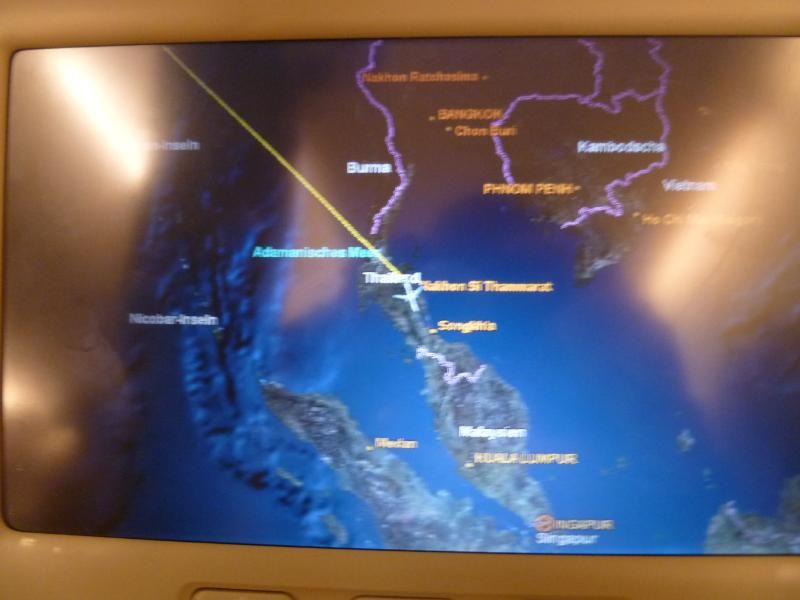 Starting descent soon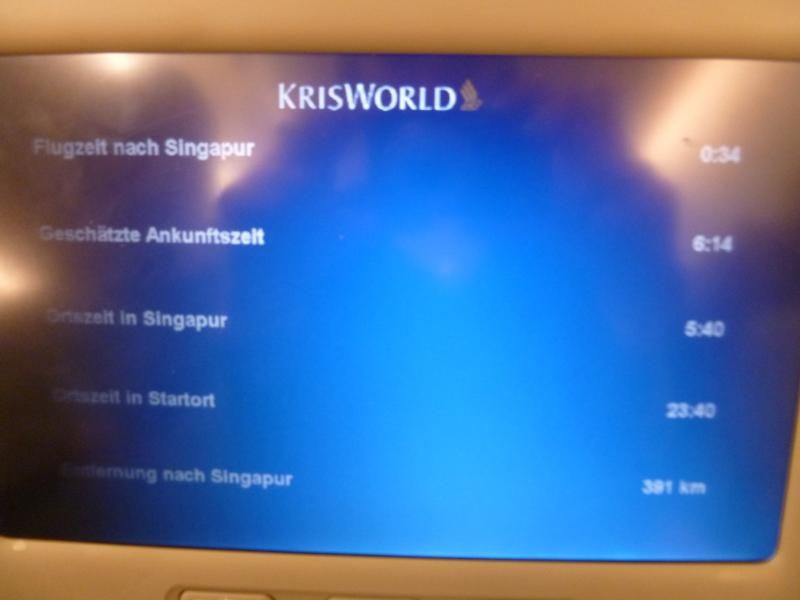 .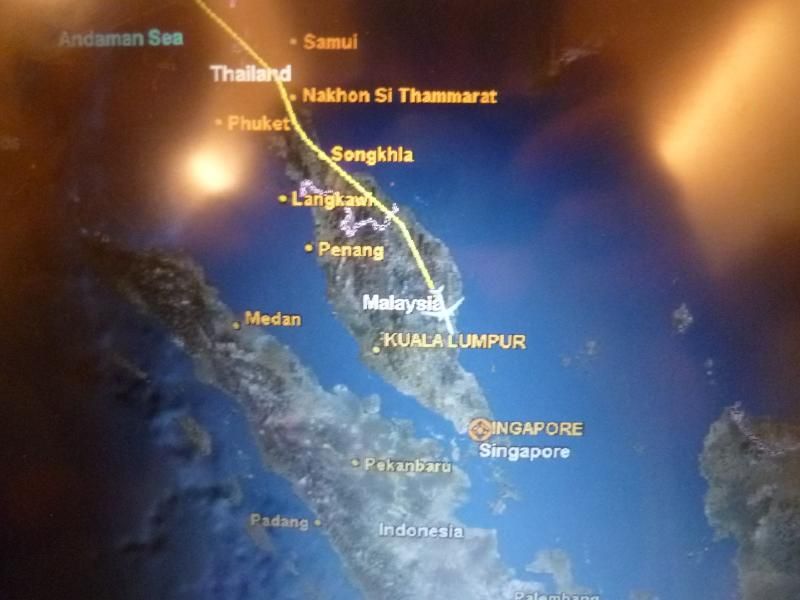 It was noticeable that on all the SQ flights we took the only cockpit announcements were made at the beginning and shortly before landing. We were told that our estimated arrival time was 06.15 and it was a balmy 25C with cloudy skies in Singapore.
For landing the crew took their seats opposite us again, one male & one female (I'm hopeless, I didn't write their names down). We started chatting to them and they were both so nice. We told them about our journey and asked a little about life flying with SQ. The female F/A noticed I'd been writing facts & figures down in my notebook so I explained about my job and of course airliners. She gave us some tips for our stopover in Singapore on the way back. I also asked her about the lovely SQ uniforms and she explained how the different colours represent the heirarchy – blue for flight stewardesses, green for leading stewardess & red for chief stewardess.
I asked the crew for the registration of the aircrft, as I hadn't been able to spot it at ZRH. When they told me it was 9V-SKP I had to smile, as on exactly the same day Markus was enroute to Skopje.
I really don't like not having a window seat. Not just for the obvious reasons, but I find it quite unpleasant on climb out and approach when you can't see how the plane is banking. I find I have no feeling for knowing just when you're going to touch down. Anyway, I kept busy talking to the crew and before I knew it, we landed on Singapore soil at 0613 local time and taxied round to our arrival gate at T3.
I was in no hurry to deboard, the usual scenes followed. I took the opportunity to have my photo taken with the crew.
Deboarding