Evening all,
I had the privilege to be able to experience business class for the first time recently and felt the urge to share with you the experience. Also my first TR so I welcome the feedback !
QR 639 – DPS – (xSIN) – DOH
25th Apr 12
STD – 22:40 ATD – 22:30
Capt - O. Singh
CSM – Olga
Aircraft – 77W - A7-BAB
Seat – 2F
Checked in for our flight 2 hours prior and there were 7 counters open for our flight, fortunately the business line had 2 people whilst the economy line looked like a solid hour long. Check-in was very easy and our pre-selected seats in row 2 were still waiting for us, and we were issued lounge passes for the 'Prada' Lounge.
Unfortunately this lounge was certainly at capacity with little to no seats available, with the lounge seemingly being shared by JQ and DJ passengers and the QR crew who were operating our flight had occupied a quarter of the lounge also. I had expected this though, mostly due to the leisure route nature of this leg.
Food offerings in the 'Prada' lounge were basic, samosas, noodles and small sweets, which all looked most unappealing. So I settled down with my gin & tonic and opted to wait to try the offering on-board. Boarding commenced nice and early however there was no semblance of a priority line, although there was no great queue and we were warmly meet by the CSM at the door.
With champagne in hand the flight departed 10mins early.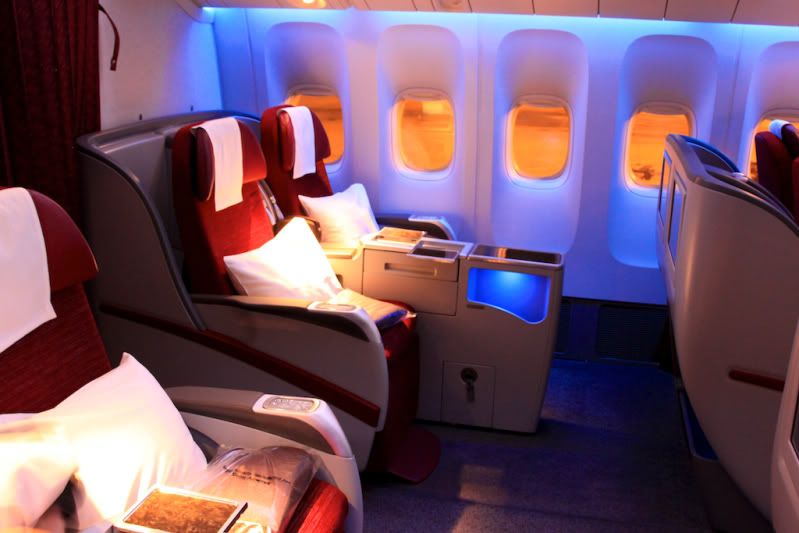 For the short hop to Singapore there was an amazing supper of Sushi, followed by a main of 'Ayam Bumbu Berlado' which was a mild chicken curry with coconut rice and French beans and for dessert, fresh fruit... All very tasty.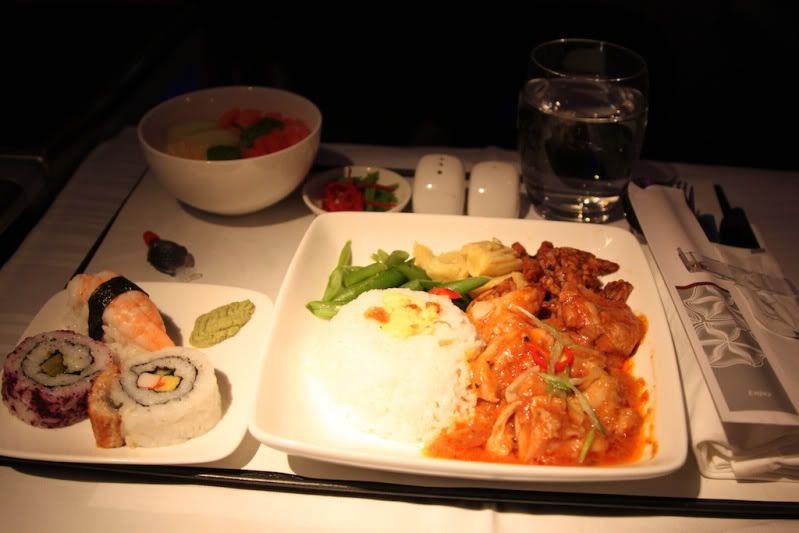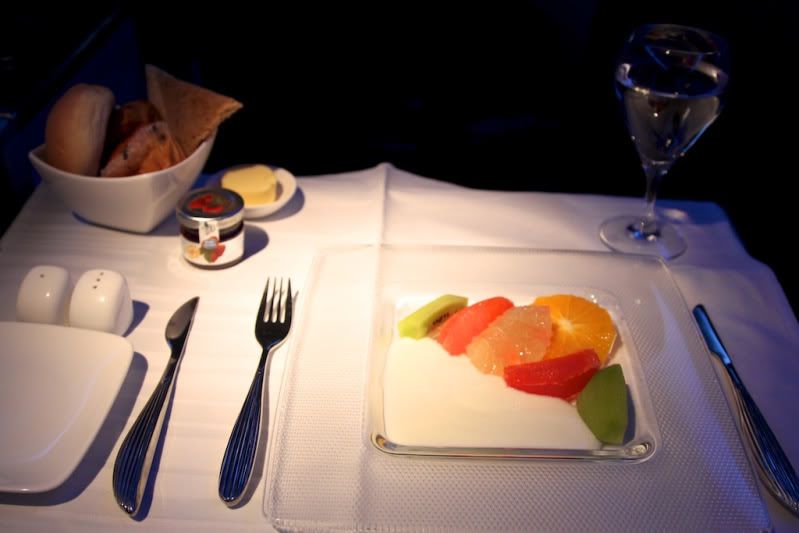 However no amenities bags or pyjamas on this leg, so I sampled the in-flight entertainment system 'Oryx', which worked very well and had a reasonable selection of recent movies including a vast selection of foreign language films.
For our brief 1hr stop in SIN, we were required to remove all of our belongings and re-clear security. With a quick crew change the new Qatar crew were quickly on board preparing for the trip to DOH.
Business class passengers were called first to board and were promptly through the gate to the amazing 777-300ER cabin. Cabin Supervisor Olga, was incredibly attentive and friendly, we were offered another glass of champagne before departure and pushed only a couple of minutes late. My travel partner opted to try the supper offering... However I decided sleep was the order of the day.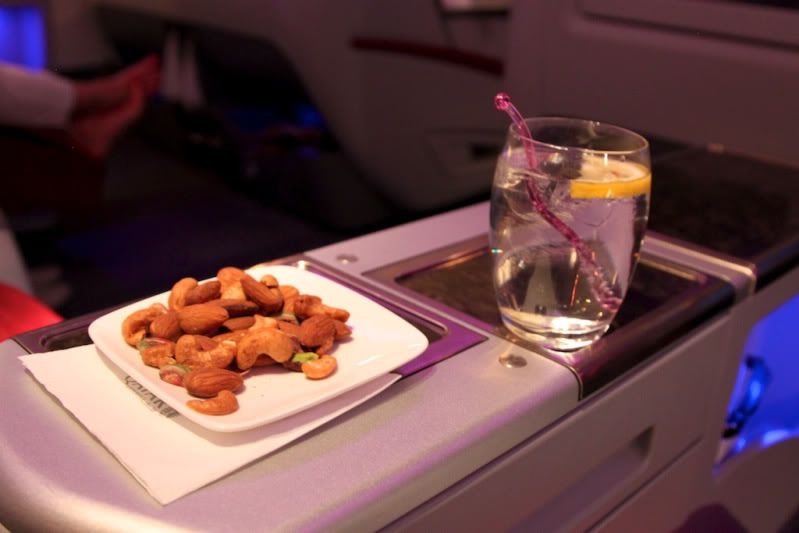 After changing into the surprisingly comfortable Qatar airways pyjamas I pushed the large seat into the completely lie flat position and must have slept 6 of the 8 hour flight, only to be woken by the lovely Olga who had previously asked if I wanted to be woken for breakfast. The bed/seat was incredibly comfortable, particularly for someone like myself who always sleeps on their side, so I awoke feeling refreshed and happy.
Of the several choices for breakfast I opted for the tropical fruit with wild honey yoghurt to start and a creamy scrambled egg with tomato and feta cheese on toasted English muffin with fresh asparagus and herb chicken patty.
The breakfast was very good and not to heavy.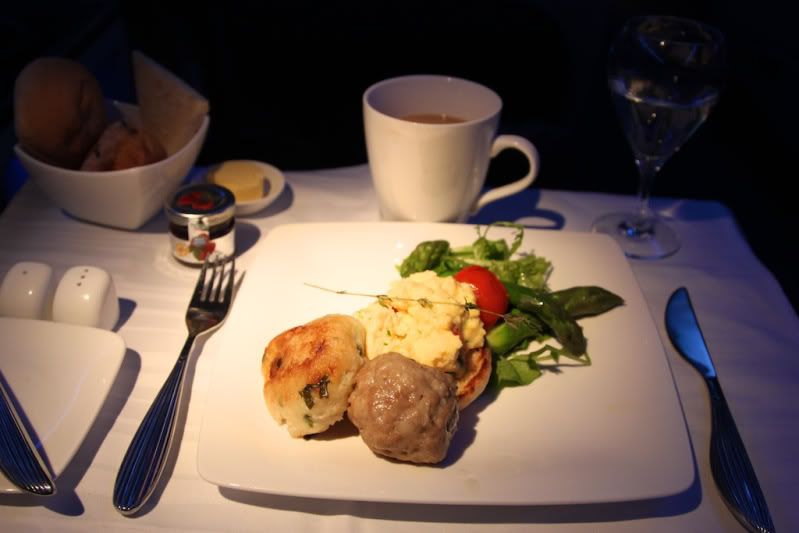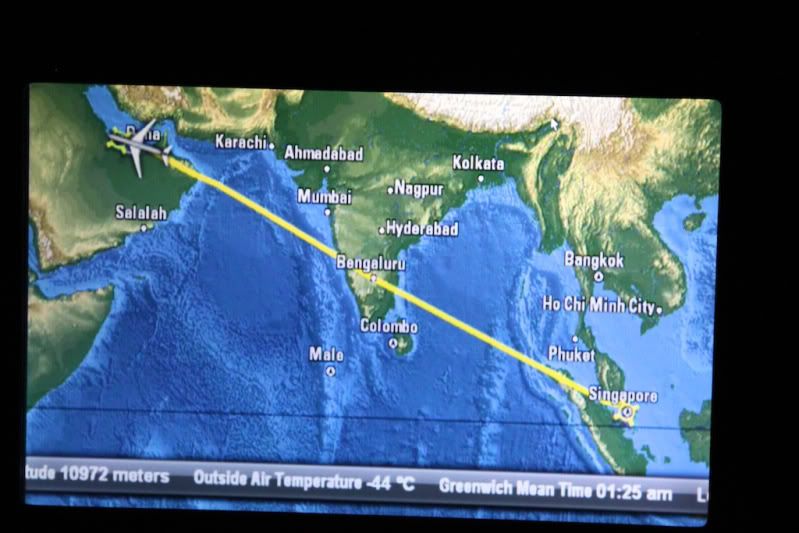 Overall both legs of the flight were amazingly smooth and comfortable.
Transiting the premium lounge at DOH didn't start too well, despite all of the videos played on board indicating first and business pax would be transferred by 'luxury' coach or limousine, unfortunately is was the opposite. We were ushered onboard an already crowded mass transit bus (I can only presume from another flight), with standing room only and then driven around the airport for 20mins dropping off other connecting passengers to various parts of the airport.
Not that it was a terrible way of having to traverse an airport, Qatar perhaps need to change their website and on-board videos to change the premium passengers expectations.
Having arrived at the premium terminal there is a quick rescreening of bags then you pass by the ultra-premium retail stores on the ground floor with the gates, upstairs to the very lush business class lounge.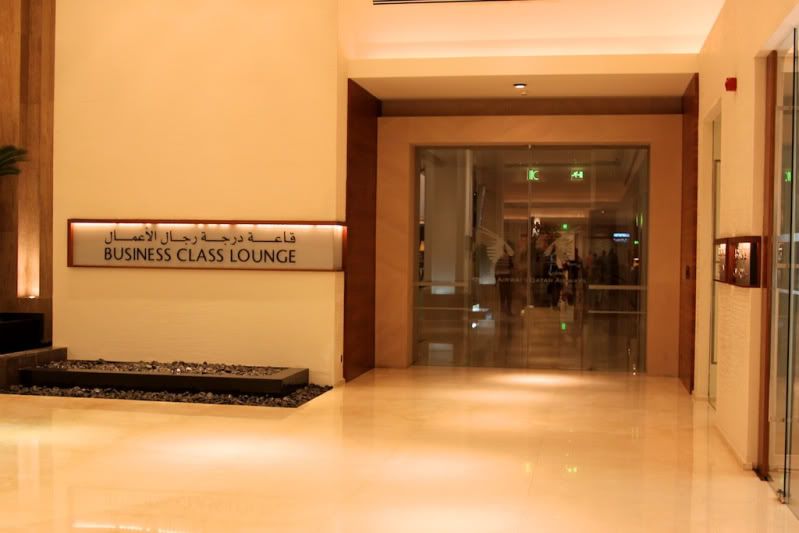 With in excess of 3 different stations to sample the delicacies there was no congestion (except for the showers which involved a 10min wait).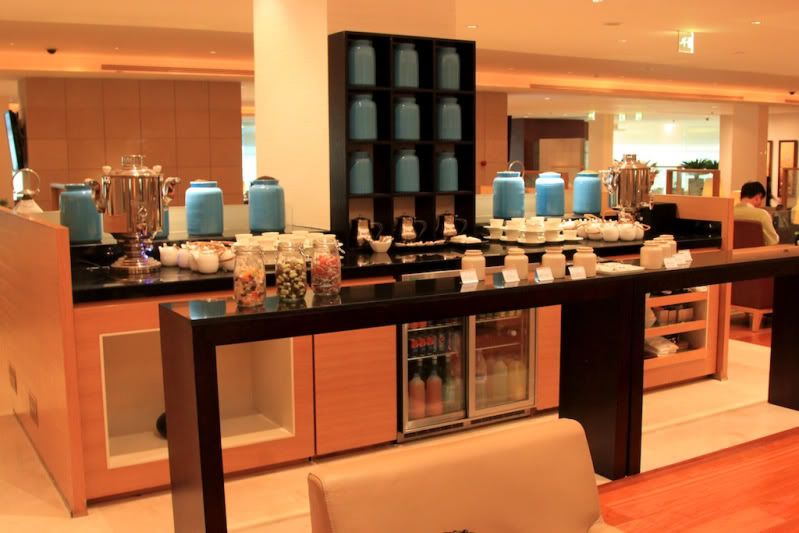 Lounge staff randomly walked around the lounge looking for people without drinks and promptly offered us a coffee. This was despite there being at least half a dozen different drink stations including a full tea brewing station with more types of tea than you could dream of. Overall the lounge was busy/full without feeling crowded, and a great experience.
QR71 – DOH-MAD
26th Apr 12
STD - 07:30 ATD - 07:48
Capt. – Henry Buckey
CSM – Ana
Cabin Crew – Yoko
Aircraft – 77W - A7-BAQ
Seat – 2B
Qatar's home airport, DOH, is an amazing sight. With aircraft on hard stands as far as the eye can see and seemingly not a terminal in sight (until the new one opens shortly). We'd travelled another 20mins by the same type of bus we arrived to the premium terminal on out to our next 77W taking us to MAD.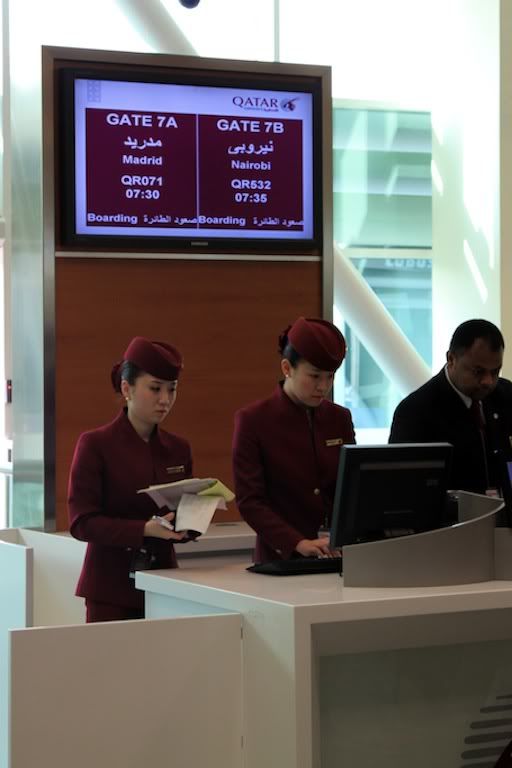 Capt. Buckey was a British gentleman who was very charismatic and cheerful (probably one of the best captains I've heard from!) But he did break some slightly bad news that we were waiting for connecting passengers, but with his character, no one really seemed to mind.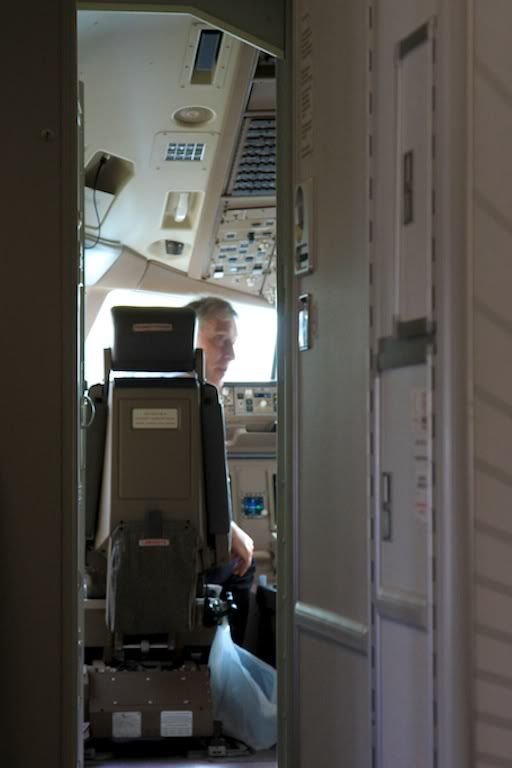 With a beautiful glass of Lanson champagne in hand I was very content. We pushed back only 20mins late but made up about 10min of that in flight.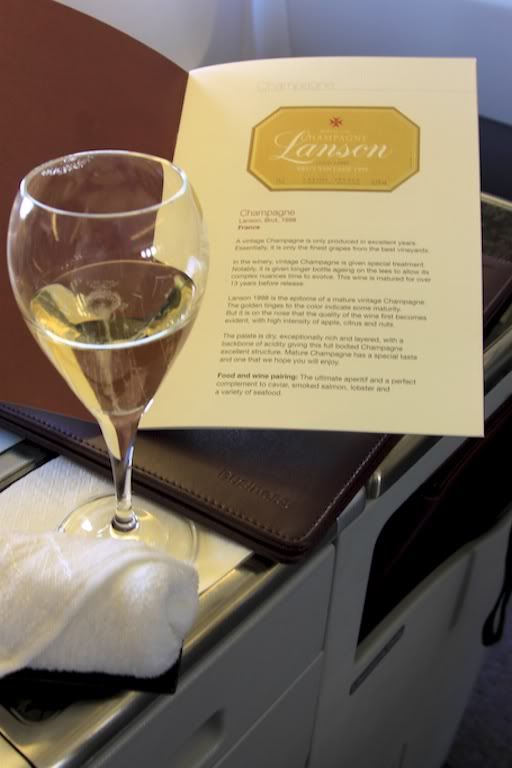 The breakfast served was my favorite by a long way, there was a seasonal salad (smoked trout, dill dressing and puff pastry twist) with a raspberry and lime smoothie that I had to have seconds of. It was incredible!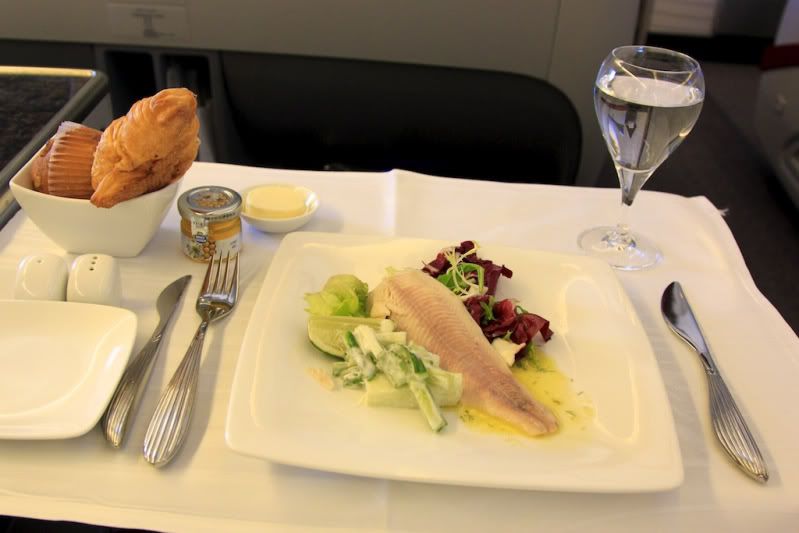 To follow was a smoked Scottish salmon and nori omlette with shitake mushrooms, roast potato and wasabi cream.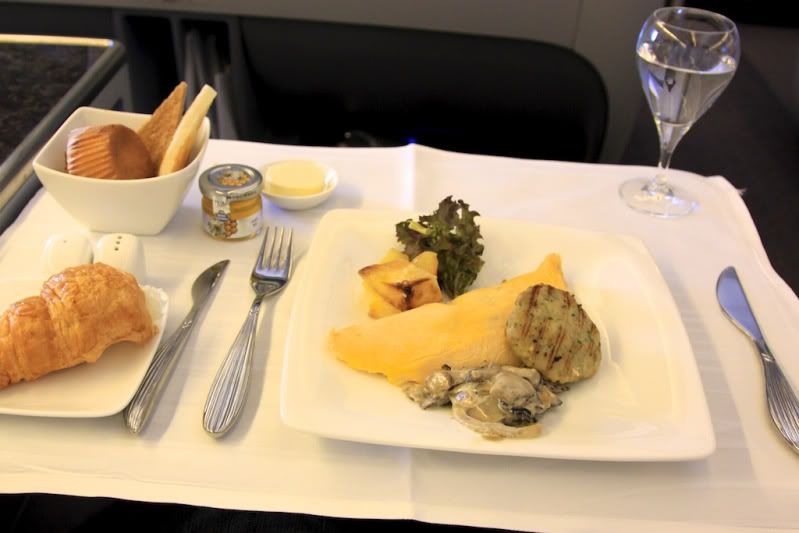 The service from Cabin crewmember Yoko from Japan was exceptional as well as warm and always smiling and welcoming. The outbound leg overall was brilliant as expected and more, the crew, the new aircraft (one of the newest in the fleet!), the product and professionalism left me very pleased.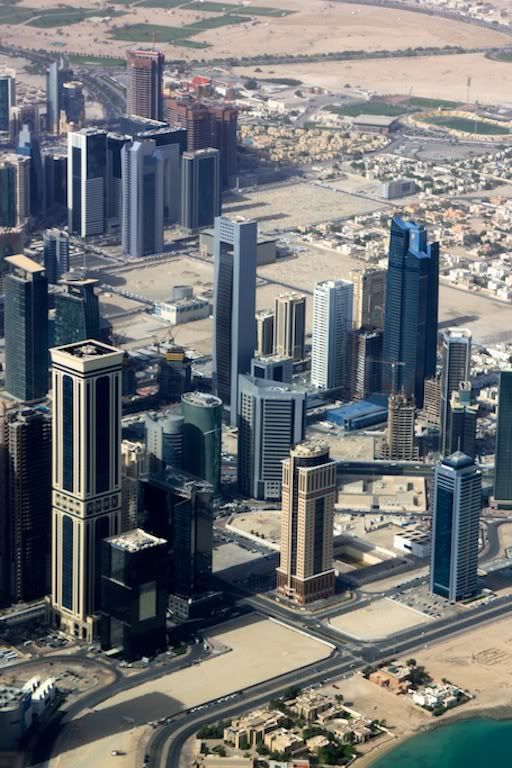 RETURN
QR96 – VIE – DOH
31st May 12
STD – 16:05 ATD – 16:13
Capt – George
CSM – Zahbia
Cabin Crew – Mary
Aircraft – A322 – A7-AHR
Seat – 2D
After a spectacular holiday, I was fairly exhausted and was looking forward to a relaxing trip home and Qatar didn't disappoint. The check-in for the return at Vienna was at Terminal 2 and the check-in agent wasn't particularly interested nor engaging, but that didn't annoy me as much as the move from row 2 to row 7 which I had checked into for some reason.
Once in the lounge, it was relatively small, however we found seats and felt comfortable and there was a full self-serve bar and light snacks available.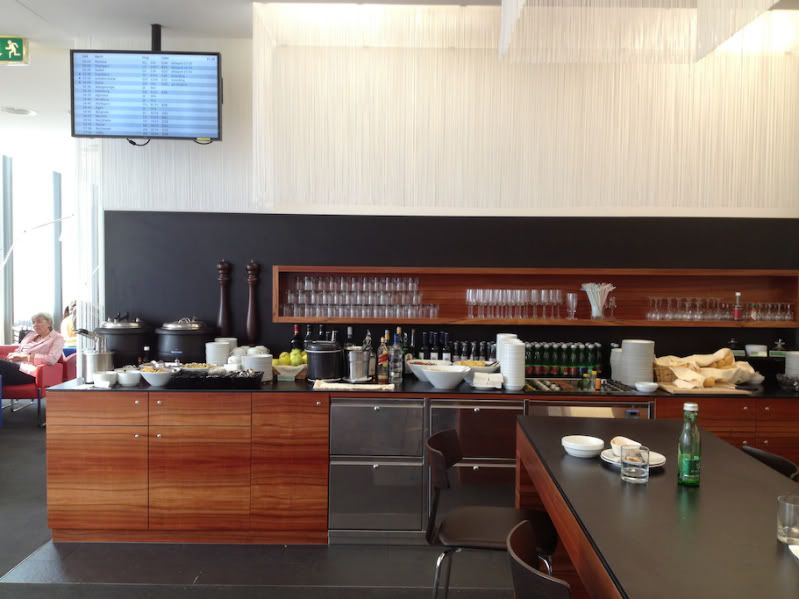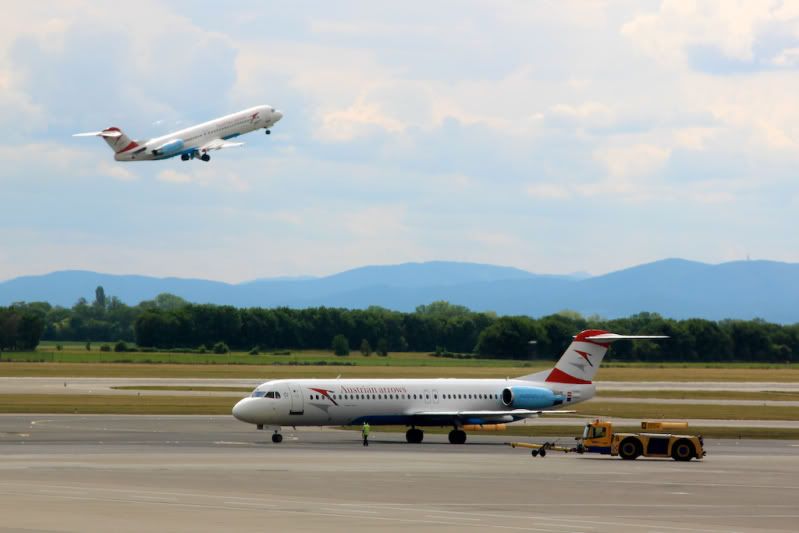 The boarding gate was a reasonable walk from the lounge but there was practically no waiting once we got to the gate.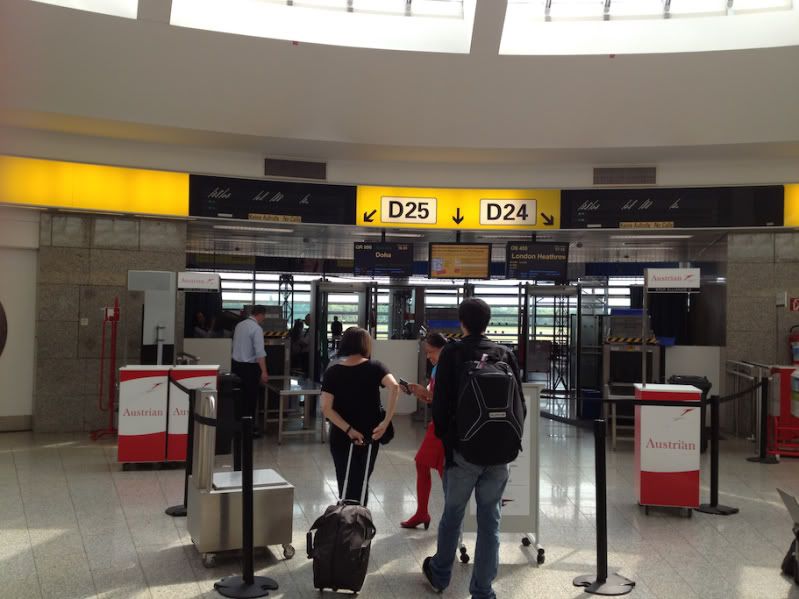 The flight was very smooth, despite the captain advising we were likely to encounter turbulence over the black sea, he obviously did a great job avoiding it! The cabin service was excellent as expected.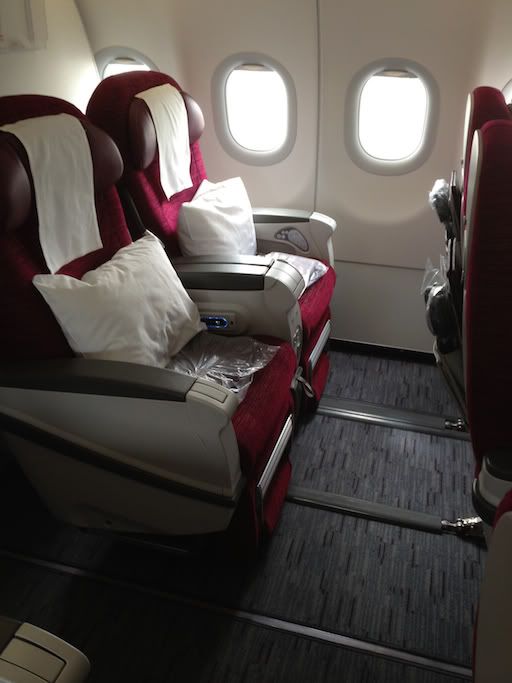 Meal service was prompt and the offerings were equally as good.
Roast beef horseradish rolls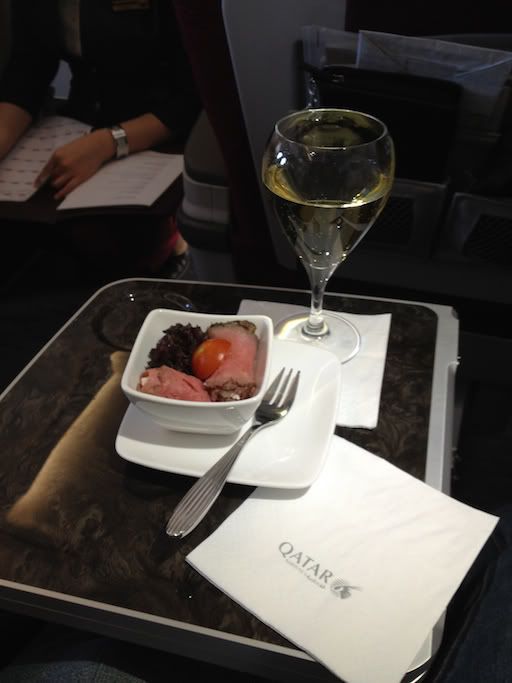 Classic Arabic mezze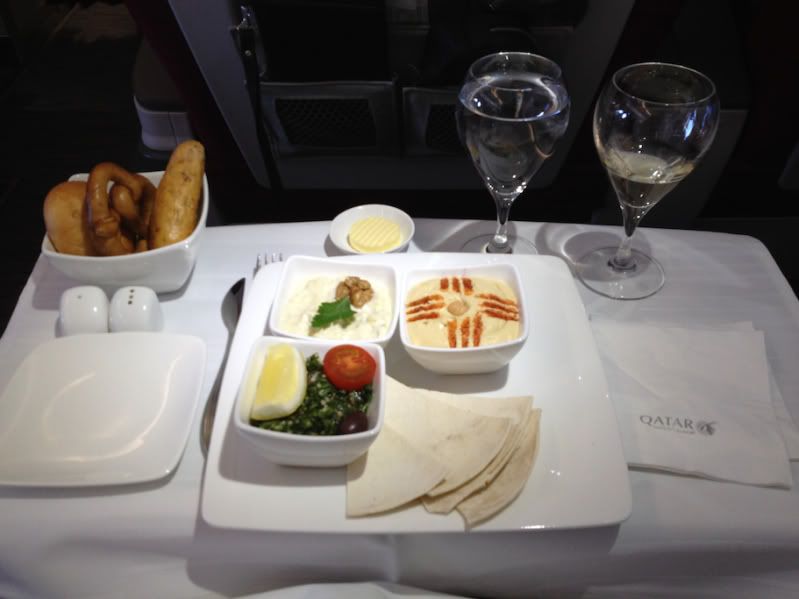 Grilled Salmon with kohlrabi and morel ragout tagliatelle and seared cherry tomatoes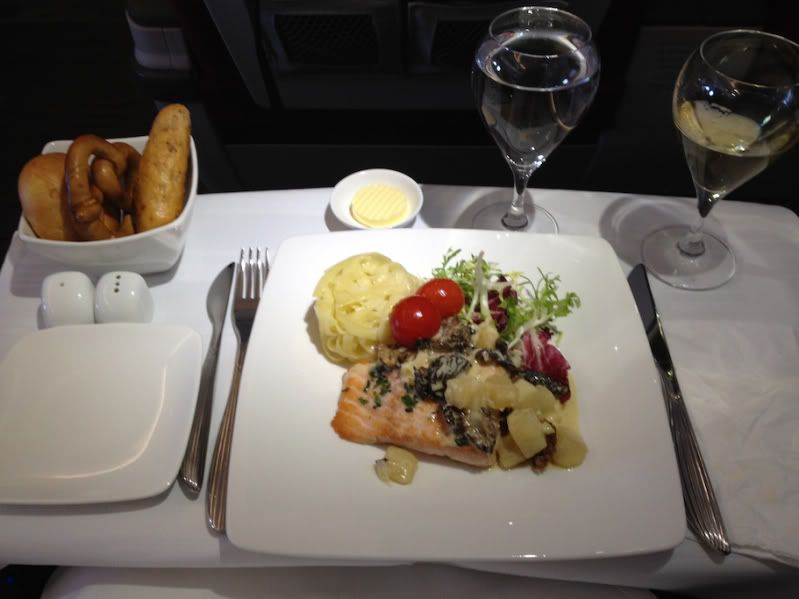 Dessert – Warm Buchtel with powidl (Traditional Austrian warm dessert with vanilla sauce and mixed berries.
QR 638 - DOH-DPS
1st June 12
STD – 02:25 ATD – 02:31
Capt – Eduard
CSM – Seema
Cabin Crew – German
Aircraft – 77W – A7-BAQ
Seat – 7J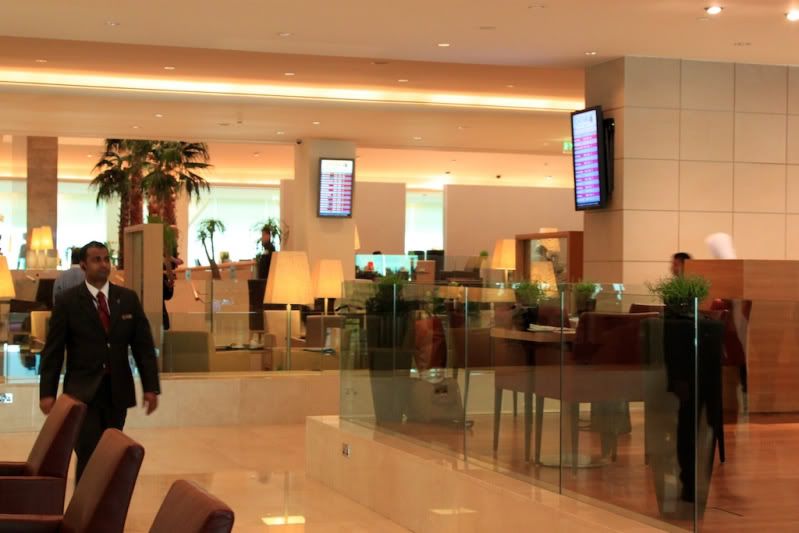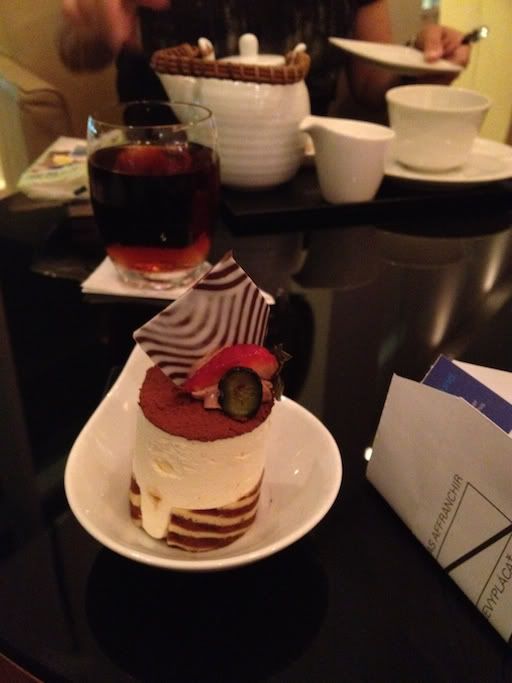 After spending the 4 hour layover in the amazing Premium terminal, my determination to sleep on this leg was outweighed by the desire to try the new and exciting cuisines on offer. The Verve Cliquot champagne was an excellent start but it certainly got better.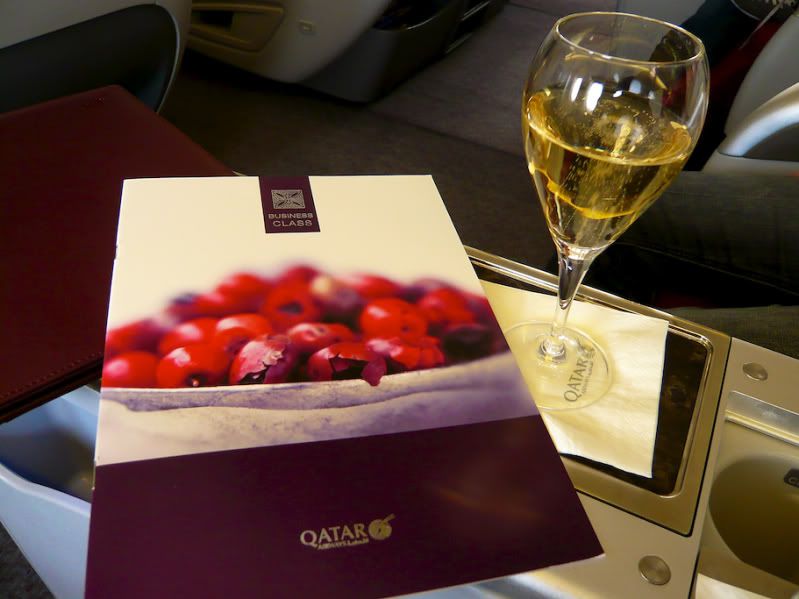 Starting with the excellent service of German our cabin attendant, the orders were taken and once comfortable in the Qatar Airways pyjamas the supper was delivered. Smoked salmon rolls with black sesame seed, chives and cream cheese dip. (So delightful they were gone before the camera came out!)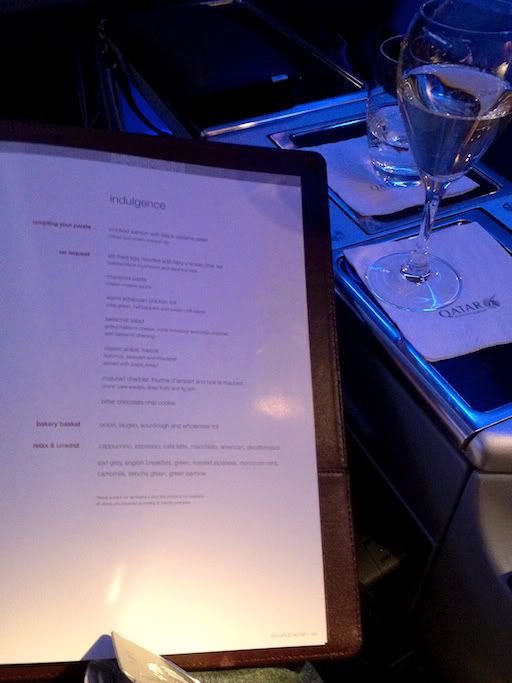 Seasonal salad, grilled halloumi, roma tomatos and crisp potatos with balsamic dressing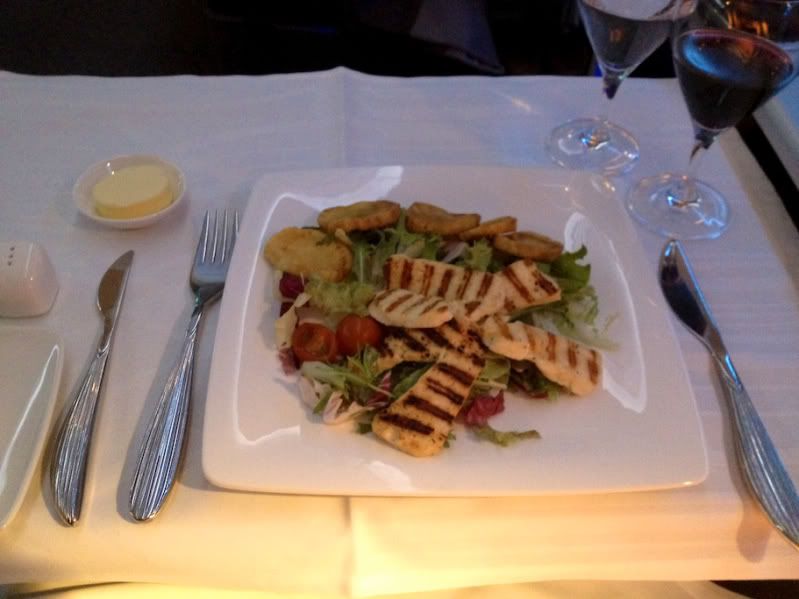 Soon after supper I rested and slept until woken for Breakfast, the sleep again was very good, with no disruption.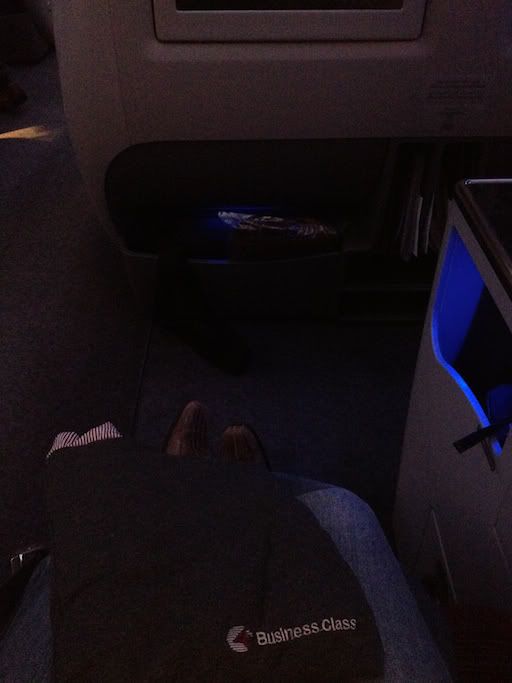 The only issue was the IFE, which managed to freeze and stall everything including the remote. Despite attempts to reset the crew were unable to fix, which was frustrating but because there was only 1hr to go in the flight it wasn't major.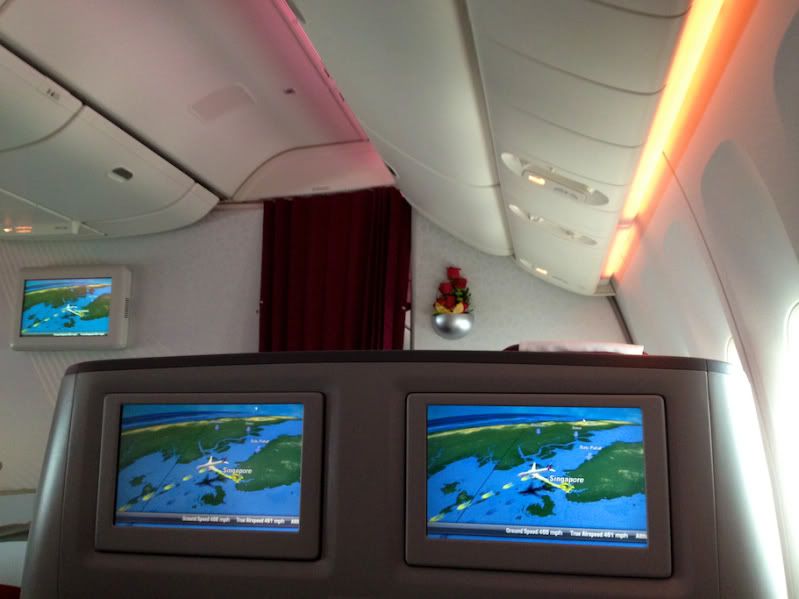 Breakfast - Salmon Quenelles and smoke halibut, emmenthal cheese and pumpernickel croutons.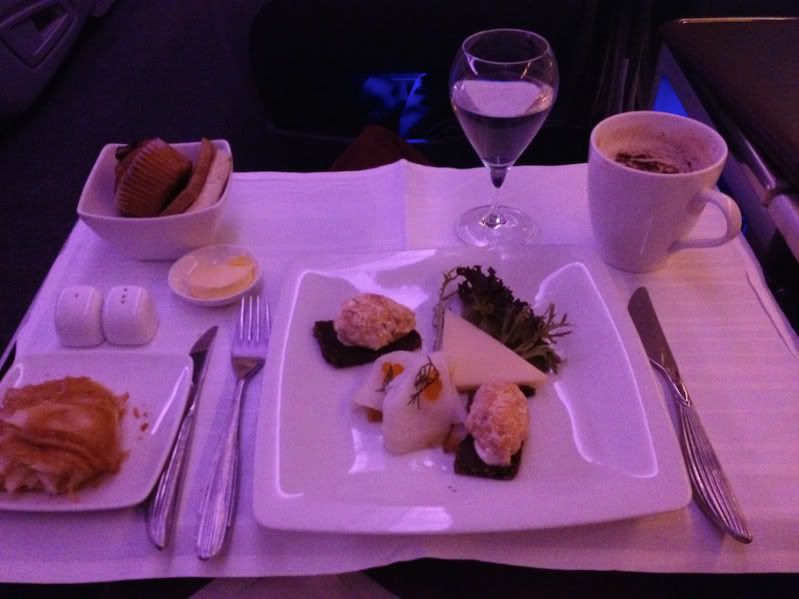 Crunchy waffles and fresh summer berries, chocolate sauce and crème fraiche.
SIN-DPS
Seat – 6J (Moved due to IFE issue)
The last leg of the trip was only 2.5hrs long but still had time for a couple of winks of shuteye. The lunch on offer was great but simply just couldn't finish it due to the sheer amount of food I'd delighted in over the past 8-10hrs.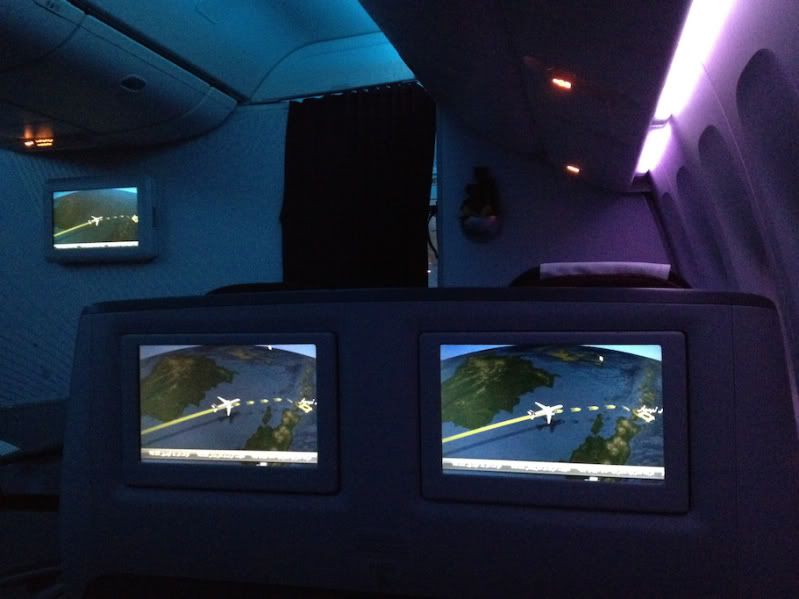 Sushi
Tagliatelle with prawns in cream sauce, Portobello mushrooms, sautéed red and green peppers.
Fresh Fruit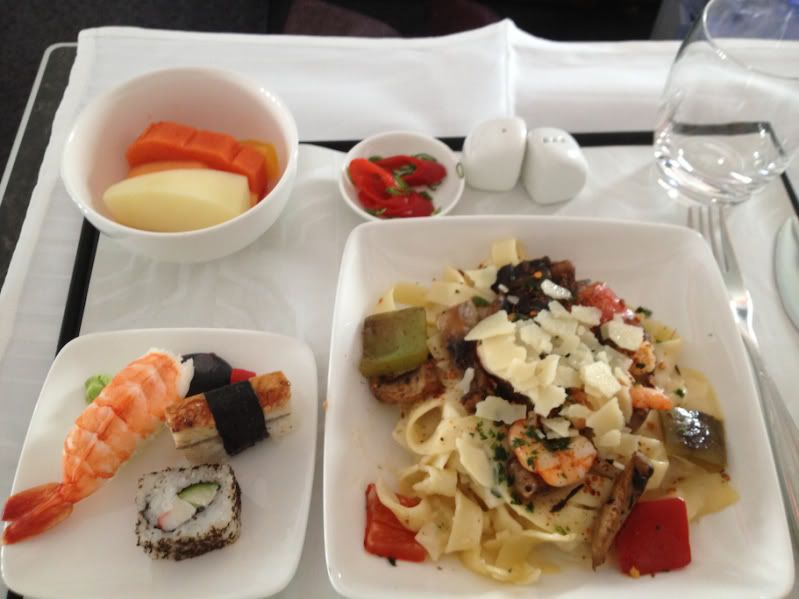 All of my Qatar flights were exceptionally smooth and this is a credit to the flight crew, the service was as I had expected for my first Business class experience, amazing. Overall, the sheer amount of comfort and space you are afforded in Qatar Business class would make me come back for certain.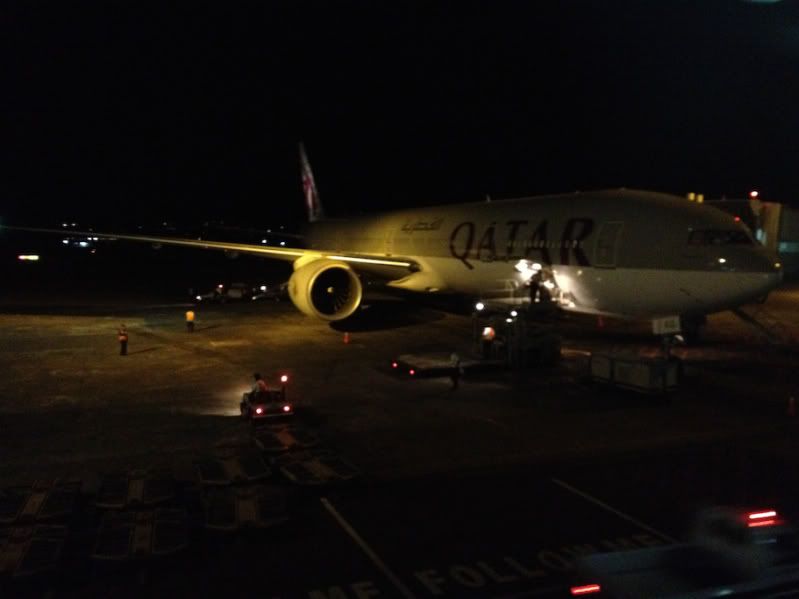 Next flight with Qatar might be from here