Introduction
Here's the prologue for my Big Summer Trip of 2012 to the Eastern Seaboard of the US (and then some).
I haven't been to the US since 2009 so it was about time to go back for a revisit. With this in mind I didn't hesitate much when I found an interesting "special fuel free fare" from Air Canada and Brussels Airlines for BRU-NYC. The trick was to fly one way with AC and the other way with SN, using the new BRU-JFK service. The routing rules were very liberal and I was able to come up with all kinds of sick itineraries like BRU-FRA-YYZ-YUL-YOW-LGA/JFK-BRU for not much additional money (gotta love the passenger friendly airport fees in the US and Canada) but alas all the booking engines I fed these itineraries to threw their hands up and refused to price it, bugger.
In the end I had to settle for a somewhat tamer BRU-YUL-YYZ-EWR/JFK-BRU for 304 EUR, an excellent price especially for the summer high season. I really liked this itinerary as:
- BRU-YUL-YYZ was a single AC flight number with a 767, meaning a widebody flight on the short hop between Montreal and Toronto.
- It allowed me to spend the night in Toronto, my favorite city anywhere in the world, hands down.
- YYZ-EWR would be operated with a Dash by Colgan Air dba Continental Express - a new carrier for me. Of course this was eventually changed into an Expressjet dba United Express flight with an ERJ-145 - not too bad actually.
- All departure times were very human, no uncomfortably early flights.
Of course I had to build flights around and inside it so I did. To BRU it was LH/SN combo via BER using the newly launched HEL-BER service booked as a return part of another LH open jaw ticket earlier this spring. It would also be my first flight with Brussels Airlines since 2004 so all was good - apart from the airport which changed into TXL... bugger.
Getting back from BRU I decided to buy another B.light flight from SN as they were selling the late morning BRU-CPH flight for 60 EUR and it would be operated by an A320 and I was quite keen to sample their Airbuses as well. Well, you know the story - some months later it ended up being changed to an Avro, bugger that.
For the final stretch from Copenhagen to Finland I went with Estonian Air - they offered a dirt cheap ticket for 58 EUR via TLL with good flight times and a chance to fly their ERJ-170 on the CPH-TLL leg which back then was supposed to be my first flight with this equipment on their colors but that of course changed a couple of months ago and I flew it already on the inaugural KAJ-TLL flight (see here:
Proper Inaugural Flight And The OV E170: KAJ-TLL
(by
FlyingFinn76
Apr 5 2012 in Trip Reports) ).
Then I added a bunch of flights within the US plus finalized my plans there. I will cover the planning and booking of these flights on the respective parts of this report.
The whole itinerary turned out to be like this: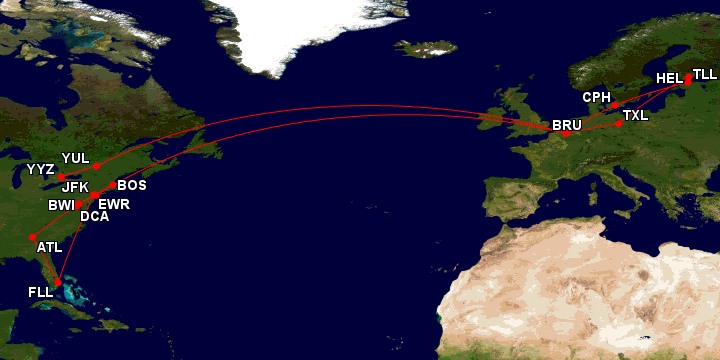 I'll do this report in multiple parts. The planned parts are:
- Prologue and introduction (you are reading it)
- Part I: HEL-TXL-BRU
- Part II: BRU-YUL-YYZ-EWR
- Part III: EWR-FLL-ATL-DCA
- Part IV: BWI-BOS-JFK-BRU
- Part V: BRU-CPH-TLL-HEL
- Epilogue
And as you just can't have a trip report without any flights I'll include a small bonus flight as an appetizer for you to enjoy: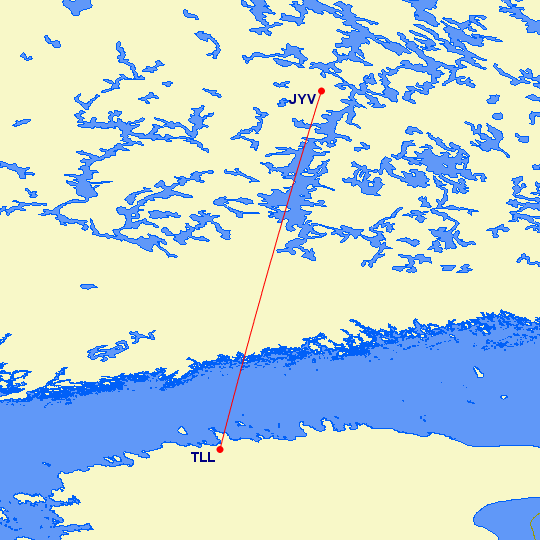 Basically my journeys had taken me to my hometown of Kuopio and I needed a way to get back to the Capital Region of Finland for a couple of days of work before embarking on the real trip. I could of course take one of the many daily nonstop flights on AY (operated by BE) or KF or a train ride but where's the fun in that? This sounded like a good opportunity to give Estonian Air's new TLL-JYV route a second try as I missed it back in March:
How Not To Deice A Plane: HEL-RIX-TLL
(by
FlyingFinn76
Mar 26 2012 in Trip Reports)
Kuopio and Jyväskylä are less than 150 kilometers apart with convenient train (or so I thought) connections available and since the schedules worked fine for my purposes I decided to do it. It was much more expensive to fly simply JYV-TLL as opposed to doing JYV-TLL-RIX (of course with the same flight) so I booked that one for 62 EUR, figuring out airBaltic would get me home in an affordable way....
...alas it wasn't to be. Again I failed to check the fares beforehand and they wanted more than I was willing to shell out. No other viable options existed - OV was offering a flight back to TLL on the same plane and then the midnight DOT up to HEL but the cost was far too high so I decided just to take the ferry back. I was lured by the cheap fare offered by Linda Line - never my favorite company before and definitely my least favorite company after this trip! The catamaran journey cost 35 EUR.
Sunday 10.6.2012
This multimodal journey starts with the oldest method of transport known to man - walking. Watching these tranquil lake scenes while walking from my parent's place to the train station it is a bit hard to believe you are less than two kilometers from the centre of one of the largest cities in the country: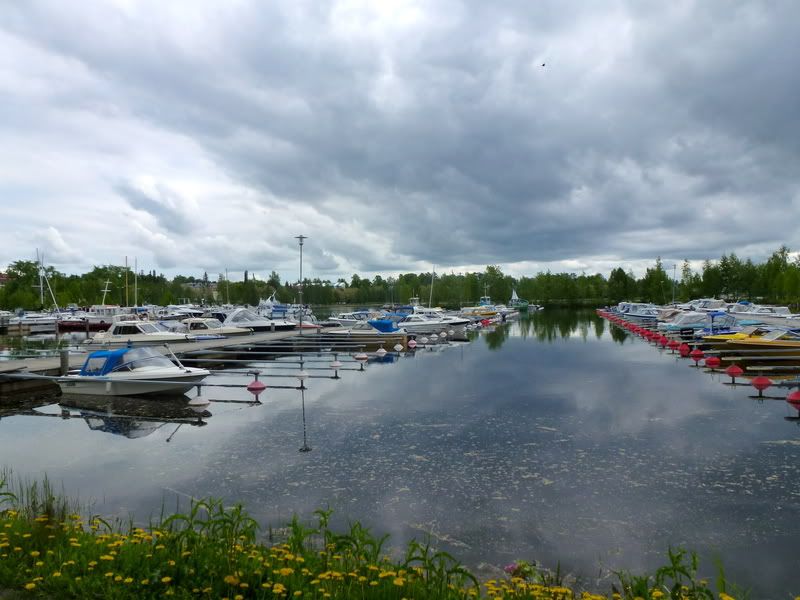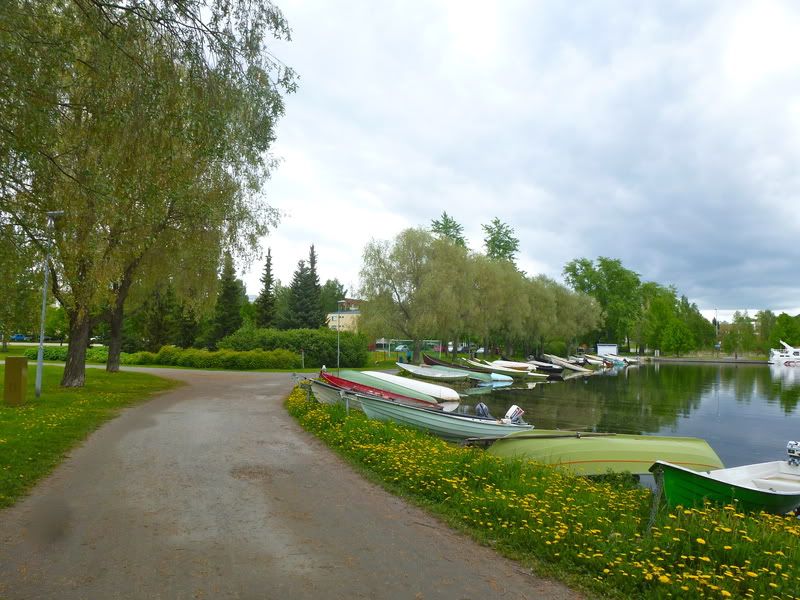 Not a soul to be seen on a Sunday morning: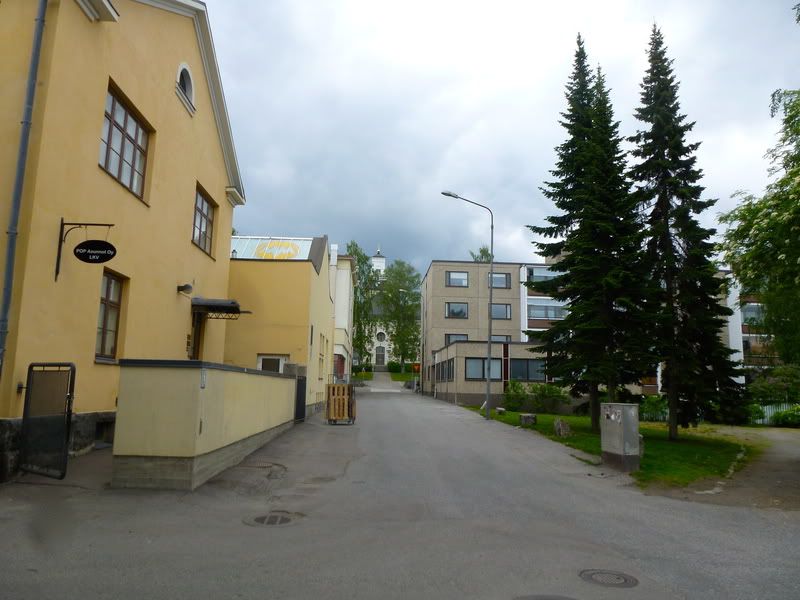 The train station: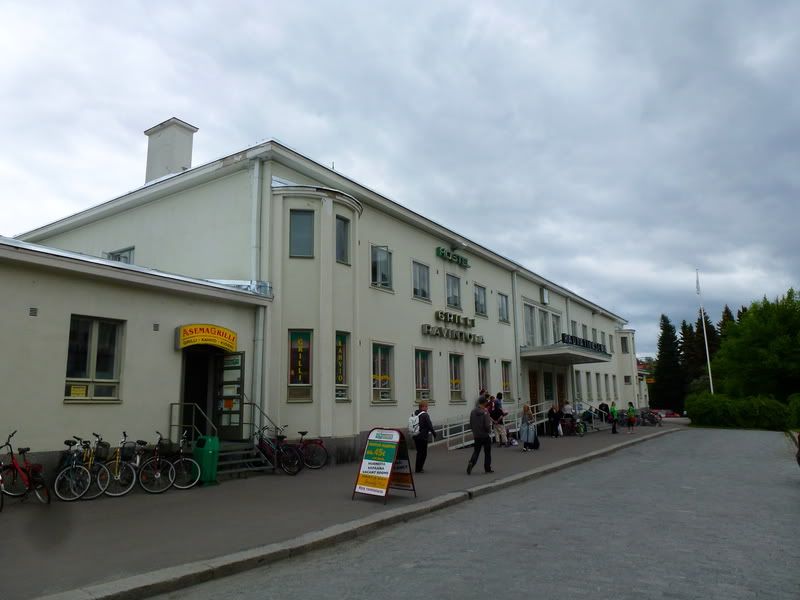 Hmm, what's this: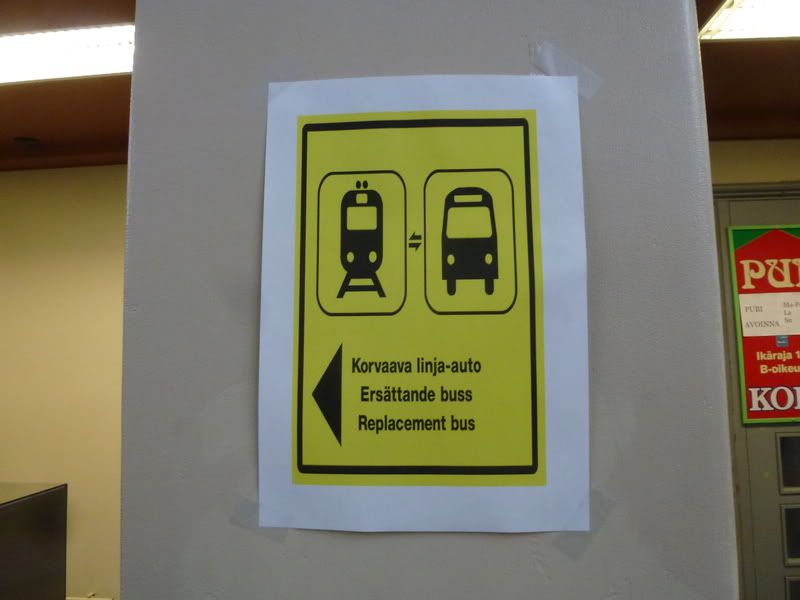 Oh yes, thanks to some track works taking place instead of a train we are taking a (luckily direct) bus today - something very familiar to anybody who's spent any longer time in London:
The journey is a bit short of two hours, not very comfortable on the front row but at least I don't have a seatmate. Some quintessential Finnish scenery on the way: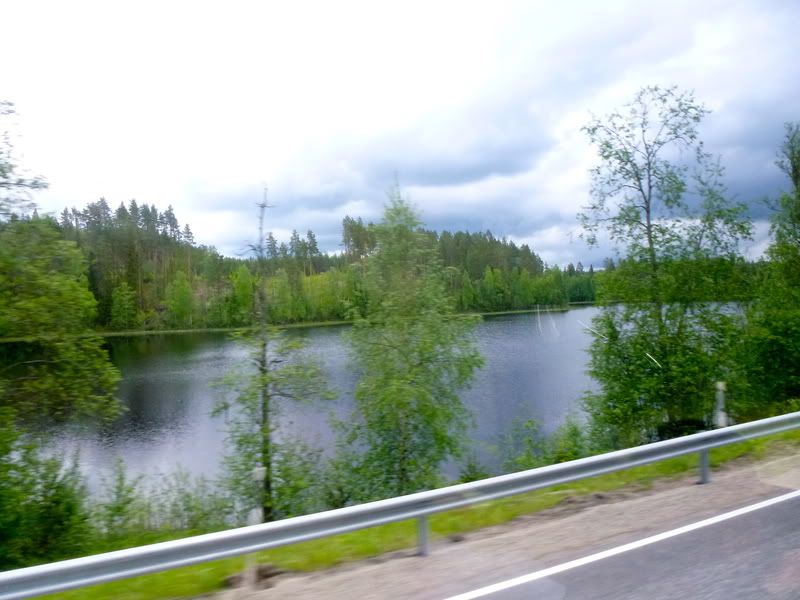 Jyväskylä
Jyväskylä is no Chicago, but the lakefront has seen some extensive development during recent years: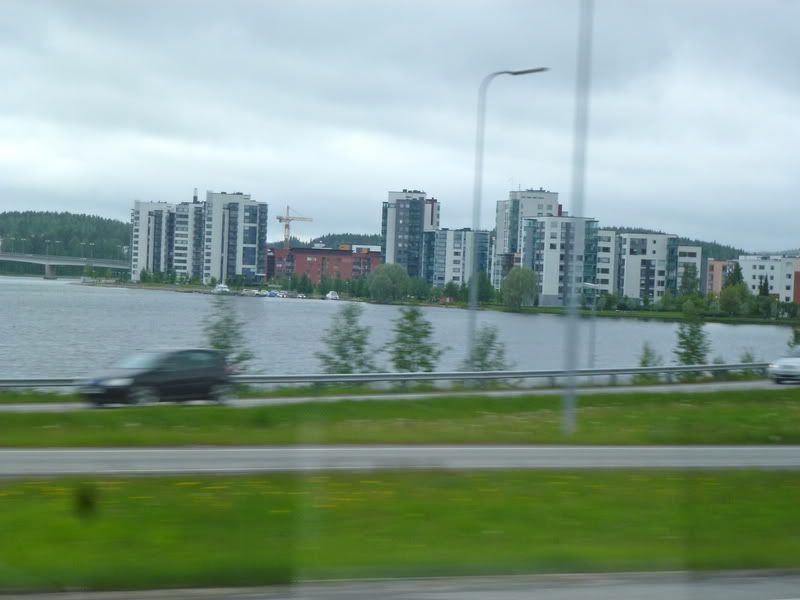 Upon arrival at Jyväskylä it is well past lunch time and I spot a nice Nepalese (yes, we have a lot of these in Finland) just opposite the "Travel Centre" and decide to eat there:
Err, "What's a Travel Centre?" I now hear someone asking - well take a look yourself: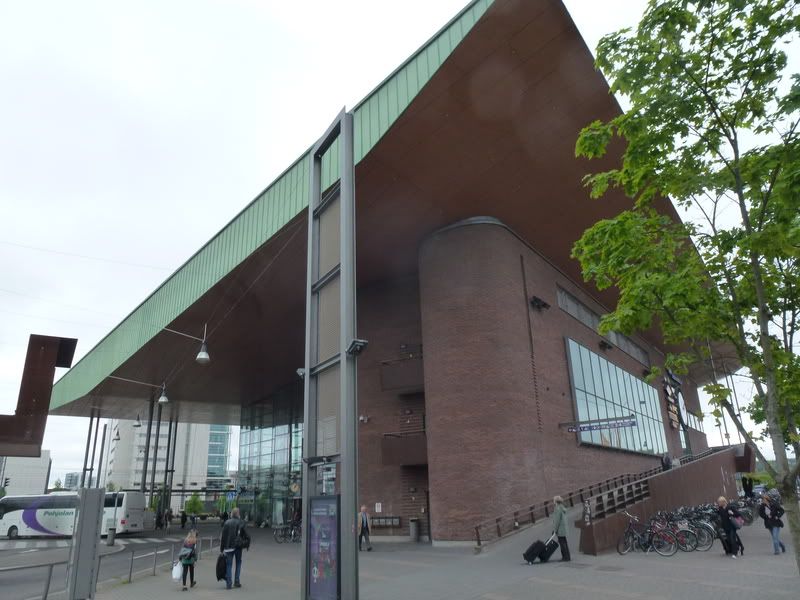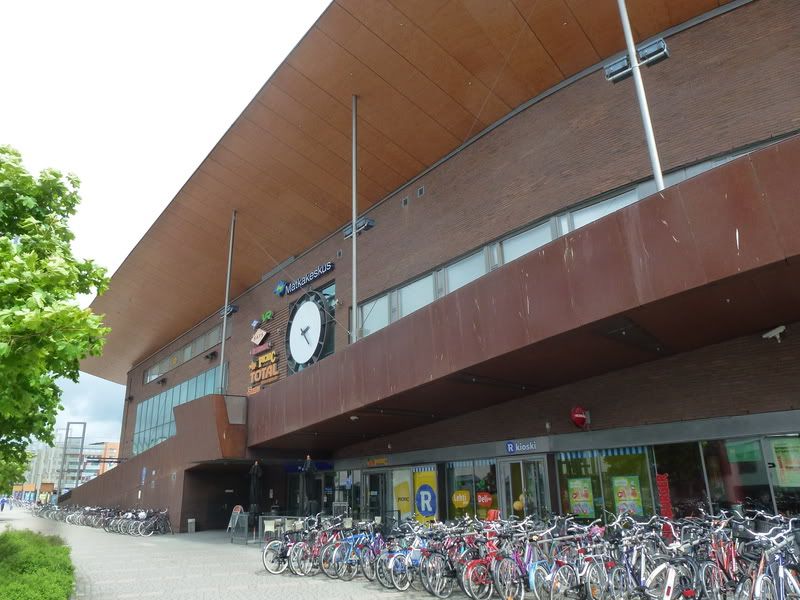 These combined multimodal bus/train terminals cum shopping malls seem to be all the rage in Finland these days - a shame really as they are replacing the nice old style station buildings like this one in Jyväskylä (ahh, I have fond memories of the old bar in that building from the year I spent in the army nearby...):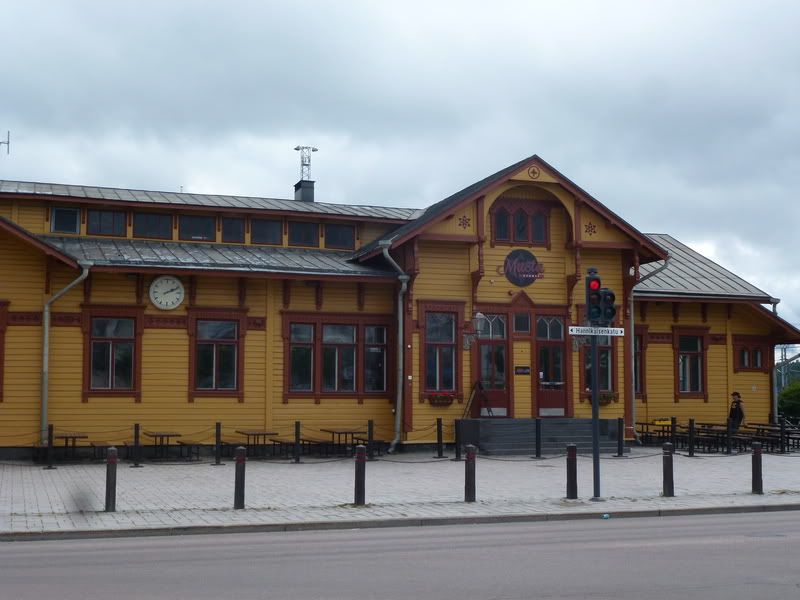 Some art in front of the monstrous building - not sure why they have a reindeer here in Central Finland considering the real reindeer areas are hundreds of kilometers towards the north, maybe 717flyer can explain that: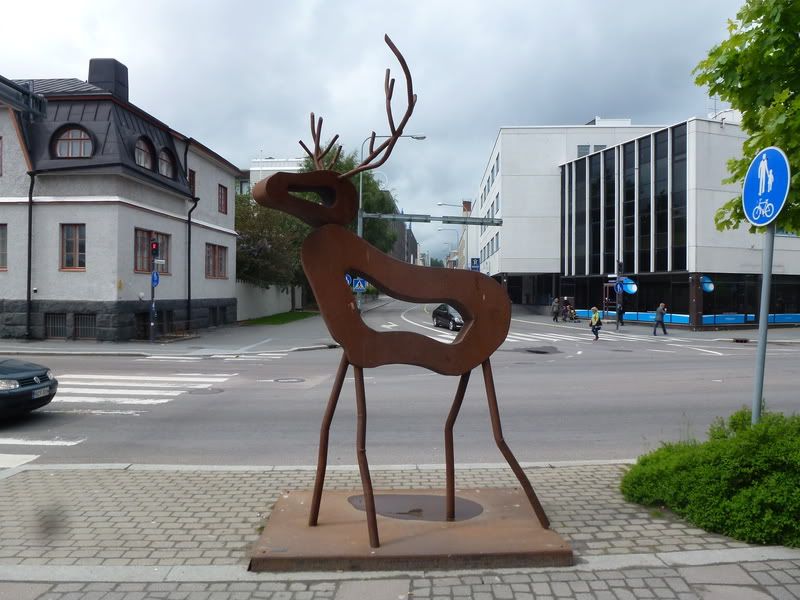 I hit a nearby department store to get myself a pair of headphones - I stupidly forgot my existing ones home. Getting back to the "Travel Centre" (sorry, that name keeps irking me to no end) I see something lovely arriving on the tracks: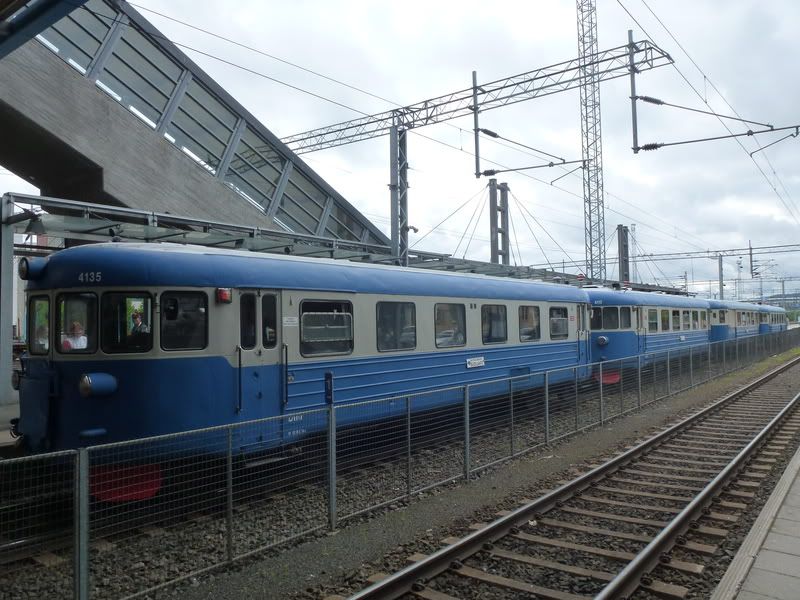 This is an old diesel rail bus on a special event, more affectionately known as "Lättähattu" ("flat cap") - and it sure brings back a lot of memories as I used to take them a lot to my Grandma's place and back!
Public transportation to the often outlying airports in these regional Finnish cities can be a pain - especially on weekends like now. So thumbs up for the city of Jyväskylä and Finavia for teaming up and providing a shuttle service for all scheduled flights even on a Sunday: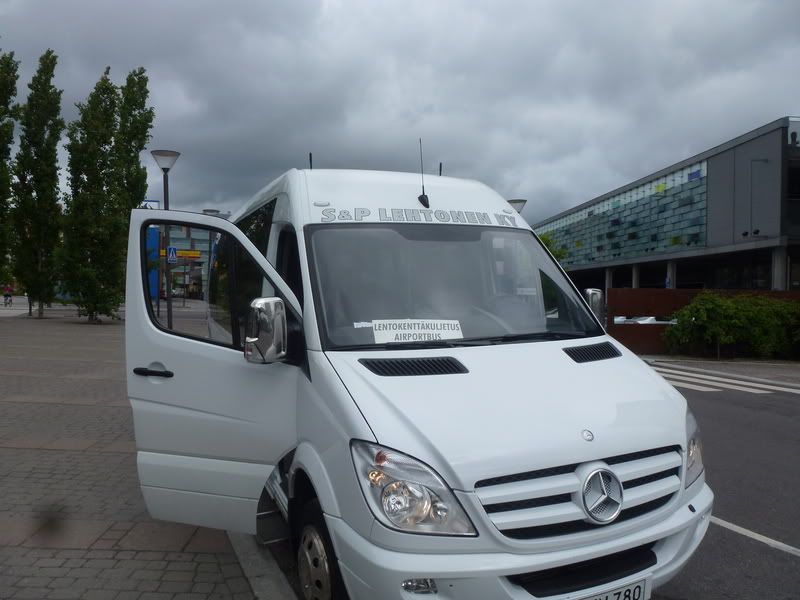 As I already assumed I am the only passenger in the van so I'm not sure how long this will last - but in the meantime I definitely prefer paying 8 EUR for this service than 40 EUR for a 25 kilometer taxi ride... According to the taxi driver the midnight arrival is usually far busier as is the early morning return flight - this Sunday afternoon service is actually a bit of an oddity in their schedule.
Anyway while driving to the airport I check the flight status and it looks like the plane landed some 15 minutes early. Indeed, when we reach the airport there are already a bunch of (foreign) passengers waiting for the ride back to town, good to see there being more than one!
I thank the driver, head inside to pick up my boarding passes from the desk. The lady confirms: "You are going to Riga?"
- "Well not really as I've changed my plans and stay at Tallinn instead."
(confused look)
- "But it is nothing for you to worry anyway, I will deal with it in Tallinn. Thanks!".
(an even more confused look): "Ok, have a good flight!".
After snapping the first of these photos of the landside terminal part: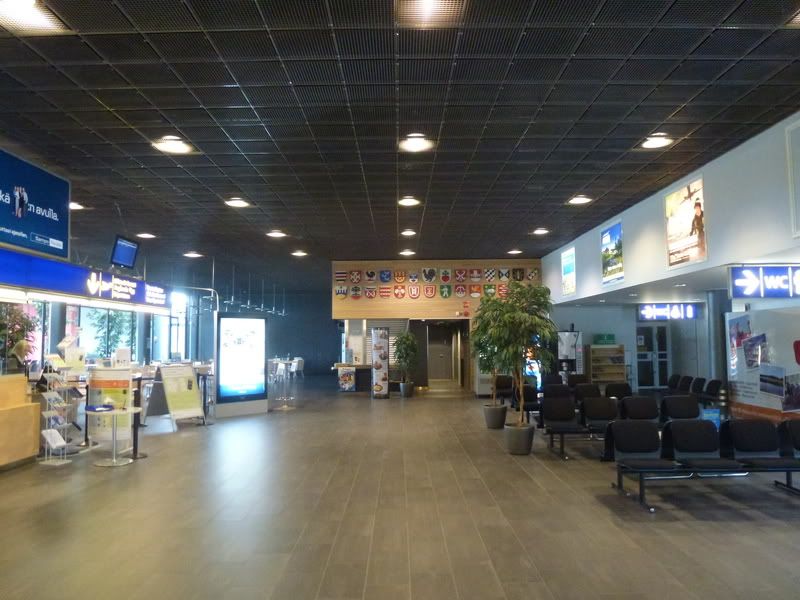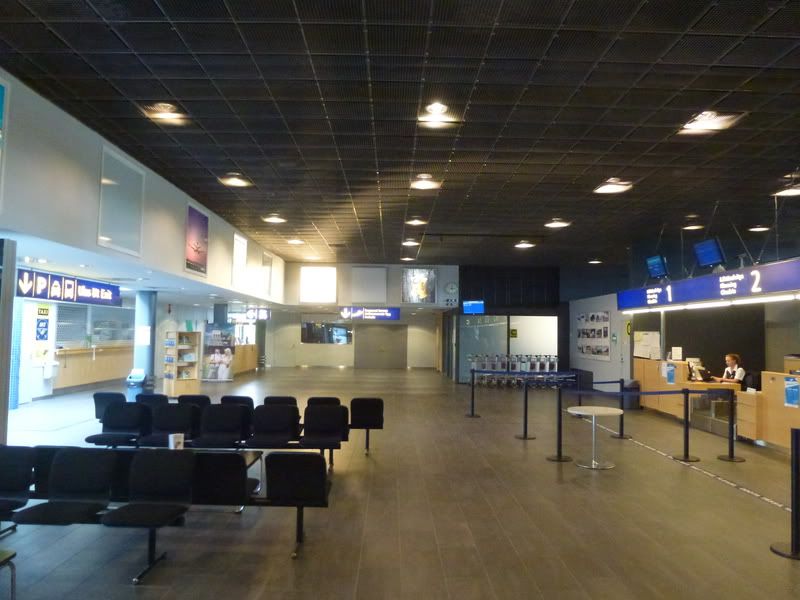 The gate agent is already calling for me to pass thru - here they scan your boarding pass (well not really scan as in this case all I got were a pair of hand written boarding passes) and board you on the computer before you go through security into the large waiting room: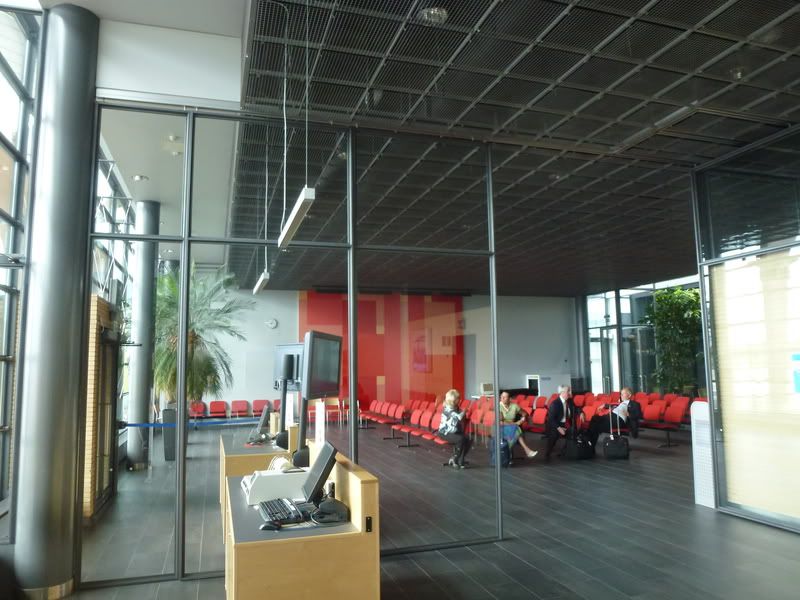 There are a few passengers here already and the plane, ES-ASN (famous for carrying lots and lots of a.netters onboard between ARN and TLL back in January) is of course parked outside: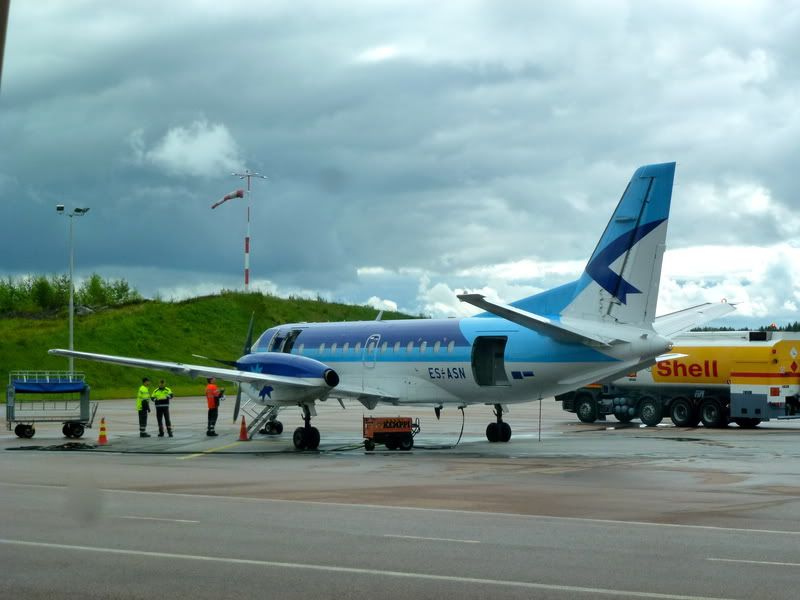 Looks like none of the other passengers are familiar with the boarding procedure here - they make a boarding call over the PA which means that the door to the apron is now unlocked and people can board freely. Nobody makes any effort to move, clearly waiting for an agent to come and open the door so I decide to do what we great leaders have to do, open the door and head outside. Of course the rest of the passengers follow me...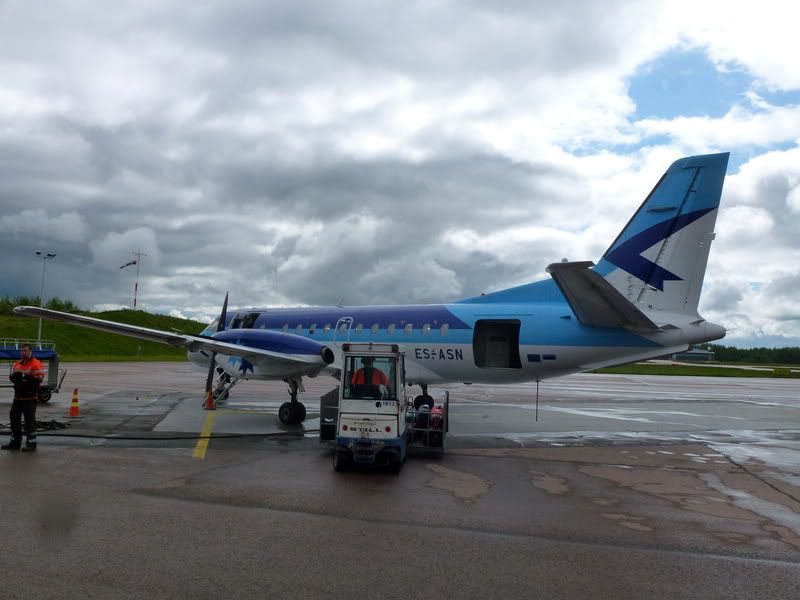 They built this new extension to the JYV terminal just around the time traffic here (to HEL) started its decline, thus it seems far too large for the couple of BE ATRs and one OV Saab it now gets every day: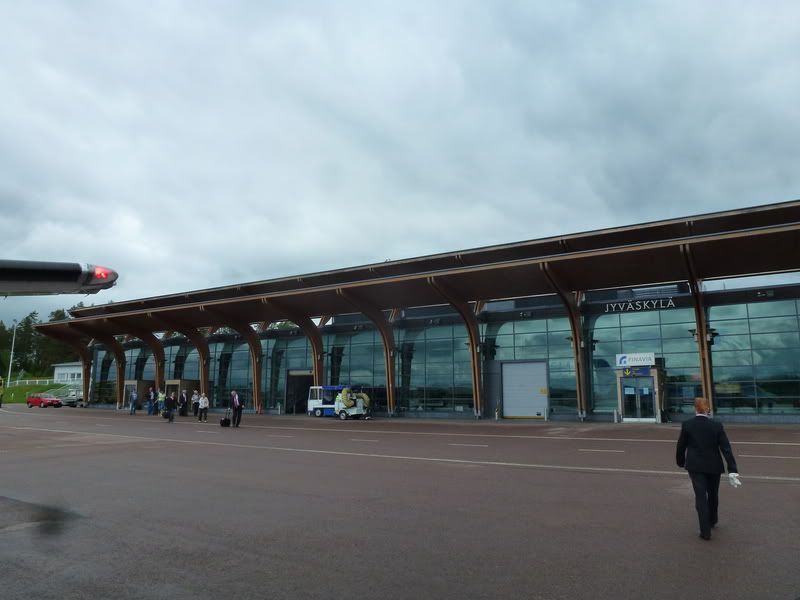 JYV - TLL
OV522 Operated by Estonian Air Regional
Saab 340 ES-ASN
Seat 11A
15.20 - 16.17
A young, cute and super friendly but surprisingly not blonde (so it is not the dedicated a.net one) FA is greeting us on the door. I picked a seat on the last row - where else.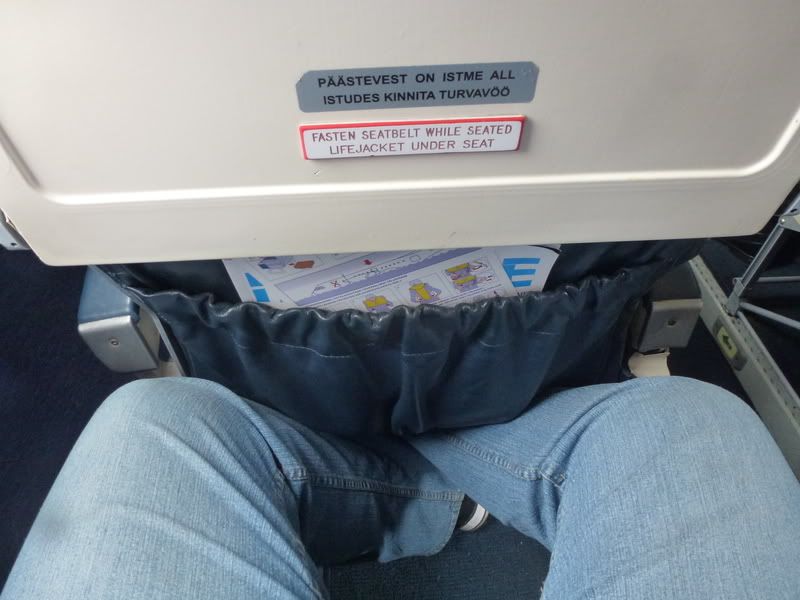 Boarding is quick - I count a grand total of 10 passengers onboard: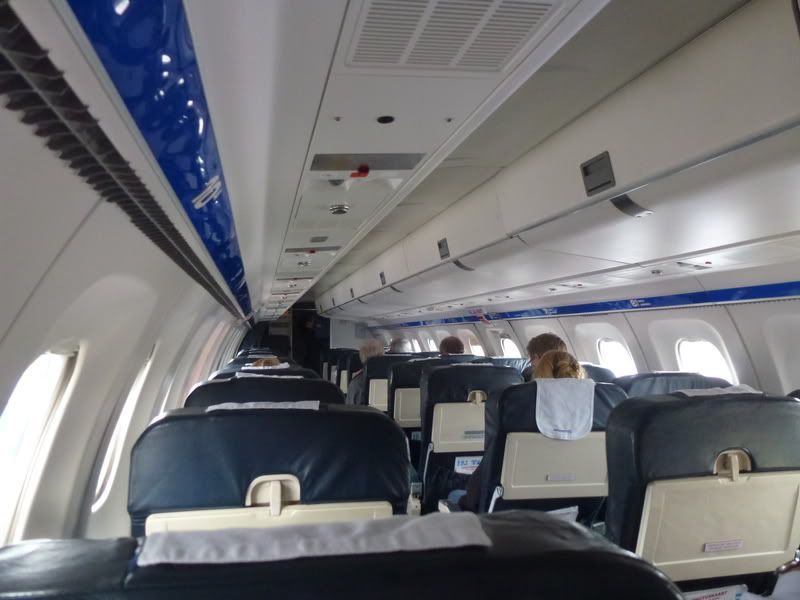 When the FA is performing her cabin check in a rather hurried pace I comment to her that they really are trying to get out very early - she confirms this.
Indeed departure is a good 20 minutes early, very nice.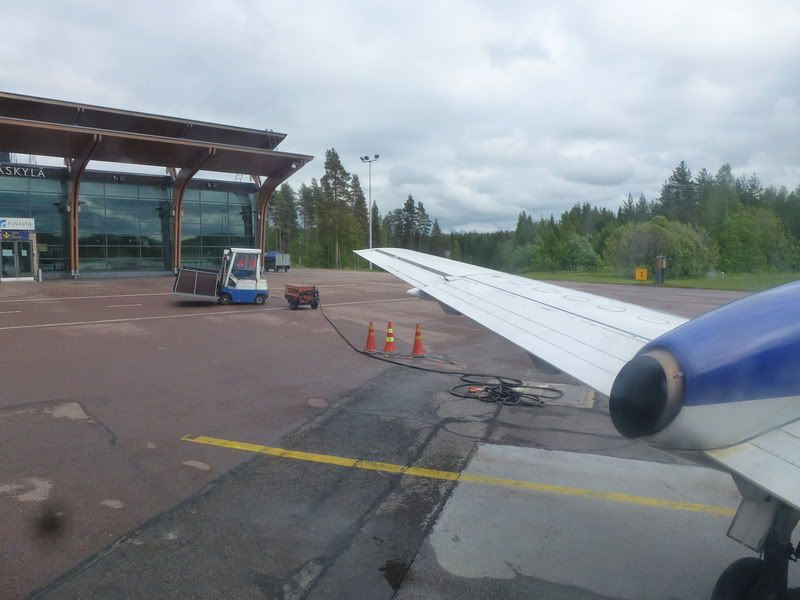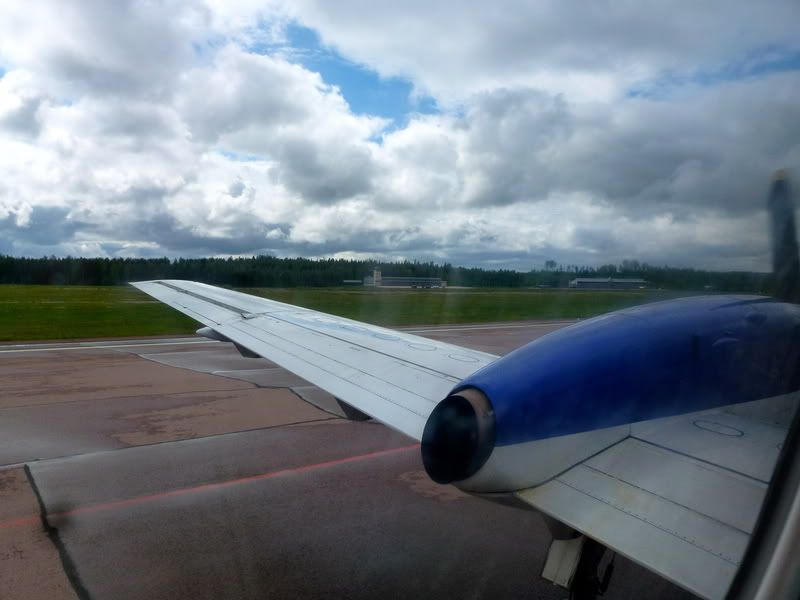 Taxiing for a runway 12 departure. Tikkakoski Airport is home to the headquarters for the Finnish Air Force plus there is also a military aviation museum - I've tried to visit it twice but on both occasions it has been closed.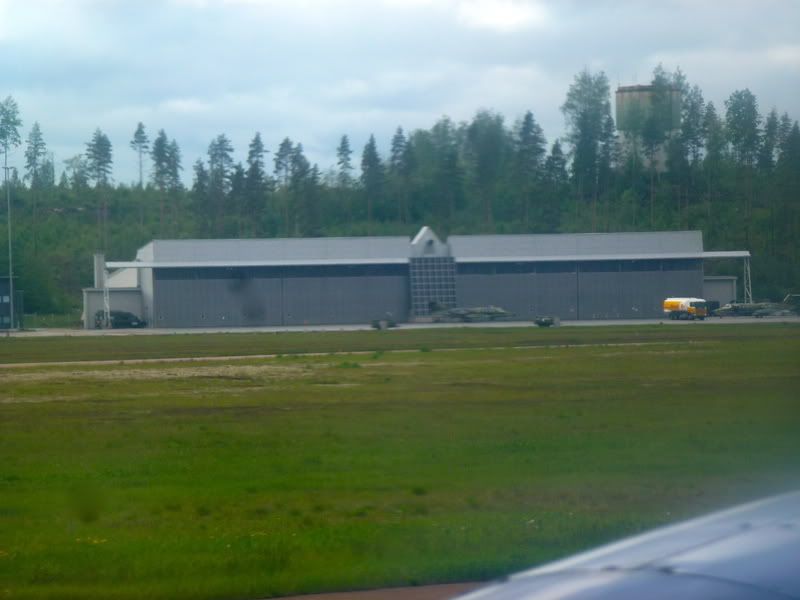 Turning around: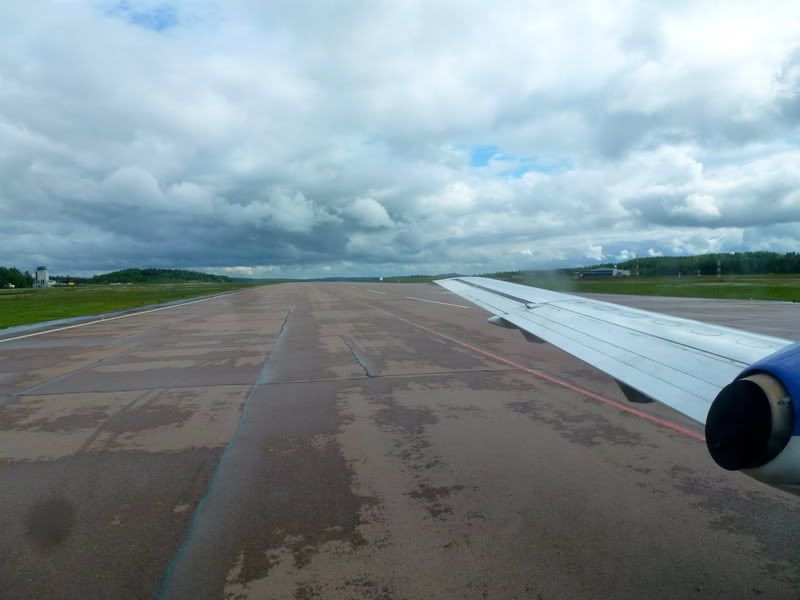 Liftoff - these hangars carved on the rockside obviously belong to the Air Force: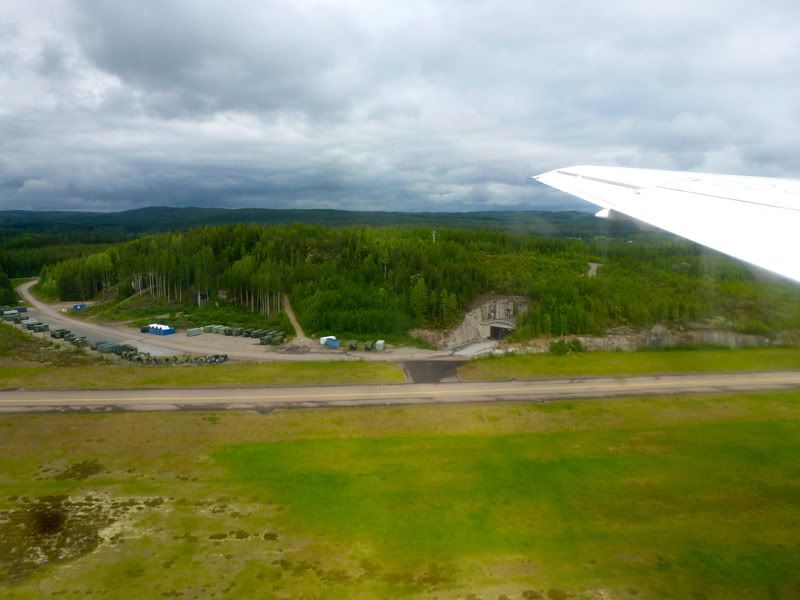 Turning towards the south: