Hello everyone and welcome to my 9th trip report,
After finishing the itinerary for my 4 week vacation to the USA/Canada this summer, (July 21st-August 17th) flying DL/KL and WS I decided to book 2 other trips as I still had 2 weekends off from work before my vacation. Firstly to LHR via MUC, which this report will be on, and over 2 weeks I'm off to ZRH for a weekend spotting trip flying SWISS in C.
As mentioned before this report will cover AMS-LHR via MUC both ways with LH. While looking for a hotel I chose the Renaissance hotel as it offers great views of the airport (if you get/request a room facing the airport) and it was close to LHR as I needed to get back there early in the morning the next day.
AMS-MUC-AMS will be operated by an E195 (LH Regional and IQ) with MUC-LHR-MUC being operated with an A321 and A319. As I now have FTL status with LH this report will also cover some lounges I visited. Here's the map thanks to
www.gcmap.com:
09/06/2012
AMS-MUC
LH2305 // 23F
E195 LH Regional // D-AEBL
13:35 – 14:55
After a long week at work I finally got the opportunity to sleep in, until my alarm clock went off at 10:00. After a quick shower I packed my bag and was ready to go. As my dad also had the day off he decided to bring me to AMS and get a bite to eat with me before I headed airside. After a 15 minute drive we arrived at AMS and parked the car in one of the garages. A 10 minute walk later and I was at Schiphol plaza. We walked all the way upstairs to the 3rd floor where the observation deck and a food court is located. After a nice little bite to eat we headed back downstairs to the check-in level where I bid my father farewell.
As usual I had checked in online the night before and just needed to print my BPs, so off to check-in area 8 I went. After swapping my LH FTL card my 2 BPs came out of the machine. Off to security it was. Of course I chose the slowest line and was through in 15 min. As there was still another hour before boarding time (12:50), I decided to head to the lounge. LH uses lounge 26 here at AMS, which is the Menzies lounge. The Menzies lounge is located on the 2nd floor next to the airport park: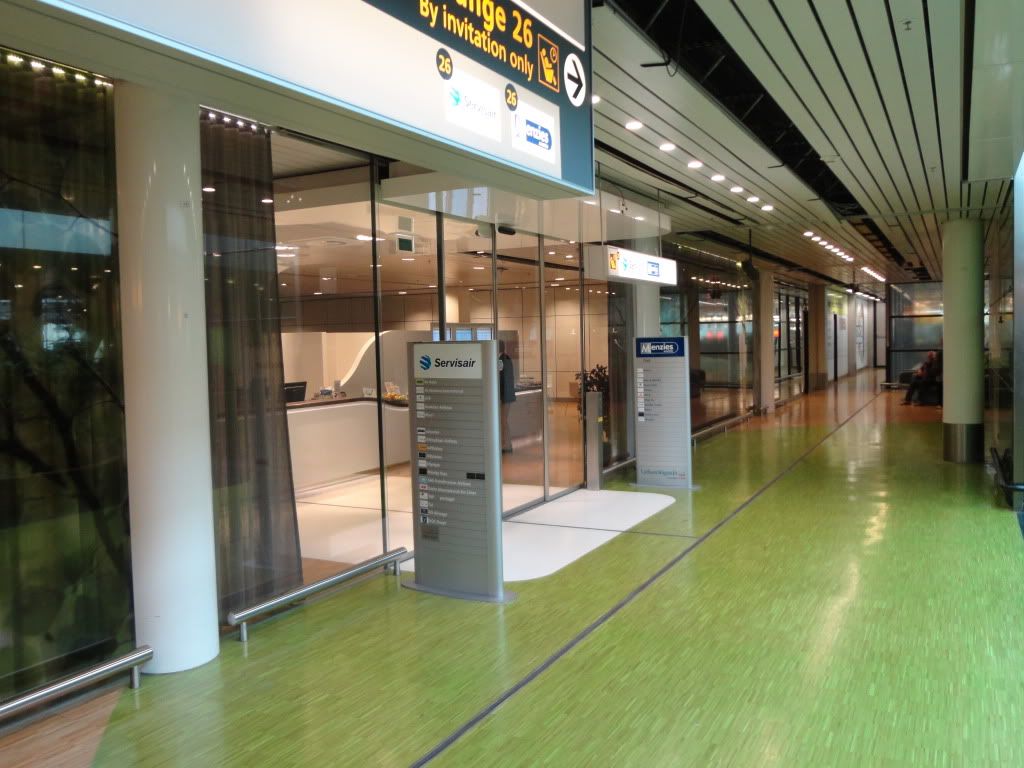 After exchanging my BP and FTL card I got granted access and wished a pleasant stay. The lounge had different snacks, drinks and soup on offer. So I sat and relaxed while reading one of the Airliner World magazines:
At 13:00 (10 min past boarding time, 20 min before departure time) I headed towards the gate: B15. While walking to the gate and looking outside I saw my aircraft just taxiing in which meant there was going to be a bit of a delay. Once arriving at the busy gate area I found an empty seat and listened to some music before boarding started. At 13:15, 5 minutes before SDT, boarding started. As usual I was one of the last to board, but before doing that I snapped a picture of the aircraft. D-AEBL, a pretty new E195 delivered on 01/03/2012, will be doing the honors on this leg: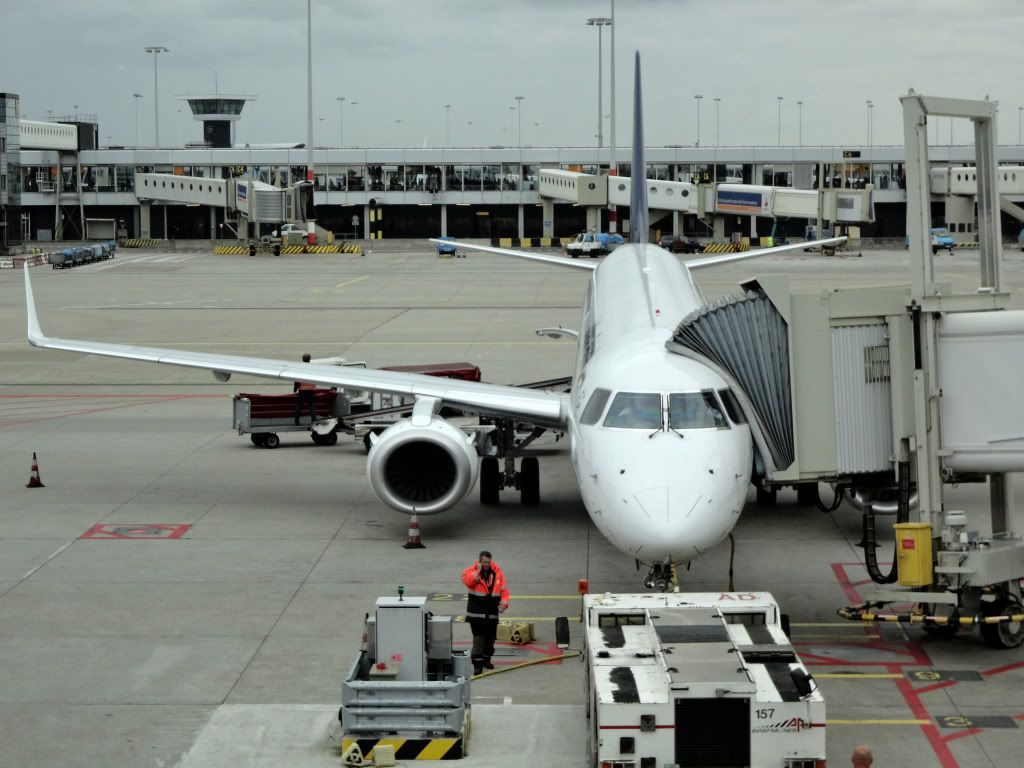 Once boarding the aircraft I was greeted by 2 female FAs and proceeded to my seat: 23F. Flight was pretty full at 90% with the seat next to me unfortunately occupied. The view from my seat, the LH A319 was headed to FRA: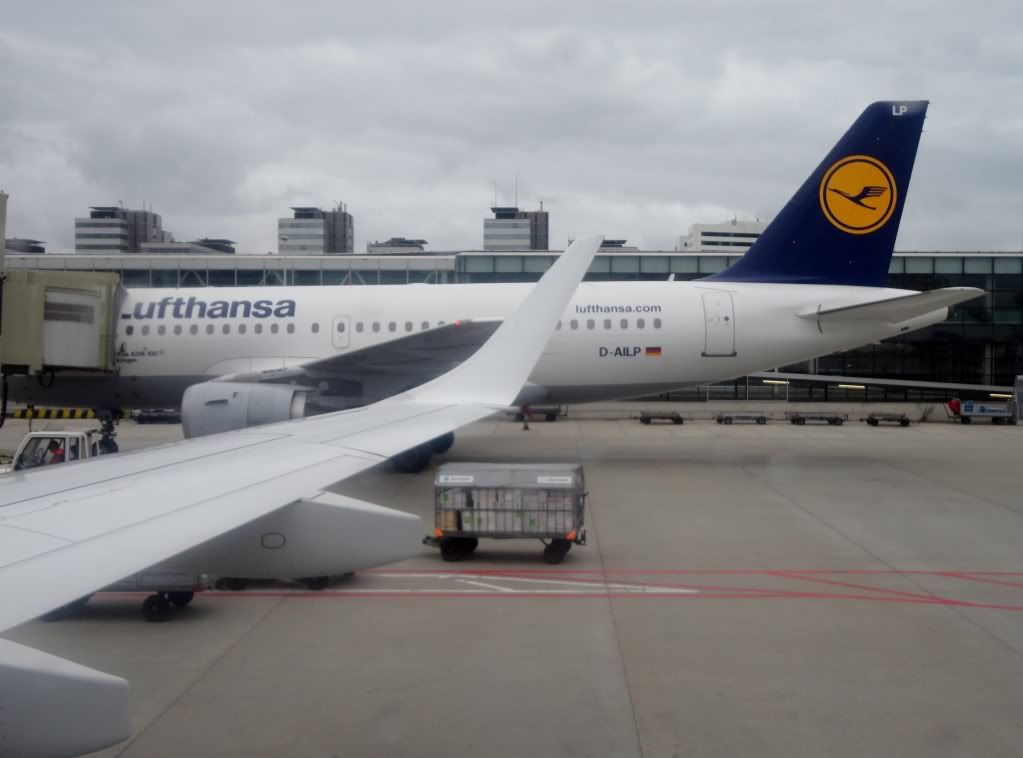 Boarding was completed very fast. The pilot came onto the PA with the usual announcements and saying that we had to wait another 10 min before getting pushback clearance due to some bad weather around AMS. Announced flying time is 1h5min and within 10 min we finally pushed back at 13:35, 15 minutes behind SDT, the LH A319 was still awaiting pushback clearance: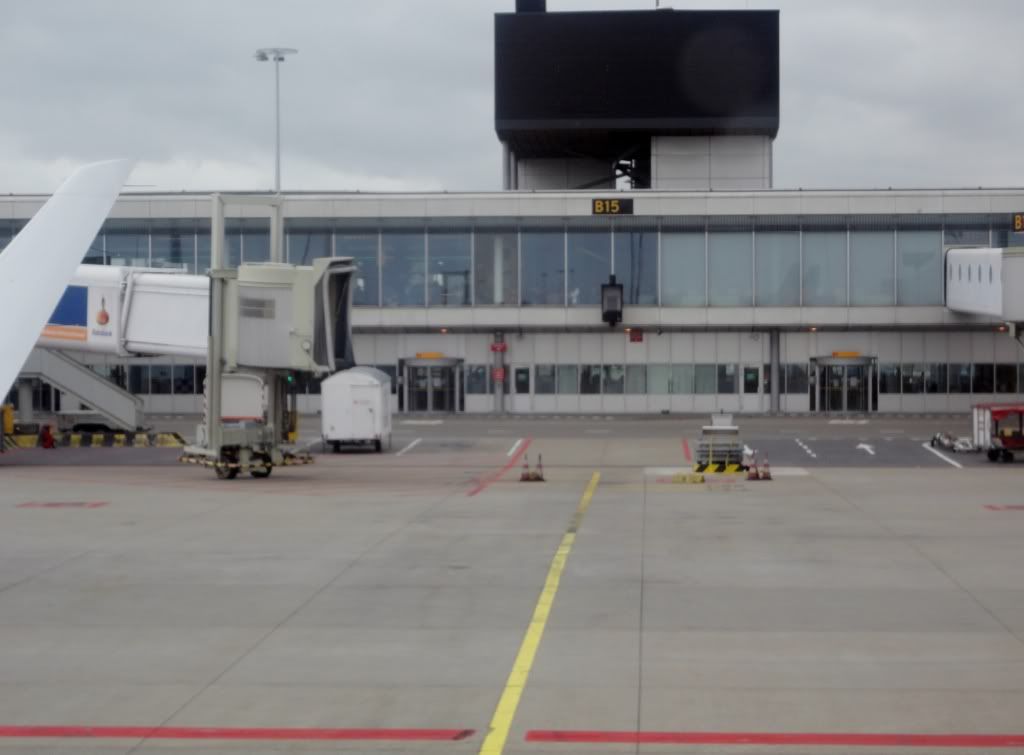 While the safety demonstration was being done, we taxied the short way to the "Kaagbaan" also known as runway 24: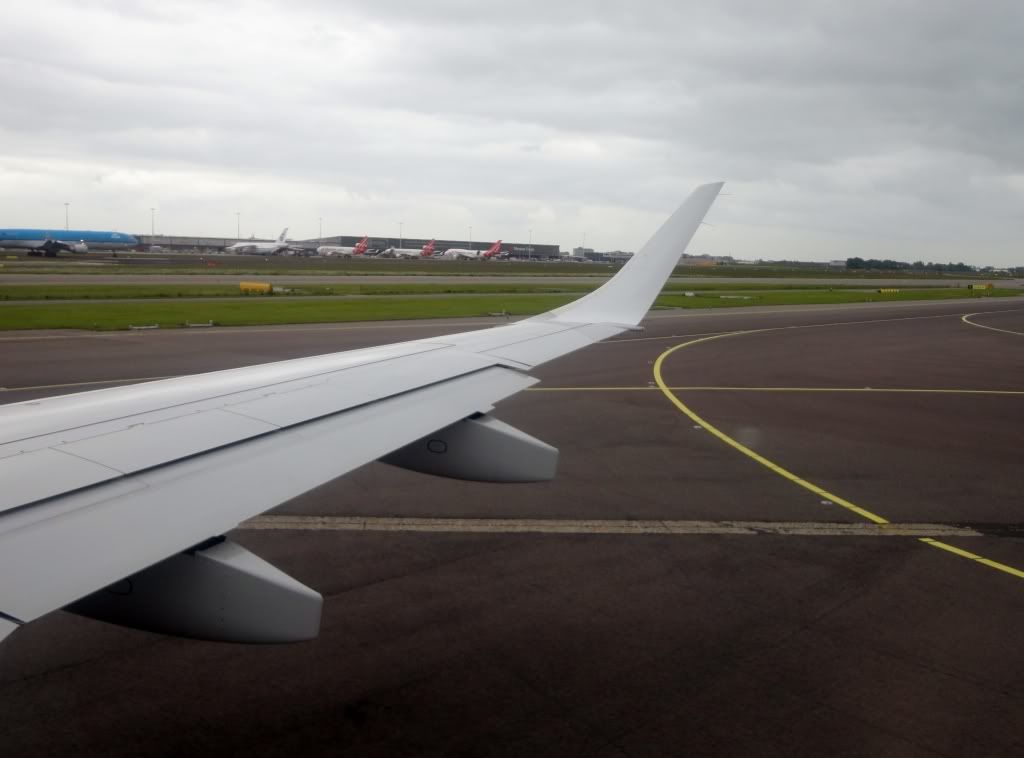 Always nice to see an AN124 at AMS: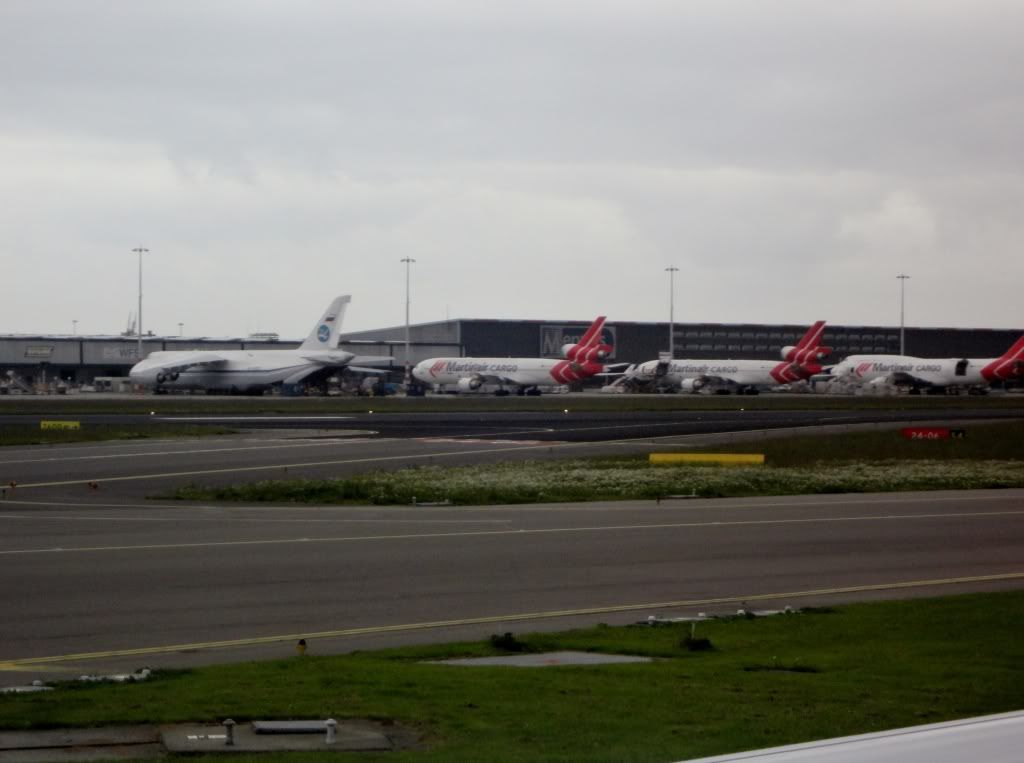 This KL 777 took off in front of us, we we're next: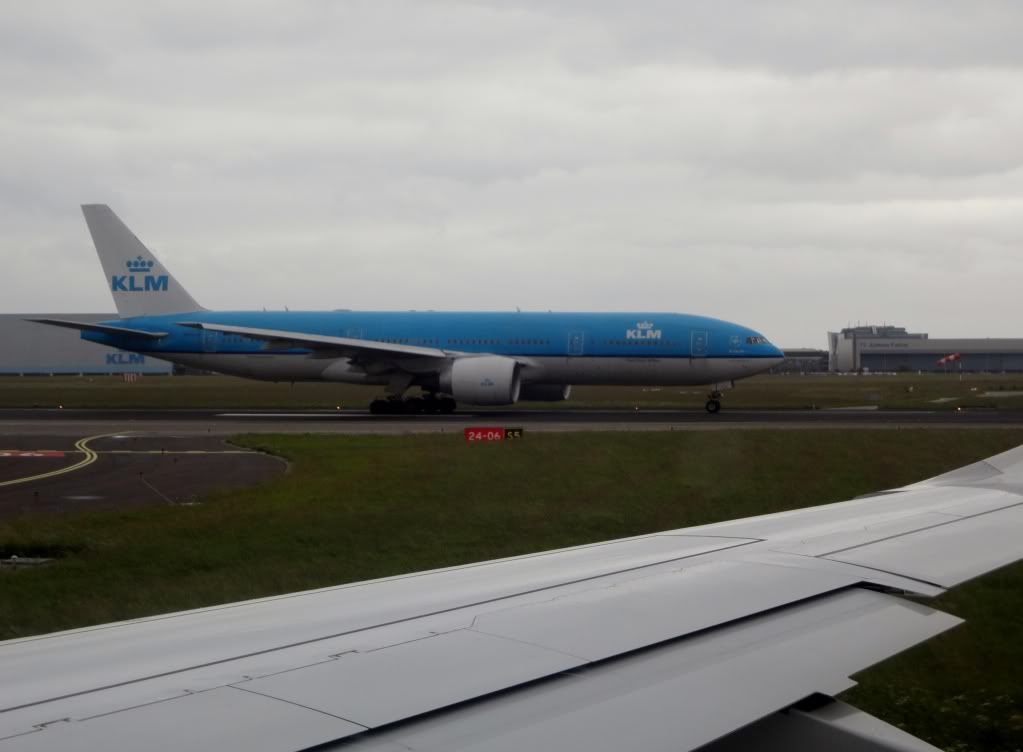 Cityjet taxiing to its gate:
We lined up and started take-off roll immediately, next up was an HV 737 wearing a special "Sunweb" scheme (not that it looks that special):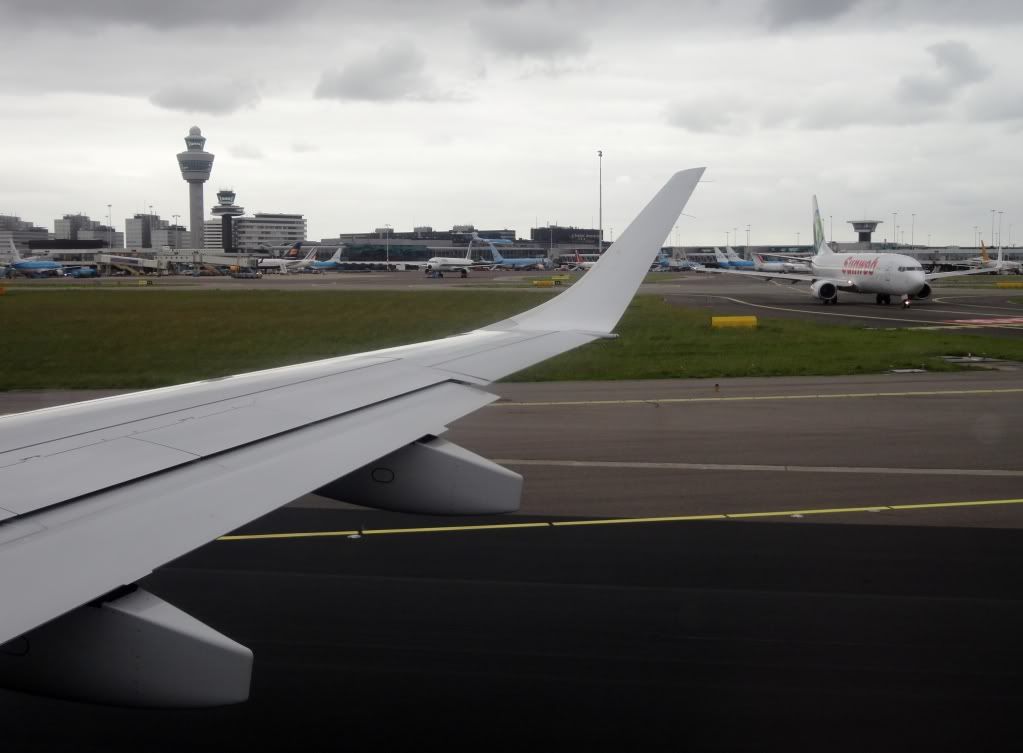 The LH A319 was still awaiting pushback: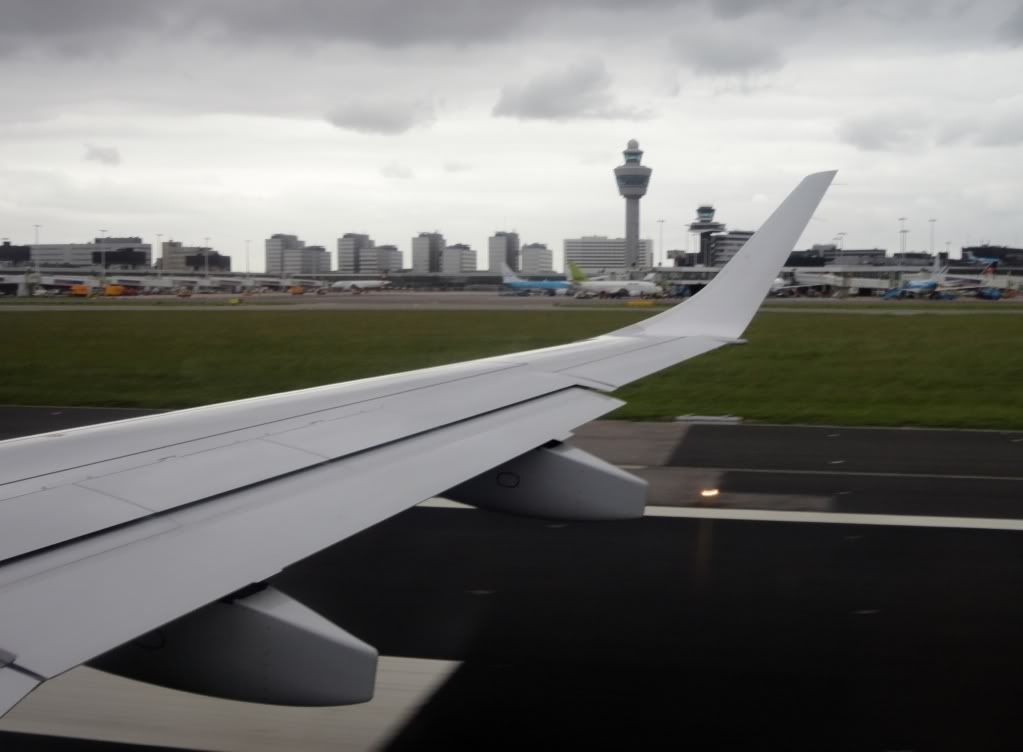 Passing the Fokker/Embraer farm: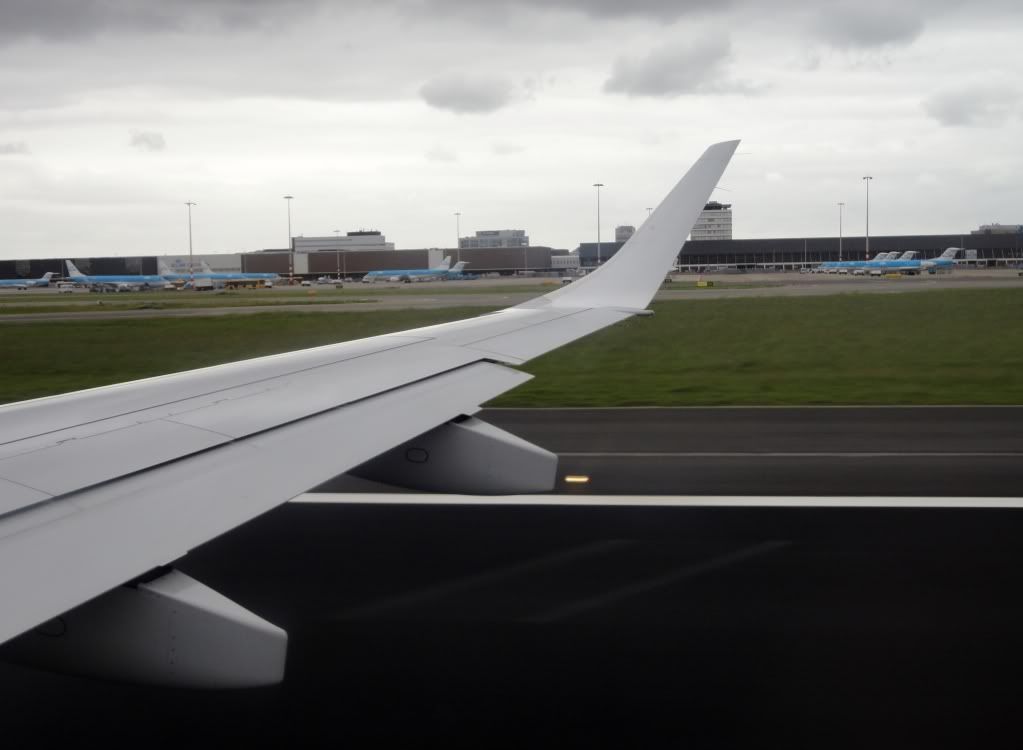 And lift-off!: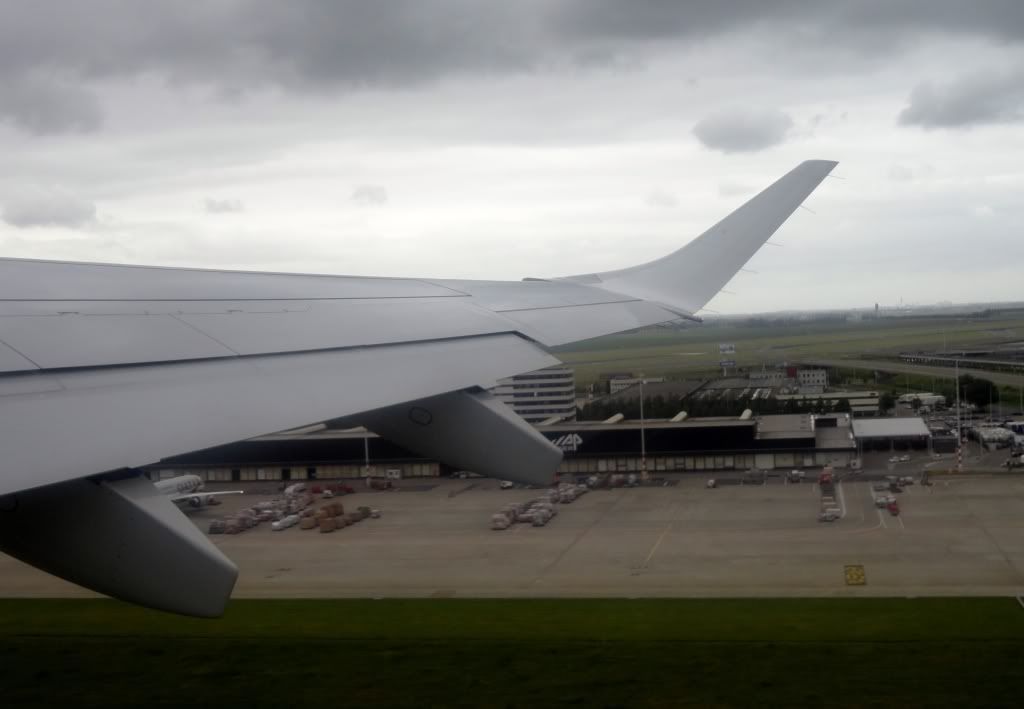 Nice view down the "Zwanenburgbaan" also known as 36C: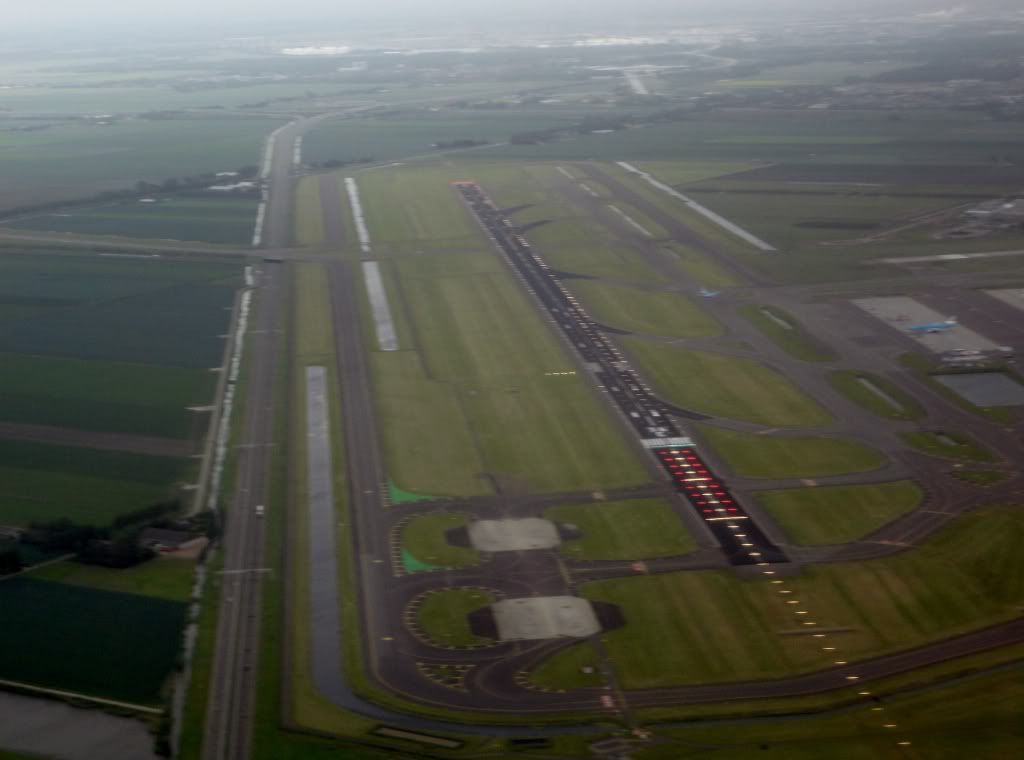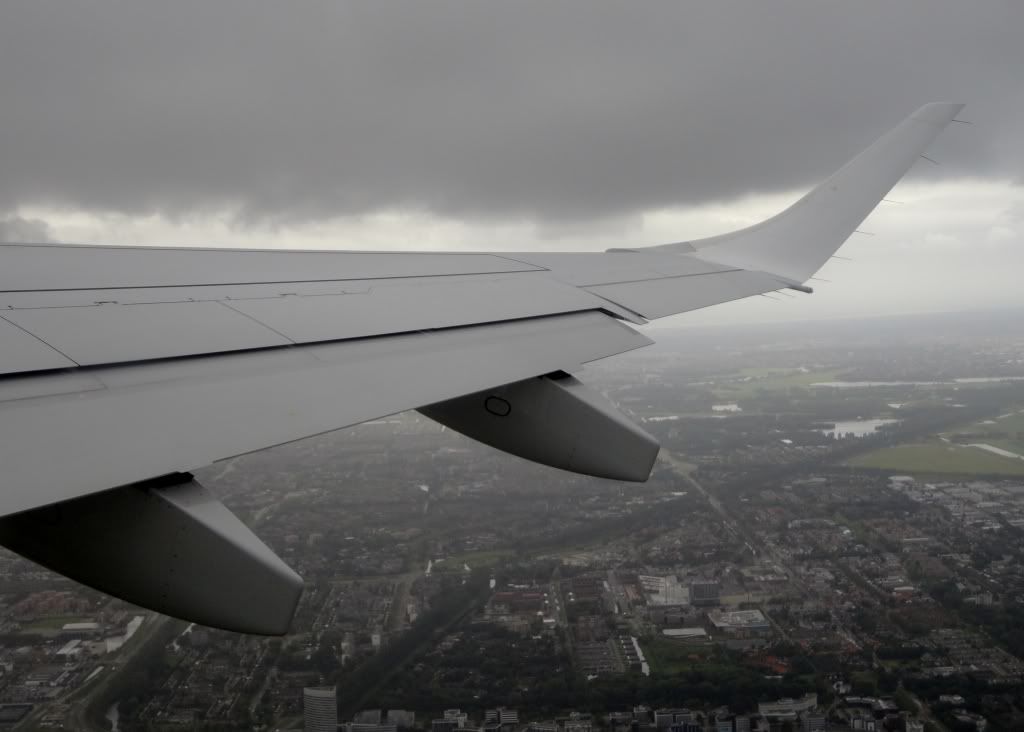 Much better weather up here!: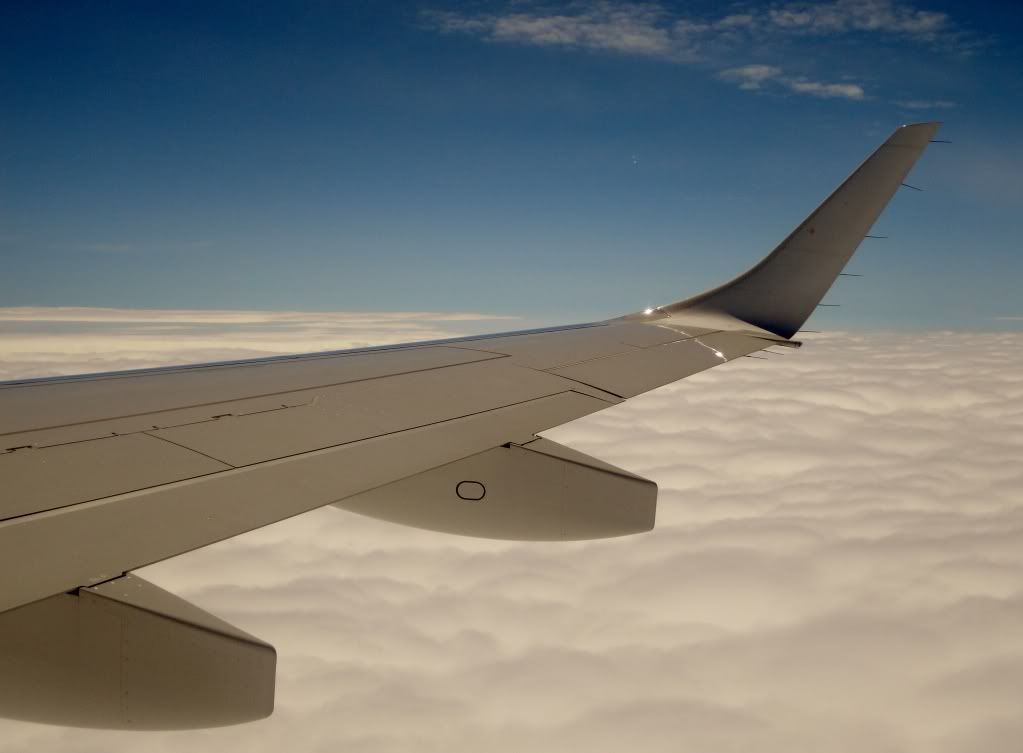 Legroom shot: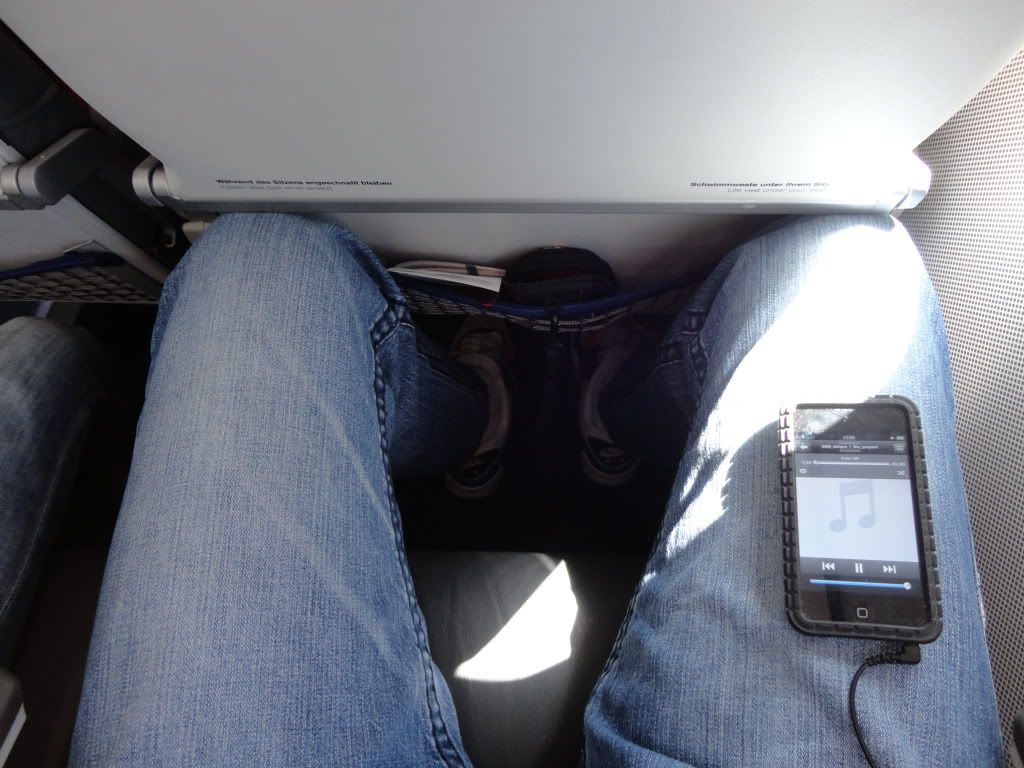 Safety card for all LH Regional E195s: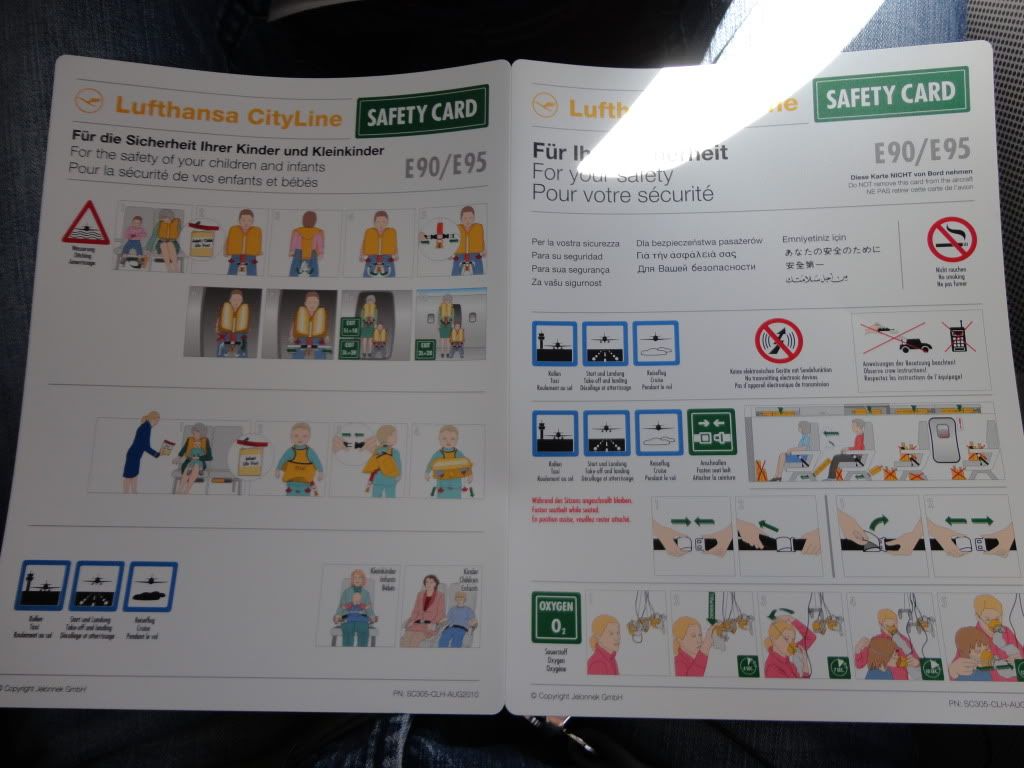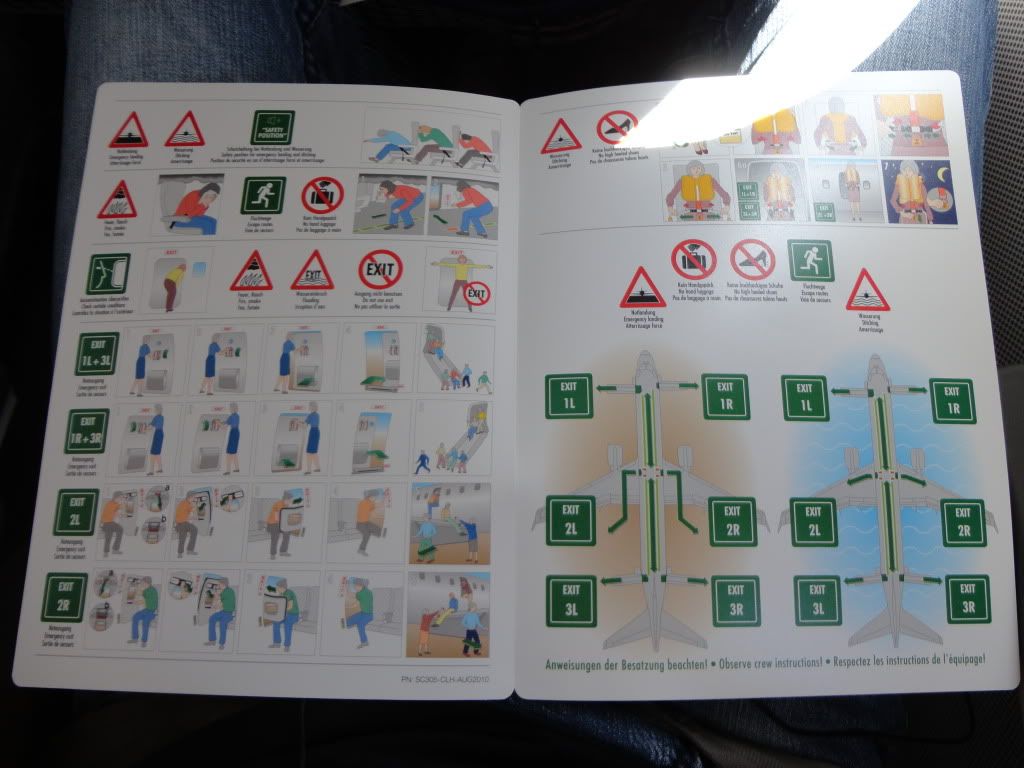 "Highlights" magazine: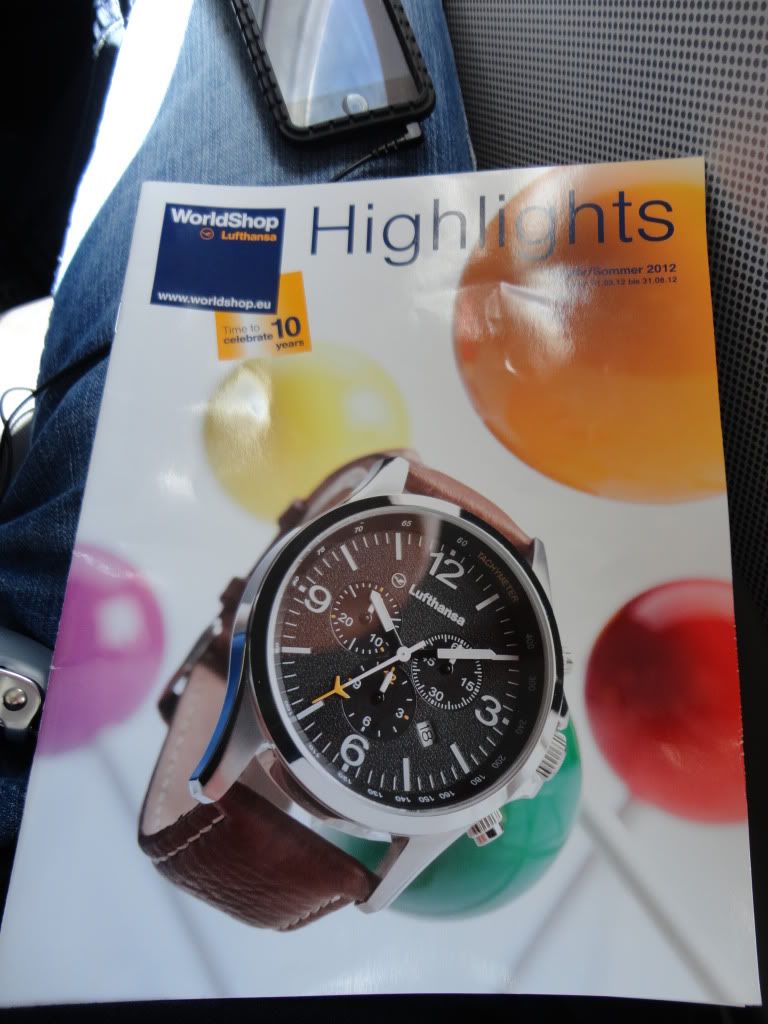 Lufthansa Magazin: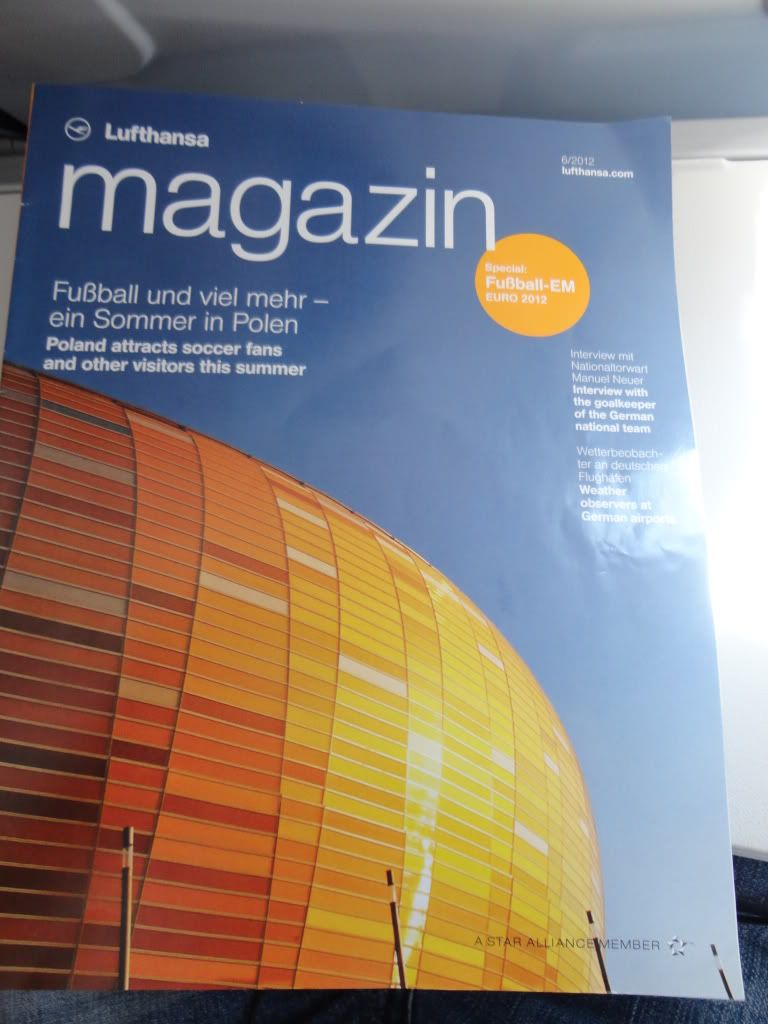 Flight crew consisted of 1 female purser and 2 female FAs, once the seatbelt sign got switched off they sprung into action. Snack on this leg was a tasty slice of bread with cheese, together with that I got an OJ and coffee all served with a smile: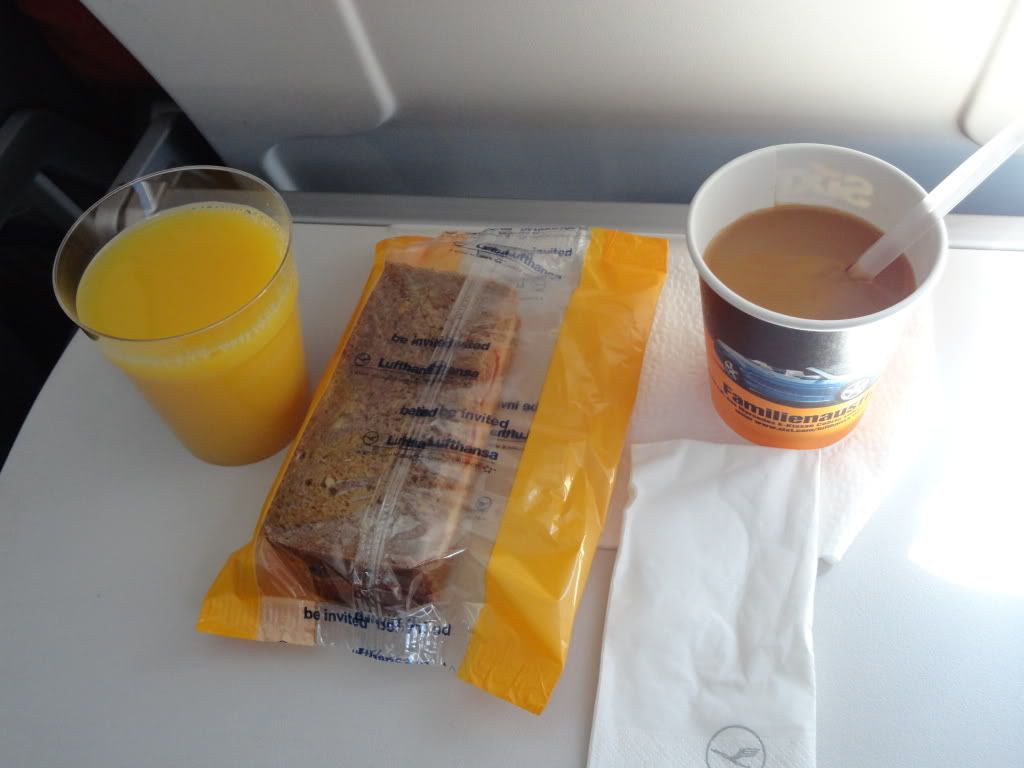 Soon enough we started our descent:
Every time I fly into MUC I seem to be landing on runways 26L or 26R, today was no exception. That means flying past the airport and making a nice and sharp "U"-turn: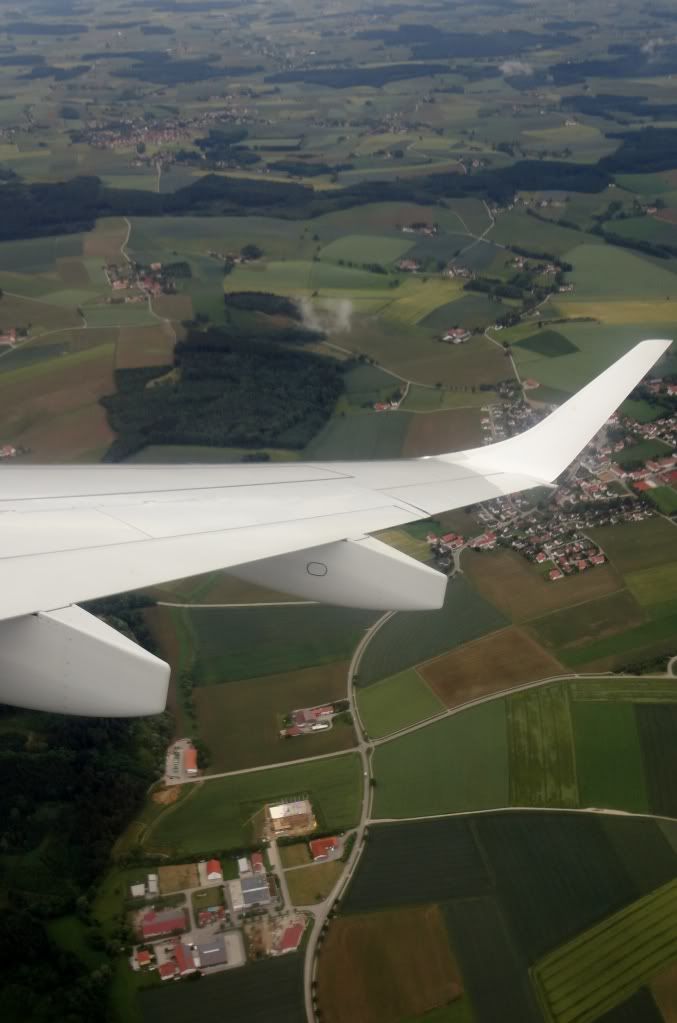 And into final approach for runway 26R: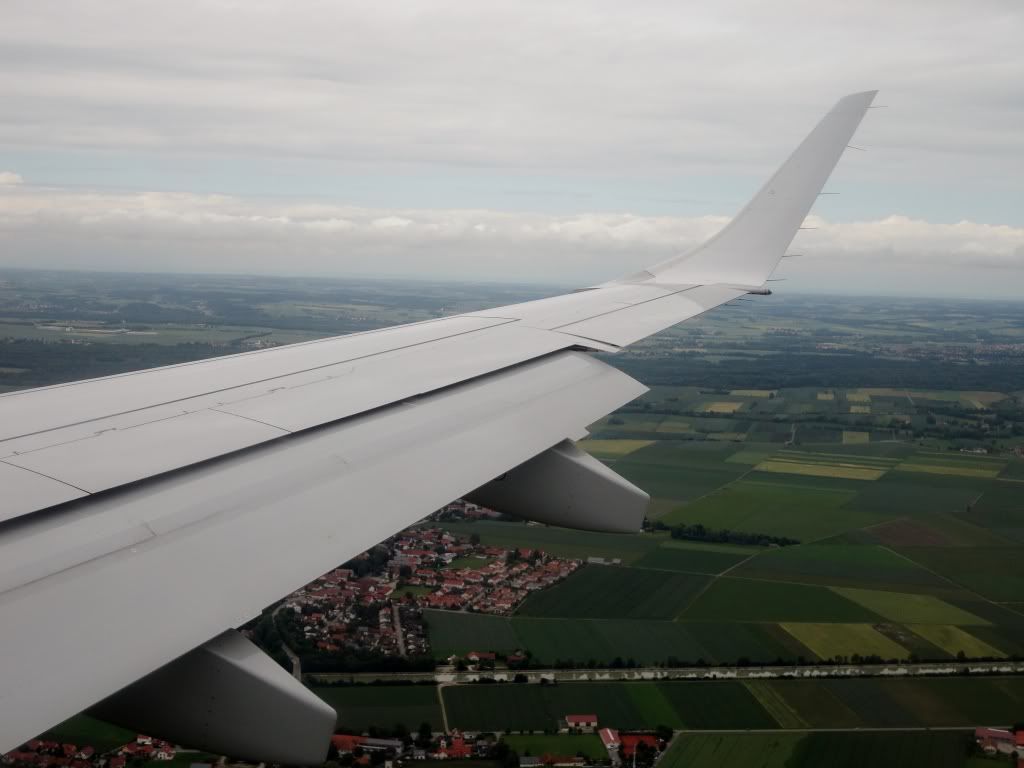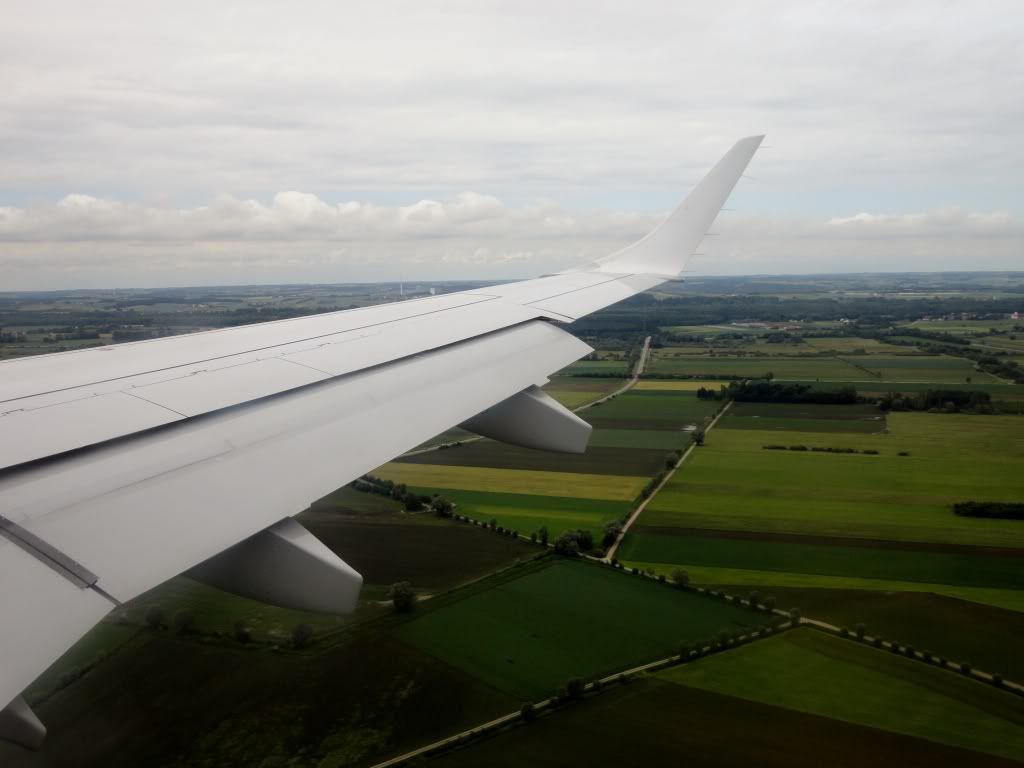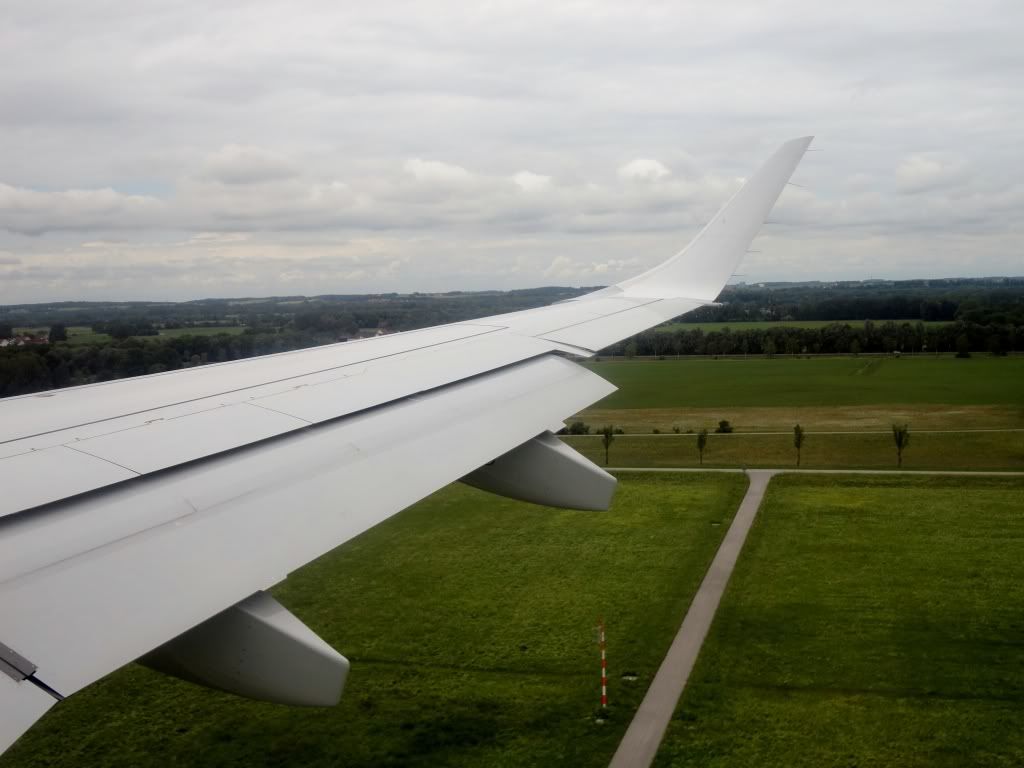 And touchdown!: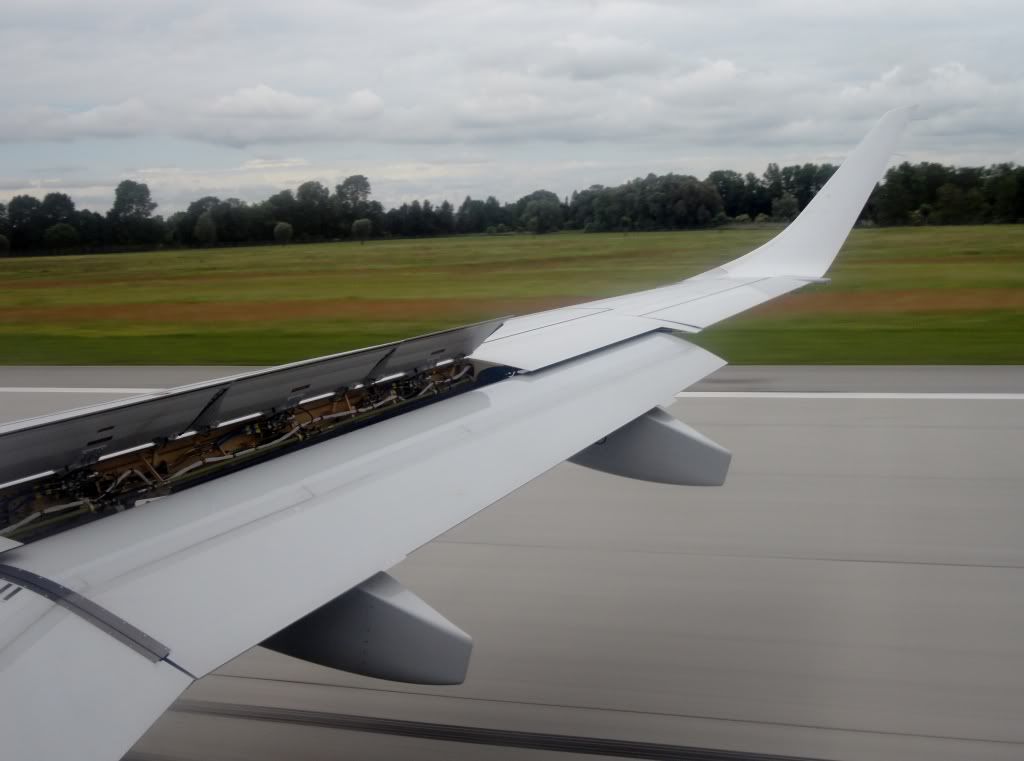 Taxiing to our remote stand: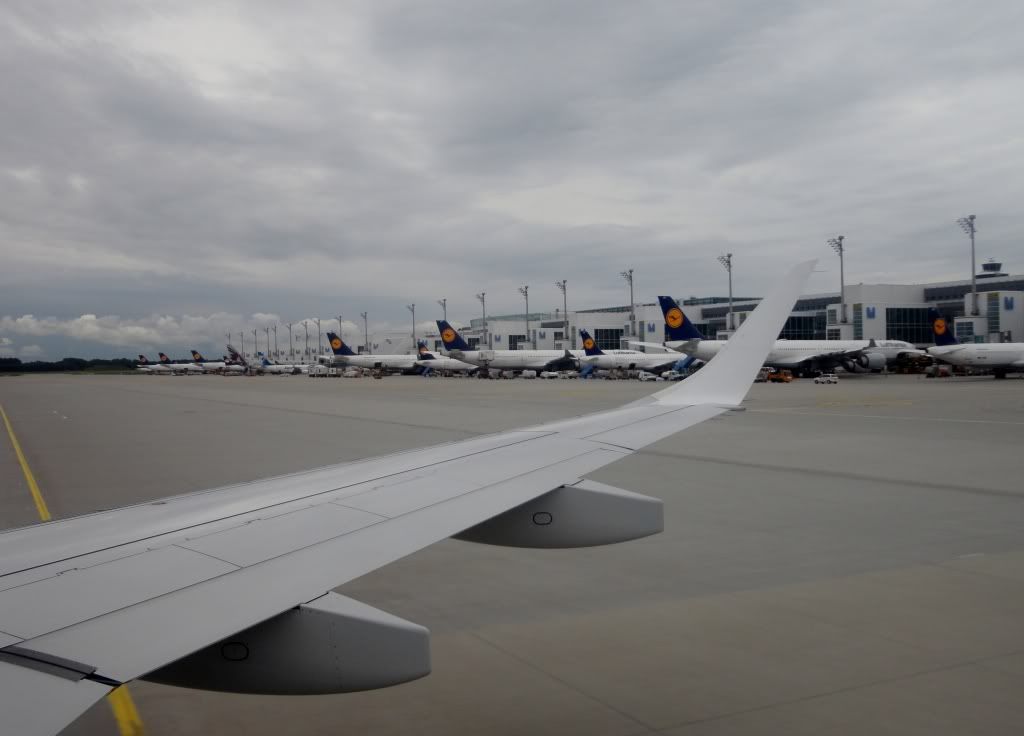 During taxi we stopped for a moment, so a bunch of people thought we were at our parking position and started standing up grabbing their belongings. It took many announcements from the FAs before everybody was seated again. The person next to me started running to the front, seemed like he had a tight connection, but unfortunately for him the aircraft started taxiing again and he fell forward in the aisle, and grabbed an empty seat further up in the plane. Some people will just never learn: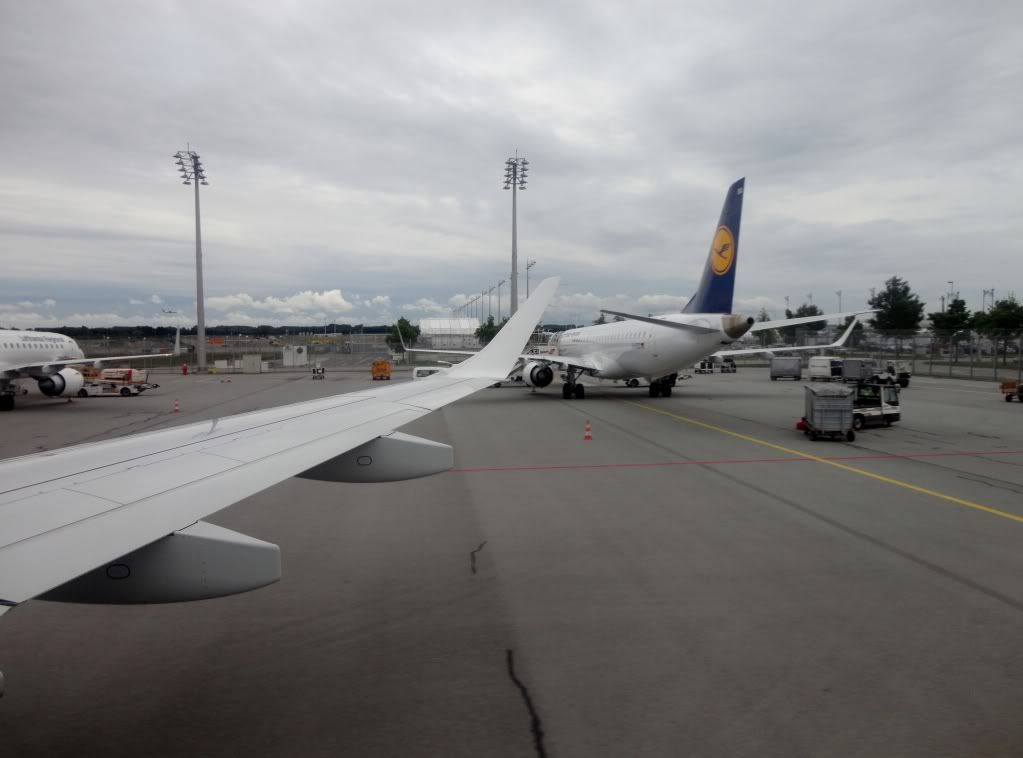 We arrived at our parking position and the front left door was opened quickly. While disembarking I bid the crew farewell and headed to the almost full bus, just love these kind of shots:
Once arriving at the terminal I decided to head landside first. There wasn't much going on landside, and the weather wasn't the best, so I decided to head back airside to one of the LH Business Lounges. Used the Business Class security line and was through within a couple of minutes. There were 2 choices for me now: Use the Business Lounge at the schengen side or the non-schengen side. I decided to go for the non-schengen as that is closer to my gate and I could use the other lounge tomorrow on my way back to AMS. So up the stairs to the H gates I went. There was no line at passport control, so I was through within a minute. I then proceeded to the Business Lounge: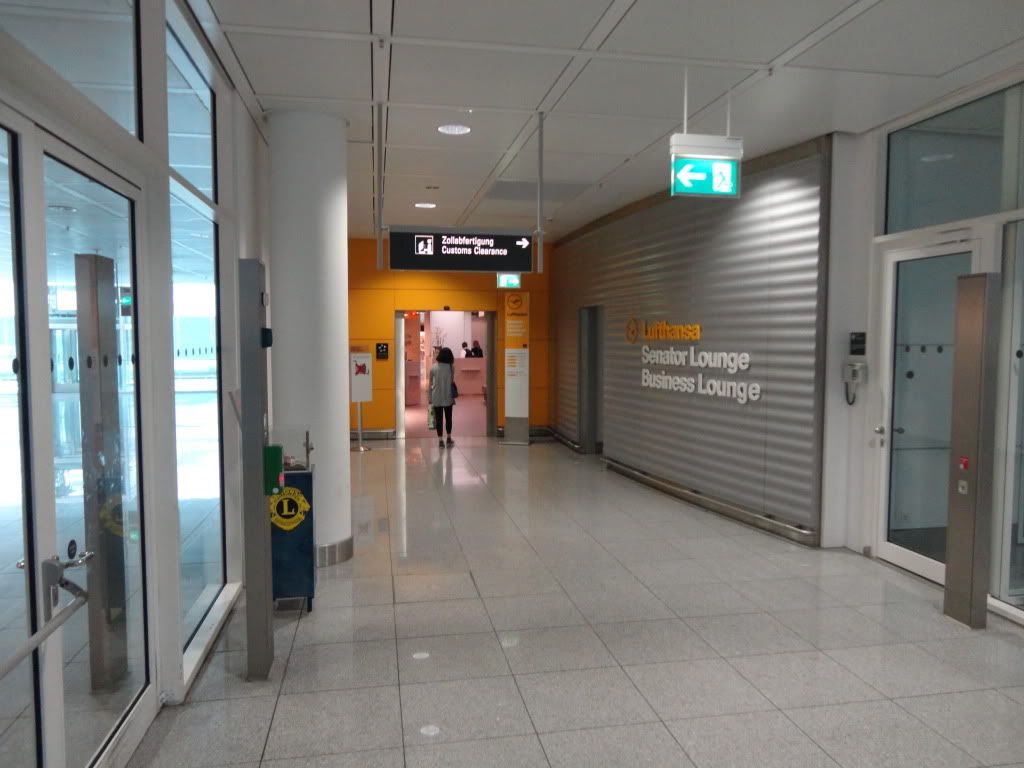 Handed over my BP + FTL card and was granted access: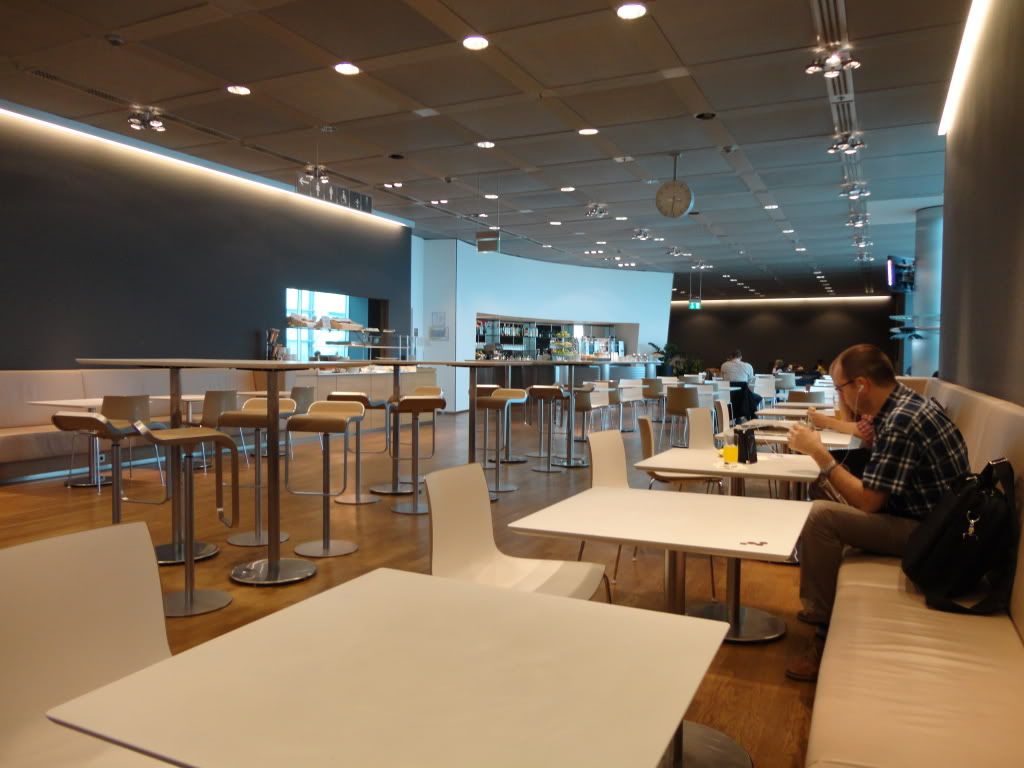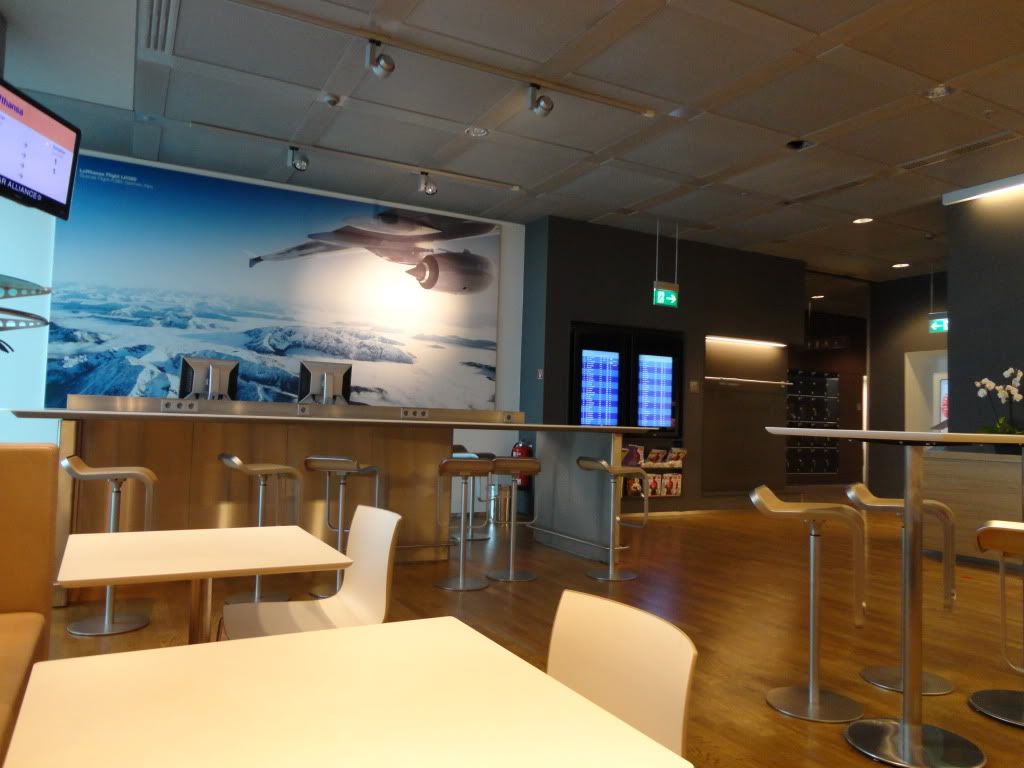 As boarding time for my flight to LHR wasn't until 17:55 I sat, relaxed, enjoyed the free WIFI and regularly visited the bar for some food and drinks: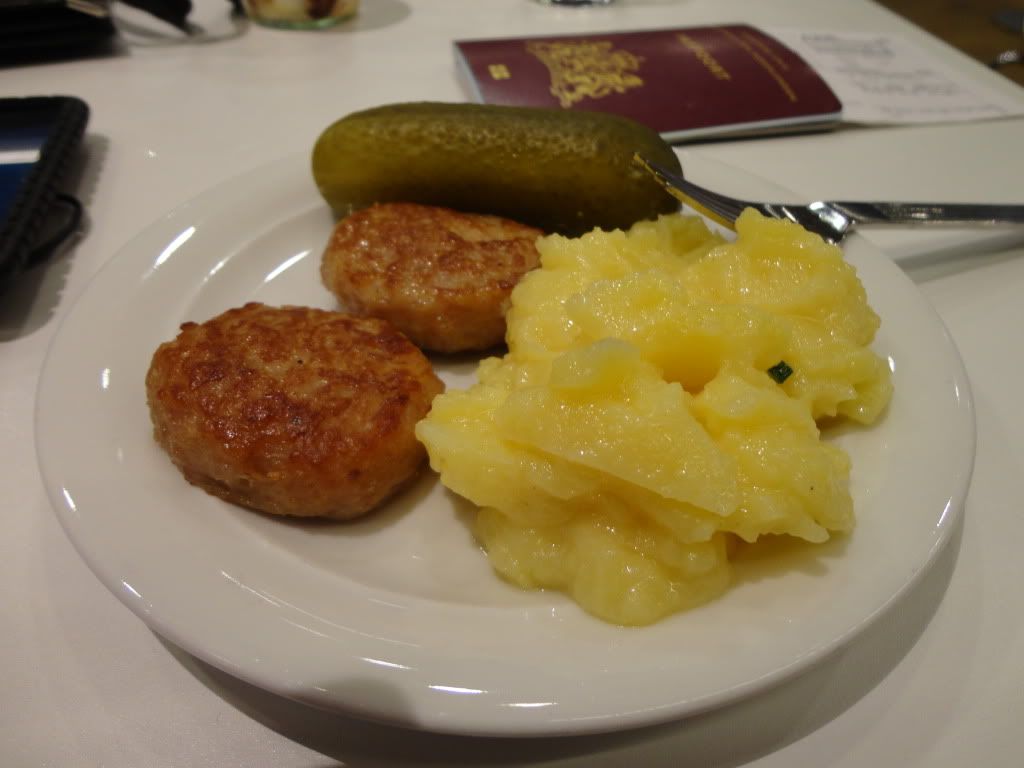 This Thai coconut soup was absolutely delicious: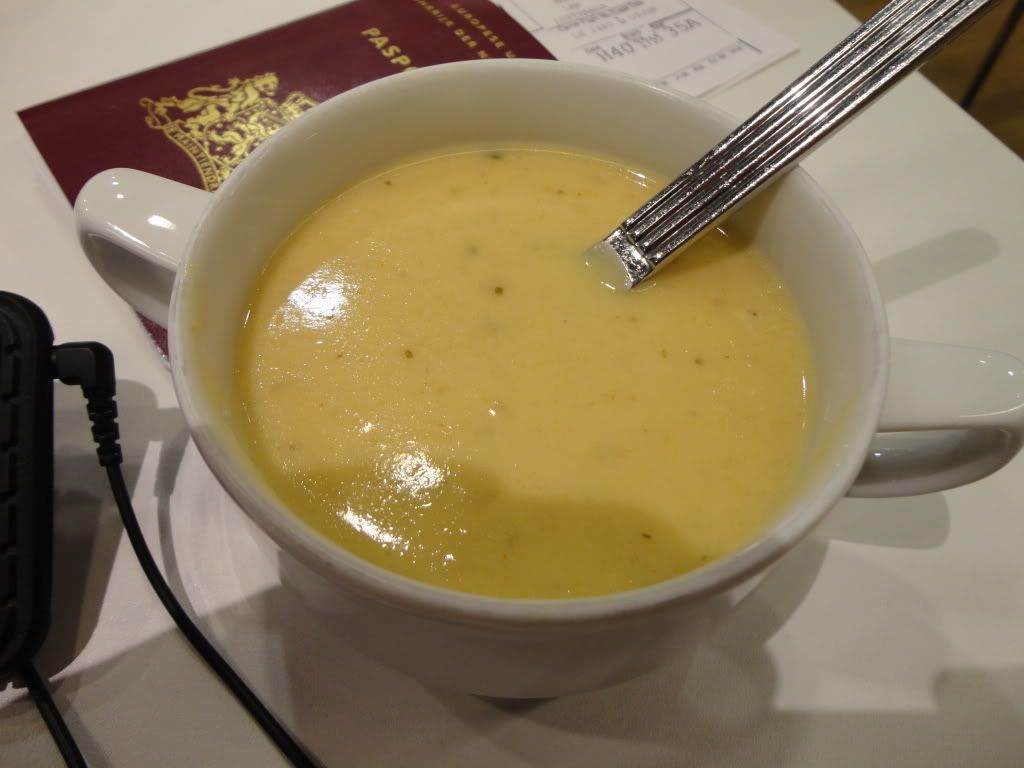 09/06/2012
MUC-LHR
LH2480 // 35A
A321 Lufthansa // D-AIRE
18:25 – 19:30
At 18:00 I grabbed my belongings and headed towards the gate: H40. Once arriving at the gate boarding was already well underway. I joined the line, scanned my BP, showed my passport and headed towards the bridge. No greetings from the crew once entering the plane and I headed to my seat: 35A. Another good load on this sector at 95% with the aisle seat occupied and the seat next to me empty luckily enough: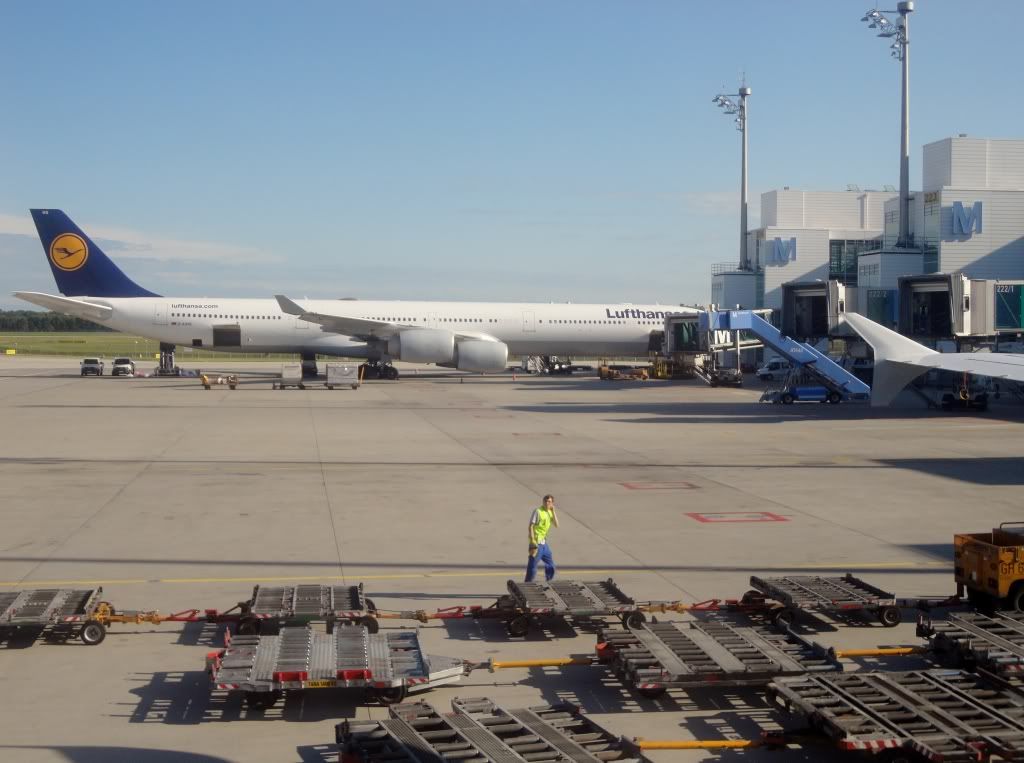 This LH A330 came taxiing in next to us: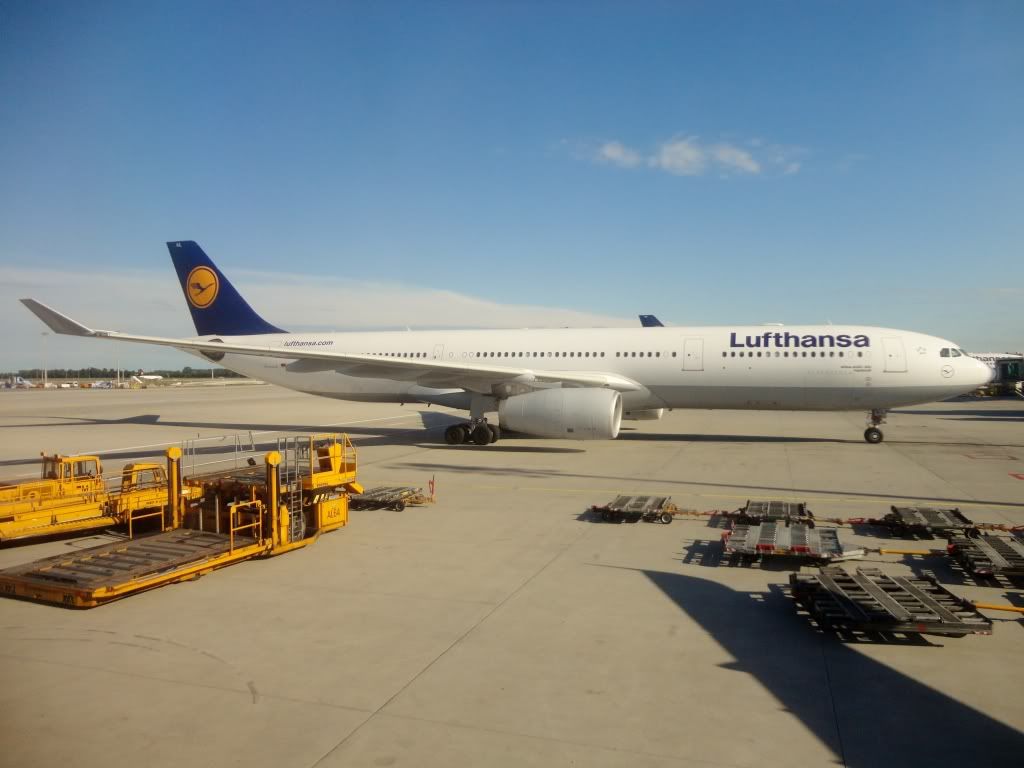 Once boarding was completed, the pilot came onto the PA with the usual announcements and with an announced flying time of 1h25min we pushed back right on time and headed towards runway 26R: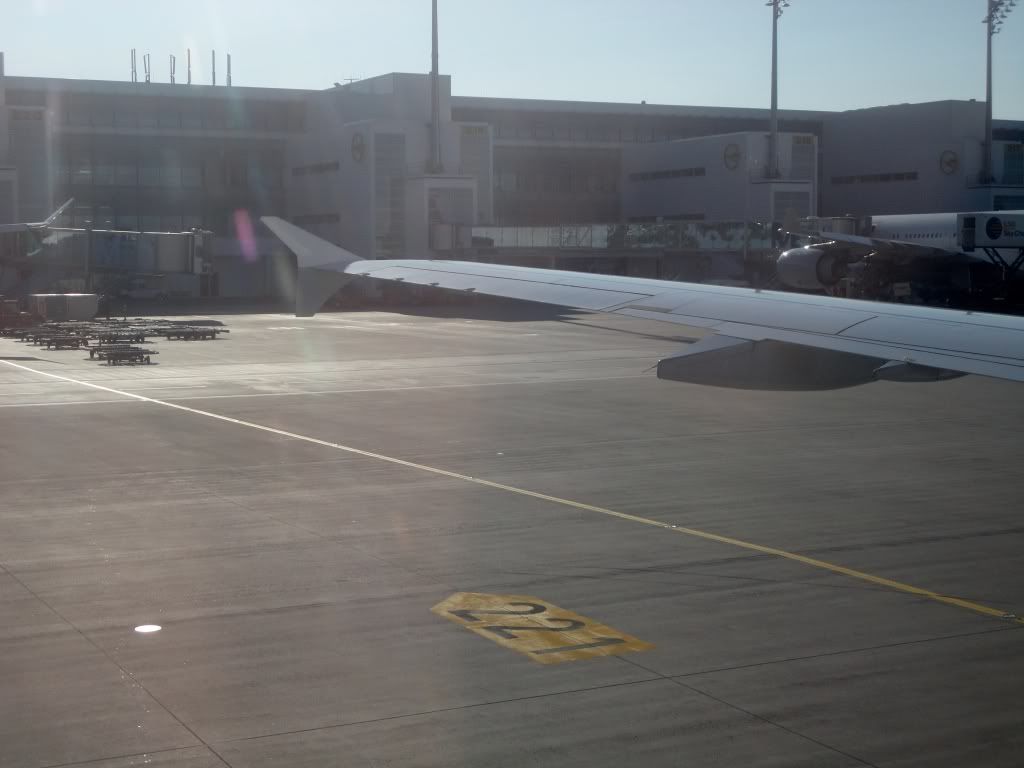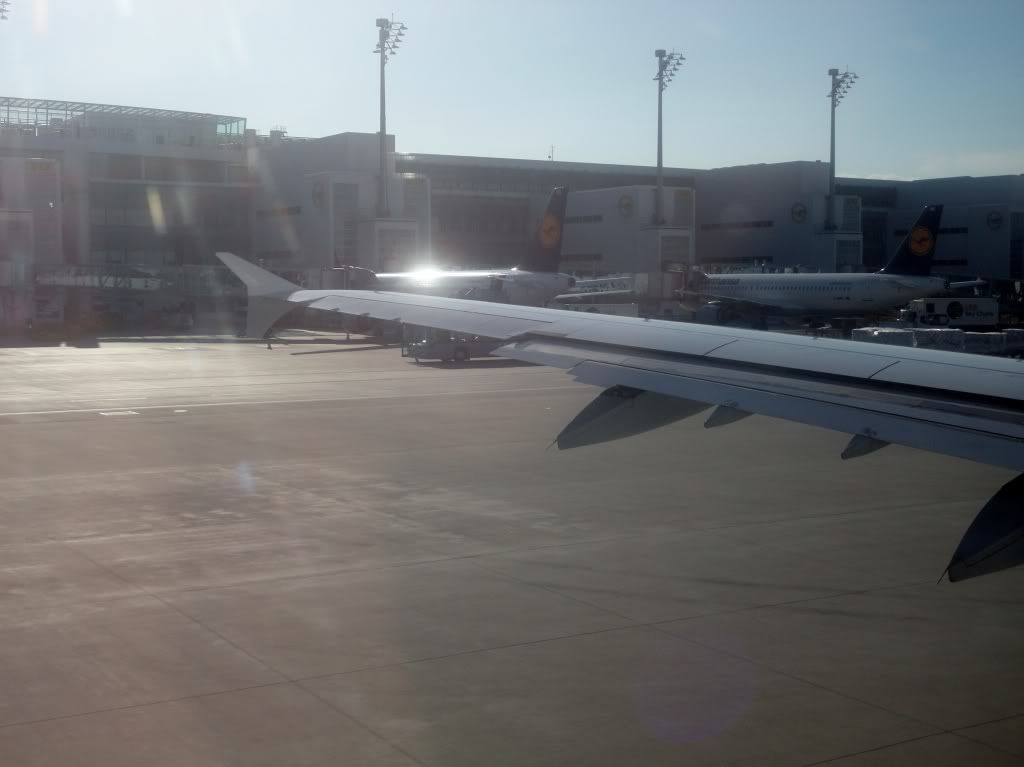 Starting take-off roll: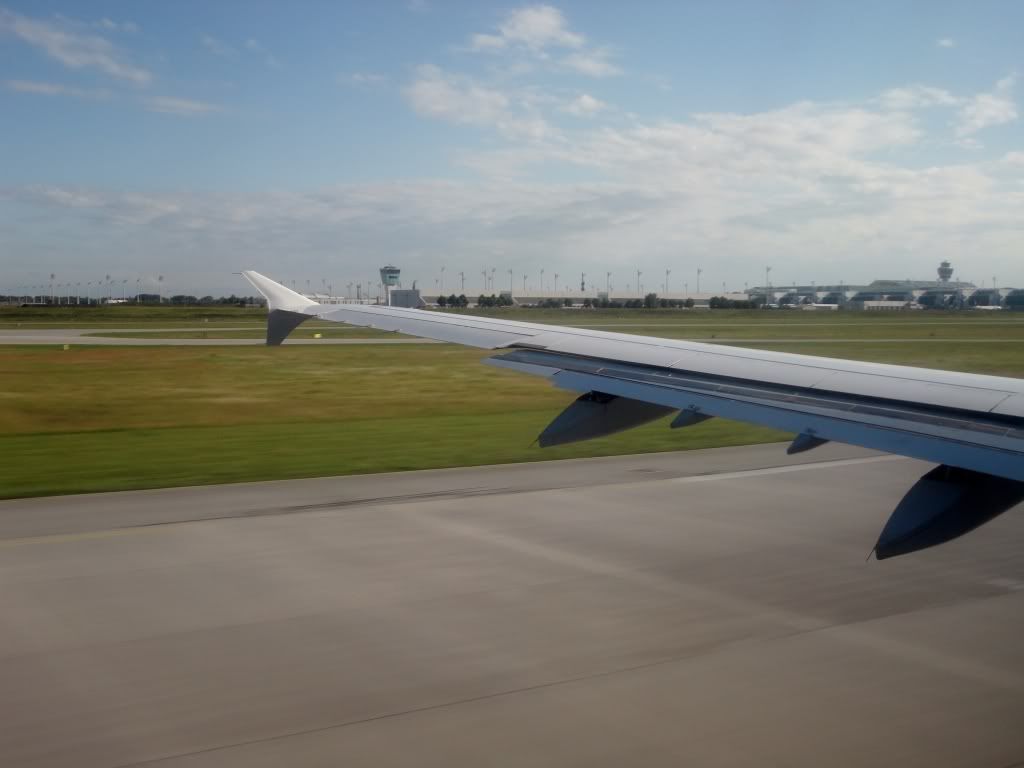 When you depart from 26R and sit on the left side you always get a good view of MUC: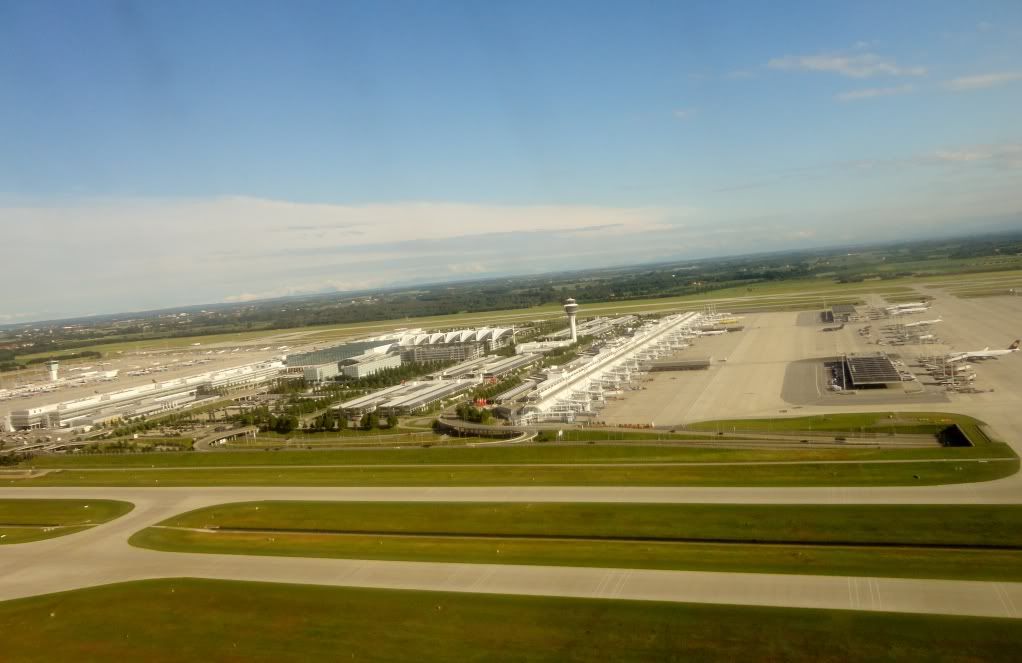 Legroom shot: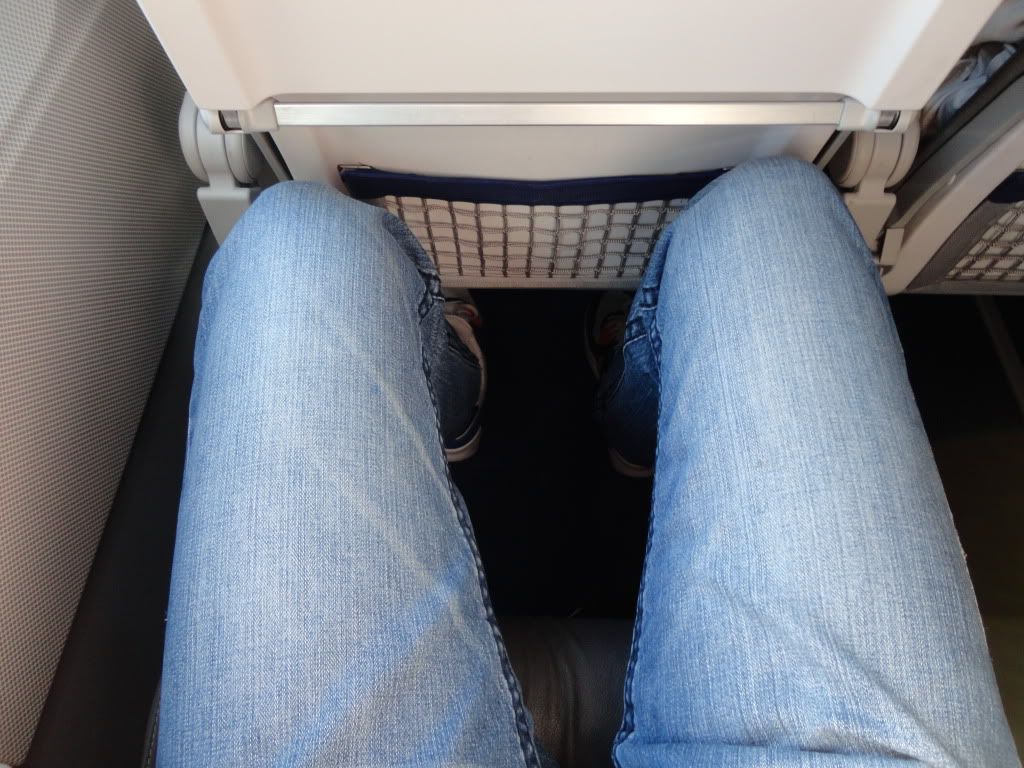 Safety card for all LH A321s: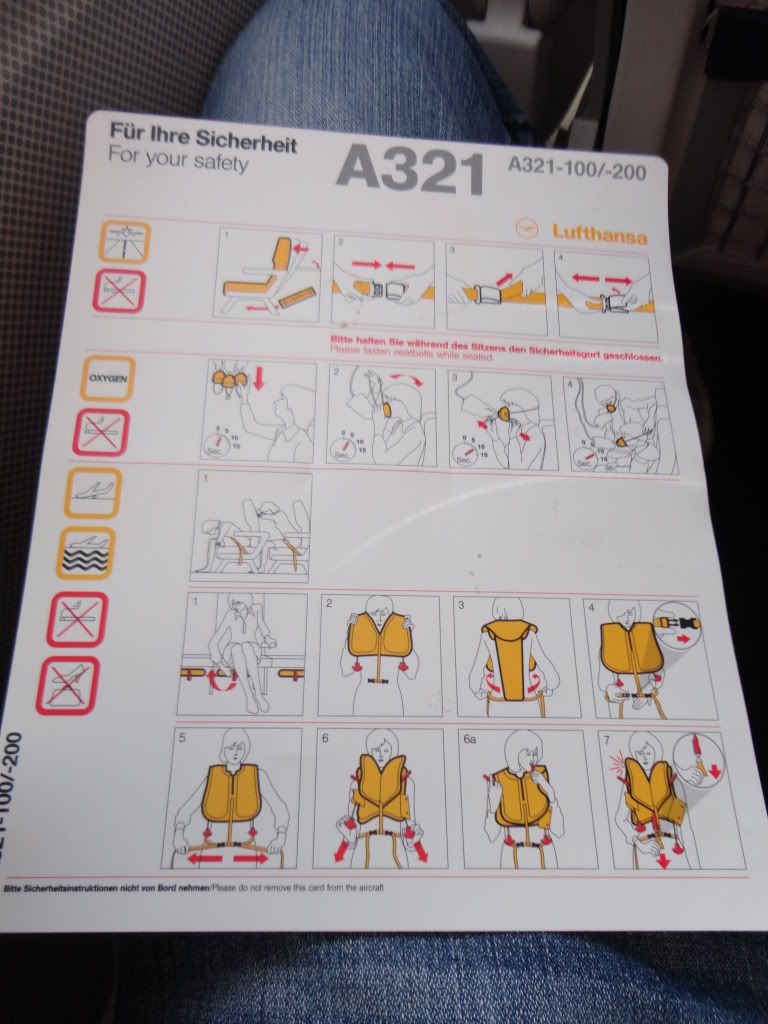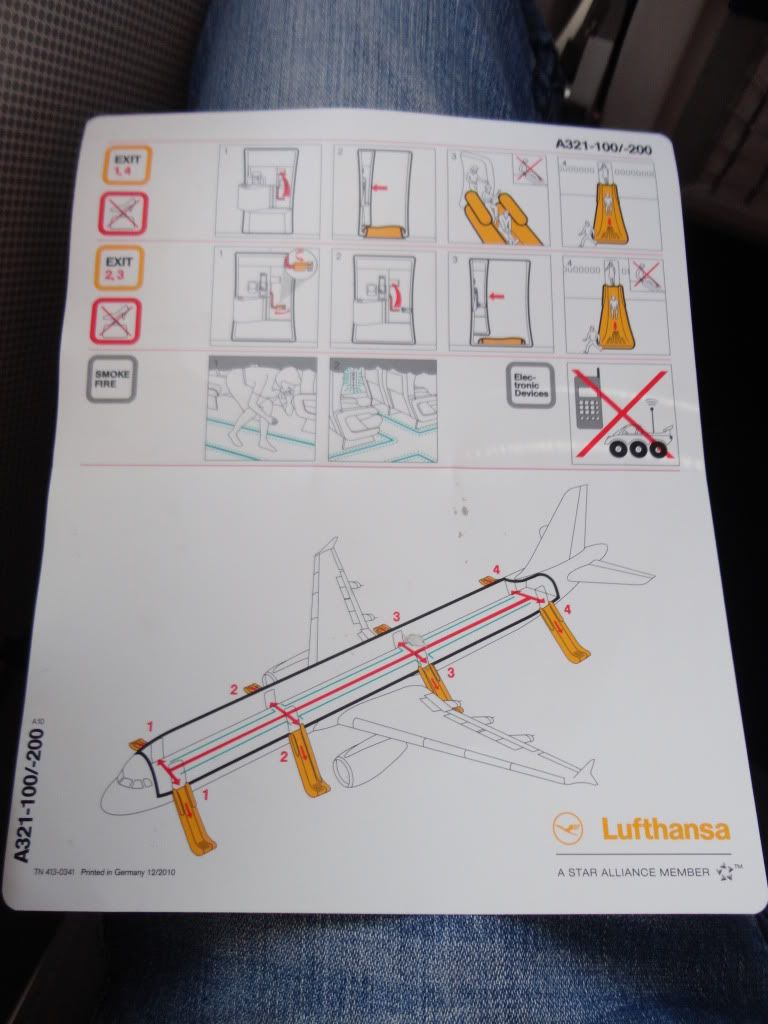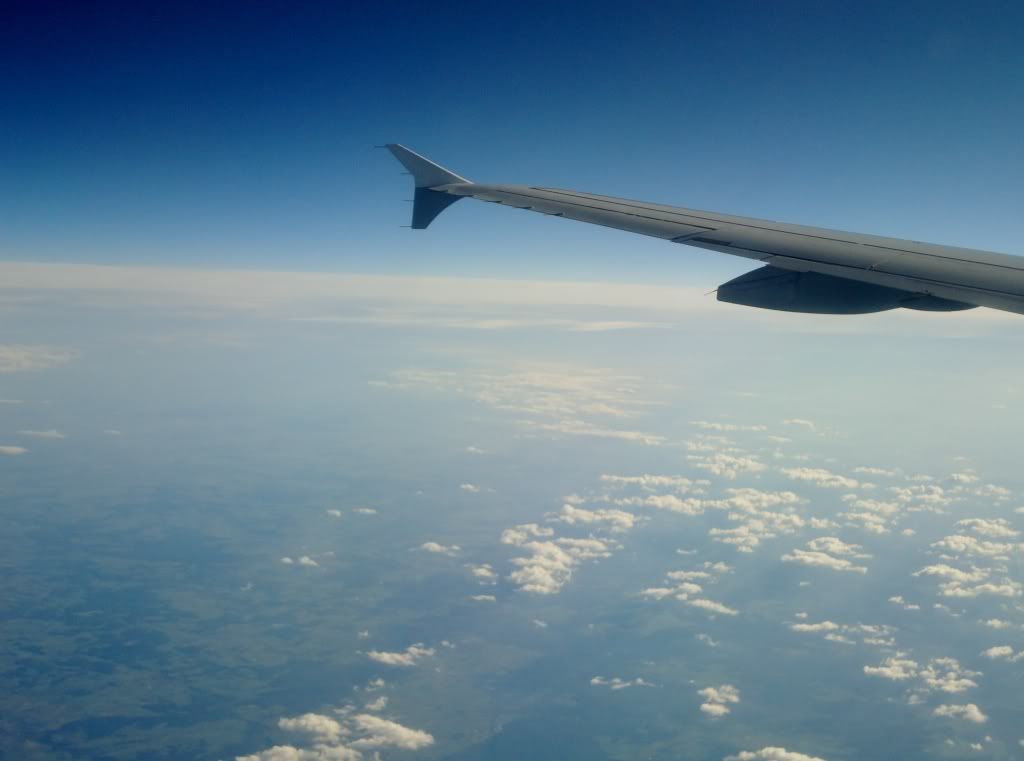 Flight crew consisted of 1 male purser, 2 female and 1 male FA. Once the seatbelt sign turned off they started the service. An interesting snack on this sector, this Thai Nudelsalat was delicious and together with that I got a Sprite and coffee all served with a smile: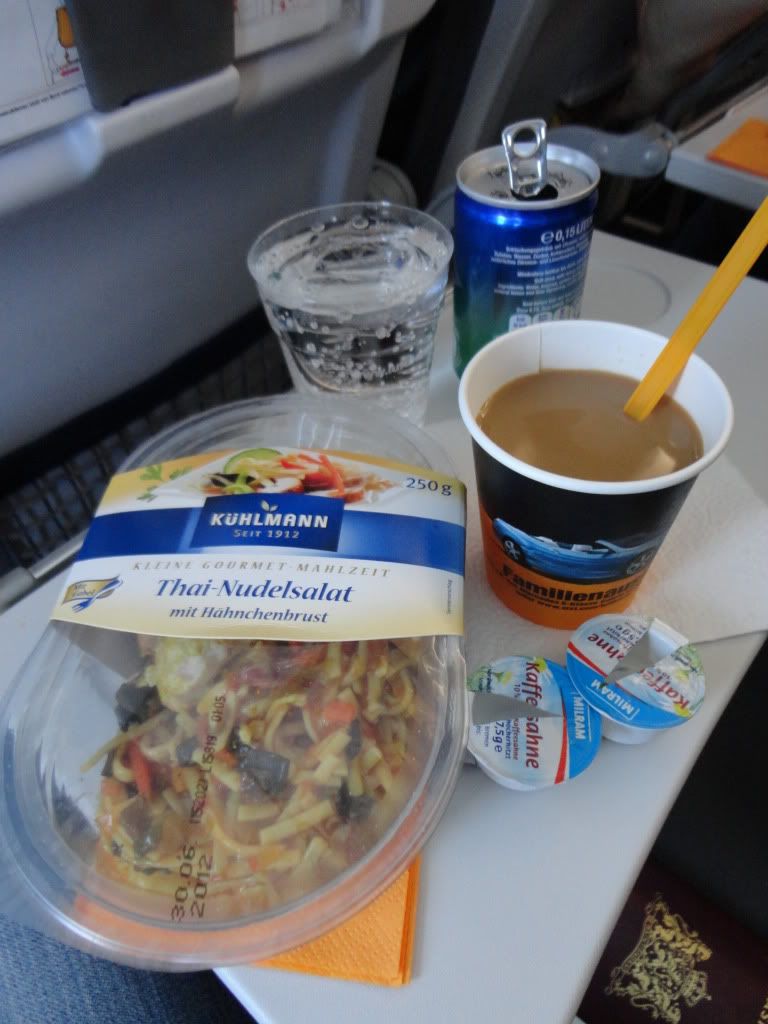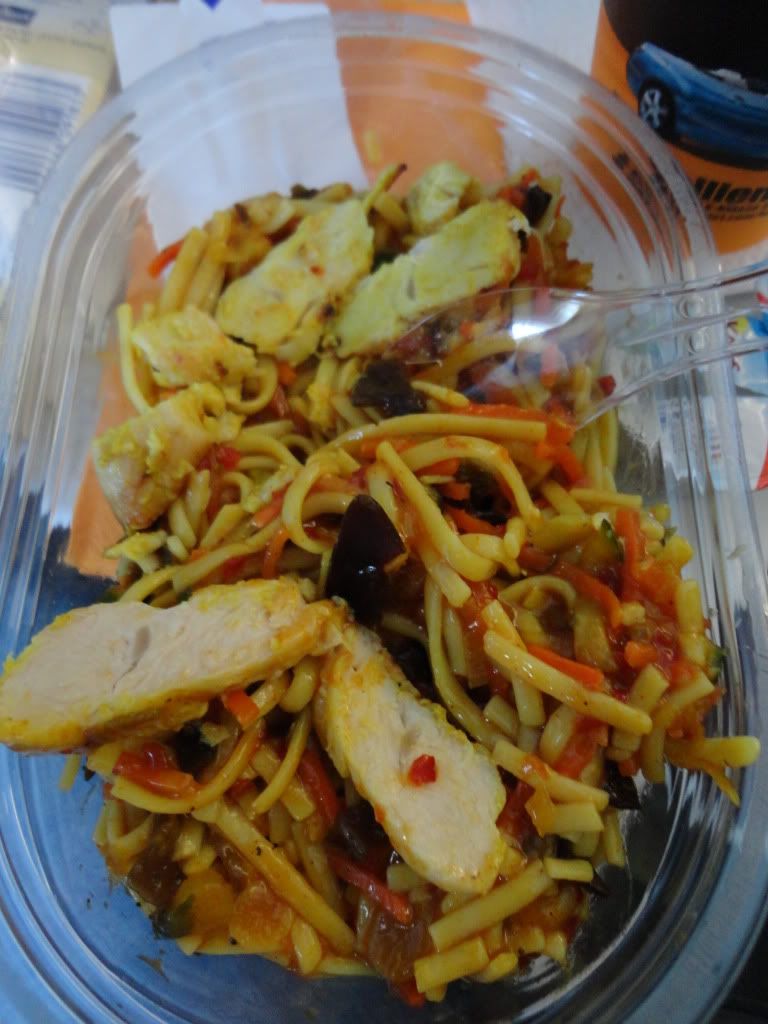 Cabin shot: