Part 12: Sun-Air/BA J31 & D328 DUS-BLL-MAN-LHR
*** If you were wondering if you'd seen this before, then the answer is probably yes. Airliners.net managed to somehow delete the original post (and the 30+ replies) a few weeks ago. I've finally got around to reloading it. Fingers crossed it doesn't vanish again. If you already left a reply, feel free to leave another message! ***
Welcome to the twelfth and final part of my spring trip to Asia!
The entire map (courtesy of GC mapper):
This report's map (courtesy of GC mapper):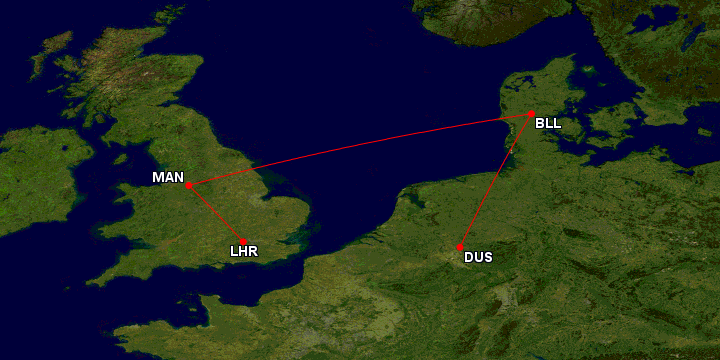 Previous flights in this series:
easyJet London Luton-Barcelona (LTN-BCN)
Singapore Airlines Barcelona-Singapore (BCN-SIN), Business Class on the 77W
Valuair/Jetstar Asia Singapore-Medan
Garuda Indonesia Medan-Banda Aceh
Sriwijiaya Airlines B734 Banda Aceh-Medan-Jakarta with a fuel "expulsion"
Lion Air Boeing 737-900ER Jakarta-Singapore
Singapore Airlines A330 Business Class Singapore-Calcutta
SpiceJet B739 Calcutta-Bagdogra
Jet Konnect B738 Bagdogra-Calcutta
Biman Bangladesh DC10 Calcutta-Dhaka
United Airways ATR Dhaka-Cox's Bazar
Regent Airways Dash Chittagong-Dhaka
Biman Bangladesh A310 Dhaka-Kathmandu
Yeti Airlines "Everest Express" on the J41
THAI Airways Kathmandu-Bangkok, B772 Business Class
THAI Airways Bangkok-Frankfurt, B77W Royal First Class
Lufthansa Frankfurt-Dusseldorf, Business Class
** A bit of explanation about these flights **
I had always wanted to fly on a Jetstream aircraft. I missed a chance many years ago on the Stansted-Waterford route, and then squandered a chance in New Zealand on the Origin Pacific Nelson-Wellington route (in favour of a NZ Beech 1900D). I again missed a chance in Colombia last year with EasyFly. I was rapidly running out of opportunities.
I knew BA's subsidiary Sun Air of Scandinavia operated a few on various routes out of Denmark. Research revealed that DUS-BLL was the most guaranteed route (and in fact it seemed to be the only remaining Jetstream route). I also very much wanted another trip on the Dornier 328. Thankfully, Sun Air also operate those. From BLL, I had a choice of BRU, MAN or LCY. LCY made sense seeing as I live near London, however, given that BA's new redemption system means domestic connections are free, I thought I'd fly BLL-MAN-LHR for the same price (4,500 Avios + £13.50). The DUS-BLL flight cost the same. Sun Air is well regard as offering one of the best economy services in Europe (actually, I'd say it was the best in Europe). As such, the flights are expensive. The lowest Y cash fare for my DUS-BLL-MAN-LHR would have clocked in at over EUR 800 (GBP 645/USD1010). Using my Avios made excellent sense!
(these aren't my flights, but the price is the same)
Of course, by the time it actually came to this flight, I'd managed to get on board a Jetstream (albeit the larger -41) in Nepal. It's nice to have ticked off the family now!
The last report finished at Dusseldorf Airport, with me struggling to buy a ticket. I eventually managed to buy one, and made the short journey to my hotel, where I collapsed into bed.
Despite having a comfy bed, and having a healthy sleep deficit, I awoke at 6am….damn!
View from my window – the sun is shining!
After a shower, I packed up my stuff, left my bags at reception, checked out, and headed out to see what Dusseldorf had to offer. Ducks and parks: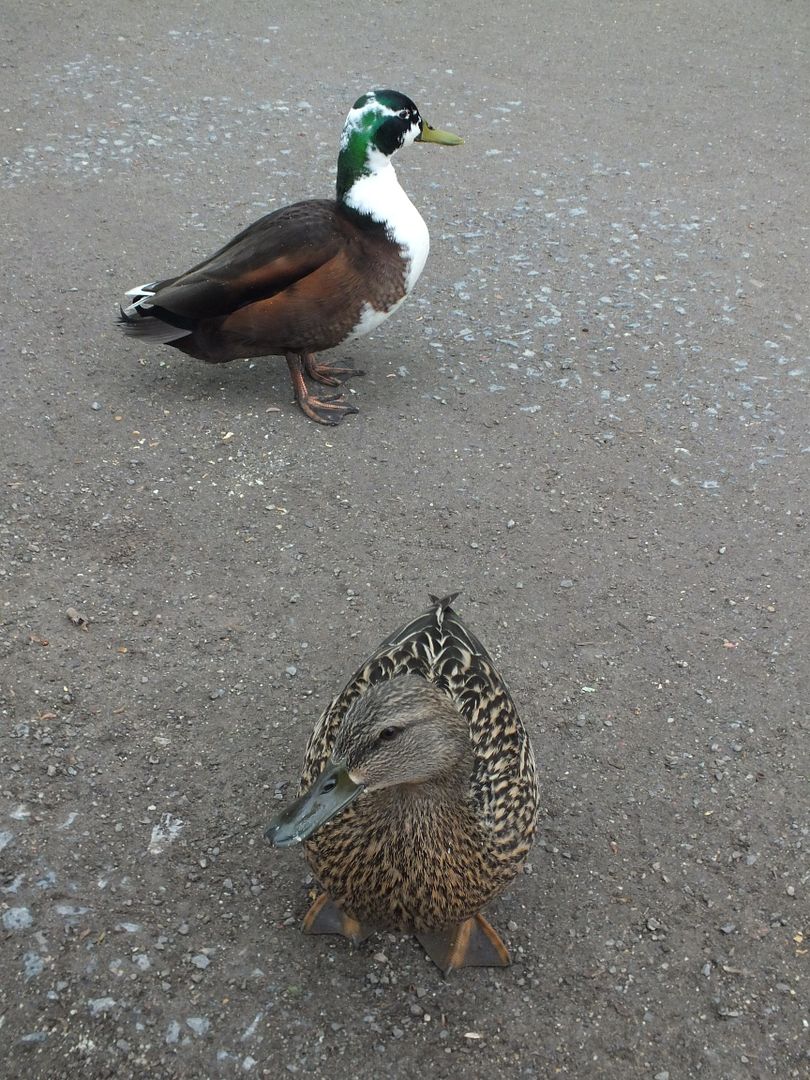 Old buildings: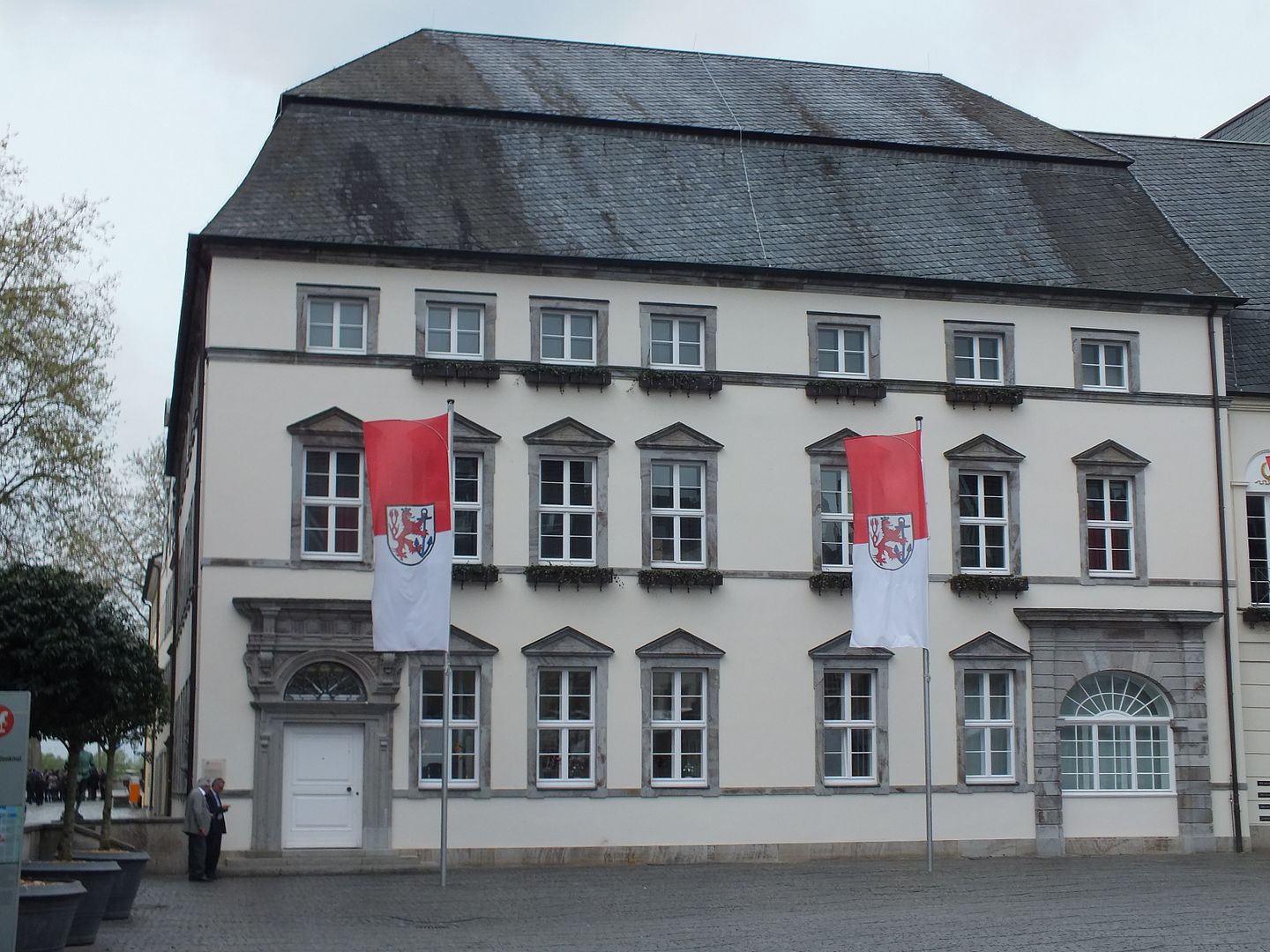 River front: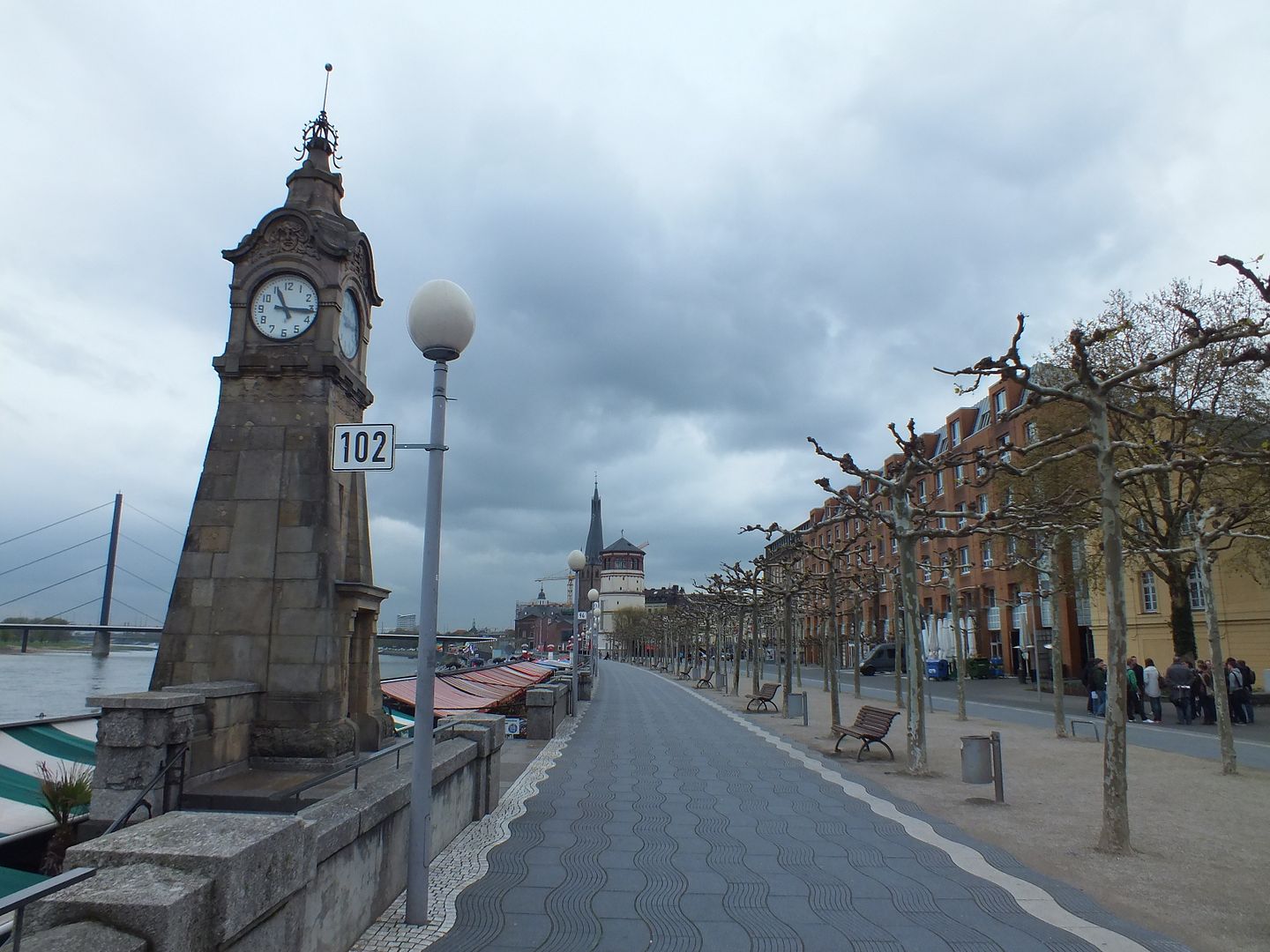 Departures from DUS
Bendy churches
The weather gradually turned from sun, to drizzle. I headed to Im Fuchschen, one of Trip Advisor's highest rated restaurants in town.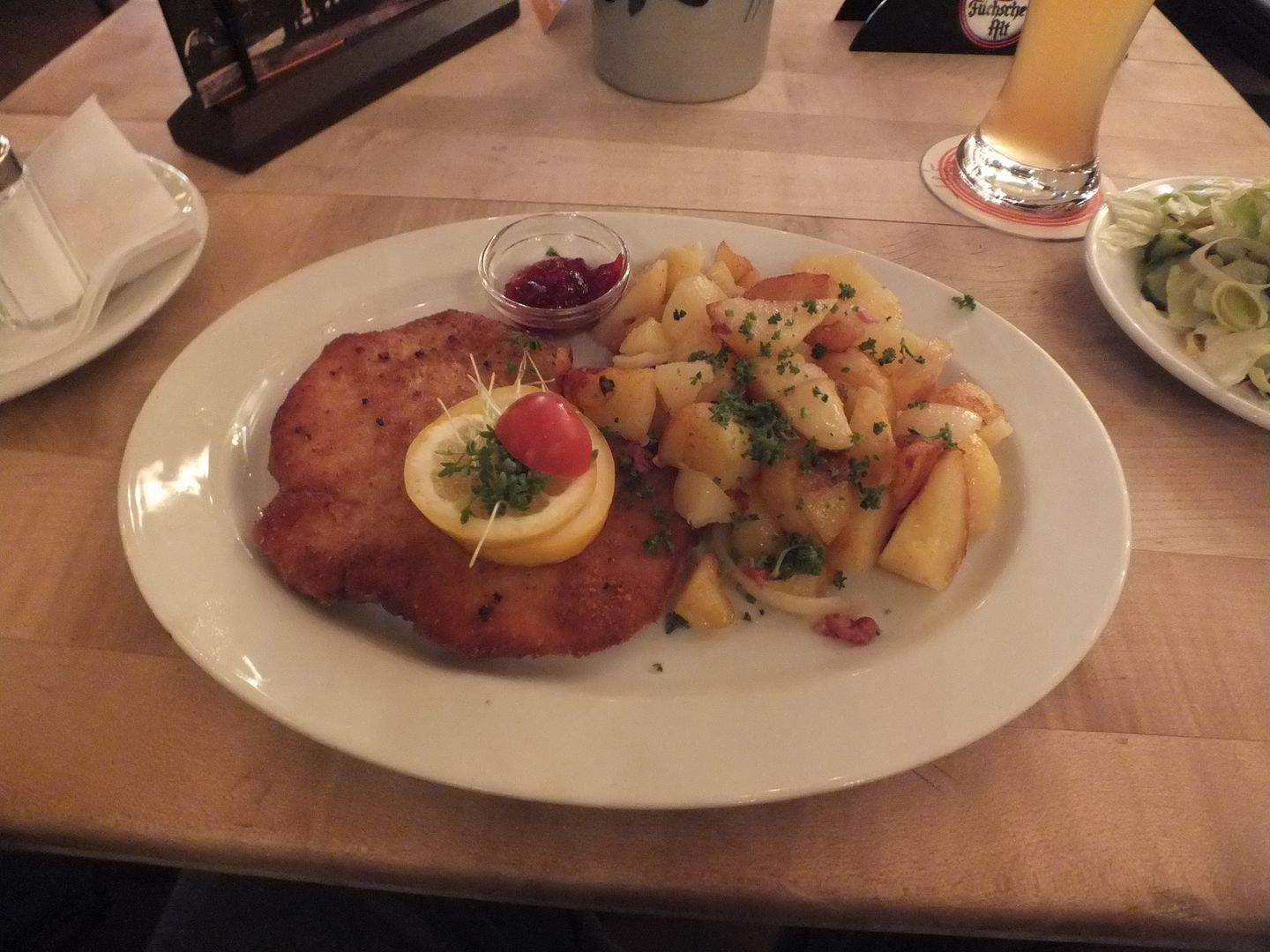 The food was ok, but the service (as I nearly always find in German restaurants) was very abrupt, bordering rude and unpleasant. The blonde beer was tasty though.
With my wandering around Dusseldorf completed, I headed back to the hotel pick up my stuff, then to the station for the train back to DUS.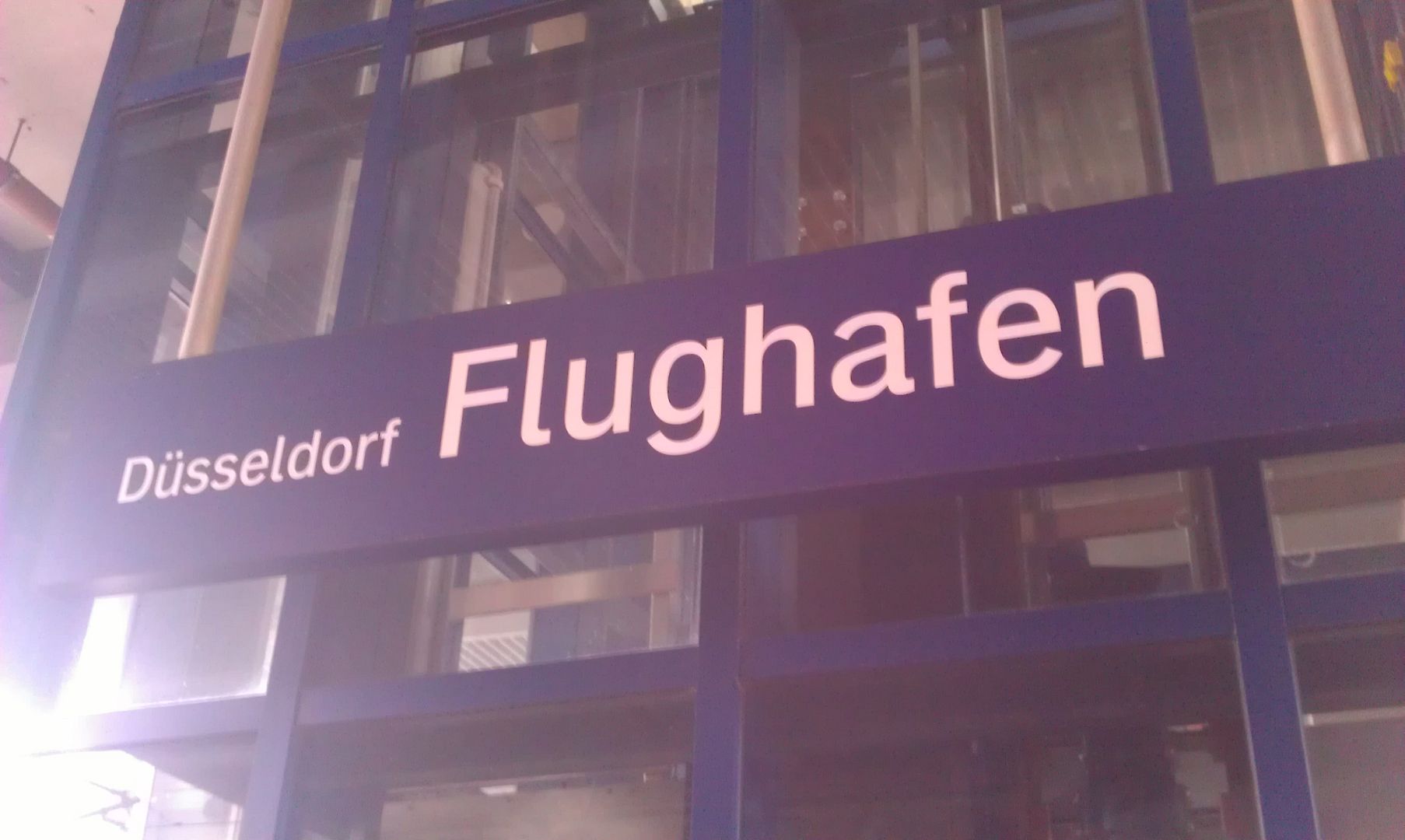 There was this useless FIDS at the monorail station. Why show flights leaving in the next 10-15 mins when you are nowhere even near the gates?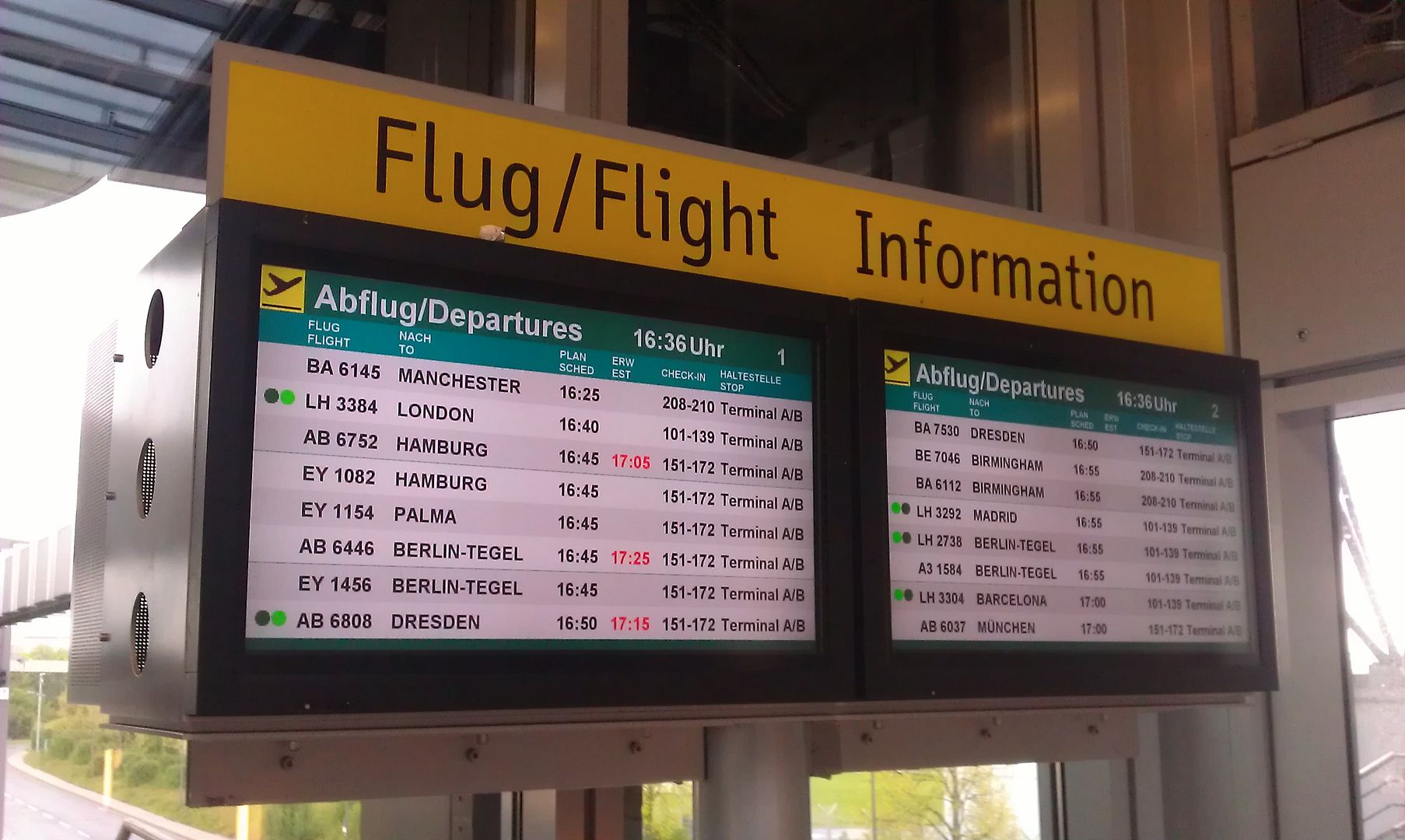 On the suspended monorail linking the train station with the terminals.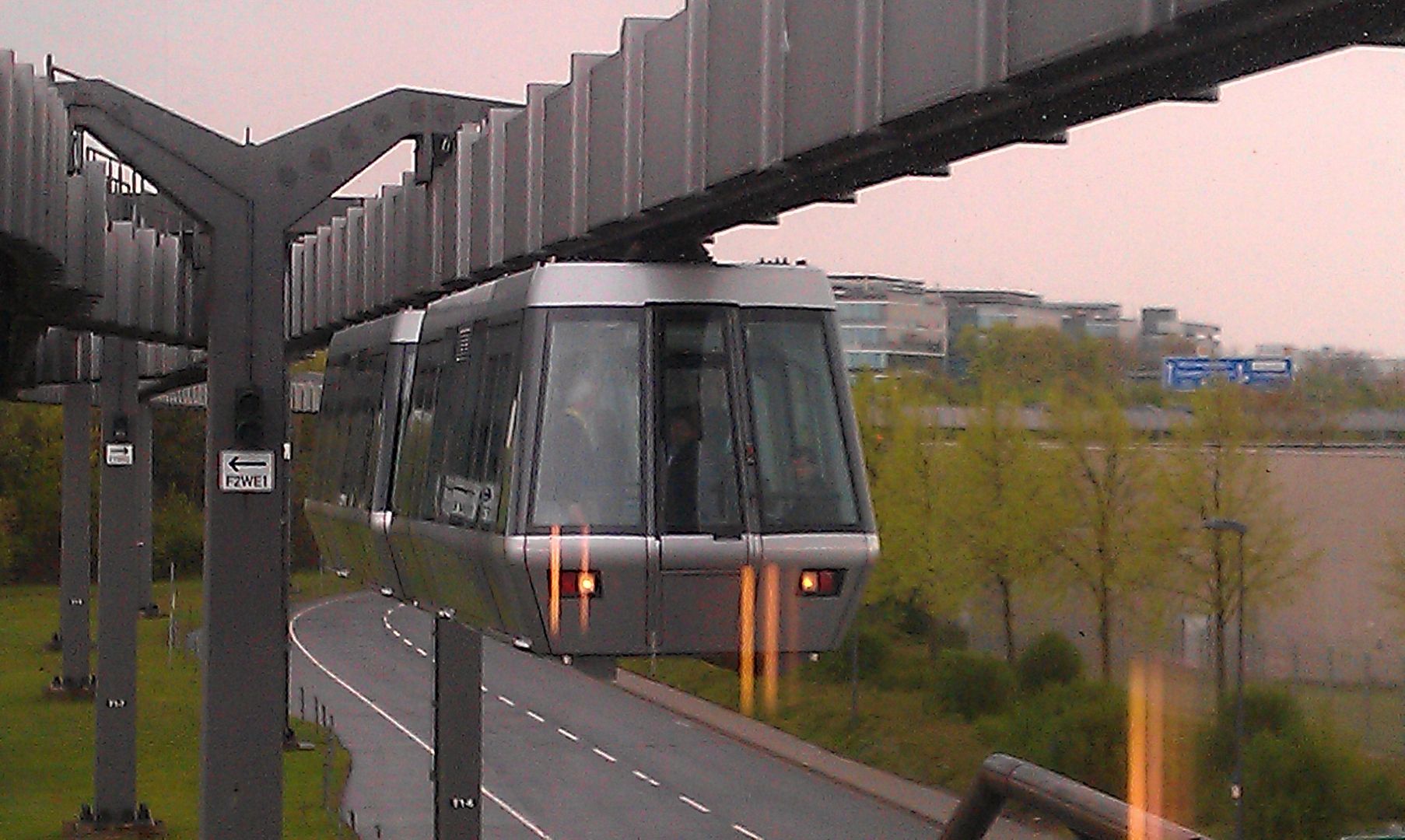 Check in areas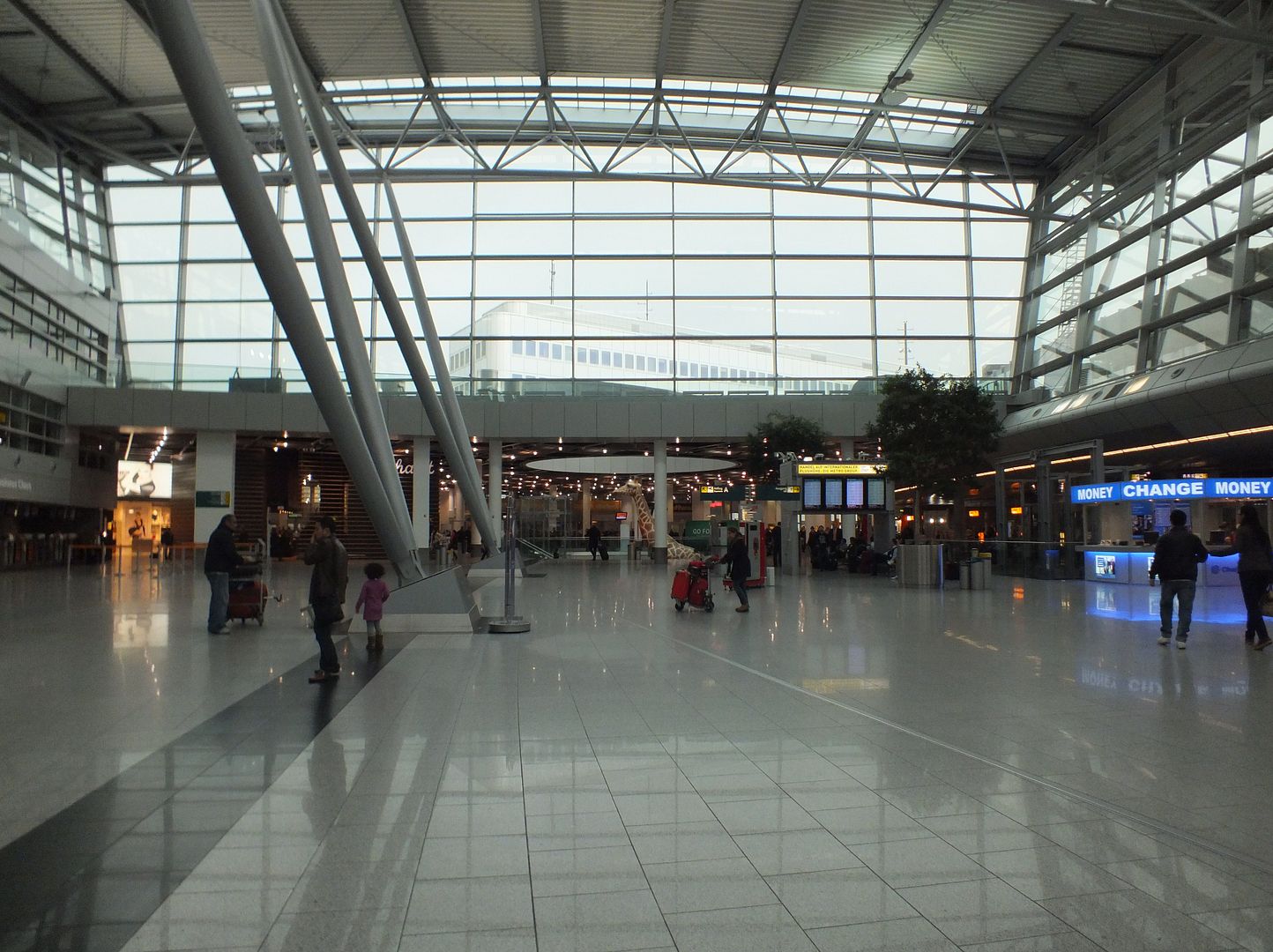 There was no queue for the BA check in desks. My bag was tagged, and I was given my boarding pass, as well as a Valet tag for my backpack.
There was no queue for security, so was through in a few minutes. American Express had been nice enough to send me free membership of the "Lounge Club", with two free entries. As I still had a good 2 hours before my flight, I thought now would be a good time to use one. In DUS, the BA lounge is the designated lounge.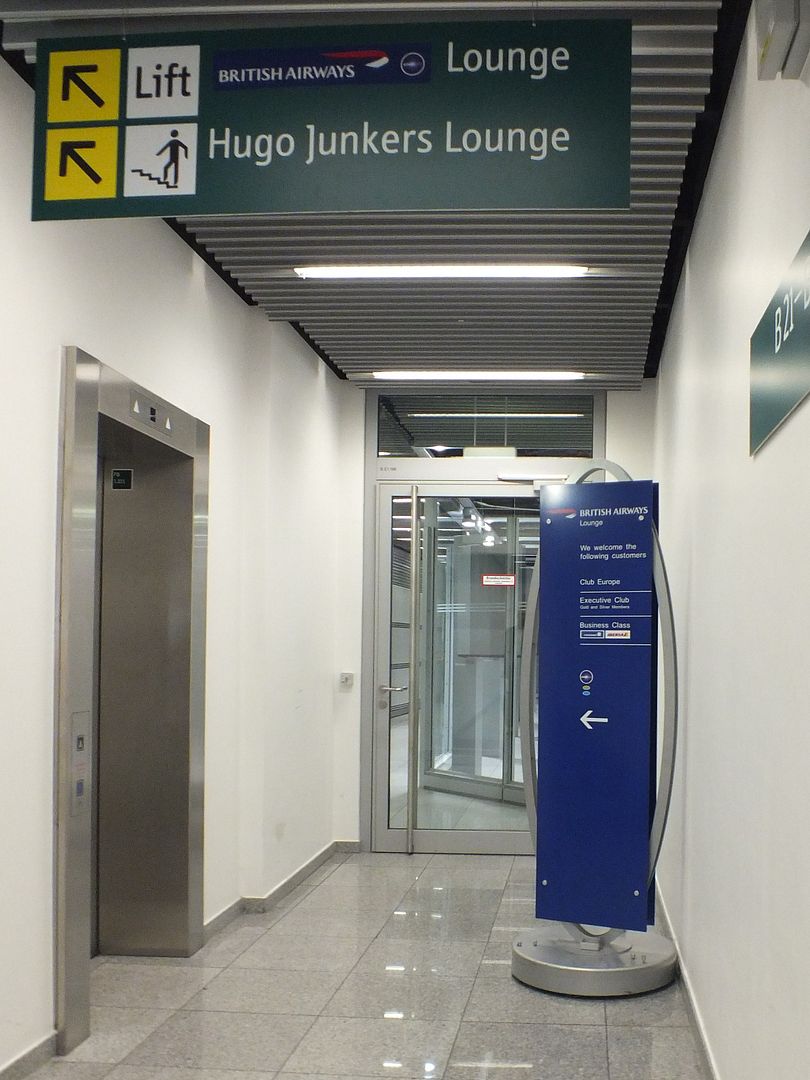 BA is pretty busy in DUS, with the 767 operating on some flights. The lounge is correspondingly big and busy. I was initially unable to find a seat as there was a LHR departing soon. Eventually I found somewhere, and grabbed some sandwiches, and a G&T.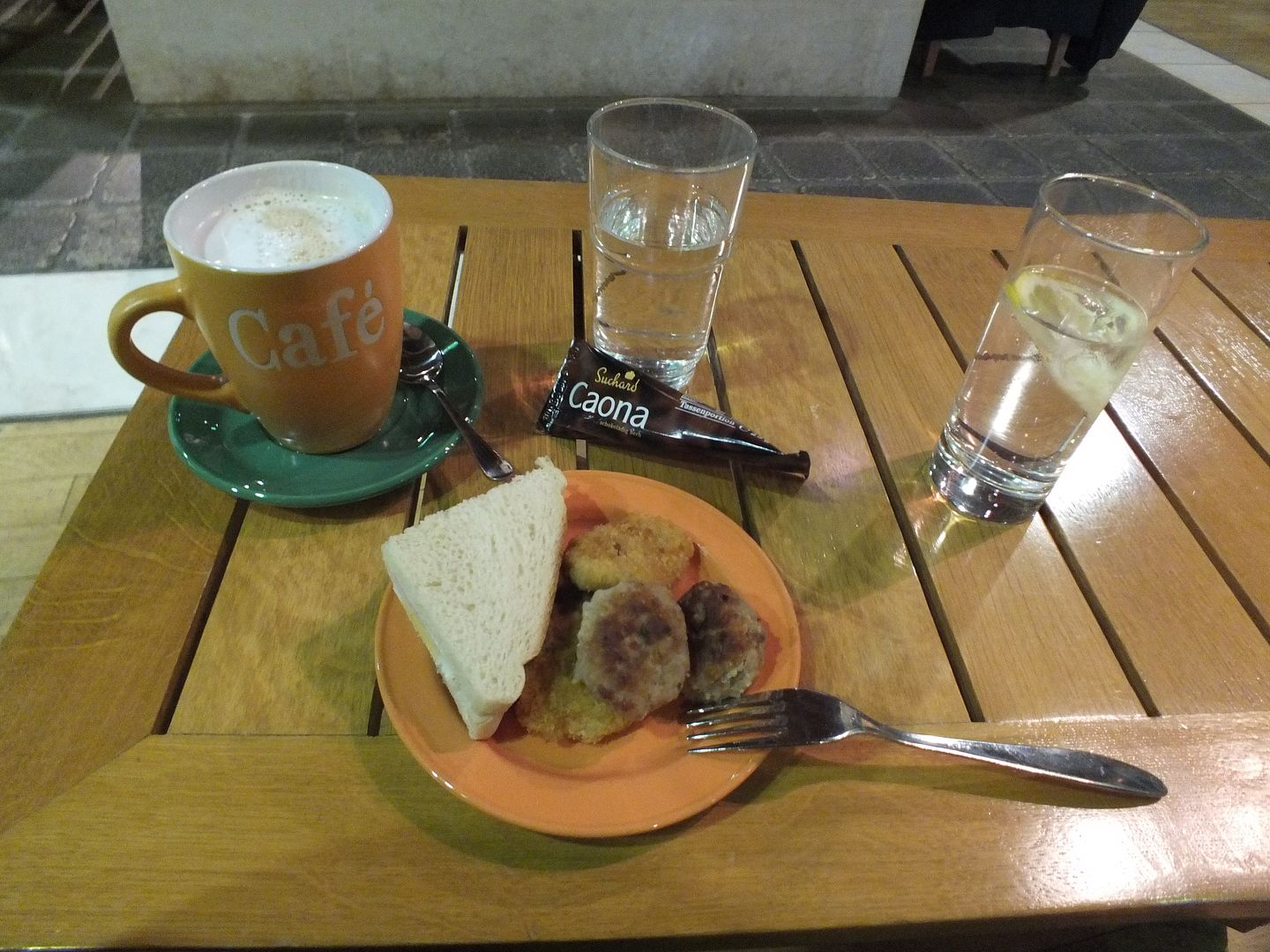 Check in for tomorrow's flight. The 328 turbo prop is showing….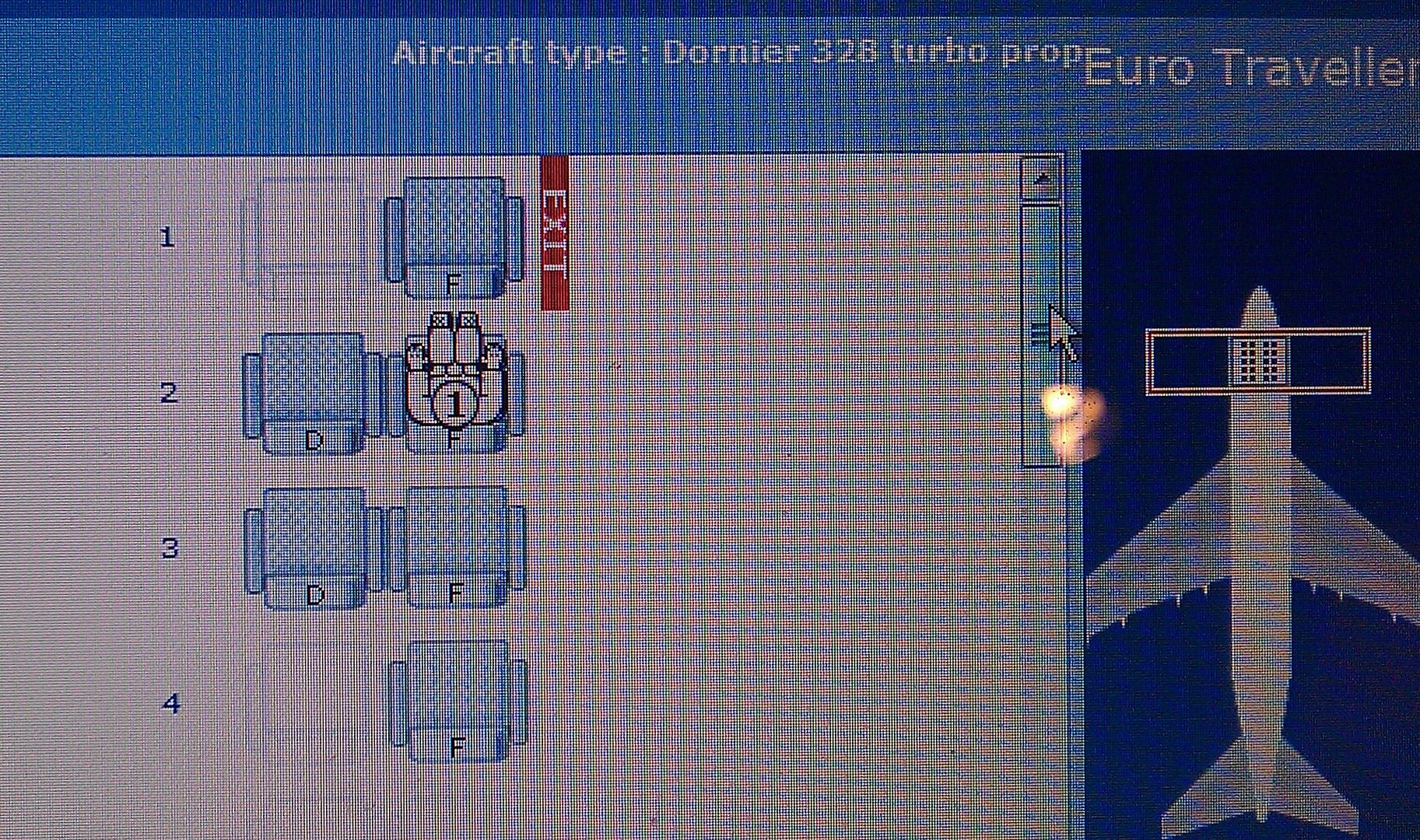 After a while, the LHR flight boarded, and the lounge emptied considerably. IB and AY passengers were still in there, however. I was able to find a seat next to the window.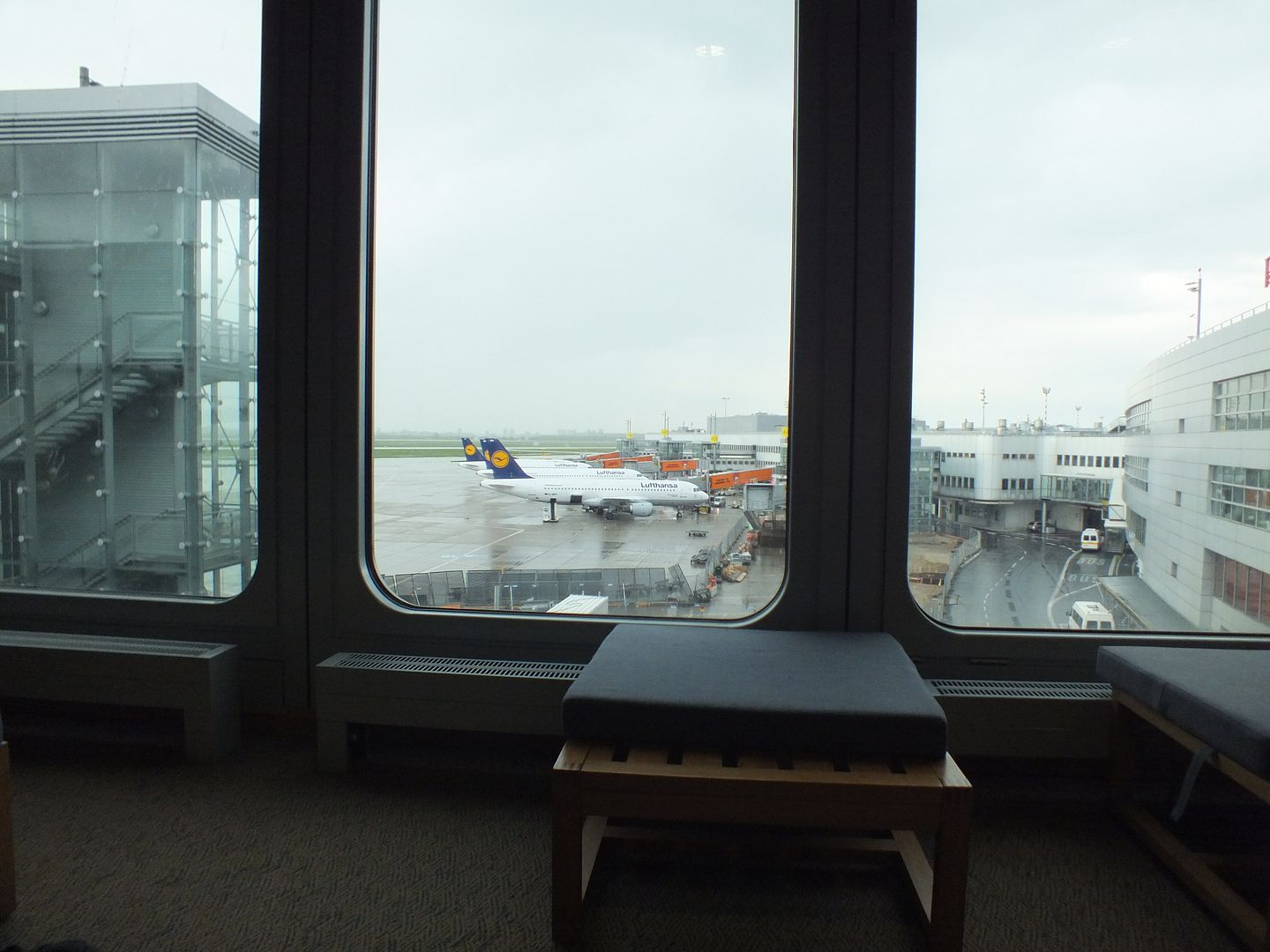 Tracking my flight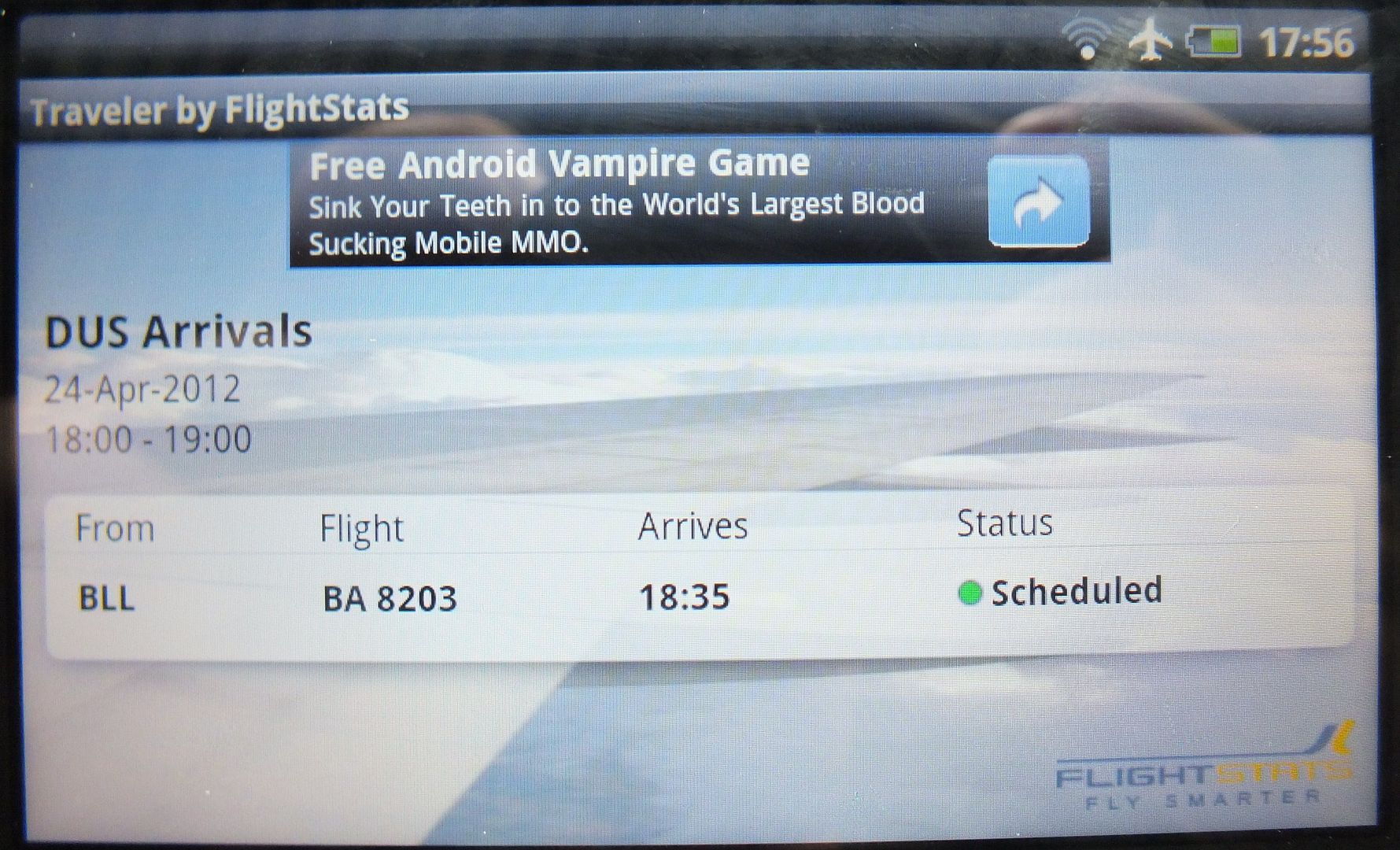 A LH 320 at the gate I arrived at last night
The AF babybus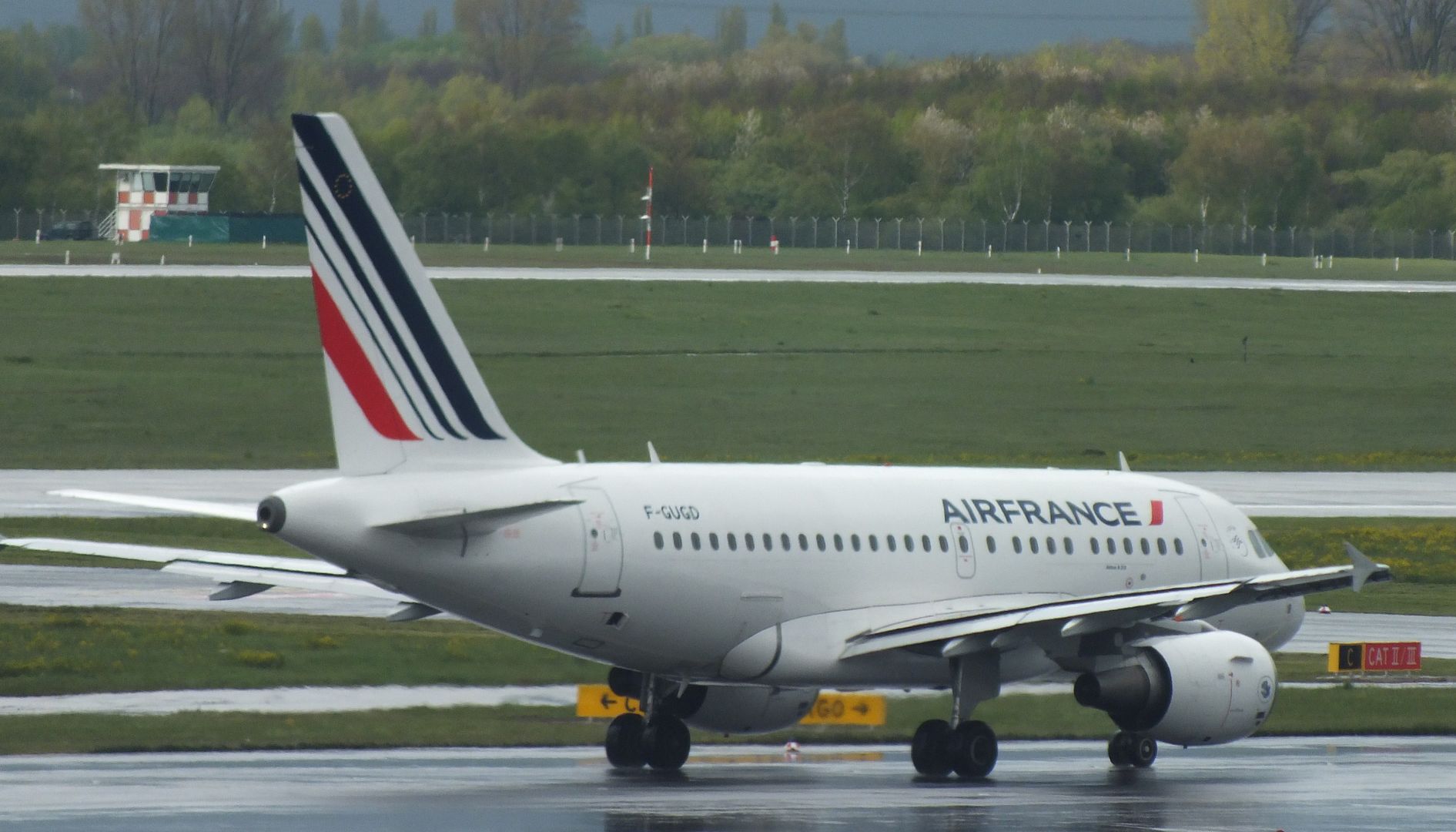 Air China from PEK
The stylised phoenix on the tail also reads "VIP"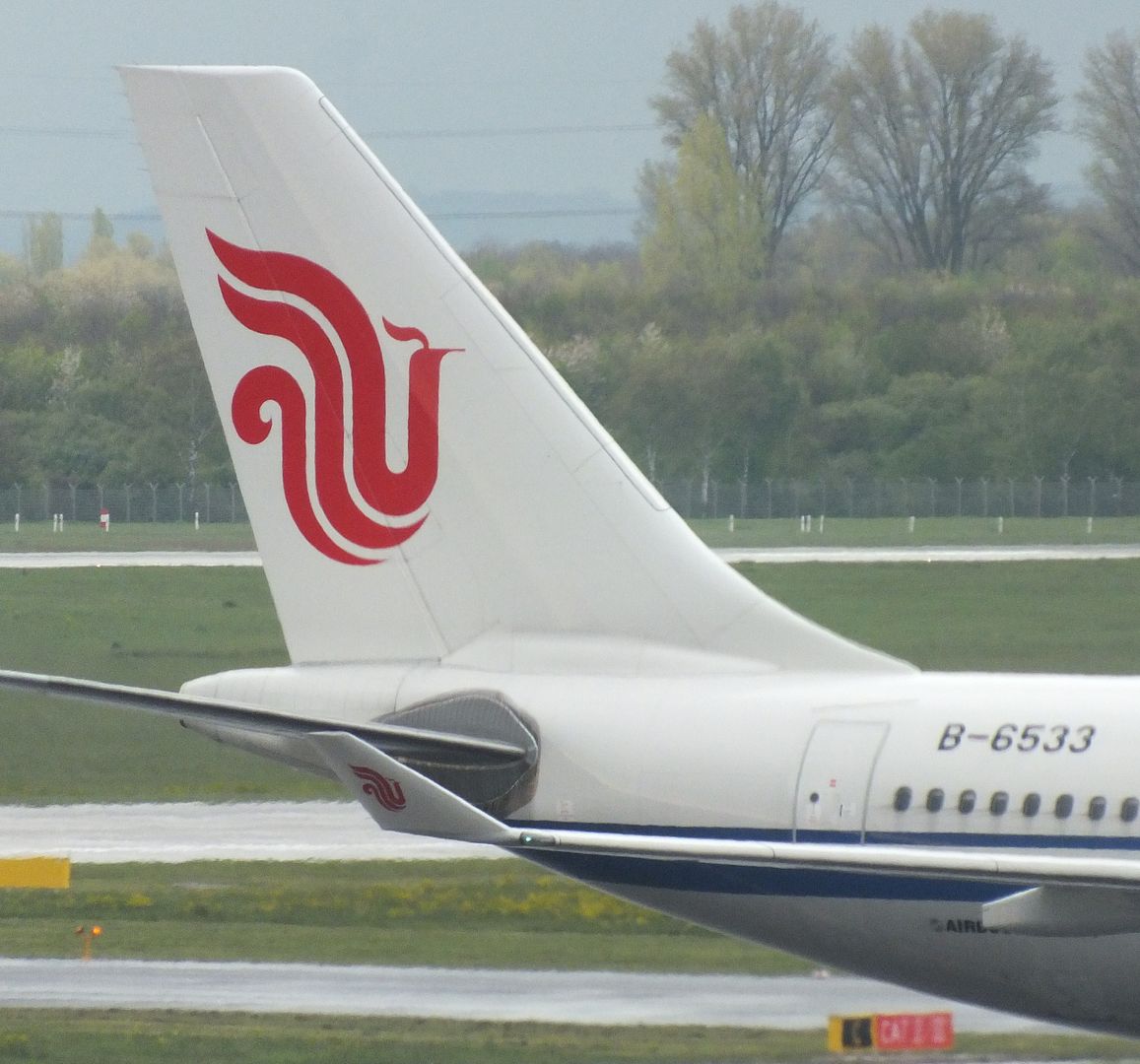 For those of you that can't see it:
TK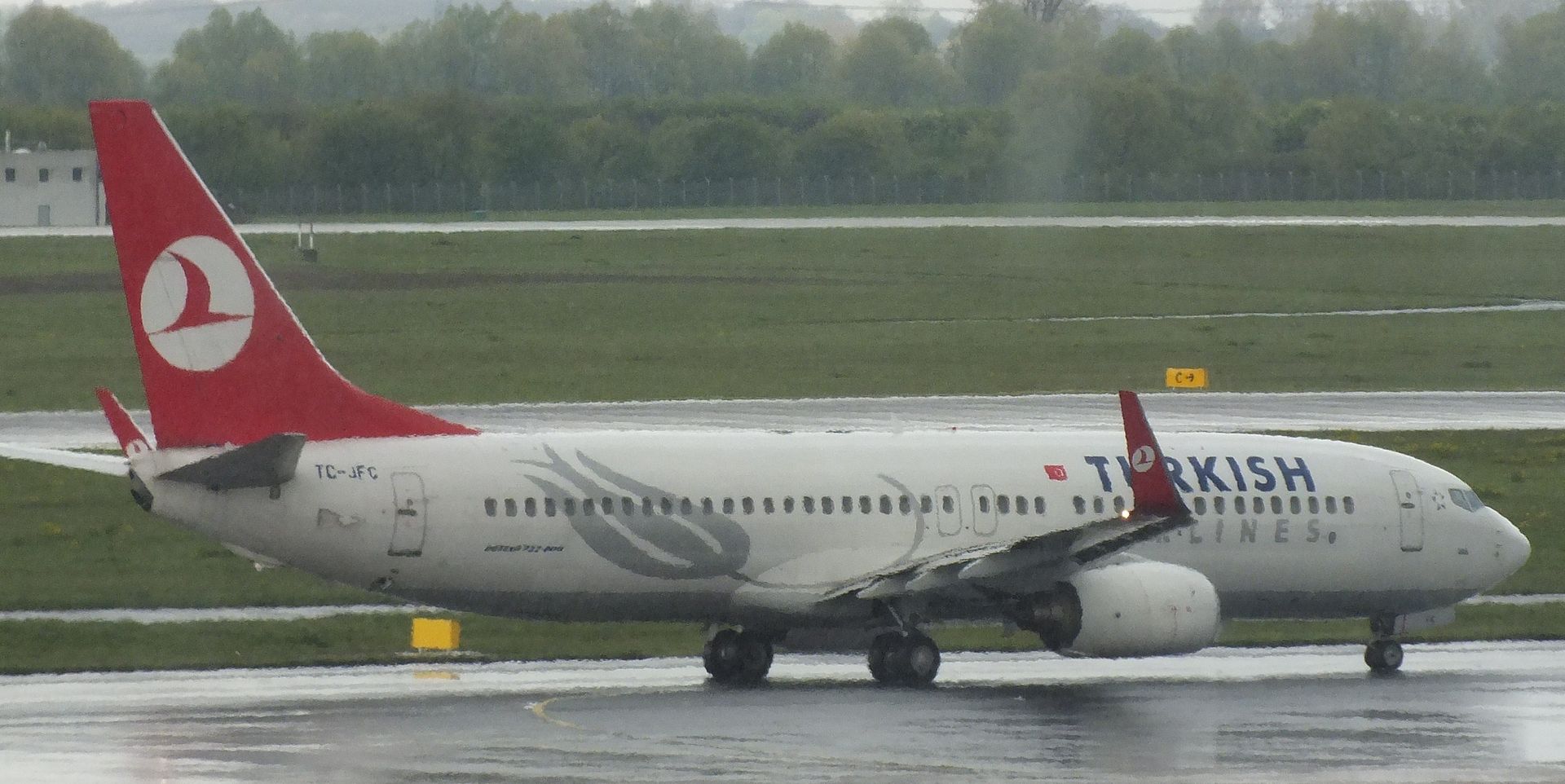 My Jetstream landing some 30 minutes late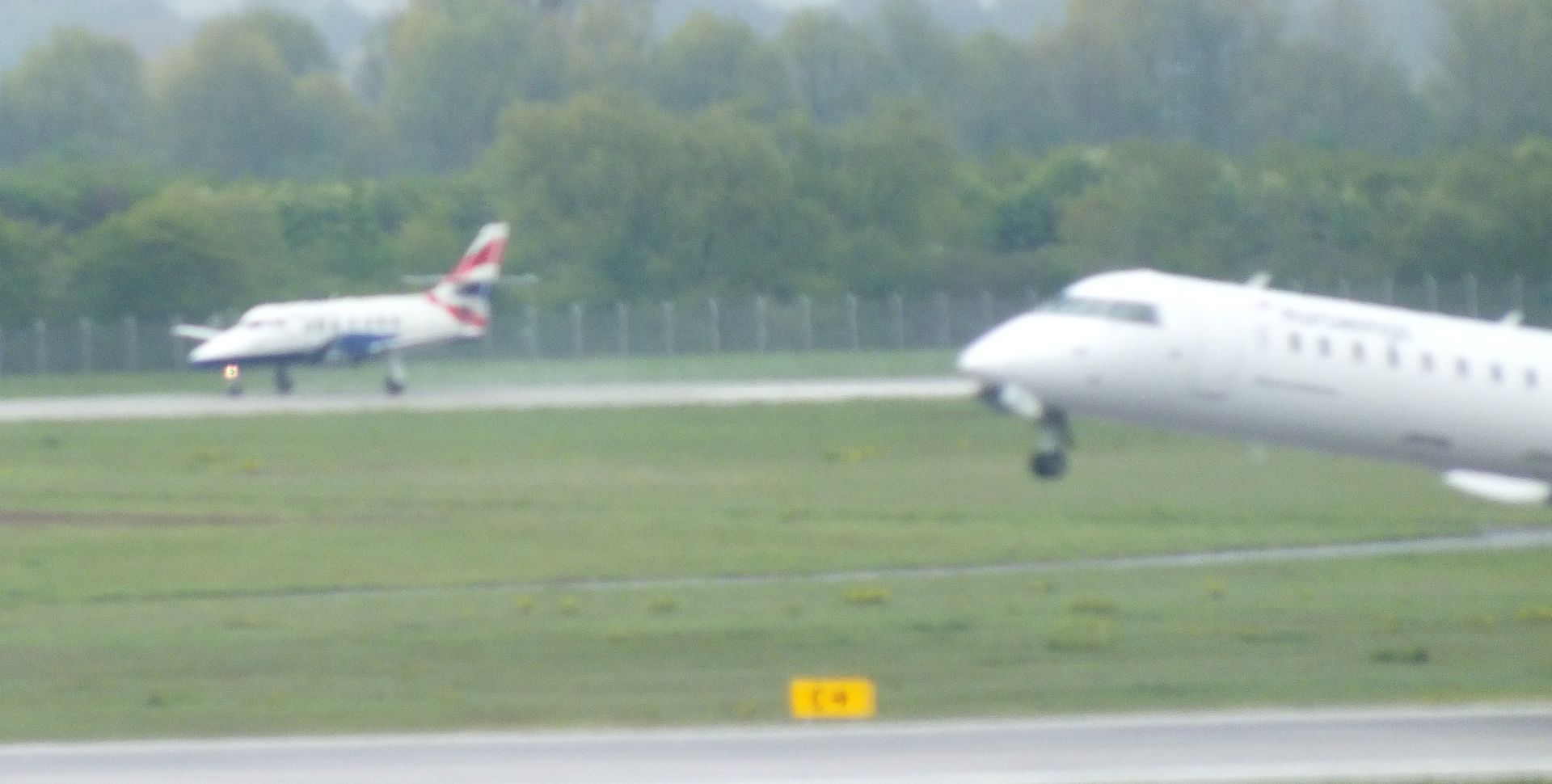 FIDS
Due to the late arrival of the flight, I spent a little longer I the lounge, which was pretty comfortable. I loaded myself up on the free gin, which turned out to be quite a good idea in the end…read on!
The gate eventually flashed up as B42. It was located down a series of twisting corridors.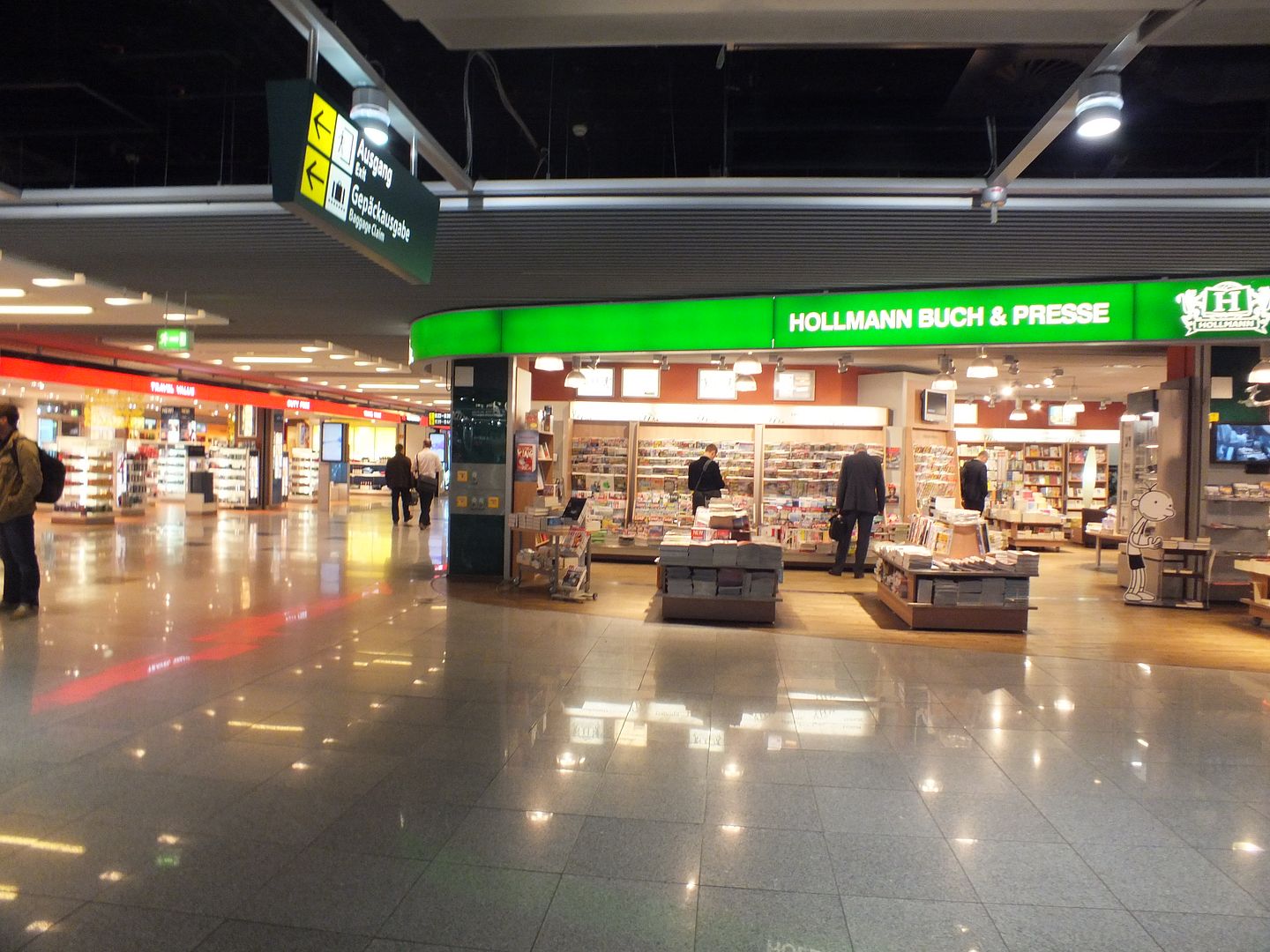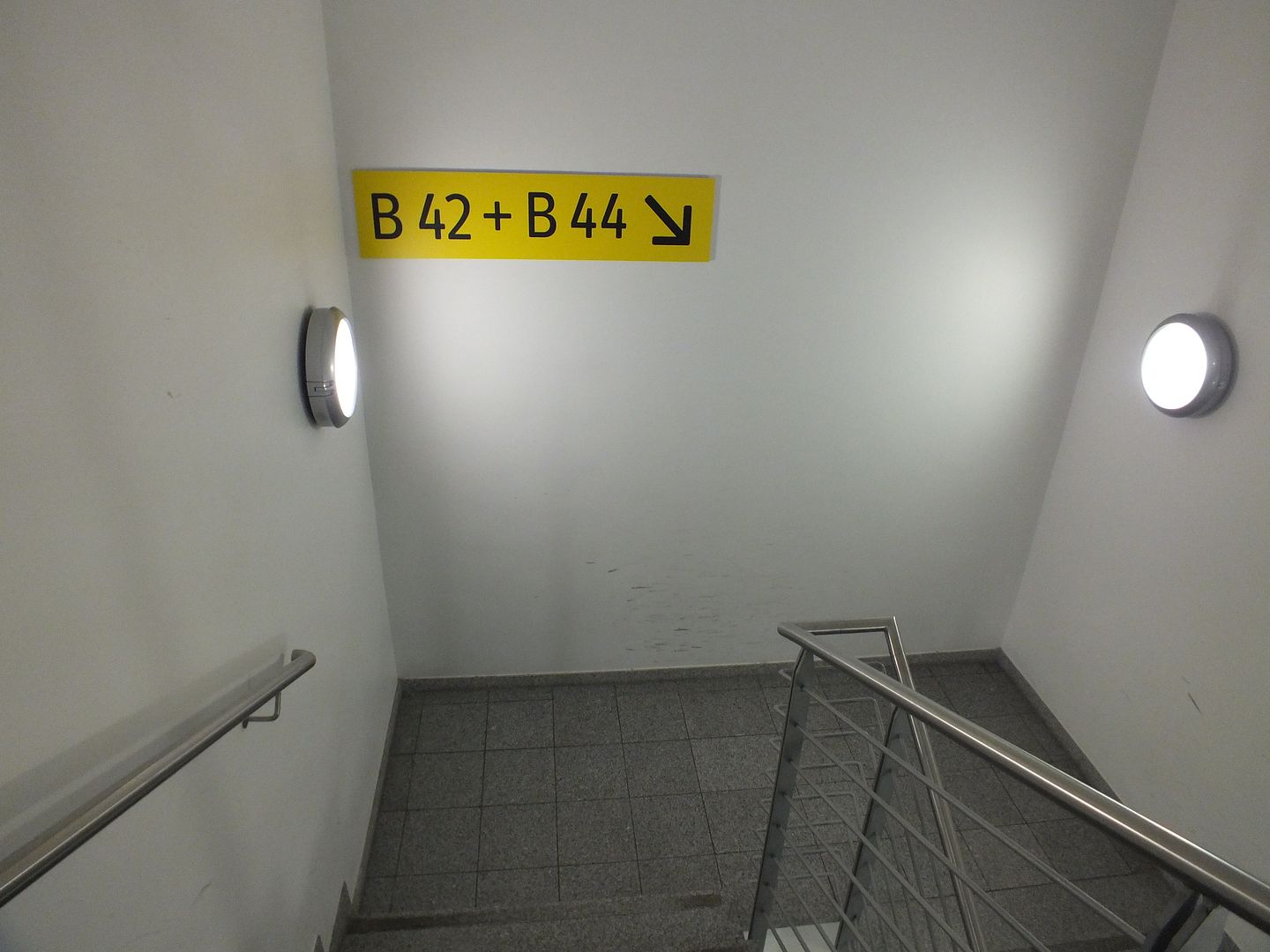 I was the penultimate person to board the bus for our drive out to the plane. It looked like a full load of 18 this evening.
April 2012
Dusseldorf (DUS) – Billund (BLL)
British Airways, operated by Sun Air BA 8204
Scheduled: 1905-2035 (1h30m)
Actual: 1941-2059 (1h18m)
Jetstream 31 OY-SVF
Euro Traveller (Economy)

Special livery LOT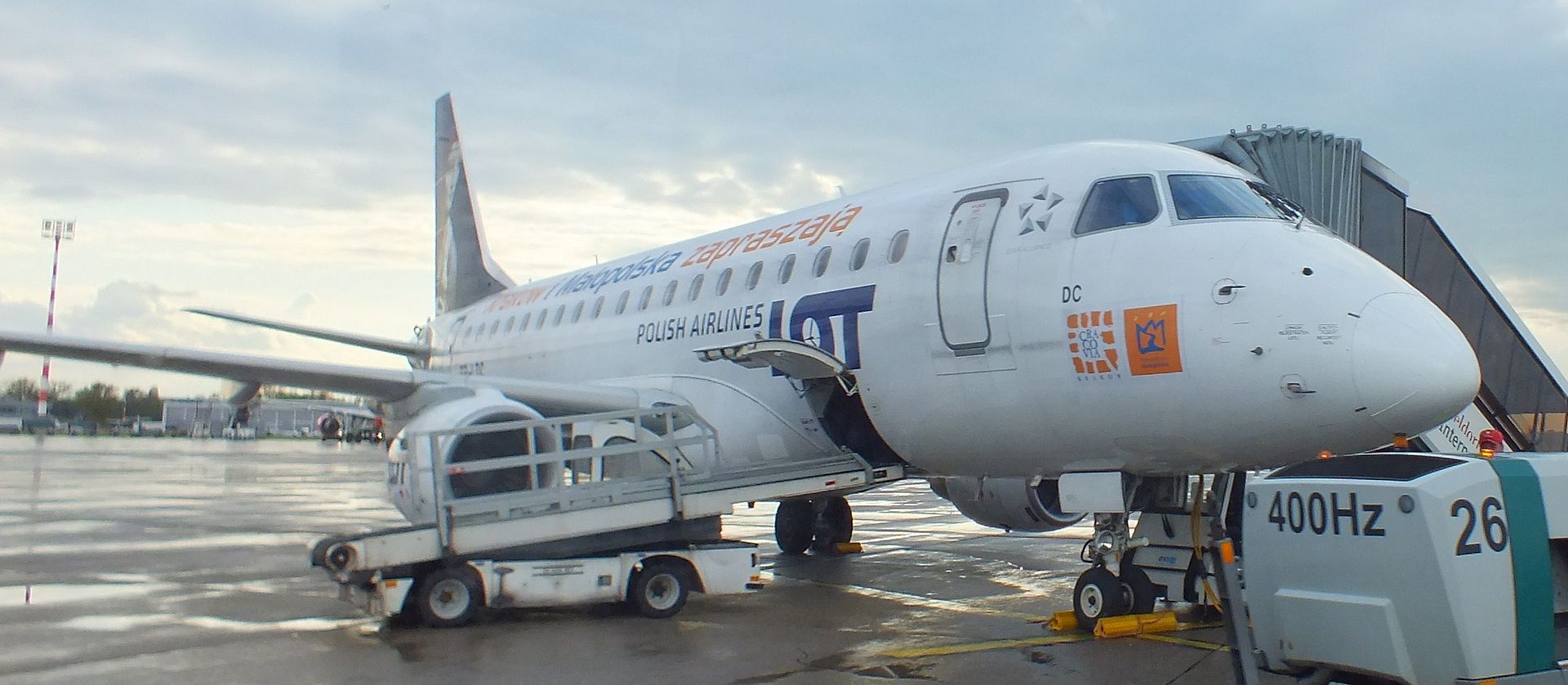 Isn't she cute?!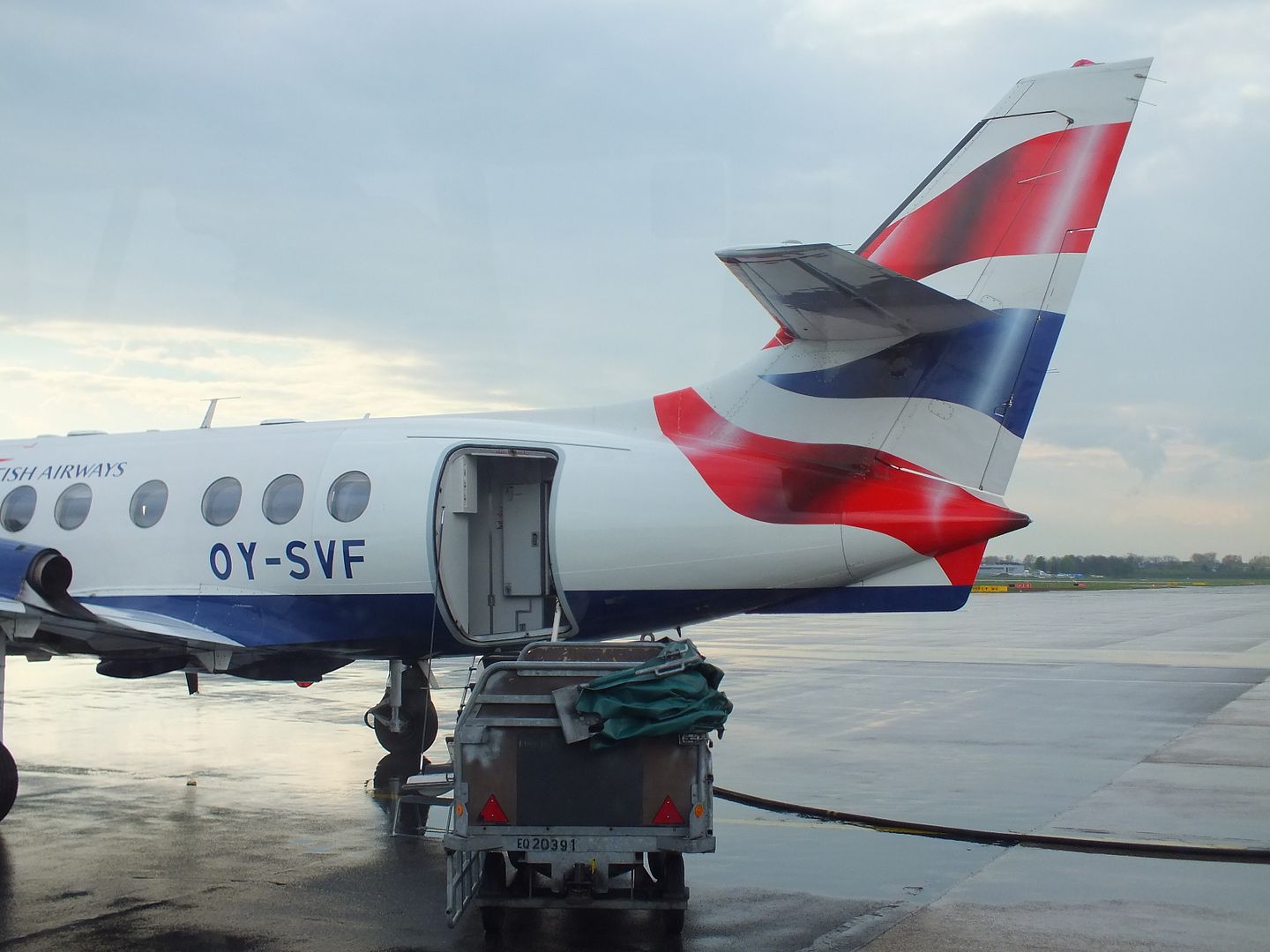 There was a bit of a delay before the pilot came and opened the door for us. I dropped on my backpack onto the valet trolley, and climbed aboard.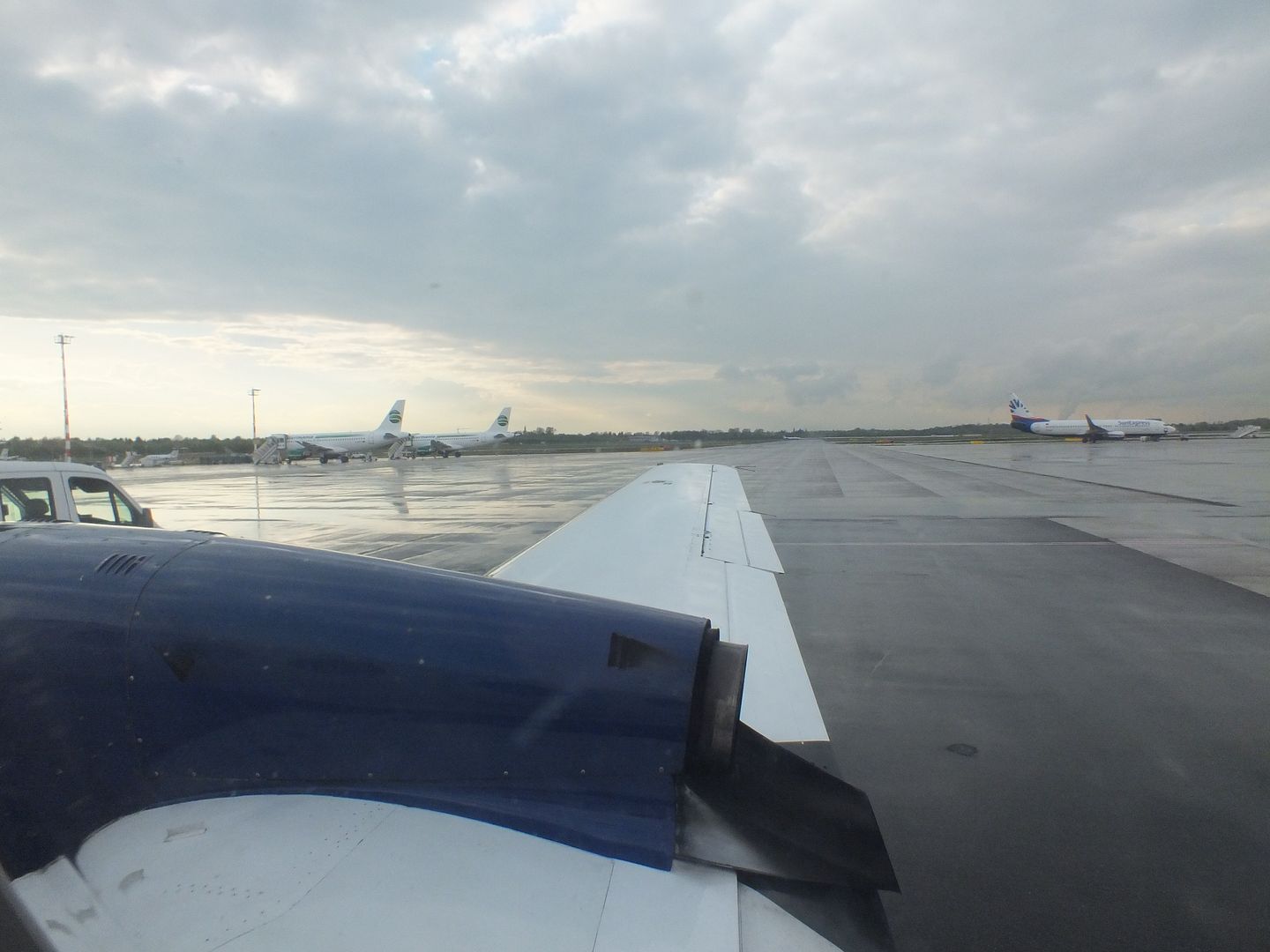 Compared to the relatively spacious Jetstream 41 cabin, the -31 seemed a lot more squished. Being stuck with a neighbour next to the window didn't help.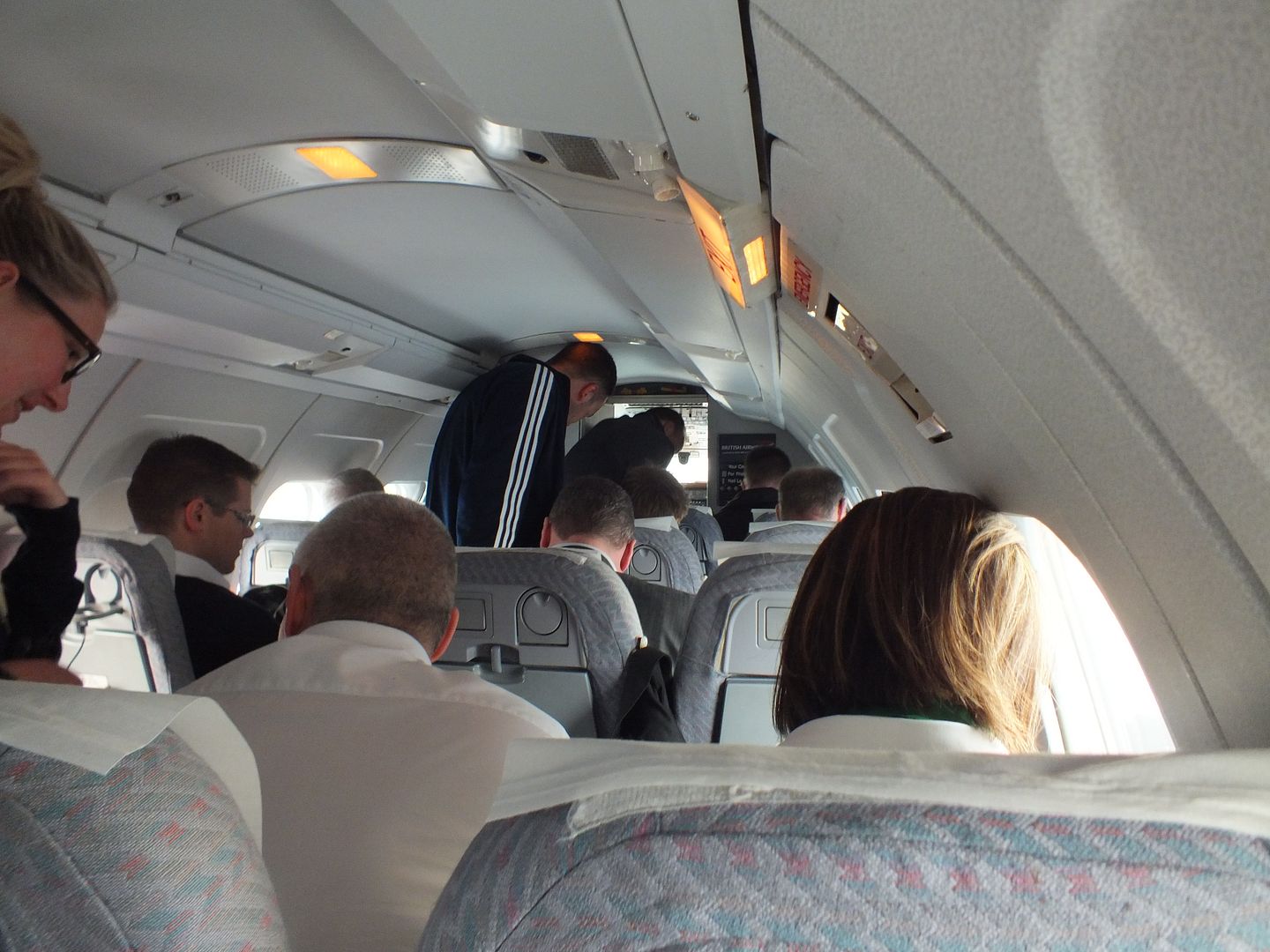 The captain came to the front of the cabin. He said something in Danish. And then "Does anyone need me to speak English?" I sheepishly put my hand up – clearly I was the only non-Dane on board this evening.
Time for some bad news. The flight attendant had called in sick, so there would be no cabin service this evening
No booze! I had heard great things about the service on board, and now I'd be missing out. Still, it's good that the flight wasn't cancelled. There was, however, a bottle of water, and a pasta salad in the seat pocket, so we wouldn't go hungry completely. The news that there would be no bar service was met with a very audible groan from the passengers. Clearly, I wasn't the only disappointed one!
The captain did the safety demo, and then added "if you need anything, just give me a tap on the shoulder".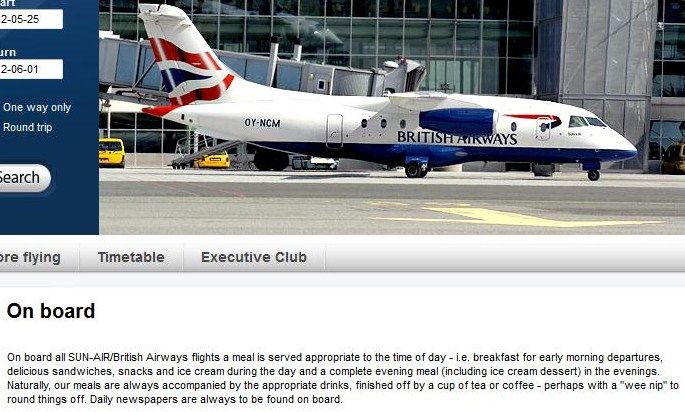 More bad news was a ground delay….
Now, who's our crew today?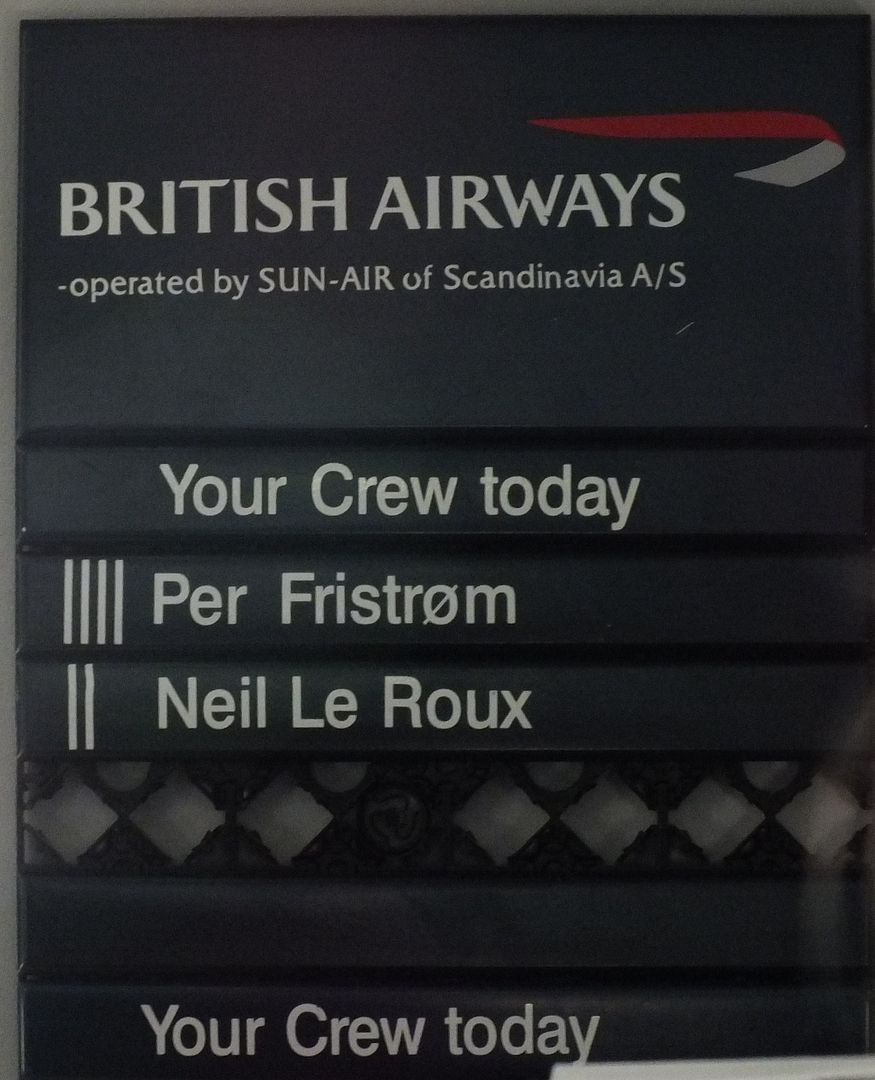 Legroom is a bit tight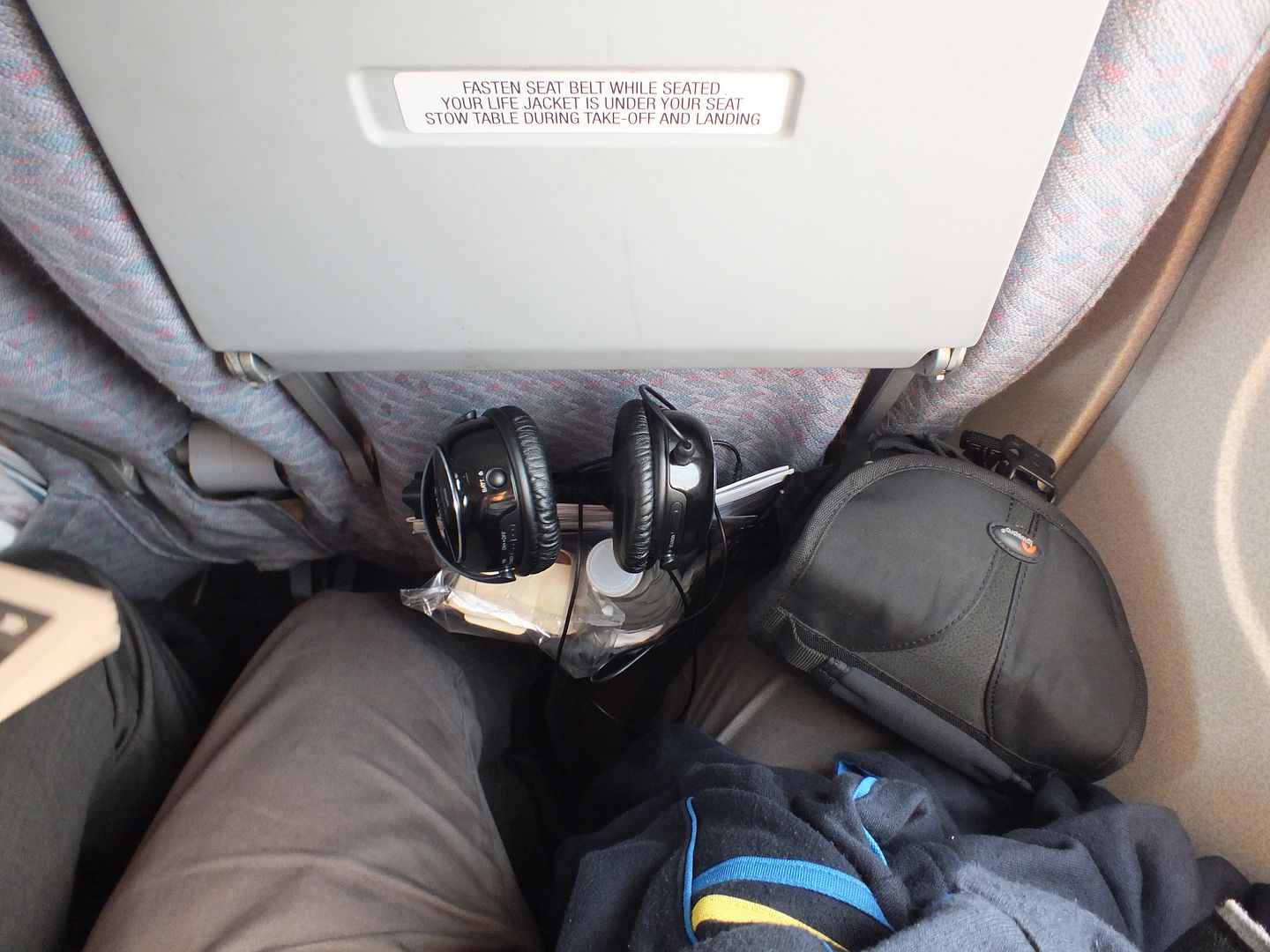 Thankfully, before too long, the door was closed, engines started, and we pushed off.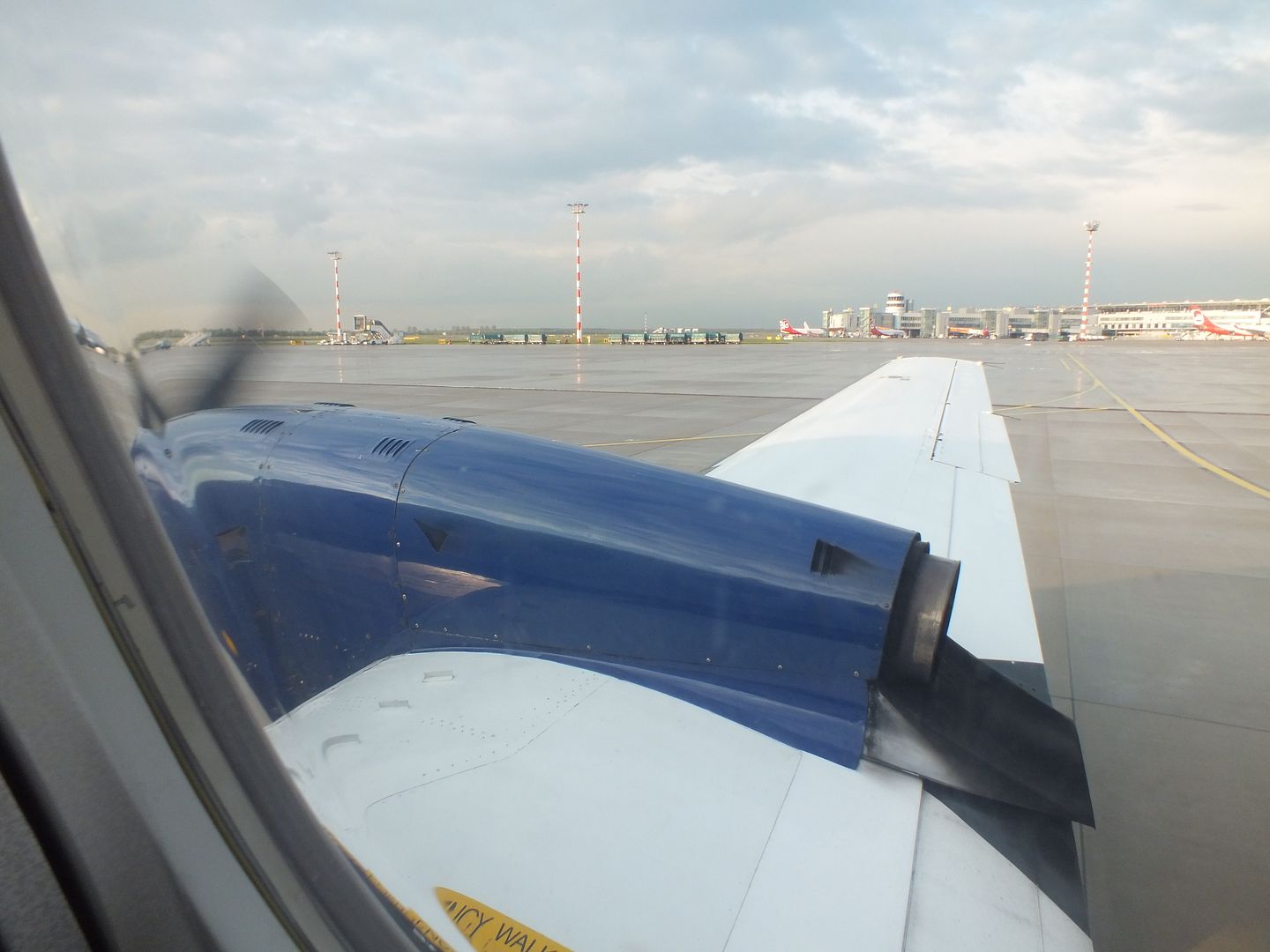 There was 3 OS planes parked here at the same time. An Airbus, a Fokker and a Dash. Is that normal, or IROPS?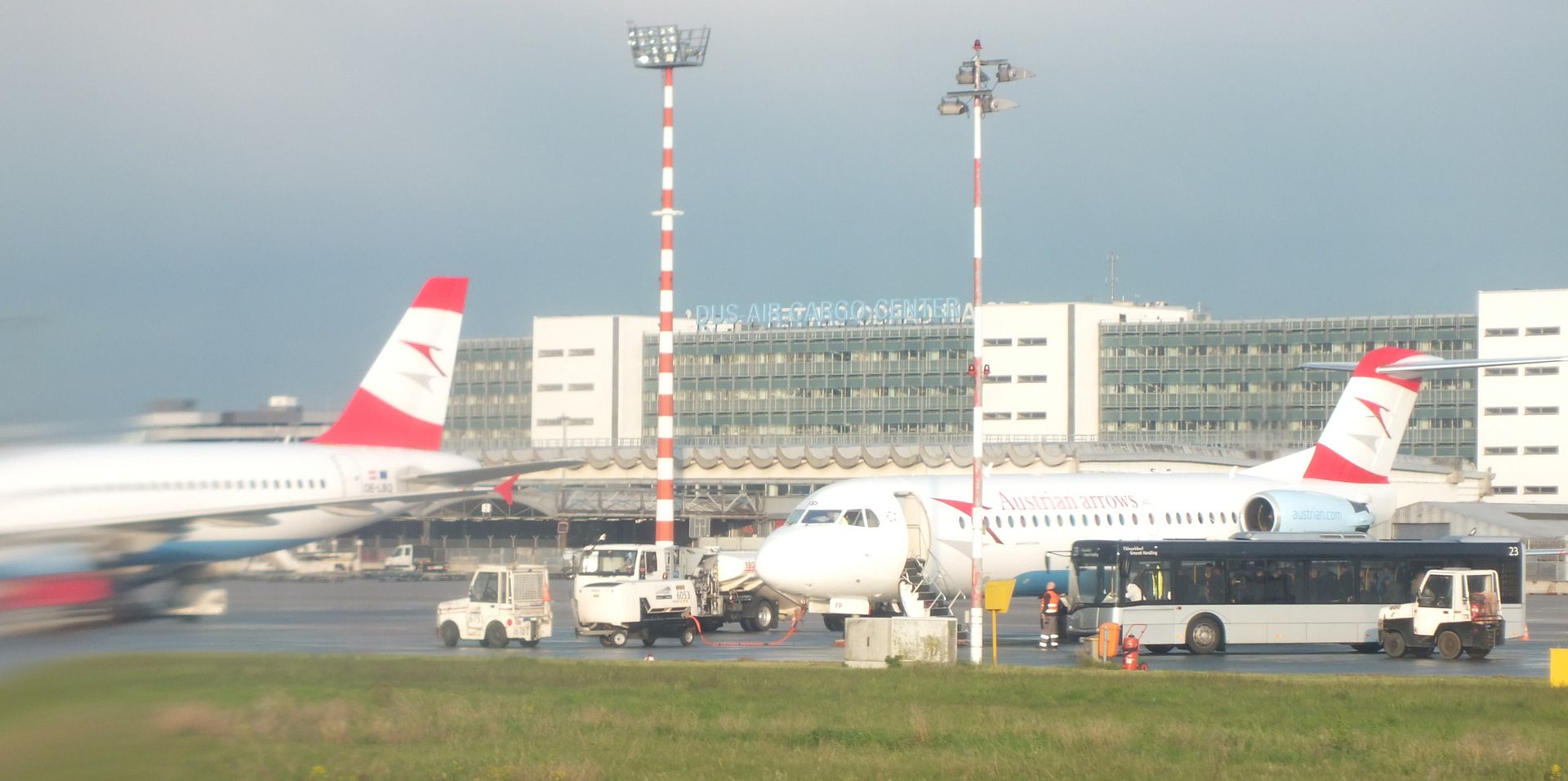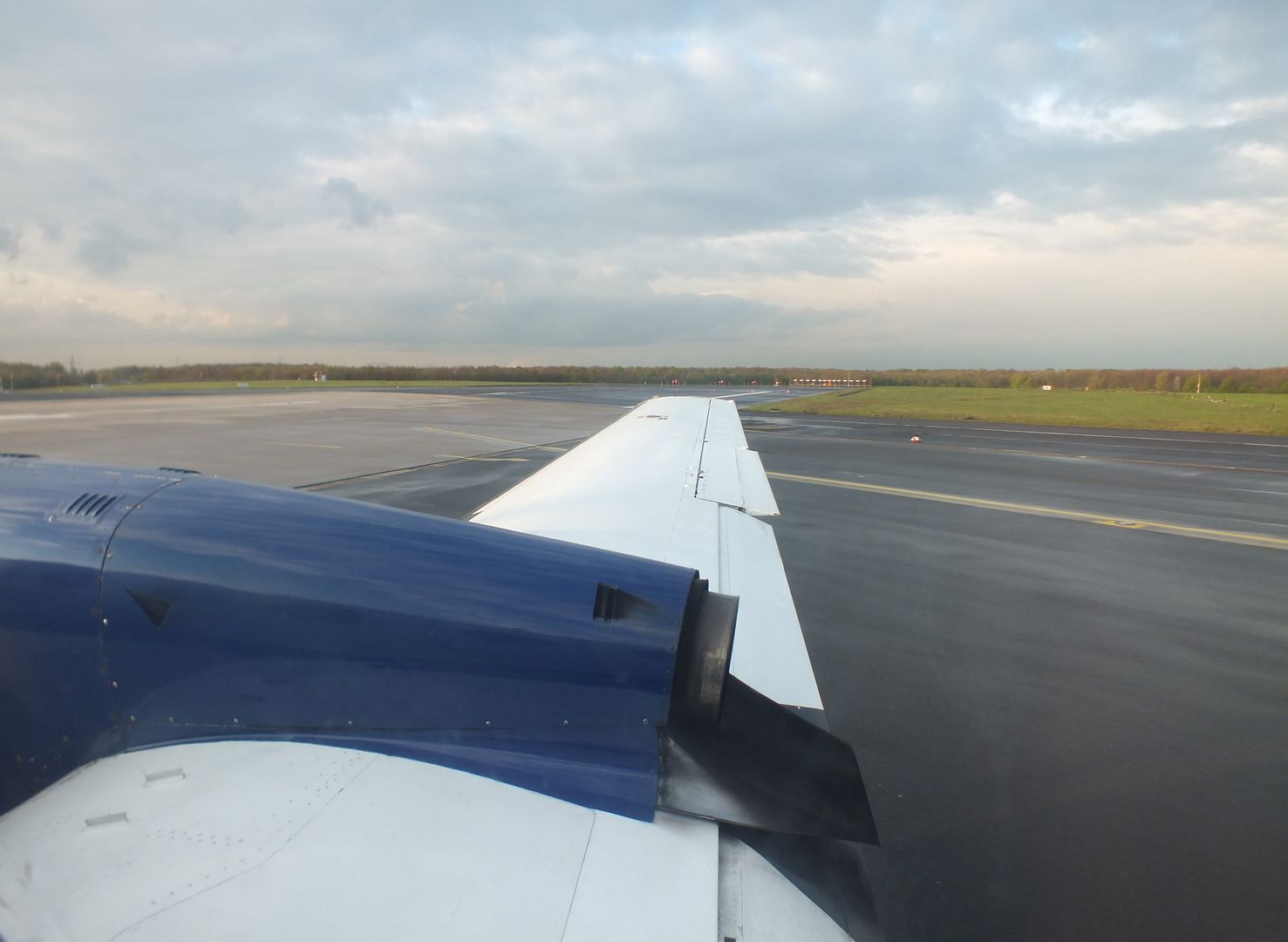 Off we go!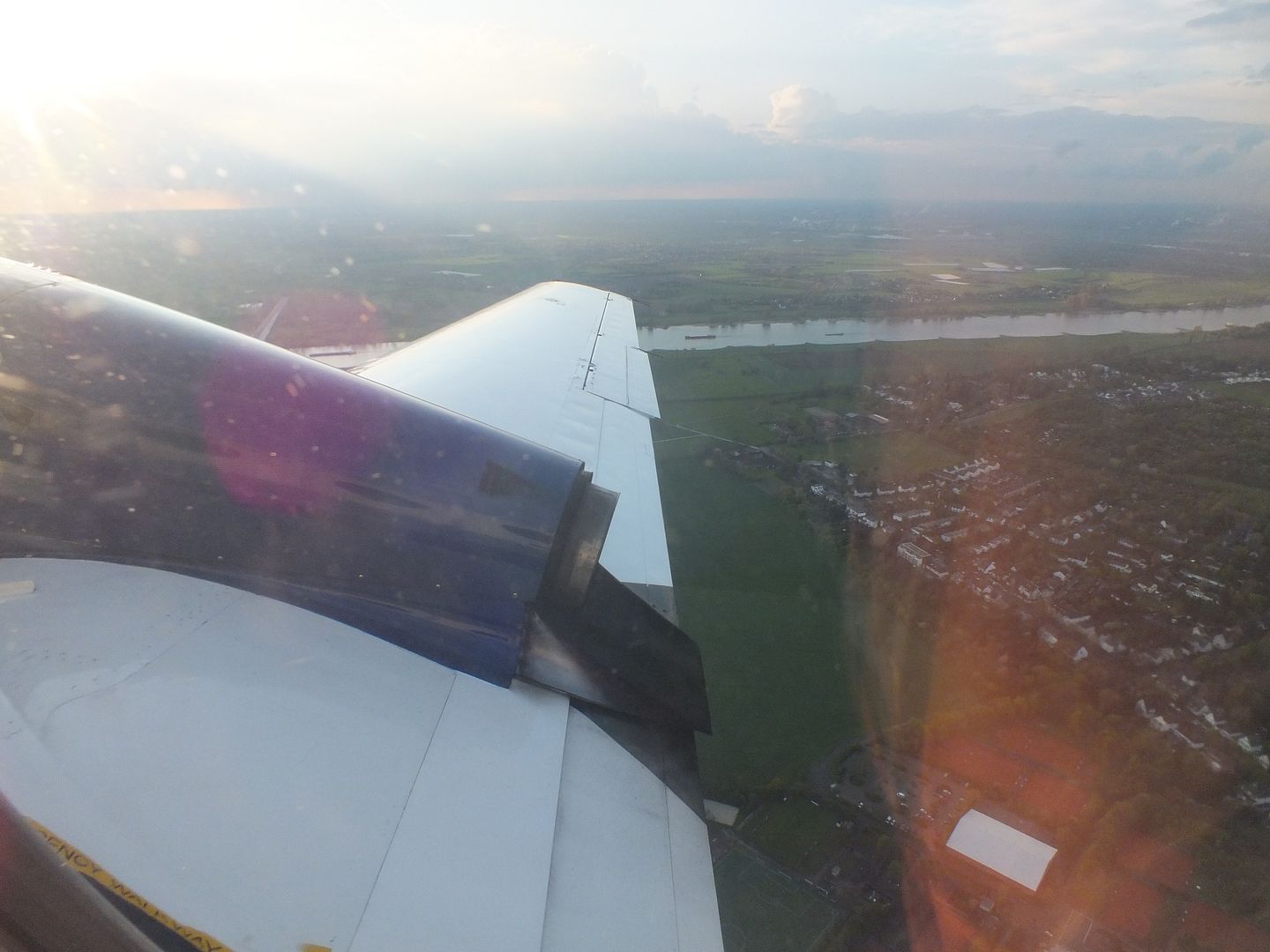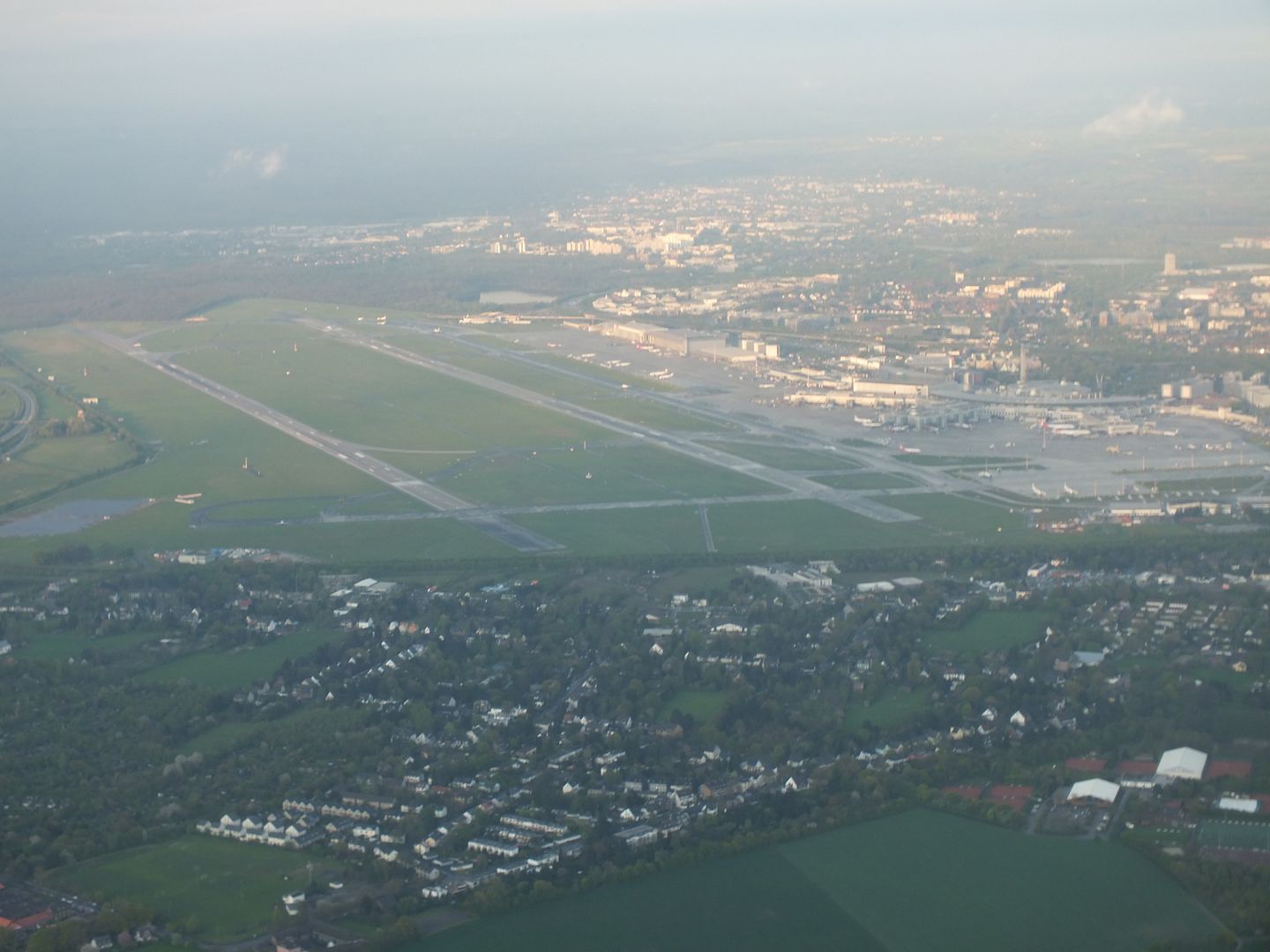 Well, might as well start the on board service! It was a little strange having to decide for myself when to eat. Normally you eat in sync with the whims of the crew. The guy sat next to me definitely mis-timed his meal, deciding to start munching about 5 seconds from the BLL tarmac.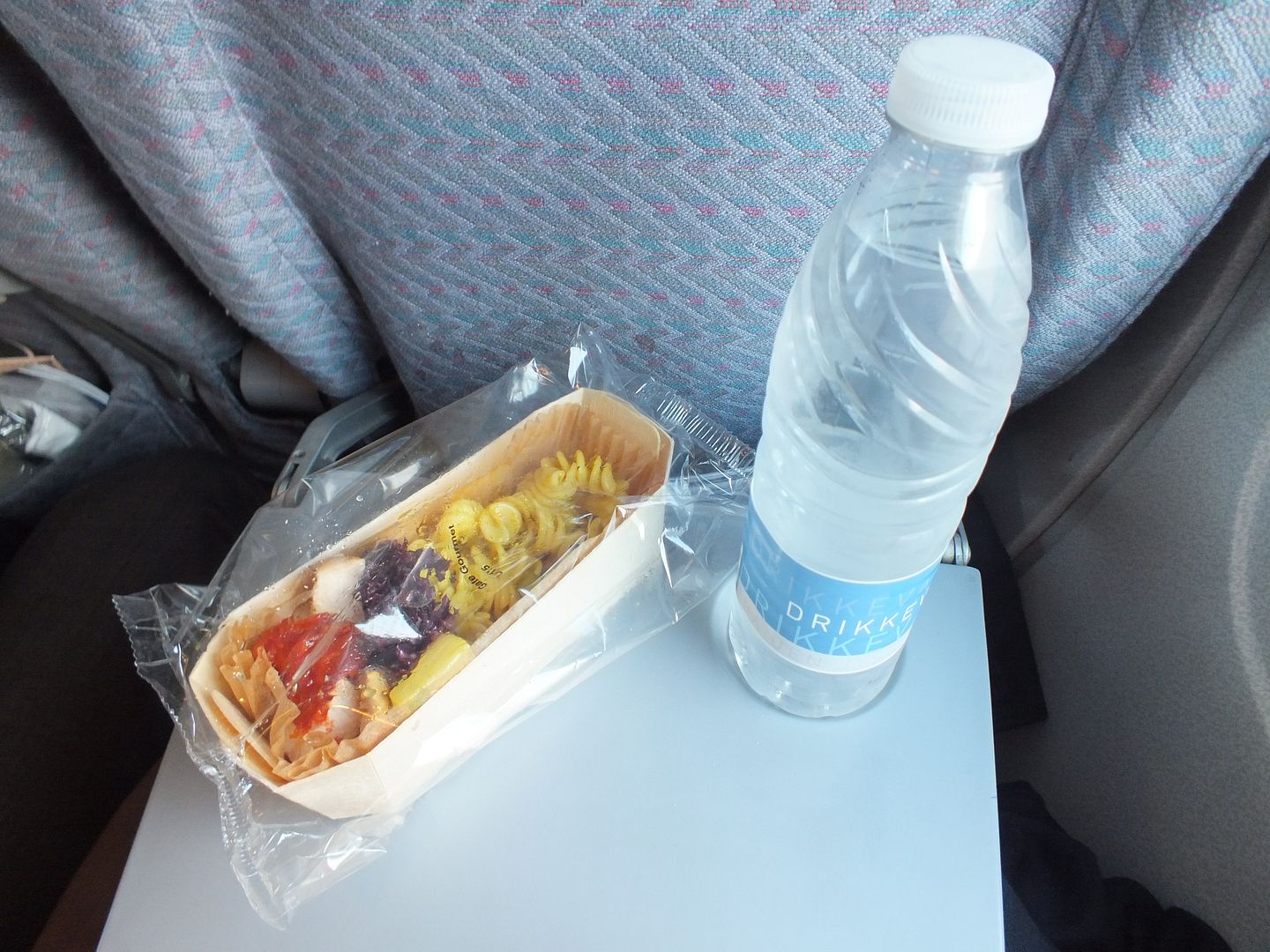 Quite a tasty pasta and chicken salad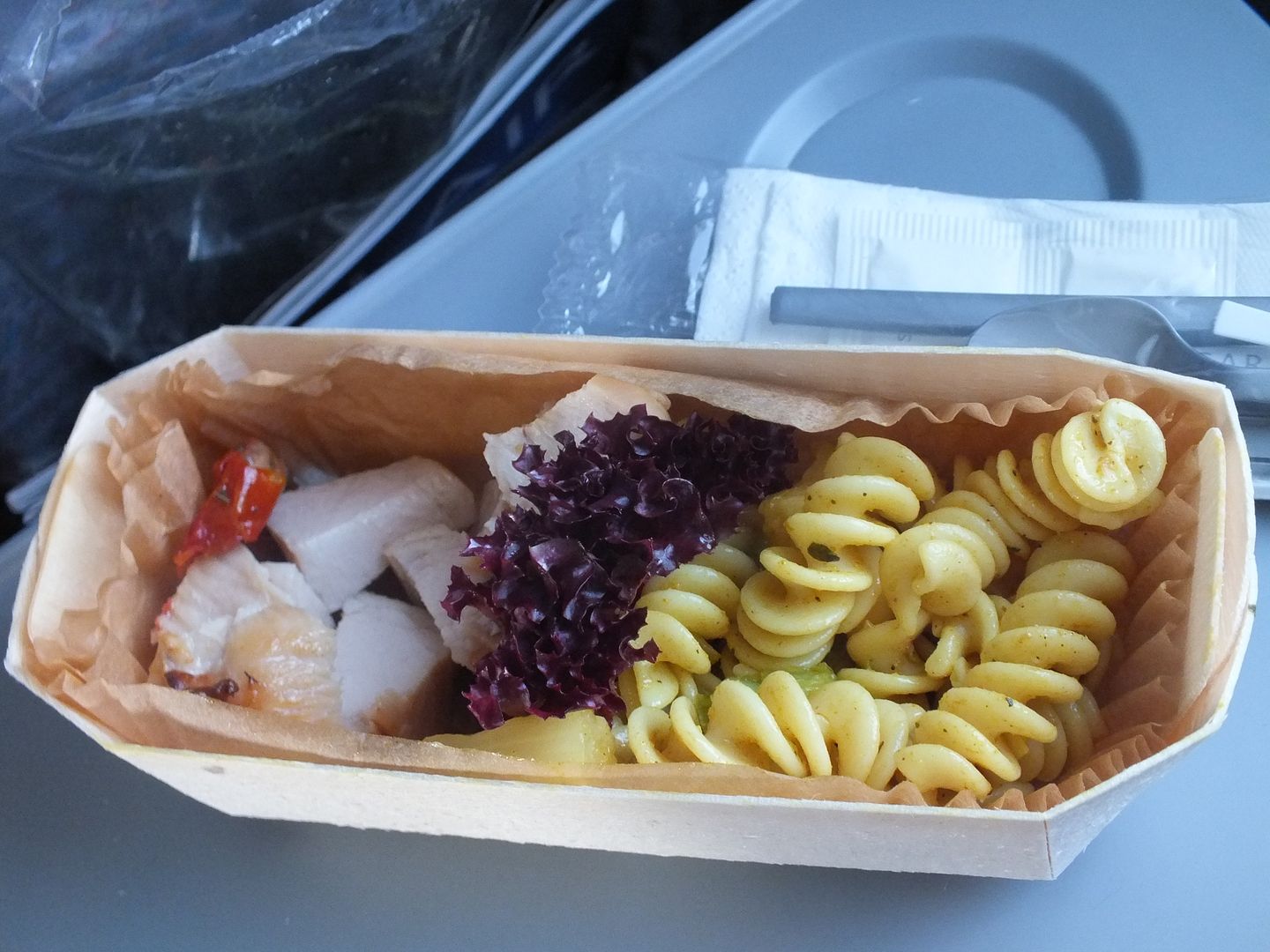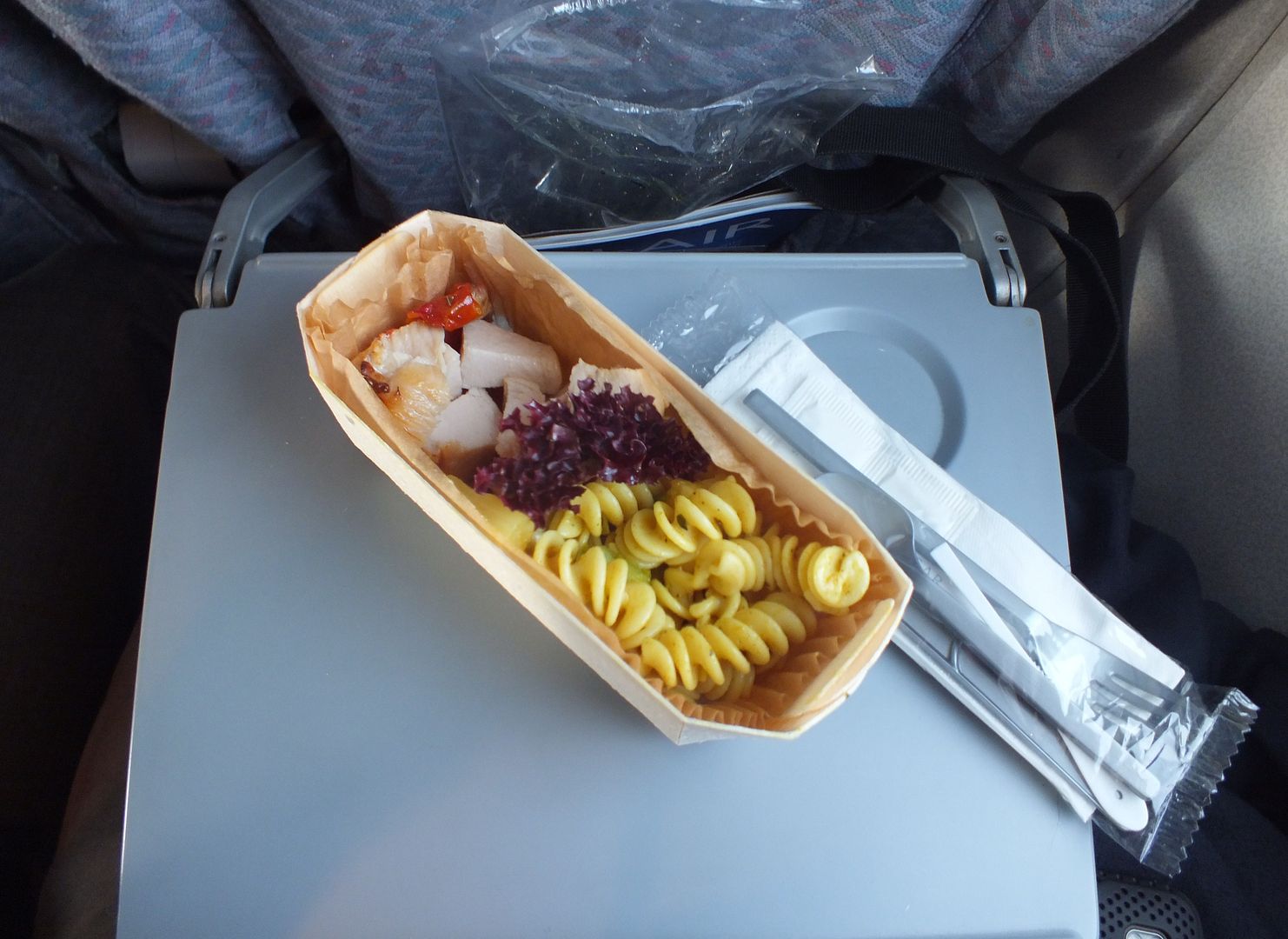 Nice drinks holder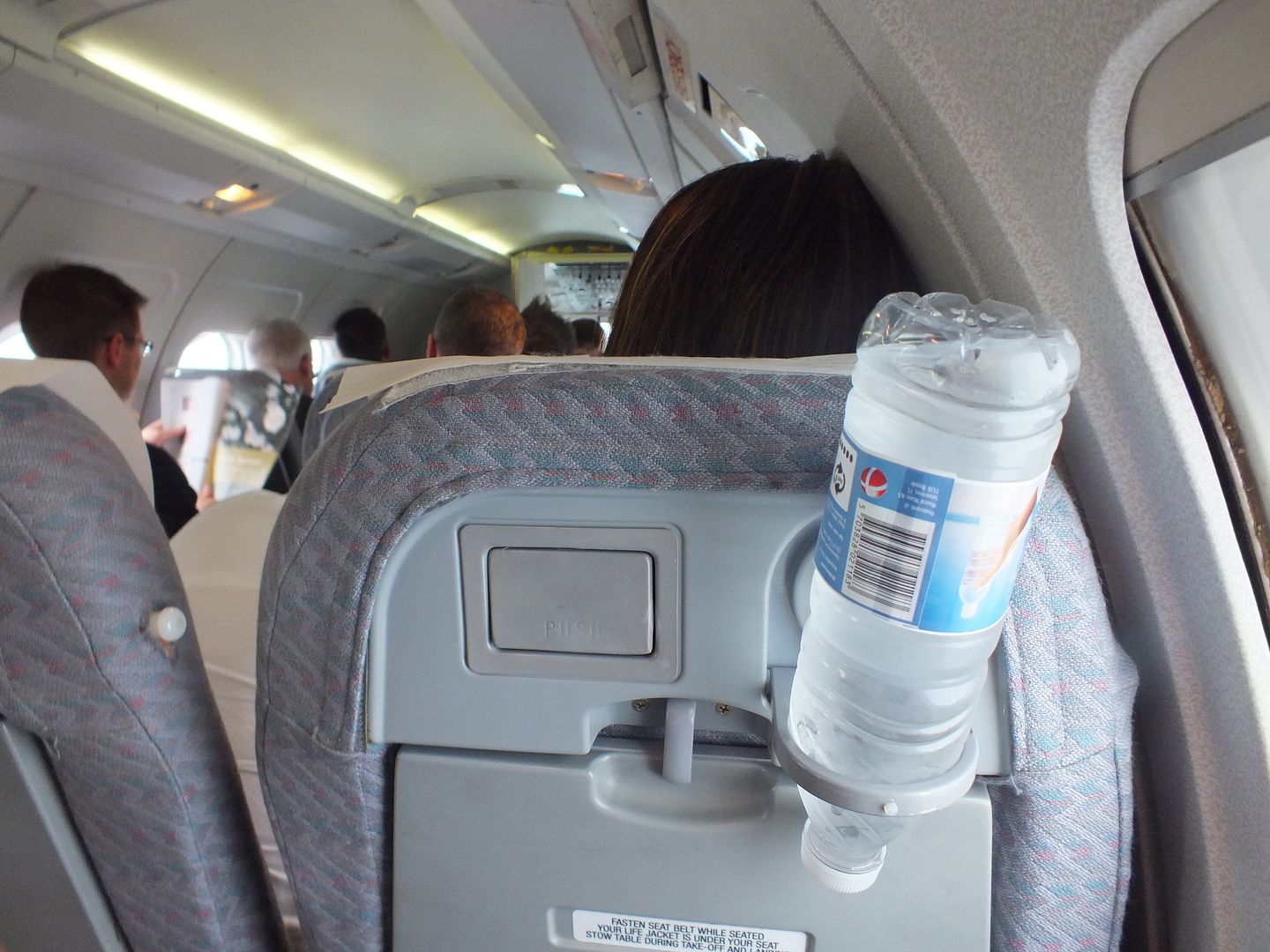 Watching the world go by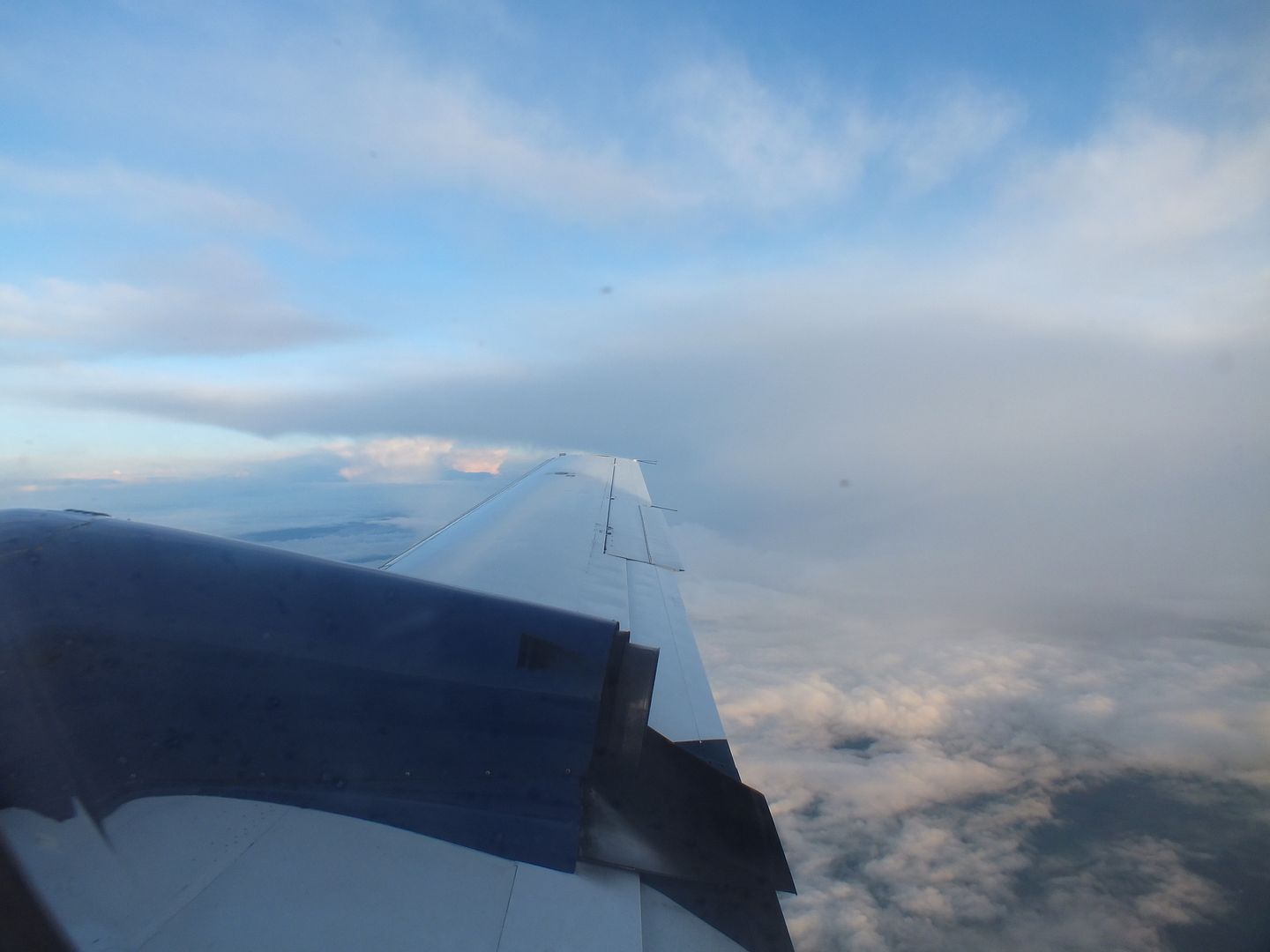 Safety card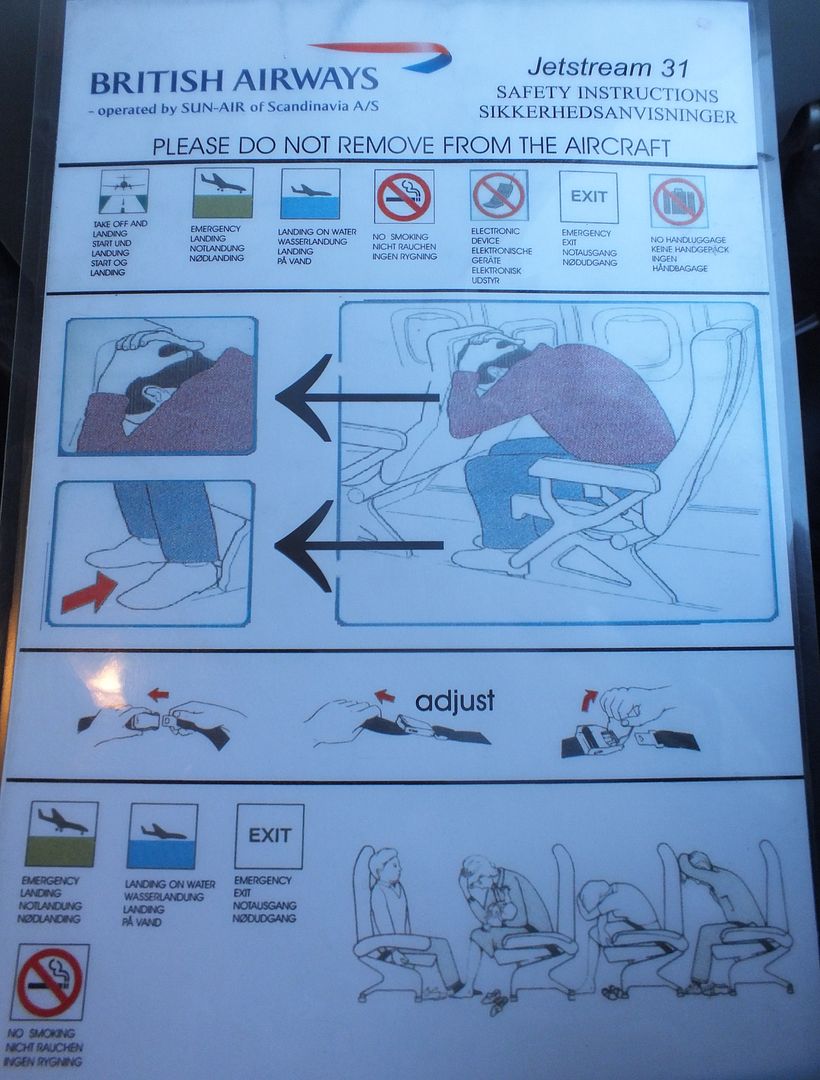 Sun Air Magazine
Lovely colours
Nearly half an hour behind schedule, we touch down in the quiet Billund Airport. The landing video can be found
here
.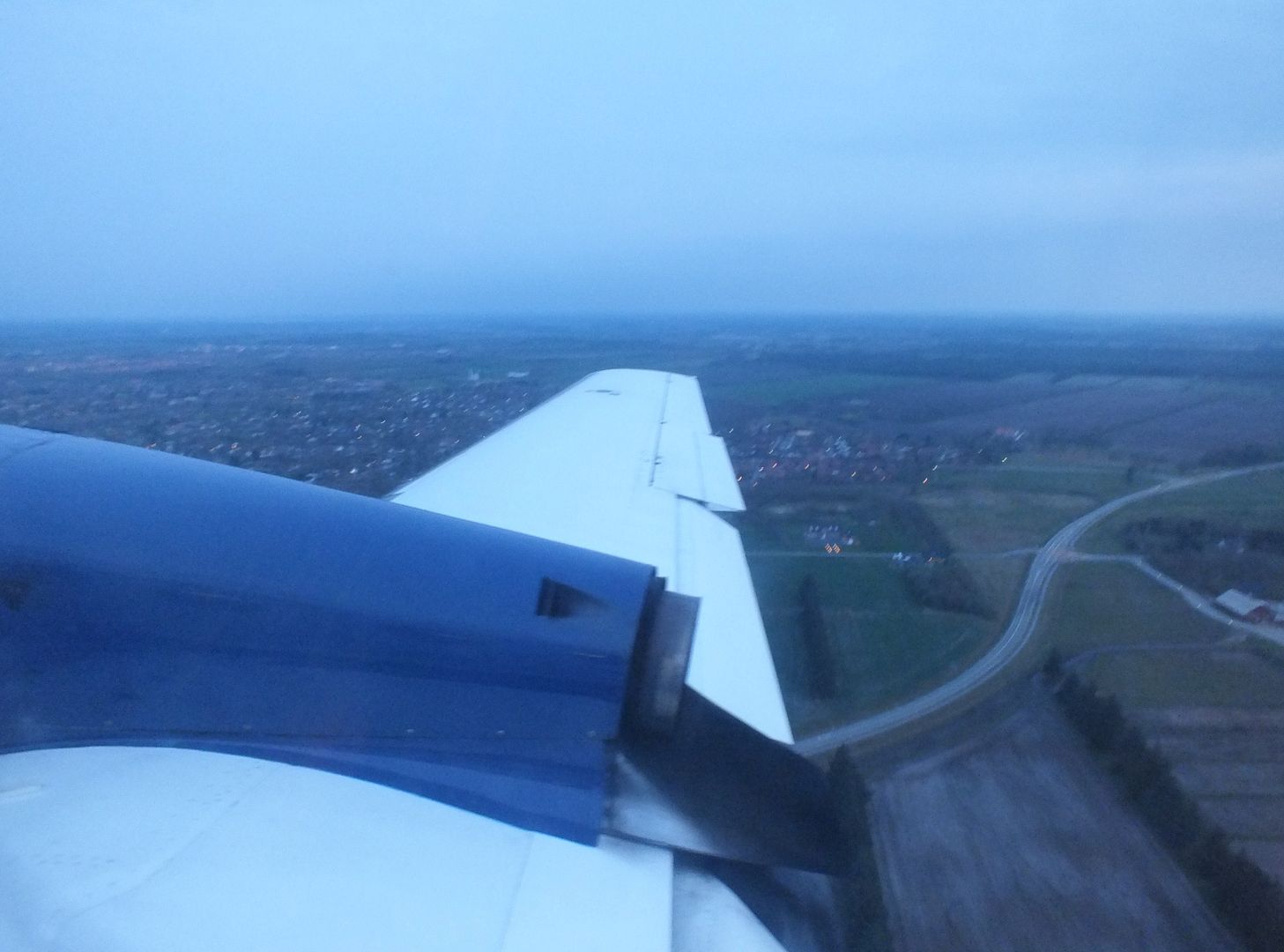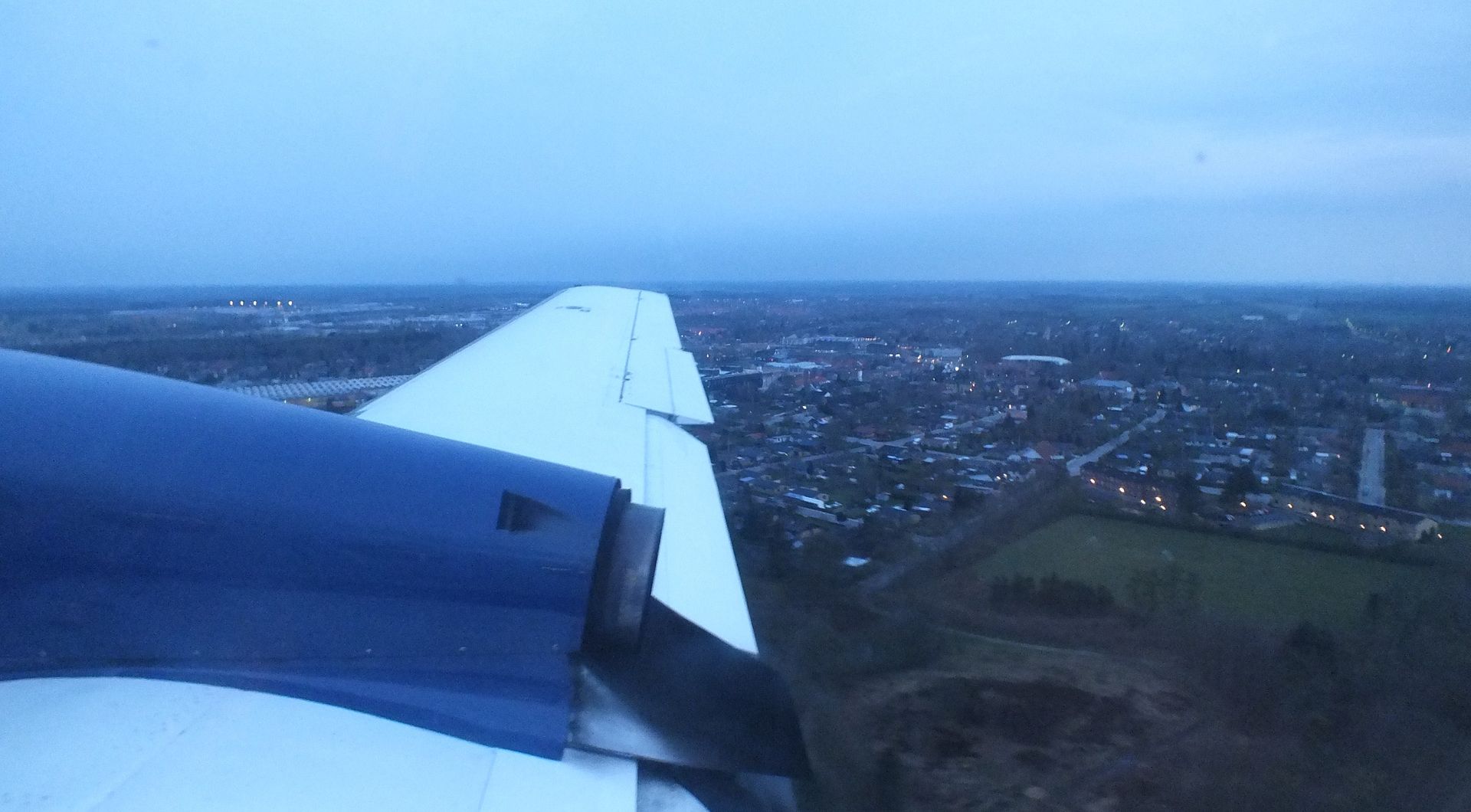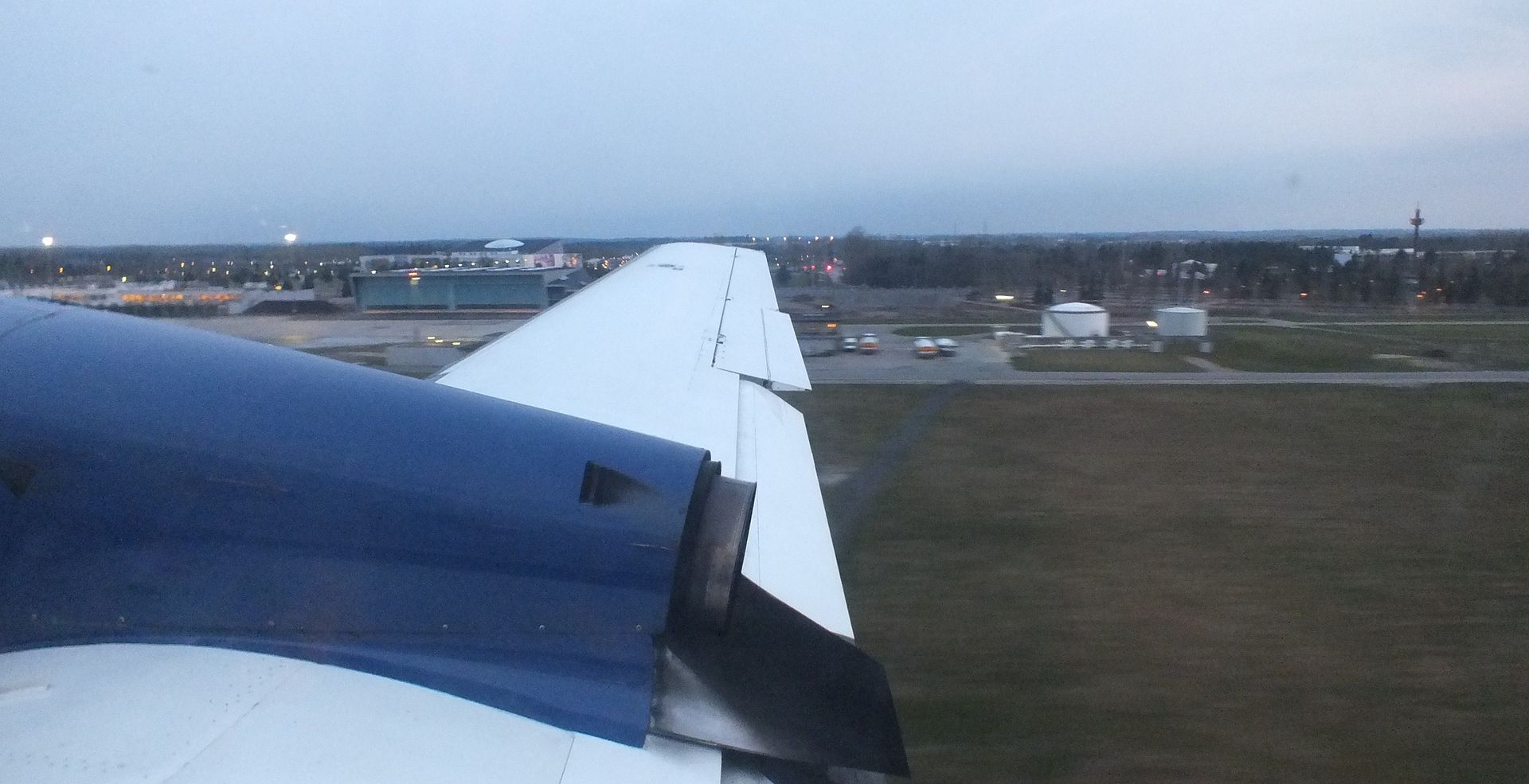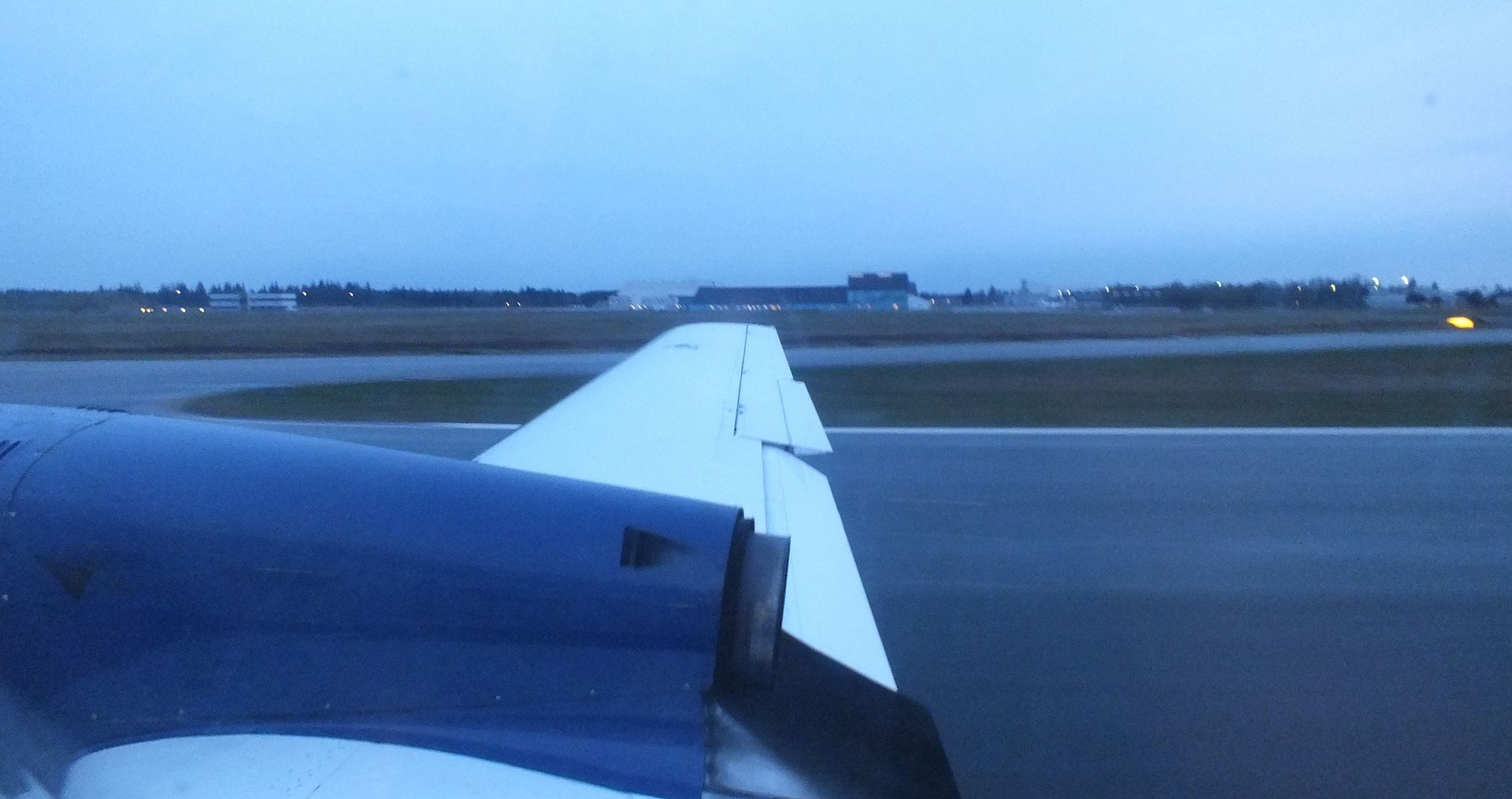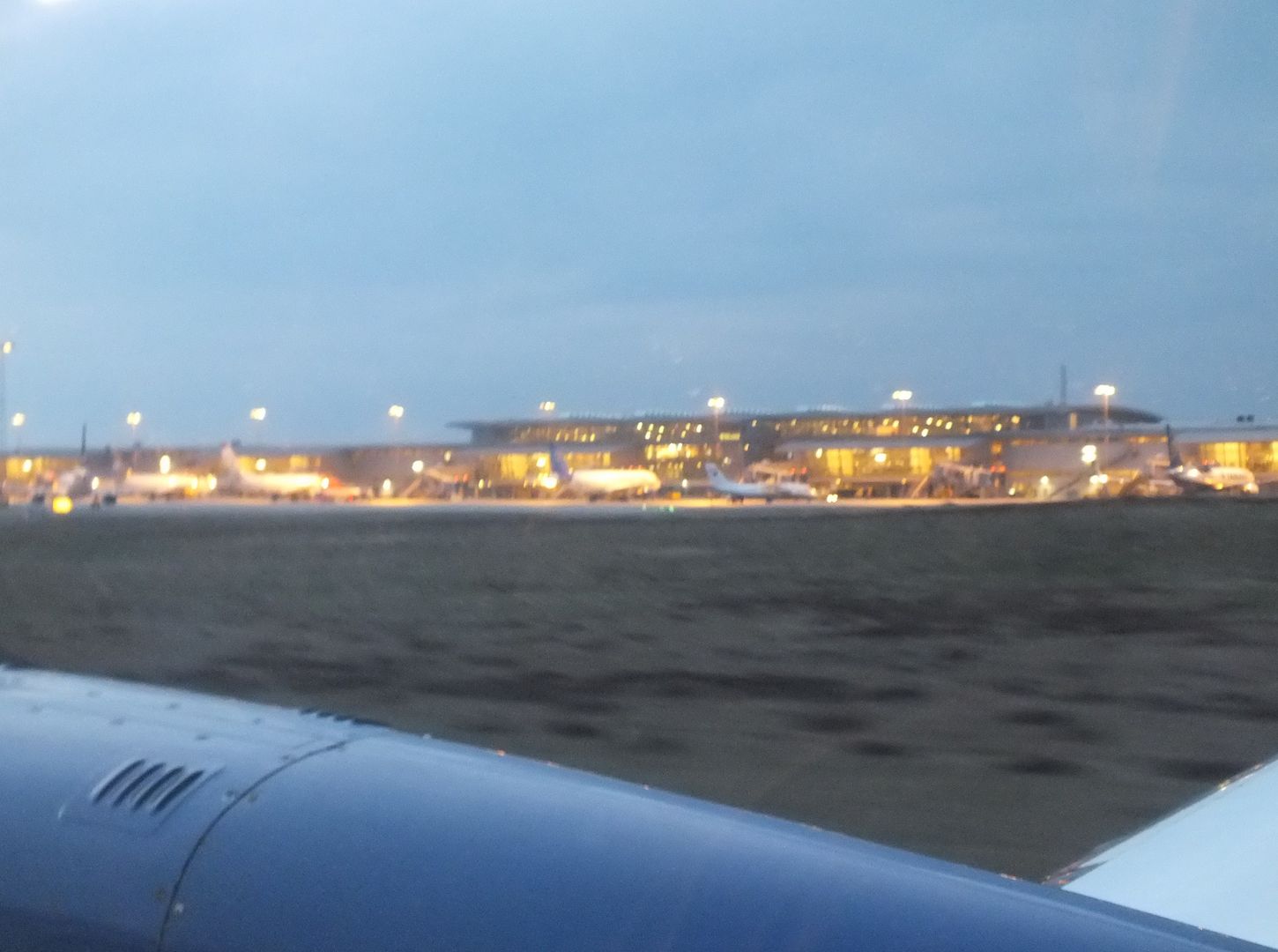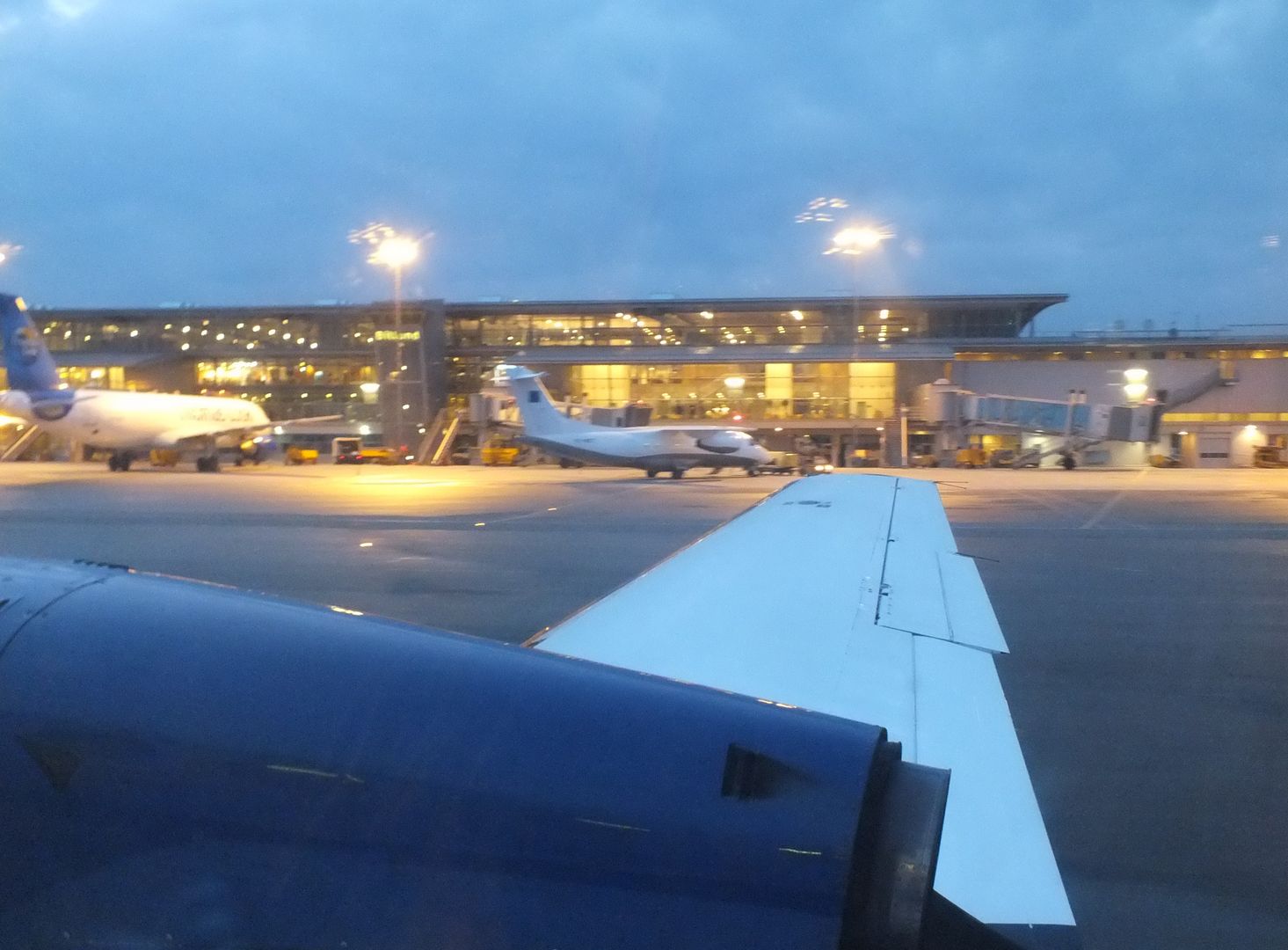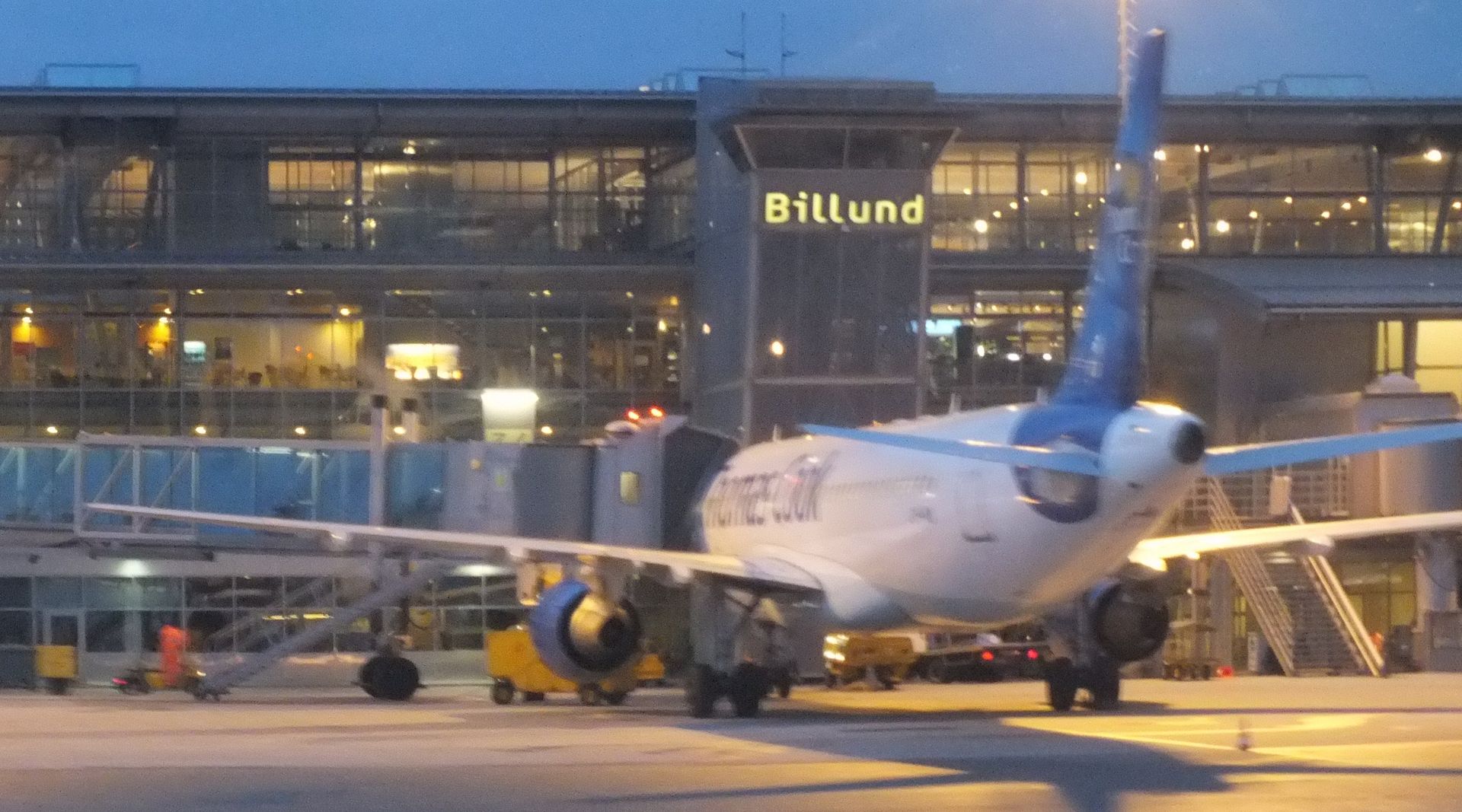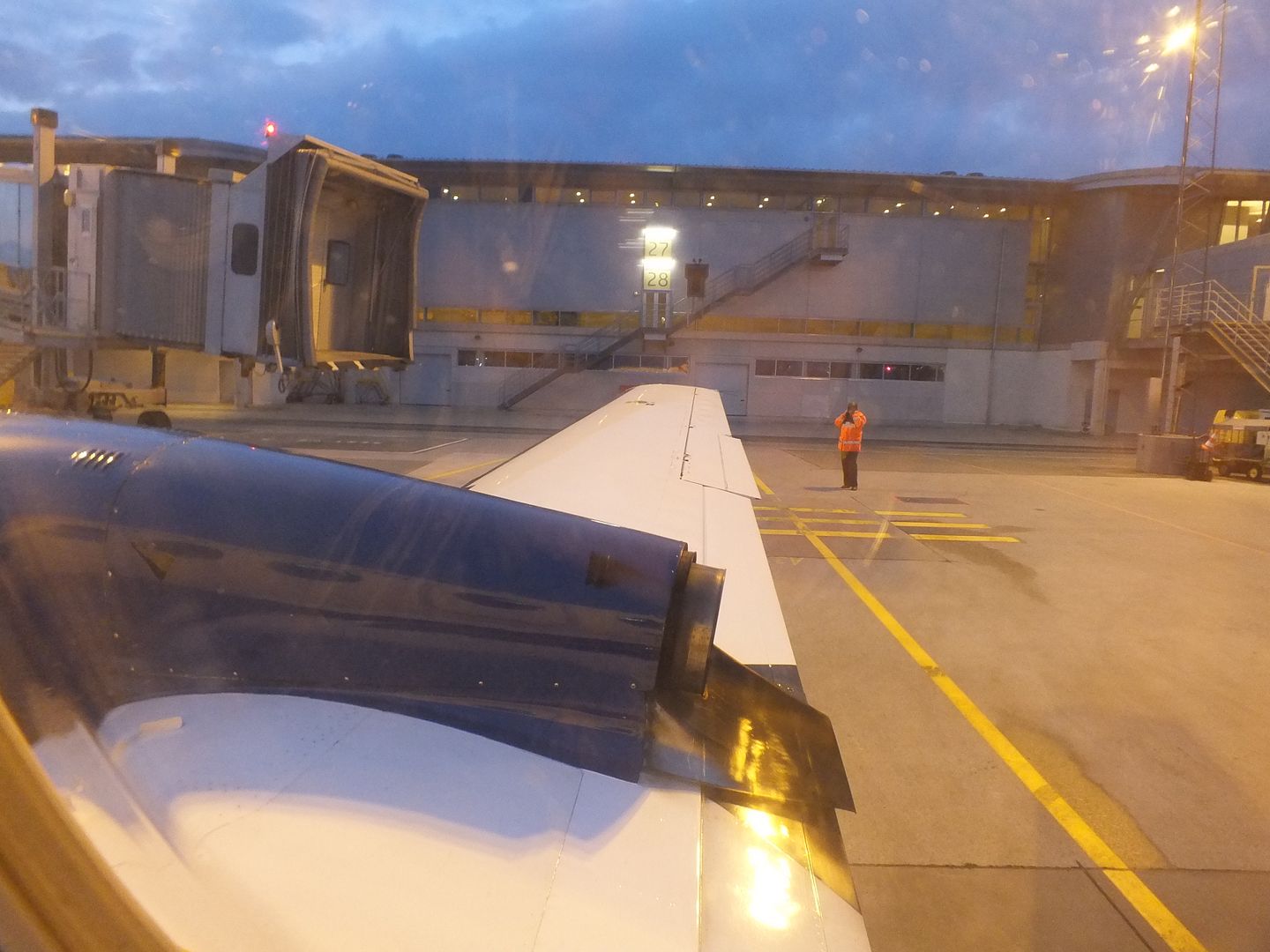 I waited until everyone else was off, so I could get some cabin photos
Goodbye little plane! Doesn't it look great in the BA colours? Shame BA don't fly this out of LHR!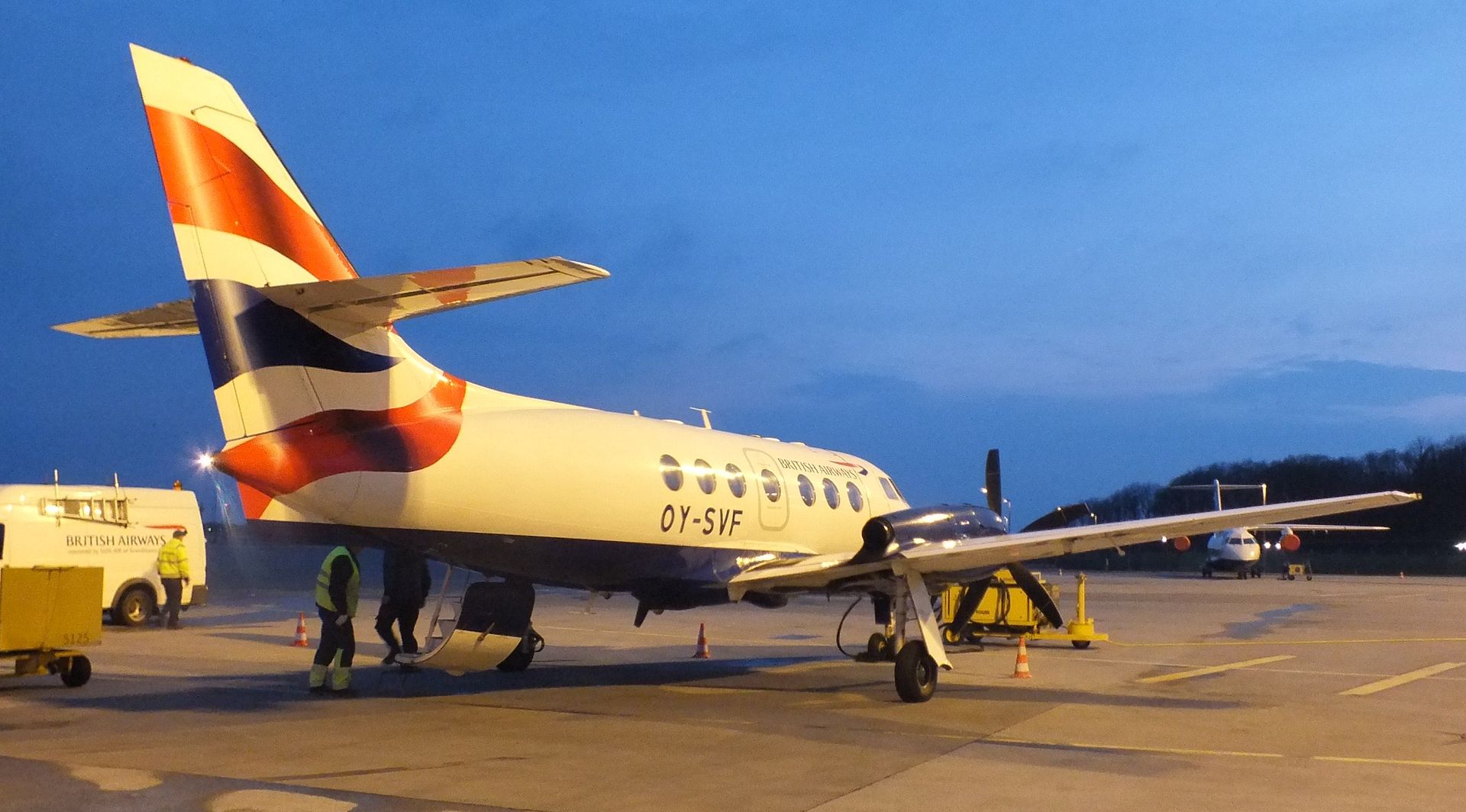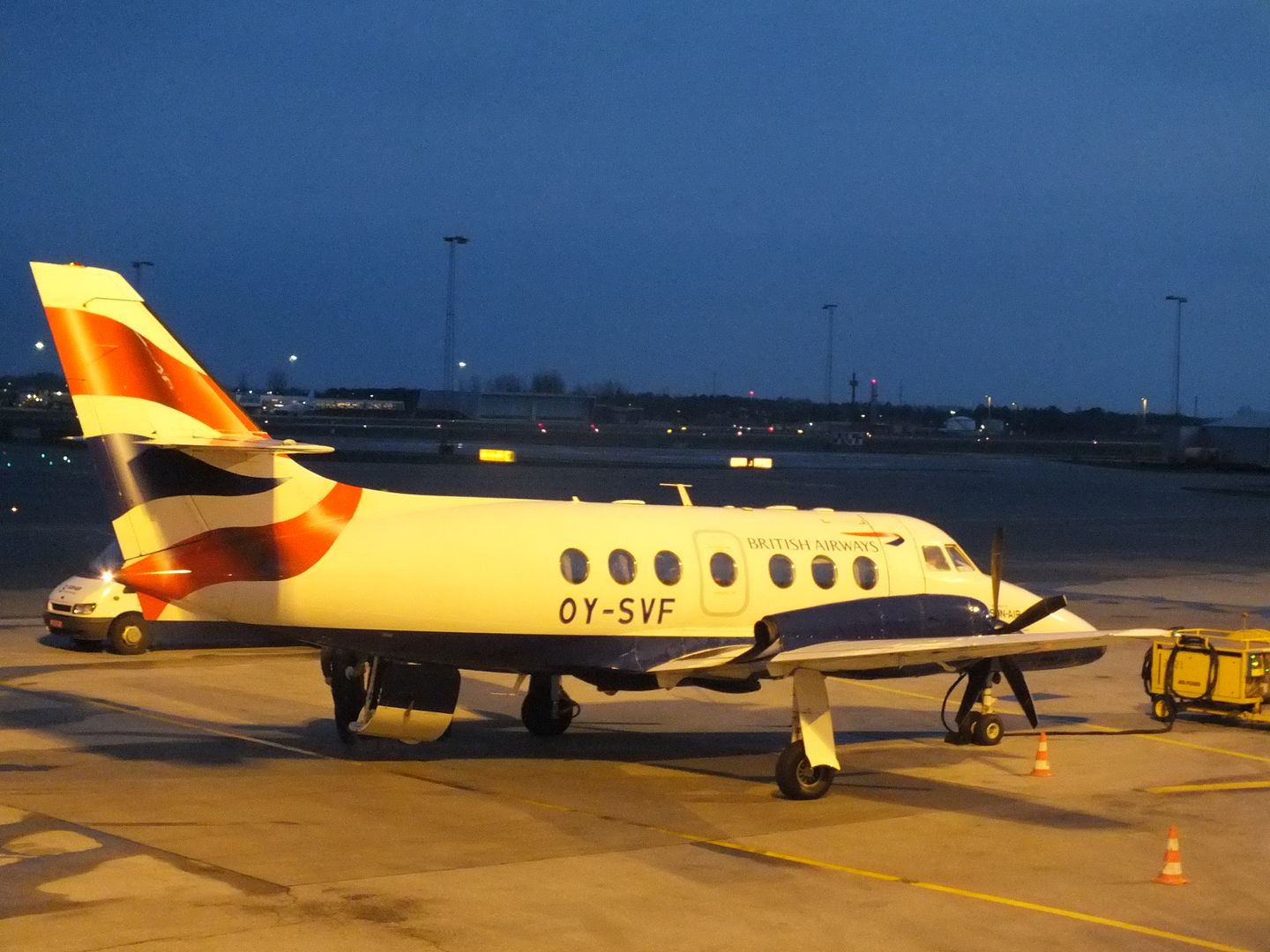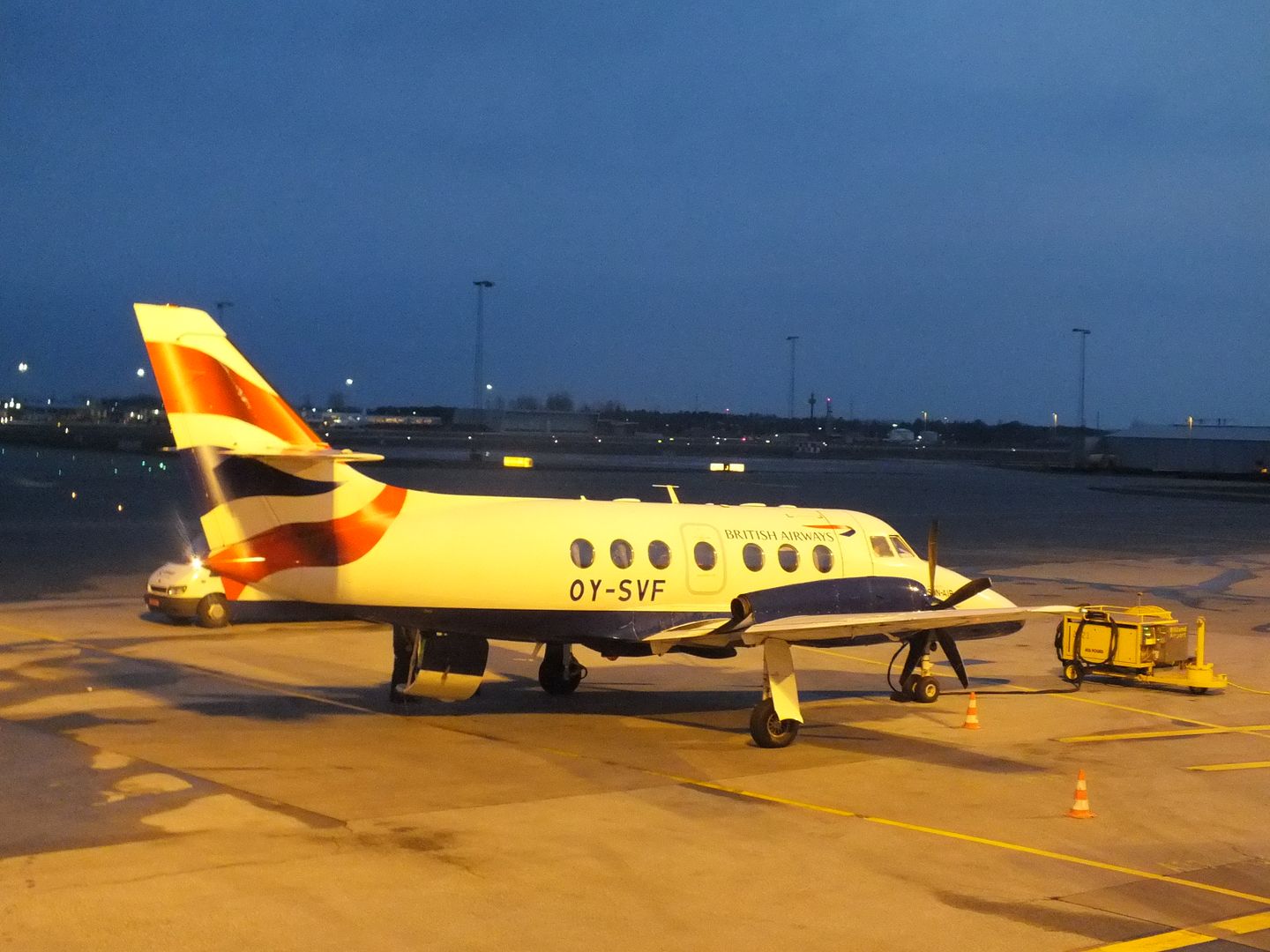 The corridor to arrivals
There seemed to be a bit of delay for the ground crew to open the doors to arrivals. By the time I arrived, the door were open, and most of the pax had already gone.
My bag was already going around by the time I arrived.
I paid a quick visit to the Tourist Information office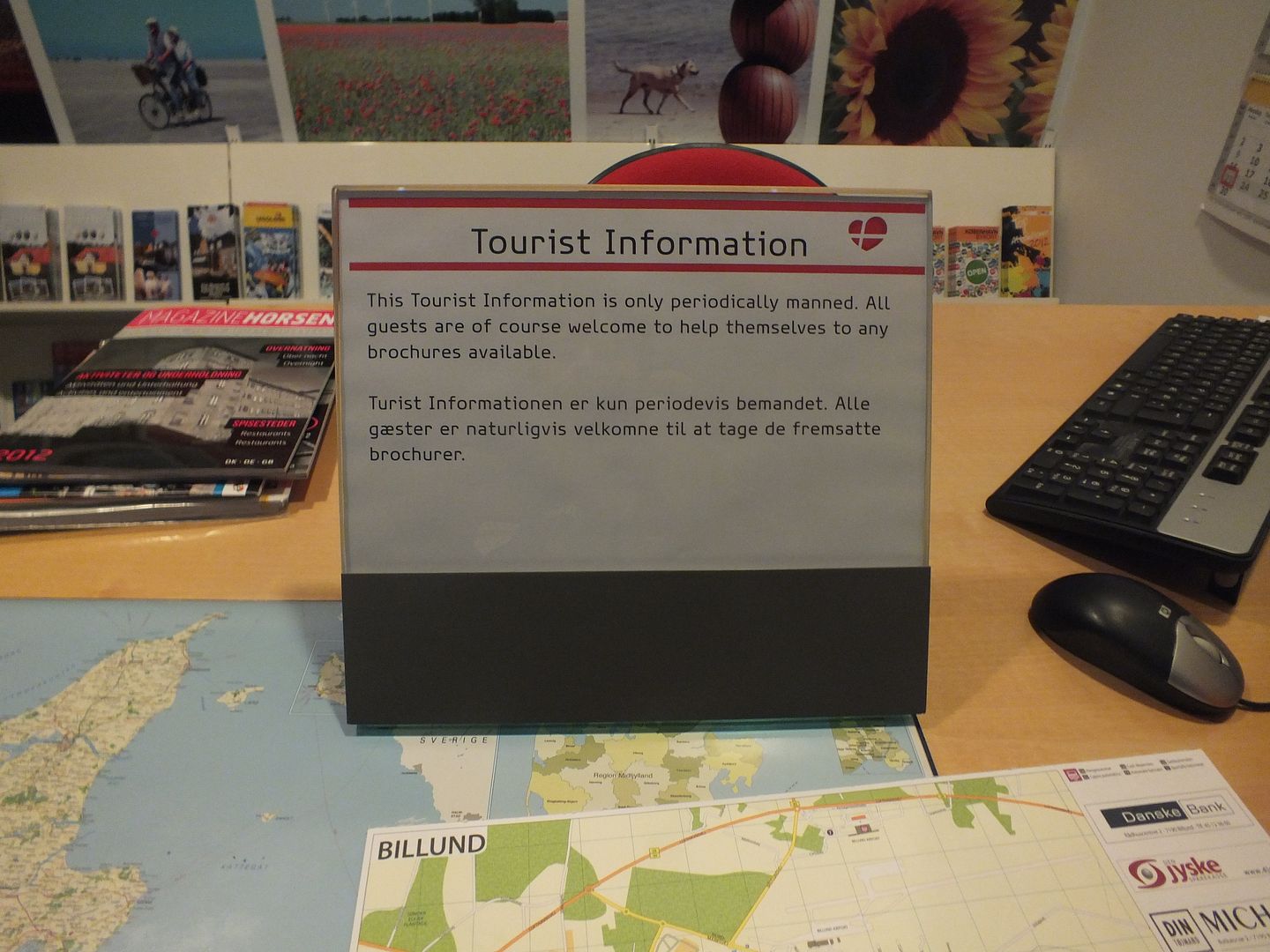 Then headed outside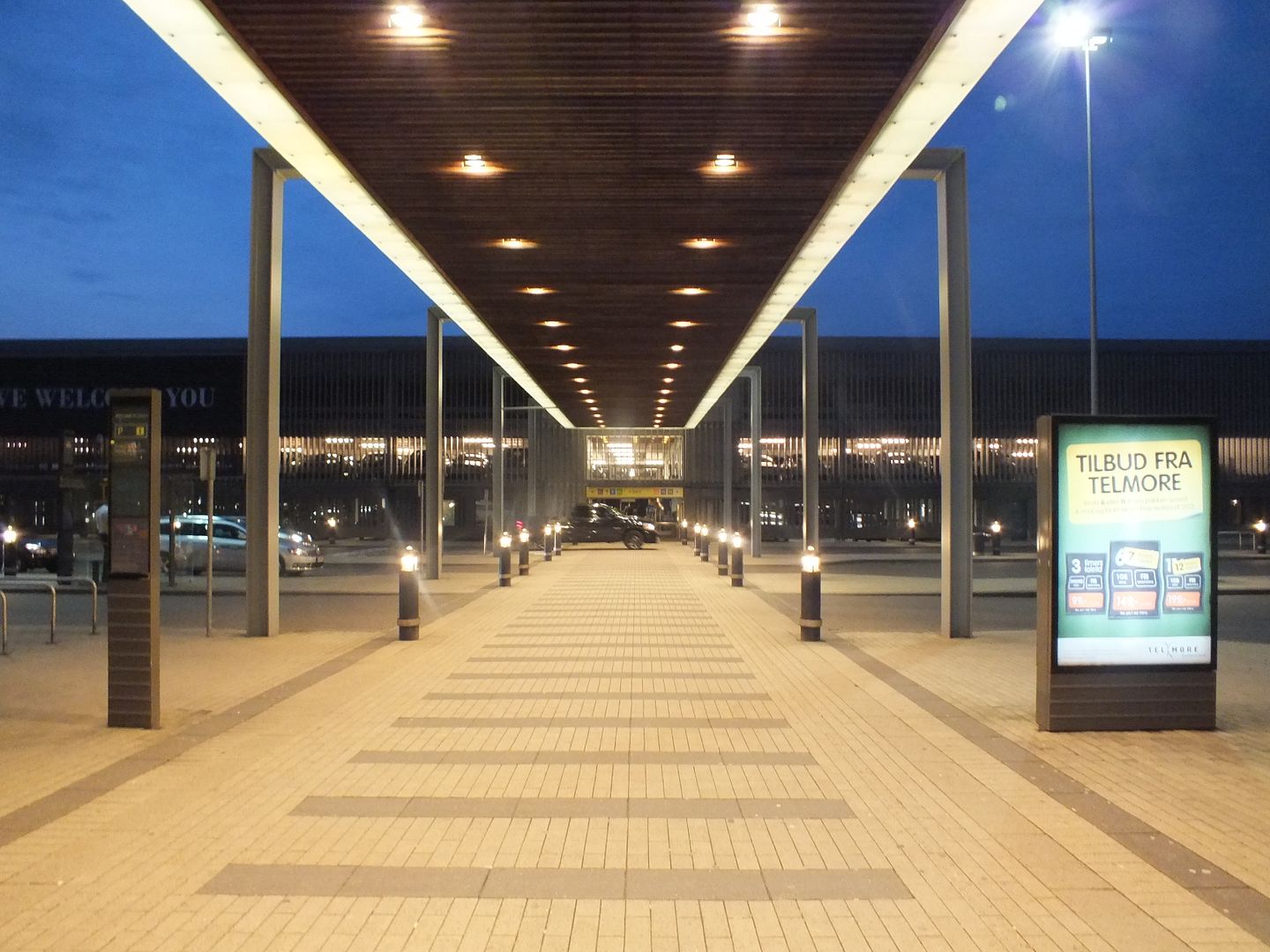 Due to the high price of everything in Denmark, I wanted to Couchsurf for my one night in Billund. Unfortunately, I didn't get any good offers. So, which hotel? The Legoland hotel sounded interesting, but was super expensive. There was a motel sort of place near the airport, but it was also quite pricey. In the end I booked a B&B about 4 km from the airport. What I had negated to factor into the costing was the taxi ride. In the end the drive took about 5 minutes, covered 6km, and cost a whopping GBP 18 (EUR 23/USD 29)!
In an effort to console my wallet with a joke, I said to the driver "Wow, everything's expensive in Denmark!". He then had the nerve to say "No, it's very cheap here", without a hint of sarcasm. ("Um, no, I think you'll find it's bloody well not"). Given the geographical location of BLL, I guess a lot of his taxi fares to nearby towns would end up costing many time the price of the flight. Truly ridiculous. Still, I'd made it to my B&B (Gregersminde).
http://my.flightmemory.com/shefgab
Upcoming flights: AMS-RIX-BUD-VDA,ETH-TLV-FCO-LHR,STN-TXL-LCY,LTN-CPH-LTN,LGW-SZG,MUC-LHR