After spending a few days in El Paso, it was time for me to go back to work in Iowa. From ELP I flew to LAX, then took the red-eye to ORD and was ready for my next adventure on Air Choice One:
Sector:
Chicago O'hare (ORD/KORD) to Burlington, Iowa (BRL/KBRL)
Date:
June 4, 2012
Aircraft:
Cessna Caravan
Registration:
N732MD
Scheduled Departure:
08.05
Actual Departure:
08.05
Scheduled Arrival:
09.45
Actual Arrival:
09.31
Seat:
1A
Load:
4/8 (50%)
Note: This is the return trip that I took with Air Choice One. The first flight I took with them was from BRL to ORD, and I wrote up a TR on that here:
Air Choice One: BRL-ORD On Cessna Caravan
(by
flyingdoc787
Jun 16 2012 in Trip Reports)
Check-in:
I showed up in the departures area of O'hare's Terminal 3 and was able to check-in by 6:45am. I was the only passenger at that time, so there was no line at all. I had one item to check-in, and with Air Choice One, bags fly free! After putting the destination tag on the bag, one of the staff members asked me to bring my luggage to the "funny looking guys in blue".
With boarding slip in hand, I went off to security.
Air Choice One check-in counter in O'hare Terminal 3
Baggage tag on 3E 277 to Burlington (BRL), Iowa
Pre-departure:
Following the advice of the check-in staff, "Go all the way to the end of the terminal until you can't go any further – that's where our boarding gate is", I found my way to the Air Choice One gate, L9. (But we actually boarded through a door marked L10B)
Boarding gate podium
Door leading to the tarmac
While waiting for boarding to begin, I stood by the windows and eagerly anticipated the arrival of our aircraft. Sure enough, at around 7:35am, a Cessna Caravan taxied into position on the tarmac. I happily snapped away, and all of a sudden a guy standing next to me chuckled and said, rather sarcastically, "Is that the plane we're riding on today?" I turned and replied excitedly, "Yes, so are you going to Burlington too?" His face fell and he couldn't utter a word.
Then I realized he was a passenger on the Spirit flight that was boarding at the nearby gate, and that he had no intention to fly on the Cessna. So I just saved the day by smiling back and continuing my picture-taking. Then he quietly left, leaving this aviation freak alone.
My plane, compared to a 737:
Another shot of the Cessna Caravan
Close-up:
A few minutes later, I noticed some activity on the ramp right beside the Cessna. I wondered why, since we hadn't been called to board yet. Then I saw the reason: there was another Air Choice One flight coming in! It was the flight from Decatur, Illinois, which was scheduled to depart a few minutes after our flight to Burlington, on its way back to Decatur. I was really happy to see two Cessna Caravans of Air Choice One at the same time!
The second Caravan coming in to park:
Boarding:
At around 7:55am, an Air Choice One staff member went on the PA system and announced boarding for Burlington through gate L10B. Since there were only four of us, he knew who we were, and waited by the door for us to line up. Once all souls were accounted for, he opened the door, and we followed him down the stairs and onto the tarmac. We were directed to one of the Cessna's that was waiting there. This time I got to ride another registration, N732MD. The plane I flew on coming to ORD from BRL a few days earlier was parked right beside us – it was going to Decatur today.
Passed by this Spirit Airlines A320 on the way
Boarding the Cessna Caravan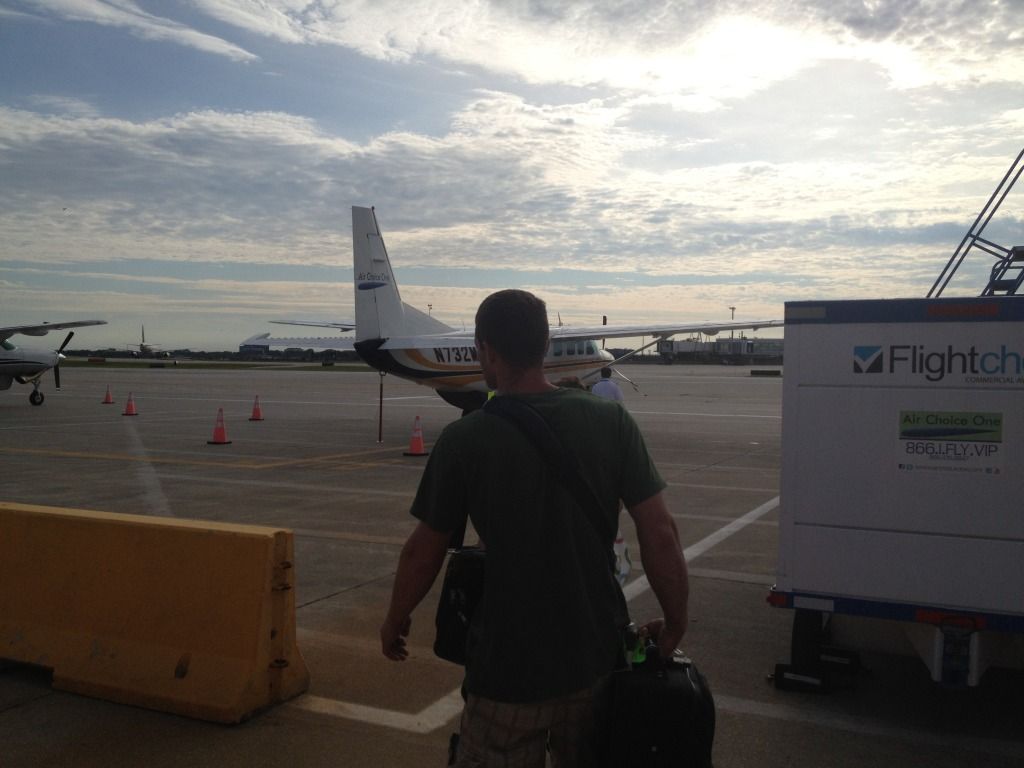 Friendly staff took my picture!
Hello there. You look familiar!
Flight:
LF today was only 50% (4/8). The seat configuration of this plane was different from the one I flew on previously. This one also had eight seats, but they were arranged so that the middle section had seats facing each other. Also, the seats on this one felt more luxurious than on the other plane.
Nice comfortable leather seating:
Legroom shot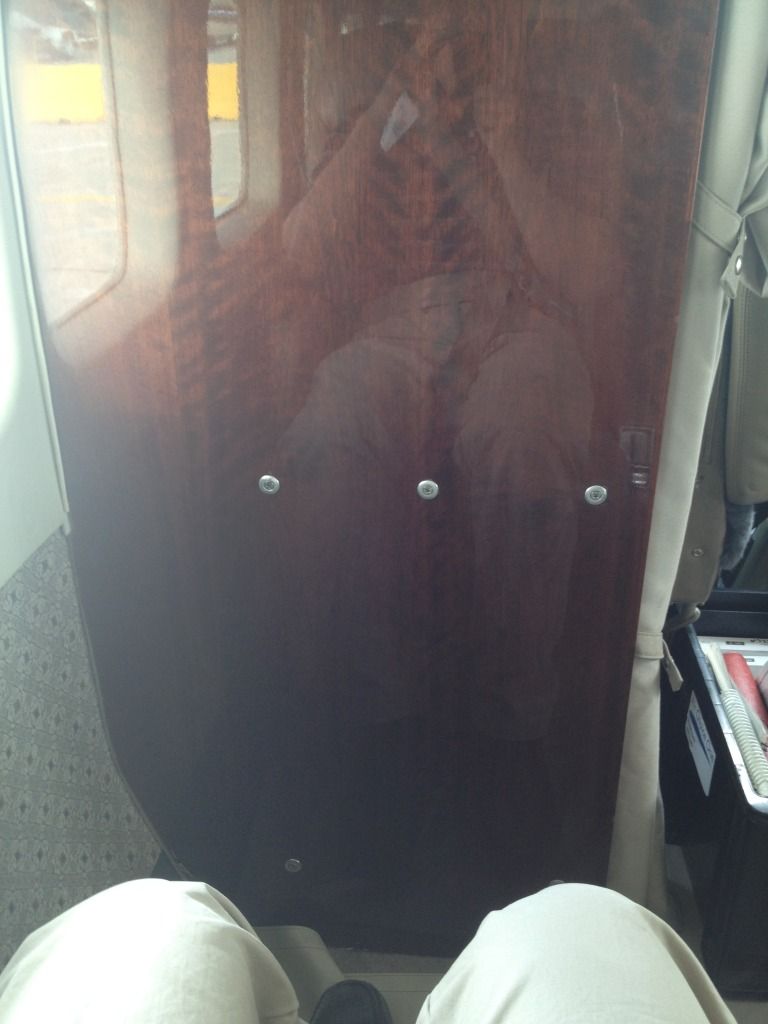 Just like on the previous flight, the captain gave a brief safety talk and wished us a pleasant flight, then he turned around and did a pre-flight check, and soon enough the single engine roared to life and we were on our way. We taxied out amidst the bigger jets (even the ERJ's and CRJ's looked big from inside a Caravan!) and took off on Runway 28 right on time. I had my GPS on, and tracked the flight in real time as it taxied and took off from the runway!
Chicago O'hare Control Tower, as seen from the Cessna Caravan
Taking off from O'hare
The flight was uneventful. I played some games on my phone, listened to some music, and took a nap (I was still sleepy since I hardly slept on the previous red-eye flight from LA). There were lots of clouds along the way, but occasionally they would break up and I would catch a glimpse of the fertile Iowa farmland below.
Logbooks and Manuals
Can you see the shadow of the plane on the cloud?
Landing:
Unlike the other 3E flight, this time the captain made a pre-landing announcement, in which he basically said we were soon landing, and thank you for flying Air Choice One. We landed smoothly on the runway. It was good to be back in Iowa!
Descending into BRL: view from passenger window
Descending into BRL: view from pilots' window
After a smooth landing, we taxied quickly to the terminal
Back in Iowa! Thank you Air Choice One!
View of the plane from inside the terminal
The Burlington Airport terminal
[Edited 2012-06-18 16:41:44]