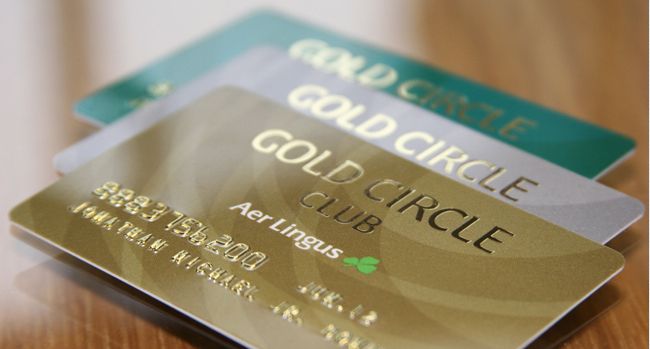 Hello and welcome to my latest report . It was early May that Aer Lingus offered myself and another Anetter a free status match to the Aer Lingus Gold Circle Club. Aer Lingus kindly offered us their top tier Elite status and not long after the match we had our cards and tags delivered to us . Aer Lingus must have then seen an opportunity as shortly after they emailed current Gold Circle members and started to advertise the fact that they were matching former BMI Golds. Posters appeared at Dublin Airport and a website was set up .
For many years in the 90's I used to be top tier with Aer Lingus and back then they were a Oneworld member. I used to fly EI and their partners all the time . Then Aer Lingus left Oneworld and went down the LCC route. The Gold Circle club became very lame and I decided to switch to BMI and Star Alliance. Fast forward a decade and Aer Lingus seems to be finding their way again and starting to enhance their Gold Circle club again . New lounges and ability to choose Gold Circle points earning fares have all been a welcome change.
I never thought that I would be Gold Circle Elite again or even be interested in it but this offer from Aer Lingus was a welcome change in policy and made me think twice.
So time to book flights and of course this time the choice would be Aer Lingus
It was my Mothers 60th Birthday and so I had to be there . I decided to book Aer Lingus DUB-LGW. The weekend also clashed with the Queen's Diamond Jubilee celebrations but I was quite looking forward to being in London for that . I decided to take the first early morning flight into LGW despite working til midnight the day before . I would be tired but what can you do .
The Friday night at work went quicklty enough and when I left at midnight it was time to head home to take a quick shower and then head back out to get the 2am bus to Dublin Airport from Newry .
SMS from Aer Lingus :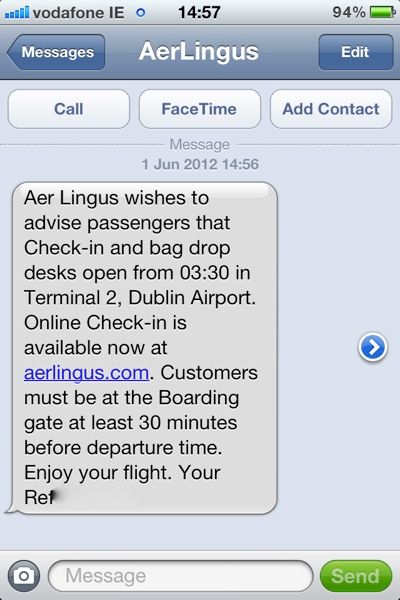 The bus was quite full with people all heading on holidays . The journey was only one hour so by 3am I arrived into Dublin Airport.