Introduction
This is the first part in my Summer 2012 US Trip Report. It covers the flights to Brussels via Berlin Tegel on Lufthansa and Brussels Airlines, plus a quick a.net meet in Brussels.
For the introductory part and the background story, please see this:
- Part 0:
US Trip 2012 Part 0: Prologue (JYV-TLL)
(by
FlyingFinn76
Jun 12 2012 in Trip Reports)
The two flights making up this part: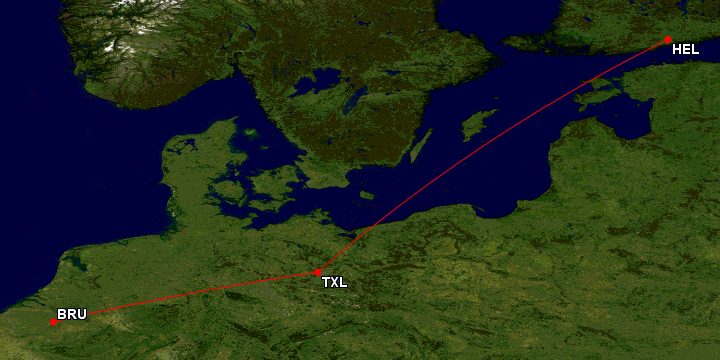 .
Wednesday 13.6.2012
The first day of my summer vacation is here, but no time for a long sleep in today! Somehow I end up missing the bus I intended to take but no worries - I'm on a holiday here and the next one will come in just ten minutes. It indeed does, and after the usual journey I step off at HEL T1 around quarter past nine, 1h10mins before SDT.
I'm doing carry on only (something which I sort of came to regret a few times...) so no bag to drop off, just upstairs to security, through the empty fast track lane (well the normal lanes are empty as well but hey, privileges are privileges) and onto the SAS lounge which is almost empty.
Some breakfast - a shame they only had a single pancake left, those things are yummy: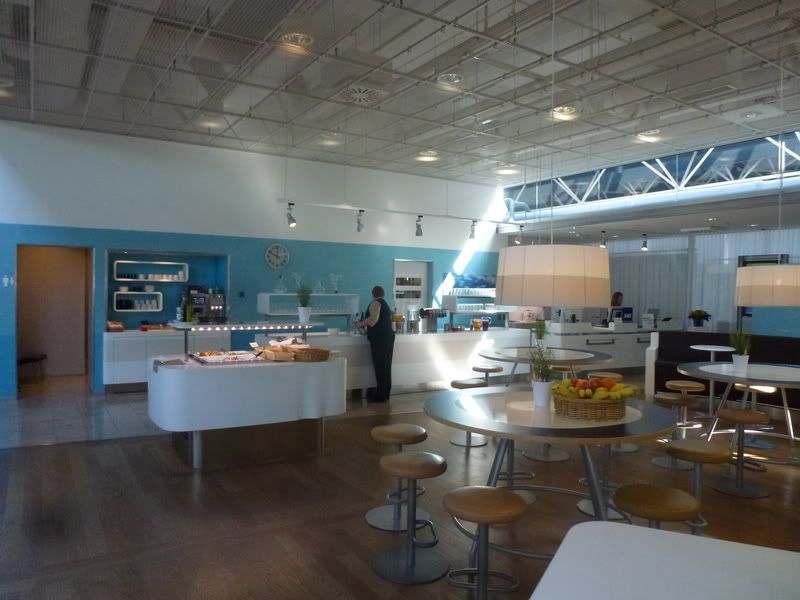 They bring out the lunch buffet a bit later but I decide to resist the temptation this time, although those mozzarella & tomatoes sure look good: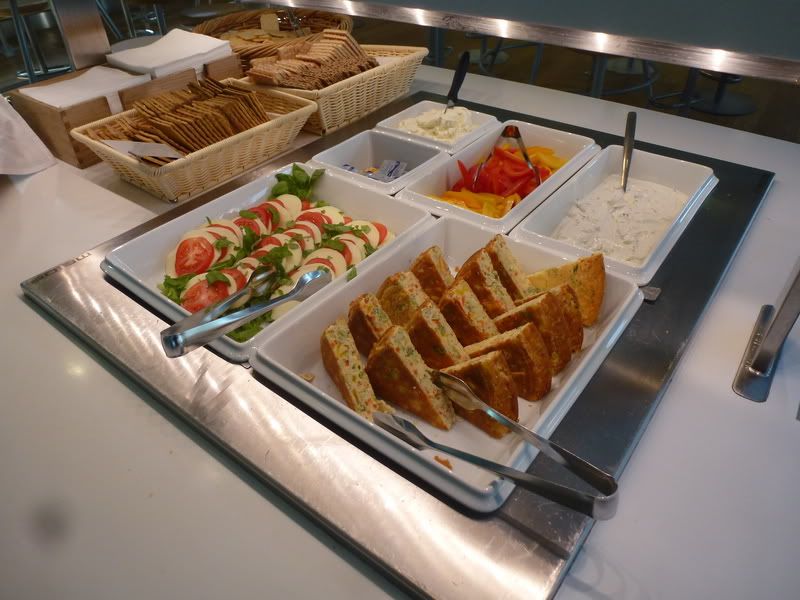 The gate today is 12, a hop, skip and a short jump away from the lounge, so no need to leave early. Instead I only do so after I overhear the PA announcement about imminent boarding.
Parked outside is the expected A319, "Sinsheim" is a fortunate new entry for my log and this will be my 101th A319 flight.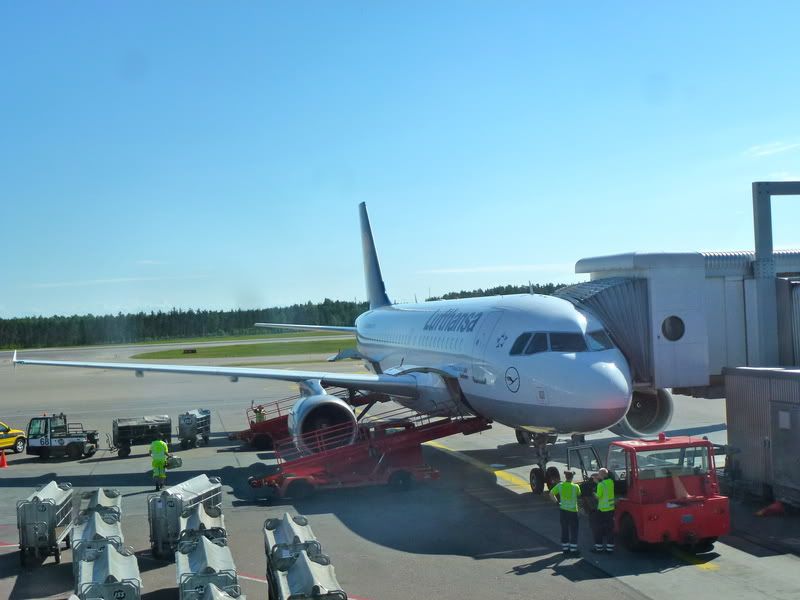 A bit of a queue - they announce that Business Class and Gold passengers can jump the queue but I decide not to - after all I'm on a holiday here!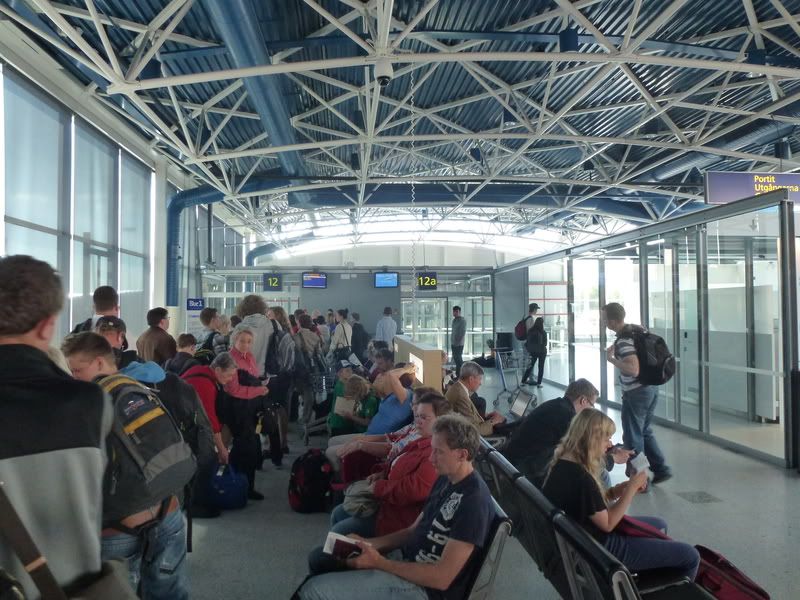 Dude, that is a huge carry on: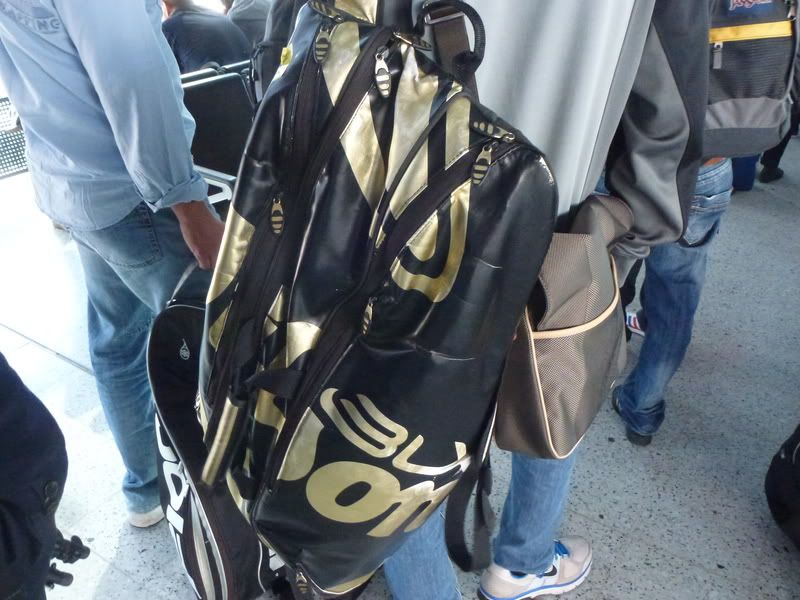 HEL - TXL
LH2975
A319 D-AIBF "Sinsheim"
Seat 25A
10.25 - 11.09
Quite business friendly welcome from the crew this time, very much to the point and the smiles seem to be faux. Oh well, fine with me, I'm in good spirits anyway!
The last row strategy fails this time as I get two seatmates, luckily not very large persons though. Rather good load as well in economy, at least 90% of the seats are taken. Not sure whether the three rows of business class have any passengers though, they didn't when I walked through.
Hmm, I never came to realize that Helsinki's ATR Apron is a good rival to Schiphol's Fokker Farm:
Flight time is announced as 1h35mins and push back is bang on time. And when we push back, we certainly push back - way back, past half of the ATR Apron before the tug finally stops and is disengaged: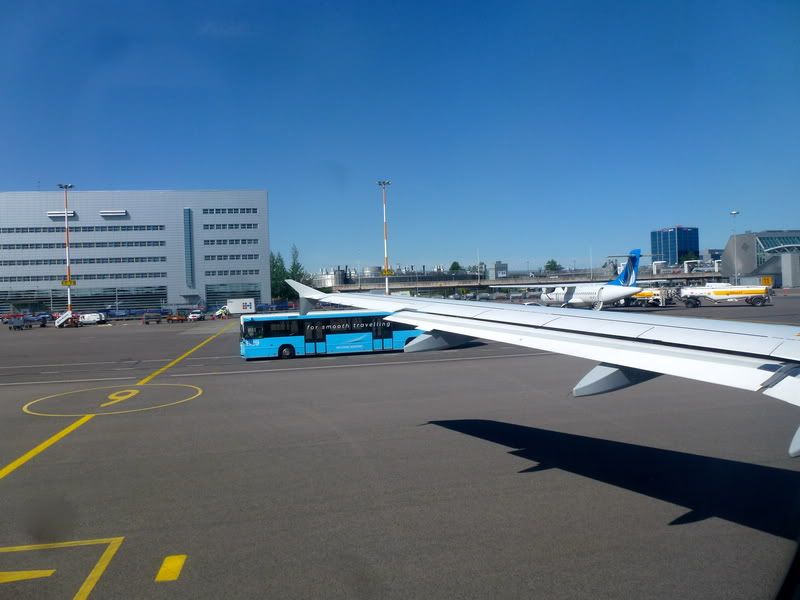 Must-have-717-in-a-report: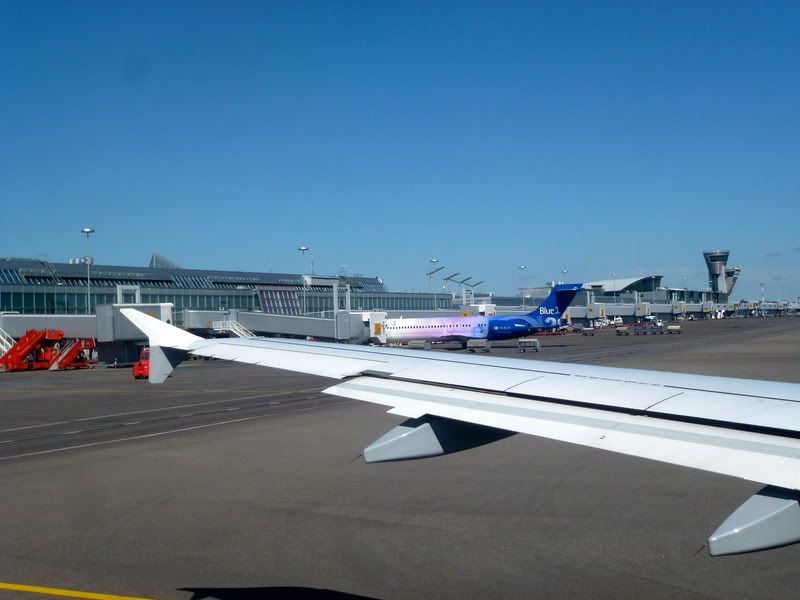 With the usual take off runway of 22R still being closed for resurfacing work we take off from 22L as usual, nice summer weather here in Finland today:
Hey, my current office is there, right next to the Pasila train station which is in the middle of the picture - sorry buddies, can't feel sorry for you, I'm on a holiday now: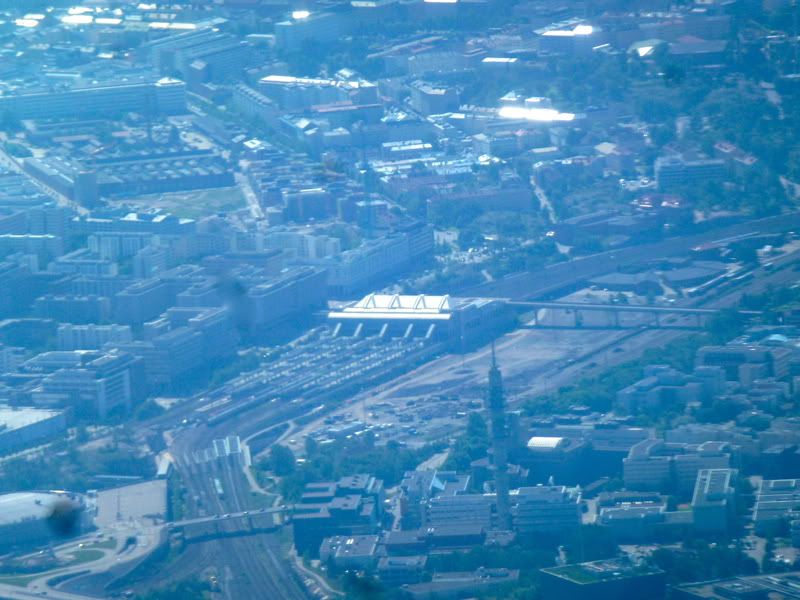 The island of Lauttasaari, the westernmost district of the City of Helsinki: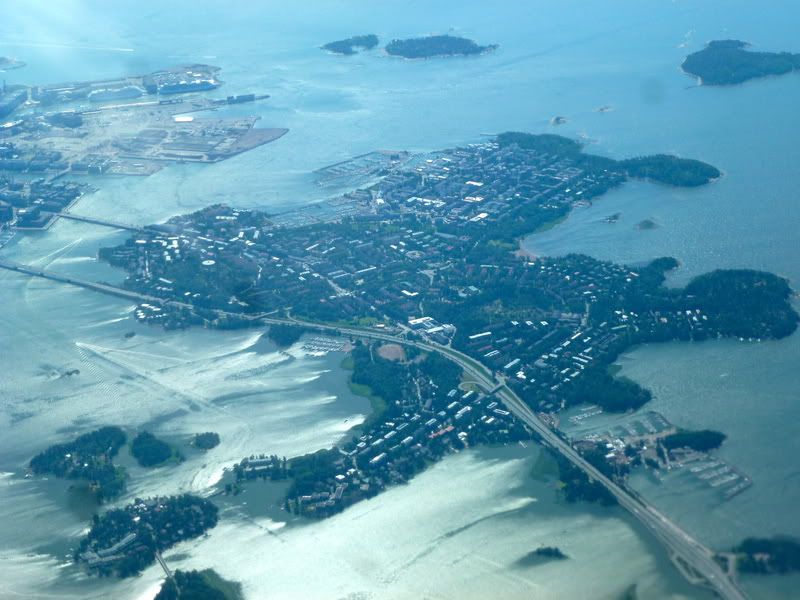 Blue skies and seas: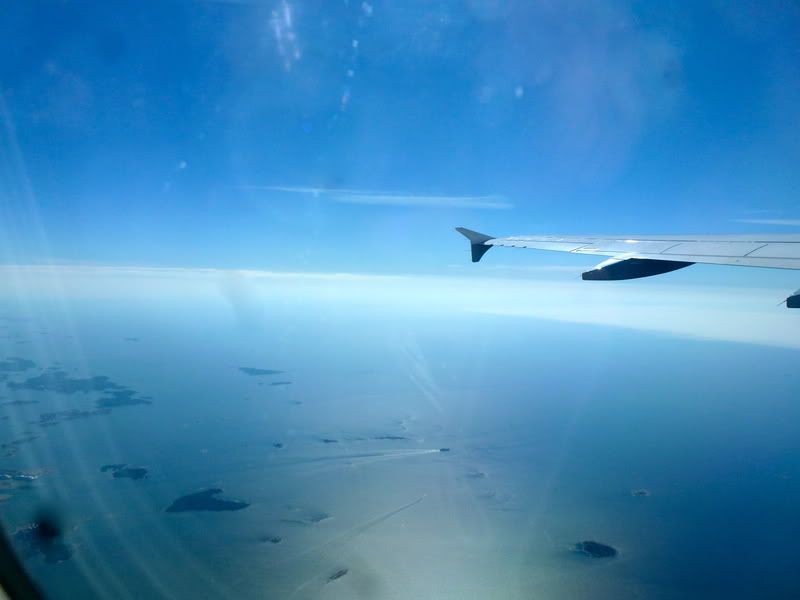 Service is the very same bag as when I took this flight less than two weeks ago on the other direction. I go for the cheese version - the sandwich is just as dry and tasteless as before and does not come with anything but cheese in it (ok, there might've been a dash of butter as well):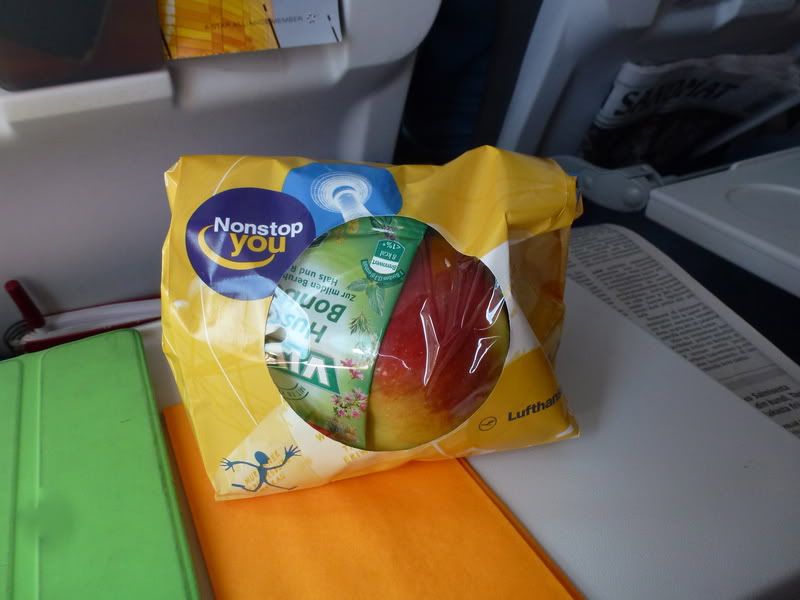 The service is definitely quite lacklustre - no smiles and the FAs collecting trash completely skip our row so I still have the trash on my table by the time we are well into our descent towards Tegel. A bugger as I'd wanted to ask for a second Warsteiner but as usual don't really want to use the call button. Oh well, there'll be free beer in the Tegel lounge, or so I thought...
Ventspils, Latvia's richest city: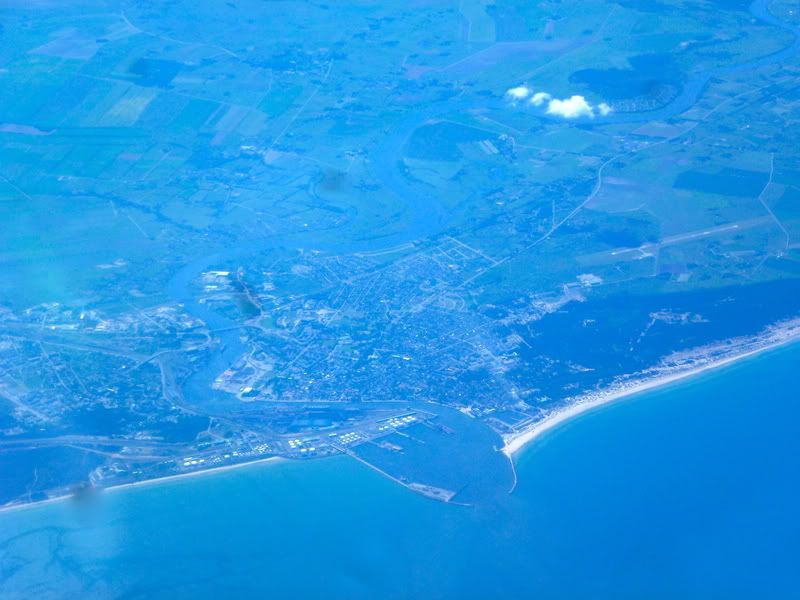 The Hel Peninsula marks our entry into Poland: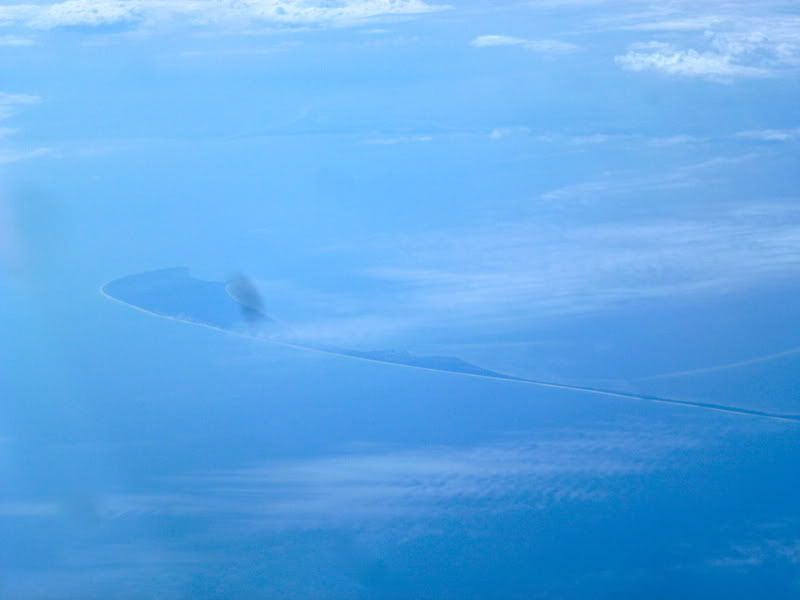 The weather in Berlin is not the best, thick clouds and showers, so no great views are to be had today: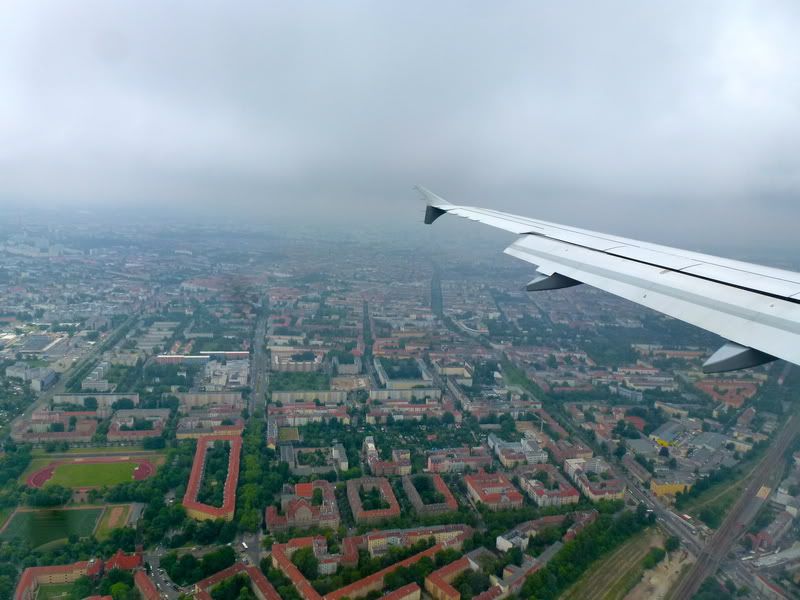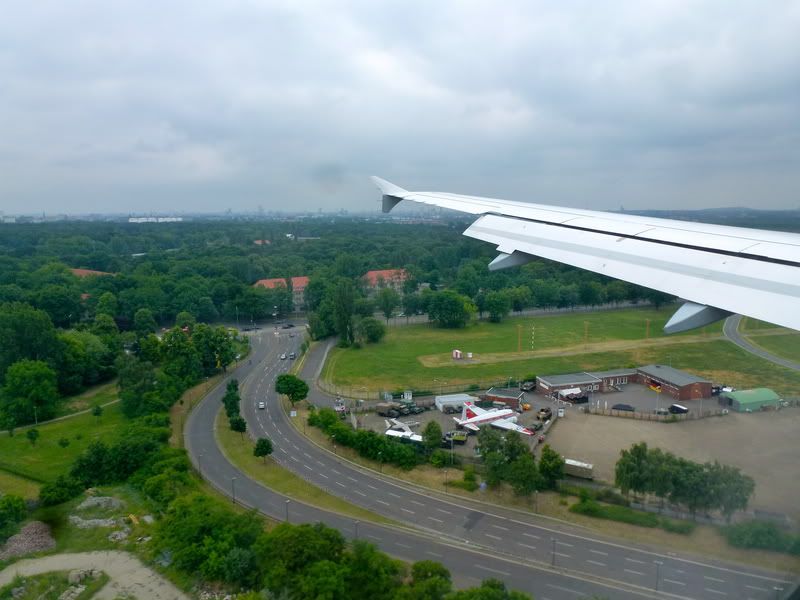 Landing on 26R:
Hey, one of the earlier SN flights is operated by one of the few 734s they still retain from Virgin Express, wouldn't mind flying one of those: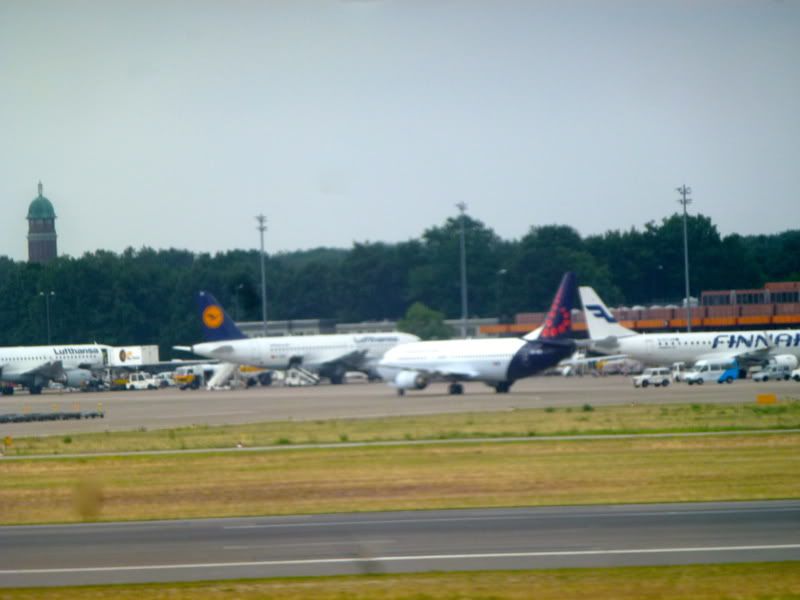 Holding short for a departing company bird on 26L - I really like this angle: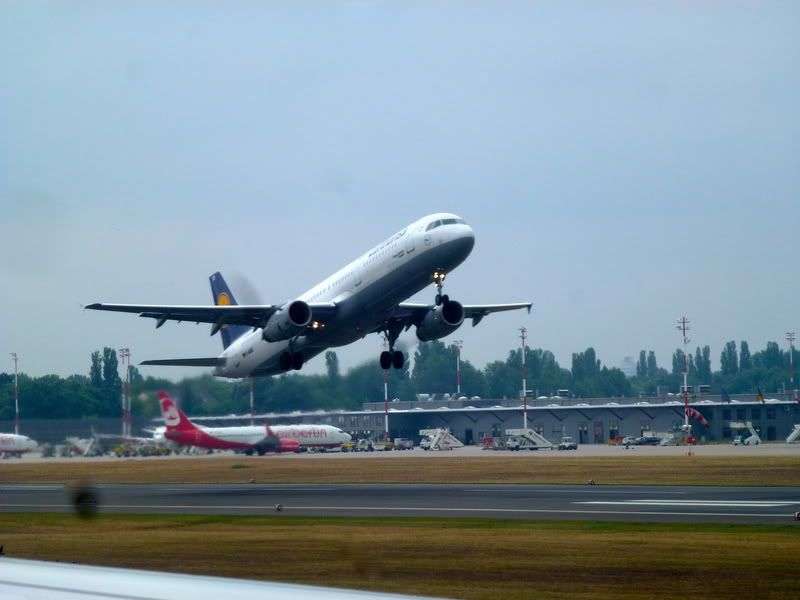 Docking to a jetway next to a Qatar narrowbody: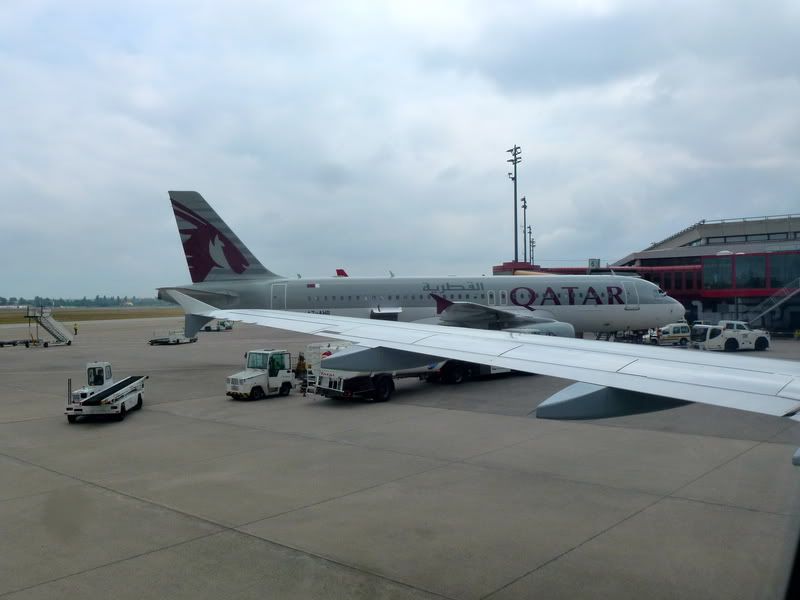 ...which apparently has a dirty windshield:
Berlin Tegel Airport
With four hours at Tegel I thought about heading to the city for a few hours for a nice lunch and walk but as the weather forecast showed rain I decided not to risk it and stay at the airport instead. So with this in mind I didn't check my trolley in. Well, in the end it doesn't rain at all, although it is gray, cold and dull but I don't want to walk with my trolley in tow so off to the Lufthansa Lounge it then is!
A very nice agent admits me in, we have a bit of a laugh joking about the Brandenburg fiasco.
As it is lunchtime I first check out the buffet - a very good spread today: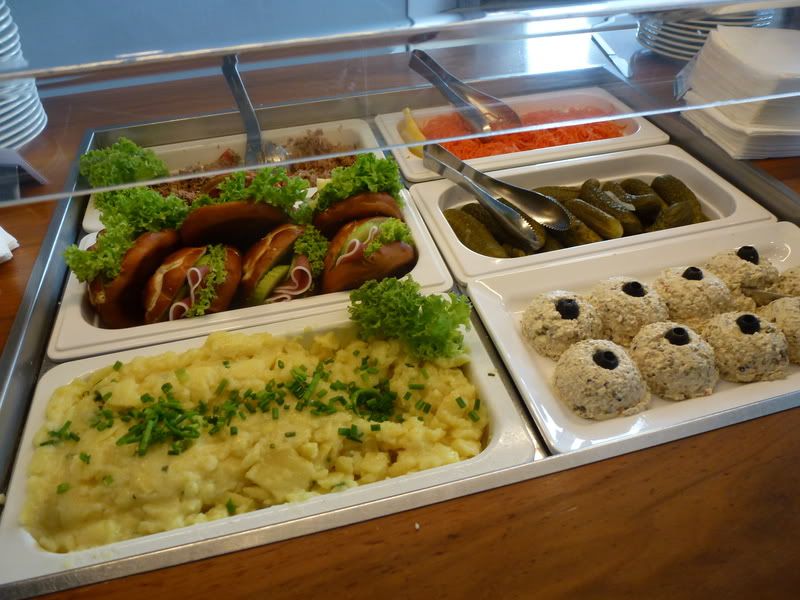 Hey, a Swabian pocket sounds very deep and full but not very willing to lose its contents like Markus can testify, but the taste was excellent: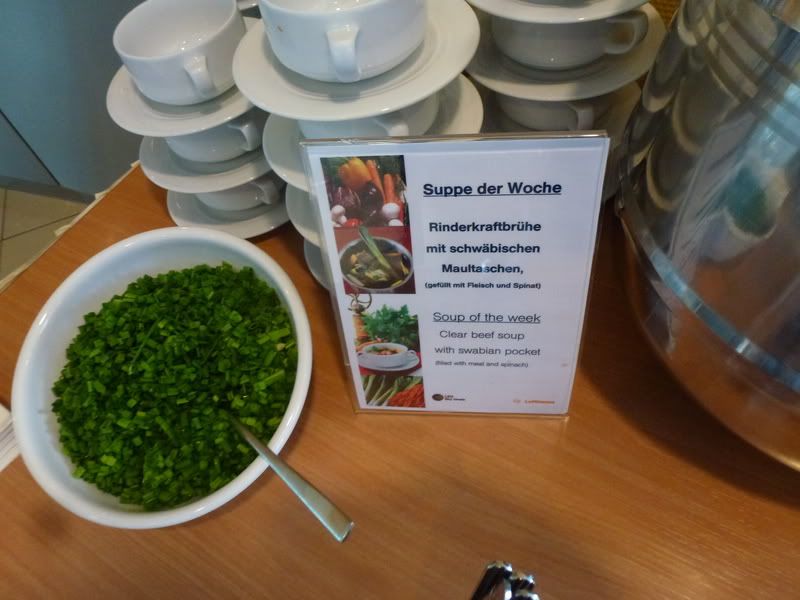 An excellent lunch, very impressed by the catering here actually: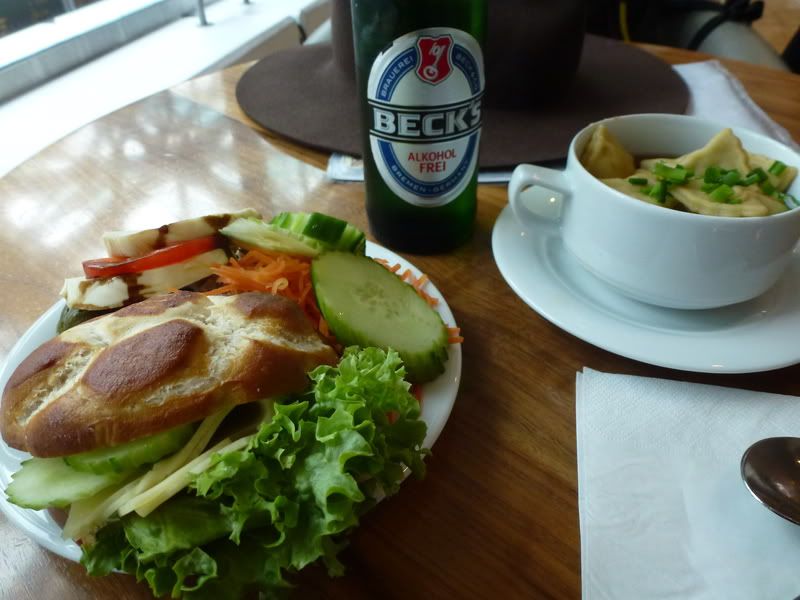 Observant readers might have spotted something funny in the above the photo. And yes, it is true:
There is no real beer anywhere in the lounge!
. Yes, we are in the capital of Germany, but no, there's no beer here. The taps are empty, and all the bottles are of the nonalcoholic variety Beck's! This baffles me a lot - the only reasonable explanation I come up with is that they have forgotten to move their beer supply contract from Brandenburg back to Tegel!
In all honesty I have to say that Beck's Alkoholfrei isn't that bad, especially as a beverage with your food it is fine.
Well, at least their hard liquor and wine stores are still up to par and I find a very nice Grüner Weltliner among the stock so that'll do for now.
A bit later they bring out a bowl of delicious strawberries, I certainly don't mind having some of those: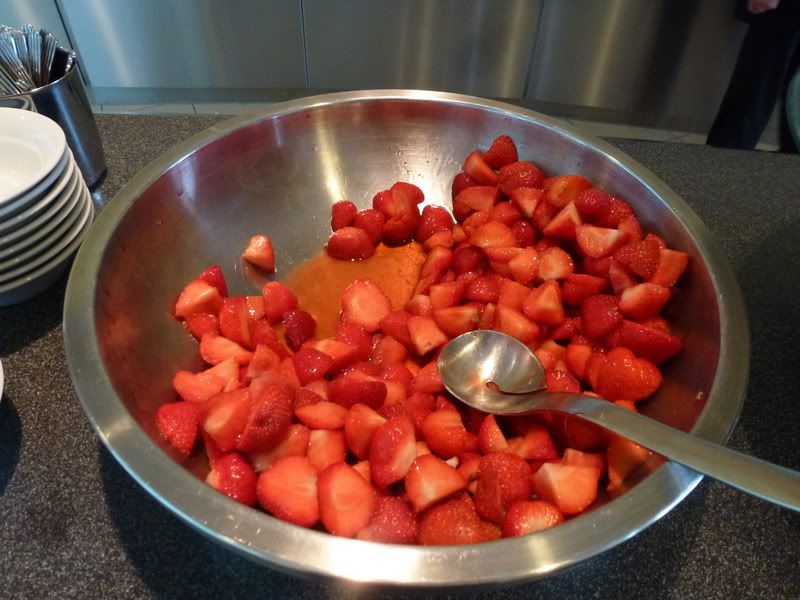 To go with them some whipped cream from a
tap
(must be German engineering) - never seen this before: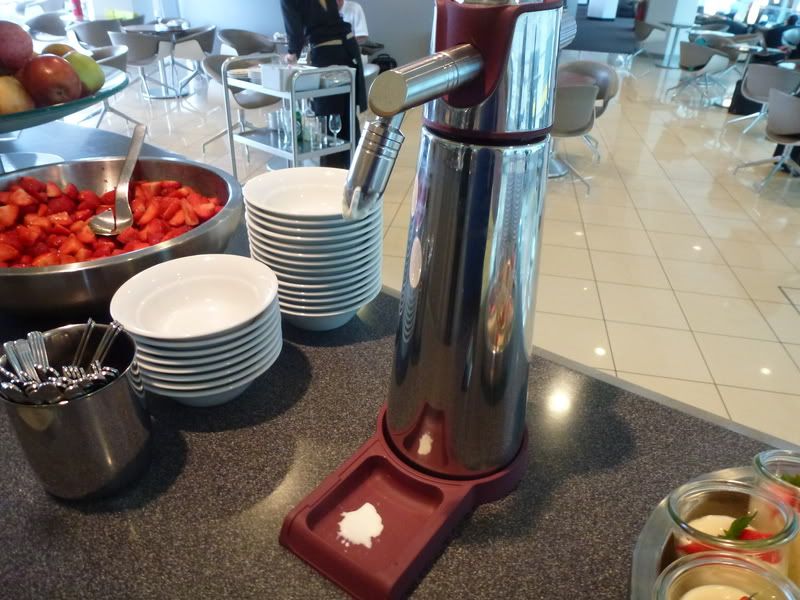 Time drags a bit, but I still manage to while away three hours quite nicely, playing the catching up game on some trip reports, watching some stuff on my Ipad and reading the papers. After tracking the incoming flight on flightradar24 and seeing it is just fifteen minutes away I pack up and decide to head to the gate. Unfortunately for SN this means the shabby D terminal annex, not exactly a favorite of mine.
Going there brings one past the lovely Essbahn, what else - brings up nice memories from our meet here one and half weeks ago: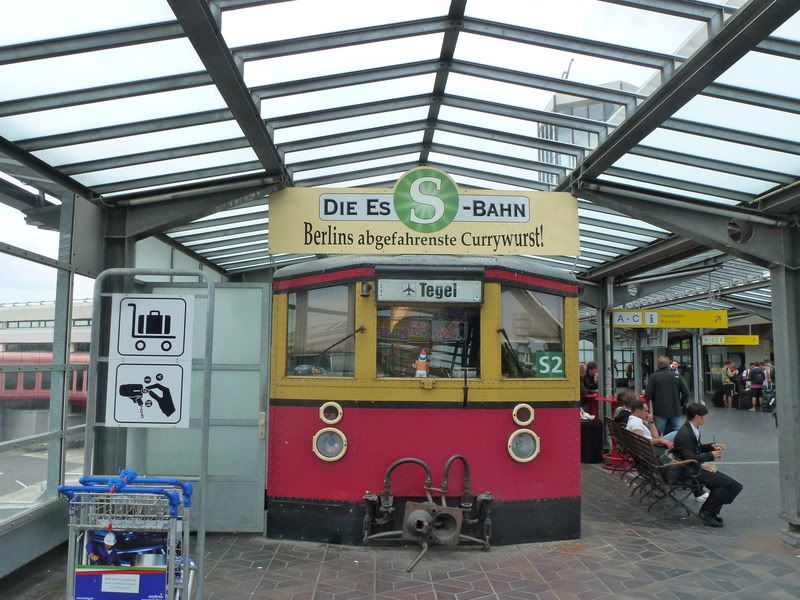 The D terminal check in hall is crowded by lots of people, tons of luggage and a lot of repackaging action going on.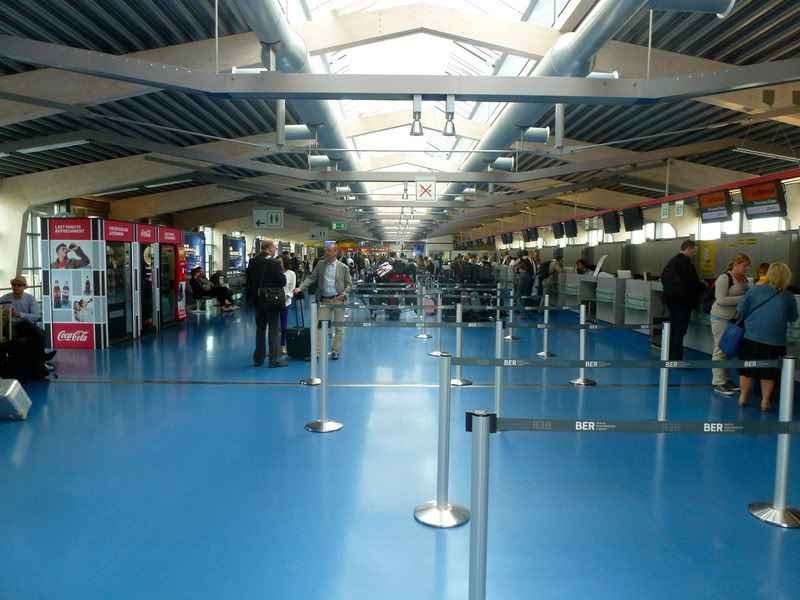 Luckily the security check is relatively uncrowded, so it doesn't take too long to get through.
Just as I have gotten my trash back together I spot the inbound plane arriving: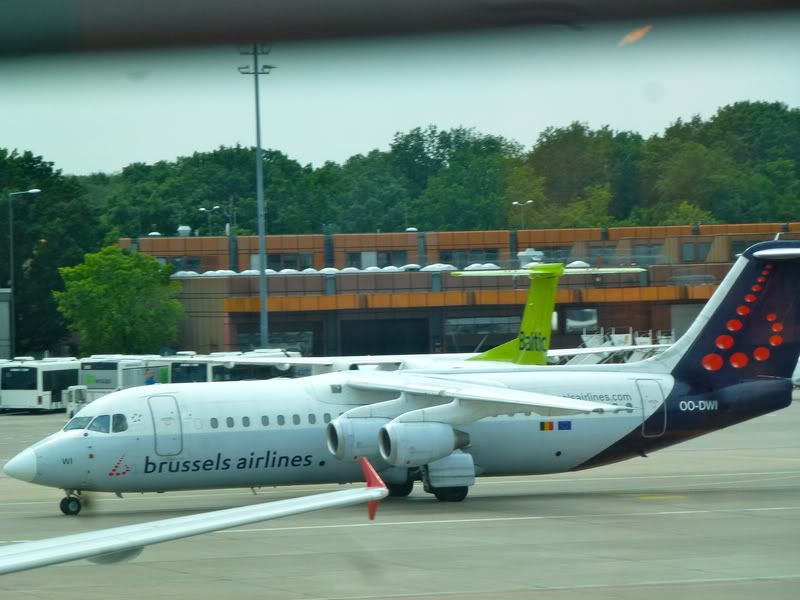 From watching the inbound on flightradar24 I know it is OO-DWI, a new plane for me and the expected Avro RJ-100, so no lucky last minute upgrade to an Airbus (or even a 734 like the one I saw a few hours earlier).
Airside has many people as well: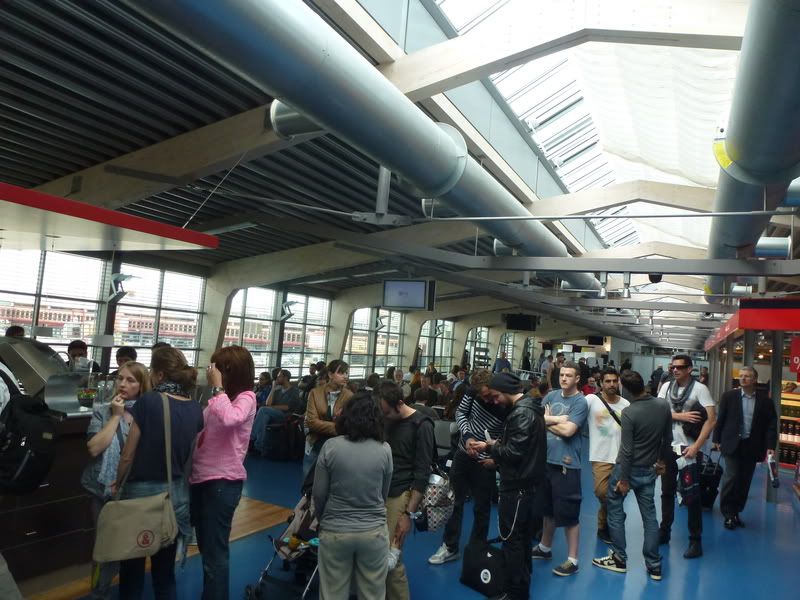 ...which is explained by Vueling - "the crappier airline" (like their new company slogan apparently is) boarding next to us:
Boarding is called quite soon. The plane is parked right outside, so luckily no bus rides or anything, just down the stairs and up another set to the plane.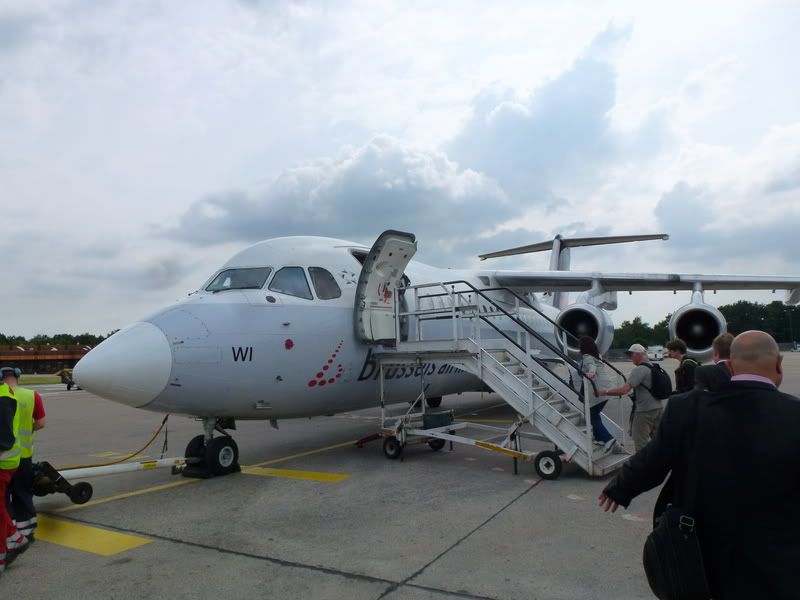 4 Engines 4 Short Haul: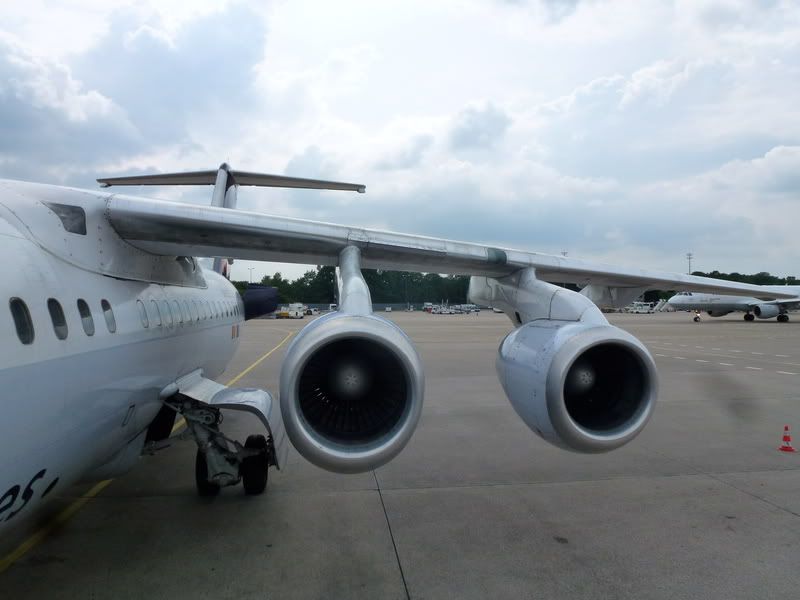 TXL - BRU
SN2584
ARJ-100 OO-DWI
Seat 19F
15.24 - 16.38
The first word that comes to mind about the cabin is: "Worn". Yeah, this bird has definitely been worked hard during its life, the leather seats are not in a very prime condition any more, the walls are yellowed and the lighting quite dingy - it just feels very old fashioned and in dire need of a makeover (or a trip to a beer can factory).
Legroom on the last row isn't stellar, but at least I get all three for myself: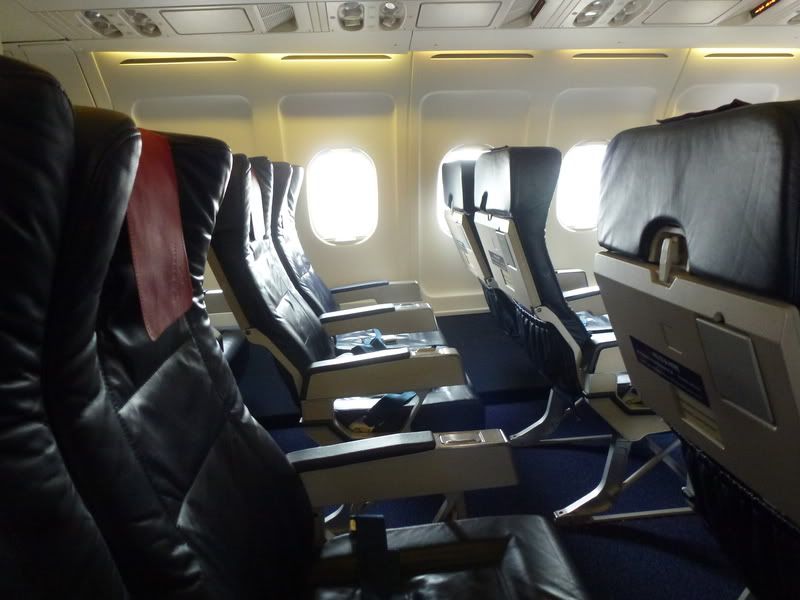 Unfortunately the seat in front of me is occupied and when the guy sits down and leans back (but does not recline) the seatback moves back a good inch or so, making my legroom and pitch worse. I'll survive this one hour flight with that, though.
Speaking of one hour, the flight time is announced as 1h10mins.
Brussels Airlines has a really strong company brand (which is good), these stylish "b" logos are everywhere, including the headrests.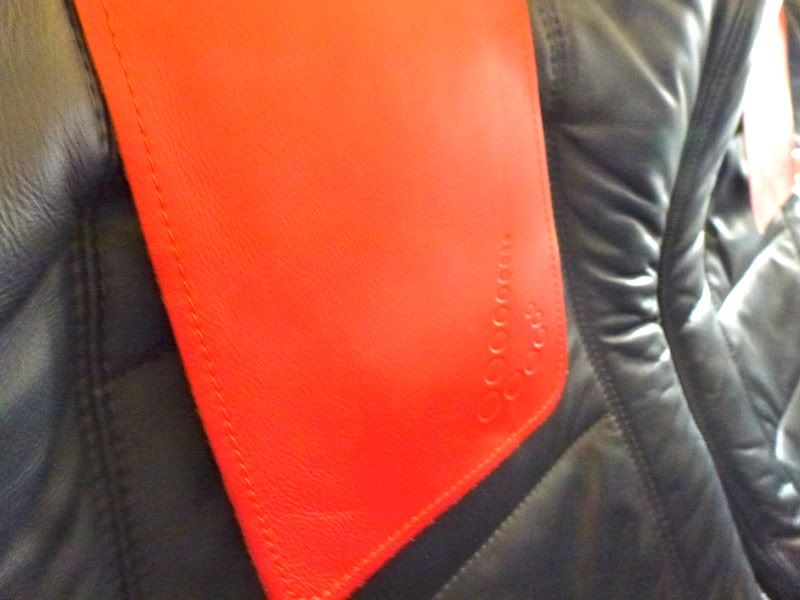 An announcement is made that we are still waiting for one passenger. While waiting I browse through the BOB menu: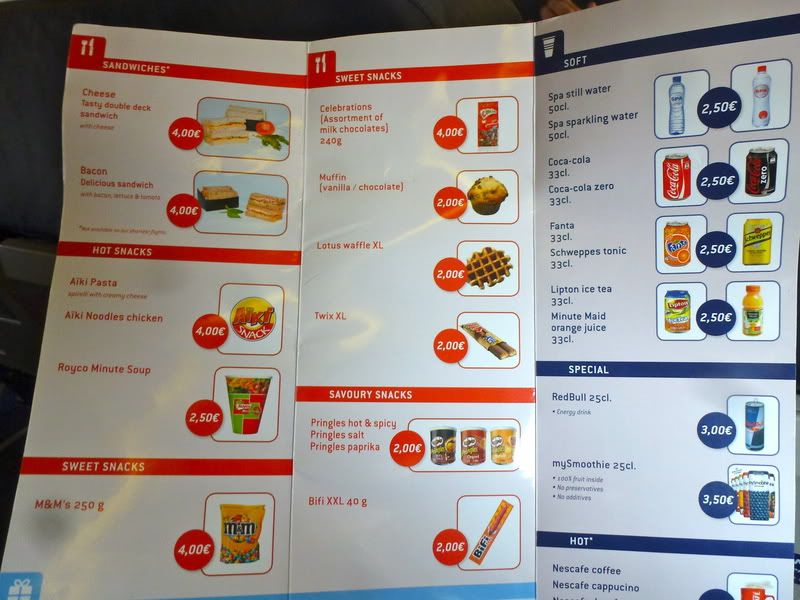 Here's a challenge to 717flyer - perform a test on this subject: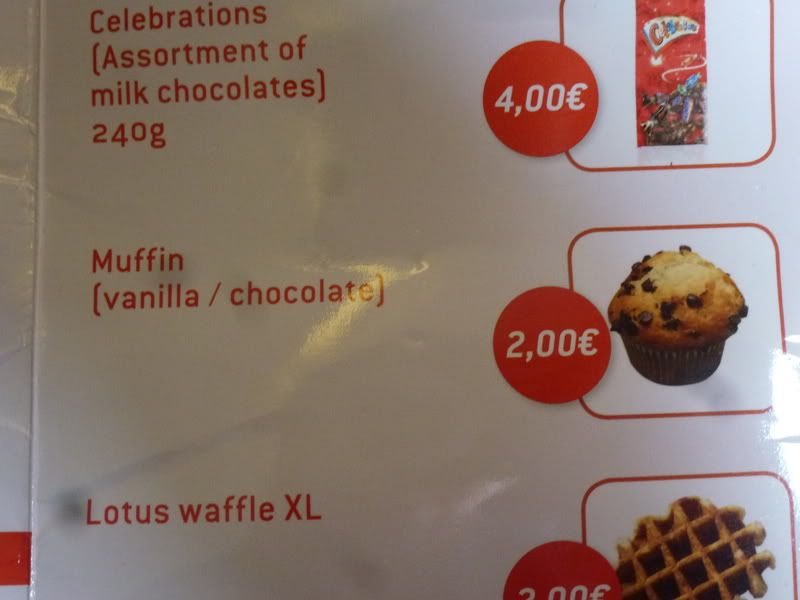 Also notice the waffle below it, no airline dared to call themselves Belgian if they didn't have these classic things available in some form.
Apparently the passenger never shows up as nobody boards and the doors are simply shut and the engines started. Total load around 80%.
The crew consists of two quite friendly ladies, the purser is quite amazing since she makes all the announcements in English, Flemish, French and German, apparently very fluently at least judging from what my understanding of those languages is - ranging from "speaks like a native" to "A beer, please" (but not necessarily in that order).
Departure is four minutes late and we taxi to the 26s via the bypass taxiway taking one over the Tegel access road and next to this funny sign - somebody forecast at the BER meet that this sign will become the new must photo at TXL and it certainly looks so: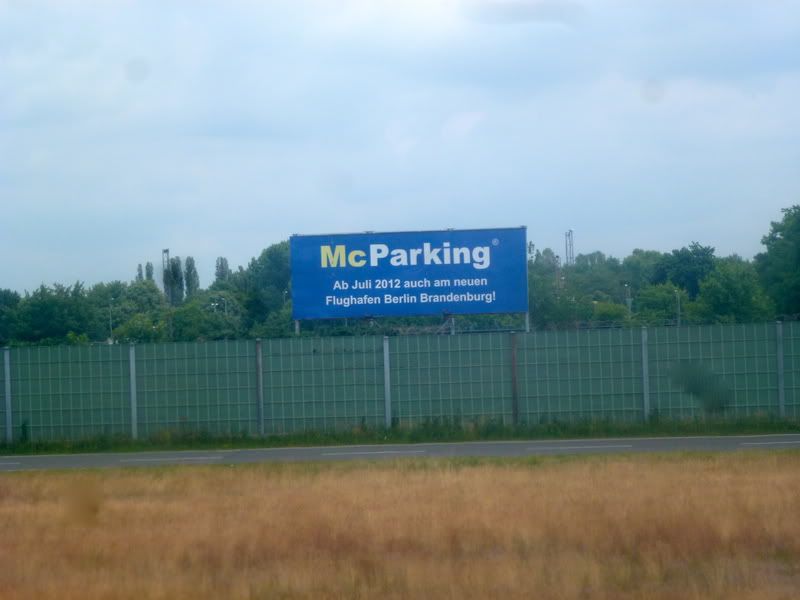 Taking off from 26L this Avro displays its amazing STOL capacities, despite a good load we use up maybe a fourth of the runway before jumping to the skies gracefully, but very powerfully.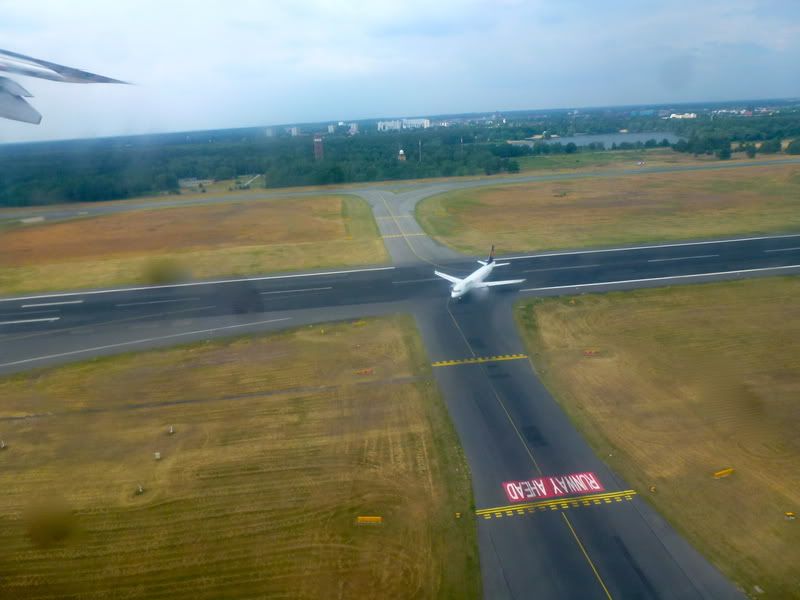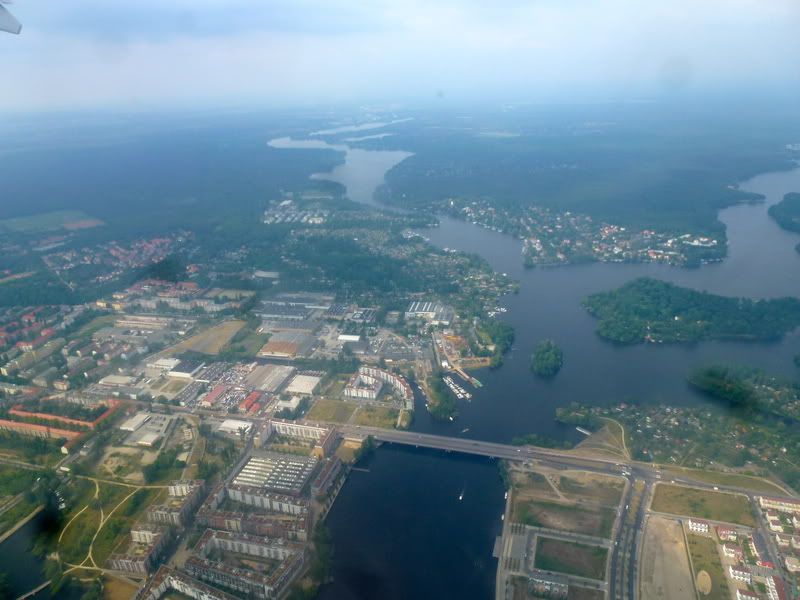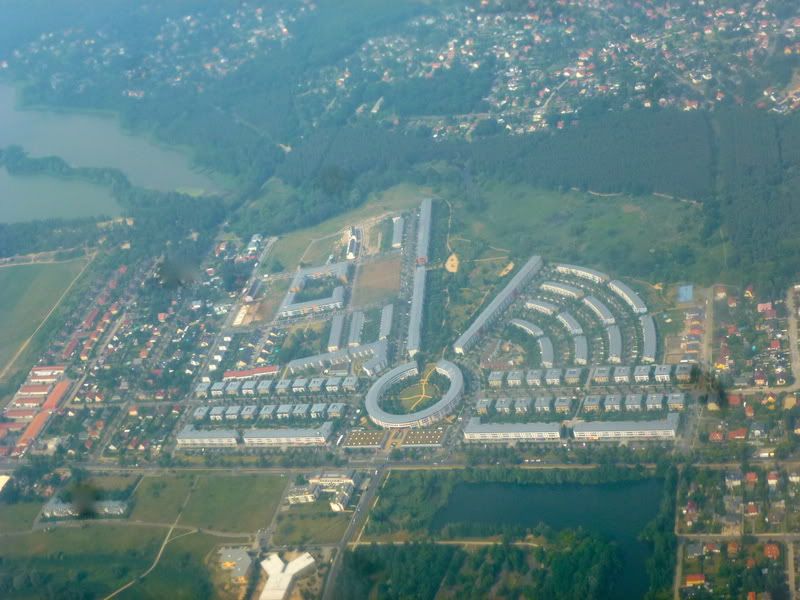 ]
BOB service doesn't seem to be very popular on this flight - a couple of people get coffee or tea and the British eurocrat in front of me some wine, but most passengers opt out. I possibly couldn't - after all they have a gem in their BOB menu - one very fine beer from the vast selection Belgium produces - Grimbergen.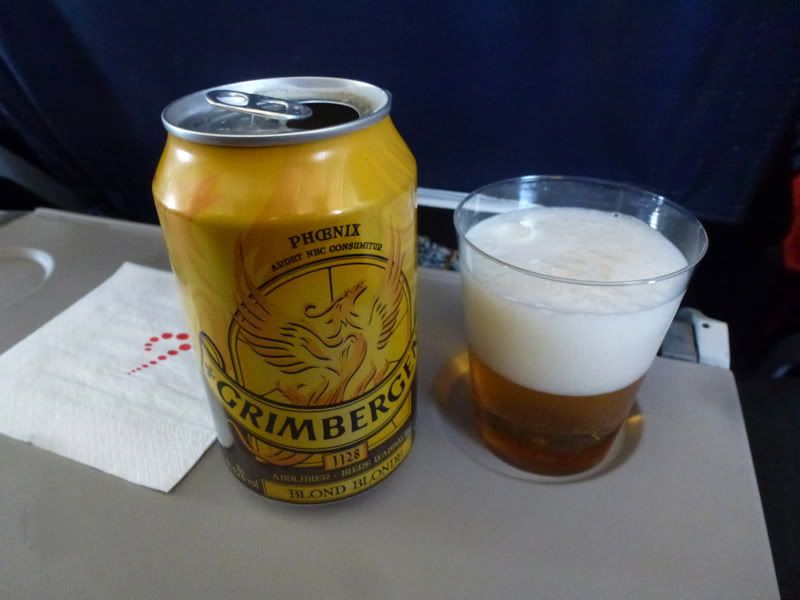 So, once again it is time for the FFBOBBT(TM):
Quality: 5/5 - an excellent, tasty brew with lots of hops in it. Very nice.
Value for money: 5/5 - I actually forgot whether it cost 3 EUR or 3.50 EUR, in anyway it is a bargain no matter which one the price is. For this quality (and amount of alcohol if you are looking to get wasted) it is an amazing bargain.
This is the first BOB beer to get full ten points out of this test.
This beer certainly packs a bunch - 6.7 ABV will warm you up: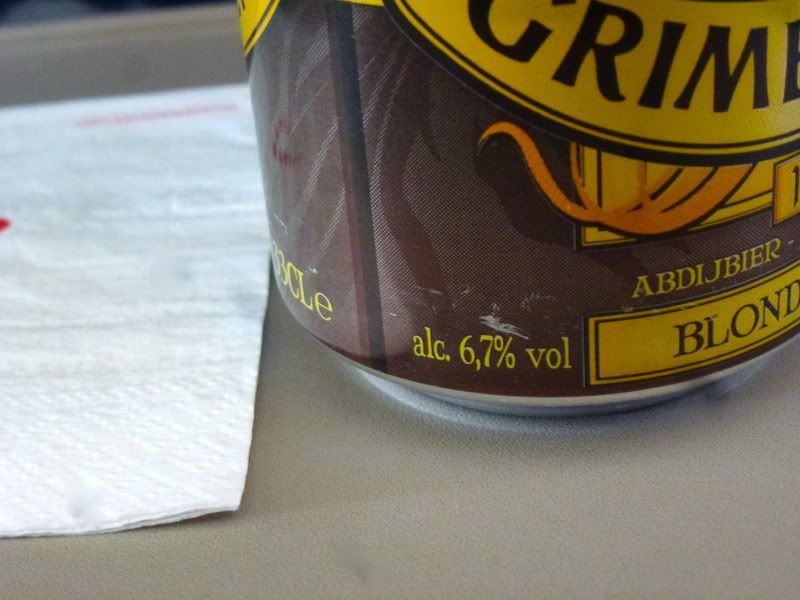 Bonus points - strong branding on the napkin: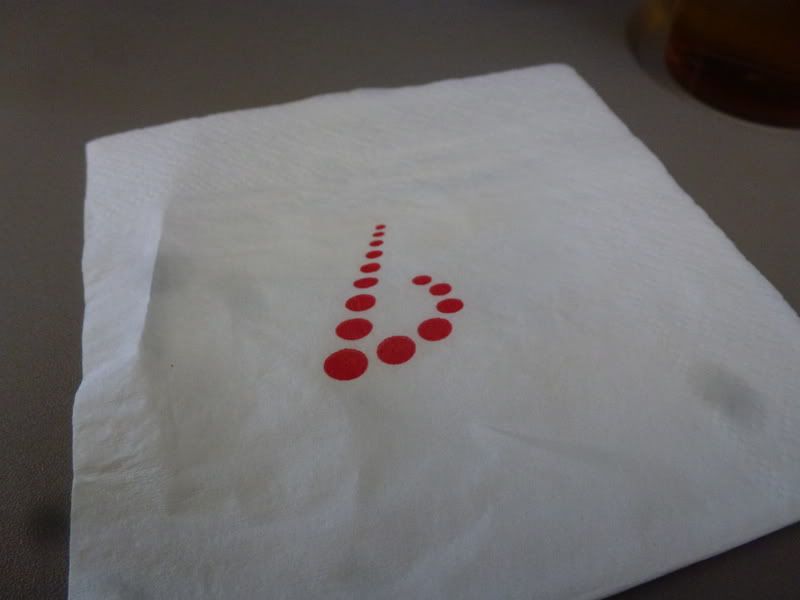 Cruising towards BRU: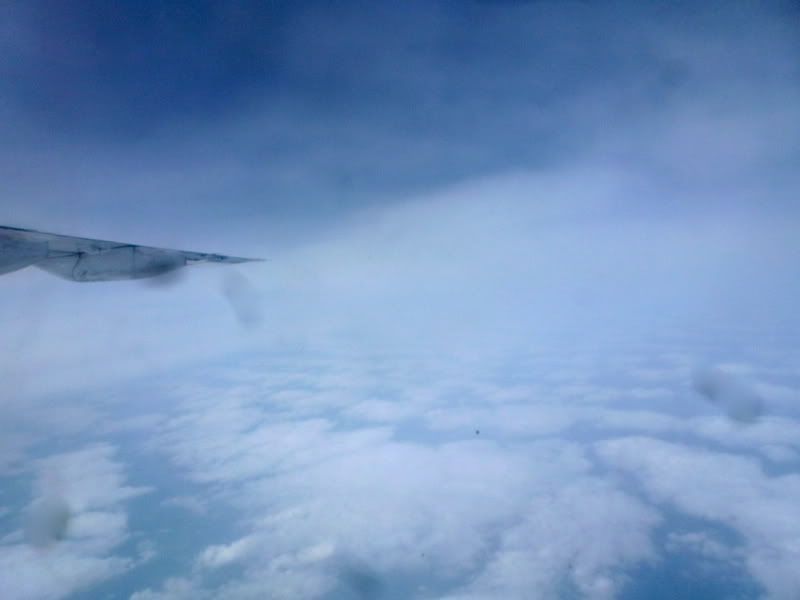 I picked up the WSJ from the lounge - interesting article about Asian budget carriers and their ties with the regular players: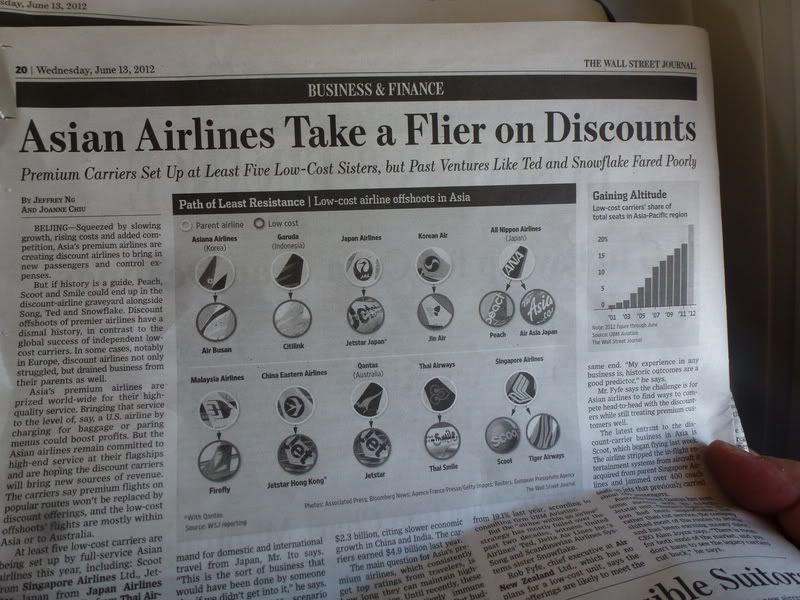 The weather in Belgium doesn't look very good either, more thick clouds and gray skies are evident during our approach.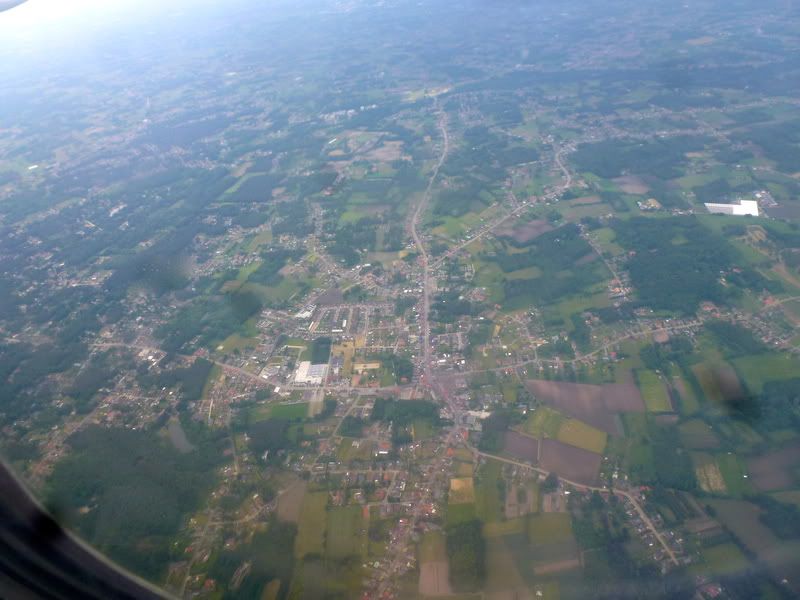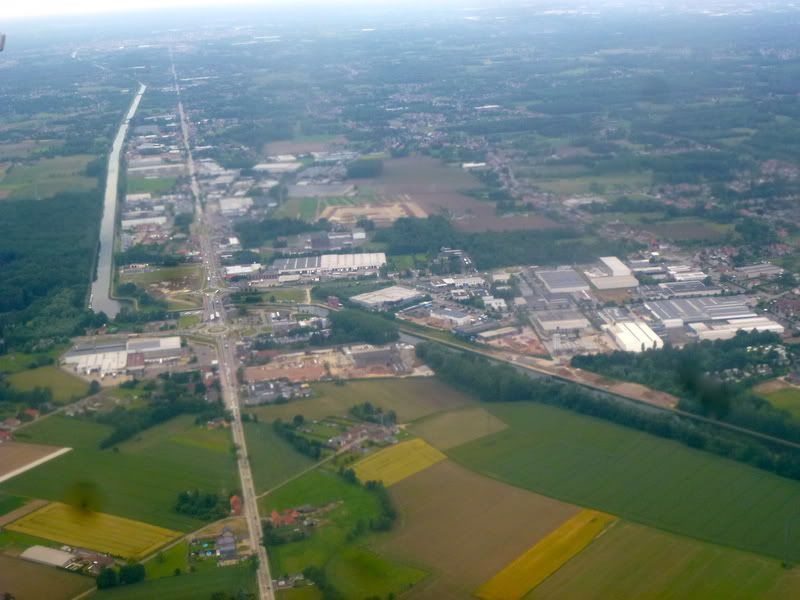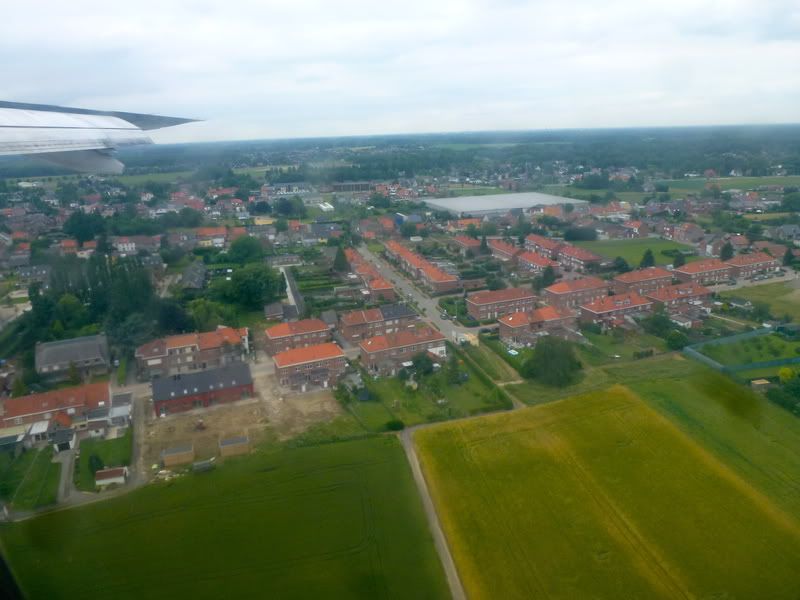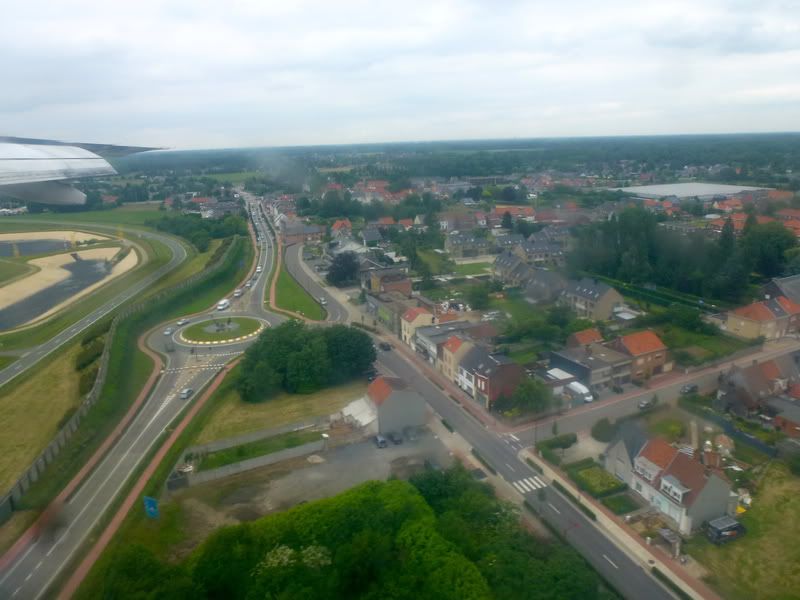 Landing is on 25R, total time in the air 1h5mins.
OE-LMP, a derelict looking A310 apparently parked here since 2007: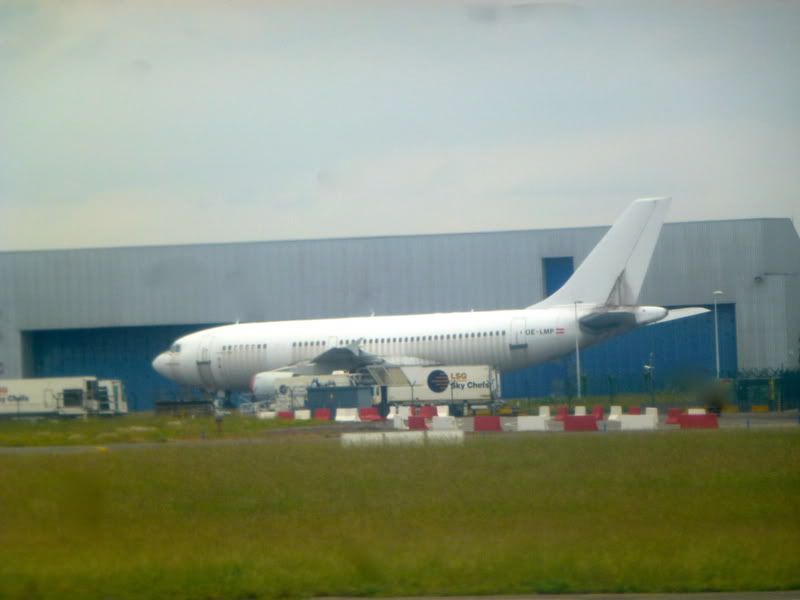 Dark skies: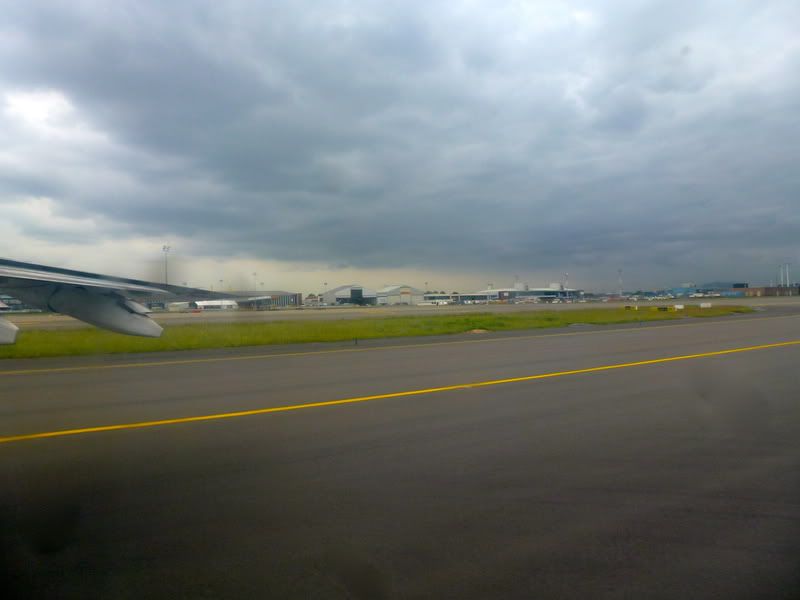 A b triplet: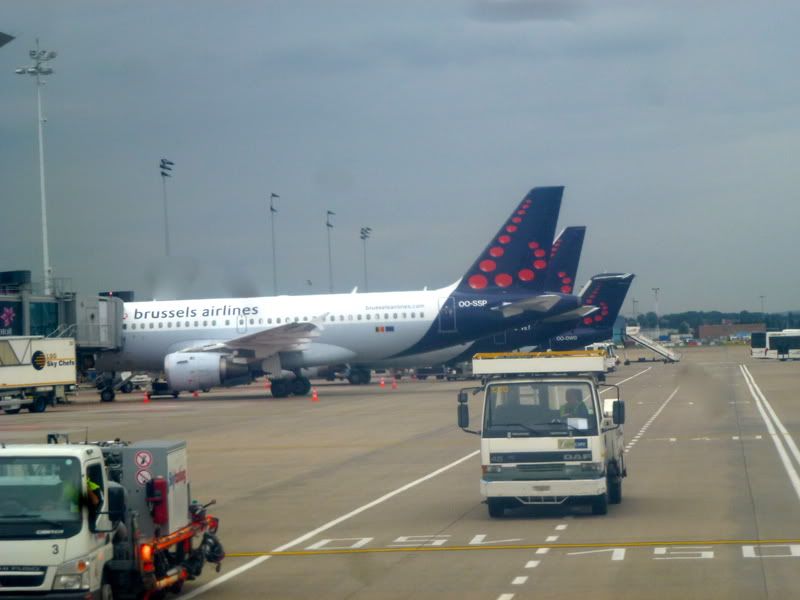 Bye: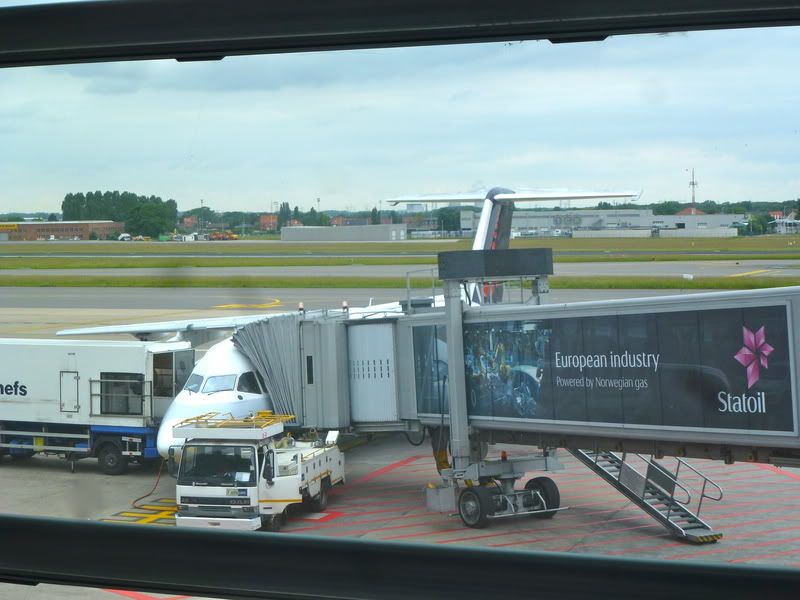 Up the jetway, across the pier, down a few escalators and into the famous Brussels tunnel connecting the A pier to the actual terminal building: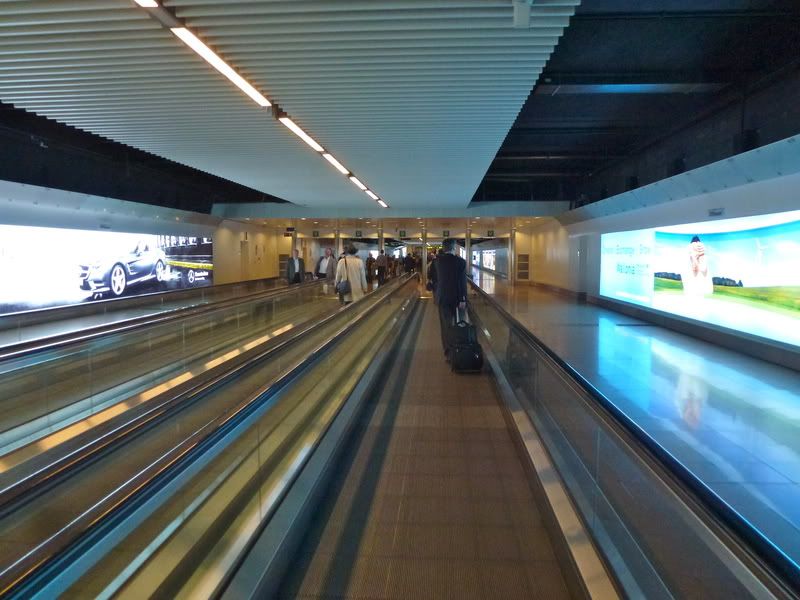 On the other side another bunch of escalators need to be taken to climb up to the baggage hall and exit. Interesting art - it looks like this guy Manneken is taking a Piss right at you:
After exiting customs you take another couple of escalators down to access the train station. They seem to have completely overhauled the station - the last time I was here was back in 2006 and I remember a dark and dingy cave - well look what it is like today: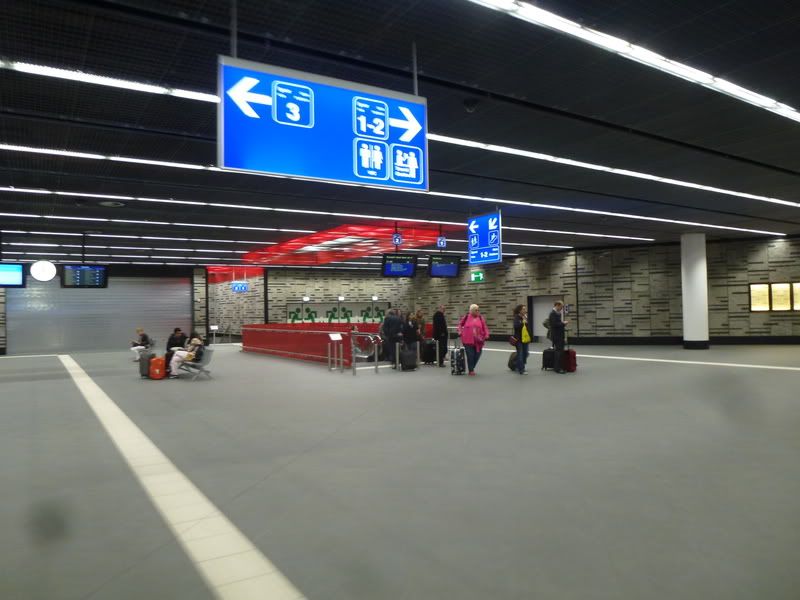 The ticket office looks nice and trendy too: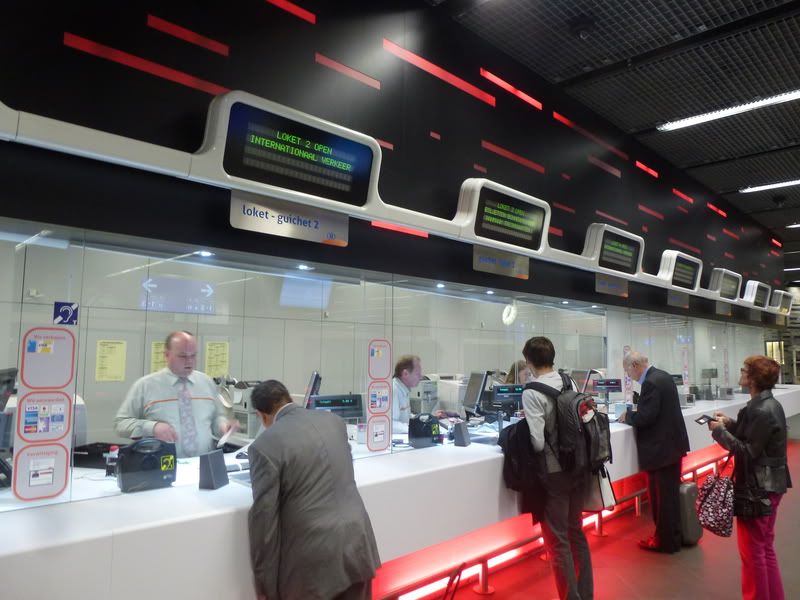 And I luck out with the train as well - some of the Belgian regional trains can be horribly shabby and covered in graffiti but this one going to Ghent if I remember correctly doesn't look half bad: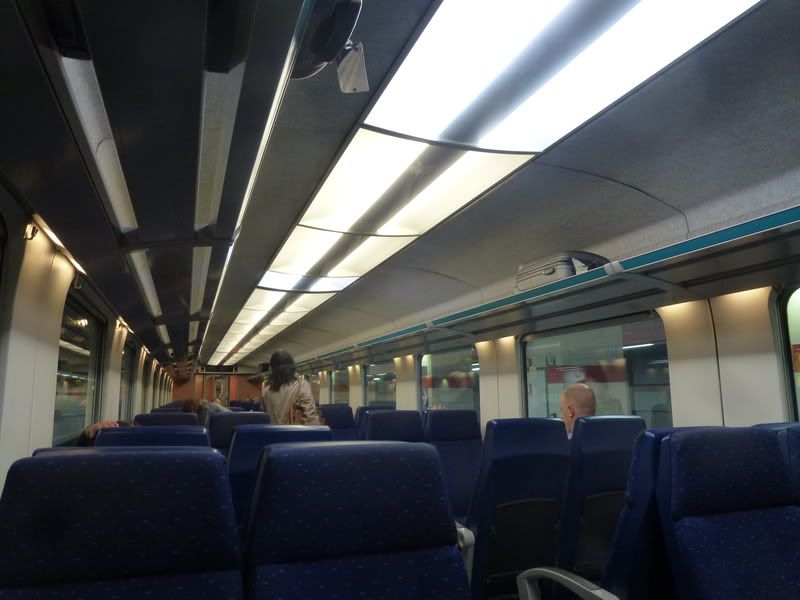 I almost got a shock when the ticket agent said my return ticket (well, two one ways actually) cost 10.80 EUR!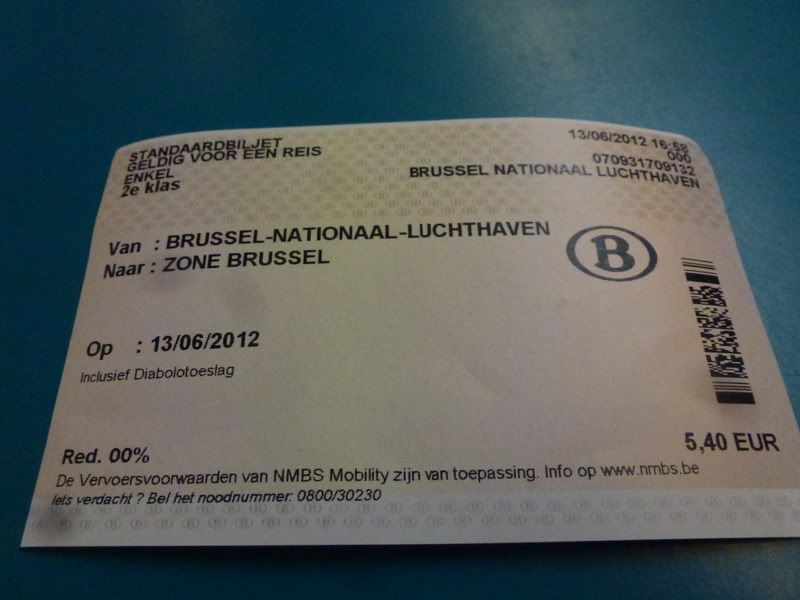 Indeed they have introduced a special surcharge for the trains to and from the airport to fund the new track extension that makes it finally possible to reach Antwerp (and thus the Dutch rail network) directly from BRU airport. This is mentioned as "Diabolotoeslag" on the ticket. Silly me, I actually thought this had something to do with the devil...
Brussels
Eventually I step off the train at Gare du Nord, a huge temple of crookedness in the middle of the no man's land surrounding it where the streets are packed with crooks who are only after your money and belongings and if you happen to be hot maybe a piece of you as well*. Fighting these guys armed with machetes and whatnot I dash (all uphill!) to my sanctuary - the hotel which has a very very weird name "Hotel (Residence) Aryan":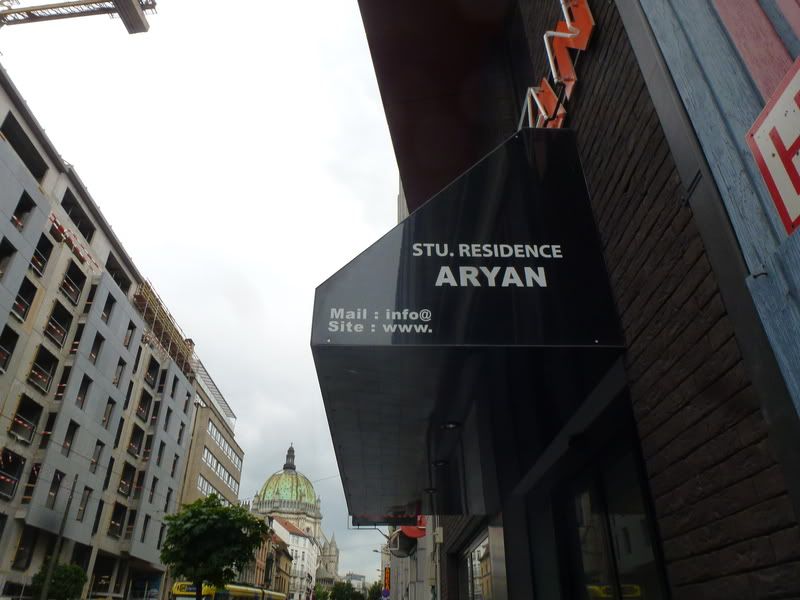 I prepared some documents proving my at least semi-Aryan ancestry and was ready to agree to a skull and nose measurement test as with that name you'd assume they only want true Aryan people's business but the front desk clerk himself definitely isn't Aryan and the subject matter is never brought up, instead he charges my credit card for 52 EUR, hands me a handful of wifi vouchers and the room key.
The room: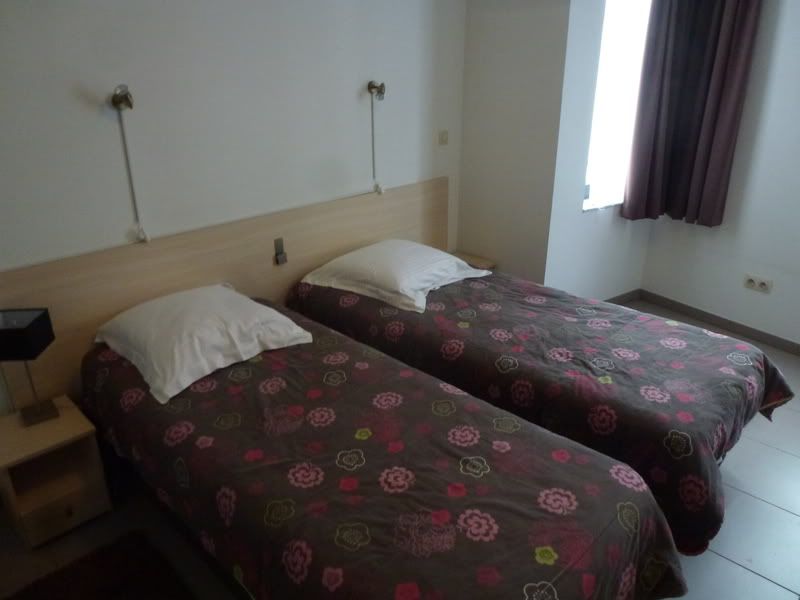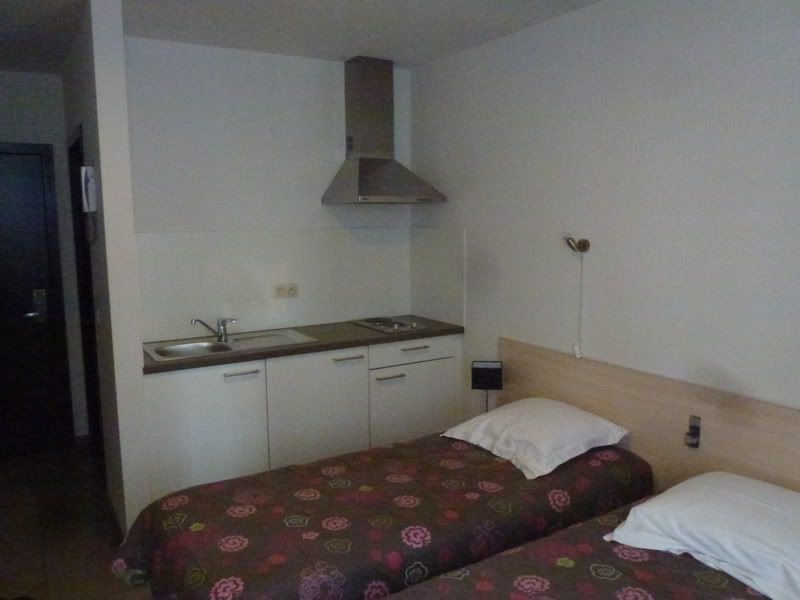 Yeah, Brussels hotels can be notoriously expensive especially during the week (thanks, Eurocrats) so this was pretty much the best I could do. There was also an even more interestingly named "Hotel Stalingrad" in the same price range, but since this one had a better location albeit in a hostile environment* I decided to leave that for the next time. Nothing bad with this hotel really - an ok, clean room, free wifi and plenty of hot water for the shower. There's some traffic noise from the busy street the room is facing, but since I sleep like a rock it doesn't bother me.
View from the window - very handily trams run right in front of the hotel: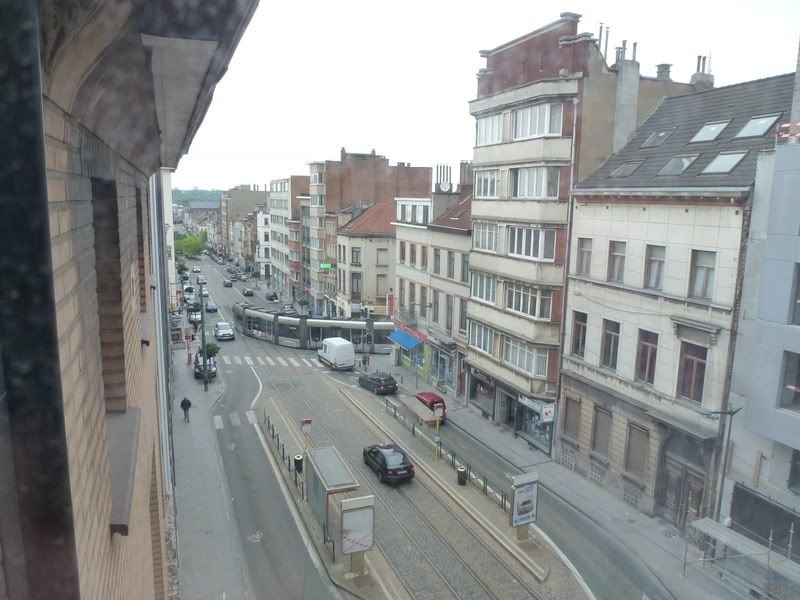 After refreshing up a bit and dumping most of my trash there it is time to head out. Finding a place to buy a tram ticket turns out to be a little complicated but eventually after asking around (and holding to my backbag with both of my arms as the guy was trying to rob it at the same time*) I get pointed towards a ticket machine a few hundred meters downhill from the hotel. Beware, all these people are planning to rob you*: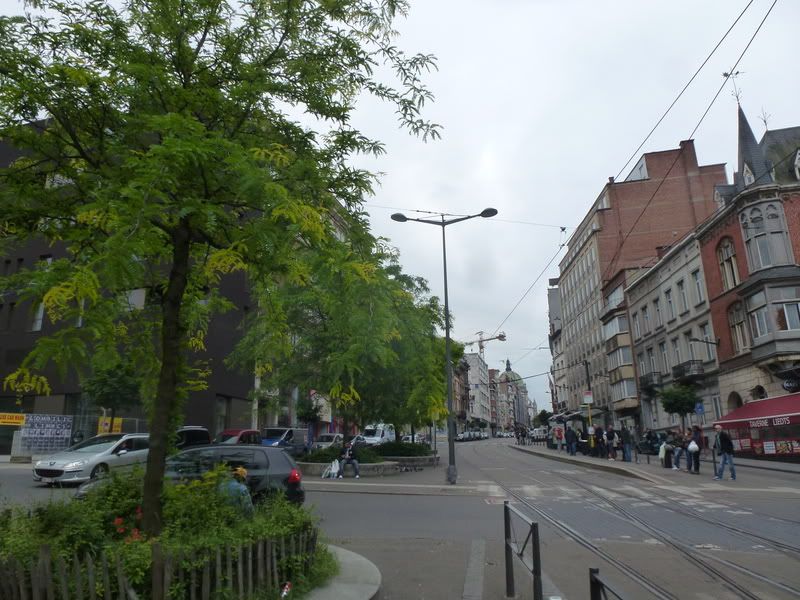 Is that Eric sitting there: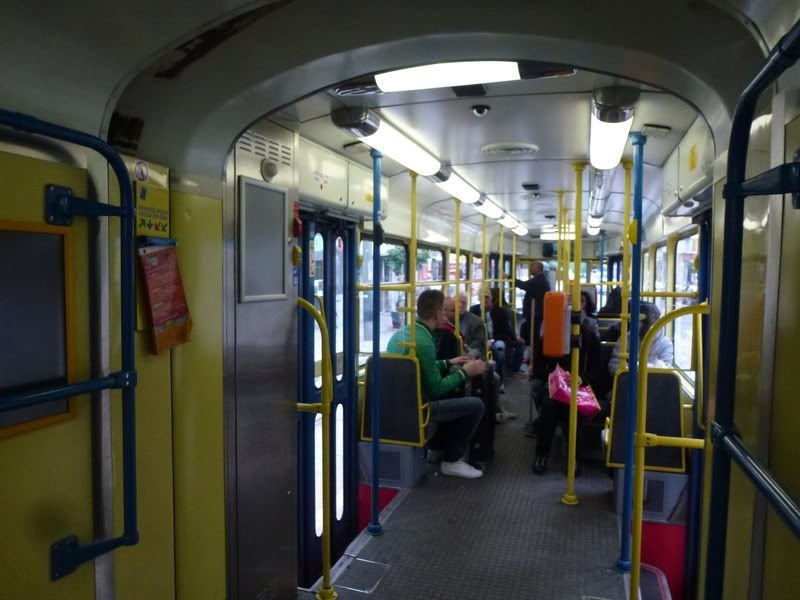 A short tram ride later I emerge somewhere much nearer to the centre.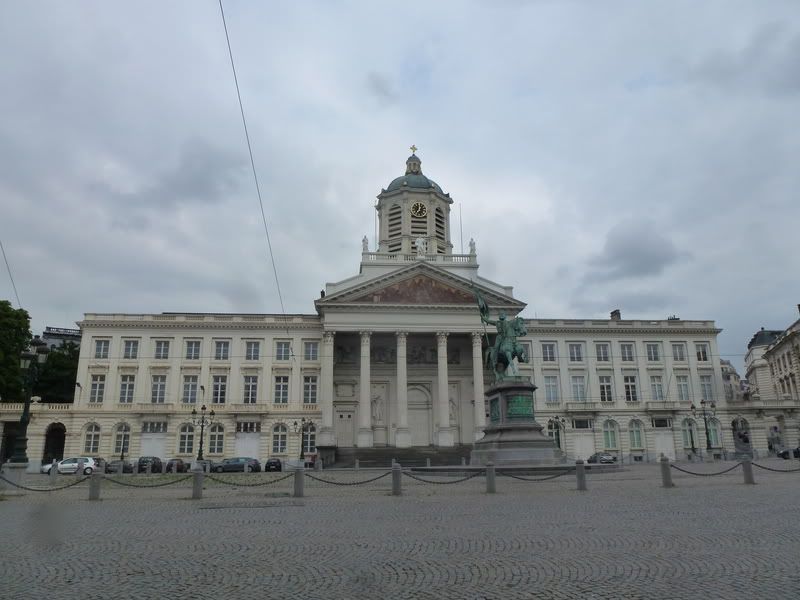 Brussels is an enigma - a completely French speaking city in the middle of a completely Flemish speaking half of the country. An interesting hodgepodge of new and old, some very nice modern architectural gems next to shabby concrete uglings from the post war years next to grand old palaces and symbols of power from the short period when the (faux) country decided that they didn't want to be a small player next to their world class neighbours and used the vast resources of Congo to impress the ladies. An interesting mix of people from all walks of life, from all the continents mixed together - drunks on the street, immigrants recently off the smuggler boats from Africa, crooks ready to kill you for your IPhone and Doc Martins*, normal Belgian people who love the finer things of life and think nothing of the fact that their country didn't have a nominated government for a couple of years and of course the huge army of Eurocrats and the court surrounding them, as can be found in any big capital city. All this coupled with tons of restaurants, some of the finest culinary delights one can find anywhere in the world, lots of truly excellent chocolate (yes, it is better than Swiss!) and of course tons of bars where each of the hundreds of different Belgian beers each have their own distinct glass to drink it from. Oh, and a city whose main tourist sight is a tiny statue of a small boy taking a leak. How about that?
I guess it is needless to say I like Brussels a lot - the whole place is just so surreal that it at times feels quite unreal.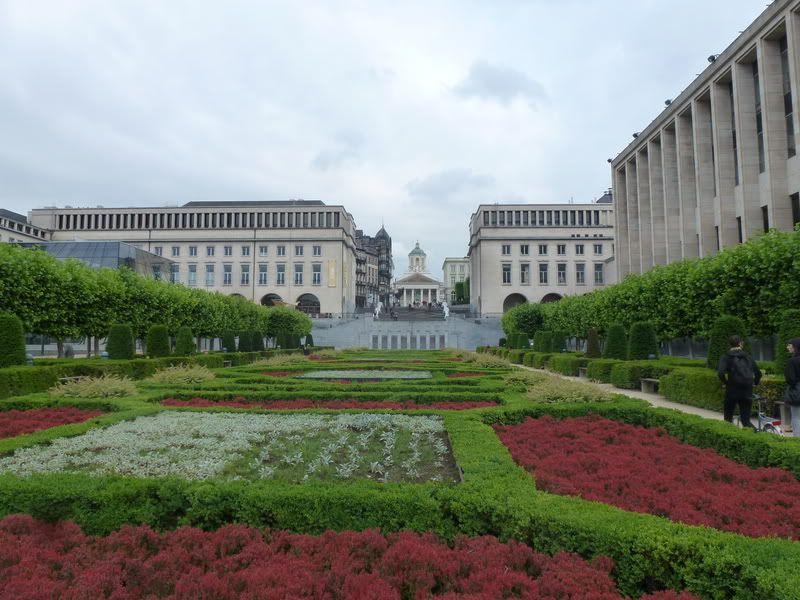 Oh dear, I better not go there: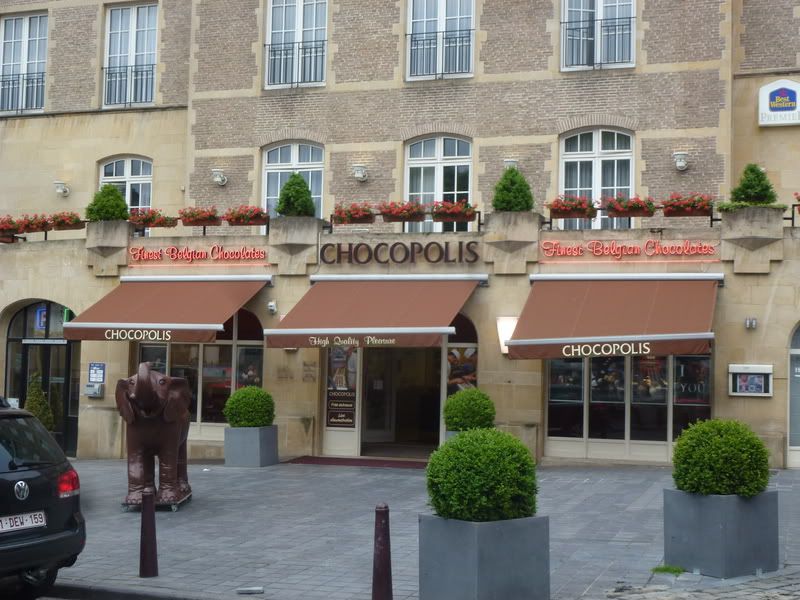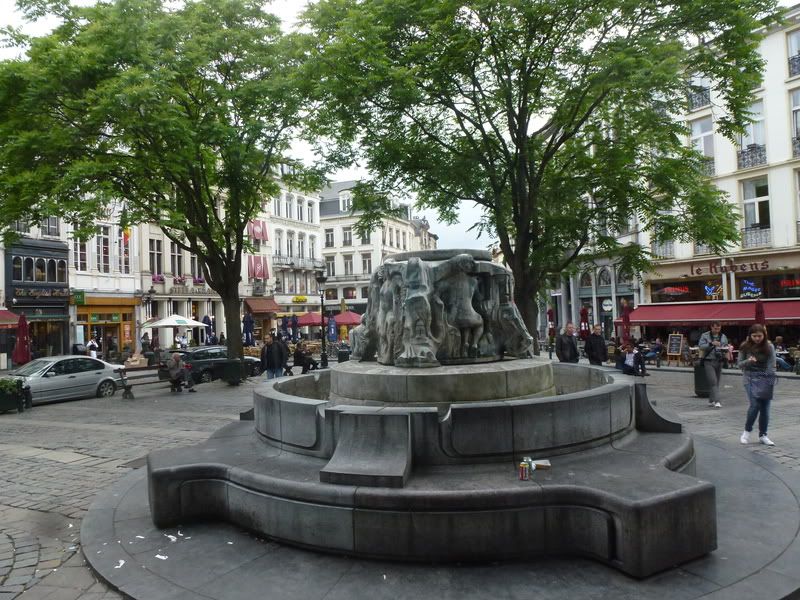 Must... resist...:
Apparently there's some sort of football match going on tonite. Judging from the colors of their dresses the girls are firm supporters of the Dutch: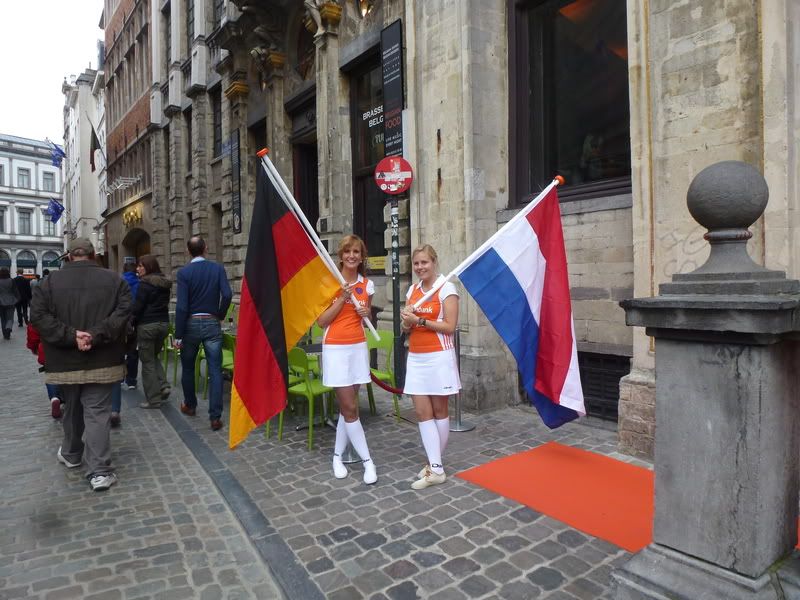 The Grande Place is like Brussels itself - nothing prepares you for it. One moment you are walking along twisty streets packed with tourists, souvenir and chocolate shops and the occasional bar, the next moment you just sort of emerge in the middle of its grandeur: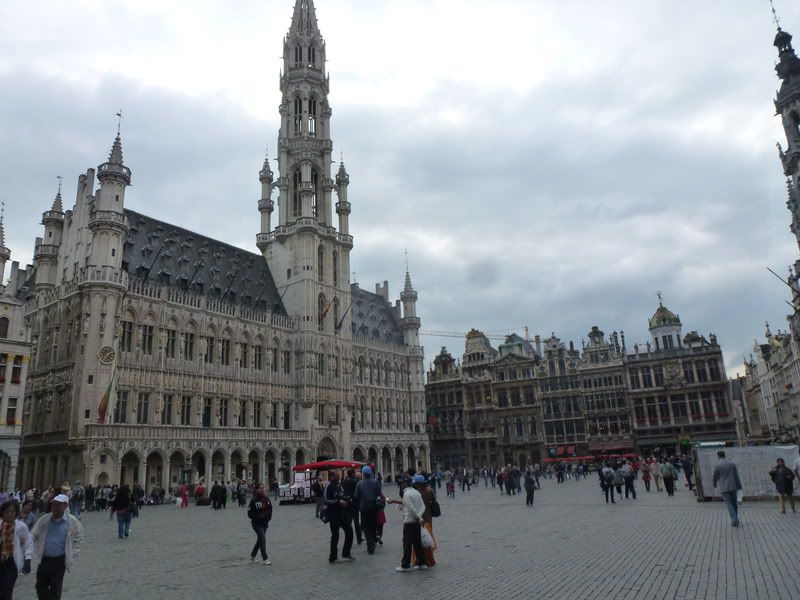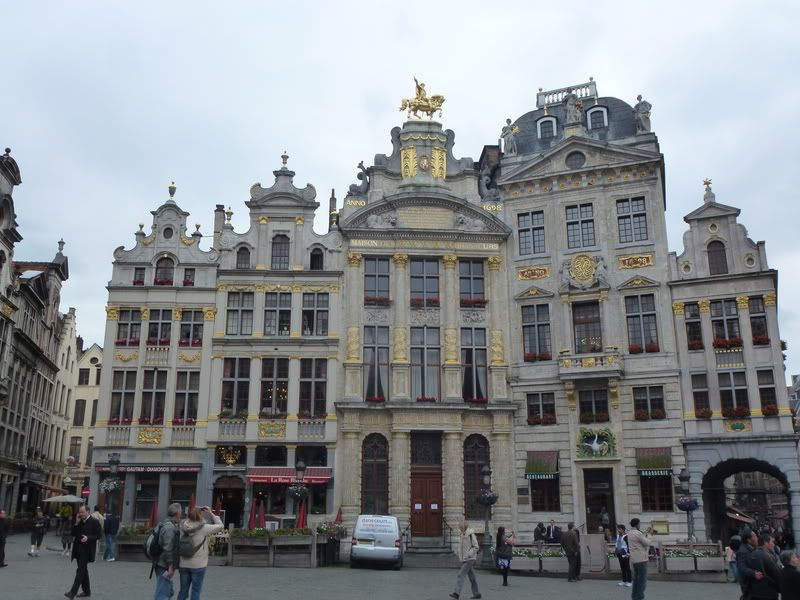 Ahh, Kriek: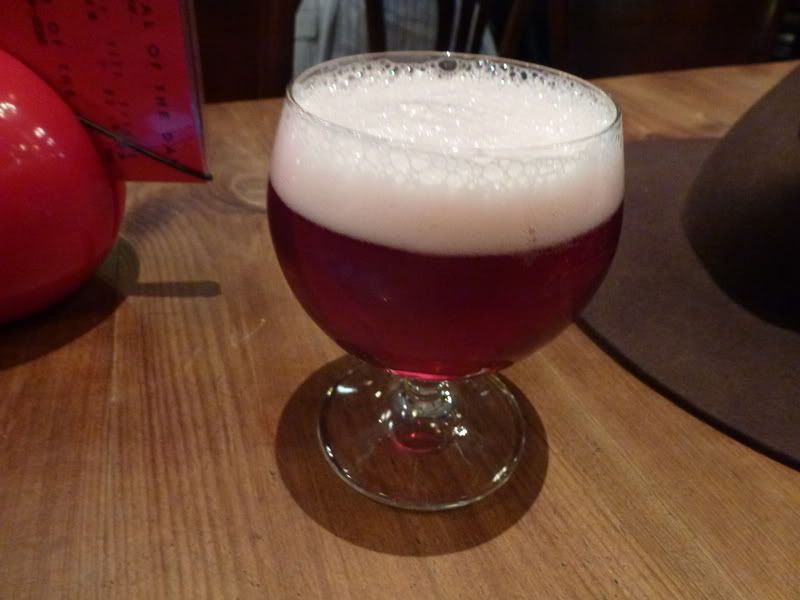 The Belgians also have a wicked sense of humor - not to mention a great talent for puns: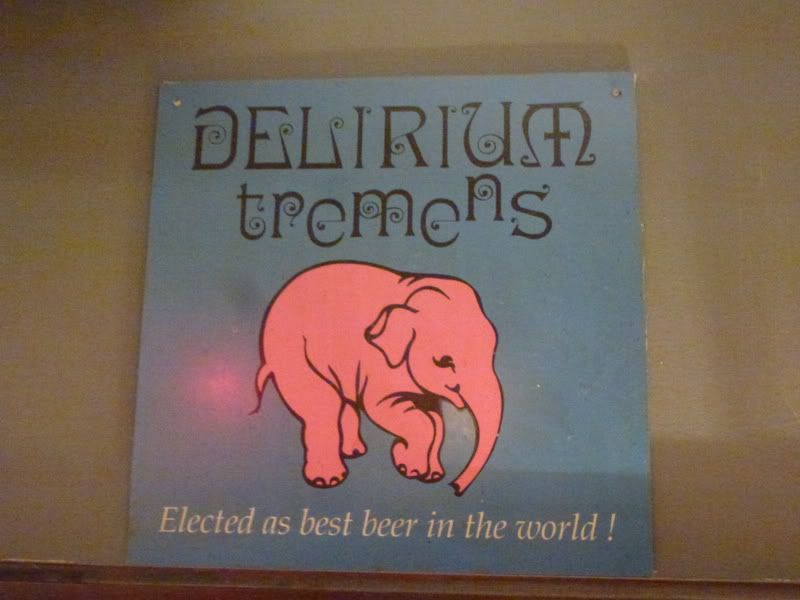 Eventually I hook up with Marc aka MSS658 for a very nice dinner of Belgian food, Nils (Sultanils) joins us somewhat later, unfortunately too late for him to take part in this great seafood fiesta: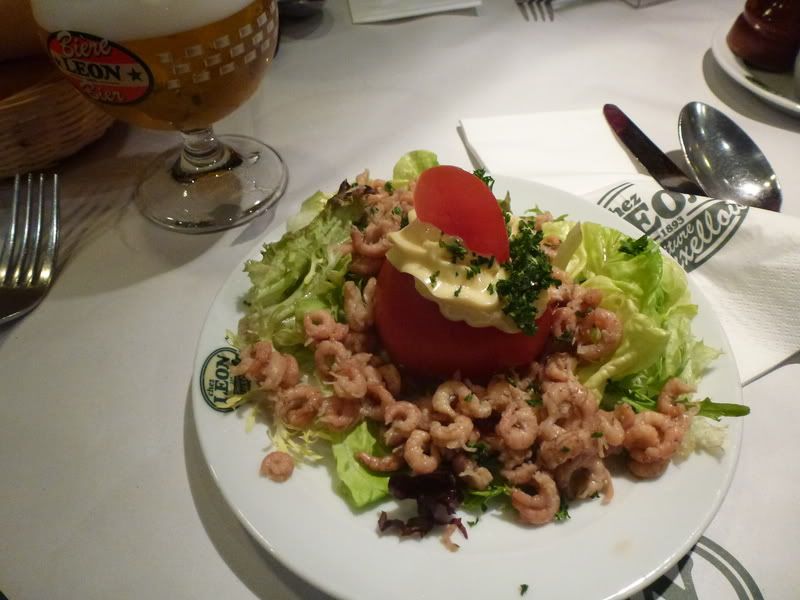 Mussels, what else:
Top