Air North Trip Report
Hi all,
Time for another unusual trip report! I need to be Canada for a reunion and take the opportunity to visit a few Canadian cities and to fly some interesting airlines. I finally settled into two regional airlines serving Yukon and the British Columbia. The first part will cover my trip to Whitehorse and Air North is my choice of airline, especially after reading abrelosojos' trip report on airliners.net. I did not go ahead with the Hawkey Sidney flight (I have thought about the Fairbank flight, but the cost is extremely high and it is not a daily service) but hope to do so in the near future. But since Abrelosojos has not written about the 737 services, I decide to give it a try.
Air North's Ten years 737 Flying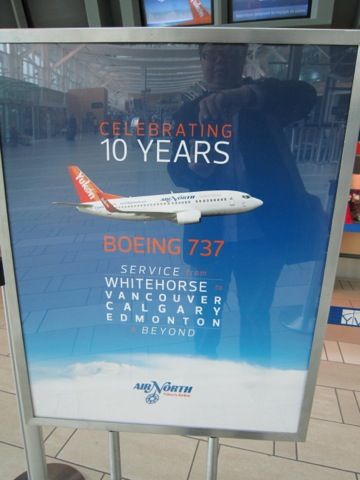 Booking:
Air North's website is very easy to use and the booking process is as seamless as one expects. Advanced seat assignment is available for $15CAD but bulkhead and exit rows are all blocked. The one-way ticket costs CAD$280 including all tax and seat assignment fee. The price is around the norm on this route but Air North offers you complimentary snack and two checked bag allowance. Nonetheless you get no miles. Air Canada has a twice-daily service from Vancouver and Calgary, and Westjet has a seasonal daily flight that operates only in the summer. The airfares despite look high are very competitive given the high costs of running flights to these regional cities. Back to topic, I rate the online booking system above average.
June 16, 2012
4N 506 YVR-YXY Lv1130 Arr1355 Boeing 737-500 Winglet C-GANH
Check-in:
Air North uses the main terminal at YVR, and the counters are located at lane 11, all the way towards the back after Air Canada and Westjet. A number of regional airlines share the area, but Air North owns a good amount of counters. There are no kiosks and everything is old school. There are at least four to five agents and since I arrived early, there was no one in line. The agent, Alan or Alex, was very friendly and we had a nice chat, and I asked about the load and found out that it was a busy flight. I asked for the exit row and it was answered with an "of course." 10F was what I got. I checked in one piece of bag, since these classic 737s had limited bin space. The whole check-in experience was pleasant and professional – a good start! There are also lots of brochures regarding the few major Yukon cities that Air North flies to, and they prove to be helpful as it is my first time to Whitehorse.
Check-in area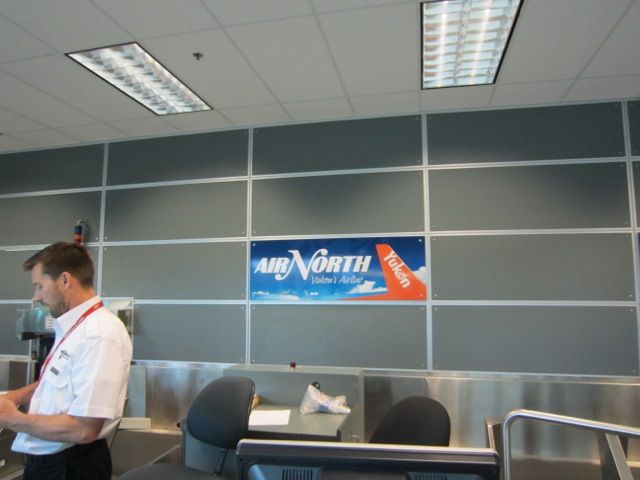 Blue & Orange Balloons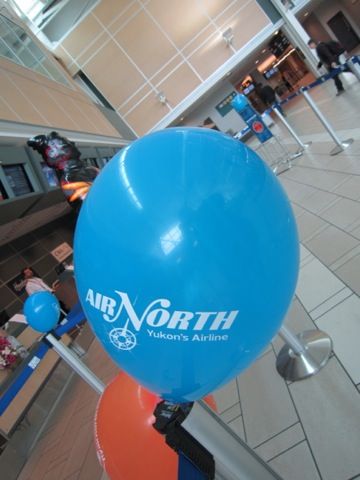 A special statue given by Air North to YVR – very cool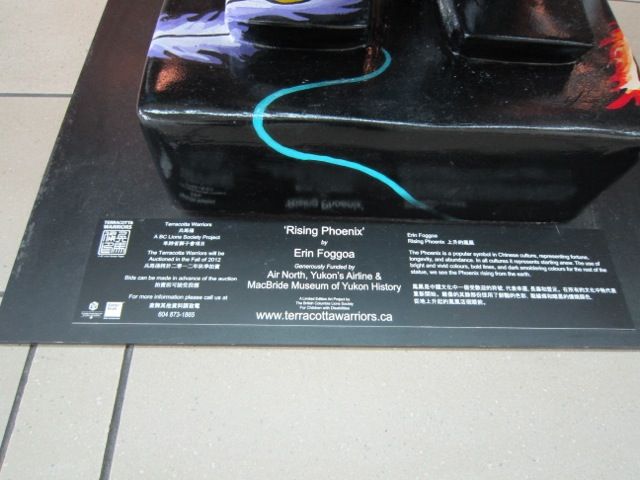 My first stop is the observation deck and I am not disappointed with an Air Canada retro jet A319 parked at the gate with its nose opened.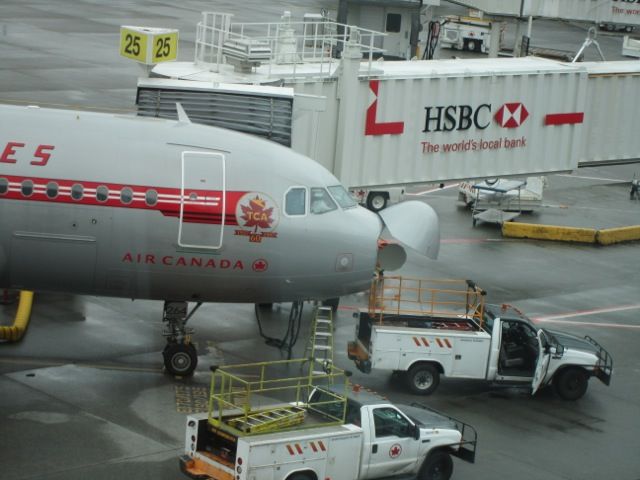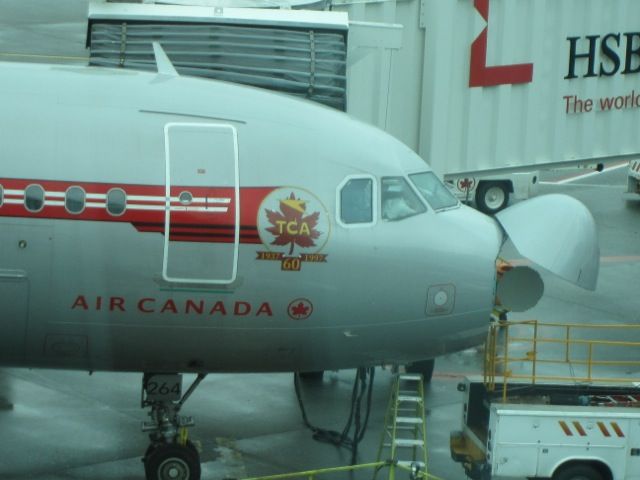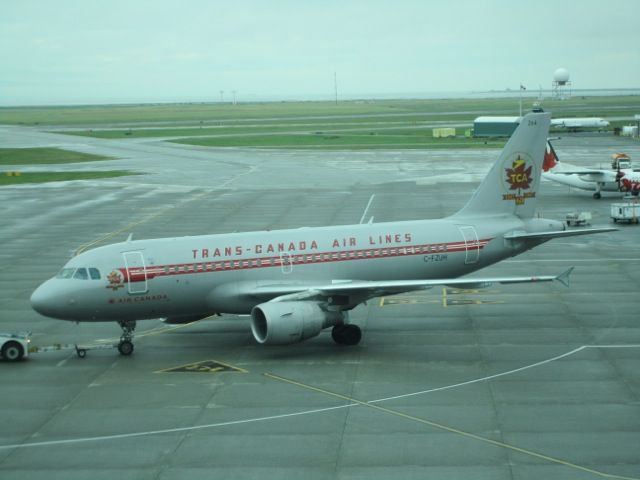 Lounge:
Plaza Premium lounge was the official lounge used by Air North and you could buy a discounted lounge pass through Air North's website. But as an AMEX Platinum holder and/or priority pass select member, I could get in for free. The lounge was very pleasant and it was not busy at all during these late morning hours. I took the liberty and here were the pictures.
Entrance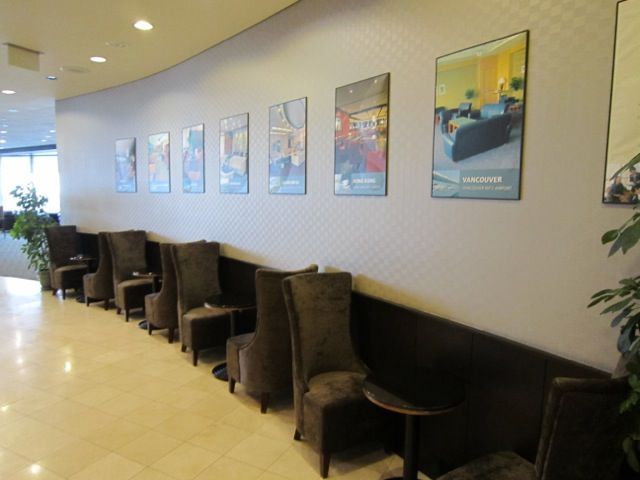 Business Center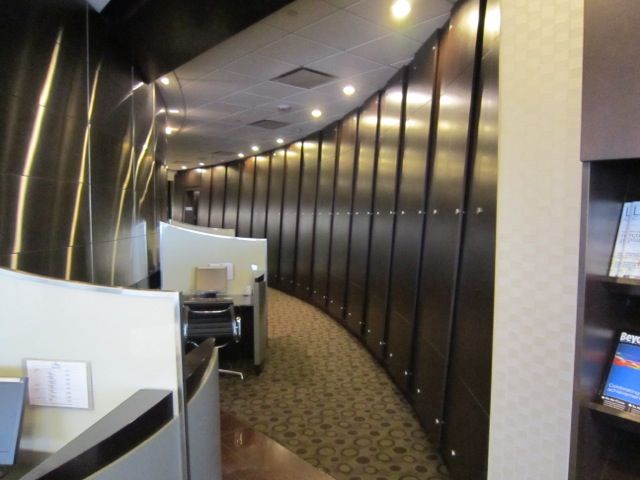 Bar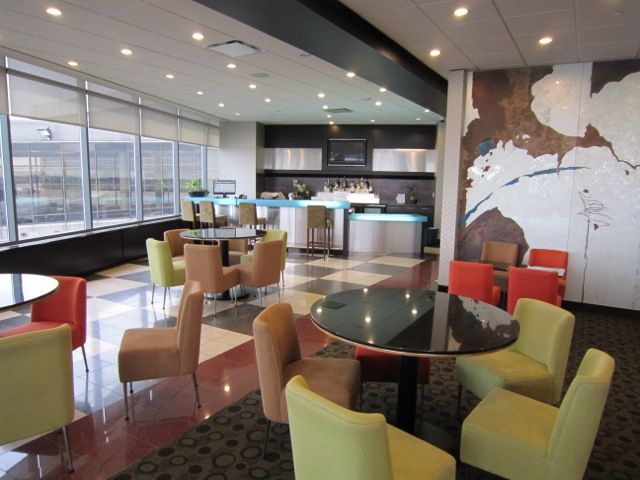 Painting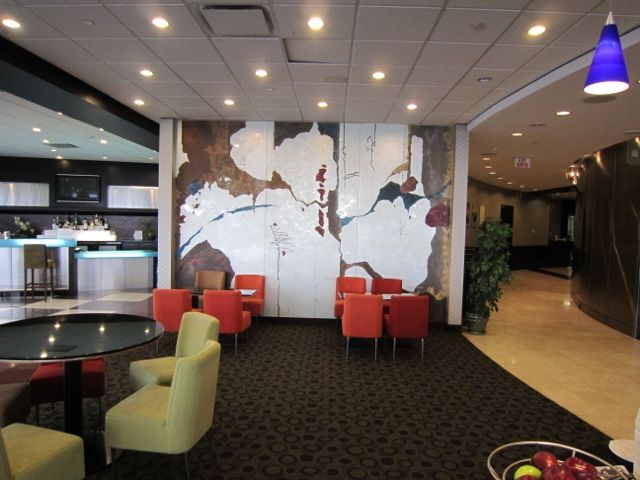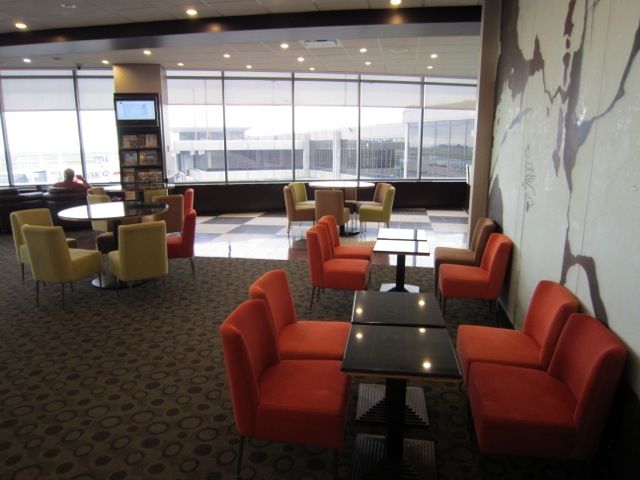 Dining Tables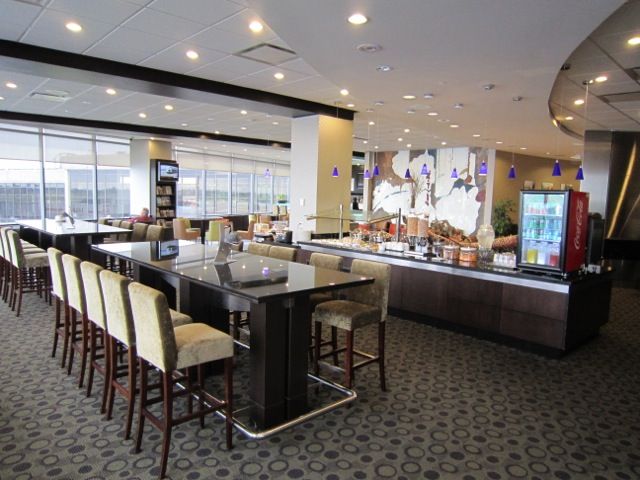 Sofa
Sofa stations along the window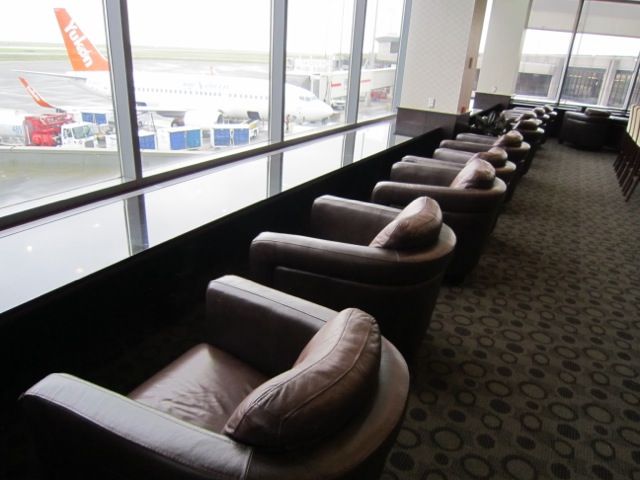 Buffet area – hot dishes – scrambled egg, bacon, sausage, and hash brown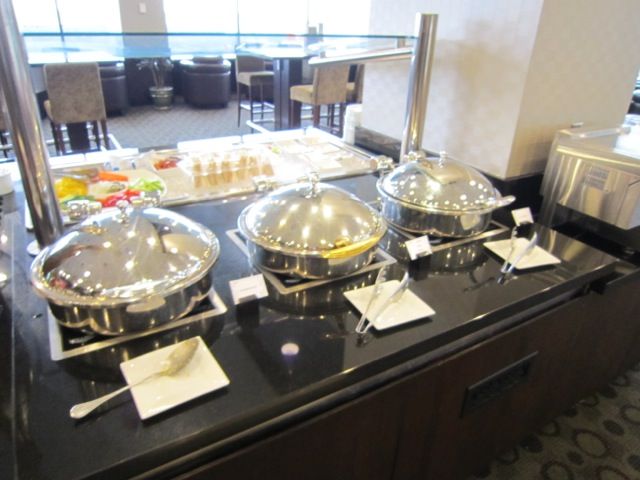 Pastries and cookies
Sandwiches and fresh crudités
Hot Beverage Station
Boarding:
Air North uses Gate B12 most of the times. B Concourse serves mainly regional airlines.
Gate B12
Air North carryon "sizer"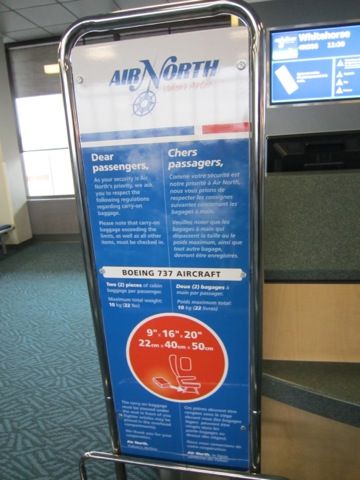 Seating Area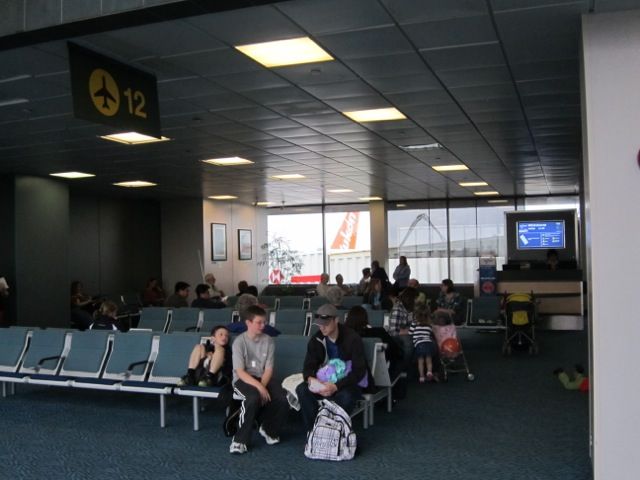 C-GANH is the sole Boeing 737-500 Winglet used by Air North. It is a 1993 model originally delivered to Braathens Airlines, and spent sometimes with Xiamen Airlines, and Aeroflot-Nord, before finding a new owner, Air North, on January 2011
C-GANH at B12
Busy loading bags and refueling – lots of mail and packages, along with bags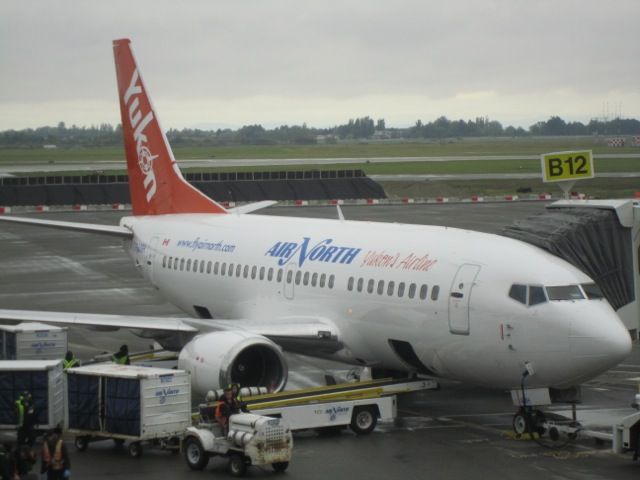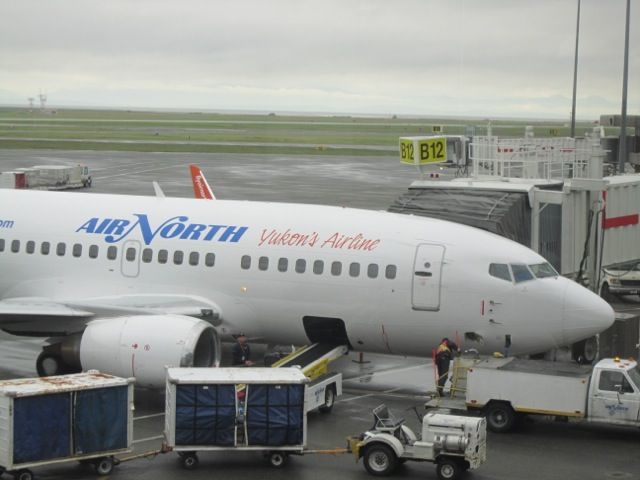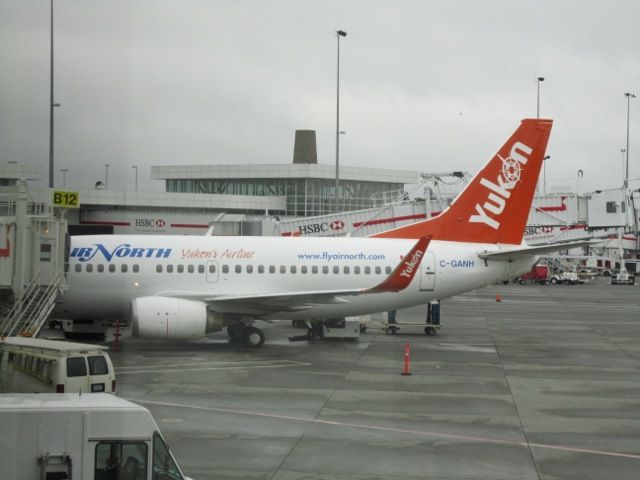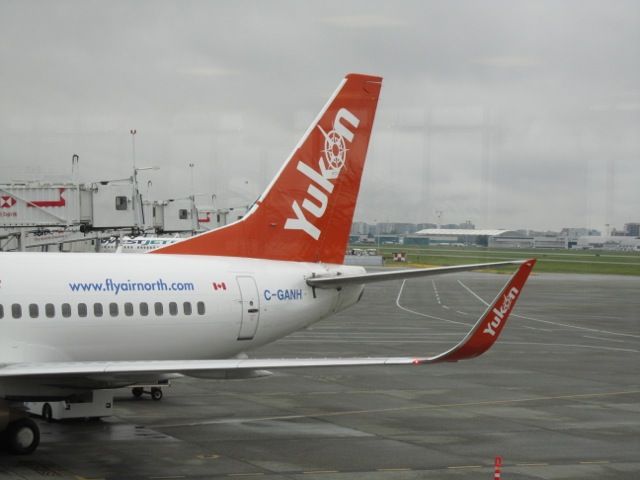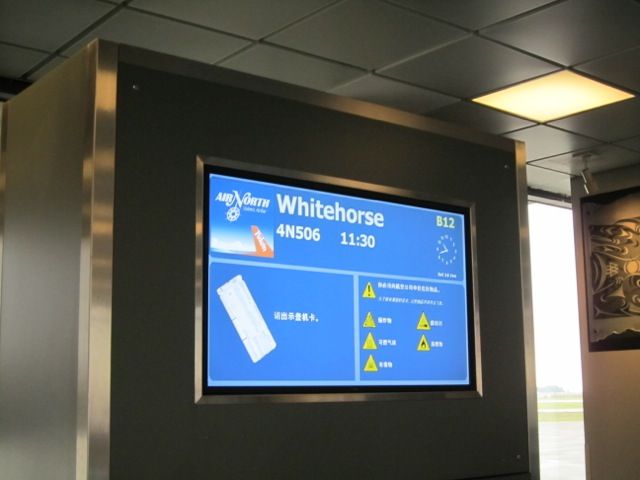 Westjet Boeing 737-600 arriving from Whitehorse – going to Ottawa next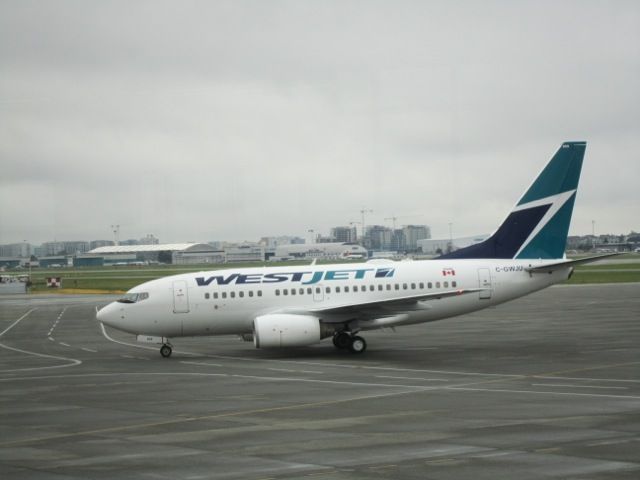 Boarding began at 11am and families were boarded first, and then passengers seated at Row 10 and above. The whole boarding process was very civilized and most of them are locals traveling back home, so everyone was familiar with the plane. Lots of families today too, are traveling today, including a little girl, who kicked my seat during the whole flight, with his mother behind me at 11E and F. To give her mom credit, she asked her stop, but just could not keep up.
"Vuntut Gwitchin" label on the plane – Air North receives fund from Vuntut Gwitchin first nation – Indigenous people in Yukon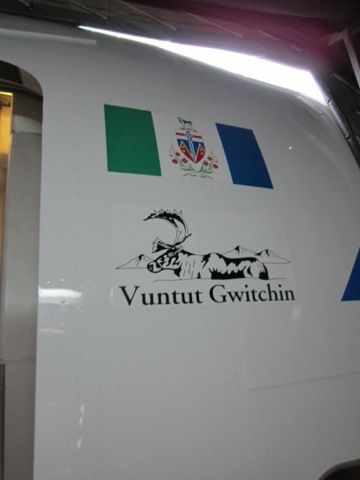 The flight was very full and the exit row was full. However it was interesting that Air North follows the US ruling regarding under-seat storage on exit rows – it was permitted. Boarding was speedy and door was closed early at 11:23am. We pushed back at 11:25am and taxied towards R/W8R for takeoff. Not a busy day at all! We took off at 11:35am. Flying time was a quick two hours and nine minutes with a cruising attitude of 36,000feet.
Cabin Shot
It was a one-class airline and Air North calls its Economy Class "Yukoner". I guess it is to give it a special recognition and reminds me everyone that Air North is the airline of the Yukon. All the seats are well padded and they are leather seats with a blue color scheme. Very traditional and old school, but professional! The cabin is clean and tidy. The seats look very comfortable and the seat pitch looks alright even in non-exit row seat. No extended overhead bin, but since it has a generous baggage allowance, the usual fight for space does not exist. Such a nice change of scene! I will let the pictures do the talking!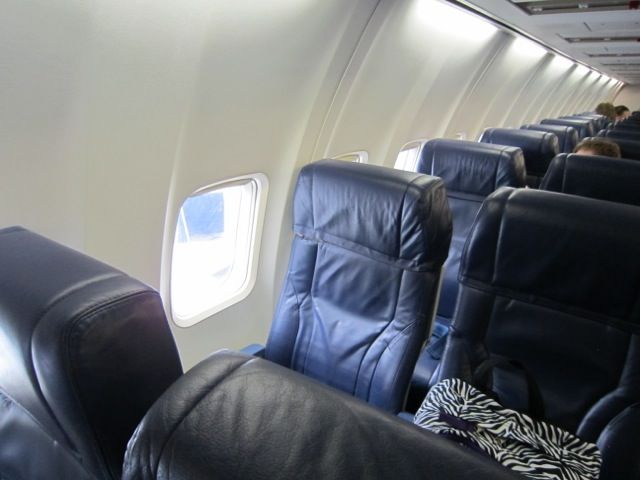 Exit Row Seats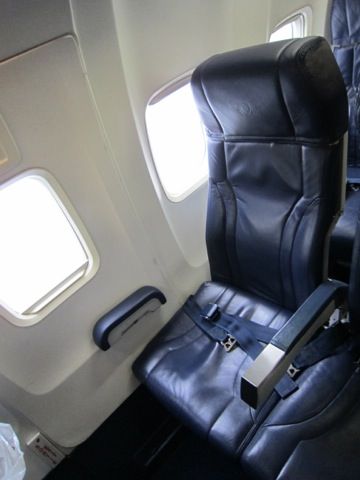 Service: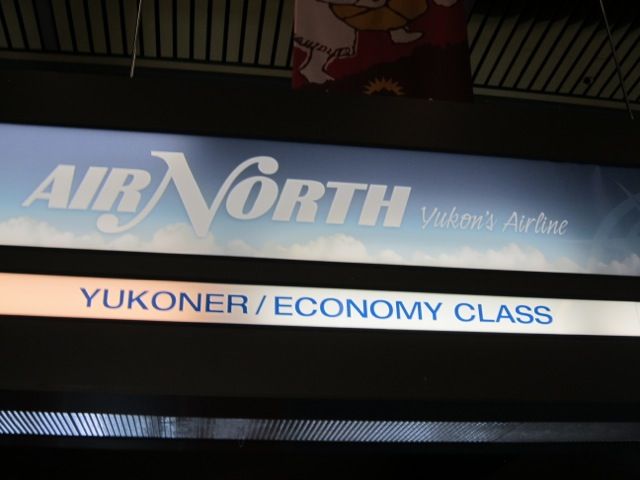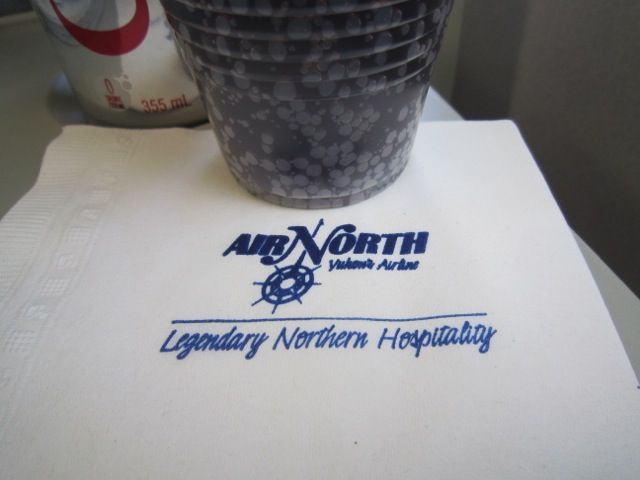 I really give Air North high marks regarding the amount of service we received on this short two hours flight, and both Air Canada and Westjet don't even come close to it. These F/As worked nonstop and the amount of food and beverage caught me off guard. These days I kept my expectation reasonable even the website heavily promoted many aspect of its service. Air North reminds everyone through PA and magazine that they have recently opened a flight kitchen at Whitehorse and everything is catered in Whitehorse. Return catering for all flights from Whitehorse! Here is the offering:
11:58am – First beverage service with full can of sodas offered
Please note alcoholic beverages are not complimentary and they costs $6 each! The cash bar is very popular!
12:13pm – the third F/A rolled down the meal cart and offered a cold snack – a deli plate (vegetarian option is available), and bagged snack and a wet nap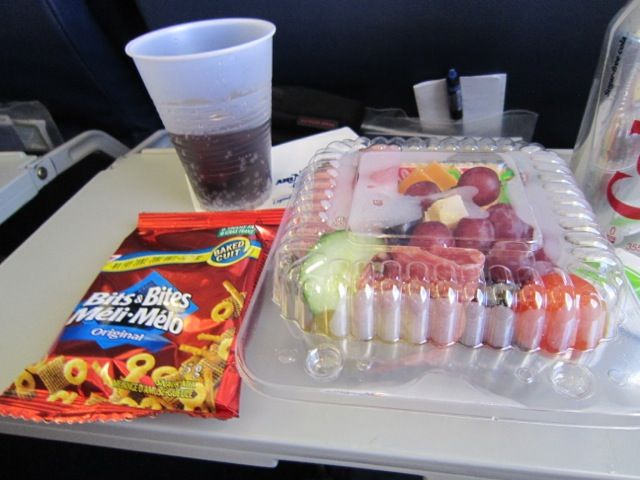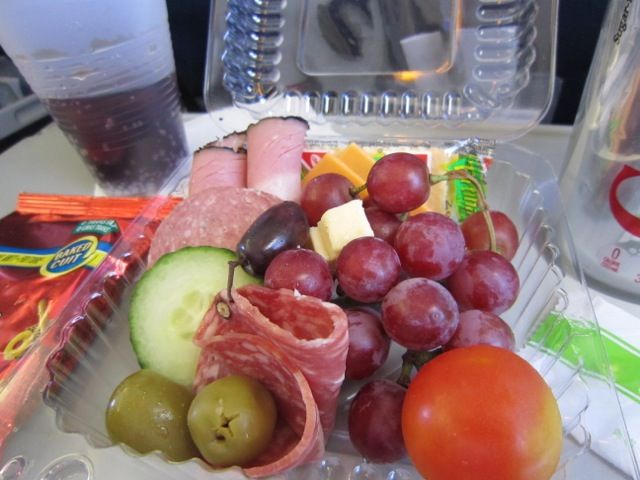 The deli platter includes sliced salami, sausages, ham, cheddar cheese, Swiss cheese cubes, crackers, green and black olives, sliced cucumber, and cherry tomato. A bag of Bits & Bites snack mix is offered as well.
12:48pm – the third F/A carried a wicked basket filled with freshly baked oatmeal raising cookie for everyone – not only premium passengers – with Frontier eliminating its cookie service, Air North is possible one of the few remaining airlines serving freshly baked cookies for economy passengers.
1pm – Second beverage service again and full can of sodas are offered as well – Alaska Airlines perhaps is the only other airline, which provides two rounds of beverages, but then AS offers only one cup of beverage, not full can service. Cash bar is again available.
1:26pm – Candies – mints and hard fruit candies are passed out to every passenger – a nice pre-arrival touch
Flight attendants:
Three F/As were in charge of the whole cabin, and their uniforms were interesting, as they are sort of similar to the cockpit crew but with a yellow tie. But according to magazine, they will get new uniforms soon. They are relatively young and all very friendly, polite and professional. They always have a great smile in their faces and worked nonstop on this short flight with two full beverage and various snack services. It is interesting to note that two F/As are in charge of beverages, while the third F/A does the food related service and collecting trash. Air North F/As definitely are better than the F/As in the major Canadian airlines. Thank you to all three of them!
Entertainment:
There is no audio and video program on these classic 737s, but Air North has an inflight magazine.
Contents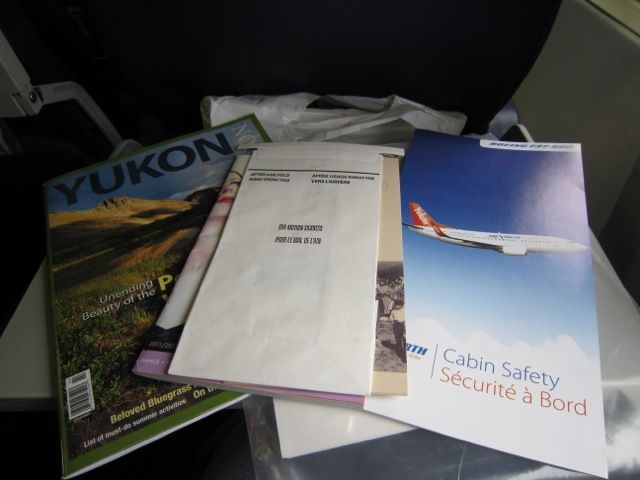 Safety Card – C-GANH featured on the cover
Midflight pictures
Unfortunately the weather was cloudy throughout the flight, so I was unable to provide you with some scenery pictures. However I managed a few winglet pictures, as well as a few pictures as we approached Whitehorse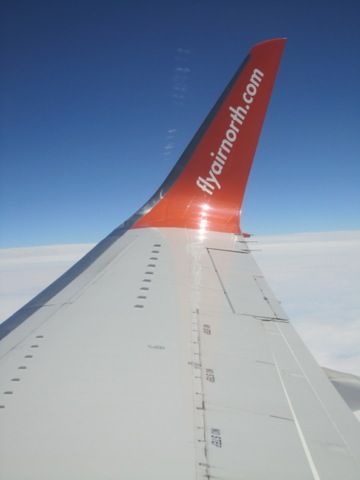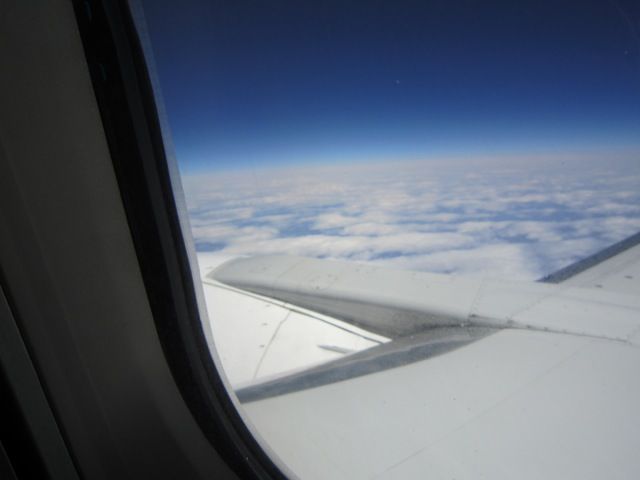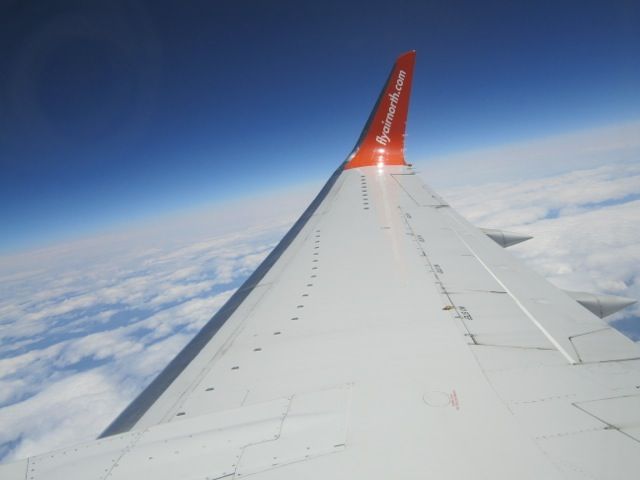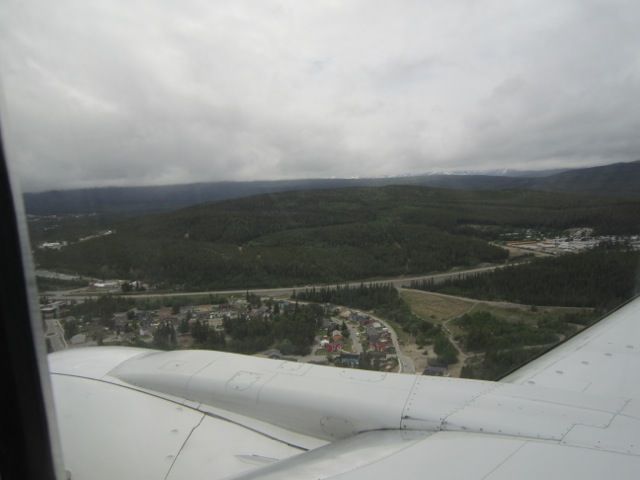 Arrival:
Descent began at 1:23pm and there was some light chops on the way down. We landed on R/W13R at 1:44pm and the airport was one jet bridge for gate 2. It seems that it is a dedicated Air North gate, and possibly for the sole international flight to Frankfurt too. The airport is very small as expected.
Airport shot with the only jet bridge
Air North's refueling truck
Air North Boeing 737-500 resting here at YXY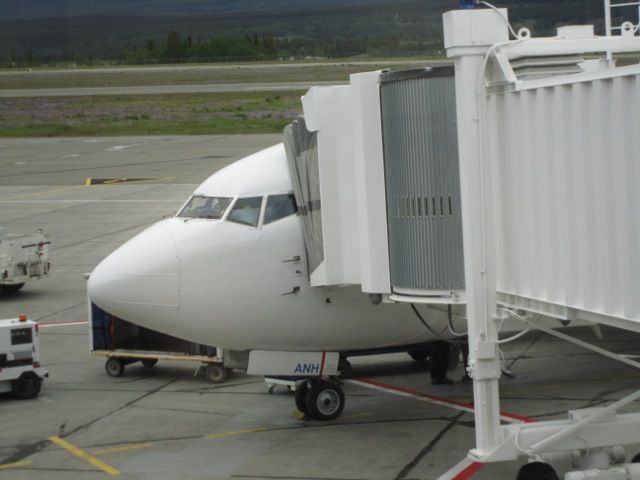 Entrance to Whitehorse airport
Whitehorse Terminal Building
Whitehorse airport is named after Eric Nielsen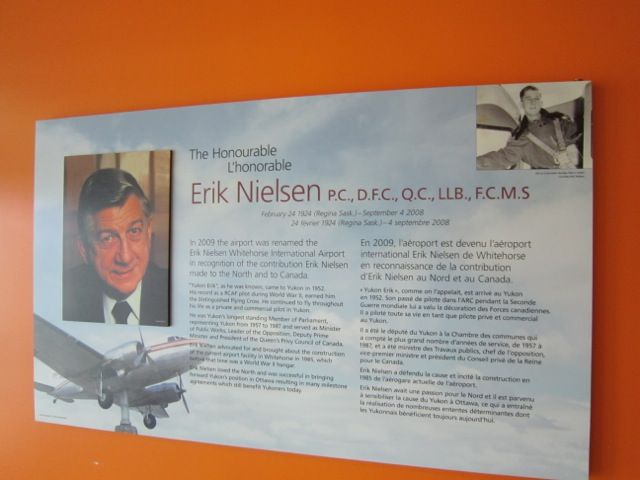 Check-in area
Air North check-in counters at YXY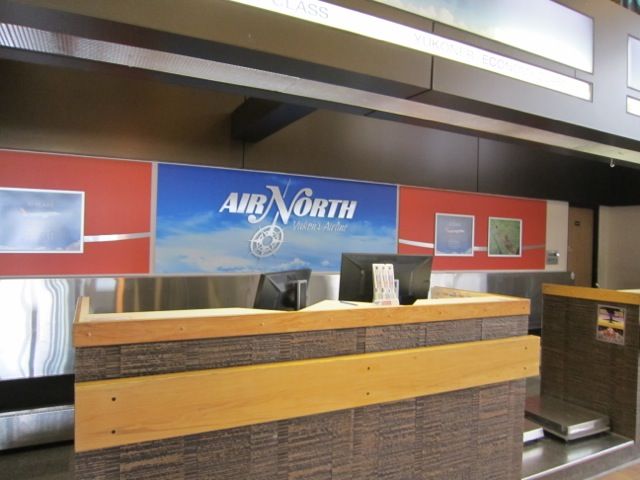 Baggage Claim Area
We used the new baggage claim today – Claim number 2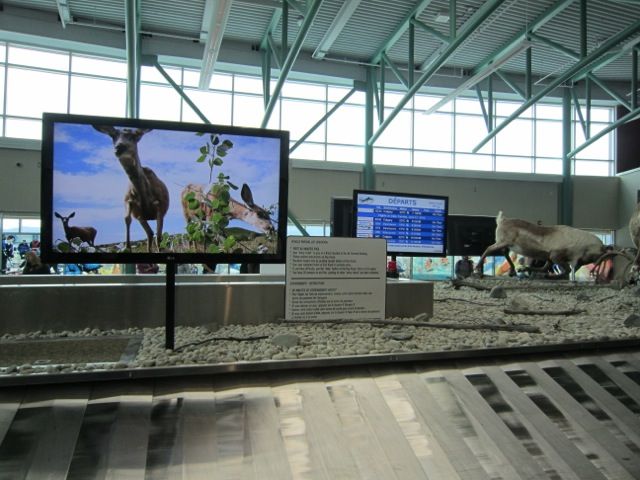 International Arrival area – Claim number 2 doubles at international baggage claim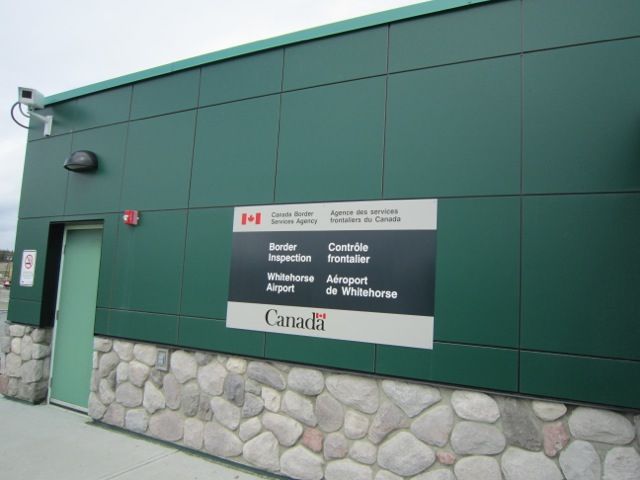 Arrival Screen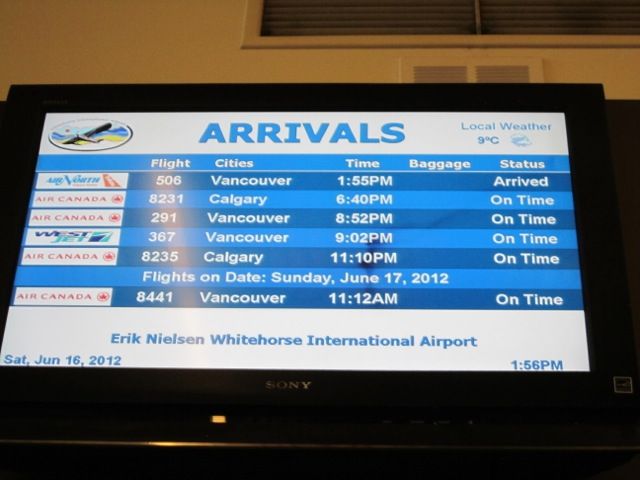 Departure Screen
Apron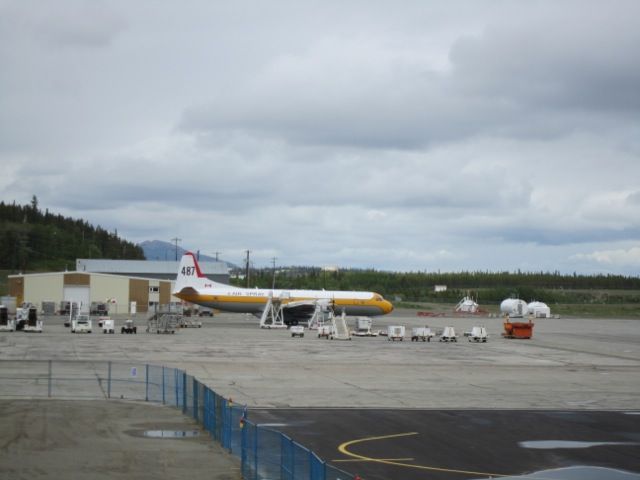 Transportation Museum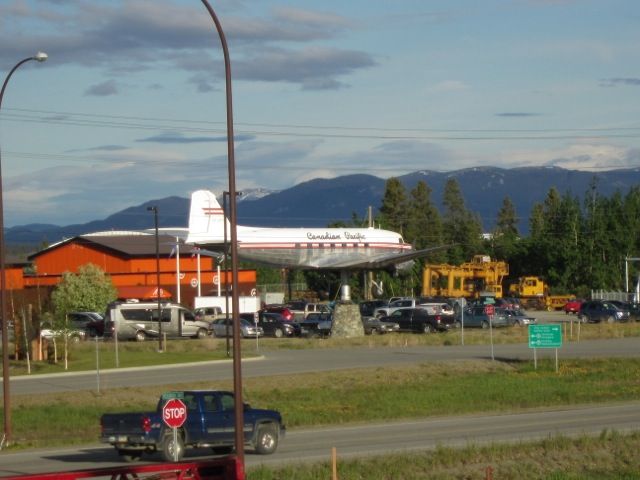 In conclusion, Air North is a very good experience and I hope I will get to fly its HS748 in the near future. I will recommend it for everyone to give it a try. Sure there is no fancy personal TV and all those fancy stuff, but you get the old-fashioned airline services including freshly made snacks. Give it a try!
I stayed at the SKYY hotel right across the street and got a few pictures, as the evening AC E-190 and Westjet 737-600 arriving from YVR – not very good pictures, but acceptable considered my compact camera.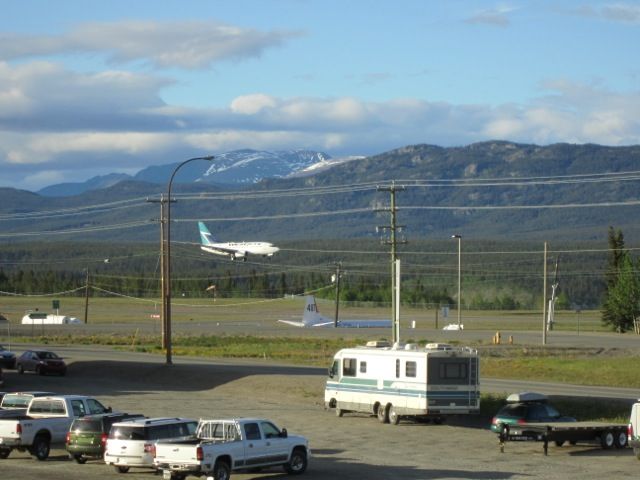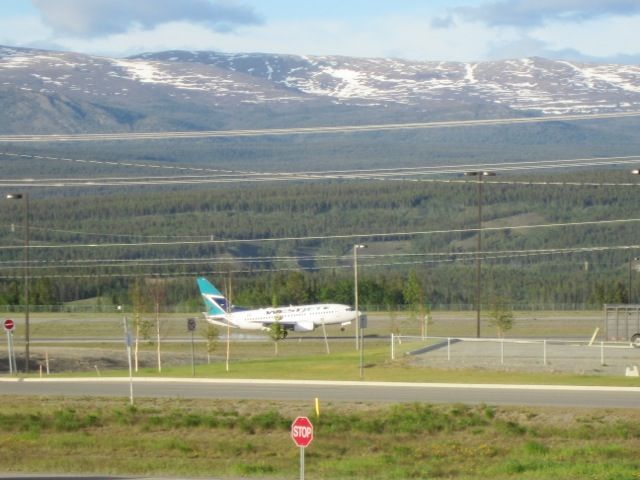 I flew back the next morning on Westjet flight 676 and took the opportunity to shoot a few more pictures.
Air North is sending a Boeing 737-400 to Vancouver this morning and C-FANB is getting ready.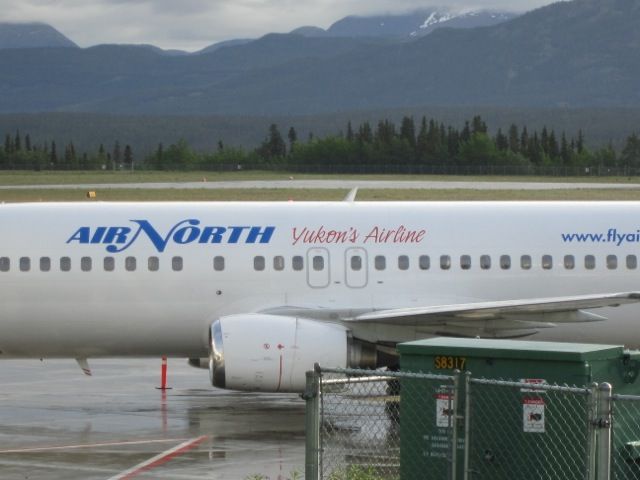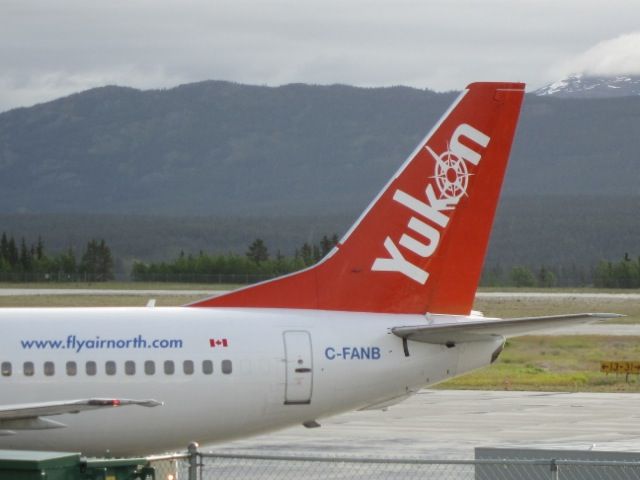 Air Canada is sending its EMB-190 for the morning flight to Vancouver as well – C-FHJU with an all female cockpit crew too.
C-GSWJ a Westjet Boeing 737-600 is getting ready as well.
Gate 4 is the international gate and therefore the nicer décor. Both AC and WS use this gate, while 4N uses Gate 2 and 3.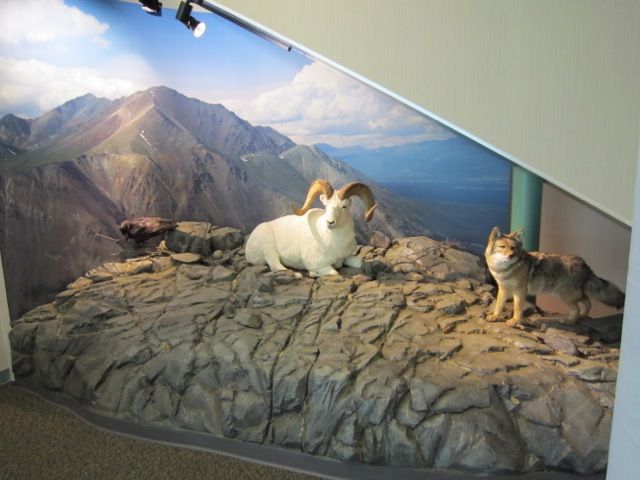 C-FANB leaving YXY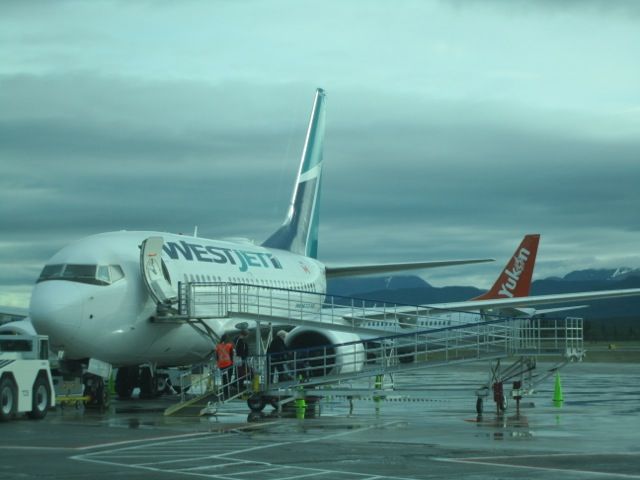 C-GWSJ at boarding – beautiful bird
Back in YVR and one last shot of the C-FANB parked at its usual spot B12
Thanks for reading!
Carfield