Part Two: Pacific Coastal Airlines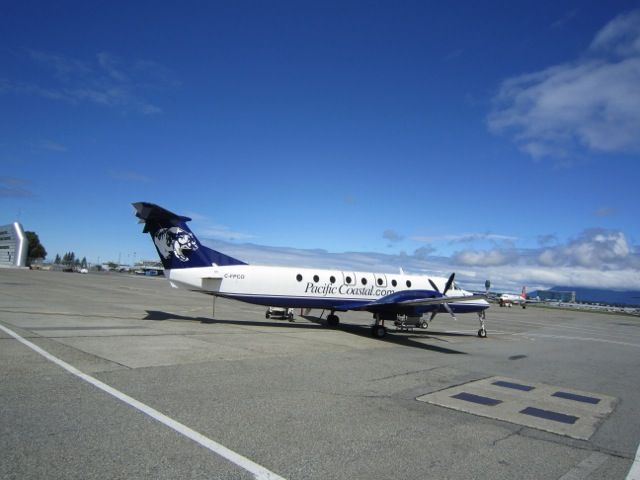 Full Album including both Air North and Pacific Coastal Airlines
http://s1213.photobucket.com/albums/cc465/Carfield76/CanadianJune2012/
Pacific Coastal Airlines is a major regional airlines serves mainly the Vancouver Island and nearby cities in British Columbia. It has a fleet of seaplanes, B-1900Cs, Short 360s, and Saab 340s. Of course my eyes are on the Short 360s, as it is difficult to find a flight on Shorts 360 these days. Why I chose Comox? Westjet has recently started a number of flights to Calgary and Edmonton from Comox and Comox makes a reasonable destination and I can do an one-day thing without long layover. One of the major issues is what to do at these regional destinations when you have no car and don't feel like fishing or spending days there. Comox Valley airport is small but at least it is brand new with a coffee shop and free wifi. Two airlines fly to Comox from Vancouver – Central Mountain Air and Pacific Coastal. CM Air basically runs the flight for Air Canada and you can fly from the main terminal. Pacific Coast airlines is more local and actually uses the South terminal, along other smaller regional airlines flying to smaller Vancouver island communities. I settle with Pacific Coastal, as I want a regional flavor, and since I am no longer Star Alliance gold, I don't want to bother with AC. Plus I saw 8P actually operates Short 360, an interesting aircraft type that is hard to fly within the US now.
8P 705 YVR-YBL Lv1145 Arr1230
8P 705 YBL-YQQ Lv1245 Arr1255
Booking:
Pacific Coastal Airlines has a comprehensive website and I am able to find a flight that departs at a decent hour and scheduled using an aircraft type that I like. Since it is open seating at Pacific Coastal, I don't need to worry about seat assignment. There is no online check-in but who needs it when you are flying a regional airline, which operates from small airports? It is a very easy booking process.
South Terminal Shuttle from Main Terminal at YVR
These airlines use South Terminal
Entrance to South Terminal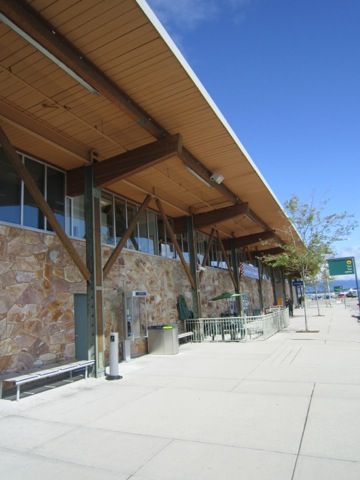 Check-in area: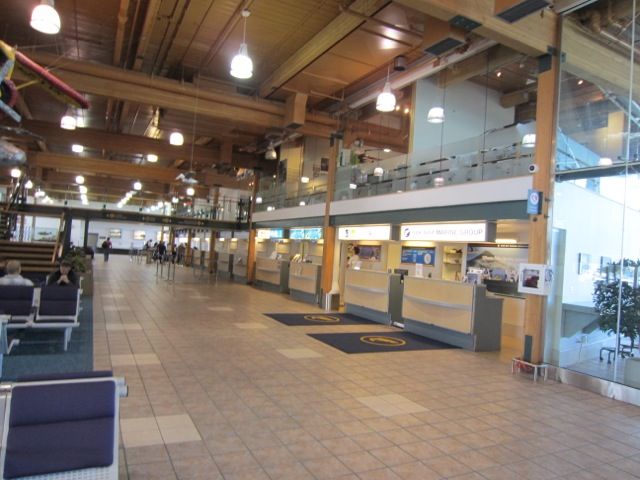 South Terminal has an aura of general aviation to it, and there is a coffee chop outside of security, as well as a gift shop. Flights run out from three gates – 1&2 requires security check, and gate 3 does not have to deal with security.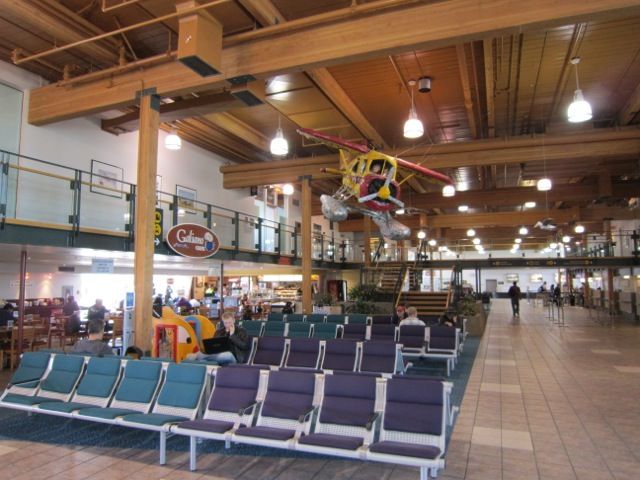 Lovely small airplane in the rooftop
A Nice bear Statue
Check-in:
Entrance to Check-in
Check-in area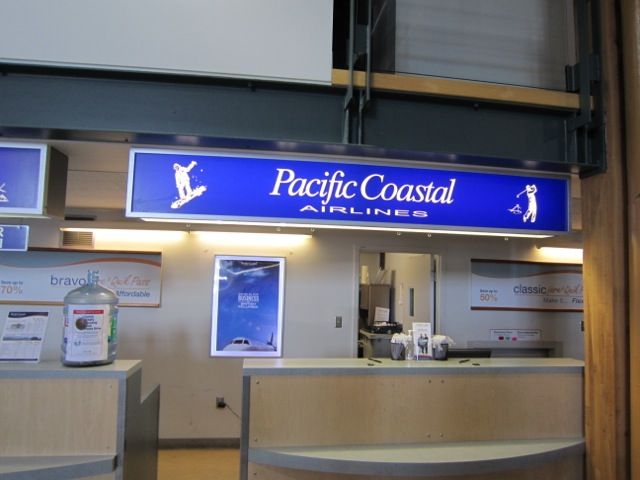 Complimentary newspapers including Vancouver Sun for all 8P passengers
Baggage "sizer"
There is quite a line of passengers but the process is pretty efficient. Pacific Coastal airlines definitely weigh every check-in luggage and it is not a surprise. But future passengers, please be aware of the allowance. The agents were efficient and polite, not super friendly nor personable, but pleasant enough.
BTW, this flight has a stop at Campbell River before going onward to Comox and than back to Vancouver. It runs a triangular operation.
Gates:
Gate 1 & 2
Lots of old Vancouver Airport photos in the wall
Boarding:
Our load to Campbell River was light with only six passengers (only three went to Campbell River this morning), and boarding began at 11:43am. An agent scanned the boarding passes and the first officer, a very handsome Darren, led us to the plane. It is designed to be a more personable experience, or flying these regional flights, these pilots really have to do more things than flying a Boeing 737. First officer is sort of like the flight ambassador and Darren is a friendly person.
When I arrived at the airport, I had already noticed that there was no sign of any Shorts 360 aircraft, except a few B-1900s and Saab 340s. I checked flightaware for any Shorts 360 flights arriving into YVR, and there was none, so I was not surprised to see C-FPCO, a Beechcraft 1900C being used. Anyway it is still a new aircraft type for me.
South Terminal from the plane
Lovely weather and a lovely plane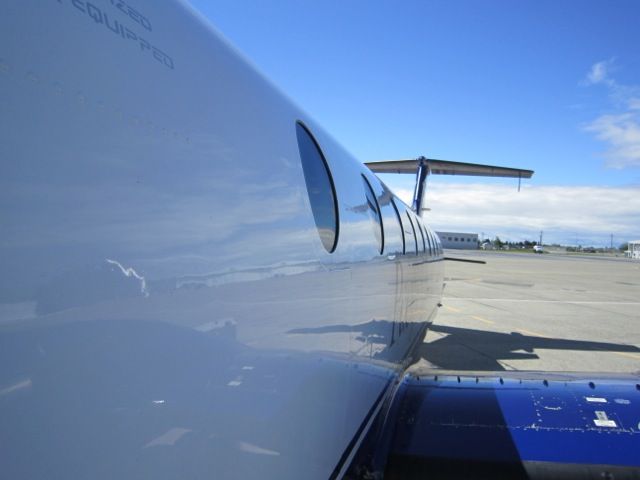 Door was closed two minutes later and Darren gave us the welcome speech and did the safety talk. They both made it clear that if there were any issues, it is okay to tap on their shoulder on the open cockpit.
Darren was doing the welcome speech on the second flight