Feedback always appreciated.
I > Background:
In October of 2011, I had the pleasure of attending a weekend wedding of a good friend of mine from graduate school days. He is a Turkish fella and work with the Ministry of Foreign Affairs in Ankara. I had an engagement in joyful (roll eyes) Beirut and Istanbul was a short trip away. I had to go to Mexico City from Istanbul and almost all options being presented to me seemed "boring" – the LH flight to Frankfurt or AF via Paris. My angel (aka, my travel agent in CCS) kept giving me options, and me politely declining them telling her she could do better . Sure enough, she emailed saying she had a relatively good price on Turkish Airlines IST-LAX-MEX with the last segment done on AM. As many of you are aware, I am a big fan of Turkish and I instantly bought the ticket in a heartbeat. My previous TK trip reports (both in JCL) are documented here:
1/ JFK-IST:
Turkish TK 002: 25/NOV/08: JFK-IST: J Cabin
(by
Abrelosojos
Dec 8 2008 in Trip Reports)
2/ GRU-DKR-IST:
Turkish TK 16: 29/APR/09: GRU-DKR-IST: J Cabin
(by
Abrelosojos
Jul 13 2009 in Trip Reports)
There are a few reports on the IST-LAX flight in C-Class – one of the best has been from Amax1977 (Ali) as documented here:
Turkish Airlines TK009: IST-LAX C Cabin
(by
amax1977
Apr 30 2011 in Trip Reports)
II > Pre-Flight:
a) Before Airport:
Turkish Airlines (TK) is the "flag carrier" of Turkey, and was formed in 1933. It is owned primarily by private investors, with the government retaining a large (40%?) share in the company. A member of Star Alliance since 1st April 2008, TK has been on a consistent rapid growth path which would finally capture on its strategic location and take advantage of its membership into the world's largest alliance. On a personal note, TK is one of the few airlines that I strongly think is poised for long-term growth. IST-LAX is the longest route in the network edging out GRU.
While booking was done through my travel agent, I was rather impressed with the redesigned Turkish website at
www.turkishairlines.com
- sadly though, while it looks great on the cover, under the hood functionality is severely limited. While one can get view and print bookings, and generate e-ticket numbers, there is no functionality to chose a seat. I have booked directly on their site and it seems that seat selection is possible on direct TK bookings – also only if booked 100 days in advance (this is when seat selection opens). I find this system rather archaic – Air Canada also has this annoying feature. Anyways, a quick call to their global call center in Istanbul sorted the mess out and I soon got my preferred seat 1A. I must say I was quite impressed with the improvements in their call center and the 2 times I called I got really poltie and efficient agents.
b) At Airport:
Passengers flying Turkish Airlines in J-Class as well as Elite members of their loyalty program, can check in through a separate entrance at Istanbul airport. This was great because the security queue to get into the terminal can be very long.
Now, before anyone can check in for flights to the U.S. (along with U.K., Canada, and Israel), they must go through a rather elaborate security circus. This is an usual requirement for airlines flying to the U.S. Some airlines and airports do it well (HKG, NRT, SIN, DEL, LHR, FRA, etc.) and so do it extremely poorly (CDG, DOH, DXB, LIM, etc.). With much pain, I must add Istanbul and TK to the second list. Turkish outsources this to a local security agency and their overzealousness in dealing with these checks puts the US TSA and Immigration forces to shame. I was not upset about the inane questions, the multiple copies of my passport being made, the need to show outbound tickets from the U.S., or the fact that my business card was requested to "verify" that I worked in the airline industry. Nor was I annoyed at having to detail every aspect of my stay, and produce hotel reservations. What bothered me and got me riled up was the attitude while doing the entire thing. There was an air of superiority with the power of these agents had clearly gone into their head. Anyone who was not American or Turkish must be illegally trying to enter the U.S. They clearly enjoyed their power and I saw them being disrespectful and even abusive to several people. These were agents who would not think twice of denying you entry to the U.S. This was particularly true for anyone they felt did not fit their profile of befitting a trip to the U.S. While the agents I dealt with were rude, they paled in comparison to some that staff the transfer desk at IST and go through these same procedures for these destinations. If Turkish wants to be a global airline that relies on transferring people, I would strongly recommend it to teach etiquette to its staff – Turkey is not the only country whose citizens can afford travel to the U.S. It does not want to be the next Doha.
After this circus was over, and I had obtained the "privilege" of entering the U.S., check-in was quick and efficient. Perhaps, it was because I was in a dour mood already, but the check-in agent was rather disinterested in her job and without many pleasantries exchanged, I had a boarding card, my preferred seat, and an invitation to TK's premier lounge. After a rather painless immigration and security process, I was airside and ready to go to TK's global lounge. Now, this is where TK begins to redeem itself. Before the renovation, the lounge was pretty good – now, it is simply brilliant. Definitely one of the best global J Class lounges out there – it has everything from a library, pool table, lockers, relaxation rooms, widescreen TV's, internet, laptop stations, a piano bar type area, video games, and of course MANY food stations supplying both hot and cold food. There was several self-service bar area (though, mediocre wine), and enough drinks (hot and cold) to keep you stuffed no matter how long the layover is. Arguably, one of the best JCL lounges in the world.
Around 45 minutes prior to departure, I left the confines of the lounge and made my way to the gate. The agent working the gate did not believe in priority boarding and it turned out to be a mad/for/all dash to get onboard.
Being well experienced in "ILBST", I shoved my way into the jet bridge – and made a left turn at the door. Entering the 77W, I was greeted by the purser as I made my way to my seat. There was a FA on each of the two aisles watching passengers board and giving a hand when needed. Neither were overtly friendly, but were pro-active enough in assisting with the luggage and taking coats away. J load was 80% (almost ALL were either local, or connecting from DEL and IKA), Y+ was 95%, and Y was 100%. No wonder TK has gradually expanded their frequency into LAX.
Airport - External:
NONE
Check-in:
(Turkish J Class Check-In)
Airport - Internal:
(FIDS)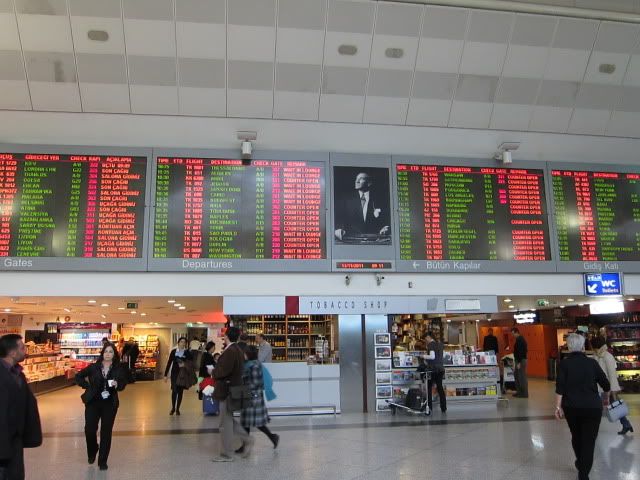 (Post Security @ IST)
*
Scenes of the tarmac:
NONE
Lounge
(Turkish Airlines' fantastic flagship lounge – one of the best J Class lounges in the world)
(My favorite seat + Food)
(Let's go for a walk around the various rooms in the lounge)
*
*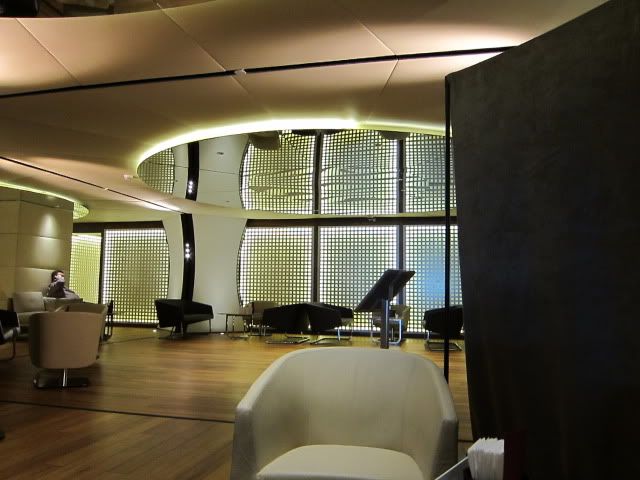 *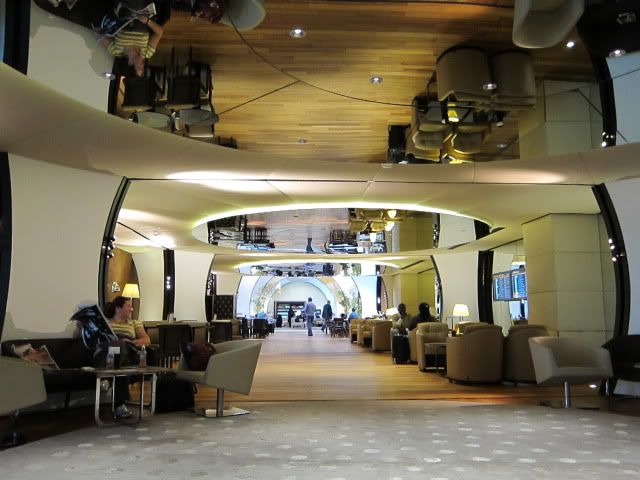 *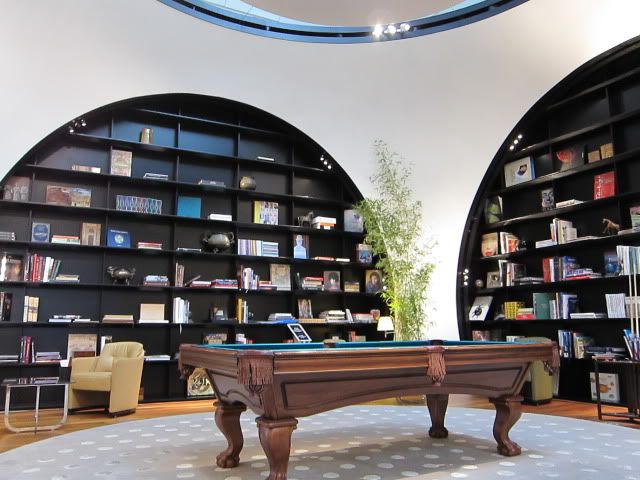 *
*
*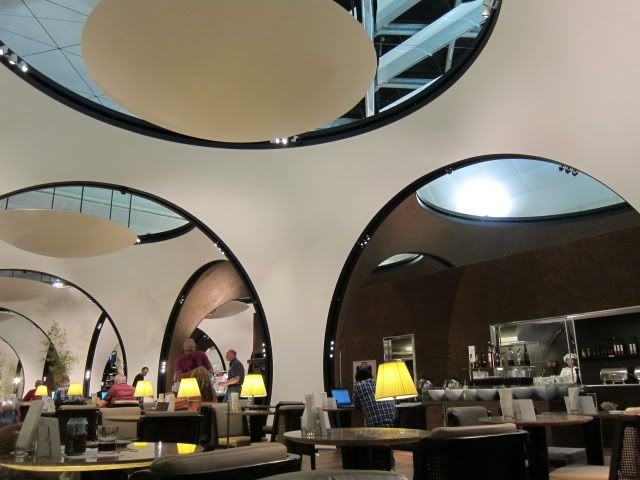 *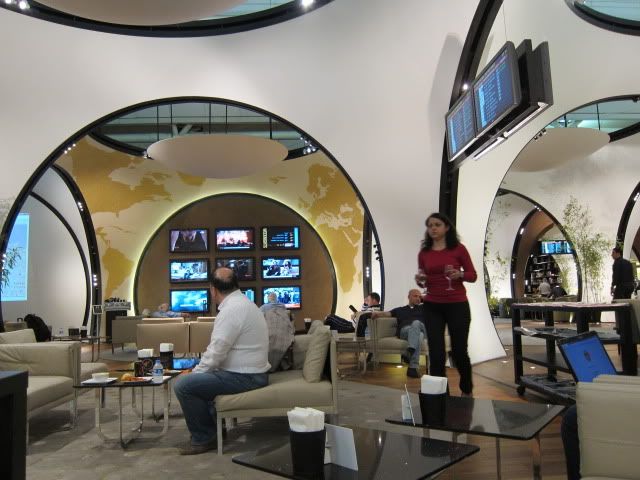 *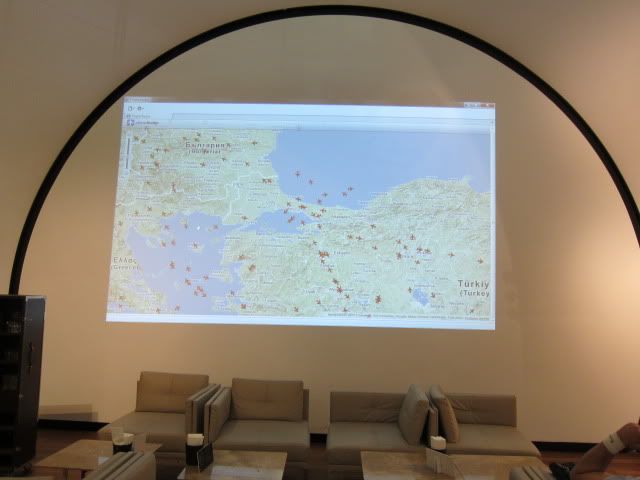 *
(Bathroom)
*
(Some of my food)
*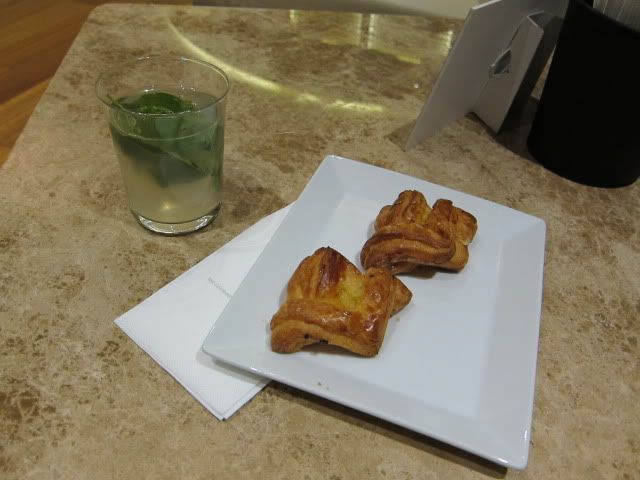 *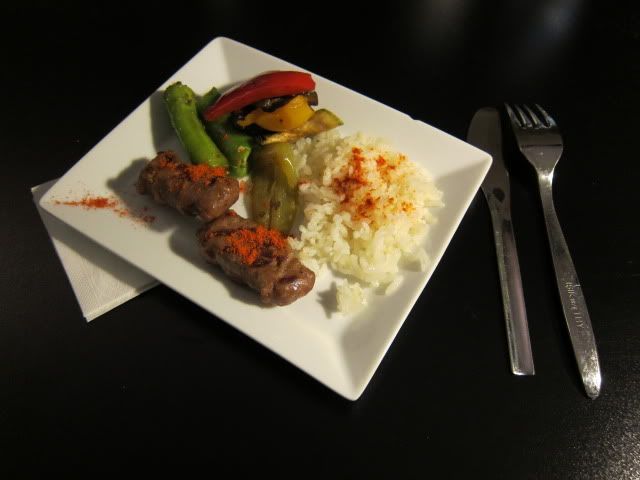 Boarding:
(Gate Area)
NONE
(Boarding)
III> In-Flight:
a) Service Schedule + Impressions:
At each of the seats were a nice Turkish branded duvet and a pillow. While on the ground, Mr. Dogan came by with welcome drinks (OJ/Water/Champagne) and a piece of chocolate, and a choice of newspapers and magazines. Also while on the ground, amenity kits, slippers, menu, and noise canceling headsets were distributed.
Post take off, service included:
+ Cold towels
+ Elaborate lunch service
+ Mid-flight snack service
+ Pre-arrival meal service
b) Aircraft + Seats:
Turkish Airlines uses its premier 77W on this route featuring Business Class, Comfort Class, and Economy Class. The 77W was well maintained – including the very fashionable washroom with a basin et.al. There is a nice sense of space and I loved the overall use of mood lighting during the flight.
While I am not a huge fan of the 2-3-2 arrangement in JCL, I appreciated the seats tremendously. They went full flat and provided a really nice experience in every situation – from sitting to relaxing to sleeping. In the sleep mode, I especially enjoyed the use of the leg rest as it made for less "breaks" in the seat, and a really nice pleasurable sleeping experience. The shell around the seat provided good privacy and the huge table made dining and working an enjoyable experience.
Aircraft:
(@ IST)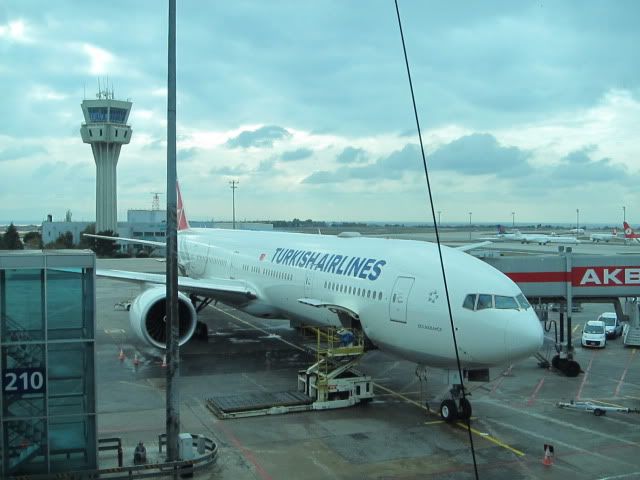 Views from Aircraft:
(@ IST)
*
*
*
(Sayonara Istanbul)
(Brilliant sunrise)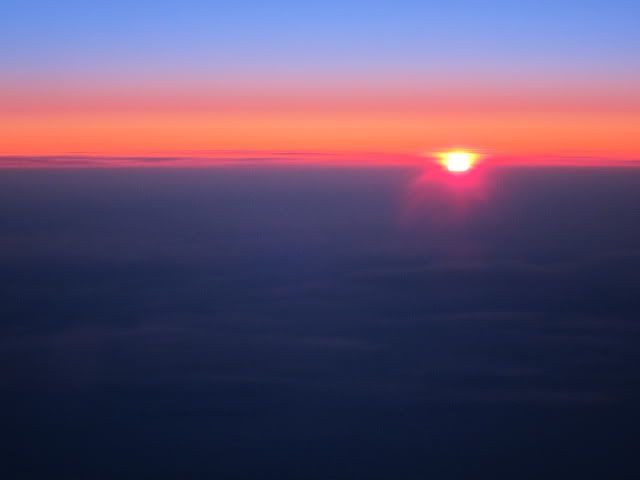 (Approaching Greenland)
(Look @ those engines)
General Seat Views + Seat Legroom
(Seat)
*
(Front of seat)
*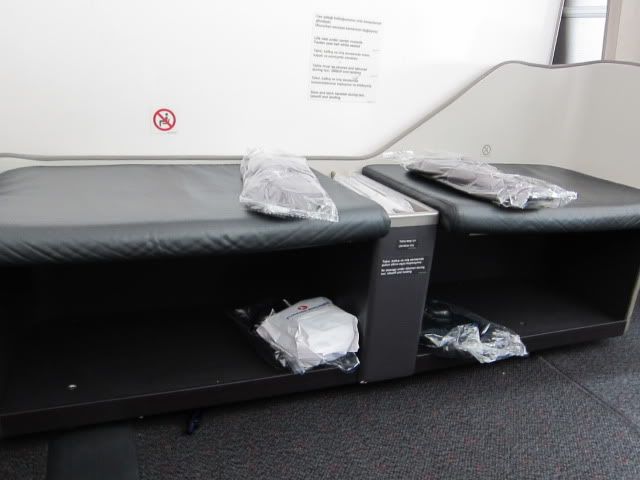 (Seat controls)
(Around Seat)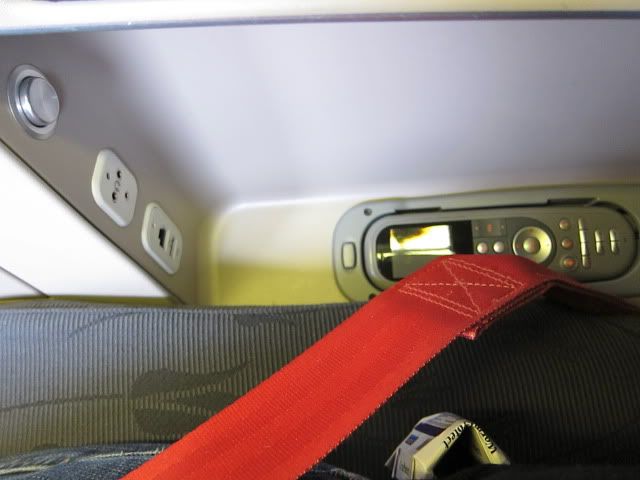 (Legroom)
Seat Recline + Angle View:
(Recline)
(Angle view)
Cabin:
*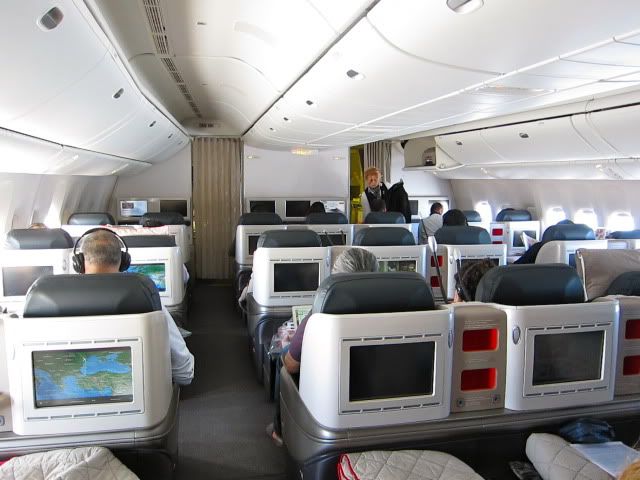 *
(Blanket ++)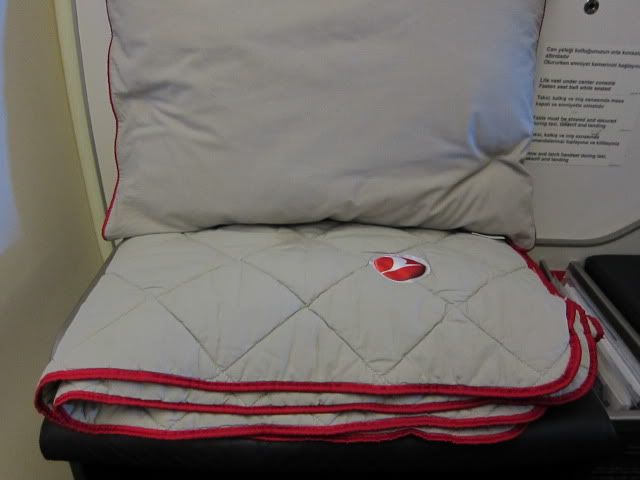 (Bathroom)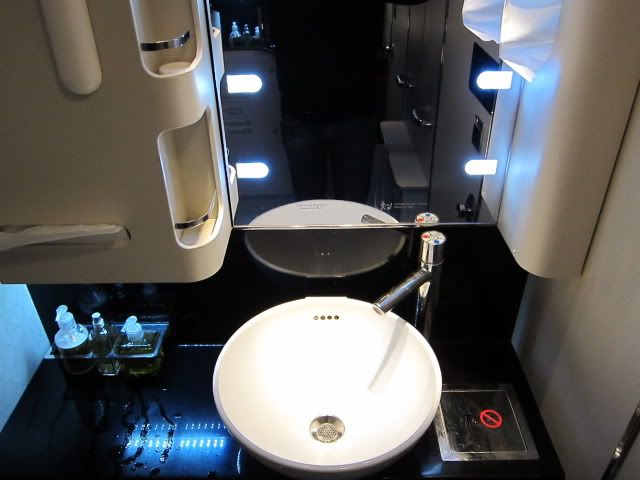 c) Meal + Beverage:
As soon we departed Istanbul, the crew started service with taking orders for food. TK has a "cook" on board and she would personally take the order and make recommendations for each passenger. I thought it was a nice touch – but wondered the utility of having them besides marketing points.
For drinks, I began with a gin and tonic and some water which was served with some nuts. It was good to see that it wasn't the Turkish special nuts they have been forcing on people in Y+ and Y . After the drink, the first course of appetizers included a Turkish mezze (tapas) collection served elegantly from the trolley. Now, I am a big fan of trolley service during daytime flights and truly enjoyed the whole service delivery aspect. The actual served food also was very good and incuded some tasty shrimp, chicken fingers, and a very nice eggplant dish. This was followed by a very yummy Turkish wedding soup – something I truly enjoy, and which has been a TK staple for a while. Perhaps, because the first two courses had been so good, the main dish was a let down. There was a choice of four dishes, and I chose the potato and meat. The mashed potato was soggy and the meat was just OK. Along with the meal, I had switched to the sparkling wine which was mediocre at best. While some people rave about Do&Co's catering, I saw a noticeable fall in the catering standard. Don't get me wrong … TK is still VERY VERY good … just that there has been some cost cutting and drop in premium bar list. Finally, the highlight for me on any TK flight happened – the dessert trolley. Here, I chose the rather odd combination of a cheesecake, some kiwi, and a piece of baklava. Each of it was excellent, and I must commend TK on how fresh the fruit was. As most of my long term readers can attest, no meal is complete without a glass of port – and the 2006 Graham's LBV is actually a rather good offering on an airline. Overall, an above average experience with noticeable service cuts from TK.
Half-way through the flight, a final meal service included some cheese, a side pasta salad, some chocolate soufflé, a very heavy dressing salad (which was pre-dressed – a pet peeve), and a main meal of yummy rice and a very nice peace of lamb. Again, very good – but not benchmark setting.
Finally, Turkish needs to rotate their menu. A lot of the items were the usual generic meals that keep on getting served on every flight. Korean and Asiana are notoriously guilty of having the same damn BIBIMPAP on every flight – and TK seems to be going that way. If you don't believe me, compare what was served below, with these flights:
Turkish TK 002: 25/NOV/08: JFK-IST: J Cabin
(by
Abrelosojos
Dec 8 2008 in Trip Reports)
Turkish Airlines TK009: IST-LAX C Cabin
(by
amax1977
Apr 30 2011 in Trip Reports)
(Menu: Onboard)
*
(Onboard Chef makes recommendation and takes orders)
(Pre-take off Champers)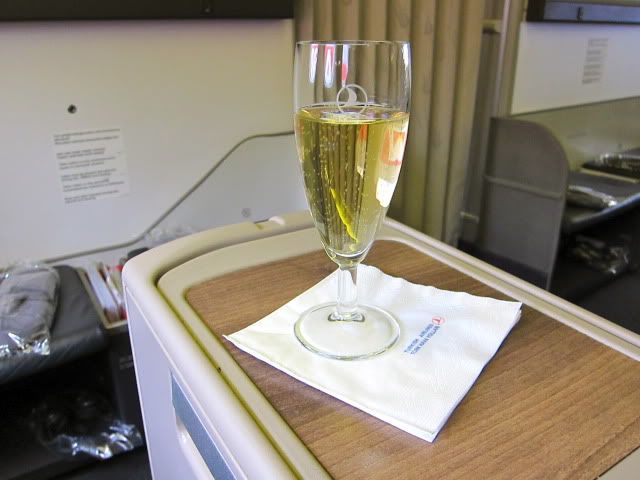 (And something I have never got pre-take off …)
(Lunch service commences with hot towels)
(More drinks)
(Dinner starts with a lonely bread)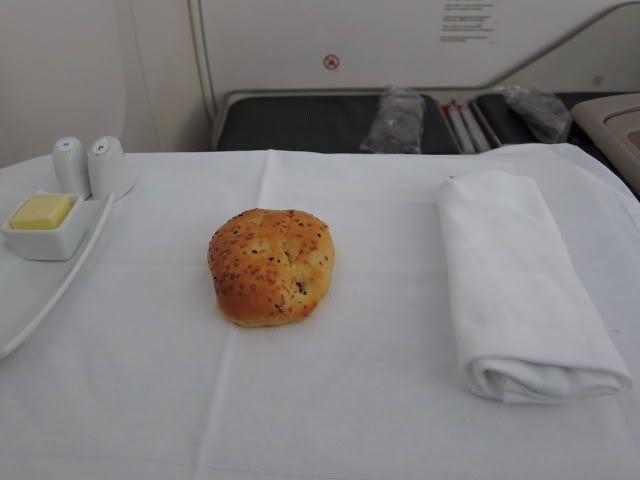 (Service Start)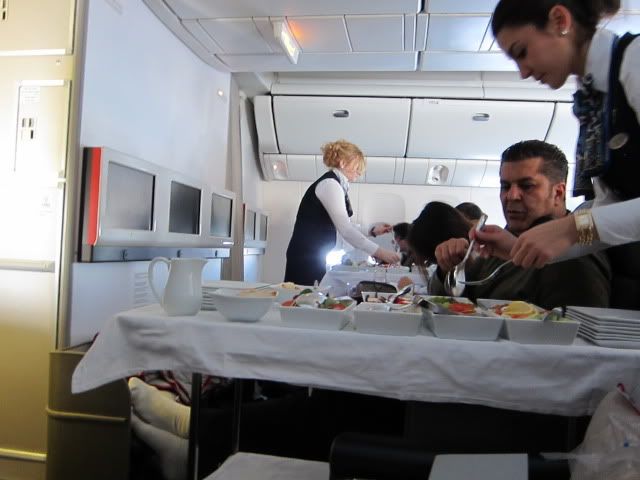 (Very nice nibblers)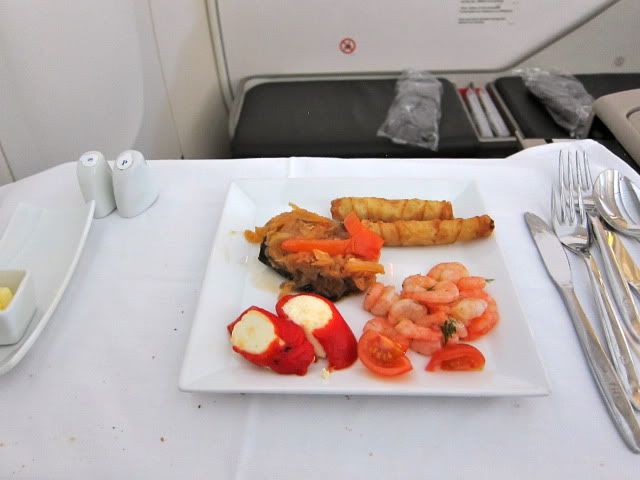 (Excellent soup)
(Underwhelming main)
(Excellent dessert)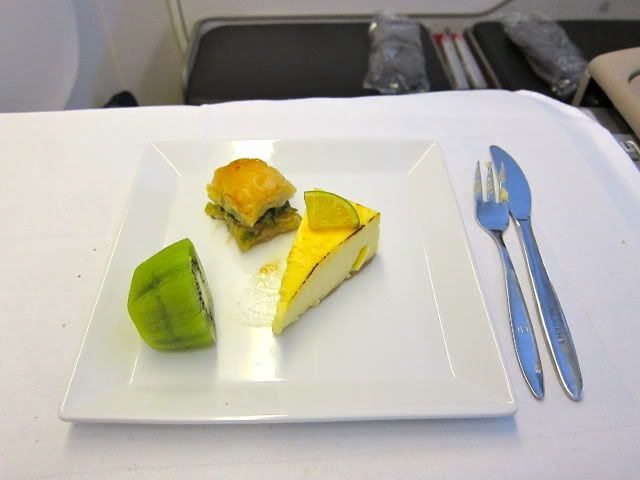 *
(And my signature Port)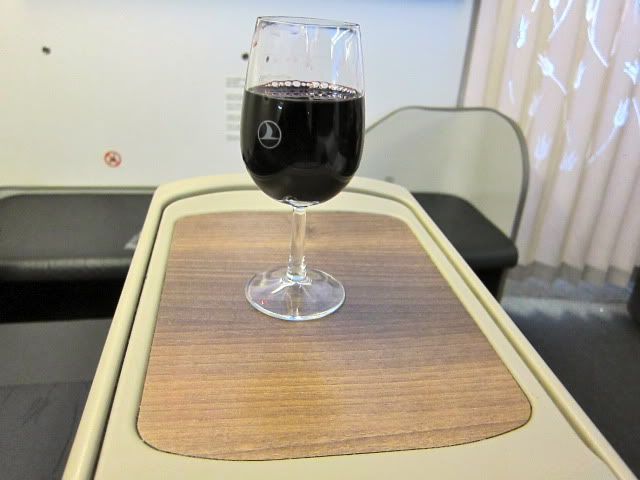 (Mid flight snack)
(Prior to landing @ LAX)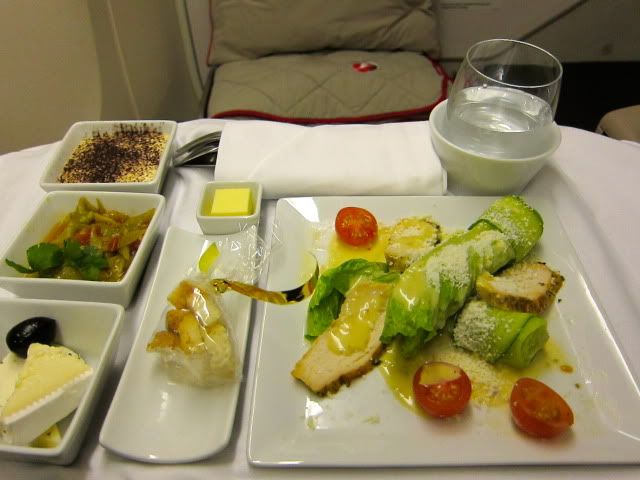 *
d) Inflight Entertainment:
This is an area where Turkish has come a long way with its PLANET entertainment system – though, by no means is it in the same rank as SQ/EK/CX. First of all, the noise canceling headset and the screen is both very good. Second, the quantity and quality of the programing has improved dramatically. There are over 200 movies – though, some of the choices are uninspiring. Additionally, there is a ton of TV, music, and games to keep you well occupied on TK's longest flight. I truly wished the internet worked – but this was not to be the case. Finally, I did appreciate the forward and down cameras, and also liked the fact that a ton of information on the flight and arrival/connecting information was made available. Overall, this was probably the area TK has made the most significant stride over the last year or so.
(TK's system – thank God, the "We are Turkish Airlines … We are Globally Yours" has been moderated. The jingle is fine!)
*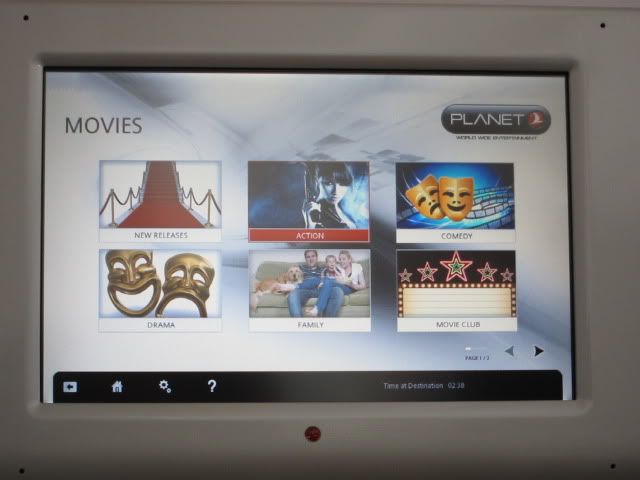 *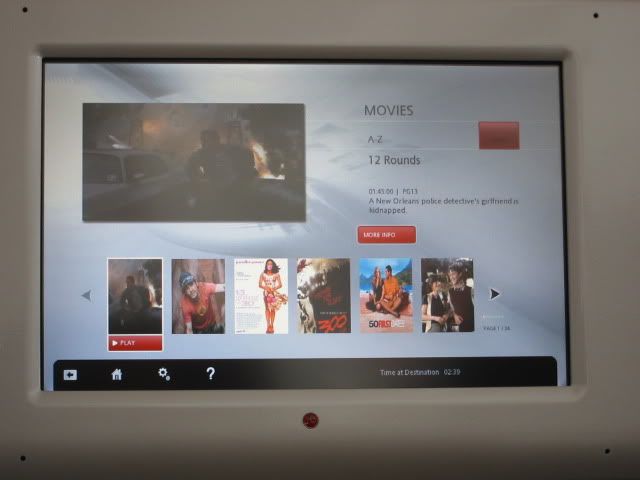 (Like the camera)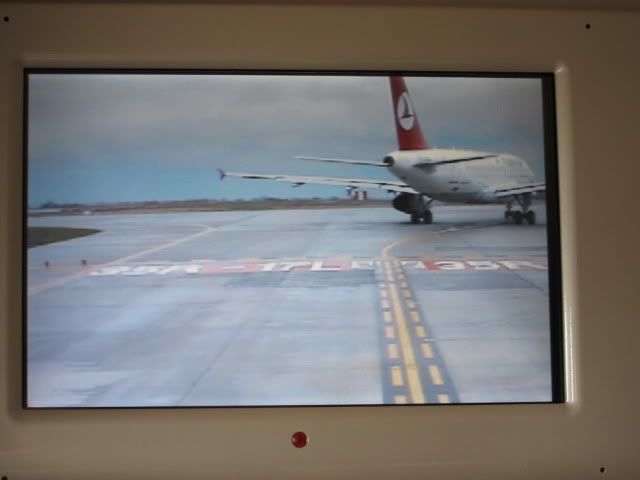 (NOOO)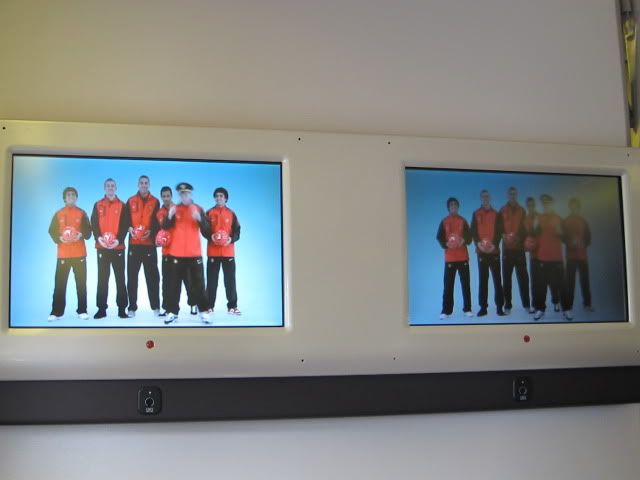 (Flight Plan & Interactive Maps)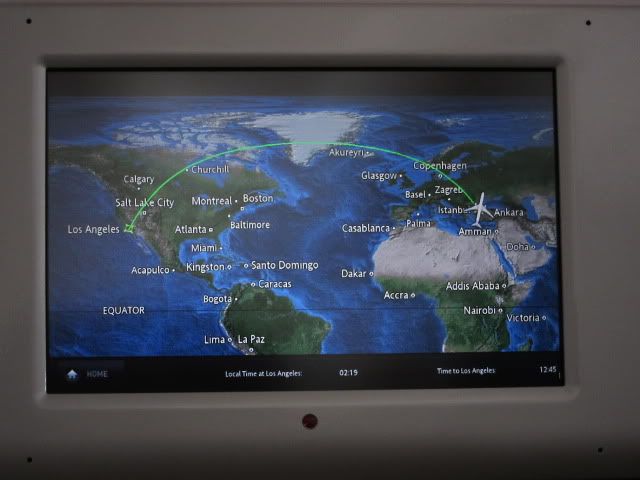 *
(System & Headset)
("In-flight magazines", Boarding Passes, etc.: Just look at all the stuff I got)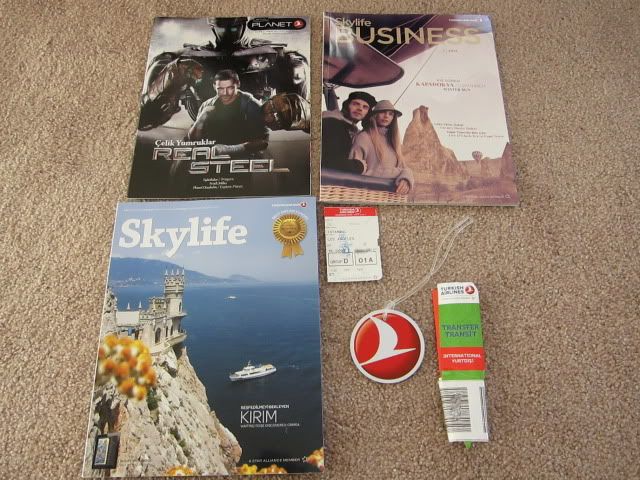 e) Crew:
In my past reports on Turkish, I had praised their hard-working friendly nature. While they were not particularly polished, I had always observed the service to be from the heart and reserved applause for their ability to make no request seem to huge.
On this particular flight, a lot of these attributes seemed to be missing. On average, the crew seemed disconnected from the passengers and there to go through the elaborate service delivery without any consideration given to warmth. The male FA's were usually very good and accommodating and out to make sure you had a great flight. However, the female FA's seemed to be going through the motions. There was one particularly nasty FA who would throw down the meal and frown on the passengers. She was abrupt and said things like, "what you want now?" and give a clear cold shoulder. It was absolutely disgraceful. Her behavior did improve mid-way through the flight and she was much better during the final meal service.
Overall, I was truly disappointed to see service levels having shrunk this much. This was not the Turkish Airlines that I had given much praise to, and I am hoping this was a one-off.
IV> Post-Flight:
Thankfully, Turkish Airlines significantly pads the block time on their LAX rotation and we were at the gate almost an hour before schedule. However, LAX remains one of my least favourite U.S. gateways (it is a close-race with MIA and ORD), and it took over an hour to clear immigration and then an additional 30 minutes to clear customs because the exit queue was so long.
V> Impressions + Scores:
In my past reviews (and in experiences in general), I had mostly written positive things about TK. I wish I could endorse them in similar fashion this time around as well. Amazingly, it seems that while their hardware has improved significantly (great seats, nice IFE, etc.), their soft product has taken quite a beating. From an extremely poor ground experience in Istanbul to cabin crew who just did not seem happy doing their job. Additionally, it seems other aspects of their soft product (such as F&B) are also not as amazing as it was before. Still miles ahead of some of EK, QR, EY … but not as amazing.
As many know, TK is one of my favorites – and despite this poor performance, they remain so. I hope that this is a one-off and this inconsistent service deliveries will stabilize. I would still go out of my way to fly Turkish … but on this flight, thumps stay in neutral position.
VI> Other Trip Reports:
PREMIUM:
9.27: JET AIRWAYS **FIRST** (110): LHR-BOM: 10/2010
9.27: THAI AIRWAYS **FIRST** (108): BKK-LHR: 07/2010
9.00:
All Nippon: ANA (133): NRT-FUK-BOM: 12/2011
8.66:
Brussels Airlines (93): FIH-BRU: 01/2010
8.64:
Turkish Airlines (59): JFK-IST: 11/2008
8.63:
Jet Airways (88): JFK-BRU: 10/2009
8.61:
Air Canada (49): YYZ-SCL: 06/2008
8.54:
Turkish Airlines (77): GRU-DKR-IST: 04/2009
8.36:
Kingfisher (98): BOM-HKG: 01/2010
8.30:
Jet Airways (74): KWI-BOM: 04/2009
8.23:
United Airlines (72): SFO-SYD: 03/2009
8.11:
Aeroflot (33): MOW-DEL: 09/2007
8.05:
Air India (80): CCU-JFK: 06/2009
8.04:
Korean Air (40): NRT-ICN: 10/2007
8.02:
Delta Airlines (24): JFK-CDG: 08/2007
7.82: UNITED AIRLINES **FIRST** (110): SFO-ICN: 10/2010
7.82:
Singapore Airlines (06): EWR-SIN: 09/2006
7.66:
Sri Lankan (104): DEL-CMB: 07/2010
7.64:
Royal Jordanian (91): AMM-YUL: 12/2009
7.61:
China Southern (103): LOS-DXB: 04/2010
7.57:
Pakistan Airlines (102): ORD-BCN: 06/2010
7.55:
Air Canada (132): YEG-LHR: 06/2011
7.46:
LAN (55): YYZ-JFK: 09/2008
7.38: AMERICAN AIRLINES **FIRST** (112): LHR-JFK: 10/2010
7.38: CATHAY PACIFIC **FIRST** (109): HKG-LHR: 10/2010
7.36: Turkish Airlines (134): 12/2011
7.25:
Iran Air (88): BOM-IKA: 12/2009
7.23:
Air Pacific (120): NAN-APW-HNL: 01/2011
7.23:
Virgin Atlantic (81): BOS-LHR: 07/2009
7.14:
Swiss (52): SCL-GRU: 06/2008
7.11:
Aer Lingus (105): MAD-IAD: 05/2010
7.11:
Austrian (79): VIE-JFK: 06/2009
7.07:
Privatair (84): BOM-FRA: 08/2009
7.02:
Qatar (68): DOH-JFK: 01/2009
6.96:
Etihad (61): JFK-AUH: 12/2008
6.93:
Delta Airlines (18): SEA-JFK: 11/2006
6.88:
Egypt Air (123): LHR-CAI: 03/2011
6.84:
ConViasa (65): CCS-DAM: 01/2009
6.82:
Air Burkina (106): BKO-OUA: 06/2010
6.81:
Air Canada (17): ICN-YYZ: 10/2006
6.75:
Afriqiyah + Libyan (113): CAI-TIP: 11/2010
6.70:
KLM (32): EBB-AMS: 08/2007
6.52:
Emirates (99): LHR-DXB: 02/2010
6.39:
South African (97): EZE-JNB: 01/2010
6.36:
Privatair (60): MUC-BOS: 12/2008
6.29:
TAM Brasil (96): POA-EZE: 02/2010
6.25:
Korean Air (45): NAN-ICN: 10/2007
6.21:
Iberia (87): BOS-MAD: 10/2009
6.11:
A SKY (107): OUA-COO: 06/2010
6.11:
TAP Portugal (53): GRU-OPO: 06/2008
6.00:
Gulf Air (75): BOM-BAH: 04/2009
5.88:
African Express (89): DXB-NBO: 11/2009
5.75:
Singapore Airlines (16): CCU-SIN: 10/2006
5.64:
SATA Azores (101): BOS-PDL: 04/2010
5.64:
NorthWest (46): ICN-NRT-SEA: 10/2007
5.54:
Ethiopian Airlines (95): ADD-BOM: 01/2010
5.46:
Icelandair (83): KEF-BOS: 08/2009
5.39:
LOT (54): WAW-JFK: 06/2008
5.21:
Egypt Air (73): CAI-IST: 02/2009
5.11:
Tunisair (115): TUN-ORY: 12/2010
5.07:
TACA (66): JFK-SAP: 01/2009
4.89:
TAAG Angola (117): TMS-LAD: 12/2010
4.42:
Air France: CDG-JNB (25): 08/2007
ECONOMY: Long + Medium:
9.26:
Air India (48): JFK-DEL: 02/2008
9.04:
First Air (129): YEG-YFB: 06/2011
8.74:
Japan Air Lines (130): NRT-BOS: 04/2012 – INAUGURAL
7.99:
WestJet (131): YYZ-YYC: 06/2011
7.38:
Avianca (01): BOG-LIM: 07/2006
7.07:
Sri Lankan (62): KWI-CMB: 12/2008
7.00:
LAN (94): IPC-SCL: 01/2010
6.81:
STP Airways/Euro Atlantic (116): LIS-TMS: 12/2010
6.67:
Air Malta (124): MLA-FRA: 04/2011
6.63:
Vladavia (126): KHV-PEK: 06/2011
6.41:
Air North (127): YEV-YEG: 06/2011
6.41:
Avianca (78): JFK-BOG: 05/2009
6.41:
American Airlines (58): LHR-BOS: 11/2008
6.39:
Condor (85): SEZ-FRA: 09/2009
6.26:
Jet Blue (21): CUN-JFK: 02/2007
6.11:
Caribbean Airlines (119): POS-FLL: 01/2011
6.06:
Air Canada (04): YYZ-YVR: 09/2006
5.89:
USA 3000 (19): PUJ-BDL: 01/2007
5.85:
Spanair (69): MAD-LPA: 02/2009
5.80:
Canadian North (128): YEV-YVQ-YZF-YEG: 06/2011
5.79:
Air New Zealand (42): RAR-NAN: 10/2007
5.52:
Aerolineas (86): USH-AEP: 10/2009
5.46:
TAP Air Portugal (23): OSL-LIS: 05/2007
5.19:
Air Europa (70): LPA-MAD: 02/2009
5.16:
Iberia (71): MAD-BOS: 02/2009
5.11:
Air China (82): FRA-PEK: 08/2009
4.59:
IR Aero (125): IKT-VVO: 06/2011
ECONOMY: Short
8.56:
Paramount Airways (38): BLR-MAA: 09/2007
8.56:
Kingfisher (64): HYD-CCU: 12/2008
8.24:
Kingfisher (14): IXA-GAU: 10/2006
7.87:
Indian (34): BOM-MAA: 09/2007
7.72:
Alliance Air (13): CCU-IXA: 10/2006
7.57:
Indian Airlines (10): DEL-CCU: 09/2006
7.23:
West Jet (03): YYC-YVR: 09/2006
7.15:
JetLite (37): BOM-GOI: 09/2007
6.98:
Air Koryo (100): PEK-FNJ: 04/2010
6.70:
Spice Jet (09): CCU-DEL: 09/2006
6.63:
Air Fiji (44): NAN-SUV: 10/2007
6.63:
Jazeera (67): DAM-KWI: 01/2009
6.58:
Air Tran (02): EWR-MDW: 08/2006
6.48:
Air India Express (63): CMB-MAA: 12/2008
6.44:
CO Micronesia (39): ROR-YAP: 10/2007
6.41:
Pacific Sun (43): NAN-SUV: 10/2007
6.37:
Skybus (47): SWF-CMH: 02/2008
6.33:
Kenya Airways (29): NBO-BJM: 08/2007
6.33:
Sky Europe (56): LTN-BTS: 10/2008
6.31:
Indigo (15): GAU-CCU: 10/2006
6.31:
easyJet (57): BUD-LTN: 11/2008
6.22:
Air Link Swazi (28): MTS-JNB: 08/2007
6.22:
Air India (36): HYD-BOM: 09/2007
6.13:
Adam Air (07): SIN-CGK: 09/2006
6.13:
Air Rarotonga (41): RAR-AIT: 10/2007
6.04:
Suriname Airways (118): PBM-POS: 01/2011
6.00:
Transairways (27): INH-MPM: 08/2007
5.95:
Air Canada (05): ALB-YYZ: 09/2006
5.85:
SAS Norge (22): OSL-AES: 05/2007
5.81:
LAM Mozambique (26): JNB-MPM: 08/2007
5.69:
Air Deccan (12): IXZ-CCU: 10/2006
5.67:
Rwanda Air Exp (30): KGL-NBO: 08/2007
5.52:
Sevenair (114): TOE-TUN: 11/2010
5.37:
Felix Airways (92): SCT-SAH: 12/2009
5.11:
Aero Republica (76): BOG-CCS: 04/2009
5.07:
Go Air (35): MAA-HYD: 09/2007
5.04:
Biman (121): DAC-CGP: 01/2011
5.00:
Sky Airline (51): IQQ-SCL: 06/2008
4.96:
United Bangla (122): CGP-DAC: 01/2011
4.96:
Valuair (08): CGK-SIN: 09/2006
4.78:
Air Comet Chile (50): SCL-IQQ: 06/2008
4.74:
Fly 540 (31): MYD-LAU: 08/2007
4.33:
Viva Aerobus (20): ELP-MTY: 02/2007
4.11:
Air Sahara (11): CCU-BOM: 09/2006
(Note on Codes: Y – Economy, J – Business, F – First :: I/D – International/Domestic :: SR/MR/LR – Short/Medium/Long Haul)
(Note on Date: Dates are modified to be +/- 3 days from actual flight date to not reveal actual flight pattern)
VII> Other Pictures:
(Amenity kit)
*

* Unbiased view on how an actual traveler may view the flight
* Not a professional photographer (so please keep in mind)
* Commitment that I won't identify myself to the airline as "reviewing them"