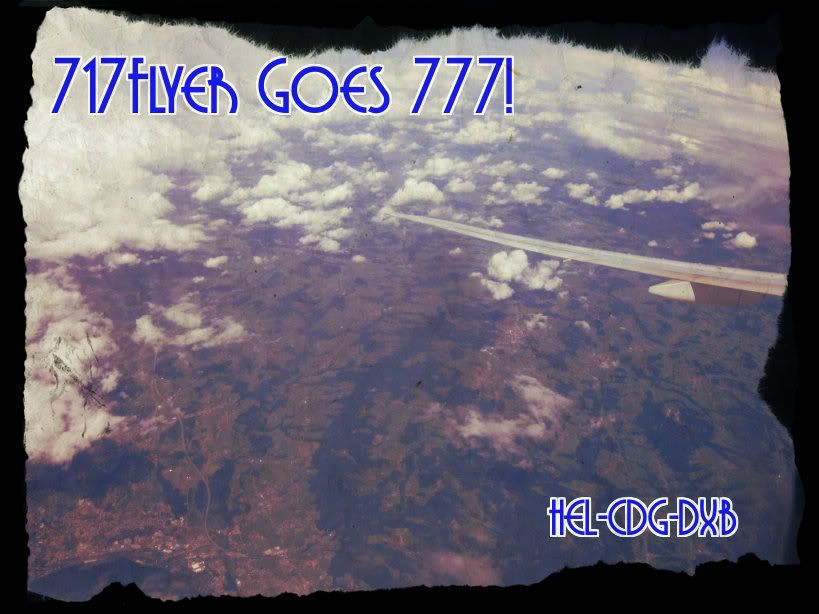 Background
One very rainy and wintery night I was browsing various airline websites, trying to find a cheap escape to somewhere else. I really did not have many requirements for what the destination should be like, I just wanted to add something new (preferably many new things) to my log. And as I logged onto klm.com I could not help but seeing they had quite a large sale going on. My first thought was to look at destinations such as CUR, GIG and CPT, but prices were quite steep at around 1200 EUR per person for a return ticket plus these routings would break the rule of never flying the same airline thrice during the same trip (twice is still somewhat bearable...)
Soon I found Dubai in the list of offers at the price of 645 EUR and I was very surprised as I actually found return tickets for 400 EUR online - now that's a positive problem! It had to be solved in some way and in the end my booking department had taken my credit card in their possession and booked quite an interesting itinerary. For some added 30 EUR a standard HEL-AMS-DXB-AMS-HEL could be transformed into HEL-CDG-DXB-AMS-HEL on Finnair, Air France and KLM including many highlights: they were going to be my first flights on AF and KL as well as my first 747 and 777 rides. The only thing that left a bad taste in my mouth was a) the complete rip-off 30 EUR credit card charge and b) that I found myself as a paying passenger on a flight operated by Finnair. Actually it was going to be quite interesting to see their service as my last AY flight over 2 hours was some four years ago..
This left me with a fair number of days in Dubai - a city like no other - but having explored bits of it some two years before this trip I knew I had to fit in some day trips as well. In the end I ended up booking two of those. First out was Oman, a country I have wanted to visit for years. DXB-MCT was booked on Emirates for some 50 EUR and the return was fixed on the cheap boutique carrier Oman Air for 40 EUR. Another two new airlines plus the rare Embraer 175 as a new aircraft type!
For a second I thought Bahrain could be a suitable location for the next day trip and a ride on Gulf Air sounded good and prices were reasonable, but reading that the situation in Bahrain wasn't exactly smooth and that BAH had a no-photo policy I ended up settling with Qatar instead. Their flag carrier Qatar Airways offered DXB-DOH-DXB return tickets for 145 EUR (and one way tickets at a delightful 250 EUR price) - a very tempting option to fly with the world's five star airline - but knowing my booking department I ended up being booked on very other carriers because of both financial and experience-related issues. DXB-DOH was secured on low-cost carrier Flydubai for a perfectly reasonable 29 EUR and I couldn't believe my eyes when I found a 45 EUR ticket on United Airlines (yes!) DOH-DXB on the 777-200, another new subtype.
Talking about interesting details I had a tough job booking the UA flight as I was due to fill in my payment address as Finland was missing in the dropdown list with countries. So I ended up choosing Sweden and writing "FINLAND!!!" in another place instead. Phew.
Surprisingly no wanted or less expected changes happened to any of my flights if you won't count the Finnair flight being upgraded from an A320 to an A321, actually quite a welcome change as the former type is much more well known to my log. Some weeks ahead of departure I also received a message from Oman Air about a flight number change for my booking but I really couldn't complain as the timings and the E75 were still the same.
The itinerary ended up getting quite an interesting shape when looking at it on a map: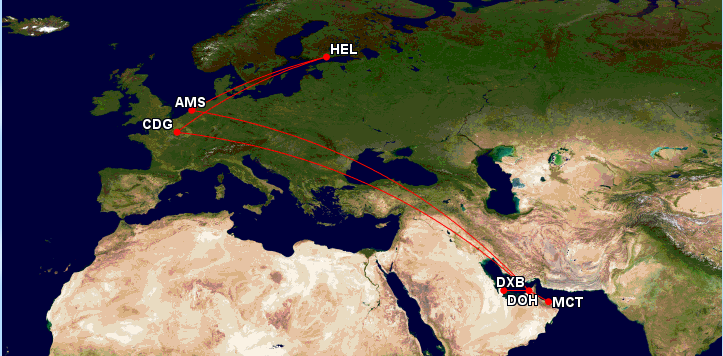 Maps generated by the
Great Circle Mapper
- copyright ©
Karl L. Swartz
.
.
Monday 11.06.2012
Wake-up was set to the unhuman hour of 5.00 a.m. but perhaps it was the feeling that this trip was going to be one of the best ones until now that made it very easy to get out of bed that morning. And may I add that not a single cup of coffee was needed (actually, that's a drink I only enjoy on board planes and even then only in small amounts).
It was quite a tricky decision to choose whether I would go for public transportation or cheat by taking a taxi (the first available bus combo would have brought me to the airport only an hour ahead of departure and with bags to check in it didn't feel right) so a perfect middle way was presented when a good friend of mine working early in the morning offered me (and my family) a ride to the airport - very nice and well appreciated.
This way I step outside Terminal 2 of Helsinki-Vantaa Airport some one and a half hours ahead of departure. To my big surprise online check-in worked like a charm the evening before - Air France redirected me to the Finnair website to do my business. I wasn't able to pick my seat on the AF flight though - not a big problem as the seat I had chosen earlier was printed on my boarding pass. Fast forward through security control on my way to gate 31X (nope, they did not run out of letters!) I spot this nice-looking blue plane - but most of all see a familiar-looking red-nosed ATR in the background (perhaps it was even (wo)manned by the same Danish FA that took me home from TLL a week ago?):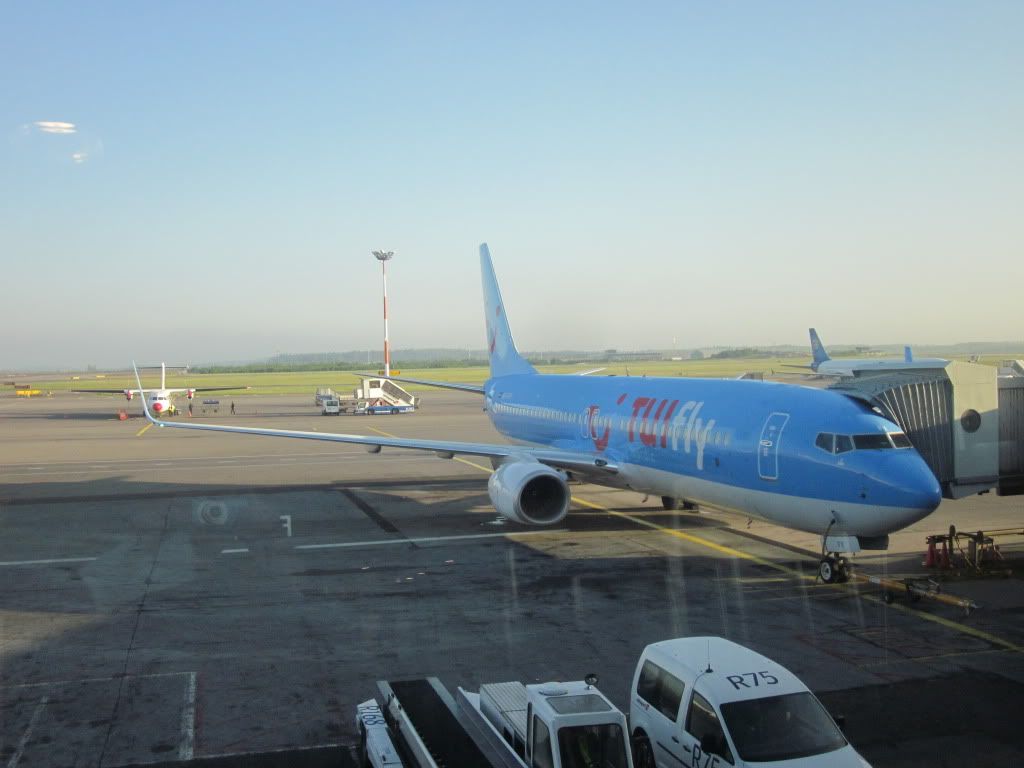 Soon I also locate the gate that is totally deserted, which is not a big surprise as the AY Asians flights are yet to arrive. Anyway the new seats in the gate area look good and are actually quite comfortable - hats off to Finavia for finally doing something good! (Well, the observation deck they opened last week after receiving quite a lot of publicity is what you call a letdown - even my balcony is bigger than that terrace!).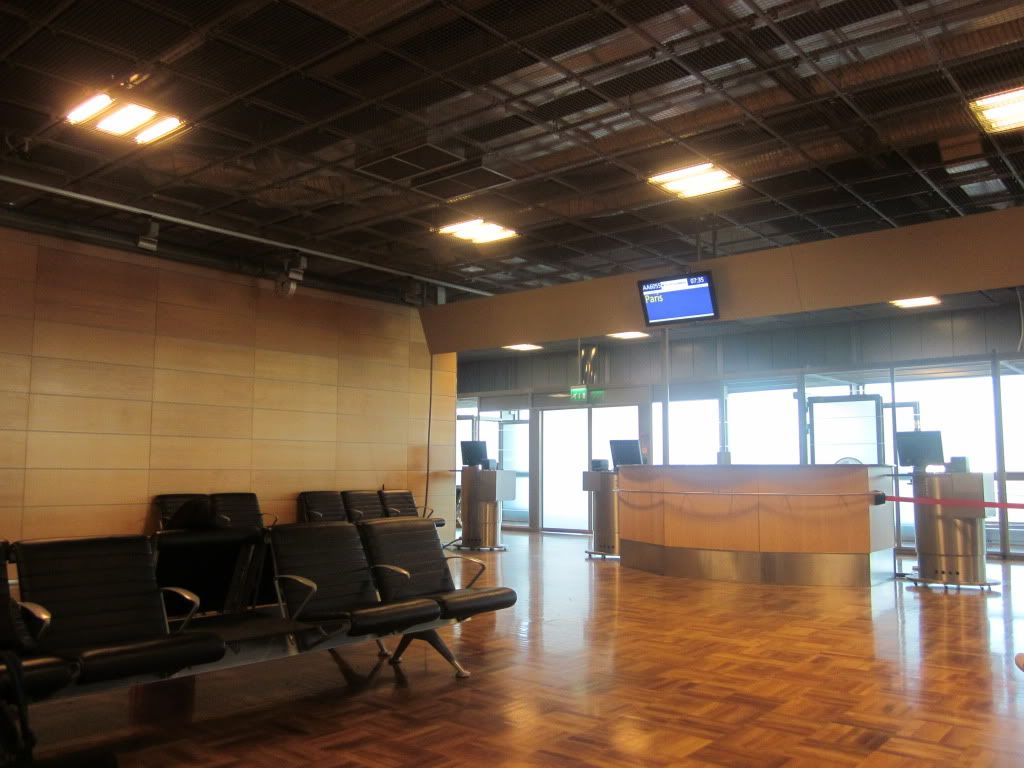 The time waiting is spent listening to some music, interrupting the song to listen to the excellent entertainment available: a Blue1 flight to Stockholm calling after one sole missing passenger. I count up to five announcements just made for him, the first one made ahead of original boarding time - sounds like KF was too early and the missing gentleman was too late? In the last one they shout out "Mr. XXX, I am looking at my watch and will personally close the gate in exactly one minute, 60 seconds from now, gate 12, last chance, thanks!". I hope the gentleman made it onto his flight!
Will you be my plane? (Most probably not as you are an A319)!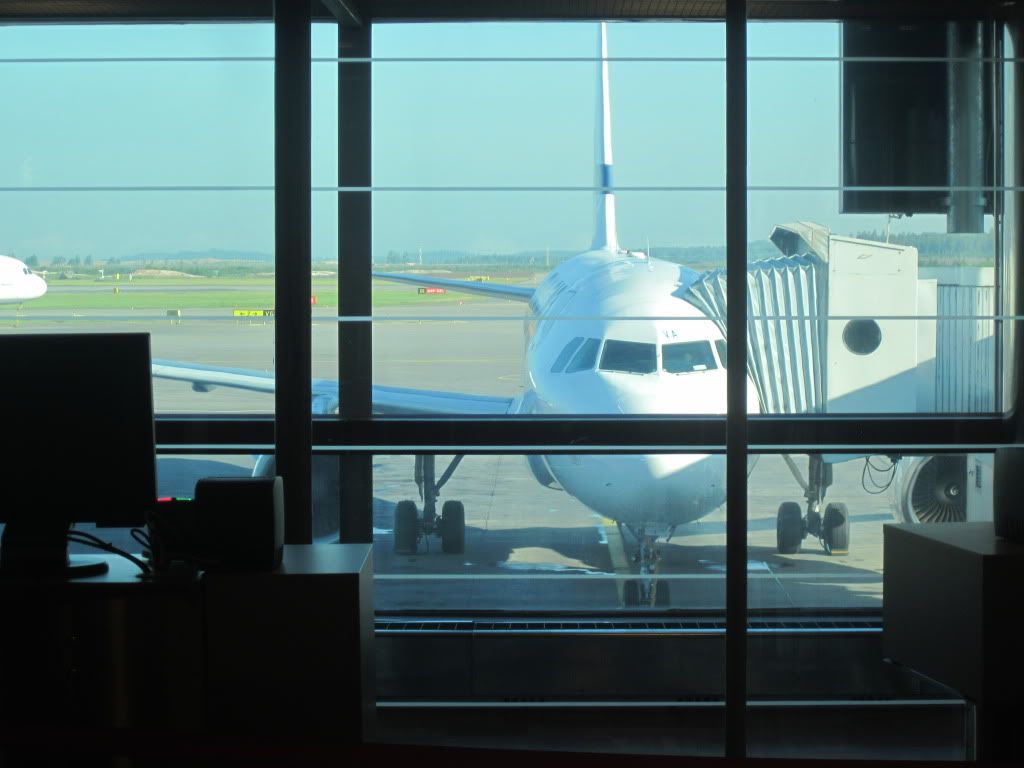 More and more passengers arrive to the gate (including a big number of arrogant Business travellers with suits and huge carry-on bags, one of them actually steps on my foot both himself and with his bag of course without saying sorry but staring at me very nervously instead). Our indicated boarding time of 07.00 comes and an agent finally arrives around 07.10. She announces boarding will begin in a minute or two which most certainly isn't the case as one of Finnair's Asian flights just arrived and the passengers are deboarding using the same corridor we should use in the other direction to board our (Air)bus. Boarding finally begins at 07.20.
Air France, yes please!
It is quite a hike from the podium to the aircraft but using my instinct I know OH-LZB is going to be my ride, fortunately it has not yet been destroyed by the new Finnair livery and it is a new one for my log as well: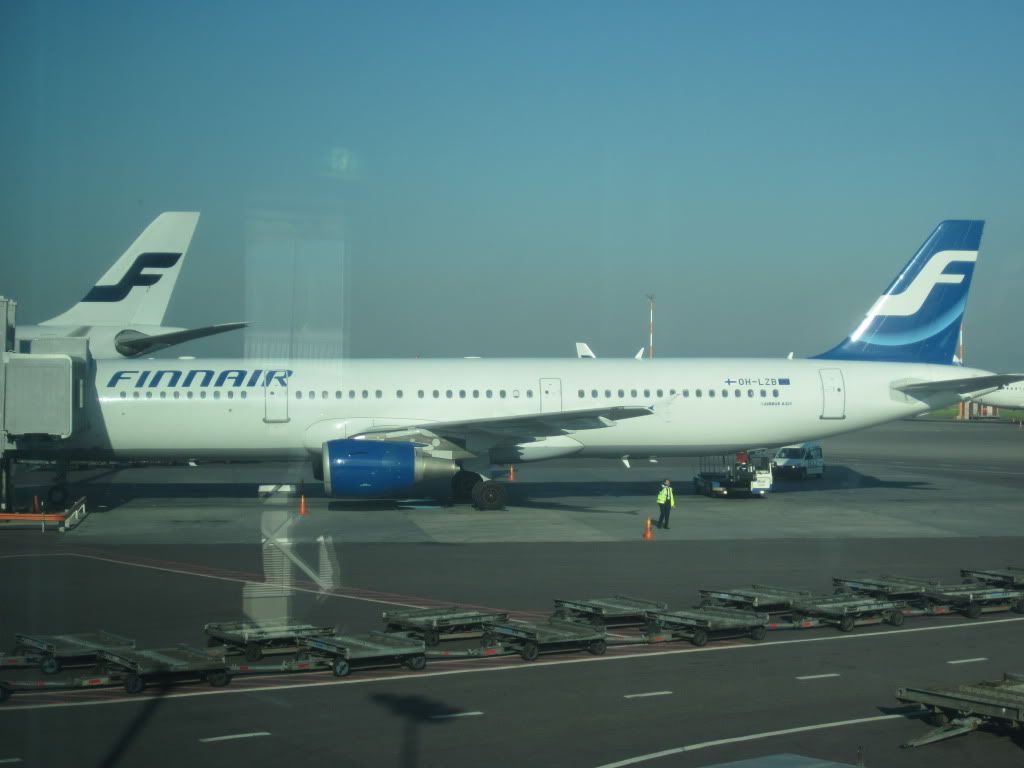 Our (almost-)albino neighbour: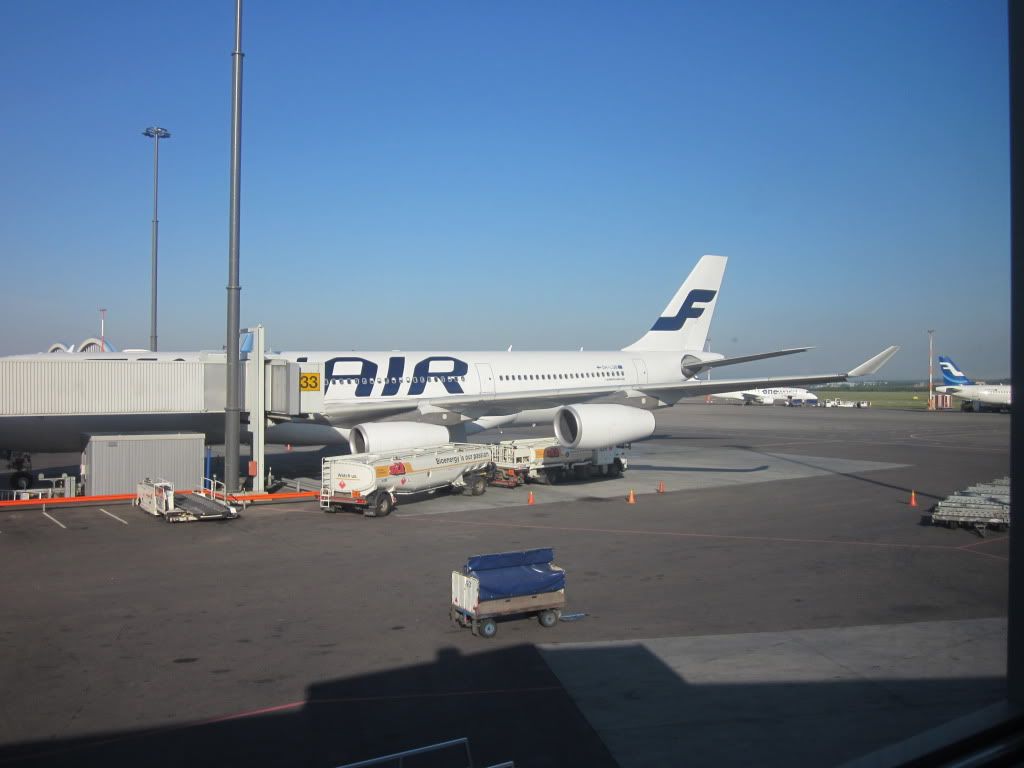 The next surprise awaits us in the jetway as the cabin crew hasn't let the first passengers in yet so we wait for another moment (goodbye, on time departure!) before the queue finally gets moving.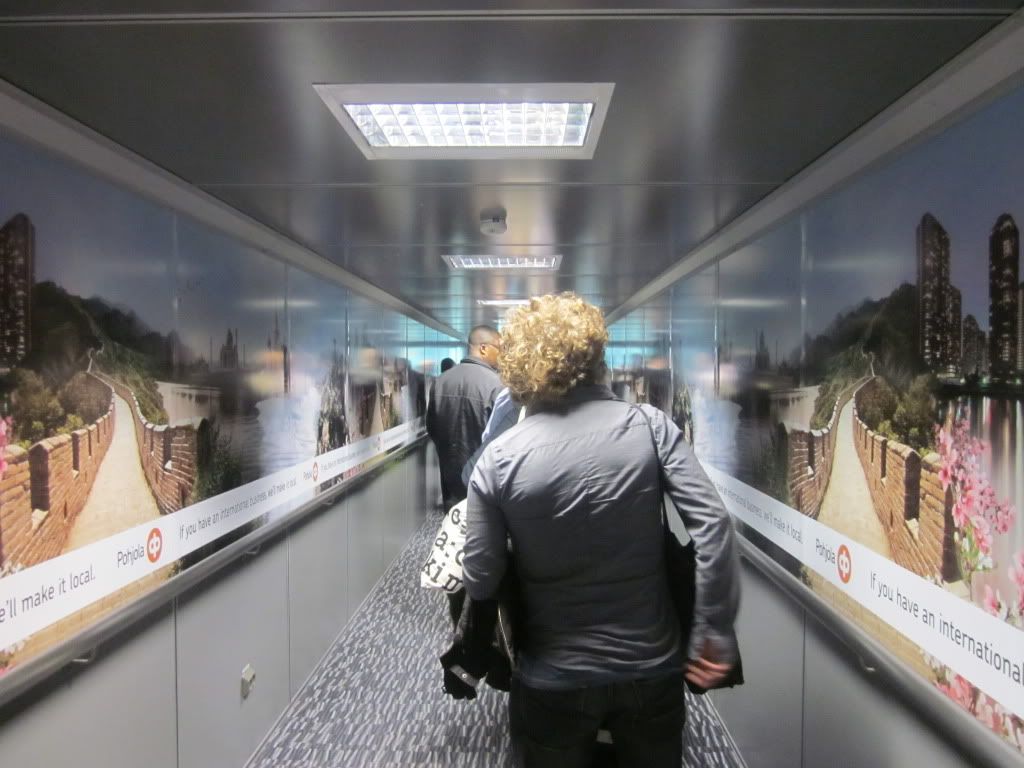 AY871
Finnair
HEL-CDG
OH-LZB, Airbus A321
Seat 12A, Economy
07.35-09.40 (07.43-09.42)

Another happy surprise, this plane isn't destroyed with the new seats either: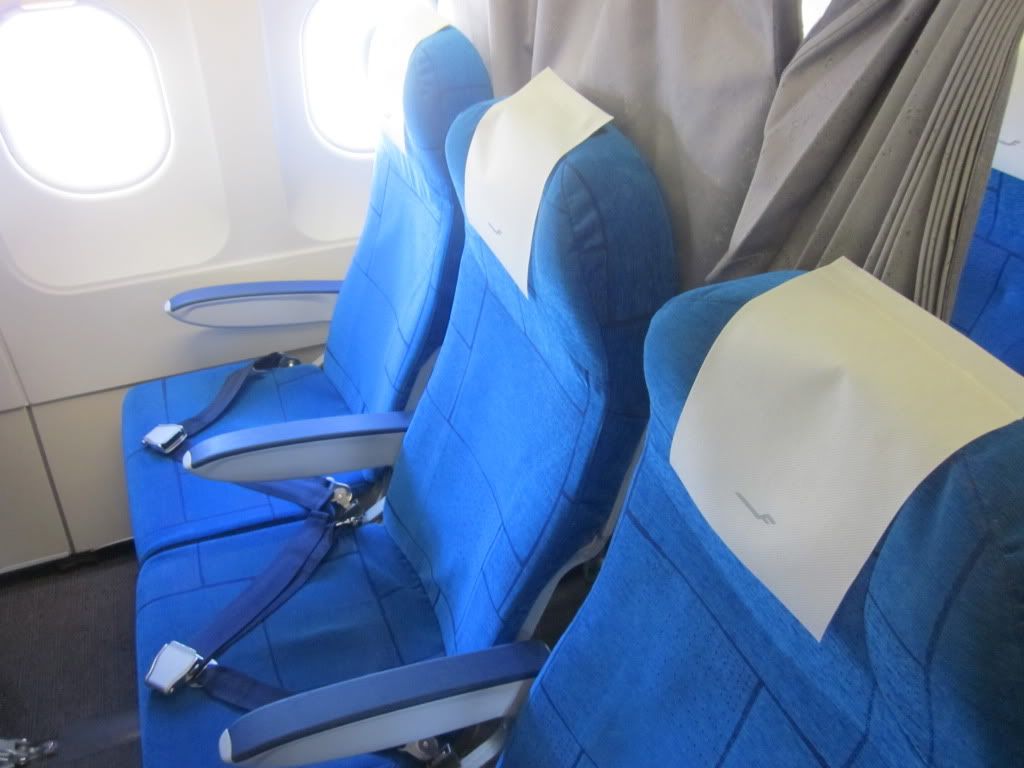 In true Finnair fashion I get a friendly welcome by our senior purser at the door - I must admit the whole crew (all female, all quite senior) look quite good in the new Star Trek uniforms but if you count out the purser the rest of the crew seem quite disinterested so my father and I do a part of their job by helping some people to stow their large pieces of hand luggage in the overhead bins and direct some older passengers to their seats. Perhaps I should send my CV to Finnair? I highly doubt it.
As most of the plane is business pax boarding is a quick and orderly affair, boarding is completed quite quickly and we finally push back at 07.43, some eight minutes later after being welcomed onboard by the crew and captain Sipilä. Flight time is announced as a short 2 hours and 40 minutes and I immediately feel better when they acknowledge this is a joint service with Air France and American Airlines. The delay is explained with "late positioning and the use of jetbridges".
Leg room is sufficient but what irritates me (and sure many others as well) is the faux seat: there is no proper seat pocket to be seen, just this small pocket big enough for your passport but not much else: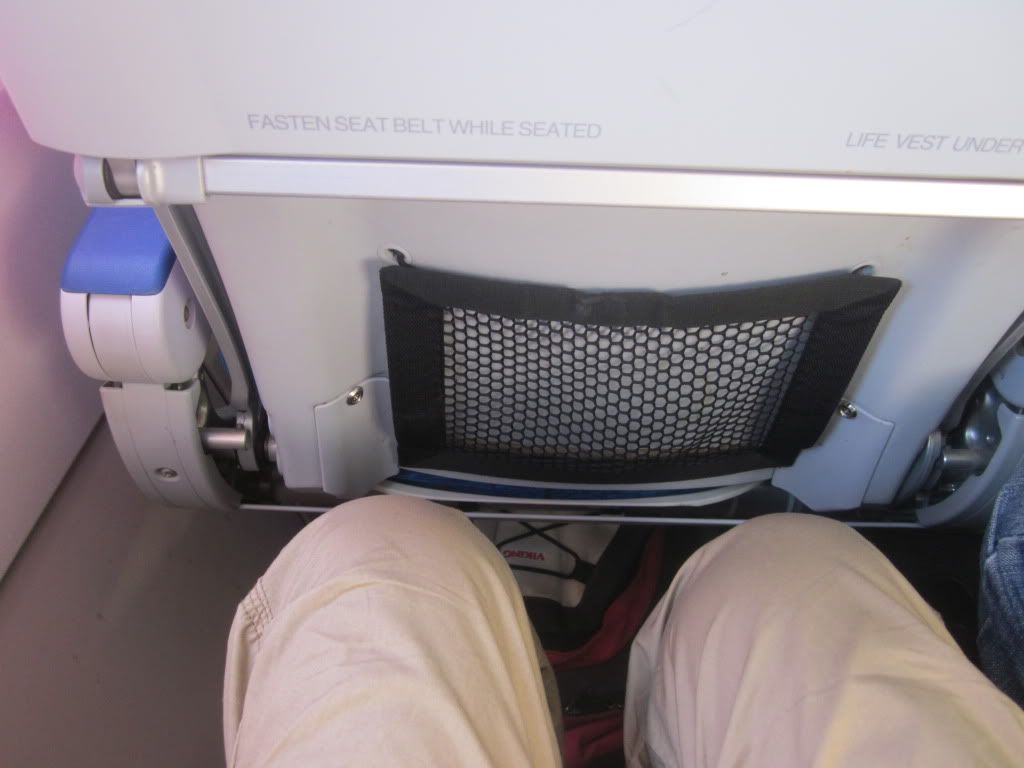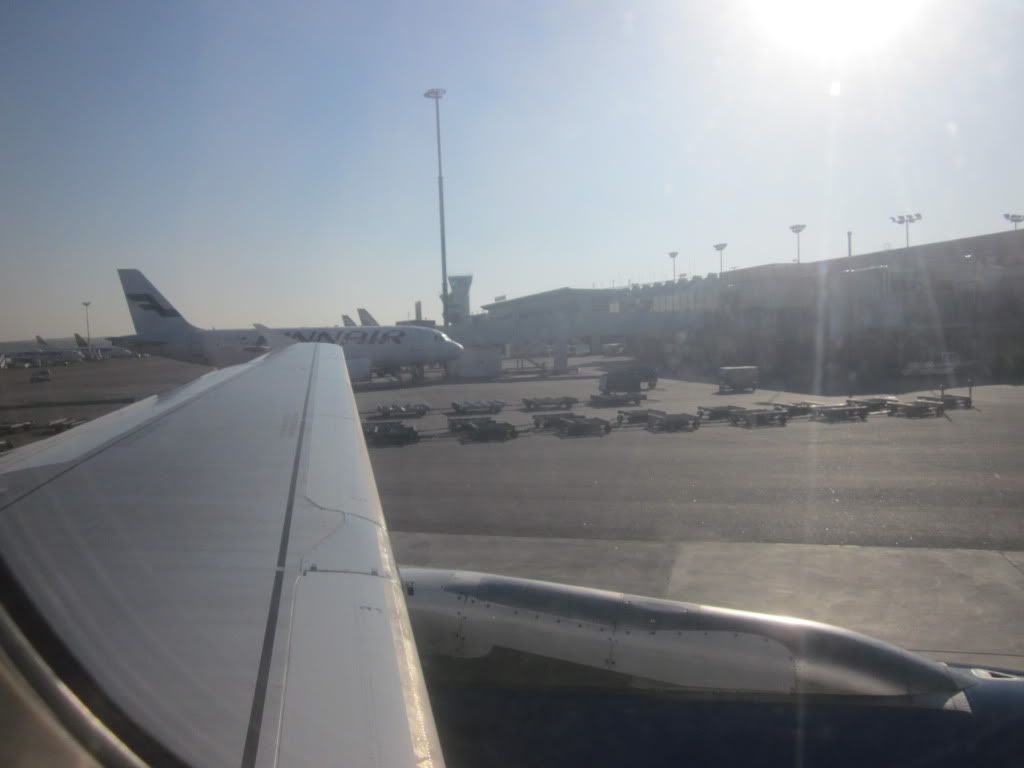 The load is very good, around 90 % with all seats taken in front of the cattle class (business class is almost empty) but it seems like the last row rule would have worked on this flight!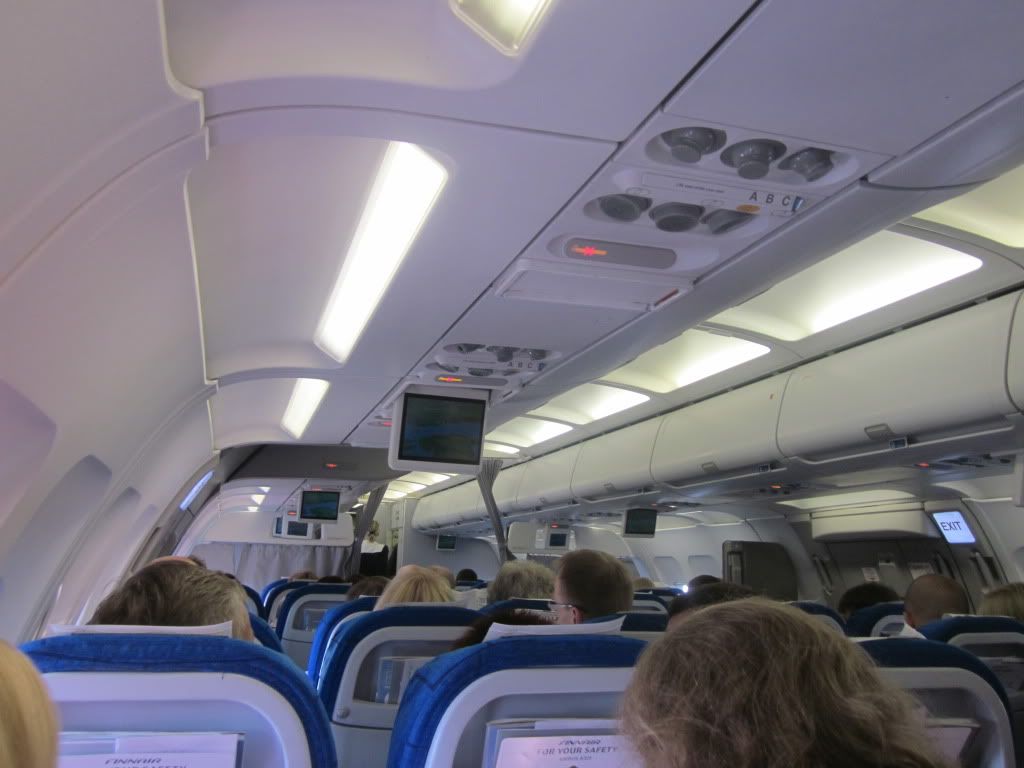 View towards the back of the bus: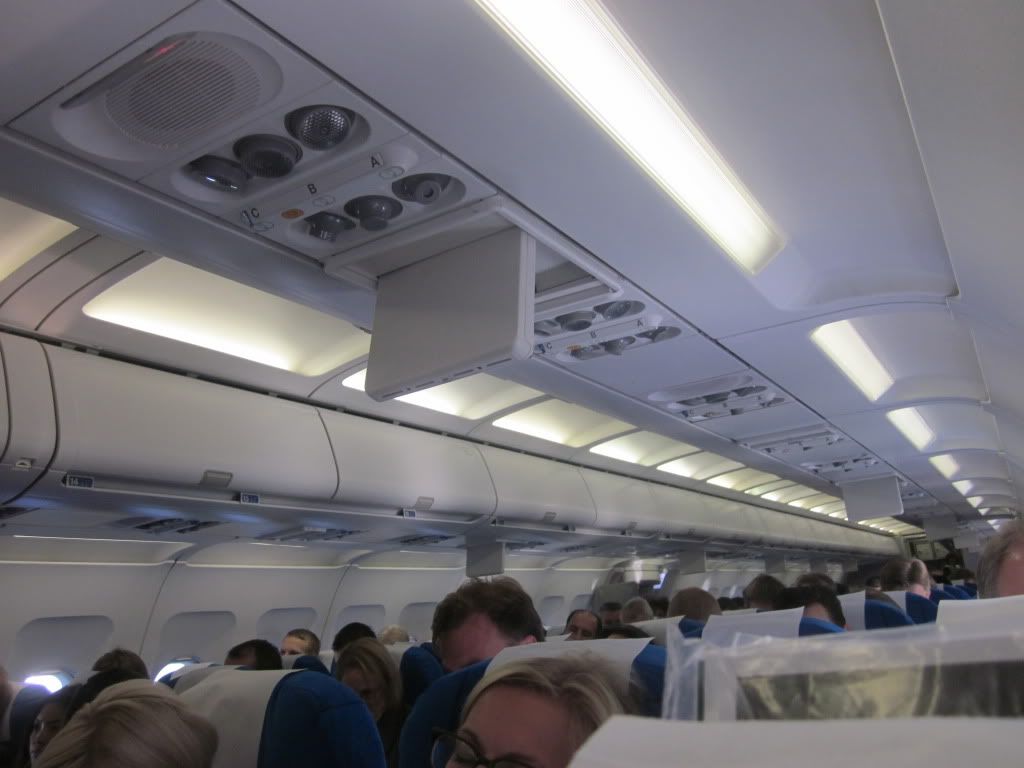 Notice the 717 on finals: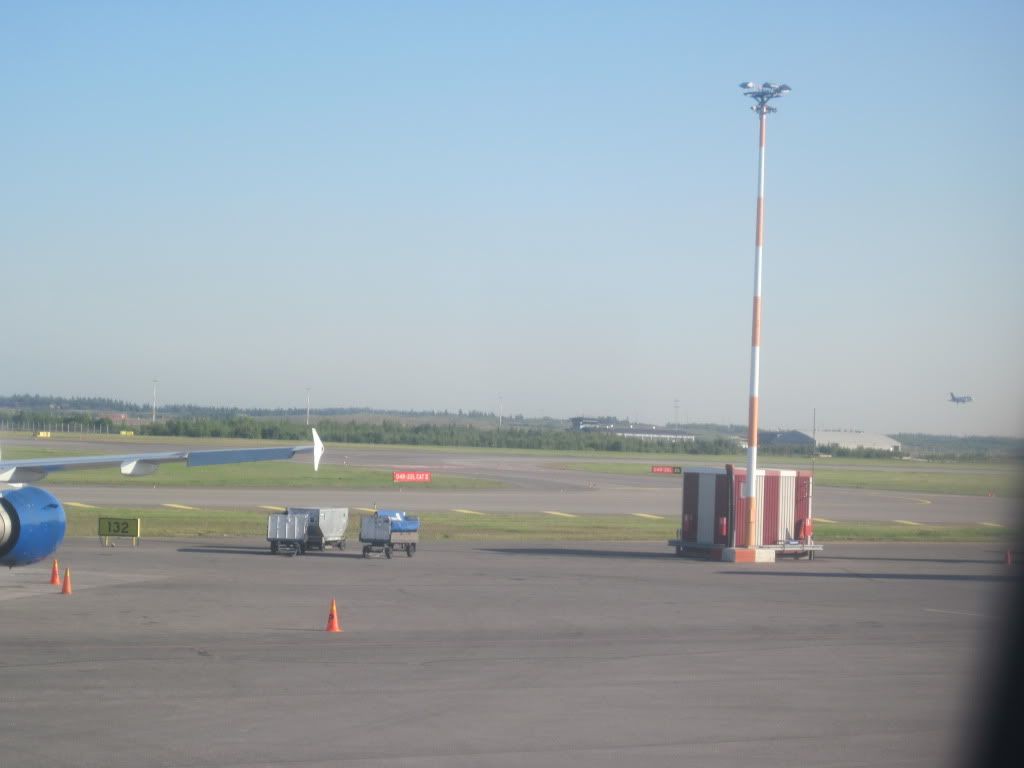 Hello, fellow Finnair: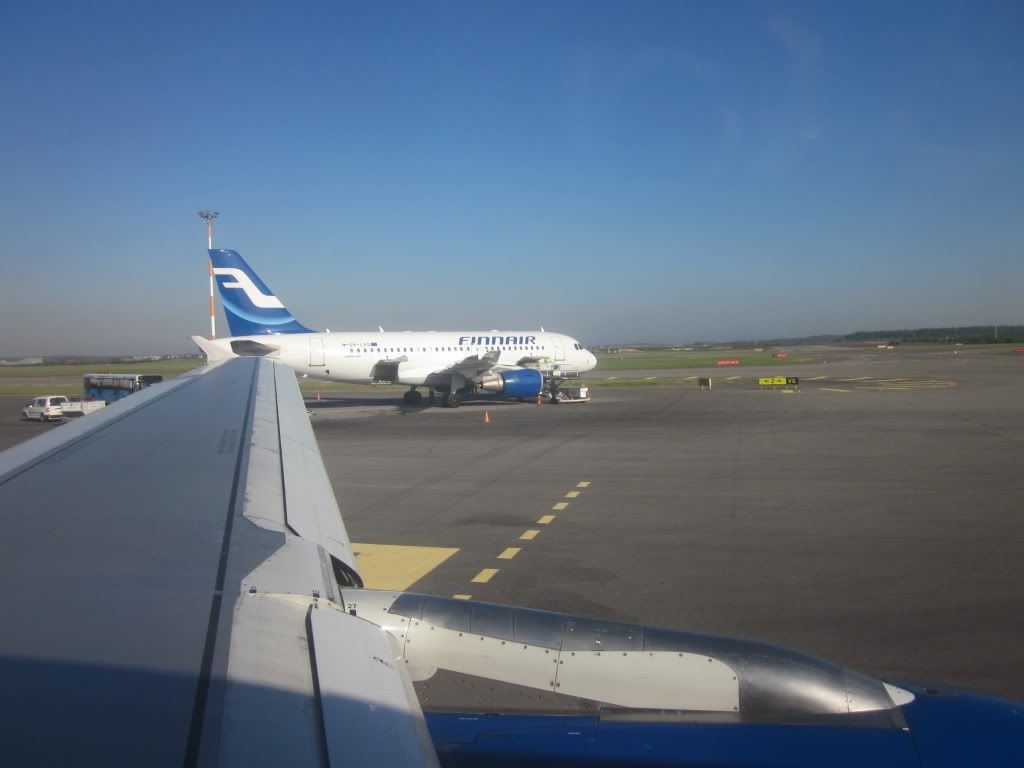 Oops, fellows I mean: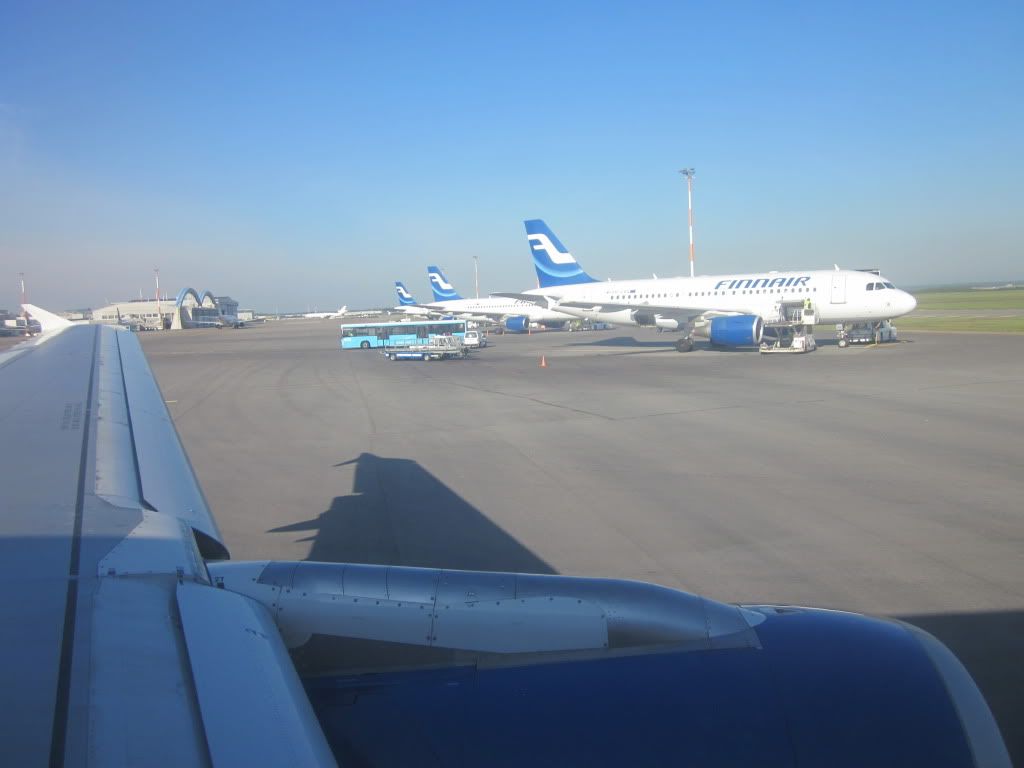 During our short taxi to the active we also meet the legendary Silver Bird that flew its last flight for AY a couple of days ago:
Runway 22L is at our disposal today and after gaining speed for quite some time (hopefully they had loaded many muffins and thus the extra weight) we leave the ground...
...and fly over quite a few houses!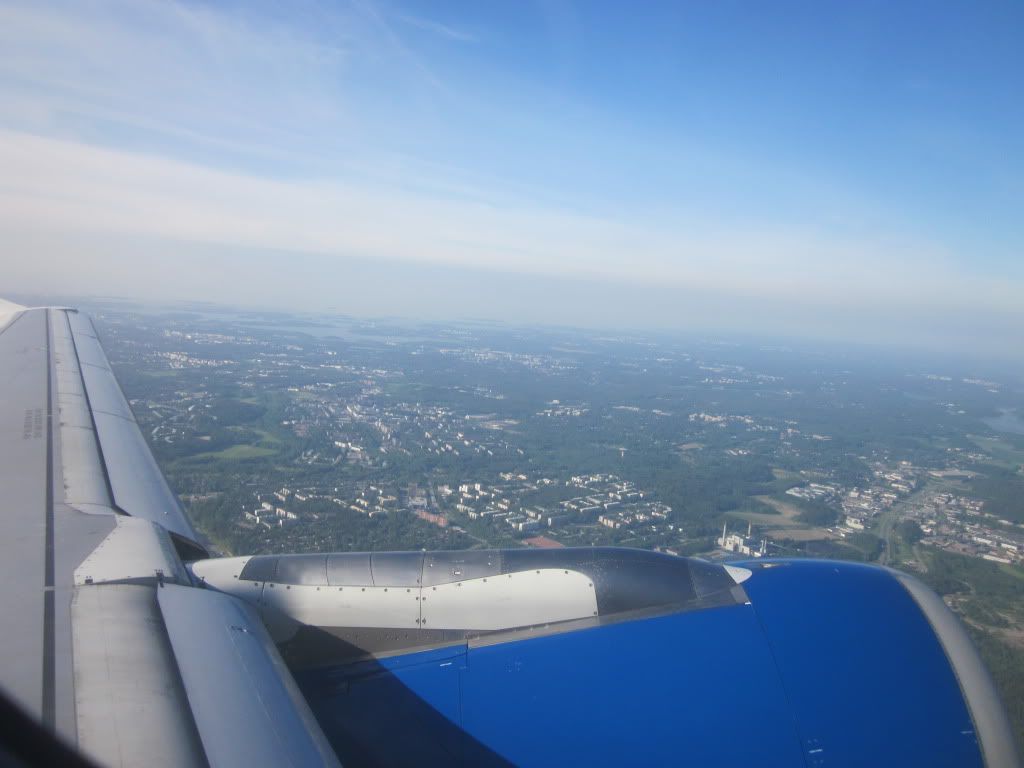 Good to see Finnair has ponied up the money to print a whole new safety card instead of just putting a sticker with the new logo on the card (I found it necessary to take it with me as a souvenir - it's a new twist at least).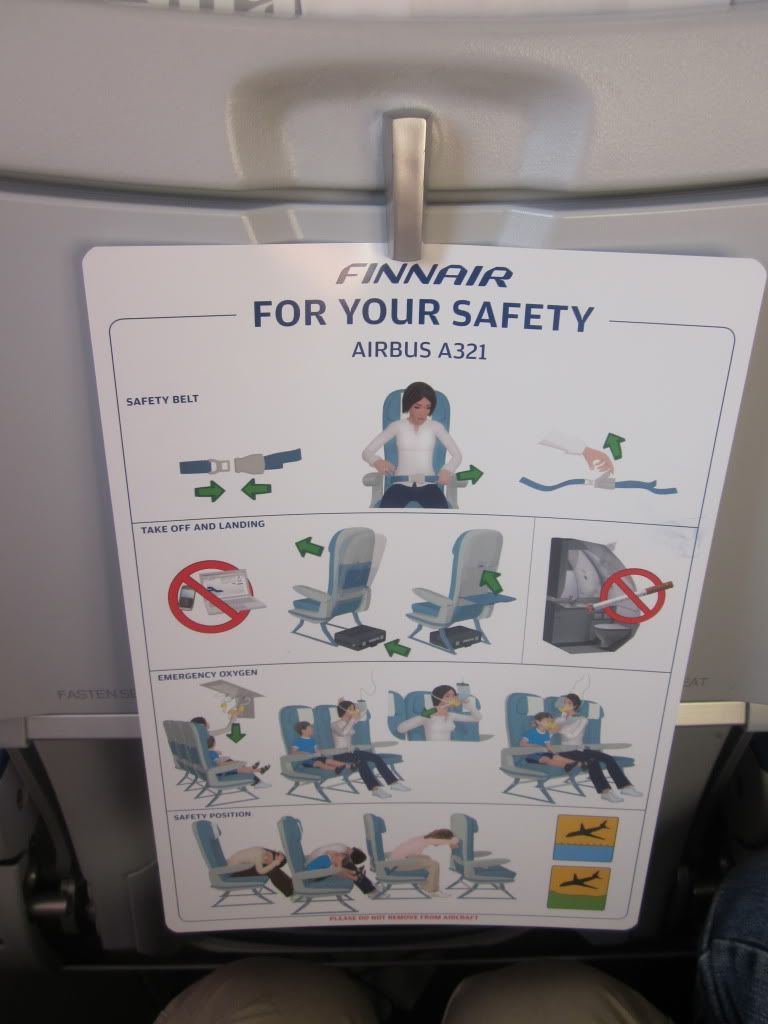 As soon as the seat belt sign is switched off we learn from an announcement that service is a "delicious free meal" and that we also have the opportunity to purchase items from the BOB (rip-off, I warn you!). And as Finnair as our trusted national carrier couldn't go any lower, they also announce newspapers are available for 3 EUR (that explains the lack of Herald Tribune and other papers at the gate - luckily I nicked some from a Blue1 gate so no need to invest any money in a newspaper).
The delicious meal turns out to be quite a generous sandwich: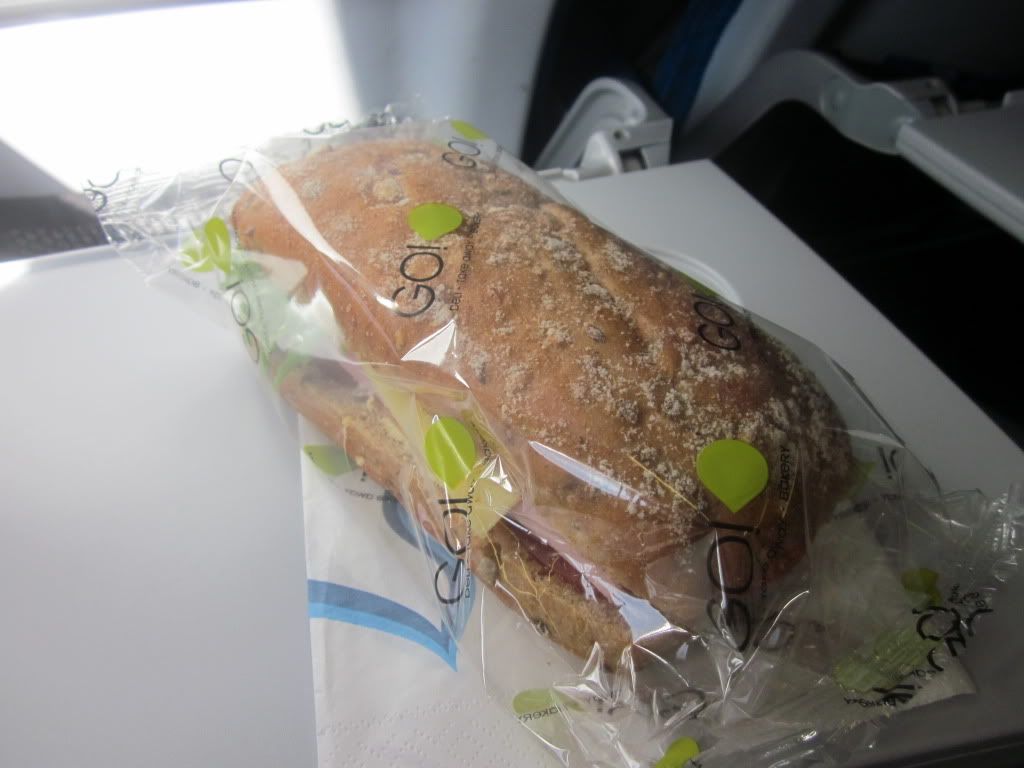 Soft drinks are also free (no - that's not beer - it is apple juice!)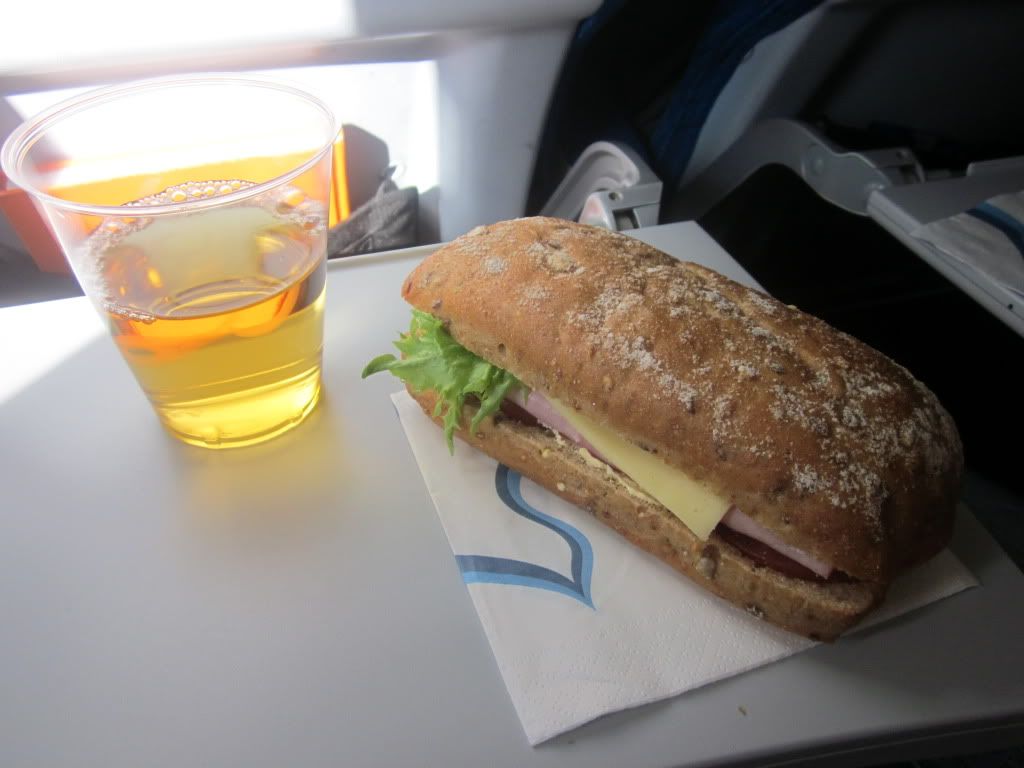 The sandwich is nice with many different types of fillings: cheese, ham, lettuce, tomatoes and even some mayonnaise. The bread is a bit drye but with drinks it all goes down quite nicely. Anyway I still miss the nice hot meal I would have received on this very route not too many years ago. And I had no idea I would receive the same or even better service on 45-minute hops between the gulf nations. But that's another story, coming up soon!
Cruising over Germany:
Our captain is soon on the speakers, letting us know we are flying over the city of Hamburg, with our route continuing over Germany and using a standard route to CDG (whatever that might be?). Remaining flight time is announced as 1 hour 30 minutes, so we're halfway there!
The flight attendants remain friendly throughout the flight: they apologize for serving my seatmate an ice bottle of bubbly. Still they leave something to be desired as they disappear to the galley immediately after the trash is collected. My attempt to visit the lavatory in front of the aircraft (no one in line for that one but a huge queue in the back of the cabin) comes to a quick end when one of the FAs run after me and shouts
"Business class only!
. Jeez, I can still bear with the fact that you want the only passenger travelling upfront today to have a private bathroom but most certainly you could have told me the news in a much more friendly way?
Having browsed through the Blue Wings inflight magazine (shouldn't it be renamed White Wings if you look at the color of the plane or Asian Wings if you take a look at the business model of the carrier?) the seat belt sign soon brings some more light to the cabin and we begin our decent towards Roissy.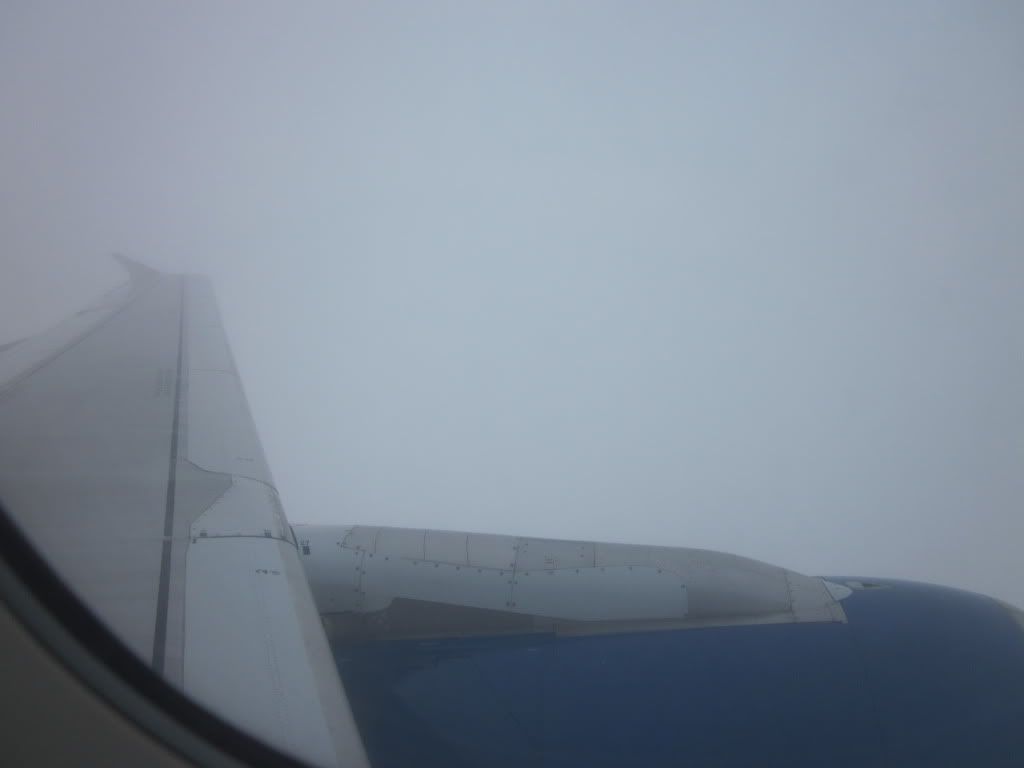 Bonjour la France - tu m'as manqué!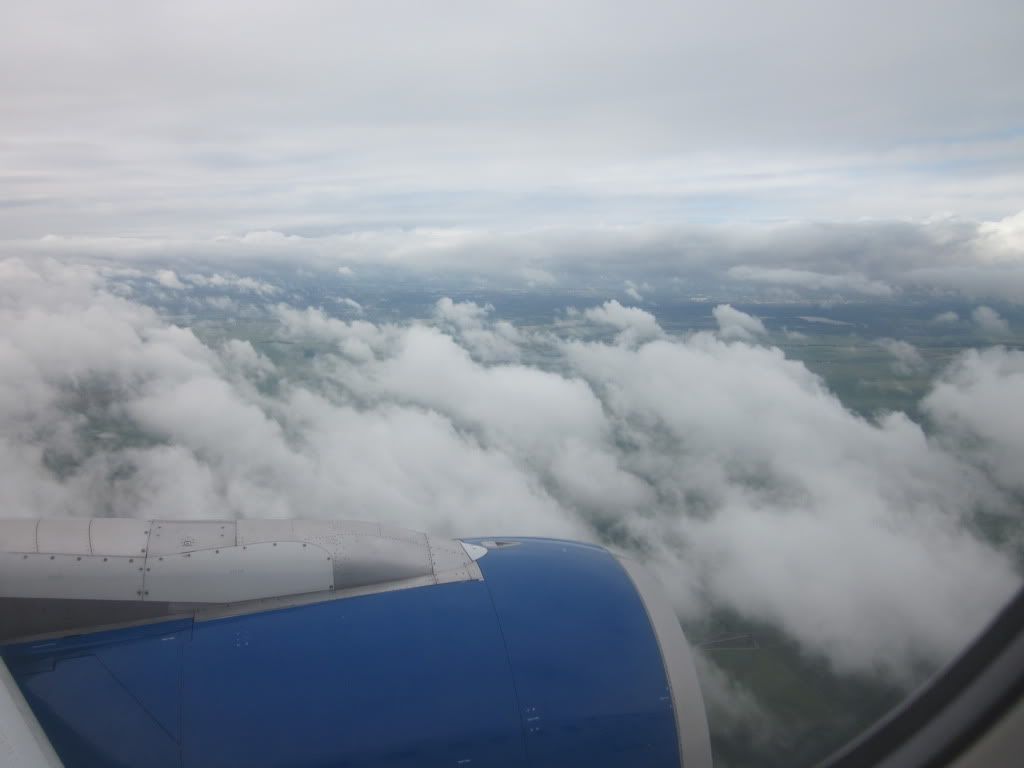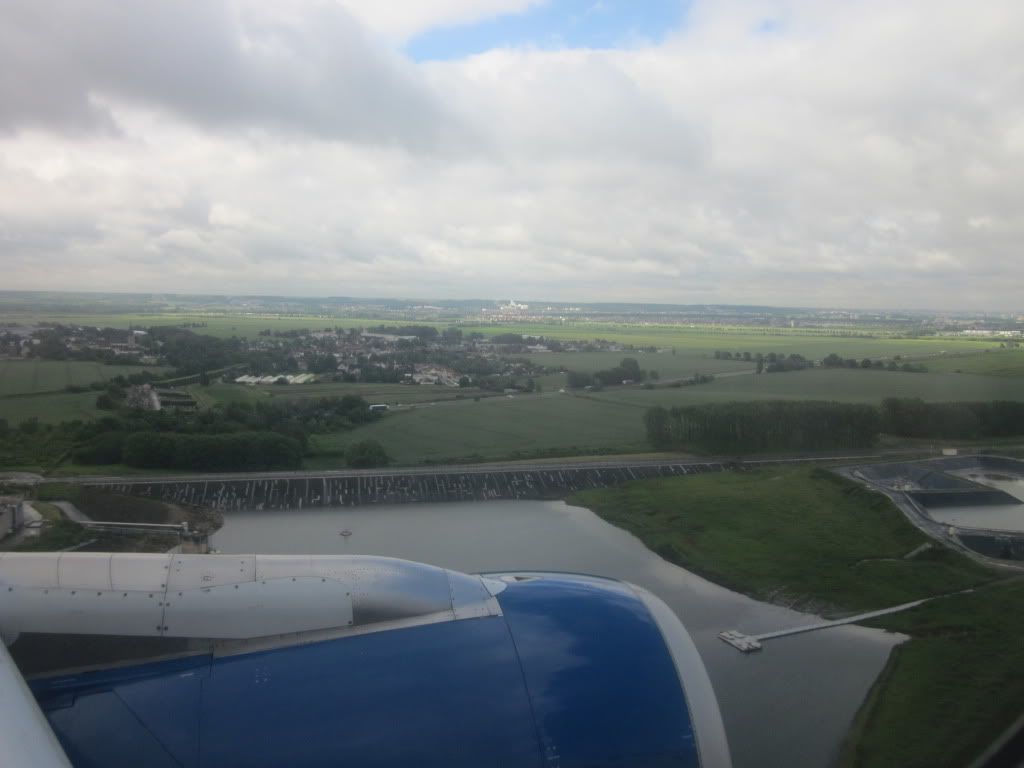 Do I need to tell you how good it felt to be back on French ground after a smooth landing?
The welcome announcement contains some hilarious information for connecting passengers. They point out we have landed at Charles de Gaulle Airport and that passengers holding a ticket with a connecting flight from Orly Airport cannot board it at CDG, but has to exit the airport and head for ORY instead. That kinda makes sense, no?
Some exotic visitors, including something that could be my next ride: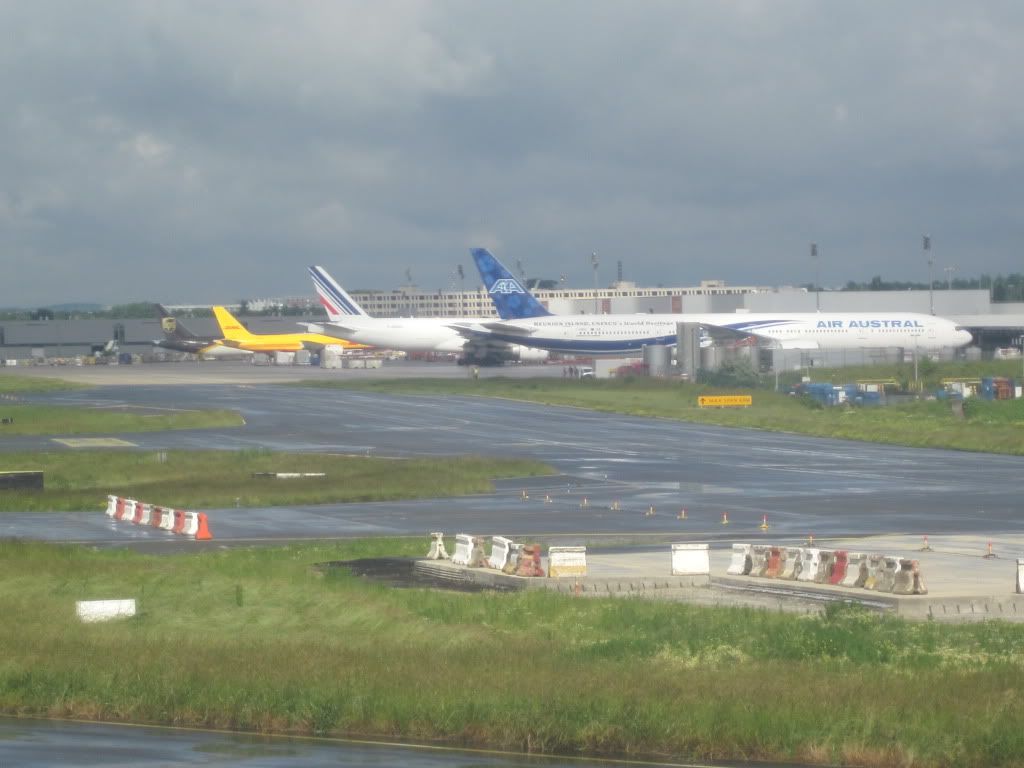 What's that - an emptied swimming pool?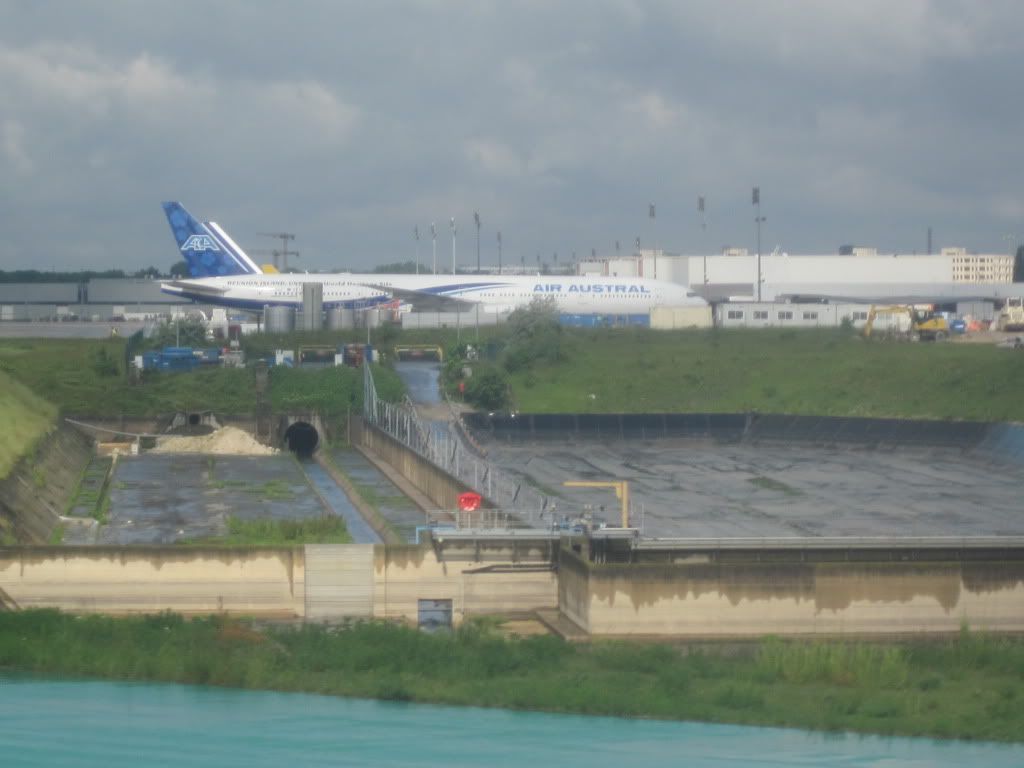 Must-have-a-Concorde-in-a-report: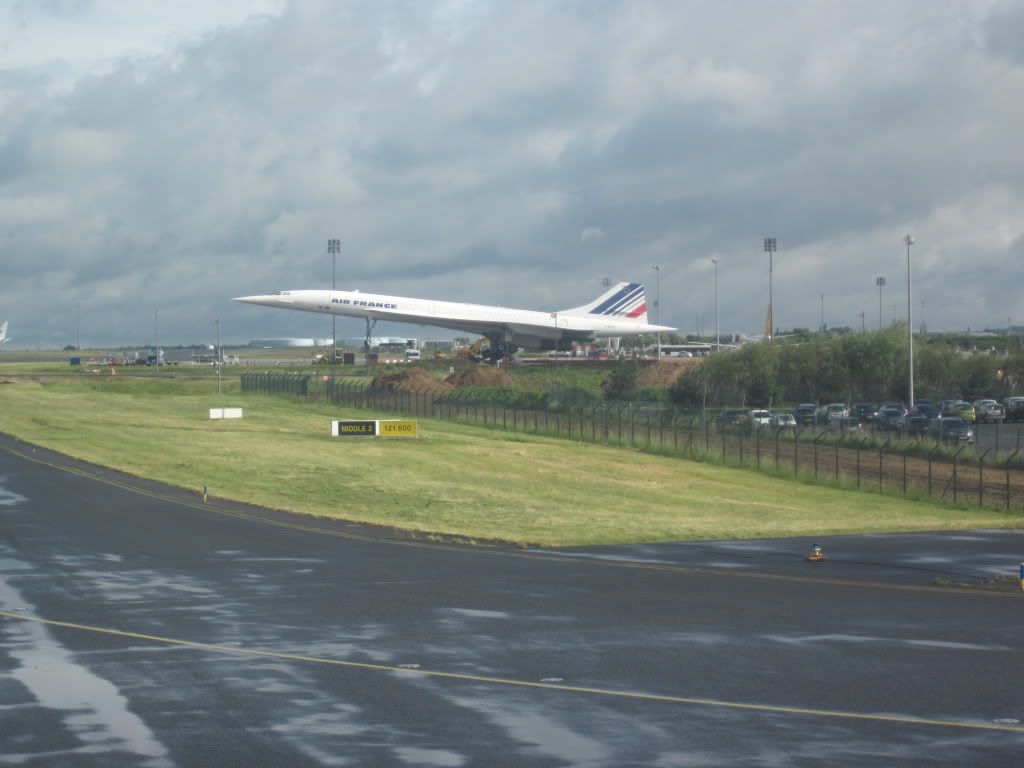 Perhaps someone could shed some light on what is the purpose of this conveniently located Air France house? It most certainly isn't their headquarters.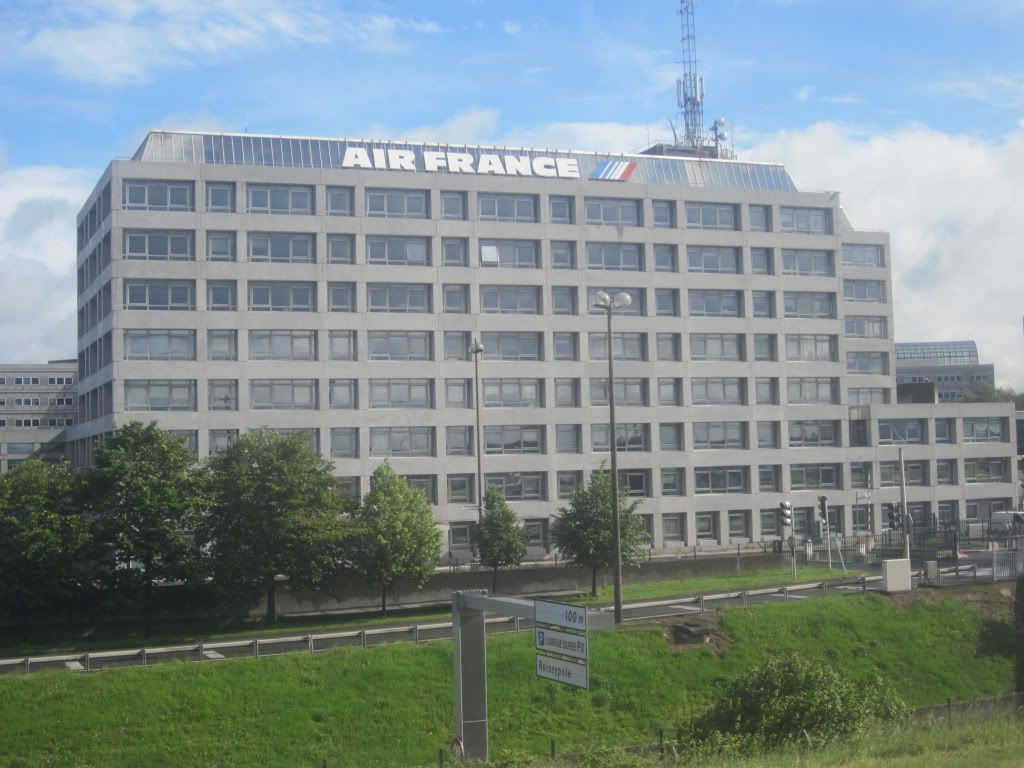 Yes, we are at the right airport.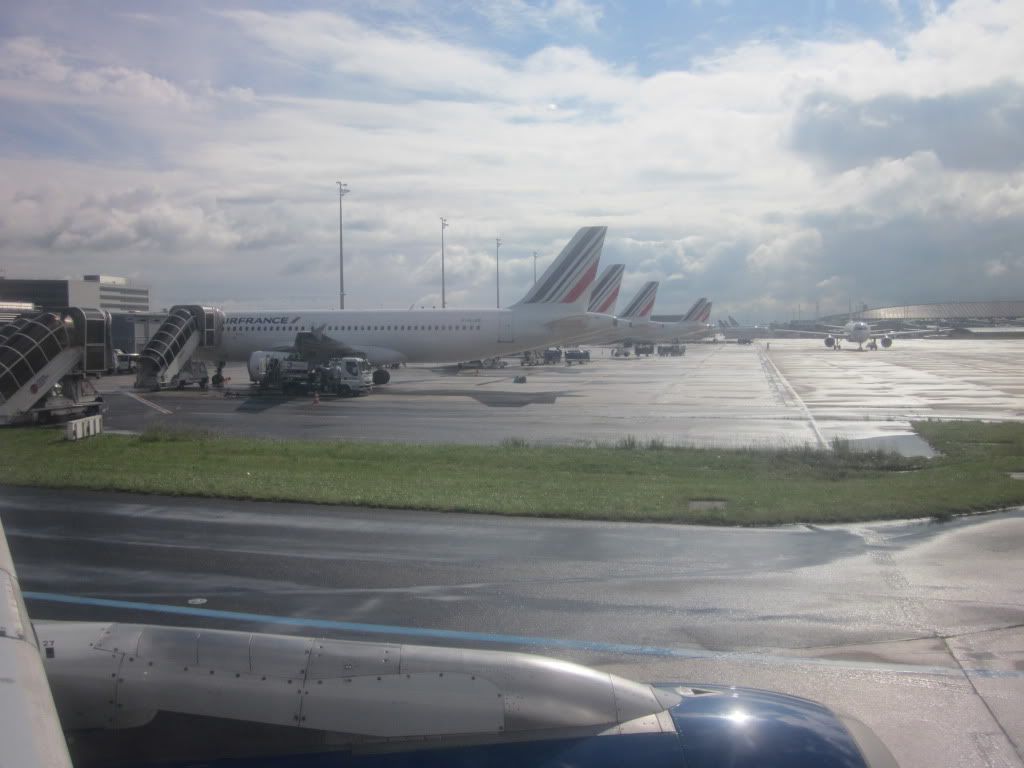 After a long taxi we park next to F-KGVK, part of Markus' flight log: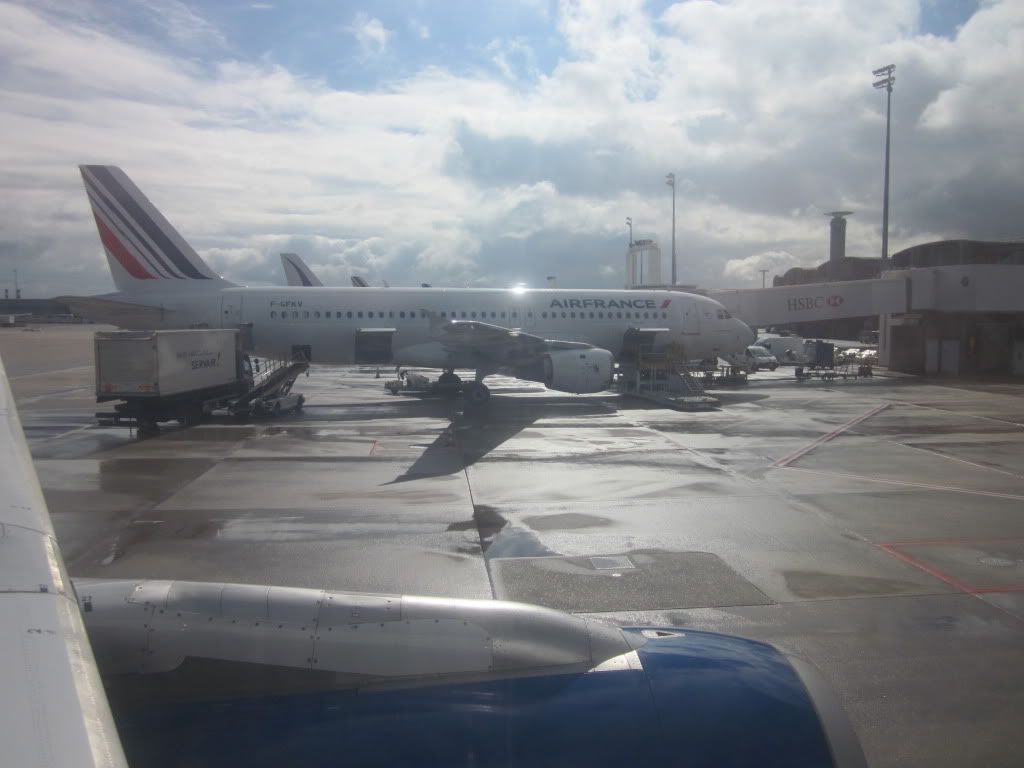 Gate arrival is finally at 09.42, two minutes late - I guess we could talk about an on time arrival? I let the men in suits disembark first and enjoy the soft blue clothing seats for a while more. You could wake me up in my wildest dreams and I would know we had arrived at terminal 2D, but I decide to test the knowledge of one of the FAs when disembarking.
"Sorry, I have a connecting flight and I wonder what terminal we have arrived to?"
"Uhm.. I really don't know... "
"Because I think we are somewhere in terminal 2?"
"Maybe you could ask my colleagues... no there should be an agent in the end of the jetway so ask him?"
"Okay, thanks".
Transfer from 2D to 2F
or
You can never ask for directions too many times
Finnair didn't pass the test but at least the FA remained very friendly. At the door I first get an "Arrigato" which changes to the "kiitos" I wanted so badly after thanking the purser for a nice flight in Finnish. In the jetway there is a huge sign indicating we have indeed arrived at T2D, so brownie points for me! The agent pointed out earlier is also found at the gate but now I don't need his assistance anymore as I know the flight to Dubai is leaving from terminal 2F which... turns out to be a terminal you can only access via going out in the public. Now I feel comfortable I didn't choose a HEL-CDG-DXB connection with a later departure from HEL as that would have cut my connection to only around an hour.
Have a safe flight home:
I approach the infodesk right outside arrivals (unfortunately Hannah wasn't there to show the way but a gentleman instead).
"Pardon, de quel terminal part le vol Air France pour Dubai?"
"Sorry, I dont speak French. But you said Dubai? That is terminal 2E". (!)
"But I thought...."
another agent yells: "No, no, Dubai is 2F! I checked it!"
"Merci!".
Just like at FRA the next step is to go through an endless-looking corridor that finally brings you to the promised land, T2F for me: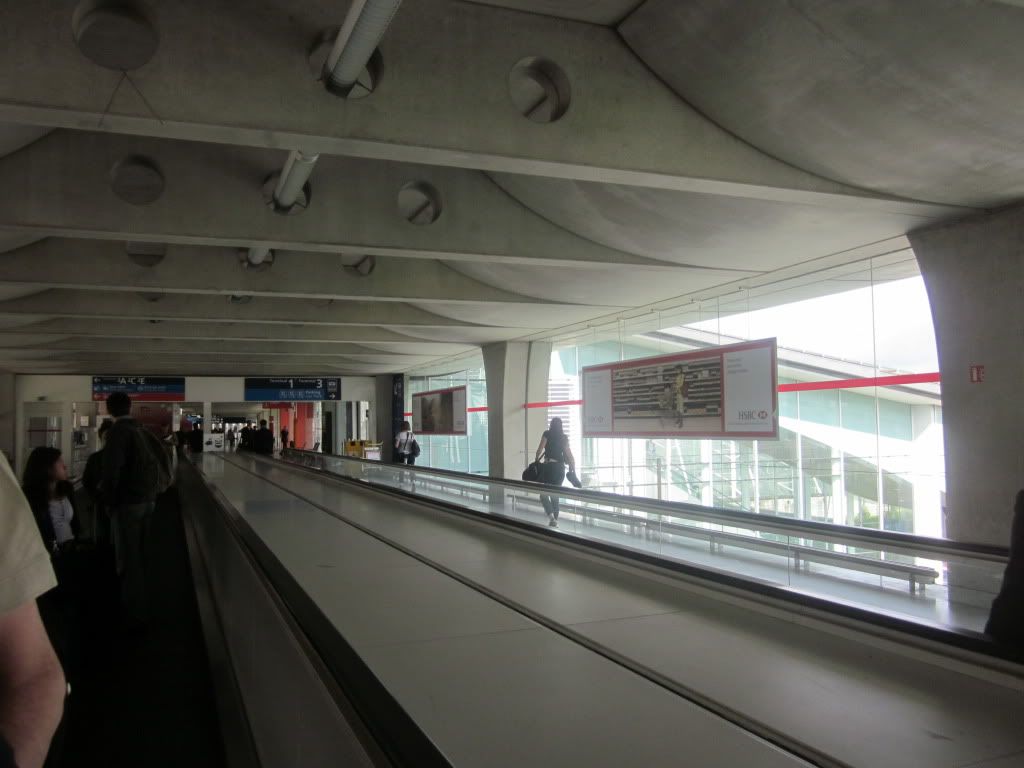 I locate a check-in kiosk, follow the instructions but instead of the precious boarding pass I end up with a piece of paper saying I should "contact the nearest Air France desk to verify all bags are checked in to the final destination". The nearest AF desk is right in front of my nose so I approach the gentleman.
"Hi!" (hands over the papers)
"Dubai?"
"Yes"
"Not here. Check in area five".
On the way to area five I see the monitors are stating passengers on AF3830 to DXB should use area six and somehow I trust them more than the charming gentleman at the previous desk so six it is! A guy admitting people to the check-in desks (looks like the French are trying hard to minimize the unemployment rate by inventing all kinds of workers!) doesn't let me in.
"Dubai? Check in area four".
"But look at the monitors, they say six!".
"Aaah, D-u-b-a-i? D'accord, welcome!".
And when I finally reach the desk after some queuing I show the young French mademoiselle the receipts I got....
"No need for me to do anything, your booking and bags are fine as well. Have a nice flight"
"Really?"
"Yes, you already got the boarding pass in Helsinki so no problem!"
"Merci beaucoup!"
All this took some 40 minutes... and apparently wasn't worth a penny? At least I got to practise some French on the way. I go through security, locate my gate, read a book until something very rare happens: I fall asleep!
I wake up five minutes ahead of boarding time, gather my belongings, line up and present my boarding pass to the agent.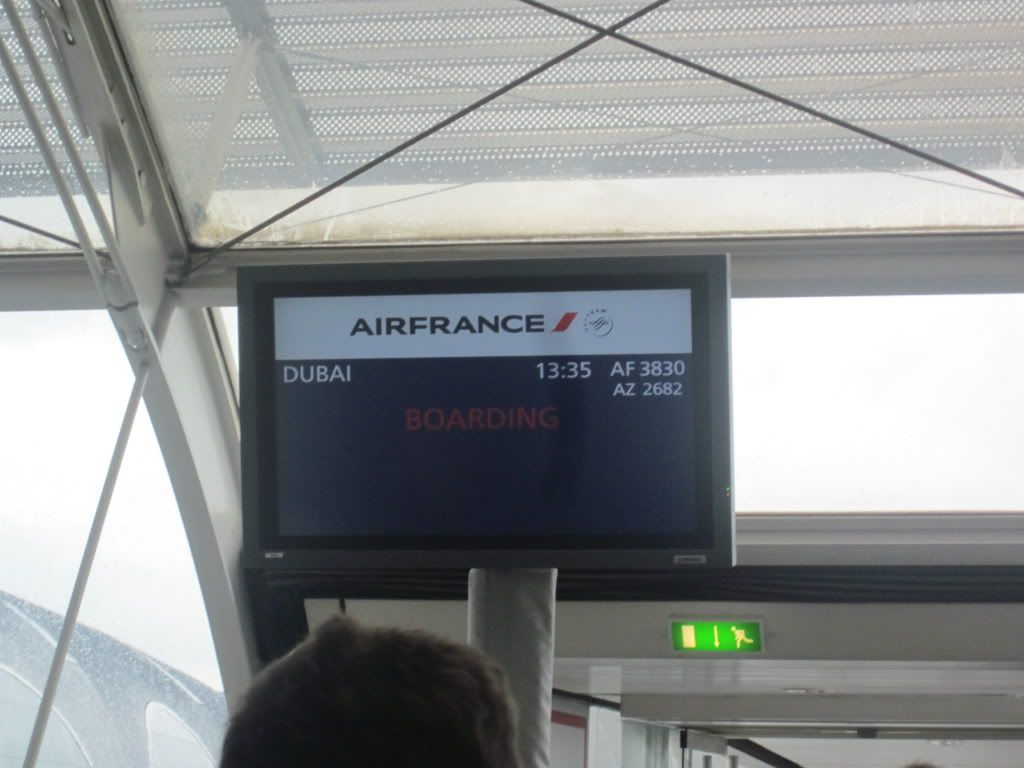 Yes, it is a jetway, but it is leading down to a bus: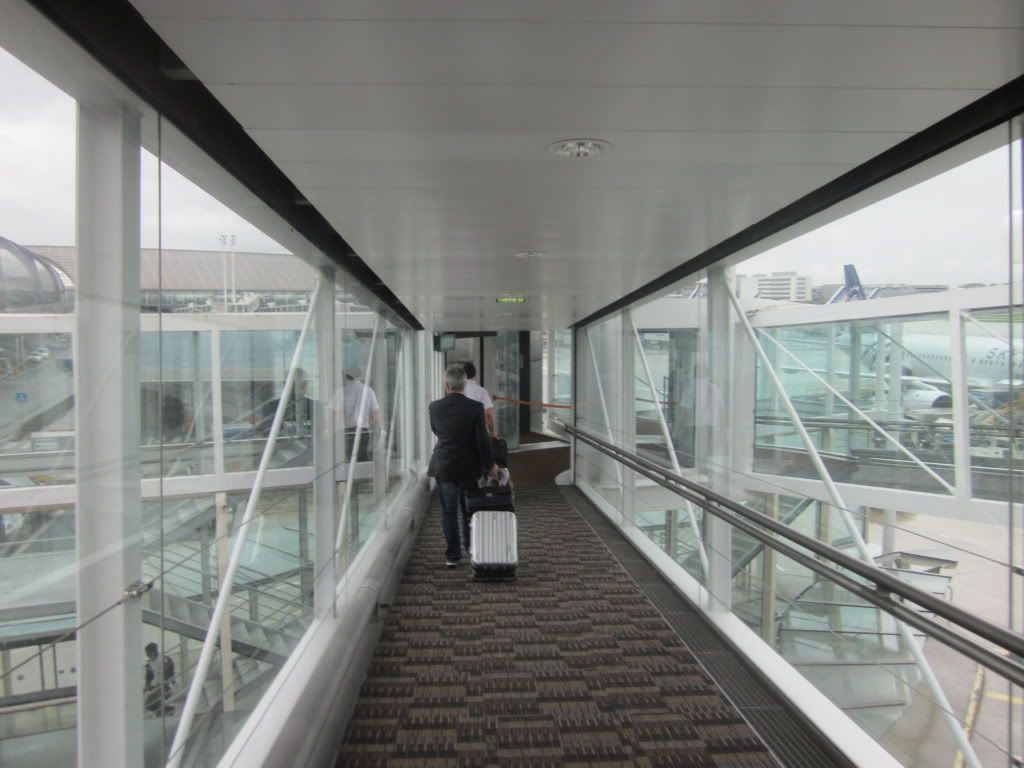 After a very long and bumpy ride in the bus we eventually pull up in front of F-GSQJ. As my first ever Boeing 777 ride begins with bus boarding I can't complain and fully enjoy the views:
Long and sleek: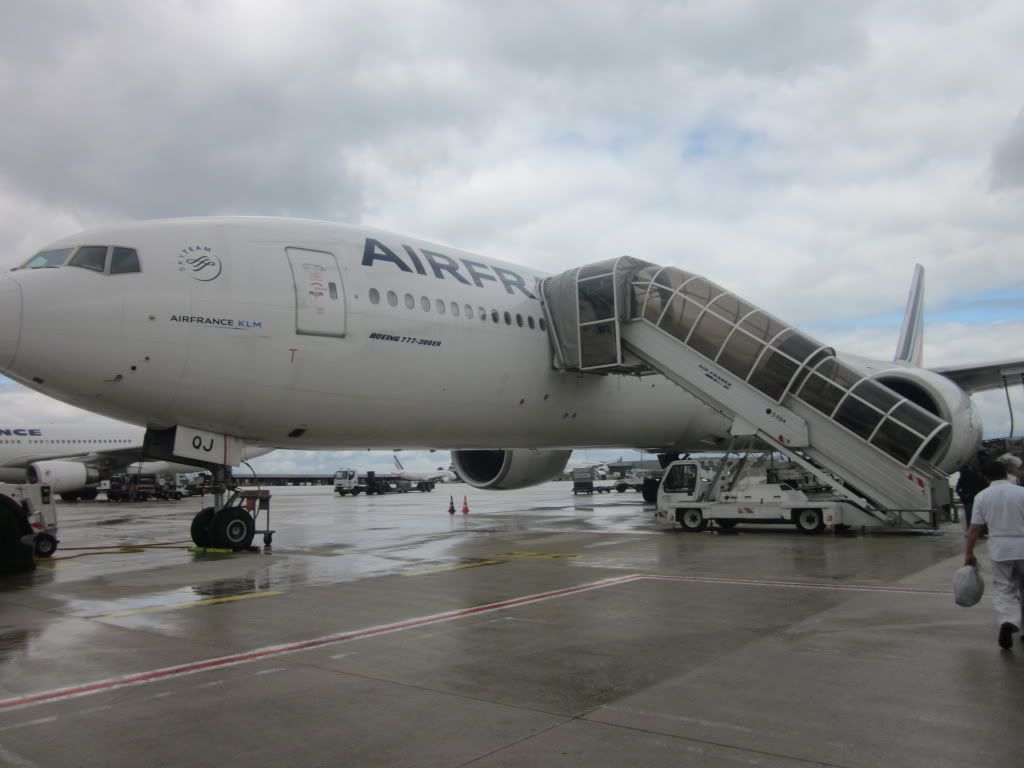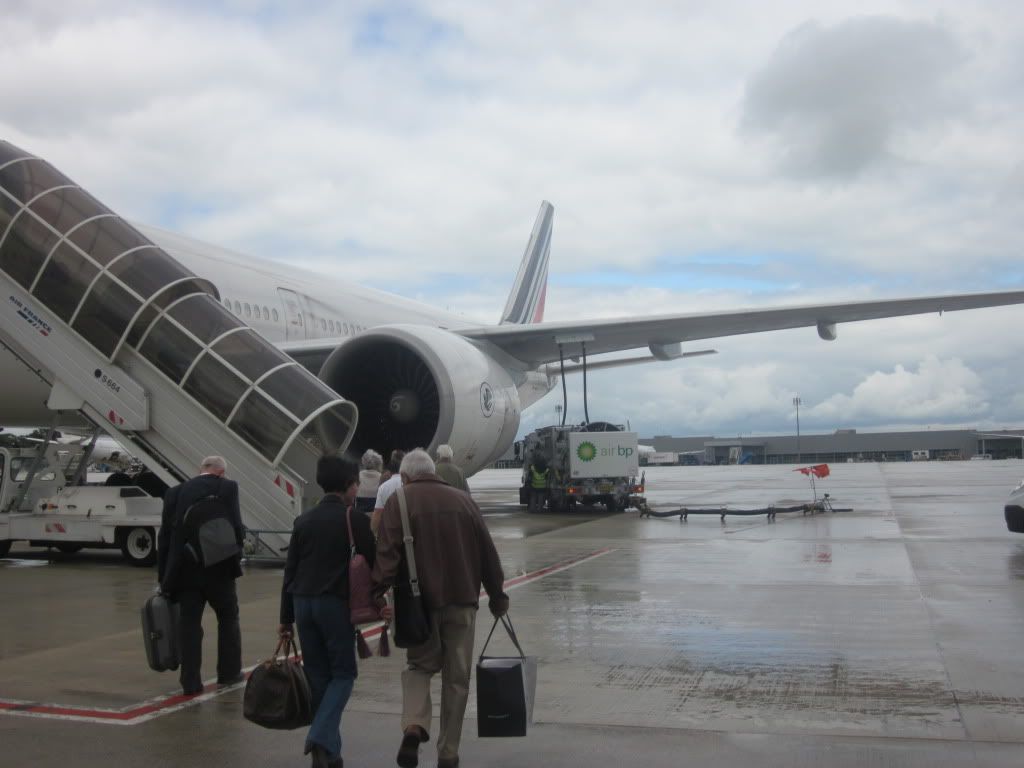 The engine: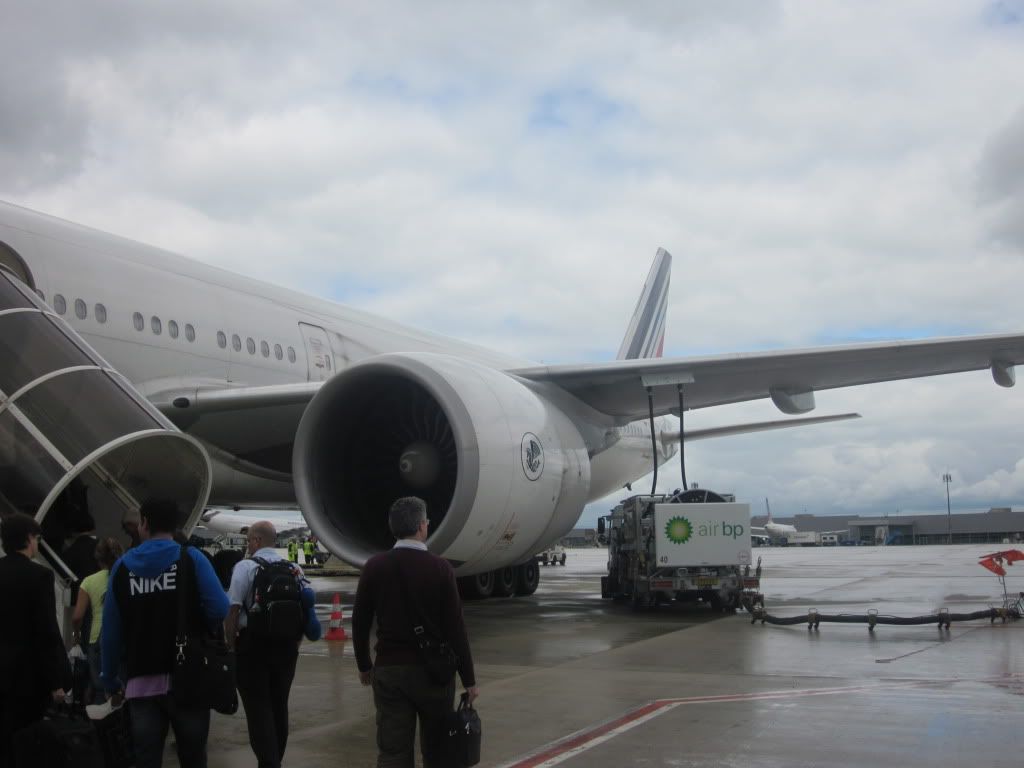 It is h-u-g-e!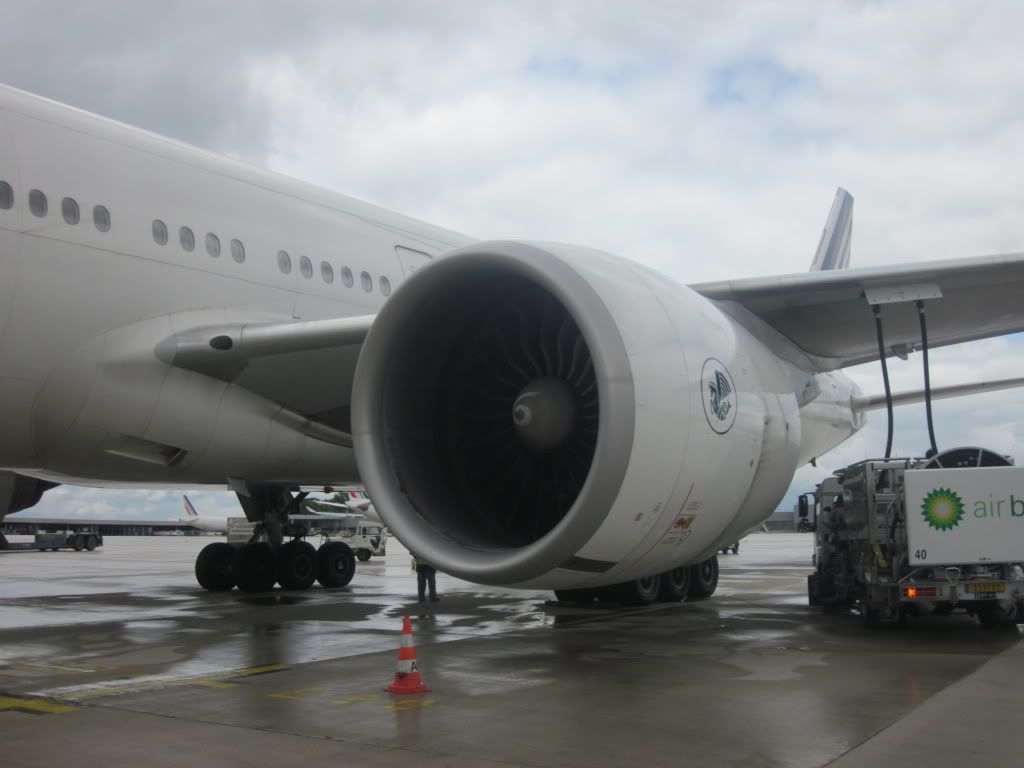 Nope, my camera lense isn't this dirty - some final views from the covered stairs: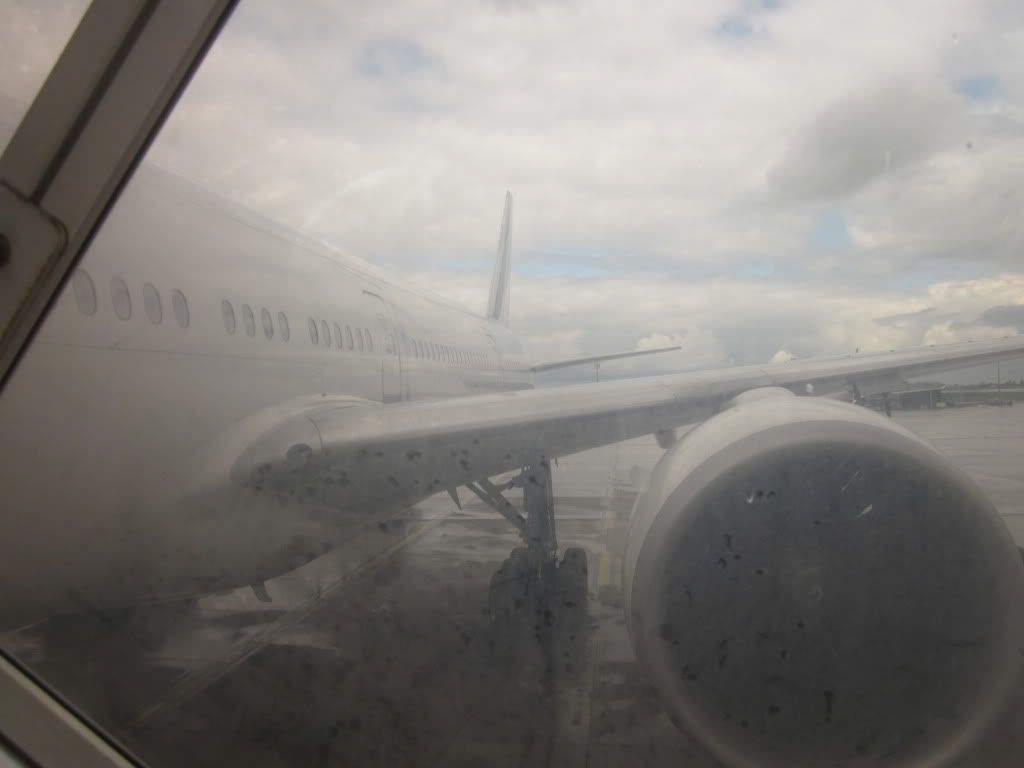 AF3830
Air France
CDG-DXB
F-GSQJ, Boeing 777-300ER
Seat 44A, Voyageur
13.35-22.10 (13.45-22.01)

Our middle-aged purser Renée welcomes me at the door and takes some time to inspect the stub that is left of my boarding pass.
"Ah, monsieur 717Flyer, bienvenue à bord Air France! Votre siege 44A, c'est à droit! Bon voyage!"
"Merci beaucoup!"
"Avec plaisir!"
I think you got it already - after spending less than a minute on board I'm already sold. A simple welcome perhaps, but with a genuine smile. And this is a trend that would continue for the whole duration of the flight - those passengers that took the step of saying at least one French word to the crew very quickly got a pat on the shoulder and a friendly remark. (From now on I will translate my conversations with the crew in English - but they were all made in French!).
I wouldn't mind to be sitting in business on this flight: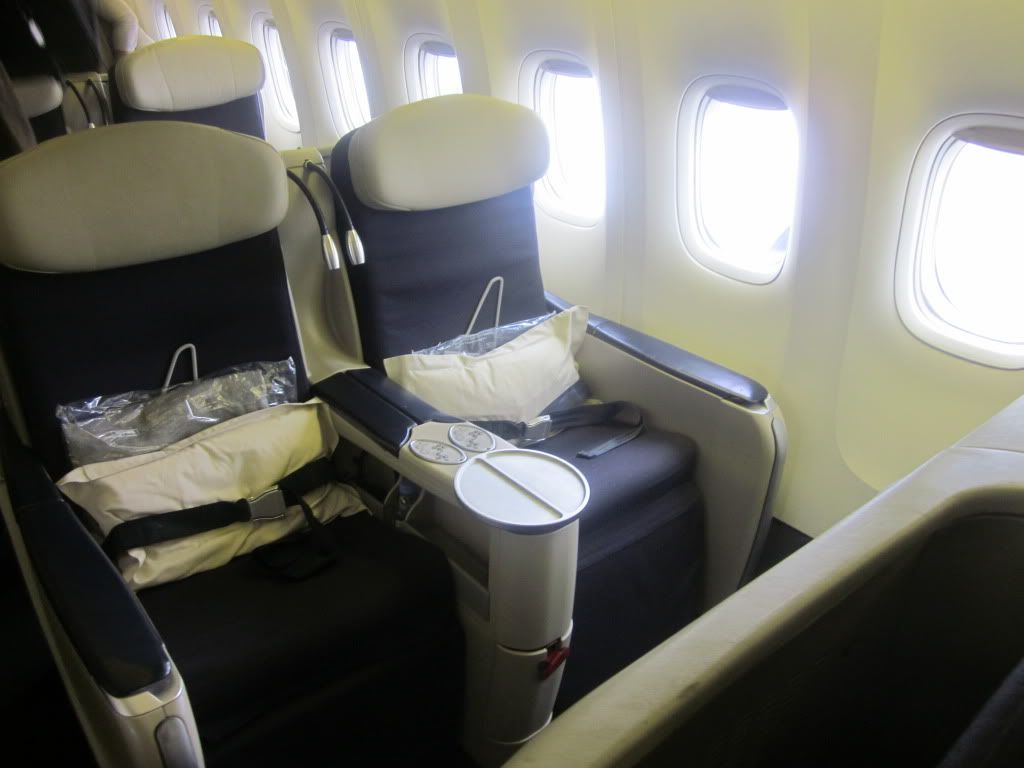 Economy looks alright as well: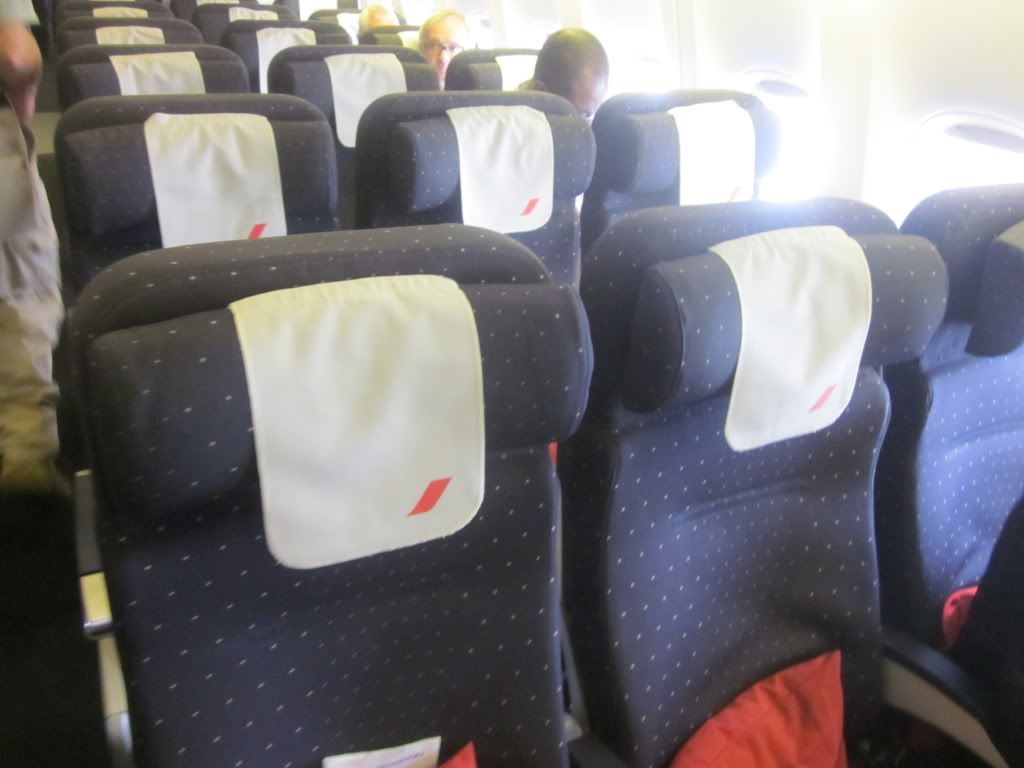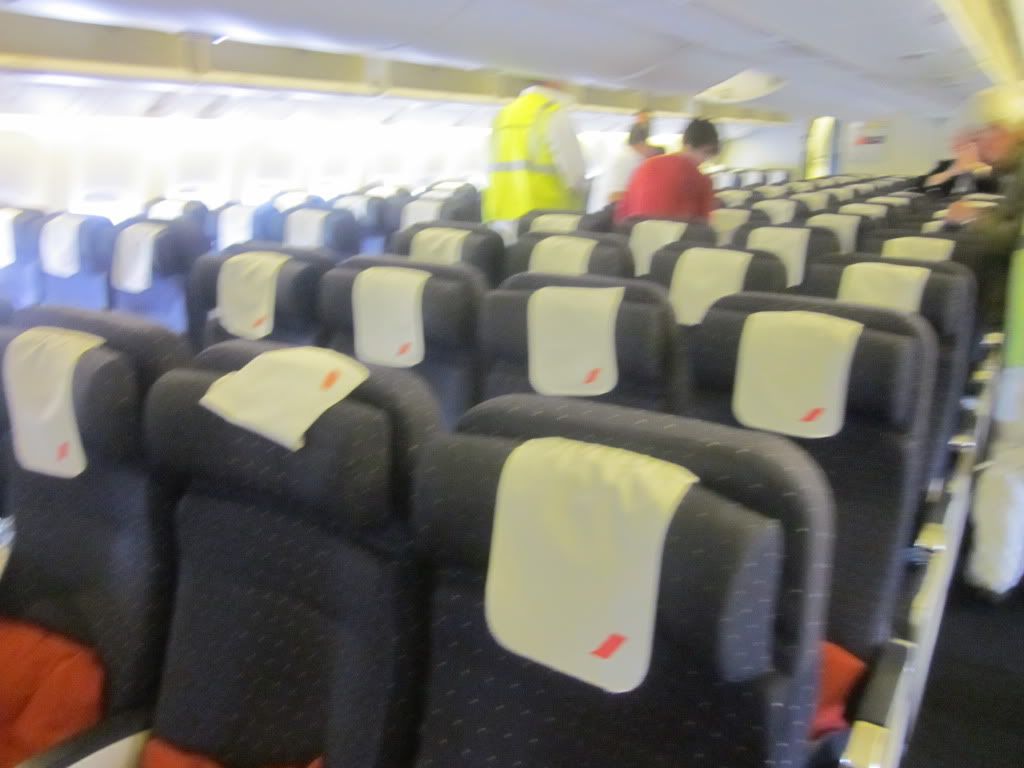 Leg room is alright but a bit on the tight side. I immediately notice the seat is quite hard and not something I would like to be sitting in for 10+ hours. The pillow makes sitting a bit more comfortable though and still bearable for a six-hour flight. Another thing slightly reducing the comfort of sitting in this seat is the shape of the fuselage back here as the seating layout changes from 3-4-3 to 2-4-2 and picking a seat in the first row of two-seaters seems to give a slightly worse leg room than on other rows. There is a bit of a weird gap between my seat and the window as well, but that space is greatly appreciated as it makes sleeping and leaning towards the window more comfortable.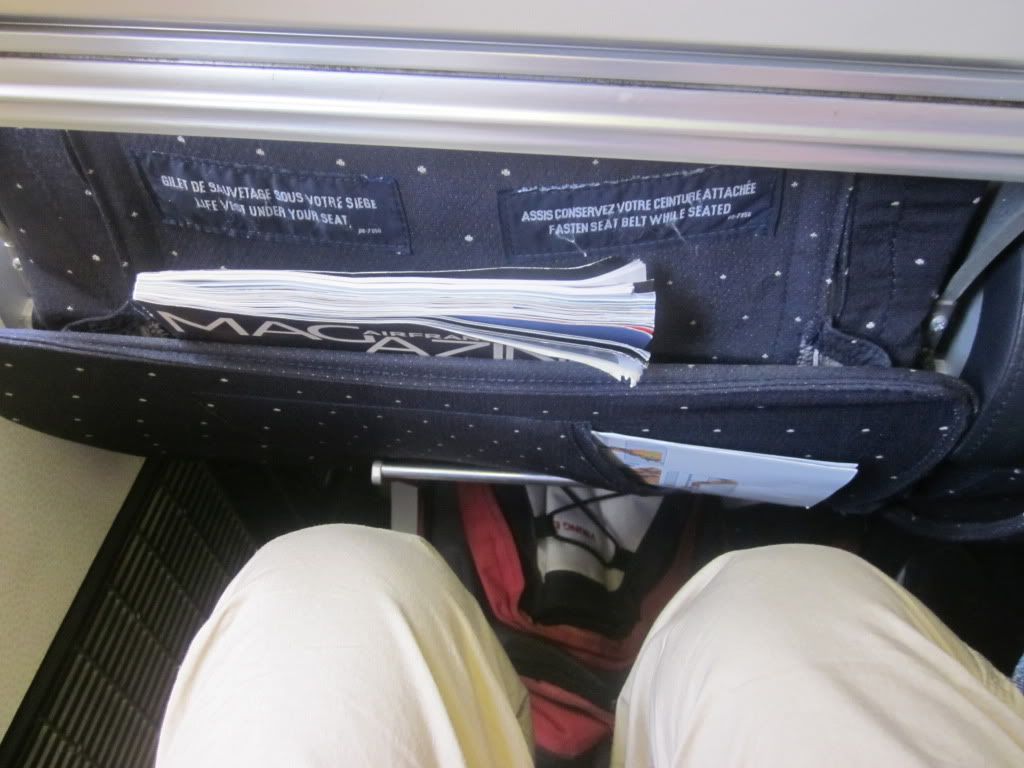 Ah, wing view on the Triple Seven and a great-looking neighbour!
In addition to the bright red pillow, a bag with a blanket, eyeshades and a refreshement towel is placed on the seat.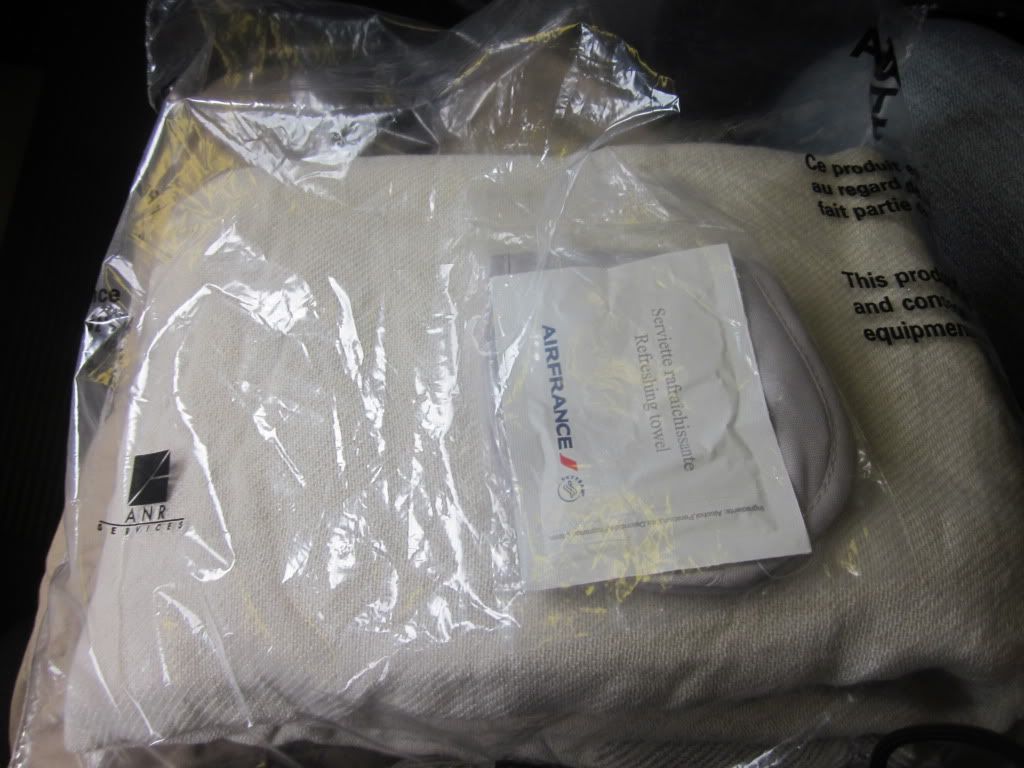 Of course there is also an IFE on board (that's already a great plus for me as this is my second ever flight with a personal entertainment screen):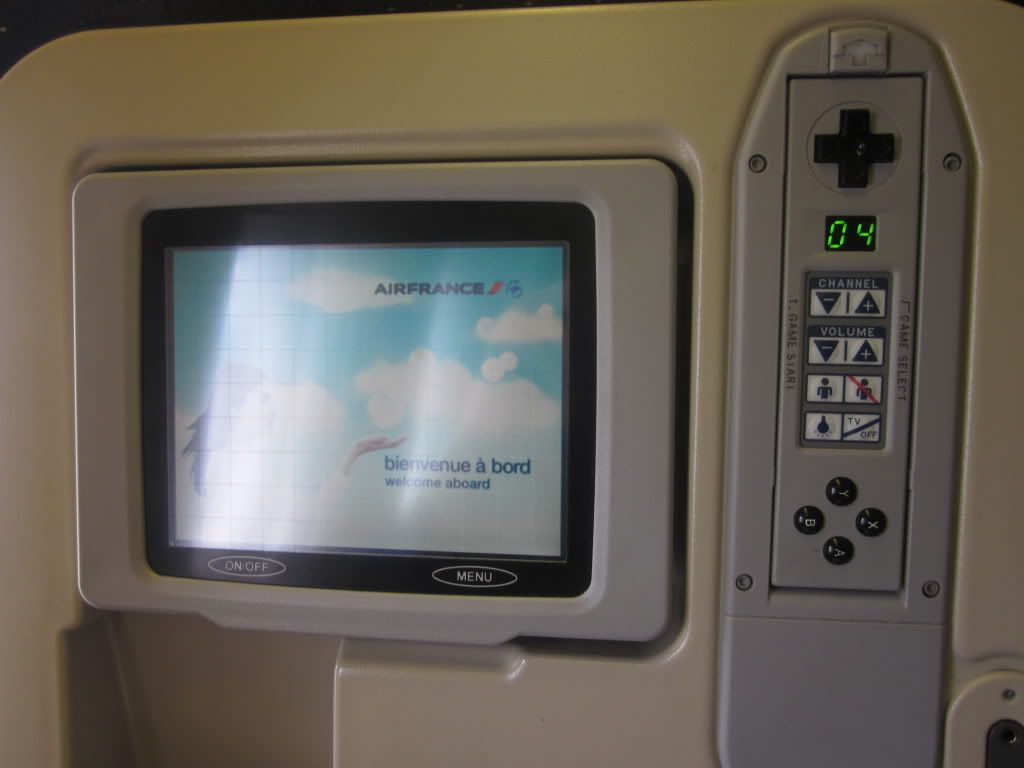 Boarding takes some time to be completed because of some late passengers and in the end the load is around 60 %.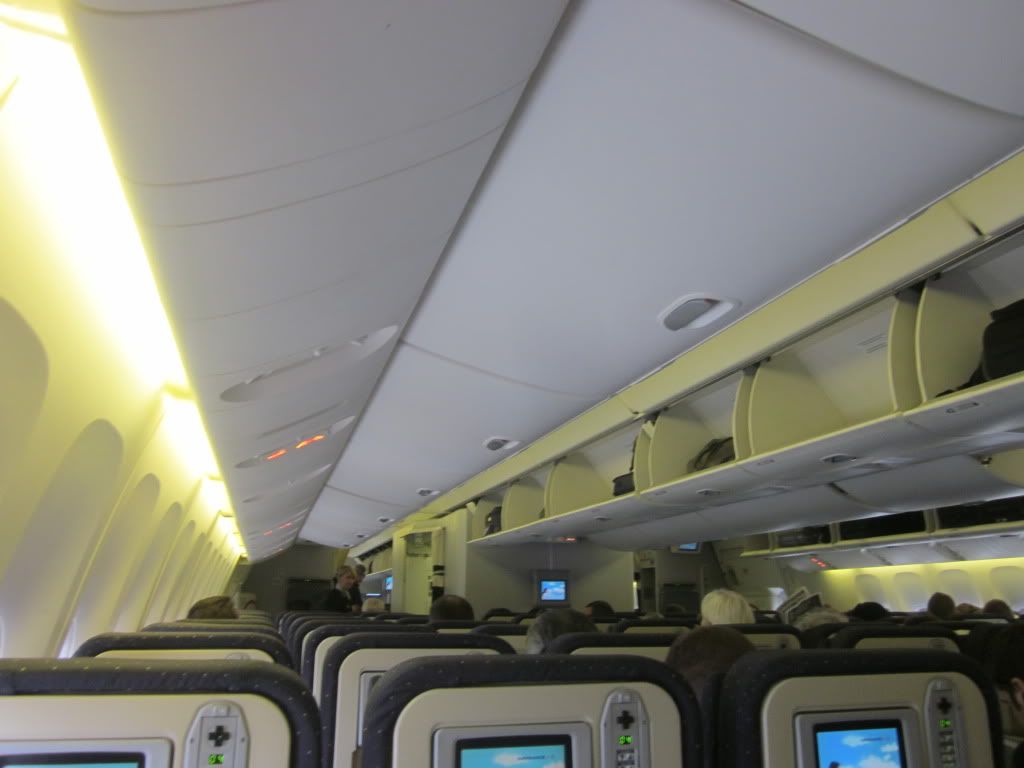 It's all about details: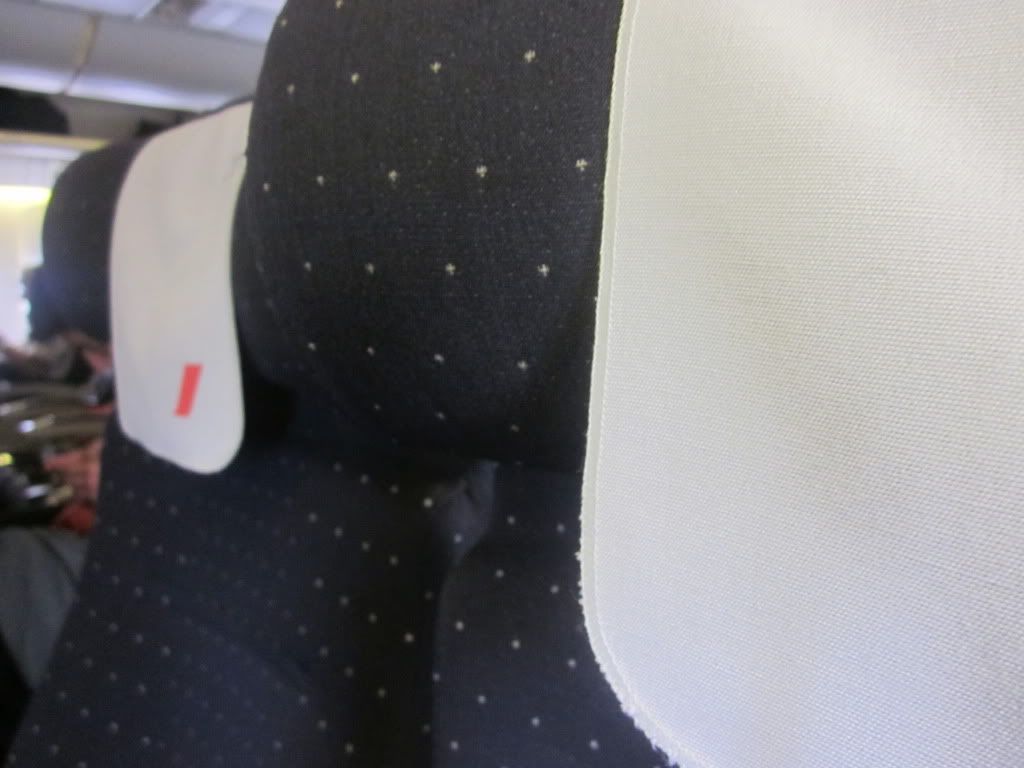 Soon after this doors are closed and we get a nice and detailed welcome speech from our French captain. Flight time is announced as 5 hours 50 minutes and an on time arrival expected to Dubai despite the small delay in departure. We finally push back at 13.45, 10 minutes late.
They also proudly announce the languages spoken by today's cabin crew as Spanish, Italian and German but I'm convinced they speak French and English as well.
Top