Background story
"Midsummer day simply refers to the period of time centered upon the summer solstice, but more often refers to specific European celebrations that accompany the actual solstice, or that take place on a day between June 21 and June 24, and the preceding evening. The exact dates vary between different cultures. Midsummer is especially important in the cultures of Scandinavia, Estonia and Latvia where it is the most celebrated holiday apart from Christmas."
(Wikipedia)
On midsummer eve, since 1945, a special air show has taken place at Kauhava in Southern Ostrobothnia, Finland. The venue for this show is a military base where Training Air Wing of the Finnish Air Force is situated.
However, earlier this year Finnish government announced that this air base would be closed down because of cuts in the military budget. So, 2012 would be the last year for this traditional midsummer festival to take place.
I have been to this air show a couple of times and have always had a blast. Both Finnish and foreign military planes plus that magical midsummer spirit makes this a special occasion not to be missed especially this very last time.
Normally there are no scheduled flights to Kauhava airport (KAU) although it is also open for civilian flights. However on midsummer eve Finnair operates a special flight leaving Helsinki at 4 PM and returning to Helsinki late at night after the air show. This flight is actually a charity event for handicapped chilren. Finavia doesn't charge any airport fees for this flight, Neste Oil donates the fuel and Finnair donates the plane and the crew for this flight so practically all money paid for the flight goes to charity.
This year the cost of the return flight HEL-KAU-HEL was 140 euro including entrance to the air show area. Flight would be operated on an Airbus 320 and there would be a special greeting by the Air Force on route HEL-KAU. So, this flight just had to be booked!
Friday 22 June 2012 (midsummer eve)
I had been a bit worried about the weather. Early weather reports were suggesting that there might be some rain and clouds but as this special friday got closer, the weather reports were getting more optimistic. There would be a lovely summer day with a lot of sunshine and temperature around +20 C. A perfect day for aviation related outdoor life!
As my flight would leave in the afternoon, I had plenty of time to get to the airport. I first took a Helsinki city bus 98 from my home to Itäkeskus and then continued on bus 519 to the airport. As I had done OLCI, there was no need for check in at the airport. I was a bit disappointed that I was late with my check in and all the window seats and also all middle seats were already taken. So, I had to take an aisle seat. Someone else was also going to snap photos during the flight!
I was at the airport around 1.5 hours before departure time. I walked almost directly through security as there was almost no queue at all. As I had some time to kill I walked a bit around some shops but luckily bought nothing as I had only a small camera bag with me and it wouldn't have been very comfortable carrying anything for several hours at Kauhava airport.
Gate 21 for my flight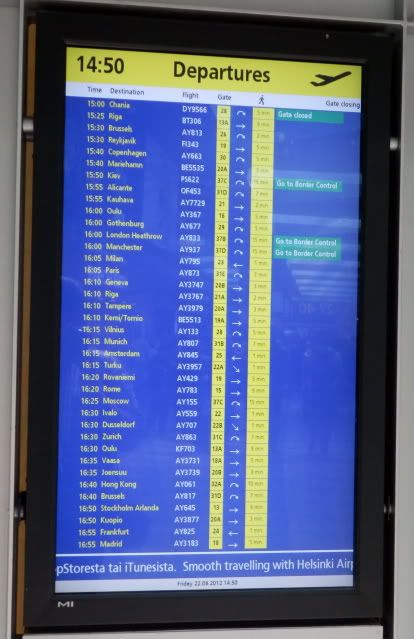 I decided to head for the gate early as there might be some people I know. I had a small chat with some Finnish Flightforum.fi users.
Yes, Kauhava is our destination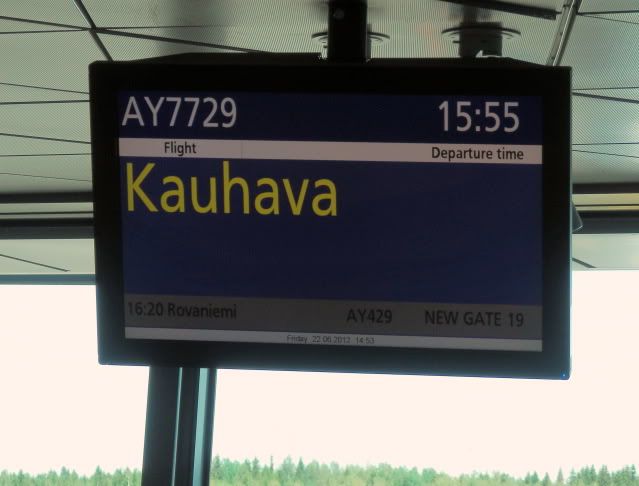 OH-LXB would be our plane today (second and third flight on this particular plane for me)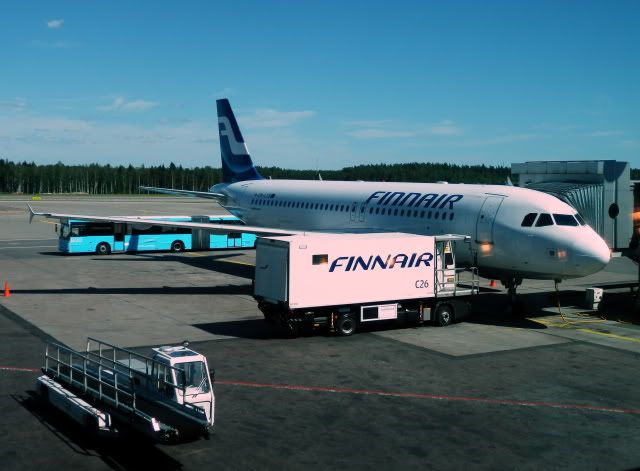 Then an announcement was made on the speakers. At first I thought that we would be told that boarding would begin shortly but the person on the speakers introduced himself as the captain of our flight. He welcomed us onboard soon and told that this would be a special flight with Air Force Hawk escort. Very nice gesture!
Captain and a microphone
Soon, we were boading. When walking on the bridge towards the plane, I heard some music. Ah, of course, accordion music. Traditional Finnish music for midsummer.
FA playing accordion during boarding process
Midsummer magic: birch trees and a Finnish flag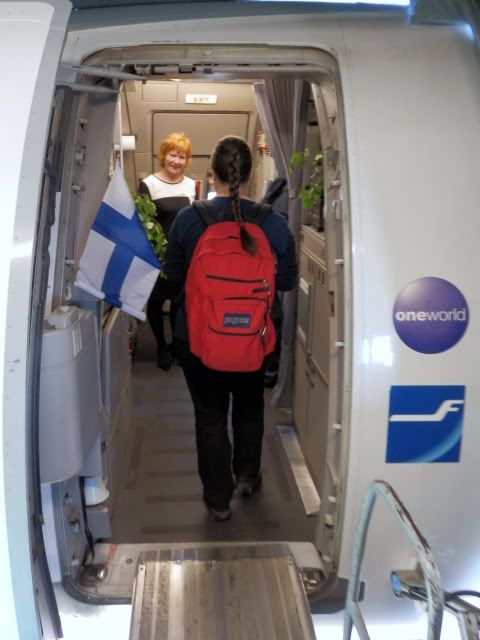 Finnair AY7922
Helsinki (HEL) – Kauhava (KAU)
Airbus 320
OH-LXB
Seat 4C (aisle)
Scheduled time 15:55 – 16:45
A very warm welcome by the crew. I quickly took my seat and soon also a woman and her teenage son took the other two seats 4A and 4B.
Not that nice view from my aisle seat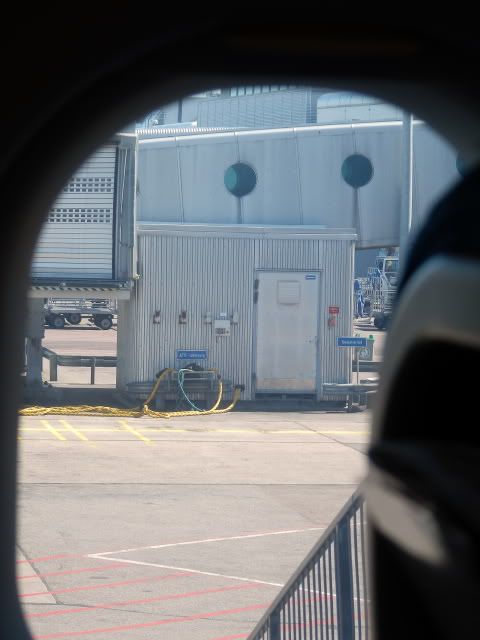 As soon as boarding was completed, the cabin was also decorated with birch trees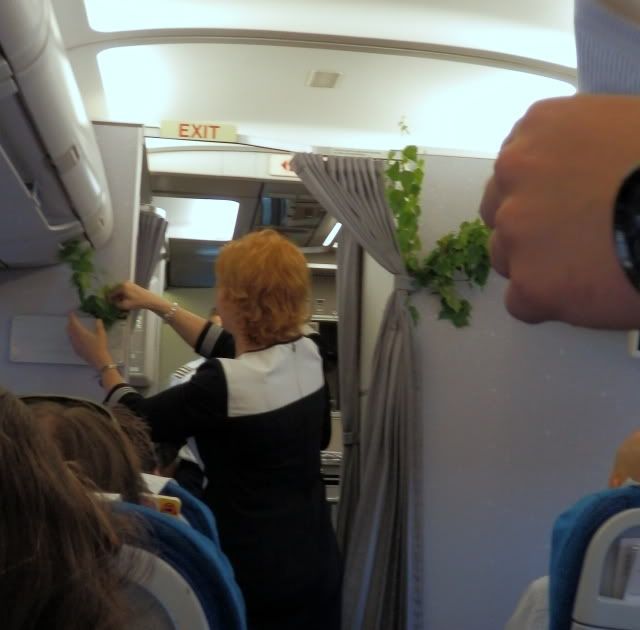 Definitely a midsummer flight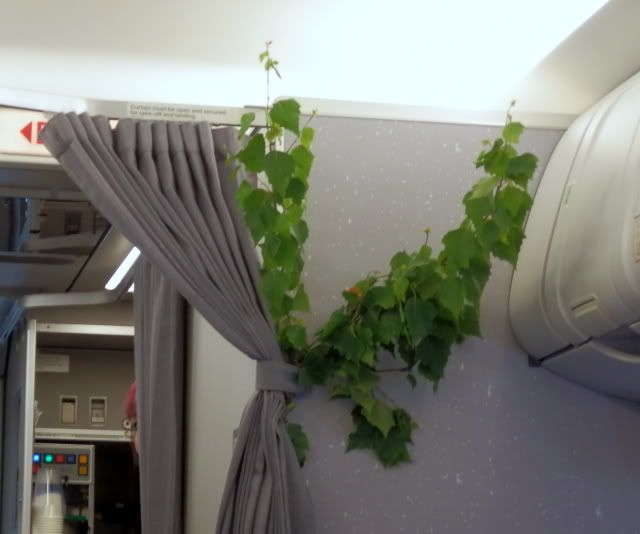 Let's not forget that we are heading for Kauhava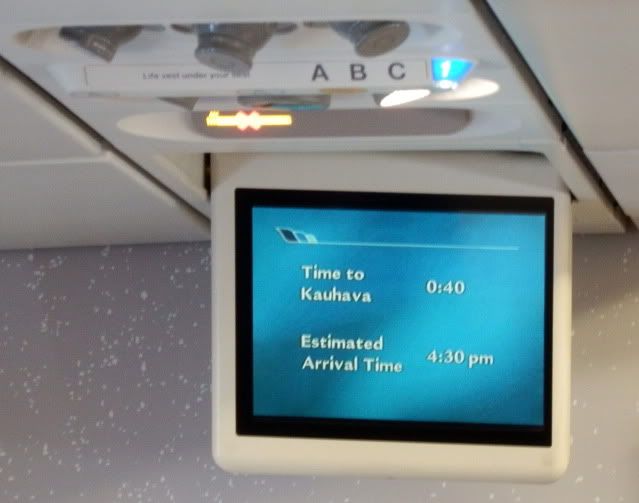 Blue Wings, summer edition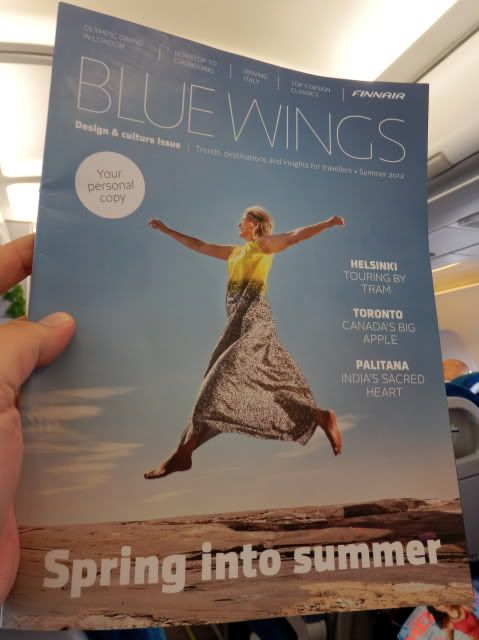 Then our captain was welcoming us onboard, again! We were in a bit of a hurry actually, he said. We had now 5 minutes to leave the gate as we had agreed to meet the Hawks above Tampere at a certain time. And then we would continue to Kauhava escorted by the Hawks. At Kauhava, we would make an approach together with the Hawks and at first fly above the airport at about 1 000 feet and the Hawks would make a maneuver called a barrel. And only after that we would land.
Our captain also told that photos would of course be allowed but no radio transmitters or receivers would be allowed during the flight. He also told that we would be using runway 22L for take off.
Pushback came soon after that announcement. So, we were on schedule.
Taxiing towards 22L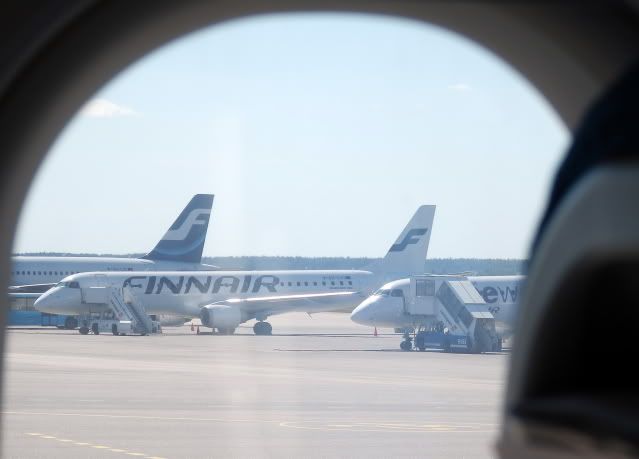 This Air Baltic Fokker was delayed because of technical reasons (whatever they were)
Take off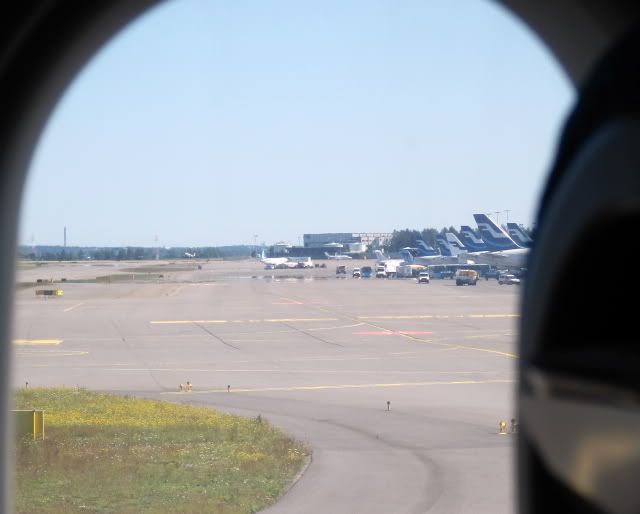 When the seatbelt sign had been switched off, also a flag was added for our special decoration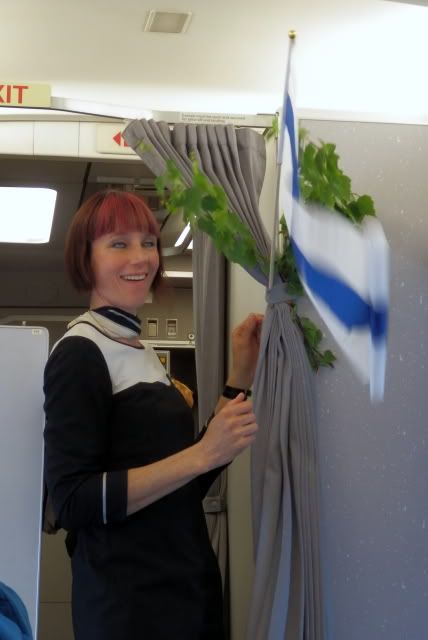 OJ – nice, I wasn't expecting any food or drinks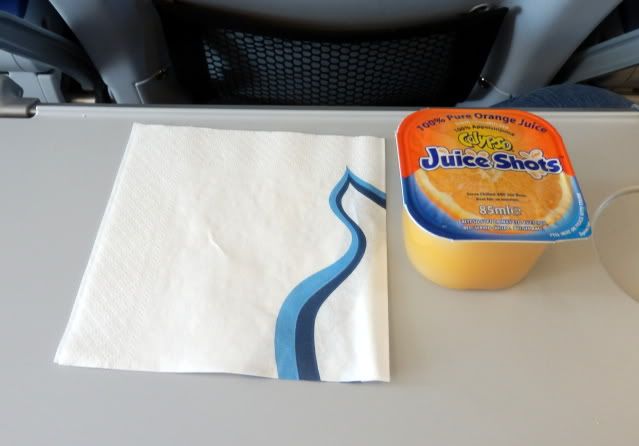 Then captain told us that because the Hawks were running a bit behind the schedule, we would be waiting for them in a holding pattern above the city of Tampere. He also told us that the Hawks would be there in a couple of minutes and that there would be two planes. He also told the names of the pilots but I didn't write those down.
To be able to make better pictures, I decided to stand up and walk towards the bulkhead.
Cabin view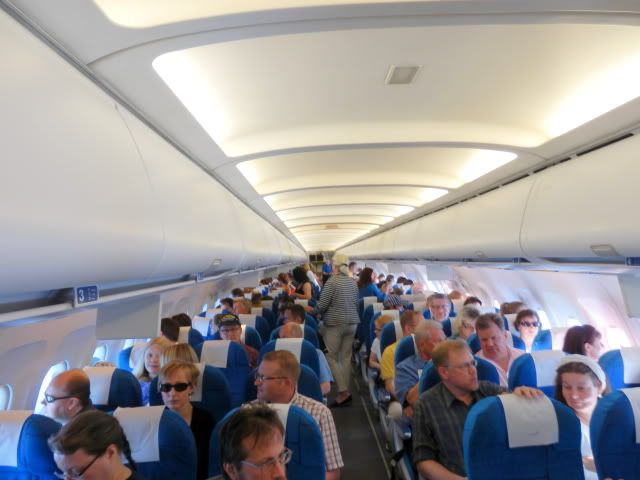 Then, we were told that now the Hawks had arrived
Also the cabin crew had their cameras with them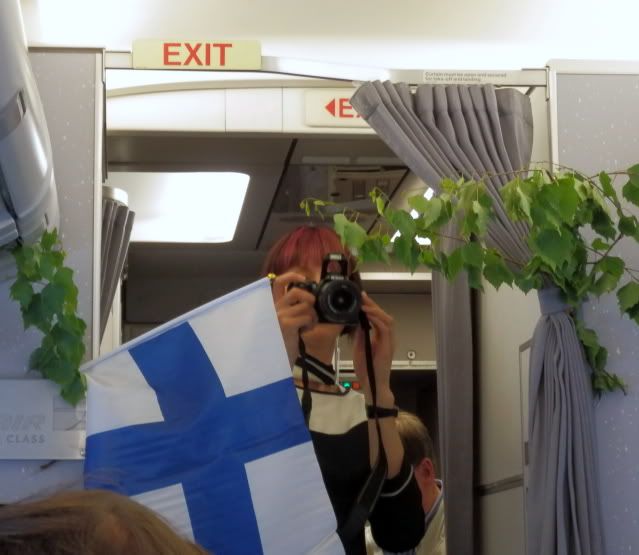 What followed was one of the finest moments I have ever experienced onboard a plane.
Simply wow, part 1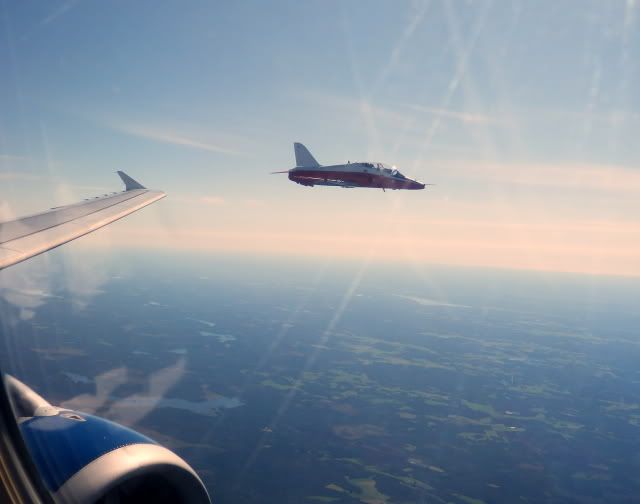 Simply wow, part 2
We began our approach very soon. As the airshow programme in Kauhava was running a bit late, we had to also wait in a holding pattern above the city of Seinäjoki. And all that time, we had two Hawks following us.
Cabin crew prepared the cabin for landing. They asked everyone to make sure their electronic appliances were turned off, their seats were in upright poistion and their seatbelts would be fastened. Then they added: normally we would also ask you to open your window blinds but this time we don't think we have to.
Almost half an hour behind the schedule we at first flew over Kauhava airport at 1000 feet at the direction of runway 35, the Hawks made their barrels (which I didn't see because everyone on window seats did very effectively block the view but I heard expressions like wow, wonderful etc). After that we made a sharp turn and landed on runway 17.
After taxiing to our parking position next to the runway, captain again made an announcement and welcomed us to Kauhava and wished for a nice evening. Then he continued: "as we are in Ostrobothnia, you will have to wait for the stairs some time because they use horses here to move them – just kidding, they use soldiers to do it."
Then cabin crew asked if there was anyone who planned to stay at Kauhava and not return with this plane to Helsinki at night to report them. They also handed out bracelets that would allow us to enter the festival area.
Ah, sunlight at Kauhava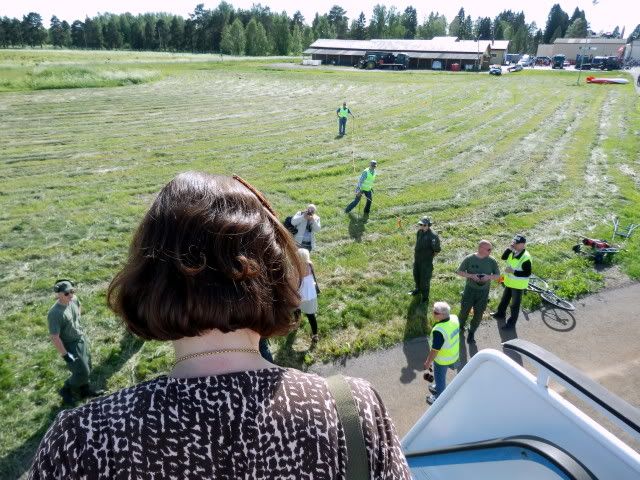 Once I was on the ground, I heard a sweet (and terribly lound) sound of a jet engine – oh, a Belgian F16 taxiing right next to me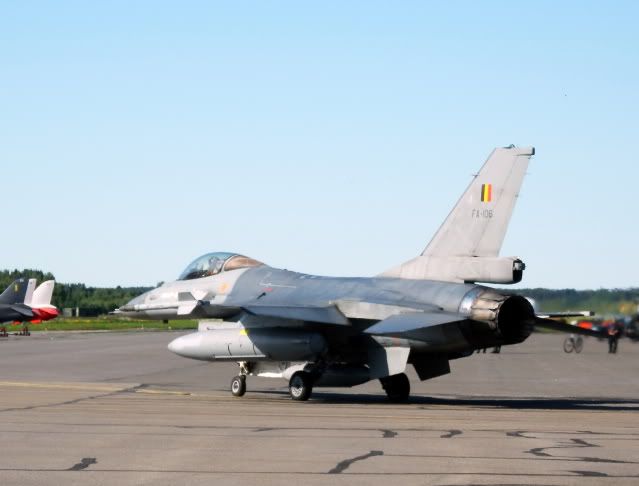 OH-LXB
Other equipment at the airport included old Finnish Fouga Magister and Finnish Air Force F/A-18 Hornets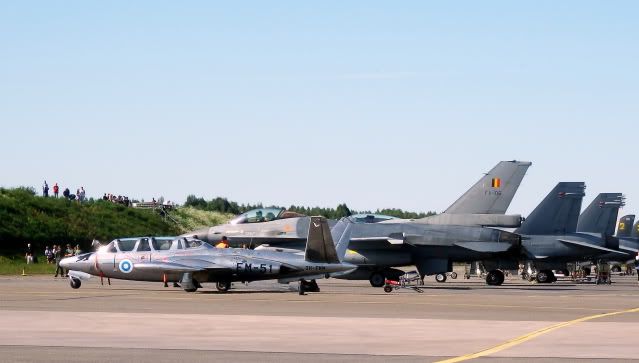 Walkway towards the festival area was through the grass - not every airport is this natural and ecological
And of course I had to turn back to take a picture of that beautiful A320 in the old (and beautiful) AY livery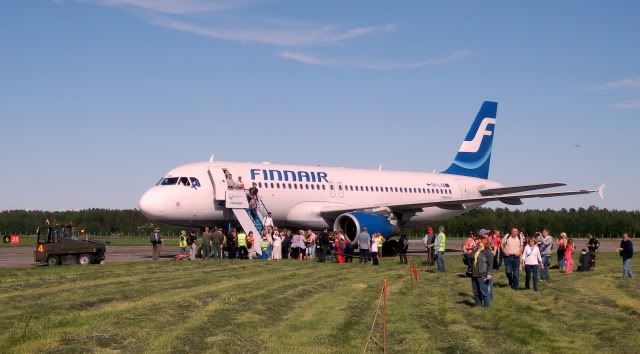 At a military base, all equipment has a certain military feel to it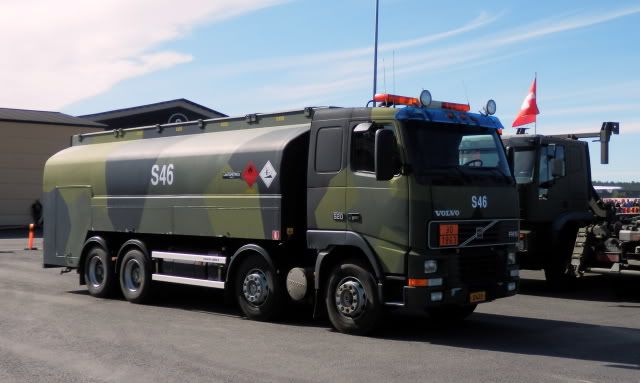 Two Belgian F16s here tonight on display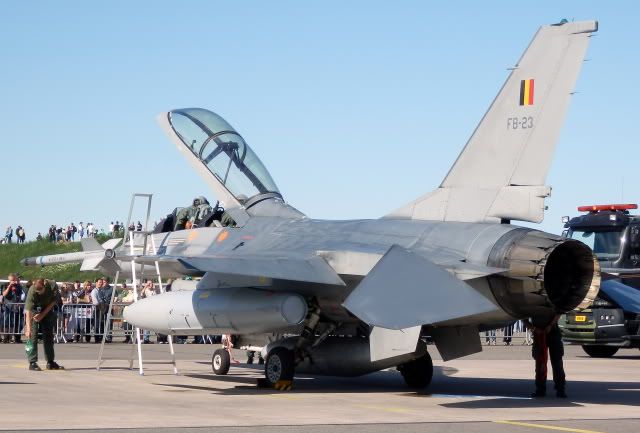 Finnish Air Force Hawk on display (this plane used to belong to the Swiss and is still in Swiss colors)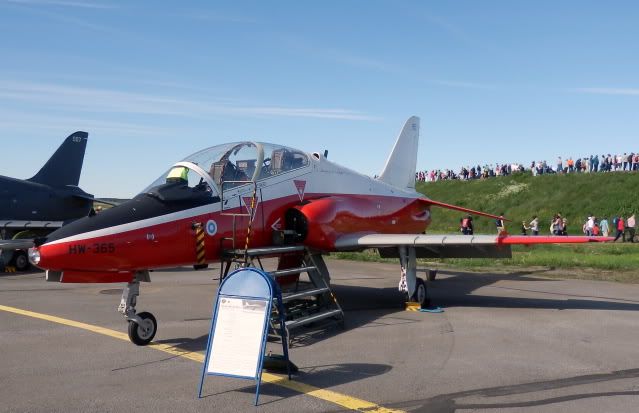 This is a family midsummer event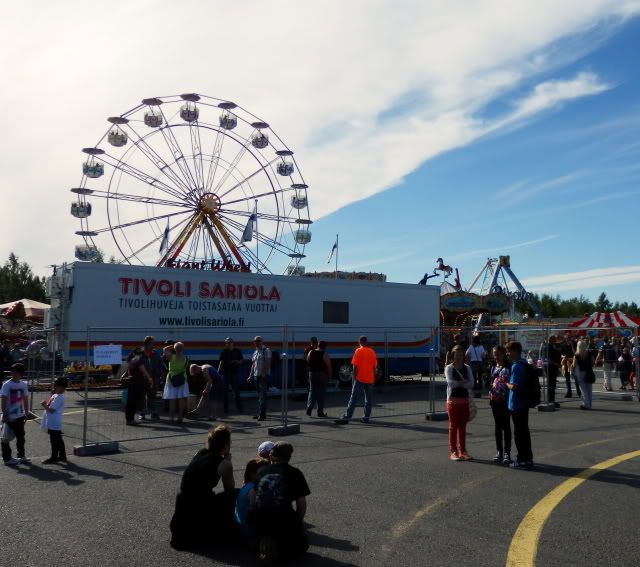 But adults can enjoy their beers too (at a military base beer gardens just have to be nicely decorated too)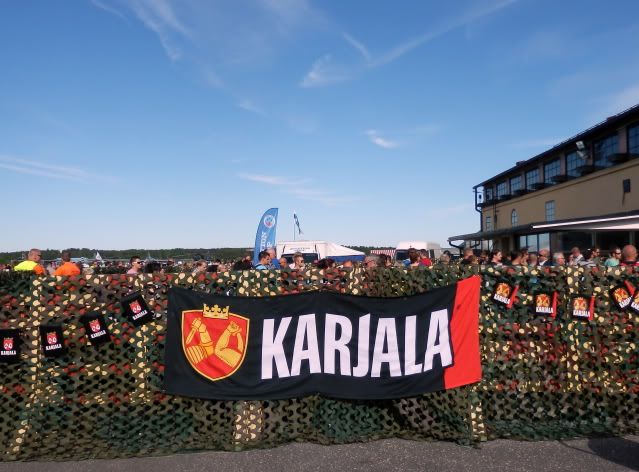 Sotilaskoti, "a home of the soldier", is a voluntary organisation that provides cheap catering and other services at all military bases in Finland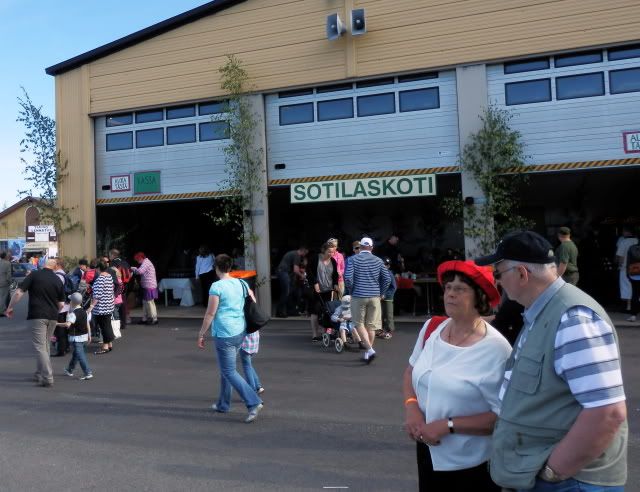 A restaurant where you can buy non alcoholic drinks, fries, sausages and other healhy food is located in this plane hangar
But I wasn't the only customer….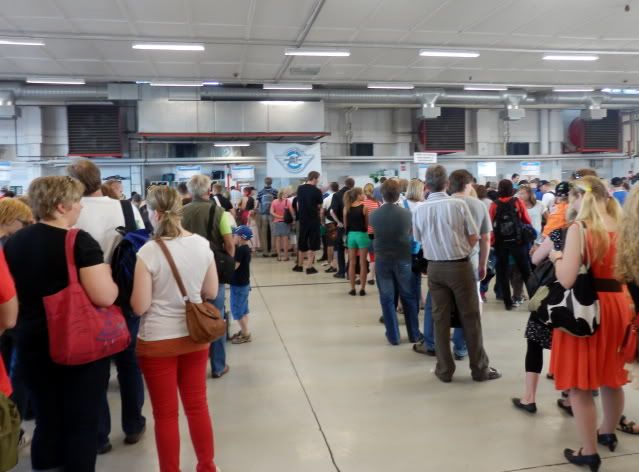 Every year there is also a foreign guest performance at this air show. This year Patrouille Suisse from the Switzerland is here and seems like they have brought their own trucks here as well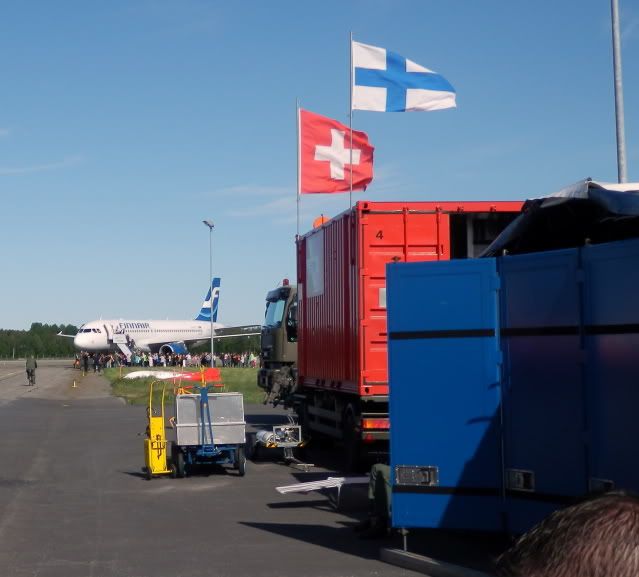 Finnish Midnight Hawks performing
Midnight Hawks
Also some musical performances (Finnish group Haloo Helsinki)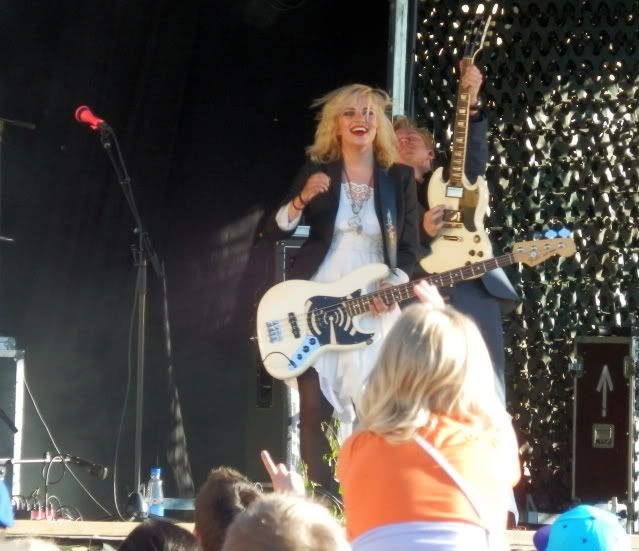 Finnair A320 was also performing 4 scenery flights around Kauhava area (duration 20-25 minutes) for 30 euro / each. The sales point of these flights: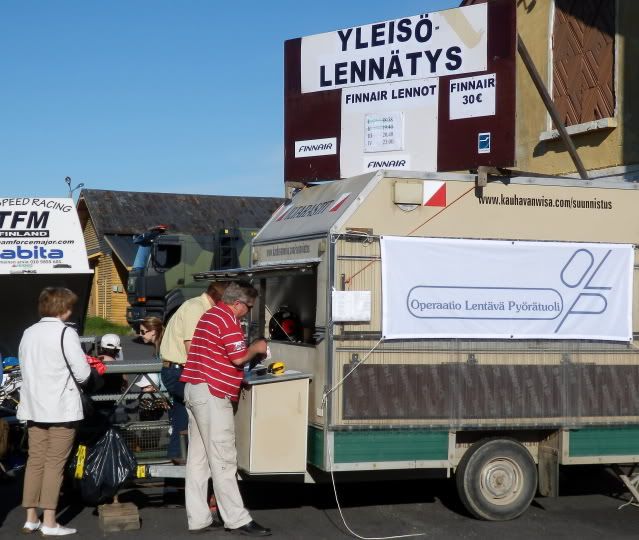 Also other military equipment on display
Normally you can't get that close to the planes – unless you are a beautiful woman who can persuade a Belgian fighter pilot….
Patrouille Suisse getting ready for their performance, part 1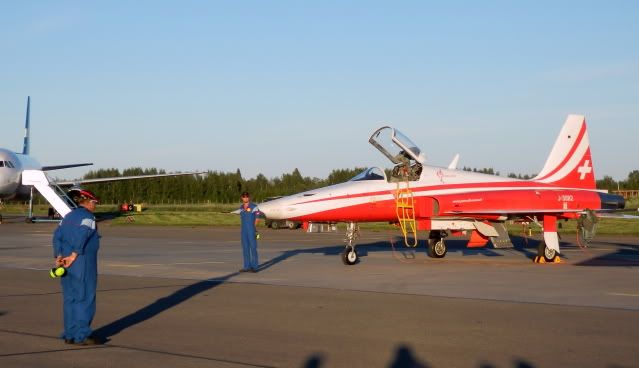 Patrouille Suisse getting ready for their performance, part 2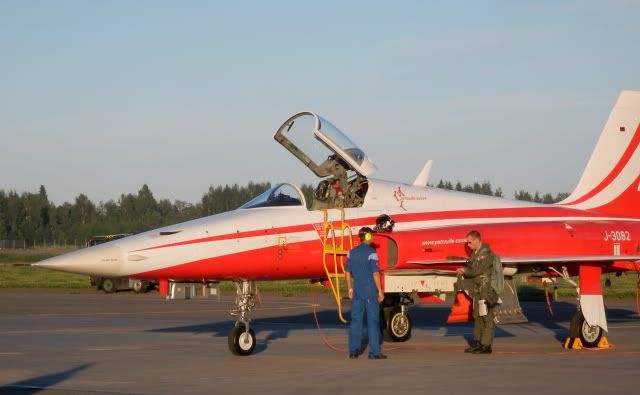 Patrouille Suisse getting ready for their performance, part 3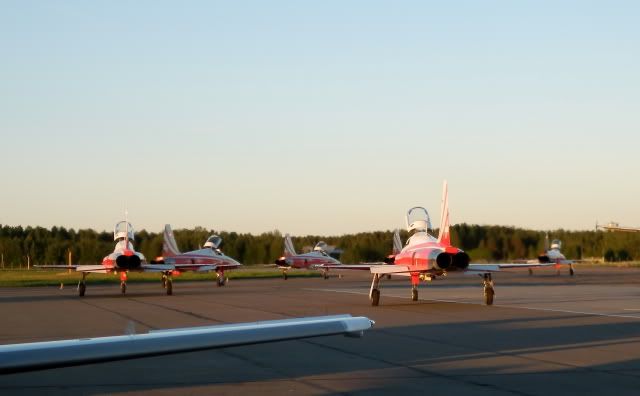 Patrouille Suisse getting ready for their performance, part 4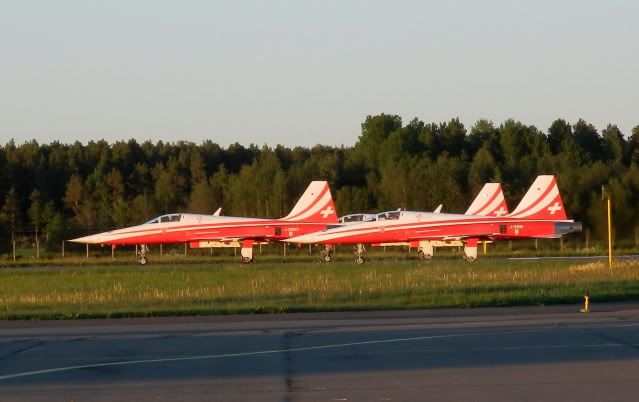 This formation was called "Toblerone"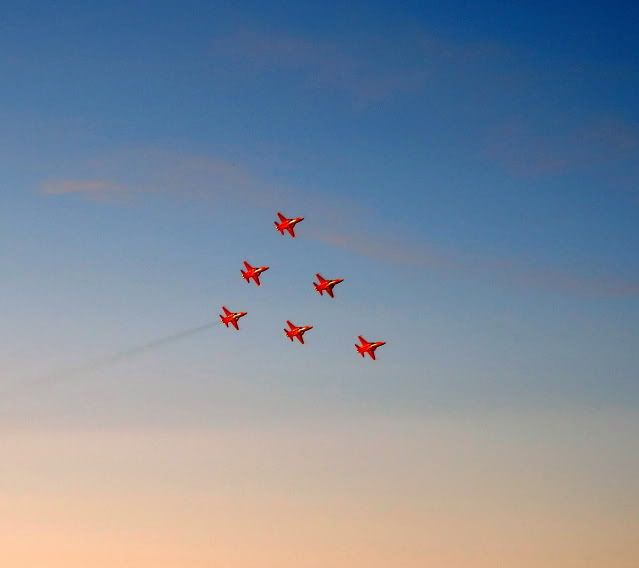 Patrouille Suisse still up there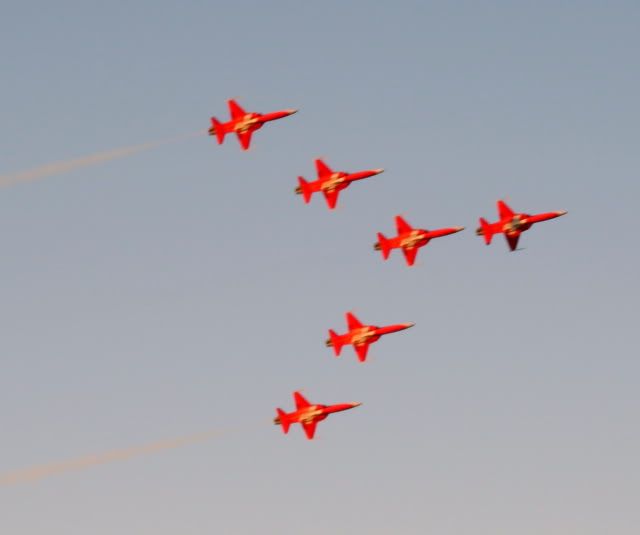 Unfortunately my camera is not that good for snapping good photos of fighter jets up in the sky. So, no more fighter jet pictures.
Finnish NH90 military helicopter
Patrouille Suisse taxiing after their performance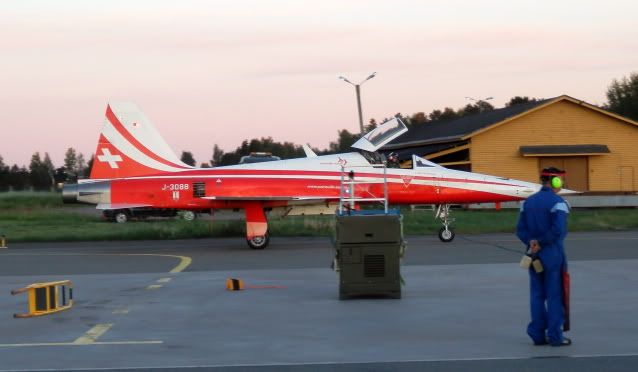 Now it was getting close to midnight and also Finnish Popeda (ugh, such s*it) was playing!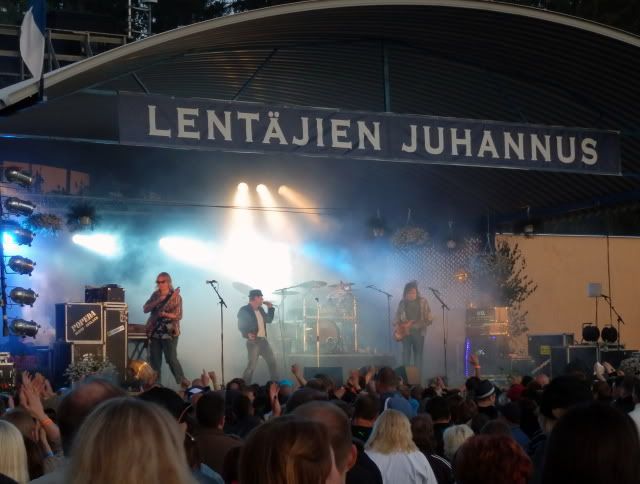 Saturday 23 June 2012 (midsummer day)
Exactly at midnight, a traditional midsummer bonfire (Kauhava style) was on the sky with some help of 4 Hawks and 1 Hornet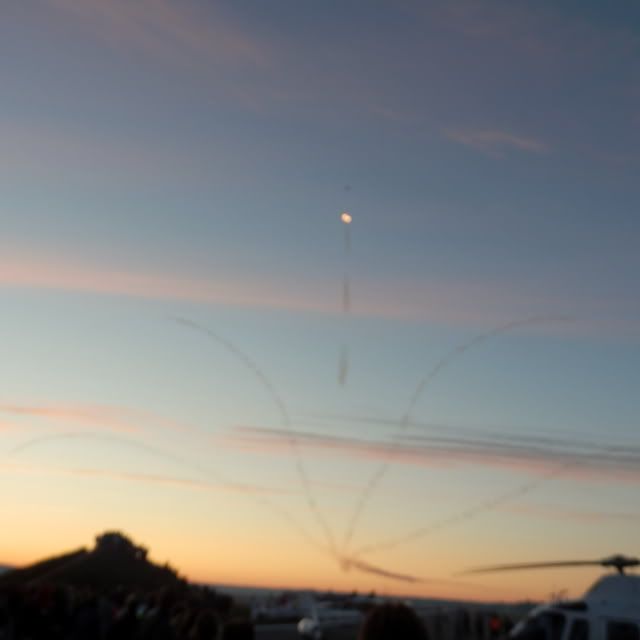 Midsummer bonfire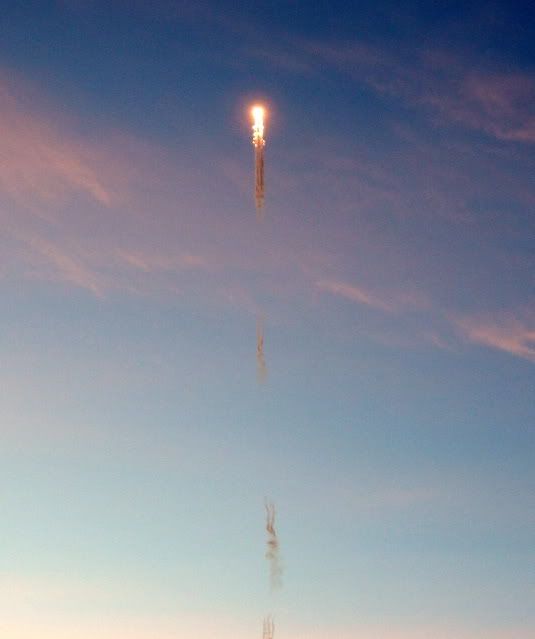 After a perfect summer evening it was time to head for our "gate" for boarding the return flight to Helsinki
As you can imagine, at an airport with no terminal building there is no check in and no security check. Cabin crew asked on arrival if everyone would also return to Helsinki. They will count the number of passengers once we are inside the aircraft, that's as simple as that
Soon, our flight is ready for boarding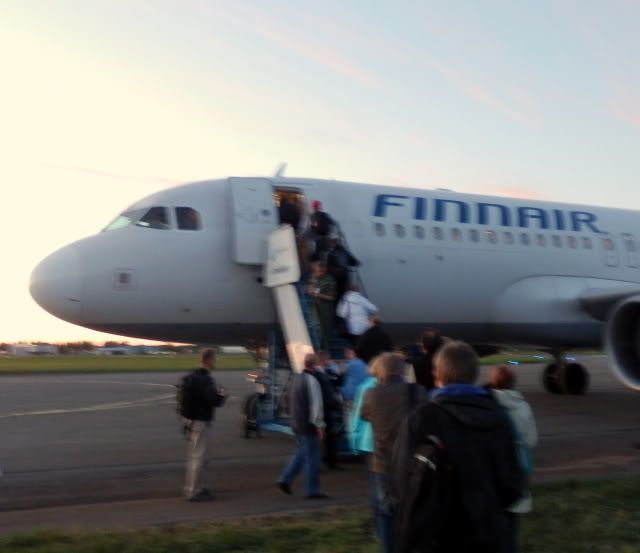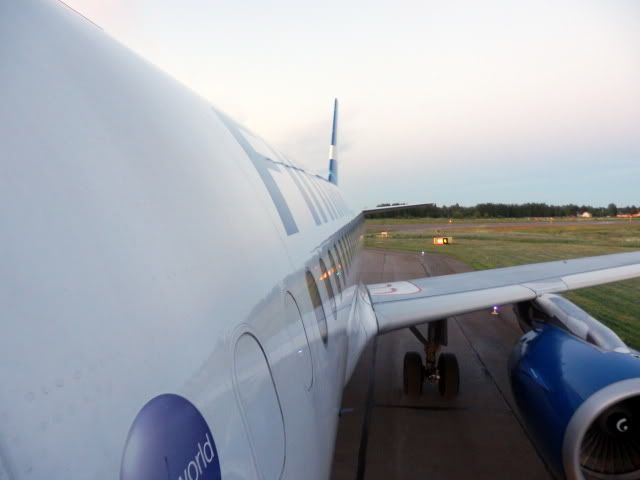 Finnair AY7934
Kauhava (KAU) – Helsinki (HEL)
Airbus 320
OH-LXB
Seat 4C (aisle)
Scheduled time 00:55 – 01:45
Although we have no assigned seats, everyone is taking the same seats as previously today. That makes boarding as a surprisingly smooth experience.
As everyone had taken their seats, a traditional Finnish song is suddenly heard through the speakers. A very special cabin crew today!
Singing behind a wall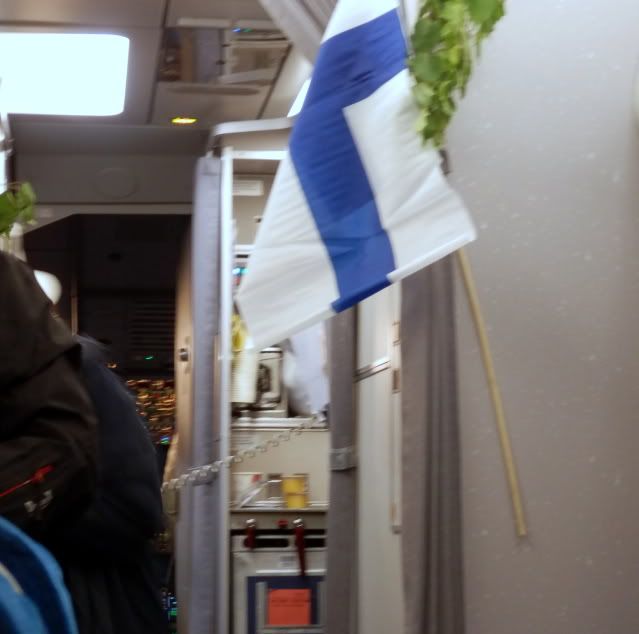 Once the song is over, everyone is applauding. After that, a representative of Flying Wheelchair (the charity organisation behind this flight) comes onboard and also thanks everyone. He gets an applause as well.
Then our captain is making an announcement that there will be no songs from the cockpit. He also tells that we will take off from runway 35 and after take off we will again make sharp turn and fly over runway 17 at 1 000 feet and once over the runway "wave goodbye for Kauhava" by turning our plane first to the other side, and then to other side. After that we would head directly to Helsinki where we would land on runway 15. And our landing would be "smooth as silk", according to the captain atleast.
Destination Helsinki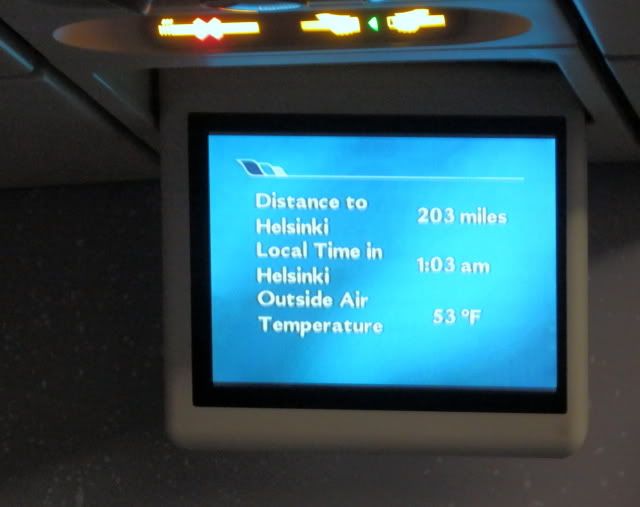 Take off was uneventful. Also I have to say that this small but nice gesture by "waving goodbye" for Kauhava on an A320 at 1000 feet is a thing to remember forever!
Service on return leg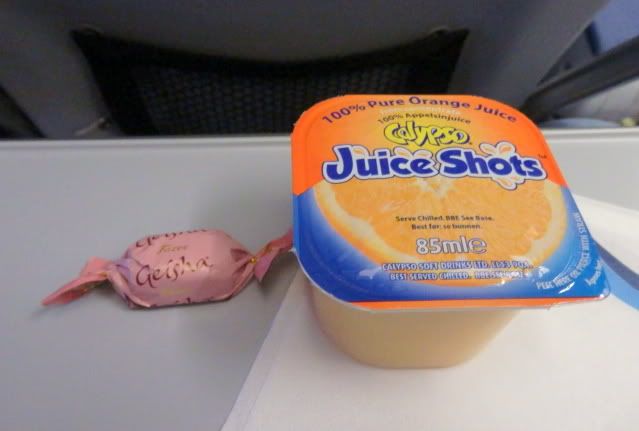 We landed on runway 15 at Helsinki airport 3 minutes ahead of schedule. Maybe the landing wasn't smooth as silk – but not bad either
At Helsinki airport, I wasn't expecting us to be arrving at one of the jet bridge gates as we hadn't been going through a security check point at Kauhava. But, that is what we did. If I would have had something illegal with me, I could have left it for someone at the airside with no problem at all. But, I guess they thought that no-one else but some crazy aviation enthusiasts would take this flight
I was quickly out of the airport, and headed directly for the taxi stand. A quick taxi ride home where I was already 1 hour and 25 minutes after leaving Kauhava. The advantage of taking a jet home directly from the festival area.
Was it worth it? Yes it was. And I have to say that I am also very disappointed that this fine tradition of Kauhava midsummer festivals and air shows is over now. But, I hope something new will come sooner of later?
Have a nice day
Jani
My previous reports:
My First Trip Report: HEL-ARN-VIE-MXP-WAW-HEL
Groundhog day? My week report
Embraers & Soviet Forced Labor Camps
4 Inaugurals and a Reborn TXL, Part 1