Hello and welcome to my trip report covering my holiday trip to Poland and Italy. The flight plan would be LHR-WAW-KRK-WAW-MXP-WAW-LHR all with LOT and WAW-KRK sector was operated by EuroLOT. In this report, I will include the first three flights and the rest will be covered in the next part. I hope you all enjoy reading.
Date: 12 June 2012
Airline: LOT
Flight: LO282
Route: LHR - WAW
Aircraft: Boeing 737-400
Registration: SP-LLE
Class: Economy
To get to London Heathrow, I travelled by National Express coach from Bristol which took approximately 2:15 hours, and I arrived at Heathrow Terminal one at 8am for a 10:35am departure.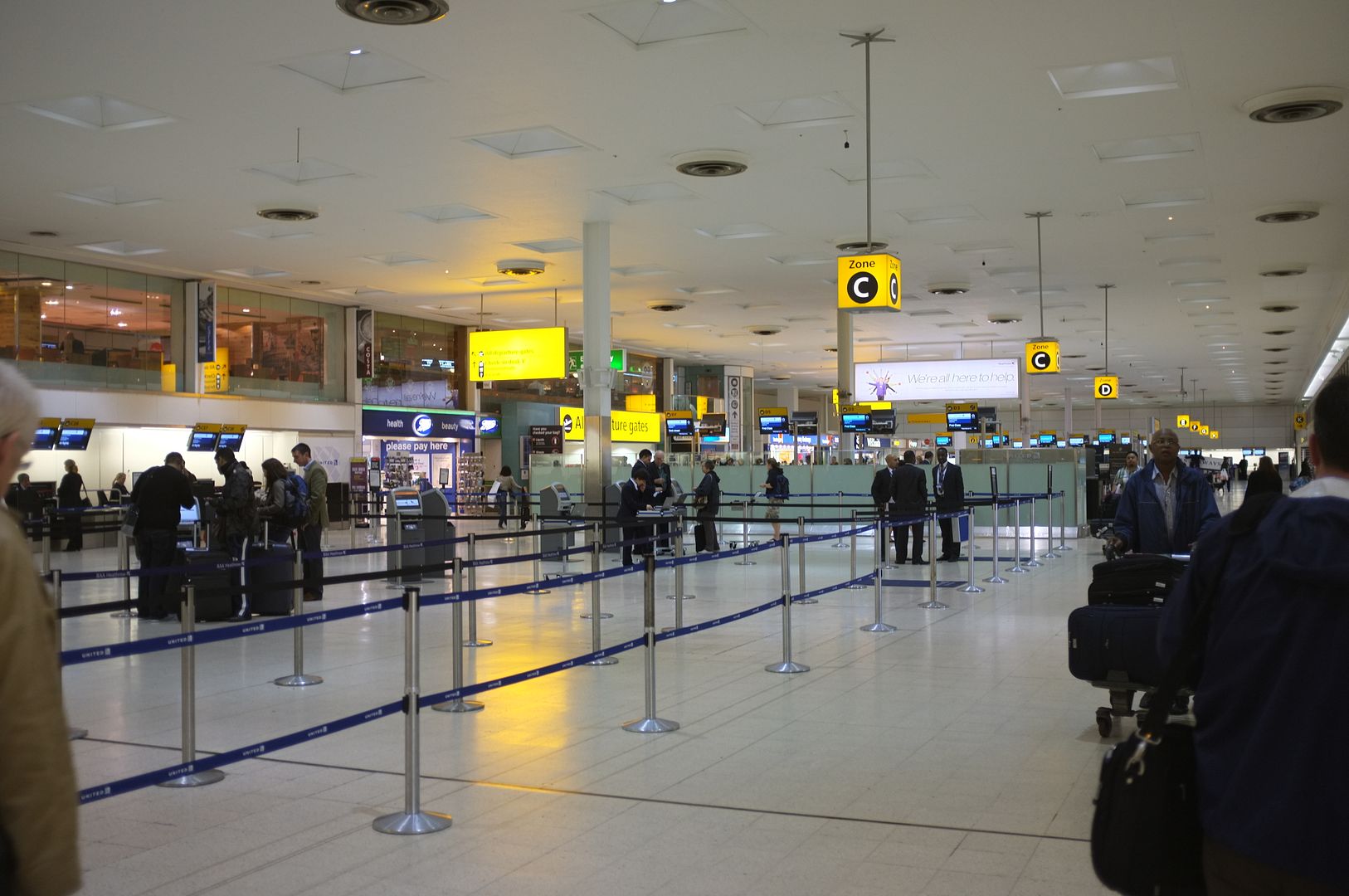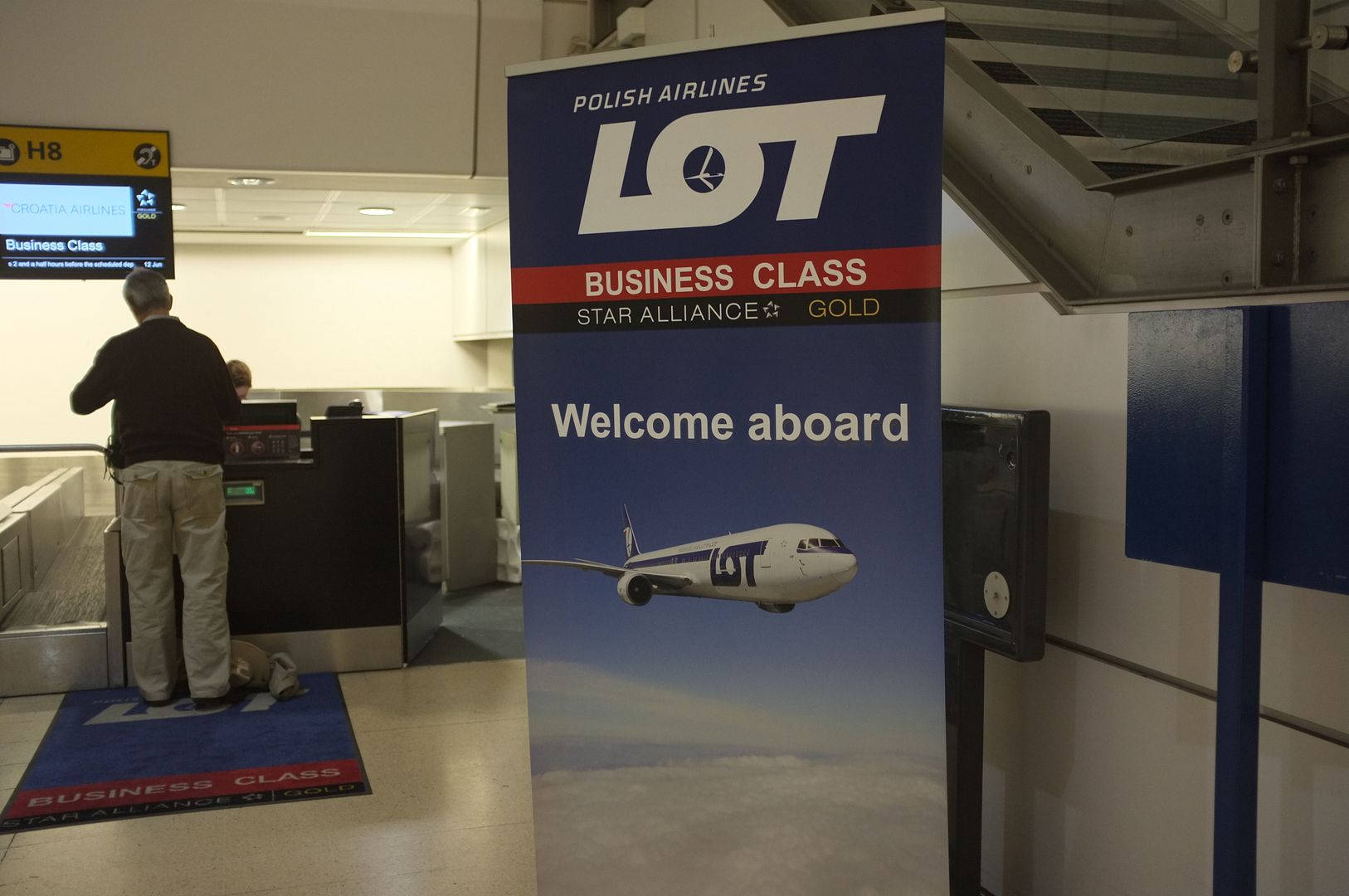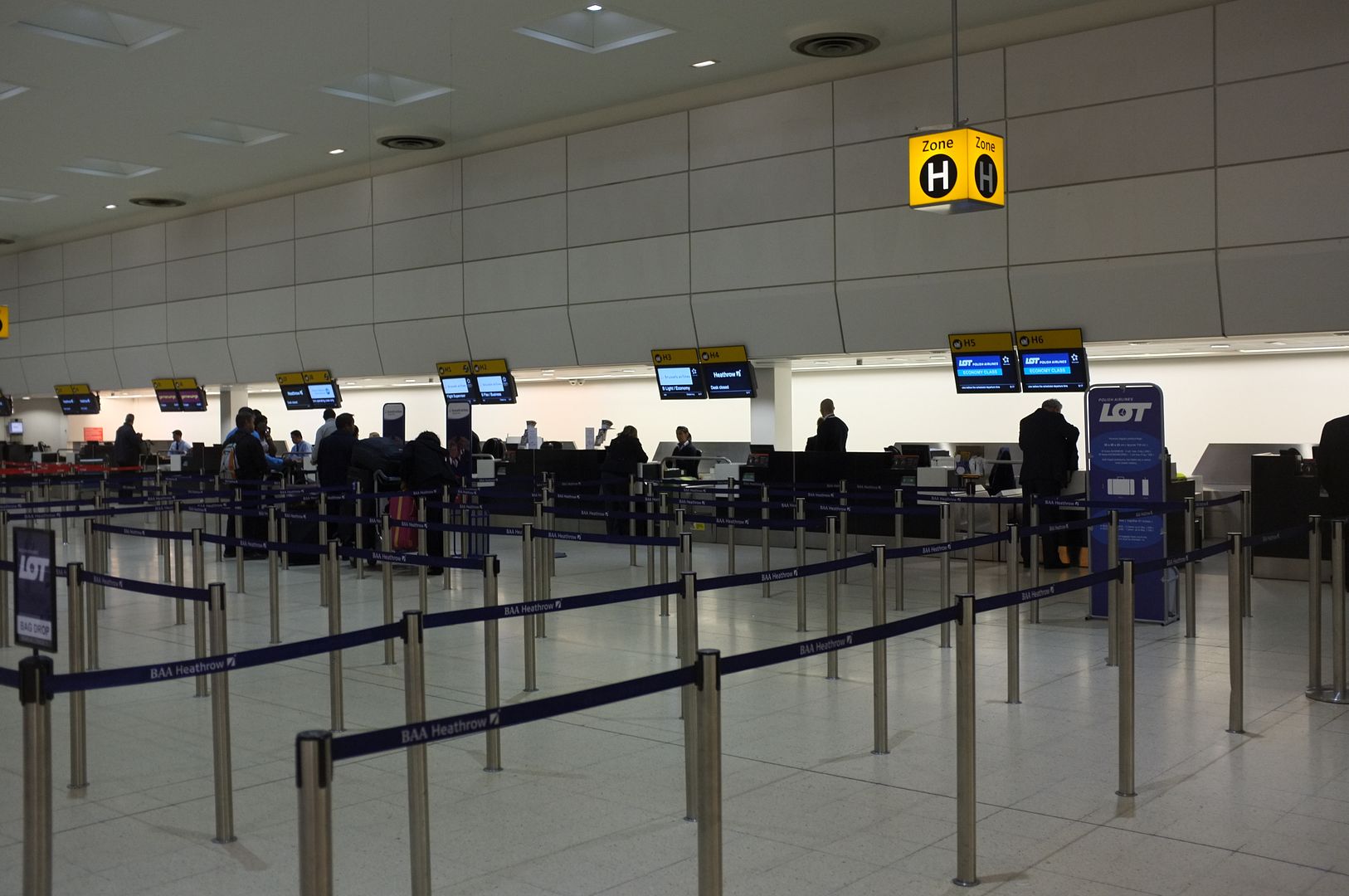 Check-in counters for LOT are located in area H, which is at the very end of the terminal. As I got to the airport rather early, check-in was still empty. I went straight to an empty Economy Class check-in counter. I asked the lady at check-in that I would like to check my baggage to Krakow which is my final destination, and that I booked the two flights on a separate reservation. After a few minutes, her supervisor came over to help checking my bags. After around 15 minutes, my bag tags were printed and my bags will be sent to Krakow, and the check-in personnel apologised for taking a long time. Then I asked for a possibility if there is a window seat with a middle seat empty and I was offered a window emergency exit seat where the middle seat next to me will be blocked. I gladly accepted. However, the check-in at London could not print the boarding pass on the Warsaw – Krakow sector, and I would have to contact the transfer desk at Warsaw Airport.
I went straight to security screening, which did not take longer than 5 minutes. Then I went to use the Star Alliance Lounge. Some pictures post security checks.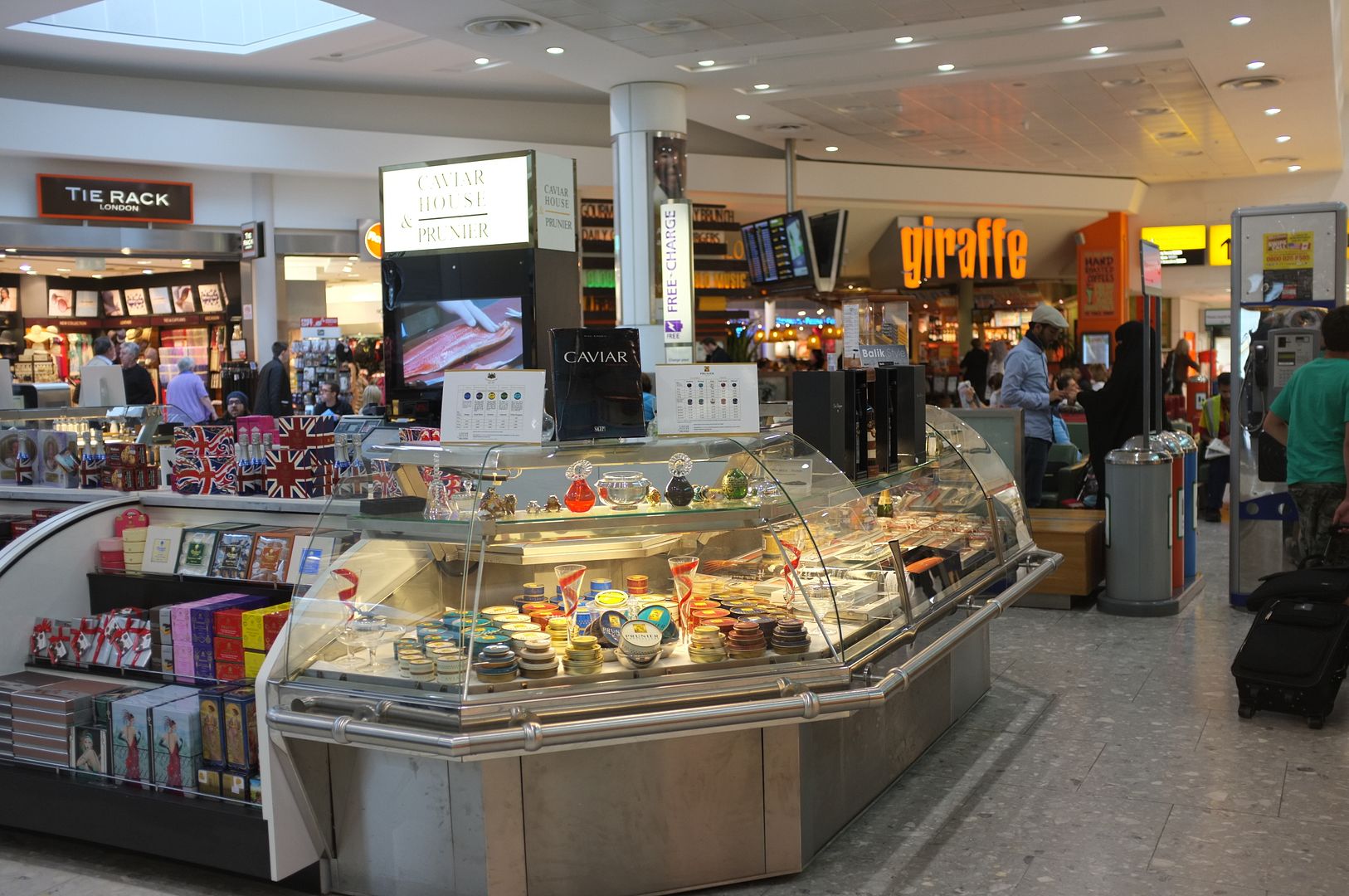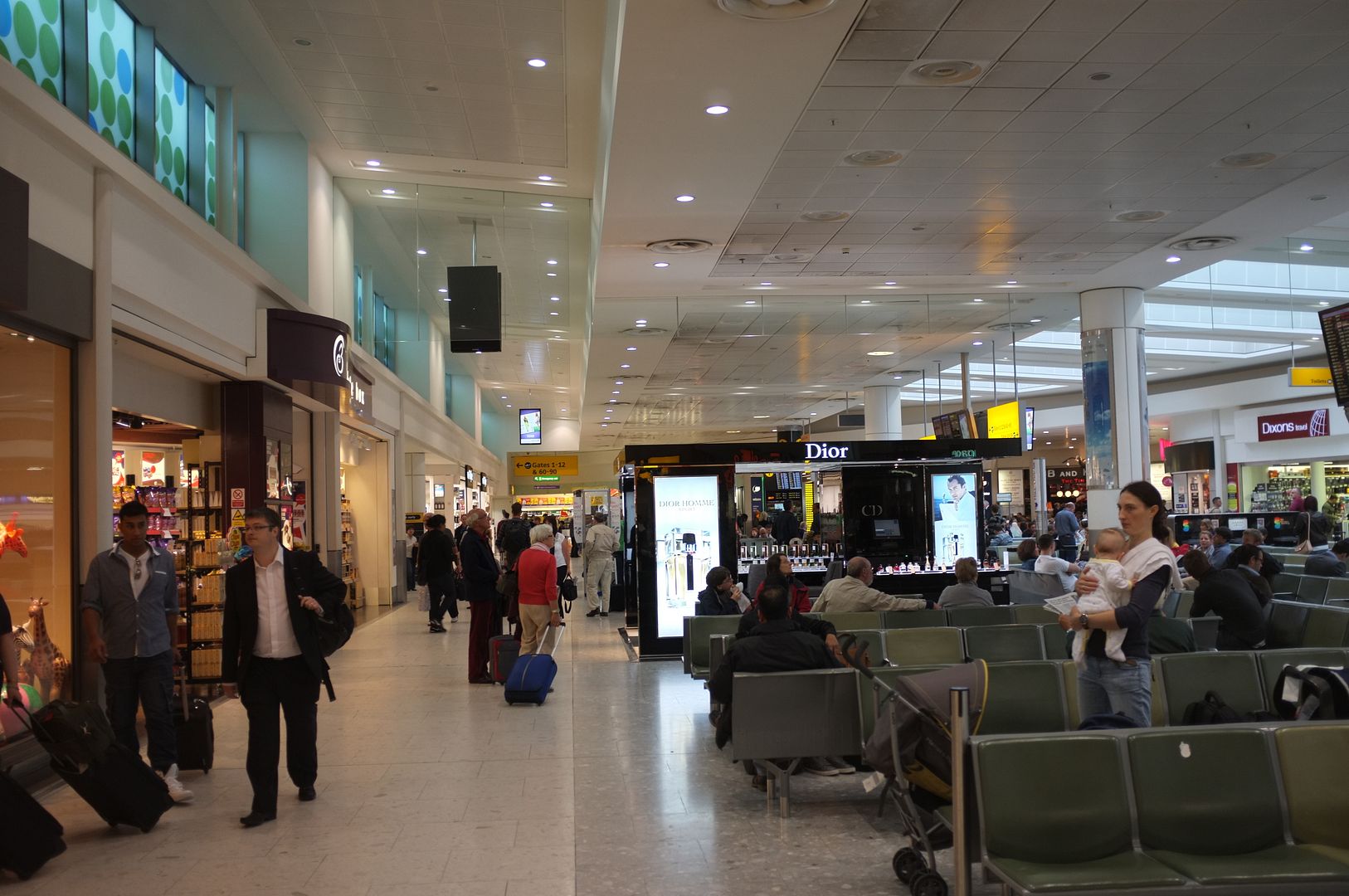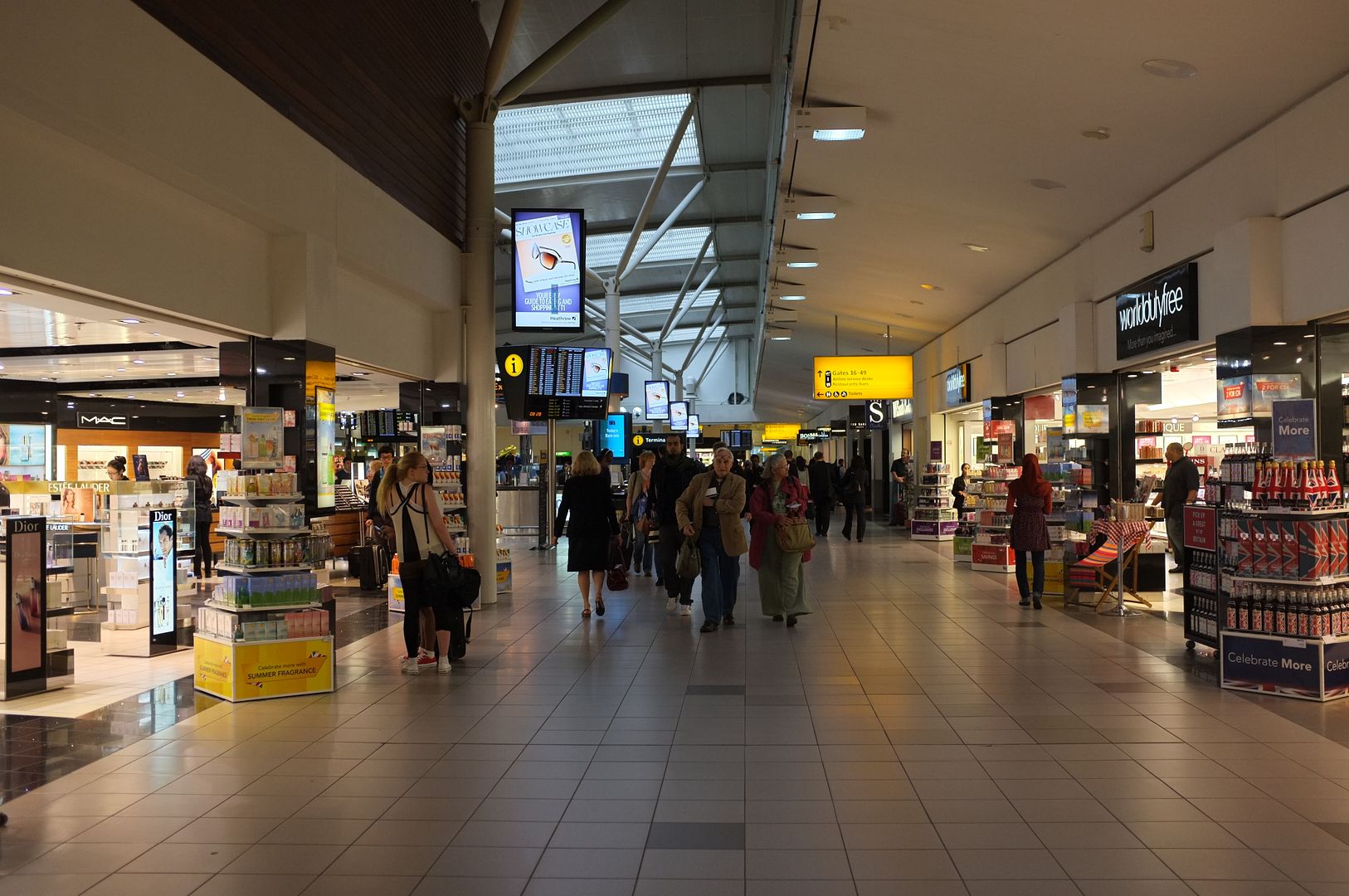 The lounge at this time was very busy. It offered a very good selection of hot breakfast. I went to the area which was next to the children corner, there was nobody seated in the area but me.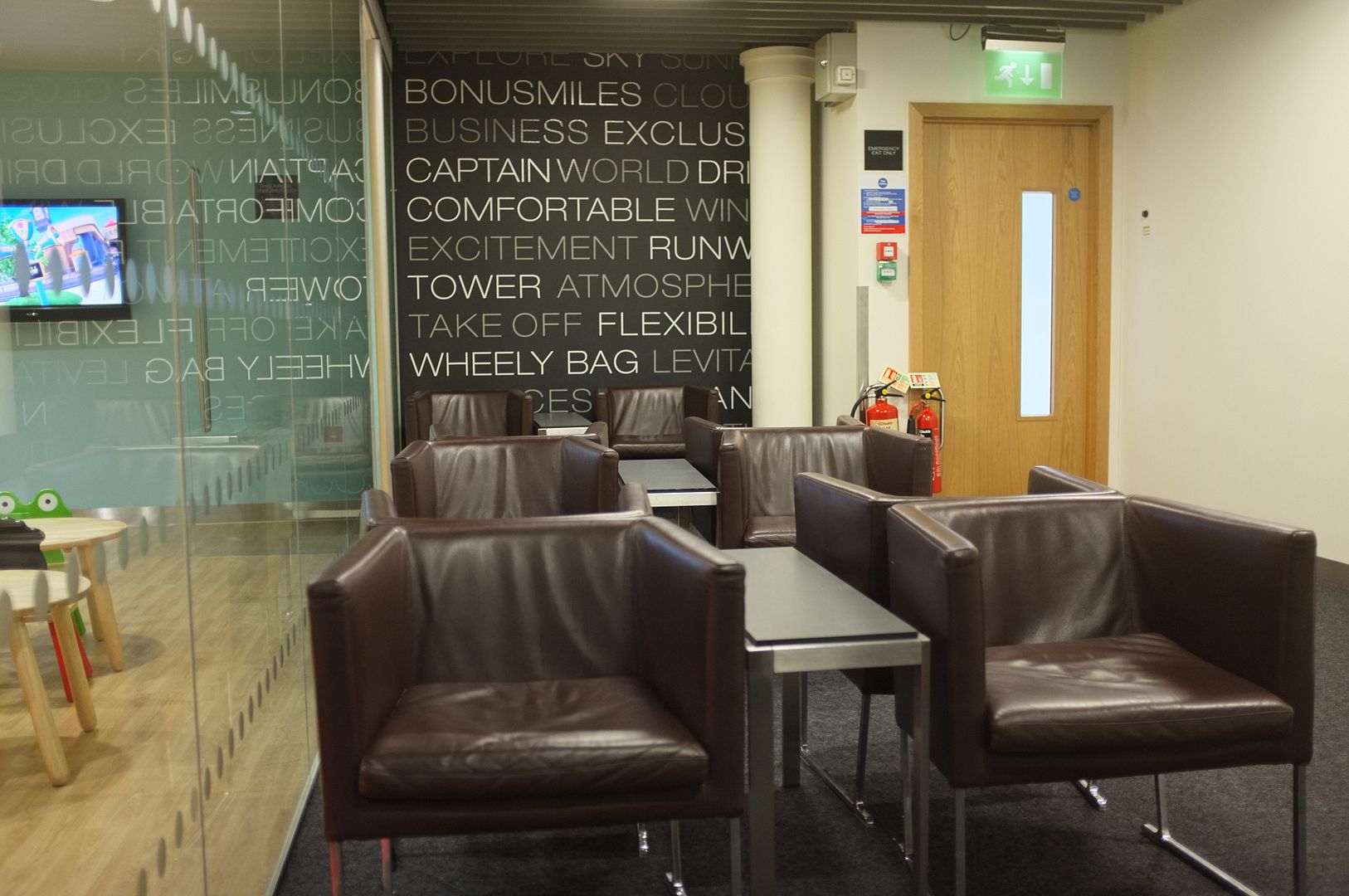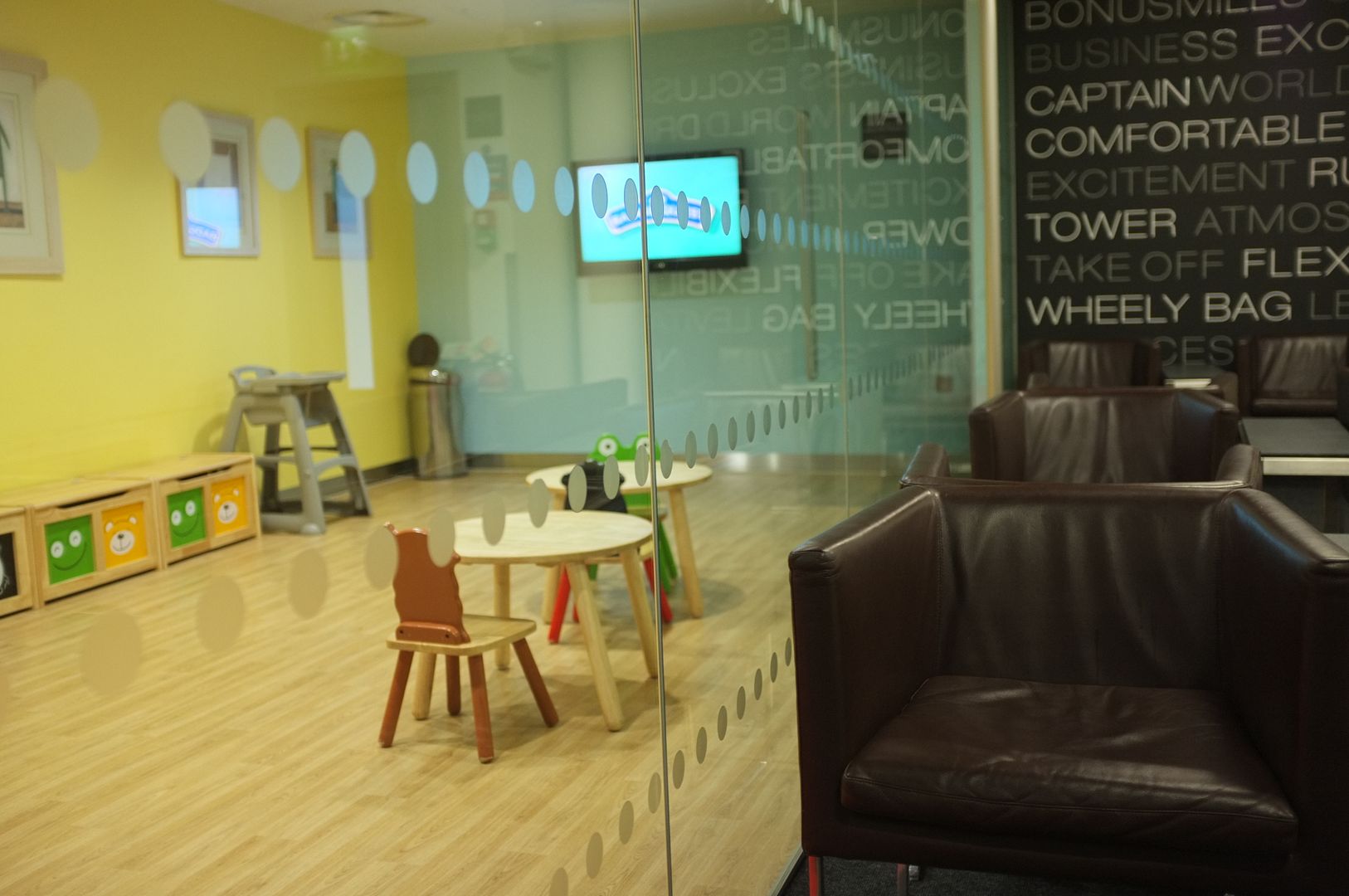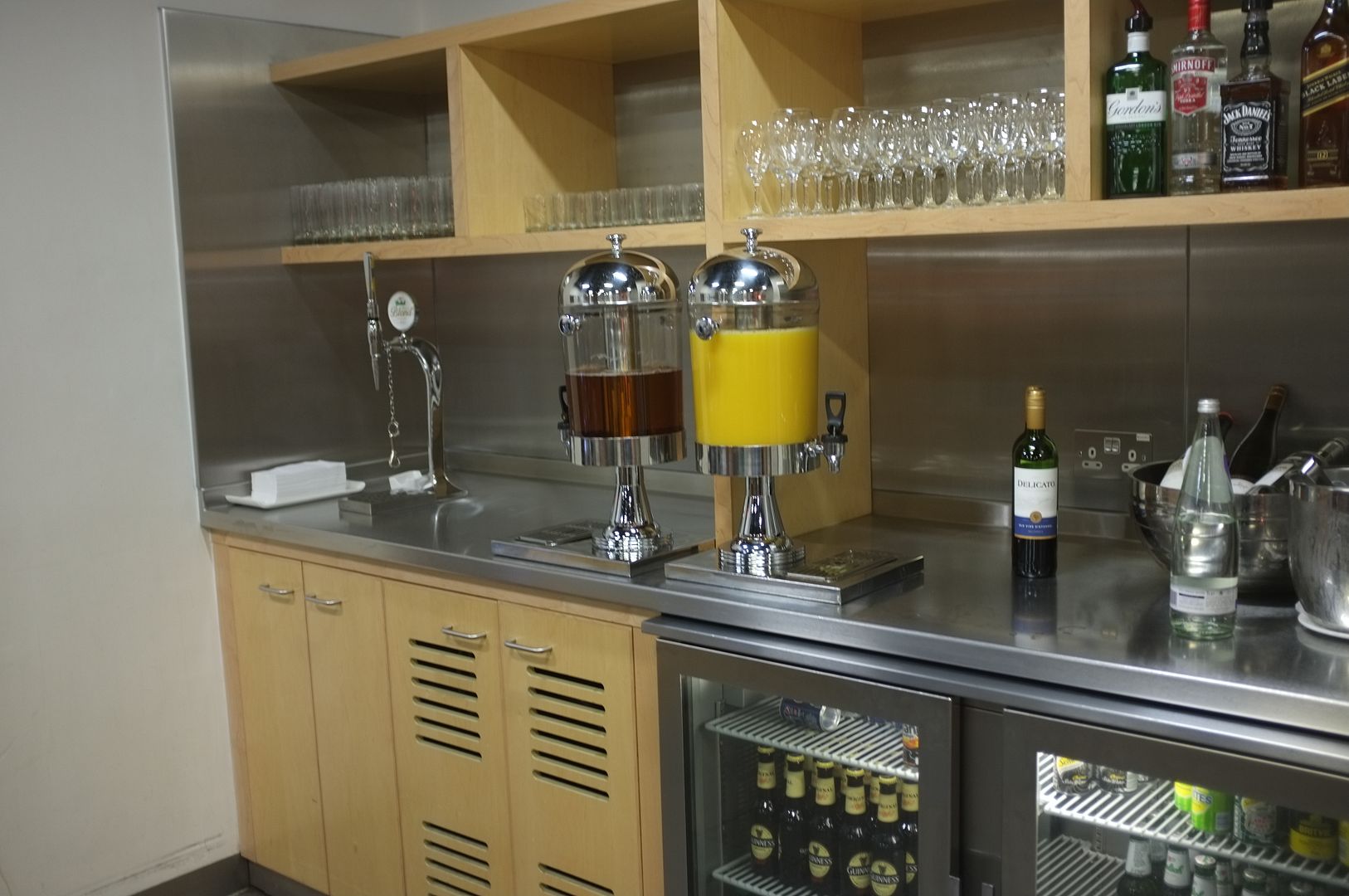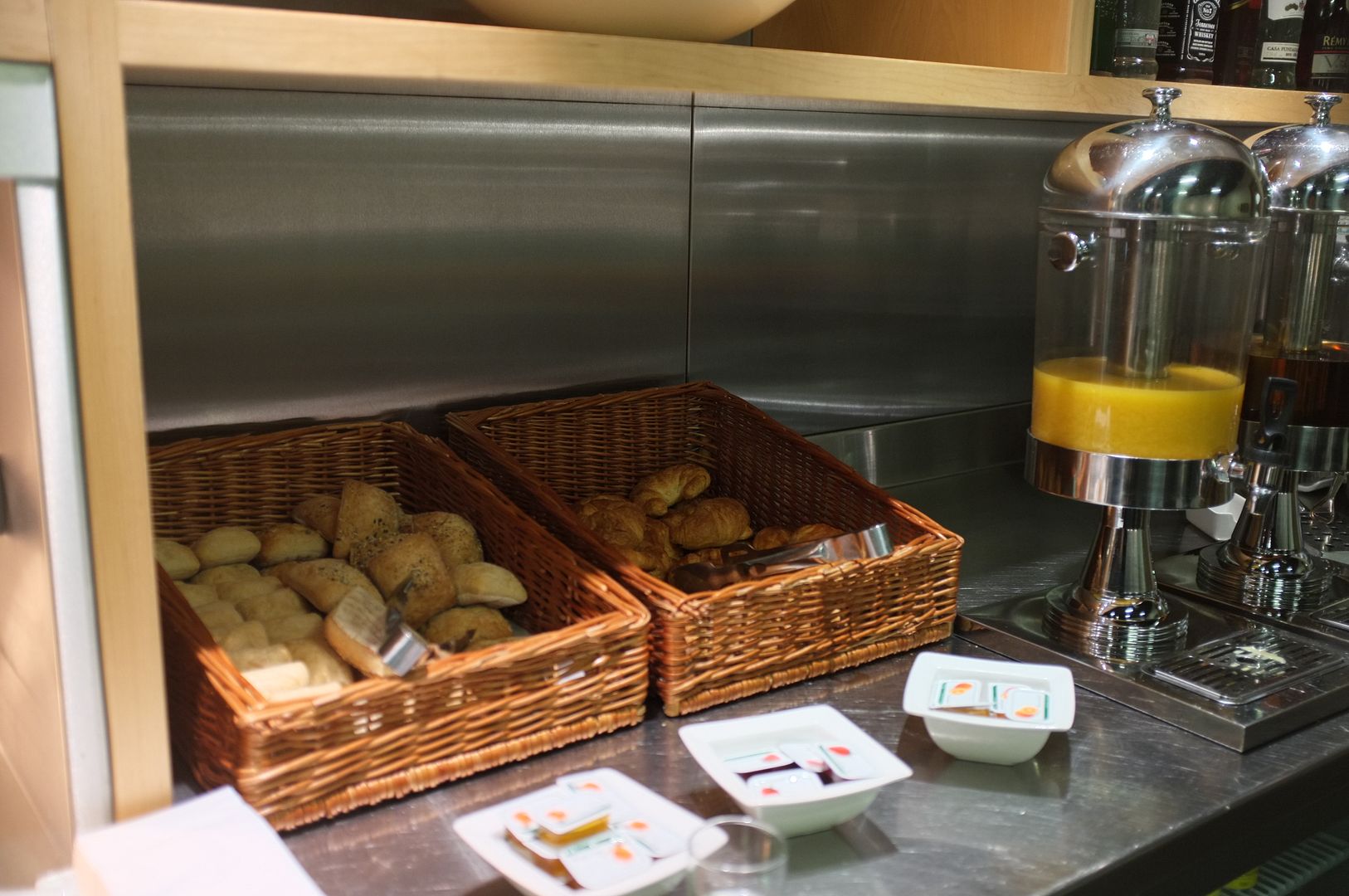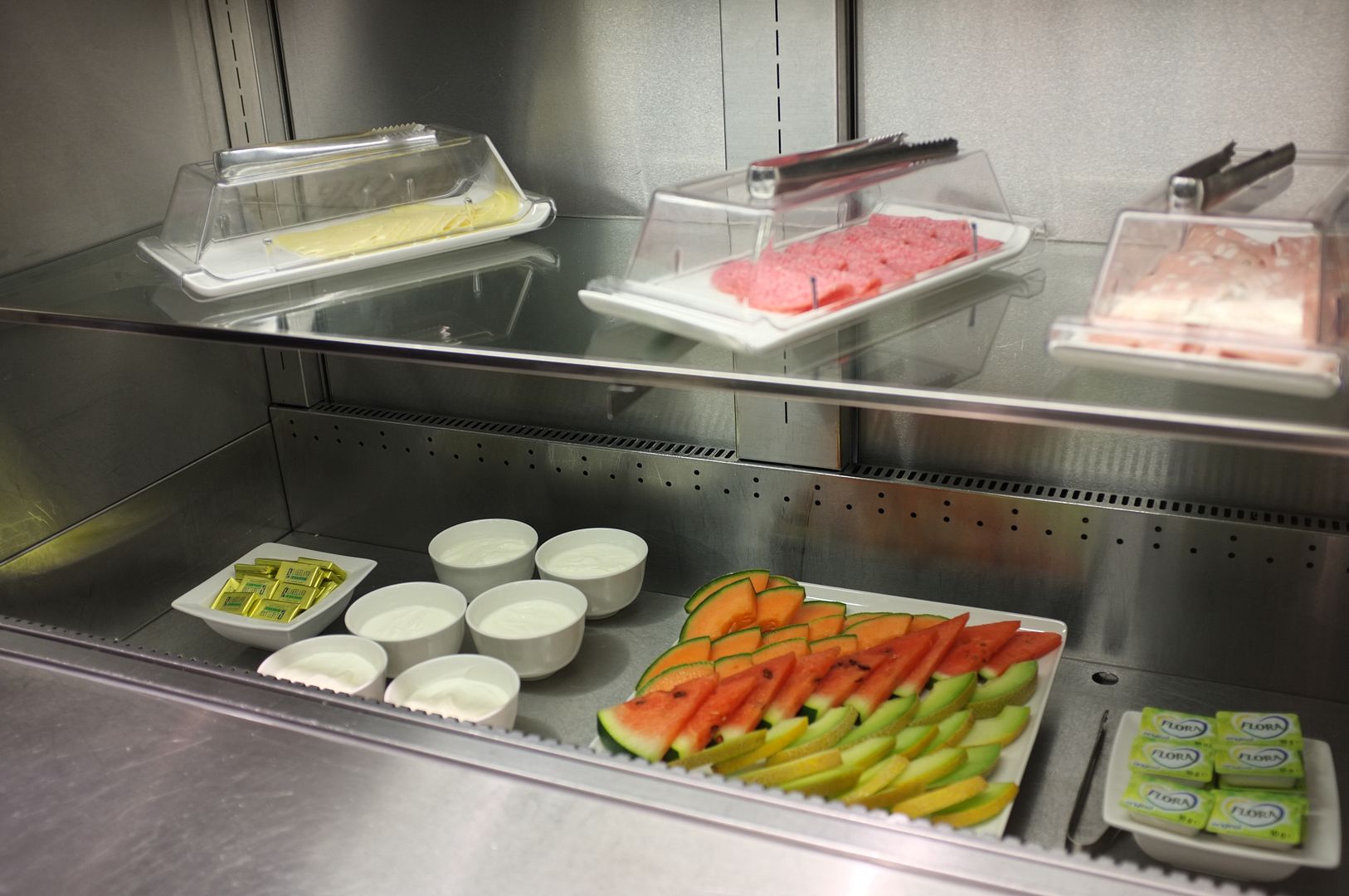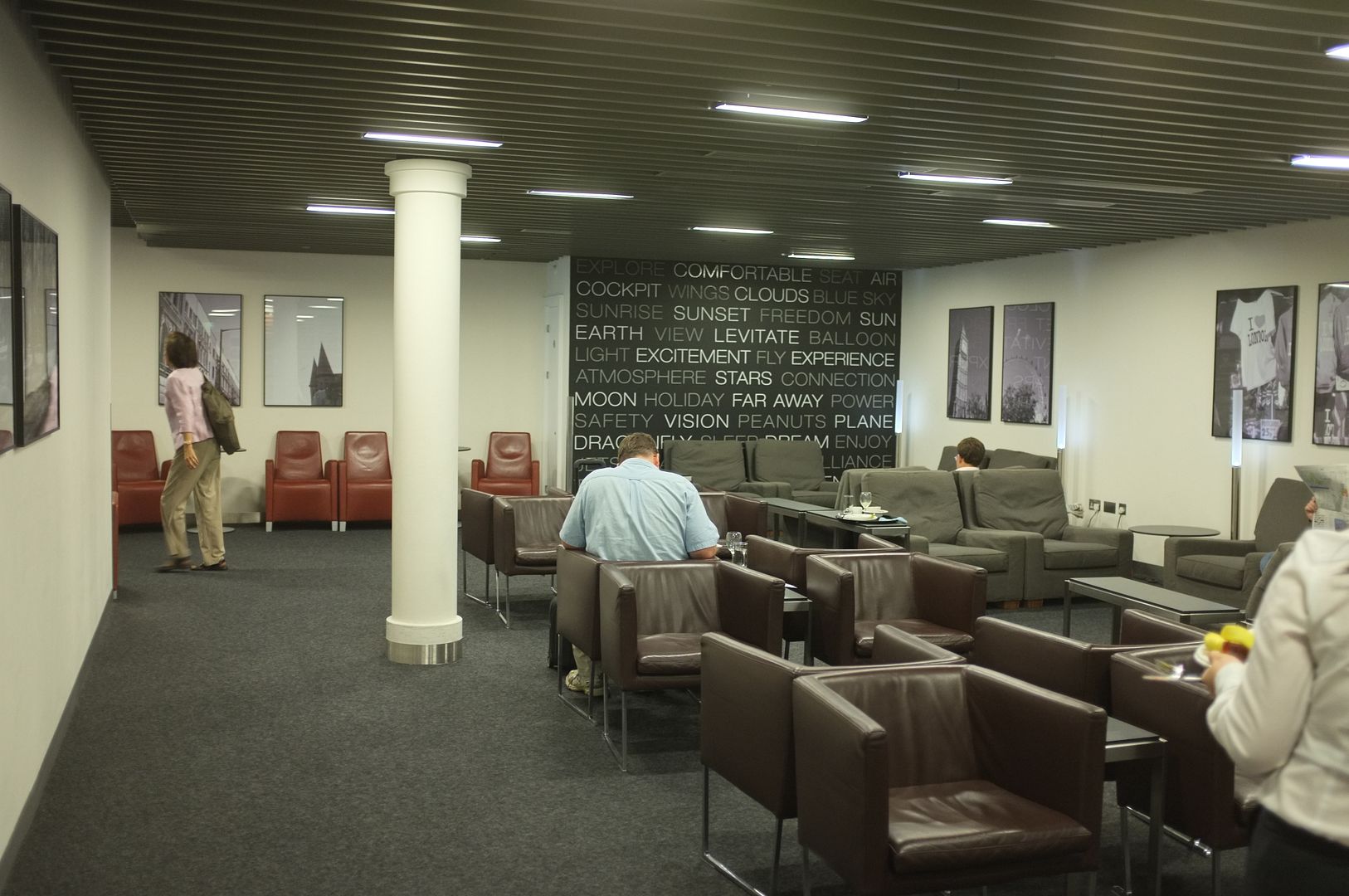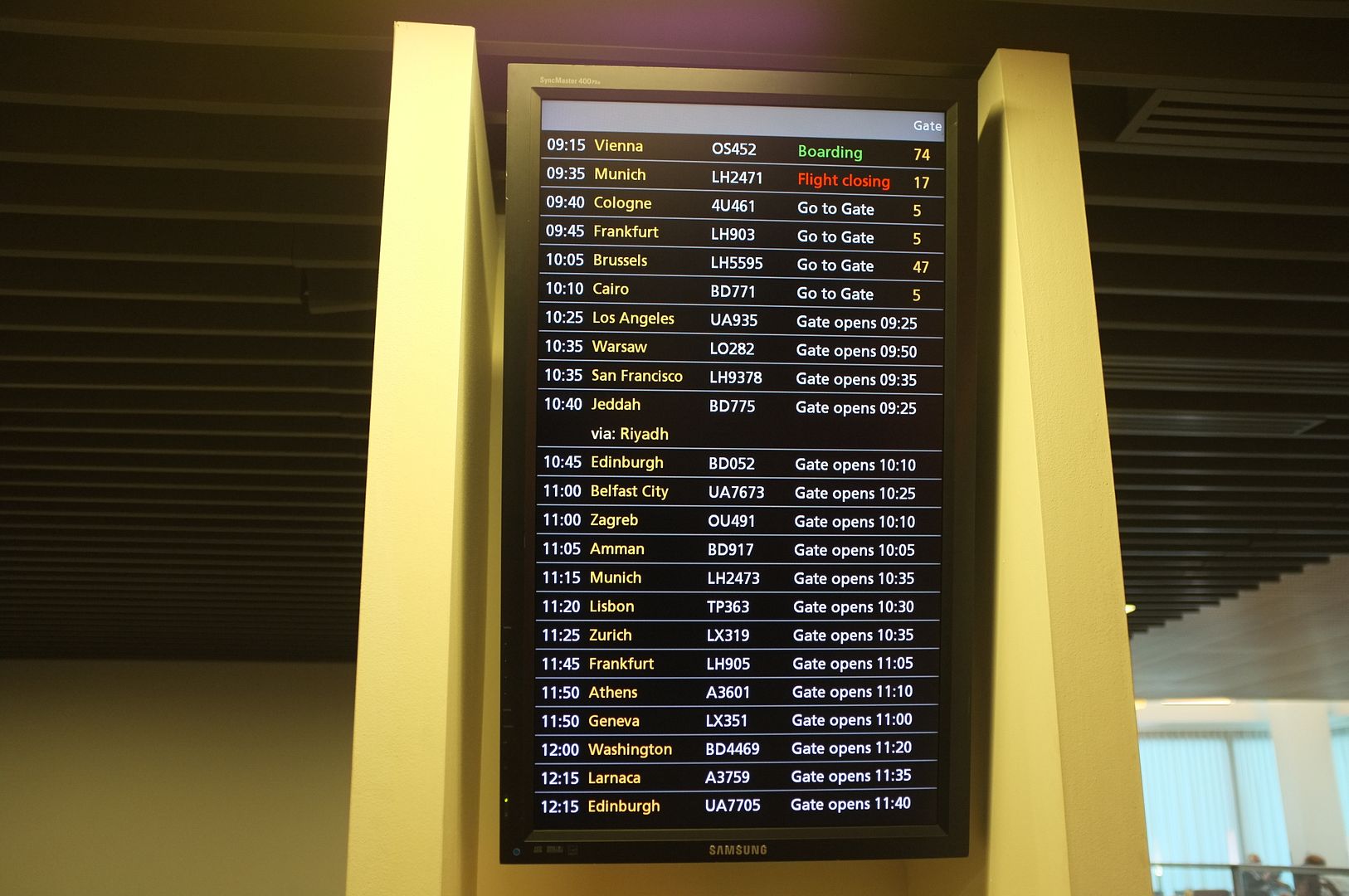 At the announced time, I went to the boarding gate 48, which is quite a distance from the lounge. Here are some pictures along the way.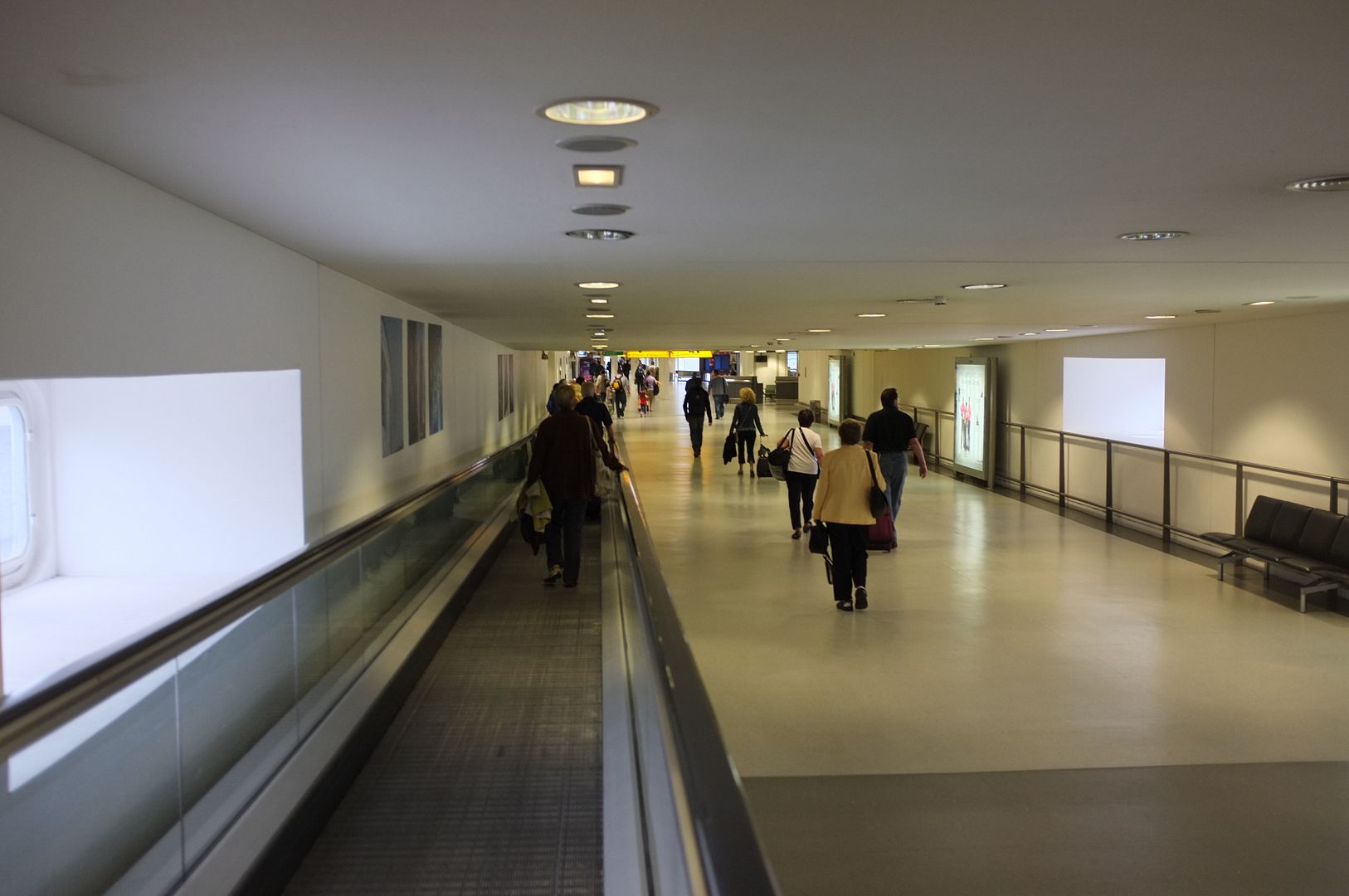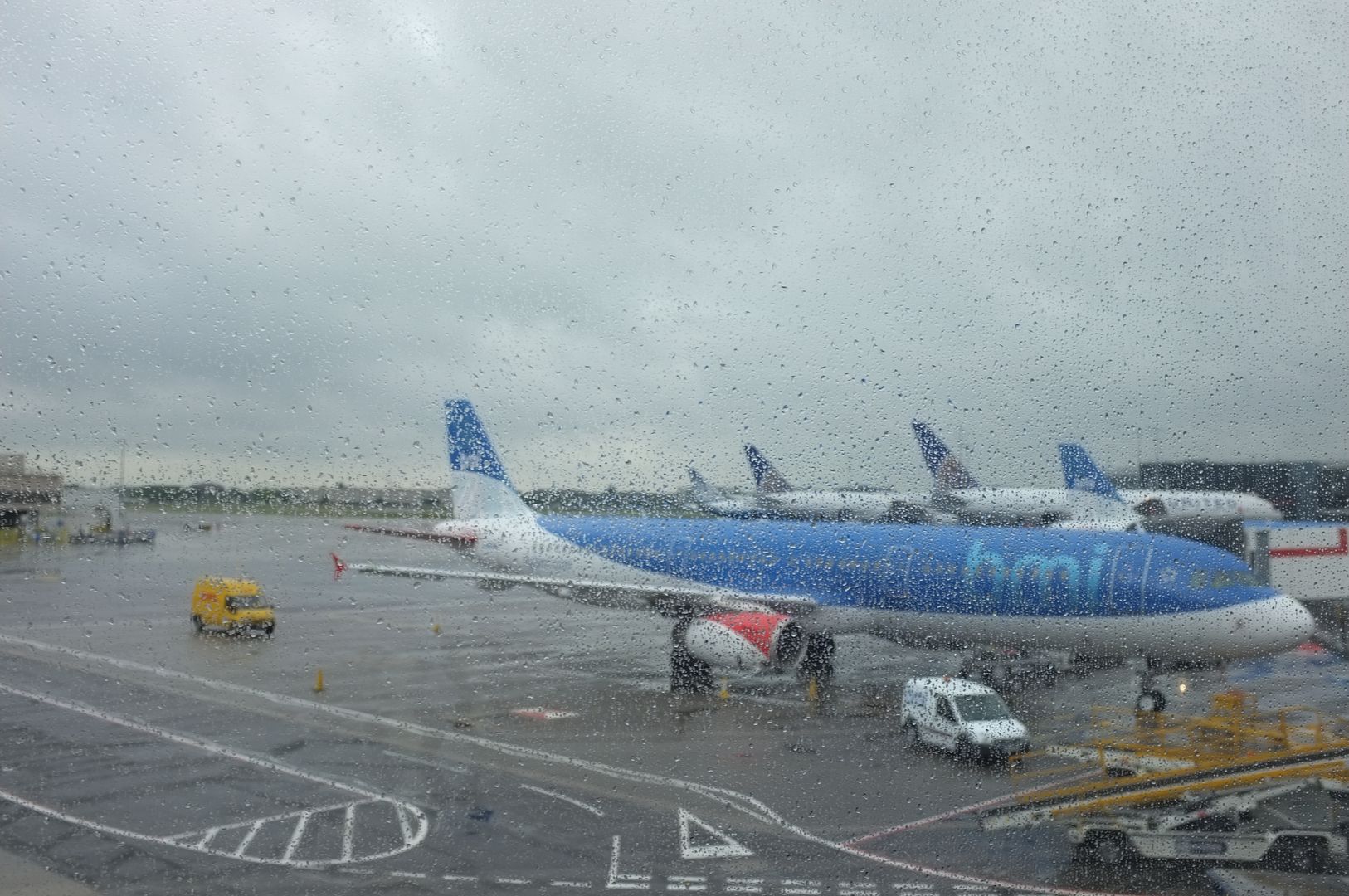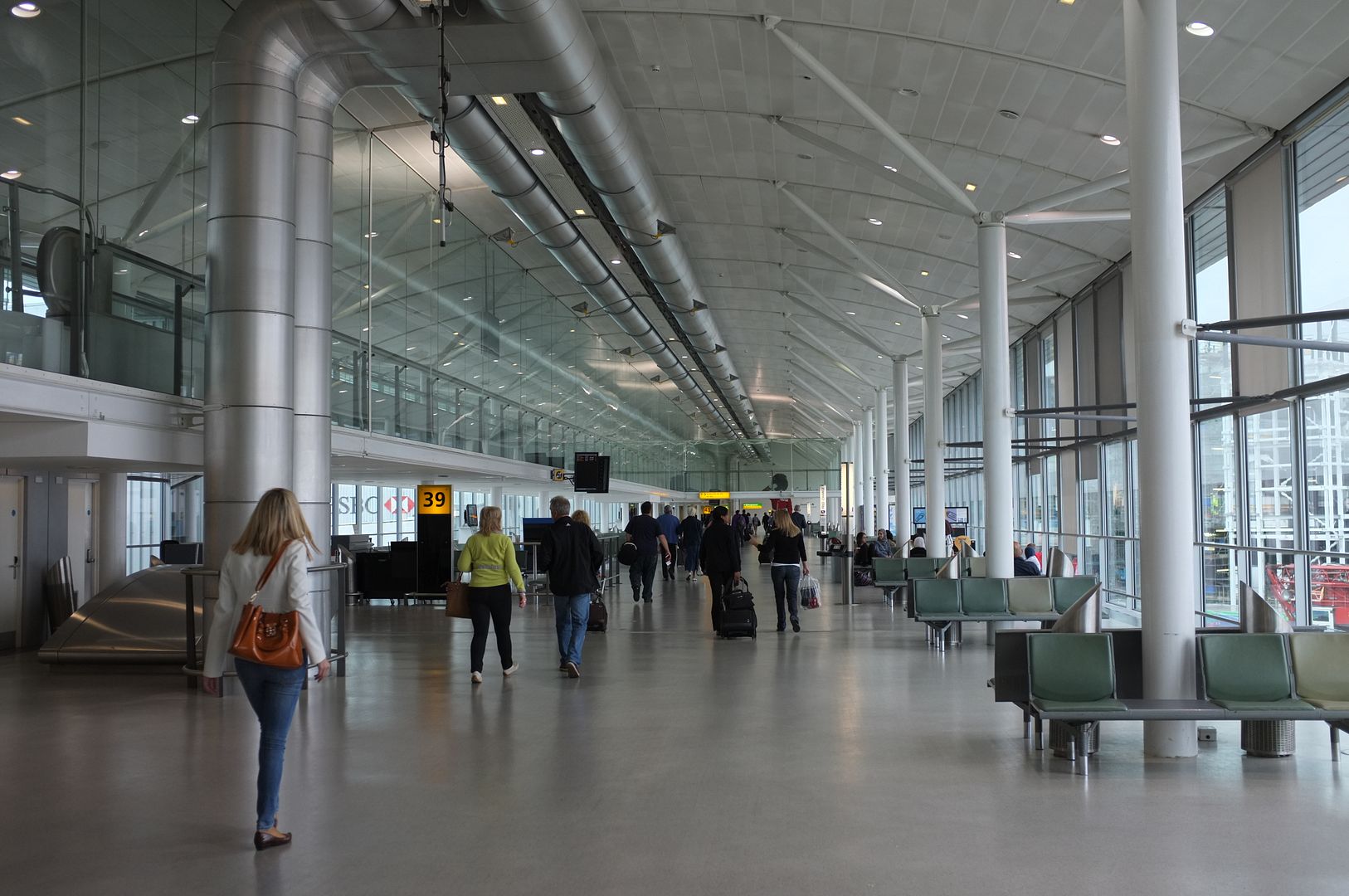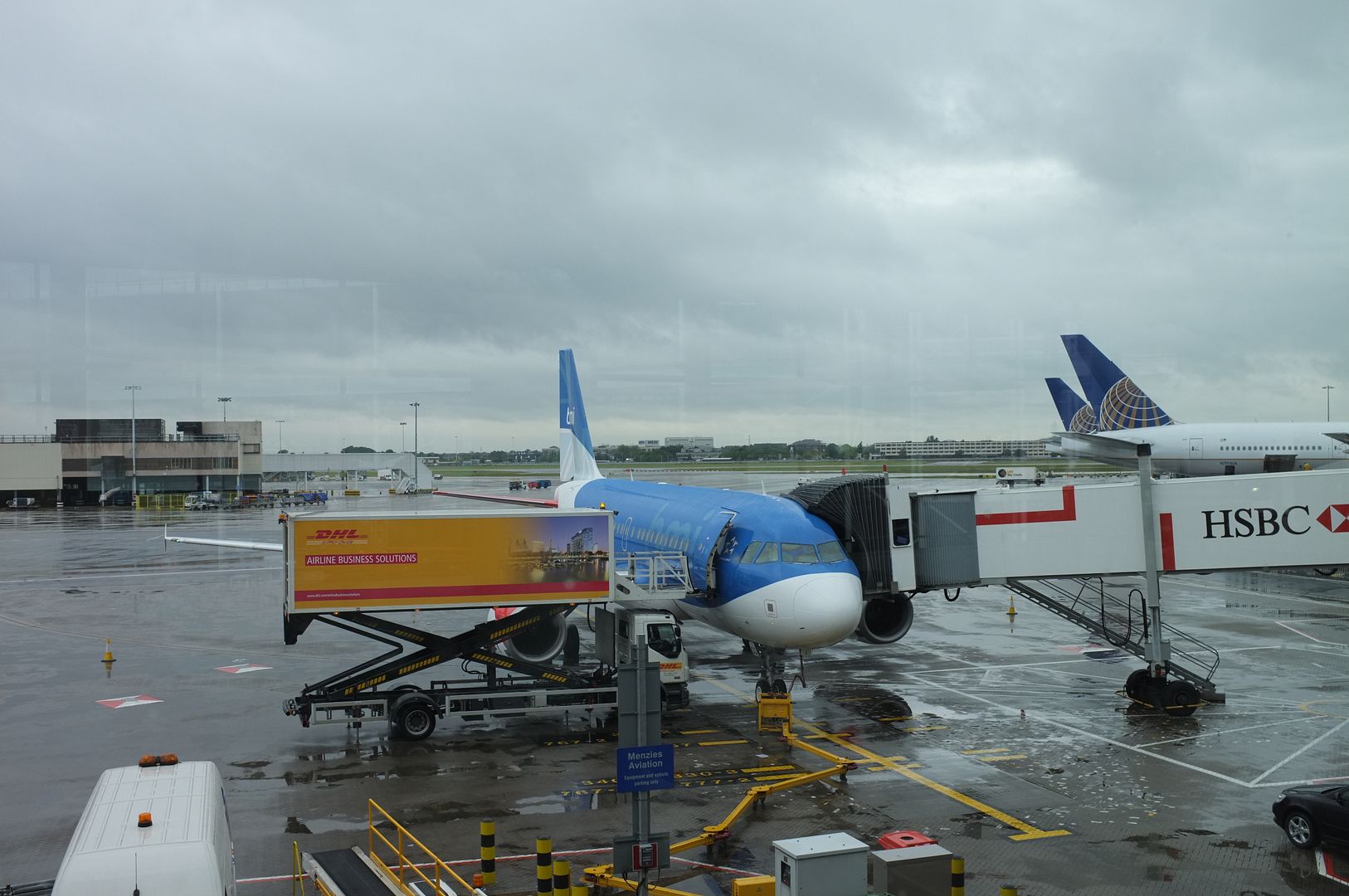 New Terminal construction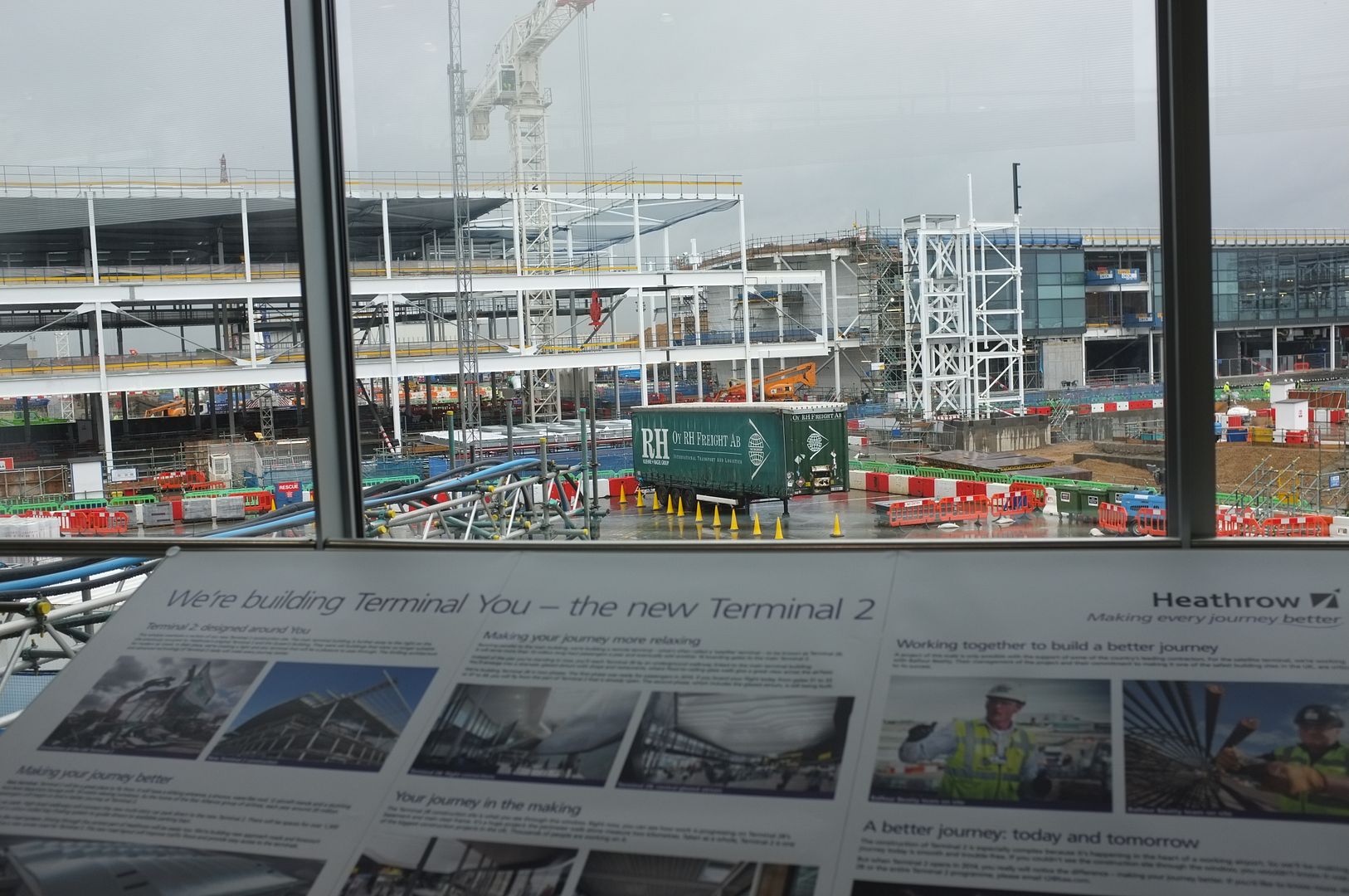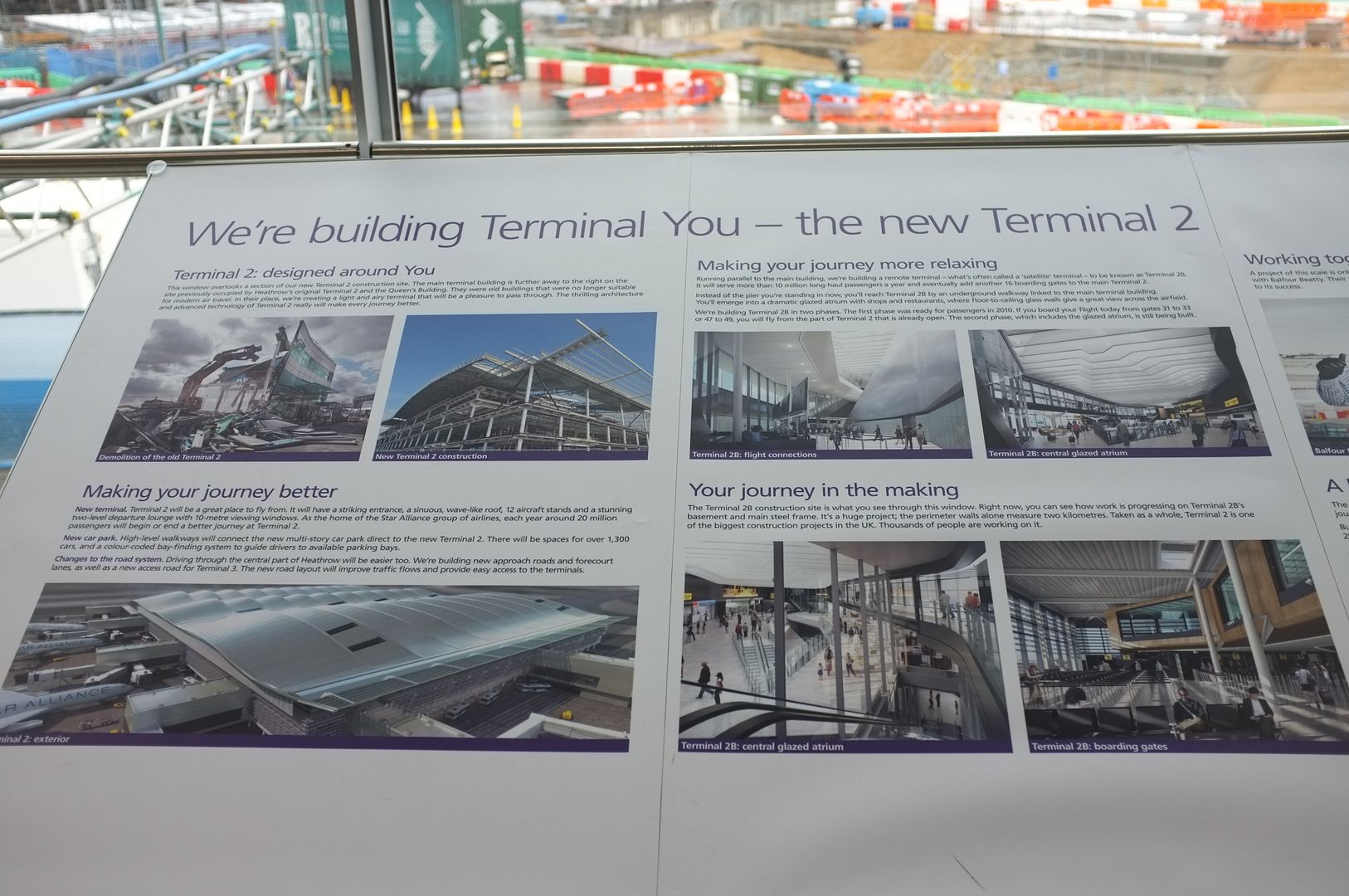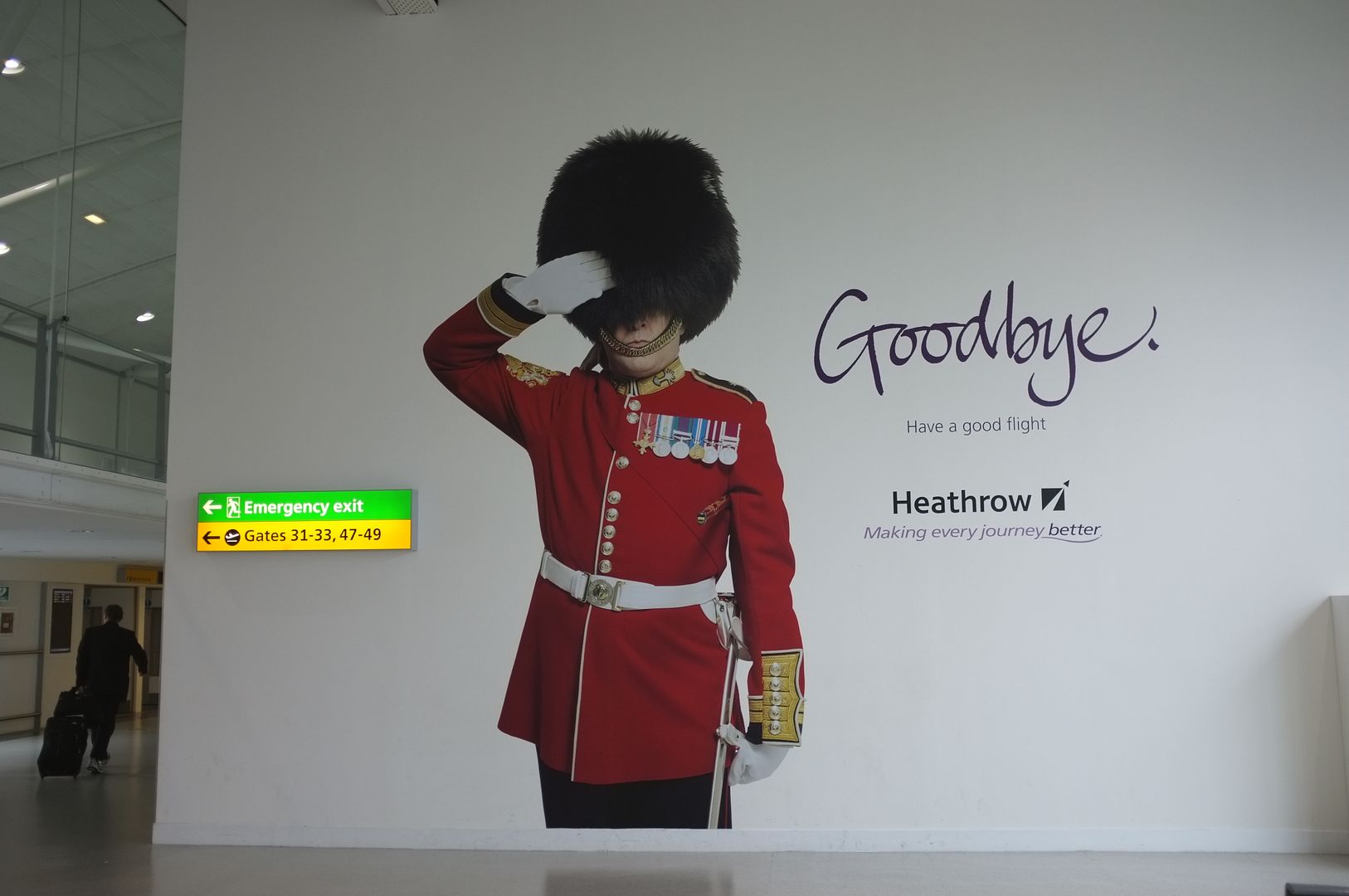 At the boarding gate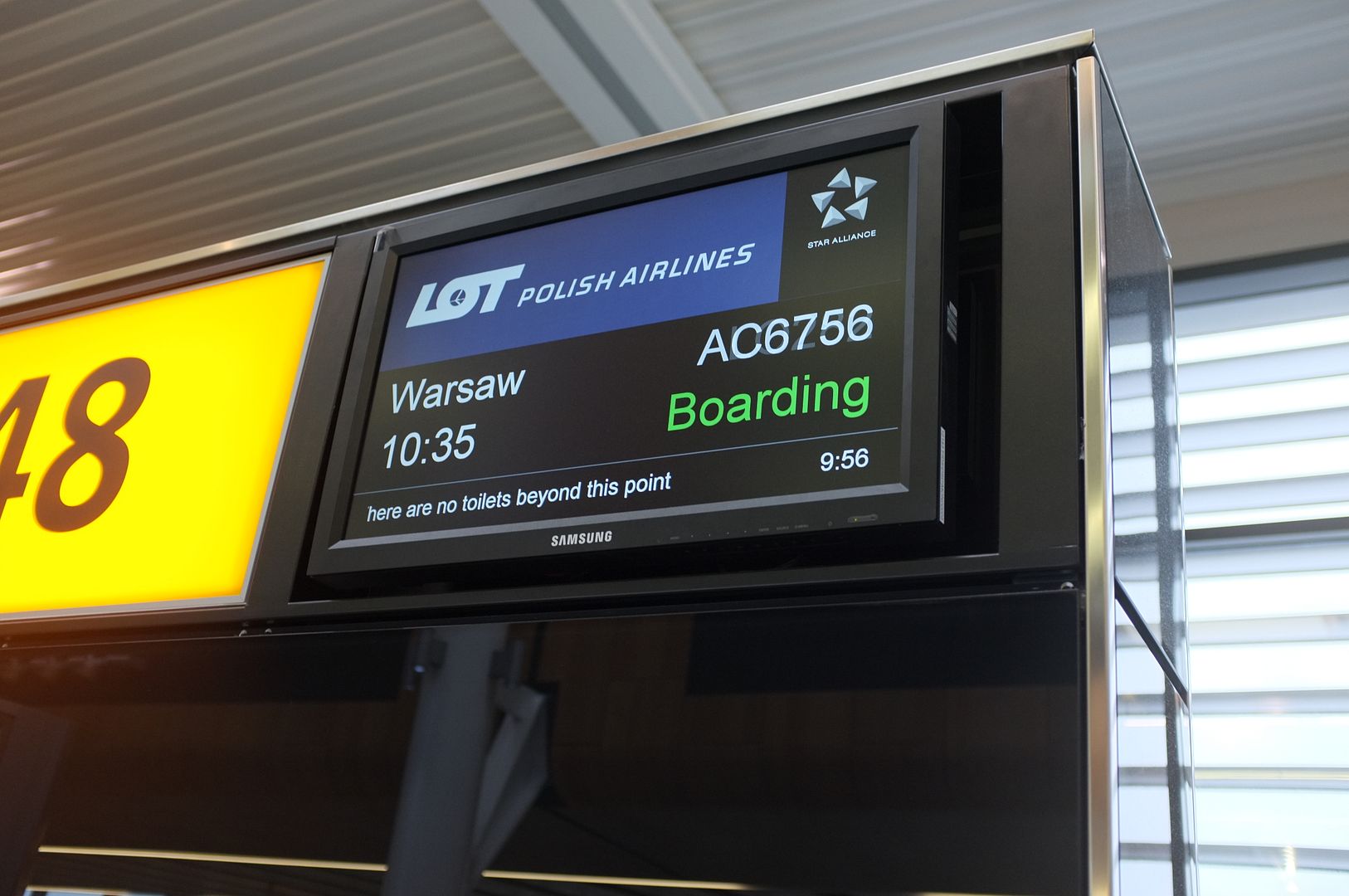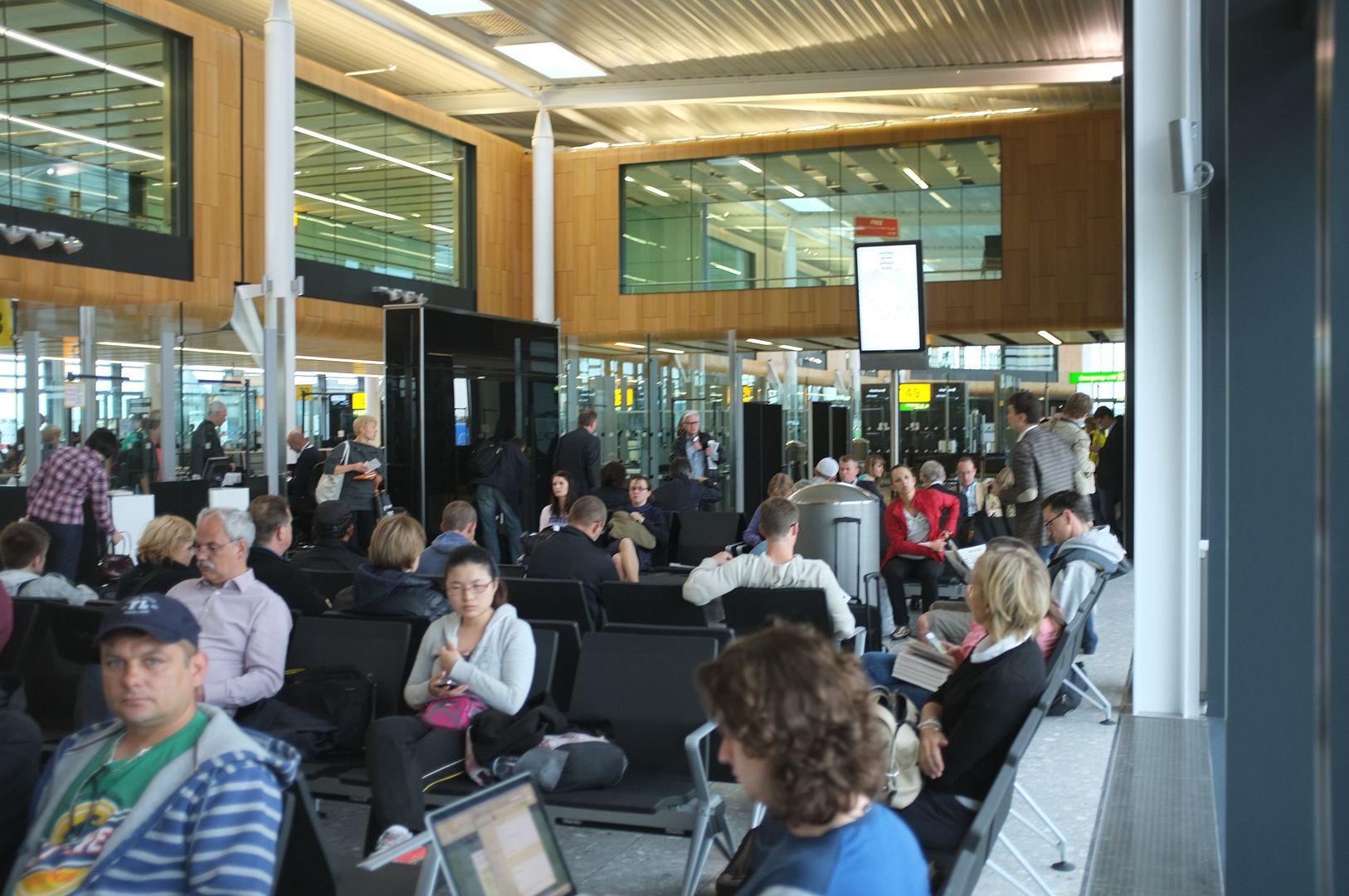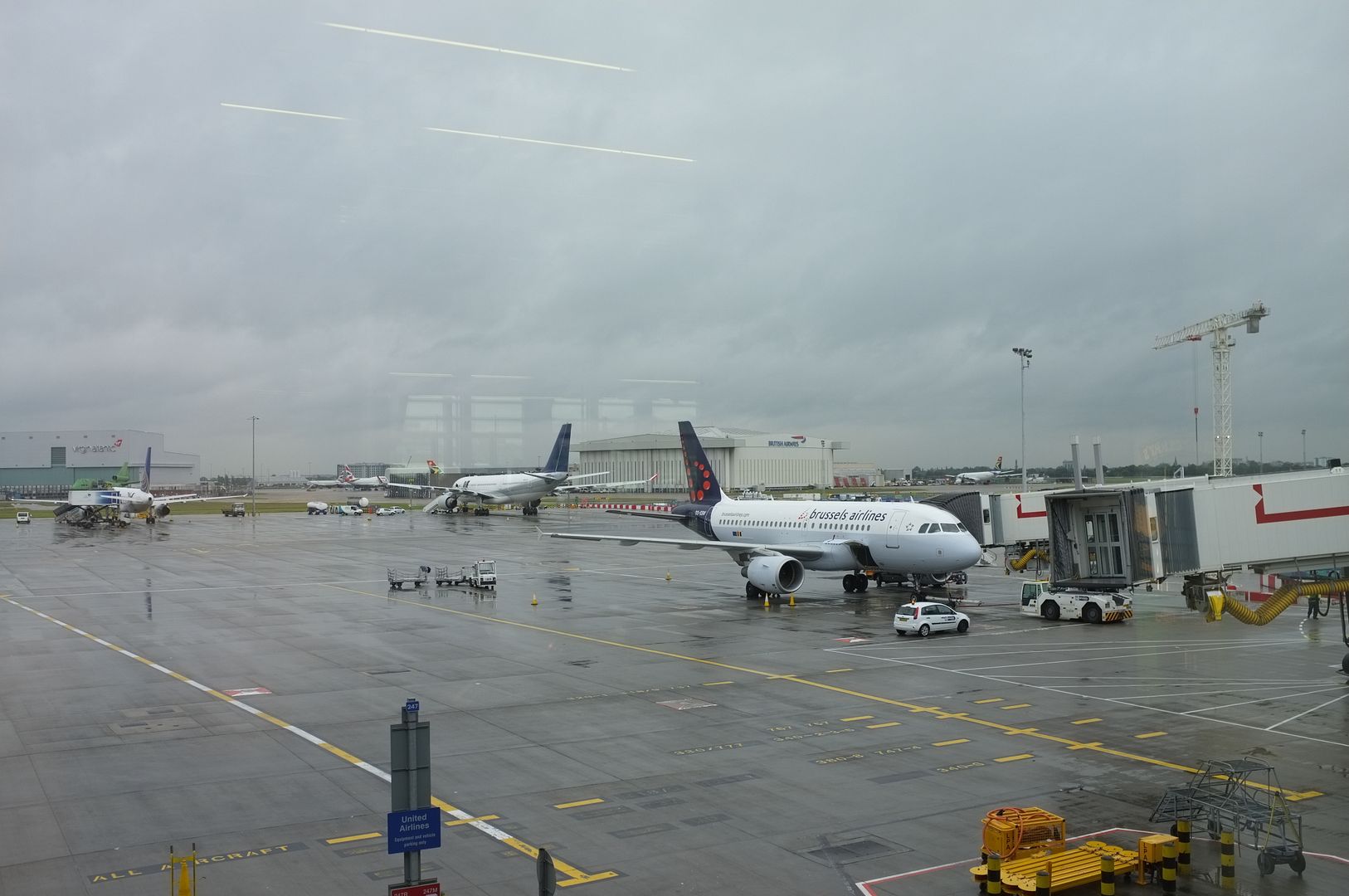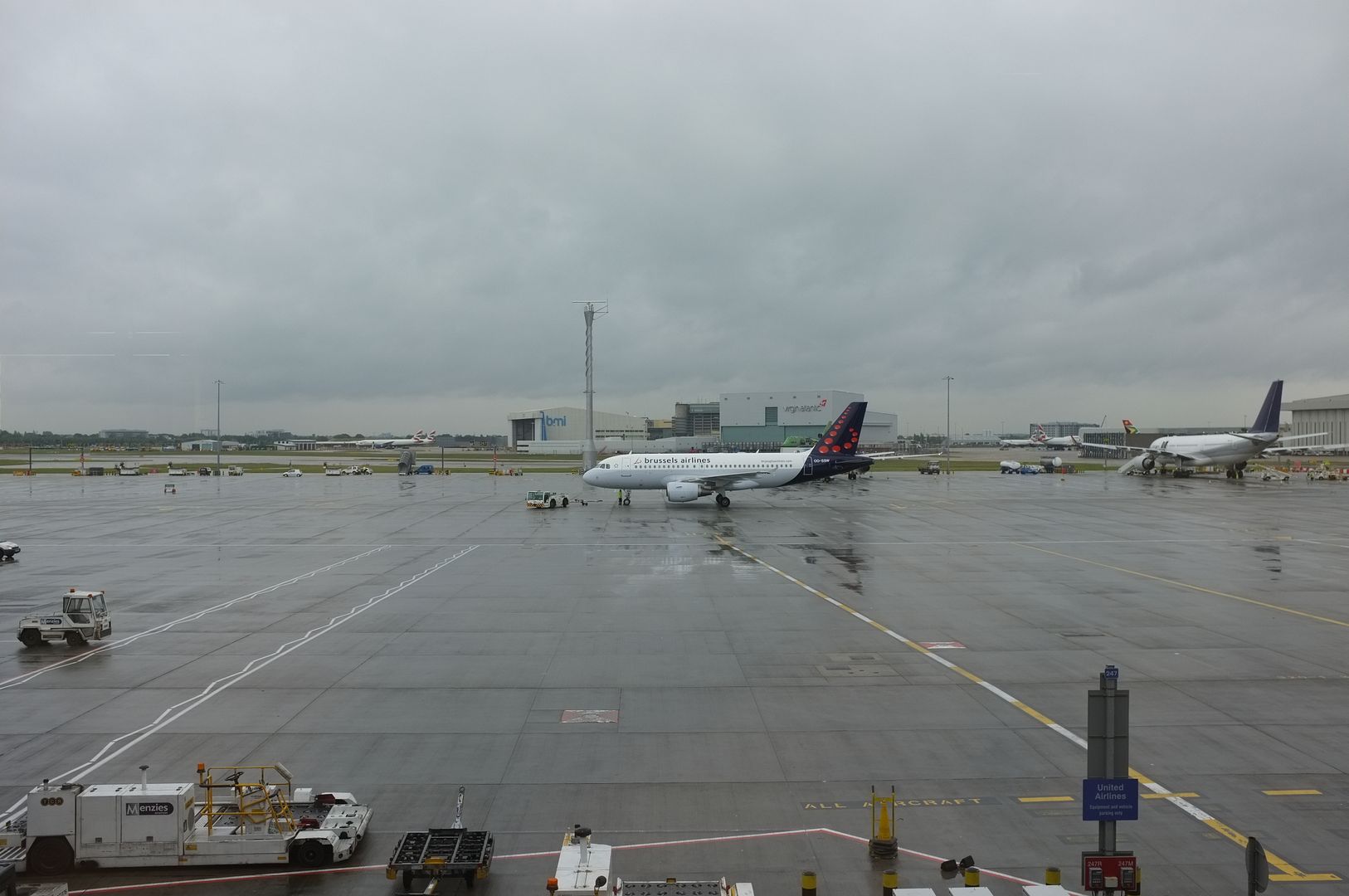 The tail of our plane
Boarding was announced by seat row number and Business class passengers and Star Alliance frequent travelers could board at anytime. I was amongst the first to board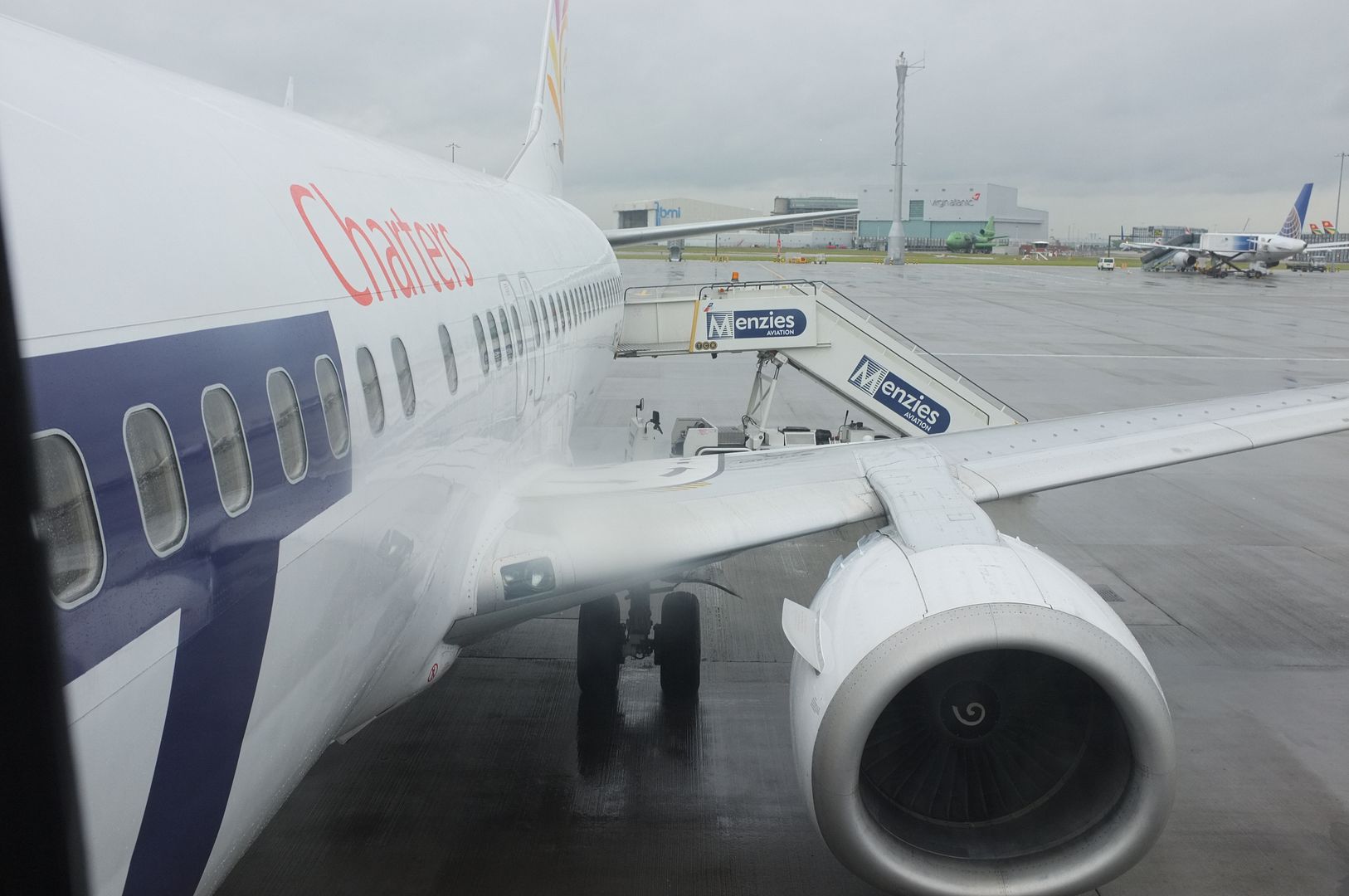 At the door, I was welcomed onboard by a crew member. Then I proceeded to my seat in the exit row.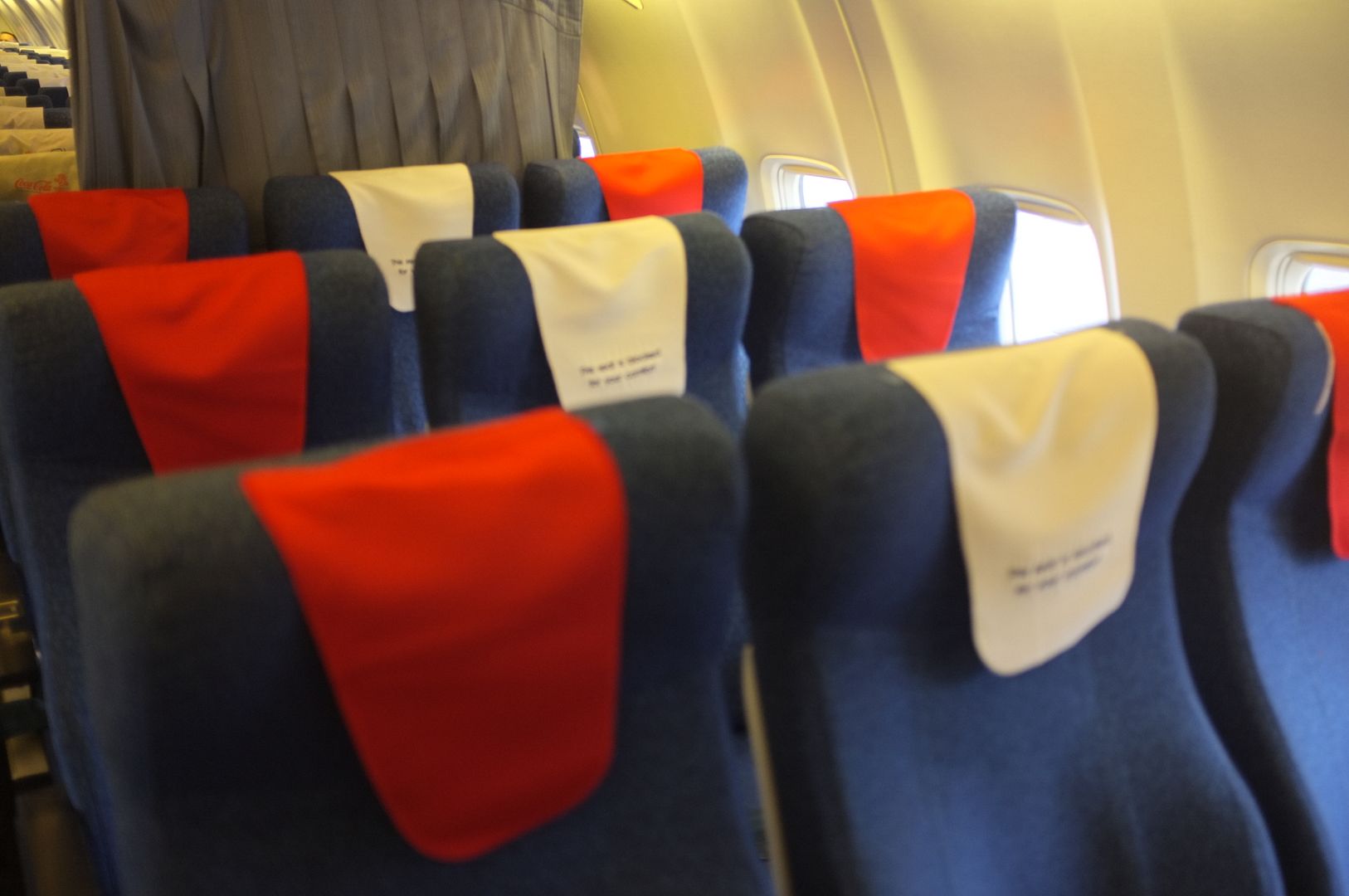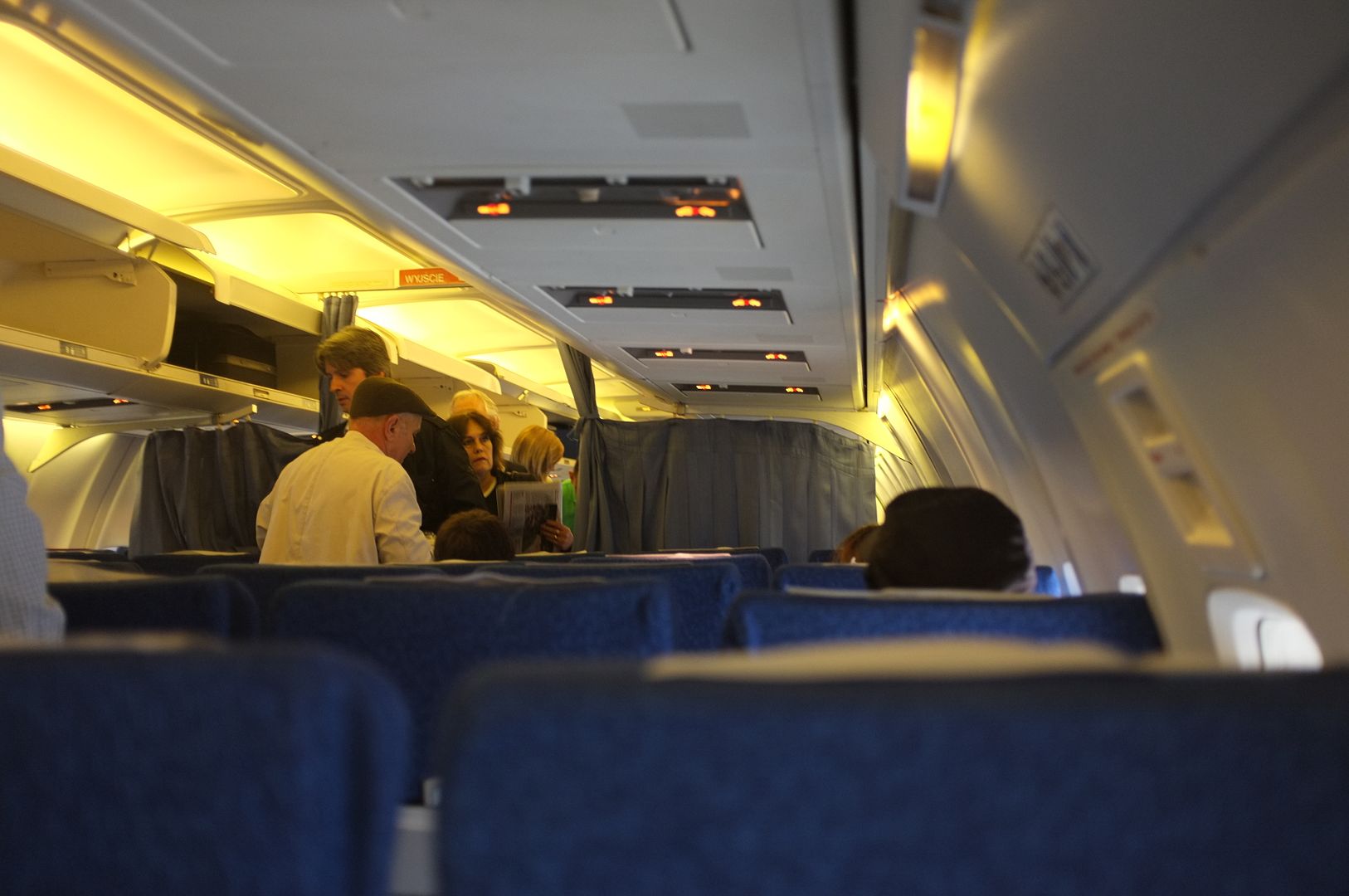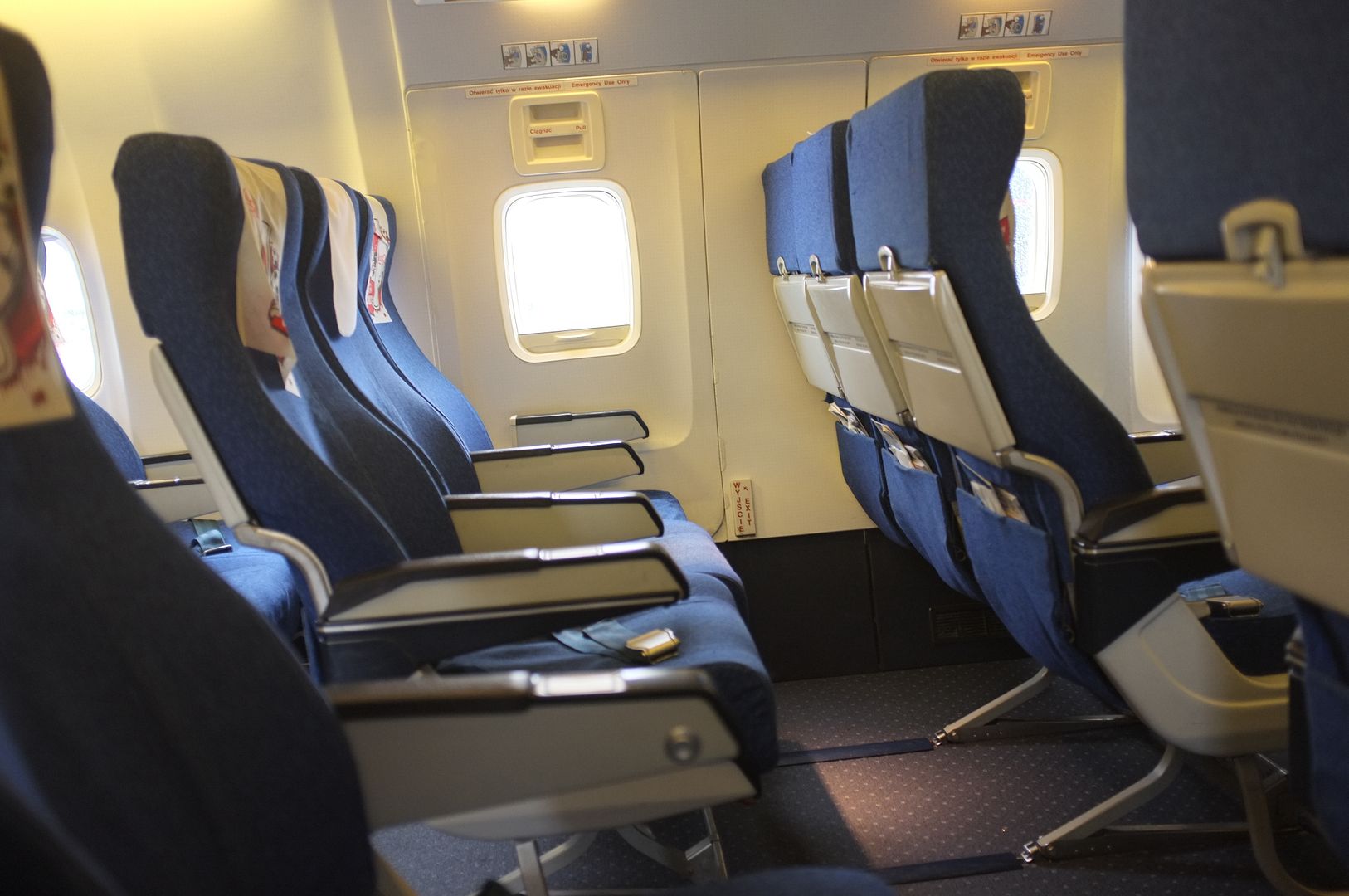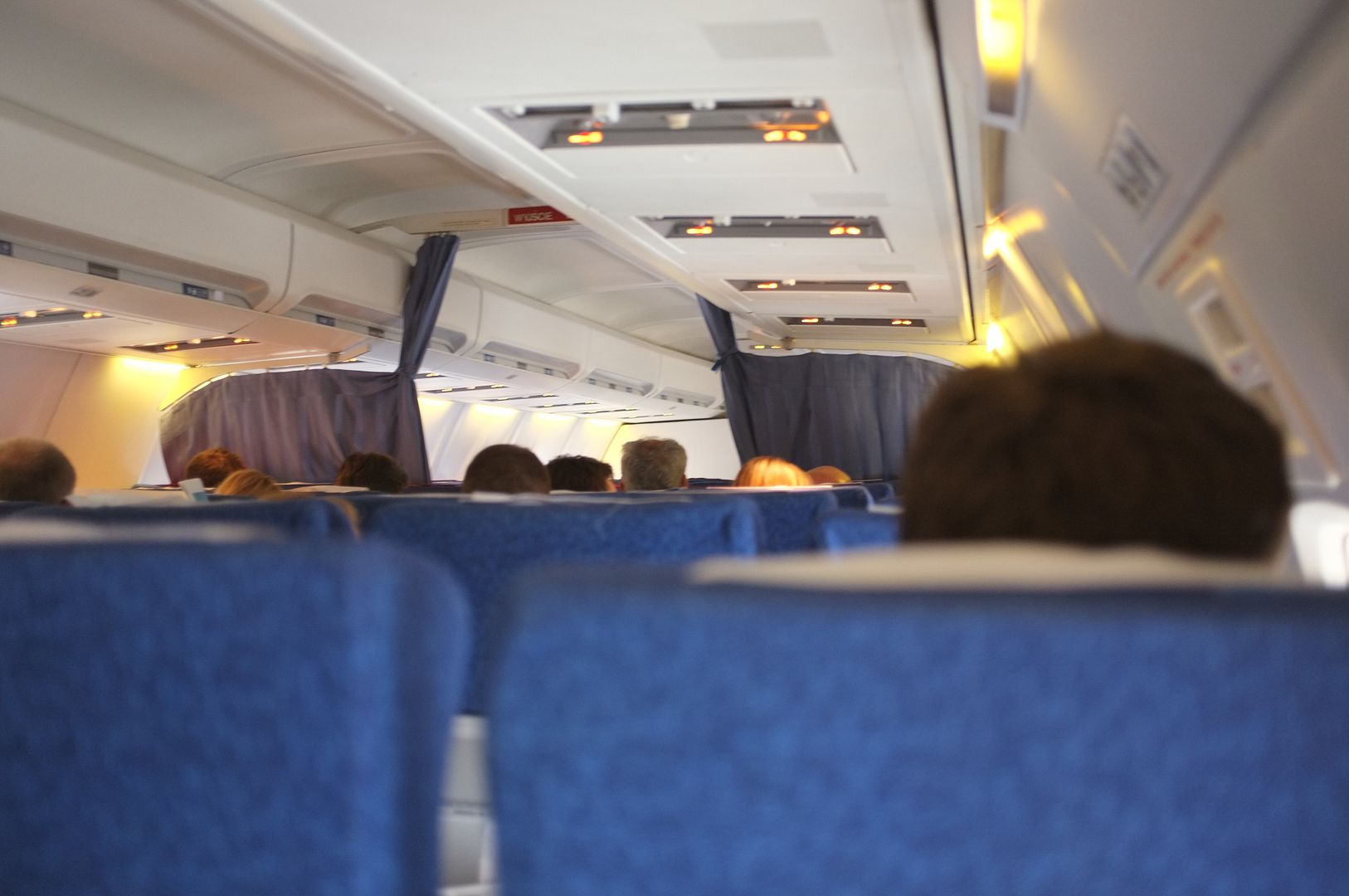 As soon as everyone was boarded, the aircraft door was closed and the welcome announcement was made by a purser. Then a safety demonstration was performed. The flight was around 90% full in Economy Class, I am not sure about Business Class. Taxing to the runway on a busy morning.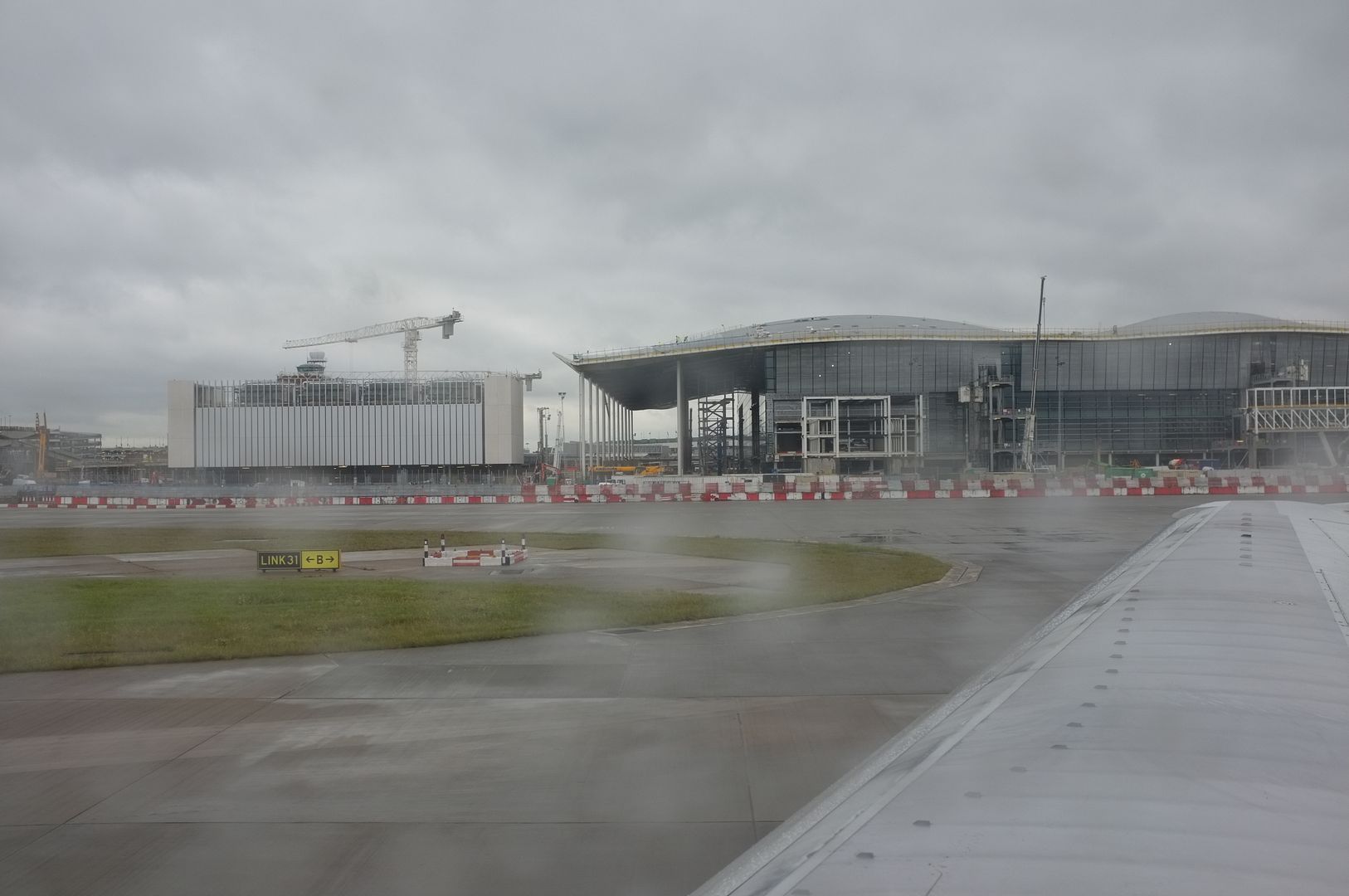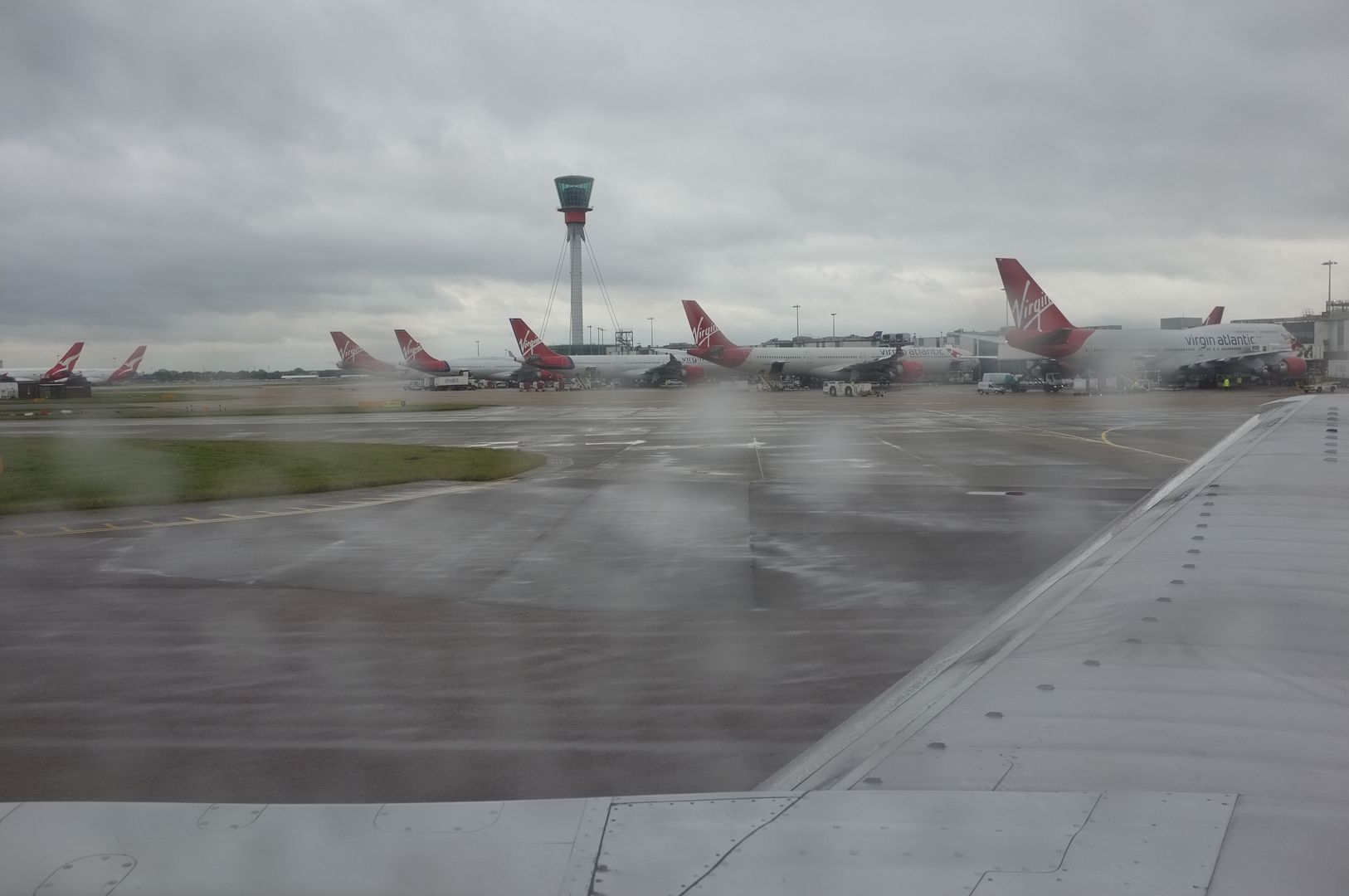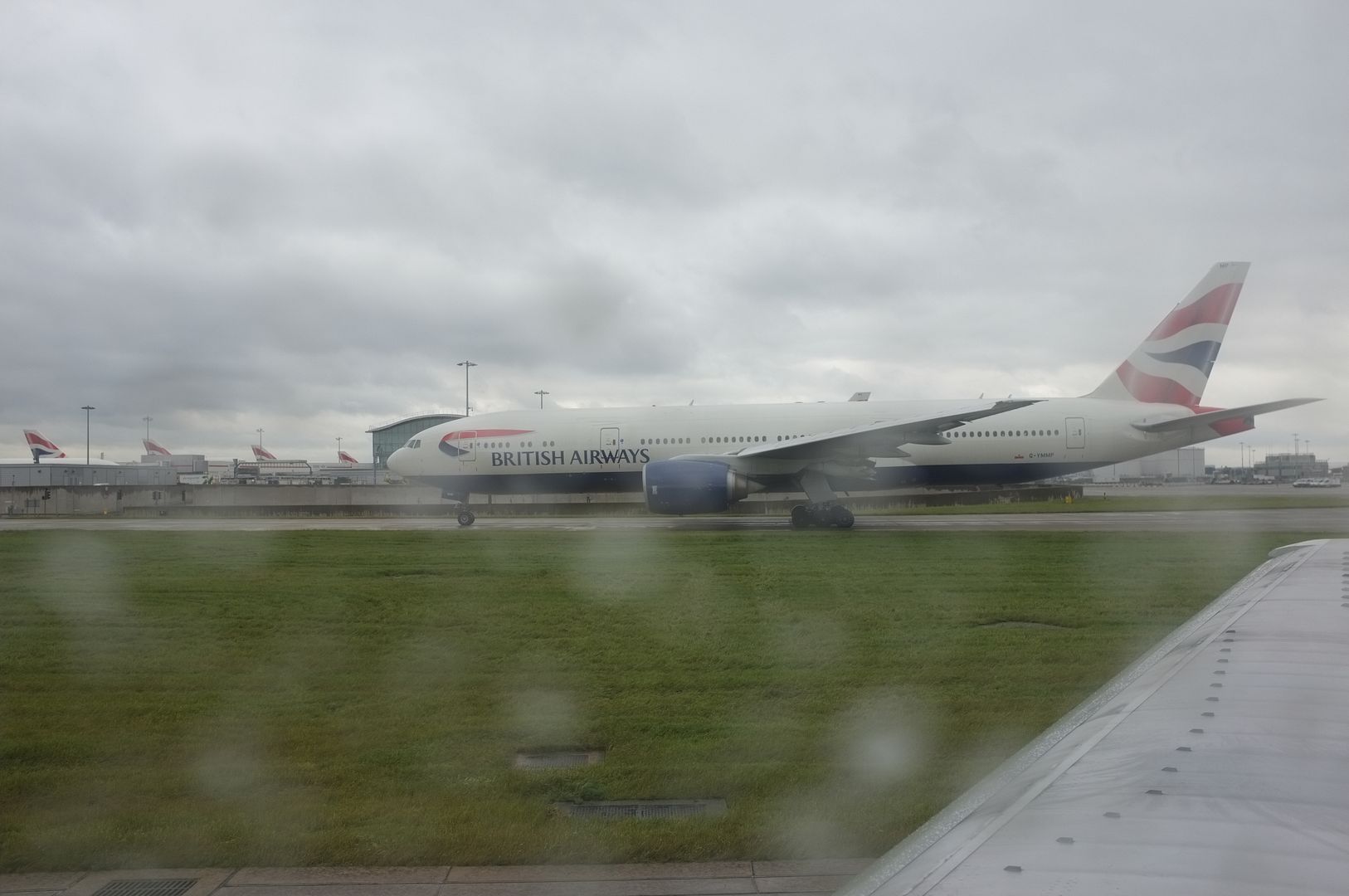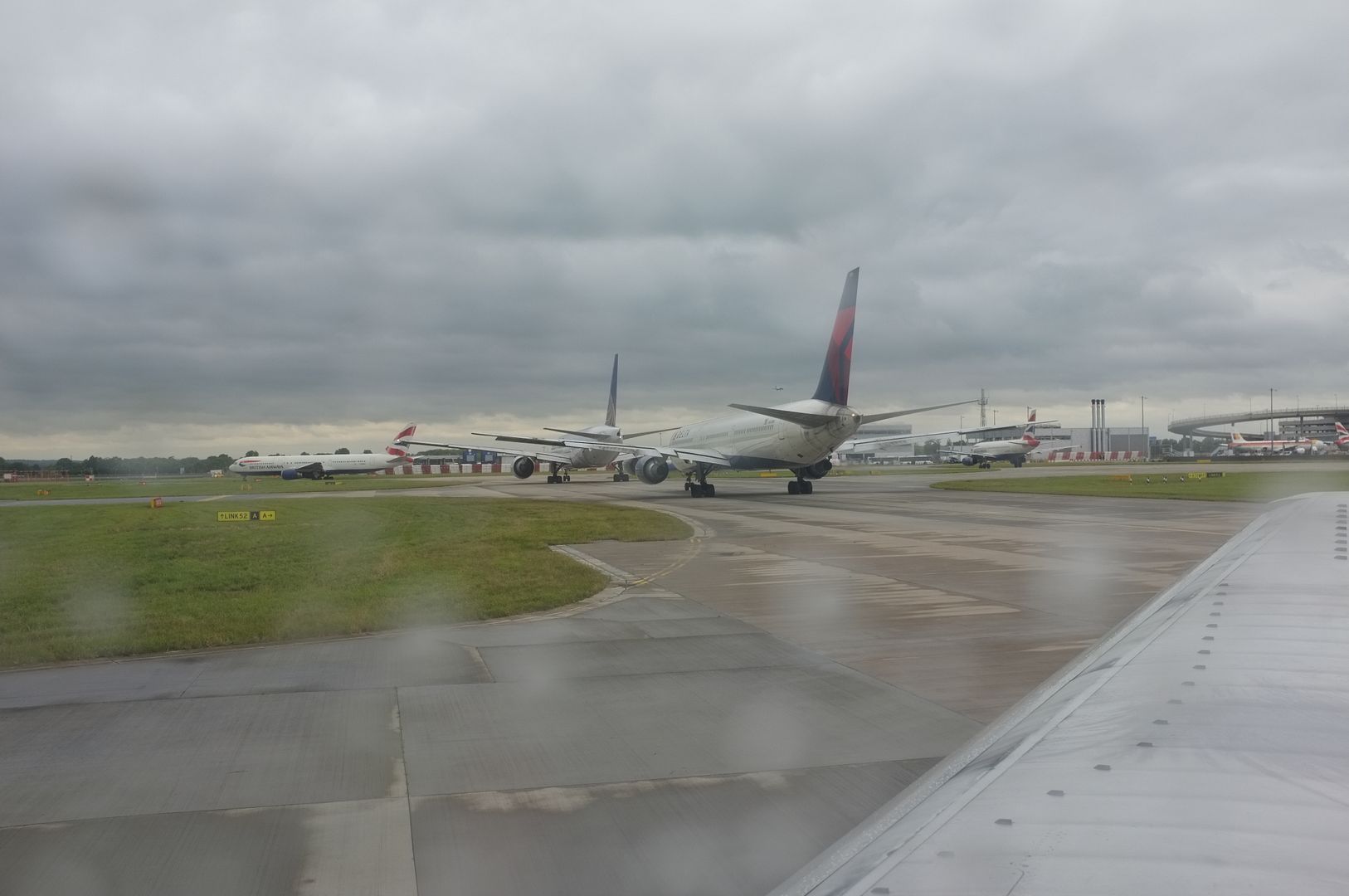 Took off at around 11:10am which was 35 minutes behind schedule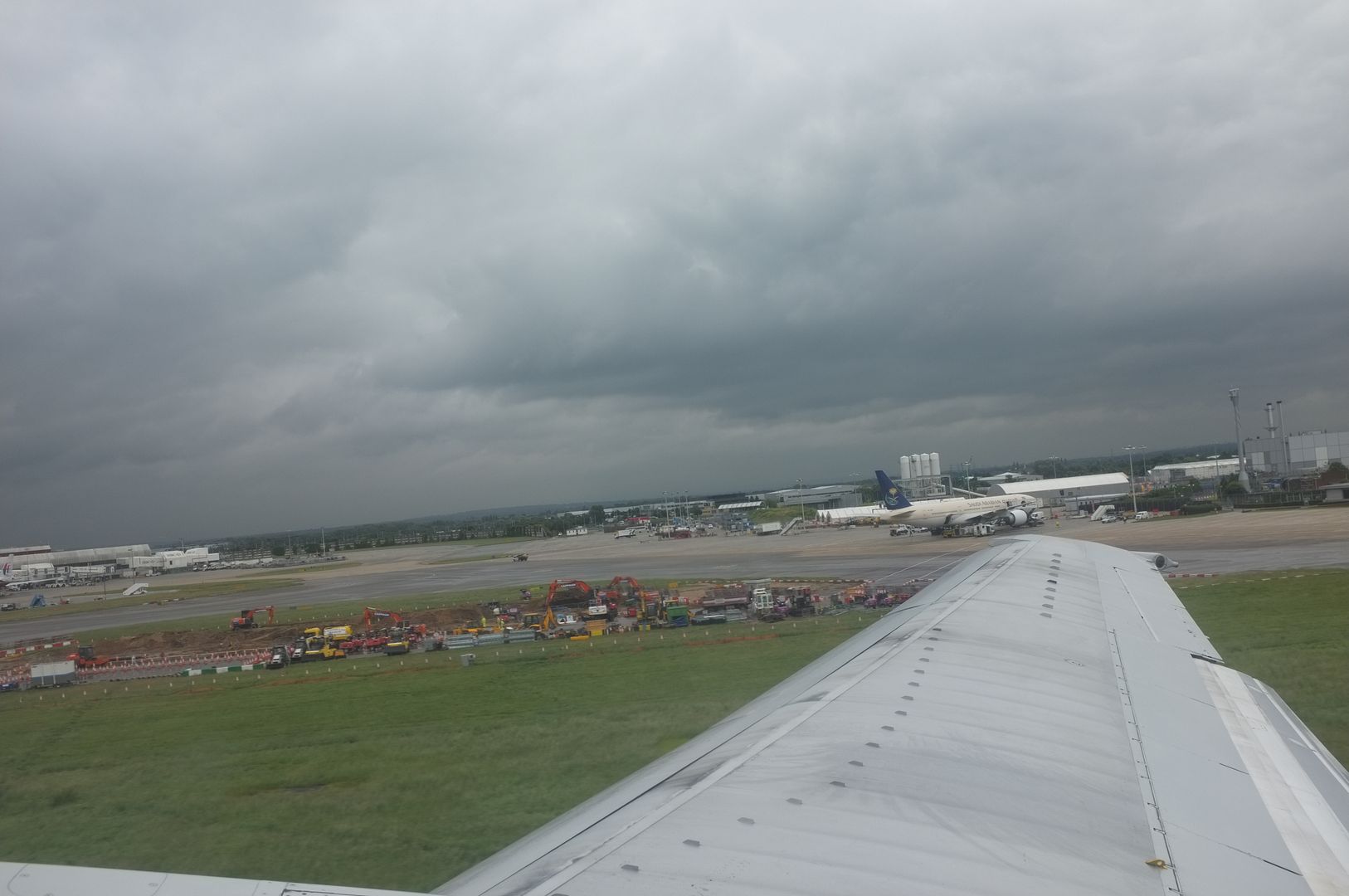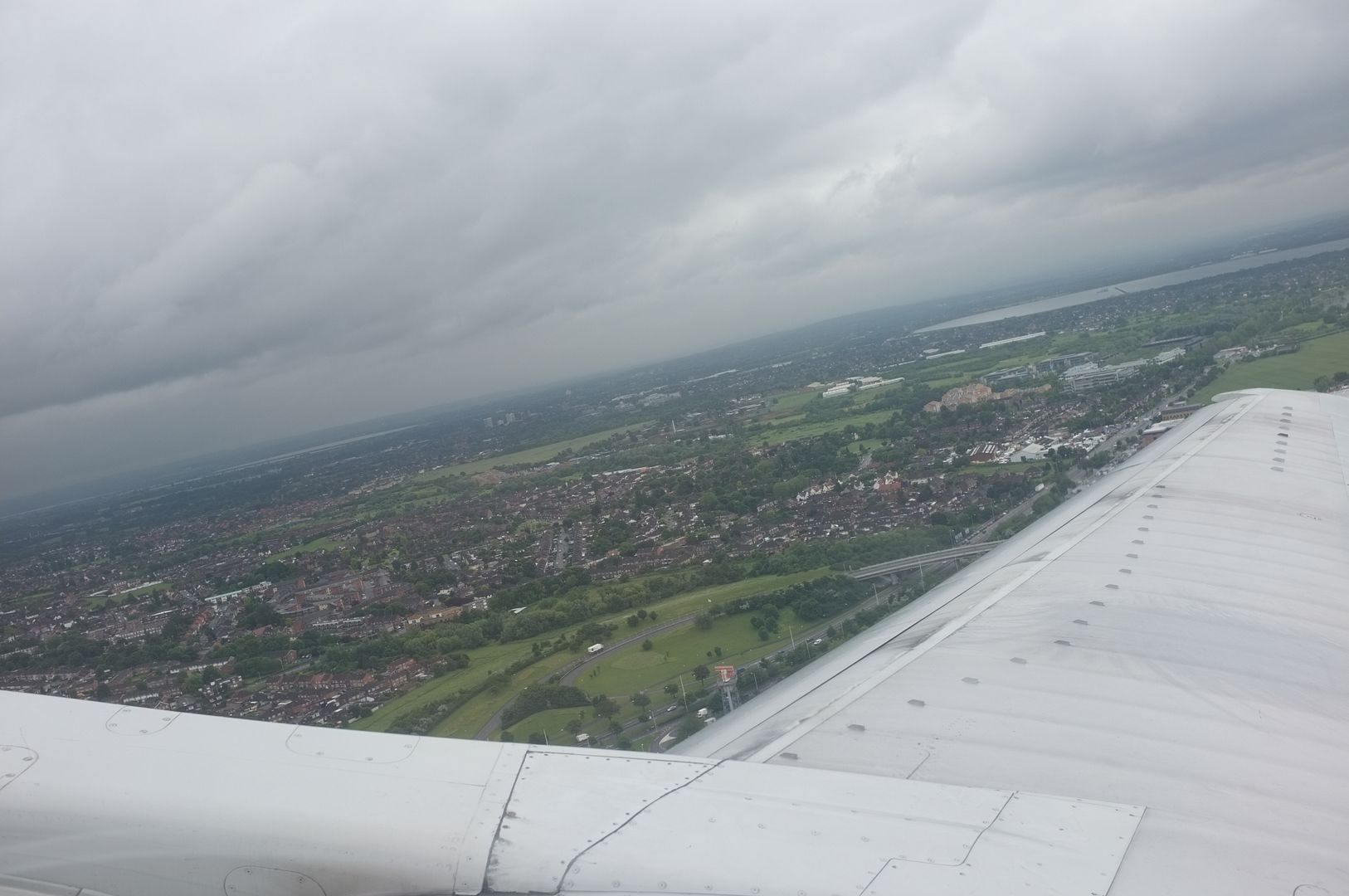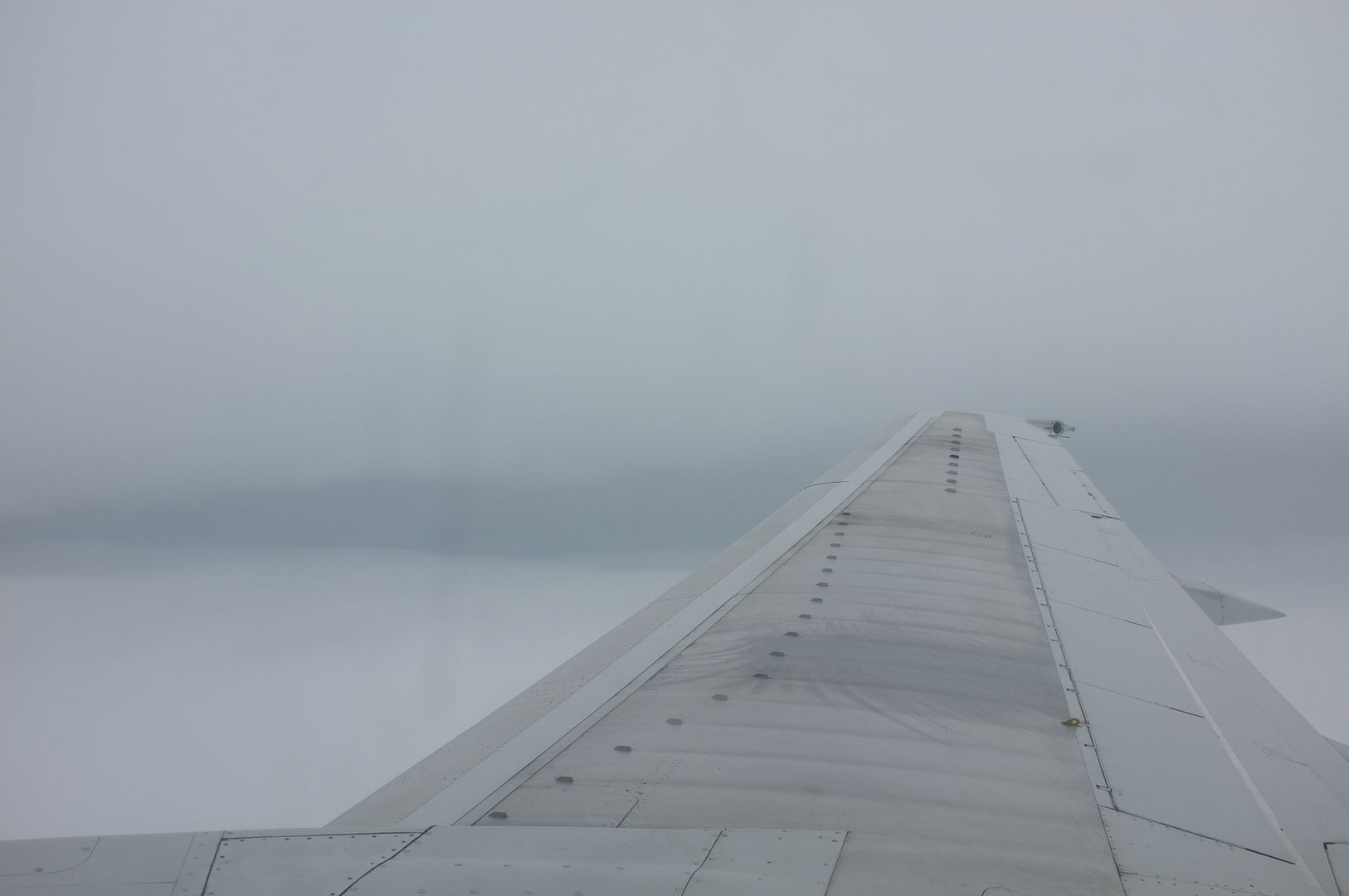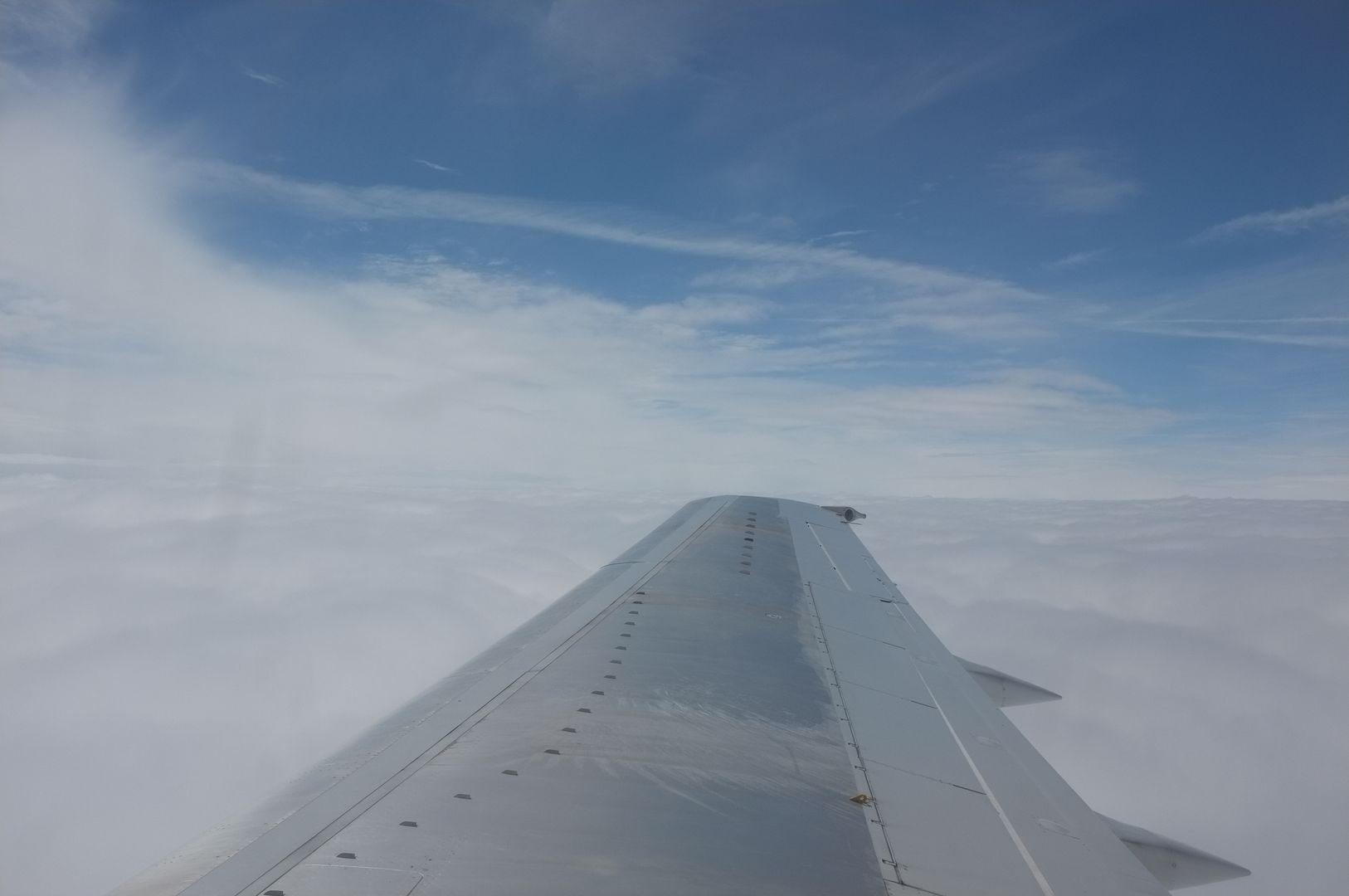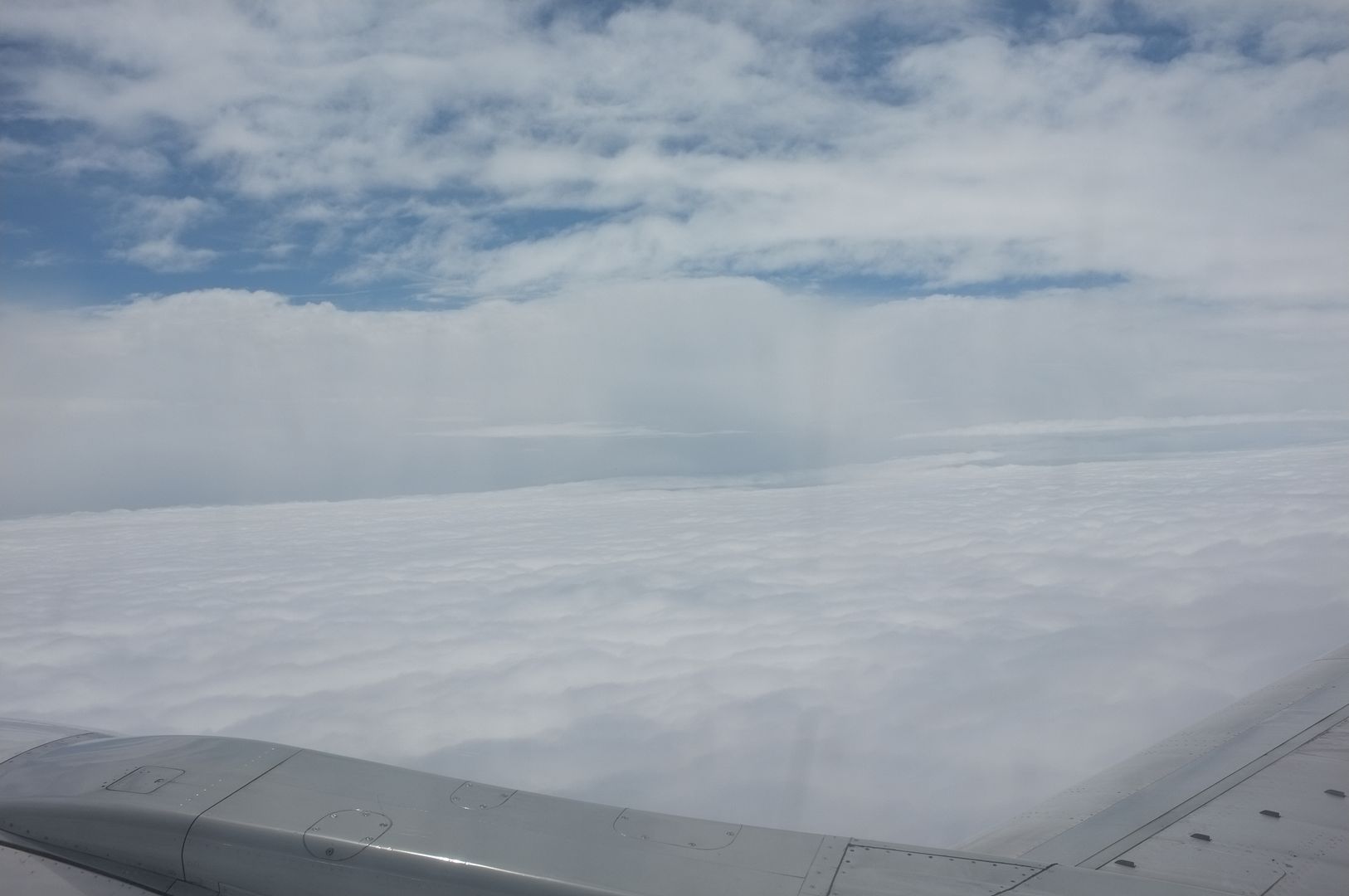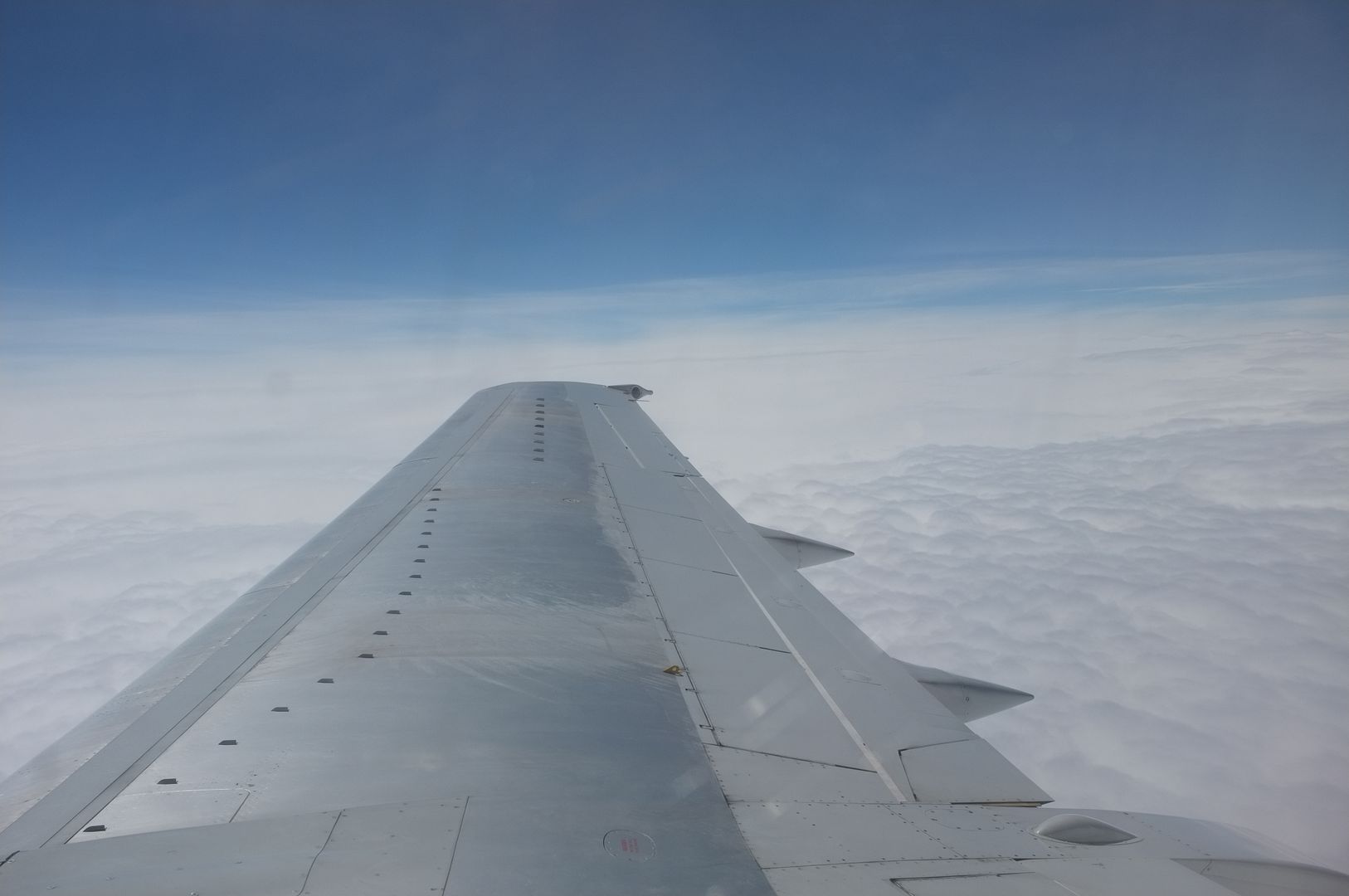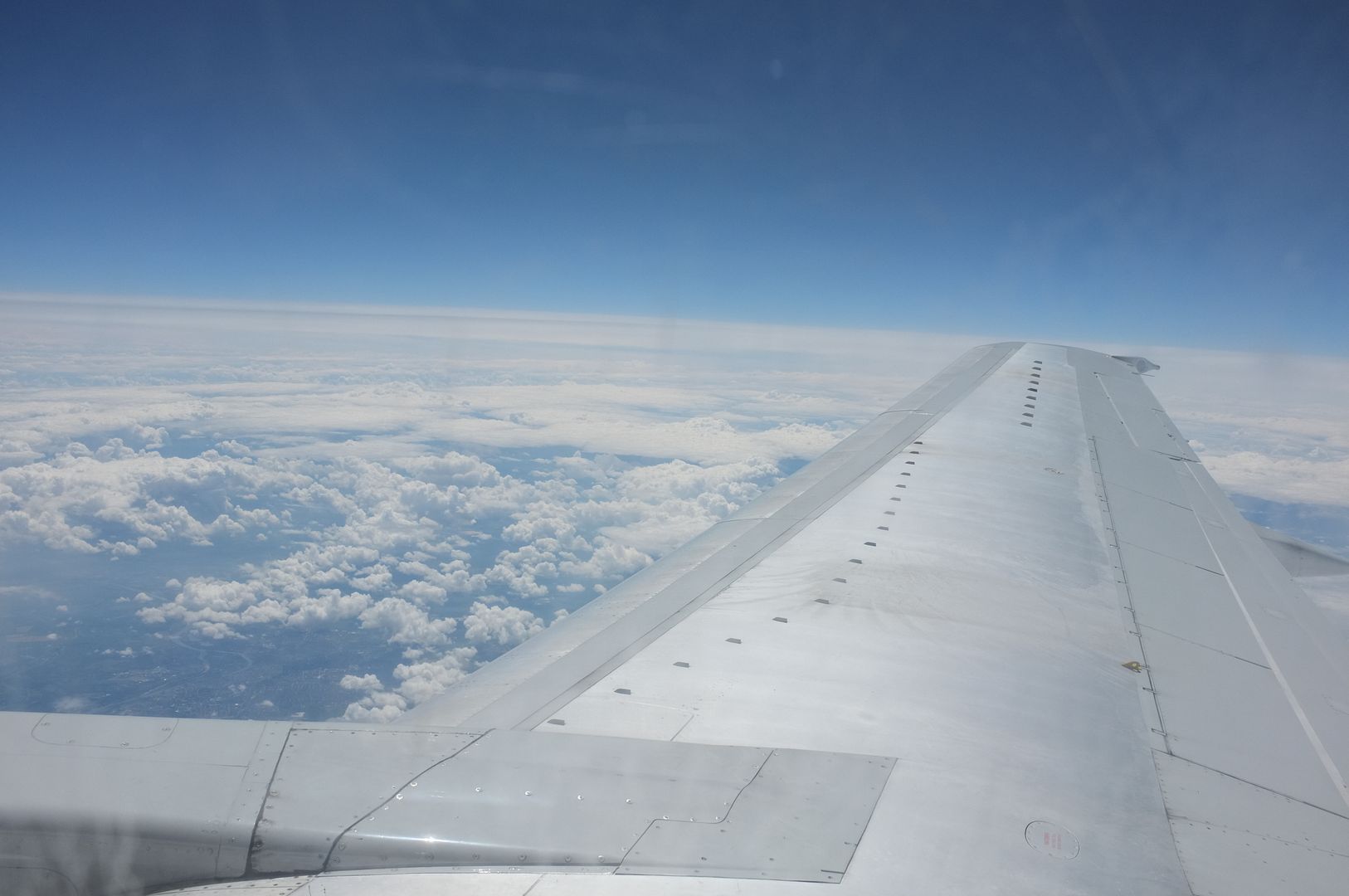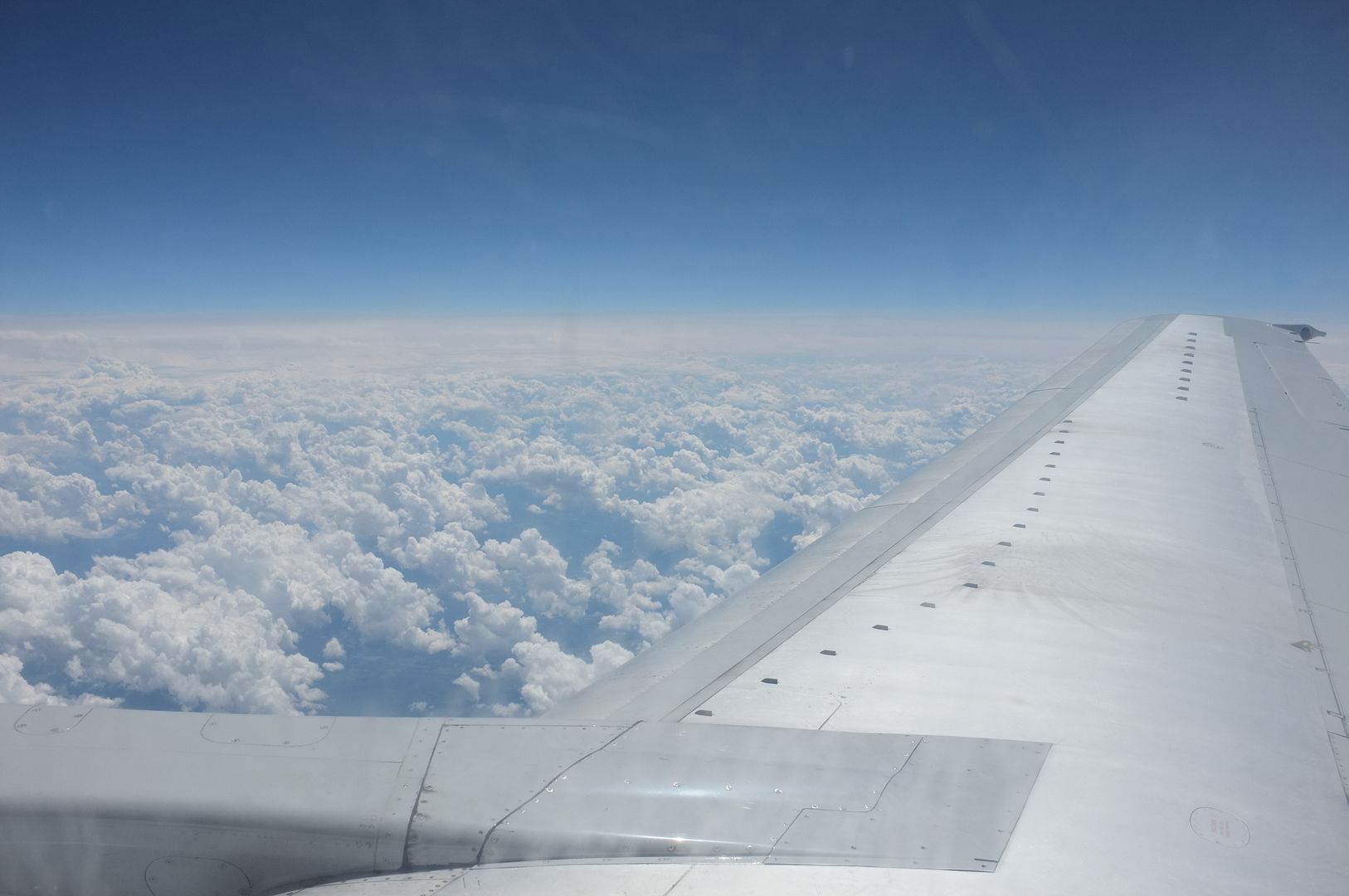 After the seatbelt sign was switched off, the crew made another announcement inviting passengers to join Miles and More programme for extra flying benefits such as lounge access and Business Class check-in. Also, they crew advertised the new LOT destination to Beijing from Warsaw in under 9 hours.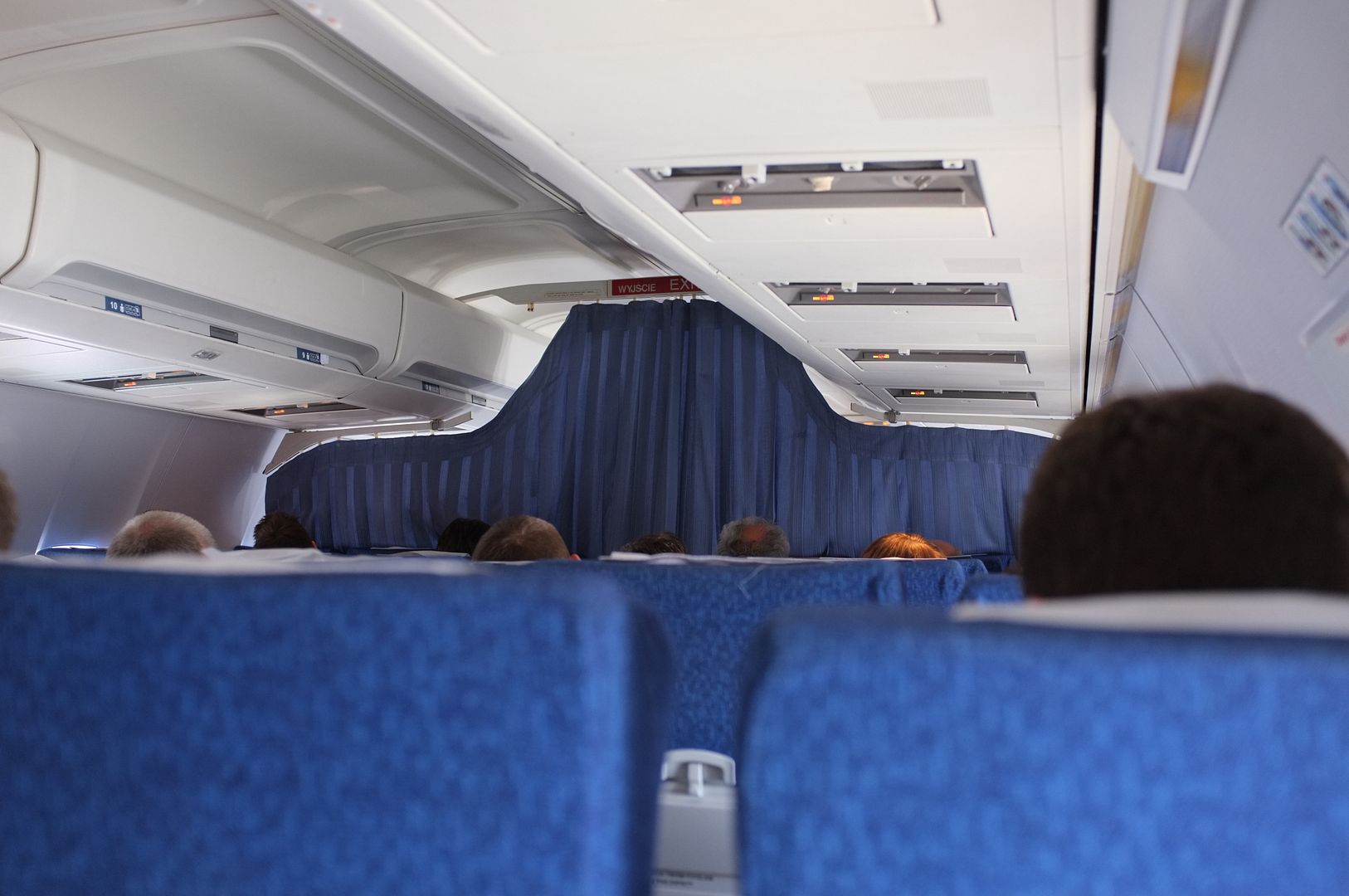 Leg room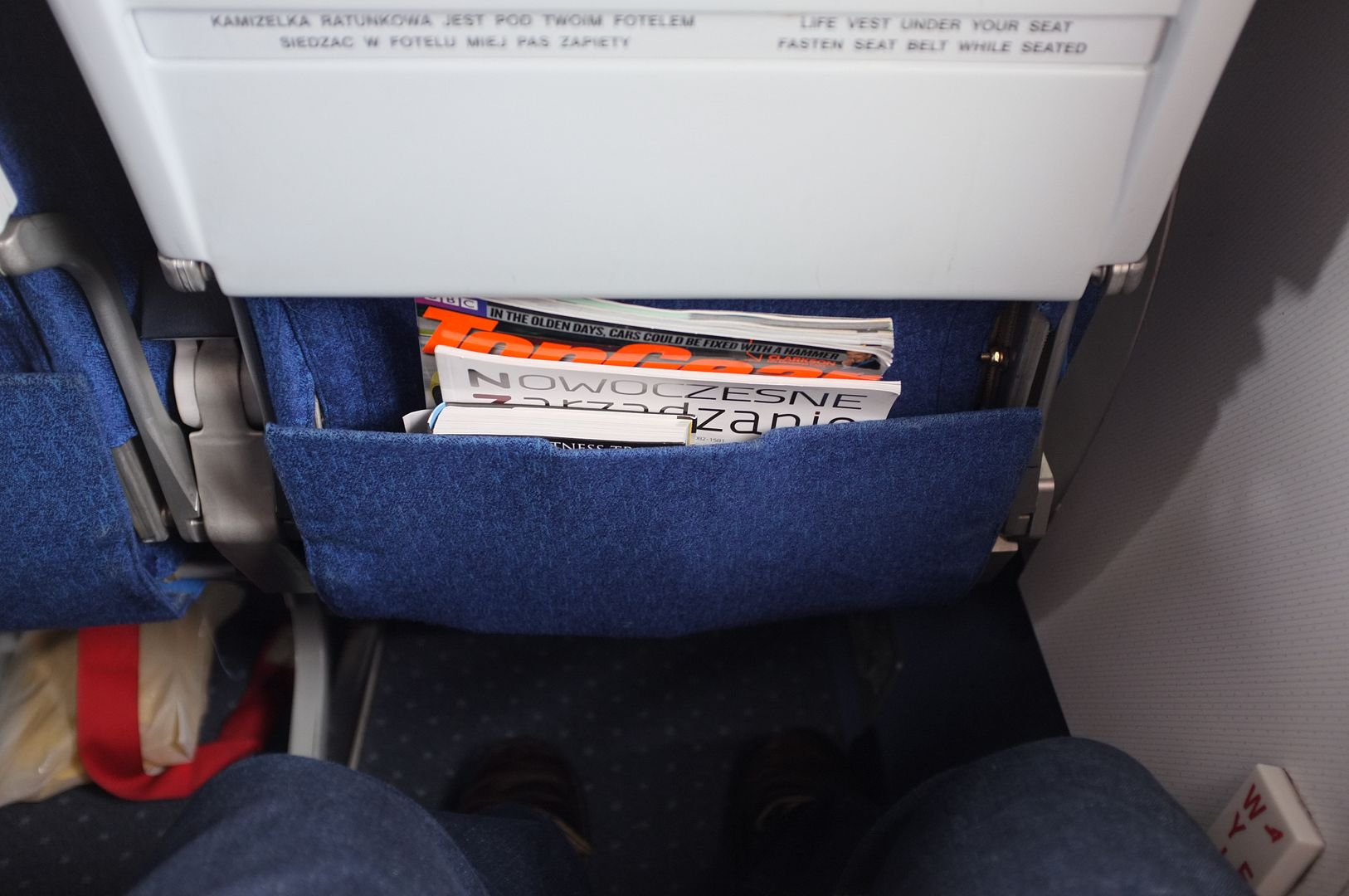 In-flight magazine, route map, fleet information, and safety card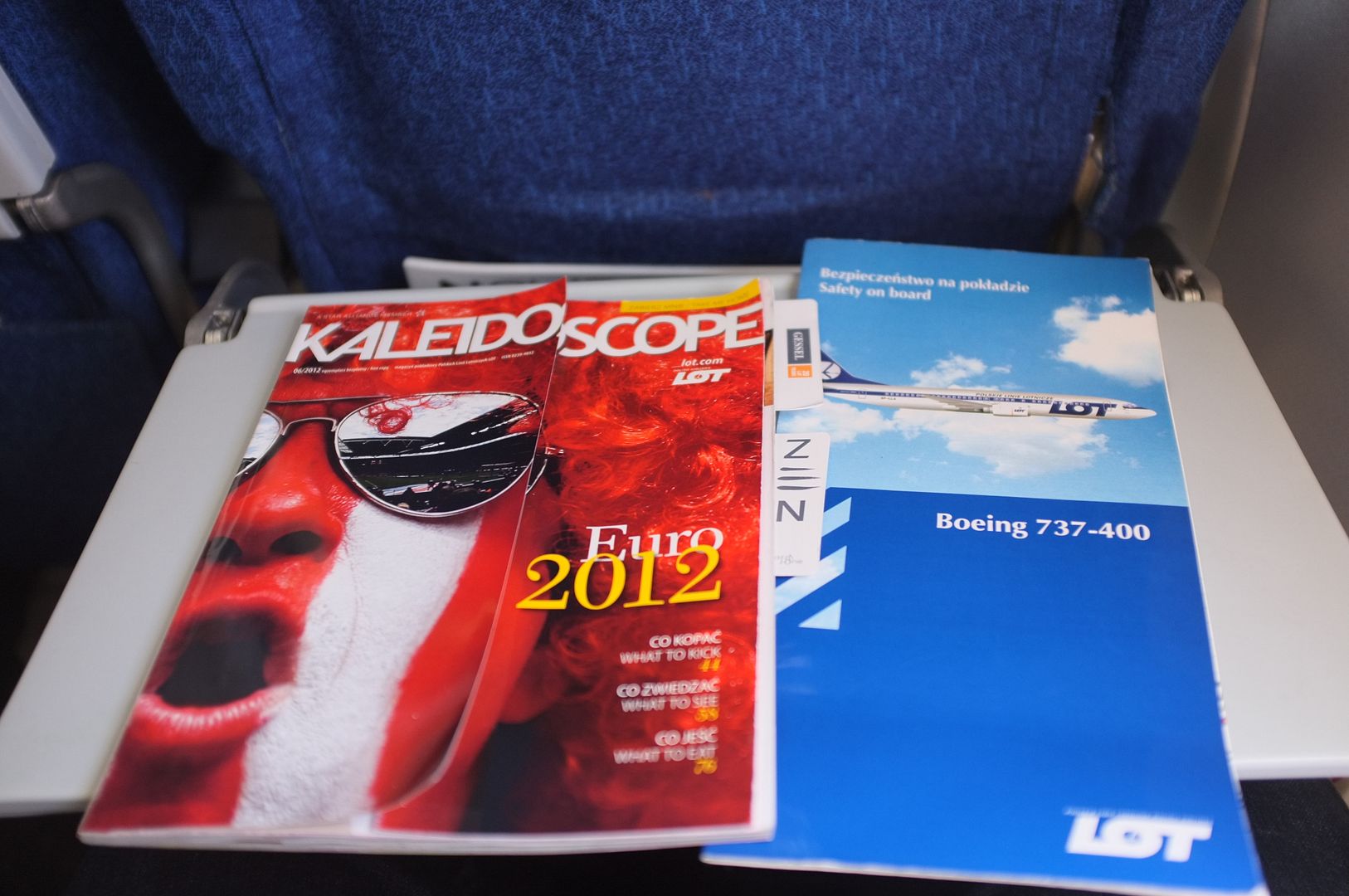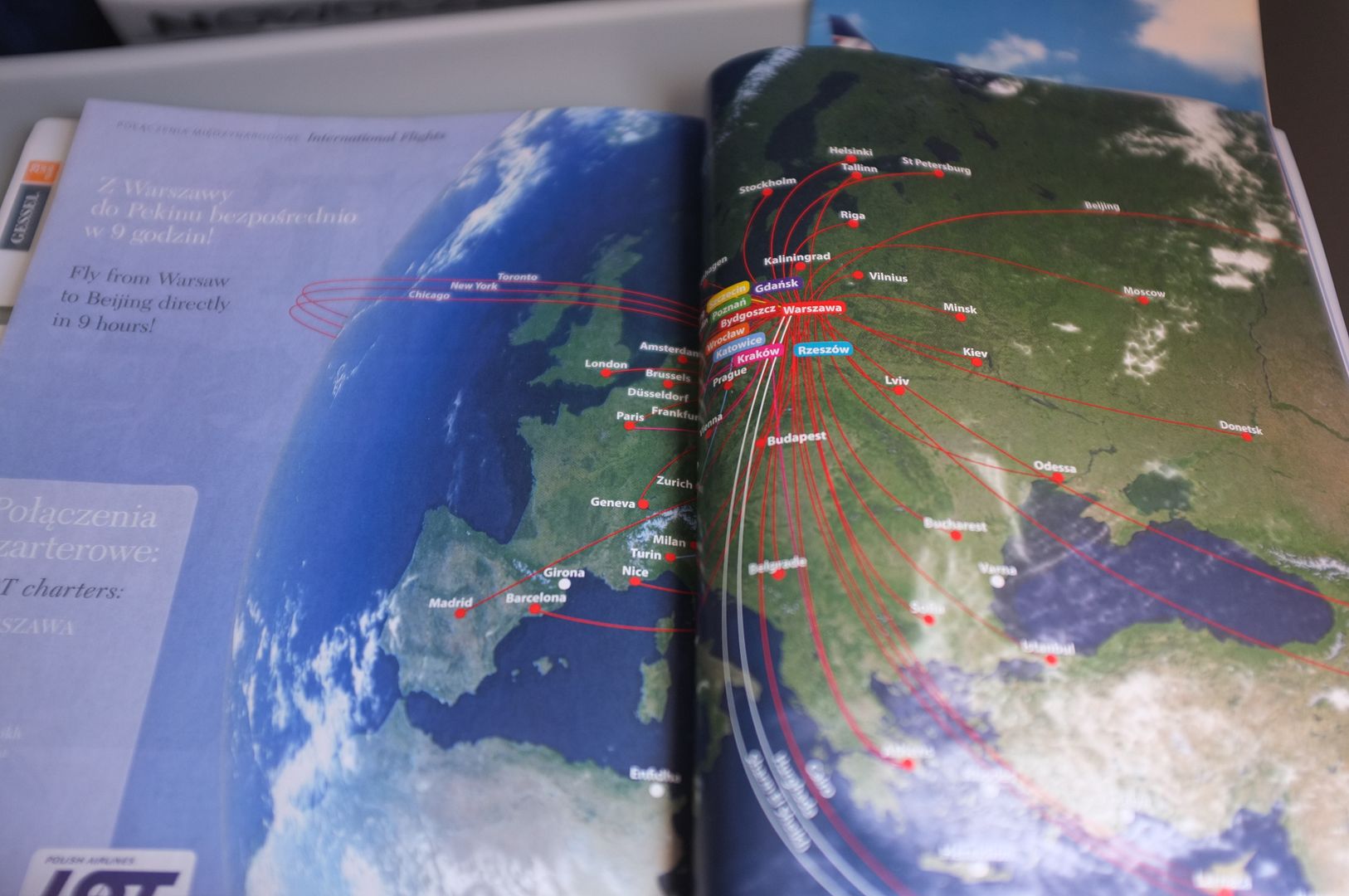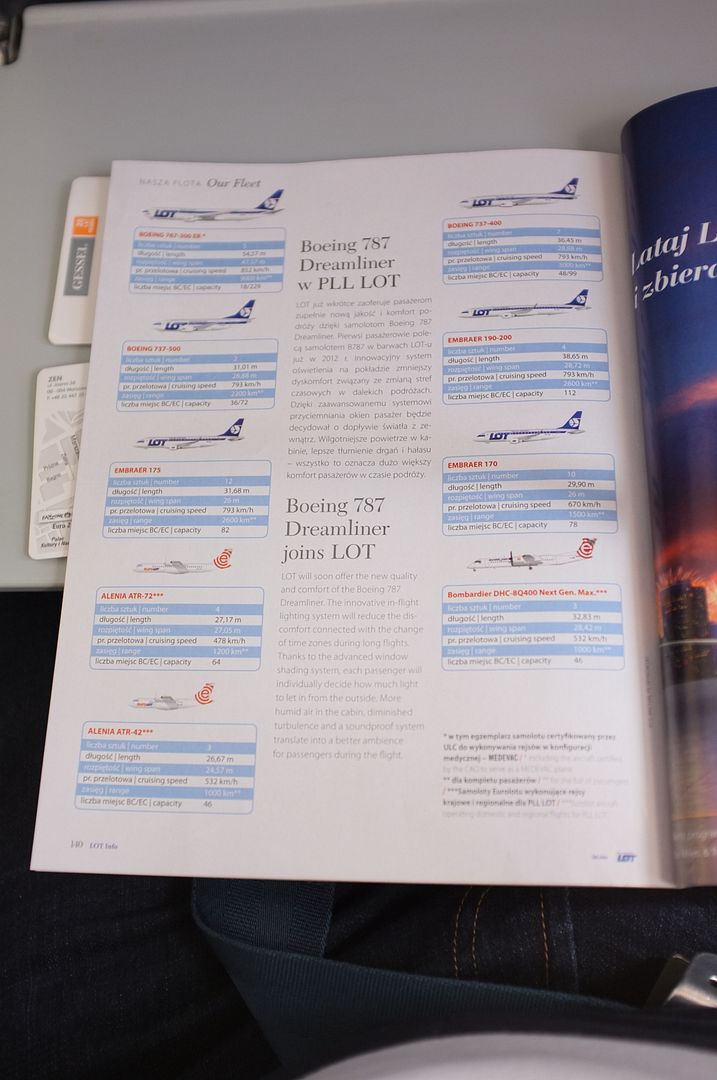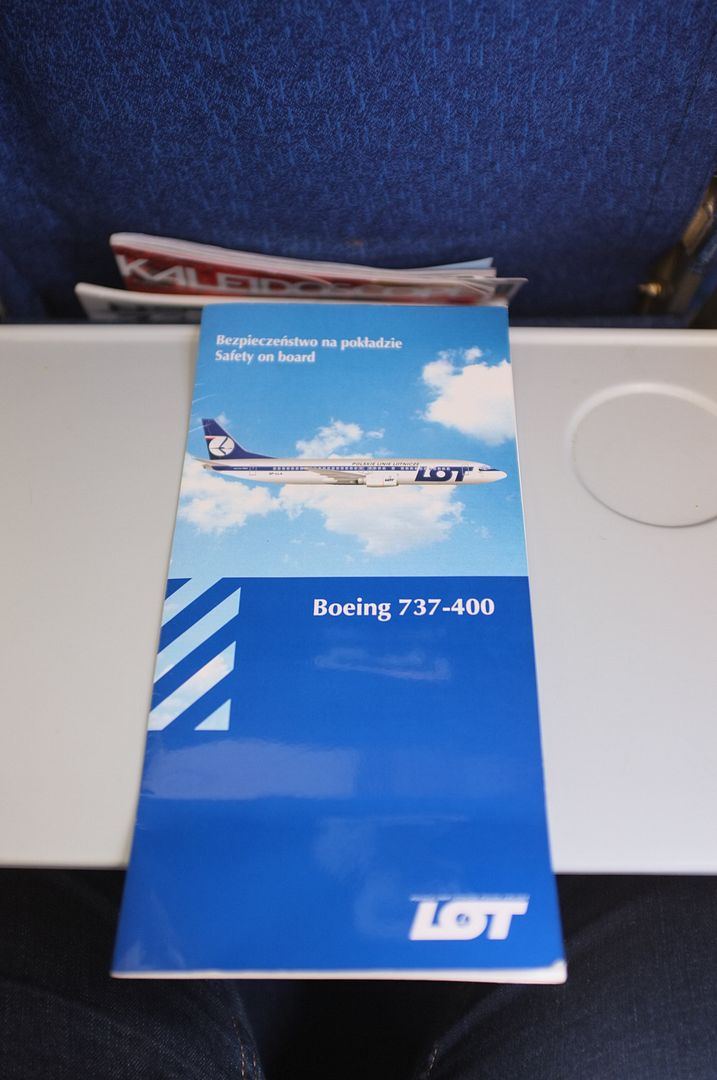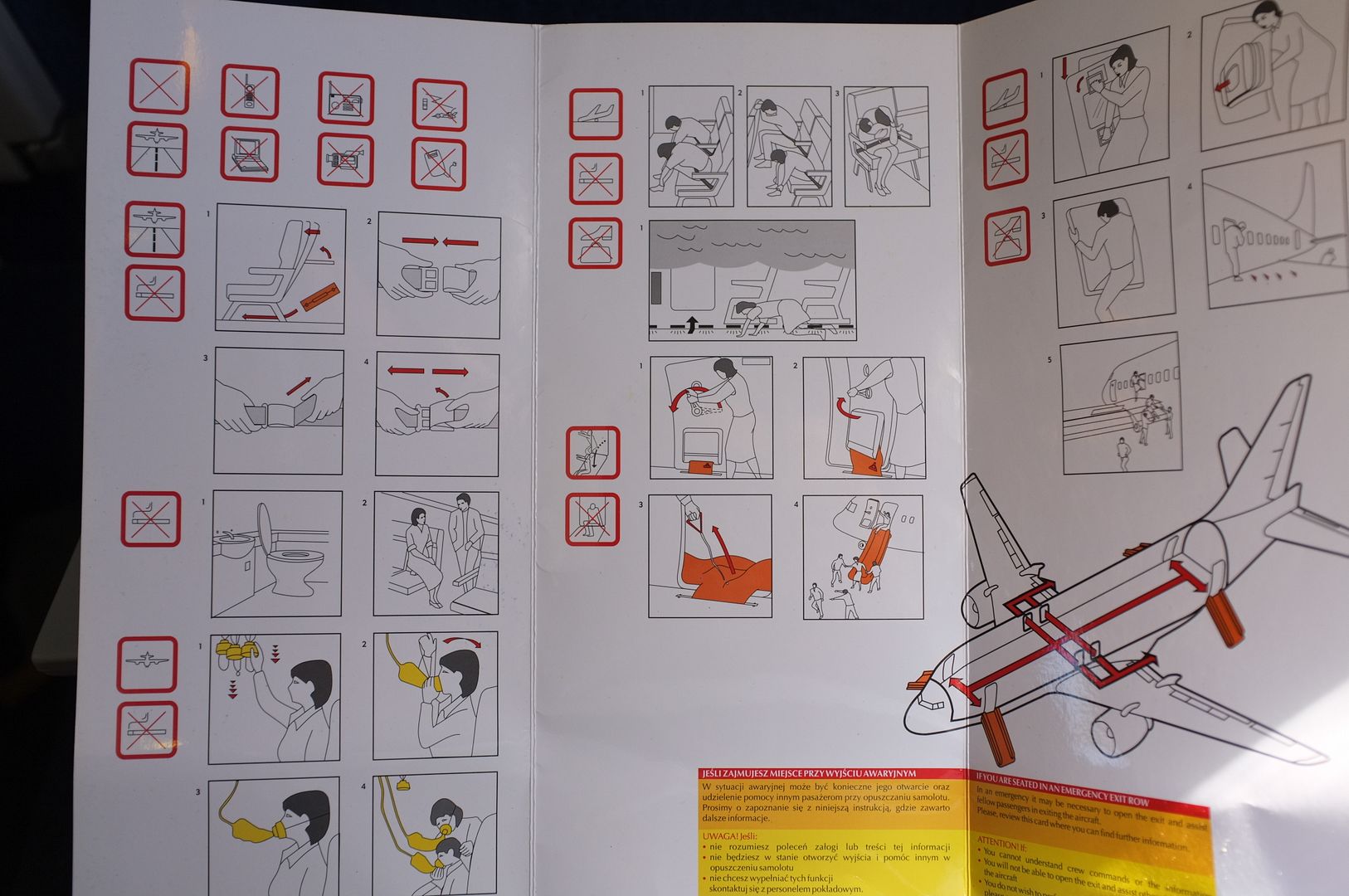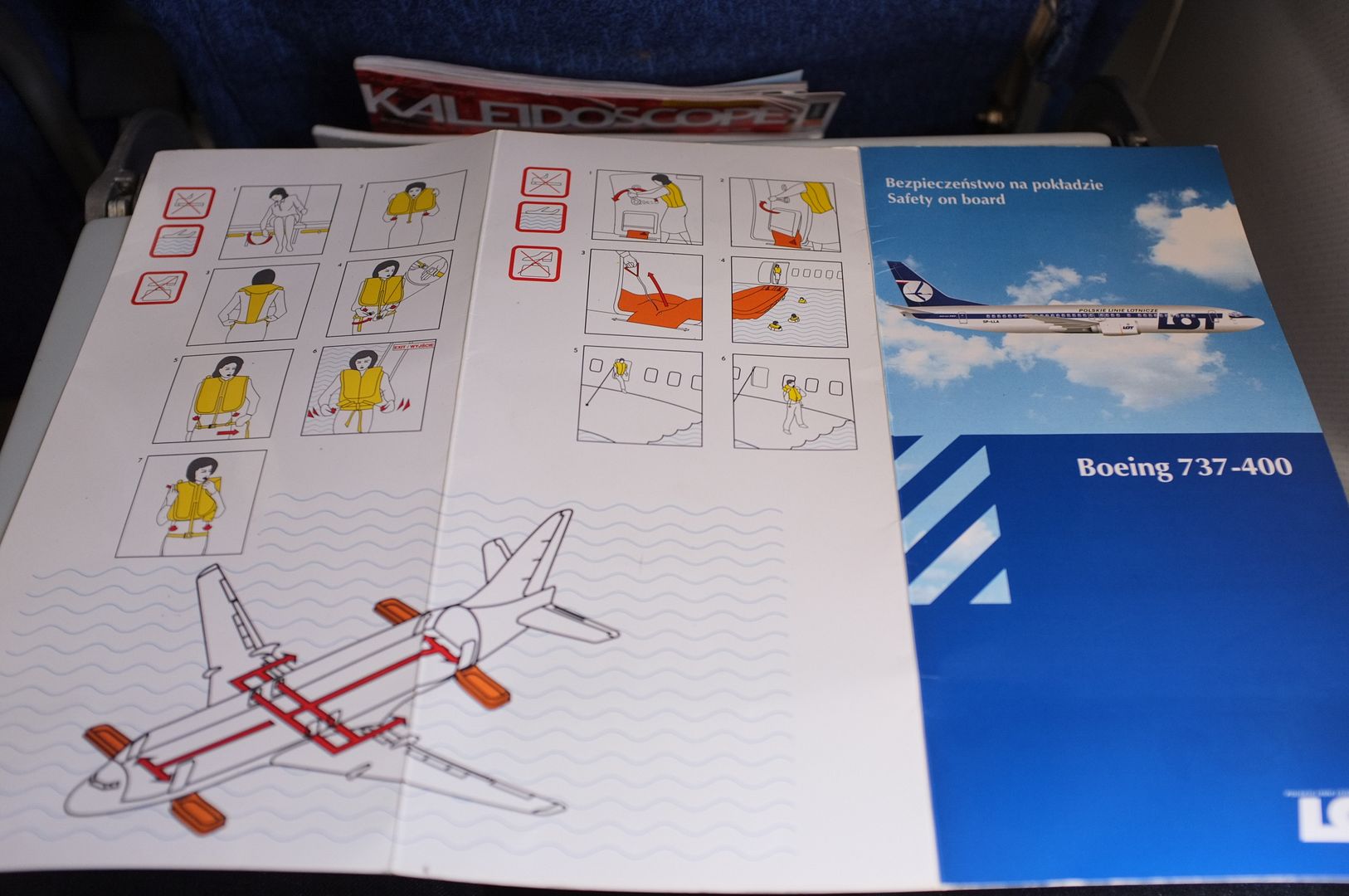 Then a meal and drinks were offered: egg and cheese sandwich and coffee. I was surprised to see the red/white wine offered. After serving drinks in the first few rows, the crew had to go and grab another wine bottle. (One glass of wine they serve was equal amount to, say, orange juice!)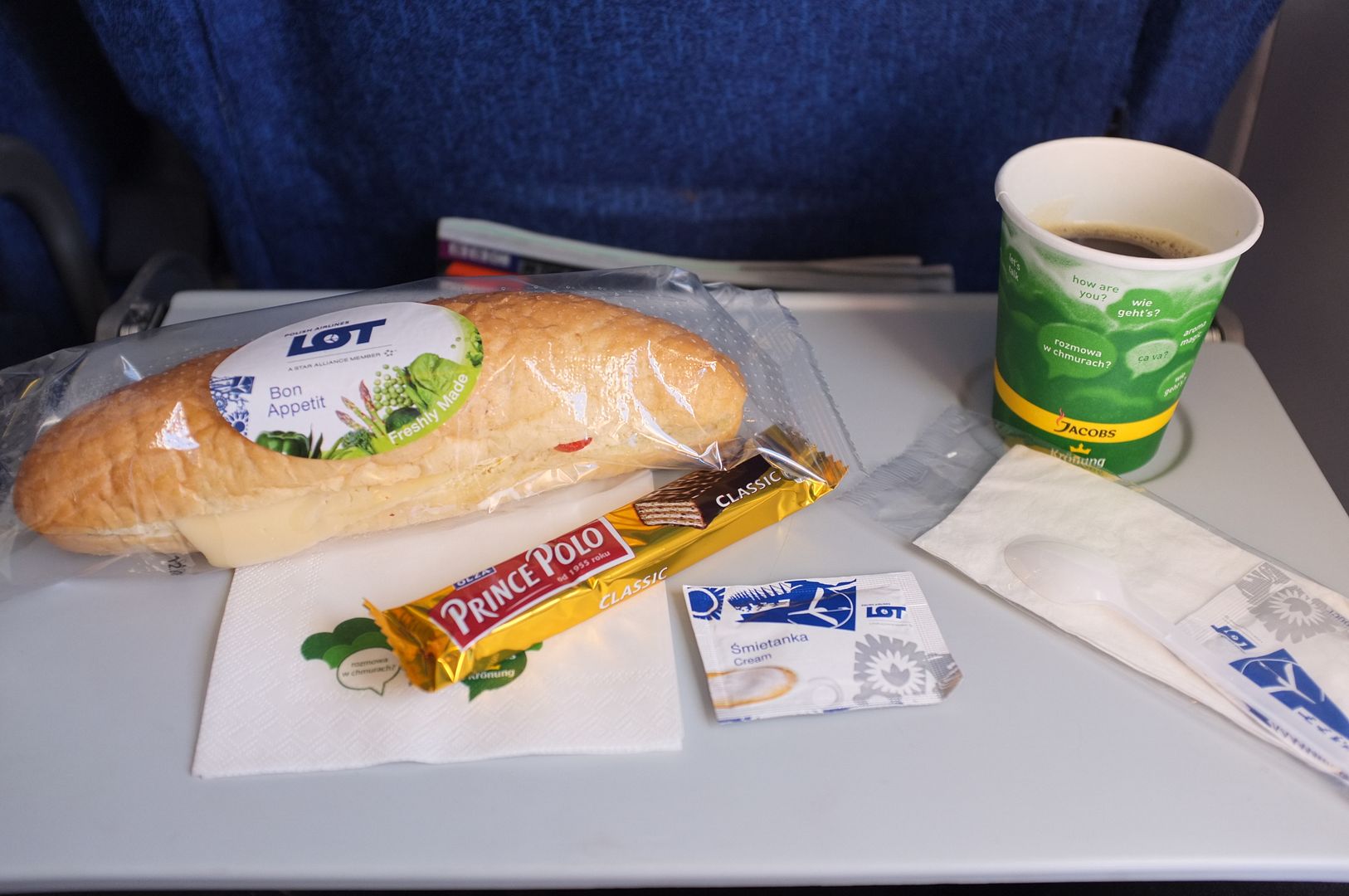 Approaching Warsaw Airport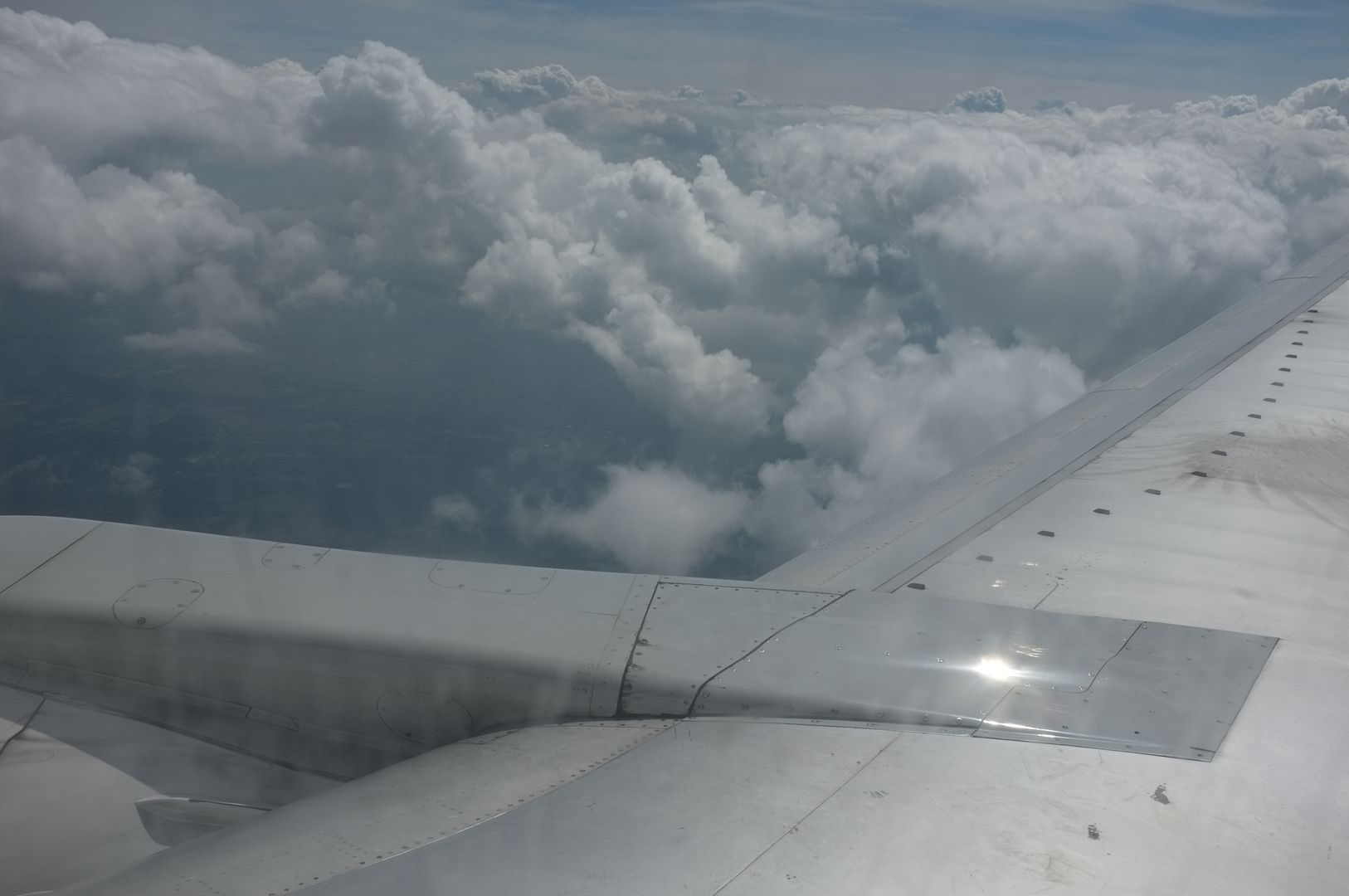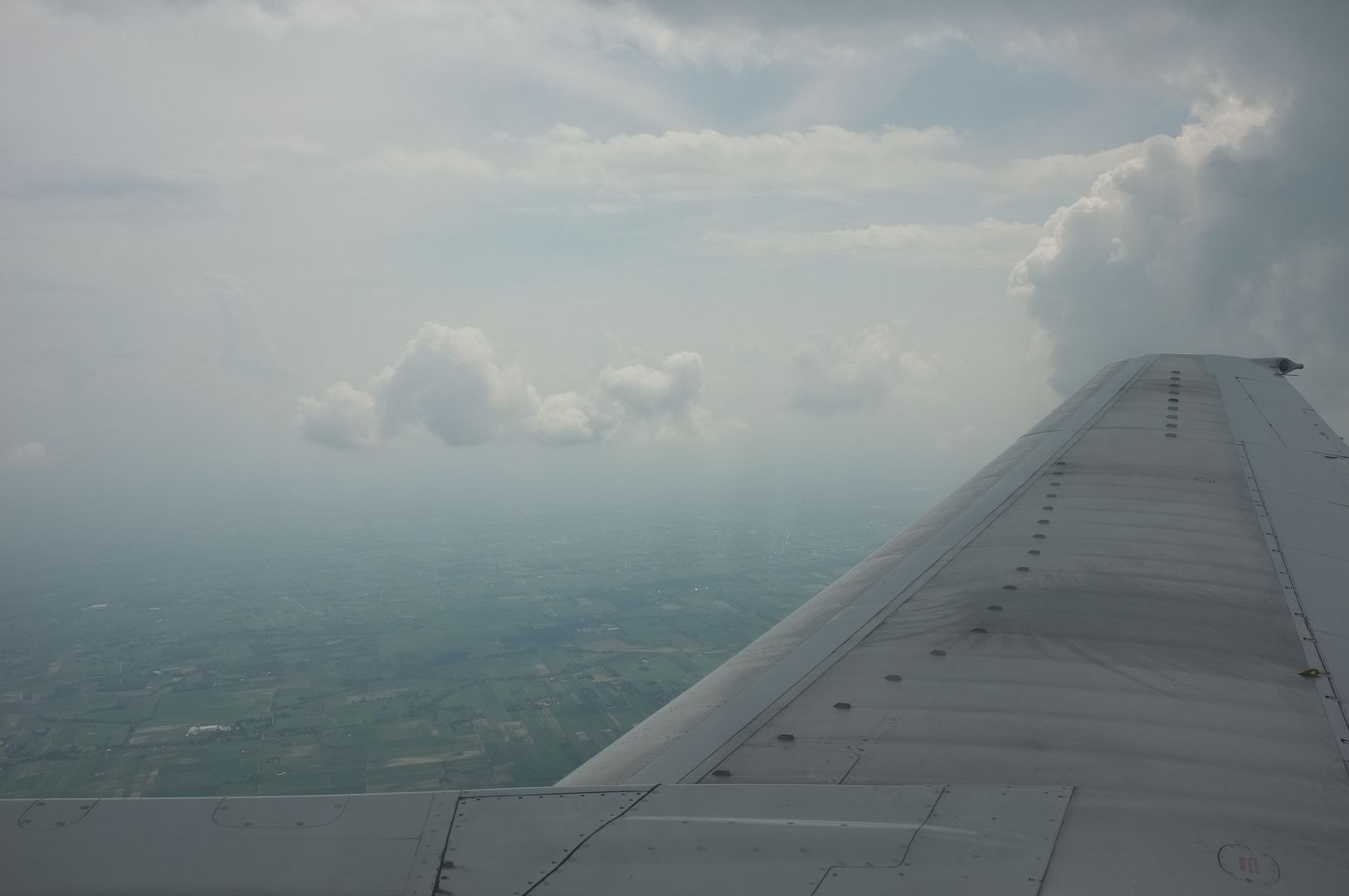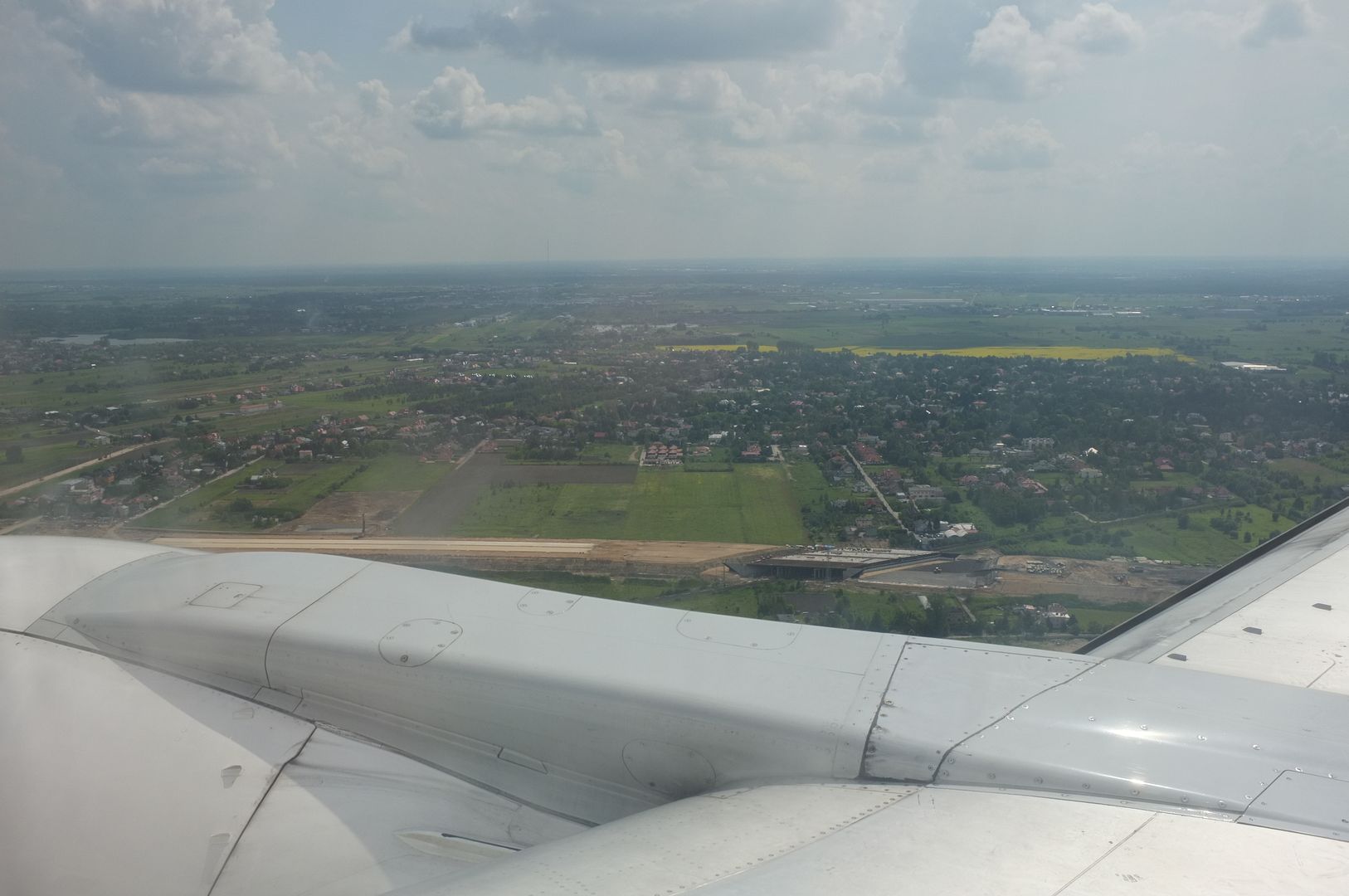 Landed at around 14:10 which was slightly behind a scheduled time of 14:05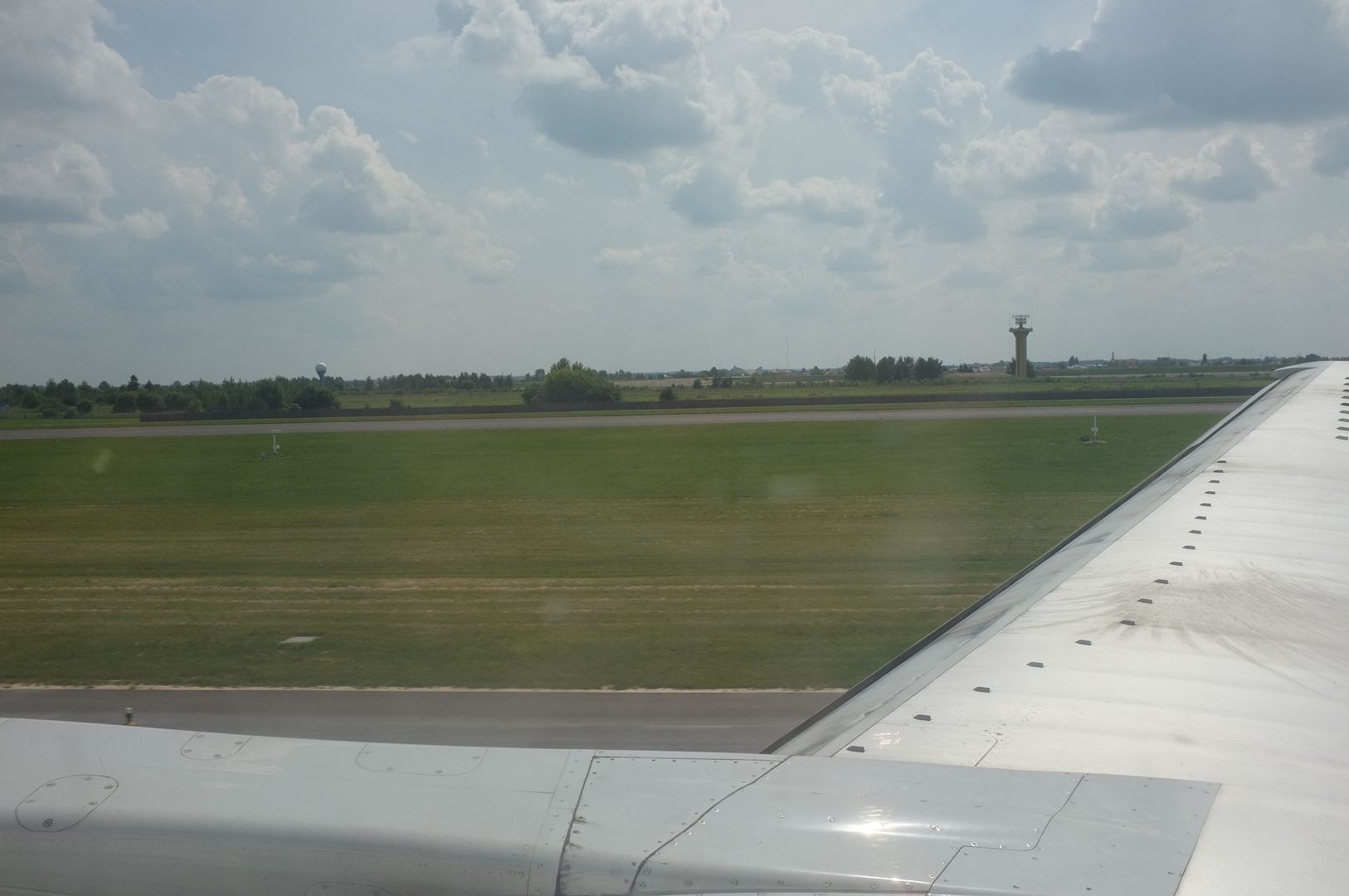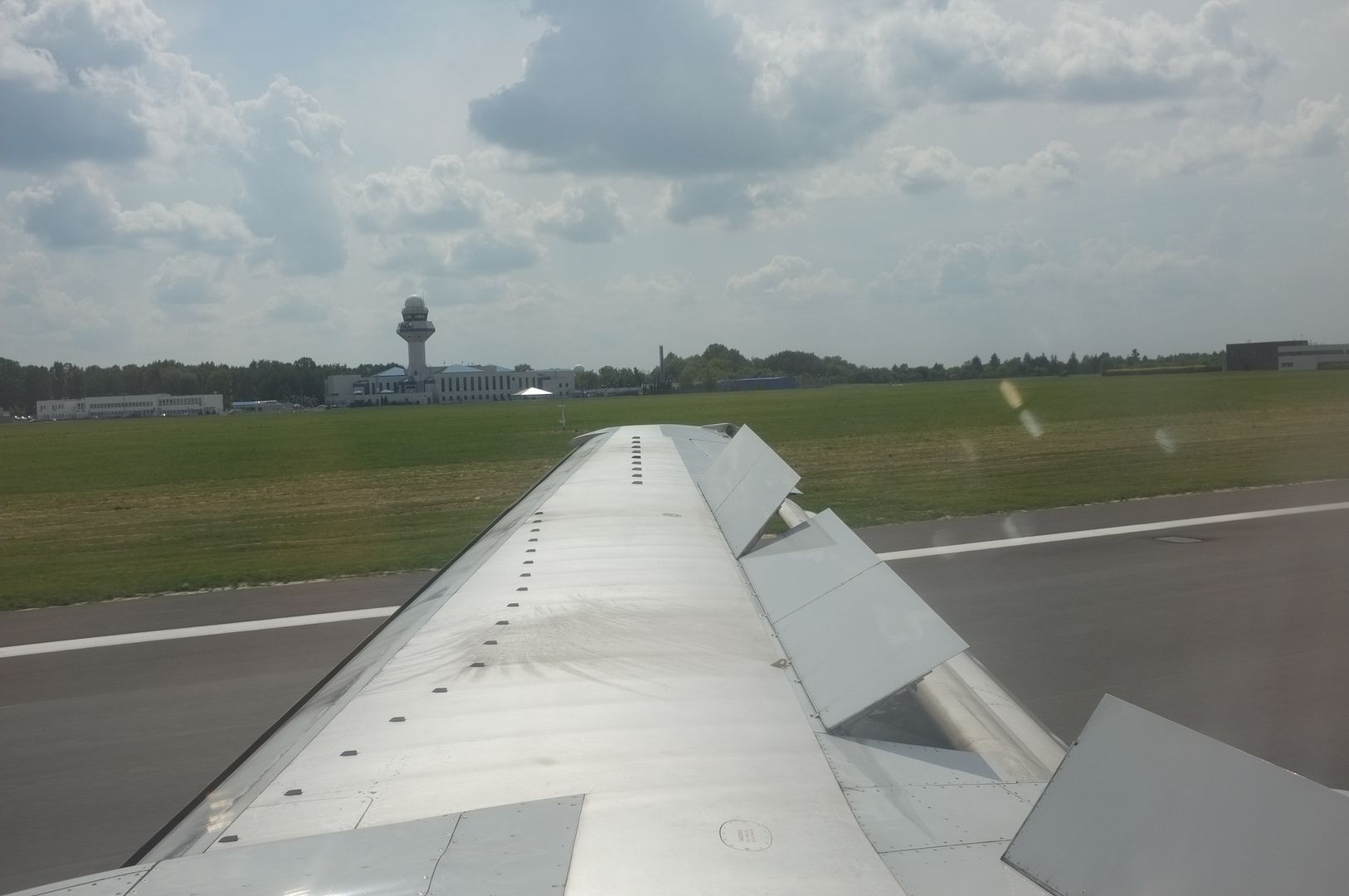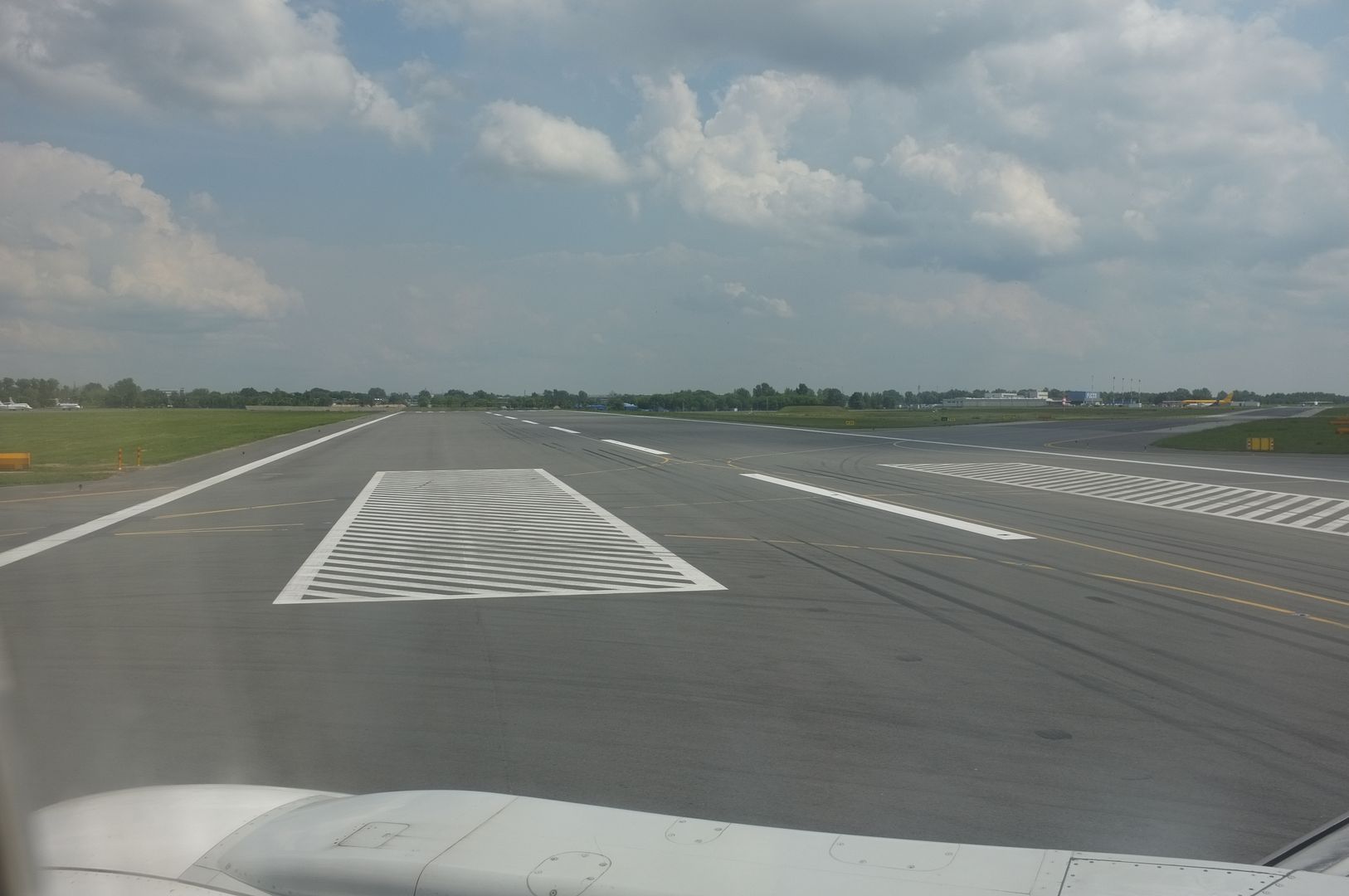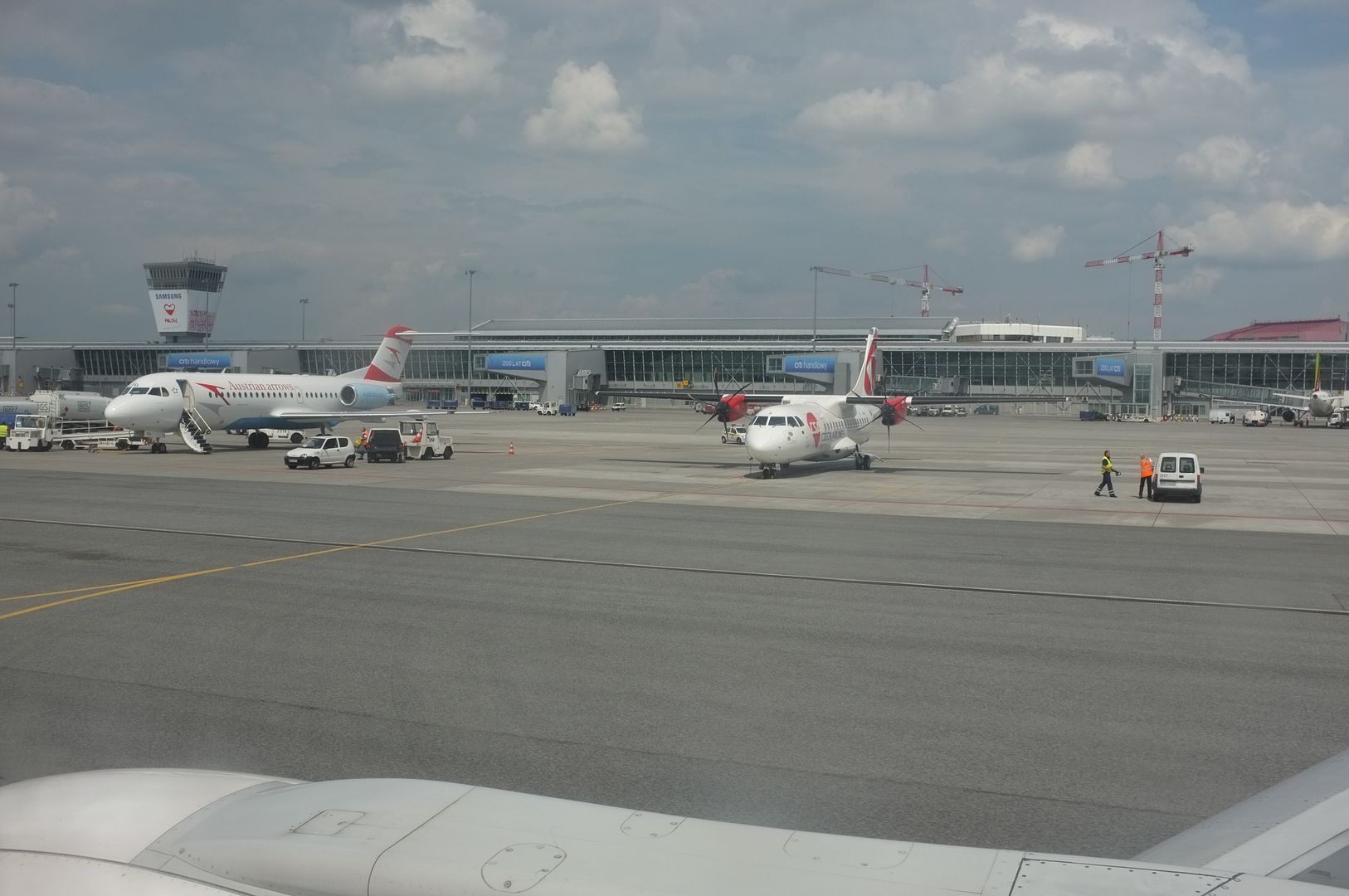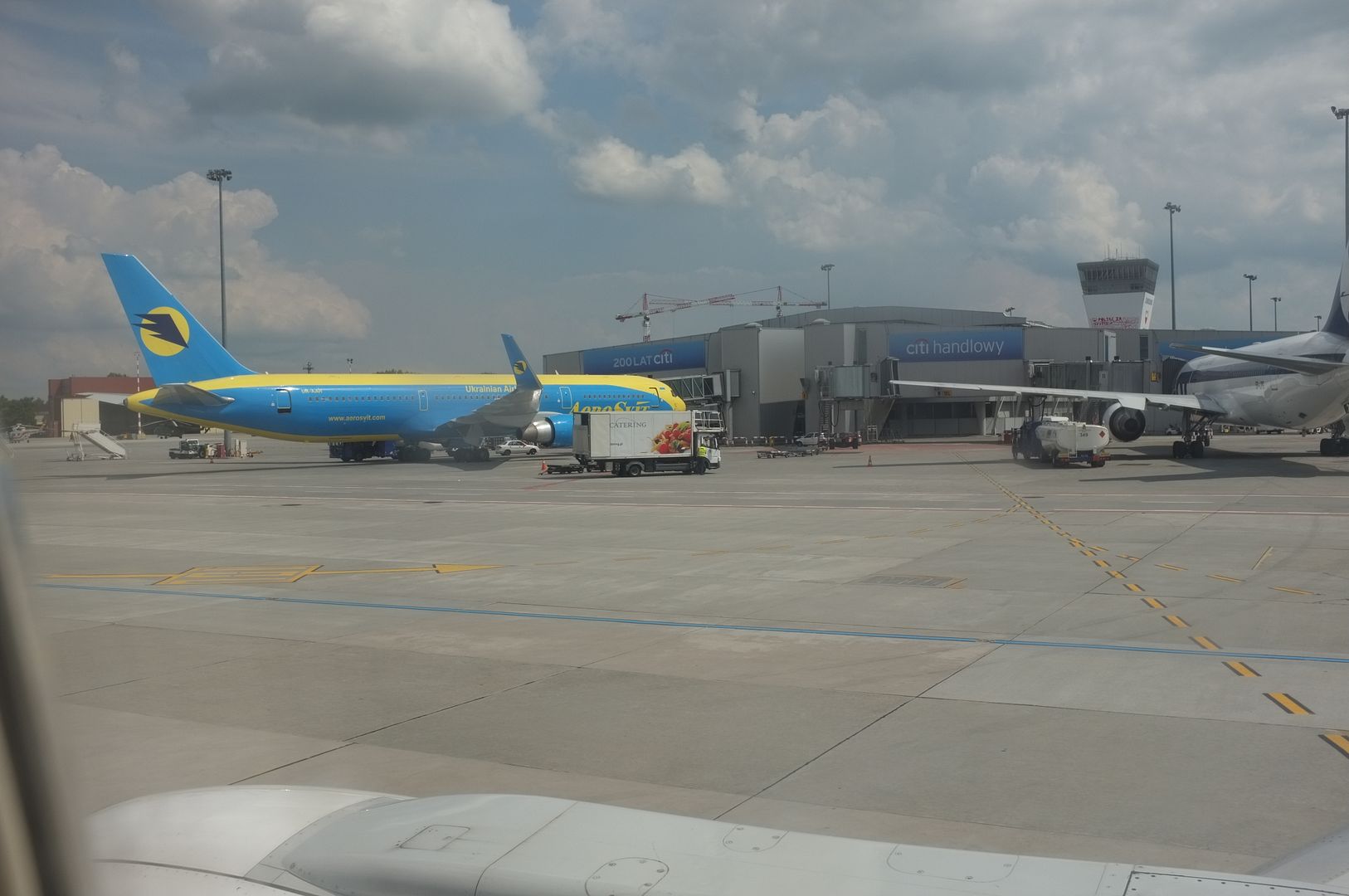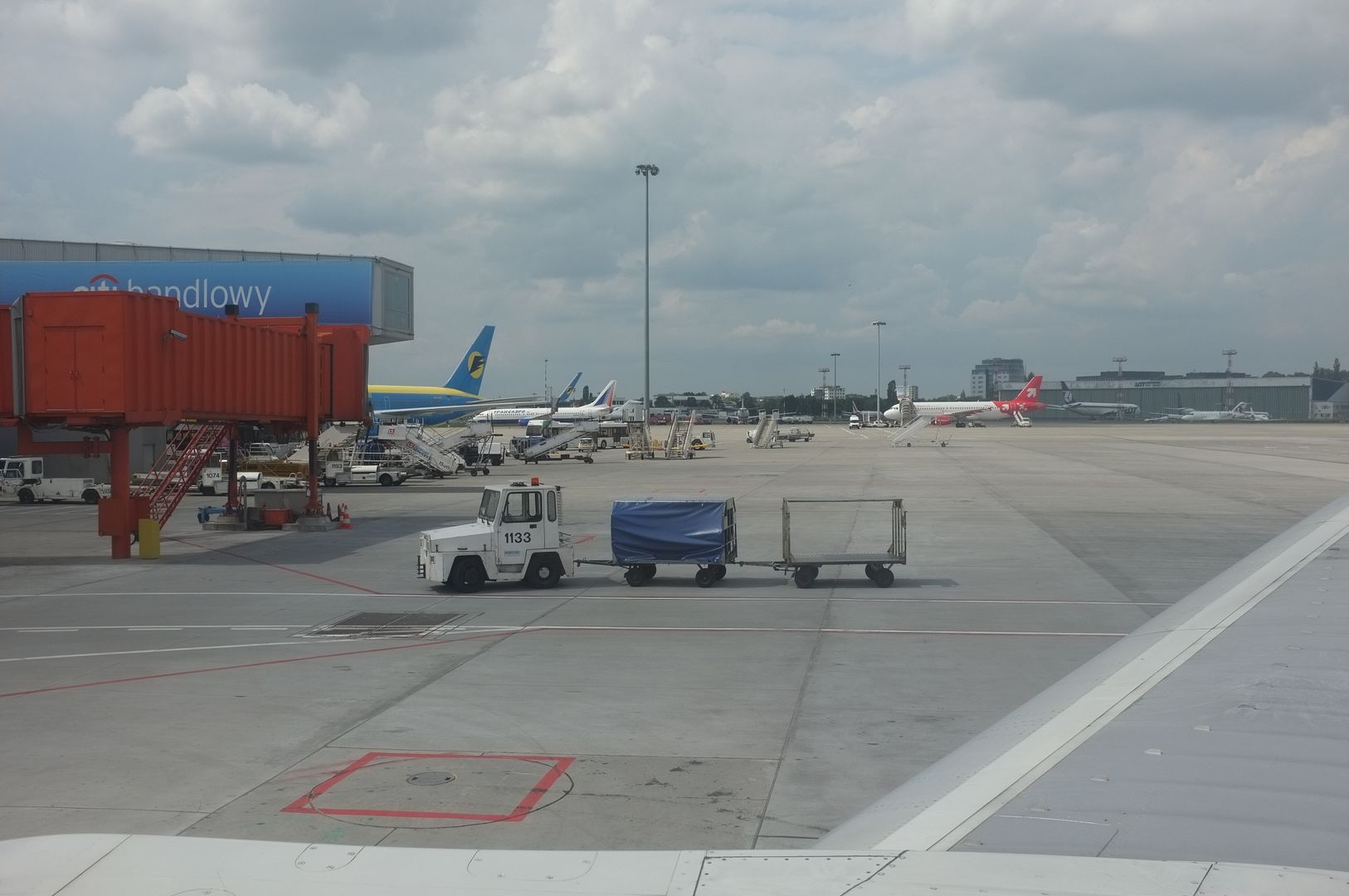 Disembarking the plane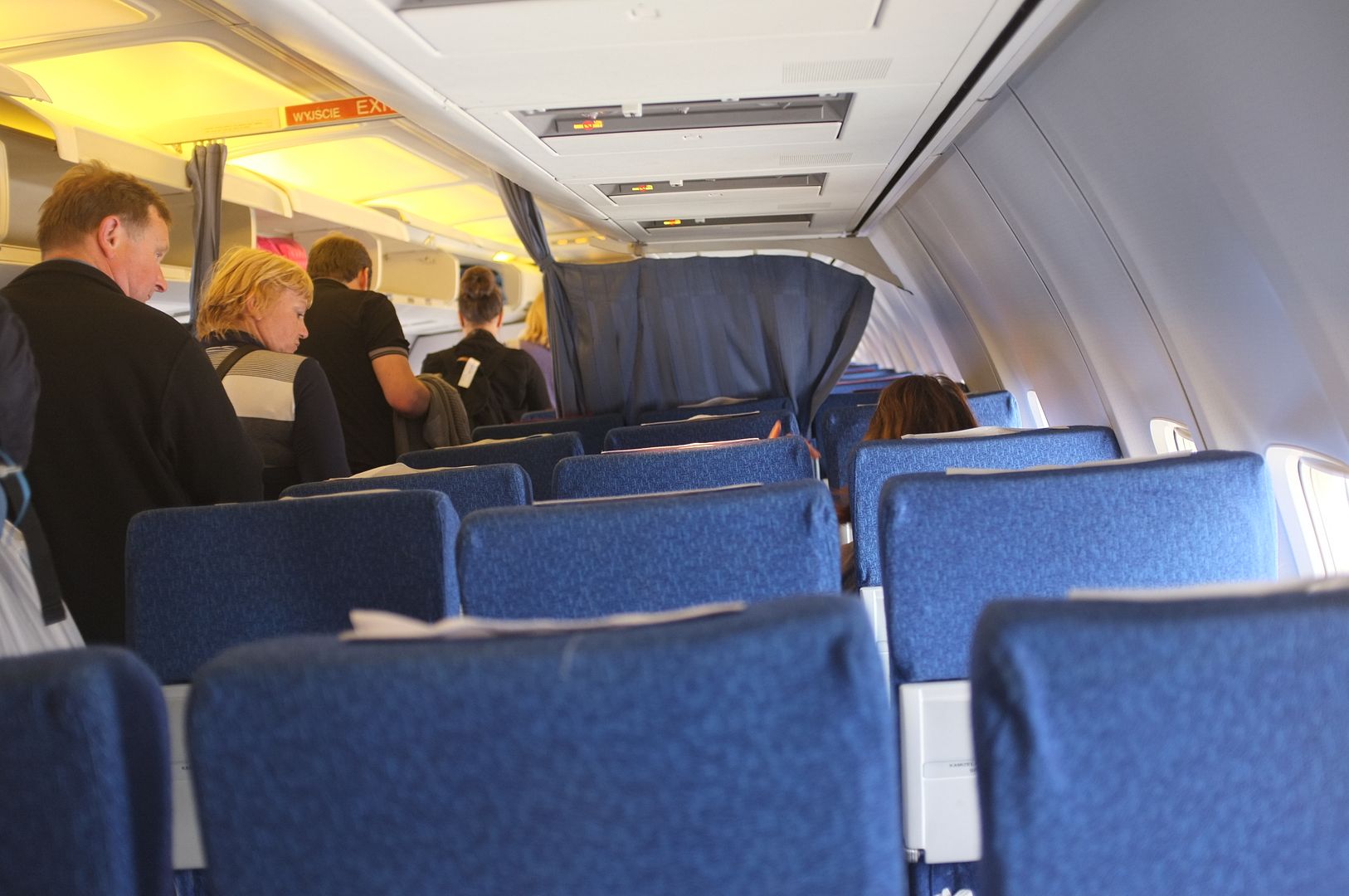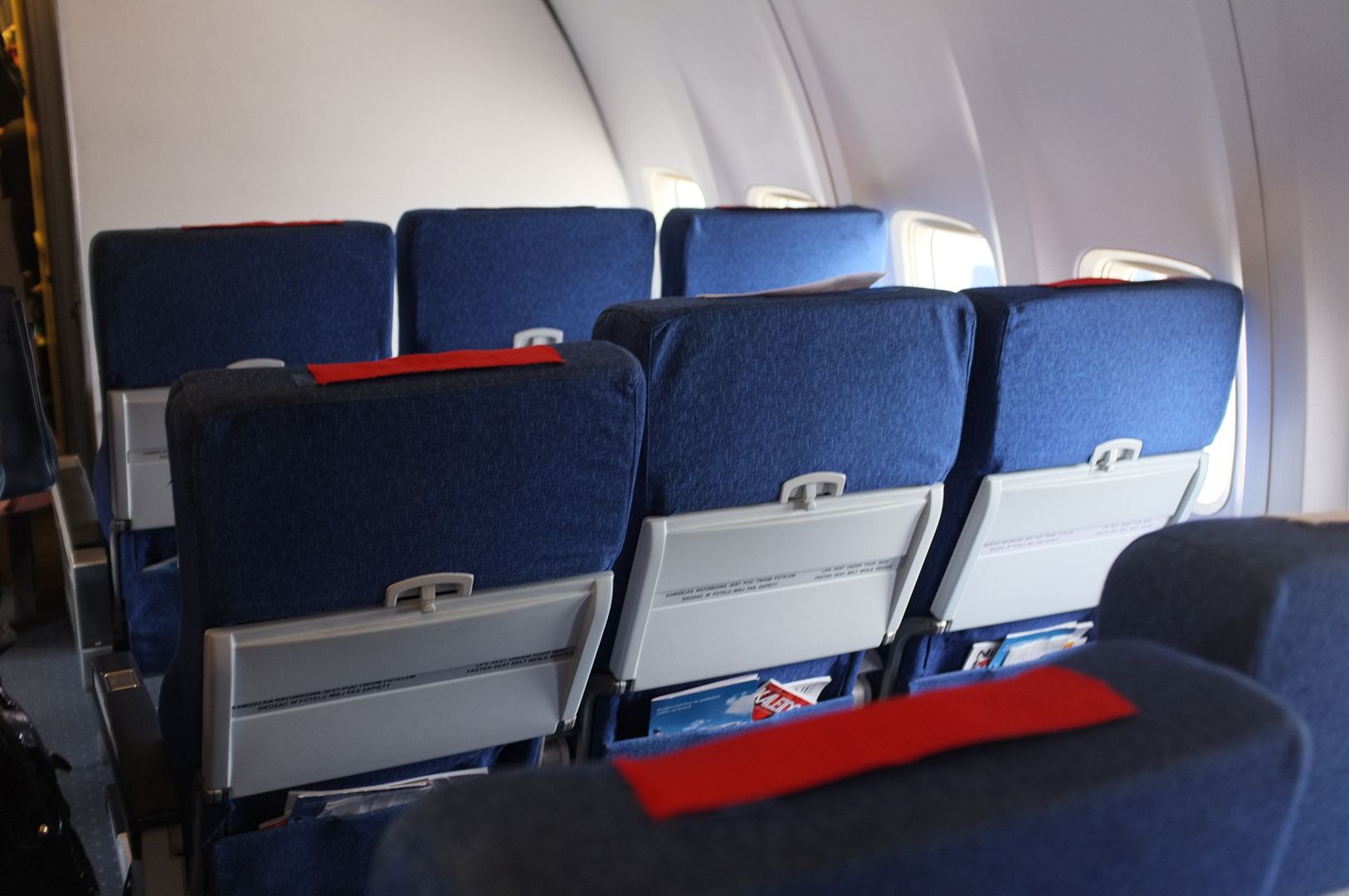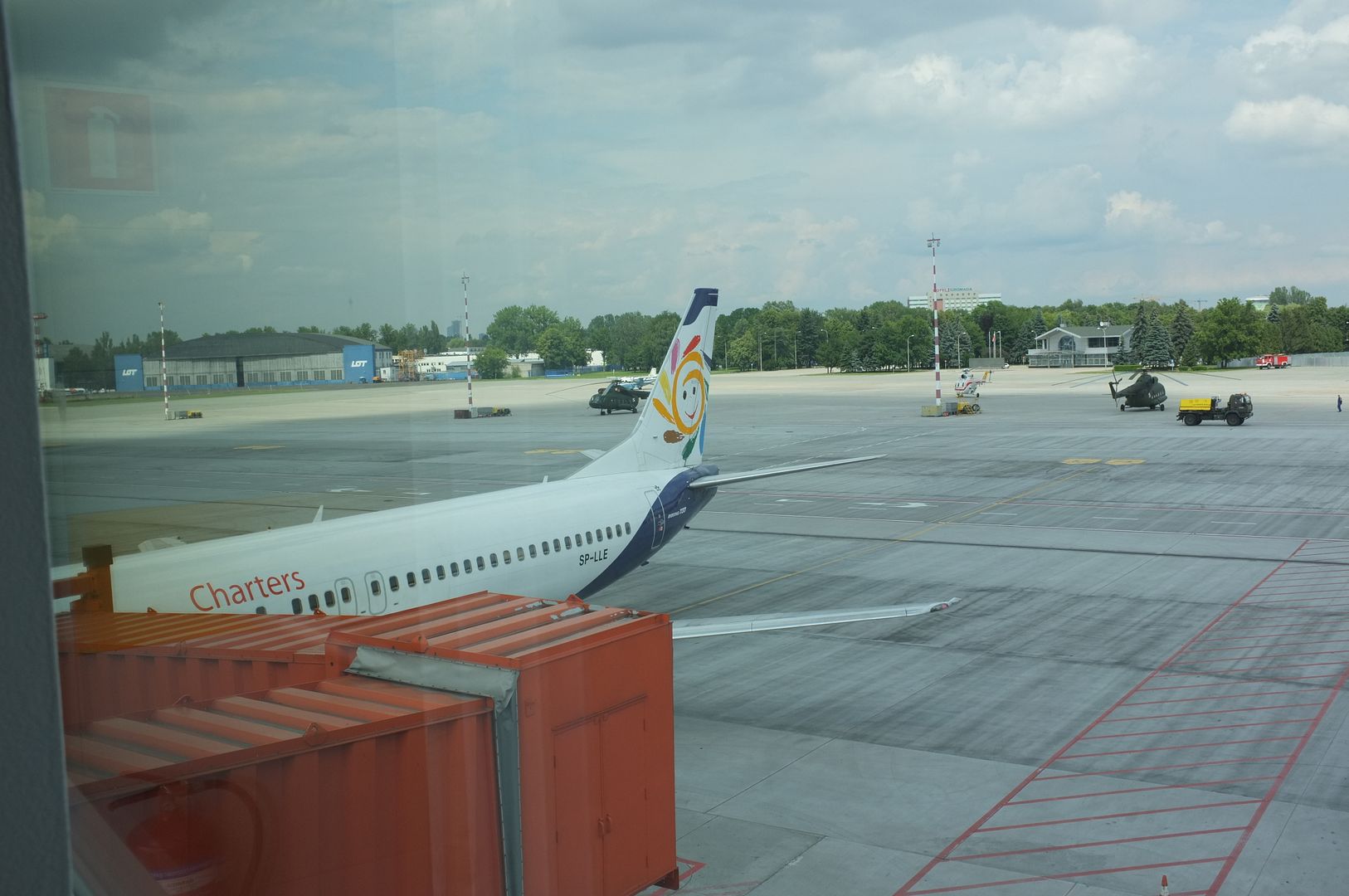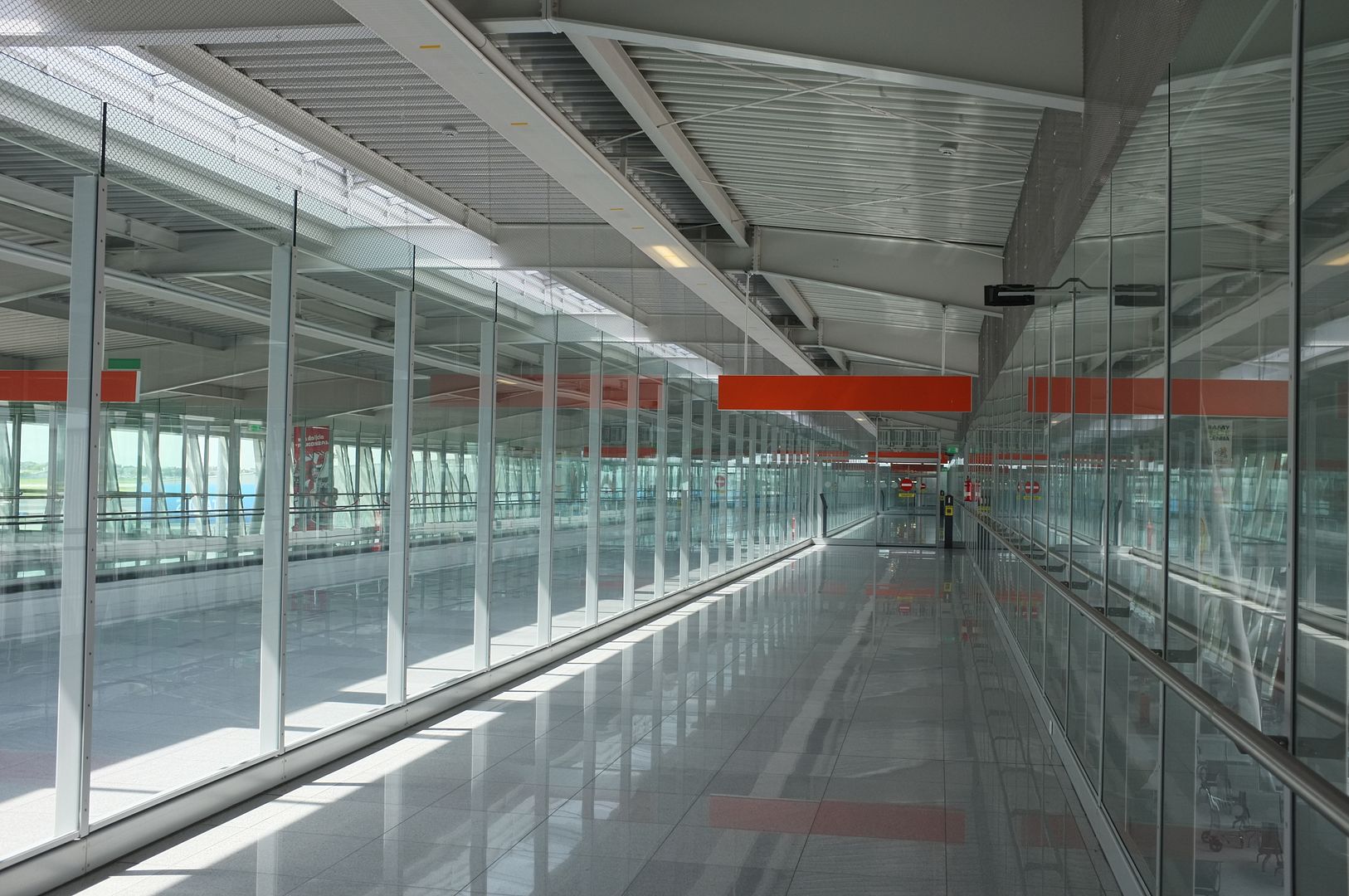 Then I proceeded to a passport check which did not take longer than a few minutes. After that, we were required to go pass another security check for transit passengers. This check took around 10 minutes. I then went to the transfer desk to get a boarding pass and then went to a lounge.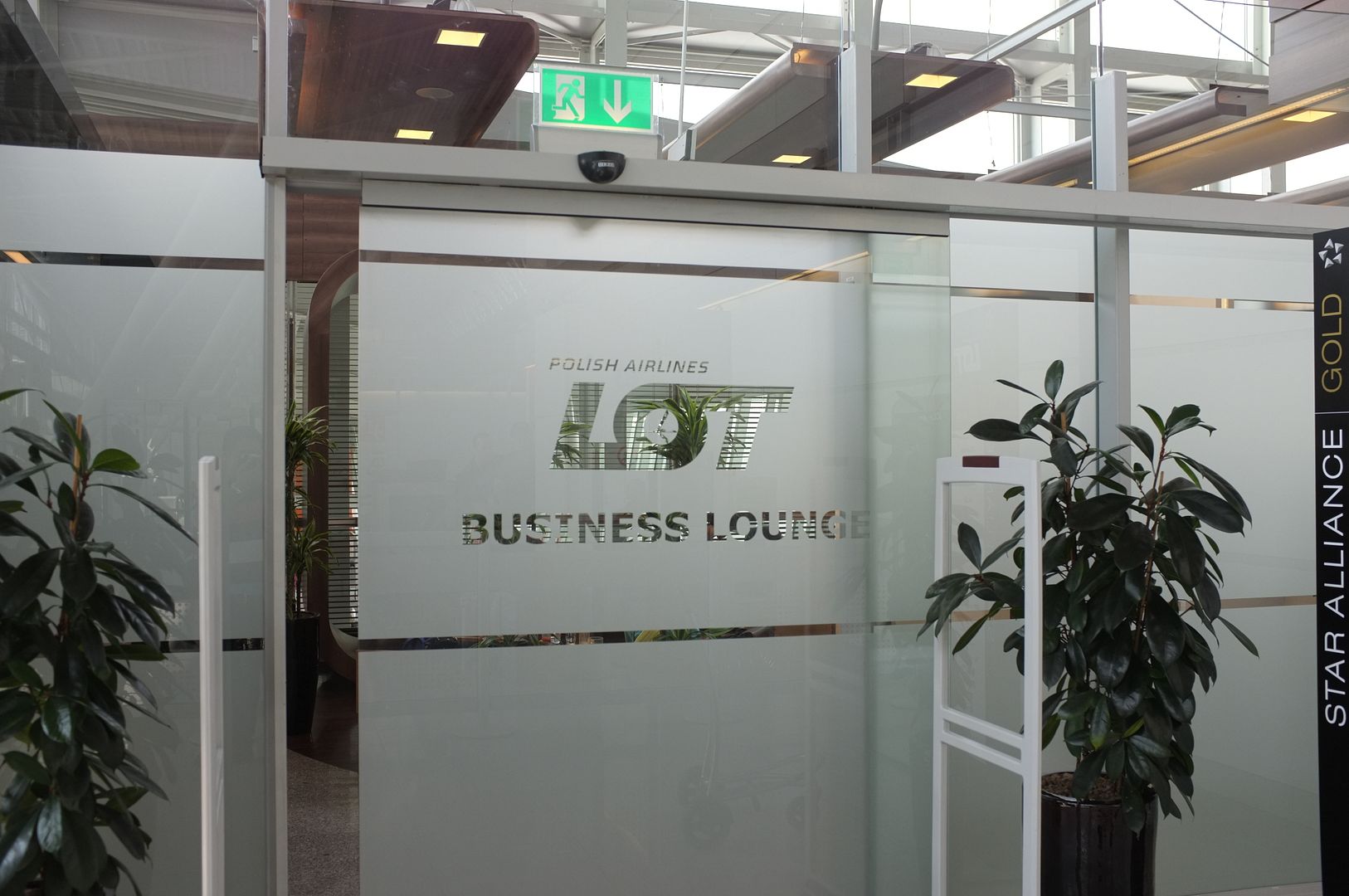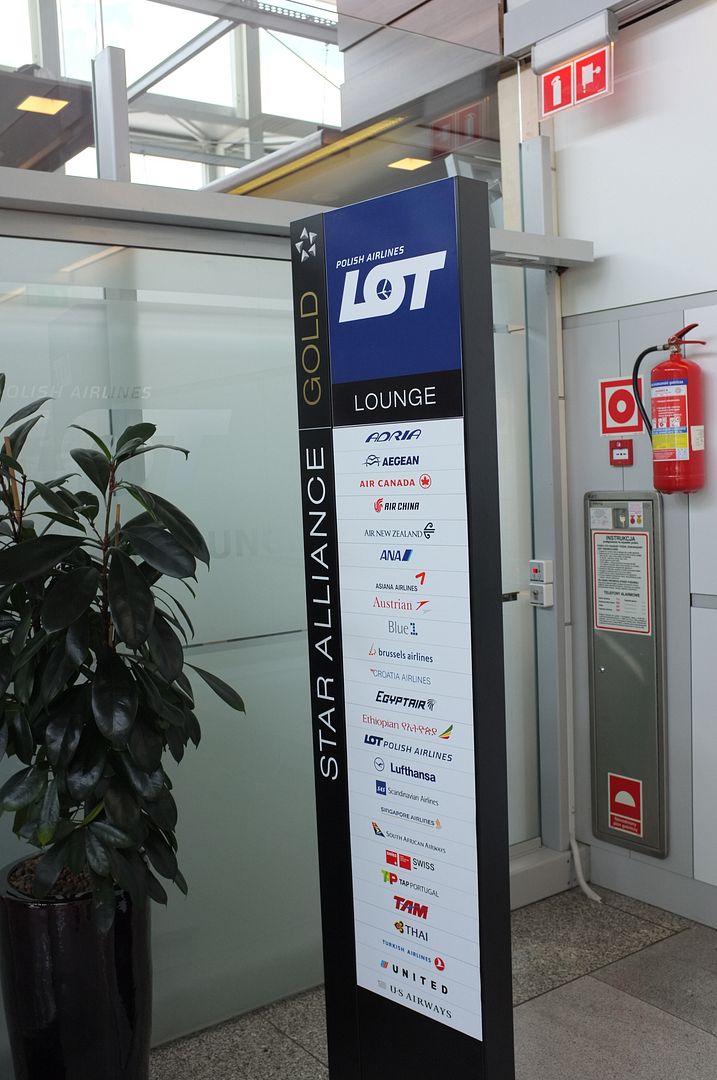 The lounge was very busy. It was very hard to find a seat. Some people have had to stand as there were literally no seats left. At one point, a gentleman sitting next to me asked me to look after his seat while he went to grab some drinks and refreshments. I only had a drink and a muffin then I decided to leave the lounge. I didn't take any pictures inside the lounge on this particular visit. But I will cover this lounge on the next part (WAW-MXP sector) when the lounge was much less busy.
Here are some pictures taken during the walk from the lounge to my boarding gate area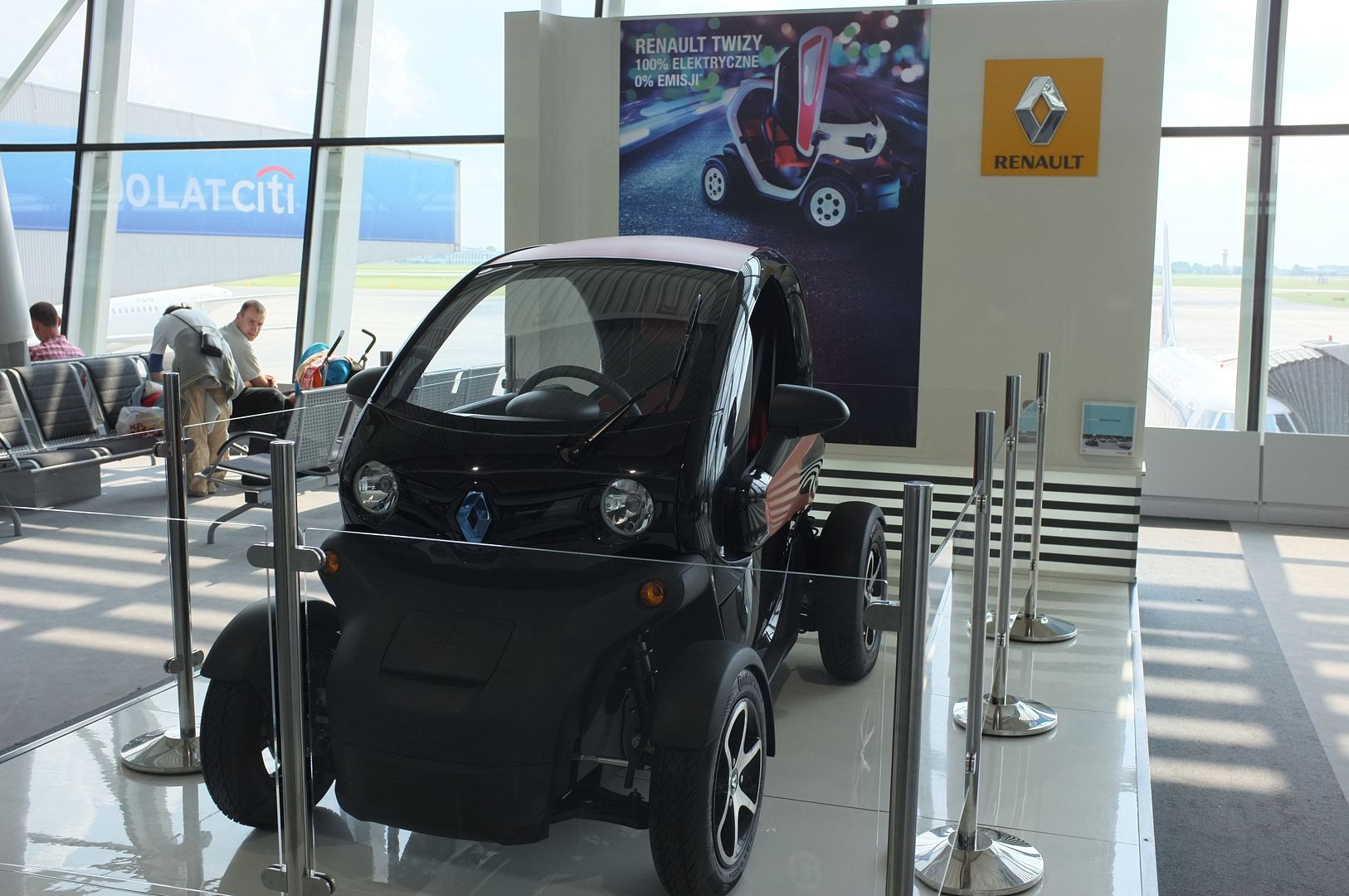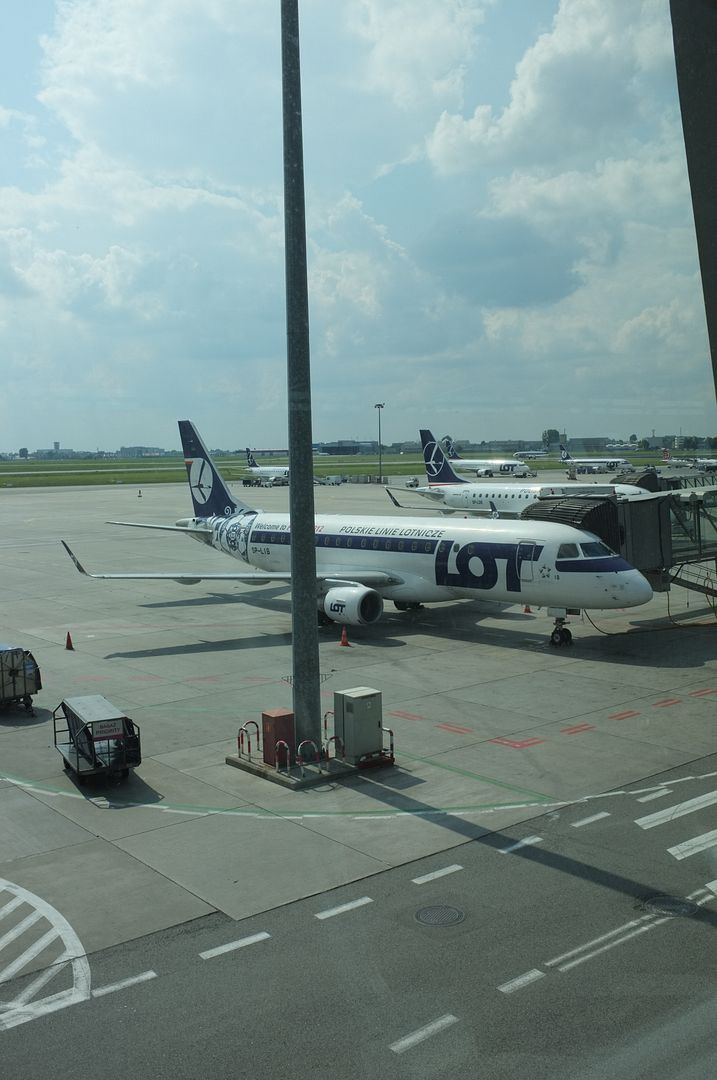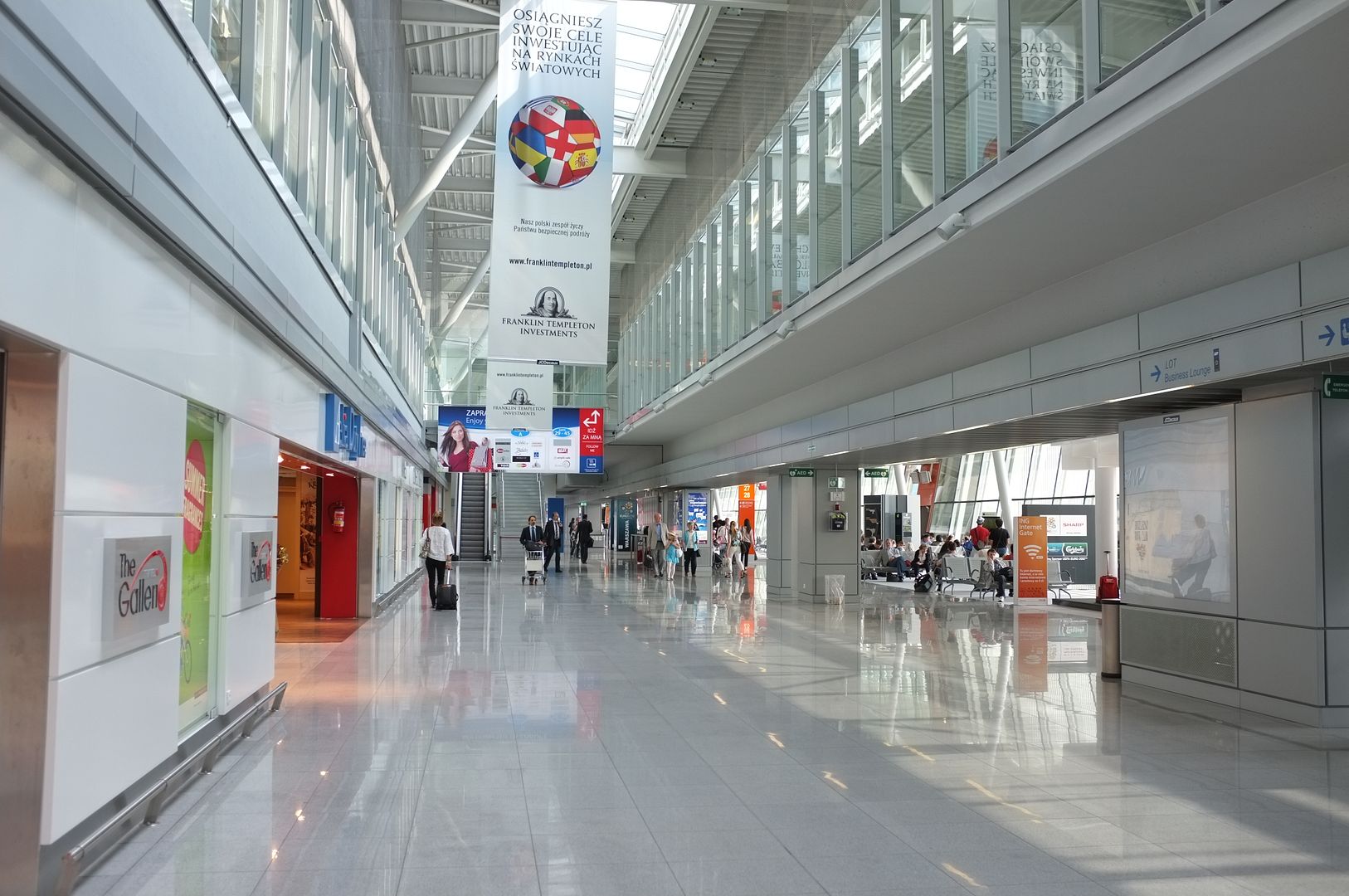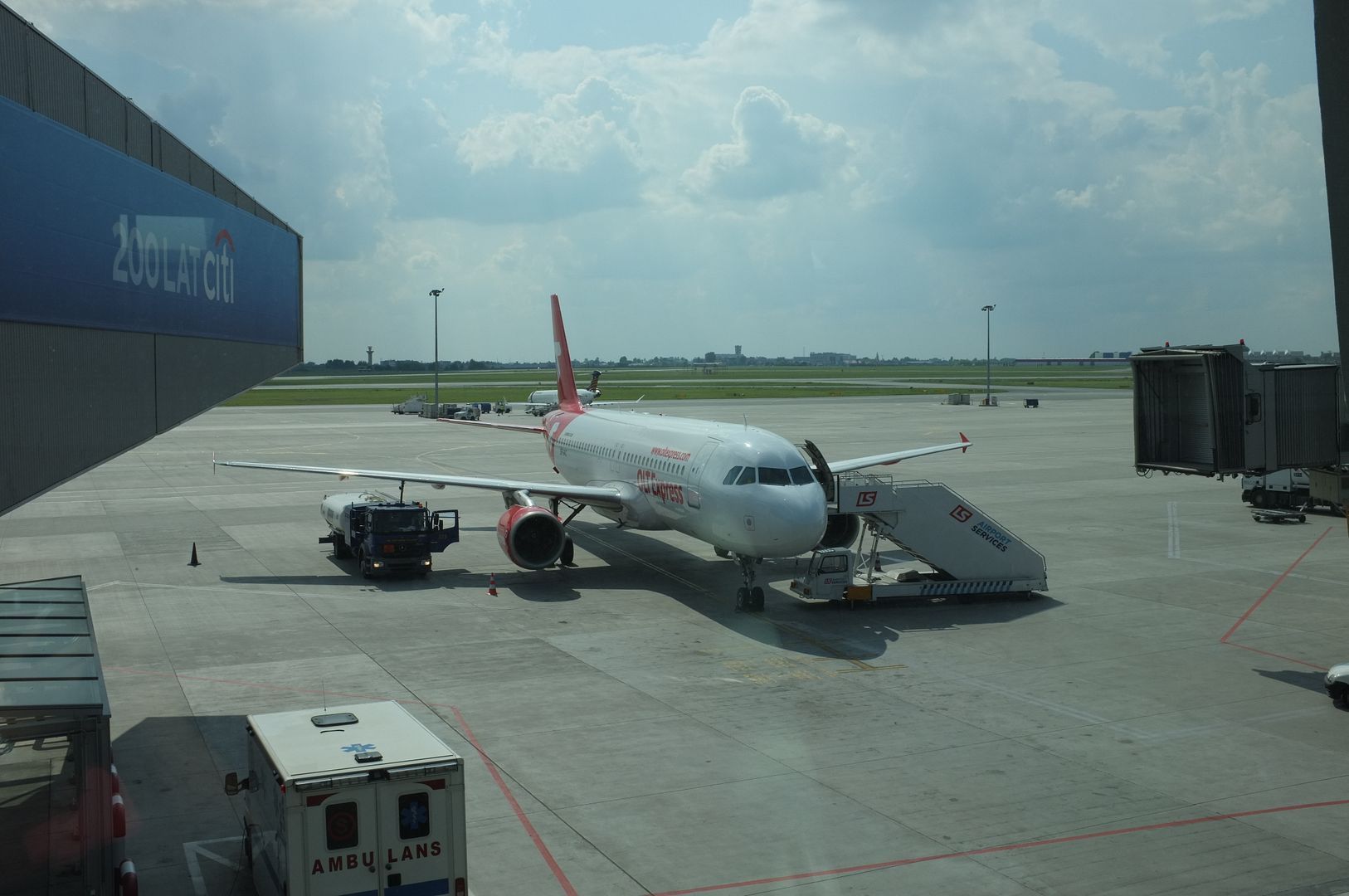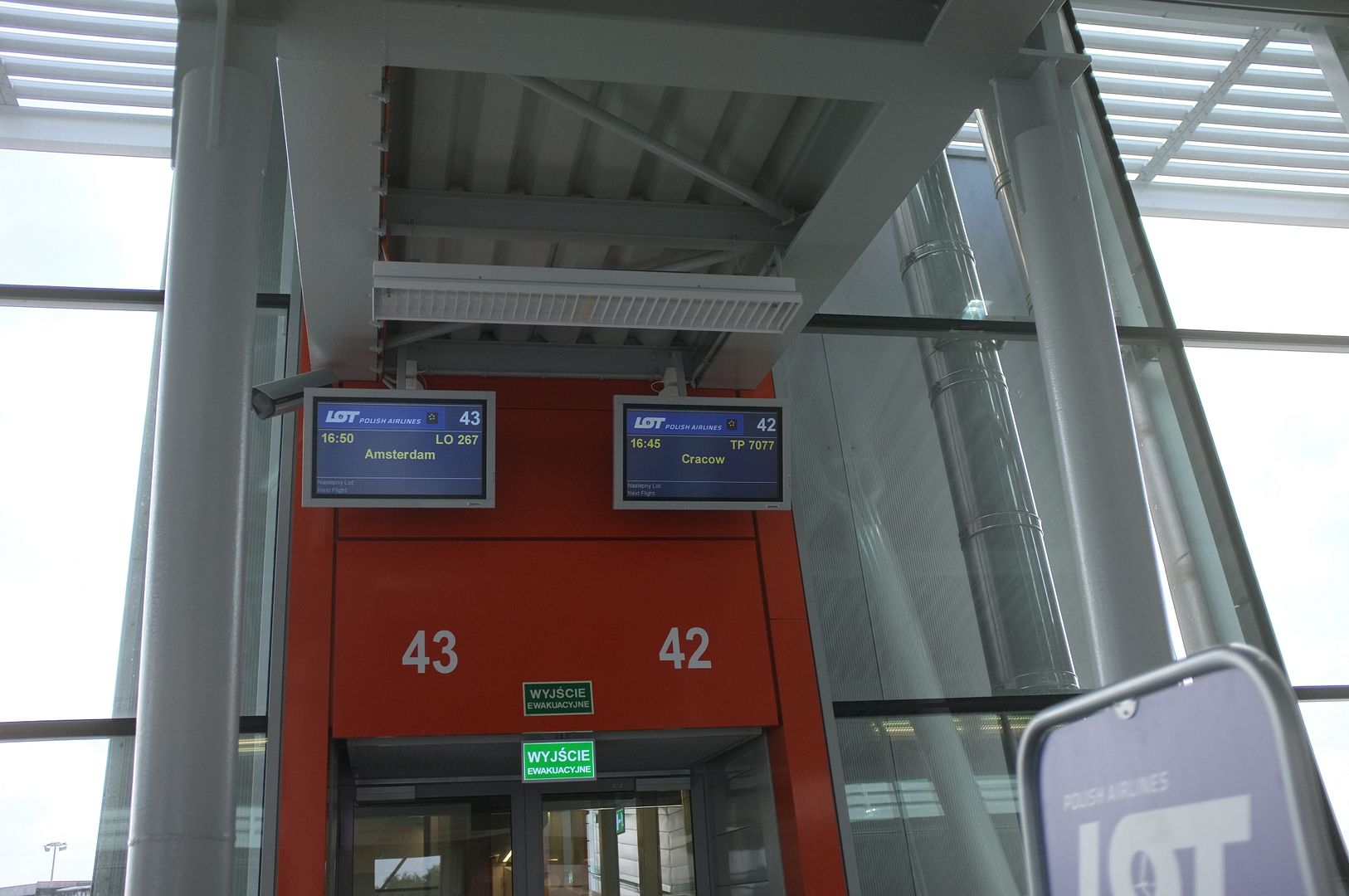 Here are the details of the flight
Date: 12 June 2012
Airline: EuroLOT
Flight: LO3923
Aircraft: ATR72
Route: WAW-KRK
Registration: SP-LFA
When the boarding call began, I queued up to get my boarding pass check, and then board a bus. The bus waited until every passenger got on, then drove to the airplane.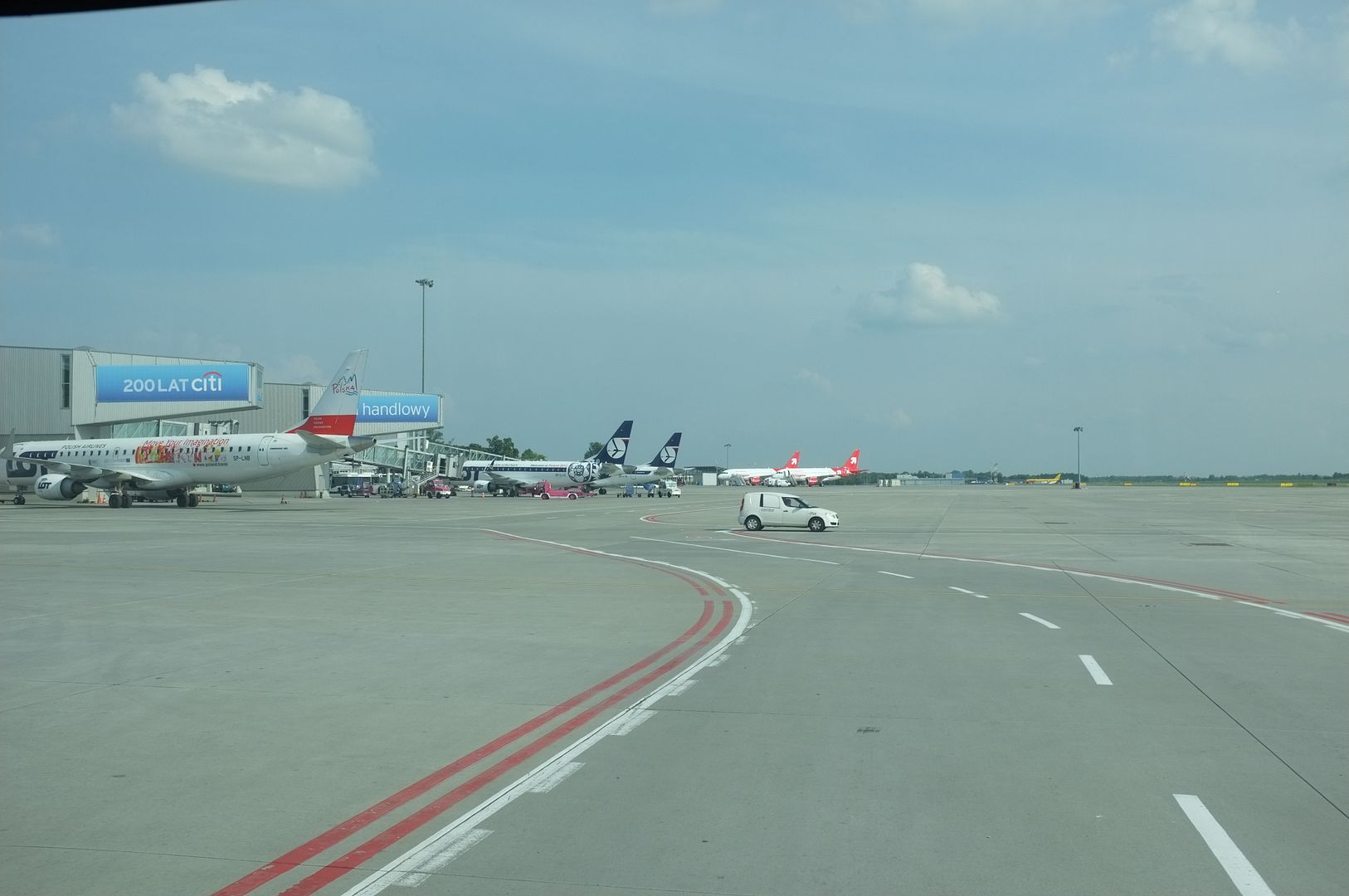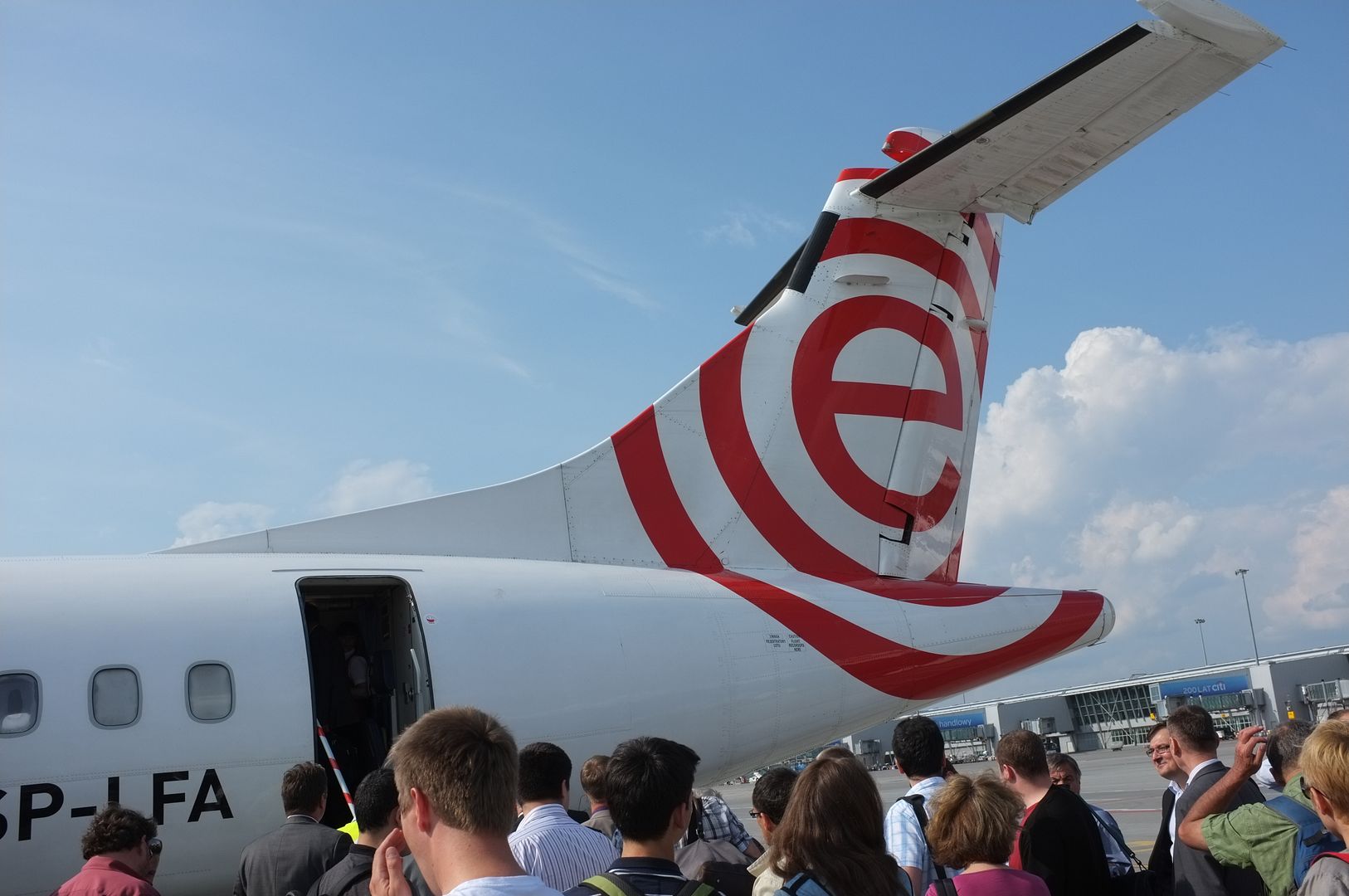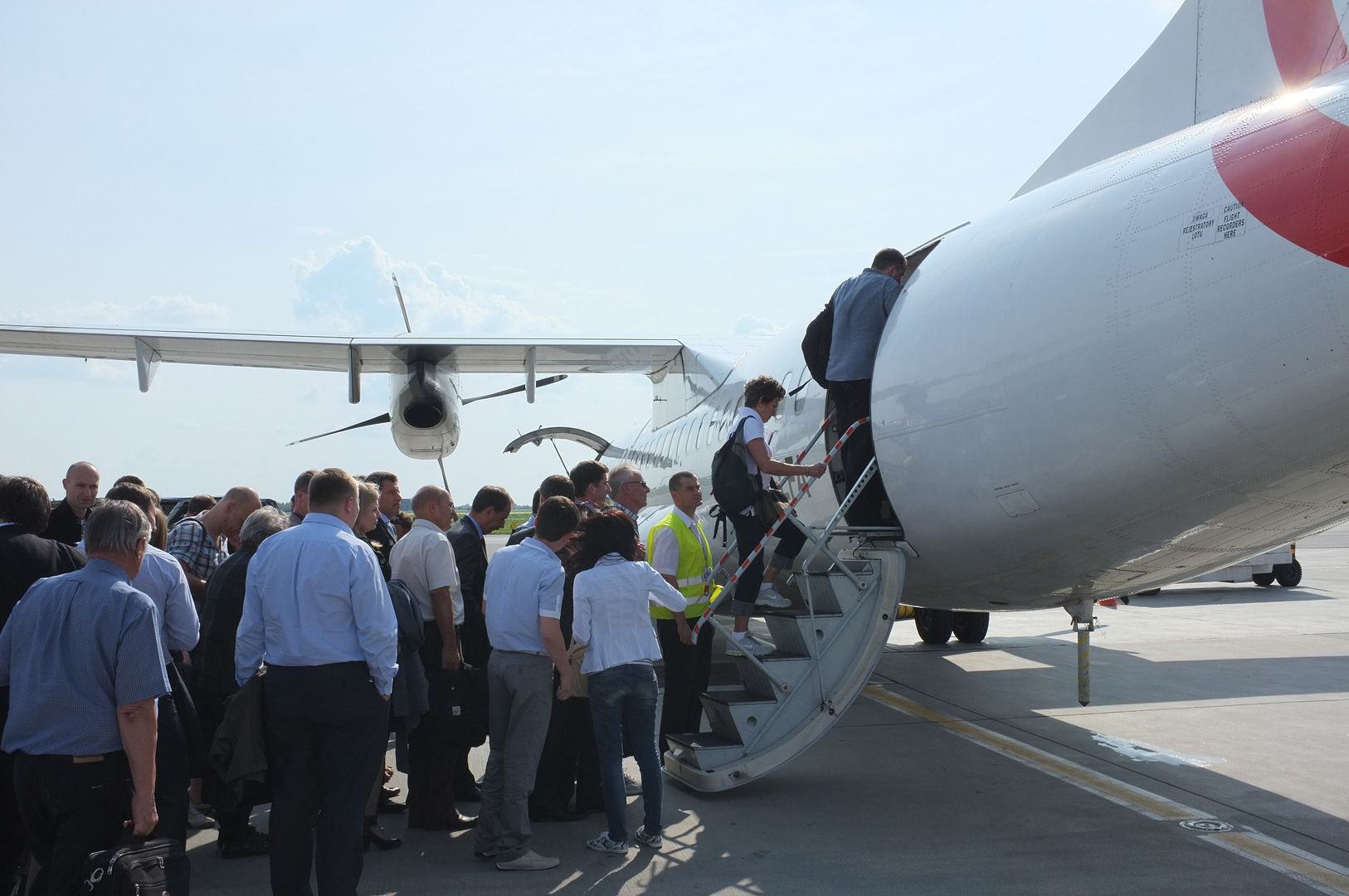 I was the last person to go on board, as I made my way to my seat 3D, I didn't see an empty seat. After the aircraft door closed, safety demonstration was performed, the aircraft then taxied to the runway.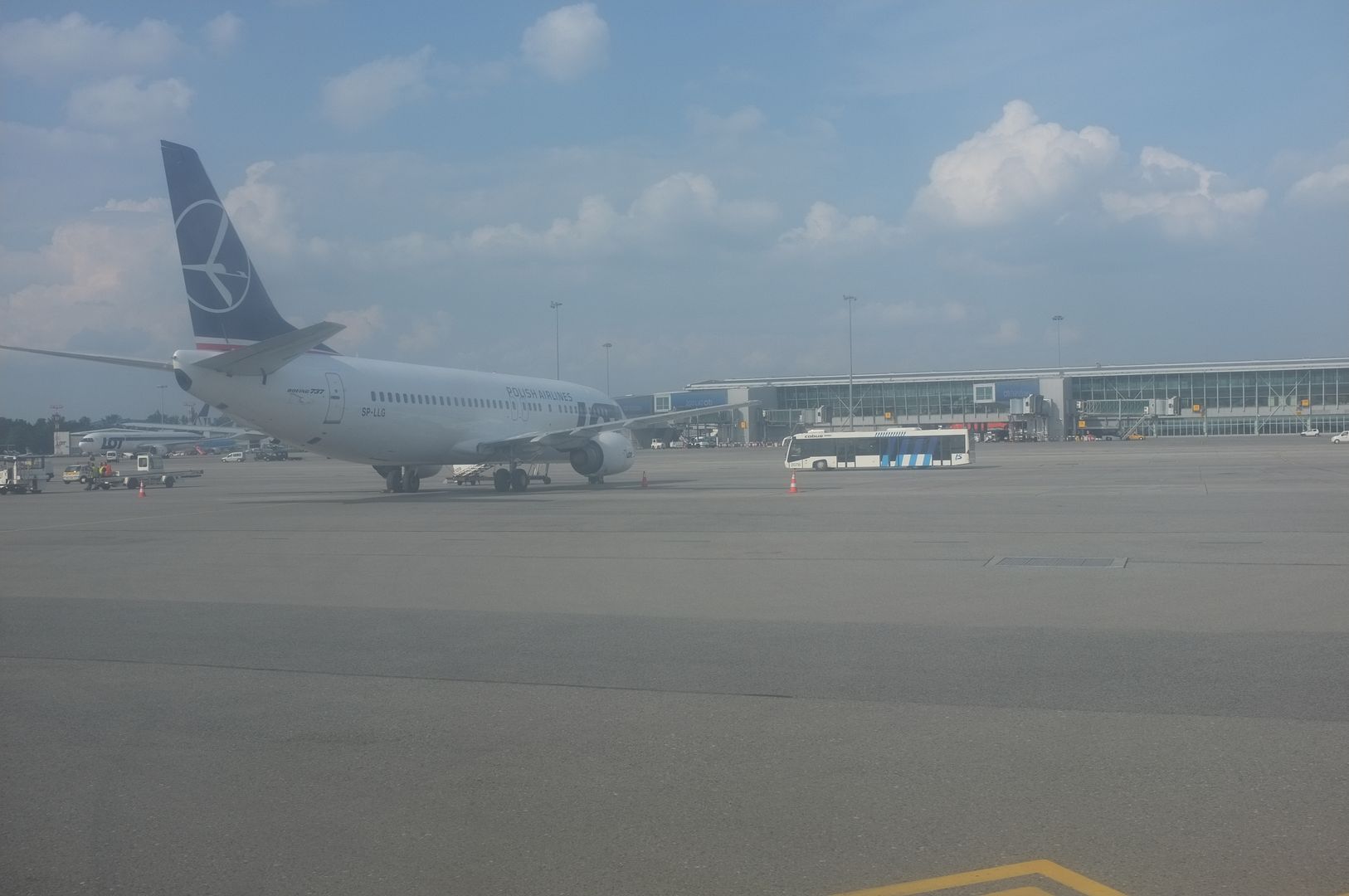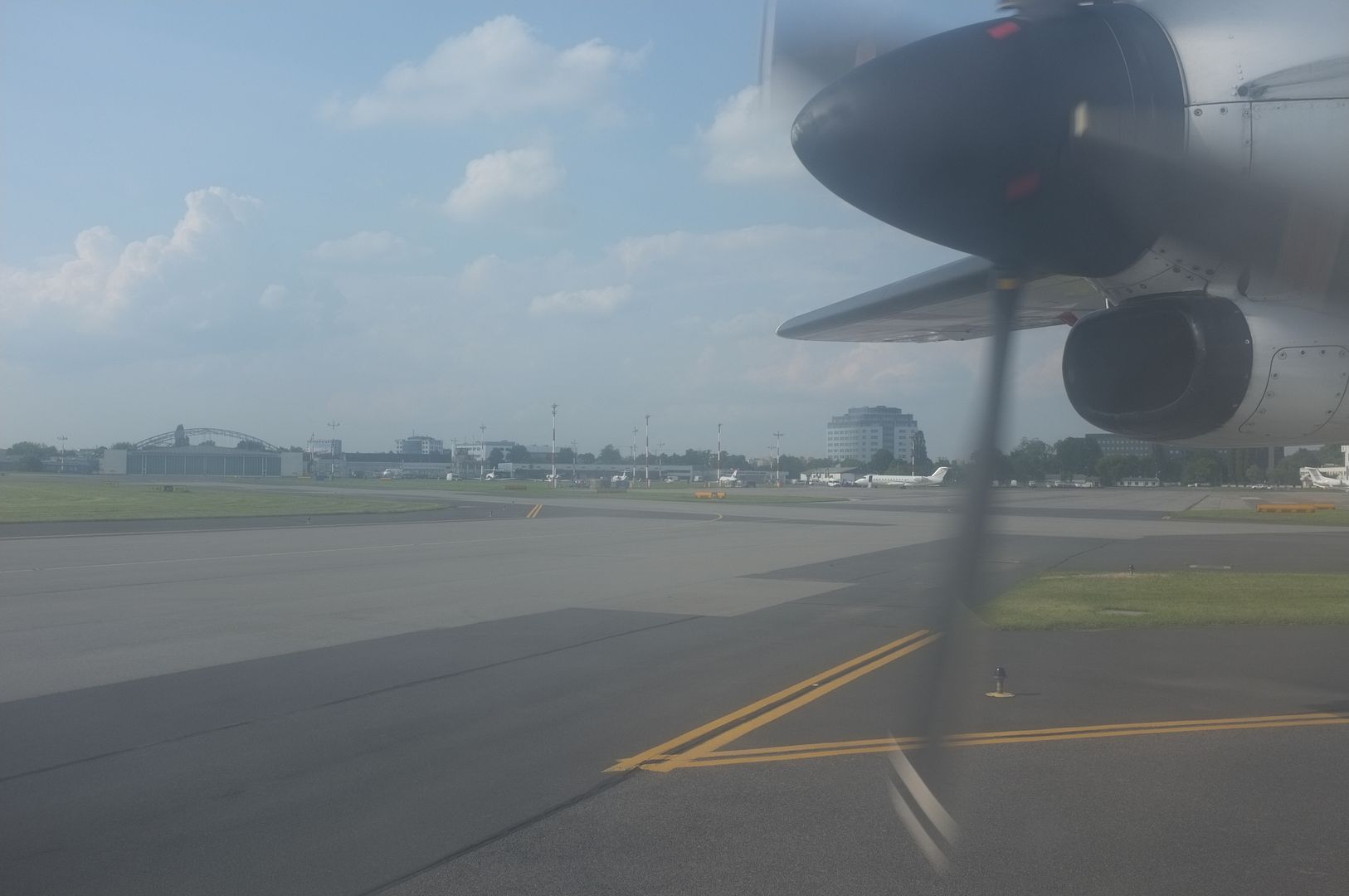 The aircraft took off at 17:05, which was behind the schedule time at 16:45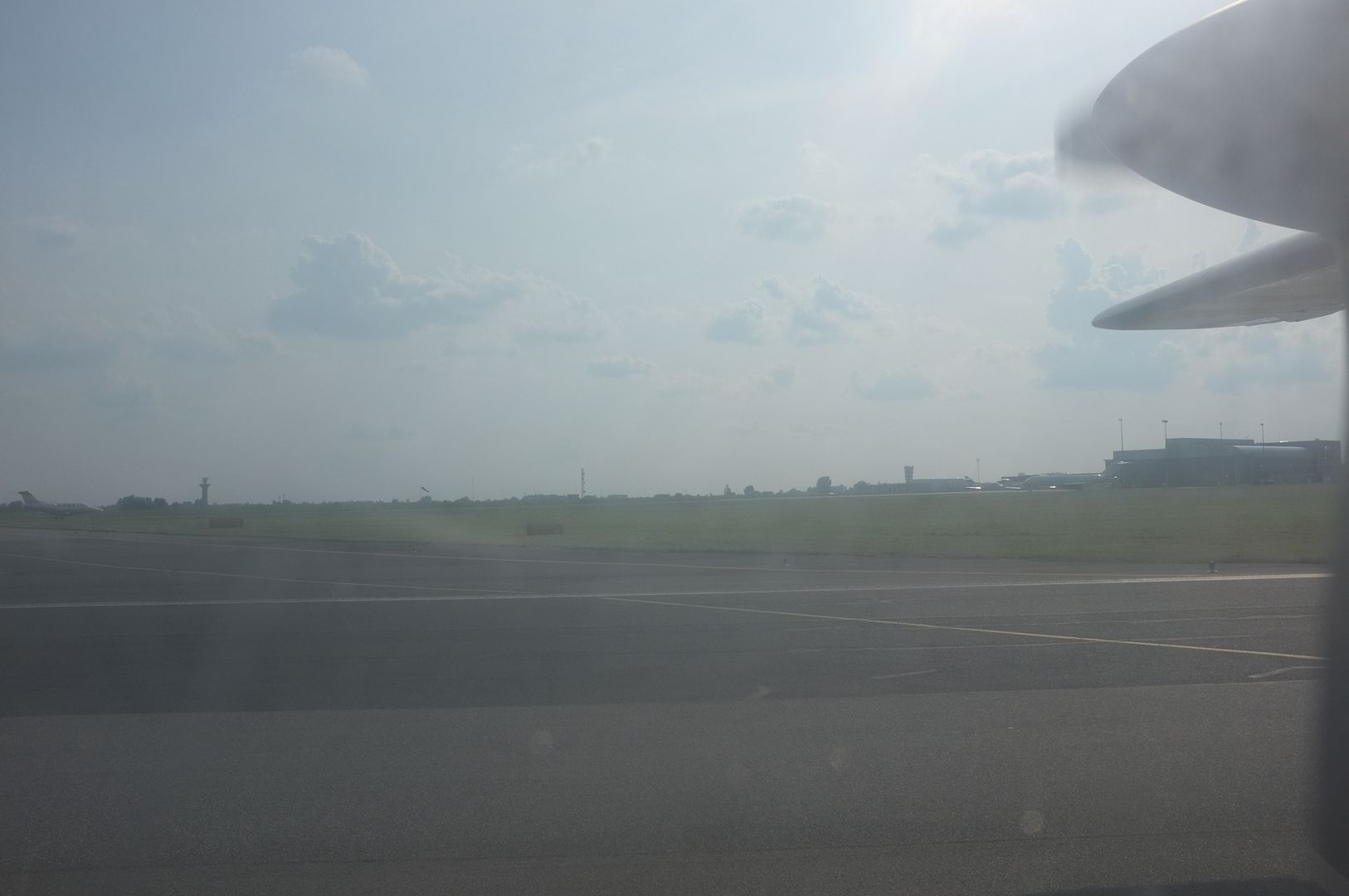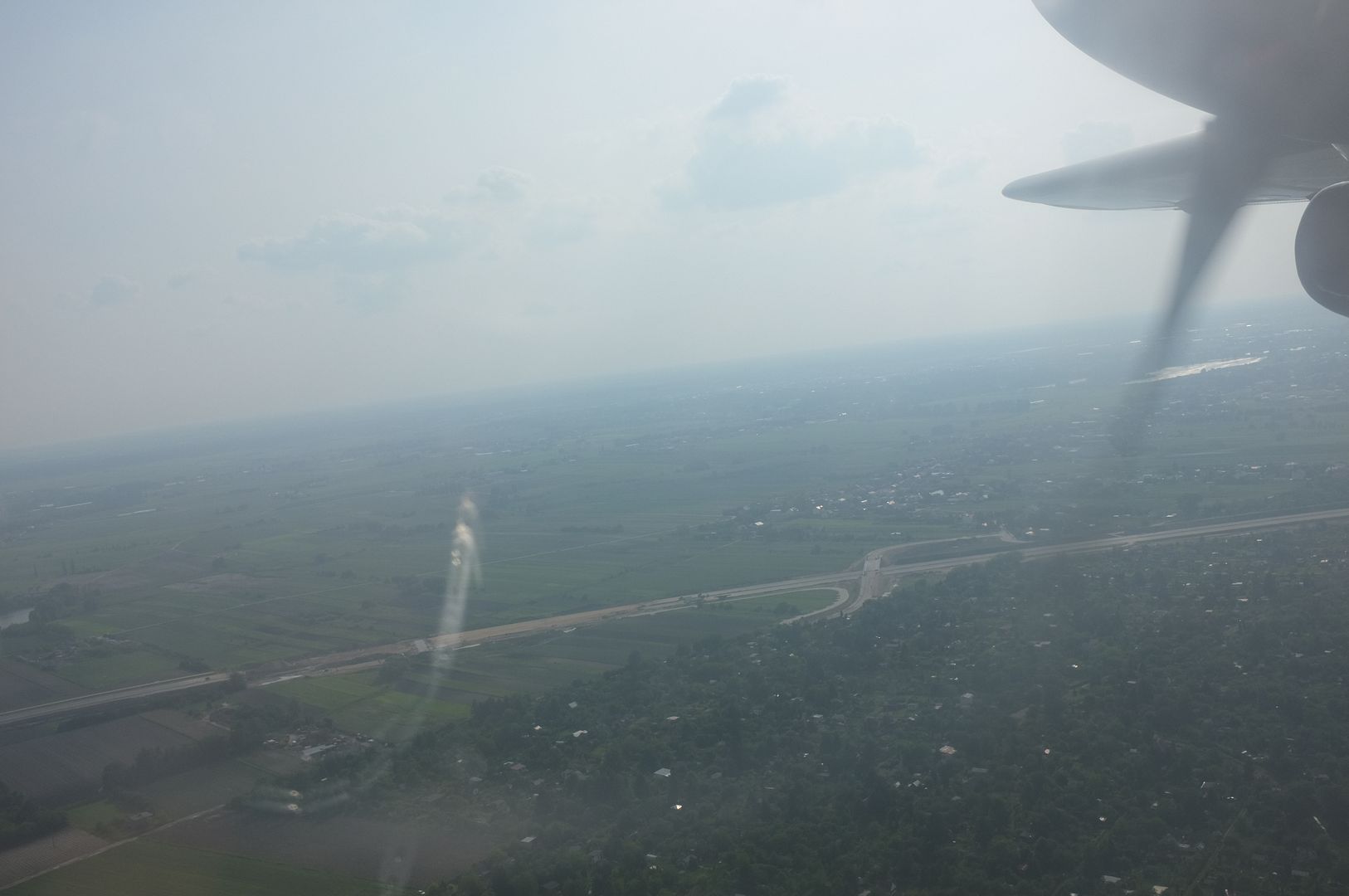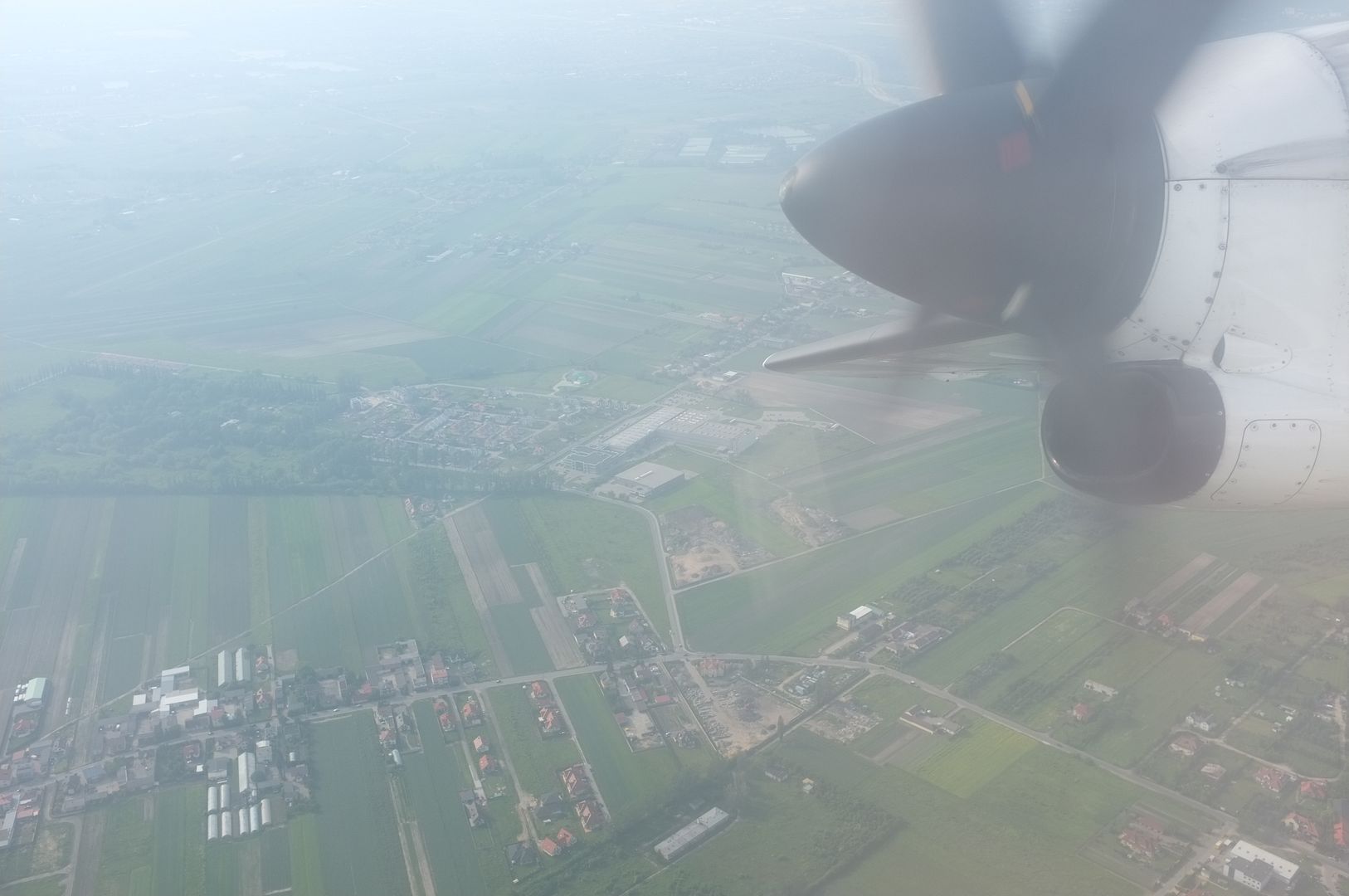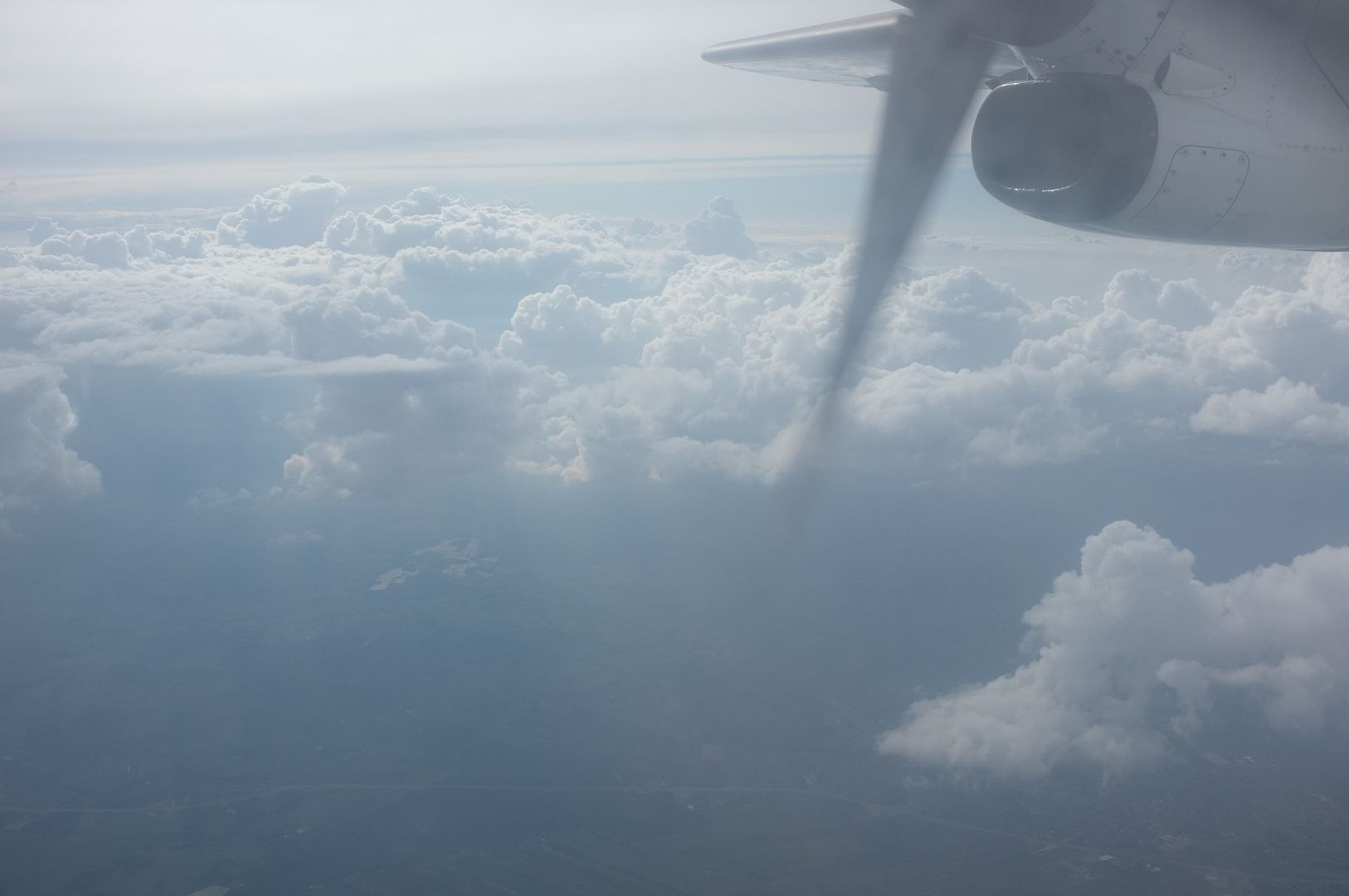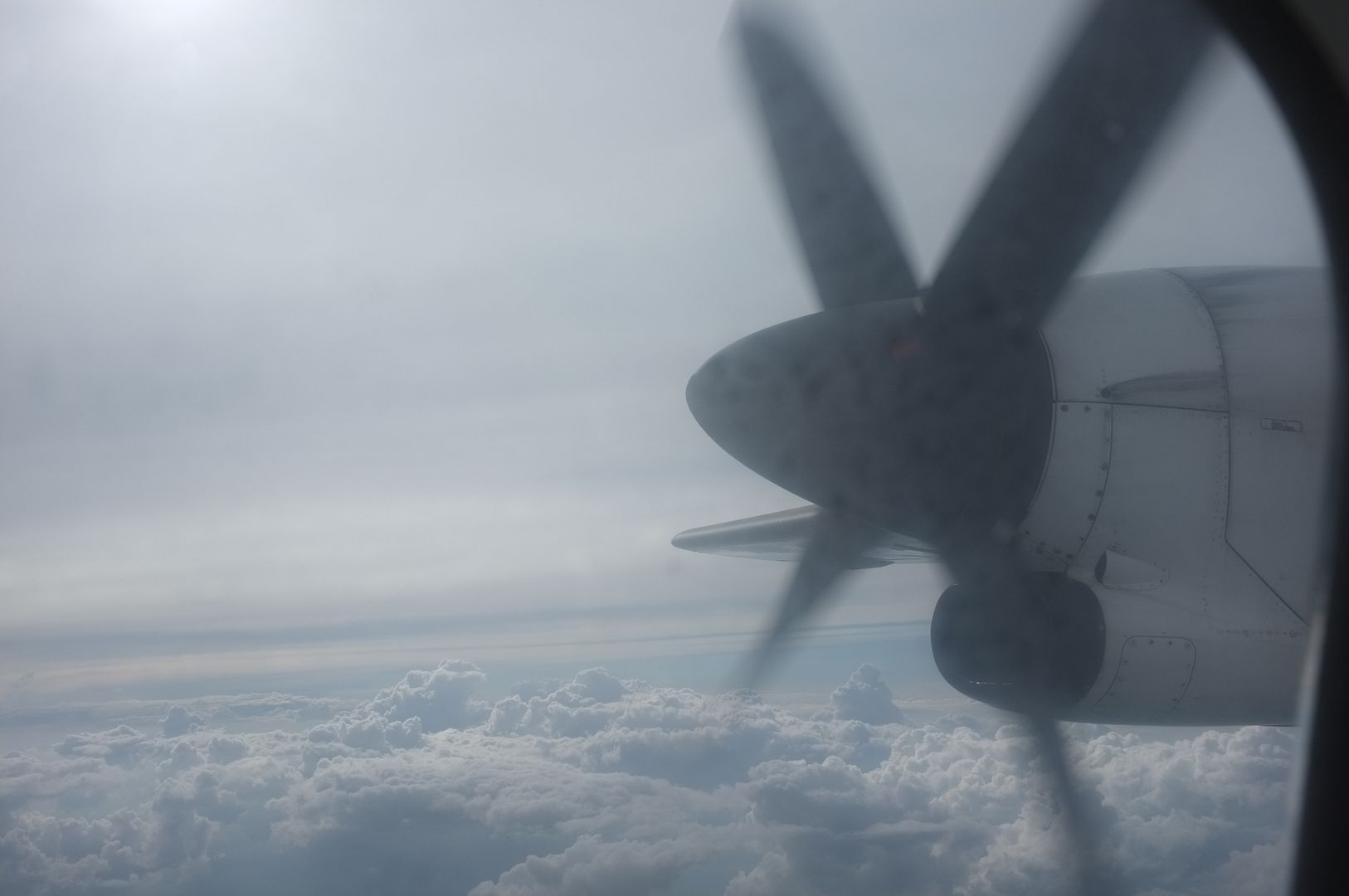 When the seatbelt sign were turned off, the crew made a welcome announcement, also with information on Miles and More programme and the new destination to Beijing information. Then a light snack and drinks were offered.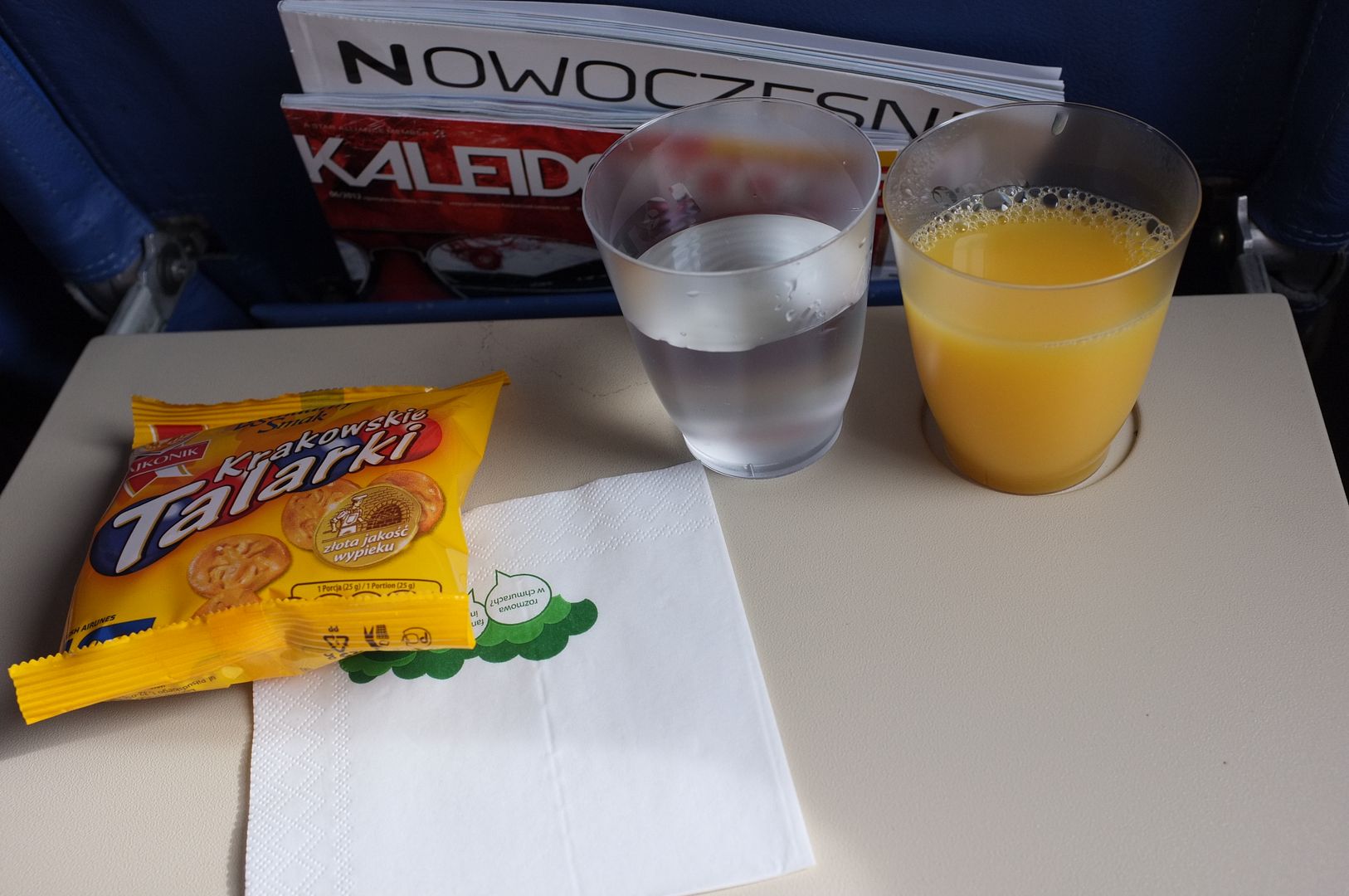 Safety card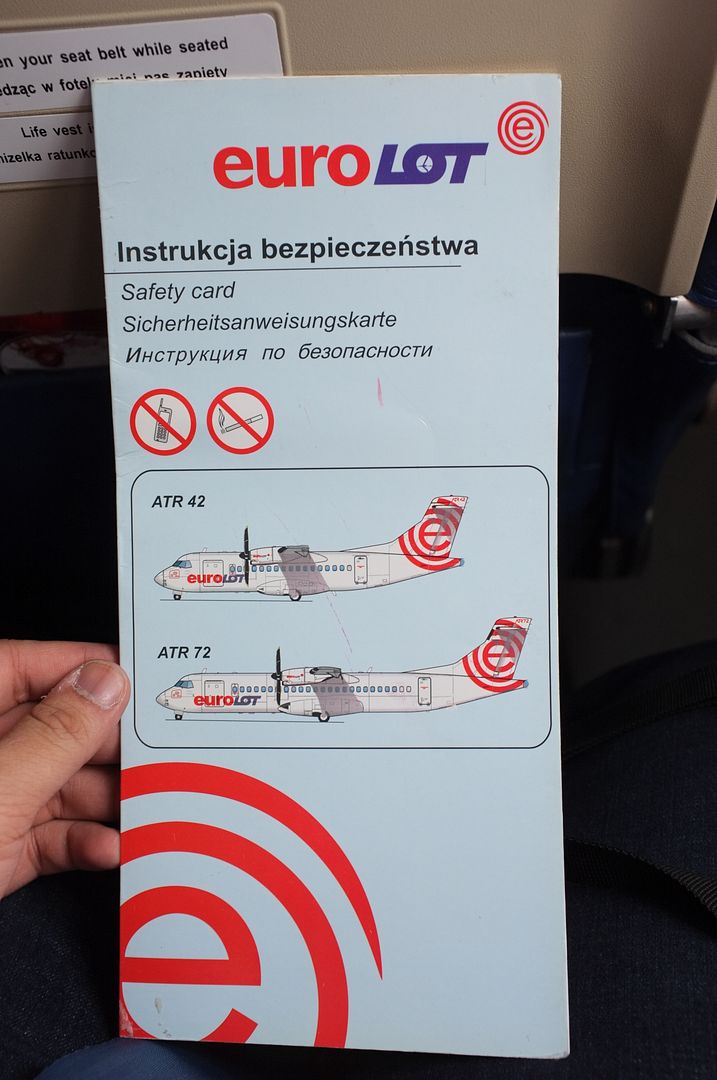 Leg room
Start to descend to Krakow Airport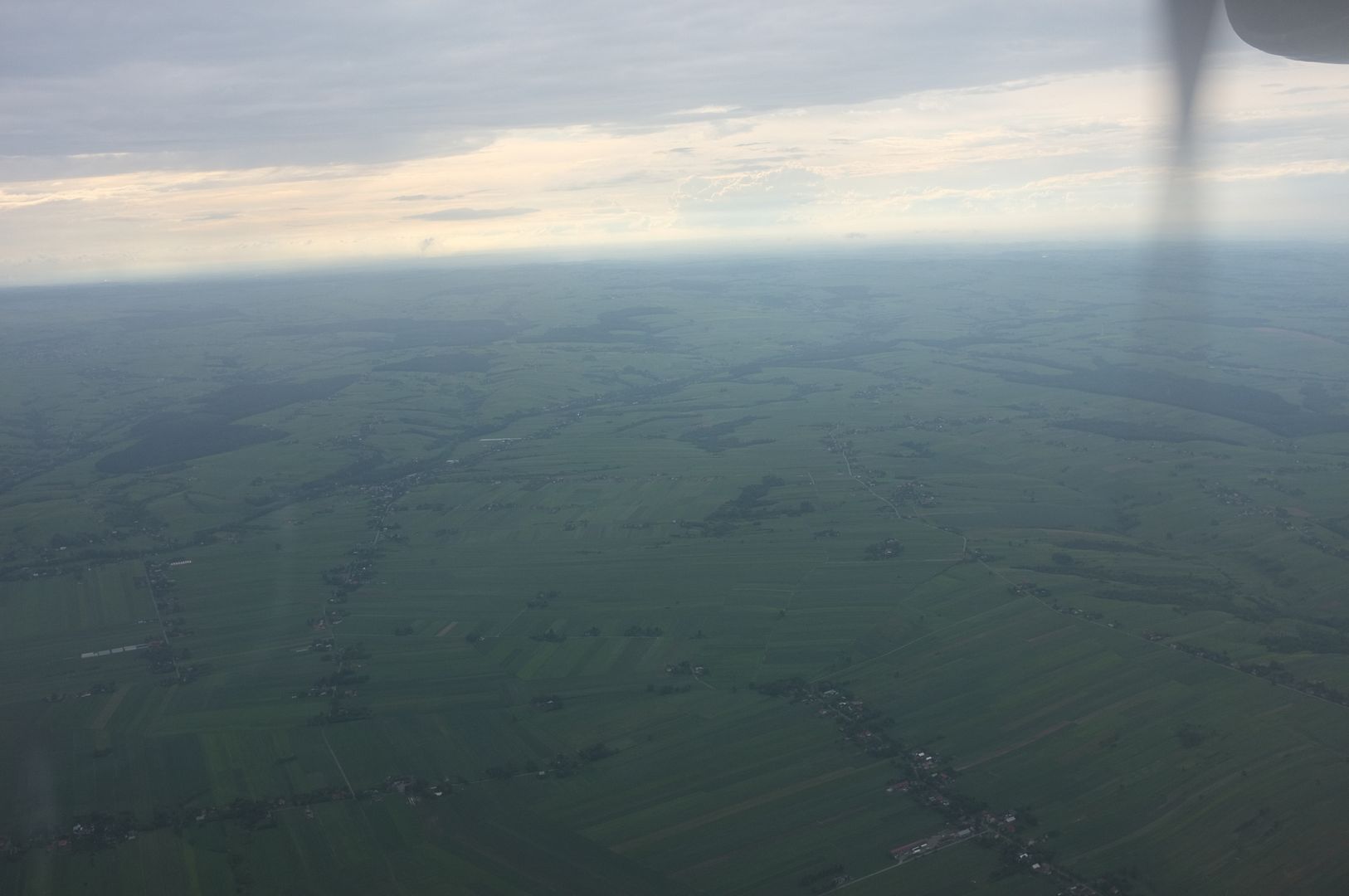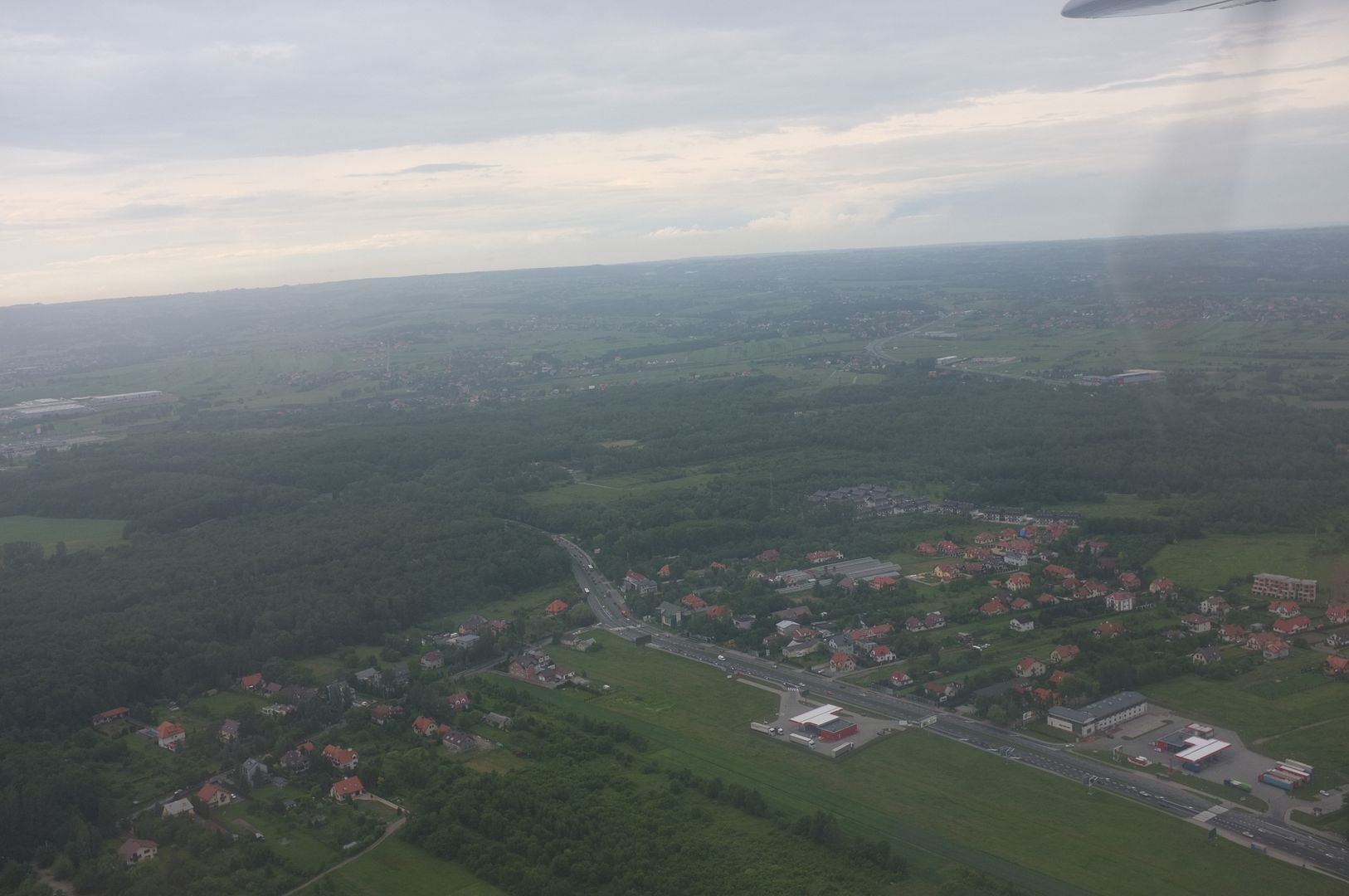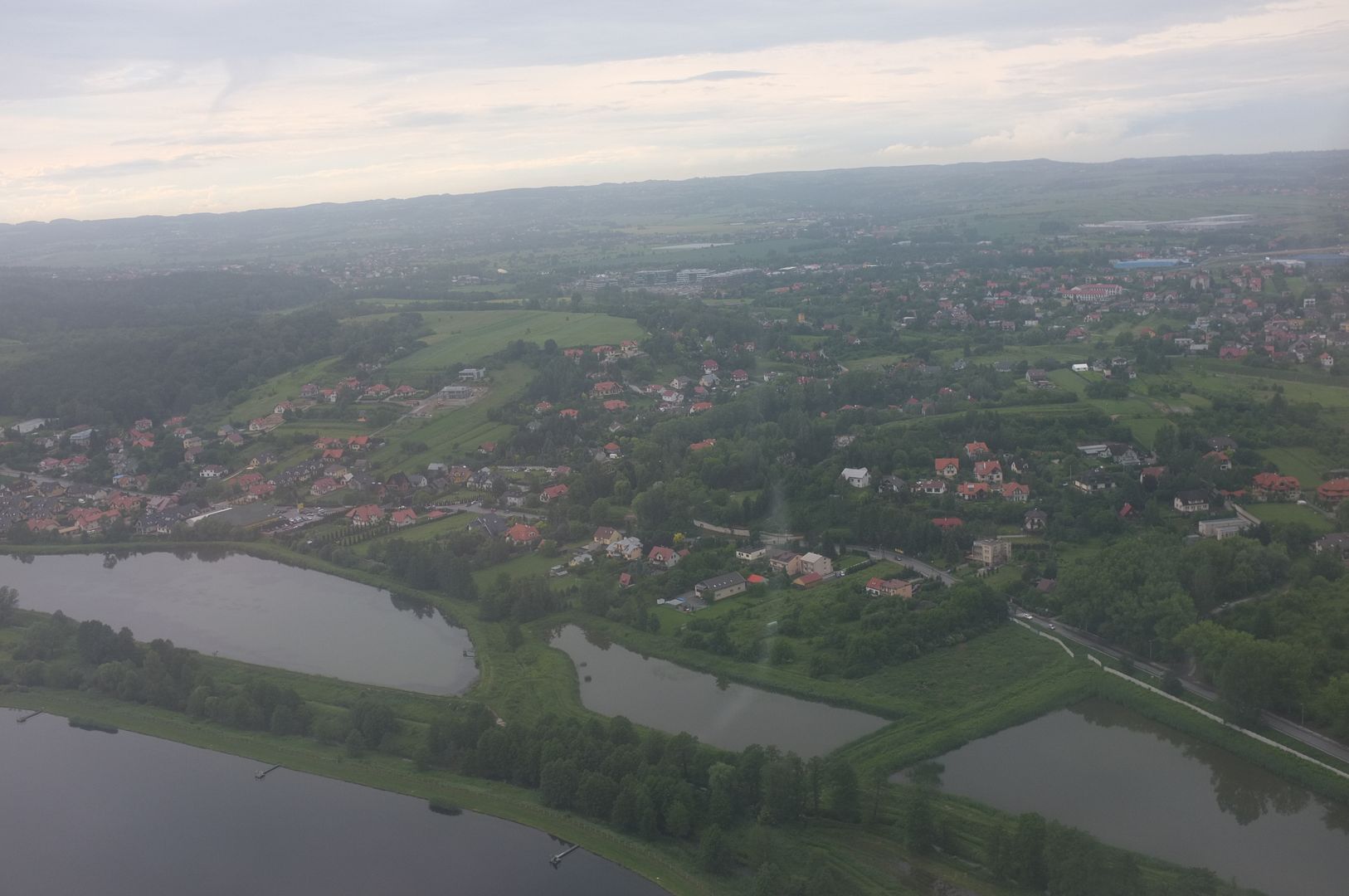 Landed at more or less the planned arrival time at 17:50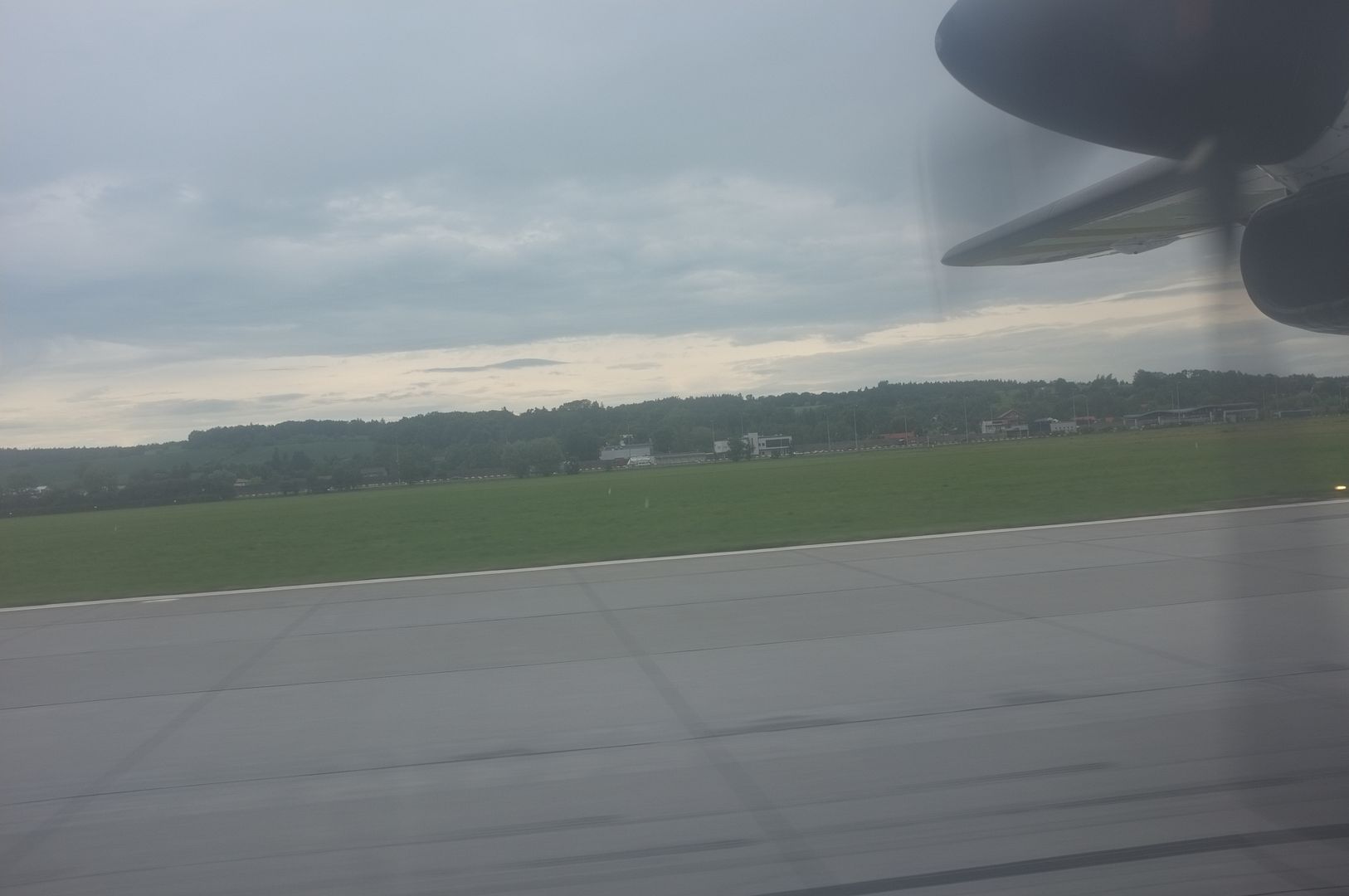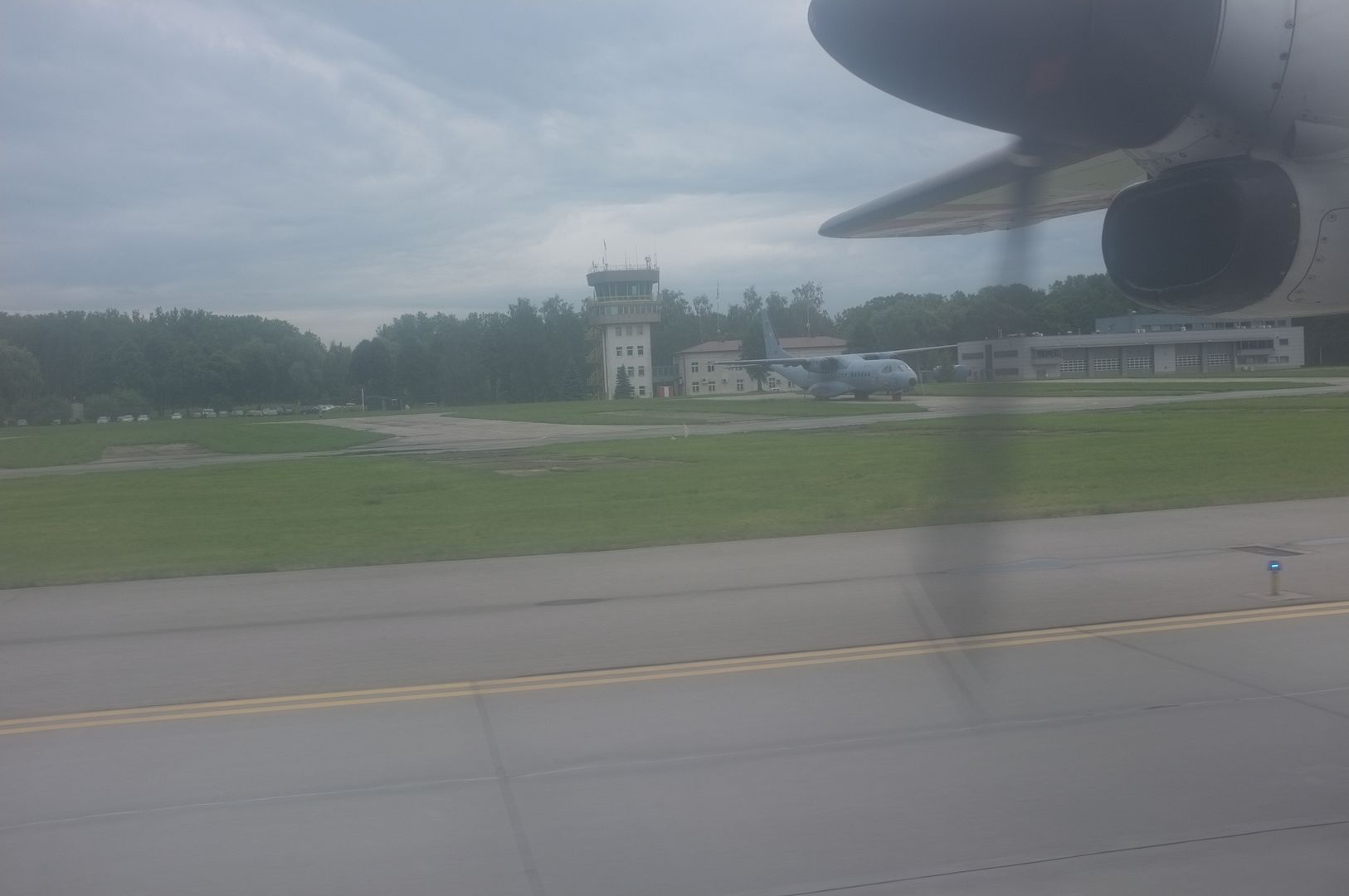 Parked at a remote stand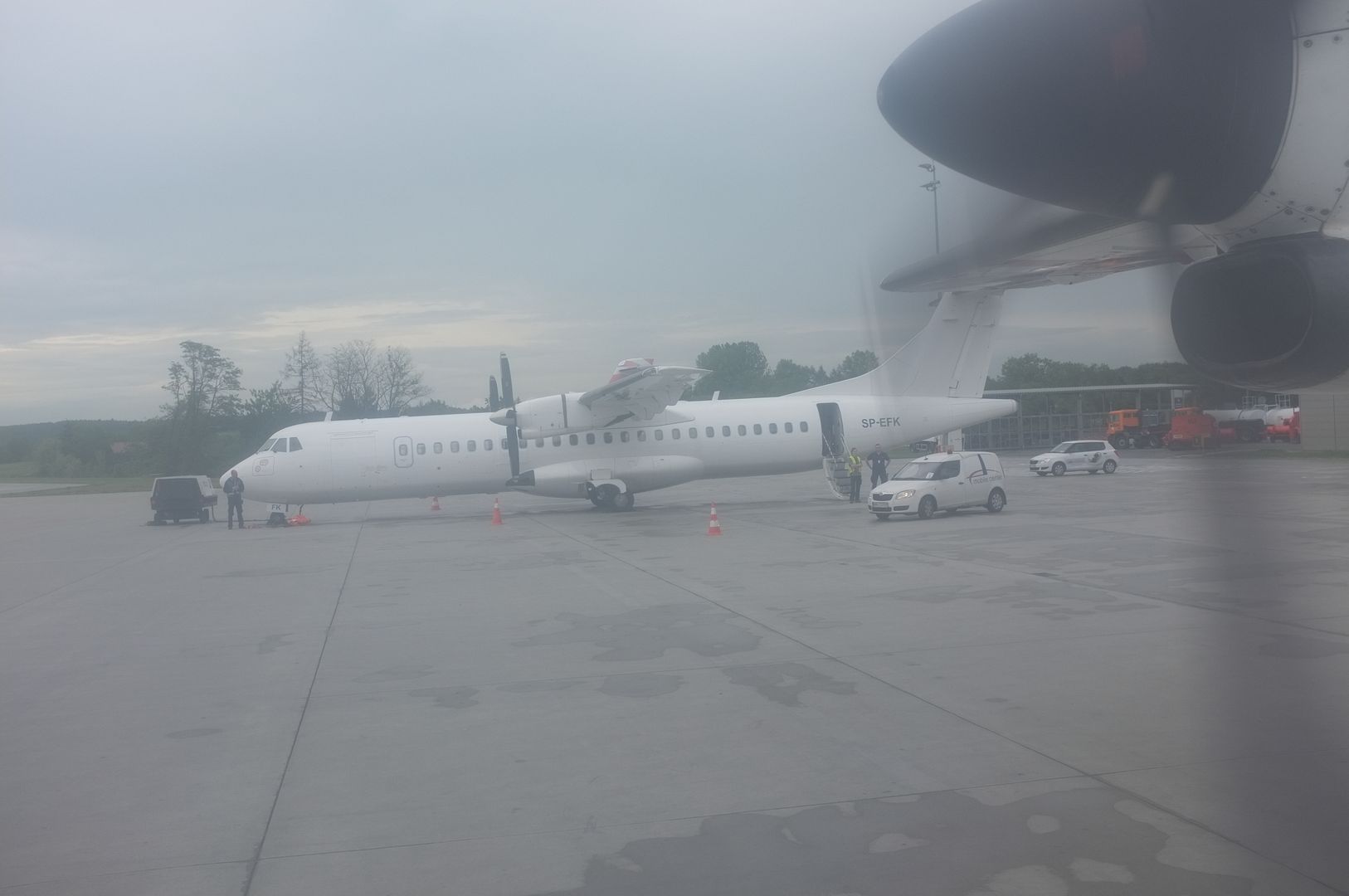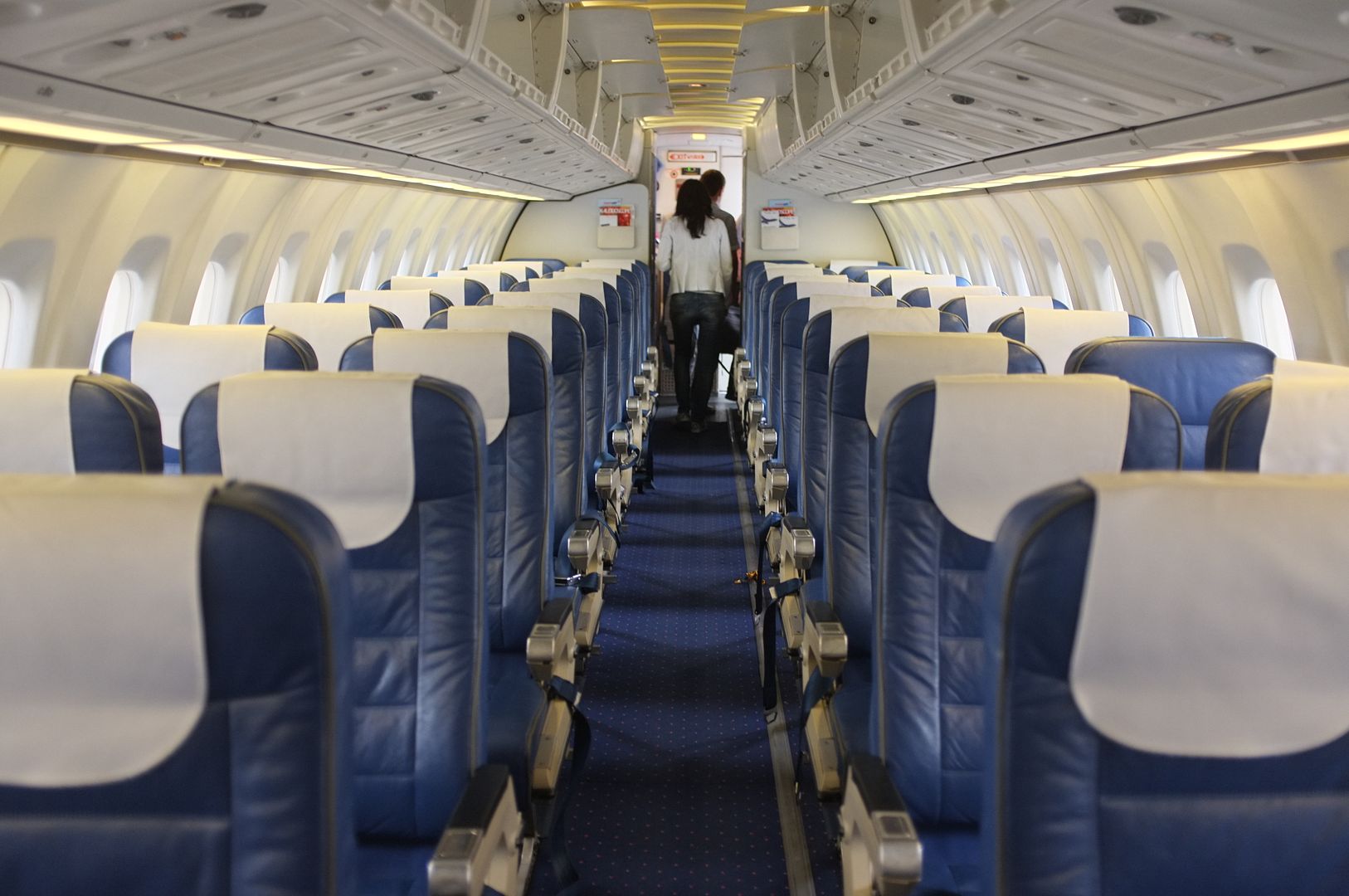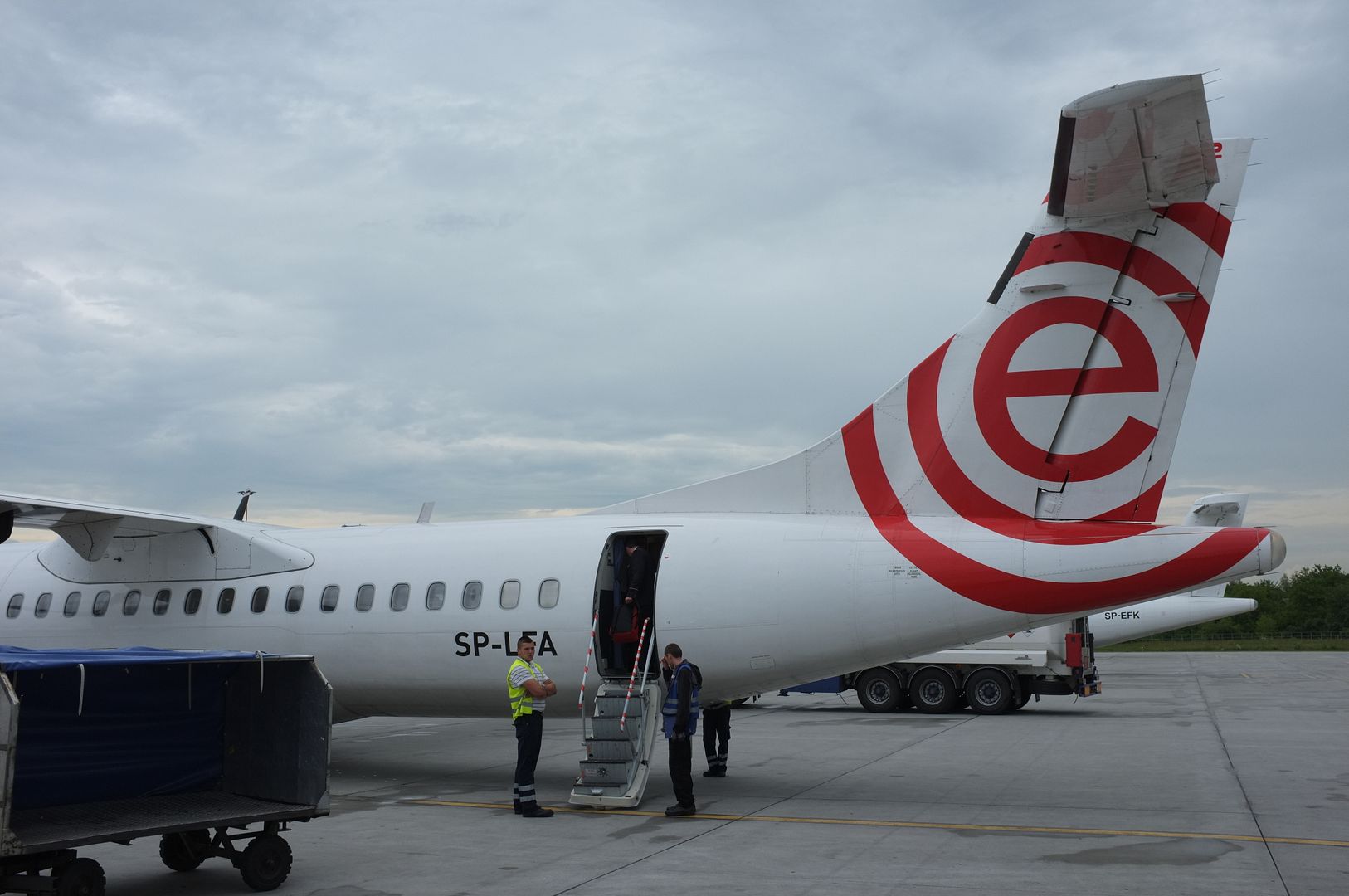 We were driven to the terminal on a bus, on a very short journey (didn't take longer than 30 seconds). There is only one baggage belt at the domestic terminal.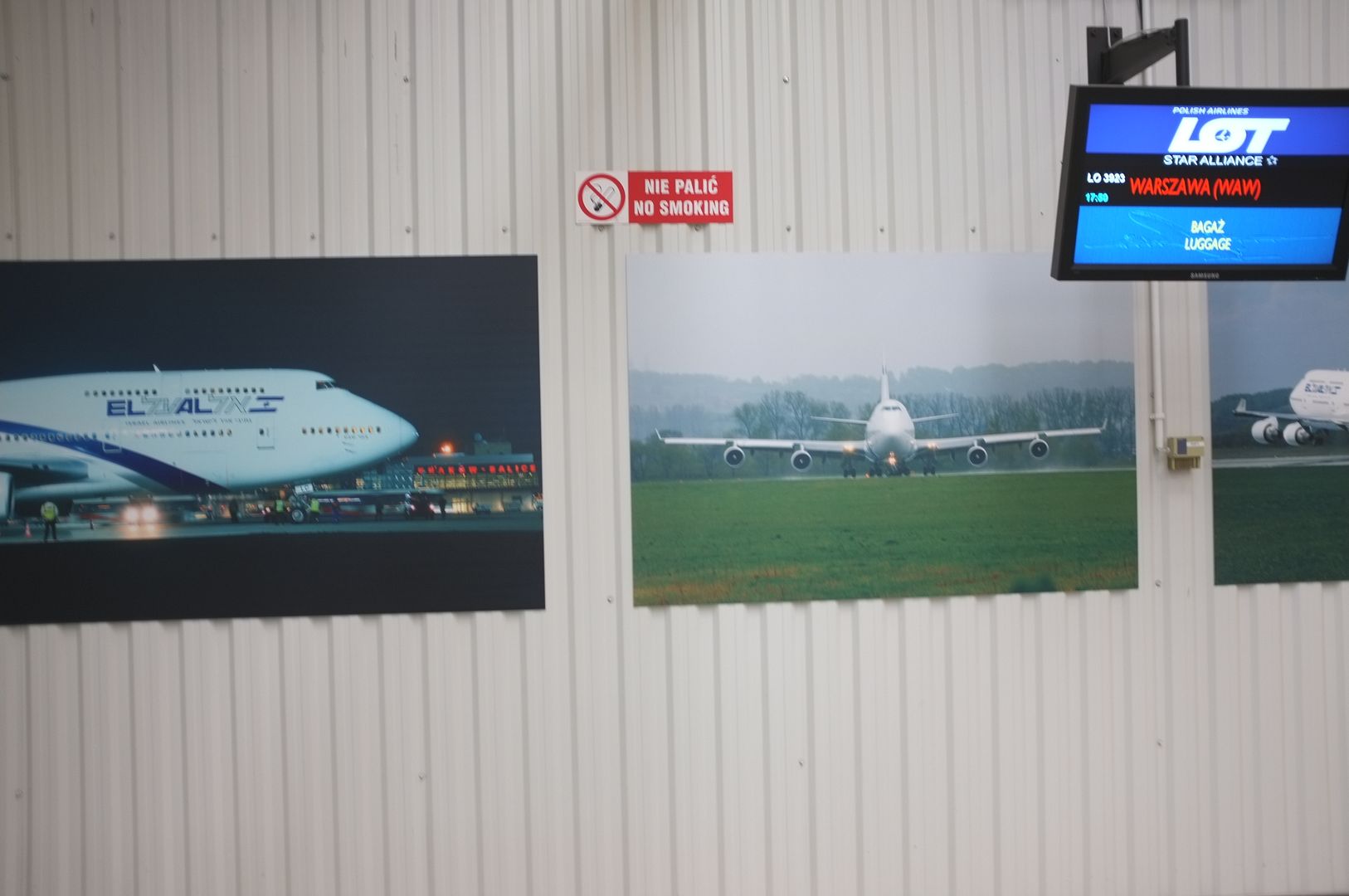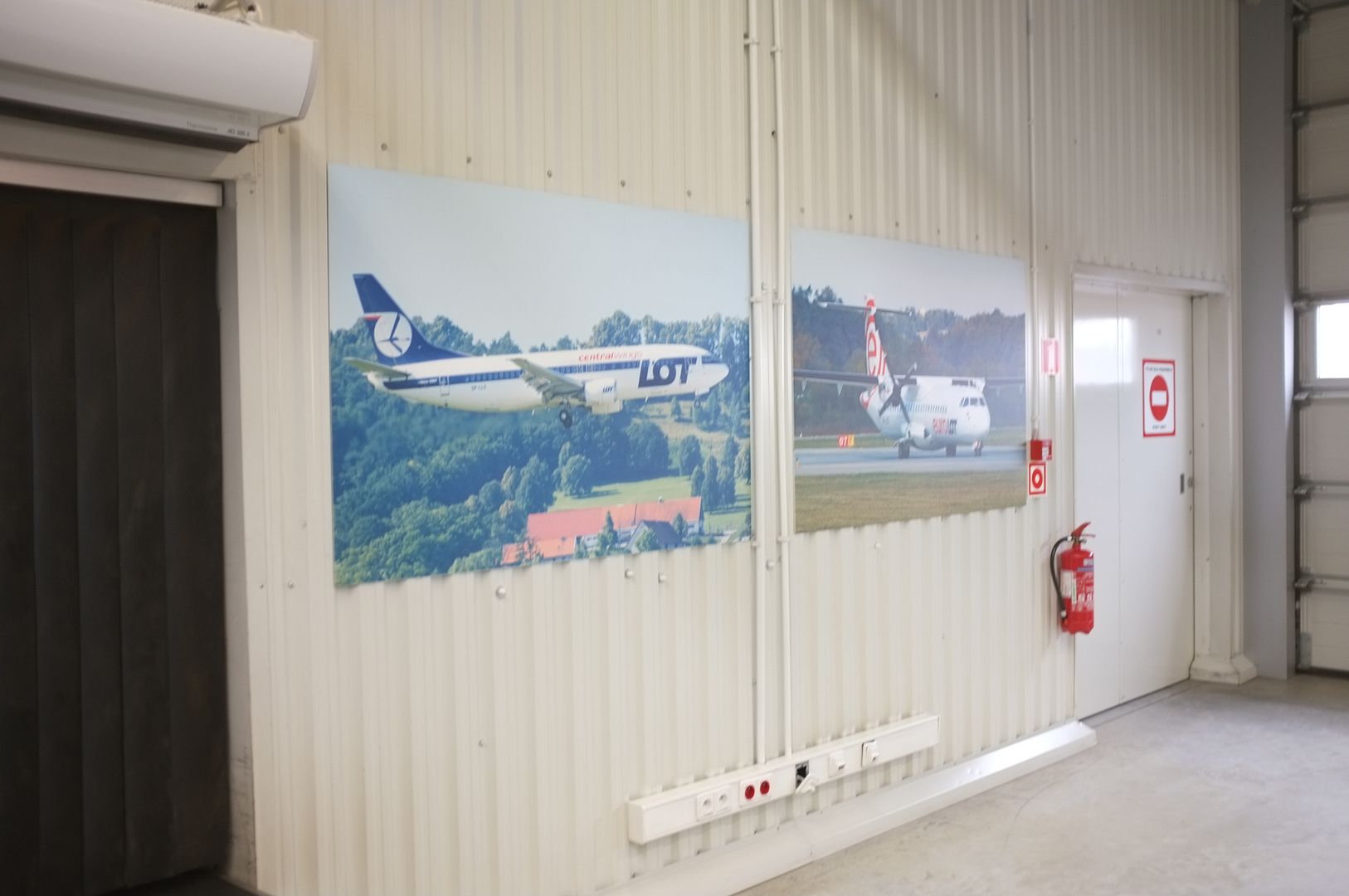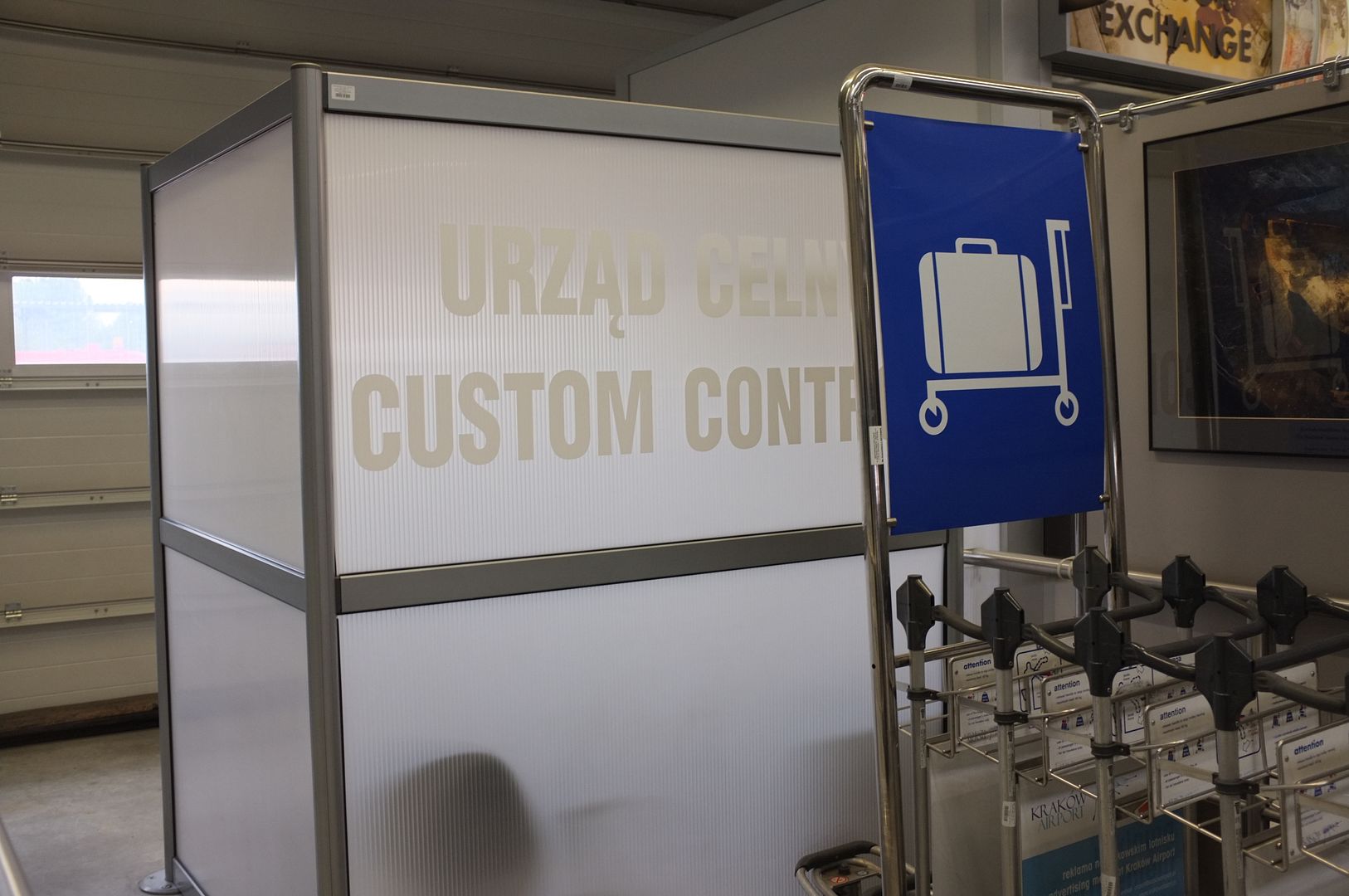 My bags were the first on the belt. But as I pick one of them, I discovered that the handle has broken off. I then went to the information desk asking where I could find a LOT baggage service representative. I was shown an airport baggage office and the staff asked me to fill in a report form. As I will only be in Poland for four days, it was not possible for LOT to fix the bag in time, so I was asked the amount which I wanted to claim. Once all the form is filled, I was told that LOT should contact me back within 30 days. The staff were very polite and professional. Thus far, I haven't heard anything from the airline.
I was picked up and taken to my hotel: Hotel Copernicus, which took around 20 minutes.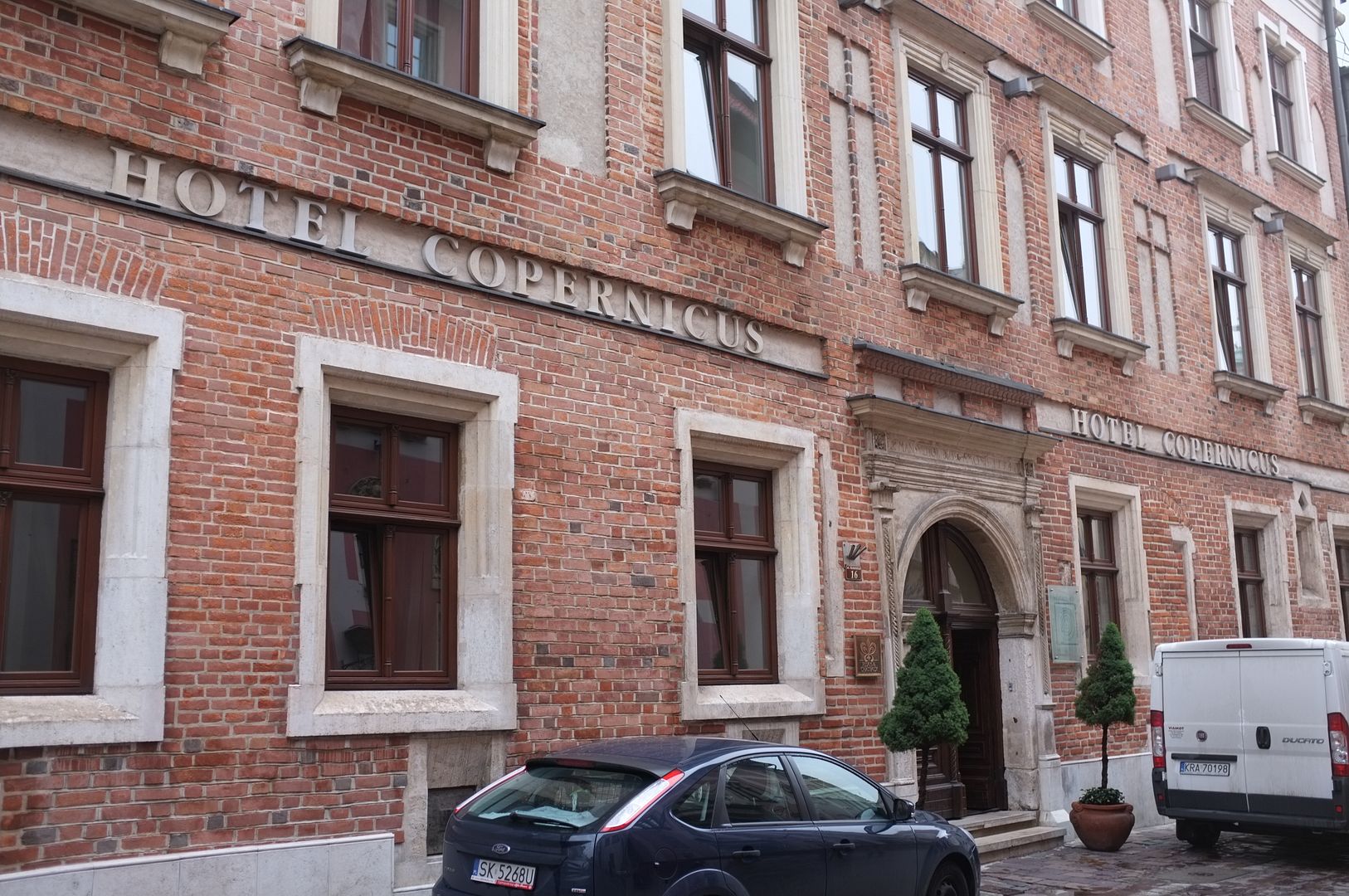 View from the hotel's rooftop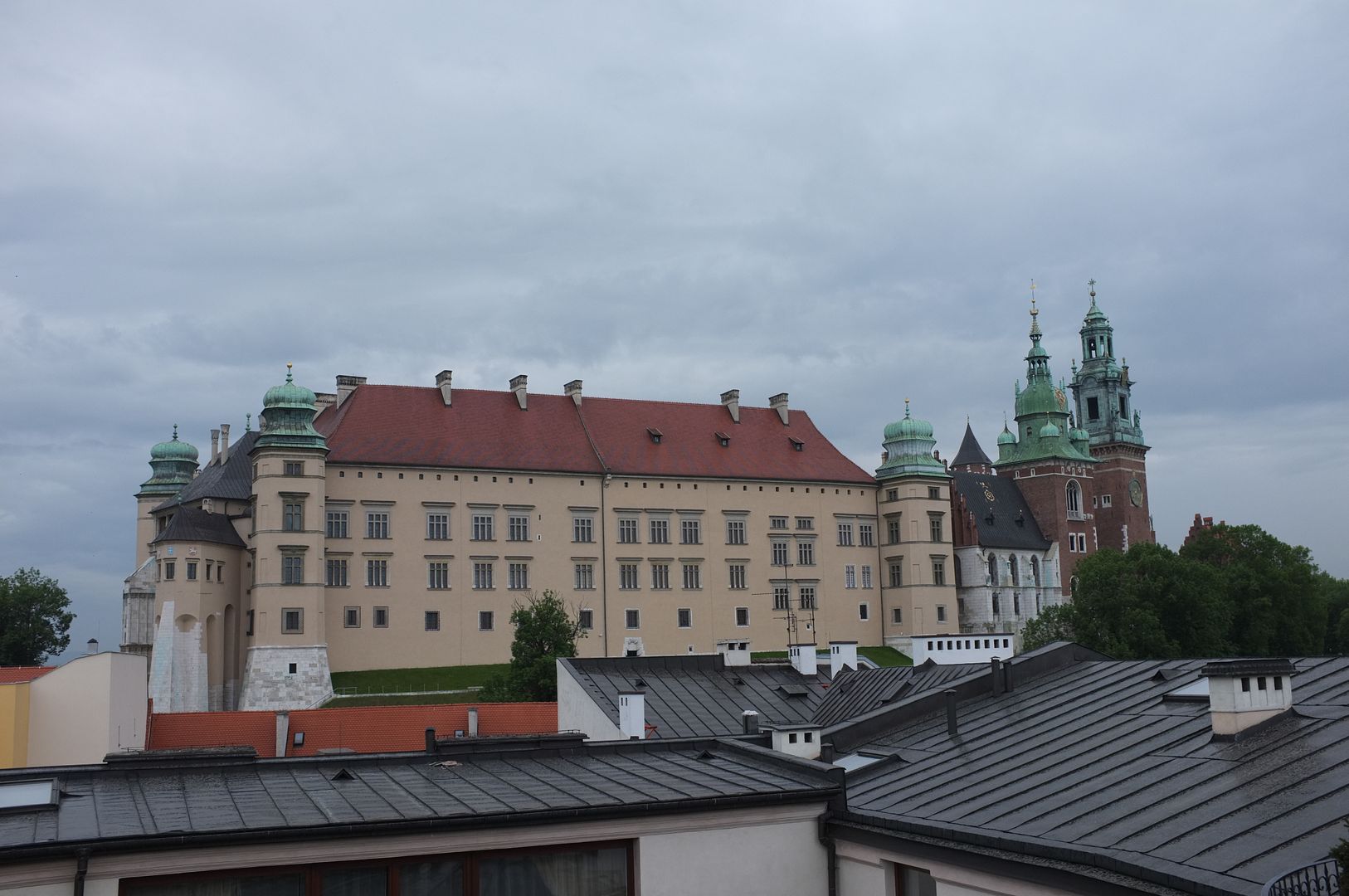 Here are some pictures taken during my stay in Krakow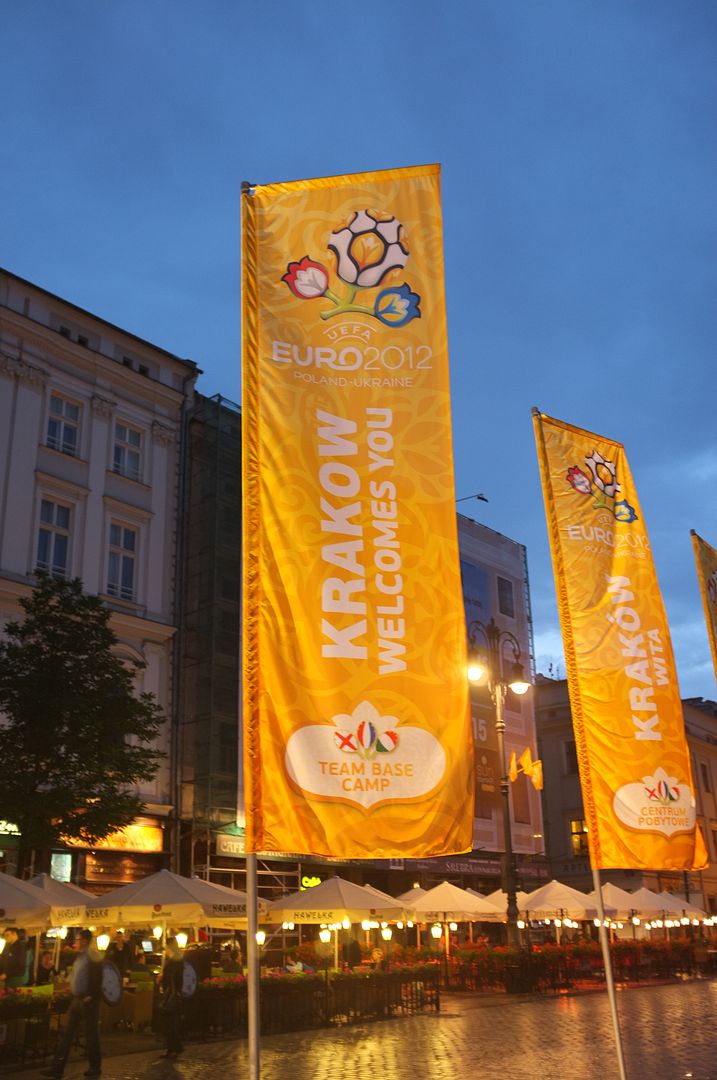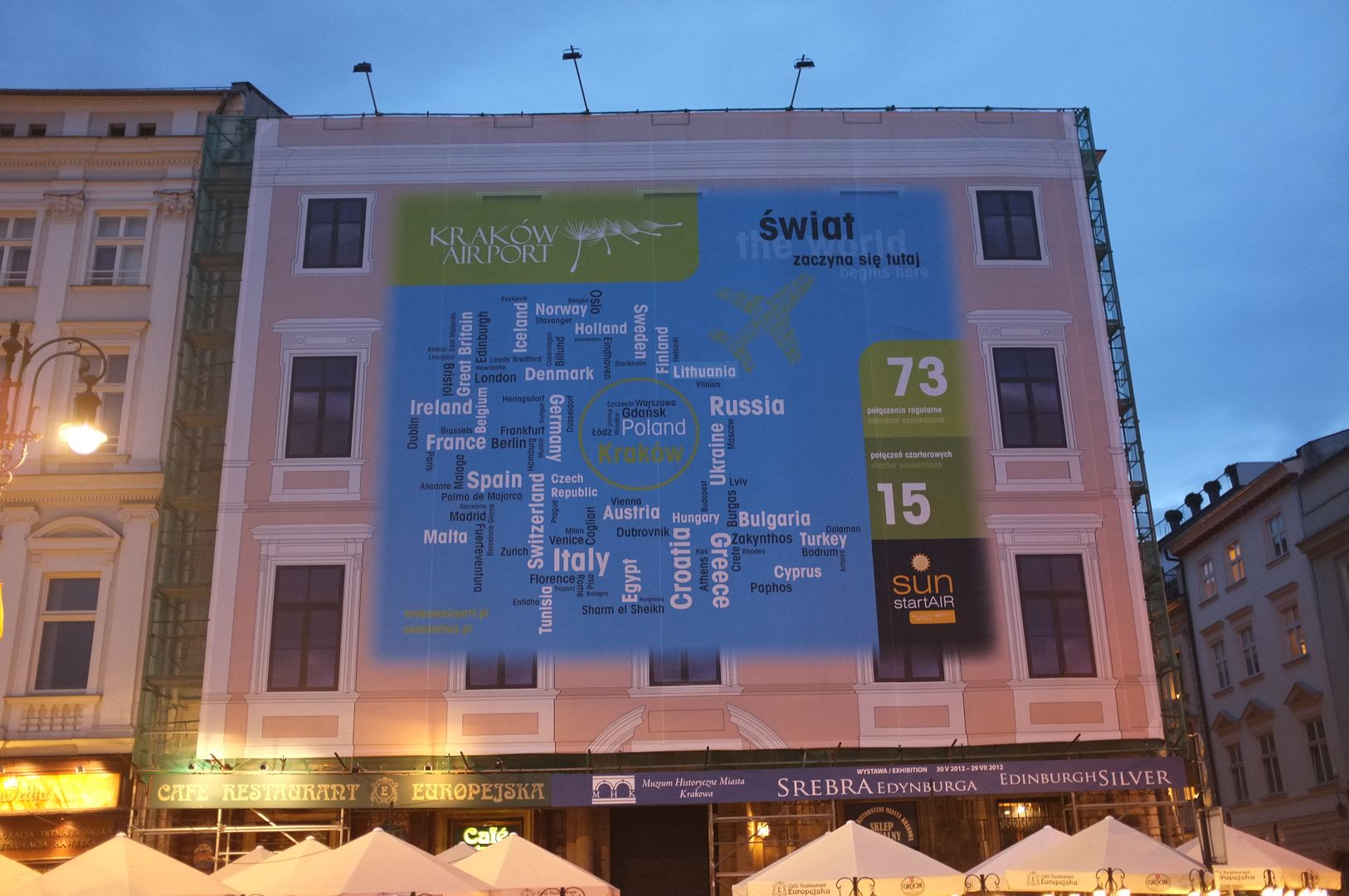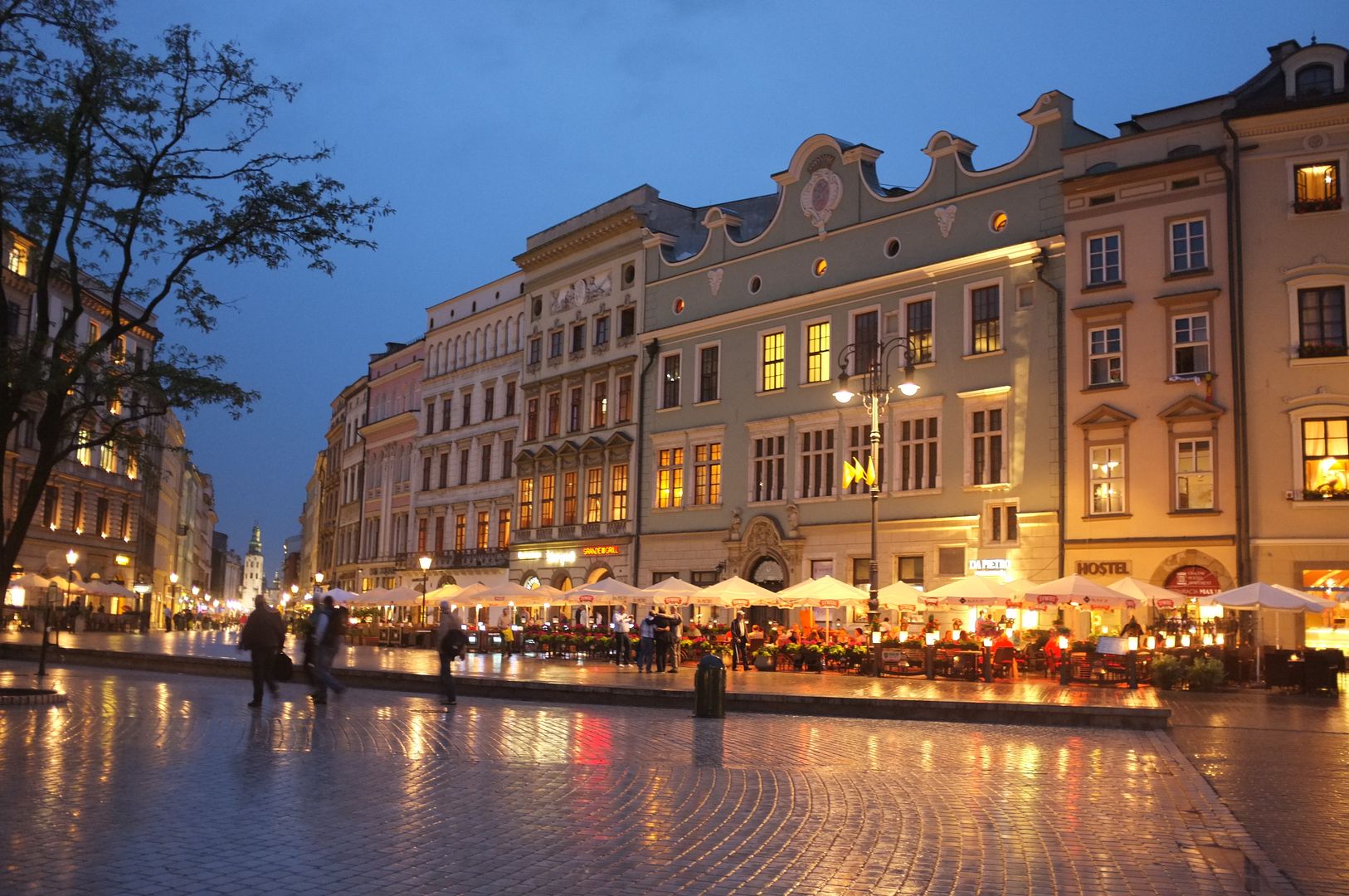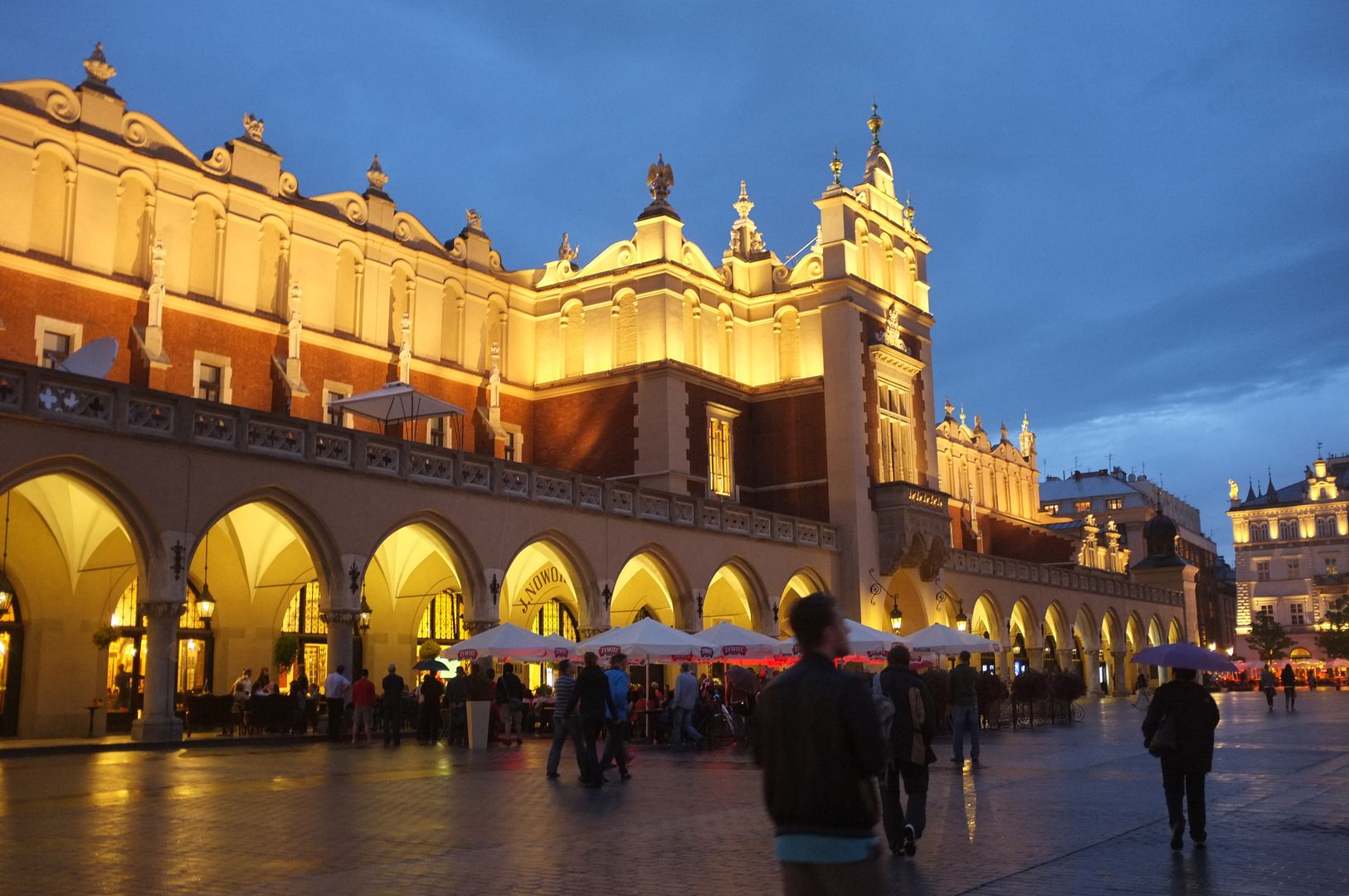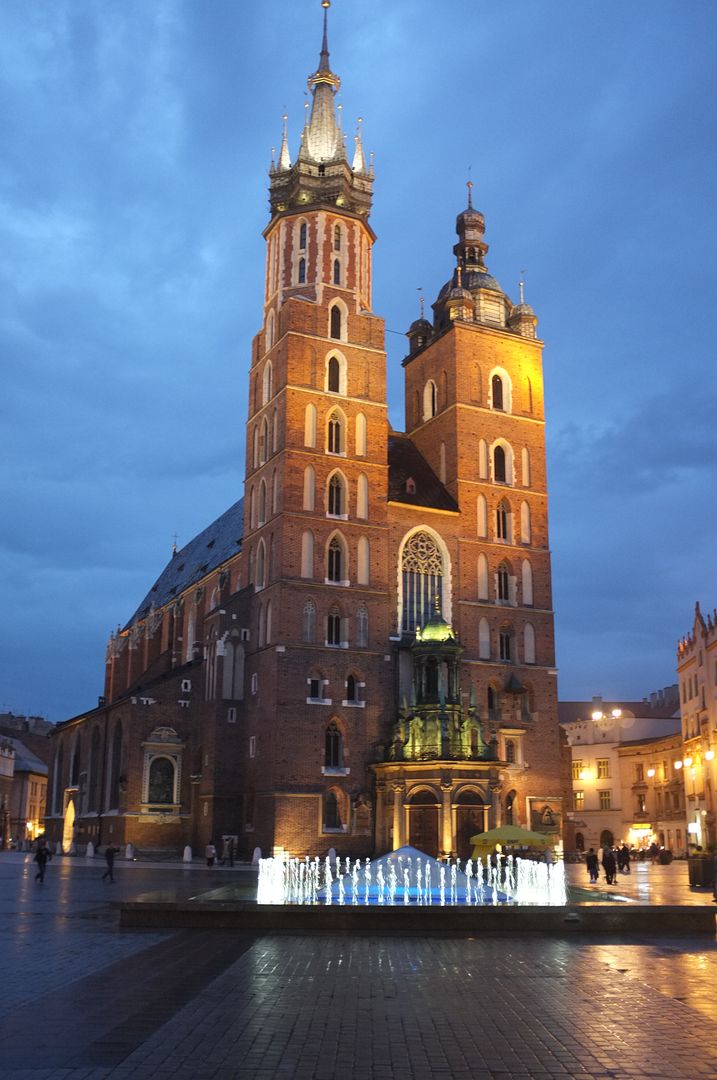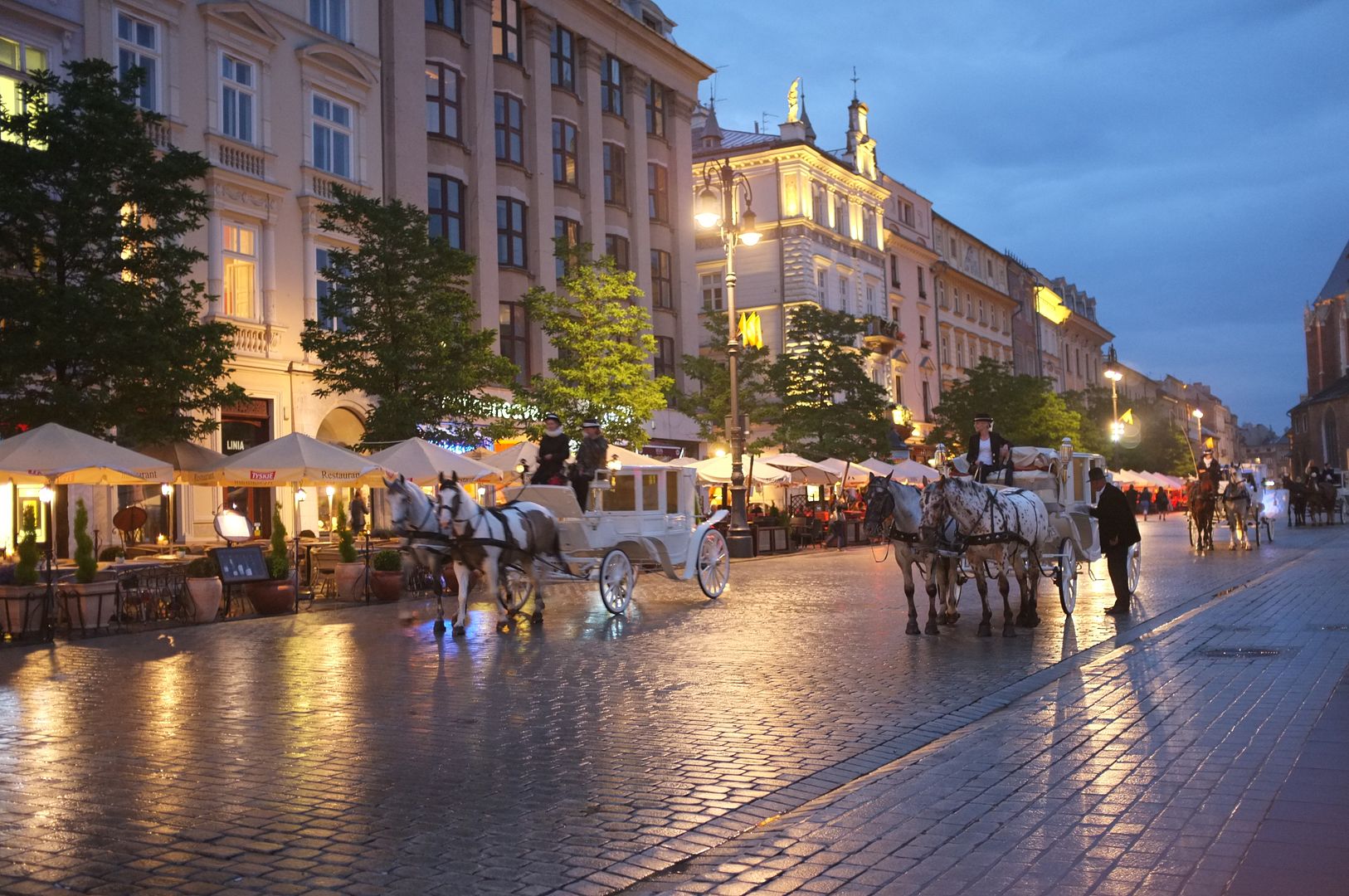 Auschwitz-Birkenau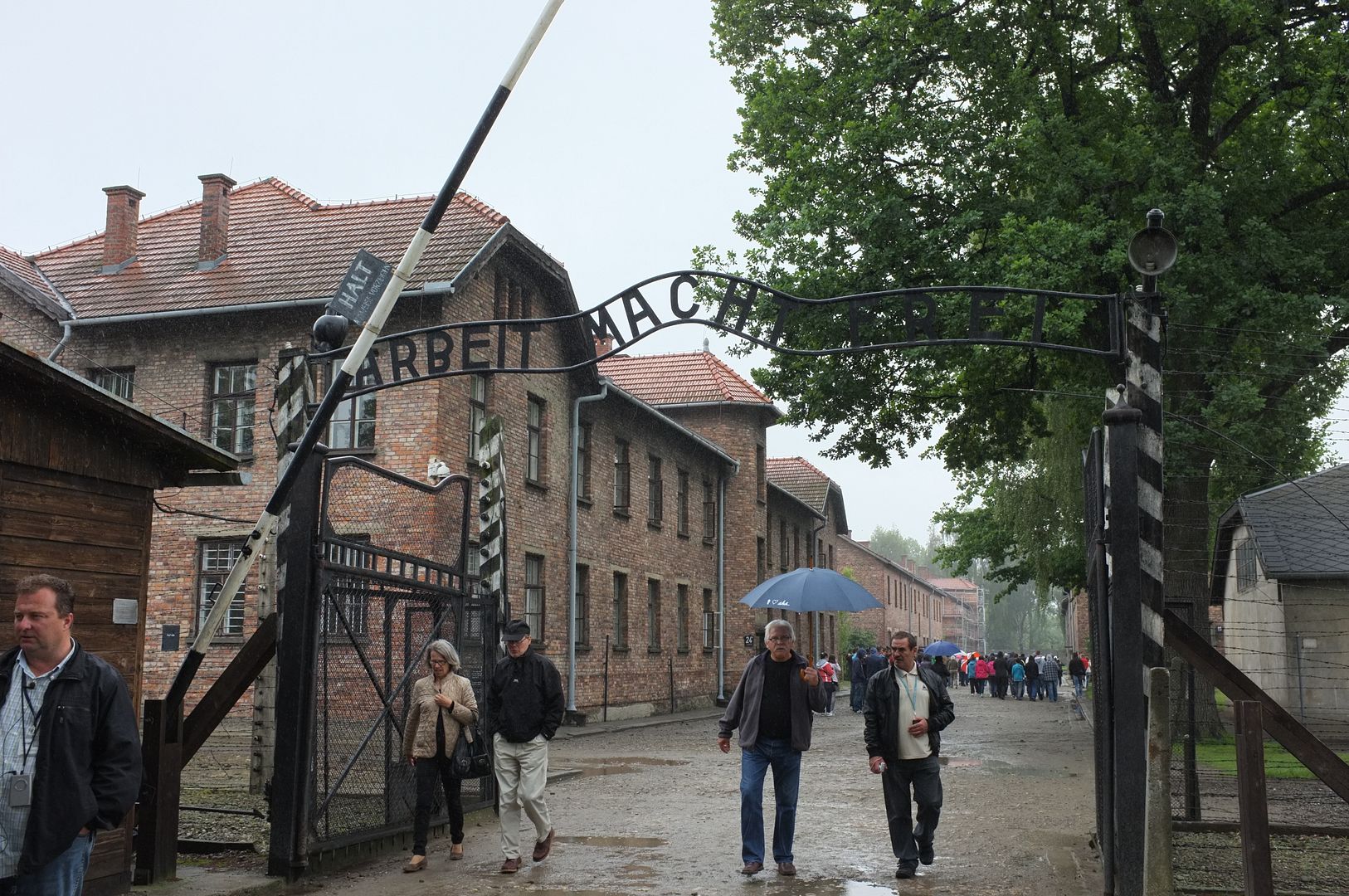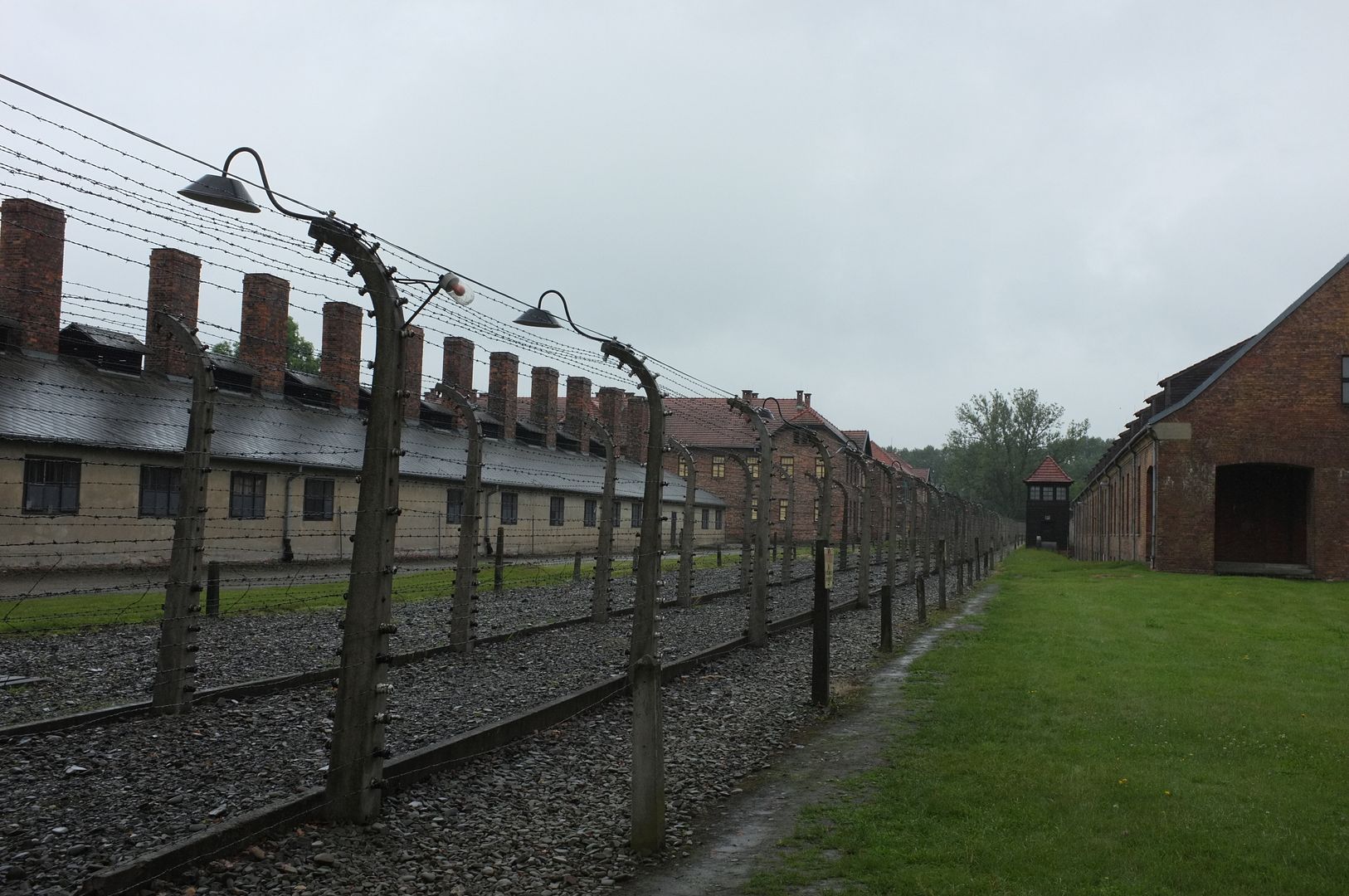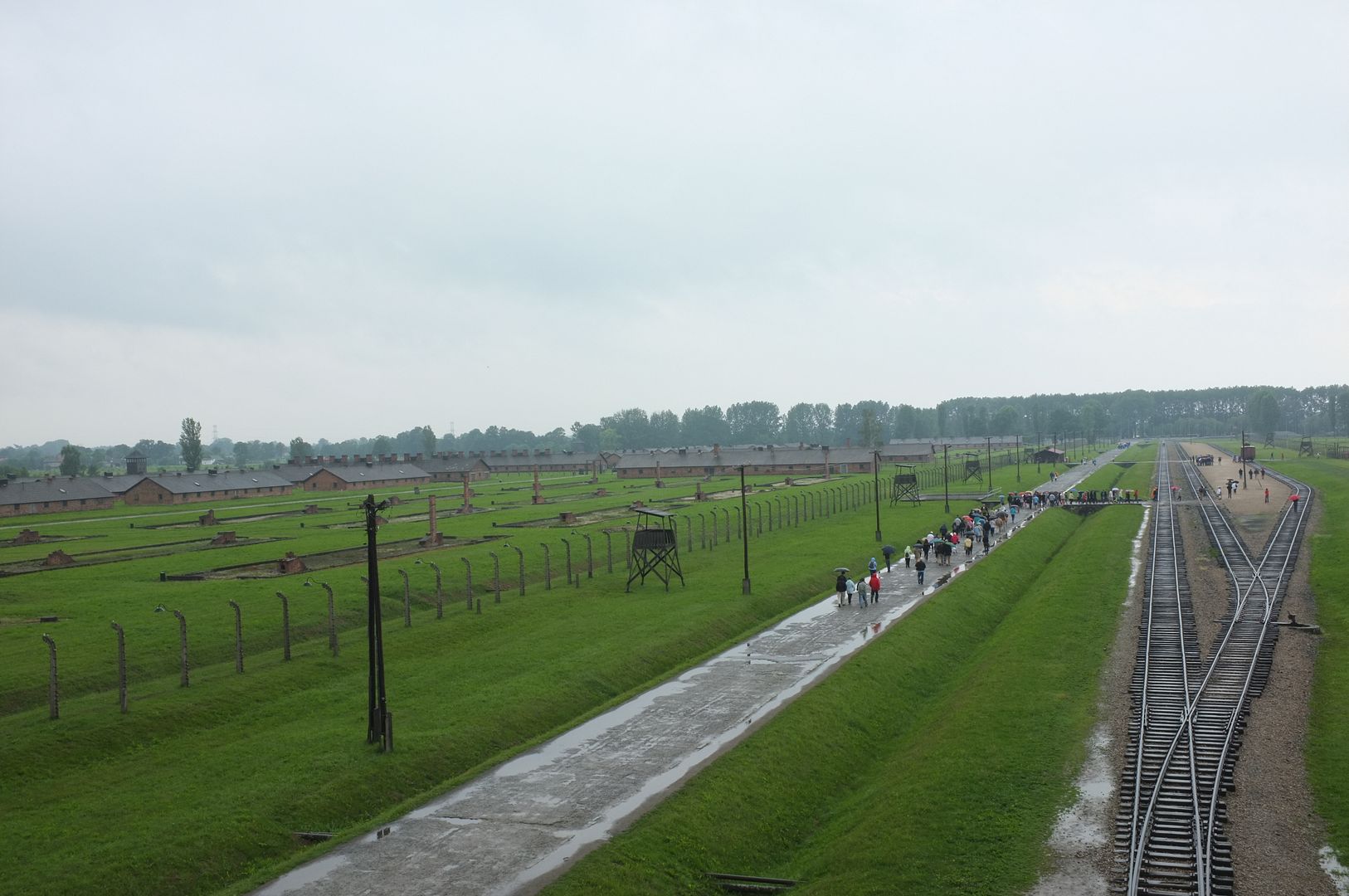 Salt Mine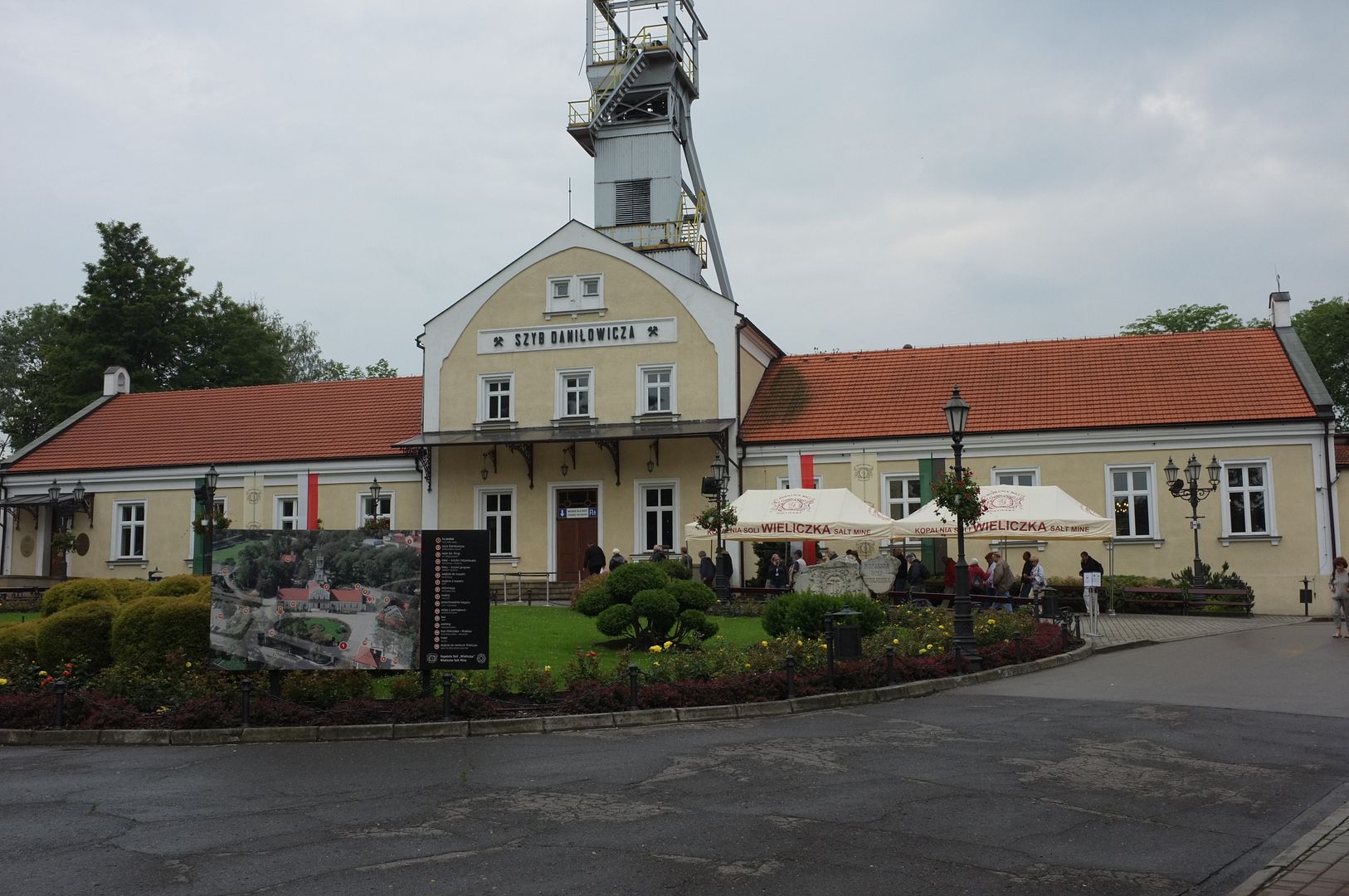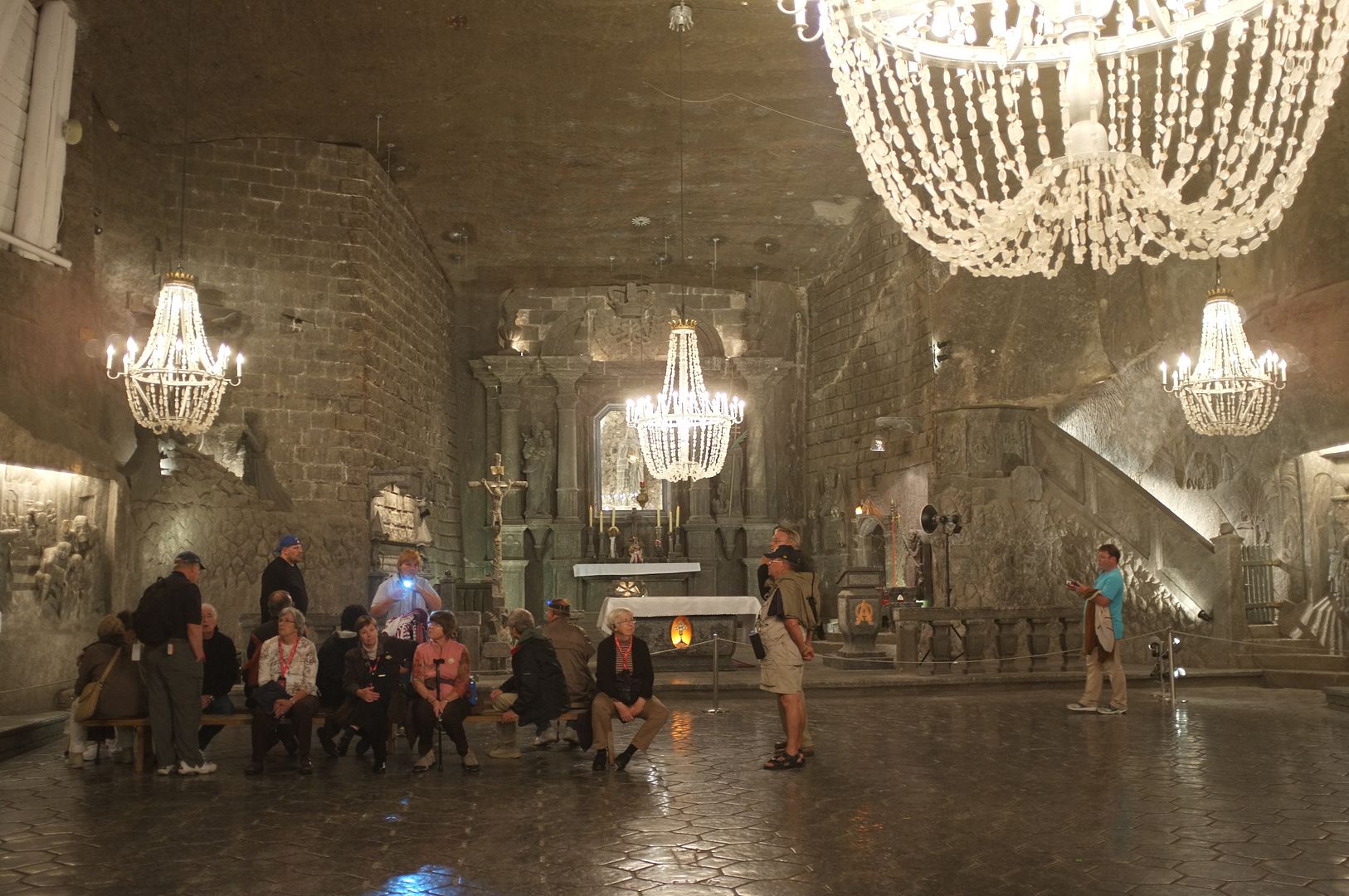 Here are the details of the flight back to Warsaw
Date: 14 June 2012
Airline: LOT
Flight: LO3904
Aircraft: Embraer 170
Route: KRK-WAW
Registration: SP-LDG
The flight is due to depart at 8:35am, so I checked out and left the hotel just before 7am. Arriving at the Domestic Terminal.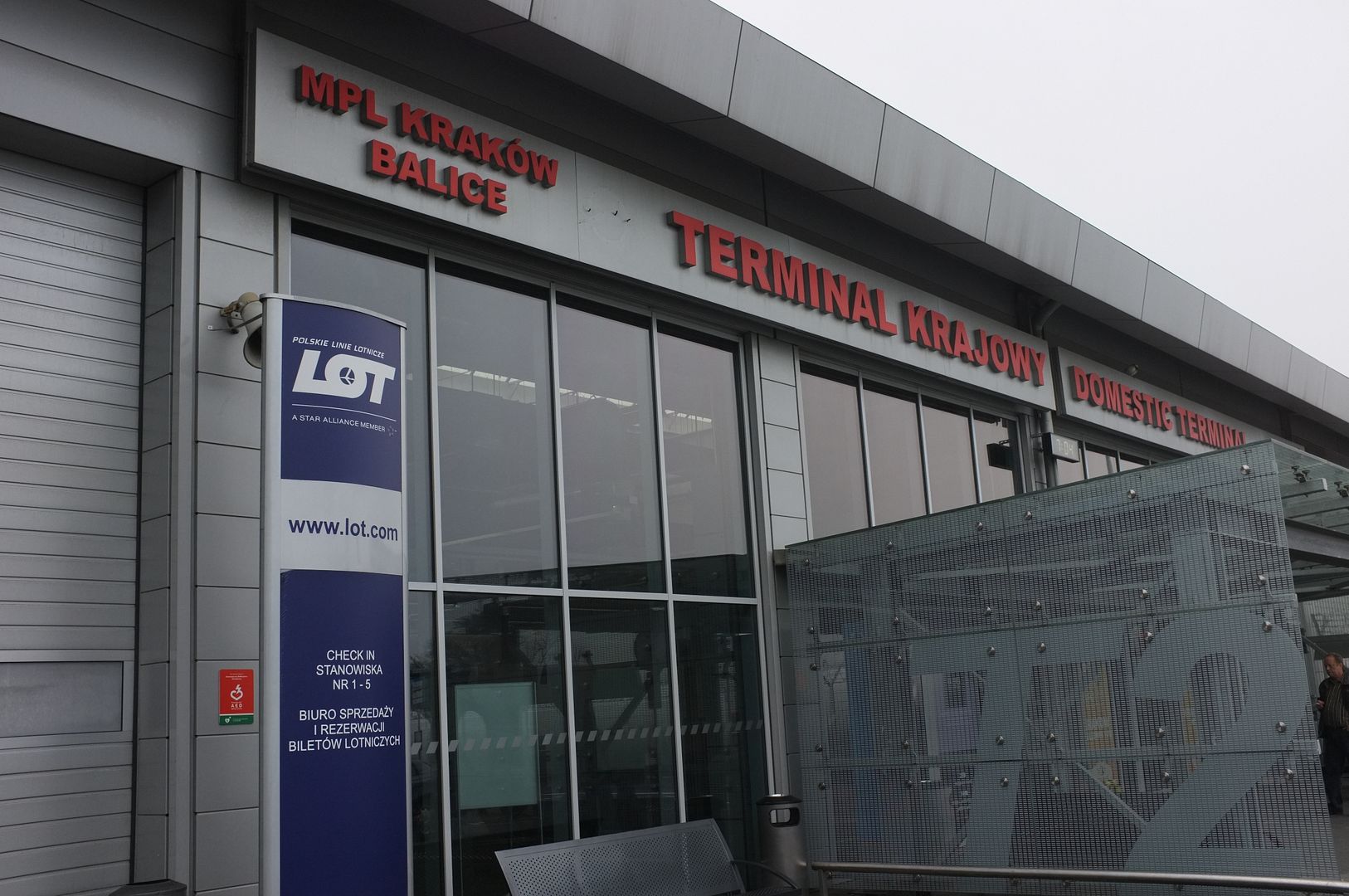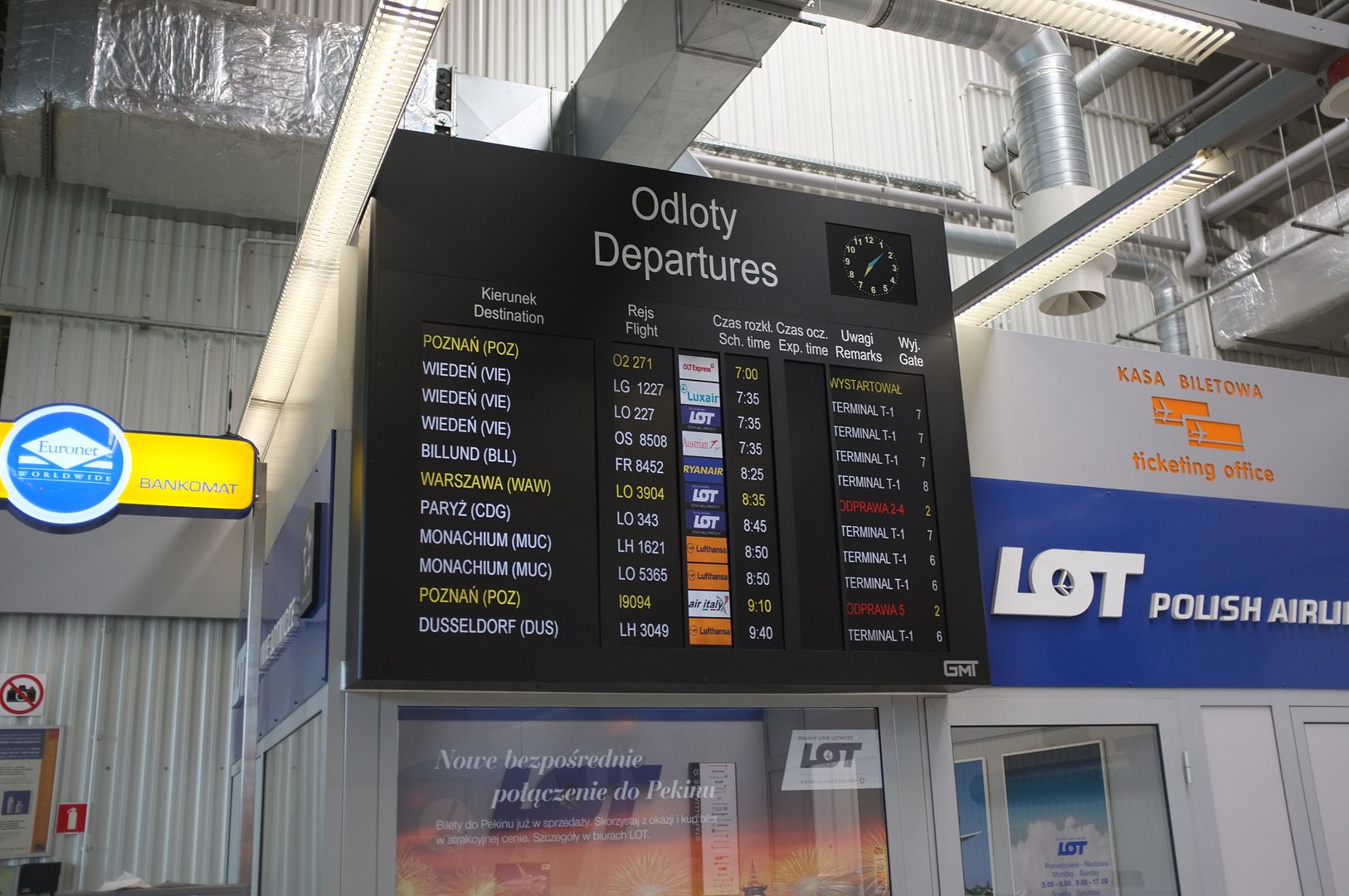 I went straight to an empty *G counter. The check-in was done very quickly and I was given a printed boarding pass. Here are some pictures of the terminal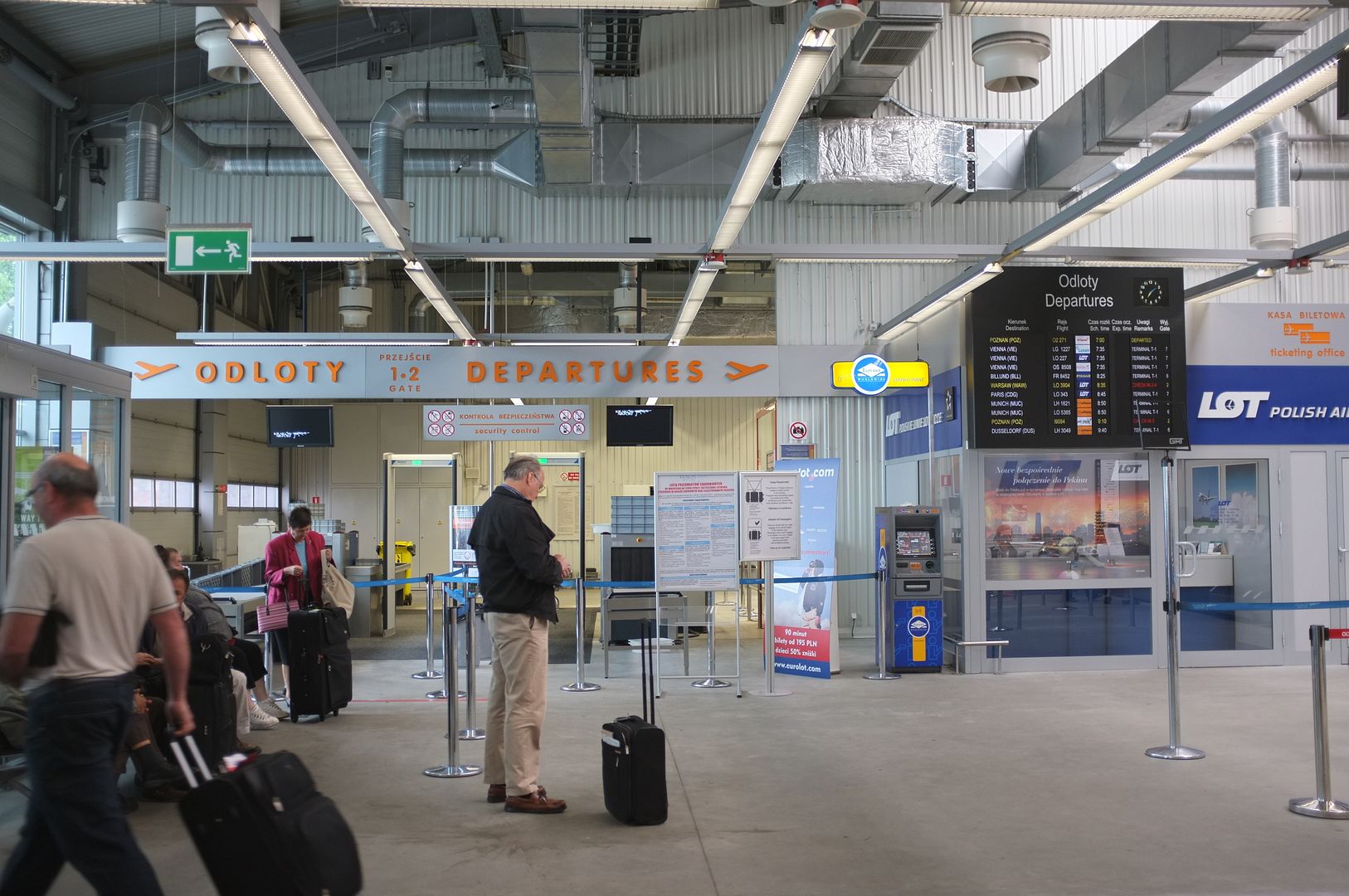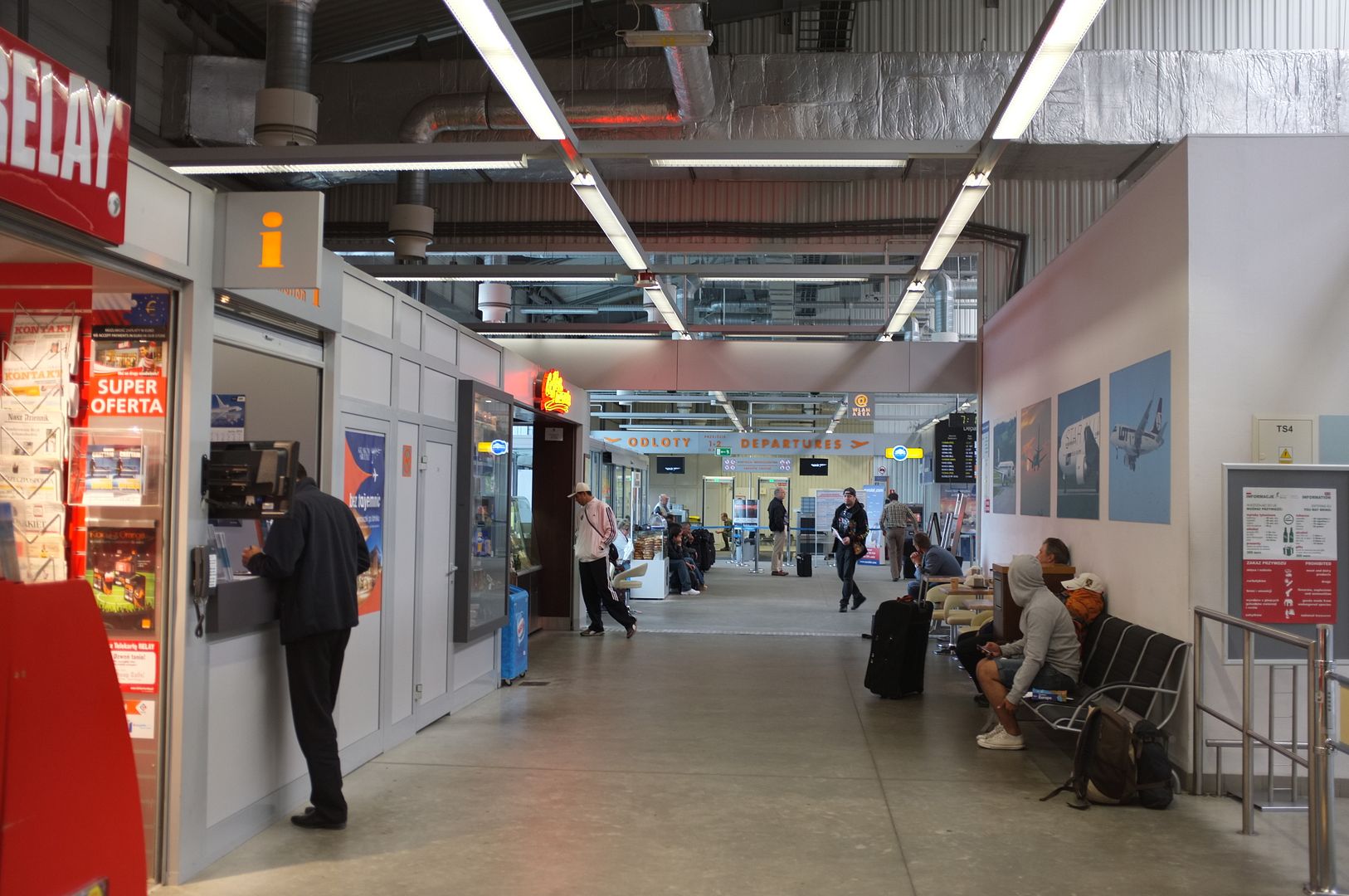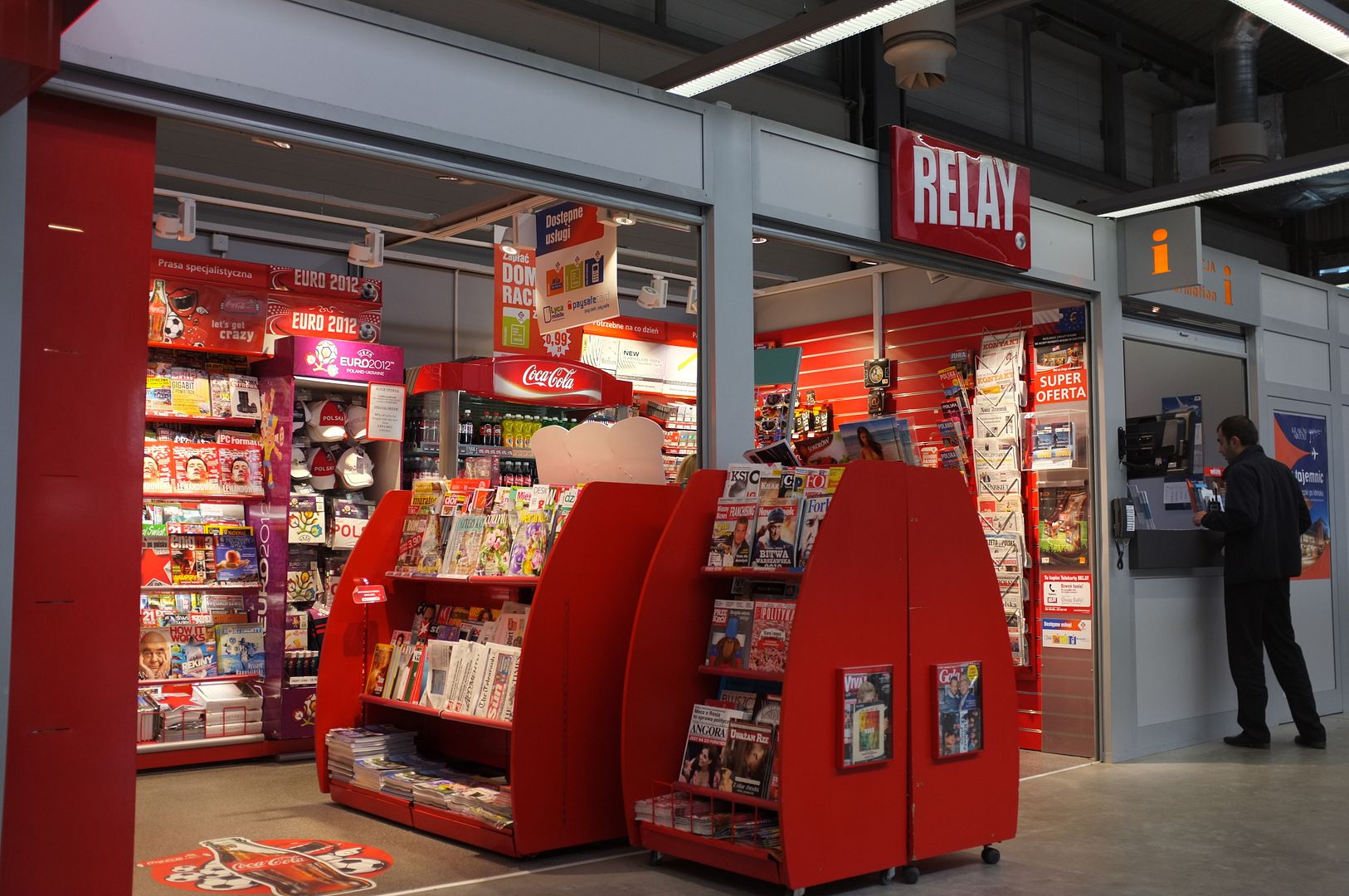 At around 07:45am, security personnel came and open the x-ray line. I went shortly after. There are two gates at the terminal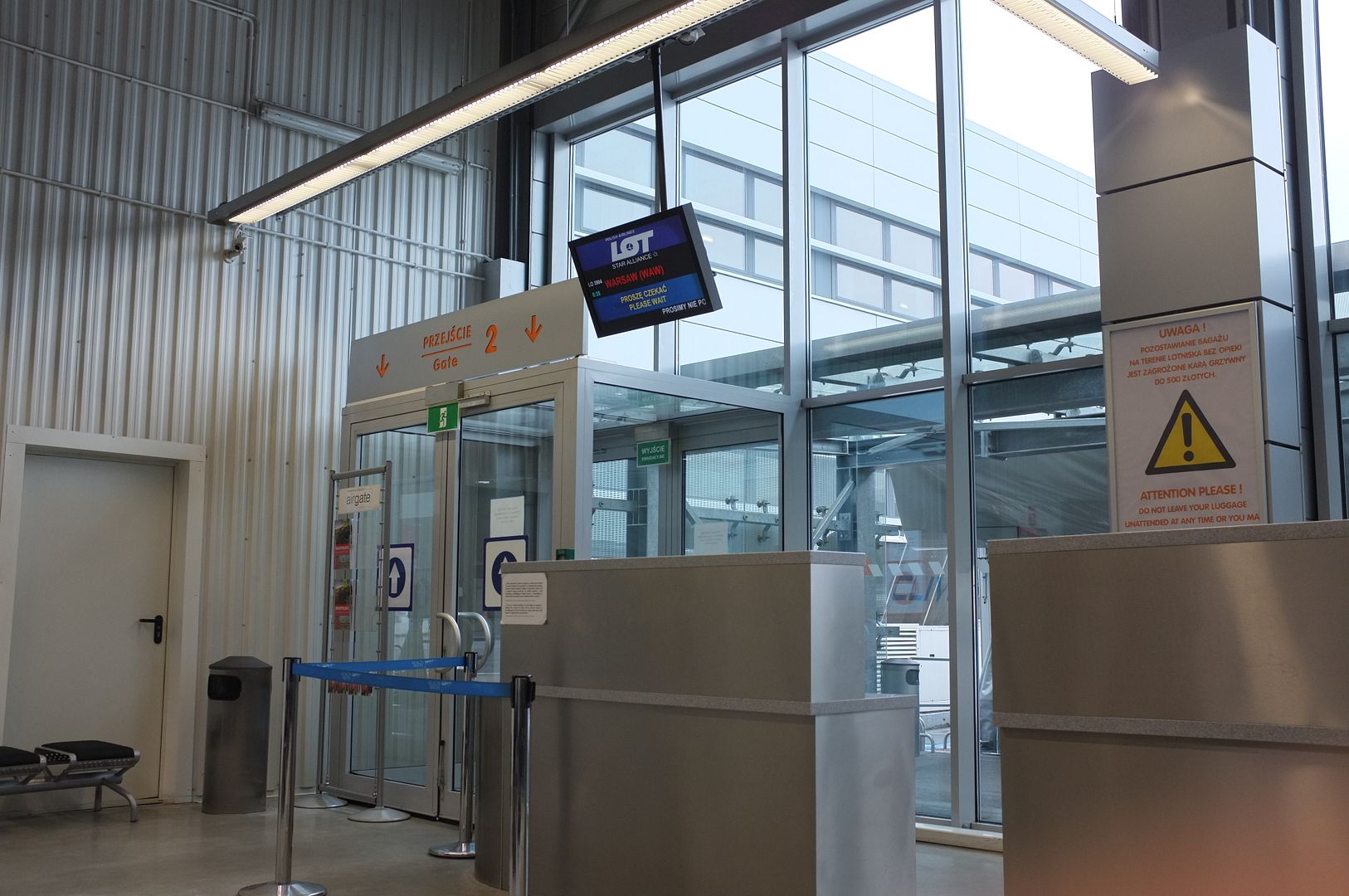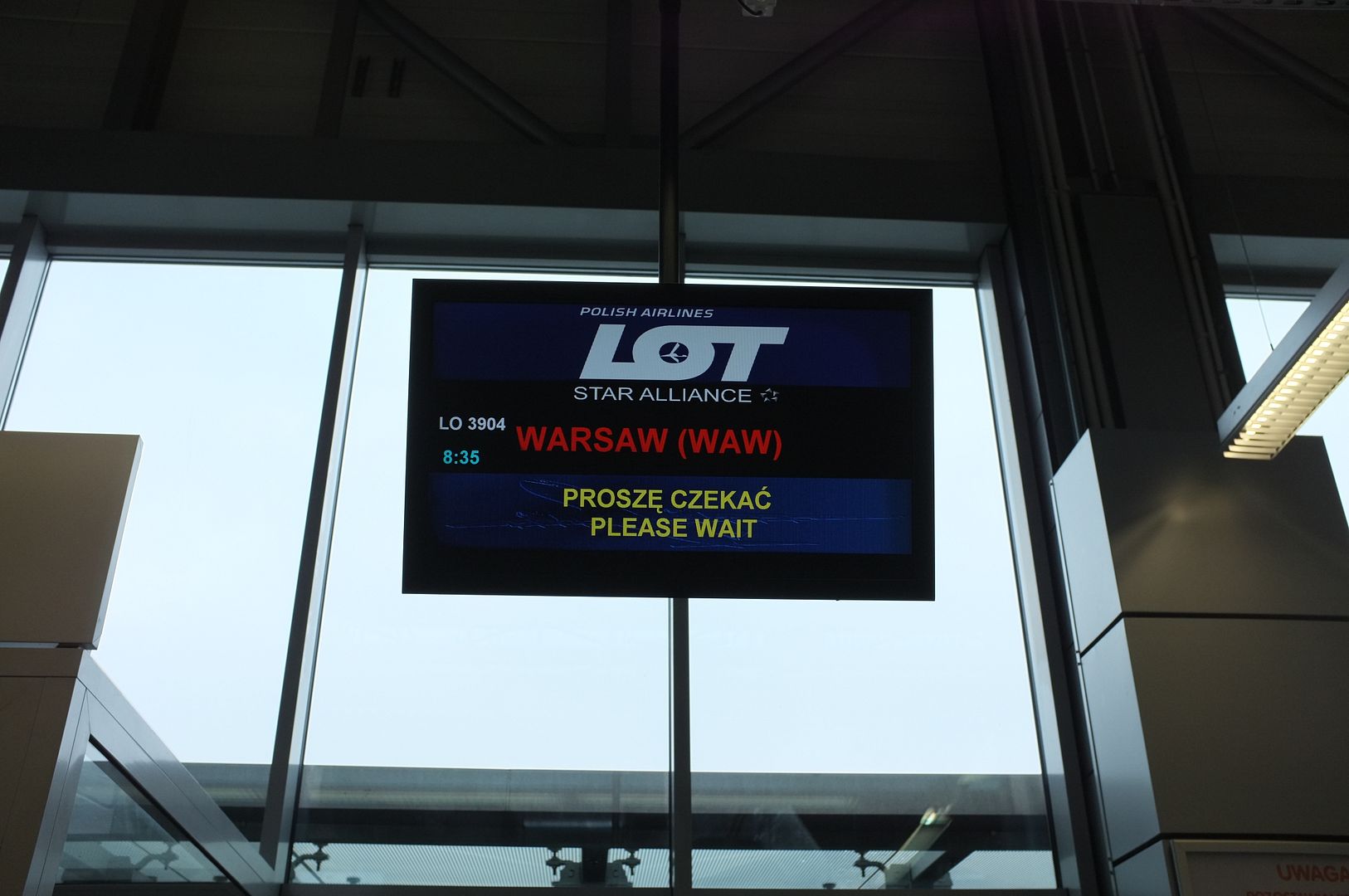 When the boarding call was made, we all lined up to get our boarding pass checked, and go on a bus. The distance from the gate to the plane was very short as you can see from the picture.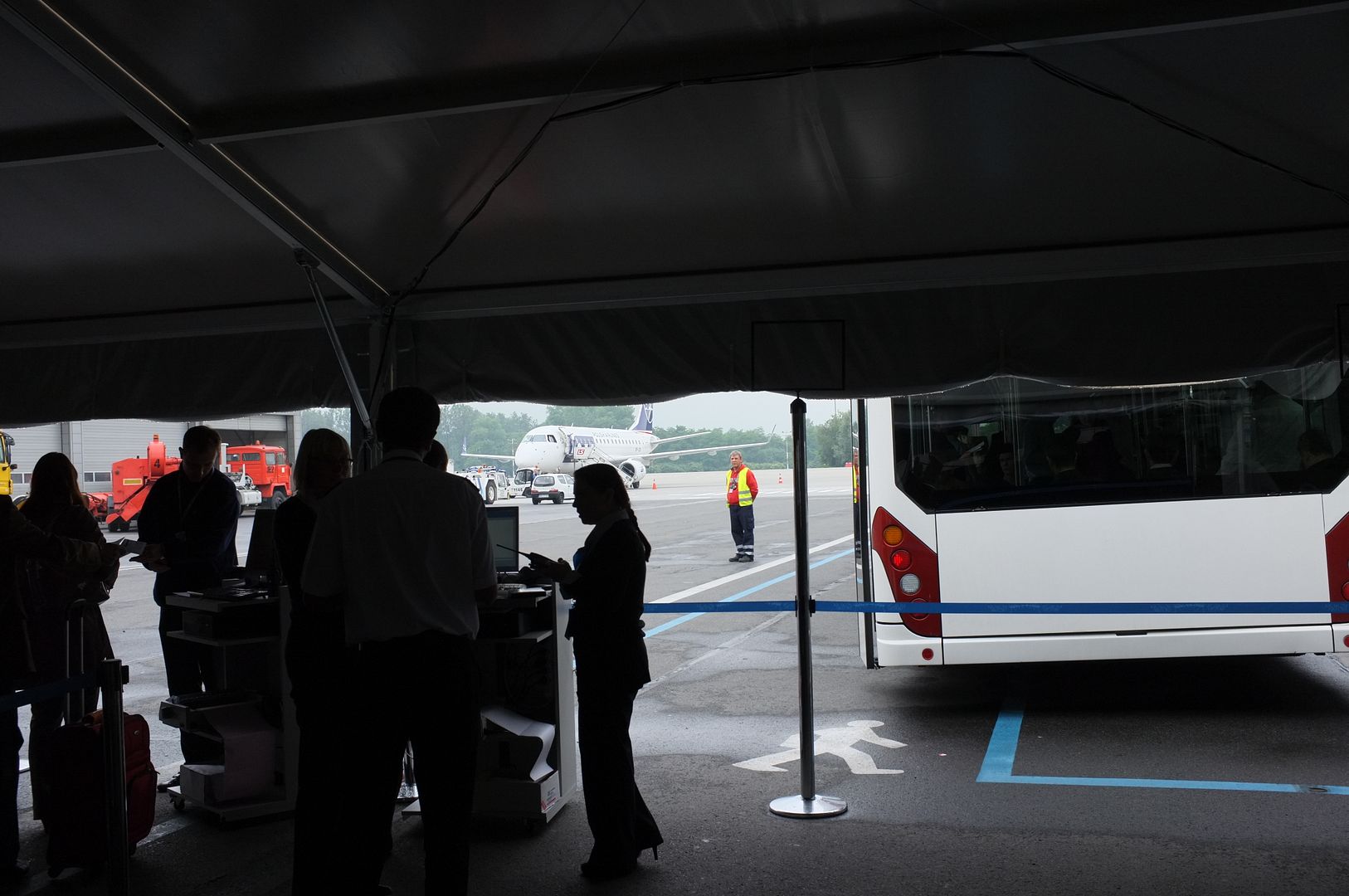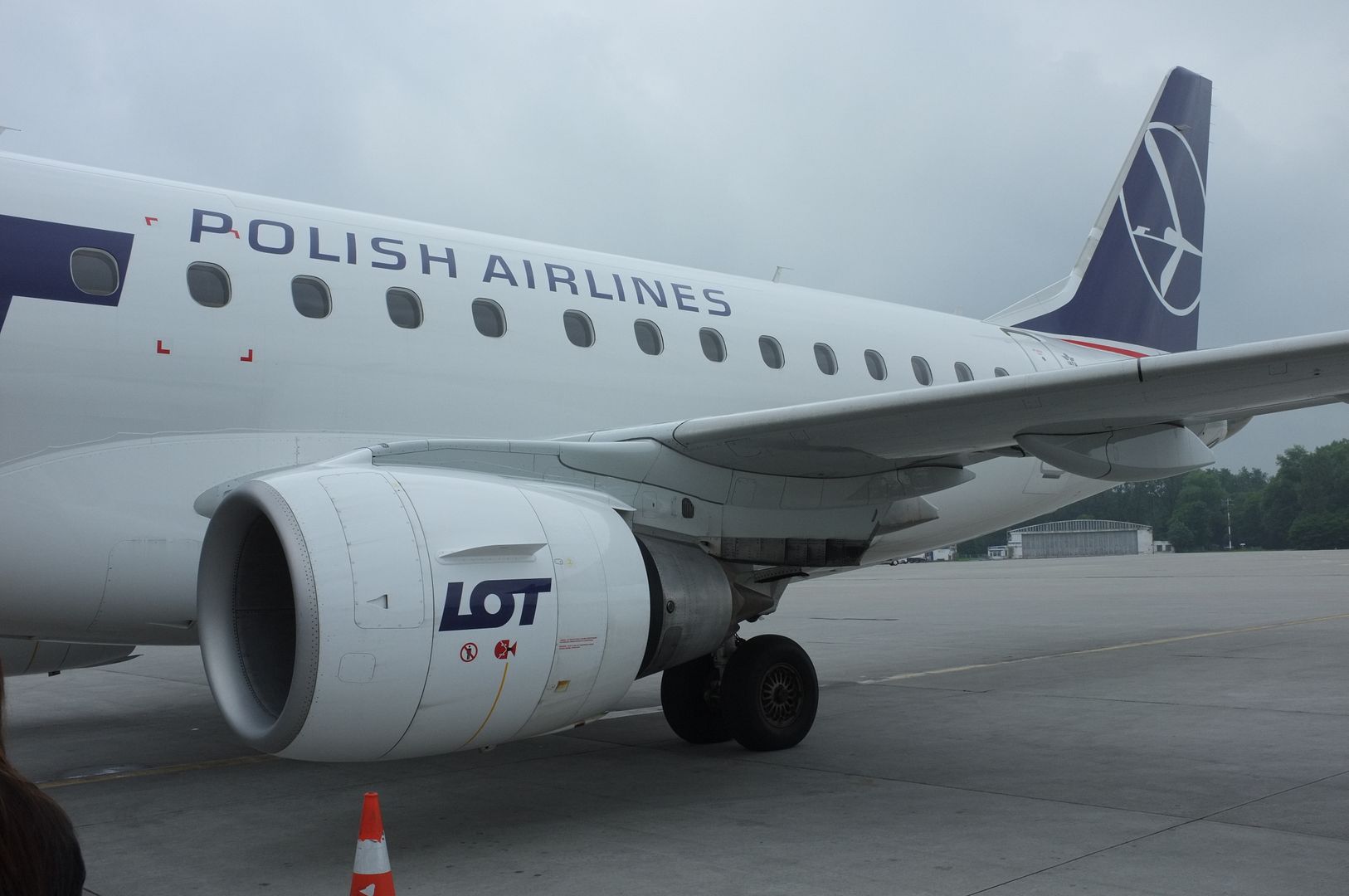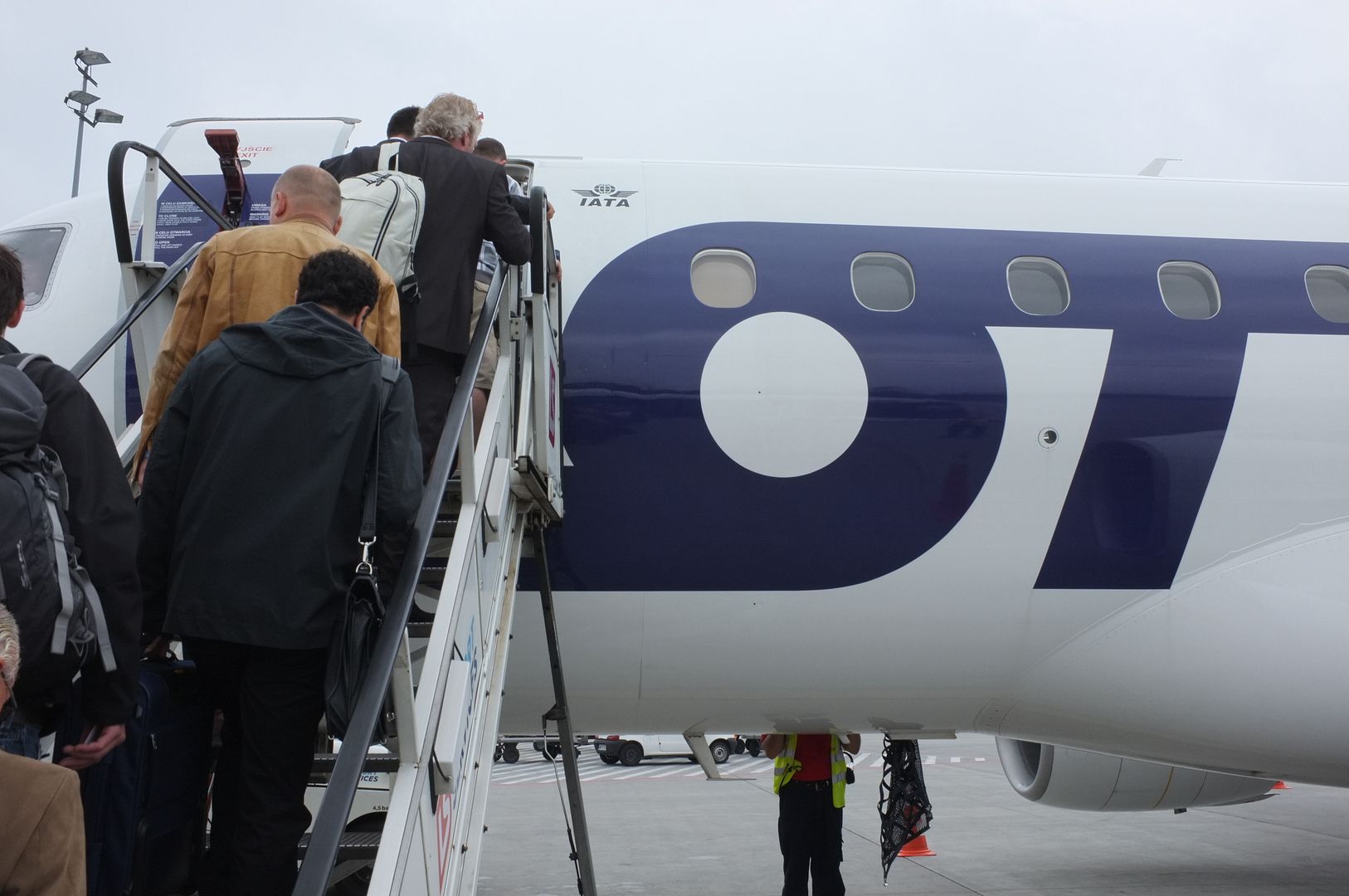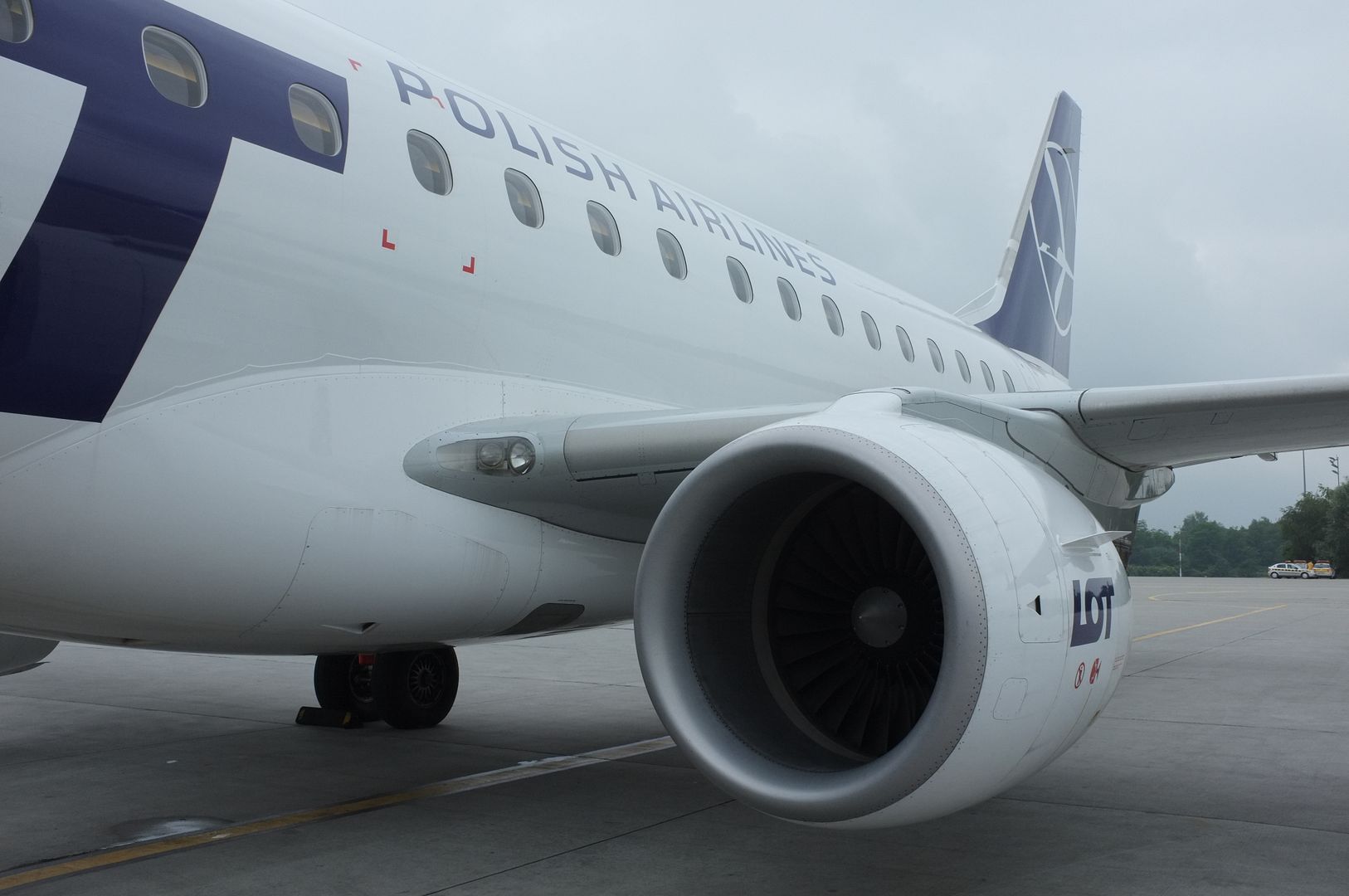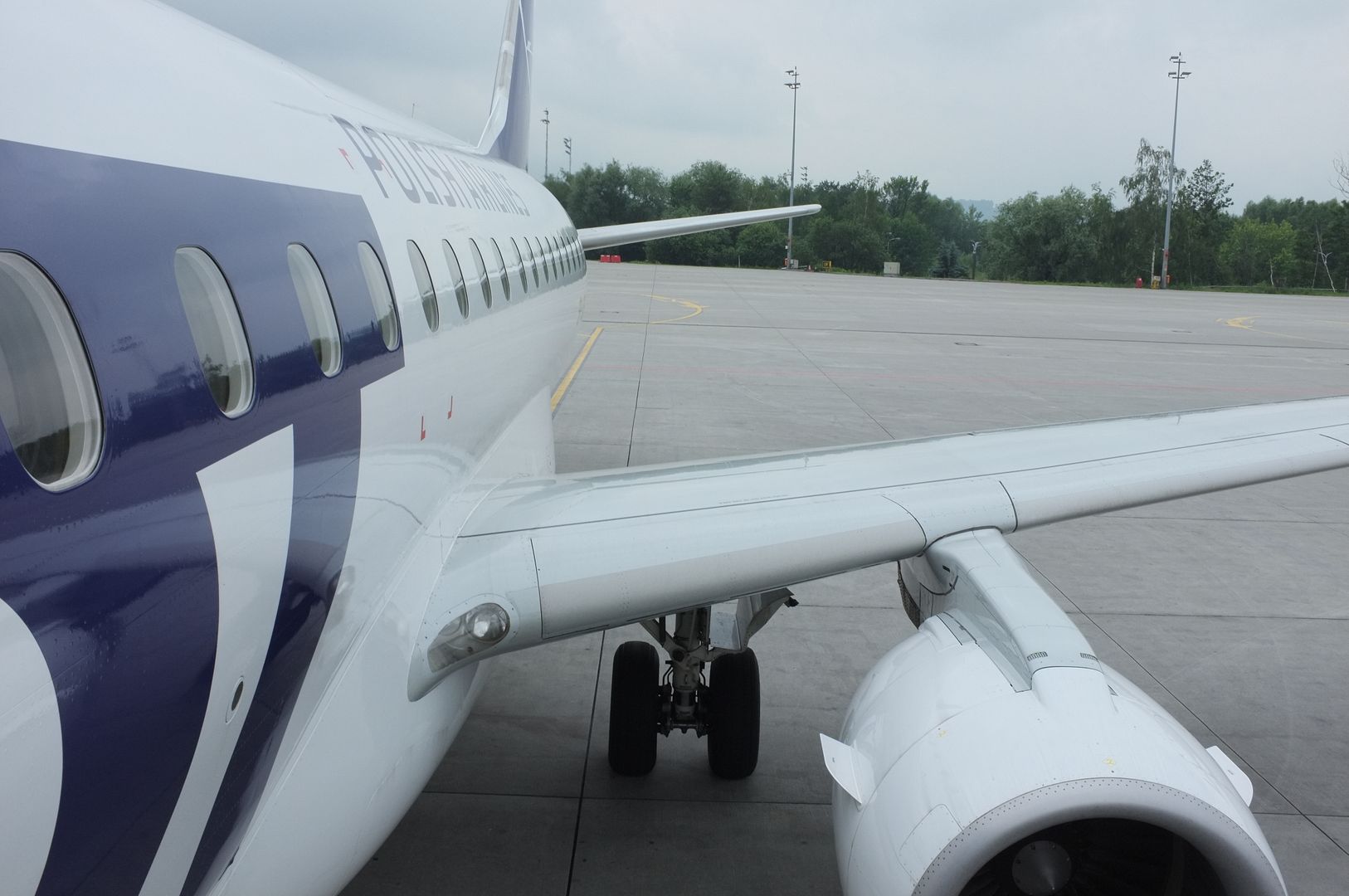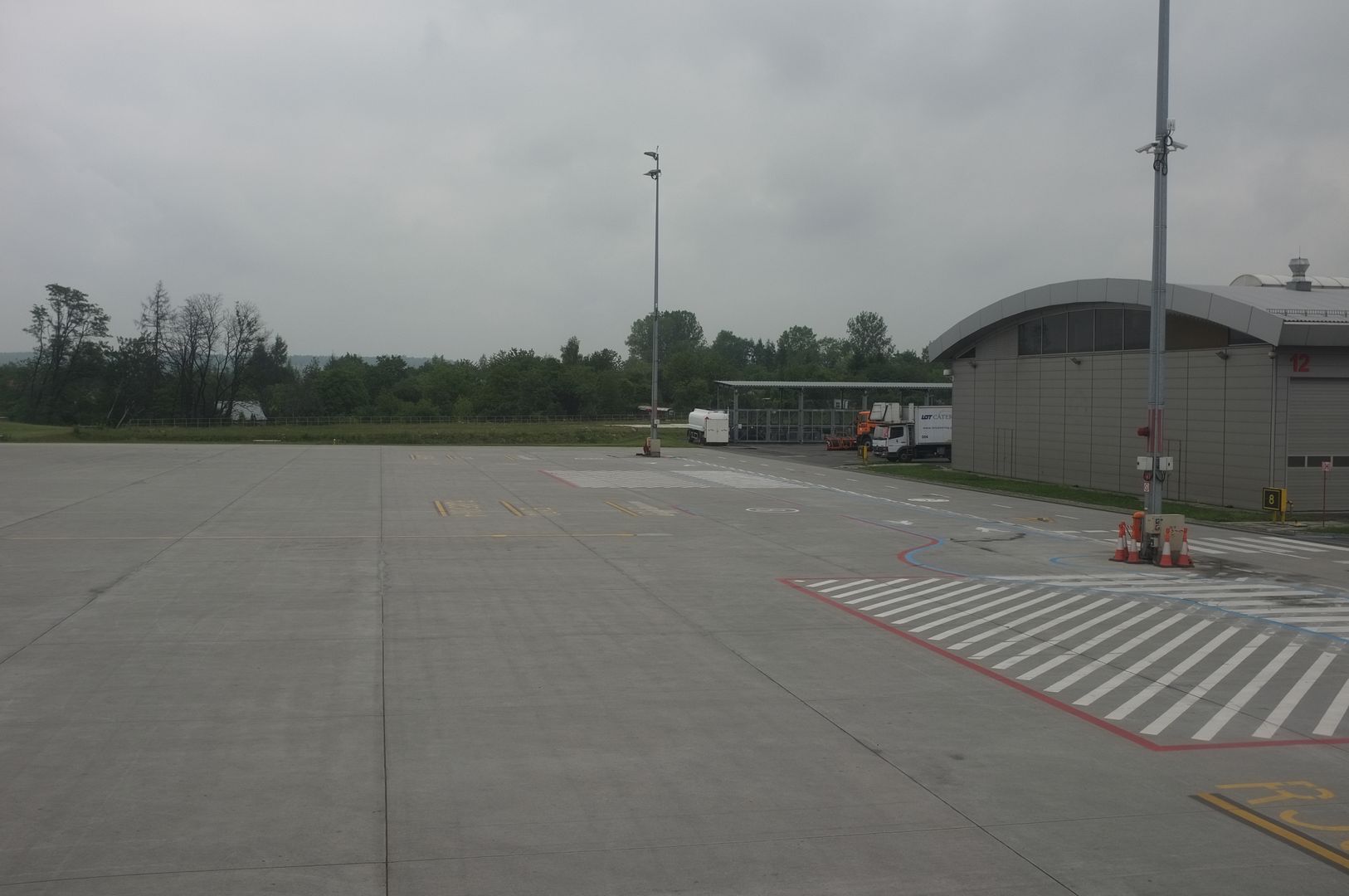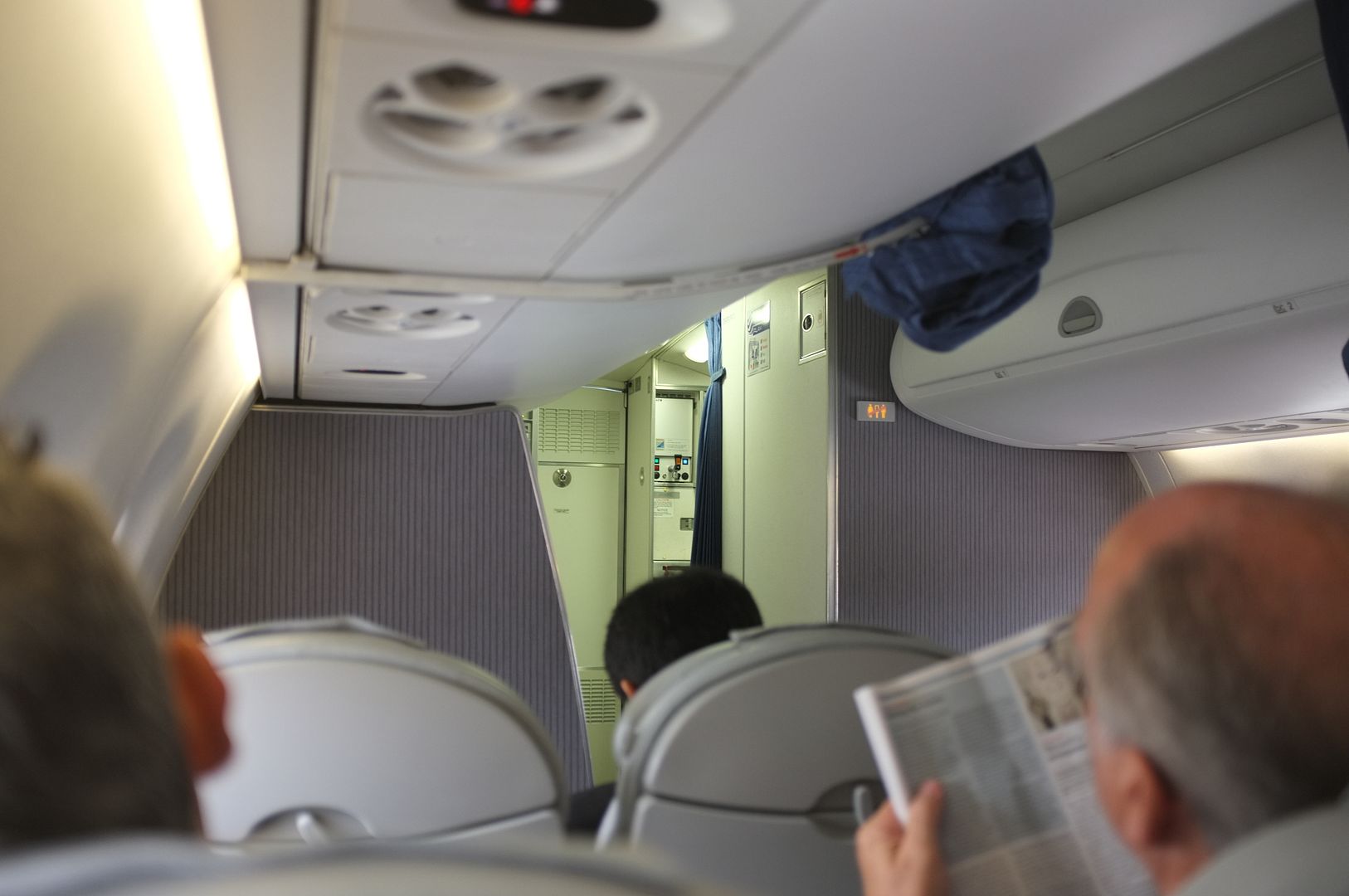 The load on the flight was around 95%. The aircraft pushed back and taxied to the runway slightly late